Our commercial email address often gets spammed.  For that reason, we duplicate sending responses to your inquiries from an aol account too.
If you have sent an information request through our web pages or via email, look for a response in 1 day.  If you do not hear from us, check your "SPAM" or "Trash" box.  If you still haven't heard from us, send another info request which includes your phone number.
And.. when you DO get the information, we'd appreciate a little note saying "Got it!" so we know the response is not stuck in a box somewhere.
This is why we like the old technology of sewing.. !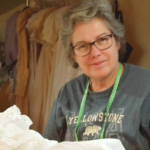 Suzi Sellers