Here is the Historical Research on which we base your customized costume design. Start with the introduction, OR click on your timeframe! Check out special sections on Nursing through the years, Celtic/Highlander, & Colonial specific fashions Plus!  Pages made from our blogs: Overview of Stays & Corsets,  History of Stays 1740-1780, History of Corsets 1780-1912, History of Corsets 1880-1915, Dyes & Colors, American Emigration (Historic Fashion Show Script) and others in progress.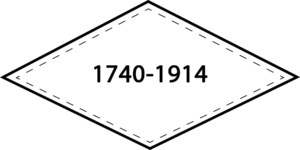 This is an essay.  It is not a footnoted encyclopedia, & it draws conclusions from just our heads sometimes in order to fill in historical gaps, of which there are many when you are talking about women & fashion. 
        Information presented in the introduction below & the 15 sections that follow, is intended to provide a framework for us to talk to you about your historical project in context of what was going on at that time: social, economic, political, &  environmental.  It gives us a starting point for discussion of trends, styles, attitudes, & influences that can affect the design of your project.

        While based on the best data out there (we use technology plus read paper books!), we have arbitrarily changed some things like time frames of fashion eras from that which is historically correct in order to suit (pardon the pun) our purposes of standardizing things so they work for modern reproduction.

        The end game is to figure out how to obtain a desired & historically authentic based shape for you using what we have, & what we can get.  Interestingly, that's exactly the same way women have done it forever. Like those who came before us, we use things like corsets, pads, fabrics, & colors to shape the body with one objective in mind: to achieve the right SILHOUETTE.
—- Thanks for your time & consideration, from the  Silhouettes Staff


INTRODUCTION: The years 1740 to 1914 are known by historians as the "Era of Modern Revolution" or "THE AGE".  It was a time in human history where people or events caused one thing, which "snowballed" into other things.  This modern revolution caused global change.
The influences on women's fashion & clothing through the eras we will discuss, all have the basis in one of these six influences: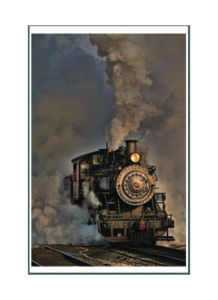 1)  Use of energy:  because animal & human power was used with burning natural sources like wood, the new coal & steam power sources discovered early in the era (patented, & improved over the era) made this the "fossil fuel era" (especially adding petroleum in 1944)
2)   Democratic revolution:  reshaping of ideas regarding government and political power; while most centered around the "Atlantic Rim" (Europe, Scandanavia), ideas became contageous worldwide and affected Afroeurasia, & became the cause for war, conflict, take-over, & generally change in power due to ideas such as: slavery, representative government, constitutions, suffrage, worker's rights, gender equality, national self-determination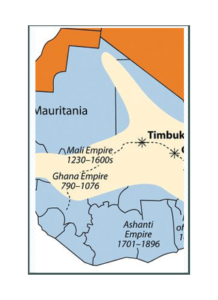 3)  Rise of new colonial empires:  new technologies of warfare & political contral allowed European states to grow and expand.  The US, Russia, & Japan were a part of this later & to a lesser extent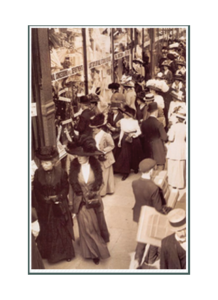 4)  Global Population growth:  population doubled by 1800; quadrupled again by 1900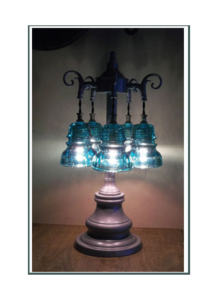 5)  Industrial transformation:  affected export, trade.  Mass production in particular started with the textile & garment industries, and the to other manufacturing – eventually to farming & food production/processing; then to metallurgical, chemical,  & electrical industries.  This altered the distribution of wealth & poverty, and made new attitudes regarding nature and society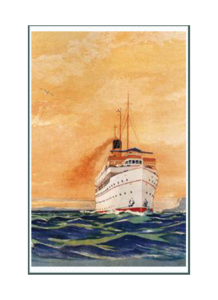 6)  Revolution of Communication & Transportation:  steamships & railroads in Europe and then North America & Southern South America; Asians to the tropics & Americas – immigration by choice by people from all over the world became possible
Click on the dates below to continue by era…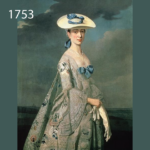 1740-1760 (end of 2nd Georgian/Colonial) – "Age of Enlightenment": old orders change to new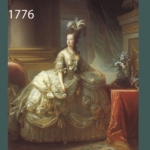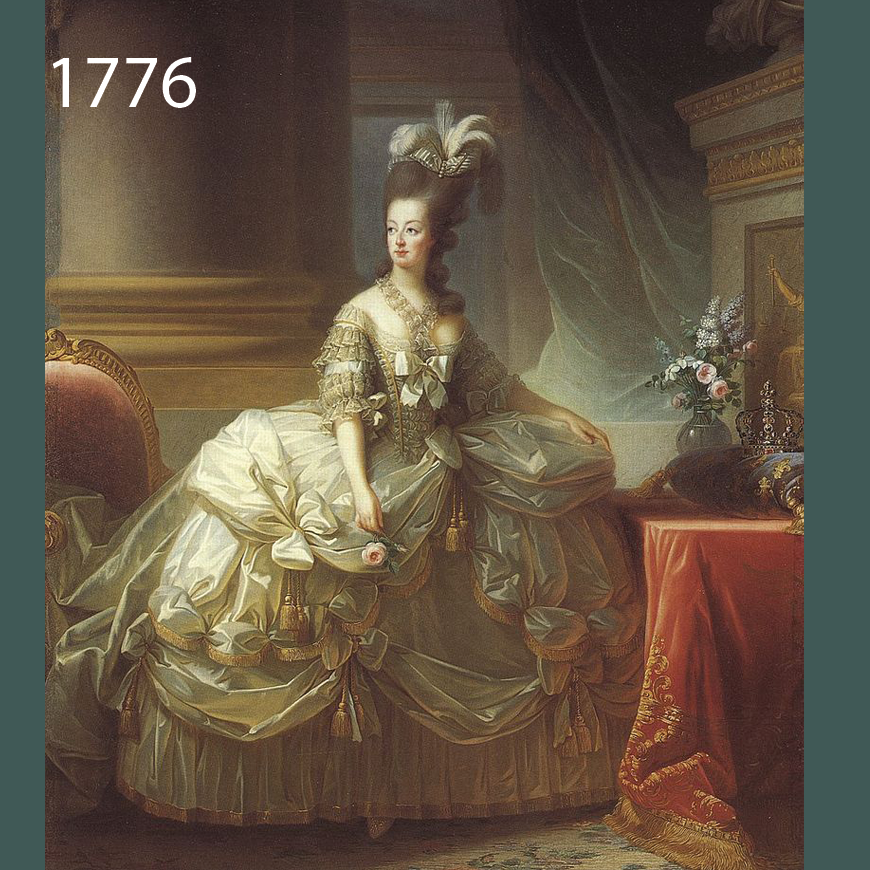 1761-1778 (Early & Mid 3rd Georgian/Colonial) – "Years of Abundance": European aristocracy & American wealth lead fashion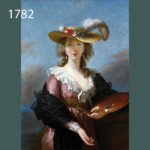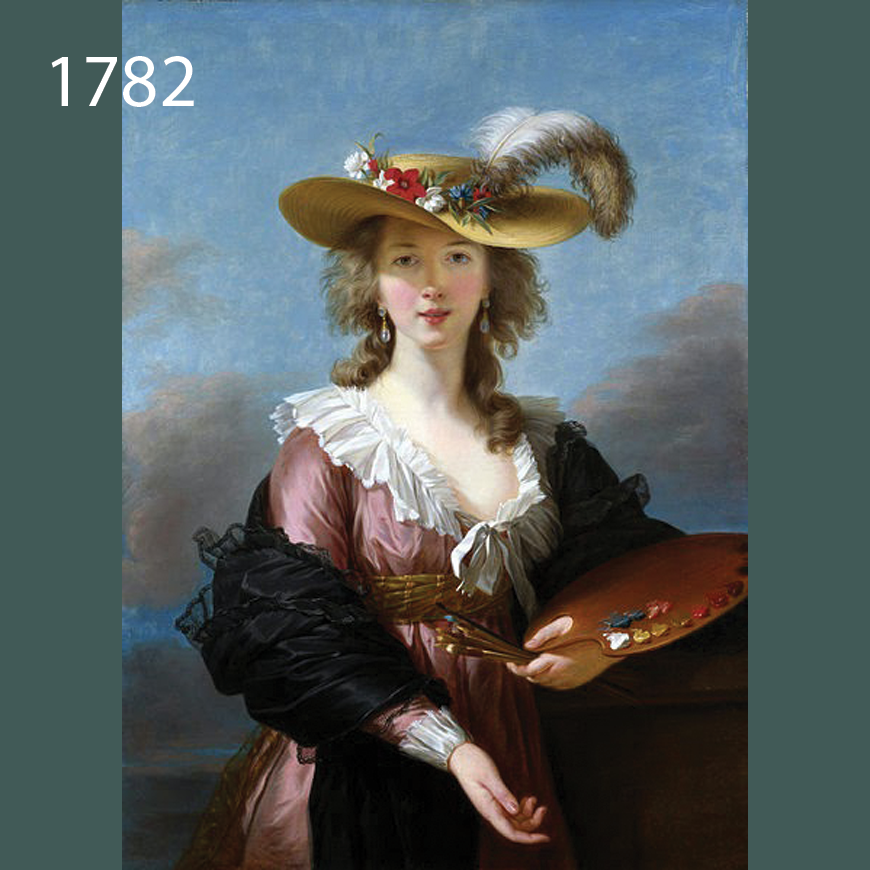 1779-1793 (Late 3rd Georgian/Late Colonial) – " The Independent Spirit": world in conflict, with a self-sufficient America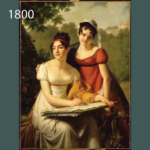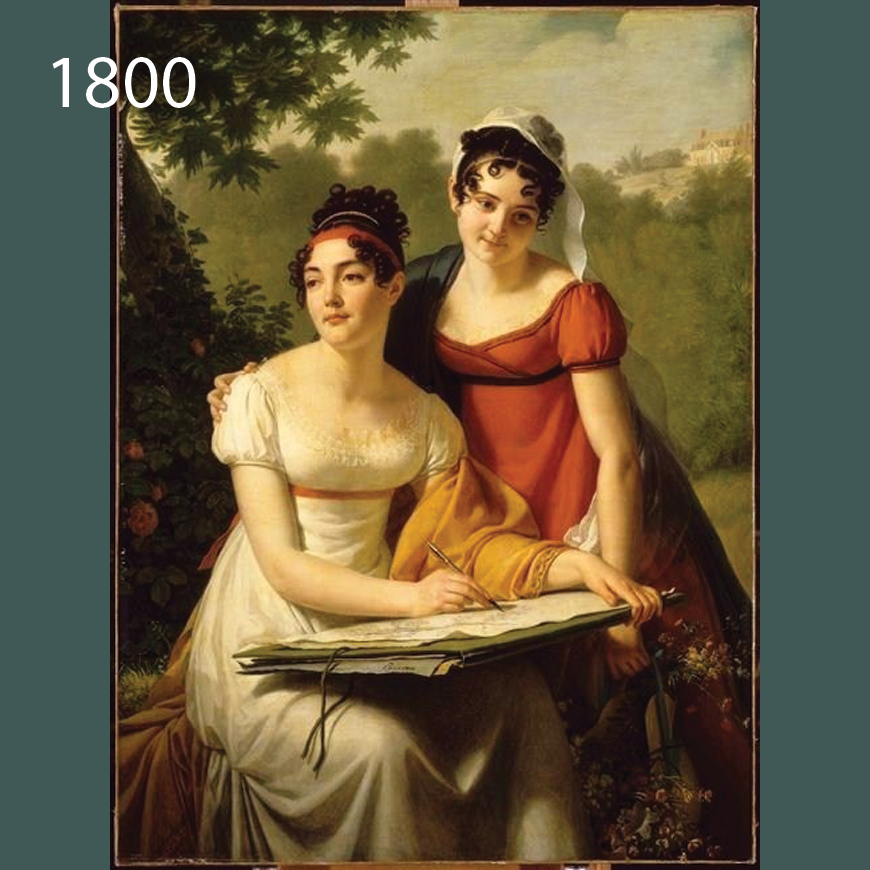 1794-1807 (Early Regency "Society" era) – "The Steel Age": technological advancements worldwide, with American growth & heroes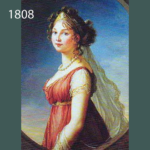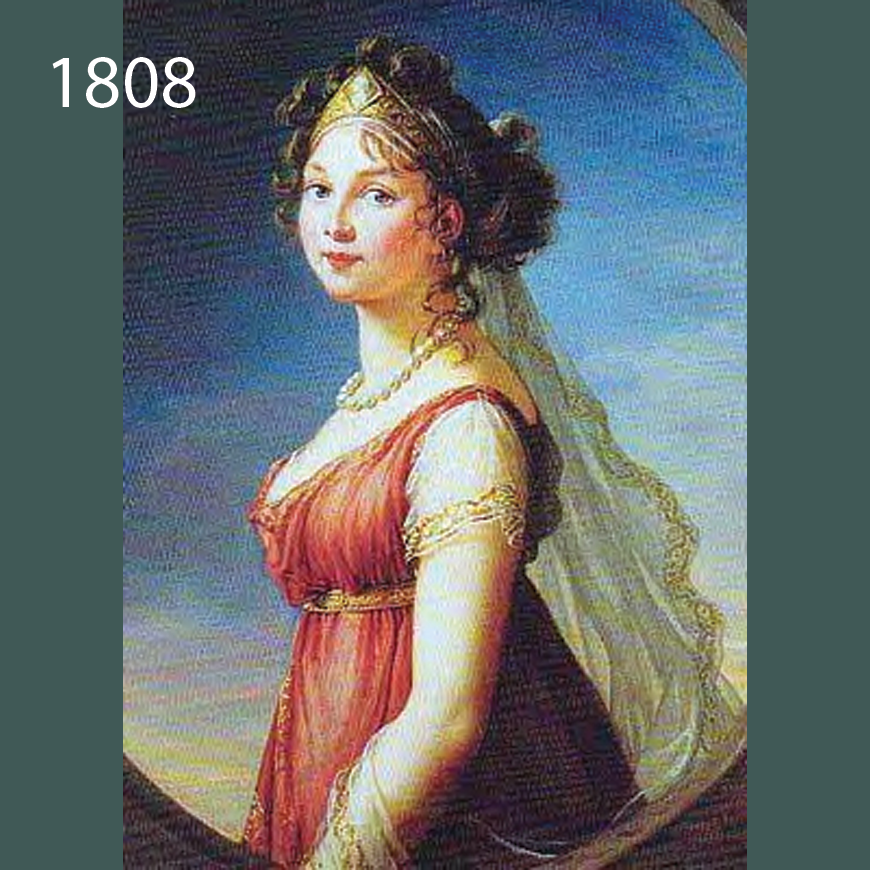 1808-1814 (Mid Regency) – "The Empire Age": French & worldwide influence on fashion, with fondness for the ancient past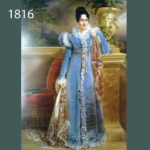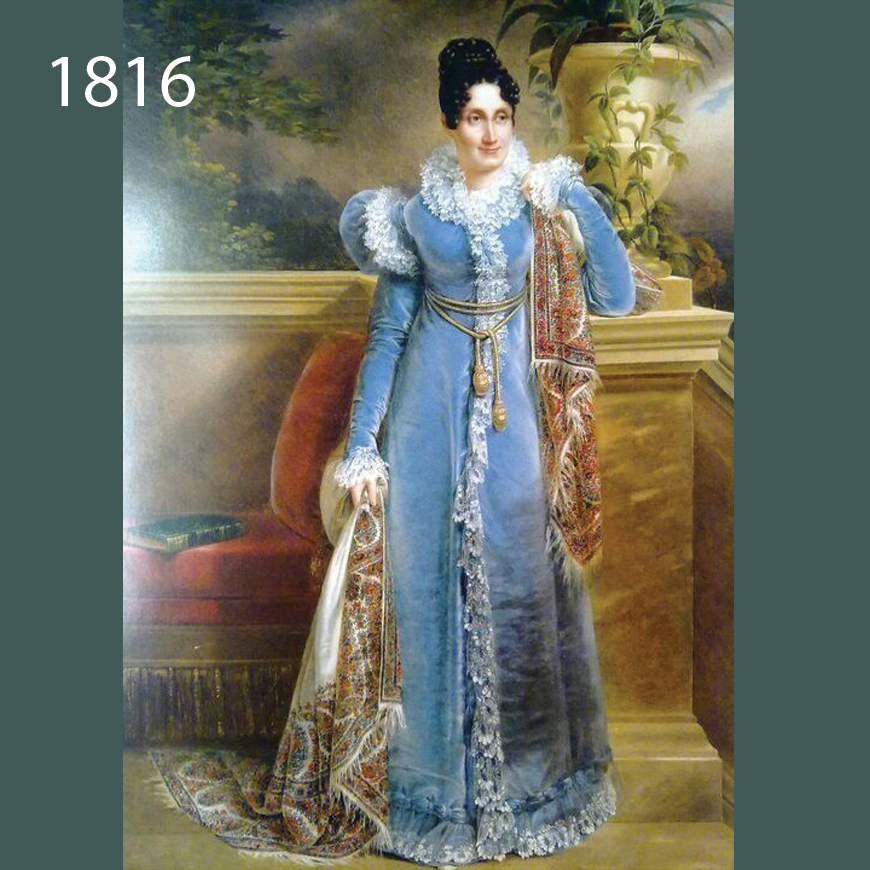 1815-1823 (Late "Regency Belles"/Rococco) – "Renaissance of the Renaissance": liberation for women with the fast pace of industry creating desire for "the simple life"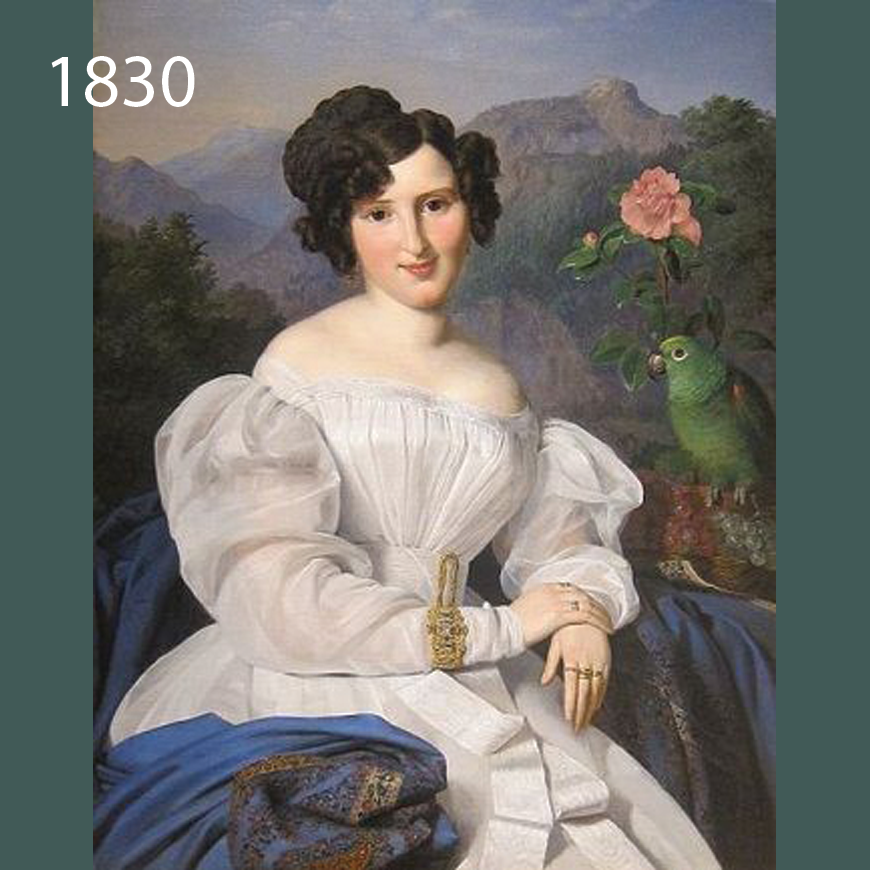 1824-1836 (Romantic) – "Age of Romance" in a world of peace & prosperity: return to a chivalrous & innocent time contrived by strong corsets & legal reforms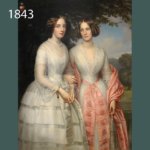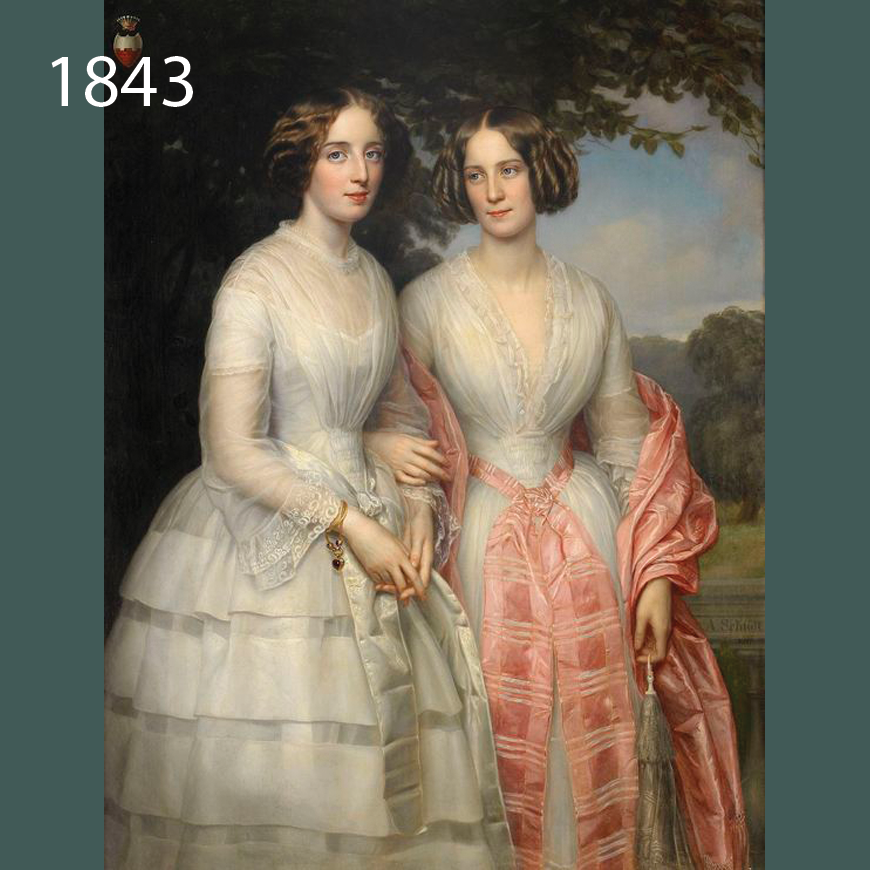 1837-1851 (Early Victorian) – "Age of Expansion": of ideas, inventions, & dresses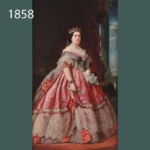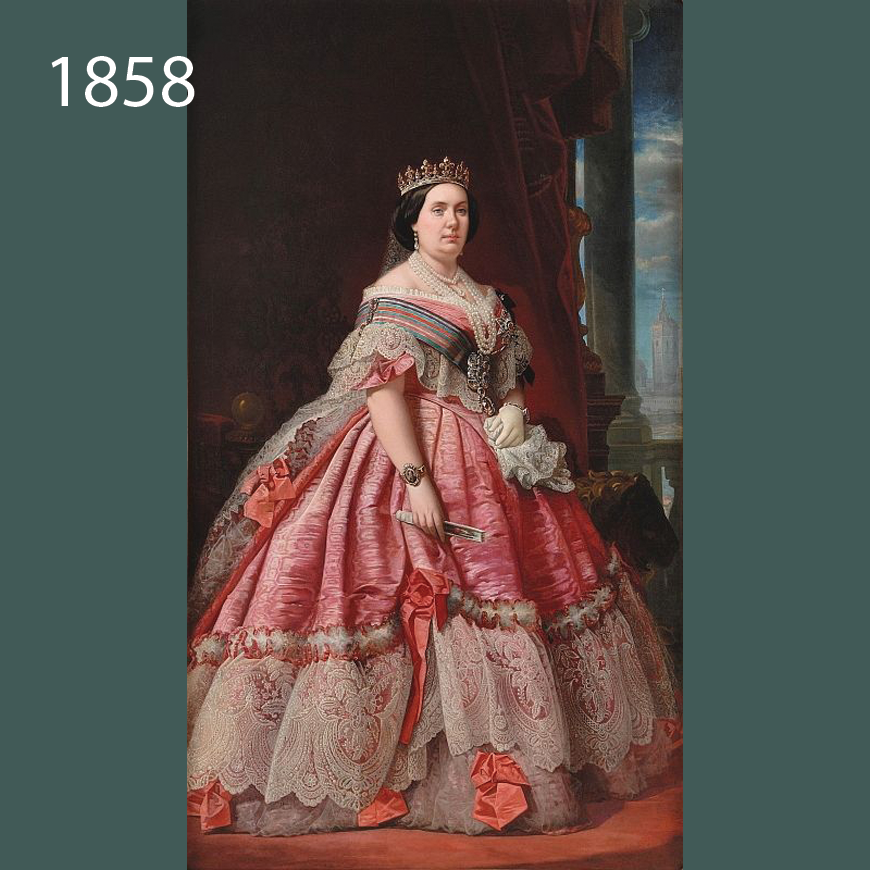 1852-1867 (Mid Victorian) – "Pre-Raphaelites & Crinolines": ready-made rules from mourning to evening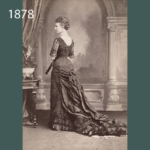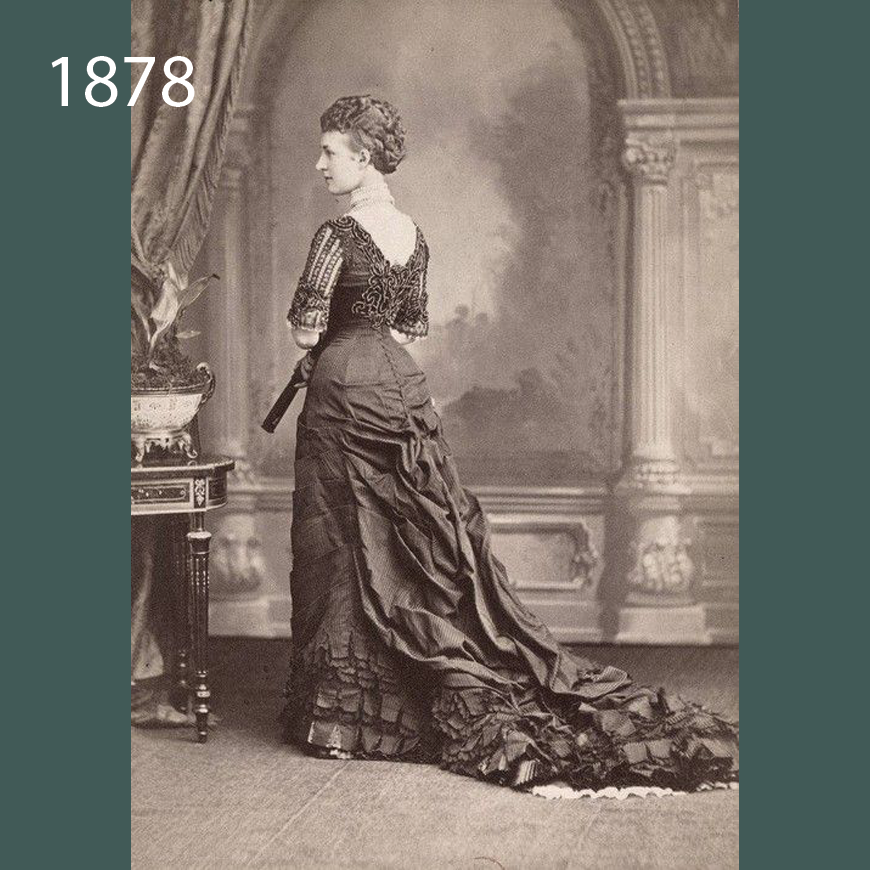 1868-1880 (Mid-Victorian) – "New World for Women": Wild West discovered among monarchies, & bustles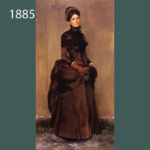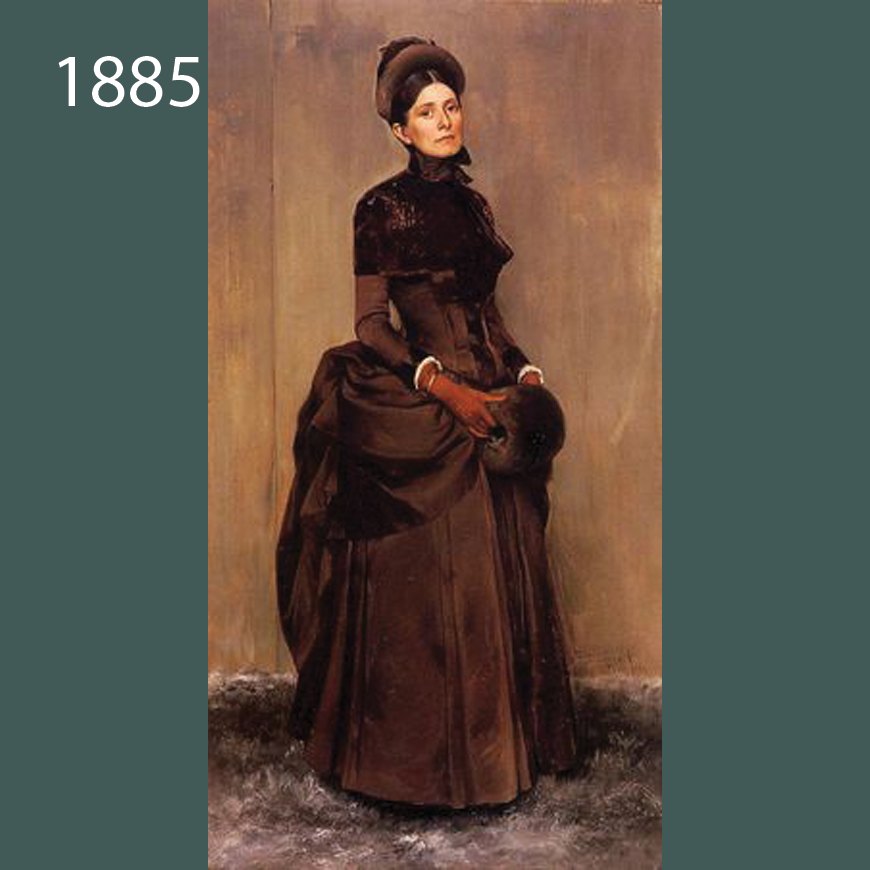 1881-1887 (Late Victorian) – "Cult of Beauty": bustles, & books on their heads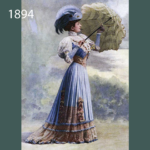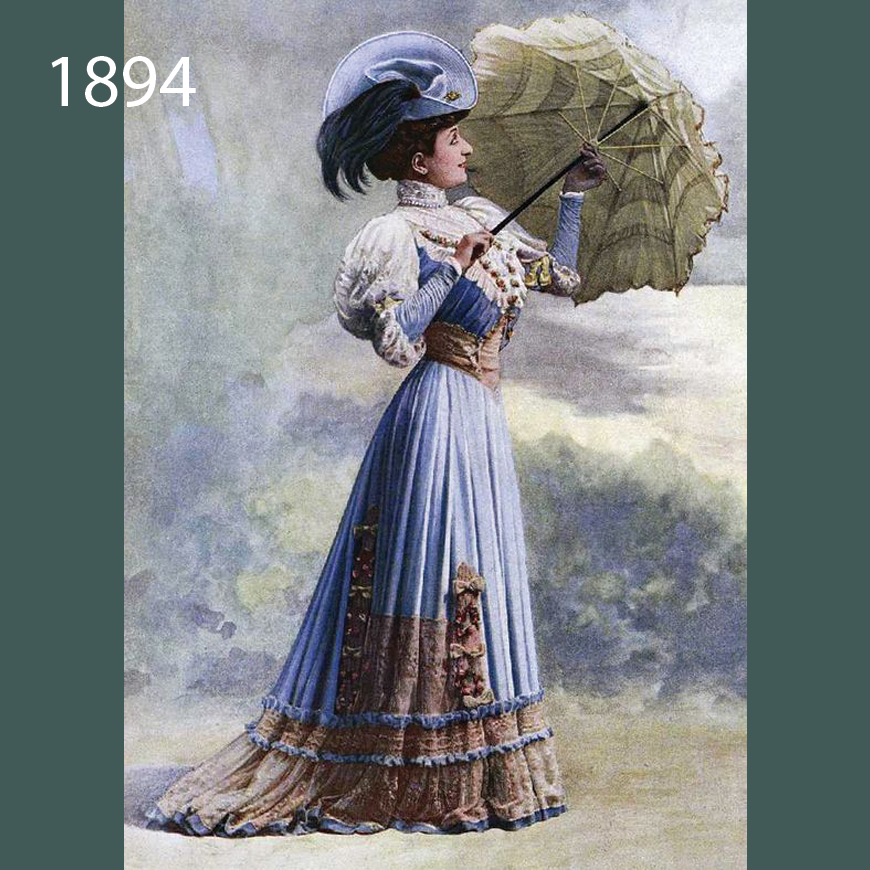 1888-1898 (Early Edwardian) – "Naughty Nineties": strong women in a fast-paced world of work & play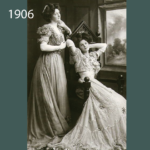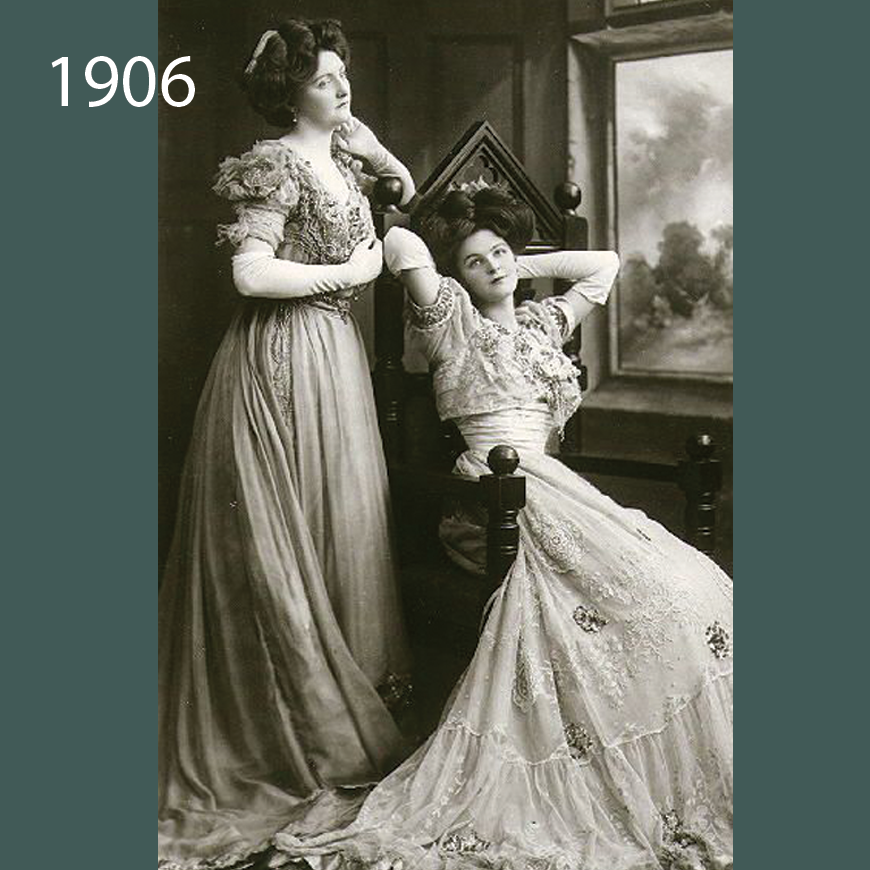 1899-1914 (Edwardian Classic) – "A Peaceful Golden Age": of huge ships (that hit icebergs), "Grand Dames" presiding over High Teas, & Gibson Girls with their perfect figures (who didn't exist) inside a frenzied & fast-paced world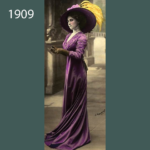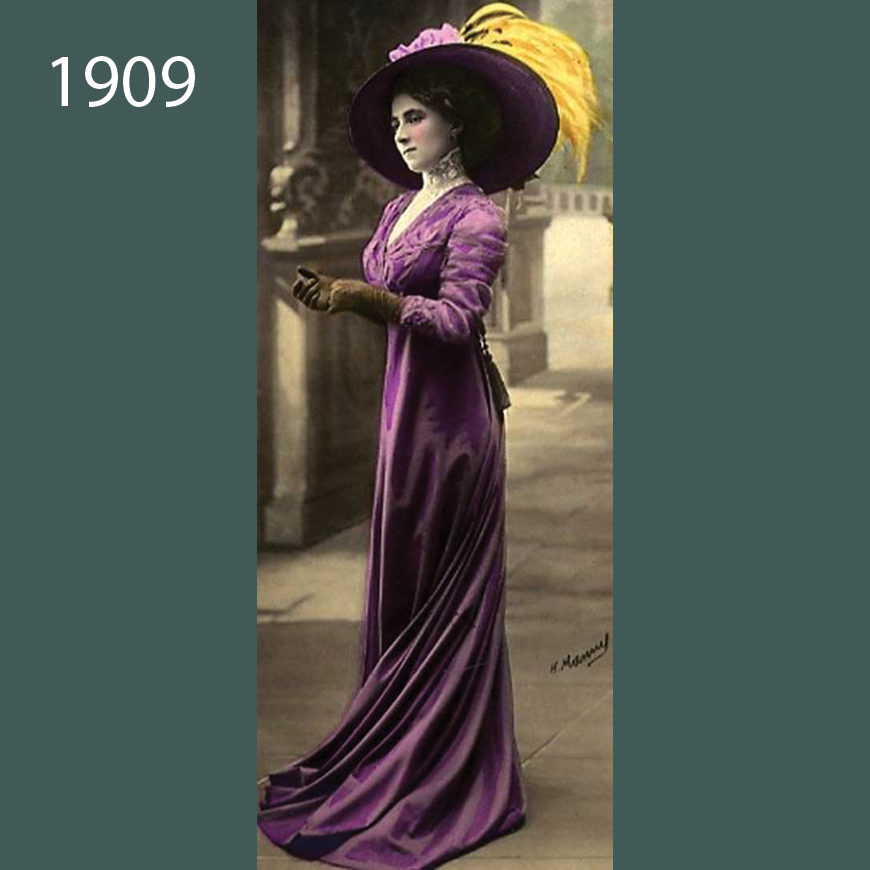 1899-1914 (La Belle Epoque) – "The Lost Golden Age": an isolated pocket within the Edwardian Era; defined a MOOD in France that was the epitomy of beautiful dress & luxury for those who could afford it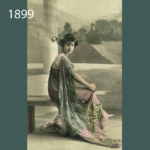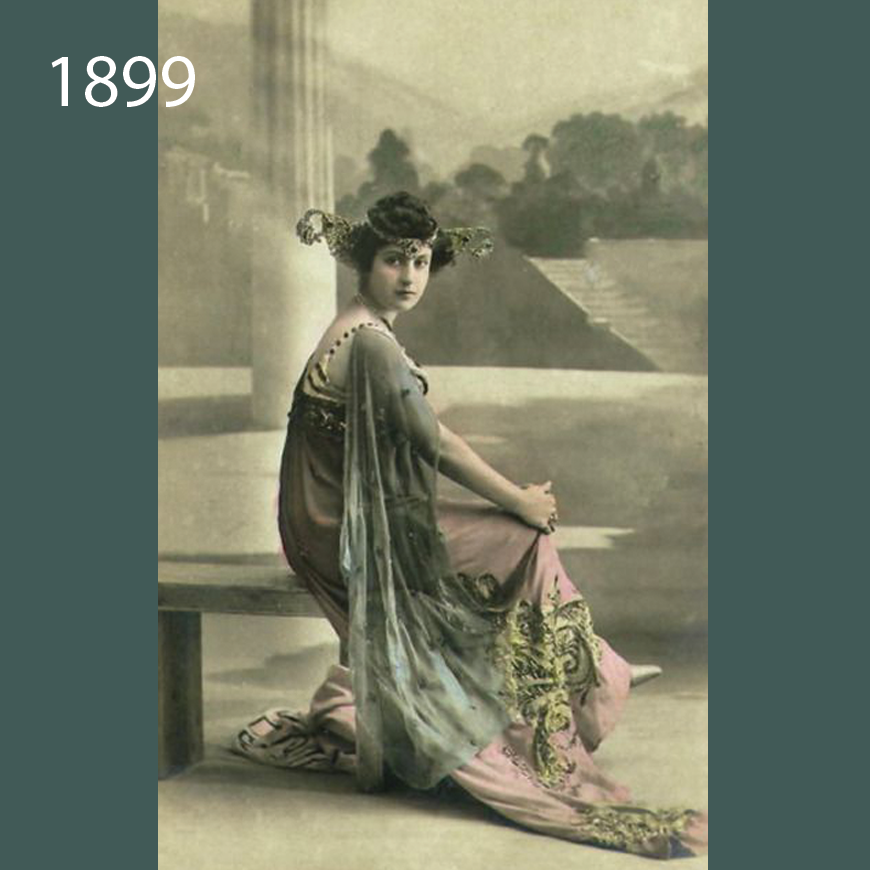 1899-1914 (Art Nouveau) – "Fin de Siecle": (only theoretically "end of the century") another sub-category of the Edwardian era; embraced the place "where technology meets nostalgia"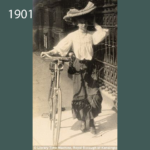 1899-1914 (Work & Sport) – "The New Woman at Last": yet another sub-category of the Edwardian era, was when the "normal" woman went to work & escaped the house at last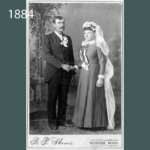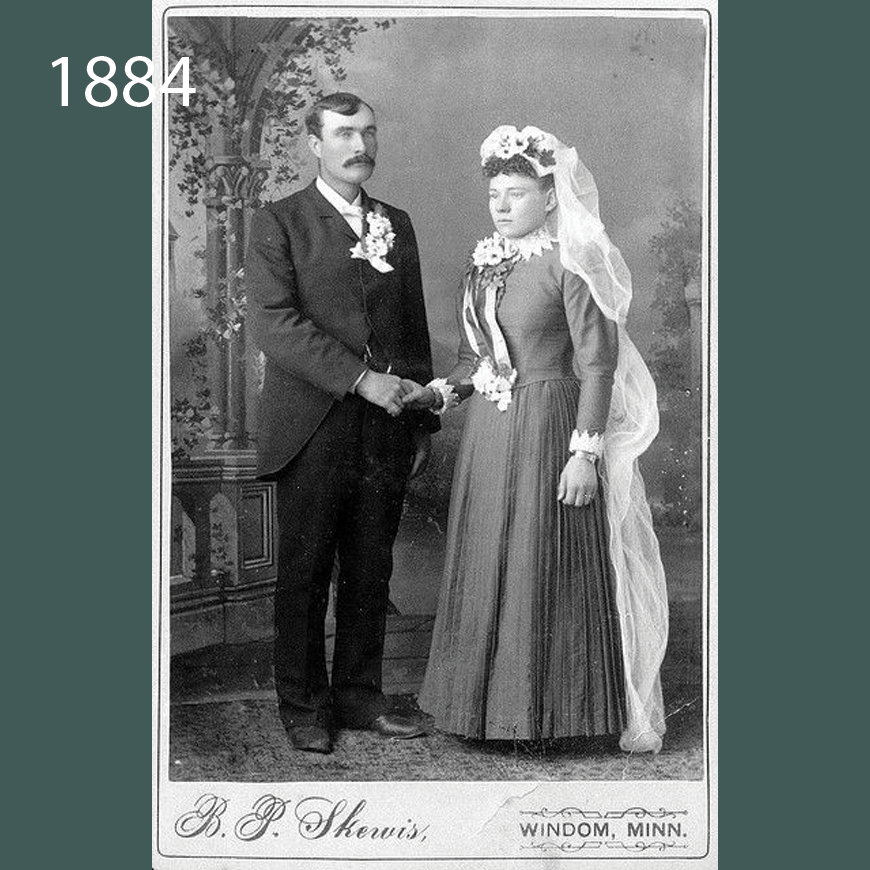 1840-1914 (The American West) – "Pioneer Spirit": starting with photographic records, women who settled & worked the American frontiers influenced others worldwide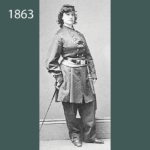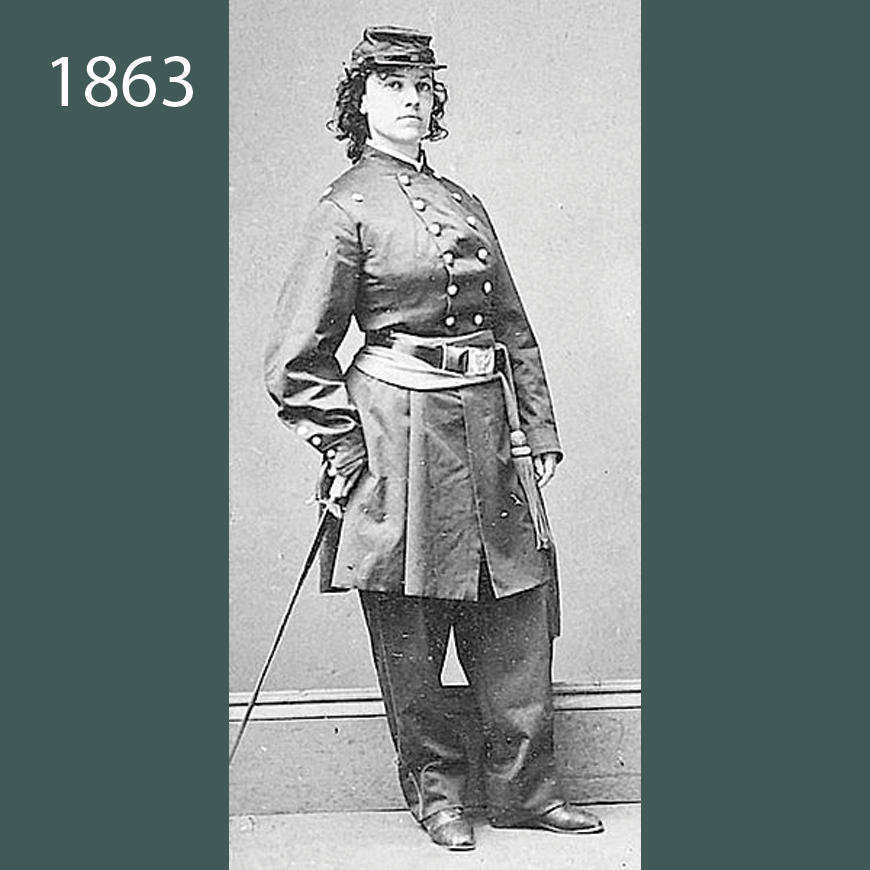 1840-1914 (American Notables) – "The American Spirit": apart from European & world influences, unique American women were a force unto themselves who played a different part in the history of fashion due to their independent attitudes, professions, & styles
Also – be sure to CHECK OUT our daily FASHION HISTORY BLOG  here & on Facebook "Silhouettes Costumes" for a tiny tale of fashion each day