The "New Woman" was a "Working Woman".  They were out of the home and into the workplace, politics, sports, and every imaginable activity.  It was the Edwardian Era, but "true Edwardians" who followed the new king hated the concept of the Working Woman.  They worked very hard a avoiding work, and their fashion reflected this leisure ambition.
High Fashion designers saw money in working and functional fashion though, and were the ones who took high fashion concepts, mixed them with the new concept of "suit" and old concepts of stealing ideas from men and military, and came up with what seems very familiar and regular today, but what was entirely innovative and original back then.
Designers improved fabrics and construction techniques, and added the 3rd piece of the "suit", which had previouslyl been a boned bodice and skirt with revers in the front which appeared to be a blousewaist (except they didn't know what a blousewaist was, so it was the revers that inspired the blouse).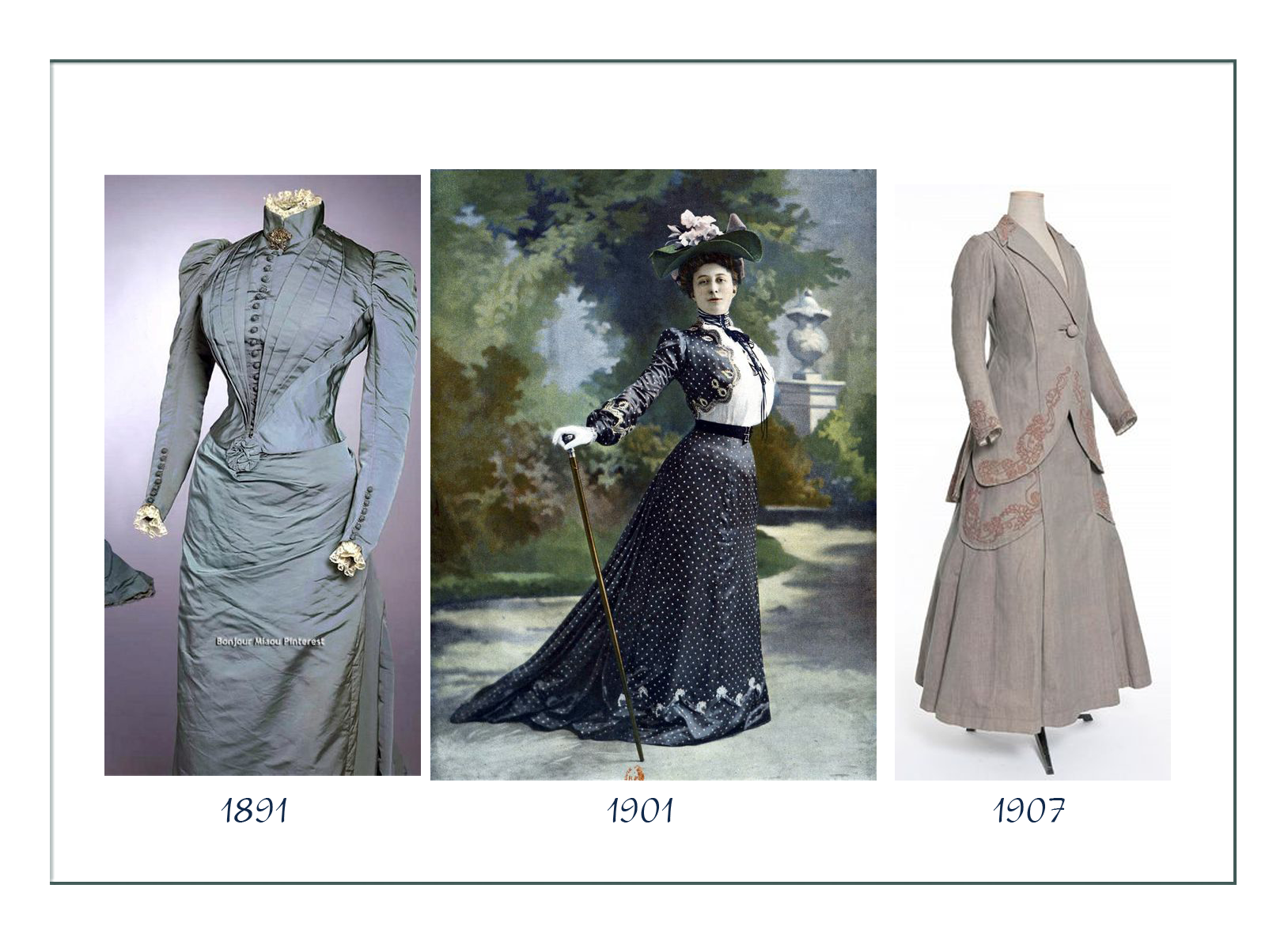 A key concept of the time was that women now could dress themselves, although they needed some skill with the changing shape of their corsets.  Corsets approaching 1900 were long and cinching – very tight.  Corsets into the 1900's were long, cinching, and intentionally creating a new shape – the Monobosum – which would eventually evolve into very long versions of what would even later become a girdle and brassiere.
The 2nd key of the time is that all women wore the same thing – perhaps more or less of it, and perhaps made of higher or lesser quality of materials.  It was a time when class disparity LOOKED the same.  There was, however, extreme class and social structure as America had become extremely diverse, and urban society in particular was multi-cultural.
There was then, the West; a world far removed emotionally from high fashion and fashionable counterparts of eastern U.S. and the rest of the world.  If the Edwardian Era of Fashion was defined as a MOOD, then Western American Edwardian was like a hosting a wild party.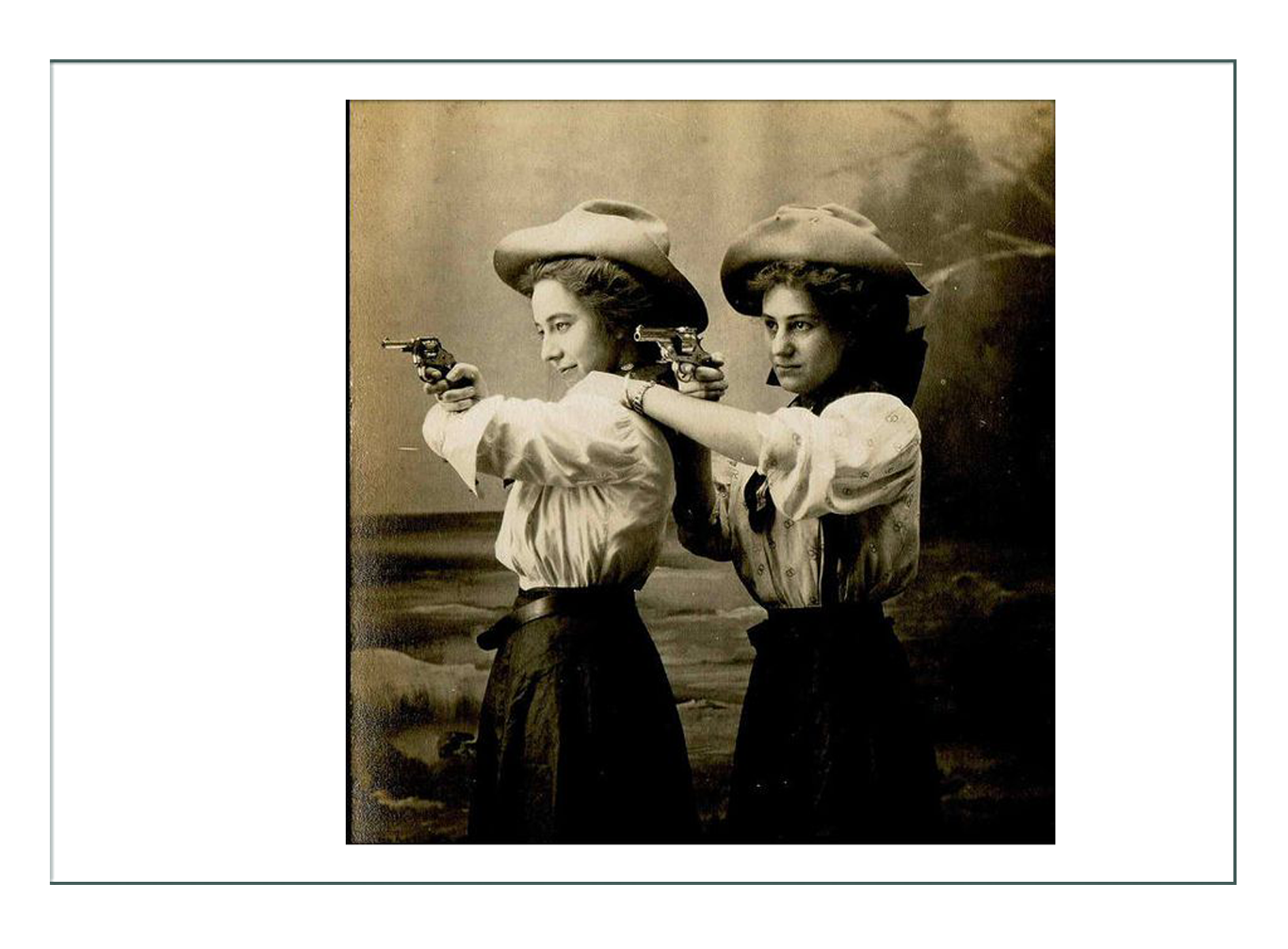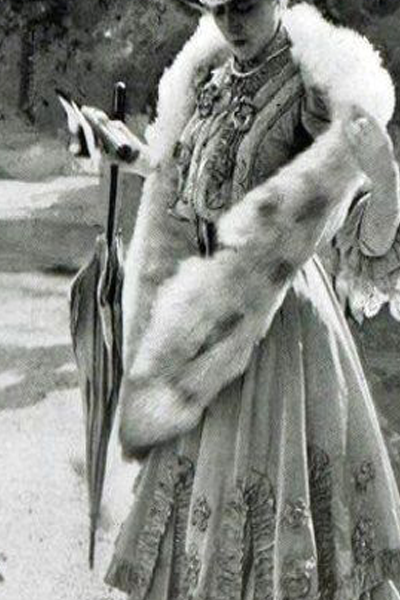 WOMEN & WORK
  By the early 1900's, more & more women were earning livings as governesses, shop assistants, & typists
  Women needed clothing to adapt to many situations & to be flexible for different activities
  The clothing industry was the 2nd largest employer of women, next to domestic service at this time
  It encompassed a wide range of jobs including dressmakers, shirt-makers, underclothing makers, milliners,  hatters, glovers, hosiers, straw bonnet makers, collar makers, tailors, pattern-makers, & shoe/boot makers
  Women also made accessories including embroidery, lace, gaiters, fur, & feathers
  In 1871 in Britain there were 300,000 women working in the clothing trades.  This number nearly doubled by 1890
  By the 1850's clothing was still in the hands of small traders such as milliners & dressmakers who were the high end of "needle employment"
  These professions continued into 1900 to exist to serve the new Edwardian lifestyle & it's demand for quality that could not be achieved through mass production
  Successful "needle women" had assistants & apprentices.  A good business woman might have a workshop or store built on to her house
  Due to the increased costs of establishing a business, & the separation of work in factories, fewer girls were going into the clothing trades as time went on, making those still working more value, yet undermining the ability of dressmakers to do quality work because they were short of help
  Millinery, for example, took 7 years of unpaid work during which time the apprentice was required to pay fees.  It was therefore always a father's decision whether to pay for his daughter to be apprenticed.  Many fathers of the time did not want to invest that much in a daughter
  Being a day-worker or journeyman in the clothing trade was not lucrative because every girl was taught to sew, & sewing was always the first resort if a woman needed to earn money
  Sewing was a convenient job a middle class woman could take up without loss of face or status
  Because of the high availability of labor, hours were excessively long & pay very low in the garment & textile industries except for those at the very top, such as the Haute Couture houses
  Upper class ladies still kept a few top quality dressmakers well employed in creating, ornamenting, mending, & altering garments
  Manufacturers of headwear did a roaring trade, selling ready-made as well as custom orders to all price points & classes
  As well as hats & bonnets, a milliner made caps, cloaks, mantles, gloves, scarves, muffs, tippets, handkerchiefs, petticoats, hoods, & capes
  During an 1834 tailor's (men's) strike, the local needlewomen took up the dropped work.  Refusing to give the work back to the tailors after the strike, the women continued as tailors, many marrying the men who then worked as their assistants
  Stays & corset making throughout all eras & situations, however, remained strictly a male enterprise due to the considerable physical strength required until equipment was invented to take on the heavy work of hand sewing
  Women who went into corsetry employed men to work for them, & typically they were family run operations

—— FASHION TRENDS ——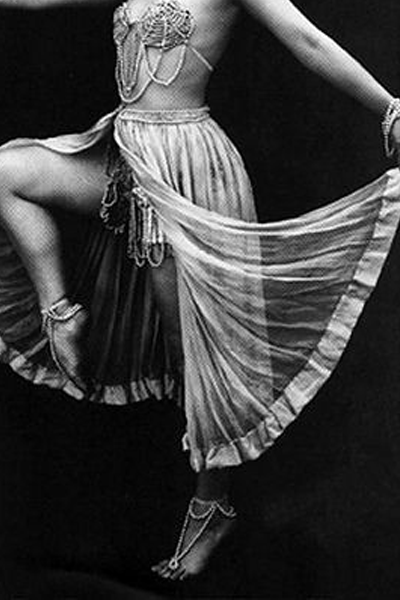 CHOOSE WORK  OR PLAY – THAT'S ALL
  This era is a part (subcategory) of the Edwardian era
  One would expect with the emancipation of women, that clothing would divide itself into work, activewear, leisure wear, & evening/formal wear as it is today
  Clothing of the 189-1914 Edwardian era realistically  divided between 1) those who worked or were active; 2) those of leisure or who didn't work
  The latter were the true "Edwardians", including the high fashions of "La Belle Epoque", "Art Nouveau", "Titanic", & "Gibson Girl" in which you could not do much more than look good
  The first, work & active wear tended to divide itself into two categories:  1) The "suit"; 2) special activities & "Reform" or "Sanitary" comfortable garments
SUITED FOR WORK – WORK WEAR
THE SUIT IS BORN TO THE WORKPLACE
  The tailored "suit" was introduced at this time
  It was first developed for yachting, but quickly became the accept work uniform
  Later versions became acceptable for leisure & social pursuits as well
  Working women found the suit a useful, all purpose outfit for the commercial workplace
  They could be made of different fabrics for different purposes, could be worn with extreme corsets (or none for the daring), had layering for seasonal comfort (all layers being socially acceptable), & were cheap & easy to obtain from mass produced sources
  A woman didn't have to have help to get dressed in a suit
  Women of all classes & occupations looked about the same wearing one.  Class distinction blurred because of suits
  For exactly the reasons many women loved them, others hated them
  Suits were thought at the time to be unladylike & masculine
  Women wore suits as a clear statement that they deserved & wanted independence
  Men hated thought suits were a challenge of their authority
  The Elizabethan elite thought the suit demeaned women in the same way work did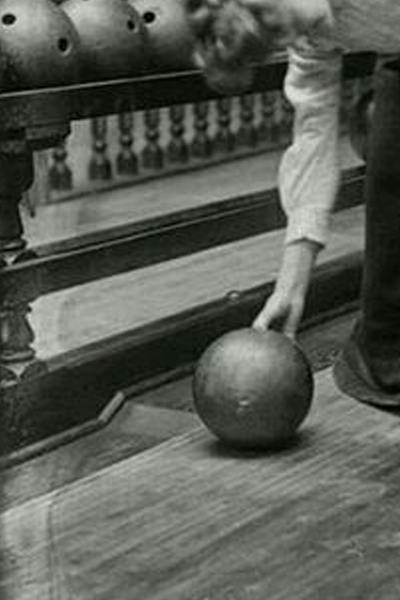 THE SUIT GETS OUT ON THE TOWN
  High Fashion houses in Paris, seeing potential sales in the direction the suit was going, modified suit design
  "Belle Epoque" designers, especially the House of Redfern who had introduced the concept for boating & riding, marketed, & made the tailored suit fashionable
  The improved the construction, fabrics, & details, giving more choice & variety
  Designers added the "shirt waist" (today's "blouse") to the design which replaced revers & chemisettes to make all of the ensemble fully functional & flexible for the situation or weather
  The "suit" with "shirt waist" added, became fashionable & popular for not only for work during the day, but also for travel, evening wear, country wear, & general daily use
  Middle & upper class women wore suits with shirt-waist blouses
  Lower classes & rural women wore suits with a basic bodice & skirt early in the era.  Later they wore just the blouse & skirt
  Suits were ideal for traveling because they were so versatile & worked well in a variety of situations from sitting on a train to meeting for tea
  Social attitudes were changing which accepted the suit to even social functions such as the theatre, but with some rules; e.g. Sarah Bernhardt, actress & theatre owner, allowed the suit as evening wear, but required men & women to remove their hats
READY MADE TO PLAY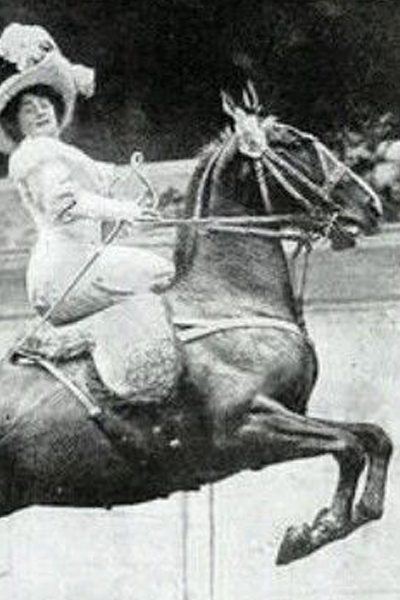 ACTIVE WEAR COMES OUT TO PLAY
  The move towards emancipation combined with the growing popularity of sport added impetus to the movement for functional fashion
  The concept of active wear had started with the "Pre-Raphaelites" & "Aesthetic" movement
  Evolution of those earlier movements & demand for rationalization or "Dress Reform" in women's clothes rose at this time under leadership of strong minded women in Germany, England, & America
  By 1915, the mindset had completely accepted activewear or "sports costumes" as they were known then
  There were two types, 1) the Amelia Bloomer "bloomer" Turque & Eastern inspired gym suits, & 2) the tailored sport suit invented by the Fashion House of Redfern in Paris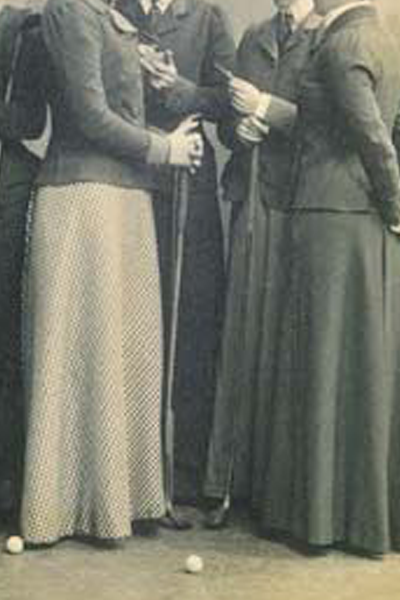 SUITED TO SPORT
  Based upon menswear & military ensembles of the day, & taking reference from menswear in history, the result of the Redfern sports suit was a tailored & 'masculine' style
  Riding habits in particular had always been masculine of necessity, & it had been acceptable for women to stray from the fashion norm of the day since the 17th century when they could sit side saddle
  Much like today's women's horsemanship "dressage" ensemble, the Redfern Riding suit had a tailored skirt that was significantly shorter than the current fashion, optional draping for side saddle, jacket/bodice with military type buttons, undervest, optional pants, & was completed with a top hat with feather
  Between 1870 & 1900, the largest spurt in the growth of women's sports for the wealthy added yachting, shooting, riding, & hunting
  Previously resigned to utilitarian wear, finely tailored dresses & suits introduced by Redfern became a craze among sporting aristocrats for everything from sailing to riding to playing cricket or croquet
  The masculine short-skirted suit  look was most apparent in those sports of yachting, shooting, & riding, in which women had been participating as equals for some time, although wearing long skirts up until now
  Sports for the middle class included many which had only been available before to the wealthy including croquet (replaced by tennis in America in the 1870's), archery, golf, hockey, & cricket
  Ice skating in winter, & roller skating in summer were acceptable forms of exercise  for all classes
  A Redfern yachting suit was the most recognizably English mode of fashion apparel of its day
  Redfern was wildly popular in the United States, & they had a store in New York City
  Redfern was really the first high end sportswear brand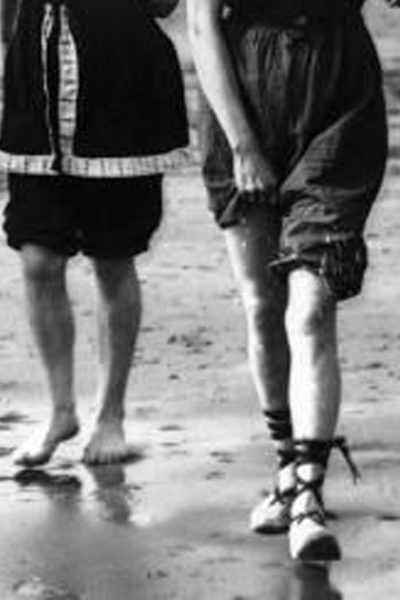 GYM SUITS & BLOOMERS
  Necessity of movement in the more active sports of cycling, tennis, golf, & similar now required more breathable, moveable designs, fabrics, & construction of garments than a suit could provide
  Specialty garments were needed for women in particular, because while they were very good at it, it was getting harder & harder to become an Olympian wearing long flowing skirts & corsets
  This meant that while beauty was admired & desired at exactly the same time per the "Cult of Beauty/Tailor Made" (discussed separately), practical clothes were the norm – meaning – most people wore simple, practical, & functional clothing
  "Bloomers" & similar loose fitting outfits with tunics & pants, had been laughed at previously.  They were now worn of necessity for movement & comfort by women in the privacy of their home & while exercising
  The influence of key designers of the era made the loose fitting garments for sport acceptable
  Designers like Poiret & Lucile were drawing from Turkish, Grecian, & other ancient civilizations to make loose garments with bloomers & tunics for their high fashion, non-active clients
  Loose fitting garments of natural, breathable fabrics, & loose or absent corsietiere was becoming acceptable in all places in society from high fashion to sanitariums & hospitals to the gym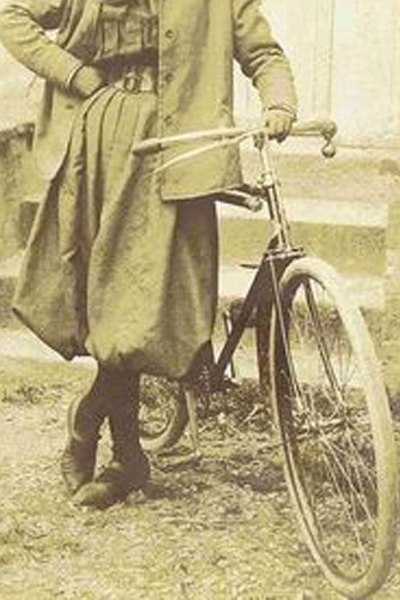 BICYCLING
  The bicycle costume began as a wool "suit" with bodice, blouse or corset cover, full corset with side gussets for movement, & a matching skirt with huge hat.
  Bicycle "suits" began to be made of lighter fabrics like cotton, & the split skirt which had already developed for riding horseback
  Bicycle costumes finally became the over tunic & bloomers Amelia had proposed almost 50 years earlier
  They evolved from the use of heavy woolen fabrics with woolen stockings into lighter weight cottons & linens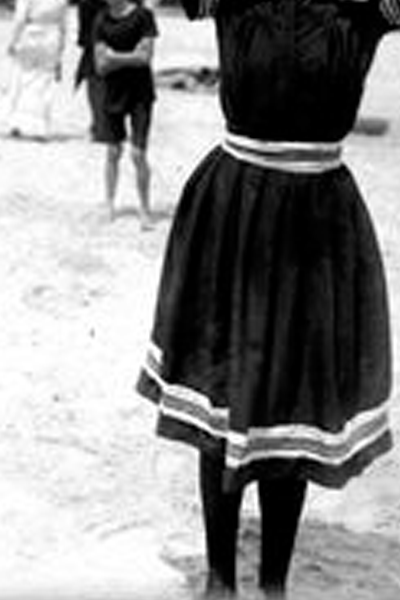 SWIMMING
  Swimming, bathing, & other seaside activities were greatly popular in the 1880's & 1890's for those who had access to water
  The wealthy traveled to seaside spots just for social class visibility, & often never got in the water, so most were happy with the early swimming suits that covered them from neck to toe
  Almost all active wear "costumes" including swimwear in the beginning were made of blue or grey wool or serge
  The heavy wool used for gym suits came from the "reform" movement & the philosophy that natural fabrics were healthier; thus people of the day assumed a swim suit made of wool must be the healthiest of all since it was next to the skin
  Real women swimmers, however, dismissed the heavy woolen "sailor suits" & appeared in public for the first time  in bathing suits made from new, lightweight knits.  They were all arrested
  Swimwear evolved much the same into what we would refer to as a "sailor suit" made of light & breathable – though stiff & figure hiding – cottons
  Swimwear eventually became more fitted to the body, & made of the newly innovated knit fabrics that could bend & stretch easily
  In 1907 Australian professional swimmer, vaudeville star, film actress, writer, & business owner Annette Kellerman wore a 1-piece knit bathing costume instead of the then-accepted pantaloons
  Annette was allowed to swim the river in London, but was arrested in Boston in the same outfit
  There is argument whether her suit had cap sleeves & tights at the time, or if she appeared nearly nude
  Ms. Kellerman introduced the sport of synchronized swimming, & appeared in movies with aquatic themes
  In a movie called "Daughter of the Gods", she was the first major actress to appear nude in a Hollywood production
  An advocate of health, fitness, & natural beauty, Annette changed women's concepts of showing their bodies in public forever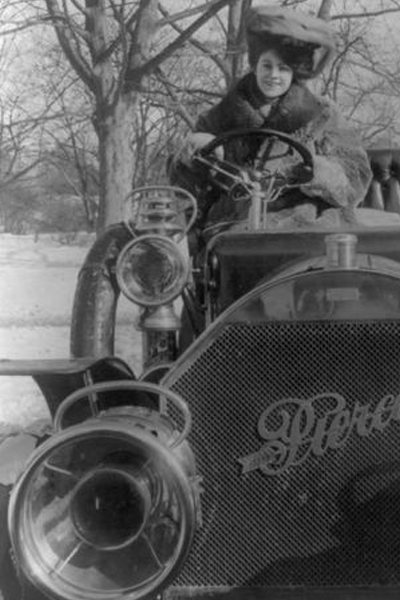 MOTORING
  Women rode in motor cars
  The automobile of 1910 could go 15 mph, so goggles were needed to keep dust out of eyes
  Boots were needed for when you broke down in the country
  Duster coats, scarves, thick veils, & protective coverings for riding in cars to keep the oil smuts off
  Loose topcoats were made of leather
  Driving coats were of specially manufactured fabrics made by companies Burberry & Aquascutum for warmth & protection in cars
  LL Bean introduced rubber boots with leather uppers for active wear in 1912

—— SPECIFIC FASHIONS ——
THE SILHOUETTE
  By the 1890's & until 1910, the gored skirt looked more tailored & matched the jacket style which followed the changing silhouette of the time
  In 1895 in particular, the tiny sashed or belted waist was balanced out above by giant sleeve heads, & below by a simple flaring skirt
  The jacket, shirt-waist, & skirt would evolve into "waist-less" straight garments by 1914
  The concept of the jacket, skirt, blouse/shirt-waist, belt & well-tailored lapels & details would remain despite changes in the silhouette or line of each era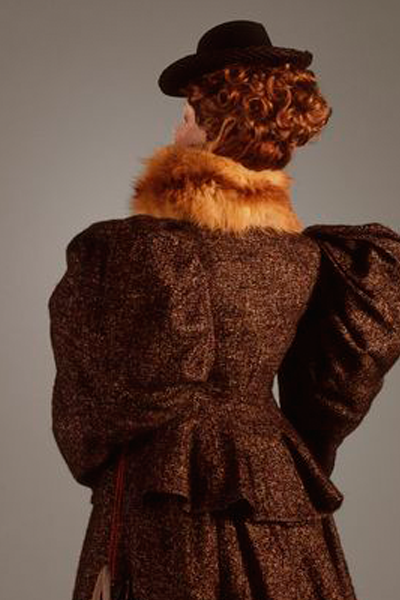 JACKETS
  Initially , in the 1880's a "suit" jacket was tailored & worn with a draped bustle skirt
  The English tailors Redfern had taken the concept of the 2-part ensemble with fitted bodice & skirt, & made it into amore uniform look
  "Suit" in the beginning typically meant a fitted bodice which followed the silhouette of the day, above a matching skirt which also had the profile of the day
  The total ensemble of Redfern's "Tailor-Made" suit came to mean a coat & skirt, worn with a blouse in the 1890's to 1900
  Early suits could have matching or contrasting fabrics for skirt & jacket
  They did not create an overall image, but still looked like a dress with jacket
  The longer line of the jacket continued to be developed as time went on
  This long, powerful line distinguished the suits of the day from previous & later versions
  Later the skirt always matched the jacket, & it made one long visual line
  The jacket profile became straighter & less waisted towards 1910
  The short bolero, worn instead of the full jacket, was popular in Western & Southern US regions
  Boleros were short sleeveless & collarless vests that covered the top of the torso down to only about the ribcage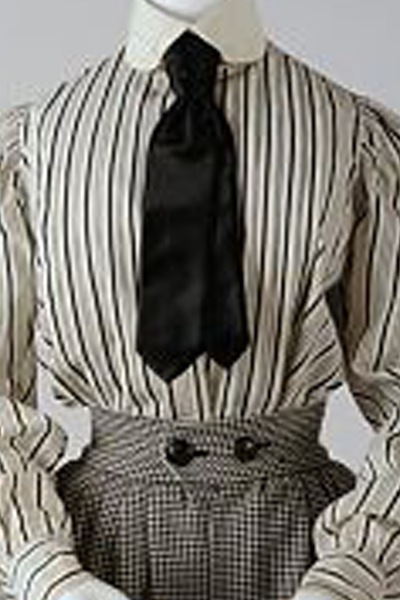 SHIRT WAISTS & BLOUSES
  The "shirt waist" was an invention of multiple fashion houses, & evolved from the "corset cover" which was a sleeveless or short sleeved blouse that was often seen on the outside of the garment
  The "shirt waist" in contrast to the tailored, thicker, & often darker in color suit was always of a light, gauzy fabric
   Lawn, voile, handkerchief linen, or silk or taffeta for dress occasions were favorite fabrics for "shirt waists"
  "Revers" & chemisettes, worn in previous eras & through this era, were like false fronts of a blouse.  These were worn with the first suits, & preceded the full "shirt waist" (later called blouse) concept
  "Shirt waists" followed the profile & silhouette of the day
   In the 1880's to '90's they had multiple tucks down the front with rows of buttons which ended in a standing collar
  1890 to 1900 saw the blouses loosen significantly so they were more gathered at a smaller standing collared neck.  The fullness would expand towards the waist, where a wide belt or sash would gather it in to the stylish below waist profile
  Consistent with Edwardian style, many "shirt waists" for suits around 1900 were very lacy & ornamented with ruffles, pleats, tucks, & pearl buttons
  As the 1910 style evolved into the long waisted & long corseted look, the suit "shirt waist" followed the same line
  These were of the same light & gauzy fabrics as the dresses, & many were of beautiful colors in silks & cottons, as well as the new synthetic fabrics
  "Shirt waists" of the 1910-1914 period were often of woven or printed patterns worn under a plain but beautifully richly colored suit jacket with skirt
  Asian and Eastern influences which had affected fabrics & patterns of "Art Nouveau" & "La Belle Epoque" were seen in the lovely loose draping & colors of the "shirt waist" of this later period
  Removable collars & cuffs had been worn throughout the Edwardian period.  They were not necessary after the "shirt waist" replaced them as an entire blouse garment with its own collar & cuffs
  Necklines were consistent with the dress necklines.  At first they were buttoned with high collars
  As necklines dropped to the "V" and square or rounded shape for the dress, they also did for the "shirt waist"
  Eventually sportswear such as tennis dresses would replace the suited "shirt waist" to become the entire tunic dress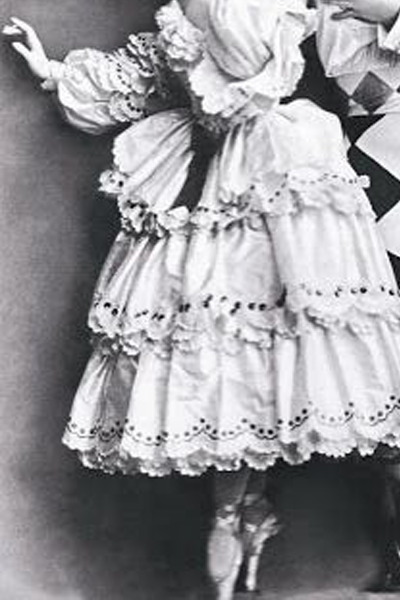 UNDERGARMENTS
PETTICOATS, CORSETS, & BRASSIERES
  In 1902 it was considered vulgar to hear your petticoat, but at last it was permitted to be SEEN
  Petticoats were worn less & less from 1899 to 1914 in favor of underlinings, double fabrics, & long corsets
  The growing interest of women for sports & women entering the work force made comfortable, moveable, & breathable clothing necessary for all classes
  Designers responded to women's increased activity by modifying clothing design plus production techniques in both custom & mass production
  The corset industry in particular responded by creating multiple types of corsets for specific needs & for specific body types
  Even corsets being mass produced had a large variety of shapes, purposes, sizes, & modifications to meet individual needs
  Catalog corset sales were a BIG business
  There were many, many corsets available of every type for every activity from active sports & special riding or health corsets, to handmade boudoir silks worn by performers (with nothing else) on stage
  By 1909 beneath the new straight gowns, women wore corsets that began under the bust & extended well down over the hips
  The fashion objective starting in about 1904 & with momentum in 1909 was a long, columnar line, so corsetry was less focused on restricting the waist & more on smoothing the hip
  The new everyday undergarment became the "brassiere", with an era of relative freedom from understructure until the rubber girdle
  "Bust bodices" or "brassieres" supported the bust for those who did not wear a corset
   In 1910, early Brassieres looked somewhat like corset covers – sleeveless, white cotton garments that ended anywhere between the bottom of the bust & the waist
  They could be boned or unboned, depending on the amount of support needed
  These provided a soft foundation that could go higher than the Edwardian monobosum, but still lower than our modern silhouette
DRAWERS & CHEMISE COMBINATIONS
  Undergarments for activewear were much the same as for fashion
  Suit undergarments were the same as per the fashion silhoutte of the day
  Specialty activewear would have a modified version of chemise, drawers, or combination
  Activewear, other than suits, did not typically wear a petticoat
  Drawers & chemises were combined in 1877 & called "combinations
  By 1890 the chemise & drawers were replaced by combinations entirely, because they reduced bulk around the waist where women were aiming for a completely smooth line from chest to knee
  A combination was a camisole with attached knee or calf length drawers
  Combinations were worn under the corset, bustle, & petticoat
  Woolen combinations were recommended at the time for health, especially when engaging in fashionable sports
  The old knickers persisted; sometimes in wool or even chamois leather for sports
  Both new & old styles of knickers fastened in the back or at the sides with 1-2 plackets, or with a falling back flap which buttoned at the waistband
  As with ordinary drawers, the combination or one-piece left the crotch seam open
  Flap-fastening drawers were closed at the crotch seam under sporting costumes
  Combinations were worn even under swimwear until 1907 when they swimwear was made of tight knits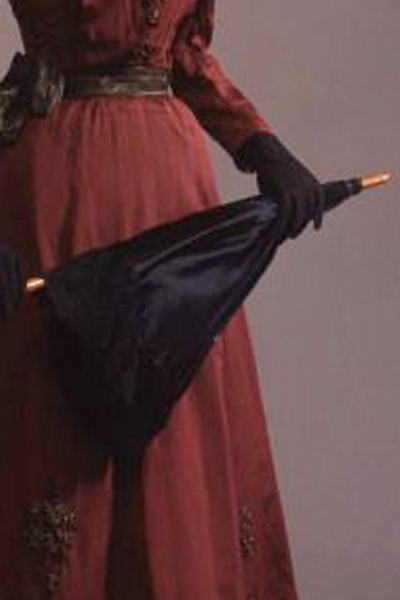 FABRICS & COLORS
  Early traveling & work wear suits were in cottons, wools, & especially wool serge
  Designers added more fabric choices & colors quickly in response to demand for traveling suits
  "Tailor-Made" suits were ideal for traveling, & became more versatile, so more fabric choices were added
  Heavier fabrics like tweeds & serge became popular for every day work or wear in the country
  Further innovations & variety of fabric & design were added to make suits "suited" for formal affairs like weddings
  Heavier fabrics like wool, tweed & serge were expanded upon using lighter weaves for suits worn for everyday work or wear in the country
  Higher end suits might be blends of natural fibers such as cashmere
  The new synthetic dyes could be used, but the natural fibers lent themselves well to natural dyes, so colors tended to be more "natural" than what was being used in light gowns & other types of day wear
  Suits of the 1870's into the '80's favored lighter colors of beige, tan, light gray, & a variety of greens & blues
  Suits of the 1880's into 1900 were much darker & included blacks & grays, dark browns, deep olives, dark burgundies, & shades of navy or teal blue
  Suits were especially darker & heavier overall in appearance than all the other Edwardian & "Belle Epoque" trends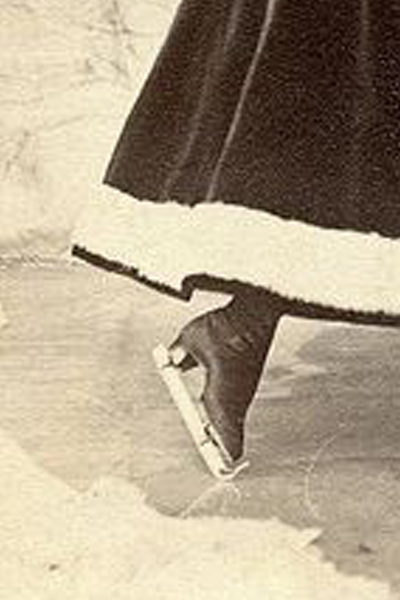 AND SO/SEW FORTH
  Collars & cuffs were still used, although with the introduction of the "shirt waist", they became redundant
  Belts were either straight or had a slight V at the center front pointing down
  Belts were made of leather, or of a contrasting fabric, often black or brown
  Washable kid gloves were worn everywhere
  Suede & silk embroidered gloves were worn for formal occasions
  Ladies carried little money as goods were always charged to accounts & minimal make up was used, so they didn't need large handbags
  Small dainty decorative bags with a strap that hung from the wrist were sometimes used, but never handbags
 In 1913, women were finally allowed to have integrated pockets in their clothing (all prior history pockets were attached or hung on the body)

The character being researched and developed is a working woman by choice.  She comes from a rural family who had been established for 2 generations already, and had some means to provide.  She would have been subsidized in part and supported from the folks back home.
Being "upwardly mobile", as in wanting to rise in her profession, prove herself capable, and eventually become a published author, she would be very aware of the most current fashions, and very likely could afford them.  Whether she would or not is a different matter.  Many conservative women would save their money and keep their clothing very basic and functional in this situation.  Others would splurge now and then – to go to a social event or to meet and greet politically.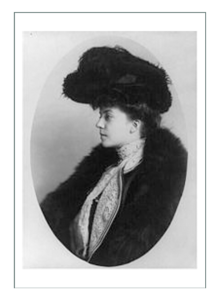 Bailey has made the decision that her character is the latter type – while at work it is "function first".  While networking for jobs or status, or trying to break into the men's world, she would be very fashion conscious and splurge as needed to accomplish the goal at hand.
It is necessary to dig a bit deeper into which elements of the high fashion of the day Bailey might draw upon in her regular daily working mode, and then what she might do to embellish.
<;i>  This is her "working ensemble" – not an evening, performance, or meeting ensemble.</;i>
 It will be based upon high fashion, but will have "function first".
This means it must match the most current silhouette of the day,
with correct undergarments.
It means it must be durably made with good quality materials,
but most likely mass produced.
In other words, this is a "working middle class" ensemble.

As explained above, high fashion of the day had a unique, curvaceous, and voluptuous silhouette.  This included padding out where one was small, and cinching in where one was large.  It meant frills and fluffs and HATS.  Following are real women of high fashion of 1900-1903, illustrating the ideal silhouette, quality of goods, type of "mood" and attitude of the "New Woman" who wore high fashion: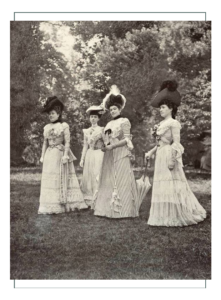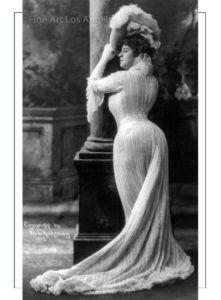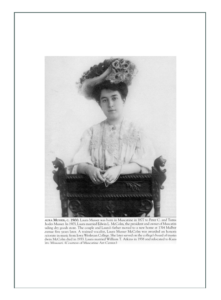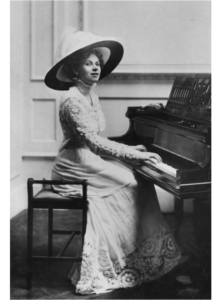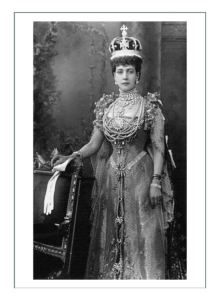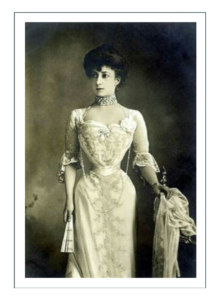 High Fashion Ideals
Fashion as created by European designers, worn and modeled by European royals and nobility, and American companies which picked up the concepts and marketed them well, made up High Fashion of the day.  Beautiful ads in periodicals and catalogs enticed American women even in sport and play and work to adhere to the ideal silhouette, fabrc, color, and ornament of high fashion not matter what they were doing.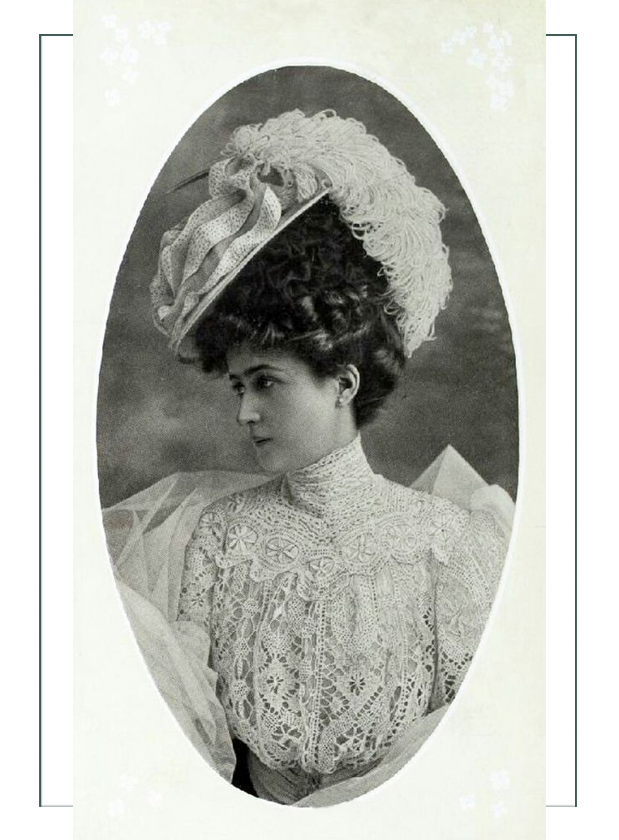 Due to fast transportation and communication with telephones, telegraphs, motorcars and fast ships (and soon to be airplanes), American women had information about the latest fashion from and to anywhere in the world by 1902.  Note in particular in these advertisements the color and textural schemes specific to the time right at 1900.  This was new from the blander khakis, grays, and light colors and higher contrasting trims from before, and were more saturated and deeper in color than what would come which would feature almost exclusive white and light pastels with lace and frills.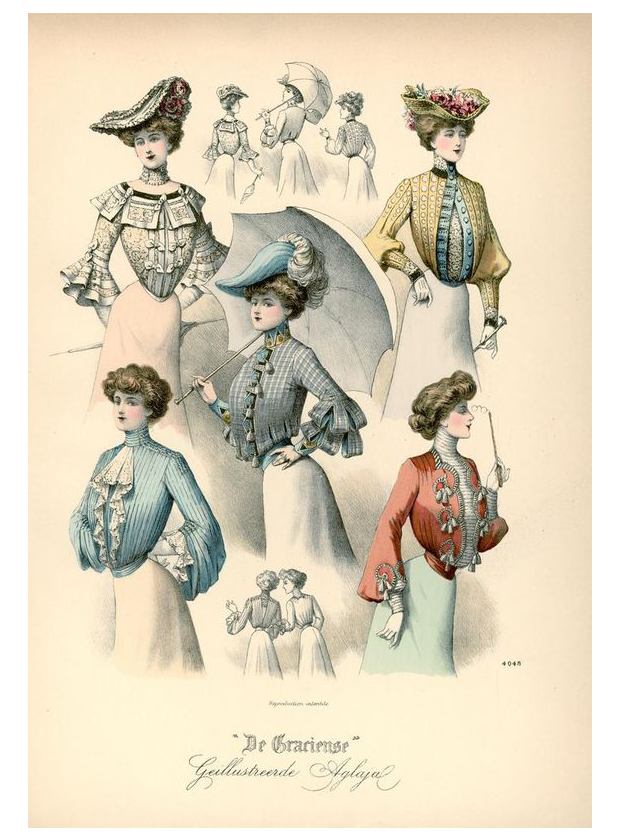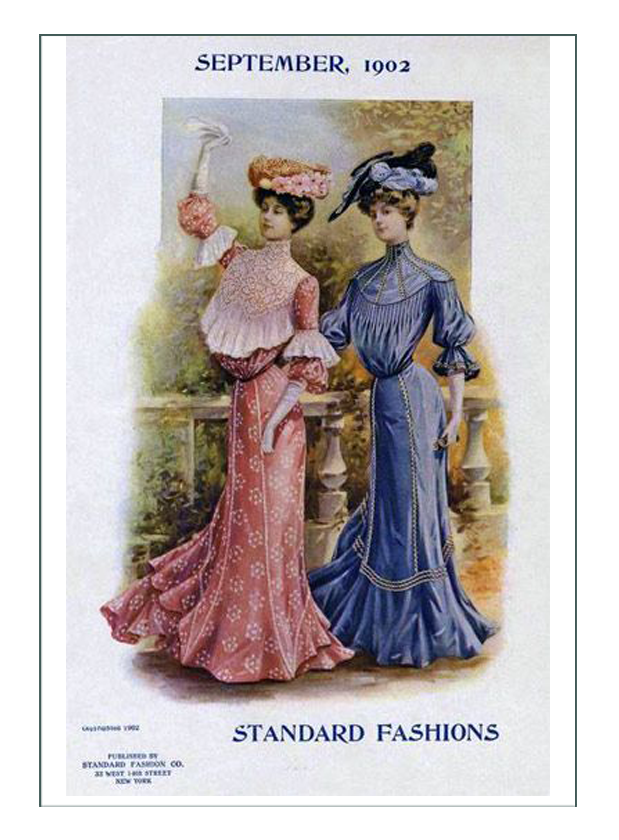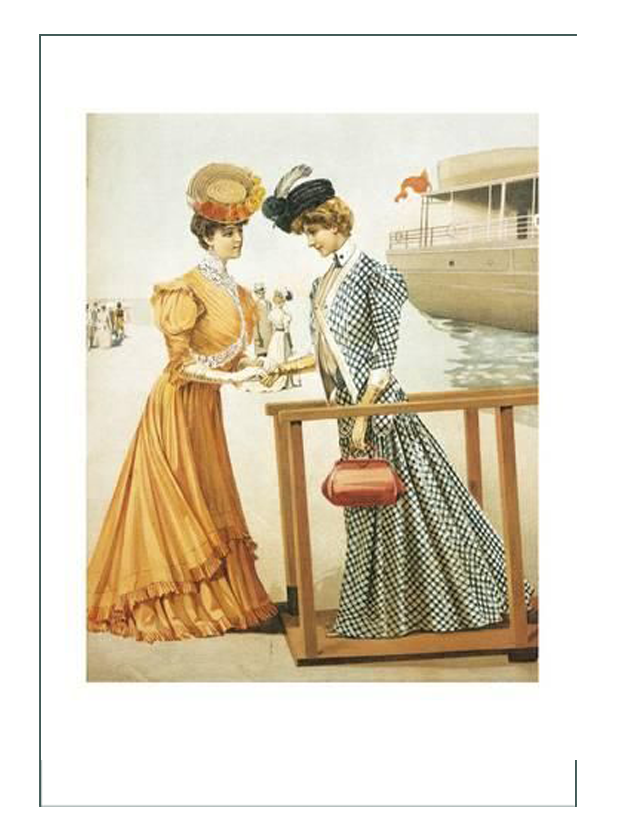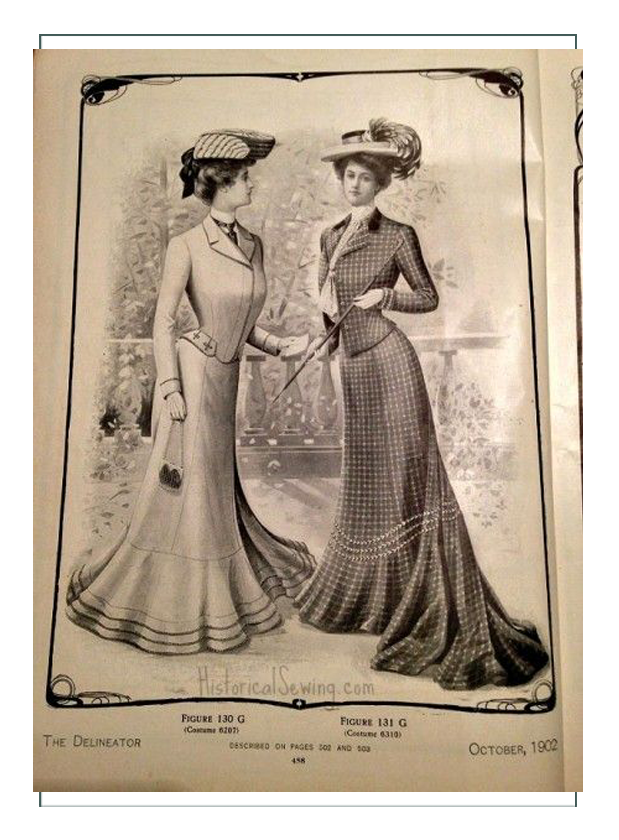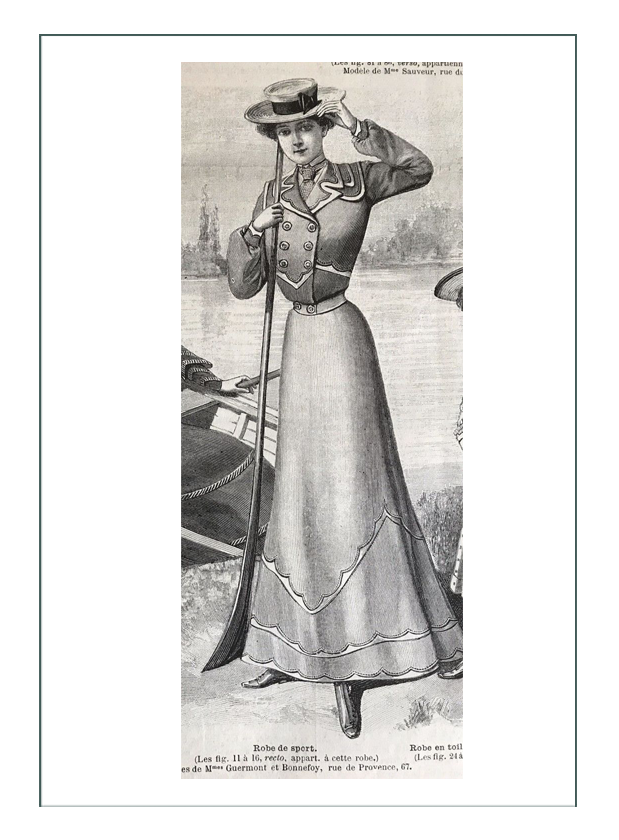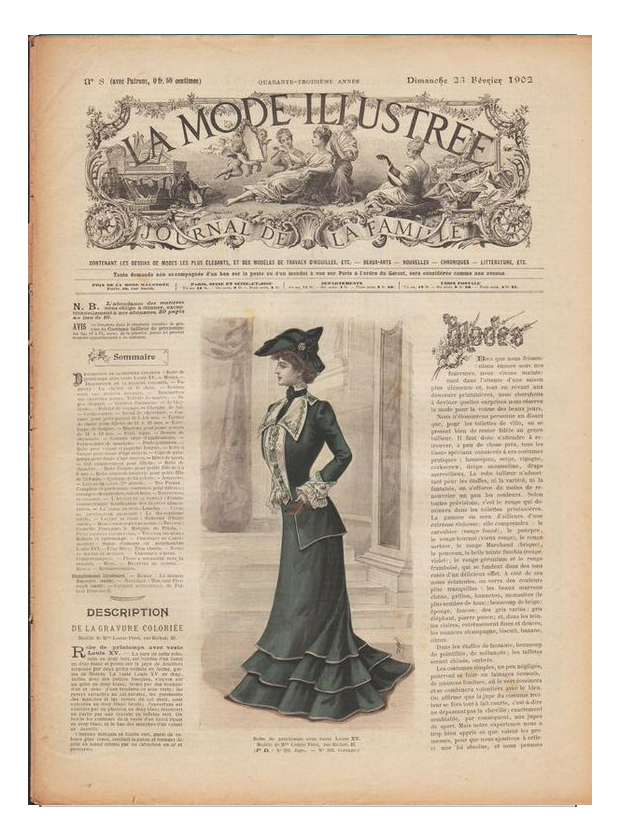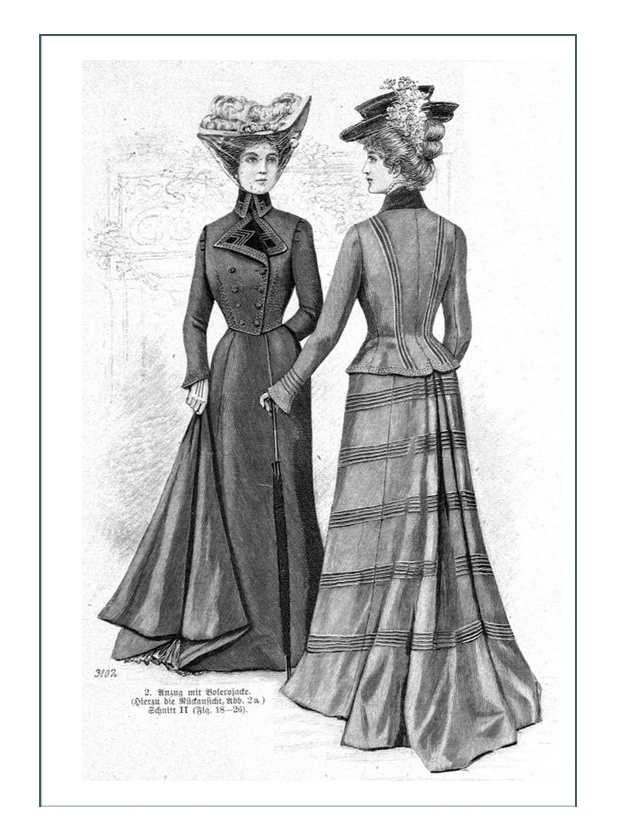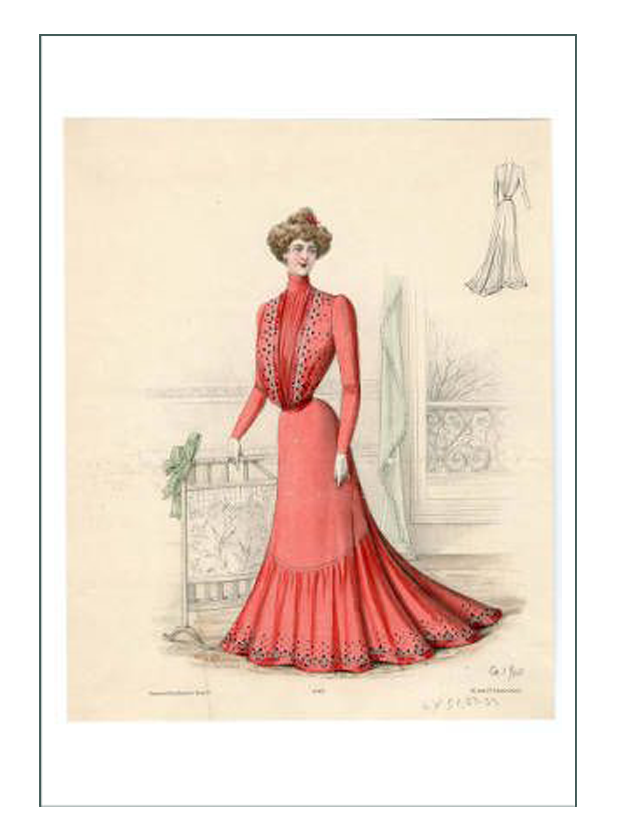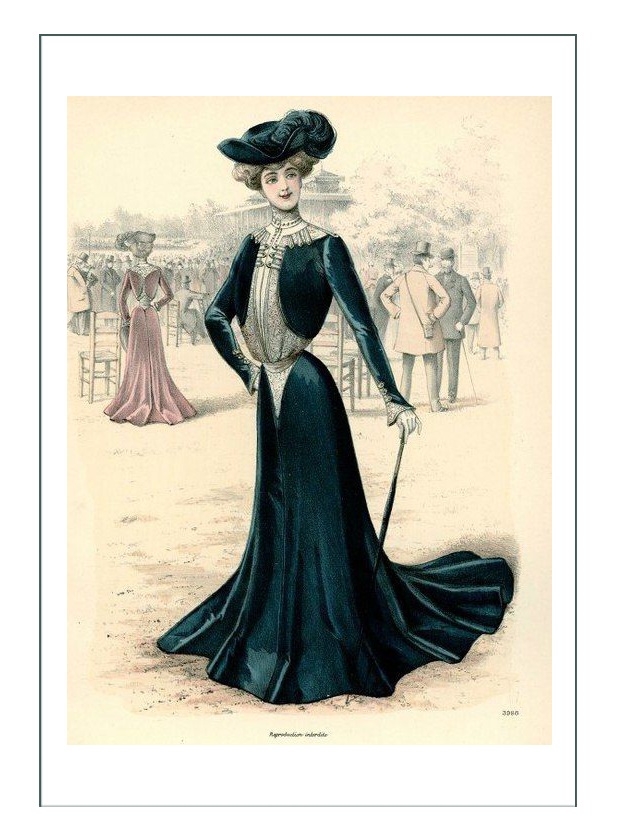 Real extant high fashion garments of the day have similar silhouette, but a vast variety in fabric, texture, visual weight, and ornament.  This also varied depending on place and purpose.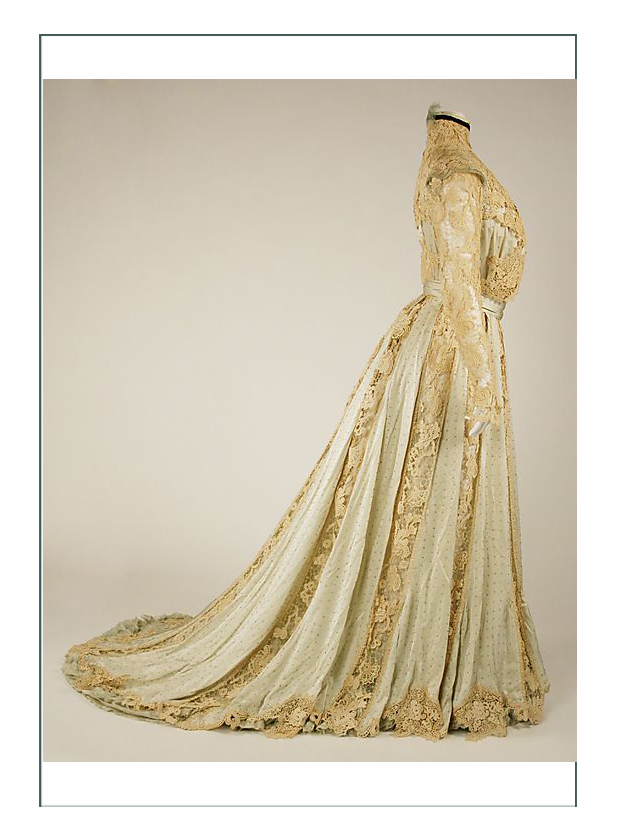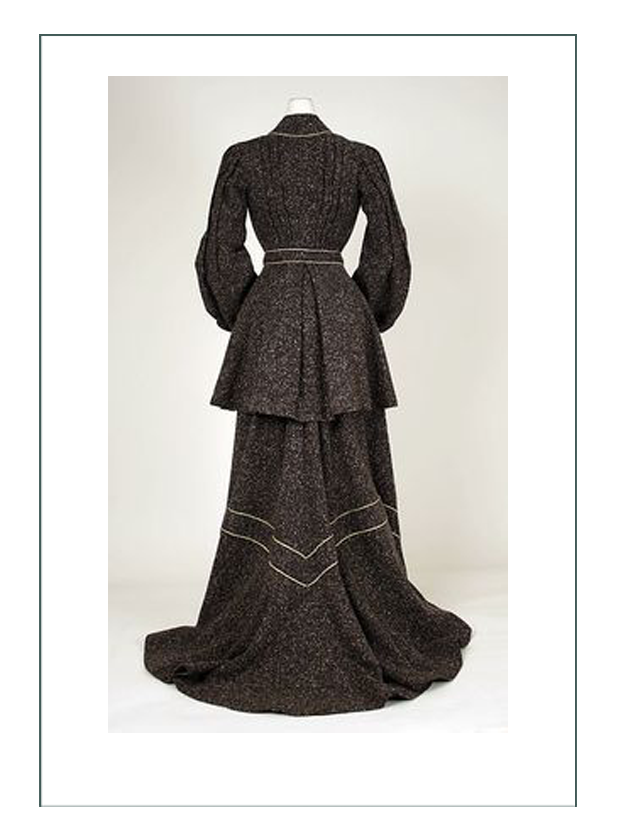 High Fashion of European designers was translated by American designers, re-interpreted for the working woman (including rural adapation), and had to undergo yet another morphisis when it made the jump west on the train or wagon to settle what was indeed still in 1902 "The Wild West".  Since Bailey's character enjoys and knows about high fashion, works in the biggest city in Wyoming, is in politics, and has a bit of expendable income, she would be closer to fashion of the day than others in her situation.
It is first necessary to understand how she and her peers would have gotten there, which will describe what she knew about and why she would choose the ensemble in development.
—— WESTERN SETTLEMENT & FASHION ——
Native Americans & ancient tribes lived on the North American continent long before European & eventually others from around the world emigrated to the continent to build what would become the United States of America.  The Mayflower brought the Puritans in the 1640's.
The next "wave" of immigrant women into America was in the early 1700's – more specifically the 1730's-1740's during political & economical strife in Scotland & England.  The English, holding "ownership" of the American colonies at the time, predominated settlement in the east.  For this reason, most early women settlers & immigrants were of European descent.
There were two subsequent large European migrations after that; the first to the east coast, & the second of more direct affect to settlement of the "West".   In the 1880's women from Germany & the Netherlands came down the Great Lakes to land in what is now Chicago.  Some went south towards Missouri & Kentucky, but most settled nearby in the Midwest.
Midwesterners from what is now Michigan, Wisconsin, Minnesota, Iowa, & Illinois were among the great numbers that continued to move on westward in the 1880's & early 1900's.  By 1862 when the first Homestead Act offered 160 acres in what would become Montana & Wyoming to anyone who would live there for 3 years, people jumped at the chance whether they knew anything about ranching or not.  Iowa had run out of farmland for their 3rd or 4th sons.  By 1910, when the government offered 320 acres instead, settlement began in earnest (& in Wyoming).
It was at about that same 1870-1910 time period that religious groups such as the Mormons traveled West.  Many of these groups, including the Irish & Chinese who came to work on the railroads, were often staying temporarily or just moving through the West to get to California & Pacific coastal regions.  Those of many different cultures did stay, although documentation of their influence on fashion is difficult to find.
When history talks about "Old West", it refers to geographical regions west of the Mississippi River, north to the Canada border, south to Mexico, & west to the Rocky Mountains.  Nebraska, Kansas, the Dakotas & anything west of the Mississippi River was still considered to be the"Old West" or the "Wild West".  Iowa & Missouri, sitting on the Mississippi, were "West" too.
There were relatively few women of European descent west of the Mississippi prior to the 1830's that can be tracked for fashion trends, & assumption can be made that in the years 1840-1914, women were predominantly of European descent, regardless of skin color.  Until the common usage of the camera in the late 1840's, little was recorded of what women were doing (& wearing) from the Mississippi westward.
"West" seems to mean the legends & tales of the time from 1840-1915 – from when the first Europeans arrived in some force to the advent of World War I.  It's considered to have been the time & place of cattle, outlaws, trains, & bordellos. The challenge is to get behind that to find out what real & "regular" people were doing & wearing.
The only firmly recorded history seems to be of of prostitutes & fallen women who fell on the profession of necessity to survive, or followed the gold rush of 1849.  There is record of outlaws & cattle women, but usually in papers outlining something terrible that happened.  Land records of Homesteading & business ownership document some facts.  Mostly, we must rely on verbal stories, legends, diaries, periodicals, or artifacts to under the lives – and clothing – of the pioneer women of the 1840's to 1860's before the railroad became the means of crossing the country in the 1870's.
For purposes of our depictions we begin with the advent of the camera in 1840.  Prior to that, we must make assumptions based on paintings & sketches of artists who explored the West, or draw conclusions based on observations about history & emigration; the movement of ideas & materials from one place to another.
——  FEW FACTS & A LOT OF FIGURING ——
Fashion of the Old West is based on (in this order):  real articles of clothing, photographs, portraits, paintings by Western artists, sketches, journals such as explorers or land records, obituaries, diaries, newspapers, magazines, notes in Bibles property ownership records, word of mouth, stories, & legends.  Some, like the record of how many dresses a woman left in her will, are accurate.  Others, like the story handed down by your great-grandmother or the story of Calamity Jane & General Custer, have to be interpreted.
Design & depiction of fashion of Western America fashion must put all those odds & ends together, along with what is known about influences, environment, availability, attitudes, culture, values, & assumptions about the person or people being studied & depicted.  There are whole professions, notably Anthropology, which study these factors.  Yet other professionals such as Museum Curators spend whole lifetimes gathering & studying the clues of fashion.
For our purposes for depiction, we must trust the research of those professionals, & draw the best conclusions we can based on which facts are known, but add Grandma's stories to breathe life into our depictions.  Our projects will assume fashion for depiction is based on one of the factors below.

A)  Fashion and/or the concept of fashion of the day was physically carried from the east coast (originating from the same influences as Easterners), & then modified or adapted to suit the culture, time, place, or activity;
This starts with the assumption whatever the current trend of the east is being carried west, & will focus on those factors which would cause them to be modified; e.g. materials, patterns, or communication unavailable;
It means fashion will almost always be 1 or 2 years out of style compared to the east;
Designs based on this assumption will end up being modifications of whatever was in style in the east a couple of years prior to the depiction.
B) Clothing was origined out of local materials; e.g. furs, leathers, & therefore based on the same influences as men's fashion such as evolution of the cowboy ensemble, almost strictly for function;
These projects will be researched & developed per project by specific region, working with our subcontractors who specialize in indigenous materials;
The American Cowgirl in particular demands research into male clothing & its adaptation for women.
C) Fashion design & clothing was a combination of above; e.g. western innovations like denim jeans which arise out of functional need; yet using modern technology of fabric, dye, & production that comes from the east which combines local availability of fur, skin, or locally made fabrics or materials (such as spun or woven yarn) with those of mass production or import;
This will be the result of very specific character of research, since it combines extensive historical data as to fashion of the day PLUS the specific geographic region including all aspects of the time & place;
It cannot be generalized.
D) Design & construction of garments comes of native, ancient civilization inspiration, influence, or actual use;
Silhouettes intentionally choses not to develop "D", as the world of ancient & Indian cultures is vast & complex, &       can take a lifetime, although influences of such will be considered with characters where that is pertinent;
We will refer customers to appropriate professionals who can help them with this.

—— WYOMING – REPRESENTATIVE OF THE WEST ——
Because the history & settlement, & therefore women's fashion of the American West is as vast & wide in concept as it is in miles of mountains, lakes, & prairies, we will focus on Wyoming as our prototype for costume development.  Wyoming is the icon of the Old West; the standard by which settlement of the western US is gauged.
A STATE OF EQUALITY

Wyoming was also the first place in the entire world where women finally gained full emancipation, & therefore represents the summation of all the eras around the world that we have been studying.  It was here that over 200 years of gradual reform & activism by women around the world came to fruition quickly & of necessity in typical Wyoming style which doesn't "beat around the bush".
Wyoming is called "The Equality State" because immediately at its establishment  as a territory in 1868, women had the right to vote.  When it became a state in 1890, women still had the right to vote, long before other states like Illinois had to be forced to comply with the 19th amendment in 1920.
The Wyoming territory was defined in 1848, & was established officially in 1868 as trade agreement following the Mexican-American War, & according to treaties over the period 1832-1890 with indigenous tribes of Arapaho, Bannock, Blackfeet, Cheyenne, Crow, Gros Ventre, Kowa, Nez Perce, Sioux, Shoshone, & Ute whose influence & presence remains today.
A Wyoming pioneer is considered anyone who emigrated into the territory between 1868 & when the state entered the union in 1890, & as recorded by the 1870 & 1880 US census and/or land ownership records.
TRANSPORTATION CENTRAL
The many pioneer trails including the Oregon, California, & Mormon Trails passed through the lower half of the state.  The Mormon Trail, established in the 1830's along the south of the state saws 350,000 emigrants traveling on it by 1847.  By 1851, the southern parts of the state had become populated with pioneers.
When the first Transcontinental Union Pacific Railroad reached Cheyenne, WY in 1867, the state started to be populated.  The Branch spurs northwards to the ranching & coal mining areas of the north took many pioneers north, but there was never a "boom" in the settlement of the northern area. The railroad promoted settlement of the region in order to bring families, merchants, & trade so that they could handle the increased trade of goods coming from the east, & cattle going to the east.
1859 saw the development of the Bozeman & Bridger Trails when gold was found in Montana.  While the gold played out quickly, the trail became a heavily traveled route for cattle drives.
CONFLICT & SETTLEMENT
The Powder River Basin, through which the Bozeman ran was central to the state.  The area had been agreed upon by treaty between the US government & the Native Tribes to be completely left alone as it was their sacred hunting ground.  Intense & continual conflict ensued between immigrants moving in or passing through, & Natives of the region.
Treaties made at that time to settle that conflict were later broken by the new immigrants, causing yet further conflict between Natives & settlers in 1876 on the Montana & Wyoming border to the north.  Many forts were established at this time at locations of trading posts to interface the conflict.
The Homestead Act of 1862, which gave 160 acres of land free to anyone who would live on it for a continuous 3 years, brought settlers from the east.  Many were teachers or merchants, & did not know what they were doing.  The huge ranches that had already been established had claimed general rights to open grazing, & these ranchers did not like the small farmers & ranchers using their water resources.
From 1889 to 1893, the large ranchers organized into a political force to drive the small settlers out.  The US cavalry was brought in to settle the disputes, but much Wild West history of movie & literature depiction was made of this era.
The 1860's to 1900 were known as a time of outlaws.  Notables were Butch Cassidy, Harry Longabaugh, & the Hole In The Wall Gang.  Many of Wyoming's Notable Women were a part of the outlaw world, yet many more were on the opposite side of lawlessness.

Mixing High Fashion with Working Fashion with Western Fashion – a Challenge
Bailey's character is a woman who was born and raised in the rural West, who moves to the Big City of Cheyenne to earn a living as  a secretary, while pursuing her secret dream of becoming a published author.  The character crosses over rural, Western, urban, and Eastern concepts of fashion to come up with what would be typical of the "New Woman" of the age – a single, independent, self-maintaining woman in the work force.  In this case, she is also a woman in the city, politics, and at the hub of communication and industry for the West.
Cheyenne being the most wealthy city in the nation per capita at the time means she would earn a fair wage, have knowledge and access to current fashion, and would be able to afford it.  She would be living with a family most likely and commuting; self dressing without a maid, and needing sheer function – her ensemble would be "function first with fashion at the front".  For this we need a brief study of how Western Fashion came from Eastern Fashion, and then was reinterpreted AGAIN for the independent and strong minded working woman.. who was very young by today's standards to be on her own.

Above we saw illustrated high fashion and "suits" of 1902.  We have been discussing the factors that took high fashion to rural fashion to working fashion – and then to Western Urban Working Fashion.  First are examples of working women from across the country in 1899-1903.  Note the similar silhouette, design, and concepts to high fashion.  The main differences you will note are:
*  lesser quality fabrics
simpler design lines
same silhouettes but without trains and extras
hats simpler, cleaner, cheaper materials and design
footwear not the latest style
belts, belts belts
always a modified 2 or 3 piece "suit"; 3 piece reserved for dress up it seems
full skirts; gored skirts
neck ties – not ascots or frills – but men's ties
simple hair – not piled up like the Dames or Gibson Girls of the day
they look comfortable
front lacing, buttoning, or hooking – easy to get into by one's self
the line between work apparel and sports apparel is blurred.. classes are blurred – can you tell which of these women is of royal blood?  Which has  great wealth?  Neither can we.  That is the point:
WORKING APPAREL BLURS THE LINES BETWEEN CLASSES AND GENDER AND BRINGS PEOPLE TOGETHER TO COMMON CAUSES OR TO ACHIEVE COMMON GOALS.  That is the point of the working Western Woman of 1902: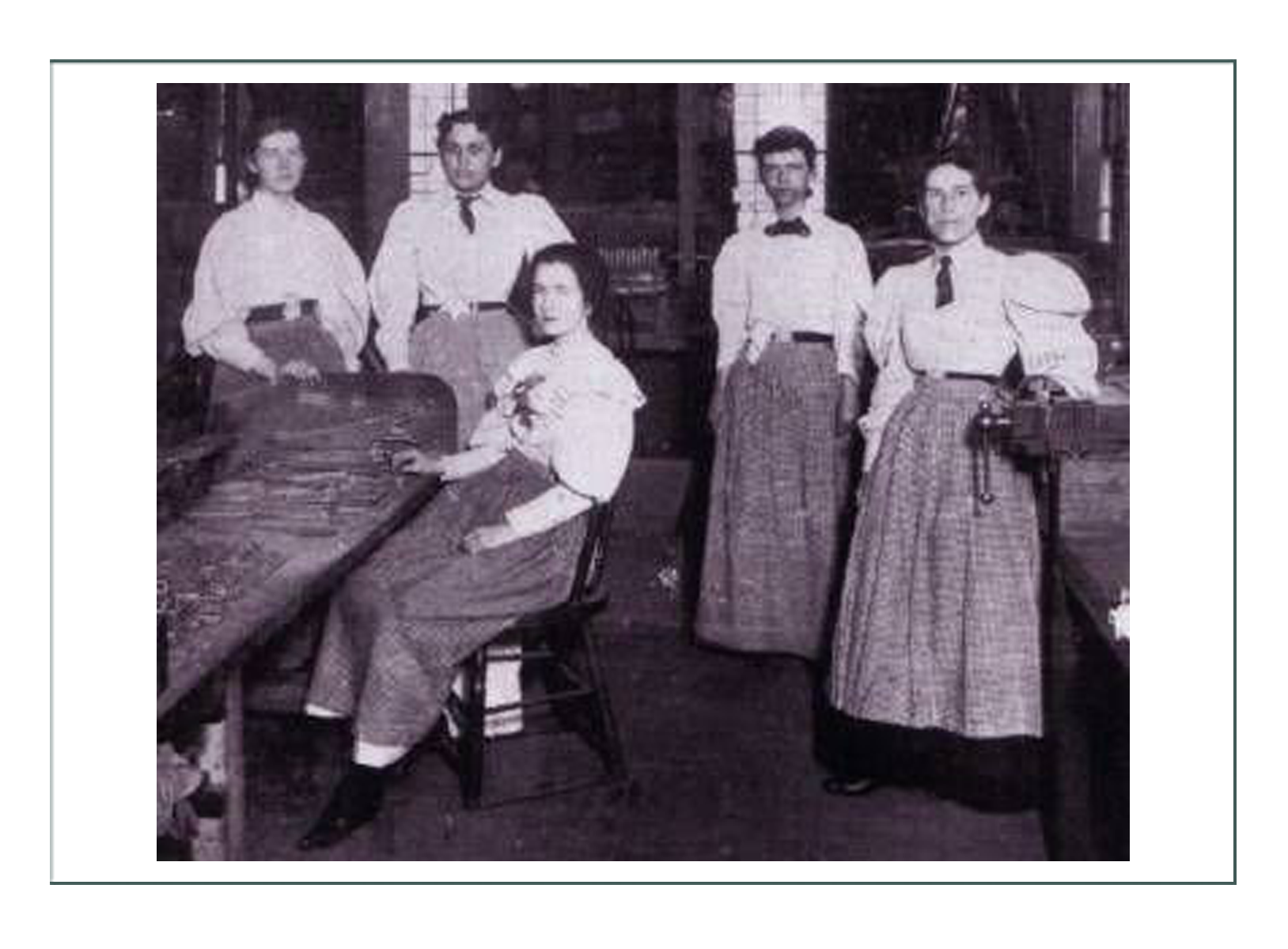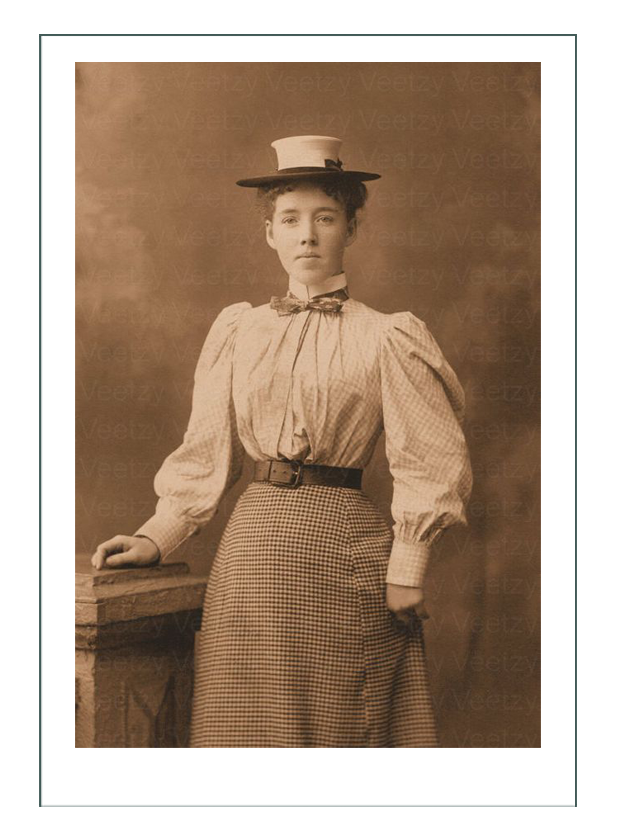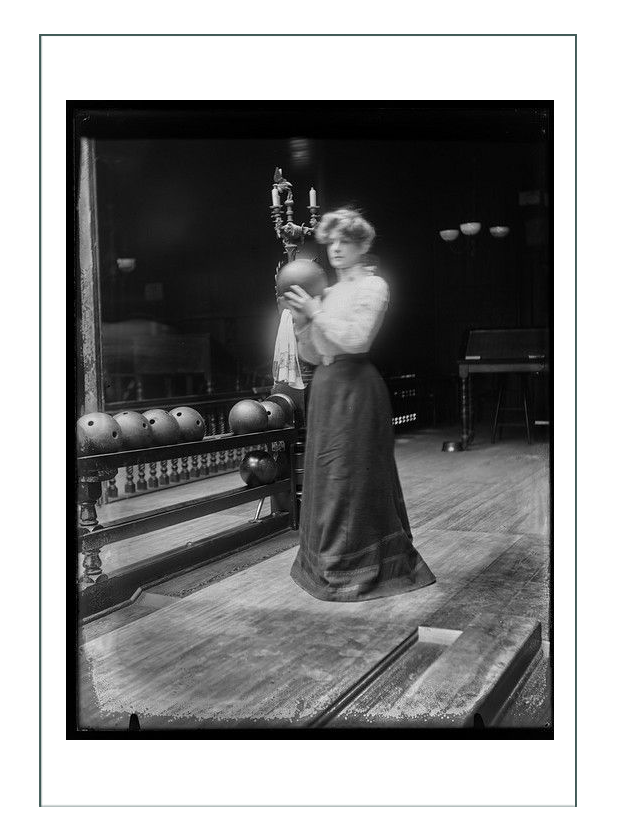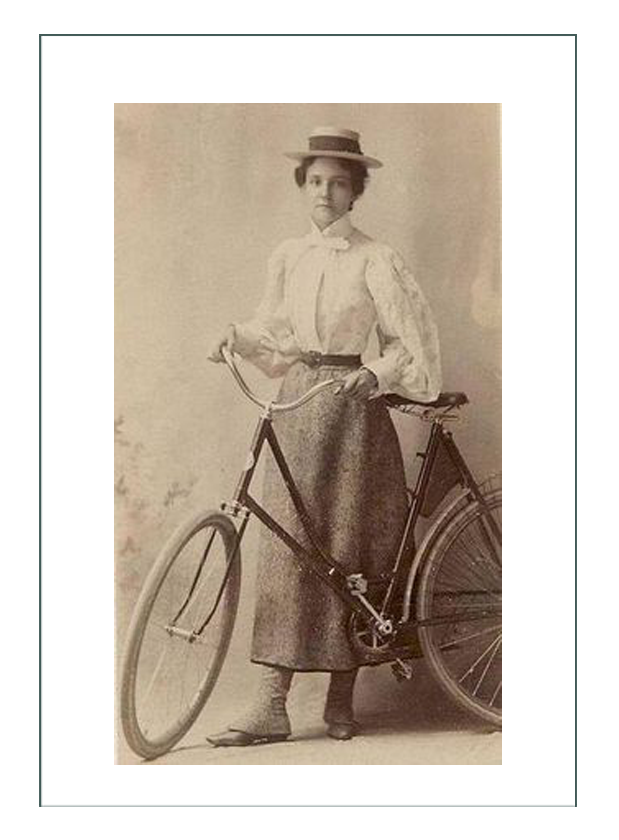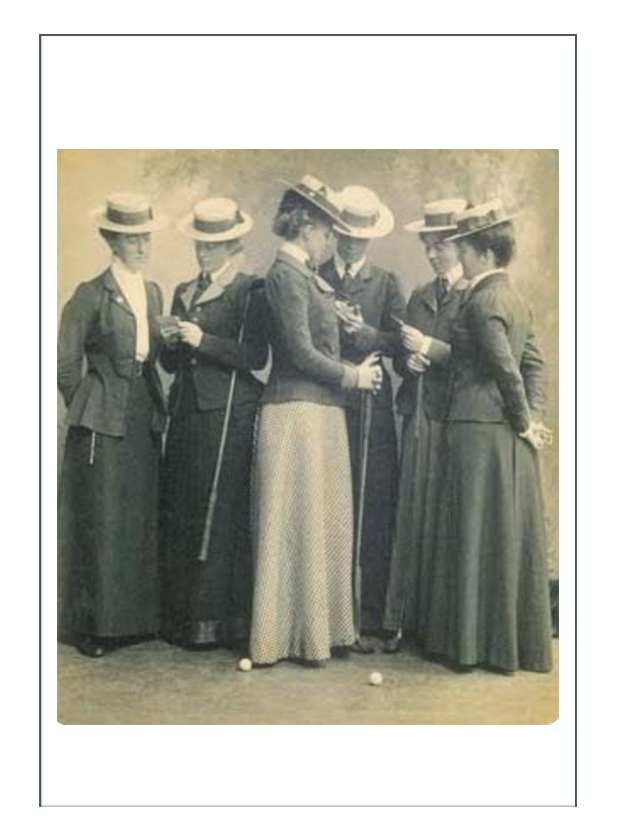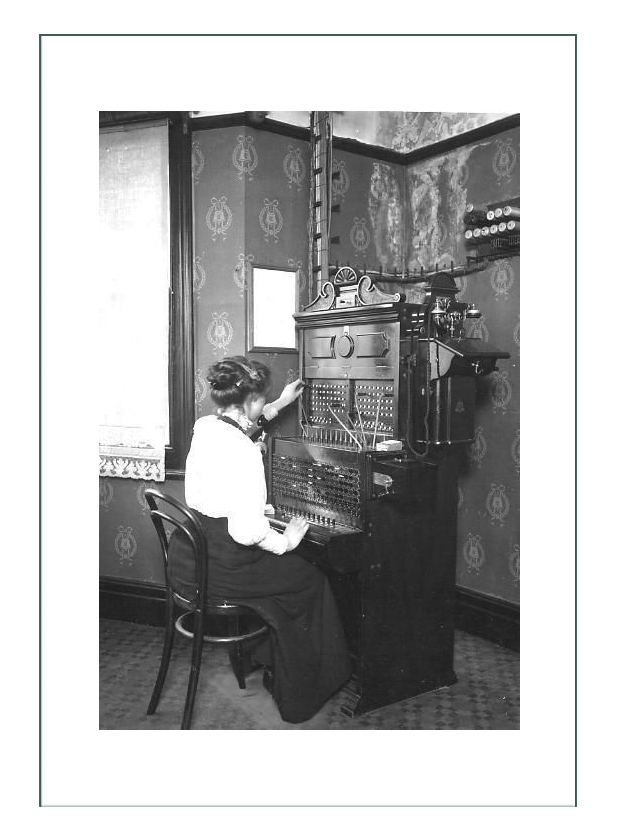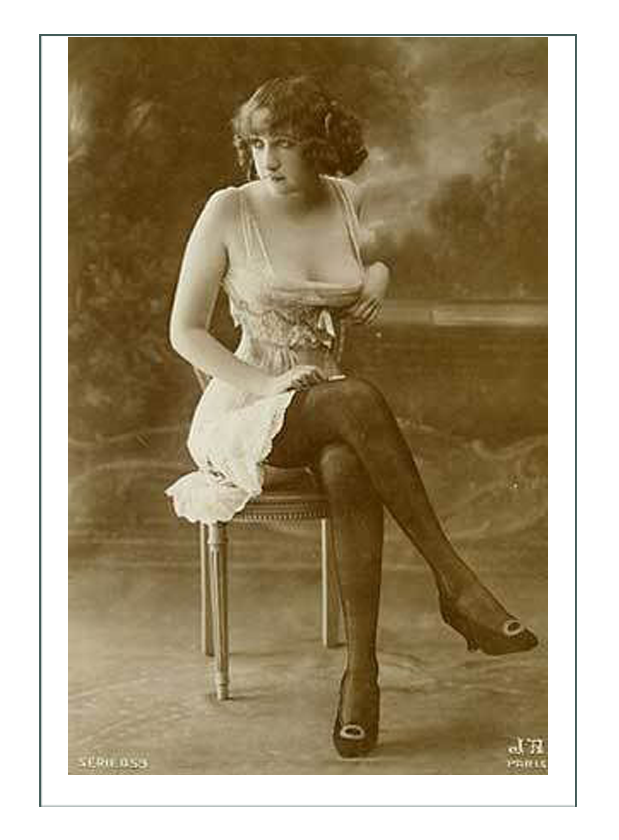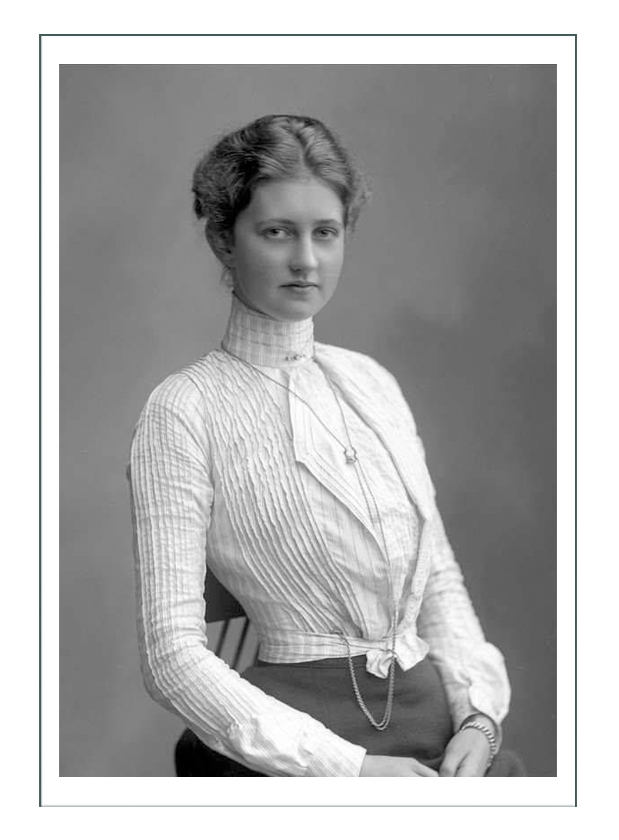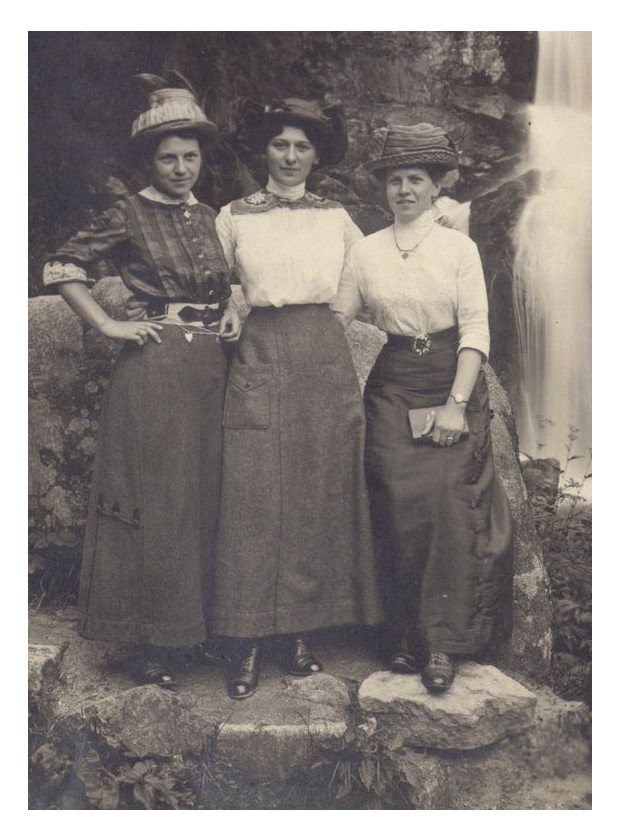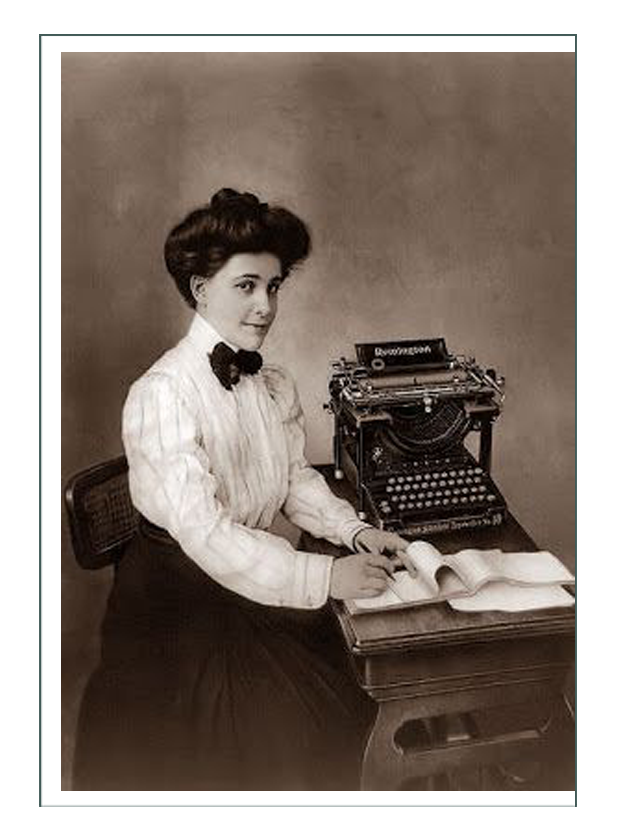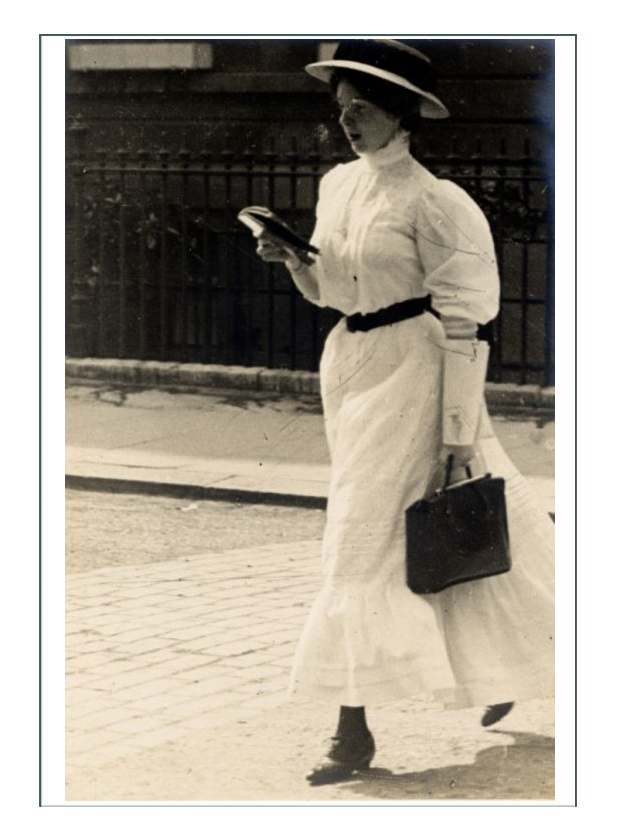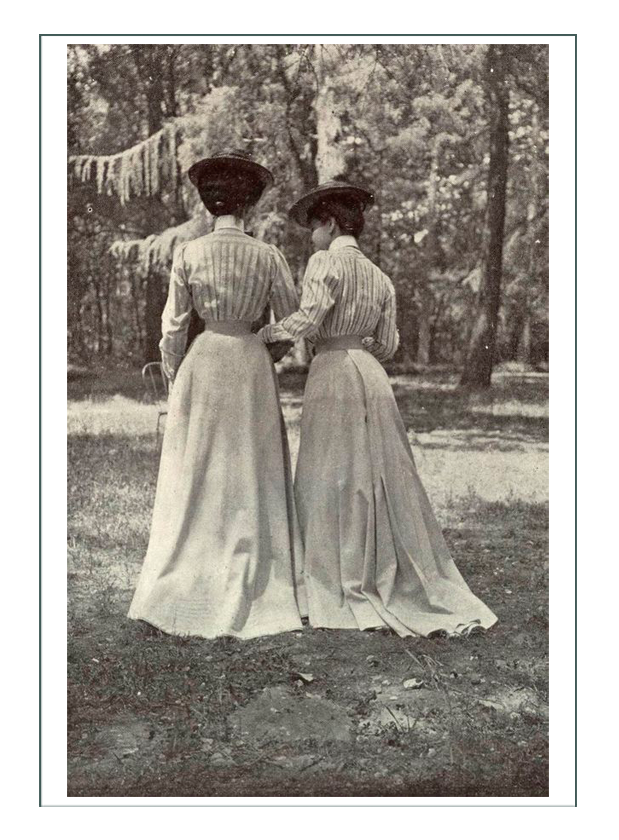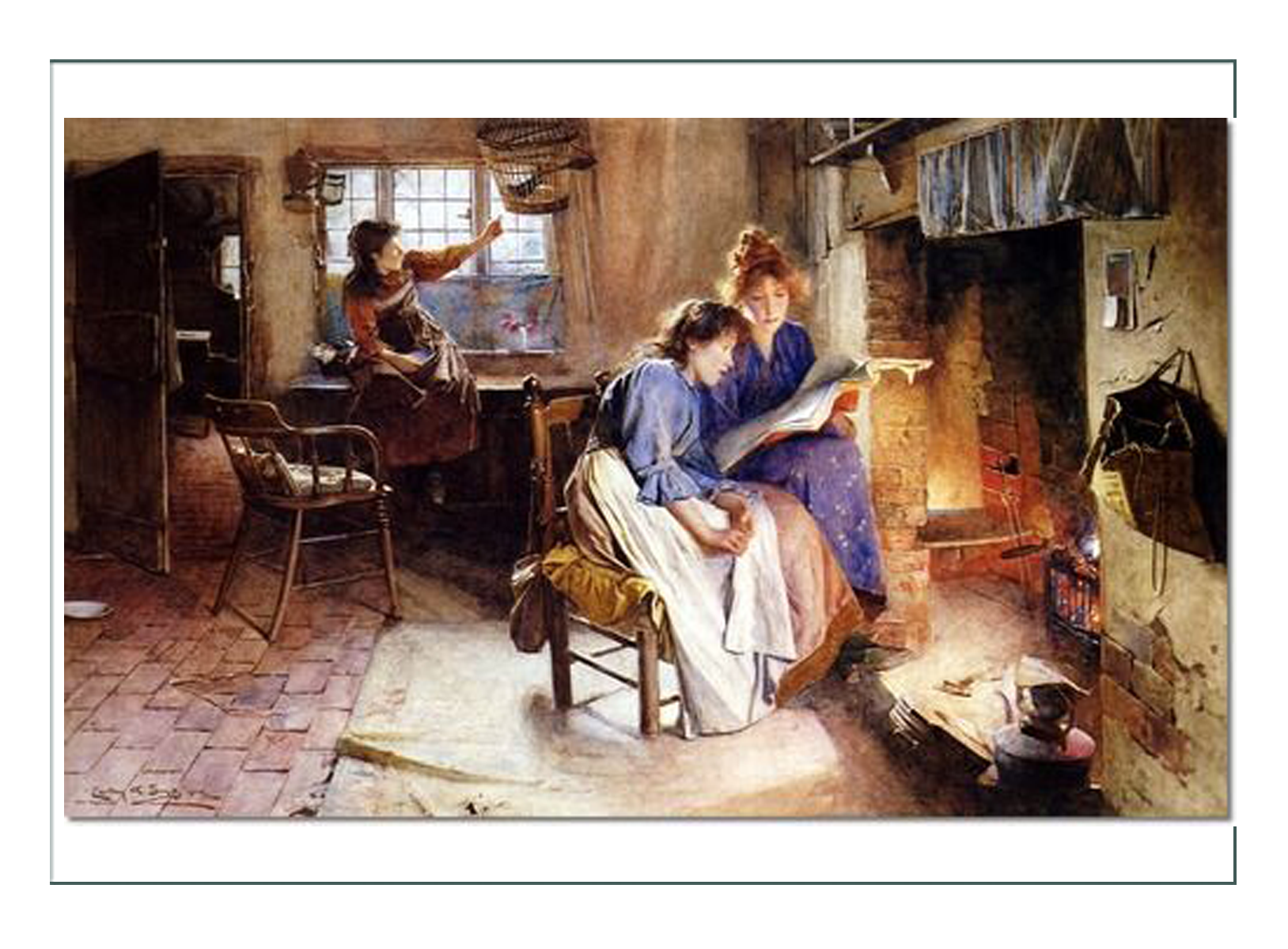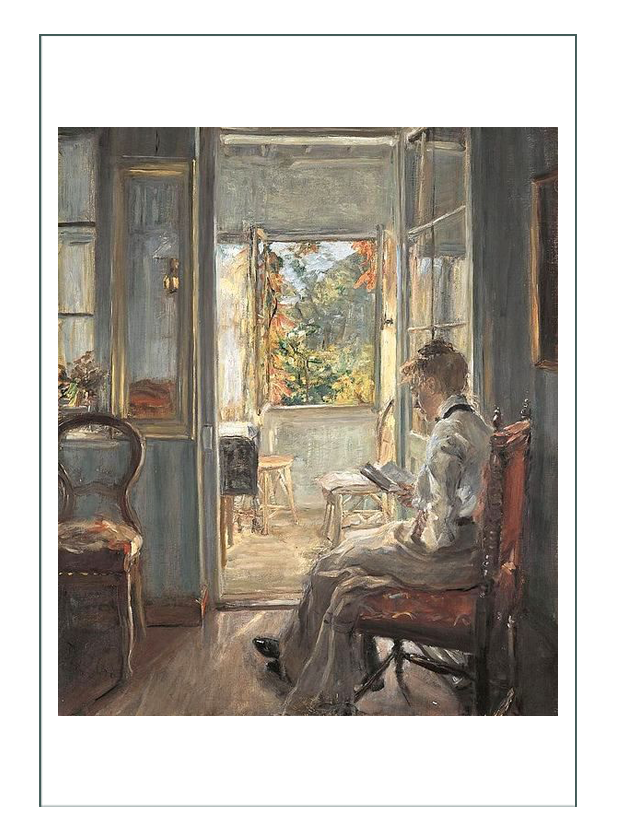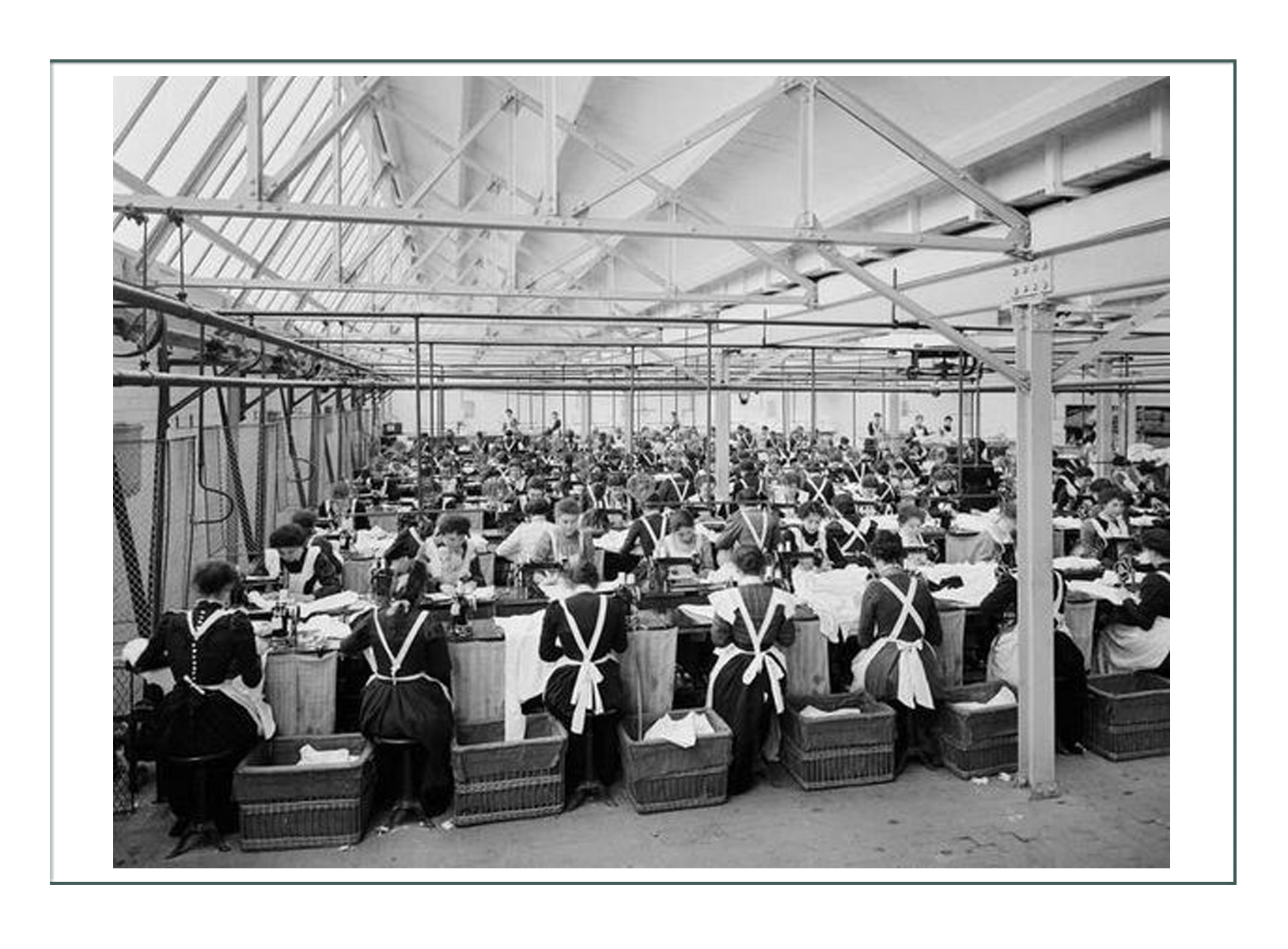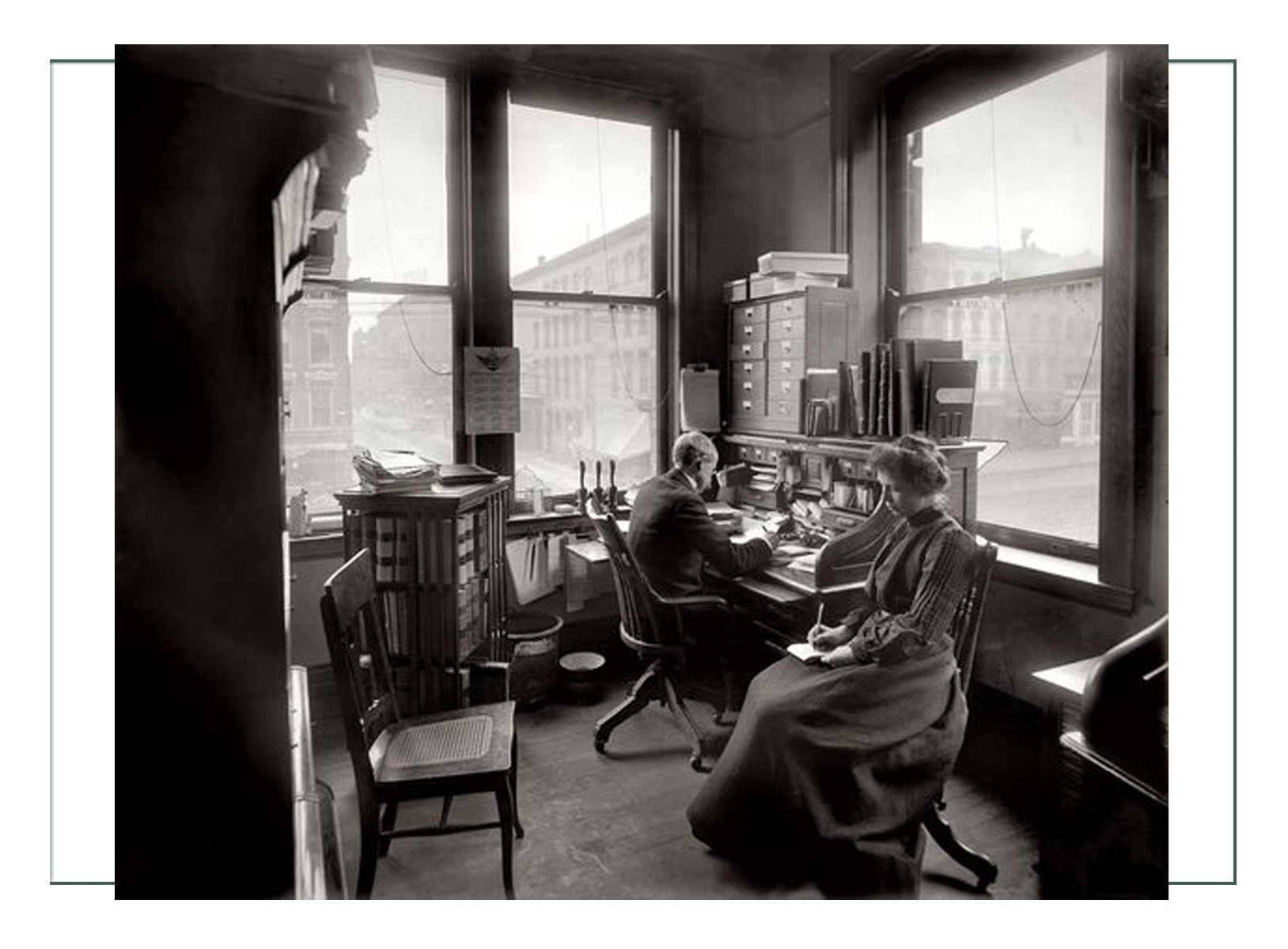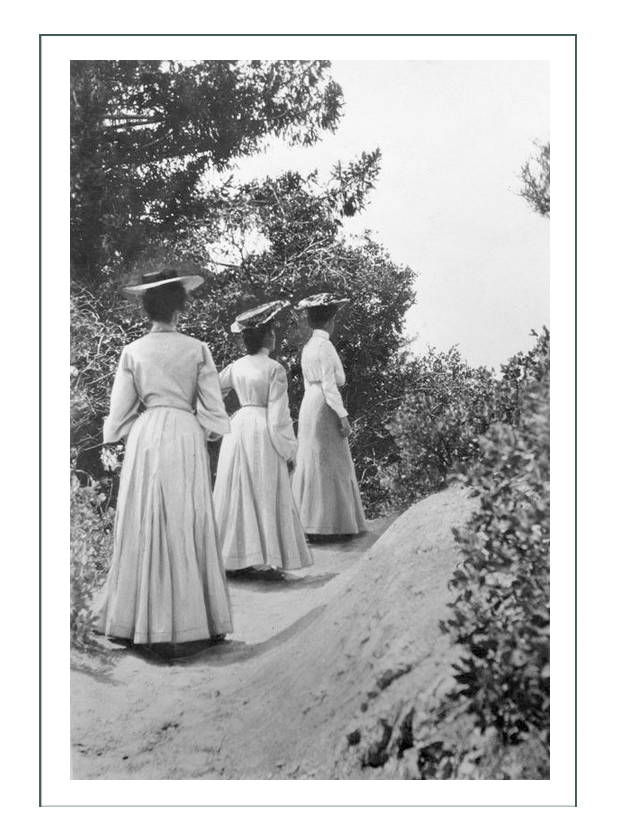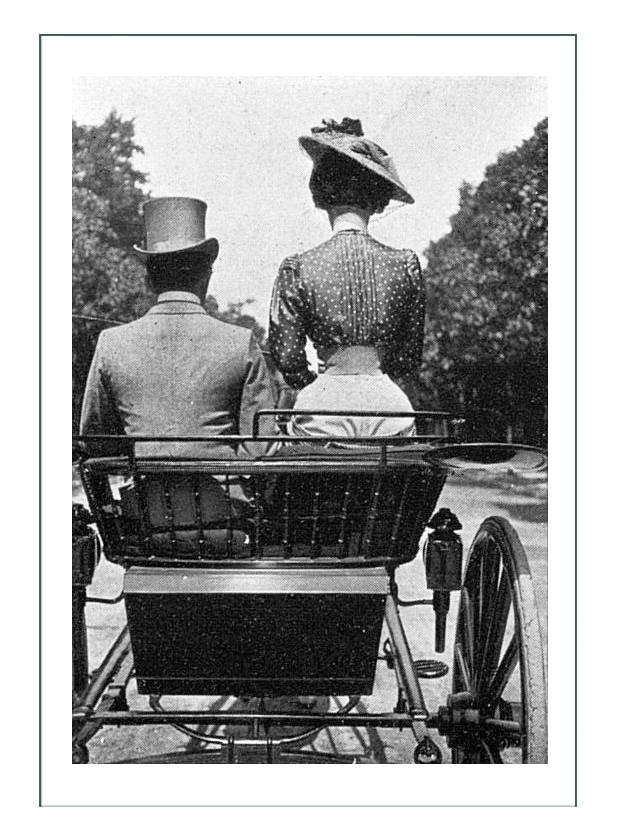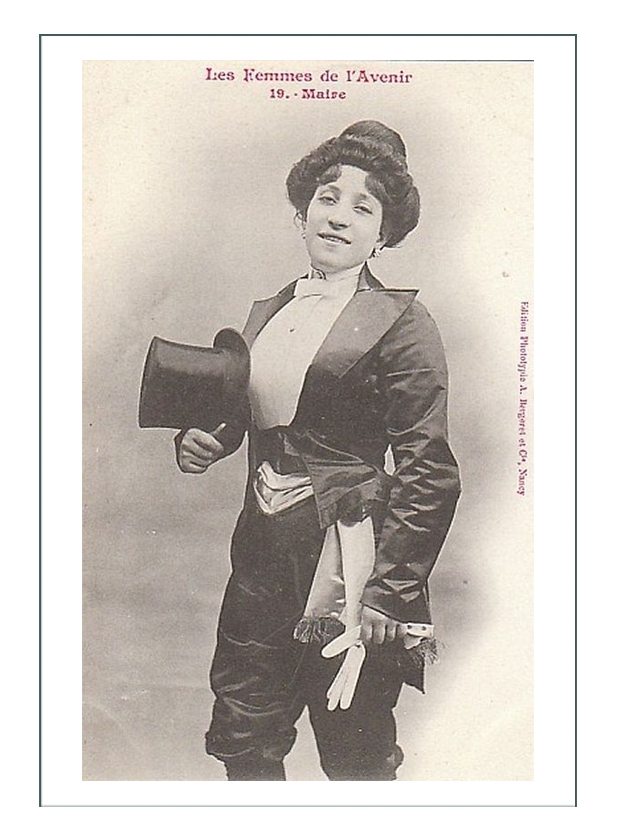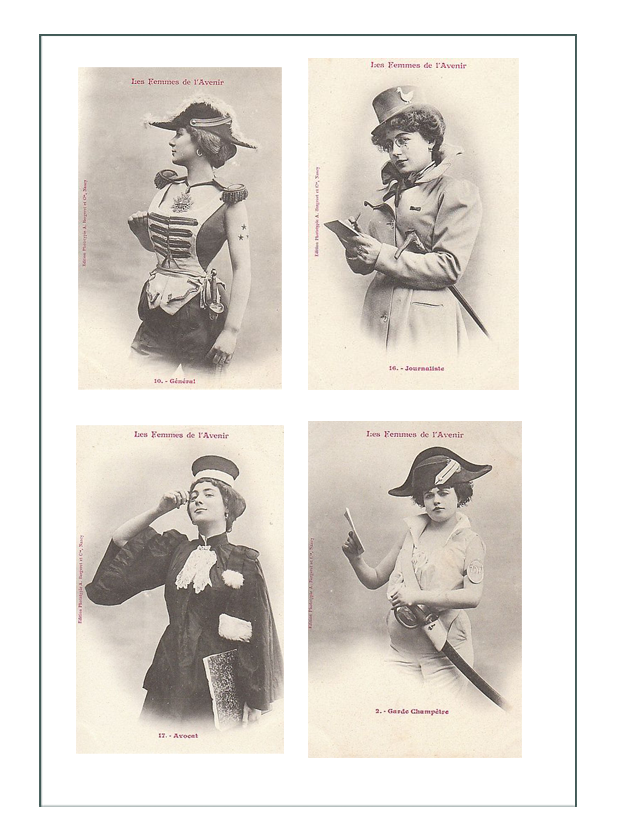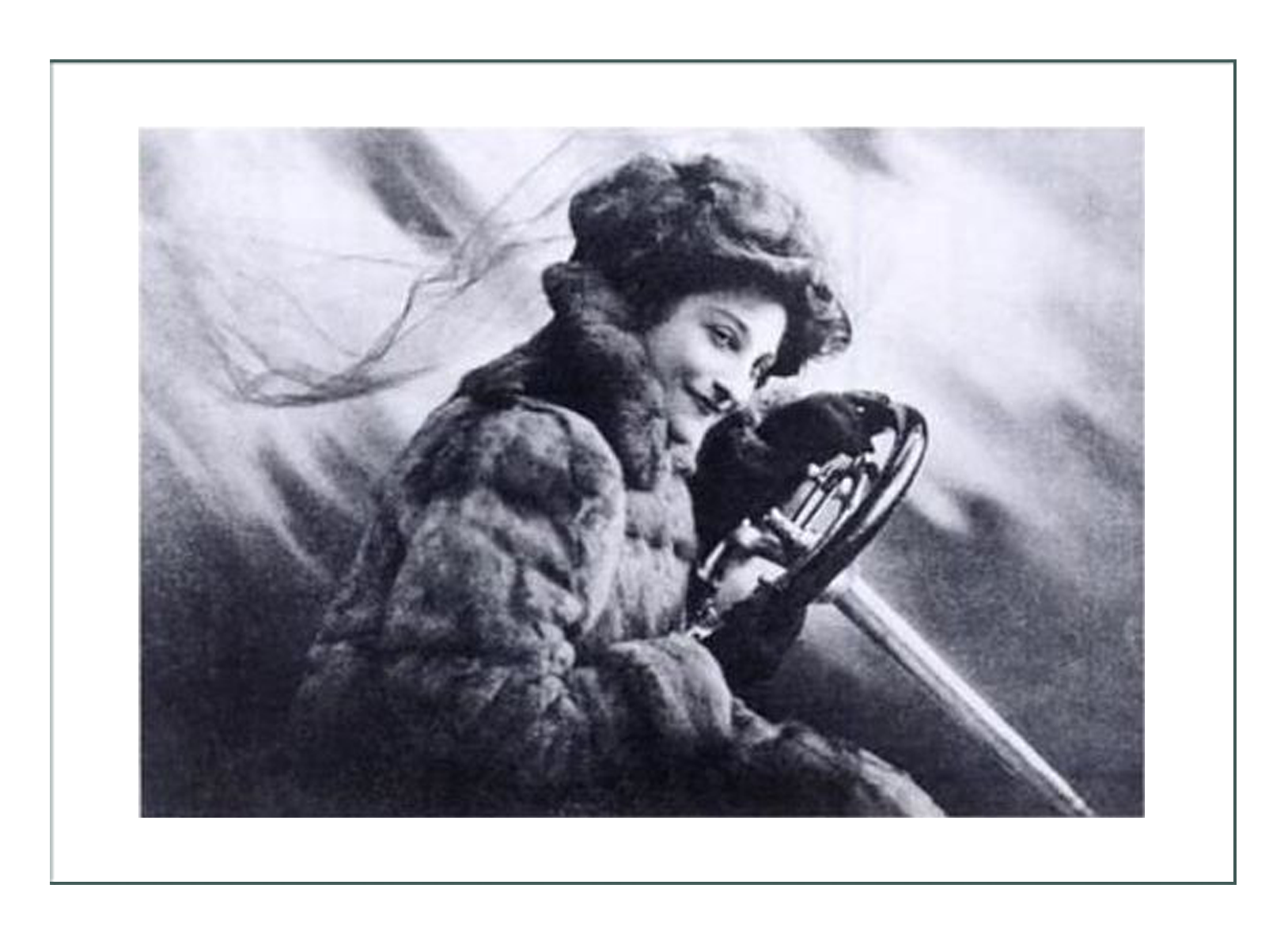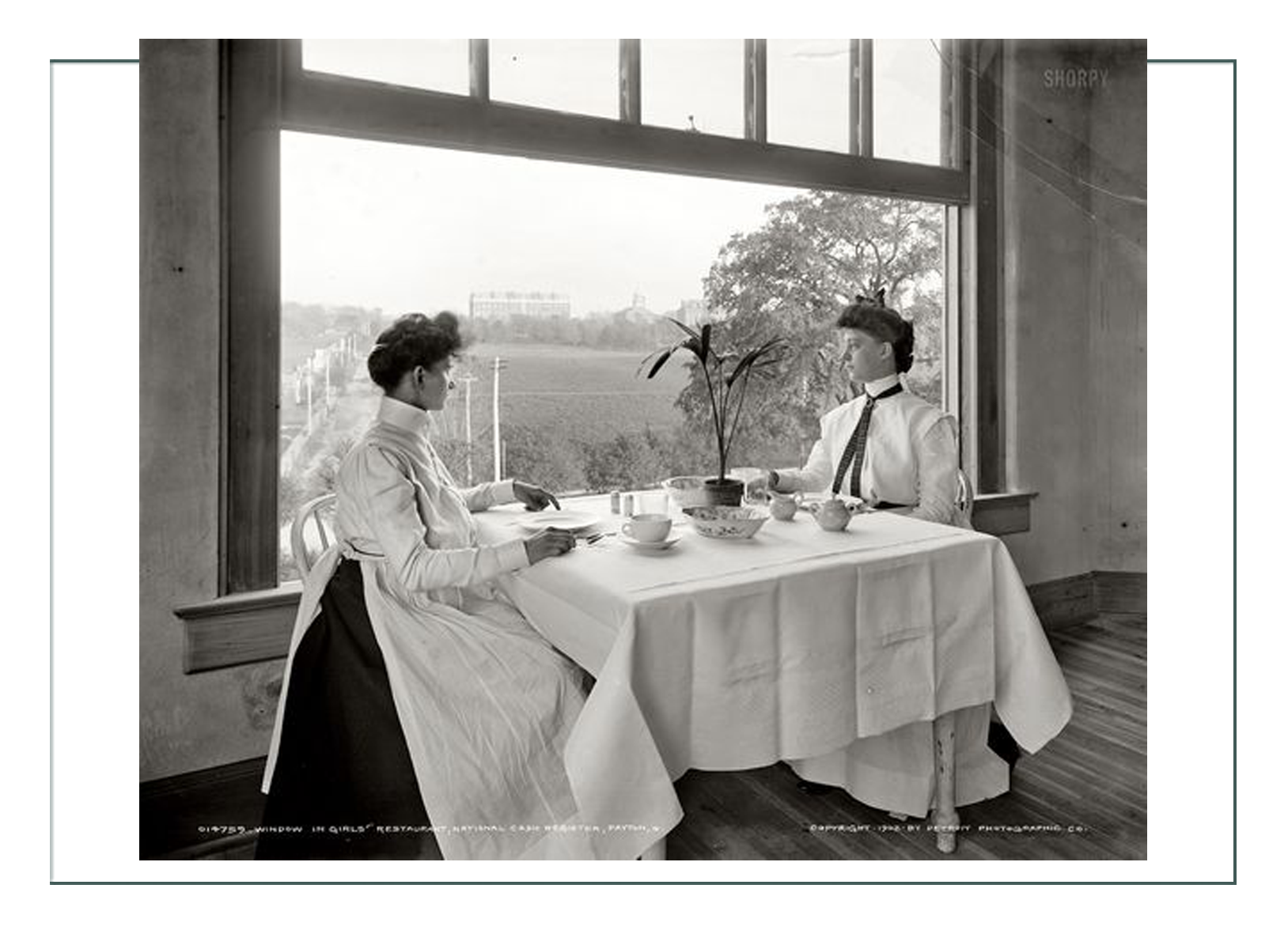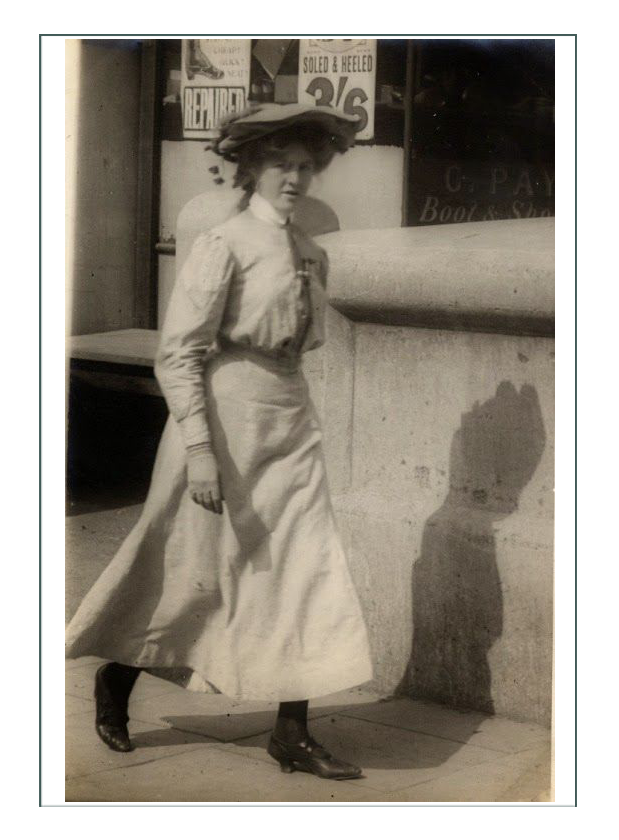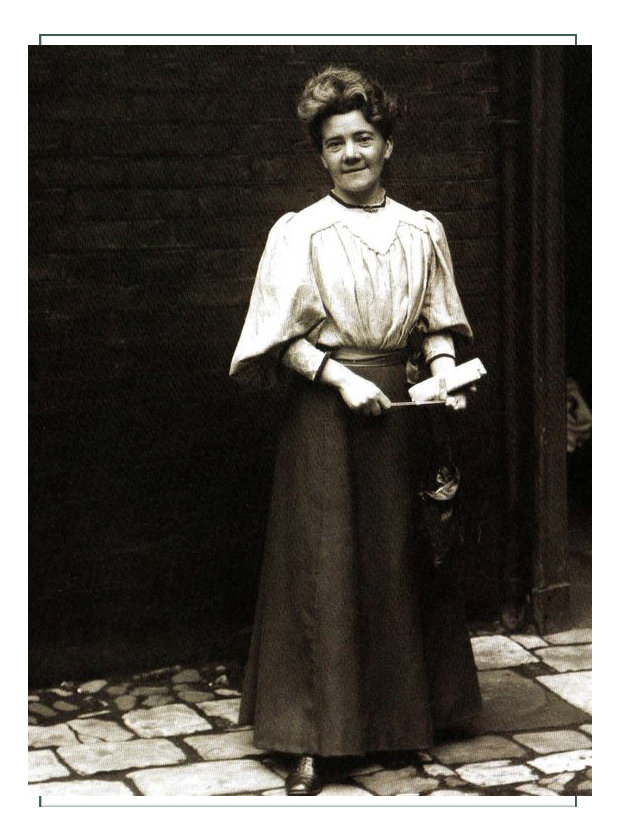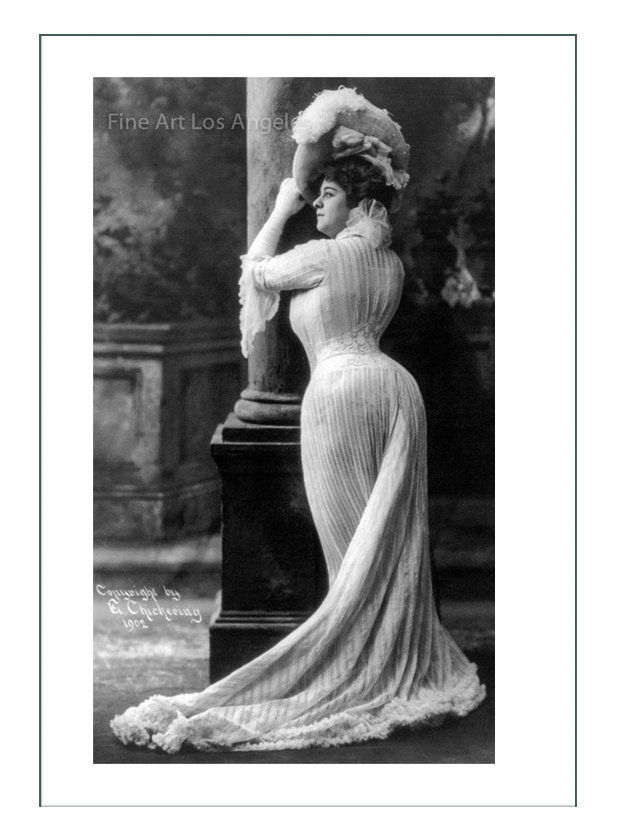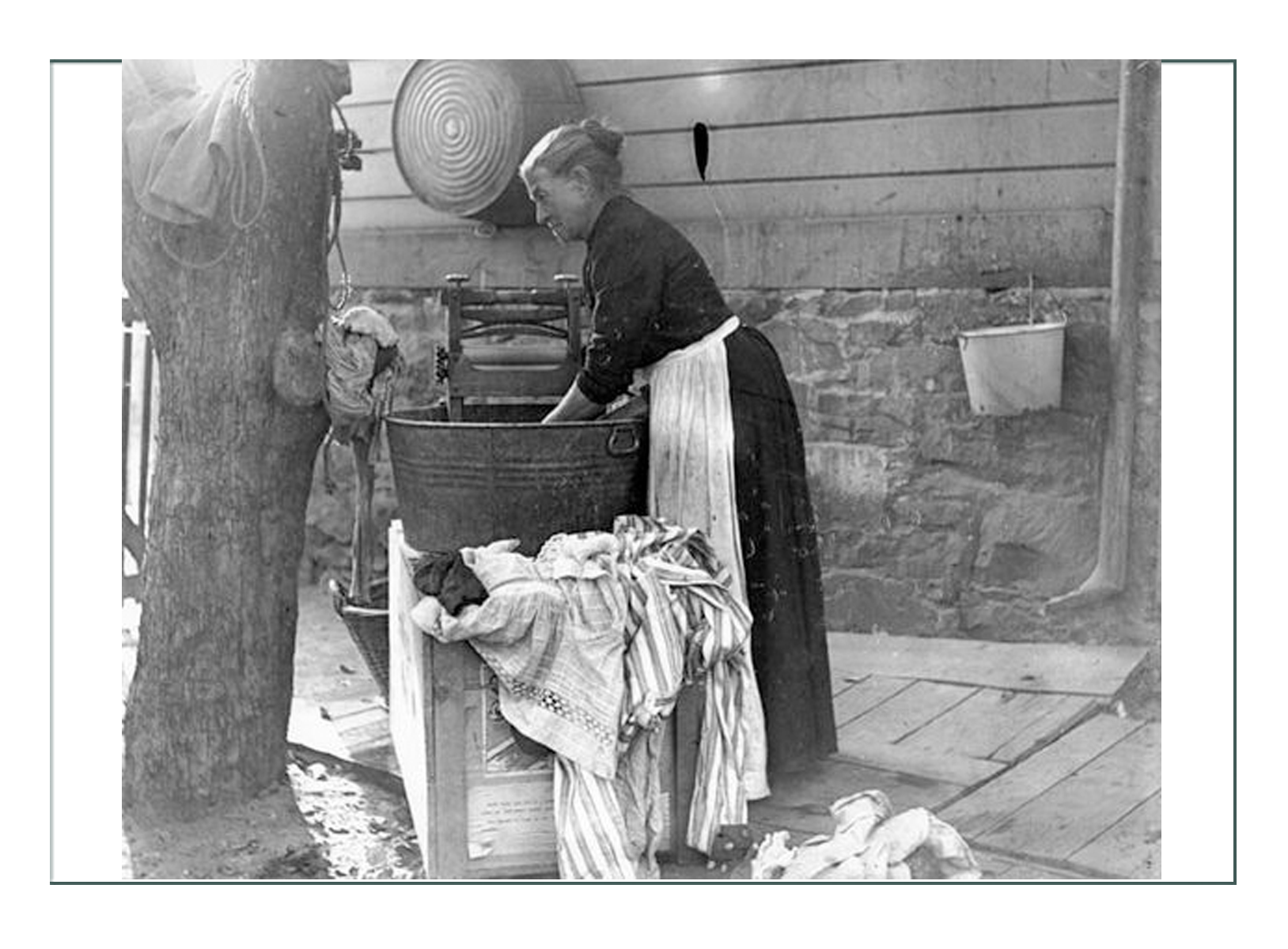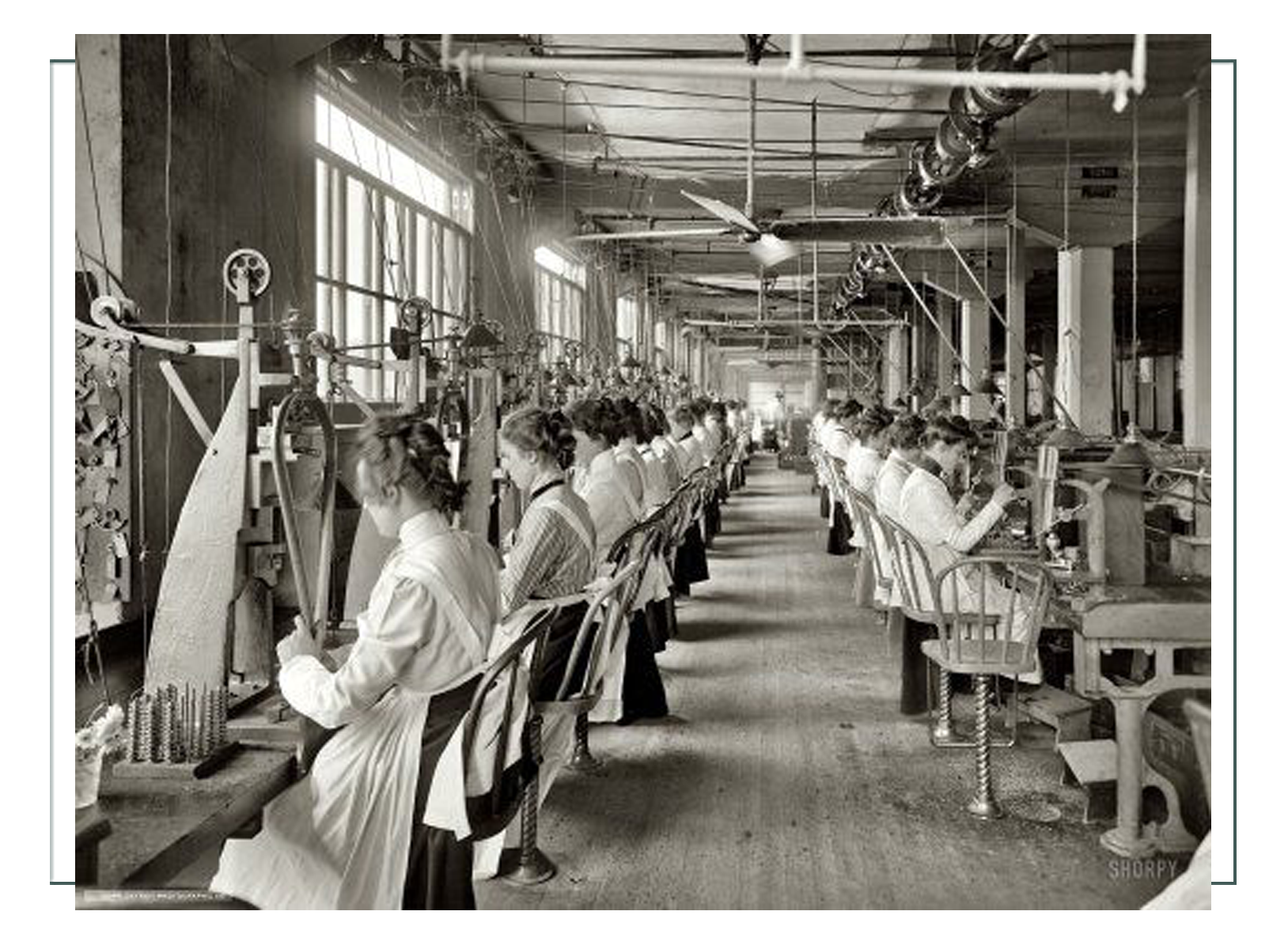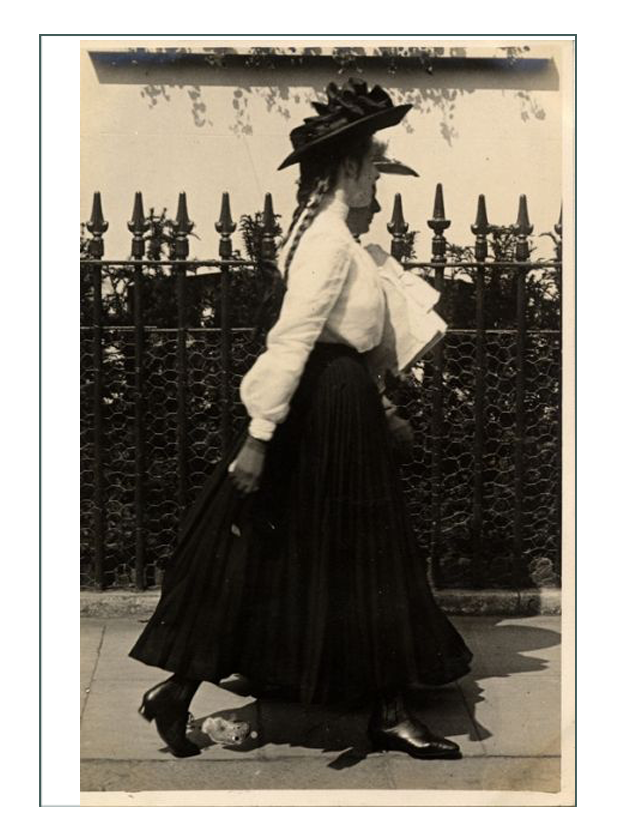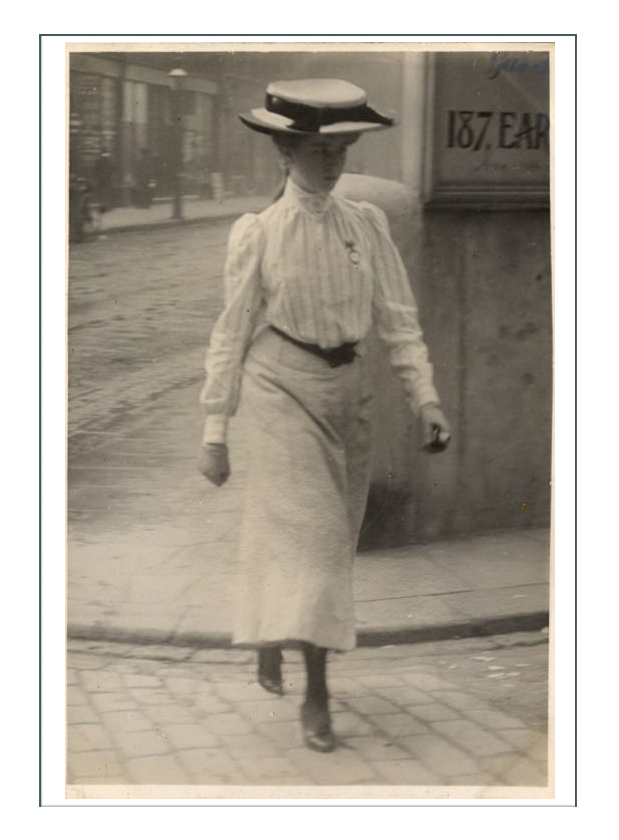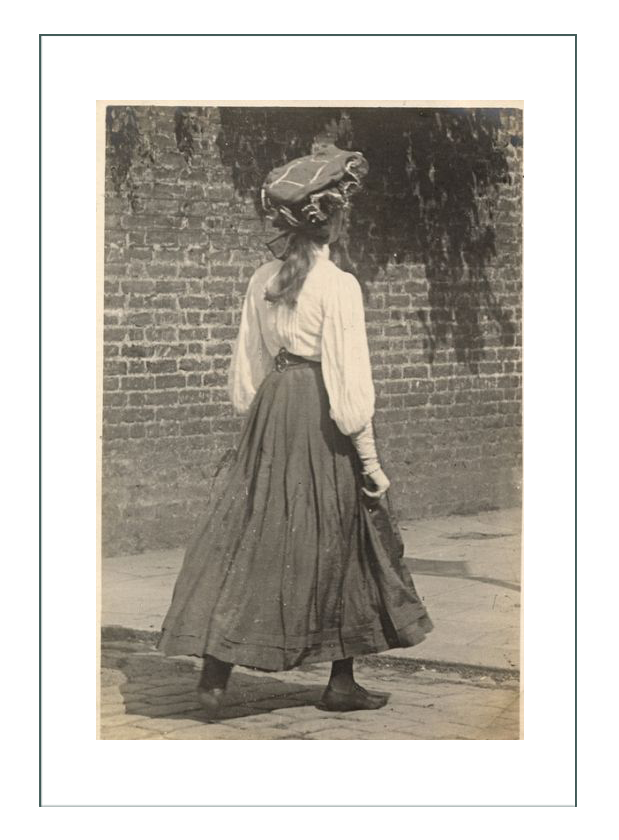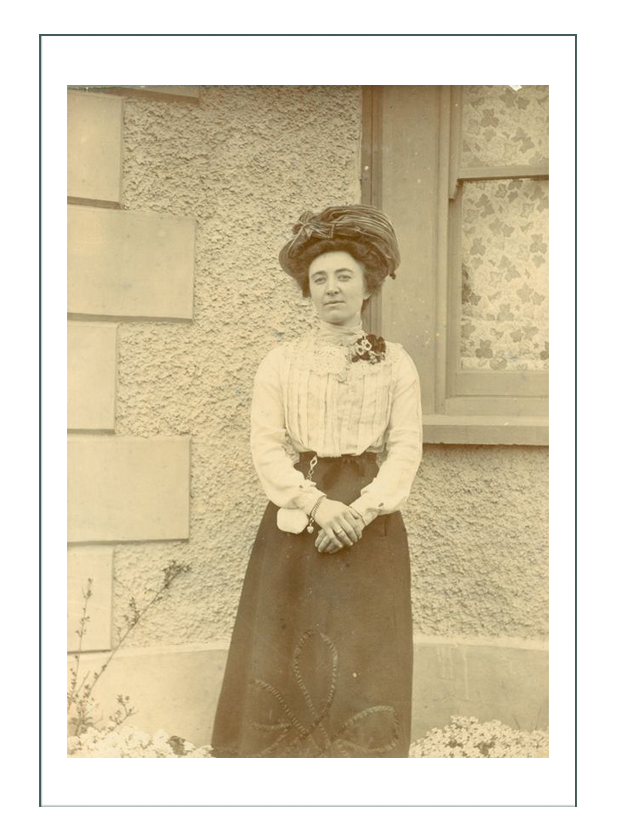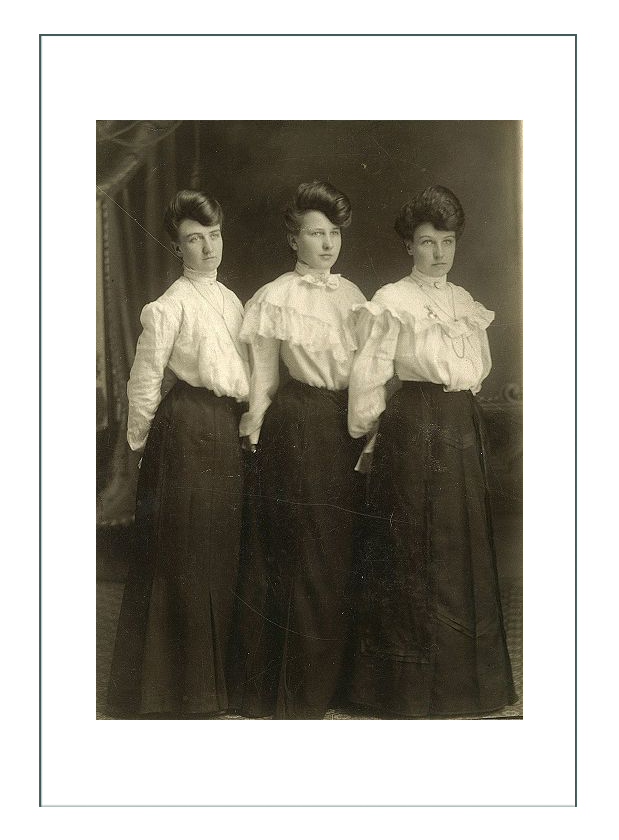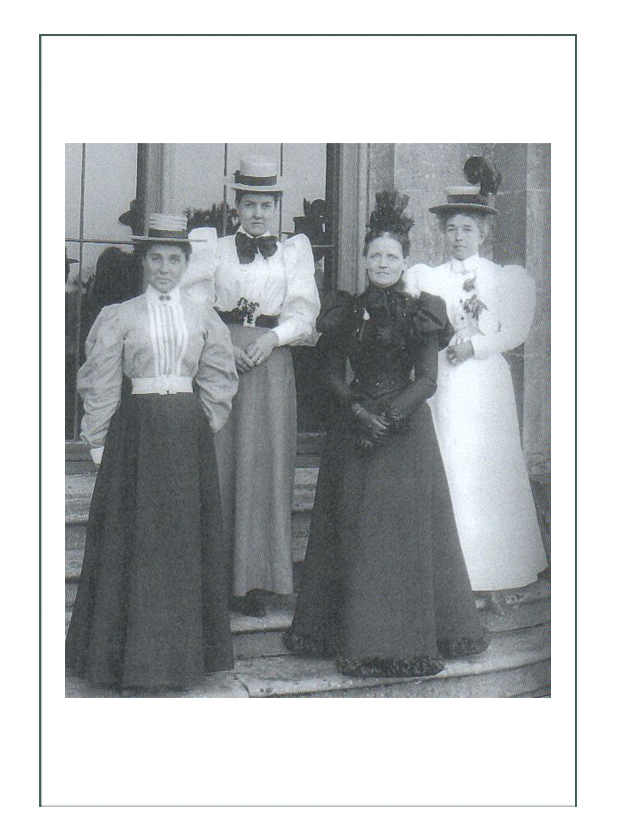 Suits for Working Women
Taking the written and verbal histories of women and their fashion, knowledge of high fashion of the day, and examples of real women, we add to that examples of garments that are in museums today illustrating what we have already learned about working women and their 2 or 3 piece "suits":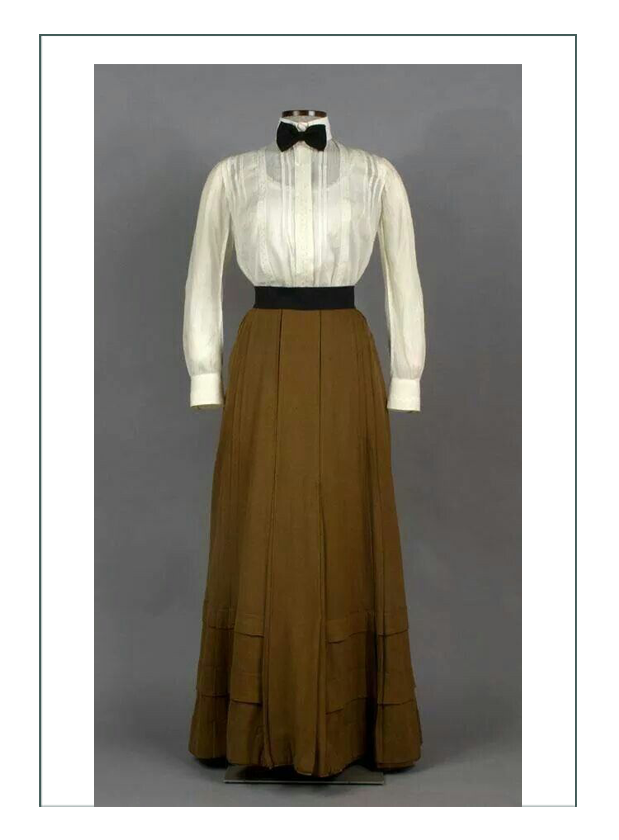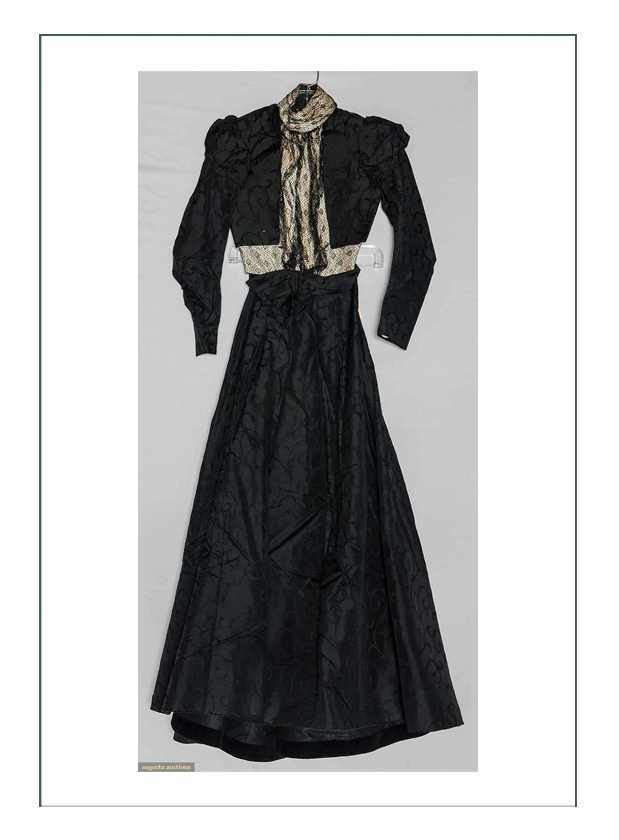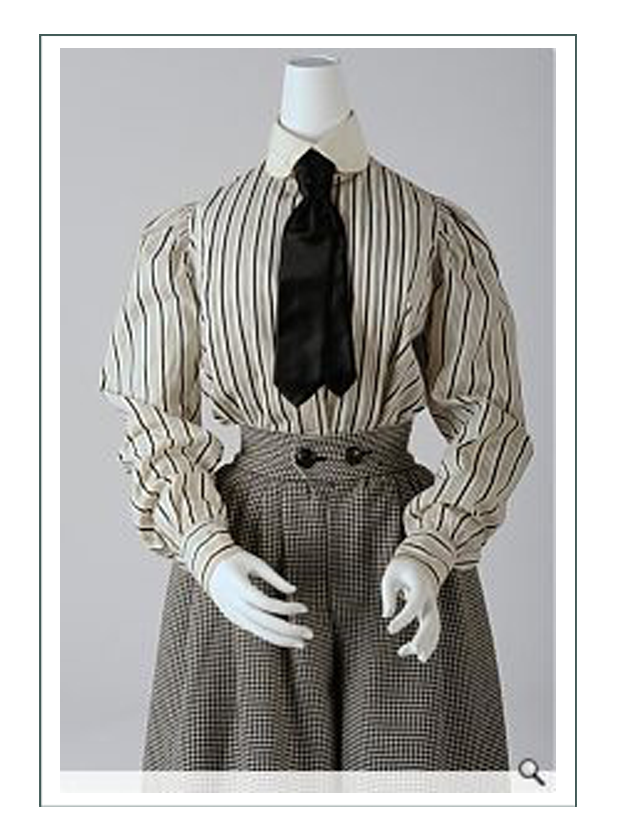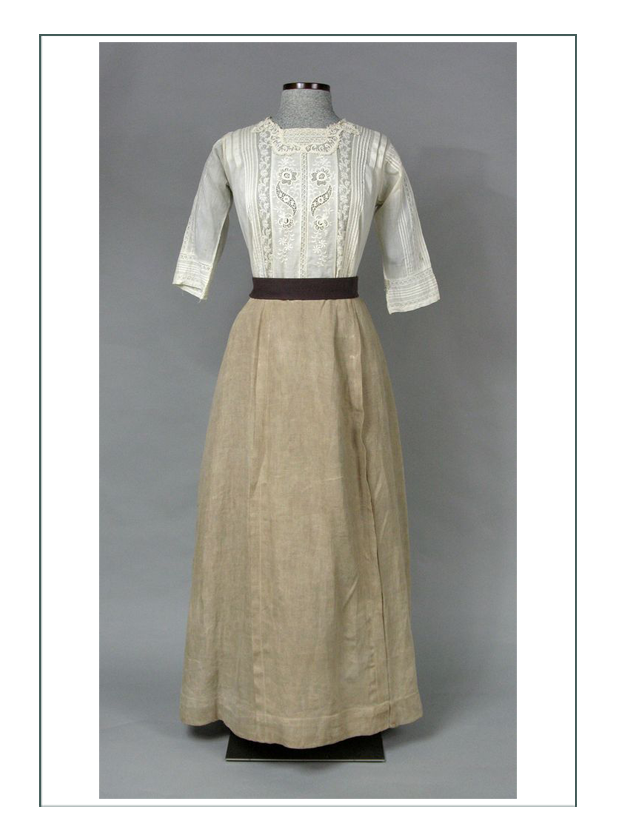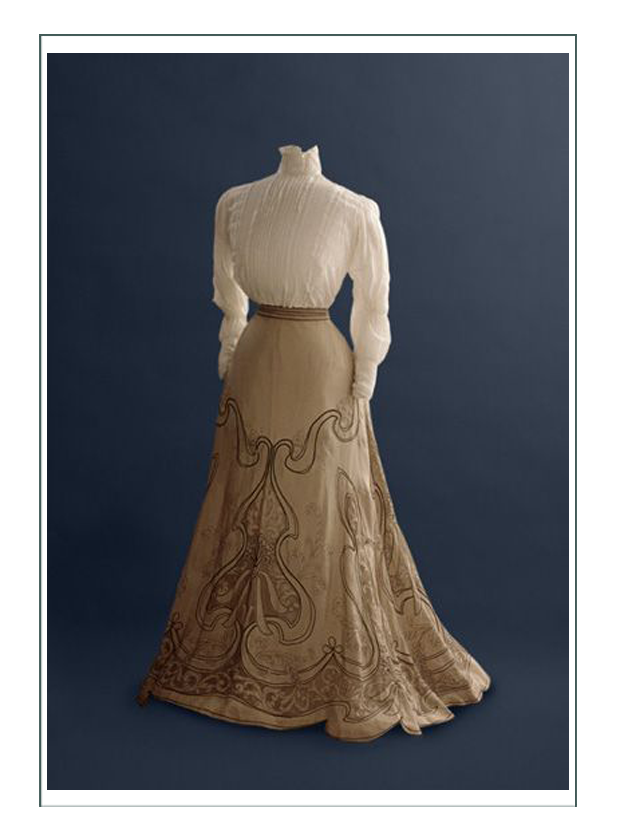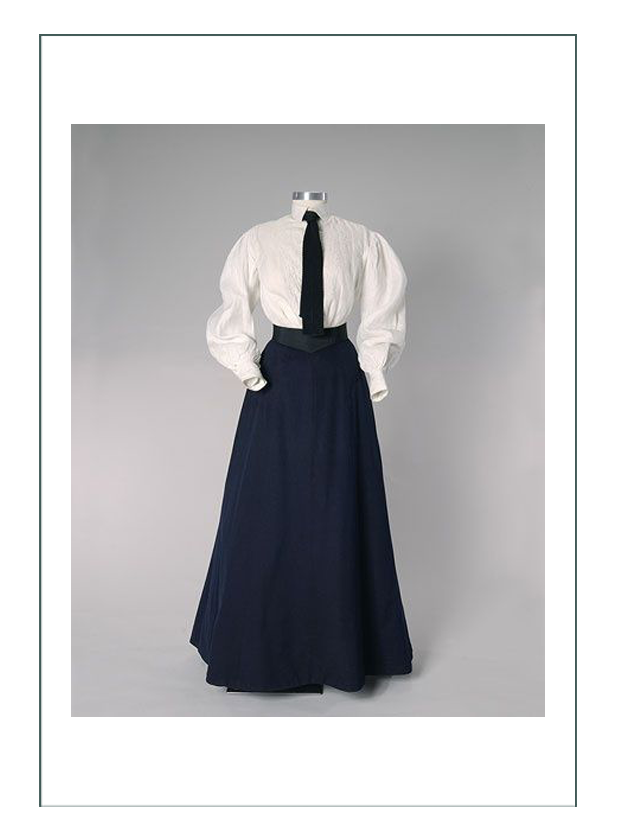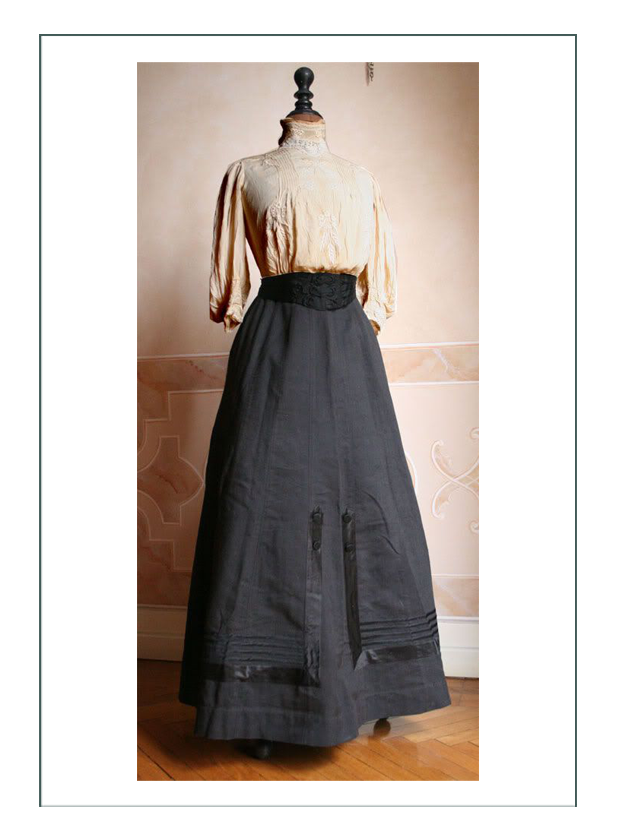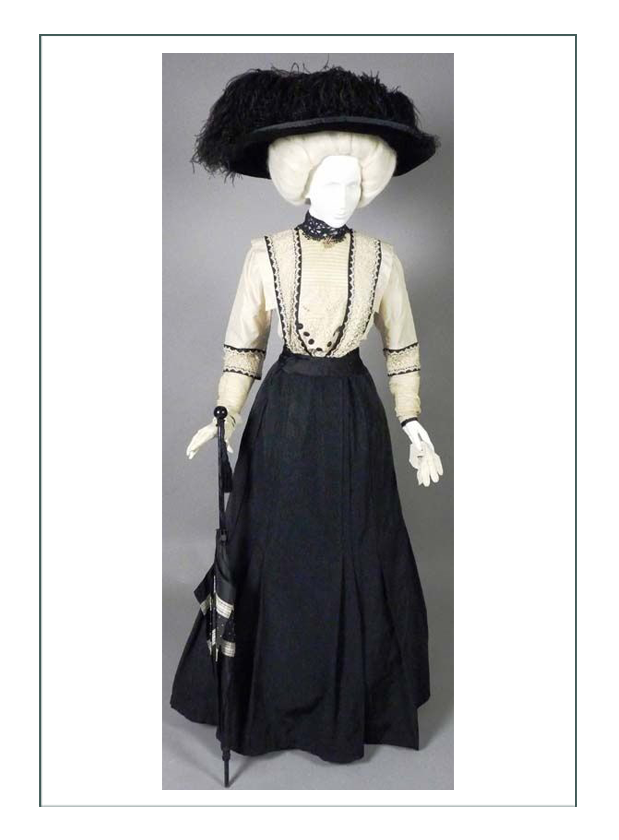 Hats & Hair
One word – straw boaters!  Meant for sport and casual, it became "uniform" for working women for daily wear because they were functional, inexpensive, and easy to obtain.  A change of a ribbon or flower could easily be done at home.
Hair of the day was supposed to be the upswept "Gibson Girl", but in reality, most women made a modified "bun" and piled it on top of their heads.  They did not cut their hair, and they needed it to keep their hats on.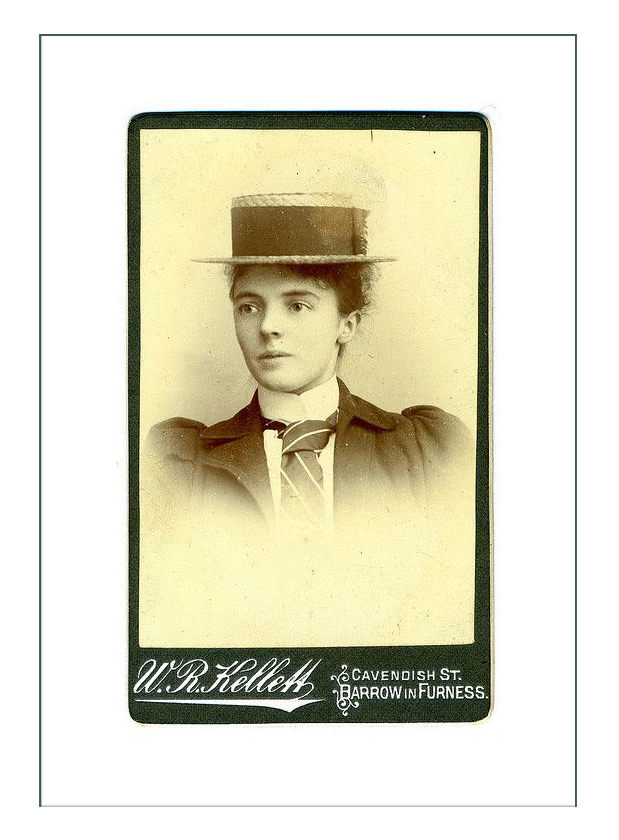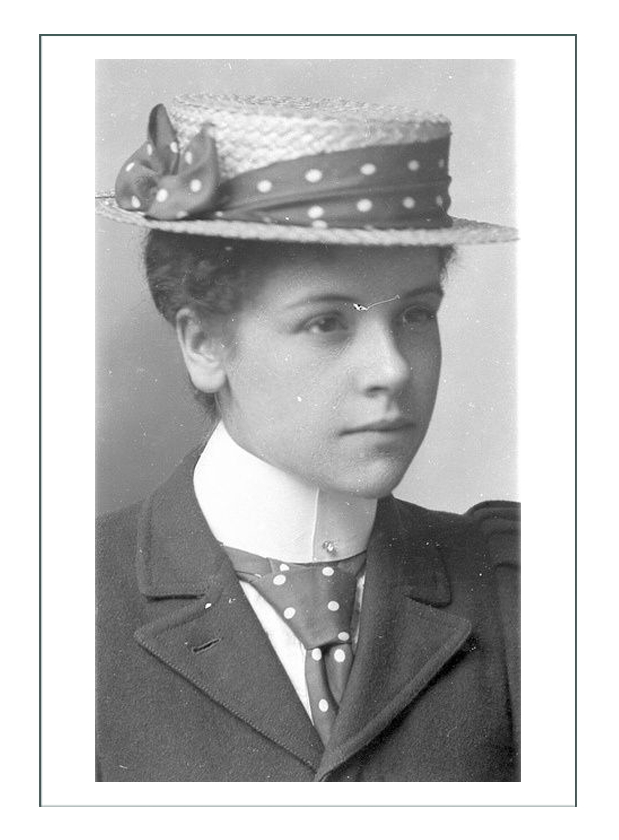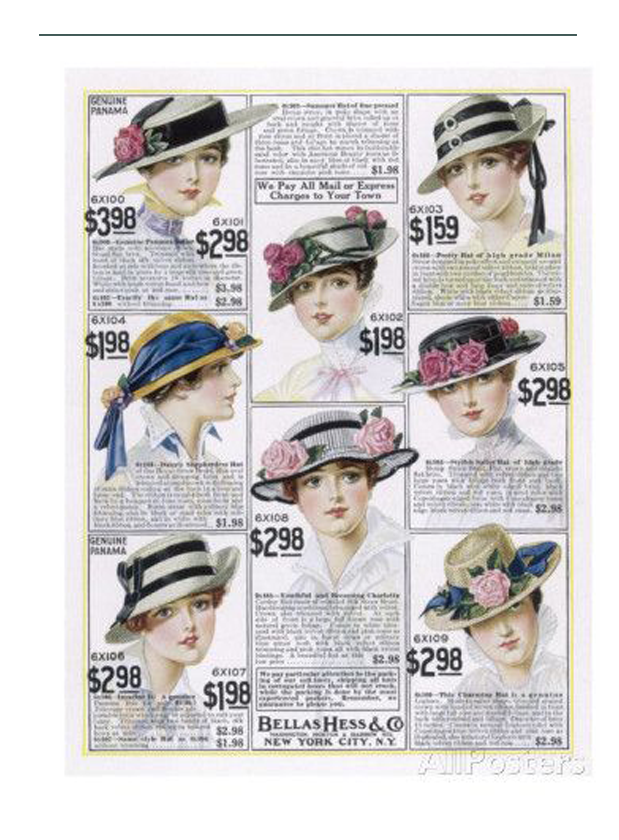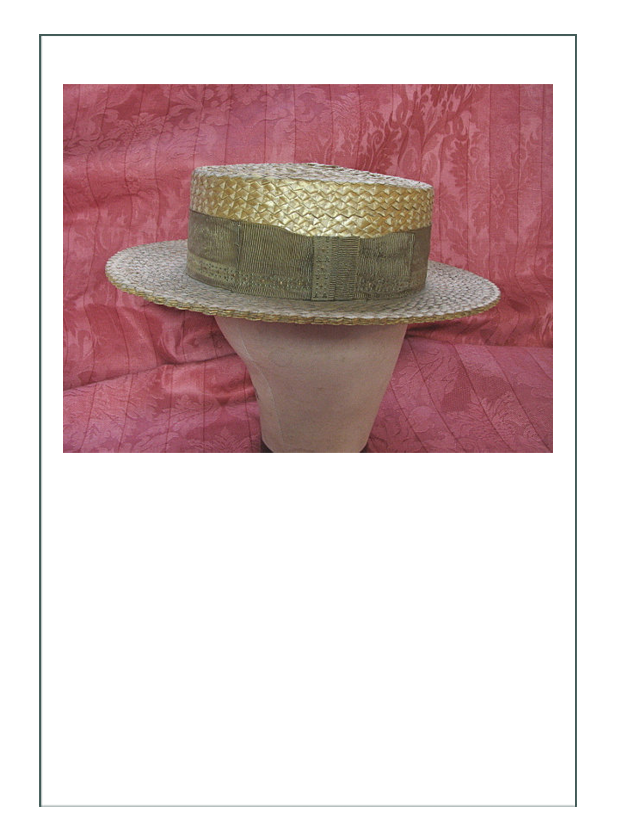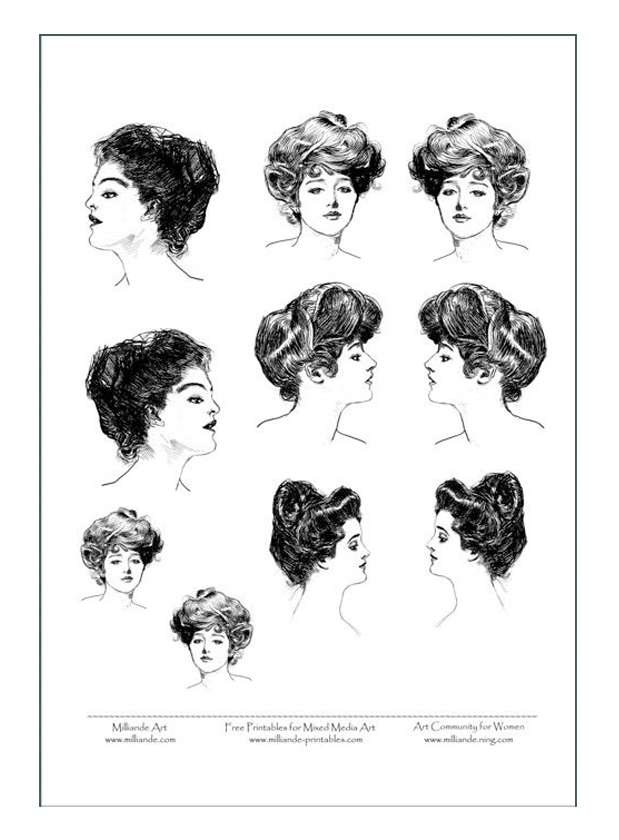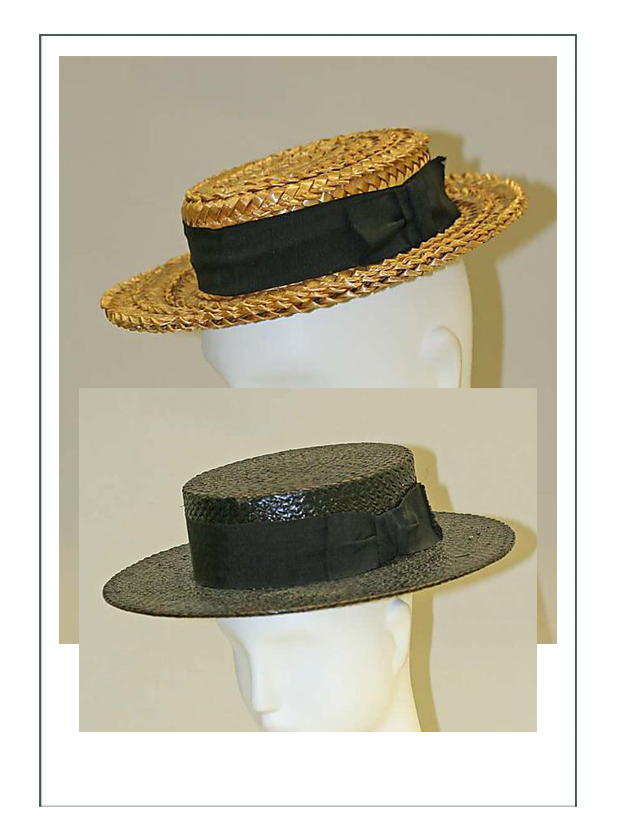 Footwear
Active and work footwear remained much the same as it had been throughout the Victorian era: lace up boots in leather of various colors with a flat heel.  What changed as 1900 approached was that synthetic materials and suedes had been invented.  This changed the cost and availabilty, and also reduced the durability of the boots.
As the decade continued, heels went higher to 2″ and less functional.  Boots became ornamented, and new designs and ornamented shoes became popular.  Because most women were still commuting on foot, by horse, by carriage, or train or tram, they needed comfortable walking shoes.
Edwardian shoes were not comfortable.  They were too narrow even for women back then who had smaller feet than women do now.  Cycling and sports boots were a bit more durable, but their height (to protect from chafing by bike or horse) made them inflexible and uncomfortable.
Most women, if you look at real photos, seem to be wearing their Victorian boots well into the 1900's.  Bailey's character would do this, and perhaps have one good pair of shoes for social events.  She would know how to care for the leathers and laces to extend their lives.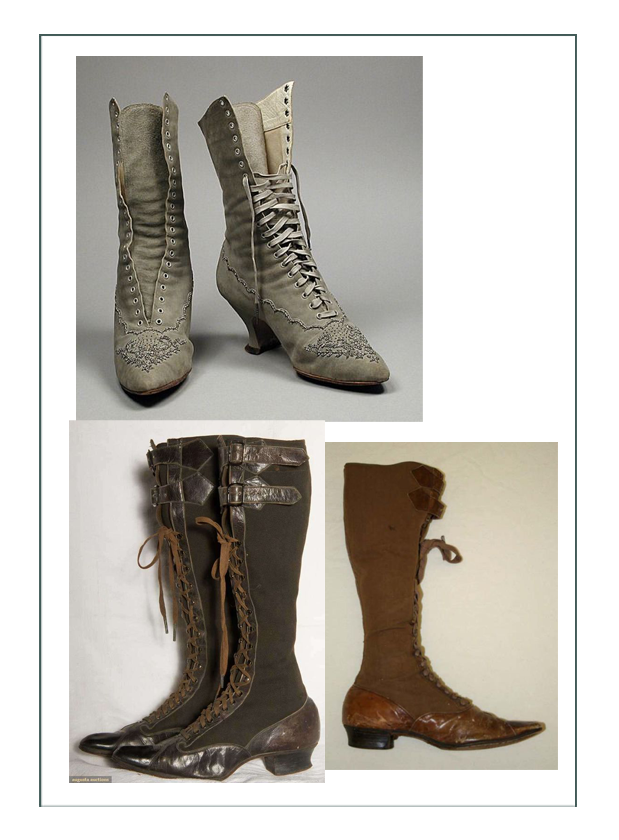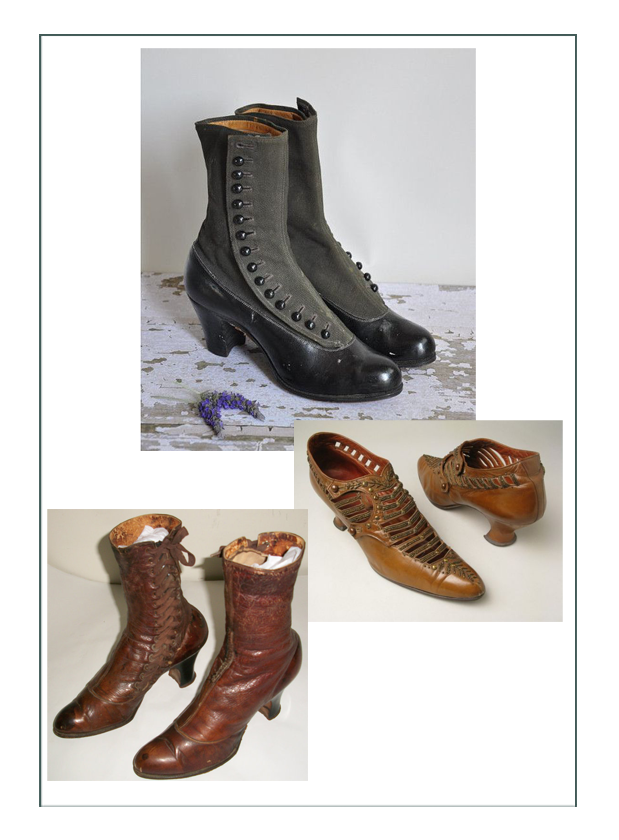 Undergarments
Undervests & Petticoats
Select examples (see extensive descriptions above).  Bailey's character would have the most basic, simple, easy to get (catalog and mass produced) undergarments and might have duplicates of some if they were cheap enough, as she would have to send her garments to be washed and would need to alternate sets.  These are selected to give the silhouette and meet that criteria: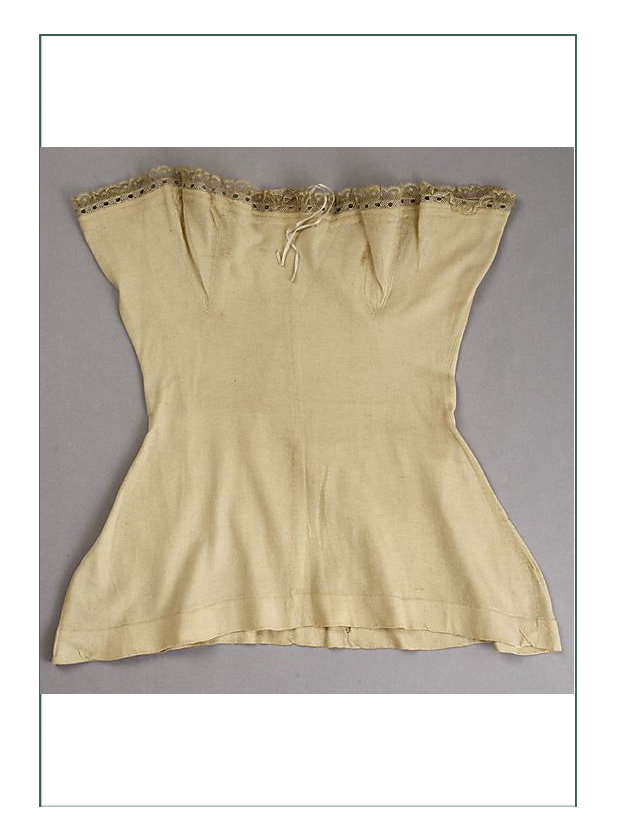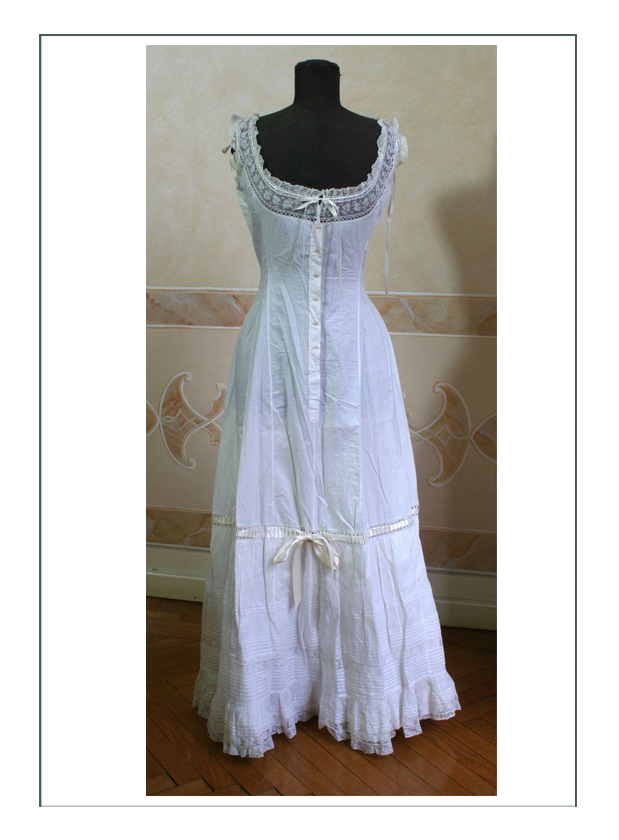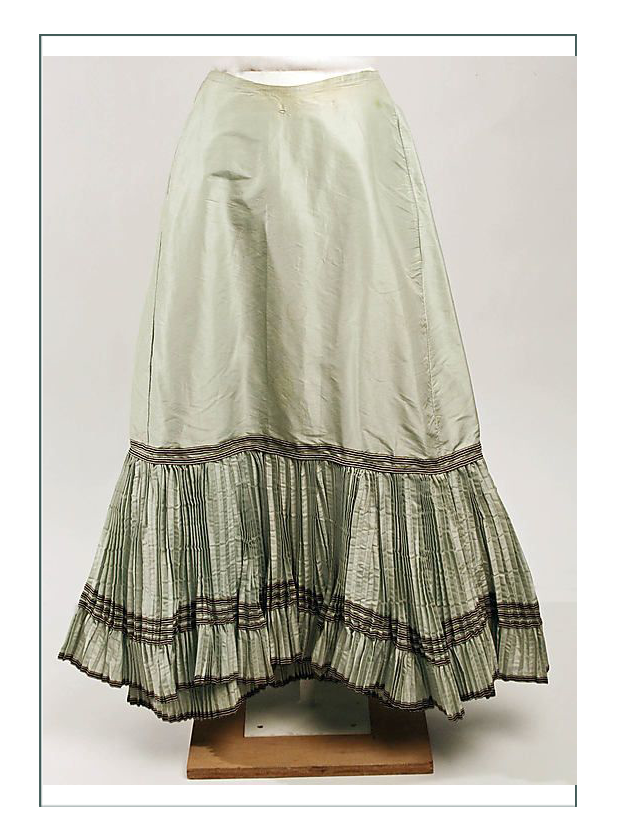 Corsets
A quick note on corsets of the day (see detailed information above) as we show these examples of 1902 advertisements and extant garments.  There was a LOT of variety in corsets by 1902!  Some women wore their late Victorian long, waist cinching and symmetrical corsets.  Some wanted the very latest thing which was the "S Monobosum".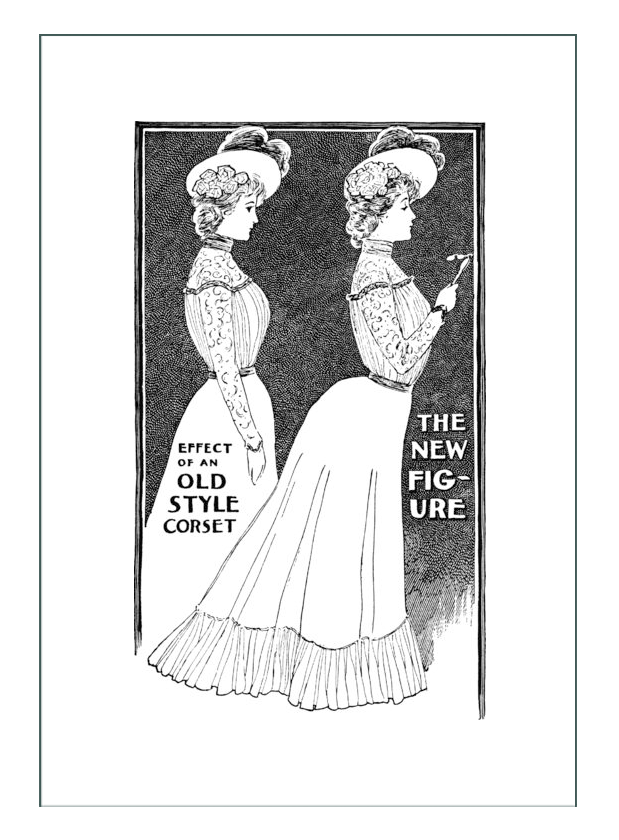 The main thing is they would have to decide.  They couldn't switch back and forth.  We believe Bailey's character would want the newest thing as she was upwardly mobile and trying to impress.  It was a conscious and distinct decision to build the ensemble with the Edwardian Silhouette, rather than the late Victorian which would have sufficed, and which realistically most of the Western women probably would be wearing.
It might depend on age – a woman who had trained her body to tight cinching all 60 years of life would not most likely change.  A young woman might.  Here are extant examples of 1902 from various places in America and Europe for consideration in design.  ANY of these would be appropriate!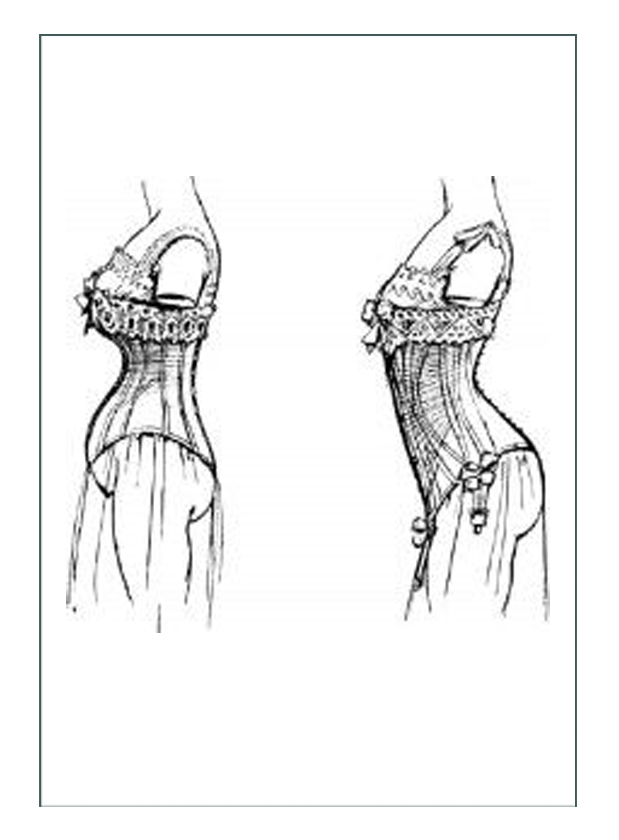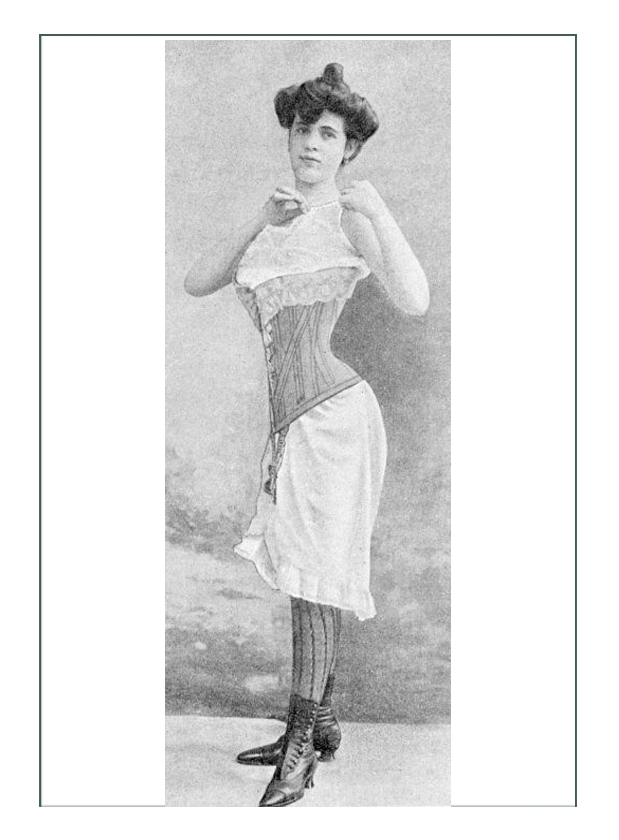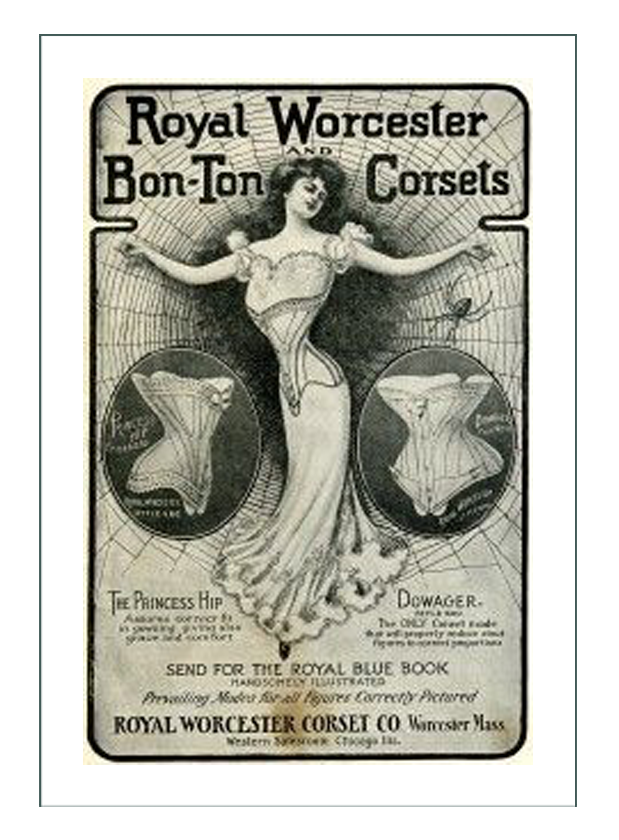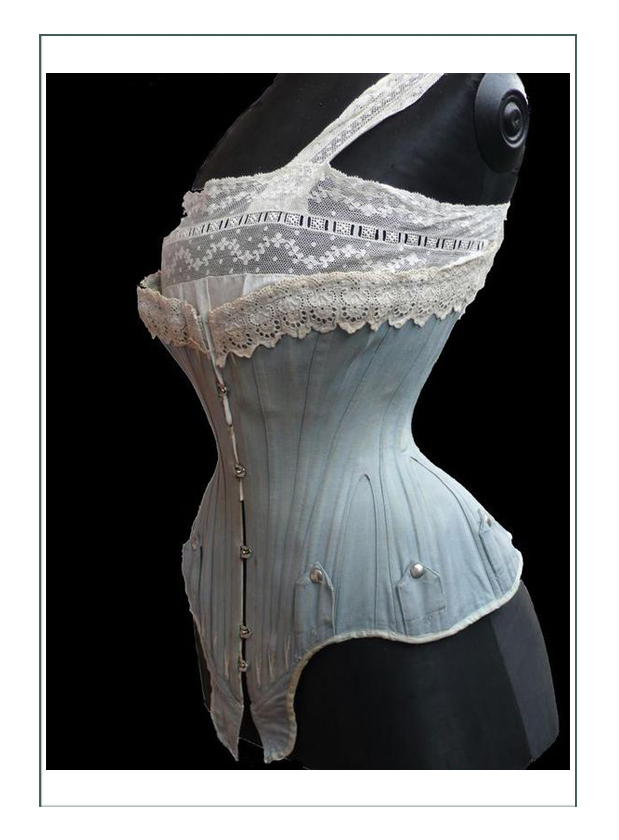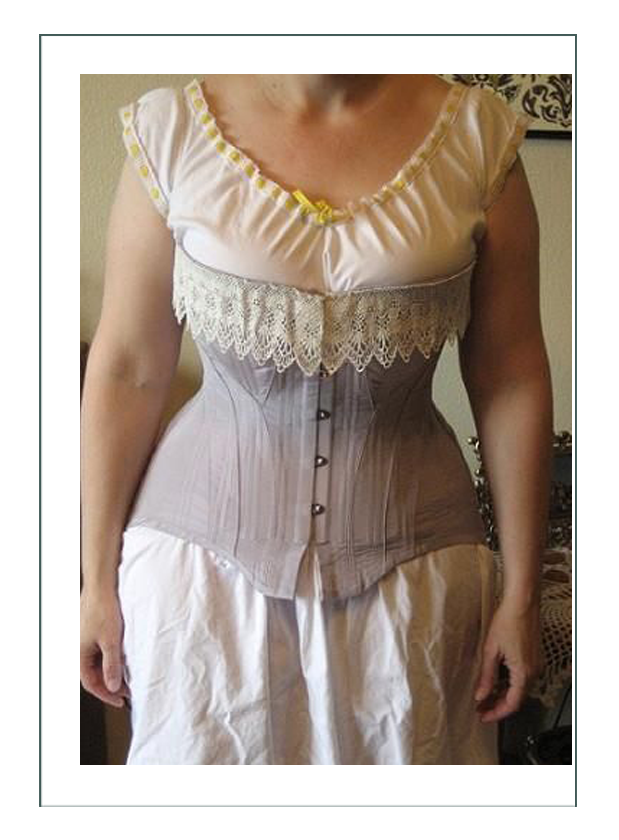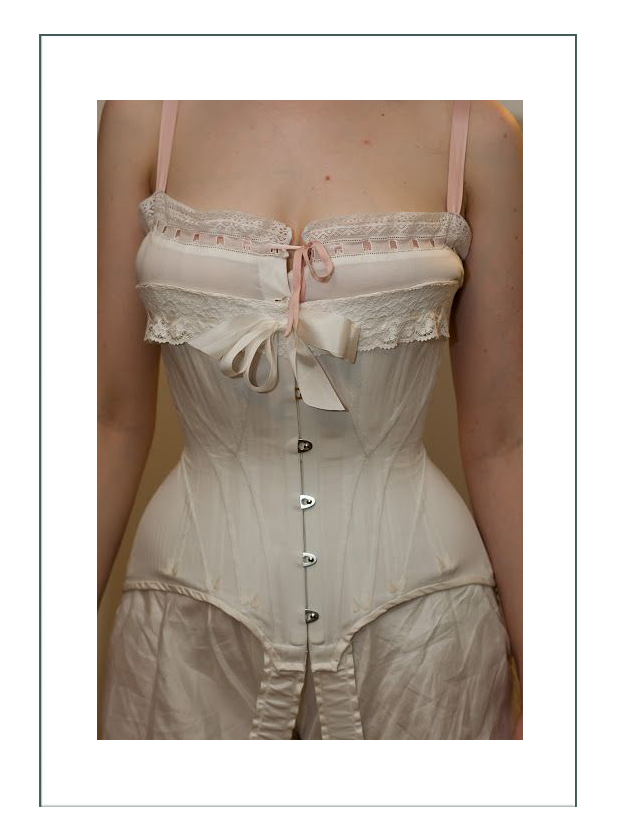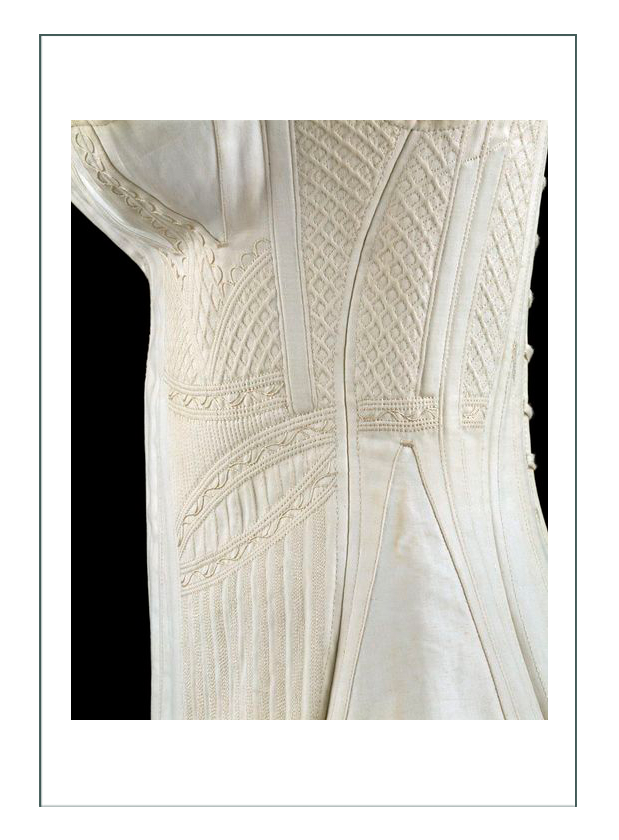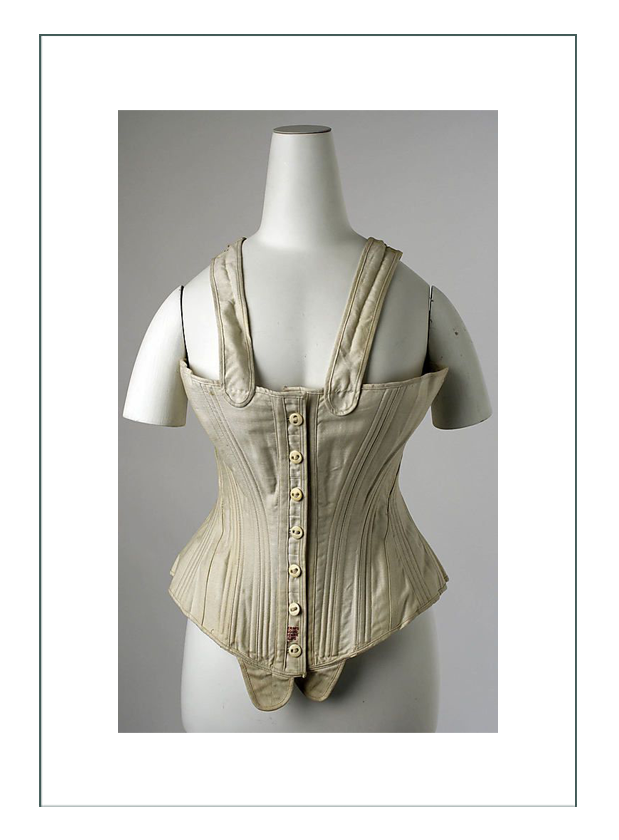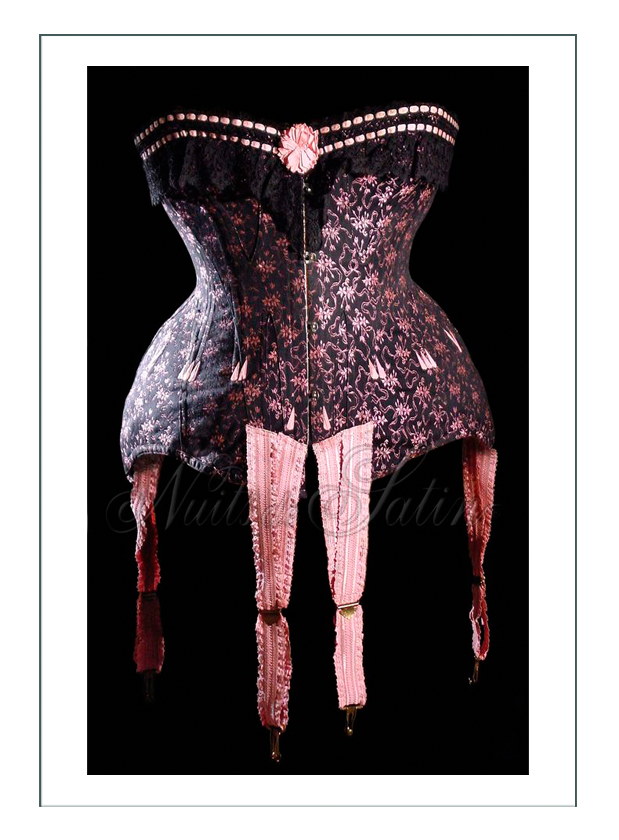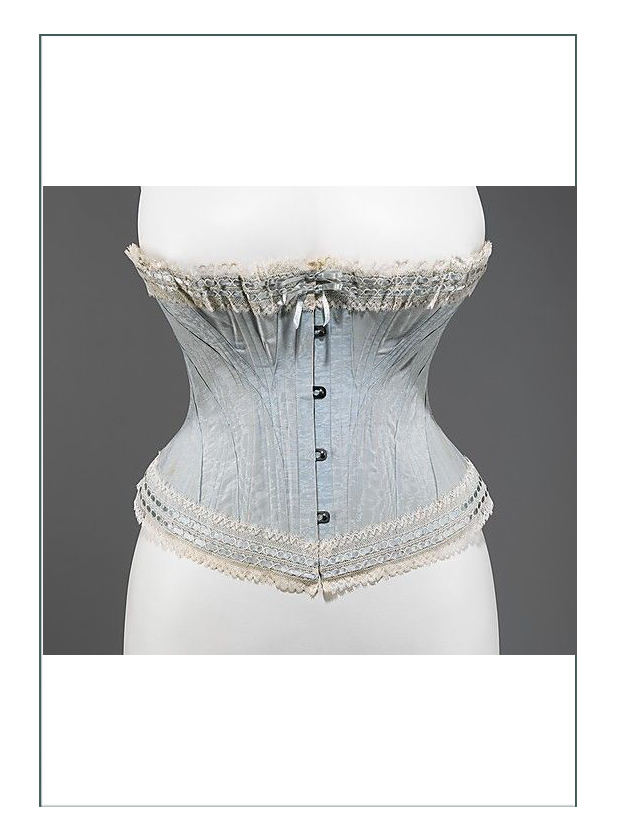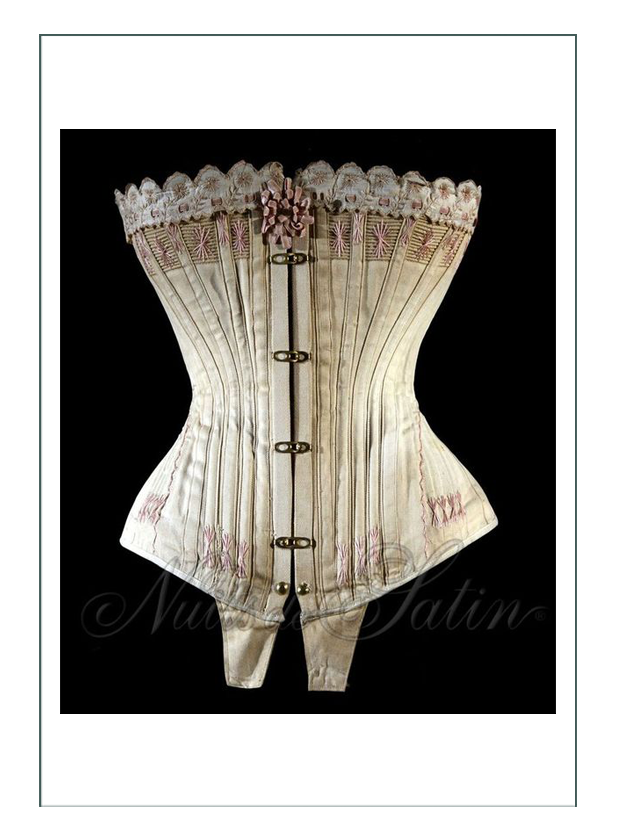 Drawers & Corset Covers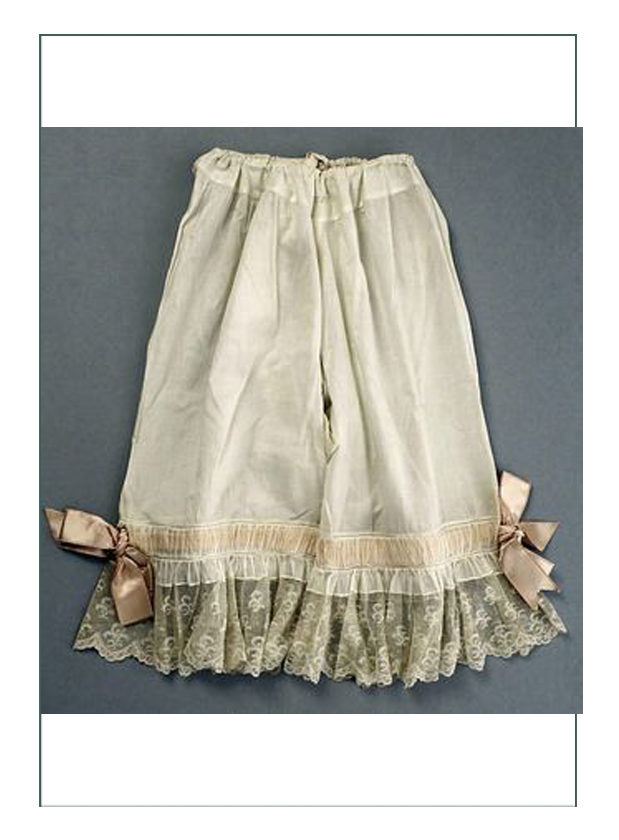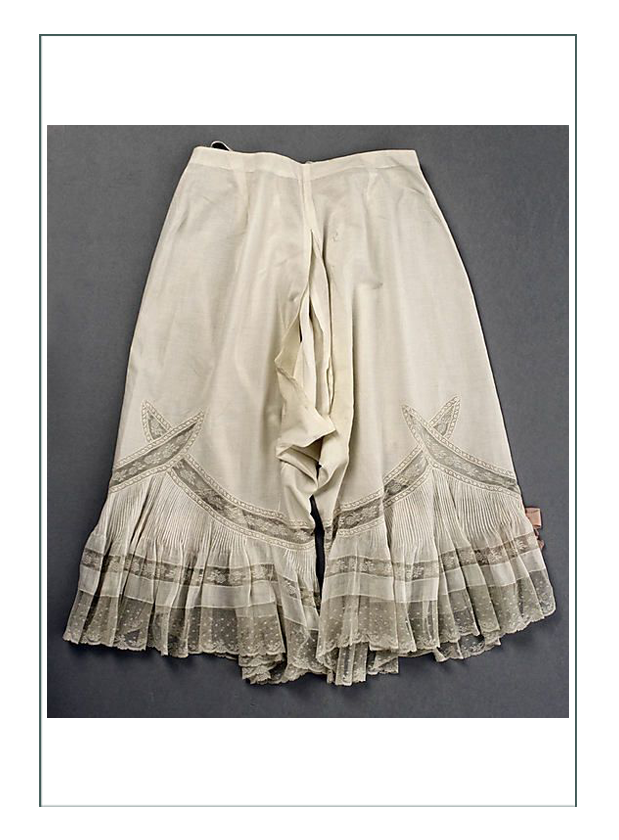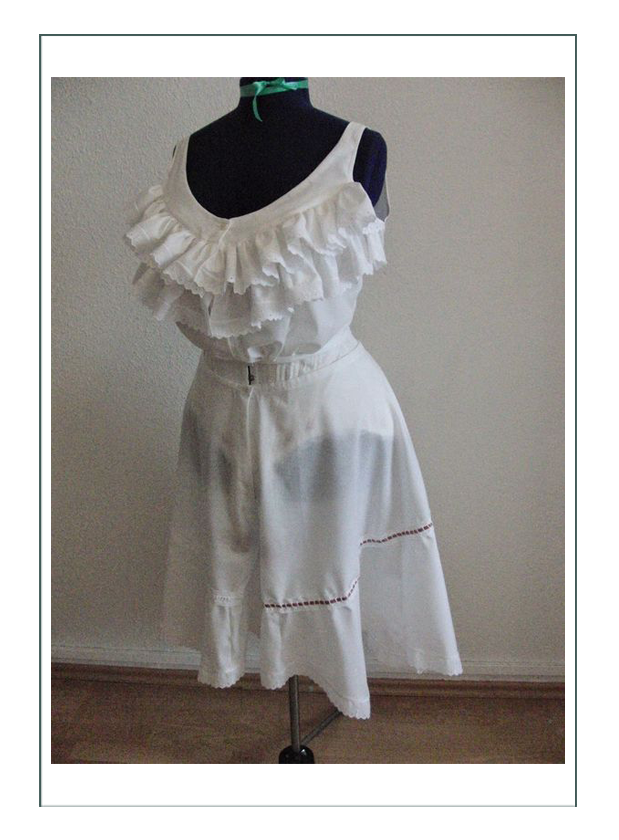 Click here to see Bailey's Design Development Page (Next)
Click here to go to Bailey's main page with the Finished Project
Click here to go to Bailey's Historical Context Page