Because this ensemble is more "active street art" than historical interpretation (she anticipates her use to be walking down the streets handing out flyers, or talking to people about the area rather than depicting a character), this is closer to a theatrical development than historically accurate.  She and staff decided, however, since undergarments, corsetry, the silhouette, and the structure of the garments of this era were so key to visual depiction, that it would need to be built authentically correct.
Since the Edwardian Era 1899-1914 split into so many factions: Belle Epoque, Art Nouveau, Classic Edwardian, Working Women.. and fashion drastically changed into at least 16 different styles, Doty had to choose a direction.  This direction was based on marketability, and flexibility for CosPlay components.
KEY DESIGN ELEMENTS
She selected High Fashion 1906-09; a cross between the Belle Epoque Parisian innovative fashions, and the Edwardian "Grand Dame" plus the tailored working woman which marked the era.  It was necessary to stay earlier than 1909 because she chose to illustrate Art Nouveau, which became out of fashion shortly after the Titanic Era of 1912.  1909 was Art Nouveau's peak. This will work because:
 The monobosum, sleek & curvy rounded figure with derriere created by the corsetry of high fashion is highly recognizable to the public as defining the era because of the posture and grandeur as seen in movies & literature
The Grand Dame can cross over with the tailored look of the working woman of the era in the simpler blouse skirt and jacket "suit" ensembles typical of the era – satisfying the modification by women of the "Wild West" to fashion of the day on the east coast and in Europe
The basic "suit" was an innovation of the day, and could be made very ornate and high fashion, or as simple as a sporting costume such as for riding or tennis at that time – in this case allowing a blend of highly ornate with simple tailoring
Trim and frills of the Grand Dame can be made and added by Doty herself and changed over time
Accessories can be grand – huge hats, parasols, gloves, brooches – and changed to change the character depiction.  The depiction can continue to evolve, and elements can be used separately
PRACTICAL REQUIREMENTS FOR THE DESIGN
 Be sure it looks different from modern wear.  Because so many fashion concepts originated in the many factions of this time and era, we see today elements of the Edwardian (etc.) in our garments today
Have it stand out in a crowd.  Make sure it is clearly an historic costume to the general public
Use elements the public recognizes as historic; e.g. what they know from film, television, and literature.  Meet their expectations on what the era "should" look like
Appear period correct even to the uneducated observor
Have outstanding and noteworthy detail from far away and close up.  Make people want to get closer and ask questions
Use period specific materials, methods and especially for this era trims and details that were introduced or outstanding for this period
Build for the full and normal woman's figure, but show how it can be emphasized or altered.  This leads to discussion of corsetry and undergarments which were the outstanding components of design for all styles and factions of this era
Modify all, even high fashion, to the West, drawing from elements and key concepts world wide but using what would have been available and possible in the western US; e.g. ideas from magazines, but home sewn
Steer clear of "cliche's" like the saloon girl, outlaw, or sharpshooter or specific characters.  Those have been done.  Focus on REAL women and REAL feelings.  This will allow the interpreter a broader range of characters to portray plus use in movies and settings as well as leading character situations.  The authenticity of this outfit has to come from showing how a normal and real woman's attitude and activity is affected by and affects her behavior
Look for unique experiences or characters of real women of the era such as "stacking" or riding the first street car as background for behaviors

Including Details & Ornamentation
Having now the storyline and personality framed for the character, content and segments from above historical samples can be gathered to get closer to the correct ensemble.
Below are additional extant and real women samples to build upon the personality, place, and occupation of the character:
 High fashion – current fashion – designer fashion (Paquin inspired)
Art Nouveau basis for fashion and especially trim
Professional for travel and/or meeting/sales (not for evening nor work time)
Unique and personal based on preferences
Personal preferences include dark colors (preferably red and black, but art nouveau natural colors of brick red and greens, golds, and blacks good too), rich fabrics, with high contrasting trims
Low neckline preferred, with unique lines of the bodice
Bodice and skirt, or jacket and blouse or chemisette with skirt
Skirt to be trained and sweeping
Interchangeable accessories – big HAT, gloves, shoes/boots, eyeglasses per period
Silhouette appropriate to high fashion (as opposed to aesthetic or reform or the modification of high fashion for western function); which means "S" monobosum corset with appropriate undergarments
Select examples below by French designers of the day; predominantly by french designer Paquin 1900-1906, and the first 2 by Lacroix who changed fashion forever with her corsetless "Sylvide" bias draped gowns: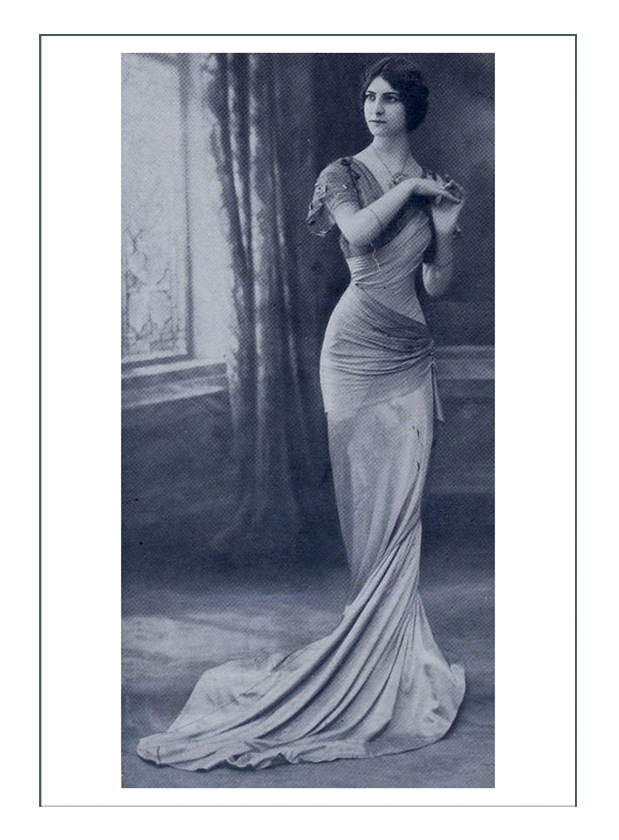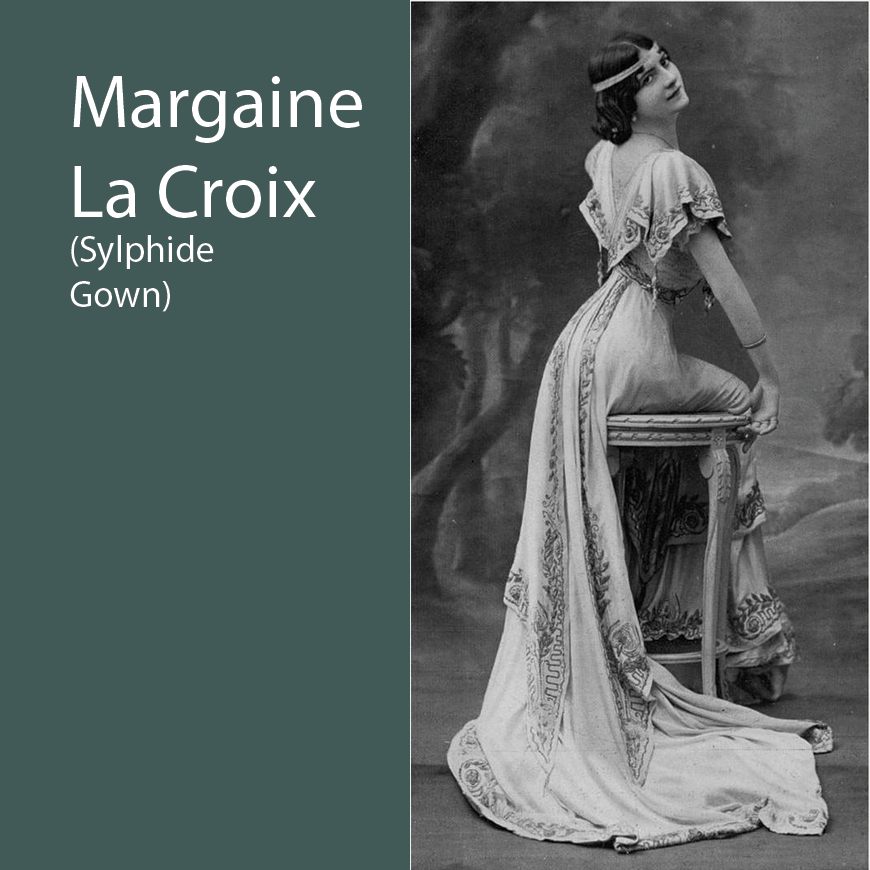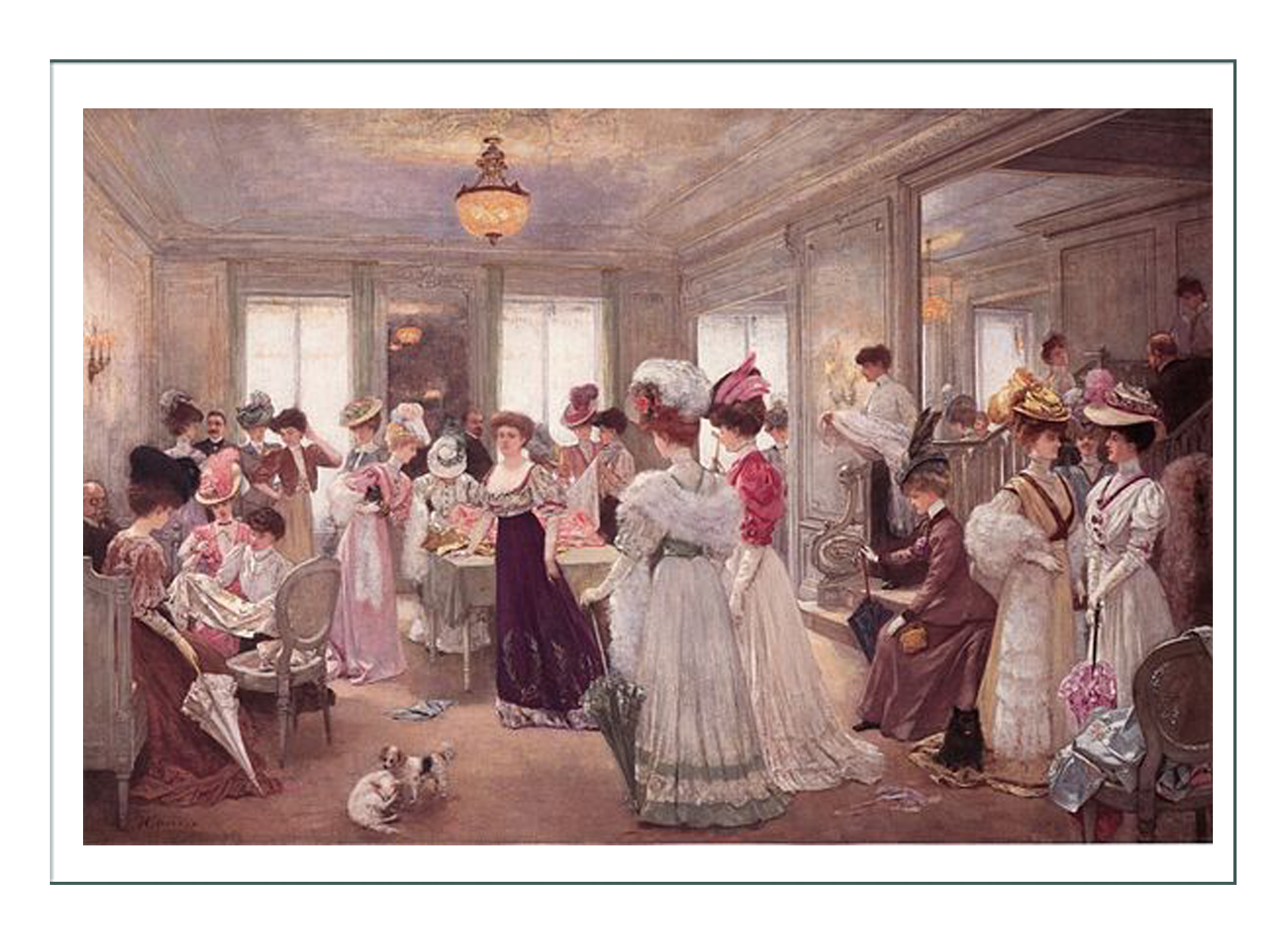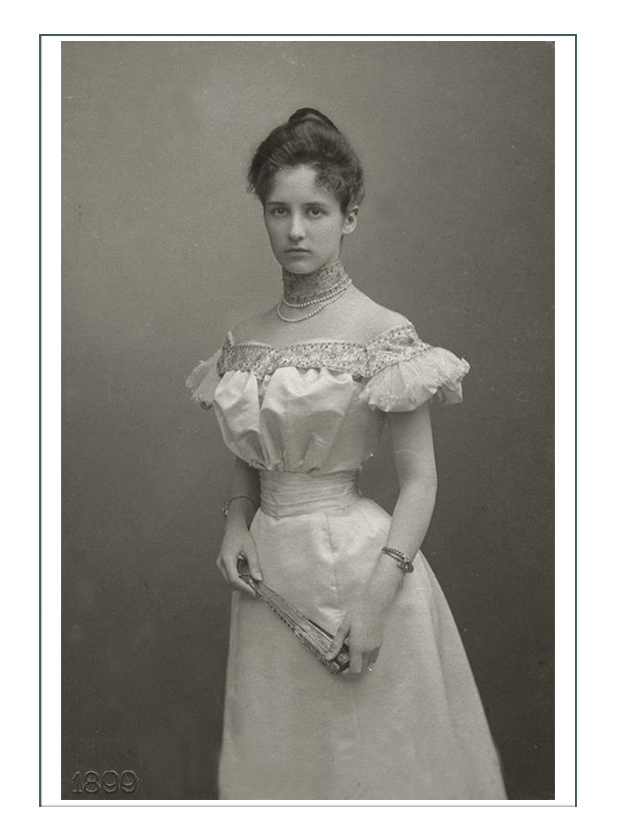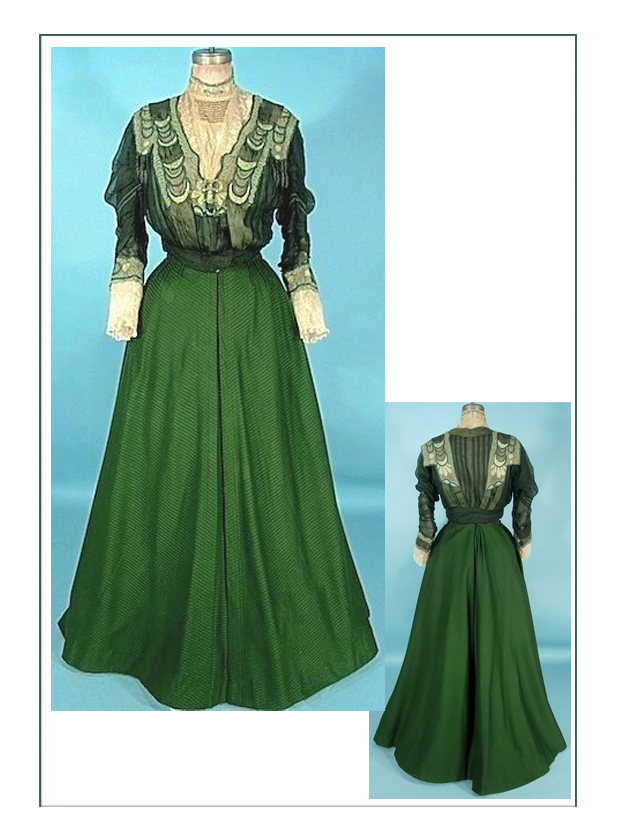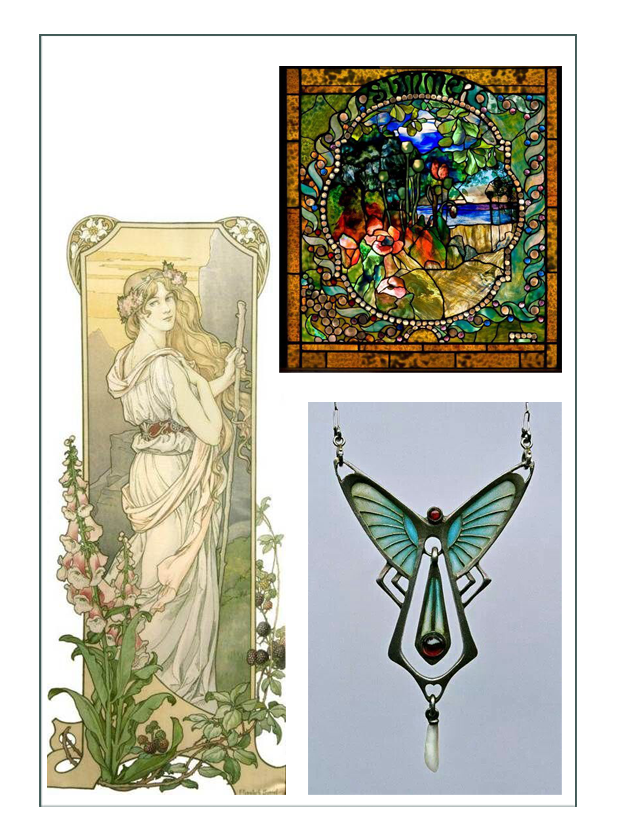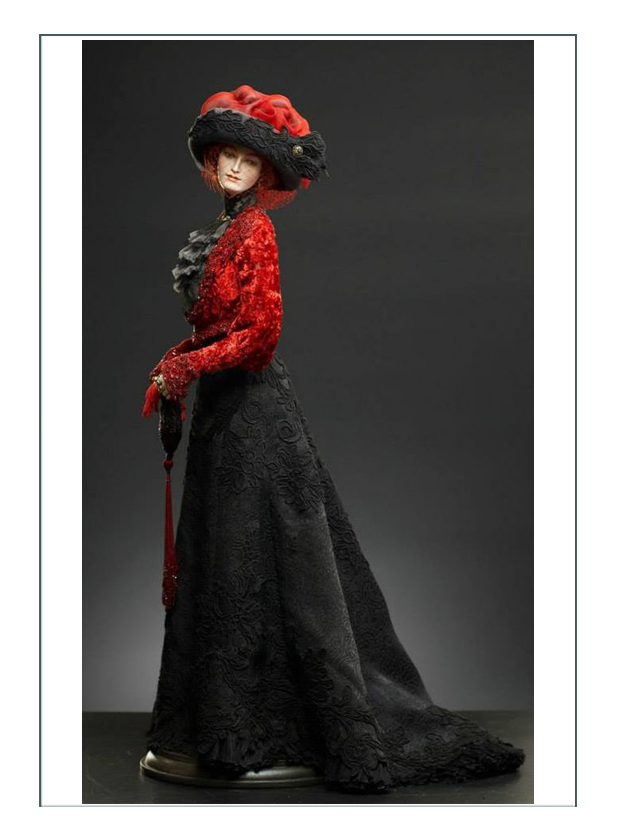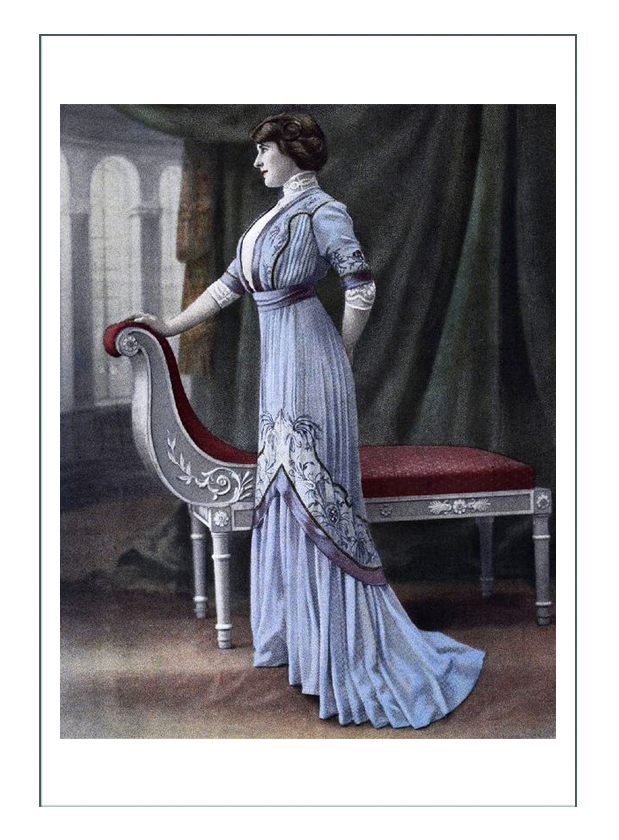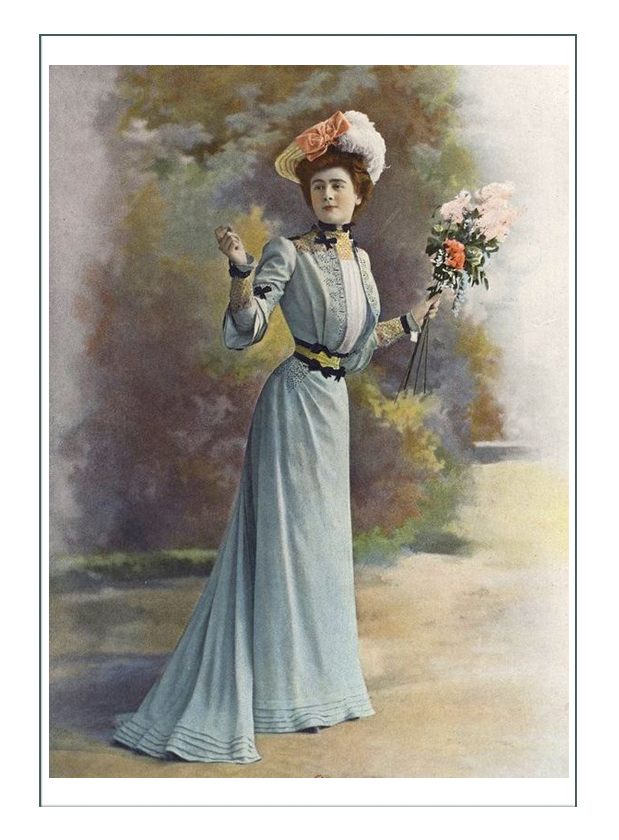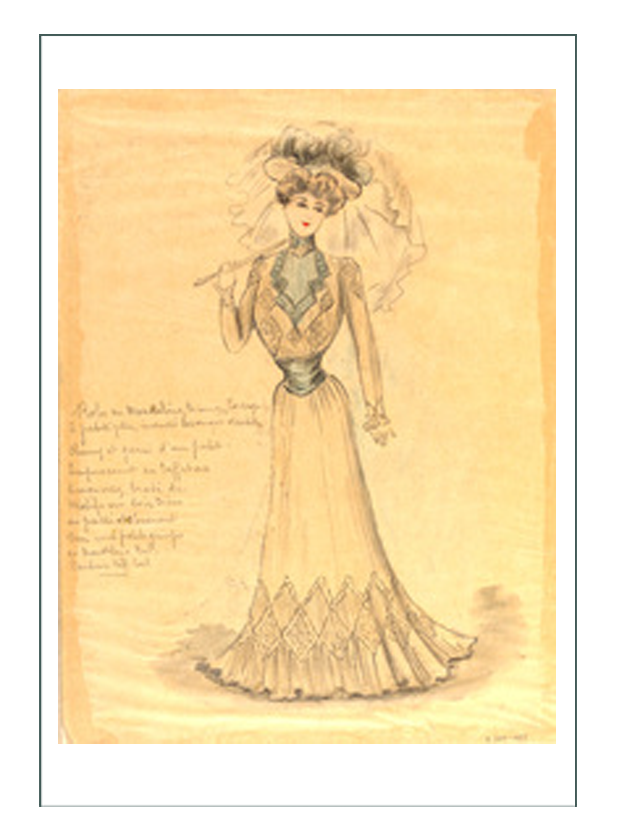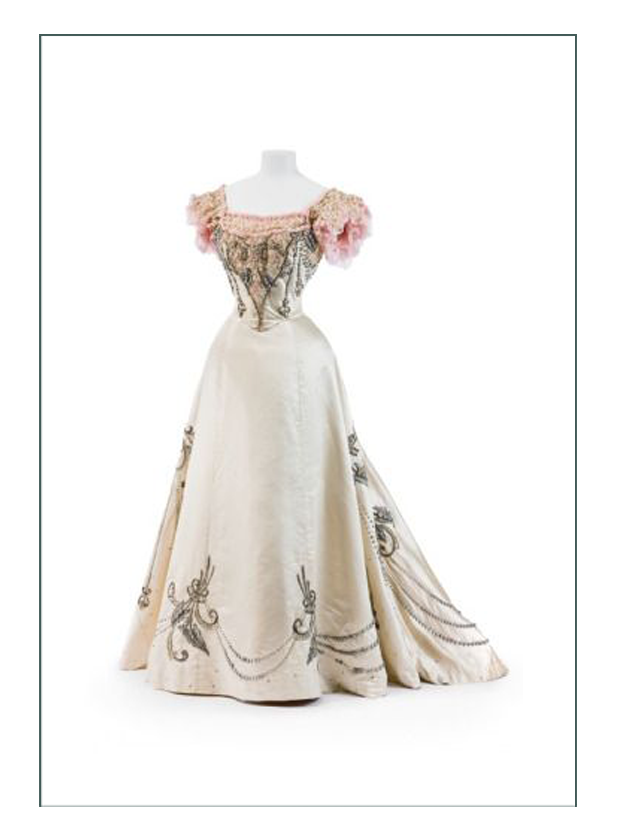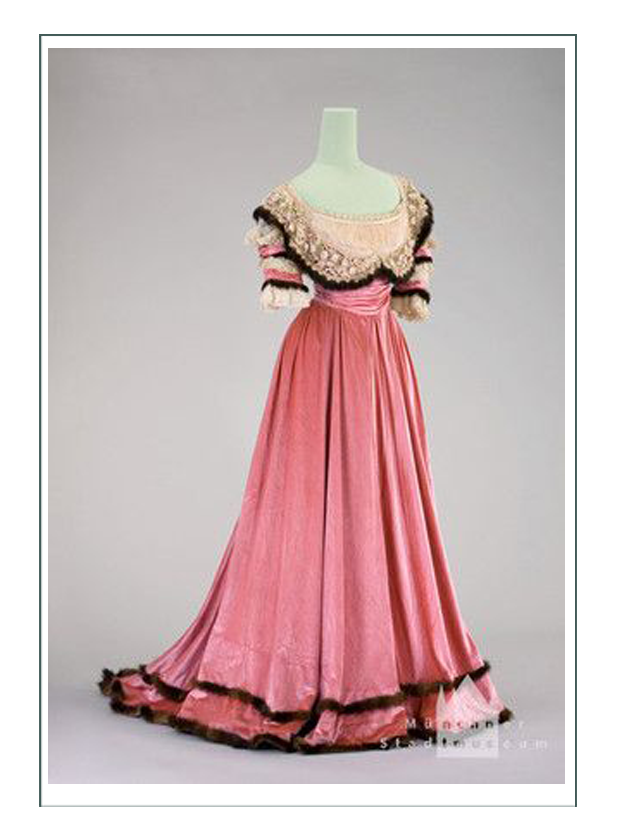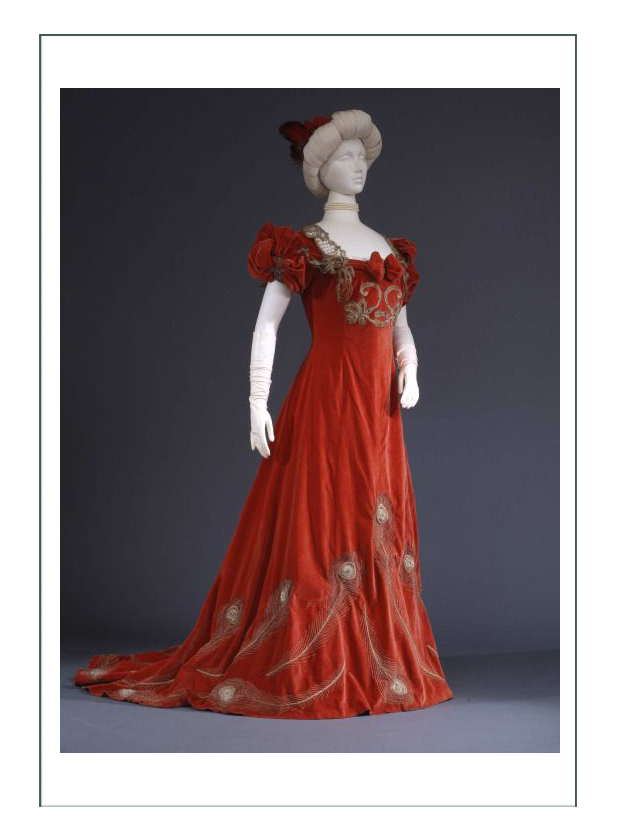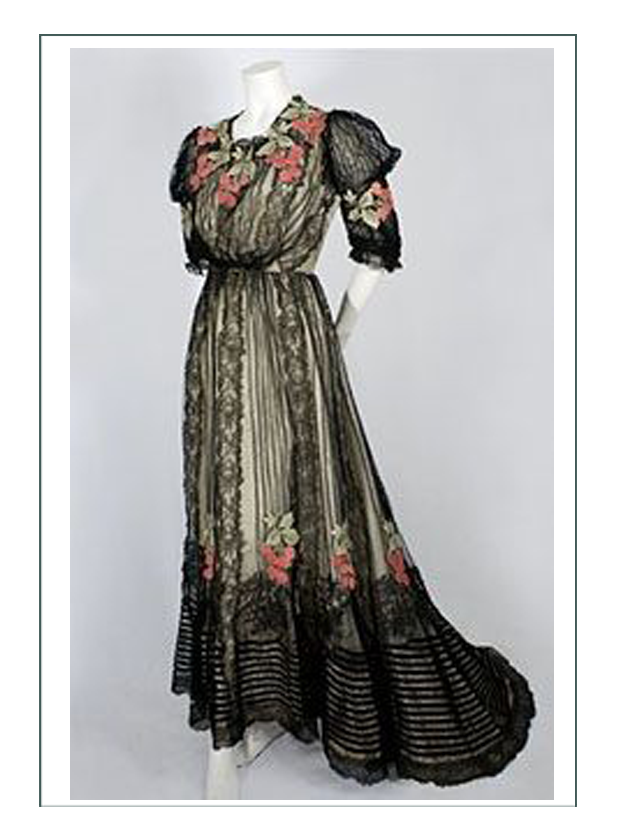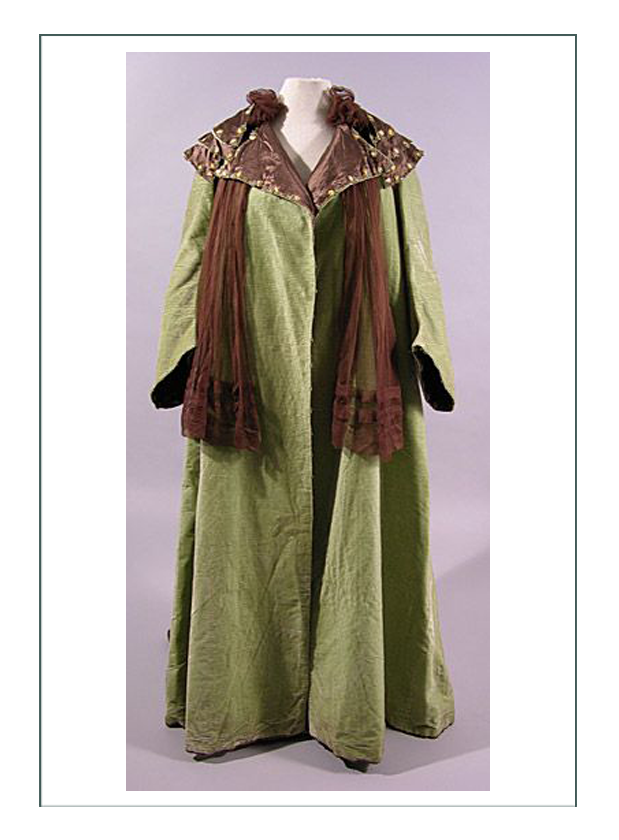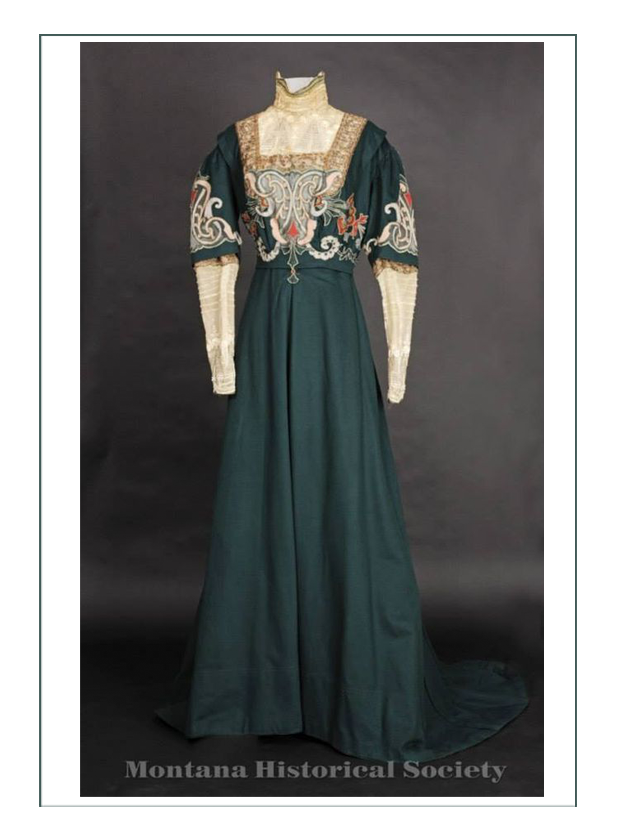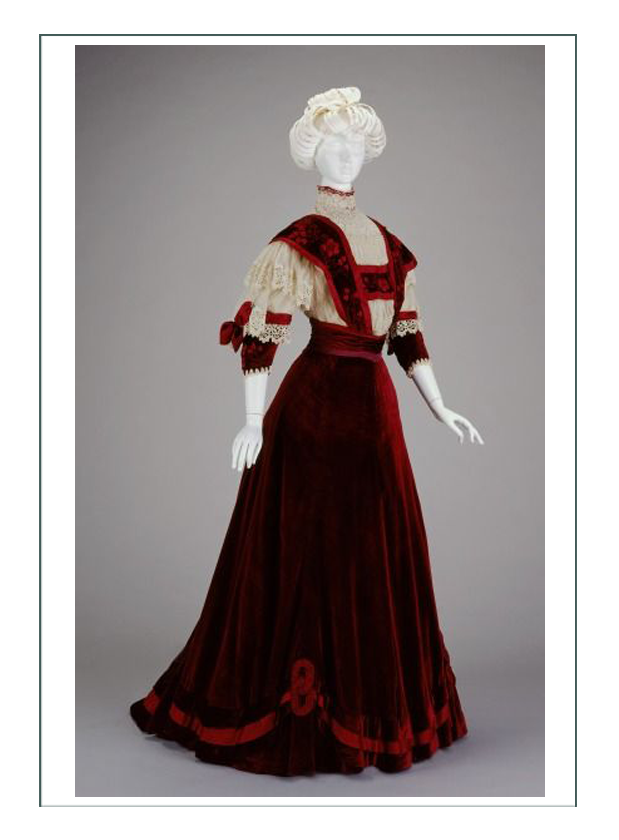 Character Select Accessories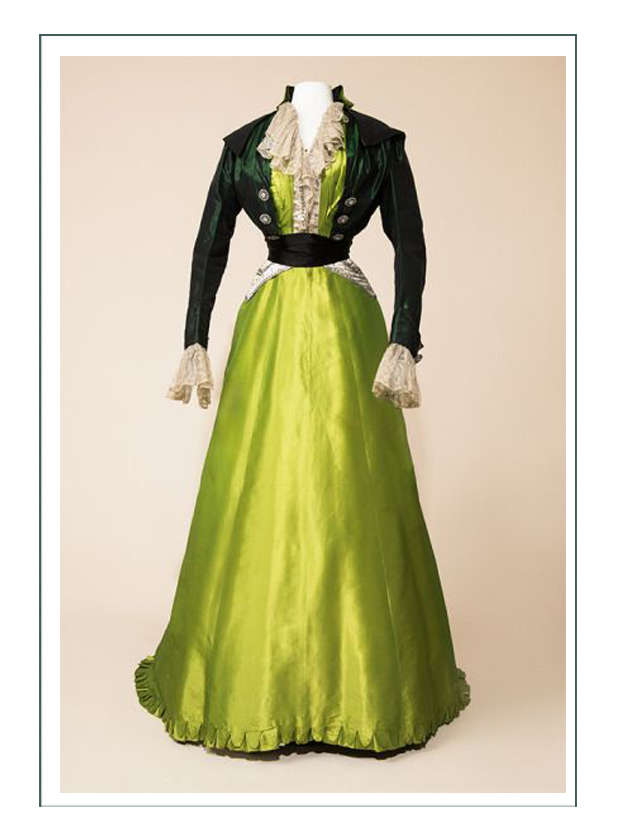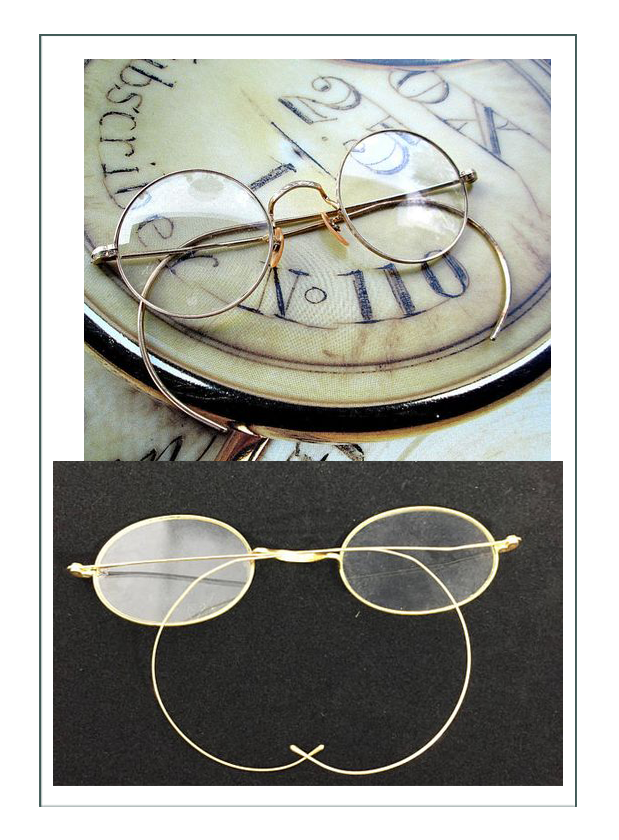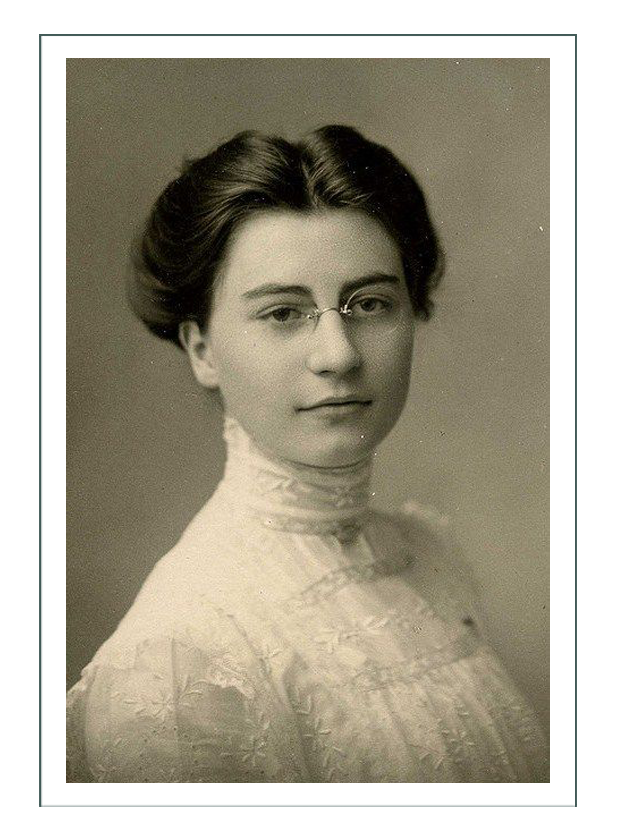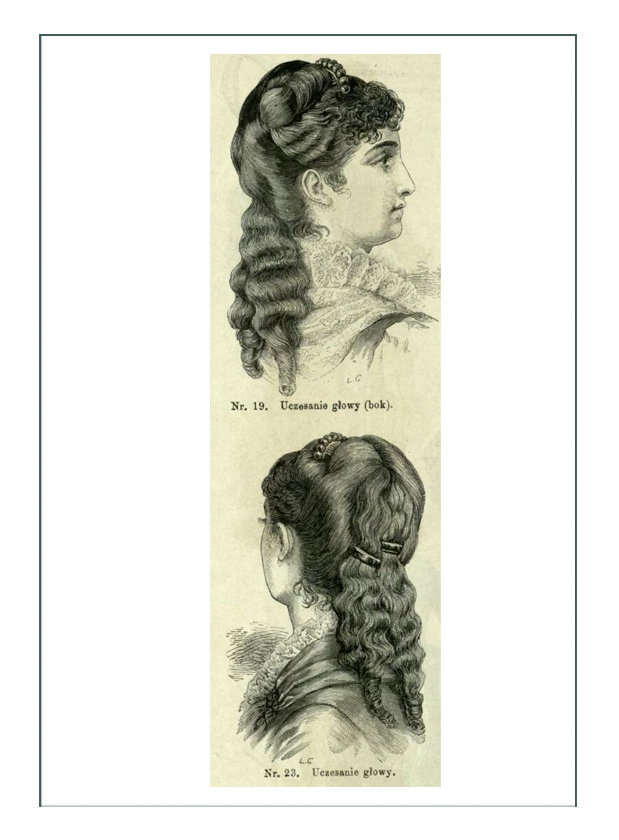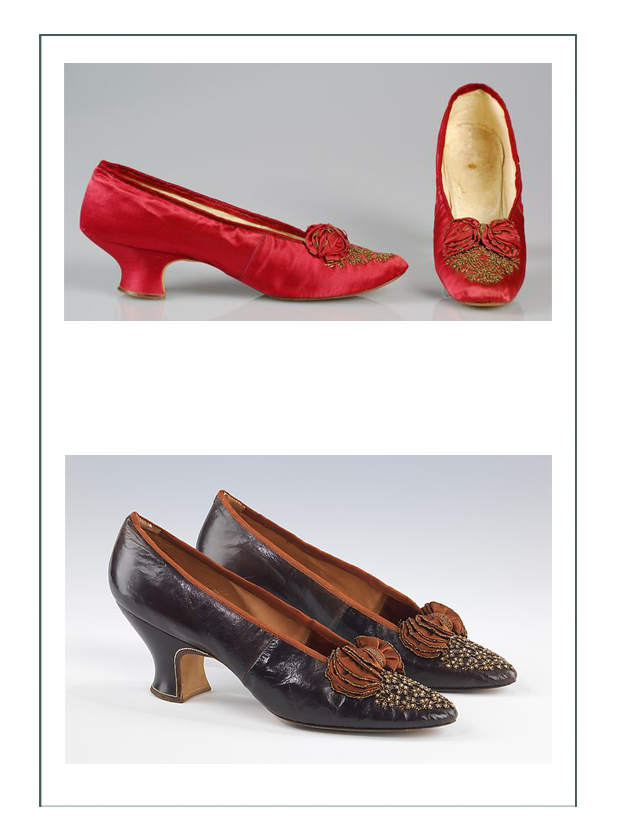 Character Select Undergarments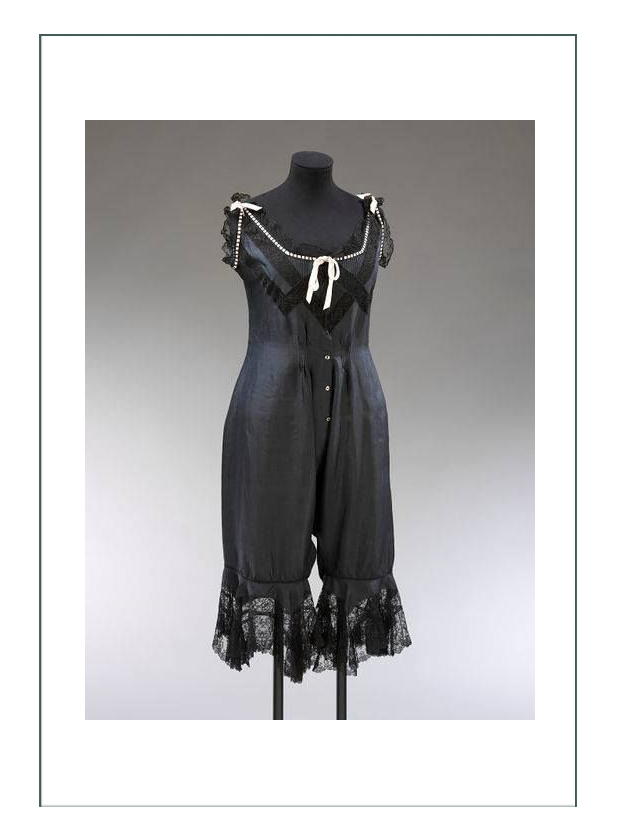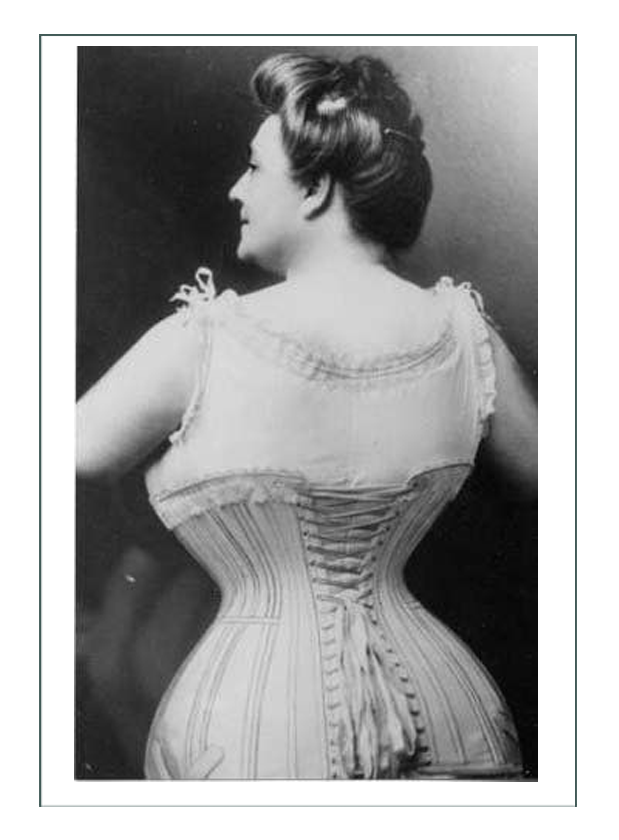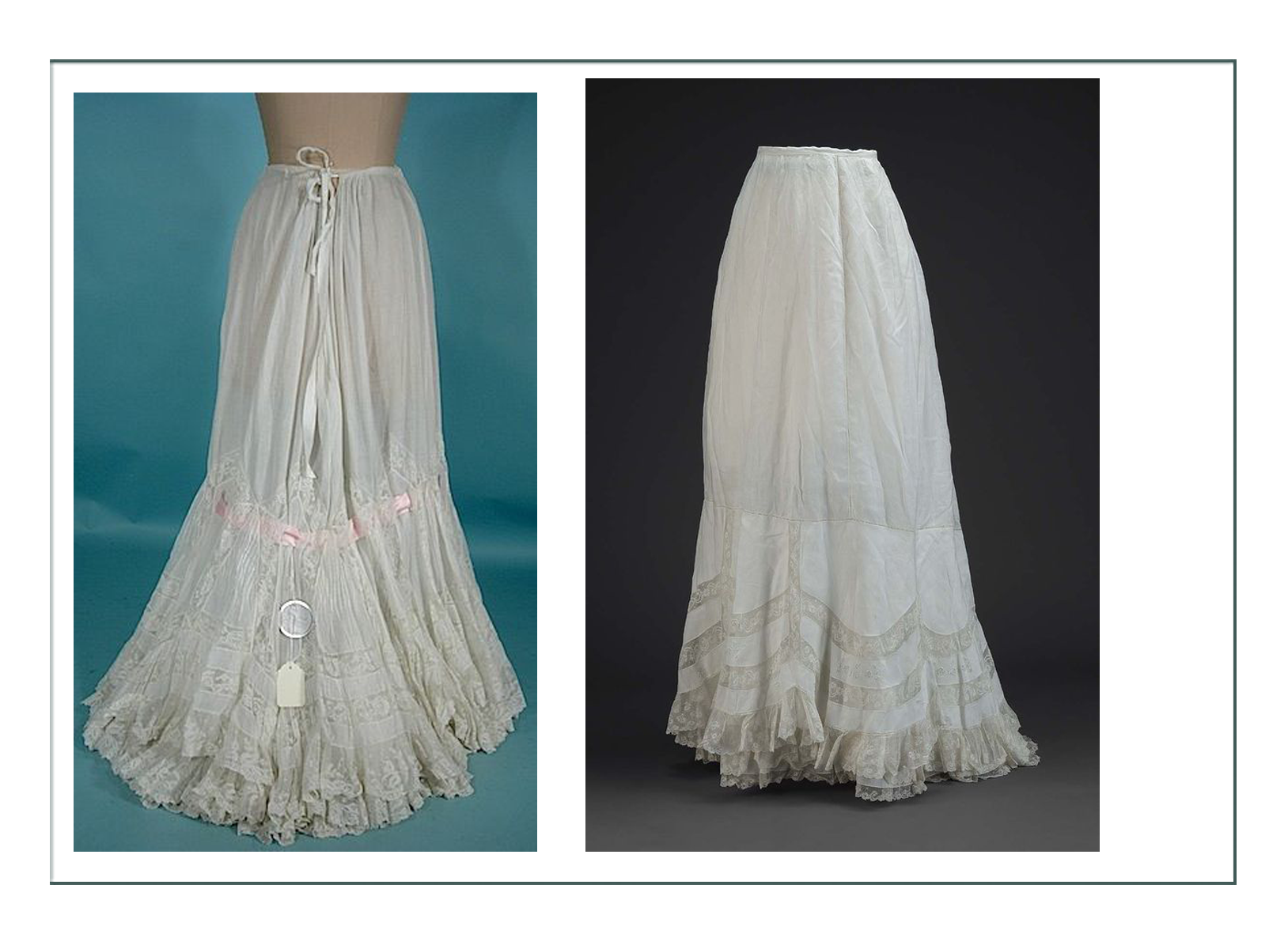 Skirts
The Edwardian silhouette was defined by the corset and the skirt.  Selection of skirt for depiction is key to understanding which period is being shown.  Doty has decided to maintain the earlier, 1905 shape as her character would have started with that, and then modified it when she got back to the United States to begin her journey.
The use of the smock works for this, as it will be based on an authentic commercial pattern that was available to women of the time with the express purpose of "making last summer's dress into the latest for this year".
In this way, some things will be appropriately outdated, while others are ahead of style with this ensemble.
A quick study of skirts explains the decision for the final design to have the fully round skirt of 1905.  There was almost something new each year:
1901 Trumpet Skirt, shaped and fitting over the hips and thighs, then flaring out below the knee for a wide hem; typically 5 or 7 gores
The slim skirts very quickly after that got fuller at the hem, with the addition of vetical pleats and tucks around the skirt, although the skirt itself remained lean and controlled through the thigh
1904 brought expansion of skirts through the thigh, and shaping slipped away to reveal full, straight gores.
Additional gores were added and the 9 and 11 gored skirt appeared; some skirts up to 24 gores.
Pleats got more complicated
In 1905, the skirt was at its fullest with the introduction of the circular skirt where all gores are disposed of and the skirt was a full half circle
This led to bias designs and the play with stripes and plaids at the center front seam
1906 began the slimming trend to the skirt, and straight gores introduced.  This would continue until 1910.
Trimmings on skirts were flat with an occasional ruffle.  Fabrics were light and flowing – woolens, muslins, linens.  Skirts were not lined except for a separate "foundation skirt" of taffeta silk.
Multiple layers of petticoats supported all this, and were often the most expensive part of the wardrobe.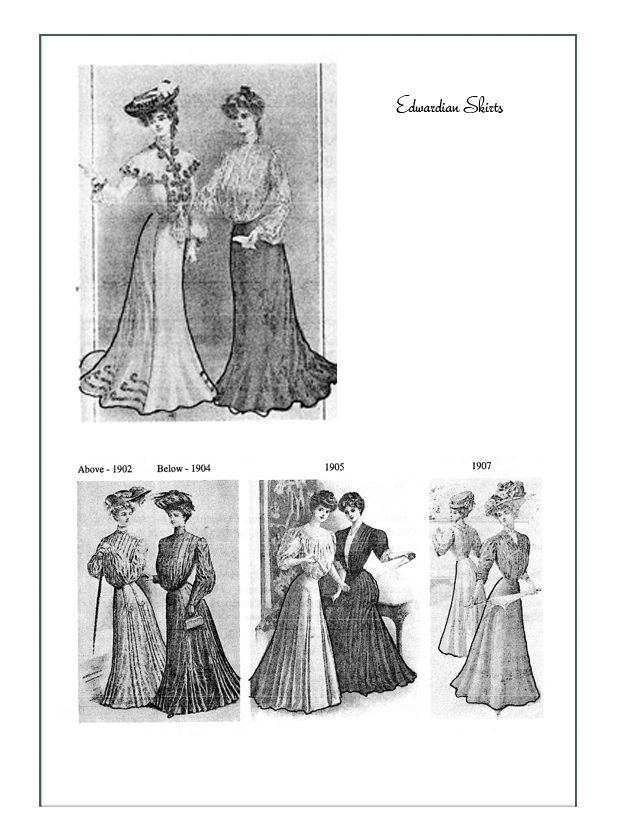 Selected from historical samples, and based upon customer preferences, character personality, availability and types of fabrics and notions, these Art Nouveau themes will be used to establish the design scheme.
The dresses are appropriately designed by Paquin, the Parisian fashion house that in our story line influenced the character: wine red as base, with secondary orange/peach, trim of deep blue with sky blue, and accents of white with deep green/gray to black.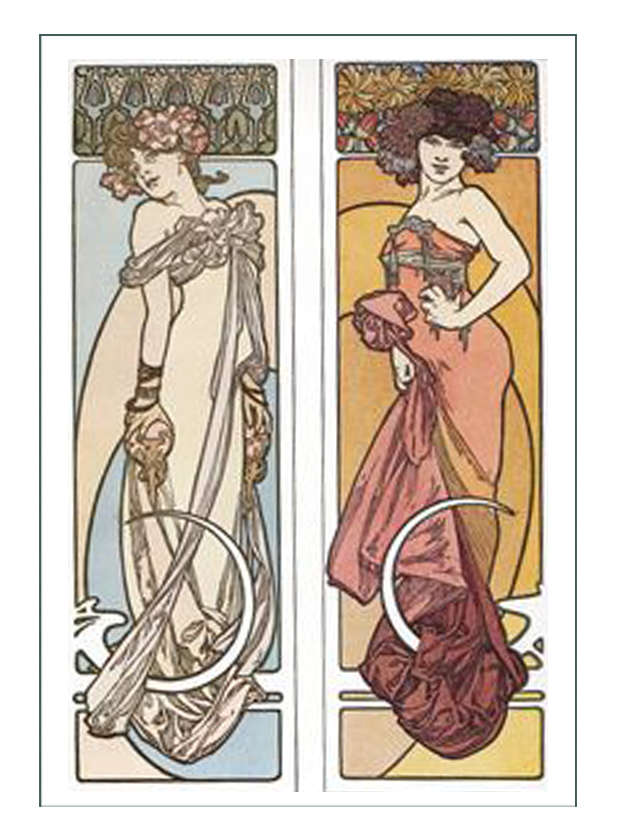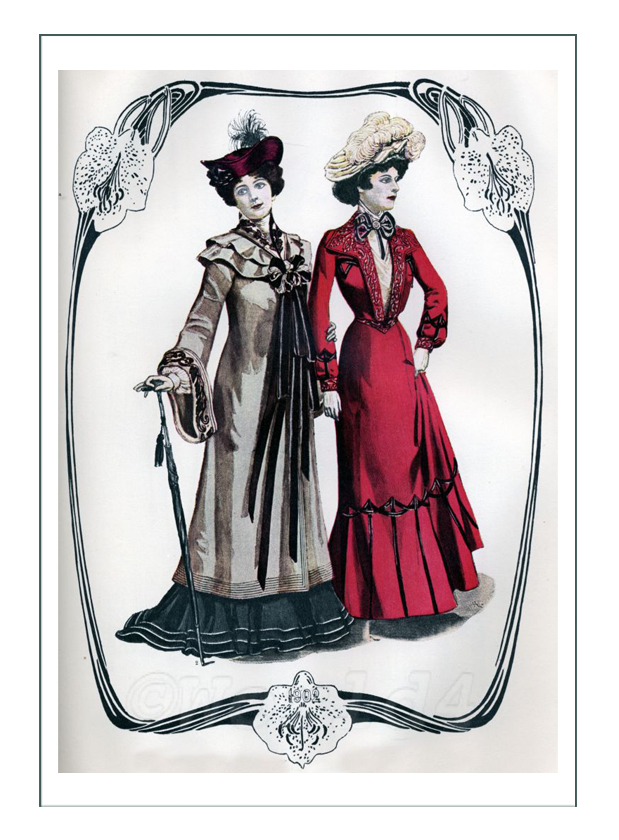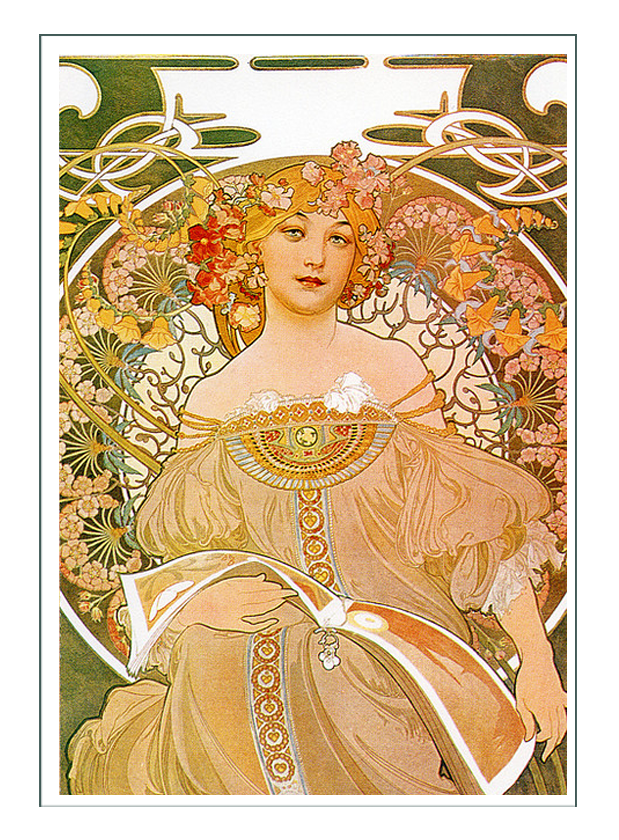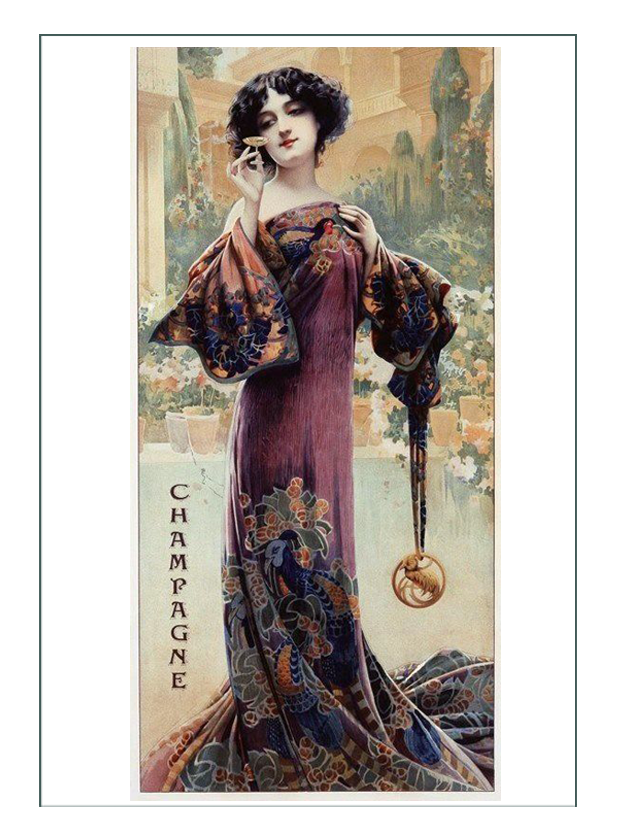 Putting Design Rounds 1-3 together yields:
1904-06; full circle skirt of 1905, monobosum, suiting style with art nouveau details (sketched below):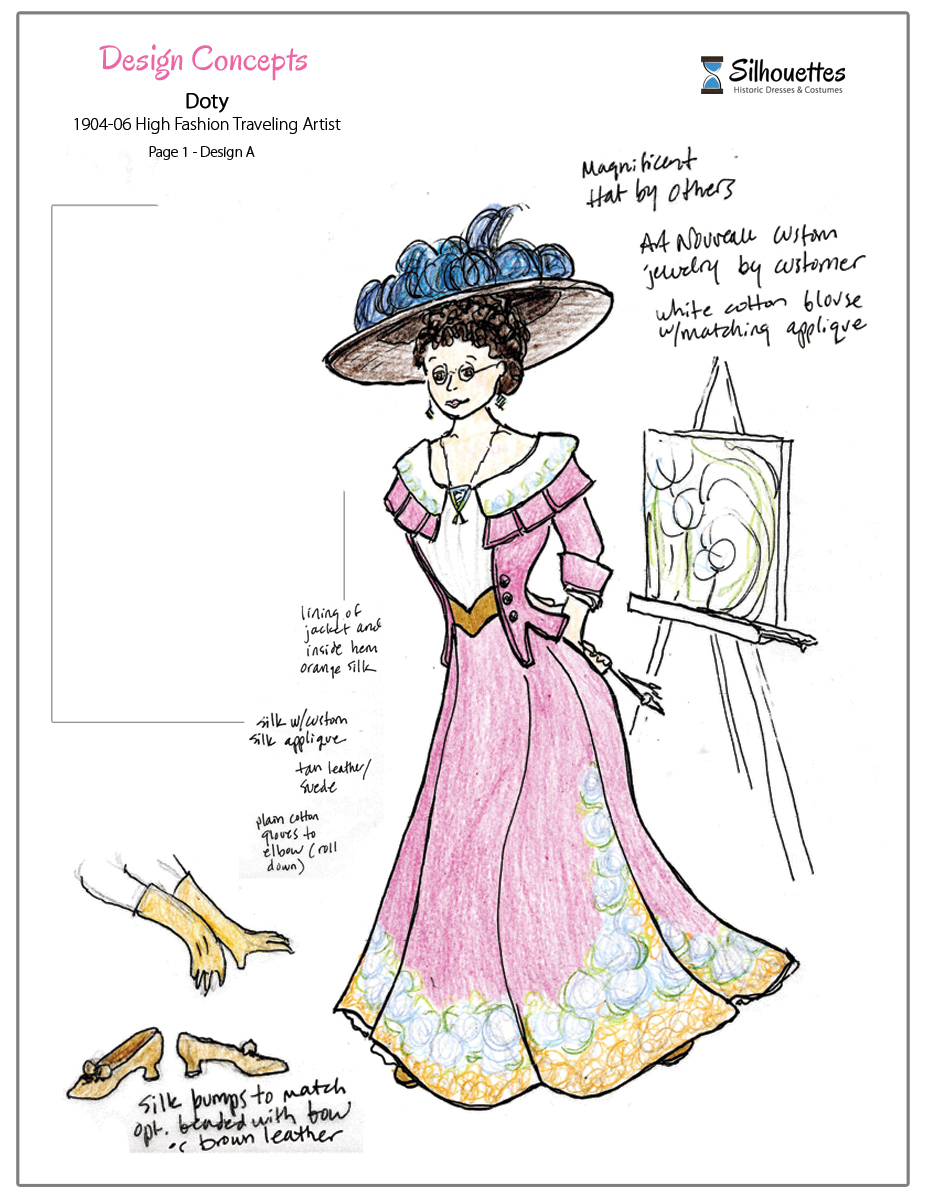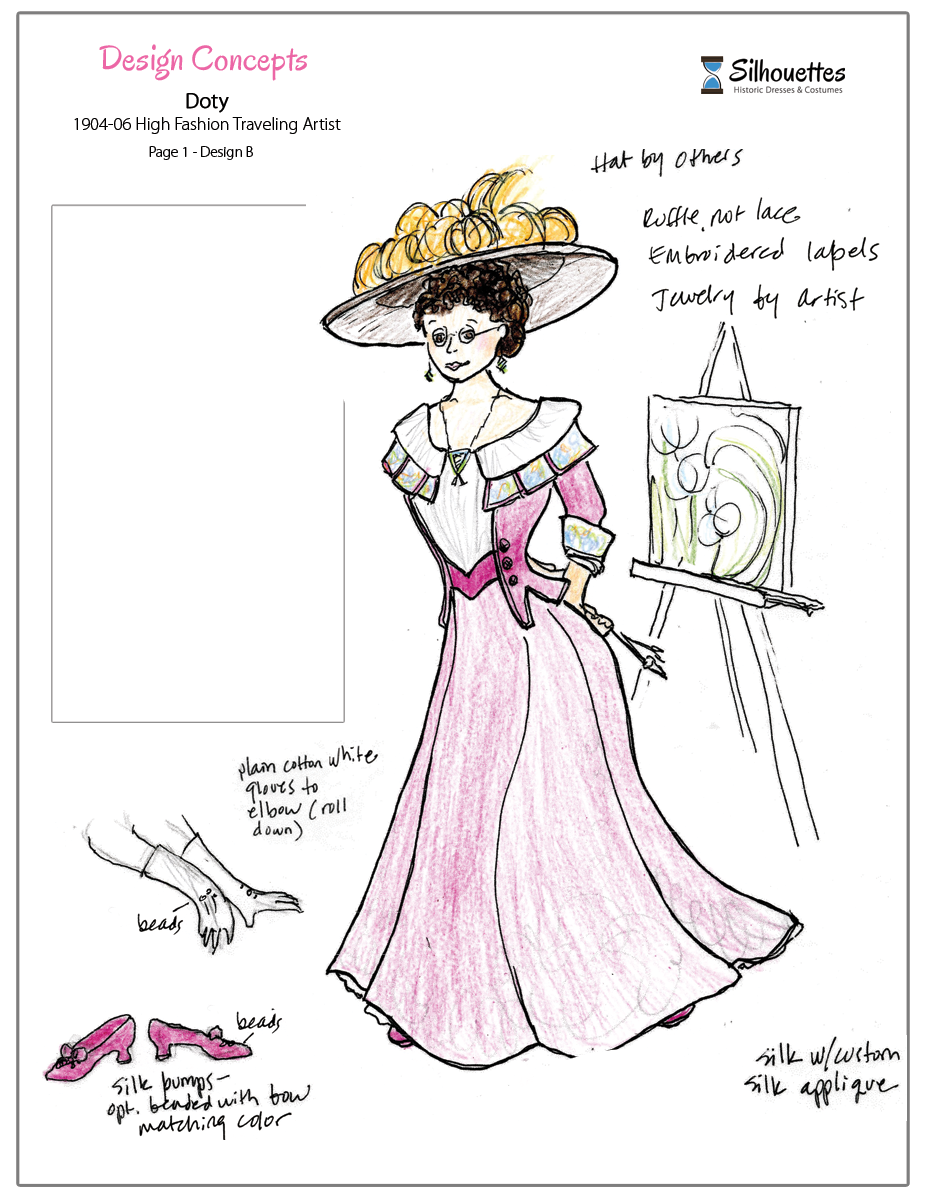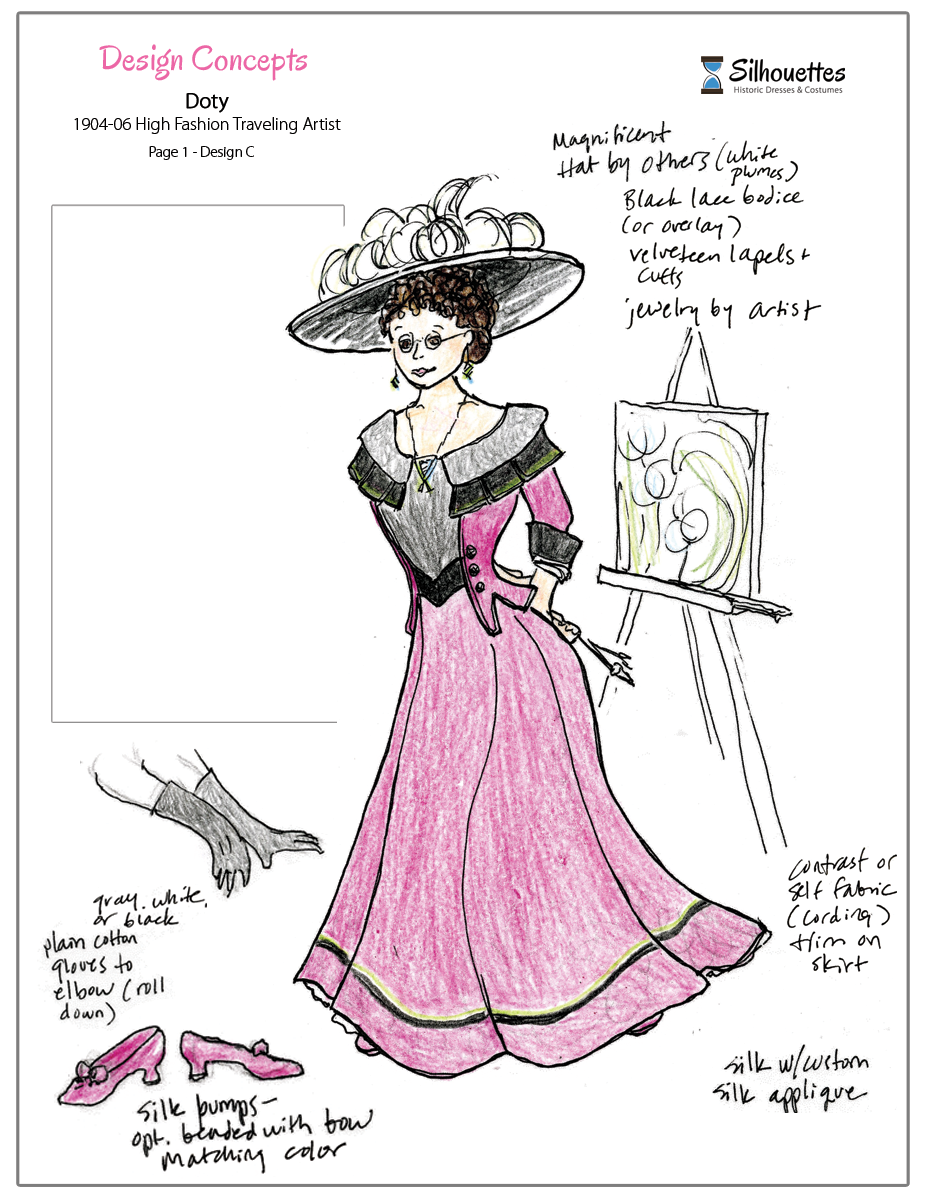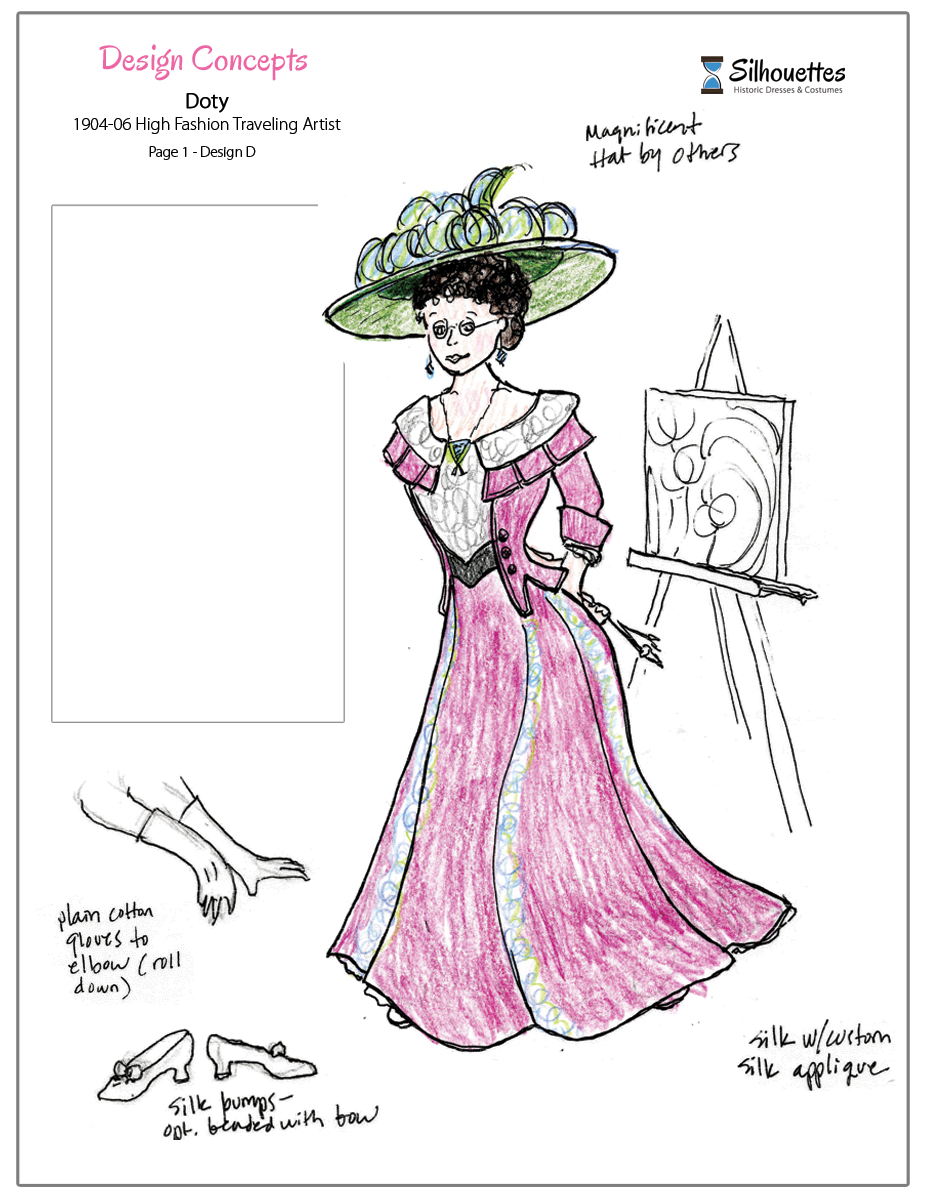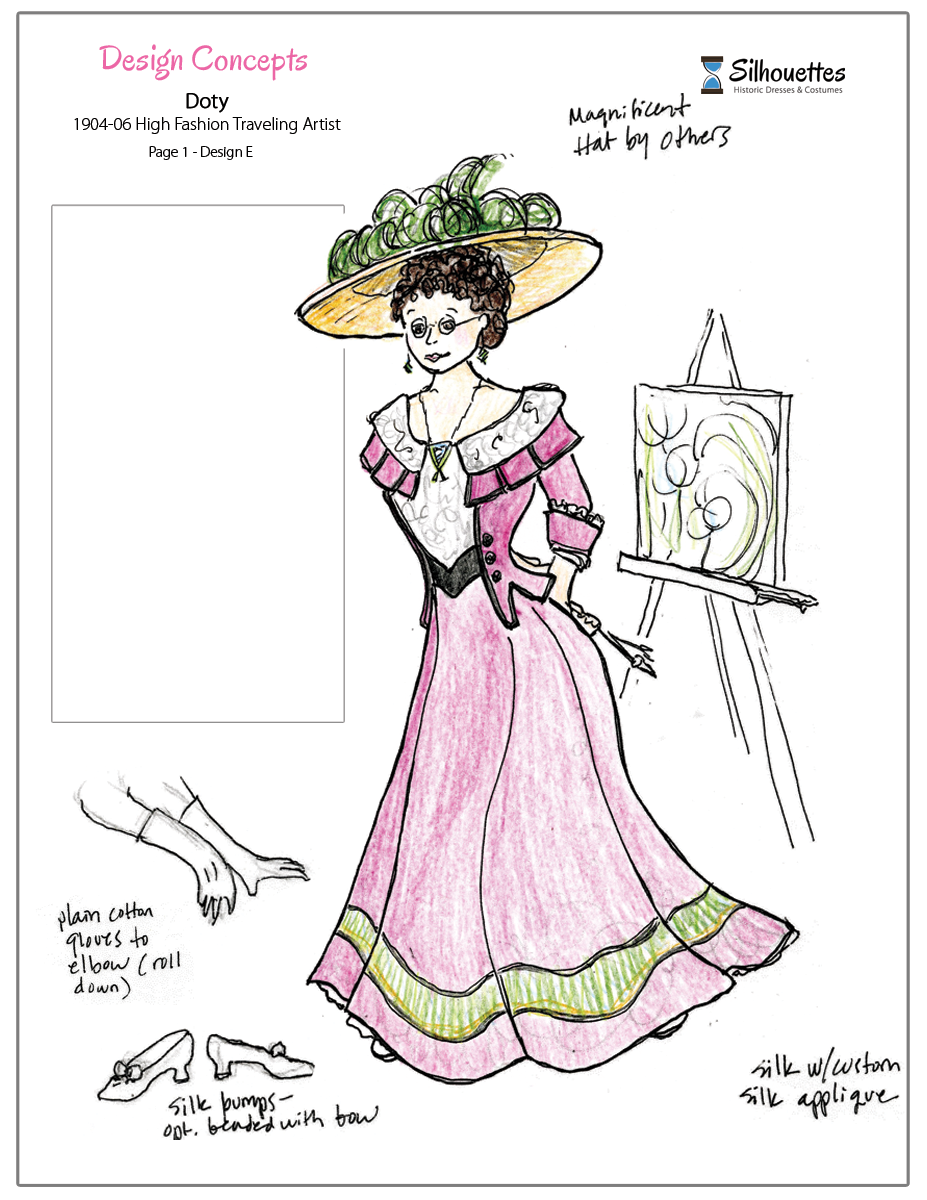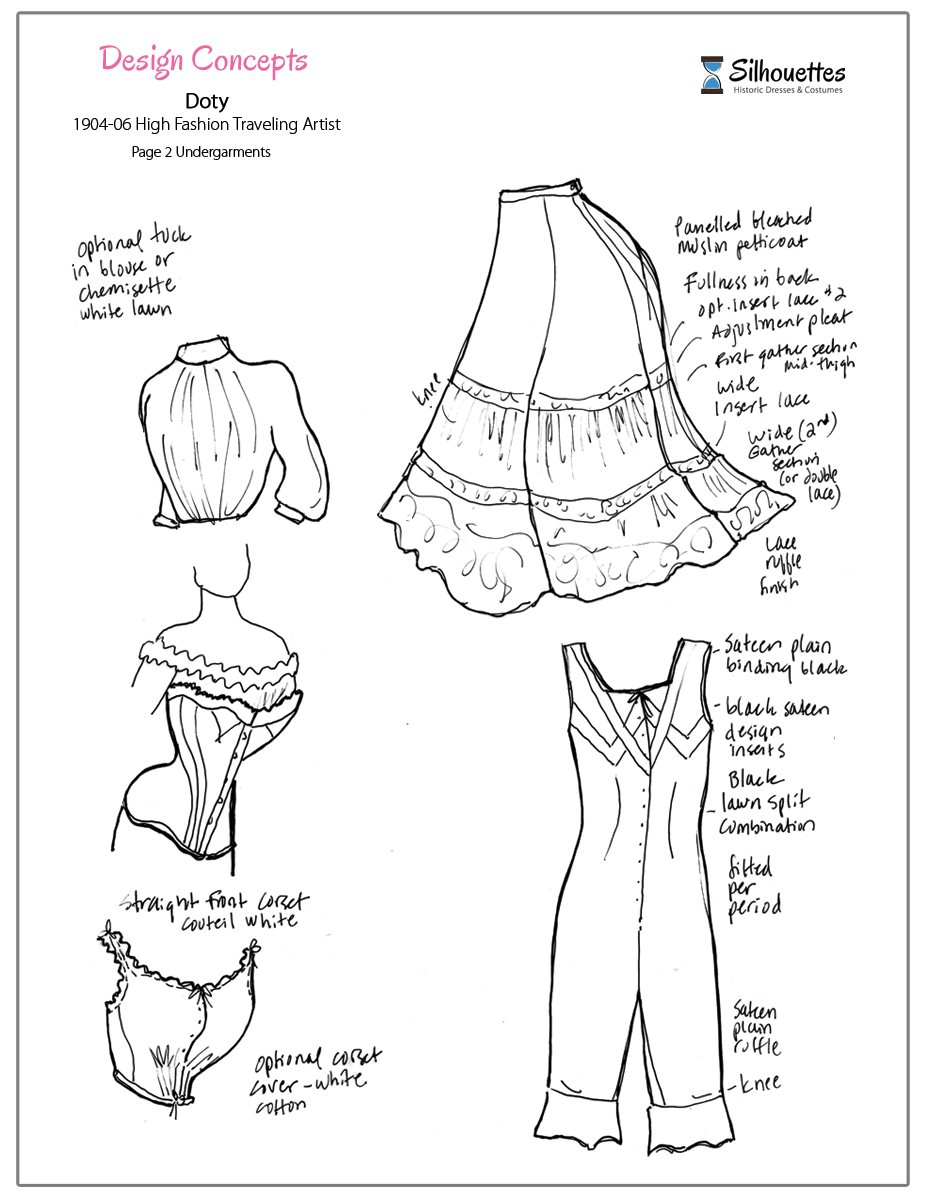 This design stage consults deeply with Doty to take all the research and design and give her what she LIKES and what she can USE.
At this stage we develop the smocking style for the artist, combining leisure/evening/ professional, with a later style; notably 1909-10 heading into Titanic Era and strongly incorporating Art Nouveau.  Considering performer's request for dark colors (especially around face and neck) which is a challenge because the most notable feature of the era is the high collar and the white/light blouse – this dictates it must be closer to evening wear or to take "artistic license" in developing a high fashion and unique (counter to what was considered acceptable in the general US at the time).  3 basic concepts are explored here.
It is also at this stage we modify the design for her comfort; e.g. she does not like her neck exposed to the public, yet does not like tight collars and cuffs.  She prefers all deep and dark colors of those discussed above, and would like a simple, almost monochromatic and dark ensemble.  This is partially so she can have a basic, one-tone ensemble that can be accessorized with color to change characters for historical interpretation or CosPlay.
Following are presentations to Doty to bring together all the historical PLUS personal preferences into a (nearly) final design layout: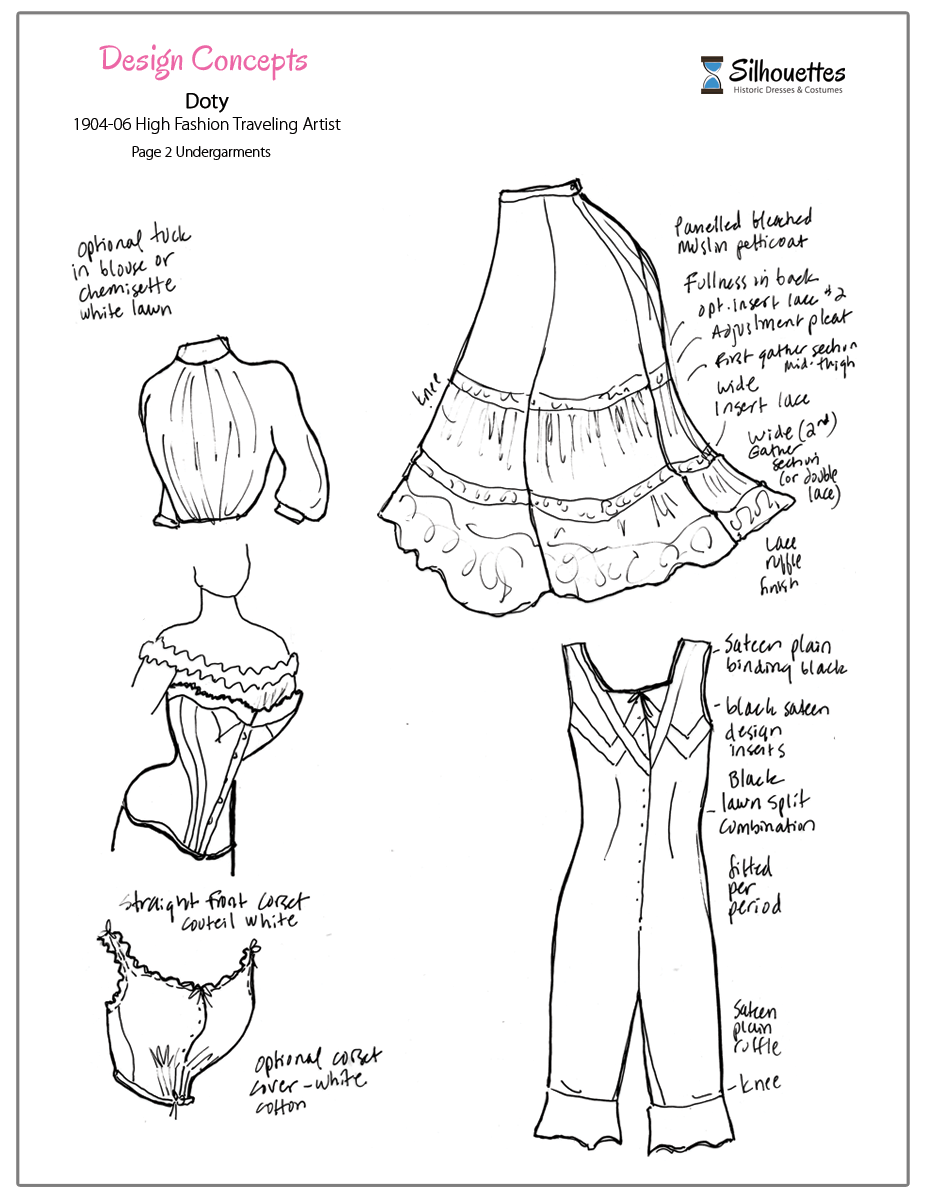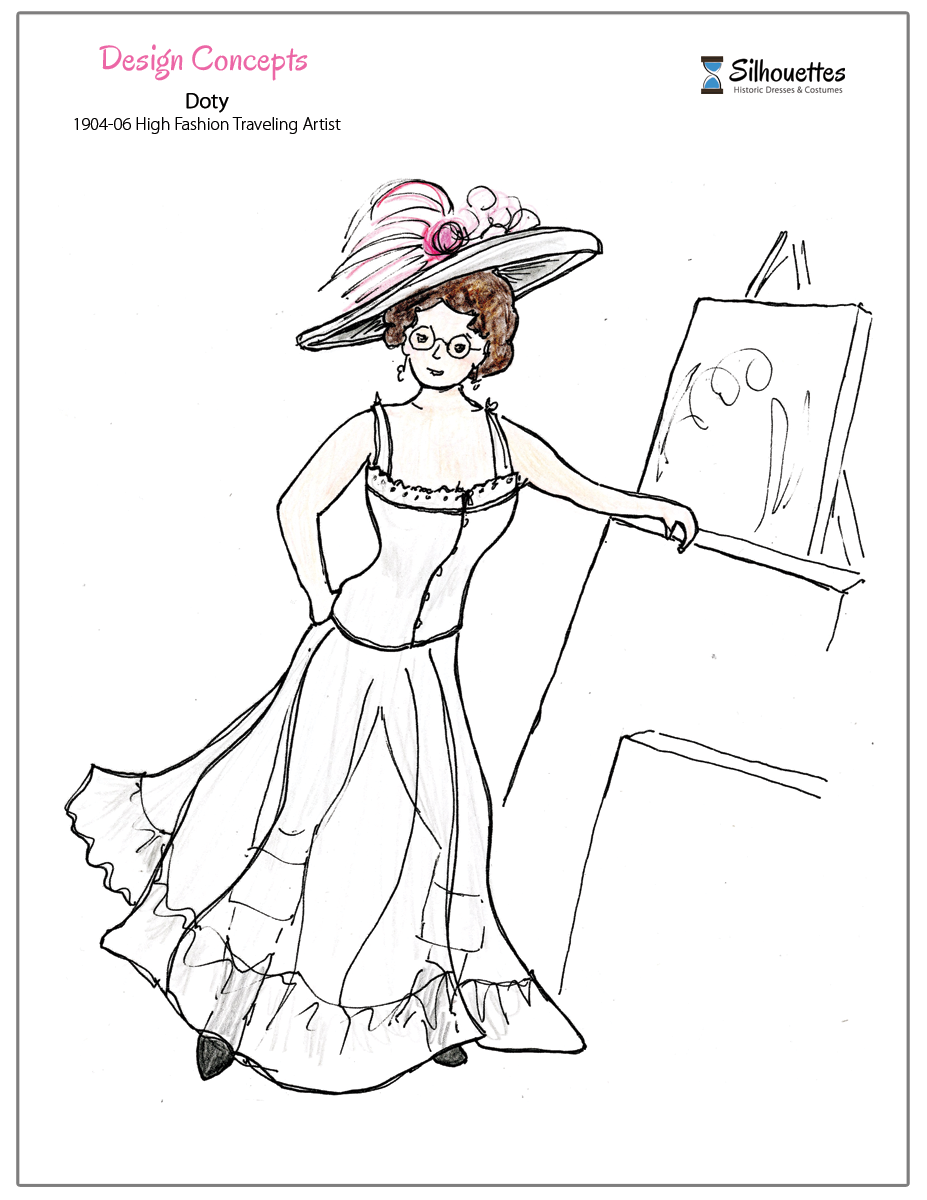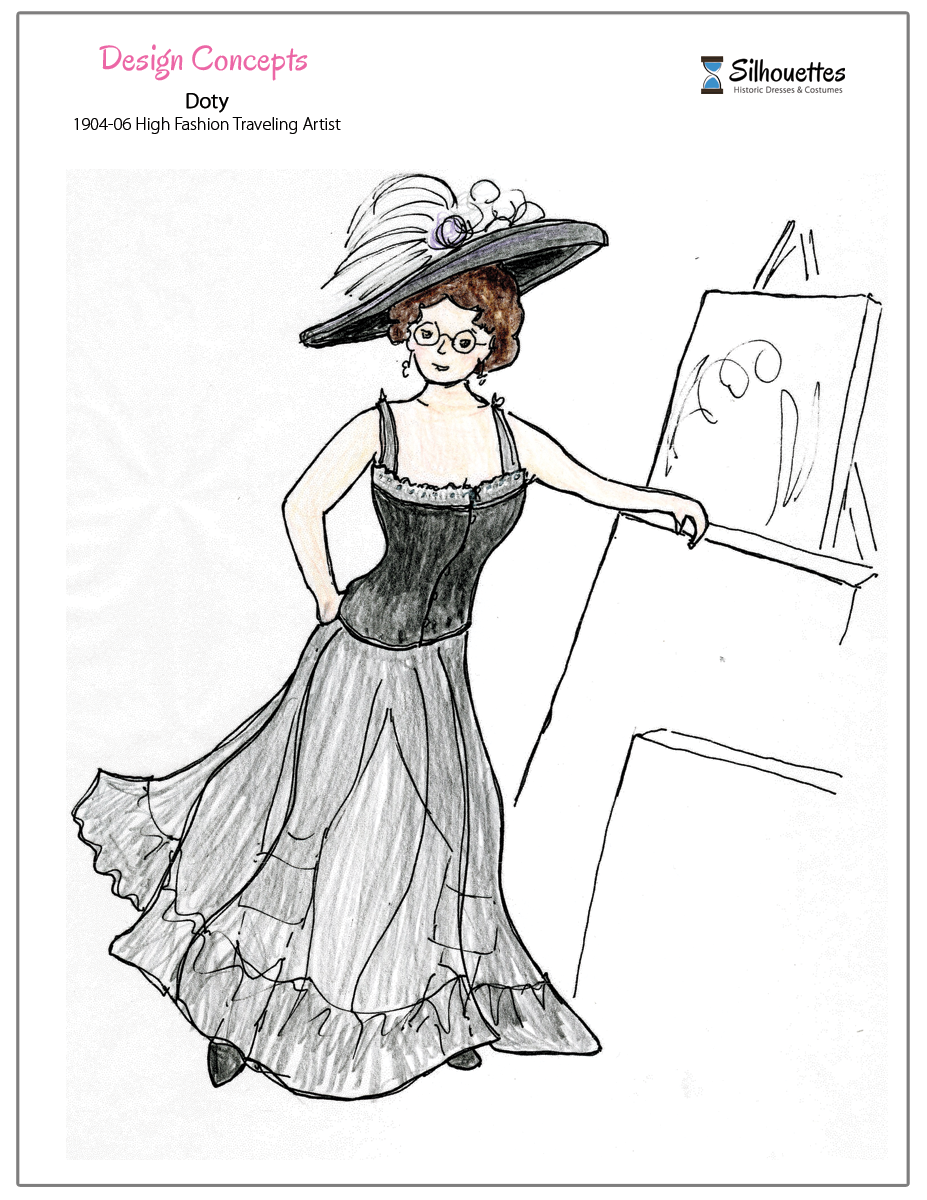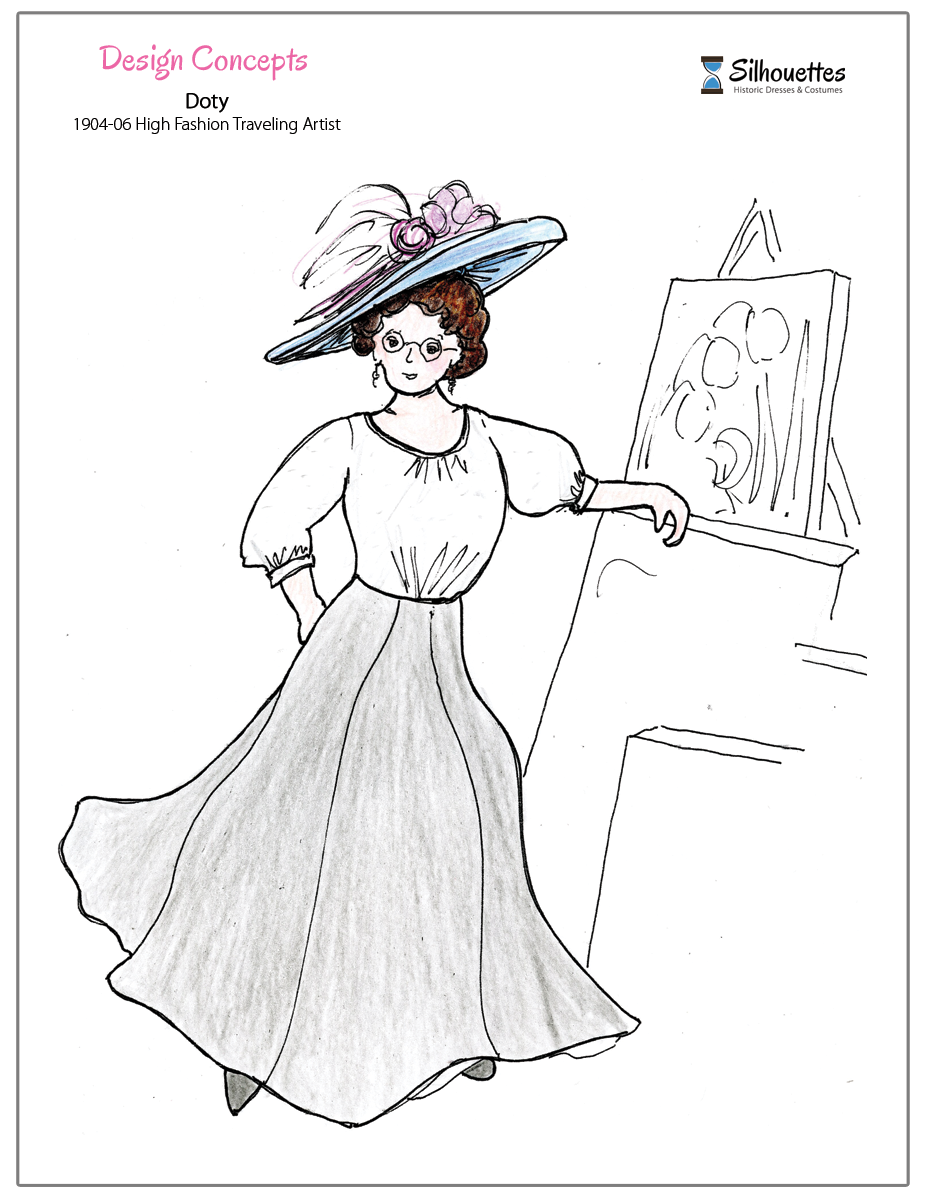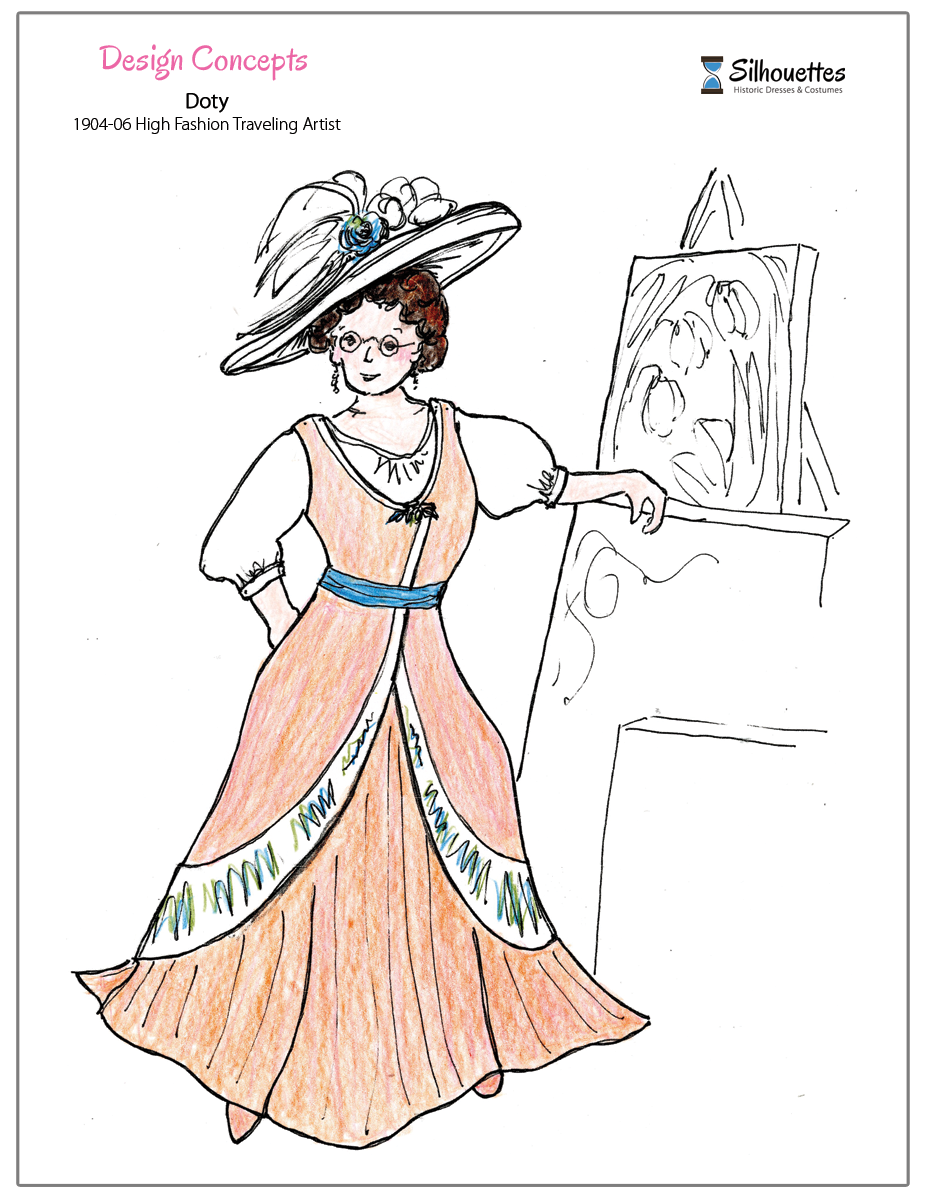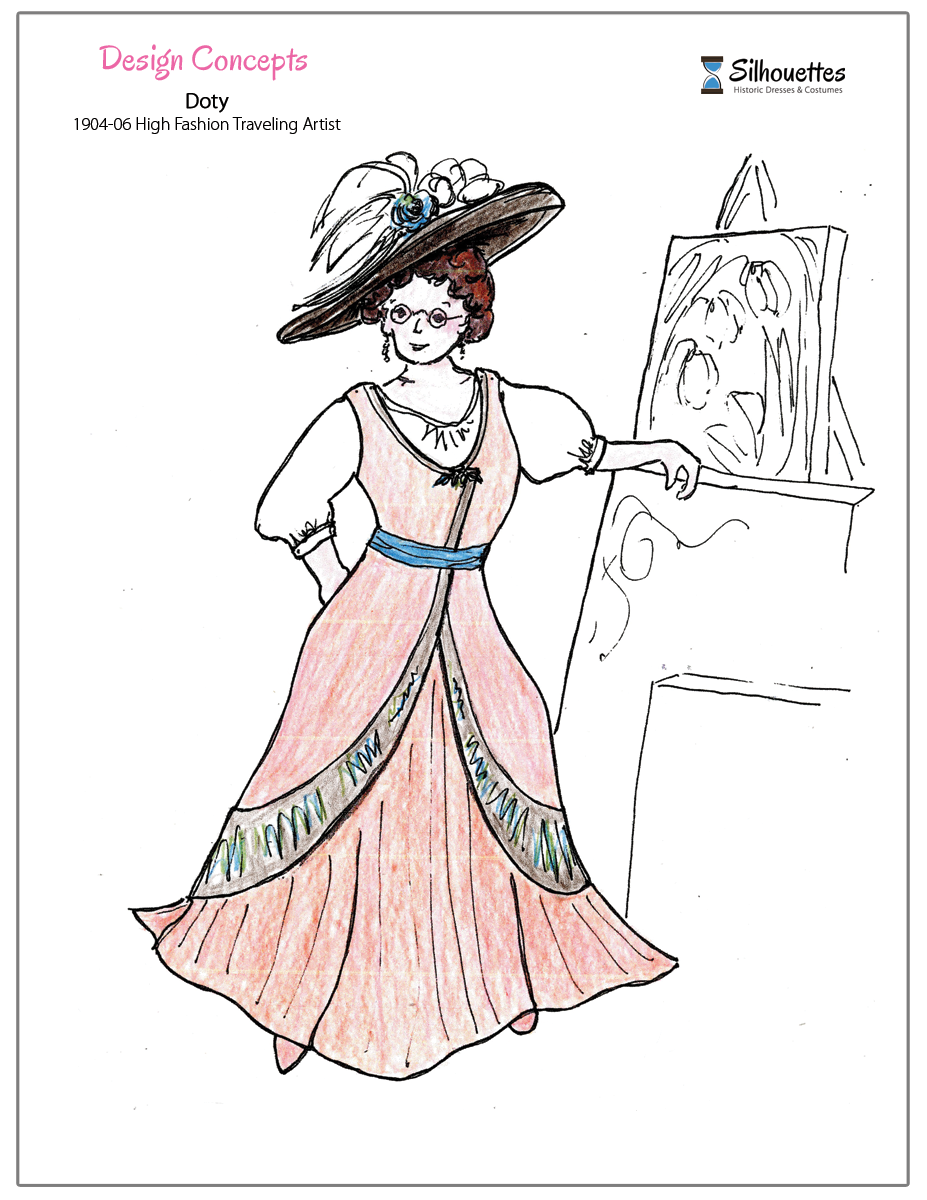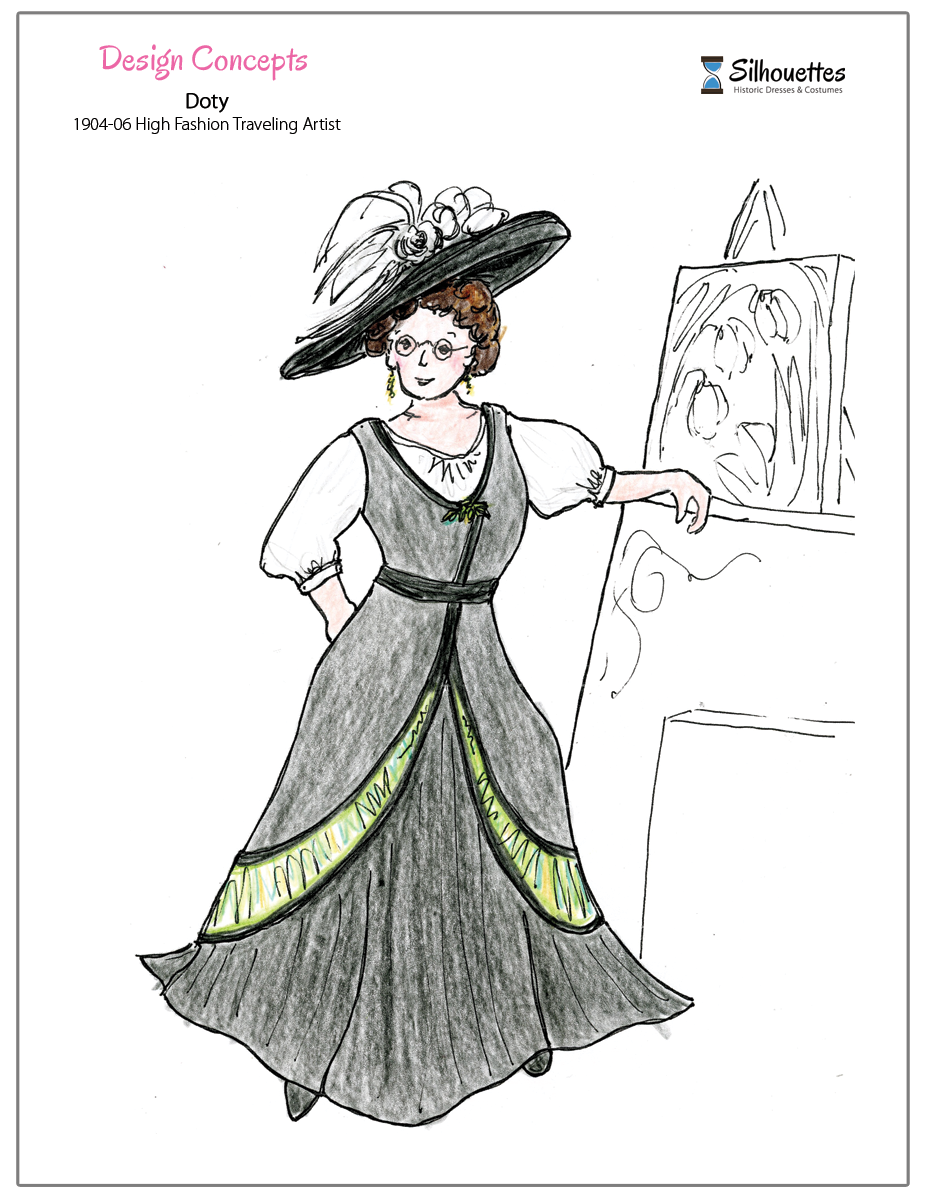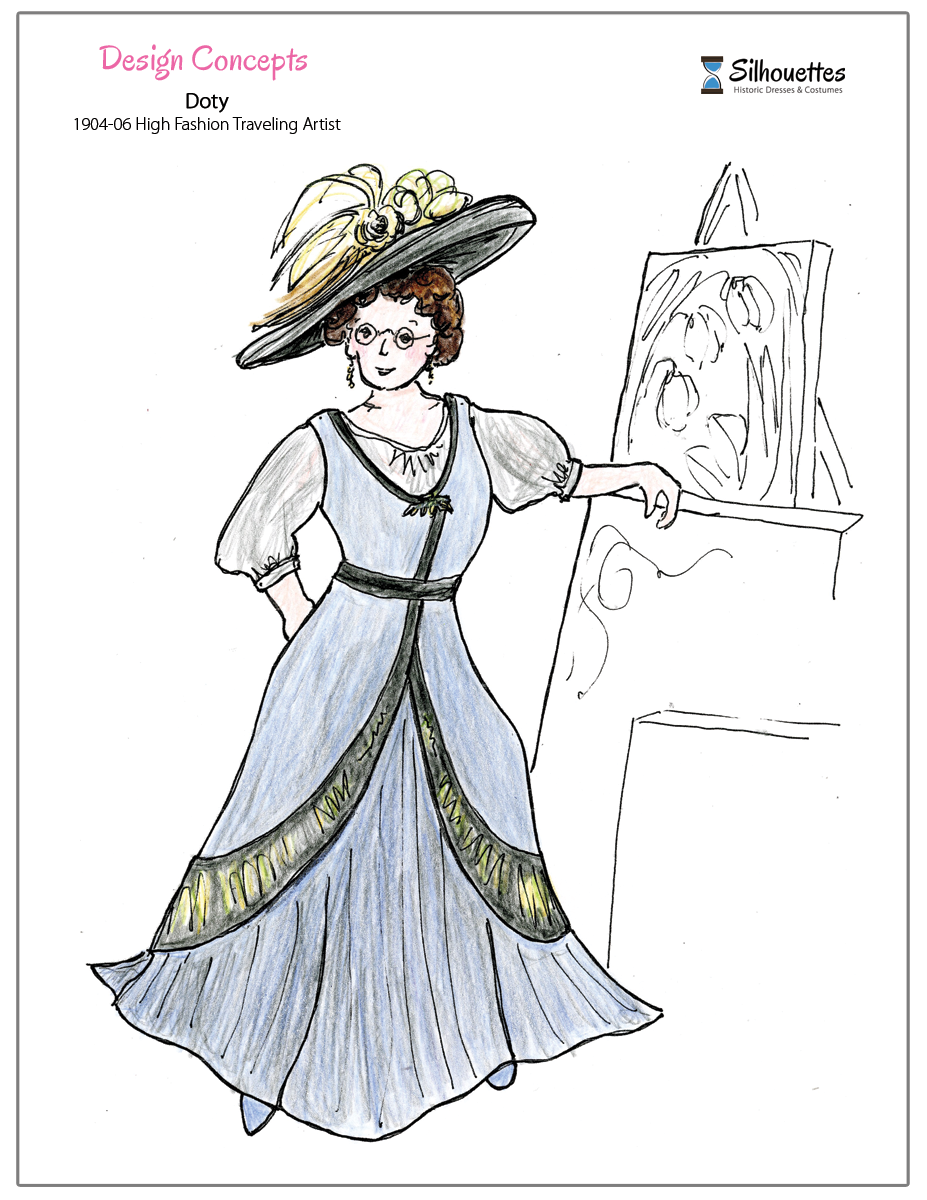 Aesthetic balance (similar to Aesthetic forms of the time which were loosely associated with Art Nouveau hig fashion) with pointed skirt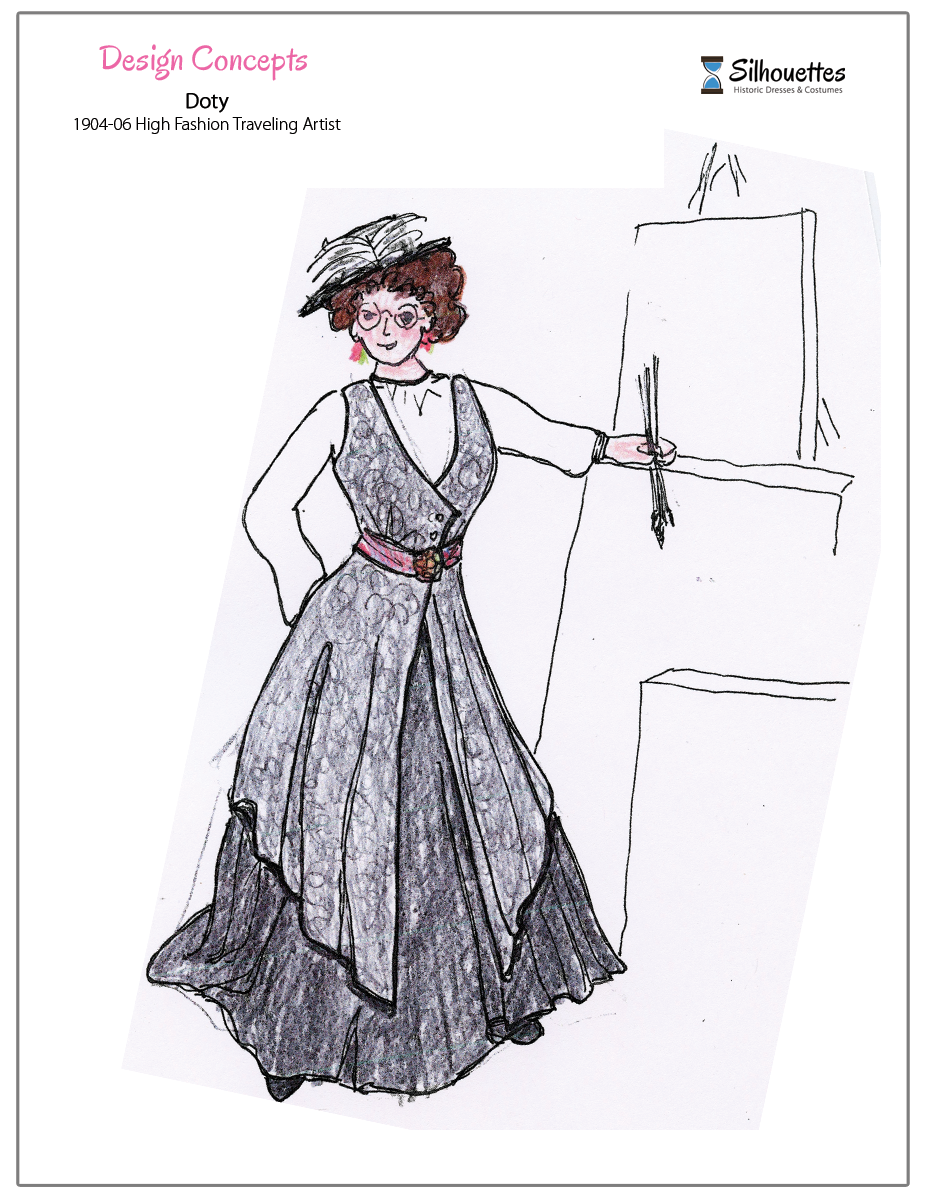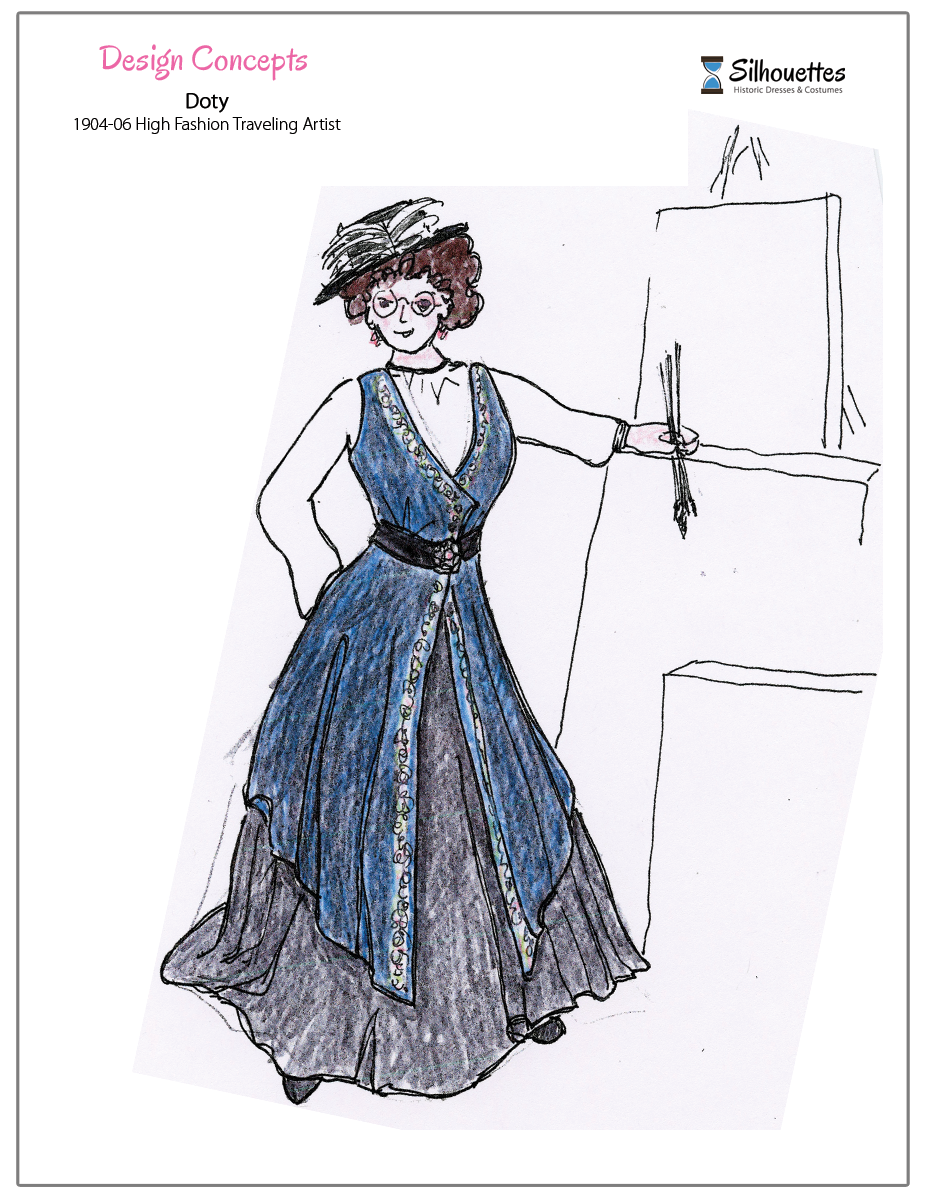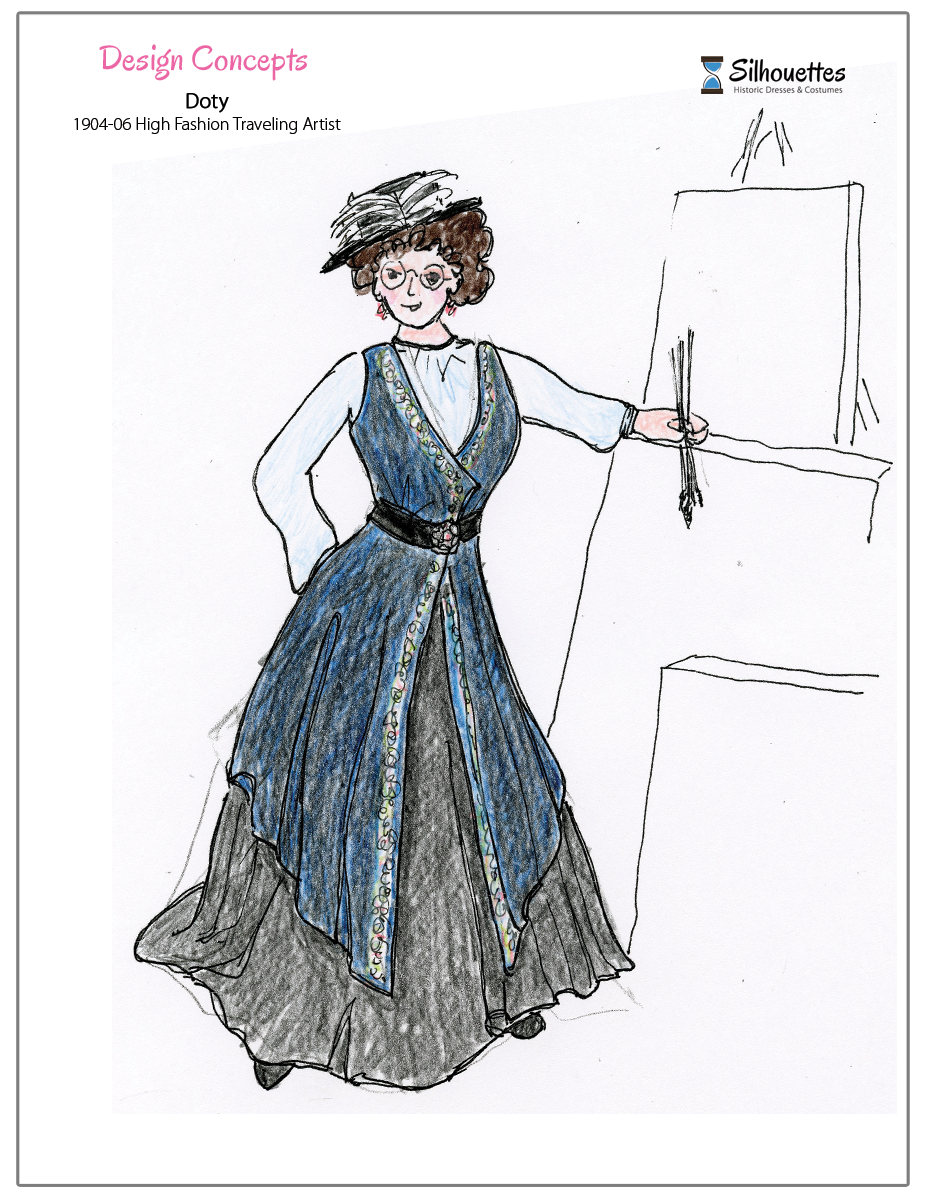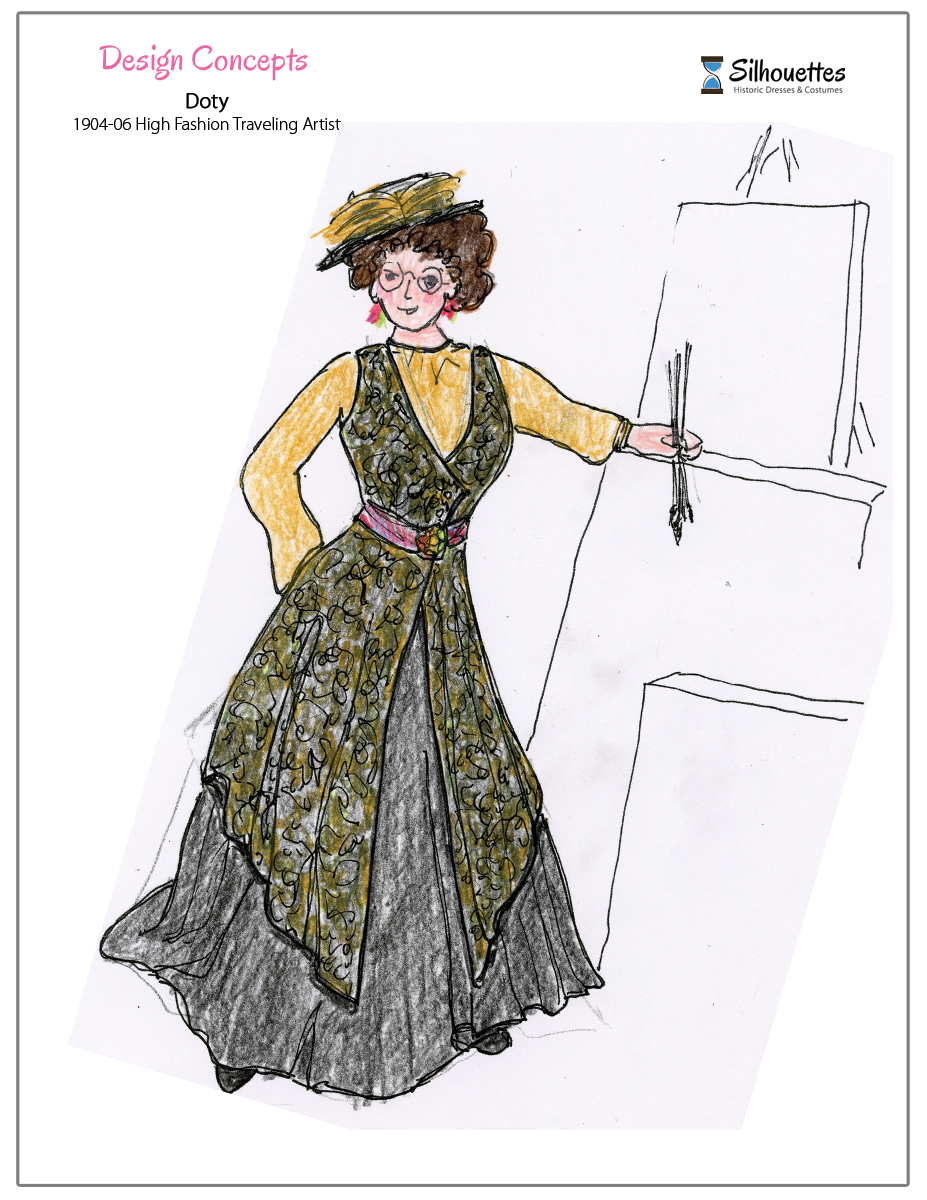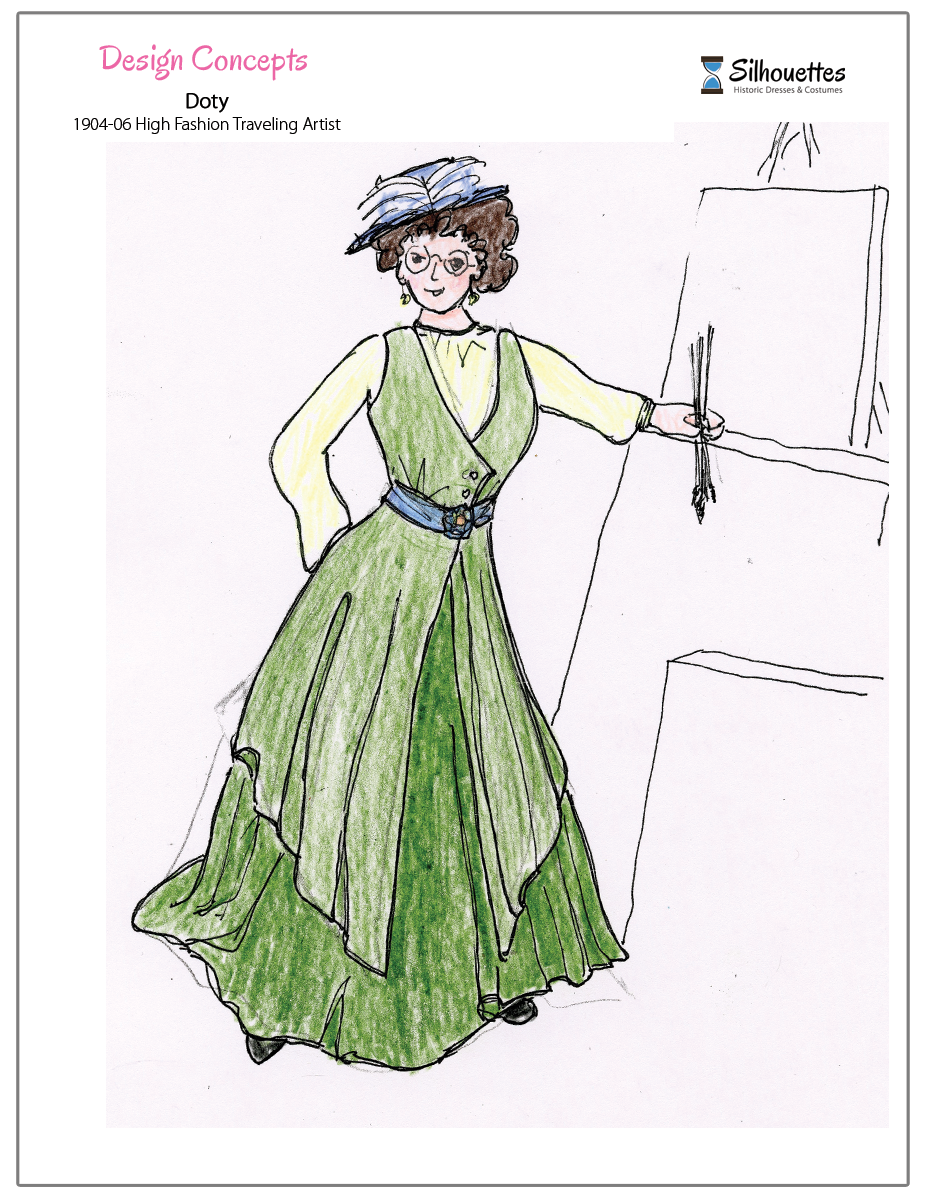 Still more discussion and Fine Tuning leads to:
Round Skirt with symmetry leading to the ornamented Art Nouveau, narrower Titanic style with train: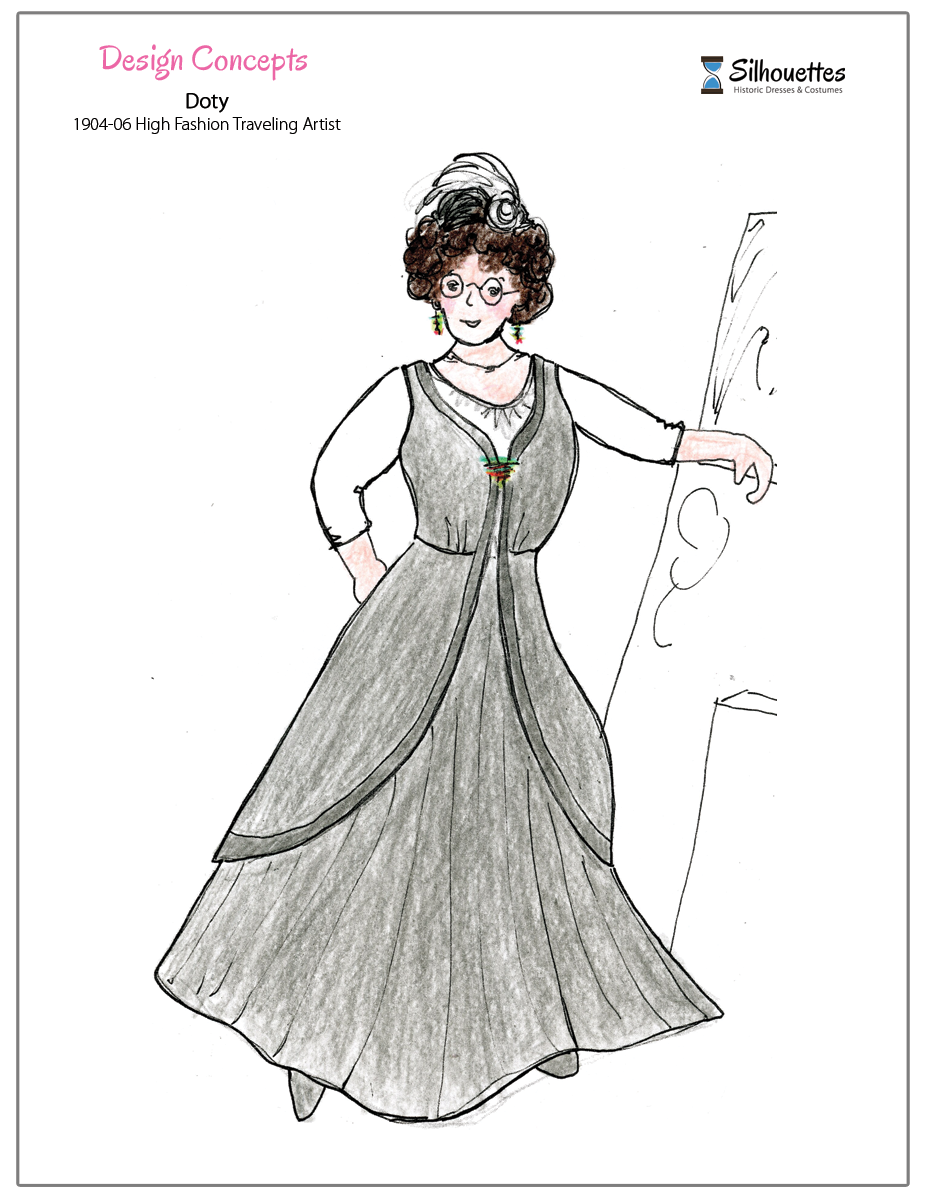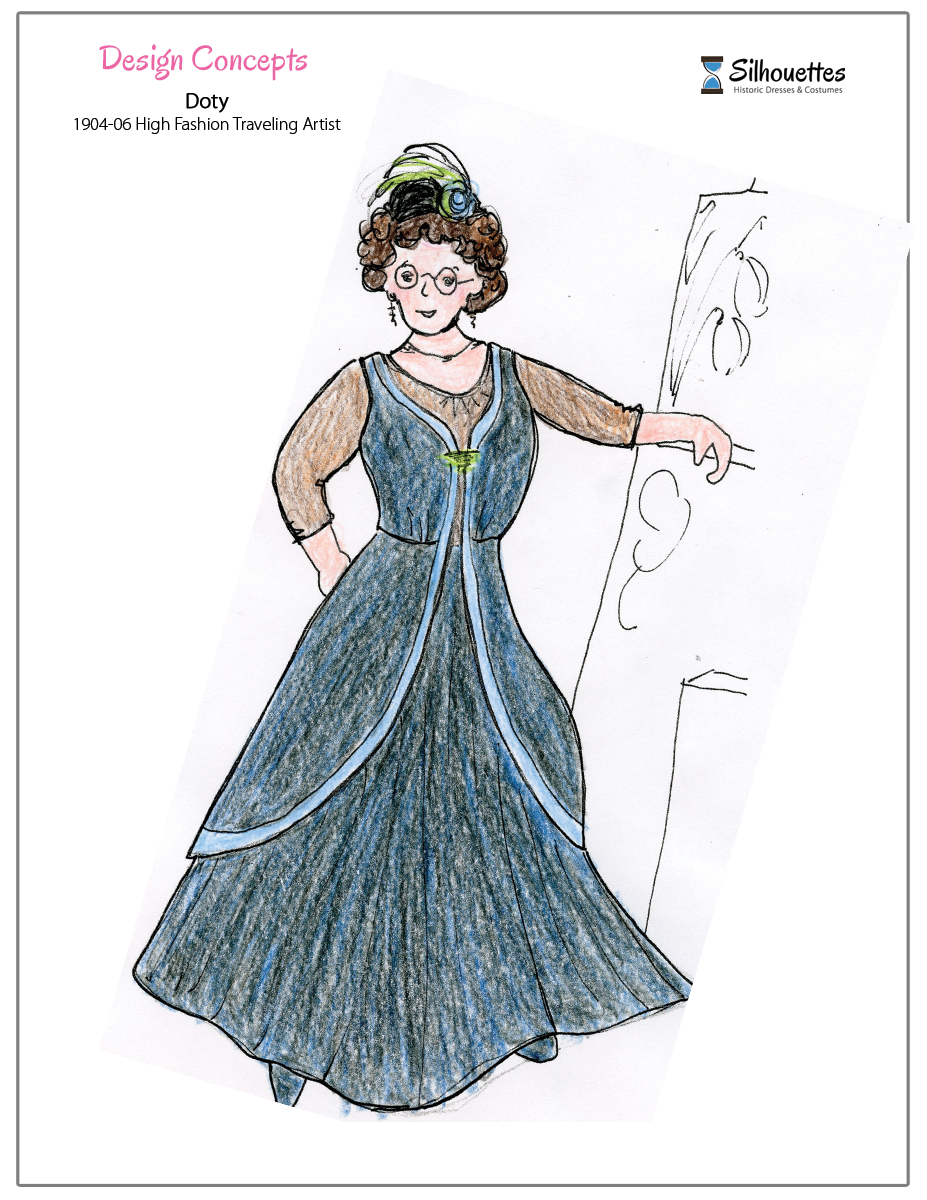 After Discussion of those above we combined all the concepts to yield:
Rounded skirt with low front/back, symmetrical design, looser (aesthetic) over dress, white Edwardian blouse, with seriously accurate Art Nouveau overall design, construction, and ornamentation including Art Nouveau specific head gear and jewelry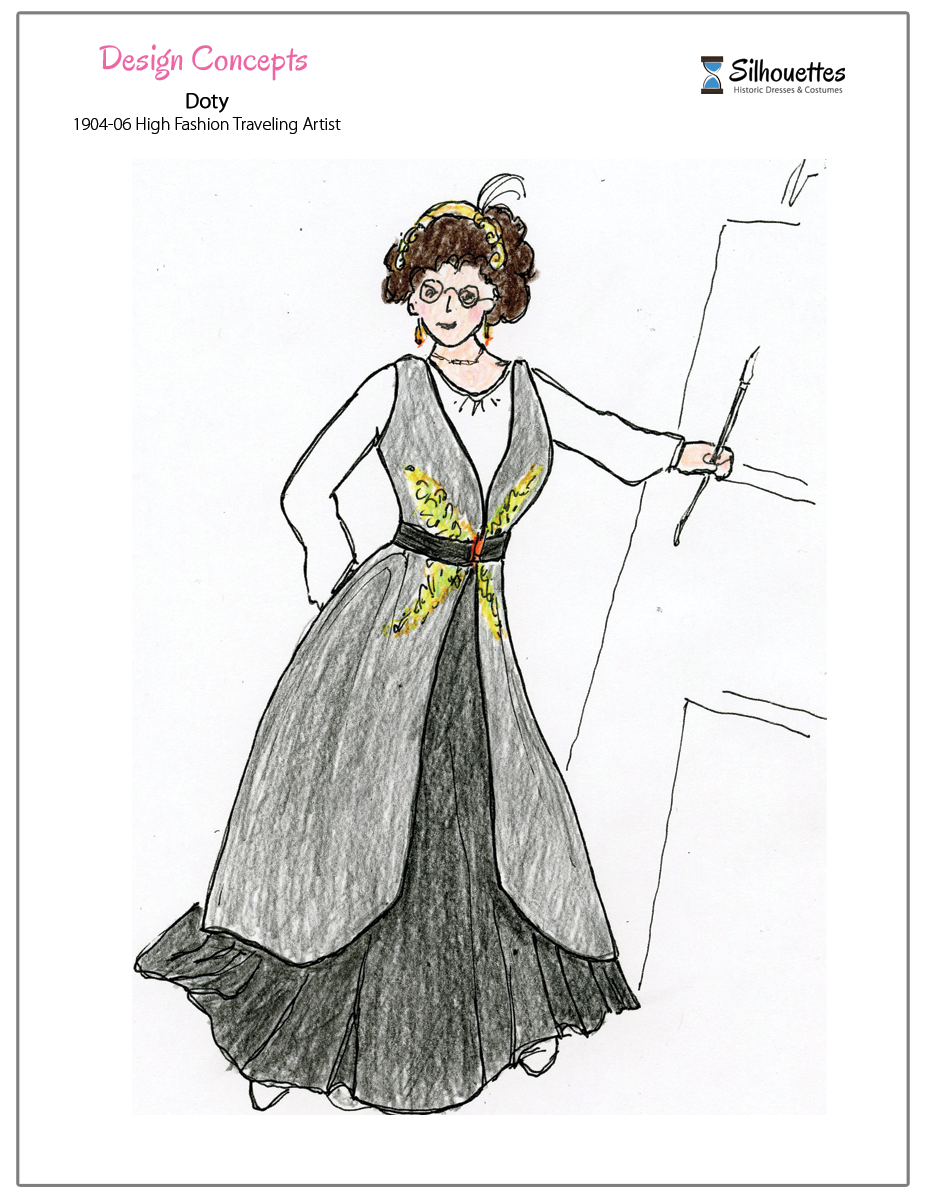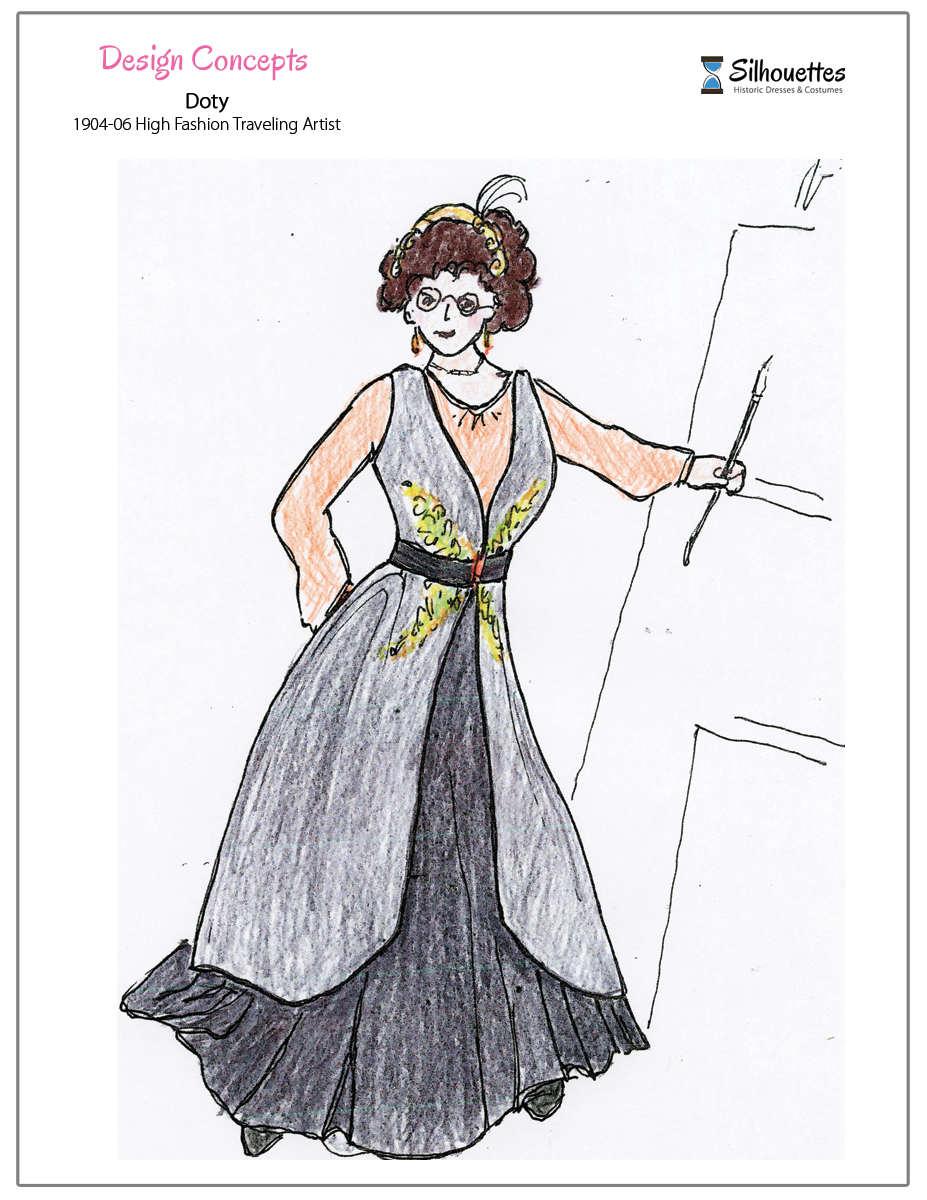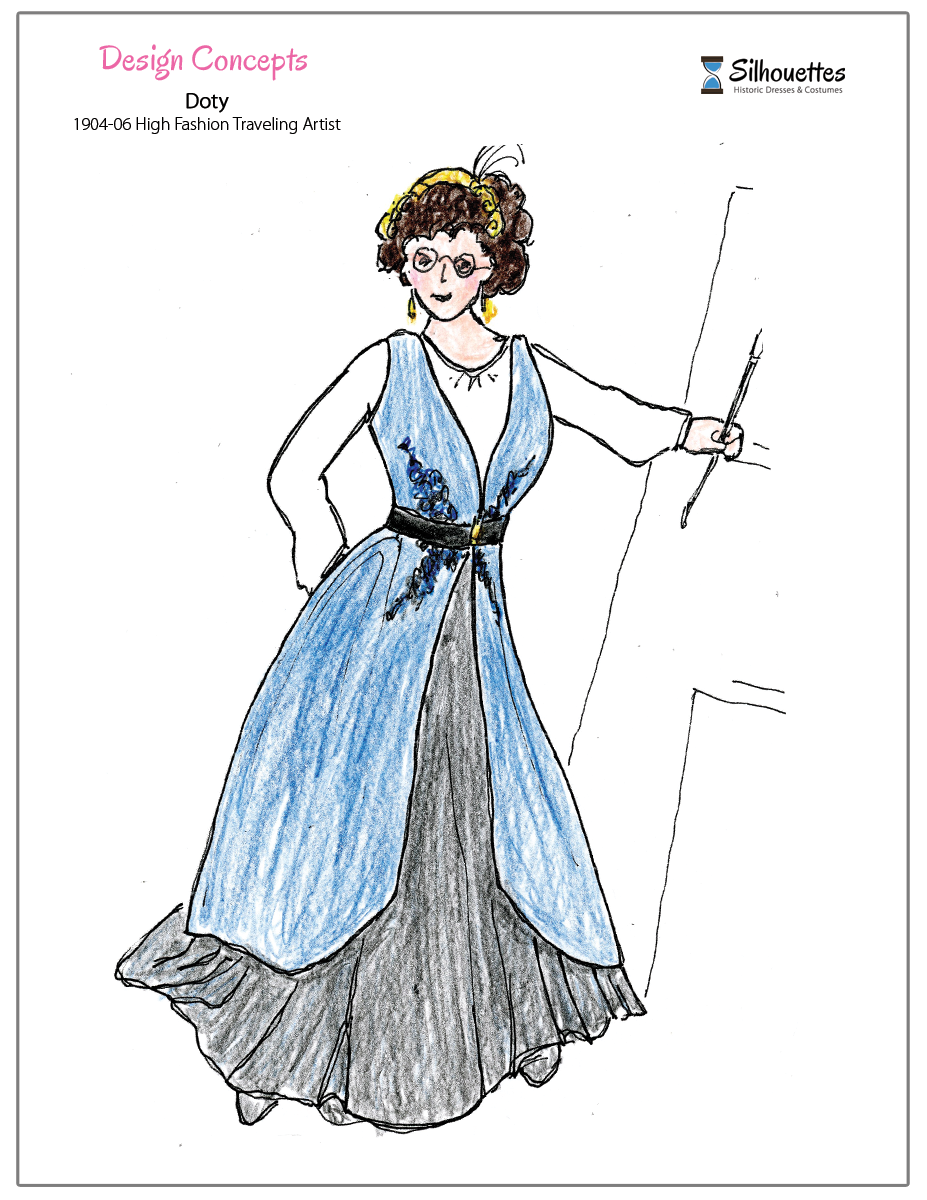 Honing in on Art Noveau
Looking for extant examples for how to actually construct the Art Nouveau elements of our design, and especially the elaborate inner structures and ornamentation, we were amazed to find these man 1909-1910 examples EXACTLY in the fabric types and mixes, color useage, and draping methods!  Especially exciting was to find solutions to our dilemma on how to provide period accurate blouse or chemisette or bodice garment that was true to the later Edwardian, early Titanic and Art Nouveau style.
The following not only give us great ideas on how to implement and construct the undergarments and the overlaying drape, but also hints on appropriate trains, sleeves, headwear, footwear, and notions.  From these we should be able to merge the selected concepts from the sketches above, into the final plan for construction and silhouette.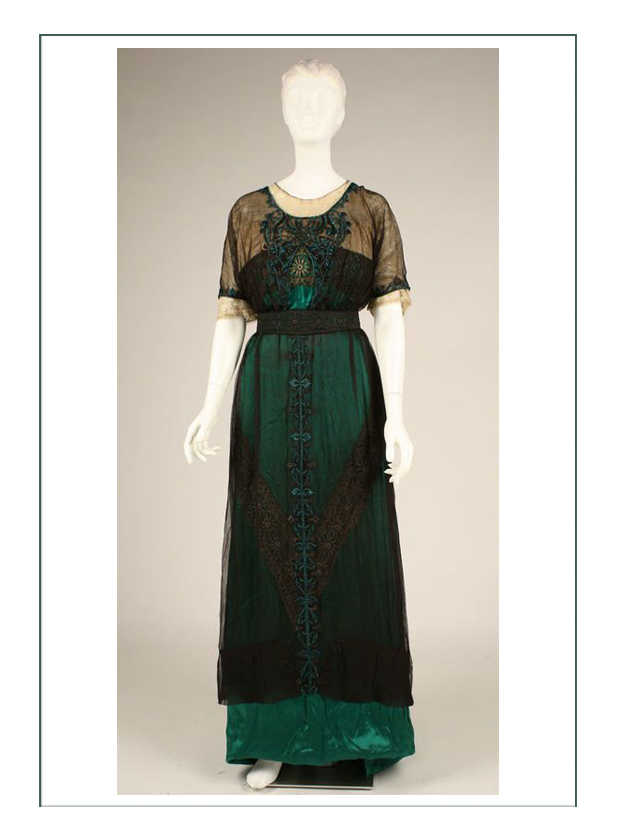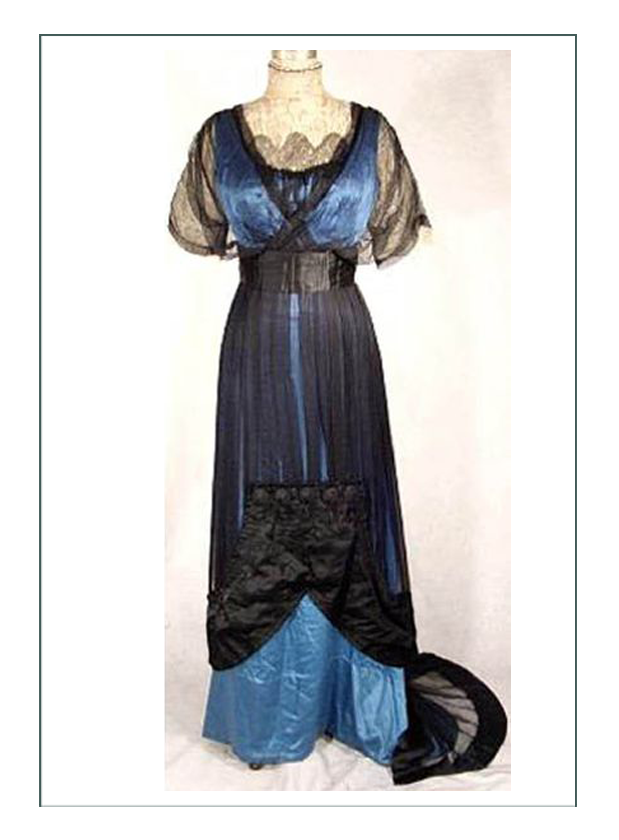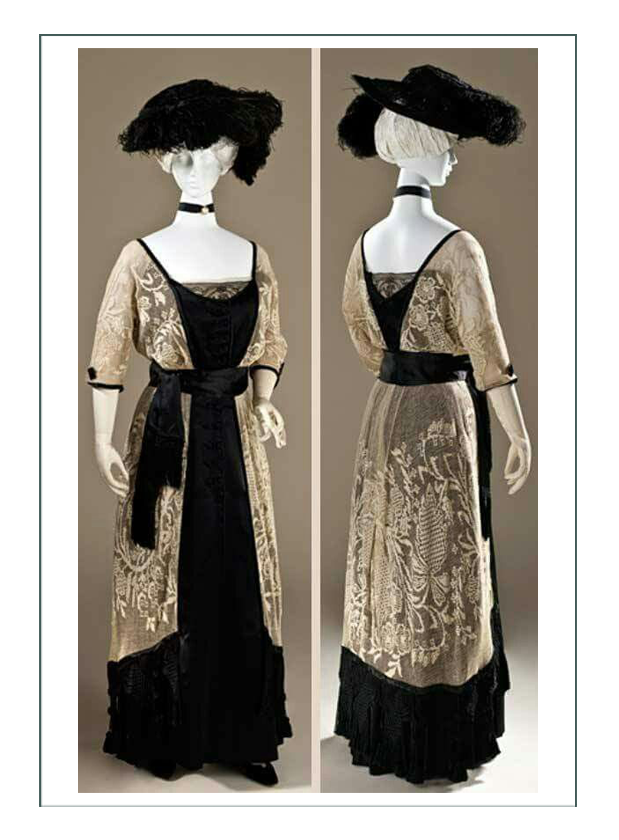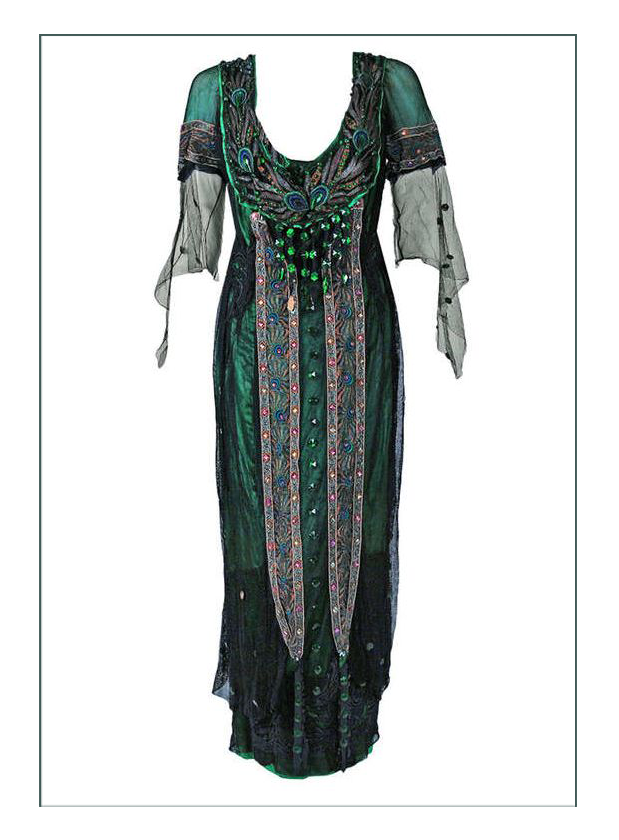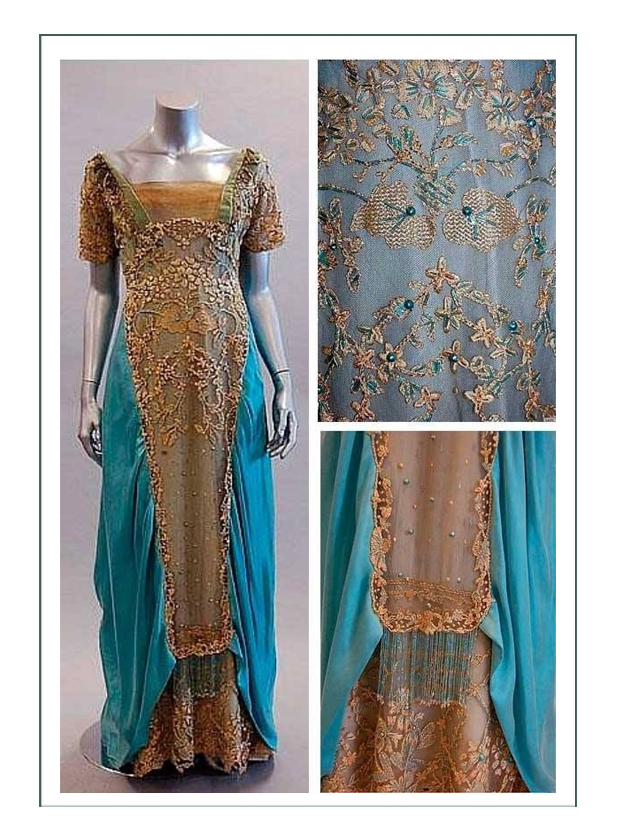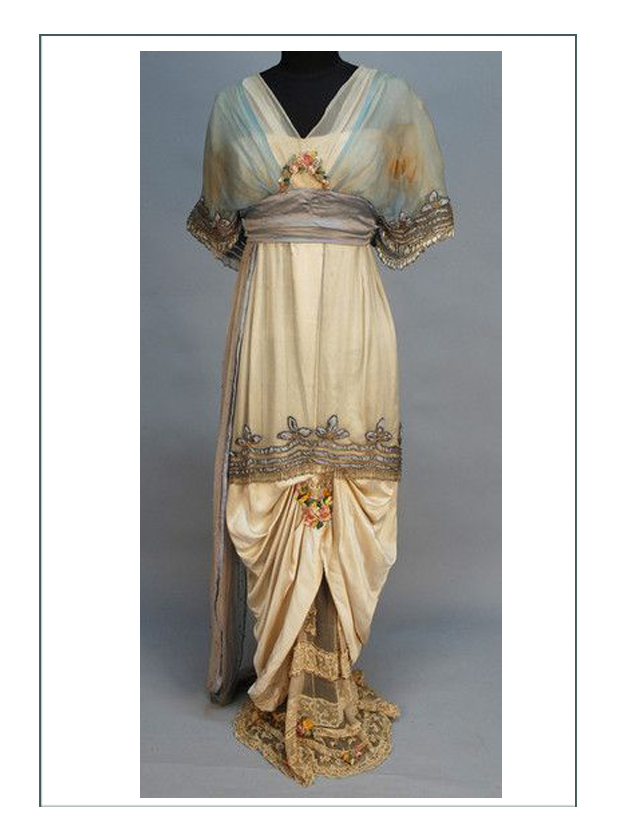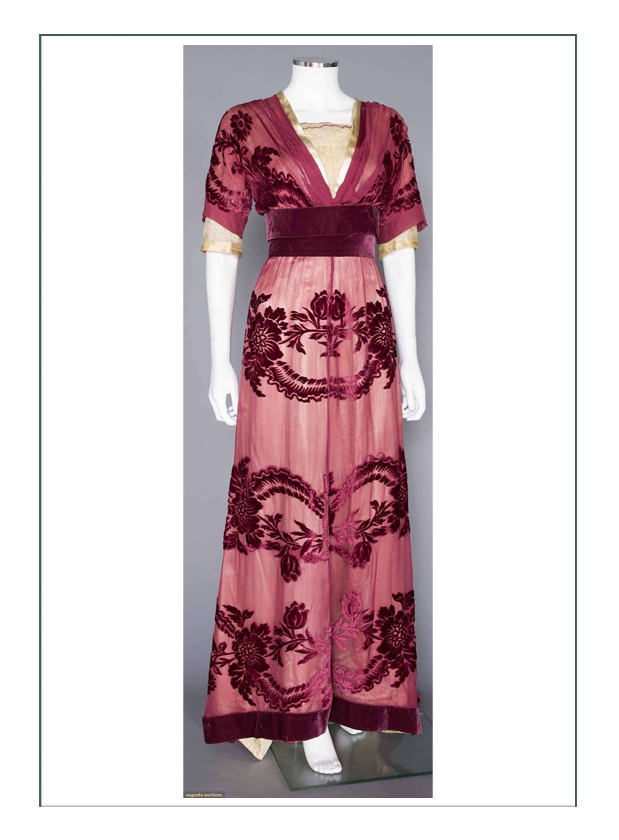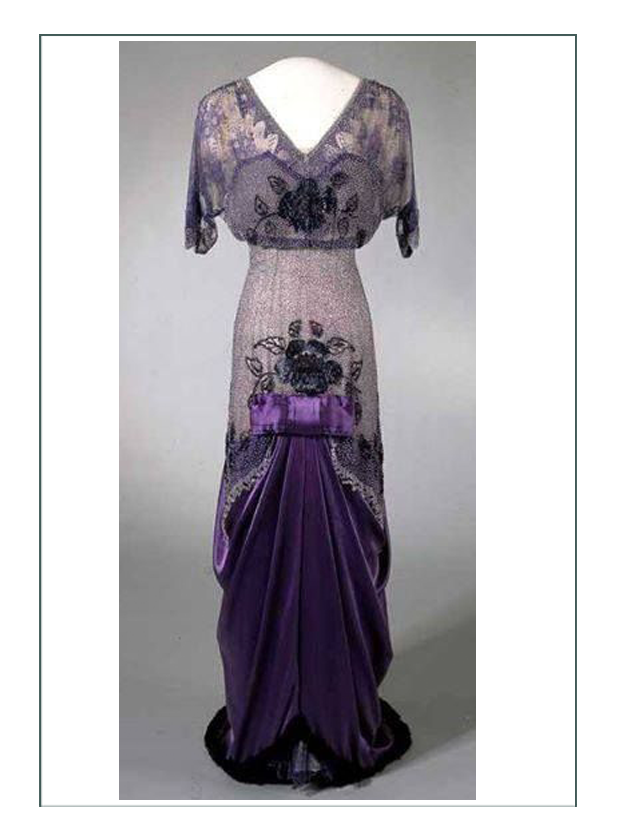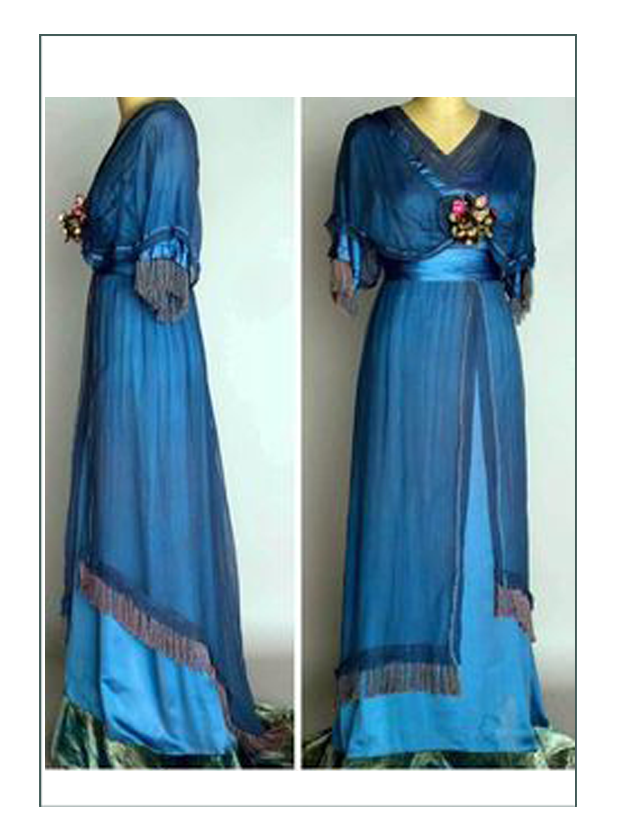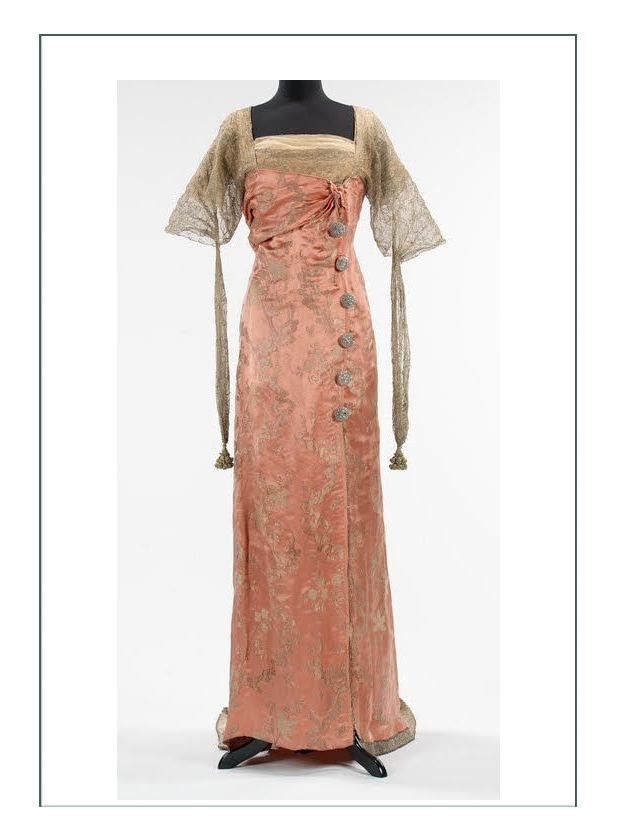 Key Ideas.  Using these real garments as examples, we find the method for implementing – silk dye!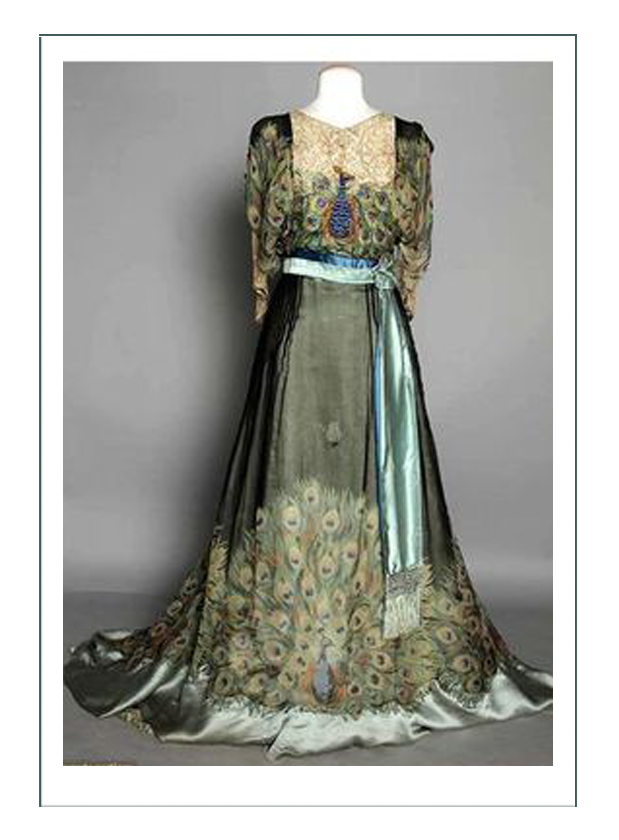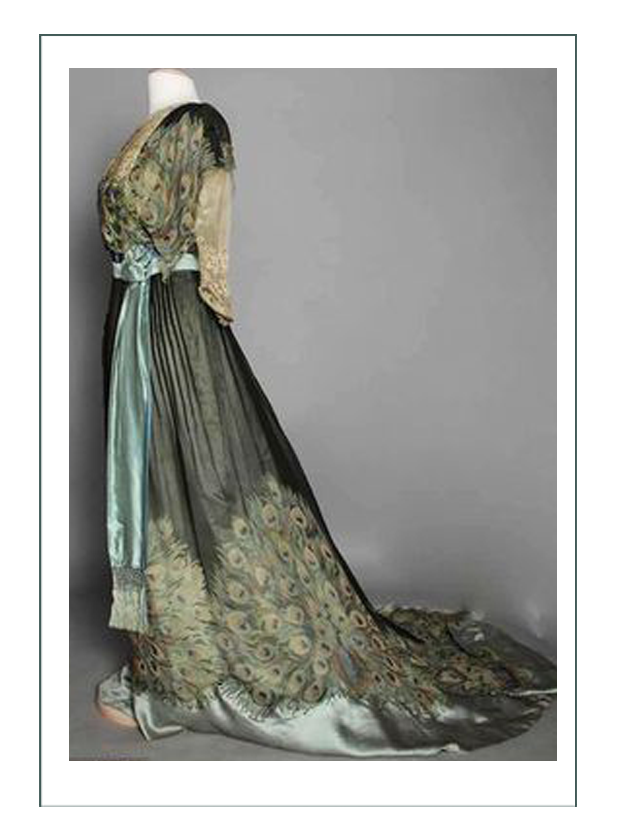 Of particular note is the last garment, which is the most famous of all Art Nouveau pieces of the time. This is the closest to what we had already developed, and we hadn't seen this before, so we know we're EXACTLY on the right track of a Parisian inspired, American garment that Doty can use her artistic skills to help create.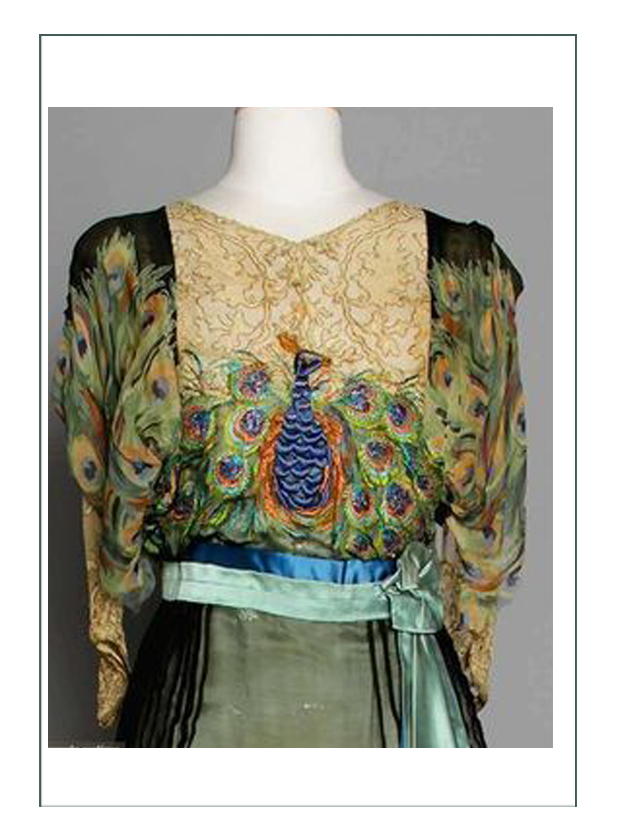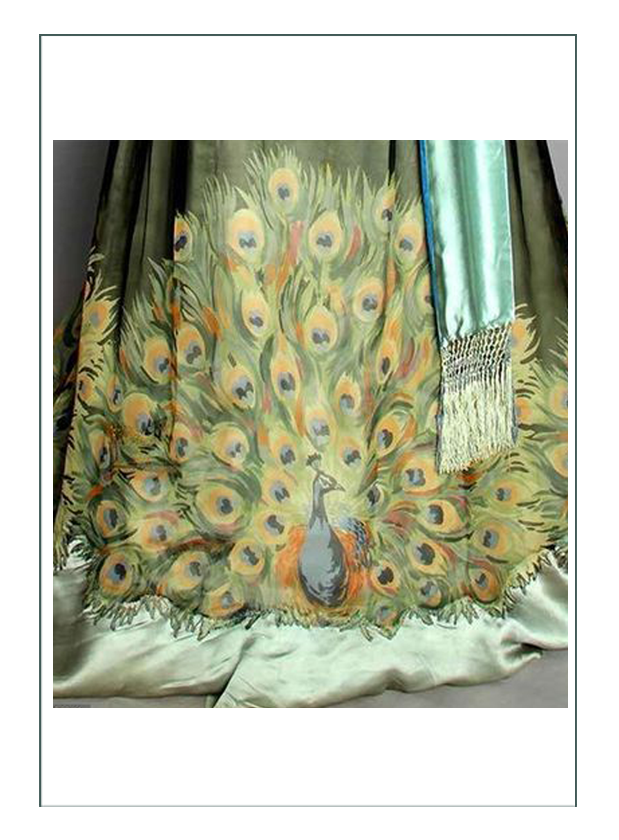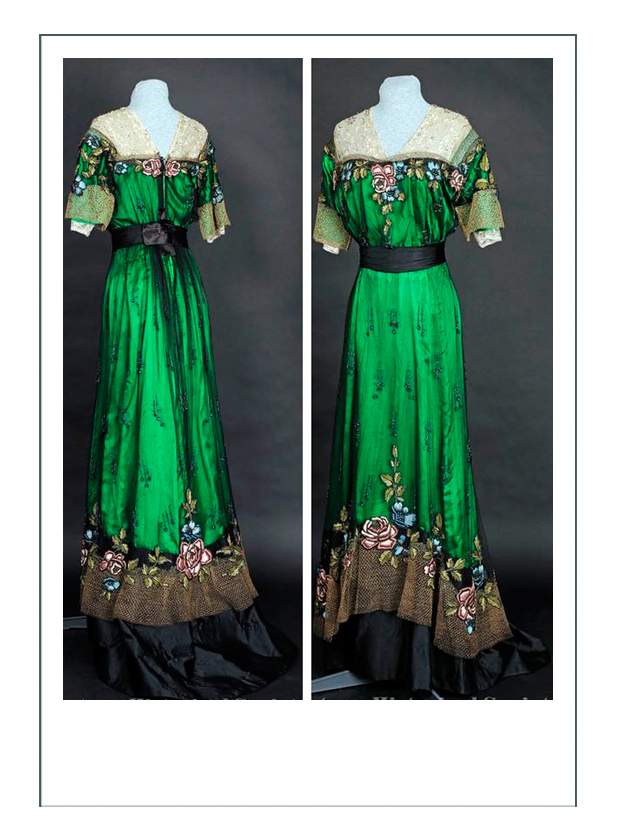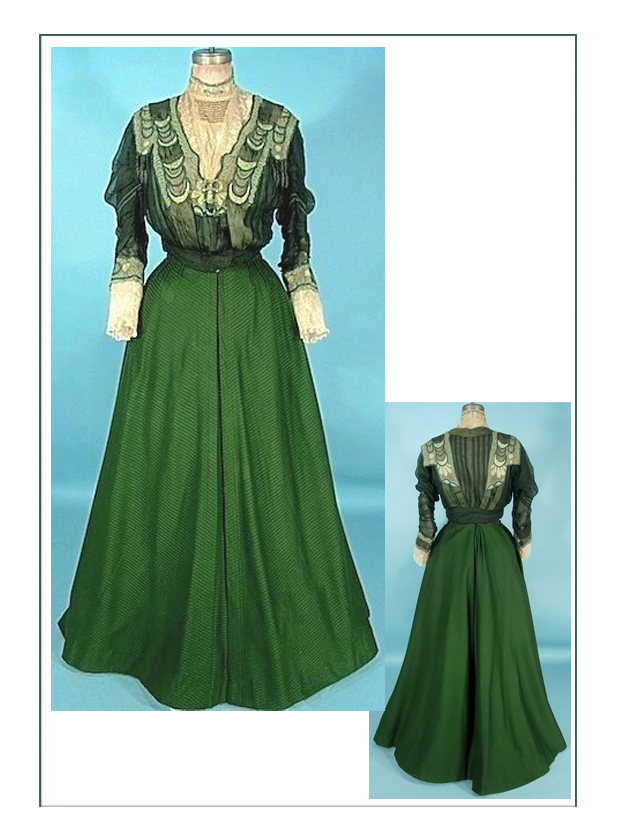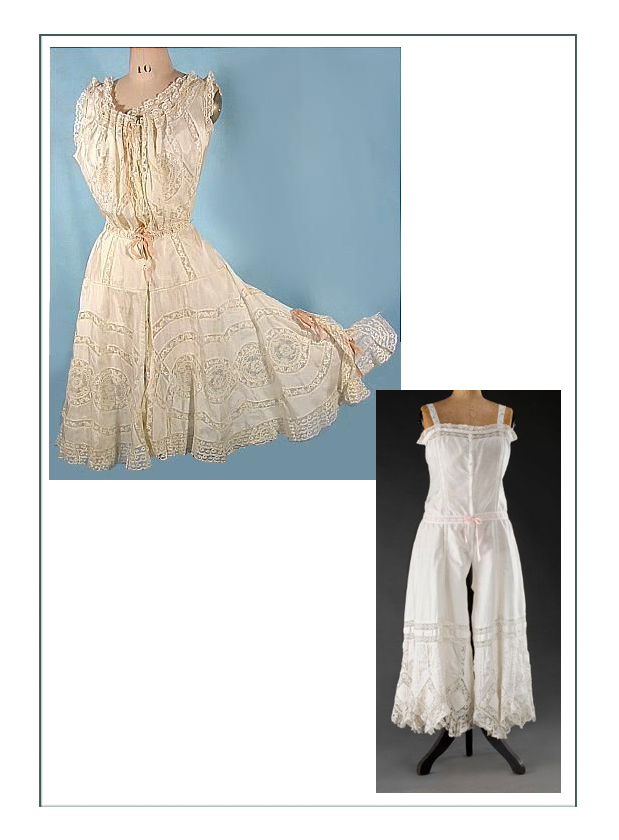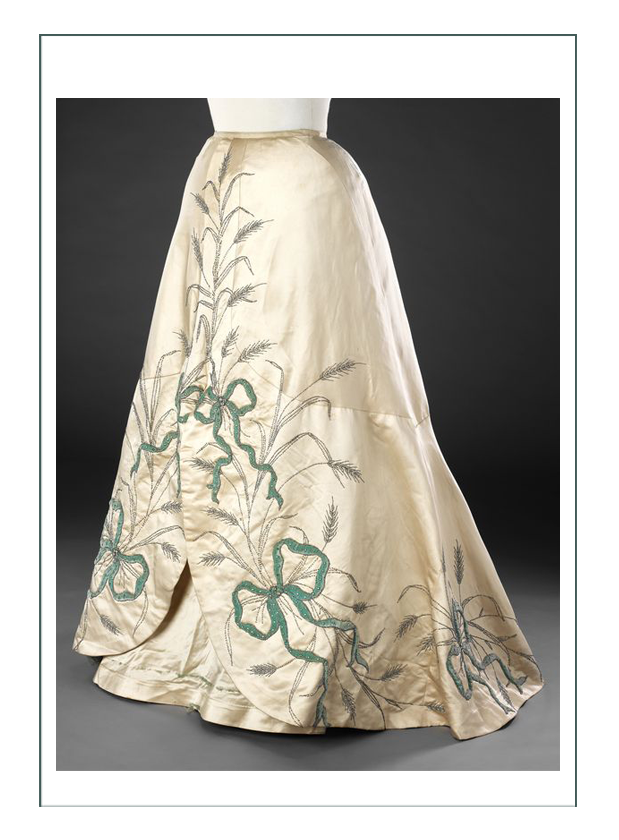 Samples above are consistent with our design decisions so far.  Having selected silk fabrics, these things we hold firm on:
Objective – the silhouette of 1902-05, modified for high fashion of 1905-1909 including Art Nouveau design plus decorative elements:
Dark grey/blue/black underskirt of silk taffeta (sweep underlined)
Circle skirt of the 1905+ era, but not the narrowing one approaching 1910; with full sweep
"S" monobosum Edwardian corset (not narrow and long); garters optional
Options of undergarments either corset/combination/petticoat/corset cover OR shirt chemise/corset/french drawers/corset cover
Dark grey/blue/black actual 1890 lace blouse; neckline undecided, but lined with skirt taffeta
Reproduction pumps with bows
decorated silk stockings
dyed silk over smock in either pointed or rounded; short or long silk chiffon
feature belt with jewel
custom jewelry and head piece
WIDE brimmed hat

Almost There!
Because of the artistic component of this design, we have left things "to evolve" as they are constructed – in particular, the outer hand-painted silk draped smock, petticoat frills, and the hat.
Historians note women of the time spent more time, energy, and money on their undergarments than their outer garments.  This is proving true here too.  Women of history built their petticoats of high quality silk taffetas, their corsets with silk and hand made lace, and their stockings of the finest manufacture.
Women had Sewing Machines and so do We
While most things were mass produced, the accurate fit and distinctly fashionable lines dictated a fashionable woman hire a designer or seamstress, even though she and her sisters might make their own combinations or drawers.
In keeping with these trends – to build by hand high quality undergarments using mass produced frills to make them special, and then relegating outer garments to be functional – we will adapt the project.
Real Antiques used!
While some items from the late 1800's still exist today, except in museums and collections, most every day items from American history are gone or disintegrated.  This is not so with 1909!  Real shoes, hats, glasses, jewelry can easily be found if one is willing to pay the price.
Cost is a factor as we intend to use as many ACTUAL, AUTHENTIC pieces (such as the lace shown above) to build from.  Doty will have real shoes, eyeglasses, and accessories FROM THE ACTUAL ERA – real antiques – built in.
Therefore, this design will be final only after it's done. The sketches are a reference to build and seek from.
Next to Final Design Sketches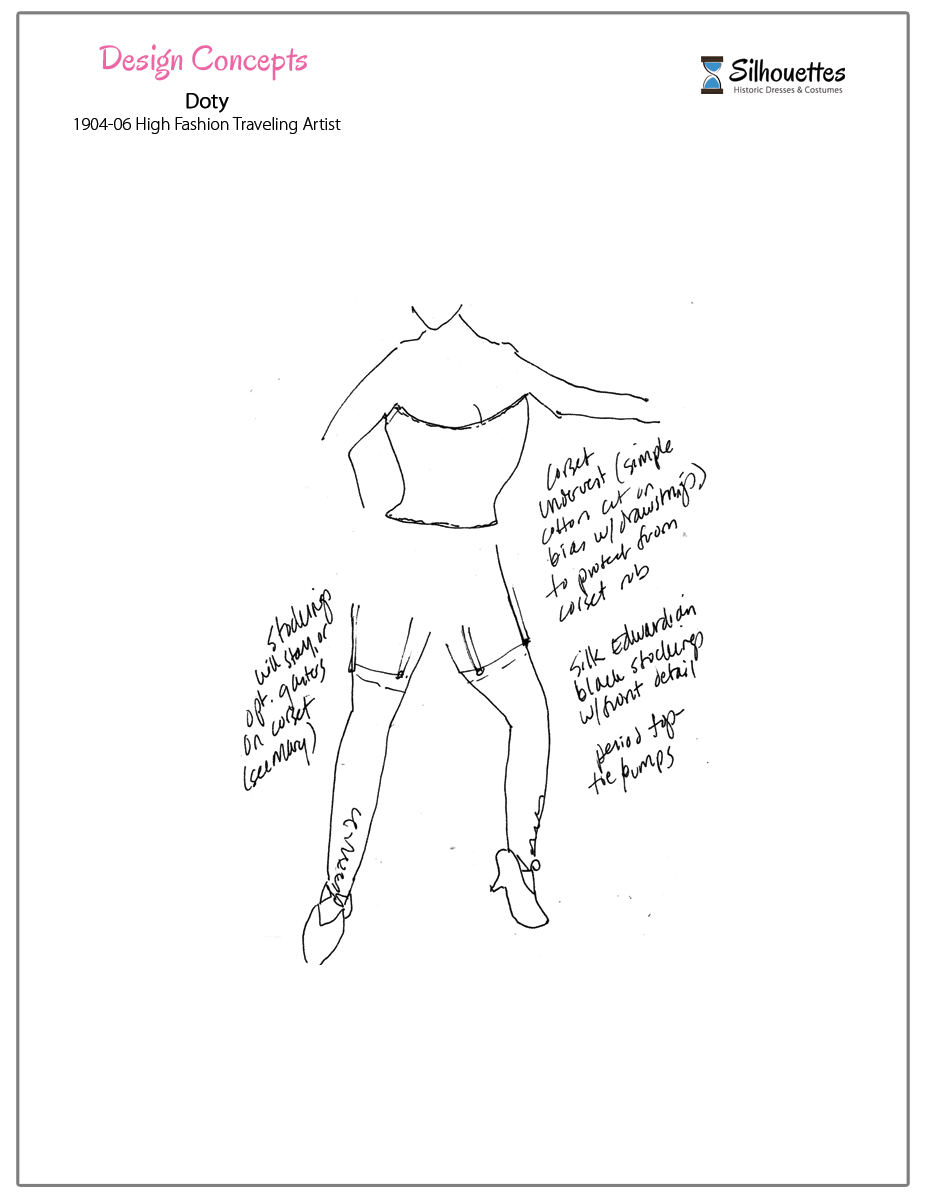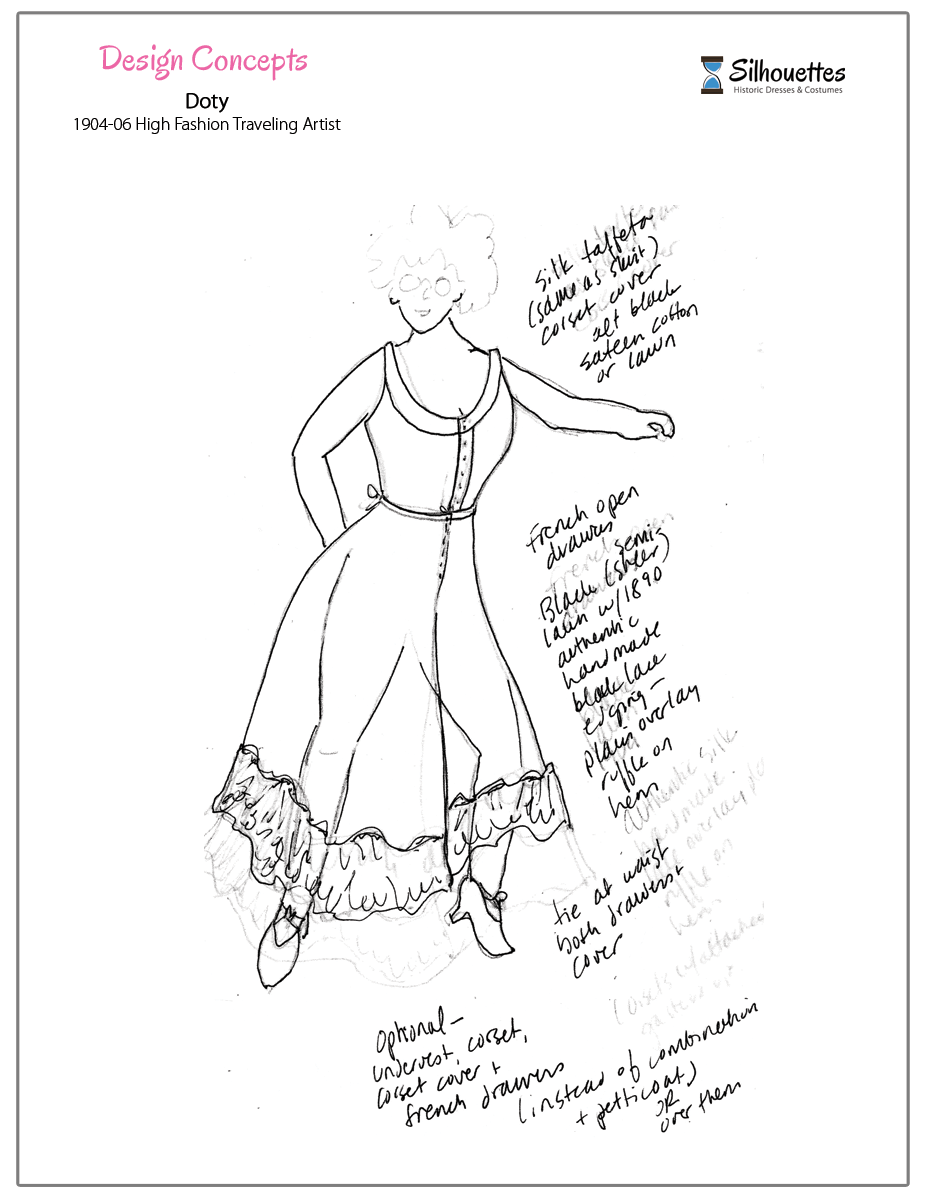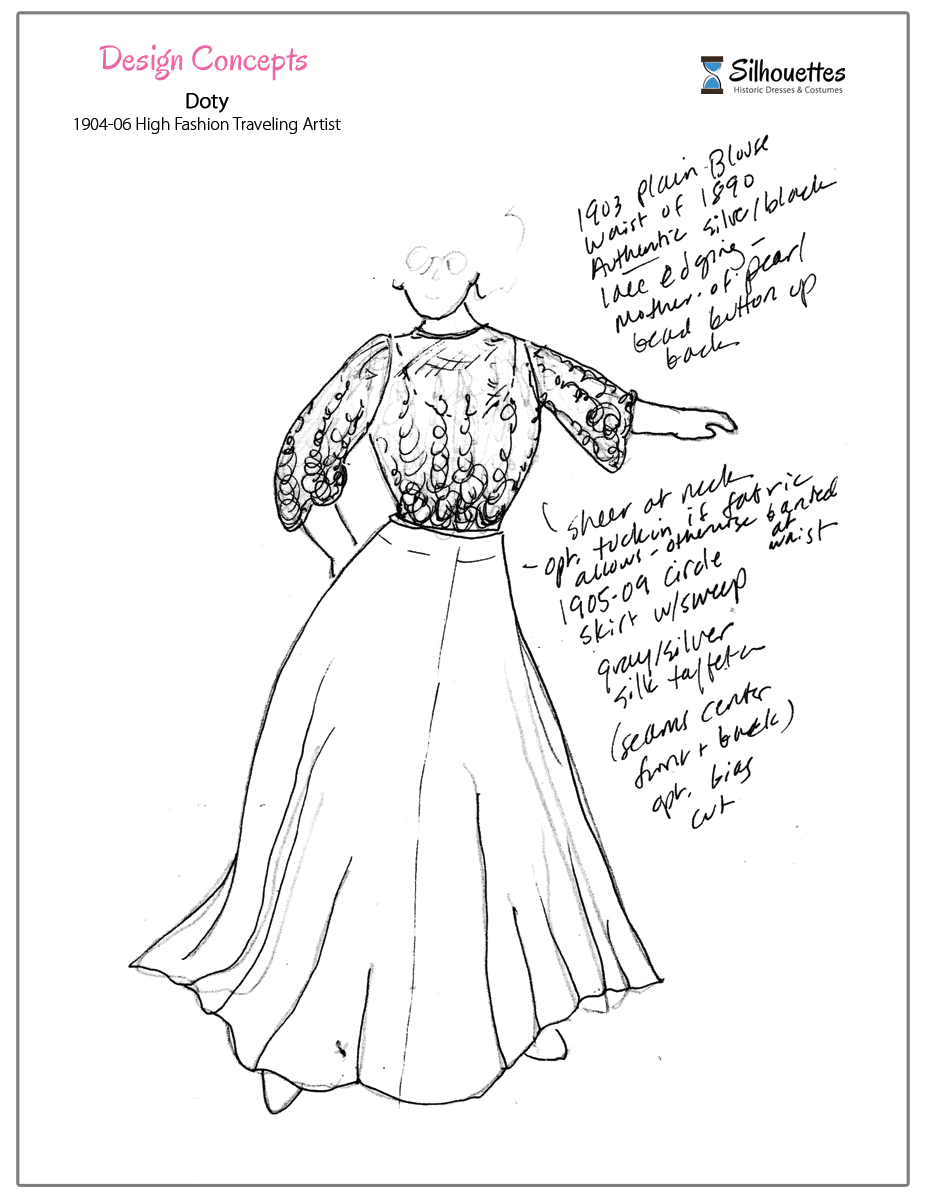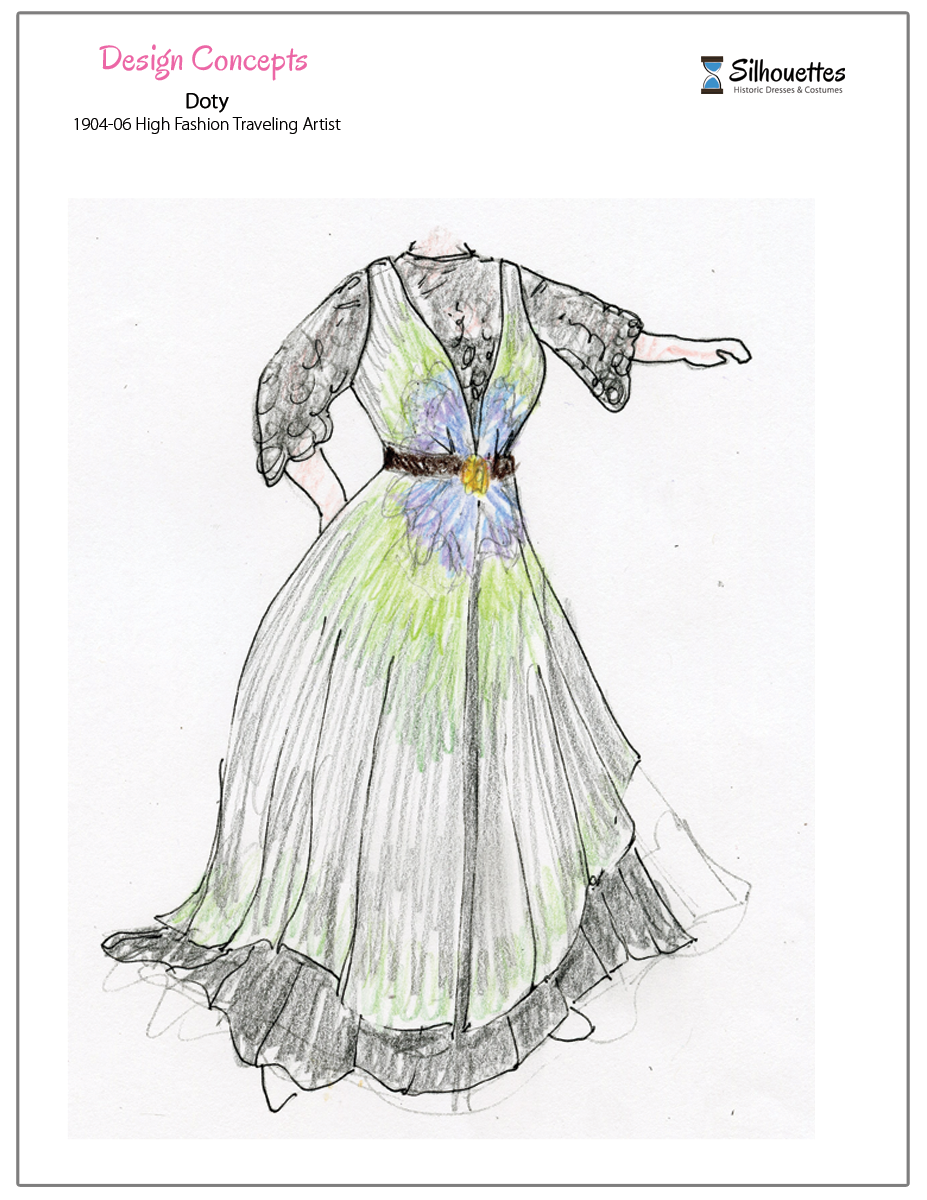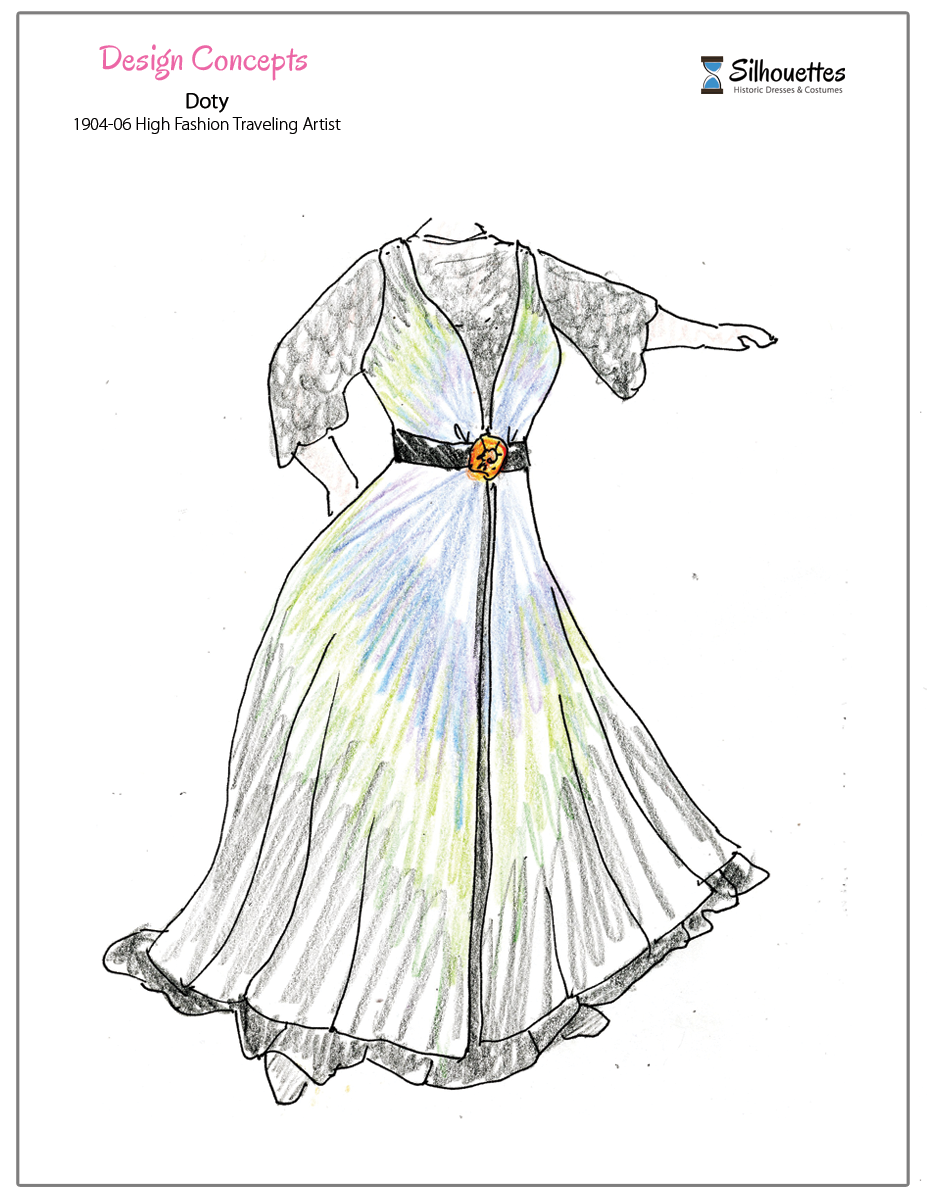 Click here to go to Doty's main page with the FINISHED PRODUCT (next)
Click here to go to Doty's Historical Research Page about time and place
Click here to go to Doty's Fashion History Research Page
Click to go to top of this Page