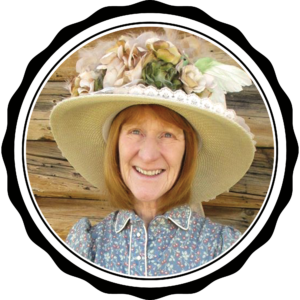 Cathy Ringler, 1890's-1910 Theatrical Bonnet for Multiple Use
Cathy is a veteran storyteller.  She portrays a variety of depictions of American women of the West in a time range of several decades.  Because she already owns a pioneer type ensemble that covers a range of years, she needed a quick way to complete the ensemble for certain performances.
With the elimination of live performances for most storytellers due to COVID this year, Cathy performs predominantly through online programs.  This means the emphasis is on the face and upper body.  She needed to up her game to build more variety in her "head only" performances, and came to us for a simple bonnet.

2 Ways to Wear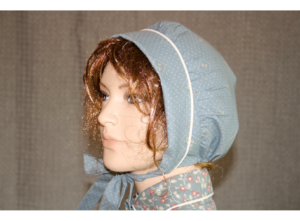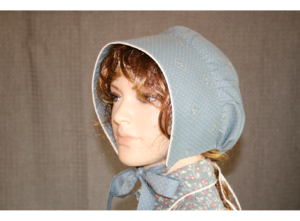 While an historically correct bonnet would have been of ANY color and print suitable to the 1890's, and would have been made probably of paisley or in the tans, grays, and browns, since this is a theatrical performance essentially "under the lights", she needed something to tie the dress together with colors that looked good with her coloring.
An historically correct bonnet would also either have a large front brim, or even slats or roving, creating a "funnel vision".  This would not do, since the objective was to frame her face, not cover it up.
Ideally we wanted a dark blue color, but found instead a matching blue to the dress that picked up the tiny coral pink roses as accent.  The result is a delicate and small bonnet, somewhat similar to Amish or religious orders (such as those in Iowa and along the Oregon trail in the 1860's).  This not only frames her smaller face, but allows for flexibility in interpretations for years 1860-1910, as well as for types of women – from pioneers and farmers to religious orders.
The other advantage to our design is that she can wear the front brim folded back for an even smaller profile, or forward for a more historical look.  We added white piping same as the dress, to make it a complete ensemble.
Hopefully, Cathy will be able to share her videos with us here once published, so we can see how it all works together.

We did not make the dress, but we did coordinate the overall "look" which just needed this to finish it off.  We also loaned her the 1909 hat to use for a performance of a different character.
As with everything we make, we make it as durable as possible, with the finest materials (and this is made with 100% silk thread for strength and flax-linen as interfacing).  It doesn't matter if it's "just a little bonnet" or a full silk ensemble, we take pride in the craftsmanship and custom design made specifically to meet our unique customers' needs.
(The prototype for this bonnet is for sale in our "buy" shop if you would like one too! Or let us make you a custom historical or theatrical bonnet to meet your criteria).