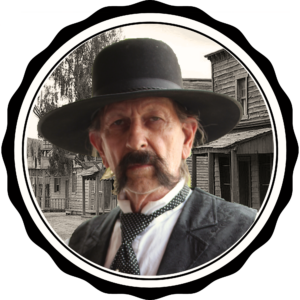 1882 Cody Gunfighters Depiction, Andrew DiPiazza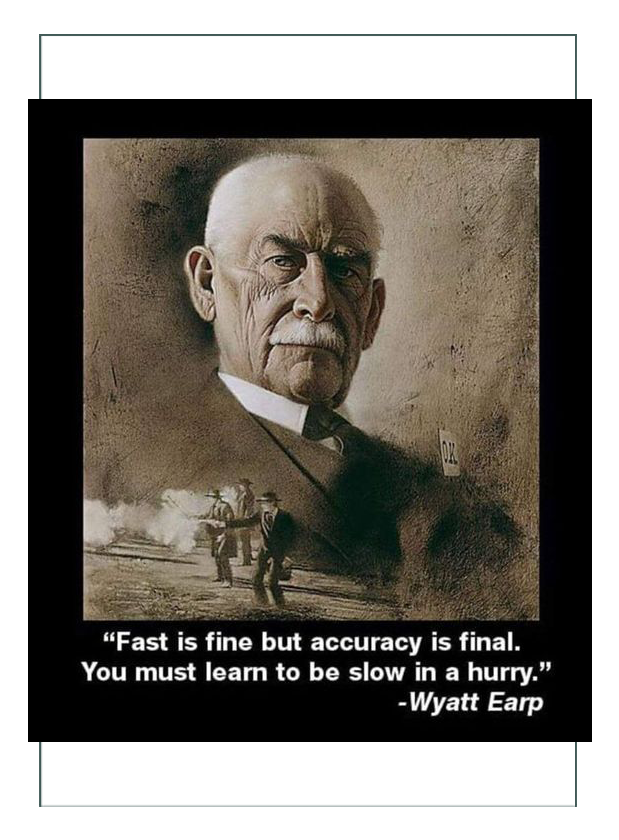 The Wild Bunch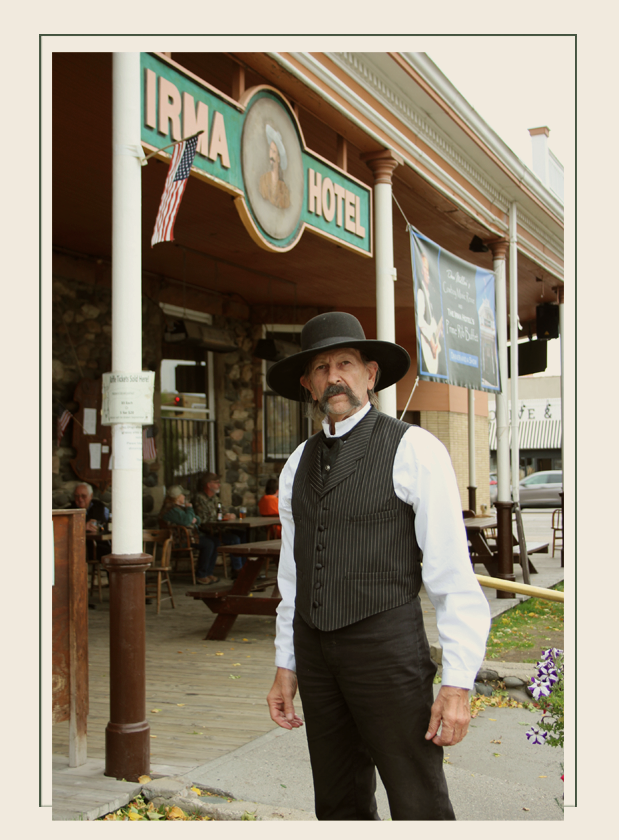 The Cody Gunfighters are a non-profit group located in Cody, Wyoming.  Dedicated to teaching history through performance and demonstration of authentic and reproduction firearms, they are actually called the "Wild Bunch", taken from the name of a group of outlaws that roamed the northeastern parts of Wyoming east of the Big Horn Mountains, to the Deadwood, South Dakota region.
In the 1880's, those were pretty sparsely populated areas, and some of the last to be settled by ranchers and farmers.  The notorious town of Sundance, Wyoming is located in the middle of that area.
While Cody's Wild Bunch are actually a group of firearms enthusiasts, many have been depicting and performing specific characters such as The Sundance Kid, Etta Place, and the most notorious of them all, lawman Wyatt Earp.
Andrew has been depicting Wyatt for almost 30 years; elsewhere and in Cody.  He leads this group of renegades made up of real life men and women who love the history of the Wild West.  They perform 6 evenings a week from May to September every summer in front of the Historic Irma Hotel, built by Buffalo Bill Cody, the town's namesake.  Their 30 minute street performances are designed to teach (and to advertise just a bit for their sponsors).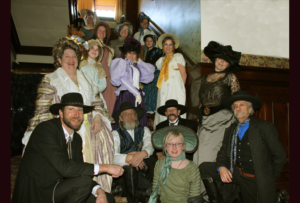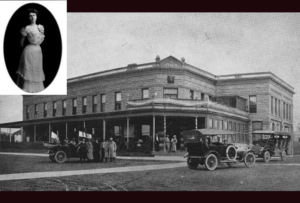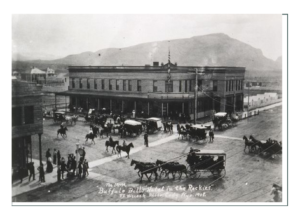 The assignment was simple – at first.  Andrew wanted a black historically correct vest with white pinstripes that was short and well fitted so he could draw his guns without getting caught in the bottom of it.
The first challenge was finding quality black pinstripe fabric.  If anyone has every tailored or built men's suits, you know today's fine fabrics are made outside the US; mostly in Italy and England.  These modern weaves of anything – silk, wool, cotton (as we ONLY work in natural fabrics as they would have in history!) are floppy and thin.  Added to that we specialize in women's garments, and have not set up suppliers for men's tailored goods, made for a special challenge.  Current fashion for men does not like the extremes of black and white, so there are an abundance of floppy and thin very expensive wools in grays and blues and subtle shades, but only one source in England that makes white on black.  (See the "design development page" to see what we found).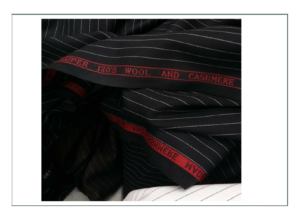 The second challenge was the Wild Group as a whole, could not decide on a year or even a decade of depiction.  They were working the summer of 2020 on a script that would bring all the characters together at the same time in history, but the problem was the Earps were most active in the 1870's, while Butch Cassidy and the Sundance Kid, their 3 most notable and consistent depictions, were most active in the 1890's.  By the 1890's, Wyatt had pretty much settled down, and the outlaws were being tamed before 1900 for the most part.
We decided, based on his description of the vest details, available extant garments we could copy, and finding a date that would work for any future show scripts, that a reproduction 1882 vest was the closest to his request.  This was consistent with most movie depictions (see Fashion History and Design Development pages) of Wyatt Earp as well as Andrew's own research.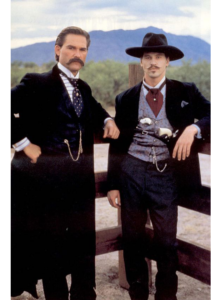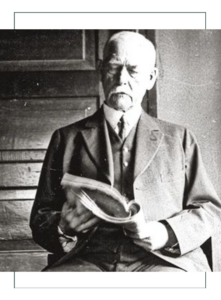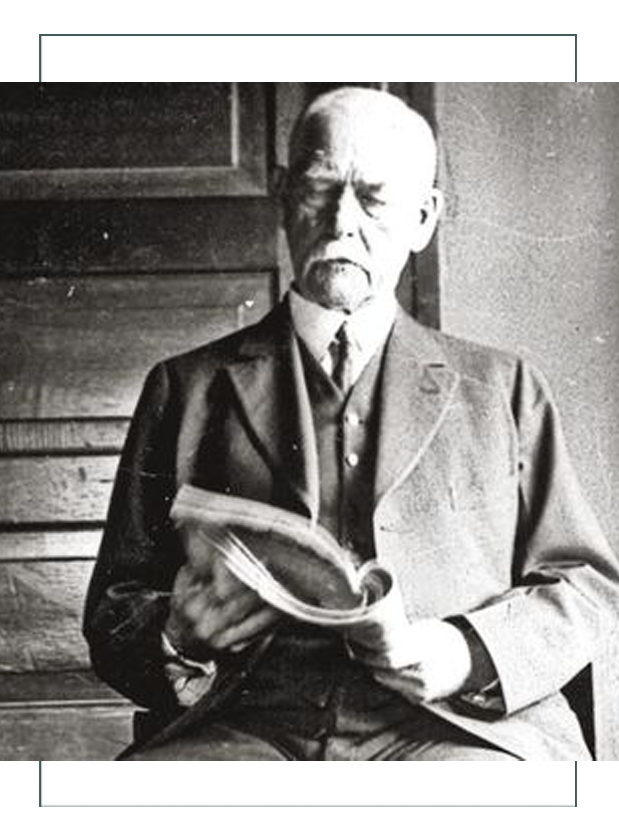 The third challenge was doing the historical research.  Knowing very little about the history of men's clothing, we had to start from scratch.  Andrew knew what he wanted EXACTLY: short, slightly tapered center front, single breasted, covered buttons, tightly fitted, 4 outer pockets and one inner pocket, notched collar, no rolled collar, but a short collar close to the neck, and of course using the stripes to advantage.  He respected our wee knowledge about the fit of the shoulder being close to the neck at the shoulder, collar not going around the back of the neck, and the short back that went above the pants lines with a buckle adjustment in center back.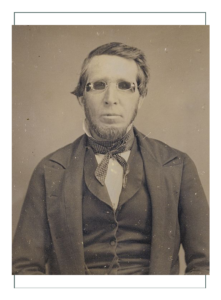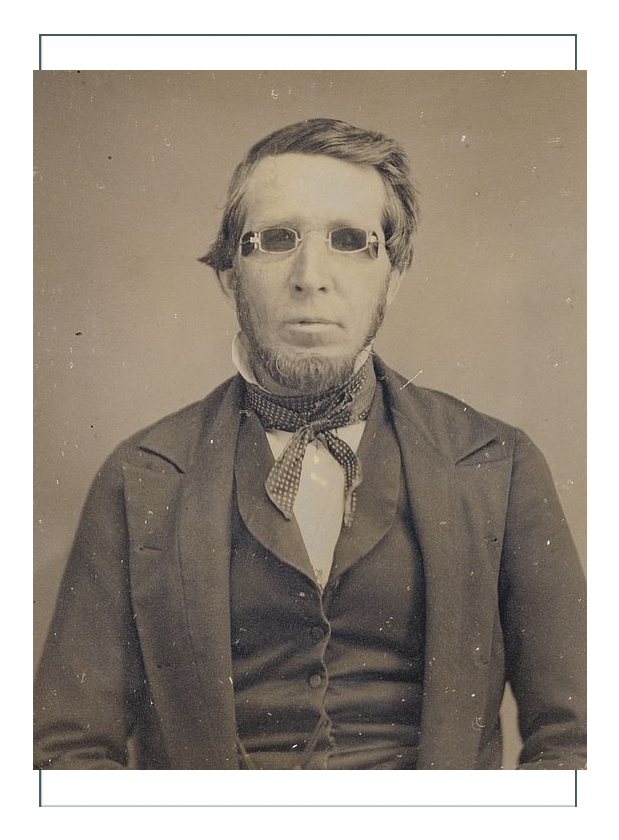 The fourth challenge was building a man's tailored garment.  While we have experience, it had been a long time since, and building 18th century waistcoats which are a whole different set of skills don't count.  This was the first of these done, and we were not comfortable taking measurements and fittings for a man.  In two fittings and two mockups however, it was a perfect fit!
Go to the next pages to see how the project developed and evolved including an ivory silk mockup vest, or continue below to see the Finished Project.
Click here to go to the Historical Context Page (next)
Click here to go to the Fashion History page
Click here to go to the Design Development page

Black Pinstriped Wool and Cashmere Vest
We had only two problems with the final fitting.  When I pointed to his gun to show that it cleared the bottom of the vest, he reacted as if I was grabbing it, and he almost drew on me.  Never mess with an outlaw; real or 130 years later…
Secondly, Andrew was sooo happy with this completed vest, that he has asked us to make a full coat ("like the guy in the 1993 movie wears") for next year.  Oh dear.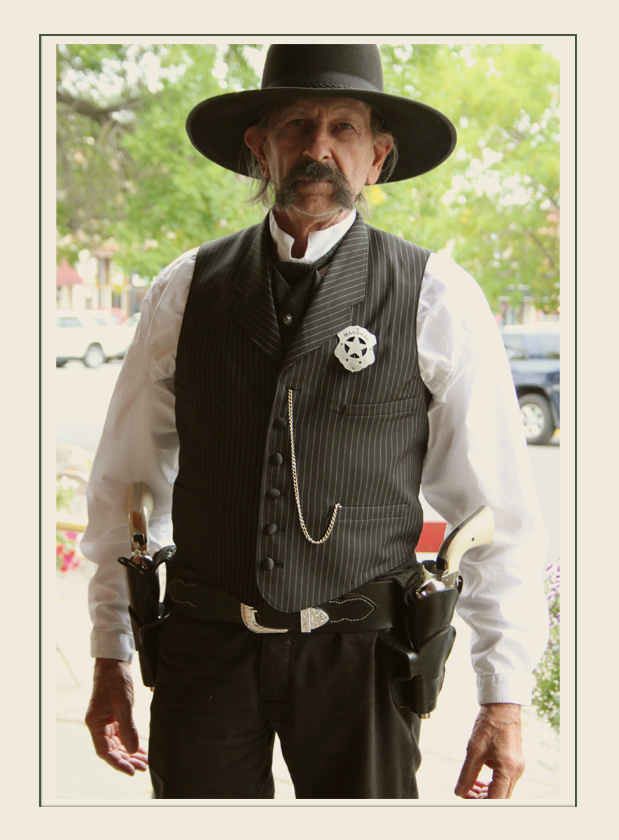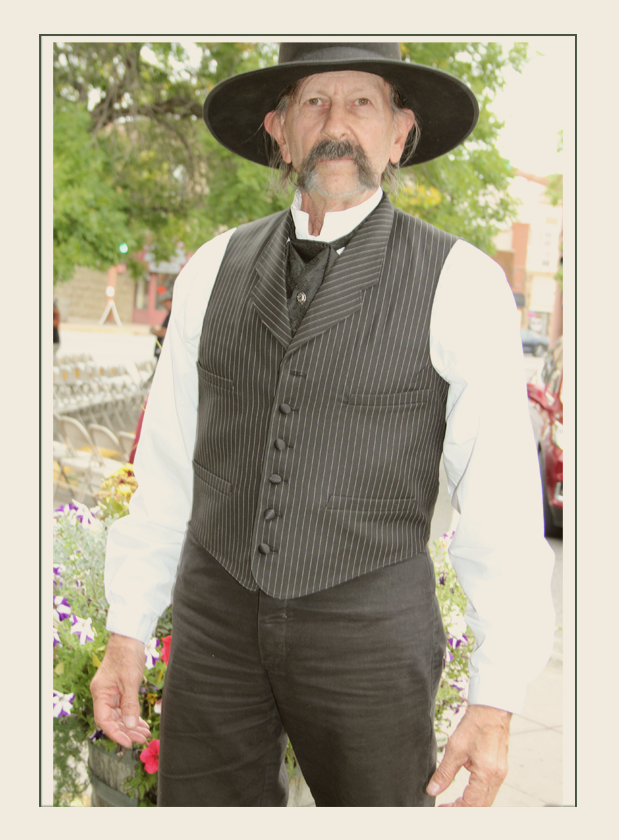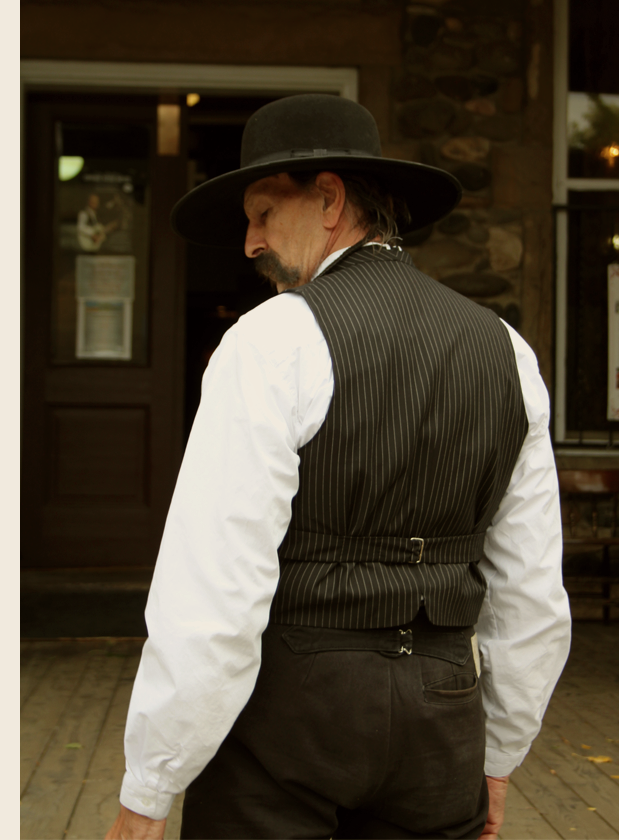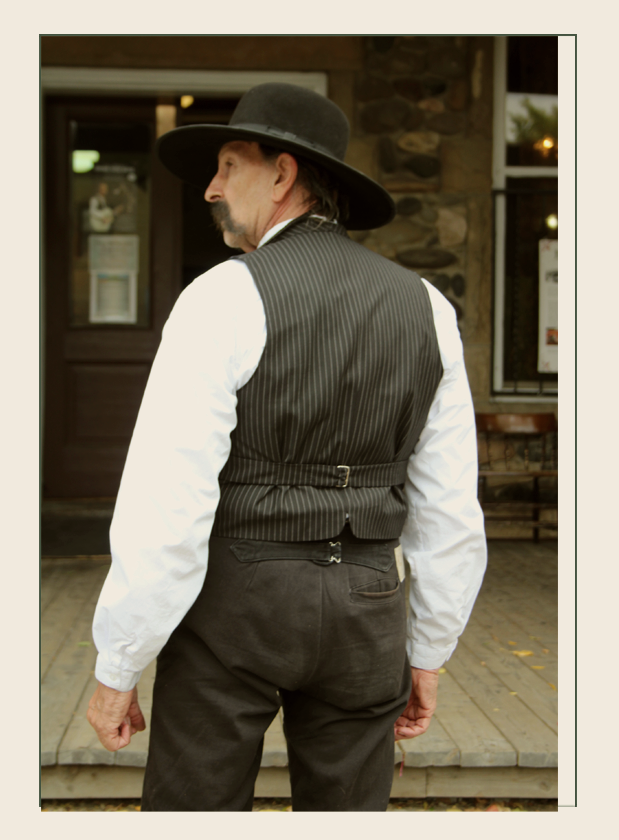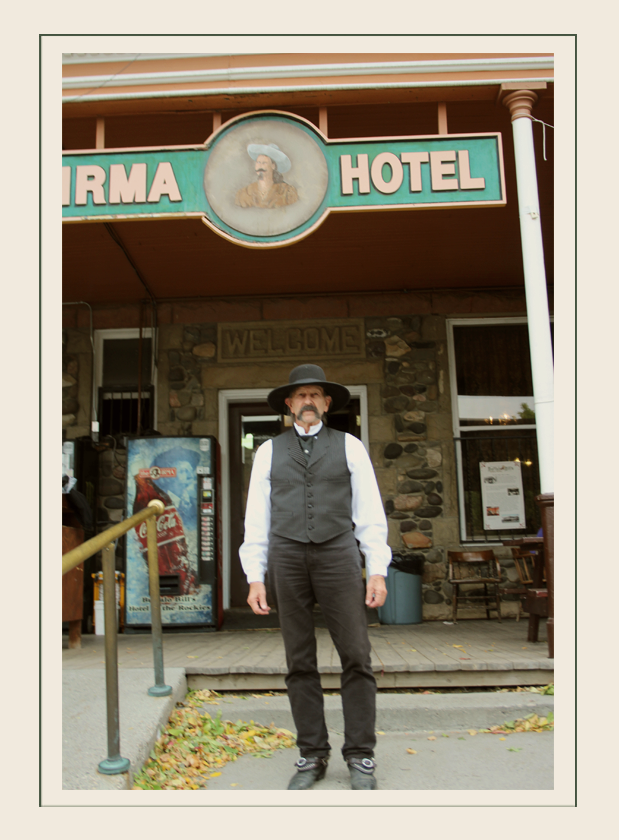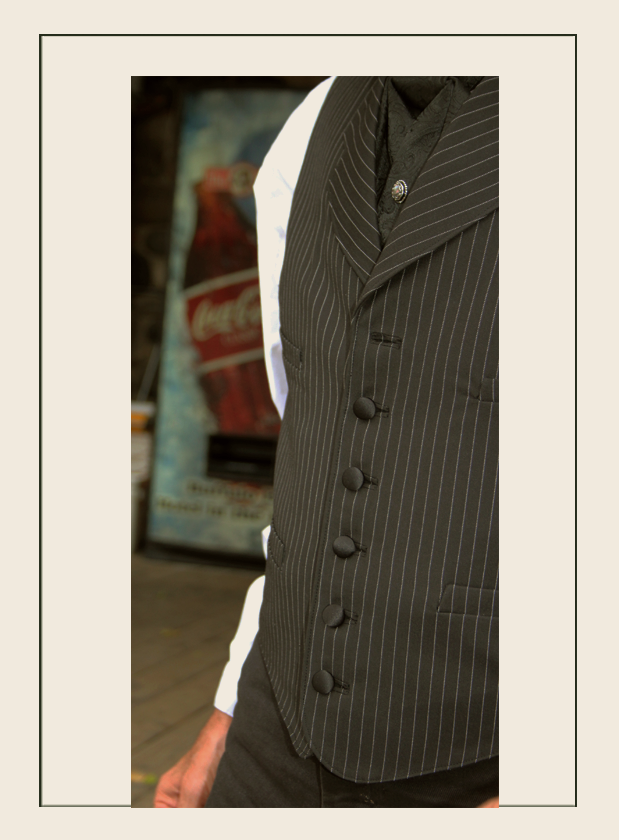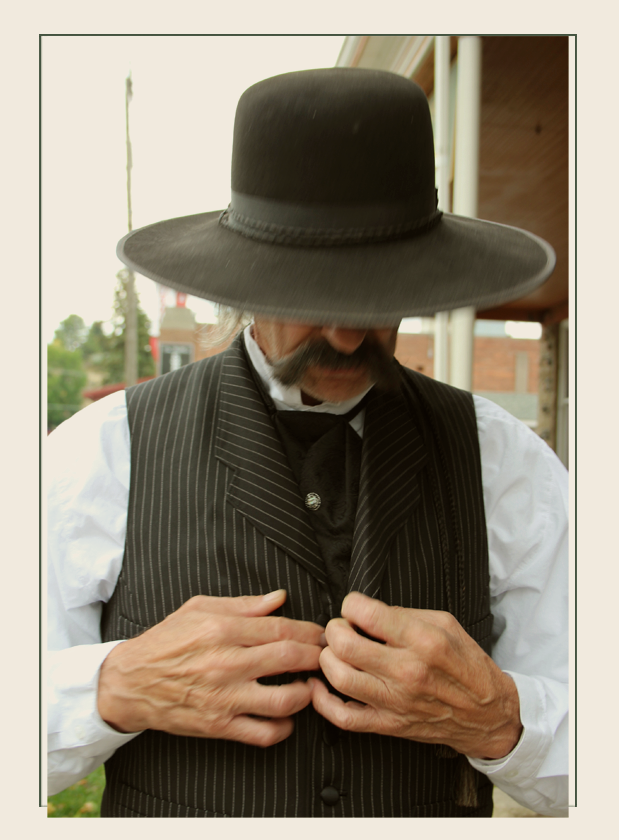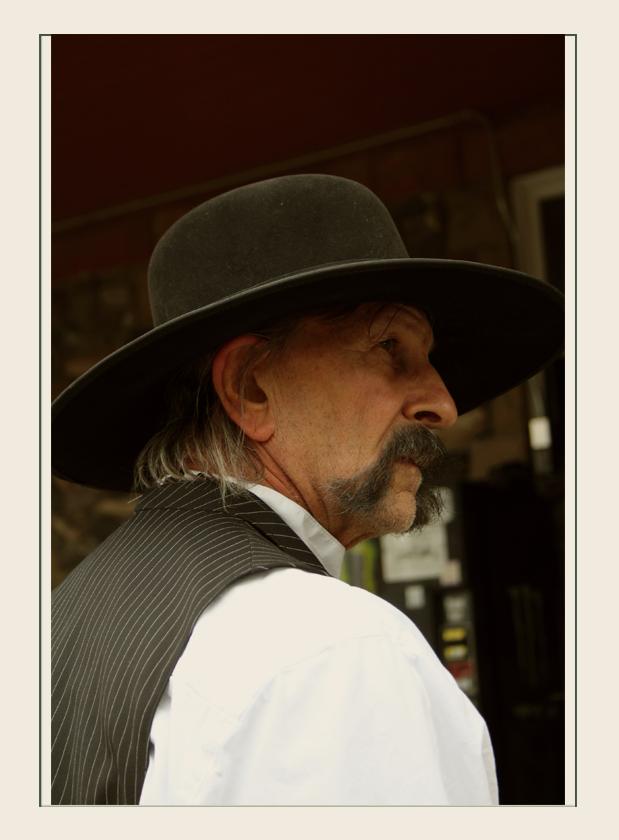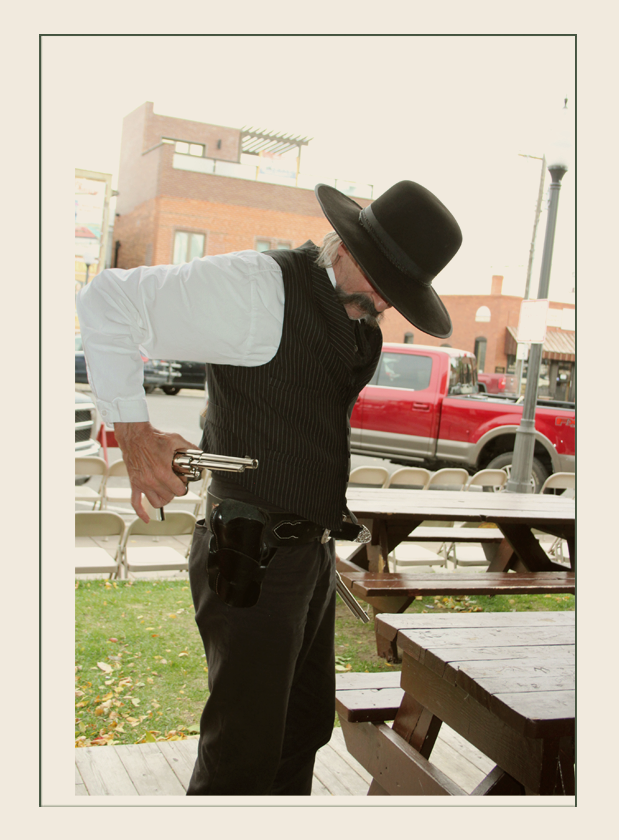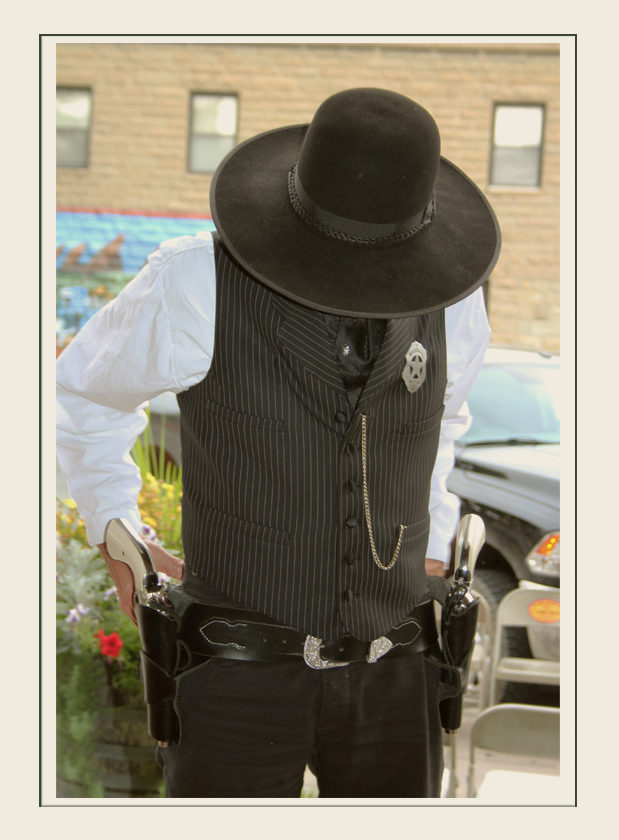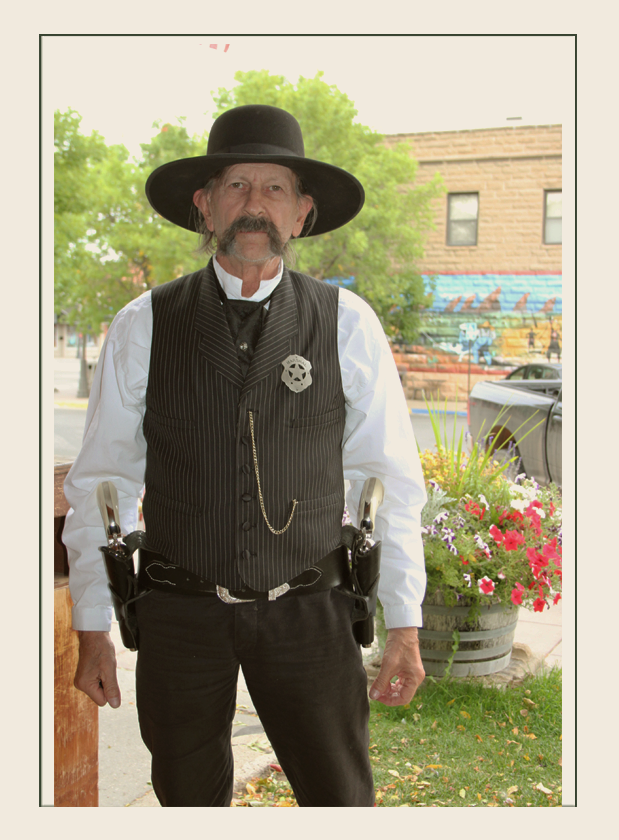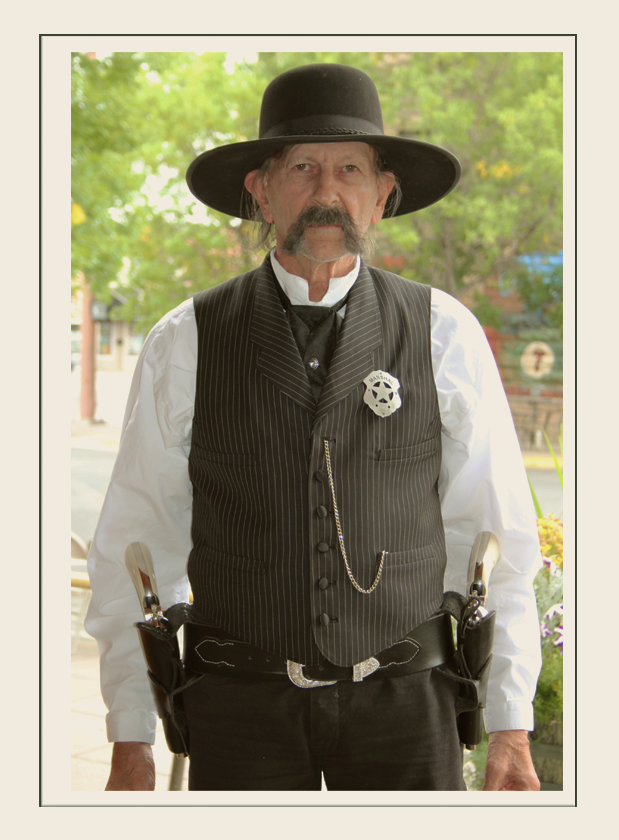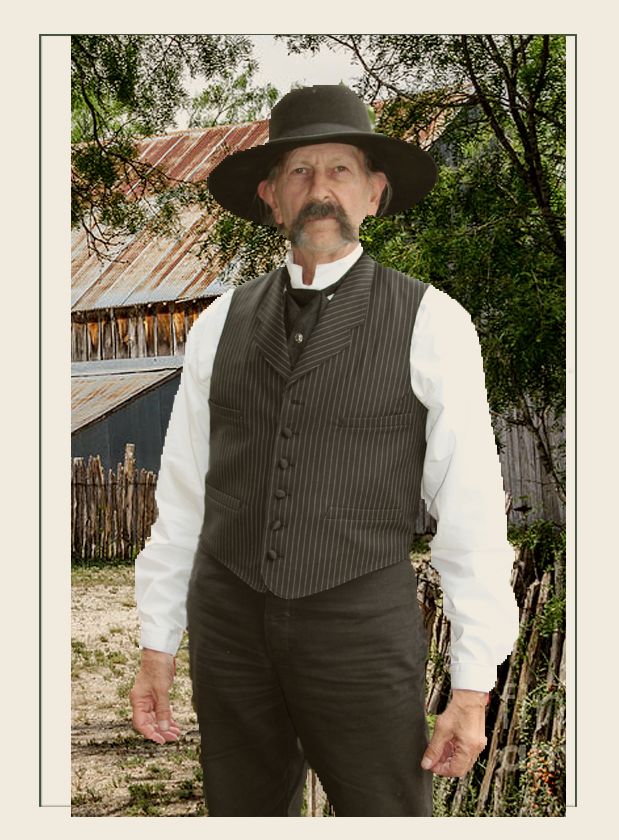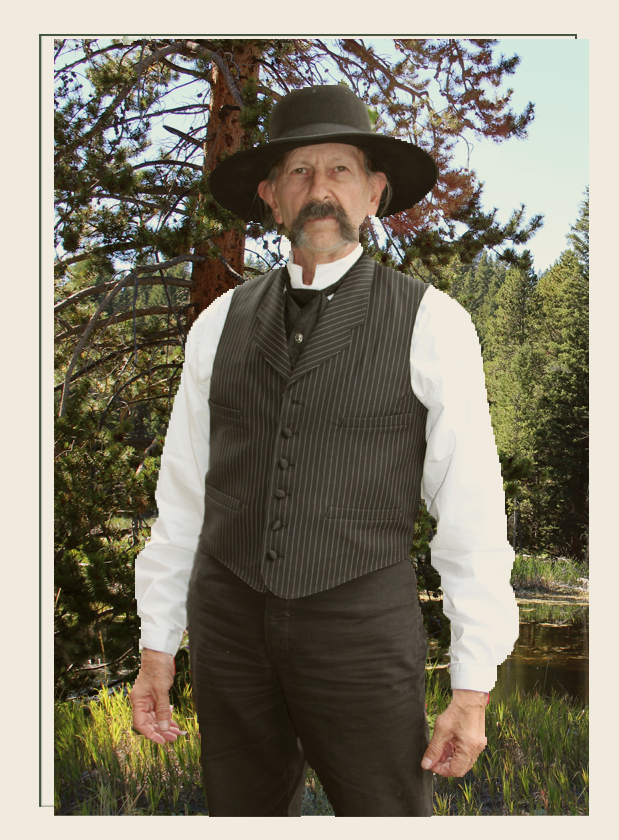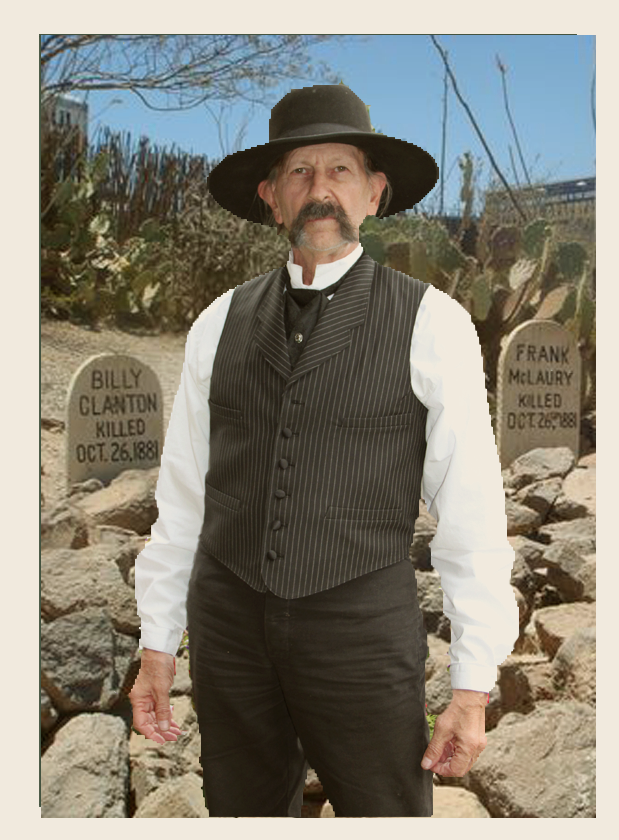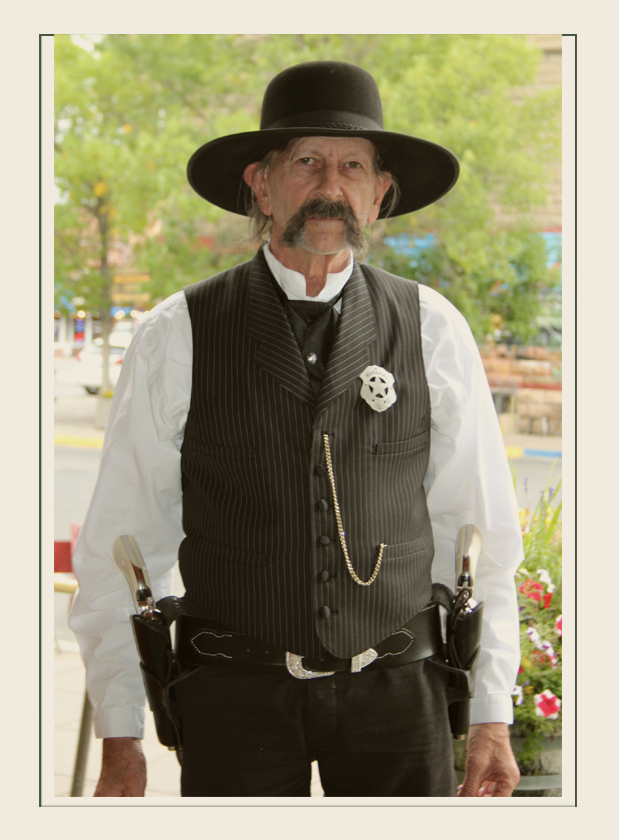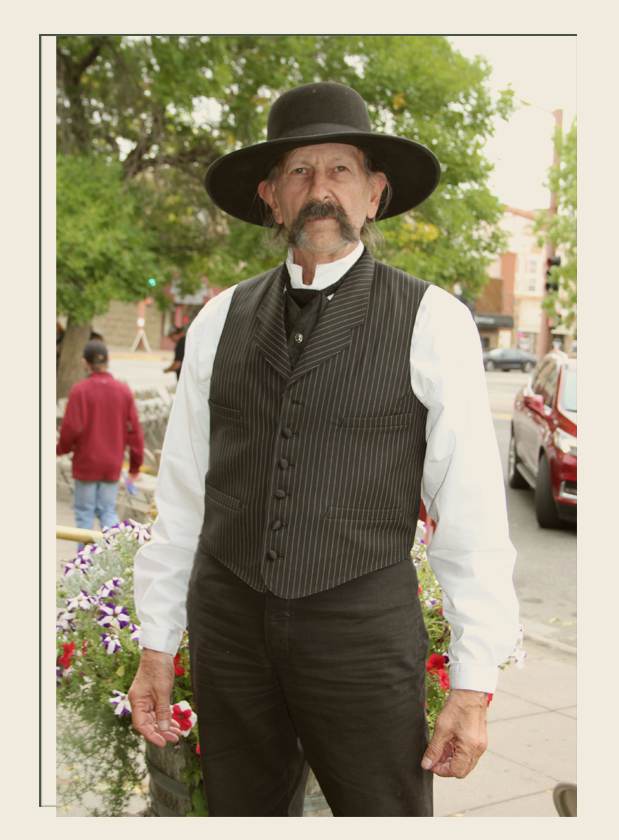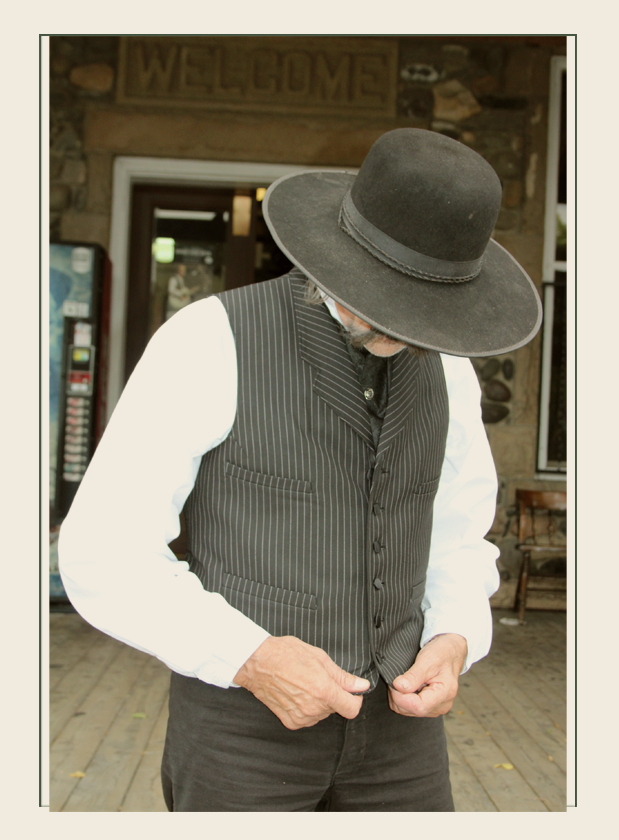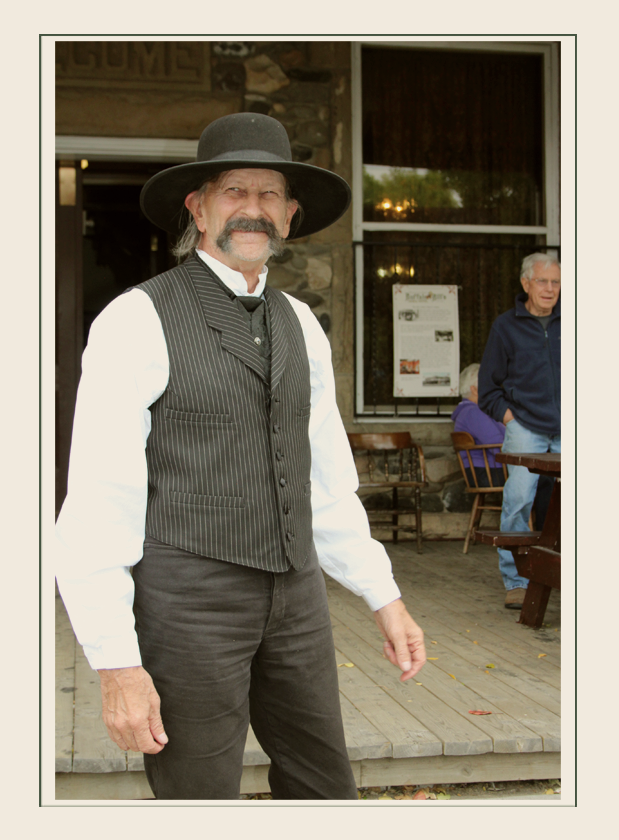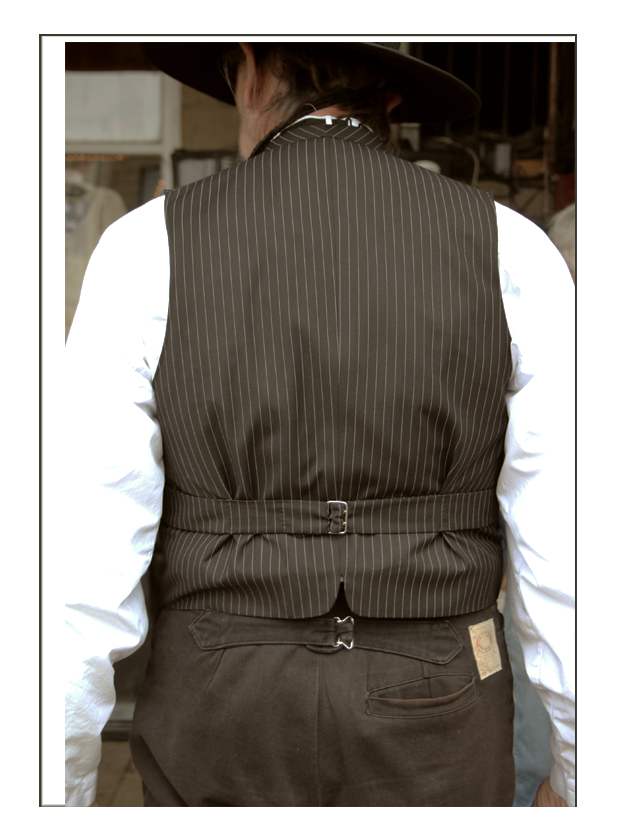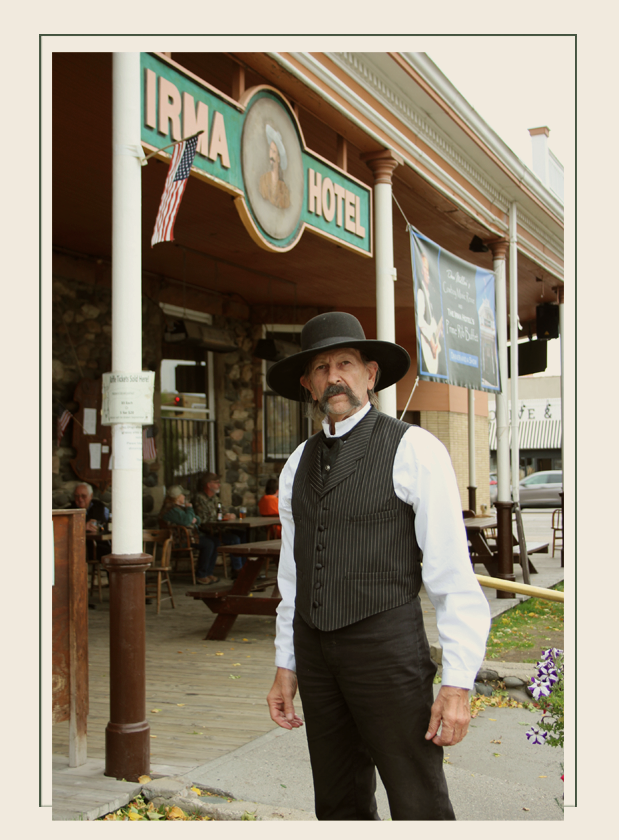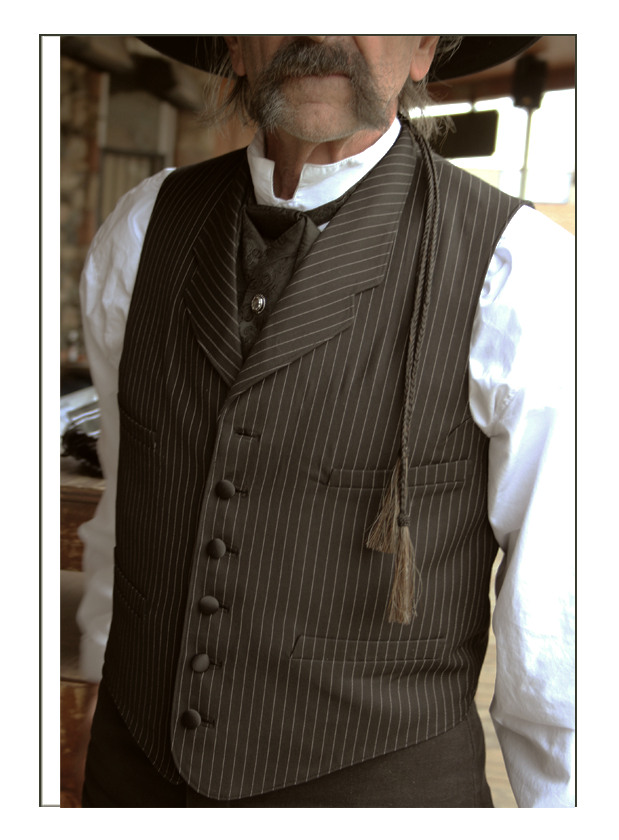 Construction, Details, & On the Mannequin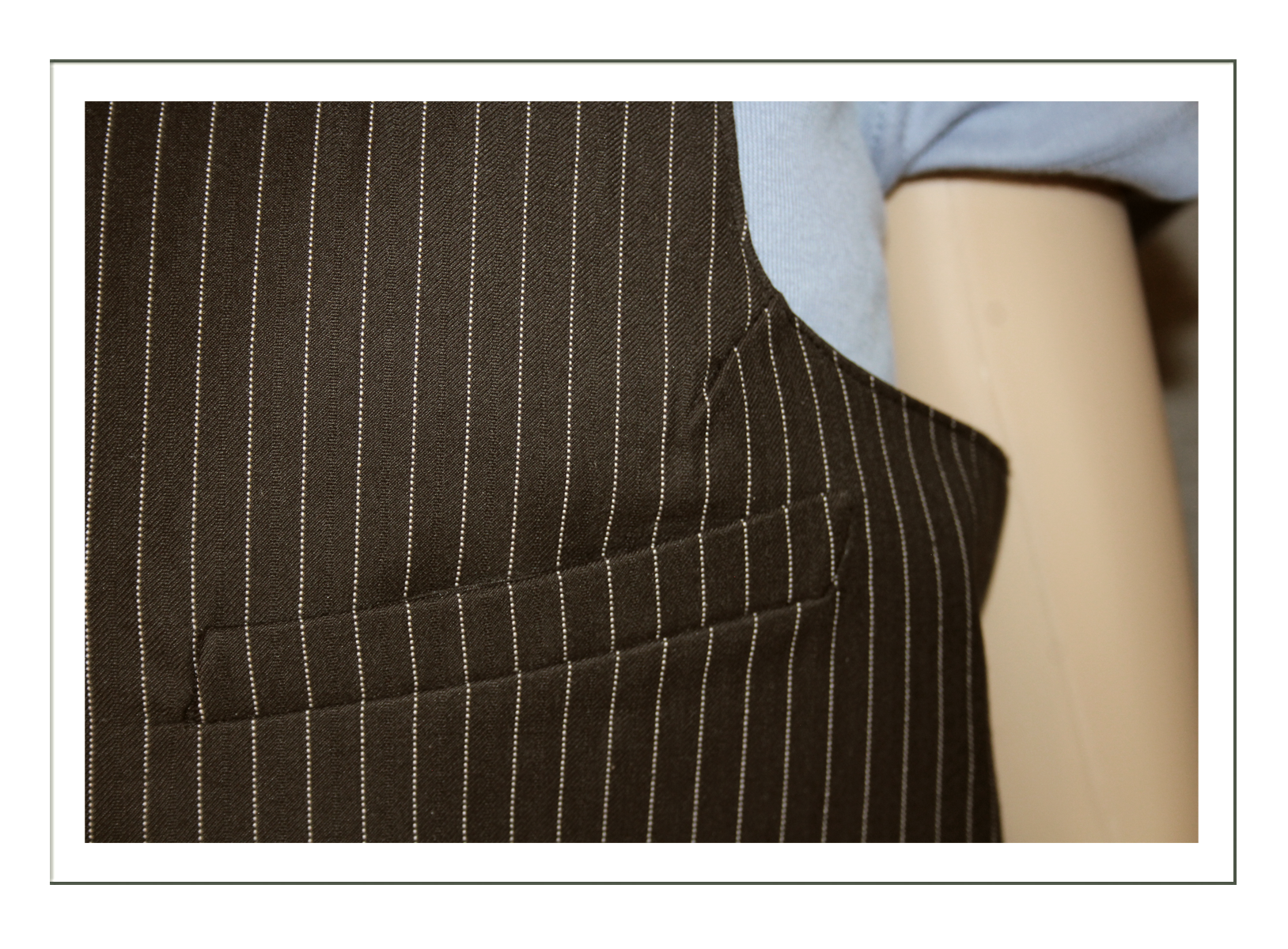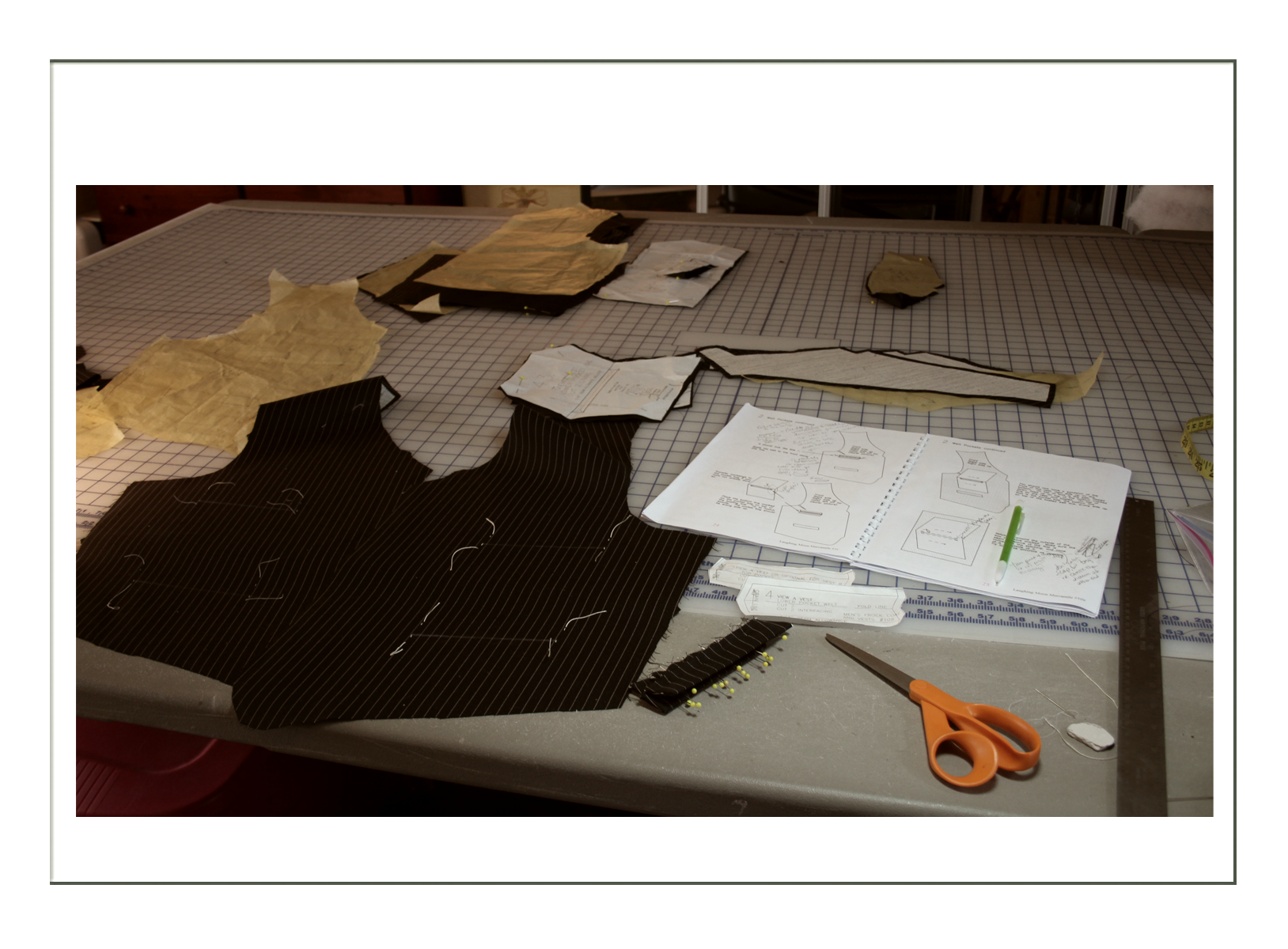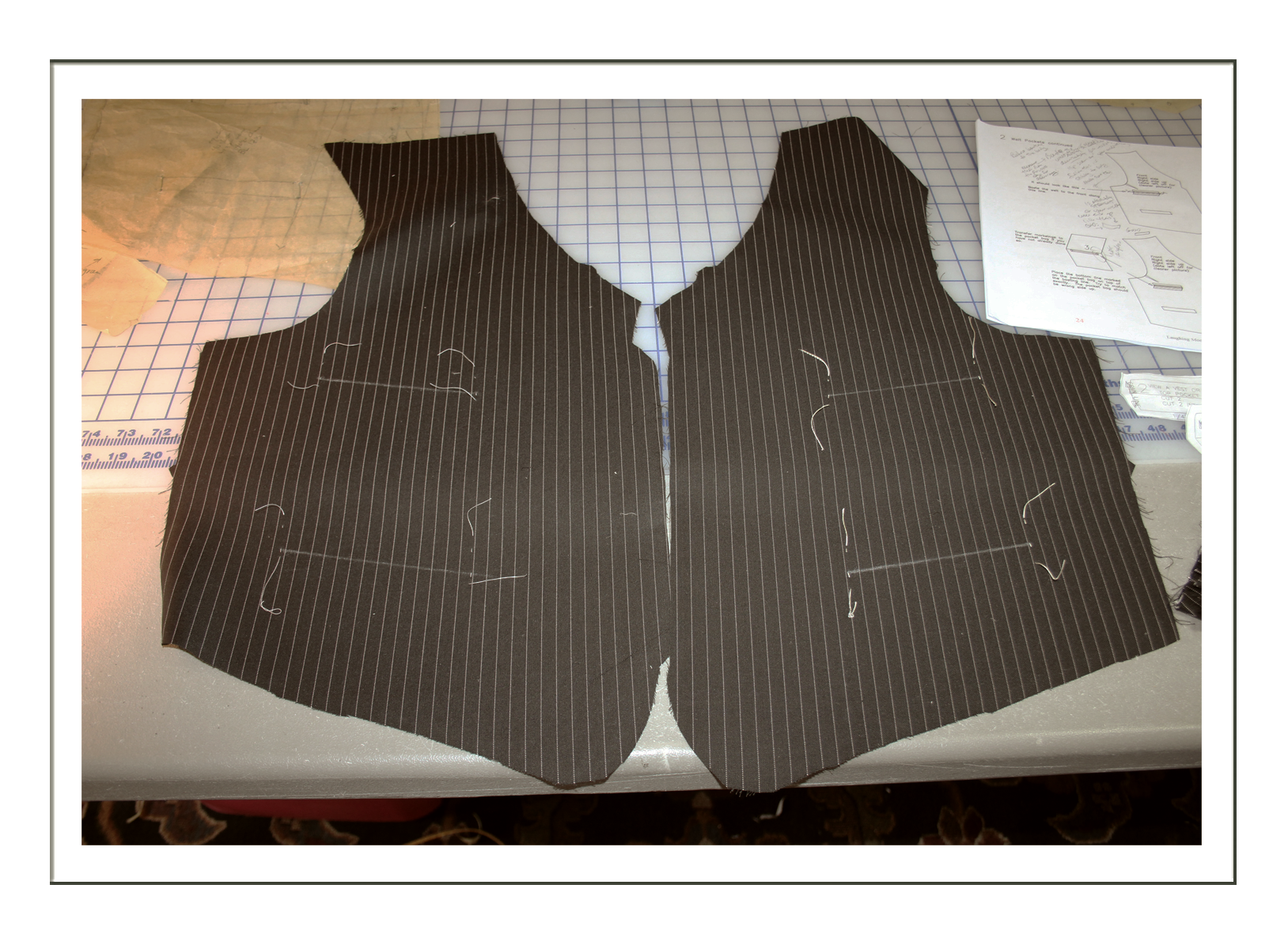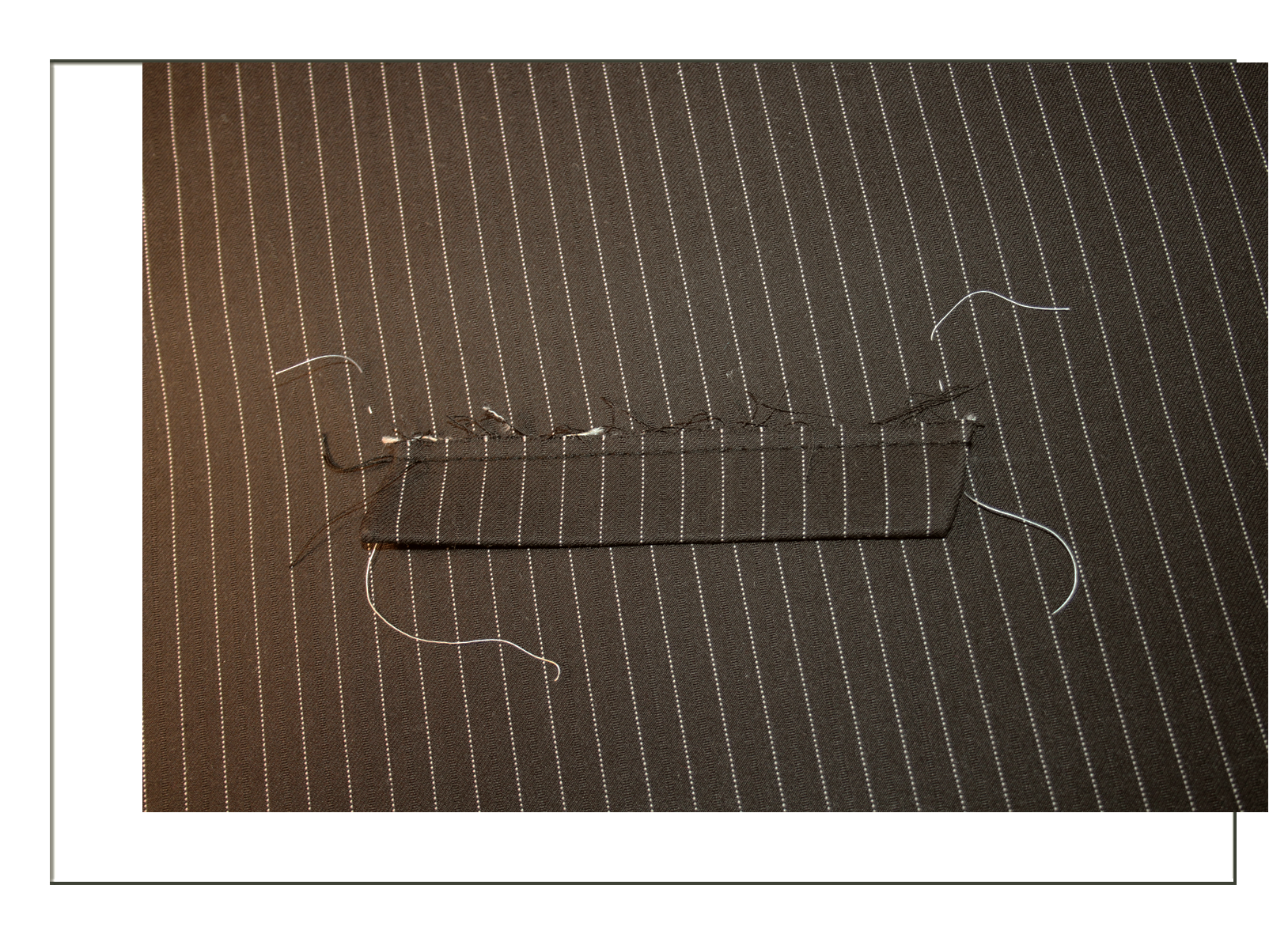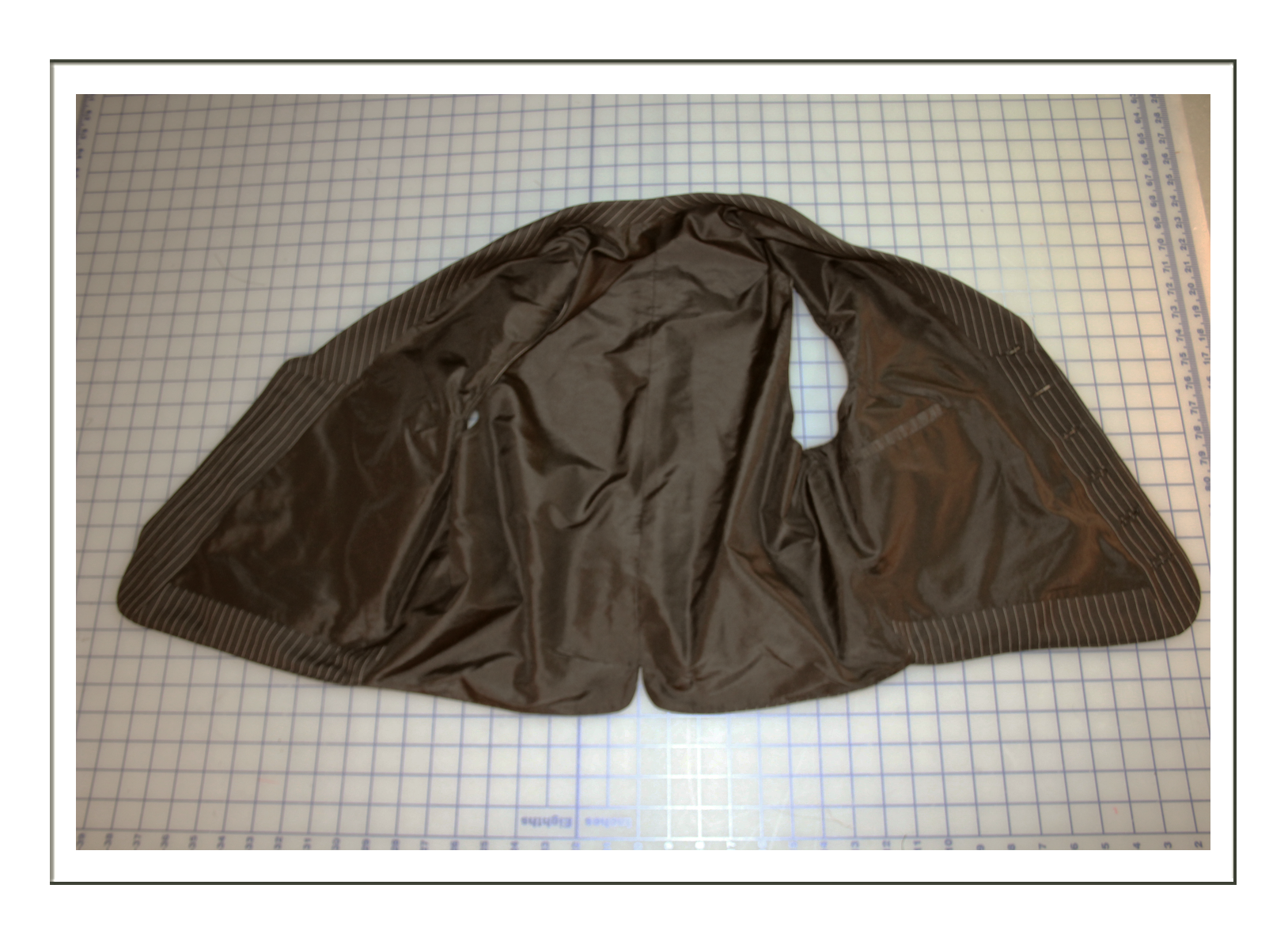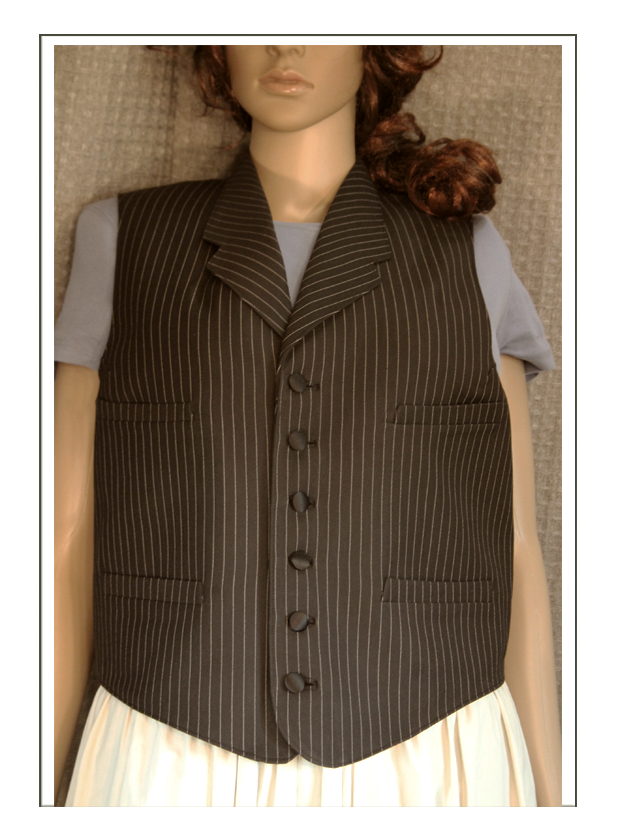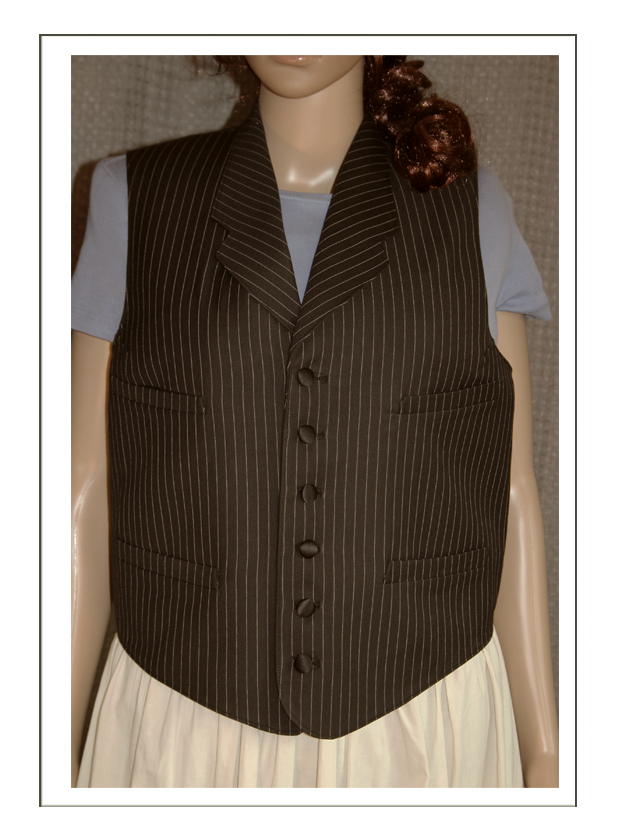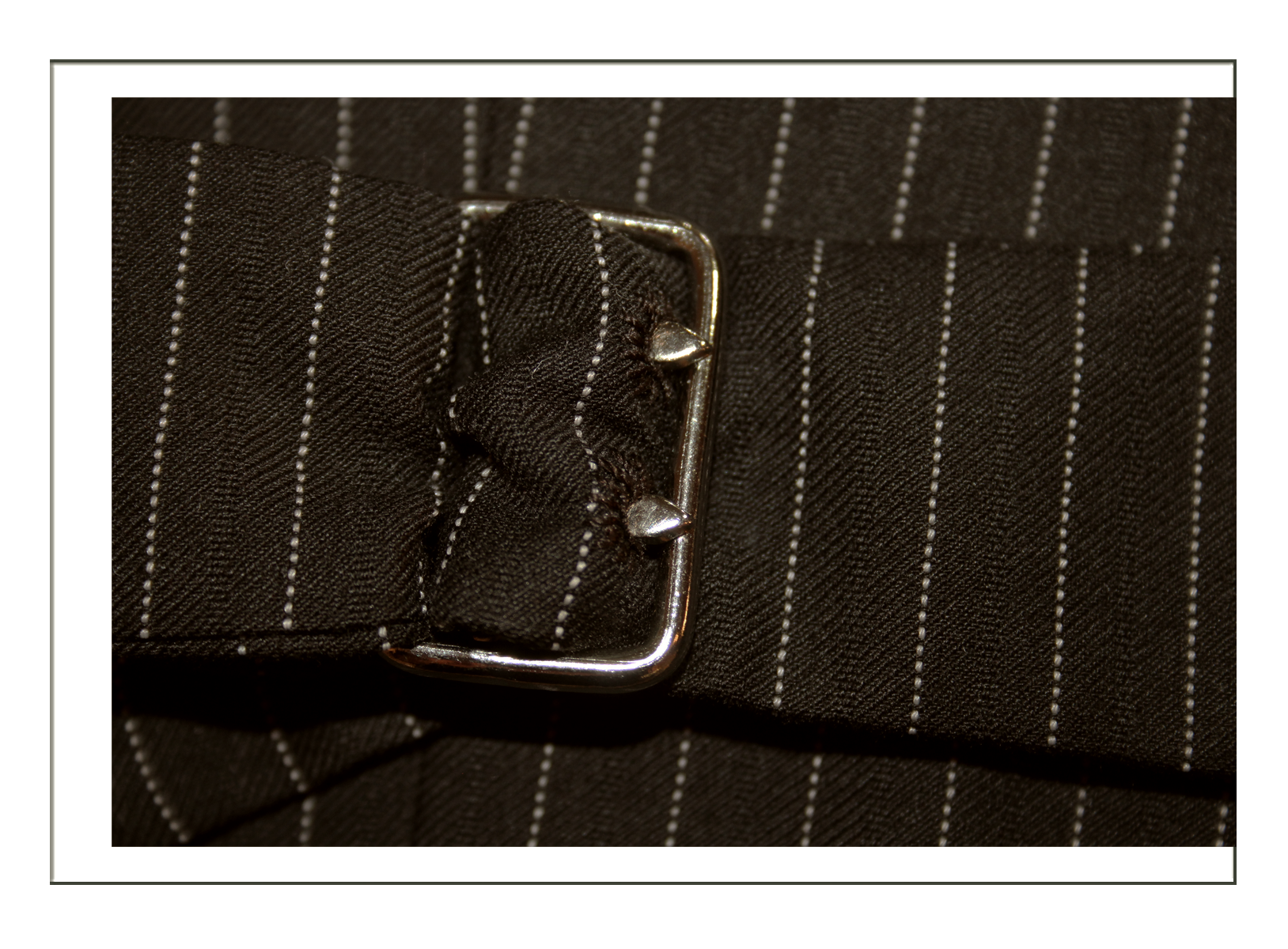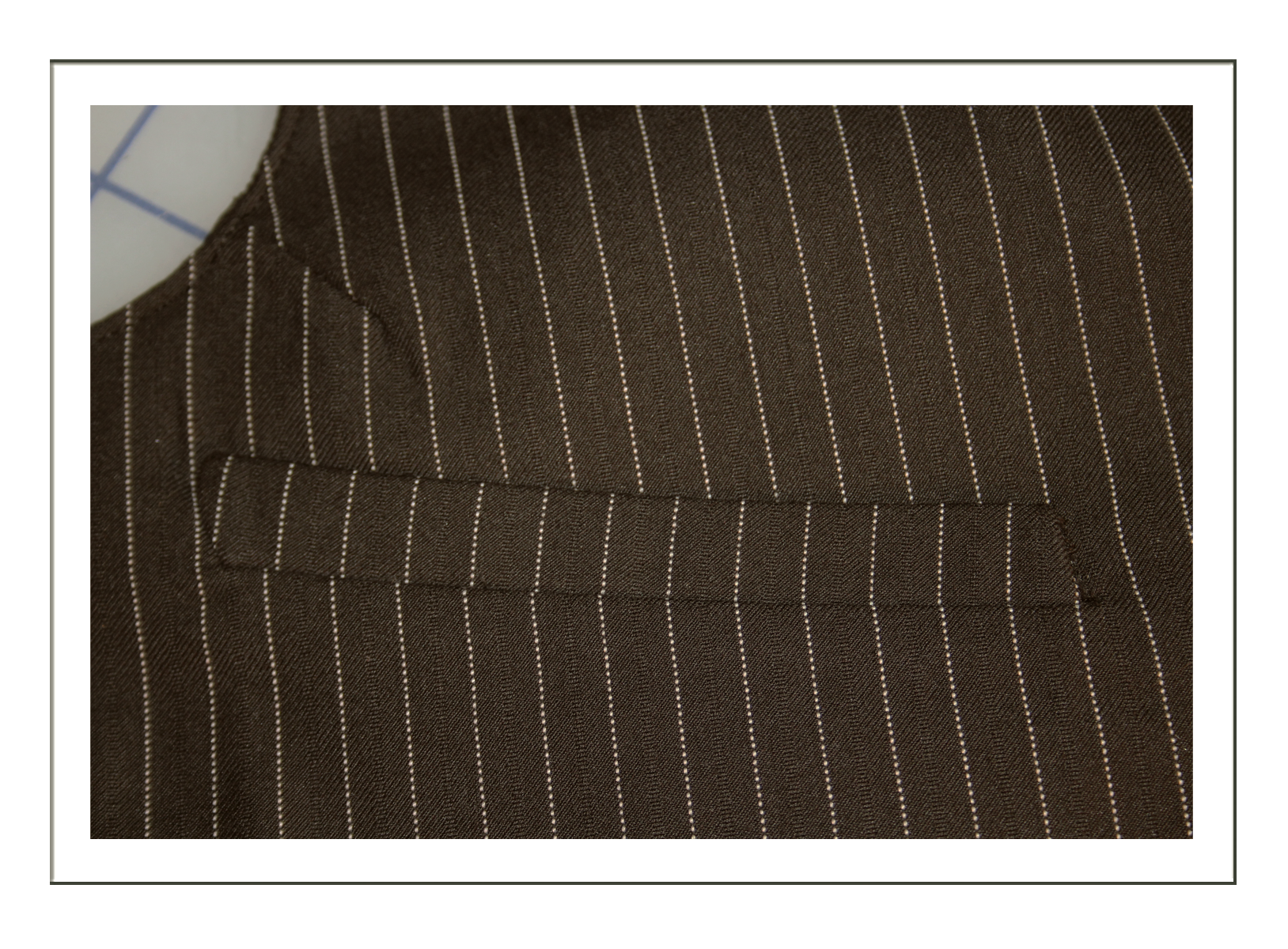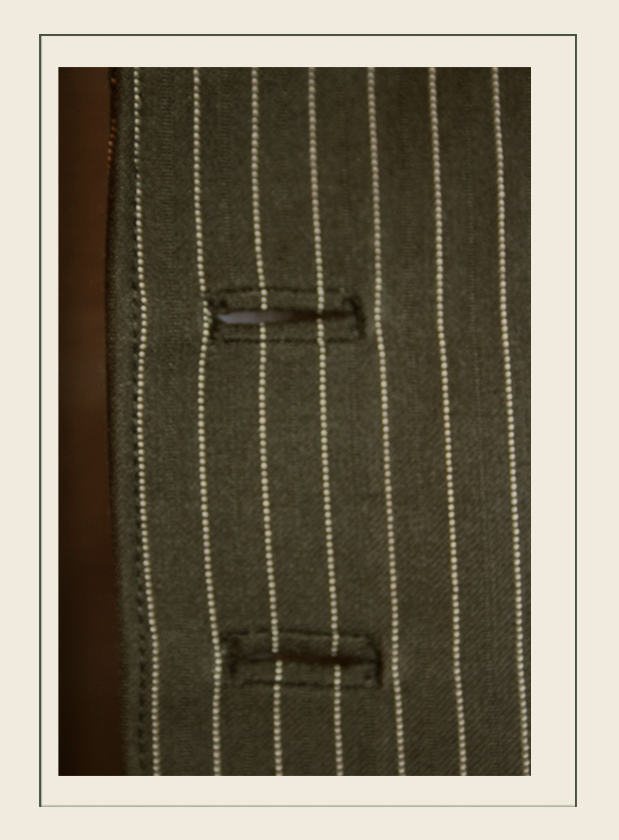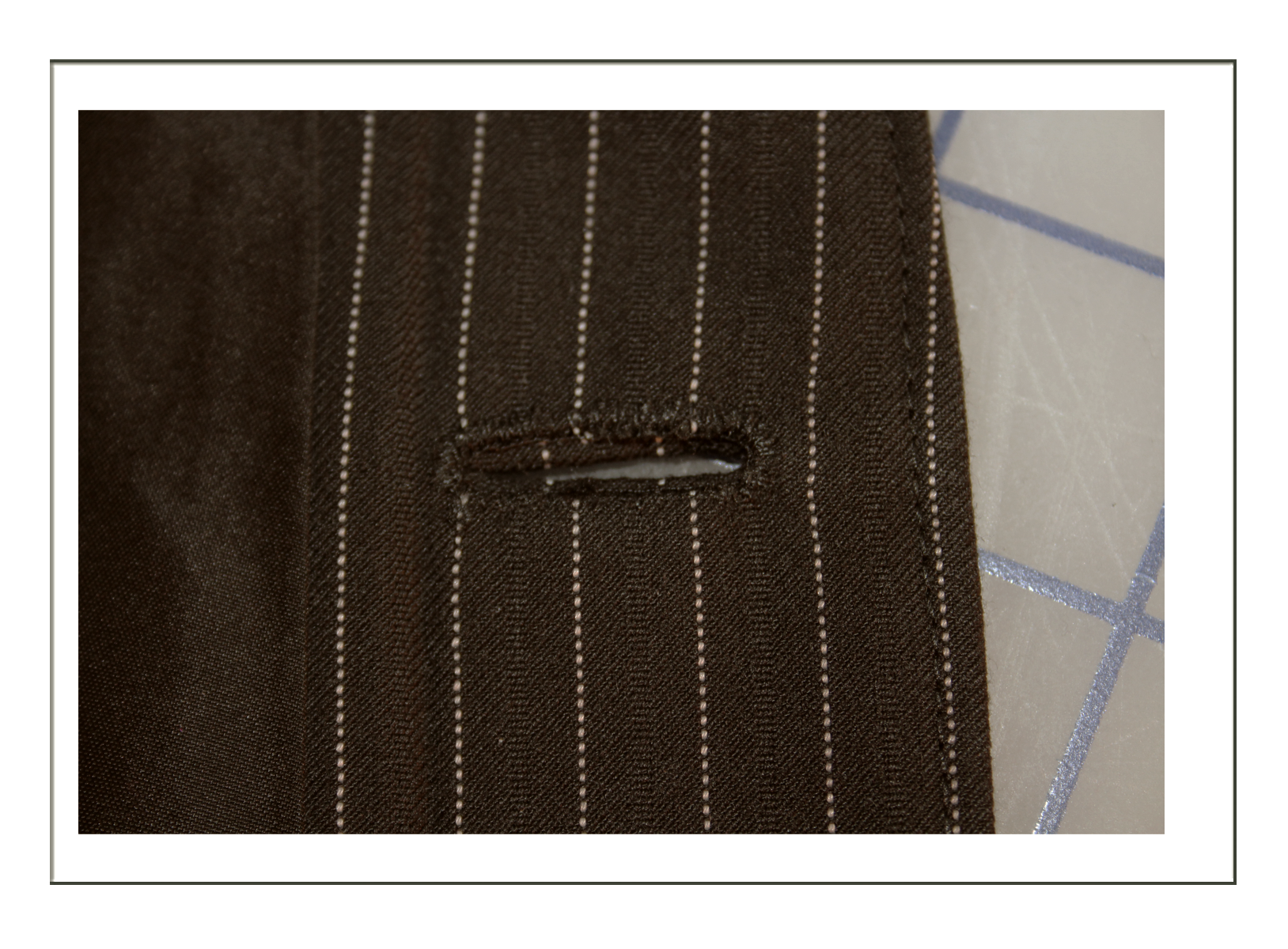 Ivory and Blood Red Silk Vest (test run "Prototype 2")
After an initial mock up of cotton, we made this complete vest to try on.  It was "pretty close", although we rushed through it so it has a few construction errors (don't look).  Andrew was thrilled with it however, and even though it's a bit too big n the waist, he bought it for his "other days".  Made of 100% silk taffeta both inside and out, it will be VERY comfortable for the hot summer performances to alternate with his "fancy vest".  The buttons on this are real mother of pearl and are just gorgeous.
Not shown in the photos, the lining is a rust and brown striped silk, very popular in the 1880's and looks wonderful with his neck tie.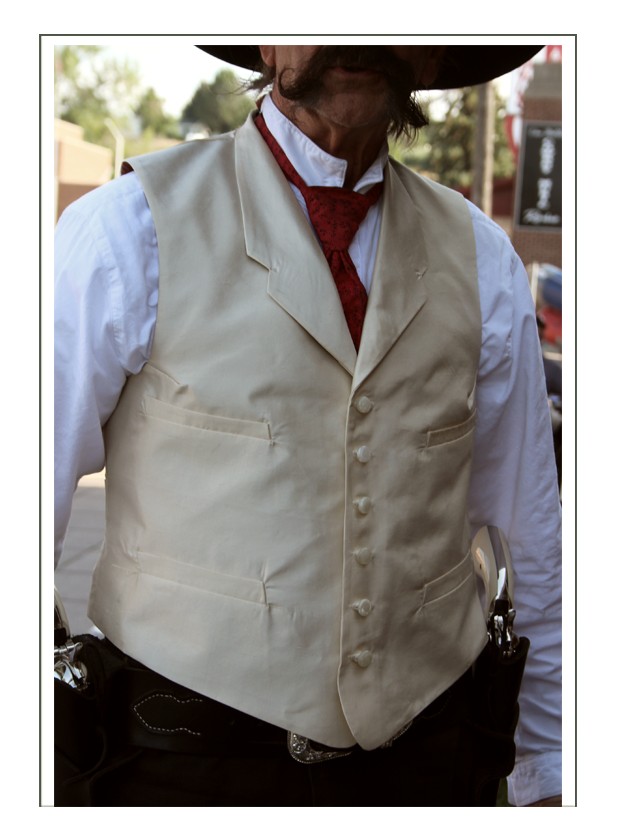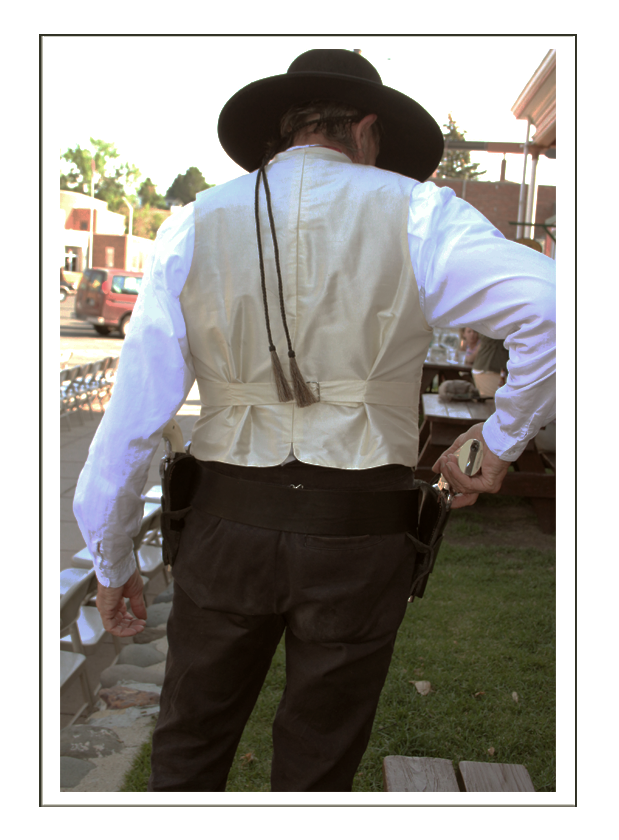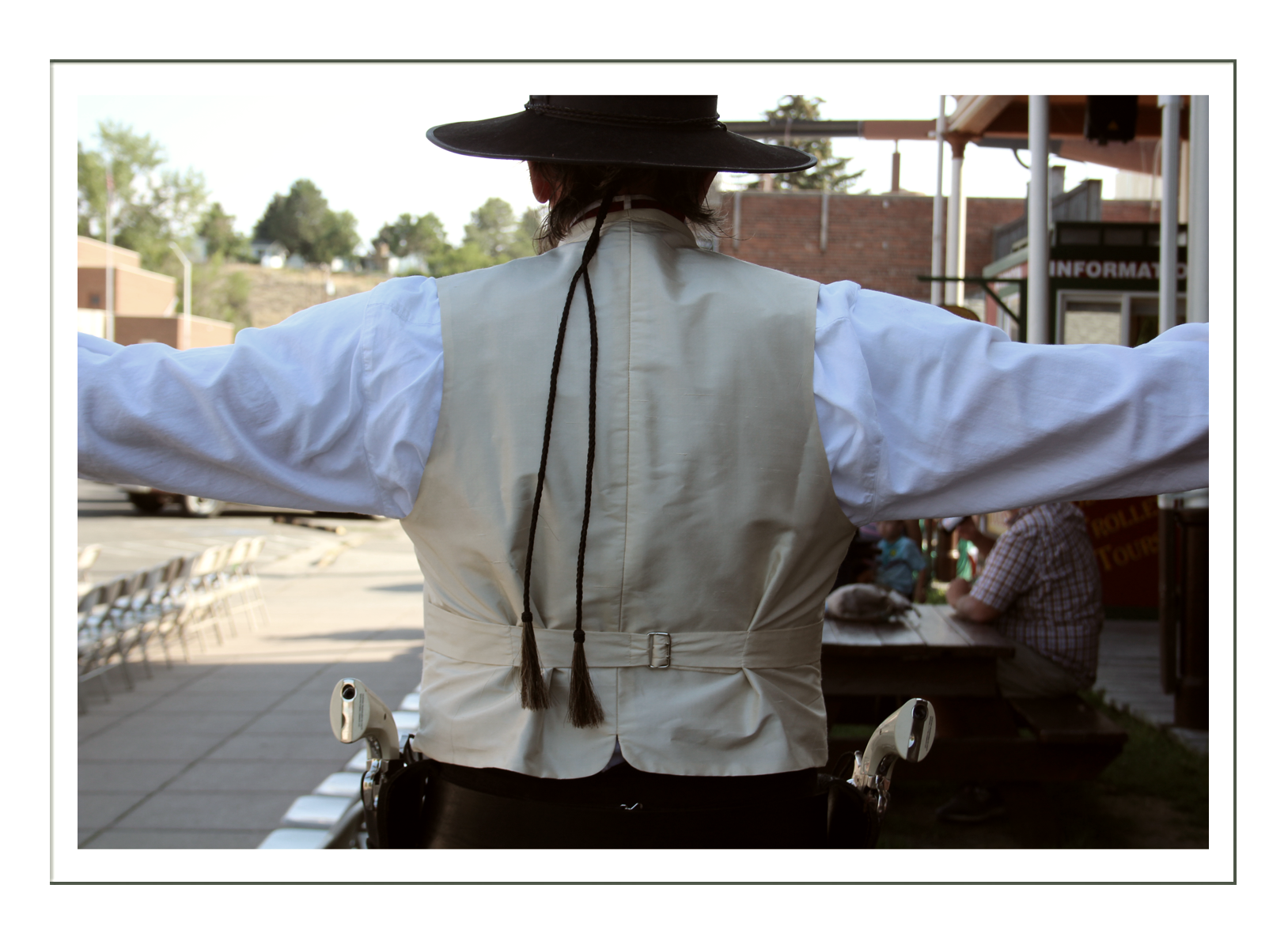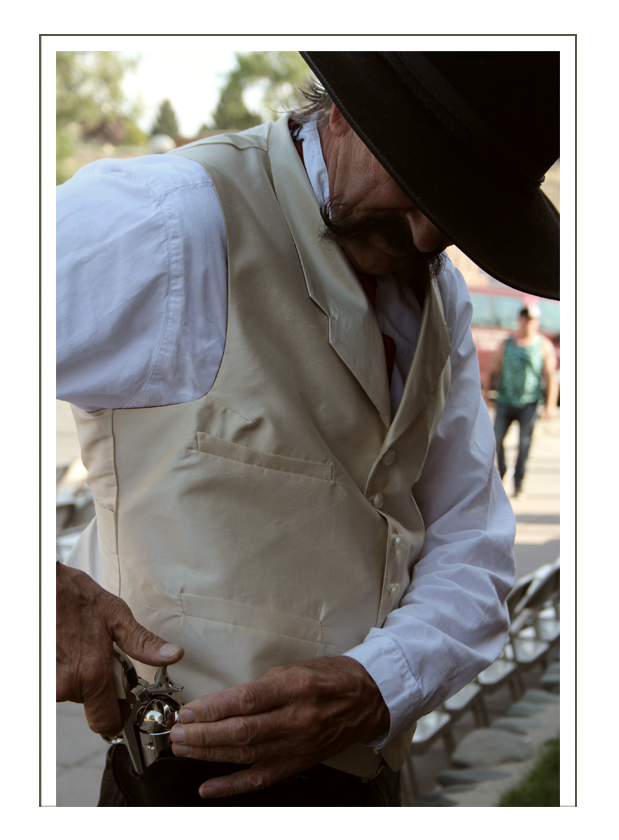 Click here to go to the Historical Context Page (next)
Click here to go to the Fashion History page
Click here to go to the Design Development page
Click here to go to the top of this page