Real Women & Mothers of the 1884 West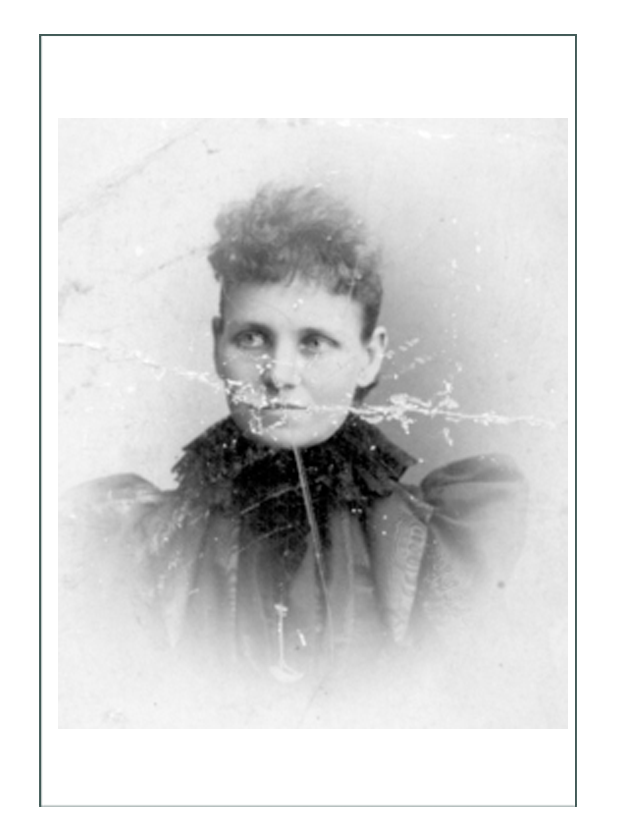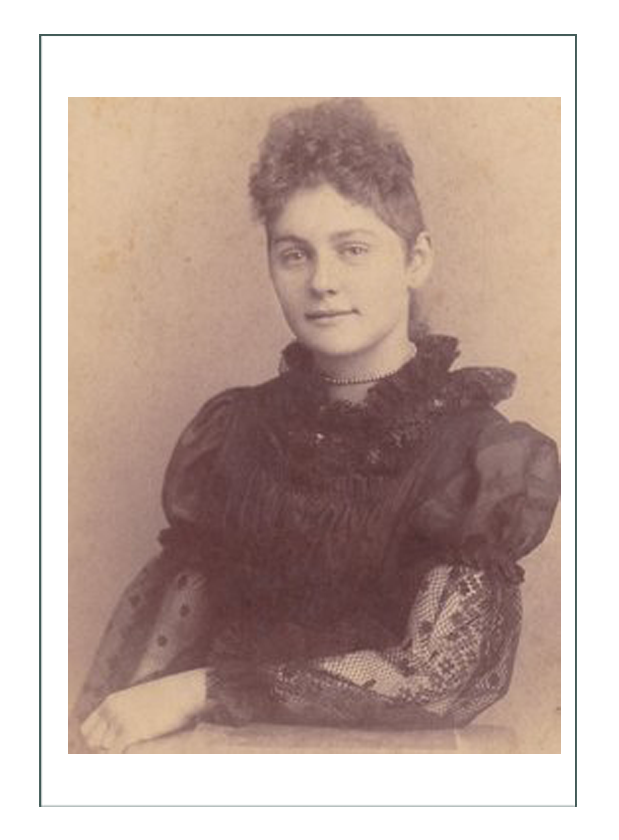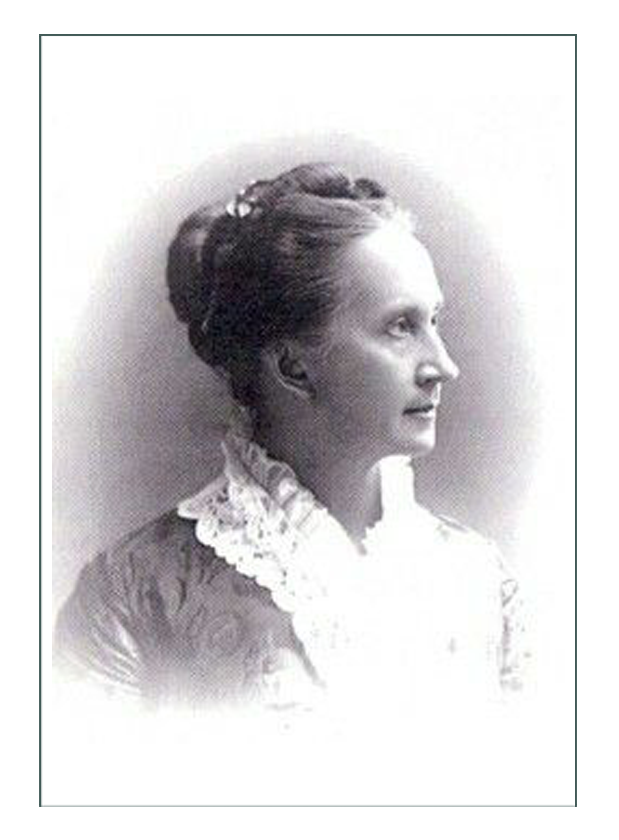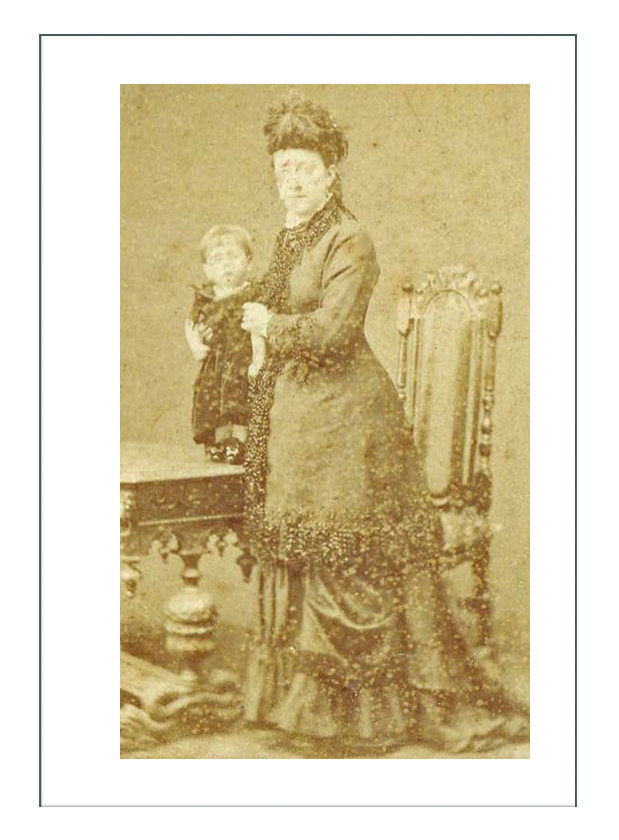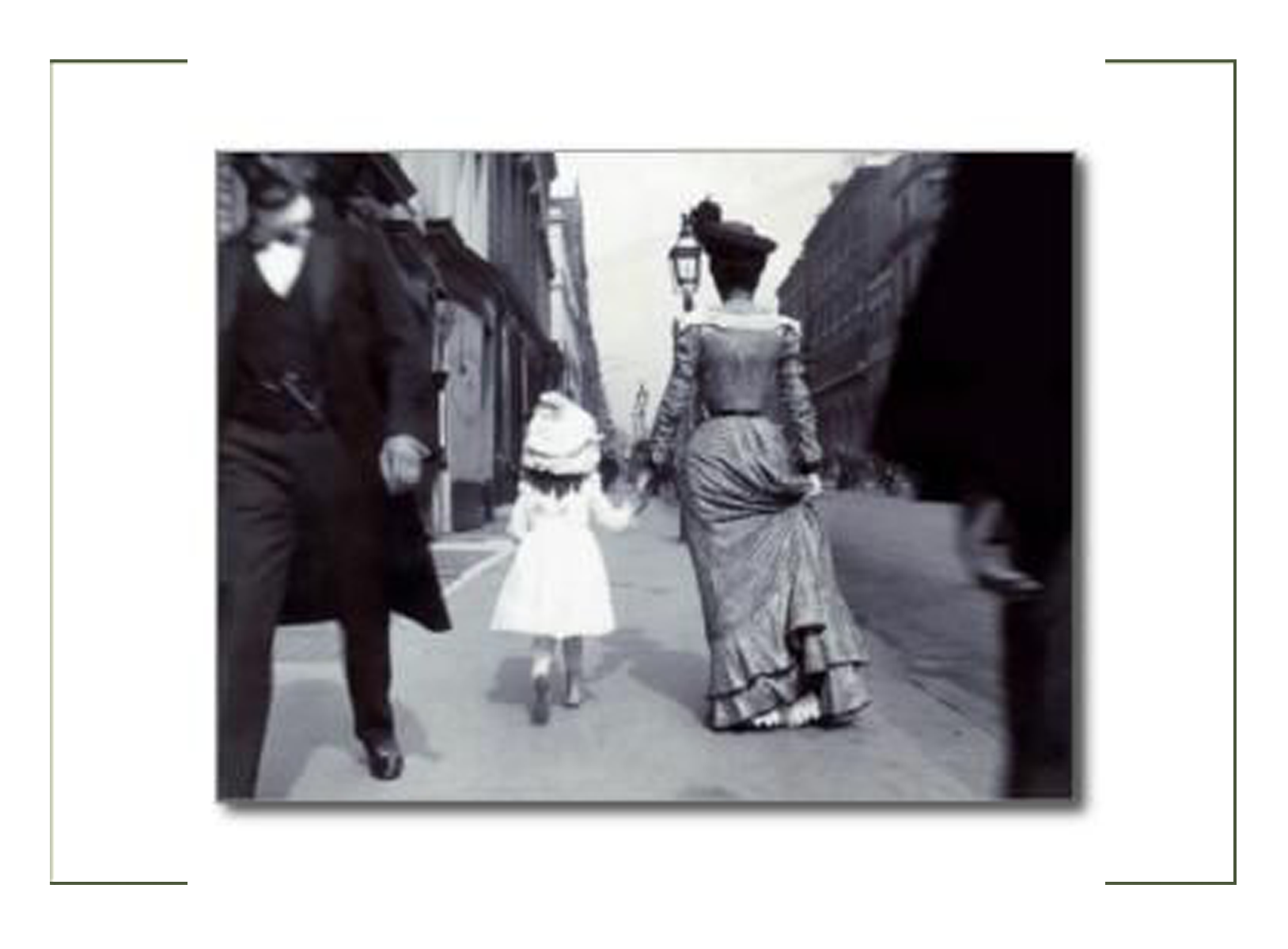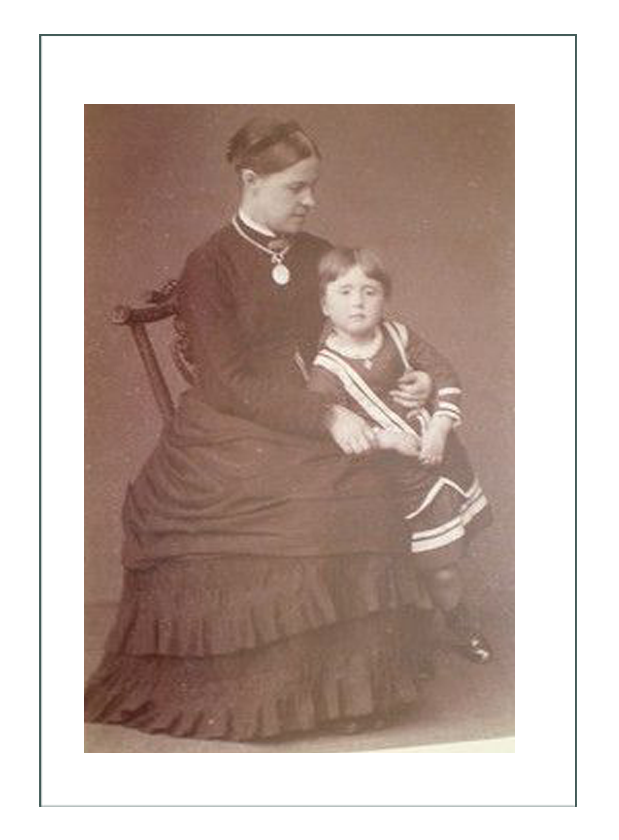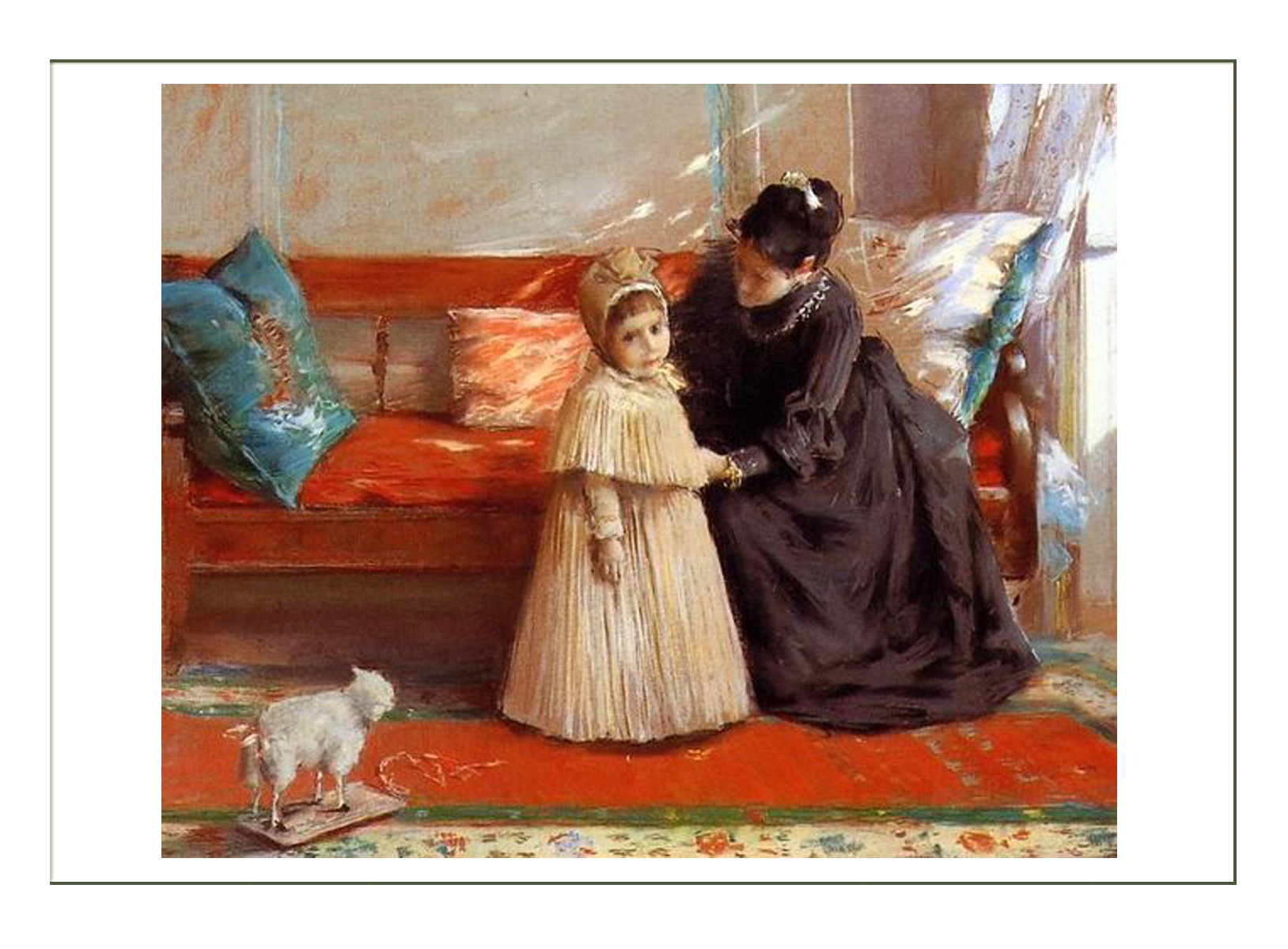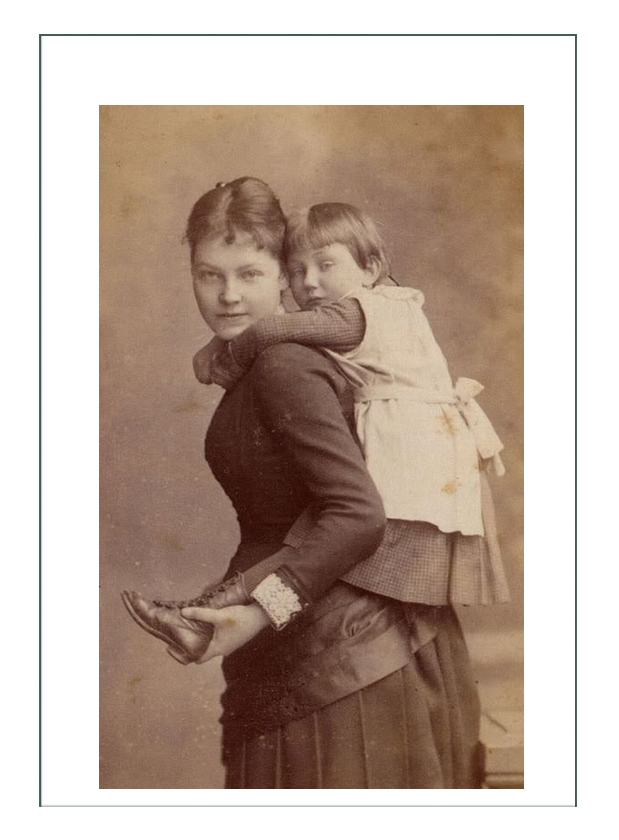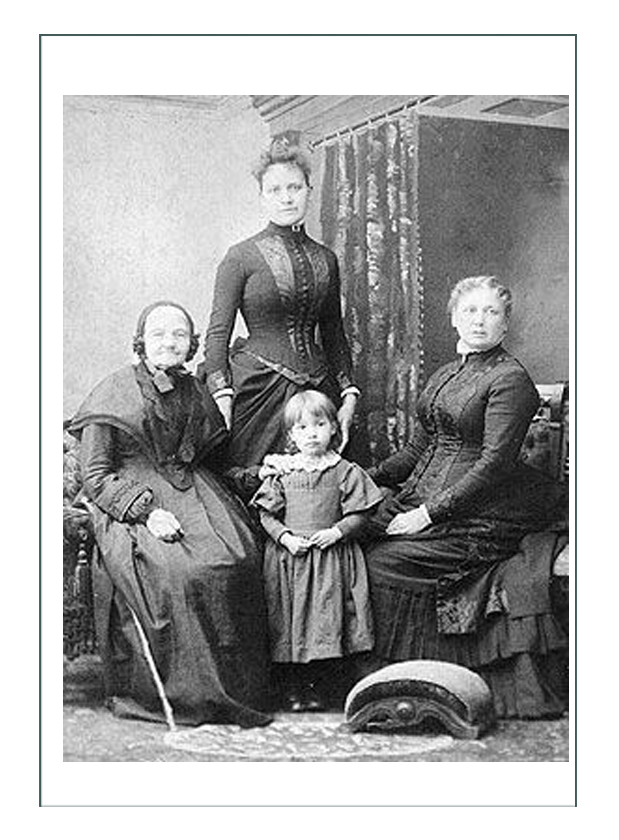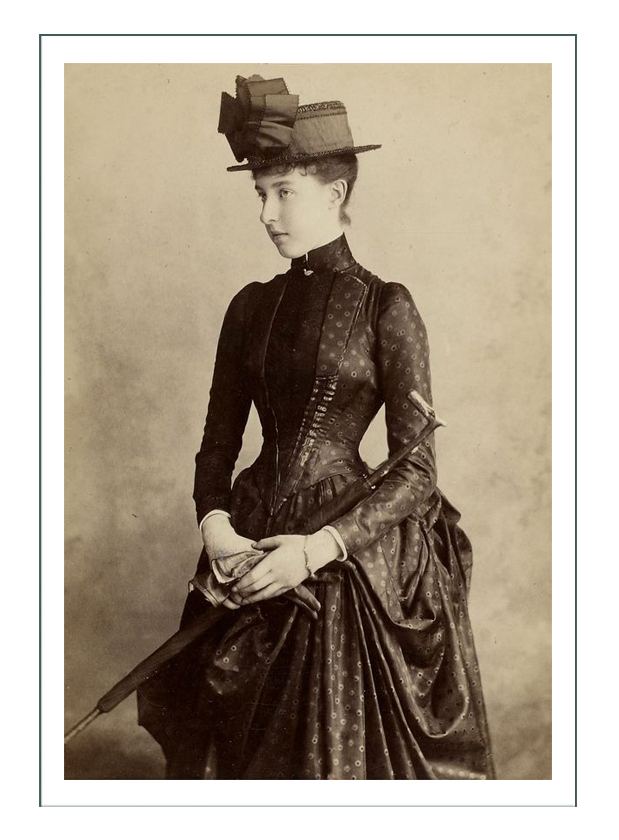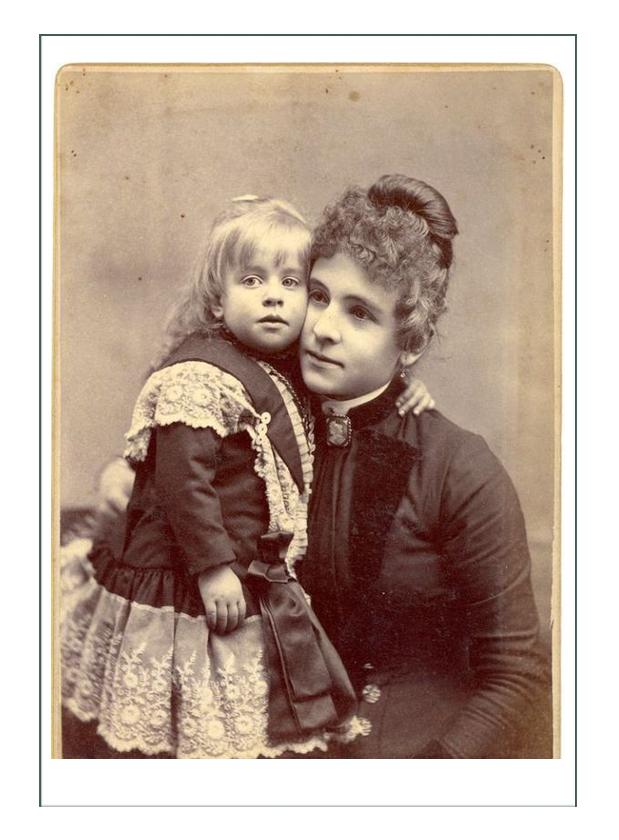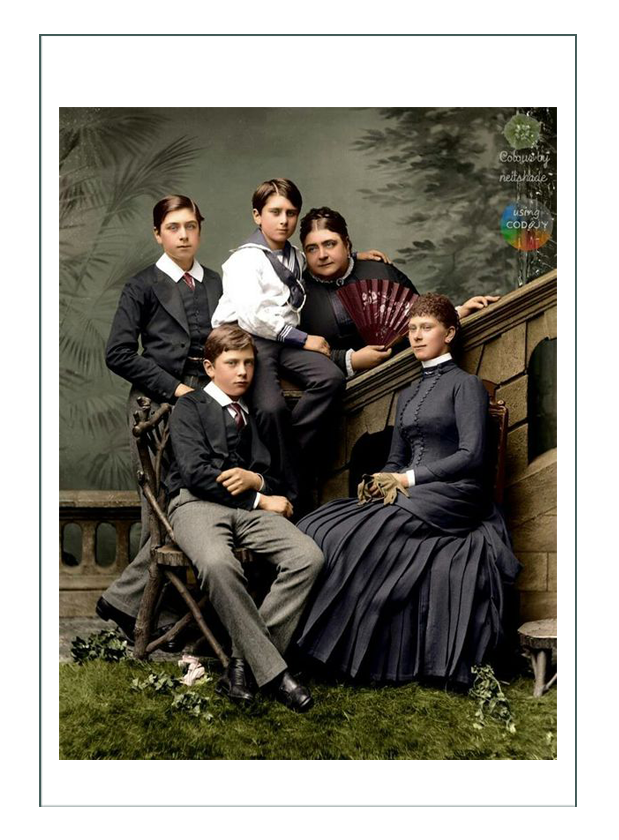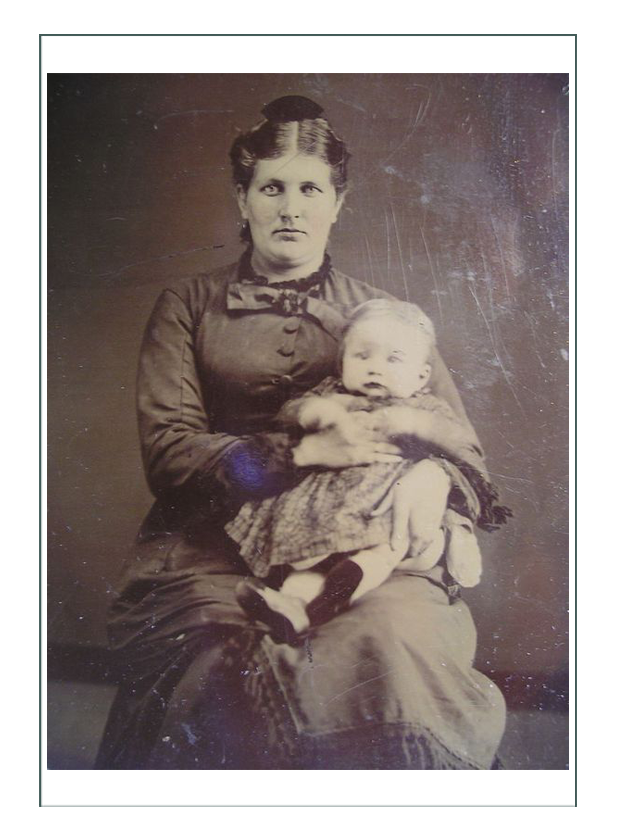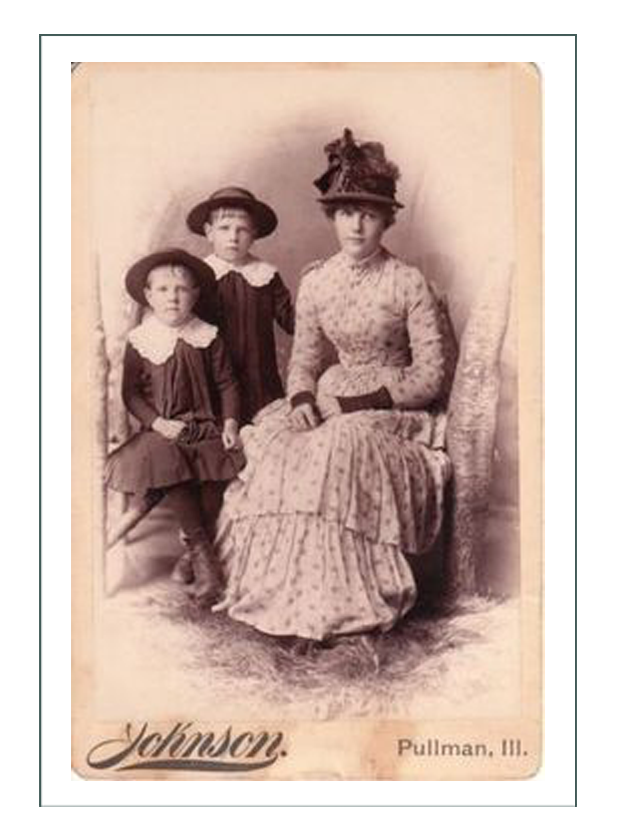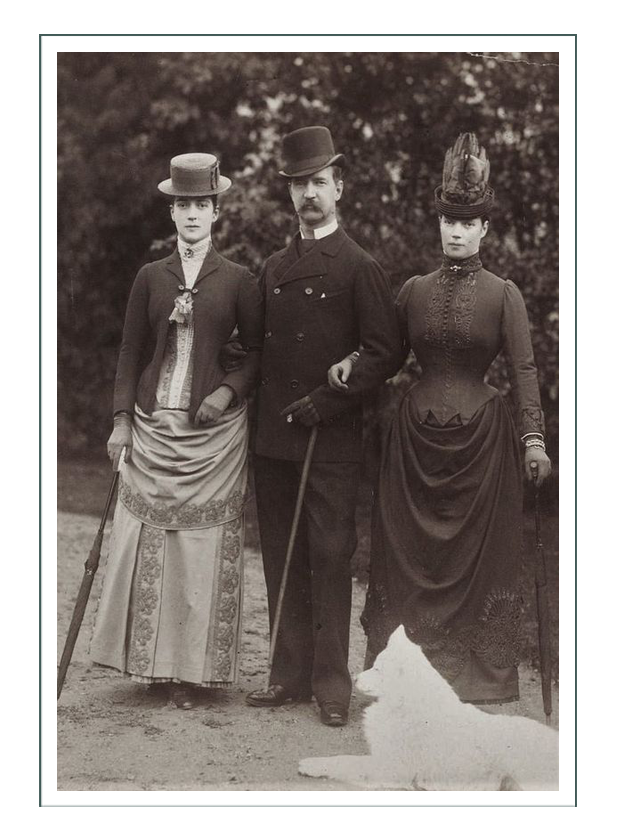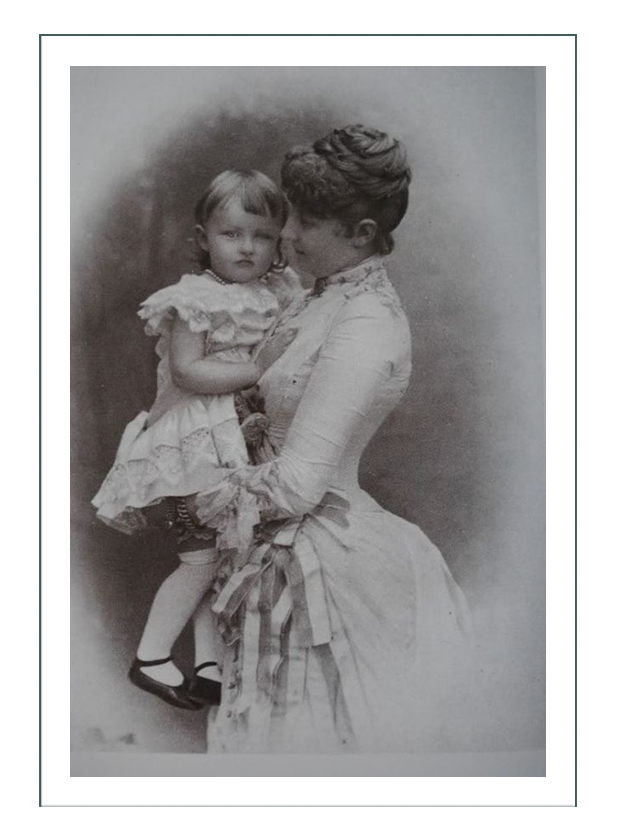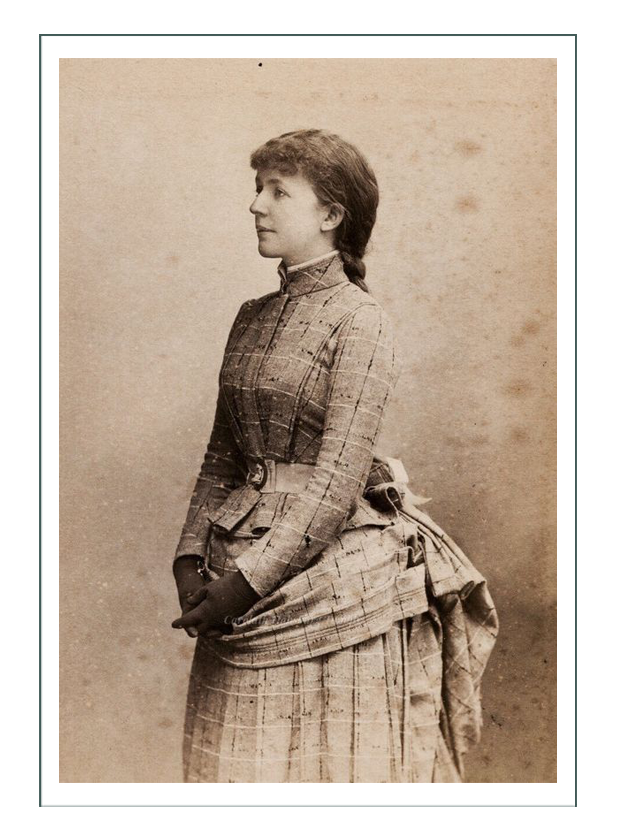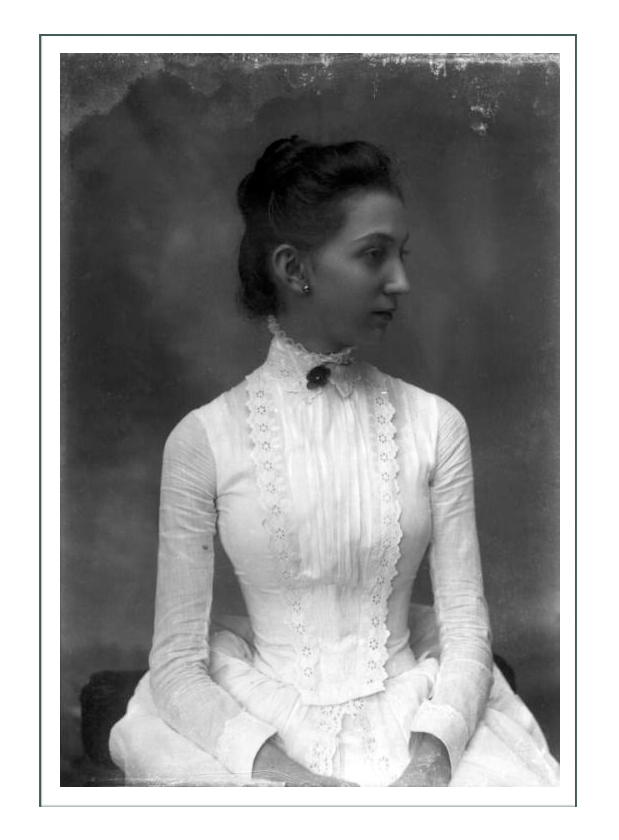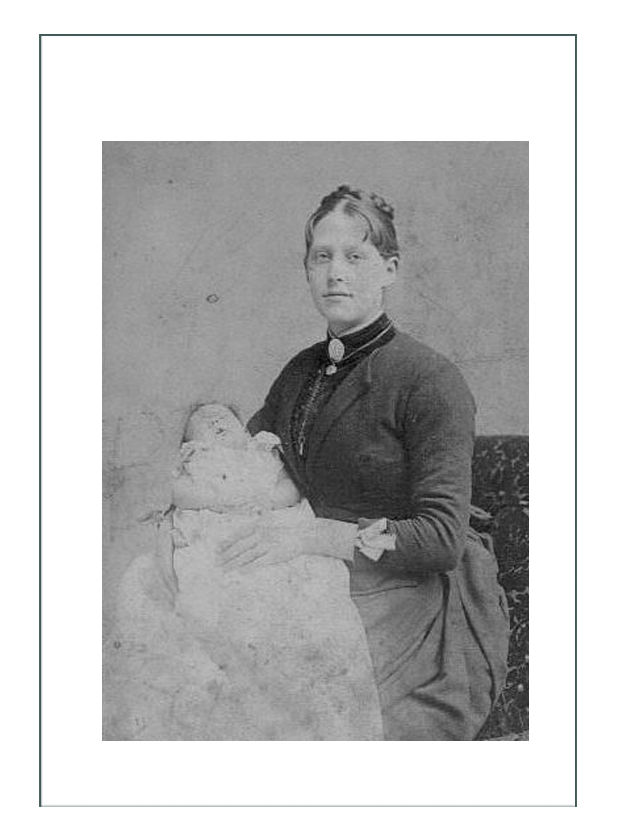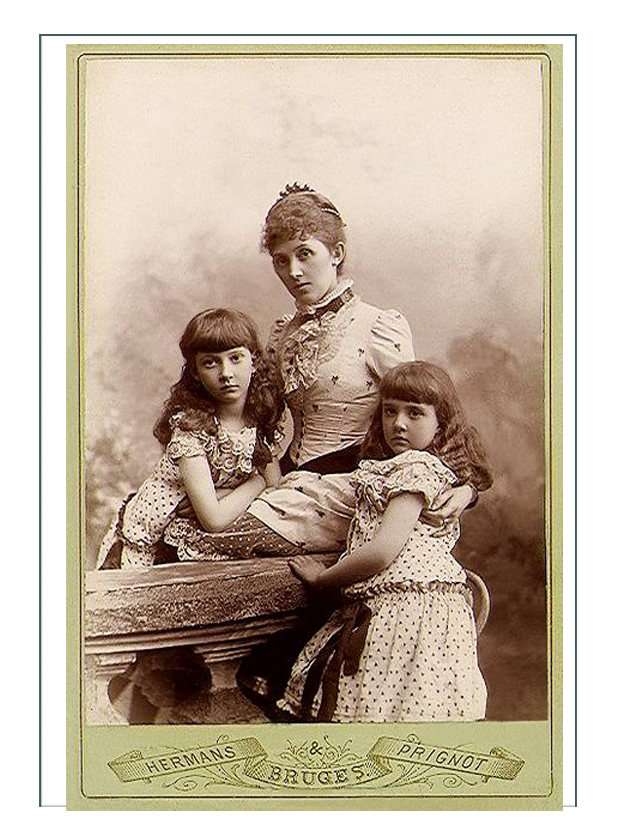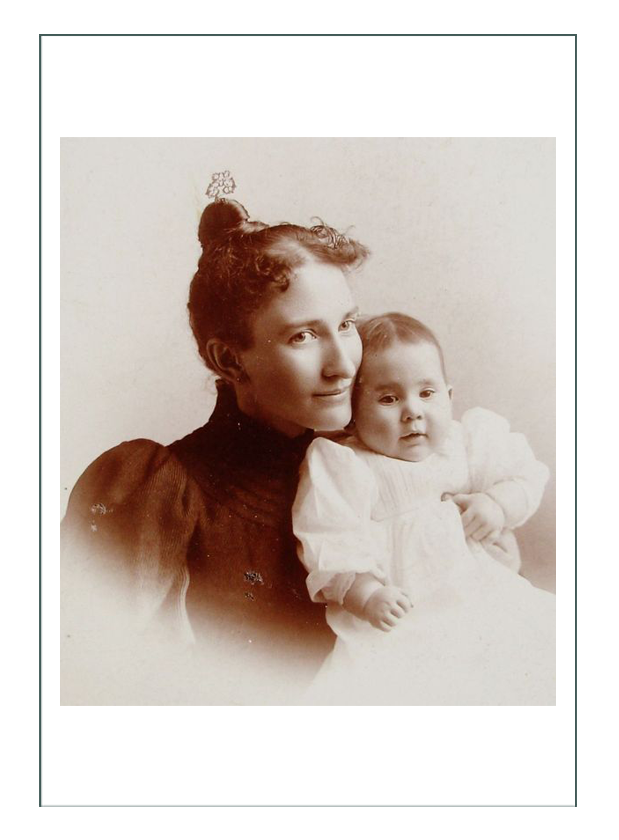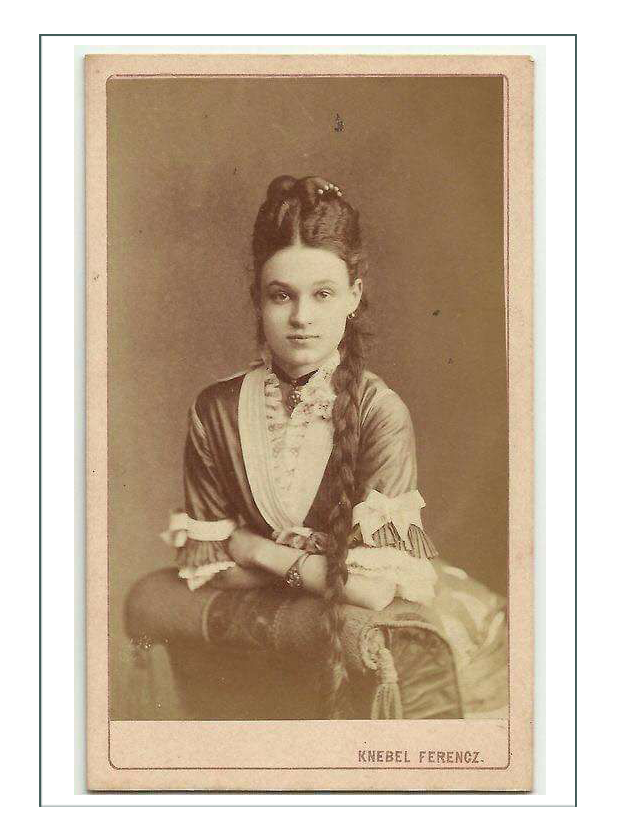 Conclusions and Commonalities
What fashion aspects do all these real women have in common?  Several things are apparent of the year 1884 outright.  The most obvious being listed first:
Hair:
 piled high on the head at the crown
pinned with a huge, crown like bone or pearl pin
younger have ringlets, or single ringlet hanging loose from an otherwise coiled bun
hair is very long; presumed never cut as with previous eras (except the early 1800 Regency eras)
hair is natural in color; leaving gray to gray
very short but very curled bangs at the top of the face are favorites of young women; while hair for older women is worn more severely pulled back off the face (as it was in the 1870's)
Makeup and Jewelry:
 This being the end of the Victorian Era, one would expect ornamentation.  These women have much trim on their garments, but not excessive jewelry (it may be because of the status of young mothers we picked and not royalty or nobility)(these are mostly American women also; that may make a difference)
Very little if any make up is being worn.  There is possibly rouge, but it is a very natural and healthy look that seems to be sought after
The women are round but not fat.  There are few examples of hefty women in history except with the Royals of Europe.
The women are not thin either, but are smoothed out so there are no lumps
Undergarments:
Very tight corsetry with very tightly cinched waist is apparent
It is a long corset with a spoon busk on each and every one
The objective is clearly a very smooth bodice all the way over the hips
All necklines are the Victorian Prussian collar, so it is supposed the undergarments are high in the neck too
Bodices:
Very tight and VERY well fitted.  Some money has been spent on seamstresses; none of these appear to be mass produced or catalog, and if they are, they have been very well customized to fit
Singular color and simple construction
vertical line of construction up the center front
the center front is where all the decoration and trim is focused
these are revers; not blousewaists underneath.  The corset is what is really keeping the shape; perhaps with a corset cover
The front of the bodice has a deep V.  These are presumeably the "cuirasse" bodices or a predecessor of them
There are lovely pearl and possibly glass buttons – and a lot of them.  Most count 12-20 down the front
Skirts:
 Symmetrical with flounces at the bottom
Kilting and pleats dominant; all types of them and personalized
It is not the skirt accommodating the bustle; it is the drape
Tops of the skirts are flat and simple; most likely only pinning so they remain flat at the top under the tight bodice
the skirt length just skims the ground; making all skirts functional as "walking" skirts and for function (as opposed to early and later trained styles)
Drape:
 Drapes vary with function it seems, although there is a range of 10 years shown, so they could be the nuances of changing fashion
In general, it is a front apron type tight drape (tunic they are called), with full to very full and bustled back
The higher fashion and evening apparel is wearing a wired bustle, or short bustle; most likely a "tournure" or bustled petticoat (combination)
Daily wear has a bustle pad with draping
The draping varies from woman to woman; this would be personalized in the West most of all; designed to taste
Inconsistencies:
 There is no apparent excessive use of conflicting color or fabric as is stated as notable for the era.  All the fabrics and trims, although it's hard to tell with black and white photos, seem to be coordinated, and most of them non-patterned
There seems to be prevalence of wool and silk; not cotton which would have been cheaper.  This may be because the women are dressing in their best because they know they will have a portrait taken. They had to plan to sit for portraits at that time.  Later would be less posed and natural portraiture.
Other:
Most women are not wearing hats.  It seems the comb is the ornamentation, although we know from history women always wore their hats outside.   This may be again because of the inside portrait and portrayal as a mother that has the women taking their hats off
There are lovely fabrics here – embroideried, and silk laces and trims that are unexpected in the west
It would indicate women got some of their trim at least from eastern sources (there are no silk worms in Wyoming)
The silhouette is consistent with bustle styles: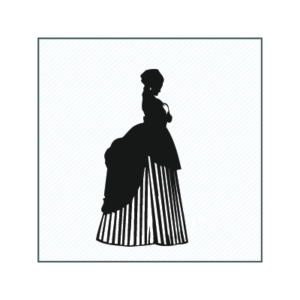 Fashion Trends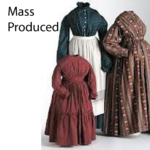 MASS PRODUCED
  Clothes of "regular folks" from this time forward were very much plainer than those found in fashion plates
  Even those who considered themselves fashionable or who had the money, still wore much plainer every day garments than earlier eras
  A study of history of fashion of this time means taking the "fashionable", & simplifying it to the basic elements of line, silhouette, color, texture, & function which would have been the everyday norm for people of European or American influence
  Mass production of ready-made clothes flourished, so department stores & factories thrived, putting more women to work
  One worker might be responsible for attaching sleeves to the bodice over & over all day long, unlike prior eras when one worker would make the whole garment
  Many garment workers lugged their own sewing machines back & forth from the factory
  By 1900, piece-work was often farmed out to workers to do in their homes.  The"bundle brigades" became a profession in themselves to transport finished pieces to the garment factories
  The term "sweatshop" came due to poorly lit & ventilated factories
HIGH FASHION TAILOR MADE CULT OF BEAUTY
  The "Cult of Beauty" ("Paris mainstream fashion") which lasted until 1900 was the fashion "standard" of the day.  It emphasized a return to very high hand-made quality, but dictated designs generated by professionals which varied from fashionable to practical
  English tailor-made was especially of high demand in America
  The return of tailor-made versus ready-made was largely due to the heavy marketing of couture houses such as Redfern in Paris
  Redfern's designer at the time was an Englishman, Charles Poynter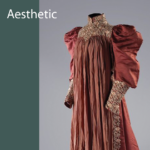 AESTHETIC & ARTISTIC DRESS
  The Rational Dress Society was founded in 1881 in reaction to the extremes of fashionable corsetry & undergarment structures such as the bustle
  The cause of artistic reform, started by the "Pre-Raphaelites" & "Aethetics" in previous eras (see 1852-1867), was picked up by the Council of German Women at this time
  This new "Aesthetic" movement greatly influenced the era & was of especial impact throughout the 1880's
  In reaction to heavy drapery & rigid corseting of mainstream Paris influenced fashion, aesthetic dress focused on beautiful fabrics made up simply
  Both "Aesthetic" & "Artistic" dresses of the 1880's & 1890's appear outwardly to be much the same.  The both included rejection of tight lacing, simplicity of line, & emphasis on beautiful fabrics
  Both "Aesthetic" & "Artistic" dress was based on a liking for Greek drapery & other costumes of the past with natural, flowing lines
  "Aestheticism", however, had a philosophical purpose in rejecting the moral & social goals of the Victorian dress
  "Artistic" dress was just a fashion or style
  "Aesthetes" believed the role of the Arts was to provide refined sensuous pleasure, & to inspire emotion on the part of the observer & participant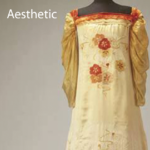 ARTS MOVEMENT
  The "Arts" Movement revered specifically the lack of sensuousness
  "Artists" believed quality art could be created just through simplicity & beautifully handcrafted work without infusion of philosophy or socio-political intent
  "Aesthetic" fashion was greatly influenced by Japanese & Eastern art & colors
  "Aesthetic" fashion from an outsiders's viewpoint was jokingly considered to be "greenery-yallery' because of its heavy use of natural forms, colors, & textures which ended up the colors of plants due to use of natural dyes & other natural materials
  The name "Liberty", a leader of the movement & English shop owner & designer, is woven into terms regarding the "Aesthetic" movement's influence on interior design, clothing, & manners
  Liberty garments were at their peak in 1905 when they had very successful catalog sales
  Liberty fabrics are still manufactured & sold today, utilizing the same concepts of their origin in producing luxurious florals & naturally inspired materials
  The catalog was an excellent means of sales for the "Aesthetic" & "Artistic" movements, as the loose fit & draping lent itself well to generalized sizing & fast & easy mass production
  Many of the "Aesthetic" fabrics were imported from Asia, &  later manufactured at Liberty's
  "Aesthetic" fabrics were known for their beautiful colors, & soft easily-draped textures
  Small print florals were particularly noteworthy of the "Aesthetic" fashion
  "Aesthetic" dress included a wide range of styles: Japonaise gowns, Kate Greenway inspired smocks, & velvet jackets
  Knee breeches a la Oscar Wilde's "aesthetic lecturing costume" (he wore for his speaking tour of America in 1882) came back into popularity for men
  "Aesthetic" dresses were sometimes loosely fitted with a belt at the waist
  The tea gown of the upcoming Edwardian era was influenced by "Aesthetic" ideas
  Like the everyday "Aesthetic" dress, an Edwardian tea gown was a frothy confection worn in home; even to receive visitors
  There were many poor imitators of the "Aesthetic" movement at the time
  Because of poor imitations, misinformation, & its philosophy being radical at the time, the movement was much misunderstood & ridiculed by the public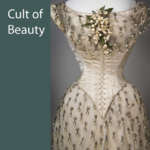 CULT OF BEAUTY/TAILOR MADE HIGH FASHION ("Aesthetic & Artistic" discussed above)
  The high fashion style of this era was severely tight with restrictive corsetry worn under dresses with long boned bodices, tight sleeves & high necks
  On the surface a very modest & even prudish look, this line was so torso defining that a woman's shape could hardly go unnoticed, indirectly creating the most revealing & sensuous look yet in history
  Ensembles of this era were (& are) very expensive to make because of the amount of fabric, detail, structure, & expertise required
  The counter "Aesthetic" & "Mass Produced" movements were popular because they cost so much less & were so much easier to make than this mainstream fashion "Tailor Made" style
  By 1883 both day & evening clothes had become flamboyant, due to heavy decoration with drapes & frills
  Notable at this time were military dresses & "mannish" shirts with high collars the same as men were wearing at the time
  The line of the clothes was considered most important
  The Princess sheath garments had no waist seam.  The bodice & skirt were cut as one, & the bodice line was similar to the very tight fitting cuirasse
  The cuirasse bodice was long & slim fitting in 1876 & by 1878 it reached the thighs
  The 1878 cuirasse was corset like & dipped deep in both front & back, giving the look of a body encased in armor
  By 1880 the ideas of the princess line merged with the cuirasse line to become the "Princess Panel Dress".  The result was a slim & elongated silhouette that was even further elongated by a train
  No bustle was used, although a pad was sometimes placed to help the fabric fall & drape correctly
  It took a very skilled dressmaker to get a flattering fit.  Too often swathes of fabric were wrapped & arranged across the garment to hid poor sewing skills
  It was only suited to the very slim & women who did not have to work, so the fashion only lasted about 3 years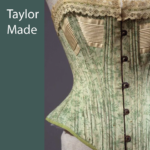 CORSETS
  Women were still very corseted & wired, with shapes specifically altering the body
  These corsets demanded expert tailoring construction as they defined the hourglass to the very end of the 1890's
  The long corset put tailors back in business, although there was such a wide variety available on the mass market, custom made was not necessary, but desired as an option
  Corsets were very much mass produced & marketed largely through catalogs & department stores
  There were many styles of corsets for all activities, price points, & manufacture
  The most successful corset manufacturer was located in the United States
  Corsets of this era were still called "cuirass bodices" since they held the woman in a kind of body armor, not unlike ancient warriors. (The name "cuirass" is from the name "cuirbouli" or "boiled leather", the process used by ancient Greeks & Romans to produce their rigid, thick leather fighting body armors)
   The long look was created by having each individual piece shaped for the long body contour desired for the purpose or individual
  Corsets of the 1890's to 1901 were made of one single layer of coutil fabric
  Corsets of this era continued to get longer, & were very tightly laced from 1880-1890
  They had little separation of breasts, & created a low, full bust
  The spoon busk was nearly always used except in sports corsets.  They widened out & then curved inwards towards the bottom in a spoon shape
  Spoon busks were used to hold the abdomen flat, & not create a bump in the smooth line of the front of the skirt.  This became more important at the turn of the century, when the "tulip" flared skirt would become the vogue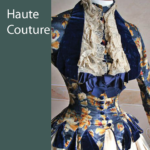 BODICES & JACKETS
  From about 1882 the plain high-necked & tight-fitting day bodice grew shorter
  Bodices were severe & austere
  The pointed bodice was very tailored, similar to 1874, but was more of a suit now
  Bodices were cut to a point at the center front until 1885 when it was pointed in the center back also
  The bodice was by 1889 cut below the waistline
  Only the bodice or jacket was tailored now. The skirt remained elaborately draped to emphasize the tiny corseted waist
  For day wear most bodices had some type of center front interest
  Imitation blouse & revers were popular
  A rever was an insert sewn inside the bodice to appear to be a full blouse, similar to the visual effect of the chemisette (which was separated from the main garment as an accessory)
  Long, jacket-like fitted bodices called basques were popular for day wear
  Evening bodices were very plain & fitted; looking more like decorated corsets with small puff sleeves or decorated straps
  The decolletage on ball gowns was cut slightly wider & to a point at both front & back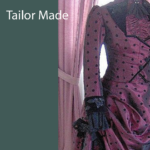 SLEEVES & COLLARS
  Sleeves were the distinguishing characteristic of this era
  Sleeves started the era as the same 2-piece of the early 1870's, having heavy cuff decoration, & getting slightly narrower by 1880
  Sleeves were plain & tight from 1880 to 1882
  From about 1882 onward a little fullness was being cut into the head of the sleeve
  Sleeves suddenly ballooned to proportions never seen before after 1883, reaching their peak of large size in 1895-96
  A set of Balloon sleeves on one garment could require up to 21 yards of 22″ wide fabric
  Women had to turn sideways to fit through doors to avoid crushing their sleeves
  Leg O'Muttom, Melon, Gigot, & Balloon were a few names given to the different shapes
  The head of the sleeve was often covered over by frills or a flounce or revers coming across from the bodice
  Sleeves were set into a high or normal armhole with the width at shoulder level rather than swelling from the low dropped armhole of the 1830's when sleeves were almost this large
  Evening dresses of the mid 1880's often had a lace flounce added above the sleeve to increase the impression of width
  Evening gowns sometimes had elbow length sleeves in the 1885-86 period
  By 1886 the sleeve gathers were lifted by a full pad to hold the size.  They were stuffed with taffeta, paper, batting, & anything light enough with volume to hold them out
  As time progressed towards 1887, sleeves quickly became slimmer again & more plain  & close fitting
  Evening & ball gowns were usually sleeveless & low necked throughout the era except for matrons who wore a higher neck
  Most necks were finished with a standing collar called an "officer collar" based on men's military fashion of the day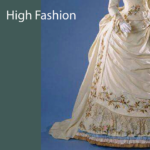 SKIRTS & TRAINS
  As the 1880's progressed, as in the previous era, emphasis remained on the back of the skirt, with fullness gradually rising from behind the knees to just below the waist
  Hips became more prominent in focus in 1881 & 1882, hinting at the larger bustle to come in 1883
  1884 saw the simplification of ideas & plainer clothes
  The dress itself had minimal drapery throughout the era.  Fabric drapery was neatly arranged in front of the dress like a small apron, but it was still very heavy with large amounts of fabric because the huge bustle required a very wide skirt
  Also like the previous era, focus was still on the skirt with its pleats, flounces, draped panier, or apron effects
  Due to so much draped & heavy fabric, dresses of this era could weigh 15 – 20 pounds, not including understructures
  Skirts were almost always layered & draped, often with an apron front & a trained back
  Pleating was everywhere, both in skirt construction & in trimming.
  There continued kilting, braiding, & other trim throughout, though not as much in combination or excess as the prior era
  Gowns typically did not have a long train in the back, which was different from gowns of the 1870's
  Skirts were known as "hobble skirts" due to the tightness of them which made it difficult to walk, thus evolving the use of small pleats & flounces at the bottom so the feet could move
  While trains were no longer worn for day, they persisted for evening wear
  Trains were often a separate attachment which could be fastened under or draped at the back of the skirt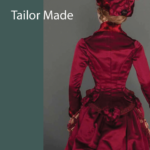 OVERSKIRTS & APRONS
  The apron front was still popular from the 1870's period, & was worn both centered or asymmetrically
  The apron was usually cut with a square-shaped corner at the bottom
  There was a virtually endless variety of method of draping & pleating & frills
    As the era progressed, hems came up, & clothing was designed to make the faster paced life more efficient & comfortable
  In 1886 skirts were more subdued, the drapes were less tortured
  The fabrics of several underskirts were pleated from the waist to fall to the hem in large flat pleats
  The overskirt was then draped up in the back over the bustle into large swags & waterfalls
  In 1889 pleats were 4-5″ deep & they were stiffened & grouped round the end of the point of the back bodice
  By 1889, the stiff pleats lifted above the bottom of the bodice at the back, as if in defiance of the demise of the bustle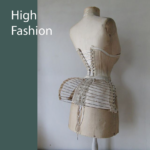 THE BUSTLE RETURNS – #3 – 2nd BUSTLE ERA
  The 1881-1883 period, situated between the two bustle eras, was known for being without bustle
  The fullness over the bottom in the absence of a bustle from 1881-1883, was balanced by a fuller, lower chest, achieved by rigid corseting creating an S-shaped silhouette
  The return of the bustle was marketed in Paris in 1880
  Brought back by popular demand in 1883, it was not embraced outside of France completely until 1885
  The return was gradual, & it is sometimes difficult to determine examples of the 1880's since they crossed over the eras to include everything from no bustle to the 1st bustle "fishtails" to the huge 2nd era bustle all at one time
  All the bustles were worn to some extent through the period until the bustle abruptly disappeared completely in 1890
  The 1883 bustle returned changed from what it had been
  It was now worn at a lower placement with a narrower width
  This was a remake of the 1793 bustle, but in huge proportion
  Very different from the 1870's bustle also, the 1885 version jutted out horizontally from the hollow of the back
  The bustle was very structured & the effect was accomplished with dress & ornament as well as understructure
  Dresses worn over this new frame were sturdier, being constructed in heavier fabrics such as velvet, satin, or wool
  This 2nd bustle was a "hard bustle" which could stand on its own rigidly horizontal
  It was larger than ever as a hard shape & looked like the hind legs of a horse
  A metal spring pivot type of bustle gave strong support for the larger & heavier skirts
  Its supporting structure became much more rigid & was made of metal bands which worked on a pivot
  The Lillie Langtry invented bustle model of this era could be raised when sitting, & spring back automatically when a lady stood up
  The large bustle reached its most aggressive form in 1886
  The late era 1884-86 bustle was very molded to the body
  Combined with heavier corsetry, the fashion gave an overall appearance of wearing armor due to its rigidity
  By 1888 the bustle was in decline, & by 1889 only a pad was used
  By 1890, it was abandoned all together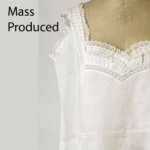 UNDERGARMENTS
  Drawers & chemises were combined in 1877 & called "combinations
  A combination was a camisole with attached knee or calf length drawers
  Combinations were worn under the corset, bustle, & petticoat
  Woolen combinations were recommended at the time for health, especially when engaging in fashionable sports
  They were sometimes high-necked & long-sleeved for day wear
  Daywear combinations were made of linen, merino, calico, or nainsook
  The petticoat was made to stay as flat as possible along the front to maintain the smooth line of the bodice
  Petticoats in this era  were strictly inside garments under the skirt
  They were designed to follow the shape of the skirt
  Many had ruffles or flounces of self-fabric along the hemline and/or from waist to knee to hold the skirt away from the legs
  Because of the combination, there was not so much need for use of the petticoat for warmth or modesty as previously
  Some women did not wear petticoats of the dress fabric combined with the bustle was stiff enough to stand without one
  In the late 1880's & 1890's, the petticoat was more like a 2nd or 3rd skirt & less of an undergarment
  The design & manufacture of a late era petticoat matched that of the skirt as closely as possible, & might even be of a complimentary fabric to be seen as one of the outer layers of the dress
  By 1890 the chemise, drawers, & ruffled petticoats would be replaced by combinations entirely, because they reduced bulk around the waist where women were aiming for a completely smooth line from chest to knee
  Petticoats would later be called a "slip";  a long cotton or silk garment to keep the outer garment from chafing without causing bulk or bump to the silhouette
  They would eventually have one long line from neck to hem the same as the dress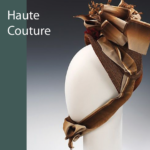 HAIR & HEADGEAR
  Hair was pulled back at the sides & worn in a low knot or cluster of ringlets
  Later in the era, hair was swept up to the top of the head
  Women started to cut their hair, but only in front
  Fringe or bangs were fashionable throughout the period
  Bangs were curled or frizzled over the forehead & called "Josephine Curls" in reference to the 1800's Classical Greek style
  Bonnets had curvy brims & resembled hats except they had ribbons tied under the chin
  The "Aesthetics" wore their hair long & frizzed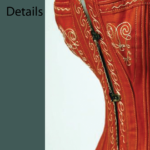 FABRICS, DETAILS, & ACCESSORIES
  Velvet was a very popular fabric in this period
  New light weight & soft wools were now being woven in mass production, & were favorites for winter or suitings
  Cooler cotton & linen were used for summer
  Colors were darker with bottle green, deep wine, navy blue & black coming to the fore
  Winter gowns were made in darker hues
  Summer gowns were of lighter colors
  Drapery fabric was thicker, harder, & considerably more rigid than in the 1870s
  Satin was popular. It was more crisp & rigid than we know now
  Evening gowns were worn with long over the elbow or shoulder length gloves of fine kidskin or suede
  Large hats, ornate jewelry, & parasols were worn with everything
  Boas were very very popular, & are usually what fashion historians use to depict the end of this era
  Boas were made of feathers, fur, or light fabrics.  They were long "snakes" that wrapped around the neck multiple times
  The umbrella, while invented earlier, became THE item used by both men & women for everything from walking to self defense
  Choker necklaces & jeweled collars were fashionable under the influence of Alexandra, Princess of Wales who wore this fashion to hide a scar

Real Garments in Museums
The fashion of the day is consistent with the real women and fashion trends as illustrated above.  These garments allow us to study the understructures and details you cannot see in a photograph.  These show a range of 1882-1885 (1884 being the depiction year).  3 of them are 1875 wedding gowns because that is the year Jacinta's character would have married.  It can give insight to where she was coming from at the peak of her fashion to indicate possible tastes in style and materials that she might wear 8 years after her wedding:
Gowns & Dresses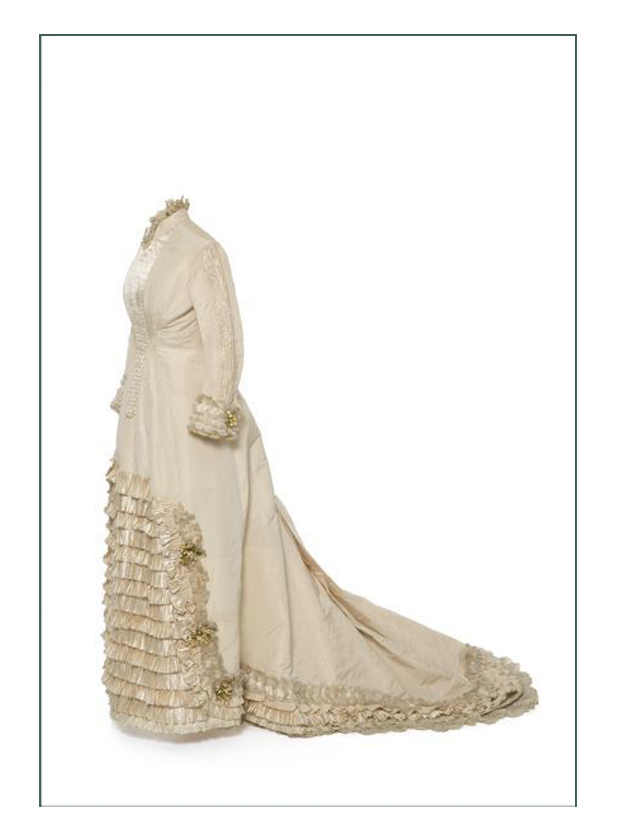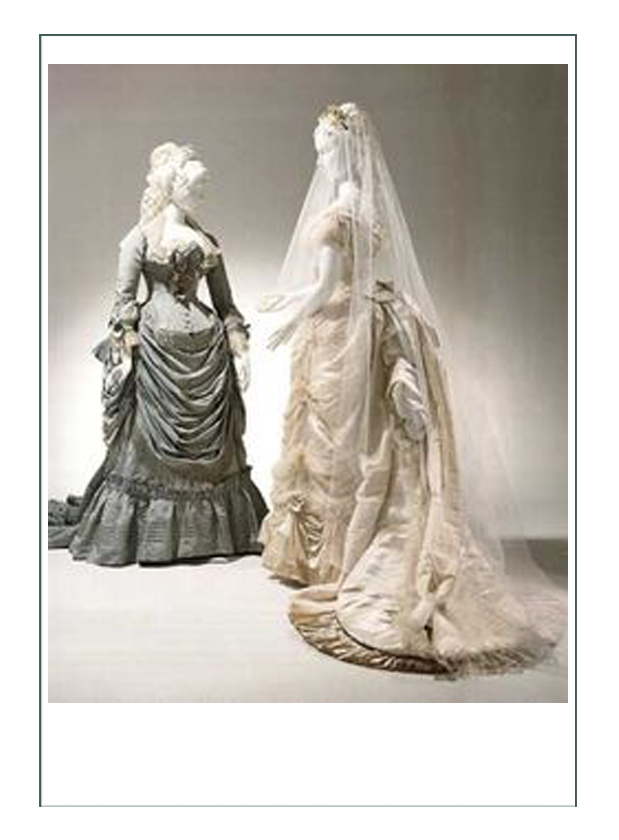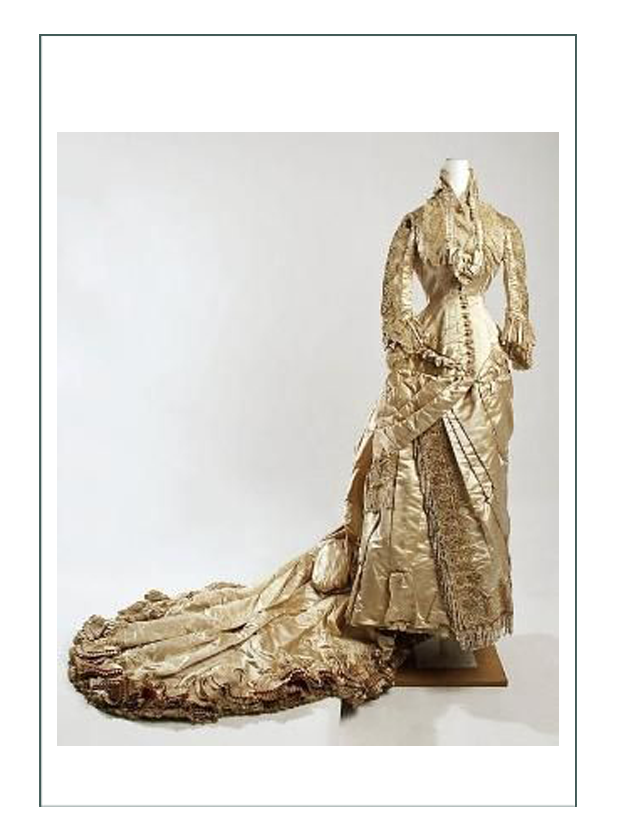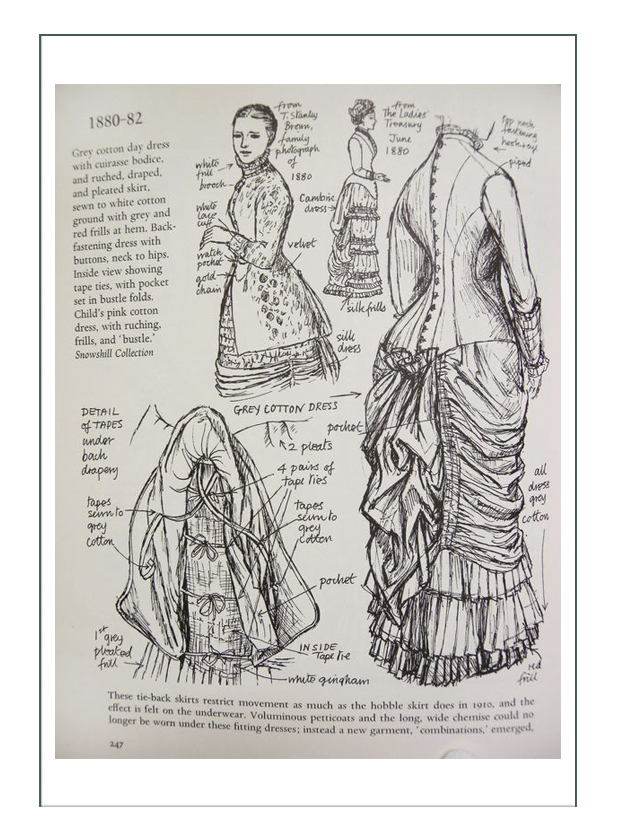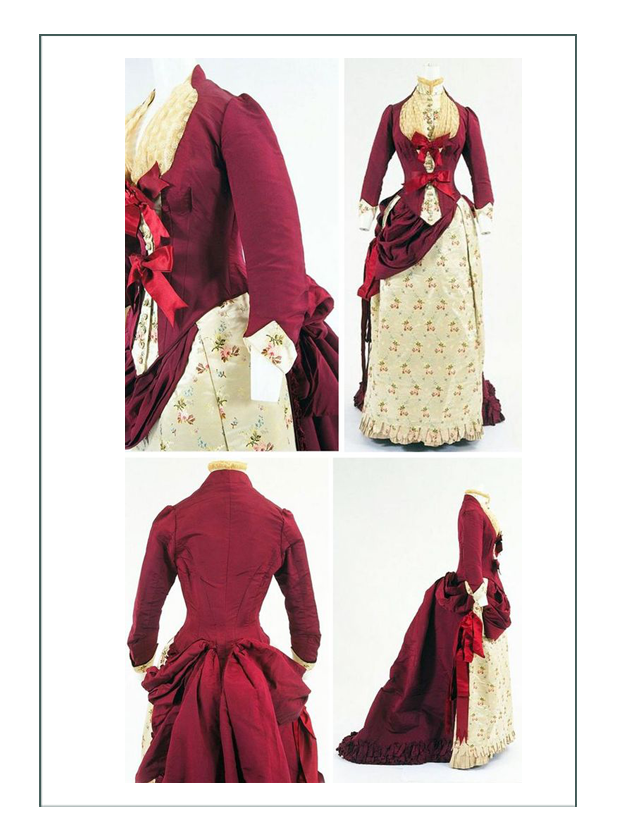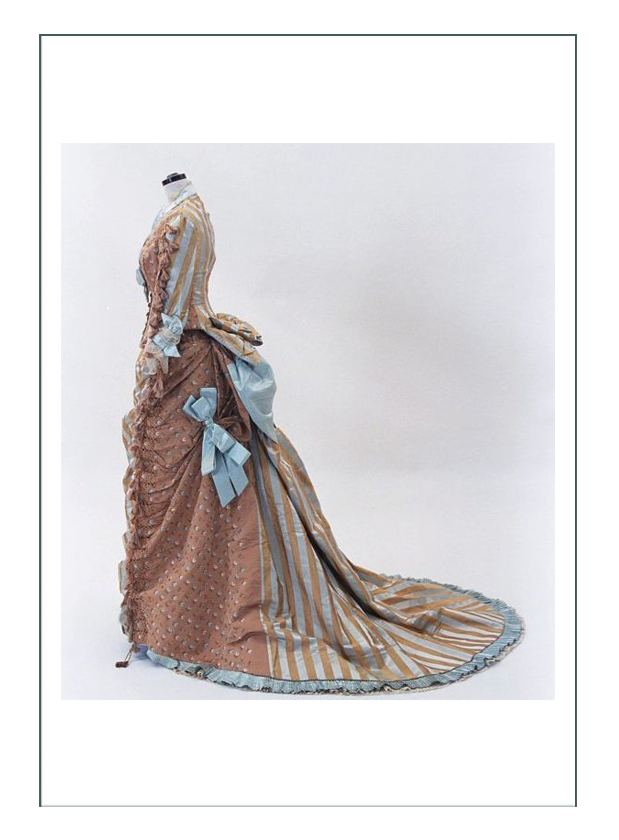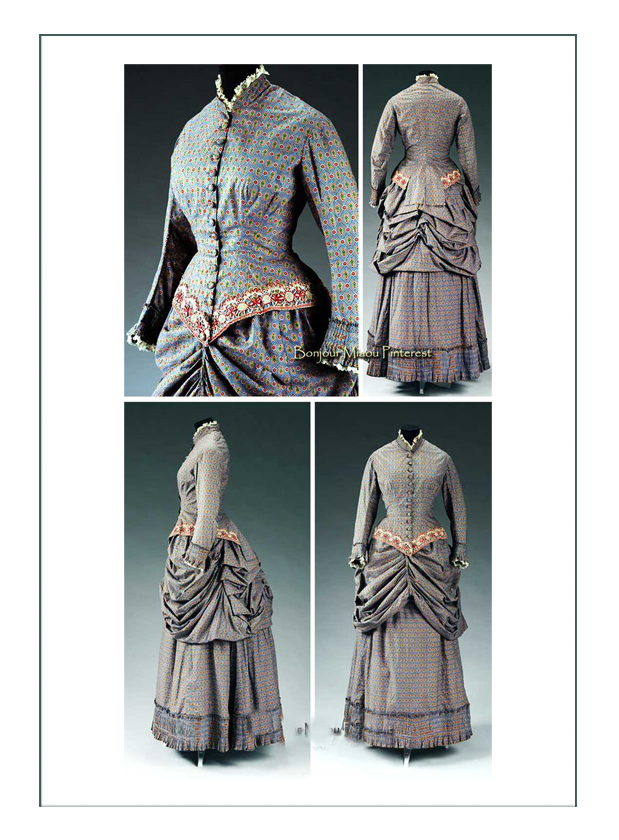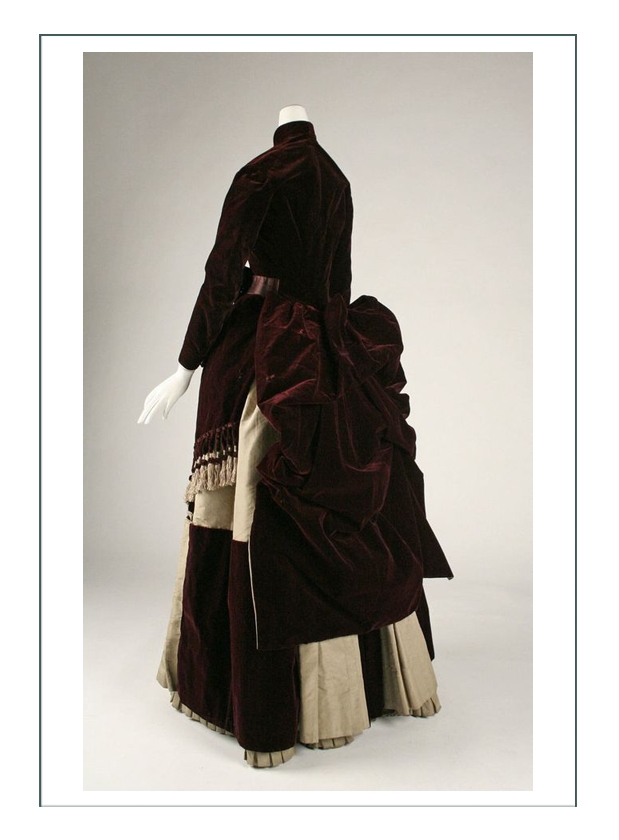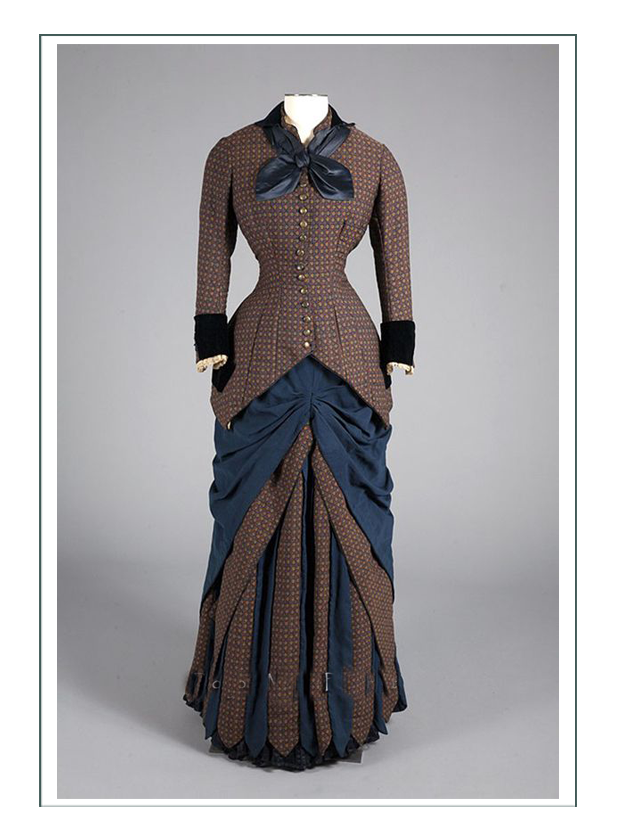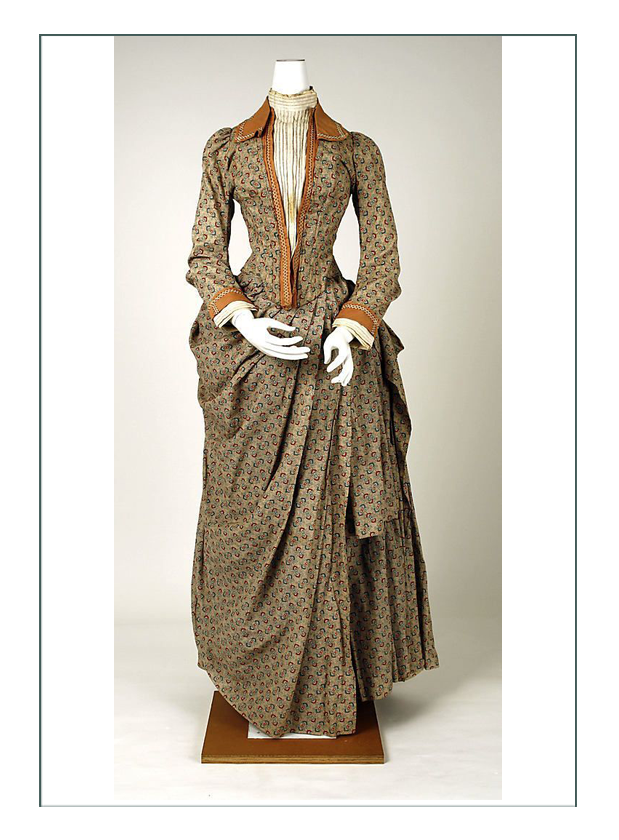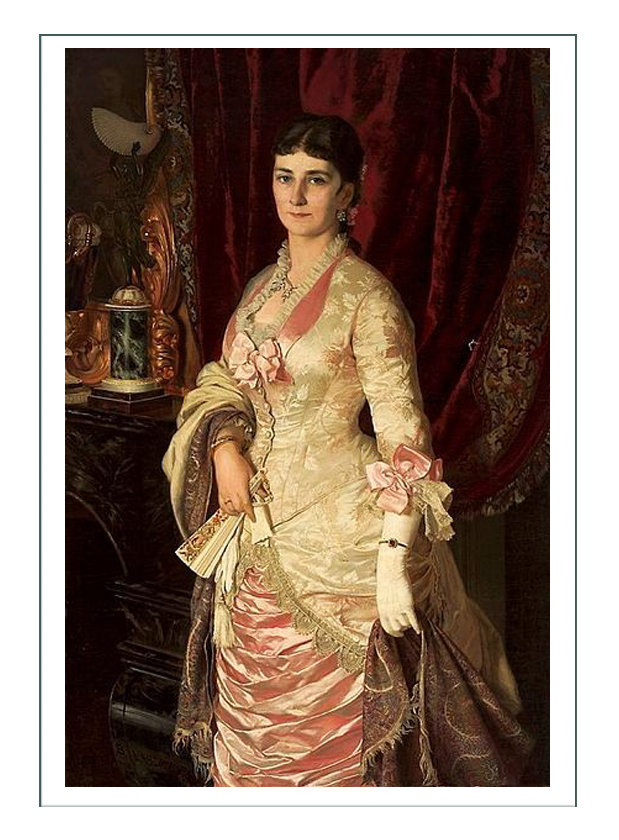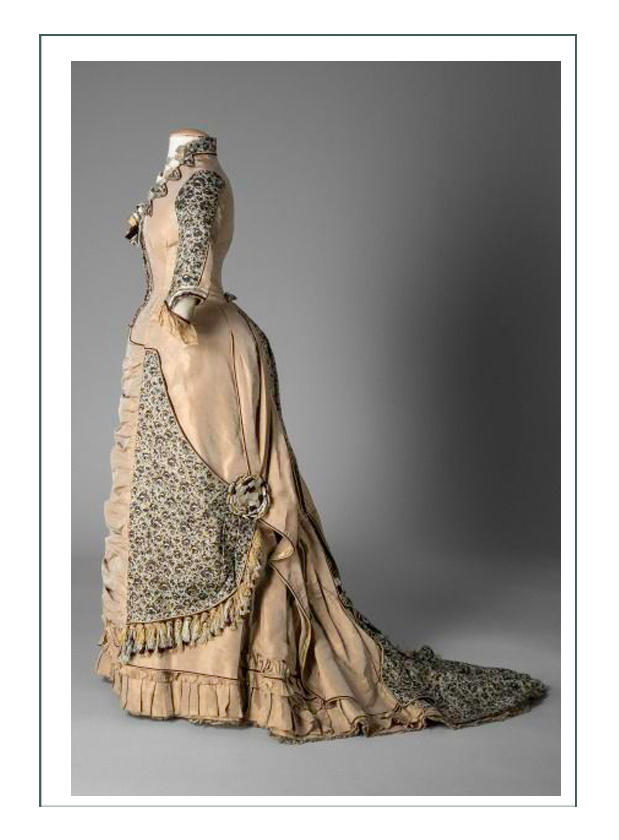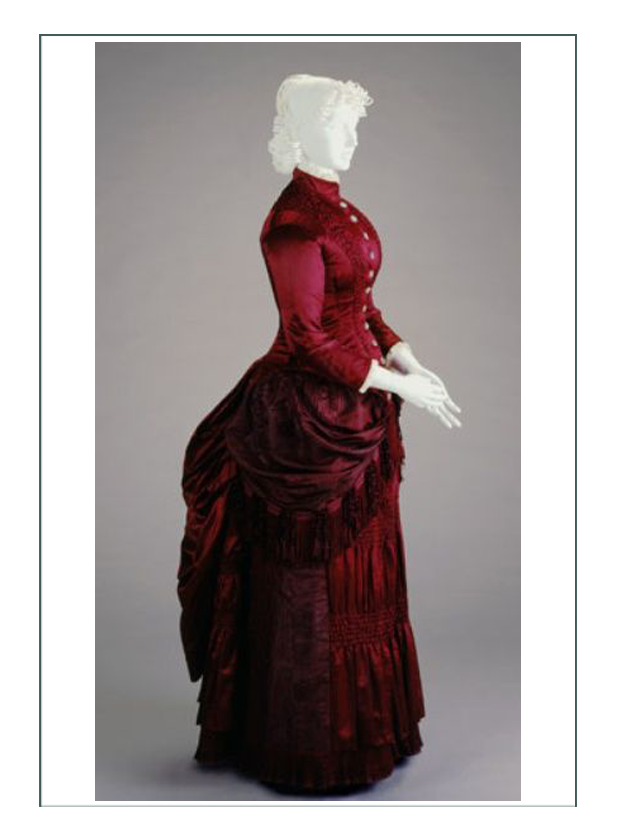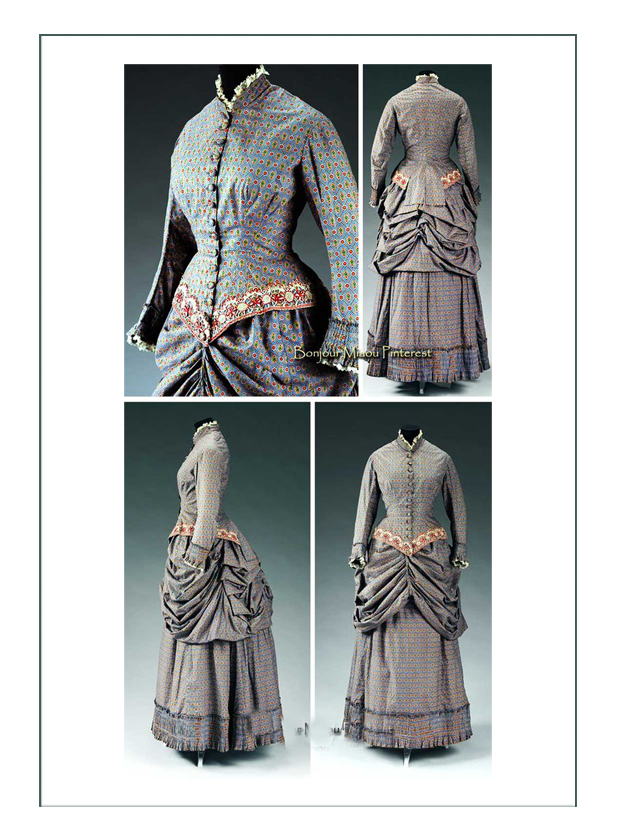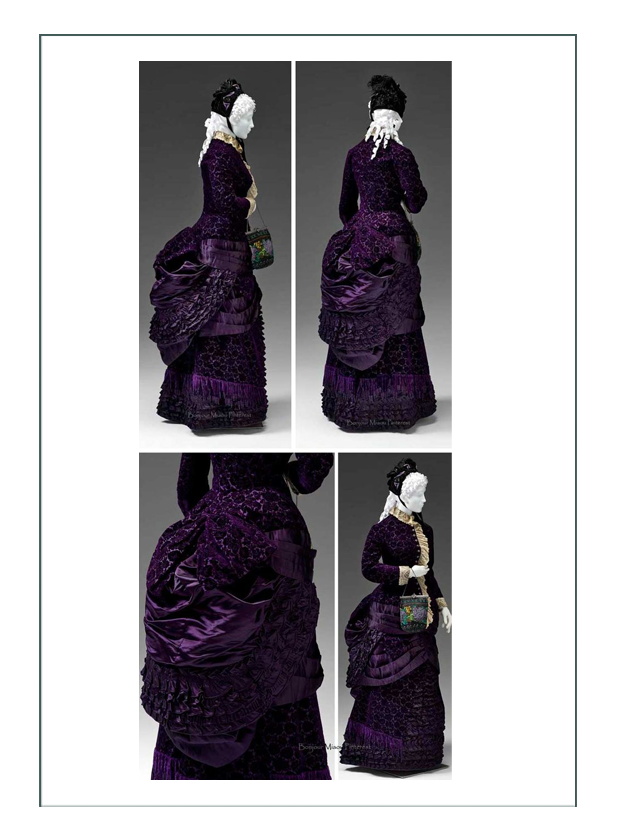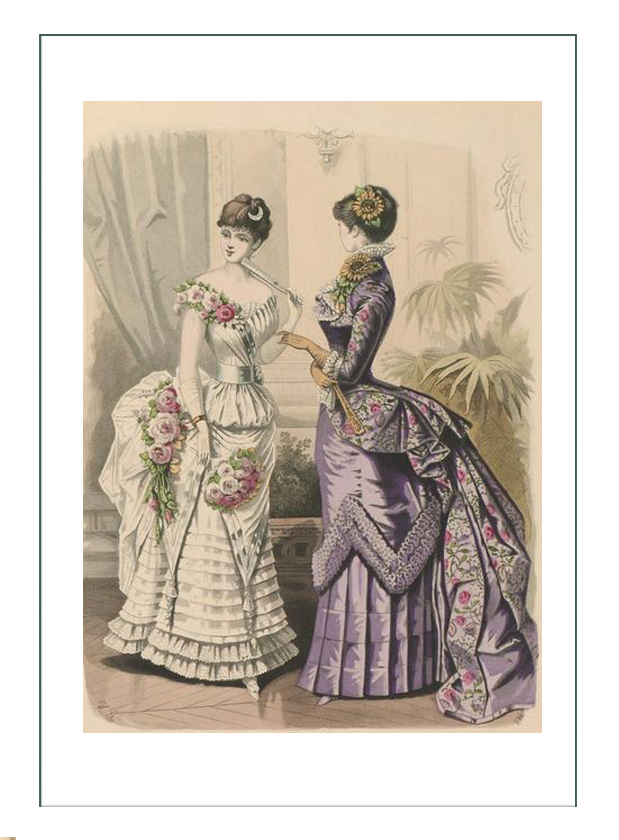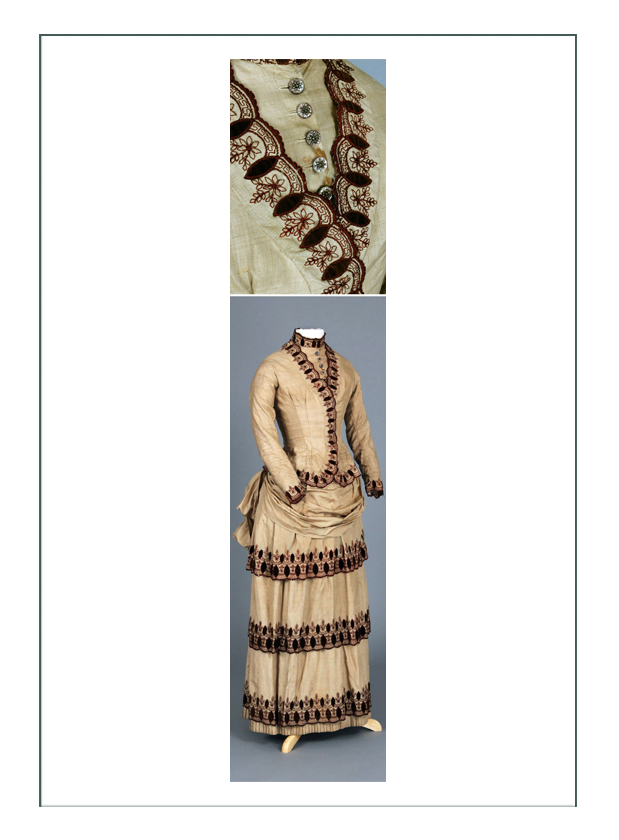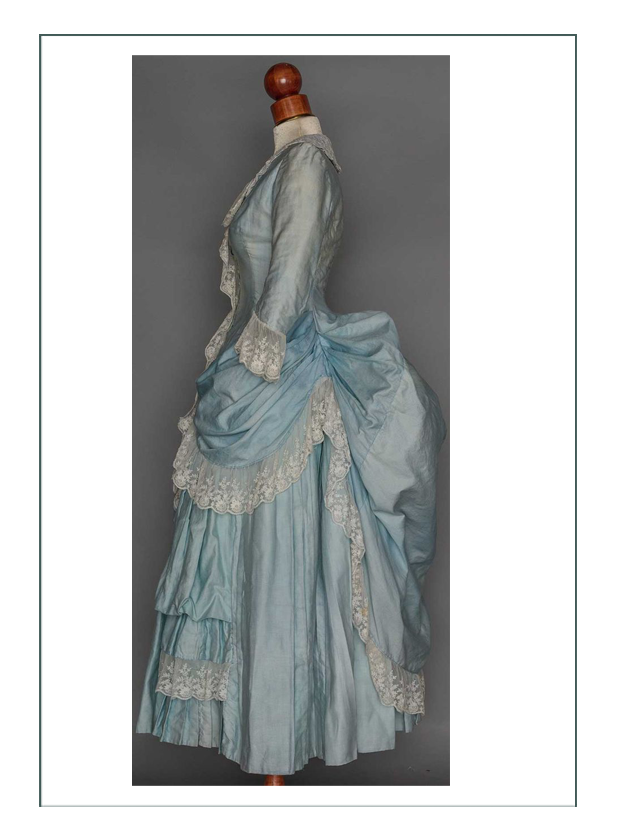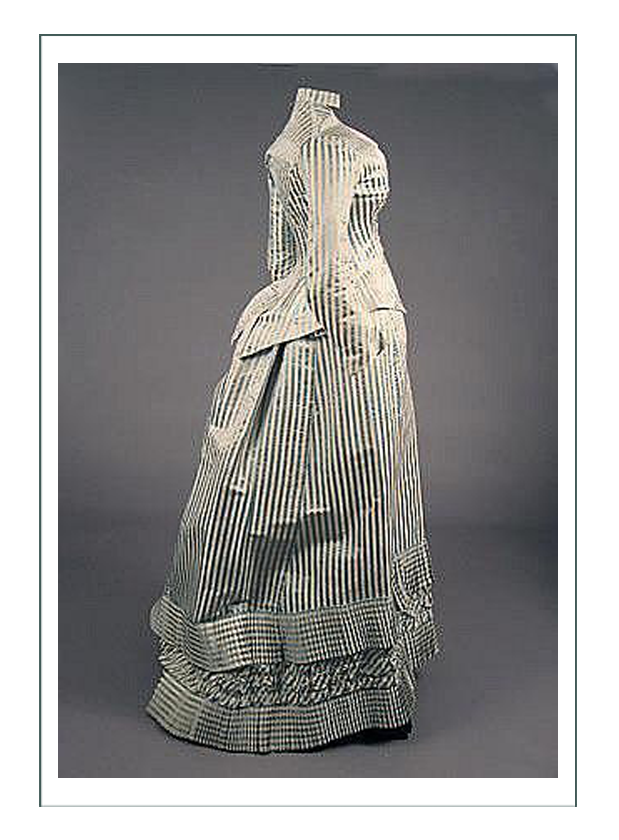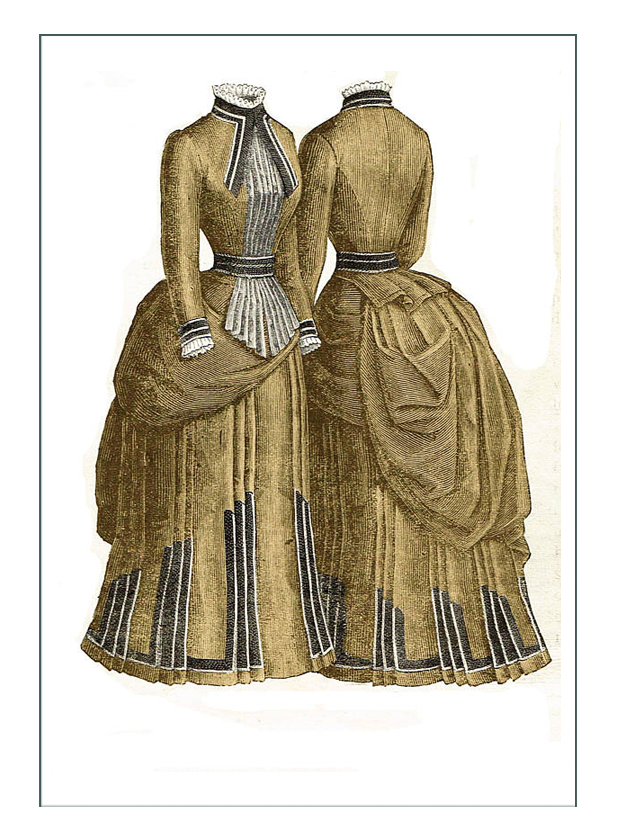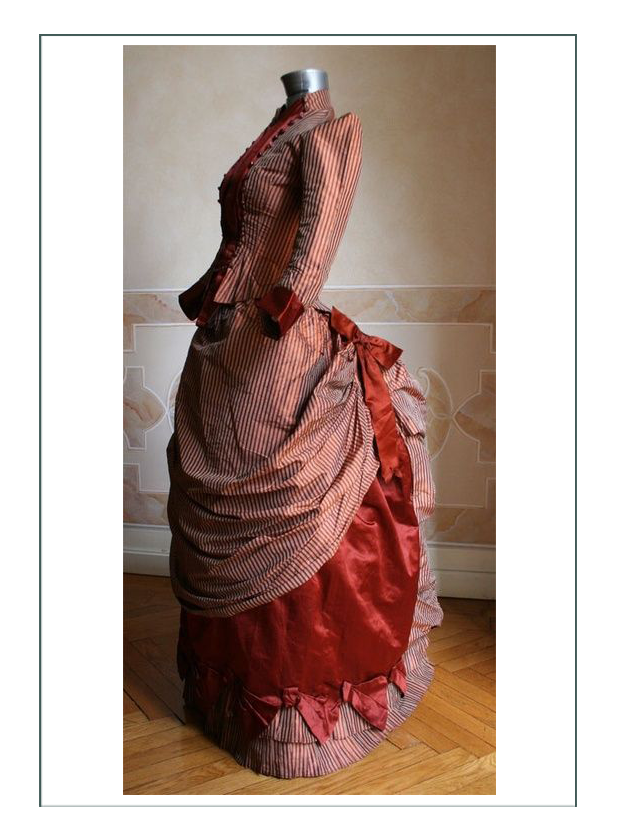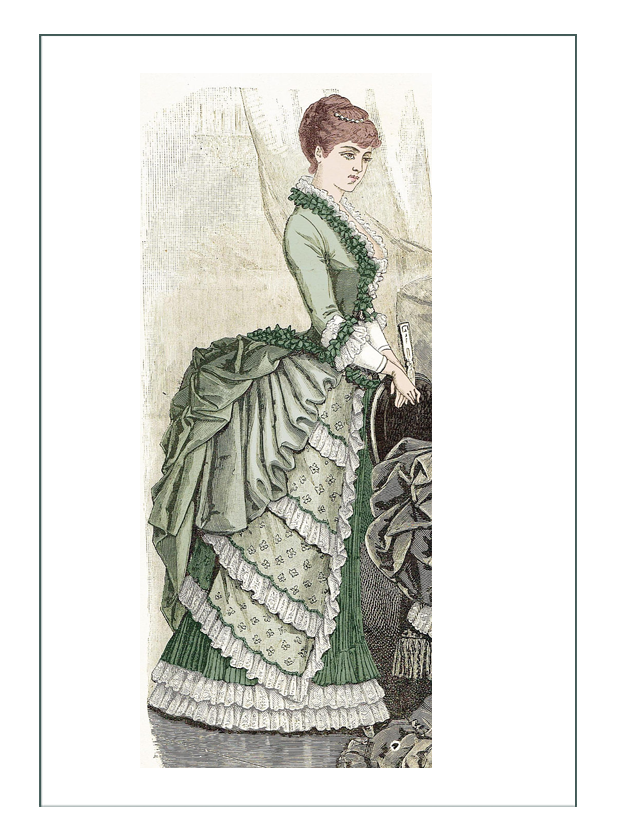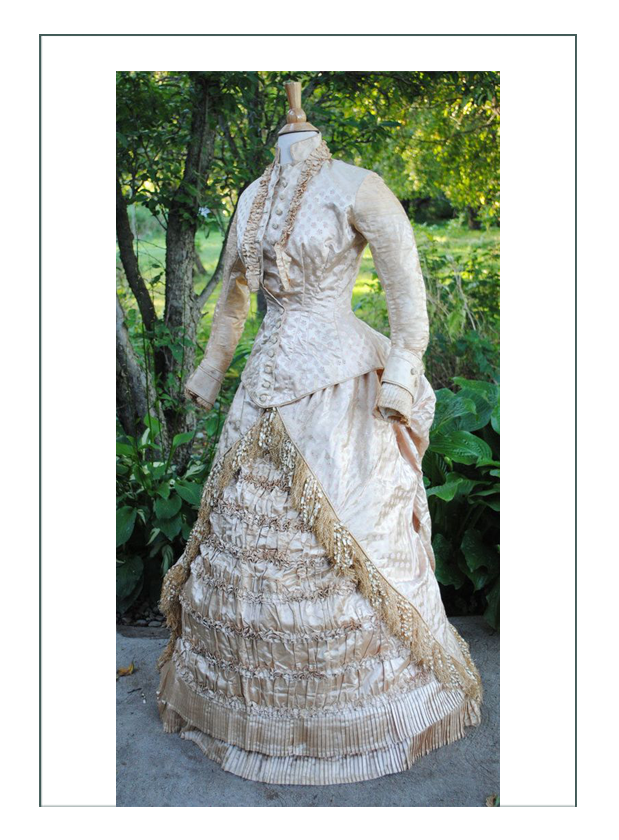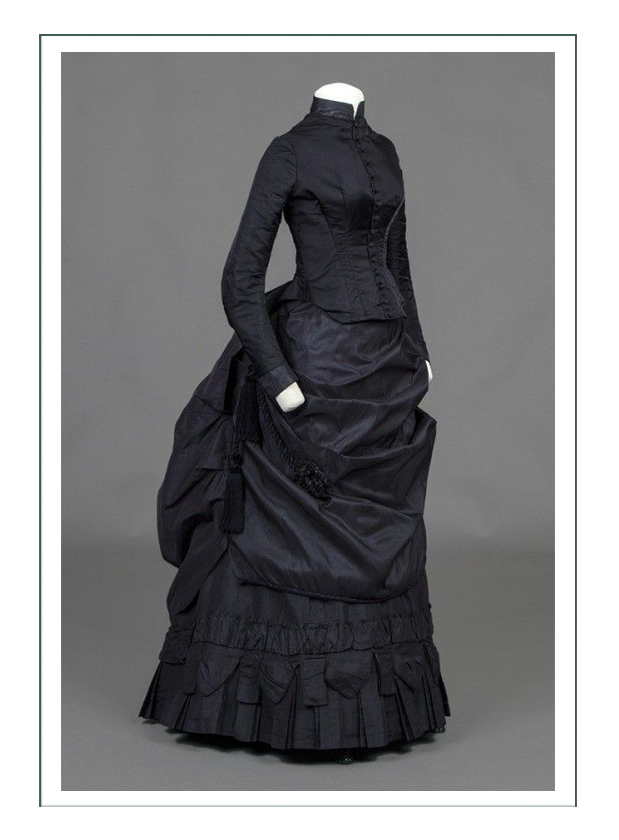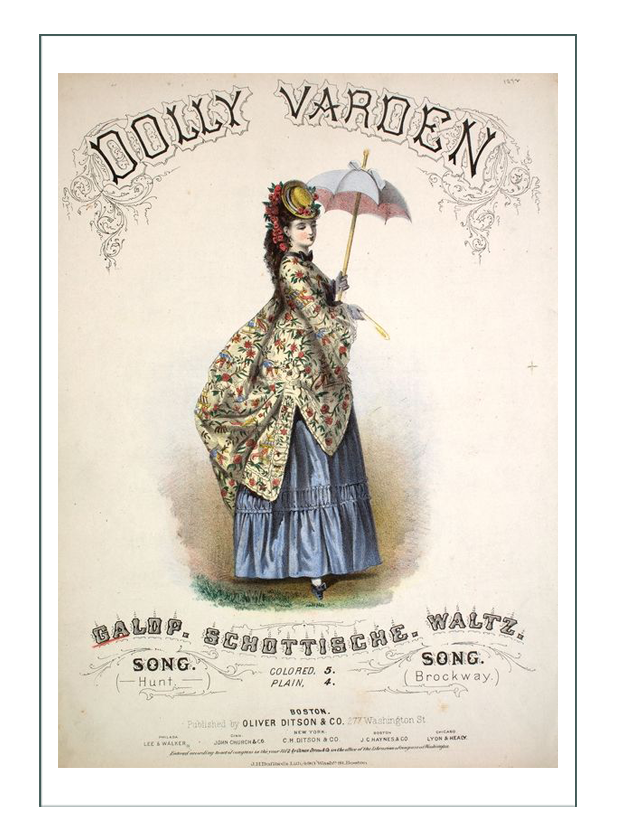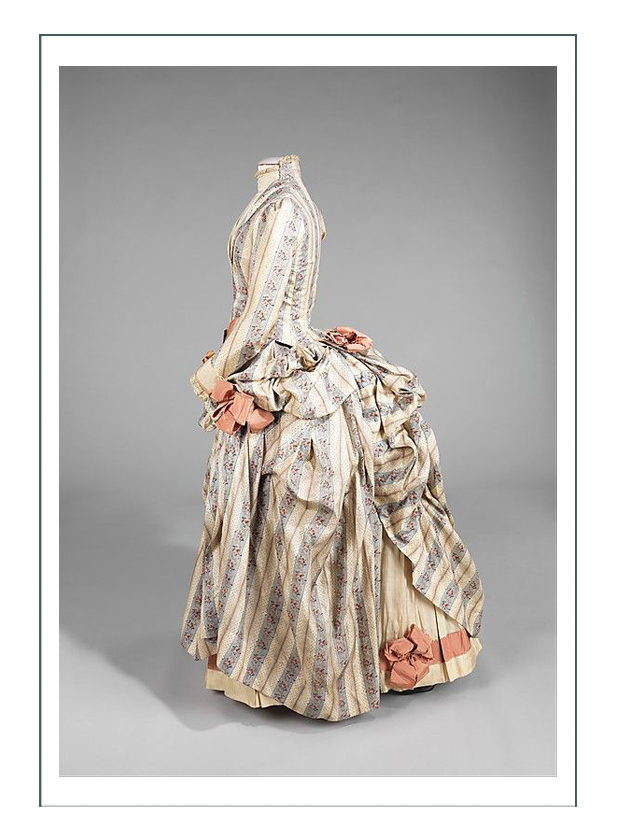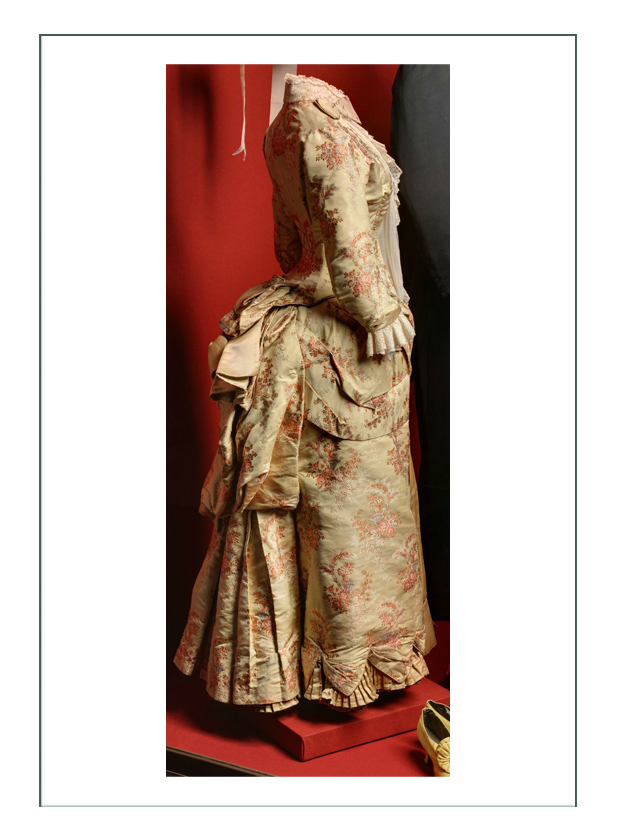 Undergarments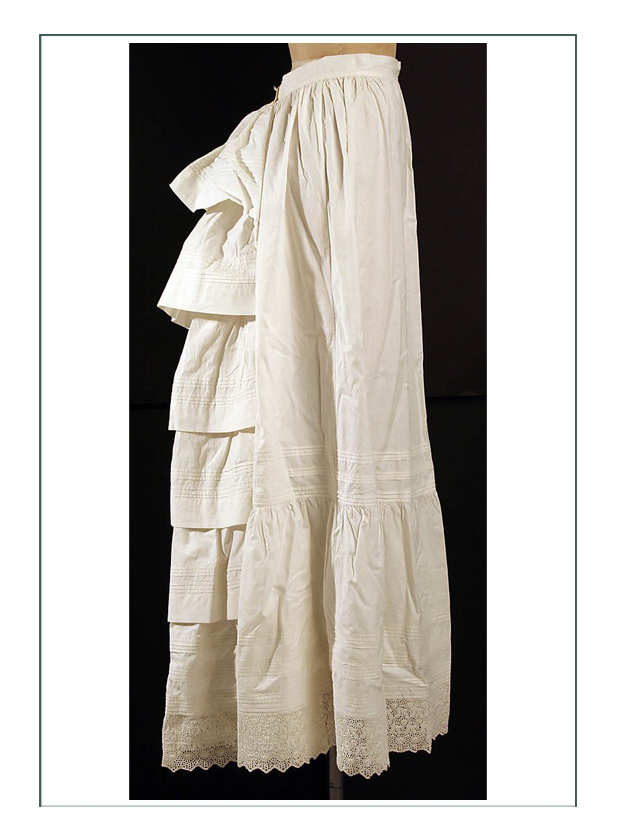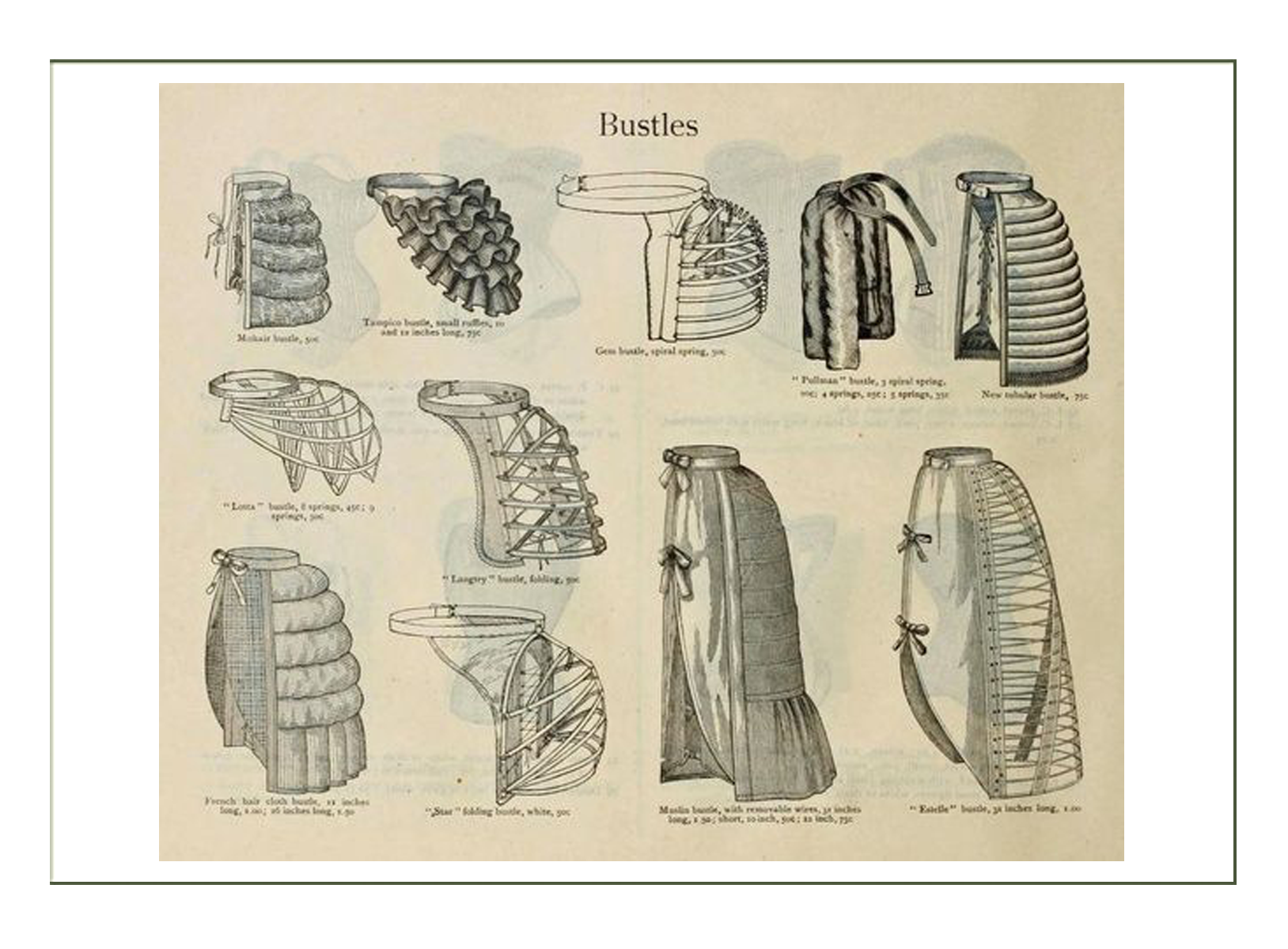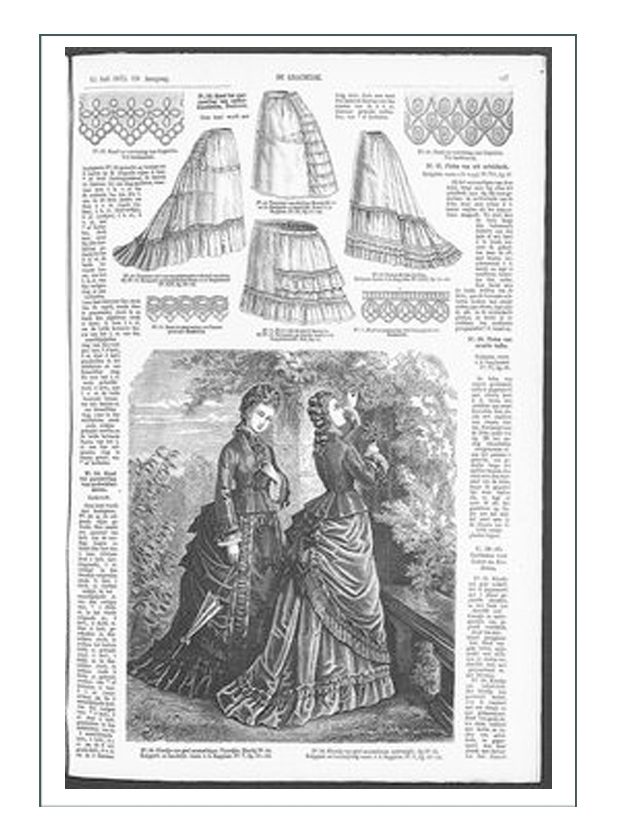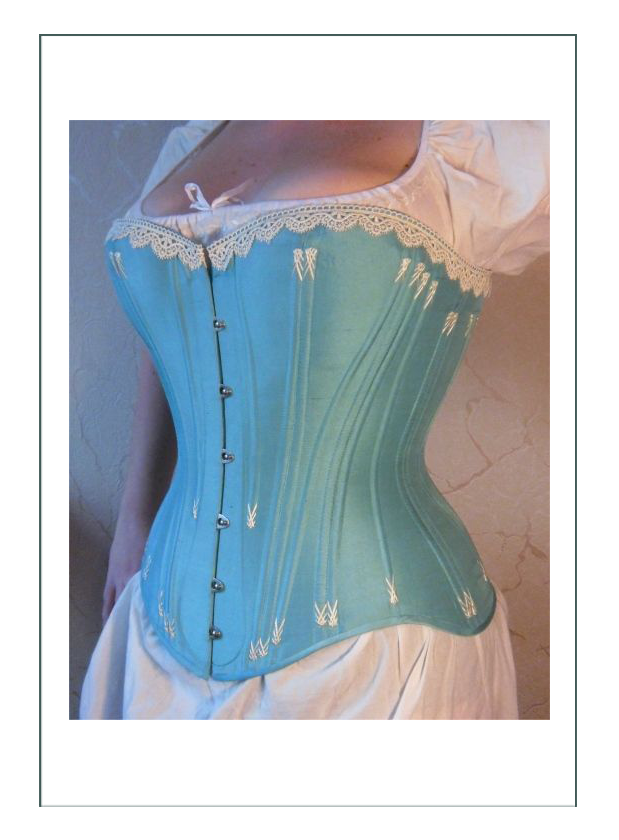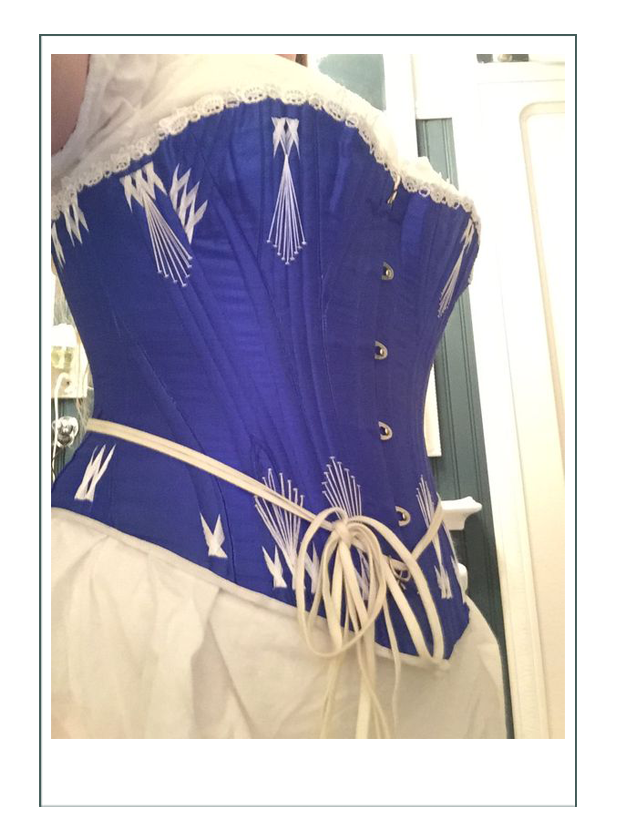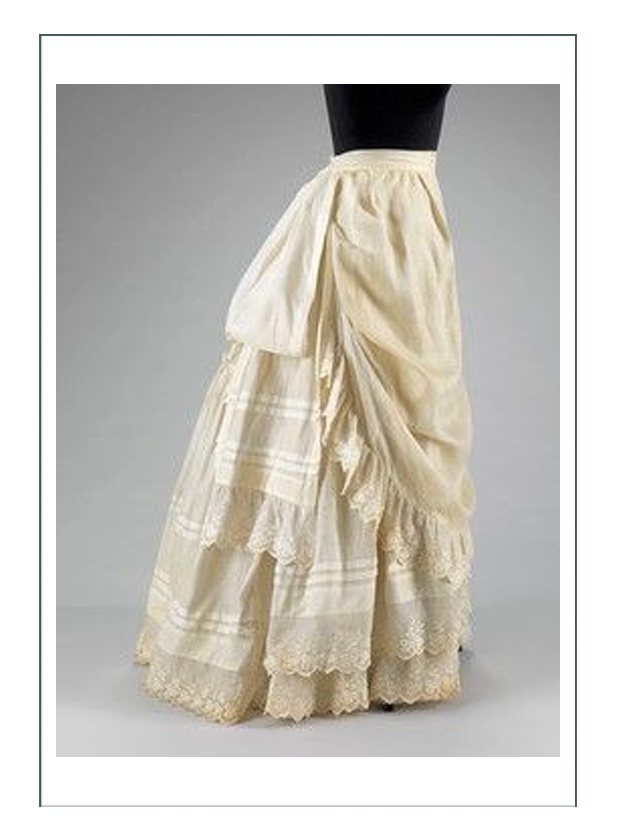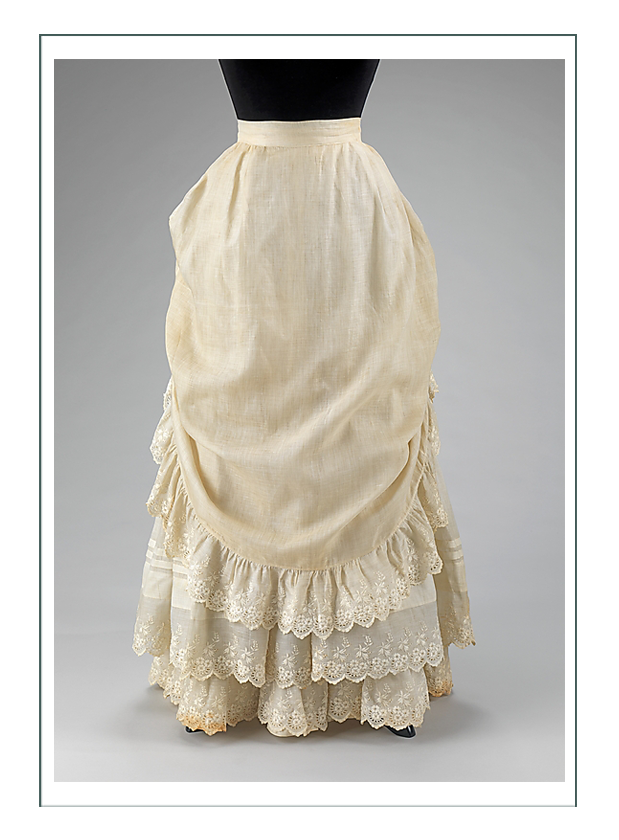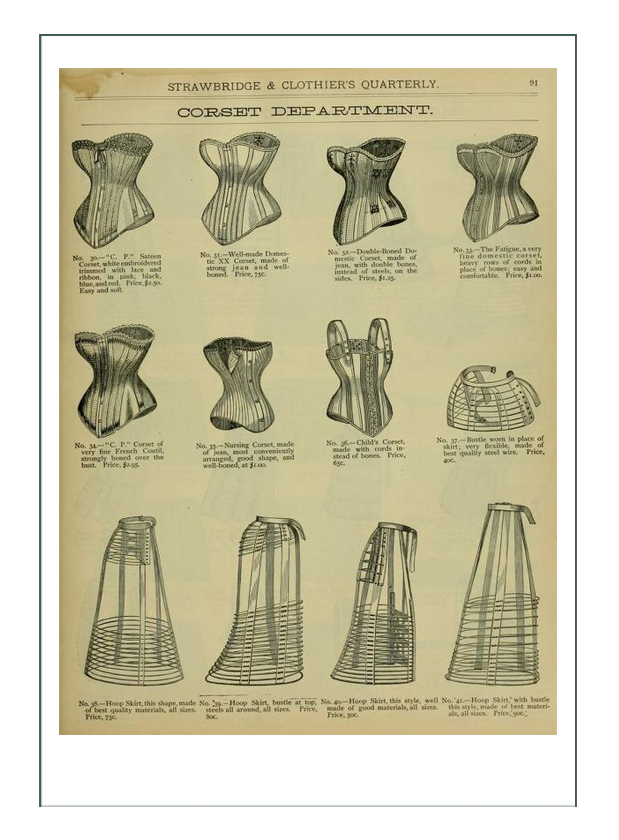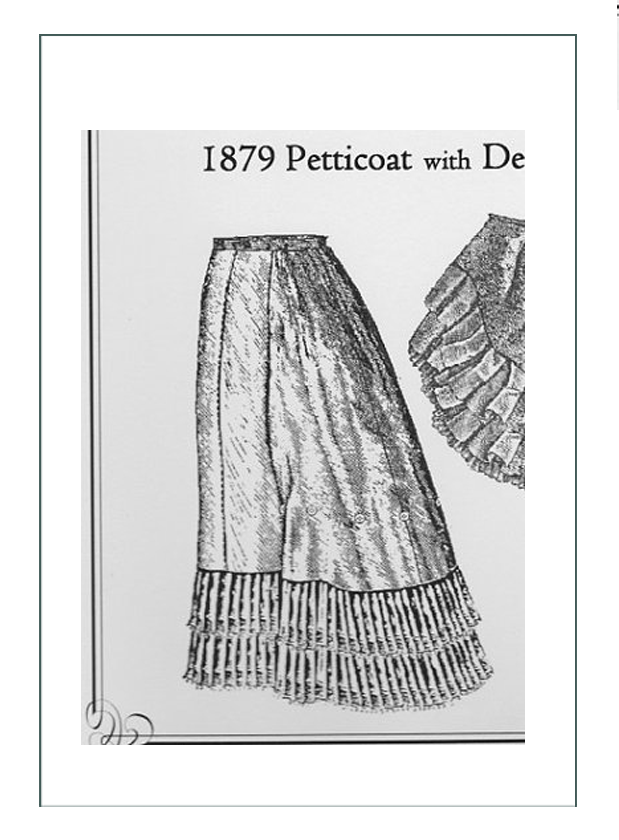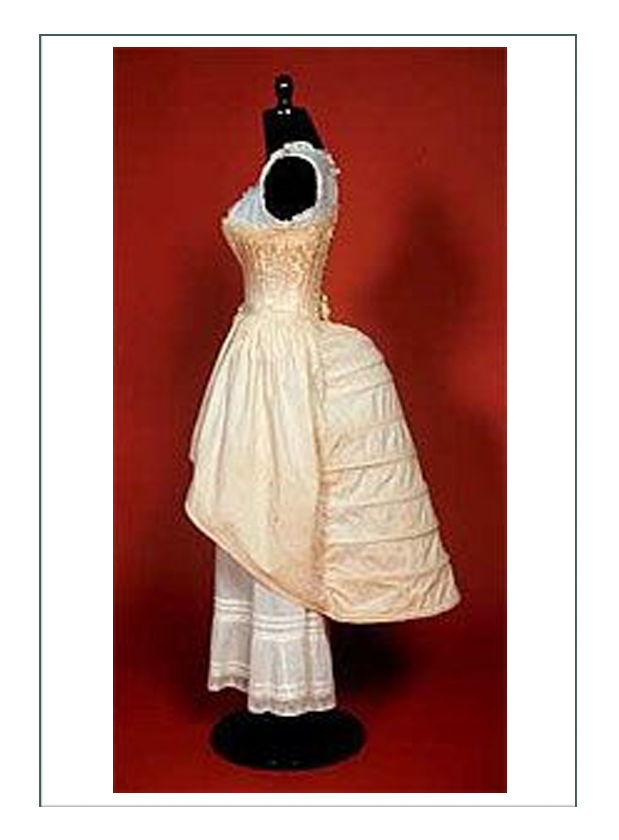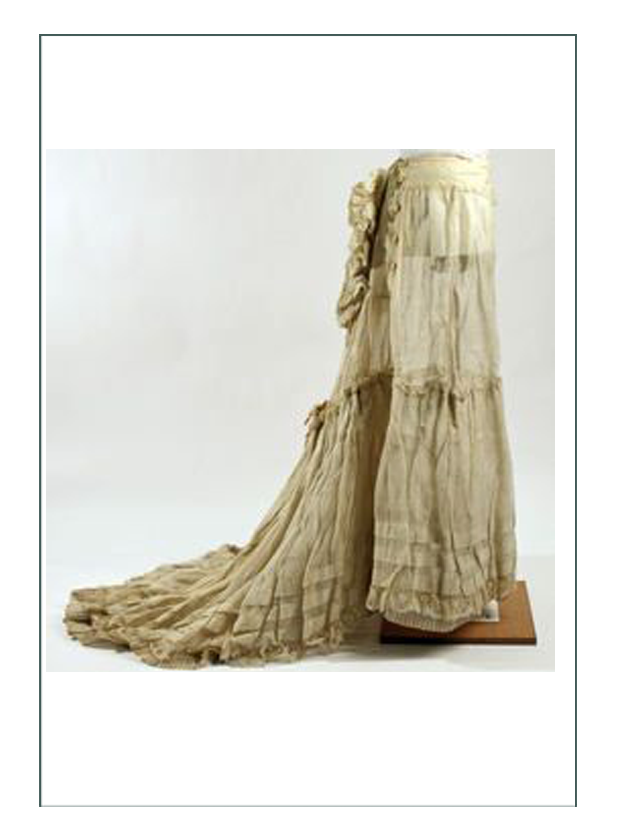 Hats & Hair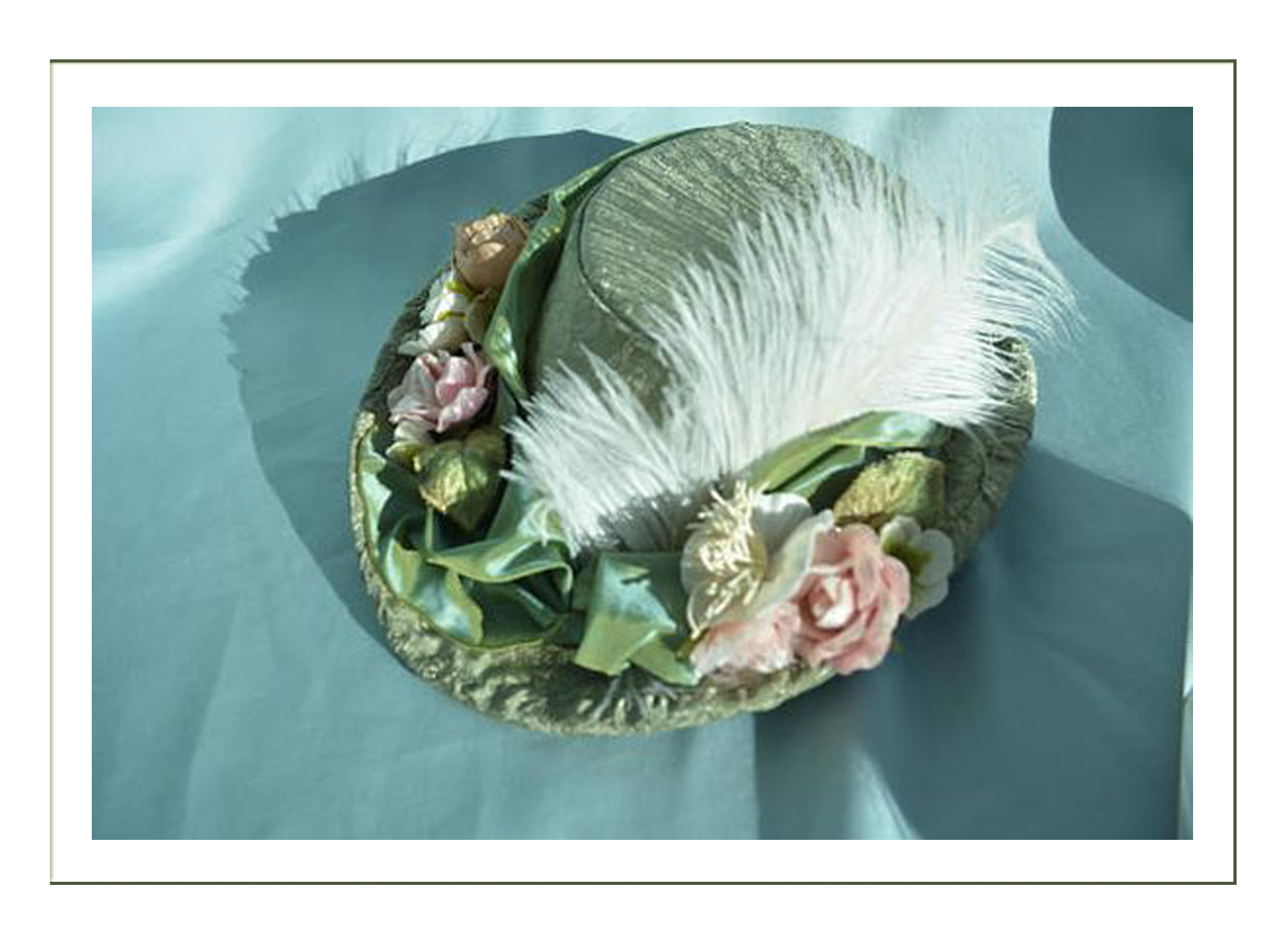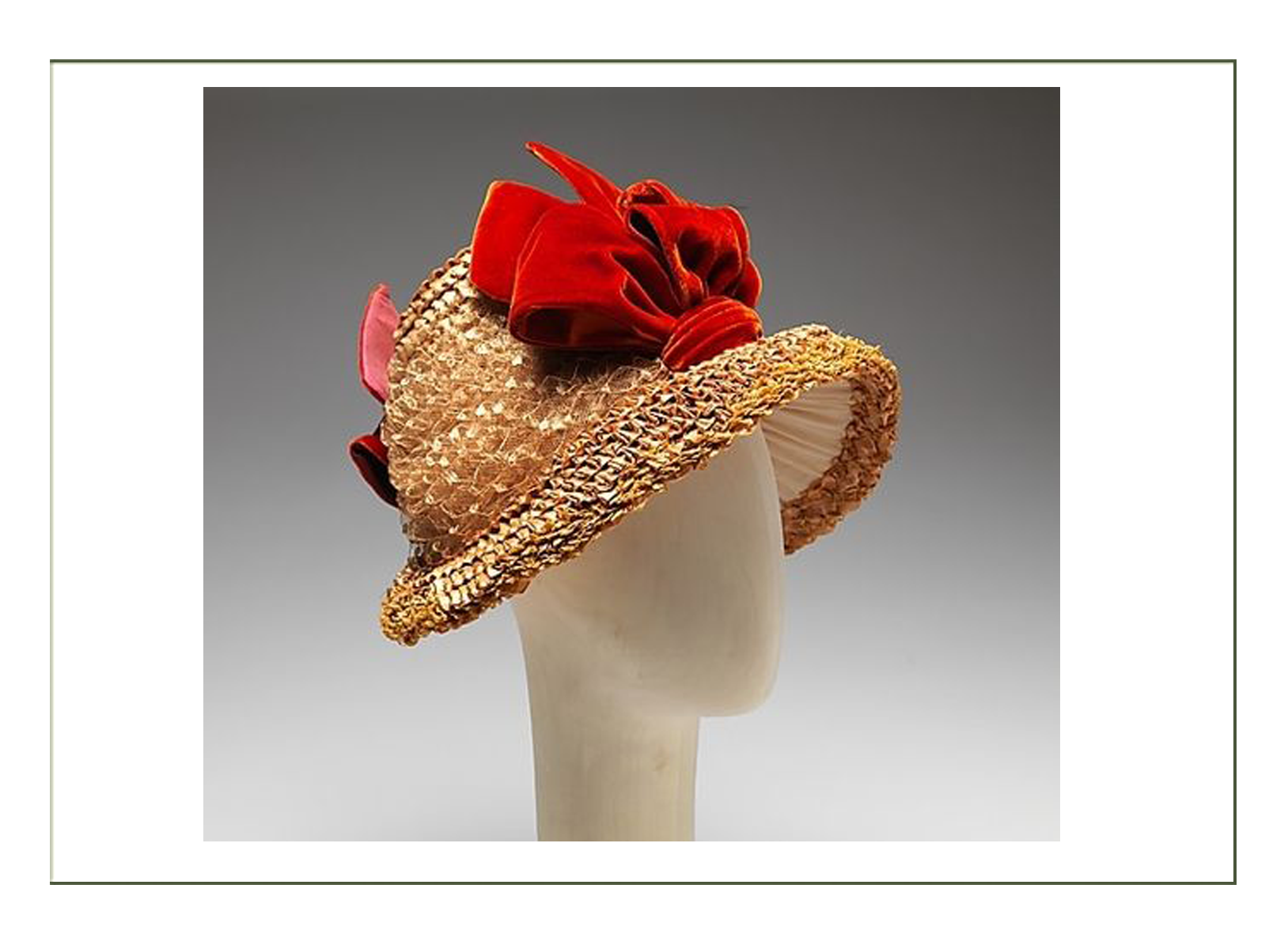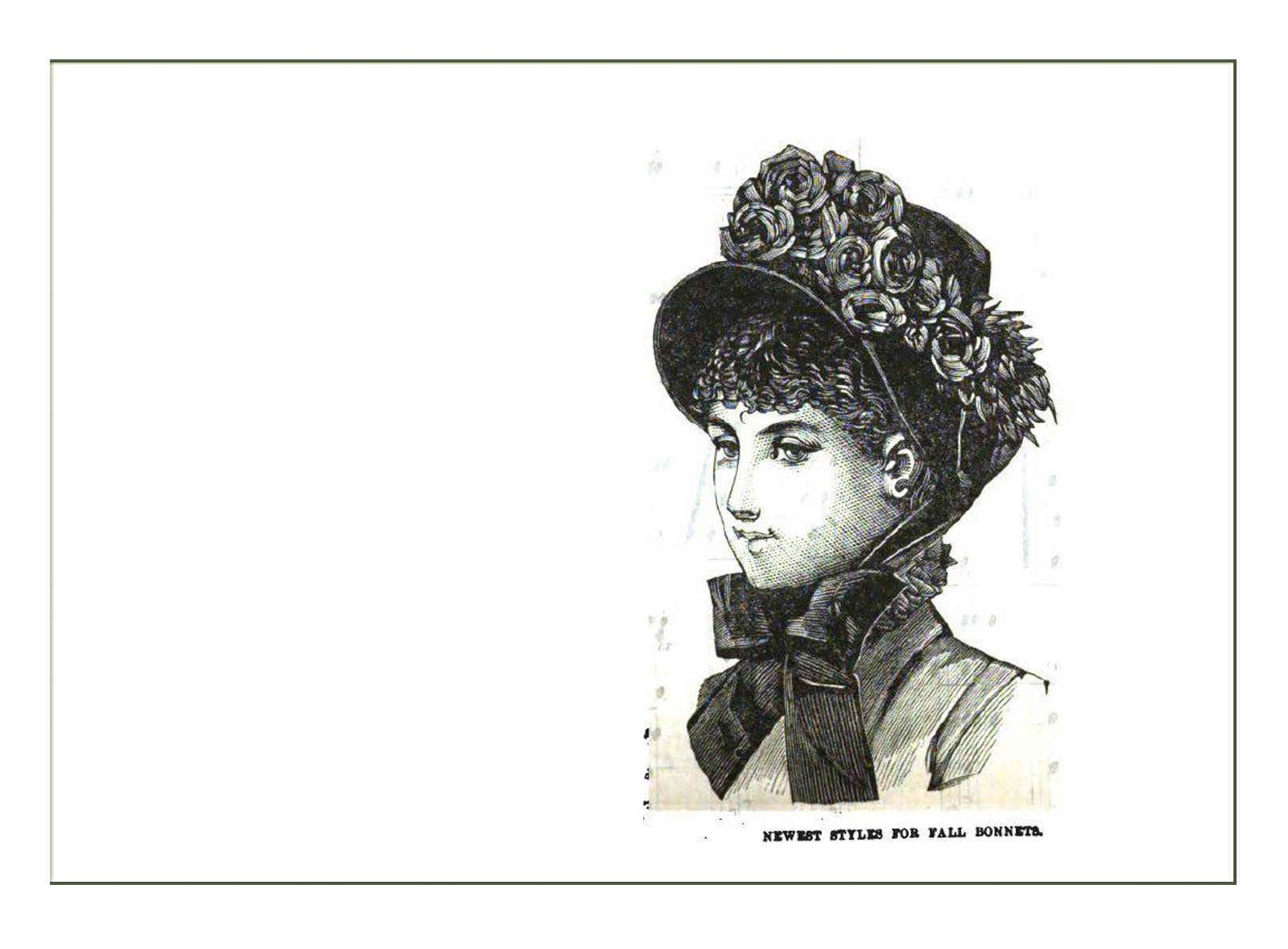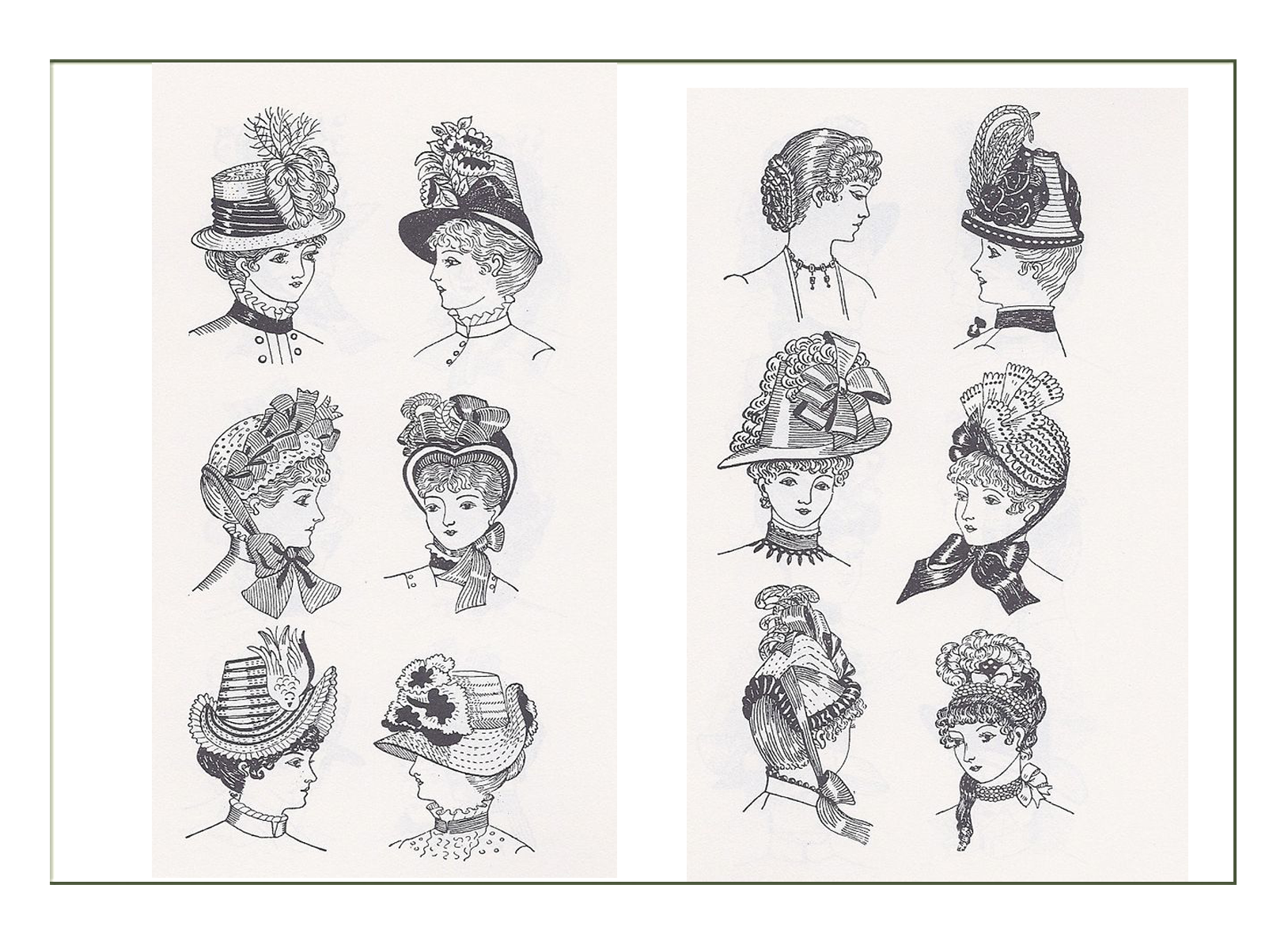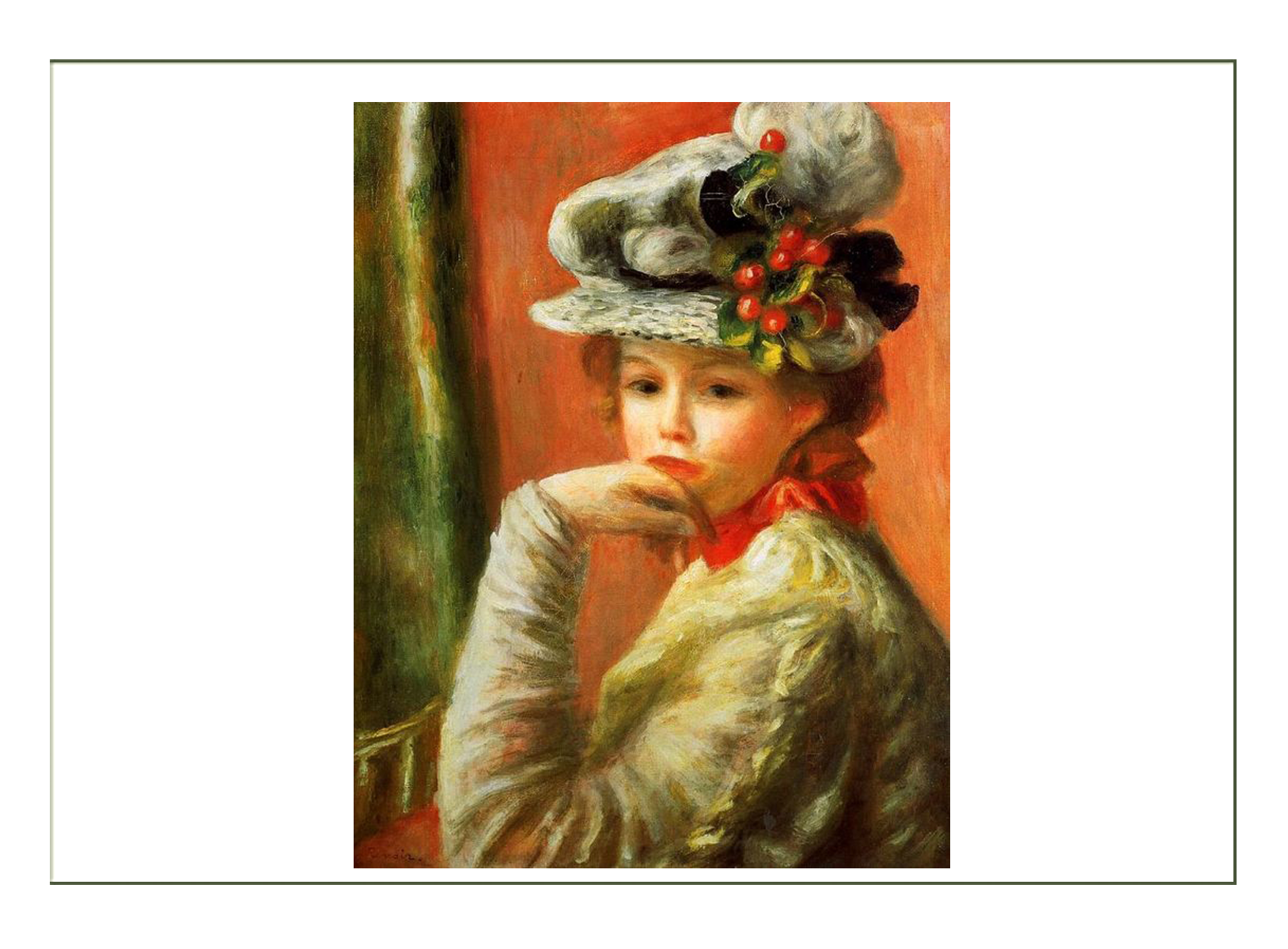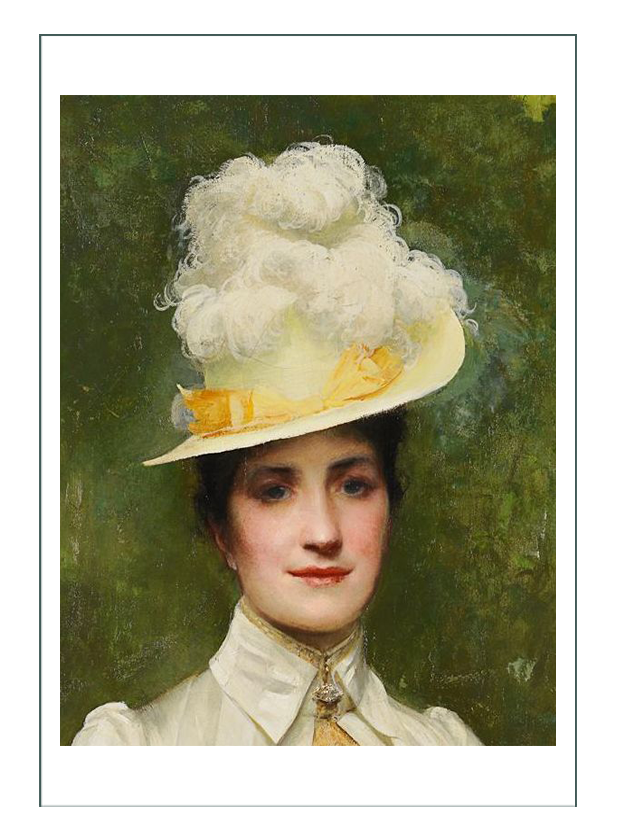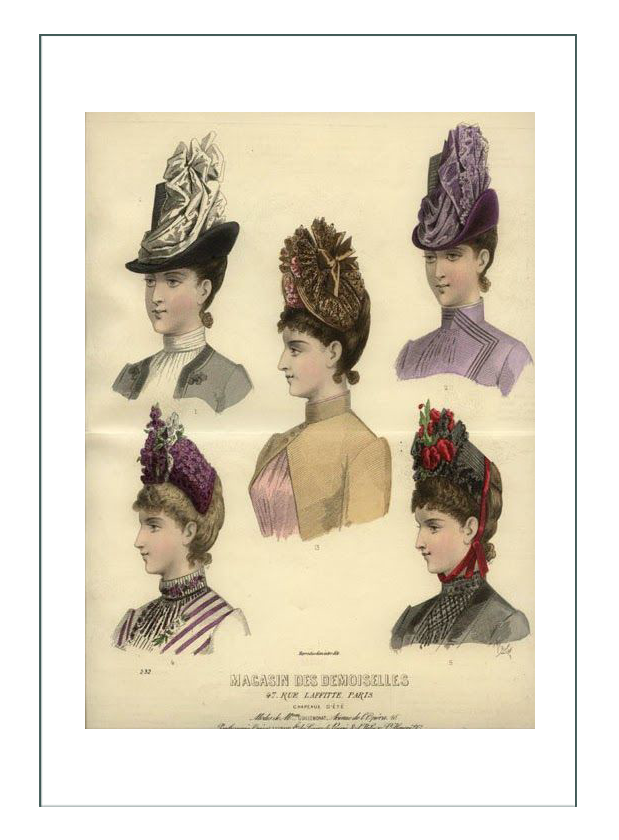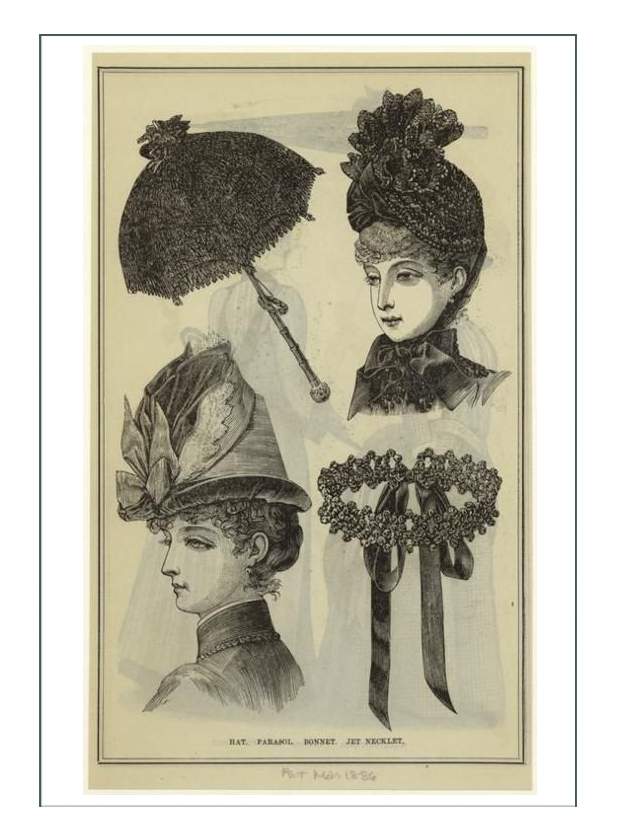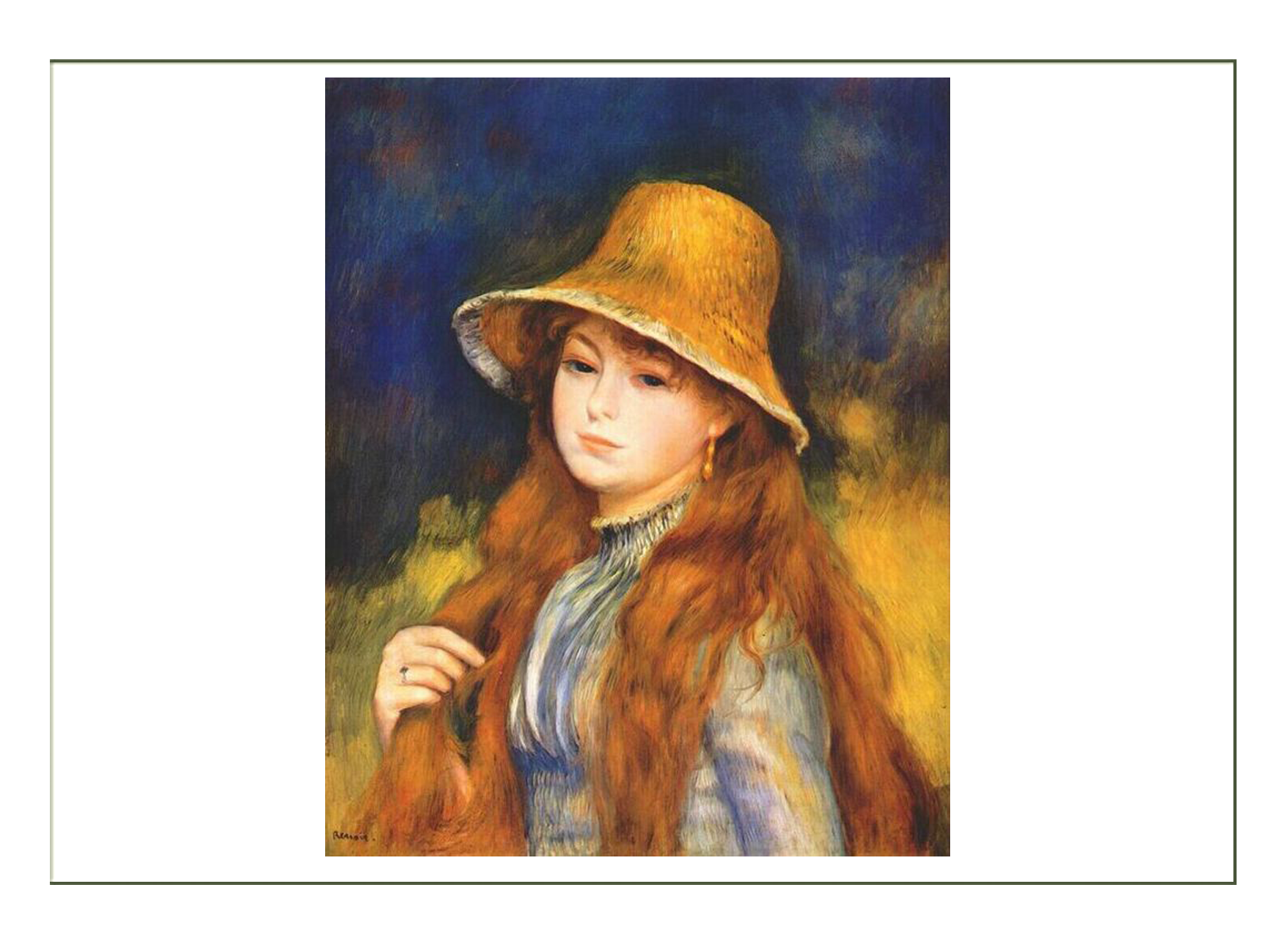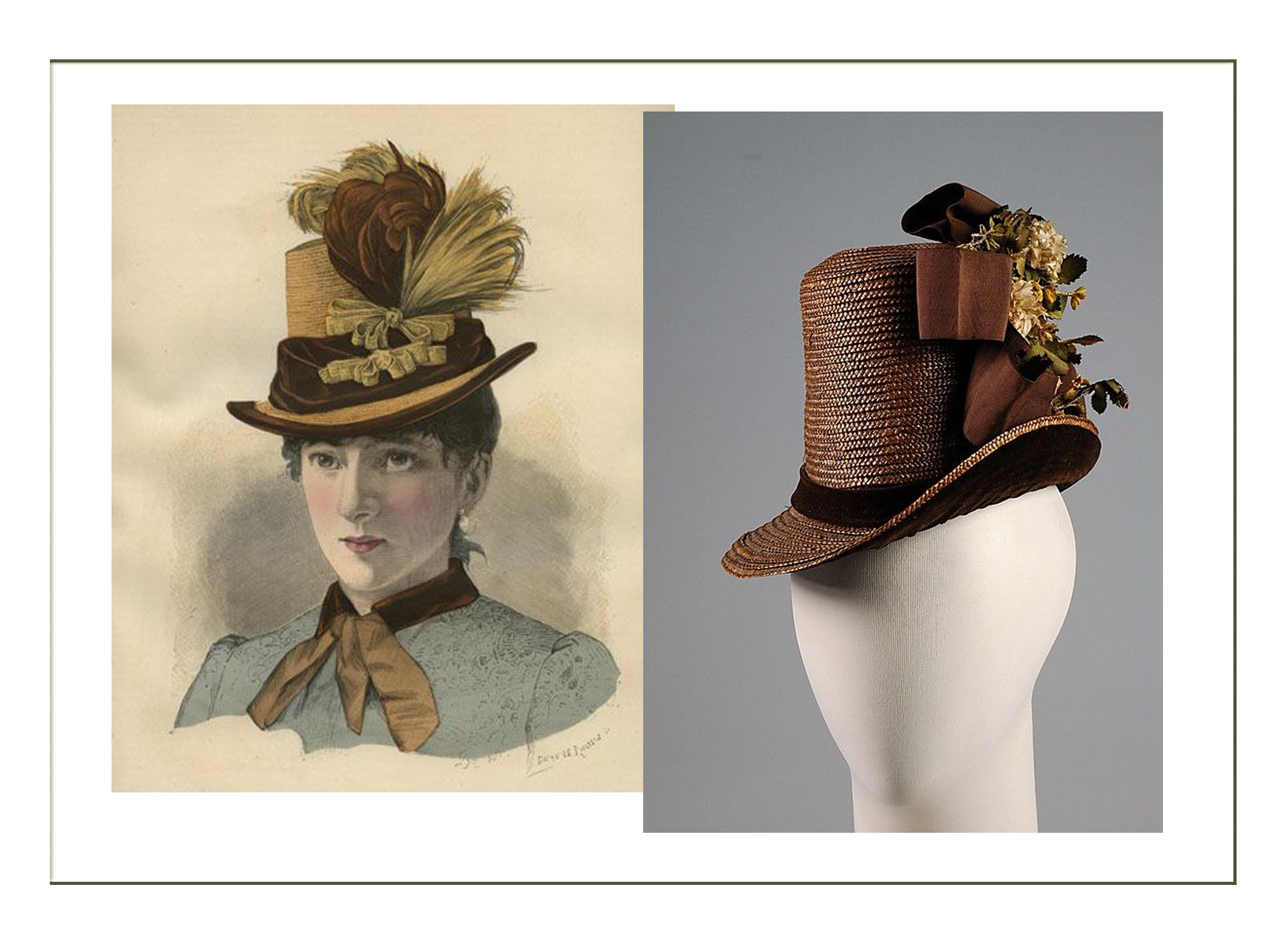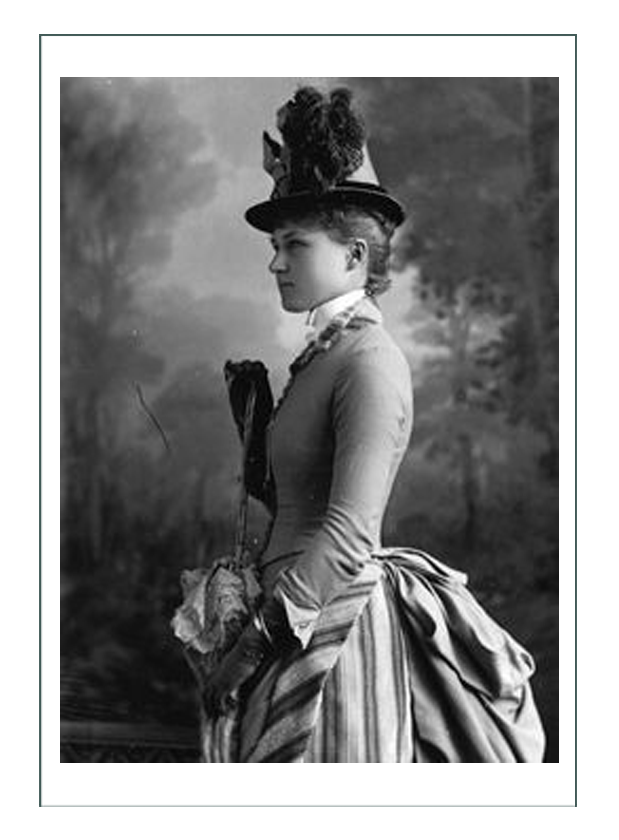 Footwear