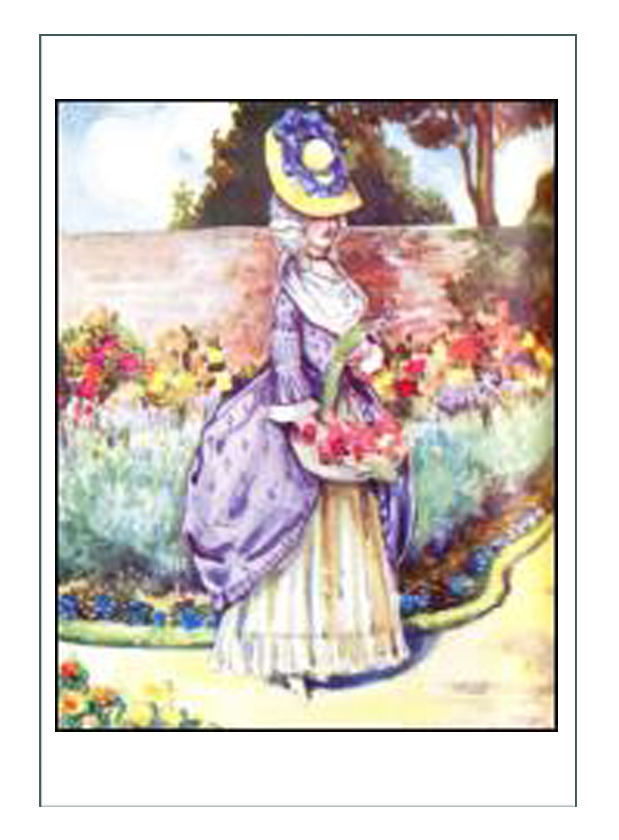 DEPICTION IDEAS: "Revolutionary Tea Party"

1777 was one year after the Declaration of Independence.  The Revolutionary War had begun, and the Continental Army was enscripting everyone.
Mary would have been 53 years old, had an 11 year old at home, and many grandchildren.
She was living on the plantation at the time, with house slaves and field slaves.  Her husband was a man of status, and so would she be.
Illustrating a "social event" – her going to  a dance, as that would indicate her very social personality.  She would be well known and have as high status as one can have in the Americas.  It would be her somewhat arrogant and yet good ability to organize that would garner her friends and invitations.
She would be responsible for hosting things.. possibly war fundraisers.. things for the military.. but mostly she would try to live in her own world and stay out of it, since she probably sympathized with both sides to some extent, although she most likely supported the Patriot and Angelican causes the same as her Virginia born husband.
There may have been trouble with accusations on both sides of sympathizing with the other side.  It is unclear how/when/if Edward broke from his commission with The Crown, but it seems it was before 1776, because there is no indication of conflict, and he was not involved in the war.. but his son was heartily on the side of the Patriots.
Mary would have been torn about her baby being in battle, but at this time, delighted to have her favorite middle son Baker married and at home with a baby.
In 1777, all her children who survived infancy were alive, well, married, and flourishing.  The son who was a General survived the war intact.  Everything would have been "as good as it could be" for being in the middle of a war.
Her contact with War would have been through friends or news.. slow to come and slow to react.  I would guess she kind of "hid" at home, and stayed in specific circles.

Design Specifics for the Character of Mary:
Party gown.. practically designed & extremely well tailored
in the latest and most possibly obtained fabrics.. fabric might be a little out of date because of embargos and taxes
Might find a stockpile of fabric that was imported.  Would be something others don't have easily, so she would stand out at a party or dance.
Would have tea, and follow the pattern of English living most likely
Colors appropriate to a married woman, with head covered and sedate
At time of age 53, and 11 kids, would be a bit saggy and paunchy, as I doubt she got into the field to do physical work
Good stays would be important to her, to give her the most stylish silhouette as possible
Would have hats – big hats and elaborate hats to get attention.. gloves, and accessories with "class" too.
While she would be loyal to English fashion, the robe de l'anglaise would seem a little excessive for her practicality at the time, and would take too much fabric if fabric was difficult to obtain.
She would choose at short version of robe de la francaise instead  – you get a lot of visual punch for a lot less fabric, plus the style was short and practical to keep her dress out of the mud.. and the layers made sense for her climate..
big hats were good for rain.. straw hats because it was hot and humid in VA.
She would have interchangeable things like shoe covers so they would match the gowns.. and hair would be important
She would have a slave help dress and fix her hair, especially before an activity.. occasion to dress up could be as simple as visiting or going to town.
She could ride a horse, but probably wouldn't as there was no time with kids and a plantation to run, and her husband to look good.  She would be capable at driving a buggy, and would have a very nice one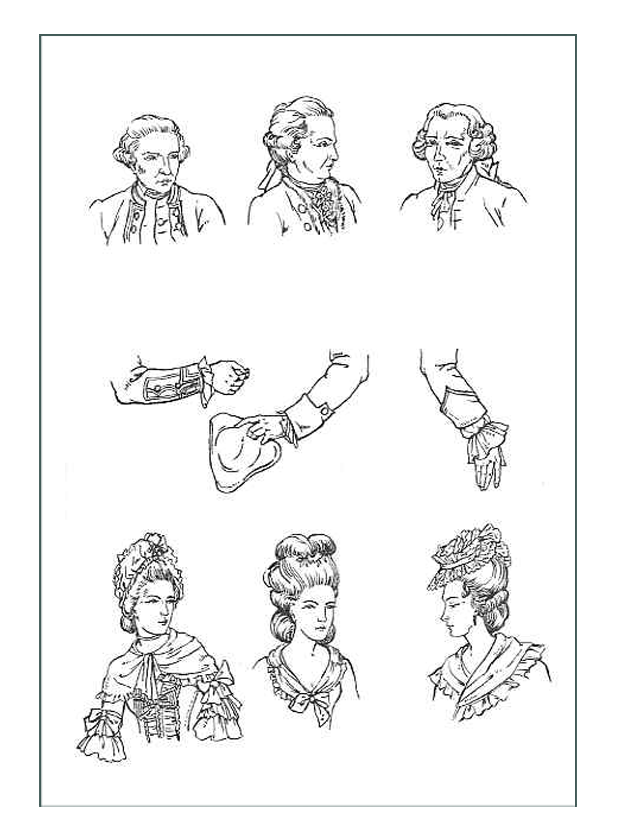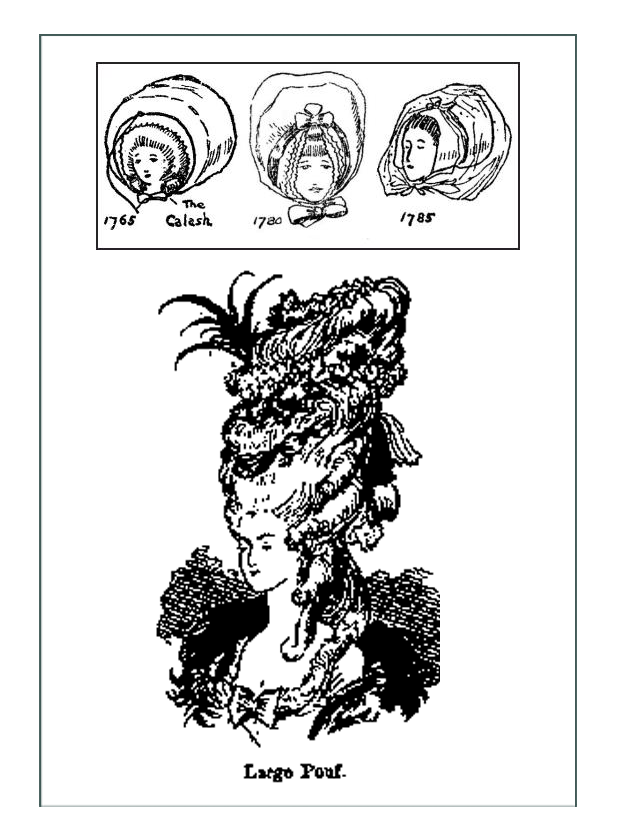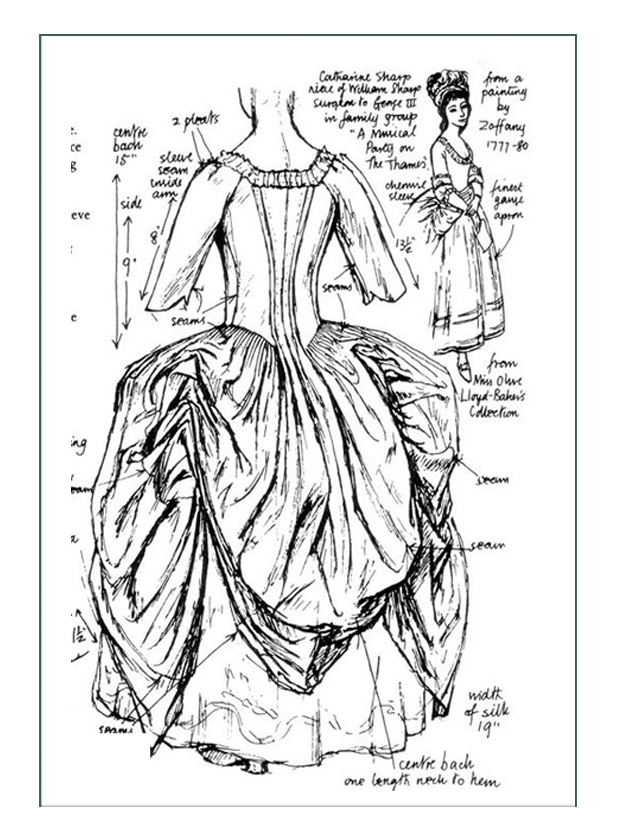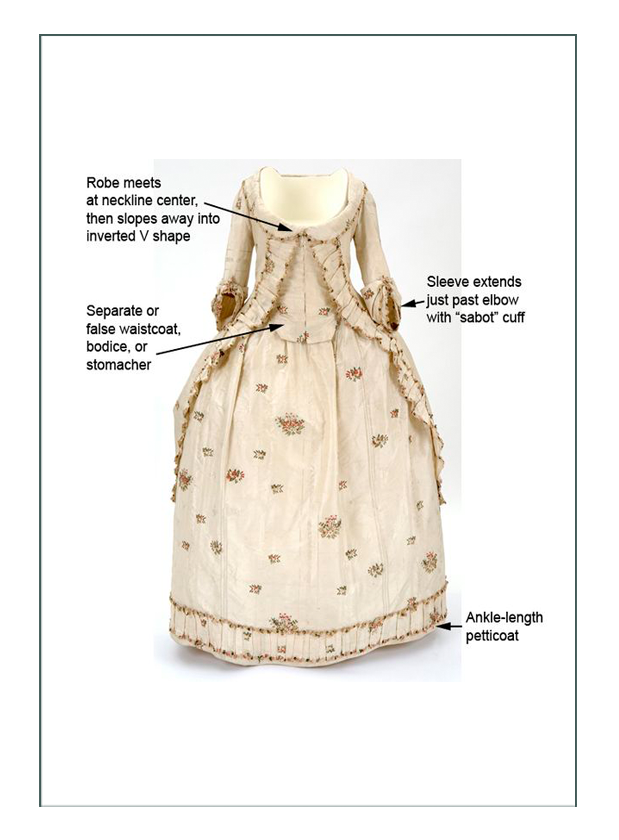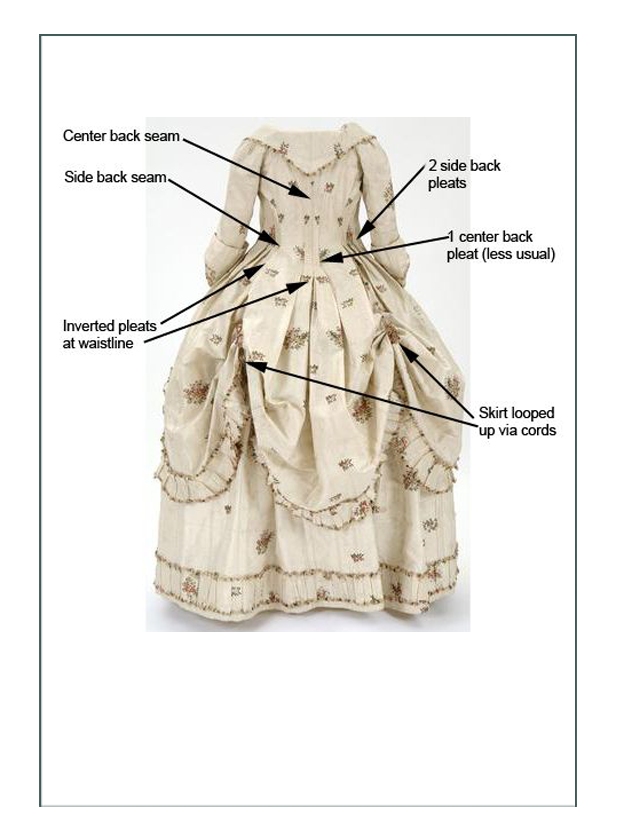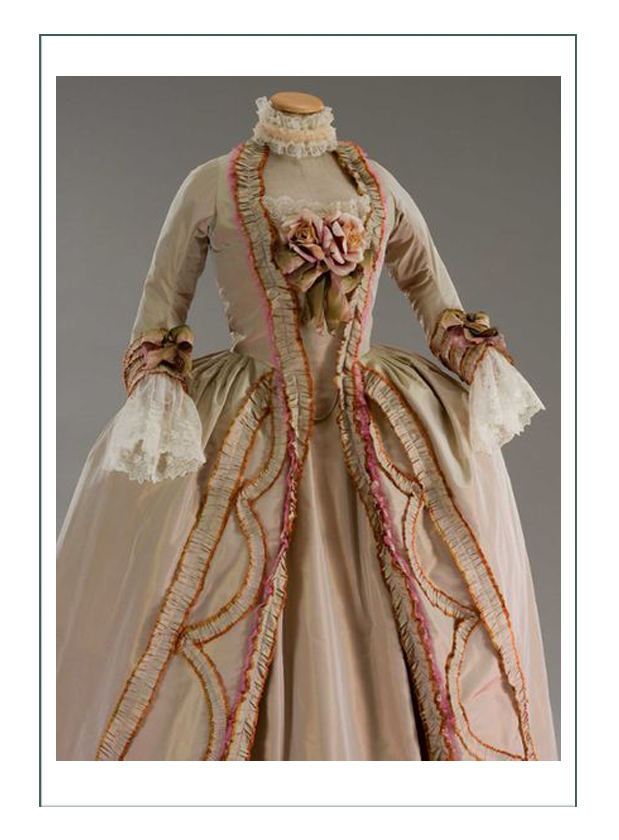 Costume Summary – the Design for the Character Mary:
Williamsburg & Petersburg, VA (Dinwiddie County, Virginia)
Depiction is of 1765-1778, with the original design of the earlier era, as it would have been modified or altered to suit the woman getting older and changing style.  The reason for this challenge is that this is what life would have really been like at the time before, during, and after a major war right at home when you are born on one side, and married to the other.
An Englishwoman in spite of herself, aware of class standing, would be well dressed in the latest style from France, with fairly new fabrics and materials of highest quality and accessories specifically made to get attention, while the basic garment was functional with multiple uses.
High middle class with attitude she's of the highest class.  A bit of the old country while populating the new world, could see both sides of an issue but would always side with her husband.  Never really fit in, but helped her children to lead in the new America.
Polonaisse (robe de la francaise) with jacket/open robe in silk taffeta wide stripes including full front and across puffs box pleated bias strips in self fabric.
Might do false stomacher in contrasting fabric, stays cover, or actual jacket insert (need to decide)
Pin or covered button closure center front (depends on jacket or stays cover decision.. if contrasting, will button at bust only)
Over/outer petticoat of vanilla silk taffeta which is ankle high.  May quilt it as squares depending on fabric, or may do large box pleats horizontally or vertically in 2 rows on skirt
On a small pannier
1760's stays (back lacing only, loong front, strong front vertical with nursing vents and cross bust supports)(of practical brown linen with removable white lining; white sateen binding)
Inner petticoat of spring green linen/cotton blend with vanilla silk panel insert
Shoes of leather with tongue or cover or dress fabric, or buckle. 1″ heel and tongue
White cotton stockings gartered (will be sewn; not knitted)
HIGH hair (wig?) with tiny thimble mobcap HIGH on very top over which
straw hat with bird's nest and hydrangea (or other purple flowers) and purple and blue silk ribbons
off white linen fichu with lace
sleeves have lace to match fichu, 1″ only, under a 6″ box pleated sleeve (same as main bodyfabric for pleats)
Possible mourning pin center front, or if fichu worn as crossover, to side
Choosing Robe a la francaise or polonnaise over robe a l'anglaise: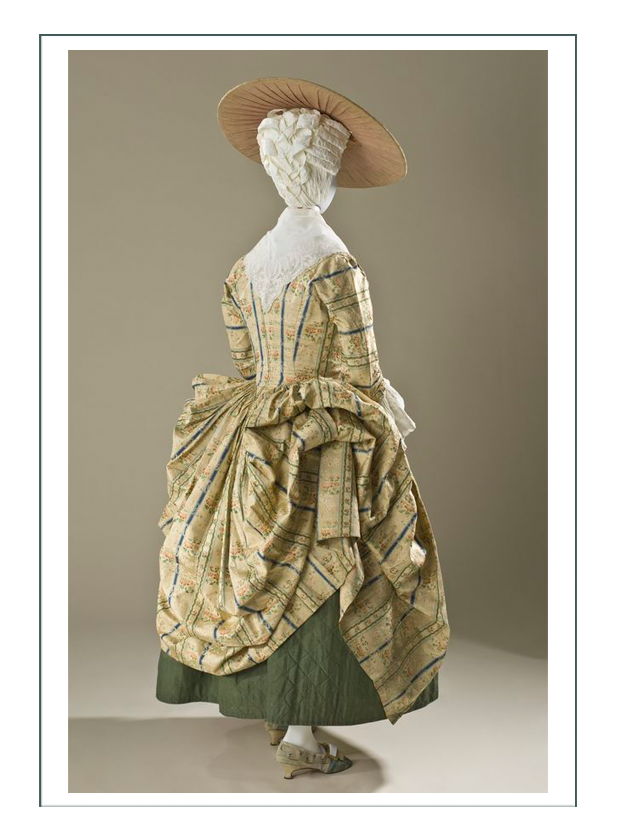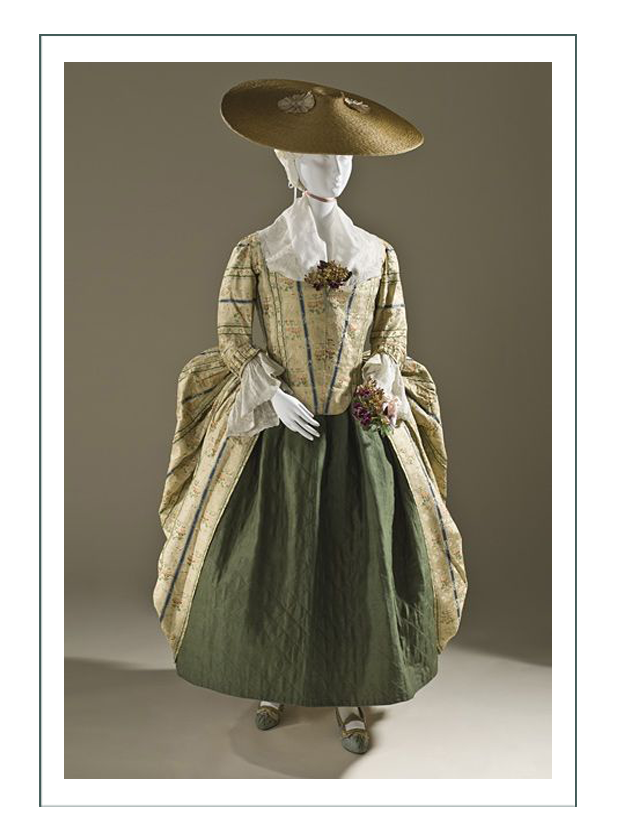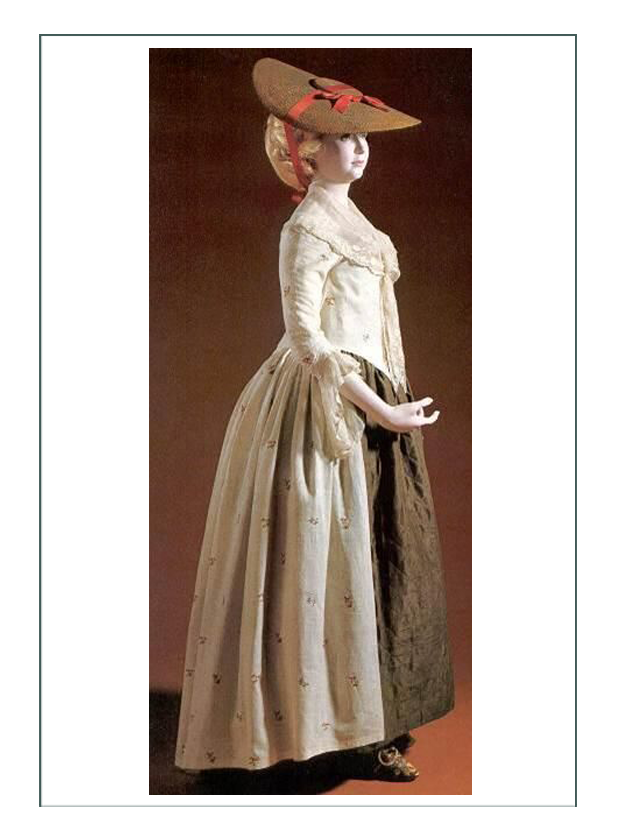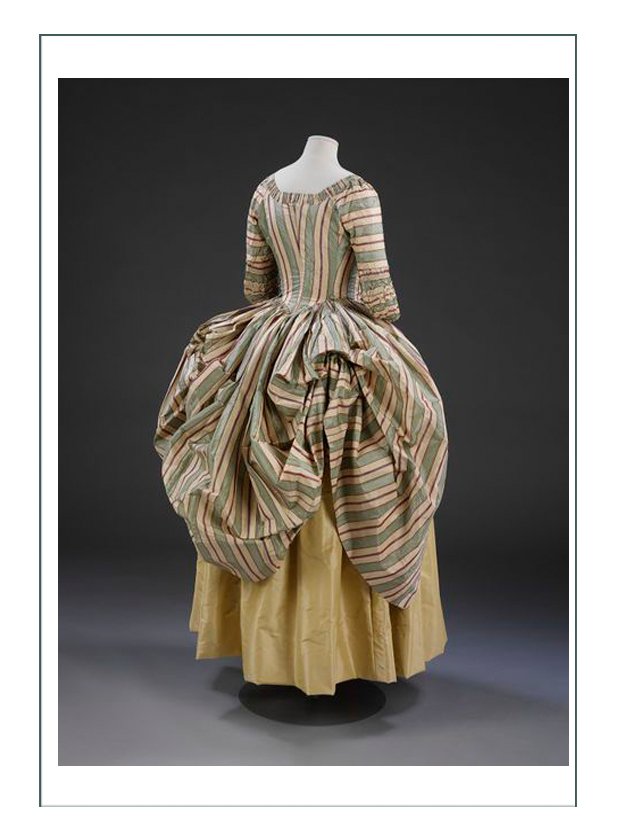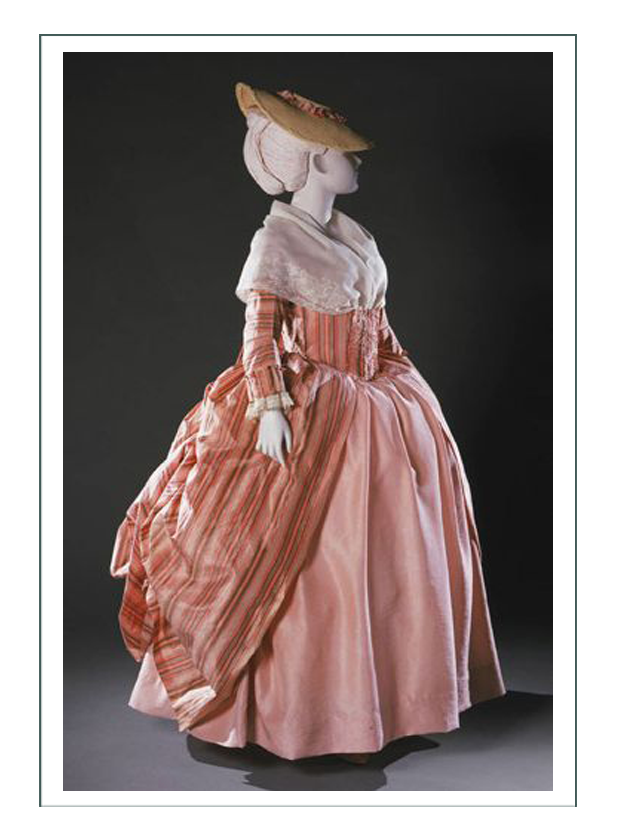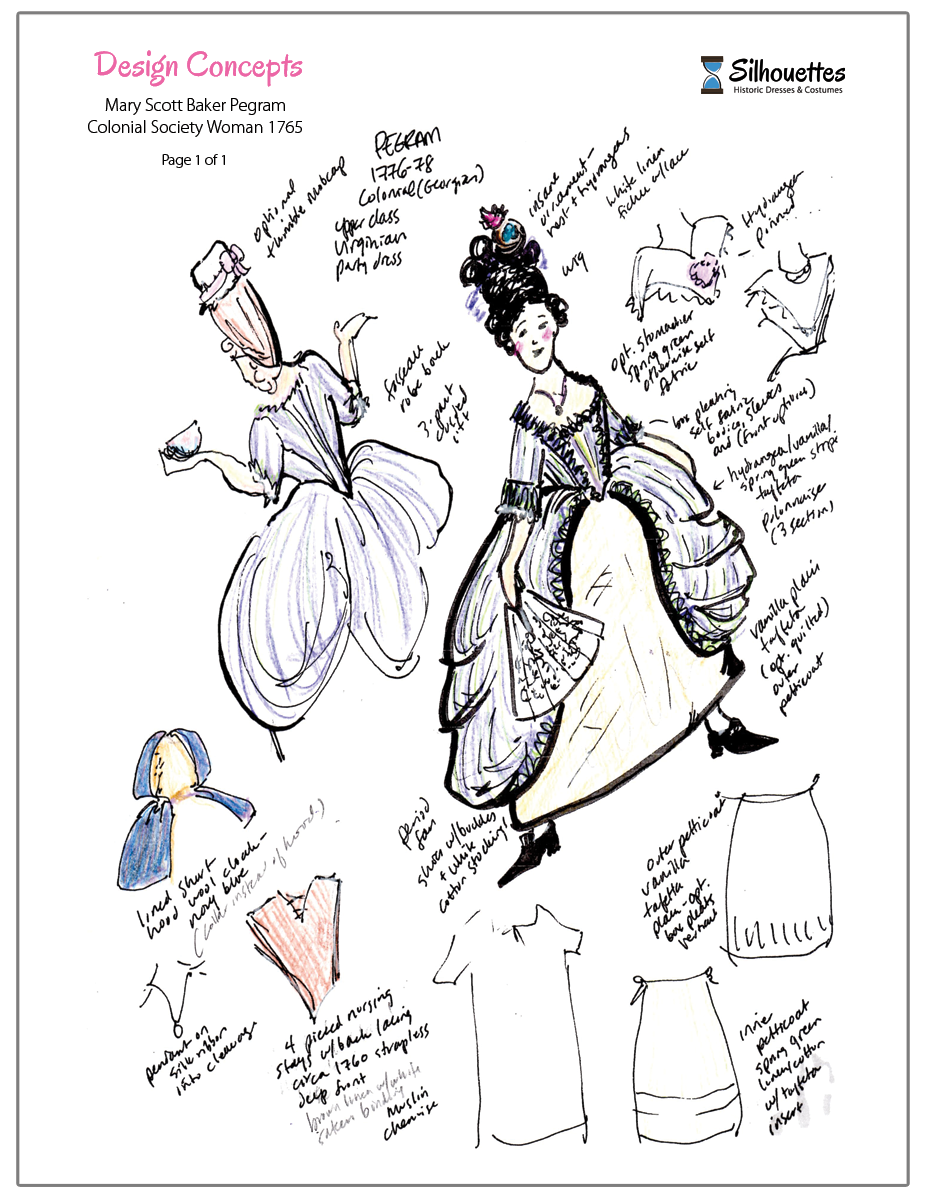 Click to go to Carol's main page with the FINISHED PROJECT (next)
Click to go to Carol's Historical Research of Time & Place page
Click to go to Carol's Historical Fashion Research page