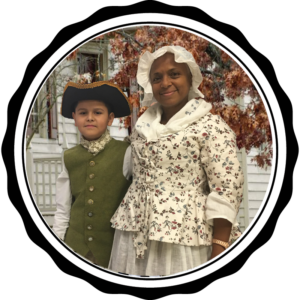 Dr. Anderson & Powder Springs Student

This project was designed and built alongside a very special and deeply researched and written project for Powder Springs Elementary School.  In that, we developed student and teacher workbooks that explained the Colonial Fashion and History in brief, and ended with "hands on" projects for the kids to do to dress like a Colonial.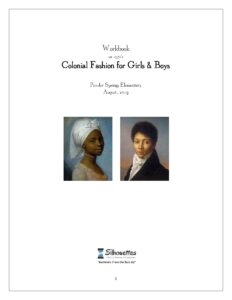 The teacher is the teacher in this depiction.  She wanted to be herself but in 1776 so she could use her character to interpret from a first hand narrative what it was like to be living in the south before and during the Revolutionary War.  Dr. Anderson will enact events from her character's perspective.
Her character is located in Southern Virginia on a plantation; teaching on a plantation.  That might have been for the families plus slaves, or it might have been just for the slaves.  Most likely it was for children from all near plantations, and she would have lived on site.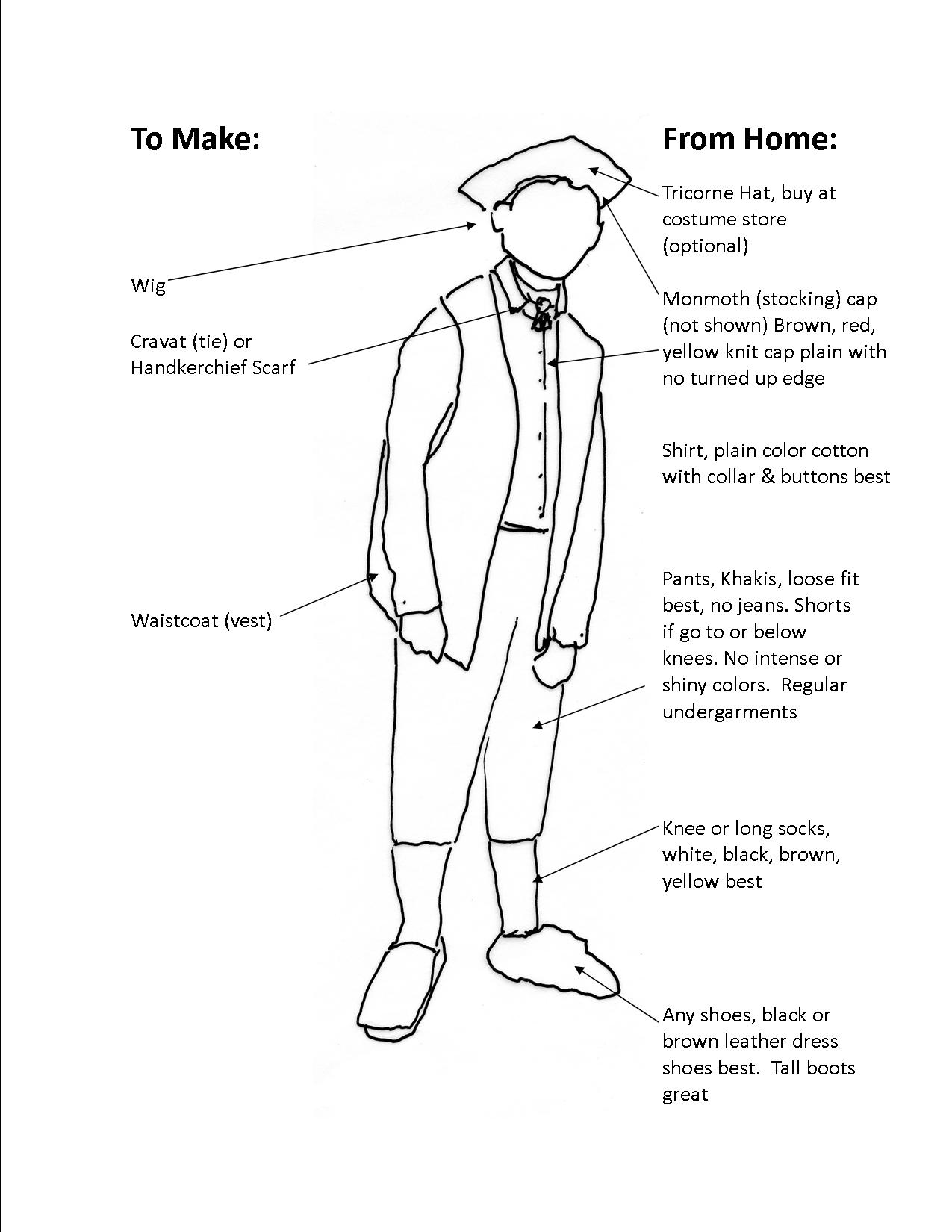 What Happened
As we write this after the fact, the project having an intense deadline for 17 waistcoats, 3 petticoats, 2 cravats, 7 hand sewn mobcaps, plus the book and this FULL ensemble, we note what ended up happening.
The kids put on dramatic re-enactments in their home built costume ensembles (specifically BOY or GIRL period correct) with scenarios set up by their teachers.  They sang, they told stories, and they set the stage.  It was a great success.  We note from the photos on the Powder Springs page, that several of the boys in particular really embraced the project and were spot on their costumes – included PERFECT fit of waistcoats that had been made generically fit!
Dr. Anderson's was not generic.  This was a very accurately made historic depiction – complete with 108 hours to construct the reeded stays using leather and woodworking tools and techniques.  Everything was built using no patterns, but only instructions and draping on a dummy since Powder Springs is very far away from Wyoming.
It was a perfect fit!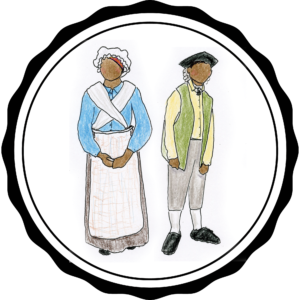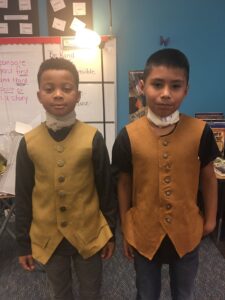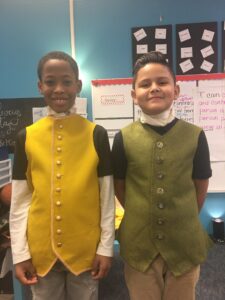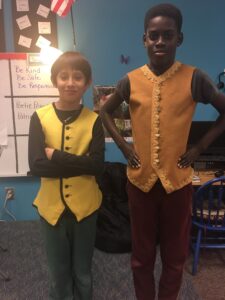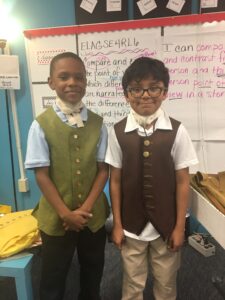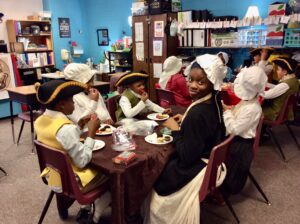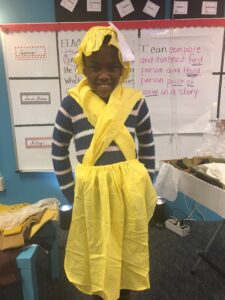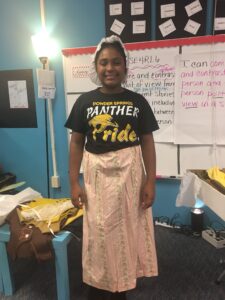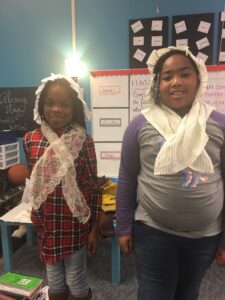 Click here to go to Yvonne's Colonial History & Fashion Page (next)
Click here to go to Yvonne's Design Development Page
Continue below to see the Finished Project

(Final Design For the Teacher)
See Design Development page for other sketches and color schemes that were considered.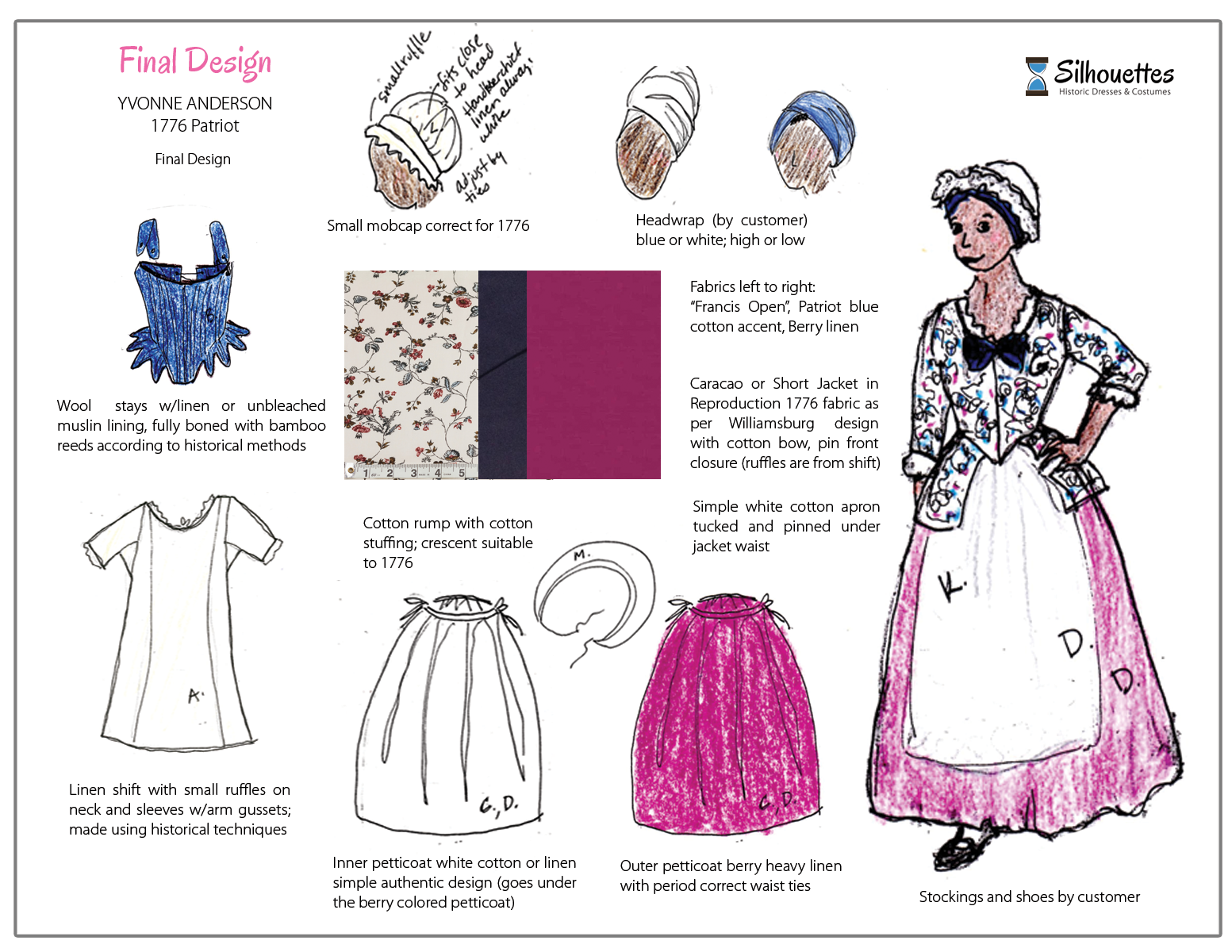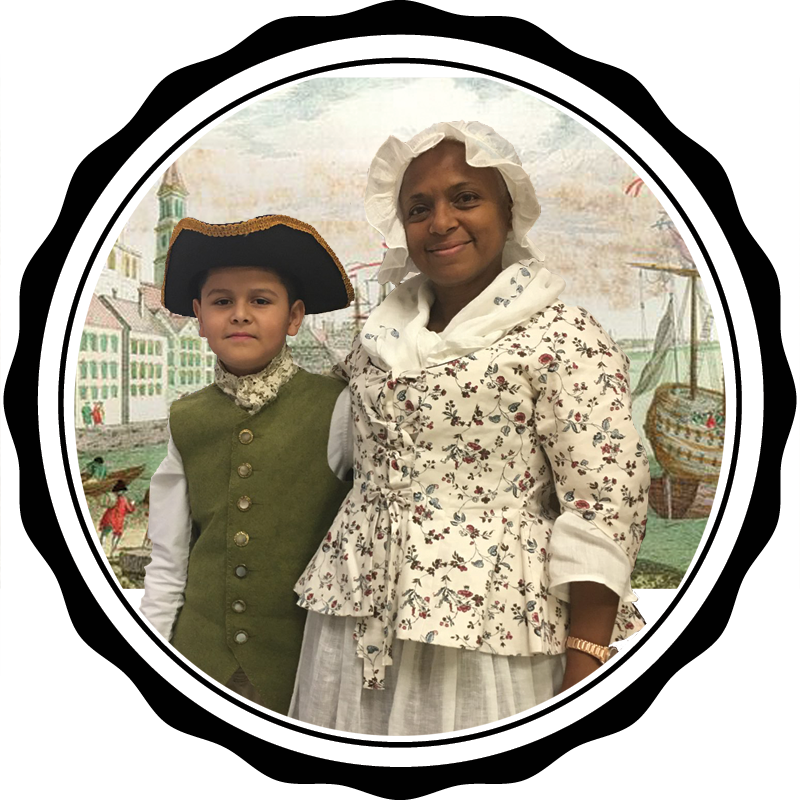 Full Ensemble
Frances Floral Chintz with midnight blue cotton piping.  Ruffles are the shift showing through.  Tie front for easy on/off (or can pin and then tie for decoration).  There are many ways to tie it.  We added a gore to the wide peplum to accommodate the rump.  It is very fitted and accurate to the mid-1770's style in location of back gores, length, fit of body over the stays, sleeve type and length, and overall look.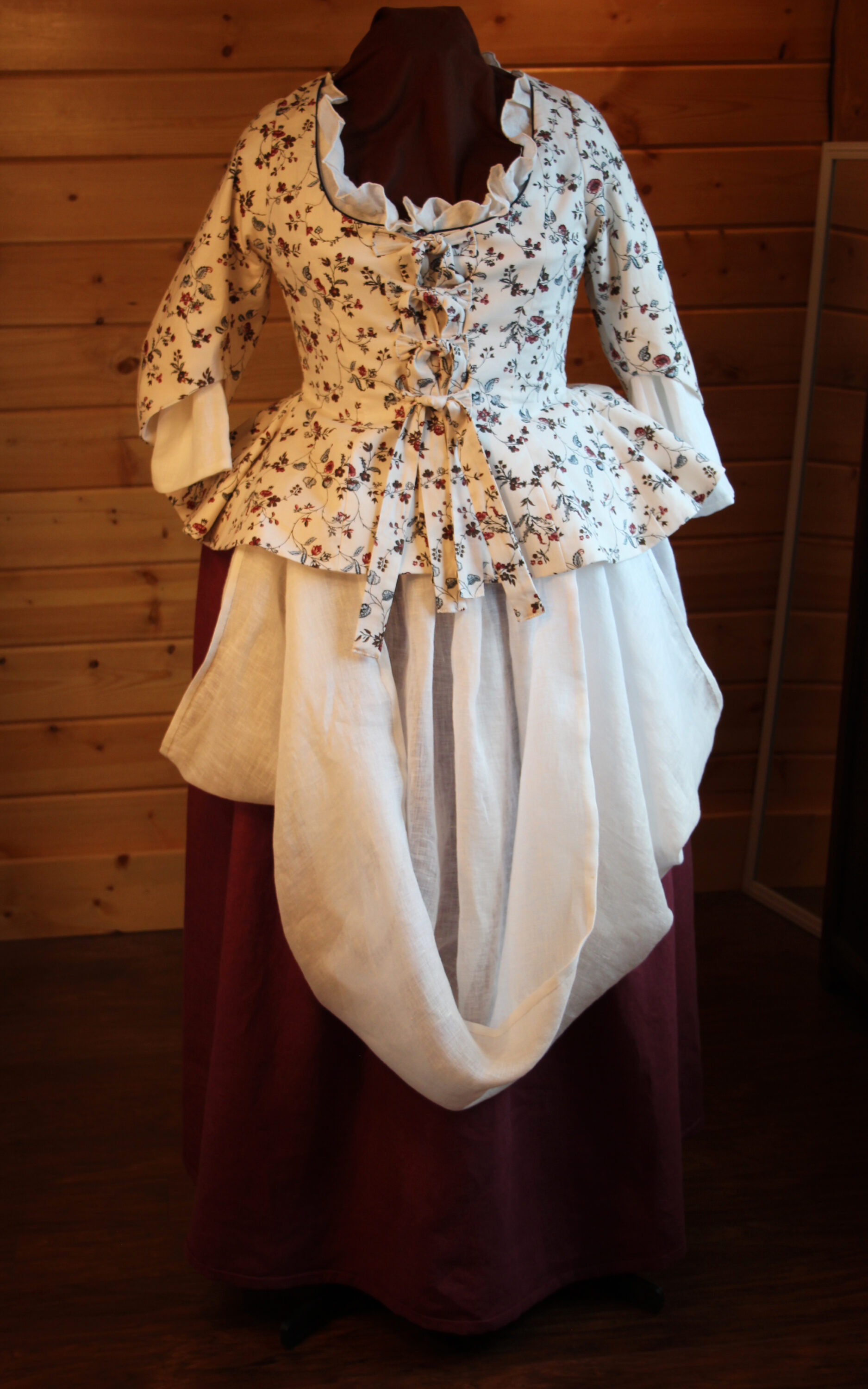 The other petticoat is cotton, but it can be switched with the inner (linen) petticoat to wear either one inside or outside.  Waist tapes make that possible because the waist is therefore adjustable.  We use the historic method of front-back-front ties (rather than the small and large loop method which gets confusing in a pinch, or the side tie method which makes the center front and back sag).  Note how nice and straight the center front and backs lay because of the tie method.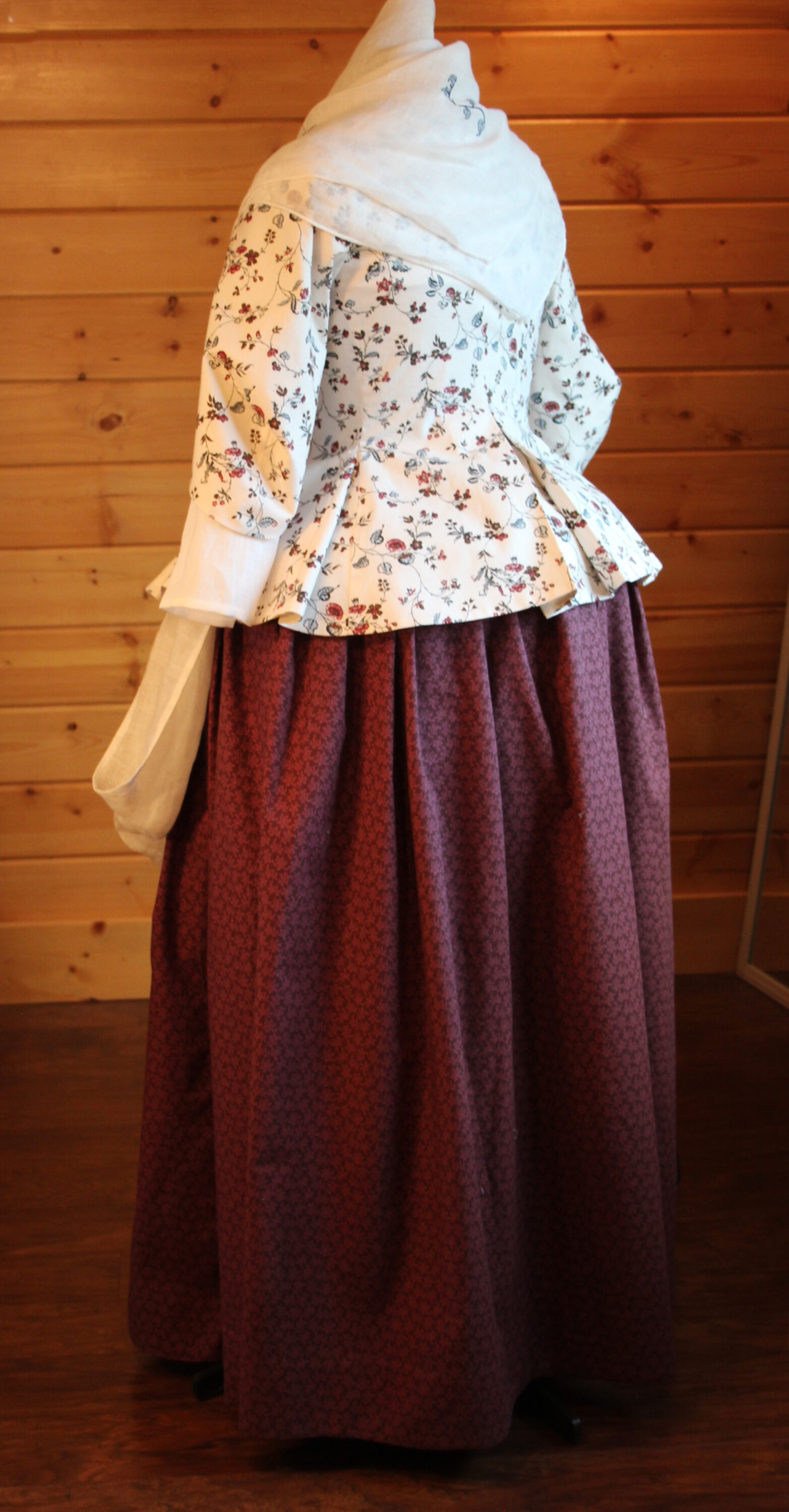 Linen Shift
Hand sewn except long seams on gores.  Need we say more?  70 hours of historic technique gathering, and a teeny tiny rolled edge hem a la 1775.  This is a lightweight, high quality, Irish flax-based linen.  The tie is 100% cotton 1/16″ with a hand sewn casing.  We used silk as it slides well and is strong to take the pull of gathers or tugging at the neckline.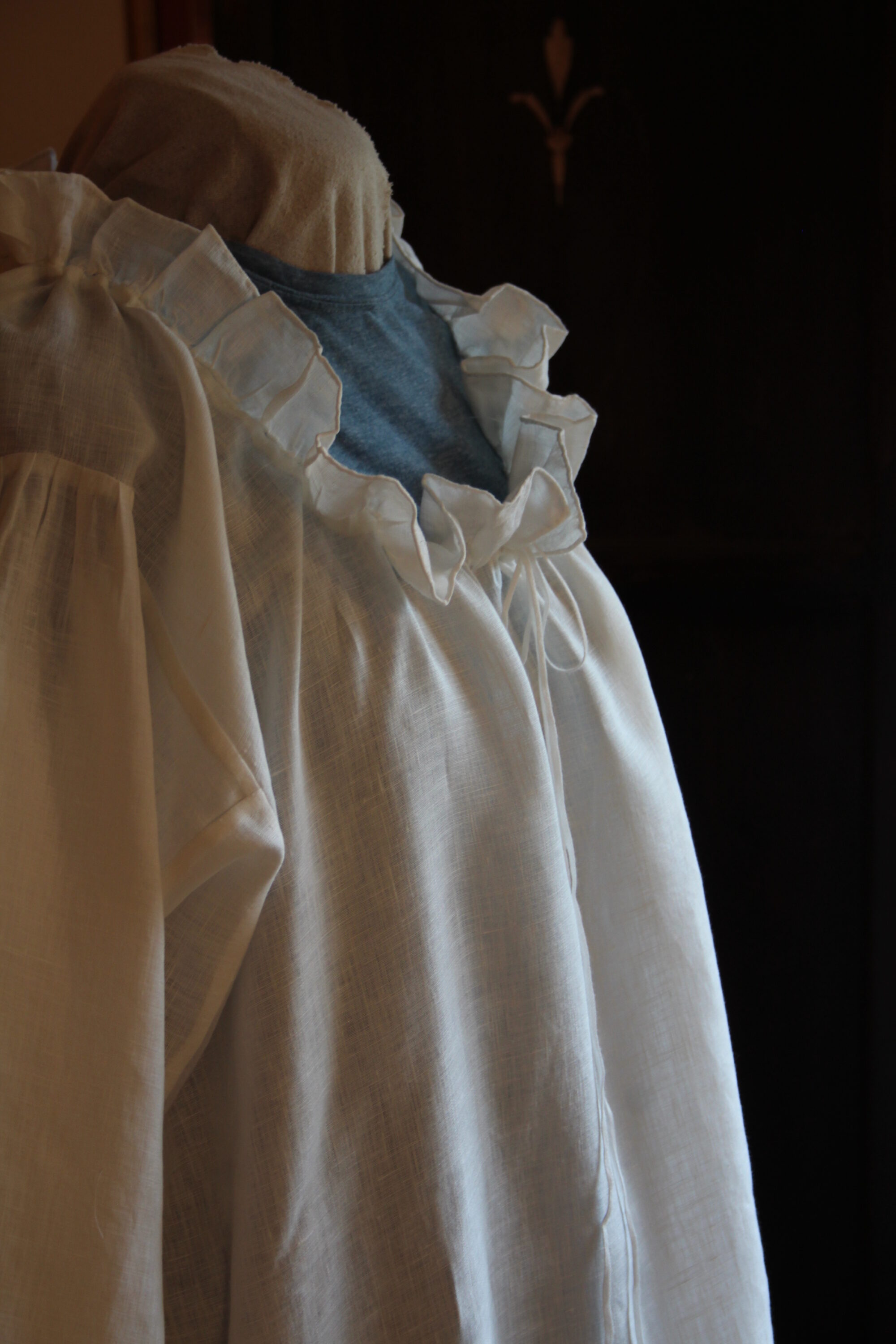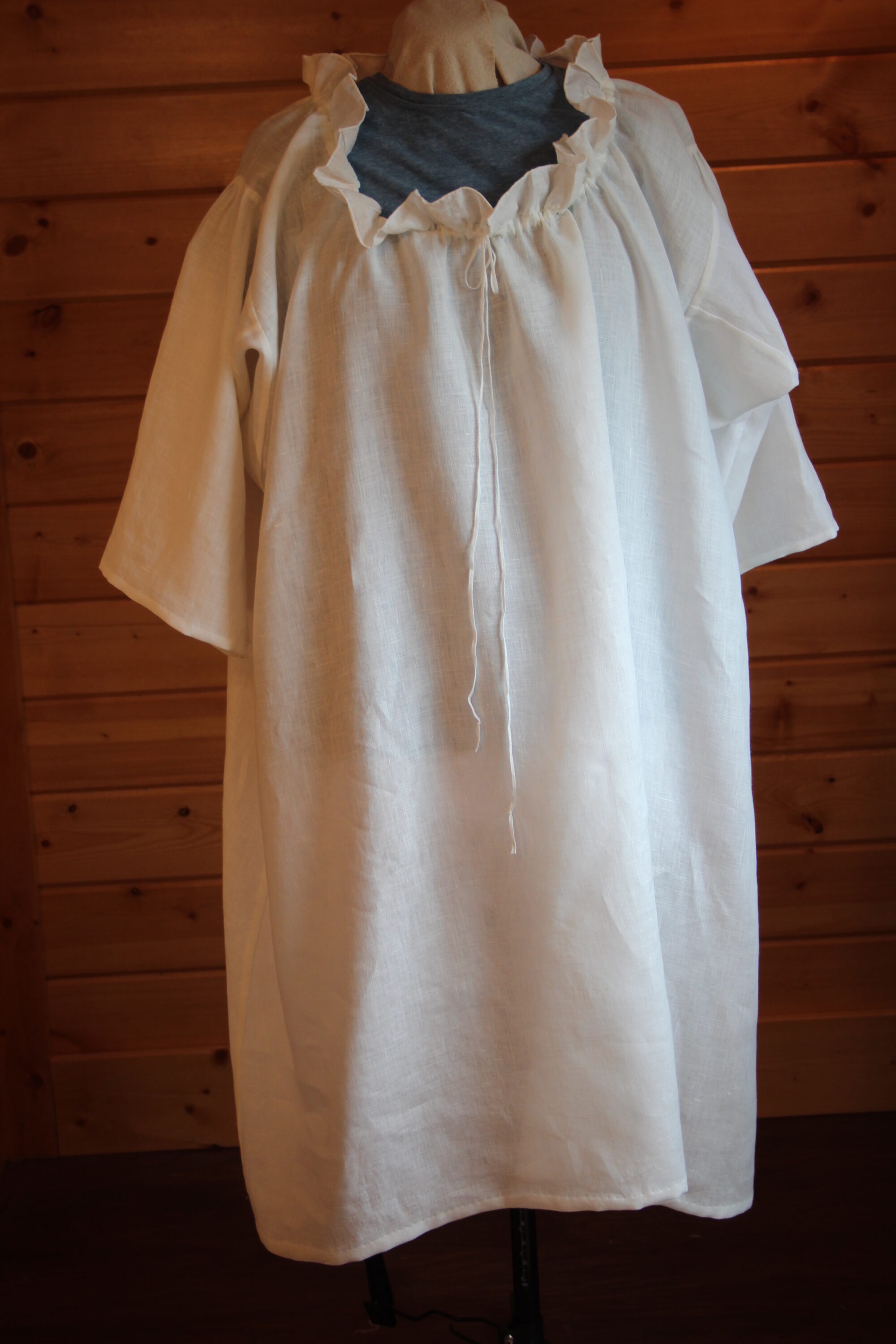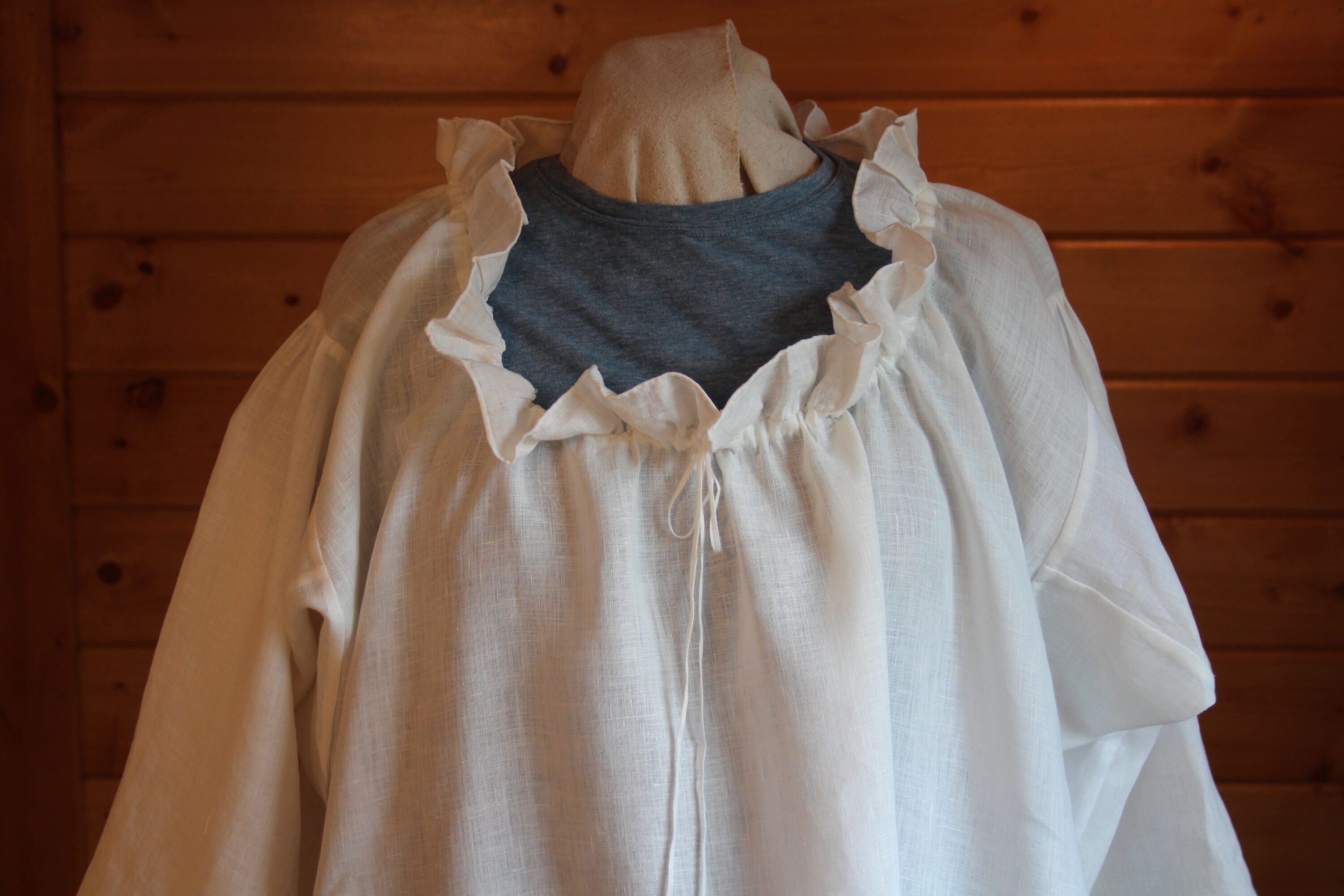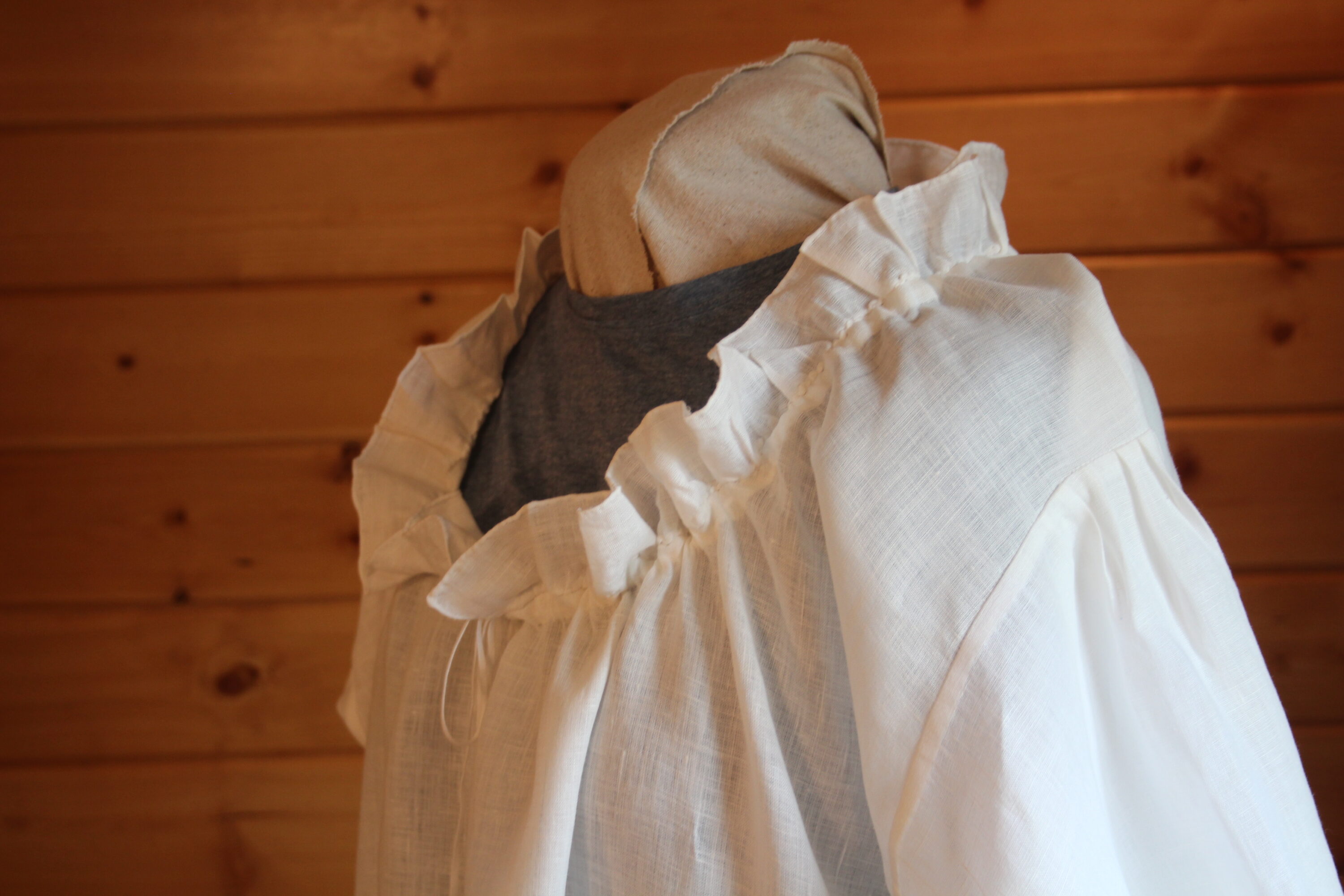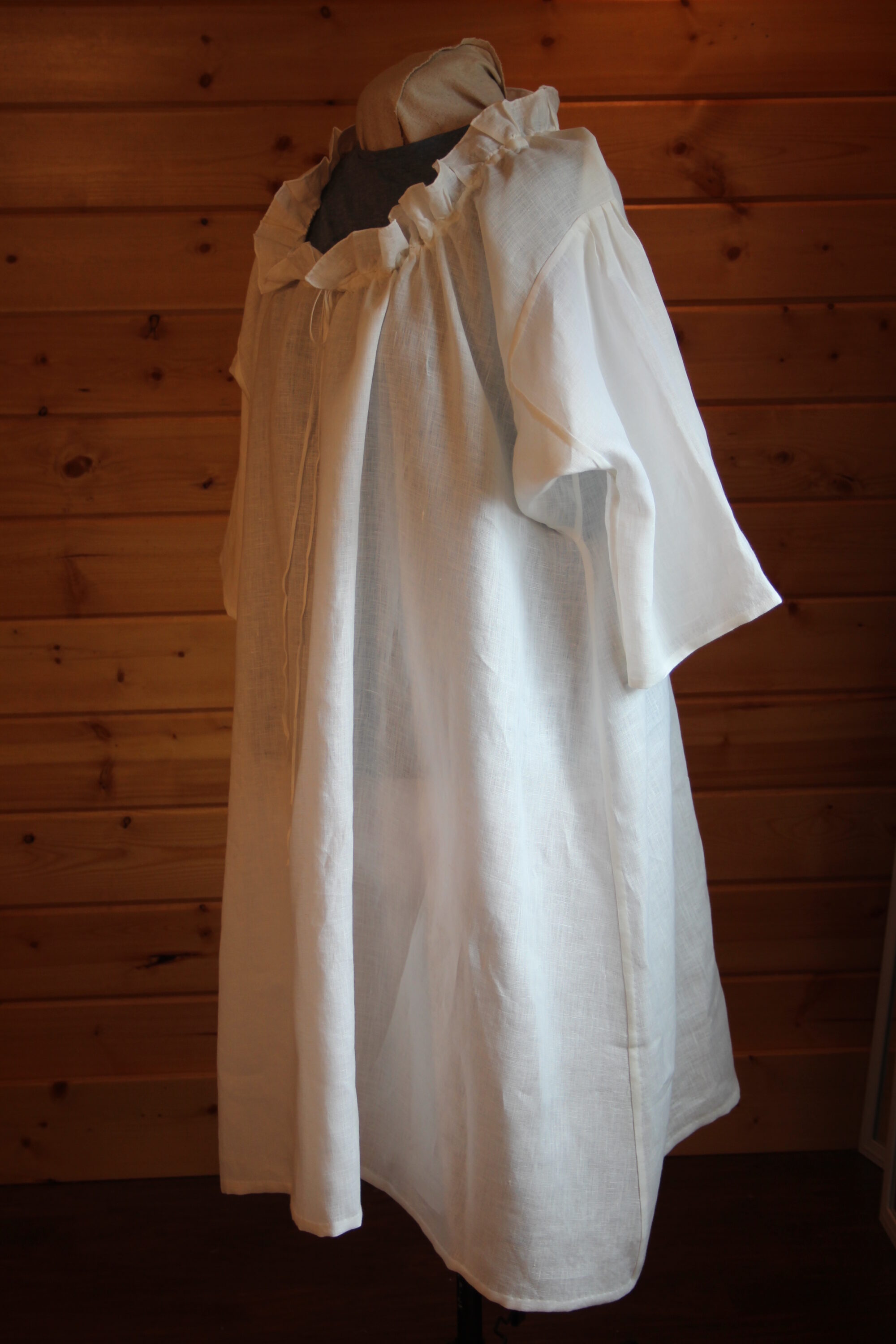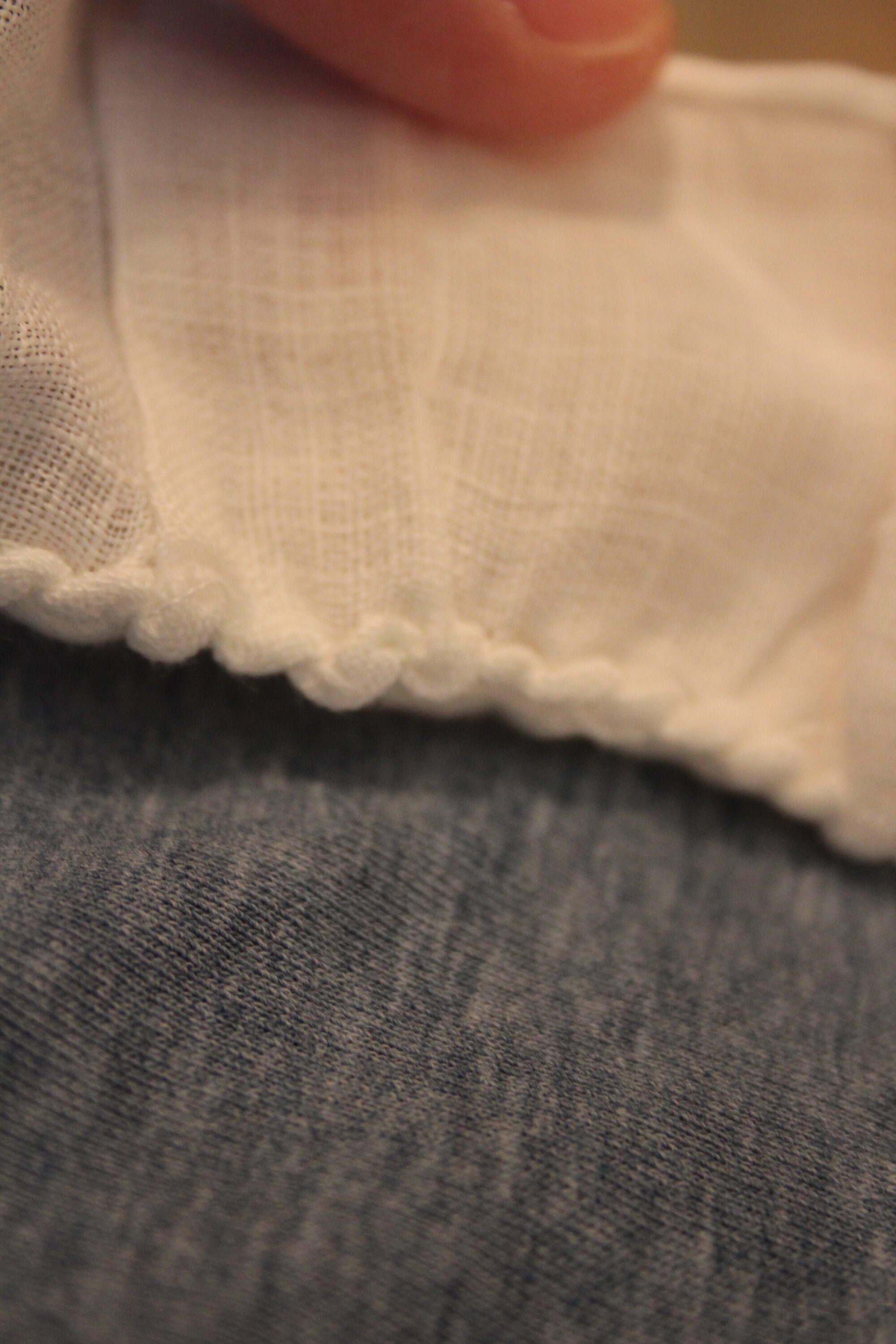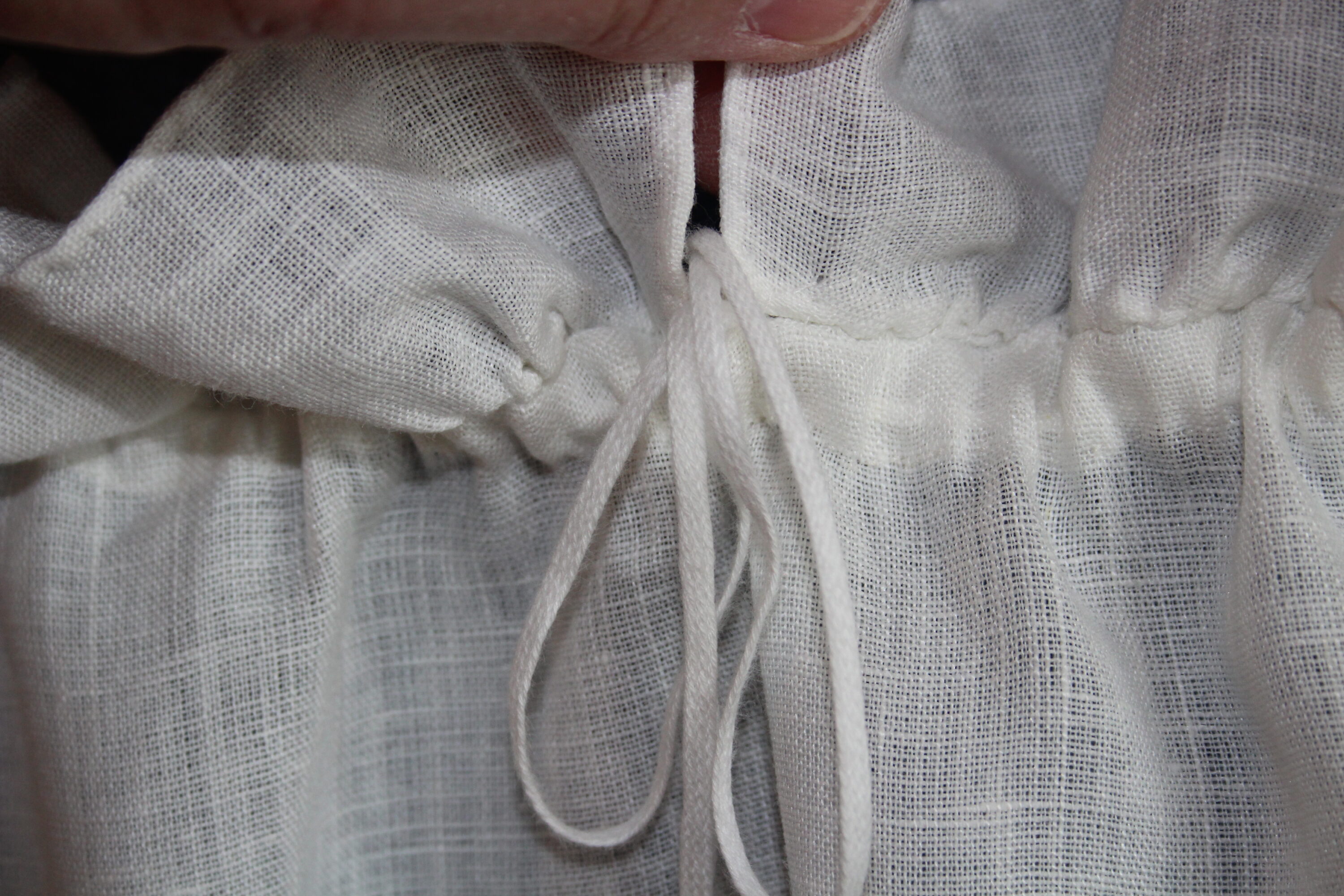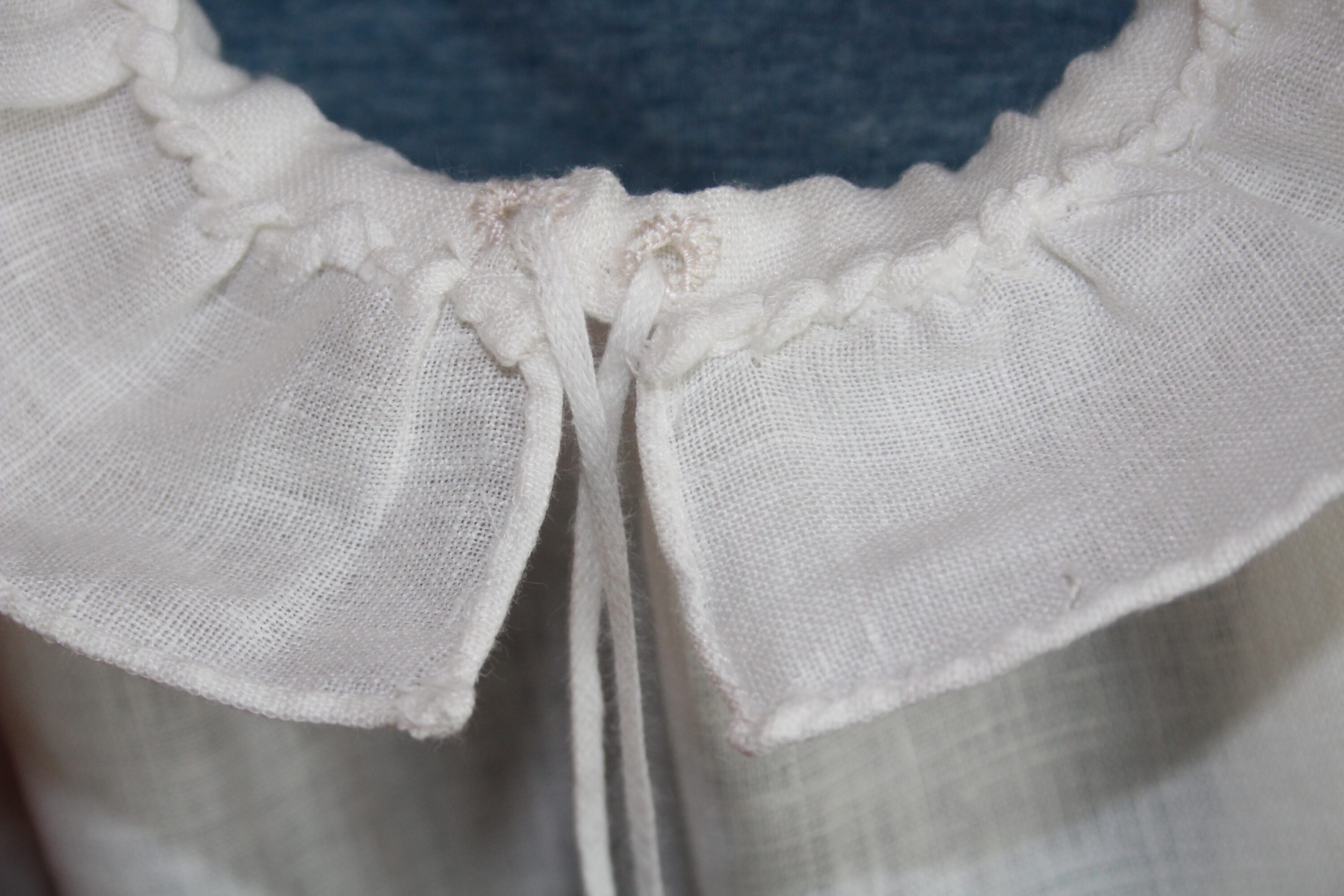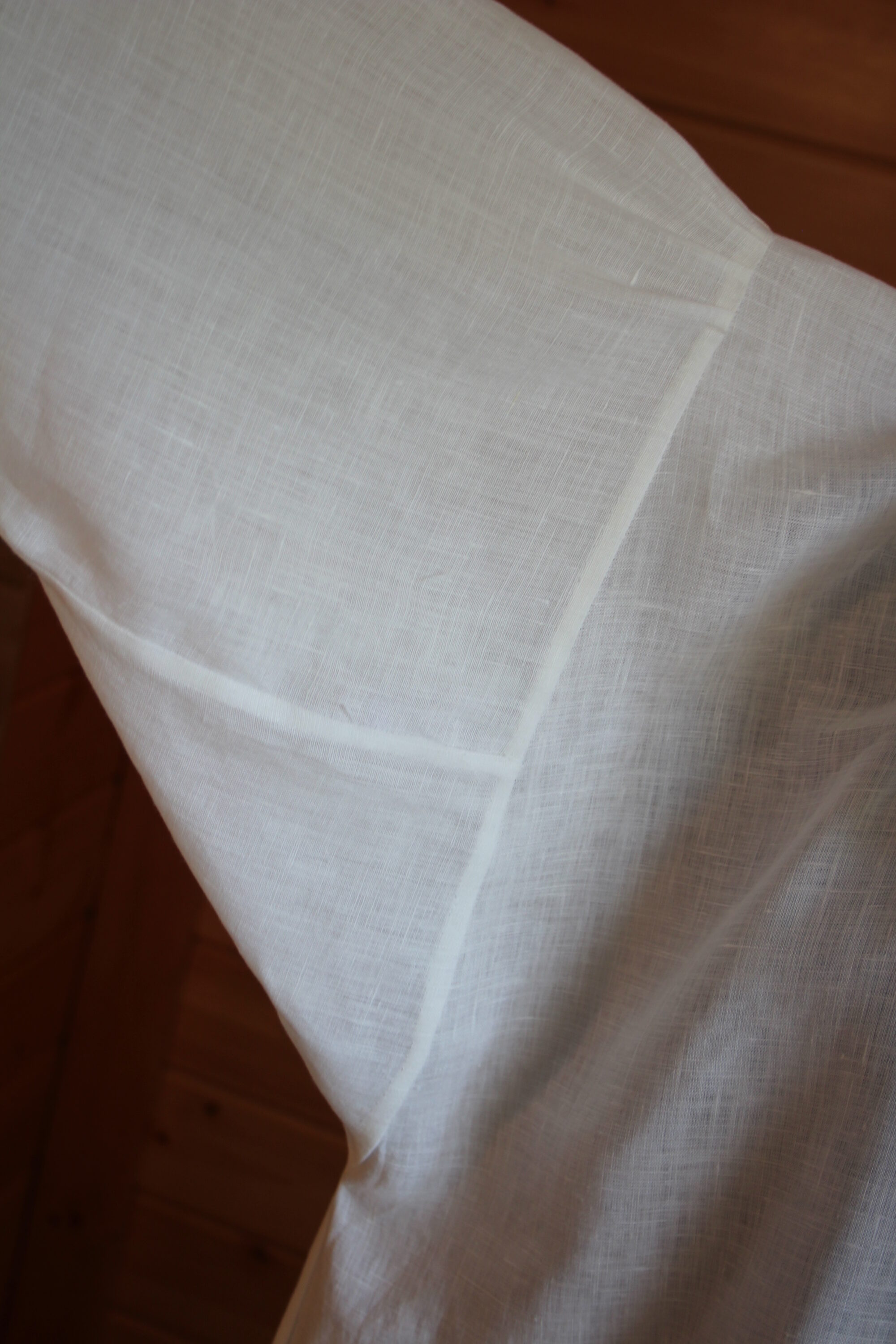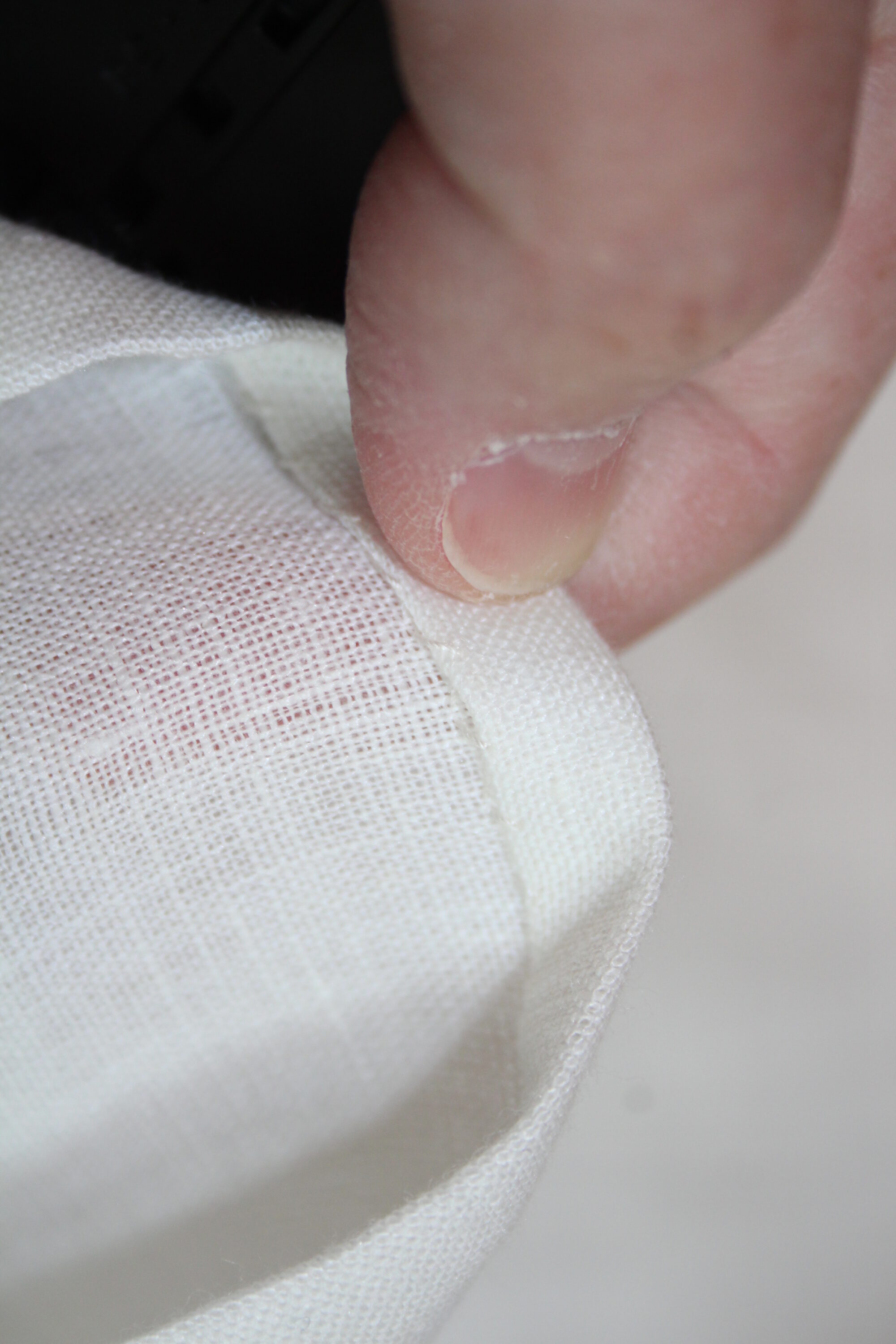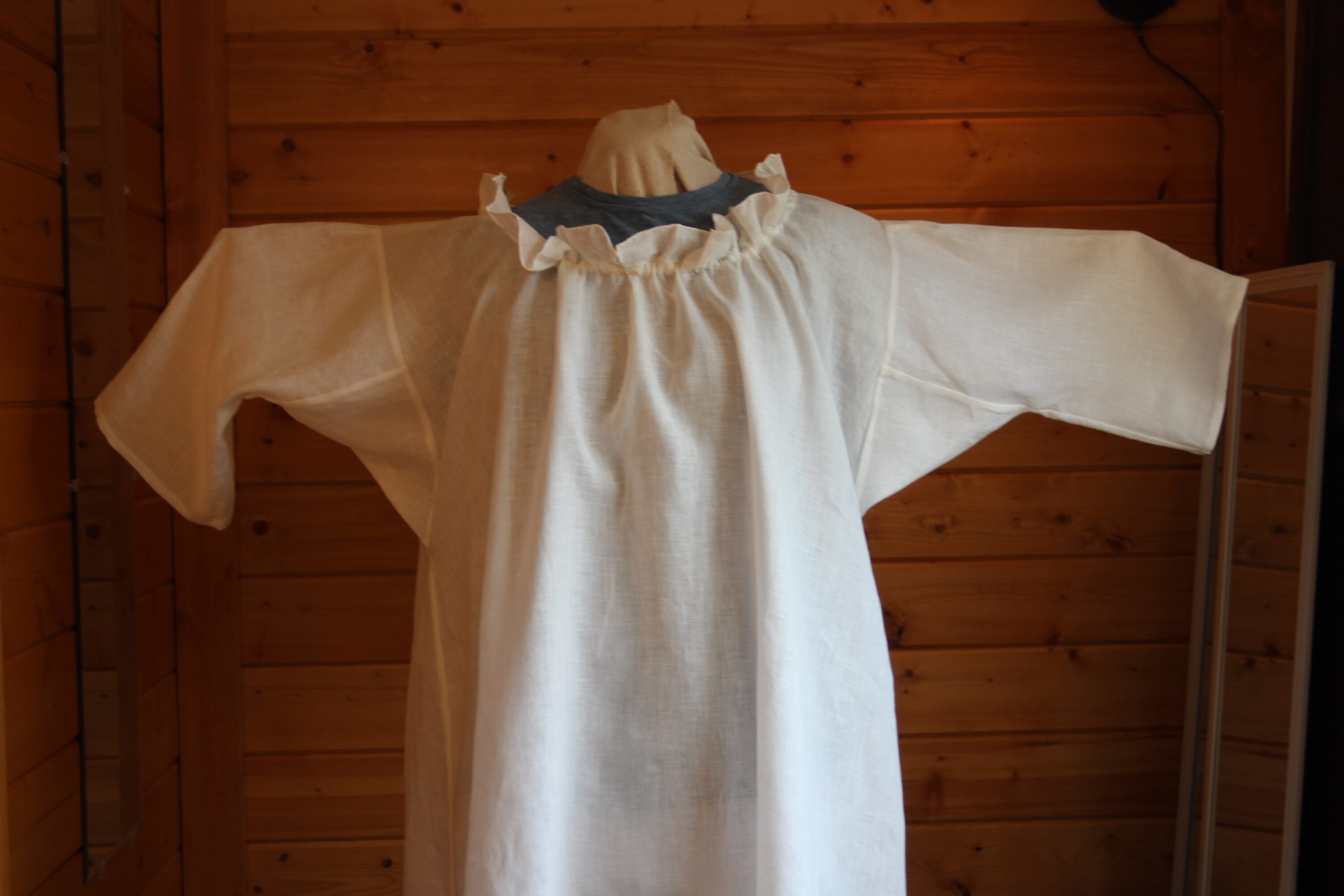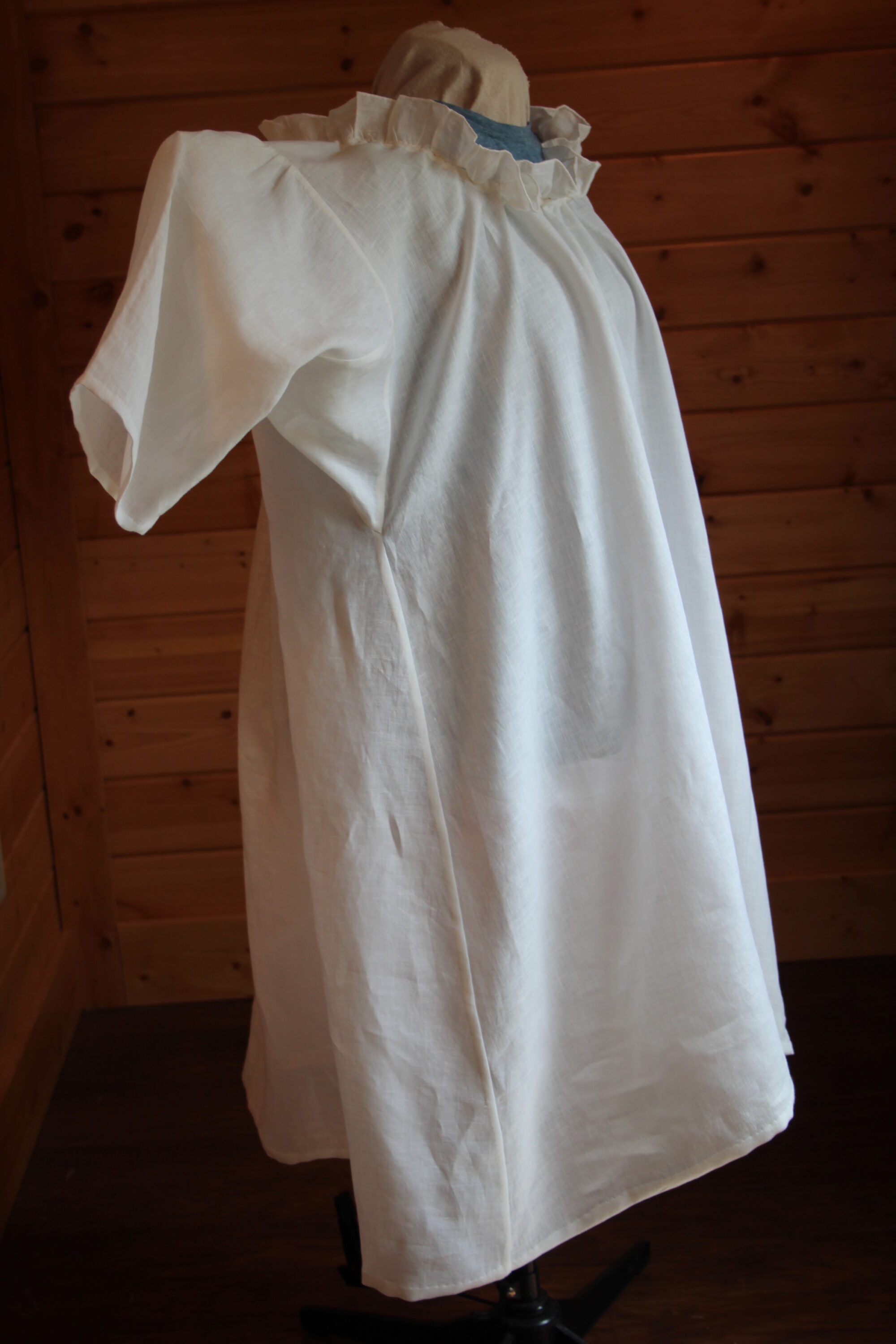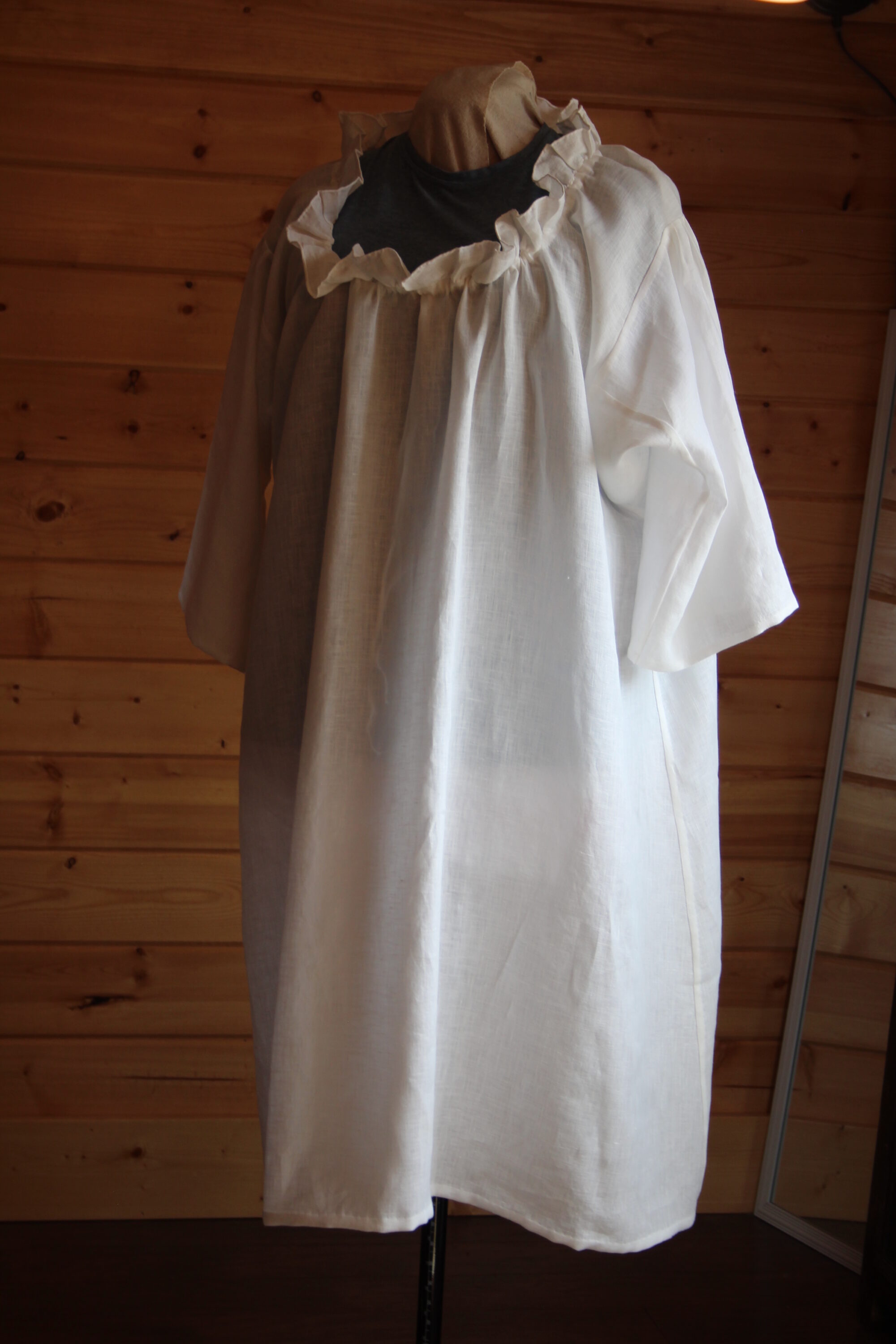 Stays
Taking 108 hours, these are linen and linen lined, with a blue 100% silk taffeta overlaid decorative fabric outer.  They are fully round-reeded, and the binding is real goatskin.  Inside the stomacher is cross-seam triple reinforcement, as well as throughout so it is more difficult to bend and break the reeds which would be VERY difficult to repeair, event though this was built entirely using historically accurate methods (by hand!  Only the channels are by machine).  It is sewn with all silk thread, but linen thread for the inside facings because it is TOUGH.  Buttonhole twist 100% silk eyelets took much time too.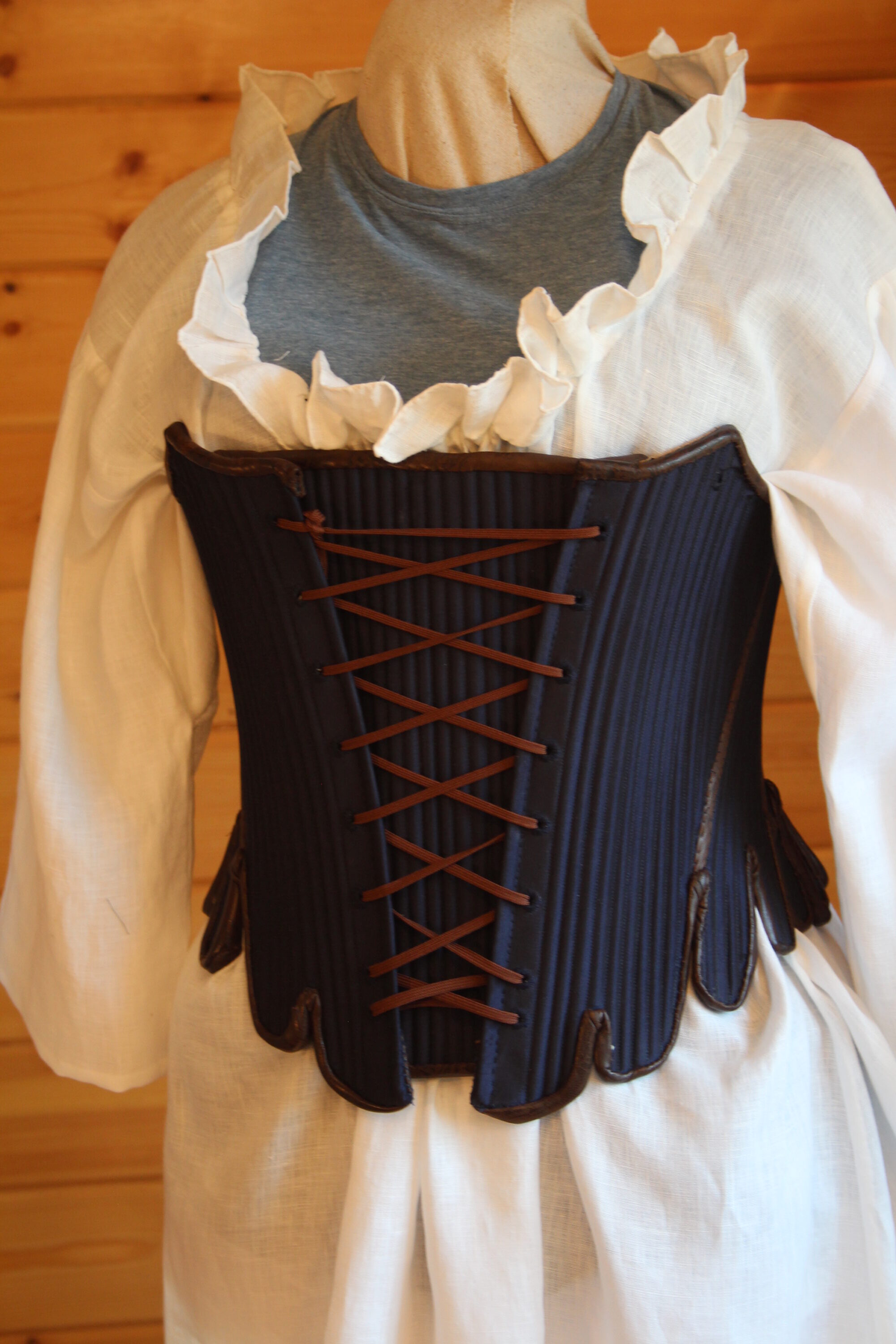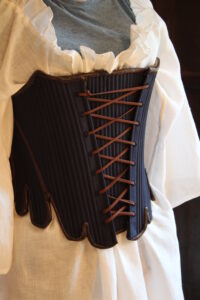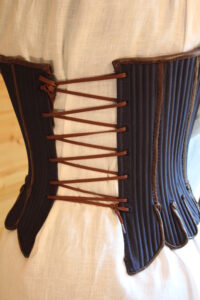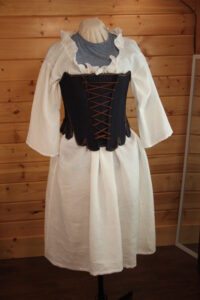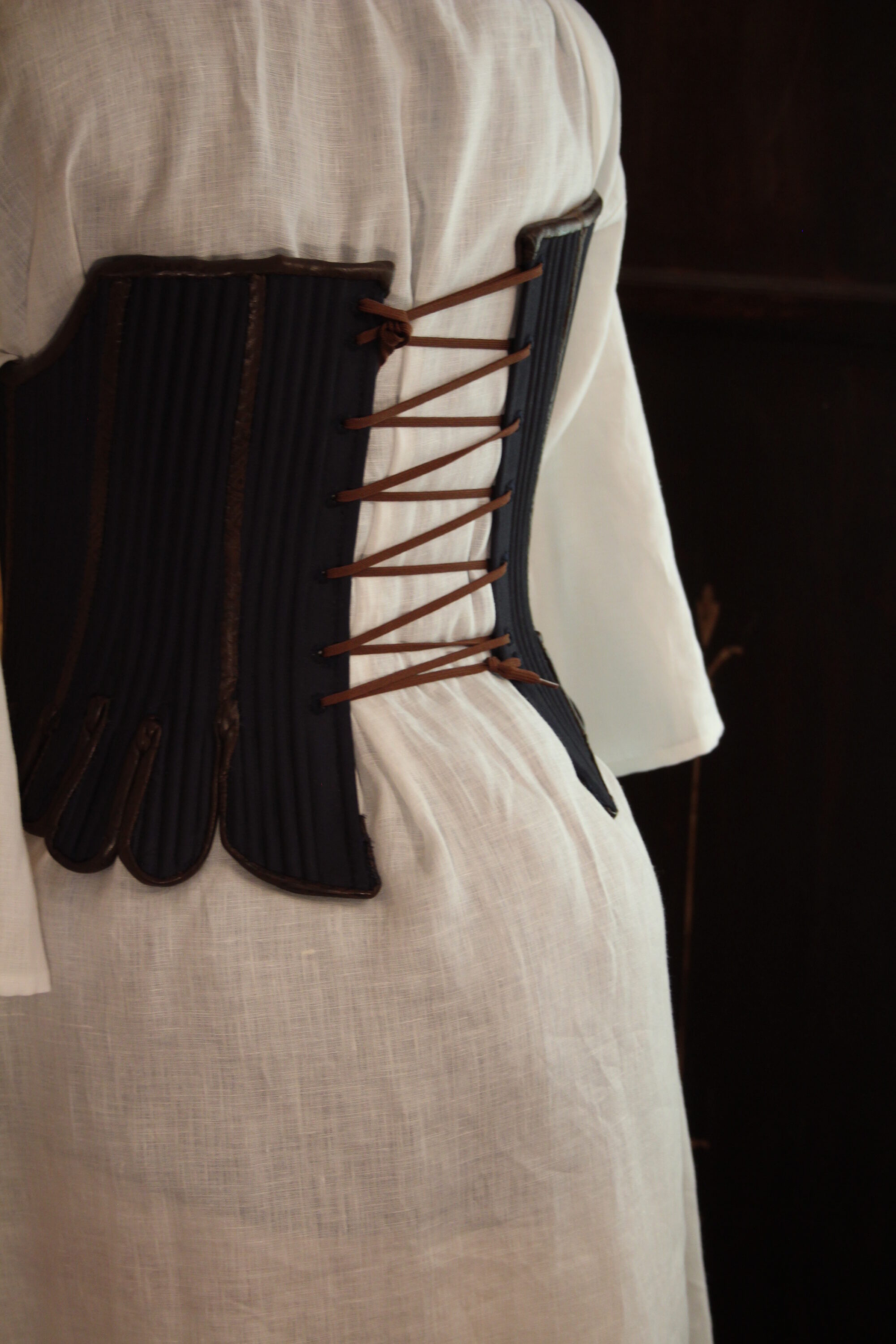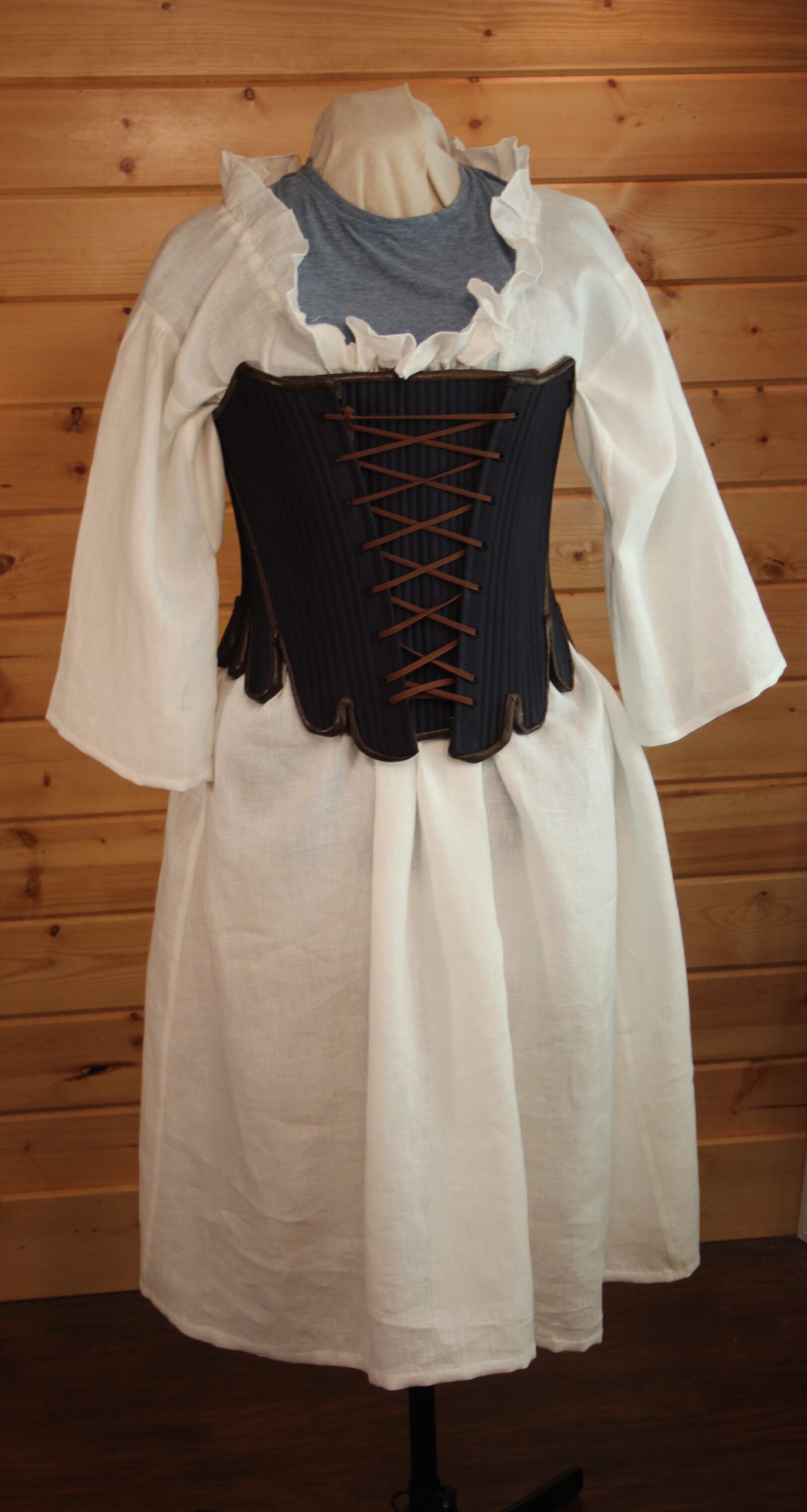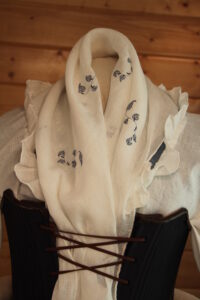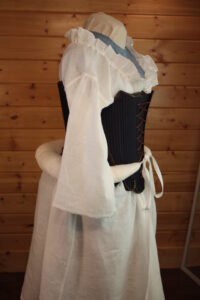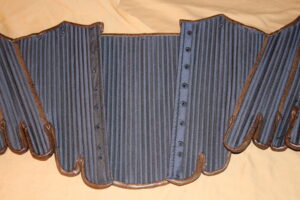 Construction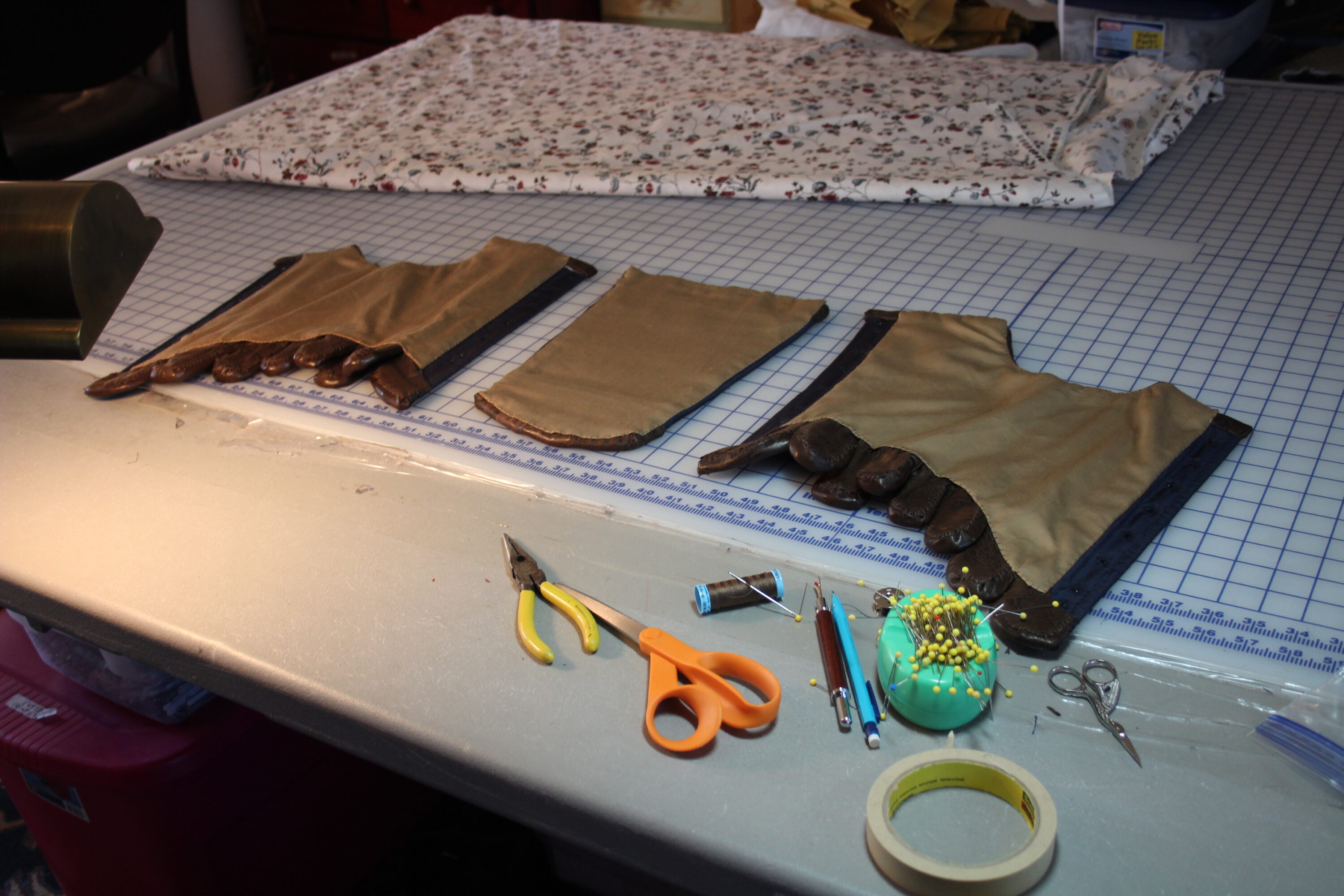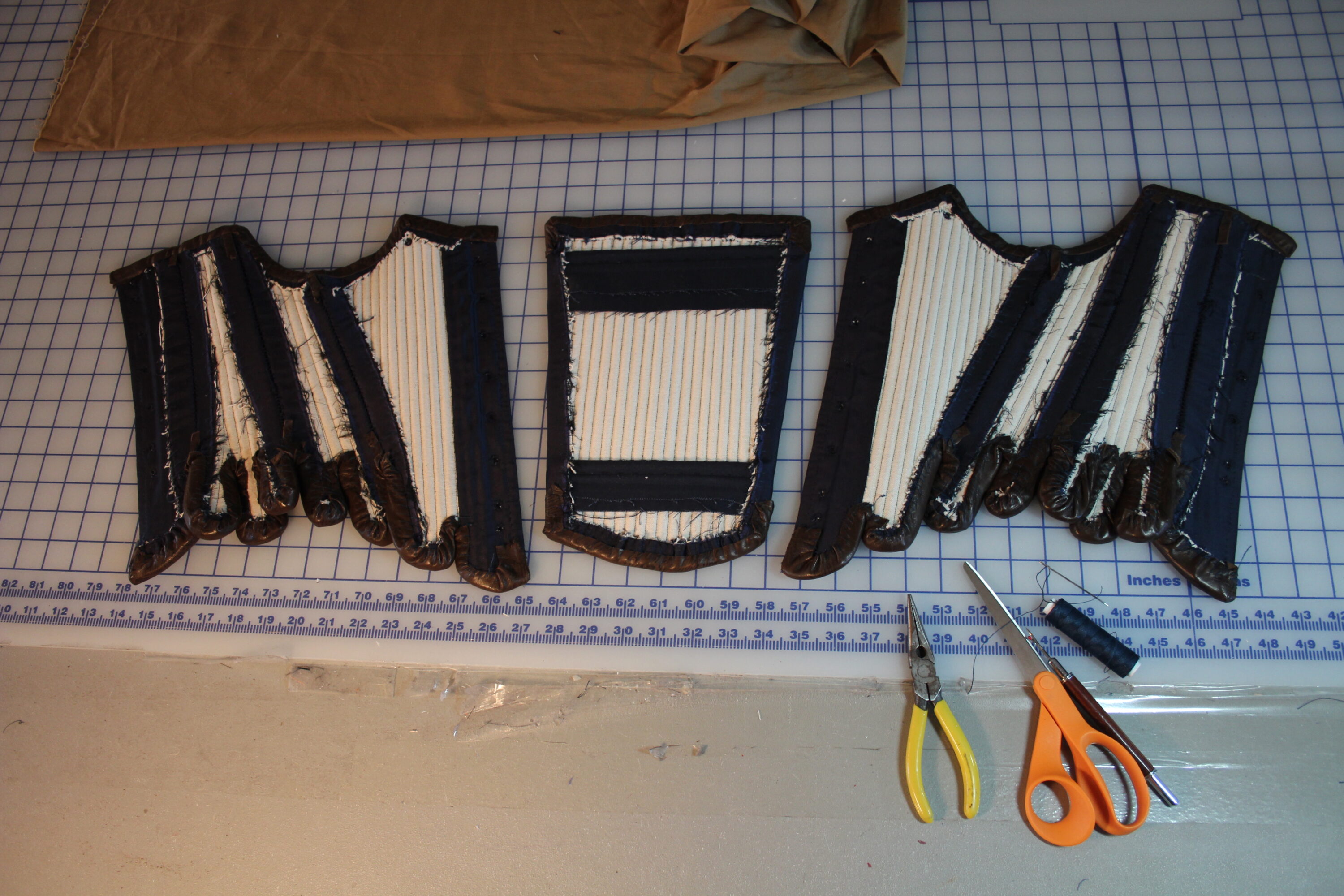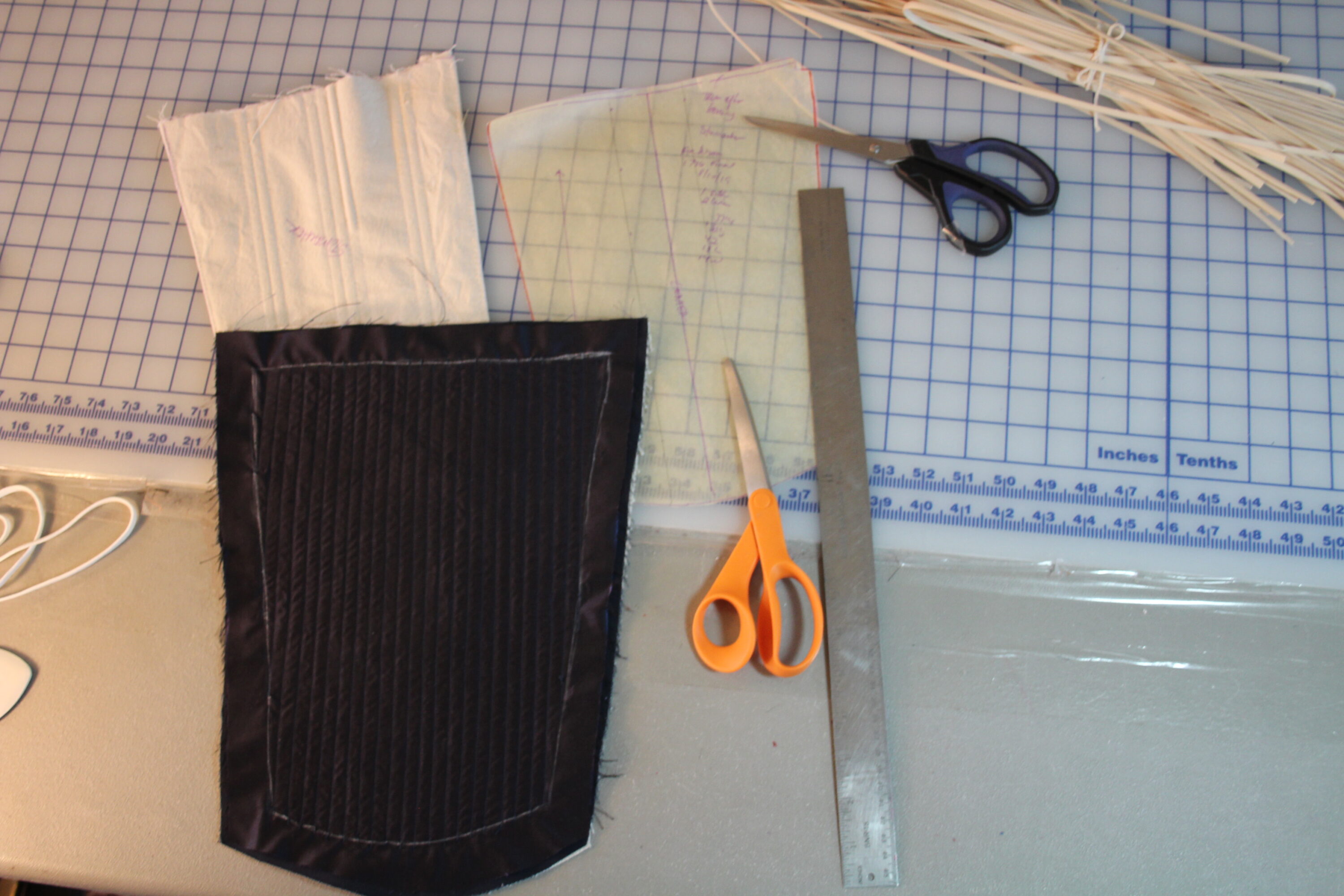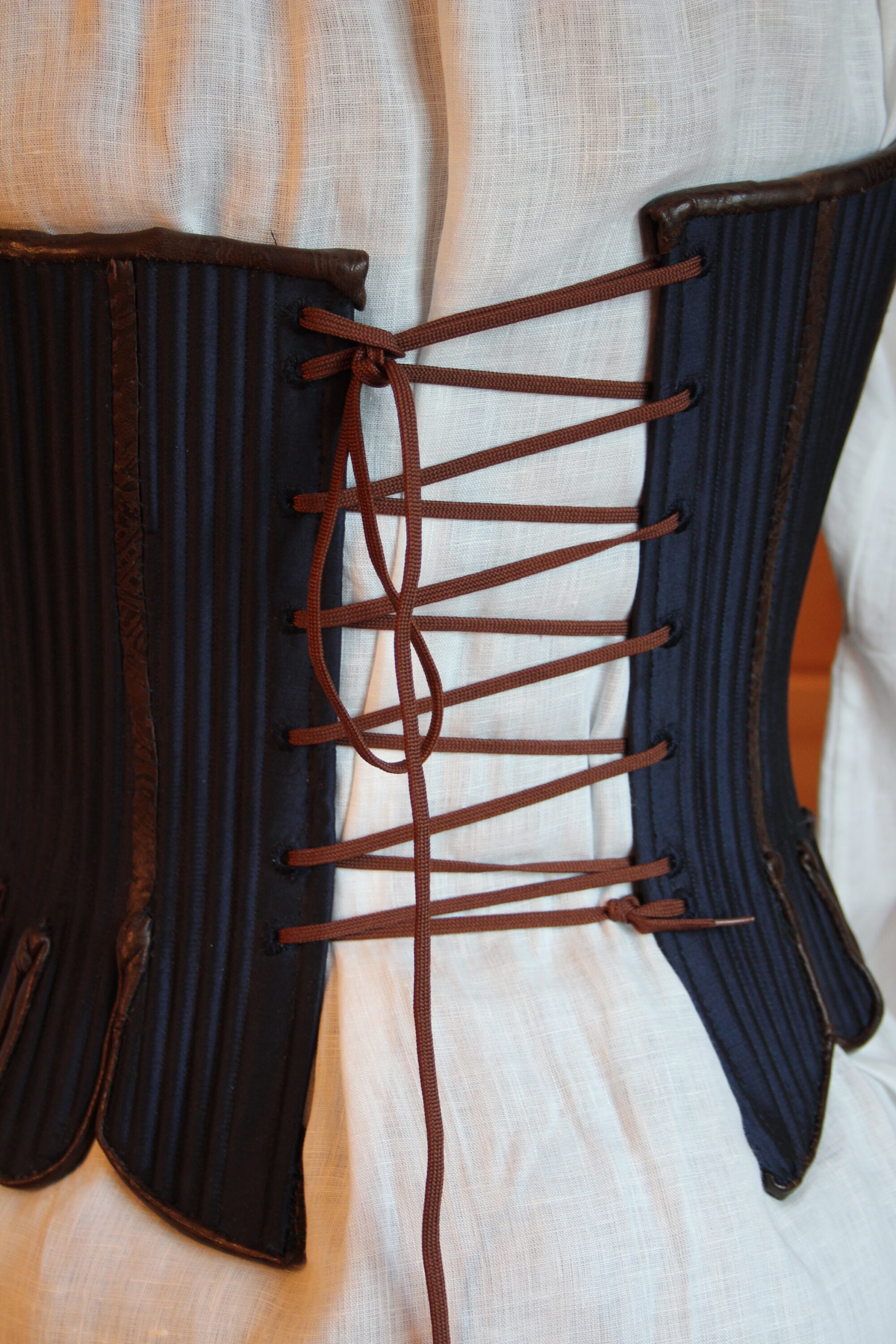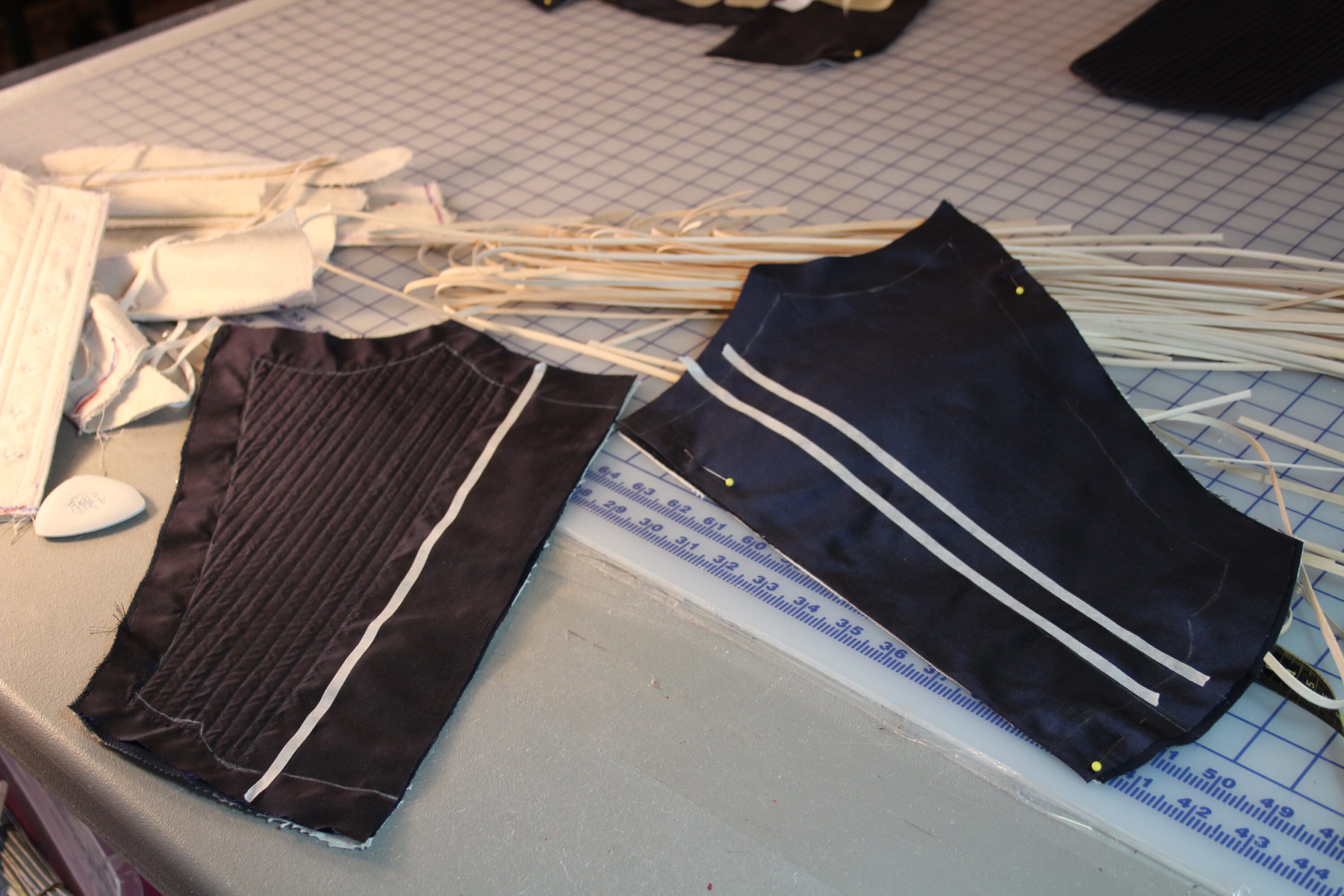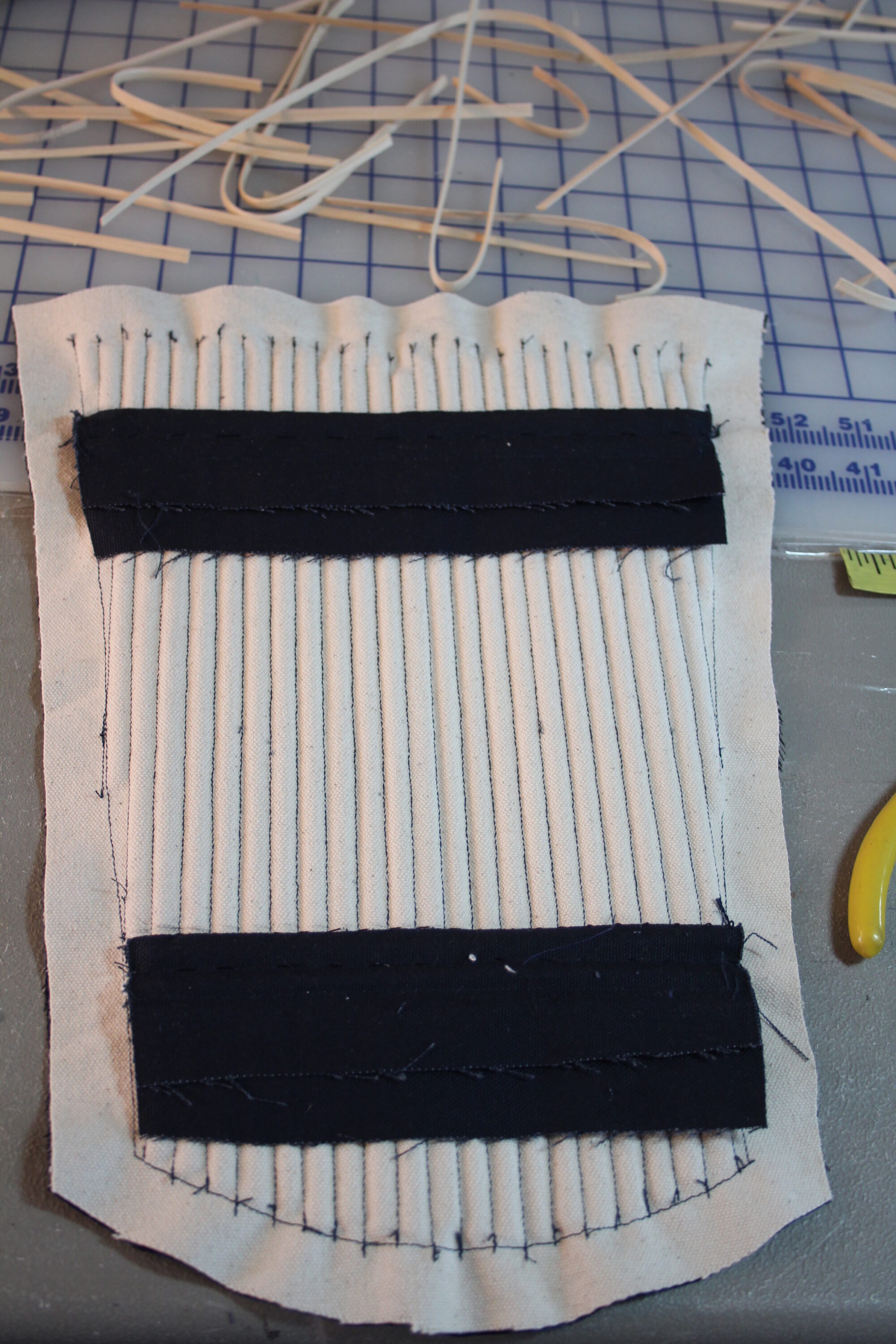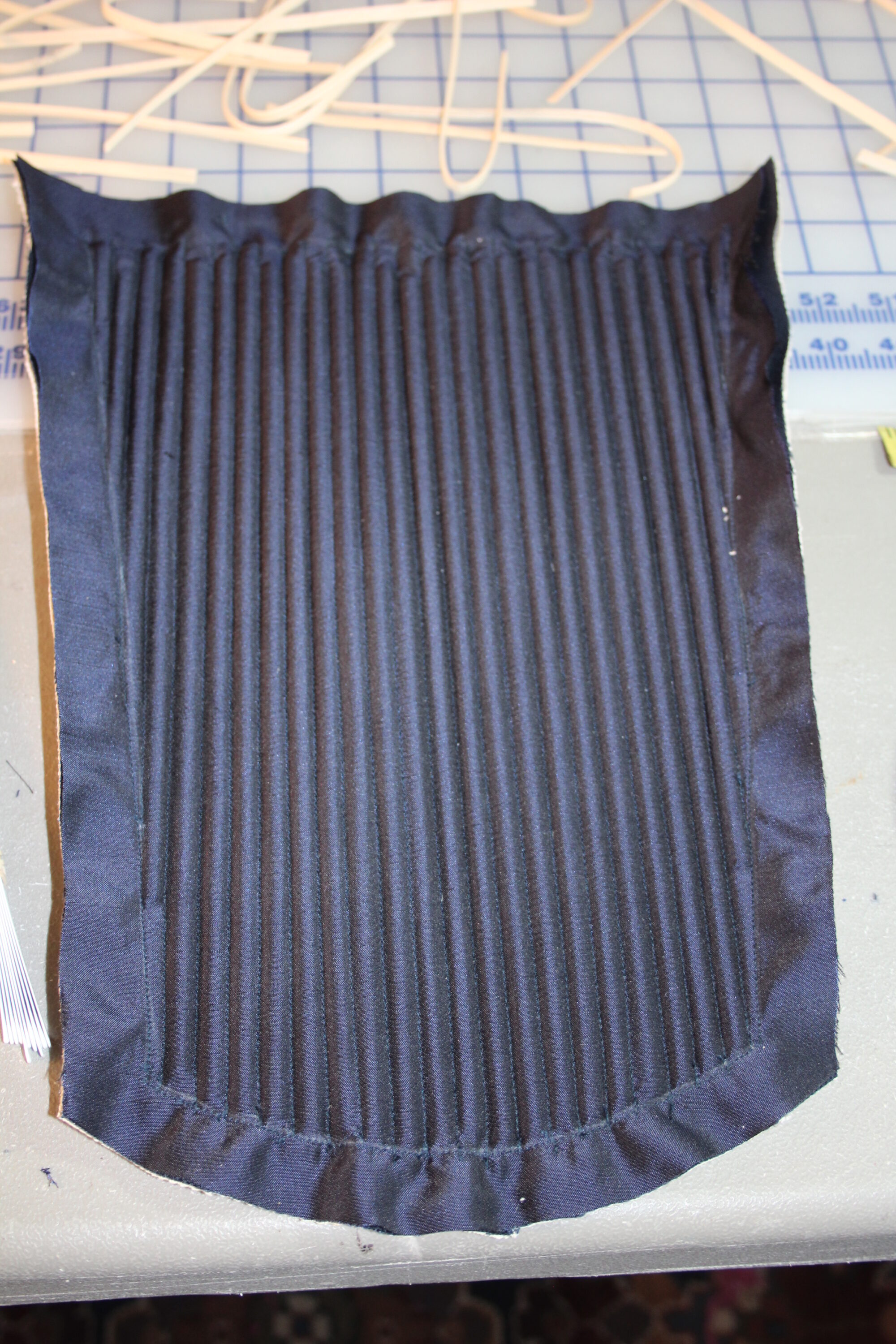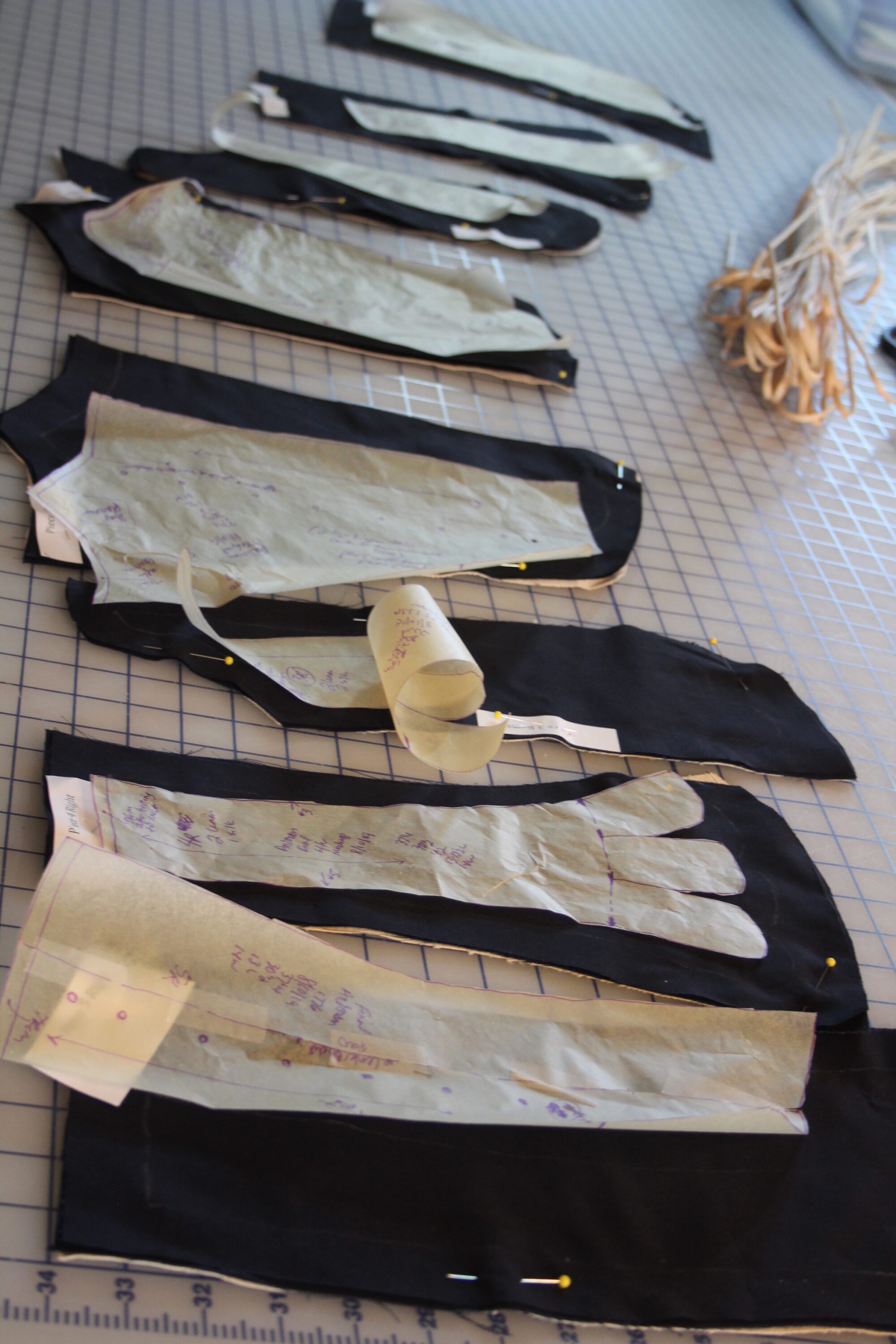 Bum Roll
Organic cotton muslin in 4 layers with grains crossed so there's no movement of the stuffing, and it stands straight.  Organic cotton fill, is very light weight overall and breathes well and is comfortable.  You can wash it if you don't mind "clumping" but that's not recommended.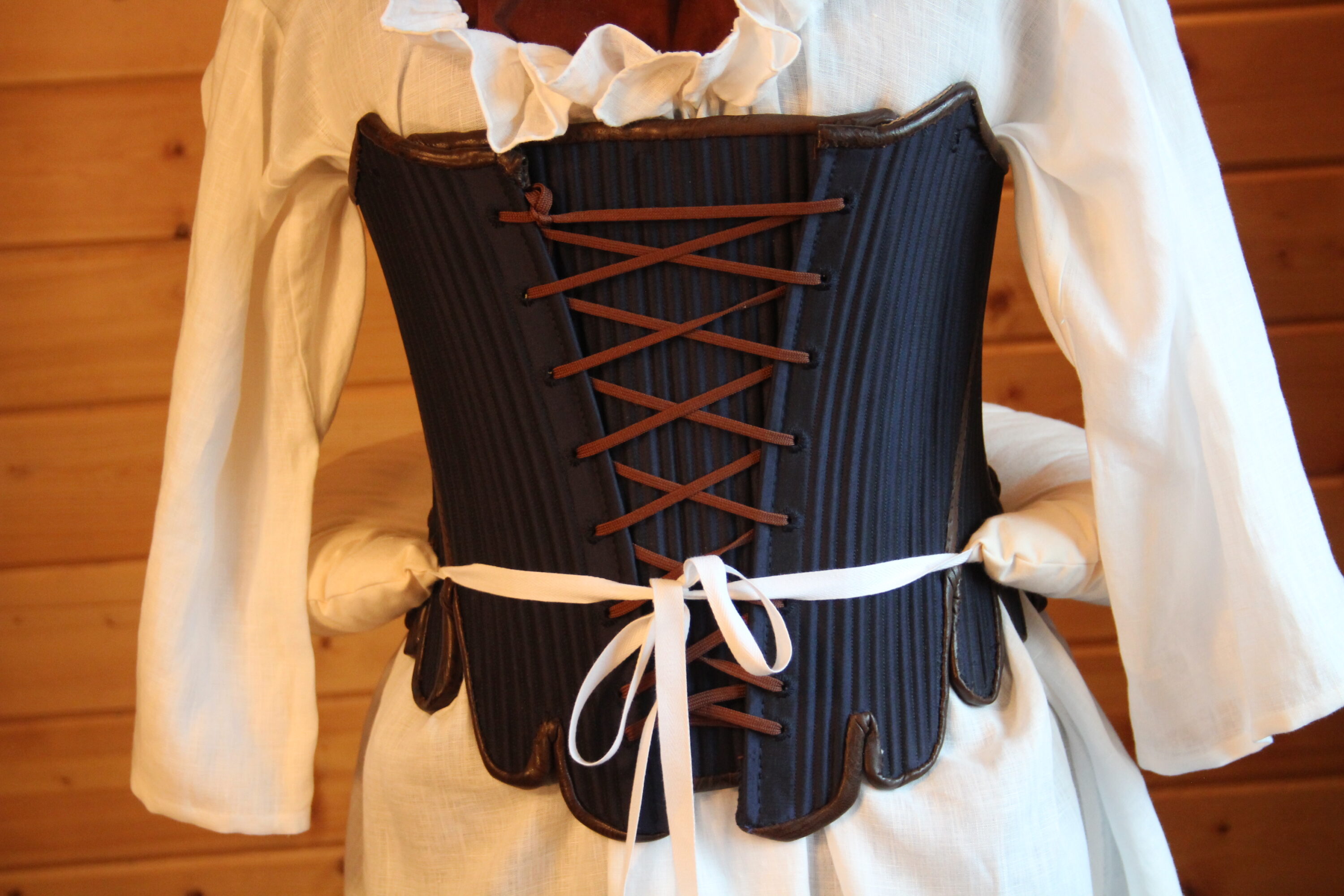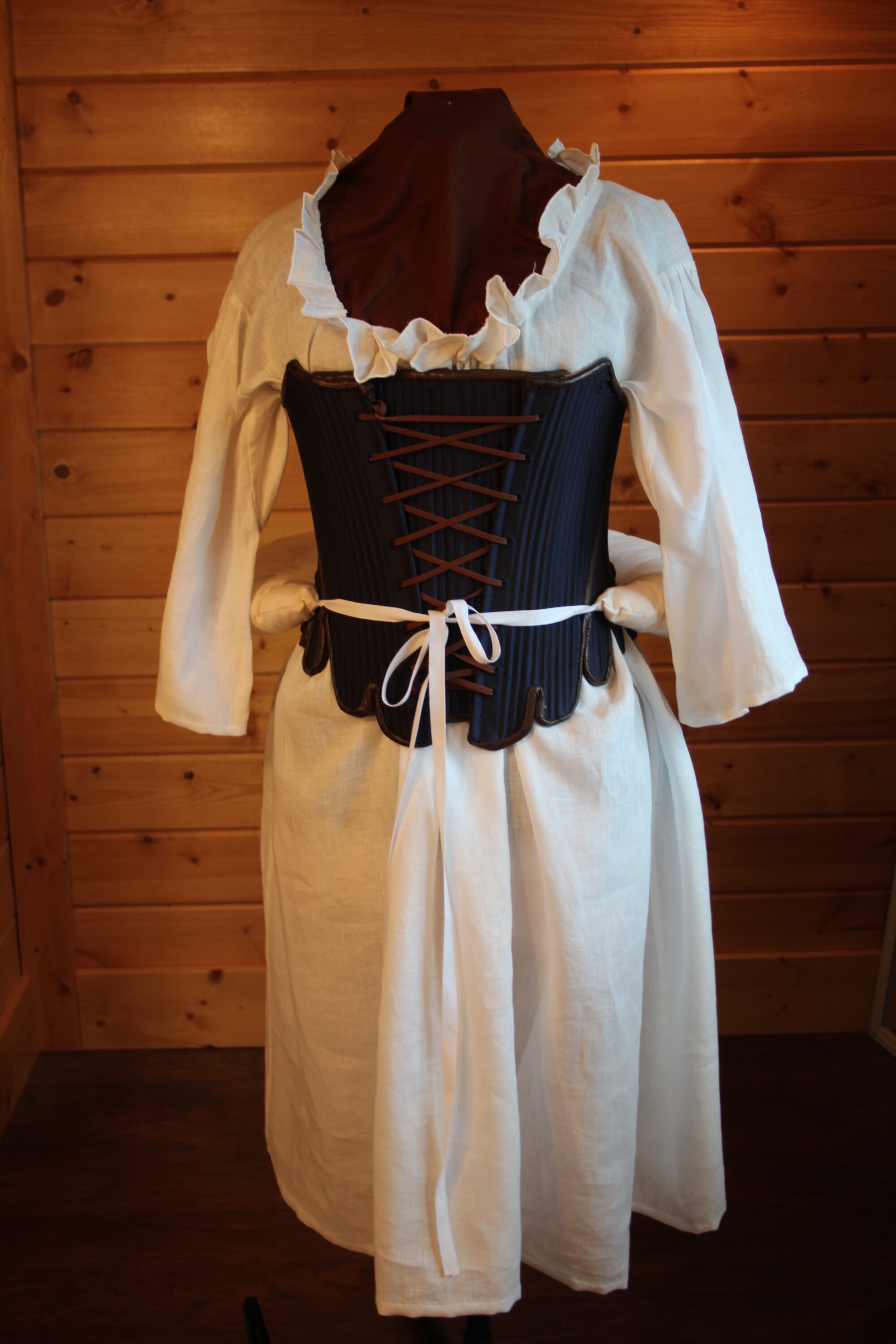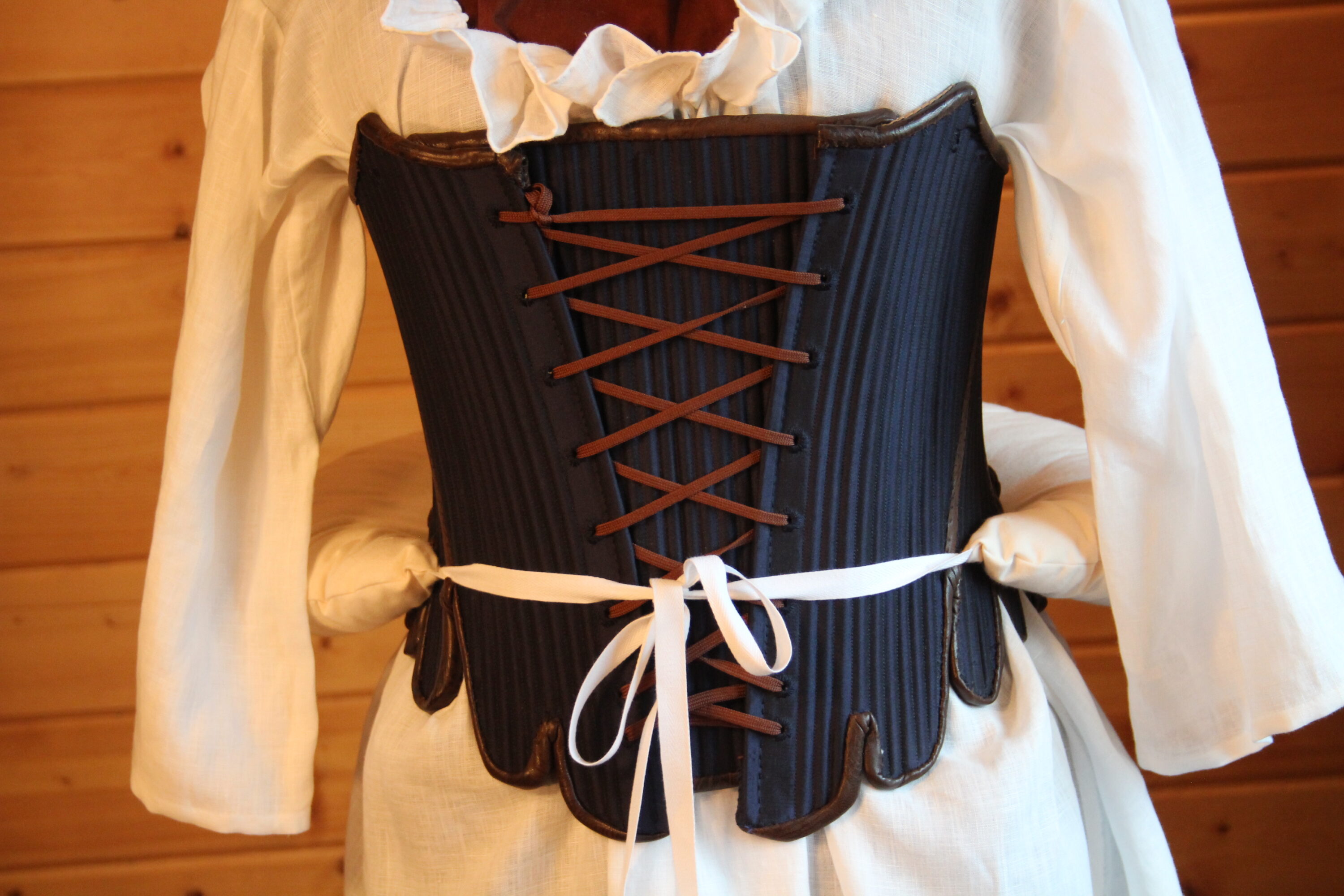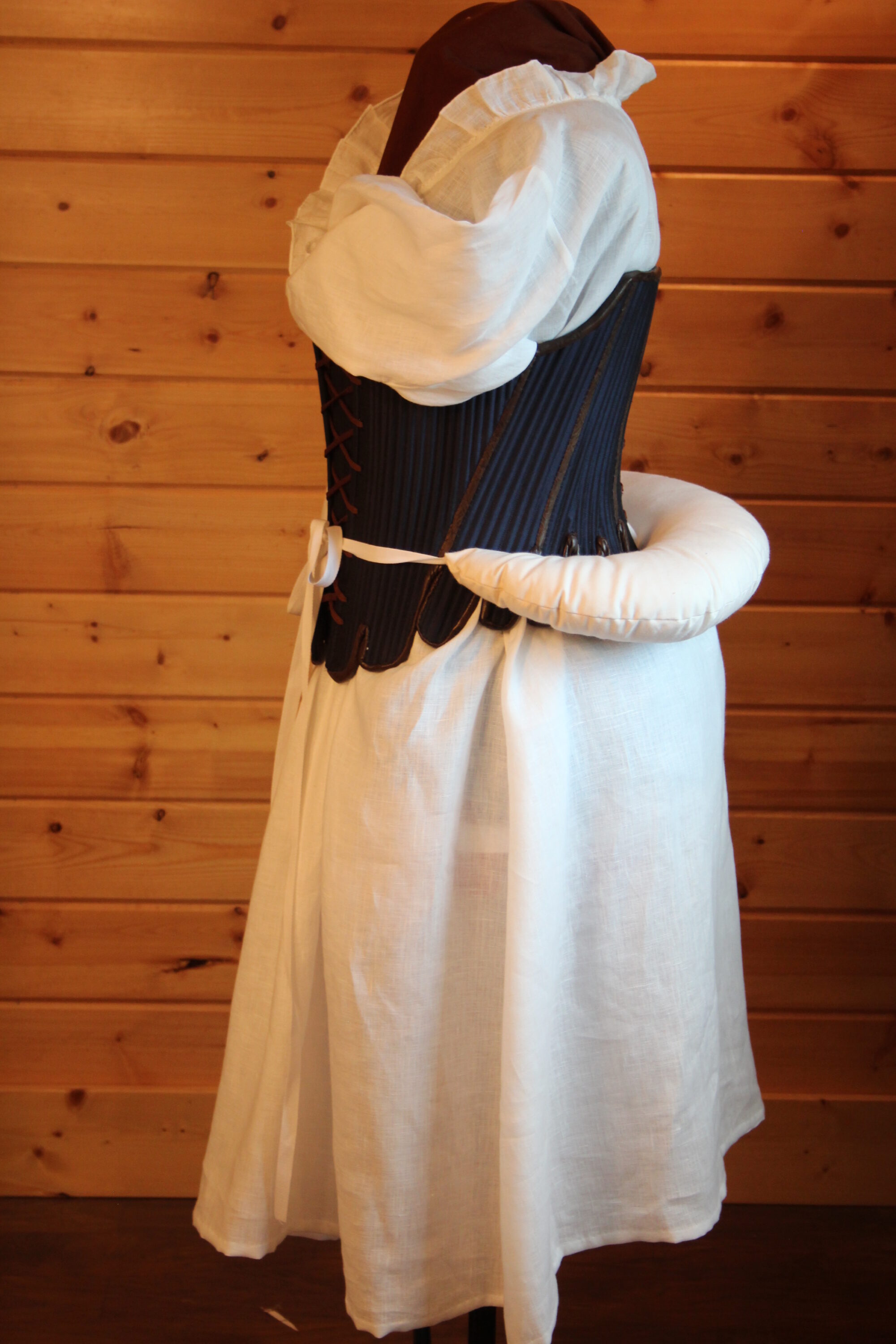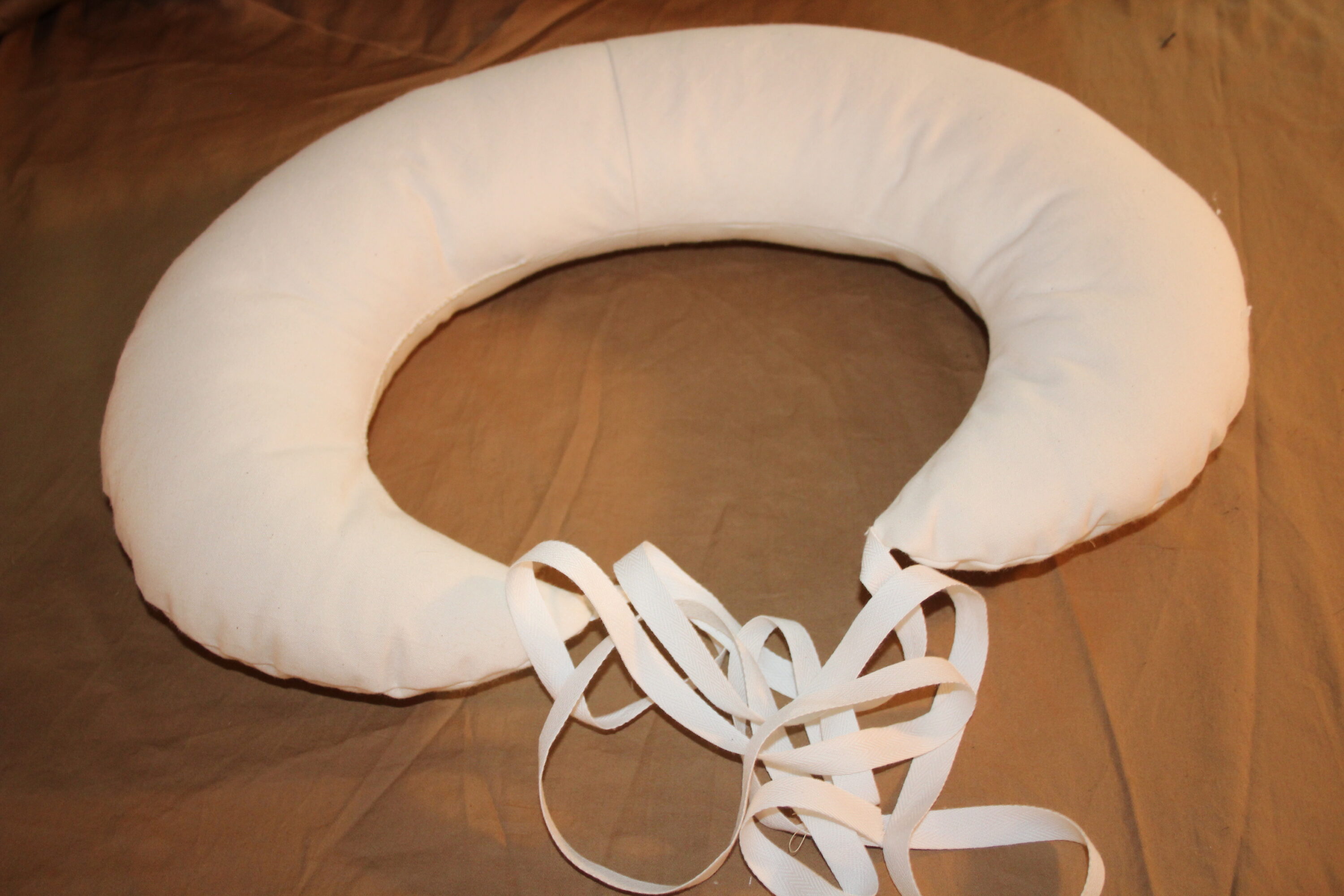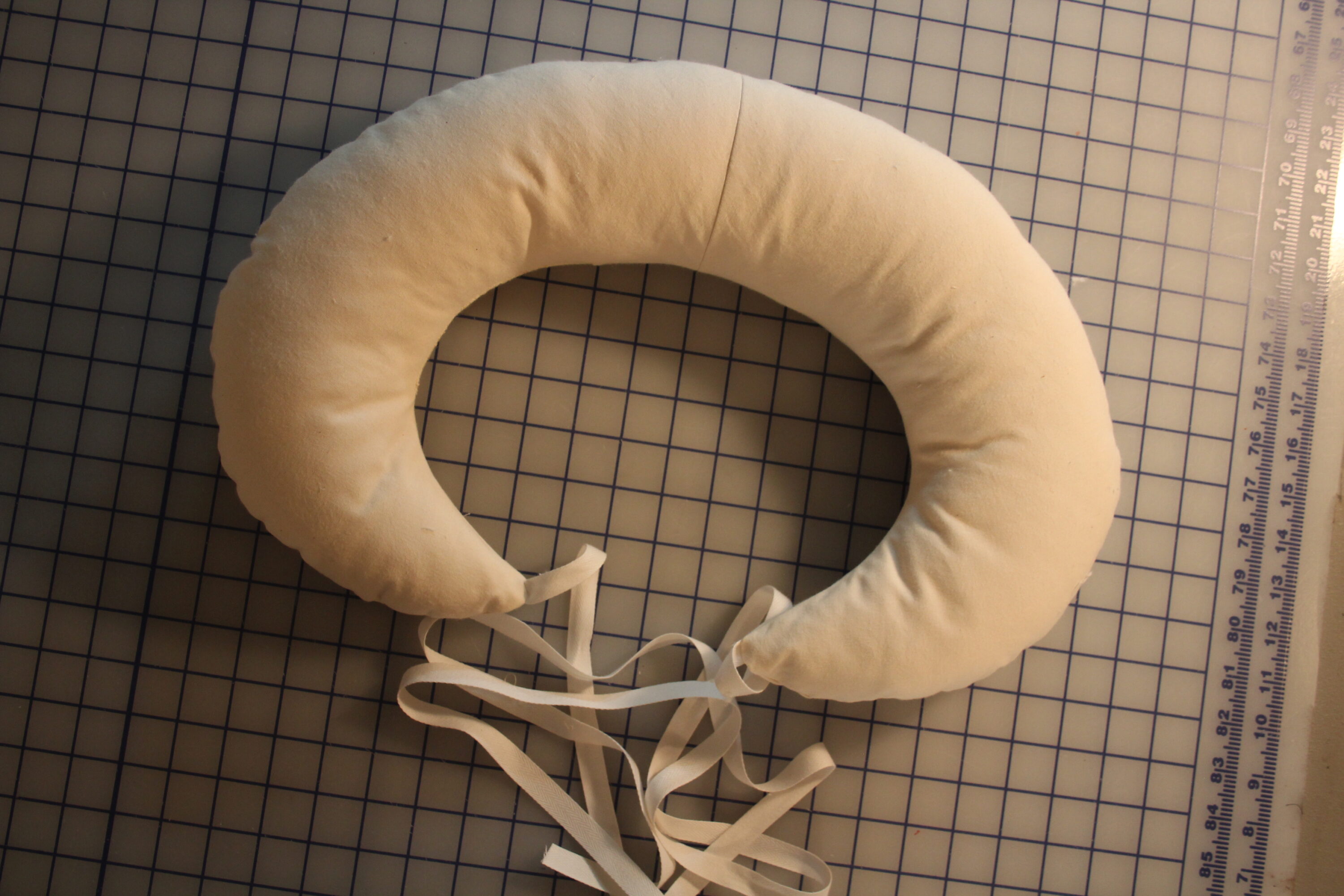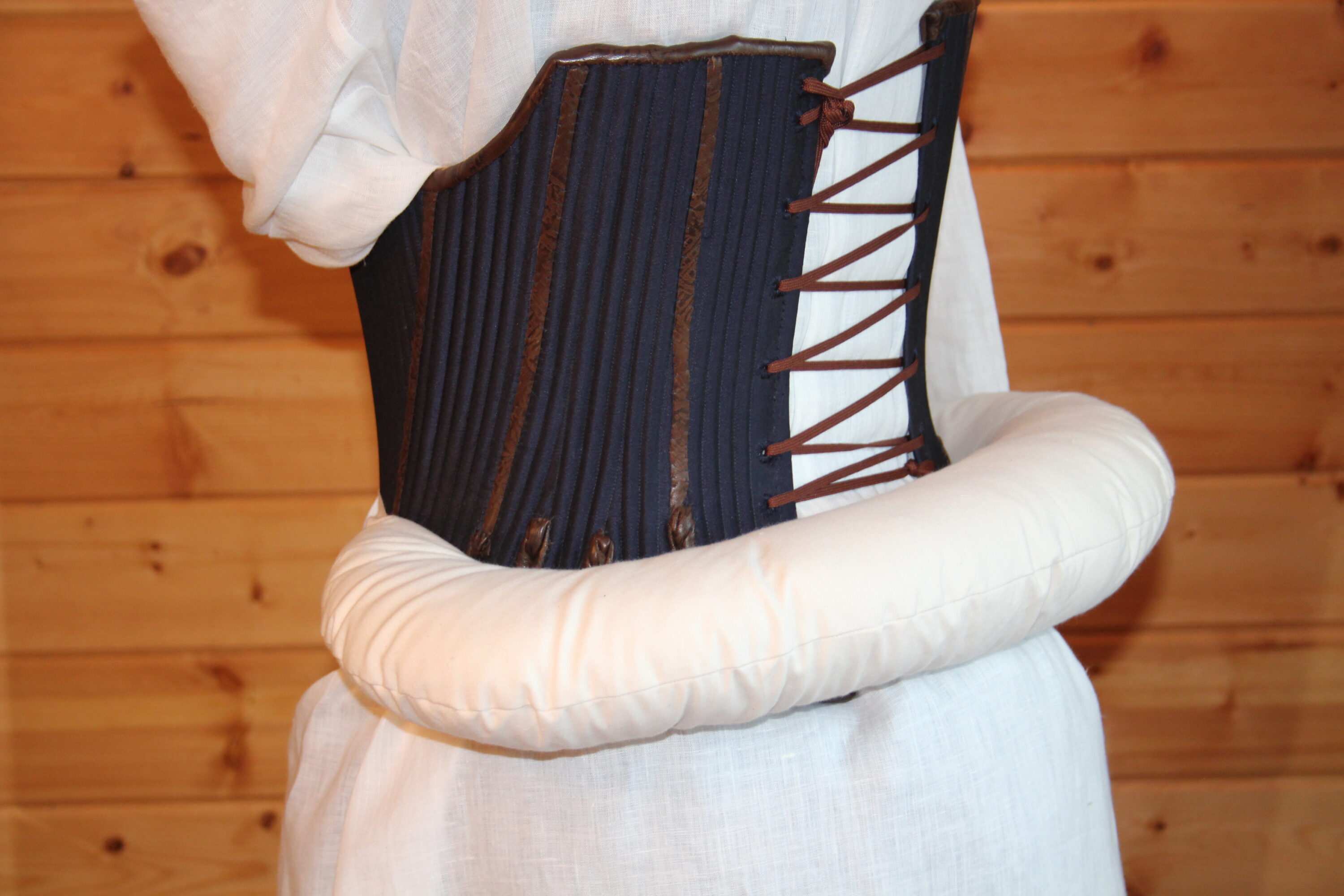 Stays Underbreast Pads
These are necessary with our modern bodies because we have tummies.  That leaves a gap between the top of the tummy and underbreast.  That can break the reeds on the front of the stays.  We are looking for a nice, even cone shape inverted from bottom to top.  These fill the underbreast gap to protect the stays, and also give nice lift to older breasts. They are made of 100% cotton sateen and are filled with the same organic cotton fiber as the bum roll.
Inner (alternate Outer) Petticoat
Flax-based linen, heavy and hard to work with.  Authentic methods for tieing and wearing.  This can be worn over or under the other one which is cotton.  These are appropriately ankle length.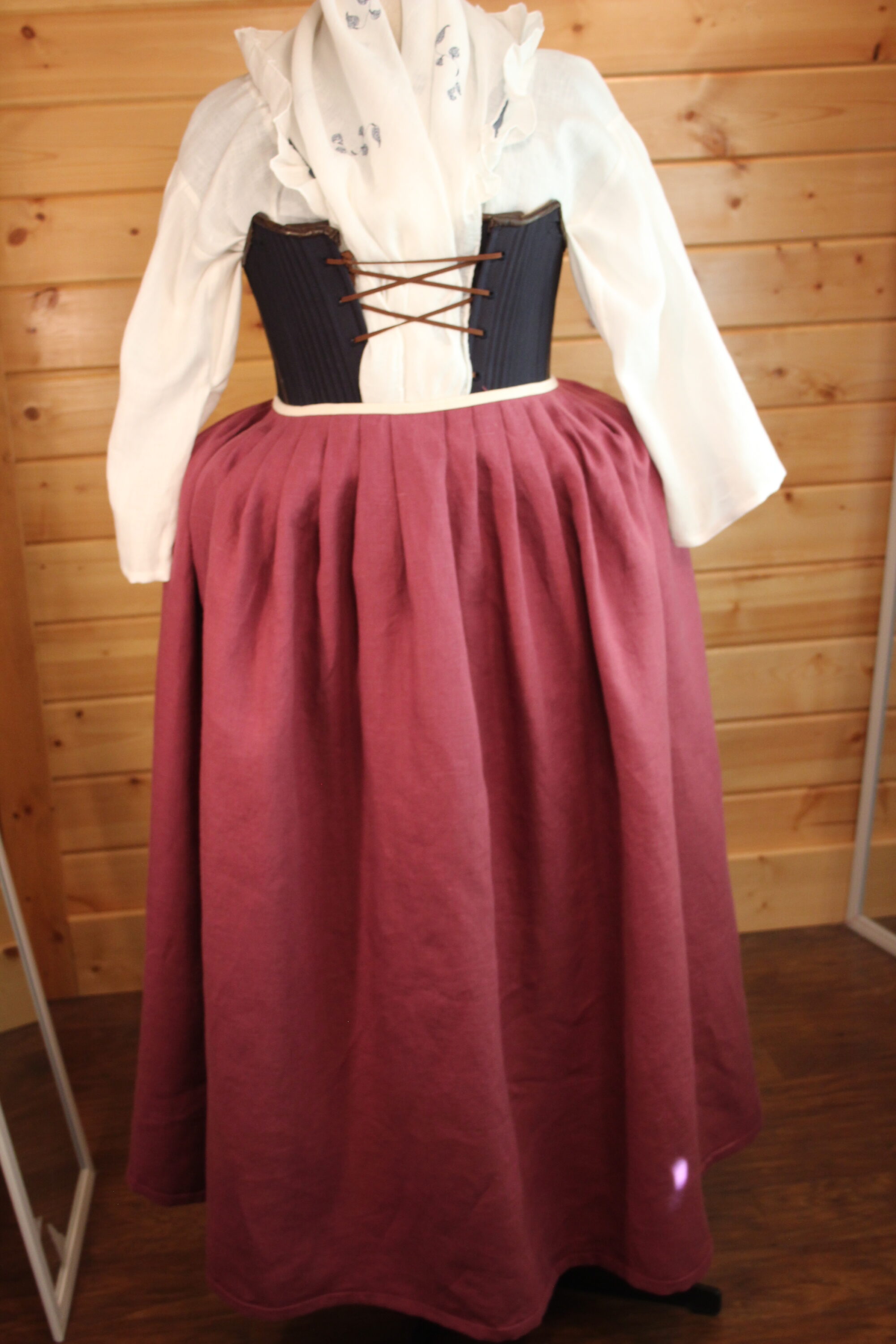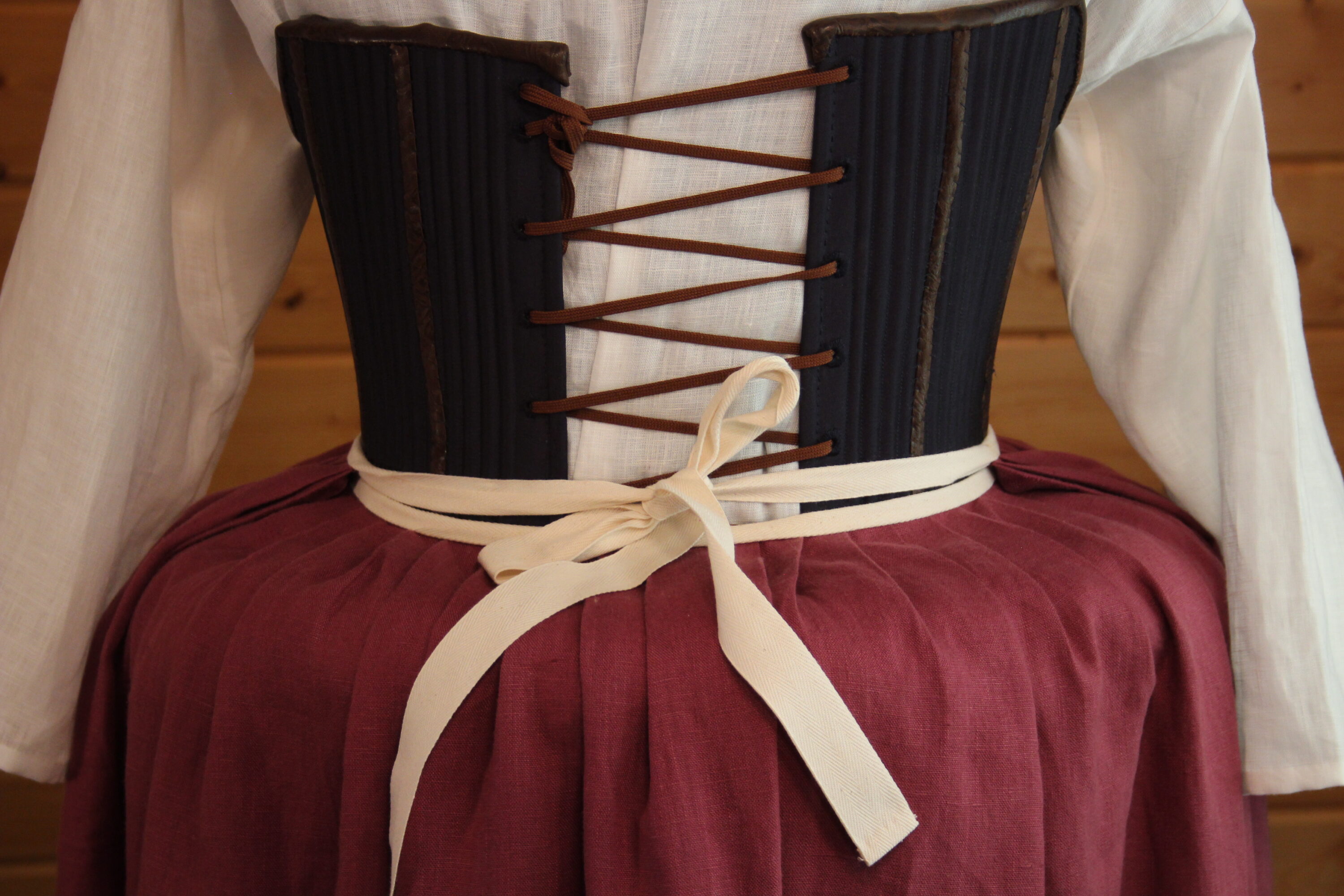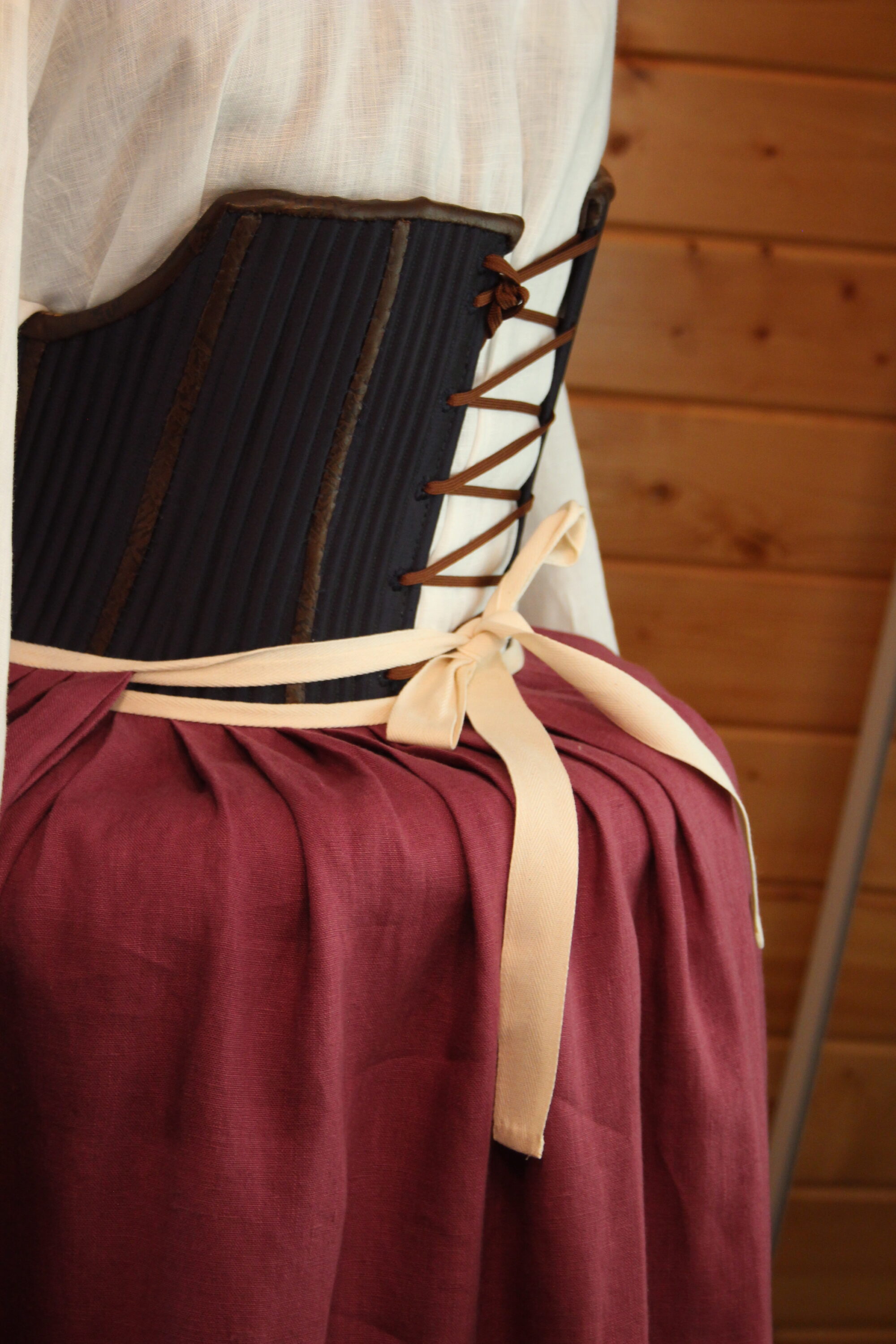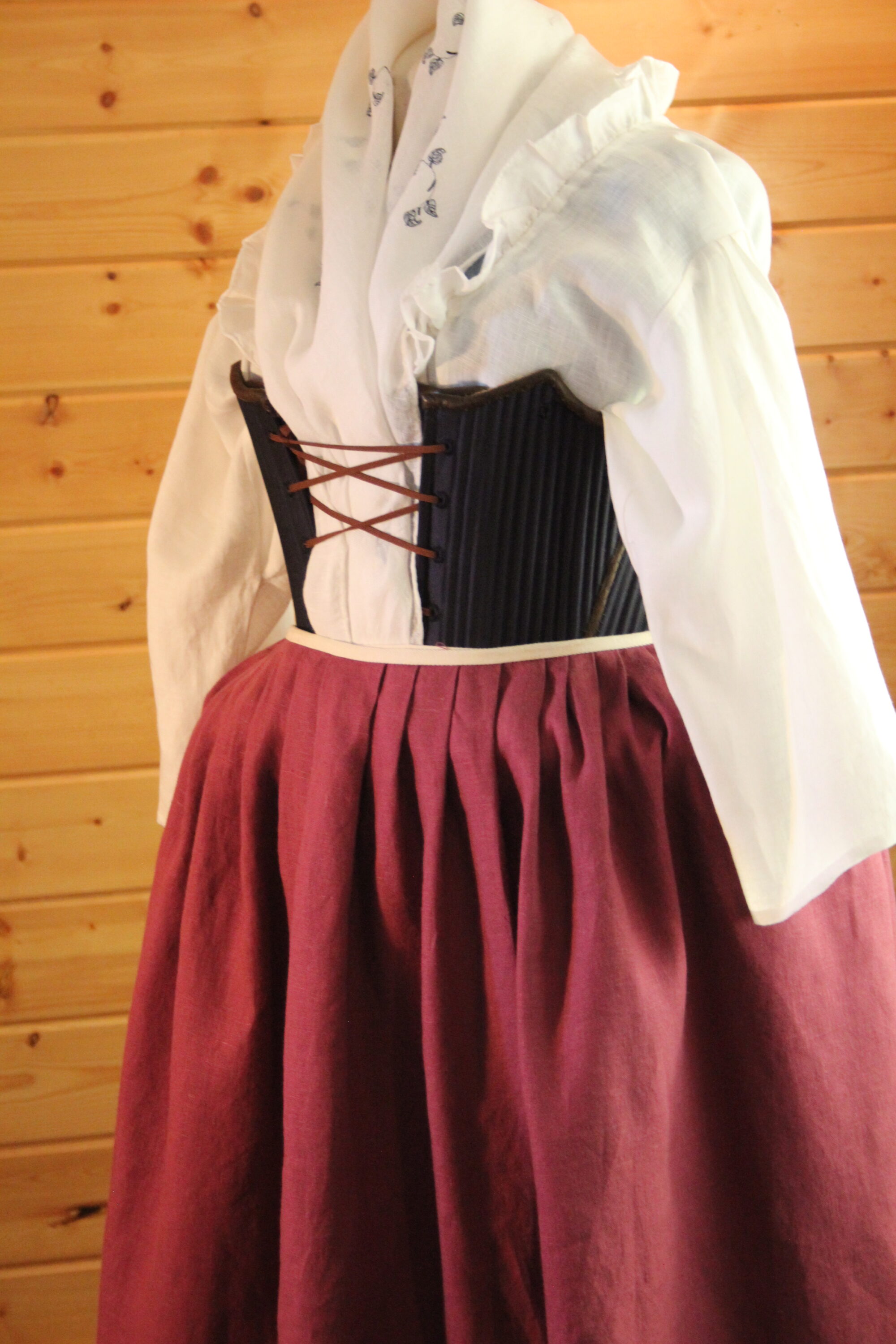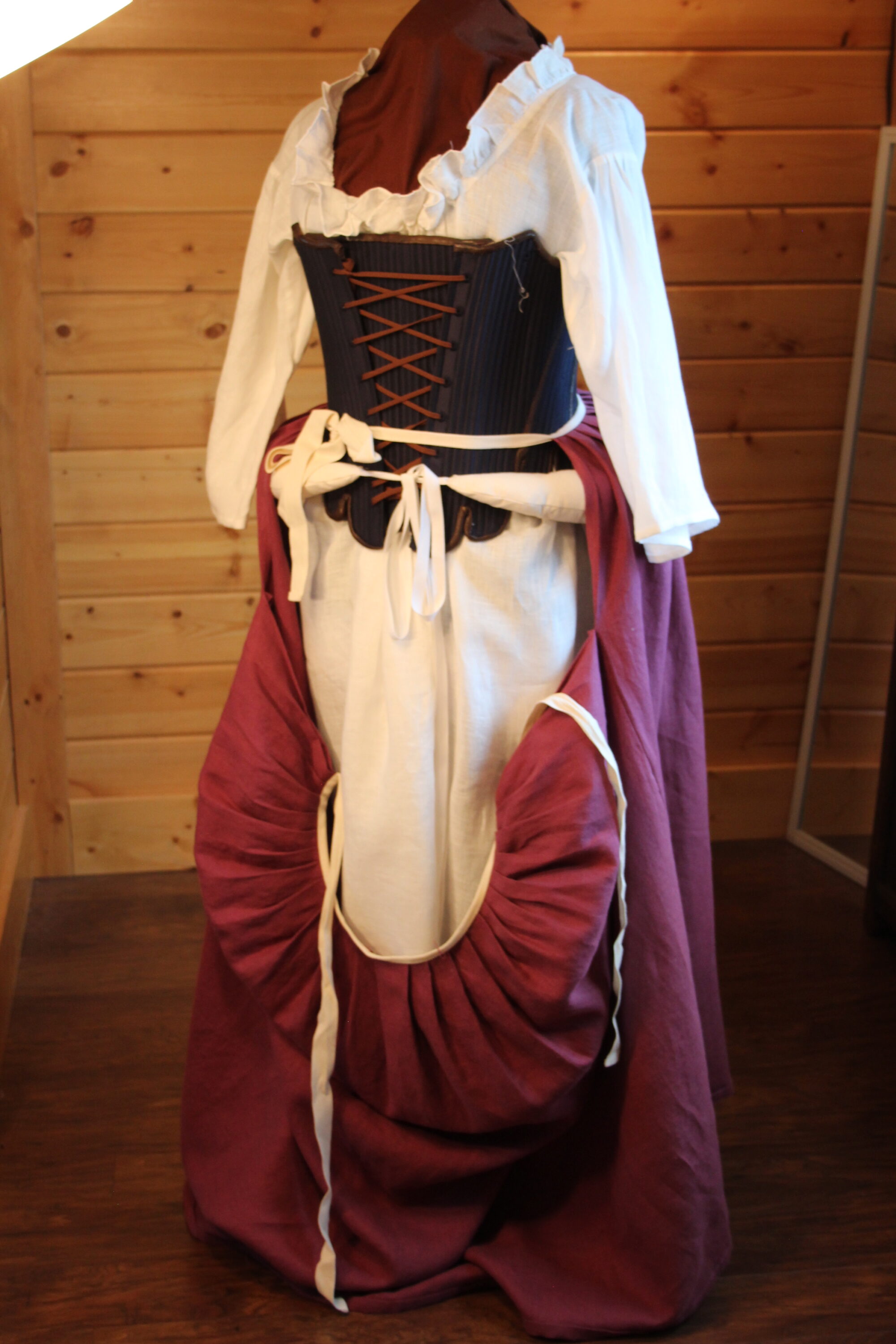 Outer Petticoat
100% cotton print, twill ties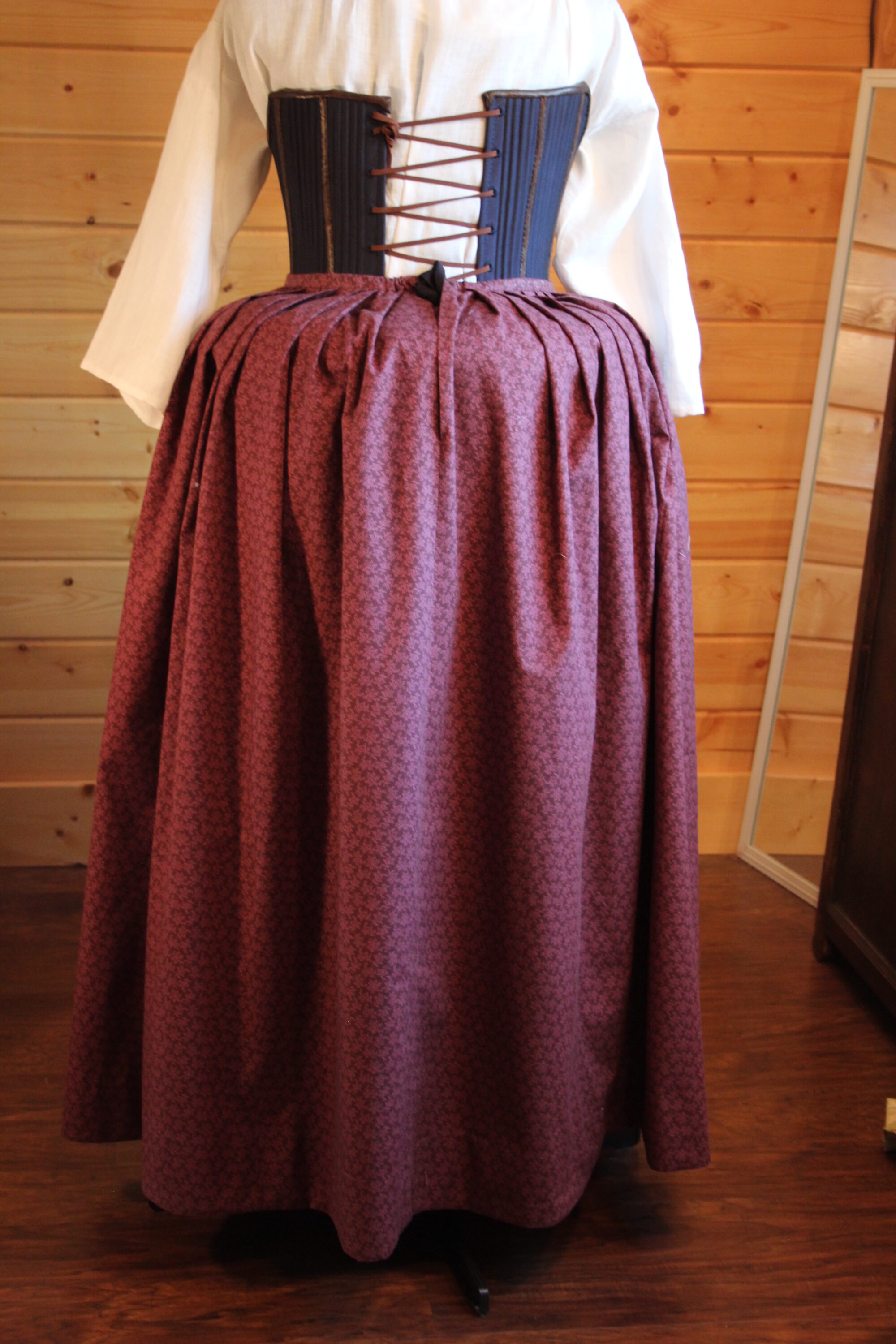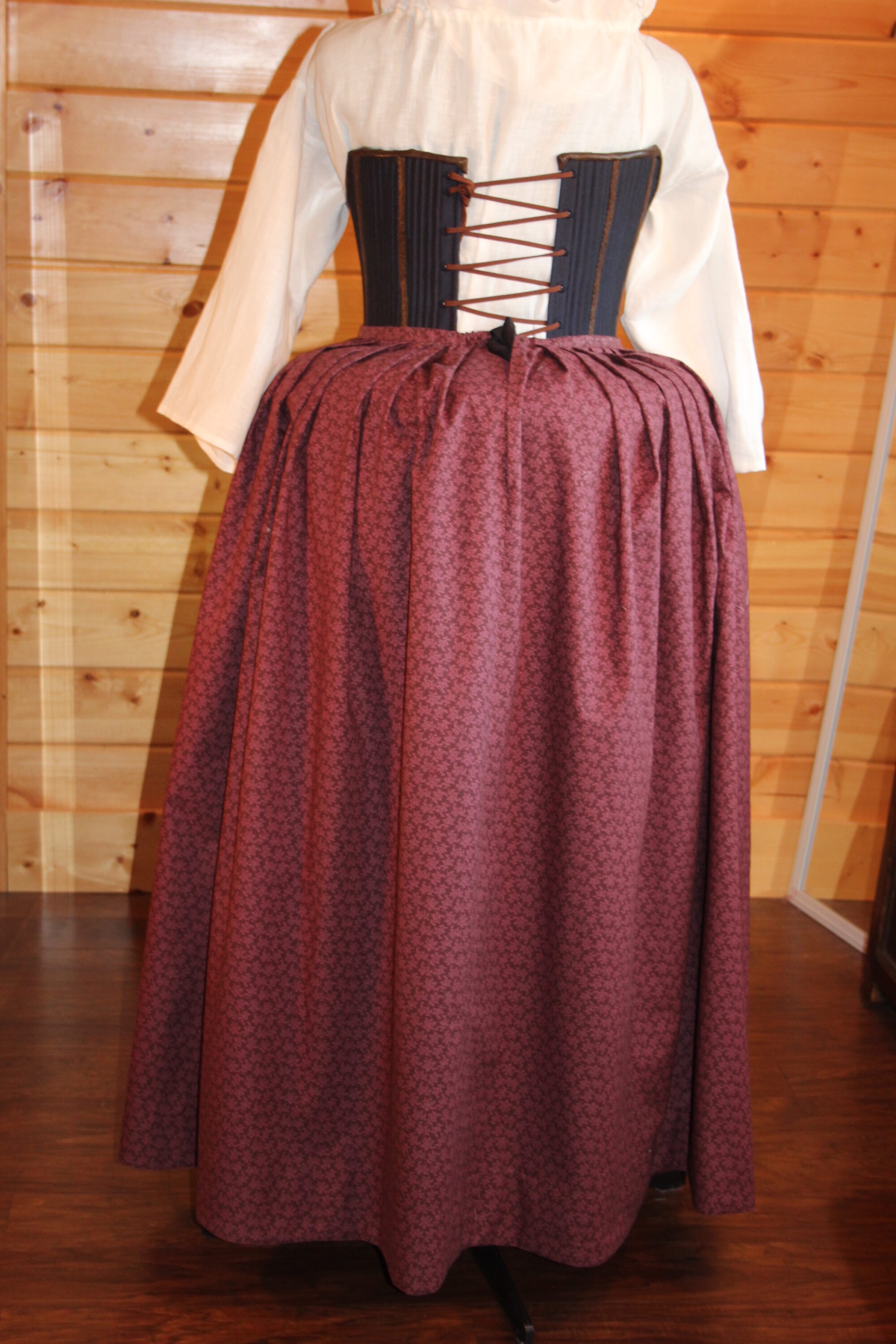 Bodice (Caraco Jacket)
Cotton Reproduction "Williamsburg" print.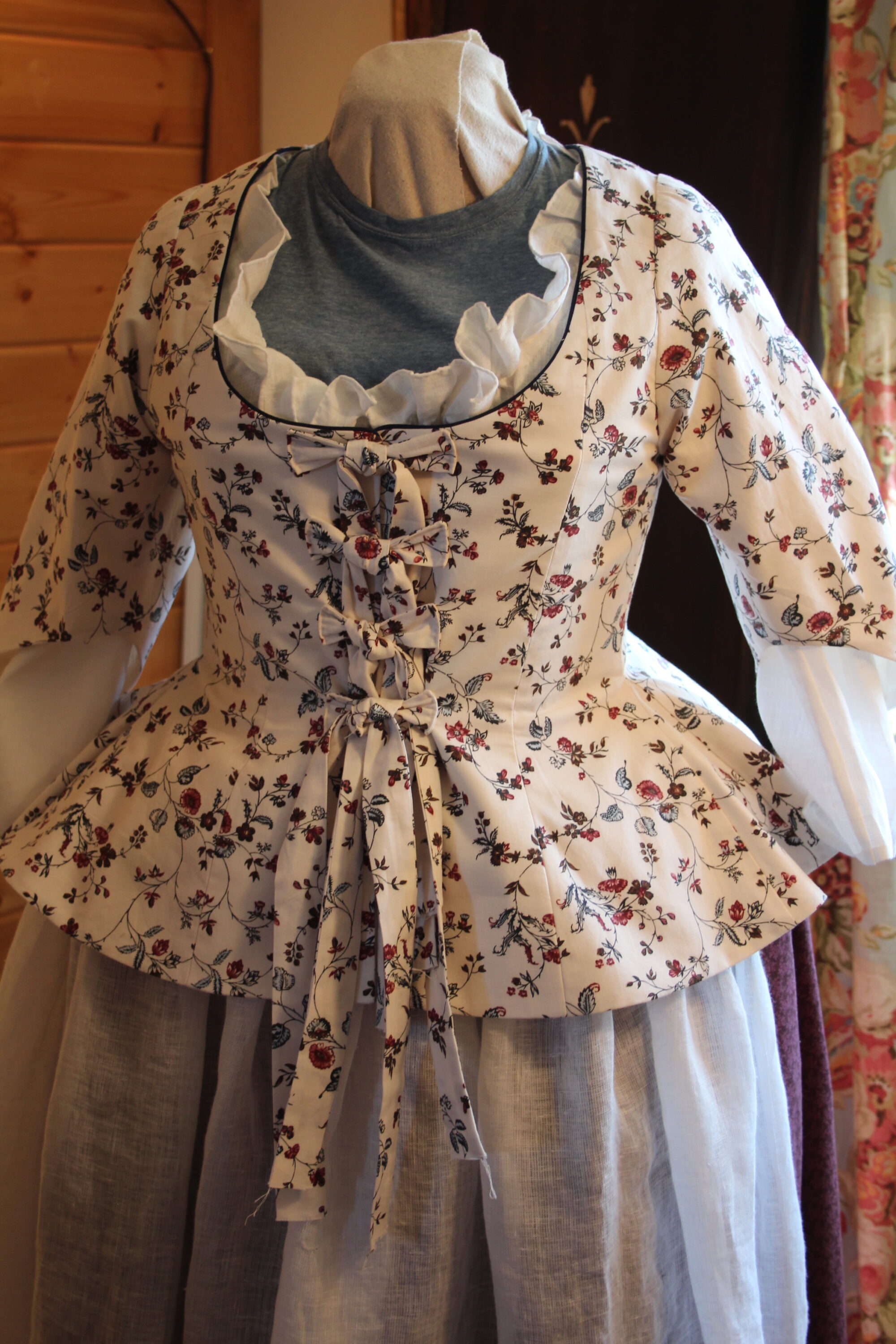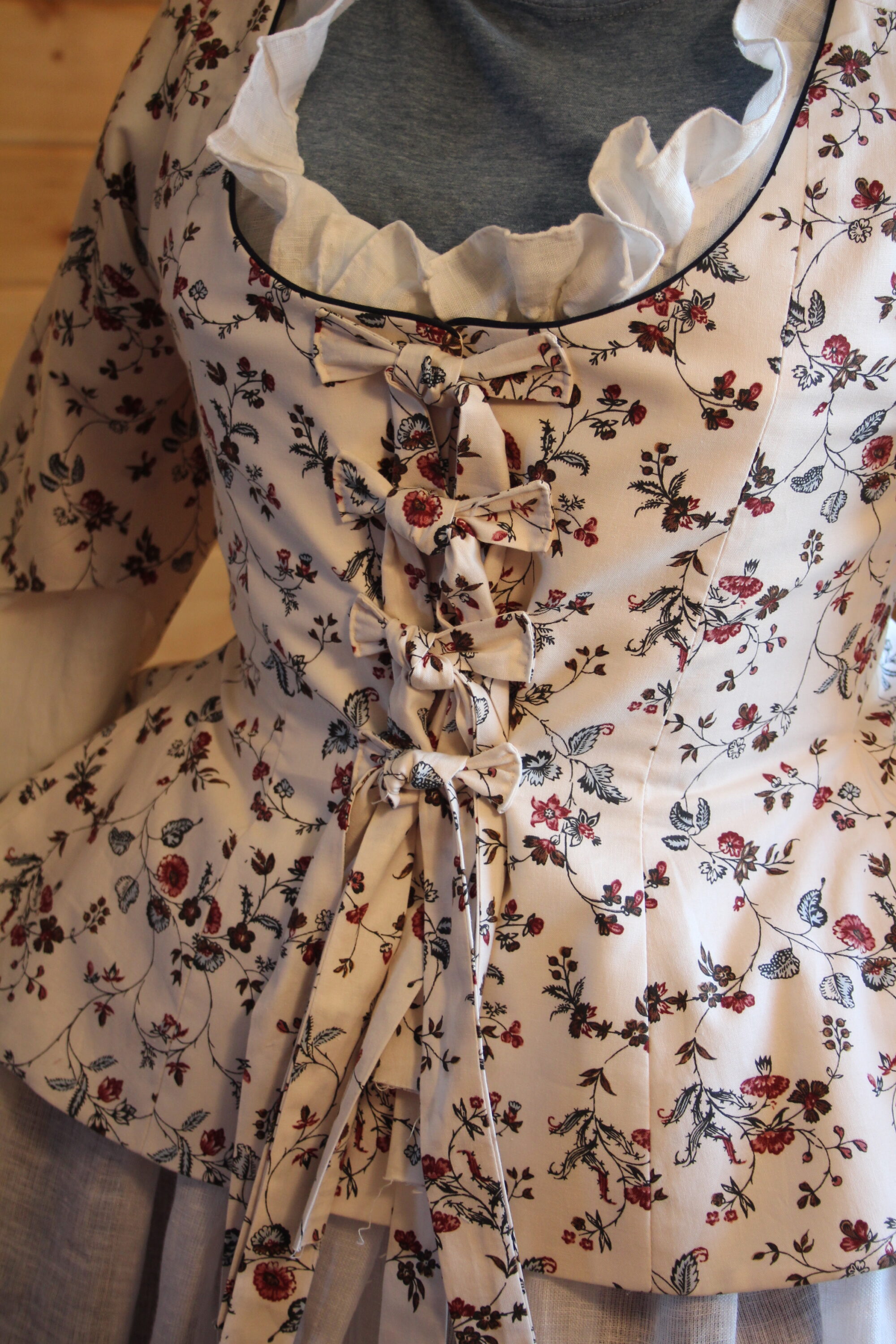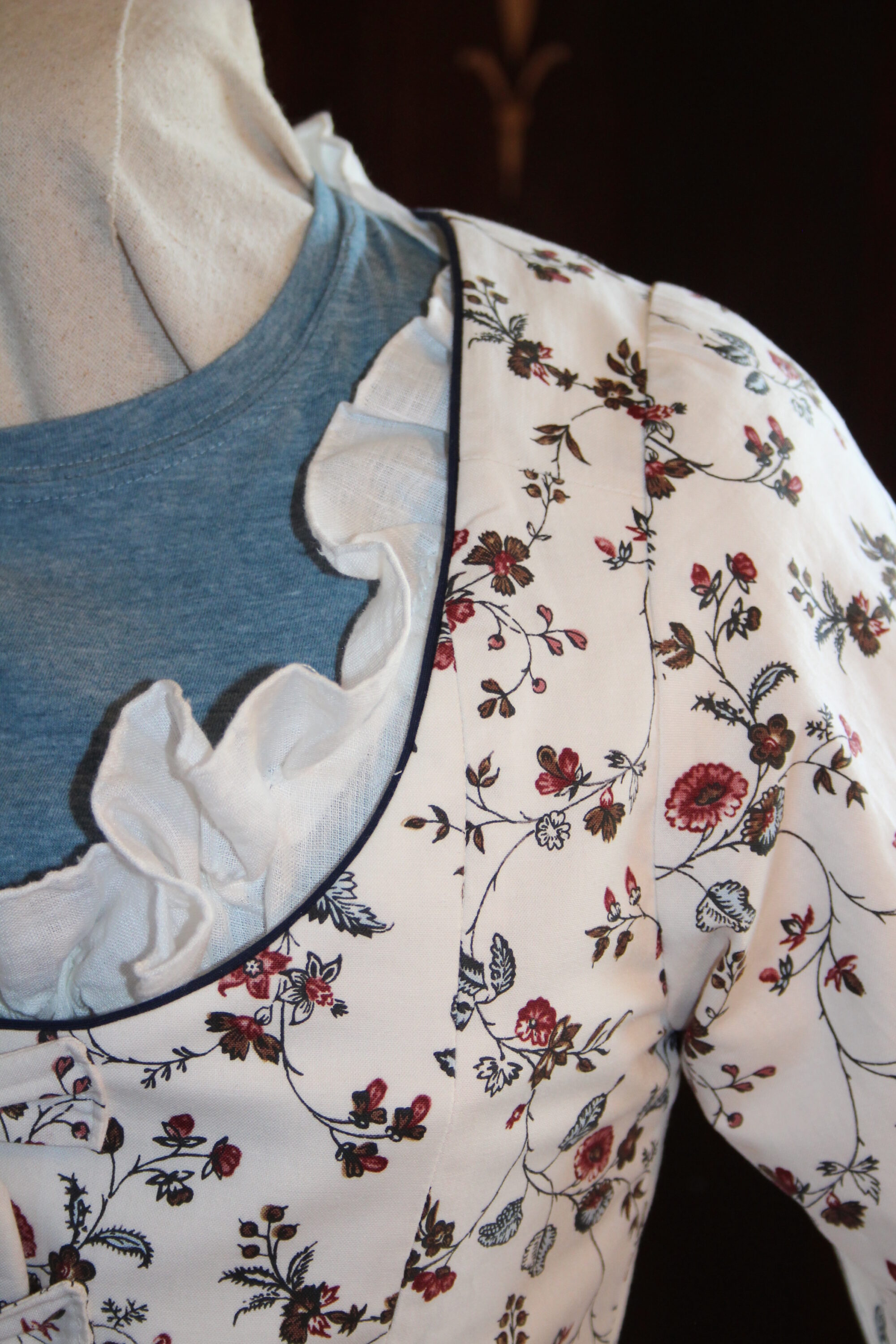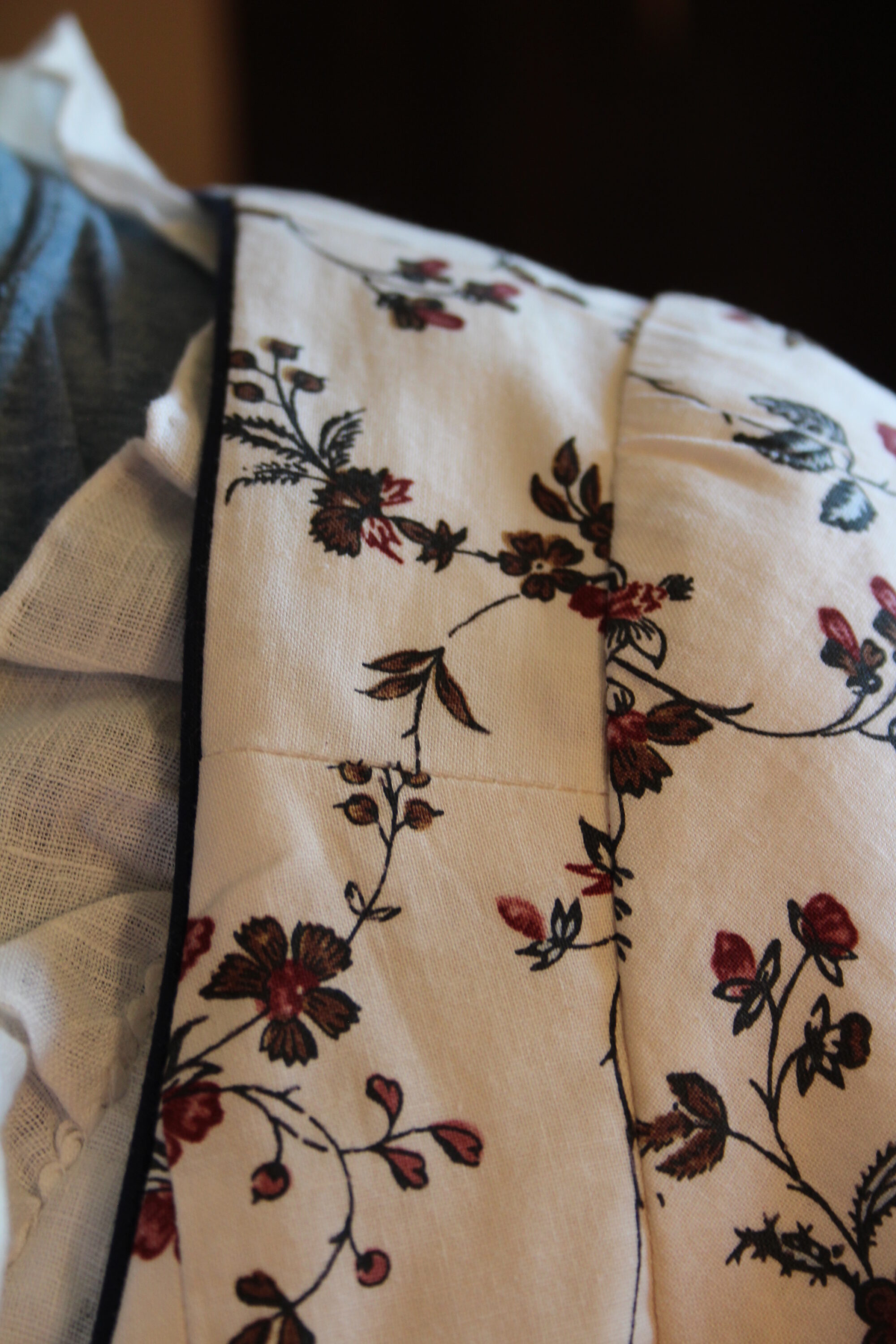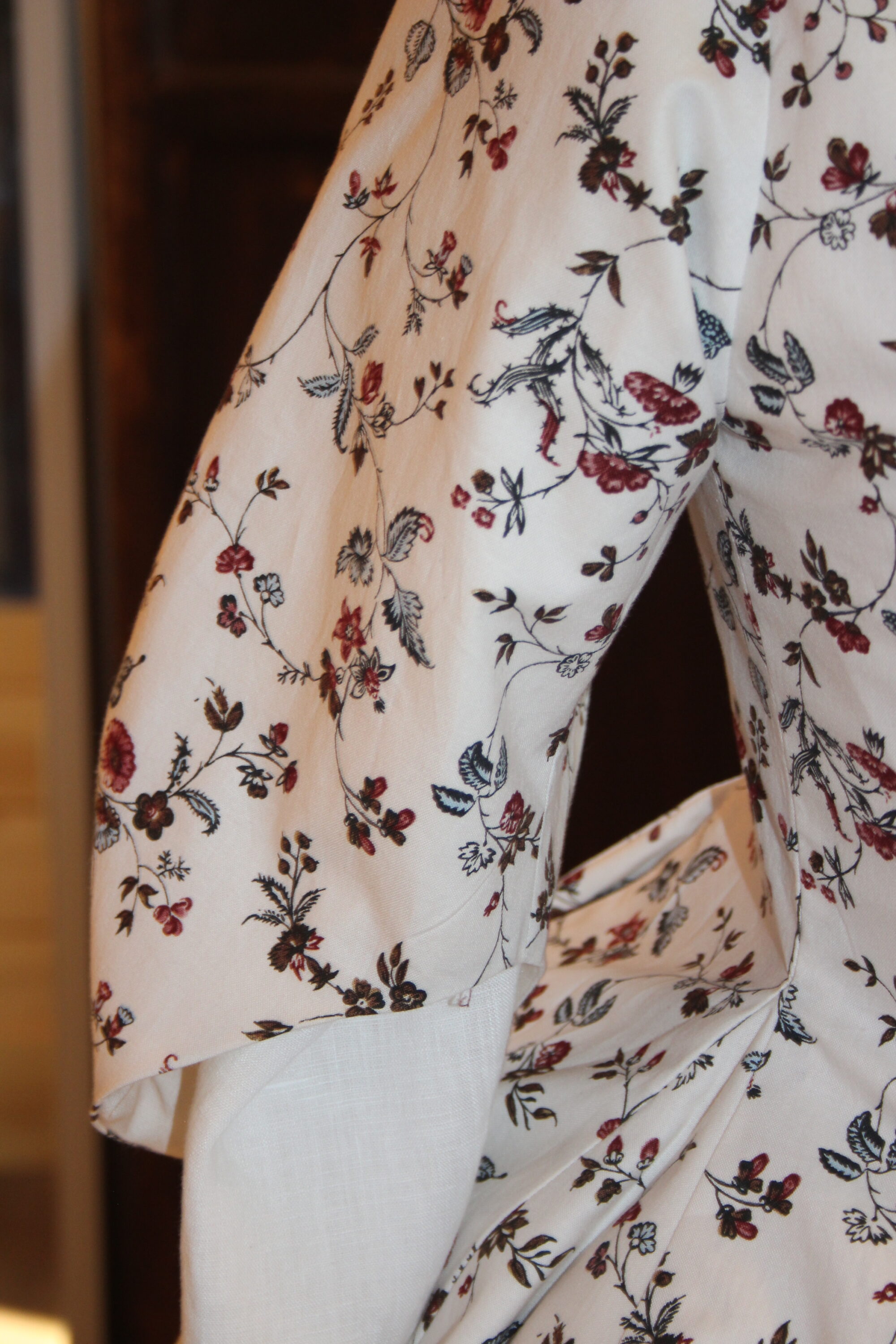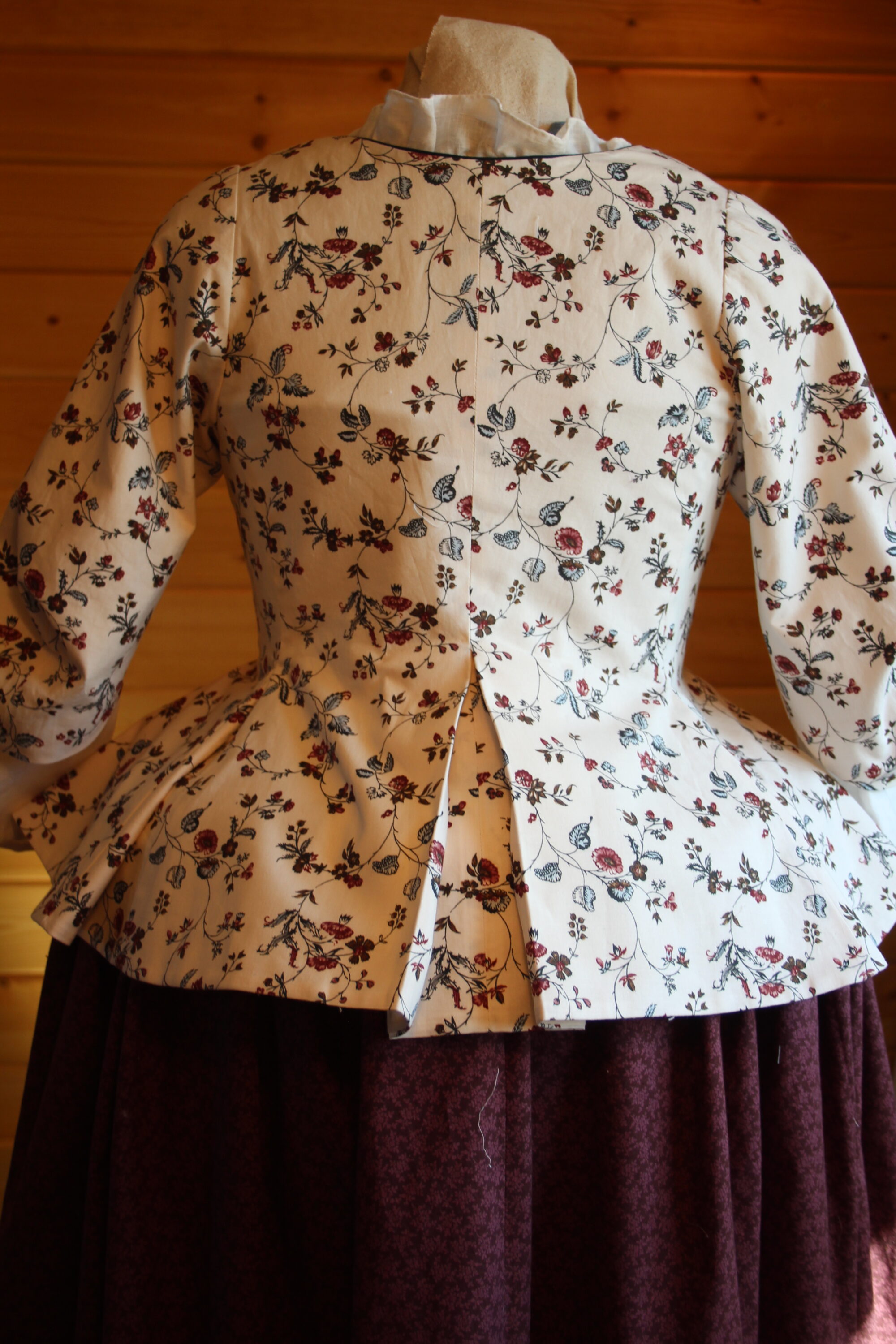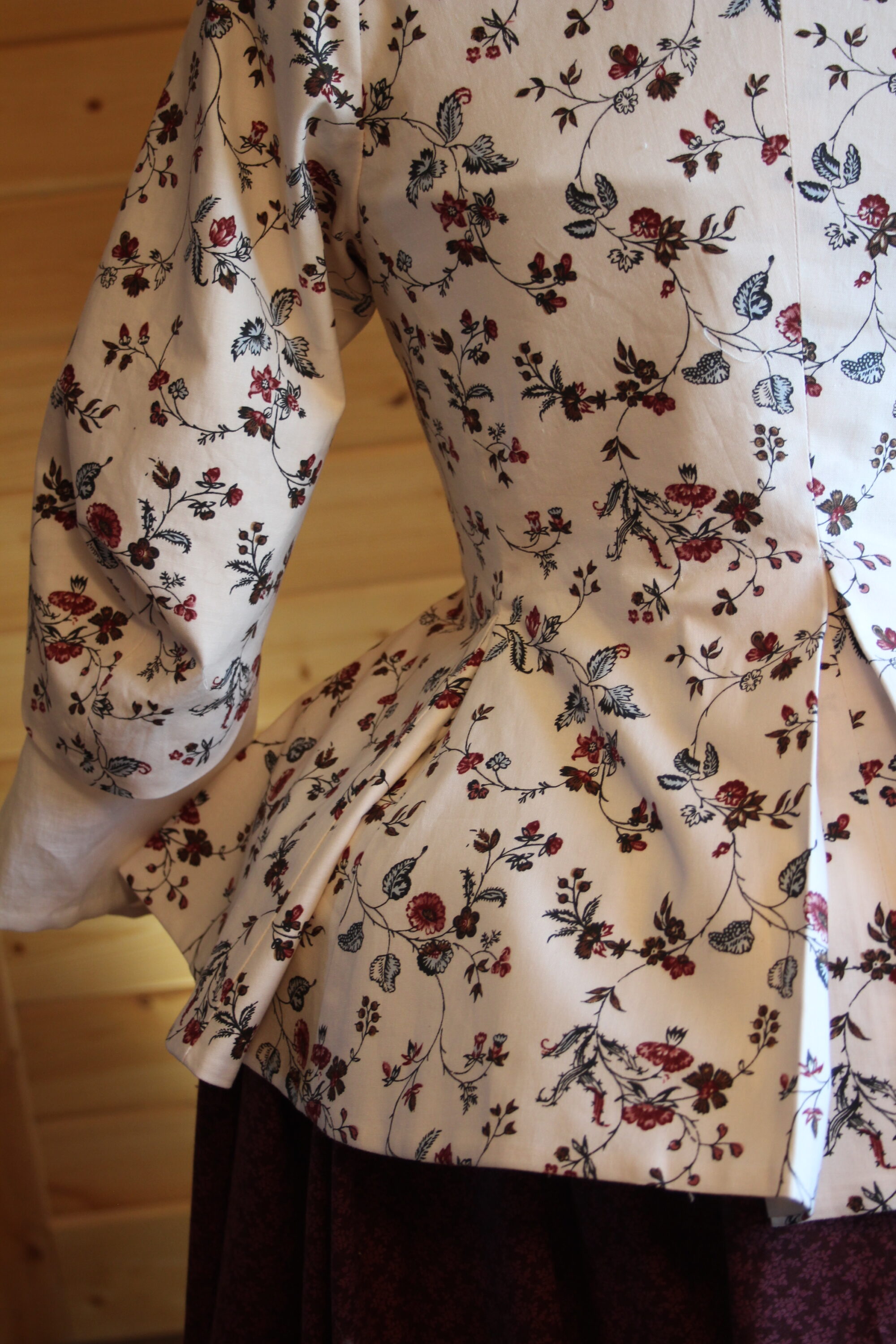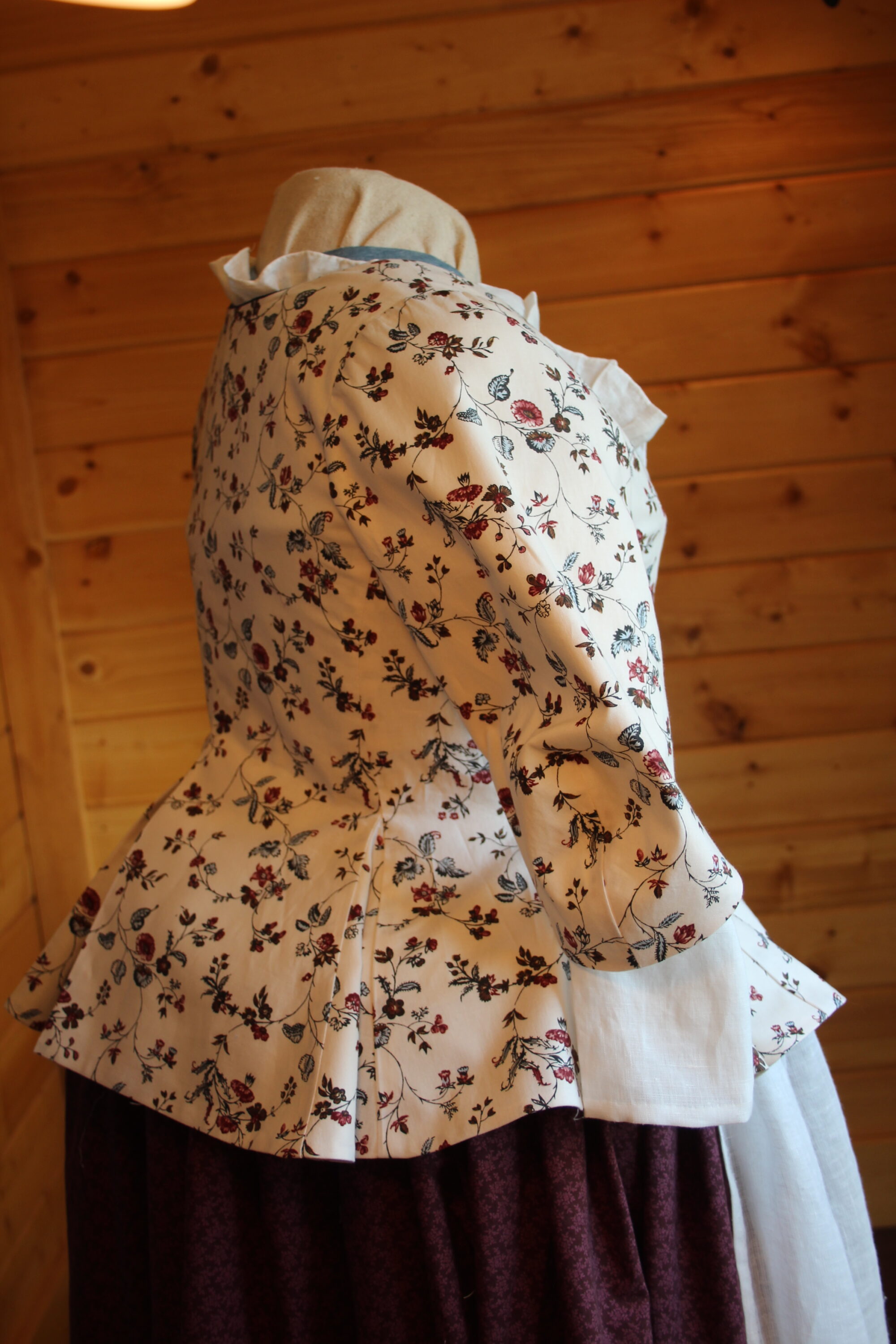 Construction
Whenever we get stuck, we think "what would they have done in 1776?".  In this case, the peplum was not sitting over the bum roll; making a scrunched up line at the waist.  Solution – add a gore!  No one will ever know.  This is how we drape instead of making a mockup.  It is tricky because one has to know how the fabric will work as opposed to paper. One of our biggest frustrations is most patterns do not locate the waist from which to vary.  When working without a pattern, like this project, the most important thing is to find that waist.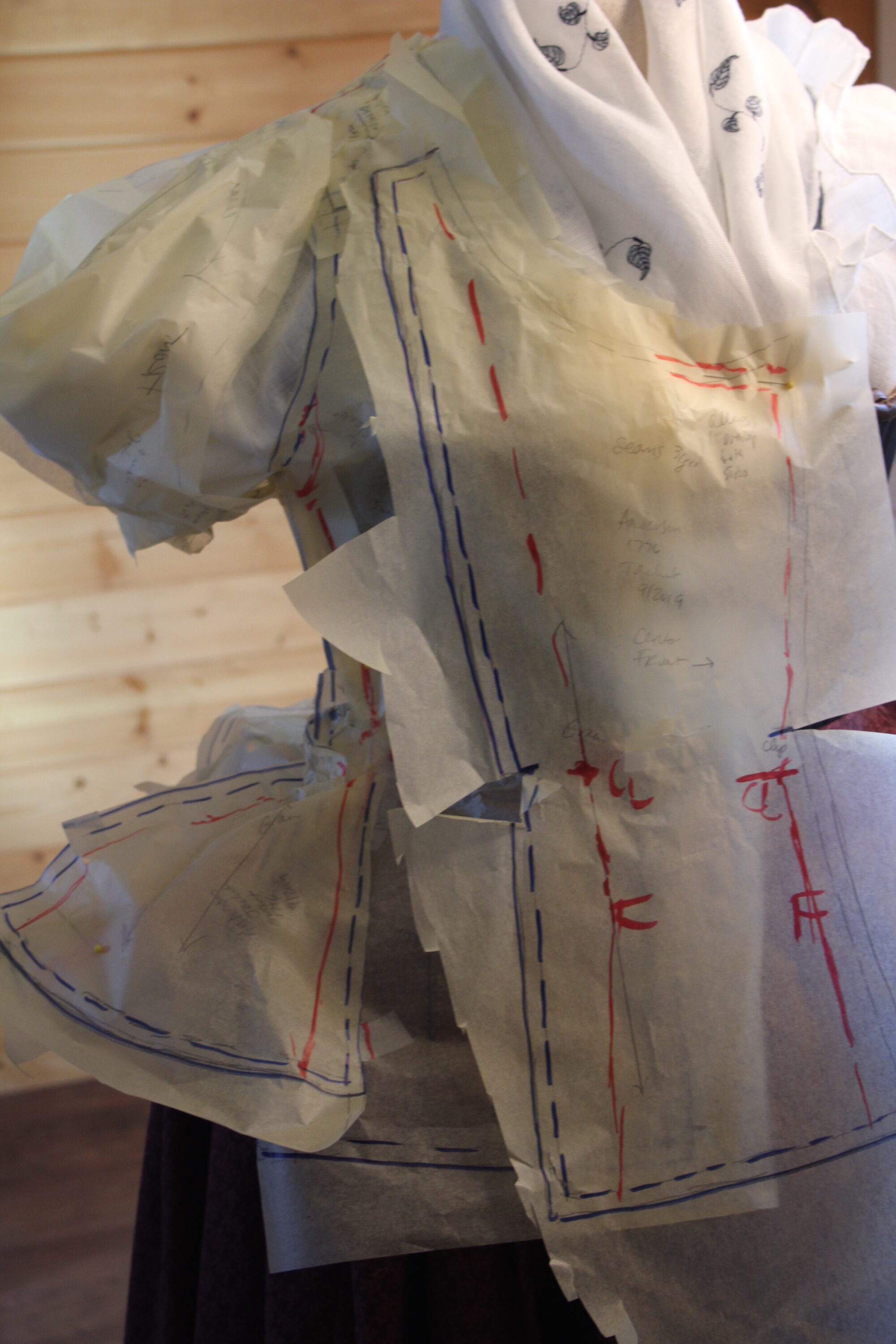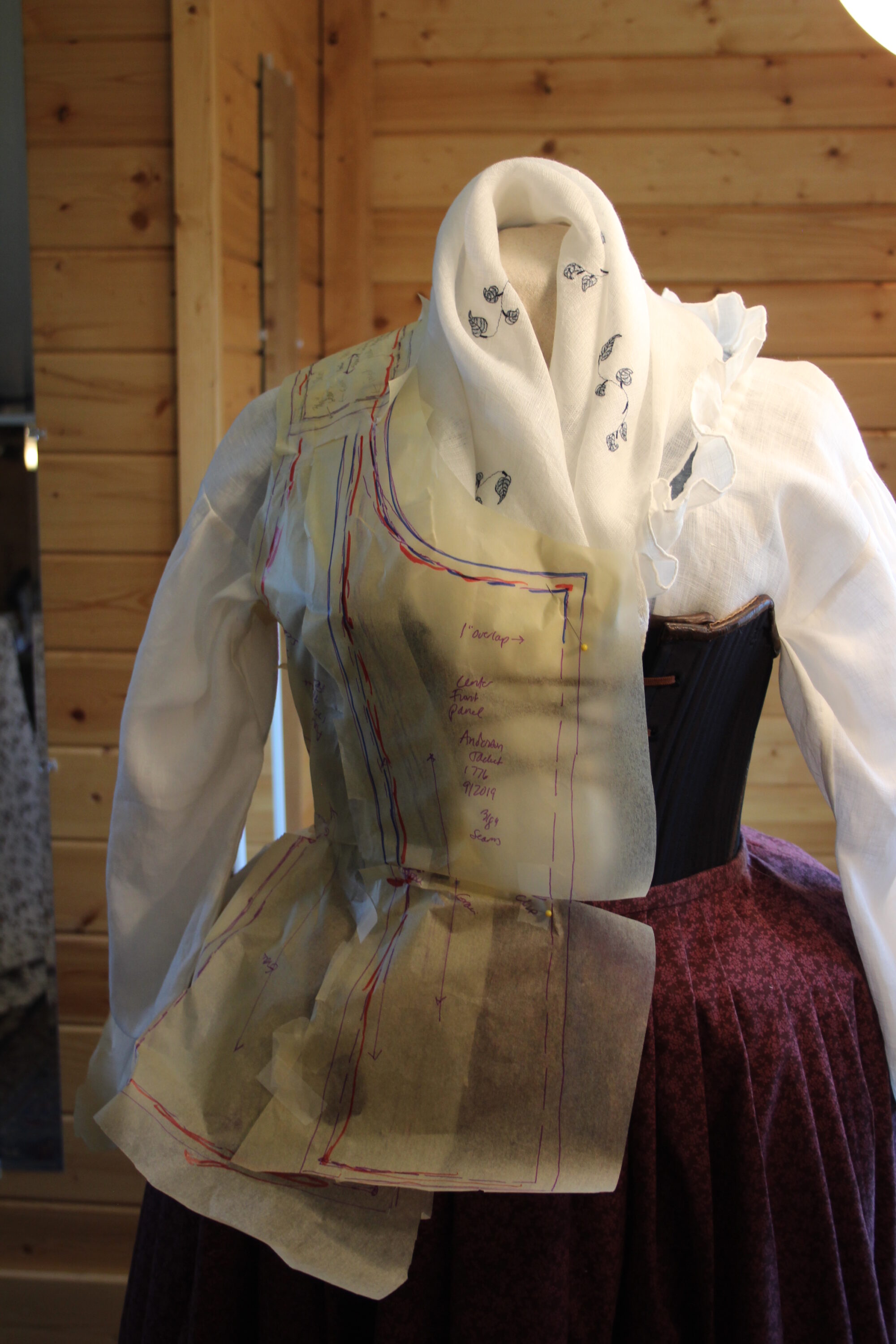 MobCap
Handkerchief linen.  Completely made by hand using authentic methods and patterns.  It has an adjustable string tie in the back.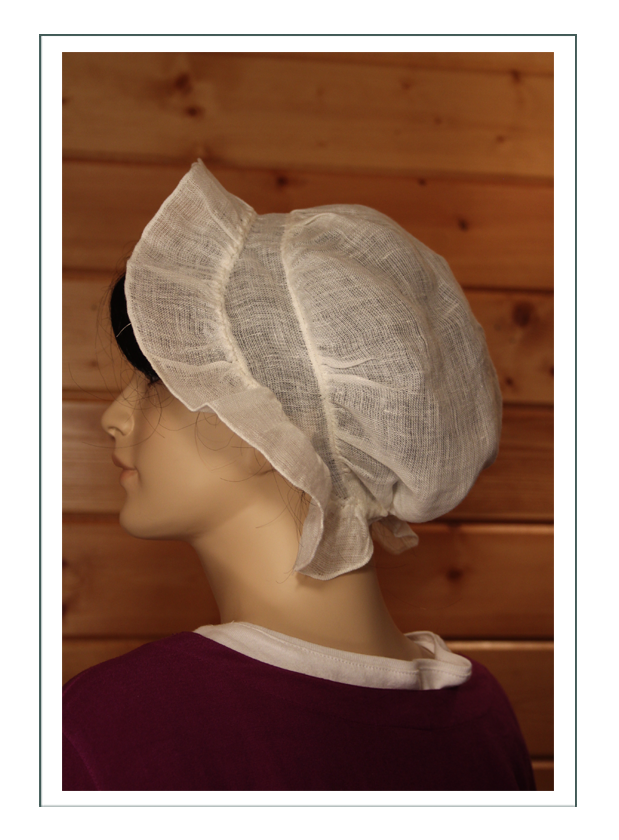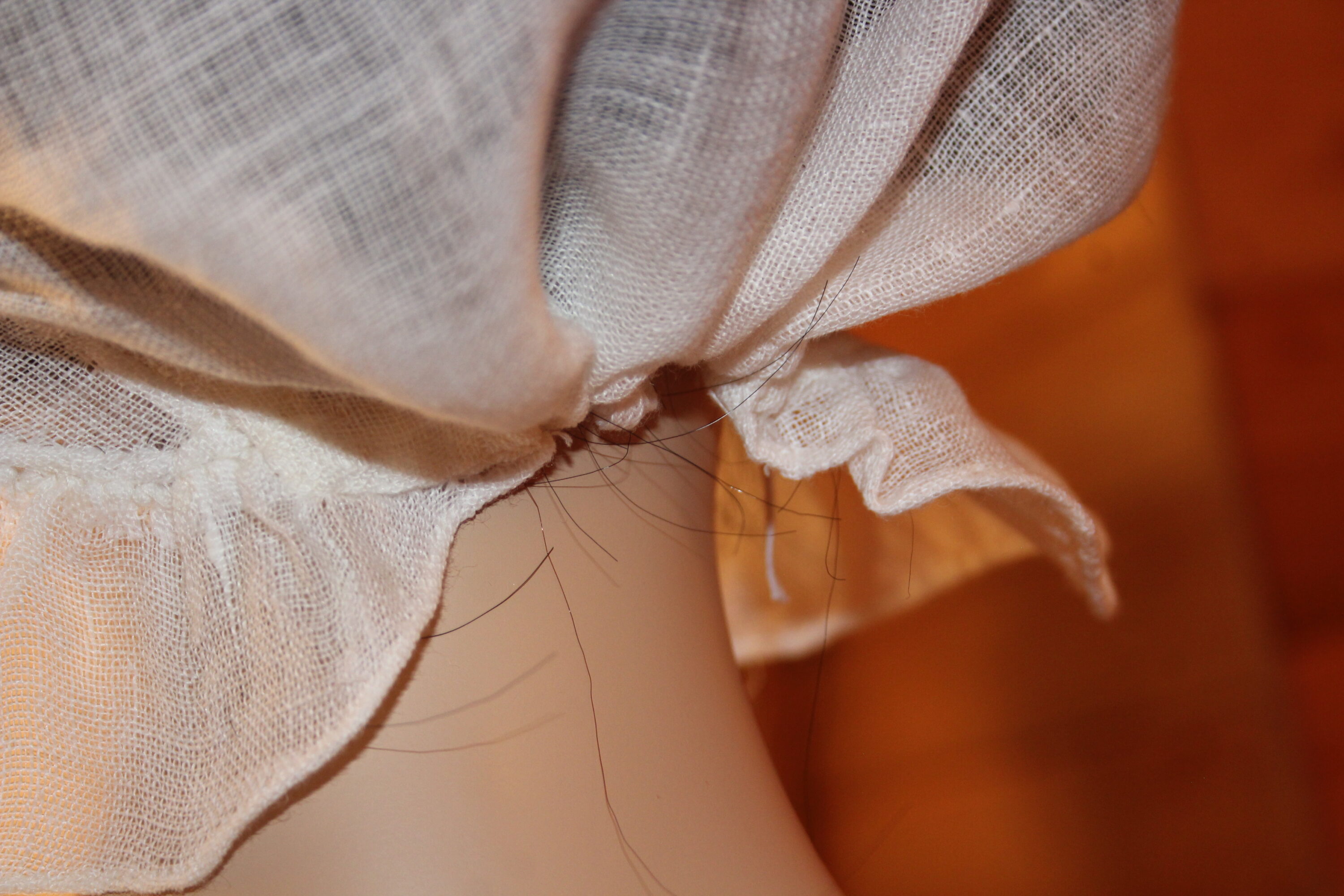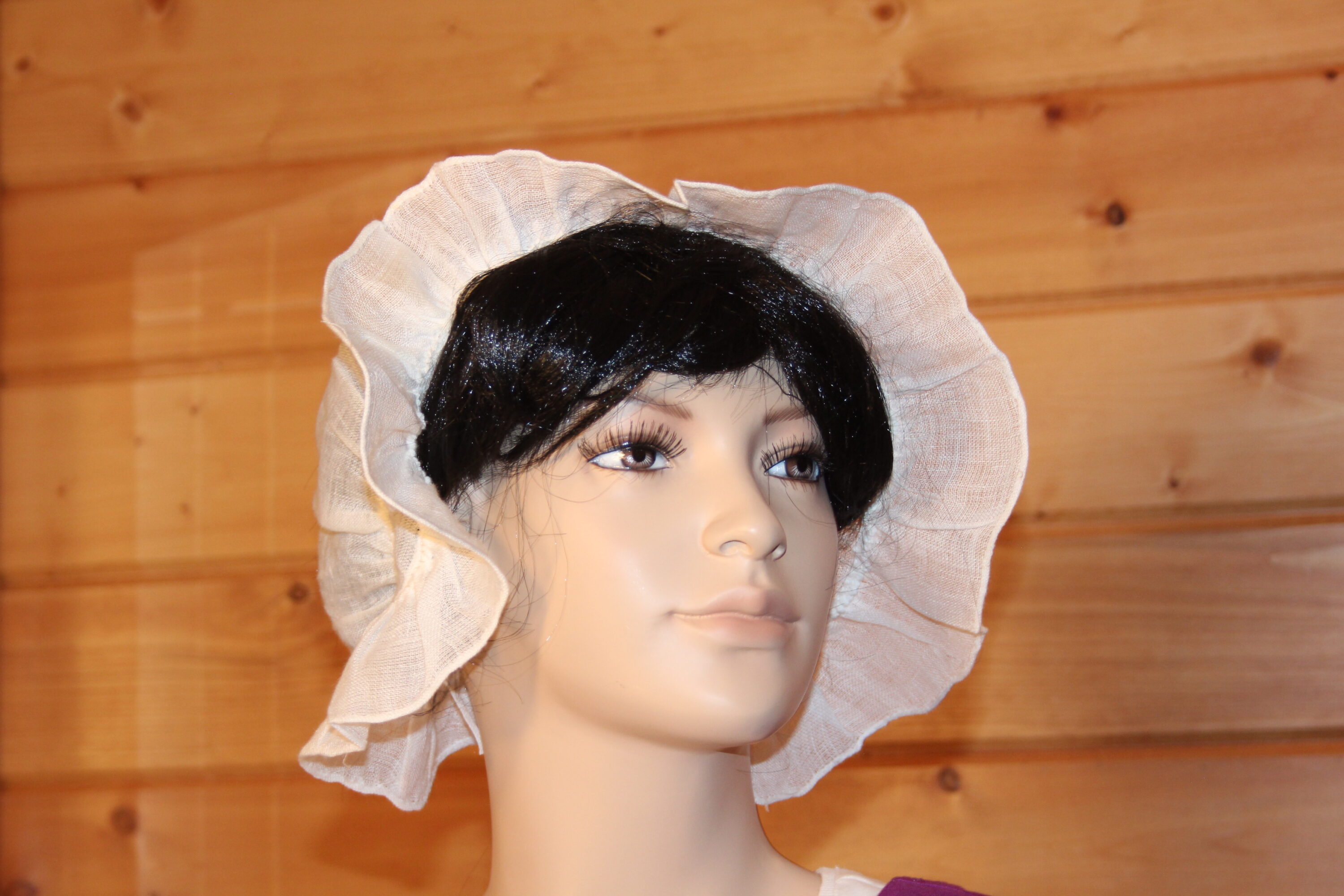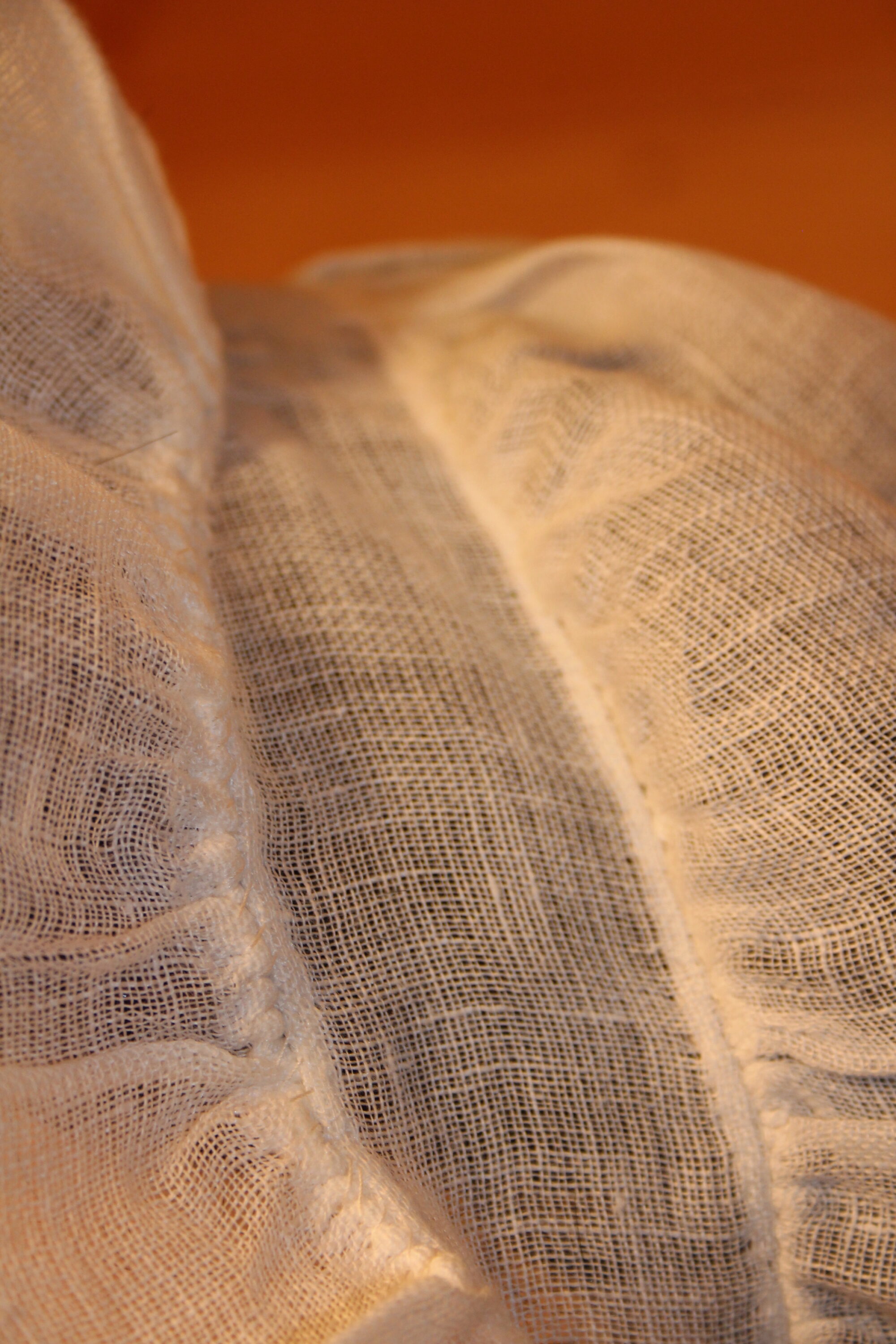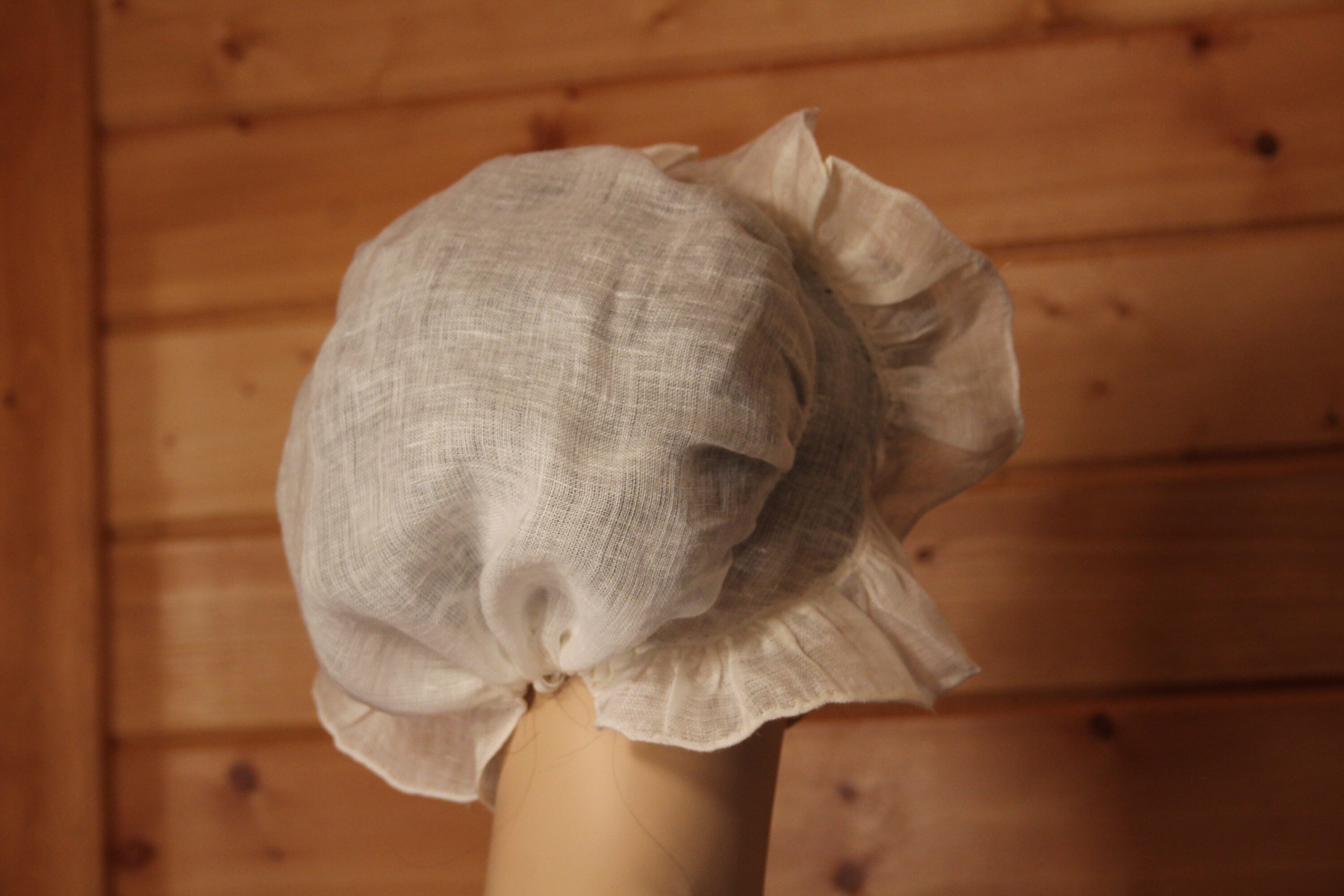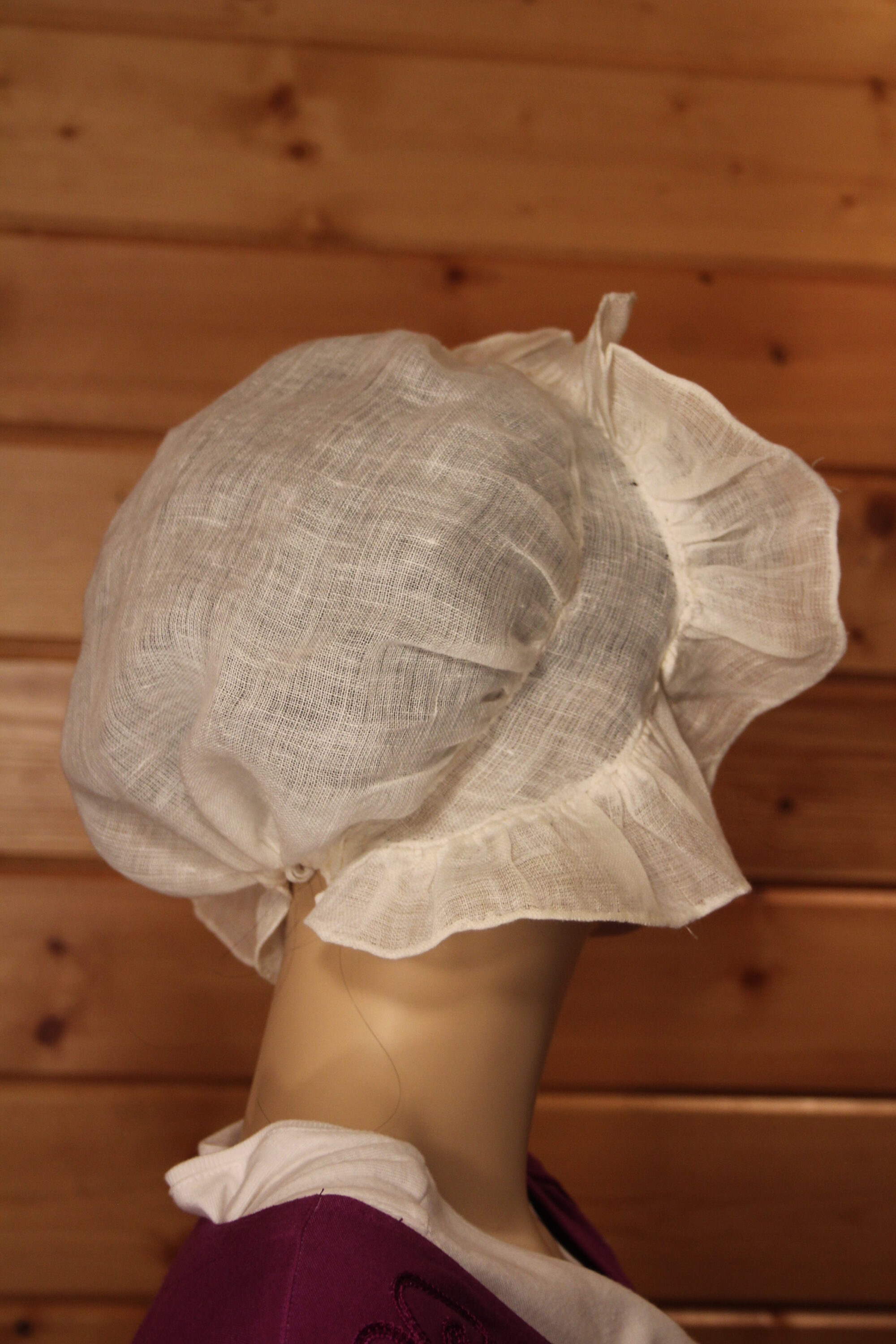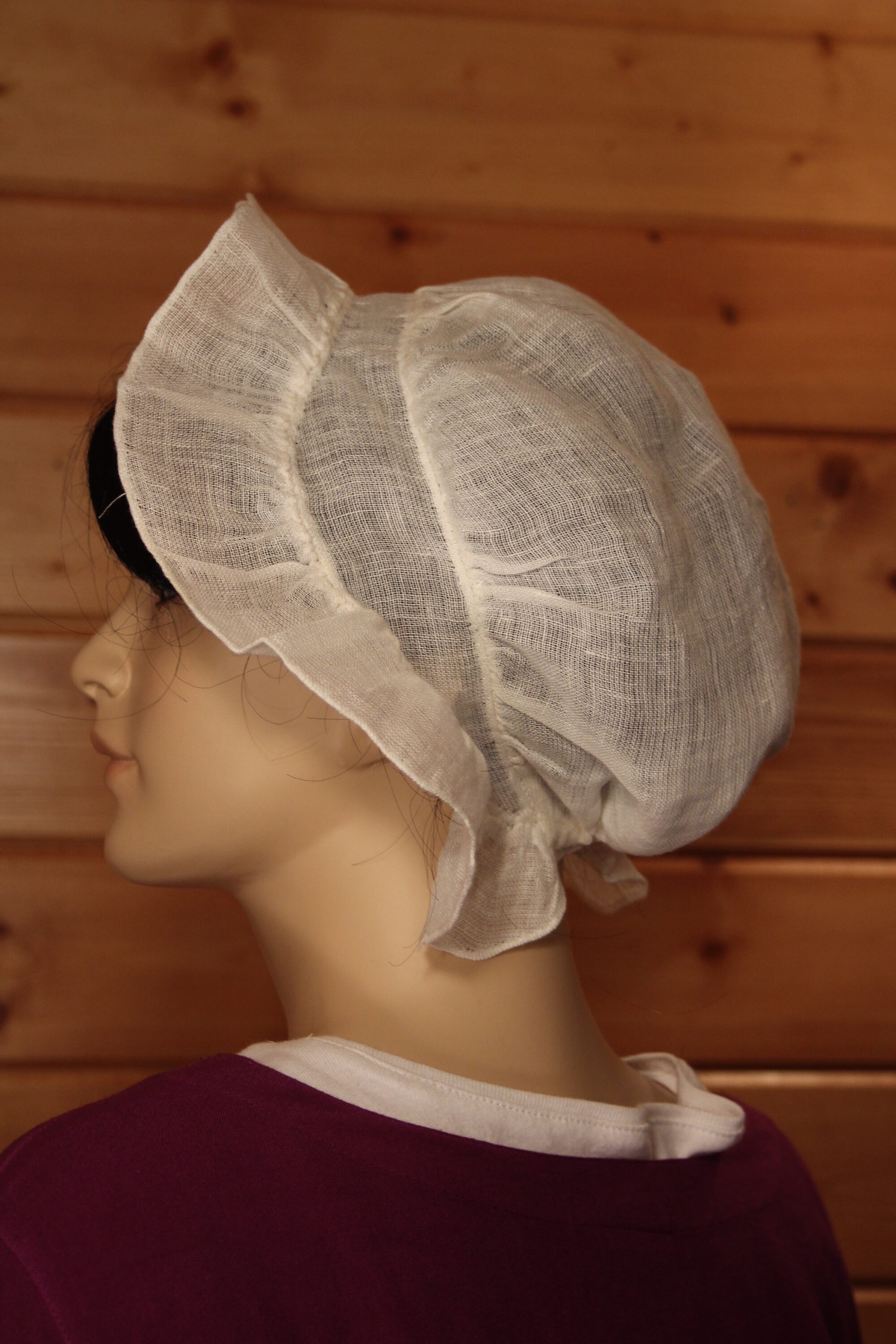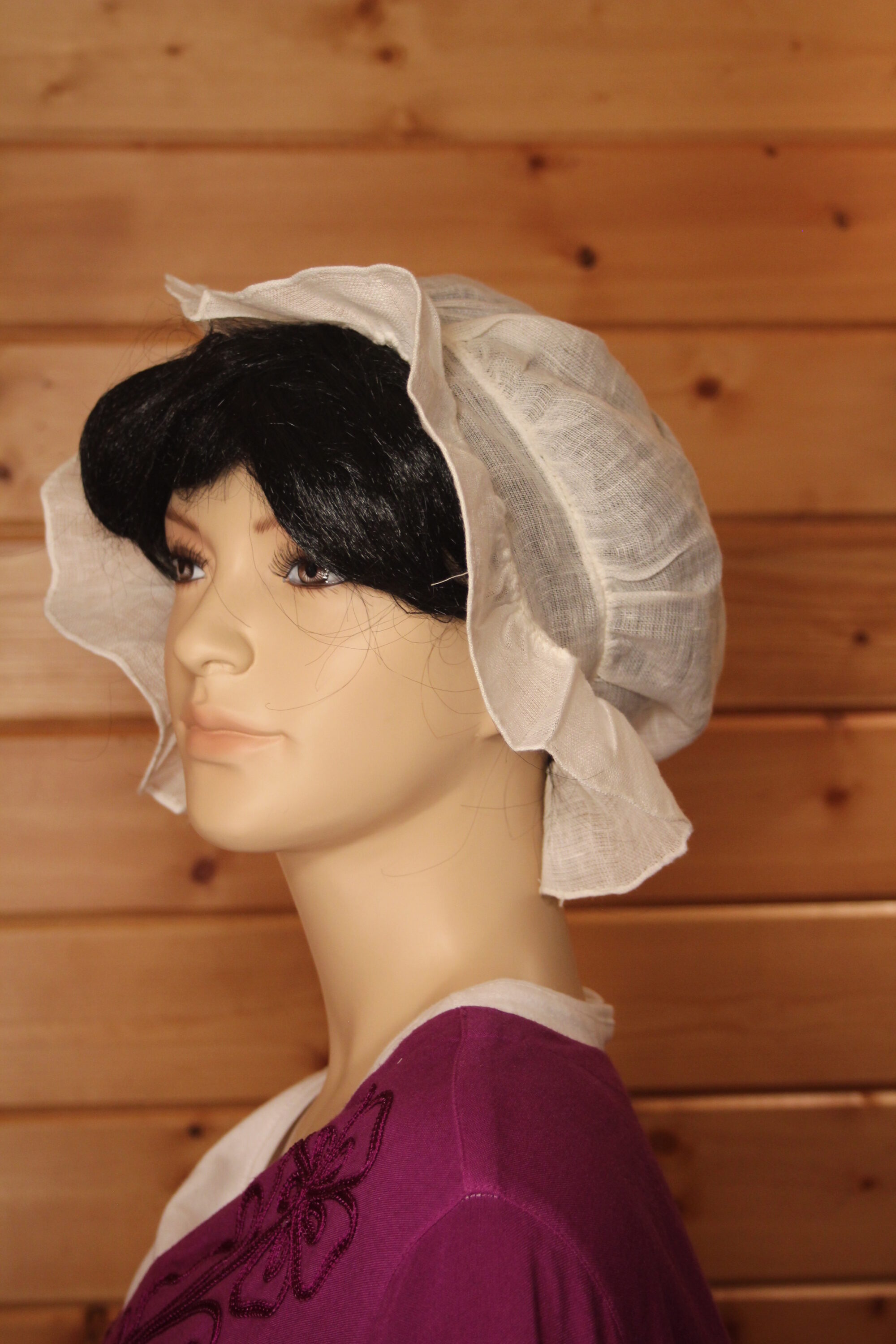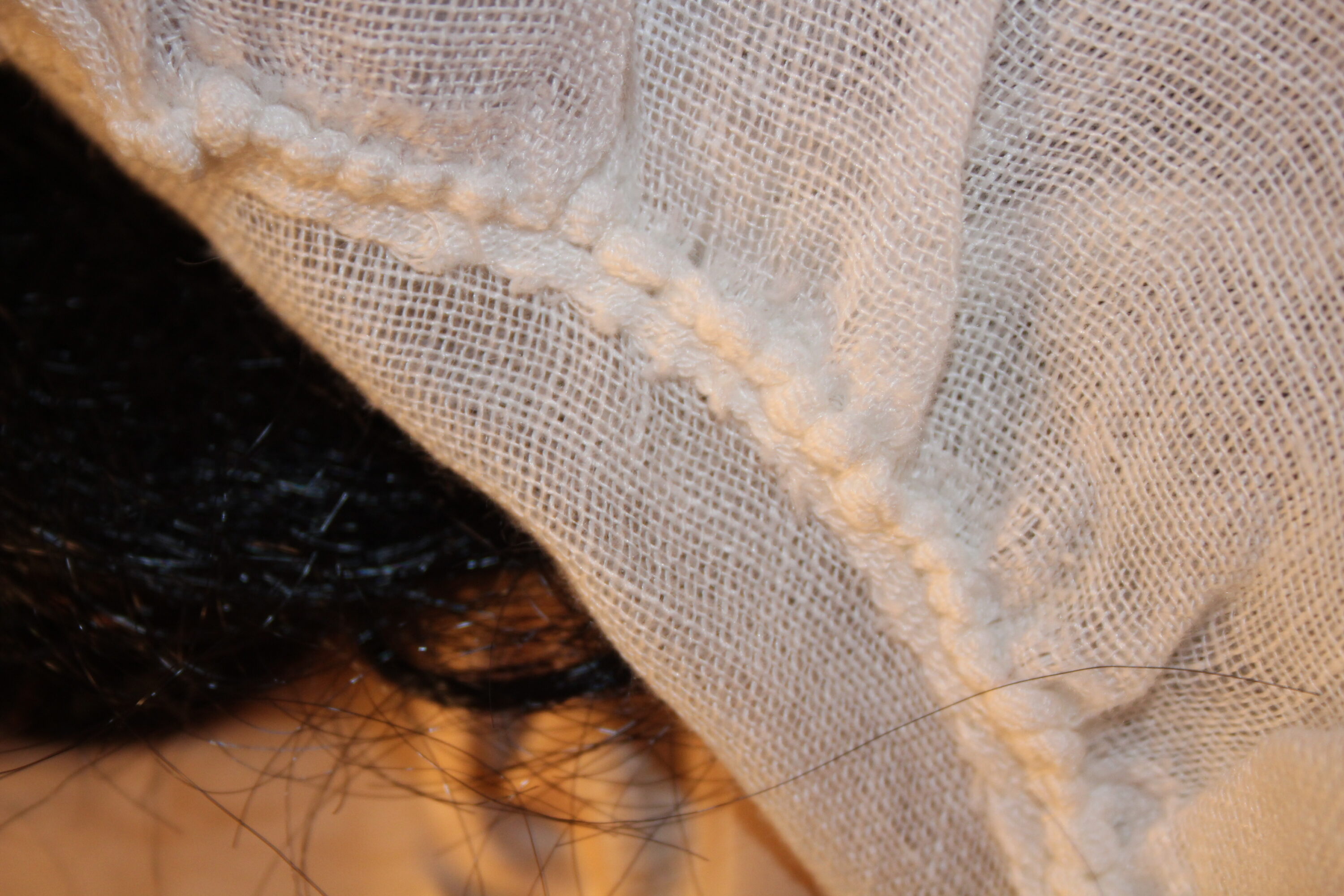 Apron
Lightweight flax-based linen with pleats and self ties.  Inverted box pleat in front like with the two petticoats as the look is flat and wide (and big in back).  That keeps the center front smooth.  It is designed to cover the full dress as in extant models, and to be used to haul and carry as shown in these photos.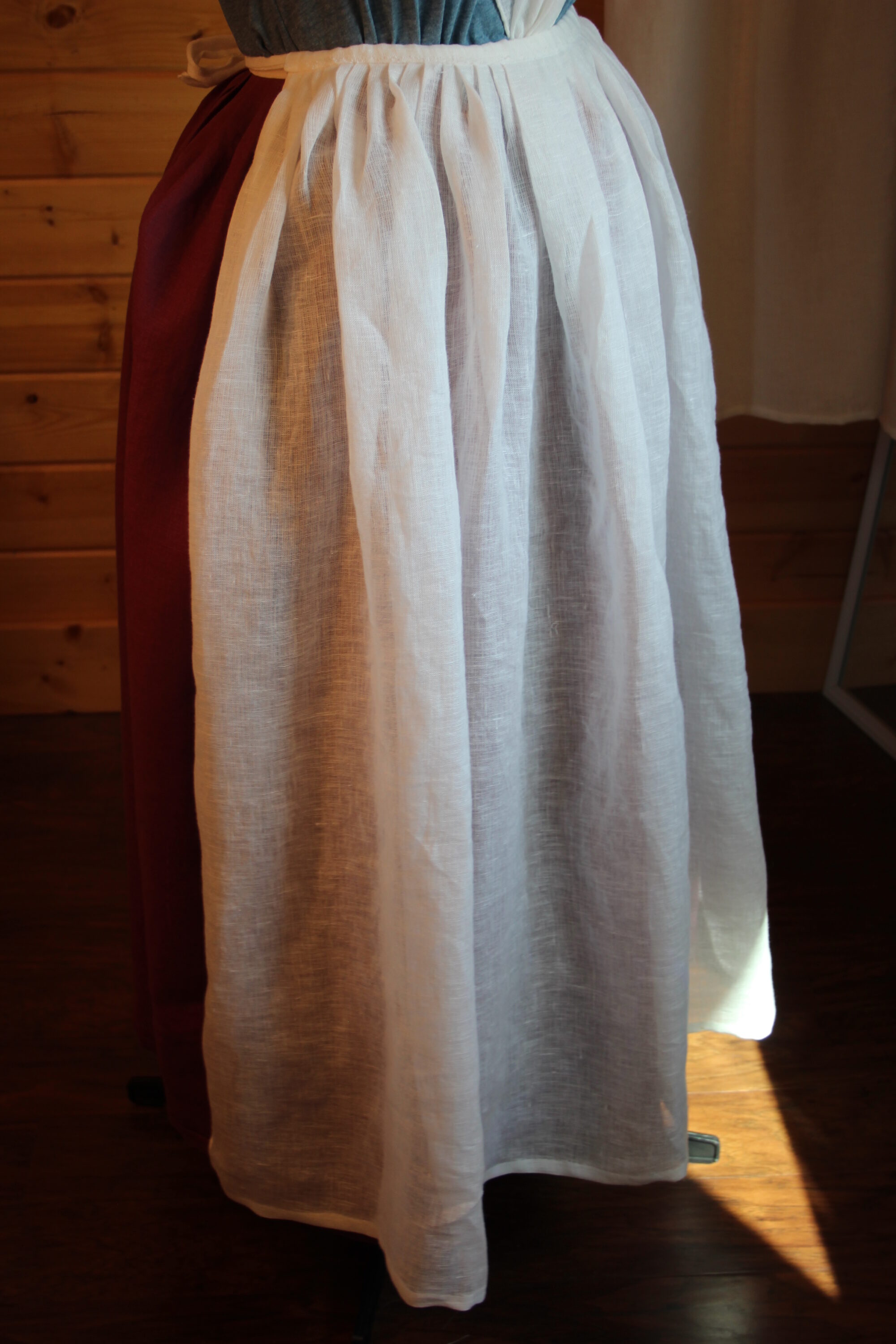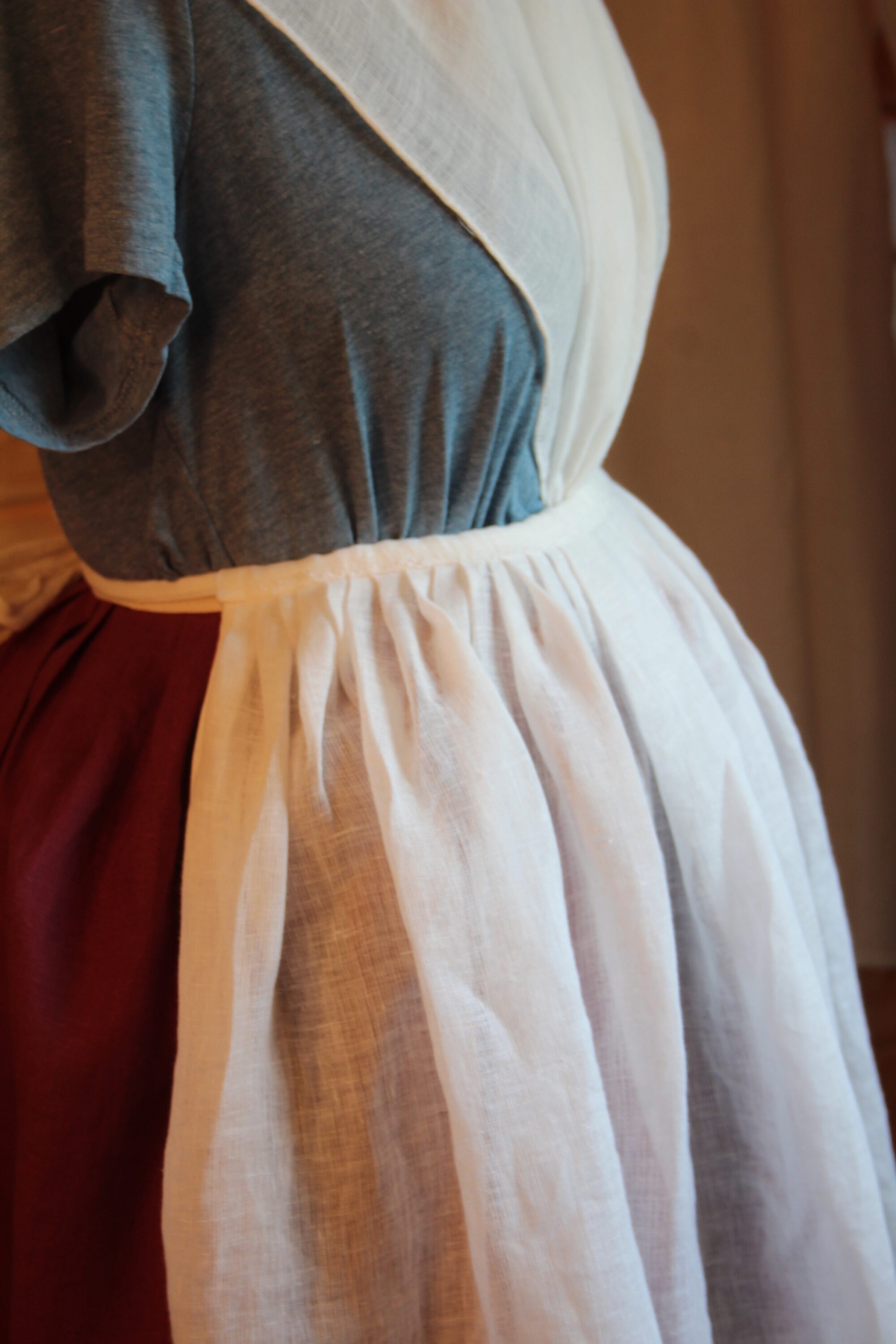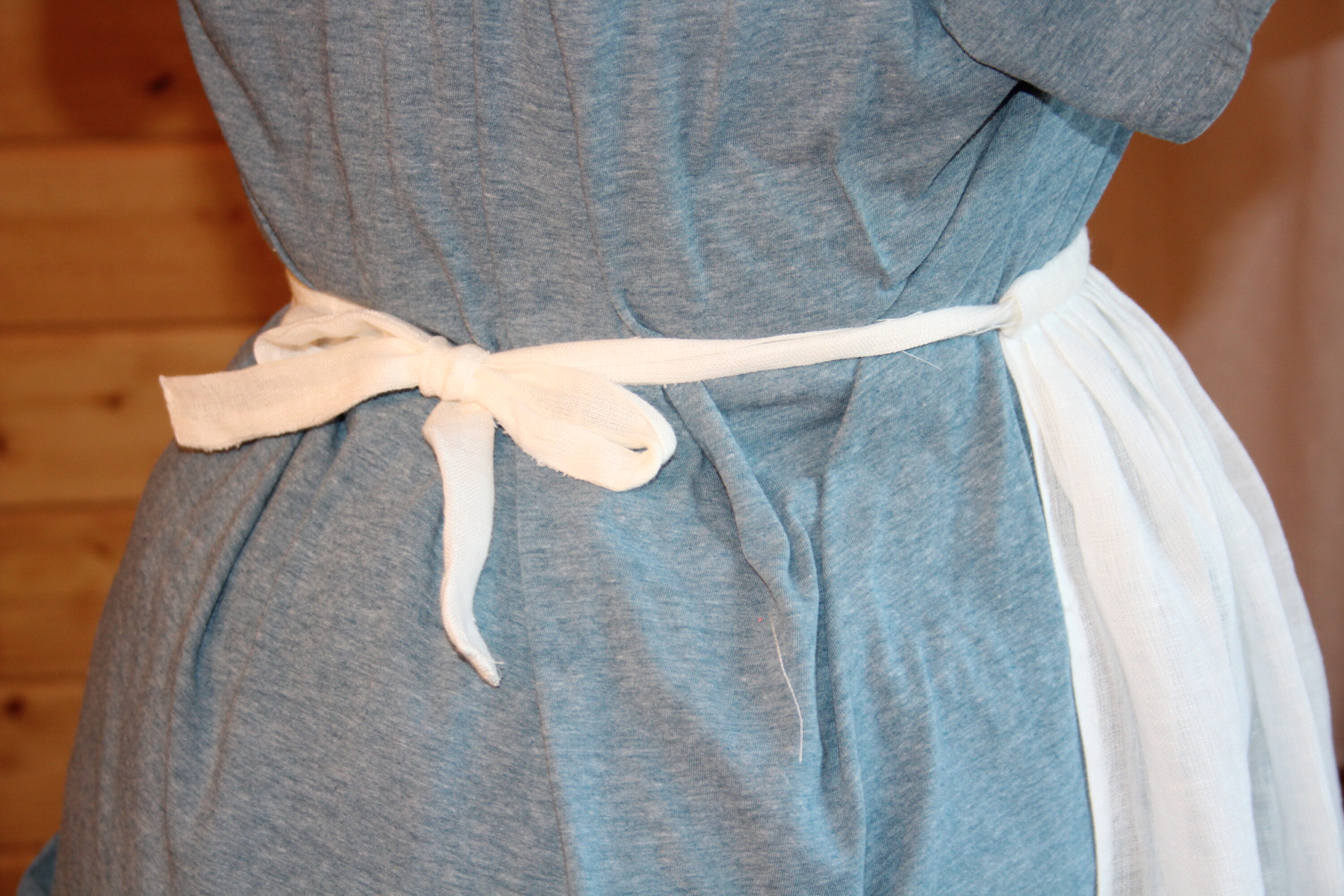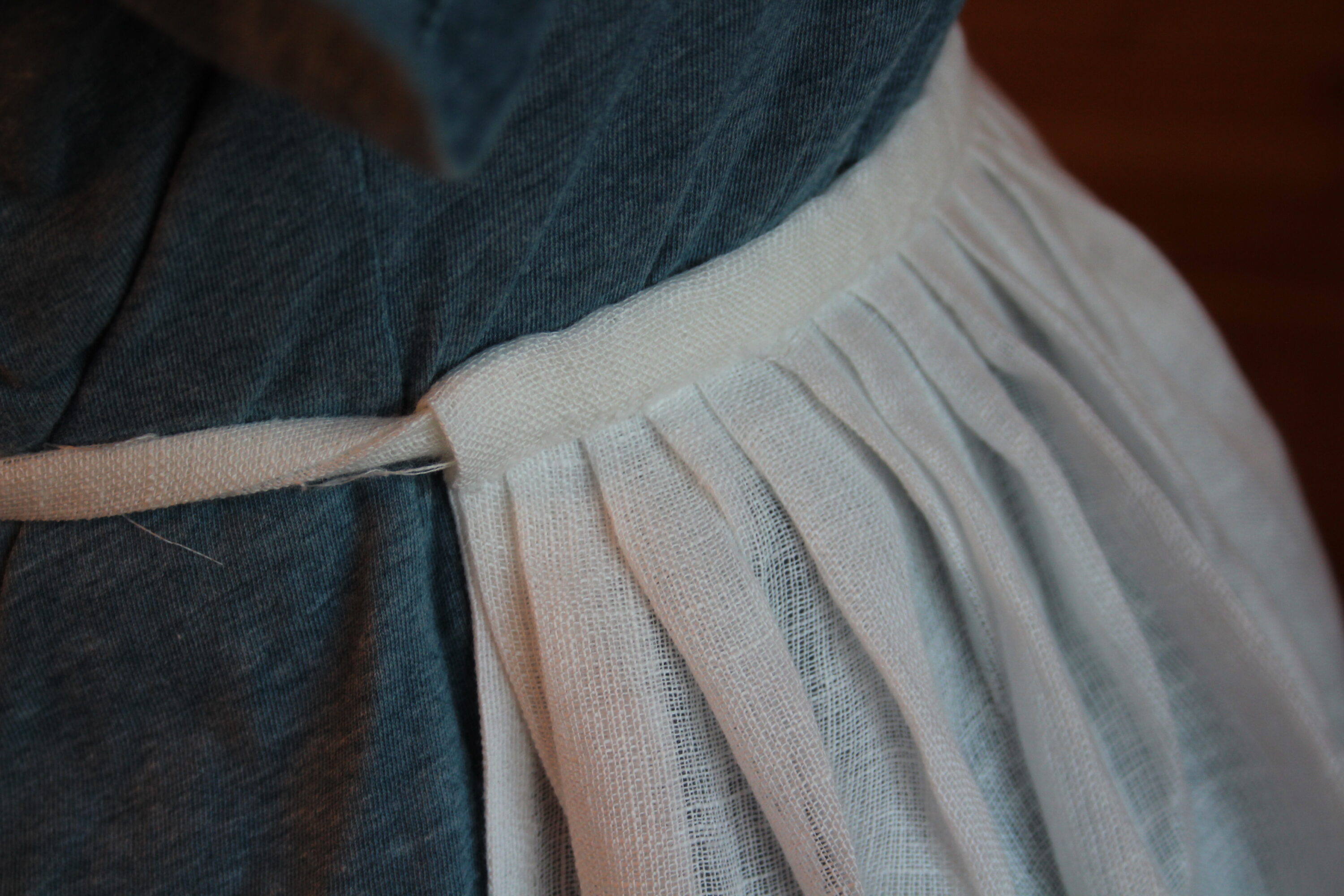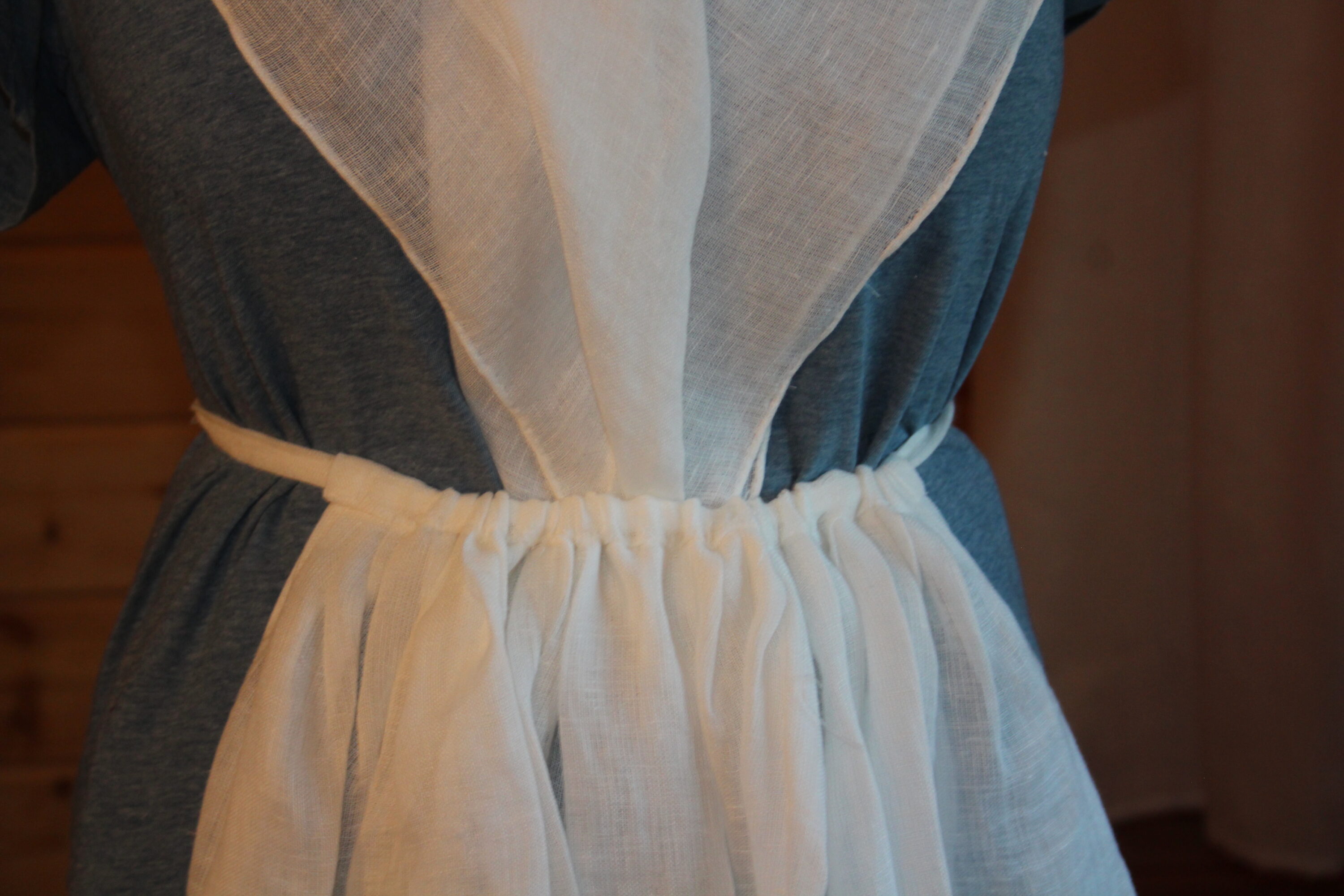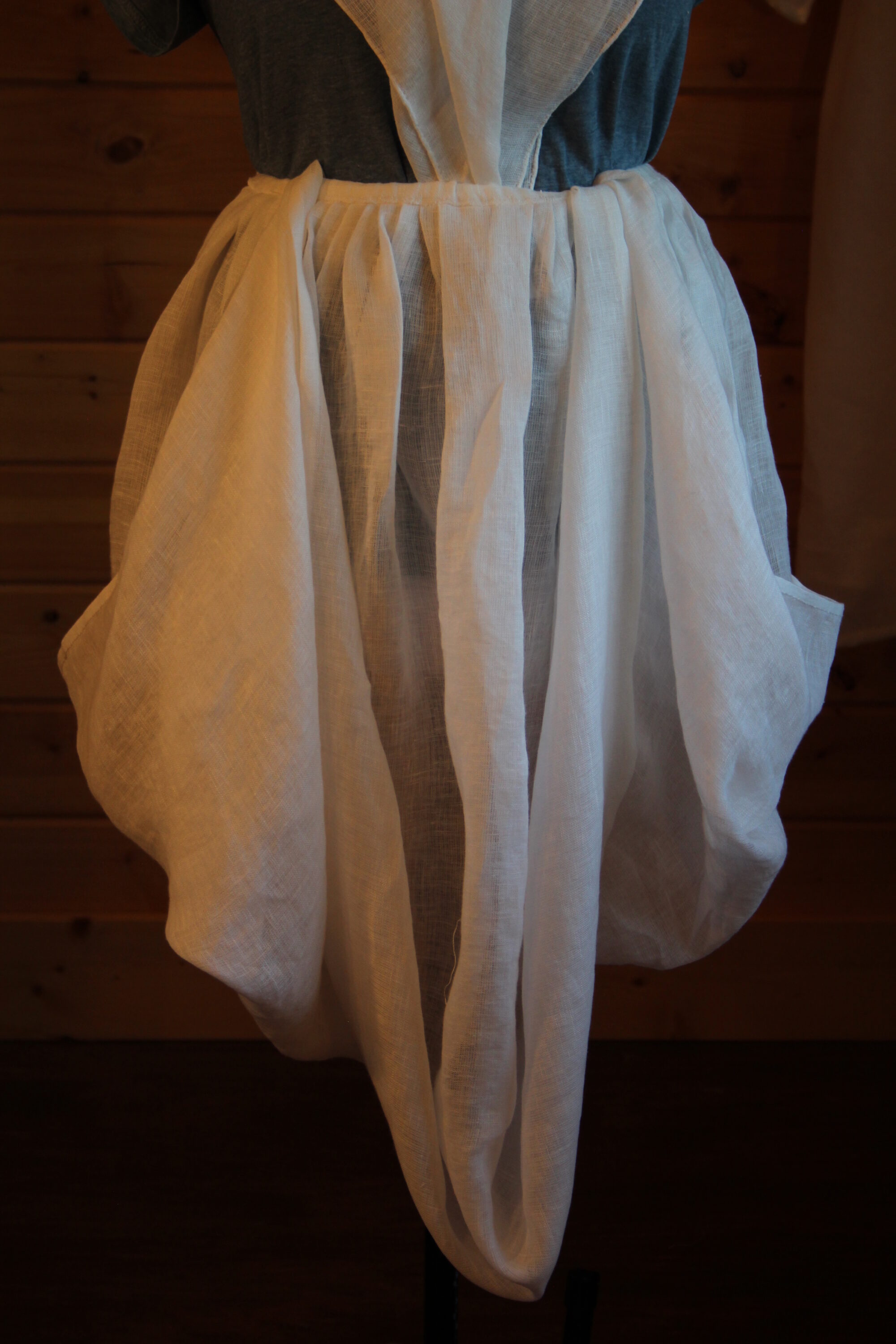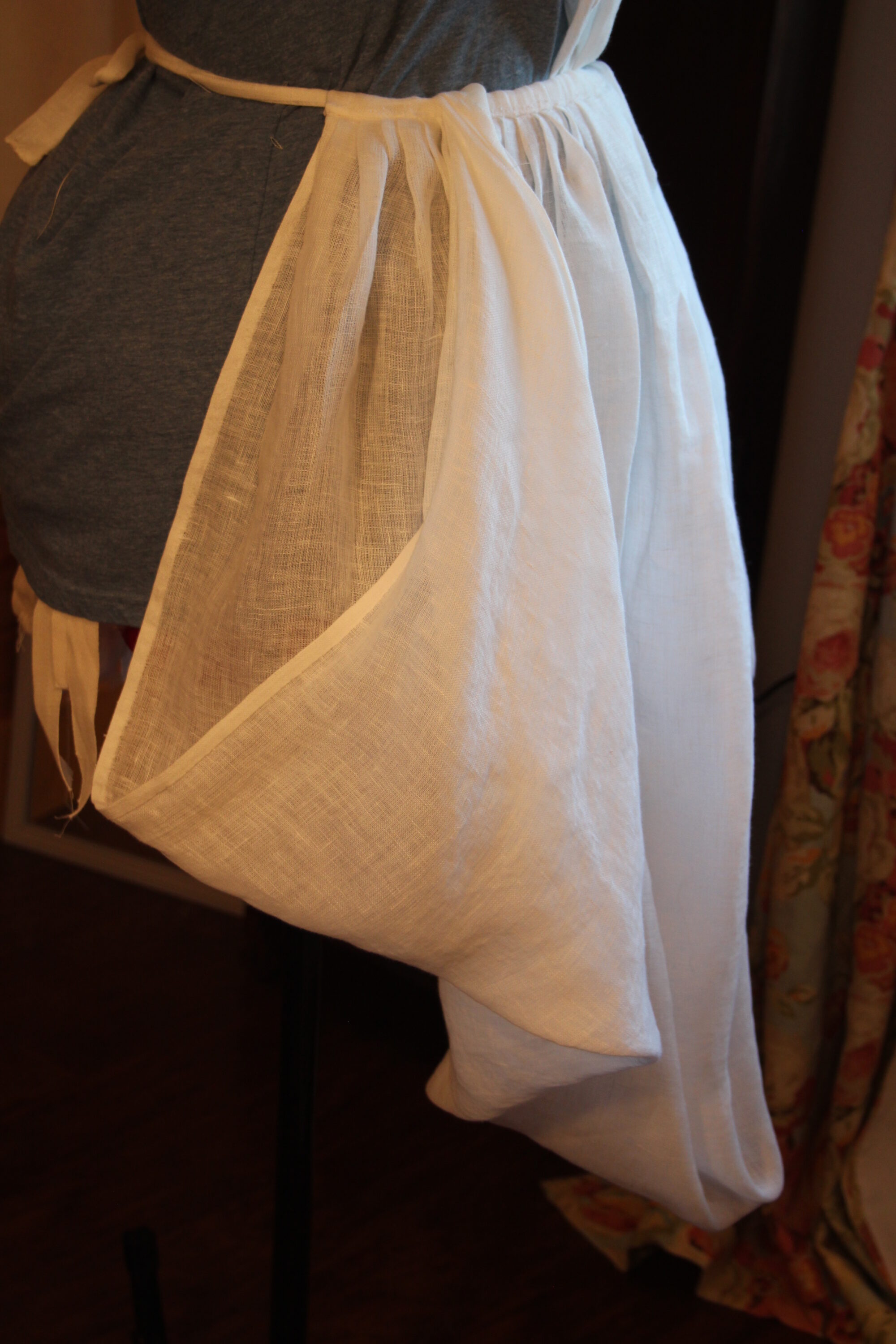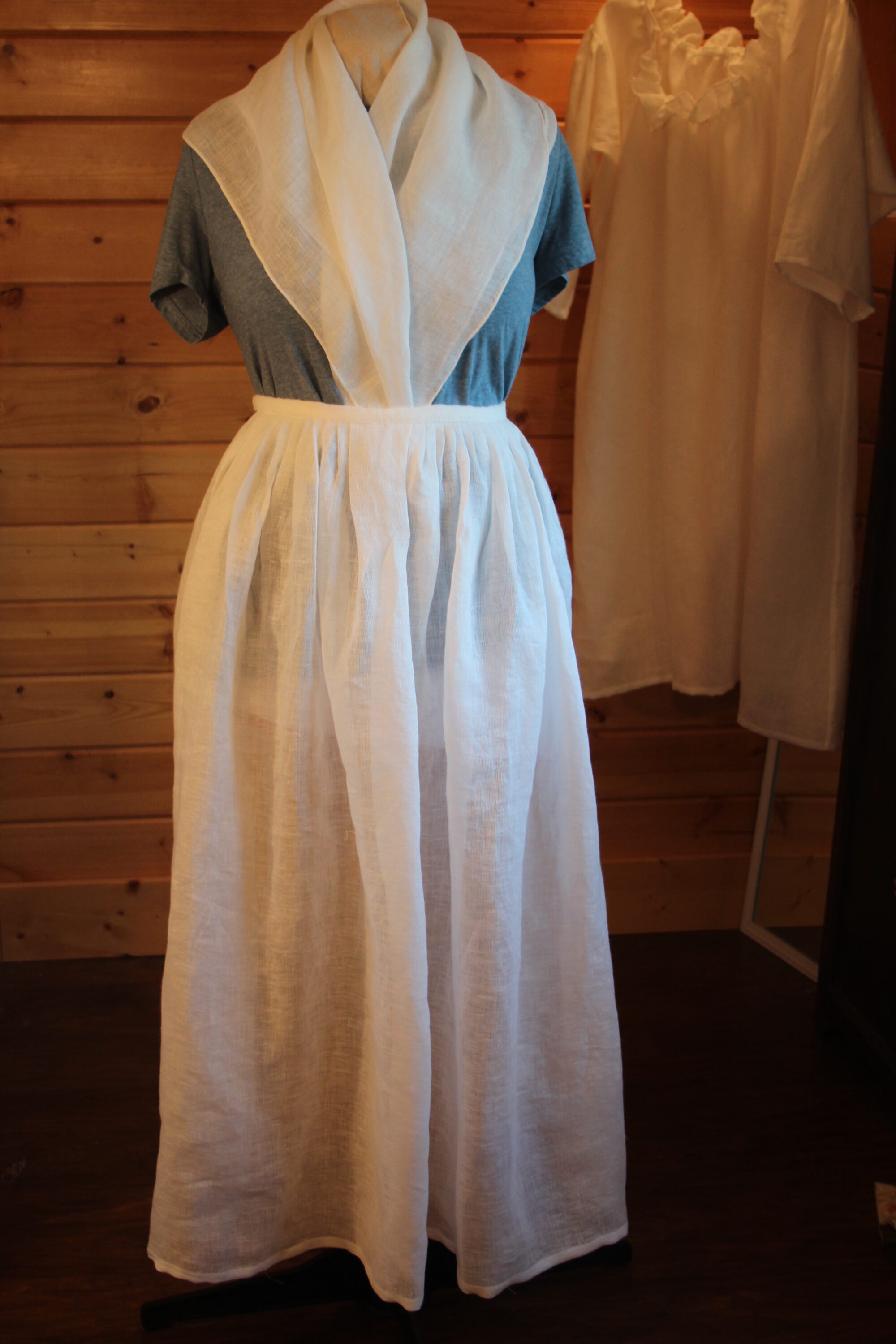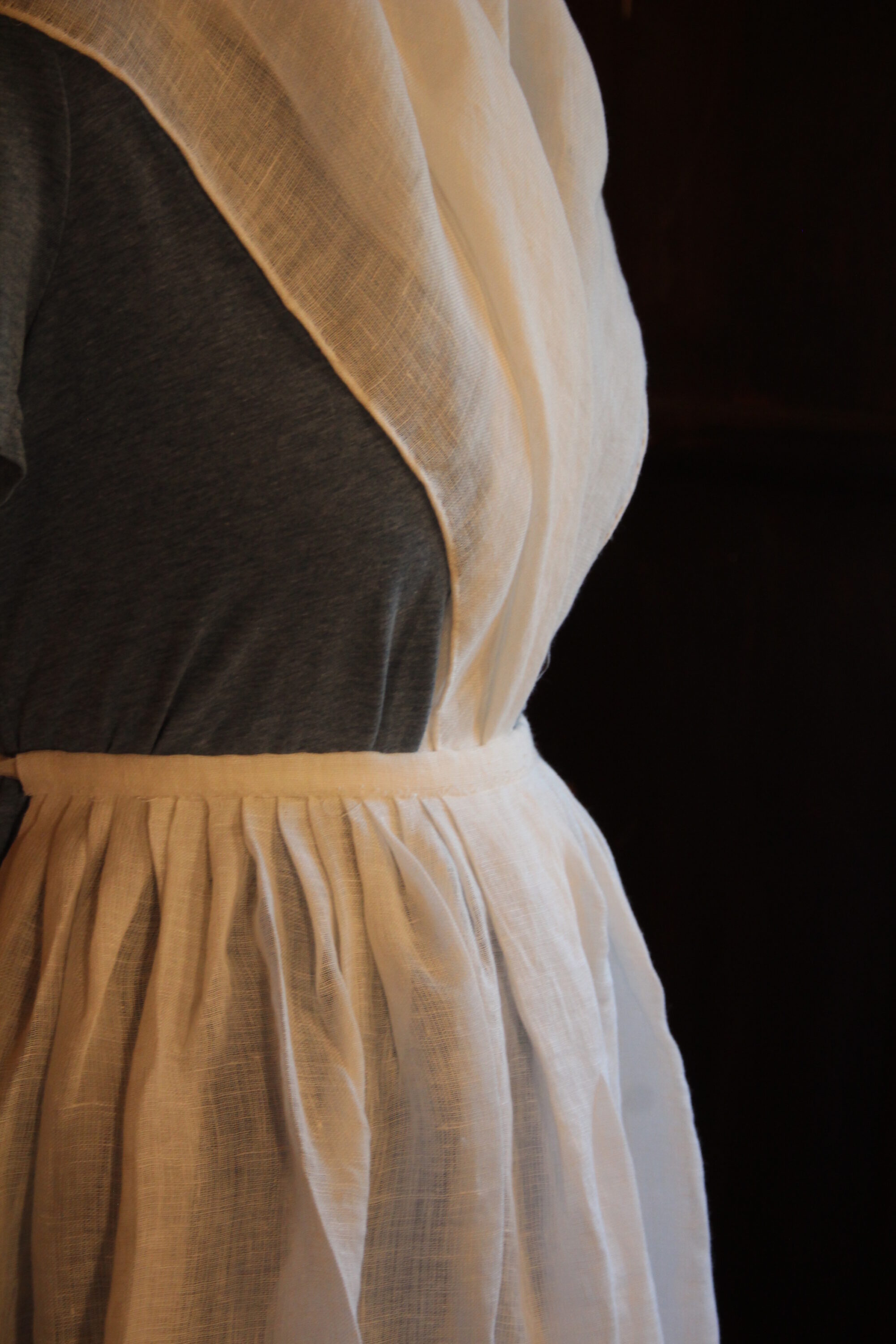 Embroidered Fichu
Sheer linen, original design, machine implemented.  Has tiny authentic type of rolled hem.  It is a square folded to make a triangle when wearing.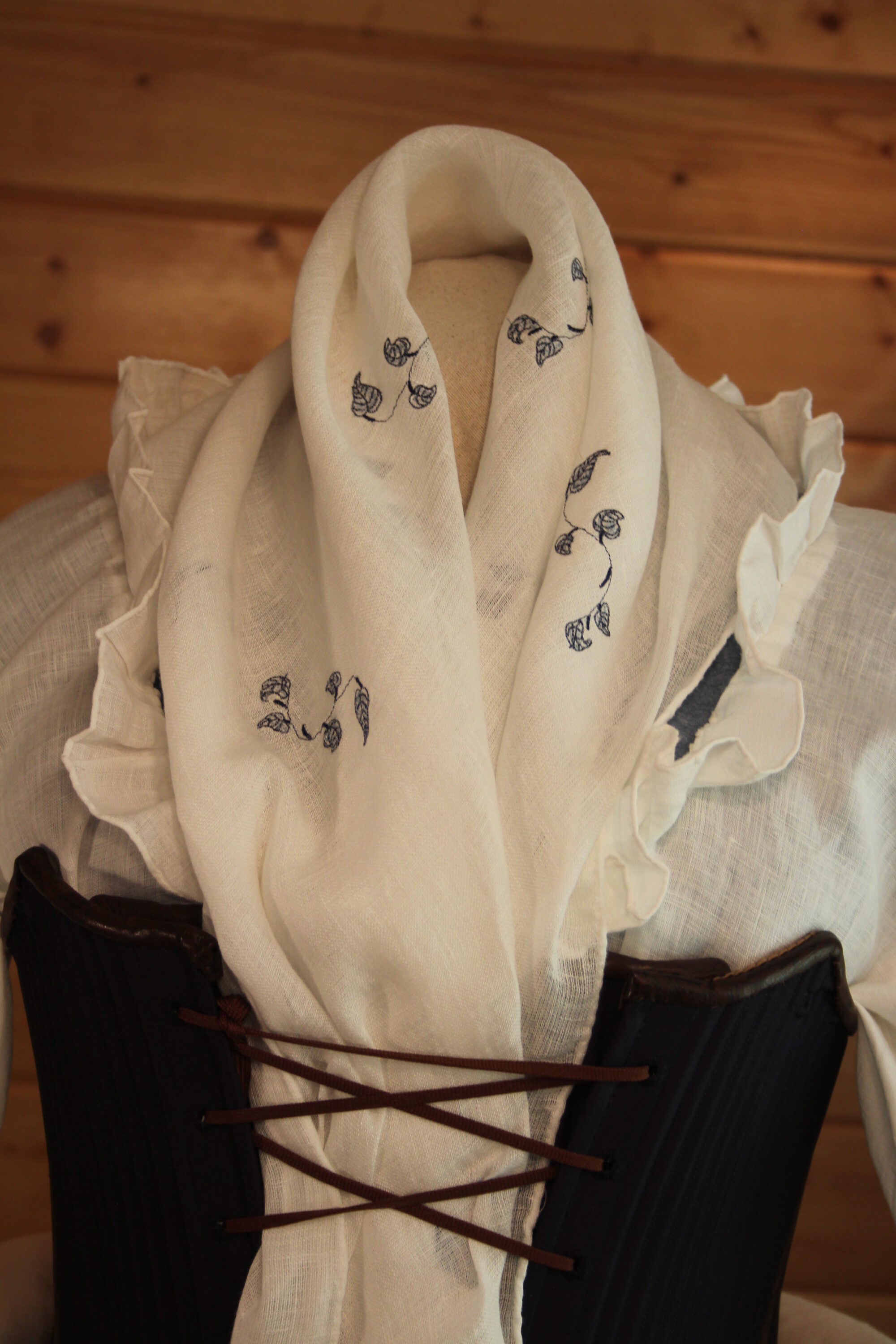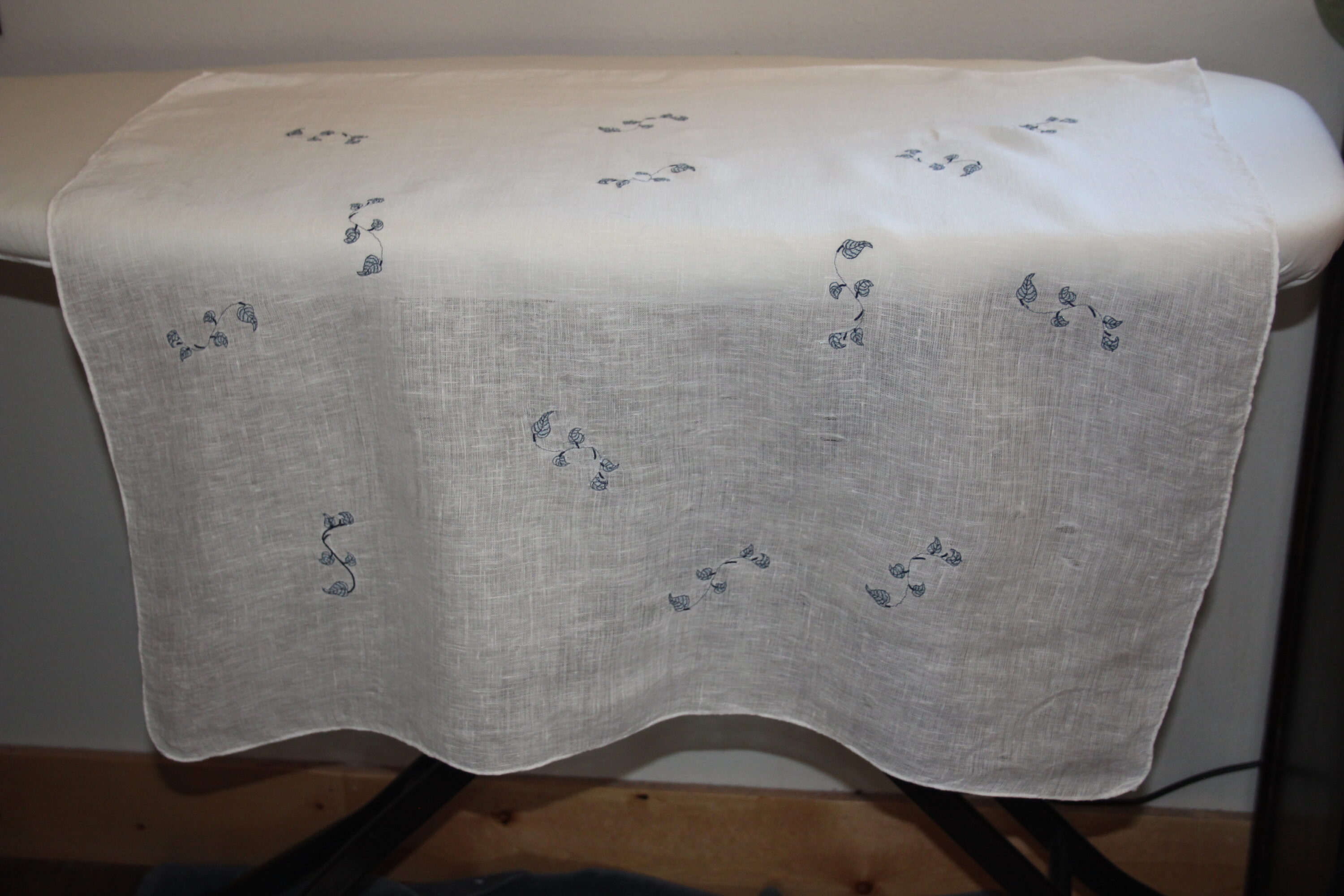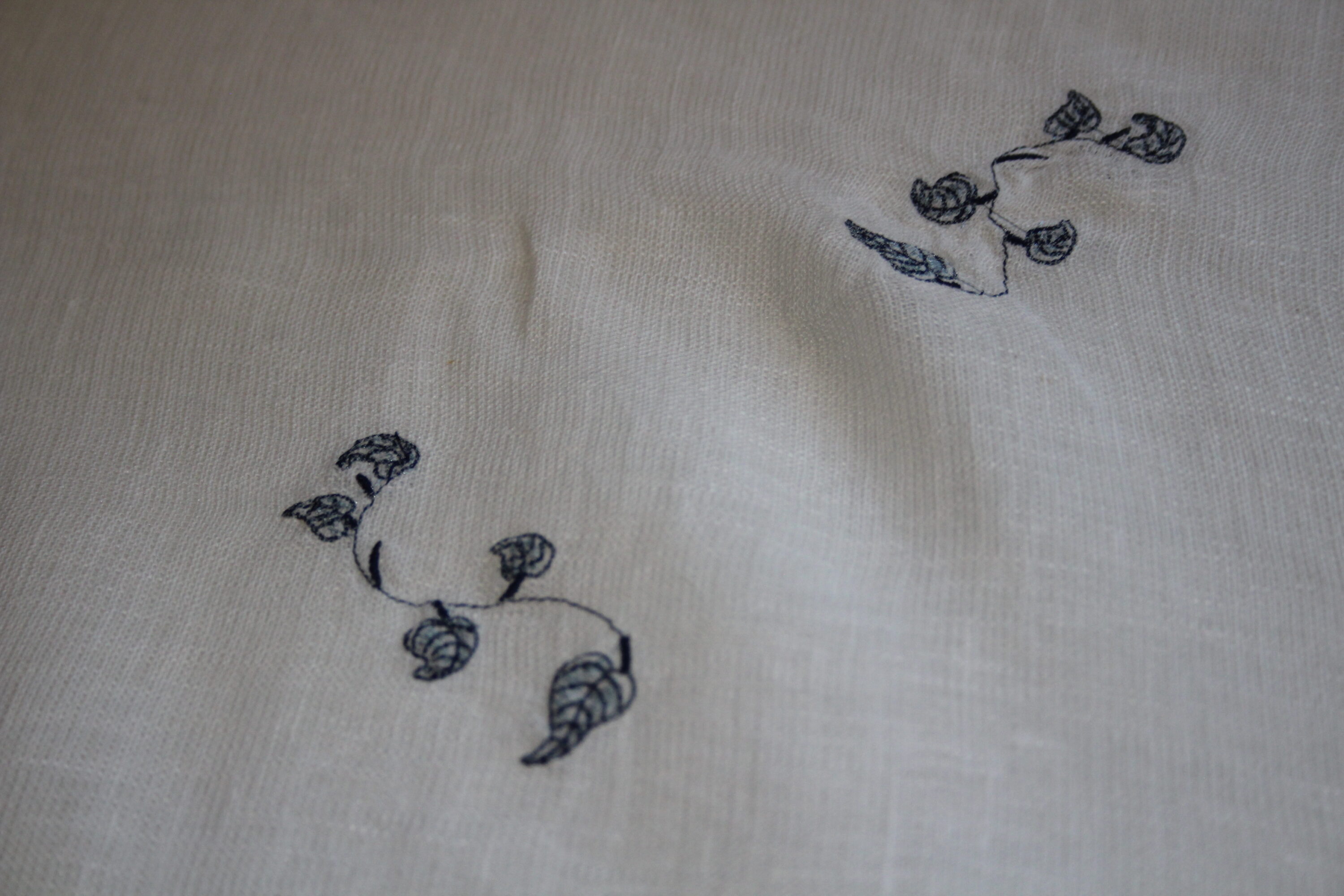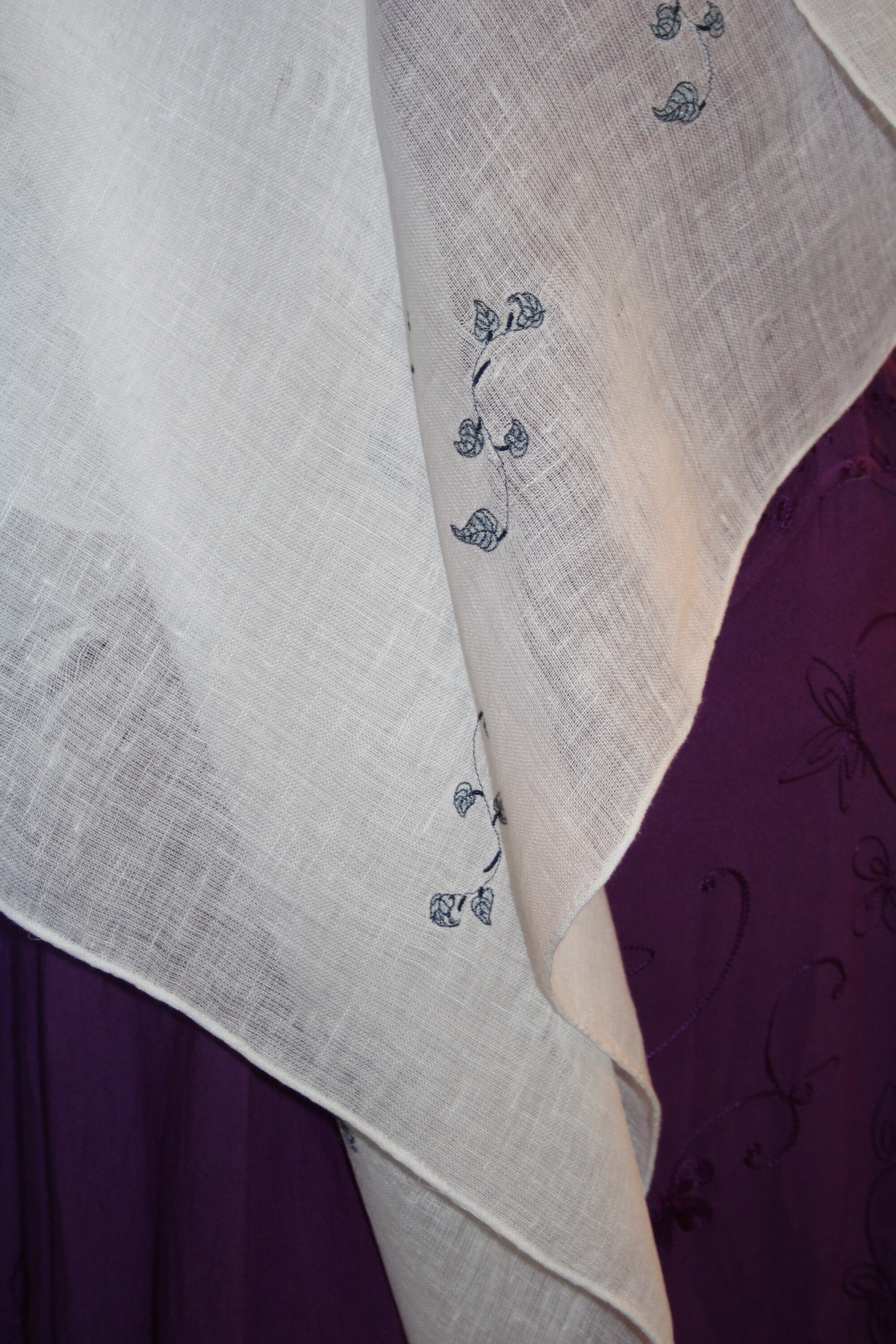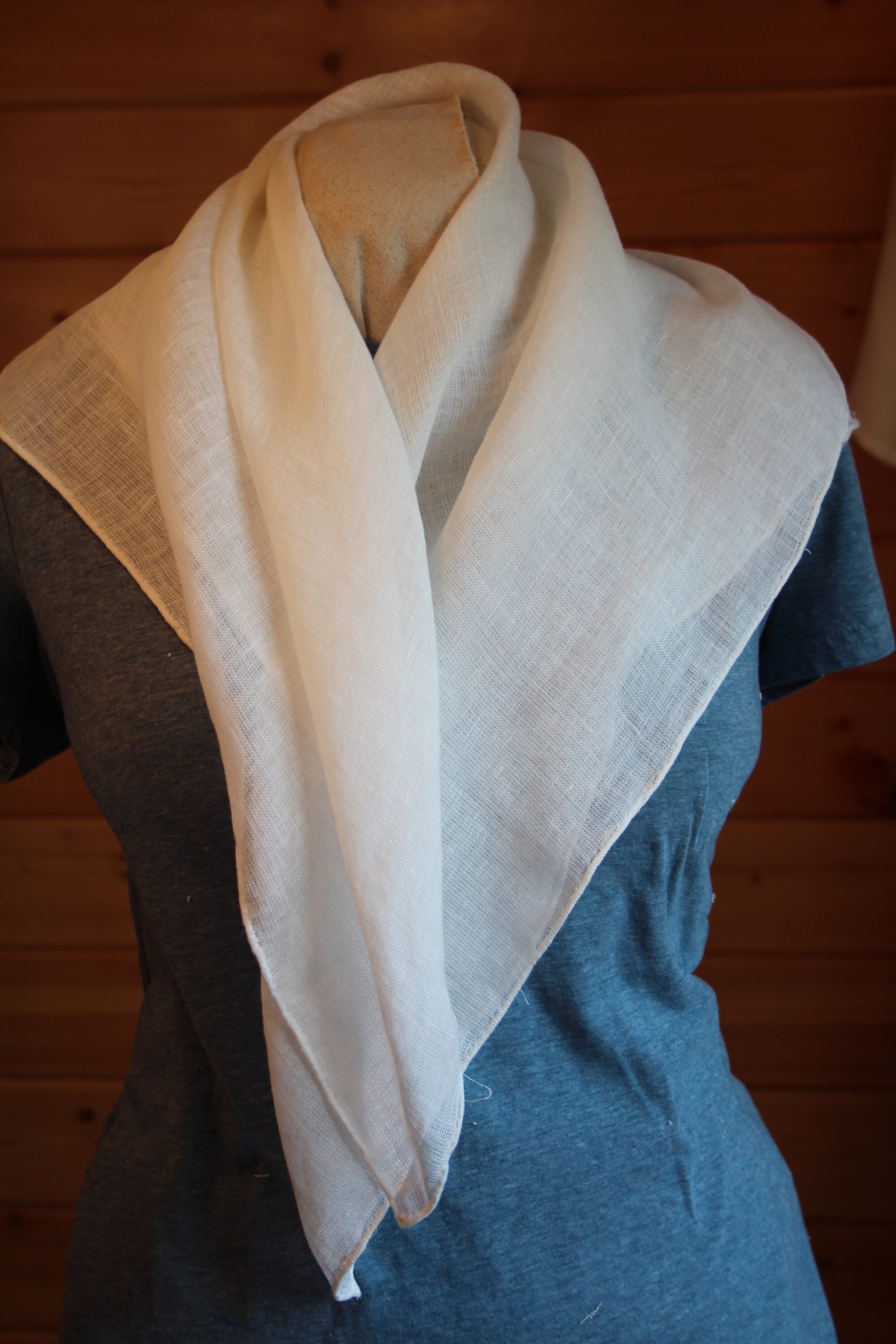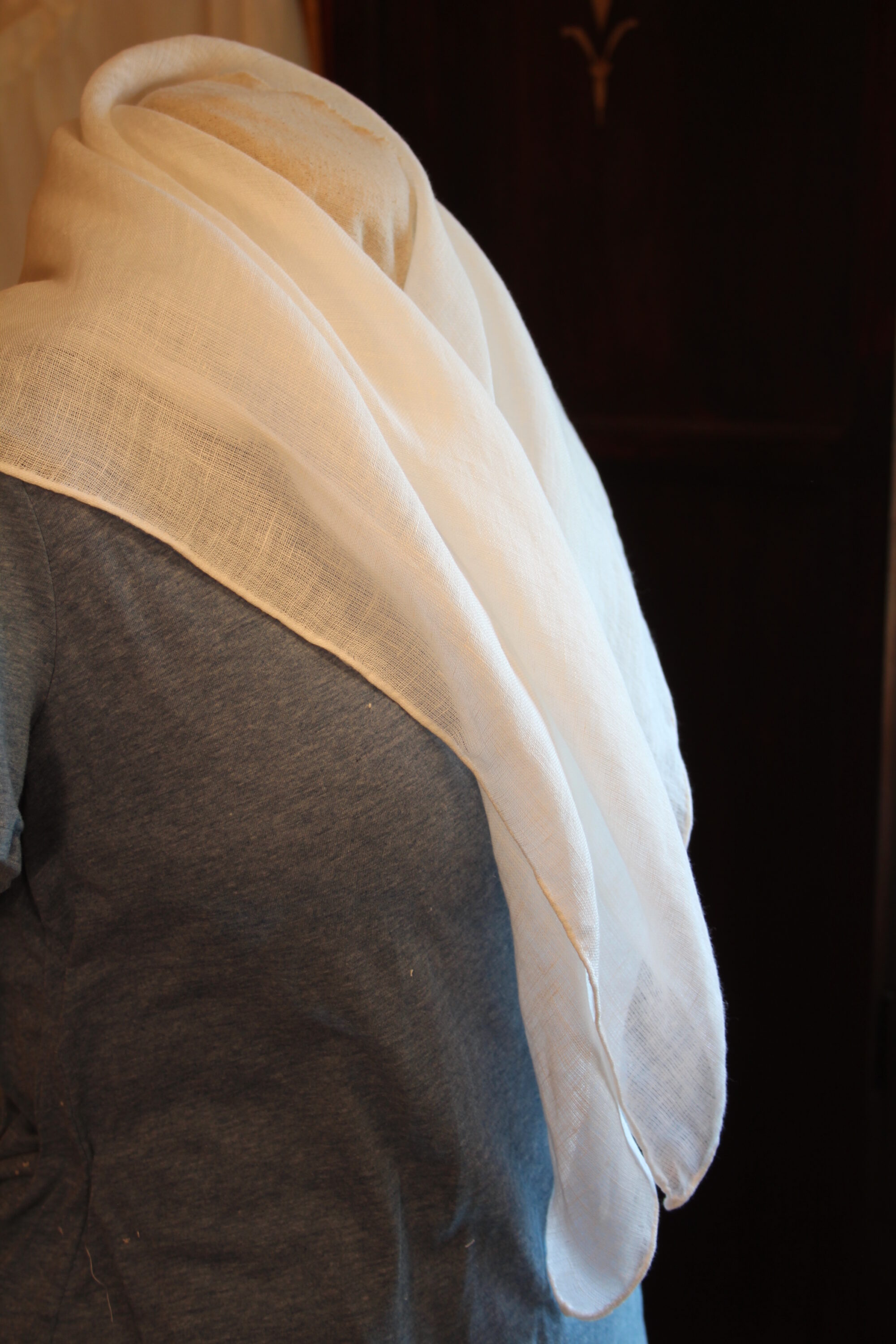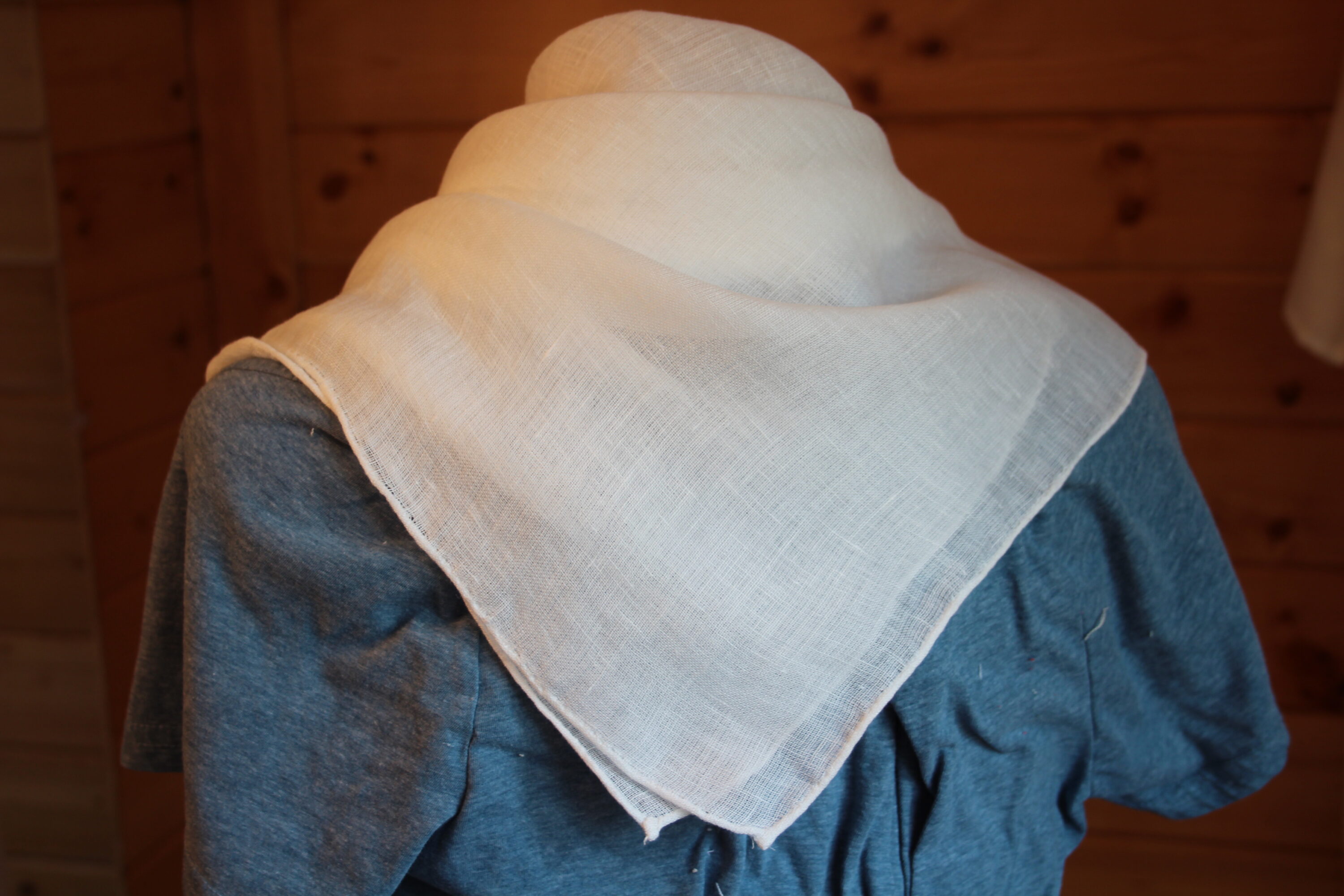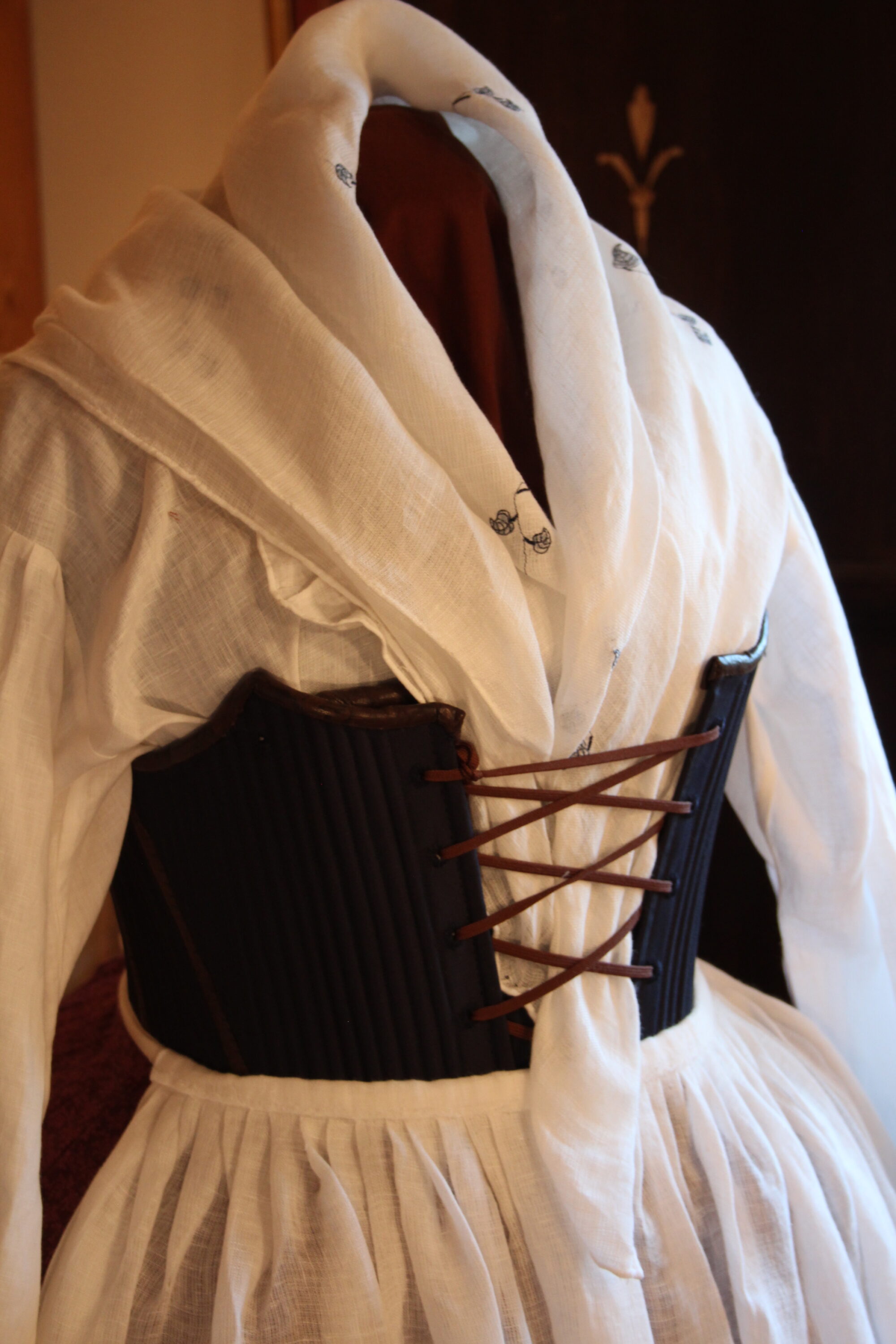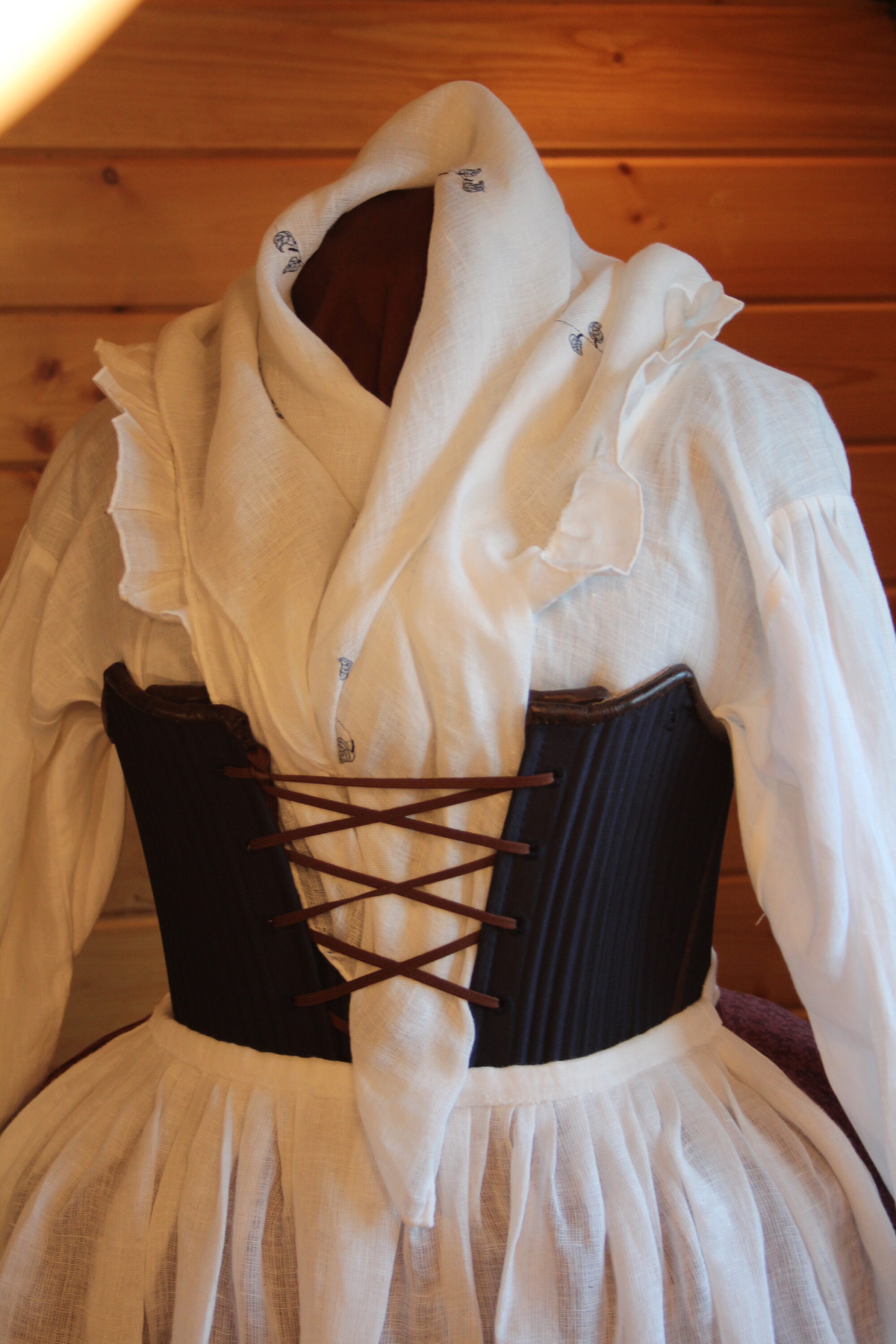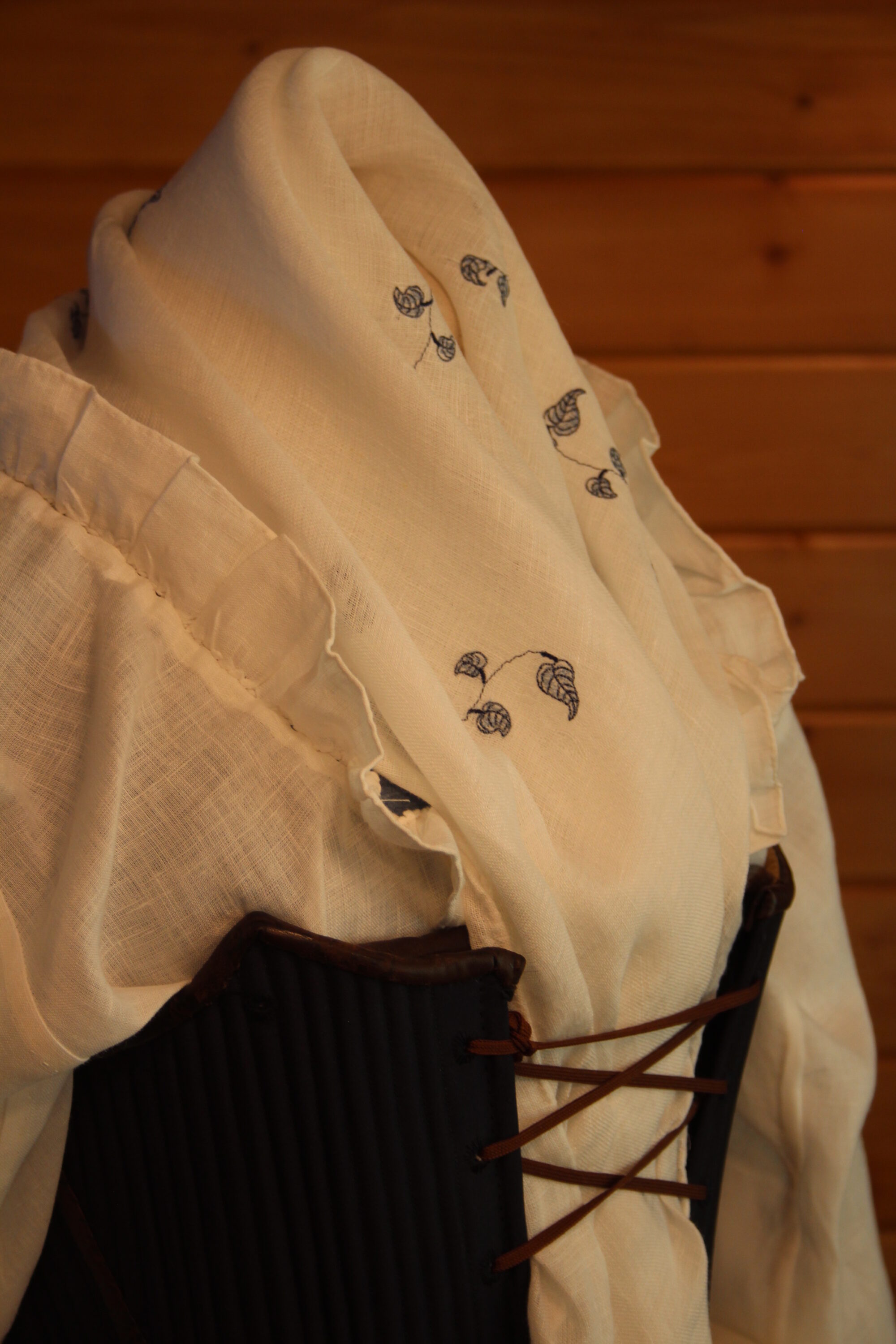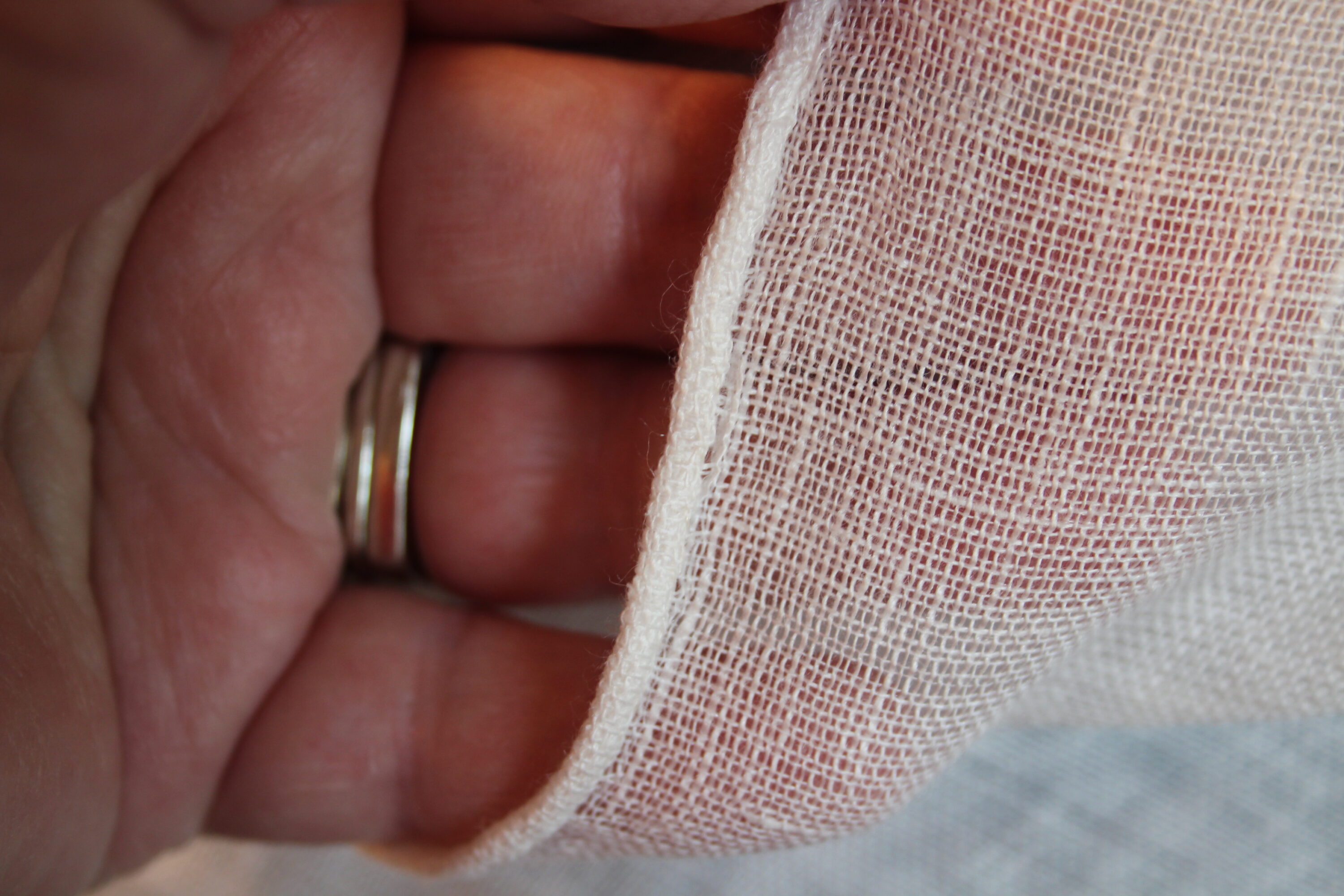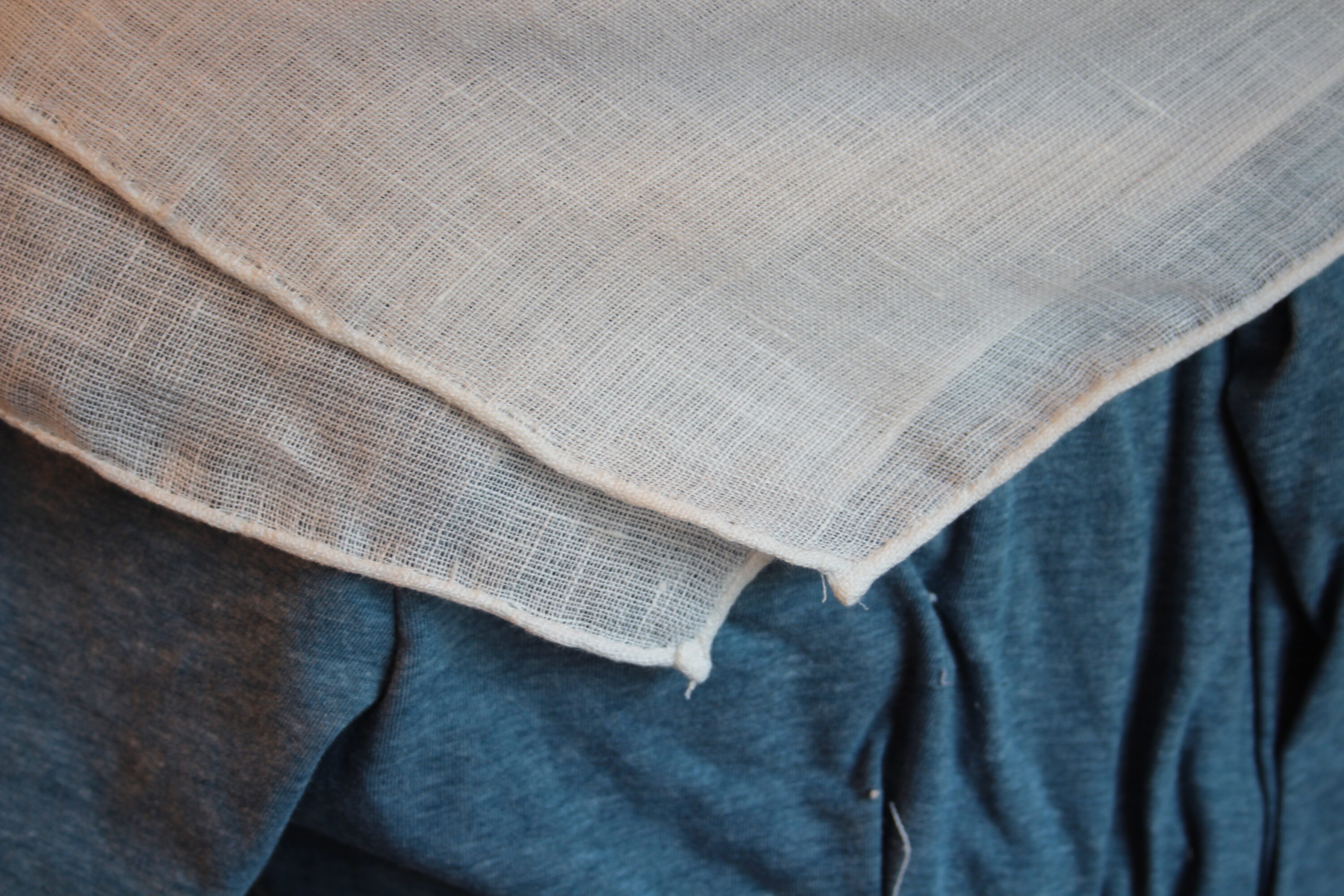 NOTE:  We have tried to find ways to use the sewing machine on 18th century garments.  There is NO WAY except the long seams, or anything that would be felled or sewing by a running back stitch or running stitch.  The turns and corners and edges are so tiny and delicate.  Fortunately, the offset is the petticoats are simple if you have a large surface to work on and know the trick to leveling the hem over a bum roll (we're not telling!), and the bodice is a very basic design if you're good at draping.  Draping is the key.  Flat pattern design was not even invented for almost a century after the 1770's.  They had to drape.  That's why you don't get the cuirasse bodice and skintight garments you'll see in the 1880's.
These ensembles, once you know how to get into them, are quite comfortable, breathable, and fun to wear.  Most of our customers end up wearing their mobcaps around the house all the time because it eliminates the need to fix your hair – just like why they loved 'em in 1776.
We still have a lot of instincts the same as they did back then.  We have running water, electricity, and toilets though, so I think we have come out ahead.  No drawers in Colonial days though!  There was nothing underneath, so a stop to the restroom was quick and easy.. much more so than women would find in the 1860's-1890's…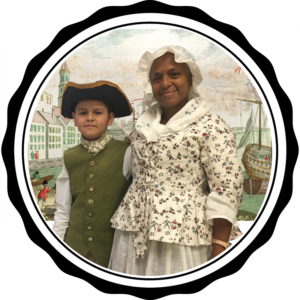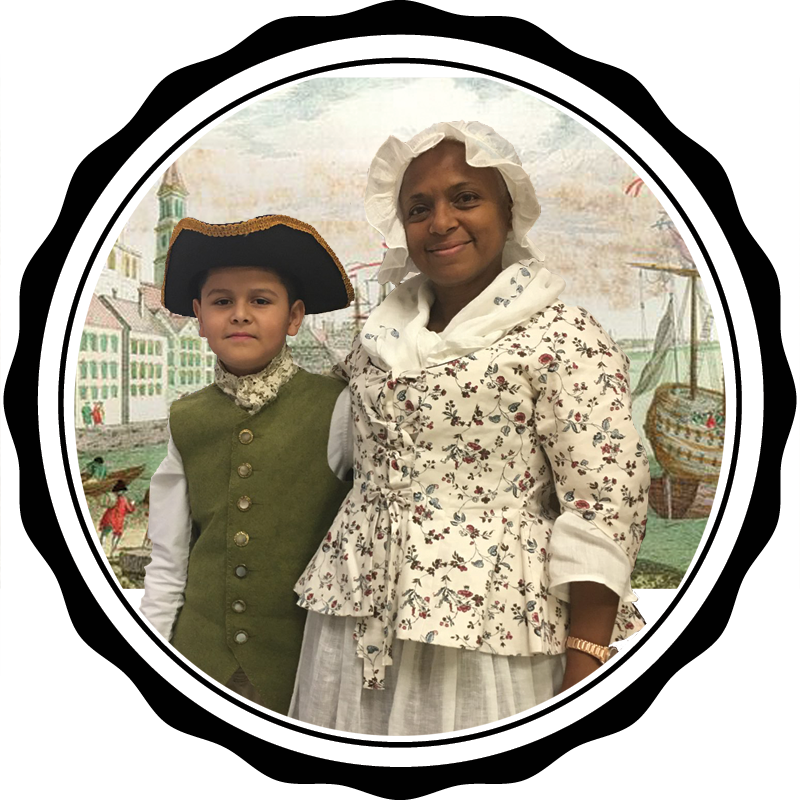 Click here to go to Yvonne's Colonial History & Fashion Page (next)
Click here to go to Yvonne's Design Development Page