CHARACTERISTICS TO APPLY TO COSTUMING
Kristi's character would have many of the traits shown in the real photos above.  Depicting 3 basic lifestyles: where she started from, on the trail, and eventual settlement means she would carry some things from what she knew, adapt to the road, and end up with what she could bring, find, or develop along the way.
From her eastern life, these are things historians note were packed in the wagons along with furniture, bedding, food/spices, and camping supplies:
 Fashion knowledge
fabrics and notions (ribbon, lace, or buttons such as metal or those she knew she wouldn't easily obtain
jewelry (small and easy to carry)
sentimental items (grandma's pin, baptismal gown, etc.)
shoes/boots, probably one pair of each
trade goods and unique to history (trinkets and things like the "hair cup")
personal items (hairbrush, hair combs, sanitary garters, etc.)
equipment (knitting, crochet, embroidery equipment with some yarns or goods)
things she anticipates she'll need (seeds, books, etc. in small quantities)
On the trail, she would have:
items traded with other emigrants
things she makes (buttons from leather, knit/crochet)
found items (souvenirs or things like seeds or plants for medicinal or use in dyes, etc.)
At trails end she would:
sell or barter the wagon and oxen for horses (sheep, etc.) and goods for building
purchased yard goods and notions
what she could make from the land until having enough to buy or barter/sell (such as lard for soaps, etc.)
In other words, what she would have at the end, was pretty much whatever she started with.  In terms of fashion that would mean out of style, older fabrics notions, and things worn and 'weary'.  Remaking, rebuilding, patching, and adding on to what she brought would be more important than getting new.
FASHION SPECIFICS INTERPRETED
As illustrated in historic texts, photos, portraits, & sketches…
DEPICTION IDEAS: "Pioneer becomes Farm Wife"

A woman begins as a wife, mother, child, daughter at the point of her origin.  When she packs up everything in the world and travels across a vast land, she becomes a "pioneer".  When she arrives, she is an "emigrant".  When she sets down roots, she is a "settler".
These women were all of these, plus add their occupation: farmer, logger, shopkeeper, seamstress, fisherwoman, and the complexities of women in history start to pile upon their deep histories that come from experiencing many cultures in a short time….

Design Concepts drawn from History (fashion at the time):
Polka dots, plaids, checks, stripes, and patterns
Ideas brought with them from the place of origin; possibly high fashion east coast, or even European influence
Could be very little was brought in form of real goods OR ideas.. perhaps had to take whatever they could find, modify, or create
Access, availability, ability come into play greatly with pioneer women
Design Details to Use:
Torn between what we've seen & like, and what would be accurate
Pioneer women have been depicted in so many movies, stories, illustrations, & TV shows that our "intuitive" sense of what women wore, how they behaved, or how they interacted with their environments have been largely pre-determined
In reality, just as there was a wide variety of women, there was equally wide variety in garments, construction, and materials for pioneer women
Fine tuning UNDERGARMENTS
Chemise:  Determination of chemise based on character, time, and place is personal.  As illustrated, most were of thin muslin, bleached, with a cap sleeve slightly gathered, low neckline with drop shoulder, wide neck band, and closure center front.  It should be straight (exception is the 1st illustration which is a wedding chemise meant to be worn separately) just below knee length as it goes under the corset and knickers.
Kristi's chemise will be of unbleached muslin, fitting of "on the trail", with simple detailing, center front closure with a nursing option, but full sleeves of the earlier era, and with alteration tucks as fitting a well worn garment.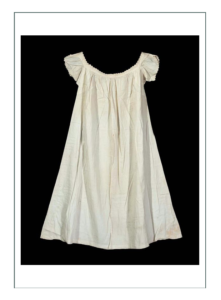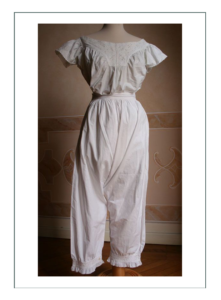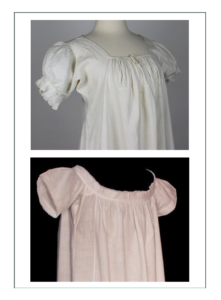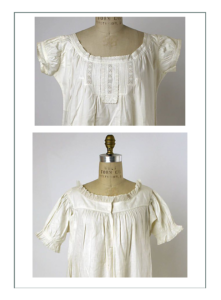 Corset:  The 1860's corset was short, tightly cinched at the waist, strategically boned, with decoration.  Kristi's character would be using her out-of-date mid-1860's corset into the 1870's.  In the early bustle era of the 1870's, the same corset would suffice with the addition of a crinolette or bustle pad.
The corset will be of same unbleached muslin to give it a worn and old look, but have some embroidery to indicate it came from a higher fashion time and place in the east, and is well beloved; possibly the last good thing from a former life to be held on to.  It will be the most basic, waist-cinching design without structural frills however.  She would need absolute straight function and comfort in all weather.  This garment is basically to keep her "held in", support her back on the covered wagon, and when in social situations, cinch in for a fashionable silhoutte.
Frilled versions shown below approach 1870 bustle era.  The last is an 1880 long corset, but we are using it for embroidery ideas.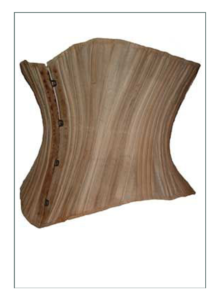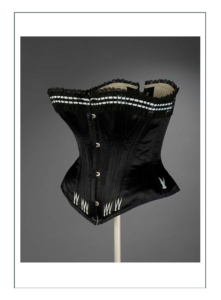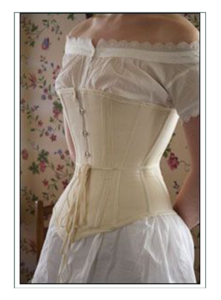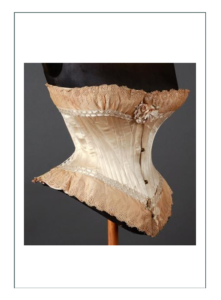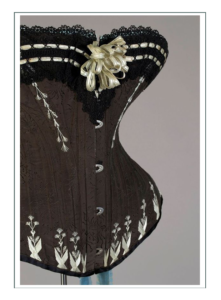 Bustle:  Kristi's character is going from a fashionable east of the mid-1860's to settle in the west in the early 1870's.  She would adapt her out of date clothing as best she could herself to what she understood to be new fashion.
Her information would have come on the train (fairly quickly), so while she would have knowledge of fashion, she probably would not have materials.  After settling in to her new home, and wanting to feel pretty and fit in, she would use what she has to adapt to the new fashion.  That being the early bustle, she would make a simple bustle pad, or crinolette similar to below.
We will use buckram and duck canvas, since horsehair is not available.  It will be not only a rump pad, but also a slight crionlette (come around her sides to widen the skirt), since she would want to hang on to that crinoline width she was comfortable with in her good times back east – in other words, she doesn't quite let go of the past silhouette, but approaches the new.
A small pad or crinolette would make sense in the west with few materials and function being primary.  She would only wear this on dress occasions, as it would get in the way of her activities including getting onto a wagon or horse to get TO the social function.
The first shown below are "at home" adaptations of the rump pad.  The last would be the very latest in fashion by French designer, Worth.  It is a crionlette of 1870.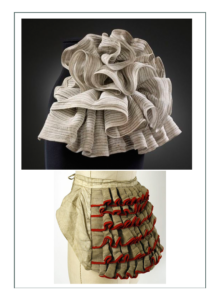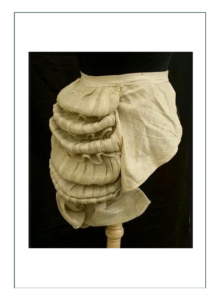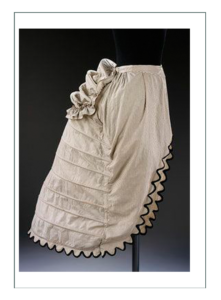 Petticoat:  Perhaps the most difficult decision for a woman crossing the continent and then settling in to a new pioneer home is the petticoat.  These functioned in travel and settlement to keep a woman dry, warm, cool (regulate temperature); for bandages, dust protection, privacy, and in extreme cases as tents or blankets.
We have decided Kristi's character would have wanted to bring multiple petticoats with her on the trail, but there would just not be room.  She might bring her very favorite, which would be of the 1860's wide, crinoline era.  Depending on her status before leaving, that could be a very large, tucked, even 8′ diameter garment with extreme ruffles and frills to go over a full hoop.
It is doubtful she would have been allowed to pack such, so most likely she would bring her most ornamented, smaller petticoat to store; would use it to wrap precious momentoes in a trunk.  She would then wear a very unadorned, well worn, well loved, and completely functional and almost straight petticoat for daily use.
We will build Kristi 2 petticoats; 1 straight and functional with alteration tucks, adjustable waist, and self ruffle unadorned.  This would be the one she would use to make things out of at the end of the trail, or maybe hand down to a daughter.
The second will be brought out for special occasions – still very simple, but wider – a mid-range for the 1860's that would not have fit over a crinoline, but would work with a crinolette or pad or modified hoop.  It will have enough ruffle to peak out at the bottom, and enough mass to be able to bring it up in back to appear like the 1870's bustle silhouette.
This second one, contrary to extant actuals of the 1860's, will need to be corded so the fullness can be brought round or to the back depending on if 1860's or 1870's are desired.
Sample below show progression of mid-1860's wide hooped crinoline petticoats to the 1880s narrow silhouette. Kristi's 1 petticoats will merge the concepts of these and incorporate: tucks, ruffle, waistbands, mid=width silhouette, and similar details.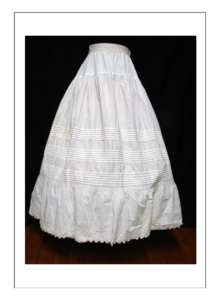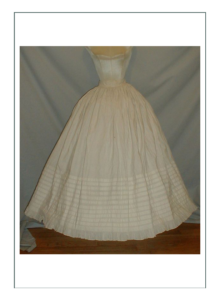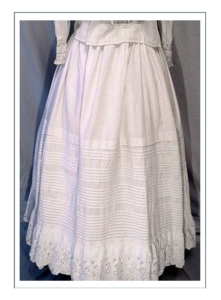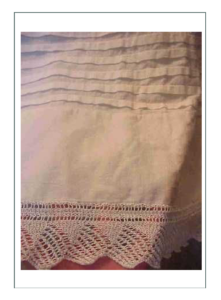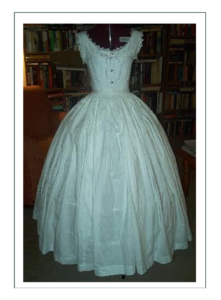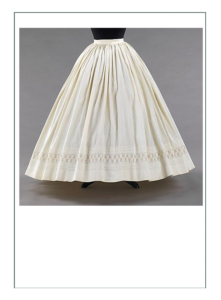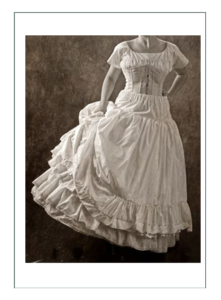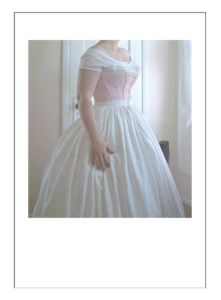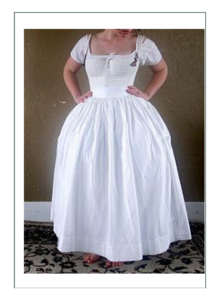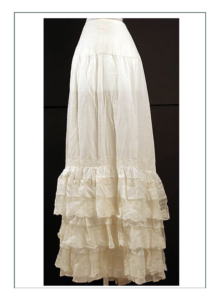 Drawers:  Not to forget that "very '60's" undergarment the drawers or pantalettes.  These were necessary not only for privacy, but to be close to the body as the only thing that could be easily washed.  They would be split, with a tie or button waistband, and in this era, go all the way to the ankle.
Kristi's character would have at least 2 pairs of drawers; one to keep nice, and one for daily wear.  We are only making one, so it will be simple ornamented with an adjustable waistband.  The waist will be flat with fullness to the back so it can be used with either the full 1860's fashion or the later 1870's.  It will be made of matching unbleached muslin to the petticoats and corset to give the appearance of old and worn.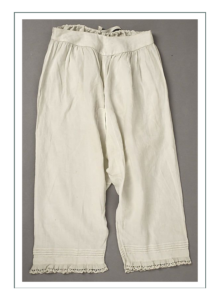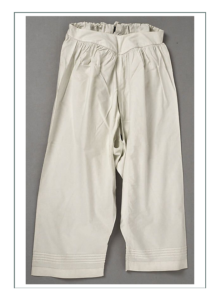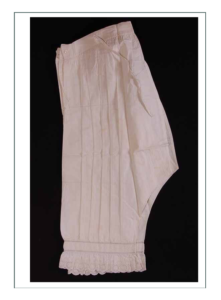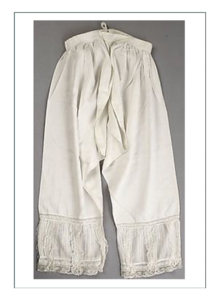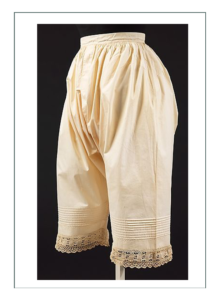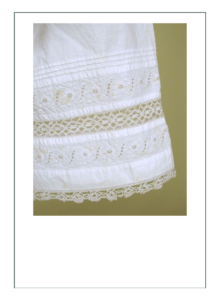 Pioneer to Settler Ensemble 1868-72
Ensemble:
 Knee length chemise with basic flat lace on neckline only, alteration tucks, puffed sleeves with bands
Split pantaloons with drop down and flat lace or inset/faggoting  on bottom; low calf with optional string tie to make 3″ ruffle
Period correct corset, minimal boned, basic with some embroidery
No corset cover
Inner (warmth and modesty) ankle petticoat flat with no ornament of unbleached muslin
petticoat with layers of ruffle, bottom layer ornamented, and alteration tucks (1–4 tucks); tie for gathering adjustment (optional button closure if tight fitting bodice used)
full dress with bodice attached – bodice with darts and fitted (as opposed to the looser gathered style equally pertinent to the character – this is a personal preference); straight at natural waist (no insert "V") except for 2 piece for tucking; skirt evening gathered front to back with wide bell skirt to allow full movement (as per historic samples)
(optional 2-piece in contrasting light cotton with heavier fabric skirt – but same silhouettes).  2 piece would be less fitted
drop front apron with ties; full gather to match skirt and straight line
flat heeled, lacing boots in black or brown – well worn
bonnet of high fashion fabric and ties of self fabric – working slat bonnet (she might have a 2nd bonnet with silk double chin ties for dress up – later)
brooch or pendant watch
hair as per period using pins or combs
cotton gartered stockings (modern tall boot COTTON (no blends) knee socks will suffice)
DESIGN SKETCHES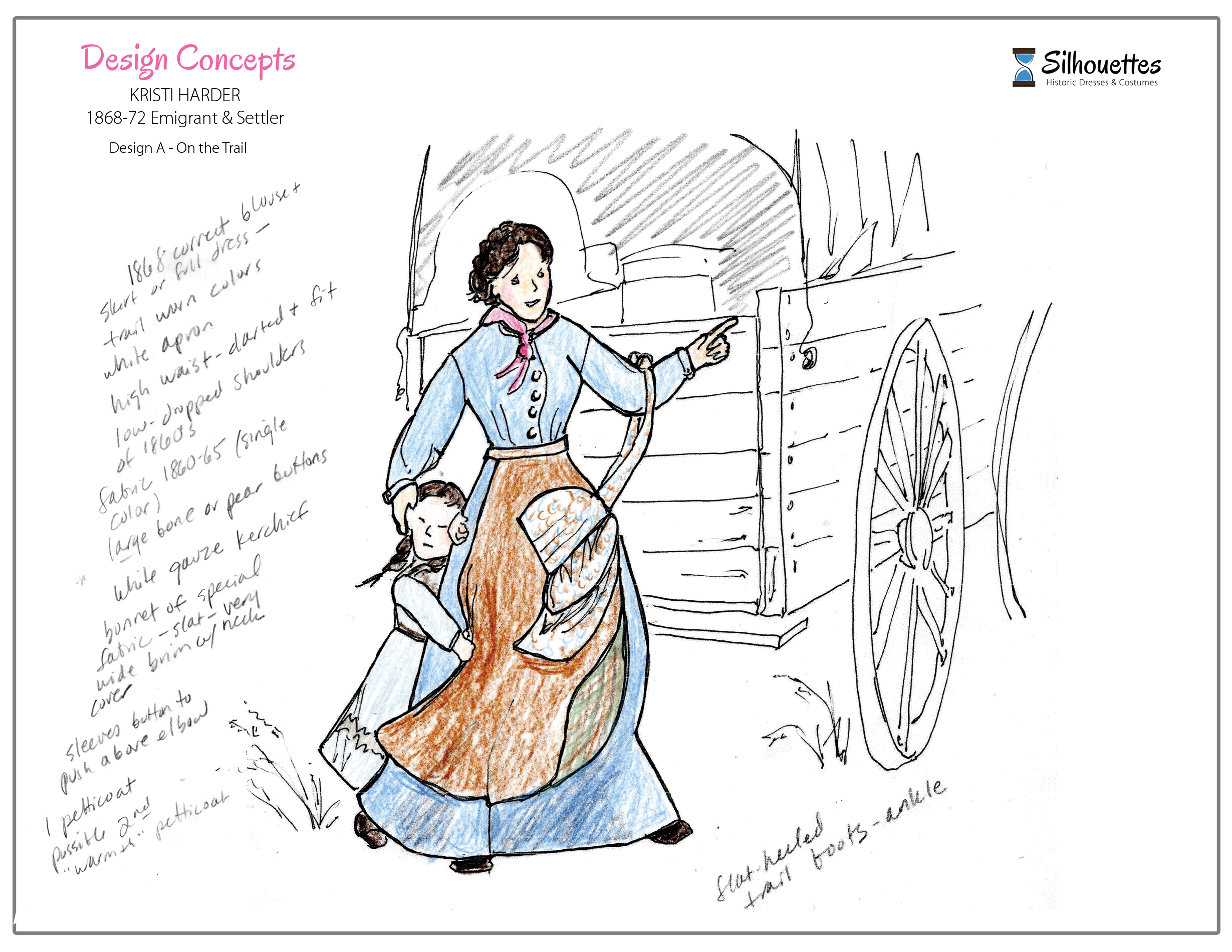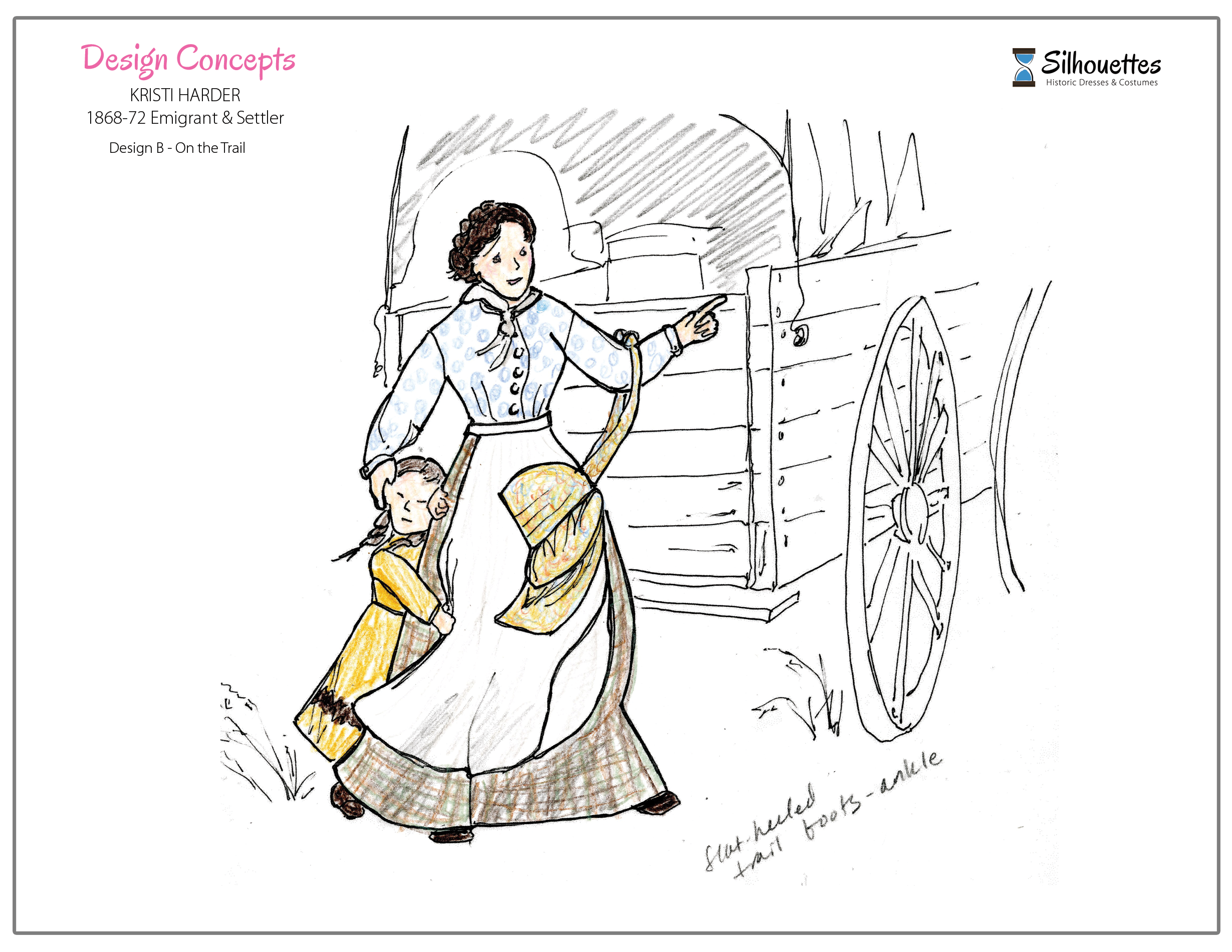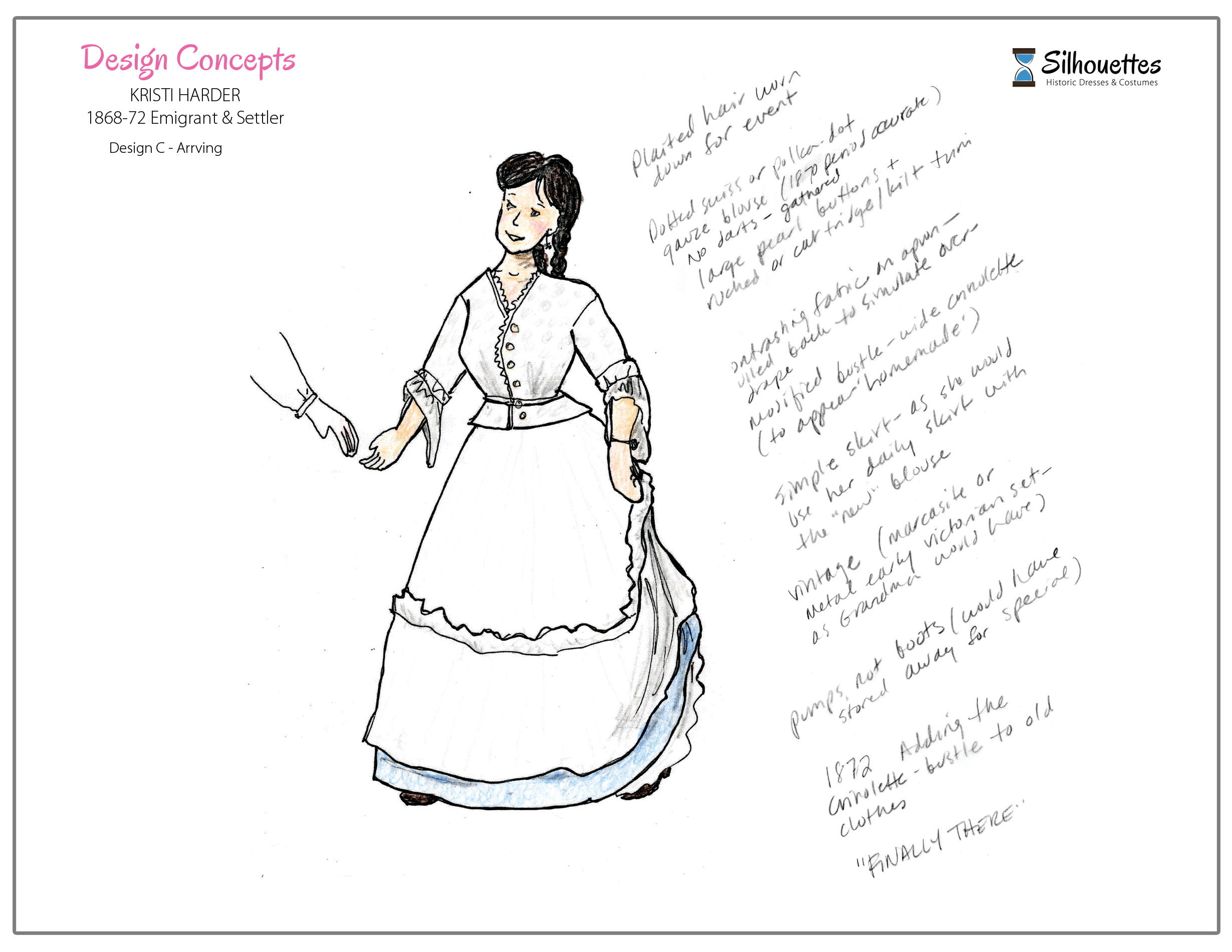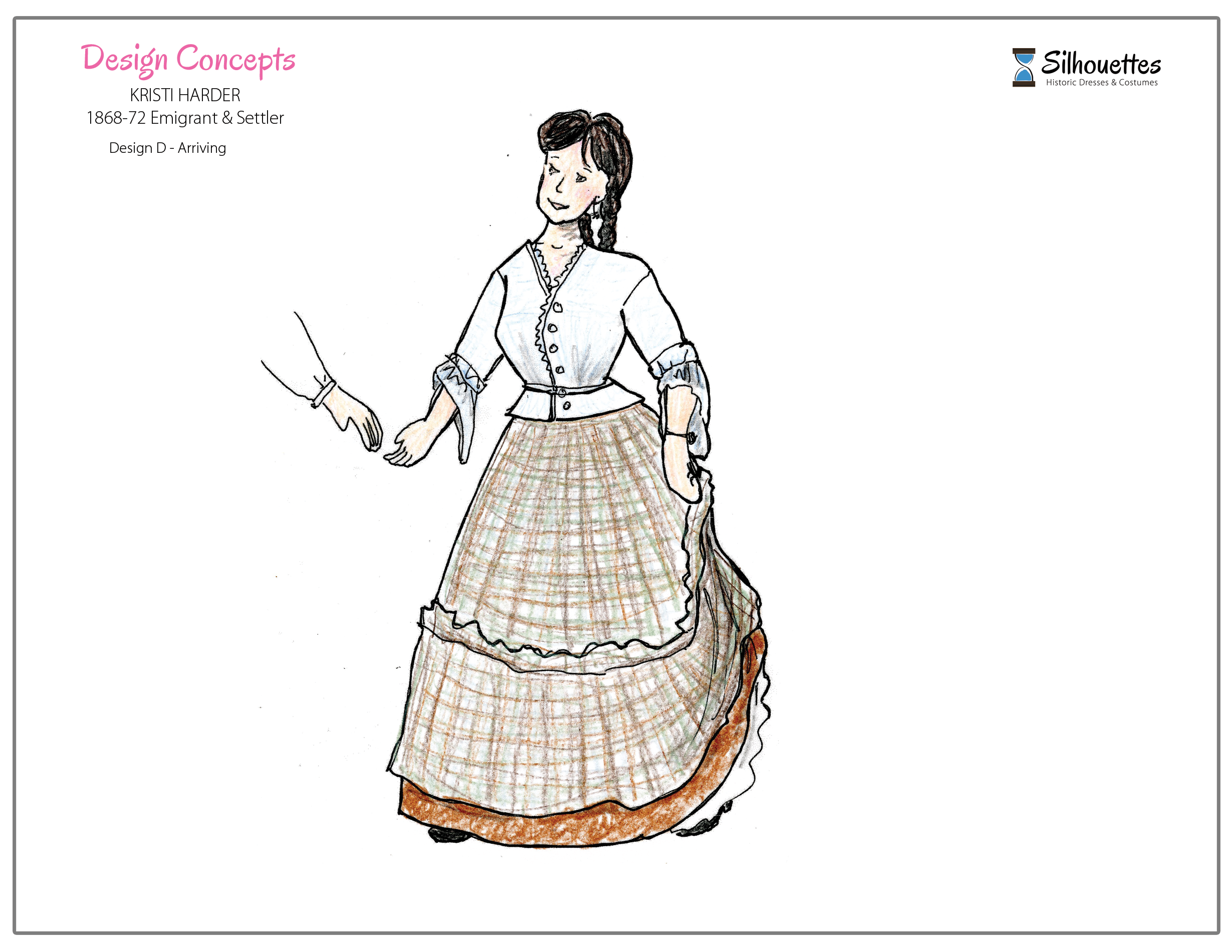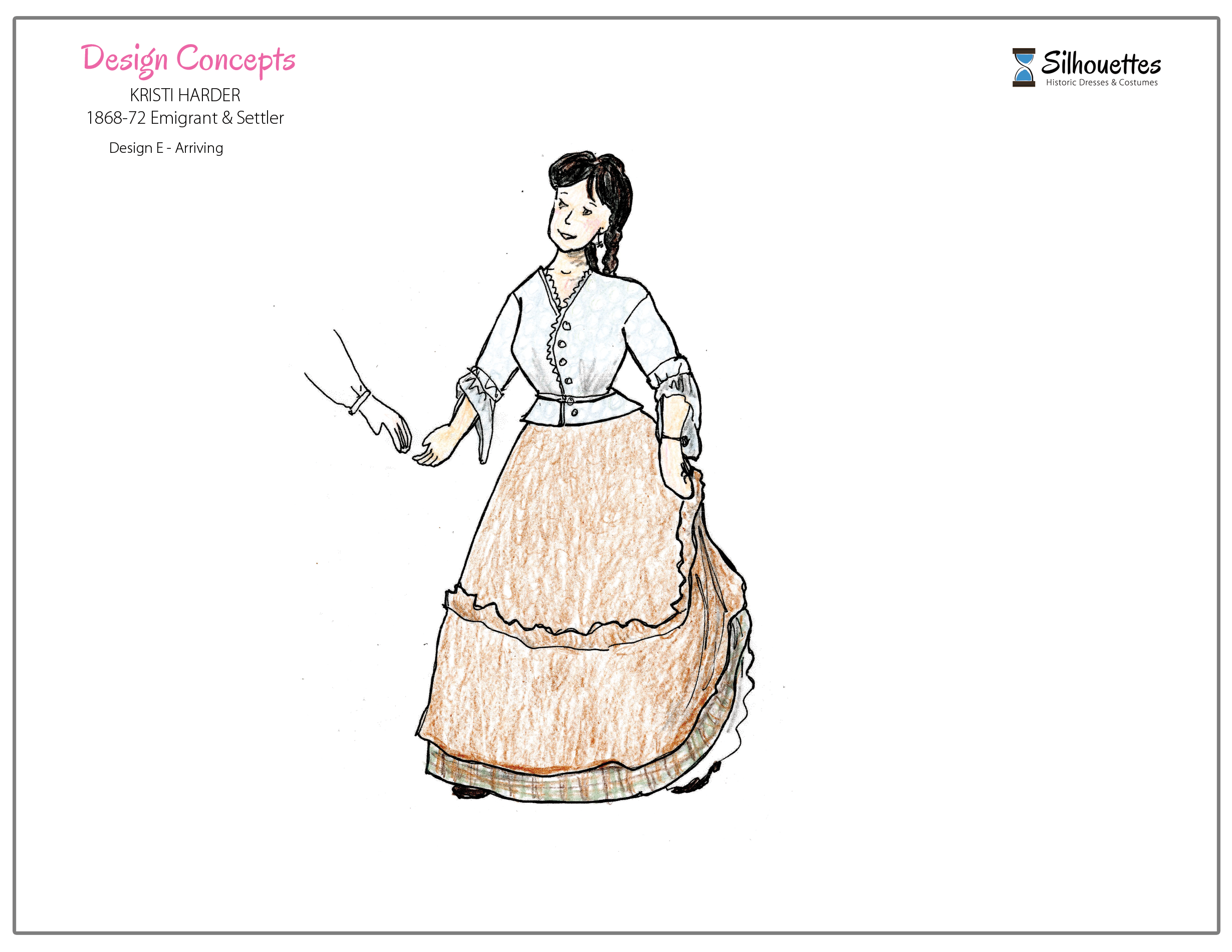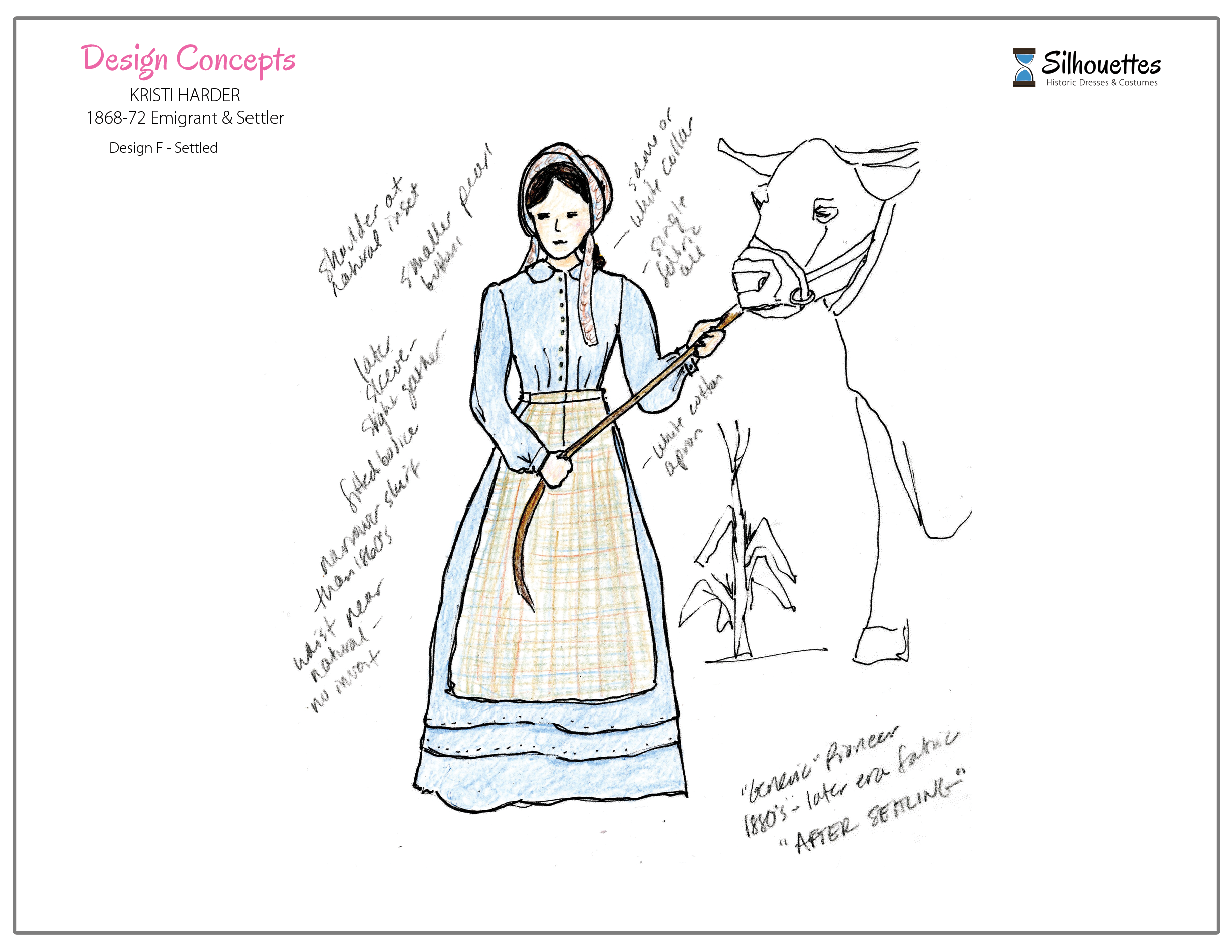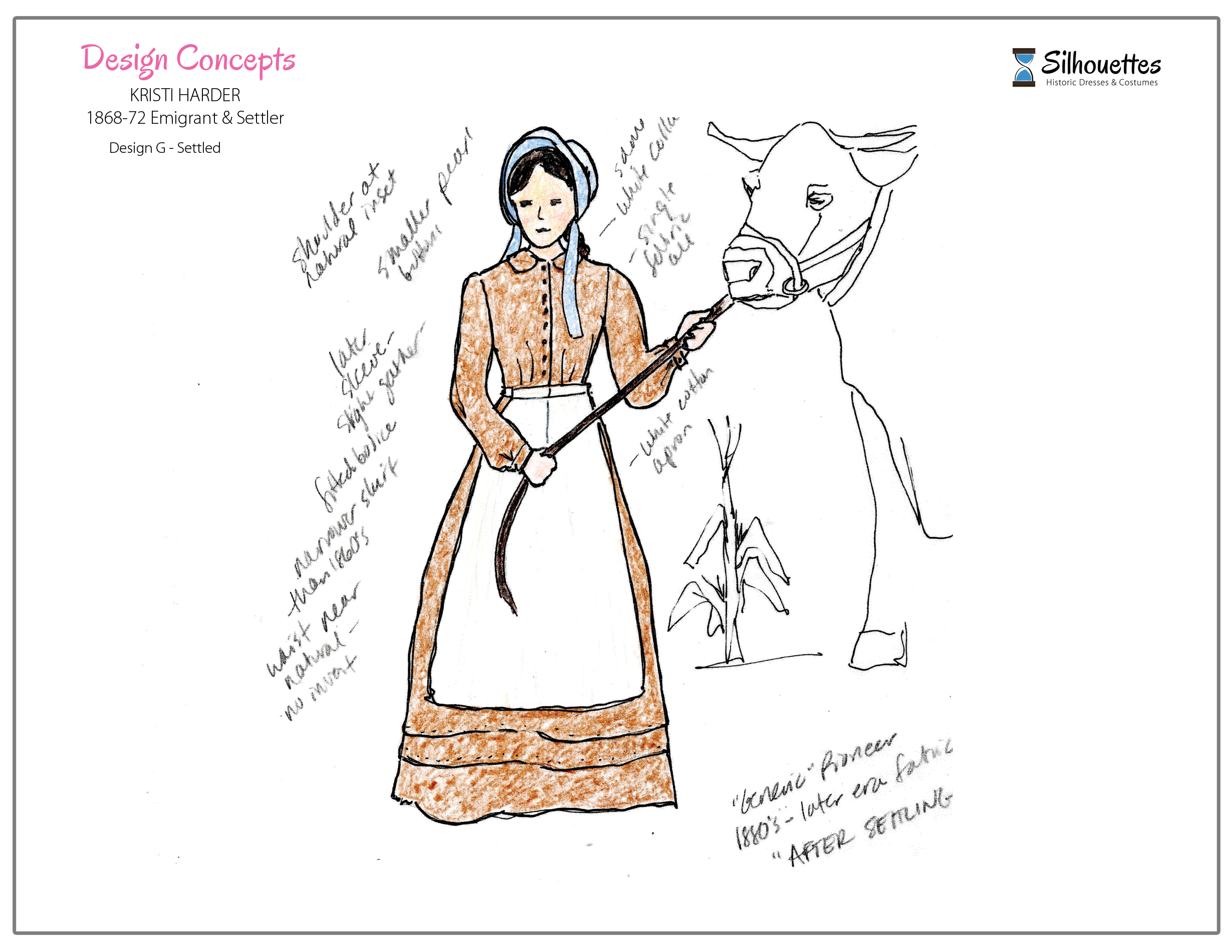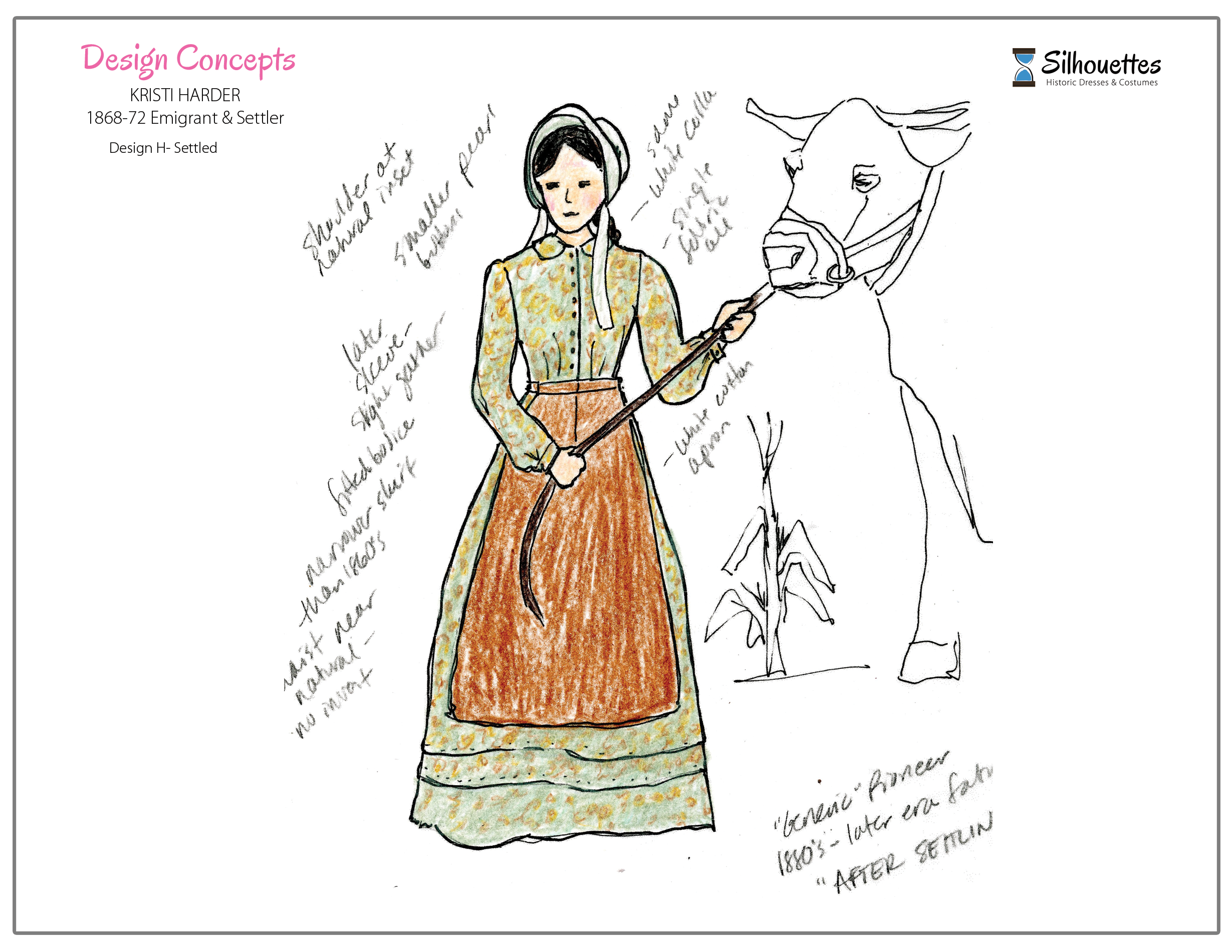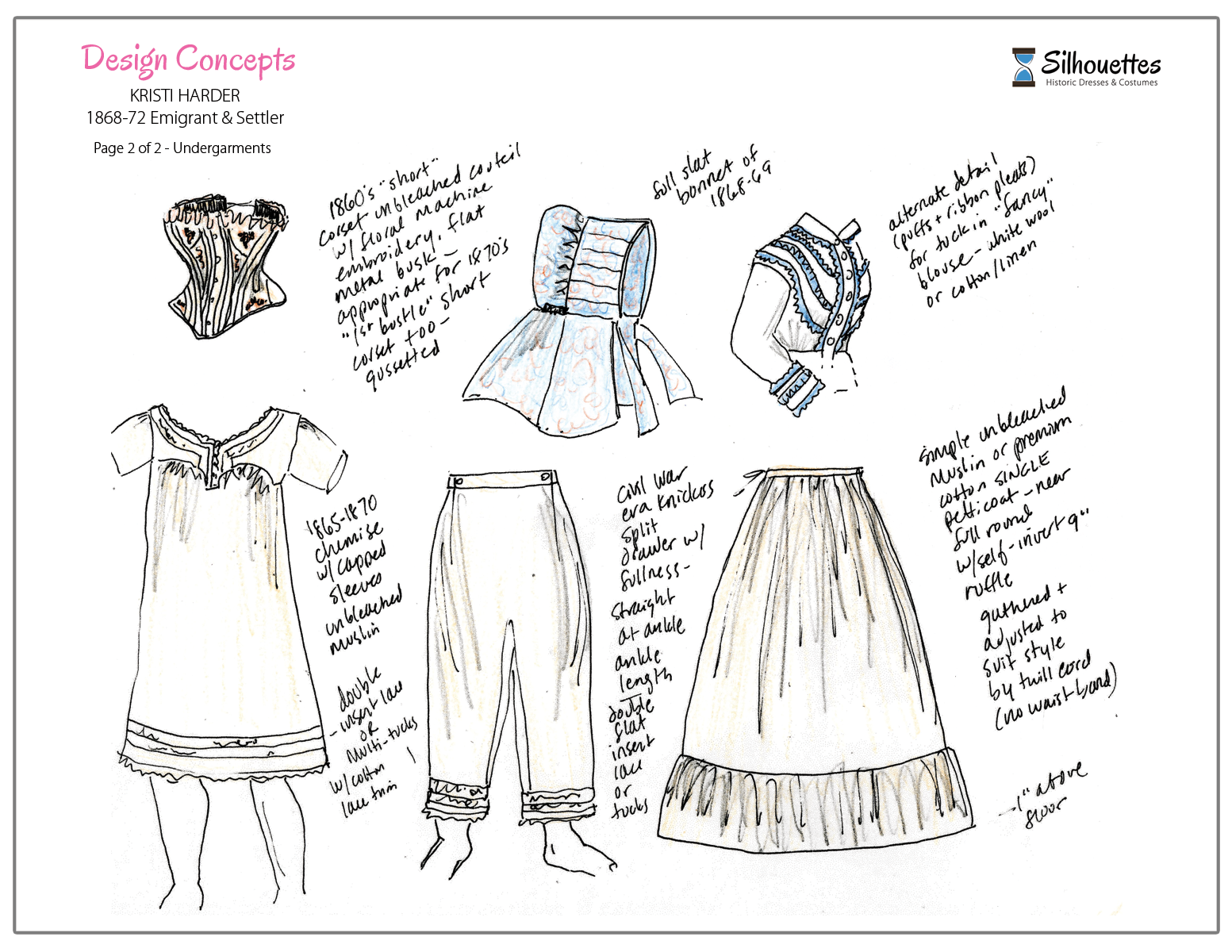 IN STOCK FABRICS THAT WORK WELL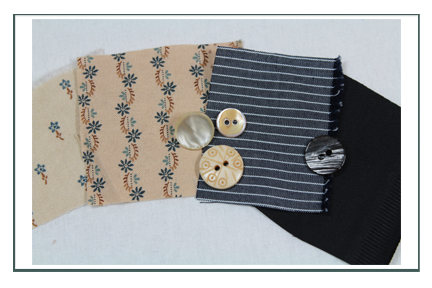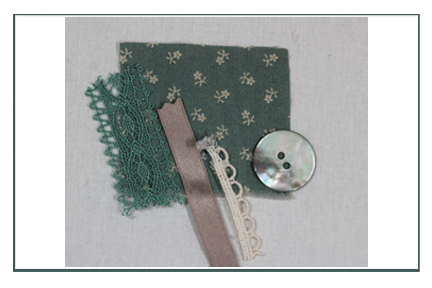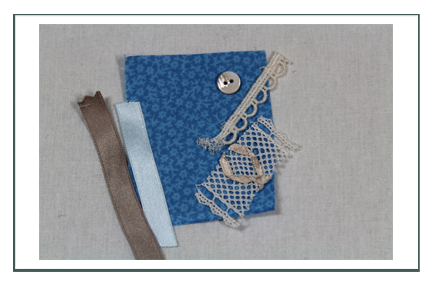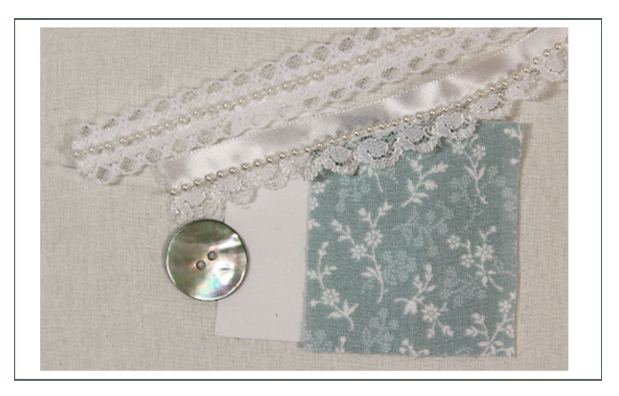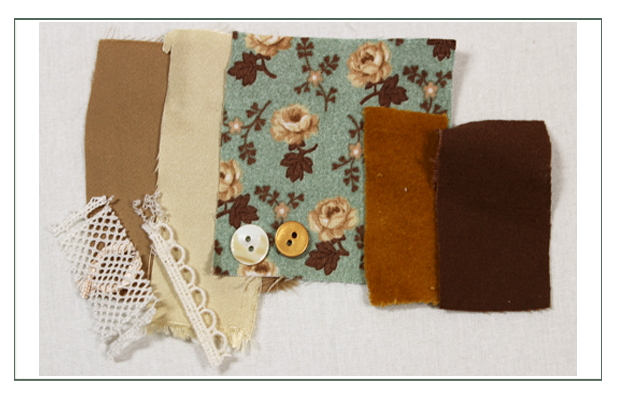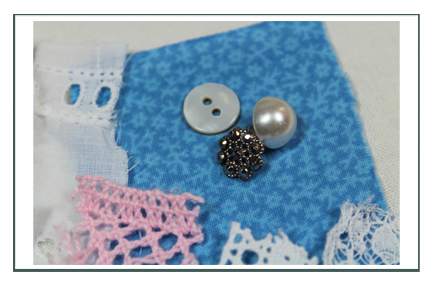 Click to go to Kristi's Main Page with the FINISHED PRODUCT (next)
Click to go to Kristi's Historical Research of time & place Page
Click to go to Kristi's Fashion History Research Page