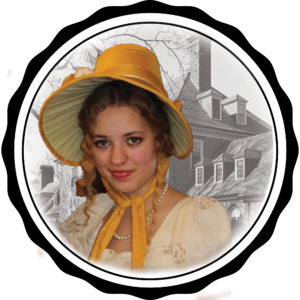 Jacinta Schneider


Character Place & Personality
Jacinta has chosen Baltimore, Maryland as the location of her character.  A thriving center for trade and politics, this allows her family to be of the American middle class that was so indicative of the era, and for her family to be of some influence.  The family would have a townhouse in the city from which the father would do his daily trade, and the remainder of the family would stay there during "the social season".  The primary home, an estate with acreage, would be a carriage ride outside of town.
The fictional family would be of English origins on one side (bringing in the connections and traditions of Europe), with extended family in America, and of American 3rd generation of the original colonists.  The mother married the father because she had a title, but her family was running out of money due to conflict in Europe, and because she did not want to be a farmer.  Her elder brothers had inherited lands and titles, and were glad of her match for love.
The father, originally from Maryland, was living in the family home.  The business was well established, being 3 generations in the business.  Grandfather was still involved in the background, and the brothers were too, leaving Anna's character in the role of nothing to do with the business.  Mother would run the household as appropriate to her background, and would teach her the necessary skills  of domestic management, arts, music, literature, and finding a husband.
Being of the first generation of American women born in a peaceful and prosperous era, and of parents having the means to support a lifestyle of leisure, the character would be rather independent compared to her foremothers. The character is a little silly and "boy-crazy" due to her easy and duty-free upbringing. She would be a bit of a frustration to her parents and grandparents, to whom she would be accountable for her income and entertainment until she found a husband.
A Real Person
Jacinta's character seems much similar to that of a real person in history, the daughter of the many-faceted and wealthy Ridgely family of Towson and Baltimore, Maryland.  Little is actually known of her, except that one of her jobs was to assist in the running of the household activities, events, and slave functions.
The daughter is known only by the extensive records she kept of the births, deaths, marriages, acquisition, and purchase of gifts for her slaves.
In the discovery of this person, Jacinta focuses on her character, family, and setting to be similar to the Ridgely family of Hampton Estate near Baltimore, Maryland.
Click here to go to Jacinta's Historical Context page
Click here to go to Jacinta's Fashion History Research page
Click here to go to Jacinta's Design Development page
Click here to return to Jacinta's main page with the FINAL PRODUCT
Continue below to see an overview of character & THE FINISHED PROJECT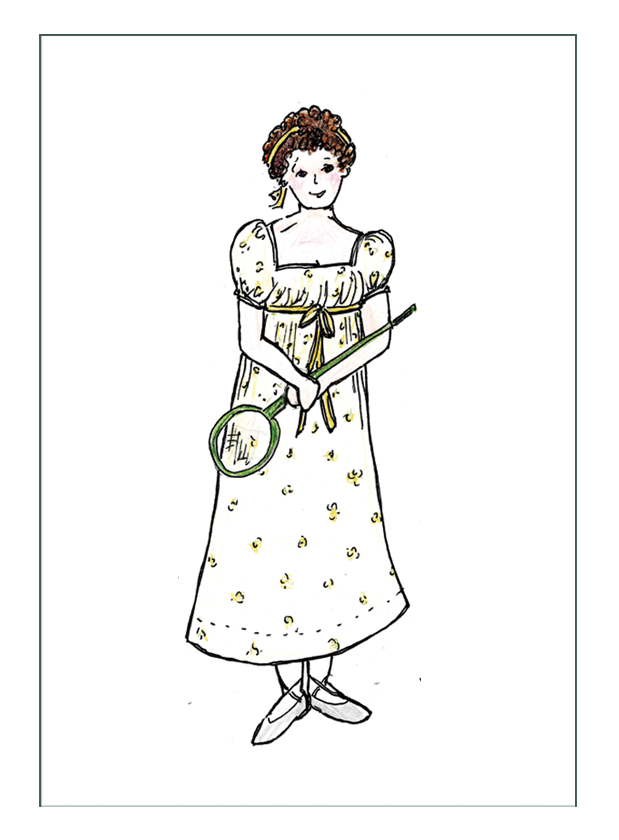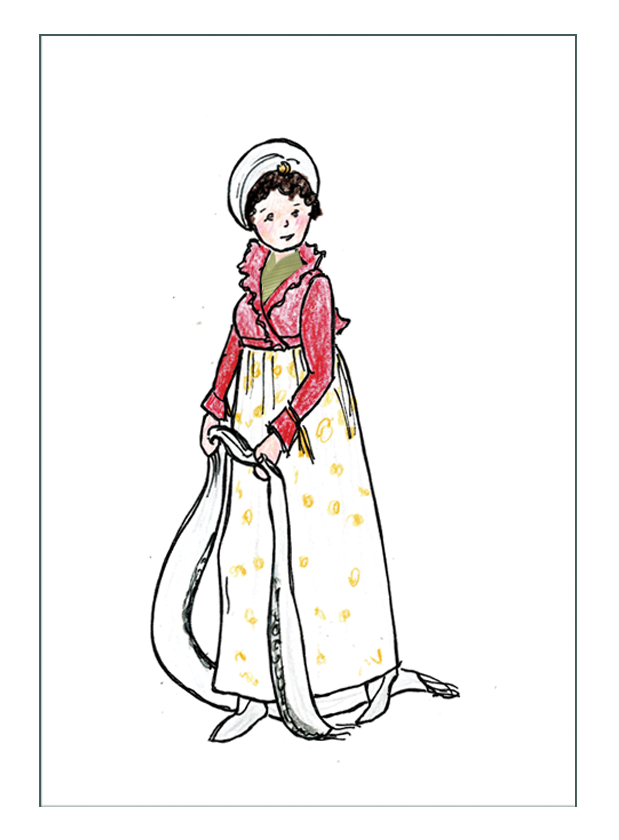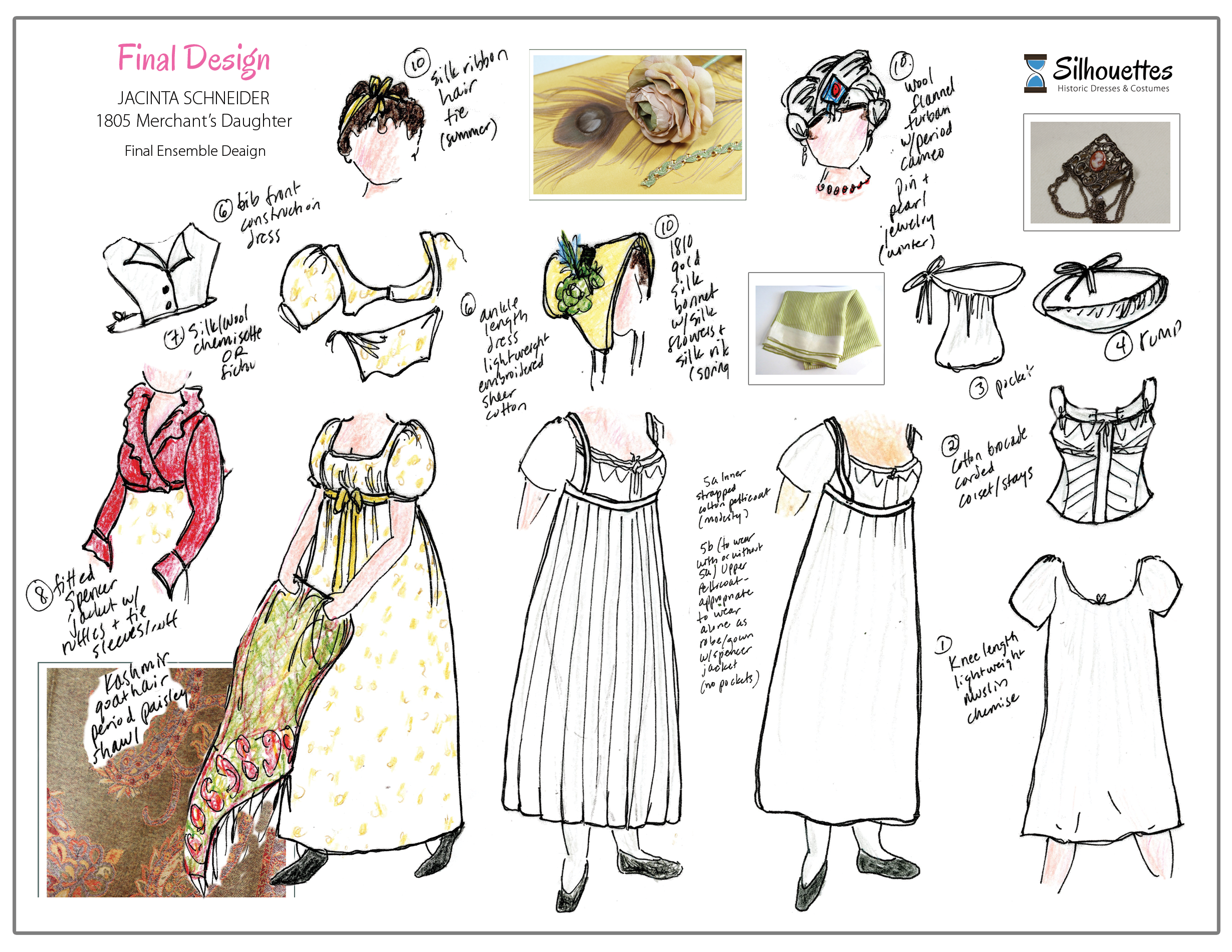 Built for this project:
 Chemise, light weight bleached muslin, hand sewn, gathered short sleeve
Corset/Stays, cotton brocade w/sateen lining, full corded with silk ribbon and wood busk
Upper (outer) strapped Petticoat, "outerwear" type, 200 count bleached muslin, tie back, pleated, above ankle
Lower (inner) strapped modesty Petticoat, slim profile to wear under outer Petticoat AND/OR Sheer Gown
Rump, cotton w/cotton stuffing for upper back
Pocket, 1 for inside use
Robe, embroidered white sheer cotton (heavy voile), puffed lined short sleeves, with silk sash & bib construction, ankle length
Chemisette, tailored of silk/wool blend, point collar, button and tie
Spencer Jacket, red linen/cotton blend w/ruffs front, back, and sleeves
Kashmir paisley scarf, full drape per period
Silk hair ribbon (summer)
Full silk bonnet (spring, fall) with silk flowers, ribbon, period trim, and peacock feather
Wrap turban of wool flannel w/ period cameo pin
White silk stockings; optional flocked
Black or white slippers (by customer)
White pearl or orange cameo simple necklace with matching earrings (by customer)
Period leather or cotton gloves (by customer)
Hat pins and era reproduction pins
Final Fabric Selections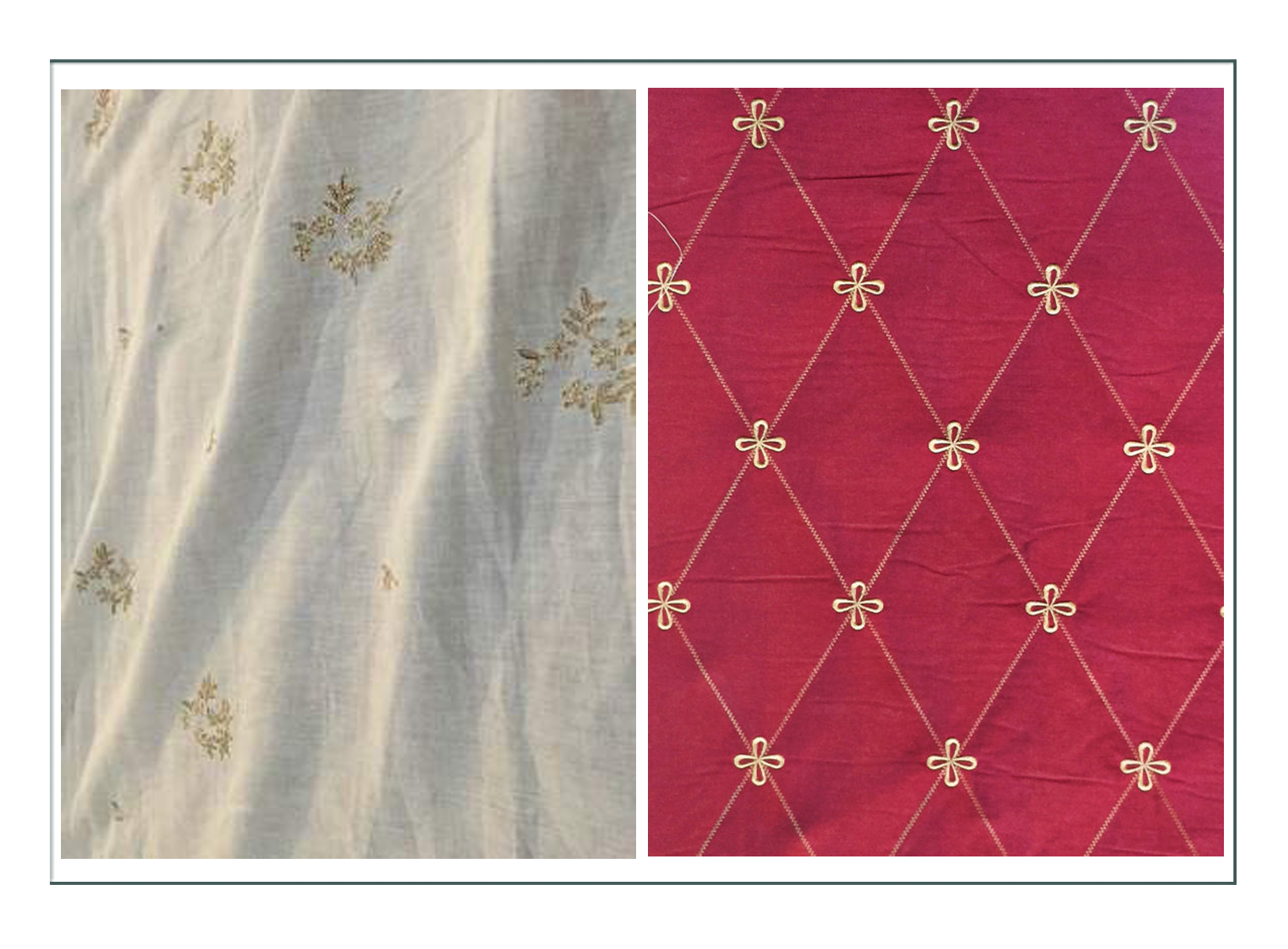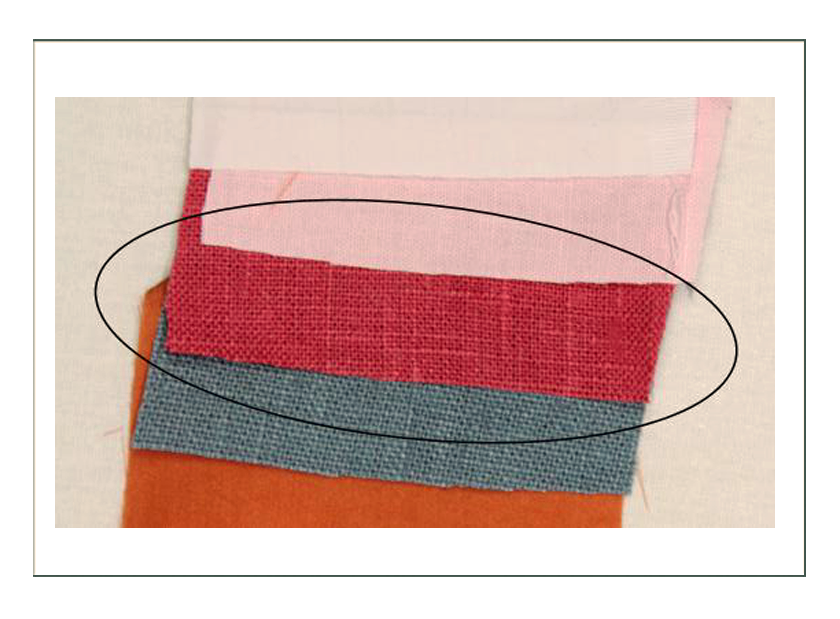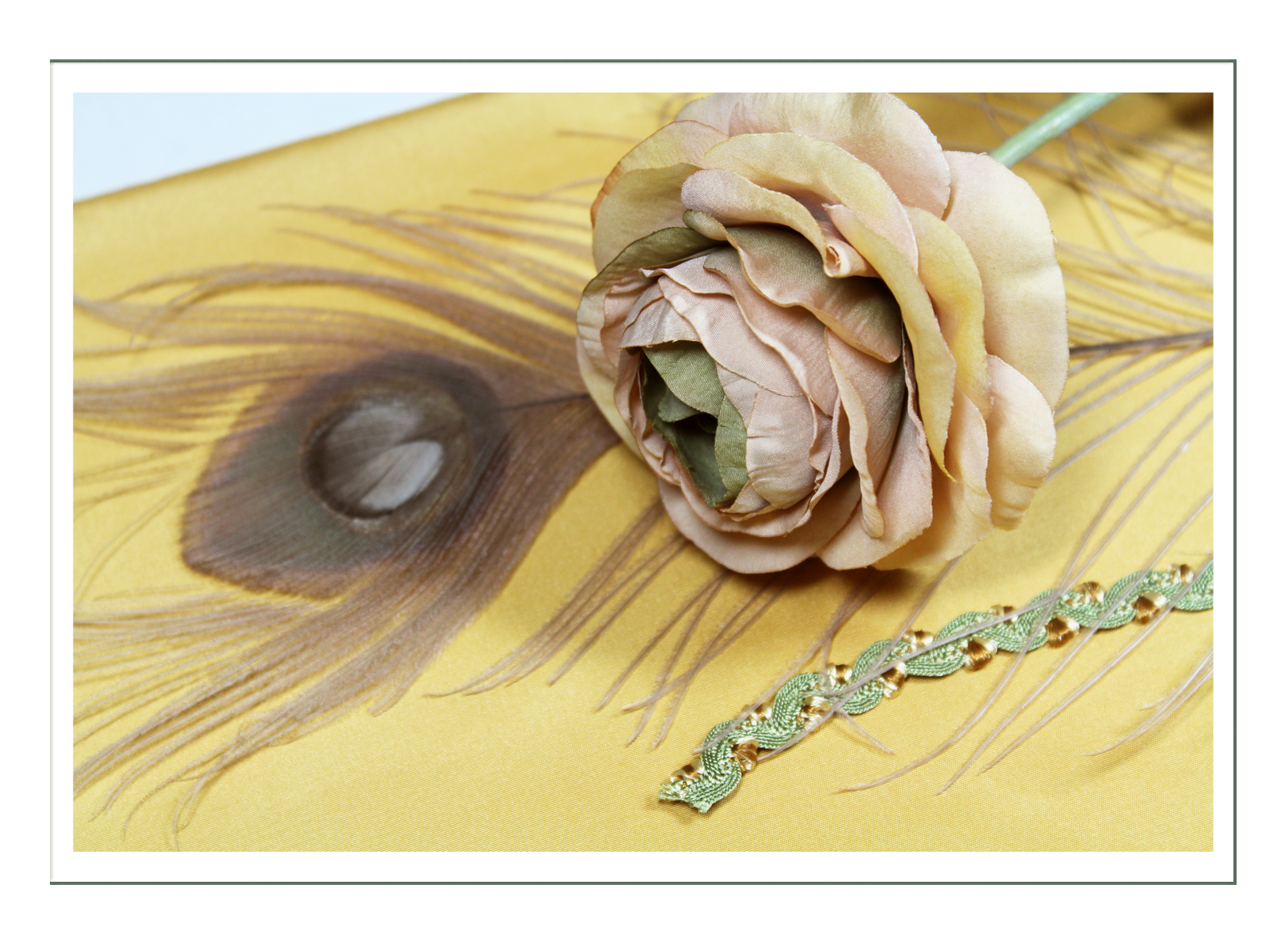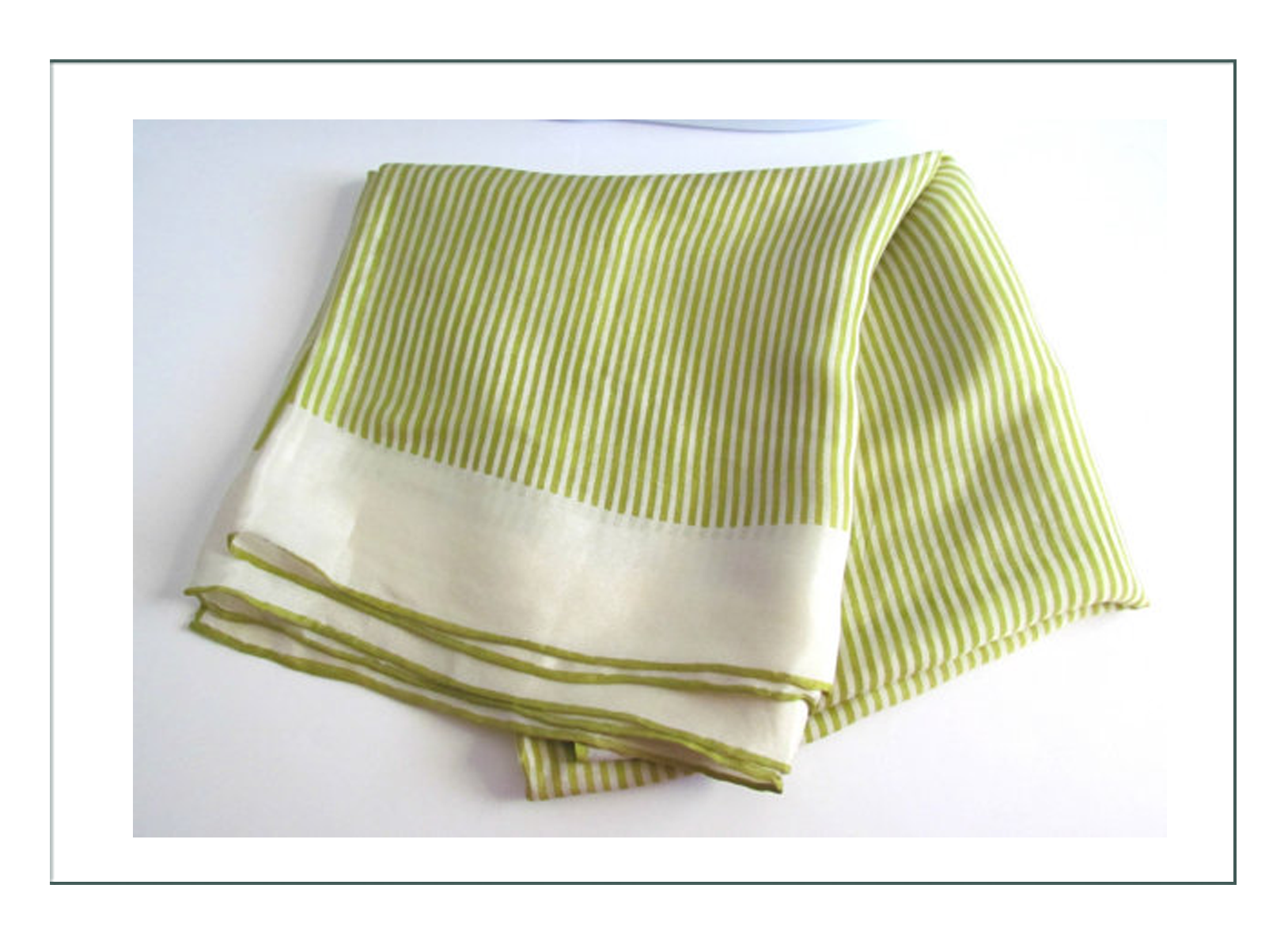 Corded Stays/Corset
"Breasts should be high without being vulgar, with distinct separation and no confinement horizontally; prociding wide cleavage.  Support, do not compress.  Do not lace tightly.  One does not care about a small waist."
Jacinta's stays are of white cotton brocade fabric with white cotton sateen lining.  There is a hardwood busk down the center, and eyelets are handmade of silk twist.  Details and ribbons are silk, as the strength is needed as the ribbons are actually used to fit, size, and hold the garment together.
Called "stays" and "corset", both terms are correct for 1805, in fact, the construction and design of this is almost a 50:50 a blend of the 18th century stays technique and 19th century corsets.  The primary difference of this 1st Regency Era is the lack of real structure and thickness.  Stays created a shape and an optical illusion; corsets shaped the body.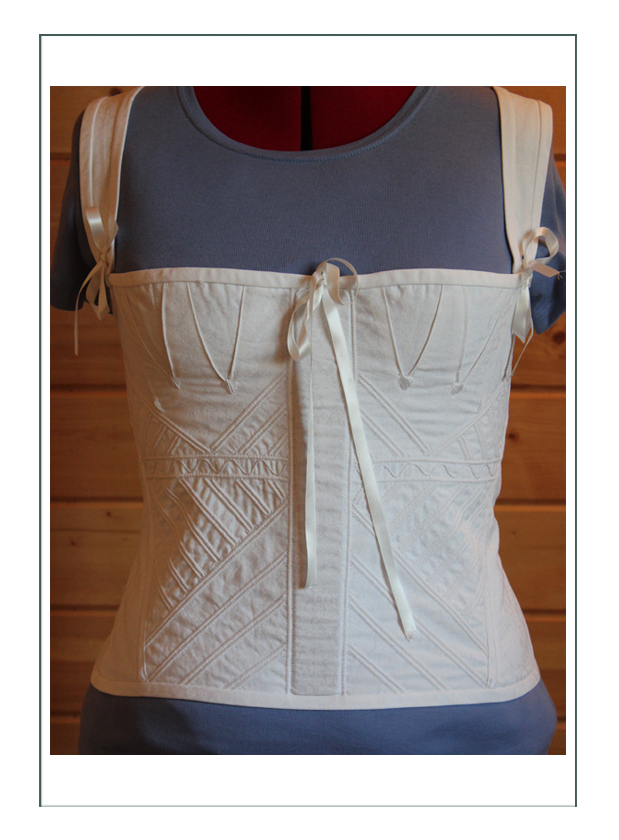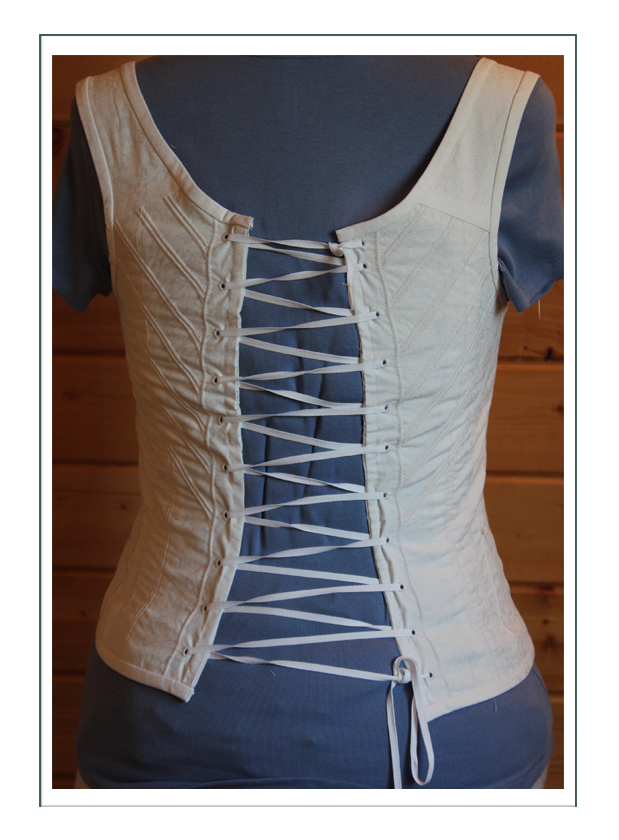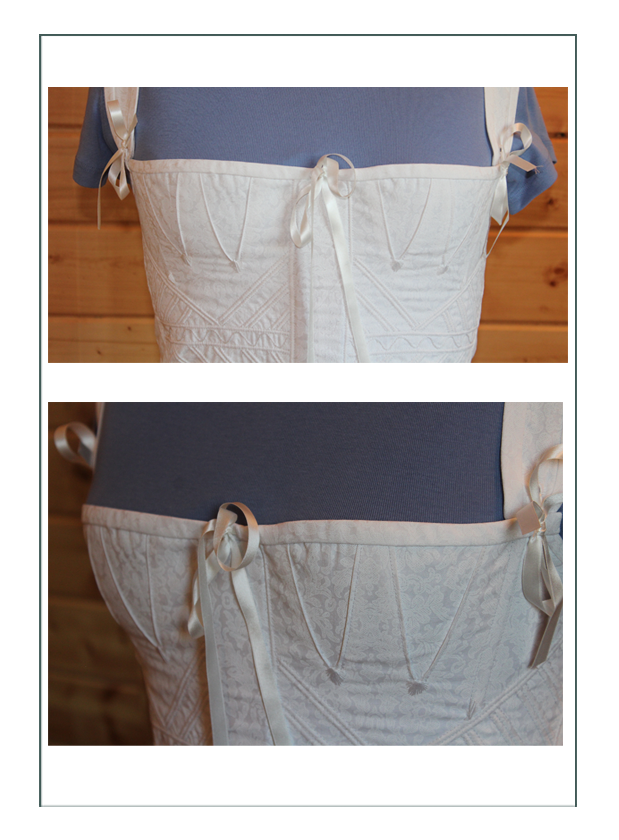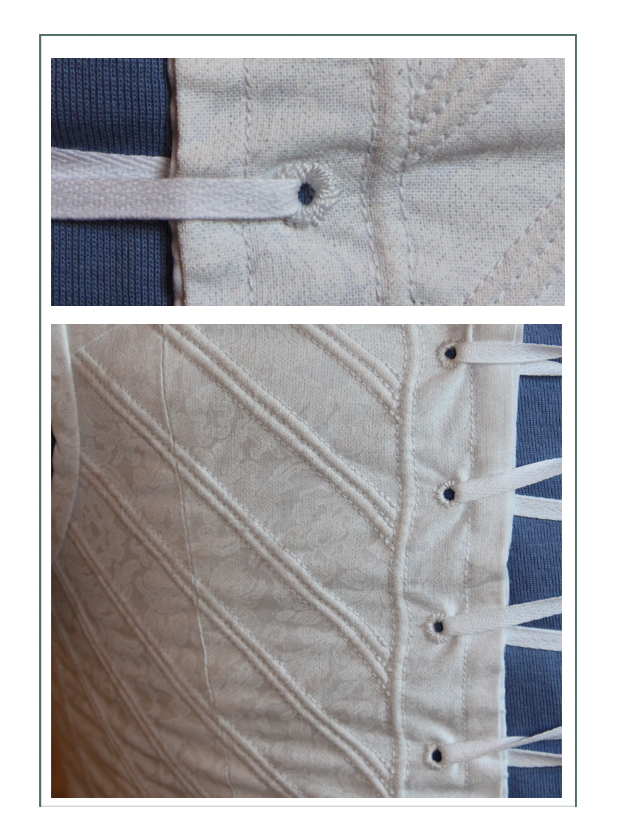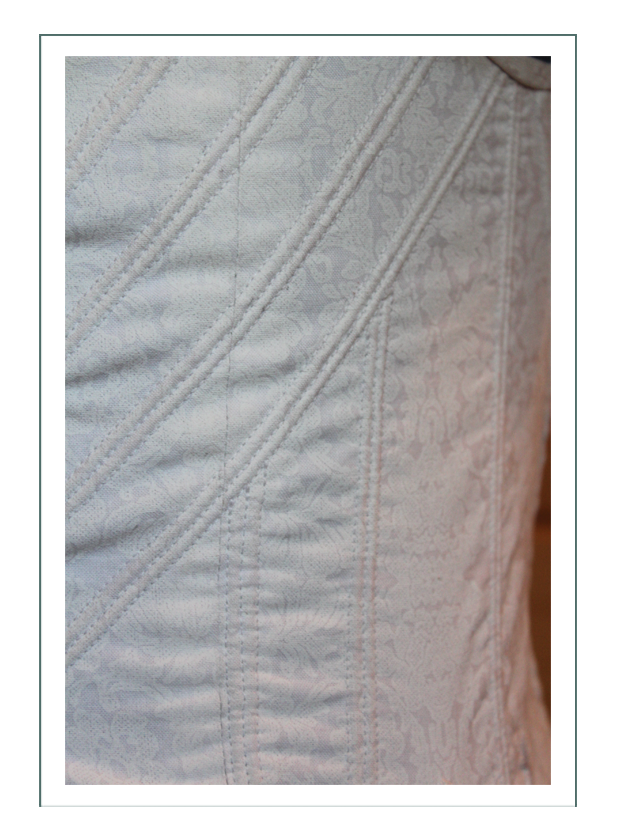 Chemise
Completely hand sewn (except long seams), of lightweight cotton lawn, includes silk twist eyelets, organic thread and tape.  Gusset and inserts for comfort and fit; just below knee length appropriate to era.  Cross stitched in red, "laundry ID" was used by the housekeeper to know which belonged to whom in the household, and to know when it was time to replace this most intimate undergarment of 1805.  Beneath this, a woman wore only her stockings and garters.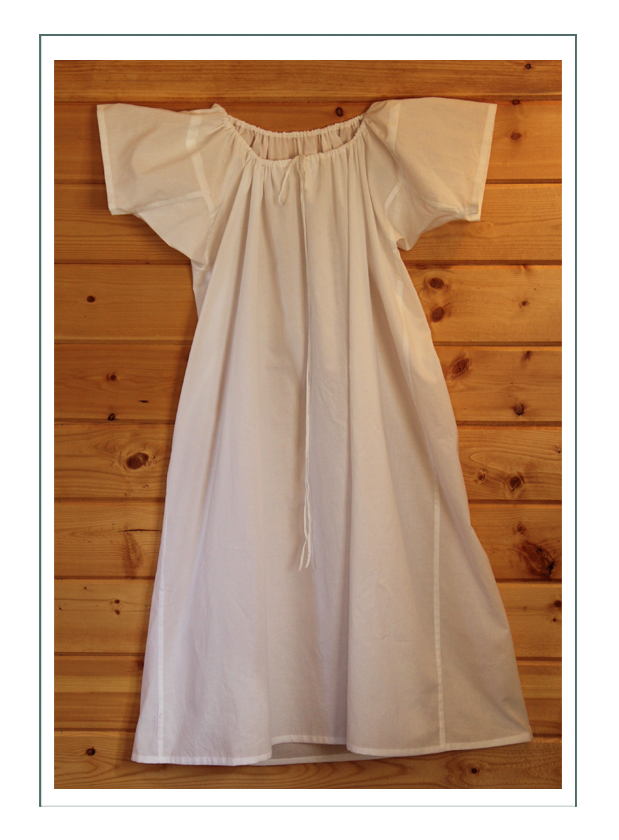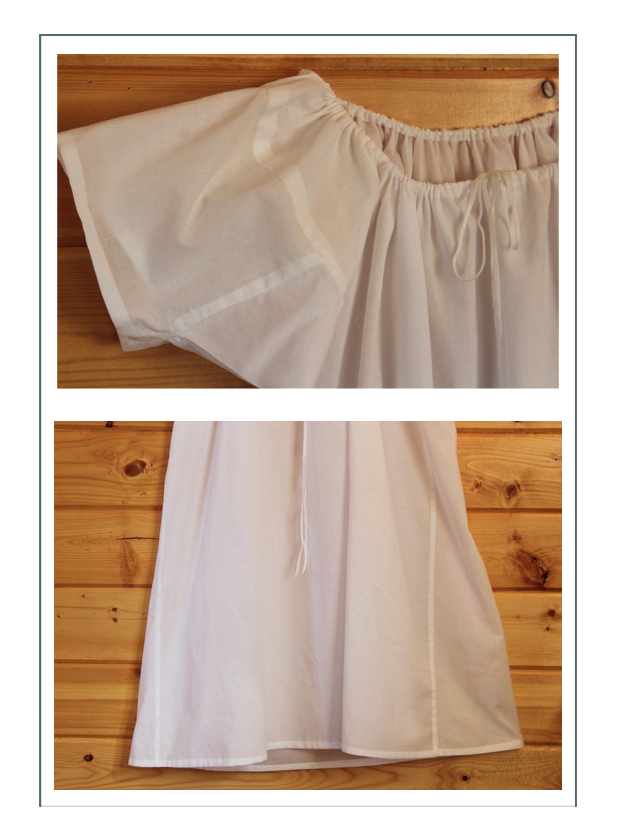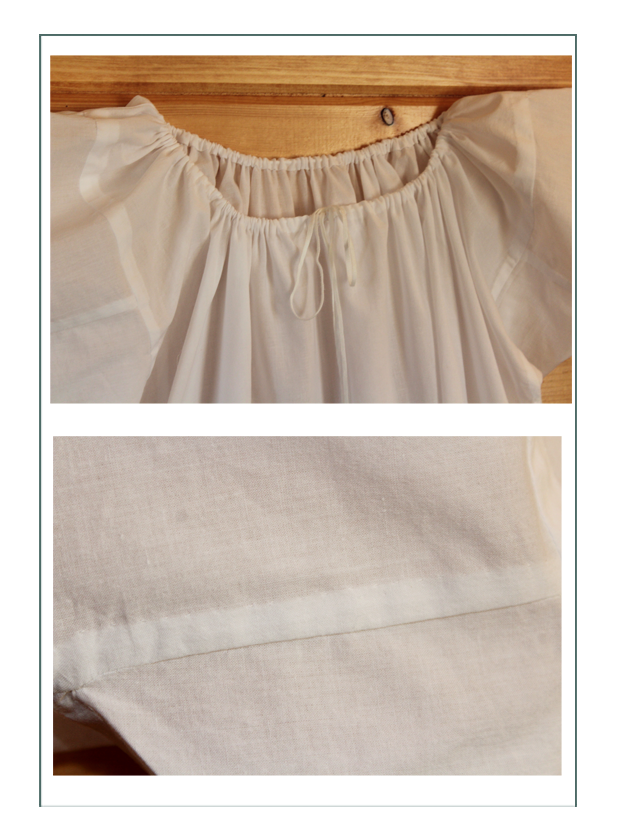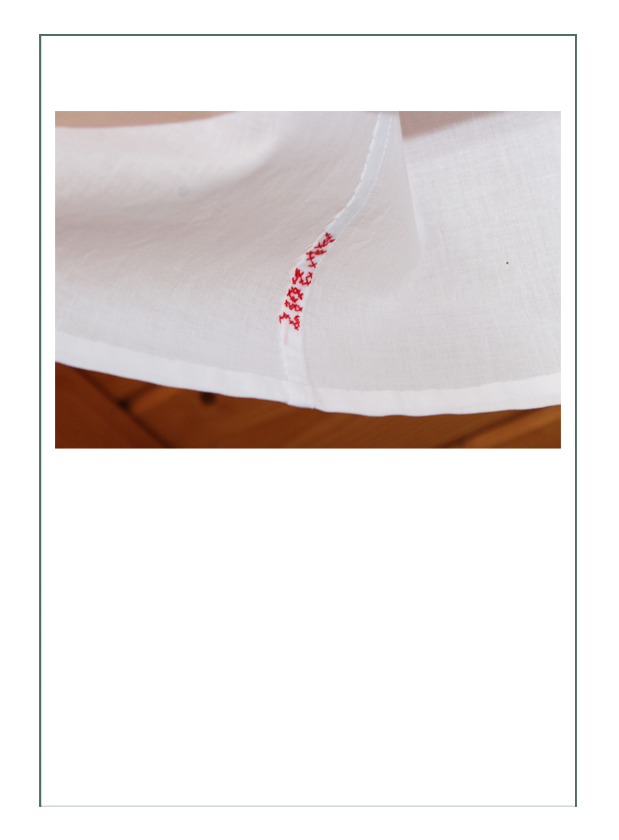 Upper Petticoat

In 1805, a Petticoat was an outer garment, as it had been through most of the preceding century.  Same as in 1790, the 1805 petticoat was worn as the outermost layer of the ensemble with a short bodice on top – OR – as the solid outer garment under a sheer silk or cotton decorative outermost layer.  In the latter example, it would be appropriate for a woman to wear a sheer cotton over a silk petticoat or vice versa.
The middle class of America in 1807 wore strapped petticoats with separate tops the same as they had worn in France in about 1798.  America was 8-10 years behind French fashion at the time.  Quakers in America were an exception in that they wore two petticoats; an upper (outer), and a lower (underneath).  This is presumed because of modesty and warmth, and possibly because they owned only a few items of clothing and wore all of them all the time.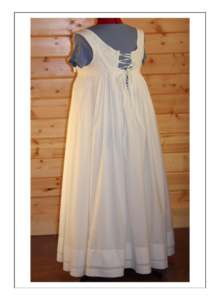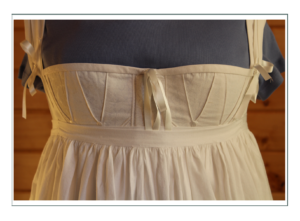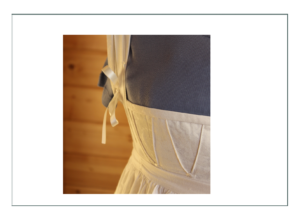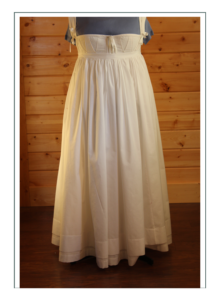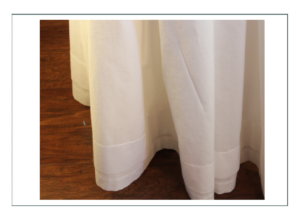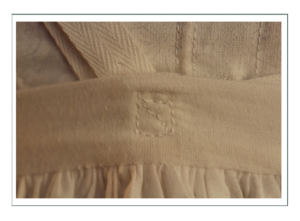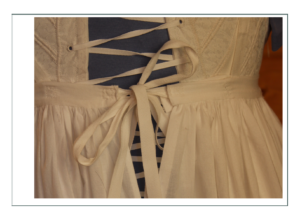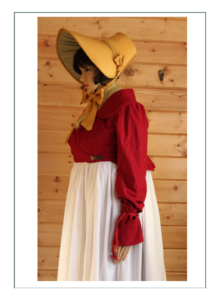 Lower Petticoat
We designed and built this slim profile petticoat for modesty, and to fit under the sheer straight gown.  It is built the same as the Upper Petticoat, but is not to be worn alone, but as an undergarment.  As the Upper Petticoat has stroked 1/8″ pleats only 1/8″ apart, this has 1/8″ pleats 1″ spaced apart for a much smoother all around profile.  The design or the hem and straps and waist are meant to drape gently without the movement and swing of the Upper which is really an outer garment that can be worn with just the spencer.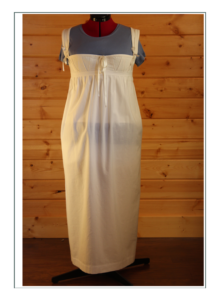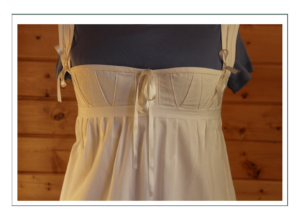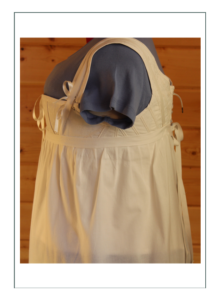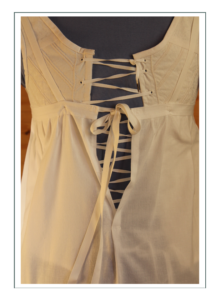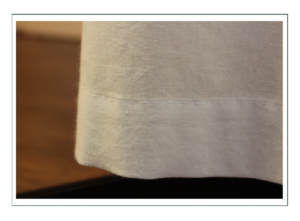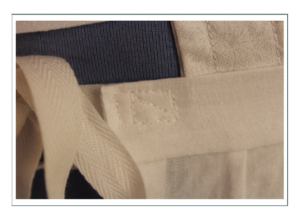 A Note on Petticoat Fabrics
Nankeen cotton was the most often used fabric for petticoats in America at the time – it was American grown specifically, and undyed had a pale yellow color.  Many museum examples appear to be yellowed due to aging, but it is very likely they are of original color which did not fade like the many naturally sourced dyes of that time.  Many of the pastels – pinks in particular DID in fact fade away to appear today in museums to be the same yellow or tan color.
Most often for middle or upper class such as Anna's character, the petticoat would be made of dimity (woven stripes), striped linen, or flannel.  The Pennsylvania Dutch wore linsey woolsey, and specific to New England was a printed cotton.  In New England they would have a jacket with long sleeves that made of the same fabric as the petticoat; appearing to be the 2 piece bodice/skirt that had been introduced in France, and would become dominant through the next Victorian era and eventually evolve into the two piece "suit".
Jacinta Specifics for Petticoats
Jacinta's petticoat is for modesty to go under her semi-sheer embroidered cotton gown.  In order to not lose the drape and cling typical of a young girls' early Regency fashion, we have made it of a simple, bleached, high quality white muslin to show off the gown.
Extant examples show women modified their petticoats either to hand them down, or to adjust to fashion.  Early ones like the one we have built are made of straight pieces of fabric sewn into a giant tube, and then tucked around to give fullness – as was typical of the prior 2 decades.
Later, women cut off the bottoms and created gores for a more tapered look,  or to fit a different woman.  These gored petticoats, being outerwear, had pockets built into them.  Jacinta's petticoat does not have pockets.  We will hang those separately from her waist, and her gown will accommodate with slits to reach into the pockets.
Rump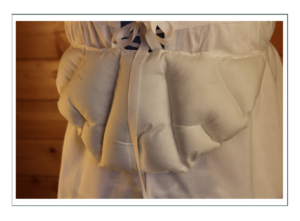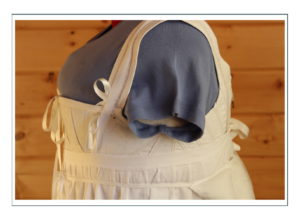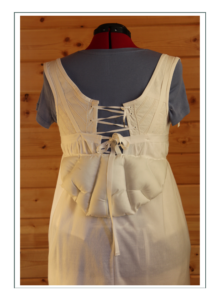 Sheer Gown/Robe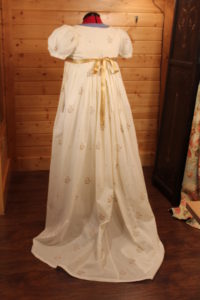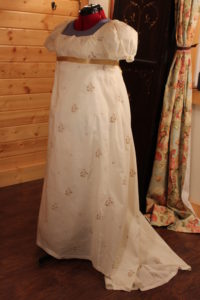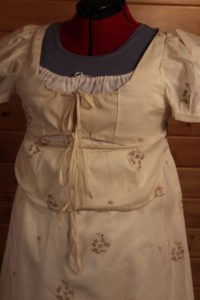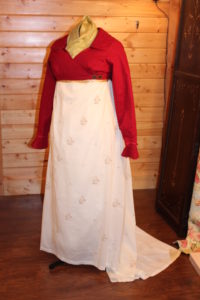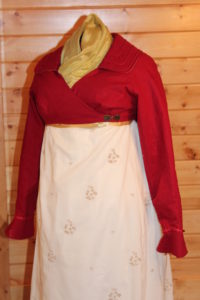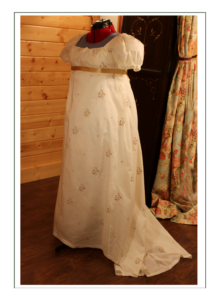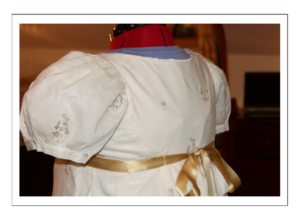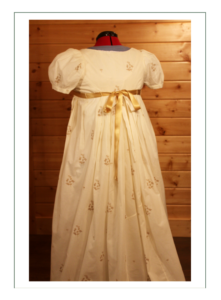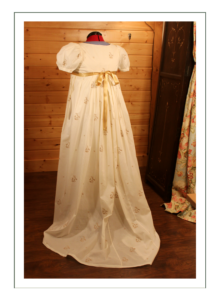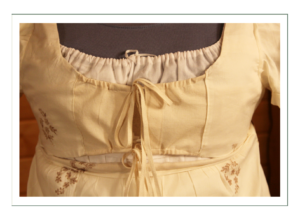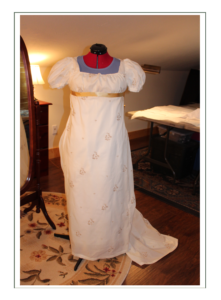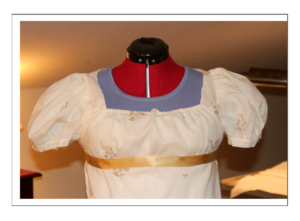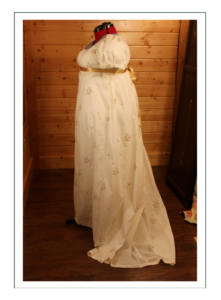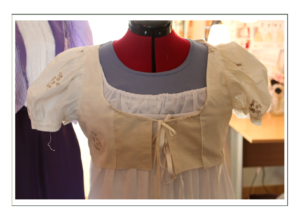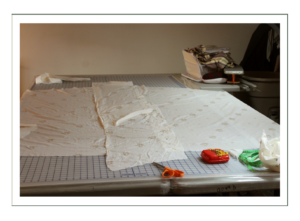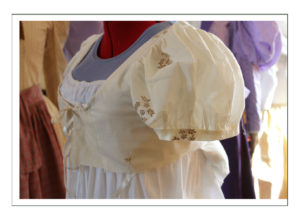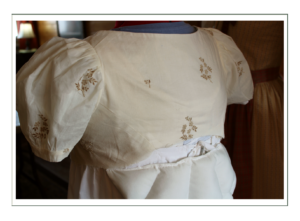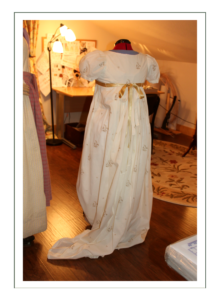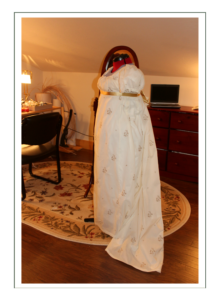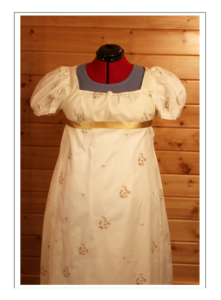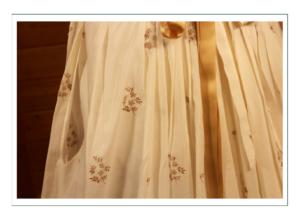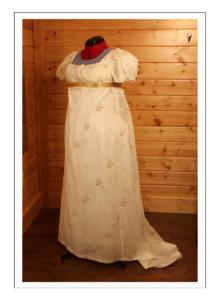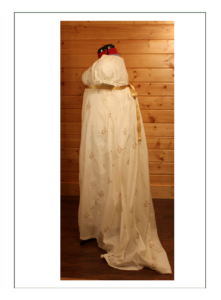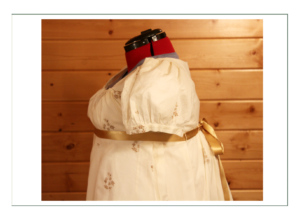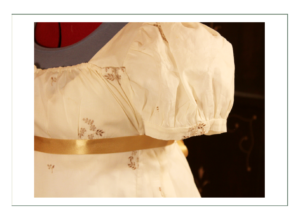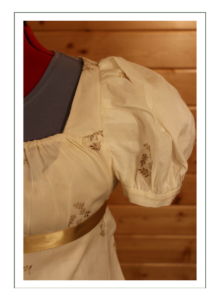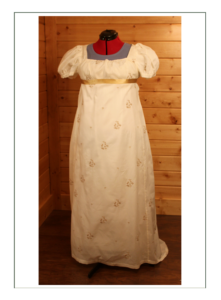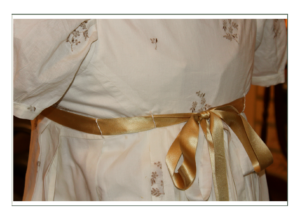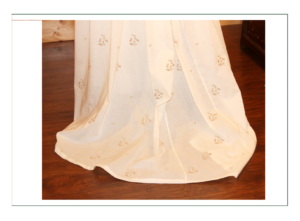 Spencer Jacket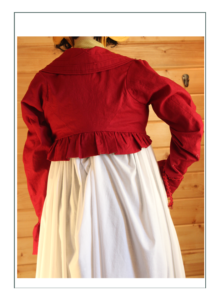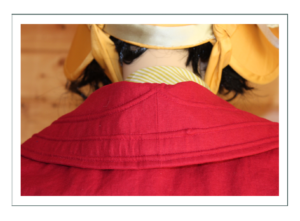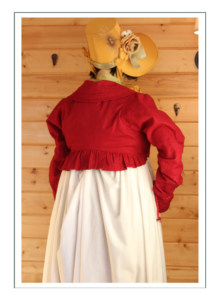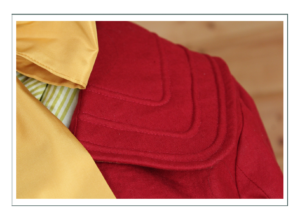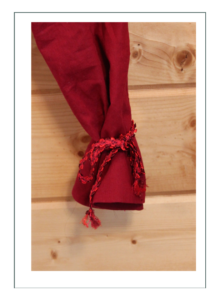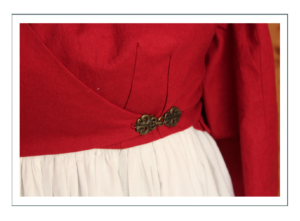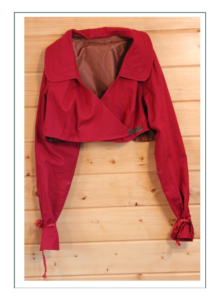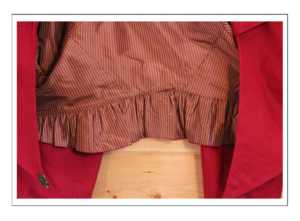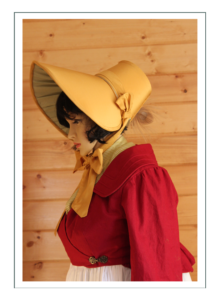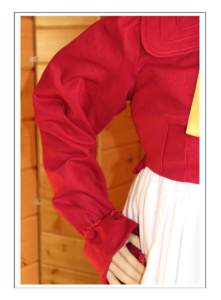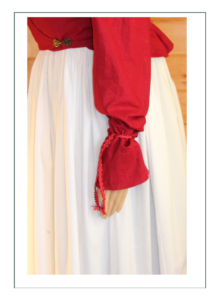 Spencer Jacket REMAKE for better FITTING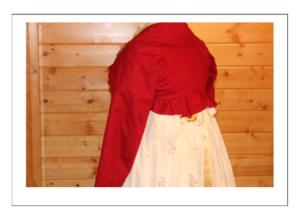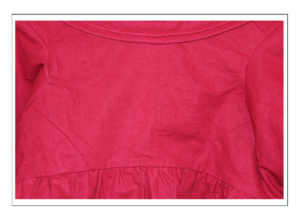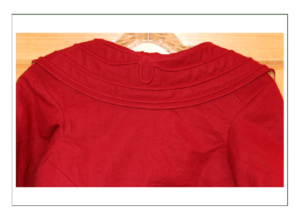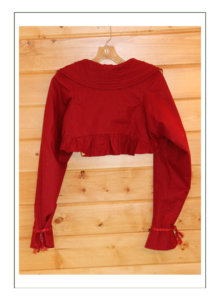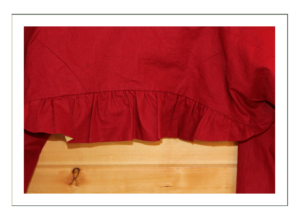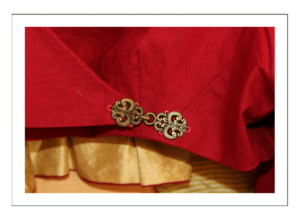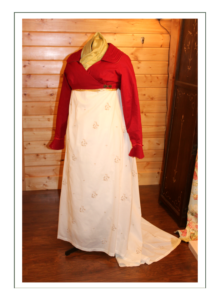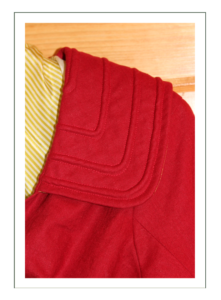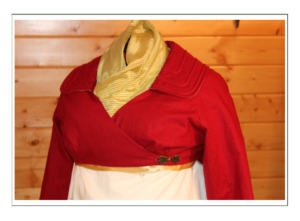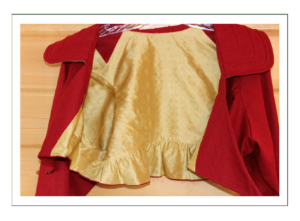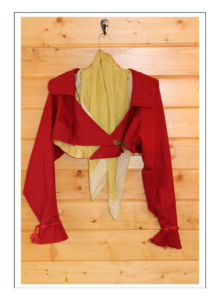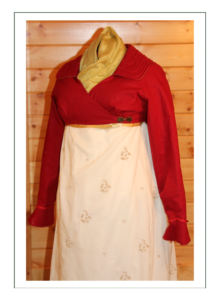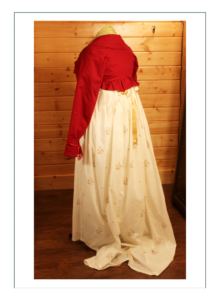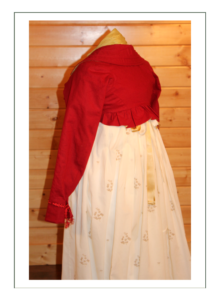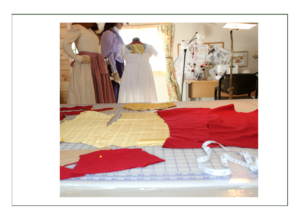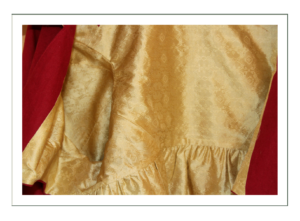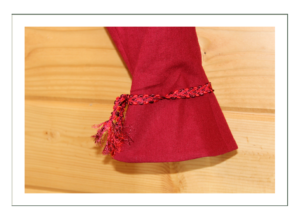 Bonnet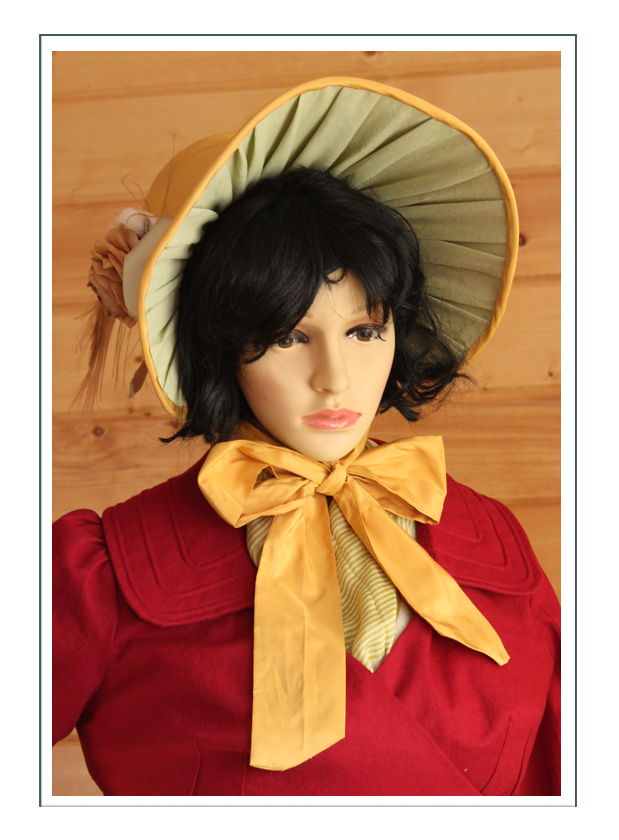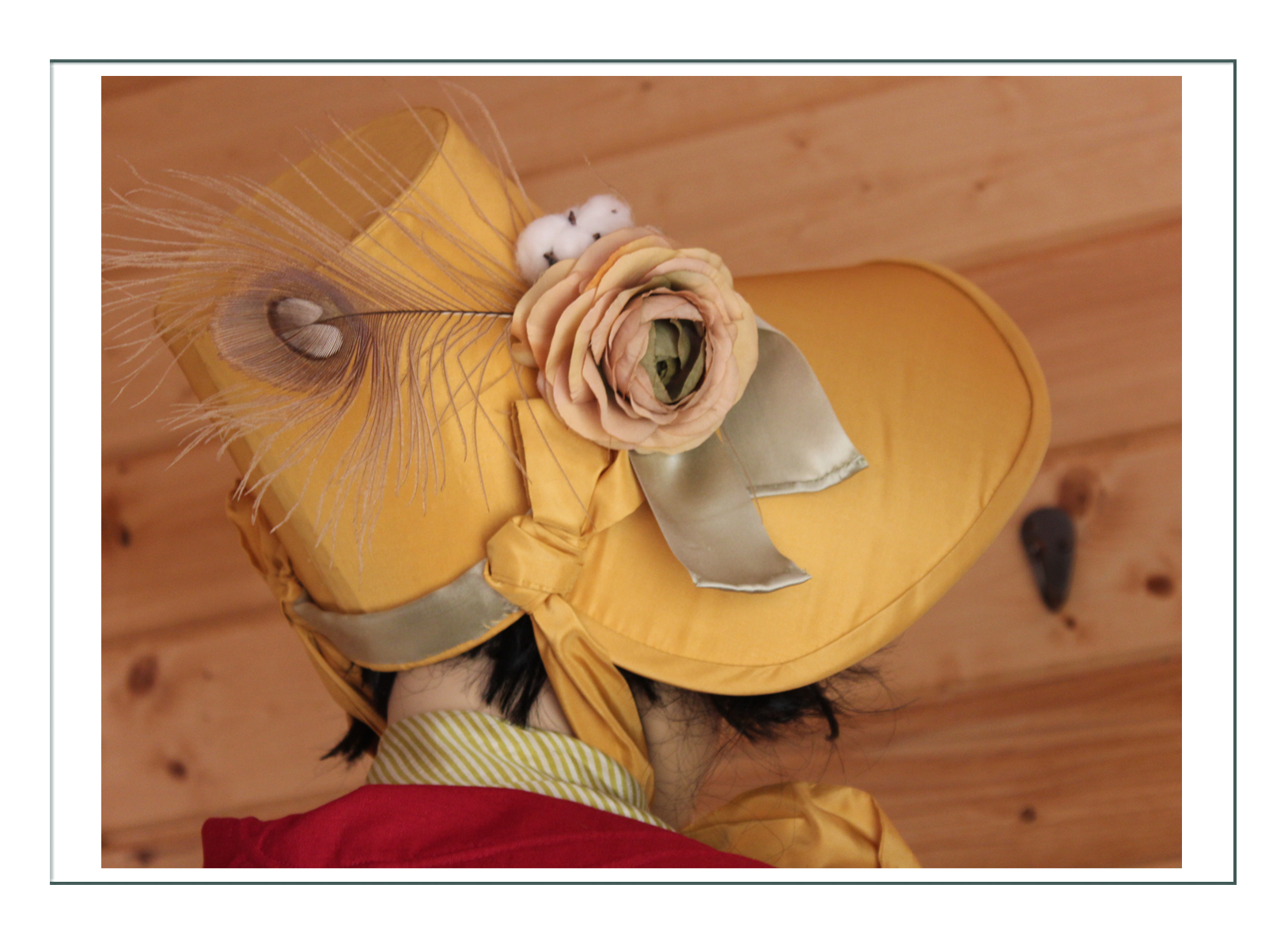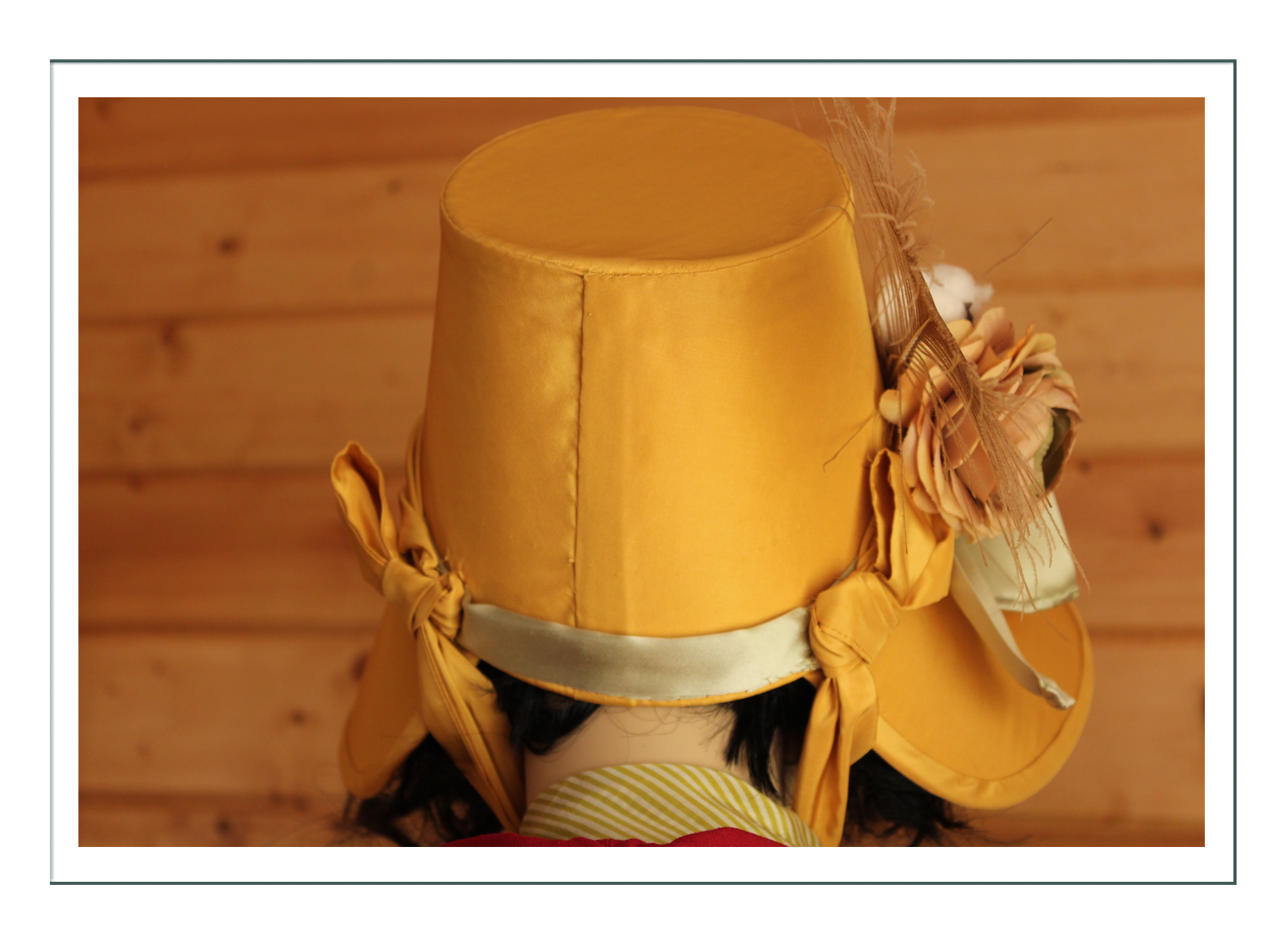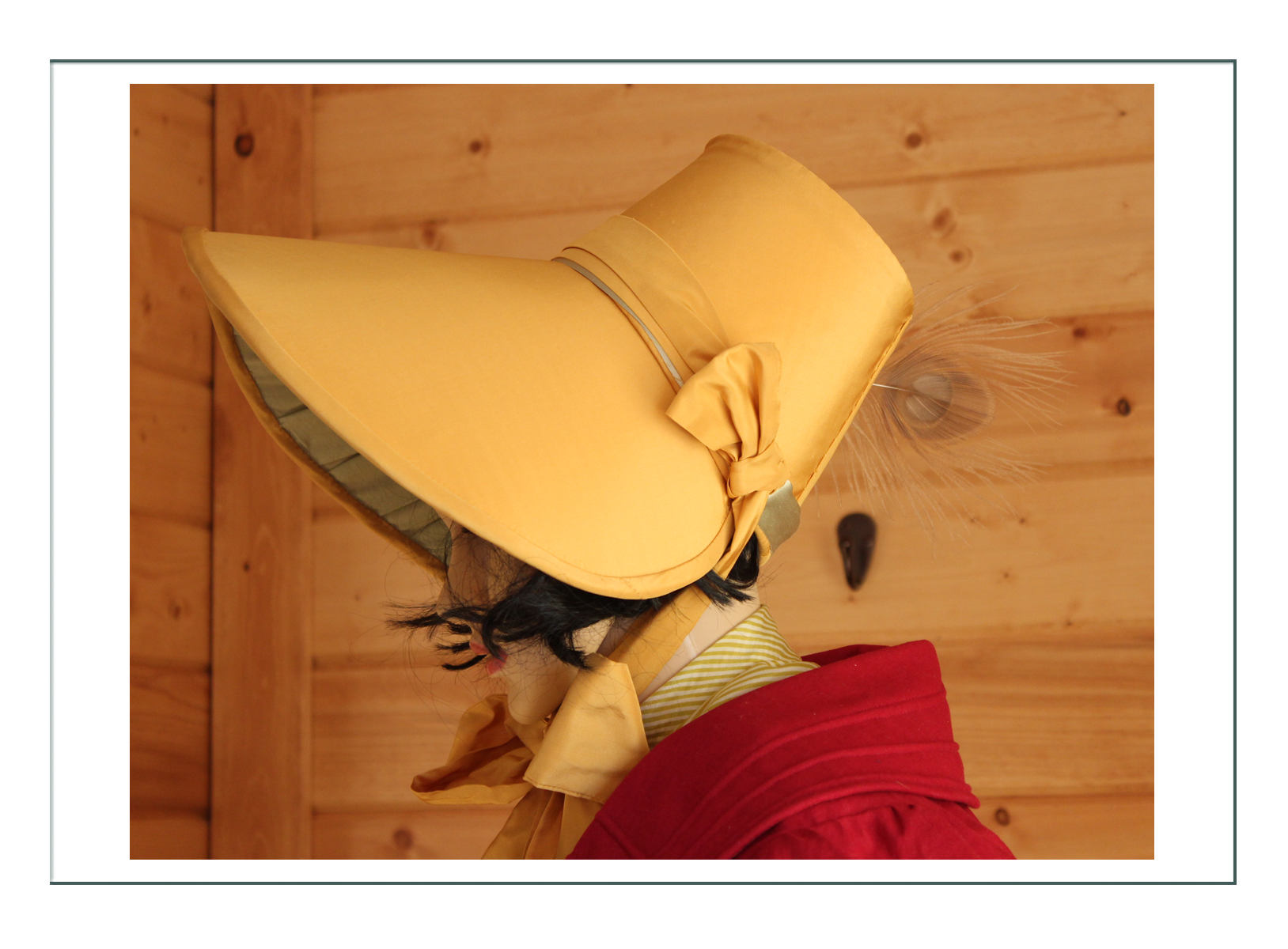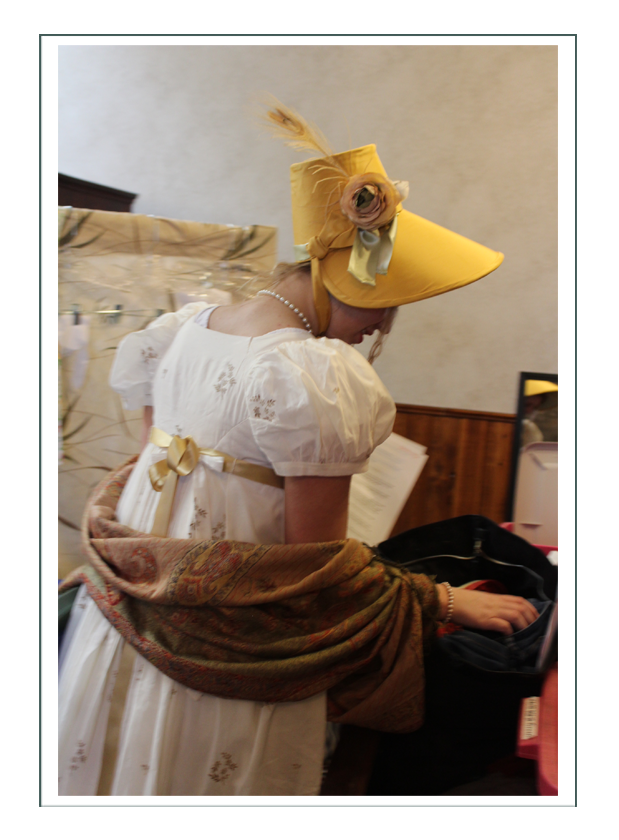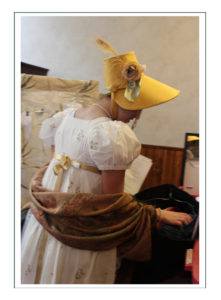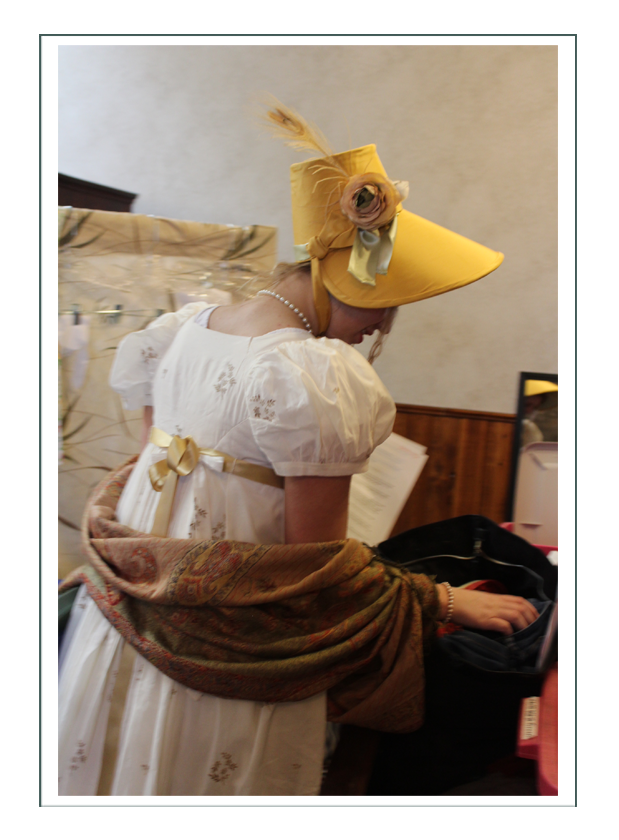 Reproduction Jewelry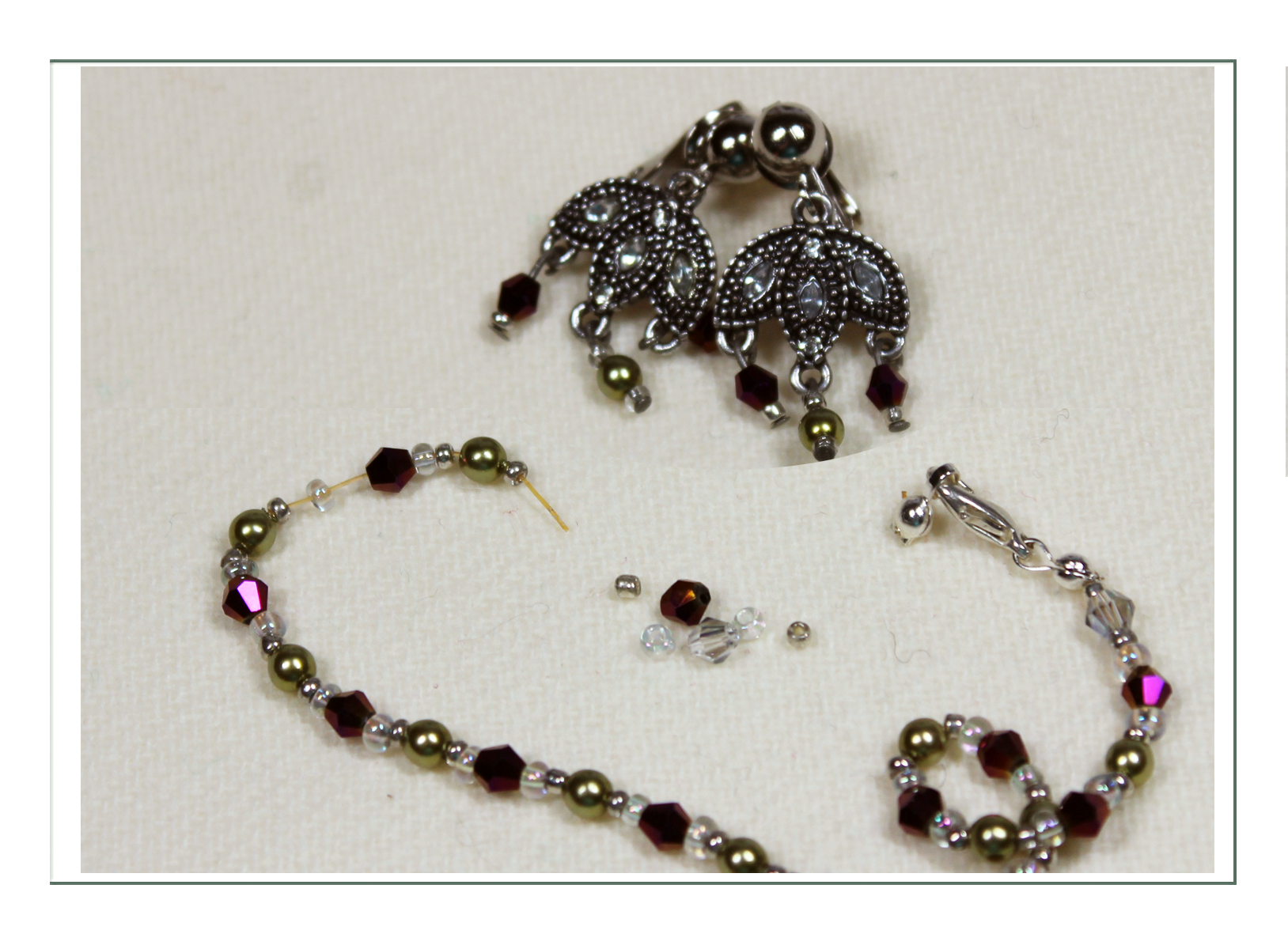 Headband
Goat's Wool Scarf
Of the finest Kashmir, and in the period correct 4 color paisley, this is a "found" item. While we also have a pure silk scarf intended to add the paisley on the ends (which would be even more accurate to 1805), we decided to save that for a dyed project; possibly additional to this ensemble. This 72″x 36″ will be for "every day wear" for Jacinta.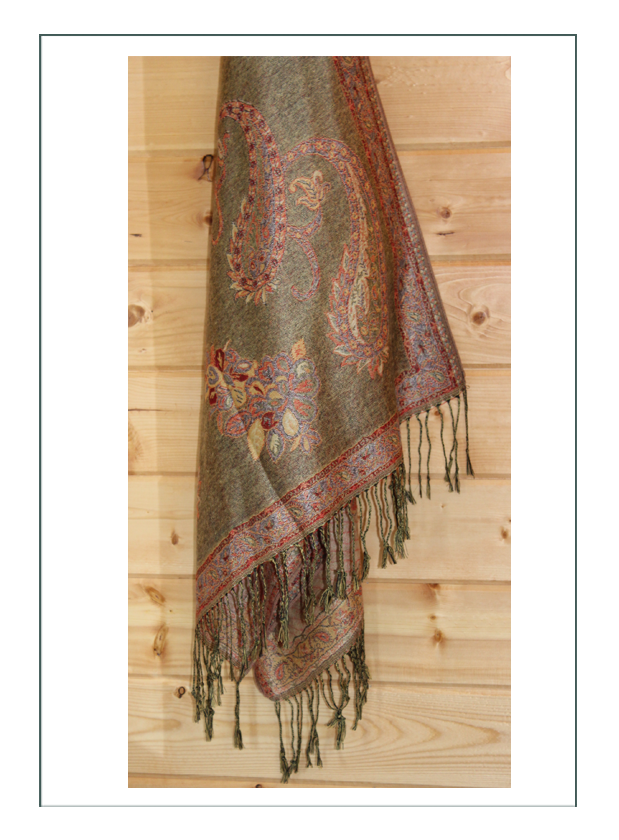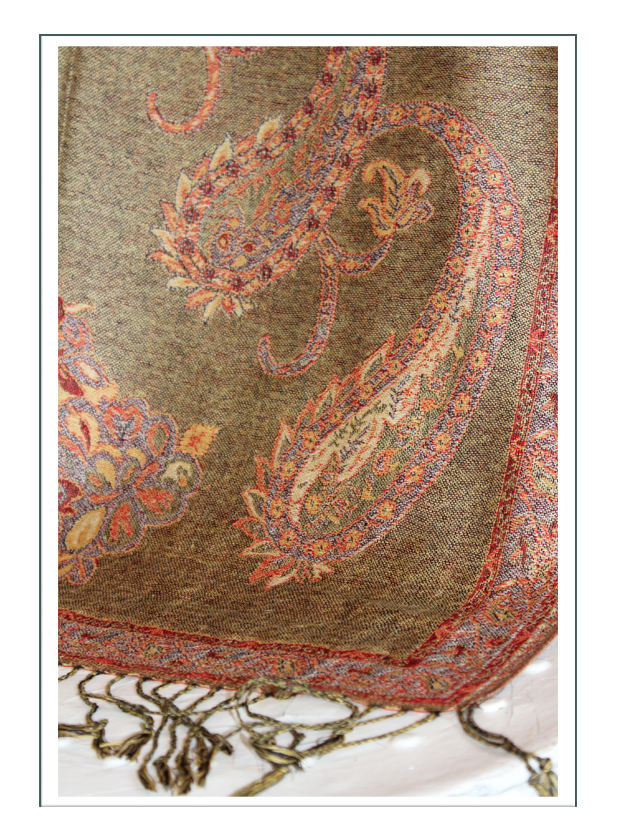 Shoes, Stockings, & Gloves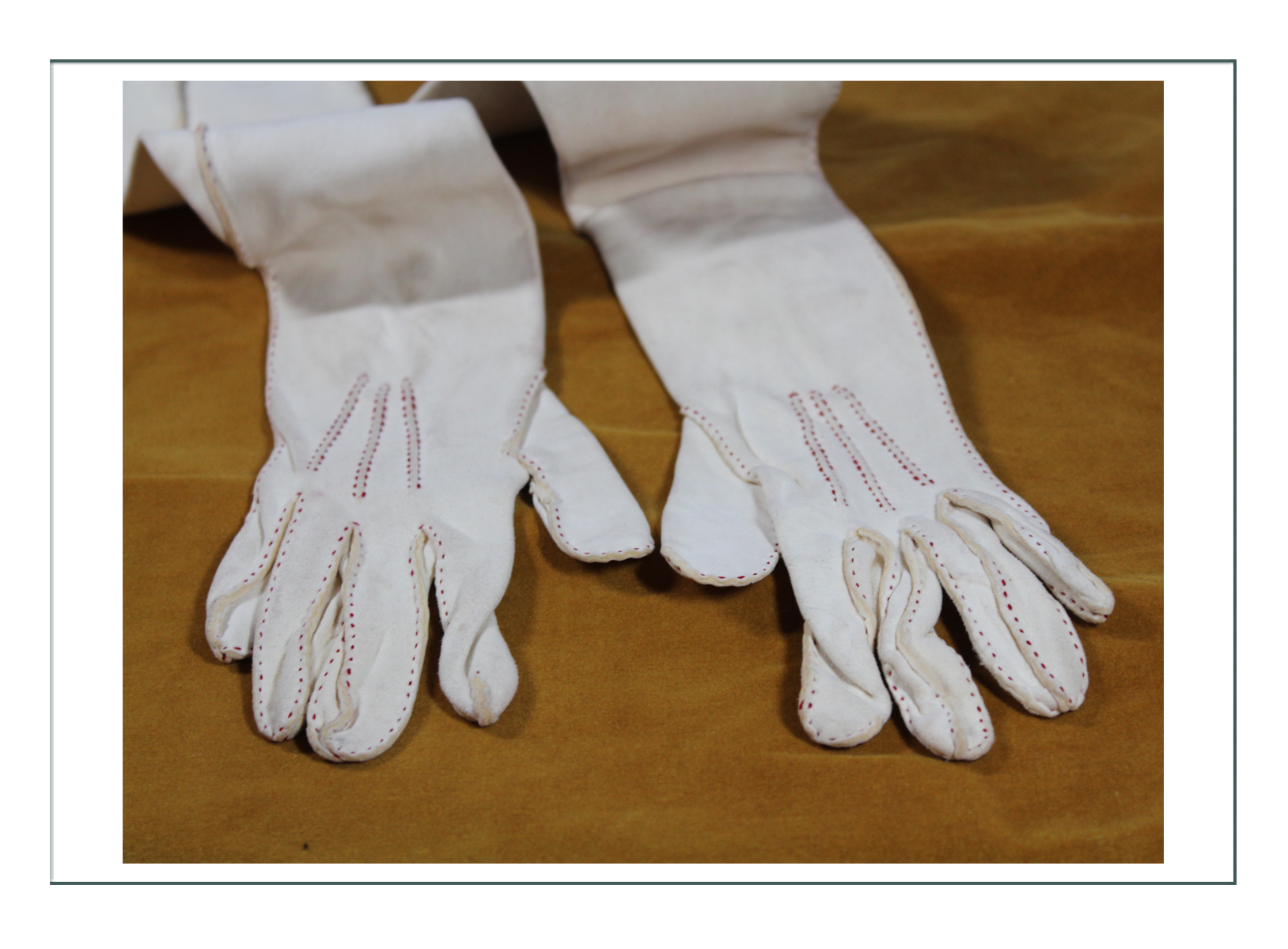 After the March show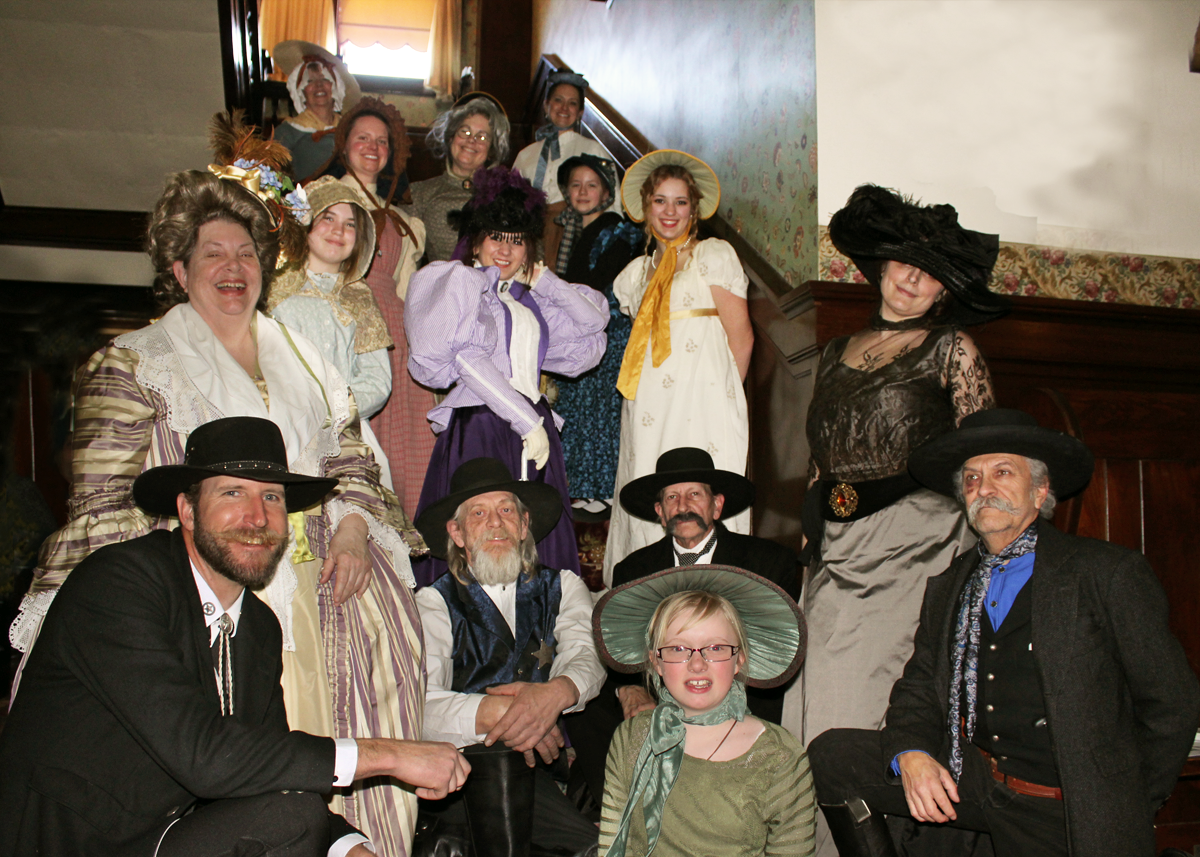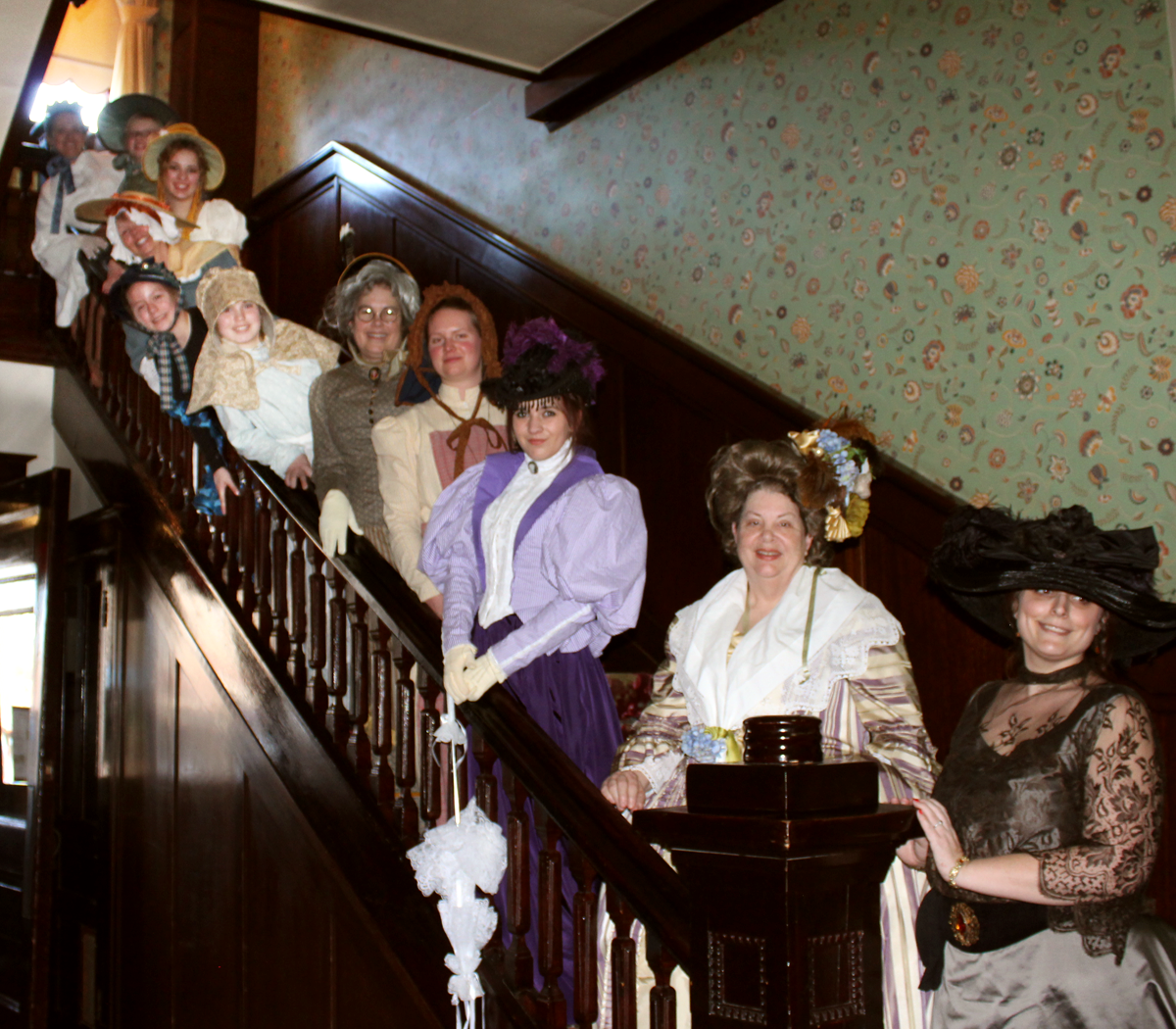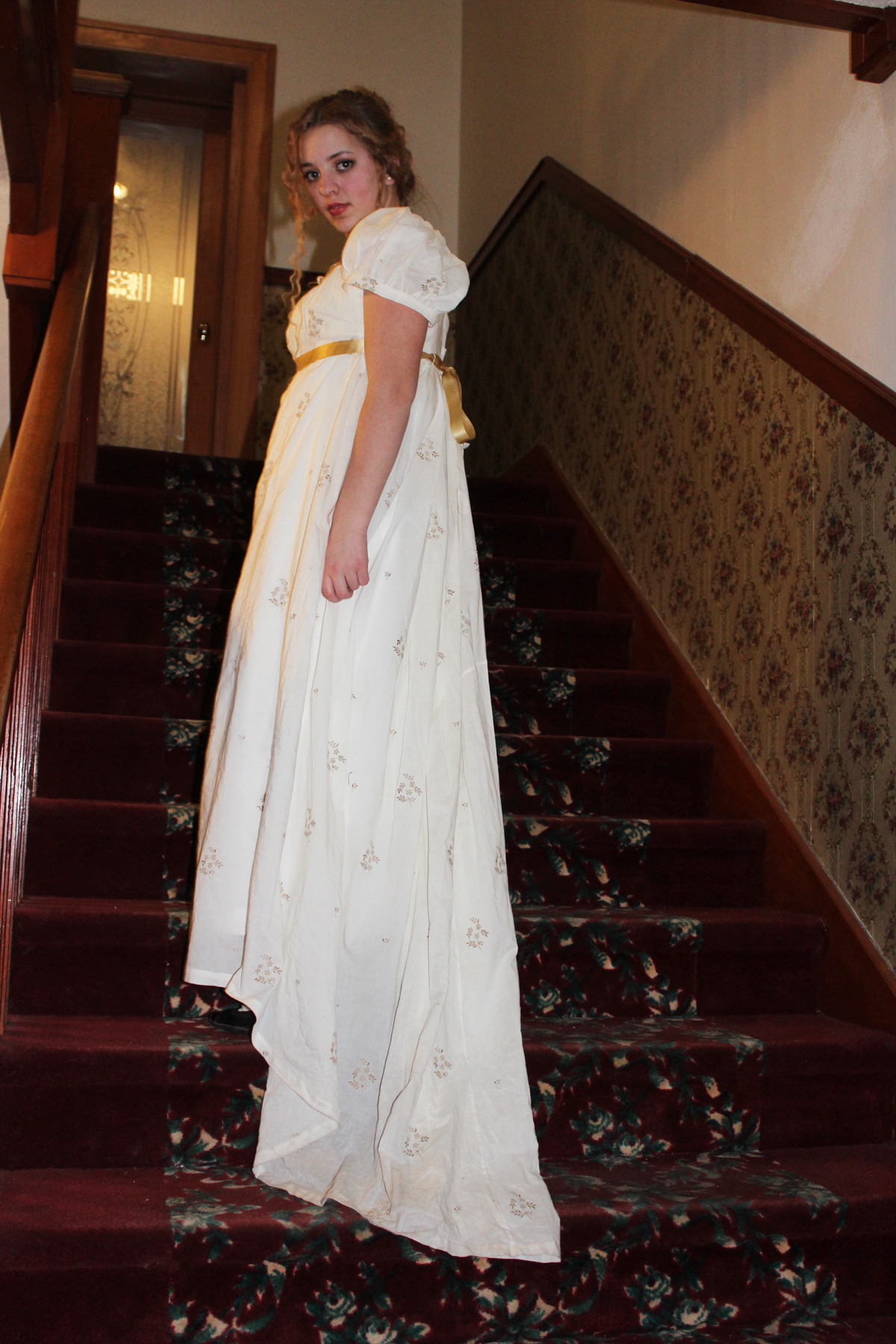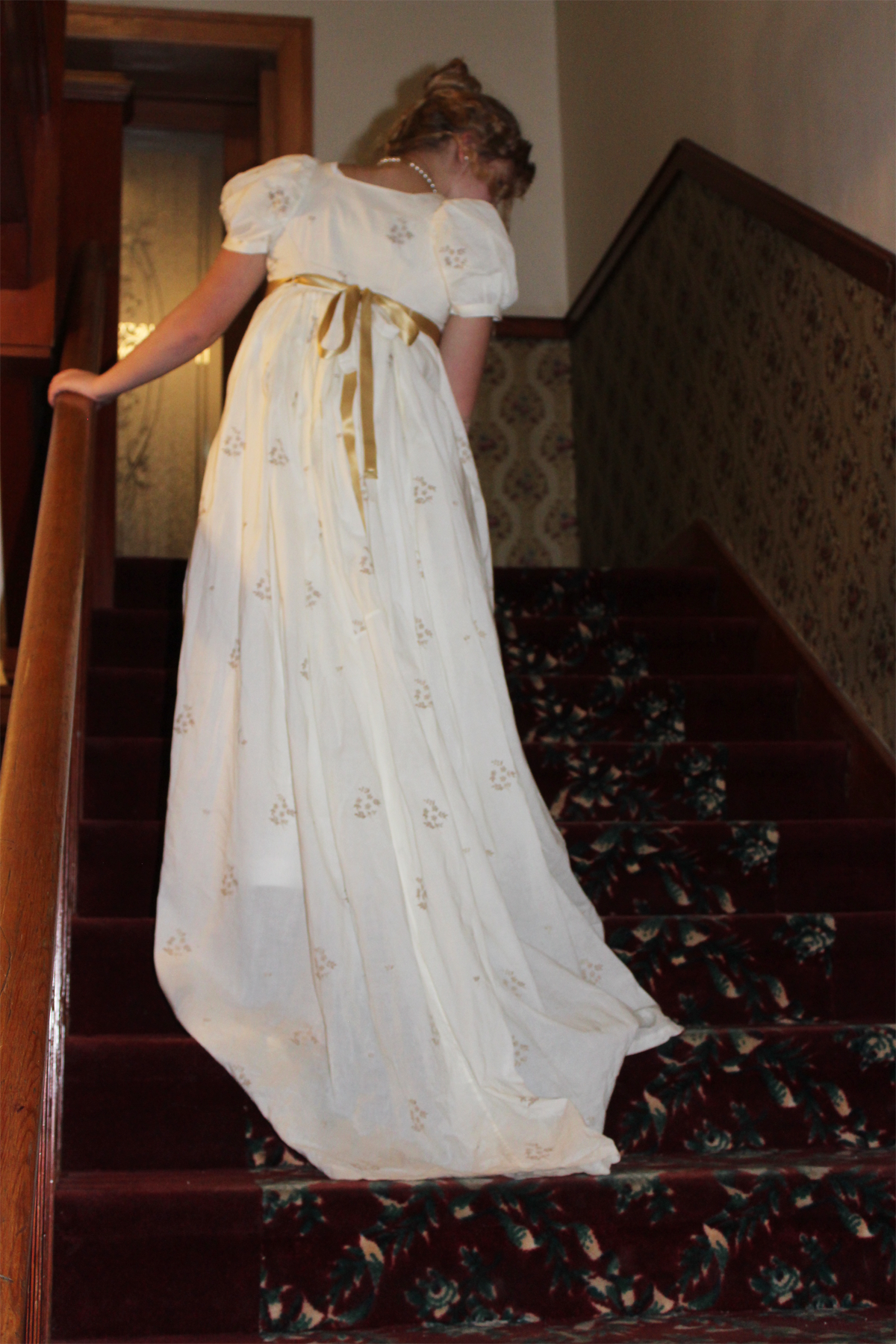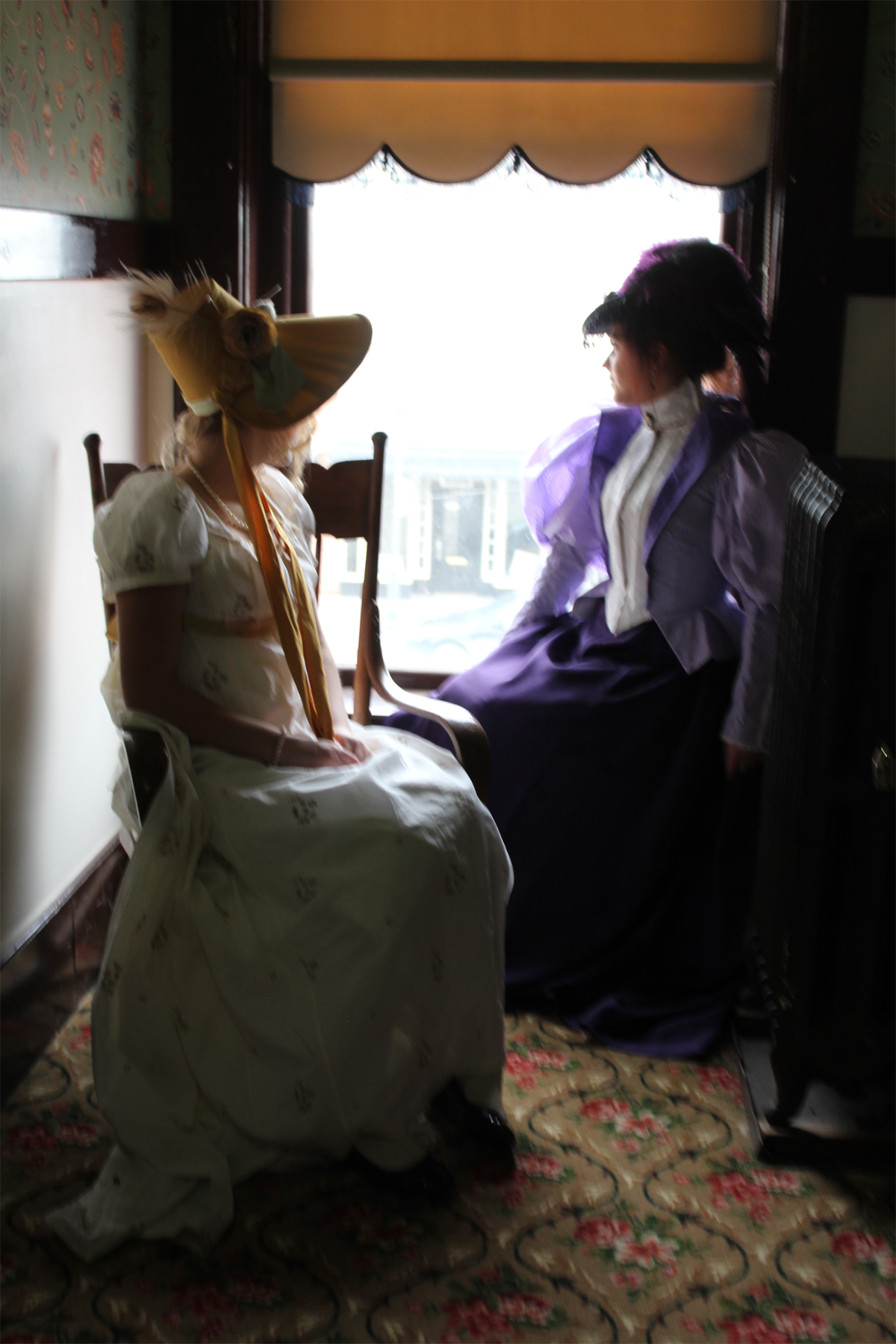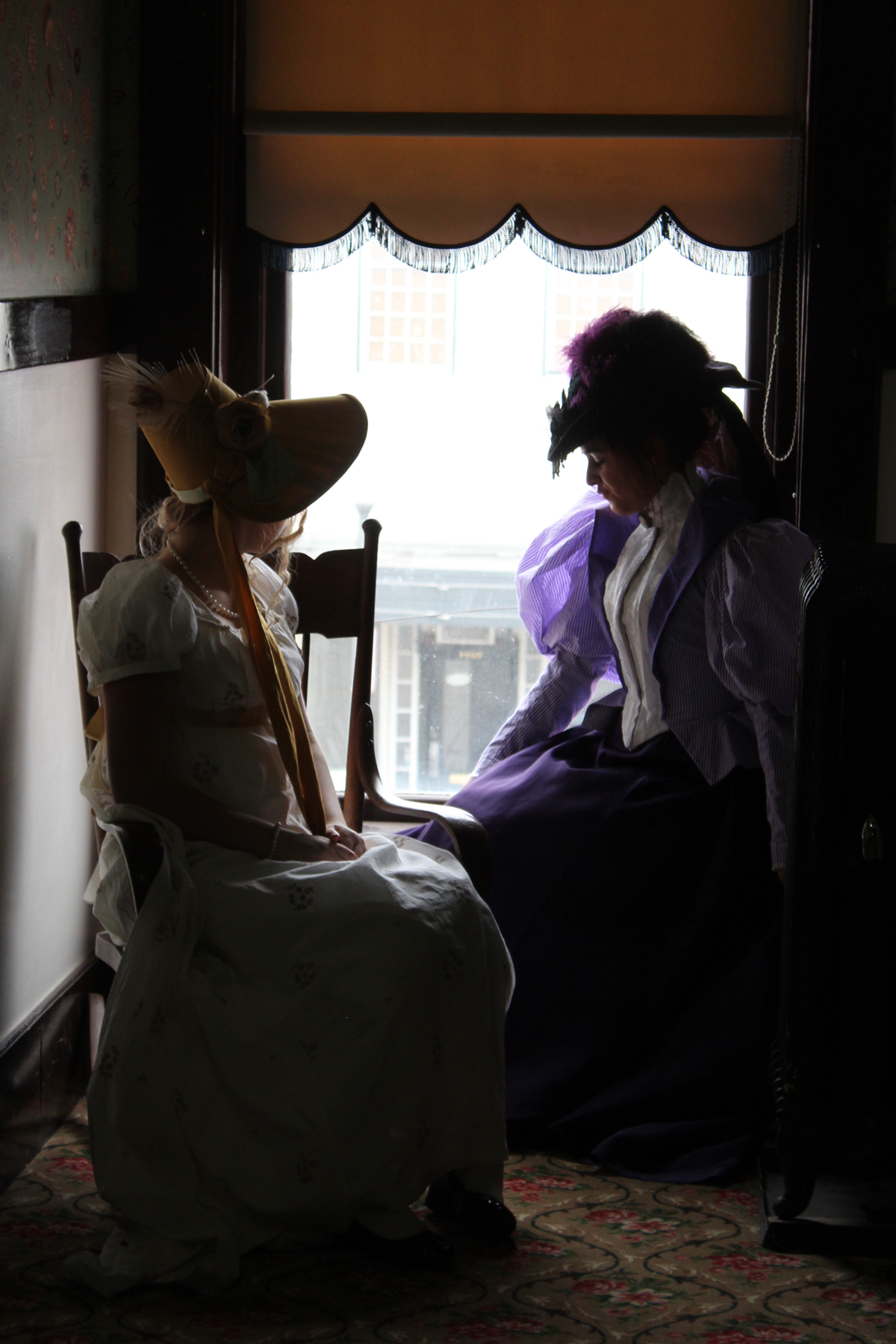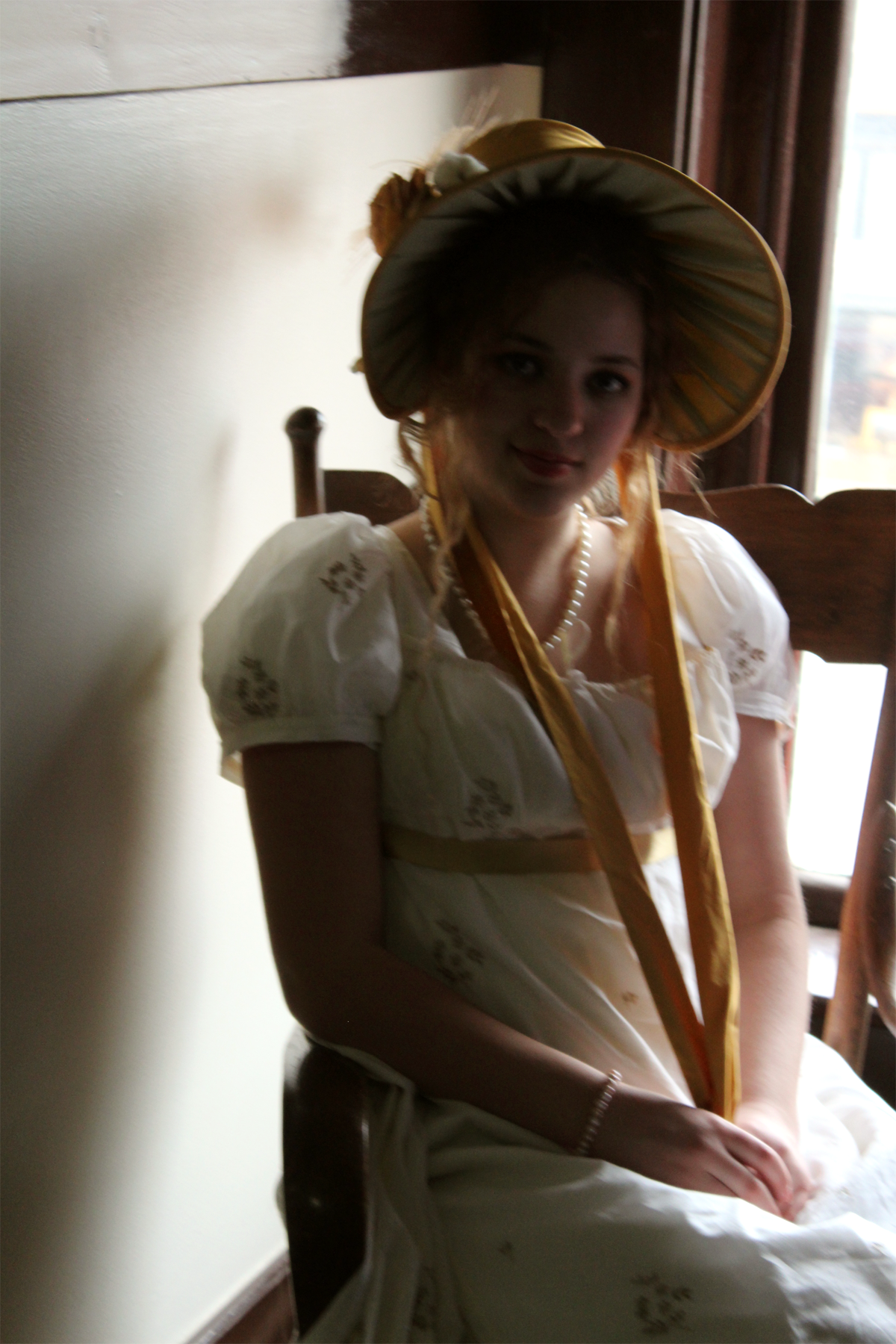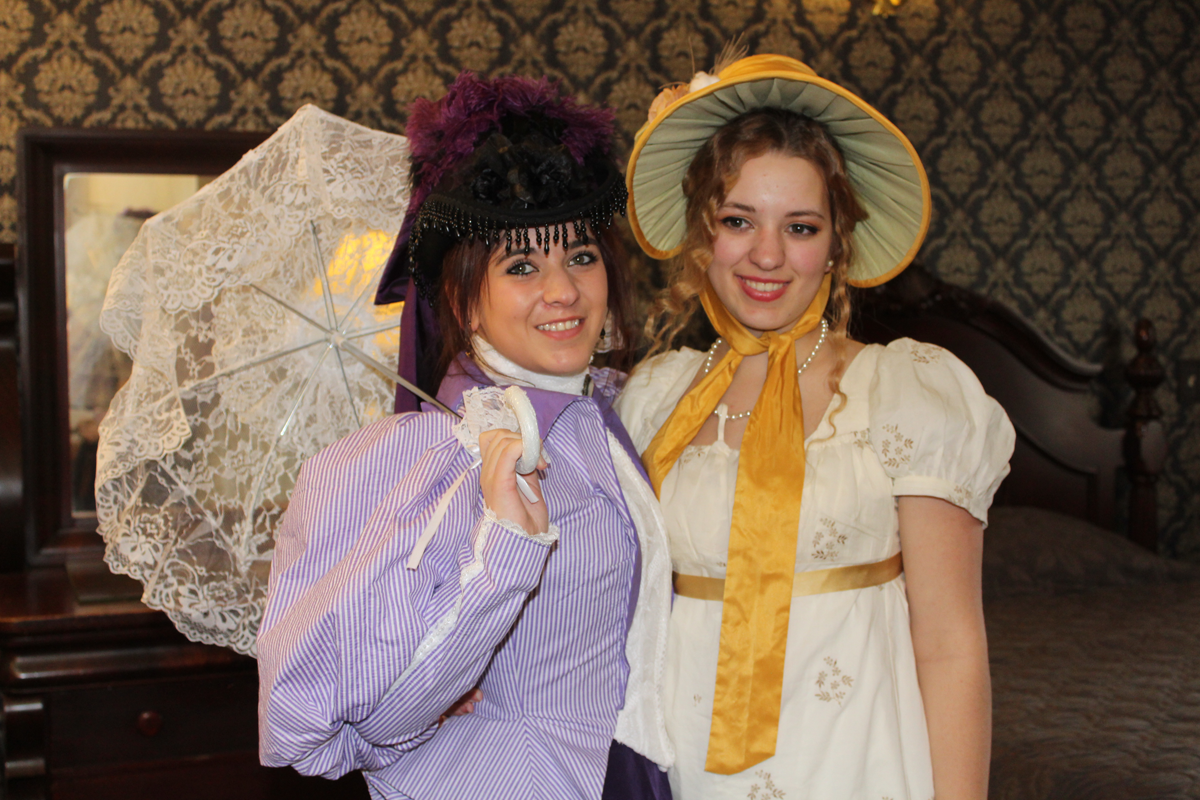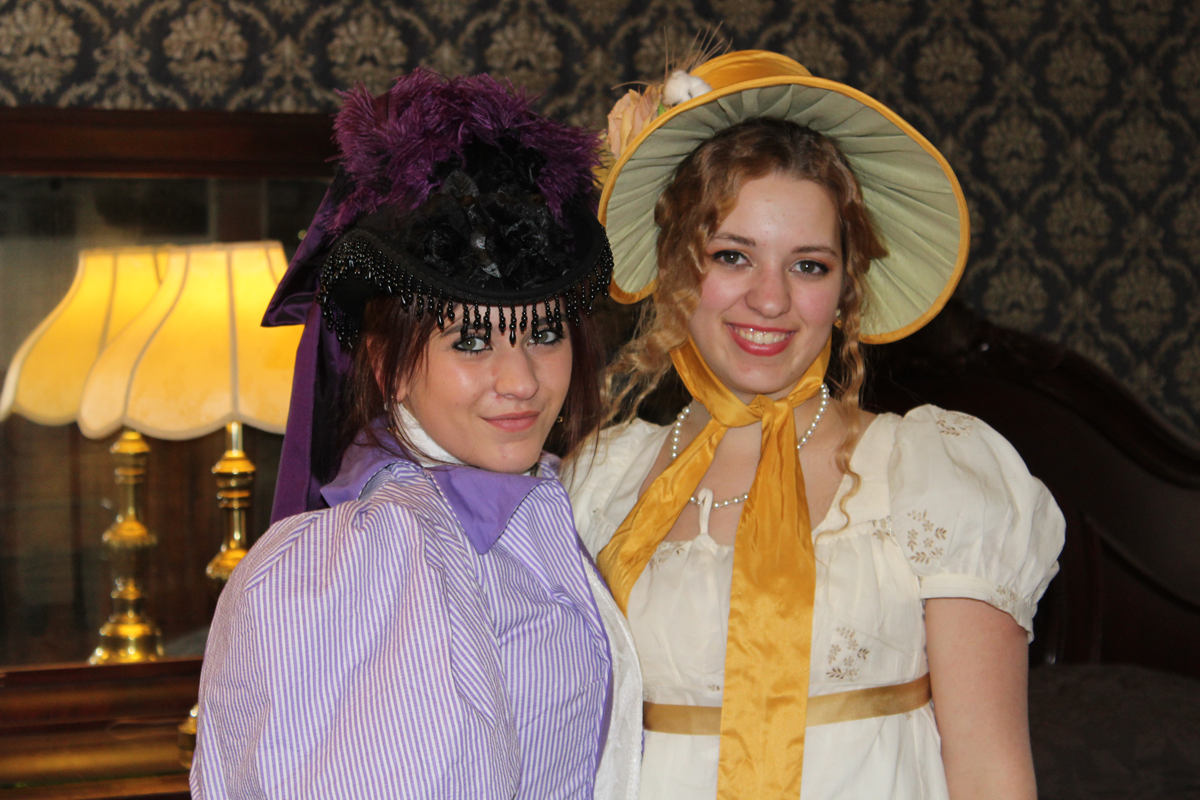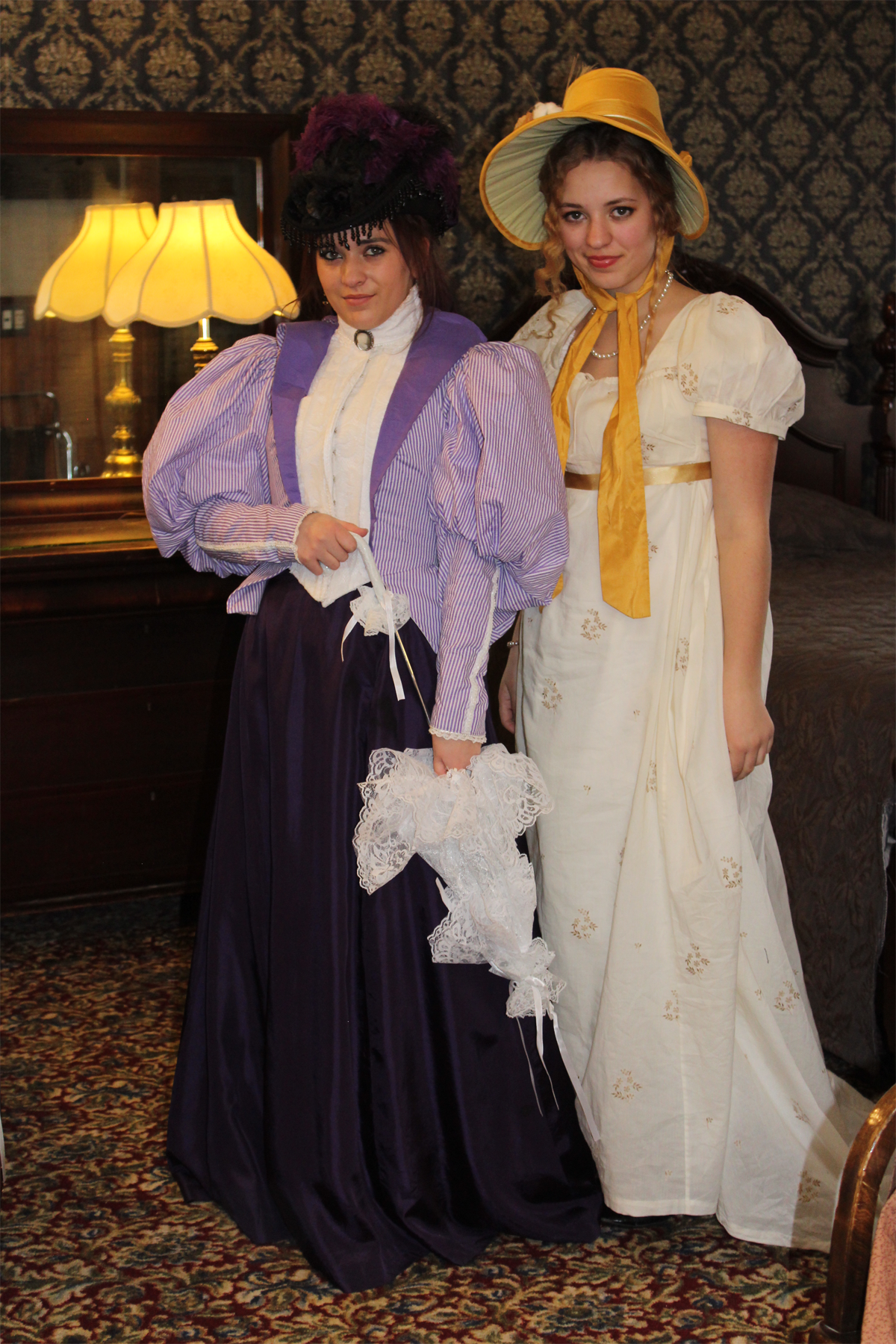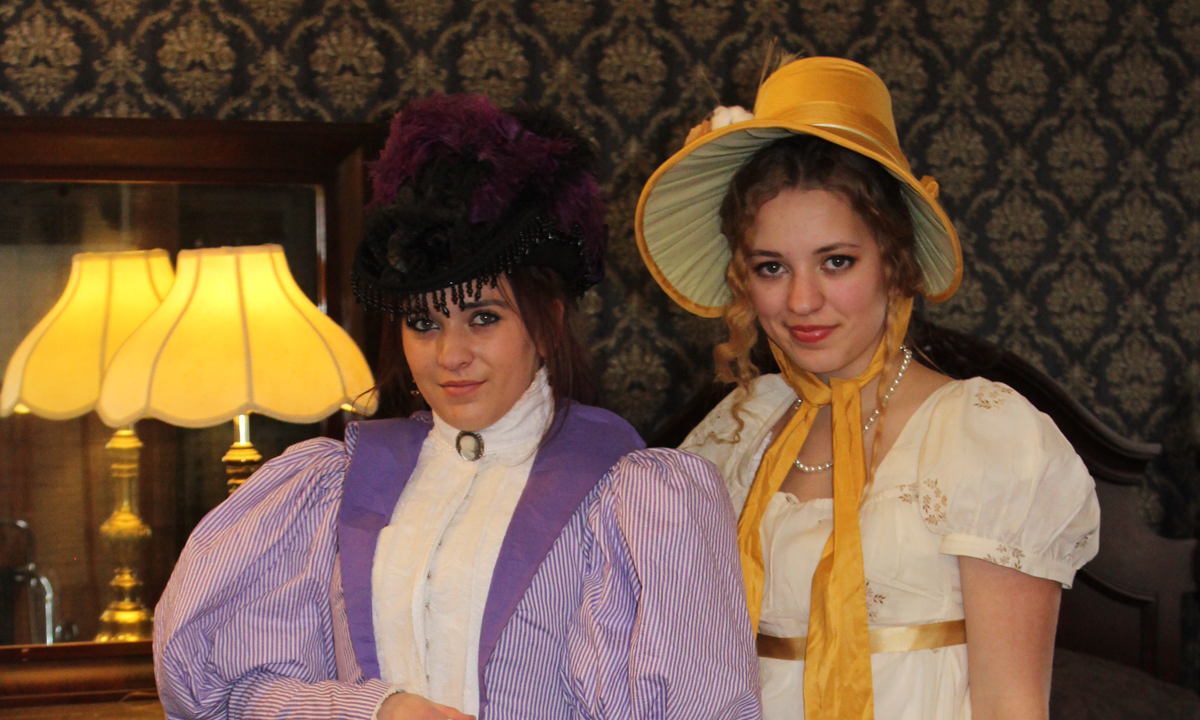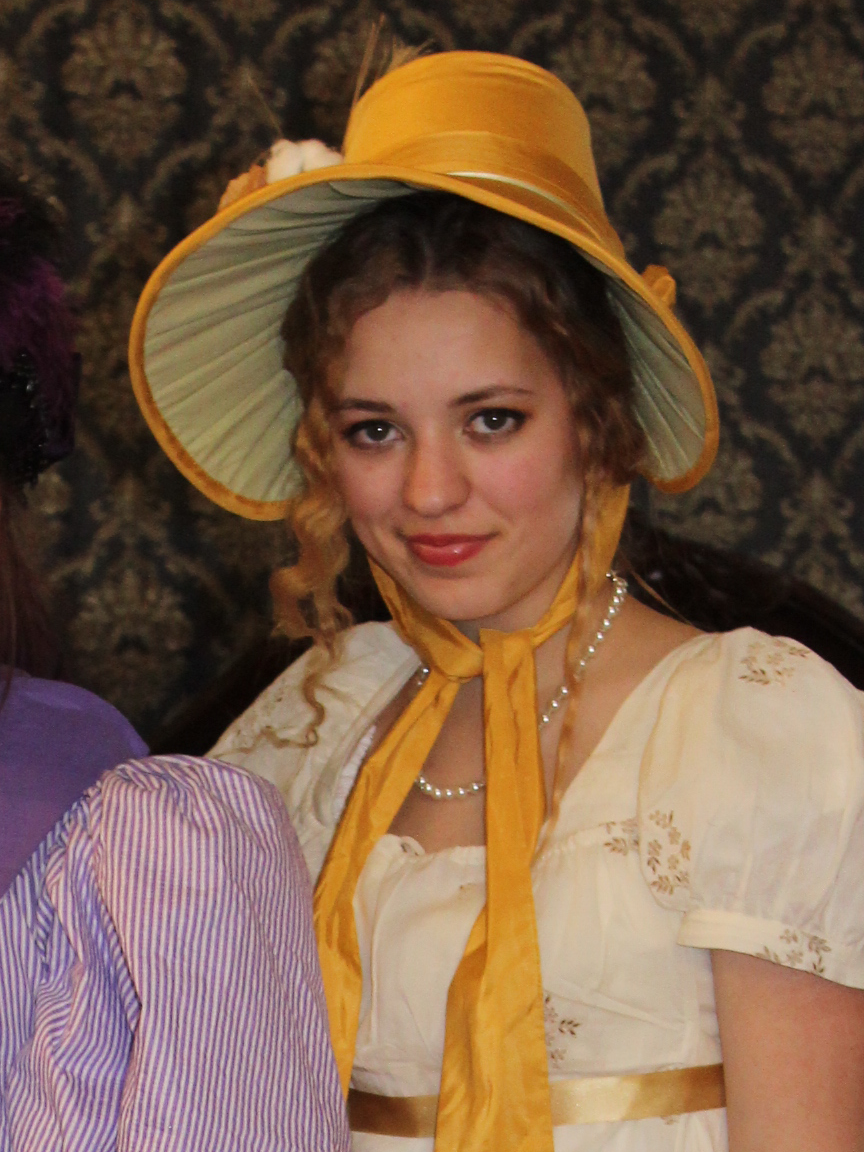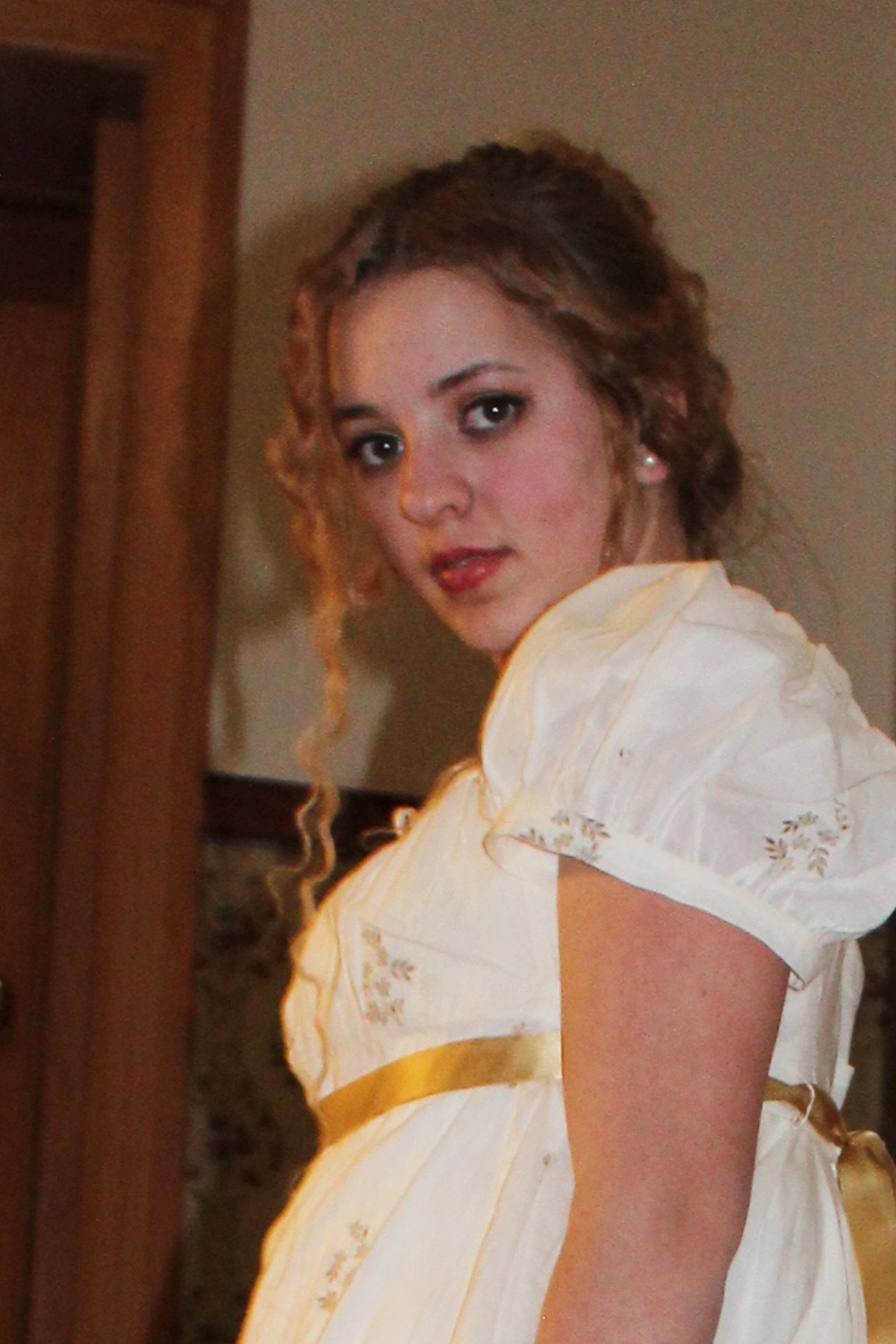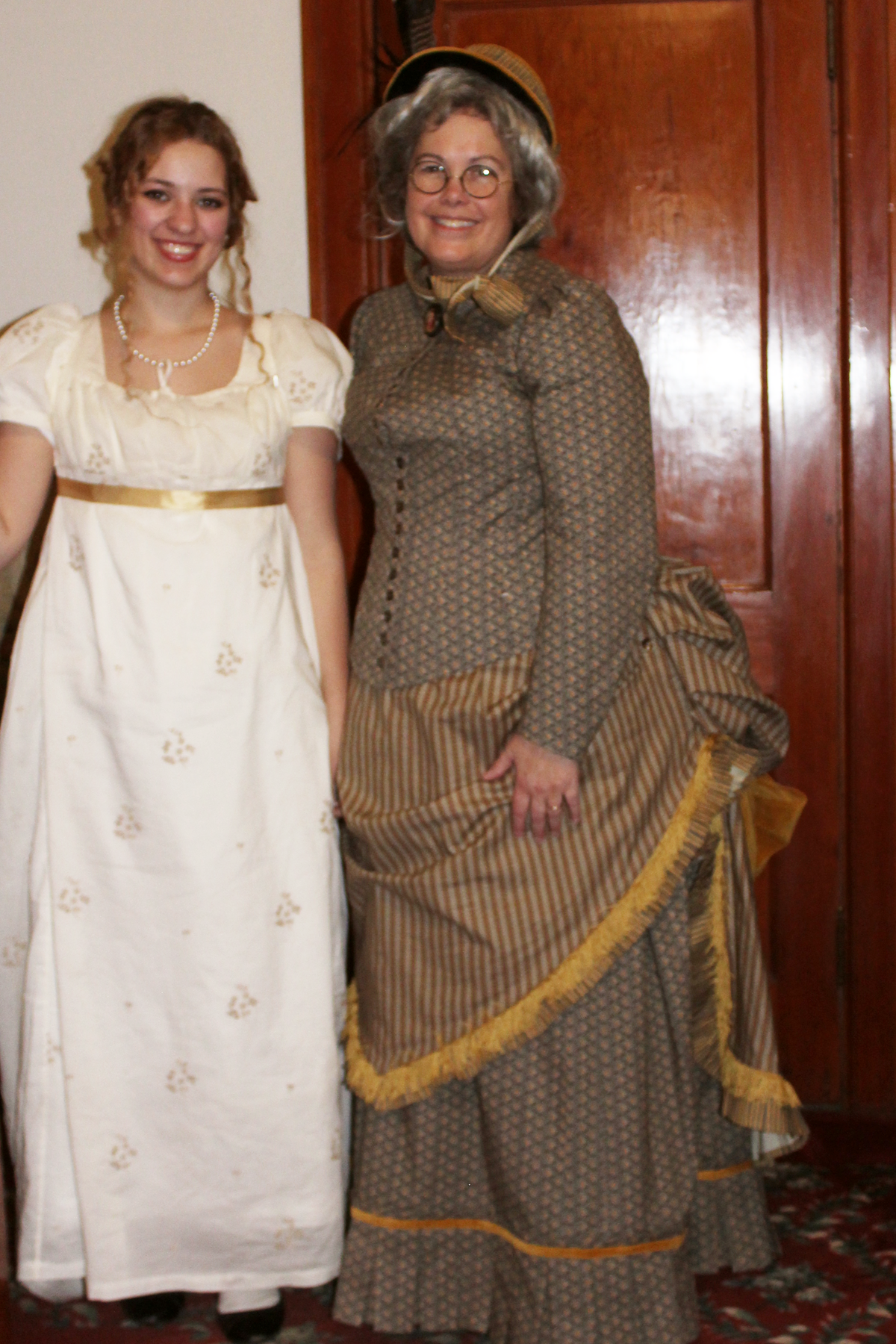 Final Fittings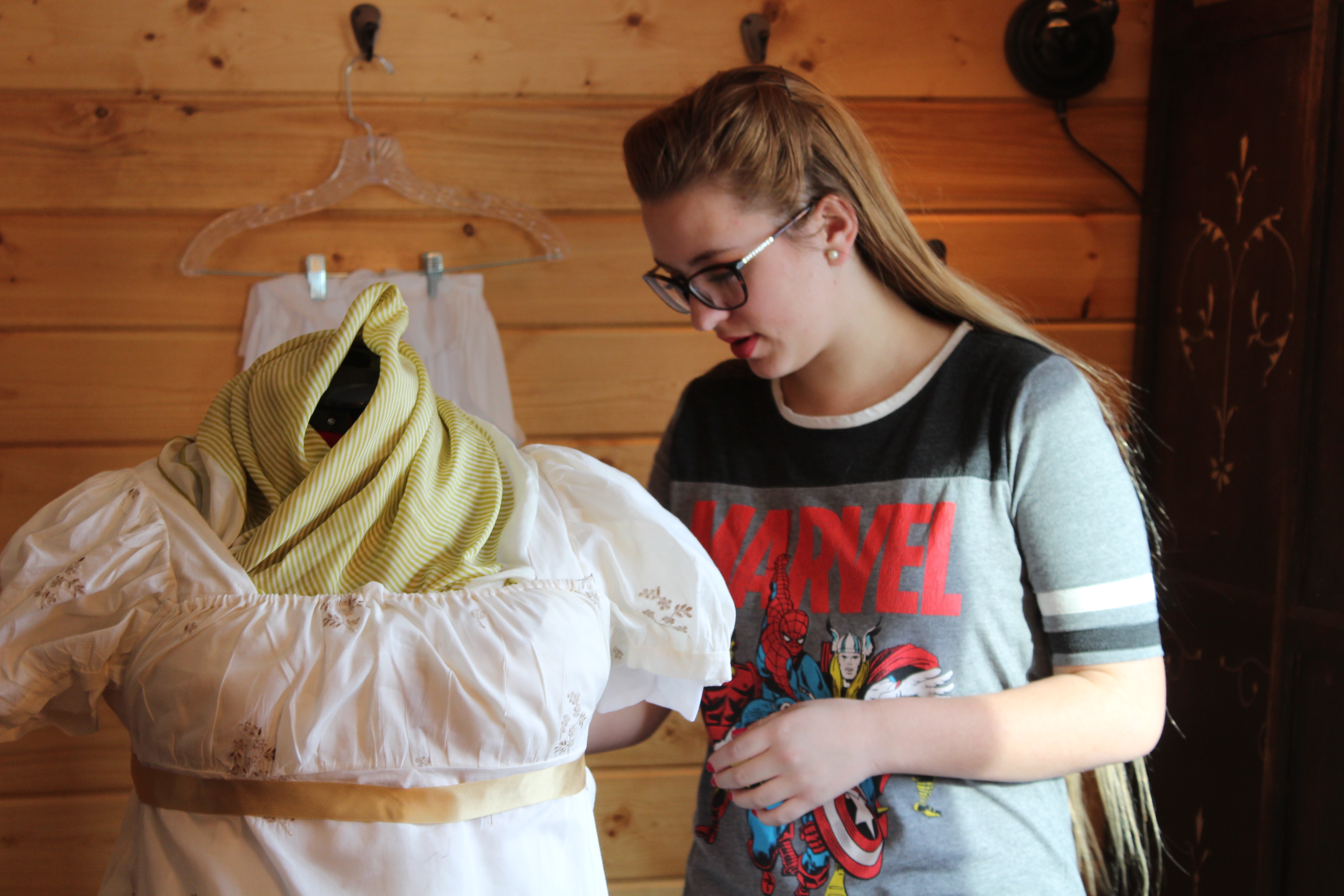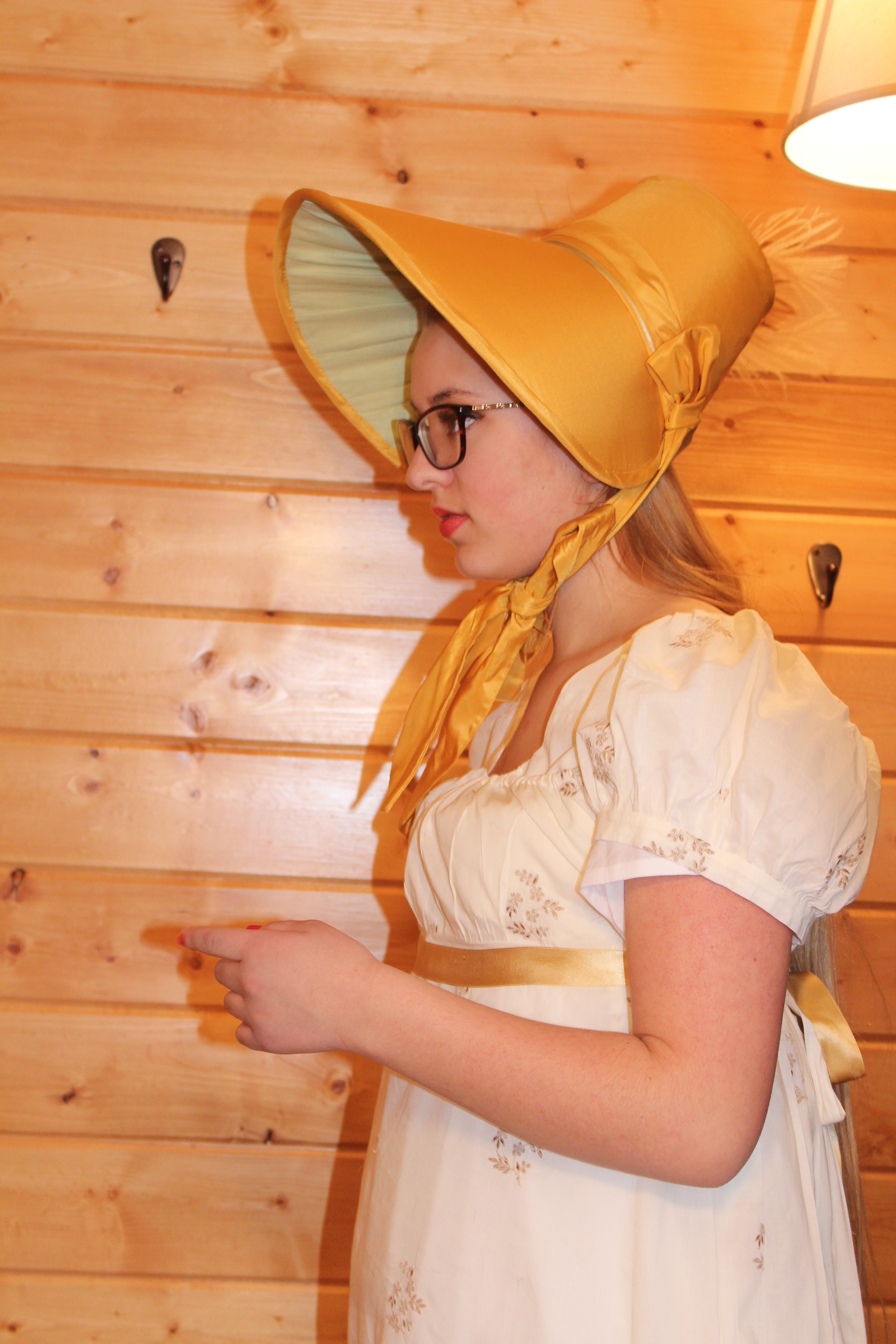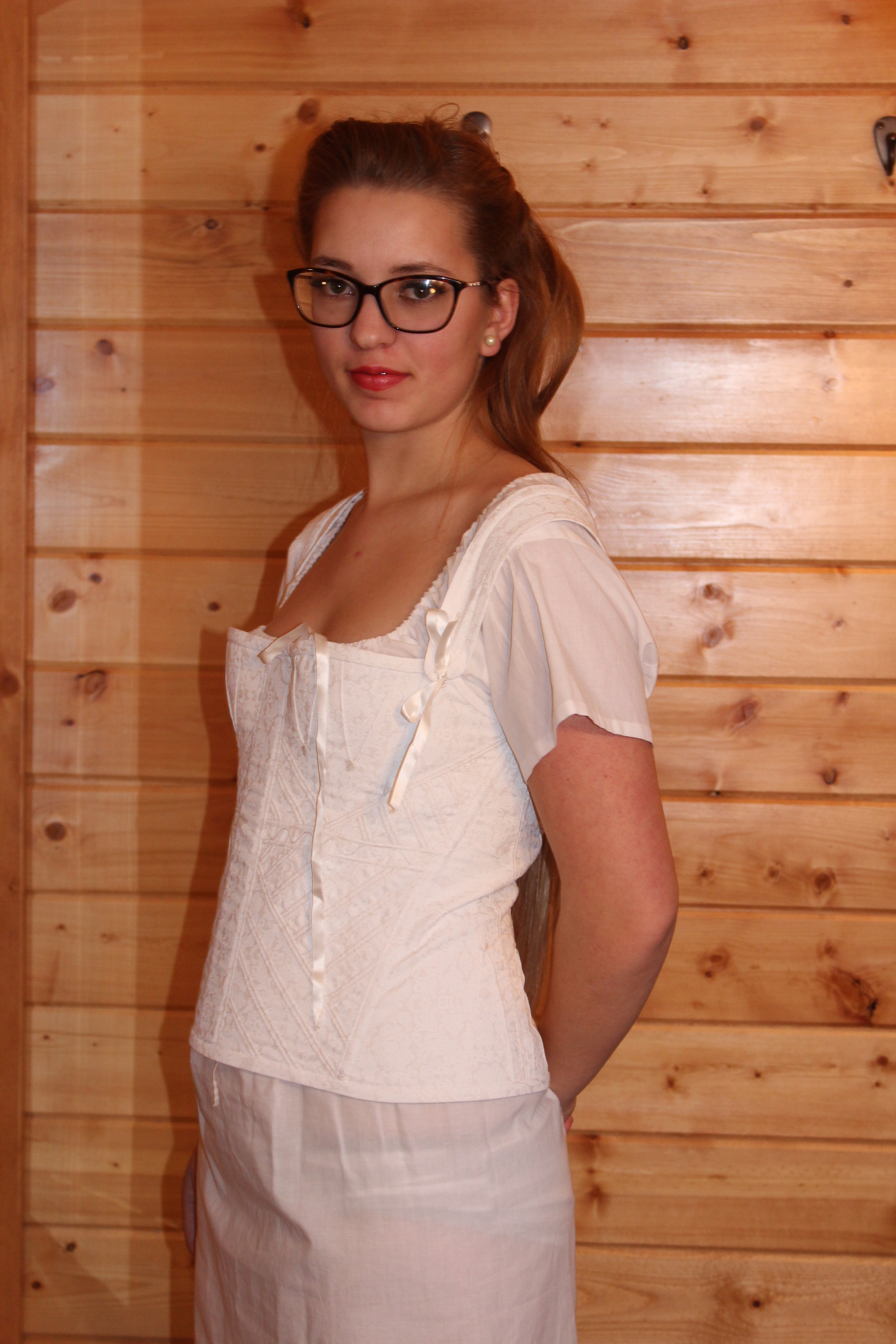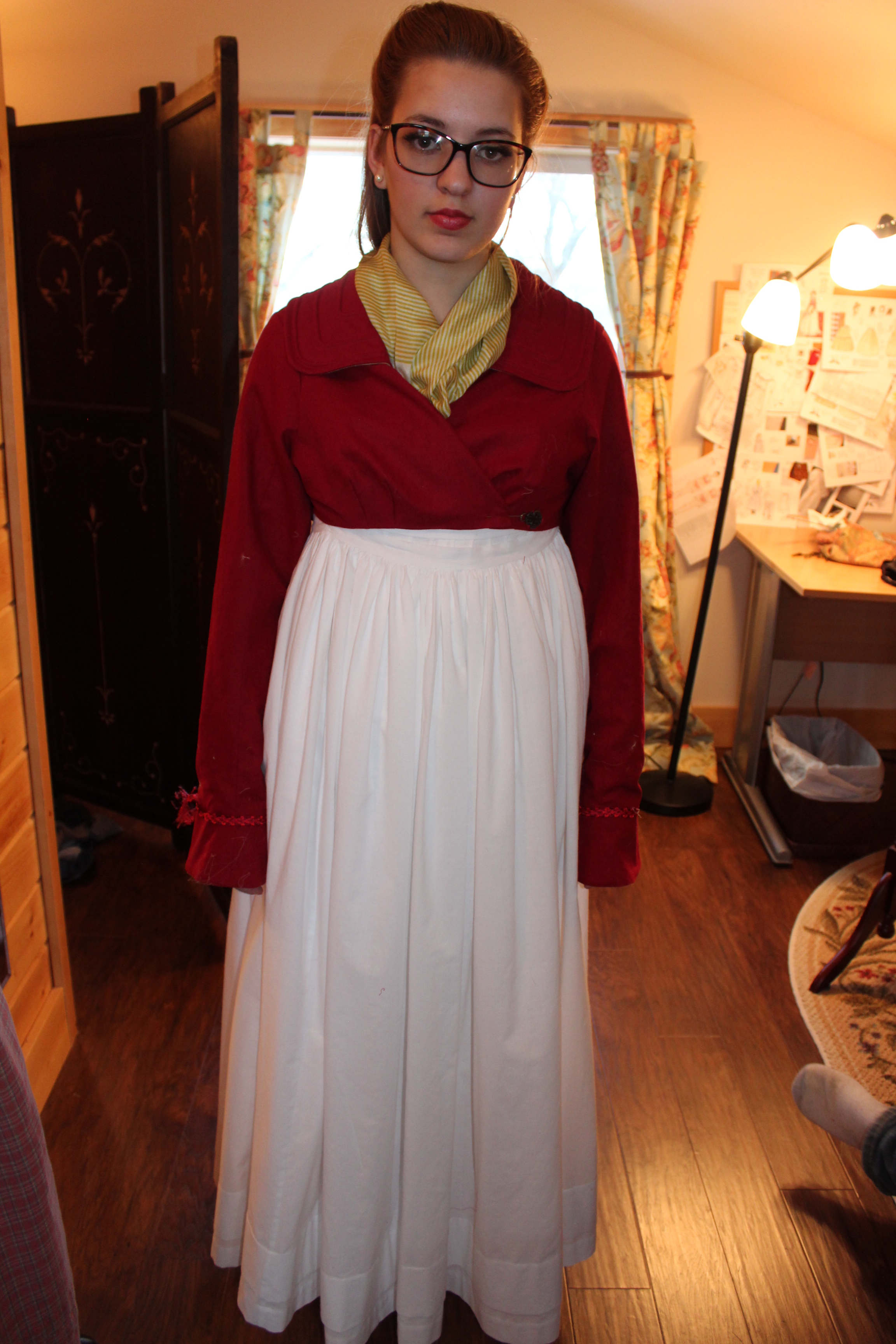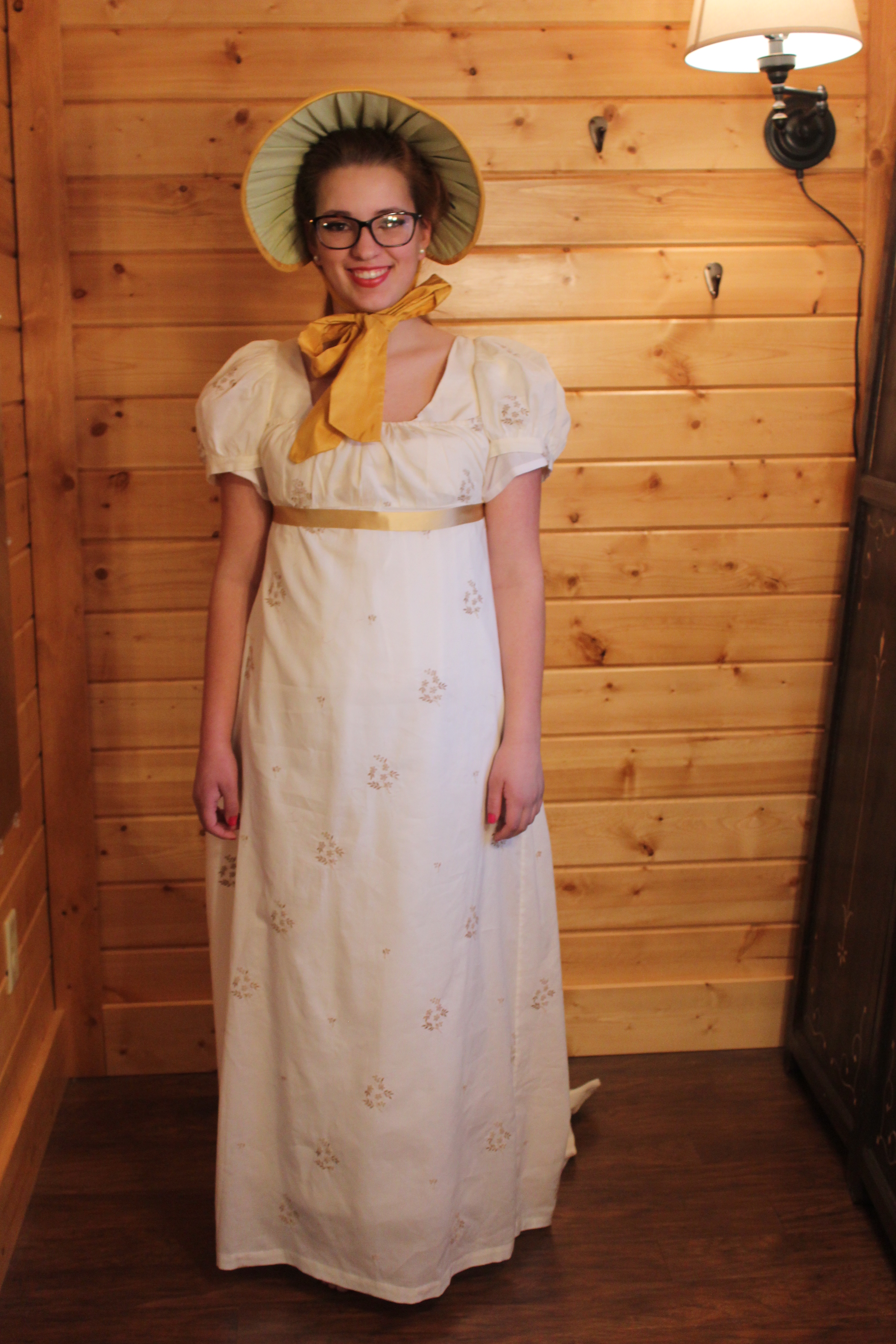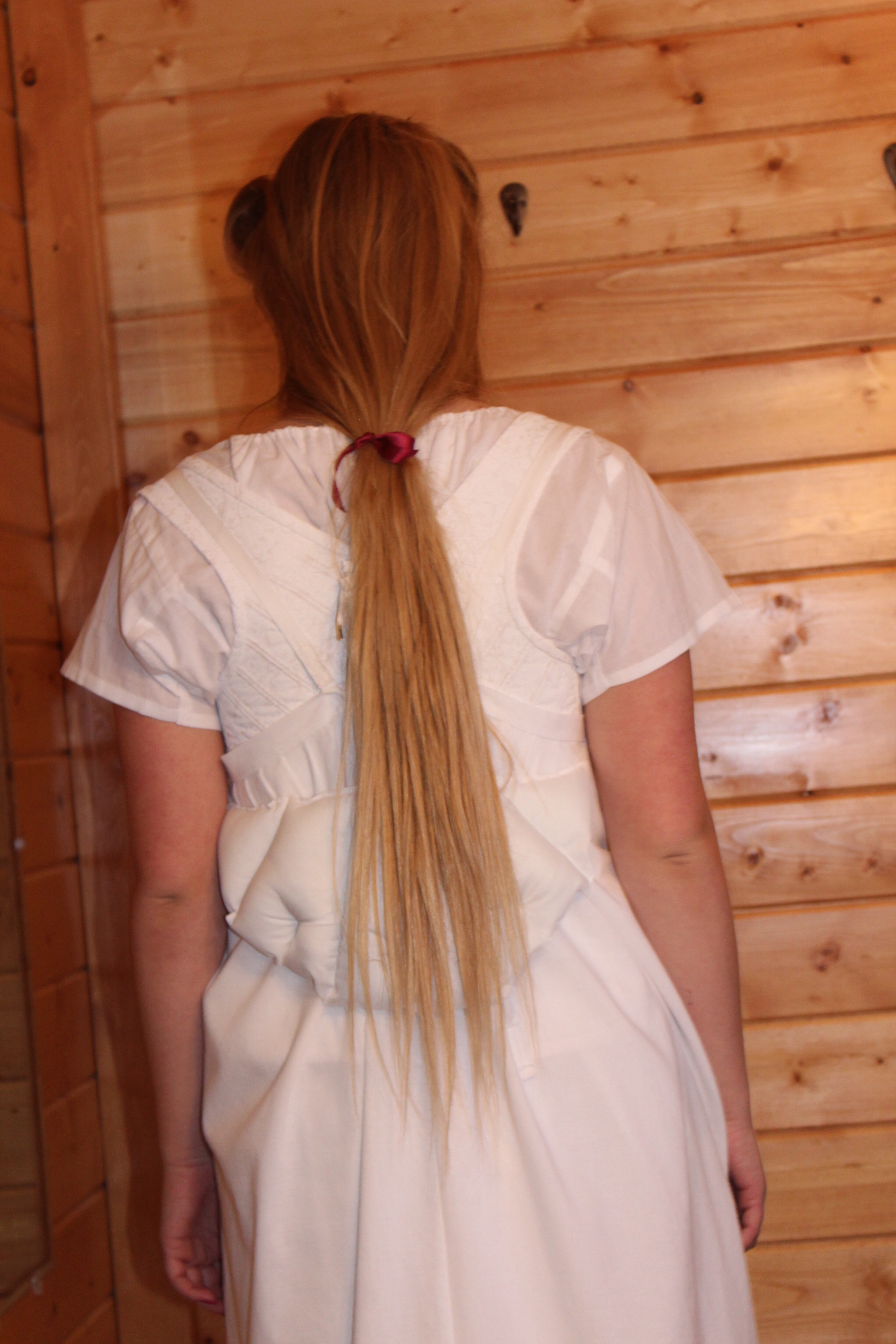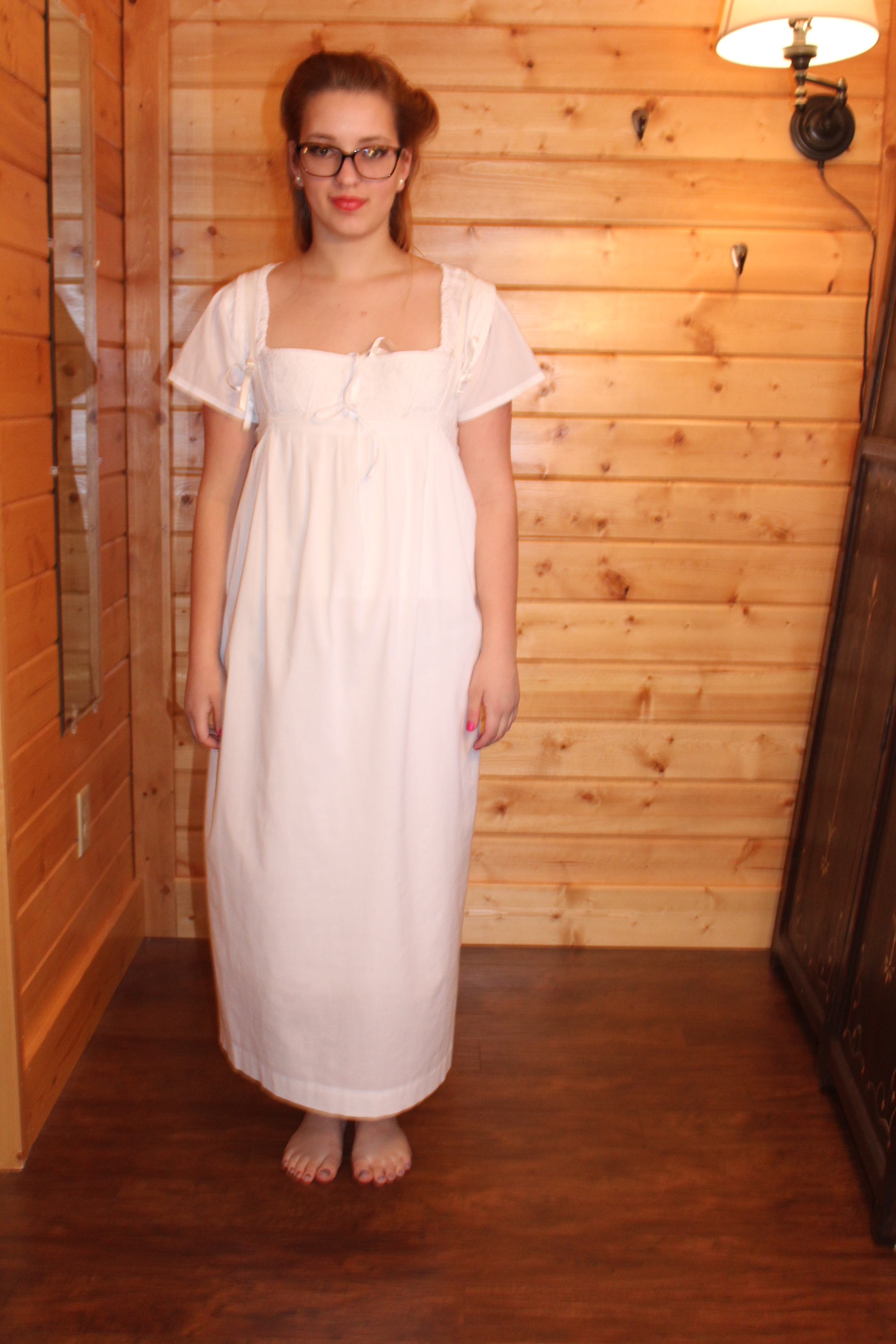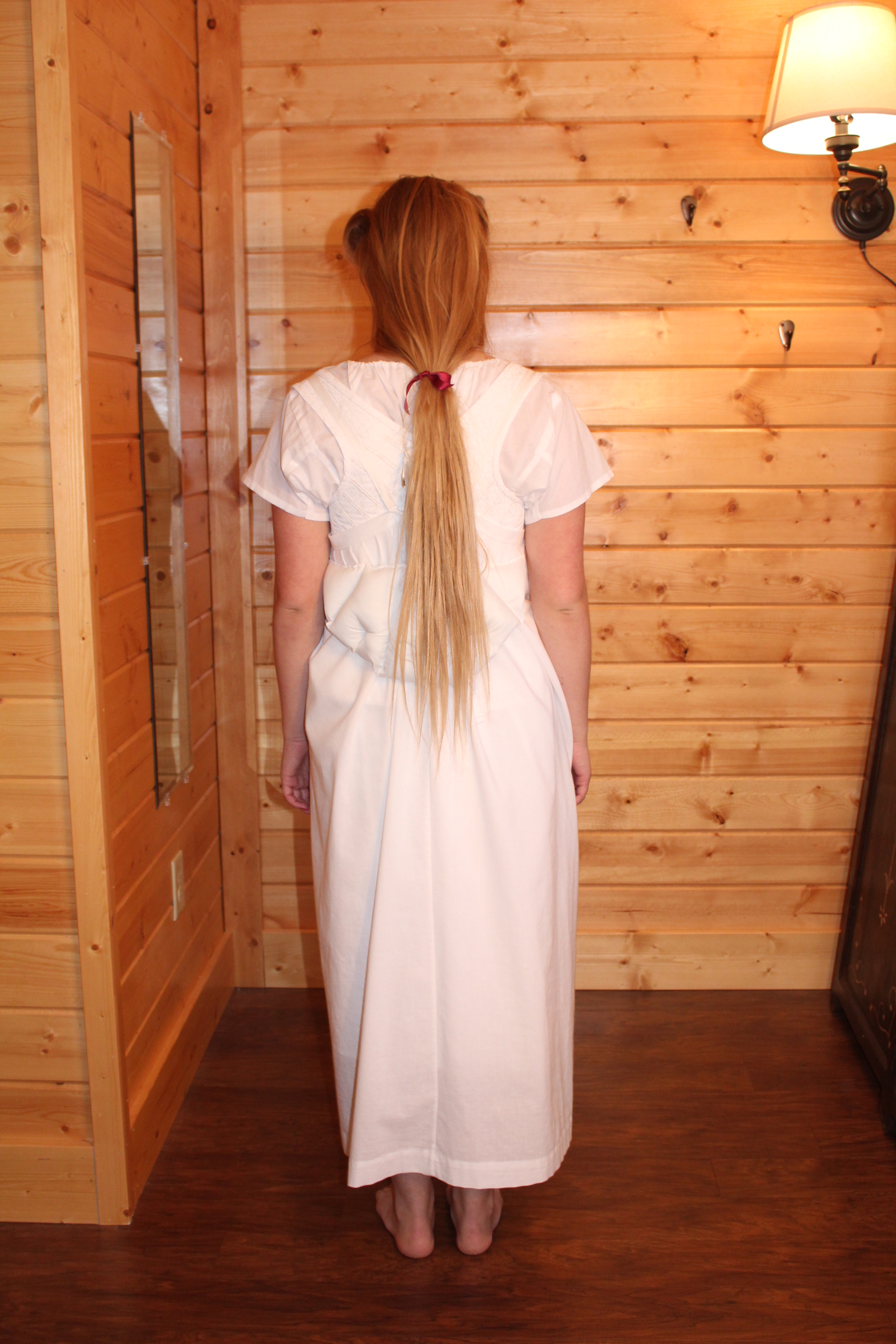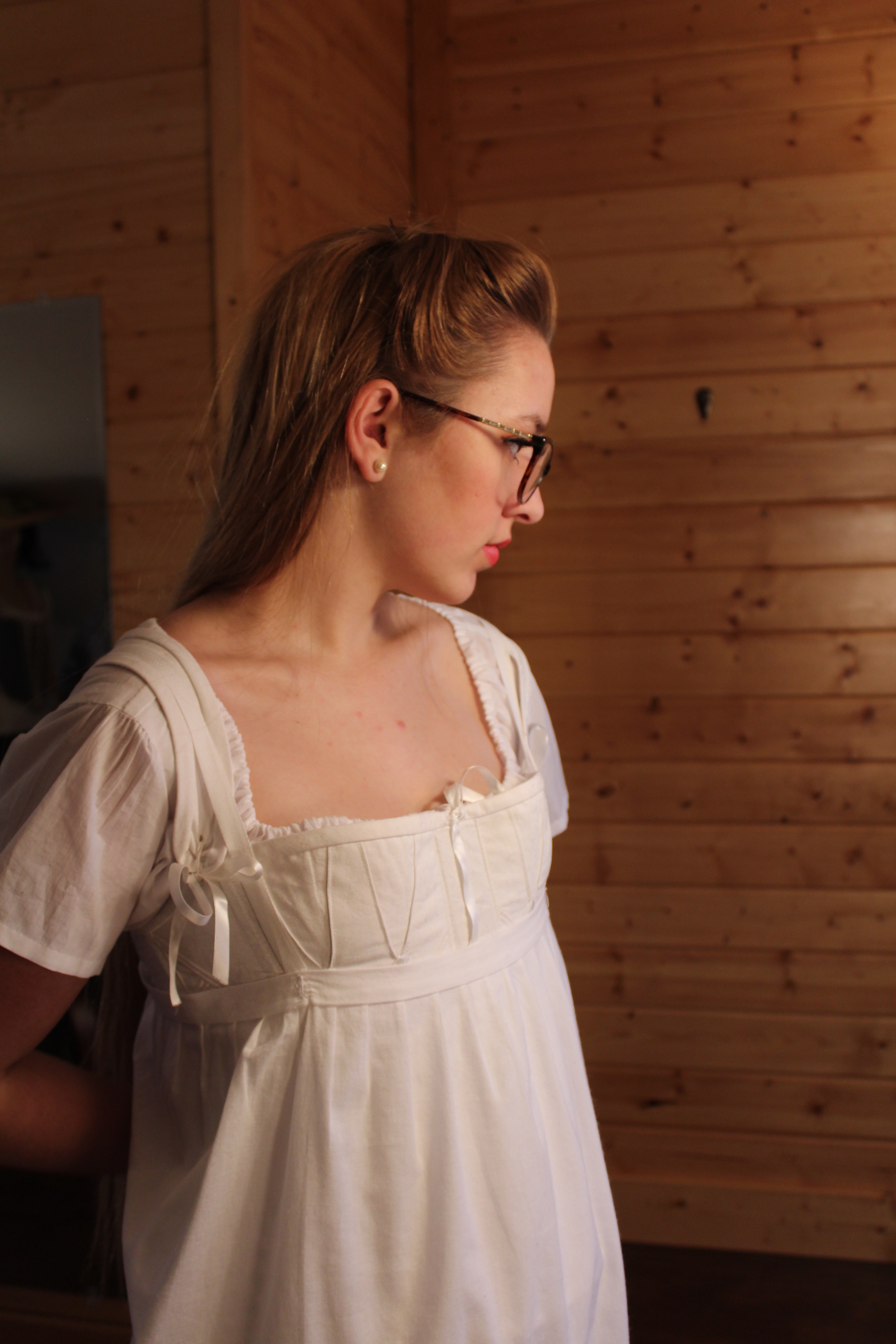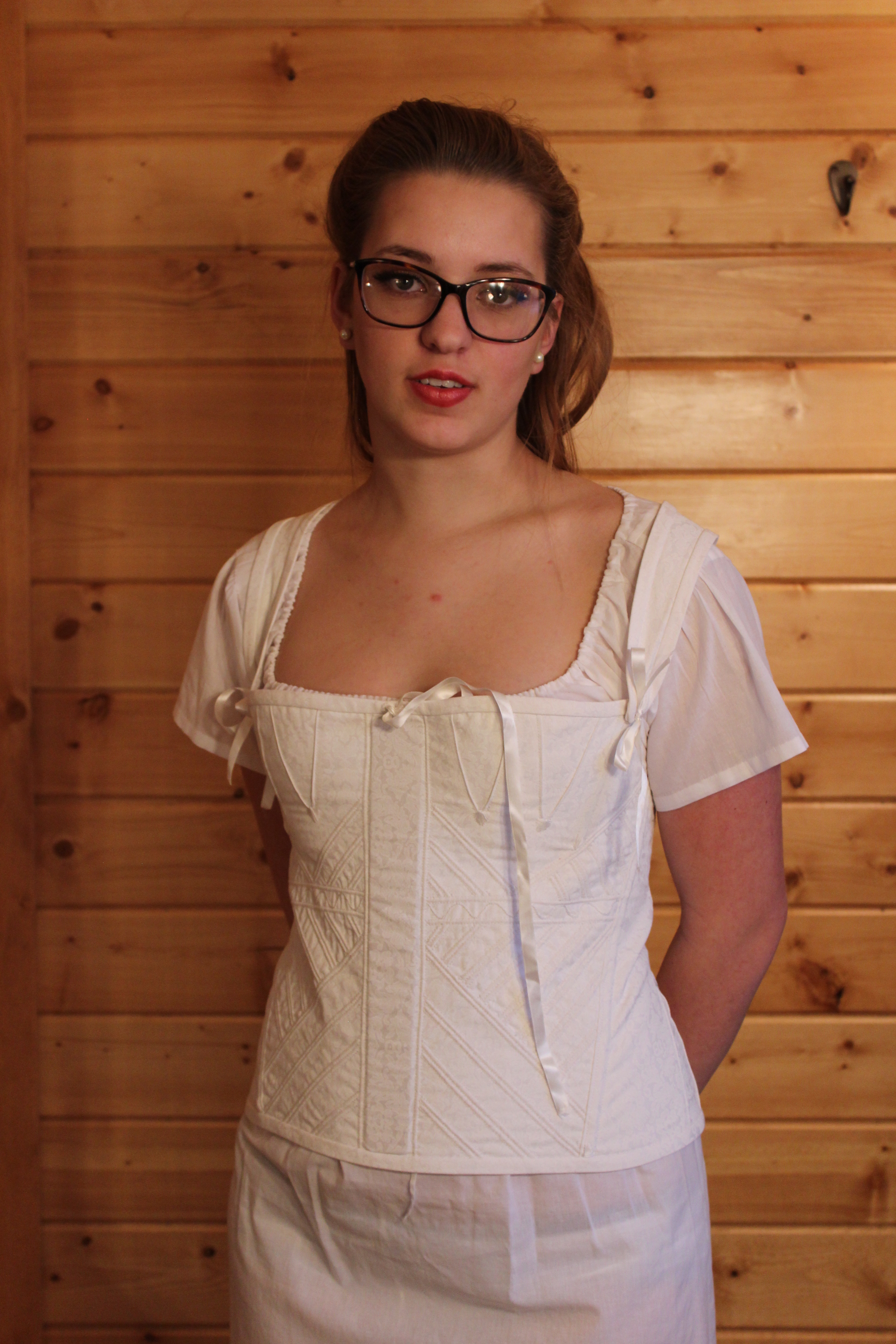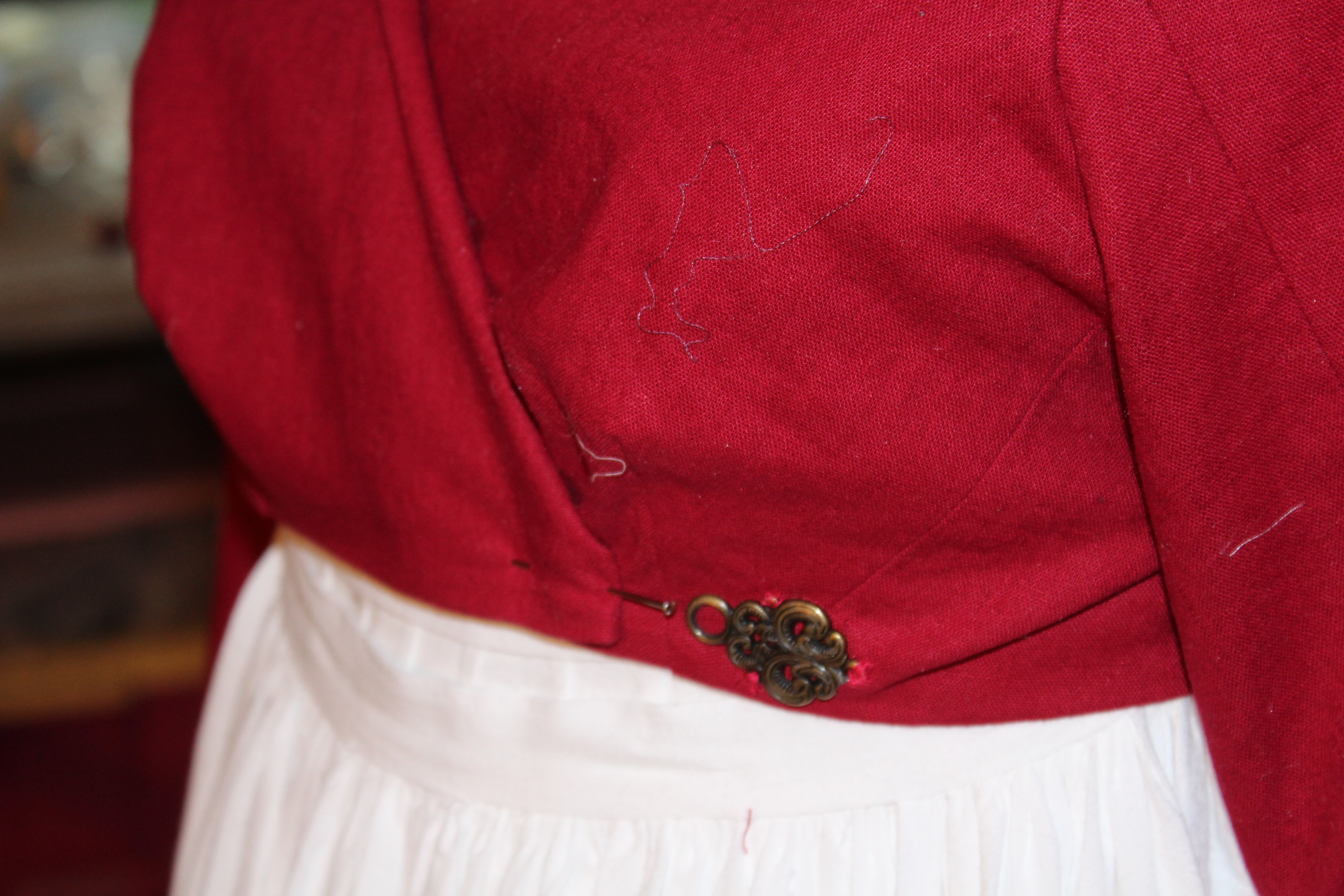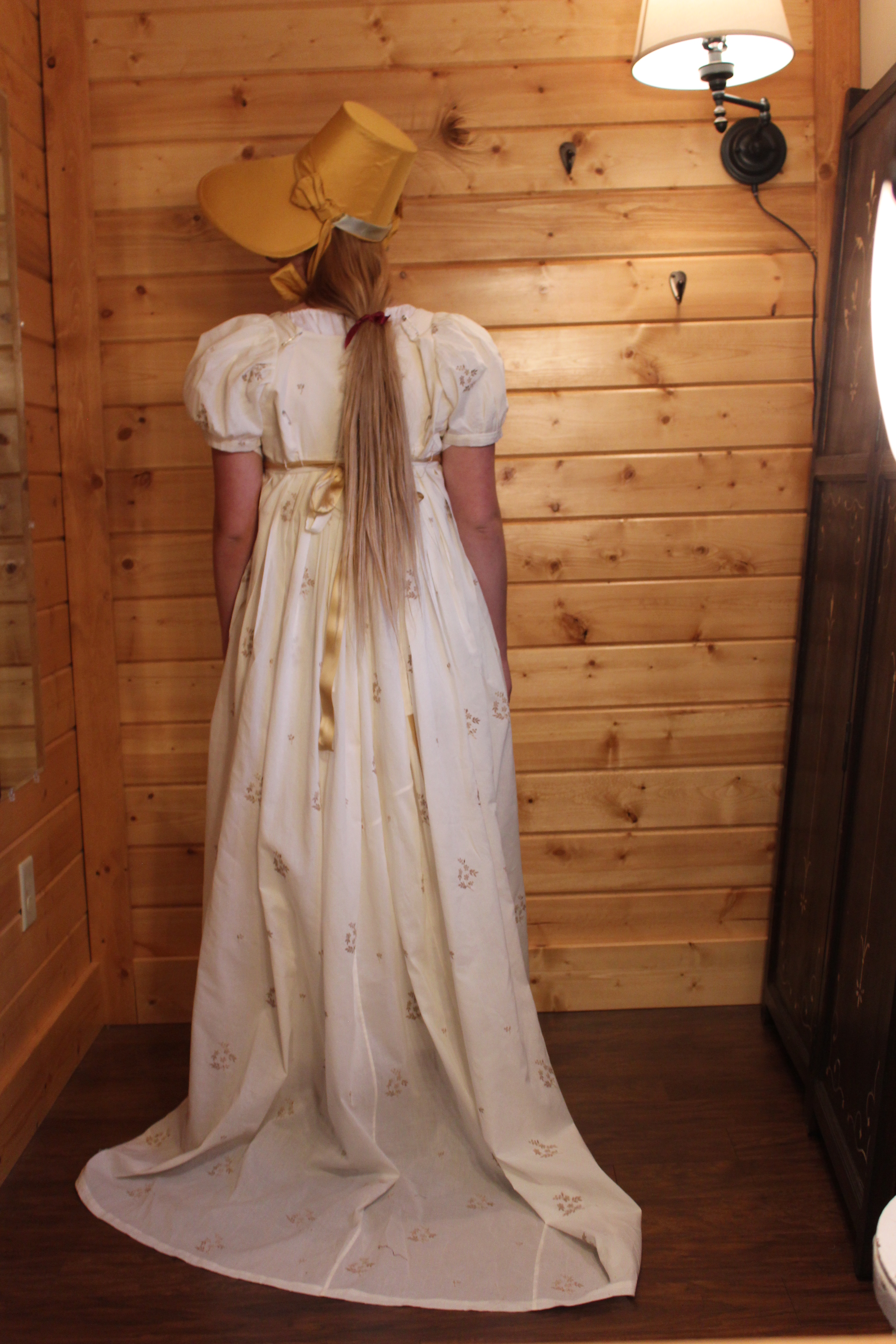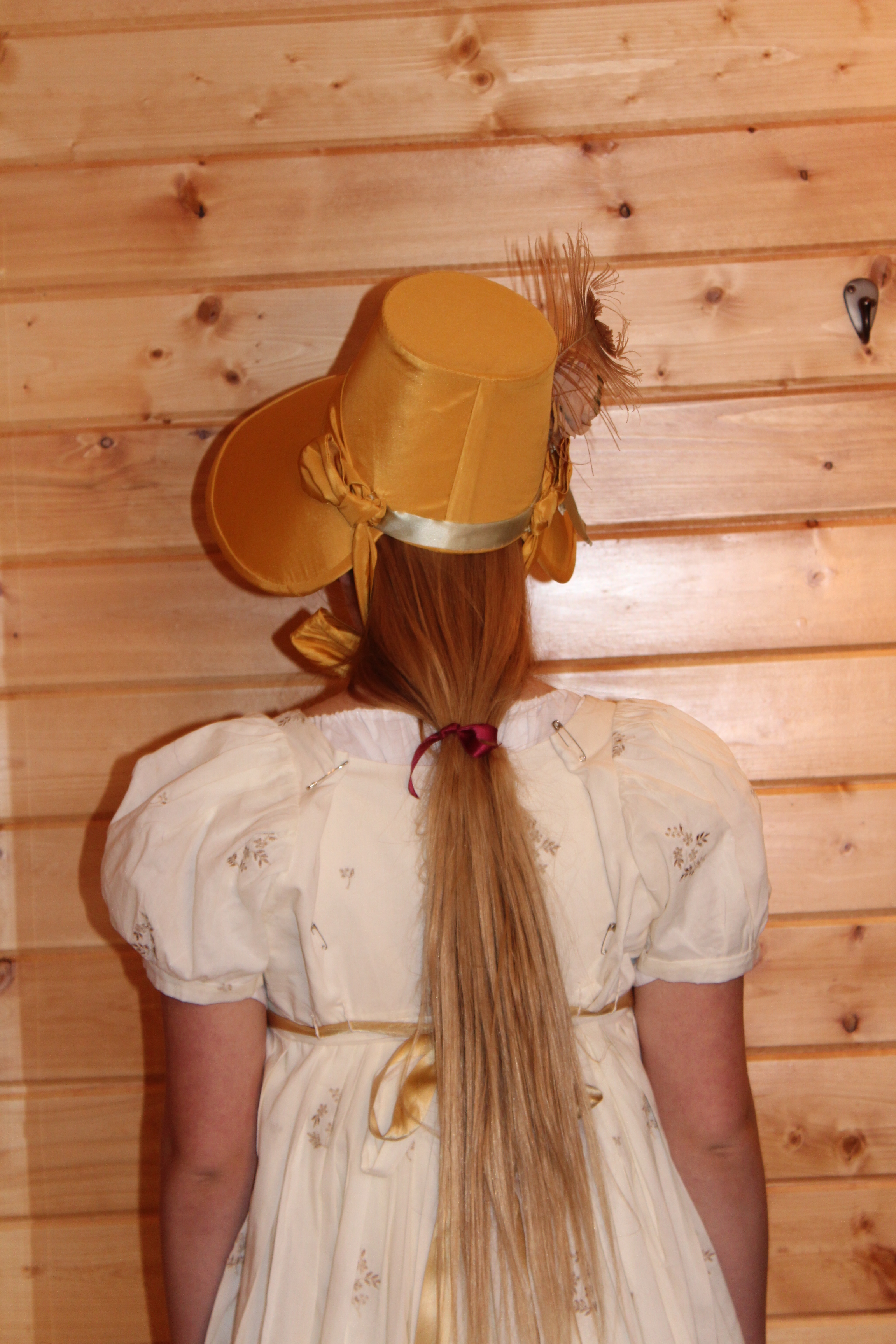 Outtakes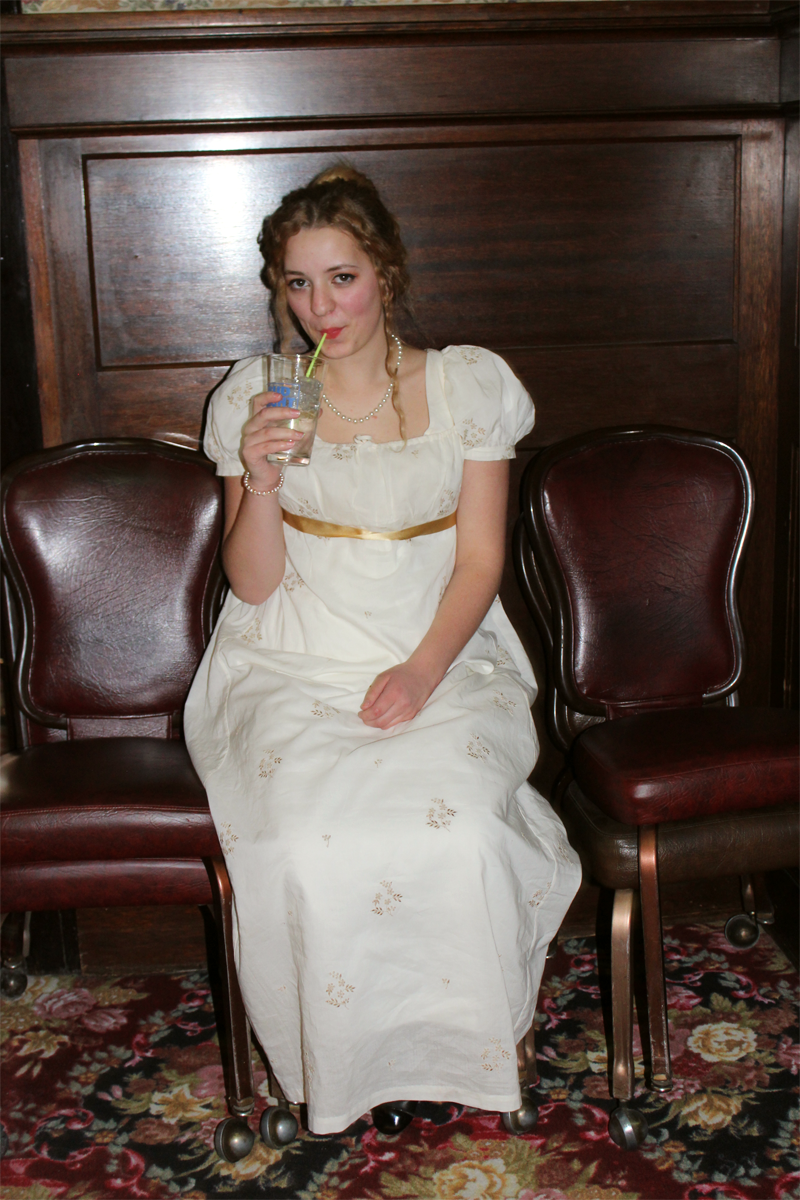 Click here to go to Jacinta's Historical Context page
Click here to go to Jacinta's Fashion History Research page
Click here to go to Jacinta's Design Development page
Click here to return to Jacinta's main page with the FINAL PRODUCT