After studying the character of the "Titanic" woman, fashion of the day, and specifics for the fashion, these are the Key concepts that must be included in any 1912 "Titanic" ensemble:
1.  Have a "light hearted spirit" of fun, carefree living, and imagination
2. Of Parisian design and very expensive
3.  The finest fabrics, notions, and trims; expensive silks, rich furs, real jewels, top quality everything
4.  Follow the formula:  underdress with waist at natural waist, overdraping tunic with sheer and embellishment, and sash above the waist emulating the "Princess" waistline ("empire waistline")
5.  Incorporating strange mix of fabrics and notions; e.g. silk chiffon with heavy fur and beads
6.  Extremely well fitted and to the body following the long silhouette of the day
7.  Proper underbust and slip undergarments; the latest fashion
8.  High quality accessories too: hats with real plumes, shoes of the finest leather, the Crown Jewels
9.  LOTS of it!  Several outfits, layers to switch out.  A new ensemble for every event
10.  Imaginative design with drapes, swirls, banners, shapes on the legs like flowers
11. Influence from the Orient, Turkey, etc. with "trousers" and the like thrown in
12.  No care for ability to walk or move or be active except for the Tango
13.  High saturated colors featuring new fabrics and dyes of the day.  Imported unique prints and high contrast color schemes
But how??  Let us look at real garments and real women for design inspirations.  First some more "Titanics"

Small Sample of Real Every Day Women of 1910-1913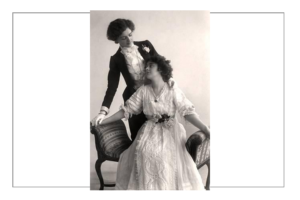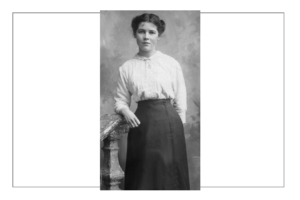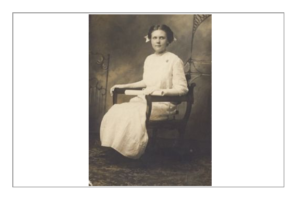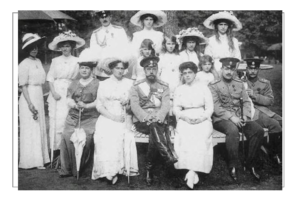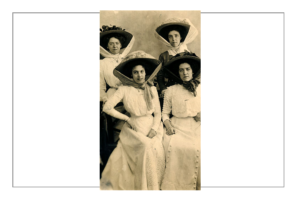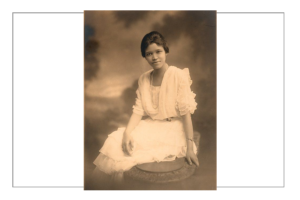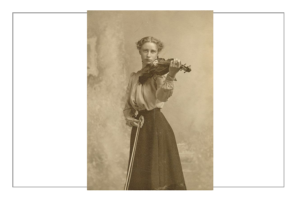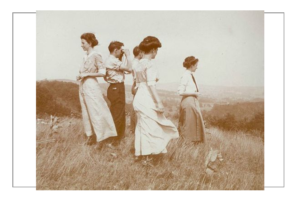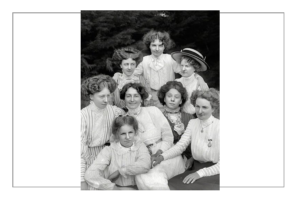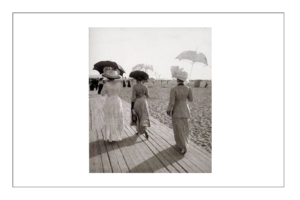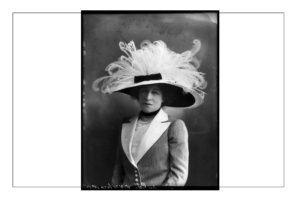 Real Garments for Design Inspiration
Undergarments
New Ensembles included the "One Piece" (corset with leggings in one), underbust corset with garters for split knickers, and the new camisole and shorter "teddies":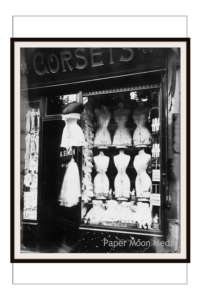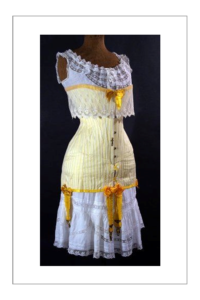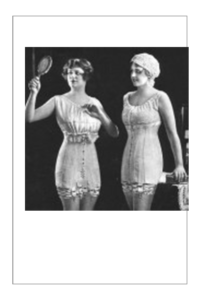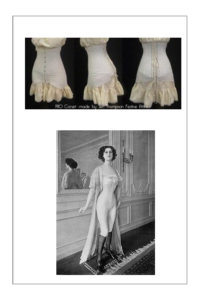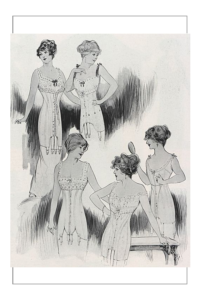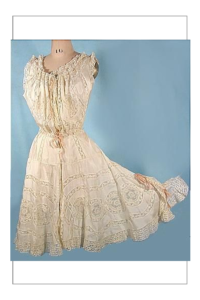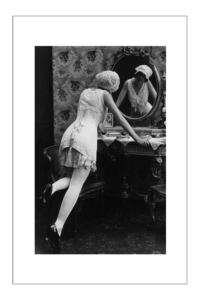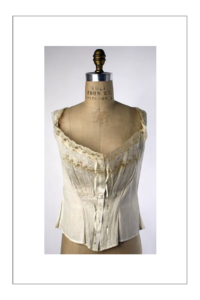 Petticoat Slips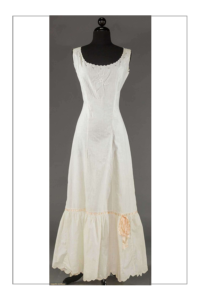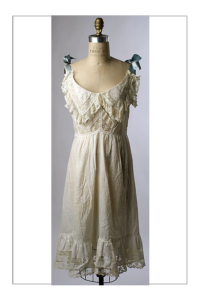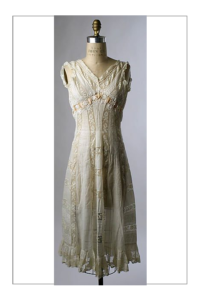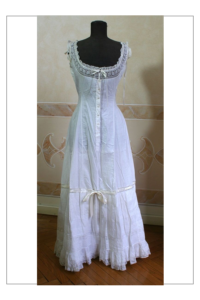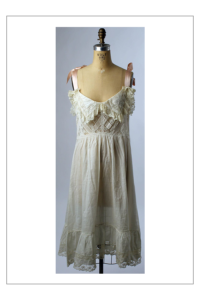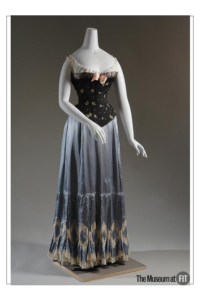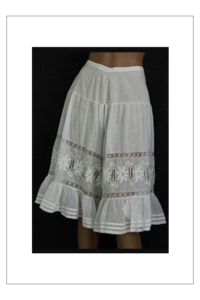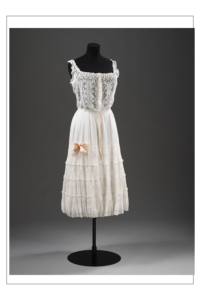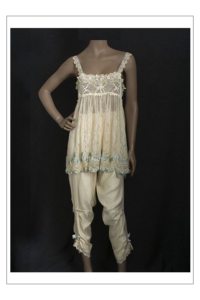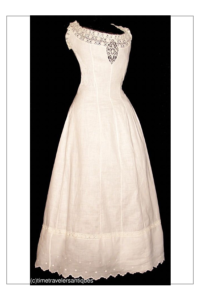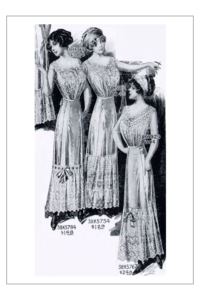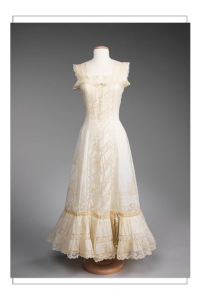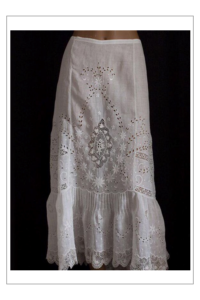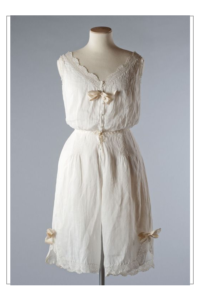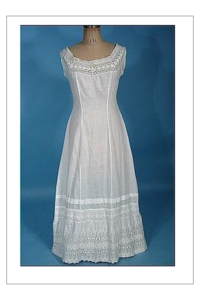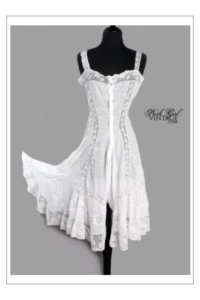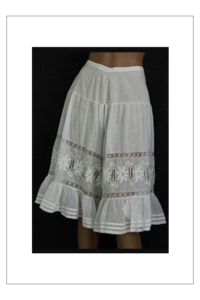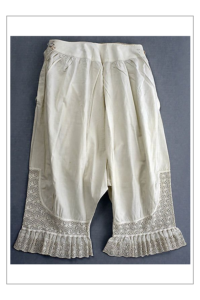 Corsets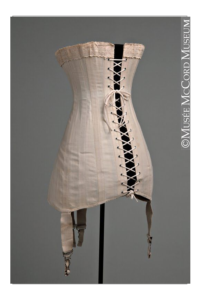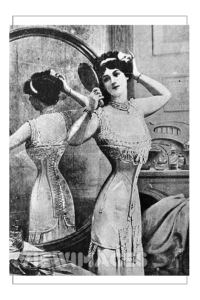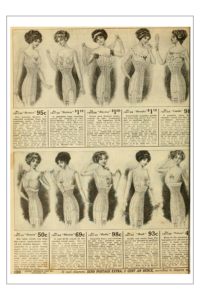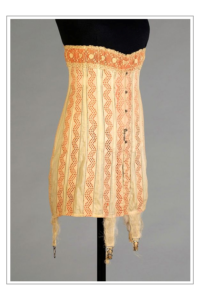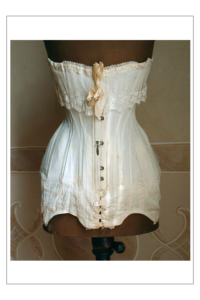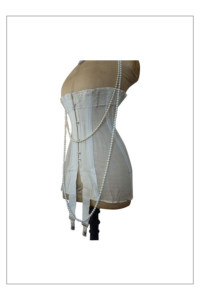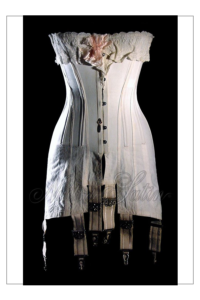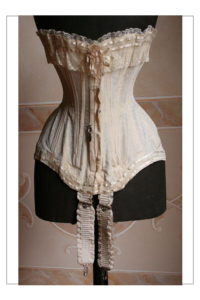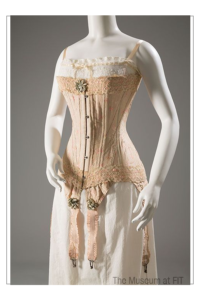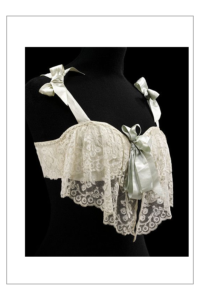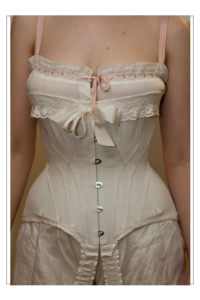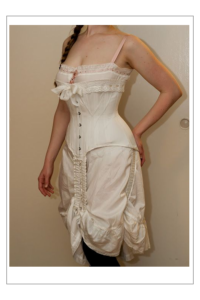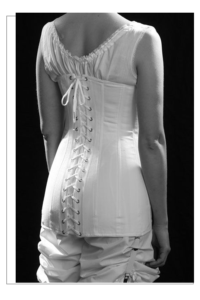 These garments we draw inspiration from the most for our design purposes.  What these "tell" us is tha we must have the long underbust corset with a breast supporter AND/OR camisole underneath, a full lbody length petticoat/slip (or cami and half slip), and drawers or knickers caught up in the garters.  Lace, broiderie lace, and fine materials are a must, with frills and silk ribbon nice.  We choose silk: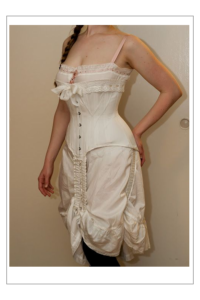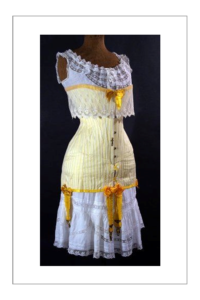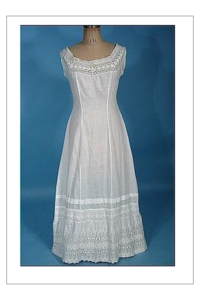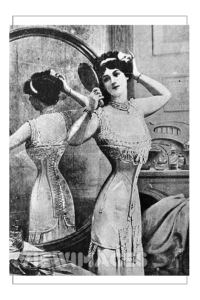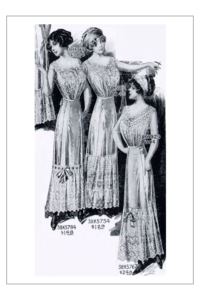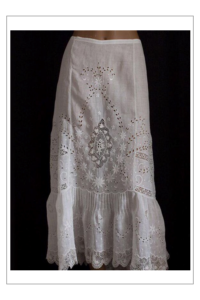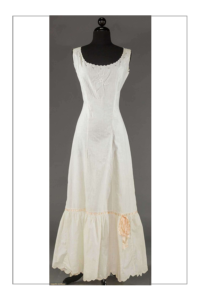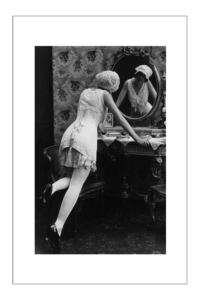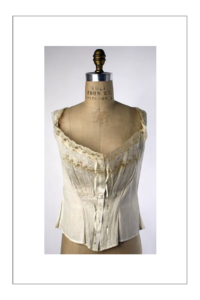 1910-1913 Dresses "2nd Favorites" (The "also rans")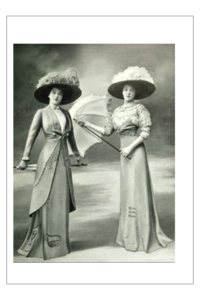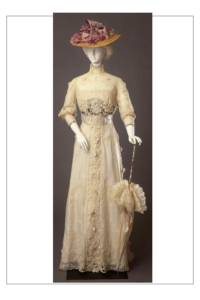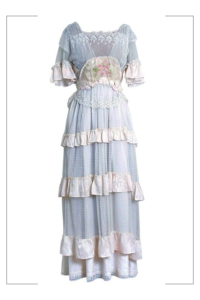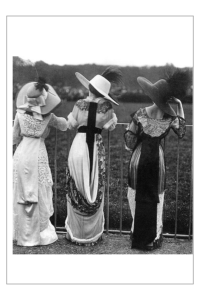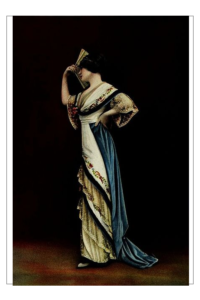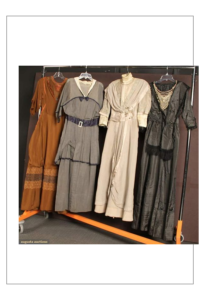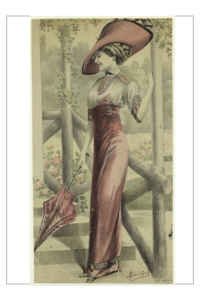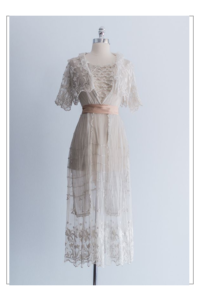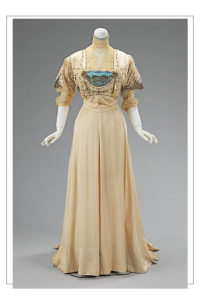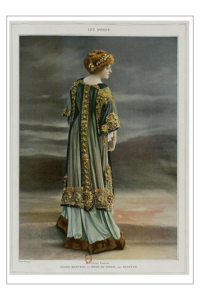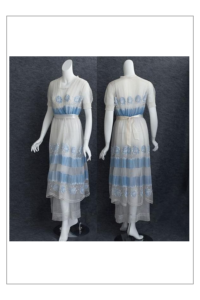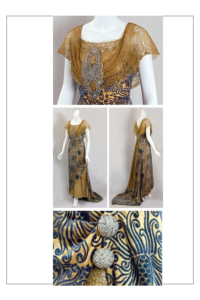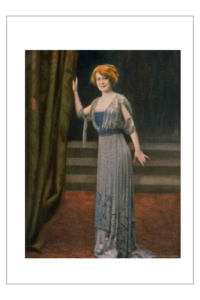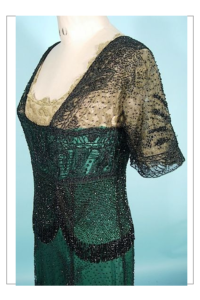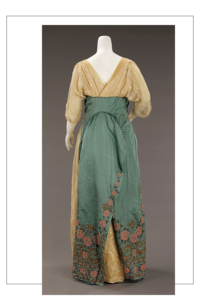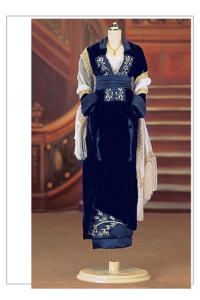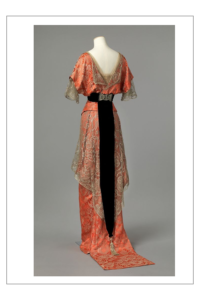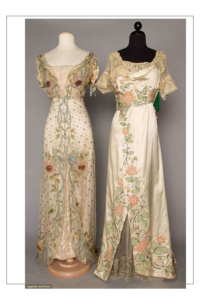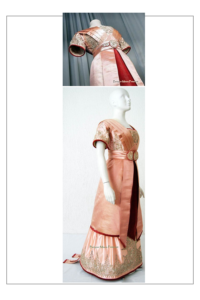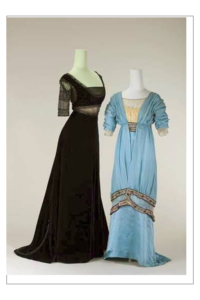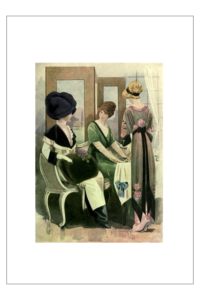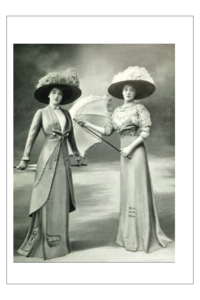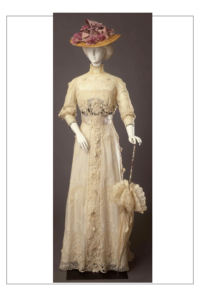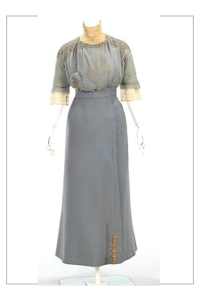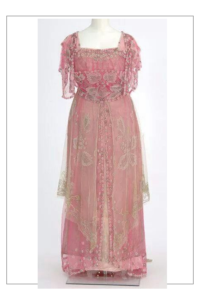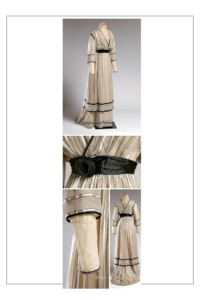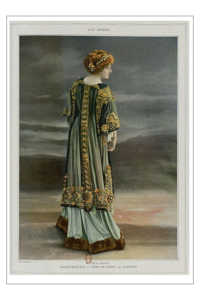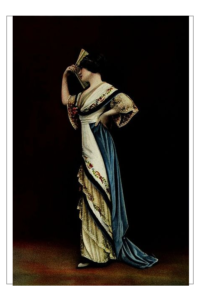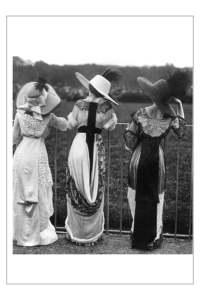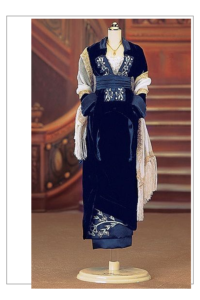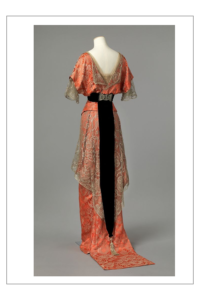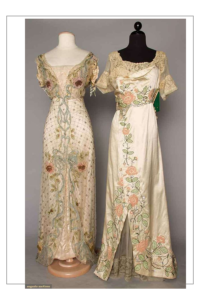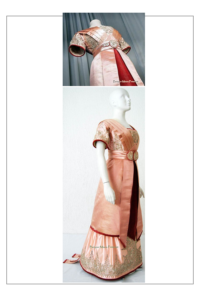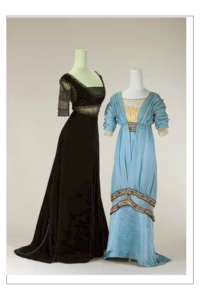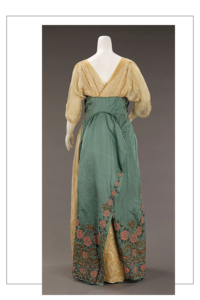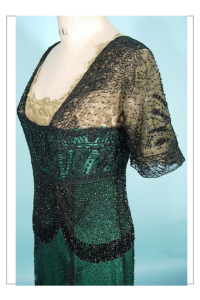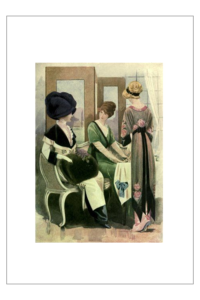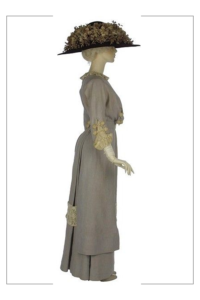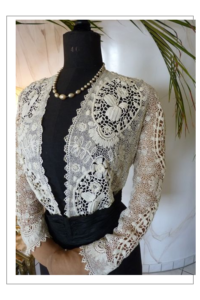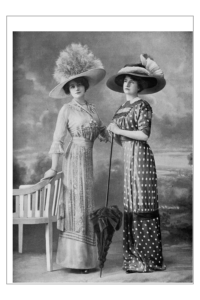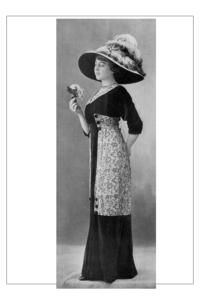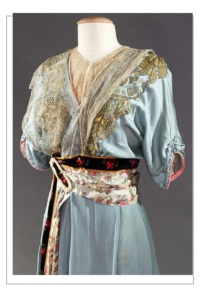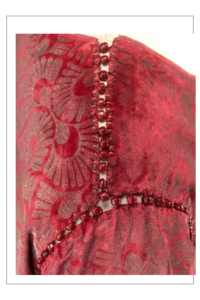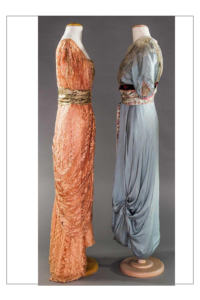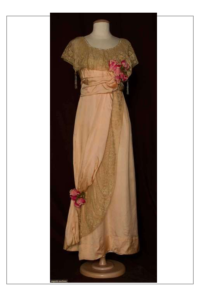 Coats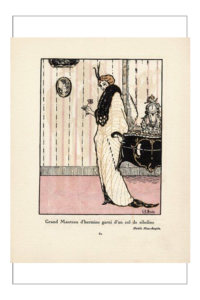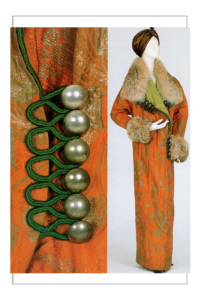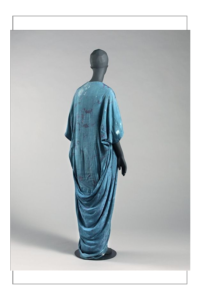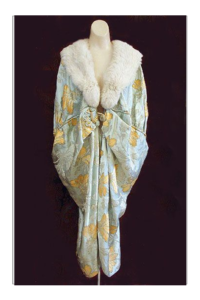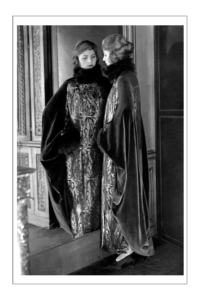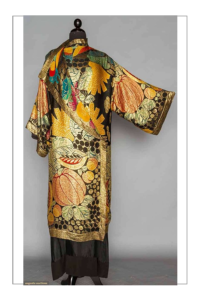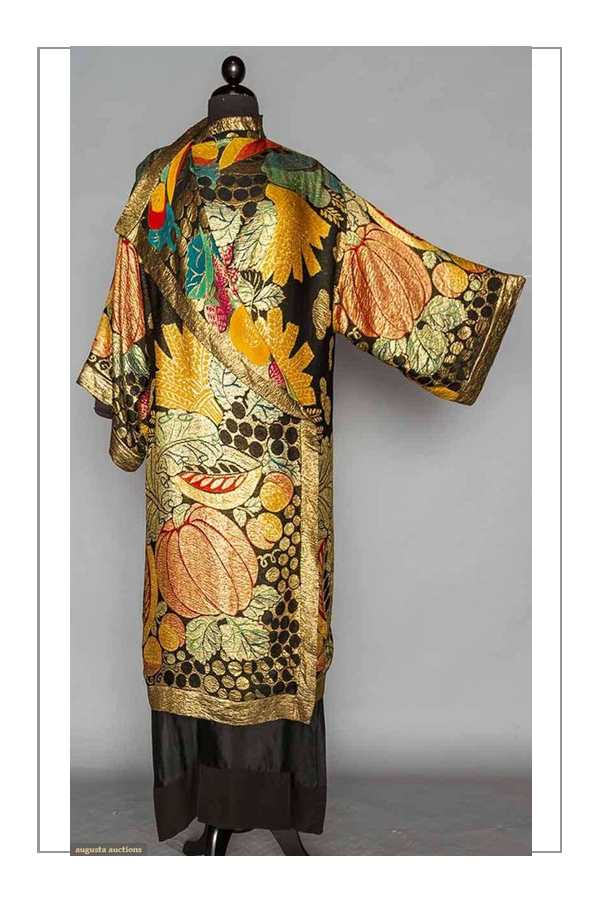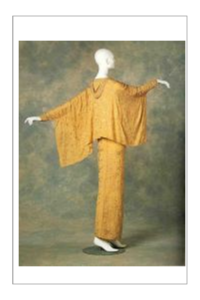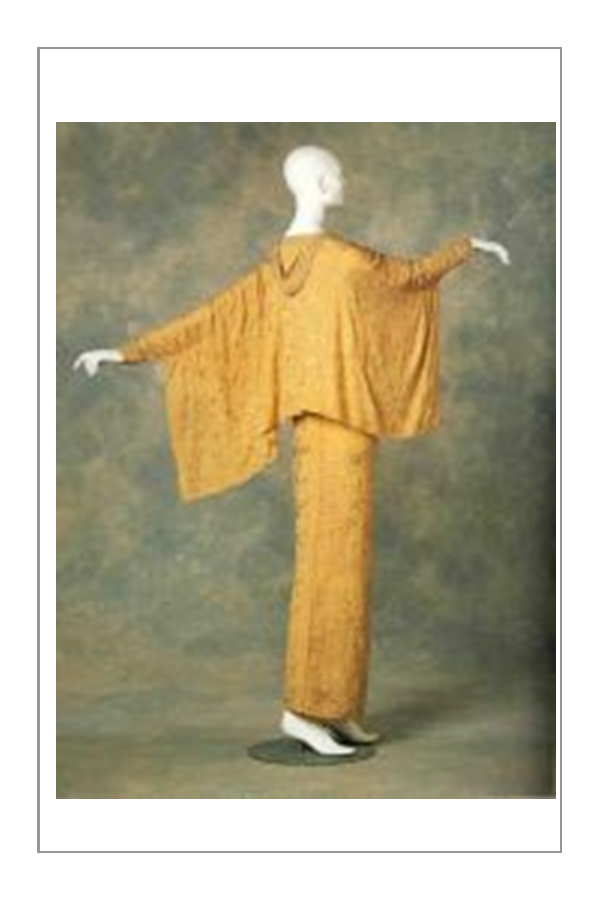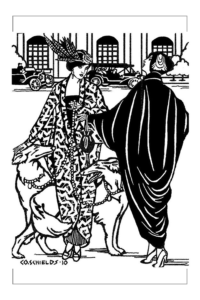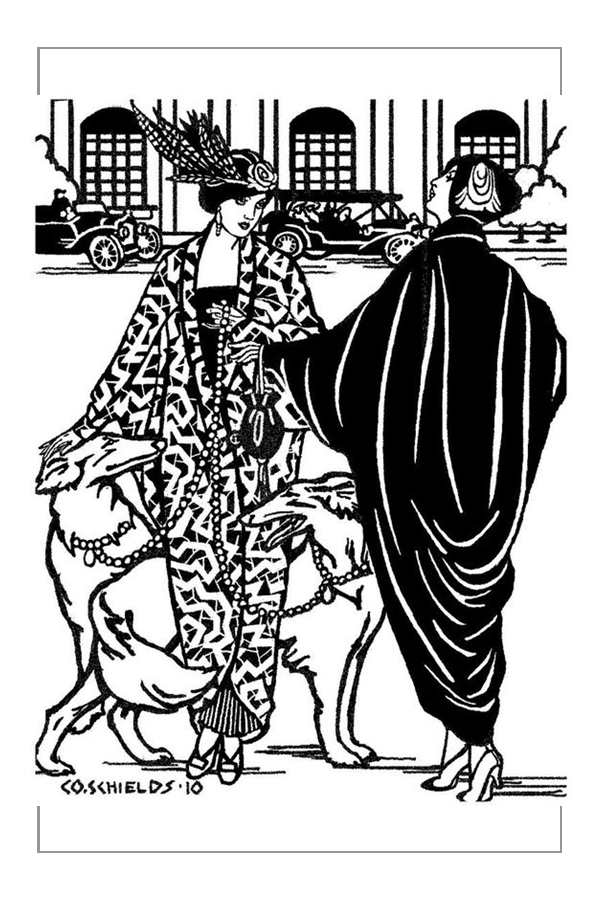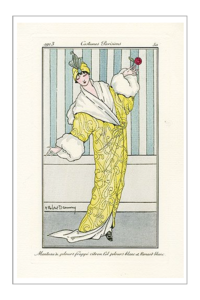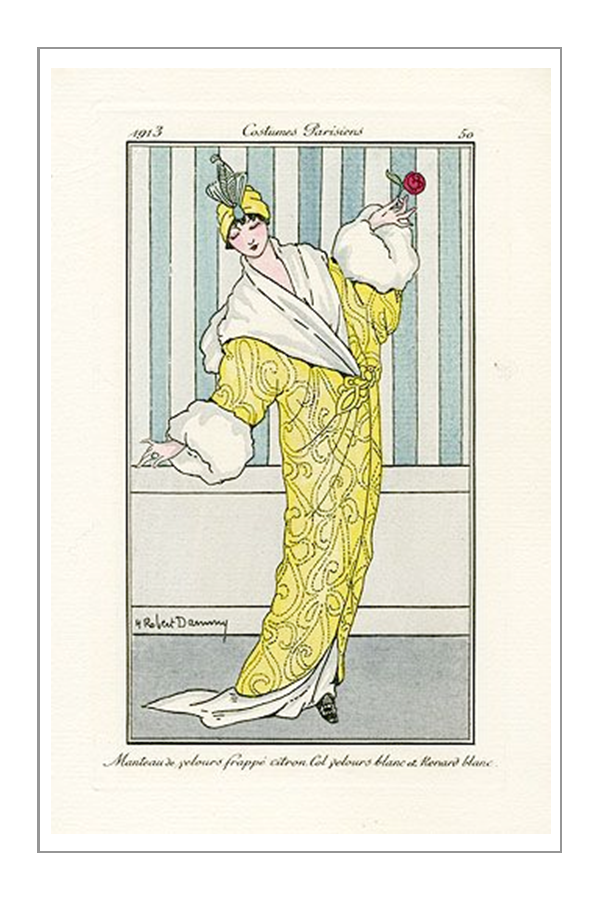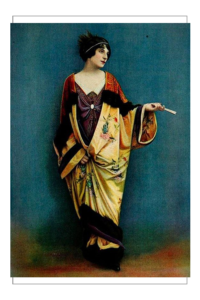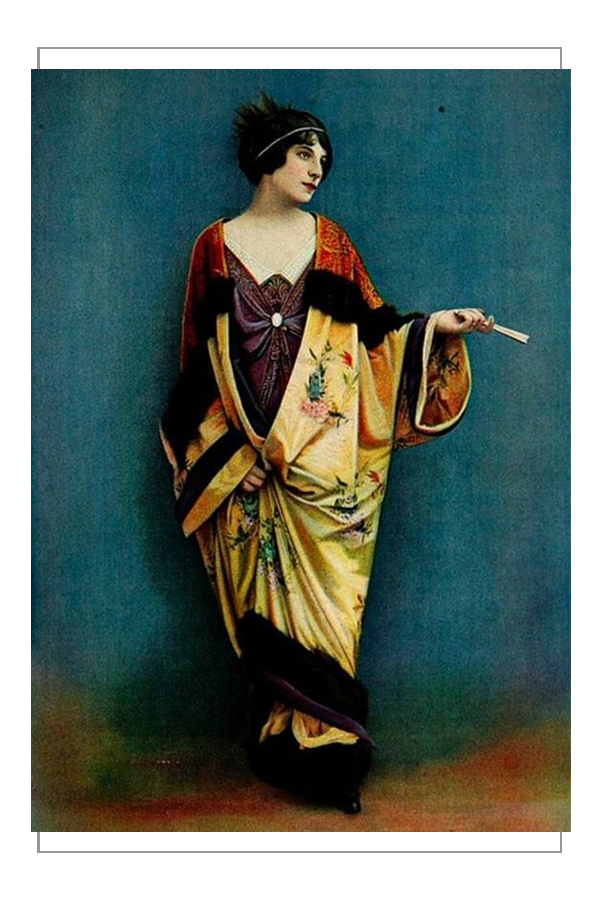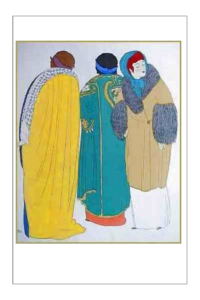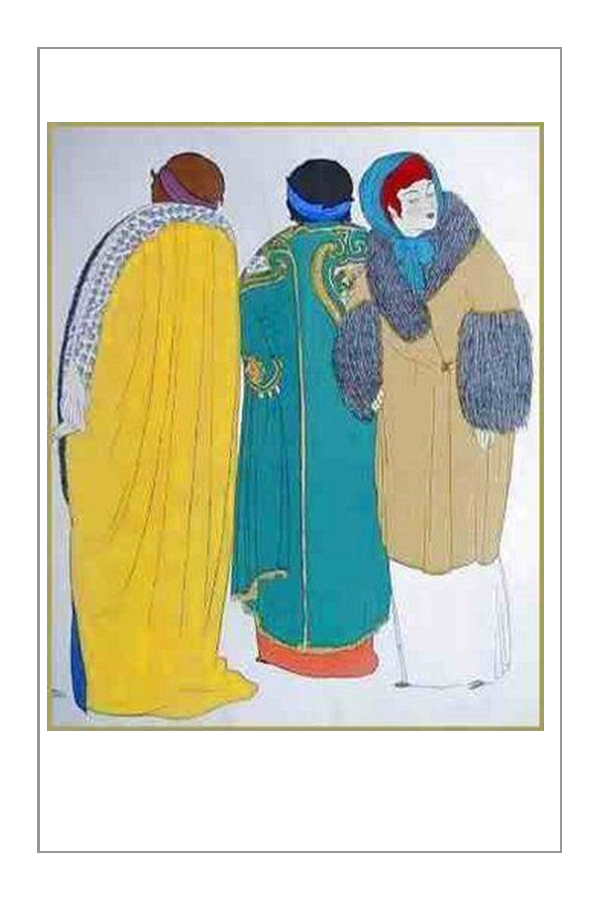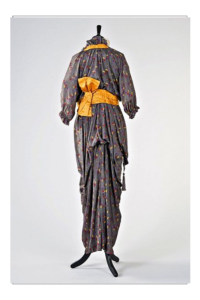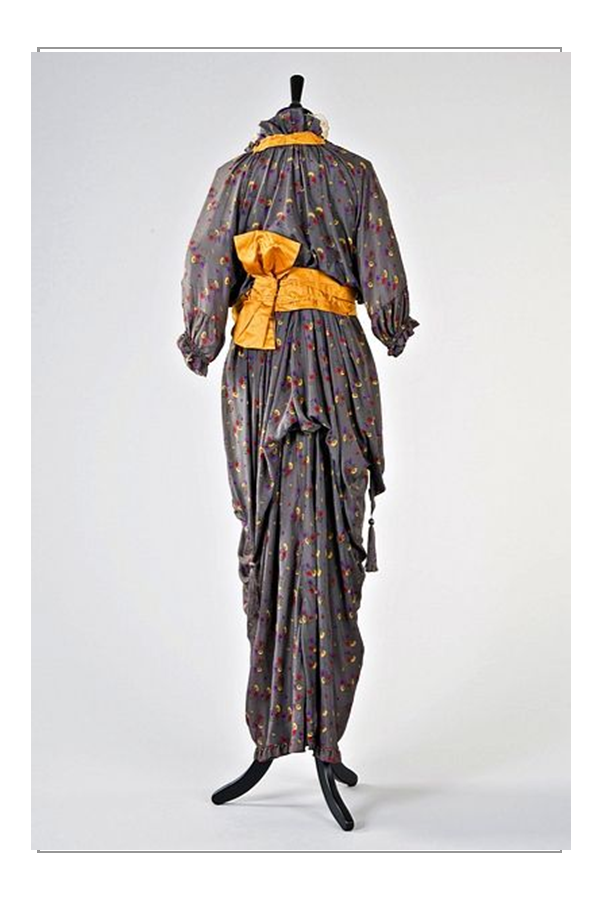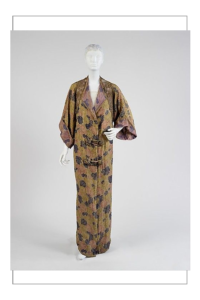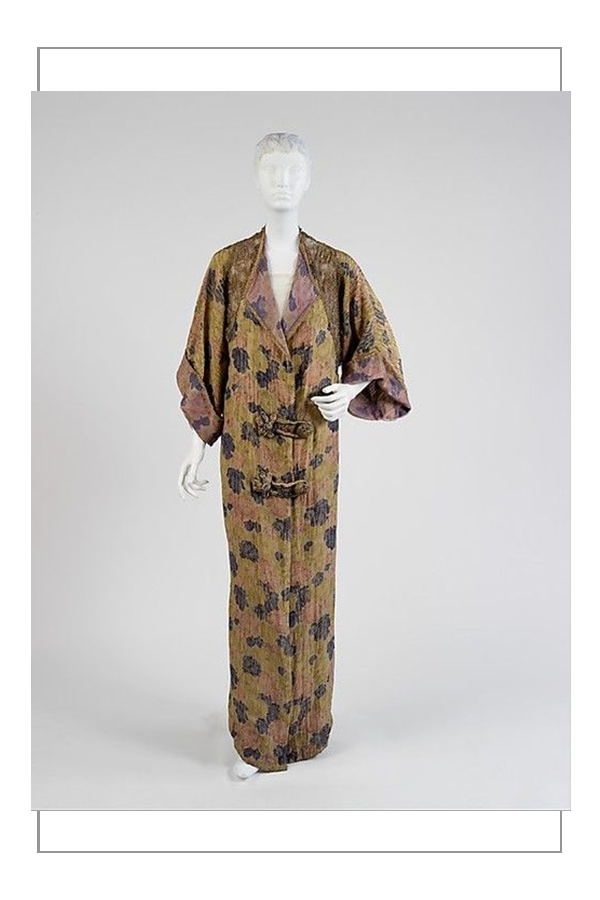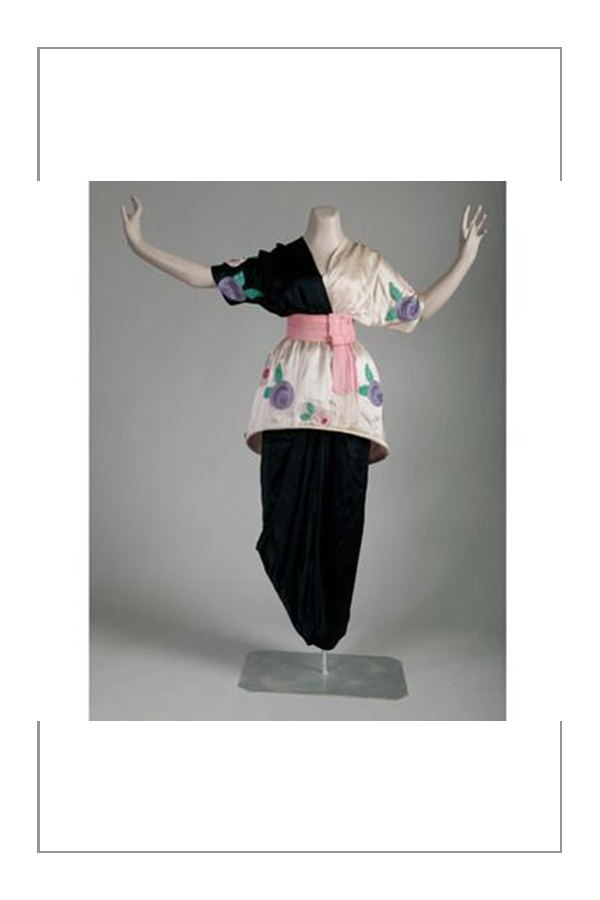 Shoes – Extant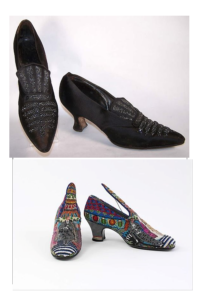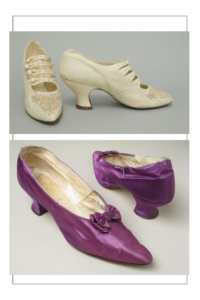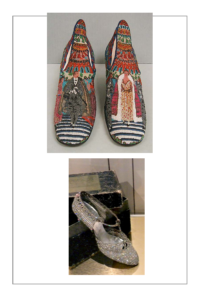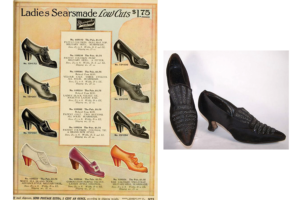 Shoes Available to Buy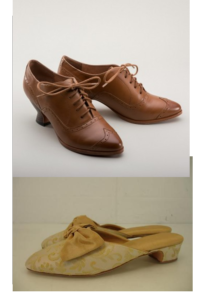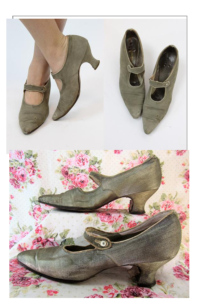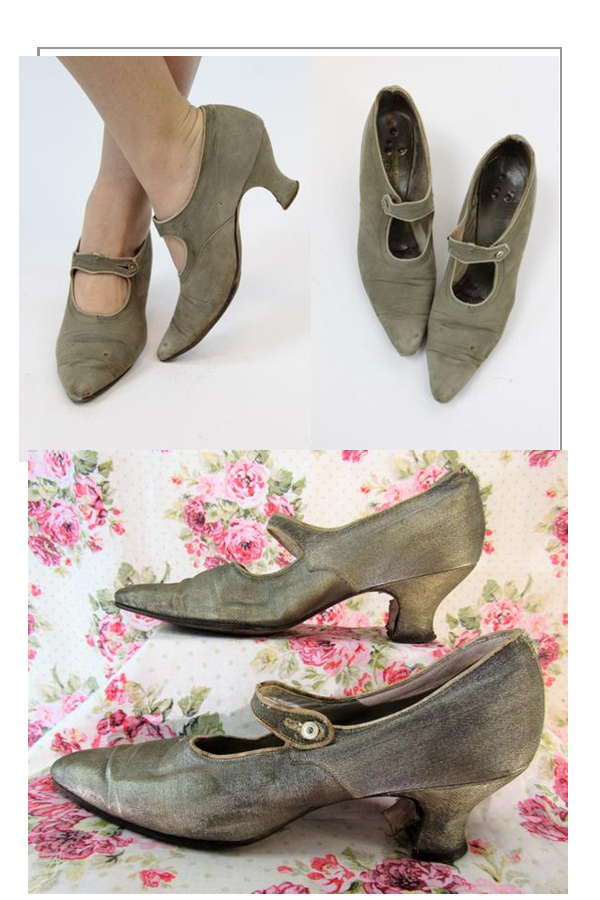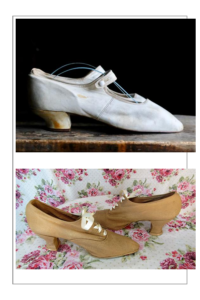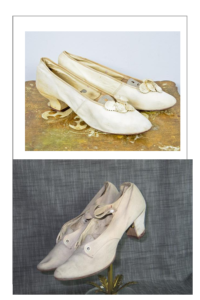 Hats
It would seem anything BIG with a strong and wide crown would suit, but we were limited again by money, and what our milliner could understand or build.  We were a bit disappointed in the result for what we paid, and should have made this ourselves.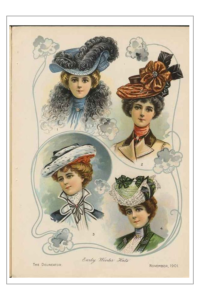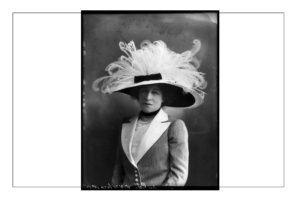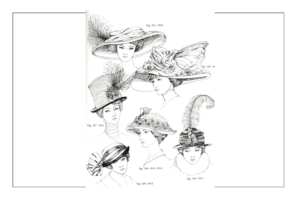 Final Selections
We gave the milliner these plus our own sketches, with desire to build a wide and strong brimmed straw hat with a wide silk band and big plume; somewhat a blending of all below: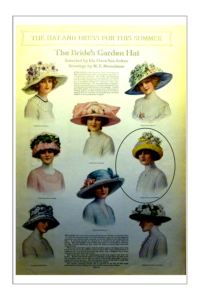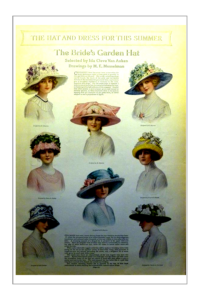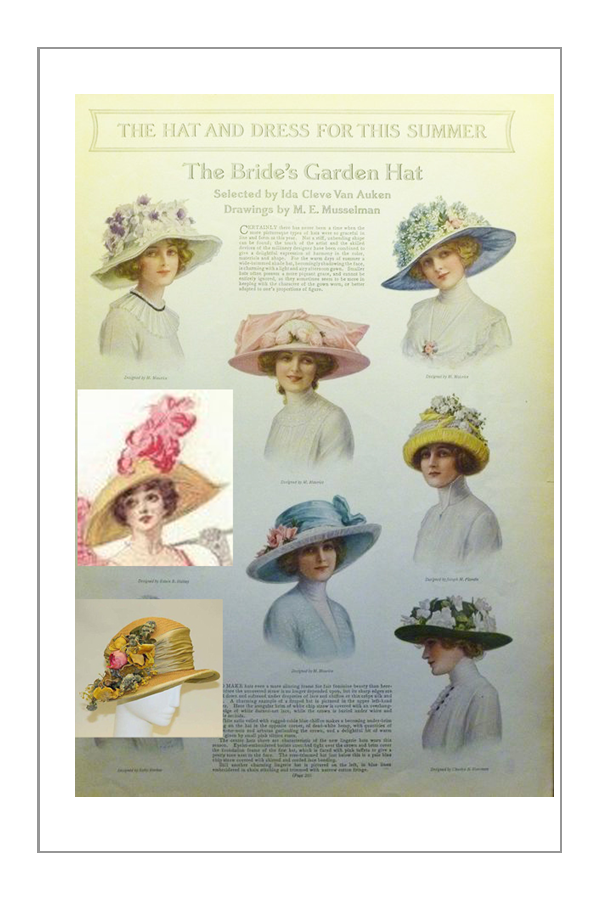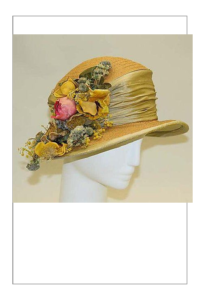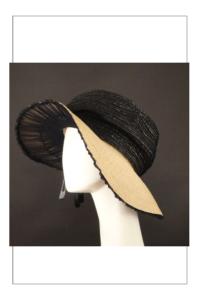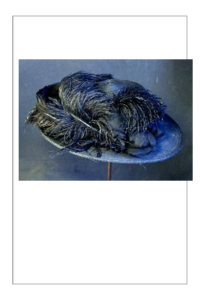 Jewelry
Extant
Of particular note here are the Art Noveau and Crafstman elements, and the use of hair chains in addition to hats.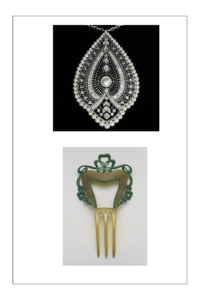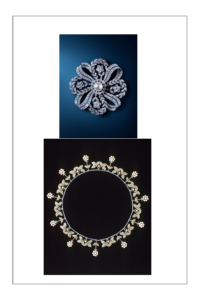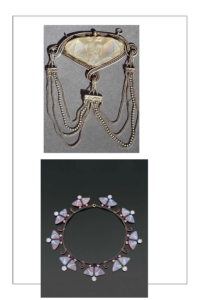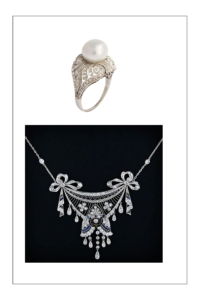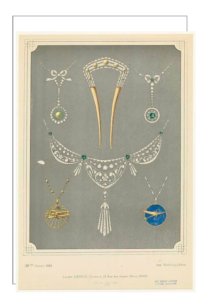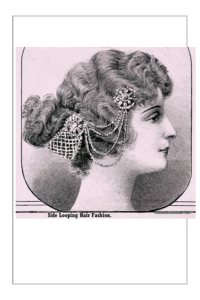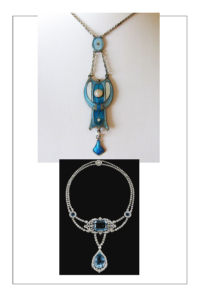 Available to Buy
There are gorgeous vintage examples here, and newly made, but it ended up we could not afford what we really wanted, so we settled on a vintage bracelet and inexpensive new reproductions.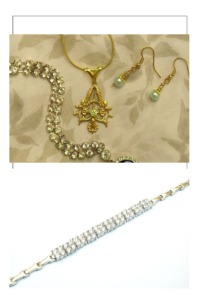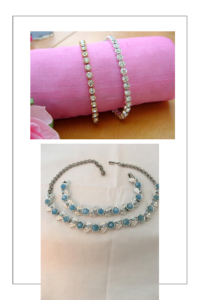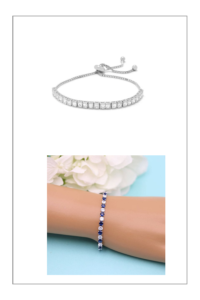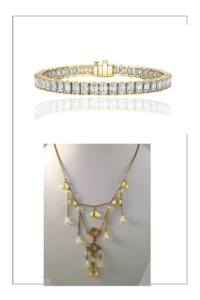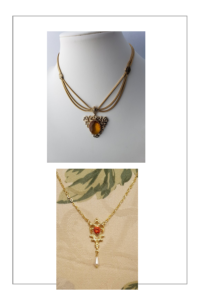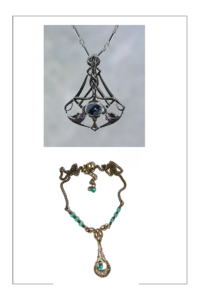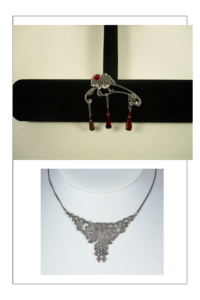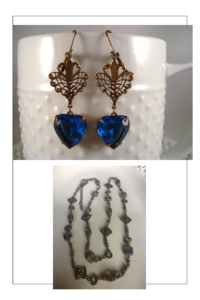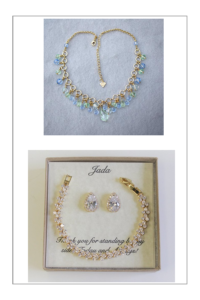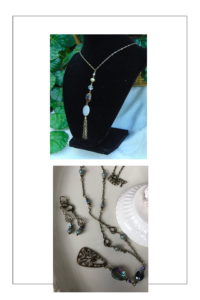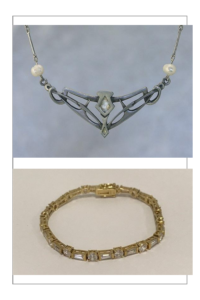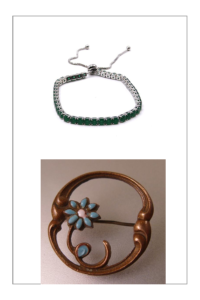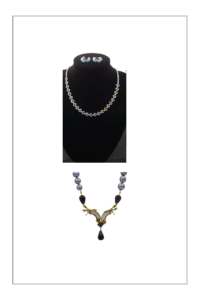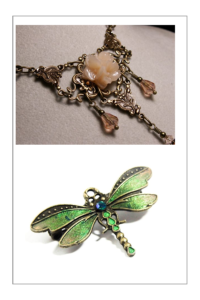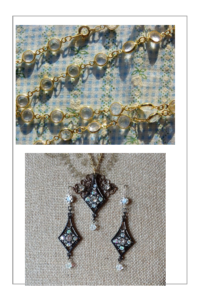 Selection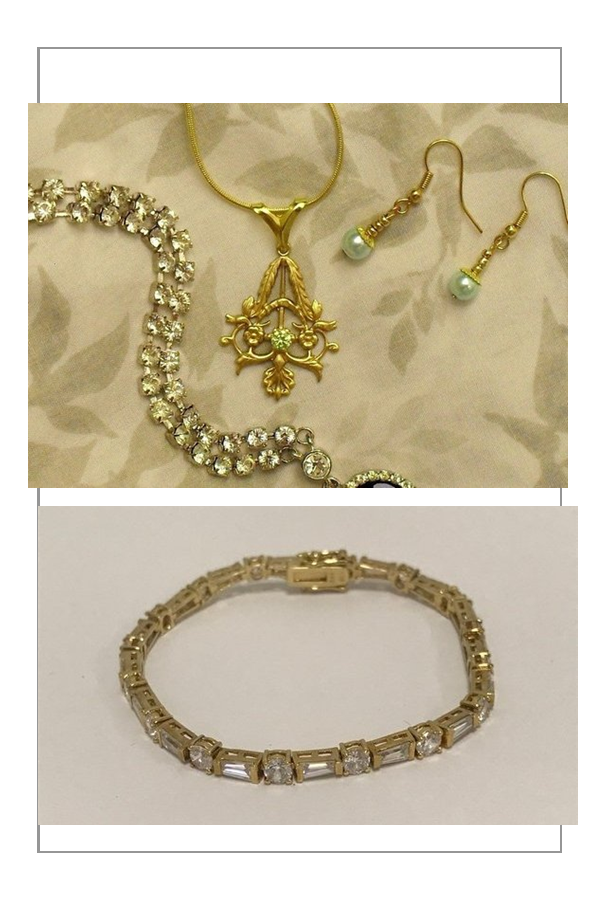 Designs to Emulate

The challenge of this project is that we can choose from ANYTHING in the world – past, existing extant, or from our imagination, because that's what Titanic fashion was.  One has to remember that at the time, NO ONE HAD EVER SEEN ANYTHING LIKE THIS BEFORE, including undergarments, shapes, new fabrics and dyes, materials, notions, and methods.  While the empire waistline and corset had been invented around 1800, it was not this compilation of ideas.  That's because these were innovative designers heading it up.
In trying to narrow down the direction we wanted to go, we looked for extant garments that were most specific to the "rules" at the top of the page having:
underdress,
sheer tunic,
straight or "v" bodice,
draping silks,
oriental influence,
saturated colors,
contrasting hues,
princess line,
fitted through the legs,
possible assymmetry,
use of "conflicting" vs coordinated fabrics and trims,
and use of correct undergarments for the right silhouette which was long and sleek
things like trains or beading were optional, and less important as the main objective was to fit the educational spot in our historic shows to show how this fashion was a turning point between all that of the past, and the future as we know fashion today.
With these goals in mind.  We found the following extant garments and real advertising or presentational sketches for real 1912 garments.  Interestingly, almost all our favorites are feature ensembles from key Parisian Titanic designers of the day.  That makes perfect sense, since we are trying to present the most accurate portrayal of the fashion and era, and they were the ones who had created it from their heads.
Note too, we will have to drape this.  There are no patterns, not really.  Yes, there are historic patterns, but when you look inside, they are just a bunch of instructions on how to drape on the body – just like we had to follow for our 18th century projects.
The more we look at this project, the more similarities we find between these and Colonial/Regency designs.  Perhaps the Titanic designers were not ENTIRELY original..?
Favorites by "feeling" (color, texture, overall imagery)
Corals and Pinks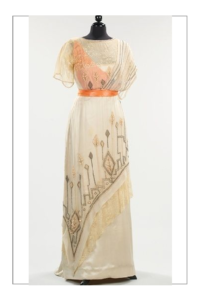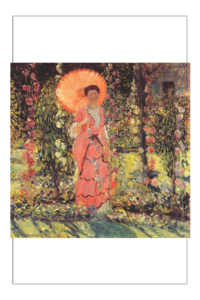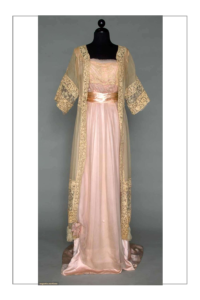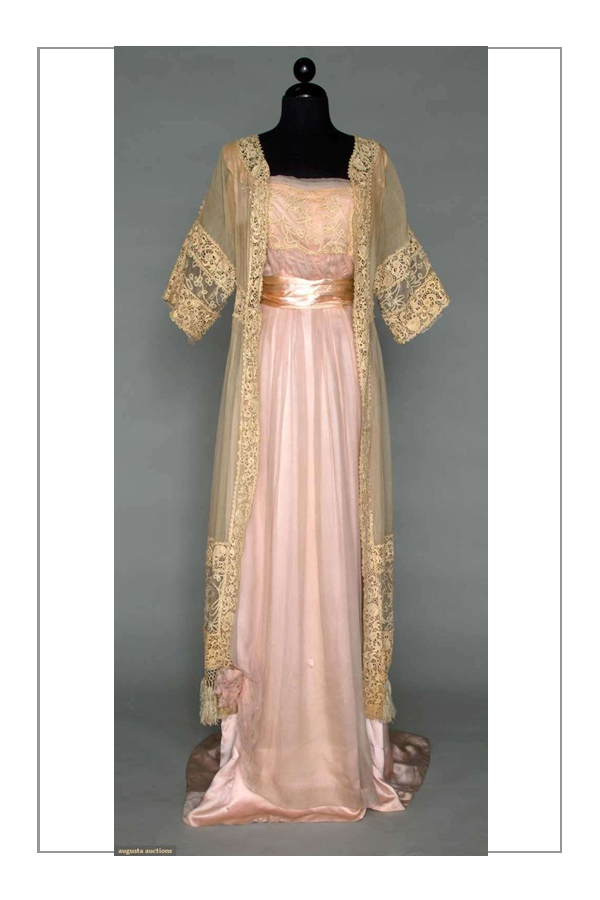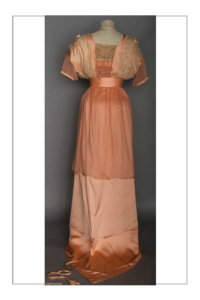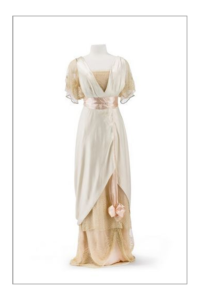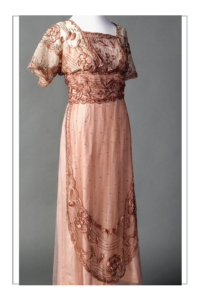 Blues, Purples, and Florals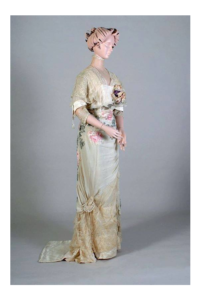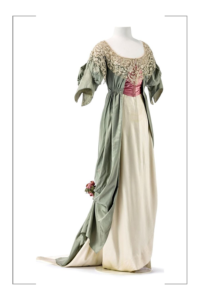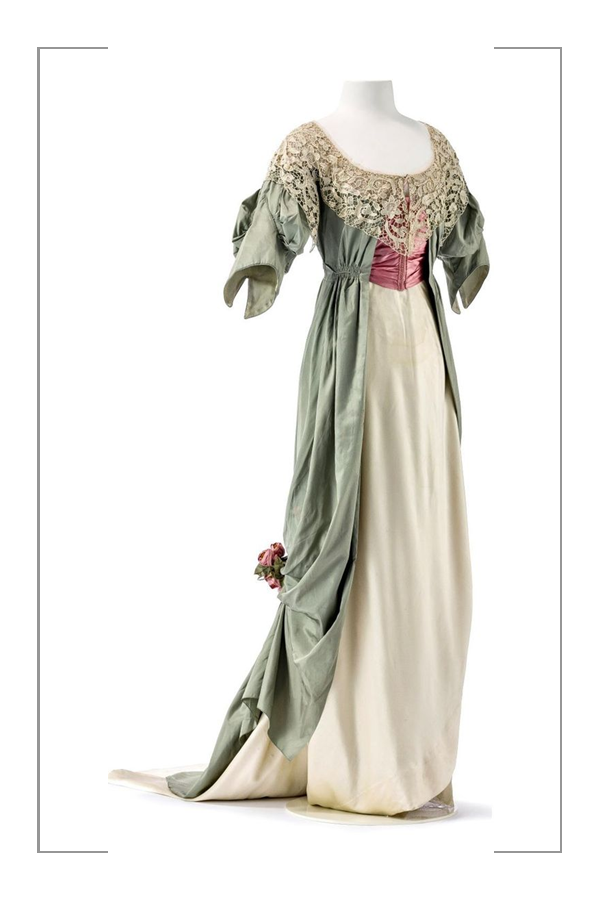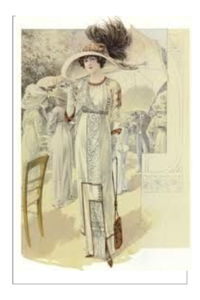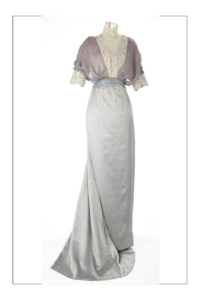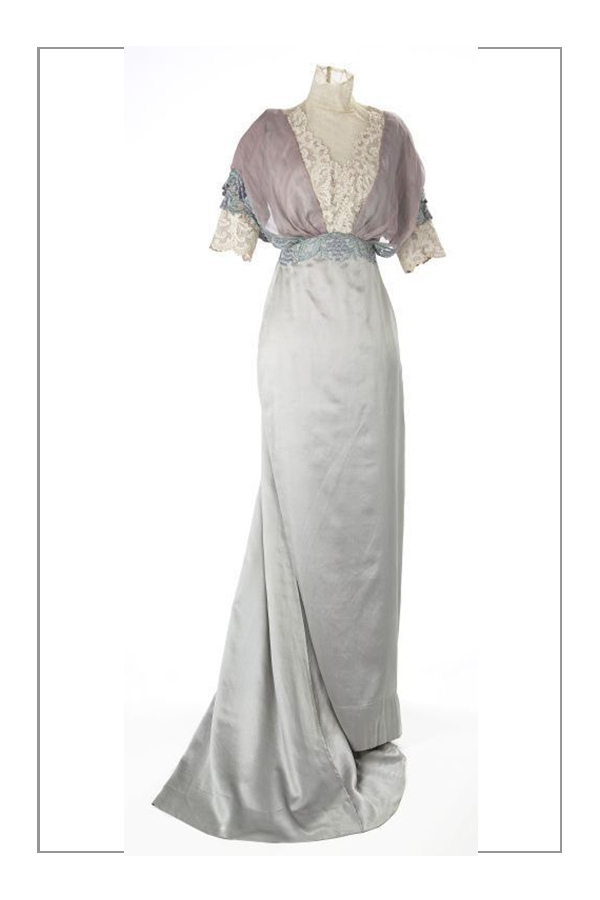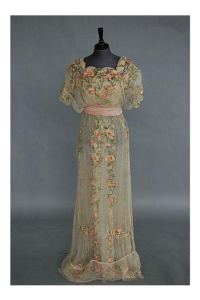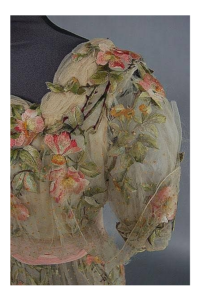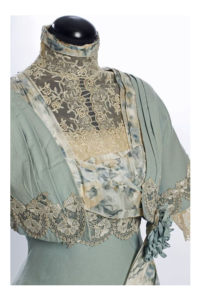 Yellows, Golds, and Ivories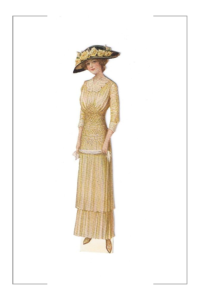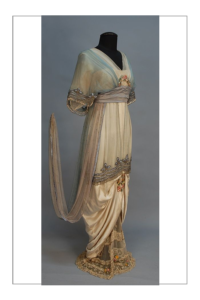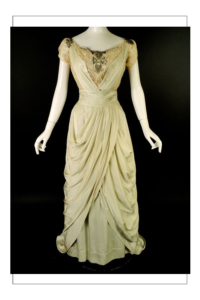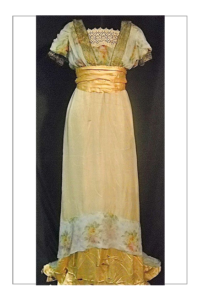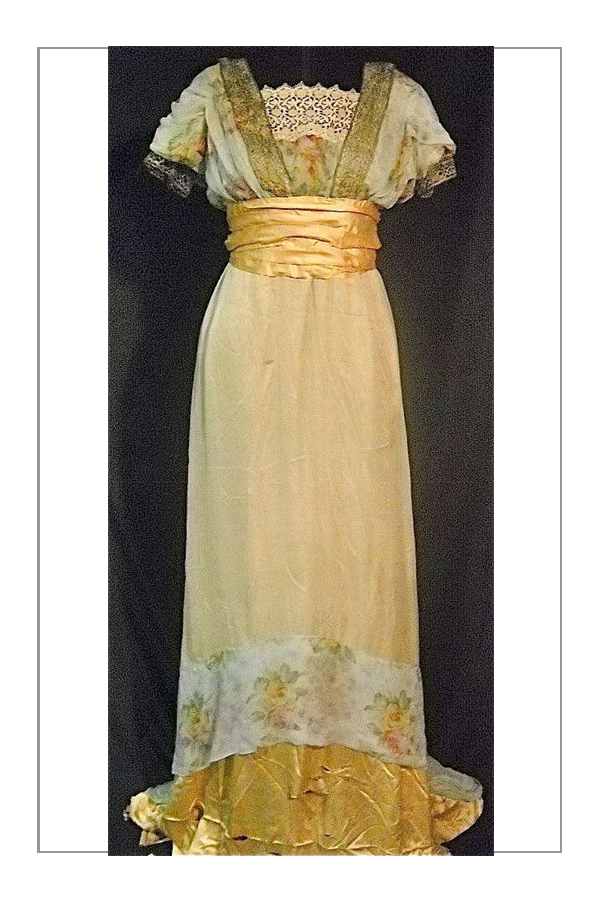 Blacks and Greens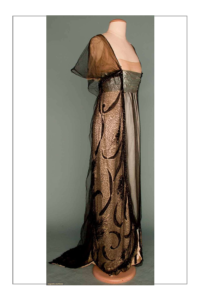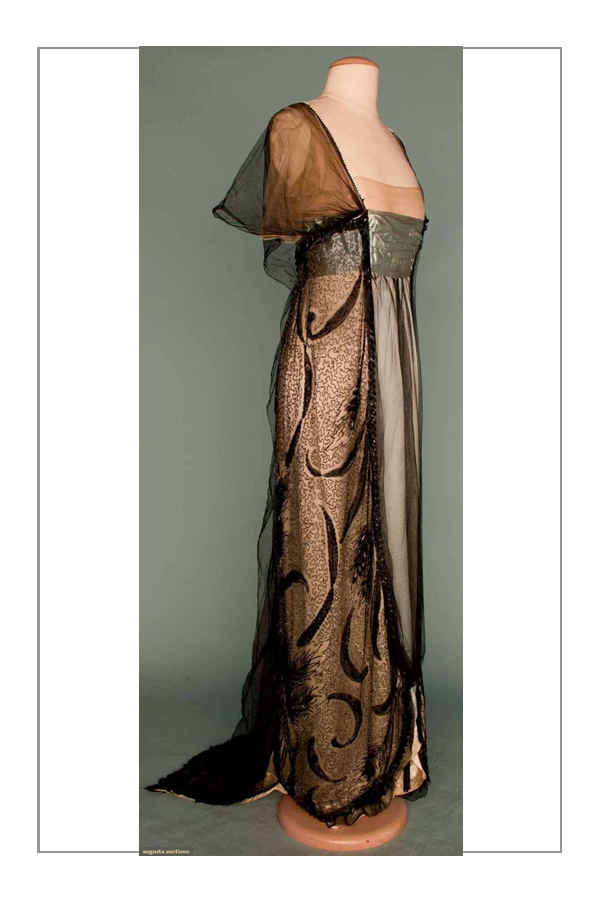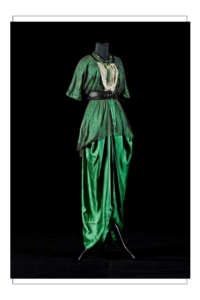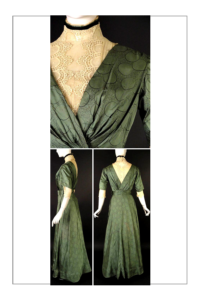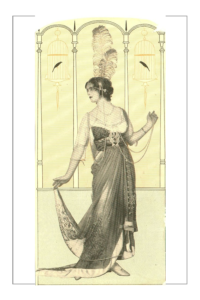 Reds and Deep Pinks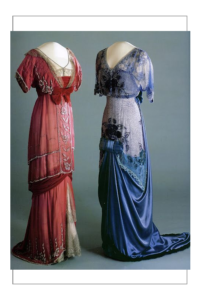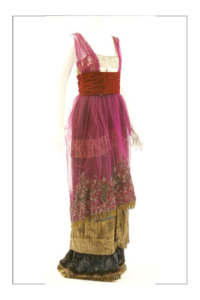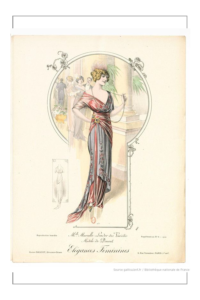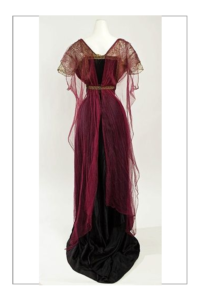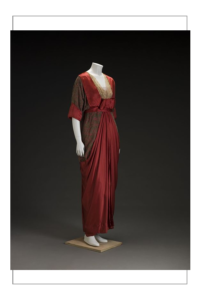 The ones that don't fit in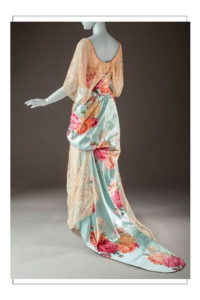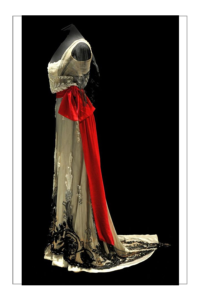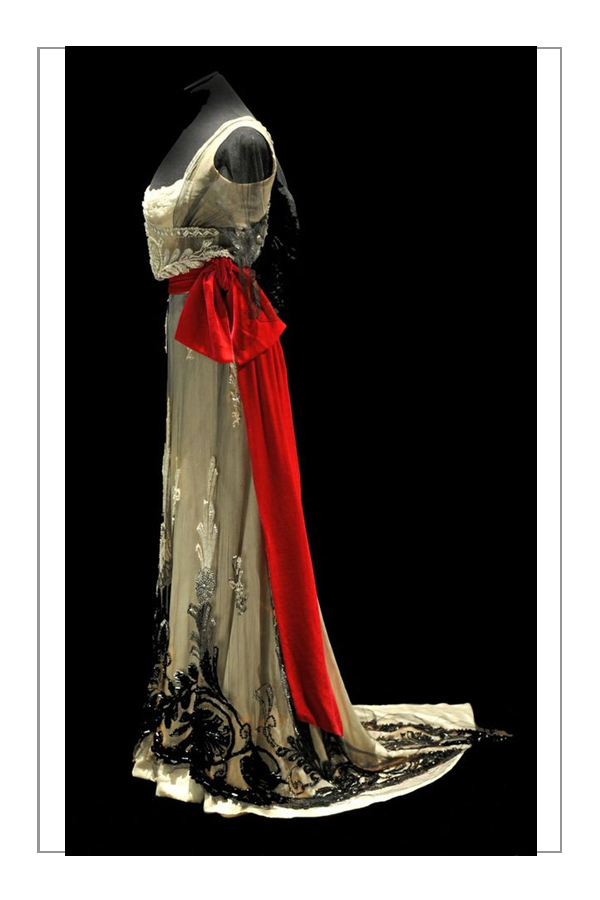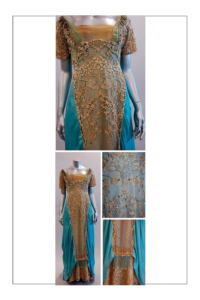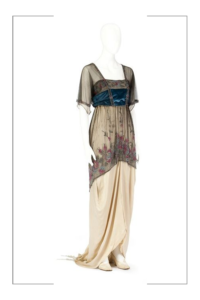 These are the ones that influenced our final materials selection, design balance, and color and textures:
Dresses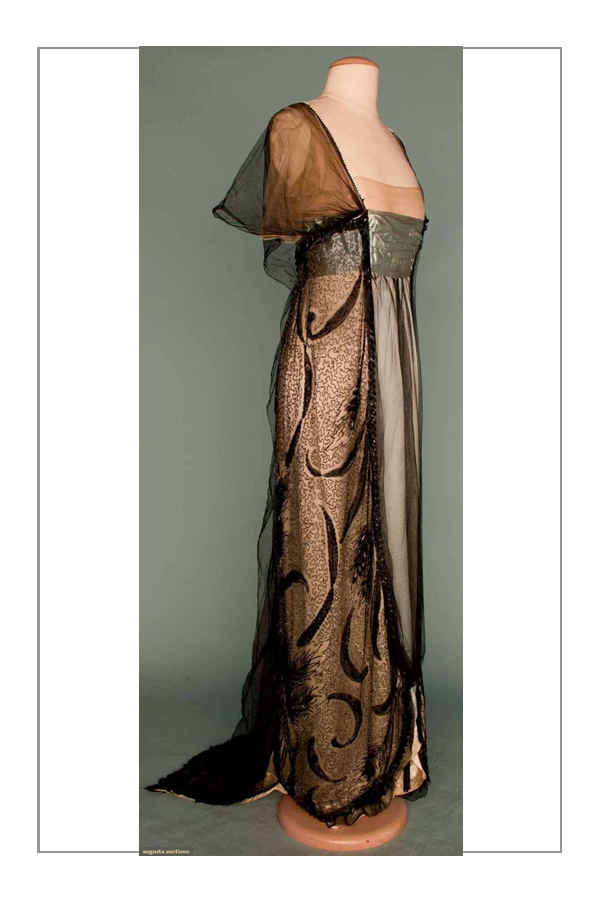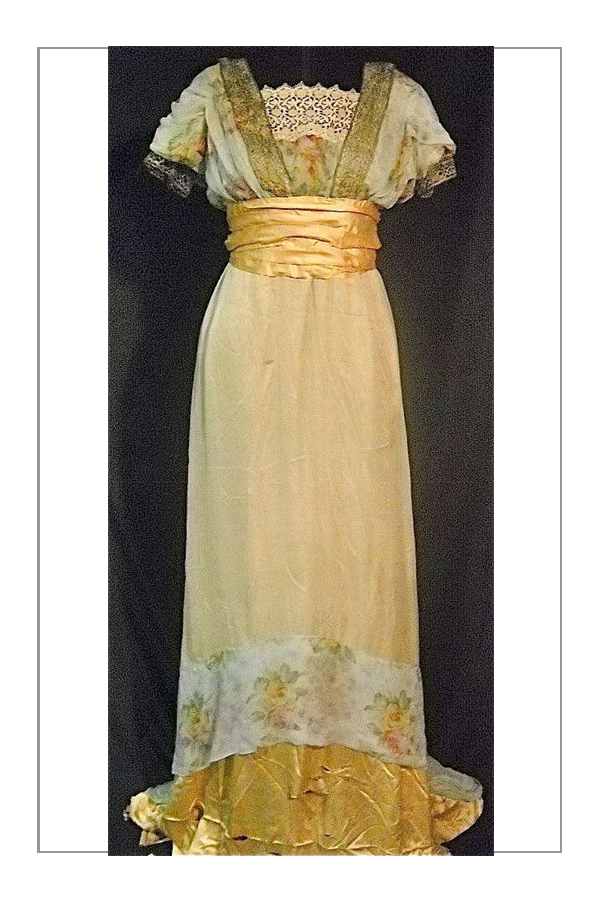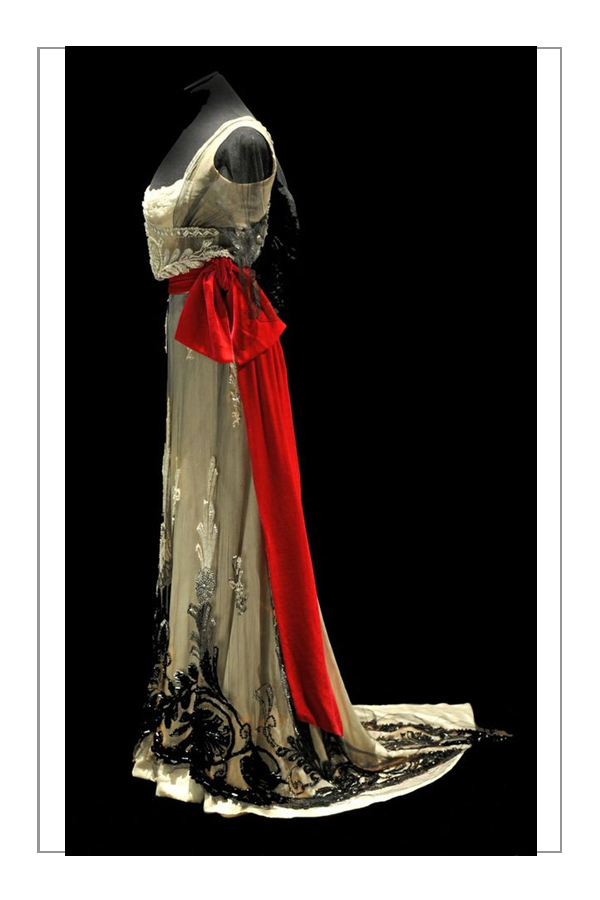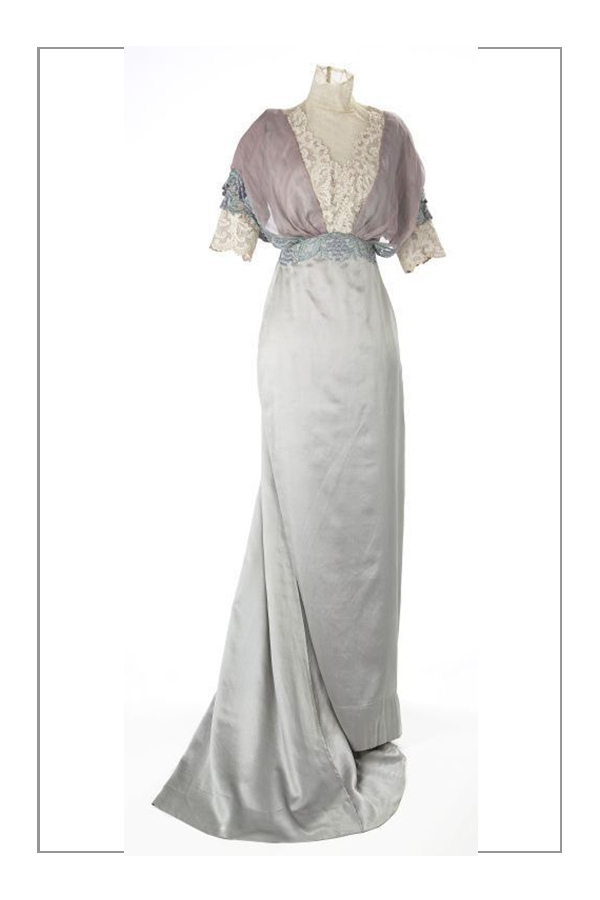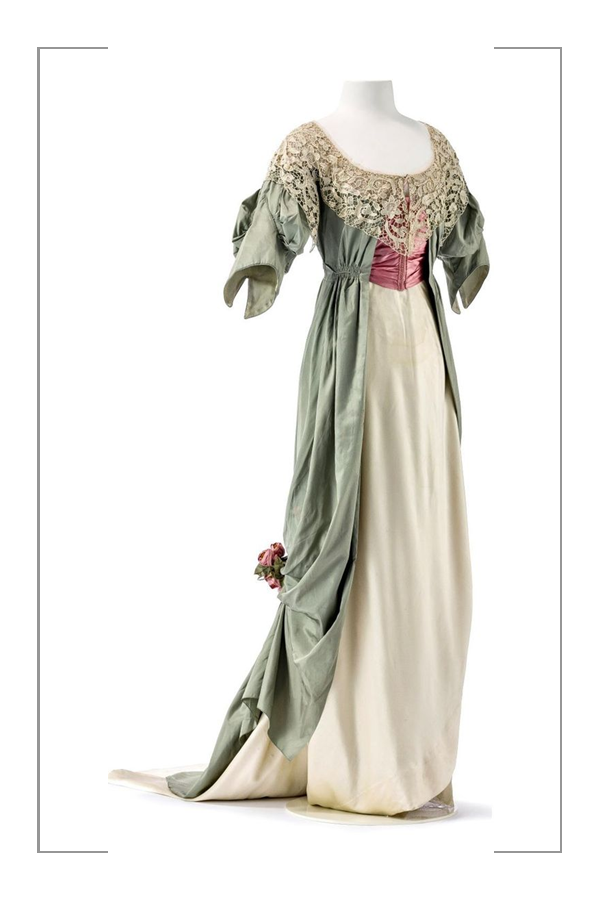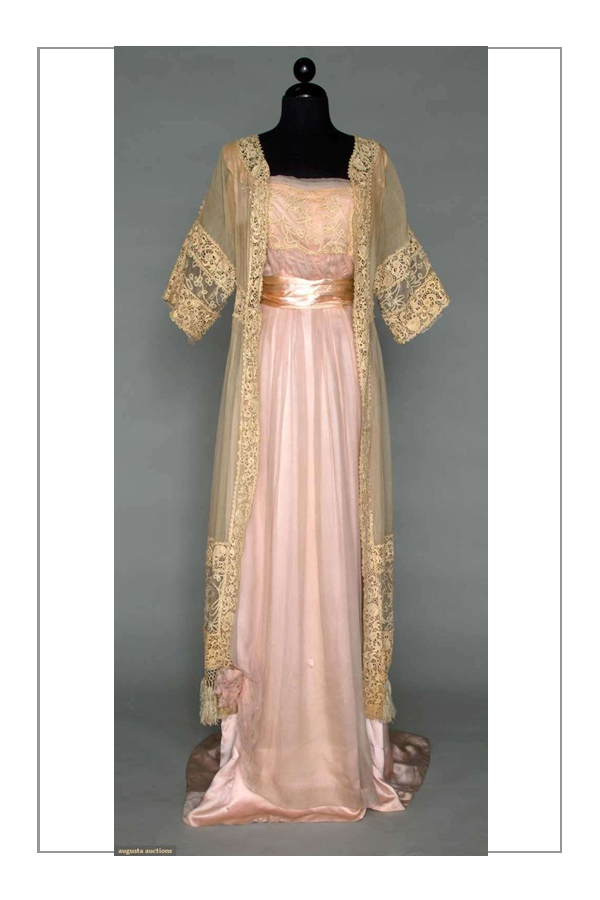 Coats
All of these have a rich, printed silk with a huge fur collar.  We take note of the closure details and trims on color and cuffs in particular.  Most of these are Poiret, but the yellow is Lucille, and the dark ones are Paquin. A few run late in the 1910's towards the 1920's, the ones with the tighter silhouette at the ankles which worked with Poiret's "hobble skirts".
We take from these the use of a light satin silk main body with highly contrasting fur collar, and heavy trim; notably the kimono shape with or without shaped sleeves.  We will drape this to be what we like.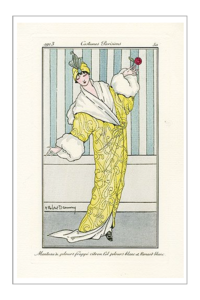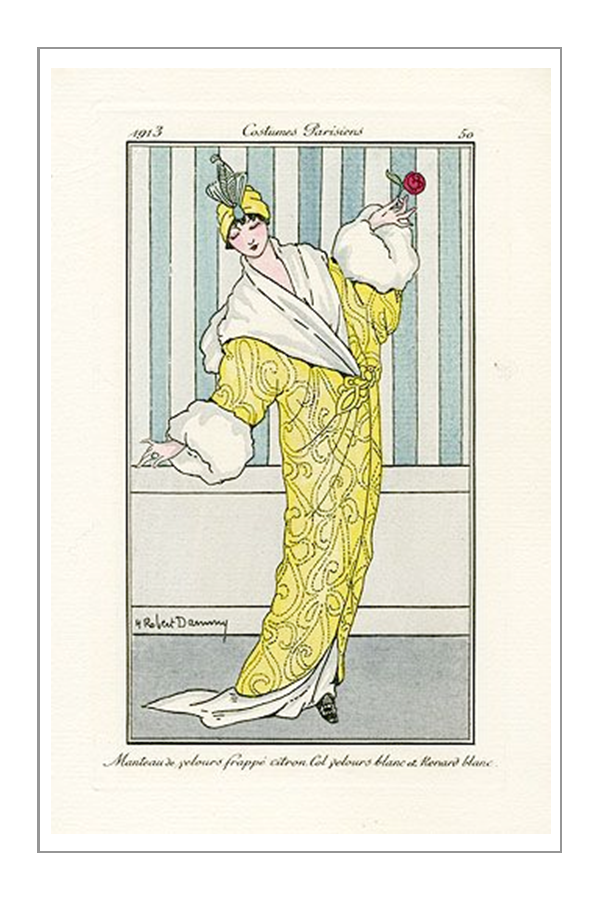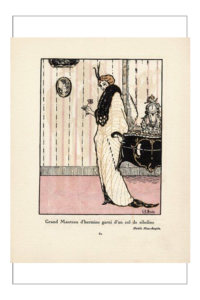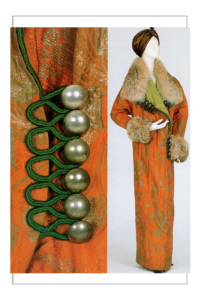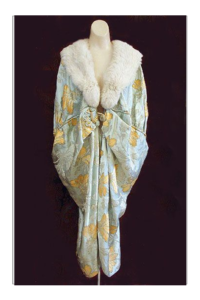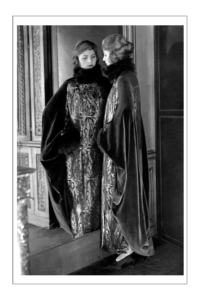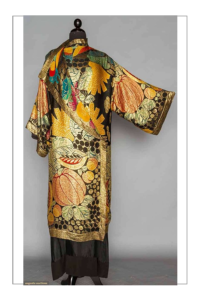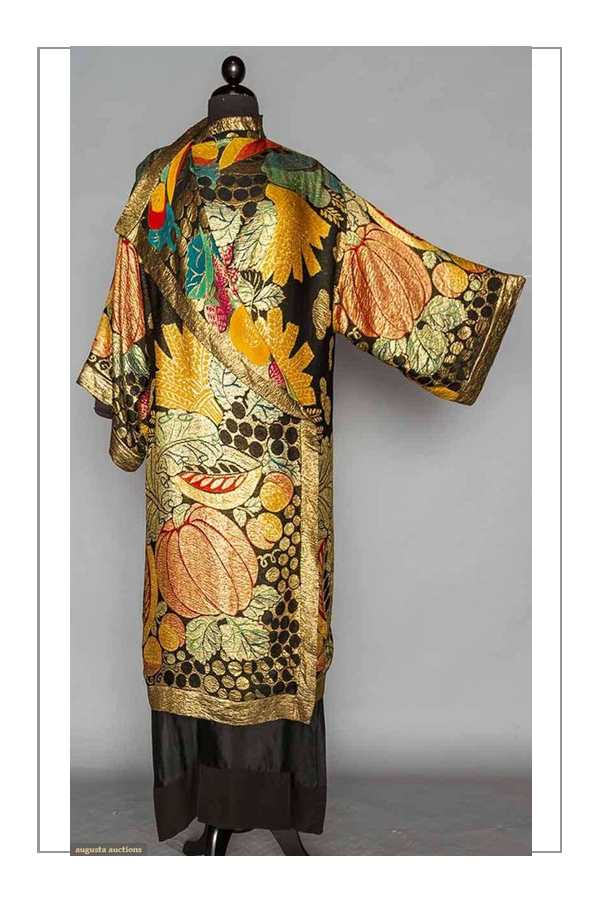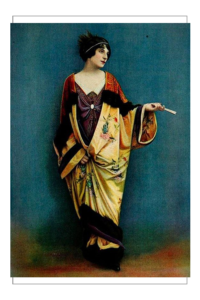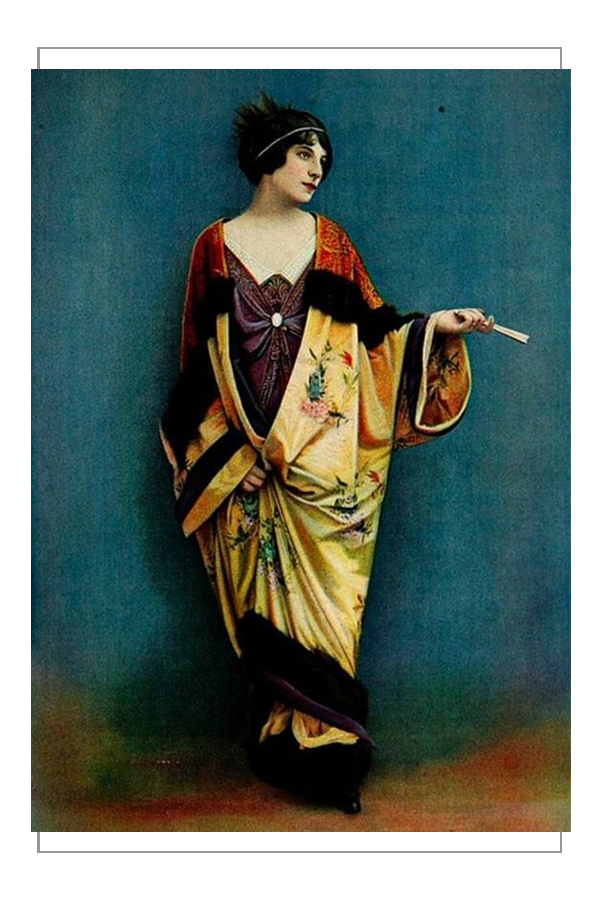 Shoe selections
We choose these to buy, and the red which we already have: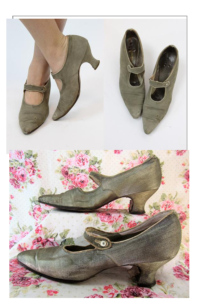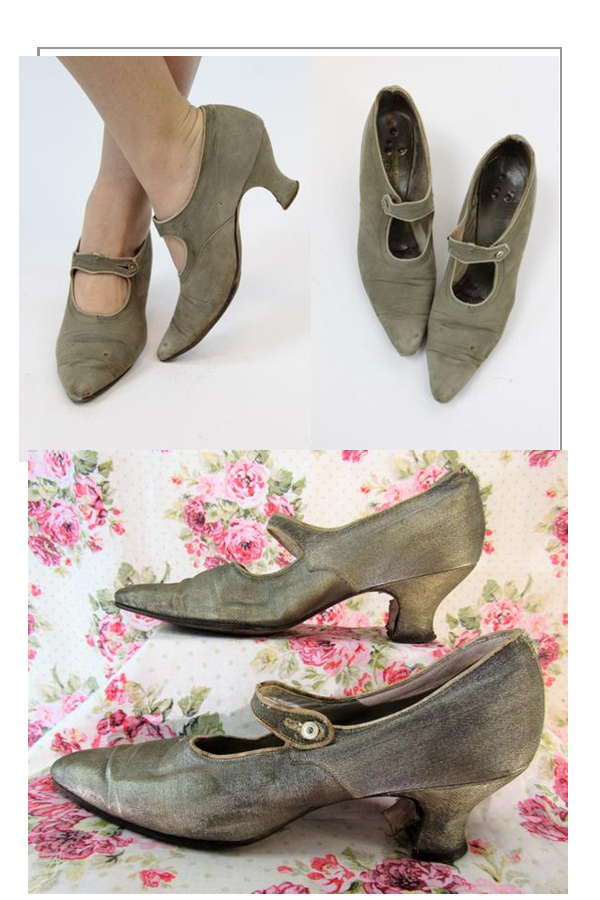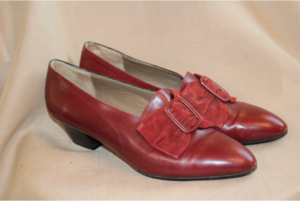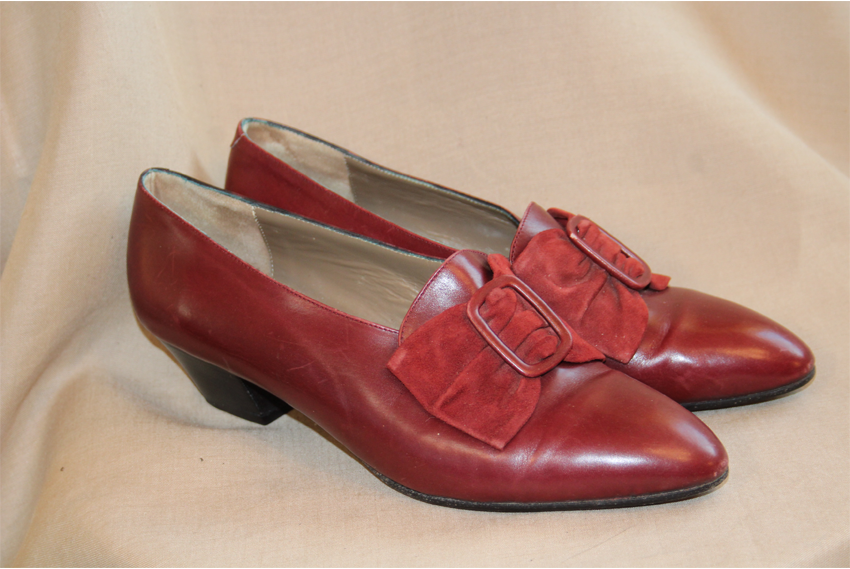 Designer's Ideas after History, Character, and Examples
An important note is that we, just like women of history, had to limit and guide our choices based on what we:
can afford
can get
know about
like
need
have ability to work with
We redefine the purpose as using this for education to teach about how this fashion era fits into the whole of fashion history and so it looks good in line with our other historic ensembles (e.g. not too much tan or gray), represents its era to the best we can (e.g. expresses the bright mood of the Titanic vs the other ensembles in our show which are toiling farm women, etc.).
We also found we had to work back and forth between the select extant examples above, and which fabrics and notions we could find.  We won't present the hundreds of possible combinations of materials, fabrics, and designs we actually went through, but will give a summation of our final choices below.
How this was done actually, was that we put together a type of "composite sketch" of a representative ensemble of the day.  We played with details such as neckline, hem type, hat, sleeve area, and shoes, but it came surprisingly together easily since a true "Titanic" design is a boned underdress with draping skirt, sheer or semi-sheer over tunic, and a big hat with a straight vertical silhouette and made from clingy highest quality silks in saturated and orientally influenced patterns and color blocks.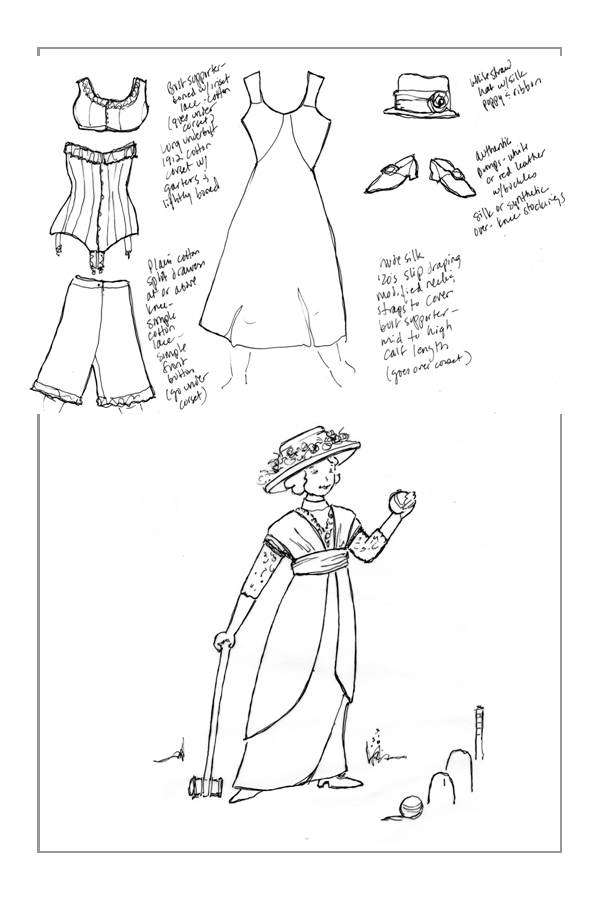 The final design, due to construction and cost limitations, "inverted" the concepts of some of the extant garments we liked which had the lace worn over the underdress like a coat.  We put the lace under the coat.  Well, in truth, we added a coat!

Search for Available
Considering the various favorite extant schemes, we first looked for silks, textures, prints, and interesting fabric combinations like they had back then.  These we used to choose from.  One could call them "also ran" as any would have been fabulous.  Some, however, were out of budget.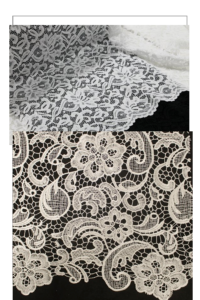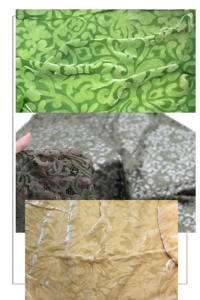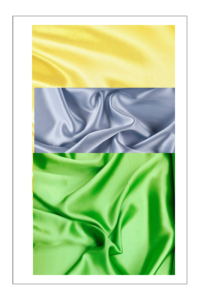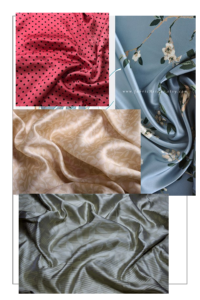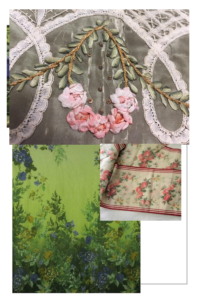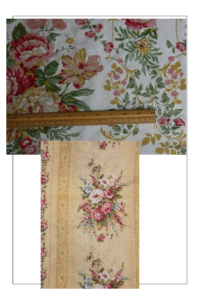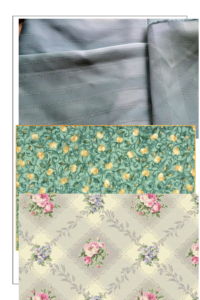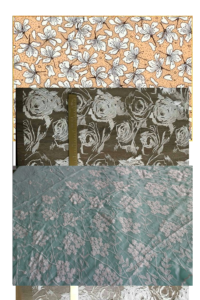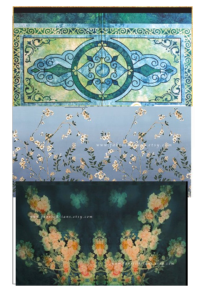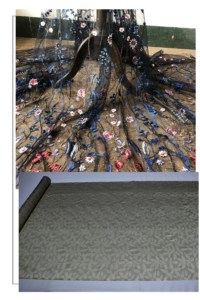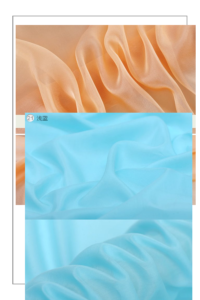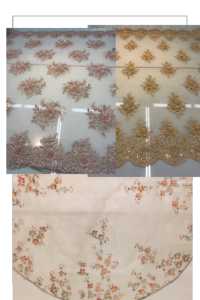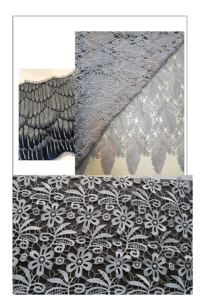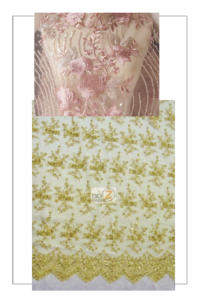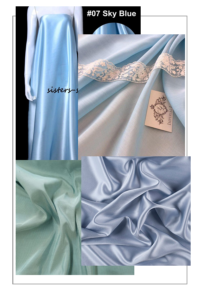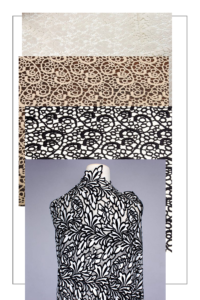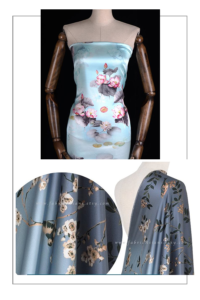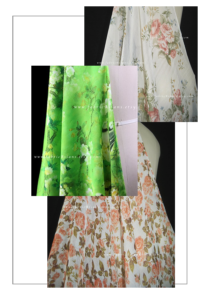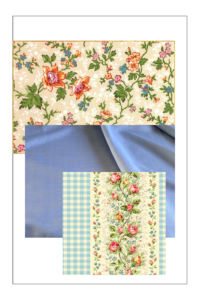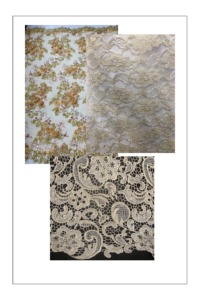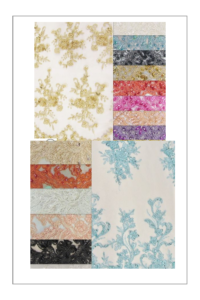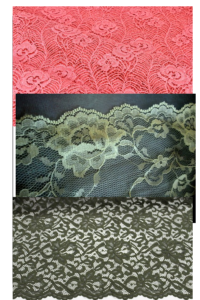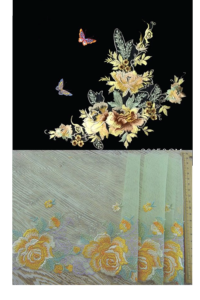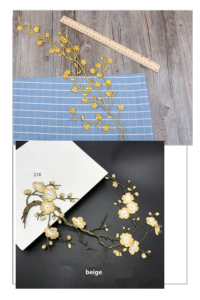 Sparing the viewer hundreds of plain satin silk colors we looked at, and even more embroidered or beaded netting and floral fabrics, we present the final two color concepts:  a green and blue scheme, and a blue and coral scheme.  The final choice was made to have a blue scheme because 1) we liked the blue pastel extant examples; 2) we had nothing like it in our shows; 3) the model scheduled to wear it loved the color and look great in it; 4) we had some of the components already in stock which would keep the cost down.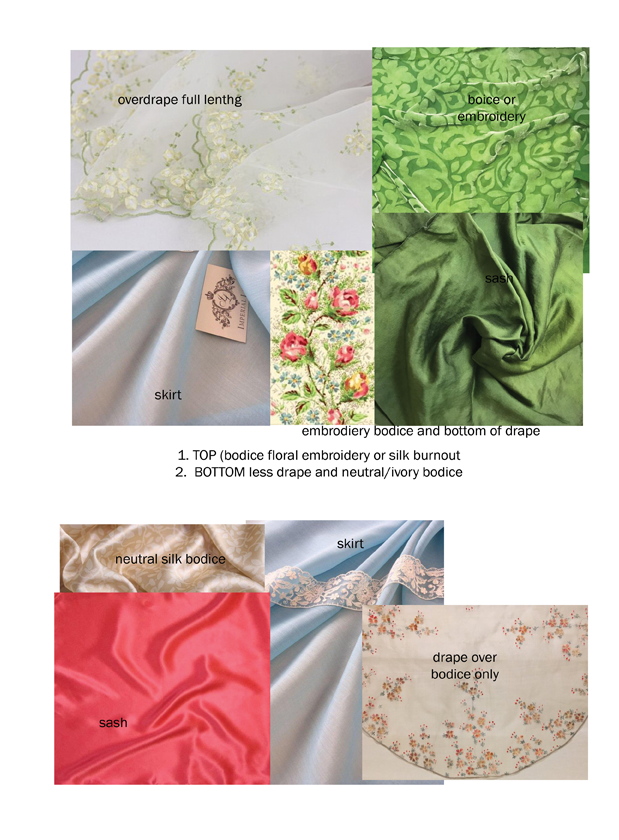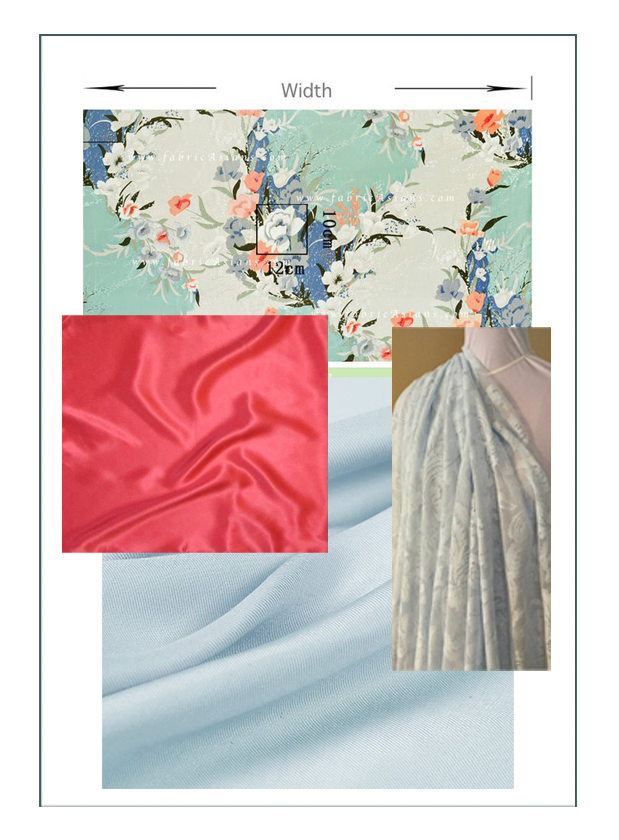 We bought all the materials for both green and blue schemes above, thinking we would mix and match, but we ended up building the blue scheme, and holding the green to make another 1912 customer project in the future.  That future project will "invert" the lace and overlays yet again back to be closer to extant.

After playing with available materials and bases, we played with our basic collaborative sketch to apply the favorite fabrics and color schemes: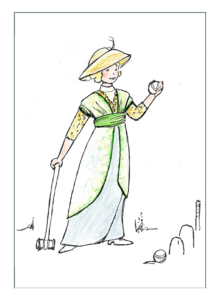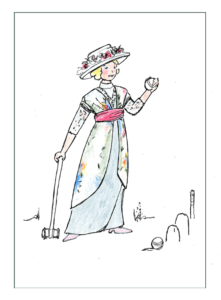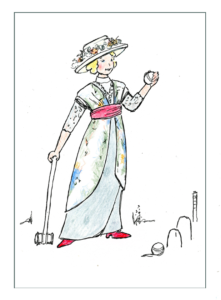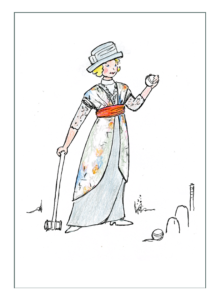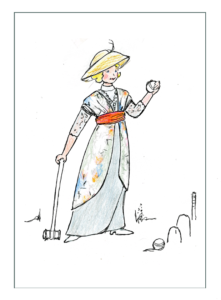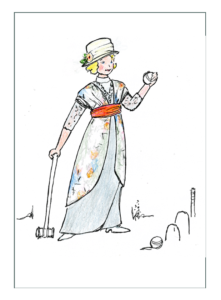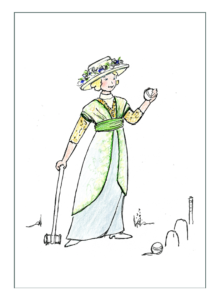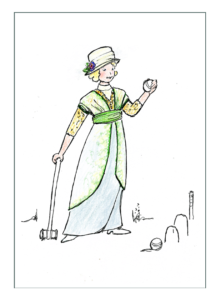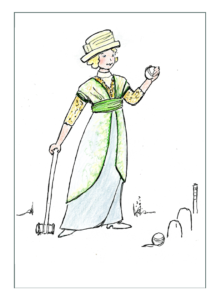 But!  Something was missing!  This seemed rather "tame"; and missed the bold attitude of a true "Titanic".  It had all the proper elements in design, material, color, fabric, but it didn't have the daring of the designers.
We looked again to extant, and found our answer in the wacky oriental and Turkish influences of the designers, especially Poiret and Lucille fashion houses, and their big coats – notably – Poiret's "Cocoon Coat".
The possible combination of heavy fur with light and rich asian silks was intriguing.  With a coat, we could for our shows have the flexibility to show the delicate lace and pastels of the Worth, Redfern, Lucille, and Callot fashion houses, along with the bold lines of La Ferriere, Paquin, Poiret, and others (see pages on designers).
At last we would have our "Titanic ATTITUDE"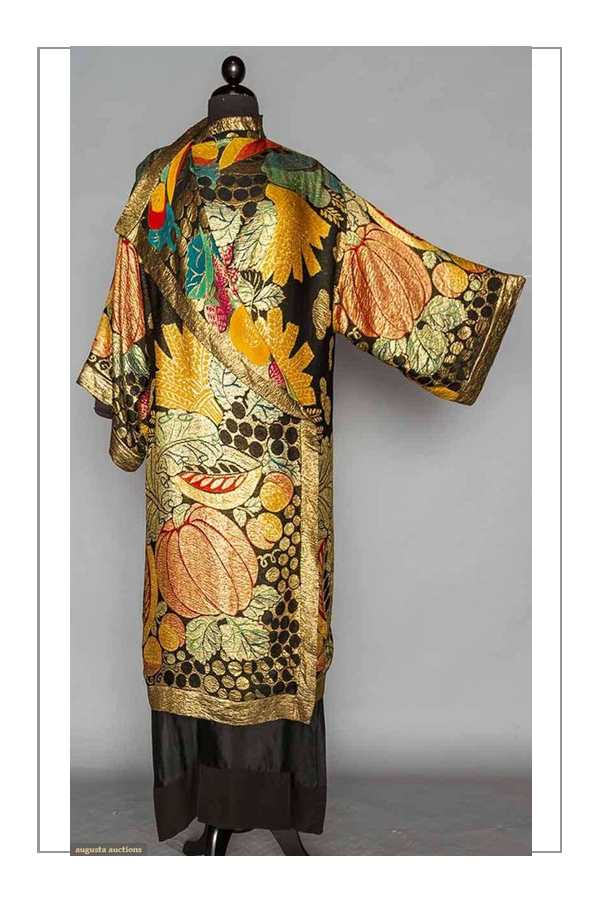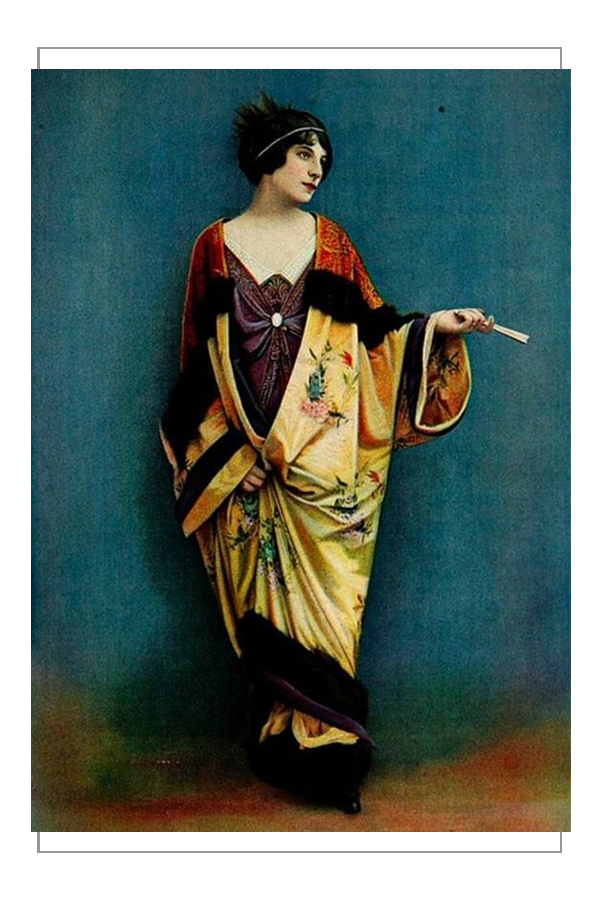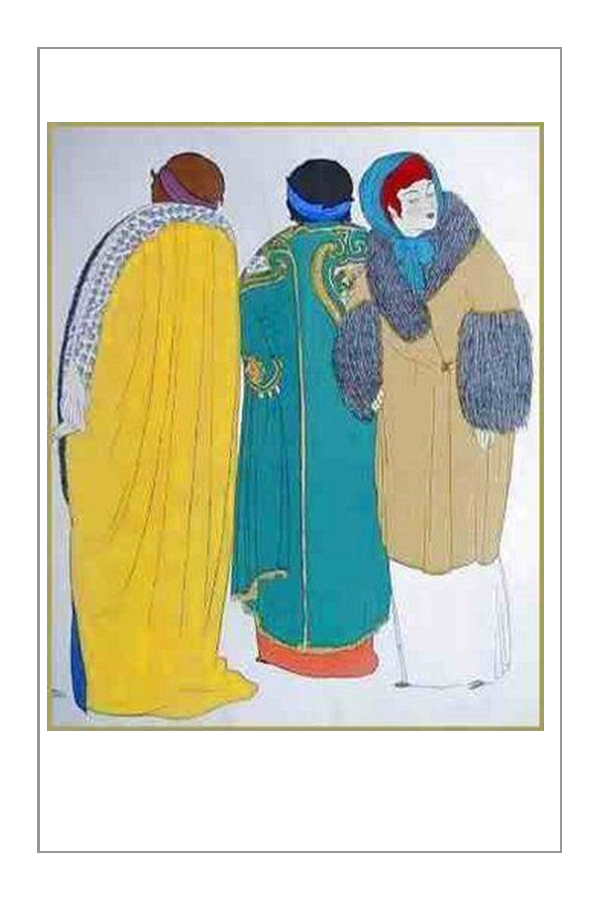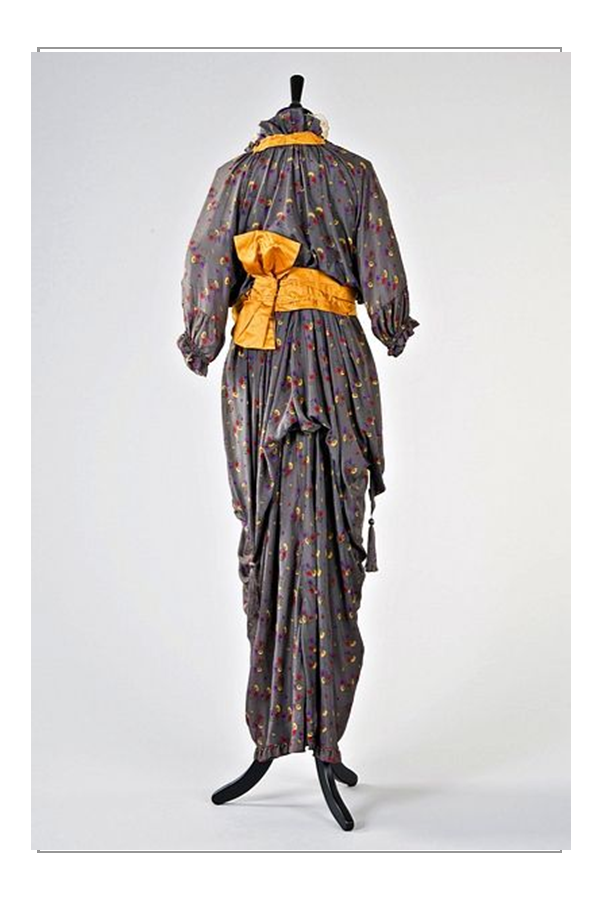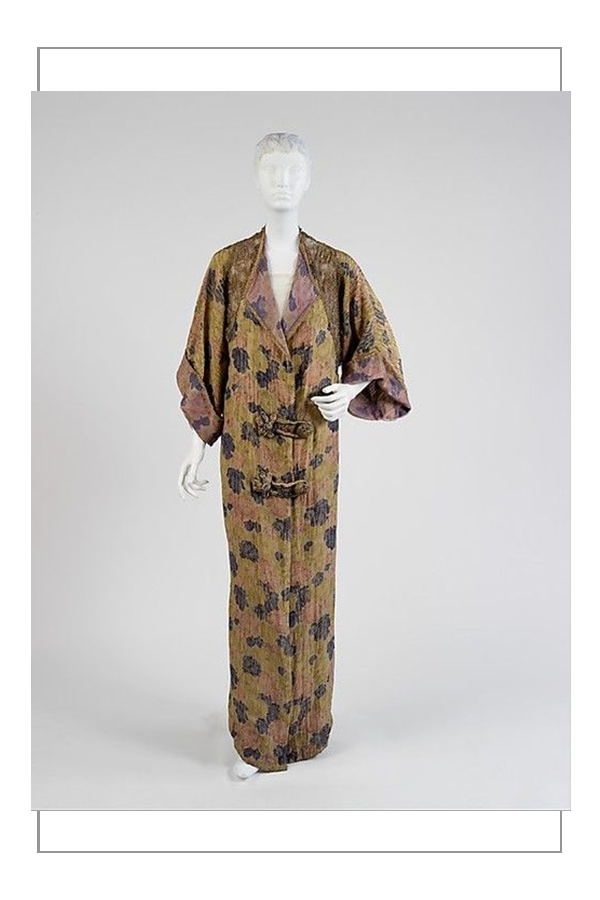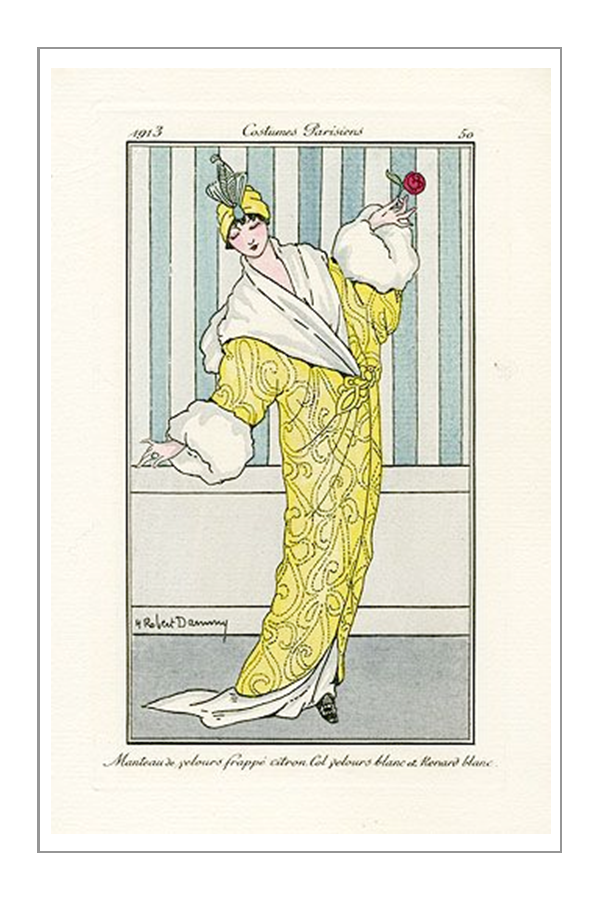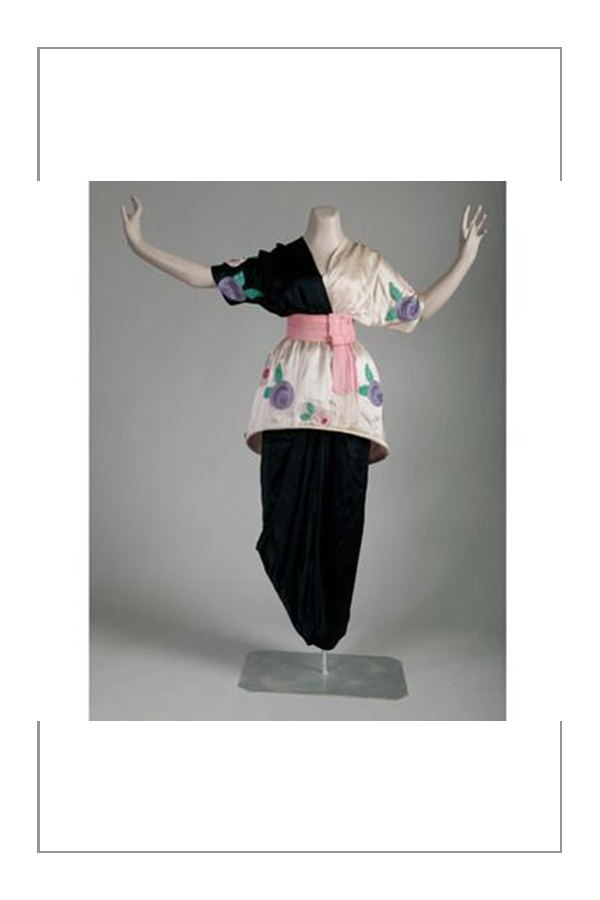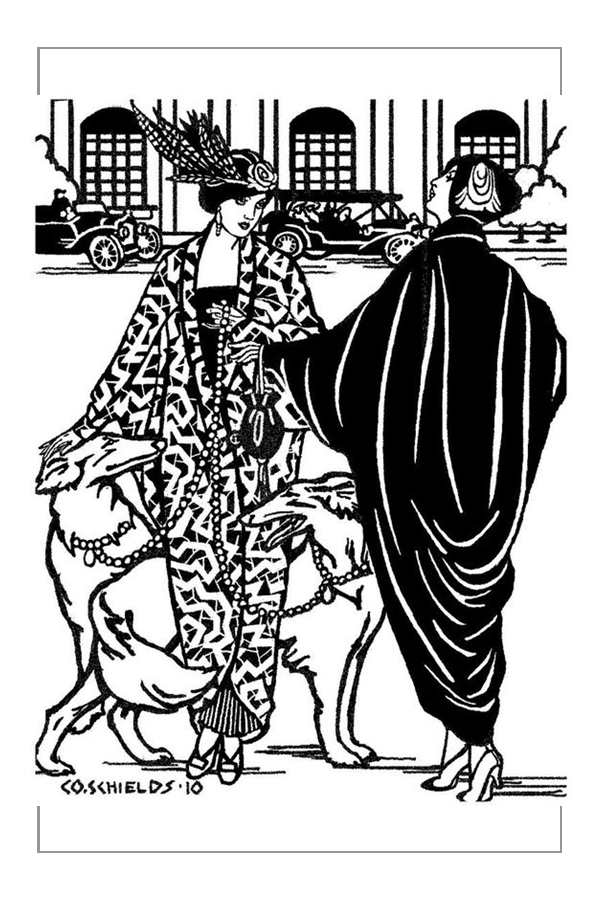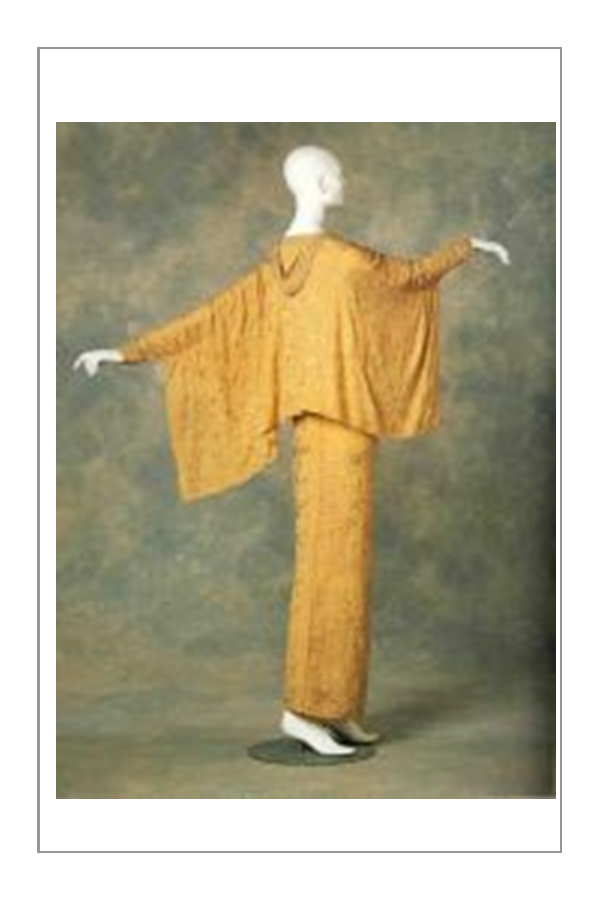 We don't have a sketch of the coat.  We just draped and did it out of our heads.  The hat was based on what our contractor could provide, and the shoes were selected from what was available and as close to accurate.
Jewelry we searched for "the look", and found one a replica of "Titanic", and the other (bracelet) was authentically 1912.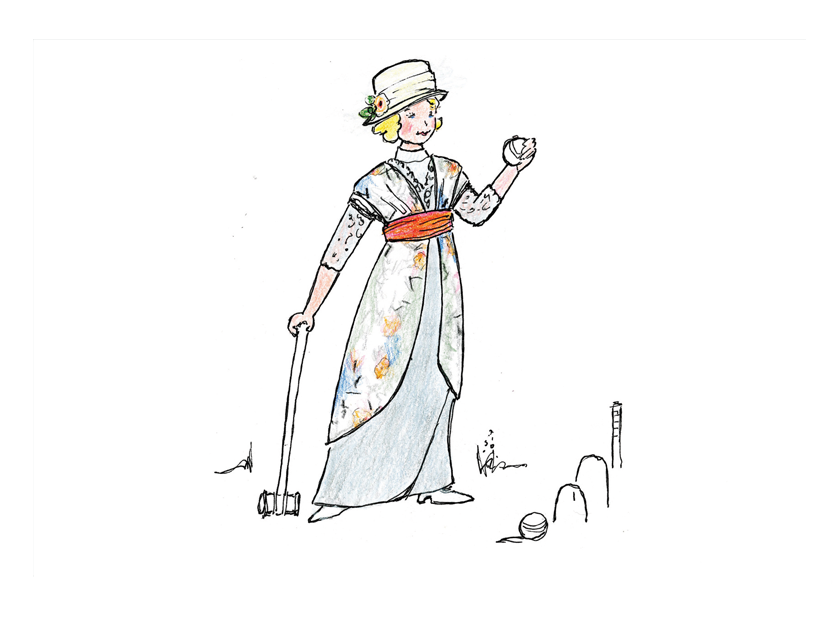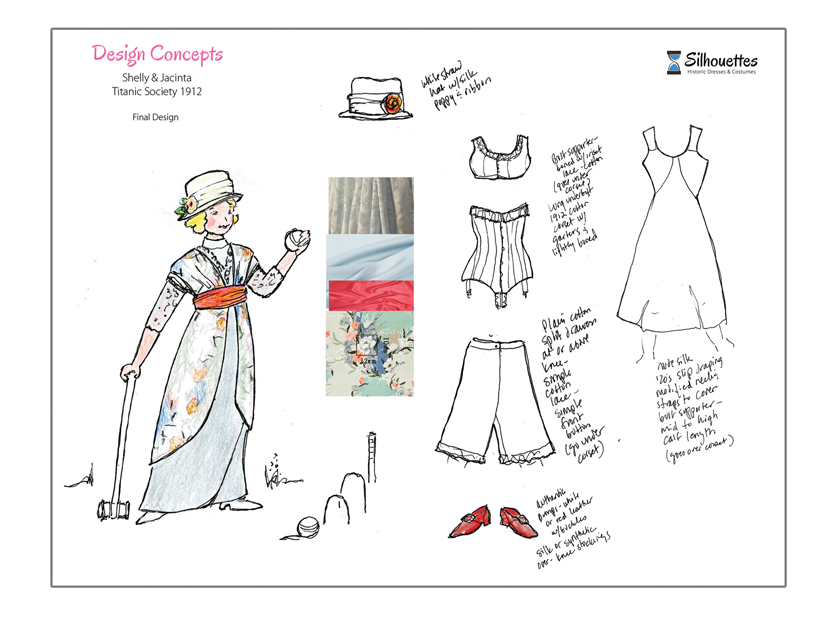 NOTE!  The change occured when we made the drape into a coat, and used the lace for the drape.  We did this just like a high fashion designer like Poiret would have done.
Click here to go to the 1912 Main Page with the Finished Project and photos of the Gal in it (next)
Click here to go to Historical Context page
Click here to go to Fashion and Women's History page