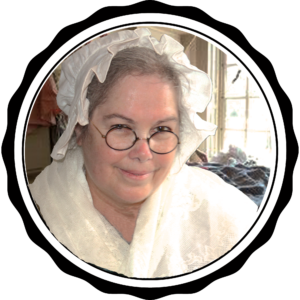 Suzi Sellers, 1776 Colonial Dressmaker
Click here to see Colonial Fashion History

Suzi IS Silhouette's Mantua-maker!  She owns and operates this business.  We might say "abundant" character too, as sitting and sewing for years on end has made for a round and imposing figure.
The intent in creating this ensemble was to:
a) Build the program started with the "Colonial Workbook" with intent to put on small hands on programs in elementary and middle schools, coordinating the storytelling and performance efforts of the "Buffalo Gals";
b)  Have a new costume that can be the first in chronological order for "Gals'" shows.  The 1883 was awkward to be the introducing narrator in the current show format;
c)  Use materials and designs already available in the shop, such as the "leftover" designs, concepts, materials, and notions from other customer projects that the customers did not use;
d) Have on hand in the shop a rump, petticoat, and stays that can be used for fitting customer projects on the dressmaking dummy.
In this the "redundancy" is that some of these garments will look mighty familiar.. to the other Colonial projects; notably the Hurlbutt projects.  We just liked the fabric and design concepts so much, we had to have them for ourselves!
Click here to go to Suzi's Historical Context page about the Colonial era
Click here to go to Suzi's Fashion History page
Click here to go to Suzi's Design Development page
Continue below to see the finished project