The 1813 Ballgown Project was easy to shop for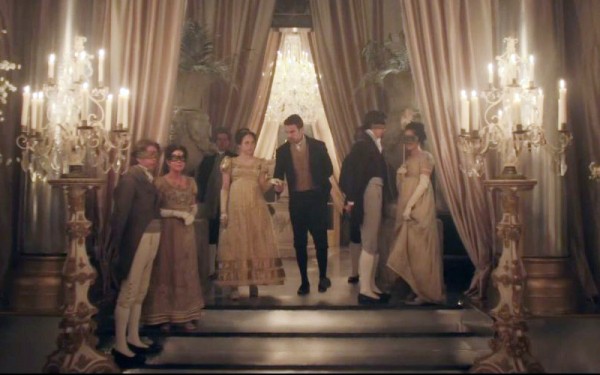 We had little time to research and develop and build this costume, so our usual detail regarding fabric, notion, design, and accessory selection will be limited here to showing pictures of our favorites.
There were literally HUNDREDS of right choices for each thing, but using our Key Extant and Bridgerton examples, we stuck to what was closest to the photos Yvonne gave us that she liked the best.
The one major change inside the progress was that we started with a deep sable brown for the inner gown.  This just didn't look right with the gold and ivory over gown fabric, although it would have been beautiful on Yvonne.  We switched to the more historically accurate white taffeta silk and don't regret it at all.
To shake your memory, here are the key images we selected to guide us on selections of materials, notions, and accessories as well as overall design and appearance: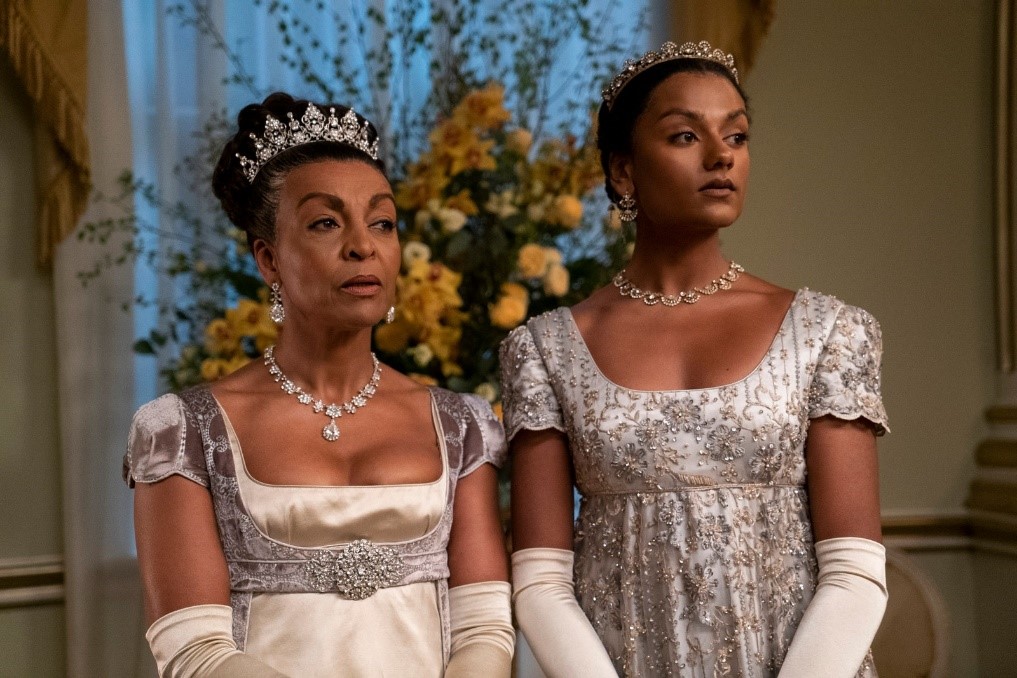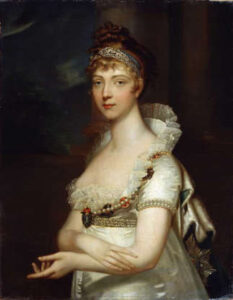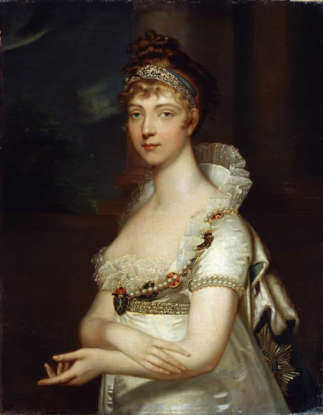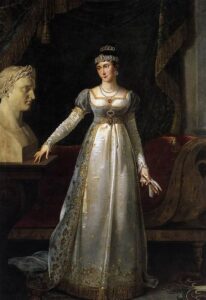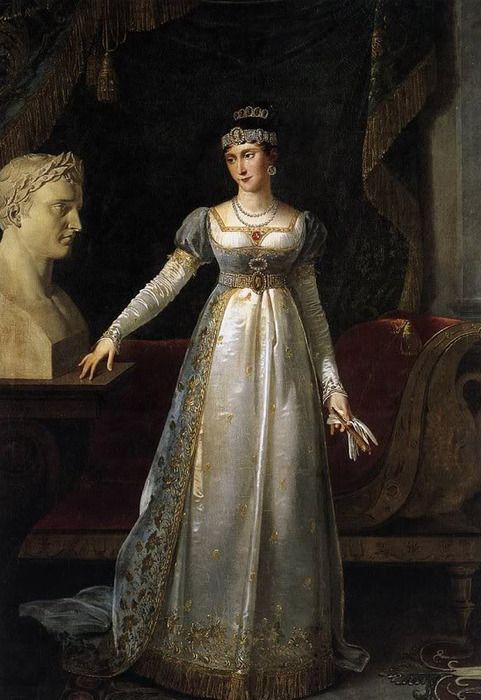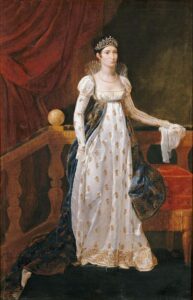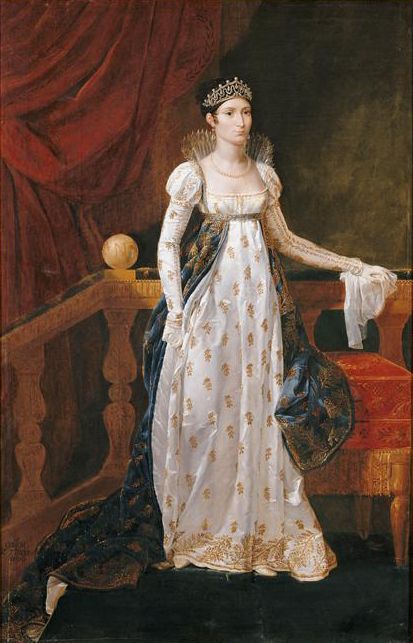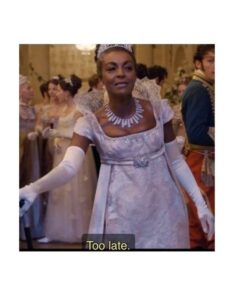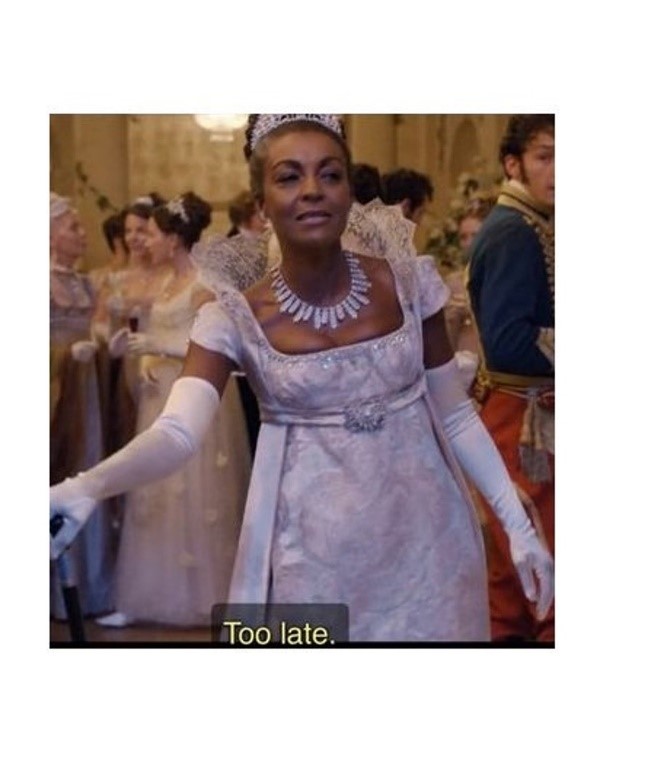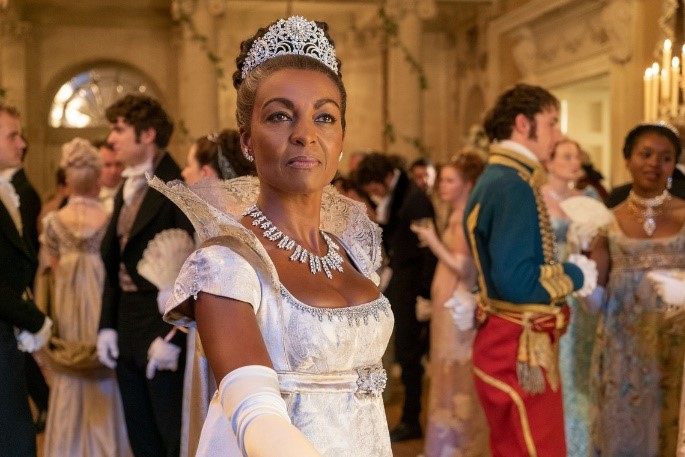 First Individual, then Together
First we selected individual fabrics, notions, trims, and jewelery.  Then we played with "palattes" (putting them together in different combinations) before making a final, balanced design (the last "palattes shown on this page at the bottom)
Fabrics
Rich silk was the only option, even though Bridgerton used some synthetics.  Silk brocade for the overgown was the only way to get the subtle coloring, although we could have done a decorative lace overlay.  We wanted something very clean, tailored, and classy though, so discarded our real favorites which were the beaded net overlays.  She would have been too thick and busty with those.  The cotton prints were so right on accurate, but they were for day dresses, not ballgowns.
These are just a few that were under consideration: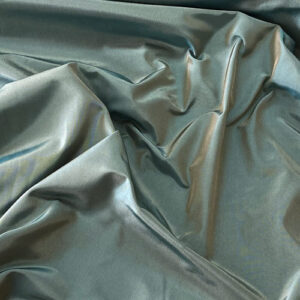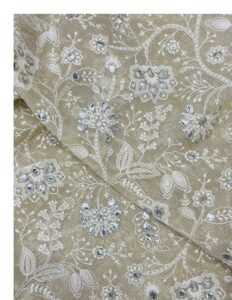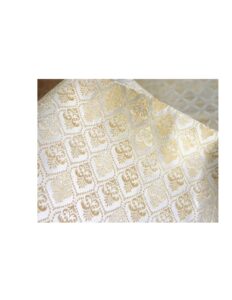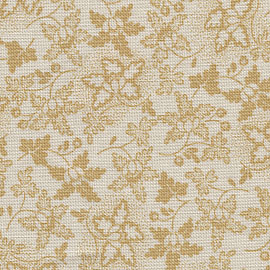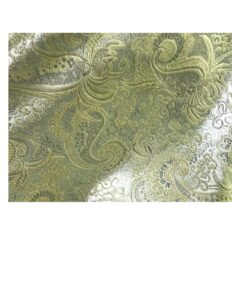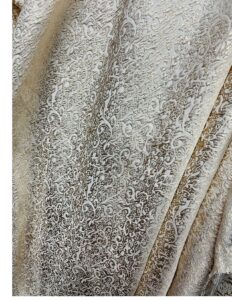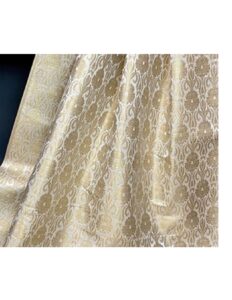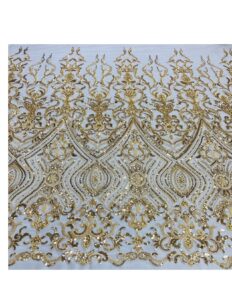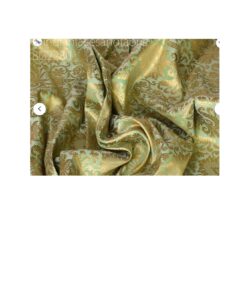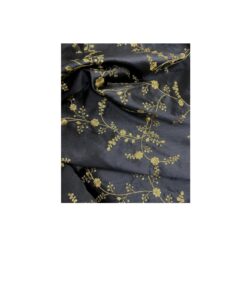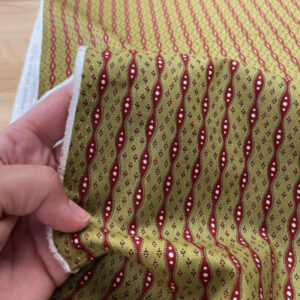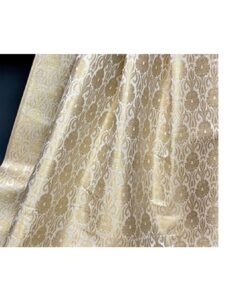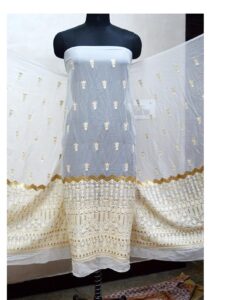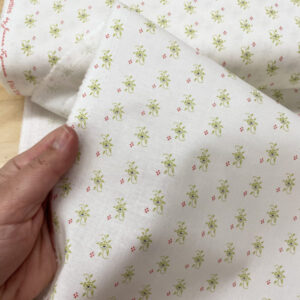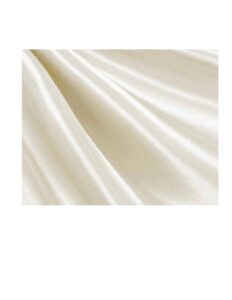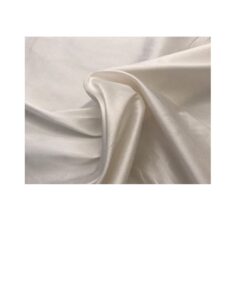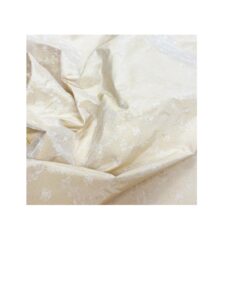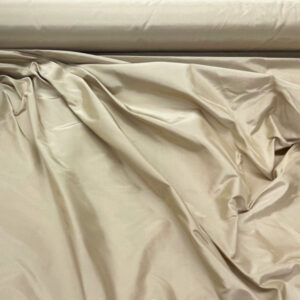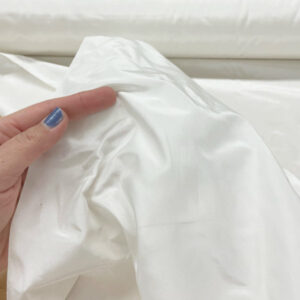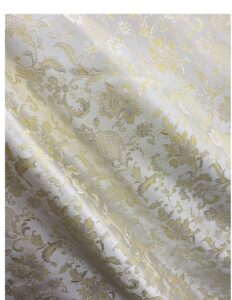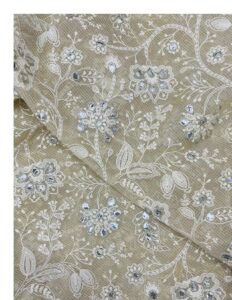 Trims
Once we had decided to go with gold because Yvonne looks spectacular in it and because we could emulate the silver ensemble of the Bridgerton older character she adores, it became necessary to decide just how much bling and trim was to go on it, or if we would stick with our simple classy and tailored look.  We opted for the latter, although rhinestones everywhere were tempting… Again, these are just a very few of the considerations: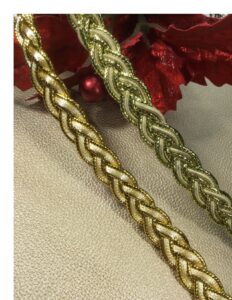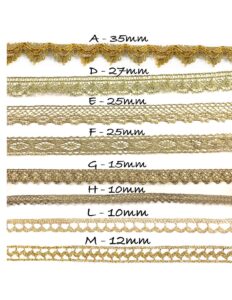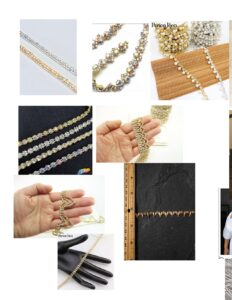 Necklaces, Earrings, & Tiaras
This was where it got really complicated.  We had NO IDEA how many of these of high quality are out there!  The challenge was to pick accessories that coordinated.  There were actually Bridgerton jewelry sets for sale, and many gorgeous ones that were exaxtly like in the show.  We opted for putting our own together that had simlar shape and concept and overall appearance.  We don't want to be EXACTLY the the show!  We just want to be classy like it, but we also have to wear the costume over and over again, so ours must be high quality and very durable and easy to get on and off too.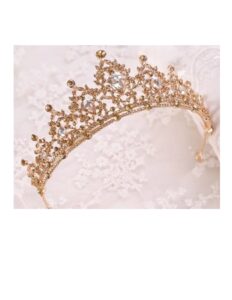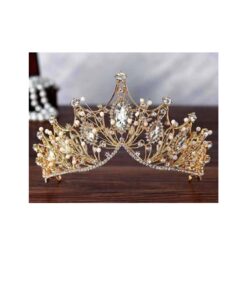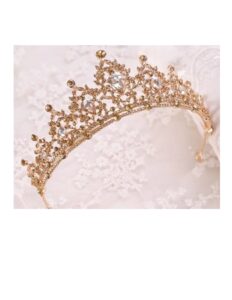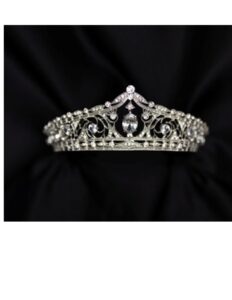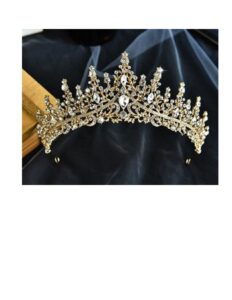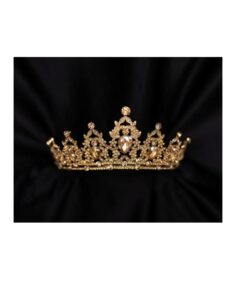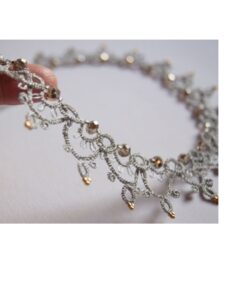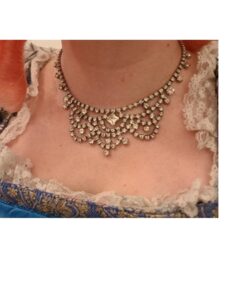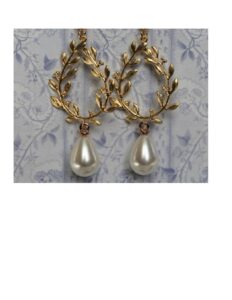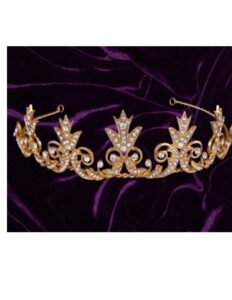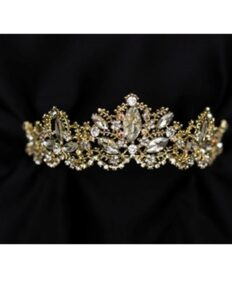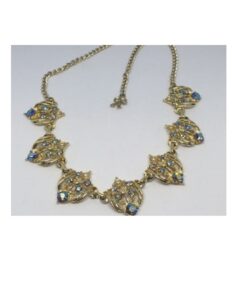 Shoes & Stockings
There was only one logical decision for stockings: our favorite silk stocking supplier who hand paints them  Shoes, however were another matter.  They had to be ballet flats with a leather sole (no rubber or modern materials!), simple, clean in design, yet very showy and matching the jewelry.  This meant gold.  Regency women often would match the color of the slipper to the gown, which would mean ivory in this case.  That was our safety in case we couldn't find gold we liked.
As it happened though, even with Yvonne's tiny shoe size, we found a variety of wonderful and even comfortable well made Regency type ballet slippers to choose from.  They were all at very reasonable prices with quick shipping too!  If you know what you are looking for, you can find these things: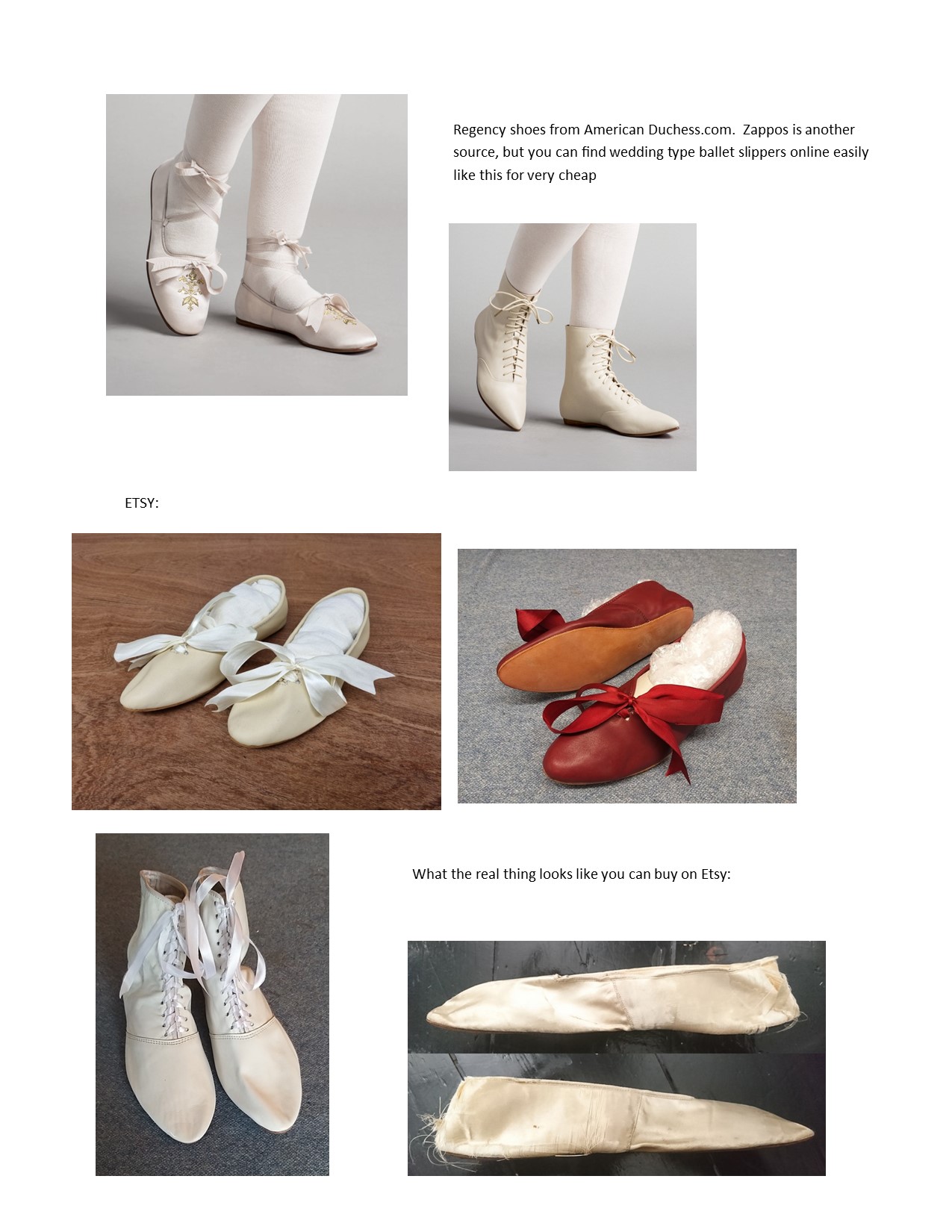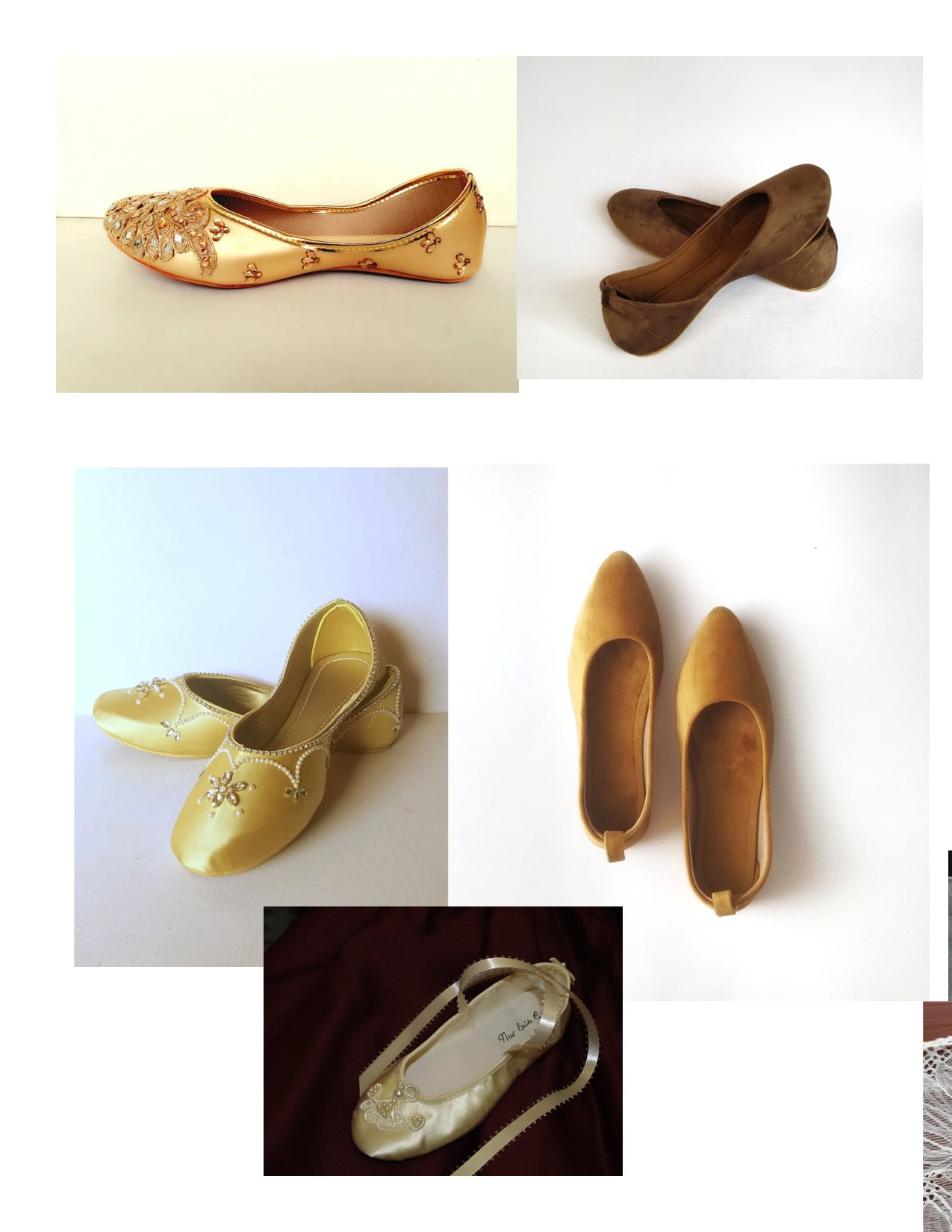 Brooch
Deciding on the brooch was not so easy, however.  There were so many that would be perfect, and antiques too at great prices.  Even up to the minute of shipping, we were considering alternative choices, but the one we choose was most like that in the photo we were trying to emulate, and had a fantastic range of color reflected.  The only negative was that it was Victorian – about 80 years later than Regency too.  It was well made, in good shape, and would not poke her.  It would hold up to many wearings, so we kept it.
It's hard to let the rest of these go though, especially since the sellers keep making lower offers for them: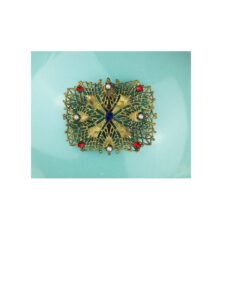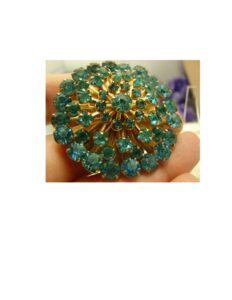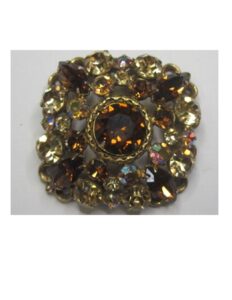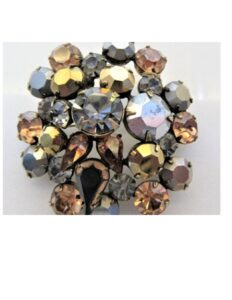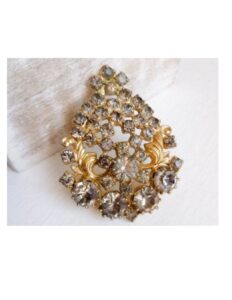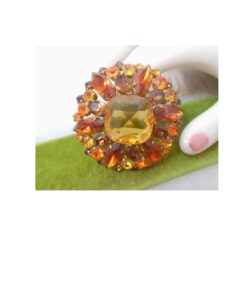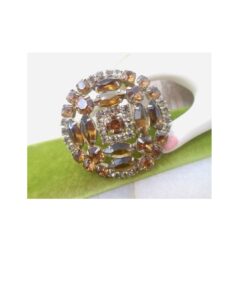 The Palattes (groupings)
Taking all of the above plus others not shown here, we played with groupings of fabrics, notions, jewelry, and trim until we found several we liked.  From those we picked the end result.
Often when you do this, you'll find the seller no longer has something.  That happened with the tiara.  We got everything ordered and on its way when the tiara seller said she no longer had it.  Several weeks later and meeting a nice new person, the tiara seller found the exact same one for us, plus gave us a discount and got it to us on time!  We love small business of America where you work with real people who truly care!
Round 1 Groupings (Mostly fabrics and jewelry)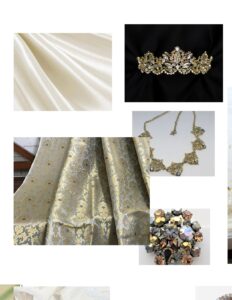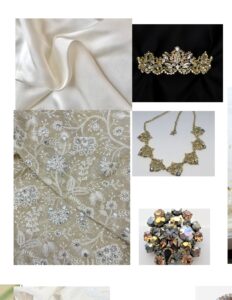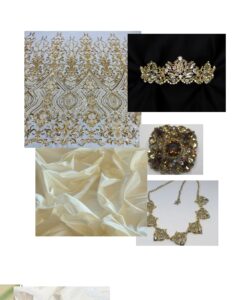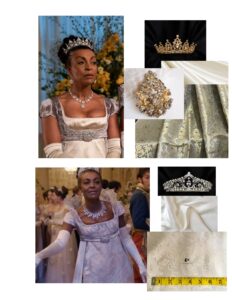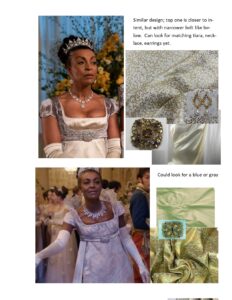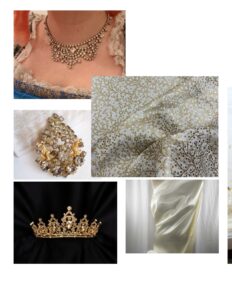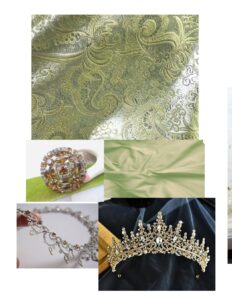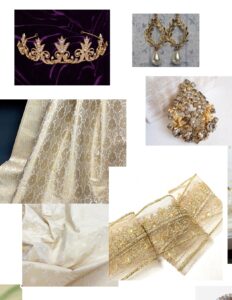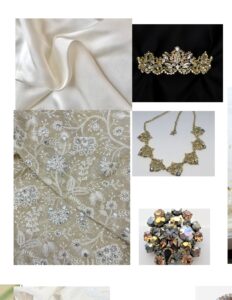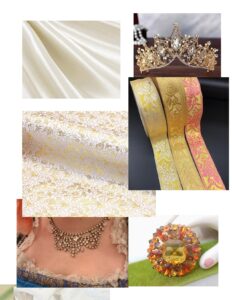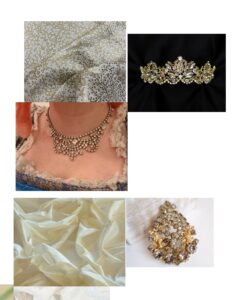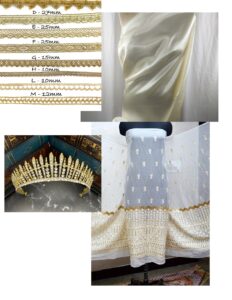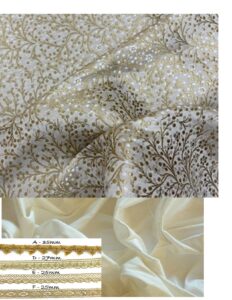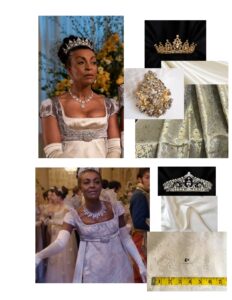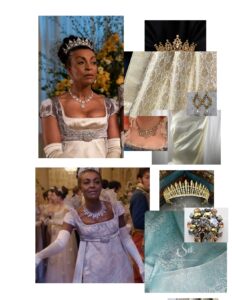 Round 2 groupings (finding the key elements then building on them)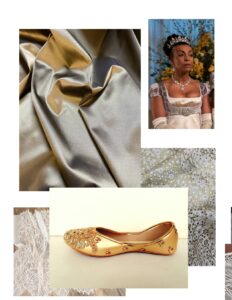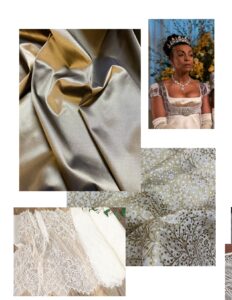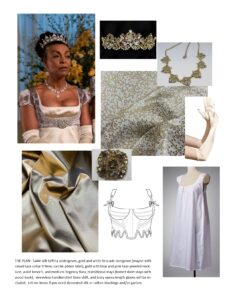 You can see how in the final product, this was still modified when we got it all together.  The sable silk taffeta becae ivory, and we added ivory opera length gloves.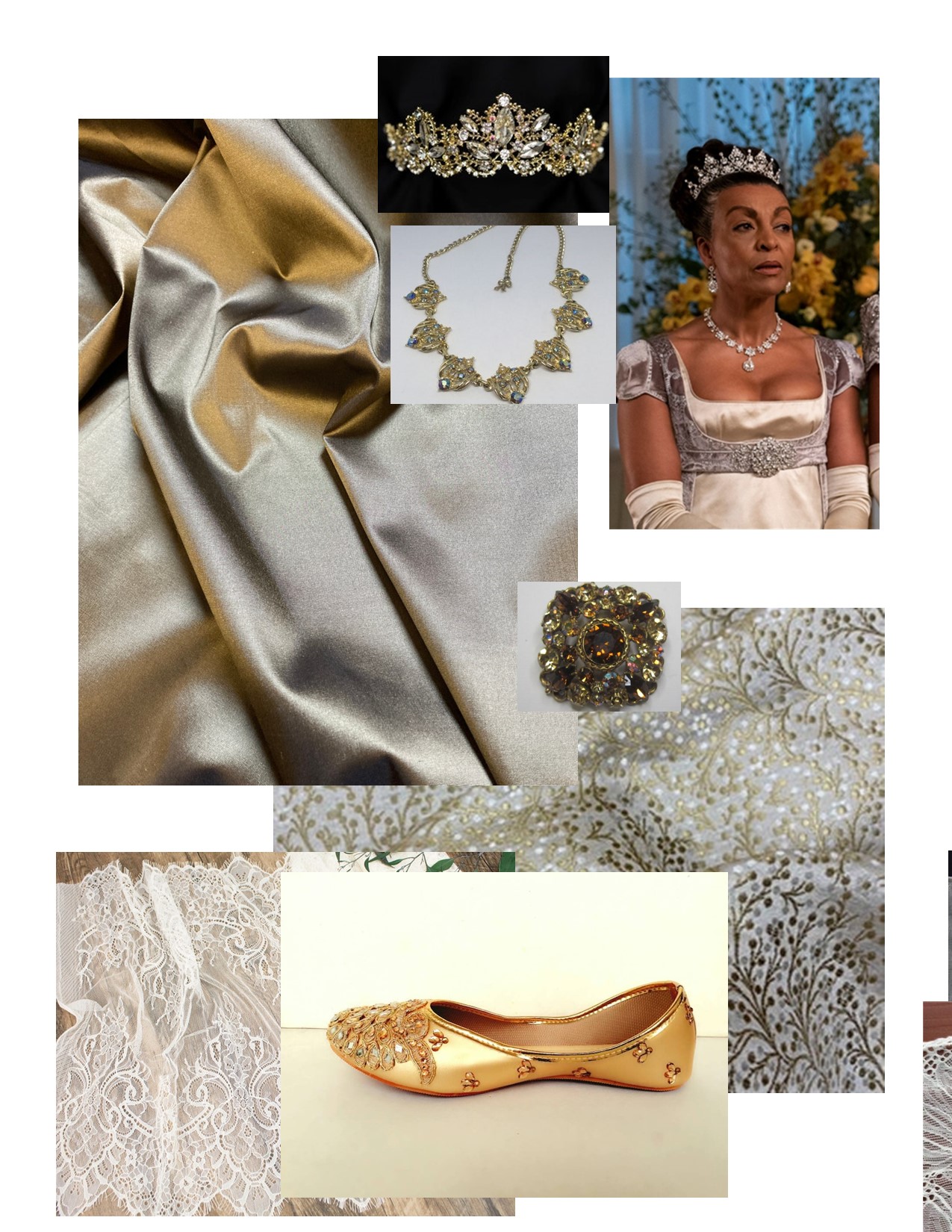 Resulted in: Tada!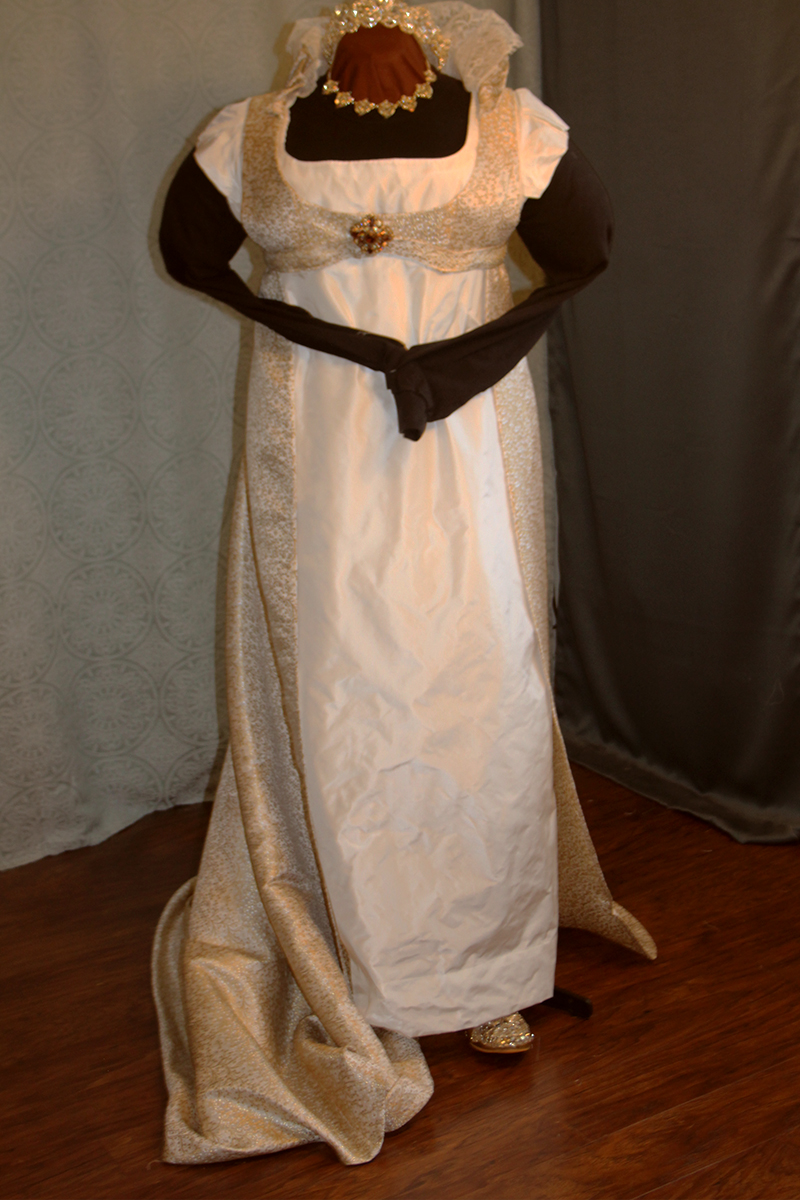 Click here to go back to the main page with the finished project (scroll to bottom of that page to see garments)
Click here to go to the Historical Context page