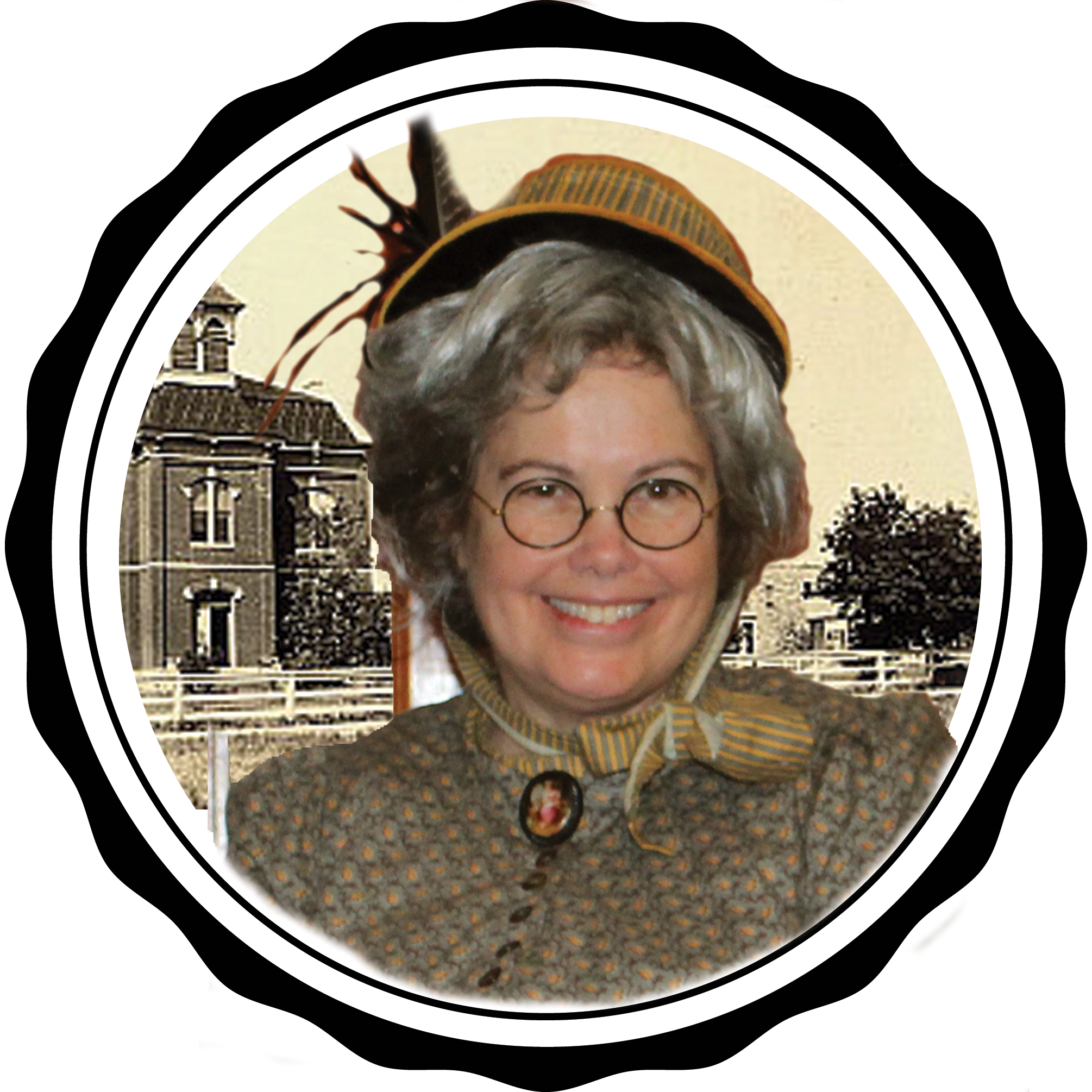 Suzi, Sunday Best Preacher's Wife, 1883Wyoming

Sunday Go To Meetin' by The Preacher's Wife
"Getting ready for an Independence Day Celebration at the church is no picnic. First there are the rowdies that come into town, just wanting to eat all the pie. Next you have to find someone to watch the babies so the mamas can enjoy some quiet with each other. Remembering one of those babies she just helped to come into this world makes her smile. While she was prayin' and singin', that little one just came out with a lungful of praise for his Creator.
It's a great thing the town is growing with young ones who will appreciate it for what it is right now, without pining for a home somewhere else. Since she got here after that long journey from Kentucky, it's grown from a 1-saloon town into a 1-saloon AND 1 church town that everyone can be proud of. She figures that balances things out a bit.
It makes her smile to think how many young folk she's helped find the love they have for each other. She wouldn't call herself a matchmaker, since she's sure they would have found each other eventually; they just needed a little nudge. That lovely new woman who owns the livery has agreed to let that handsome blue-eyed rancher escort her to church next Sunday, and it didn't hurt to bribe the young man from the stage company with apple pie if he'd stick around long enough to escort the fancy woman who just got off the stage to the picnic… which reminds her, she'd better skeedaddle to the store to get some of that cinnamon that just came in on the coach. She's due back to show that nice young boy how to ring the bell next Sunday."
Character development is not specific to a real person, but based on women of the time and place. Suzi's character is a Preacher's Wife and a pious woman, the wife of a preacher who came from "down south" to save the souls of those who are too far from civilization to hear the word of God.
She is sincerely a good & caring person who does many great things for the community without asking for thanks, including helping to birth babies, build a church, & her favorite pasttime – matchmaking. Considering this imaginary depiction is in a town of maybe 100 people in 1883, that's no easy task.
Her needs are simple, & so are her tastes. She brings with her the traditions and tastes of her southern homeland. She likes color and brightness, but knows she must be very practical, so she chooses things that work in the climate, but have a little twist of uniqueness ("so they'll remember what I told them"). Being a short & stout, she is not so concerned with getting the fashionable silhouette, as in getting the job done.
Suzi's Preacher's Wife adores her husband and loves everyone she meets. She's free with a handshake, and would give the shirt off her back if needed – which she has done at times in her life. Therefore she has only a few items of clothing – her "Sunday go a'Meetin'" outfit that she takes great care of, and two other dresses for daily wear. Her hat is modest and dark, but that's mostly because it's also old – it was Granny's and she likes feeling granny close to her – on her head where she remembers all that Granny taught her.
A woman of firm conviction & tradition, function triumphs over fashion every time, but she does dearly love the cameo her husband brought to her from his last mission trip. She touches it often to remind her of her mission to be a good wife & caregiver of their little flock.
Click to see Suzi's History of Time & Place Page
Click to see Suzi's Fashion History Research Page
Click to see Suzi's Design Development Page
Continue below to see the FINISHED PROJECT including photos!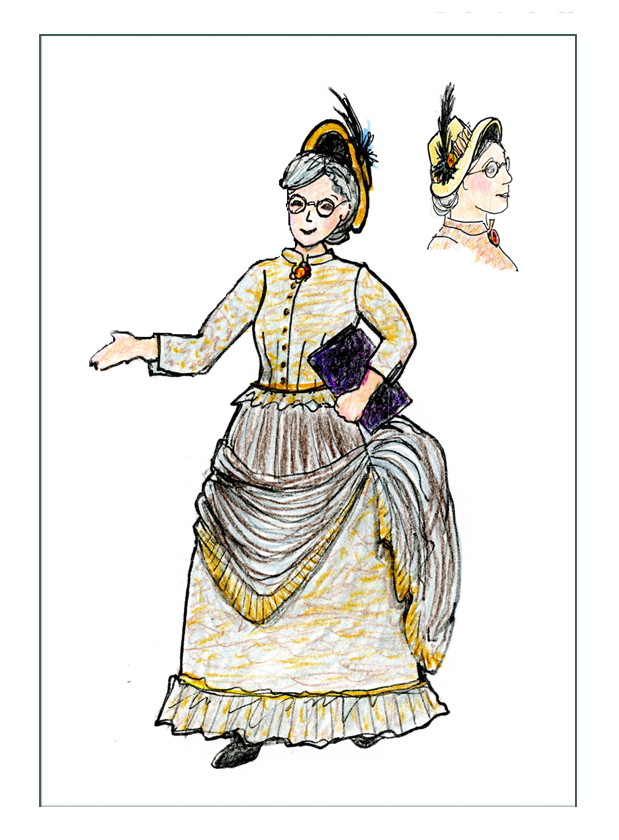 9 piece ensemble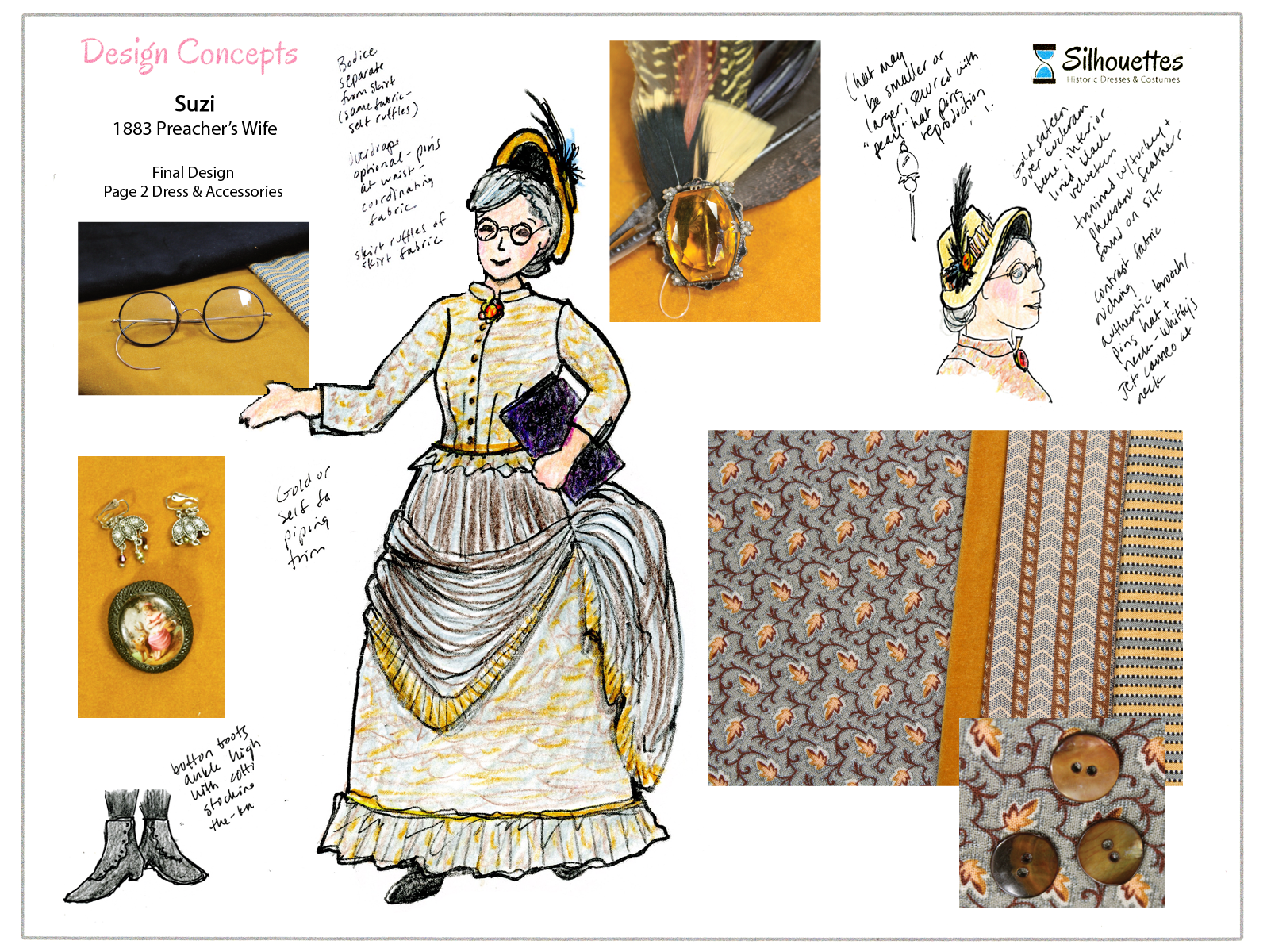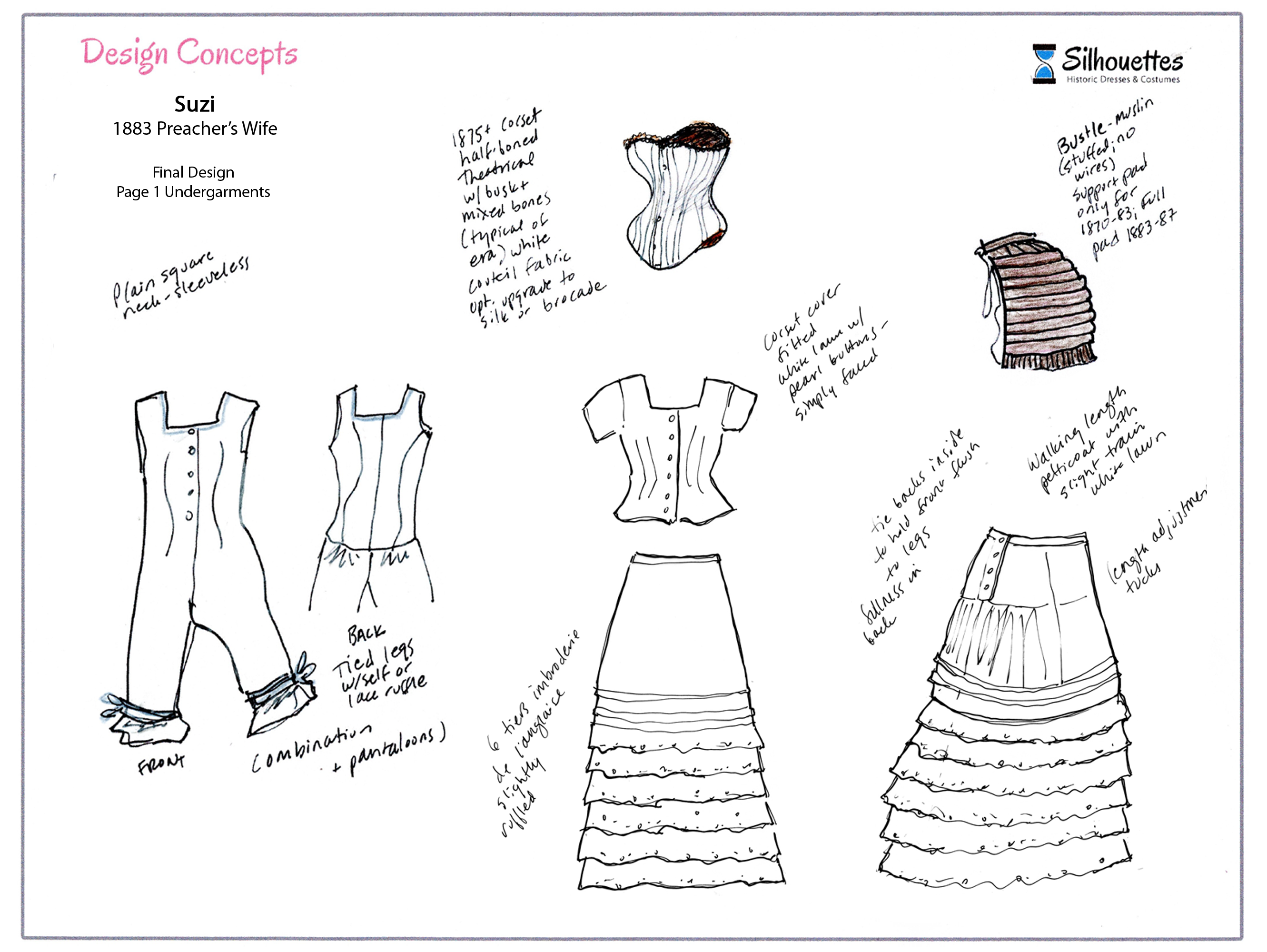 Final Fabric & Notions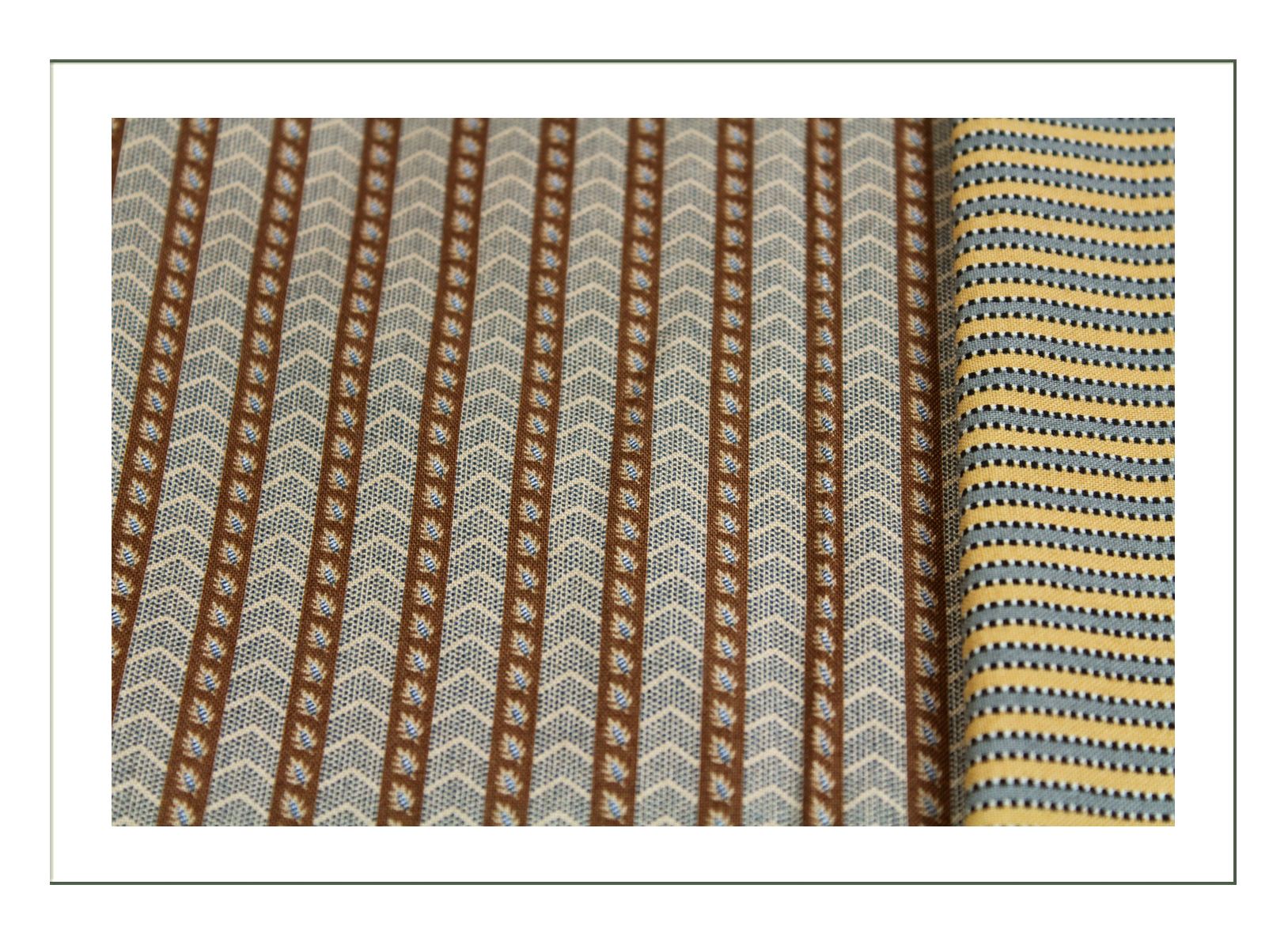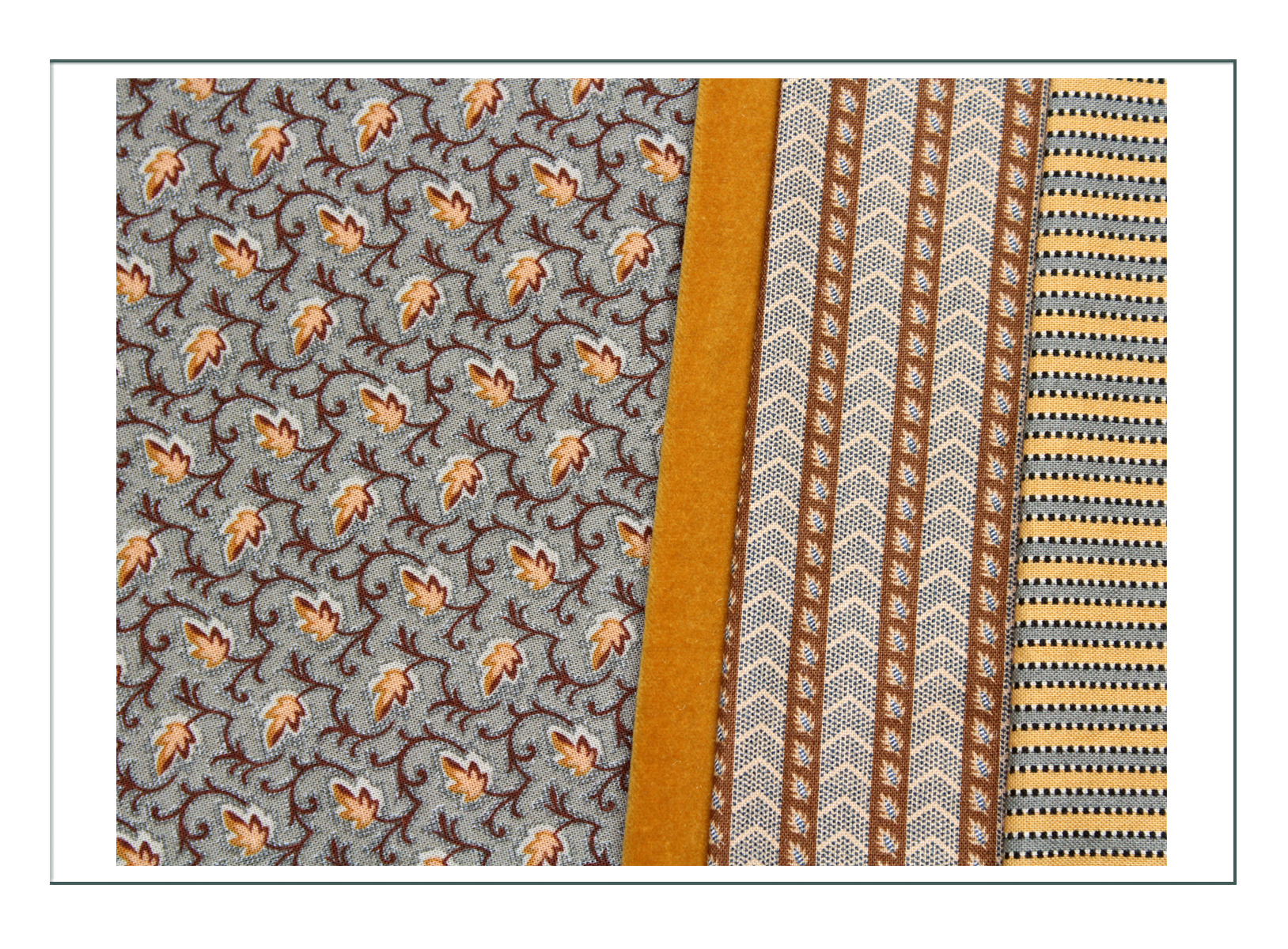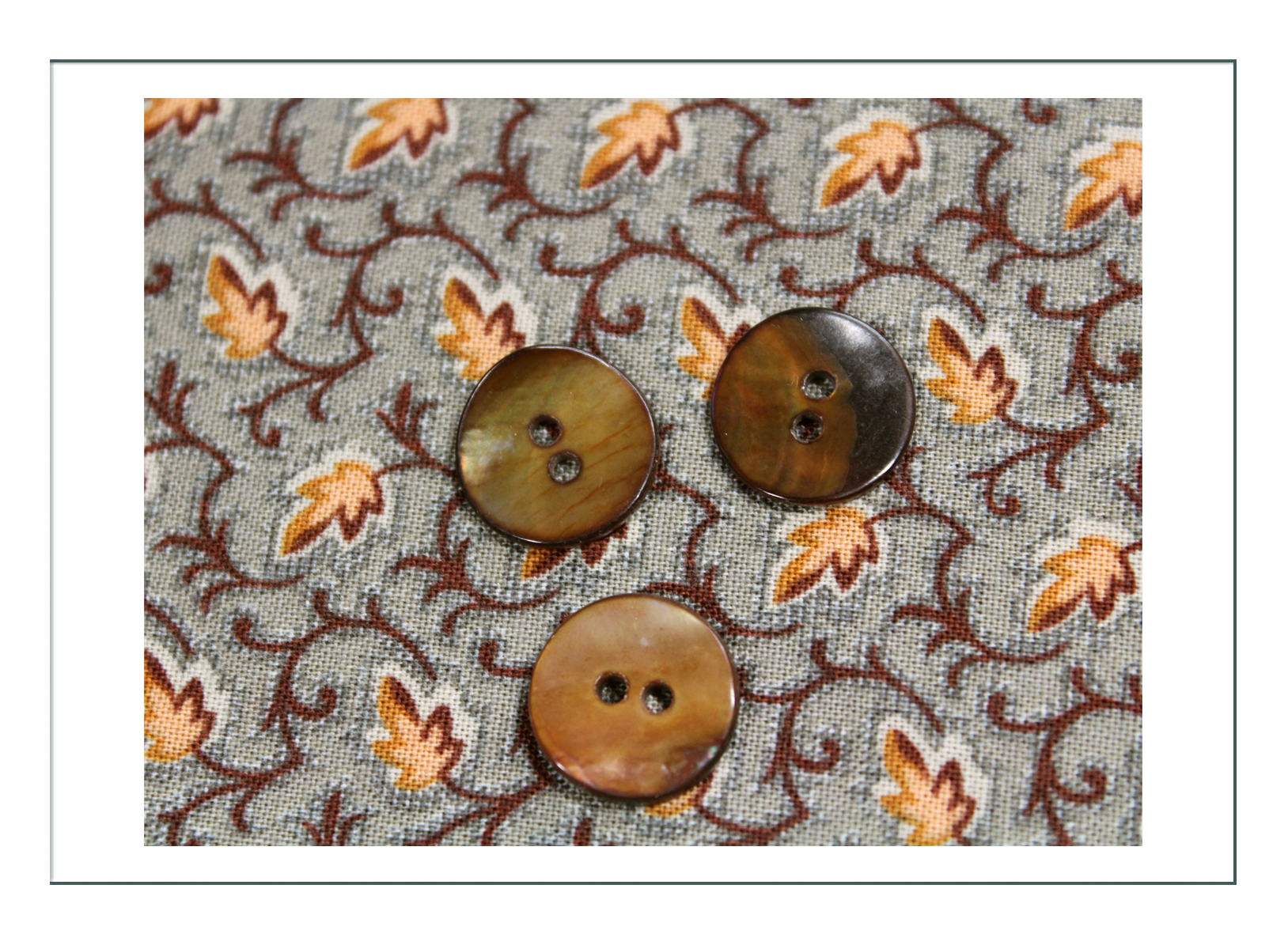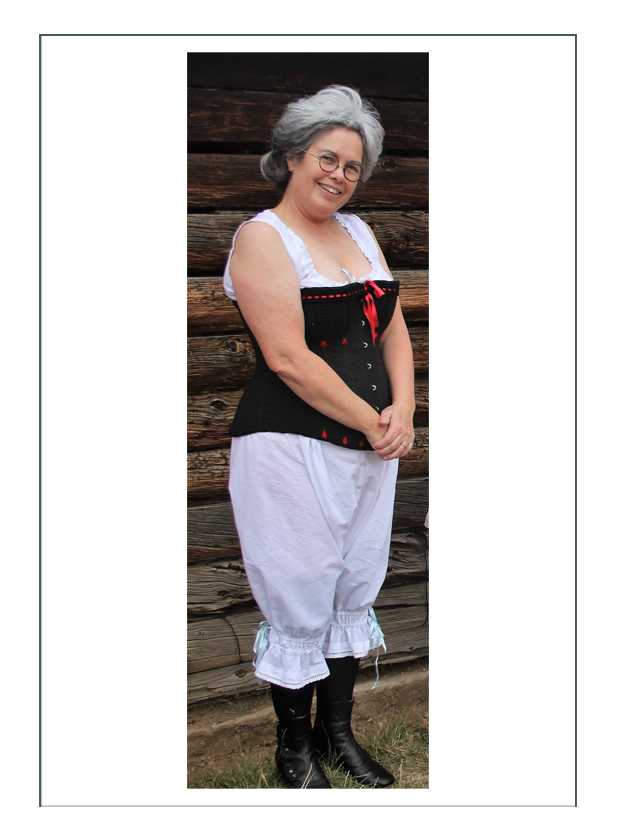 Combination (Chemise built with split drawers)
Specific to this time period, the combination is made to be smoothe in front and poofed out in back and sides to accommodate the desired silhouette. Made of thin lawn, it is sheer for model photographs, but very comfortable and washable to wear under the corset.
One goal in 1880's corsetry is to have nothing bunching up under the corset. The small, flat mother of pearl buttons with tiny buttonholes was not just for looks; they minimize the amount of "things" under the corset front.
A woman would put a lot of time and money into her combination; thus the real silk and handmade lace throughout, with special inserts that help with sizing. It was typical for a woman to have her sisters or mother with her to make a tight fit; this fits a bit too loosely because it was hard to find a woman to share the experience with, so modern techniques were used in sizing the darts and seams.
In authentic construction, the pattern is cut out HUGE, and then tucked and darted and made to an exact fit on the person.
As shown in this photo of Suzi wearing her costume the first time, ours is a bit looser than authentic, which suits her just fine, as she is getting used to the split drawers. She says the split makes going to the bathroom VERY EASY (surprise!), as long as she doesn't have underpants under the combination. That's a big no-no, because you can't pull panties down when your corset is holding everything stable.
Lessons for all on this project were: 1 fit to the body, 2 use your splits not your panties, 3 it doesn't have to be perfect; comfort and silhouette are the goal. The thin fabric and notions allow for adaptablity, and the tight corset keeps it all together.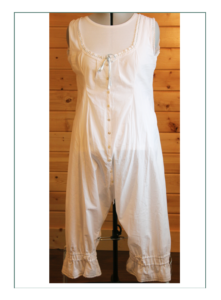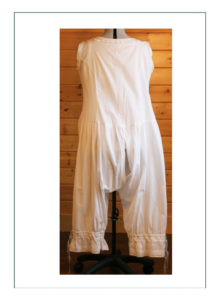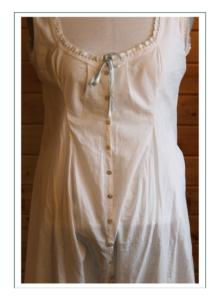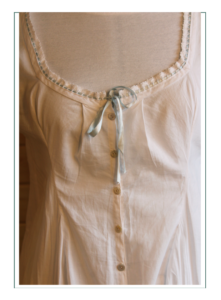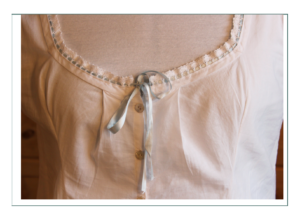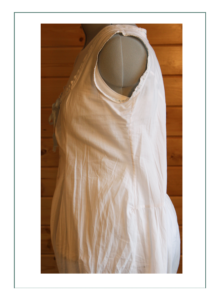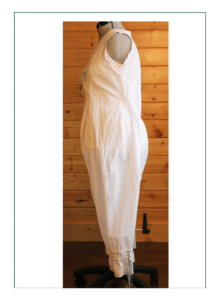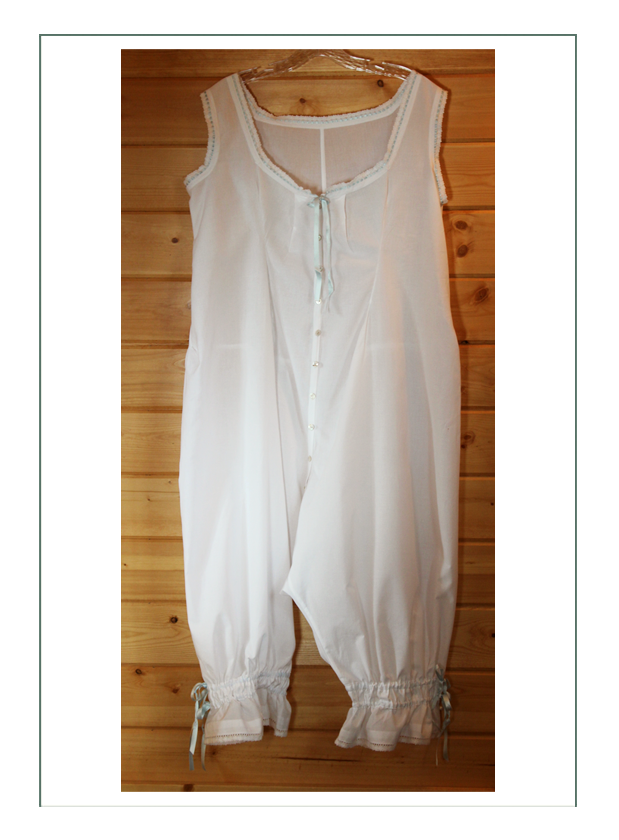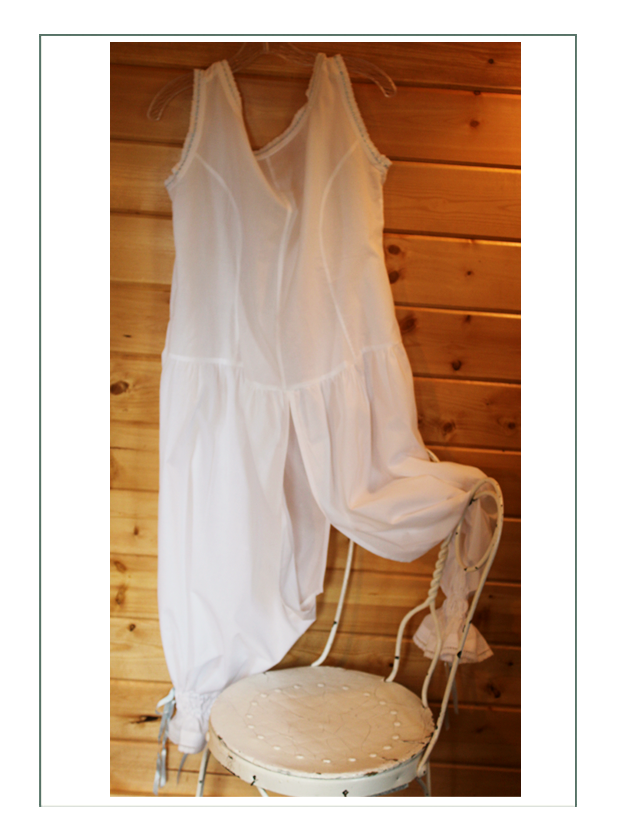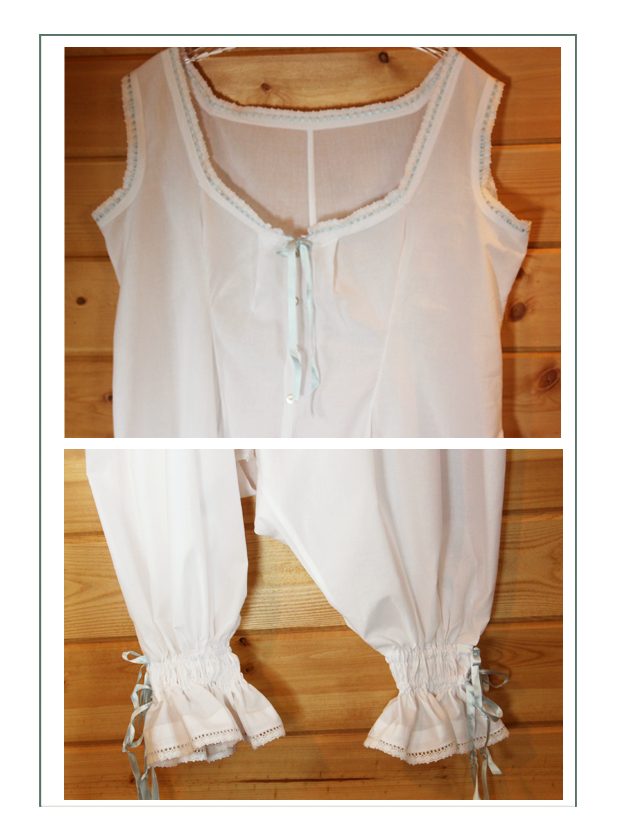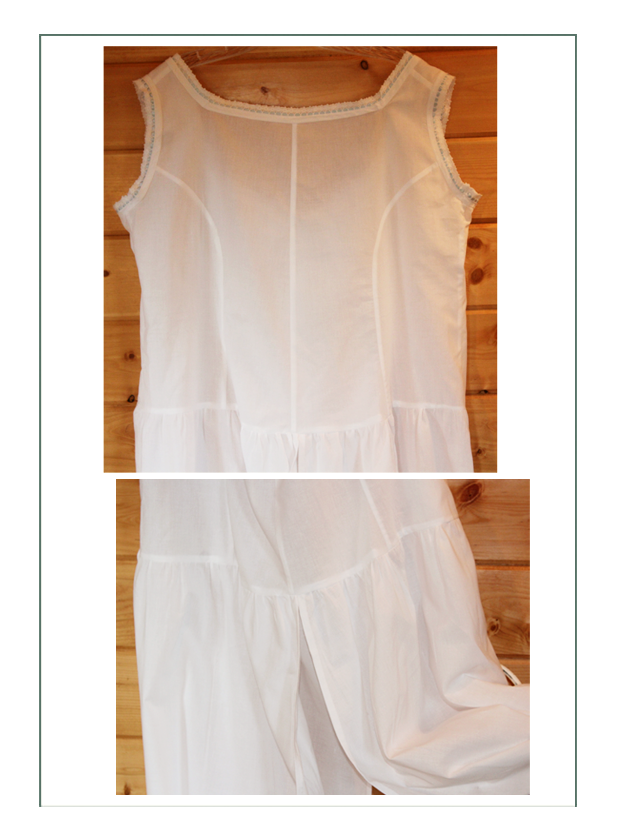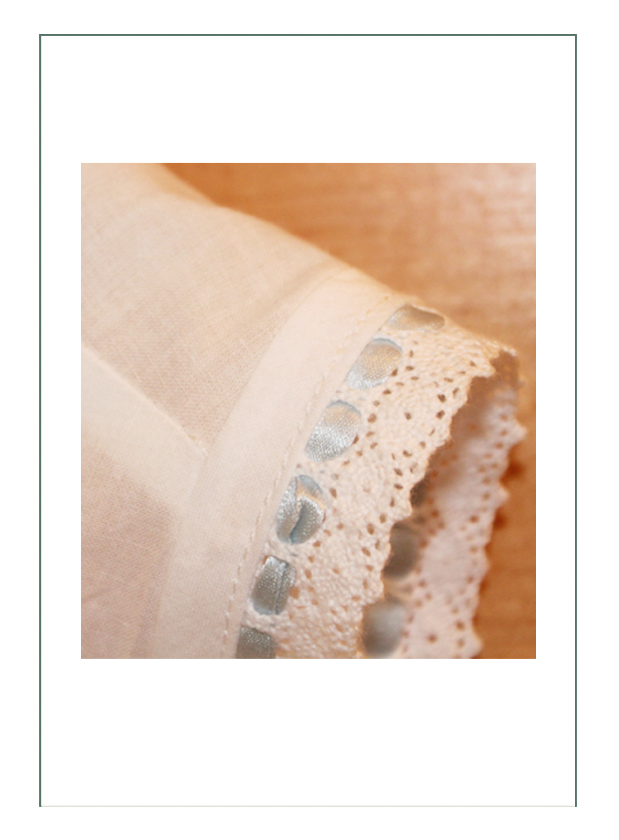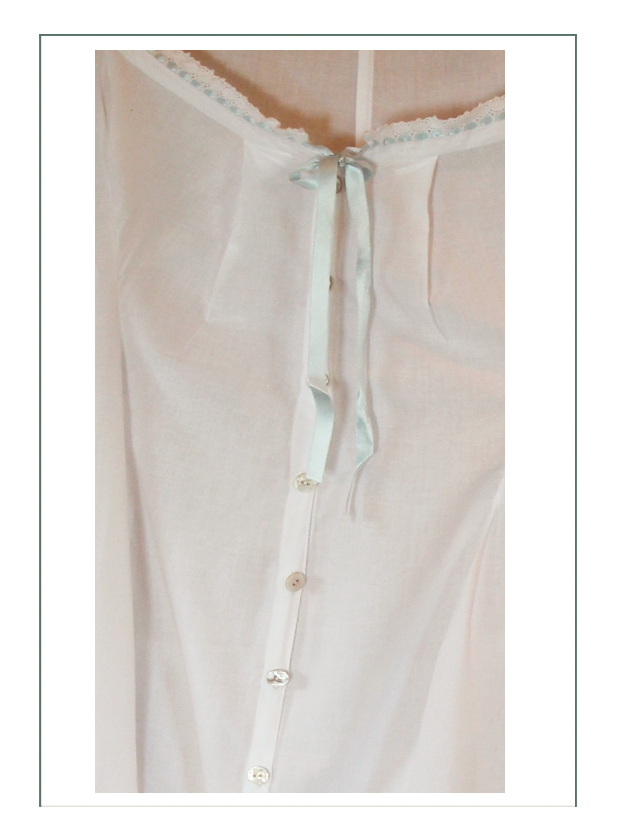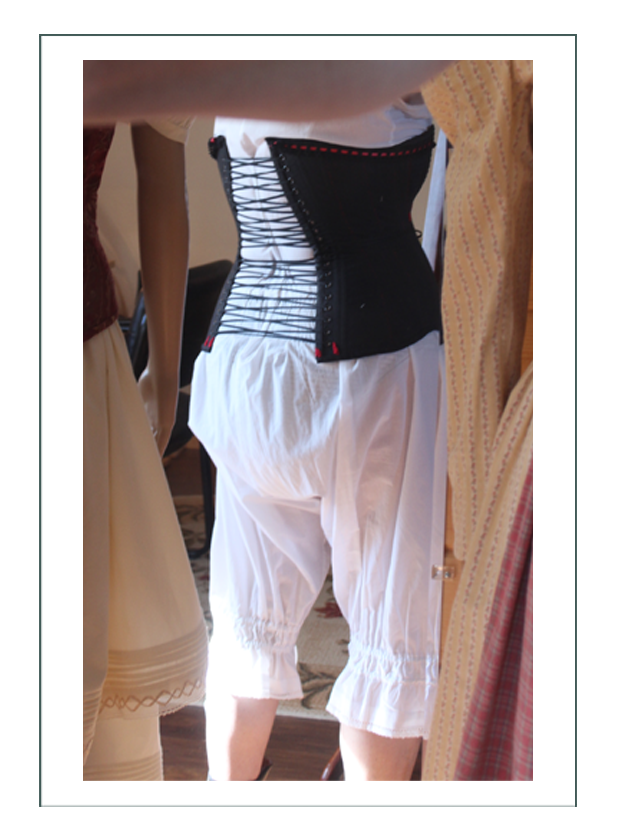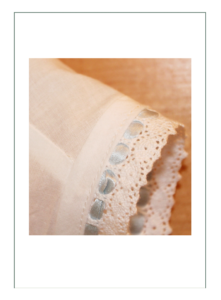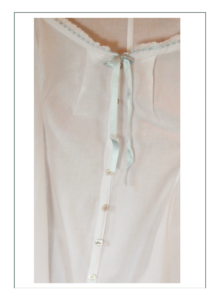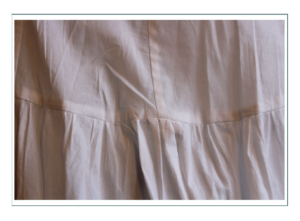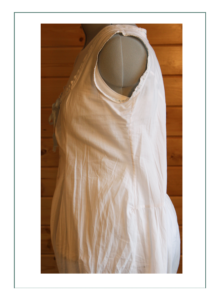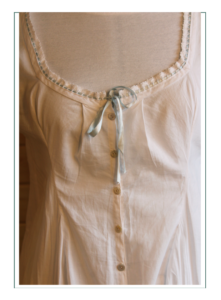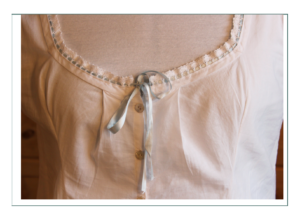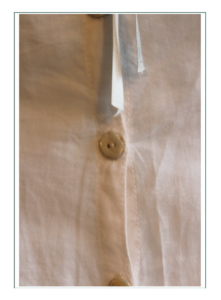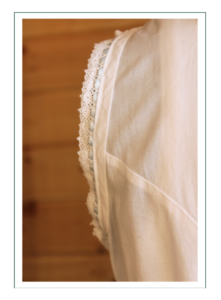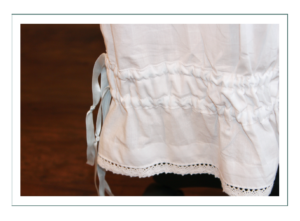 Corset
This was the longest overall corset of all eras. It was built very strong with metal bones, supports, and yes – even padding to give higher lift and a longer profile.
The 3rd gussett modification at the bust was probably not needed, but makes for a fun silhouette to balance out wider hips and belly. The proof will be when the bodice is fit – the silhouette should show a slightly narrowed waist, flat front, and wide back.
This is made of couteil fabric and is fully lined with couteil lining. The red and black scheme was ALL the rage in mass produced or custom made corsets of the time. Intricate embroidery protects vulnerable boning points of the metal spoon busk. A working woman's corset of this era would also have a duplicate metal busk support behind it, ans the long length makes the expensive busk (the most expensive part) vulnerable to snapping when one bends.
This is a spoon busk, which brings the bottom inward towards the groin so there is not a pointy part showing on the skirt which is desiring a flat profile in front. The back we don't care about because it will be bustled and sticking out; he more "stuff back there", the better for 1883.
Suzi's first reports were that it made her sore back feel good like a back brace! Second, she learned you have to put your boots on FIRST, because you can't bend at the waist at all to see your feet. This is one very strongly made corset with every seam and edge double finished for durability, which Suzi says is good, because she's almost bend the busk pegs trying to cheat and not do the back lacing.
We put back lacing plus busk in whenever we can so that the performer can get into it themselves without a maid. Husbands are no good at lacing, and they tend to go really tight on that middle rabbit ear. When done correctly by our Corsetierre Mary, however, so the laces are dead even up and down, the fit is perfect (with a little bust padding cheat), and very comfortable for extended wear – AND – Suzi loses 4″ off her waist too!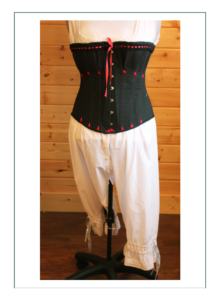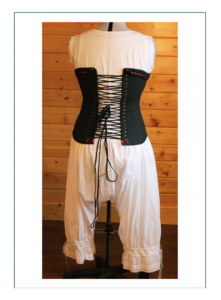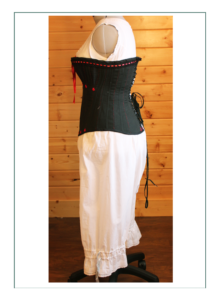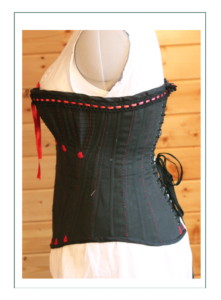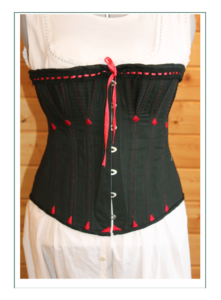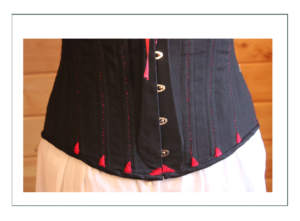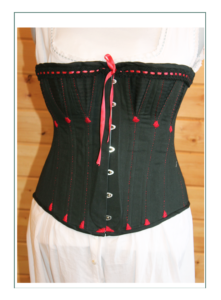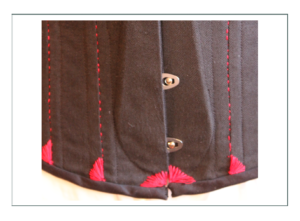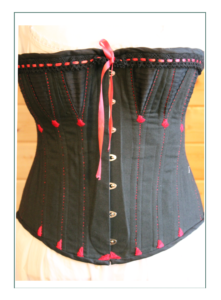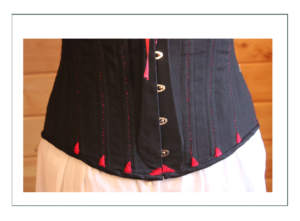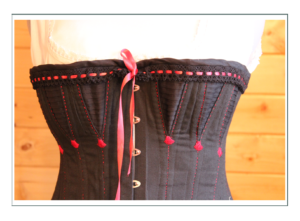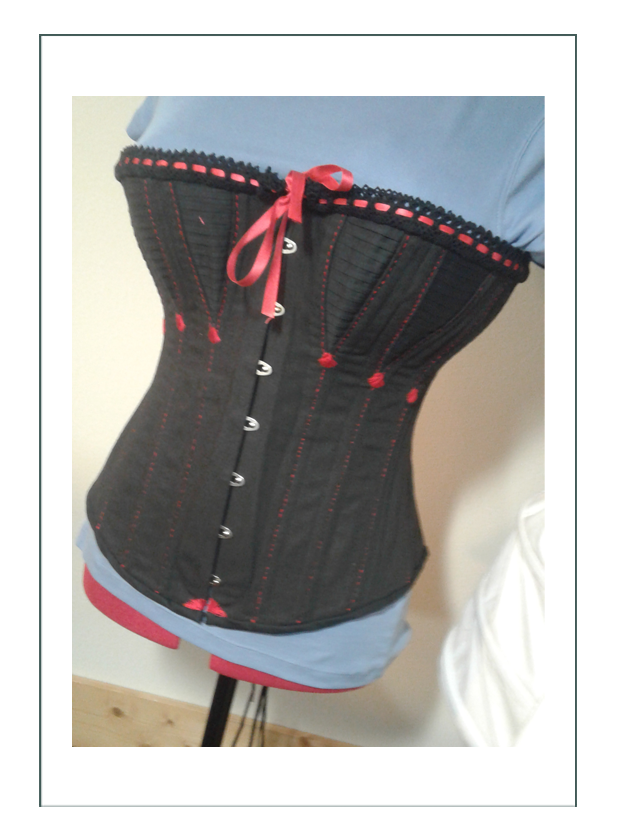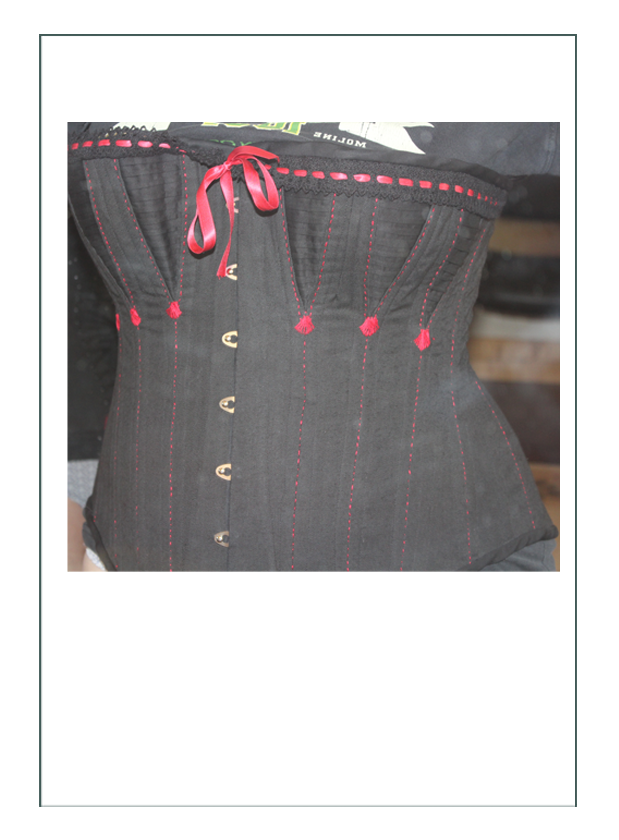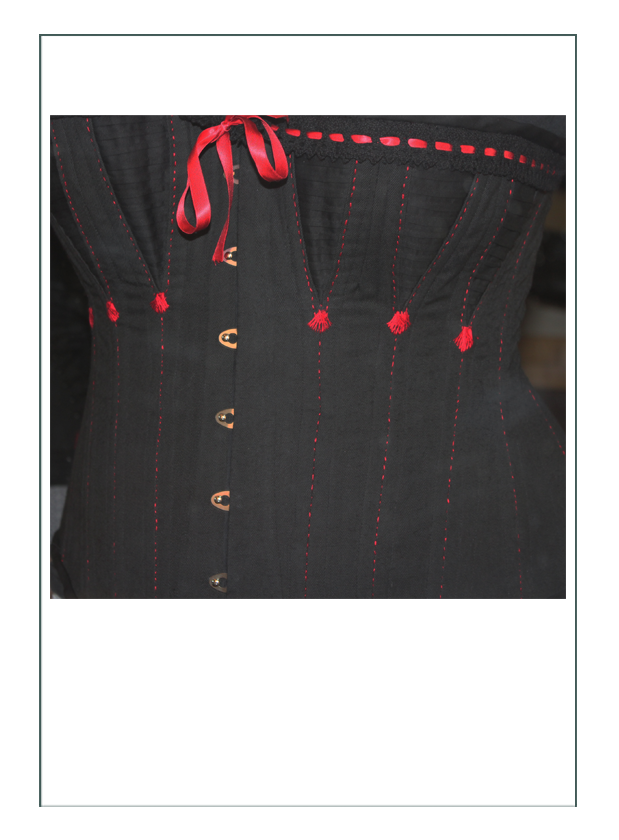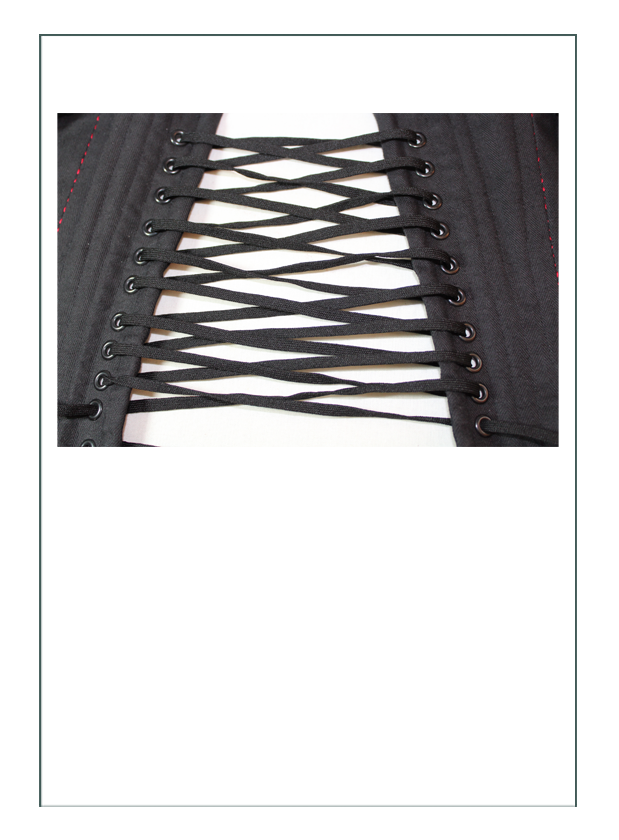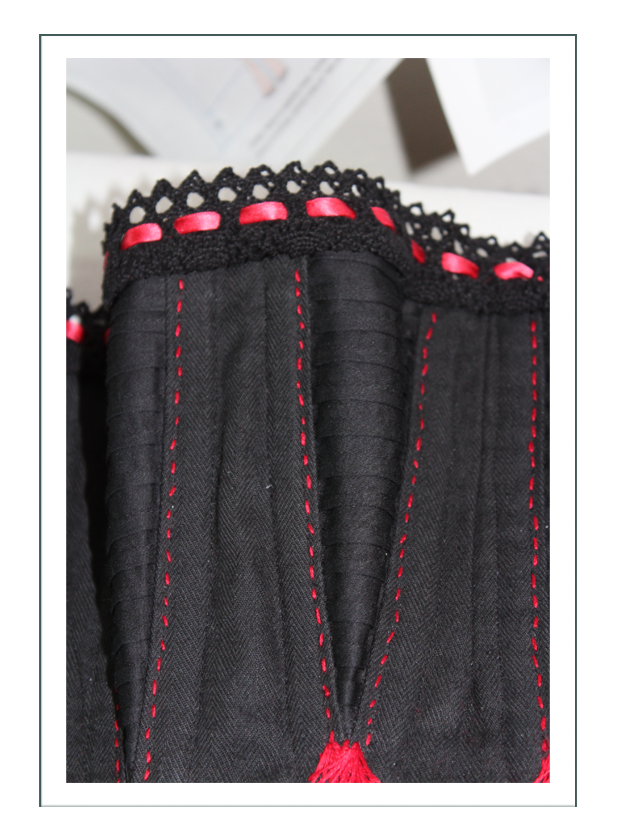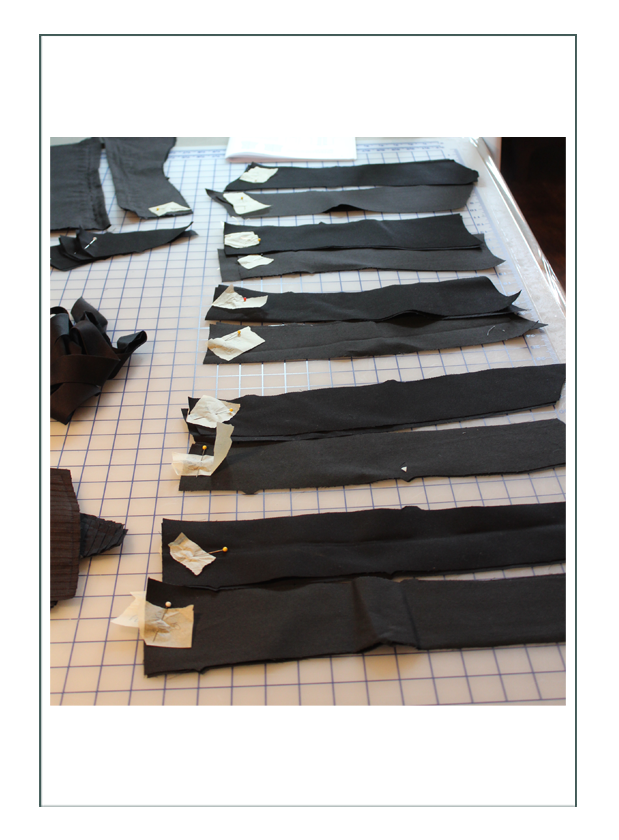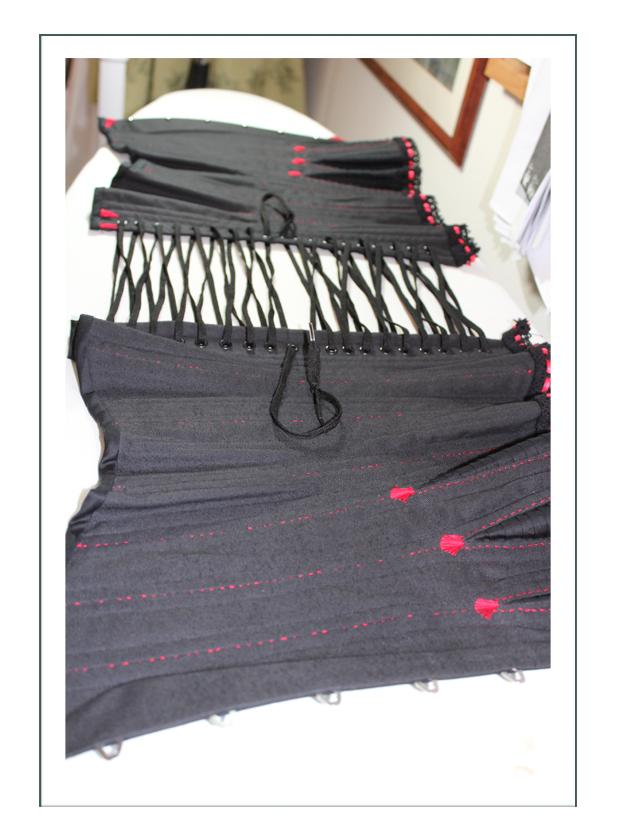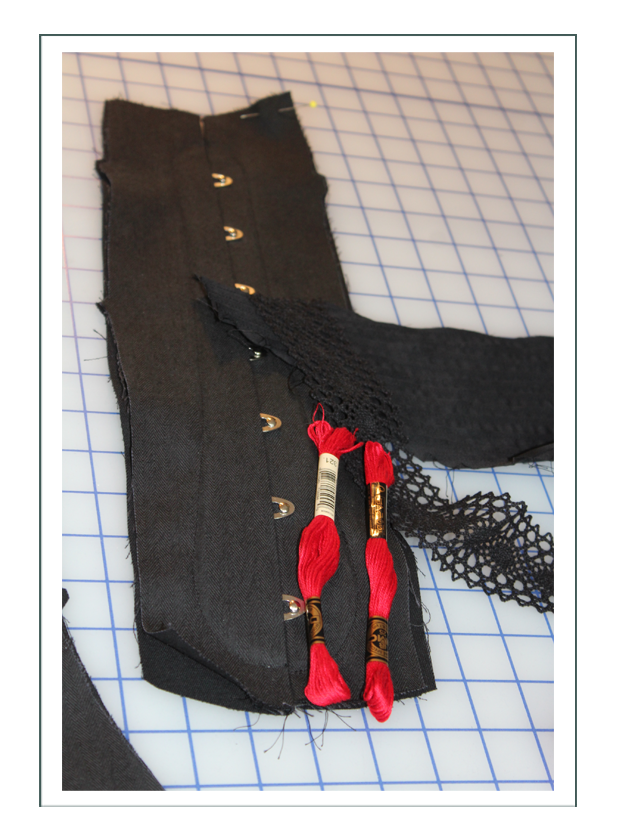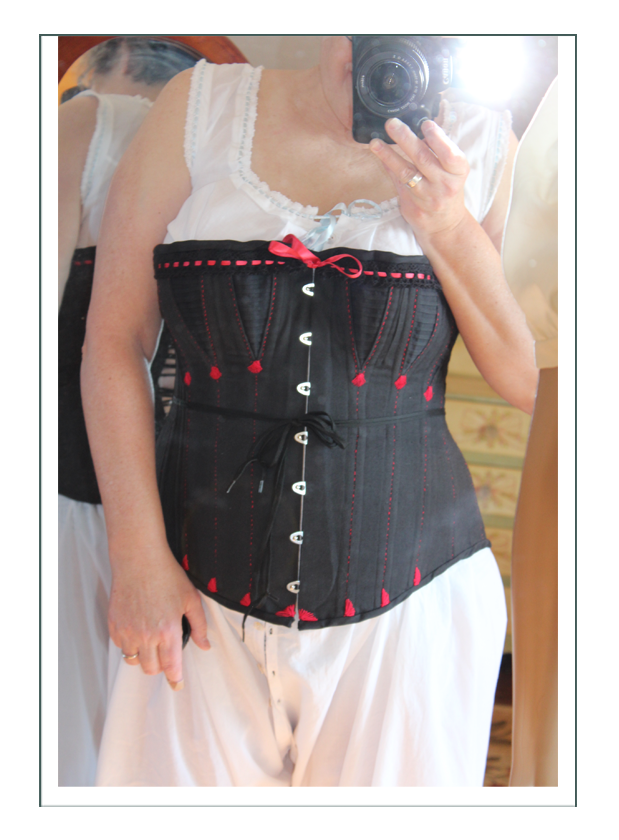 Corset Cover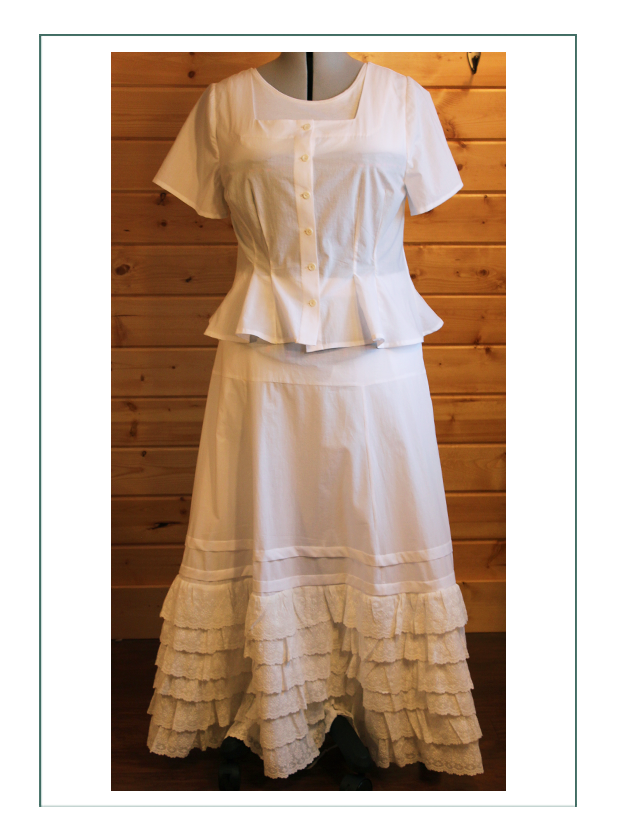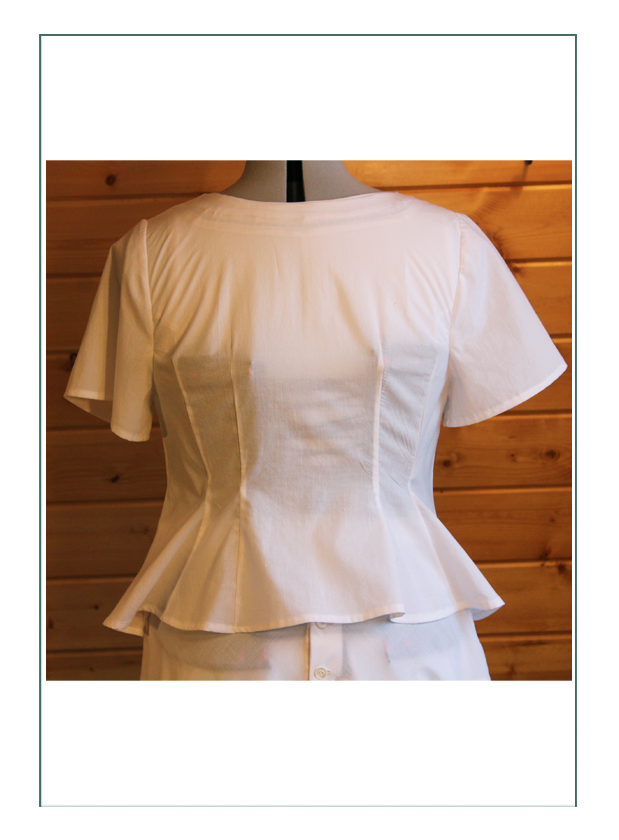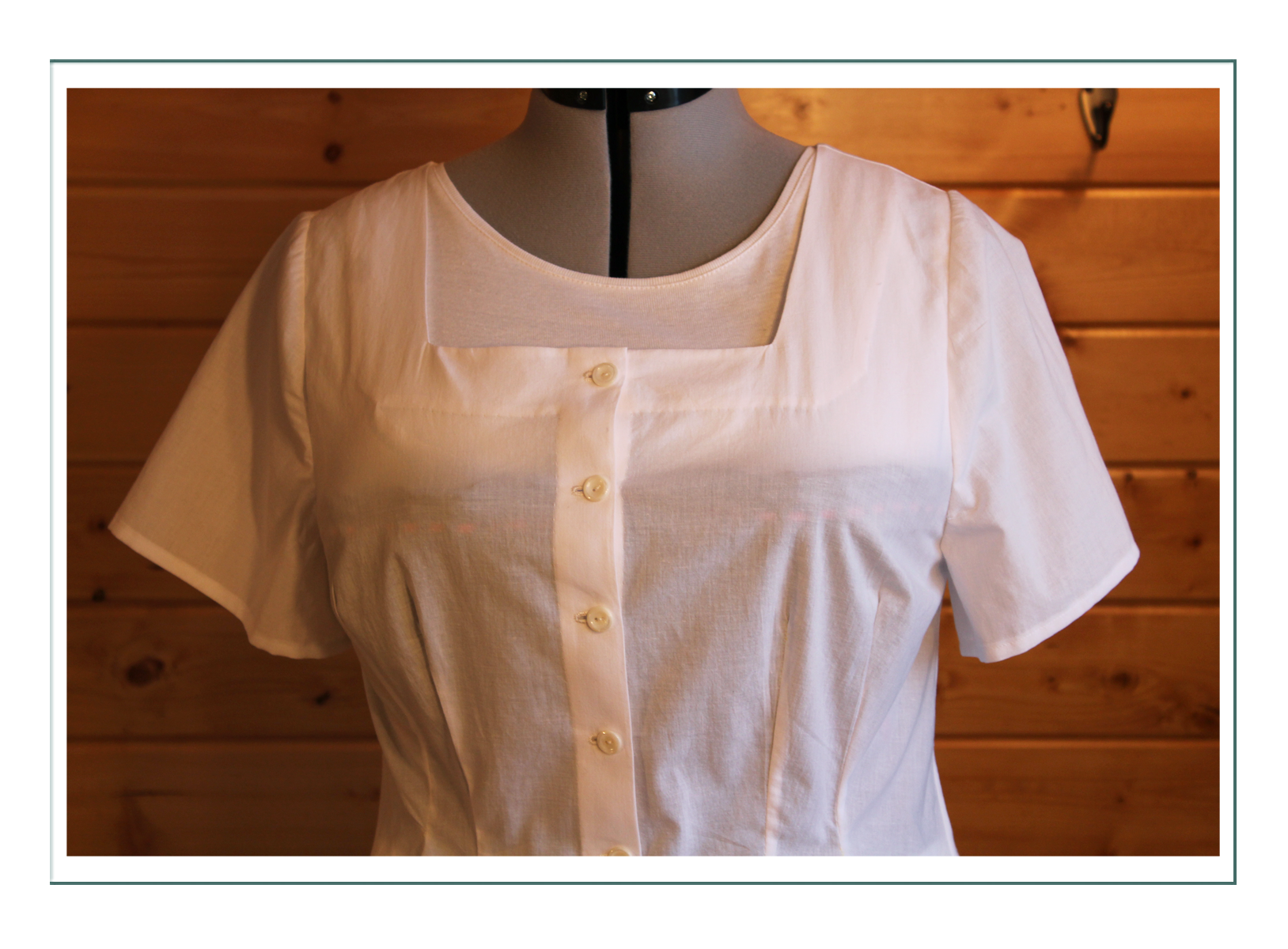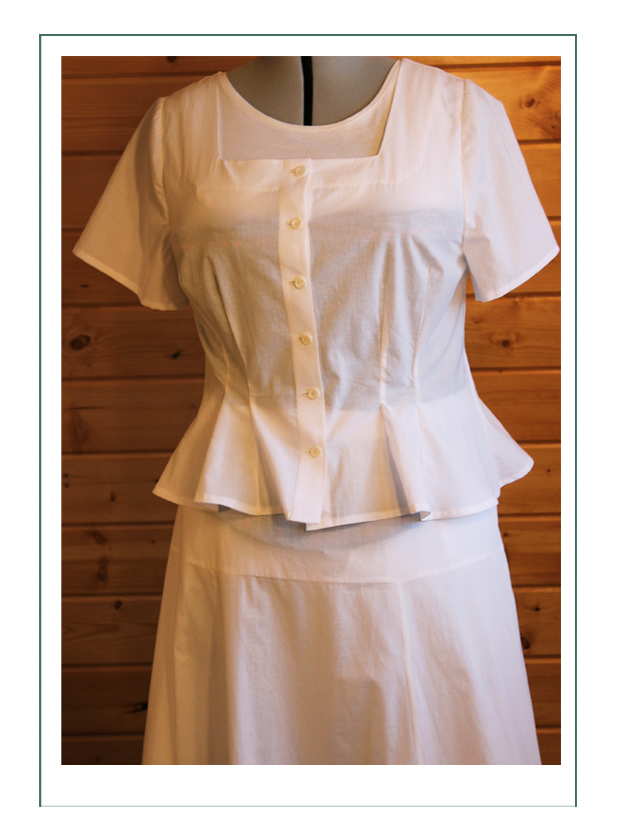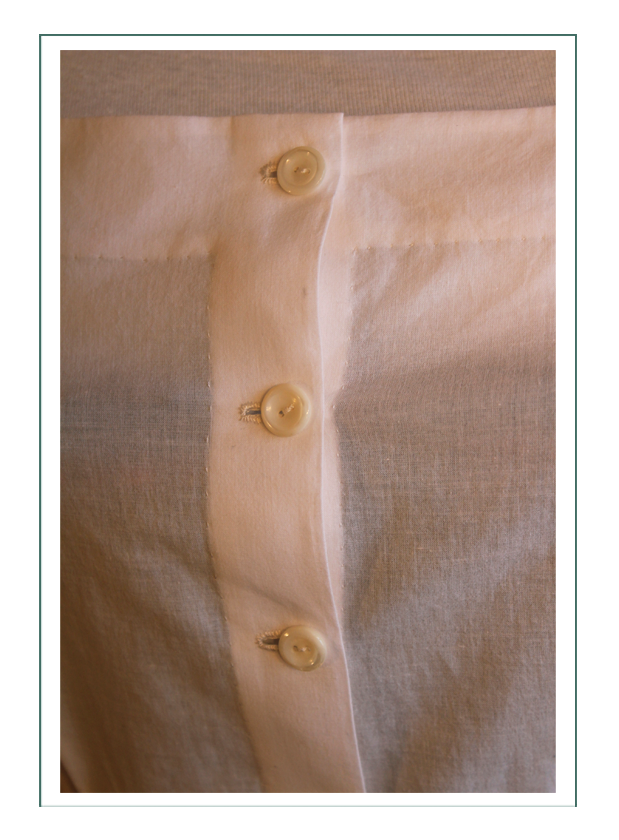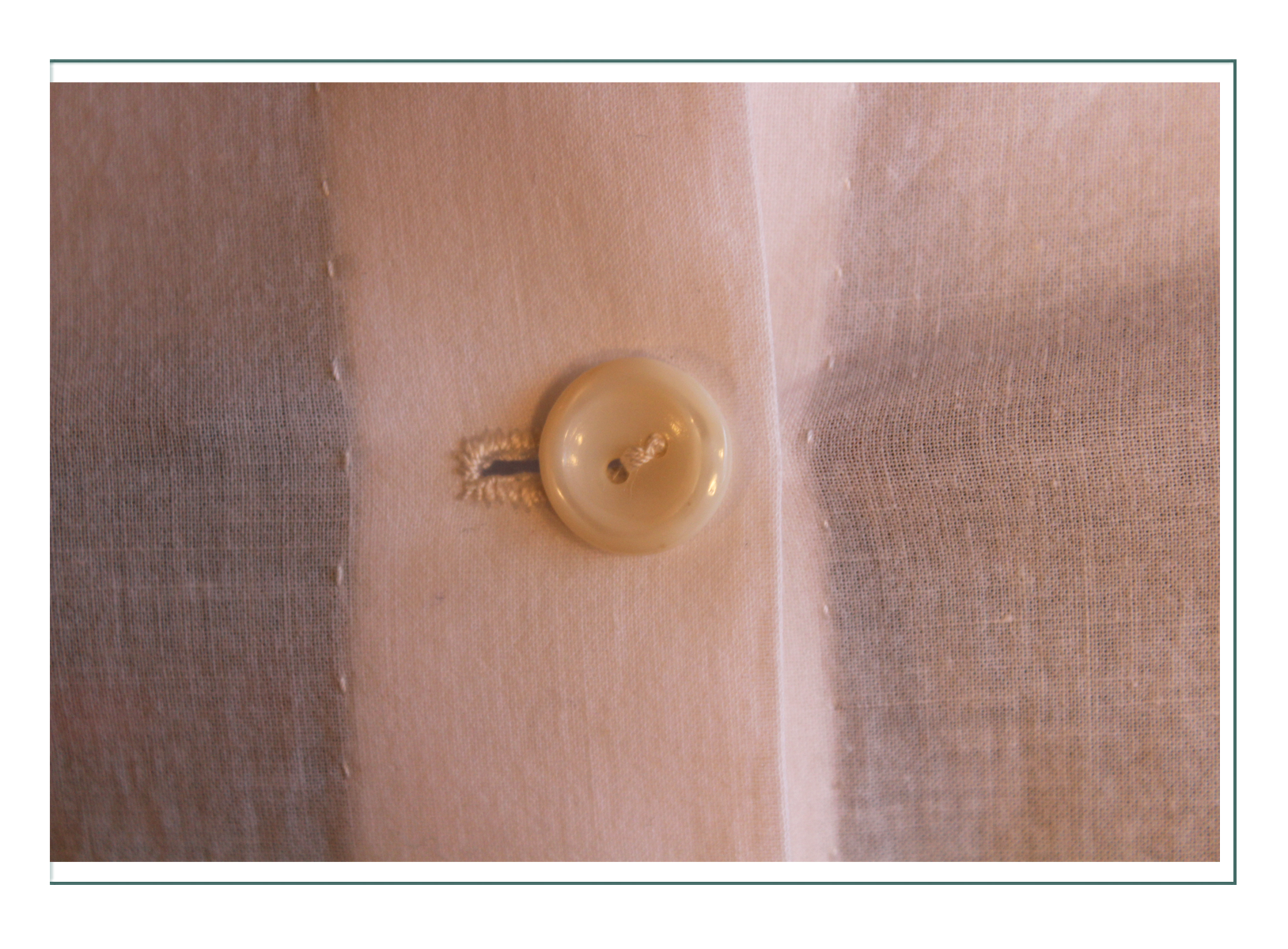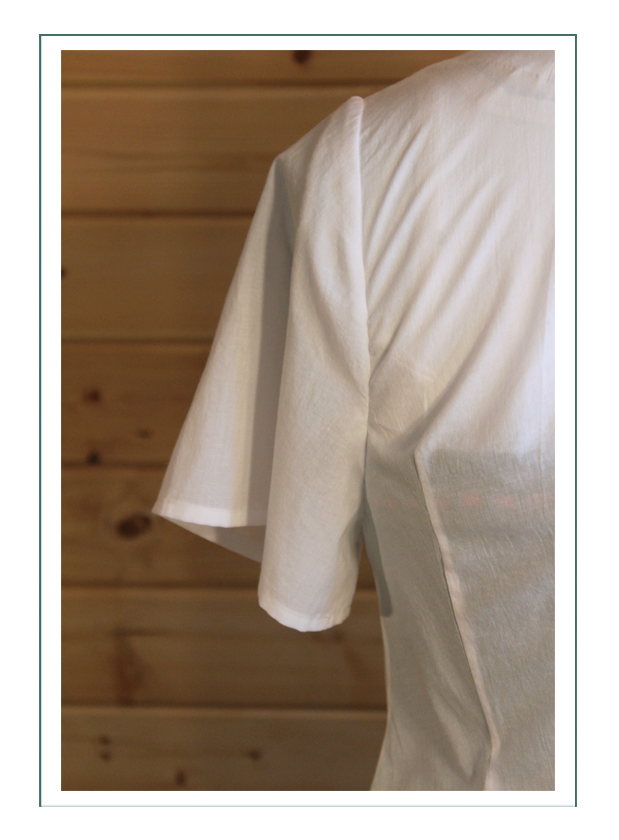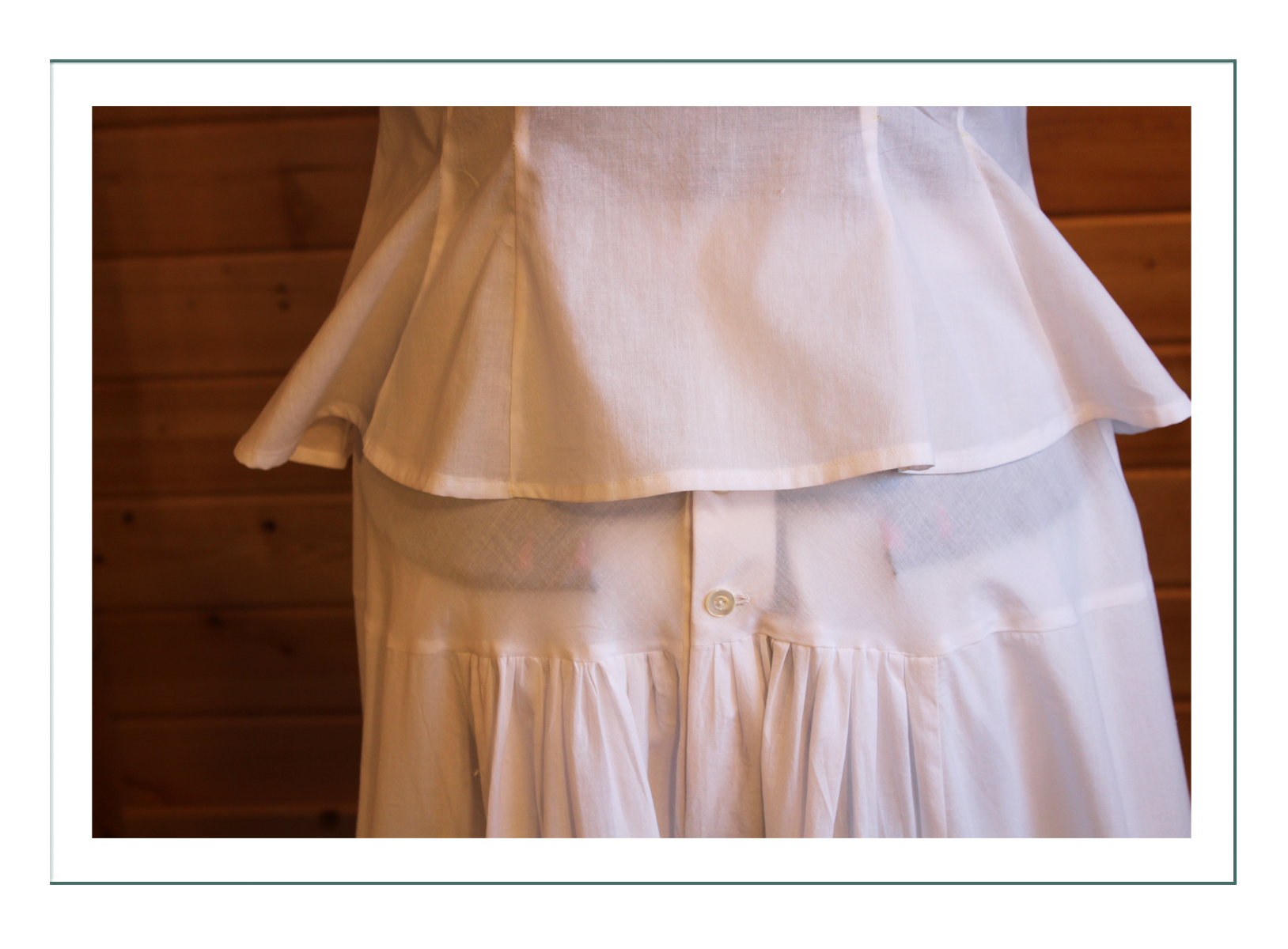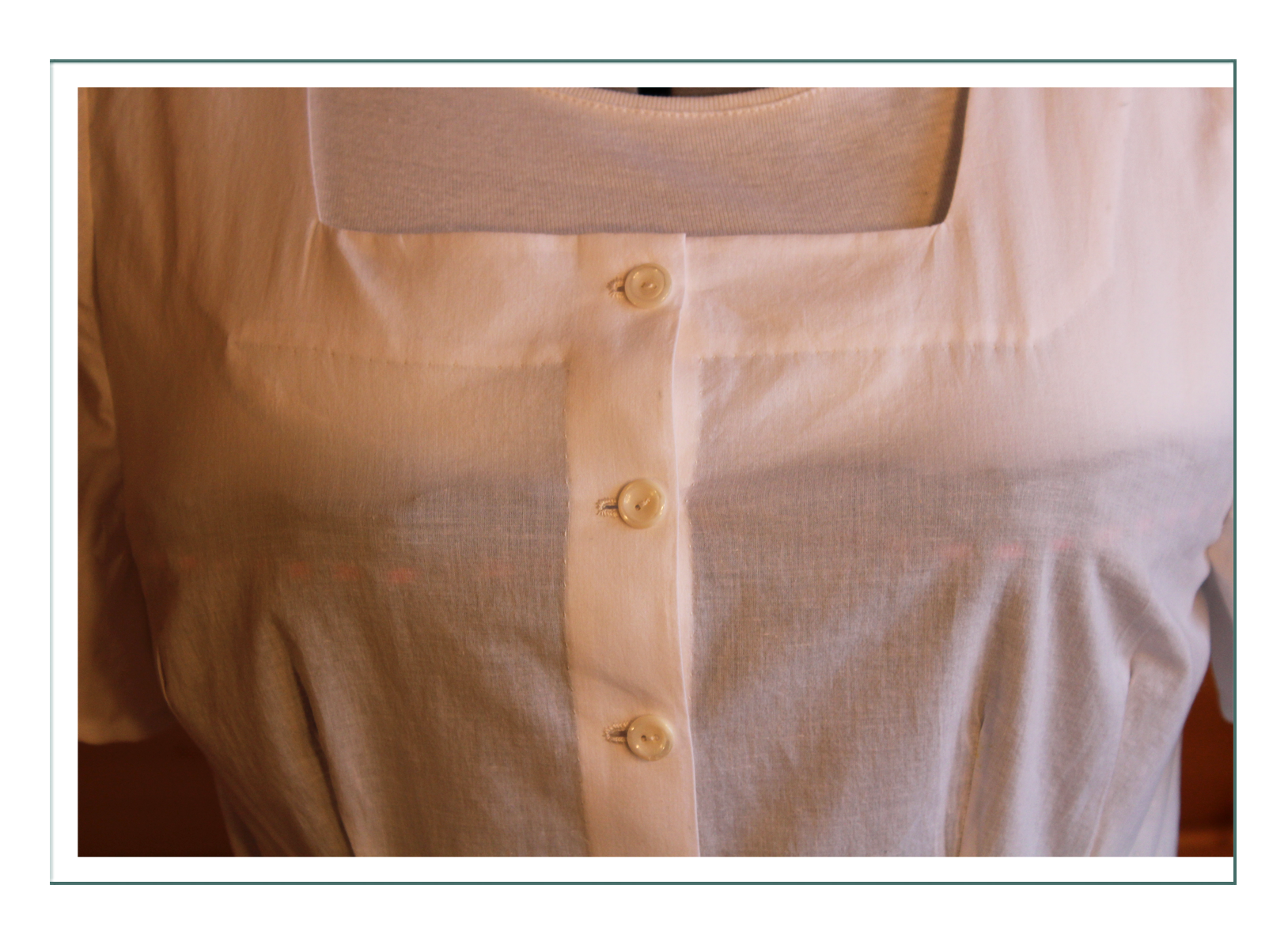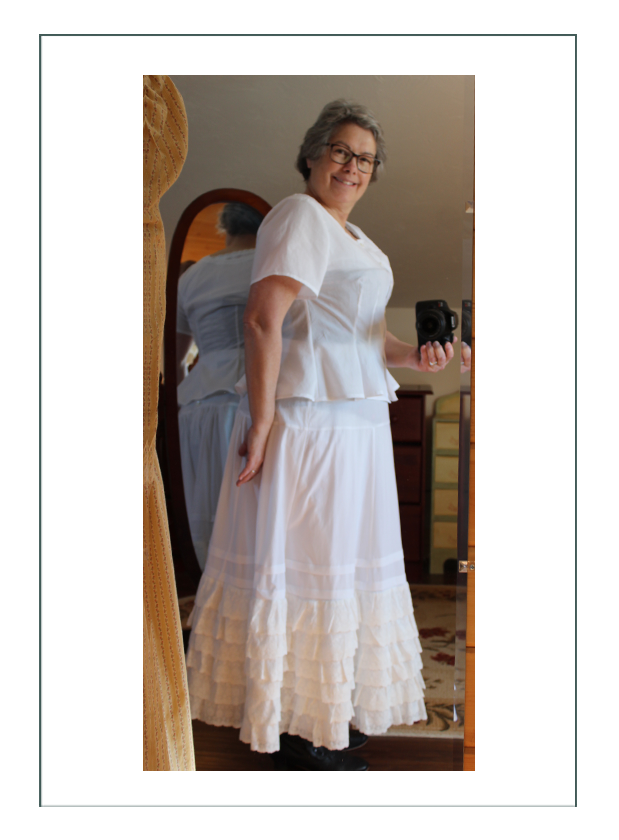 Petticoat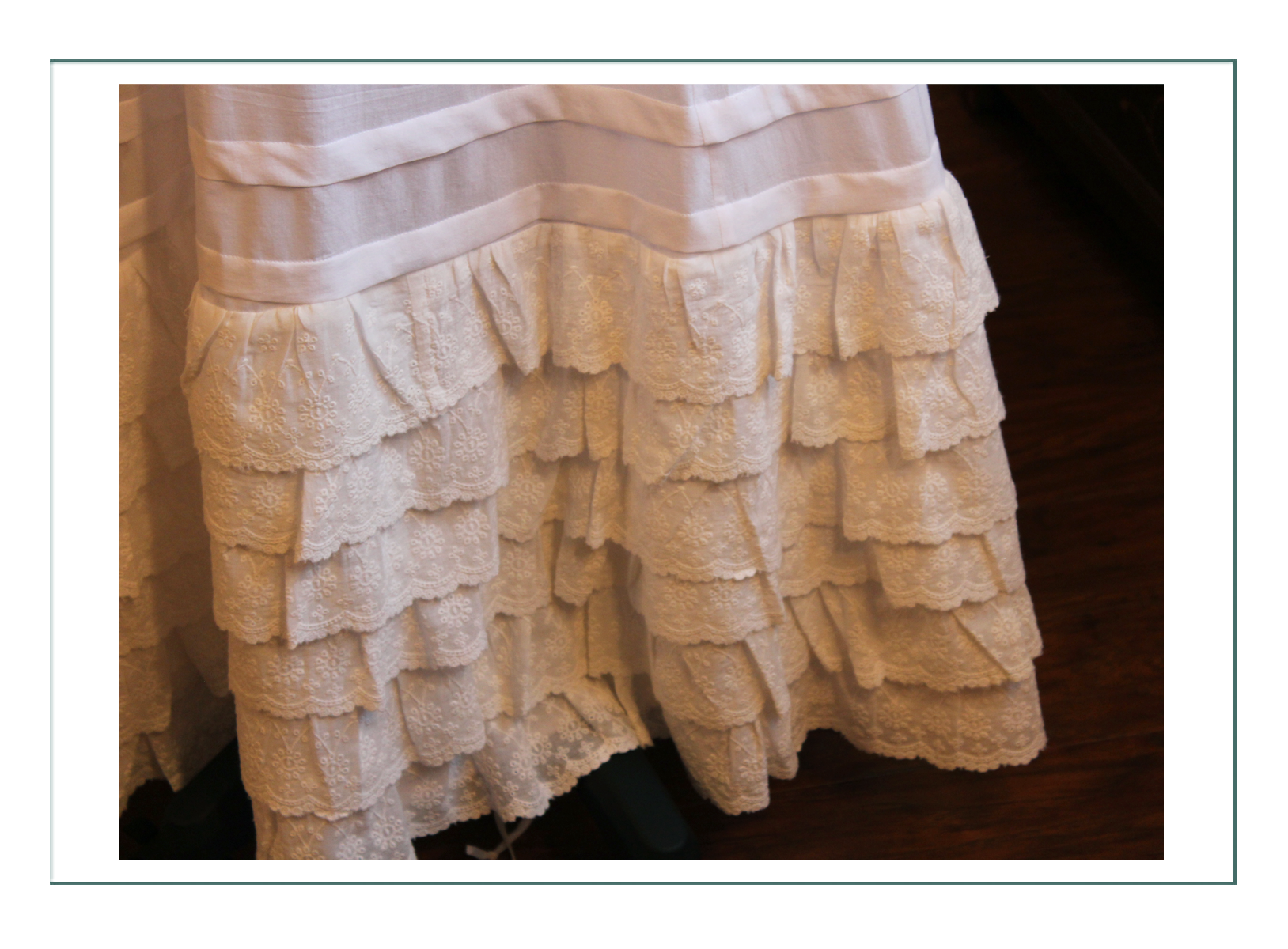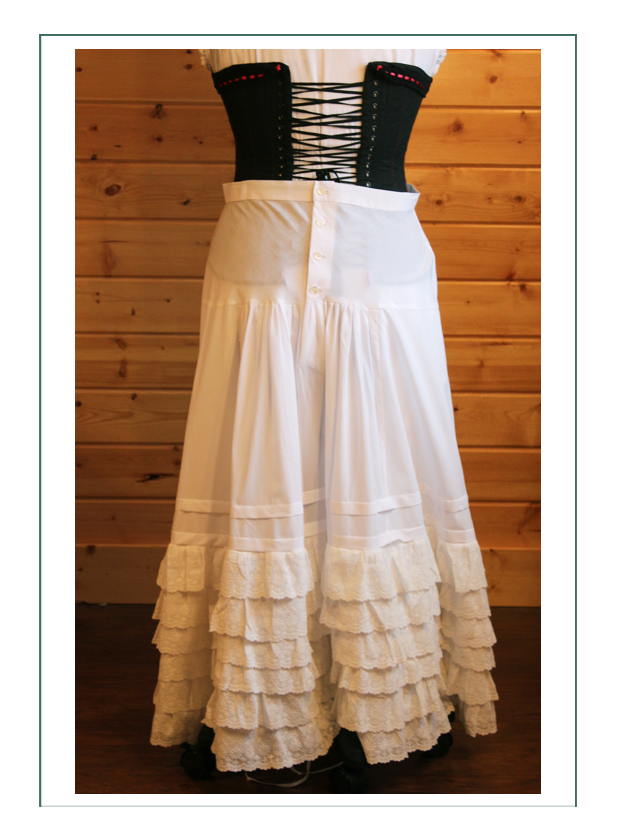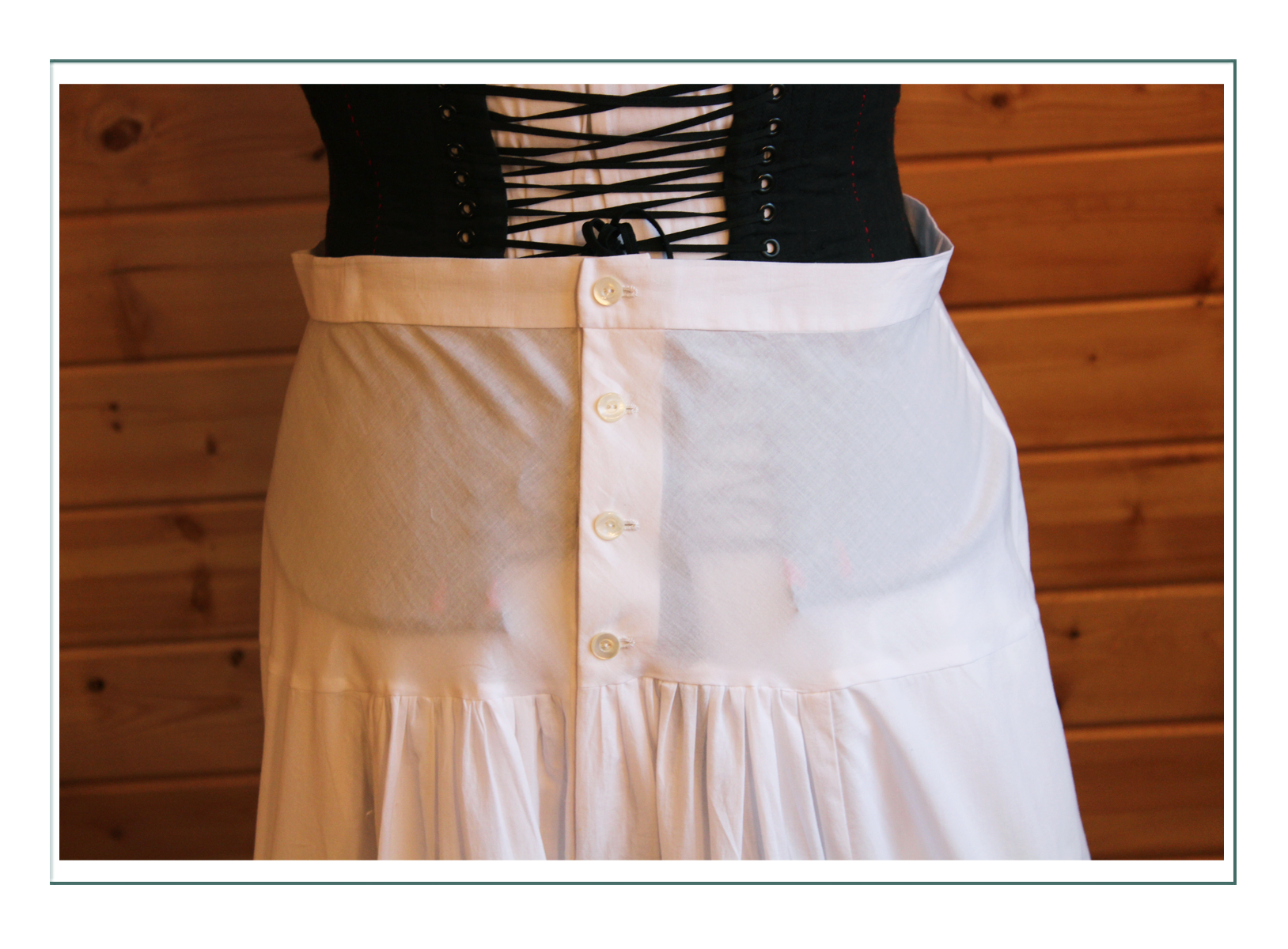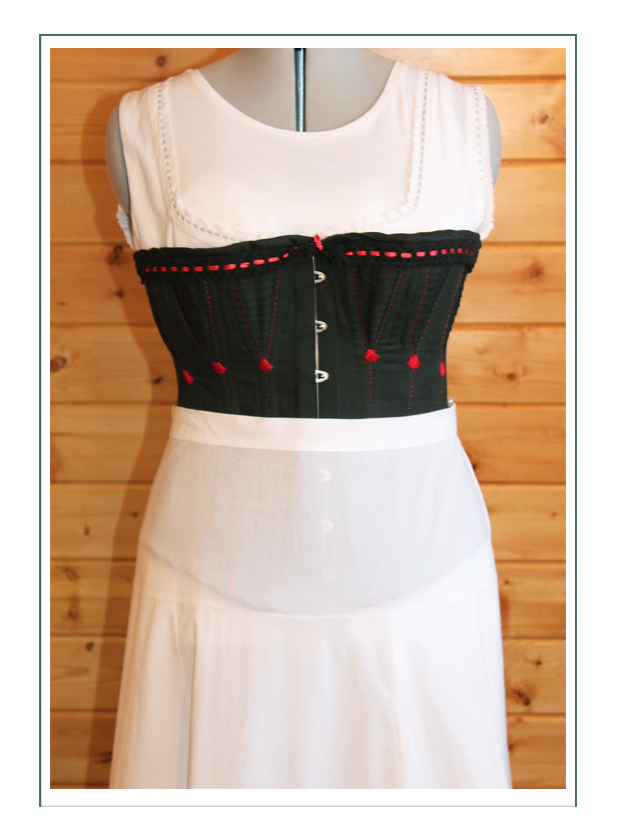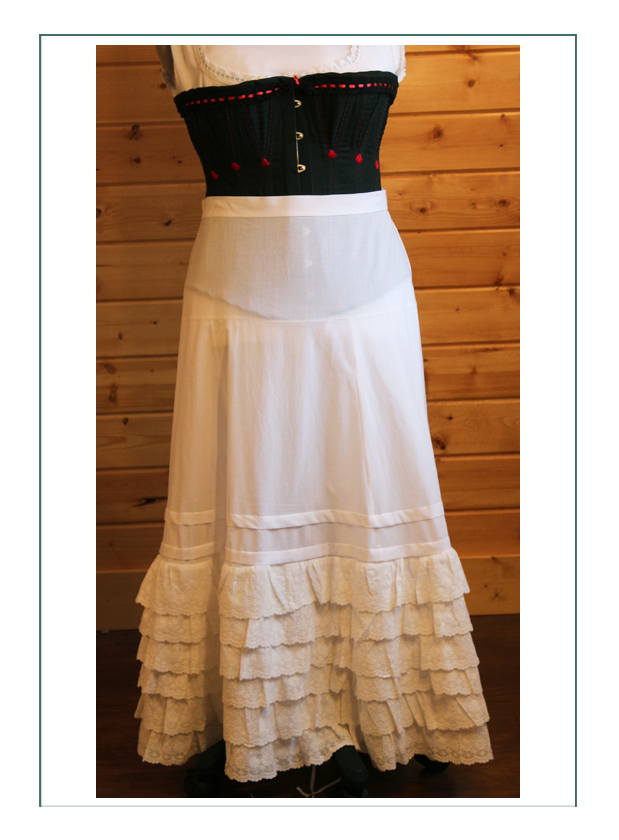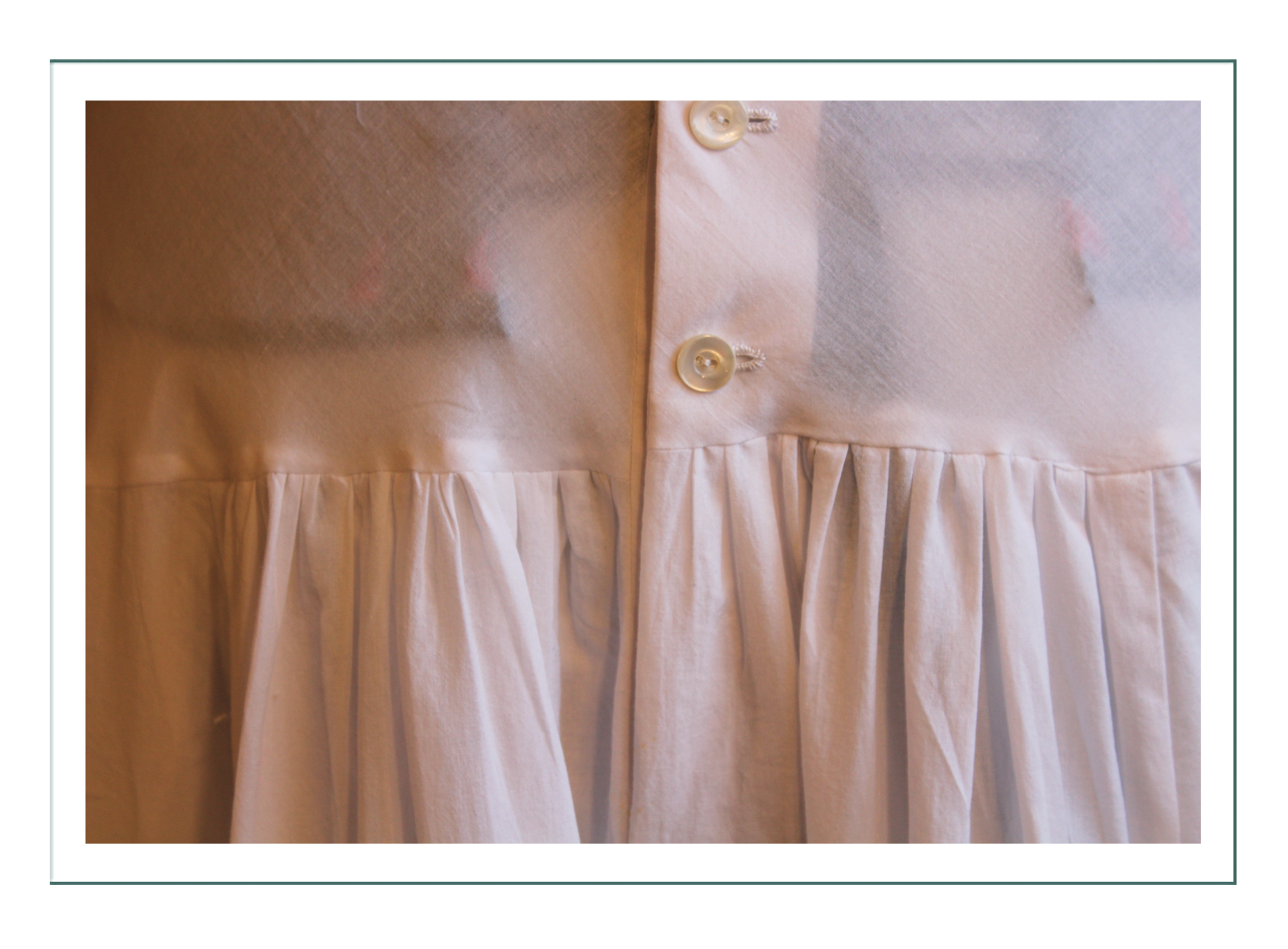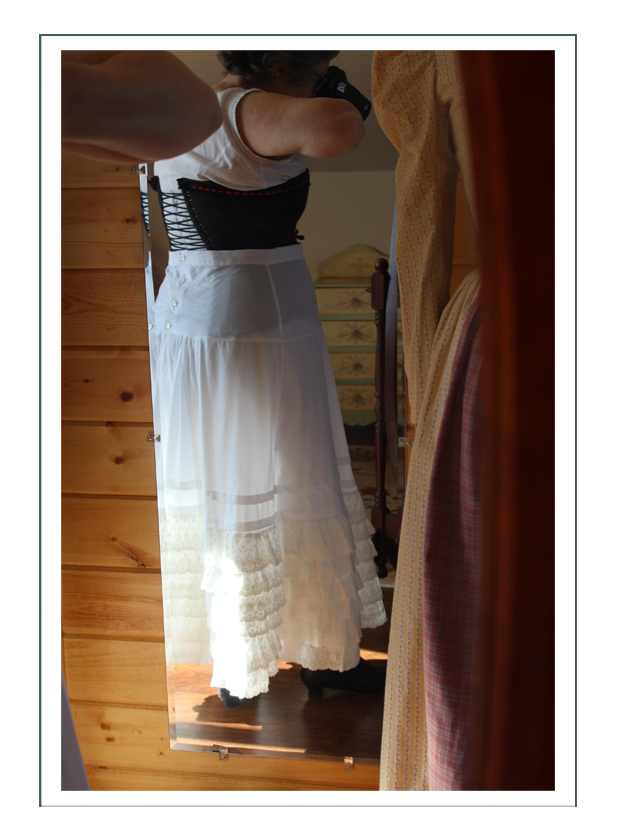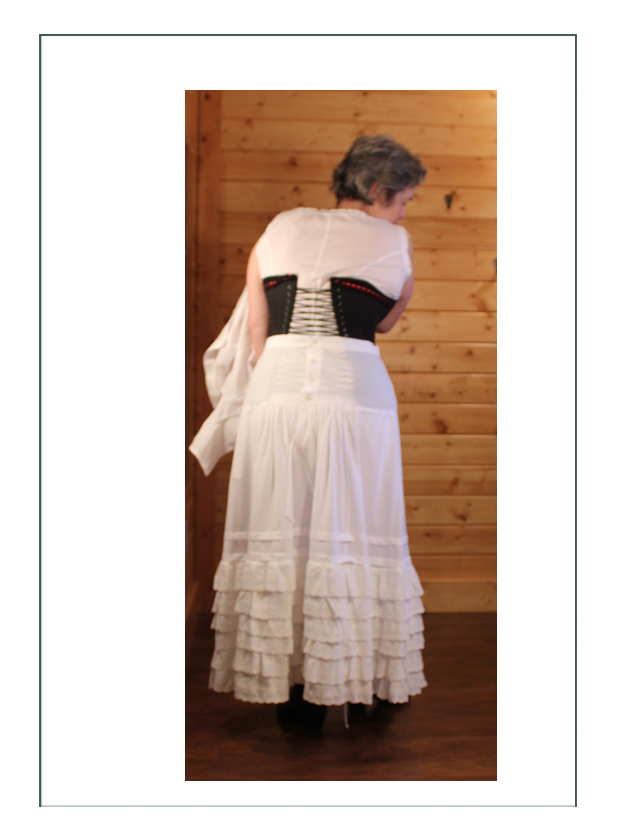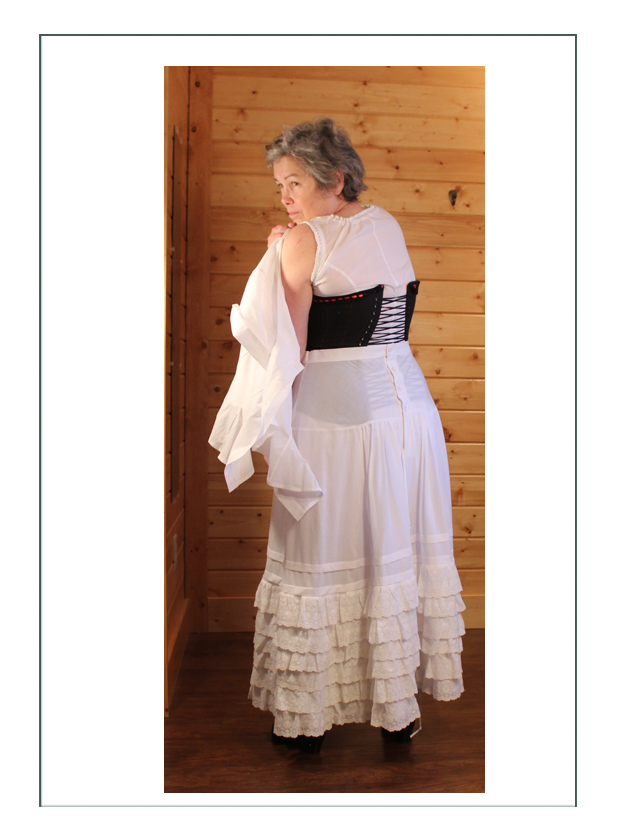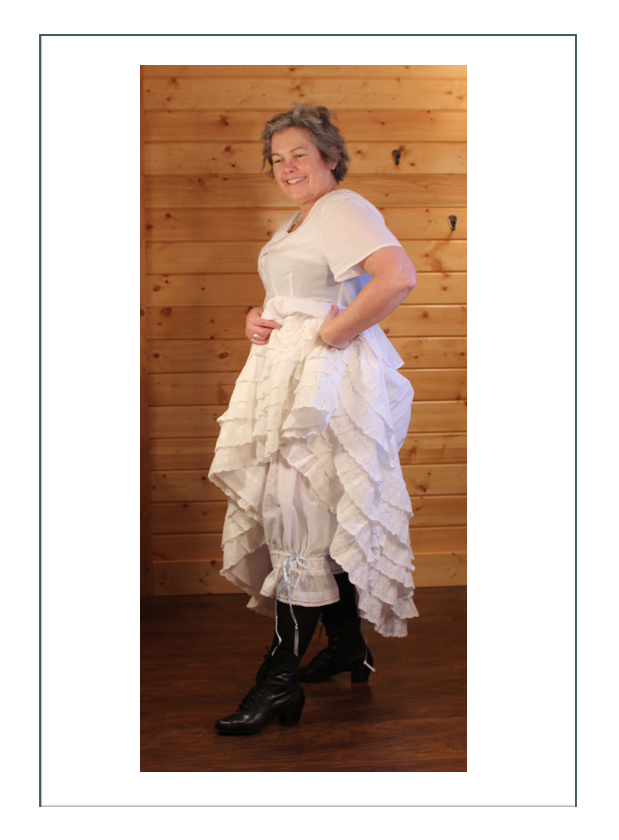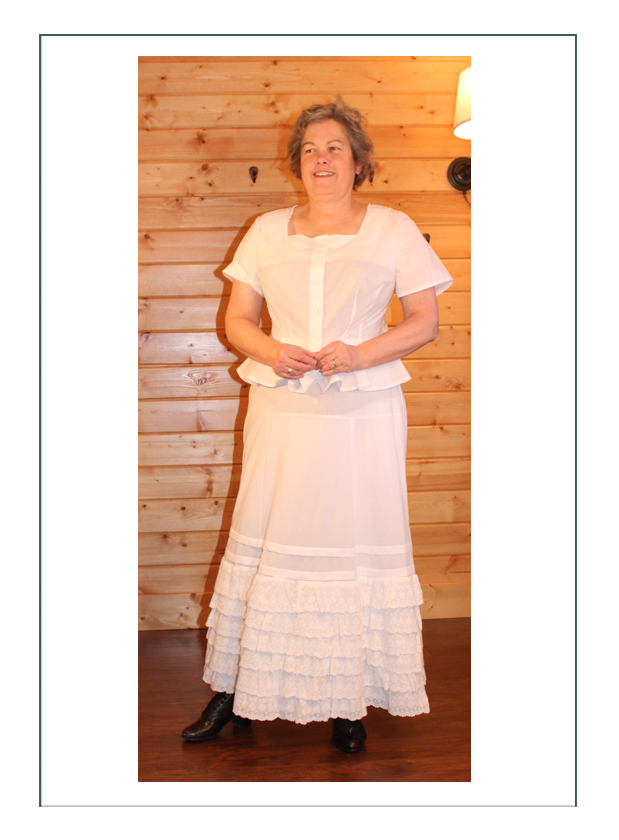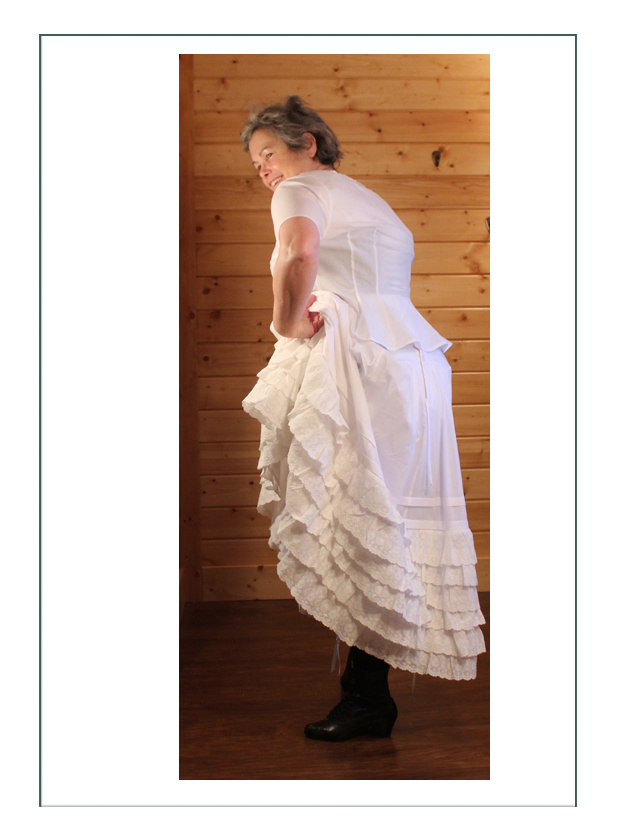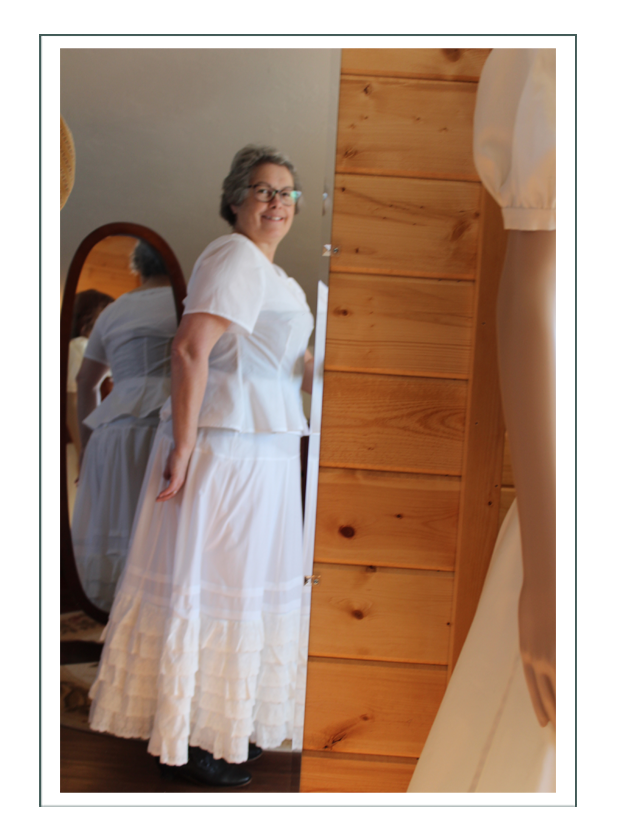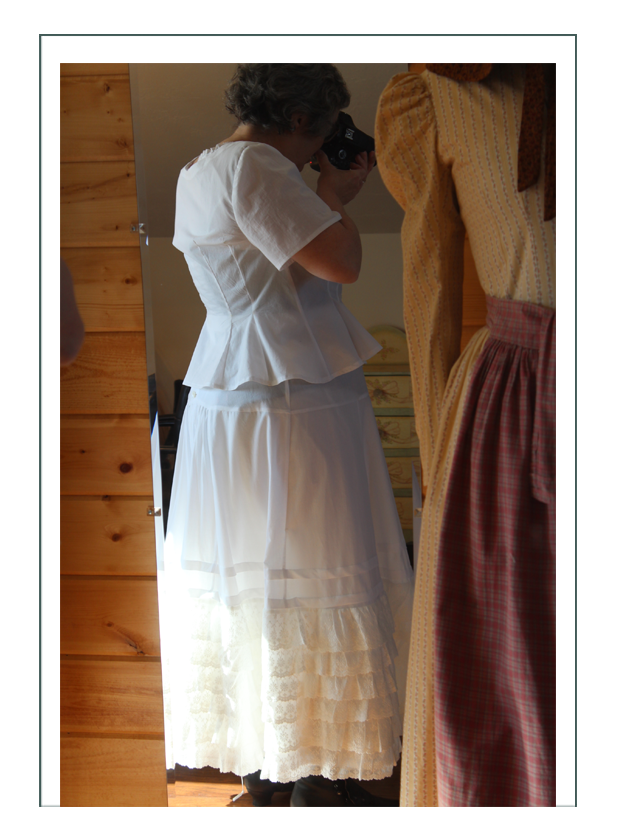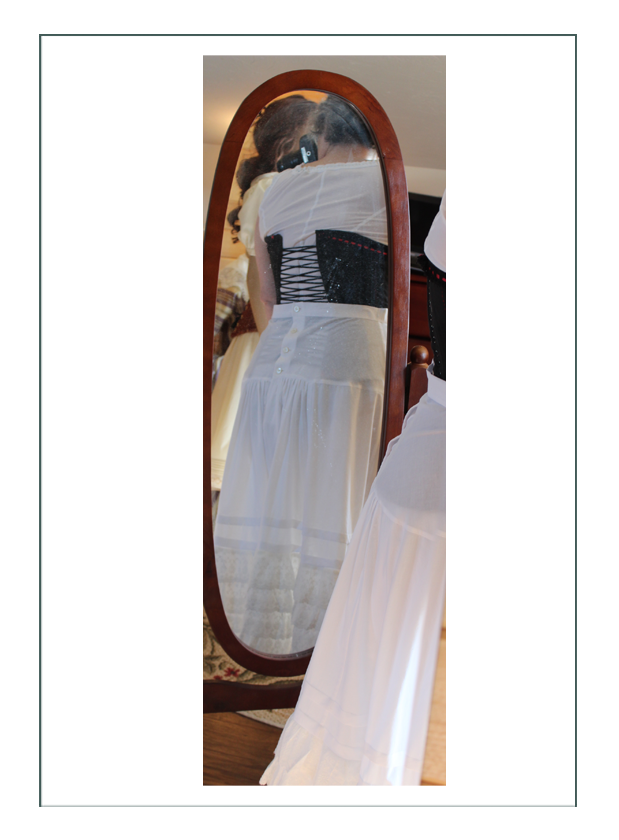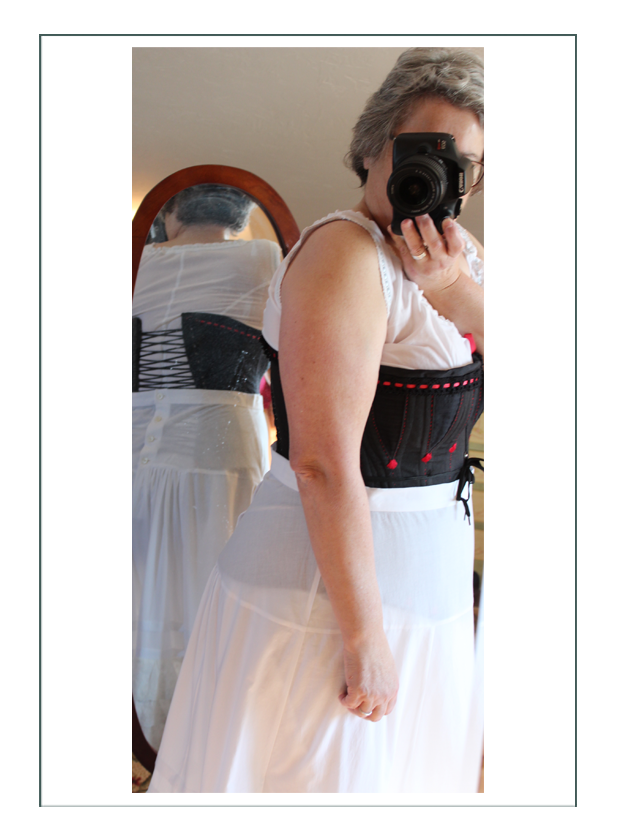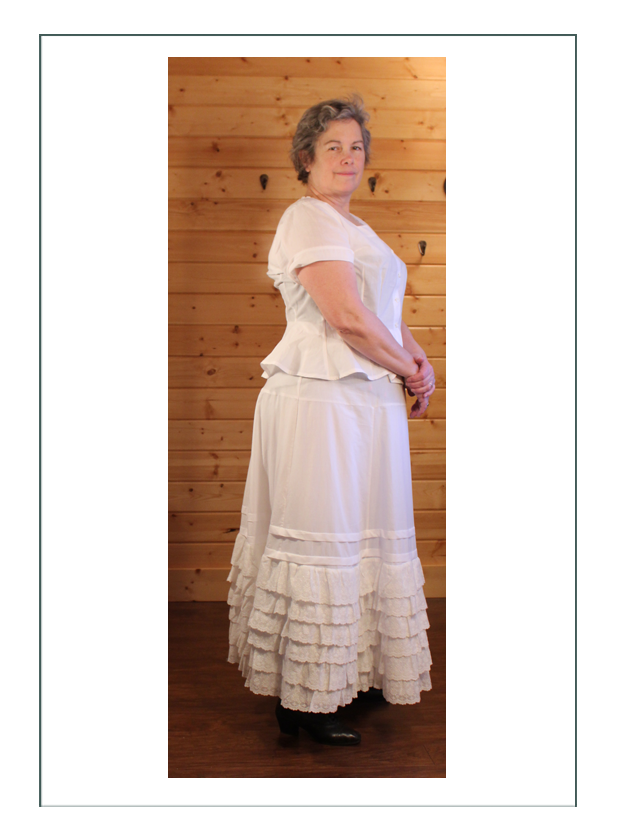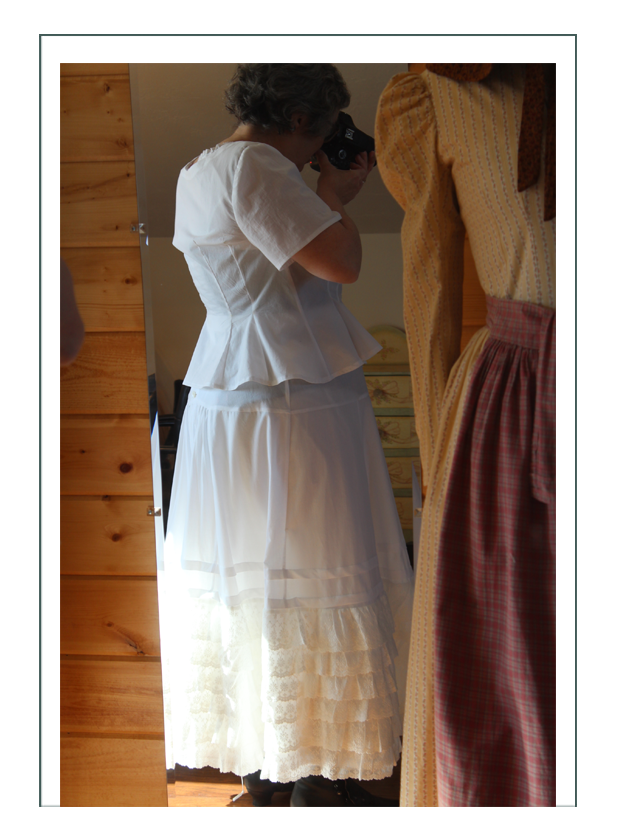 Bustle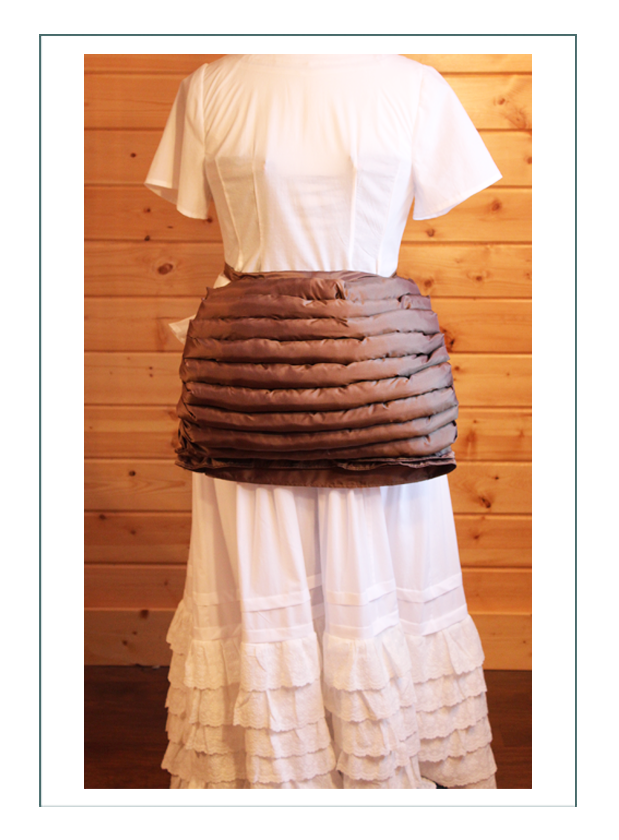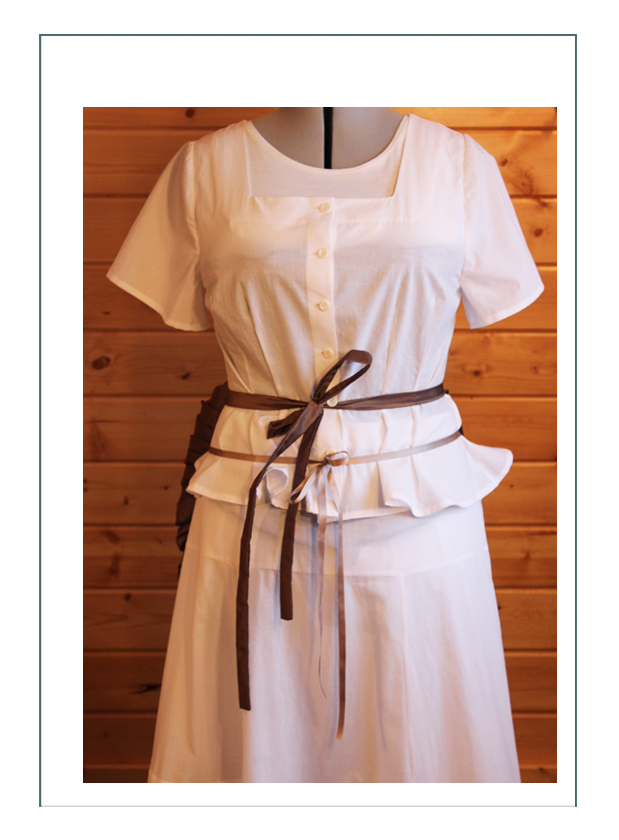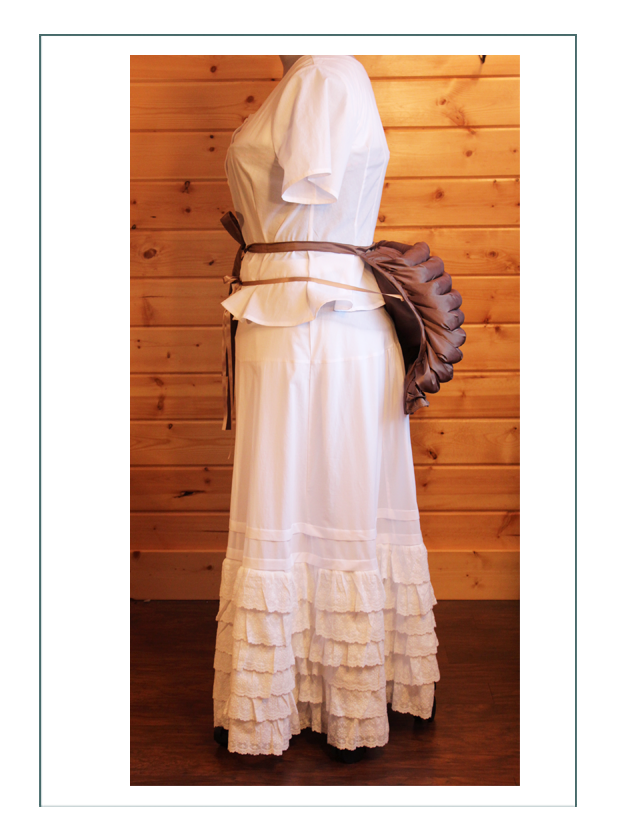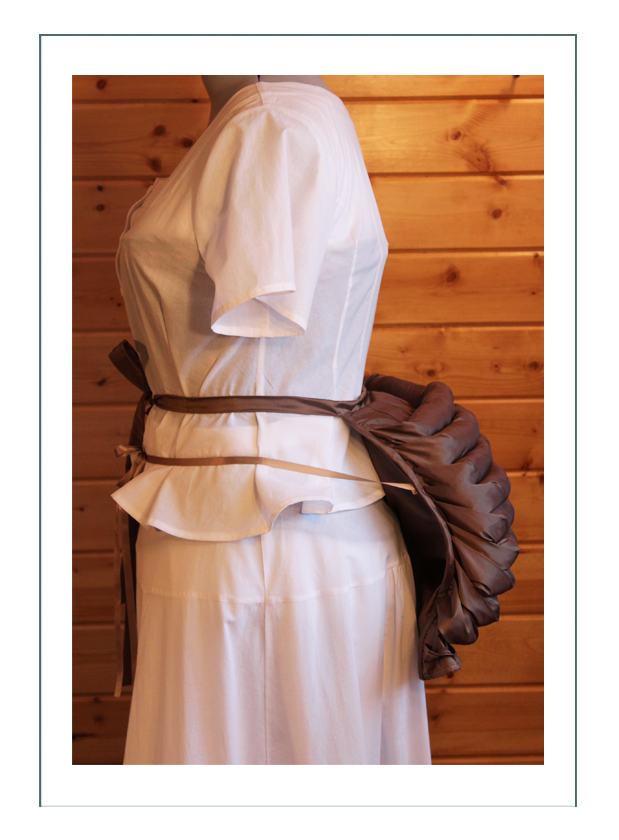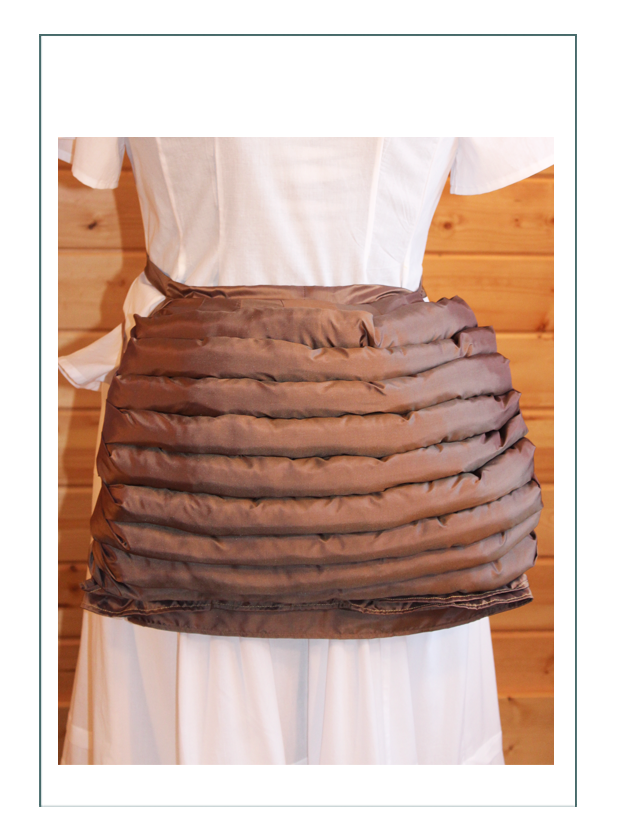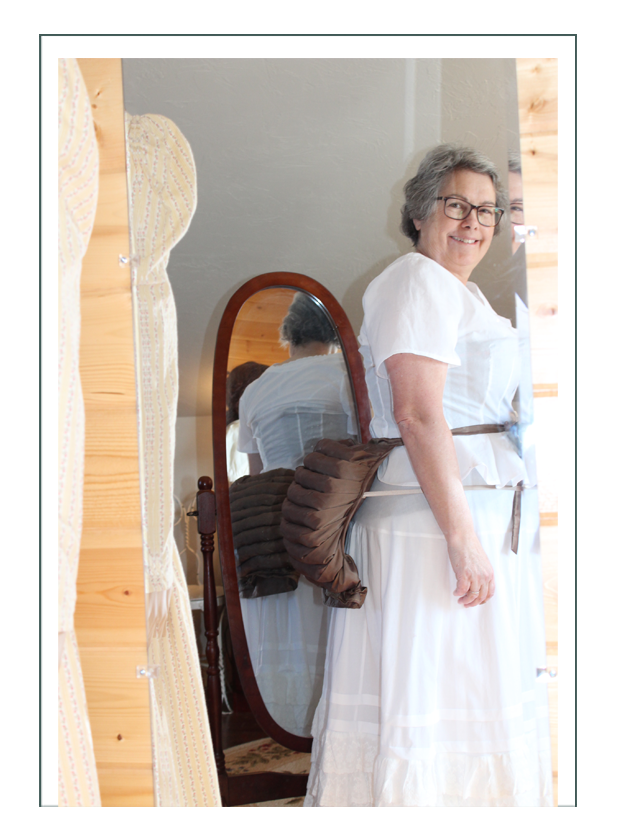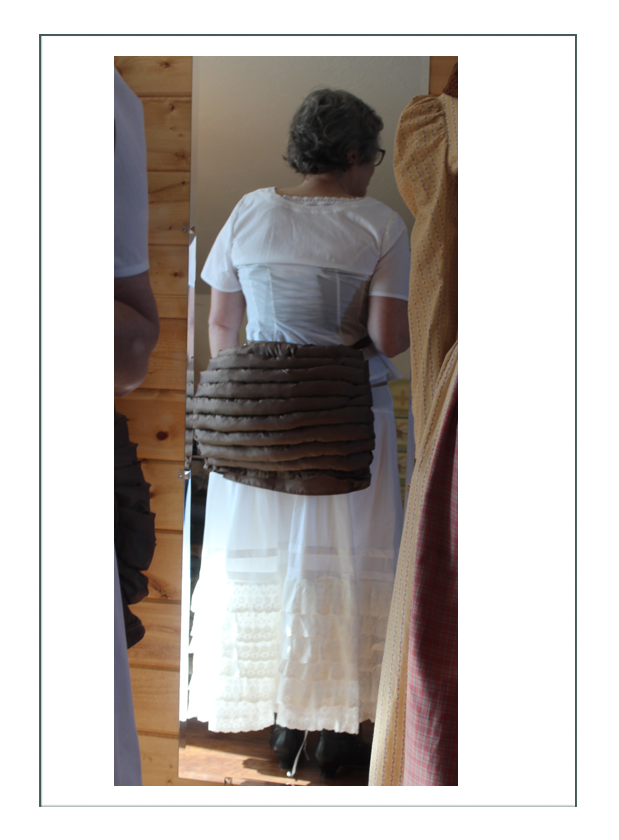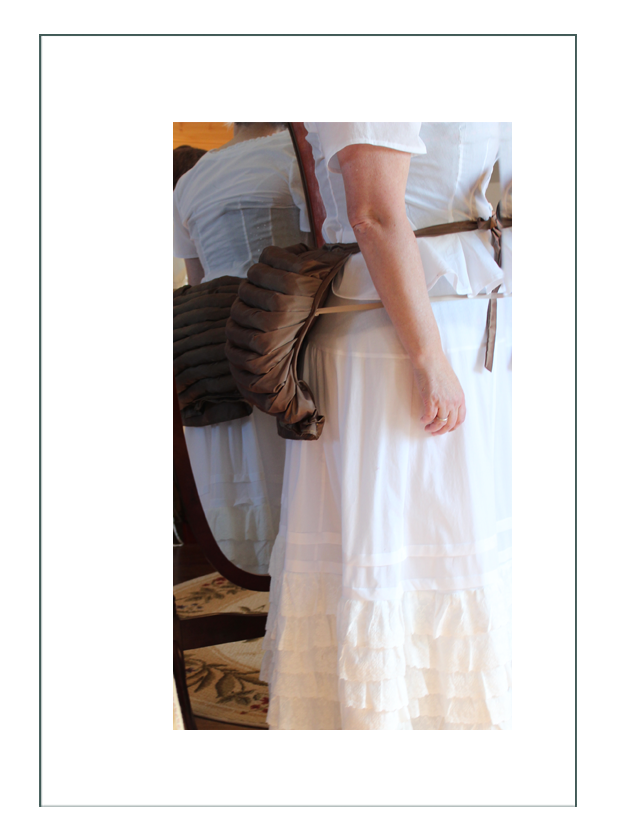 Bodice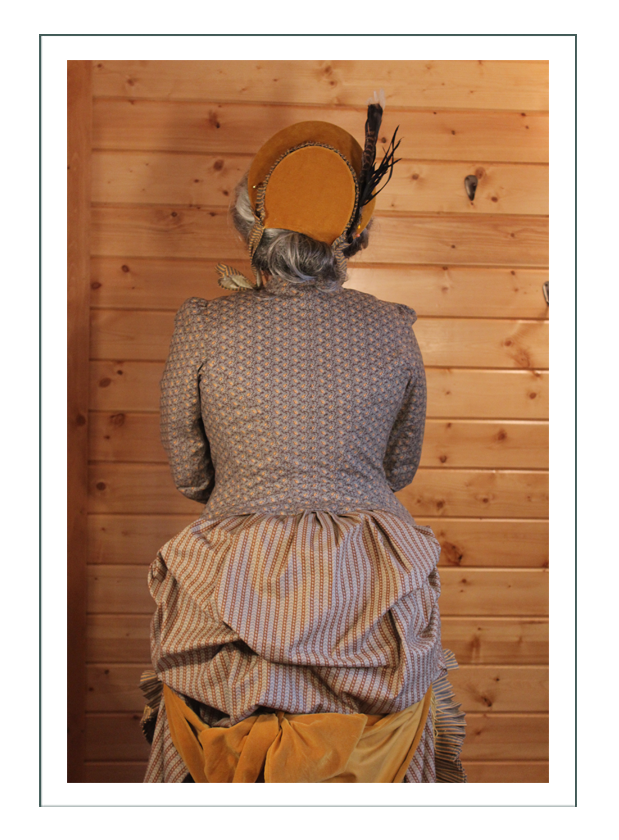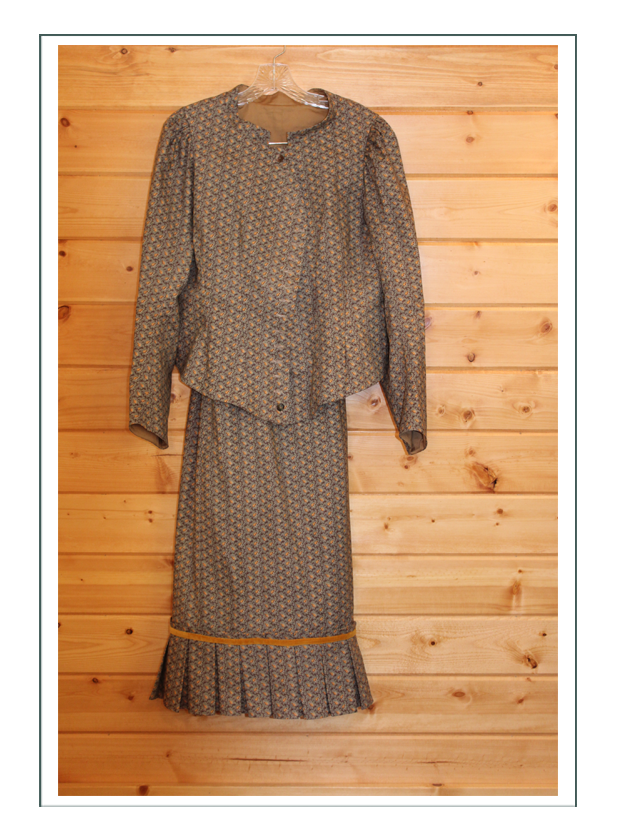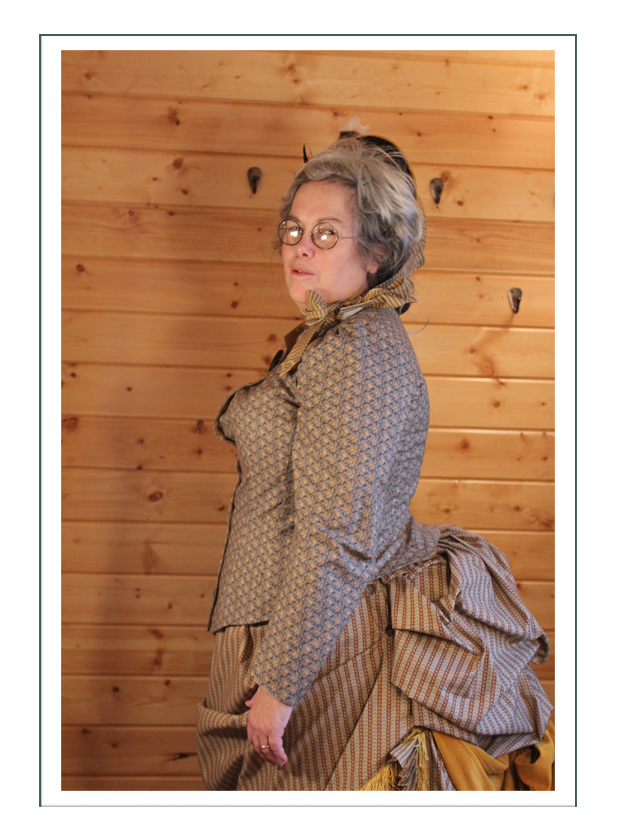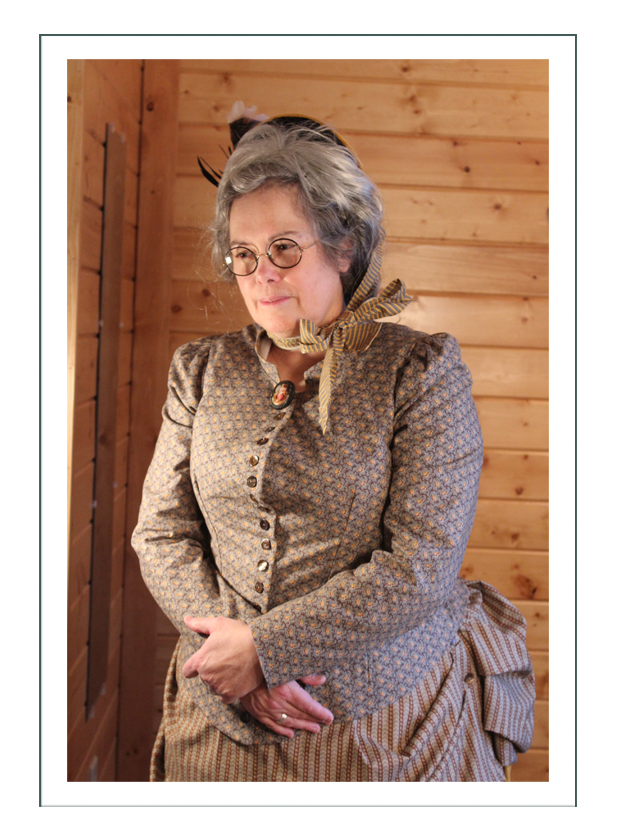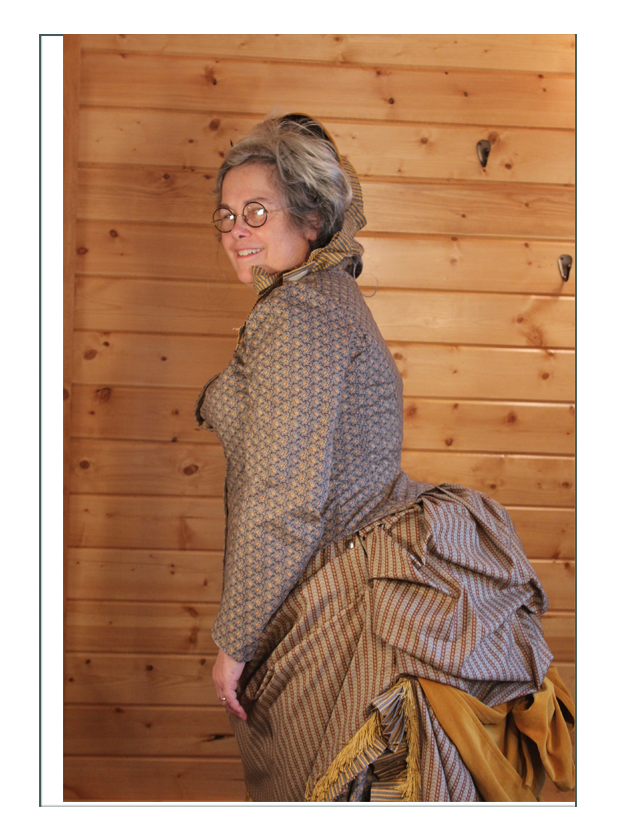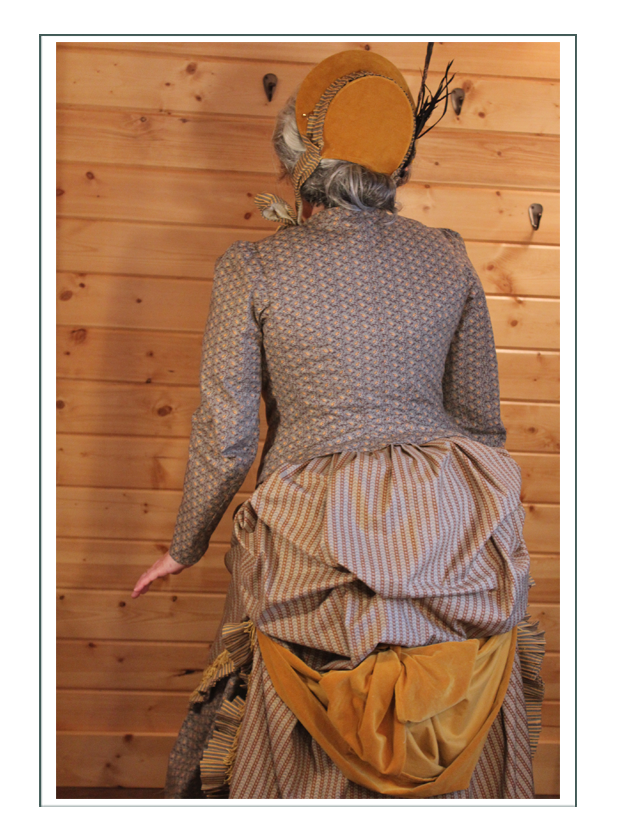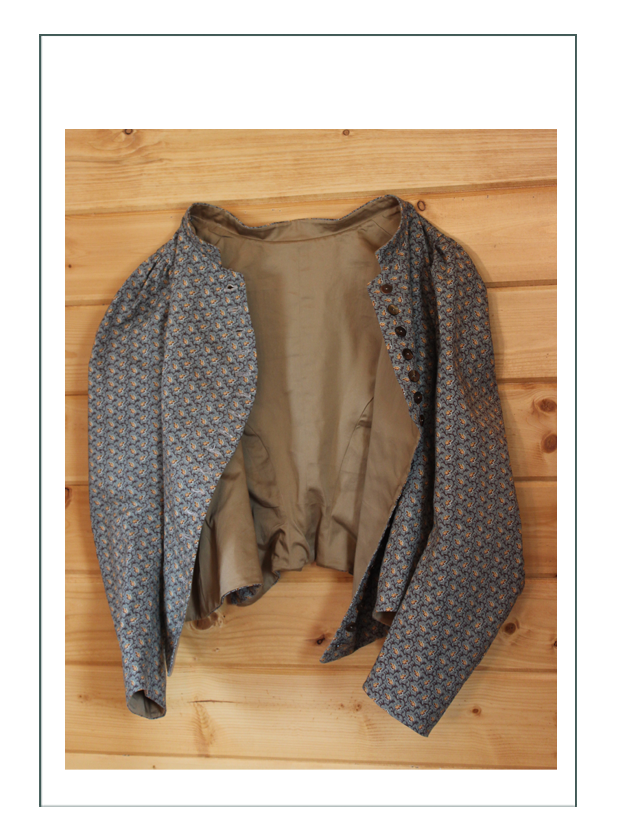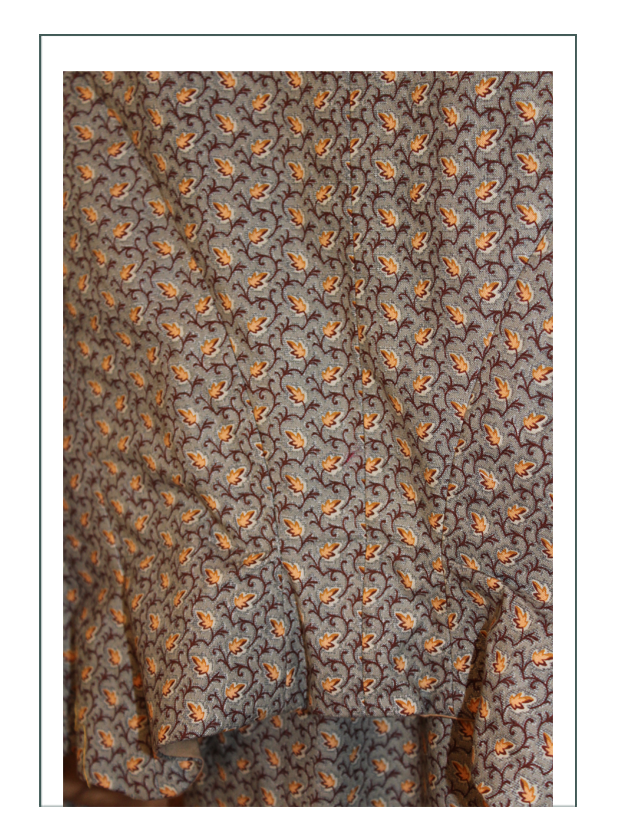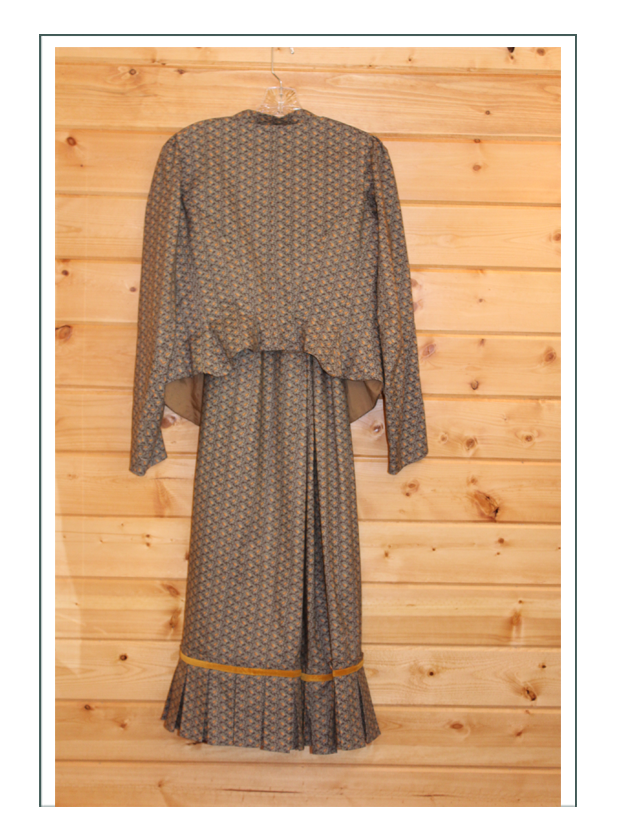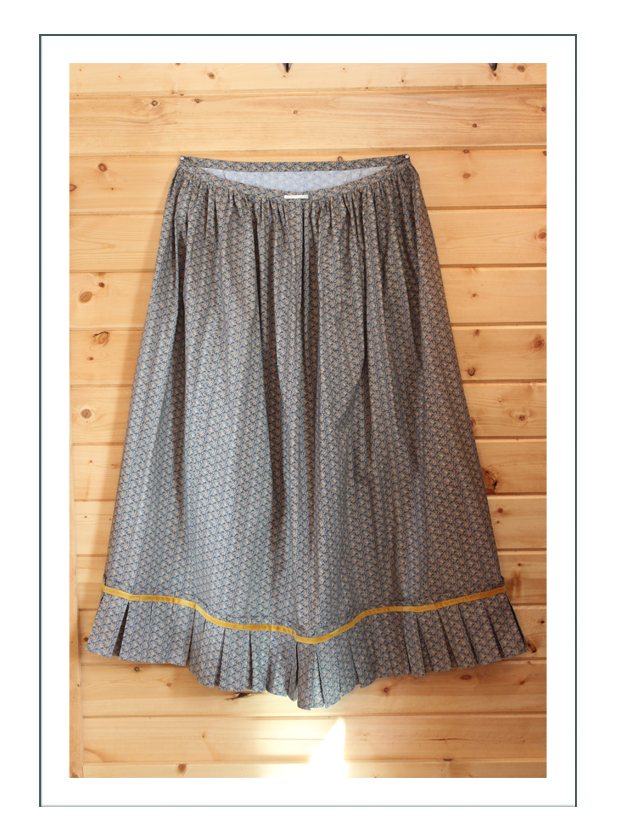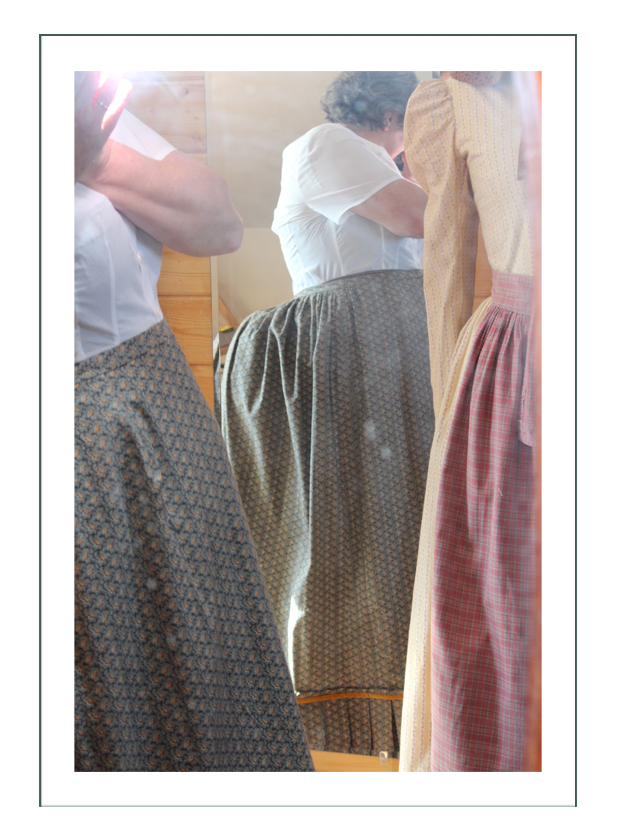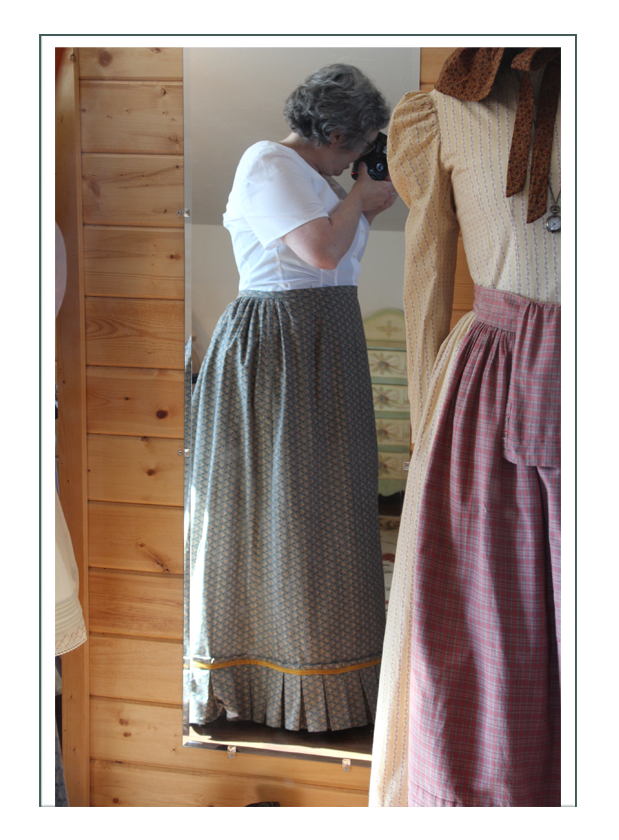 Skirt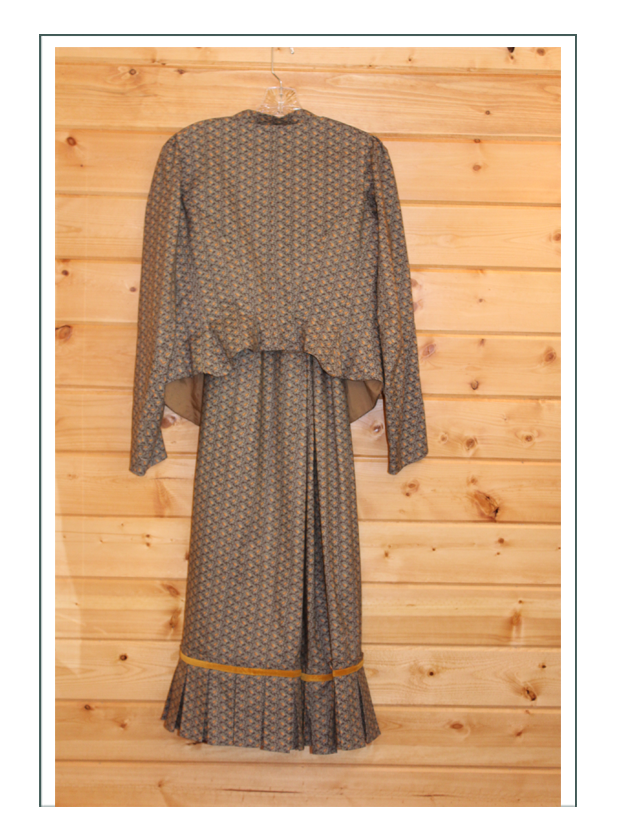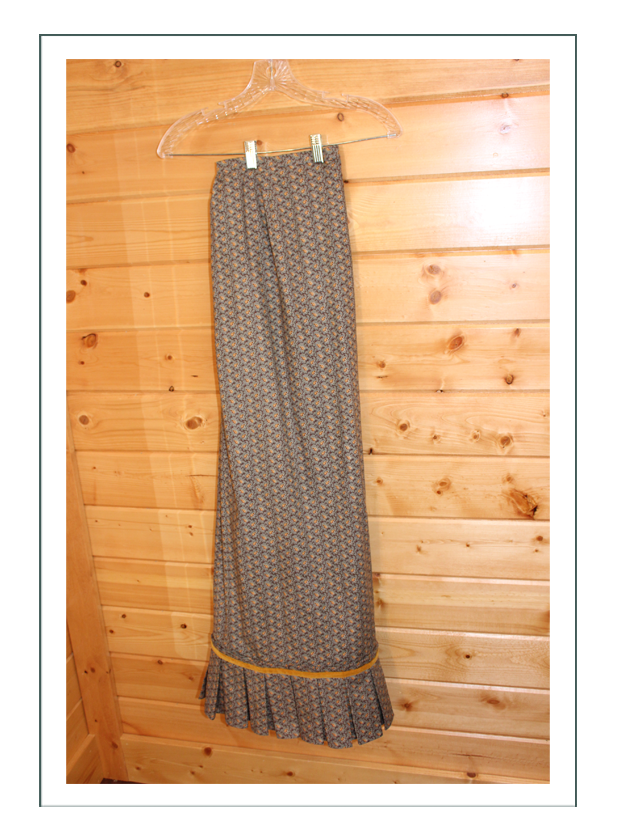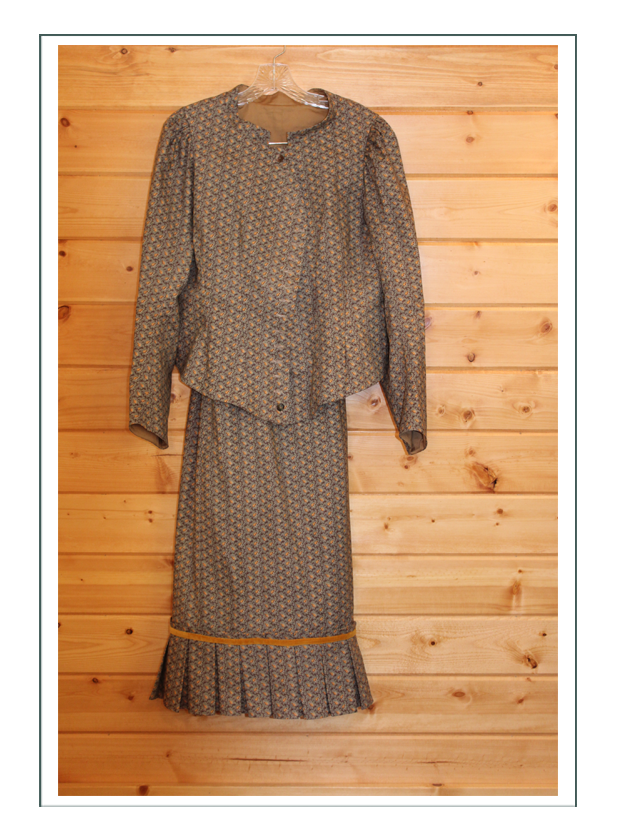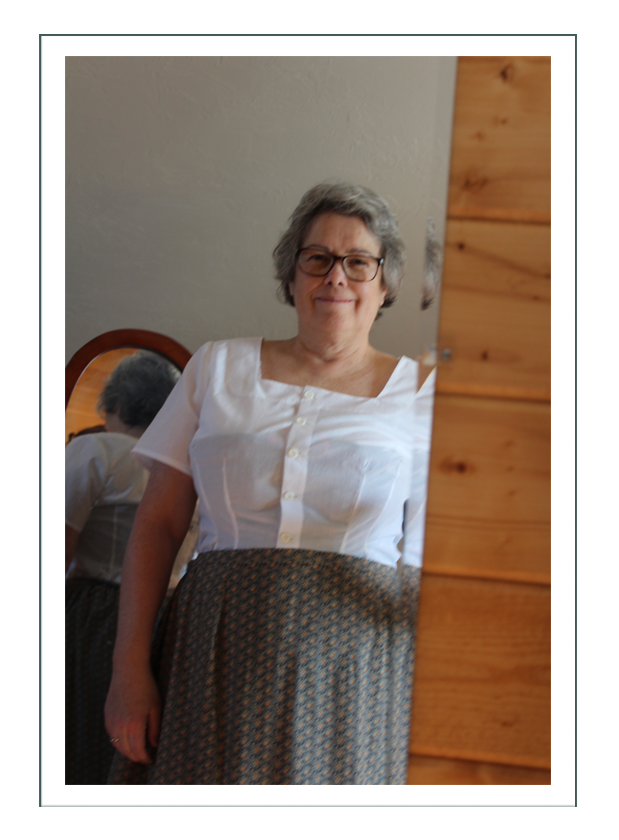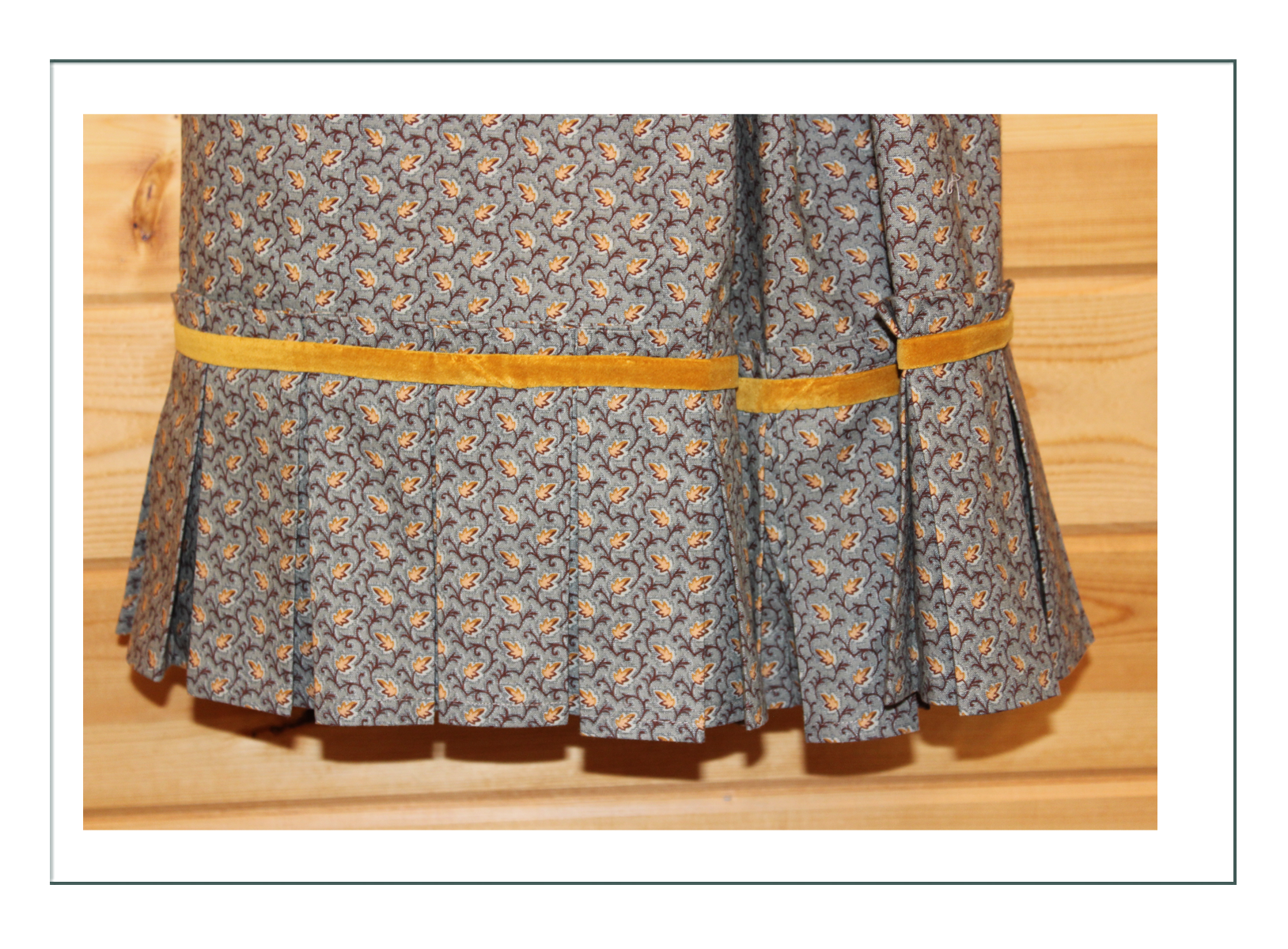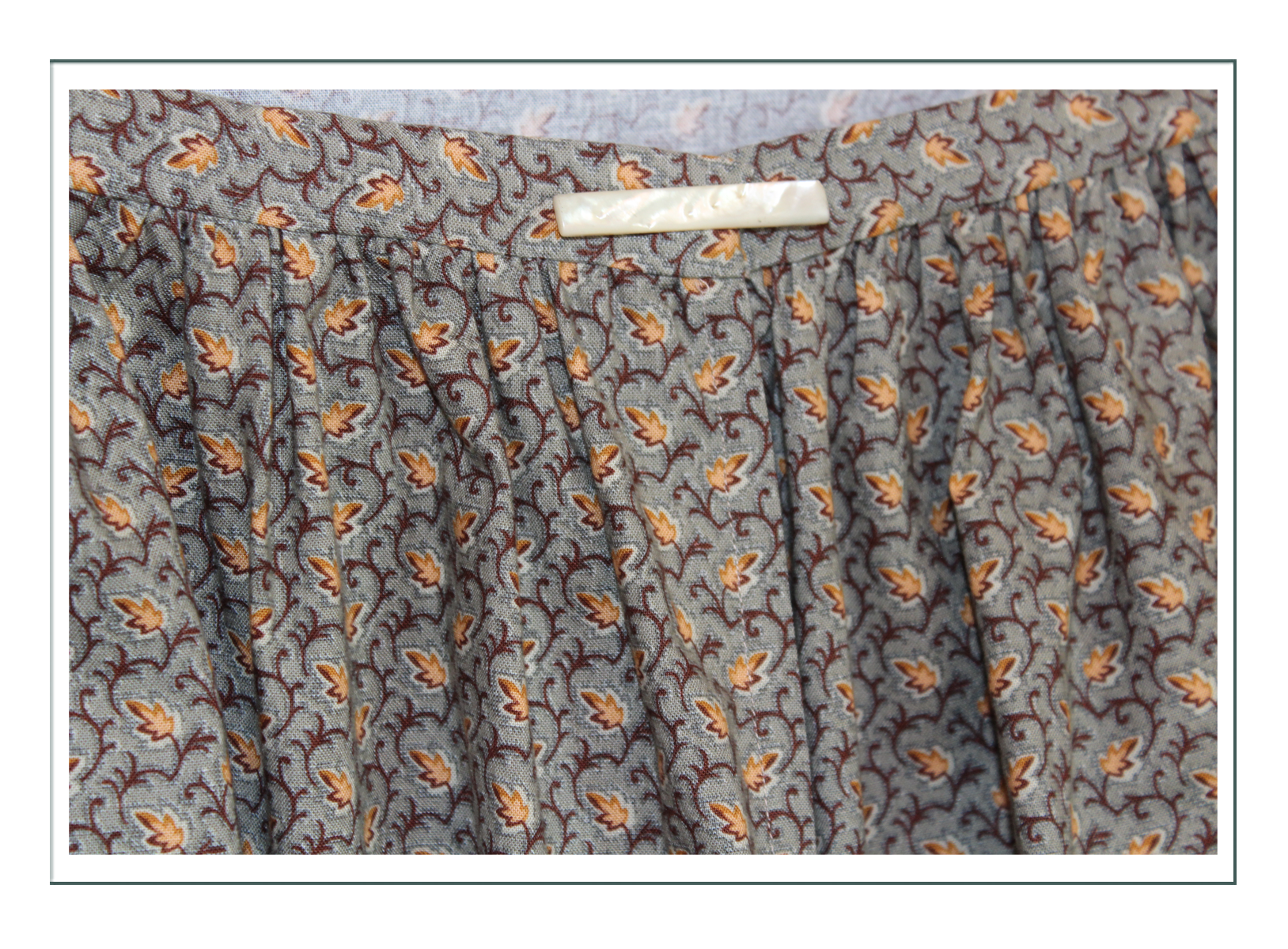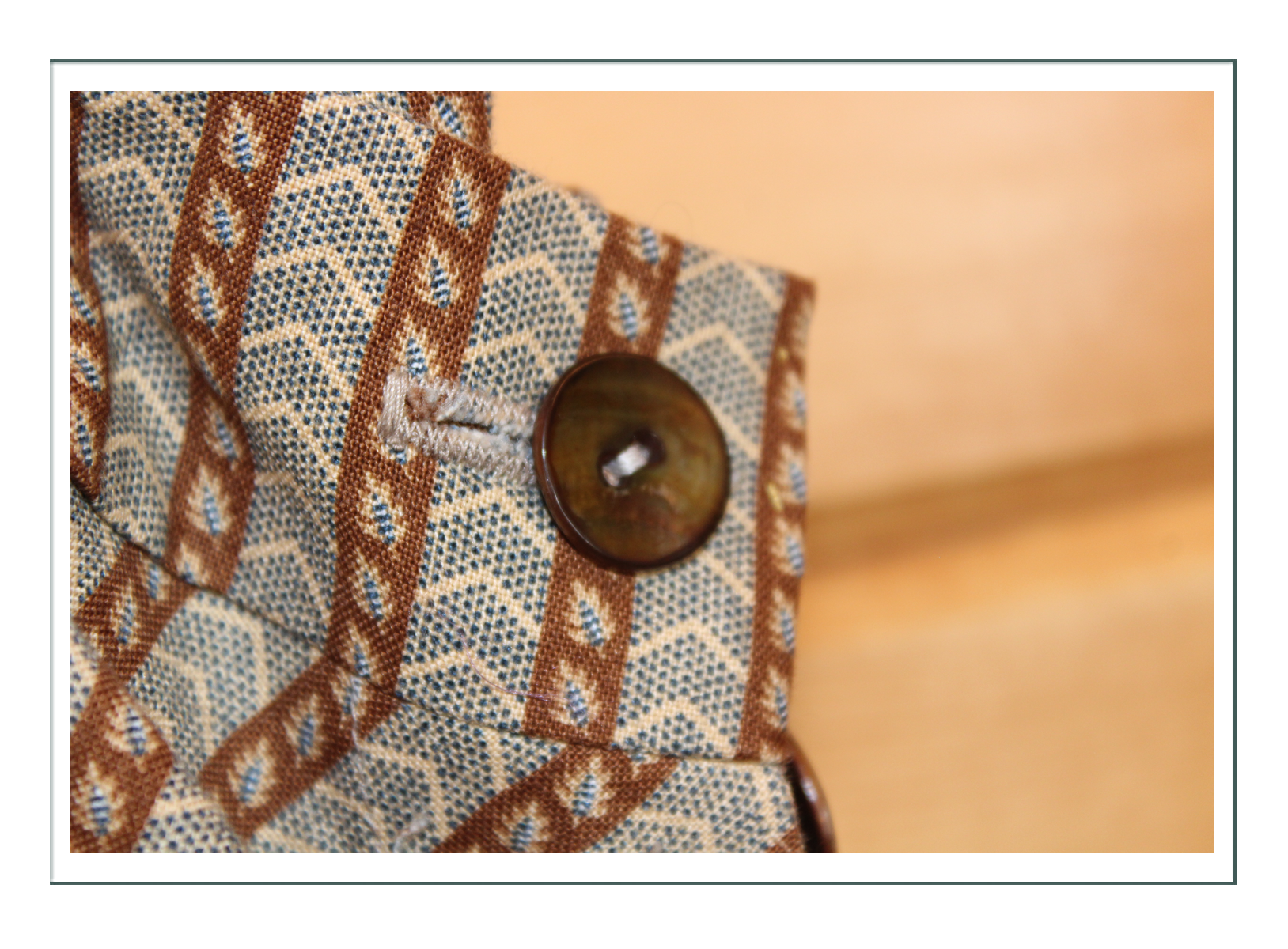 Drape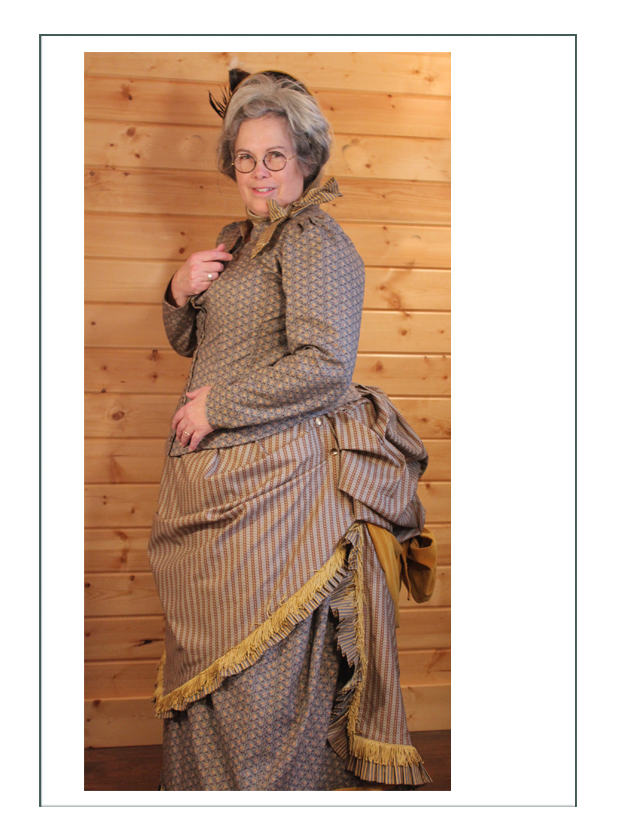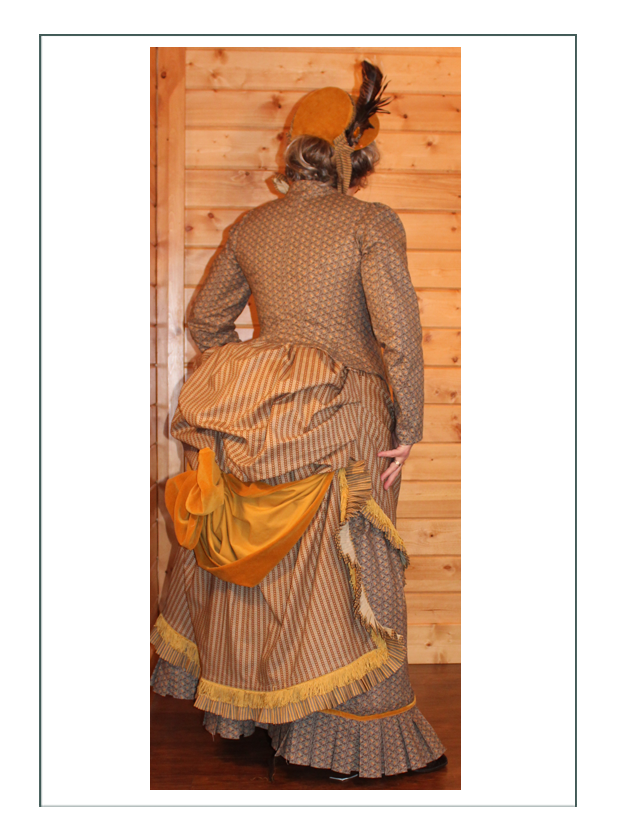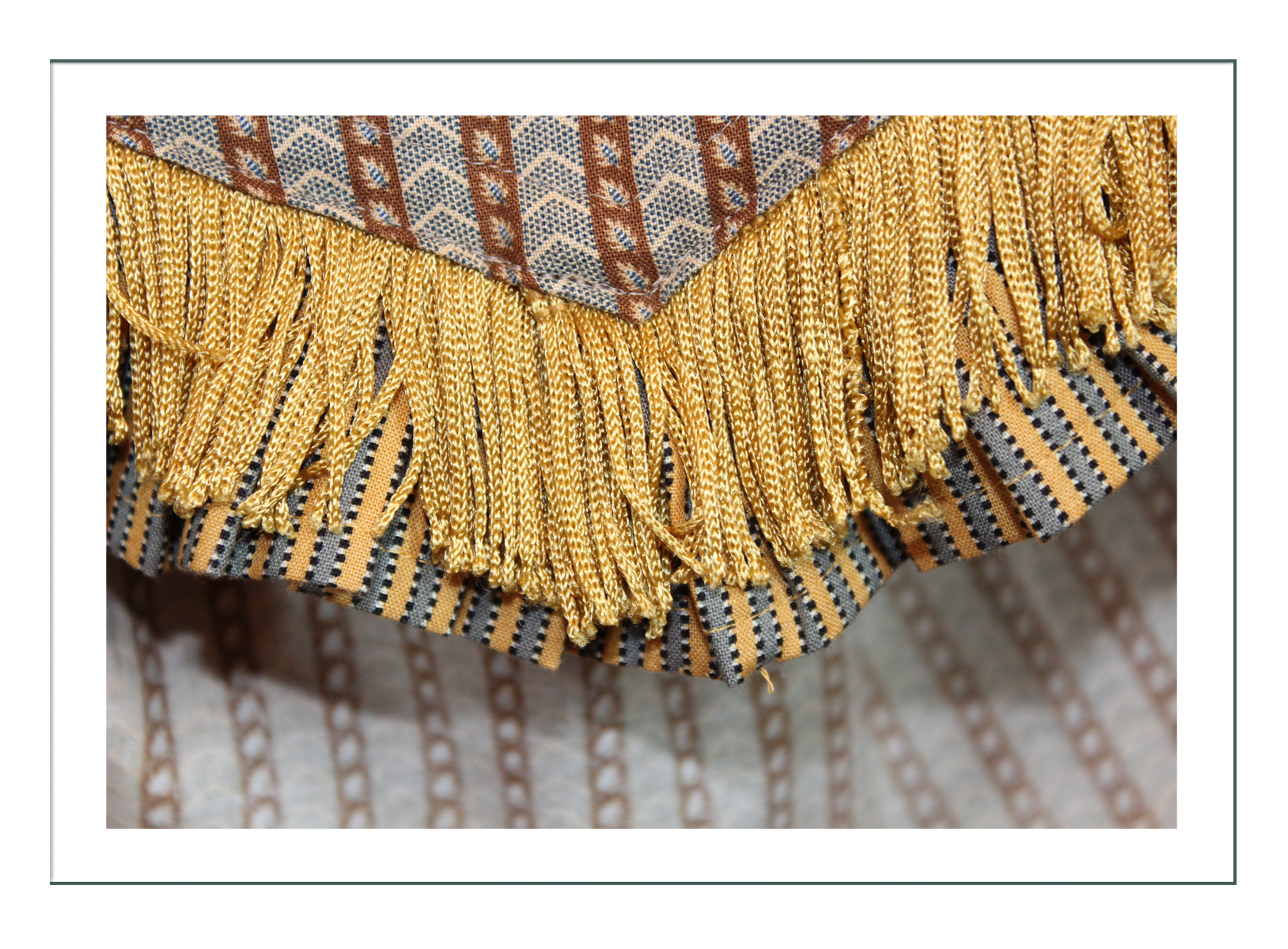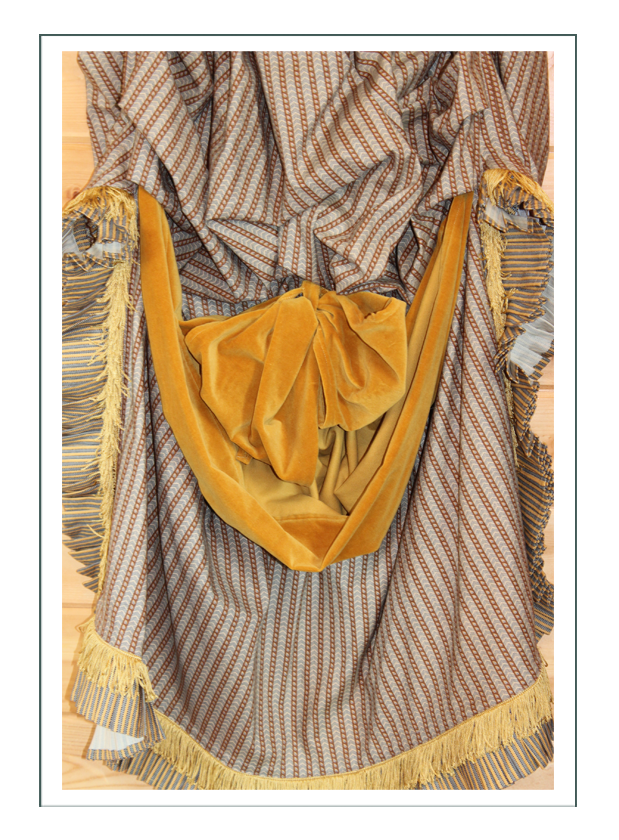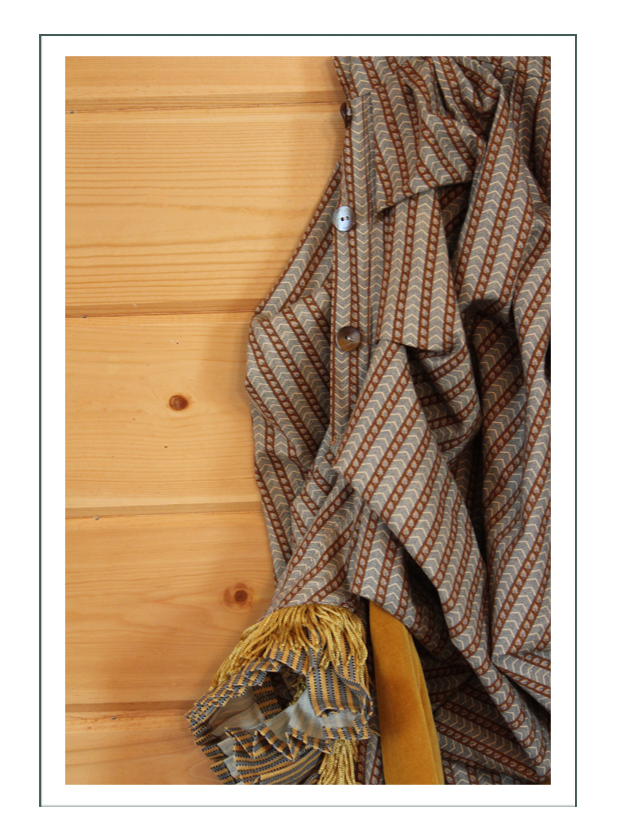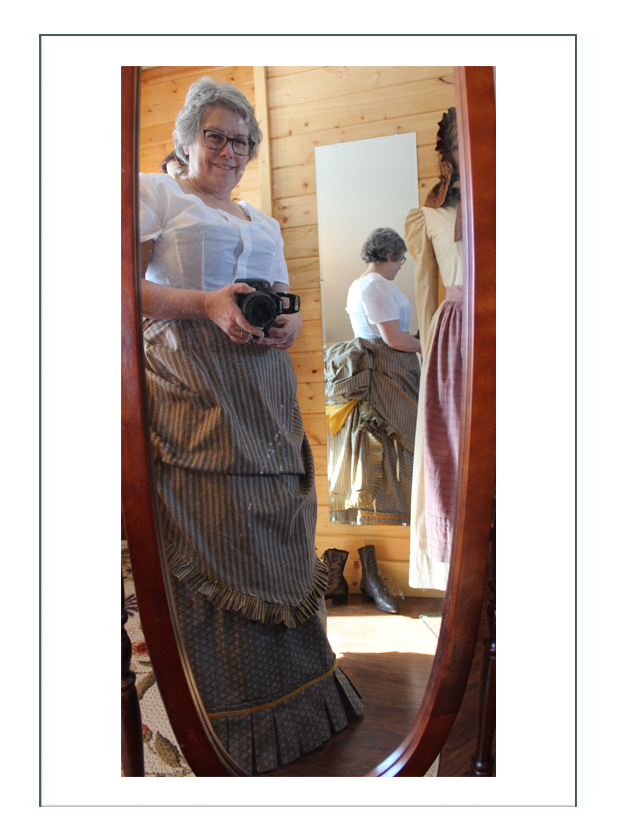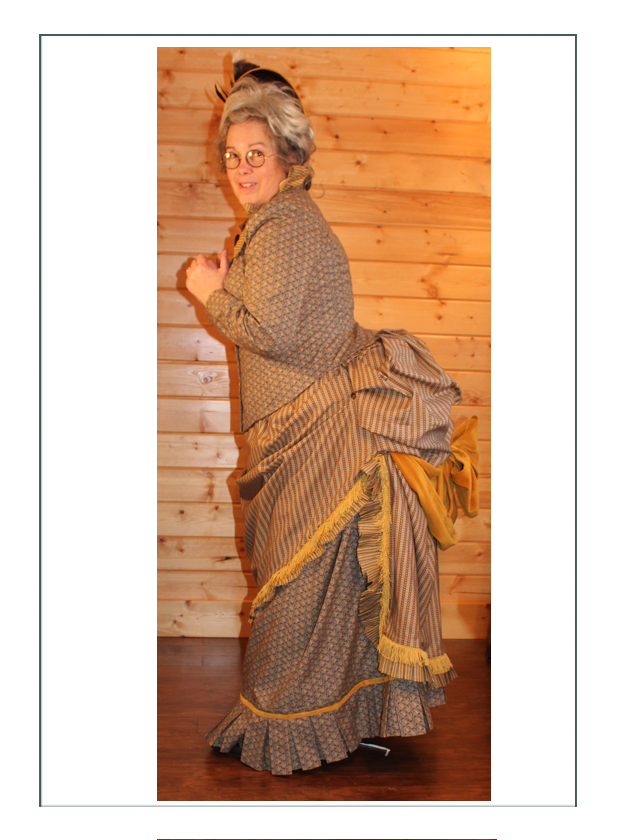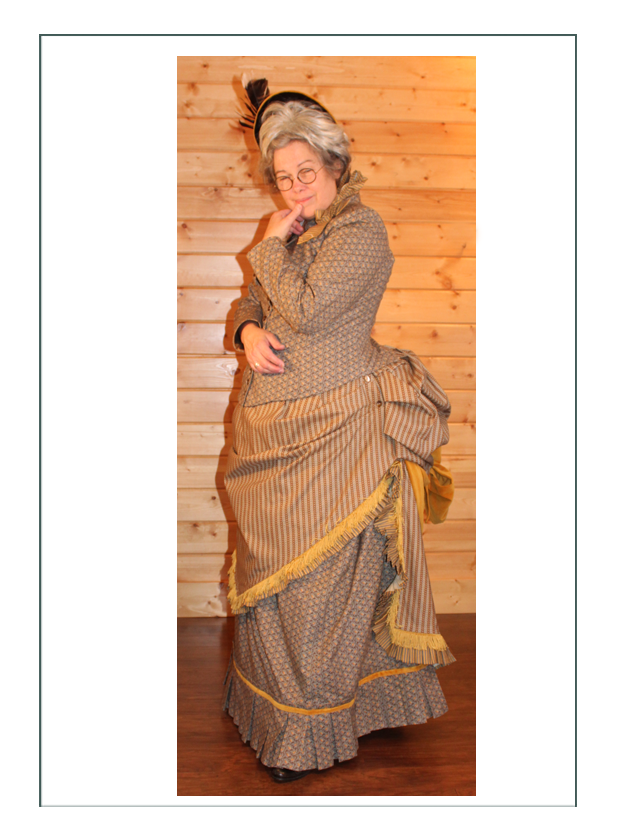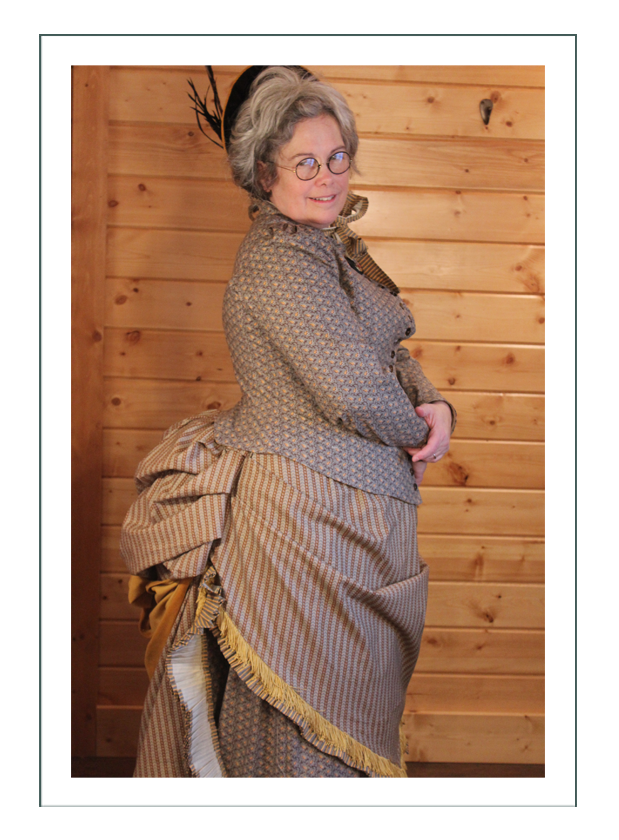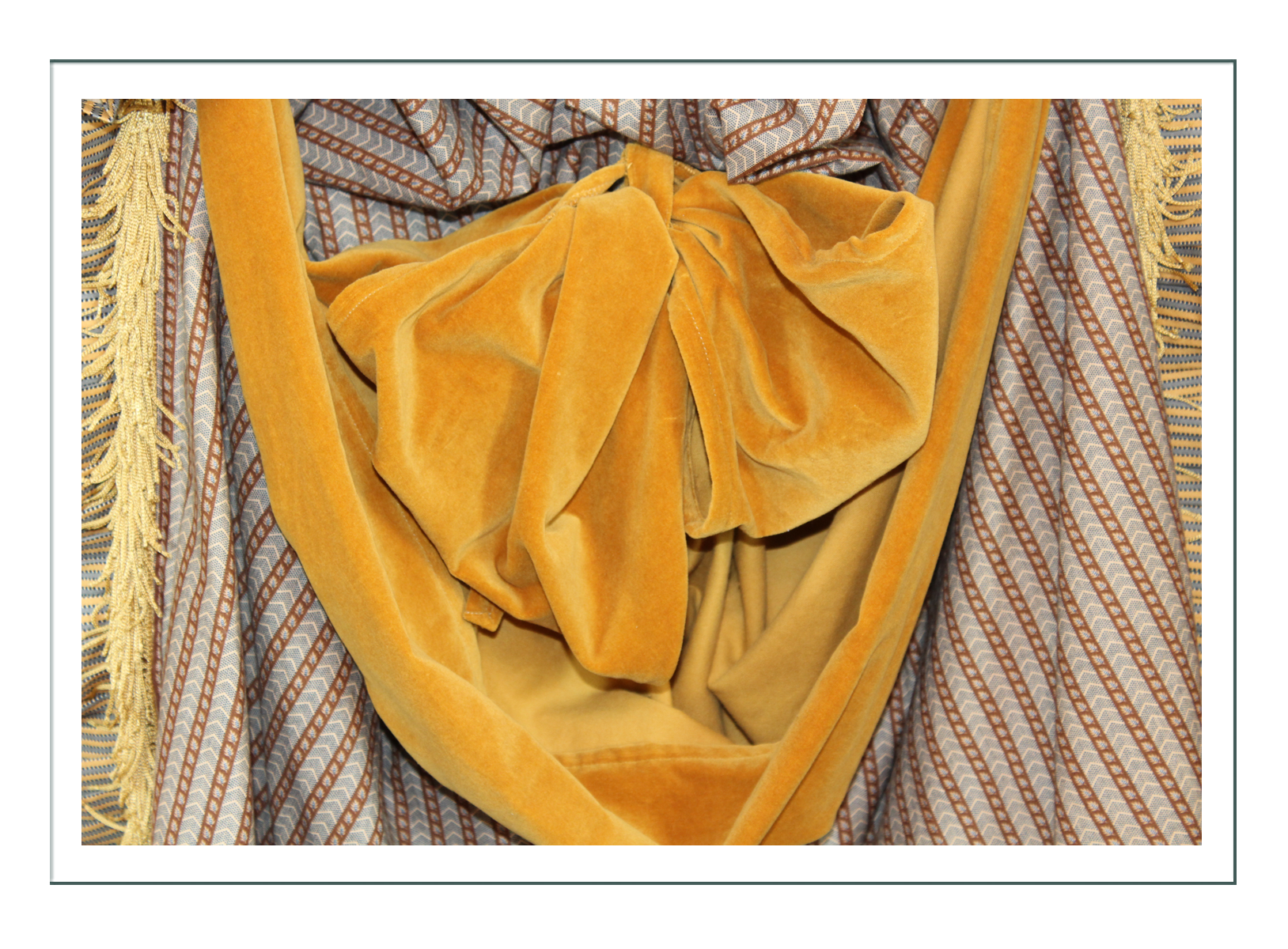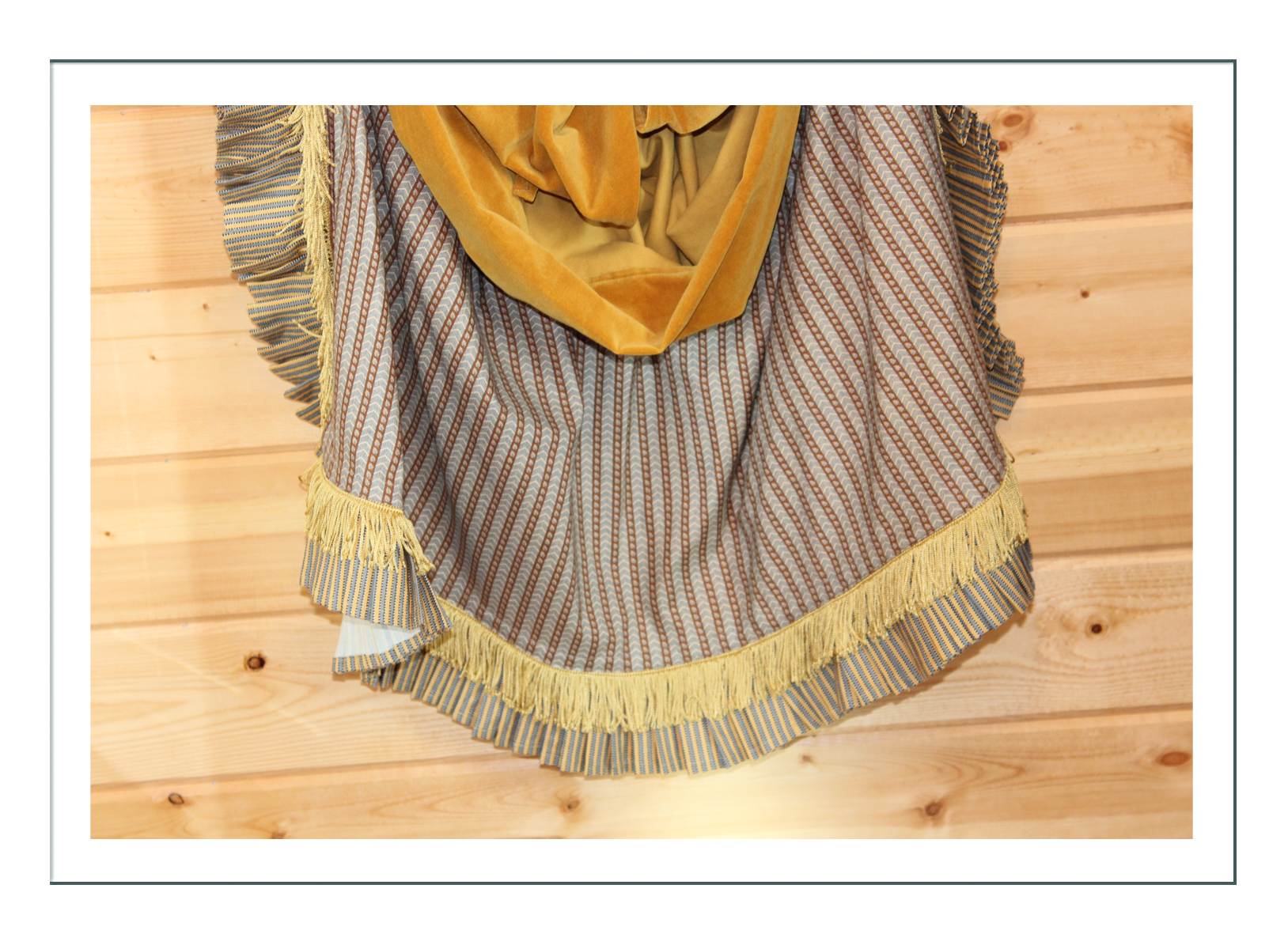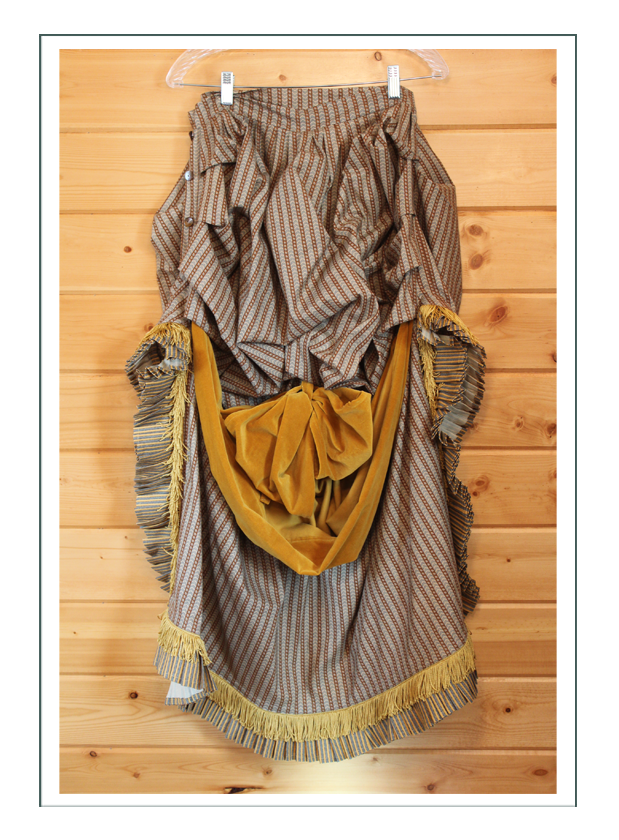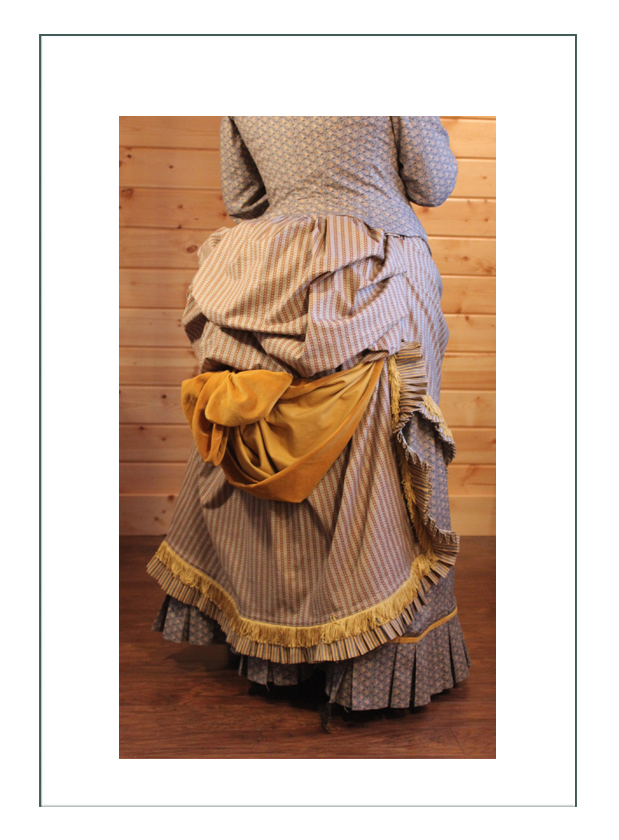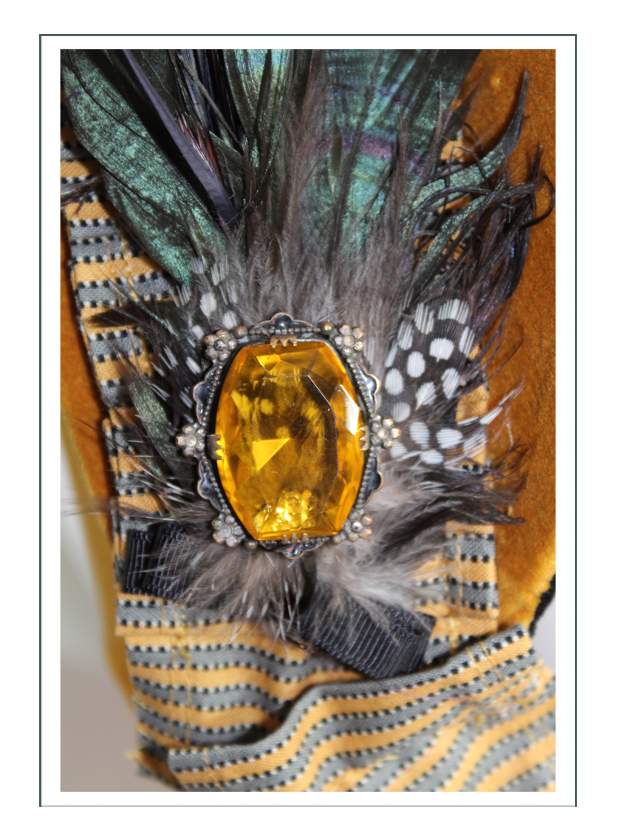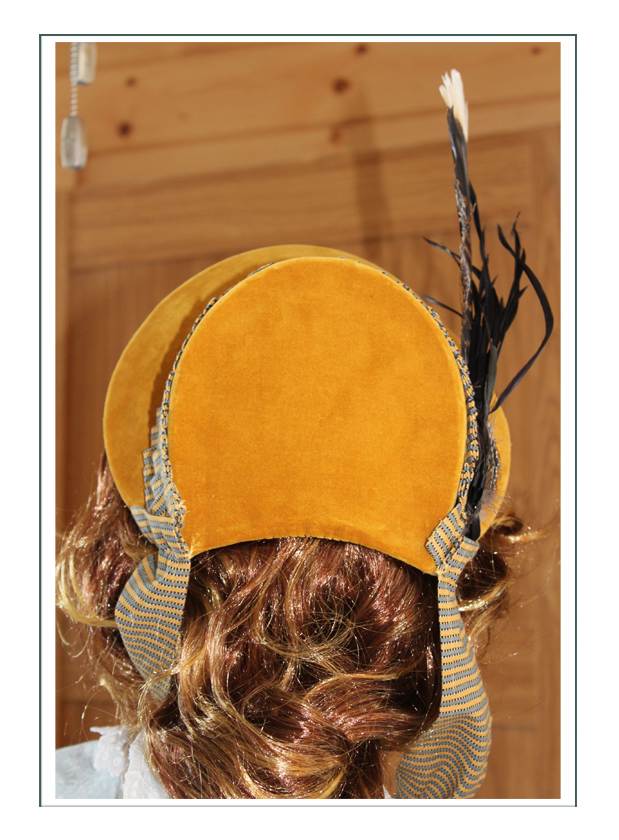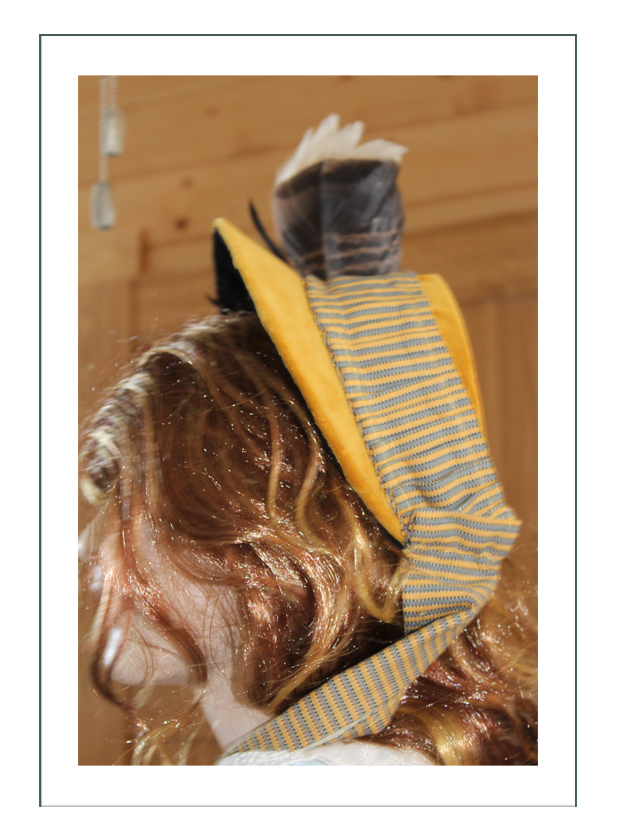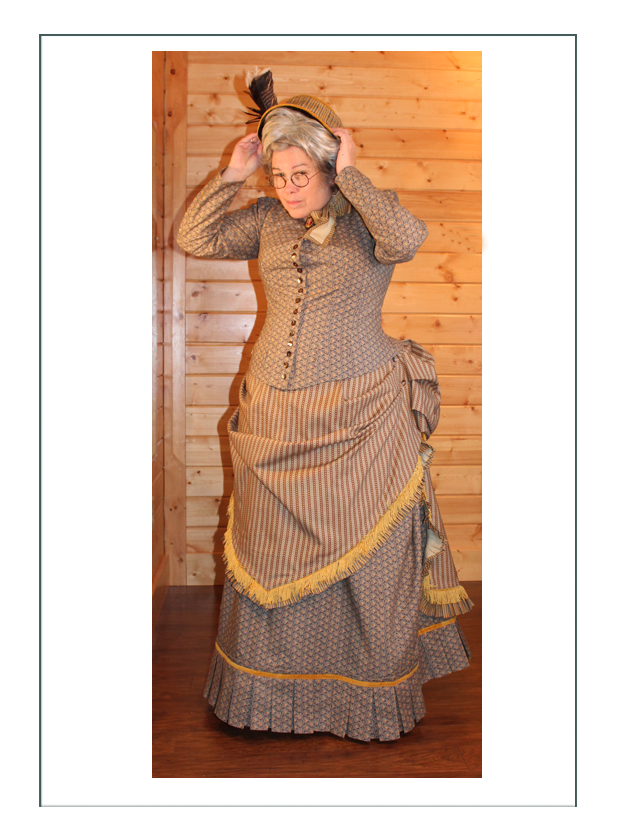 Bonnet w/Brooch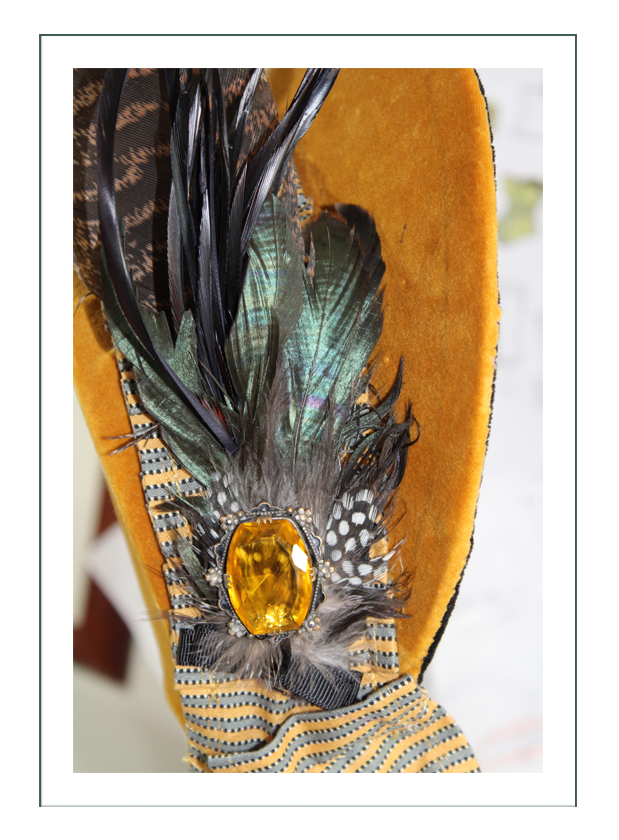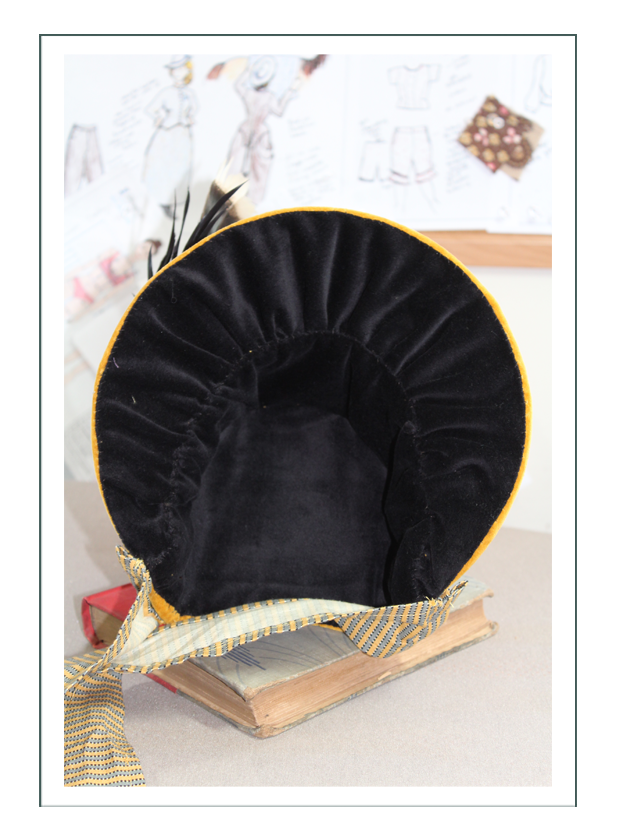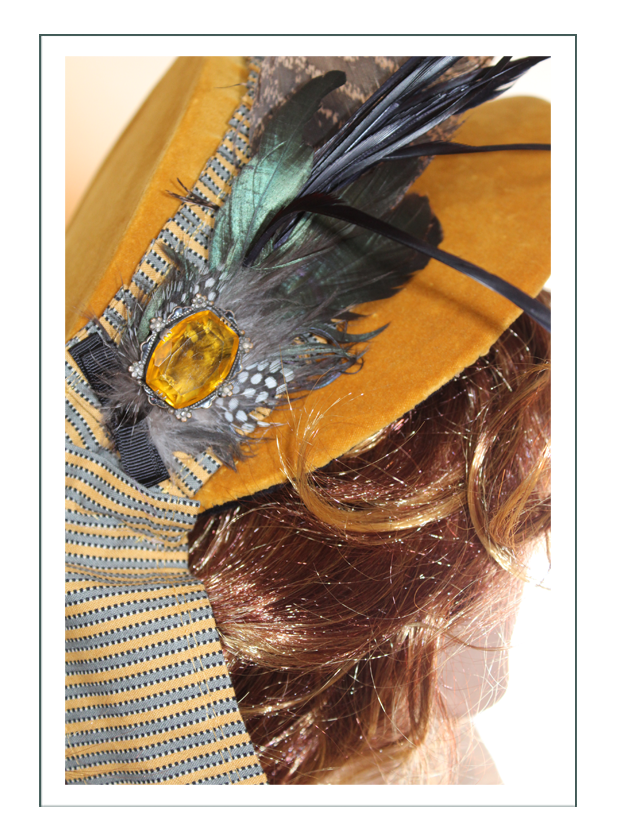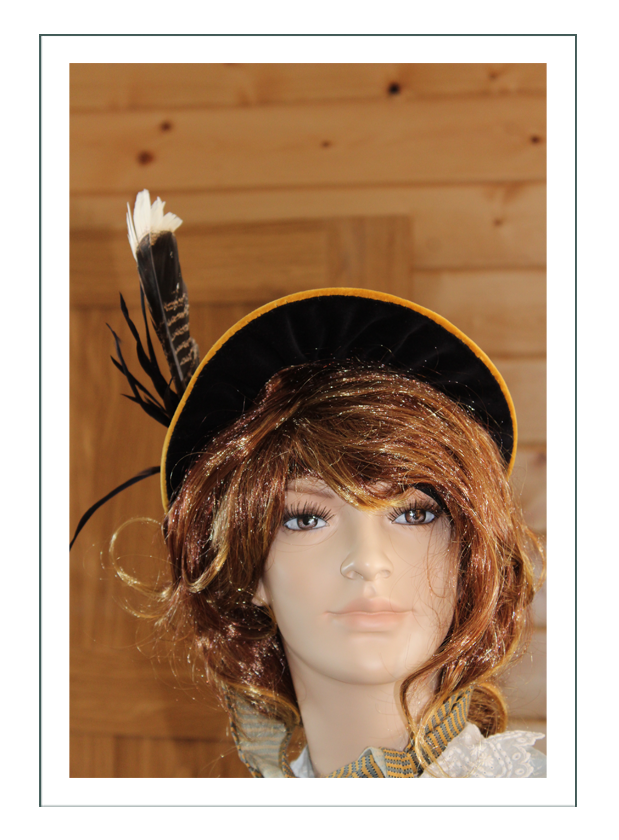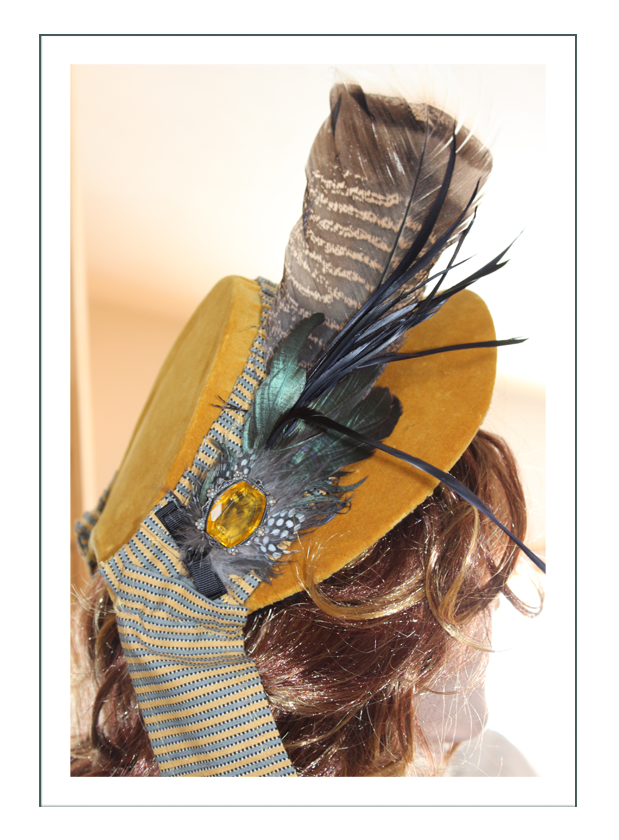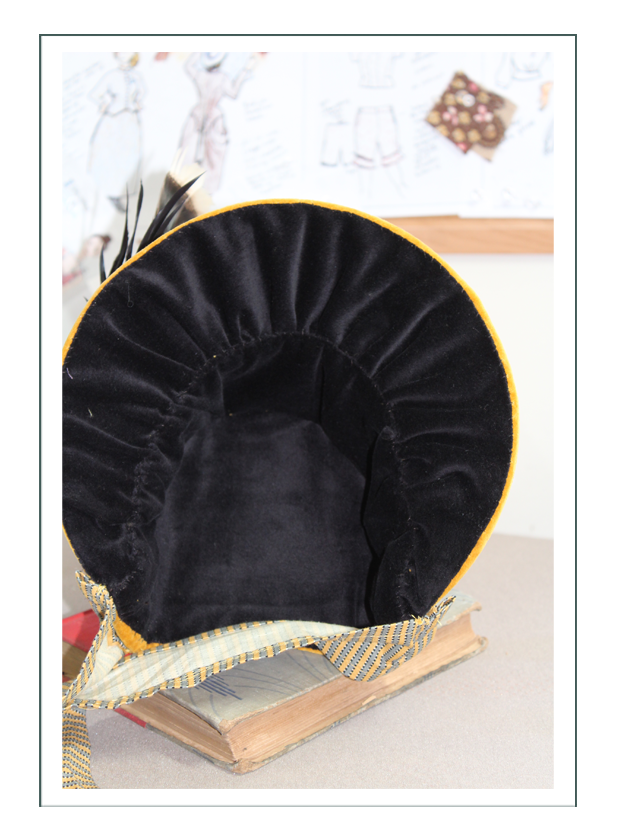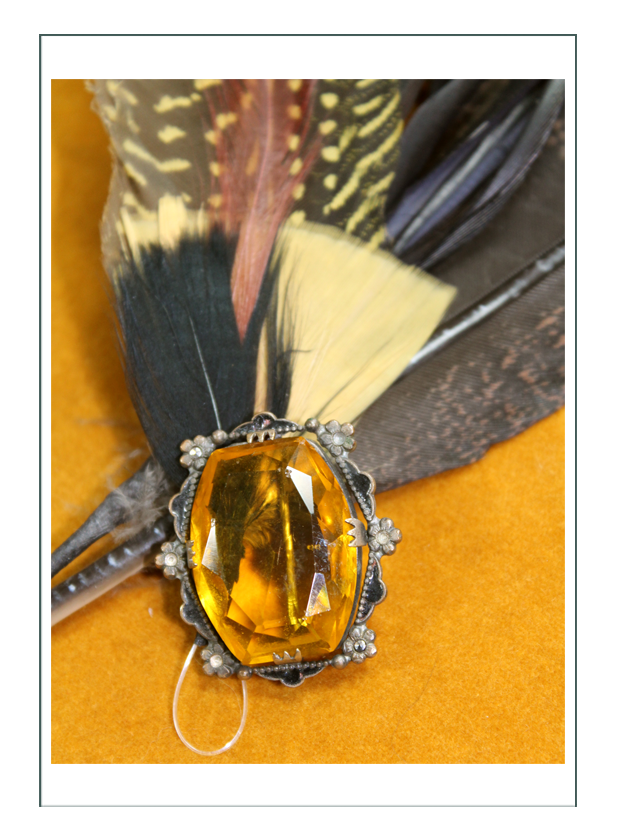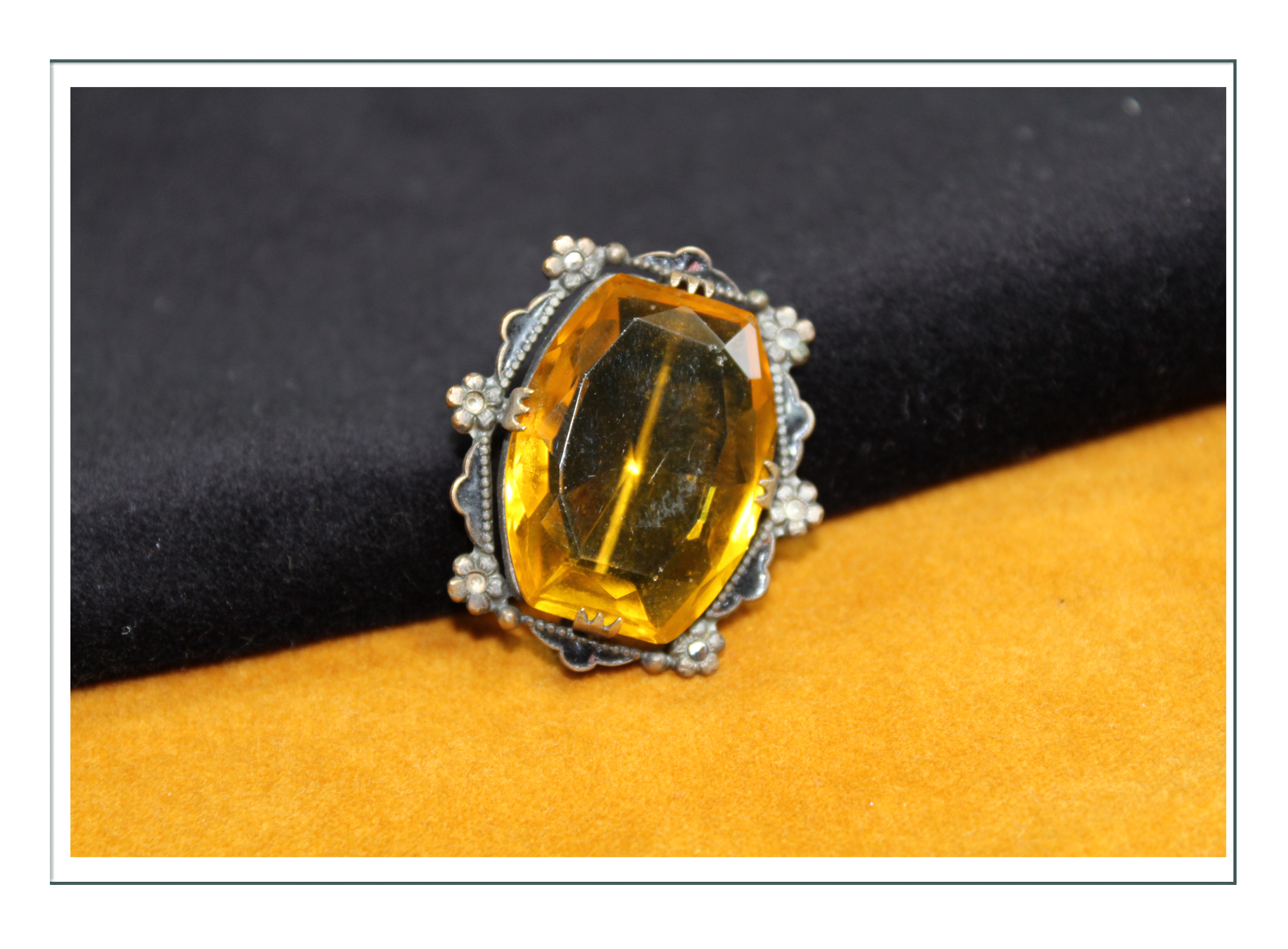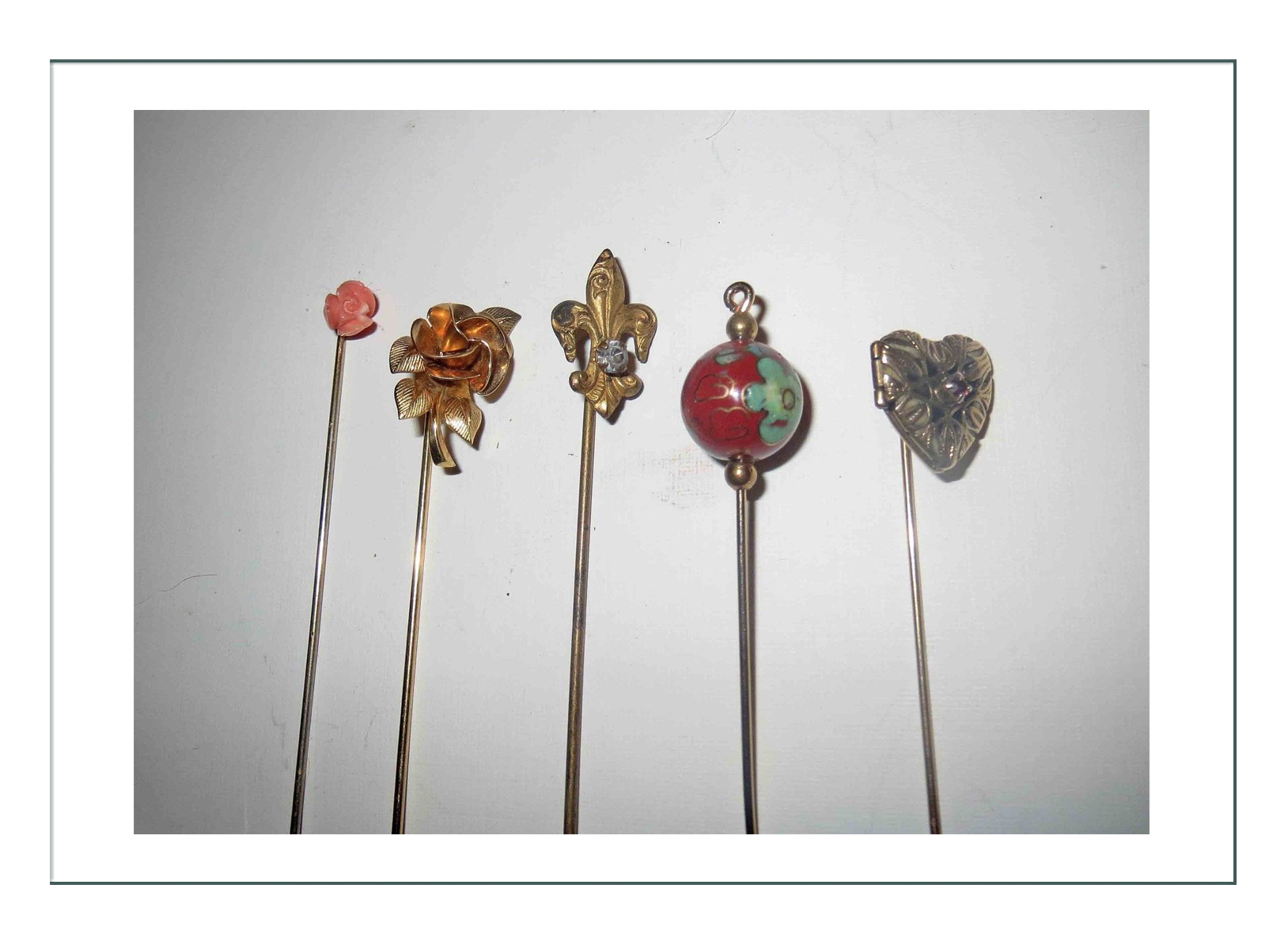 Hat Pins
Brooch, Jewelry, Glasses, & Gloves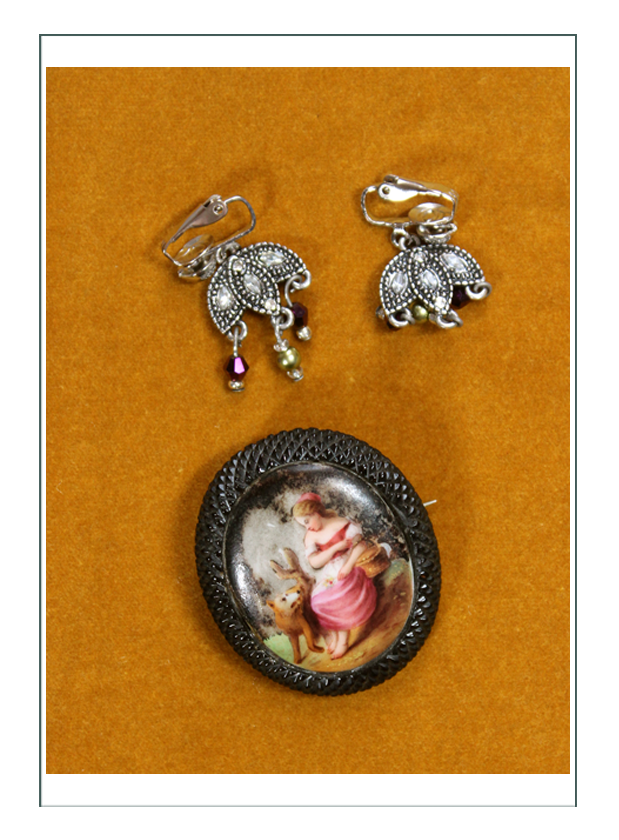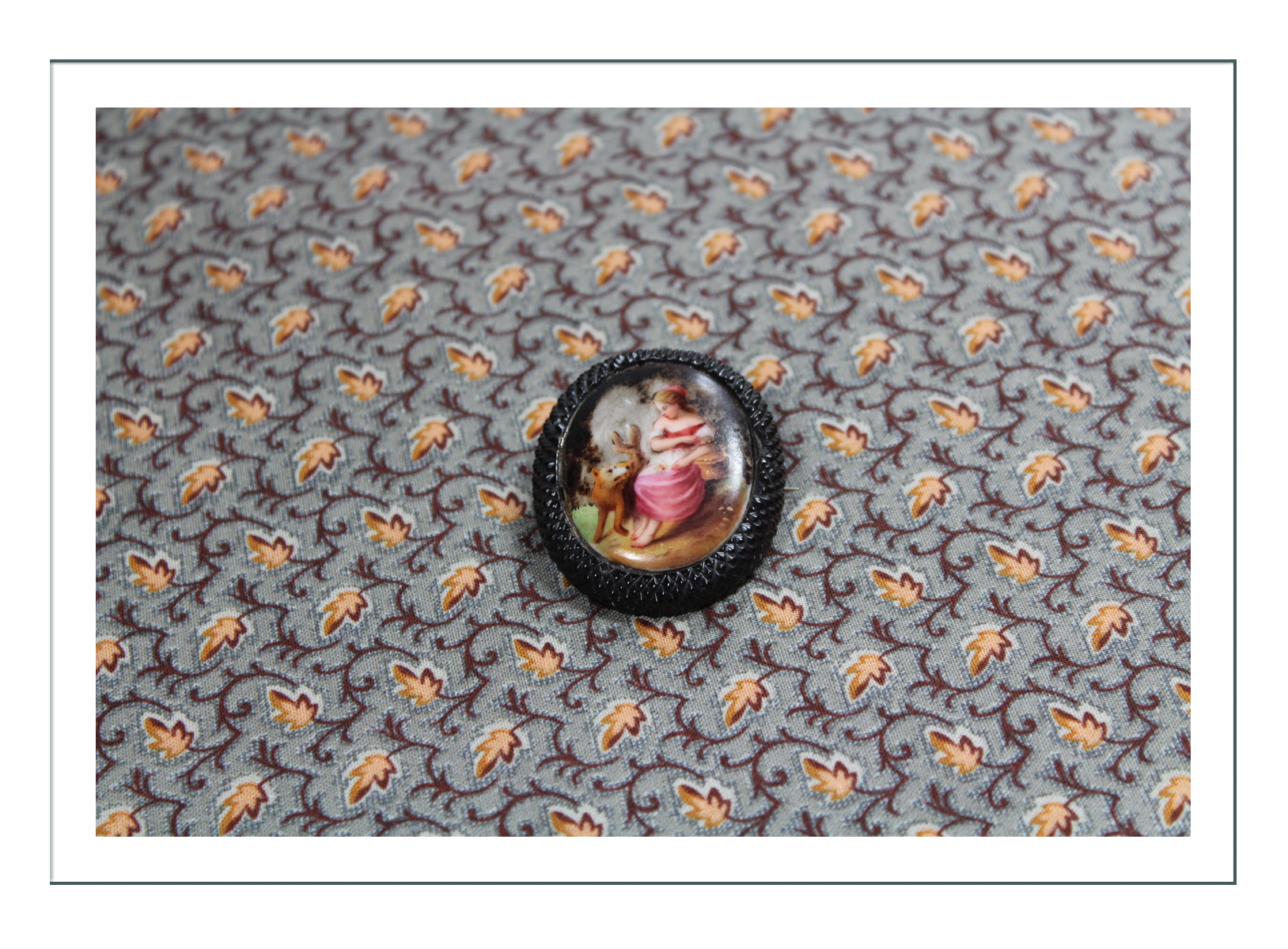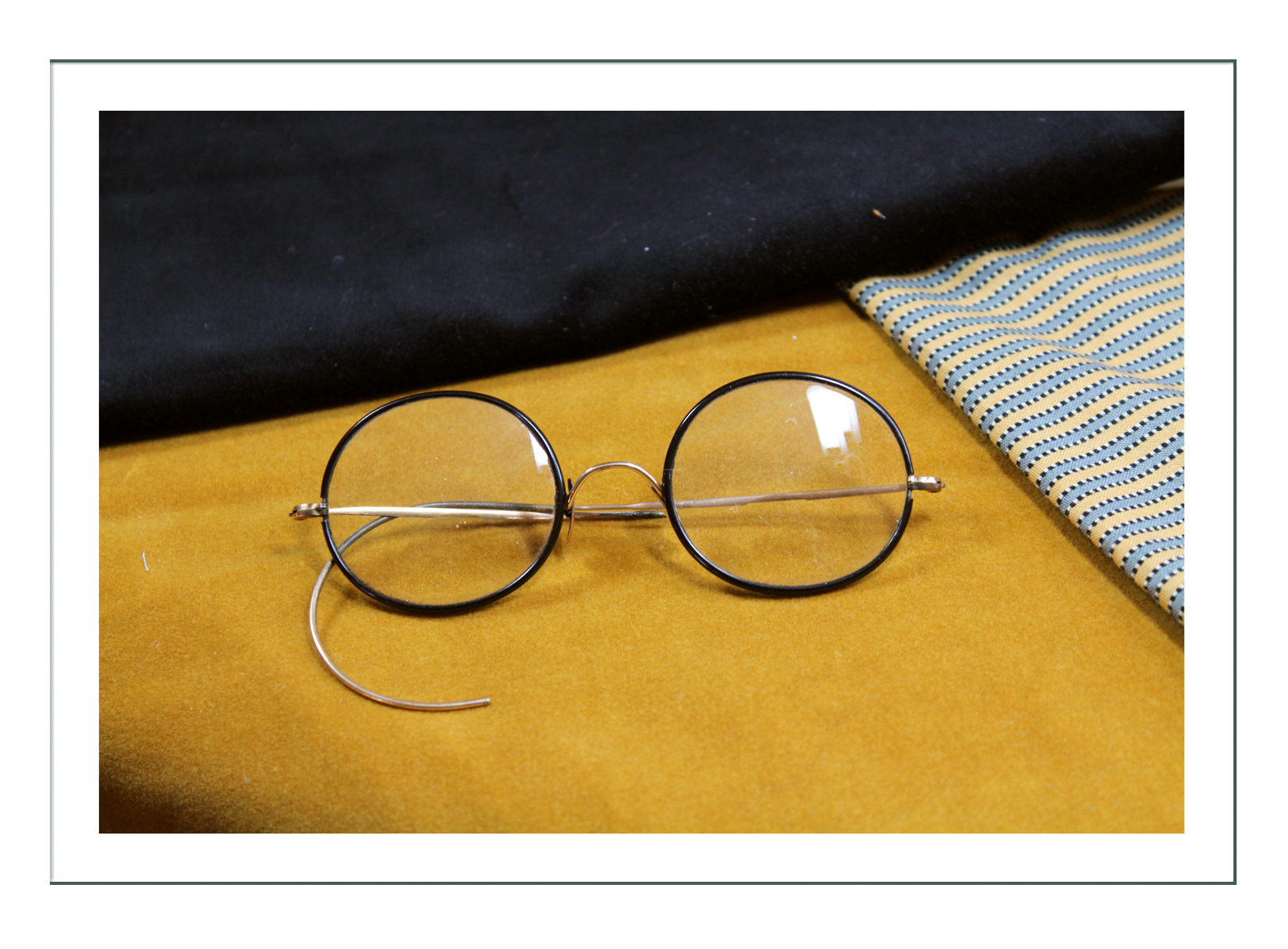 AUTHENTIC kid leather gloves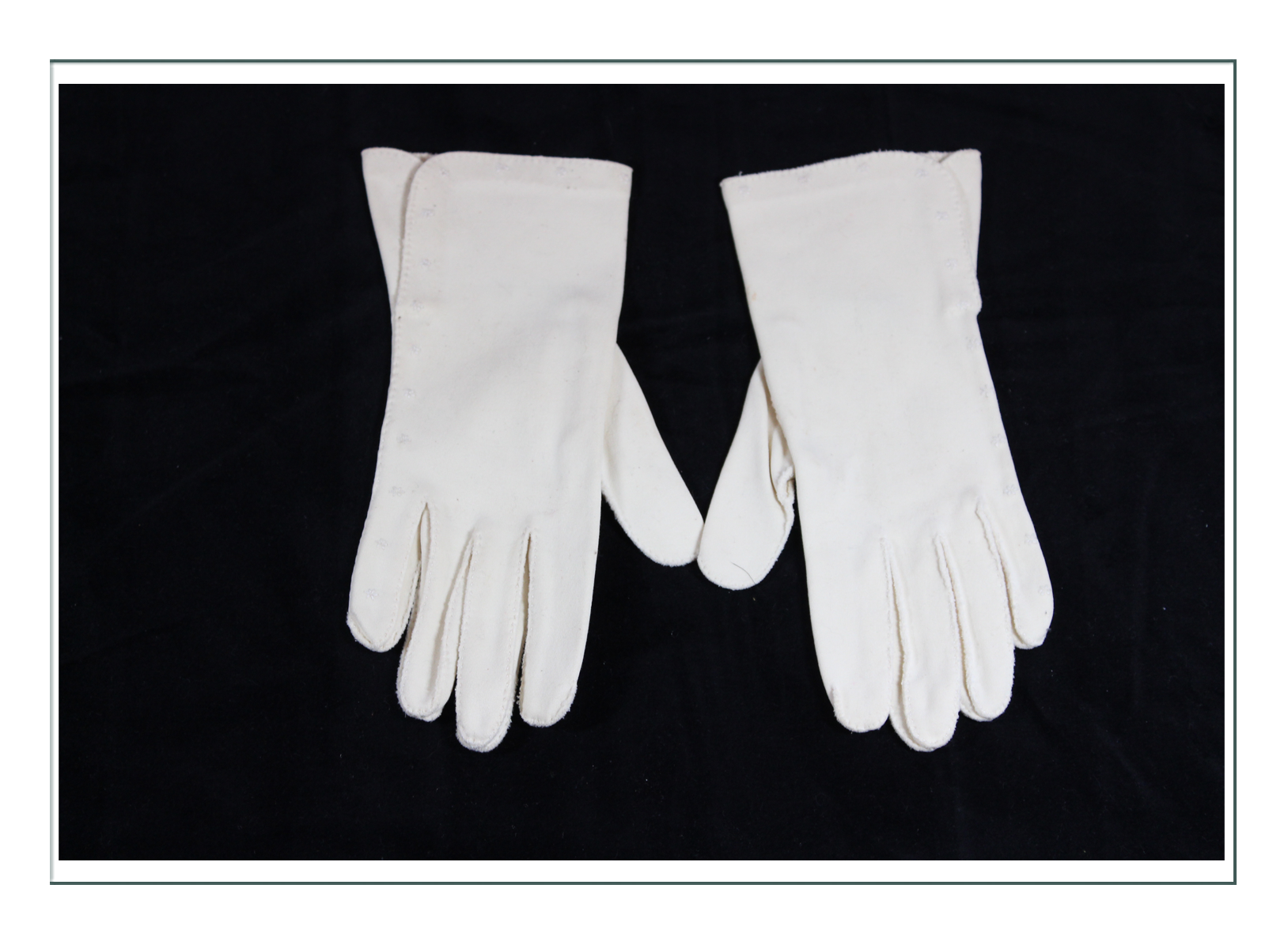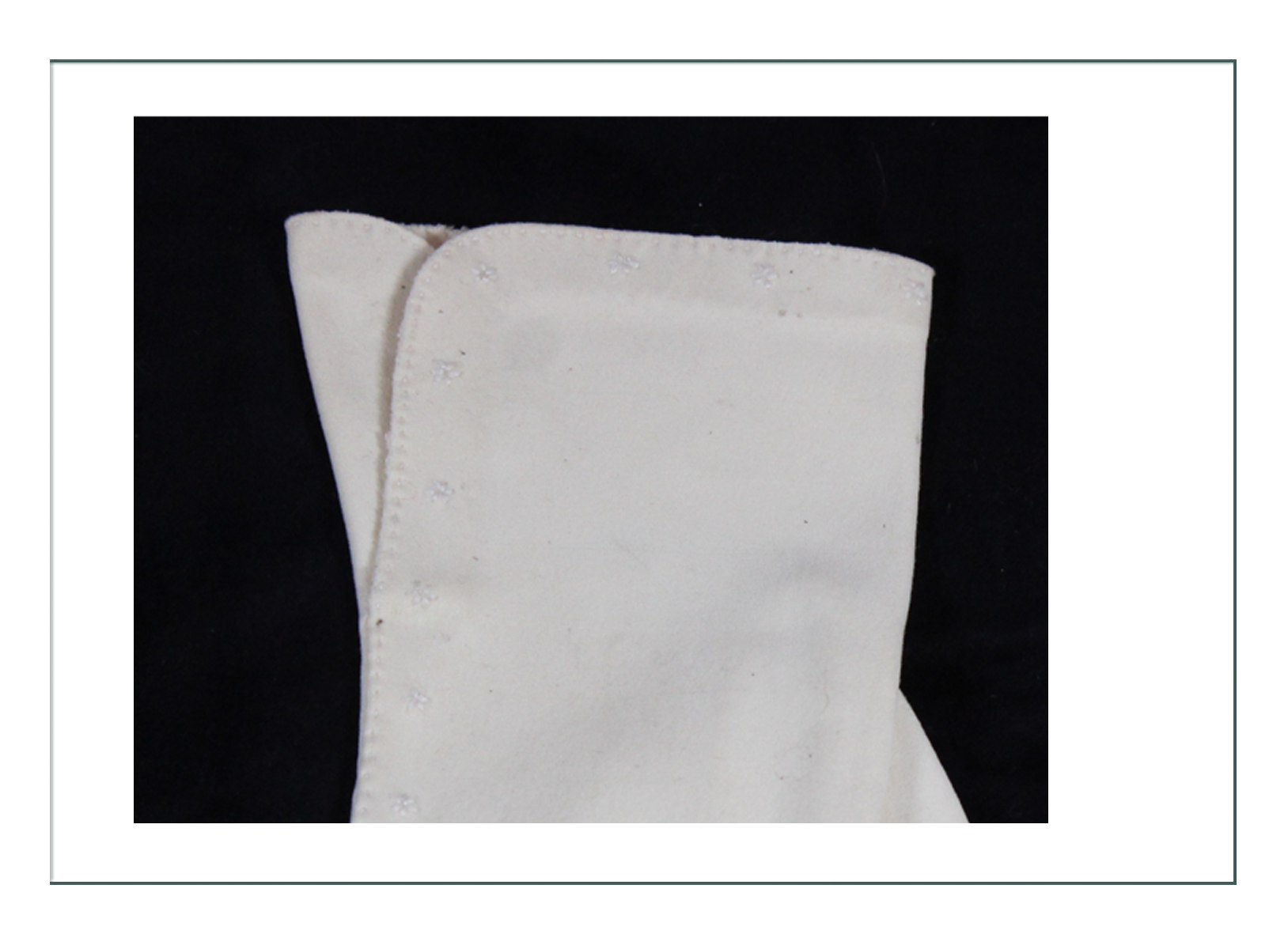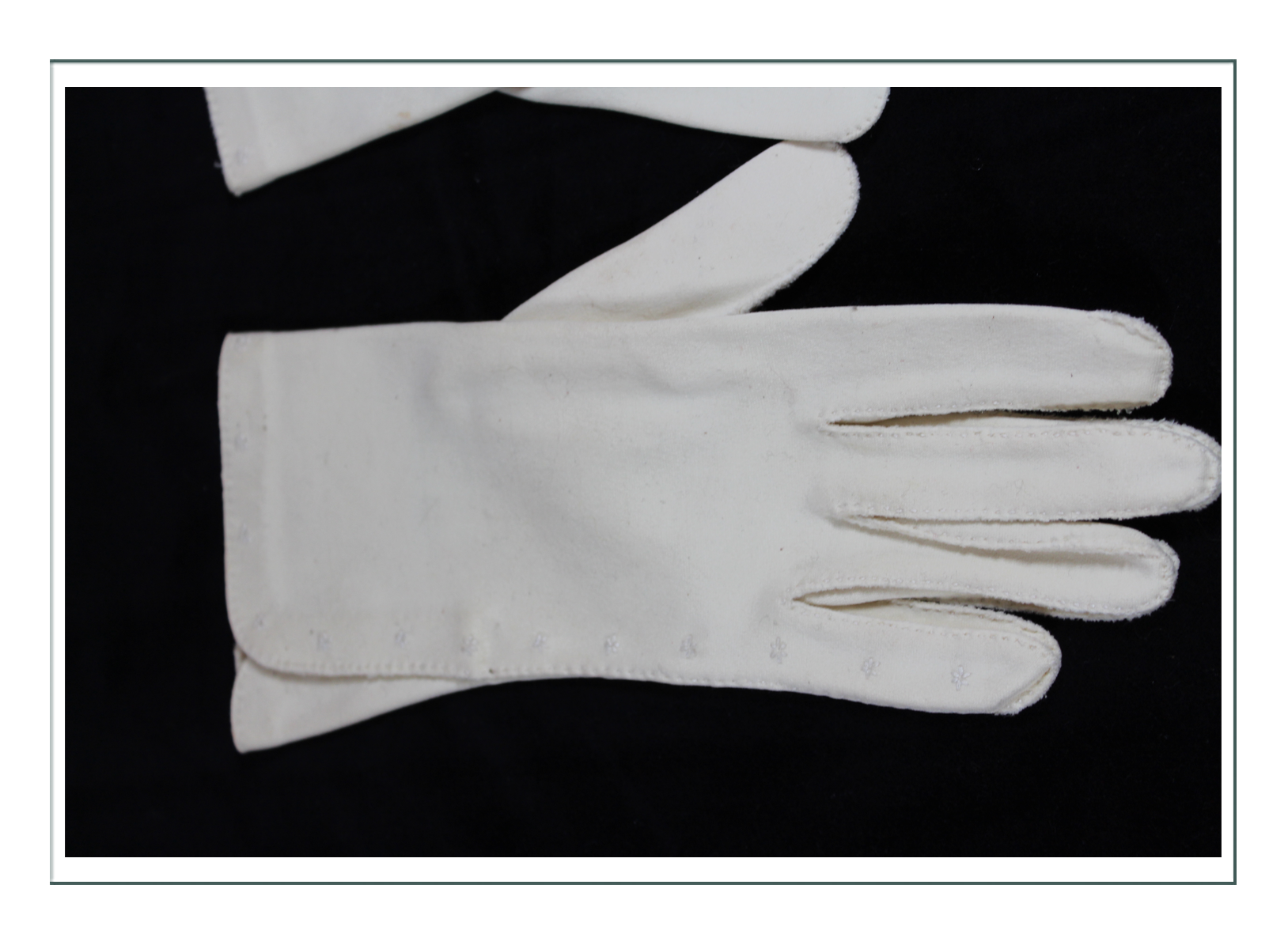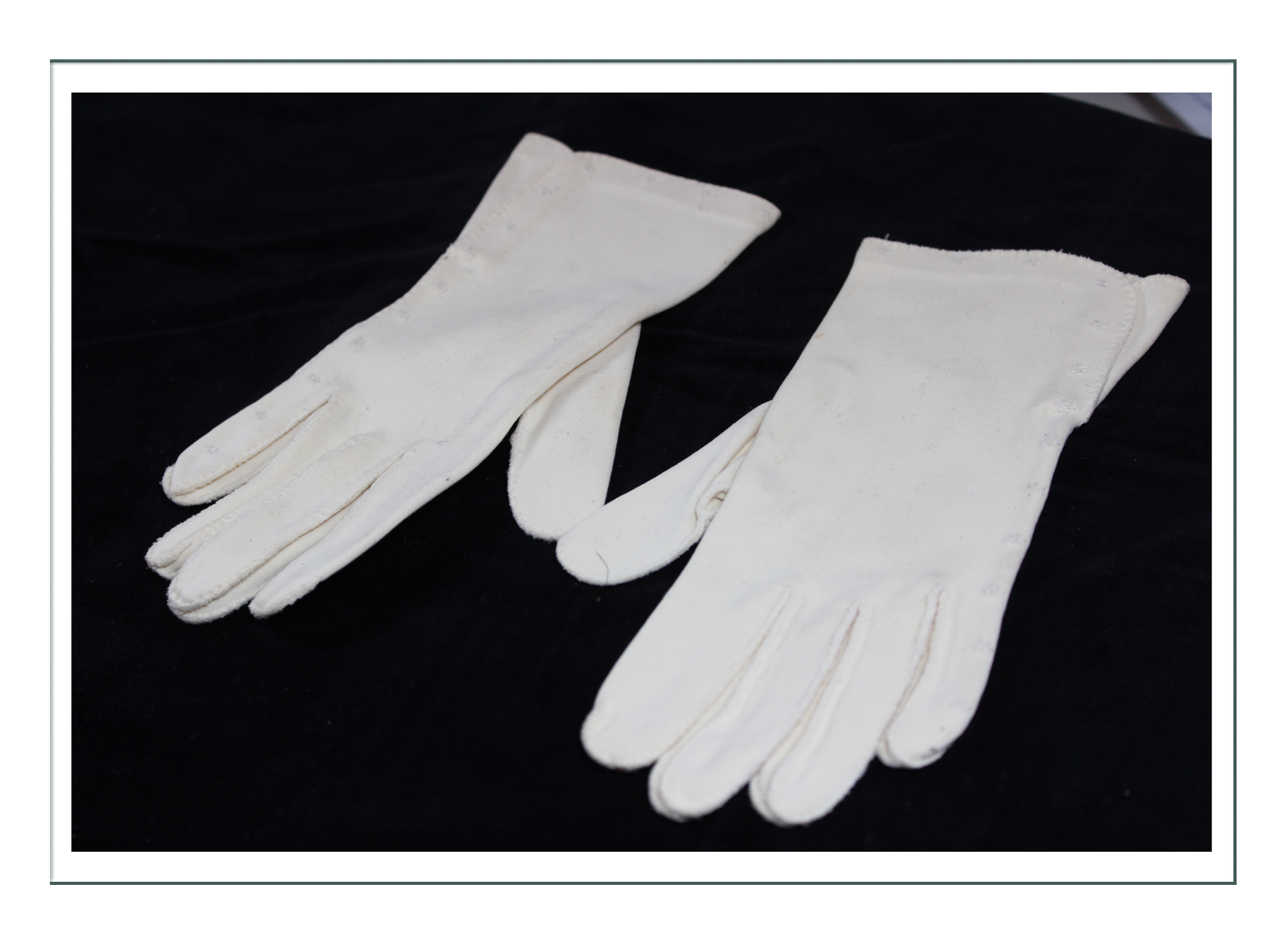 Boots & Stockings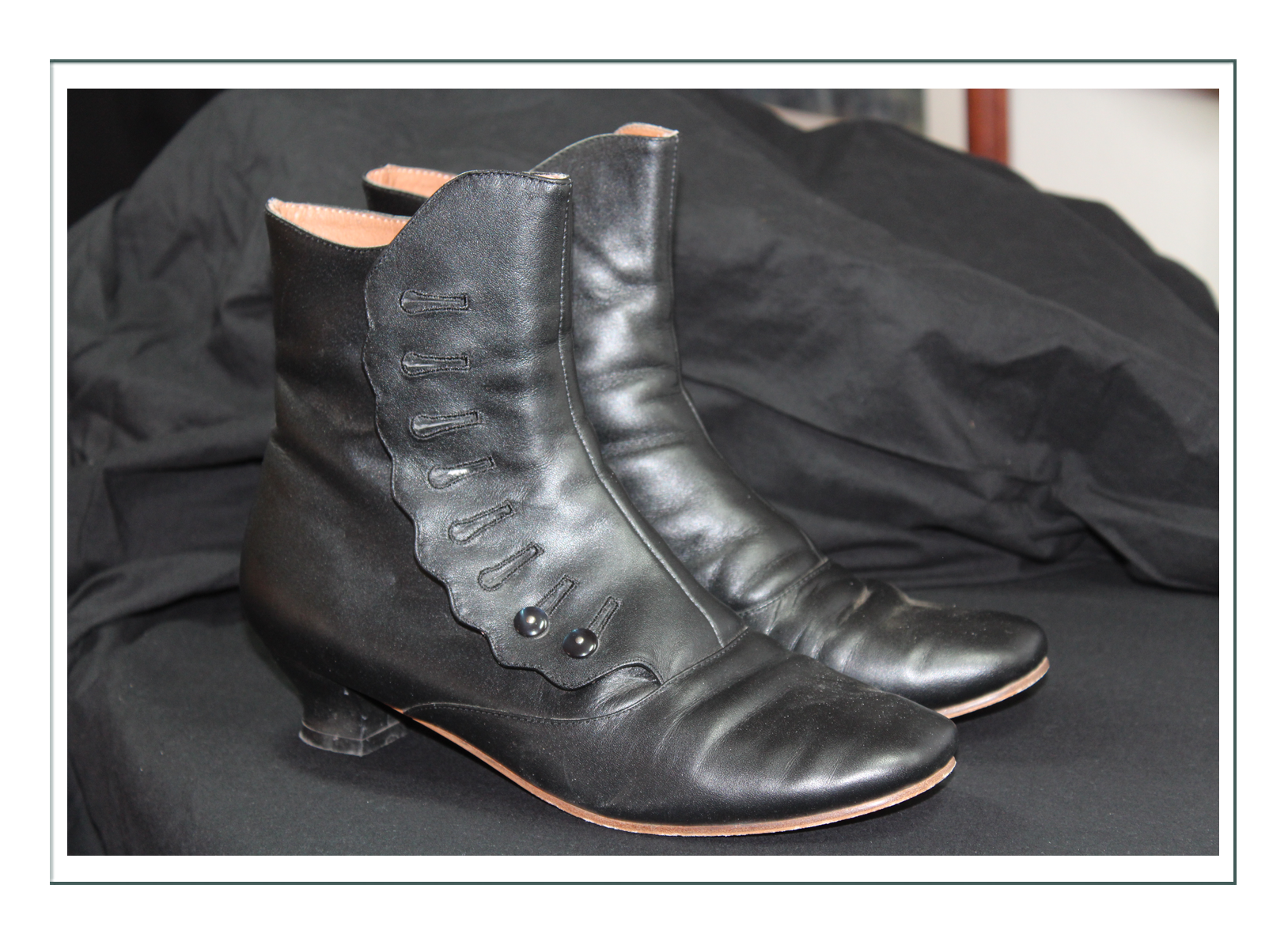 Special Prop – AUTHENTIC 1883 published book of Hymns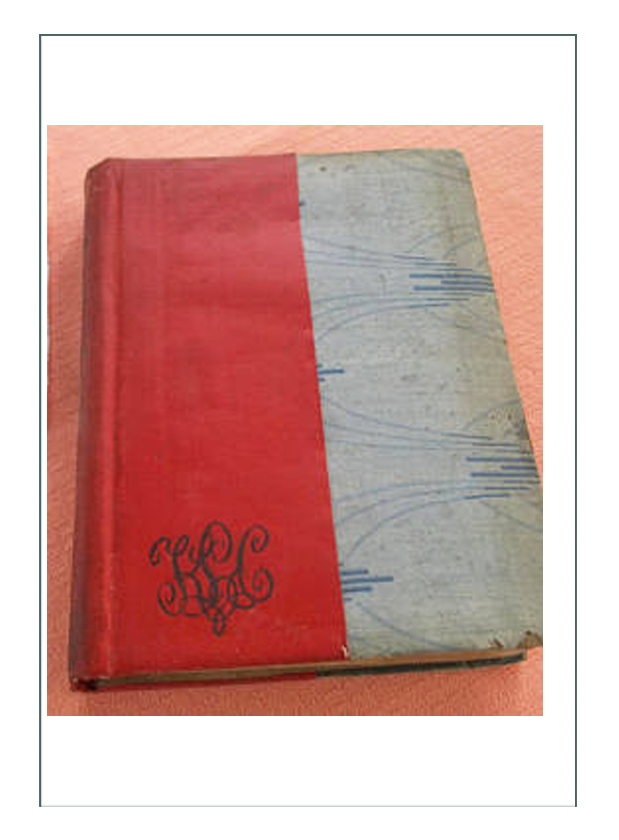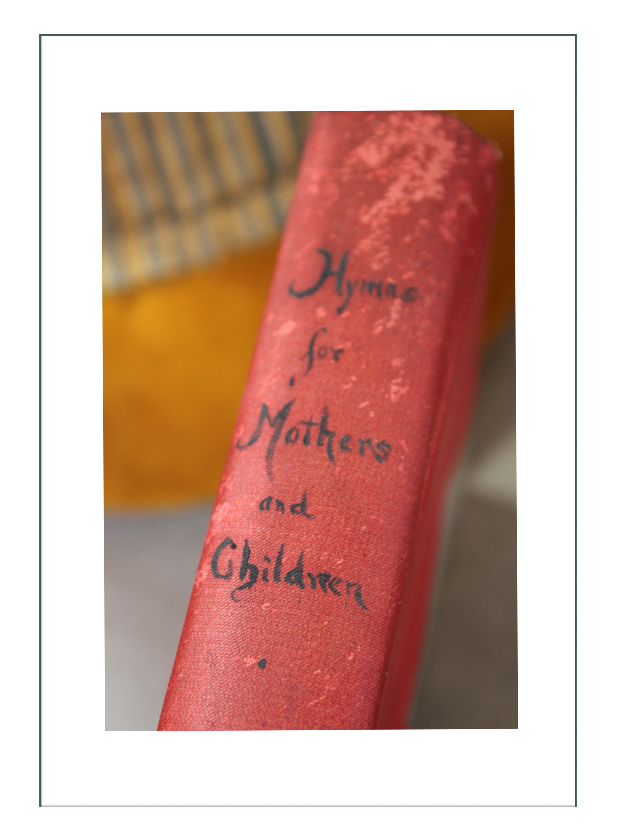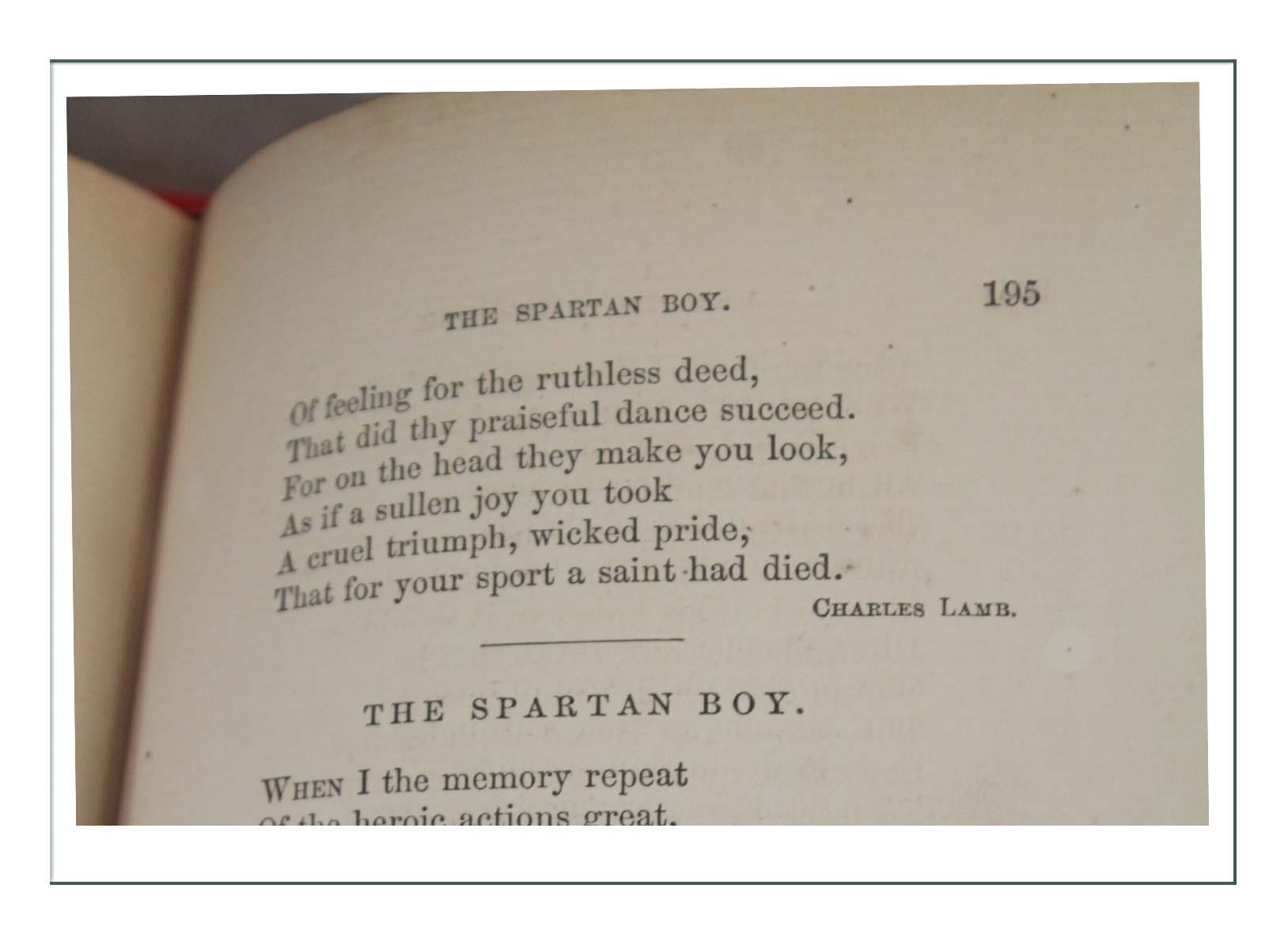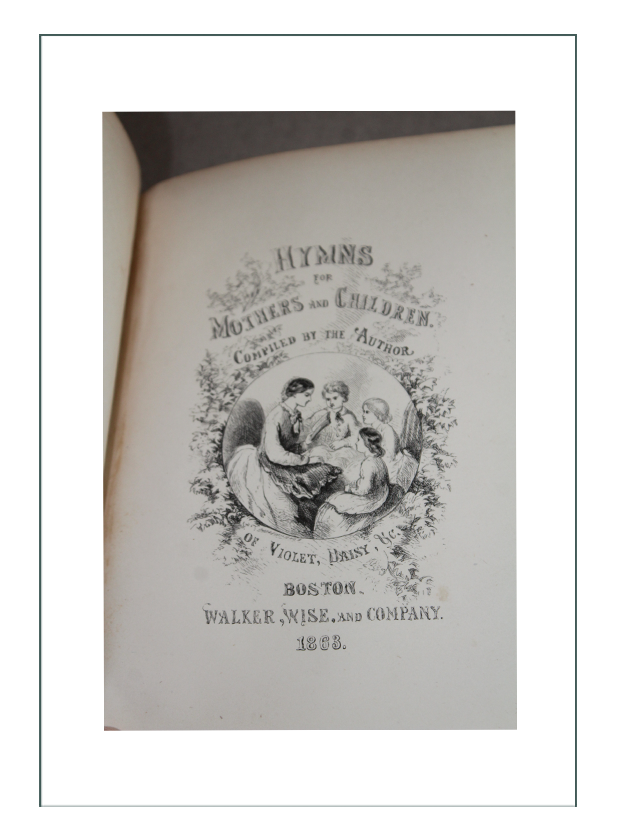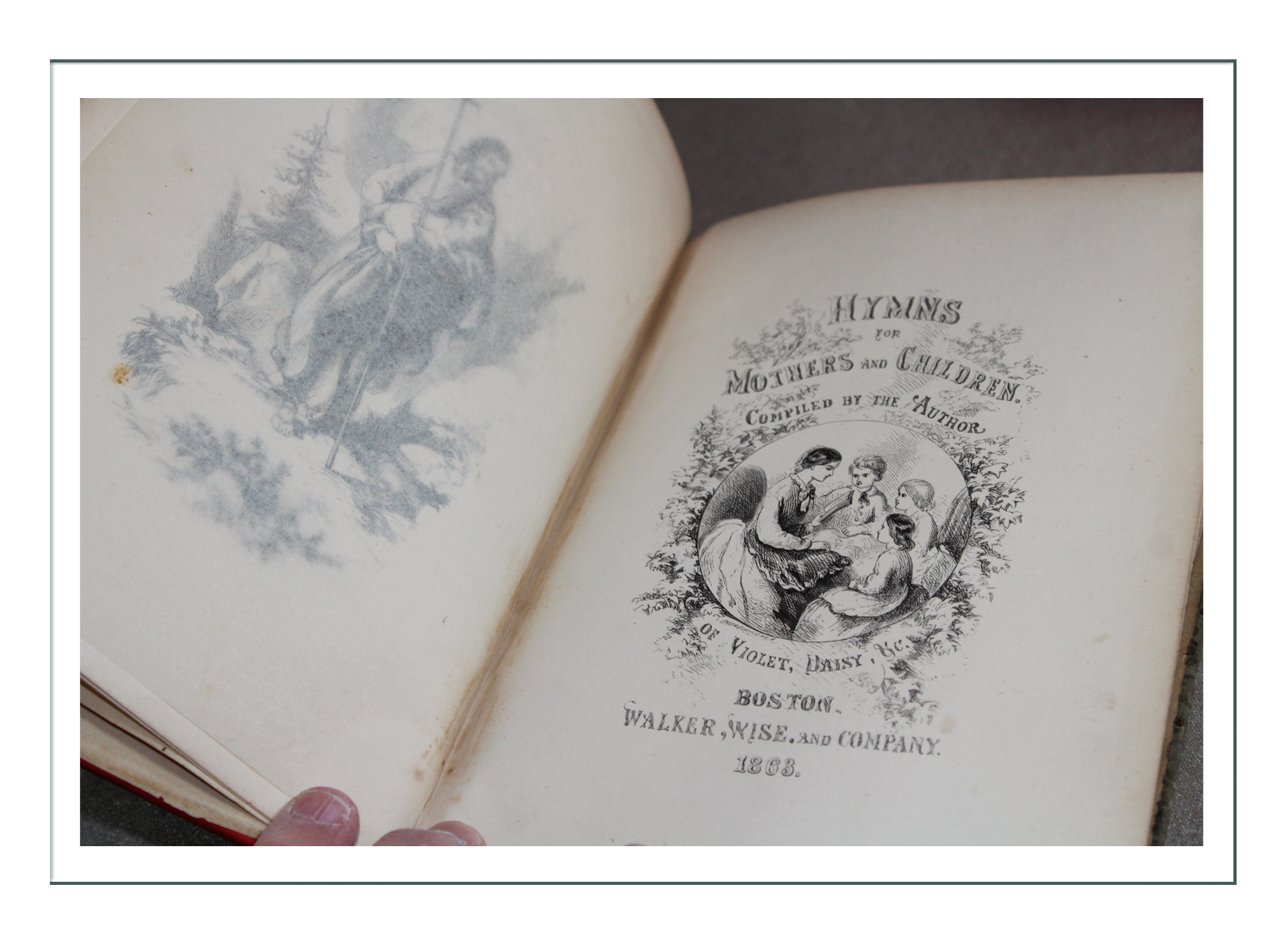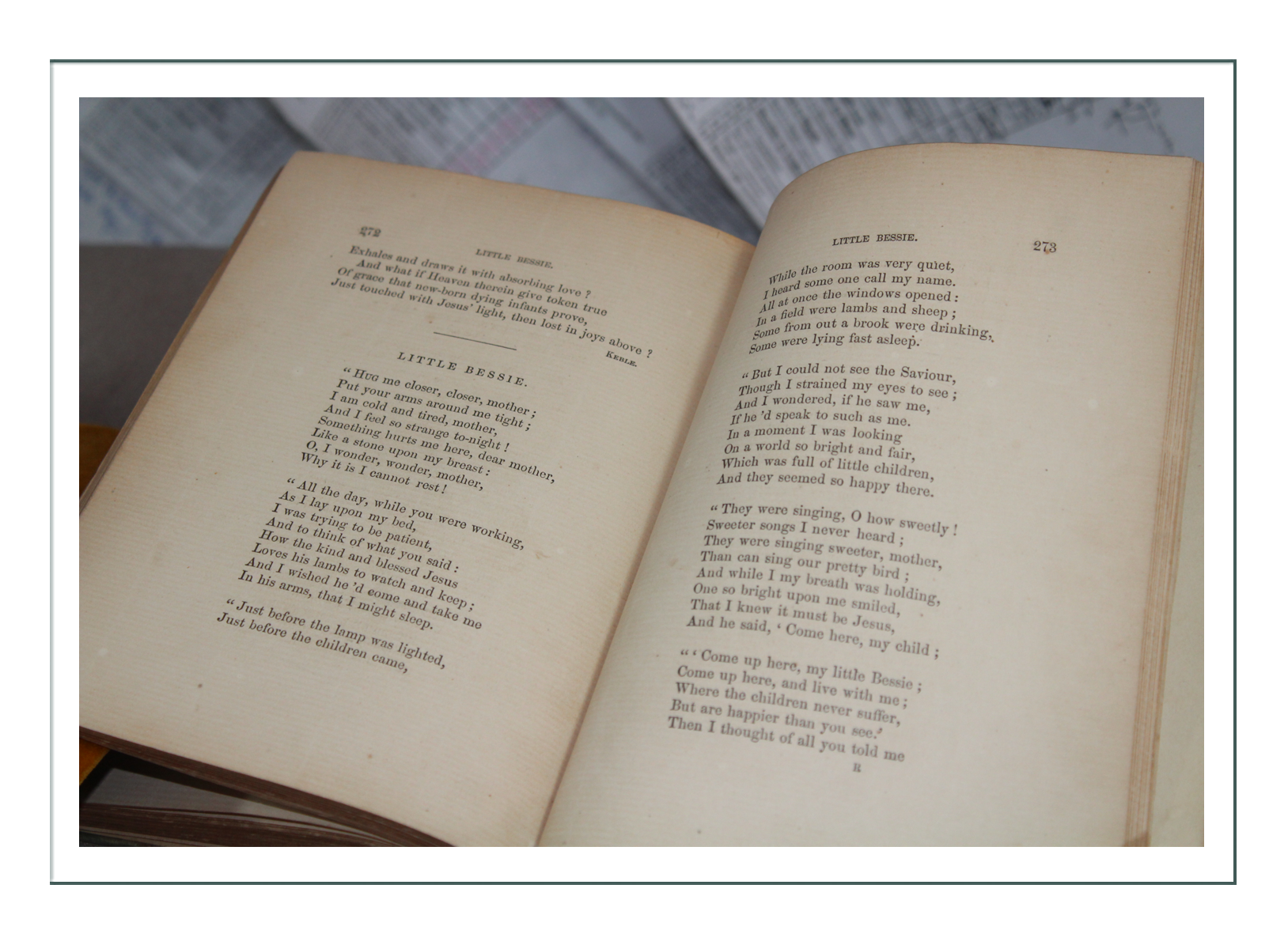 March 2018 show at the Irma Hotel, Cody, Wyoming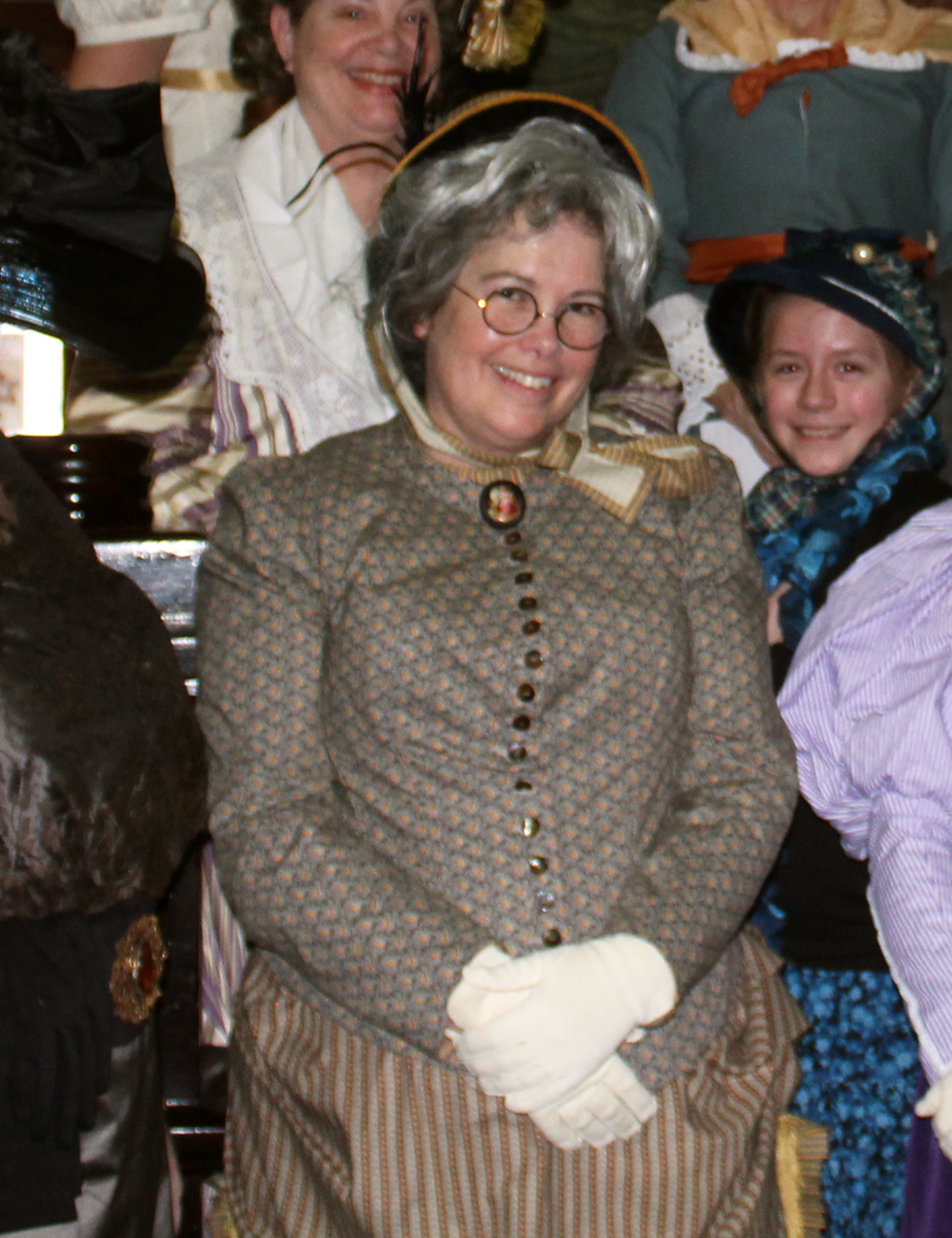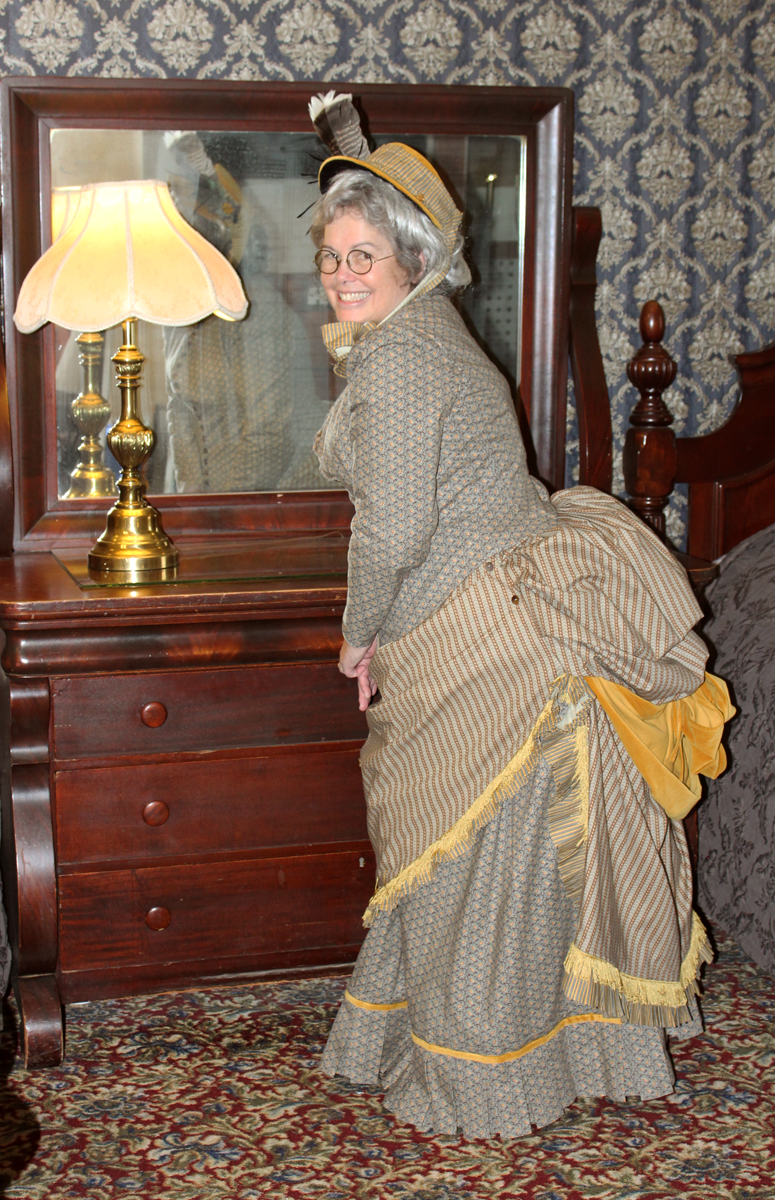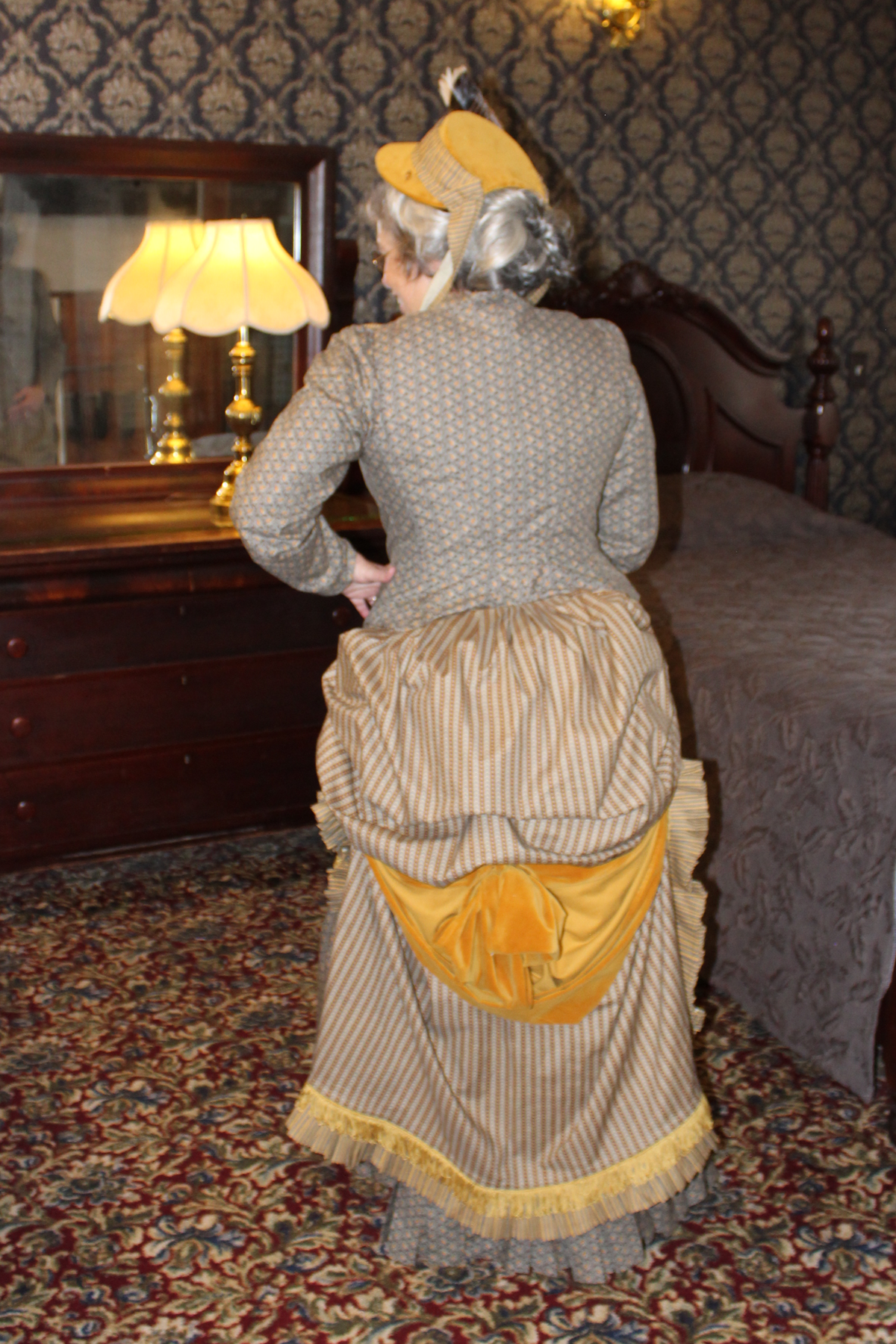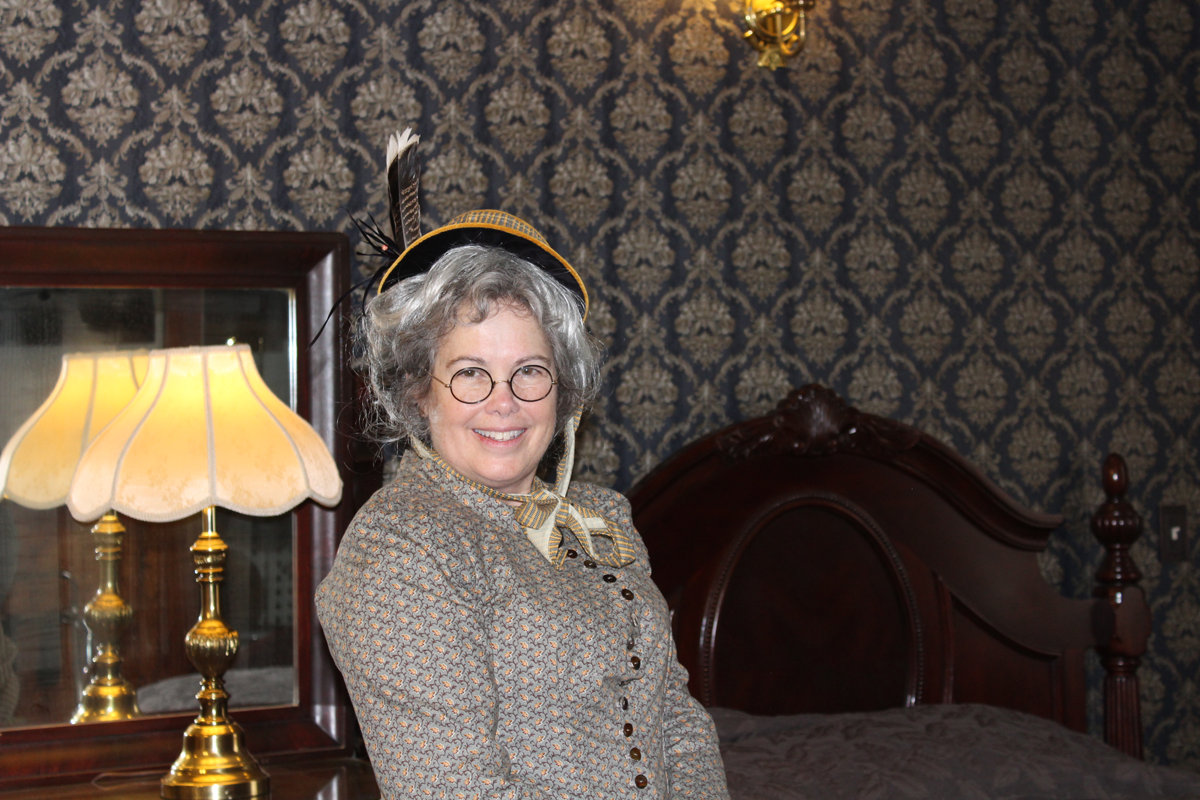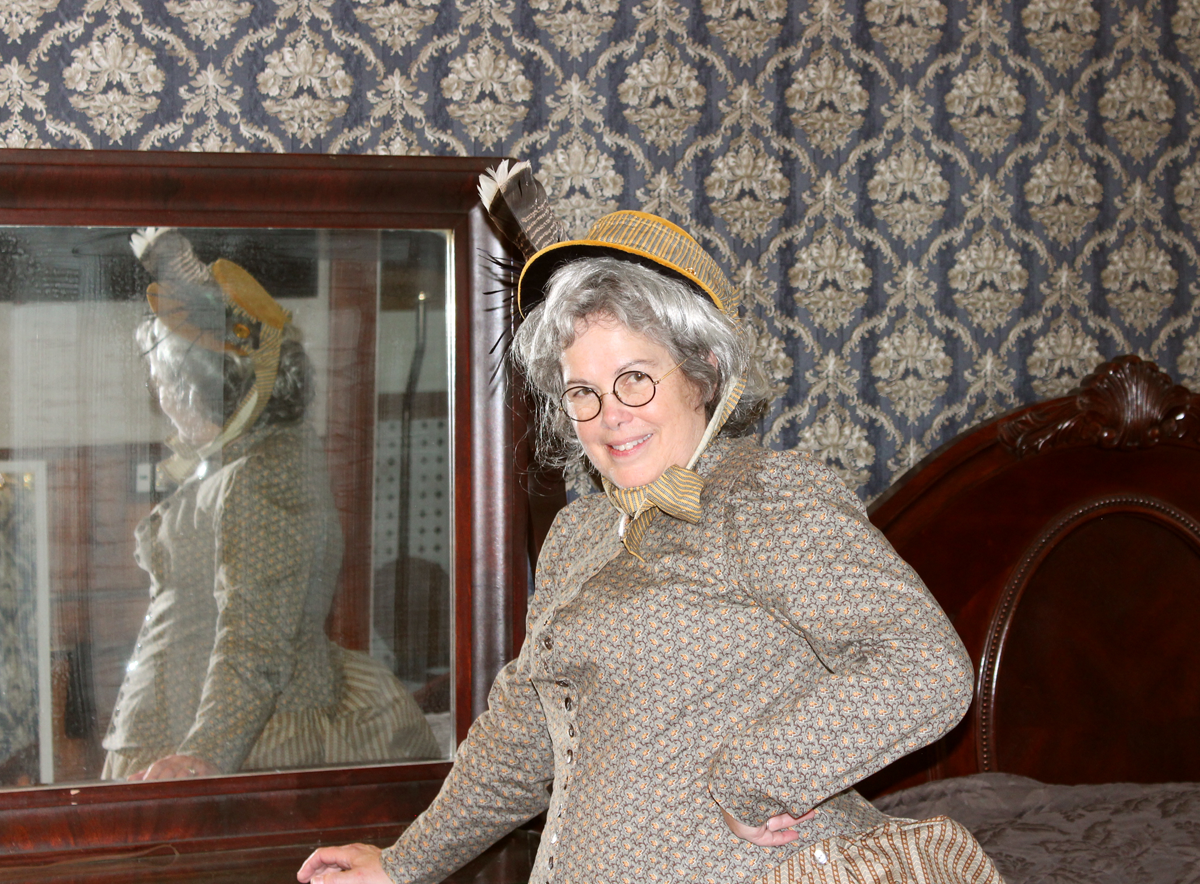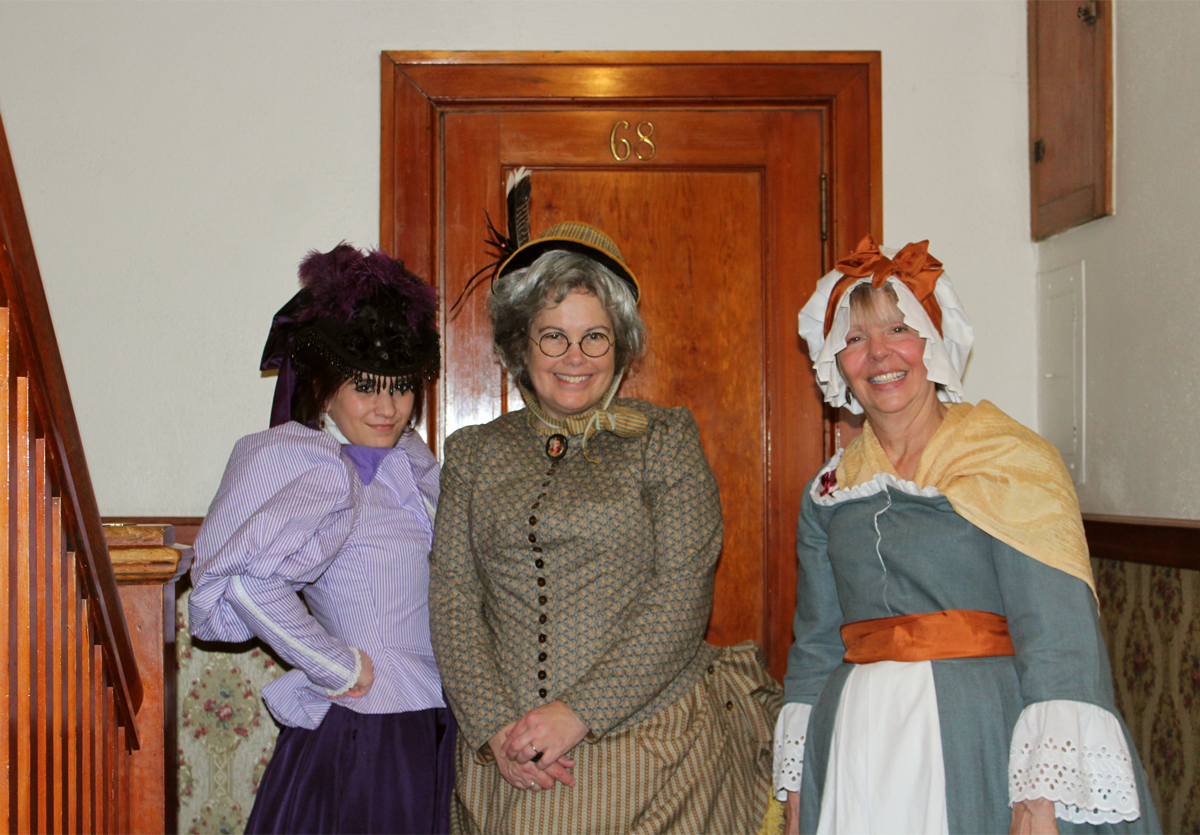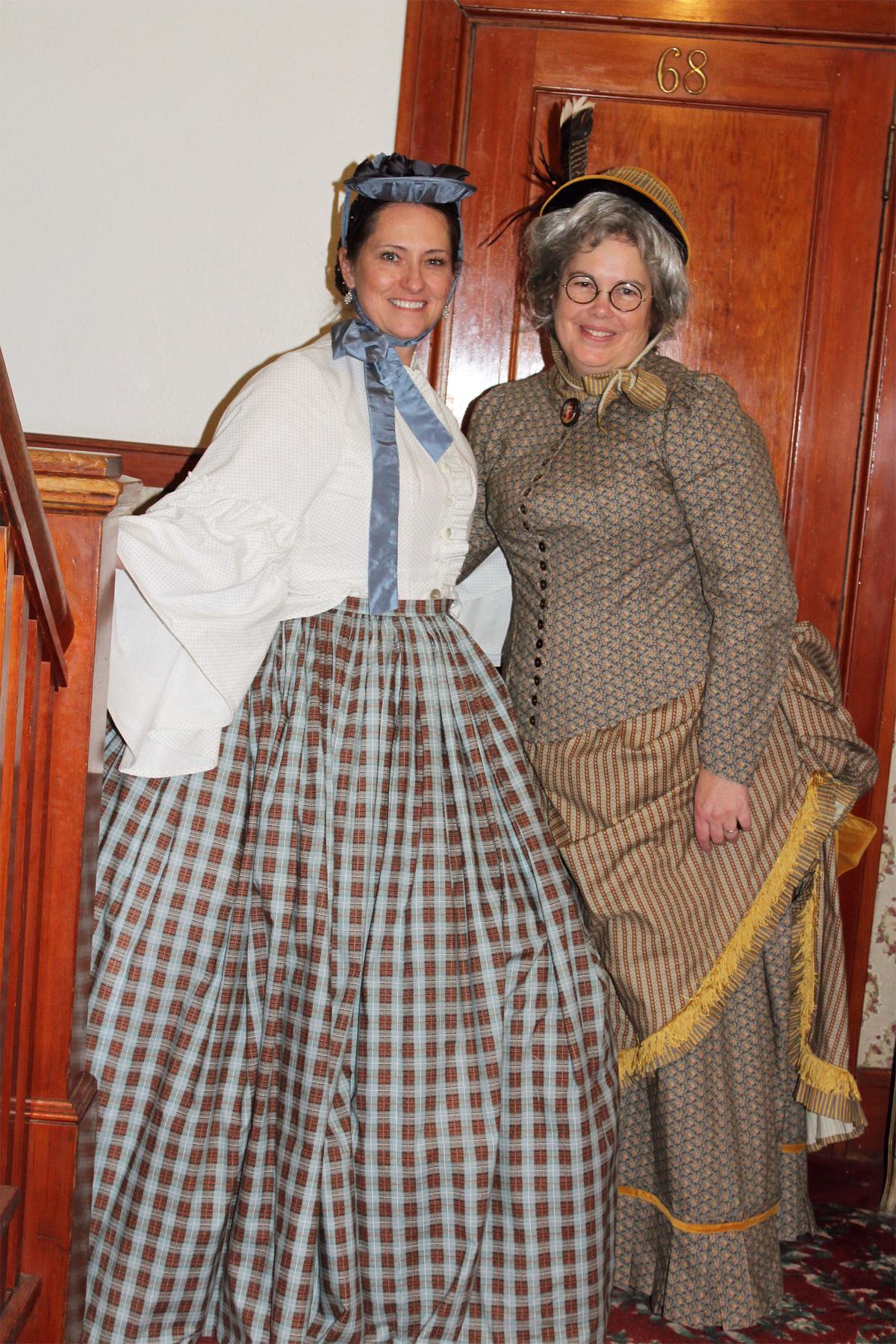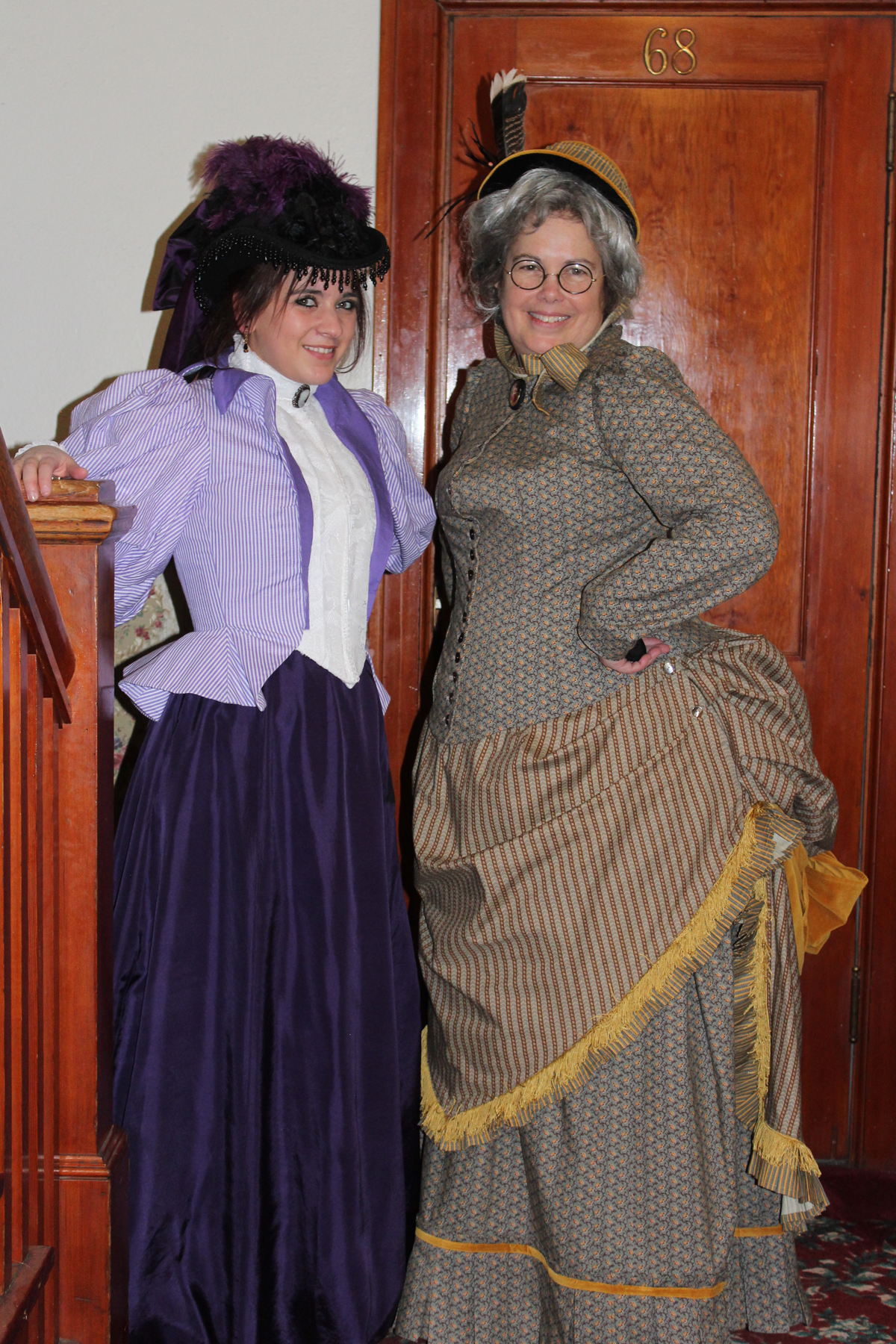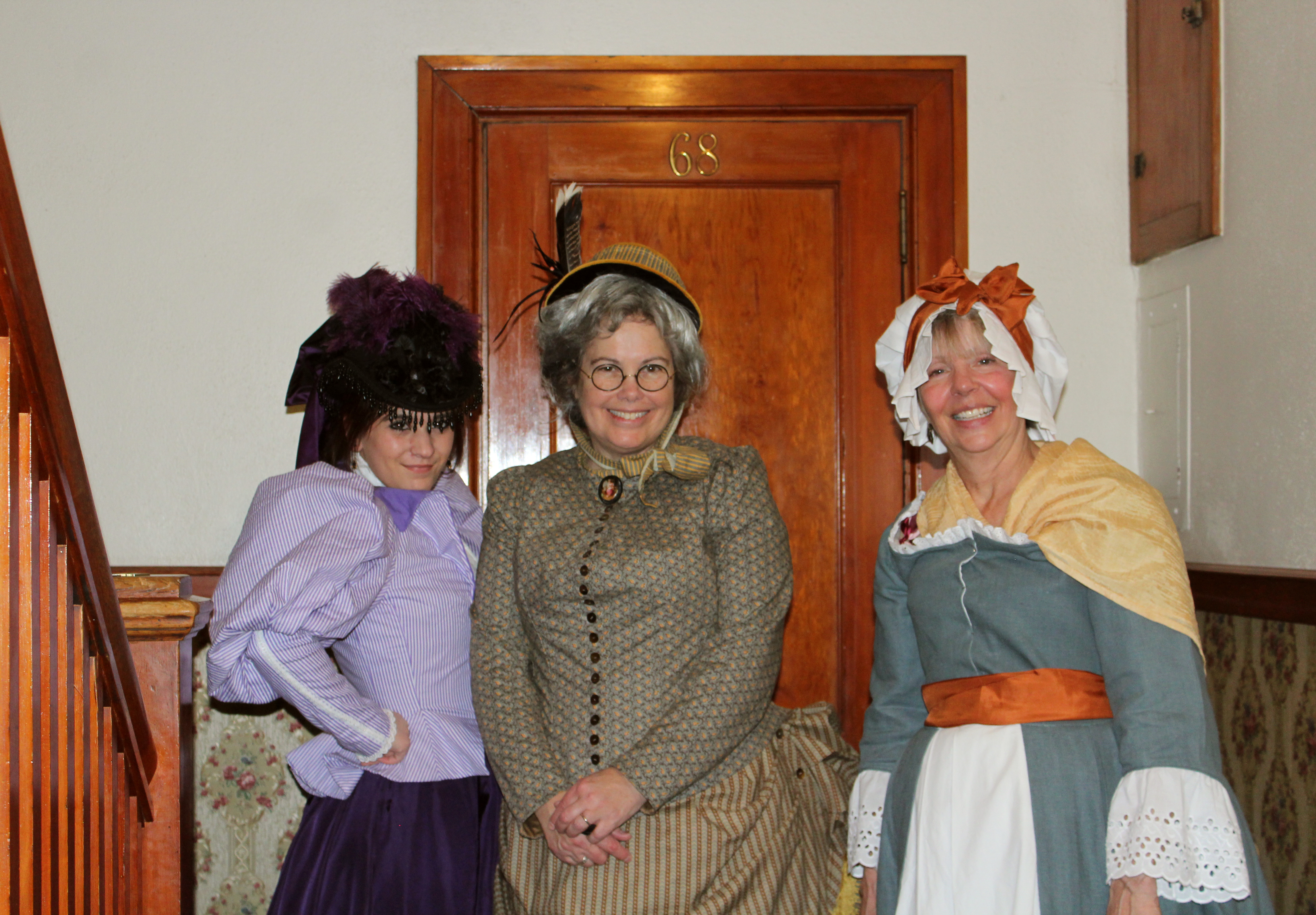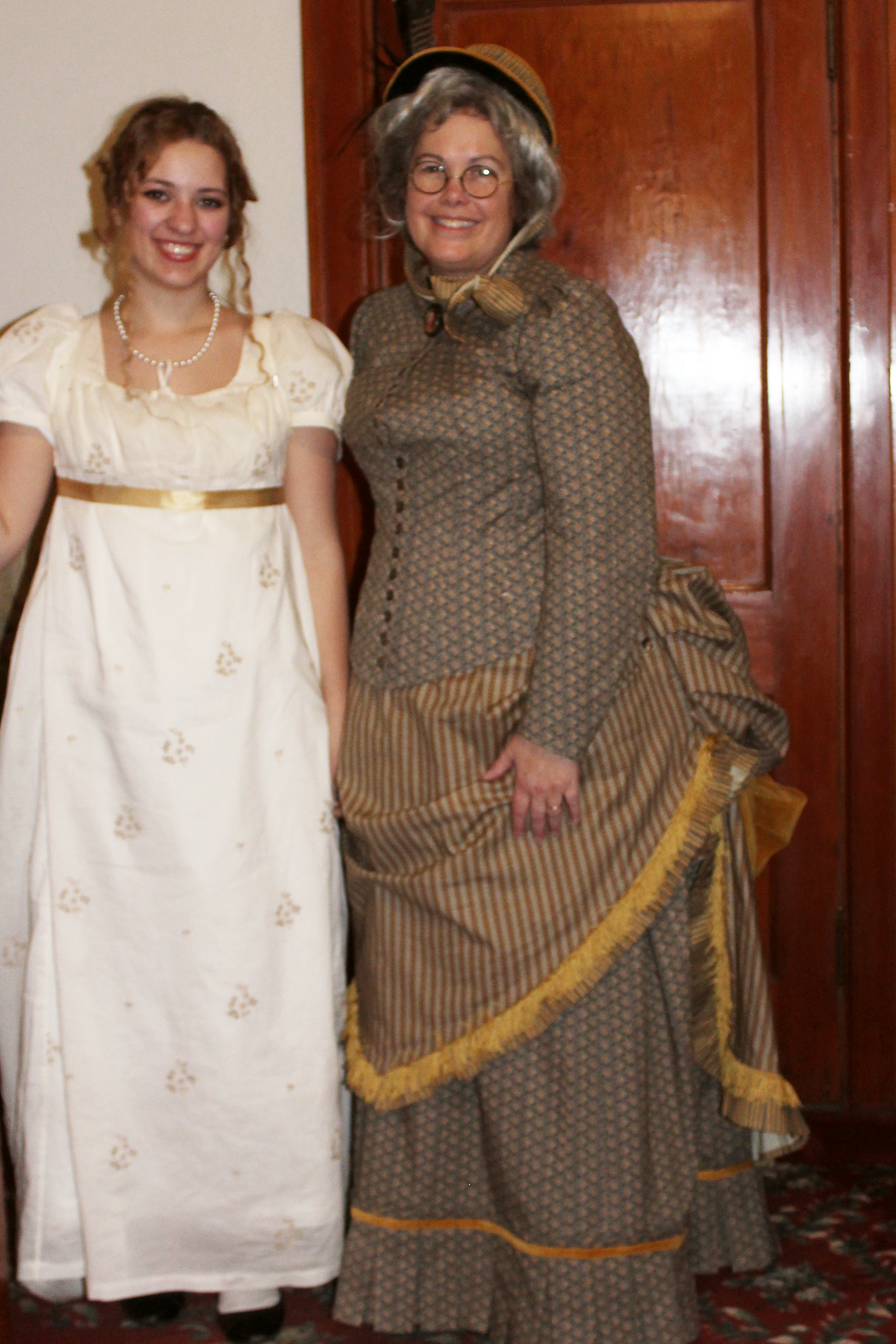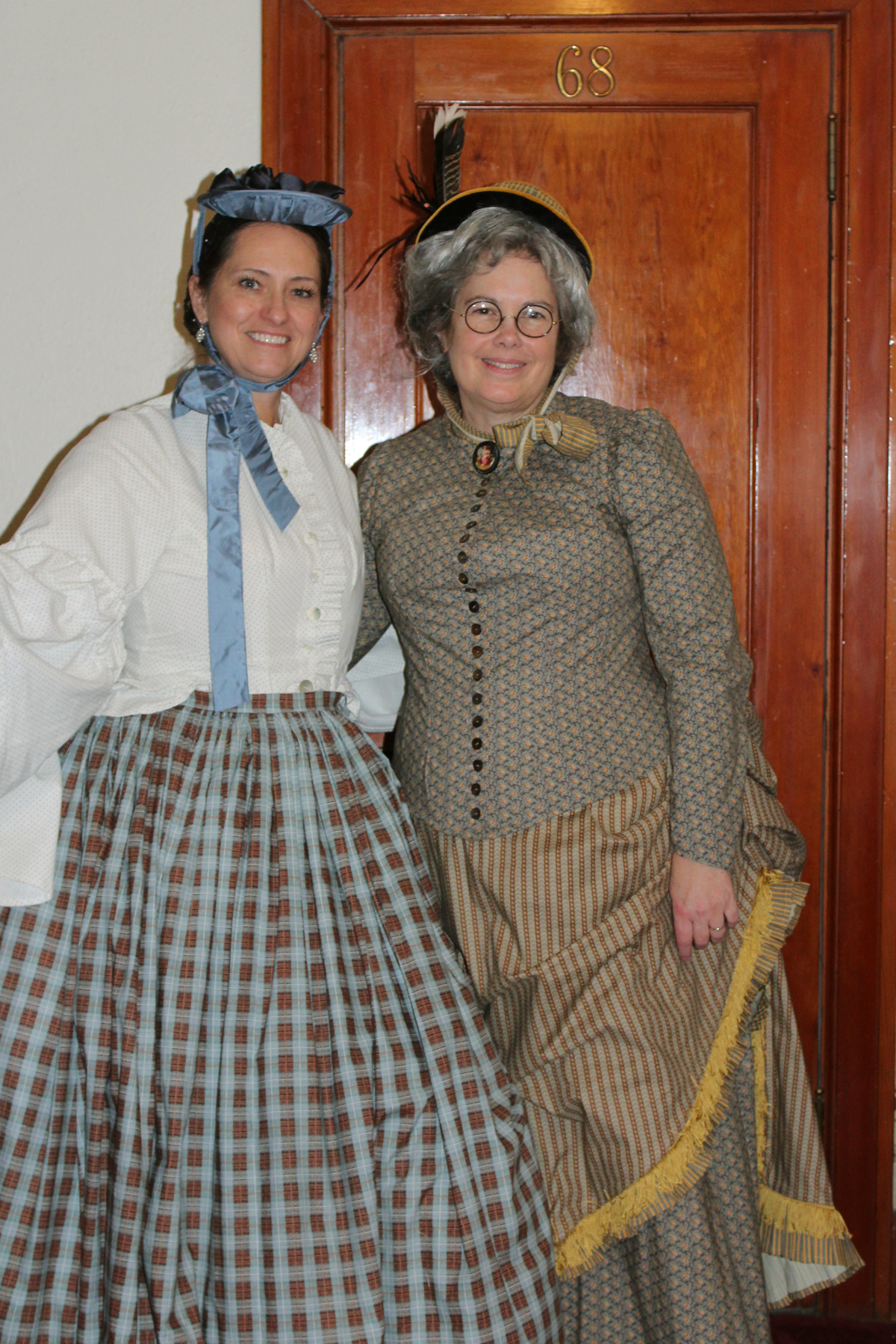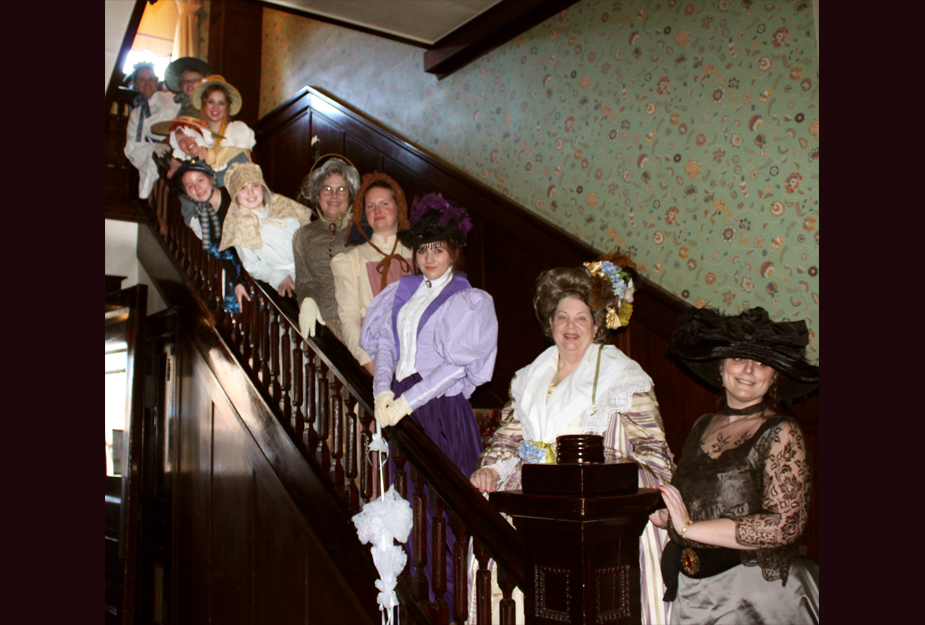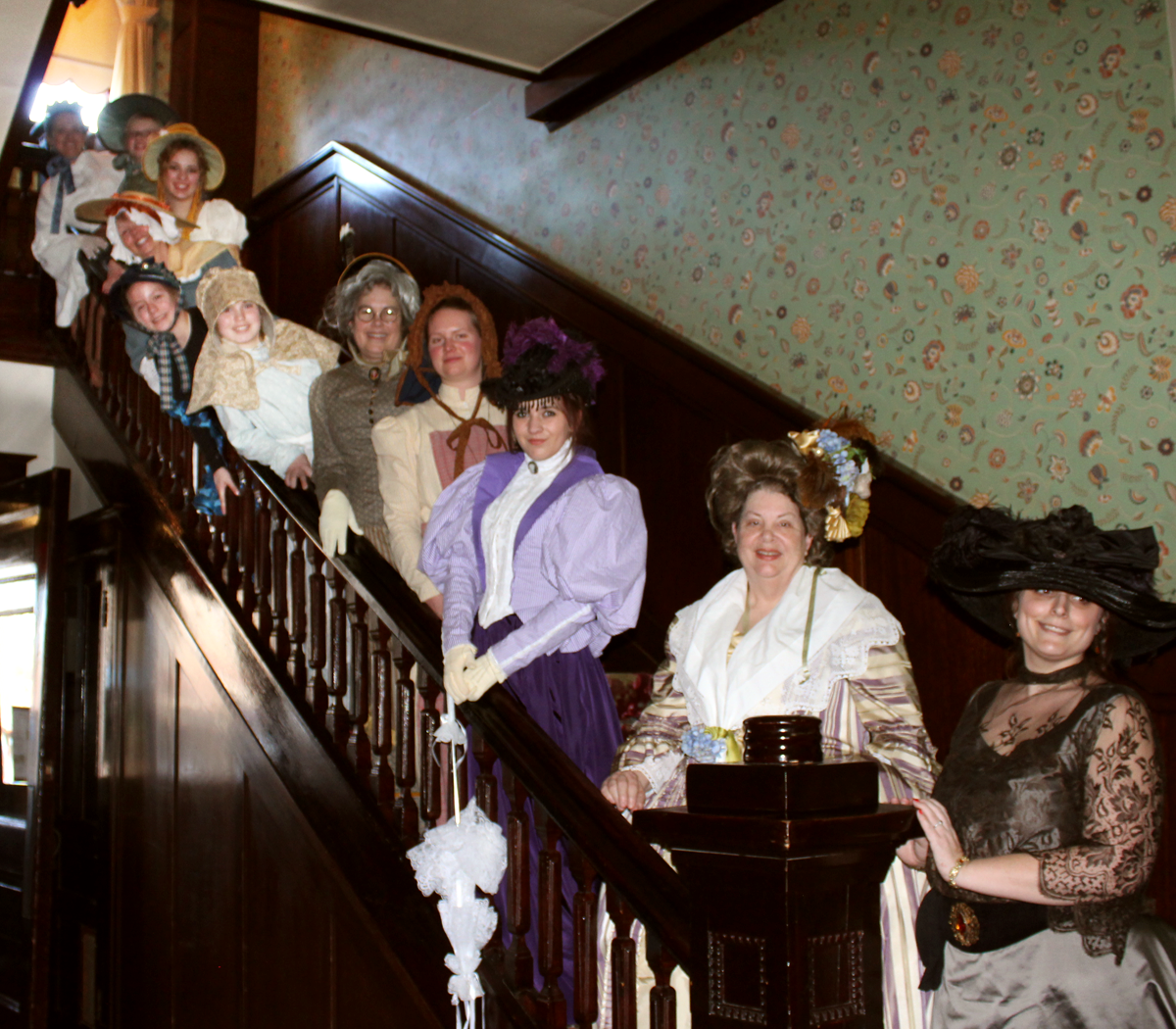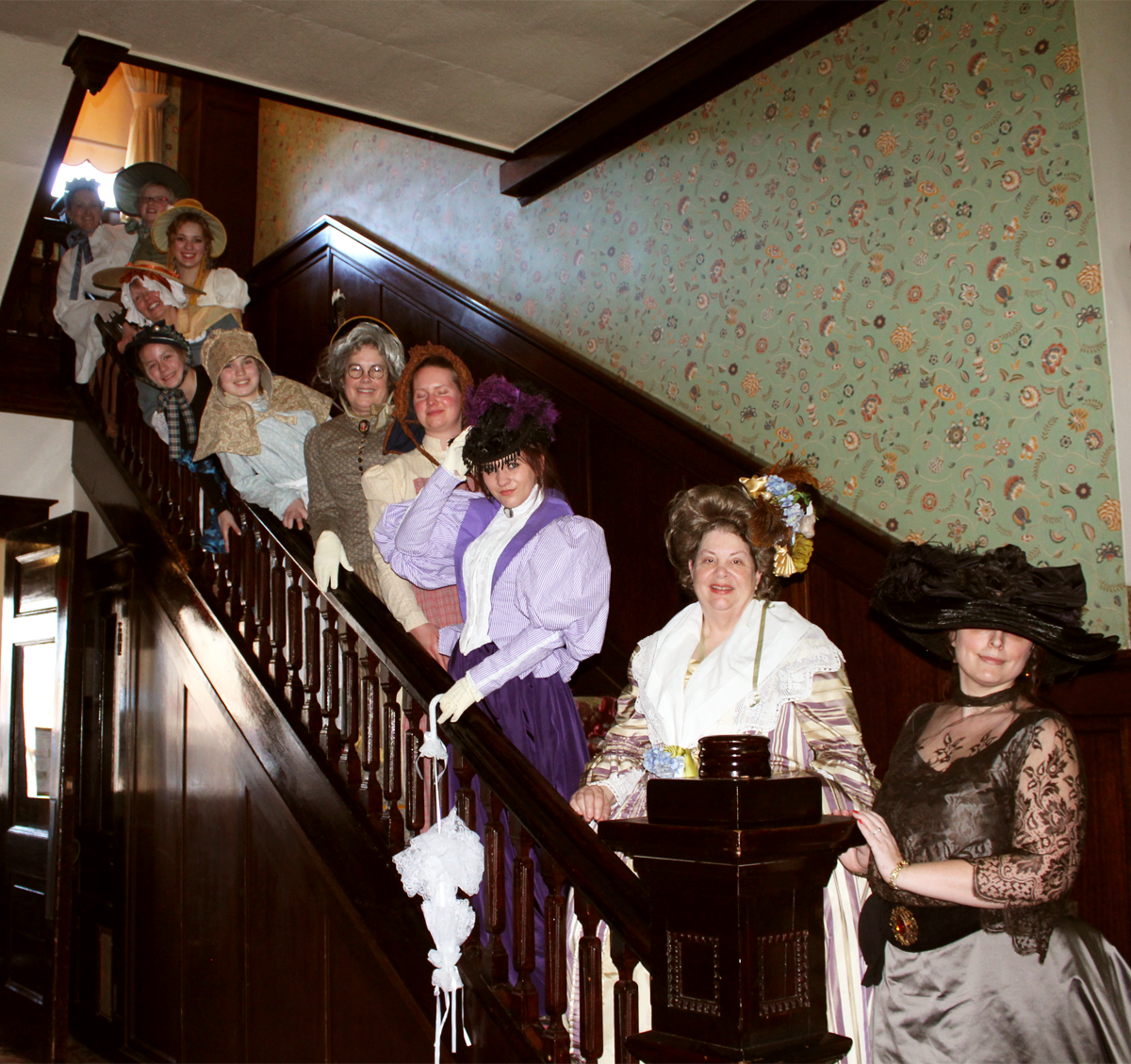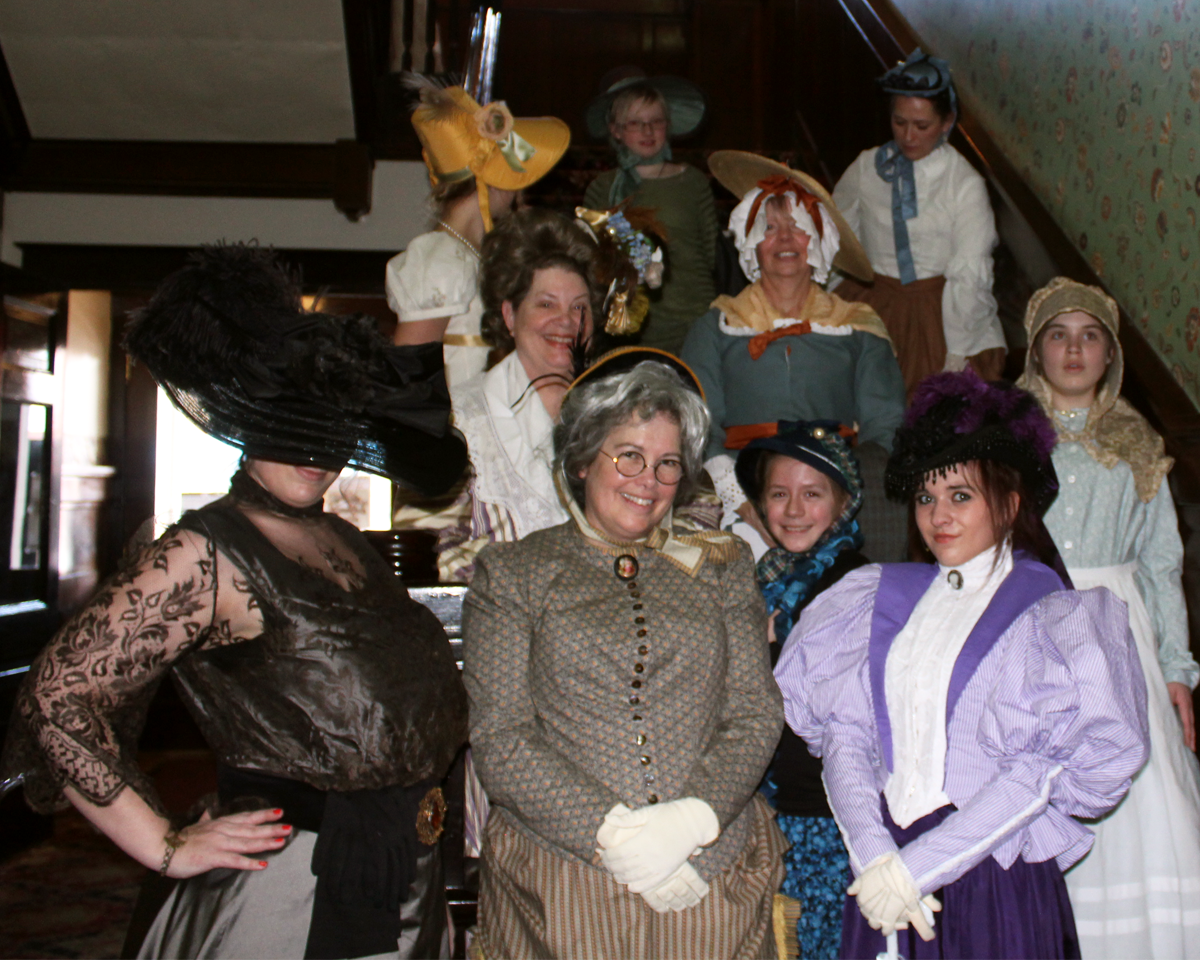 Final Fitting February, 2018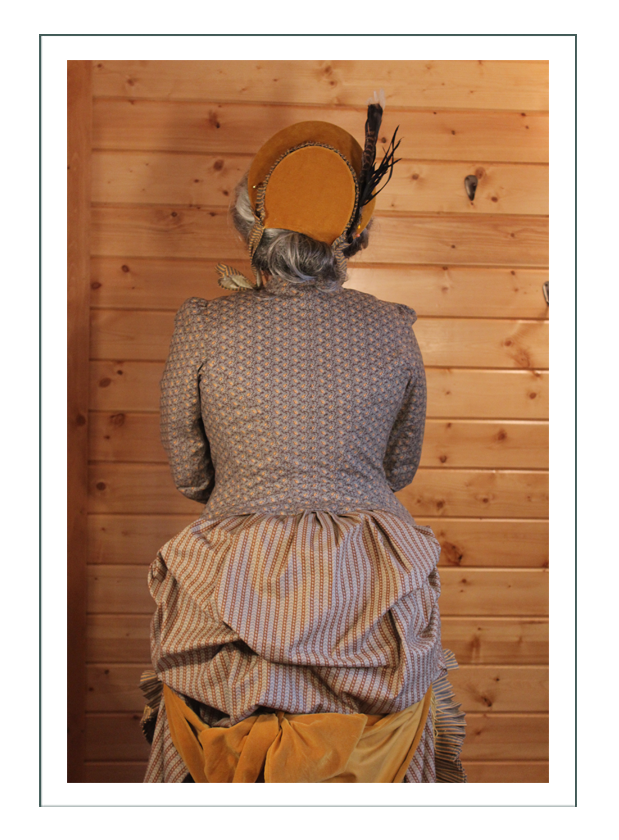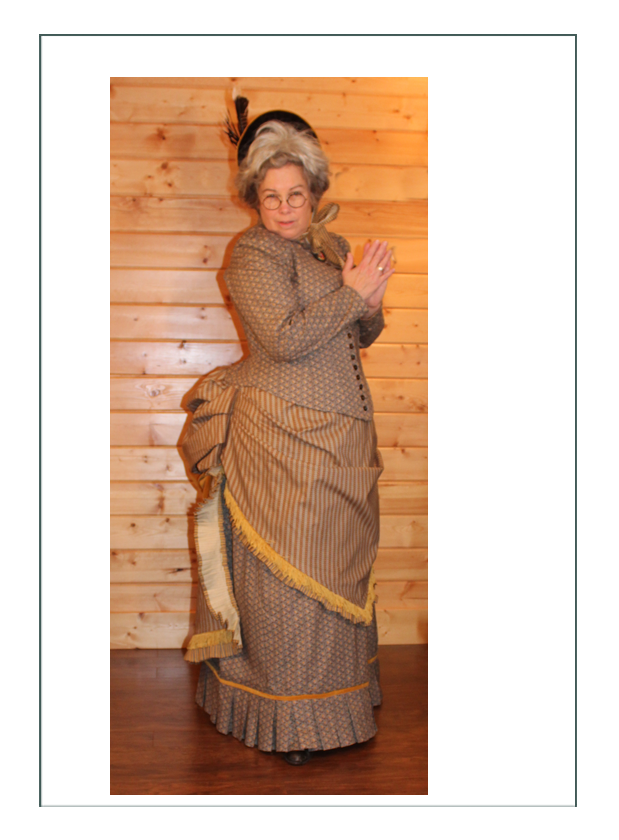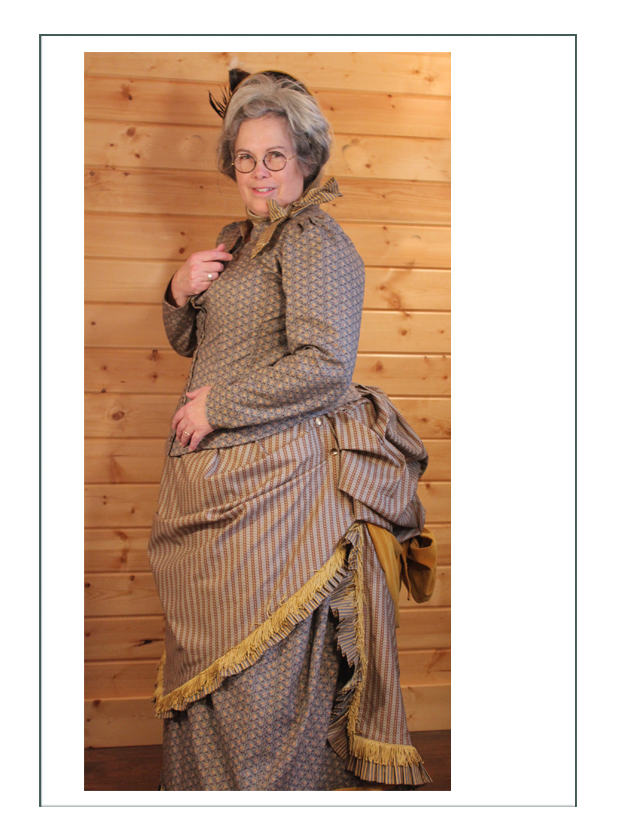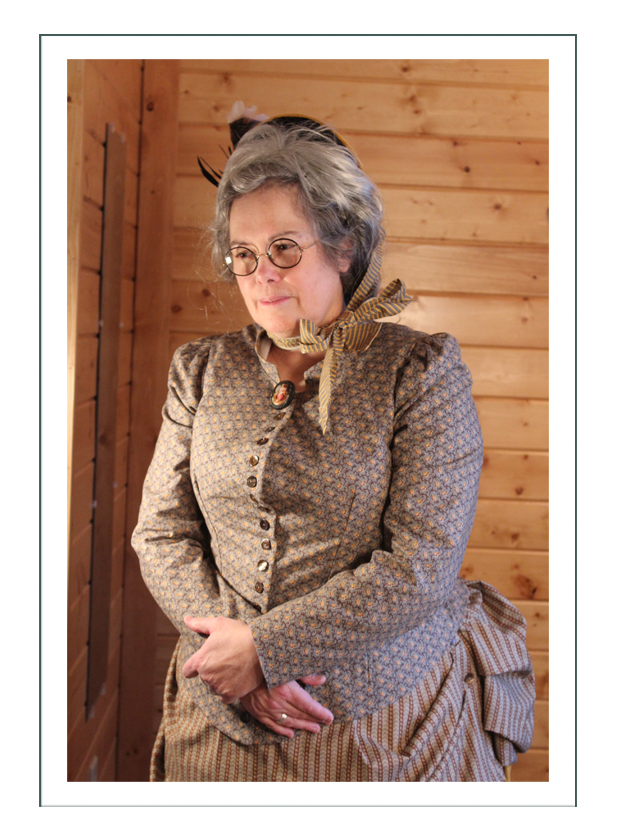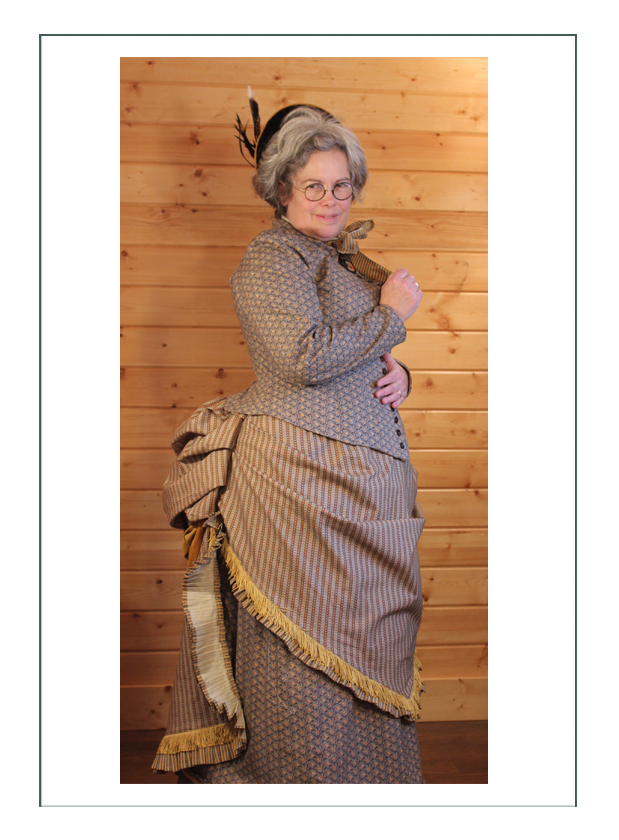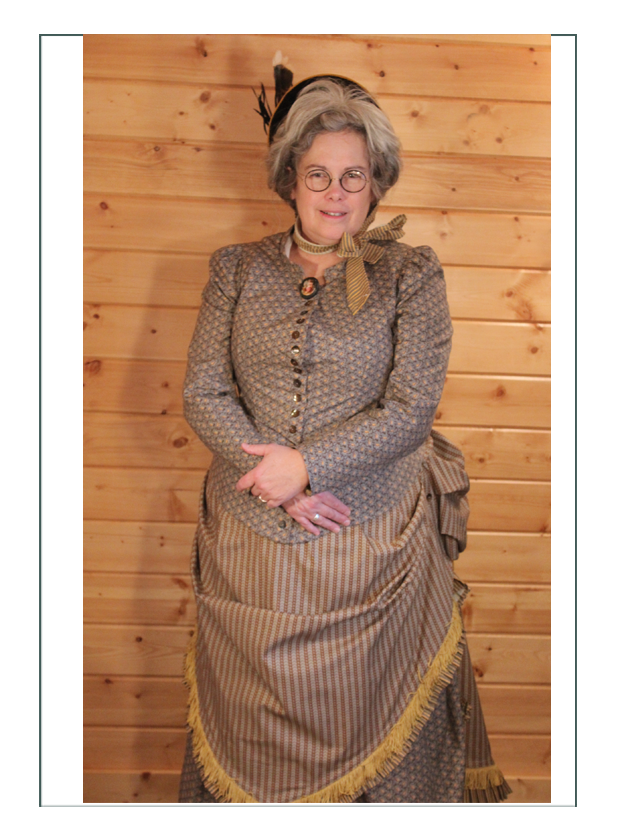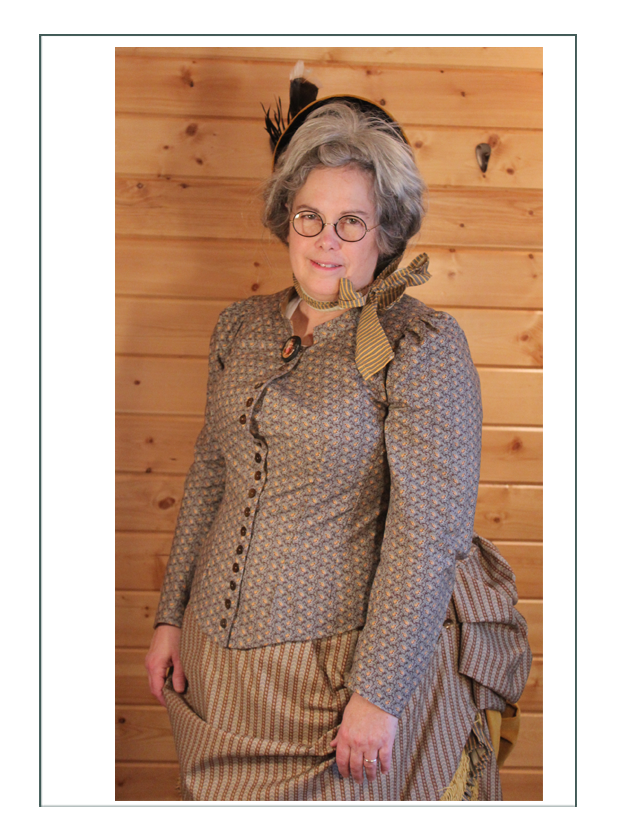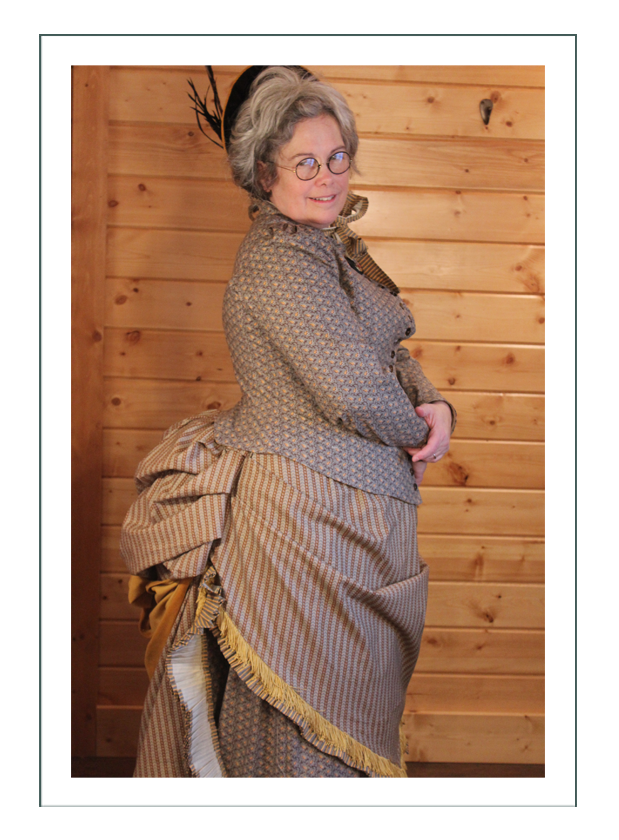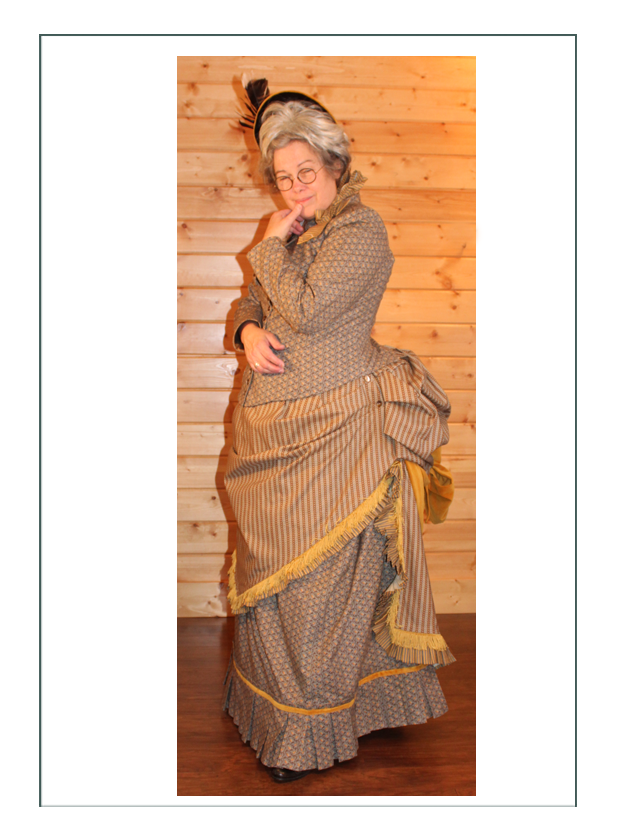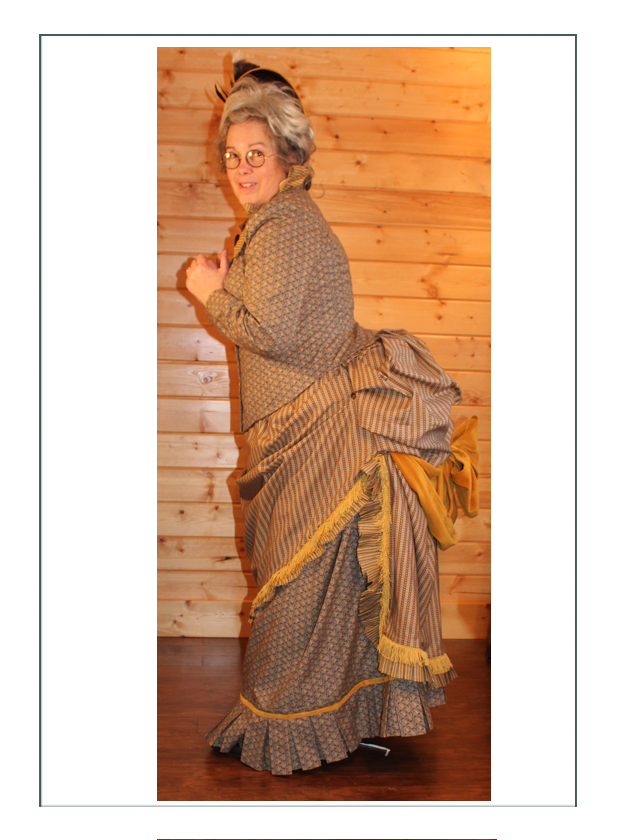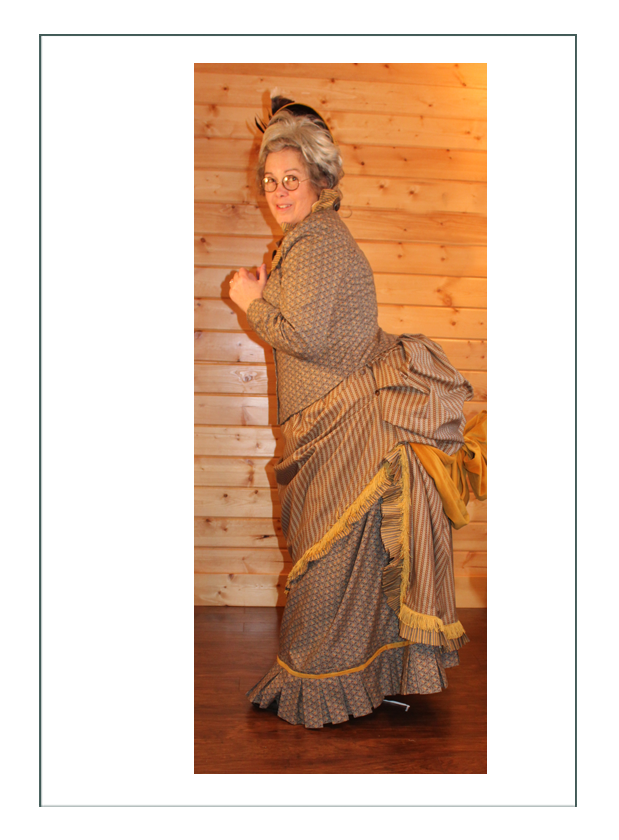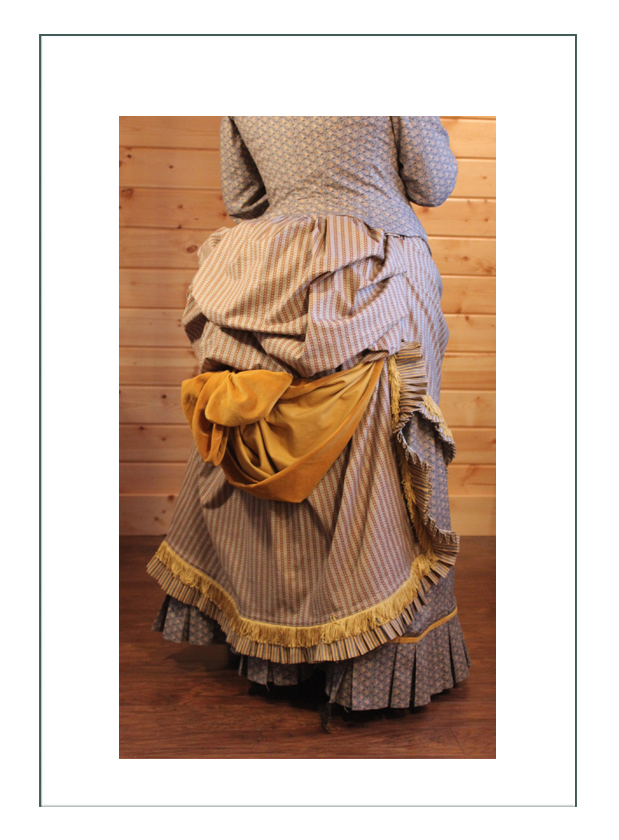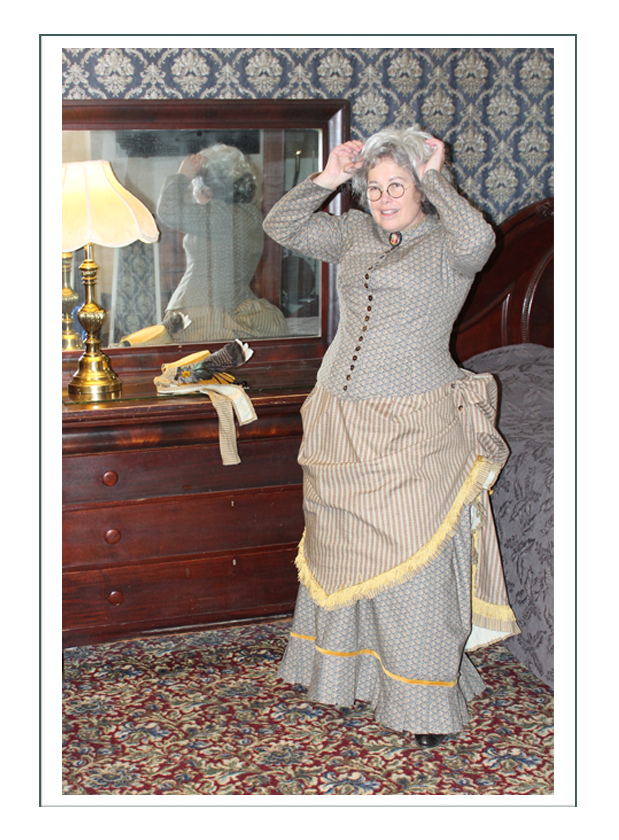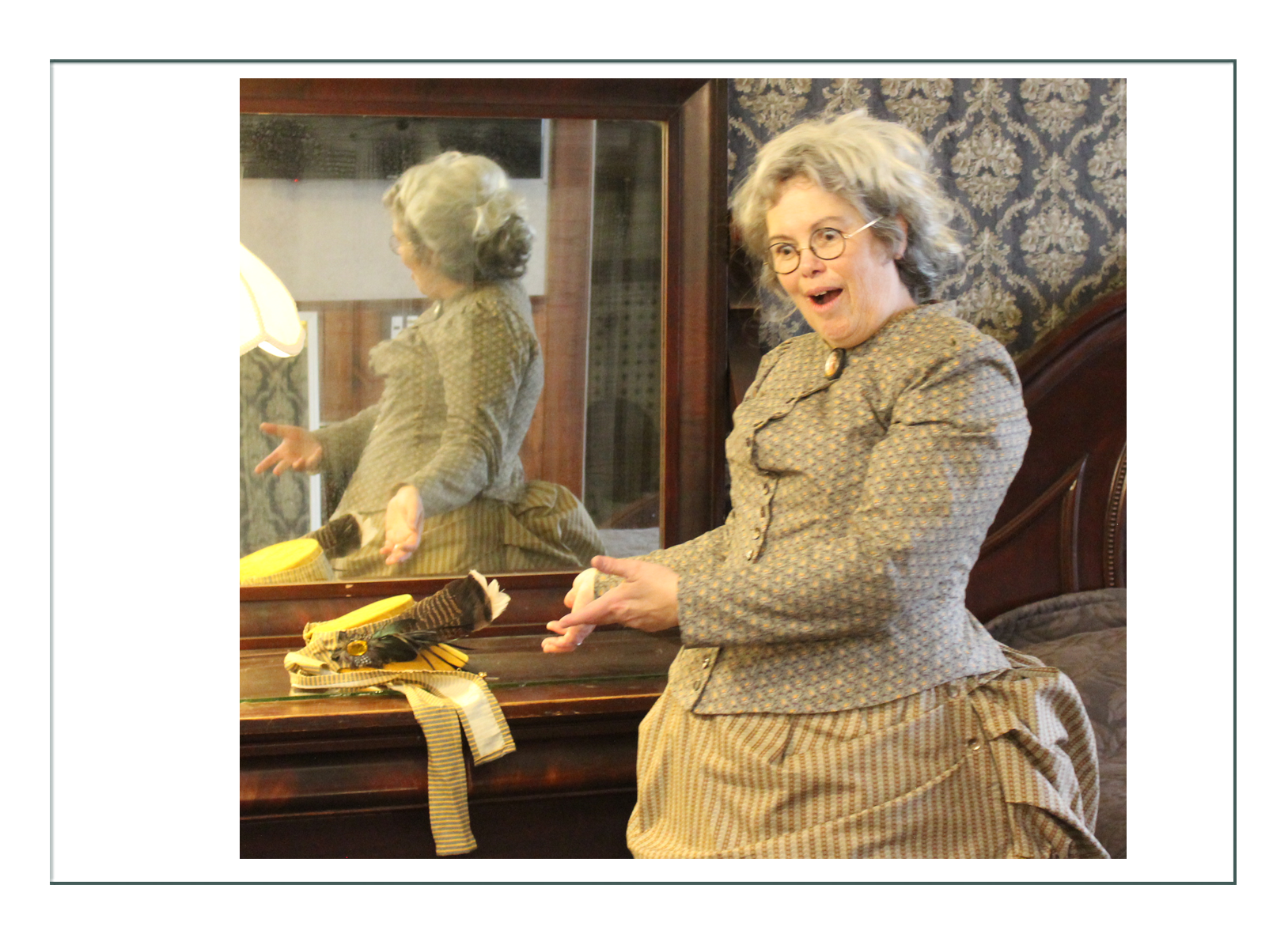 Click to see Suzi's History of Time & Place Page
Click to see Suzi's Fashion History Research Page
Click to see Suzi's Design Development Page
Click to go to the top of this Page

Click to go to The Buffalo Gals main page