The Low  to Middle Class Working Colonial Woman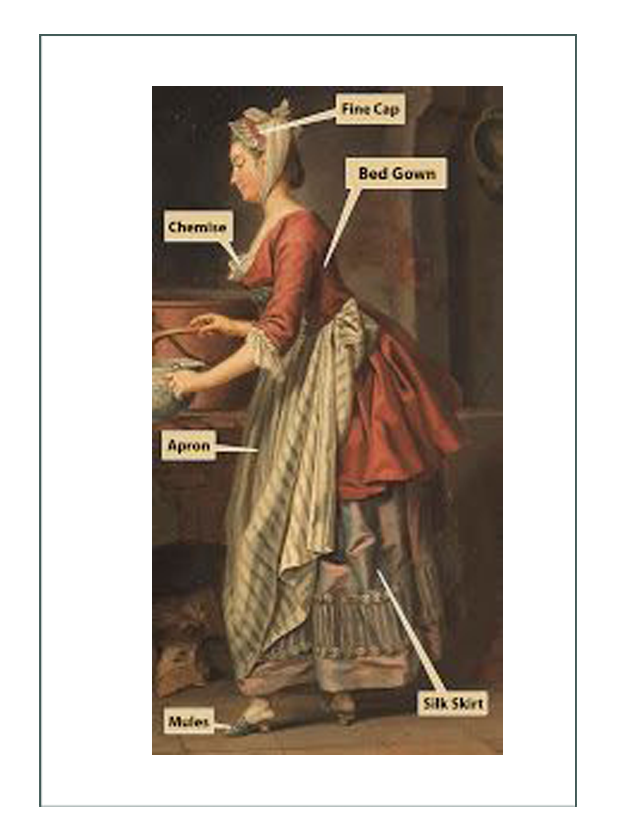 Pretty, as in attractive and suiting the customer's tastes.  We also mean "quite basic", as in 18th century, once you learn the rules, is almost all the same.  Design is a matter of social class, availability, cost, ability, and personal tastes.
We review the objectives:
Middle Class woman
African American teacher, on a plantation
Southern climate
Most common and available and affordable materials
Suits personality and tastes
Quick to make given time constraints.
With Yvonne's input, after teach the history and components, we gave her no choice as to the pieces she would need.  She got to pick the colors and textures.
Based on our research she needs below.  Linen suits all the requirements (class, status, cost, location, climate, maintenance, color, texture).  Cotton will be used for high end, as it was not readily available to a woman like this:
Shift – linen (optional ruffles sleeves and/or neck to stick out)
Stays – authentic type, as authentic and common as possible – means linen and reed
Inner petticoat – also linen – rustic and rough
Outer petticoat – choice – can be rustic, linen, or cotton.  If cotton dyes and colors need to be "natural" and available
Jacket – designer chooses caraco because it fits her body well and is suitable.  Other than a shortgown in rough linen, a cotton chintz would be appropriate for this depiction to "dress up"; closure to be determined.  Needs to be easy to get into with help
MobCap – linen – handmade – of course!  No mature woman would be seen without one in public
Stockings – over the knee
Shoes – slight heel per period.  She can use the ones she has from Edwardian with the tapered heel to save costs
Accessories – fichu – linen, embroidered, can be fine cotton too for dress up
Other – bum roll – fitted and correct "shelf" style; fit petticoats to it
Given these, we looked at suppliers and found these fabrics.  From the fabrics found and those in stock (trying to use stock to keep customer's cost down) we put together pleasing combinations of fabrics using the same design.

Real Garments & Portraits
For ideas on item design, construction, and color/pattern. We actually looked at hundreds more, but these were the influential ones. This project was done on a budget and in a hurry, so some were not documented. Here are the Key extant examples:
General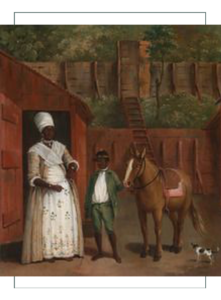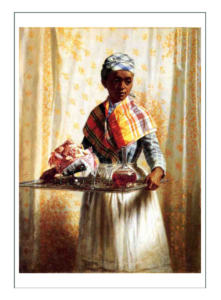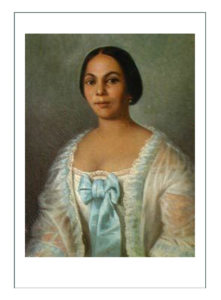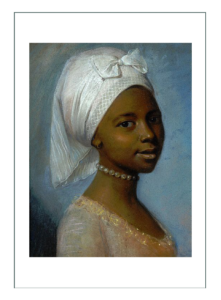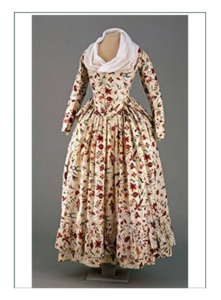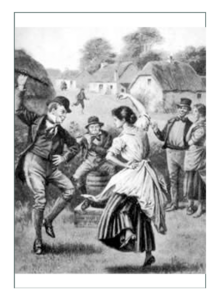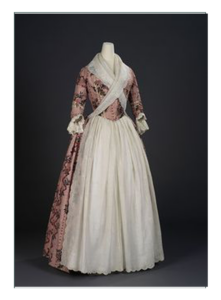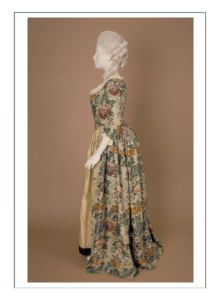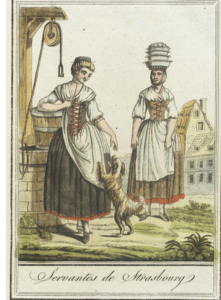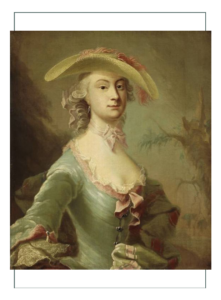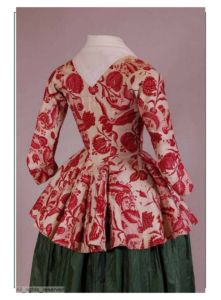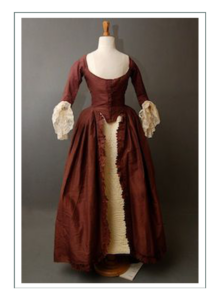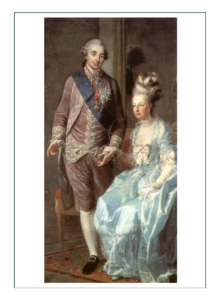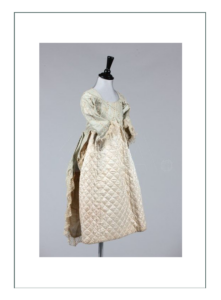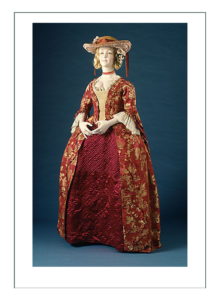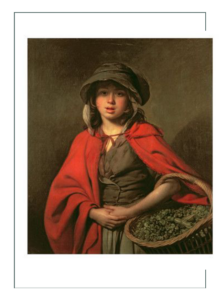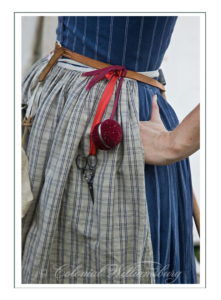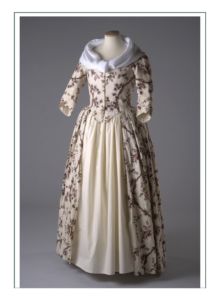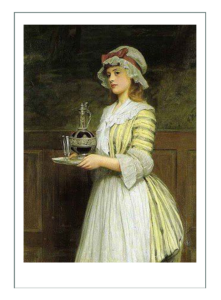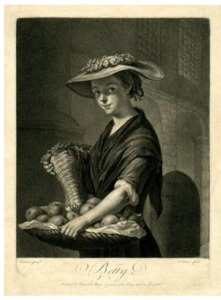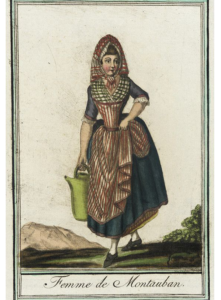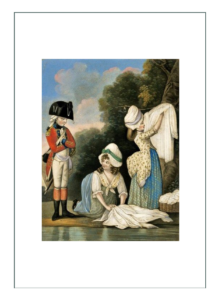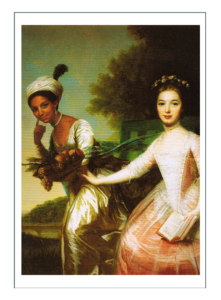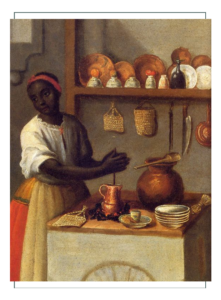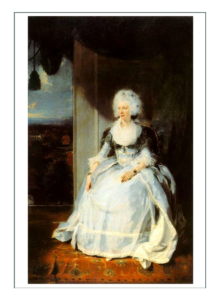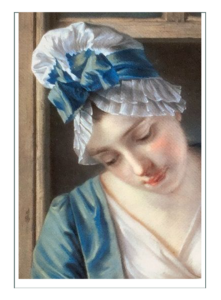 Key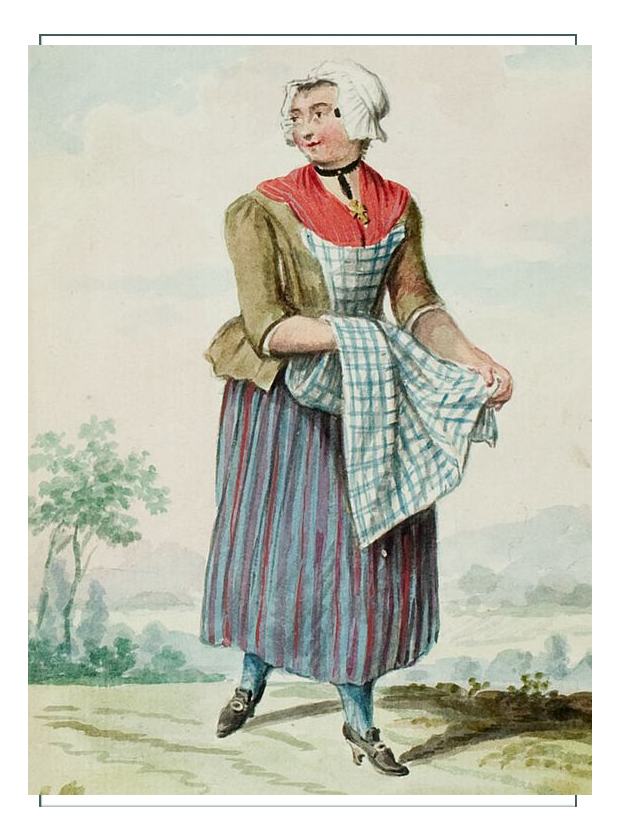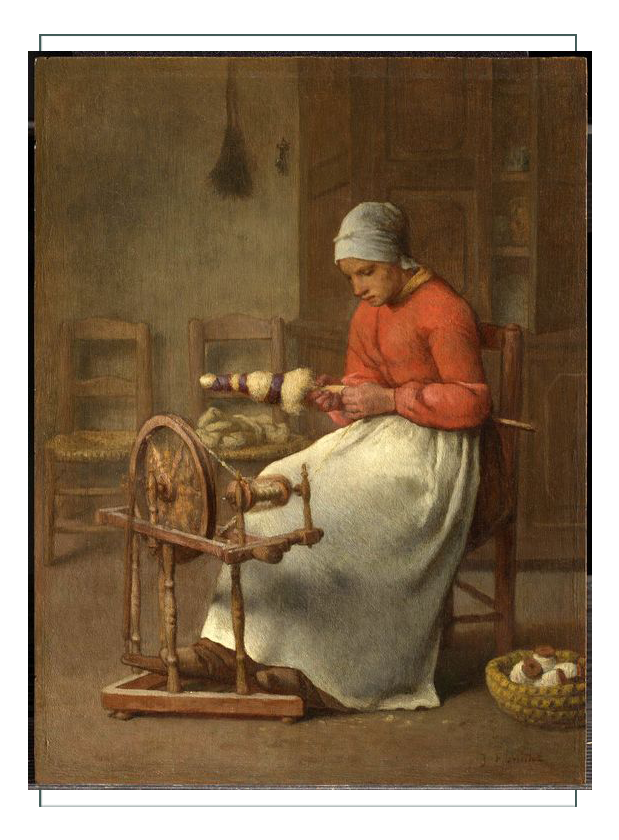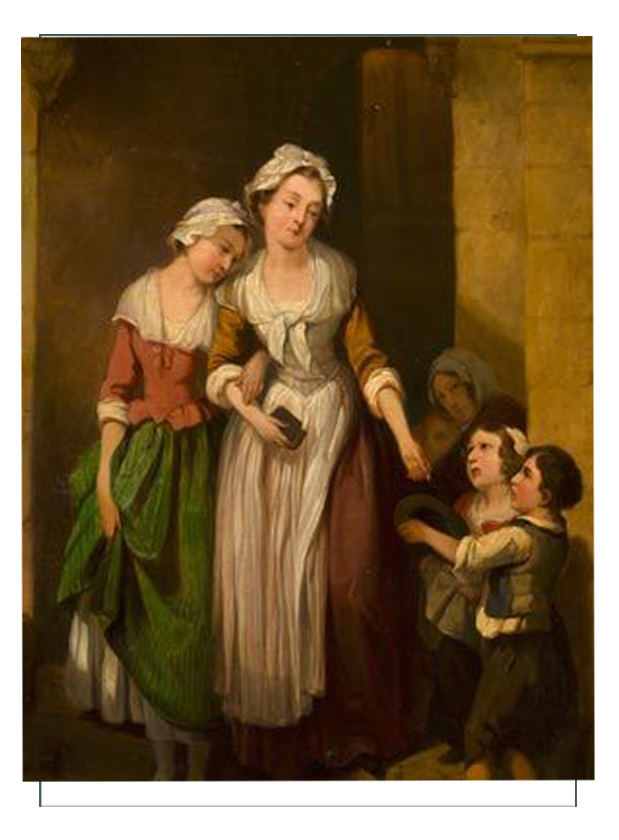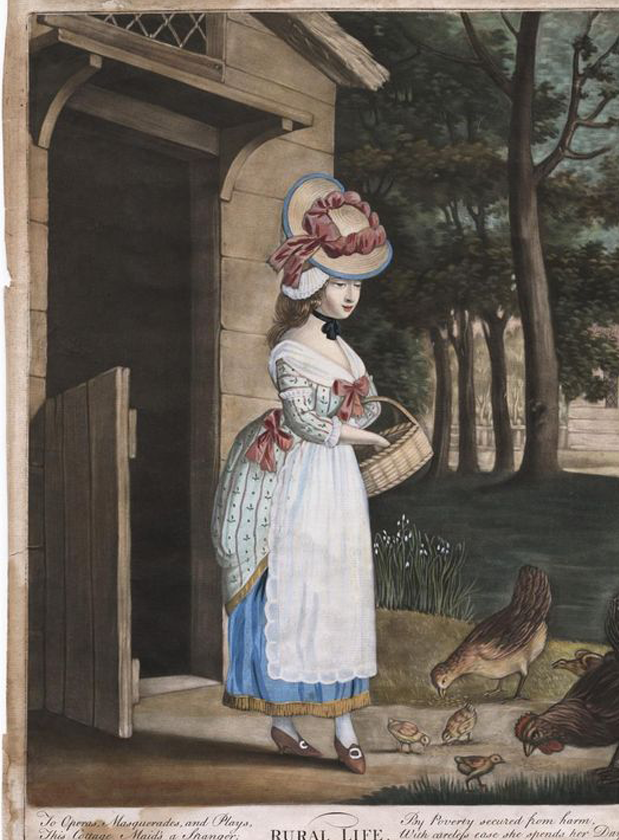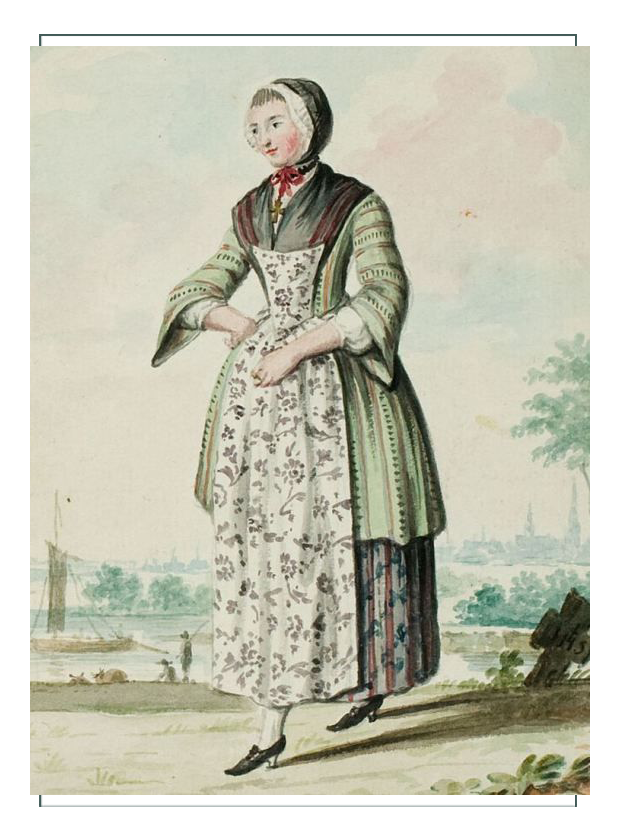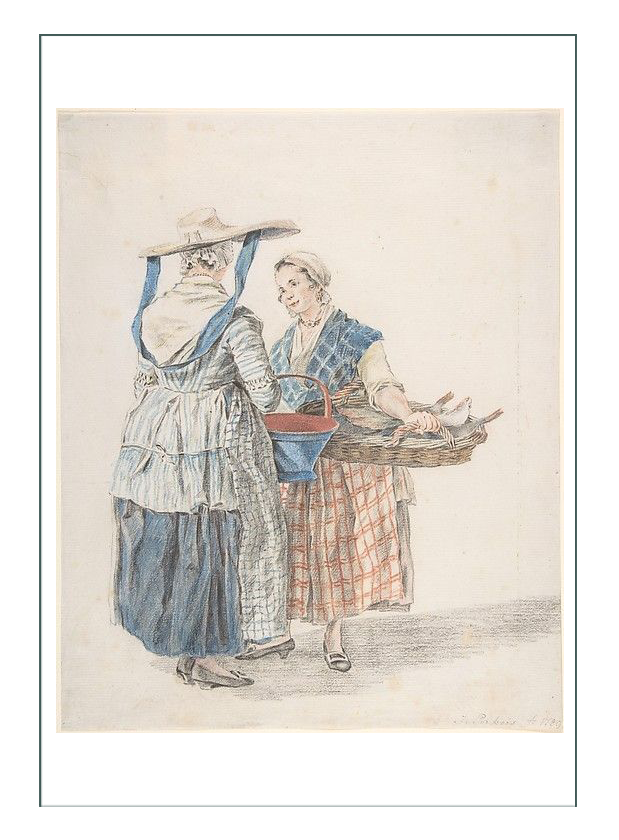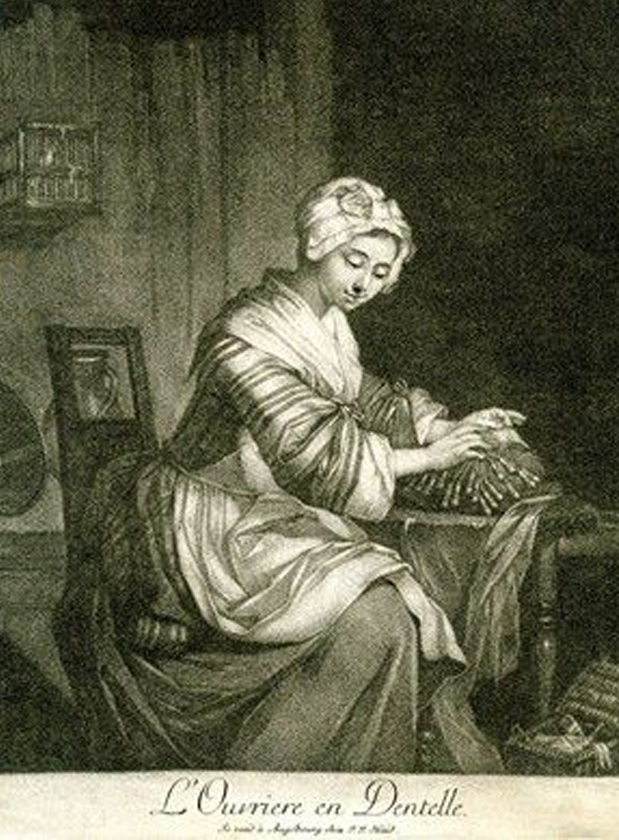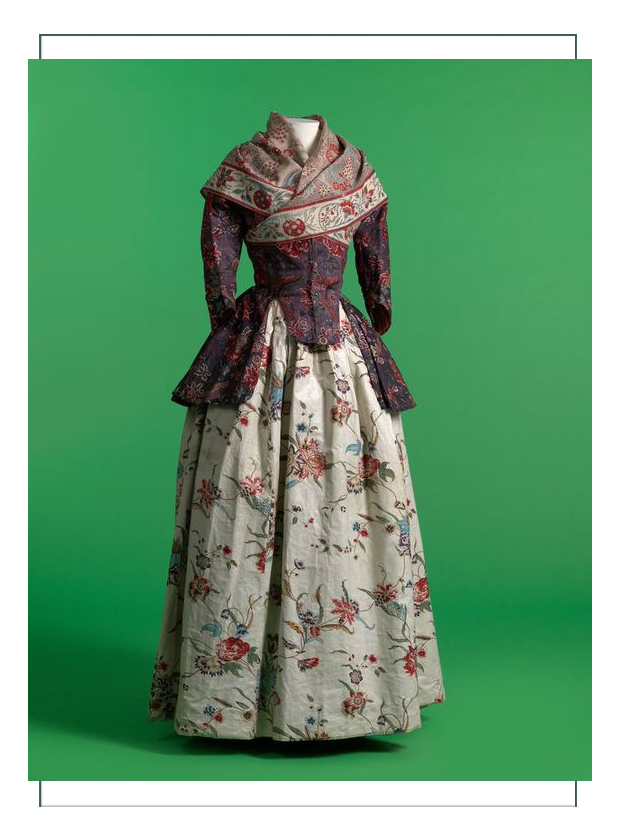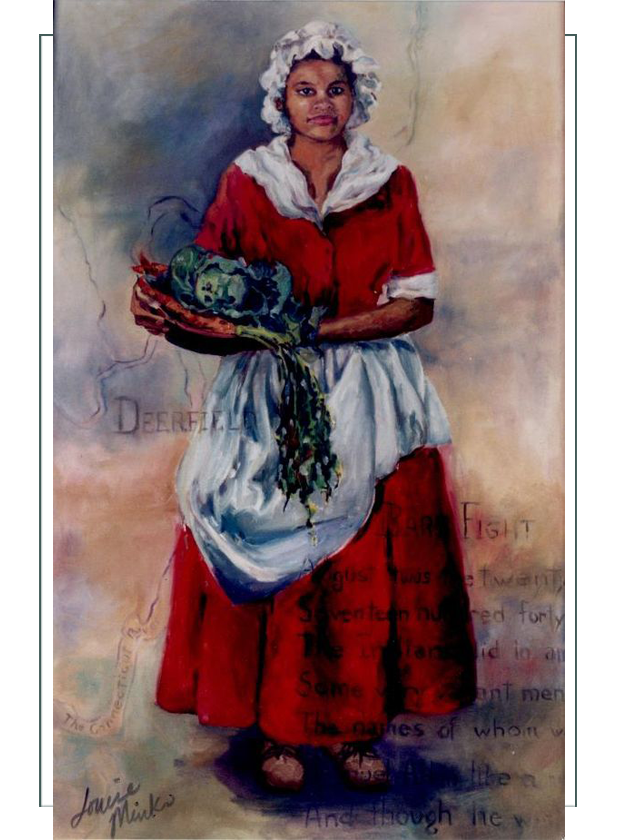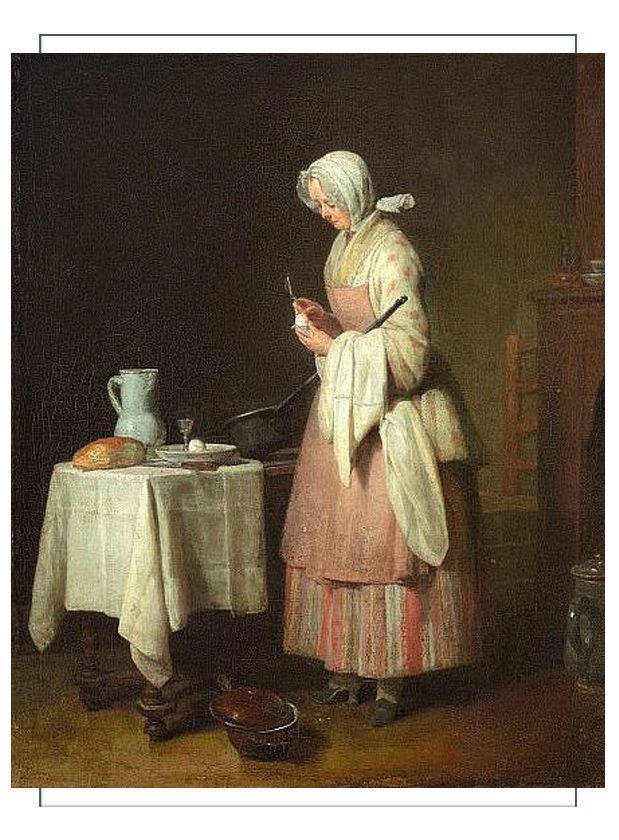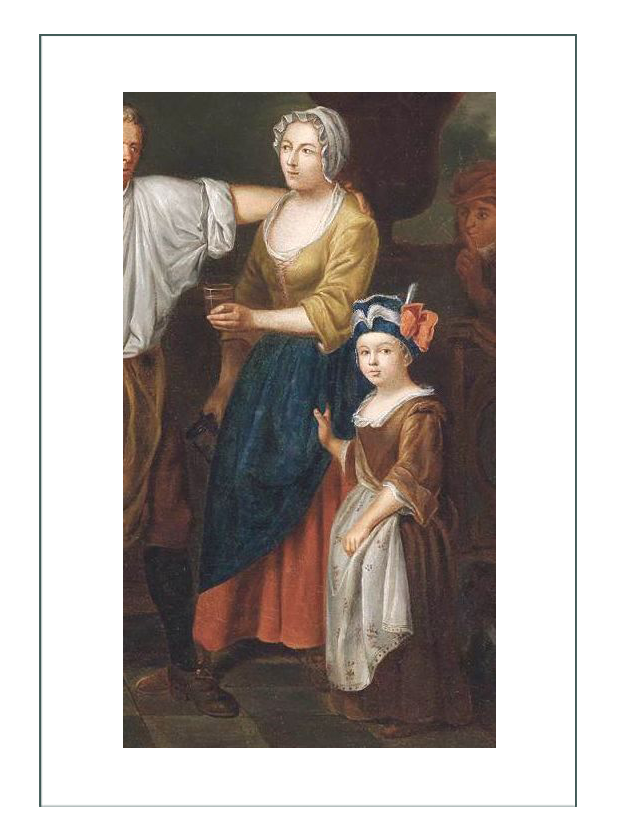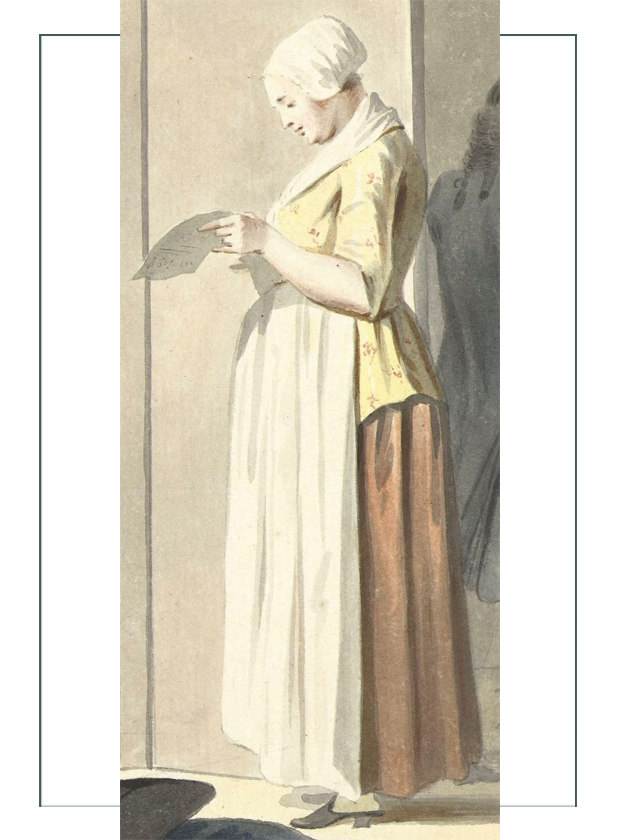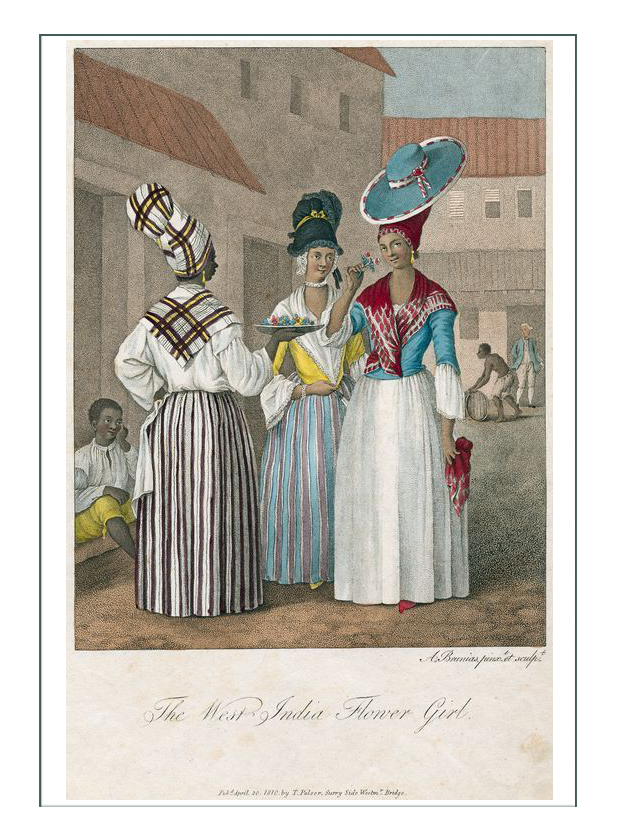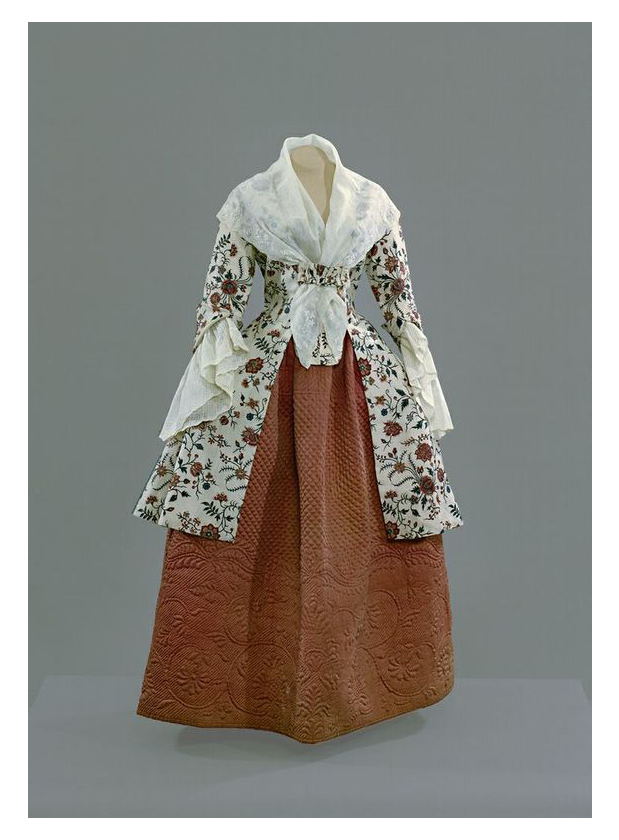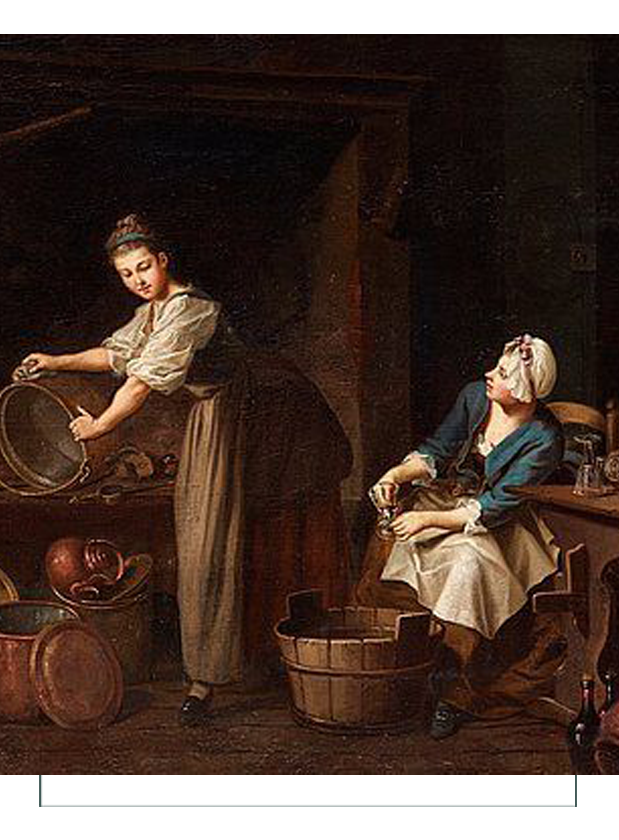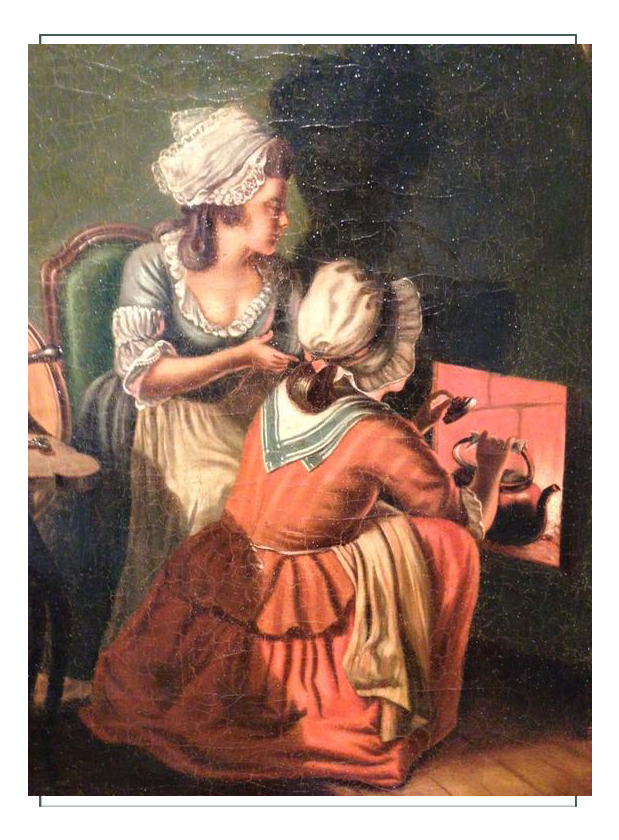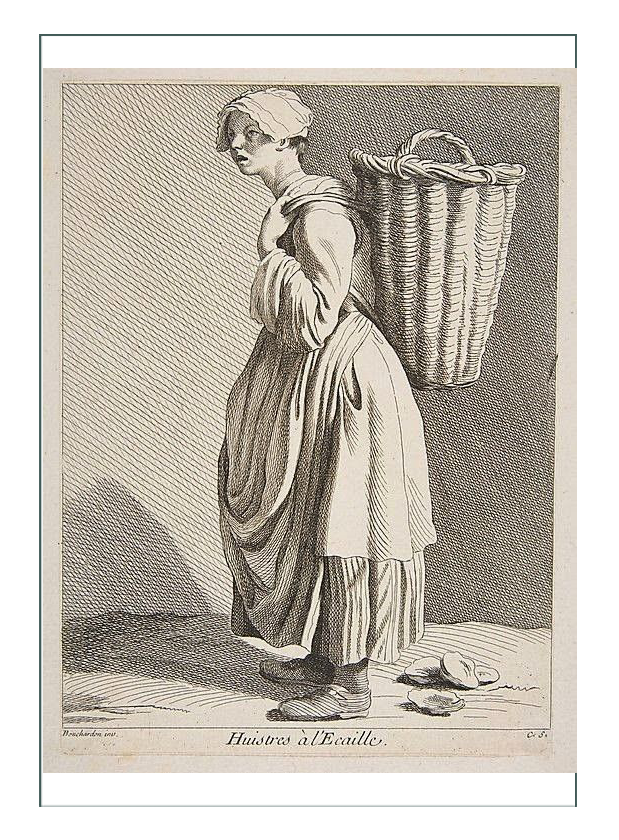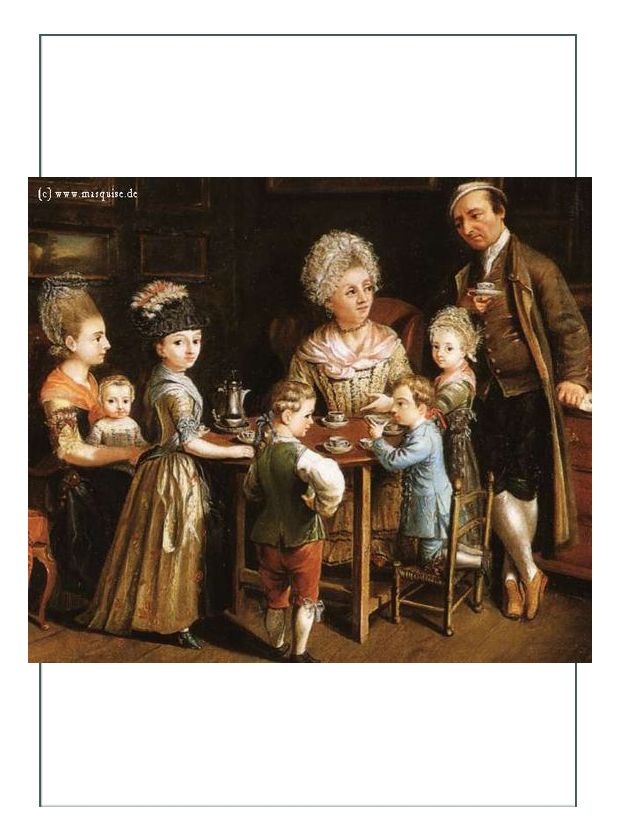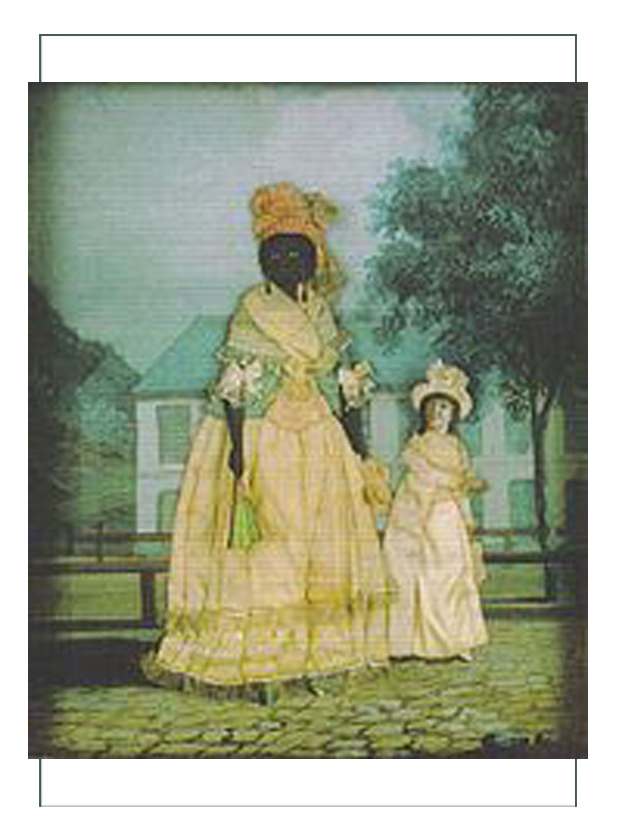 Jackets In General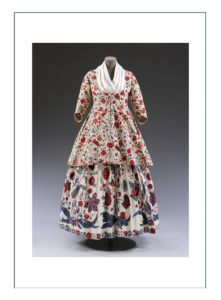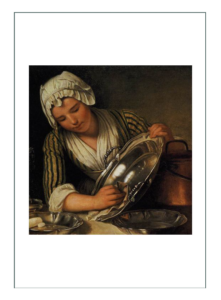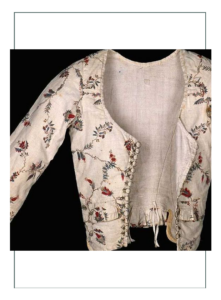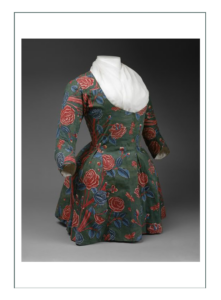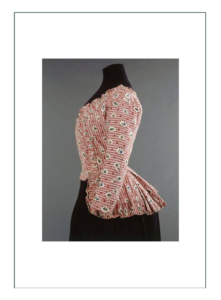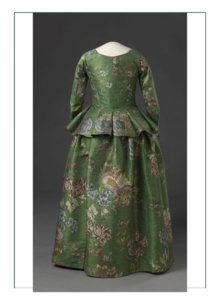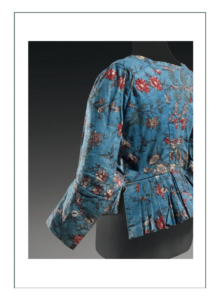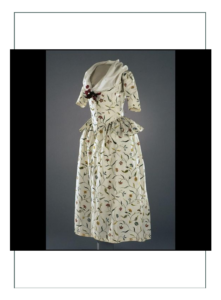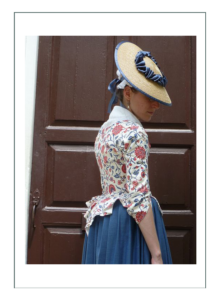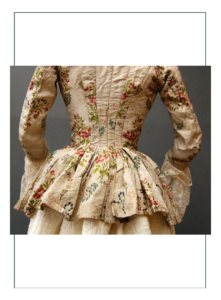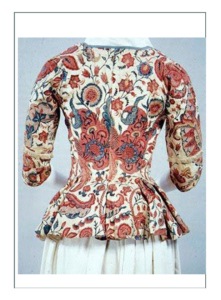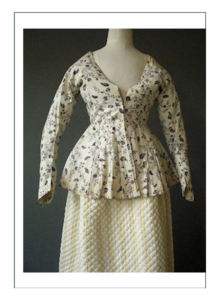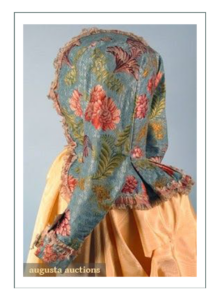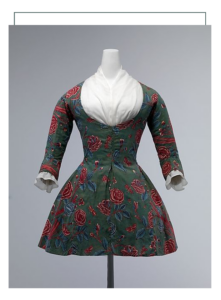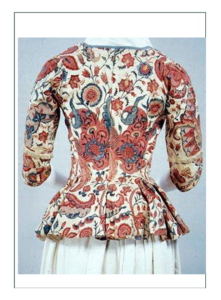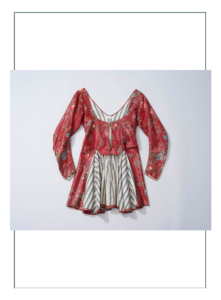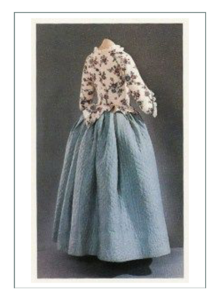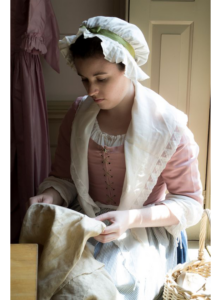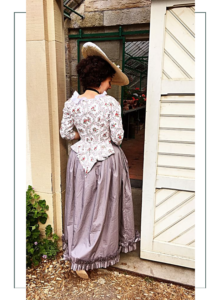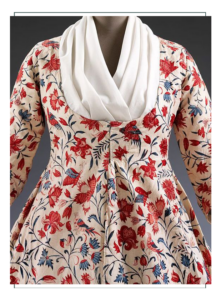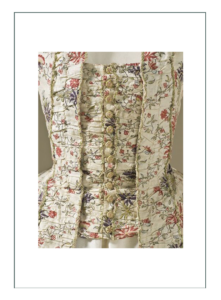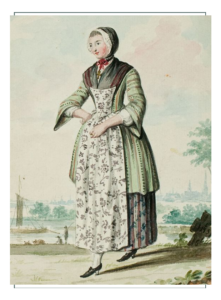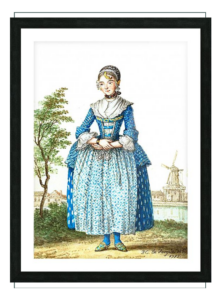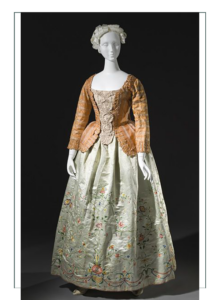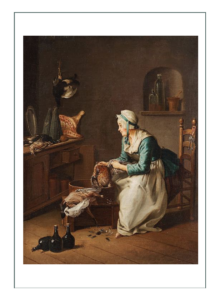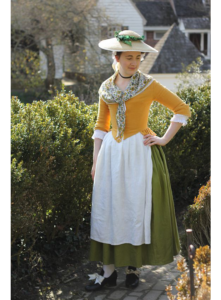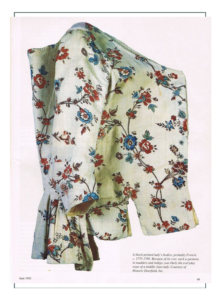 Key Jackets
These were all selected as we tie down colors, patterns and print mixes, length of jacket, type of peplum, length of peplum, and fichu designs and positions.  We're also studying how the fabric moves and drapes.  Most looks like linen.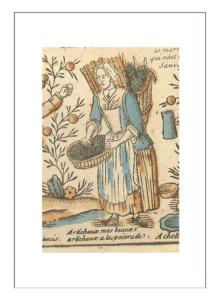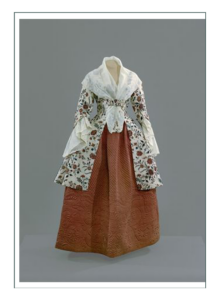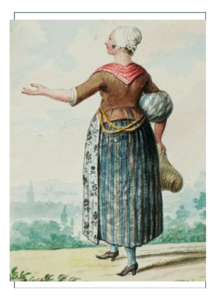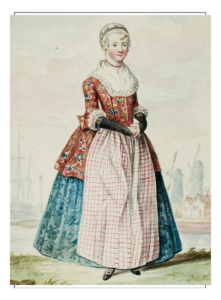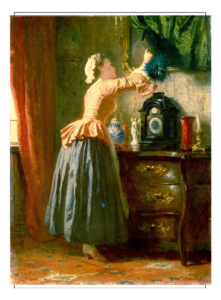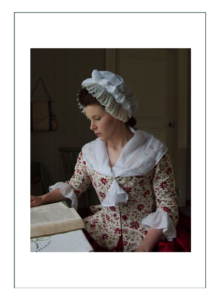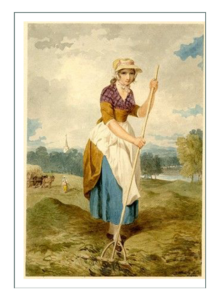 Undergarments
We have already studied these at length with the fashion history.  Notable is the 2nd picture of a modern reproduction ensemble that is accurate.  Also noteworthy are how many pink stays there are in museums.. we've seen golds next, and blues after that.  Pink was very popular!  The ones that are brown, were probably originally pink too, but faded over 300 years.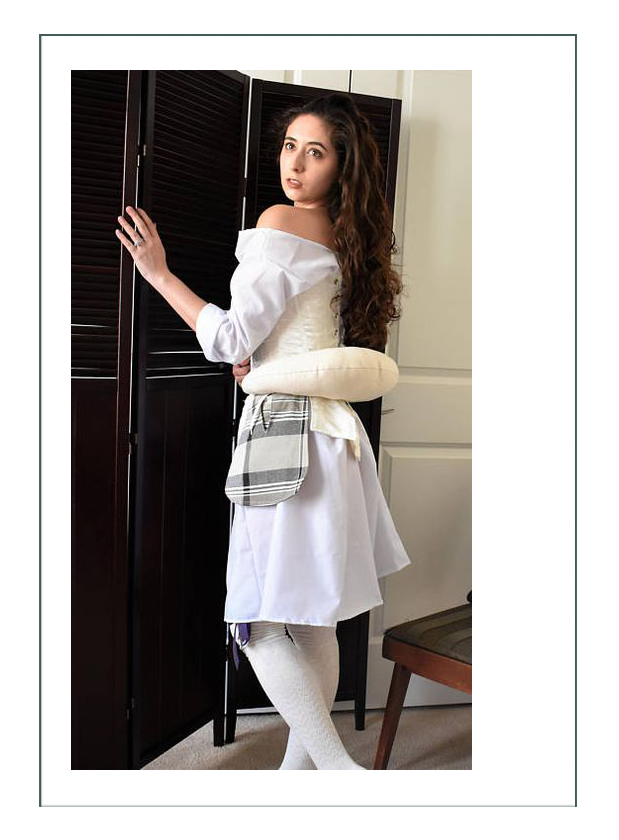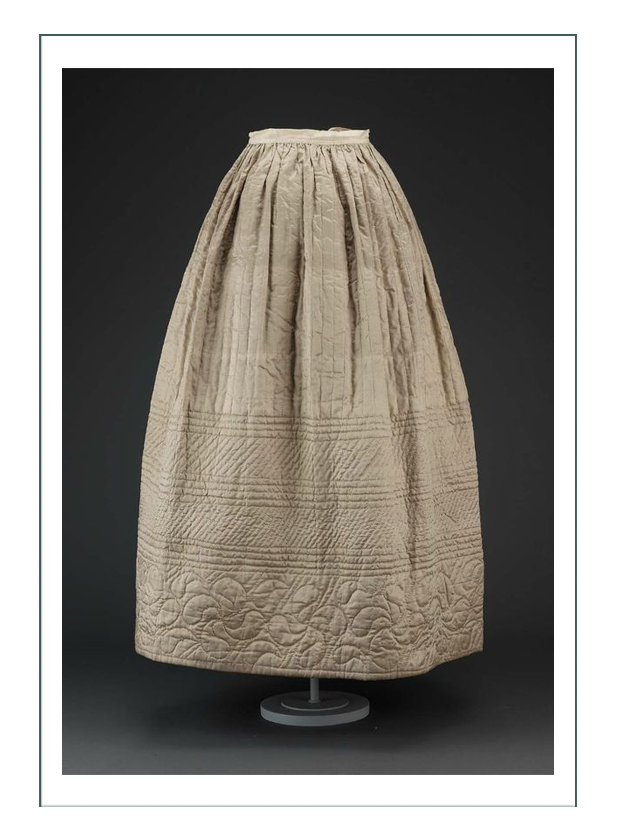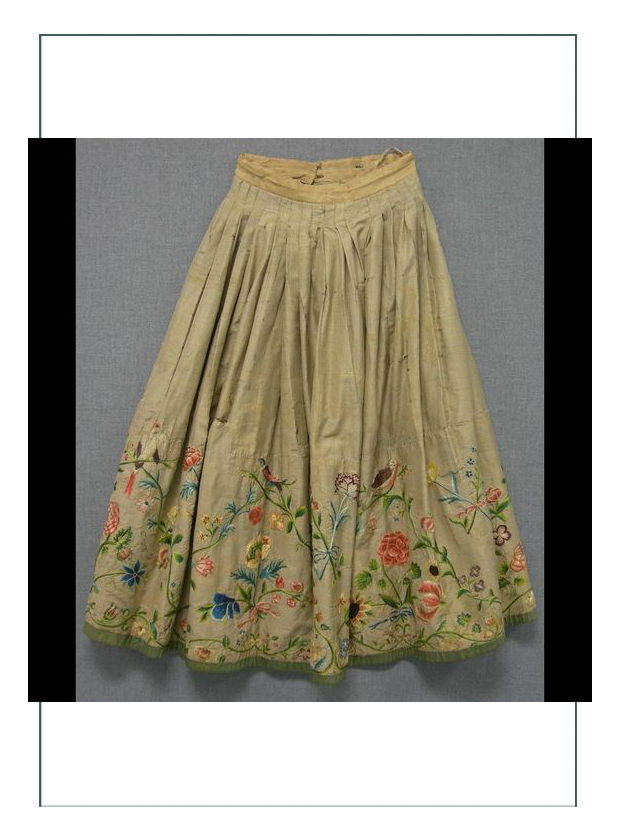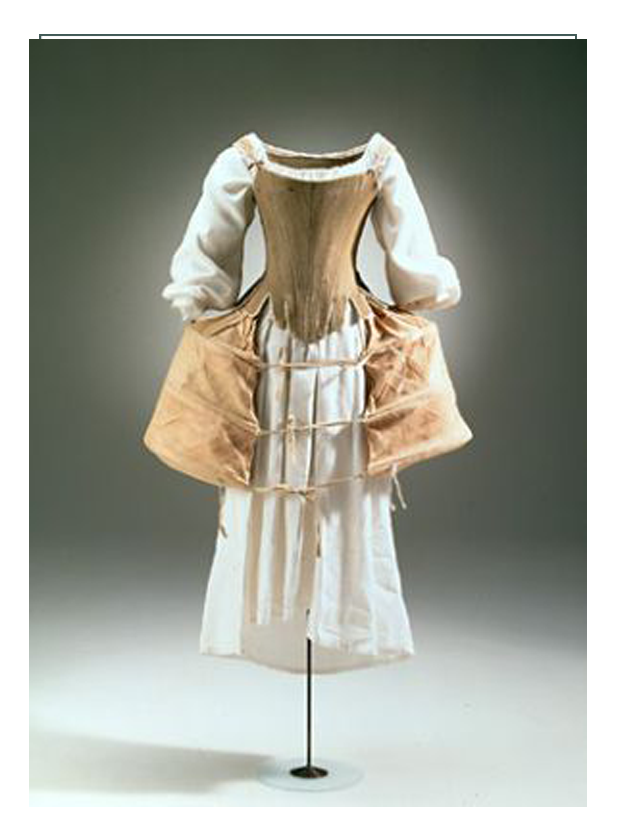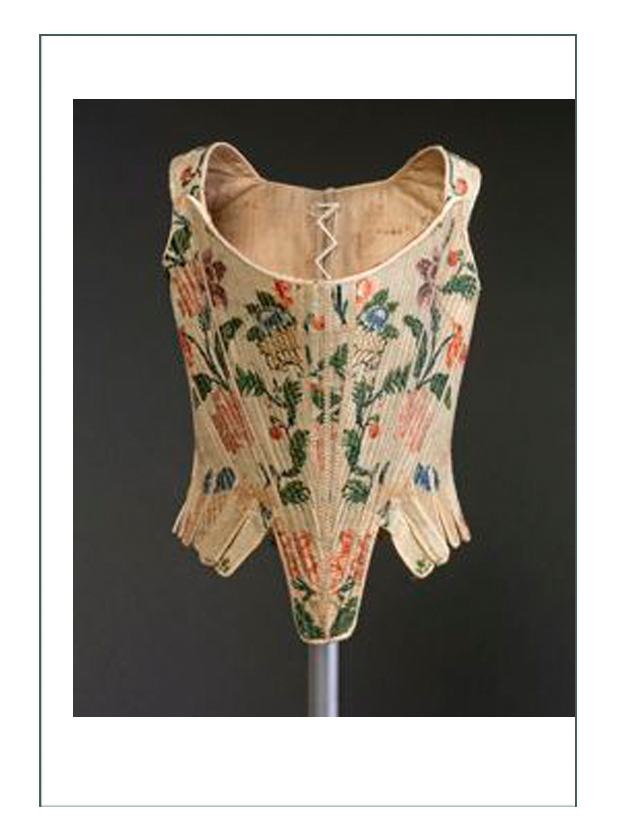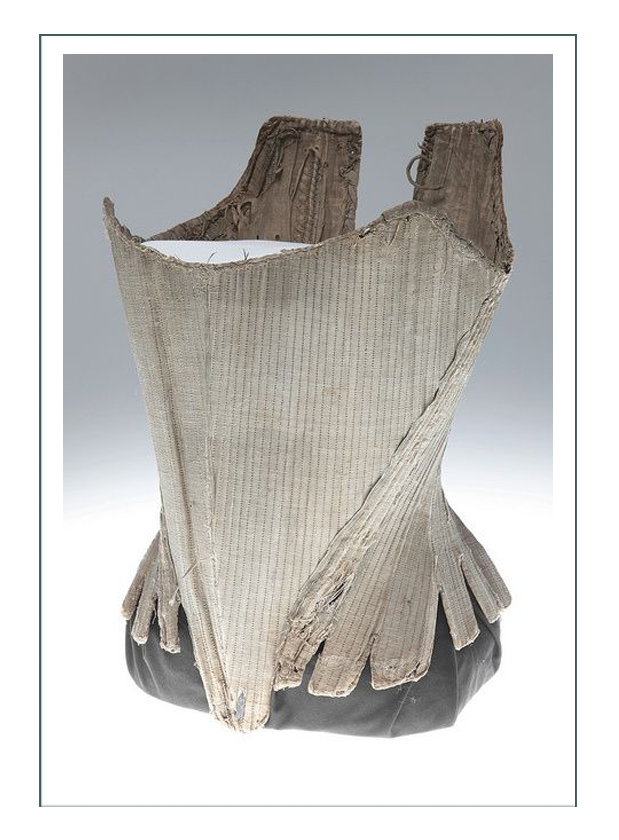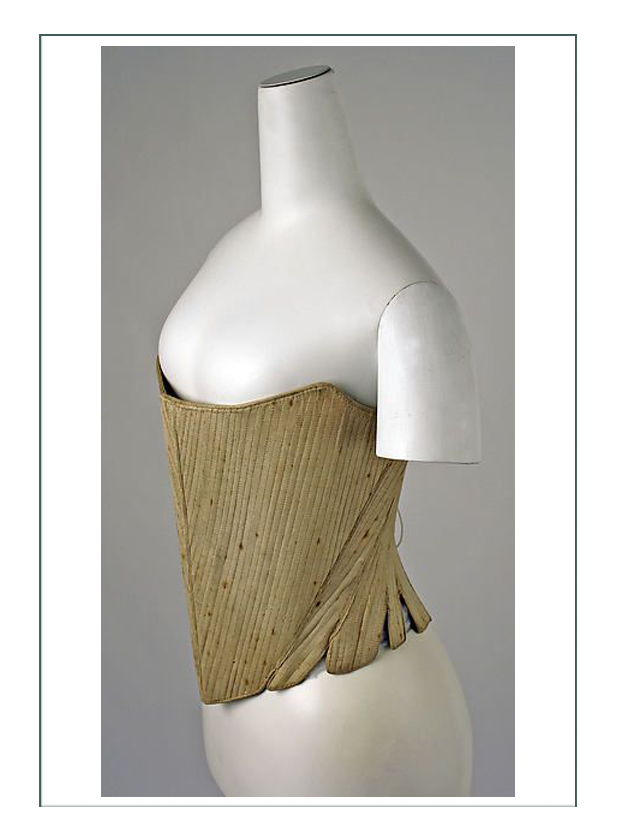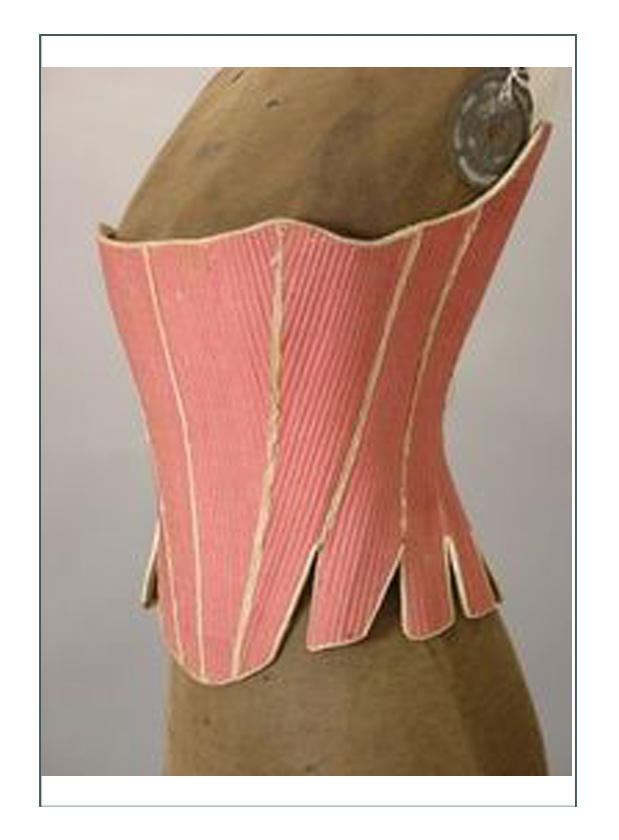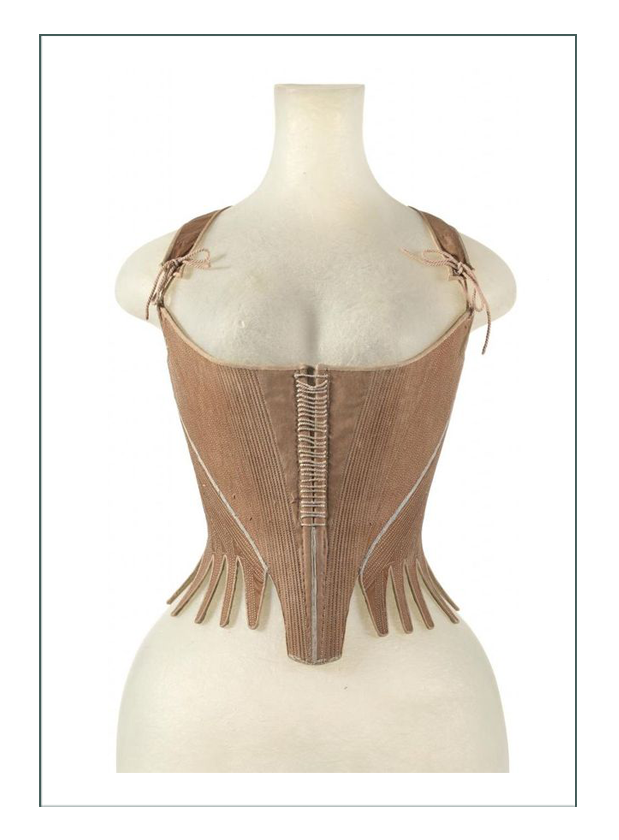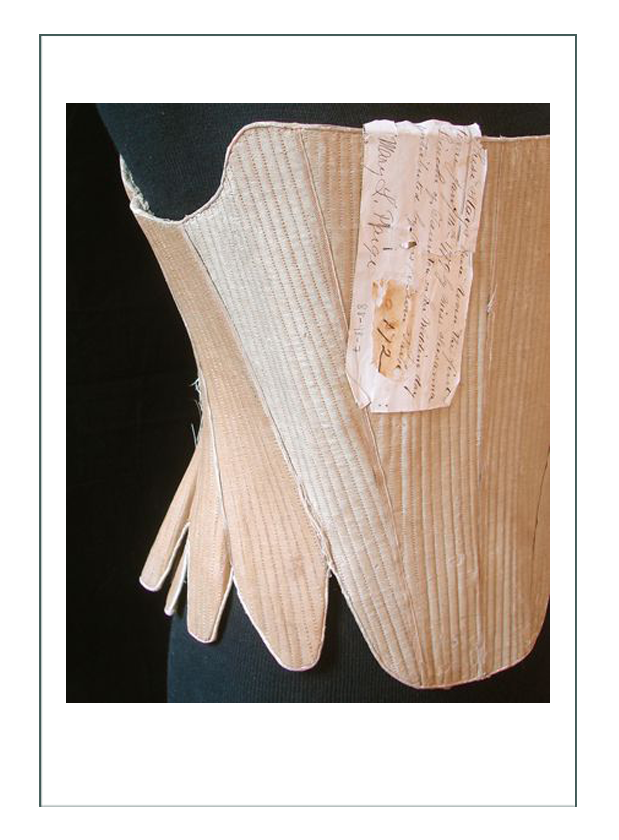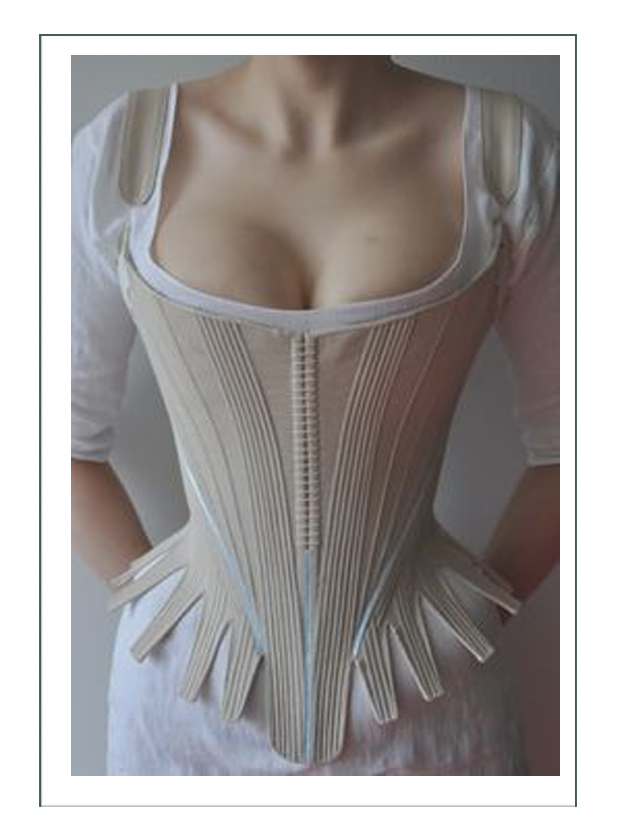 NOTE:  After studying extant, we need an apron!  A basic, wrap all around, linen apron without a bib like these: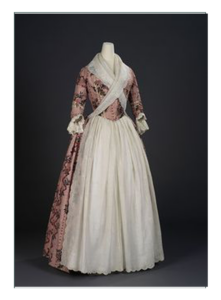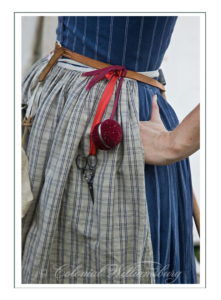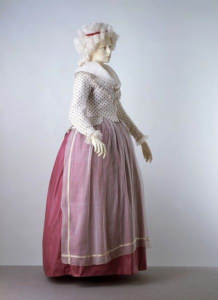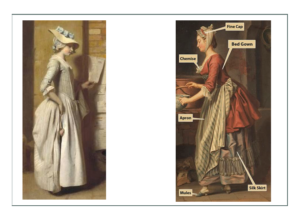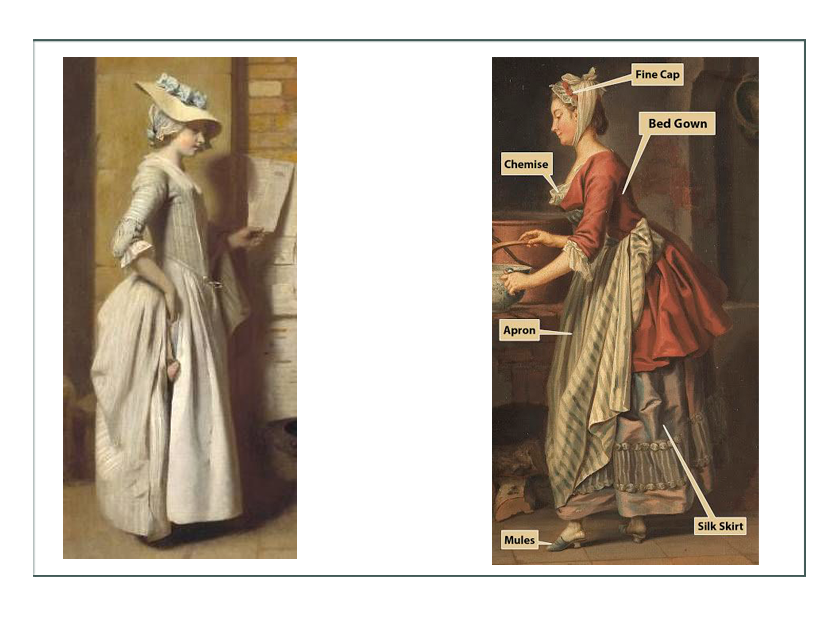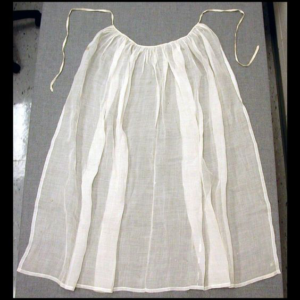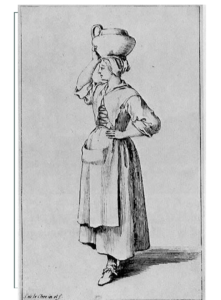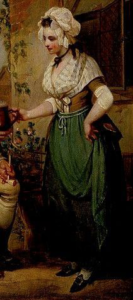 Please refer to the section on dyes & print processes as well as Yvonne's History & Fashion page to see why we have selected these colors, fabrics, and prints.
We are trying to use from inventory to keep the price down, plus have only what is available.  Many of these below were over $100/yard, and so those were not considered.
Extant Fabrics (Real ones in Museums)
Chintz – reds and blues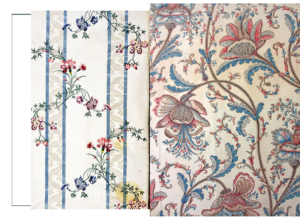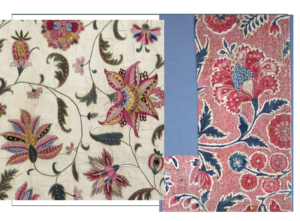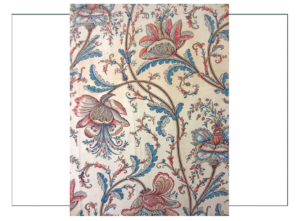 Similar reproductions found: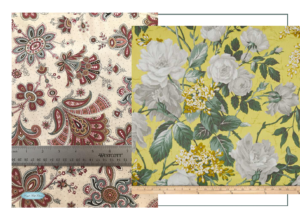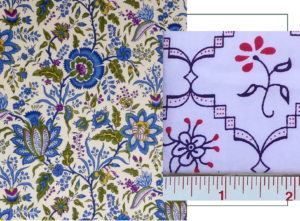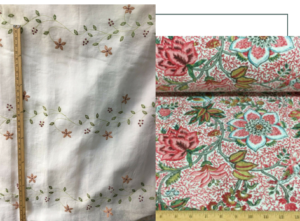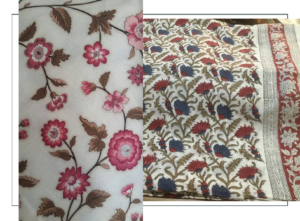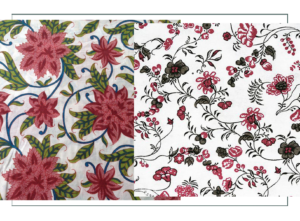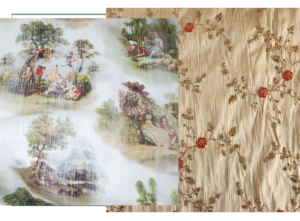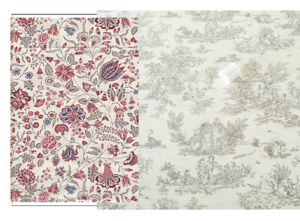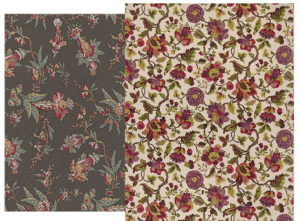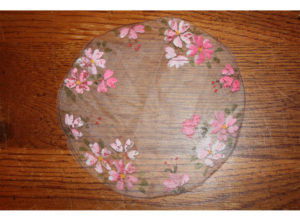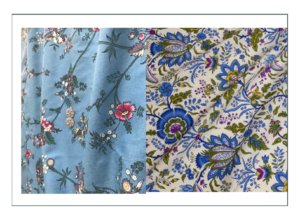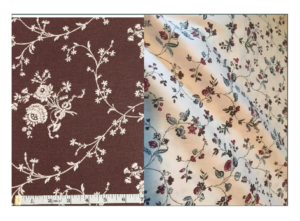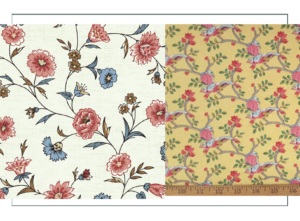 Fabric samples from in stock and reproductions found sent to Yvonne. These are grouped for color combinations using in stock linens, silks, cottons along with the reproduction fabrics found: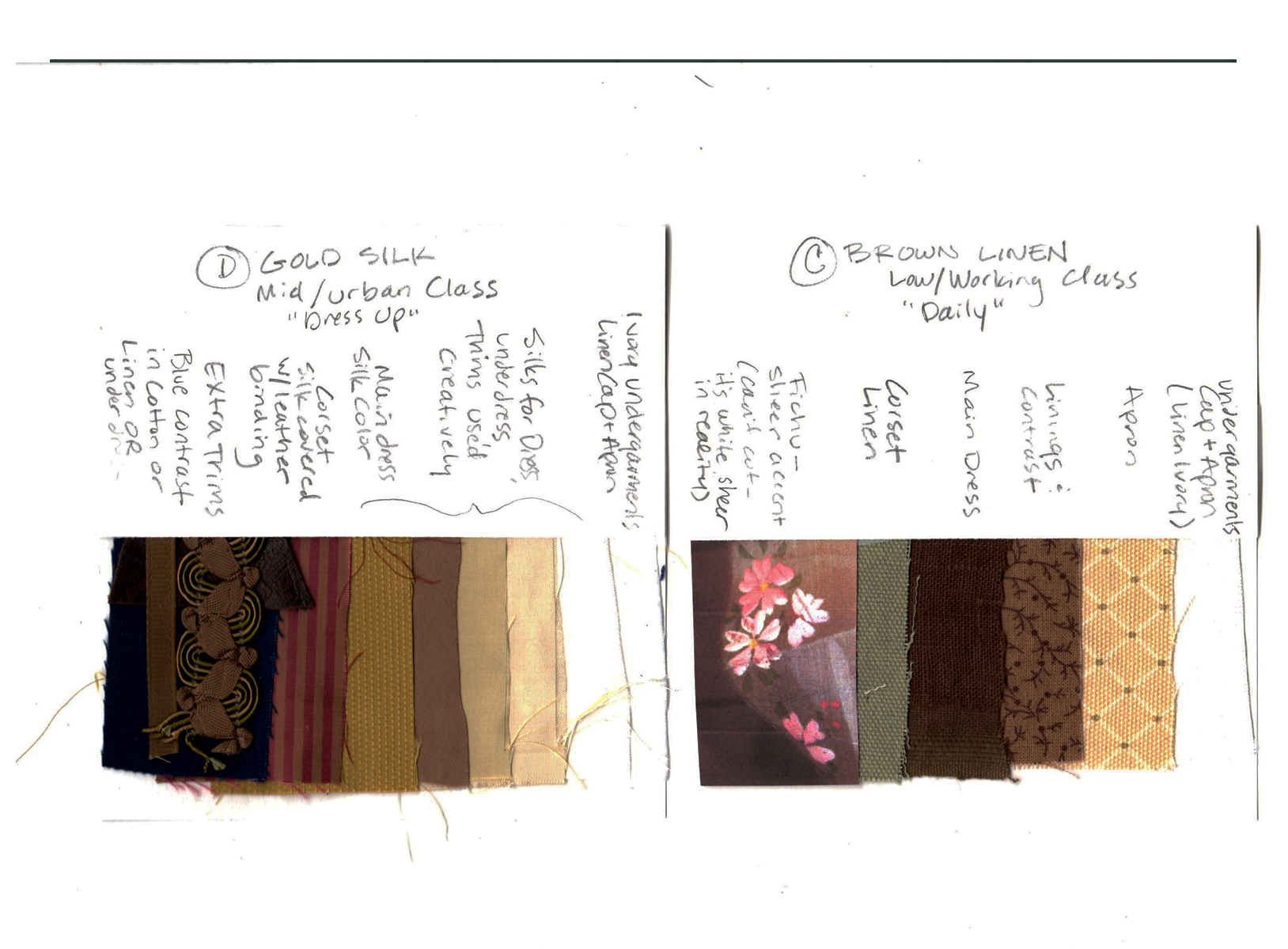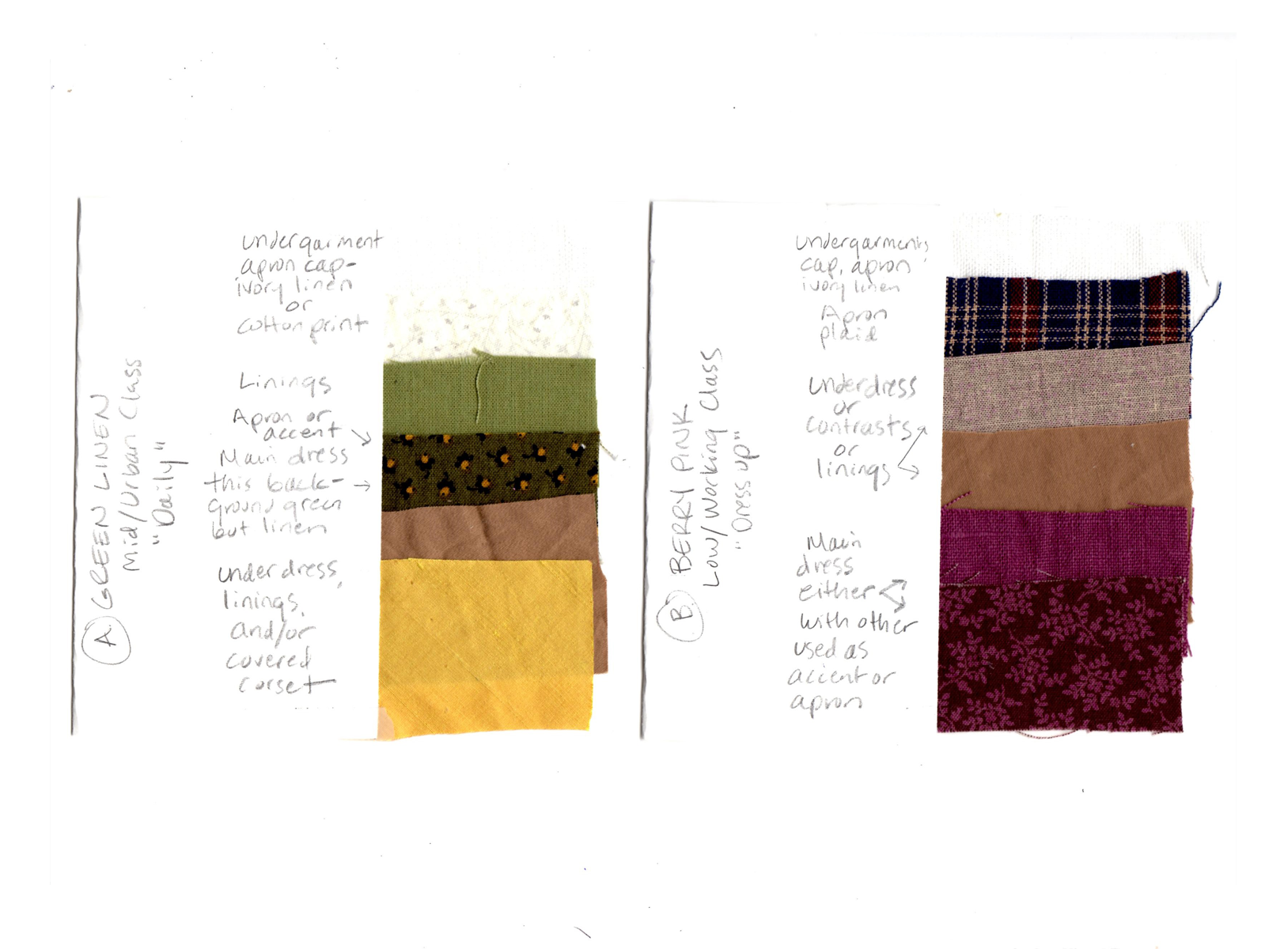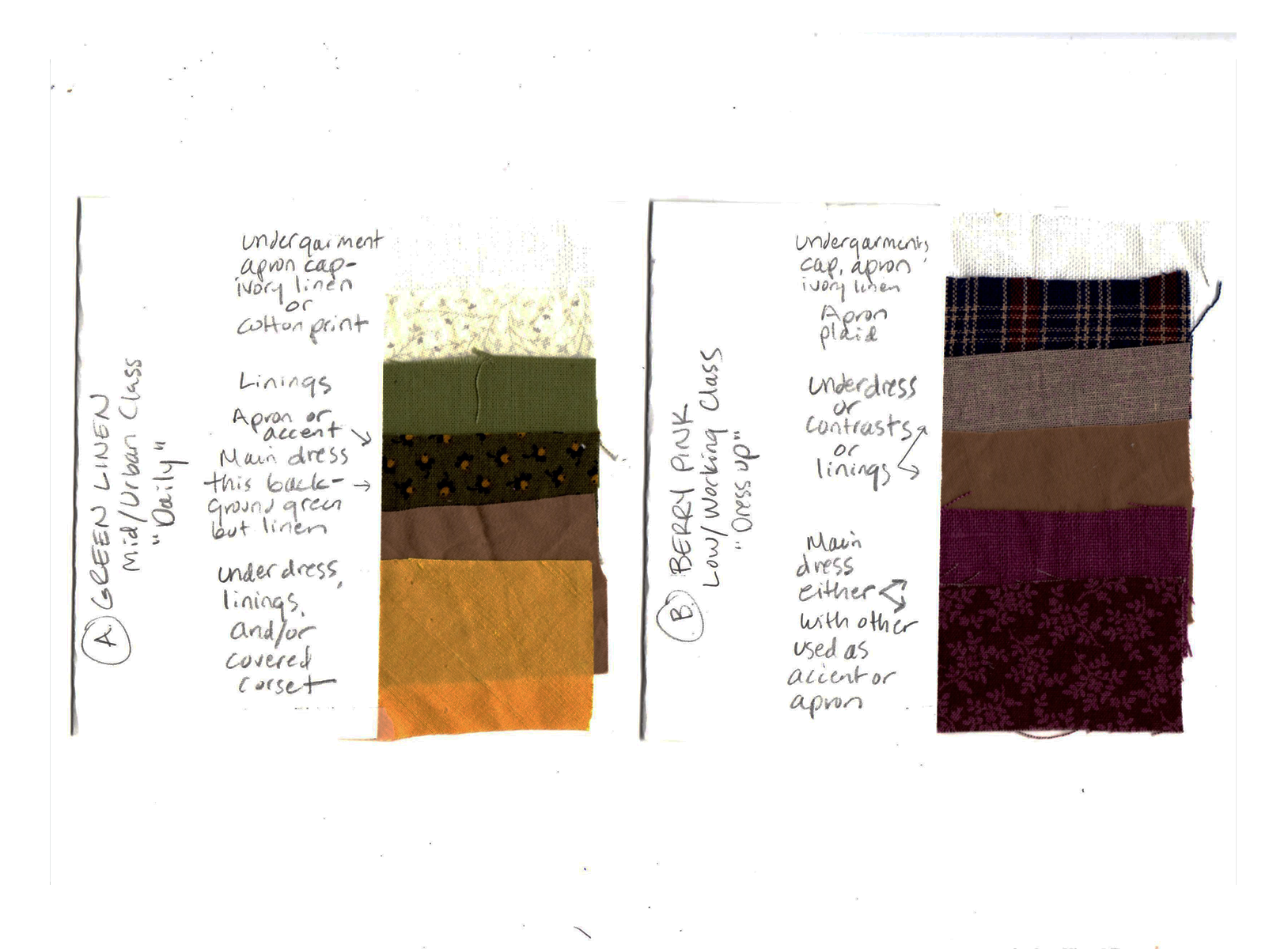 And the winner is! (based on extant below, what's in stock, and Yvonne's favorites):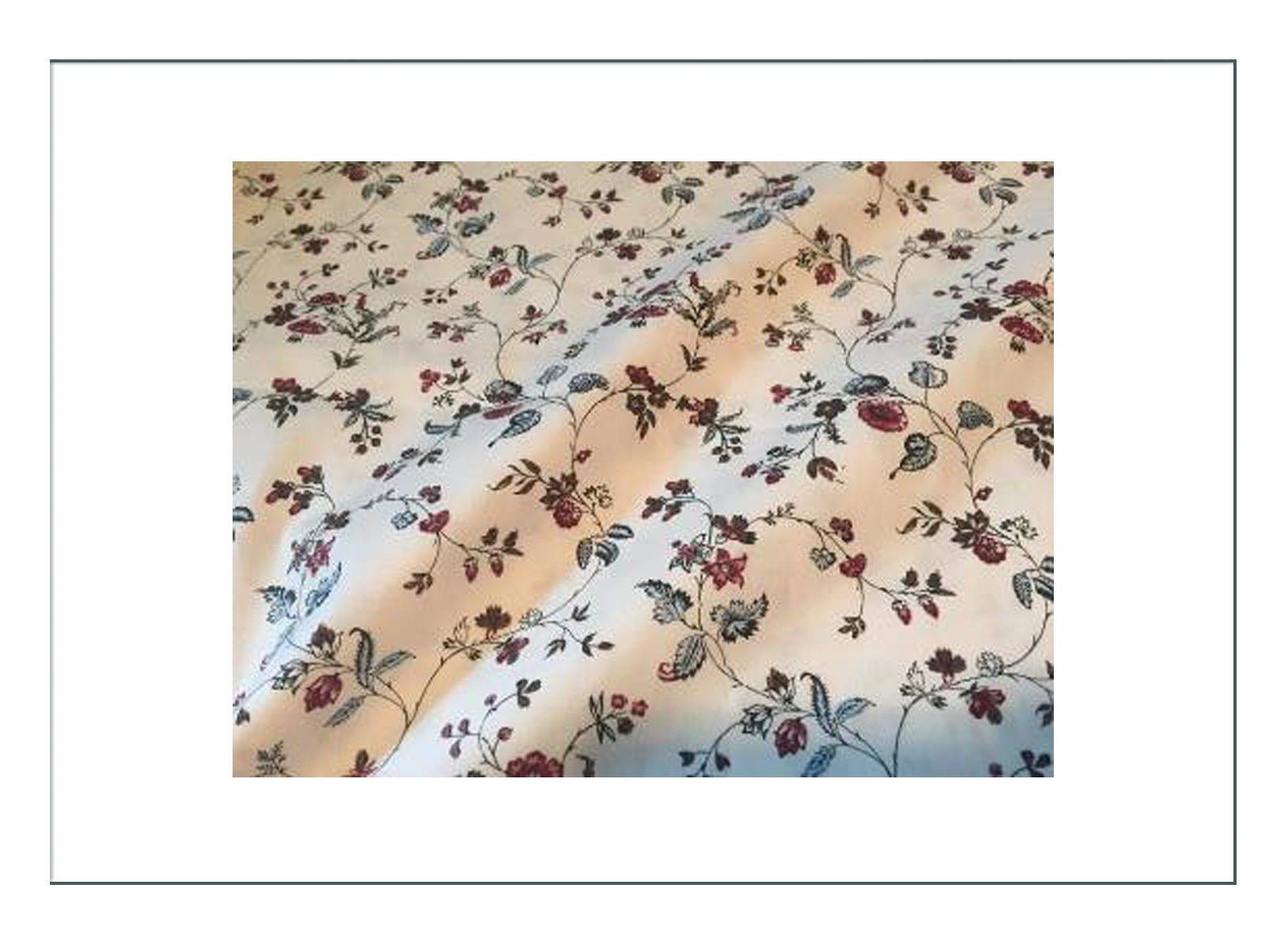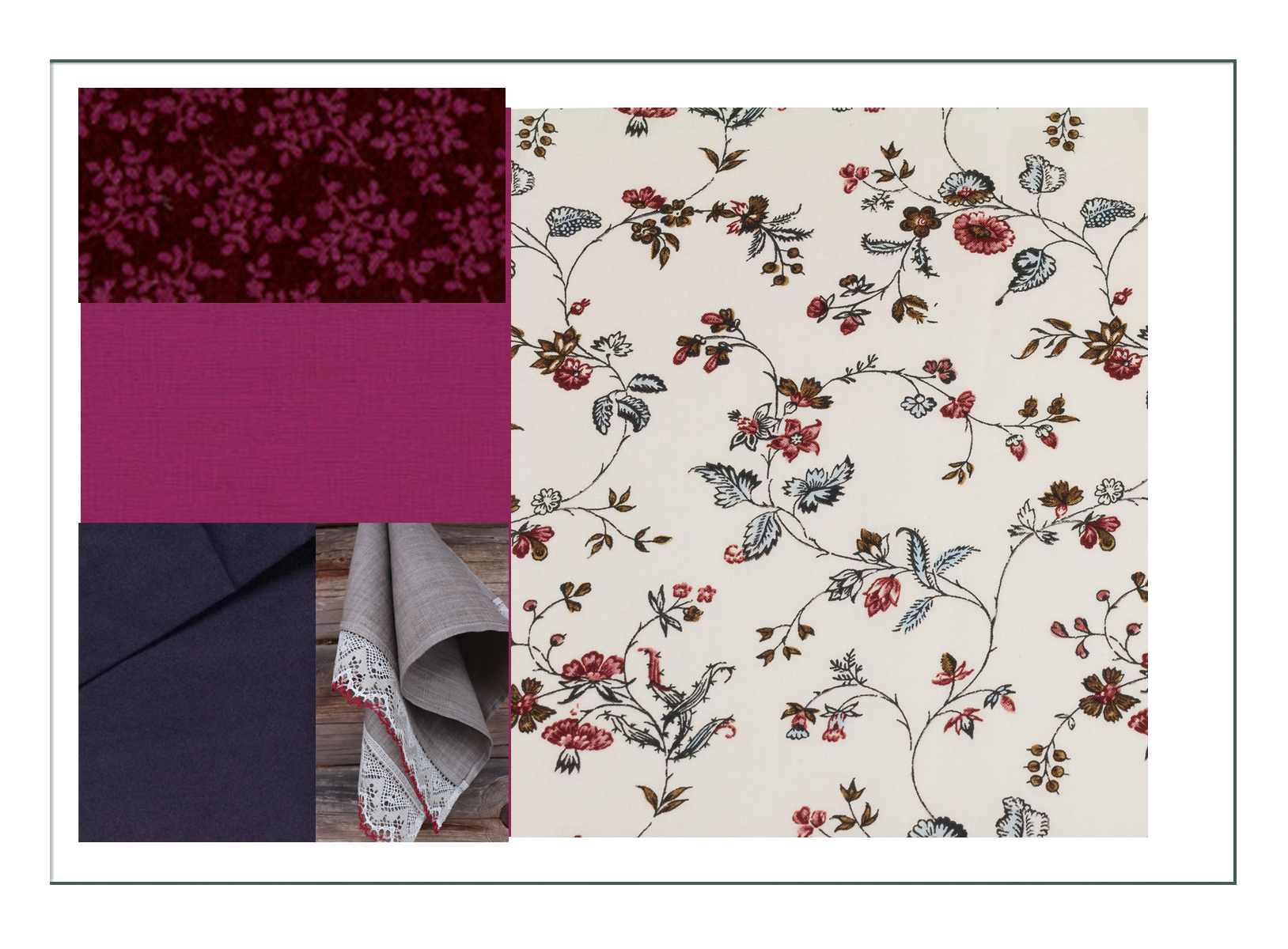 Applying found fabrics and materials to the garment pieces we need: (shift, bum roll, inner petticoat, outer petticoat, bodice/jacket, cap, fichu, rump, stays):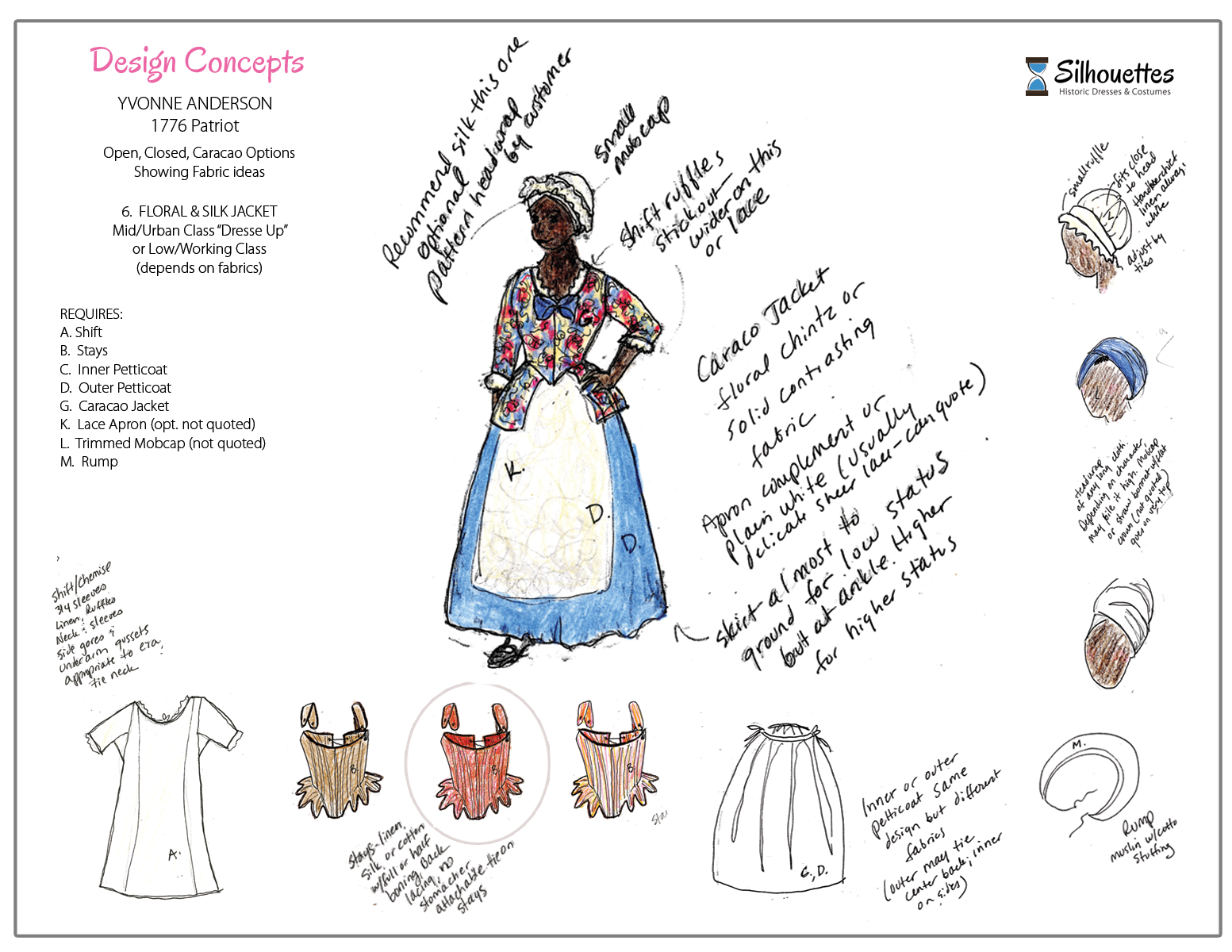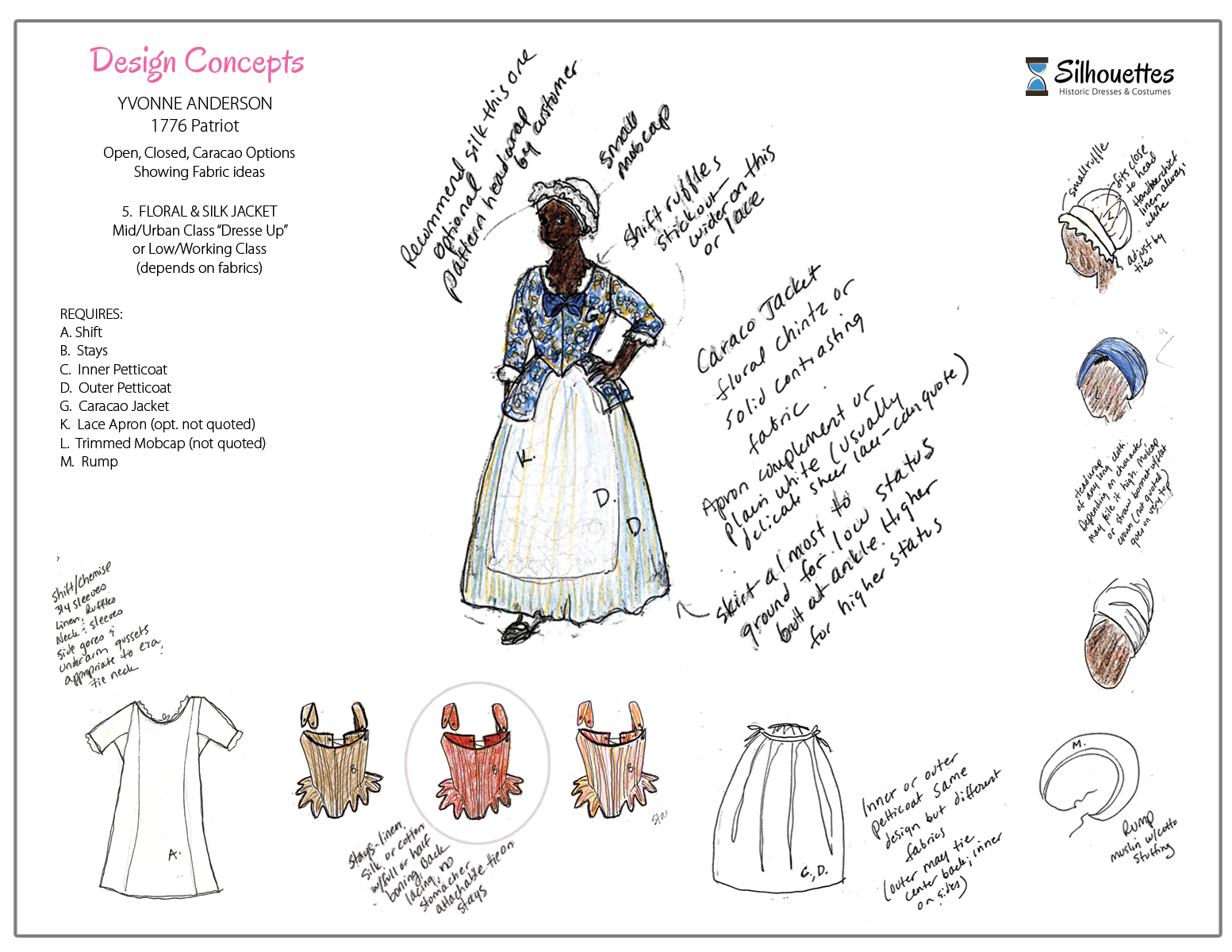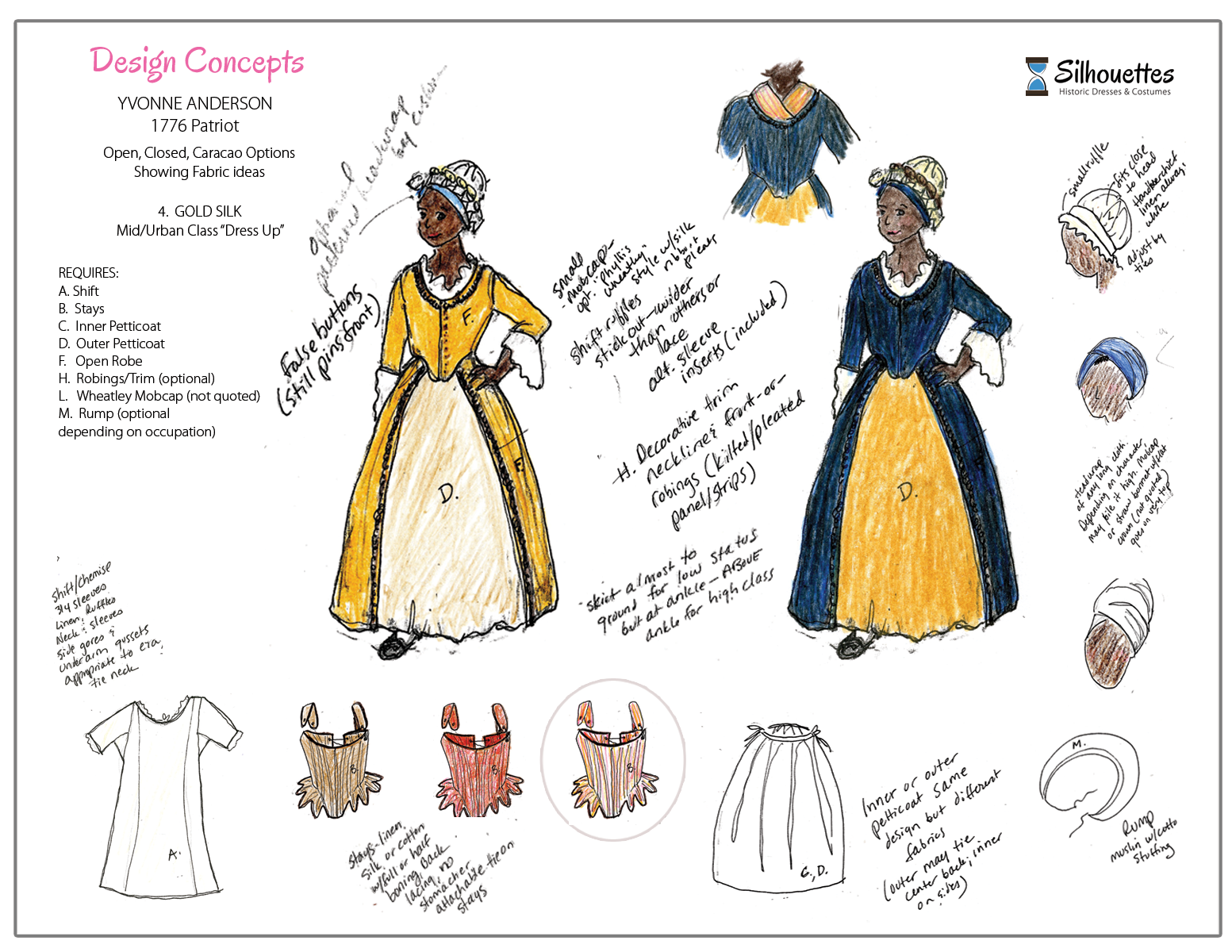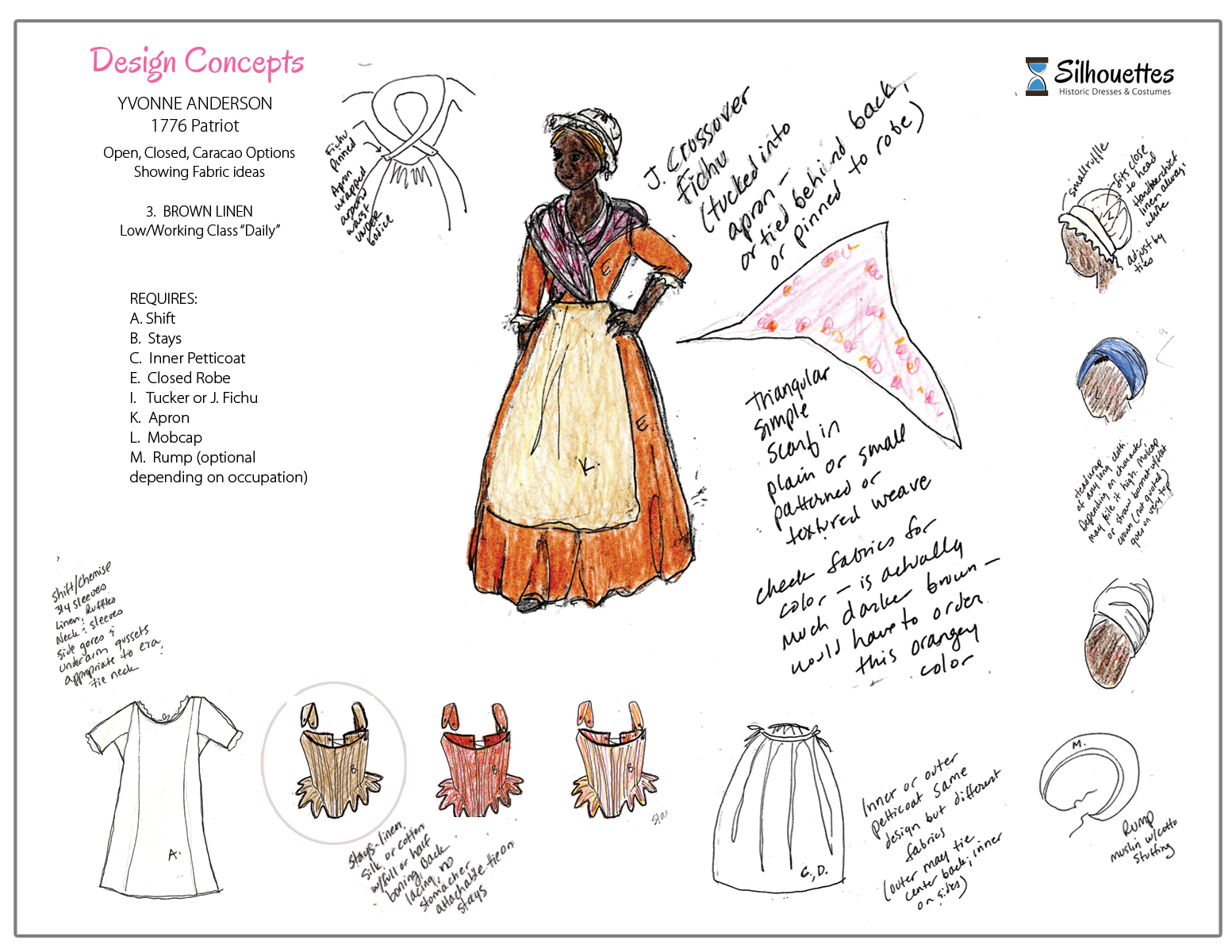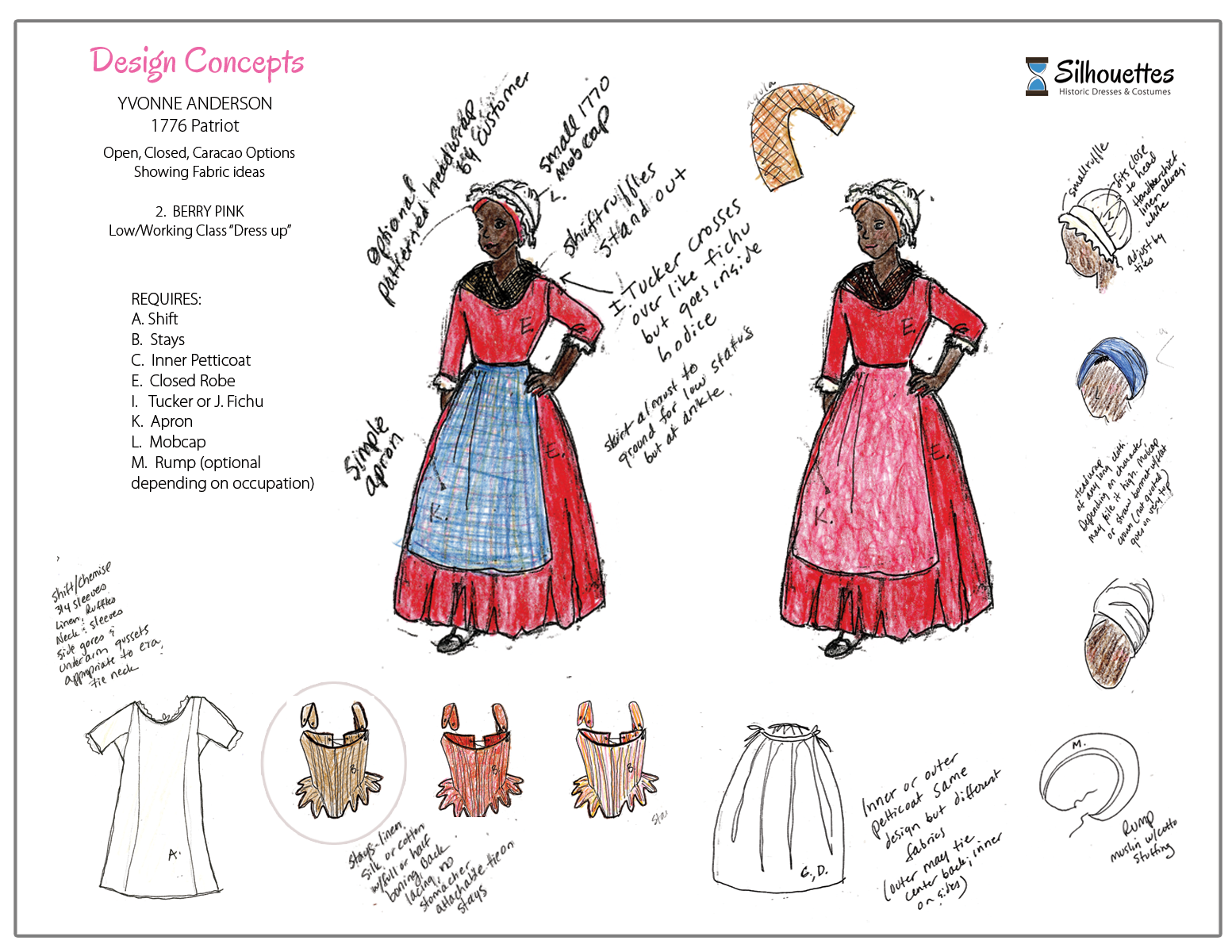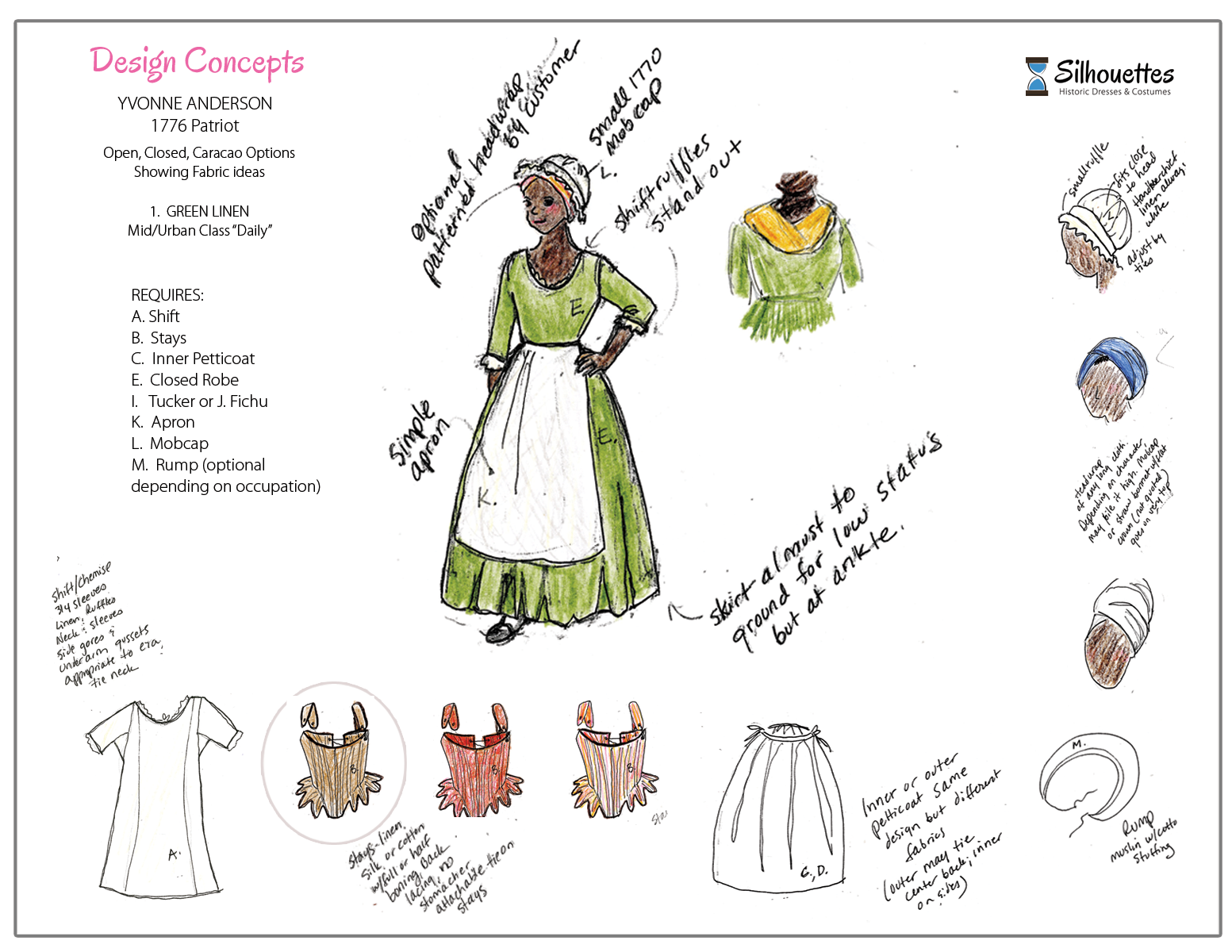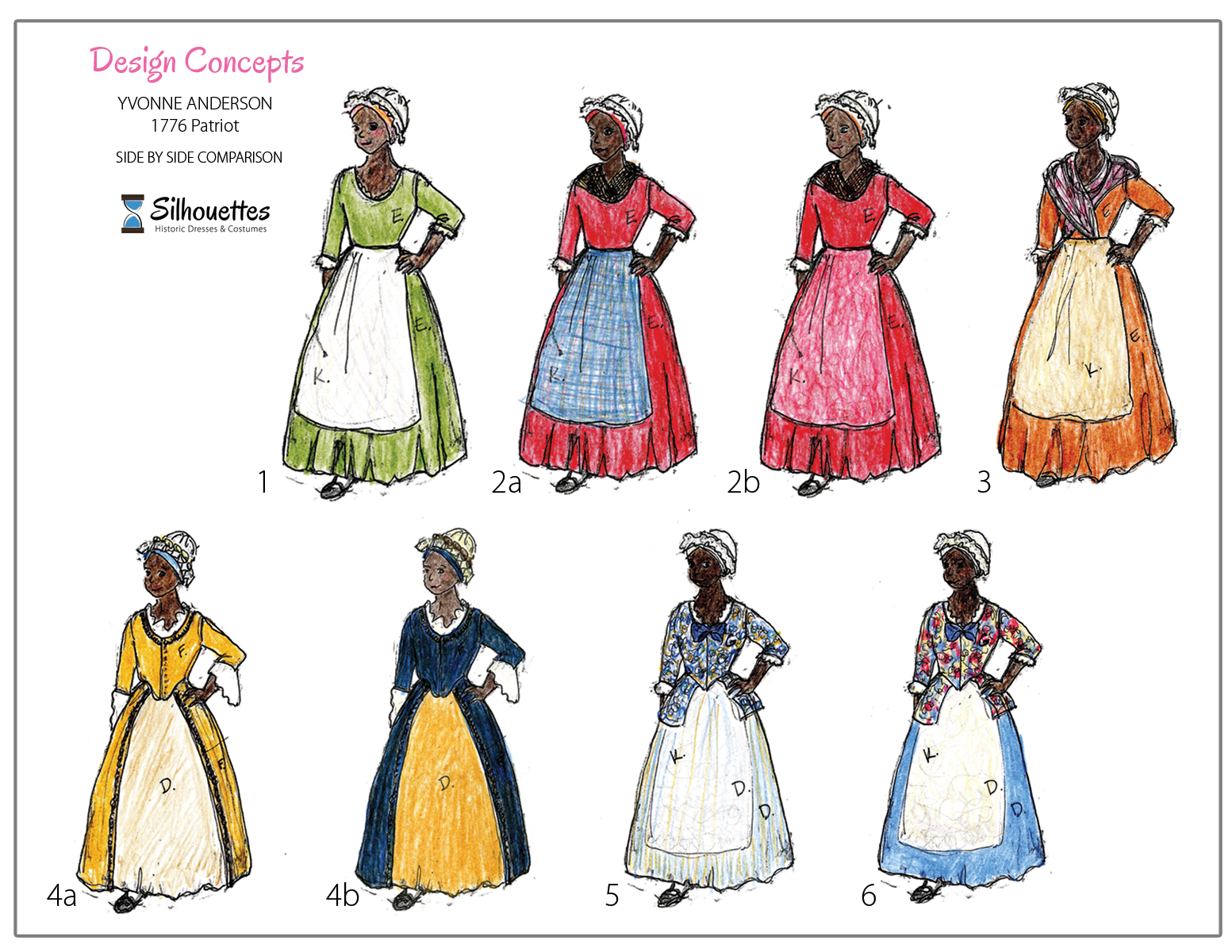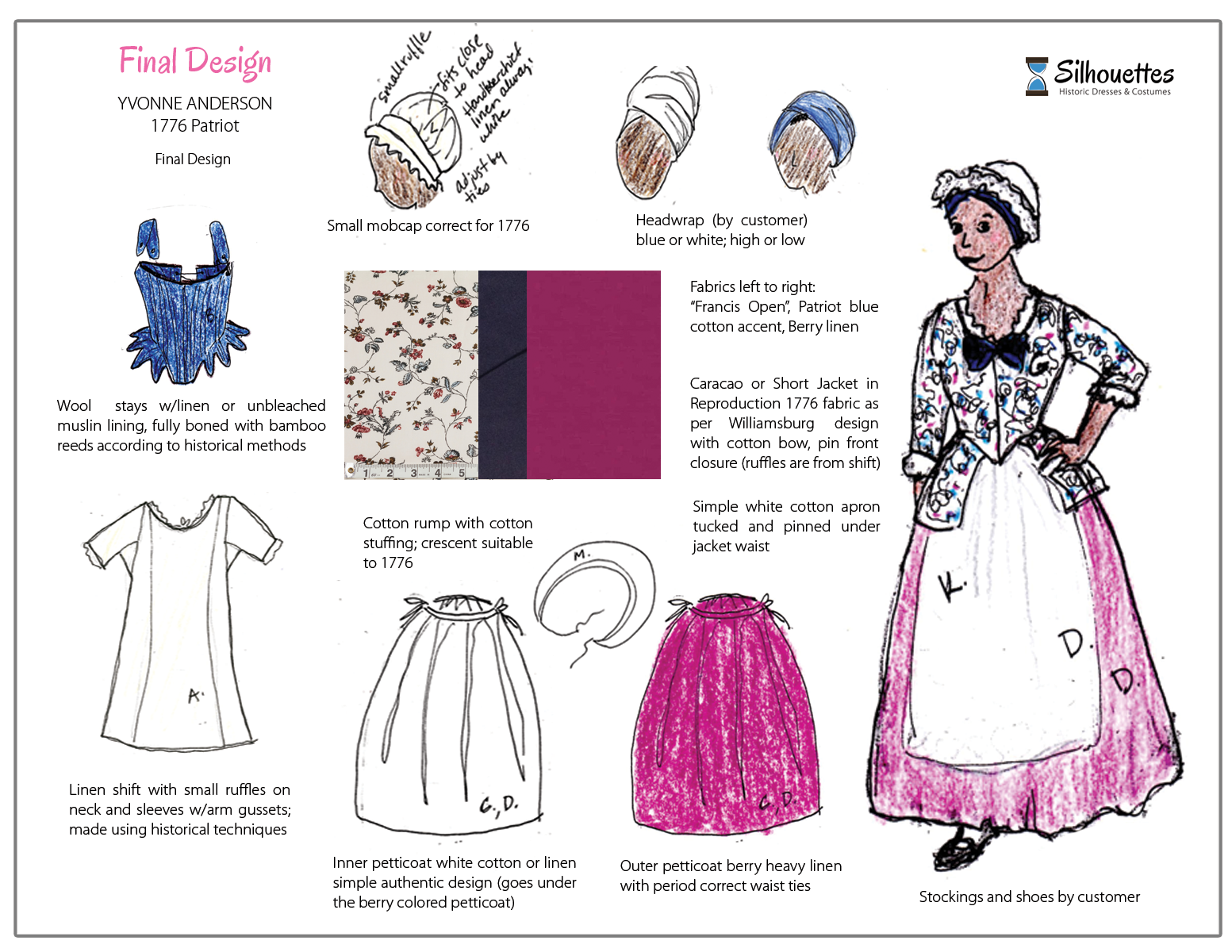 Click here to go to Yvonne's Main Page with the Finished Project (next)
Click here to go to the top of this page
Click here to go back to Yvonne's History & Fashion page