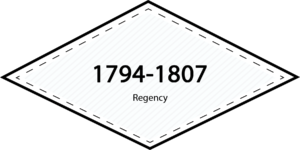 Technological advancements worldwide, with American growth & heroes


—— THE ERA IN BRIEF ——
Information & communication brought new ideas & old cultures to Europe.  "Marveilleuse" Empress Josephine & Napoleon I sat on the French throne while the "Steel Age" arrived on train tracks & at shipping ports.  New worldwide political alliances & social structures caused some to want to go back to "the good old days".  Women interpreted "old" to mean "ancient", as they followed France & became somewhat  of exhibitionists wearing the new Regency style which meant dressing up like ancient Greeks & Egyptians in toga-like fashions.
"Regency" refers to the time in Great Britain when King George III's son, the Prince of Wales, ruled as proxy as Prince Regent from 1811 to 1820. The term Regency has come to represent a much wider period of time than the nine years to which it actually relates. When focusing on fashion & furniture the term more loosely refers to the period from 1795 to 1820.

—— PORTRAITS FROM THE ERA ——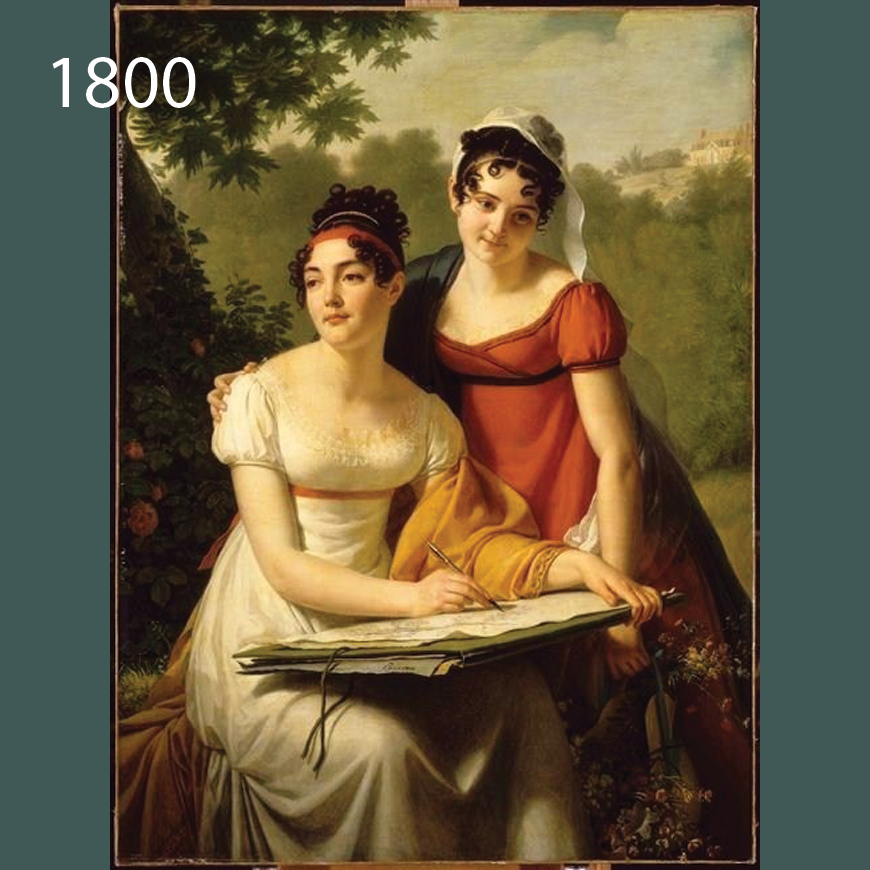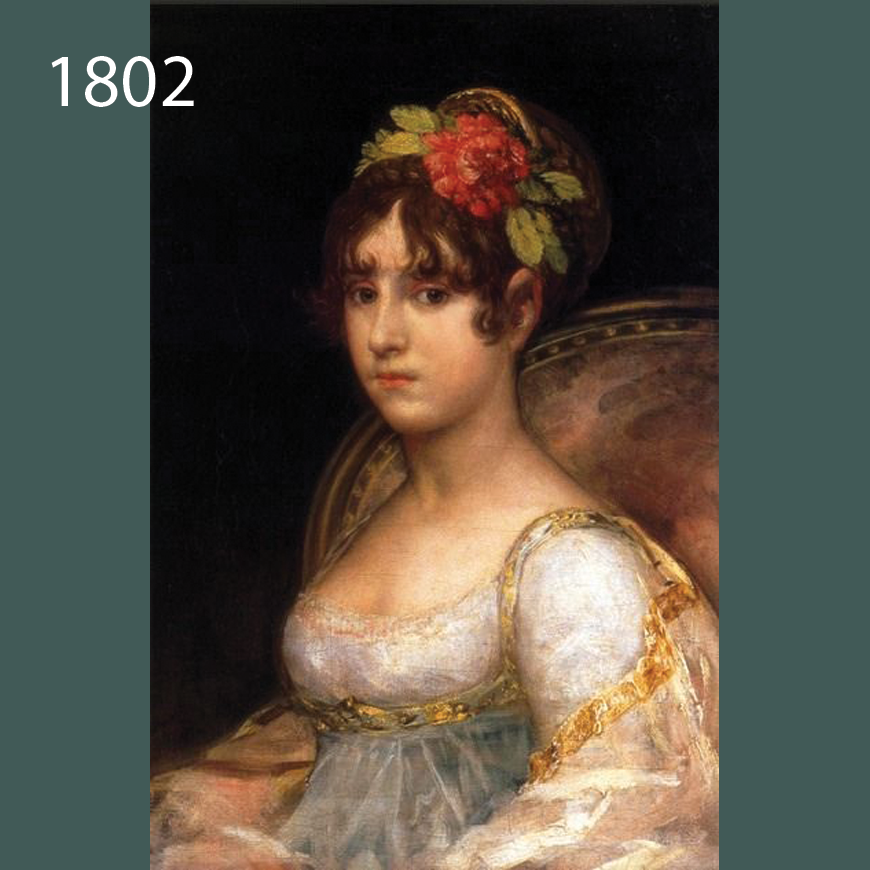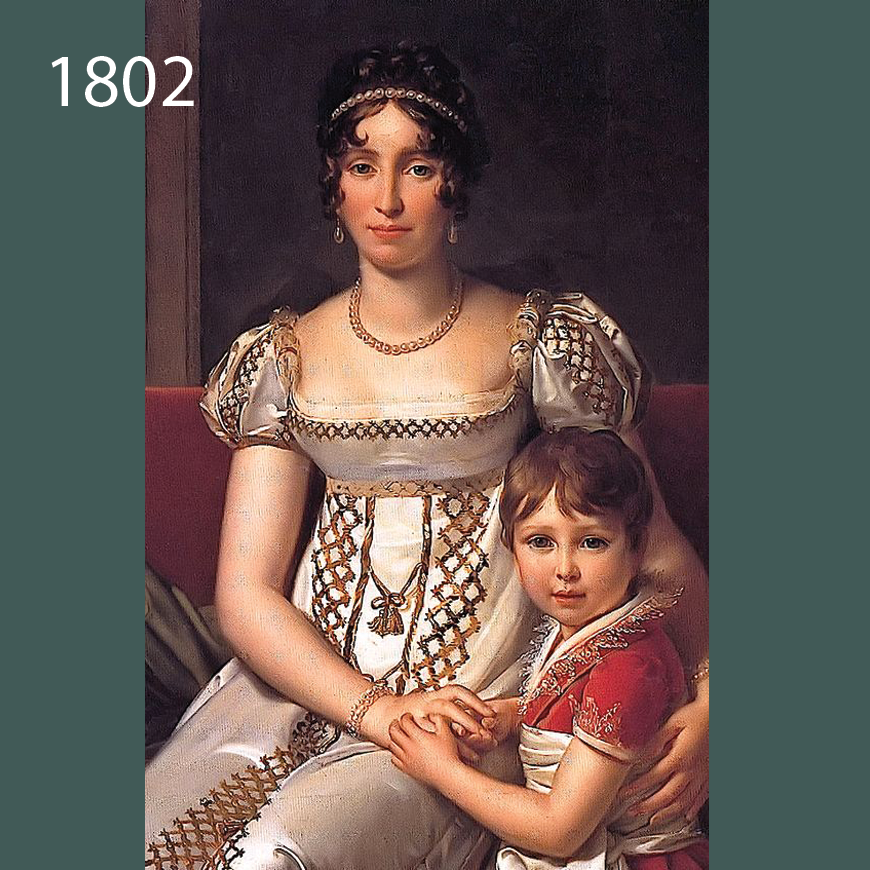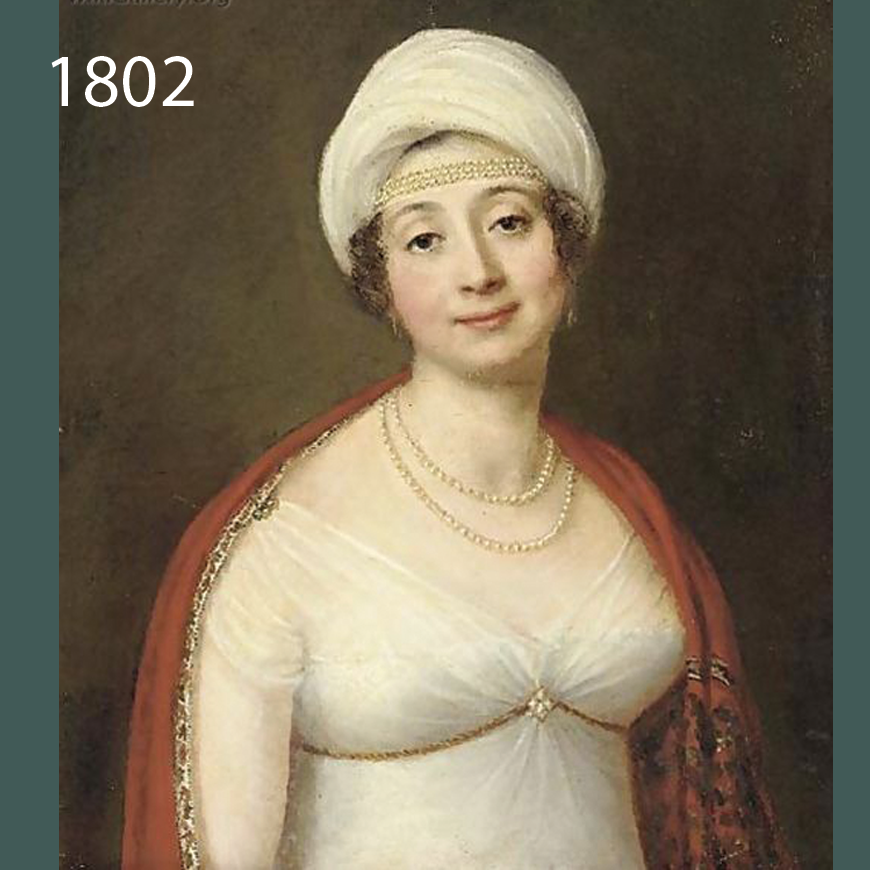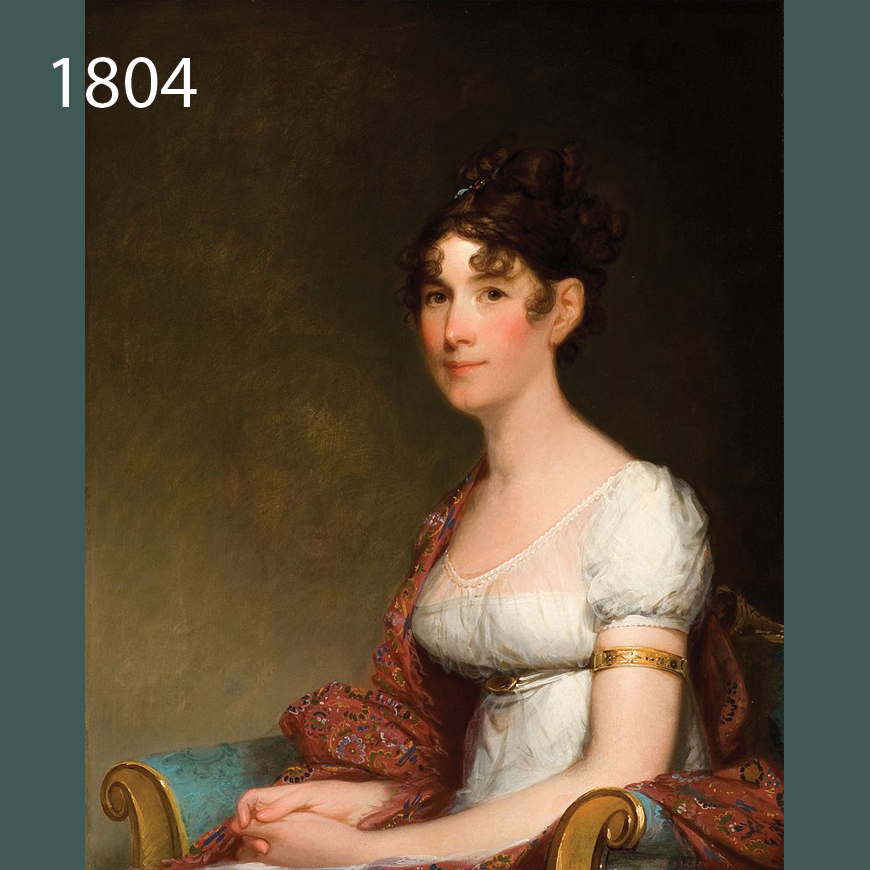 —— WORLD SITUATION ——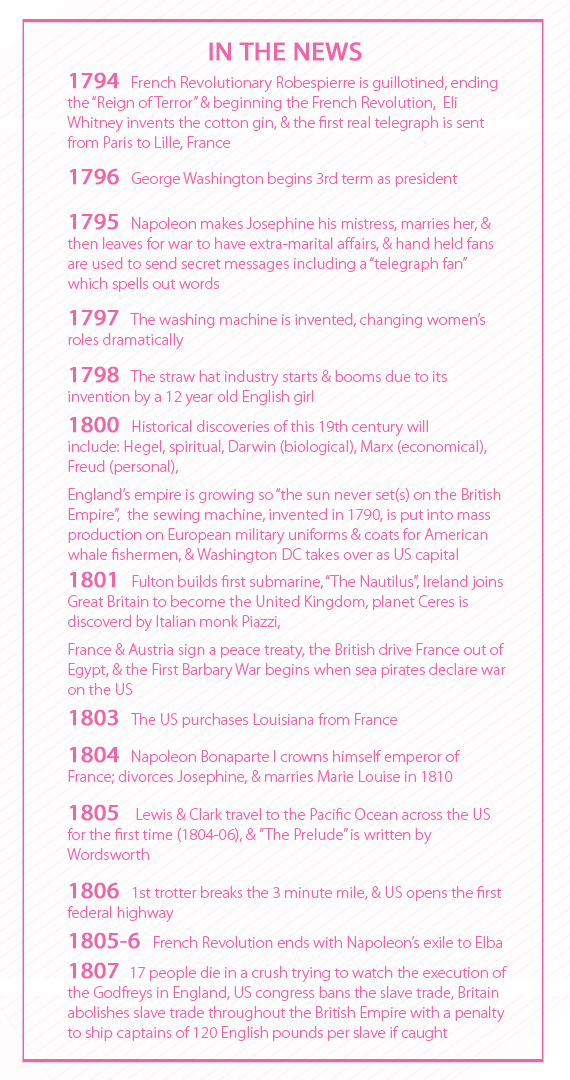 The 19th Century, starting in 1800, was known as "The Steel Age" because history, science, & industry were advancing with key developments in shipping, rail, & other steel innovations
  The century discovered history: spiritual (Hegel), biological (Darwin), economic (Marx), & personal (Freud)
  Mass production began with this industrial revolution
  The textile industry was the first to use mass production due to its spinning, cutting, & weaving advancements
  The French government was in a shambles
  England was at its height: "The sun never set on the British Empire
  America was growing with addition of the Louisiana Purchase
  New American heroes like Daniel Boone made the Wild West fashionable
  Literary heroes like those in the book "Wuthering Heights" brought a romanticism to the era
  Communication & trade were increasing as relationships between America & Europe mended
  The common man was challenging the class & bourgeois concept in search of equality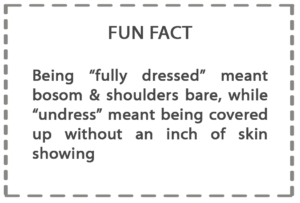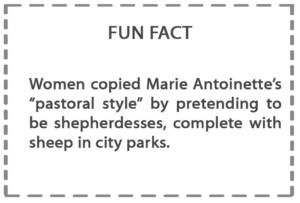 —— FACTS OF THE TIME ——
  All fashion progress in Europe where trends were set, stopped for a while due to war & conflict just before 1800
  Napoleon's conquests in foreign countries, plus improved transportation & communication allowed knowledge & trade to expand
  Scientific discoveries such as finding the ruins of Pompeii, brought new/old ideas to Europe
  Information about ancient worlds in particular were of interest to the French & English
  France's Queen Marie Antoinette's successor, Empress Josephine de Beauharnais took over as fashion trendsetter
  Josephine had been a leader of the "Merveilleuse" movement, which wore the "little white dress"
  The attitude during the French Revolution was towards simplicity & self-enlightenment, with a new class consciousness
  Napoleon did not want to blend with the masses, or become simple.  He named himself Emperor, & bestowed on himself all the entitlements that went with the position
  Napoleon required Josephine to take the simple, plain white garment now known as the "Regency style", & to embellish it
  Josephine's white cotton sheer gown became one made of sumptuous fabrics adorned by luxurious trims & details
  Josephine's coronation robes were based on simple design, but had ermine, jewels, a lined crimson velvet robe, & brocades with golden brooches & bracelets
   The high-waisted coronation gown also had extreme ornamentation
   The dress silhouette would be known as the "empire" waist in "Regency" style
  "Empire" & "Regency" would return in the form of the "Princess Line"around 1905
   While still a far departure from the elaborate court wear of Marie Antoinette's France, Josephine's "empire dress" was considered opulent by the standards of the common populace
  The common man was wanting to put class consciousness behind, but Napoleon's direct effort by using fashion, made certain that Josephine stood above the rest
  Josephine, of  the "monstrous height" of 5'8″  for the time, did literally stand above the rest
  She had a svelte long shape, long chestnut brown hair, & a sallow complexion
  With the ideal of the literary romantic & emotional woman, Josephine was the ideal for women of the day to imitate
  While Empress Josephine was praised for her elegant "silvery" voice that came out a small & straight mouth, she had bad teeth & rarely smiled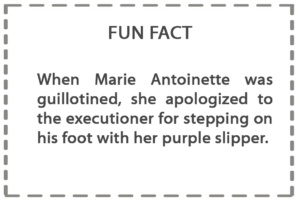 —— FASHION TRENDS ——
  Simplicity of fashion affected all classes
  At the beginning of the era, the "Gaulle" & "Chemise a la Reign" introduced by Marie Antionette before the Revolution, took hold worldwide
  Being 'fully dressed' at this time meant bosom & shoulders bare, yet being 'un-dressed' meant being covered up all the way
  French trendsetters would moisten their thin gowns to achieve maximum sexiness
  A new emphasis on hygiene had women of all classes preferring simple cotton that could be easily cleaned
  Invention of the washing machine in 1797 made the little white dress even more popular, as it could be kept constantly bright white
  In about 1800, & for the first time, fashion – including style, line, color, fabric, availability, cost, & construction was nearly the same for all classes
  The basic gown was a straight lined "empire" waisted sheer 1 piece cotton dress that trailed just to the ground
  It had short sleeves & a low decolletage
  The waist raised even more dramatically after 1795
  Influence from improved communication & trade with India, West Indies, China, Greece, Italy; along with scientific discoveries gave new direction to decoration & style as the era progressed
  As time went on women depended on accessories show individualism & class status, or to make a political statement
  Many wore striped garments to show support for their military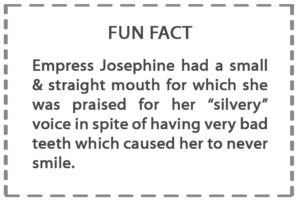 —— FASHION SPECIFICS ——
ROBE
GREEK THEN EGYPTIAN
  In the beginning of the era, the gown was called a "robe".  It was a simple, white, muslin dress with straight lines & an empire waist which hit just under the bust in front & back
  The early gown design concept was based on ancient Greek & Roman toga like costumes
  It had evolved in construction method & application from Marie Antoinette's "Chemise a la Reign"
  It was modeled & intepreted by Empress Josephine
  The Greek influenced simple white tunic like dress was idealized & popularized as artist Jean Louis David designed a national French costume based on it
  Women took the cue from the artist on how they should look & dress
  Robe "a l'Athienne" was the Round Robe of the previous era, which was divested of its fullness, & cut from diaphonous materials & the front fullness considerably reduced
  The front of the skirt of the basic gown & "a l'Athienne" had no fullness, but required a little gathering at the sides to allow for discrepancy in width between rib cage & hips
  Sometimes the front of the skirt was gored on the side seams which eliminated the need for gathers at the waist
  The fullness of the skirt was towards the back so that it would drop straight from the rib cage to the ground without making a "bump" as it passed the derriere
  Robes of the early period always had very long trains which were carried over the arm.  Later this would be abandoned
  A complex series of strings & ties kept the dress from drooping down from the high waist
  Robes were fastened center back (from 1800-1810 the bib or apron front replaced the back closure)
  Sometimes there was a tunic overskirt suggesting the Greek "peplos"
  The Grecian effect was done by a low square neckline, short puffed sleeves, white clocked stockings, pumps with low heels or sandals with pearls, & hair styles similar to classical times
  The Greek design would later be dropped to incorporate ancient Egyptian concepts instead
  The same "little white dress" was the basis, but the accessories & garments worn over the basic dress were different
  Egyptian inspired Regency dresses had shawls with symbols & decorations from ancient tombs
  They incorporated reds & yellows of the Nile region, with beautiful woven & printed fabrics
  The Pelisse came into common use
  Collars & belts were worn to some extent
  Following is a breakdown of the style:

 1800-1810: The Pelisse (coat) was created.  It had the empire line to hip or knee length
 1810 & later:  Pelisse was worn almost exclusively at full length & was made of warmer fabrics & construction including long sleeves
1812:  Pelisse added a broad collar from military influence & became more of an outer garment

The Pelisse was golden brown, dark green, blue, & was worn over pale gowns which were visible under the opening of the coat
"Pelisse-robe" was added for inside use, or as a garment by itself
"Walking dress" was a pelisse worn by itself outdoors

1800-1803:  Greek influence; more fabrics as new dyed cottons came available from India, including dark colored fabrics

SE Asia, India, West Indies influence added
"Robe a la creole" variation was brought from the Indies

1804 (Napoleon crowned)-1807:  Egyptian & classical (simple straight silhouette) influence on lines especially

Etruscan & more exotic & oriental ornamentation as inspired by Napoleon's expeditions
The Spencer Jacket was created.  It was based on a man's military coat without tails; very high waisted & strictly ornamental included frogging, epaulets, & all the military frick-frack
SLEEVES
Sleeves were tiny & puffed until about 1815 when long sleeves were added
By 1818 long sleeves were  common, though still puffed & ornamented
Into the next era, Renaissance & Rococco (Spanish  & military) inspired themes would replace the tunic like draping & puffs of this era
UNDERGARMENTS
Stays (the early name for corsets) were still the light weight, corded or half-boned stays of the previous decade
Boning was light or the stay was only stiffened with cord
A new introduction was a gusset which would make a round shape around each breast
The gusset separated the breasts, & made a more full & round shape within the bodice of the garment, as well as lifting the breasts up to show in the decolletage
Stays were either very short or long over the hips, depending on the modesty level & need to control the figure under very revealing dresses
They did not have tabs on the bottom, but were (almost) always bound straight across
Many older women continued to wear their old stays
Some women wet their dress so it would cling & be very sexy
Others wore a white or flesh colored full body suit under the virtually see through dresses
There was no petticoat worn at all
Stockings were white or flesh colored silk, held up with the new "metallic stretch" garters
OUTERWEAR
Women added shawls, jackets, & pelisses to stay warm since the dresses were thin & small
Outer garments, with American influence & availability, were fur lined, of merino wool, velvet, or made  of black gauze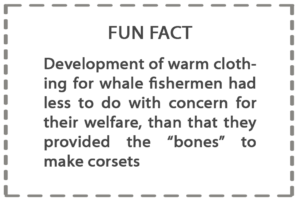 COLOR & FABRICS
Matrons wore rich colors (purple, black, crimson, deep blue, gold) & showed their breasts
Maidens wore pastels in subtle shades like periwinkle, pearl, & lilac & showed their breasts
Because of conflict between classes & political factions in England & France,  it was not safe to be seen in silk, velvet or luxurious fabric  early in the era, because it would indicate you were aligned with a certain party
After Napoleon took office, the luxurious fabrics & trimmings were desired in the imitation of Josephine
ACCESSORIES
Most "regular" women were not exhibitionists, & wore tuckers, fichus, & scarves to keep so much skin from being exposed
"Chemisettes" (fake blouse-like chest coverings that tucked into the bodice of the dress) were favorites for covering up & keeping warm
Flat slippers were worn with no right/left
While some shoes had small narrow heels, most were flat or sandal like
Women in court would follow the Greek example by lacing up the entire lower leg in pearl-strewn straps
Women & men added metal pattens to keep shoes out of the mud
Pattens were metal snowshoe like structures made for a specific shoe or several shoes
Turquoise blue was a favorite shoe color, although they often matched shoe color to dress color
Gloves were a "must have"; they were long when sleeves were short, & full length always for evening regardless
When sleeves got longer, gloves got shorter & more fanciful
HEADWEAR
All extravagant wigs, trims, plumage was discarded
Hair was washed regularly & left unpowdered with no false hair added
Hair was as the ancient Greeks & Romans had worn it: with tight curls on the head & braided & worn up
Turbans were a favorite.  These had tall feathers.  The higher the better
Head bands & ribbons were abundant & also per ancient models of Greek laurel wreaths & crowns
The first woven straw hat in America was invented in 1798 by a 12 year old girl in England
The straw hat was mostly worn by sailors at this time
The straw hat craze created a new export for England to worldwide ports
When America went to war with Mexico in 1846, the army wore only straw hats
Straw hats would eventually replace the turban & wrap, but not yet

—— EXTANT (ACTUAL) GARMENTS ——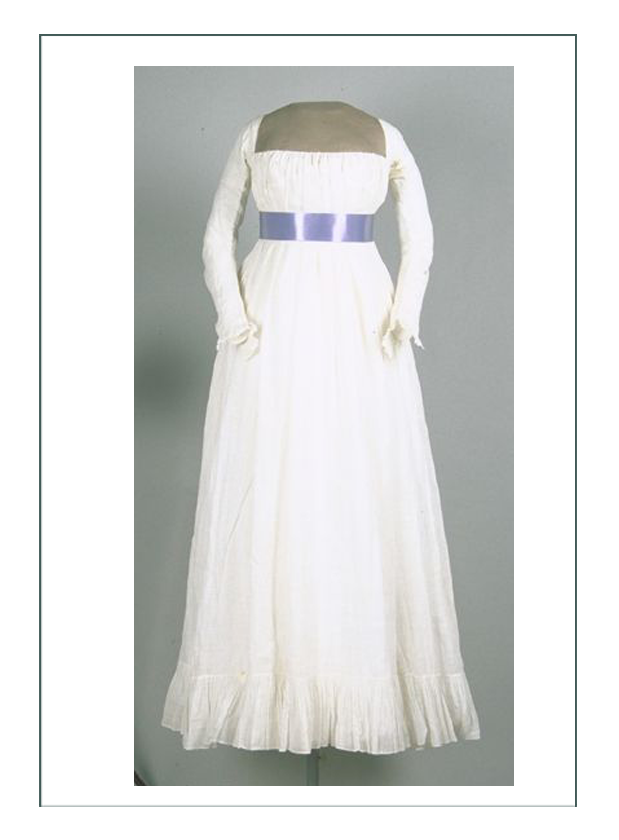 —— (above) "Chemise a la reign 1795" ——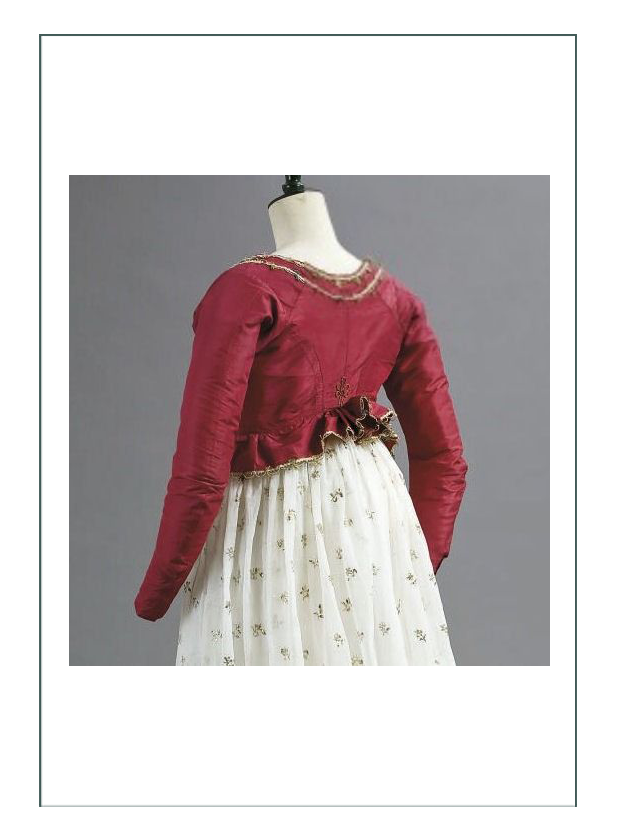 —— (above) "Spencer Jacket over Embroidered Gown 1797" ——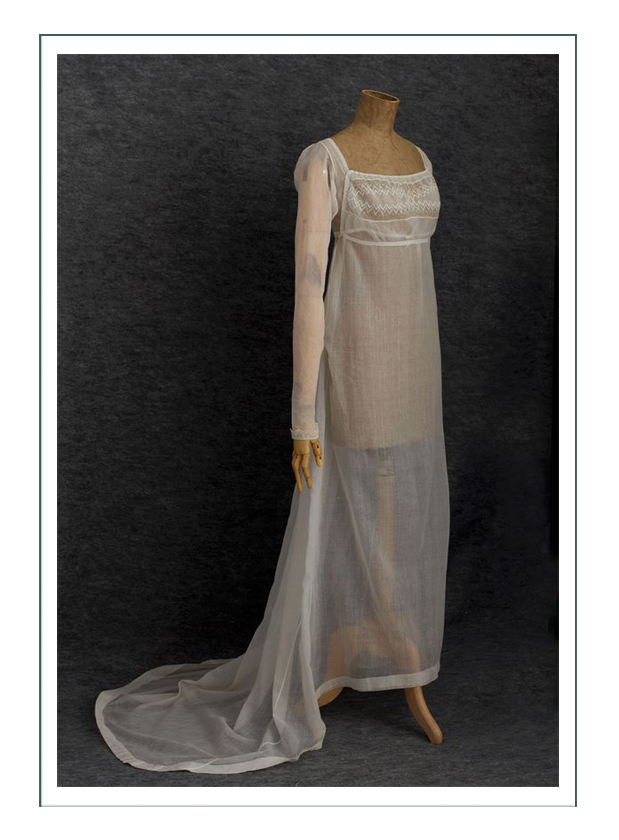 —— (above) "Sheer Gauze Chemise 1800" ——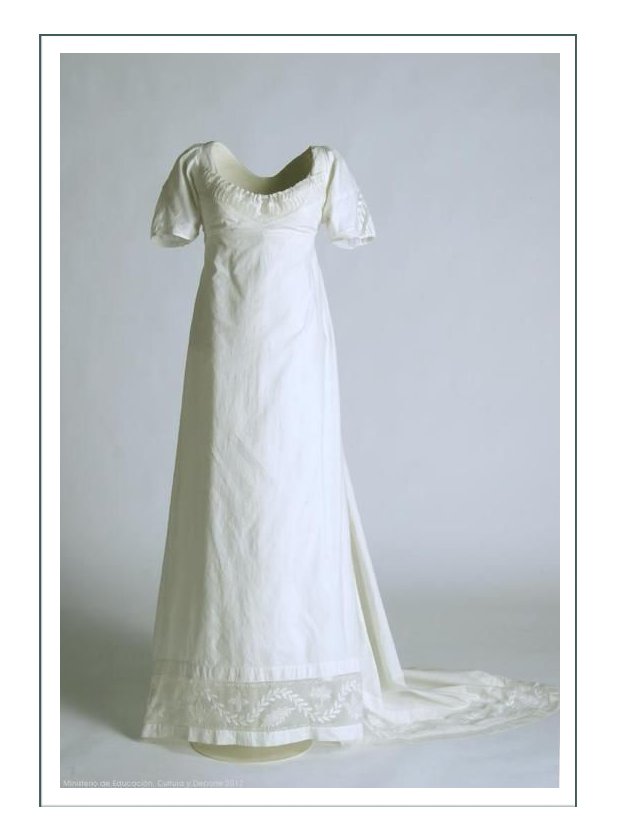 —— (above) "Embroidered Gown with Train 1800" ——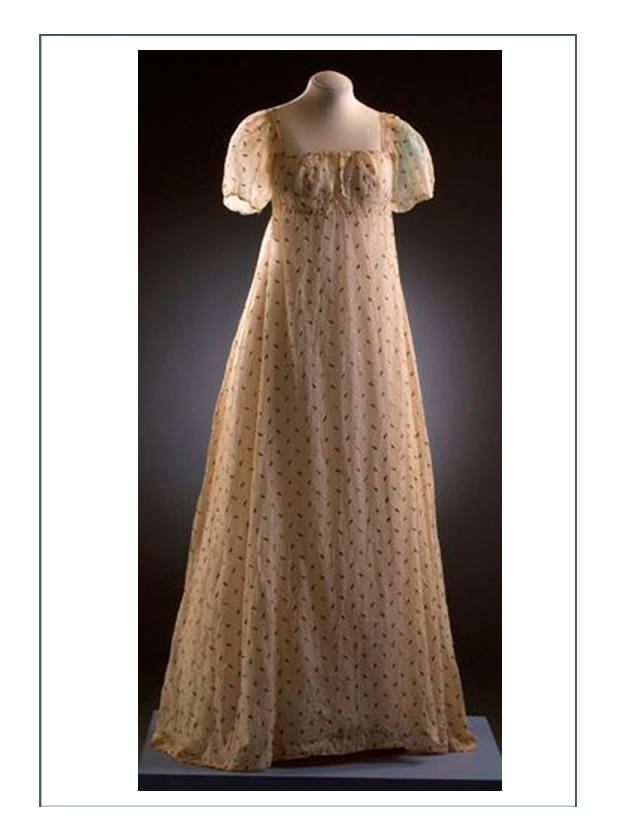 —— (above) "Robe 1803" ——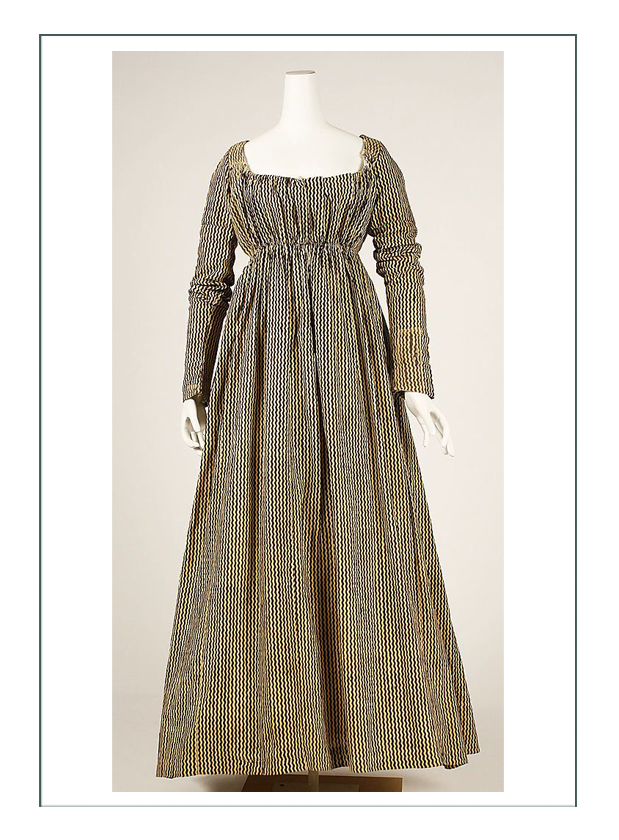 —— (above) "American made dyed Cotton 1804" ——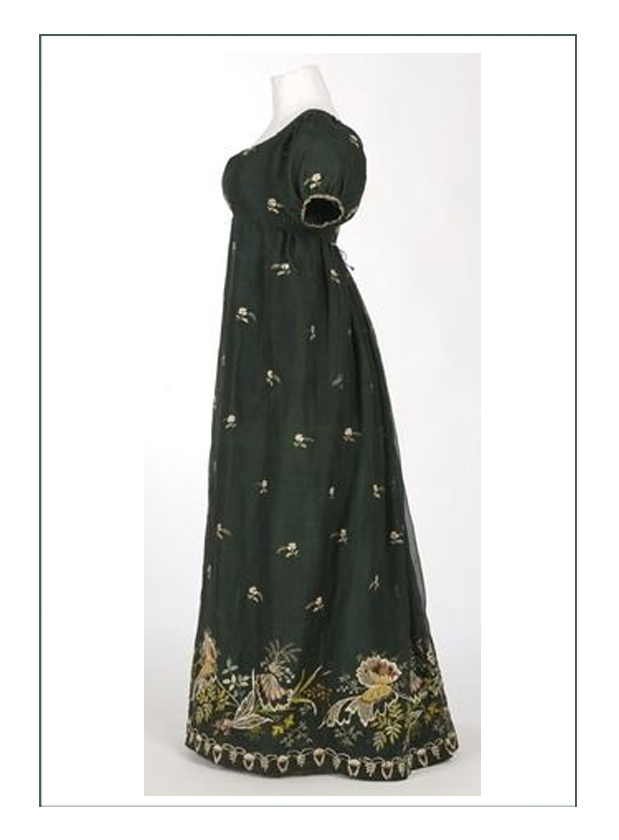 —— (above) "Evening Gown 1805" ——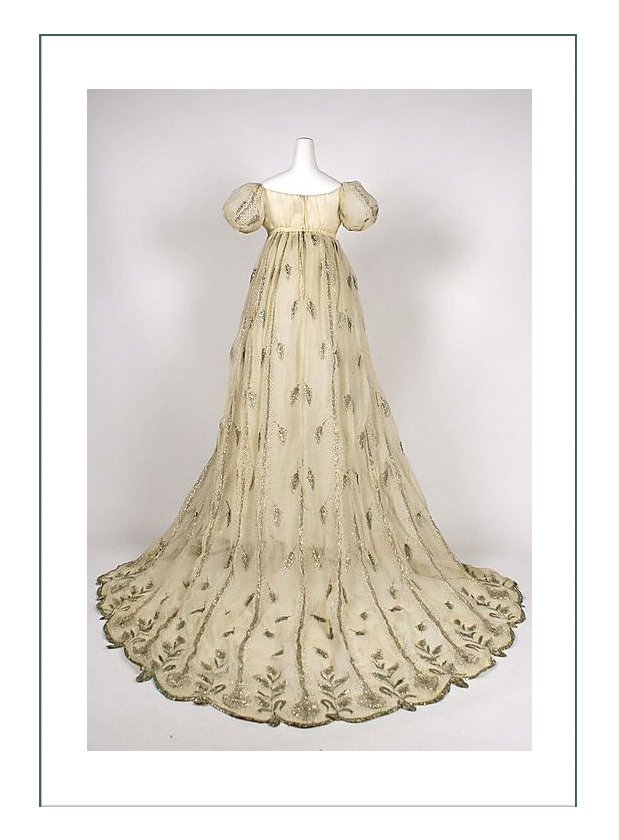 —— (above) "Court Gown with Train 1805" ——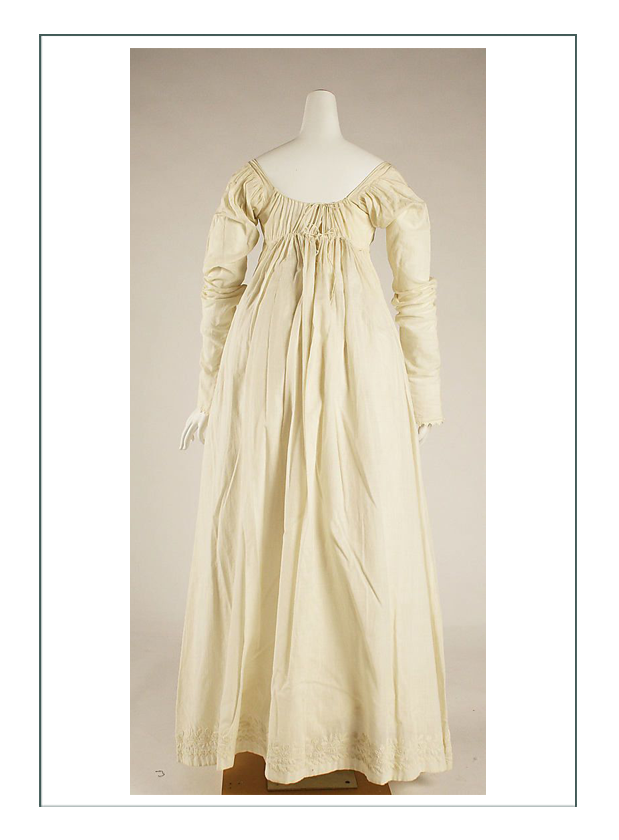 —— (above) "Back of Gown 1805" ——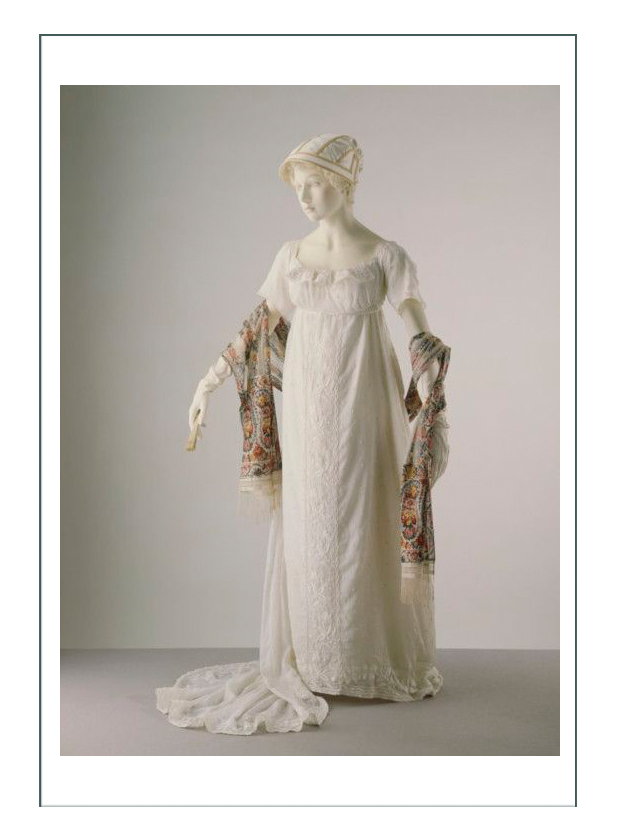 —— (above) "Evening Gown with Shawl 1807" ——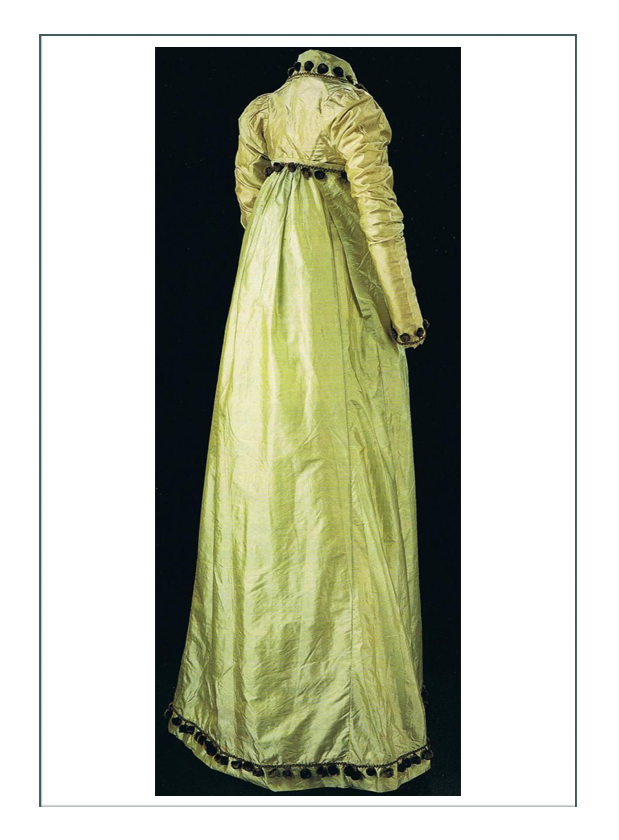 —— (above) "Taffeta Long Sleeve Gown 1806" ——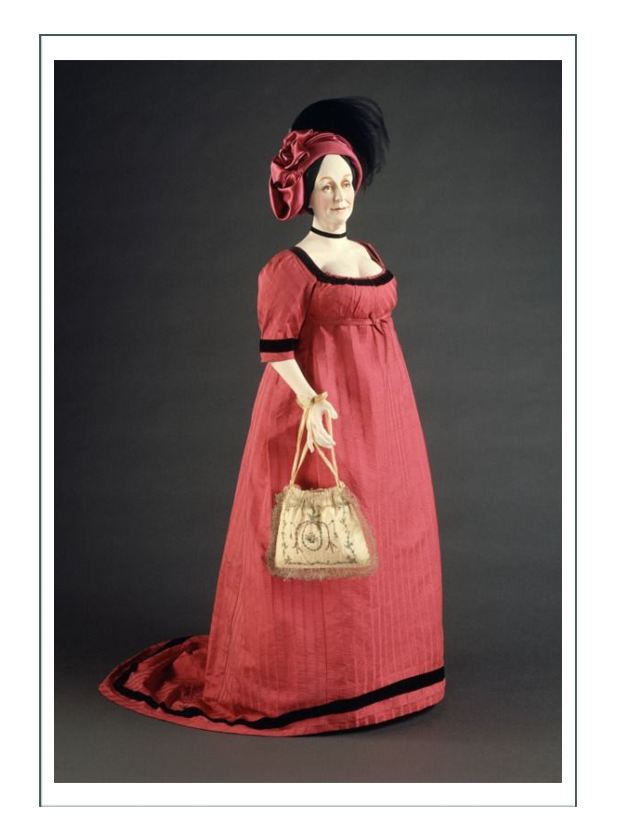 —— (above) "Matron's Day Gown 1807" ——
Click date below to go to a different era. We can replicate most ANY garment you see!