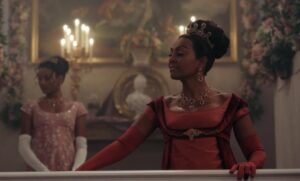 Brief Era Explanation which is "pretty close" to our research:
The following article  http://Read More: https://www.looper.com/800879/why-bridgertons-costumes-are-so-inaccurate-according-to-historians/?utm_campaign=clipexplains one opinion regarding the "Bridgerton" experience:
How accurate are Bridgerton's costumes? Here's what we know about the fabulous frocks
Are Bridgerton's costume designs accurate? Here's what we know
(Image credit: Netflix)
PUBLISHED JANUARY 04, 2021
Bridgerton, the new regency era hit has filled our homes with scandal, intrigue and a lot of sex, and we can't get enough.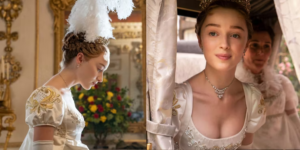 The period drama, unlike one we've seen before has a witty dialogue, modern music in fun classical style and lavishly decadent costume designs, the latter of which is causing a stir as many question if the costumes are too modern and not at all accurate.
 ARE THE COSTUMES IN BRIDGERTON ACTUALLY ACCURATE?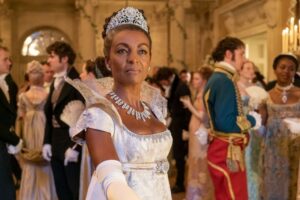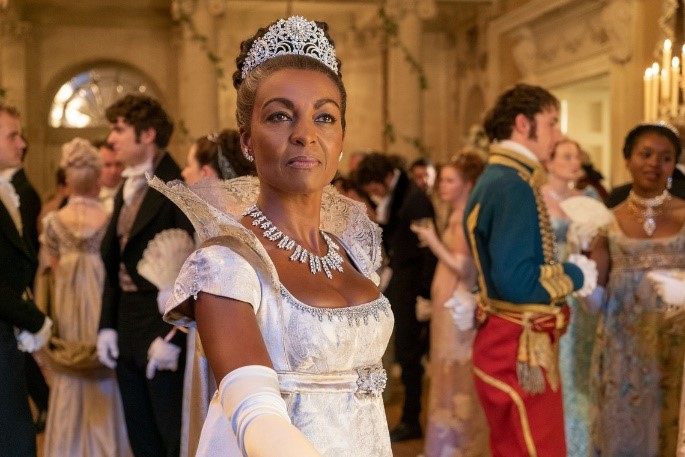 Costume designer Ellen Mirojnick, who has created pieces for films like Fatal Attraction and The Greatest Showman is no stranger to bold and lavish designs. Though the costumes of Bridgerton are a treat to the eye many are questioning the choices of colour and whether regency dress would really be so extravagant.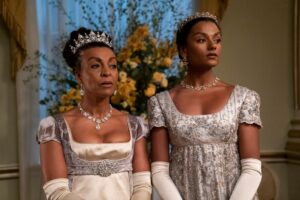 In the 1800's women were shedding the rib shattering corsets of the Victorian era and swapping them for high waisted style, empire silhouettes that would accentuate the bosom. There is accuracy in Bridgerton as far as the cuts of the dresses, silk gloves and silhouettes, Mirojnick wanted to use these styles but add a new flare to the colours and materials. Speaking to Vogue Mirojnick remarked, "it was about looking at the different silhouettes and shapes while knowing that this had to be aspirational, as opposed to historically accurate. We knew that we had to shift the color palette and the fabrications."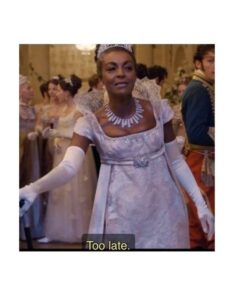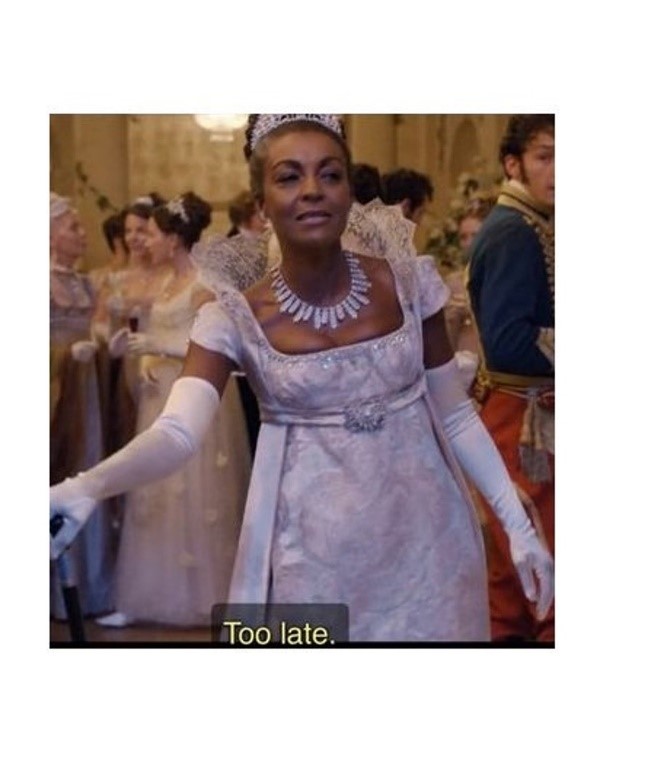 There are many aspects to the Bridgerton costume designs, for example the two families of the Bridgertons and Featheringtons styles are a stark contrast, Mirojnick wanted to represent new and old money. The Bridgertons were an older, classically upper class family so wore more traditional gowns whereas the Featheringtons were of new money, and therefore seeking stature and attention hence the bold yellows and pinks.
The idea for Bridgerton was lavish, luxury. They needed gowns and suits that matched the grandeur of the parties they attended, it is not a period drama like that of the Jane Austen classics, it is a new take, with a modern cast. The overall aesthetic matches perfectly with the costume design.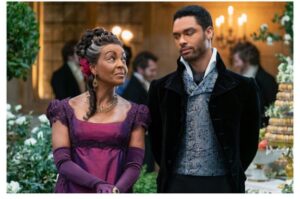 Bridgerton is a period series with modern twists and inspiration. The costume design has the perfect balance of historically accurate shapes and bold modern style, sex appeal to match the scandalous subject matter.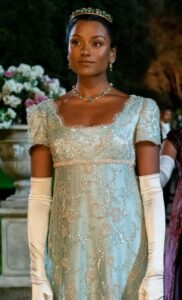 The 'old-money' families like the Bridgertons wore soft pastels and whites, whereas the 'nouveau-riche' like the Featheringtons wore bright, bold colors to show off their wealth and draw attention.
As you may have noticed in 'Bridgerton,' wearing the same dress to more than one major event was a grave faux pas. This is a real custom suffered by the lords and ladies of the 19th century.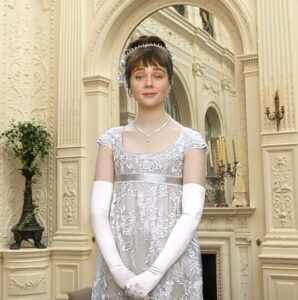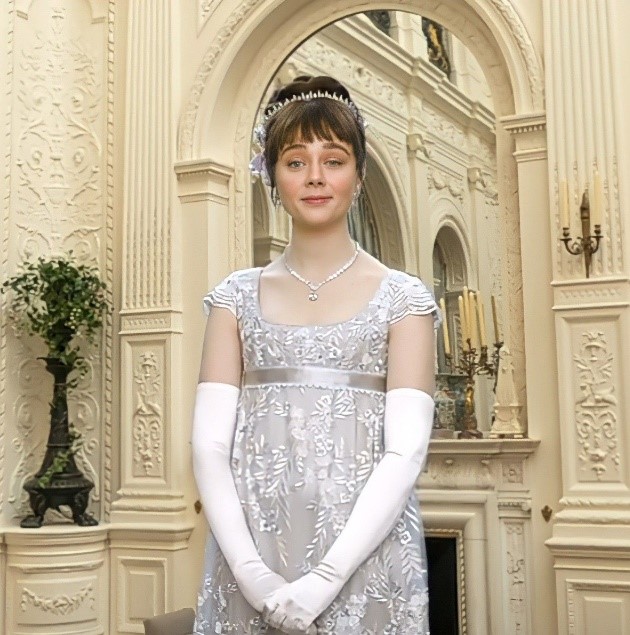 Napoleon Bonaparte
This rule may have begun with Napoleon Bonaparte. When he became Emperor in 1804, he focused on reviving the French textile industry, ensuring that fine fabrics such as tulle and batiste were made in France.
Courtly rules and ulterior motives
To ensure that French ladies purchased more materials, he decreed that no one was allowed to wear the same dress to court more than once. It's rumored that he also had the fireplaces blocked so they would wear more clothing!
Empress Josephine
Bonaparte's wife, Empress Josephine, was an excellent model of Regency fashion. She was slim, pretty, and admired by all.
Inspired by the Ancient Greeks
Towards the end of the 18th century, the fitted bodices and large skirts were being replaced with simpler sheer cotton or silk gowns, reminiscent of the robes worn in classical paintings.
Inspired by the Ancient Greeks
This brought many changes for dressmakers to adapt to. There were new necklines, sleeves, skirts, fabrics, and undergarments required.
Key features: empire waist
The most notable part of Regency style dresses is the high waistline. This 'empire line' brought the waist extremely high, right below the breast.
Key features: square neckline
As the 19th century began, the neckline became lower and lower, and by the time 'Bridgerton' is set (1813) it was usually square as well.
Key features: capped sleeves
Capped sleeves were another key element of Regency dresses. Both the high waistline and capped sleeves can be seen in this still from 'Bridgerton,' worn by Phoebe Dynevor who plays Daphne.
Key features: capped sleeves
A more dramatic, puffed sleeve was also common, particularly to add some extra decoration to a ball gown. Sleeves became more ornate as the decade wore on, often encrusted in jewels and bows.
Fabrics
The most common fabrics used were made from light cotton, such as muslin or batiste. Silk was still worn too, but in lighter weaves that were sheerer.
Fabrics
Social commentators of the period were fond of poking fun at new ladies' fashions, and were quick to point out that this new light material was more flammable..
Hairstyles
As the clothes became softer and more forgiving, so did the hairstyles. This caricature illustrates the pain and effort taken to style a lady's hair prior to this period!
Hairstyles
The weight of the hair was often worn wrapped up at the back of the head, with small curls around the face for decoration. This is a style often worn by Daphne in 'Bridgerton.'
'Bridgerton' colors
The most notable artistic liberty that 'Bridgerton' takes is the color palette of the clothing. The menswear is relatively sedate, although they do give it a subtle flare, but the women's costumes are vibrant and anything but subtle!
'Bridgerton' colors
Costume designer Ellen Mirojnick confirmed that she used color as medium to express the varying personalities and social standings of the characters. The 'old-money' families like the Bridgertons wore soft pastels and whites, whereas the 'nouveau-riche' like the Featheringtons wore bright, bold colors to show off their wealth and draw attention.
The significance of white
Although you may not have found such an extreme range of colors at a real high society London ball, there was a definite association between white dresses and wealth.
The significance of white
Naturally, white was the most difficult color to maintain and keep clean. It was a sign of class and wealth if you could afford to wear white frequently.
The significance of white
Because of this, white was seen as more appropriate for the evening and special occasions, while soft pastel colors like pale blue and pink were worn during the day. From this perspective, the costumes of the lead character Daphne are the most accurate.
Queen Charlotte
The character of Queen Charlotte in 'Bridgerton' is interesting in that she wears the most incredible gowns but does not conform to the modern-day trends. She continues to wear the Georgian era gowns of the previous century, with large skirts and a V-shaped bodice.
Queen Charlotte
This is an accurate depiction of the fashion choices of the real Queen Charlotte, who carried on wearing such gowns well after the light, Grecian empire-waist dresses became standard fair.
Regency undergarments
When it comes to underwear, which we get to see on many occasions in 'Bridgerton,' the soft Grecian silhouettes of the period meant that women could leave horrifically tight corsets behind.
Regency undergarments
That is, unless it was felt that a woman's figure demanded a full corset. In one of the early scenes in 'Bridgerton,' we see Lady Featherington having the maid pull the strings of her daughter's corset tighter and tighter as she chastises her for the size of her waist!
Lady's pantaloons
Light, semi-transparent materials were popular, so it was necessary to wear flesh-toned pantaloons! Pantaloons were already worn by men of the era, so they simply had to be adapted for women's needs.
Lady's pantaloons
A woman's pantaloon was made of a light stockinette material, similar to modern-day bandages. They either reached all the way to the ankles or stopped at the knee.
Not everyone approved…
It's clear that the old-school thinkers did not necessarily approve of this new sheer, figure-hugging style. This is evident in this caricature from 1800 by the artist Isaak Cruikshank, entitled 'Parisian ladies in full winter dress.'
———————————
and… another Resource that's pretty close:
BY KIM BELL/MARCH 16, 2022 11:18 AM EDT
http://Read More: https://www.looper.com/800879/why-bridgertons-costumes-are-so-inaccurate-according-to-historians/?utm_campaign=clip020, it instantaneously wooed audiences with its steamy spin on early 19th century England, its refusal to play by the often-banal rules of the conventional "Period Piece" formula, and its willingness to employ aesthetic, musical, and historical anachronisms in an effort to tell the story it wanted to tell. Adapted from writer Julia Quinn's best-selling historical fiction series, the Emmy Award-winning phenomenon is at once painstakingly accurate with regard to certain elements of its Regency Era setting — e.g., Queen Charlotte was likely a woman of color (via The Charlotte Observer) — and willing to enhance or alter the truth a little to make its narrative more compelling — e.g., Queen Charlotte did not rule in response to her husband's mental illness: her son did, via The 1811 Regency Act, hence the name of the era (via Intriguing History).
Some of the show's intentional re-imaginings are more subtle. Its use of smoking, for instance, at a time when snuff would have been far more popular with the nobility in particular, is easy to overlook when it does as much as it does to establish a given character's rebelliousness (in this case, that of Claudia Jessie's Eloise Bridgerton). On the other hand, costume designer Ellen Mirojnick's enthusiastic use of decadent fabrics and dizzying color palettes that — much like the couture confections of Sofia Coppola's "Marie Antoinette" — contain so much hypnotic and palpable razzle-dazzle that they become a character in and of themselves.
That character, however — at least according to historians — may well be one of the series' most overt dismissals of reality.
Bridgerton gets corsets all wrong, say historians
According to historian Alden O'Brien — costume and textile curator at Washington D.C.'s Daughters of the American Revolution Museum — there's one oft-use element of attire that "Bridgerton," like so many period pieces, employs not for its historical accuracy, but for its ability to act as an obvious metaphor: that is, the dreaded corset.
Speaking to Smithsonian Magazine, O'Brien explained that while it's tempting to use the undergarment as a tangible representation of "women's restricted roles in society," in this case (and a litany of others) it doesn't actually work. For those unfamiliar with the genre's obsessive use of corsetry as a stand-in for the oppressive nature of a patriarchal society, Smithsonian's Rachel Kaufman provides a number of examples: "Think of 'Gone With the Wind's' Scarlett O'Hara death-gripping a bedpost," she writes, or "Elizabeth Swann in 'Pirates of the Caribbean' […] Titanic's Rose in a nearly identical scene […]" and, of course, "Emma Watson, playing Belle in Disney's live-action remake of 'Beauty and the Beast,' declaring that her character is too independent to wear a corset." As it turns out, despite Watson's inspiring intentions, the corset is hardly the villain that filmmakers have long supposed. Throughout history, supportive undergarments have come in a wide range of shapes, materials, and sizes, and the corset itself has seen countless evolutions.
In the Regency Era of "Bridgerton" in particular, the article clarifies, corsets "were made of soft cotton ('imagine blue jeans, and turn them white') with stiffer cotton cording for support, and occasionally channels in the back for boning." What's more, as Davidson explains, these undergarments were "normal pieces of clothing" that varied depending on the occasion, and were worn by working women and nobility alike depending on their needs.
Metaphorically and from a fashion standpoint, Bridgerton's corsets are an anachronism
Netflix
Assuming all corsetry is akin to the short-lived, waist-training, rib cage-breaking torture devices that were an extreme even in the Victorian Era is similar to thinking all bras look and feel like Madonna's famous Jean Paul Gaultier cone bra. But in addition to being inaccurate, Davidson points out, it's insulting: the notion that women "walked around in these uncomfortable things that they couldn't take off, because patriarchy," she tells The Smithsonian, is absurd — "And they put up with it for 400 years? Women are not that stupid."
Our inaccurate understanding of the garment itself notwithstanding, Davidson has another gripe with the corsetry of "Bridgerton" and its use as an extended metaphor. "The way they've cut the garments actually flattens everyone's busts," she explains, which isn't just inaccurate, but counter to the fashion of the era. Corsets of the Regency Era weren't designed to make waists appear thinner. Since the empire waist — which doesn't go in at the waist at all — was in vogue at the time, there'd be no need for that. Instead, they were used to lift and separate the bosom so that the breasts appeared to be "two round globes," not unlike a modern demi-cup or balconette bra, and about as "oppressive," Davidson says, meaning not at all: "who forces people into a bra in the morning?" she asks rhetorically. While there's plenty that the Netflix series gets right about the role and treatment of women in society at the time, it seems its all-too-common calling upon the trope of the torturous corset is, as usual, inaccurate.

Real Historical Portraits and Garments
From the world of make believe to what actually was, is a slight jump in this case.  Of course clothing of the movies is different; they have to consider lighting, mood, character, and blending of an overall atmosphere so that all the costumes in a scene convey their message.
In real life, people wore what they wore.  While we had only a bit of time to research this, we found enough examples close to what Yvonne wanted that there were enough key garments and portraits to guide us to blend make believe with historical accuracy.
Key Extant
These are the ones that inspired and/or guided us to construction methods and/or overall design.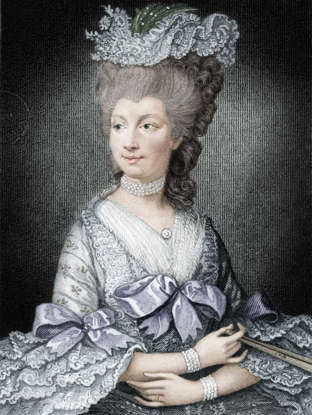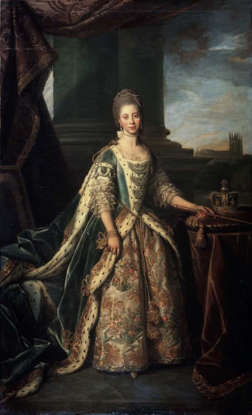 These Court dresses include the brocade outer robe over a neutral inner robe (gown), with train, brooch at a belt, and similar jewelry including tiara.  Most of these are Napoleon's sisters.  We were especially interested in bodice and sleeve structure because it was mostly the English who wore long sleeves, and those only towards 1818.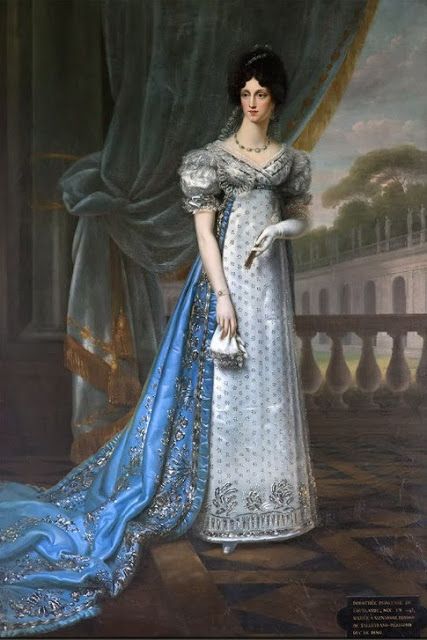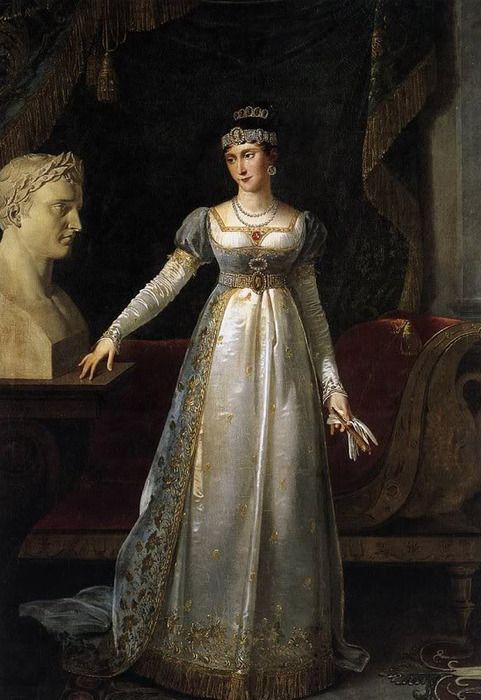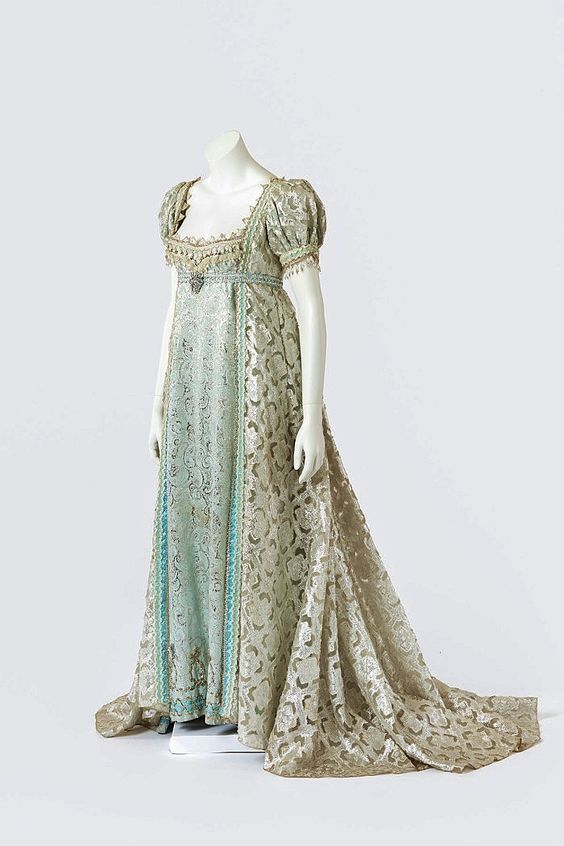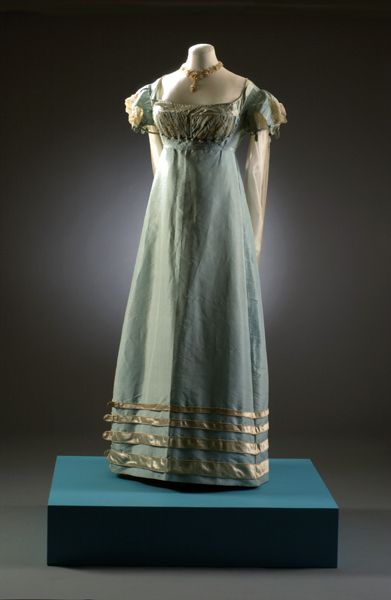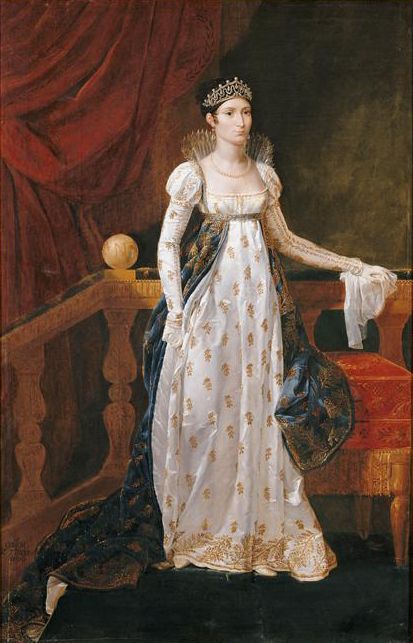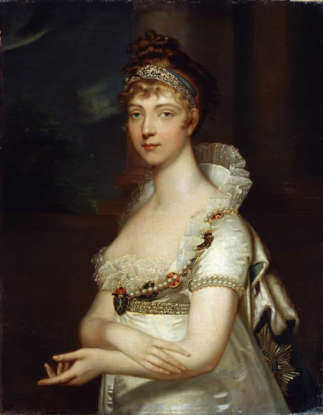 Other helpful extant examples.  Cartoonists loved to make fun of the bare undergarments.  The plain white "little white dress" is from about 5 years early.  Again, we were looking at sleeve and belt detail with ideas for trim and color and how to take the basic dress and add to it.  We were also trying to figure out how to make the lace collar ruff stand up.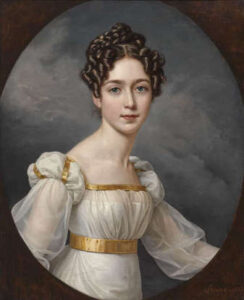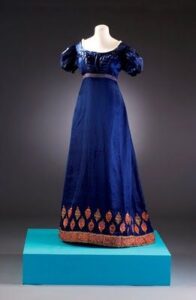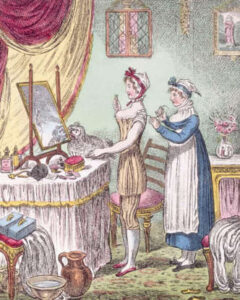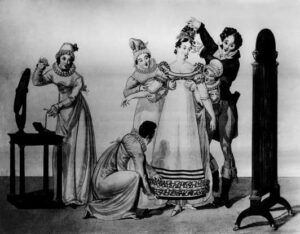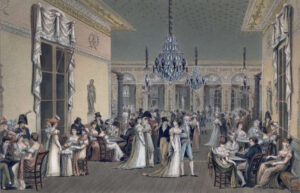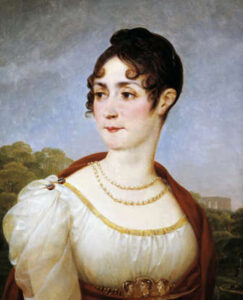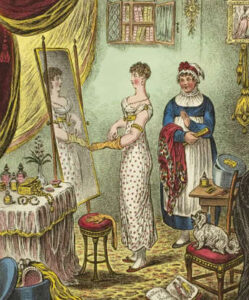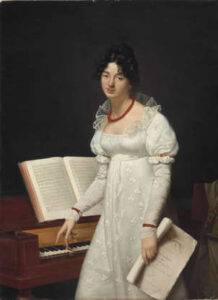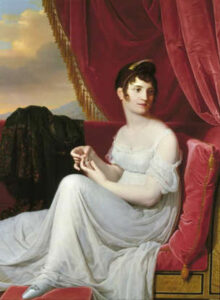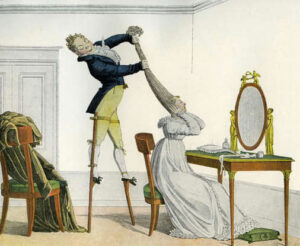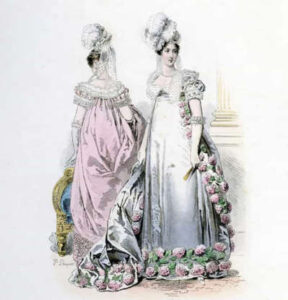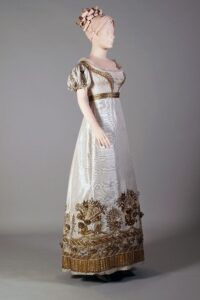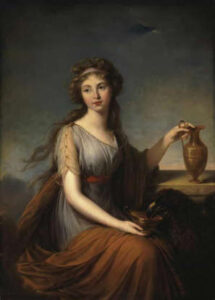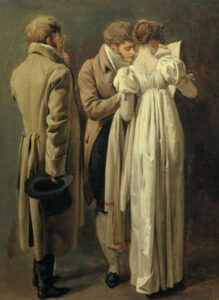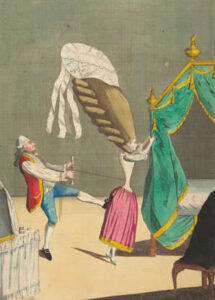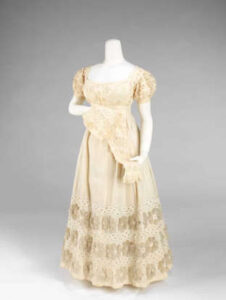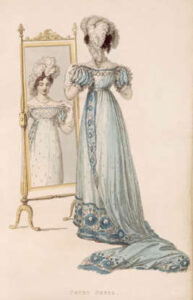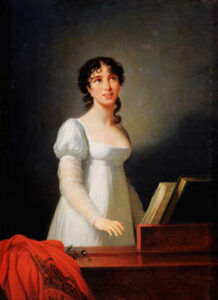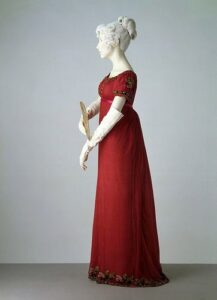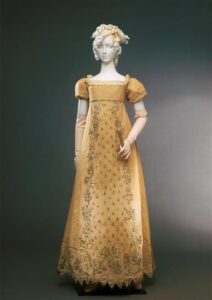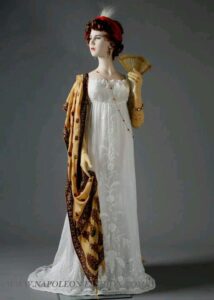 Another area of research was to see how the "Sanditon" Masterpiece series handled a large busted woman and the different materials, designs, and trims to depict wealth or formal wear vs day wear.  While we would have loved to emulate the rich saturated silks and colors of  Georgiana Lambe, hers were not appropriate to the later women's formal wear of 1813.  Sanditon was about a decade earlier, but gives a good idea how to integrate a theme in gold.  Gold for formal wear continued through both decades.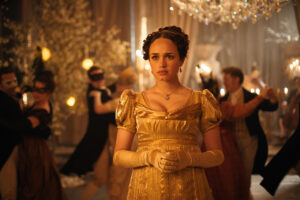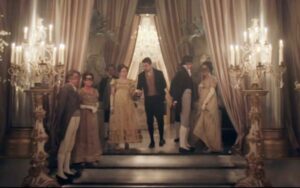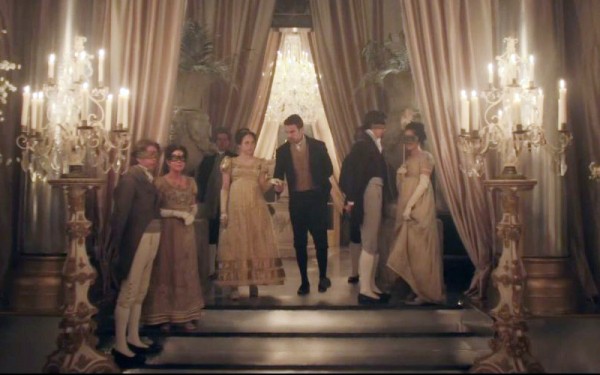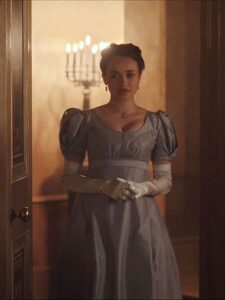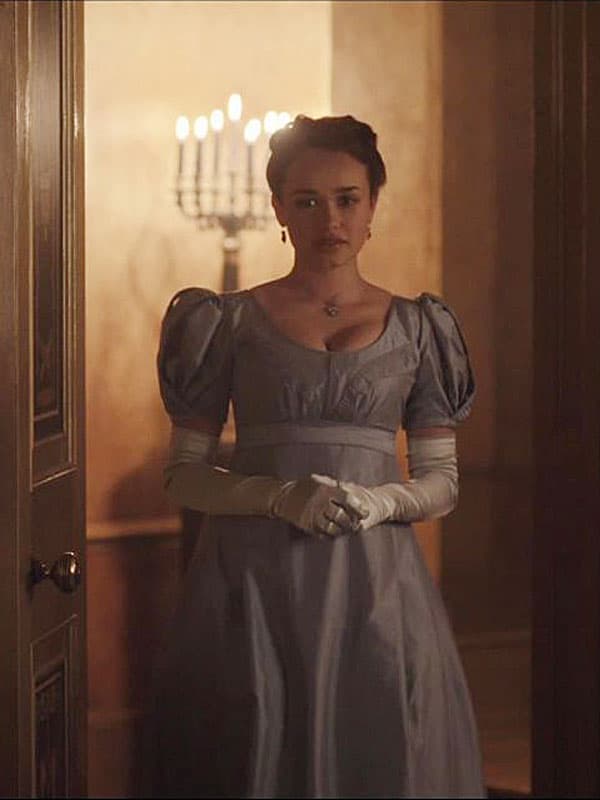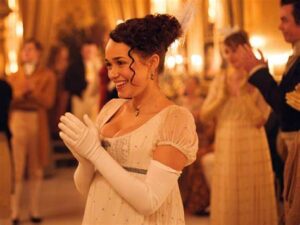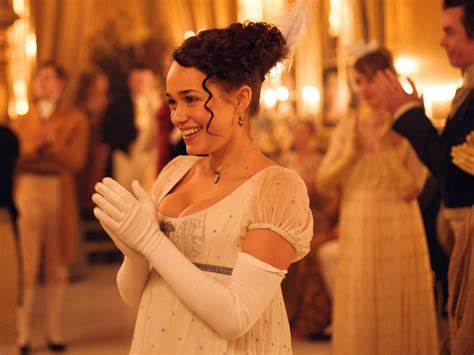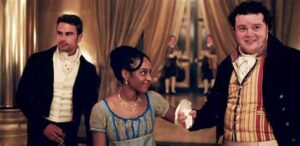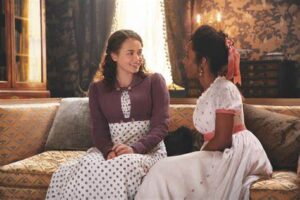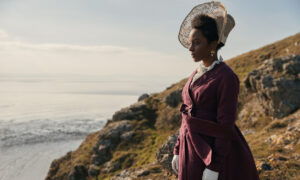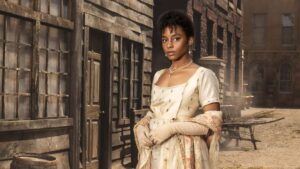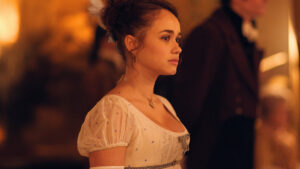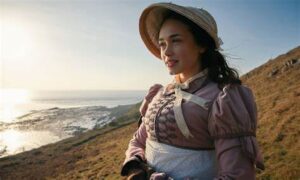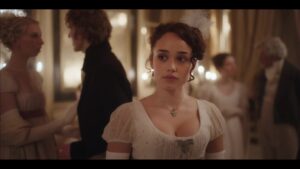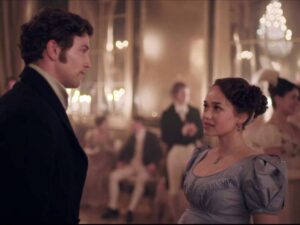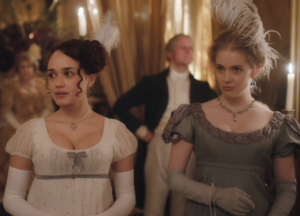 Click here to go to the Design Page to see how we applied what we learned here