The Hannah Boone character would wear this:
Chemise and stays under an OPEN ROBE with covered bodice having adorned edge with brief stomacher and two choices for buffon, or alternately, a lace tucker to fully cover décolletage. Jacket attaches to the outer skirt and has two color choices for wide silk sash at waist tied in back.
 Includes a slight rump under a flounced and pleated outerwear petticoat, over which the cardaco jacket of the robe has sleeves which are past the elbows and include frills.  Pockets may be worn.
 Additional accessories include a mobcap with giant bow to match sash, winter woven full buffon, woven shawl, and apron.  Full brimmed & flat crowned straw hat with bow and ribbon, shoes, stockings, garters, miniature buffon pin, placement pins, hat pins, & underarm pads by customer. 
Pieces built:
Chemise
Reed-boned Stays
Half Moon Rump Pad
Inner Petticoat
Outer Petticoat
Open Robe with piping & ruffles & 3/4 sleeves ruffled; front center pin closure; just below ankle length
Silk sash (2)
Fichu (1 embroidered; 1 plain)
Silk pin on bow
Large 1790 type (pleated front) mobcap with silk bow
Flat-brimmed straw hat with simple silk ribbon
Woven wool wrap-around shoulder shawl
Customer provided:
cotton stockings
black leather period shoes with 1″ heel
pendant necklace
UNDERGARMENTS
Beginning with the undergarments, we developed our own patterns from historical written instructions.  This period being without sewing machine, all pieces were sewn by hand except the long seams which carried no stress.
Each design began with sketches for customer approval.  We were lucky to find re-enactors who had built similar undergarments, so Shelly could see the silhouette we were aiming for on a modern body.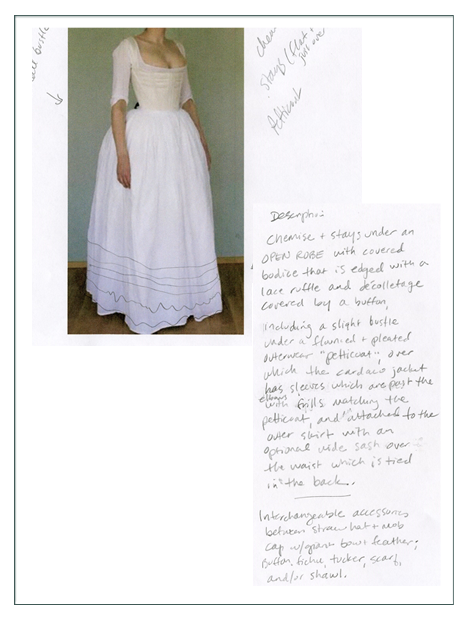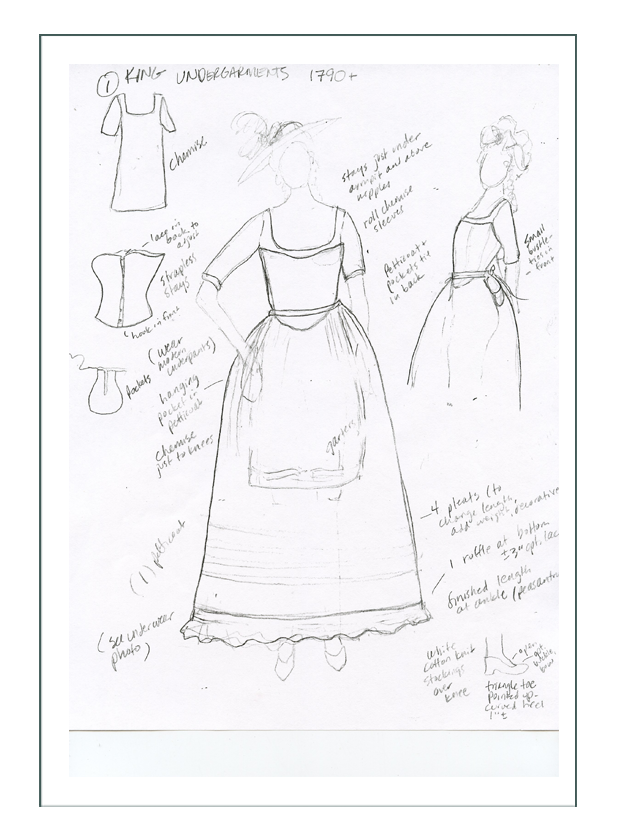 LAYOUT & COLOR
Next came the concept sketches based on the research done, with suggestions for fabric, details, & colors for this specific character.  You can see the discussion as to types of accessories & details that would be used.  (Eventually the apron idea would be discarded in favor of additional options for fichus).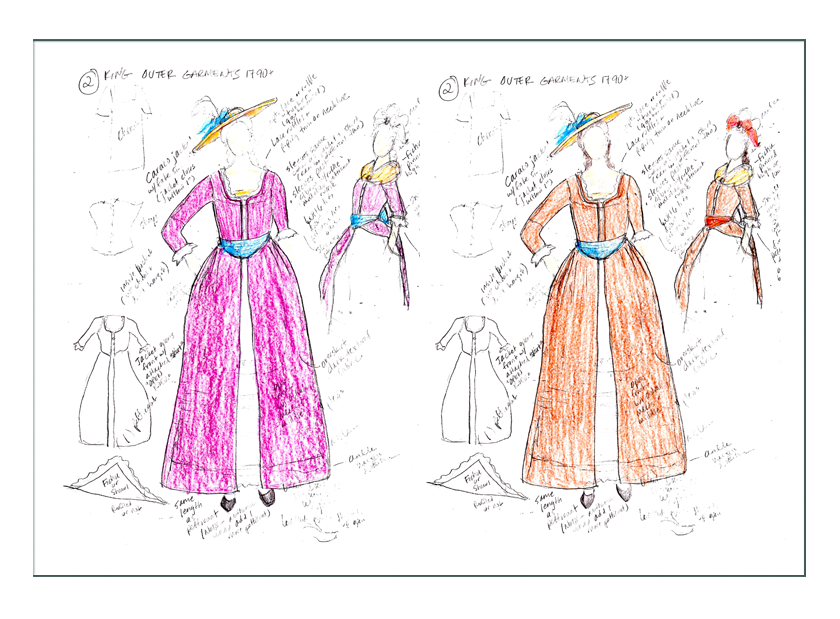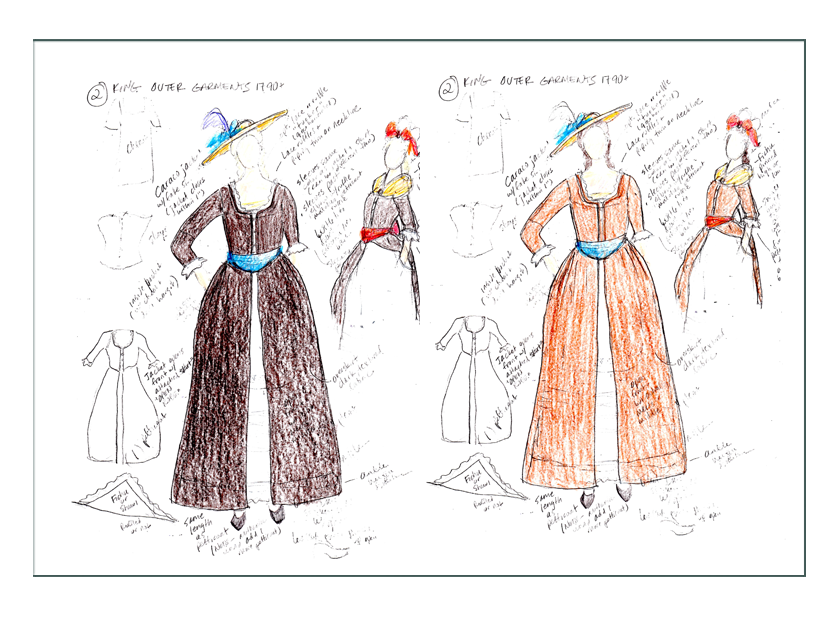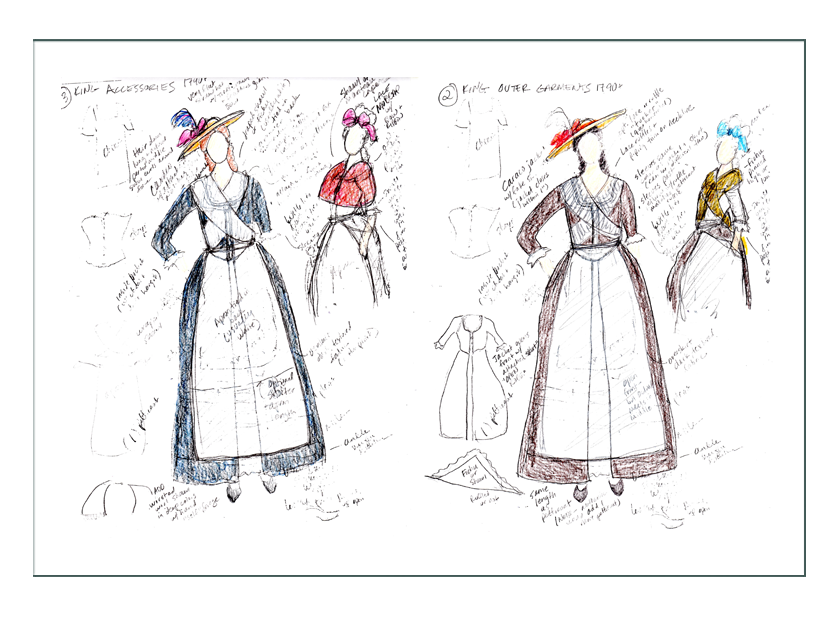 The final selection worked as an actual "pattern" from which to build.  The center front closure idea was eventually abandoned in favor of the more era-specific overlapping pinned bodice, but otherwise, the project was built very closely to the proposal & sketches.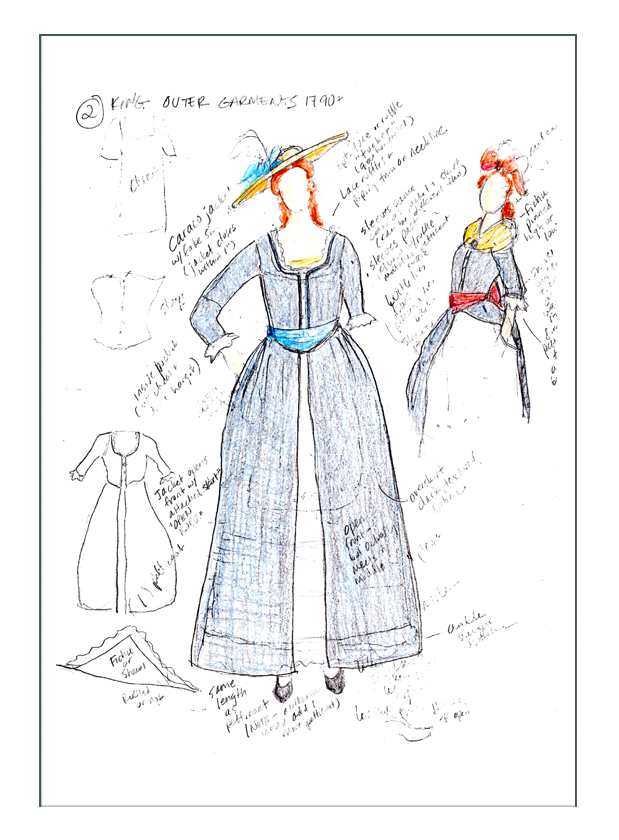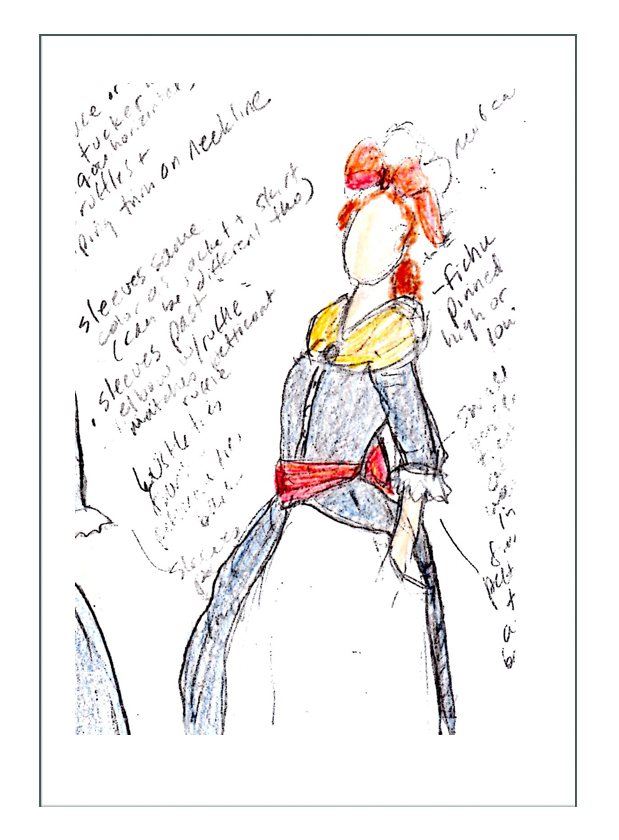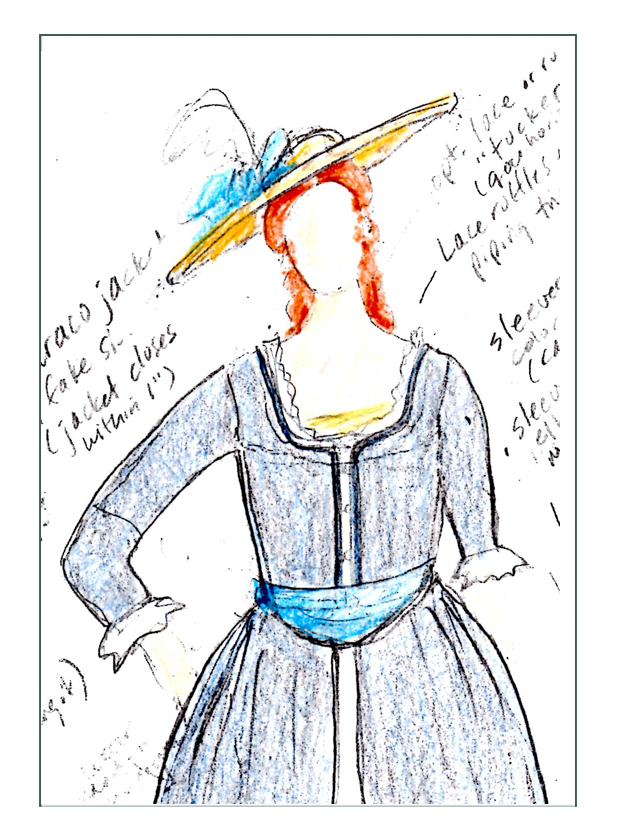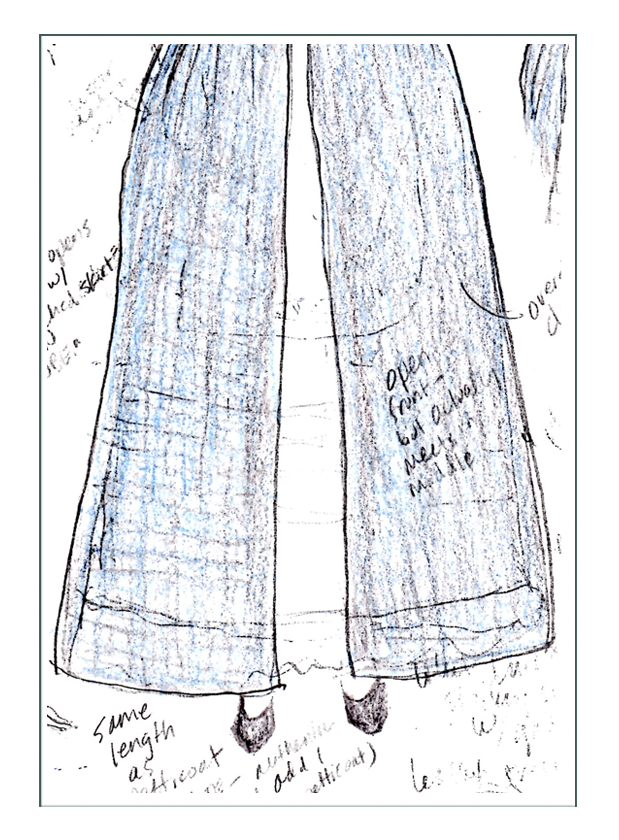 FABRIC
During the process, fabric selection was considered.  The final choice was a period accurate plain linen in teal blue.  The color was a very careful consideration.  Because of limited access to fabrics following the war, the uniqueness of a fabric would indicate status.  The teal blue was somewhat rare and valuable for the middle classes, but not that easy to obtain.  The most common stays color for lower and middle classes was pink with brown lining.  We chose to keep the stays more common, because this is where we decided the character would have been most practical.  We believe she would have splurged on her hat, lace, or jewelry, but not on her stays.
PETTICOATS
This project includes two petticoats; inner & outer.  In this era a "petticoat" was an outer garment, & almost always white so that it could be easily cleaned.  It was worn slightly longer and under the outer robe to project the more expensive fabric of the robe from wear, tear, & mud.
Shelly's inner petticoat is for warmth & modesty, as no modern underwear is under there other than the stays & chemise.  Women of the era would add wool or quilting for warm & to protect from occasional "updraft" that might be too revealing.  Ours is the same, of a plain muslin & simple design.  It is tied with a waistband string.
This inner petticoat is being used to keep the heavier fabric of the robe away from the knees to make it easier for Shelly to walk.  For this reason, it has a huge 8x width self-fabric ruffle, and note:  ruffles were tucked, not gathered by hand.  What appears to be very simple & easy design, is actually one of the most difficult projects in this ensemble.
The outer petticoat is decorative, and features 4 x 3/4″ tucks so the length can be adjusted up or down as fashion dictates.  This feature is actually consistent with the late 1800's, but it is necessary for performers who need to get the most use for their money.  We added embroidered eyelet ruffles in to the bottom.  The outer petticoat has a waistband which overlaps to accommodate different tightness in lacing the stays, because both petticoats are worn over the stays.
The outer petticoat is kept bright and clean; made of premium bleached and somewhat heavy weight muslin, it can be heard when a woman moves.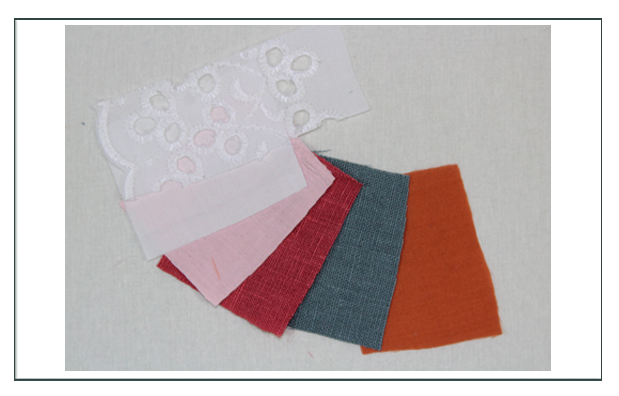 Click here to go to Shelly's main page with the finished project (next)
Click here to go to Shelly's Historical Context page
Click here to go to Shelly's Fashion History page