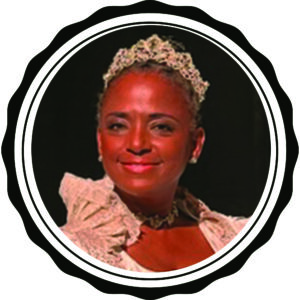 1813 Bridgerton Ballgown Ensemble
Dr. Yvonne Anderson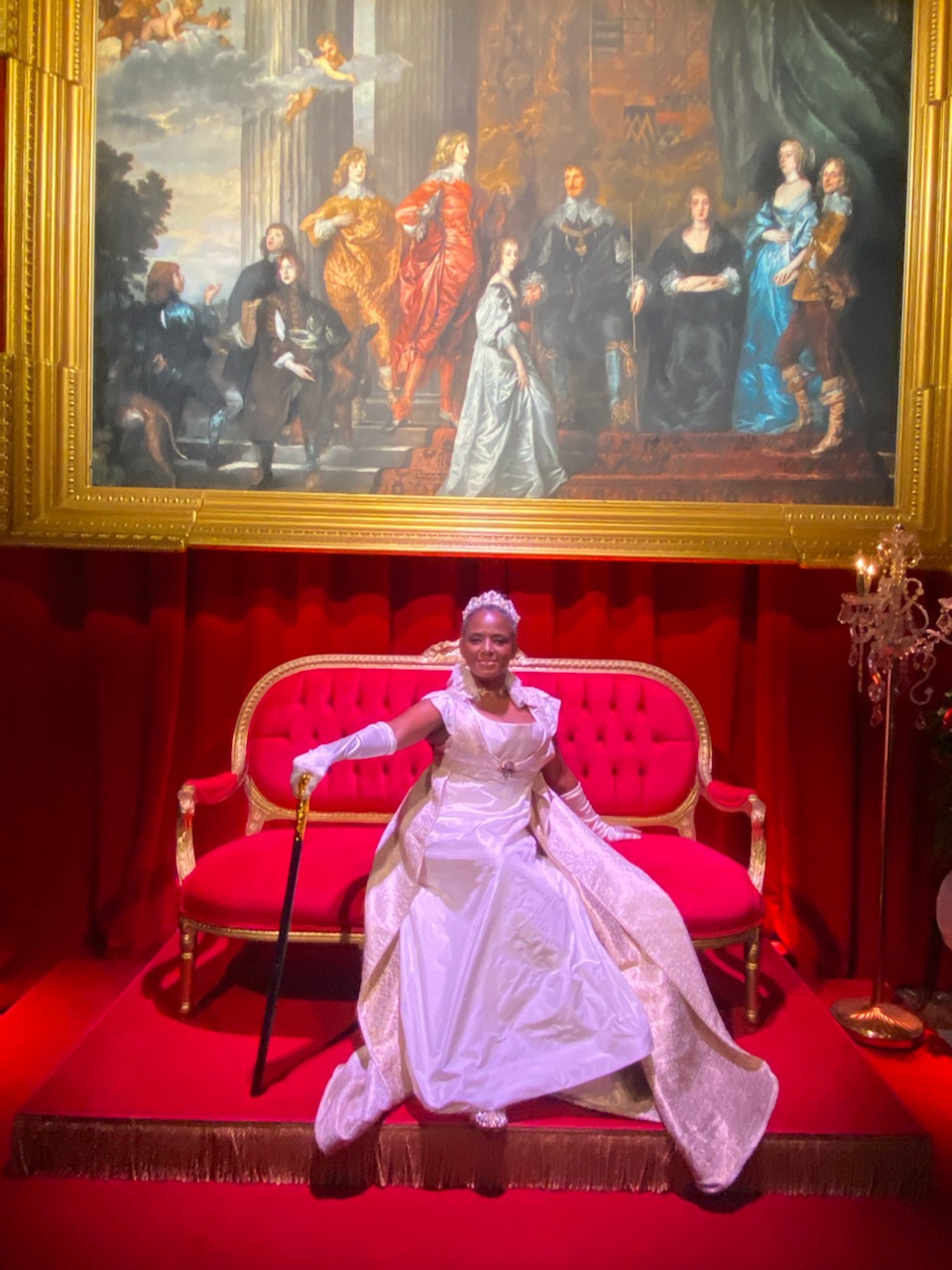 The Netflix program "Bridgerton" has inspired not only a huge audience to view the program, but the dress up in historical costumes to re-enact at special events.  The Atlanta, Georgia "Bridgerton Event" is one of many where people can buy a ticket to immerse themselves into an almost real version of a Bridgerton ball, complete with Queen Charlotte in attendance!
Dr. Anderson is attending such as the inspiration for this ensemble, but she will also wear it for educational programs in her social studies classes along with her other eras.  She now has historically accurate full costume ensembles for all the key fashion eras: Colonial, Regency, Late Victorian, and Early Edwardian.  (we need to get her some mid-Victorian costumes so she can be Queen Victoria perhaps).
Guidelines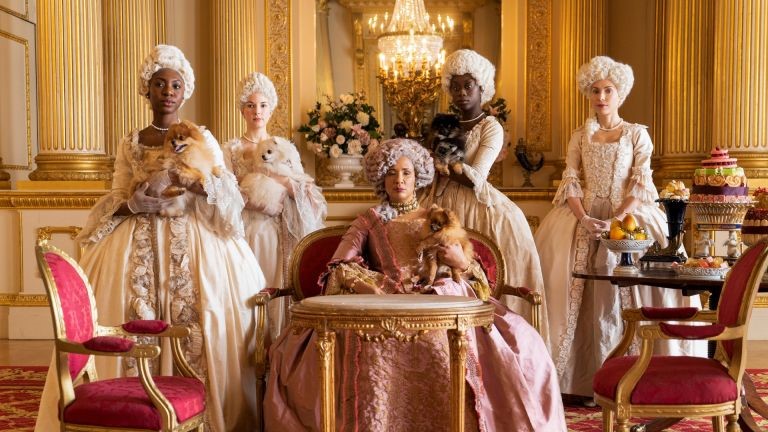 Yvonne gave us key examples of the type of character she would like to depict.  We ended up chosing to follow this depiction (below), although we needed also to adapt for the full busted figure which was not particularly suited to 1813.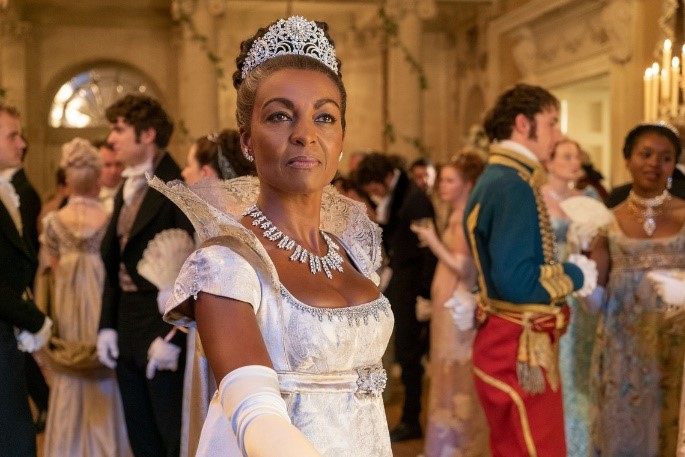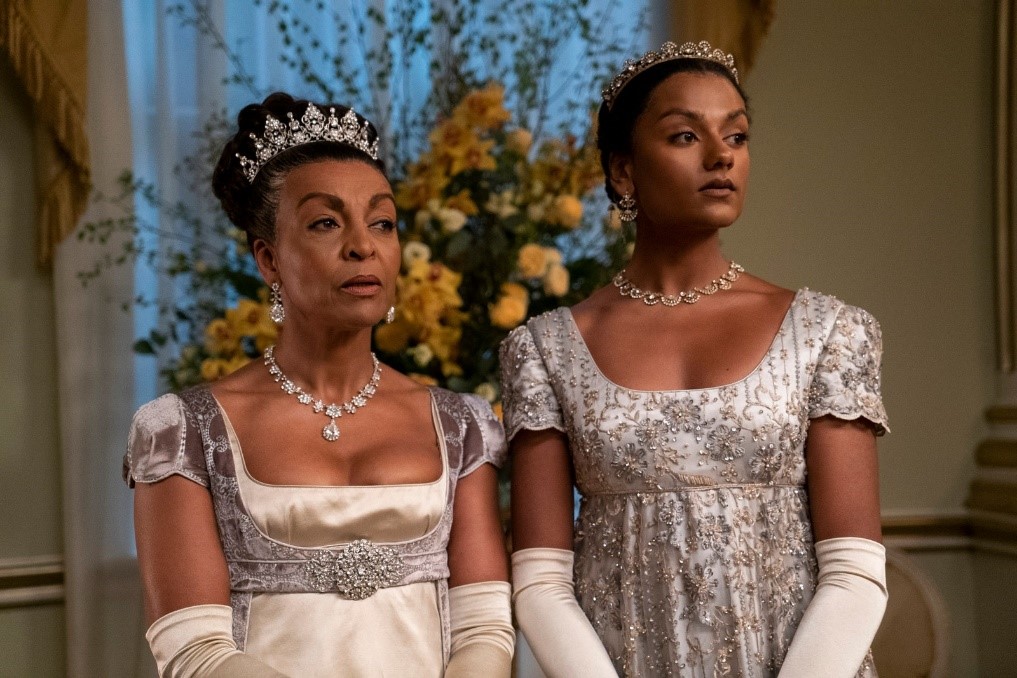 On the Design Page, you will see how we followed the example of the designers for the show "Sanditon"'s key
character Charlotte.  The actress who plays Charlotte is rather busty, and Dr. Anderson was concerned that teaching young children, she didn't want too much bust to show.  We therefore somewhat combined the Early Regency fit of "Charlotte" in about 1805 with the 1813 low bust and showing cleavage fit.  It should appear to be the "pert apples on a tray" aimed for throughout the Regency eras, without showing too much.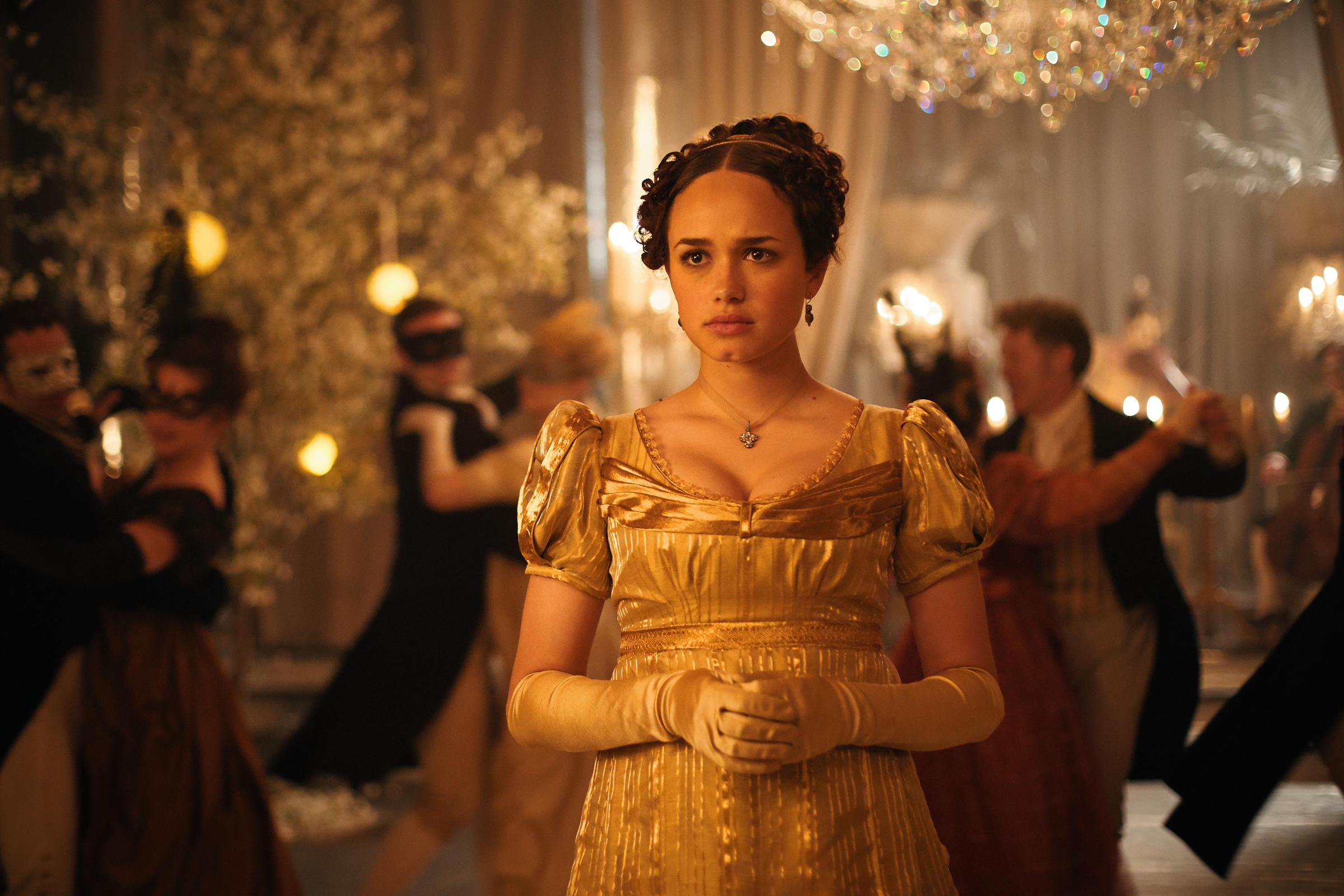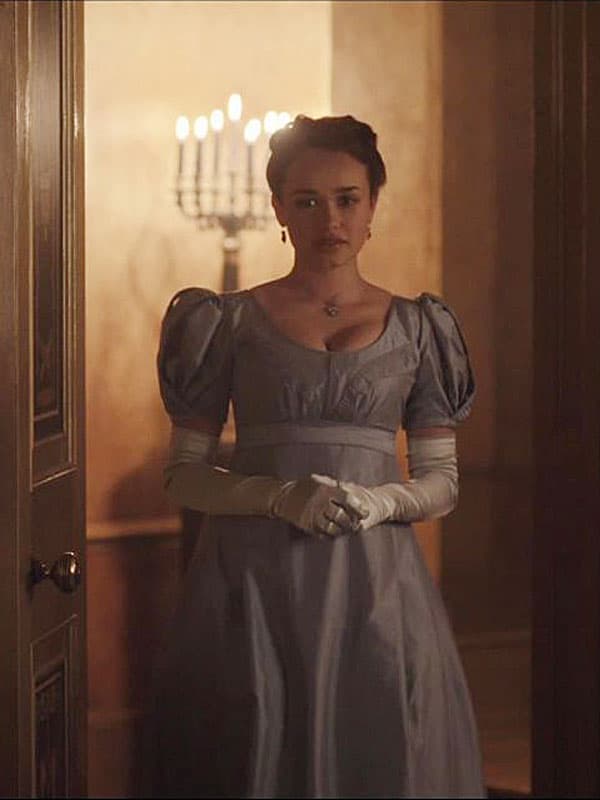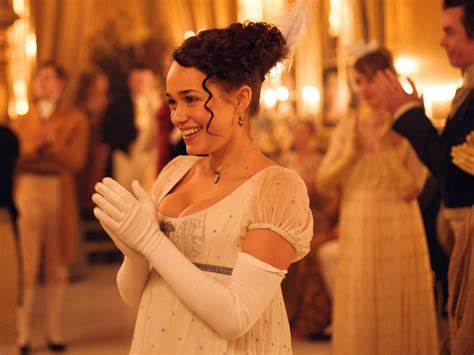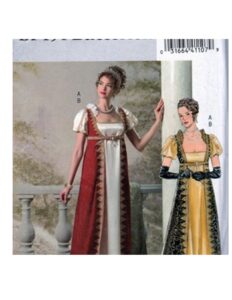 Many critics of "Bridgerton" plus designers themselves say they took liberties in creating the costumes.  Since our task was to replicate "Bridgerton", it required us to take liberties too.  Discussion on the specifics of this are on the Design Page (following), but basically that meant using some modern fabrics, construction techniques, fit, and overall appearances that are more palatable to the modern eye.
Key elements that stray from accuracy are:  back closure without side back pieces, modern methods of closure (they used hammered pins and ties only in 1813, not hooks eyes nor zippers or buttons), and darts.  Darts would never be used; only gathers and tucks or pleats, although technically a dart is a type of pleat.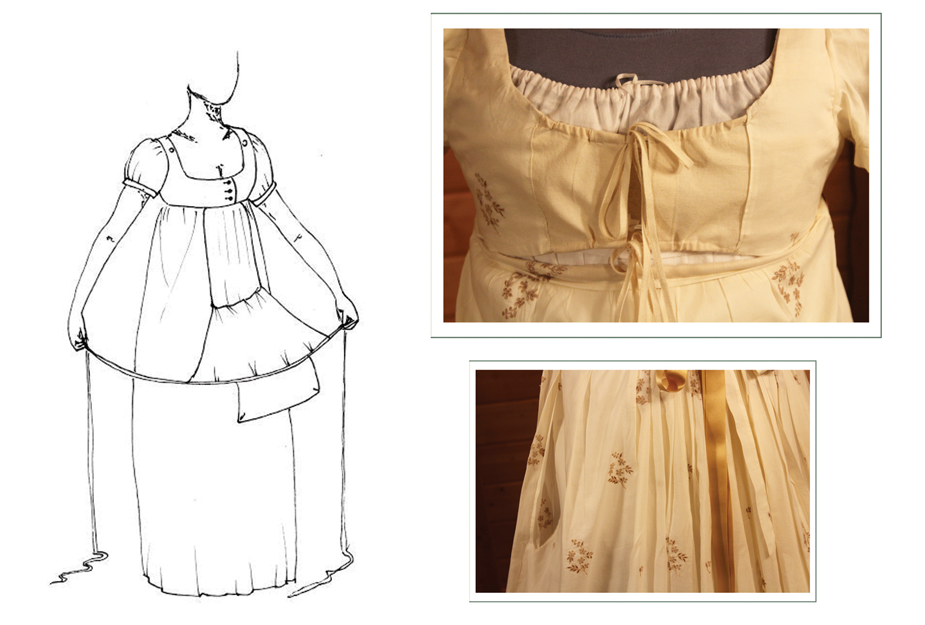 We put the side back in, made tie closures (easier to fit from a distance anyway), used darts in front to accommodate the bust, and used hooks and eyes on the overbodice front.  Other than that, WE are historically accurate, EXCEPT the floral design of the silk brocade is a bit 1960's when you inspect it closely.  From a distance it is dead on accurate.
Click here to go to the Historical Context Page
Click here to go to the Design Detail Page

in a hurry
We had only 3 weeks and very limited time outside of a postal job (Silhouettes as a business closed in 2021, so this was done as a favor to a favorite friend), so written documentation is scarce.  We just got going and built here.  The Design Page shows examples of fabrics, notions, designs, accessories we researched, as well as extant examples used to develop our historical accuracy, but Historical Context is missing here that we have on our other projects.  You can read about American context of the era in our 1808 project  although this project is located in Britain and not America at the time.  Fashion trends coming from France and England though, were similar.
 The Regency Transitional Fashion Era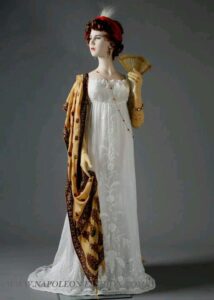 The historically accurate silhouette of 1813, being "Mid Regency" fashion era, was based on the high "empire" waistline, straight body, and very full, very high, rounded and separated breasts.  Very little to nothing was worn as undergarments for those who dared much like early Regency eras.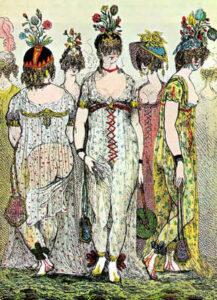 Because older or larger women looked pretty awful in this, and because technology was changing with the advent of metal boning and grommets, this "transitional" era was coming closer to the corsets as most people are familiar with today.  The waistline was dropping slightly, and the "little white dress" was taking on a bit more complex fabrics and ornament.
While early Regency drew inspiration from Greek togas and nude statues, and late Regency built excessive gold filigree and included long sleeves and Spanish influence, the decade in which 1813 resided (of which Jane Austen was prone to write) carried a few elements of both previous and following fashion trends.  Some boning and control of the torso was becoming fashionable, much to the relief of older and big women.  Breasts could drop a bit into a more natural position.  Dresses were not so sheer and included lovely brocades and imported Indian silks or prints.  White became less of the formal standard as neutral tones and some pastels were introduced for dress up.
                                       Bridgerton and Hollywood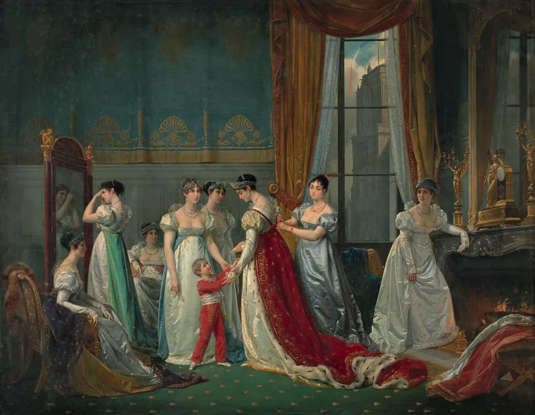 Those wishing to produce movies such as "Pride and Prejudice" and "Bridgerton", seem to have decided the "little white dress" in which most every woman dressed quite a bit alike, was not only too boring for the big screen, but perhaps a bit too revealing.  All the movies we have noted have costumers taking pretty big liberties away from historical accuracy; most likely to show more interest on the screen, and possibly because it's just quite difficult to dress today's woman's body nicely in the "barely there" fashions of Regency.  Not too many people in history nor today look good in this.
Both of the aforementioned admit they used modern fabrics and modern techniques combined with an "authentic look" for their women.  Analysis of Bridgerton costumes reveals synthetic stretch fabrics, modern darts, modern closures (zippers?) and a modern fit.  A dominant straying from history is the design of the back of the bodice.  Bridgerton again uses darts for fitting and one piece designs with the closure in the back.  The fitting and piecing of the back of Regency garments is very notable, and they almost always closed in front with a bib, or lacing.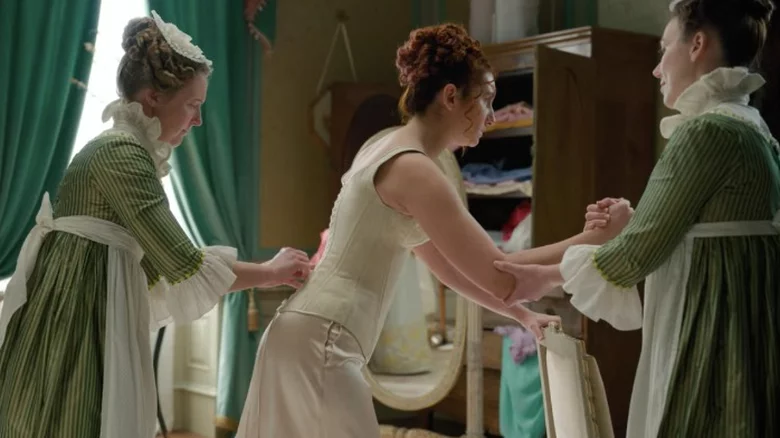 Because clothing was so very costly and hard to get and fit, it was necessary in the early 1800's to have gathers and ties and pinnings for fit rather than a fitted bodice.  Since the waistline really didn't matter with the straight silhouette, that meant the only fitting required was across the upper back.  This was always done by hand (no sewing machines of course!  The biggest difference is Bridgerton is apparently all machine sewn) by "pinching and tucking" and then basting.  Nothing was ever cut off, because the garment might be handed down or up to someone else, and it was easy to take the basting out and re do it.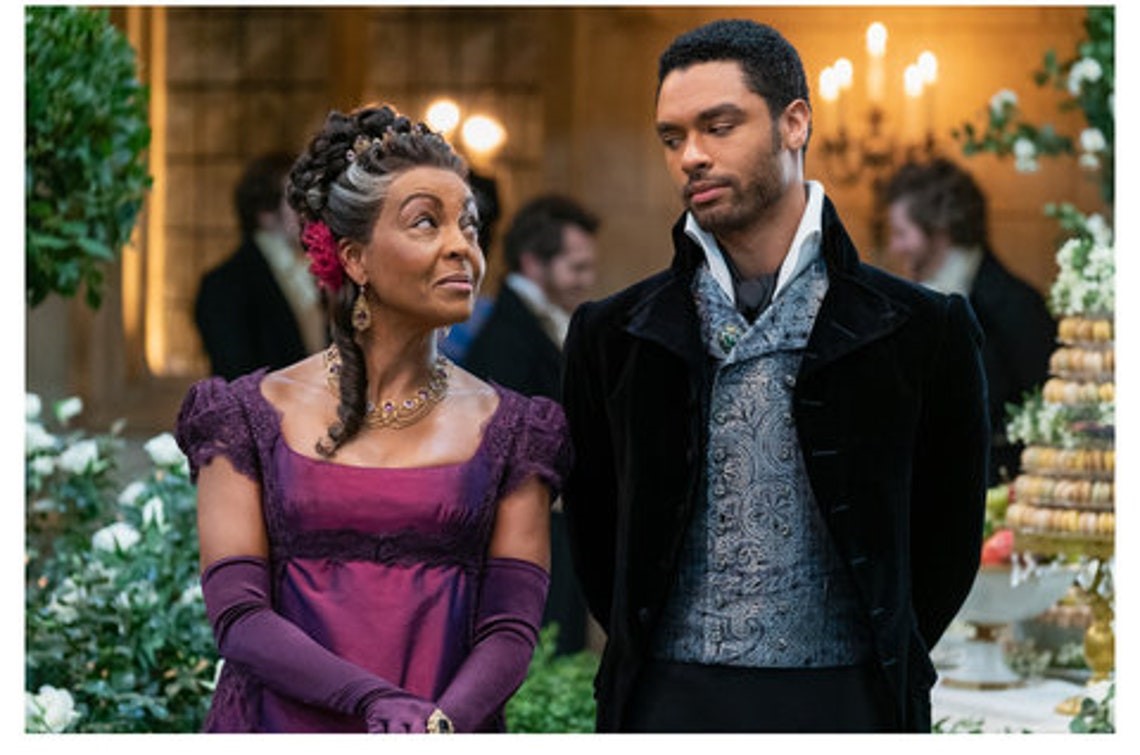 This Ensemble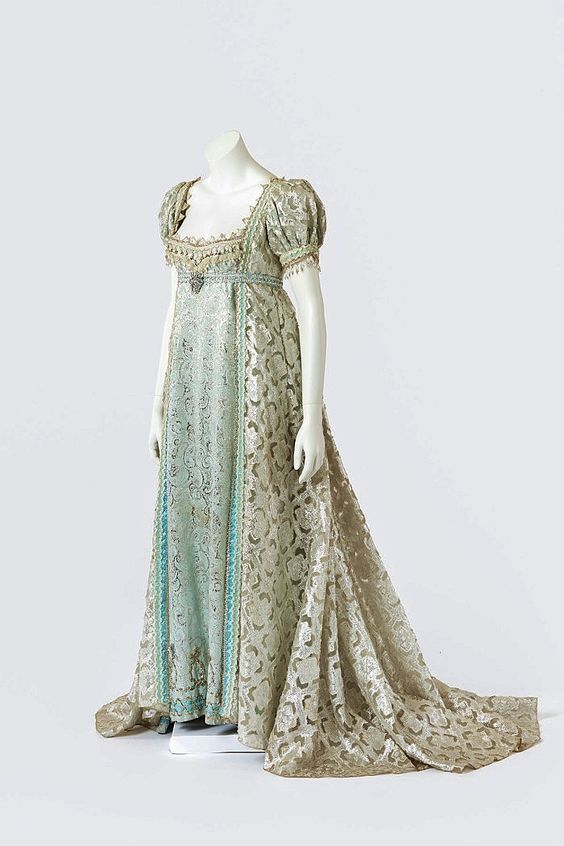 Since the assignment was to create a Bridgerton costume, we took the same liberties: machine sewing, modern closures, light boning, and modern darts and fitting.  We did use quality reproduction fabrics, notably the crisp silks you can't find today.  We kept the little white dress", but added the overdress in the imported silk in gold.  The silhouette is correct, and the transitional stays absolutely correct for 1813, although we have included a long transitional stay just in case Ms. Anderson does not want so much lift.  The long corset allows the breasts to drop lower into the gusset.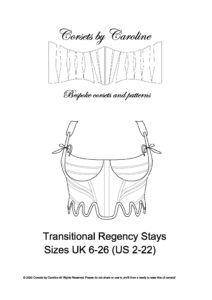 Color scheme, texture, and mostly the accessorization and decoration is based on the Bridgerton characters rather than historical characters like we usually do.  The overall objective is to create a well-fitted ensemble without the luxure yo fittings and from a distance, that might be worn by a wealthy woman of 1813 for an evening playing cards or in the ballroom.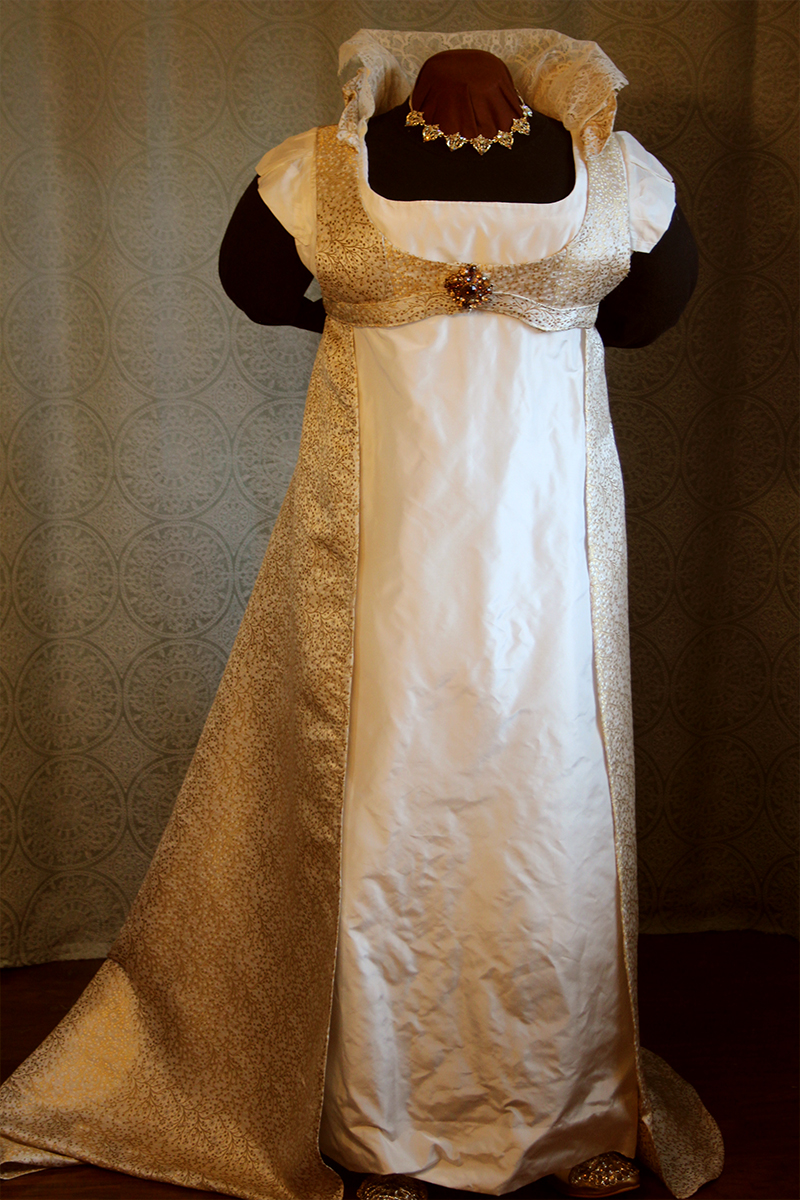 In order of how they are put on
Chemise (no longer a Shift)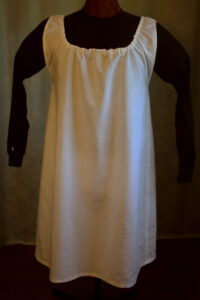 This is sleeveless.  Shift being and English term of the Colonial era, the word was now considered vulgar.  With the French Revolution coming to completion with the Bourbons back on the throne soon, France was again the center of the fashion world.  Chemise is a French term.
This is of cotton/linen; the lighter and sheerer fabrics coming into popularity after a century of thick linens.  This was because cotton was being grown and processed in many countries including the new United States of America which would lead cotton production by 1820.
The new small cap sleeves needed less undergarment, especially for Court wear, which this ensemble essentially is.  Less buik was needed under the arms too for the fitted bodice.  The Bridgerton bodice was especially custom fitted (unlike historical models), so less undergarment was better.
This chemise might cause some chafing under the arms, but the corset will take over as it is a soft, cotton Regency corset and does not yet have the boning and stiffness of later models that required padding underneath to avoid pinch and scrape.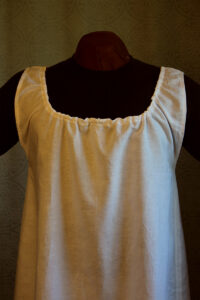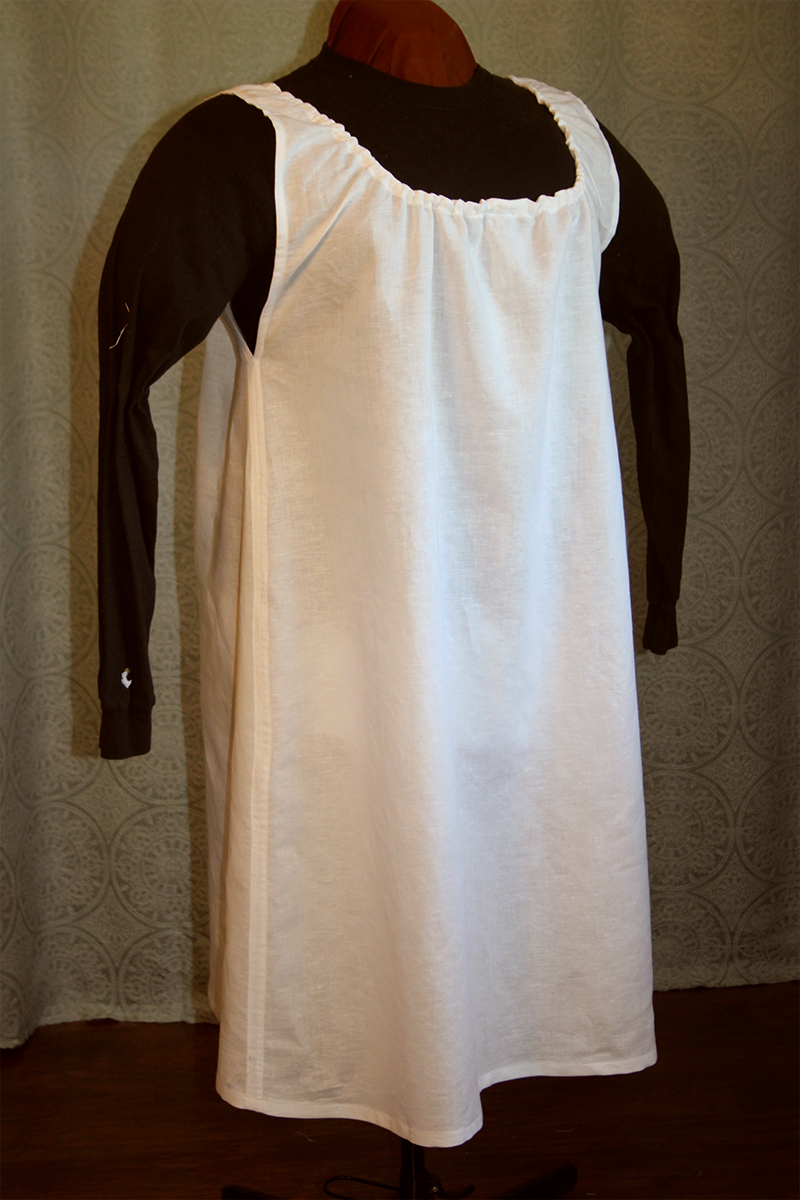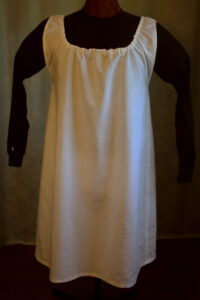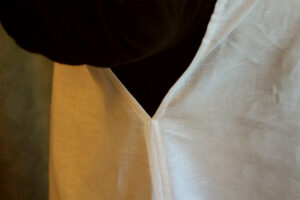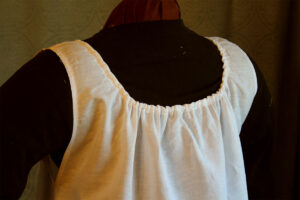 Transitional Corset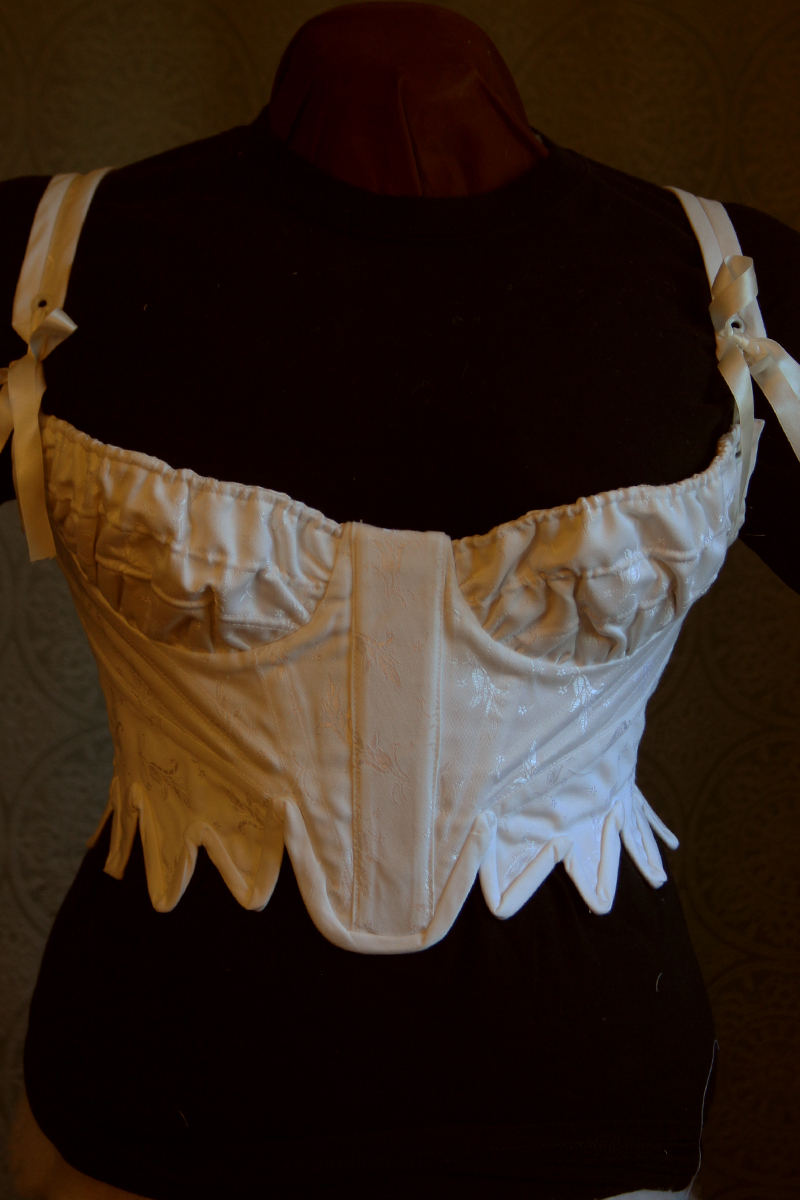 Corsets in the Early Regency era were mostly shapers to smooth out lumps and bumps.  Their main purpose was to lift and separate the breasts to make them very high and perky like "apples on a tray".  That made many busty women stick straight out.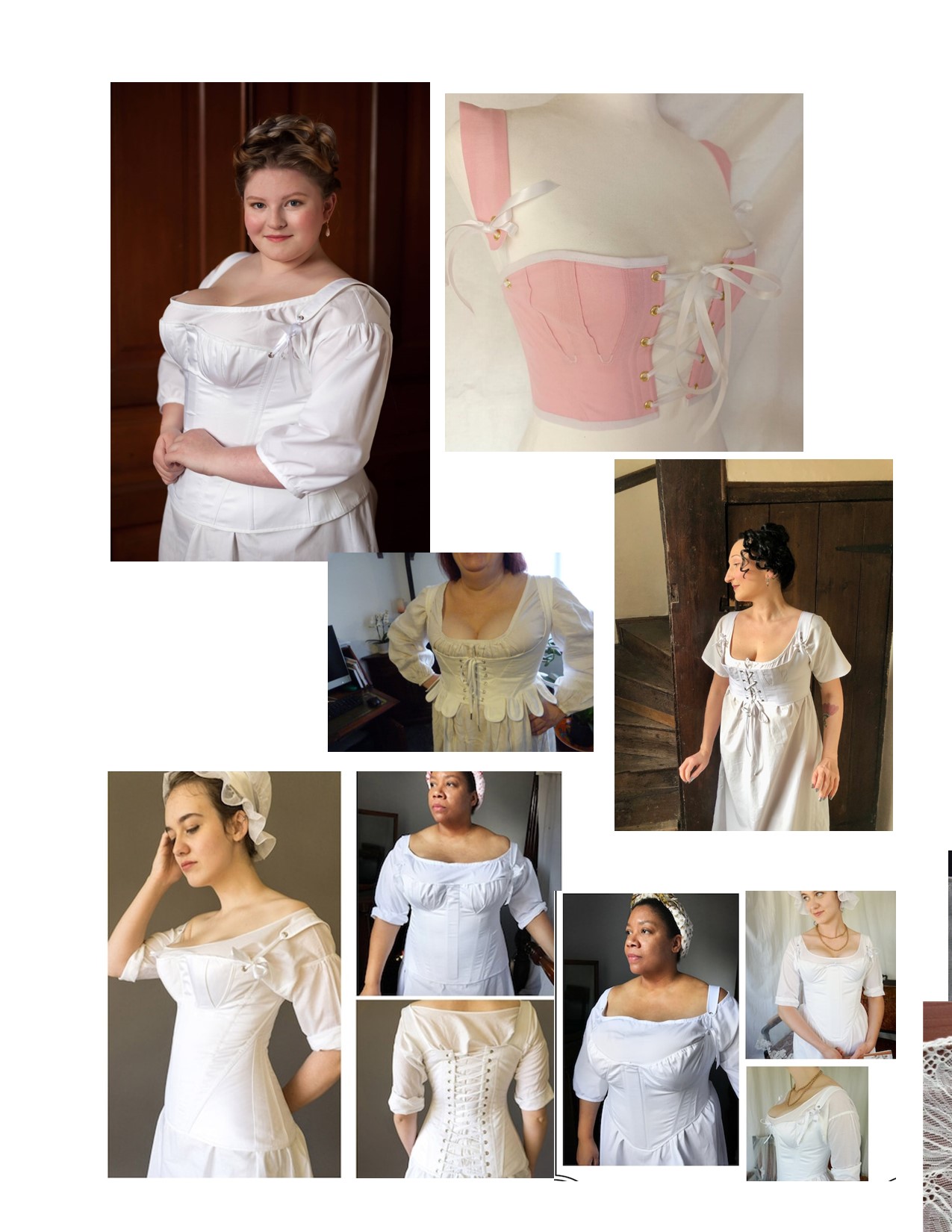 Modern women who are large do not relish this, as did older women in 1813, so as metal boning and grommets came into usage, more structure began to be added to the "shaper"; thus the "transition" from a very soft and non-conforming garment towards the corset of the Victorian era.
Ours is absolutely historically accurate in its adjustable cup pockets which have 3 strings to make the cup size.  It has a hardwood oak busk in the center, and specific boning which to us looks like a person's real ribs and back bone.  It's made to somewhat shape the torso, but no one really cared about the waist since the waistline of the dress was very high under the breasts.  There was actually good support of the breasts with this design; had to be to carry the breasts so high.  The chemise was worn to cover any gap for women who didn't want to show too much cleavage.
We are recommending to Dr. Anderson that she wear the corset low and accurately, but bring the chemise up to cover too much exposure.  The gown is built to accommodate a higher neckline than the era requested.
This corset is made of an outer layer of brocade couteil (a VERY dense and thick and stiff woven cotton) and also lined in couteil, so it is very, very strong.  It has cotton string in panels for shaping, but metal spiral and straight boning in key points.
This differs from Yvonne's other corsets in that there is to be no lacing gap.  This is to shape the back area too, and we want no bulges.  The goal is to smooth and shape out lumps, and to lift the breasts.  We have included a long shaper corset that will drop the breasts lower if this is too much for her.  We'll never know which she is wearing, will we?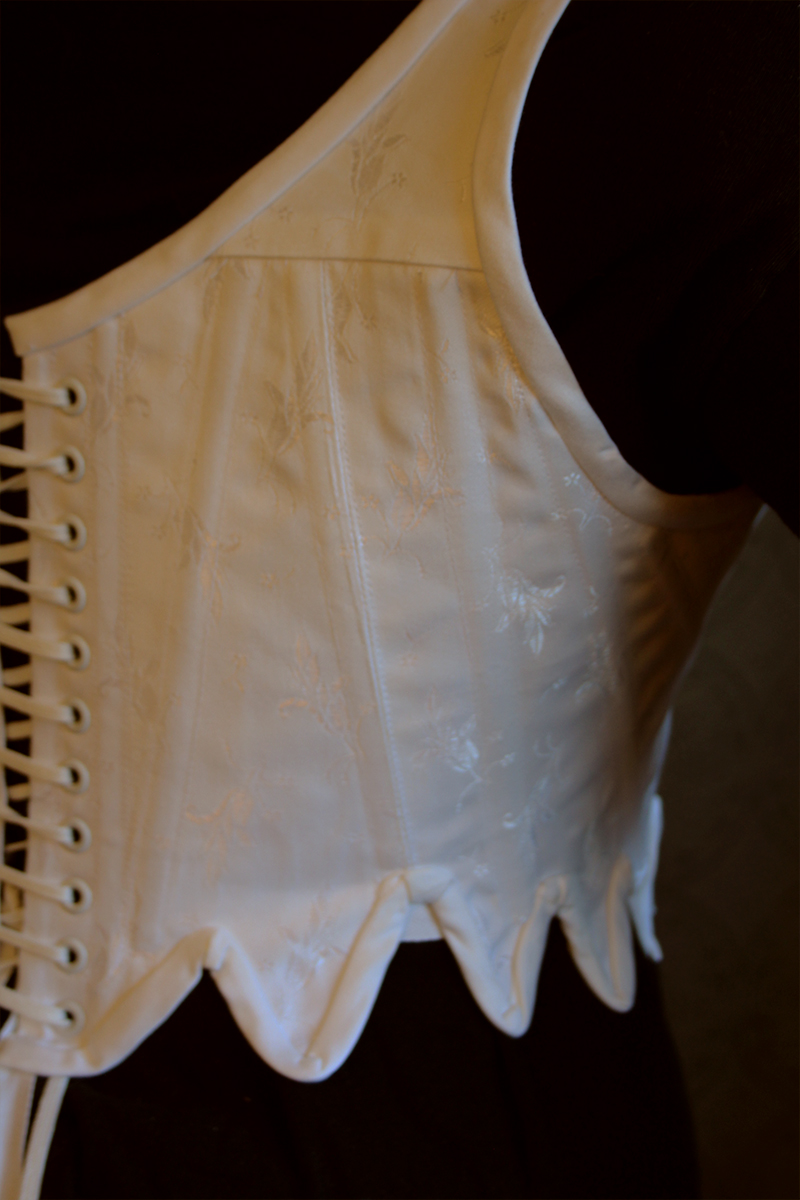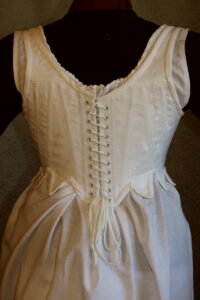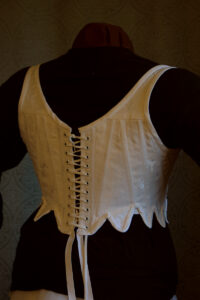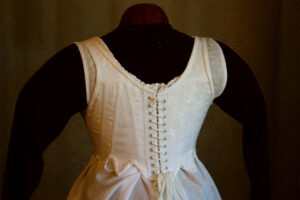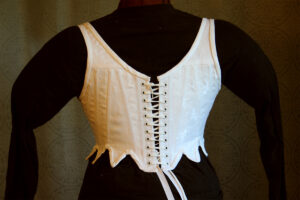 Inner Robe (Main Gown)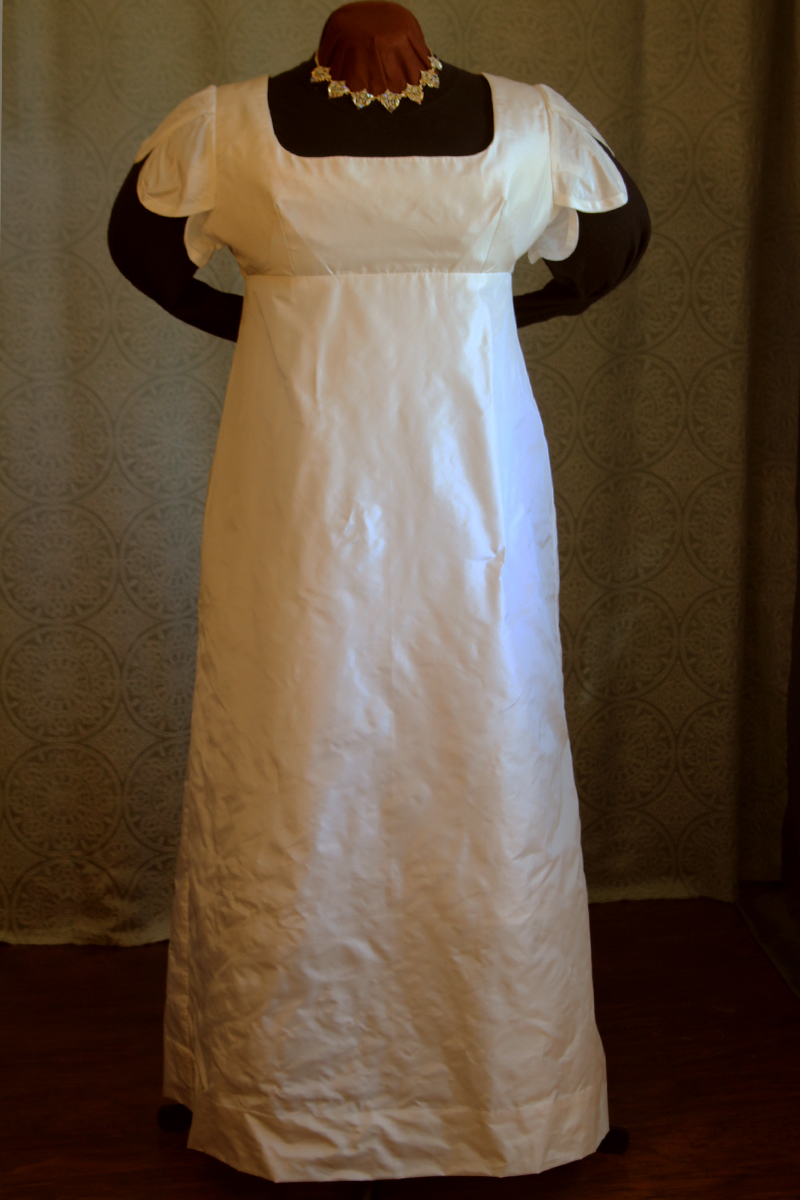 In Colonial and Regency eras, dresses or gowns were called "Robes".  An Inner robe meant the underneath one or ones, and outer meant the over garment.  It would start with petticoats underneath that could show under an outer dress or gown, and by this era was a type of overwrapping bodice and skirt over a plain gown.
In this design we chose a plain ivory silk taffeta, mostly because Dr. Anderson looks great in ivory and yellows, but also because it best matches the examples she chose to copy from Bridgerton.
Because we couldn't fit it to her and had limited time, we made a type of "petal" capped sleeve.  At the time the full sleeves were still popular, but the tiny capped sleeve with trim on it was becoming popular as the Spanish influence increased.  (the Spanish like trim down their sleeves like in the Renaissance eras).  This "petal" can open or close to fit her arm size, and can later be sewn down with trim added such as a rhinestone string if she'd like more "bling".  We later tucked the "petals" under because they seemed a bit extreme, and it gave it a bit classier look.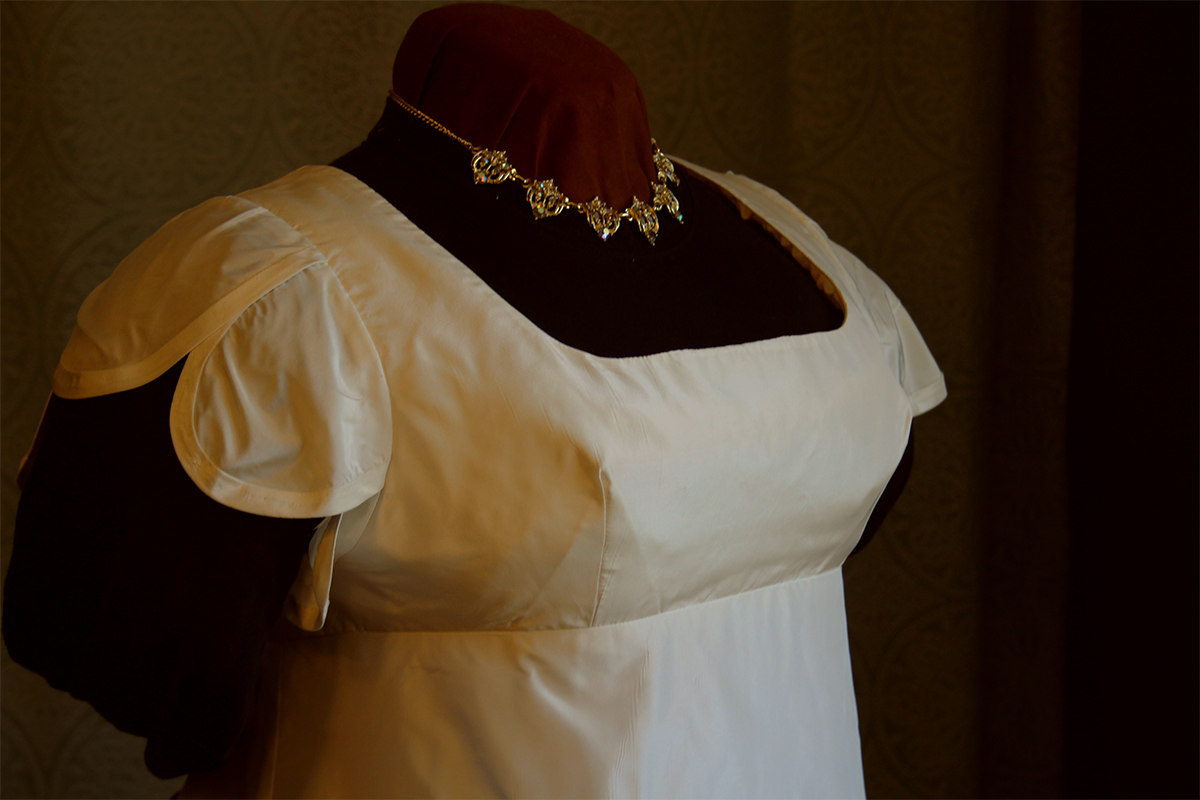 We kept it simple for now in order to match the examples we are trying to create, but also because there will be a lot of other bling in the outer robe and with the accessories.  Something needed to be a "base" on which to show off everything else.
In this Bridgerton wanted us to tie in the back with just gathers, but we had to put the accurate side back in with a lovely fitted seam in both the inner and outer gowns just because we think that's one of the prettiest features of the Regency era, plus it's very flattering on all body shapes.  We then left the adjustment casing and strings for easy fit.  They will be covered by the fitted over (outer) bodice back anyway.
The front we did agree to put darts in but we cheated a bit and brought the waistline out a bit using the bust so the bust would appear to be smaller, and the drape would go straight down.  This might make her appear a bit thicker through the waist and rear end, but it does get the proportions closer to true Regency which was a fashion trend for skinny tall willowy women only.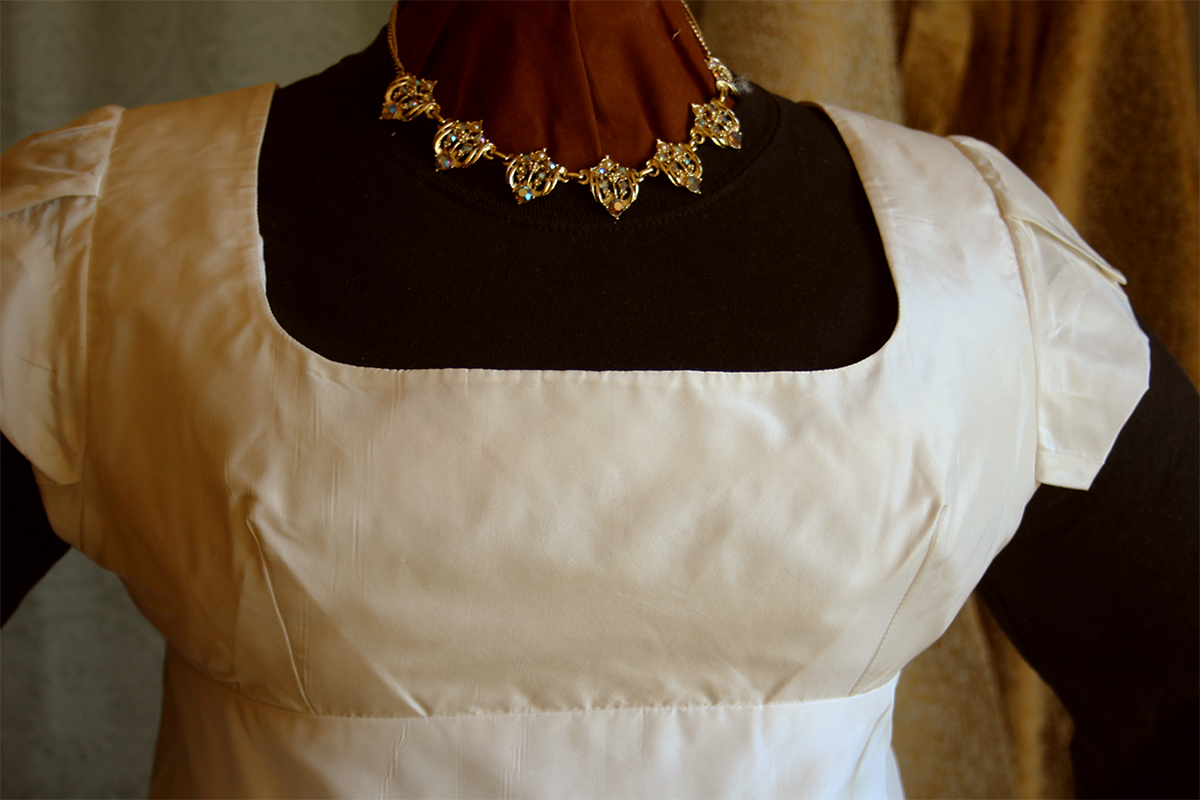 This is 100% silk taffeta in the stiff, reproduction style, so it does wrinkle a bit and that's just fine.  It wrinkled a bit in 1813 too.  Only in Hollywood is everything perfect, as we shall find with the starched collar in a minute.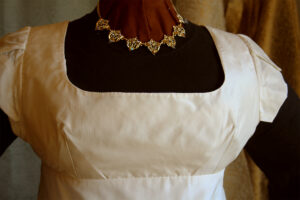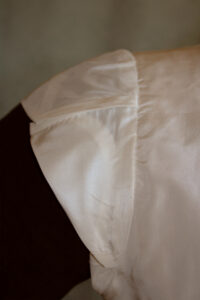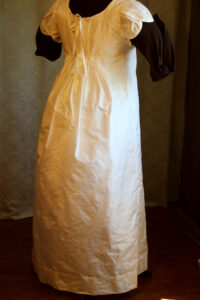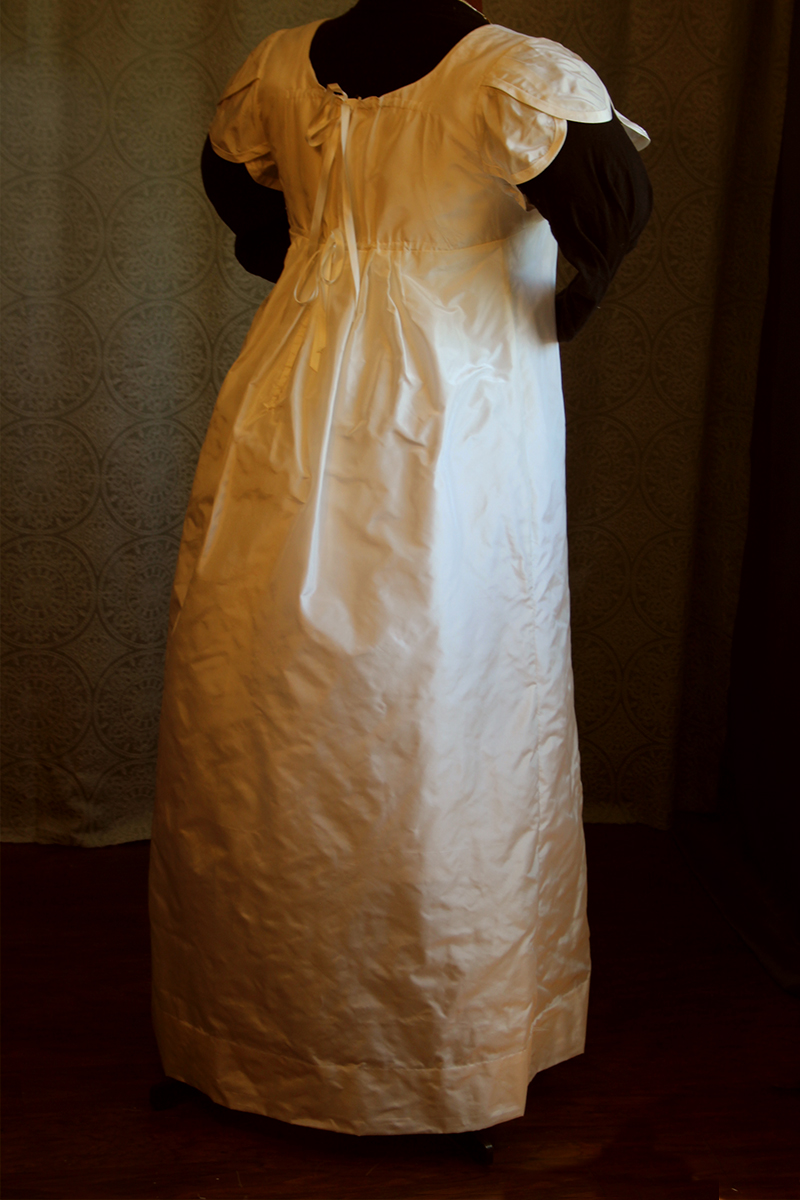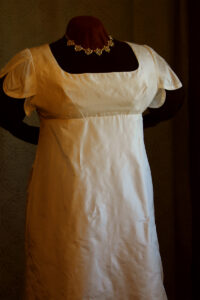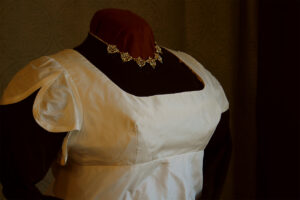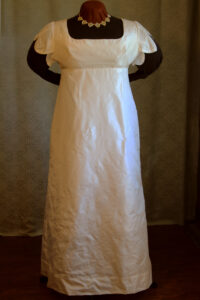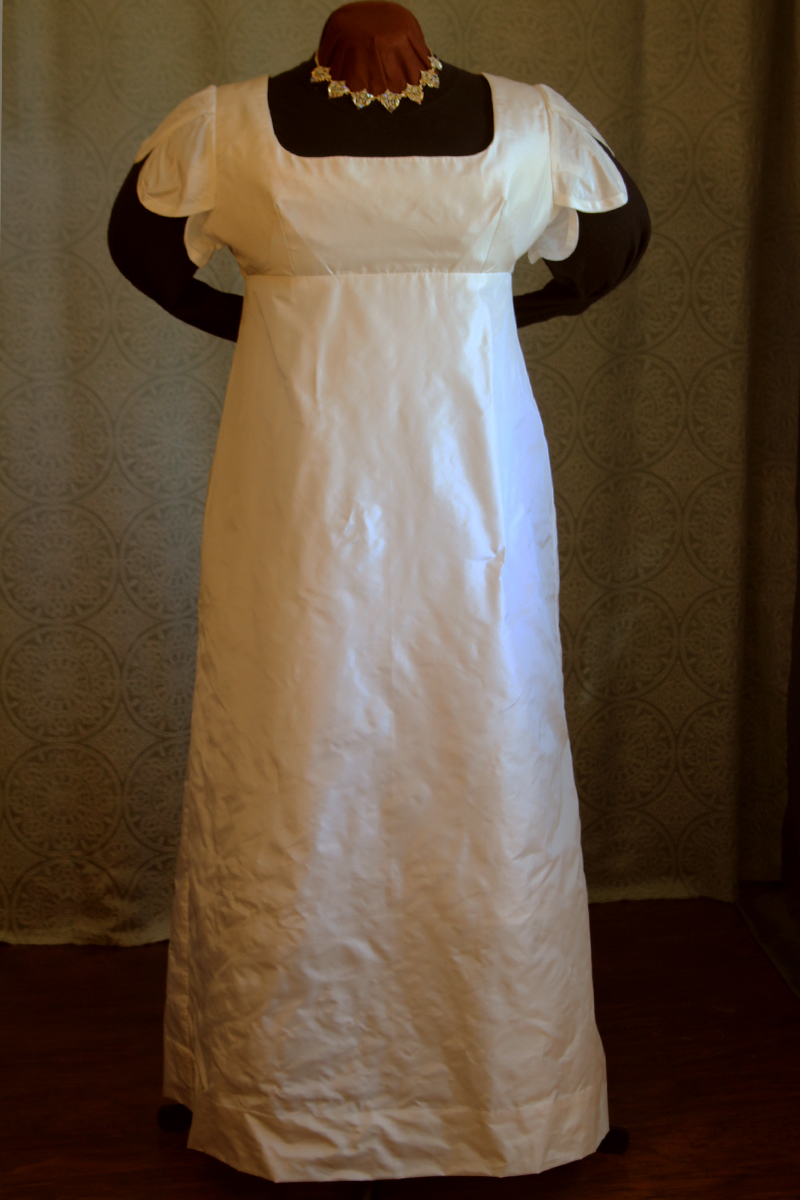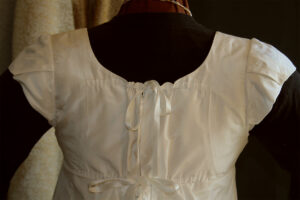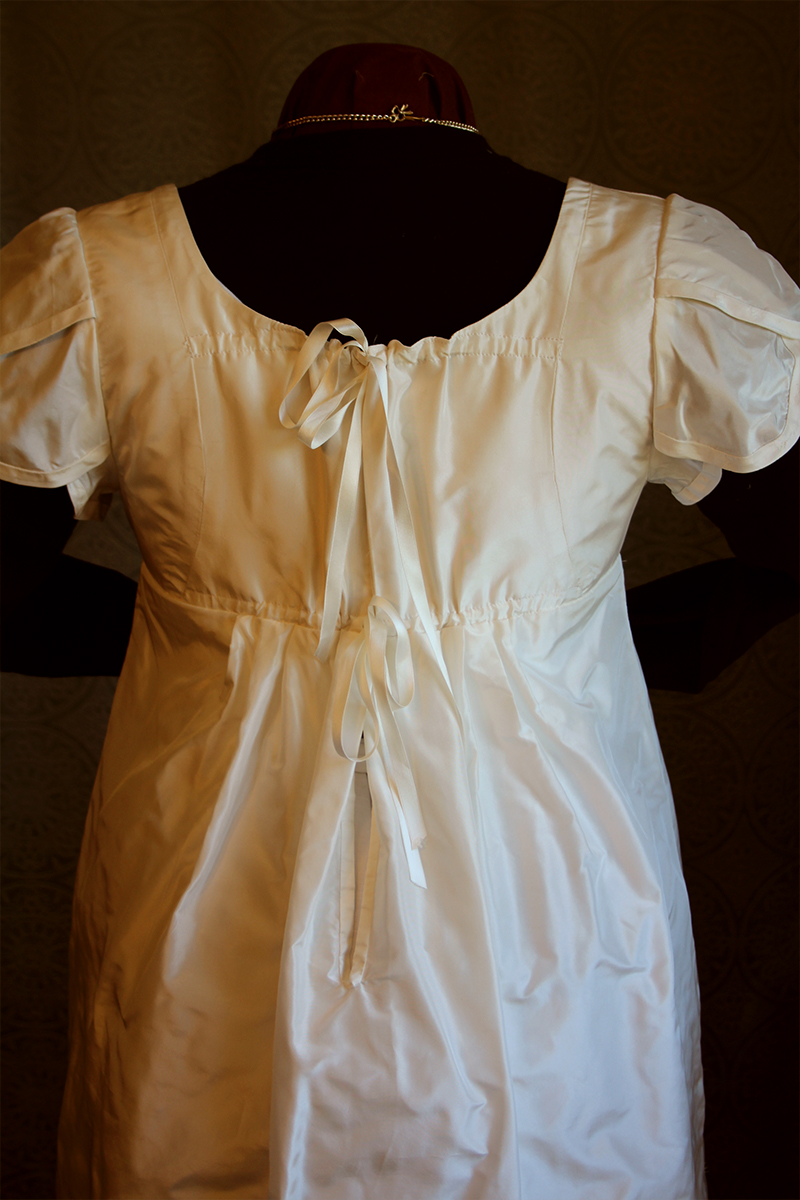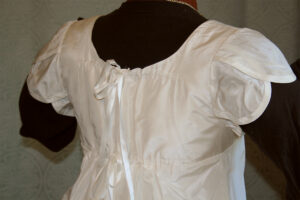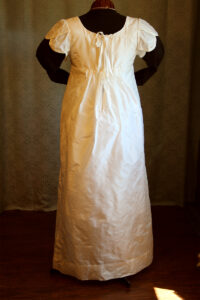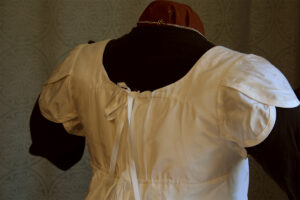 Outer Gown/Robe (overdress)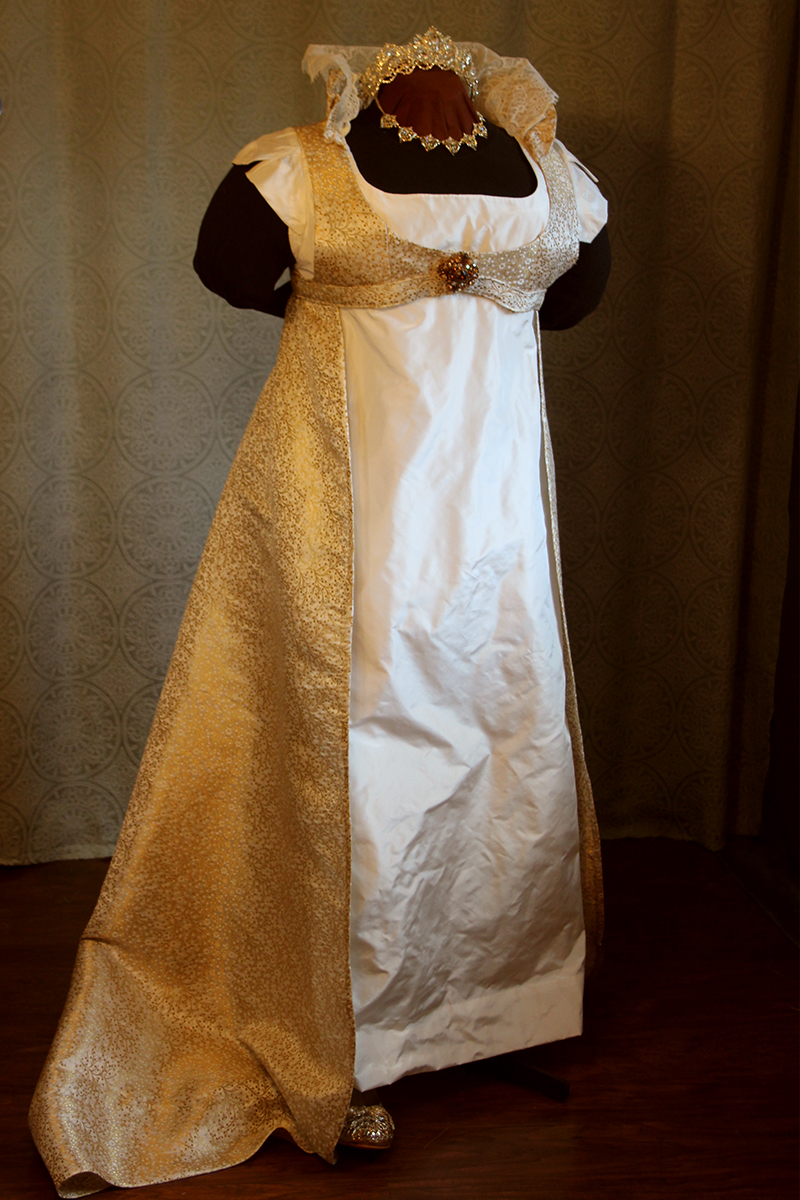 This really completes the ensemble because this ensemble is simple without many layers!  The accessories and collar pull the weight of the design after this.
Easily attached at the front using skirt hooks and eyes which are covered by a gorgeous big rhinestone AUTHENTIC antique Victorian (alas, not Regency) brooch, it is put on like a coat, and just hooked in front.
The angle of the skirt is very tricky to get.  As with all very complex designs, once implemented correctly, it appears so natural and "easy".  It was NOT.  This was extremely difficult to get the drape to emulate the straight vertical silhouette on a busty woman, when straight silhouettes were made for vertical women.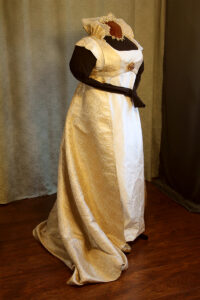 This is a gorgeous 100% silk brocade with poly embroidery imported from India.  It's really an Indian wedding fabric, but that's what Regency looks like because it takes inspiration from India by 1813.  The shoes are Indian wedding shoes too; for the same reason entirely appropriate: the Regency French stole ideas from Persians, Turks, Indians, and as mentioned before the Spanish and Italians.
The high ruff collar in back we have never done before.  It was rare to find one in reality in 1813 except for extreme Court dress, but of course because everyone at Bridgerton was wearing one, we had to have one too.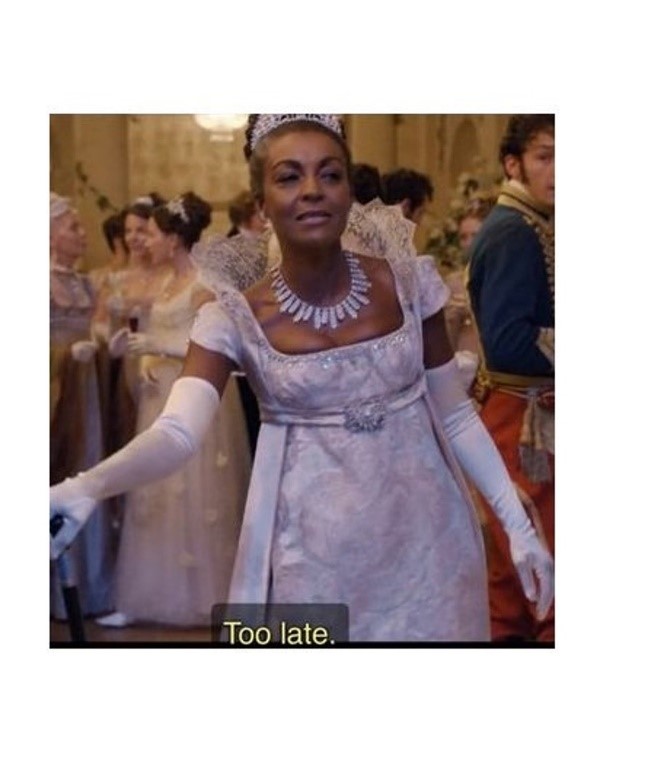 We had just about given up on doing it having spent days starching and trying different methods of wiring and basting and taping and wrapping around the arms.  This extant example showed a high collar with boning in it as the supporting structure for a heavily starched collar.  That was it!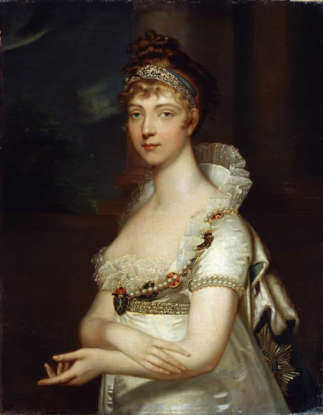 Because this is might extreme, and not the light and airy collar of Bridgerton costumers (who had the luxury of putting it on just once to shoot the scene after probably one pion starching and basting it all day to prepare for that) we had to make ours last and wearable over and over again.  Therefore, the whole collar is stitched to the lace, but the collar itself is only loosely basted to the bodice.  It can easily be removed for other depictions and sewn or pinned back on with safety pins.  We want our customer to get the most for their money, as they do more than just shoot a scene.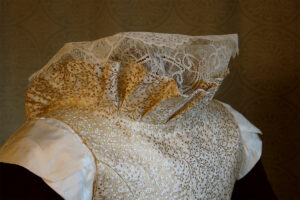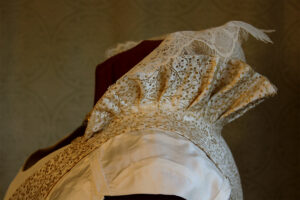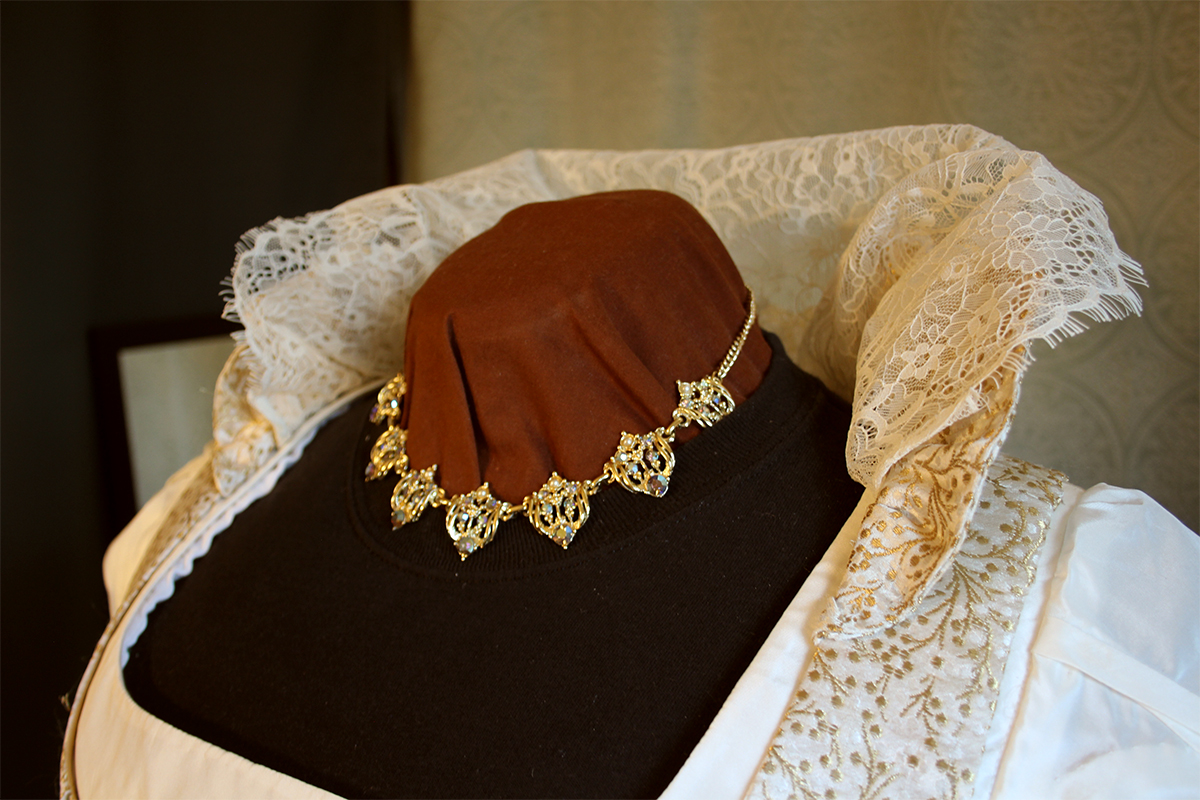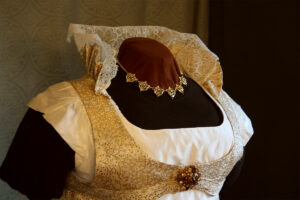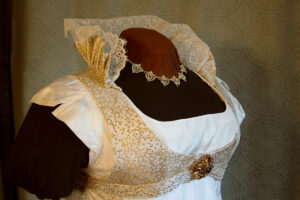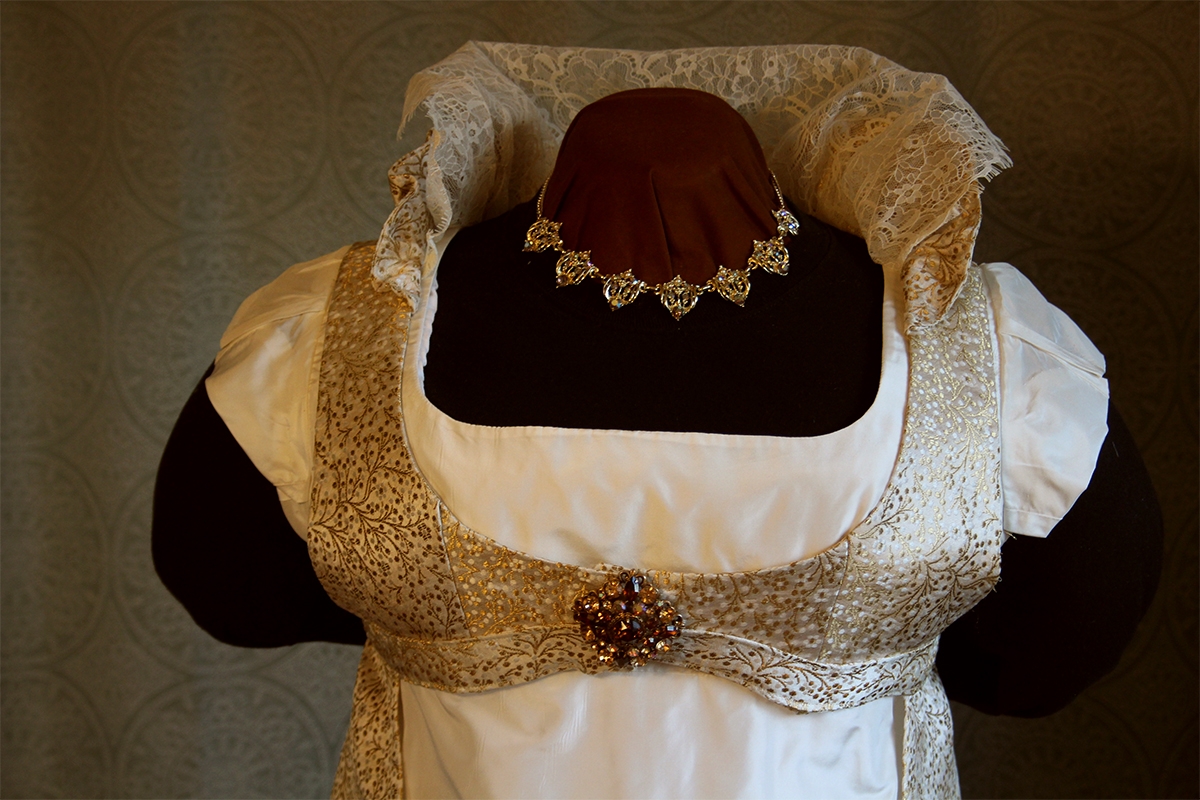 This gown ("outer bodice") has a sweeper train which is very durable and a bit easy to step on.  You'll notice we took our own liberties in the underbodice or waistband of our gown.  Regency had a straight horizontal line to the waistline.  We felt by bringing it up and curving it in and up a bit, we could trick the eye a bit away from the fullness of the breasts.  The thickness of the "belt" fills in the underbust gap, making it appear the breasts are smaller and less rounded below.  We shall see how much lift Dr. Anderson chooses which will determine how much roundness is seen above.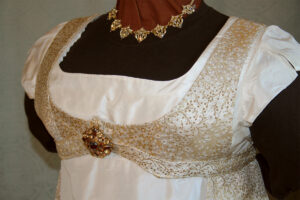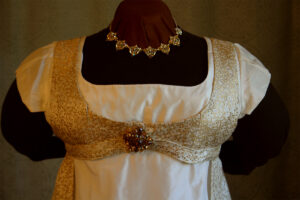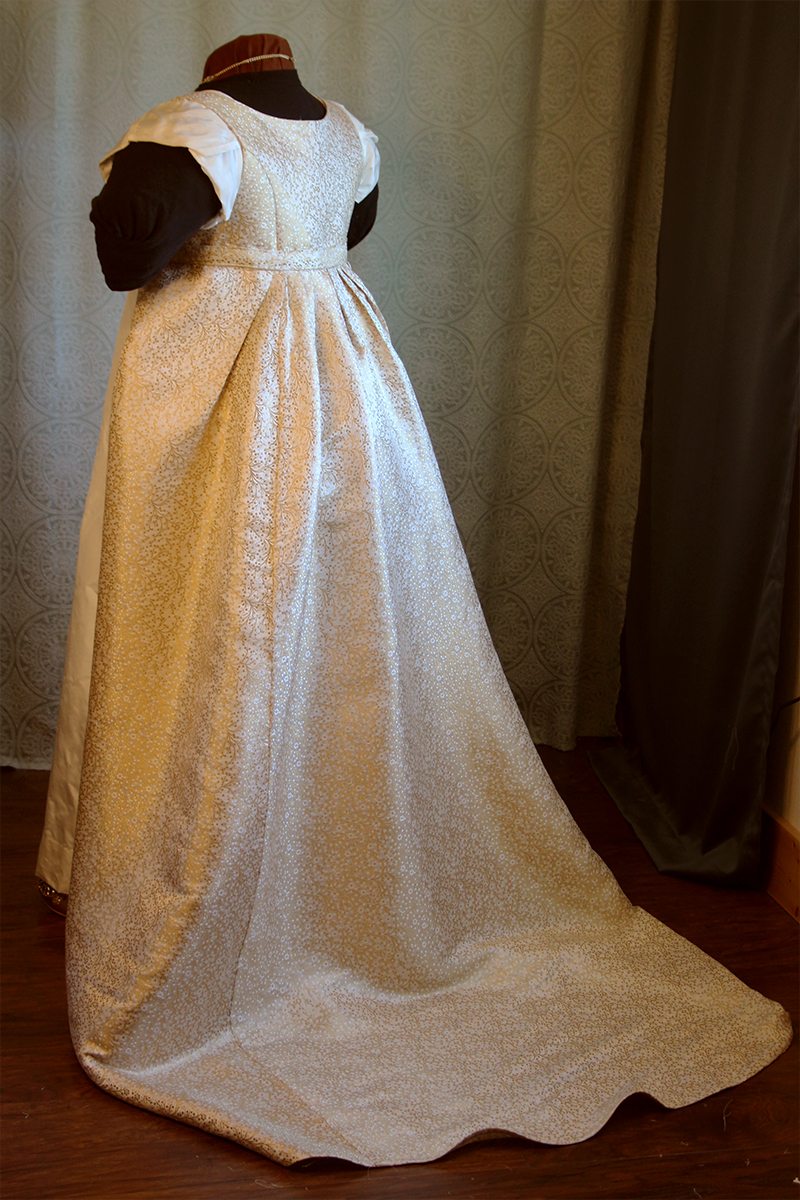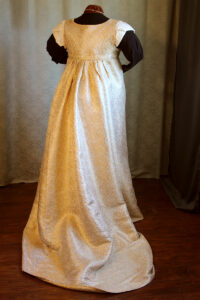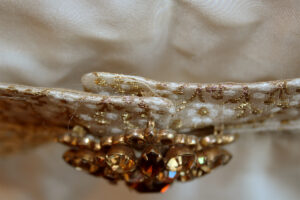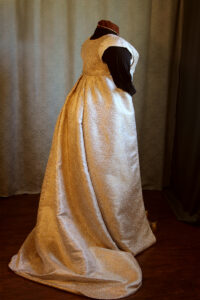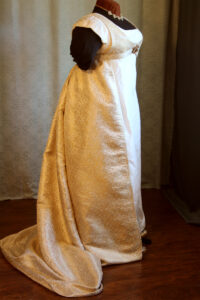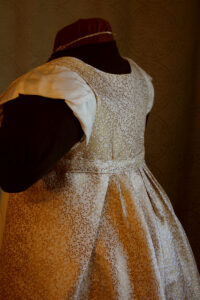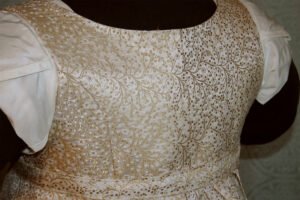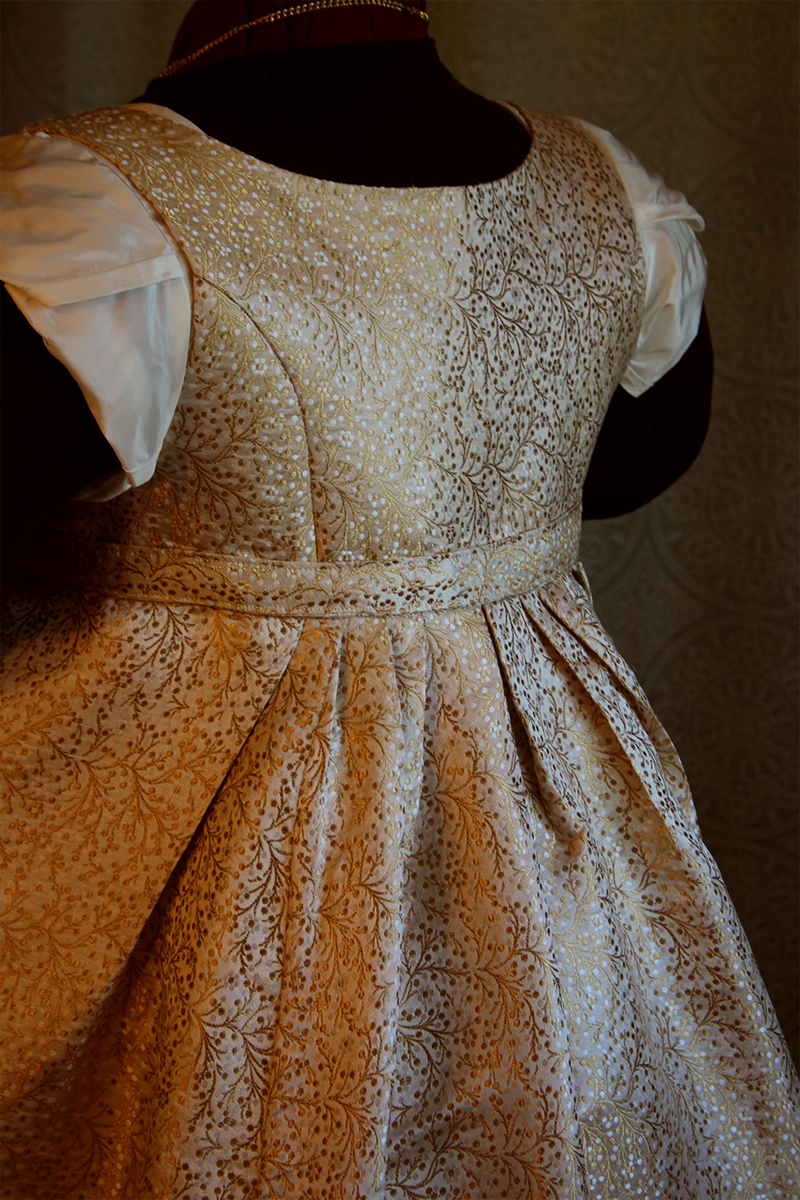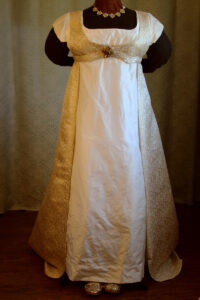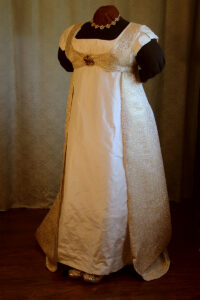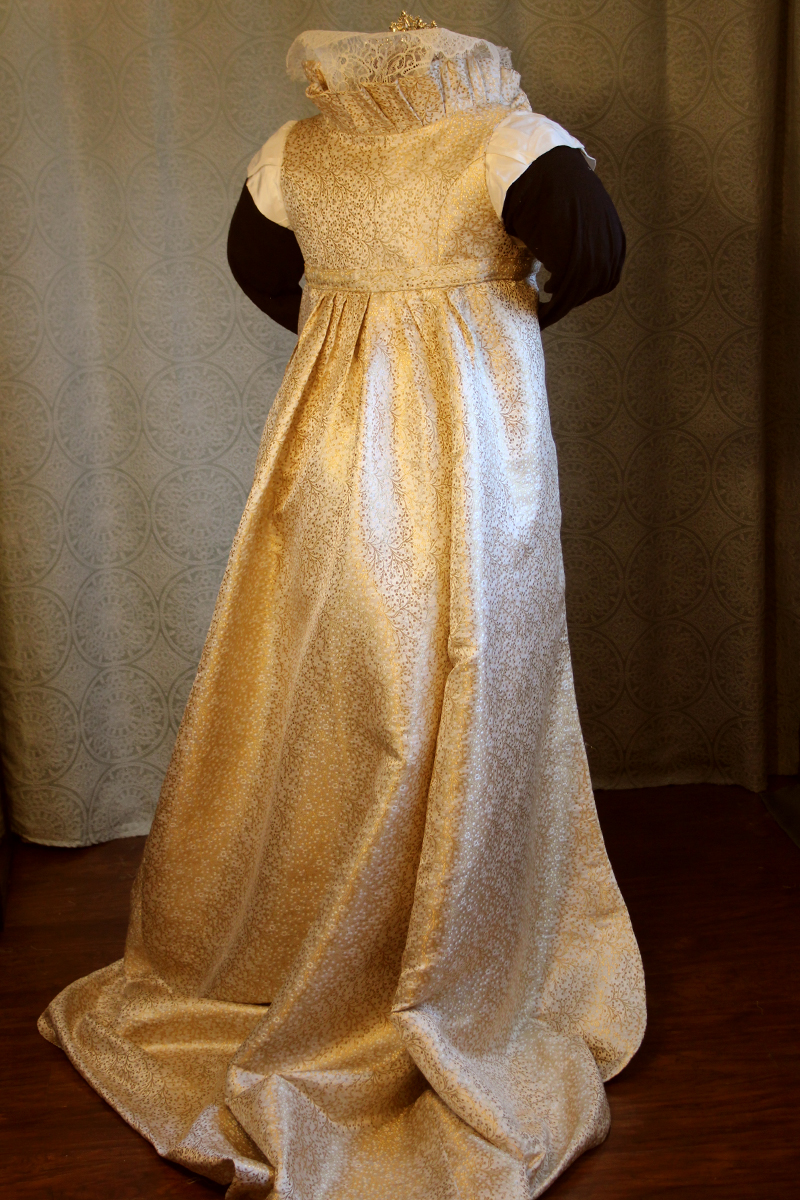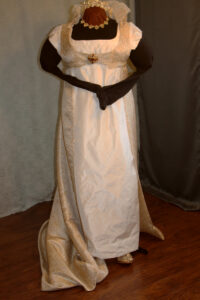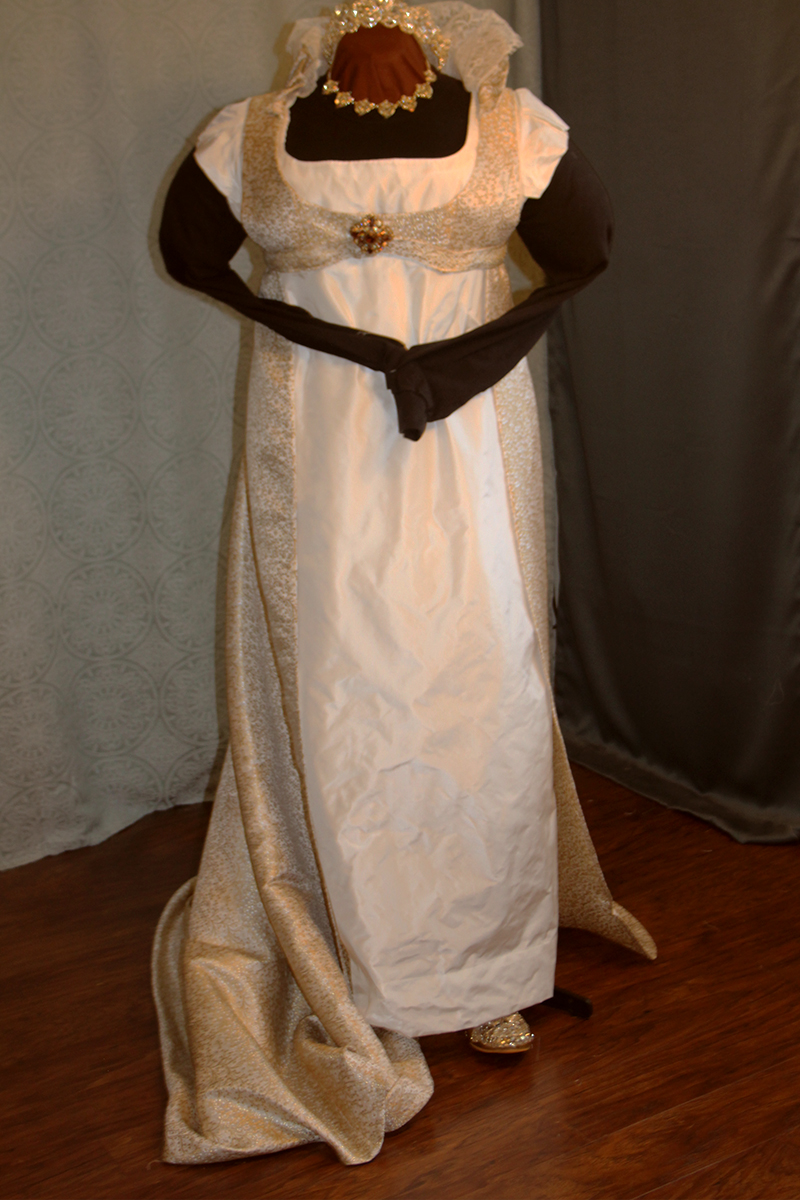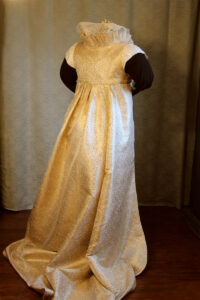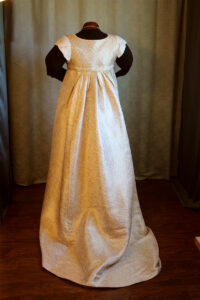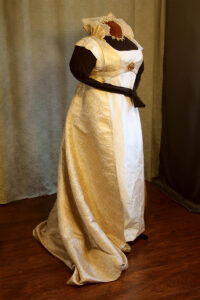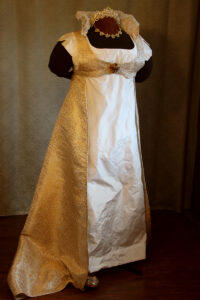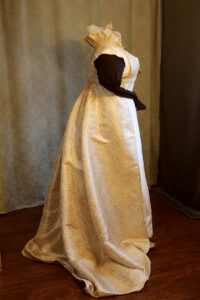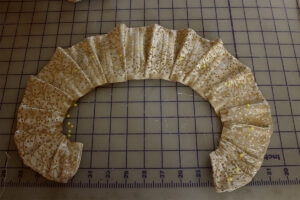 Take special note of the seaming and pleats in the back which are oh so accurate to all REgency eras, but which are not seen in the Bridgerton examples. We take special pride in the flattering fit and flare of the back skirt of the outer robe that flows gracefully into the long train which is fun to play with draping it.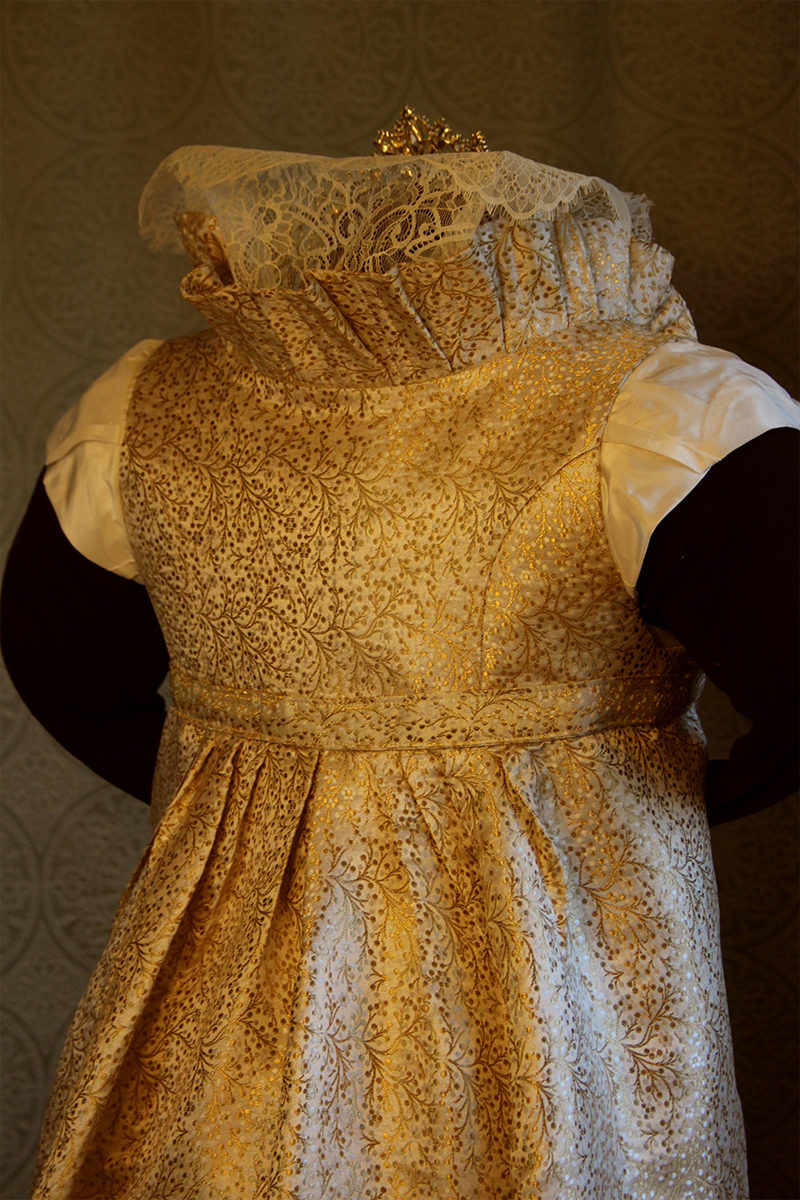 Accessories Make and Complete the Look
You have seen the gold ballet shoes in the photos above.  These are imported from India, and have rhinestones all over.  You can see we had many fine choices on the design page, but these are fabulous in matching the rhinestone brooch, necklace, and tiara.
The idea with the accessories is that the garment itself is very simple, clean, tailored, and well-fitted.  It is like the backdrop of the fancy stuff.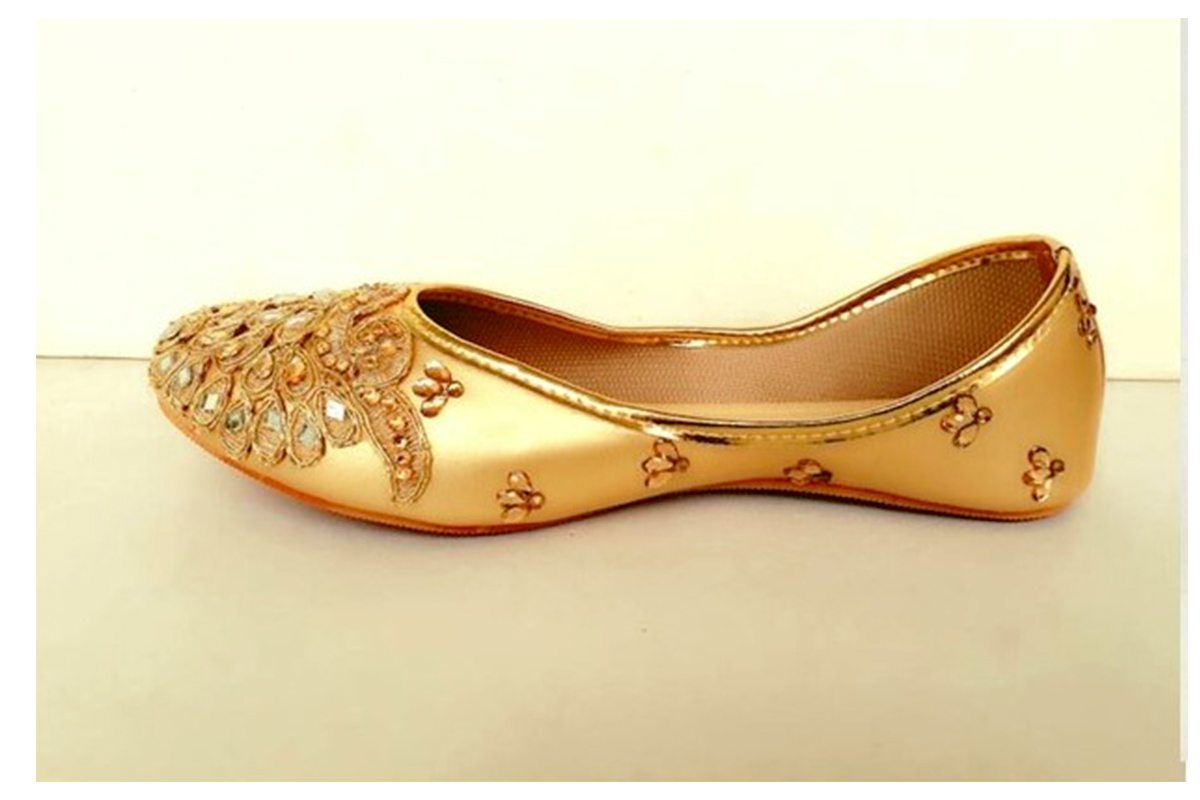 Necklace
Even Suzi's husband went "aaahhh" when we opened this package.  Although it is a die cast brass or something with only rhinestones, it is an absolutely gorgeous and classy piece of jewelry.  It set the shape and the standard for the other jewelry with the medallion type shape and blue and pink and purple reflections.  You can see this in almost every image above.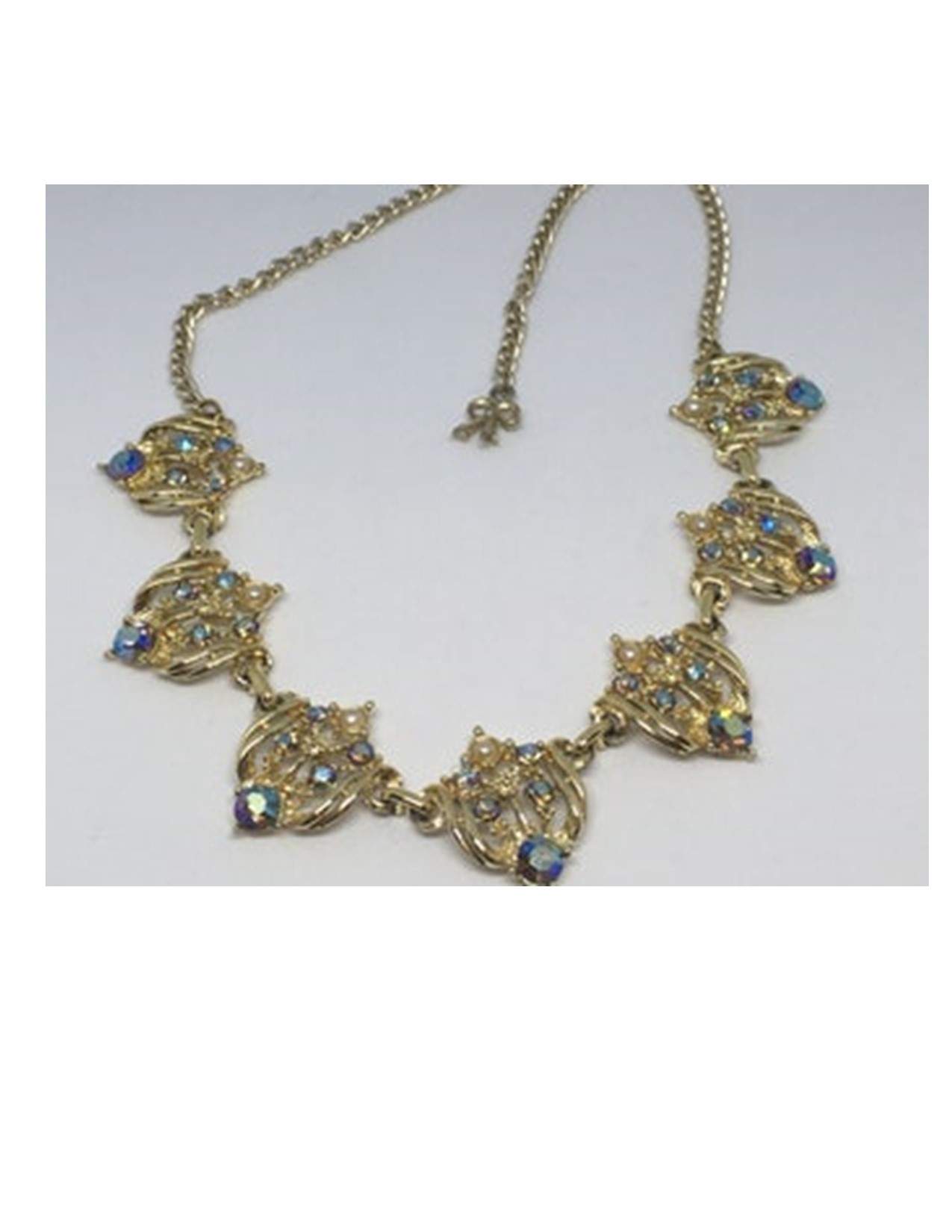 Gloves
We don't have a photo of the ivory polyester (to keep cost down) opera length (over the elbow) gloves that go with this.  They looked stupid in their bag and even worse on the dummy.  They will look like these from a Bridgerton character when they are on.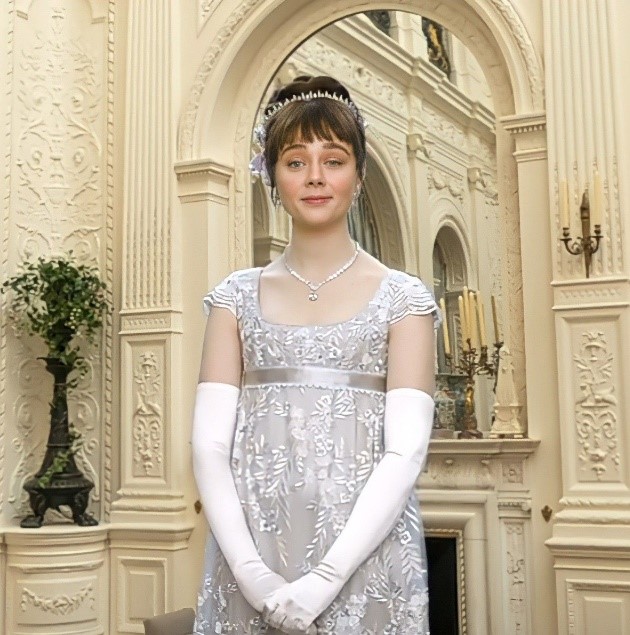 Tiara
Suppliers made special and great efforts to get us THIS specific one which we loved because it had the same medallion shapes and stone shapes and reflections as the necklace.  It is of heavy brass (or something) same as the necklace, and is just gorgeous.  It is no play piece, it is a serious piece of jewelry as would be awarded for a contest.  We'd like to give this to Dr. Anderson for her Dr. Congeniality award.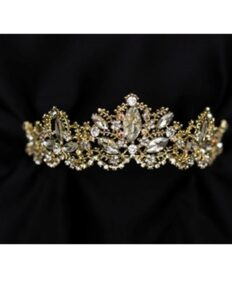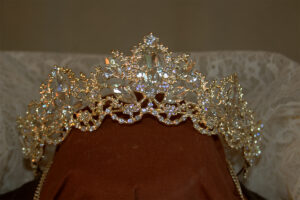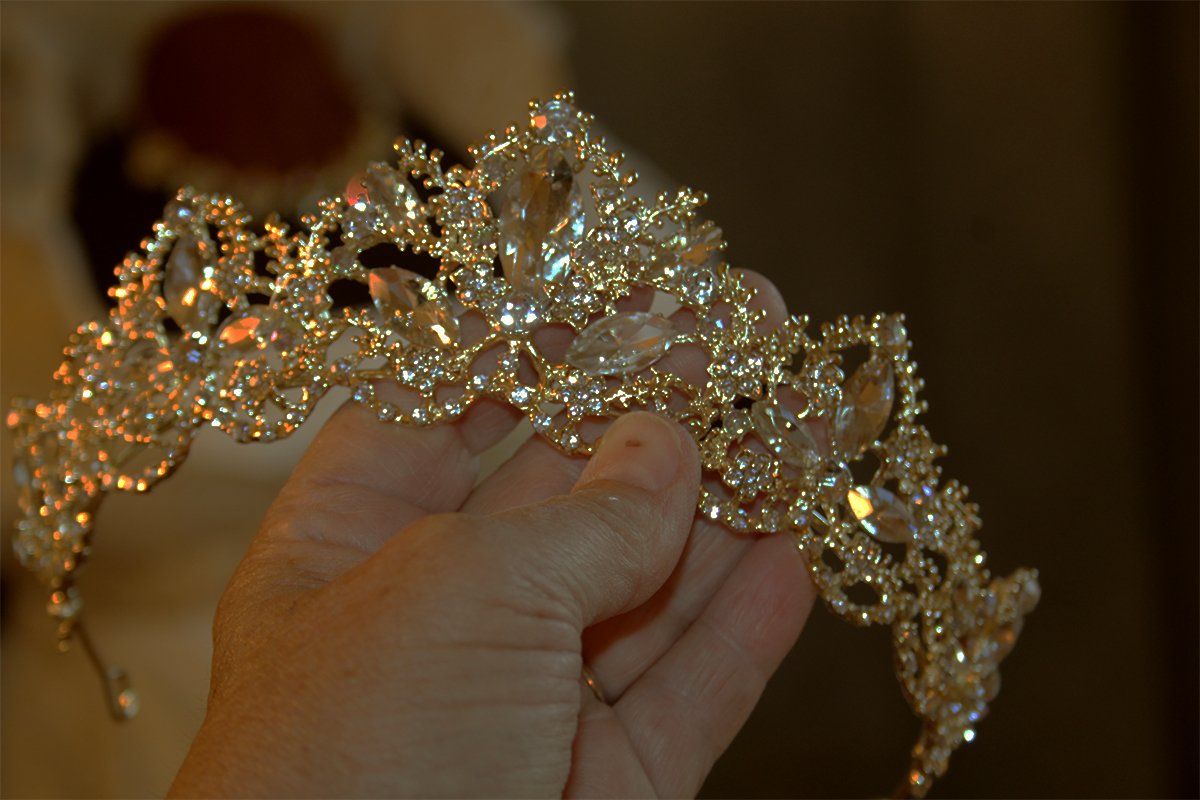 Earrings & Bracelet
We did not provide, but recommend seeking out the gold color and shape with rhinestones.  We didn't know if she has pierced ears or allergies or such.
Garters & Stockings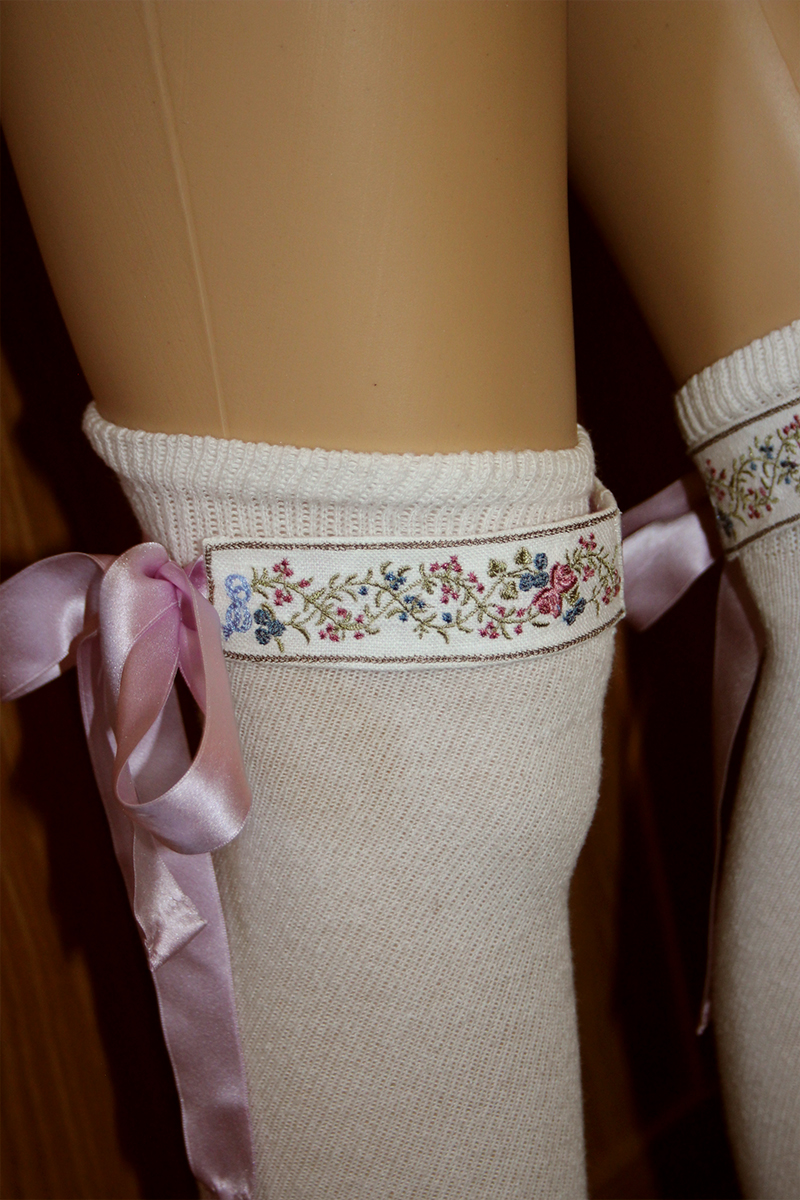 One must never forget that until about 1840, no one wore any sort of panty or pantellette or drawers or ANYTHING at all under their chemise!  We suspect Dr. Anderson will wear something modern, but in honor of historical accuracy, we have given her only silk over the knee stockings and garters just as she would have worn in 1813.
The stockings are gorgeous, hand printed silk with lycra (modern so they really don't need garters) ivory.  We handmade the garters with 100% gorgeous wide pink ribbon ties and machine embroidery.
Stockings and garters didn't have to match the outfit because you really weren't supposed to show them to anyone.  Like the red flannel petticoat of the Colonial era, women liked to have something special and pretty underneath that they would know was there but no one else did.
These can hold up the stockings too.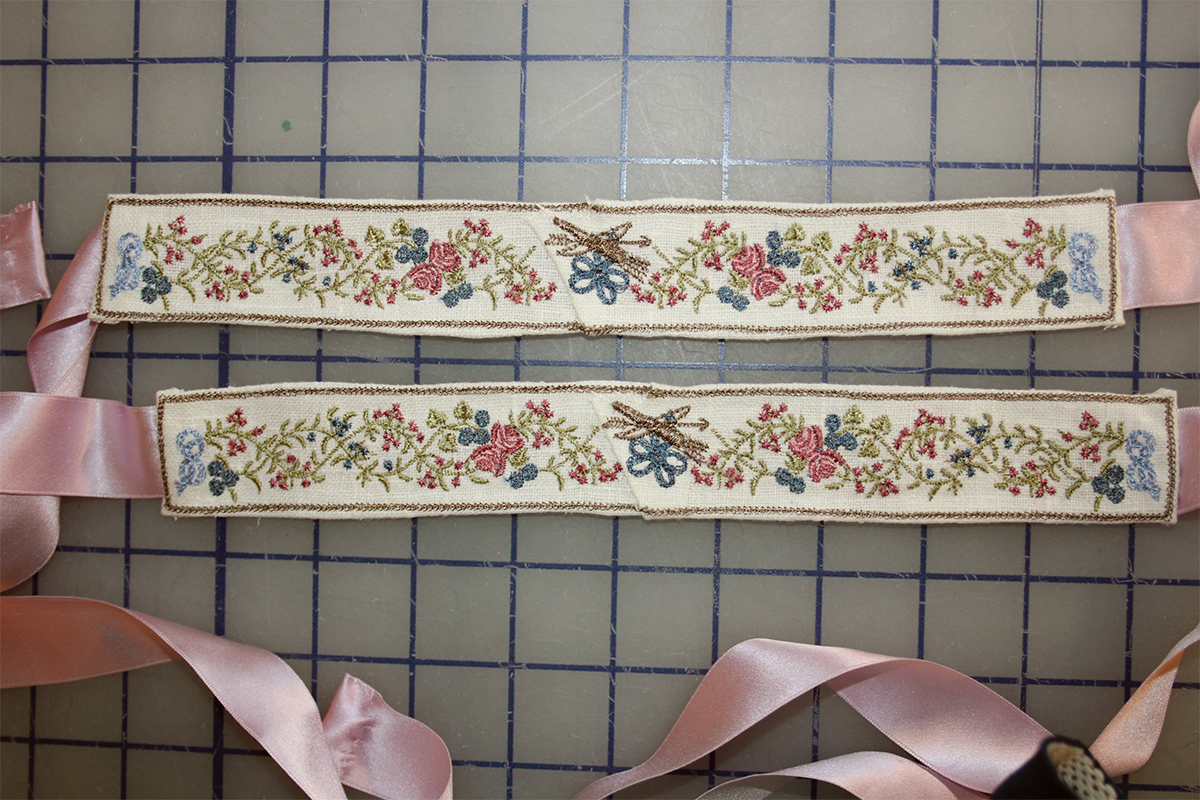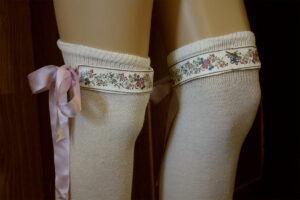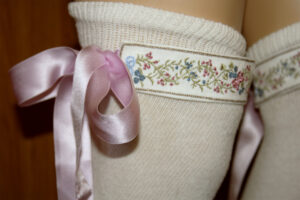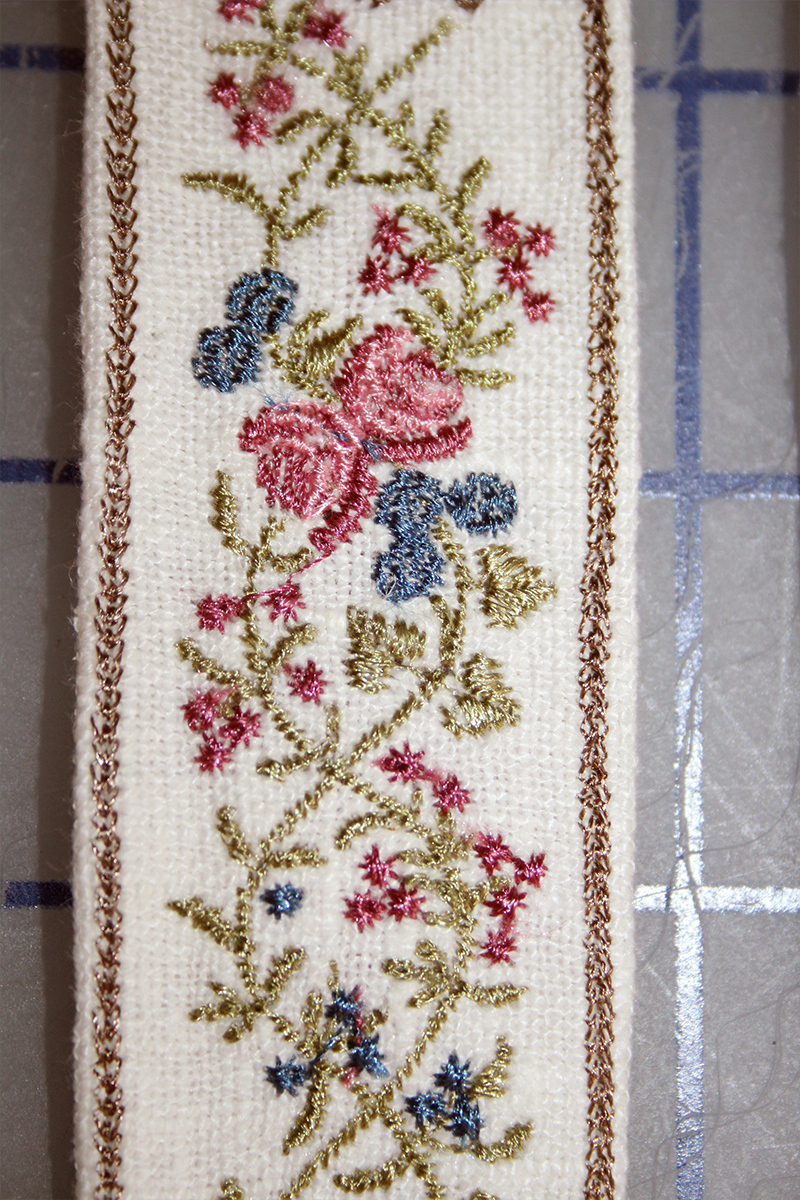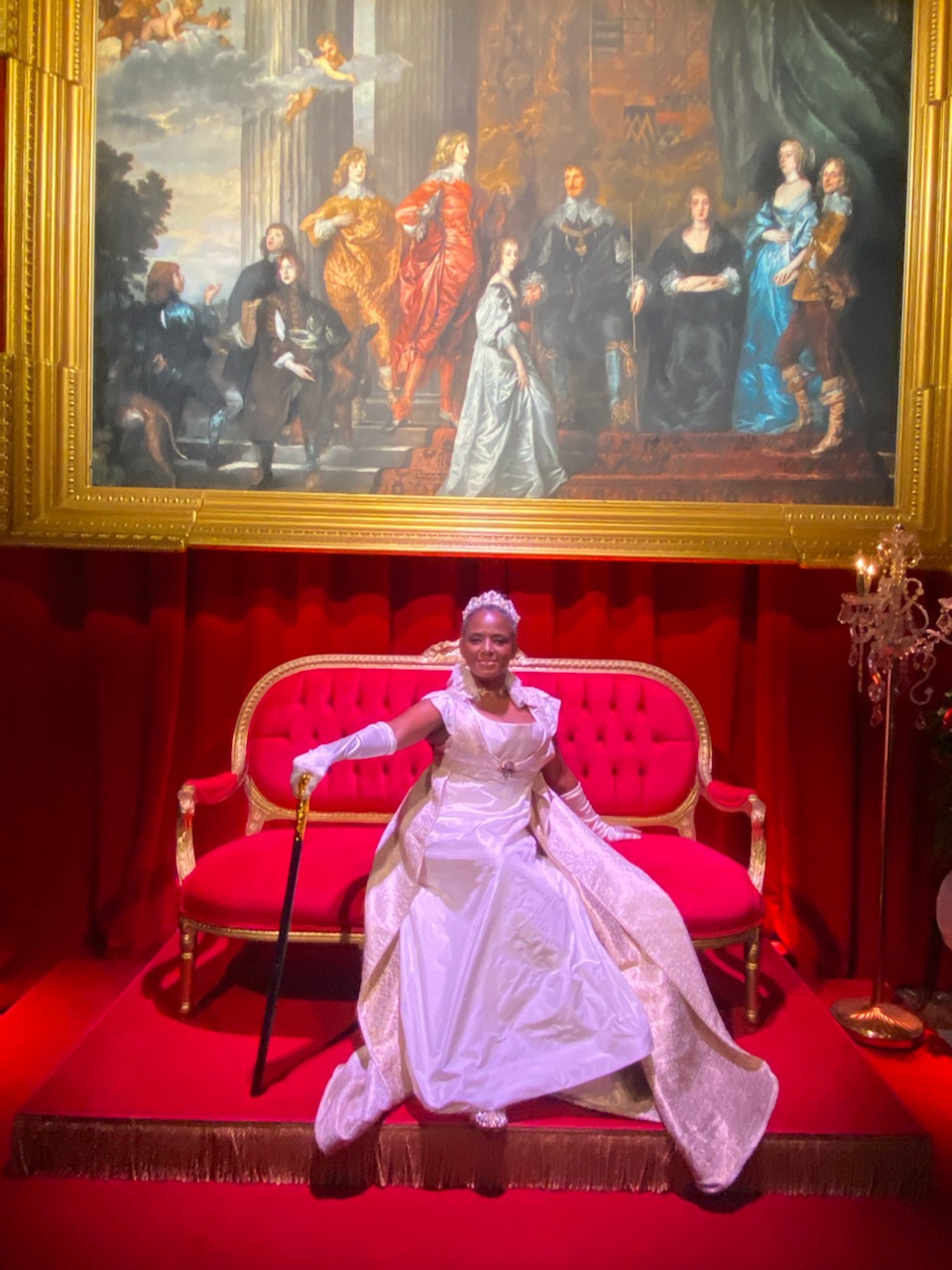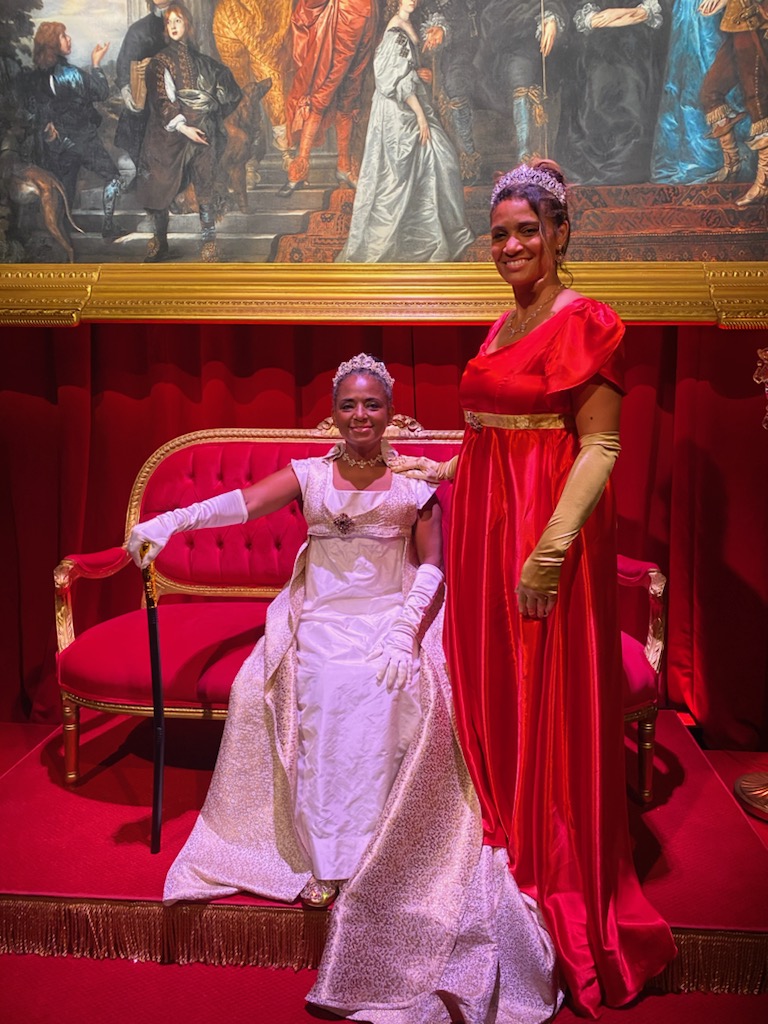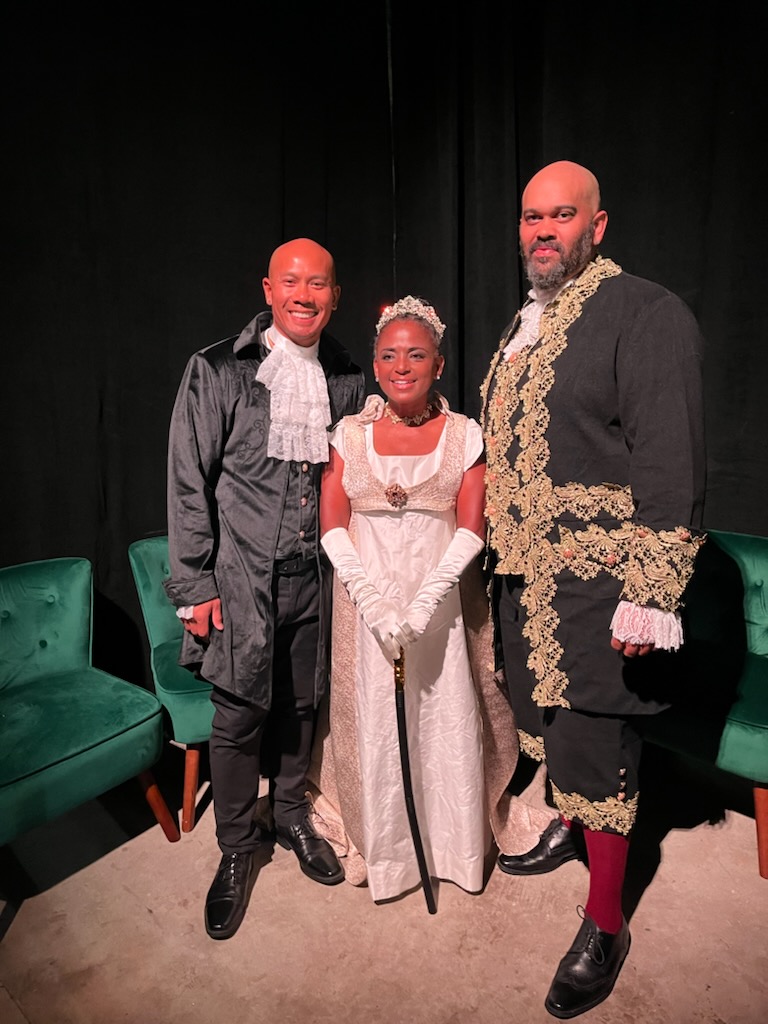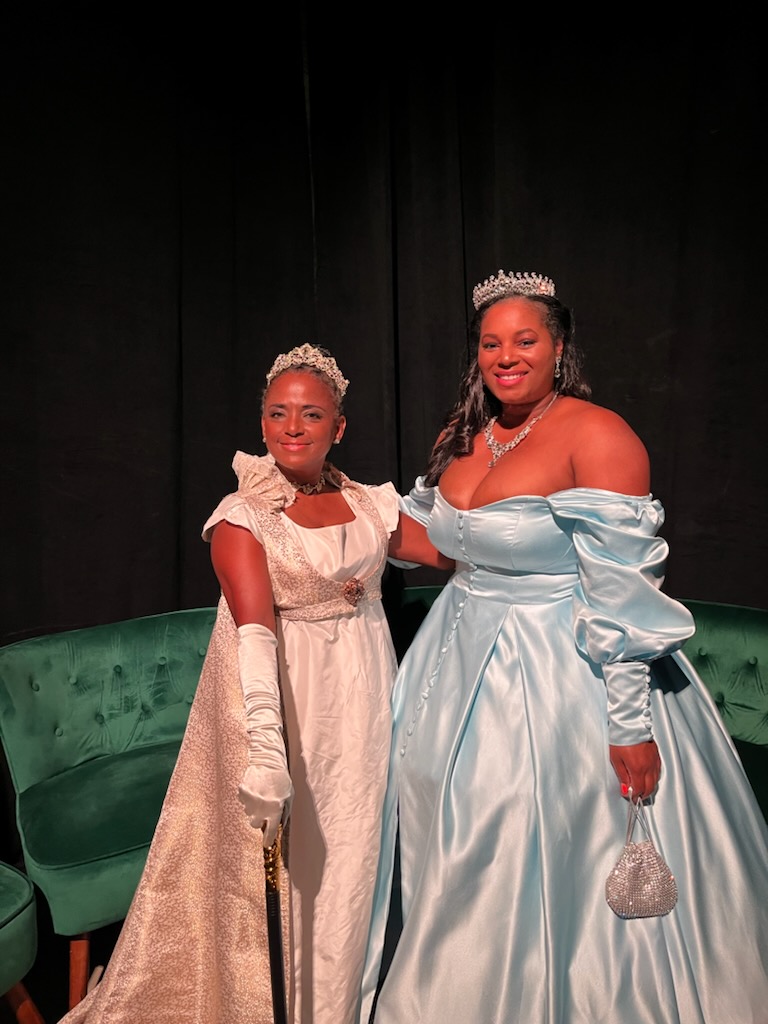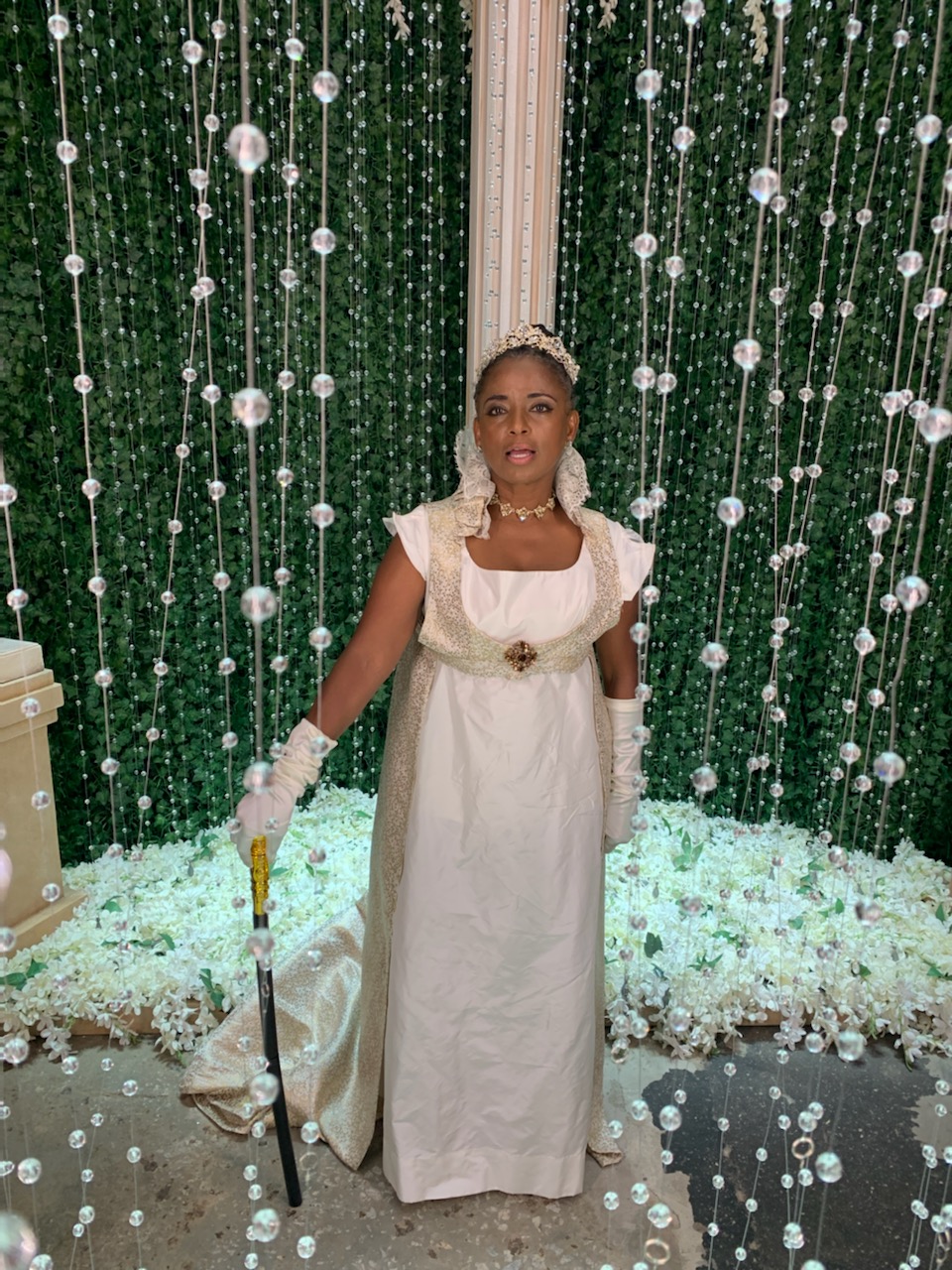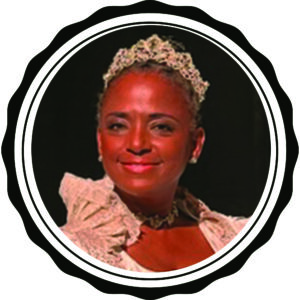 Click here to go to the Historical Context Page