Project in development.  Lots to come!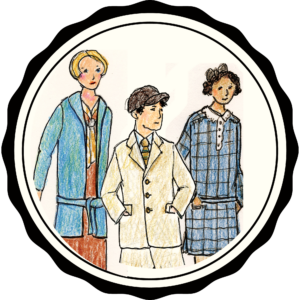 1925 Rural School Experience
Hot Springs County Museum & Cultural Center
1920's Middleton School Immersion program & Online Classroom

The Roaring Decade of Nonsense & Novelty – 1920's in the New West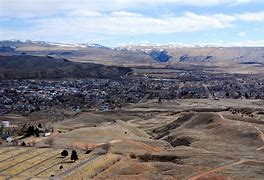 A Special Project
The Hot Springs County Museum and Cultural Center, located in beautiful Thermopolis, Wyoming, a tiny and archaelogically significant town central to the state, is building a program that includes visitor immersion into a reproduction classroom and online educational programs.  Complete with live docents and storytellers,  4th grade students will attend a simulation classroom complete with activities and lessons the same as children would have done in the mid 1920's.
Visiting children will dress up in hats and clothes to help them feel like and look like Wyoming rural children in 1925.  At least one teacher will be in full costume and full character, and eventually two child docents, a girl aged 8-9 and a boy aged 11- 12 will participate in events and special programs.
Our connection is the lovely Buffalo Gal, Shelly King, who will be the first interpreter  and teacher, and who will be modeling and performing for advertising the project.
As with all community projects, the first objective is to involve the community.   The challenge for Silhouettes, who would be handling the day to day costuming, was to to just that.  Working with local artisans, finding used clothing and reuseable notions and fabrics, and buying from local small businesses was how we would be involved, as well as consulting with the museum's historians and experts.
Silhouette's primary role was to research what students, teachers, and parents REALLY wore in central Wyoming in the 1920's, and to build them to fit.  They had to be durable, easy to wear, comfortable to wear, and easy to get into.  Fortunately, research indicated that's what was worn at that time.
The secondary role was to provide history coming from the direction of lifestyle and fashion that is often overlooked in museums unless that facility has extant or real garments.  Many end up "just sewing" to get their docents to "look kinda like" it would be, and few if any have anthropological seamstresses.  This historical accuracy is the key to the visitor immersion experience.
 Specific Time & Place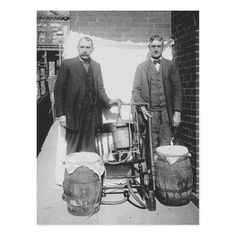 The history of the region is both ancient and new; ancient with its hot springs and dinosaur bones; new in that it was really only settled by non-indigenous people after the 1870's, and mostly around 1900.
When one pictures the 1920's, they usually think first of Whiskey raids, flappers, and Art Deco.  While this period and place has a bit of all the "Roaring", "Nonsense", and "New Woman" fame of the era, it is more a story of "regular" people hanging on to values, goals, and freedoms in a fast changing world.  This is discussed in detail on both the Historical Context and Fashion History Pages for Men and Women to follow.
The 1920's set the project near the beginning of Wyoming's political and non-indigenous settlement history.  It had only been a state since 1890.  Wyoming is known as the "state of equality" for being the first in the world to have women legally vote, and other female firsts, but it is better known for the "Wild West", or "Old West" as it is promoted for tourism.
Numerous Projects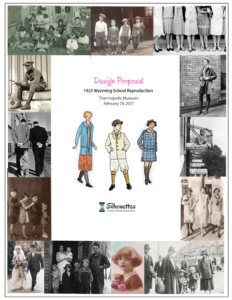 The project will include several ensembles for display on mannequins or live docents/interpreters.  The primary request is for a historically accurate Teacher's ensemble.  This will be provided with mix and match pieces.  We are also providing full ensembles one each for a boy and a girl.
The museum has also requested garments that visiting school children can put on over their own clothes.  Design Development will show that we have selected numerous hats plus vintage bib overalls, smocks, and aprons for this purpose.
Read on for the project research and development.  Finished projects will be shown below, as well as any photos provided of the project itself.
Classroom project Historical Context; America and Wyoming (next)
Classroom project Fashion History & Women's Lifestyle
Classroom project Men's Fashion History
Classroom project Design Development
Continue below to see the finished project:

See the Design Development Page for how we arrived at these decisions.  Actual product will vary as decisions are made in construction, but we did actually follow theses sketches in the process.  Most of these were built from actual ANTIQUE patterns from the mid-1920's, or from "scratch" using magazine or pattern pictures.  Final design decisions are reflected in the finished garments below.
NOTE:  ALL GARMENTS HAVE BEEN MADE USING VINTAGE PATTERNS AND/OR INSTRUCTIONS and as close to 1920's techniques!!!  That's why you'll see those buttonholes used for belts and neckties, LOTS of bias tape, and wide hems.  The overall effect is things are kind of droopy.
Teacher's Ensemble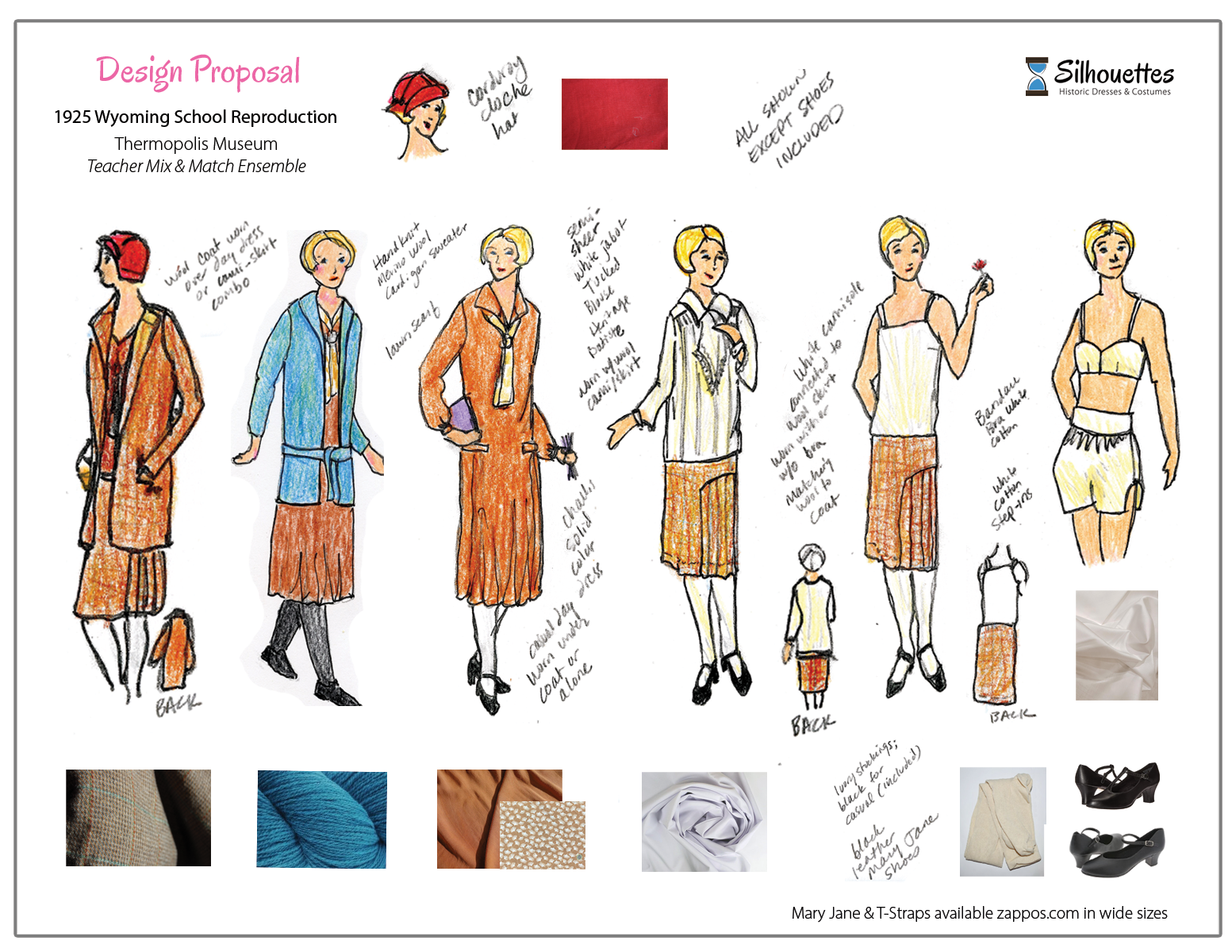 See pictures of Shelly in the teacher's ensemble at the bottom of the page!
Bandeau Bra & Step-in Panties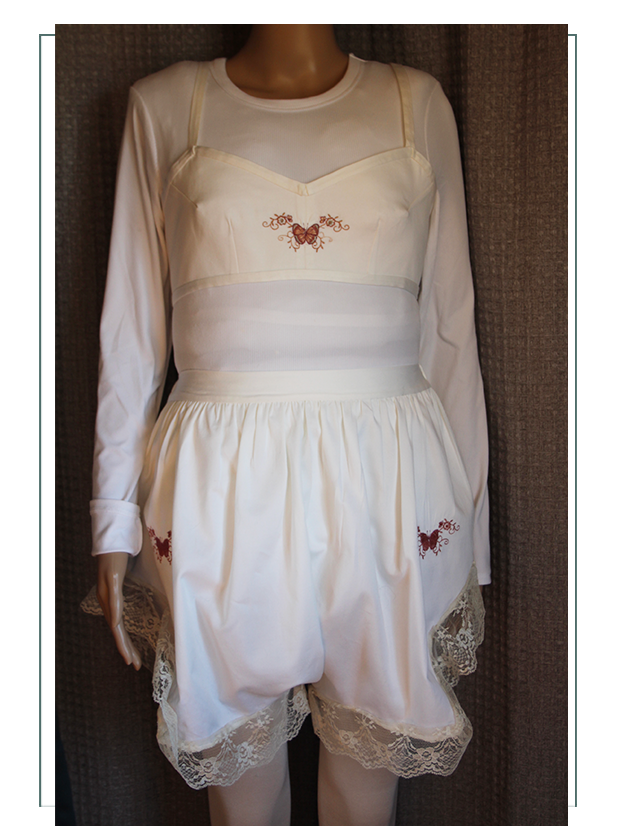 The mannequin is wearing a shirt under the undergarments because she is padded out to size, and the shirt holds her padding in place.  The 1920's undergarments were typically made of one flimsy layer of fabric, and were loosely fitted.  There was a wide range of plain cotton to pretty lacey bras and panties.
This interpretation carries the favorite butterfly theme of the day, with the high fashion colors in decorating and otherwise very simple and plain bra and panty pairing.  The bra would actually not have darts or an interfacing; we added those because this teacher will be working all day in these undergarments, and we wanted her to feel a bit more comfortable (modest) than historically accurate.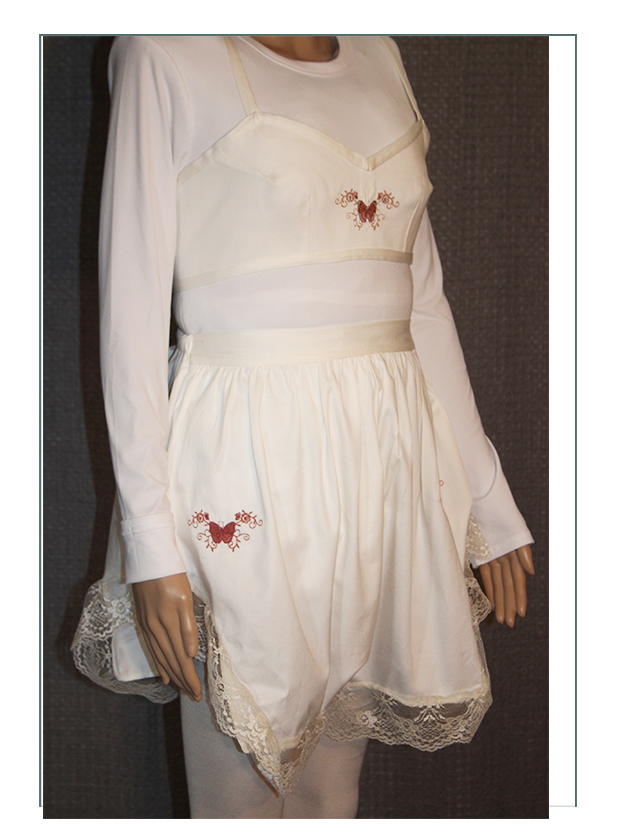 In reality, when Shelly tried these on, they fall low on the waist and lower than the underbust – which is just where they are supposed to be.  If you look at this fashion as a whole, you have to think "gravity is pulling me DOWN", and everything that in modern times fits tightly or forms to the body, is actually more like wearing a tube with weights in the bottom.
As with all fashion of this day, and all vintage patterns, the straps are longer than usual for bra, slip, dress, etc. so that the bodices fall much much lower too.  In this case, the bra straps are very long in both front and back.  This creates a sewing challenge, for it becomes something like hanging a whiskey barrel around one's body, and there is no way to bring in the "gaps" under the arms without darting and destroying the accuracy.  "Whiskey barrel" gaps are historically correct in this case.
One other "nod" to modern tastes we build in was a hook and eye closure as well as the accurate elastic.  The woman of the 1920's would pull this over her head without adjustment.  Since we may have several people wearing the ensemble, we needed adjustability to some extent.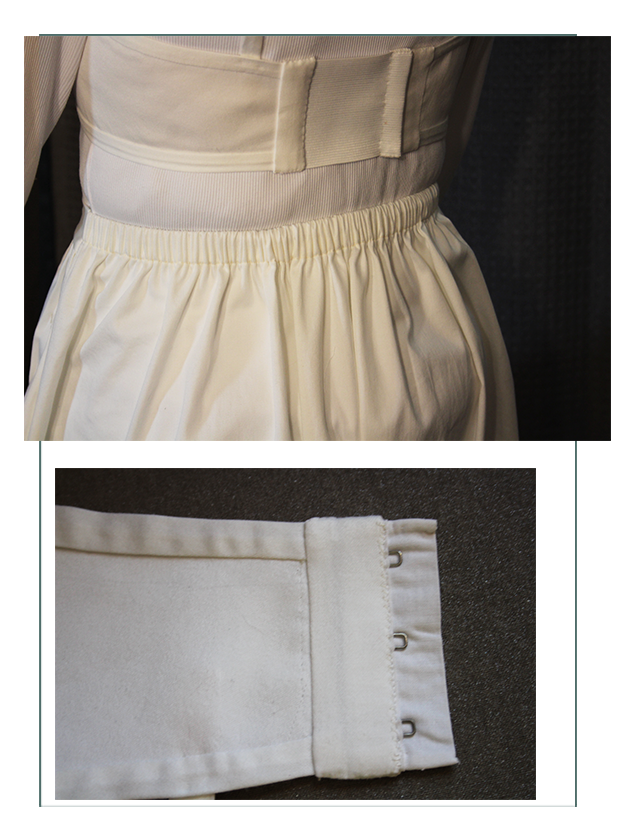 100% cotton with poly lace, the cut of the panties is accurate, and the huge fullness of them – just like virtually every fashion era in history – helps keep the shape of the outer garments for the fashionable silhouette.  In this case, that means pushing the skirt out just above the knees where the dress might otherwise tend to "suck in" and not be a straight vertical line above the drop waist.  Embroidery is done by machine.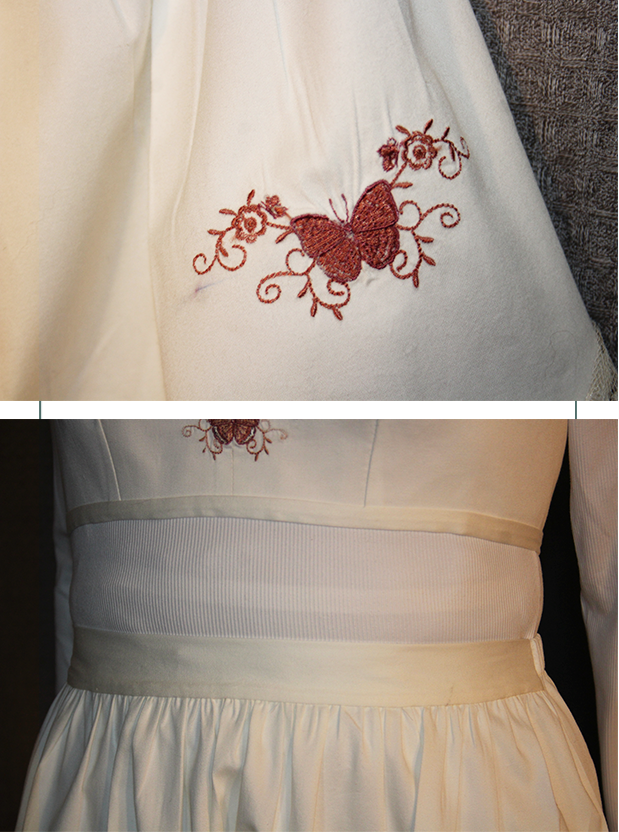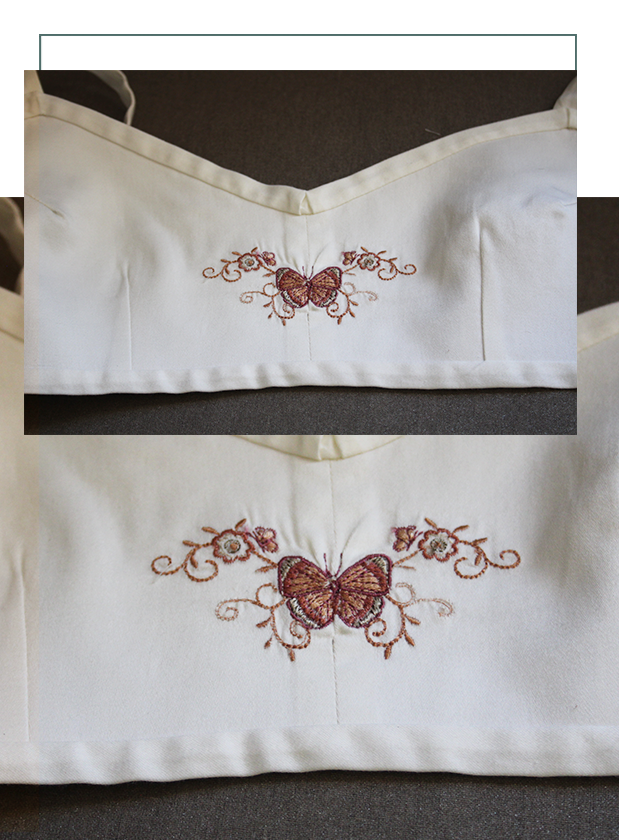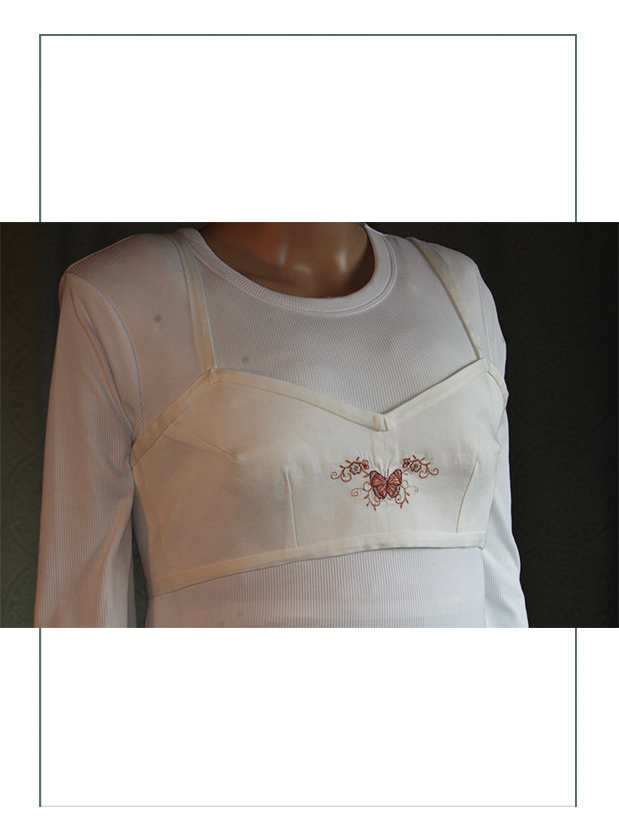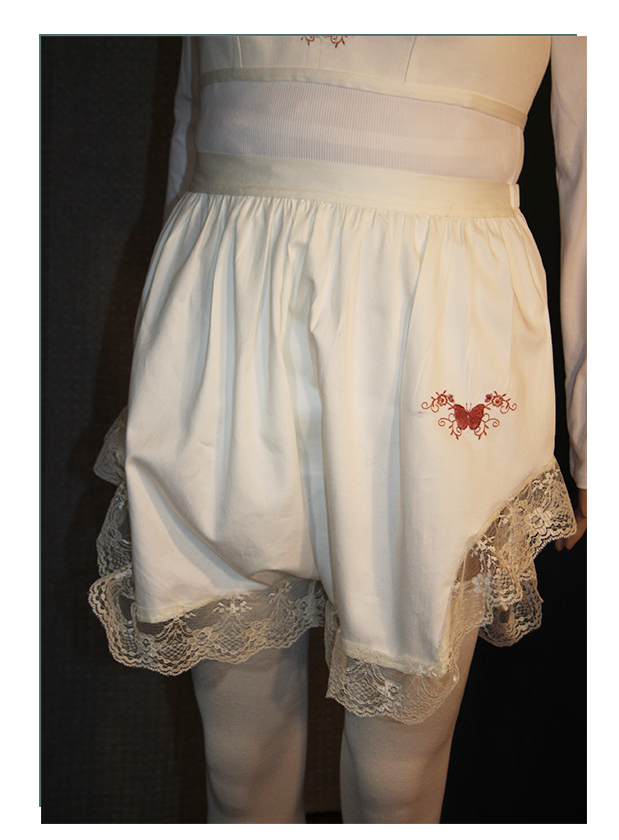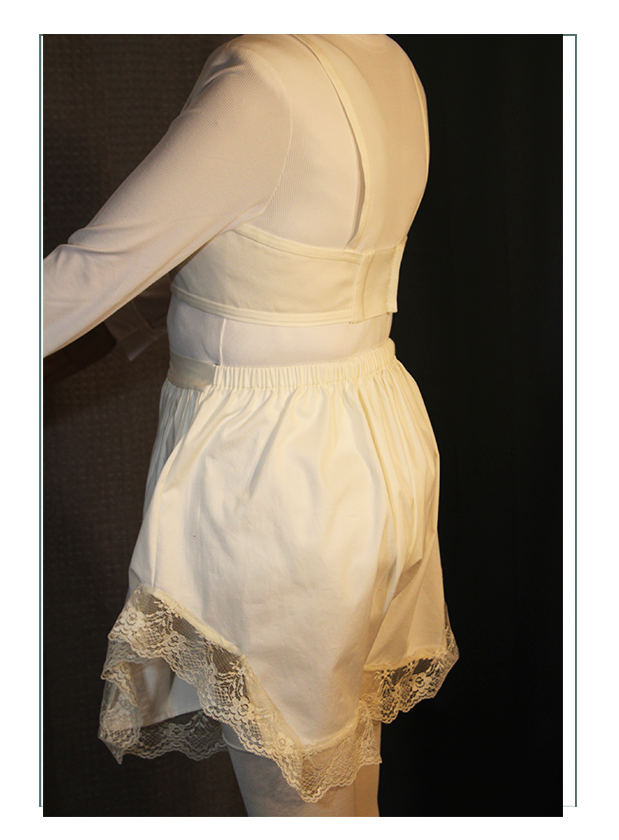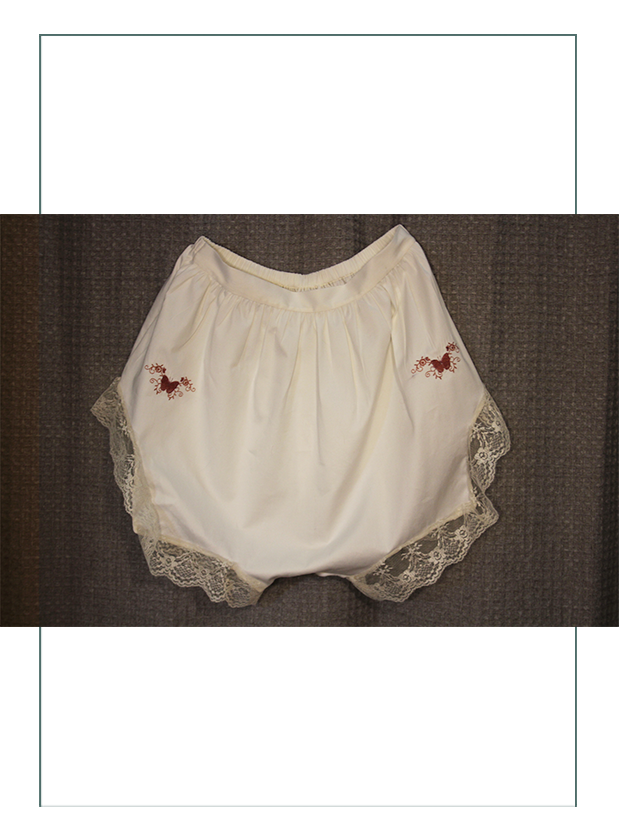 Cotton Slip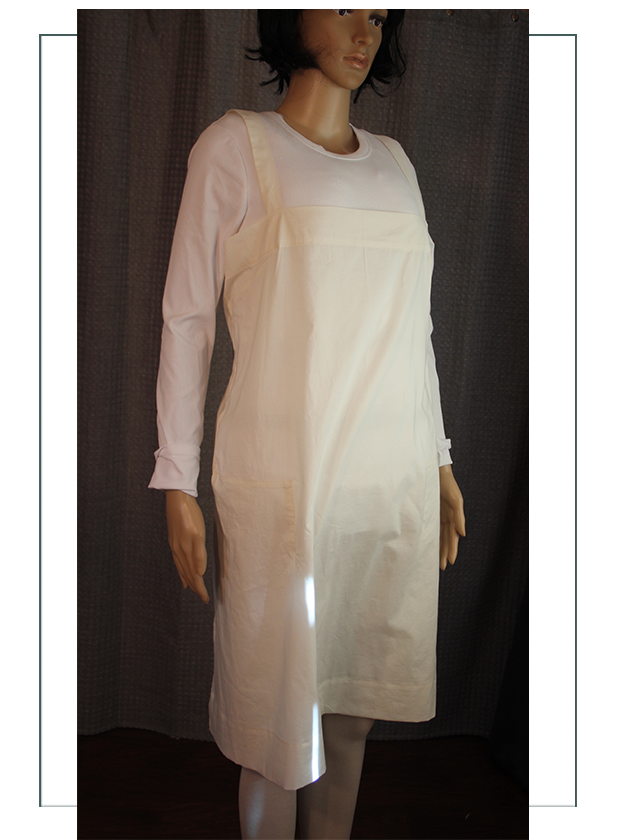 A slip was not part of the original proposal, but in developing the bra and panties, it became apparent with our plan to make a wool garment, the heavier fabrics would need something with more stiffness and body to hold the silhouette of what is somewhat "floppy" fabric.
This 100% cotton slip would have been worn INSTEAD of the bra and panties for daring young women like "flappers".  In this case it's a layer for modesty.
As with all the vintage patterns, this one has the straight body with dropped waist.  the patterns are notorious for having no markings, no instructions, no sketches, and no directions or photos.  Basically, there is no way to locate where the waist is supposed to lay for a given size of woman.  We made this somewhat as an experiment in the construction methods before cutting into the more expensive projects.
What we discovered was that EVERY dress, undergarment, jacket, etc. in this era is made with a long tubular body of some sort, attached somewhere in the middle of the rear end to a skirt – and that skirt ALWAYS has pleating, or gathers, or enough fullness that a woman can move and walk.  Without the fullness right below the dropped waist, there would be no way she could sit or stand or move around.  As it is, she has full mobility.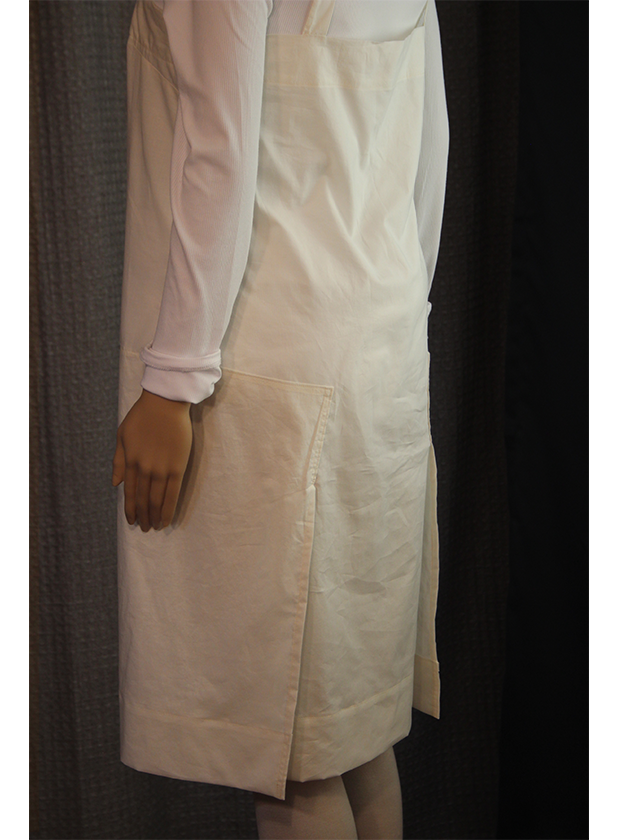 The challenge that brought though is, how is that JUNCTION constructed?  One is going from a straight tube into big fullness.  On this, one of the simplest designs of the era which is seen in girls' dresses in particular, there are giant "flaps" in front and back that are cut out of the same piece of fabric as the tubular body.  This makes for a difficult joining at the 90 degree angle junction.  We think that's the reason there were so many bows and sashes and laces and such "stuck" on almost every garment at that junction – it's nearly impossible to make that clean and neat and pretty.  It's much easier to make it messy and cover with a little fan of lace.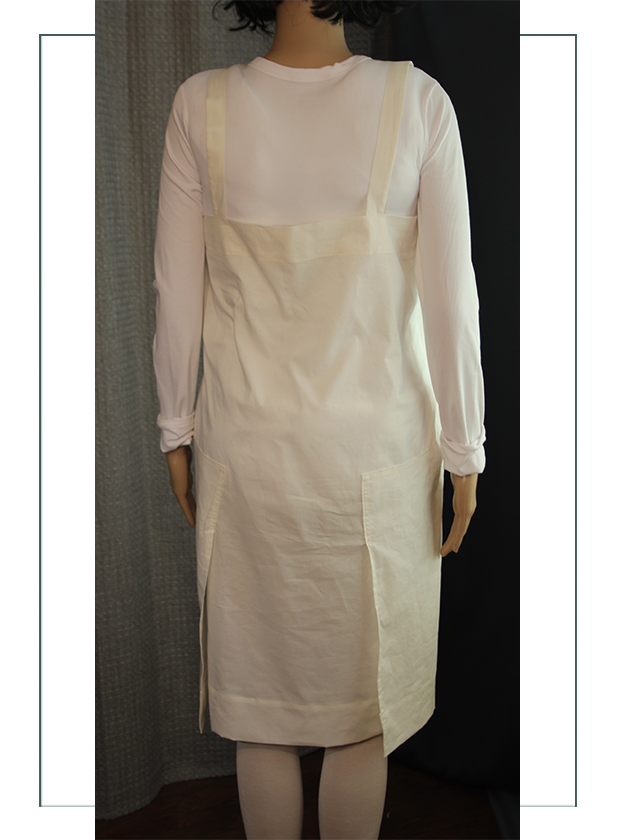 This we left alone though, as it is a freebie and an experiment.  It worked really well for the intended purpose of keeping the floppy fabrics straight, and providing modesty.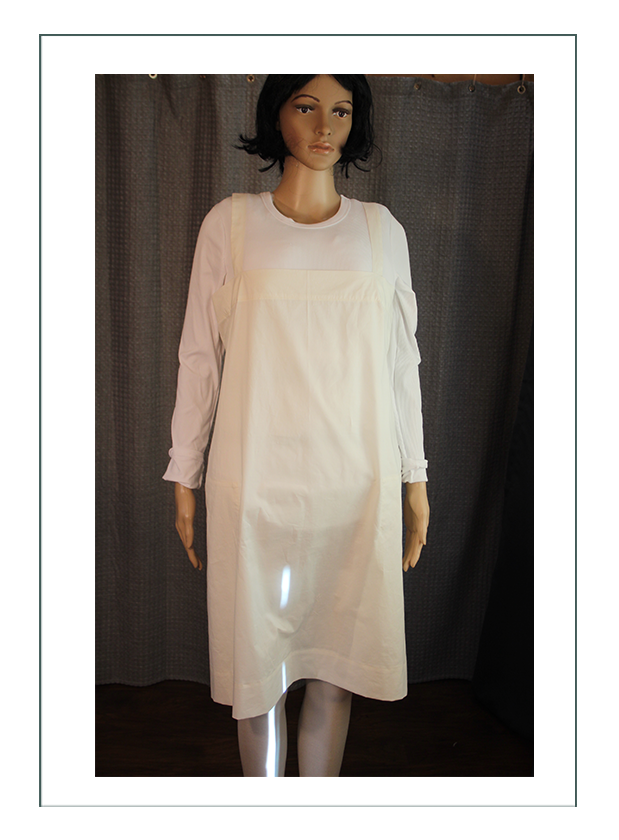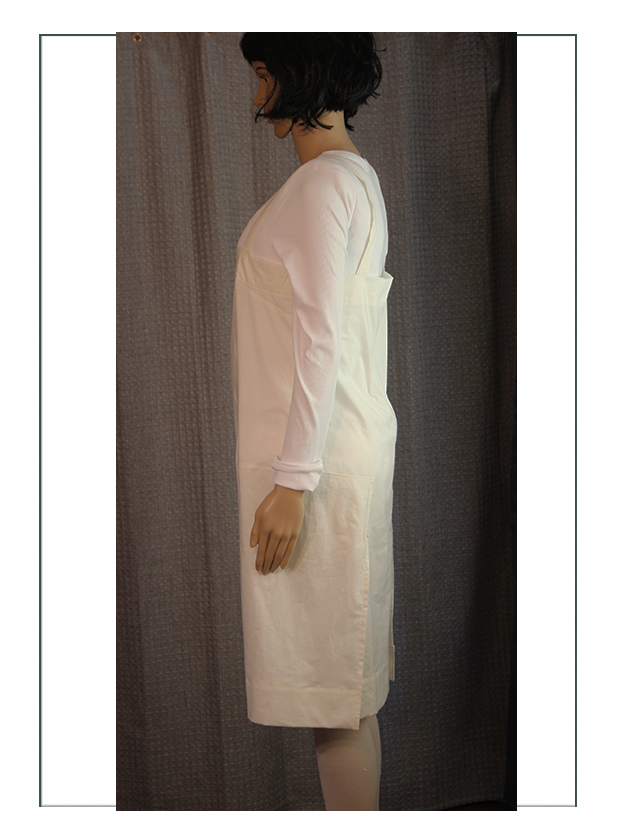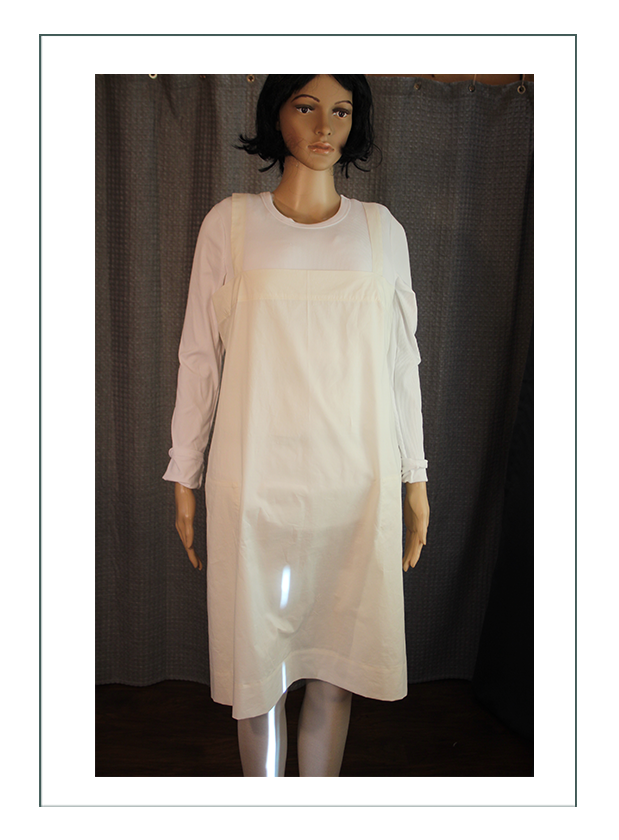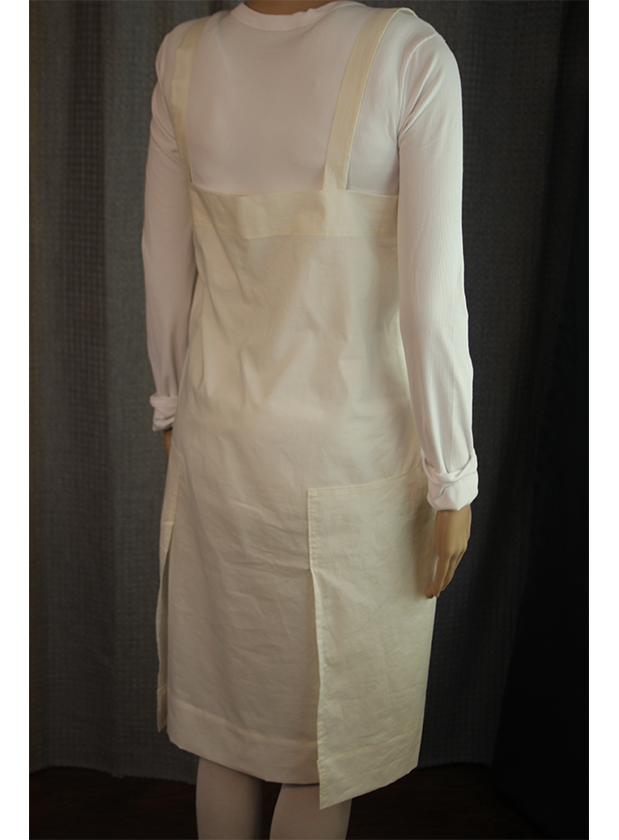 Dress & Scarf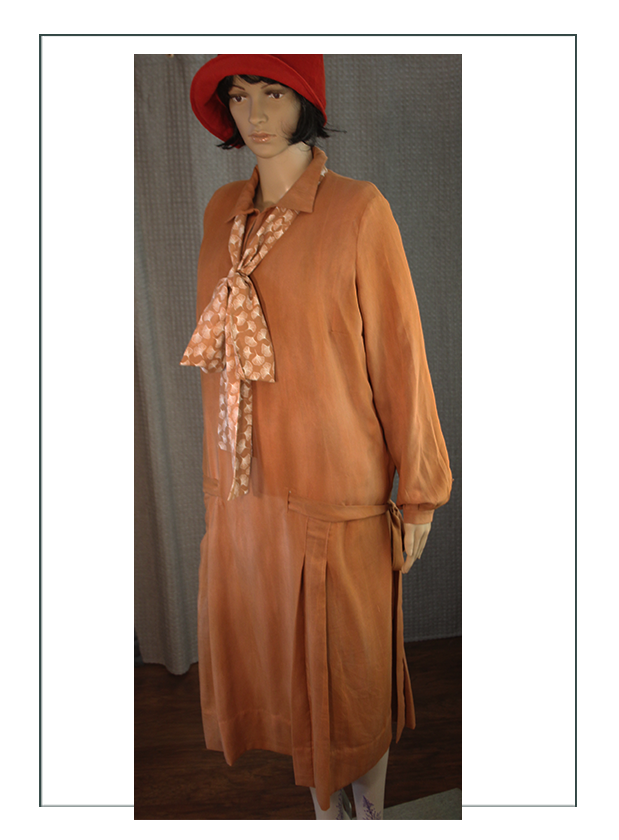 The sailor suit was a high fashion favorite in the 1920's decade for women, boys, and girls.  Very young boys and girls wore a shirt with breeches or skirts, and women wore something like this.  In these photos, we see Queen Victoria of England's daughter, Princess Beatrice, with her daughters (from Spain) in almost exact versions of what we have built.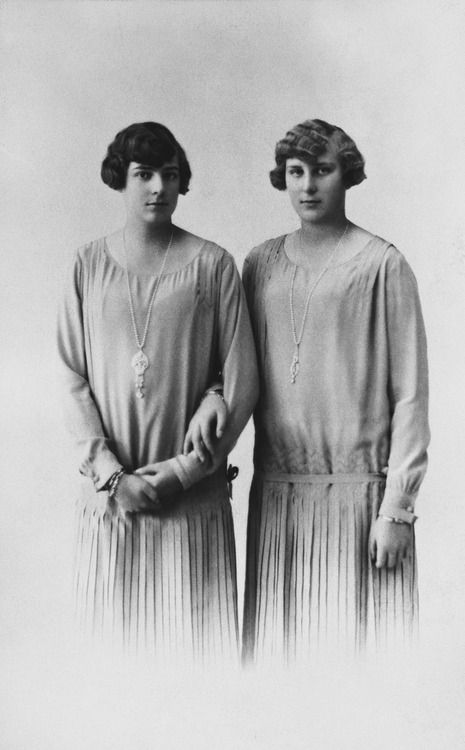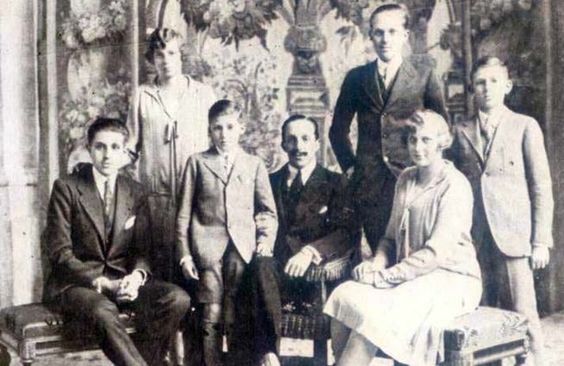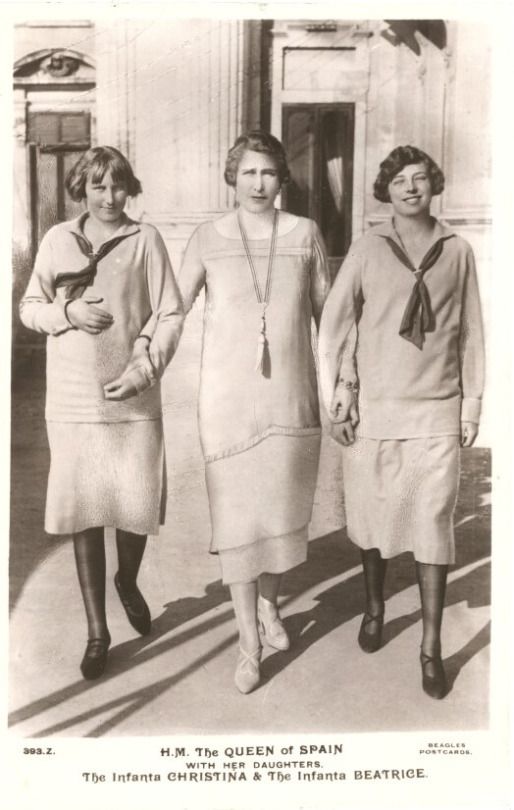 The drapey fabric and muted, natural colors is the key.  While there were different necklines, the neckscarf or tie was the most dominant.  In our version, we use an authentic sewing pattern again, which features an open and soft collar with long scarf.  This could be worn with a scarf in contrast too for interest.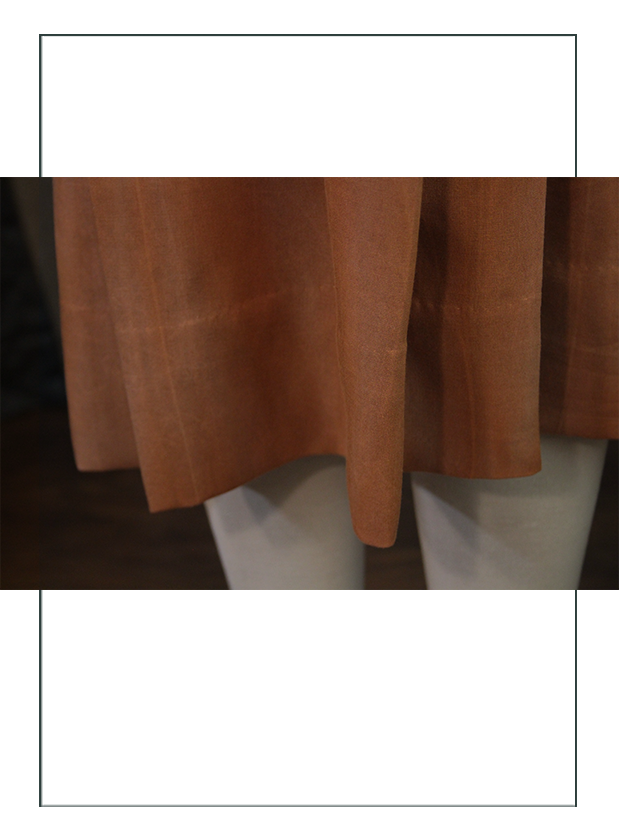 Our dress features a pleated section in front so walking is possible, plus an integrated belt at the low waist.  This ties below the "bum" in back and to the side for dramatic flair.  Overall, this makes the wearer look very young.  The fabric is hand dyed rayon challis.  It is not a commonly used fabric these days, as it can water spot, but it irons a nice crisp line for pleating and waistlines, while being very loose and draping.  This type of fabric is key to the long silhouette because the weight of the pleats and belts, and intentional very large and heavy hem, pull the dress down by gravity, and keep it from riding up on the body.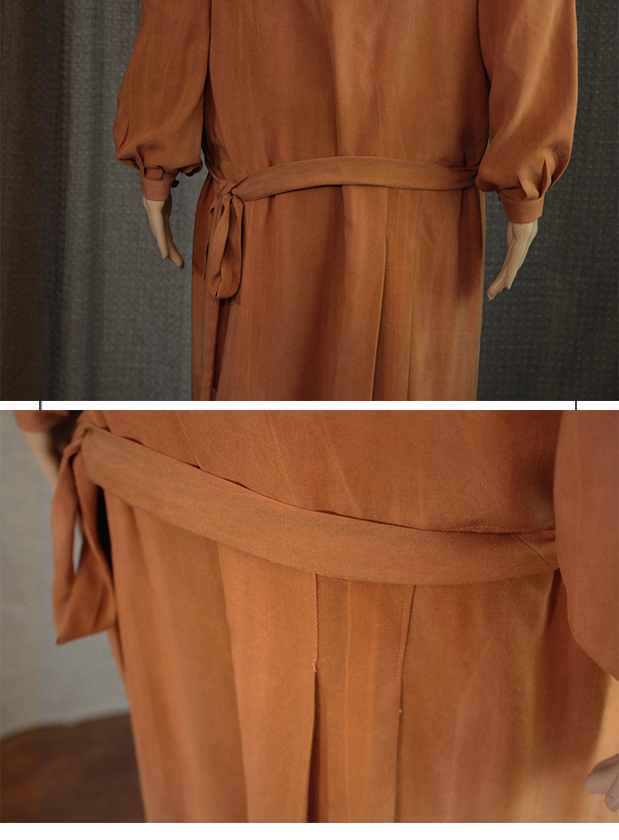 While outwardly appearing very simple, classy, and tailored, it is actually very difficult to build and to fit, because the line is only maintained by keeping it tight over the bum, yet loose enough to slide down the body.  That's why you see quite a bit of fullness in the upper body of the design.  It has vintage buttons that look like tiny chocolate candies.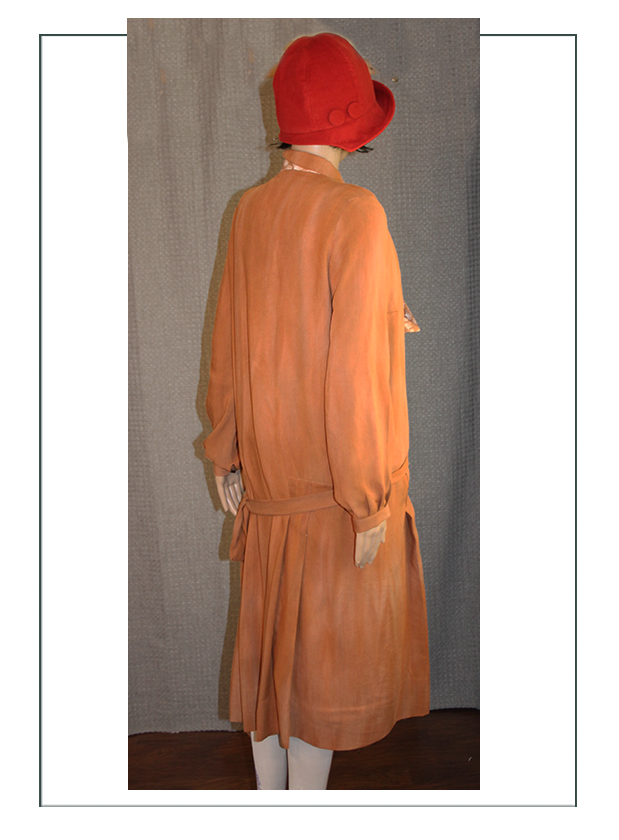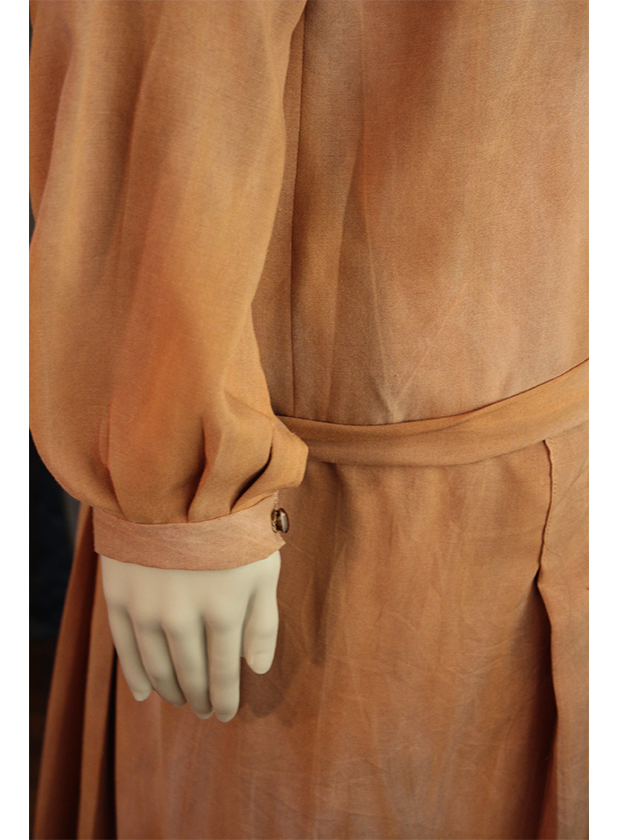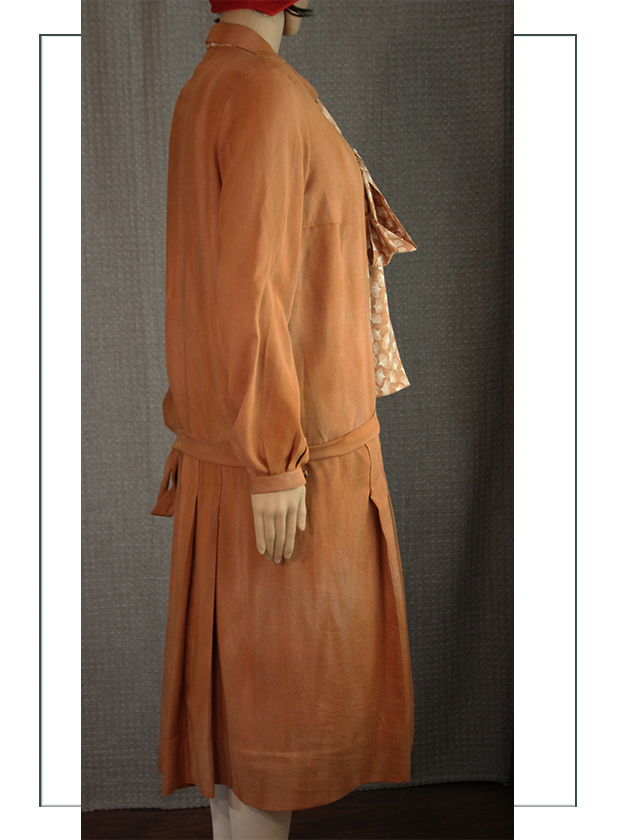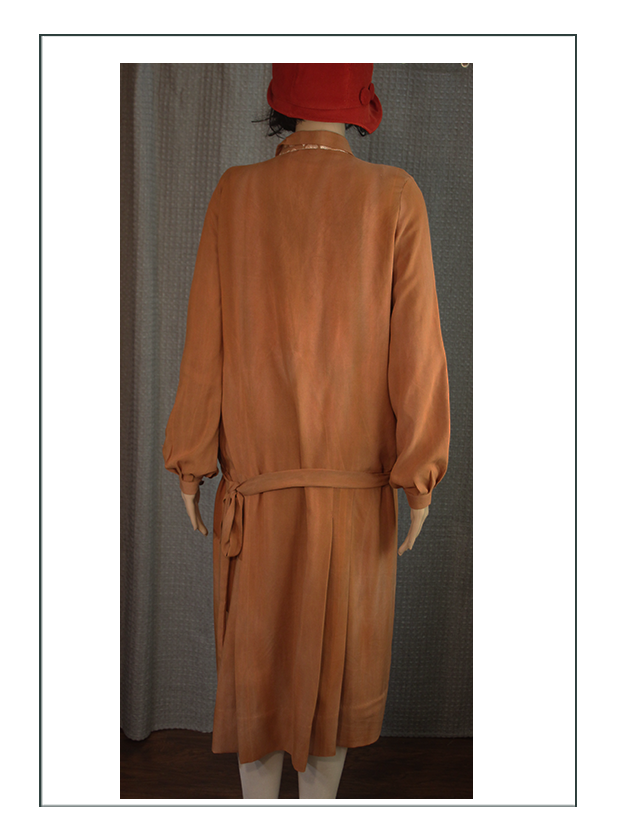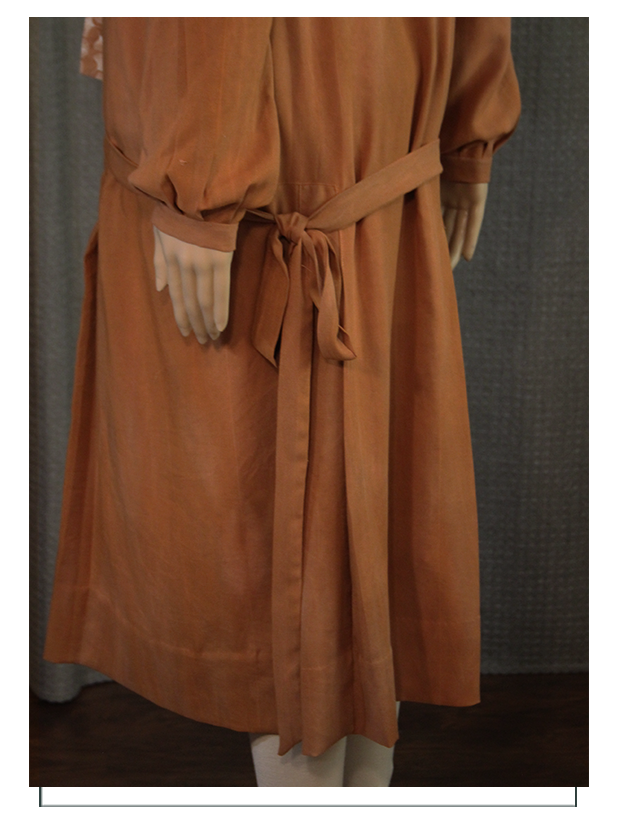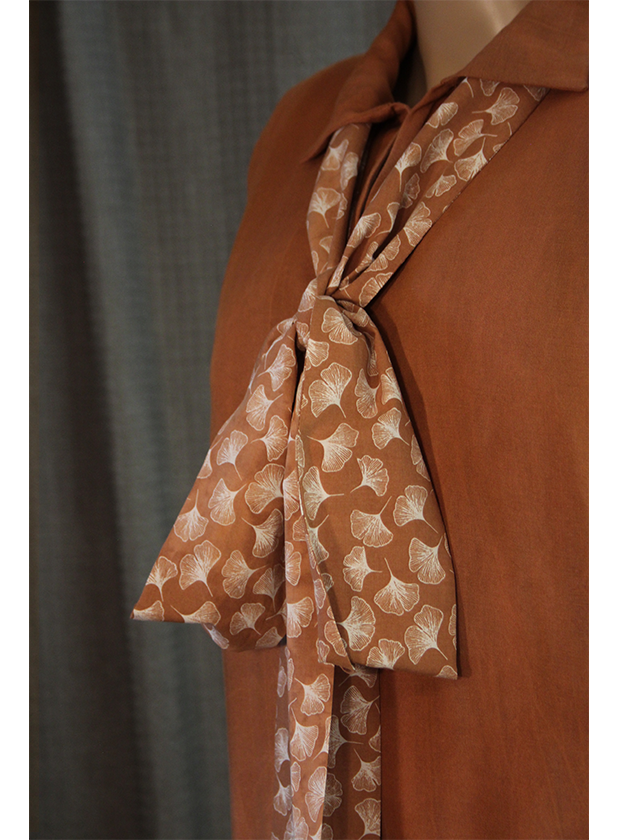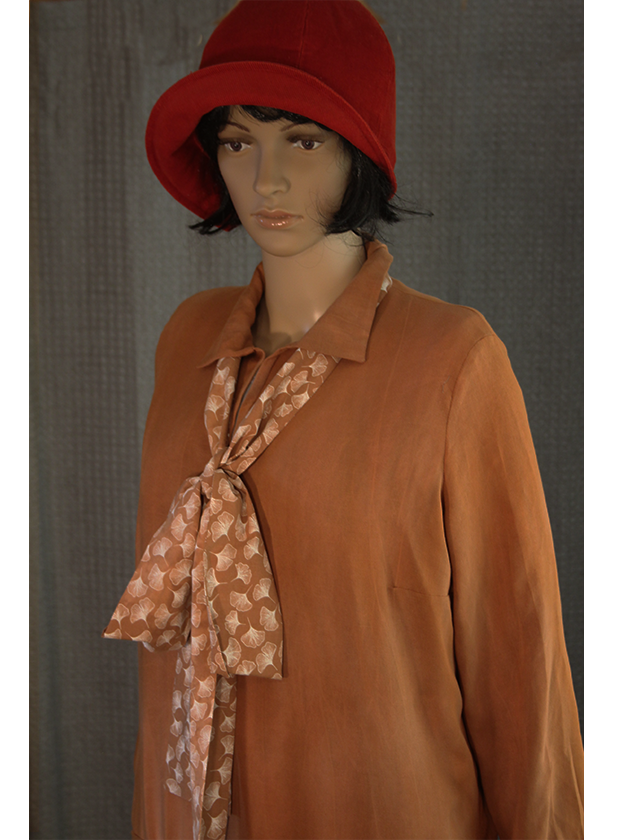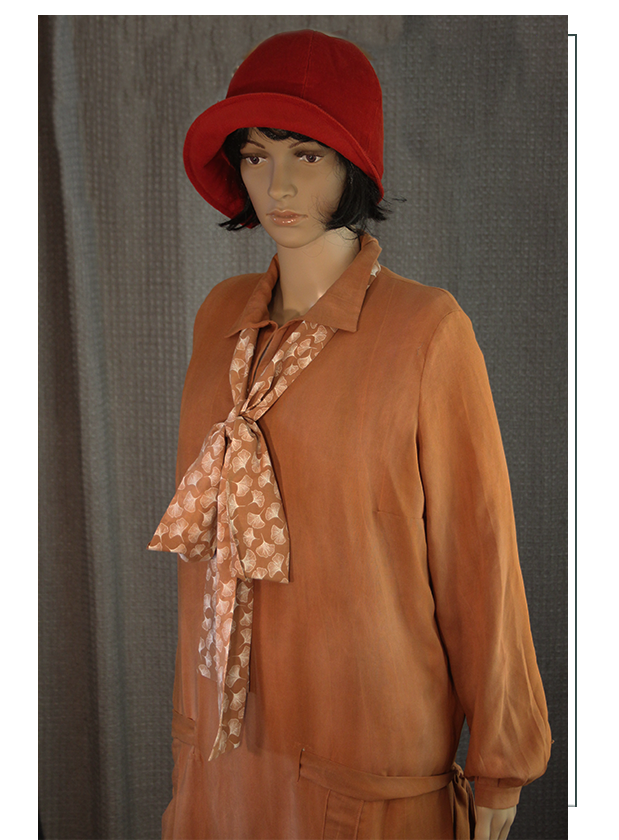 Cloche Hat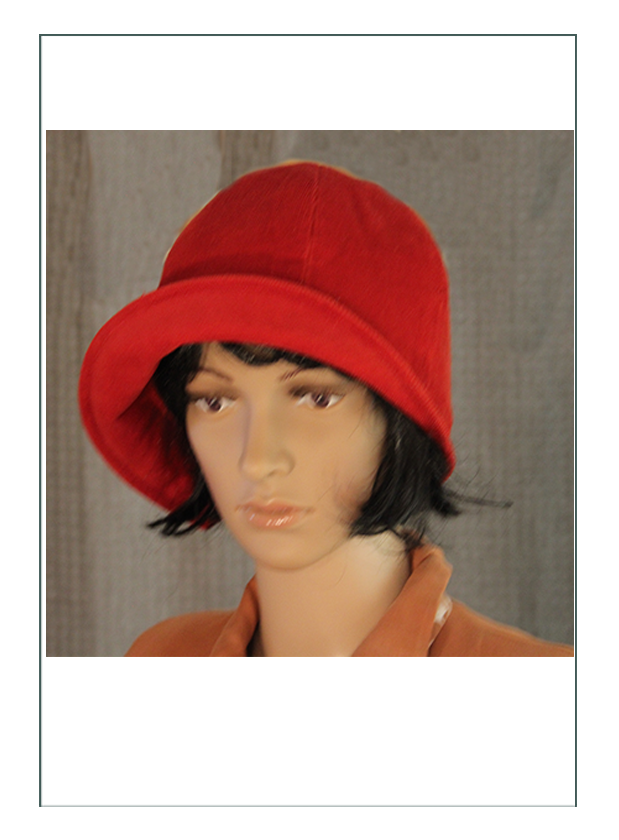 There are many ways the cloche ("bell" in French) is worn and decorated.  They were always one size too big so they could go fully over the head, had a brim that could roll up or down, and had some sort of interest.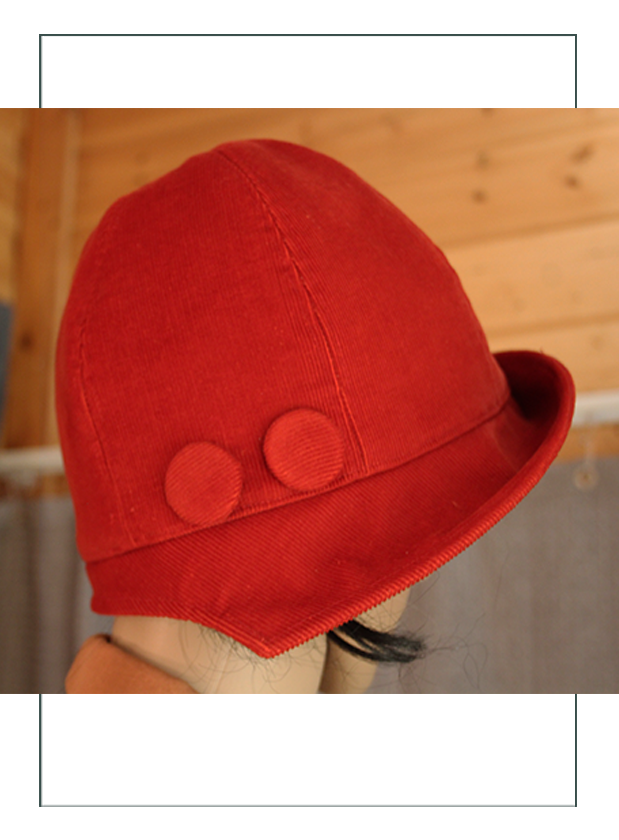 This one is "tomato red" vintage corduroy from the 1940's.  It is fully lined with the same fabric, and features two big self-fabric buttons.  The brim is wired to keep the smooth lines, as it is designed to be very simple and tailored.  It will also be warm to wear walking to school.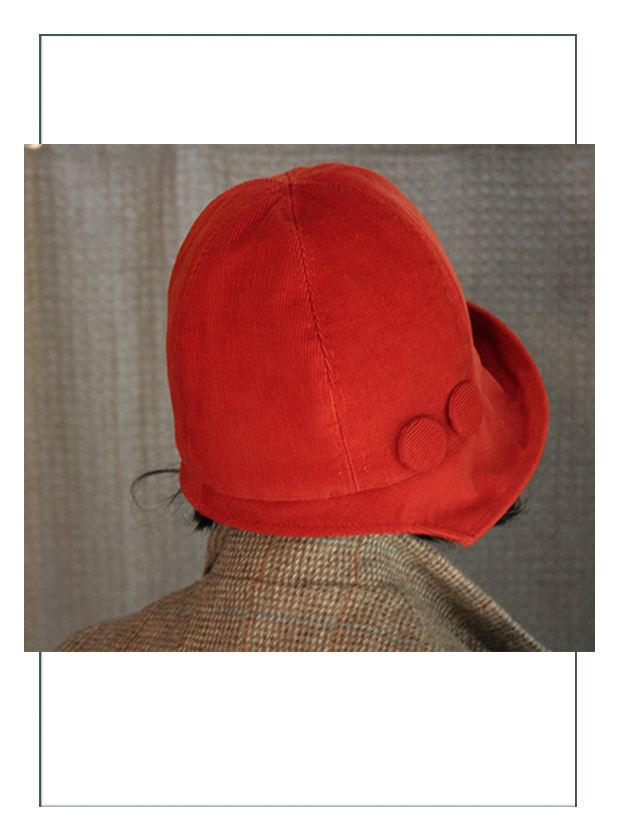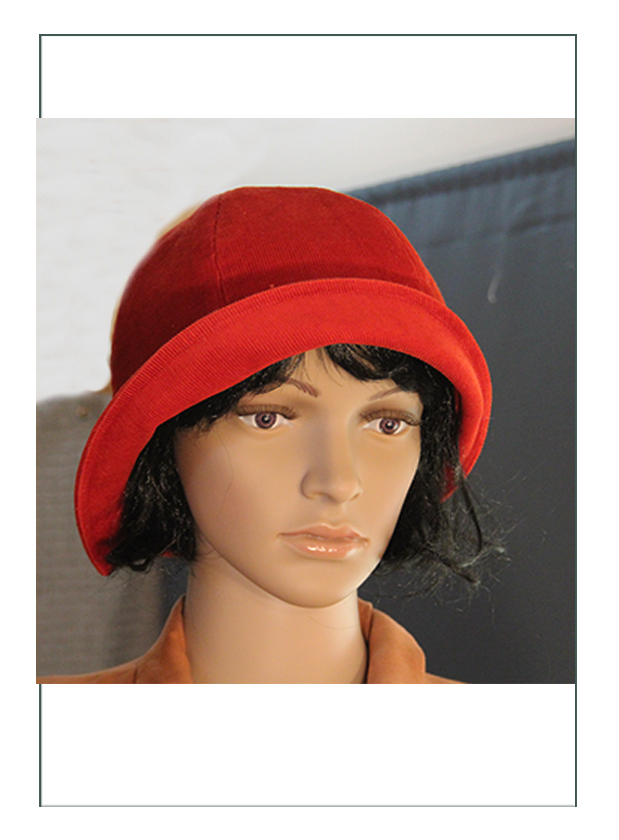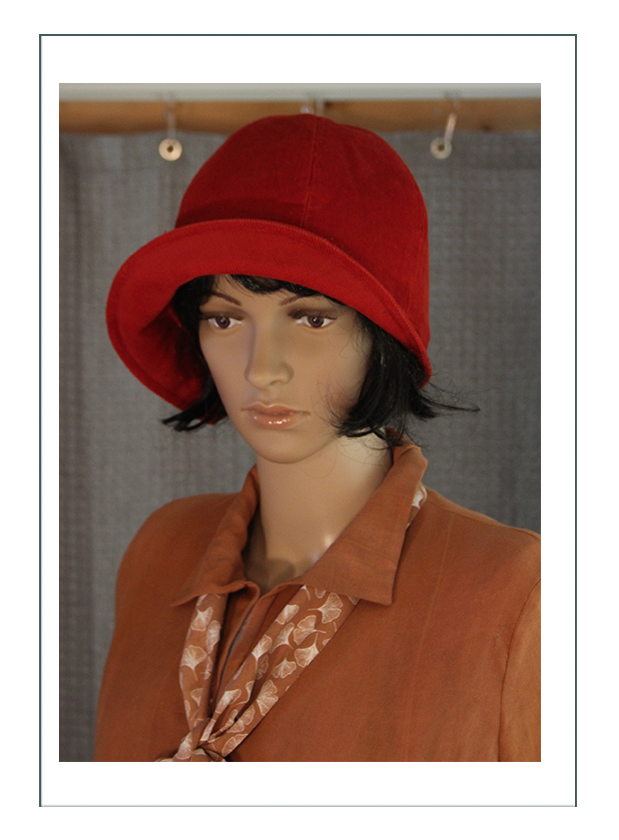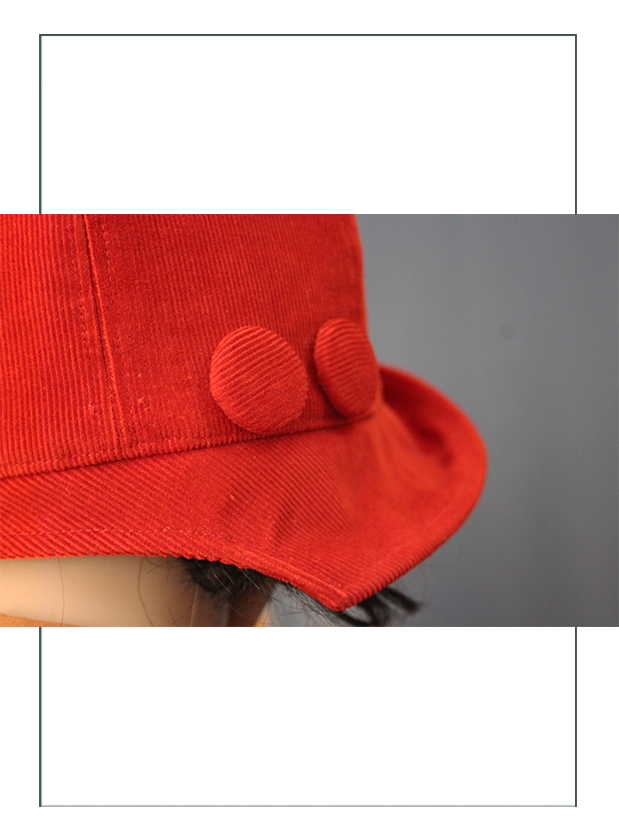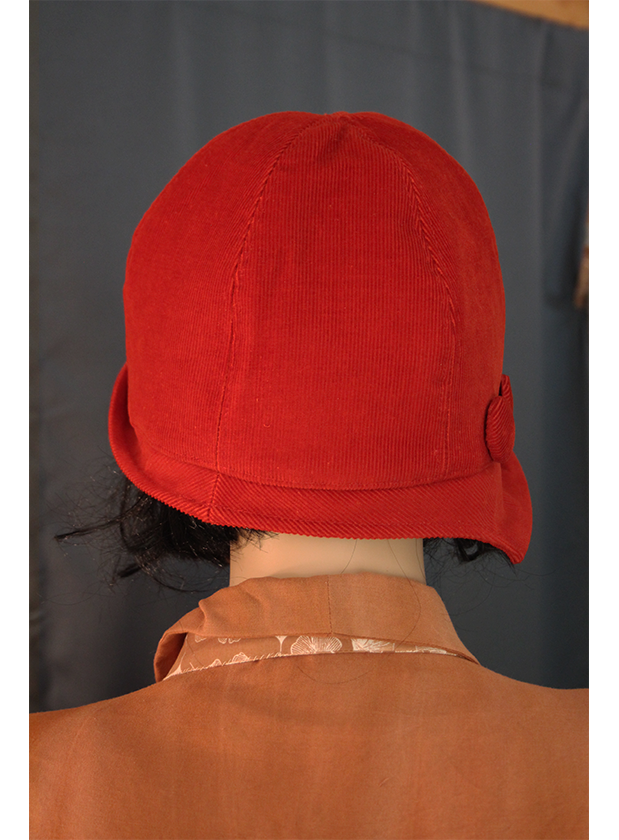 Wool Jacket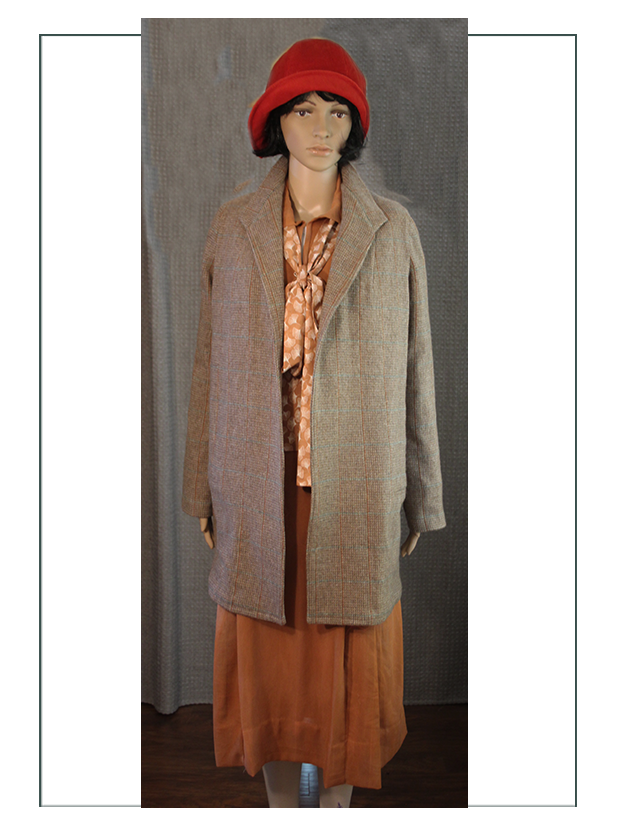 Again, clean, classy, tailored, and simple is the objective of this key mix and match piece.  It is in this ensemble because the depiction is for the school year starting in the fall, which can get chilly.  Women of this era didn't wear much more than this unless it was quite extreme weather, so we anticipate this will be worn coming and going from school.
It is 100% wool vintage fabric from the 1970's.  The design features a fairly floppy collar that is designed to be worn up in the back, and to lay flat in the front to emphasize the long lines of the silhouette.  Sleeves are very narrow, as is typical of most authentic and vintage patterns such as the one used for this.  As with all 1920's patterns, this came with few to no instructions, no sketches, and no marks on the pattern.  They must have been great seamstresses to build everything out of their heads then.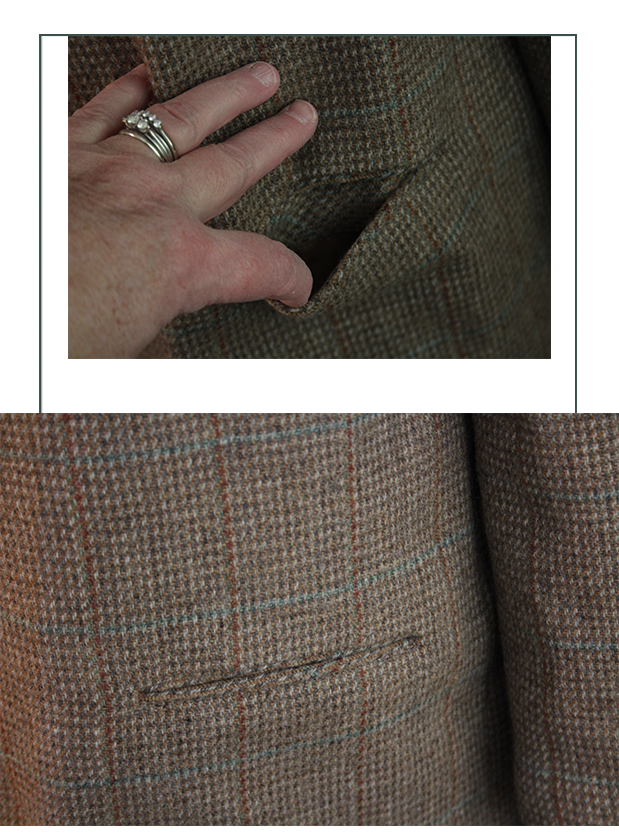 While this feels like it should have a belt tie low on the bodice, but that is not in the design.  It is supposed to hang long and loose under the weight of the fabric.  There are tailored pockets, and it is fully lined with a 100% cotton sateen including the sleeves.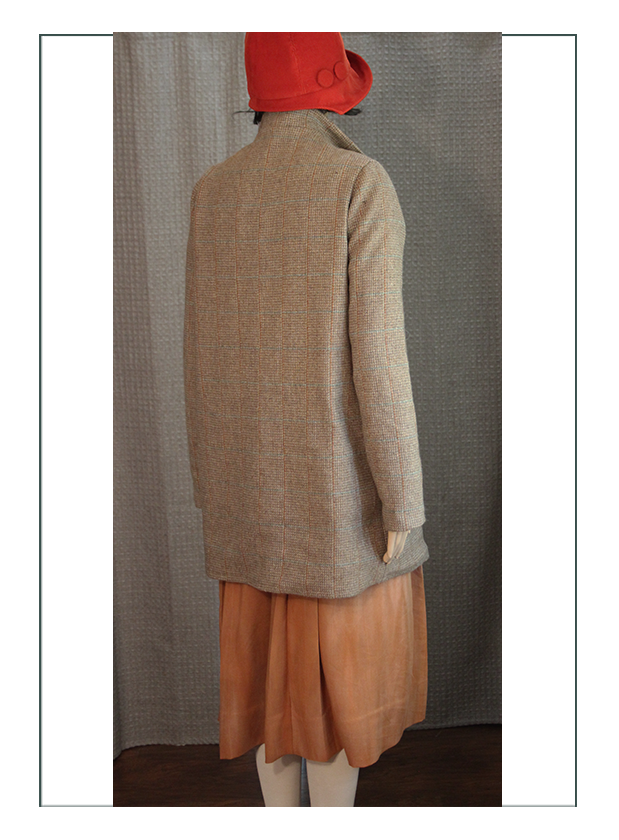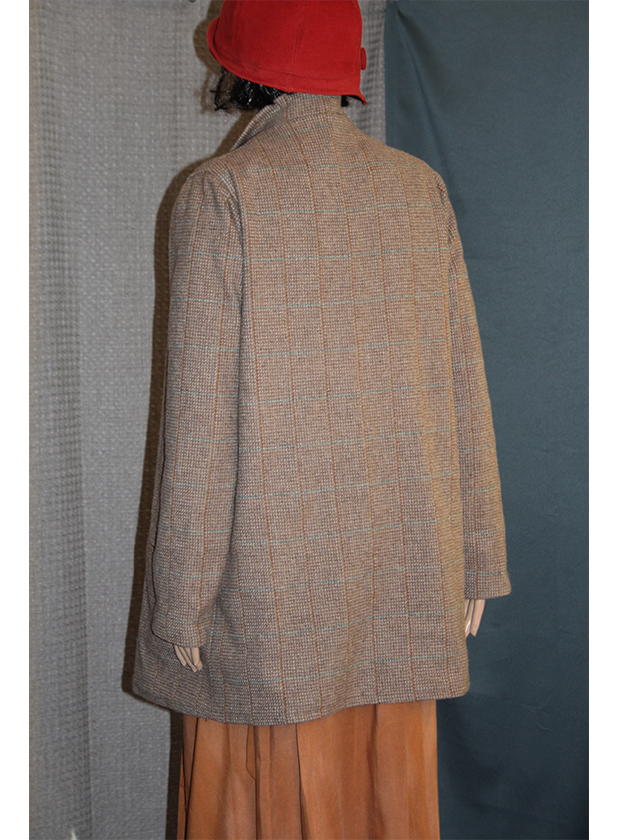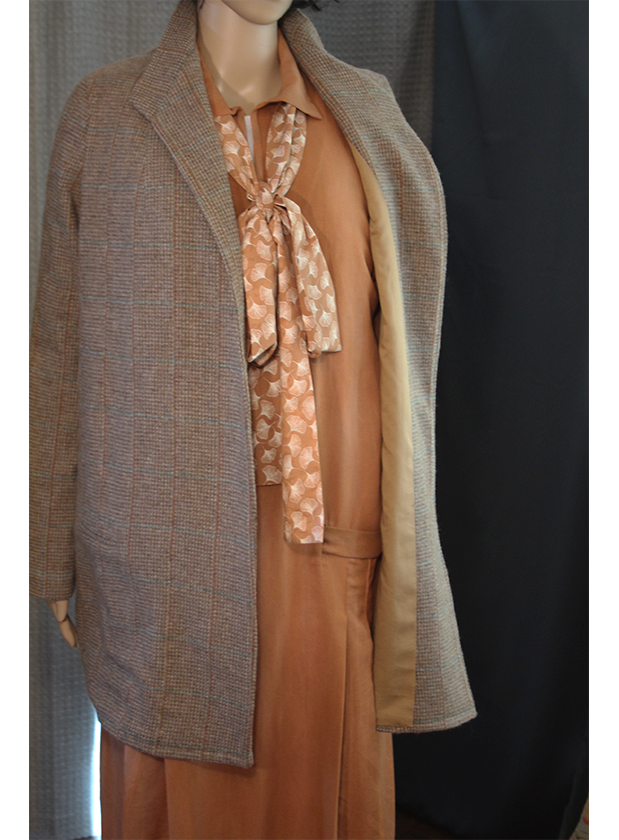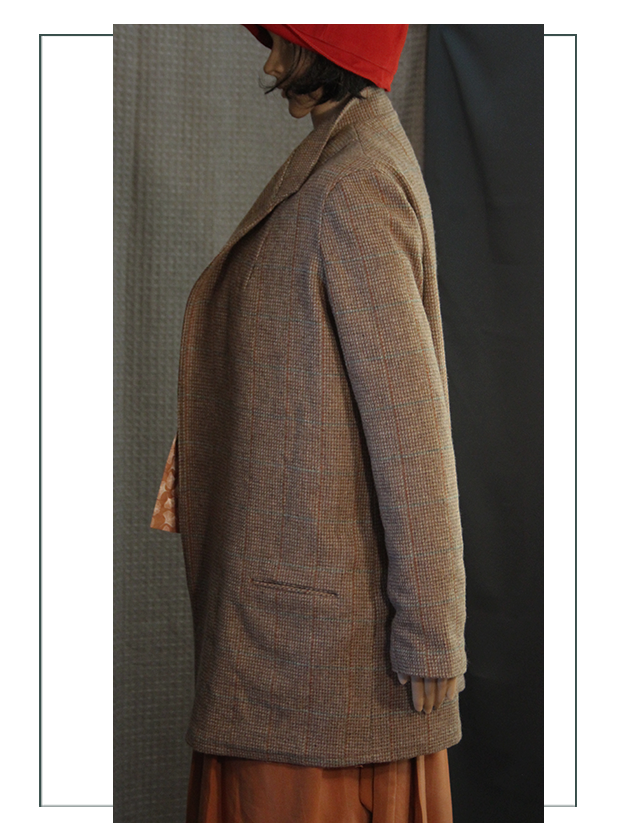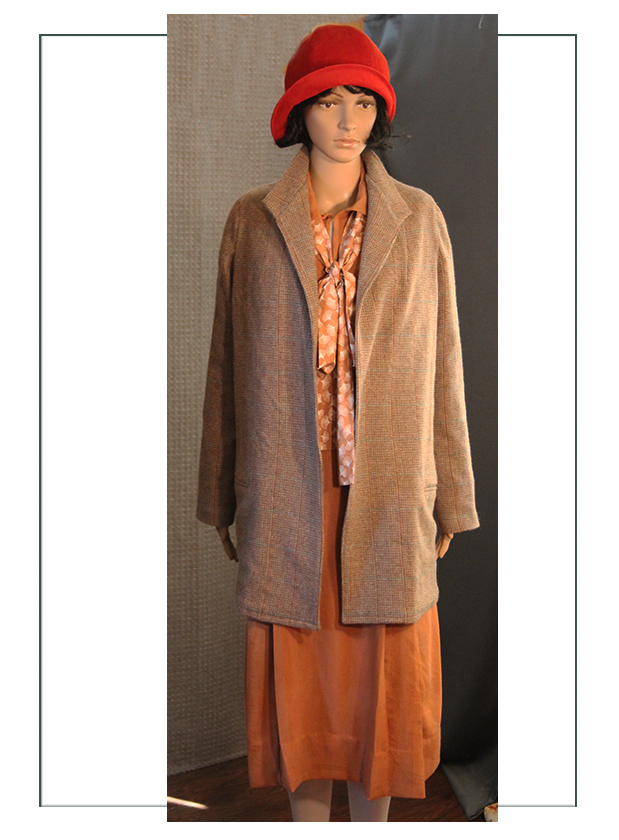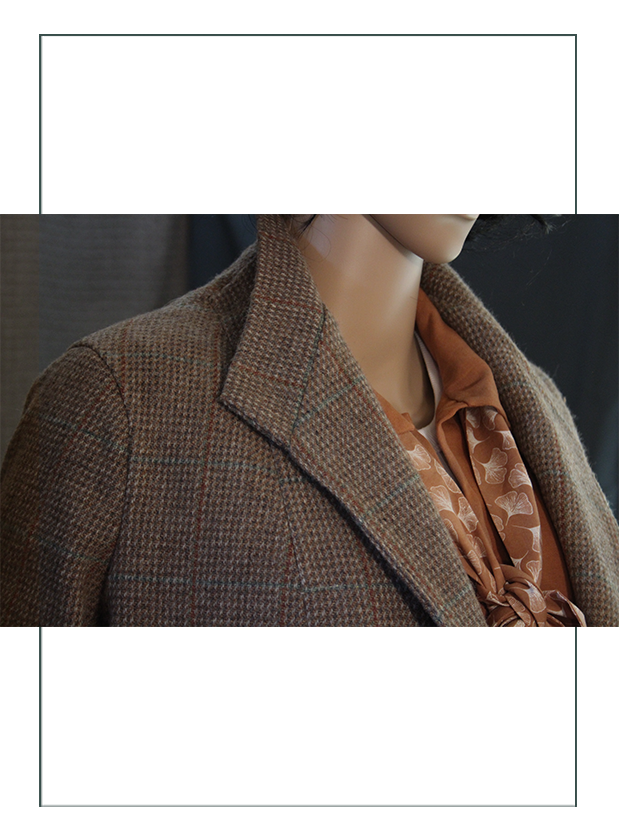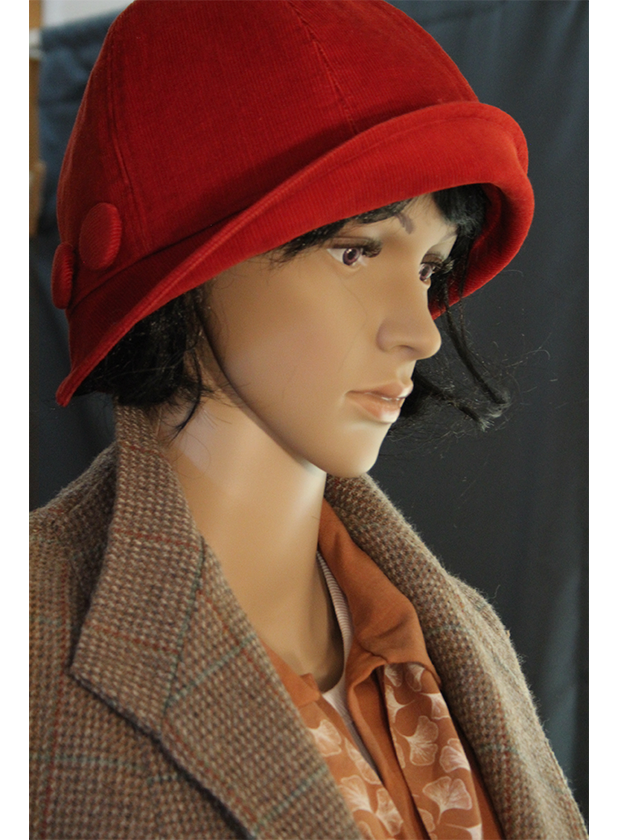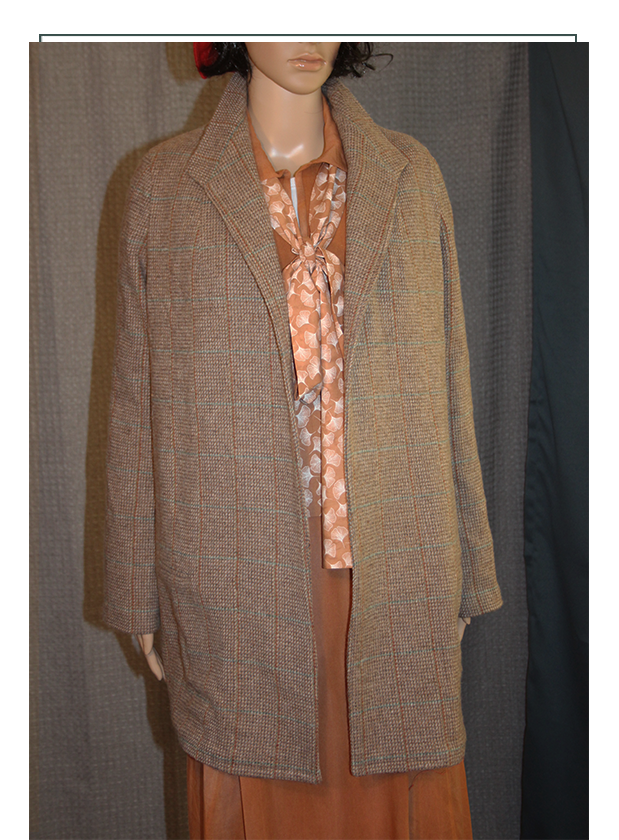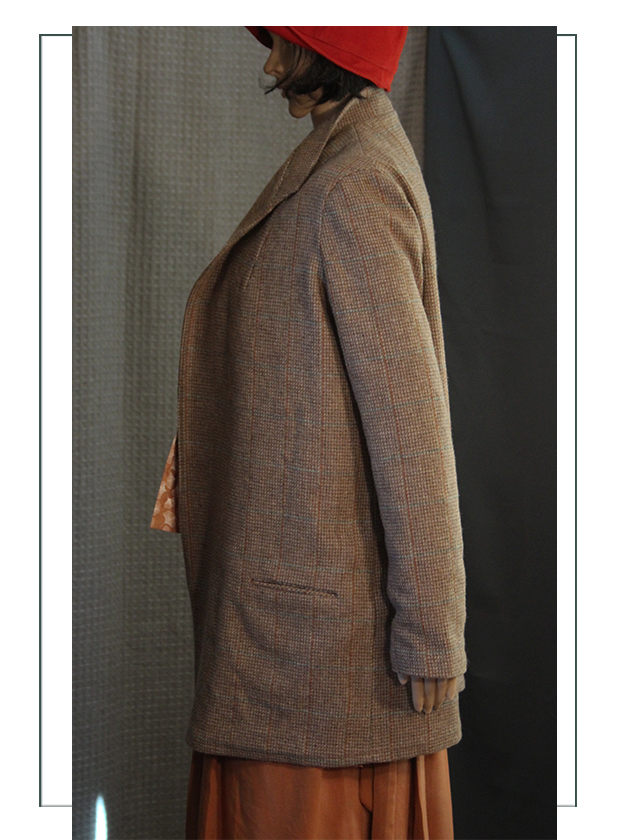 The jacket's real coordinate is the pleated camisole-skirt which makes a complete and professional suit.  As with the dress, there is a thick and heavy hem intentionally placed to pull the garment down with gravity.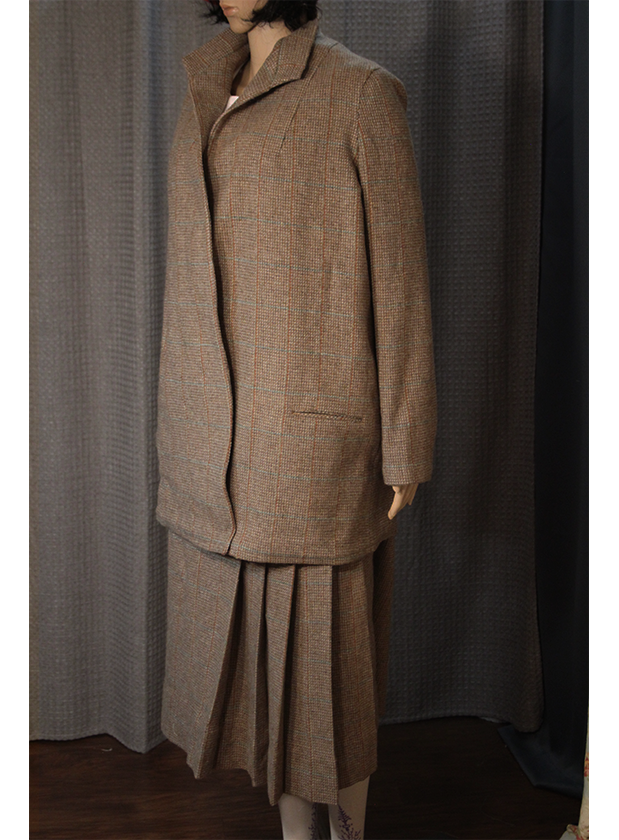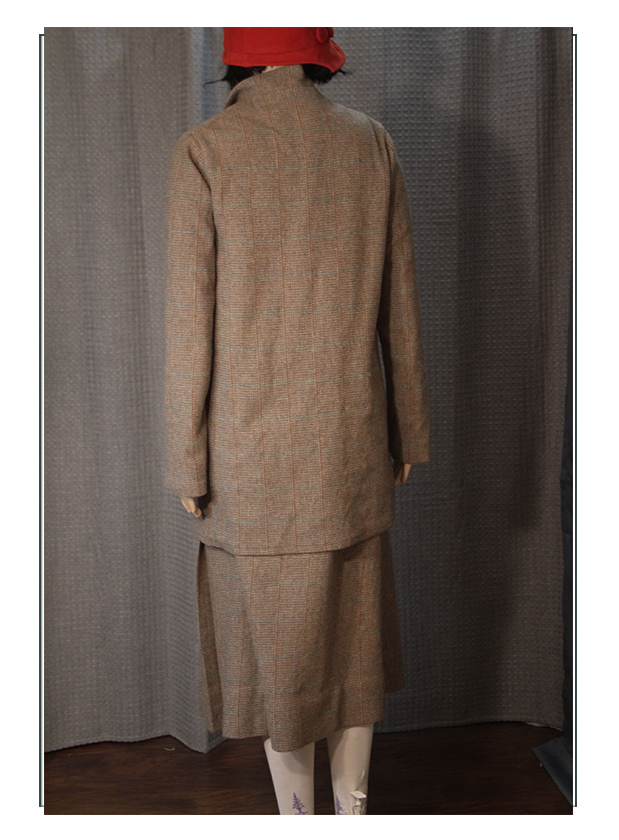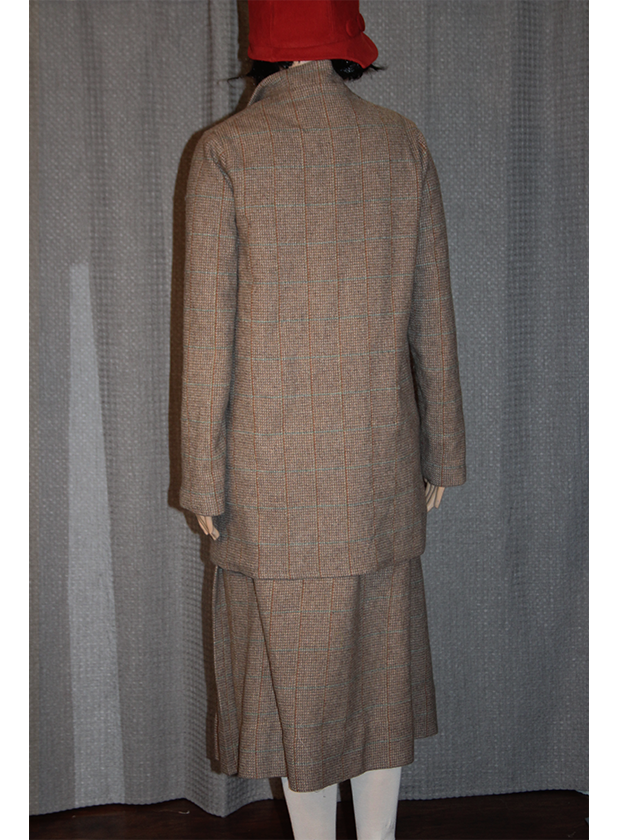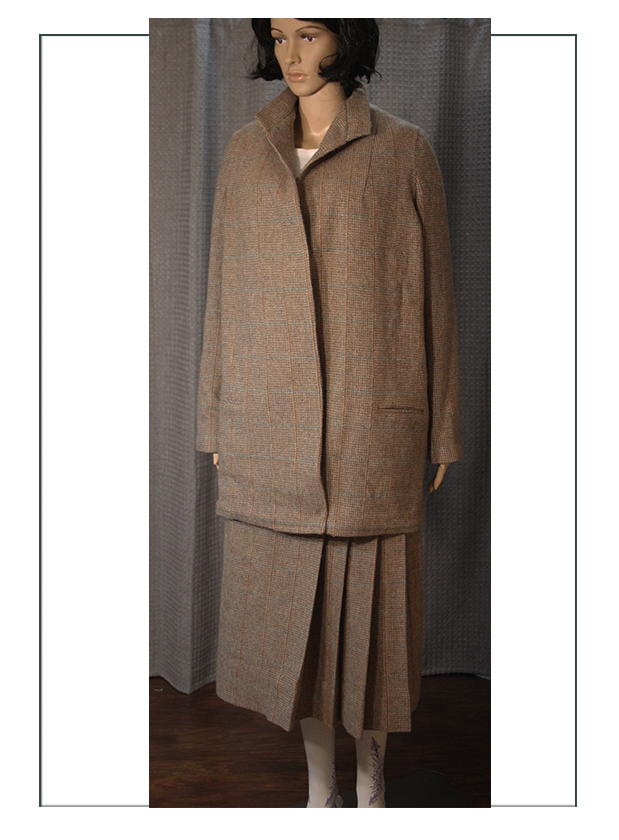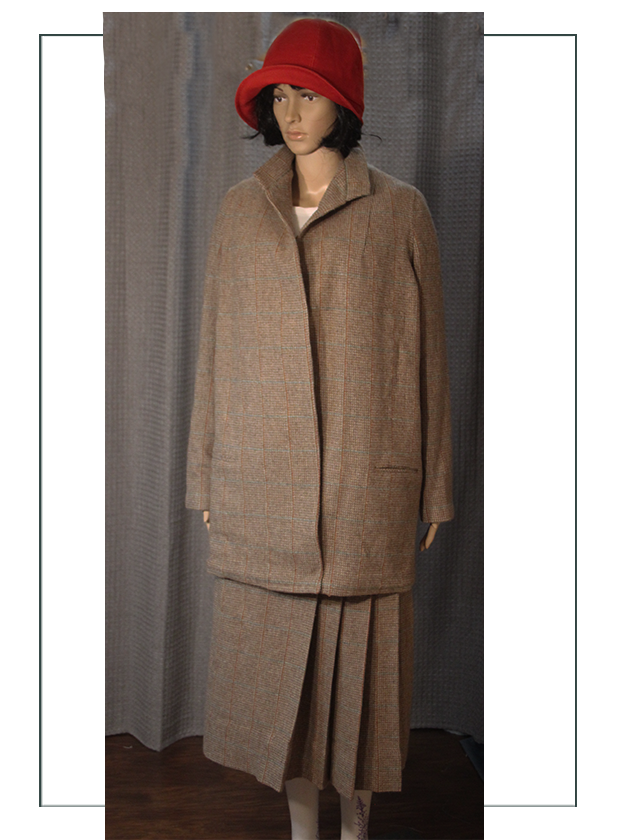 Wool & Batiste Camisole-Skirt combination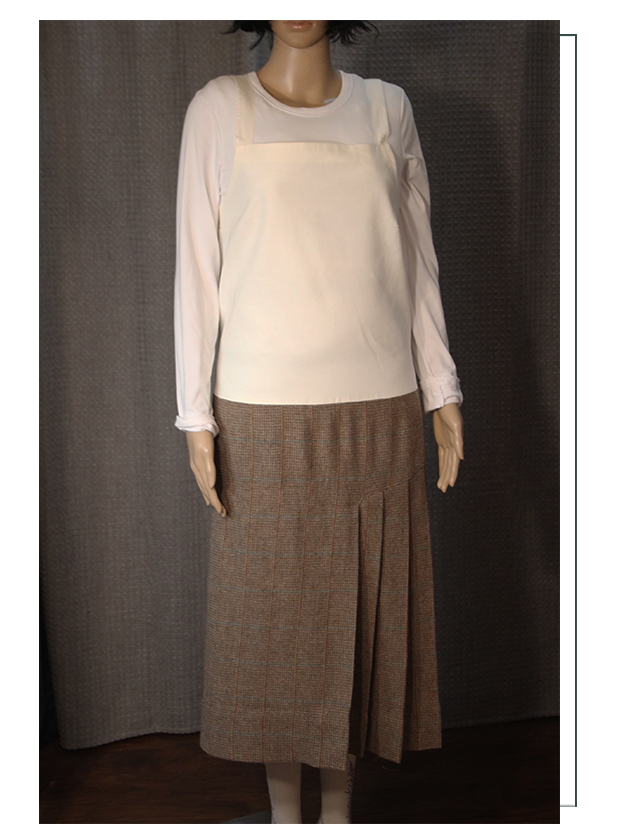 A very typical dress casual and way to stretch the budget, was to have a basic skirt connected to a plain colored camisole top as an "all-in-one" combination reminiscent of the undergarments of the late 19th century.  They would then wear a variety of blouses over it which would have lace inserts or be sheer.  In many cases, women did not wear any other undergarments under this, but treated it as a camisole bra top.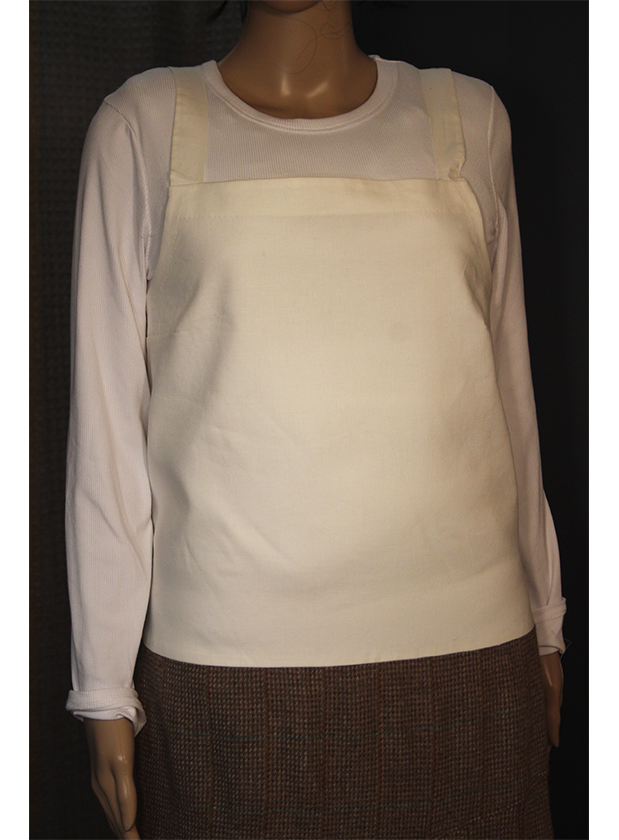 The color and fabric type and texture was the key to the success of this.  A fine fabric like silk would be nice under a sheer and lacey dress blouse, but something more durable and washable was needed for every day cottons or wools.
In this we have selected a 100% heritage cotton batiste because it has a very dense weave and is a quality and very comfortable fabric to wear as a bottom layer (the shirt shown on the mannequin is not part of the ensemble.  It is there to cover the padding on her to get the size of our teacher).  This is attached to a 100% wool plaid the same as the jacket.
This concept of mix and match was not new to historical fashion.  The 1880's did this quite a bit, although the bodice was more often not attached to the skirt.  Today we take forgranted skirt and tops or pants and tops being interchangeable, but one must remember prior to World War 1 when women entered the military and the workplace, only the rare or far western or rural woman would wear anything other than a skirt.
In the 1880's, they would wear the same skirt for everything, and switch bodices.  That is very much what we have here in the '20's.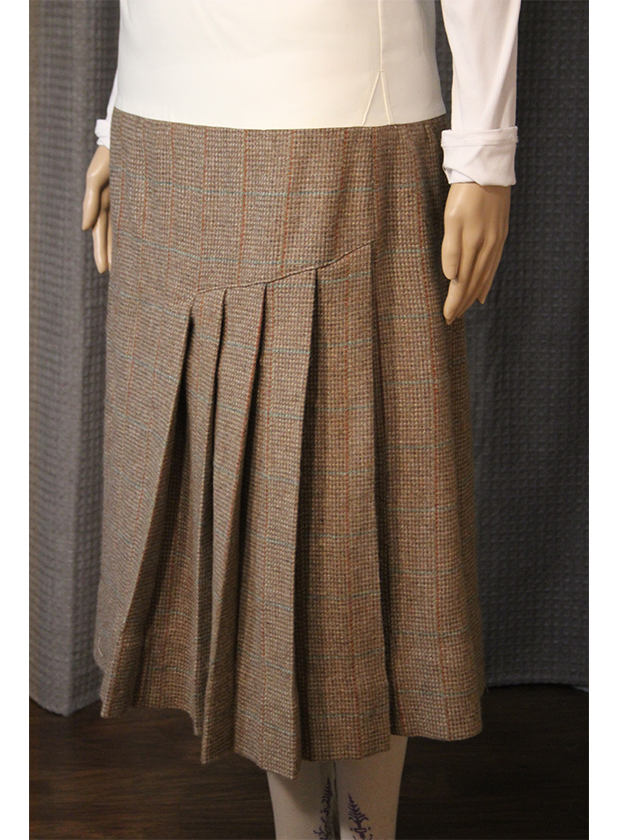 Note the low waistline of the day's fashionable silhouette, with pleating just in the key spot so the wearer can move and walk or sit down.  Placement of those pleats is key; too high and it can rip, but too low and she's hobbled like the 1910's skirts.
As with all the projects, this is built from a vintage pattern which had zero instructions and markings.  Understanding the pleating and junction of the side seams was difficult, as the center front pleat actually continues underneath the skirt to give full range of movement in the legs.
We also reinforced the joining between camisole and skirt because from experience, we know the heavy wool with the huge hem (again a heavy hem so it will drag the silhouette down) can sag over time.  This will be very durable, and even a little stiff, but it will keep its shape over time if the pleats are maintained through drycleaning.
As with all these projects, we are impressed that seamstresses of the 1920's could build these without any direction.  You can see here the beginning of the fashion that would be our mother's in the 1940's and 1950's, although the waistlines would drastically rise from this, the concept of the wool pleated skirt with underlay top would persist.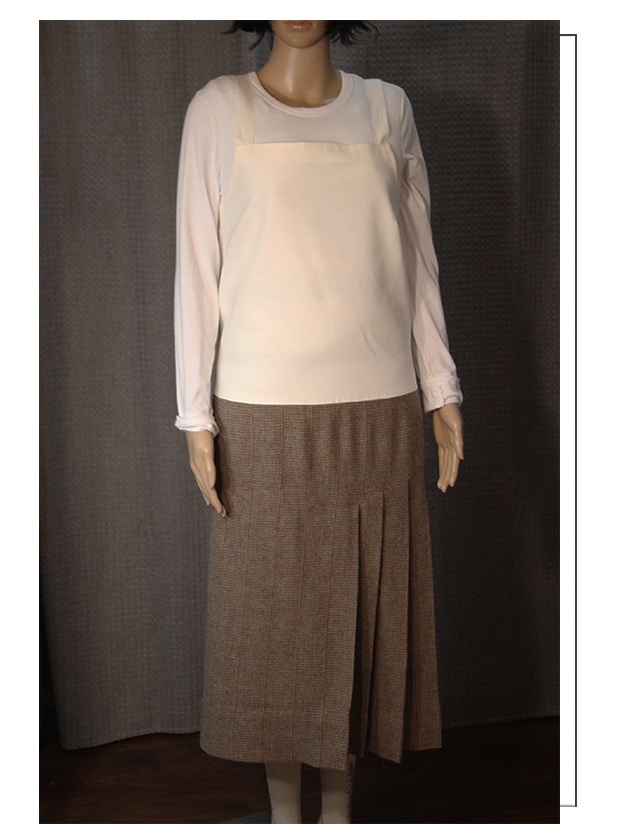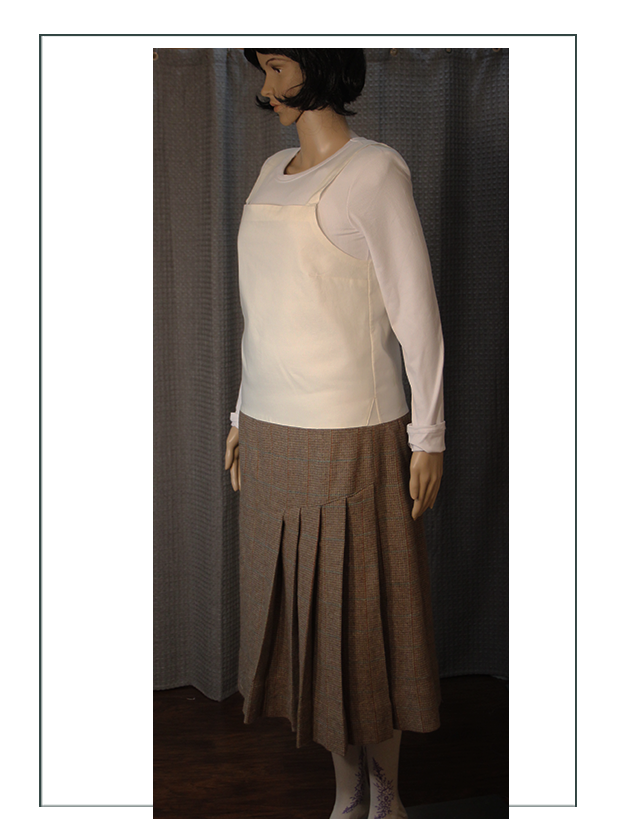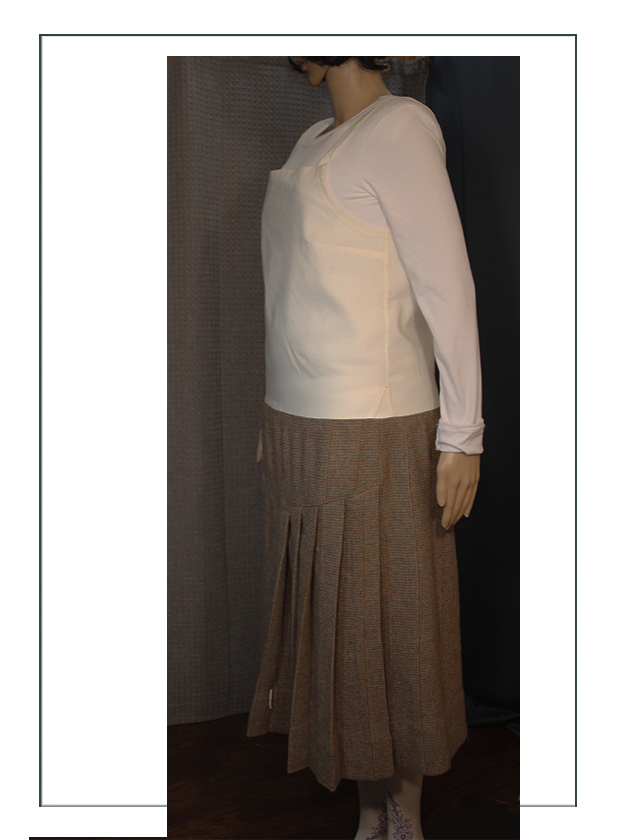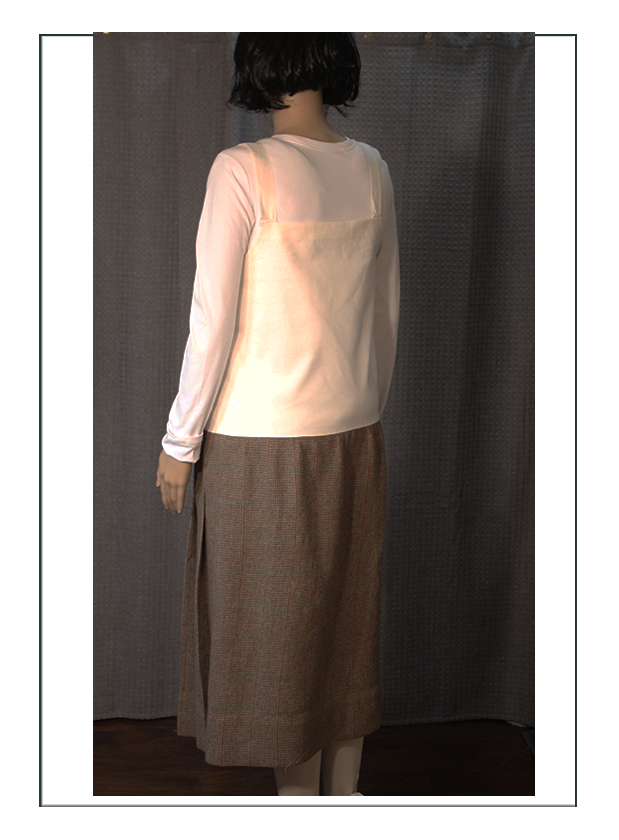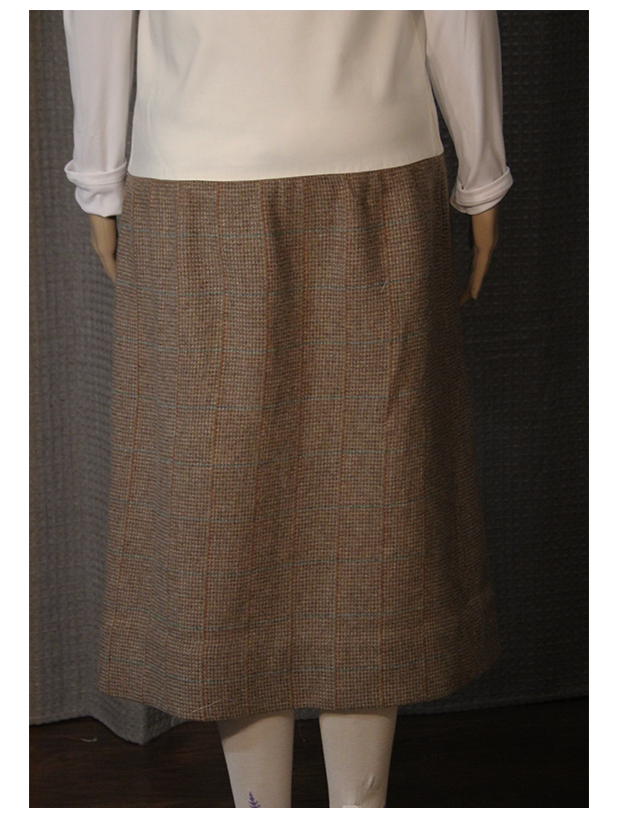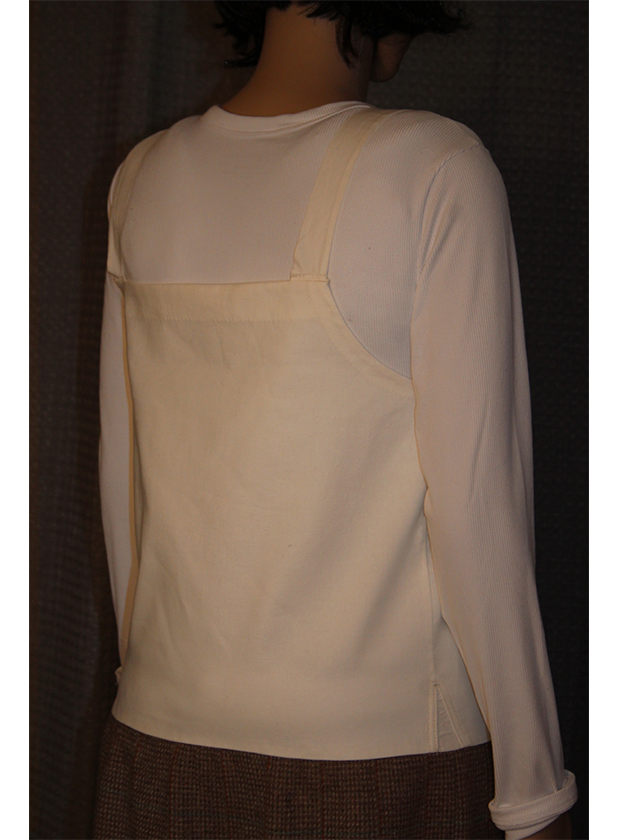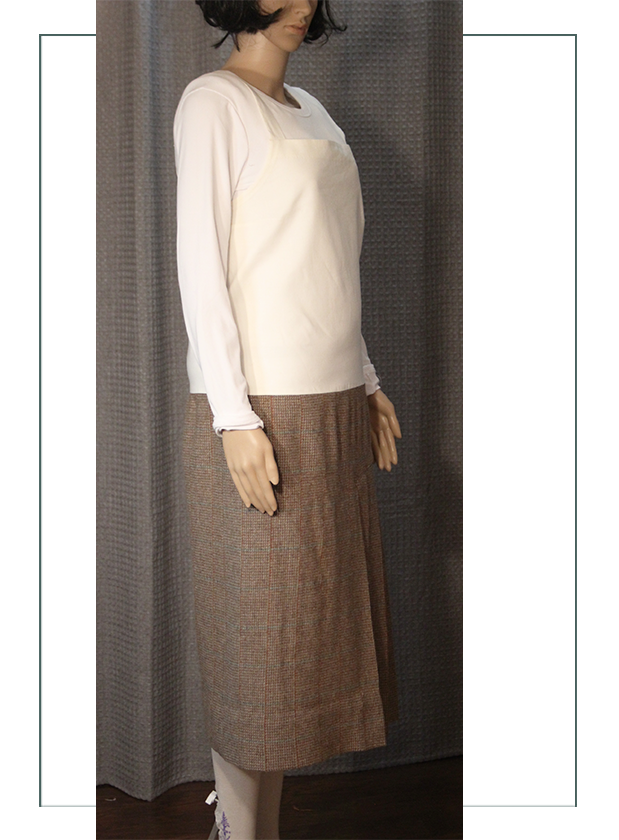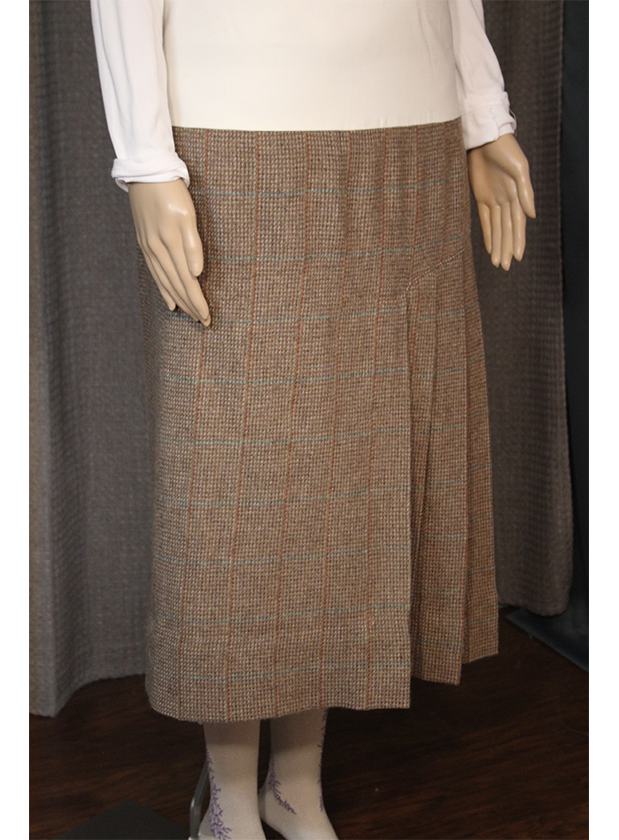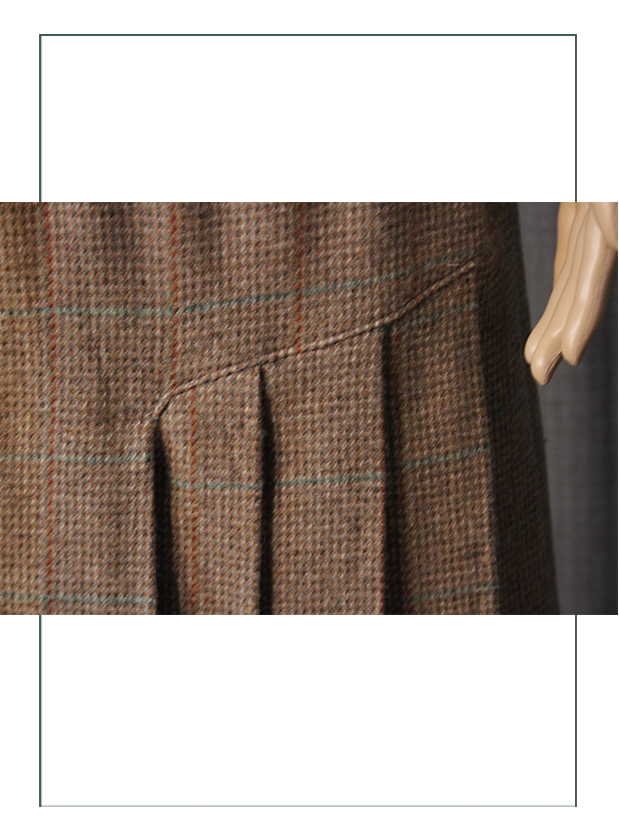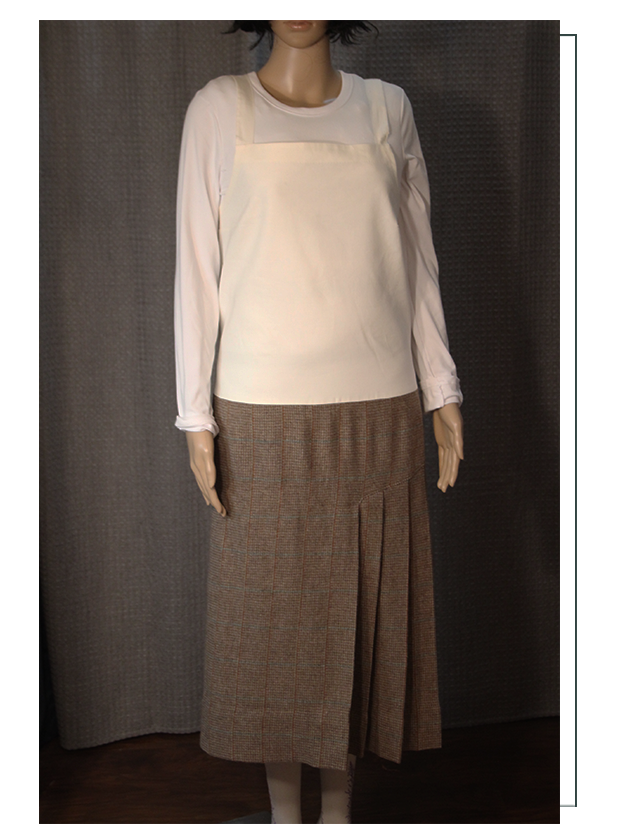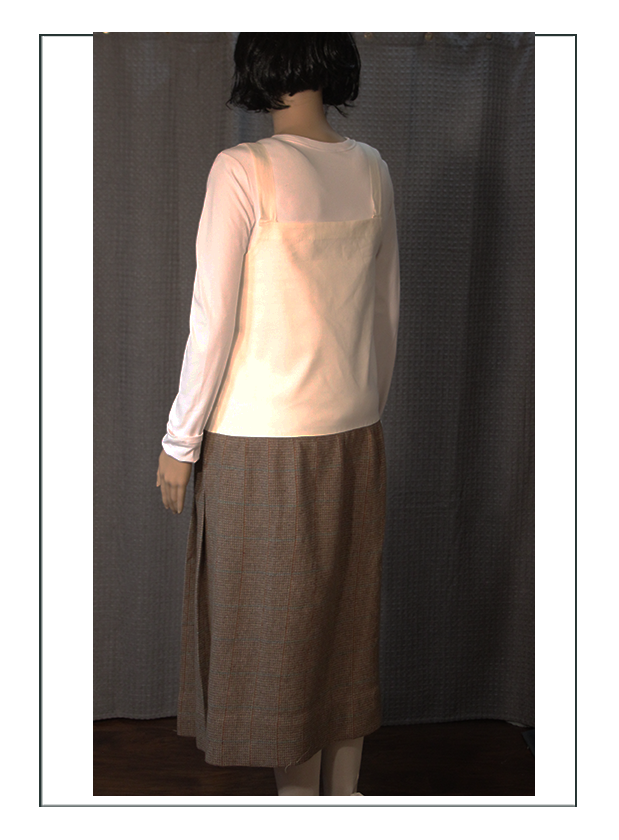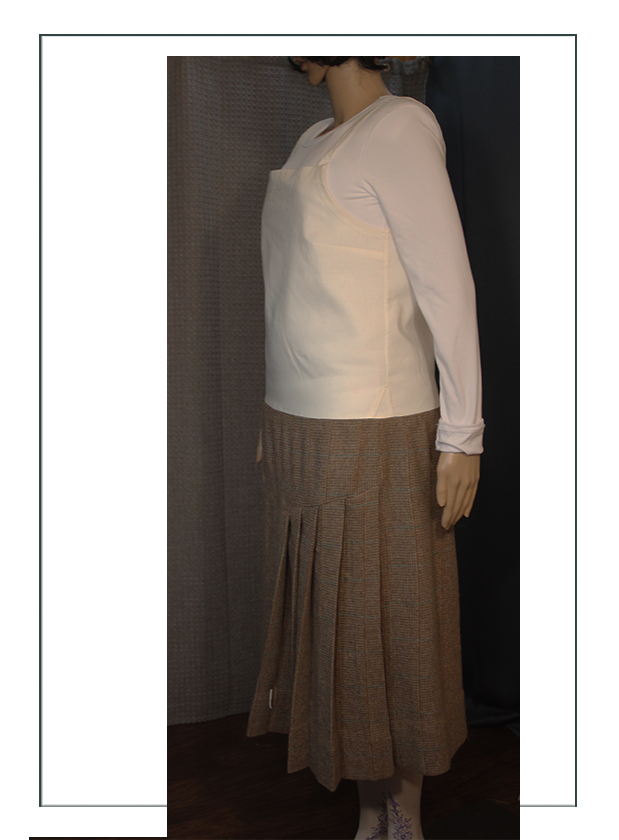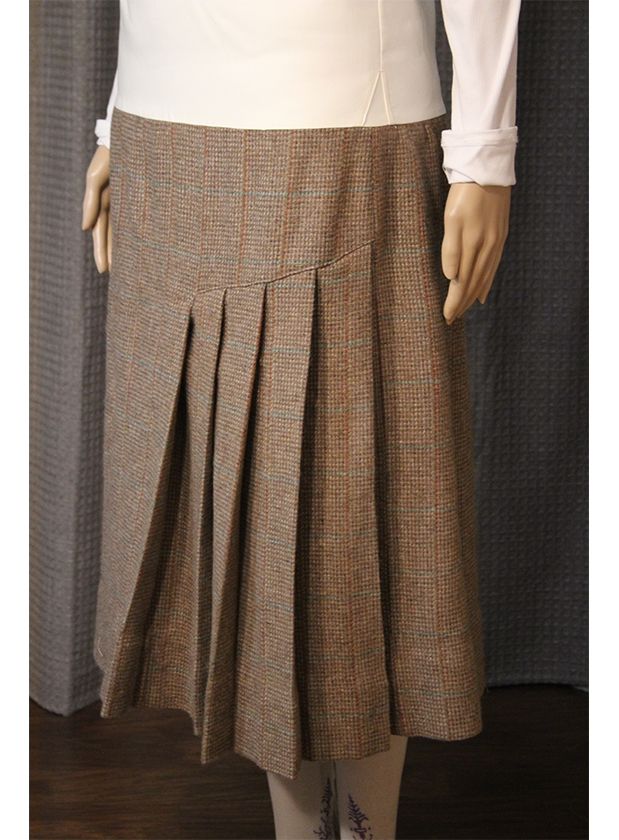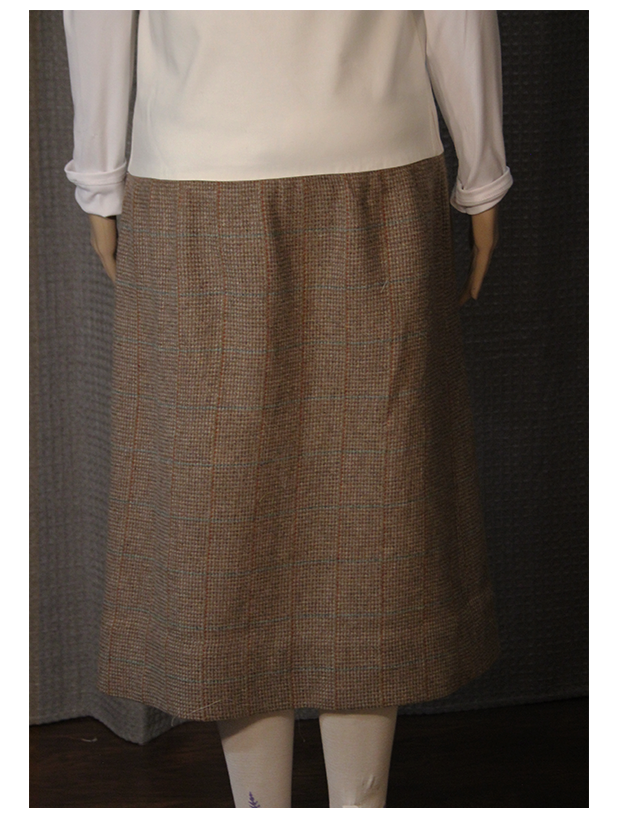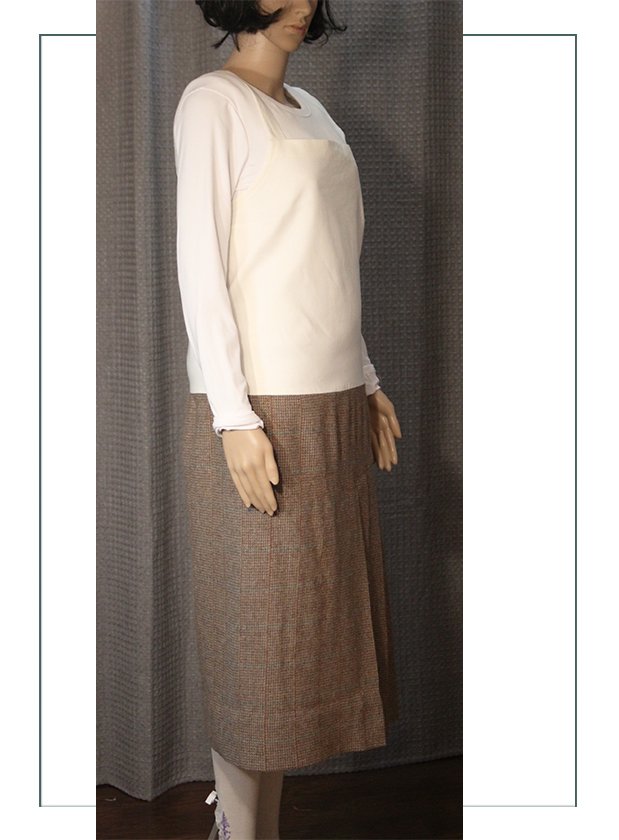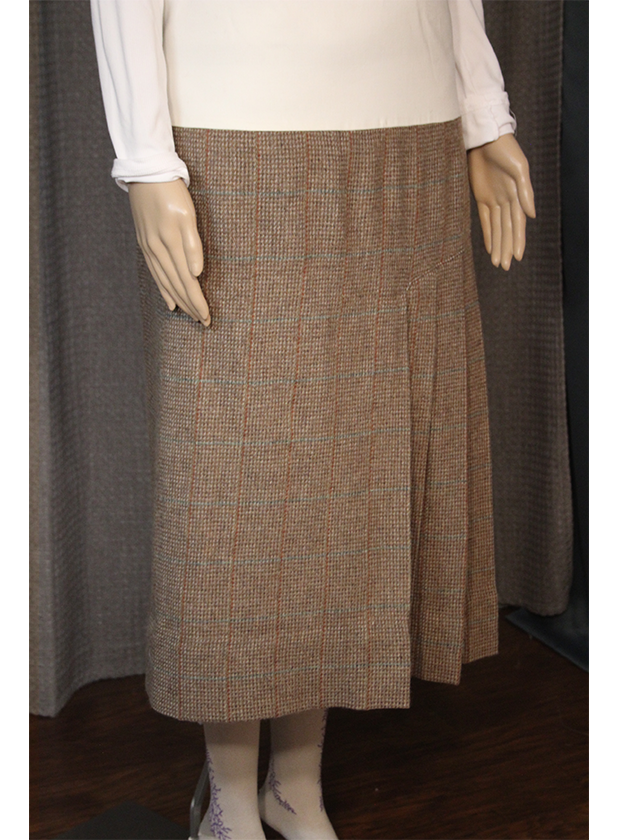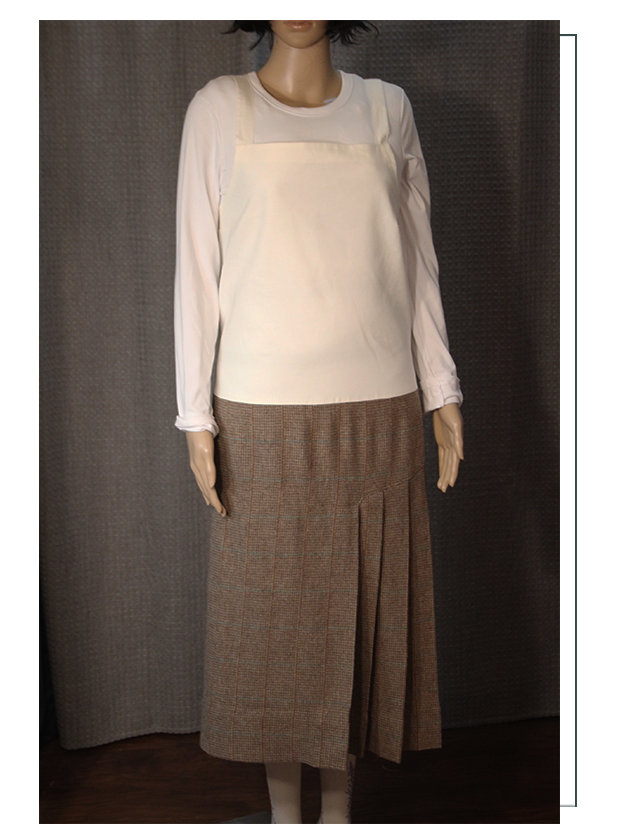 Fancy Blouse w/Jabot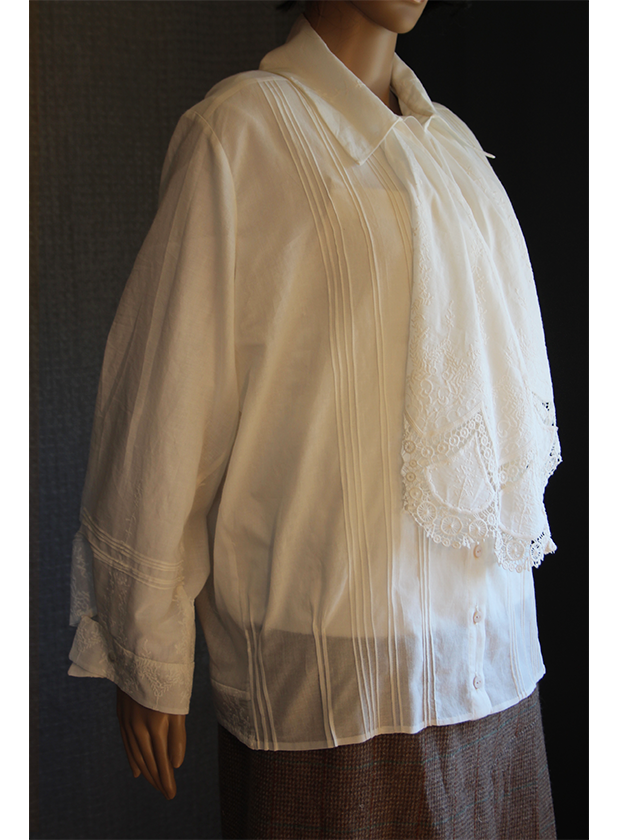 This was very interesting, as all we had was sketch in the pattern.  We made the pintucks individually by hand (instead of the machine tool type that makes several in a row), and fitted it to the mannequin rather than followig measurements.  This is designed to go over the camisole skirt which is the same color, and it is meant to be see-through.
This is a 100% cotton very loosely woven fabric, with integrated cotton trim which you can see on cuffs and back waistband as well as on the jabot.  It was a fun use of an edging fabric to design this from scratch.
The jabot, which reminds us of men's 18th century ascots (it seems everything by the 1920's was borrowing some concept from the past), is integrated into the collar, which is unique to fashion history as usually that is a separate garment.  Thus the term "jabot" vs "ascot" or "tie" of some sort.  This one can be worn tied or hanging loose like in the picture.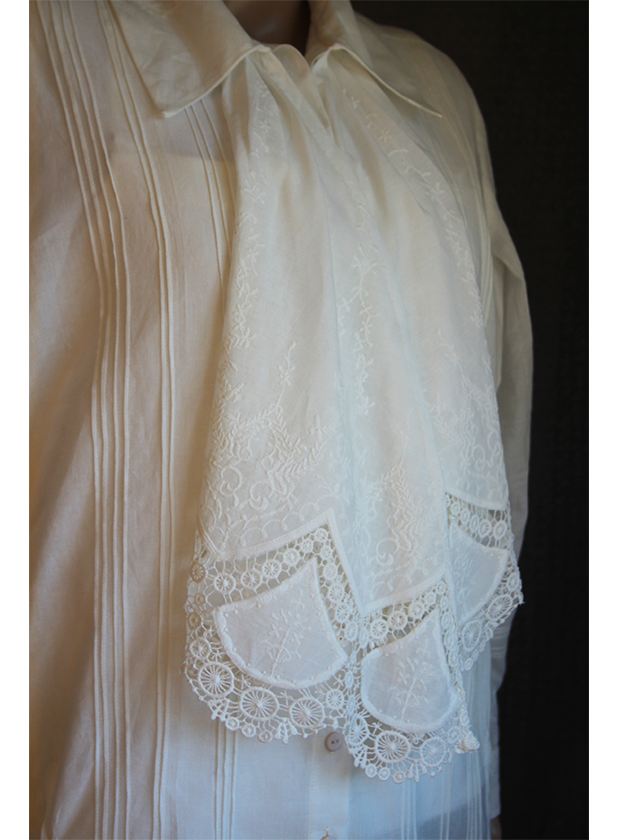 As with the other garments of this ensemble, it is long waisted and ends halfway over the derriere.  In this case, however, the waistline is created through use of the tucks for bringing in the bottom of the blouse.
We made the sleeves a bit bigger than the other garments, so they hang a bit "droopier" on purpose.  This is a dress blouse as a teacher would wear to a parent conference.
The sleeves and cuffs are the most unique features, however.  They are french cuffs which use cufflinks rather than buttons.  Buttons down the front as well as the hand made cufflinks are real vintage mother of pearl (MOP) from the Mississippi River and the author's hometown, "The Pearl City" in Iowa.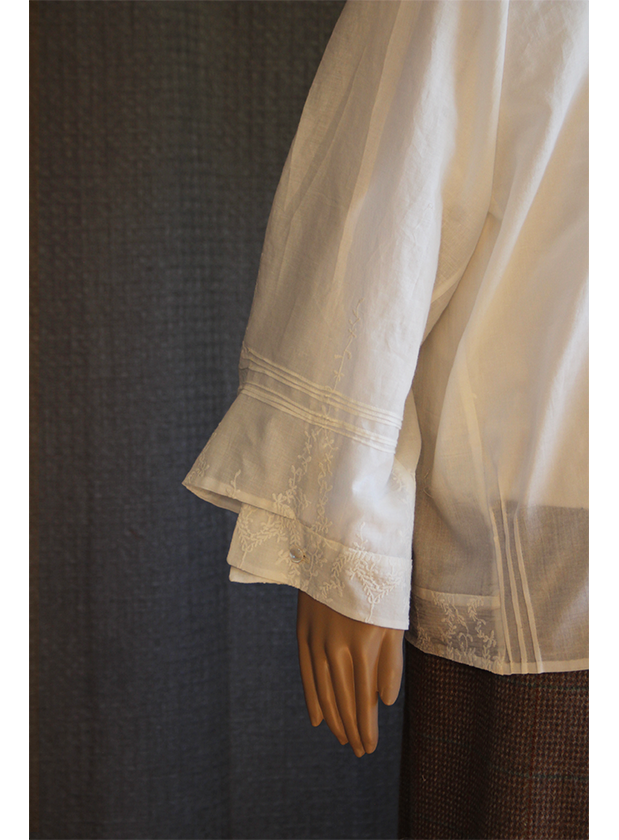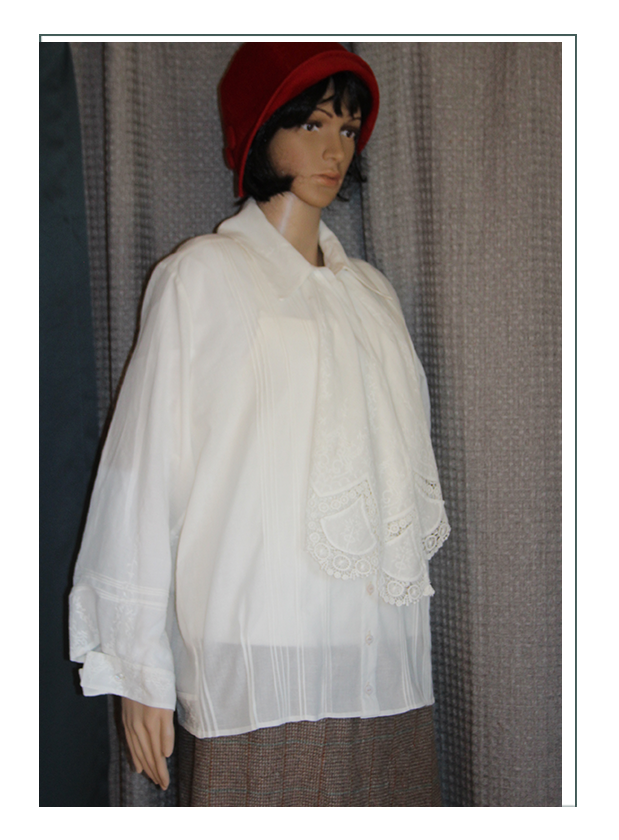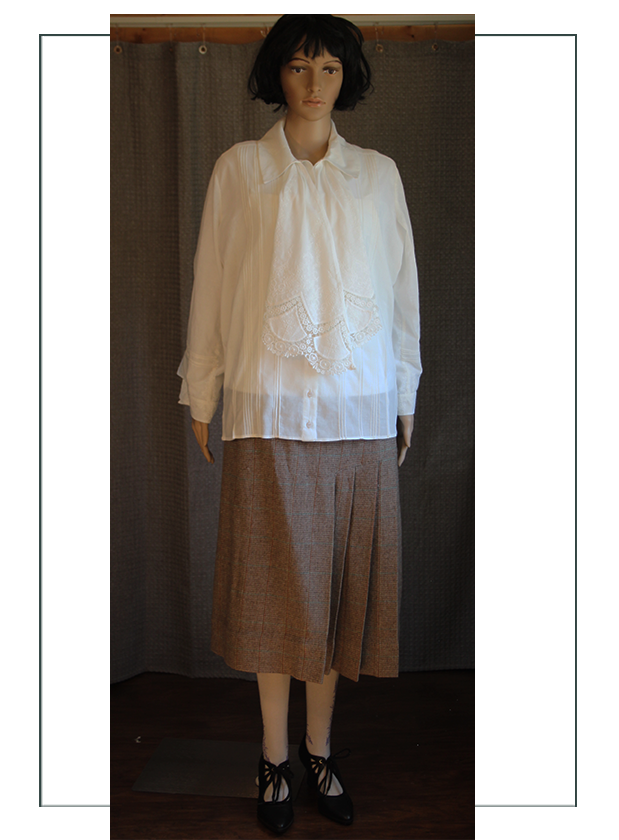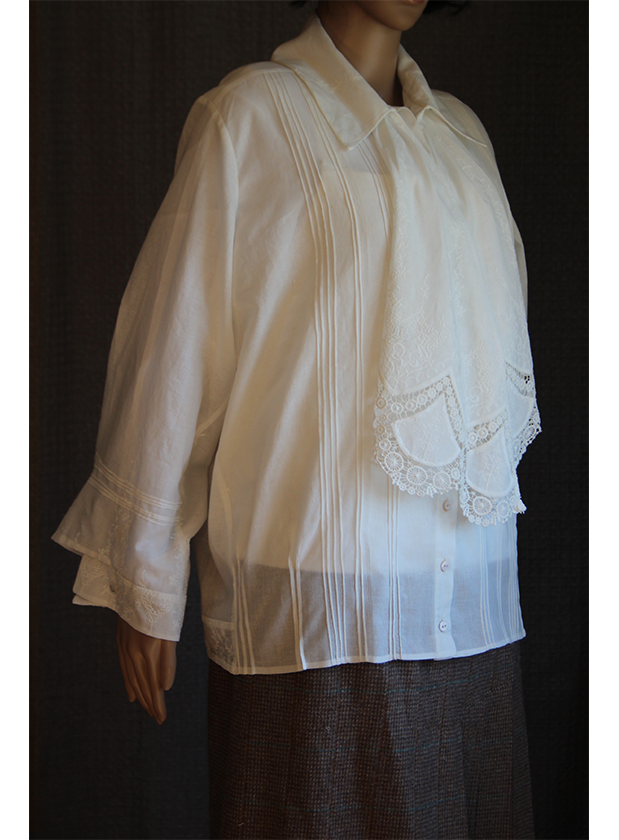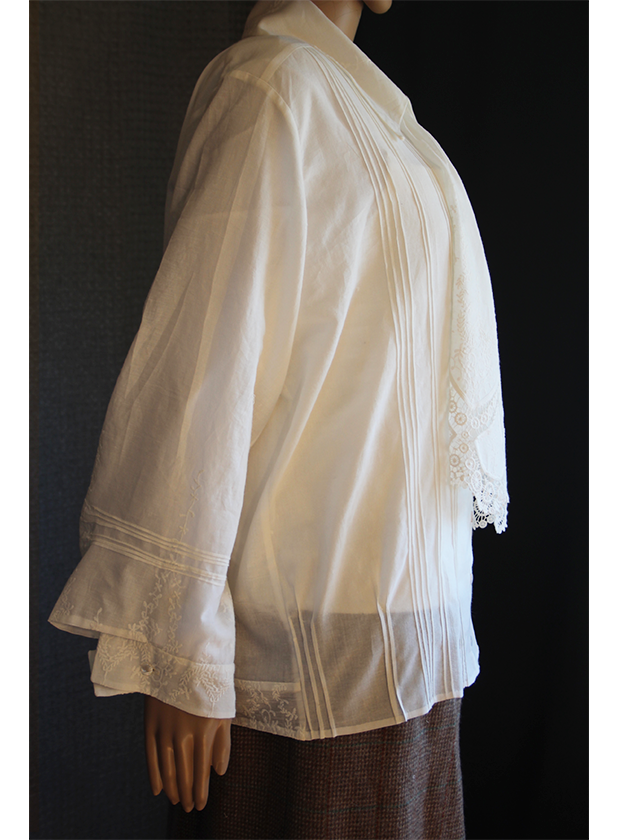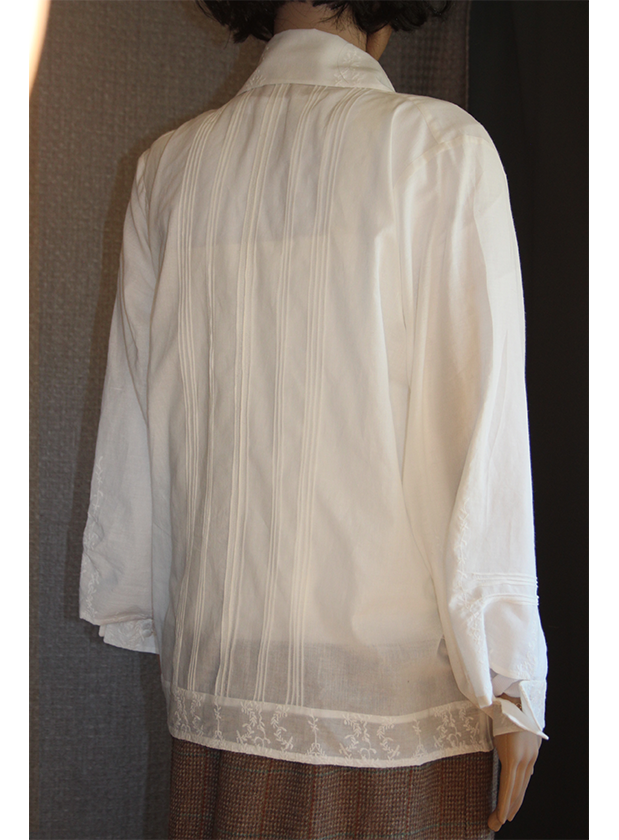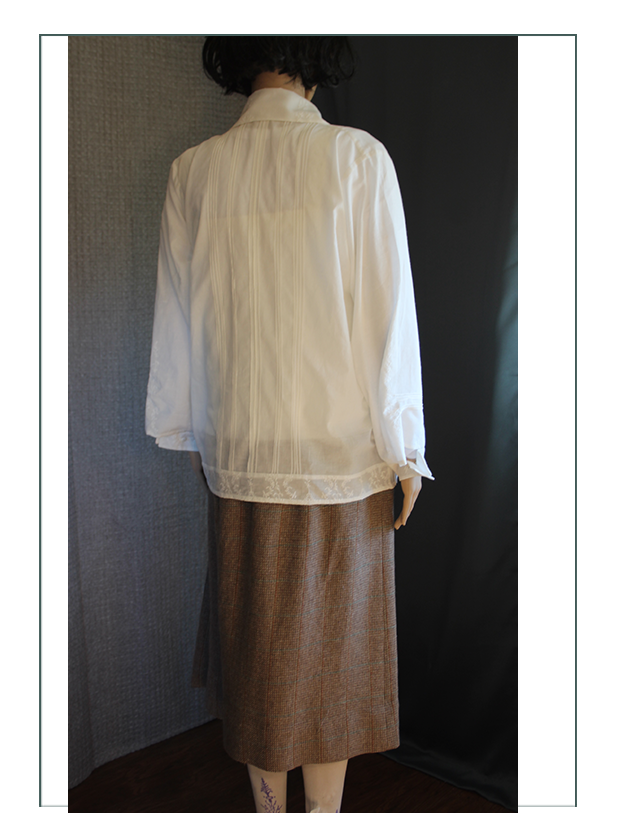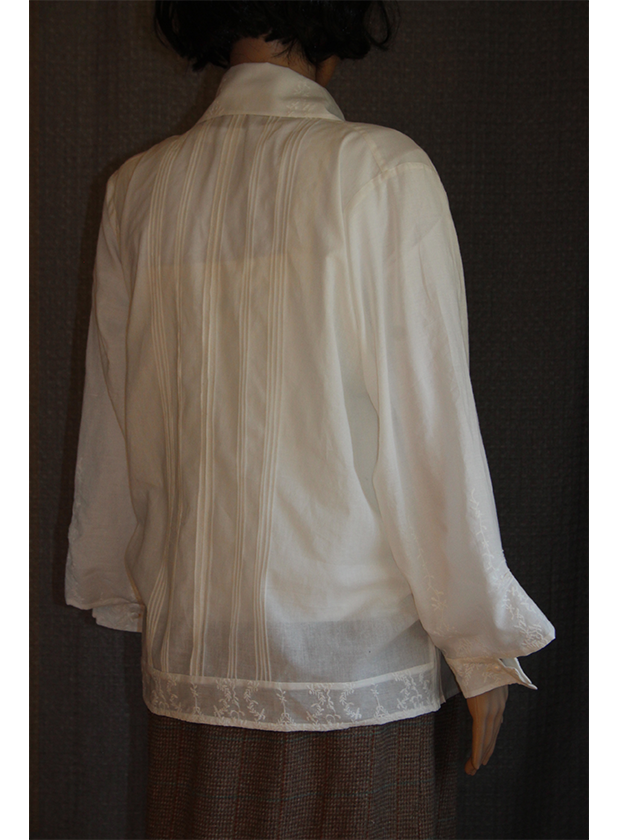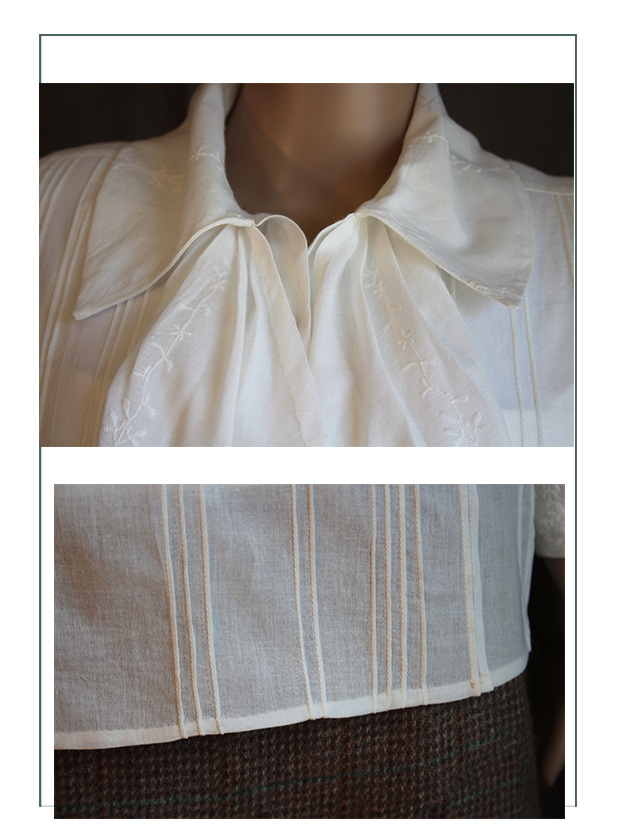 Apron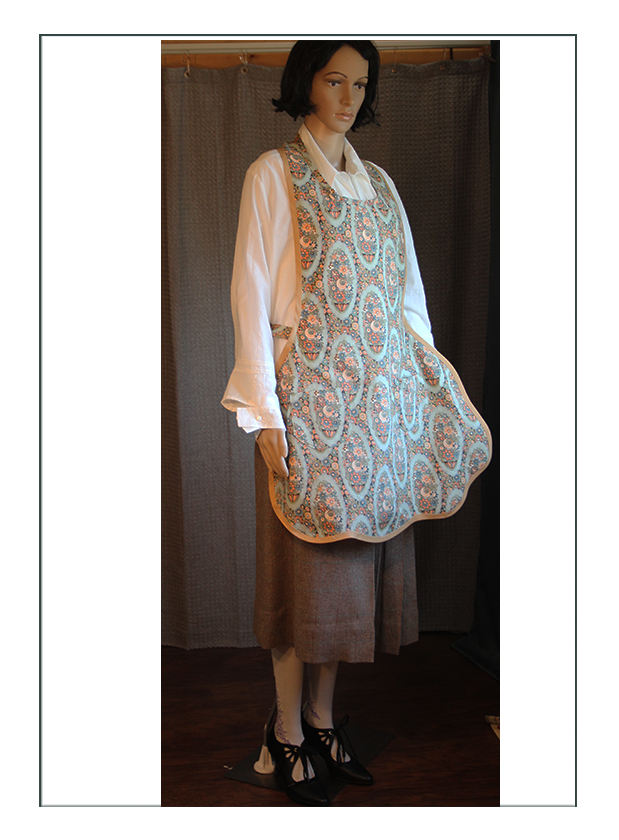 This is made from Andover Mills' "Lady Edith" 100% 1-sided print fabric from their Downton Abbey collection, reproduction fabrics from the 1920's.  We are working with the advisor Carol B. Davey who worked with the Downton costumers in their research.  Ms. Davey reproduces the authentic patterns of Mary Brook Pickens and Ruth Wyeth Spears who developed many of the high fashion patterns for commercial use in the 1920's.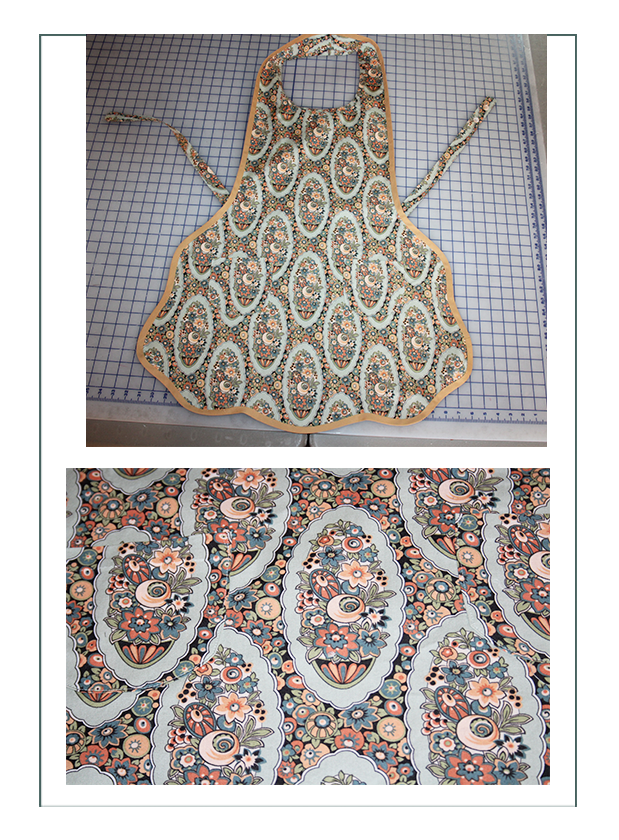 This design is featured as a "mother and me" in the '20's.  We have made it as an example of a simple project for the museum to have us build for the kids who come to the immersion classroom.  It is unlined, but has binding all the way around – some self binding and some contrast, which is sewn on entirely by hand.  These can be made to be reversible and in a variety of sizes fairly easily too.
After working so many hours to build the above teacher's ensemble, it just seemed right to cover up the fancy clothes with something practical for the immersion teacher to wear while working on projects with the kids.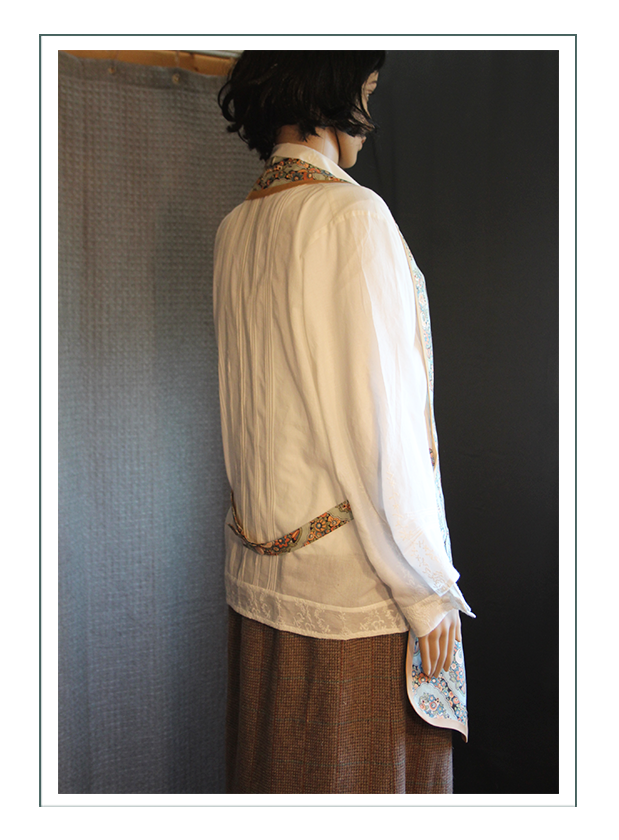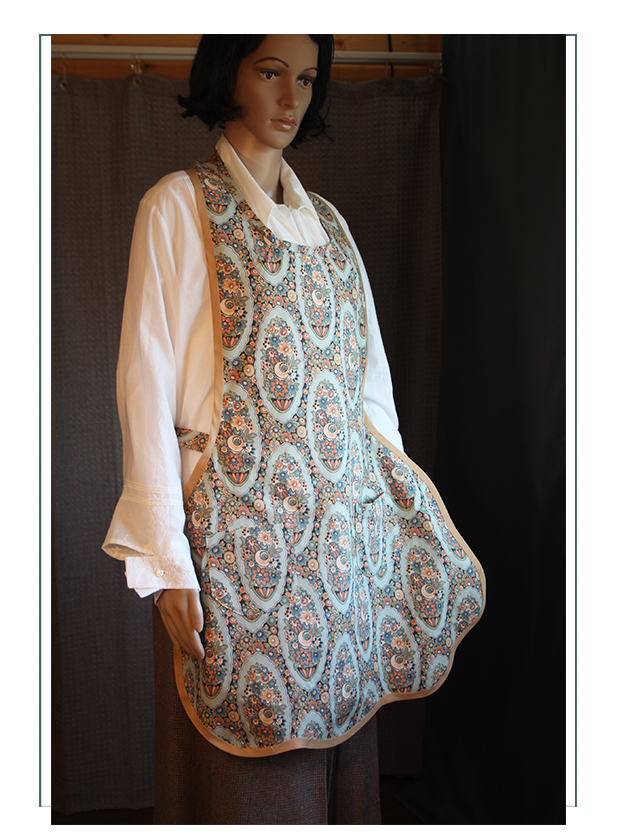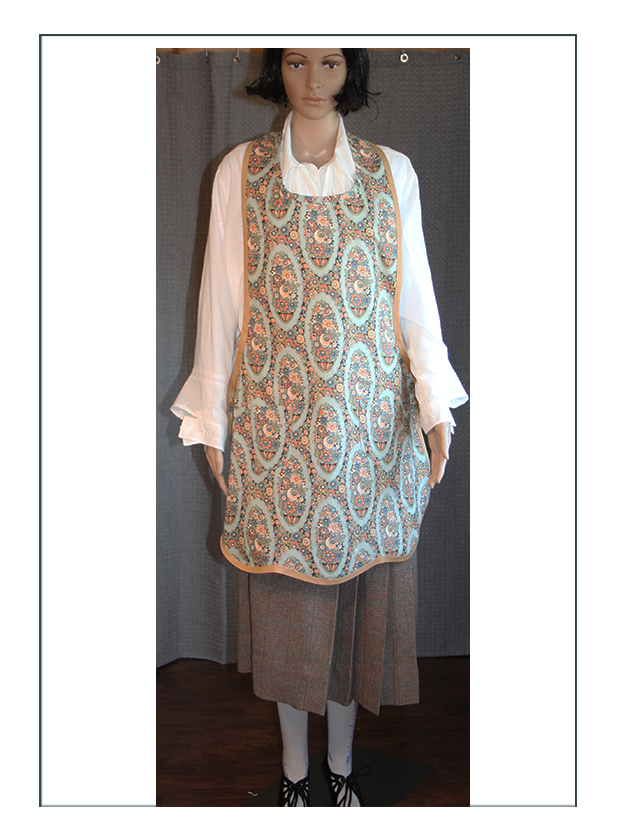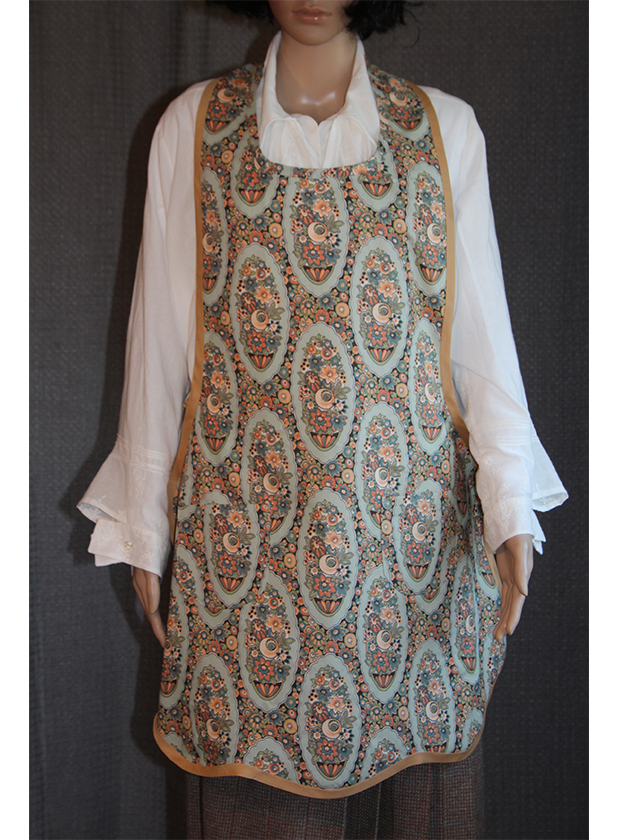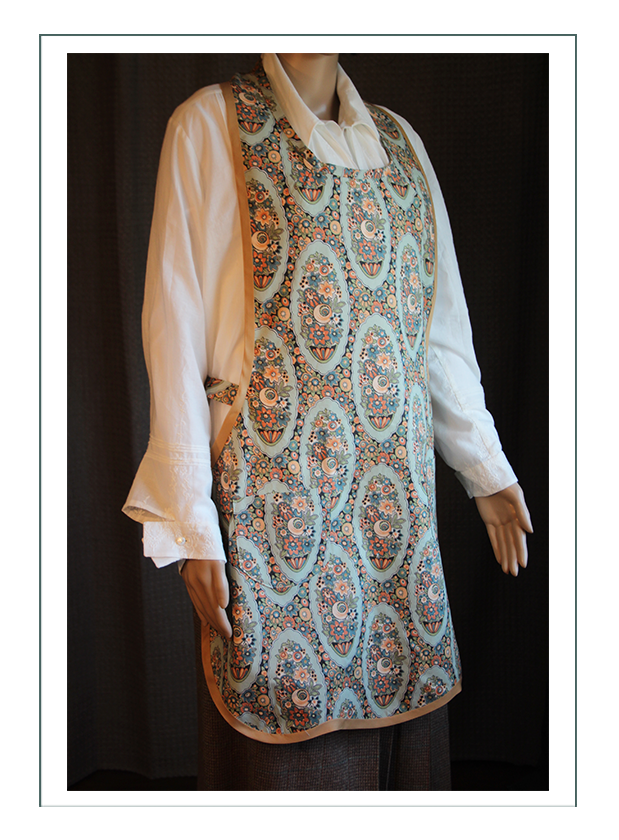 Hand Knit Wool Cardigan Sweater
in progress!
Boy's Ensemble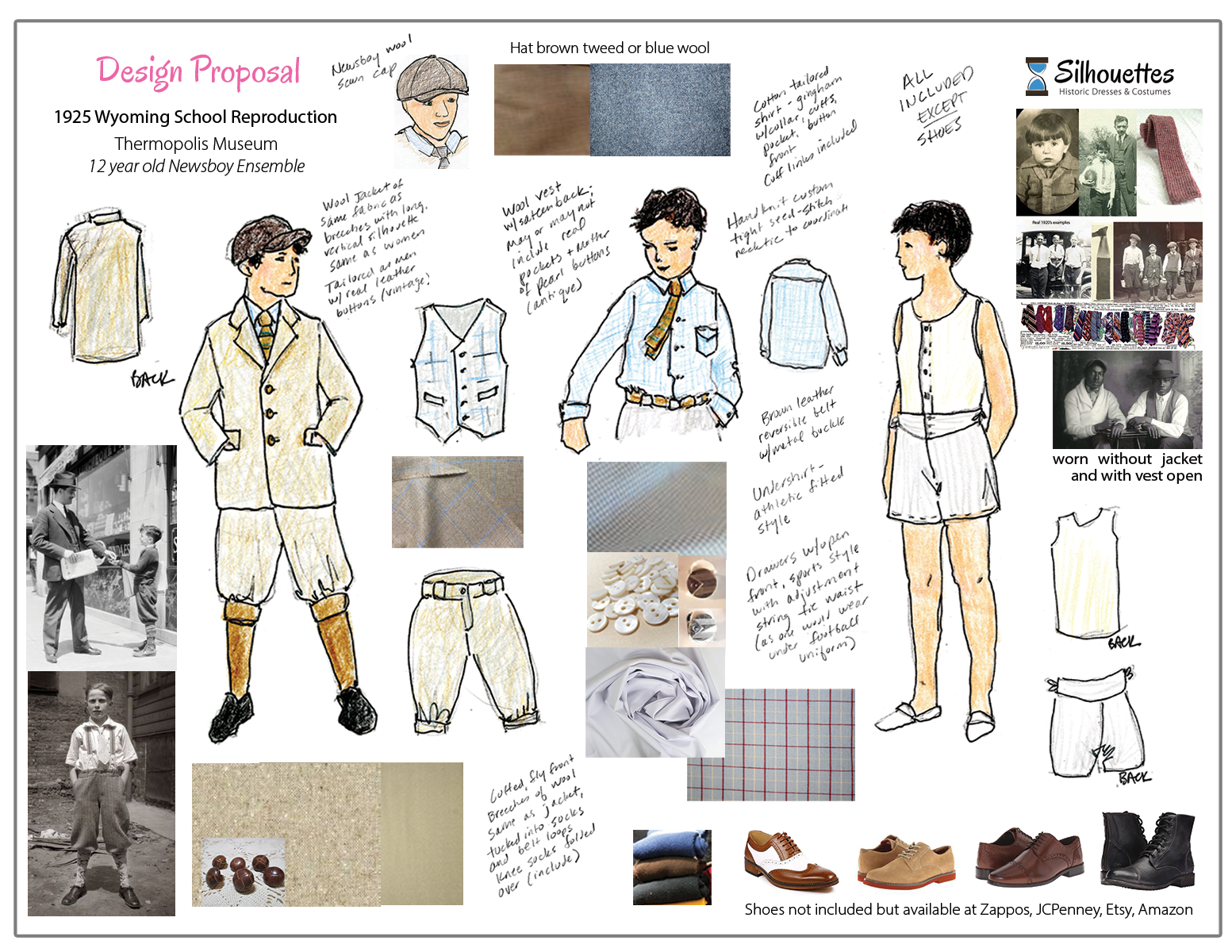 Undershirt
Knicker Drawers
Shirt
Breeches/Knickers
Vest
Jacket
Newsboy Cap
Hand knit necktie
Accessories (cufflinks & belt)
Girl's Ensemble
Combination (camisole/panty in one)
Wool/silk Dress
Ascot
Cloche Hat
Accessories (hair bow)
Hats for Visitors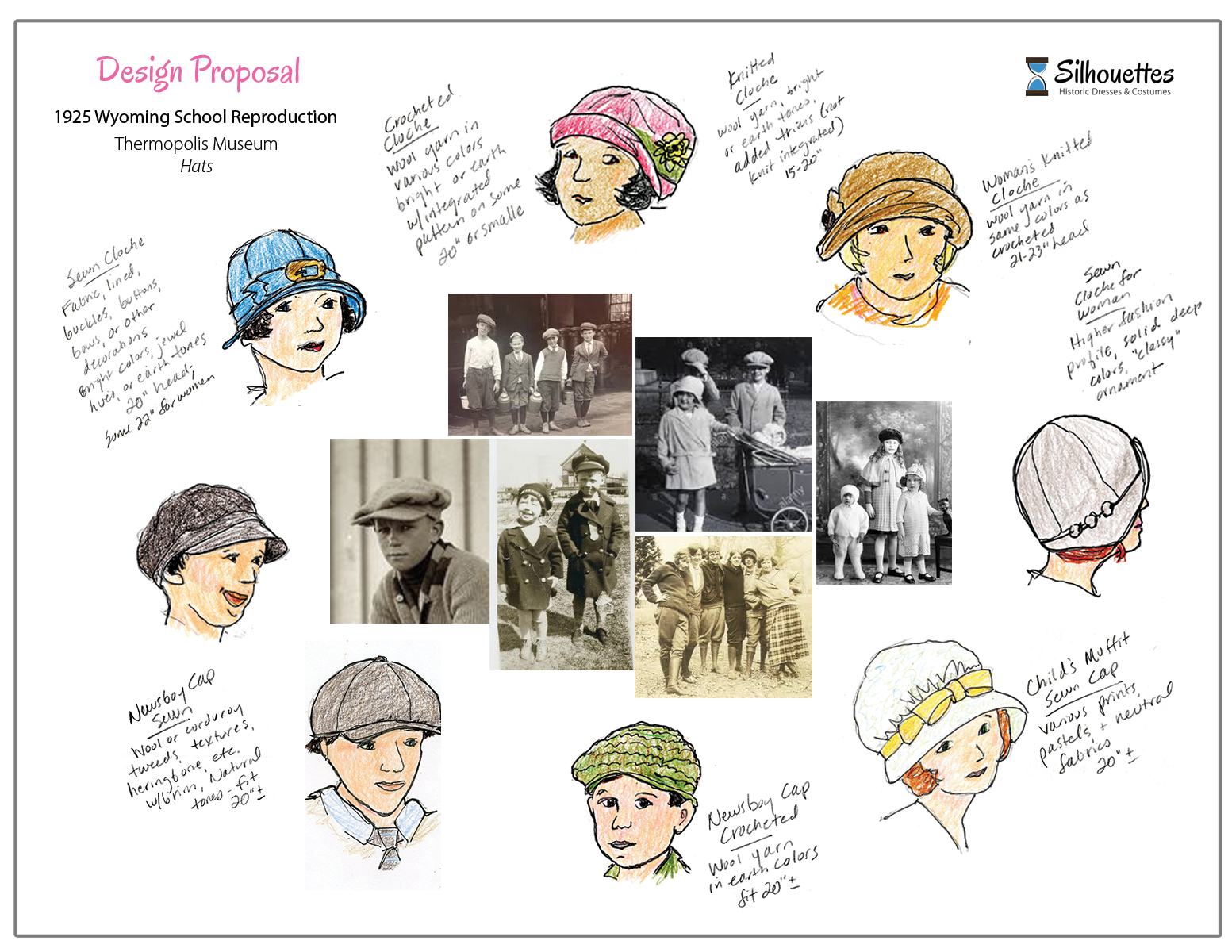 Newsboy 
Knitted & Crocheted
100% wool or cotton, these yarns are specifically chosen to replicate those of the day.  Patterns are original vintage patterns from the 1920's.  Sizes from 20-23″, but much bigger because they stretch.  Colors are also historically accurate.  Overall, combined with the sewn caps, they have a classroom color scheme of neutral and earth tones specific to the era.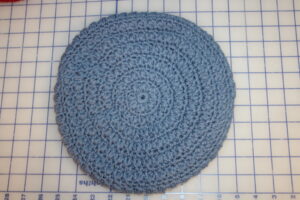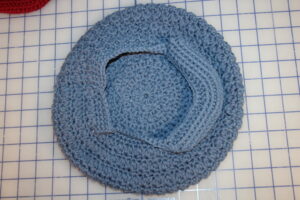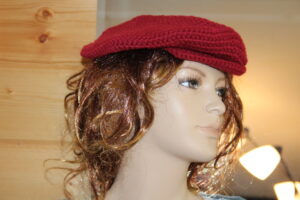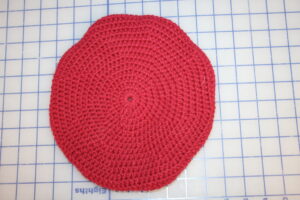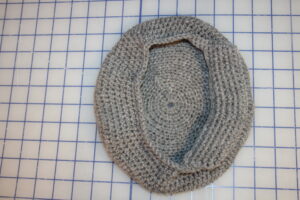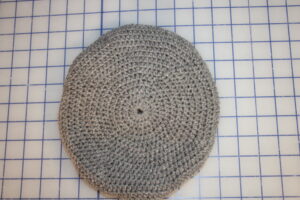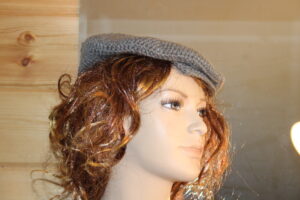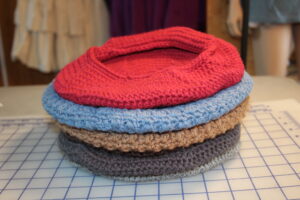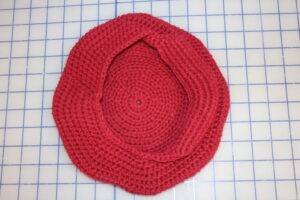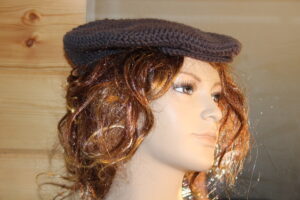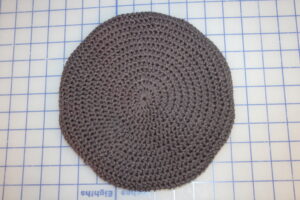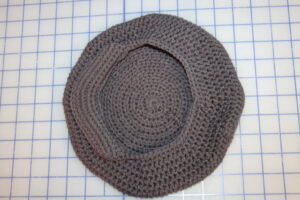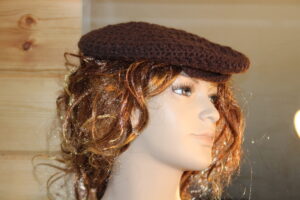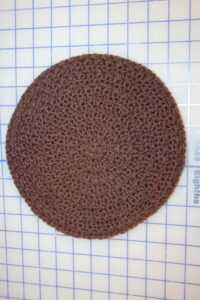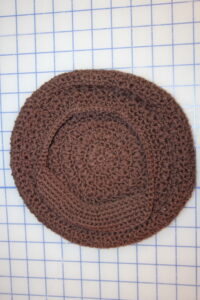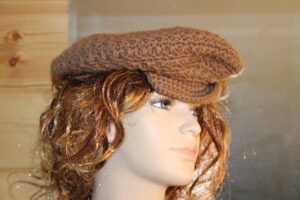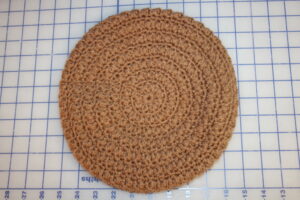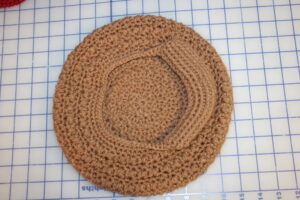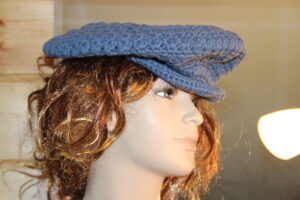 Sewn
100% wool or cotton, these are made using vintage instructions and patterns taken from extant garments.  They are 100% silk lined or polyester.  The ones with bands are reversible.  All have buttons.  Those without bands have a ribbon band.  Sized from 18″ hat size to 23″ with most being 20-21″ which is statistically correct for 4th graders.
Colors and textures are specifically selected to replicate 1925 garments which can still be found today.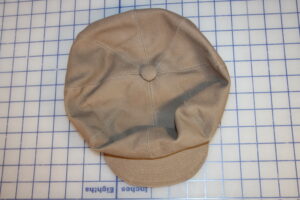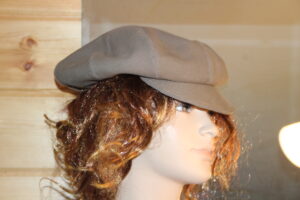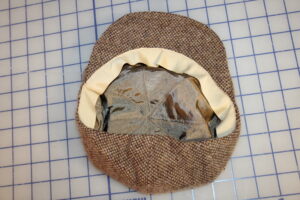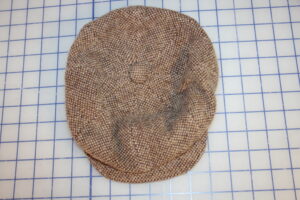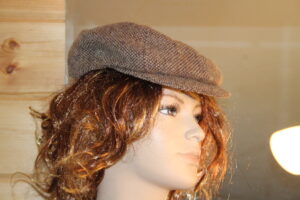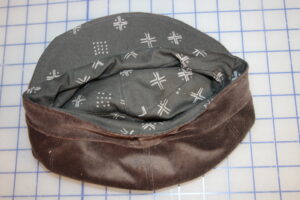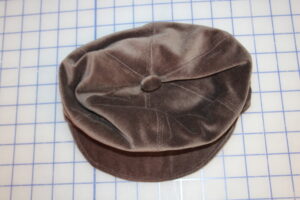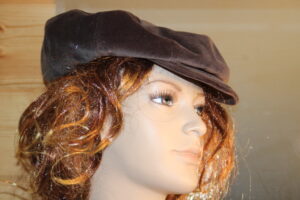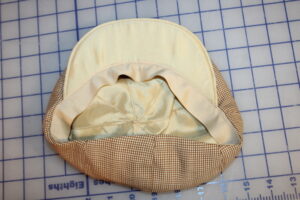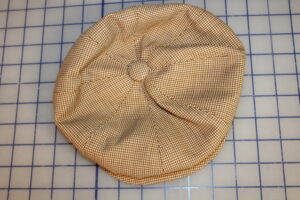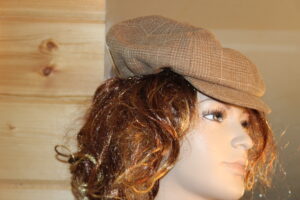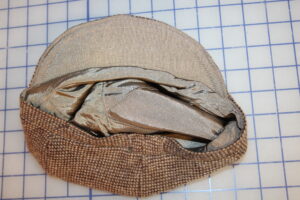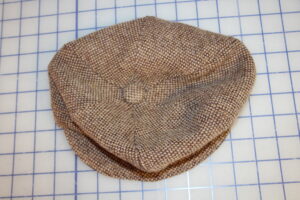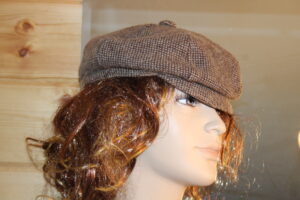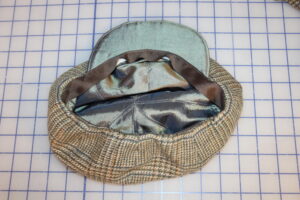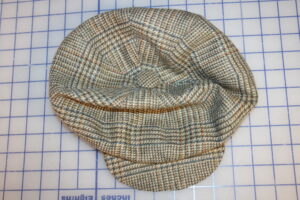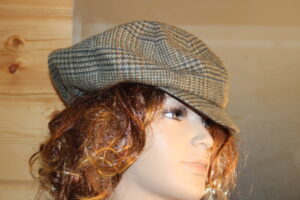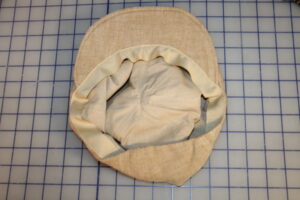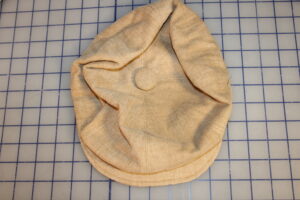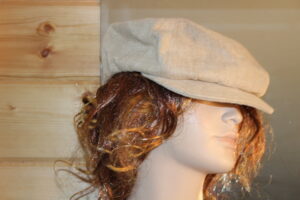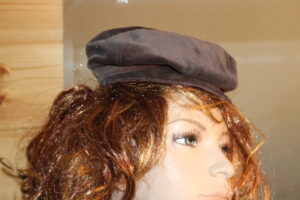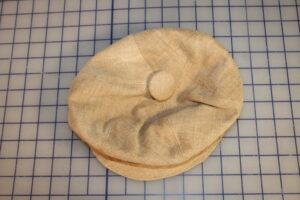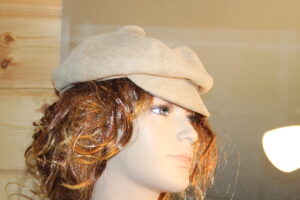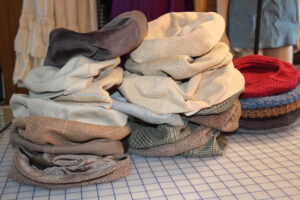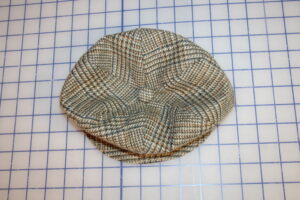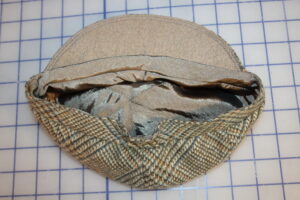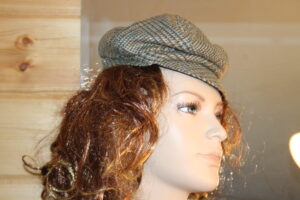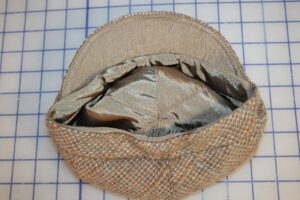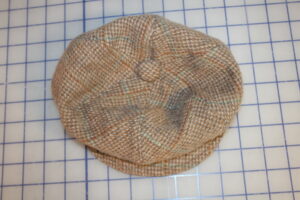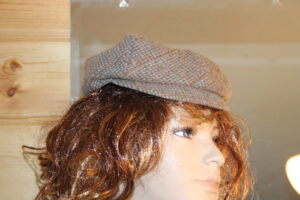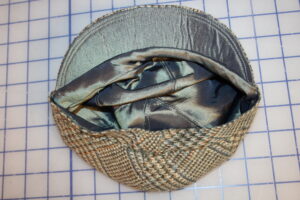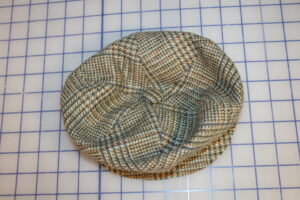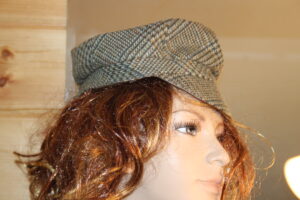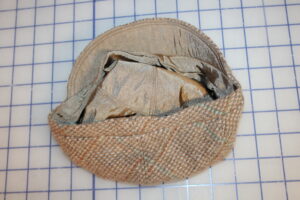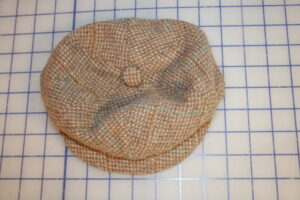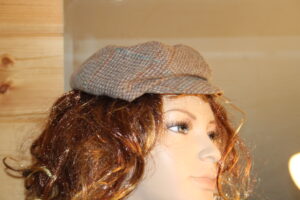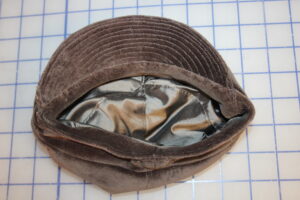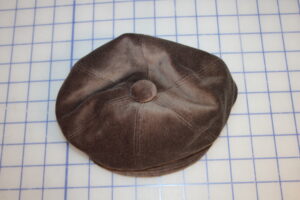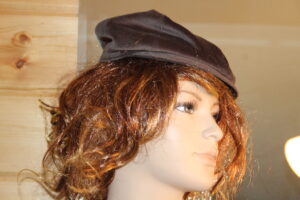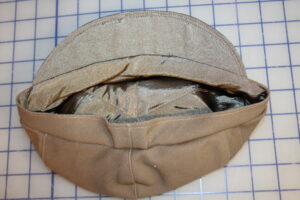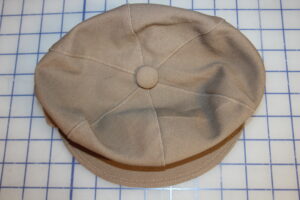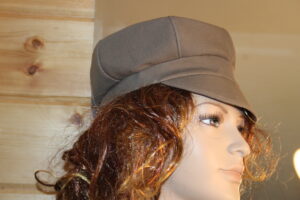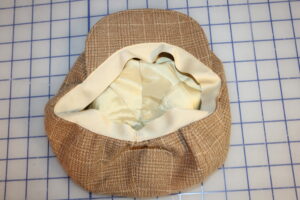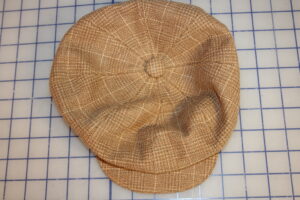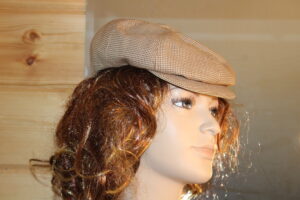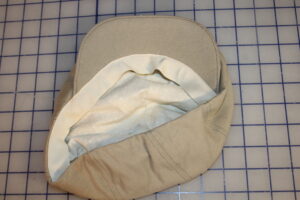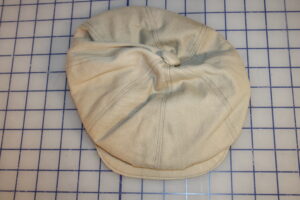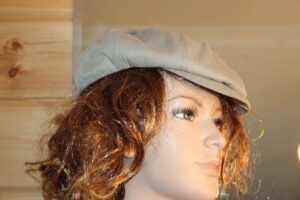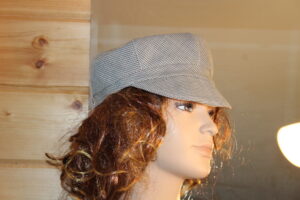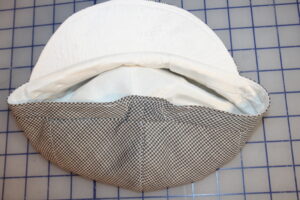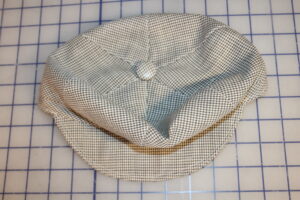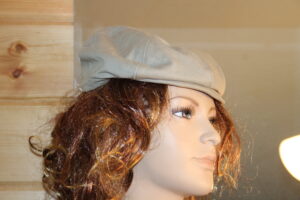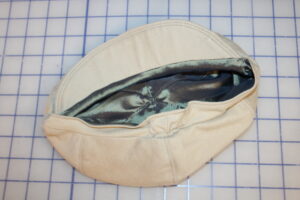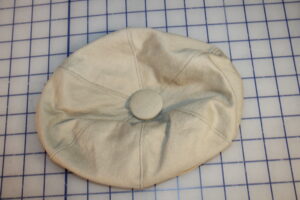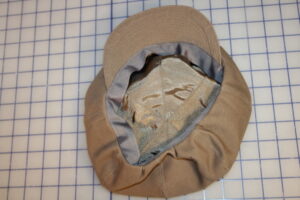 Cloche
Knitted & Crocheted
Sewn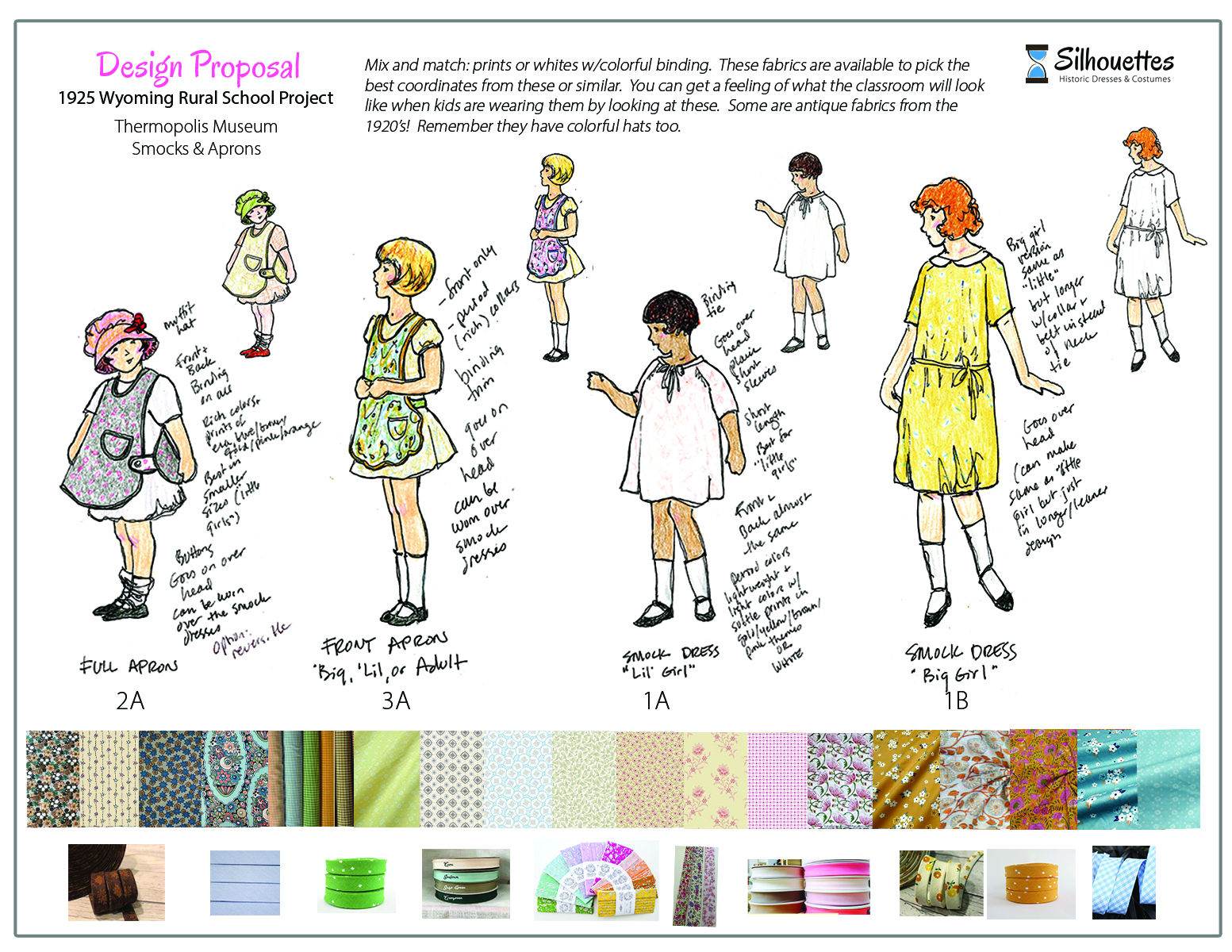 Smocks and Aprons
These were added late in the project since girls did not wear overalls to school say the organizers.  There was much debate as to what would have been worn, but in the end, the organizers selected reversible aprons which would be easy to fit and would reduce conflict among visitors during the selection process when they arrived at the school to get dressed in costume for the day.
These were created in "batches" with color schemes and a variety of sizes since we weren't sure when/if we could meet deadlines in addition to all the other things being built.  Each "batch" contains a variety of sizes and colors and textures that are pleasing together.
Note the consistent use of small prints and neutral colors.  They were particularly fond of large and small checks as well as ginghams, polka dots, and squares.  The challenge was understanding the "smock" which was worn OVER the main garment when kids got to school.  It was hard to decide whether to make a plain white smock (refer to photos in the women's fashion history section) or the actual garment that would be worn.
Aprons would have been worn at home only, so the decision to wear aprons is somewhat outside of historical context, as are wearing the cloche and newsboy hats indoors (which a mother in 192 would be aghast to know her child didn't remove his hat).  Therefore, the decision was made after the first 2 batches which included personalization and decoration, to make these as plain and simple as possible.  Again, this was to reduce complications at fitting, but also to come closer to the appearance of the plain white smock which would be more historically accurate.
Batch 1 – Ivory, Coral, Pink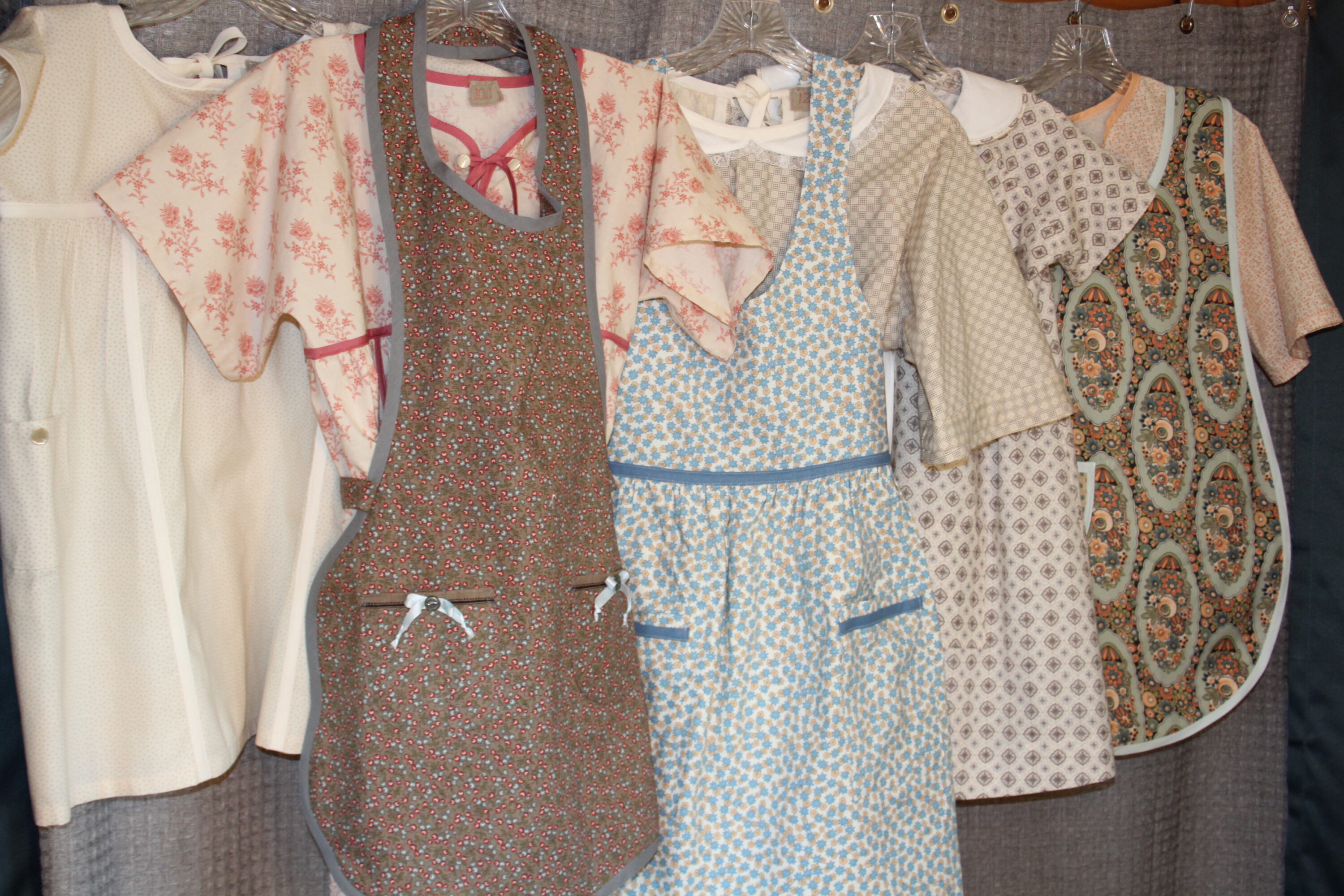 12.1 (Size 12, older girl version.  Tiny dark gray dots, white collar with cotton lace, back neck tie, and contrast on sleeves and pockets.  Belted, low waistline).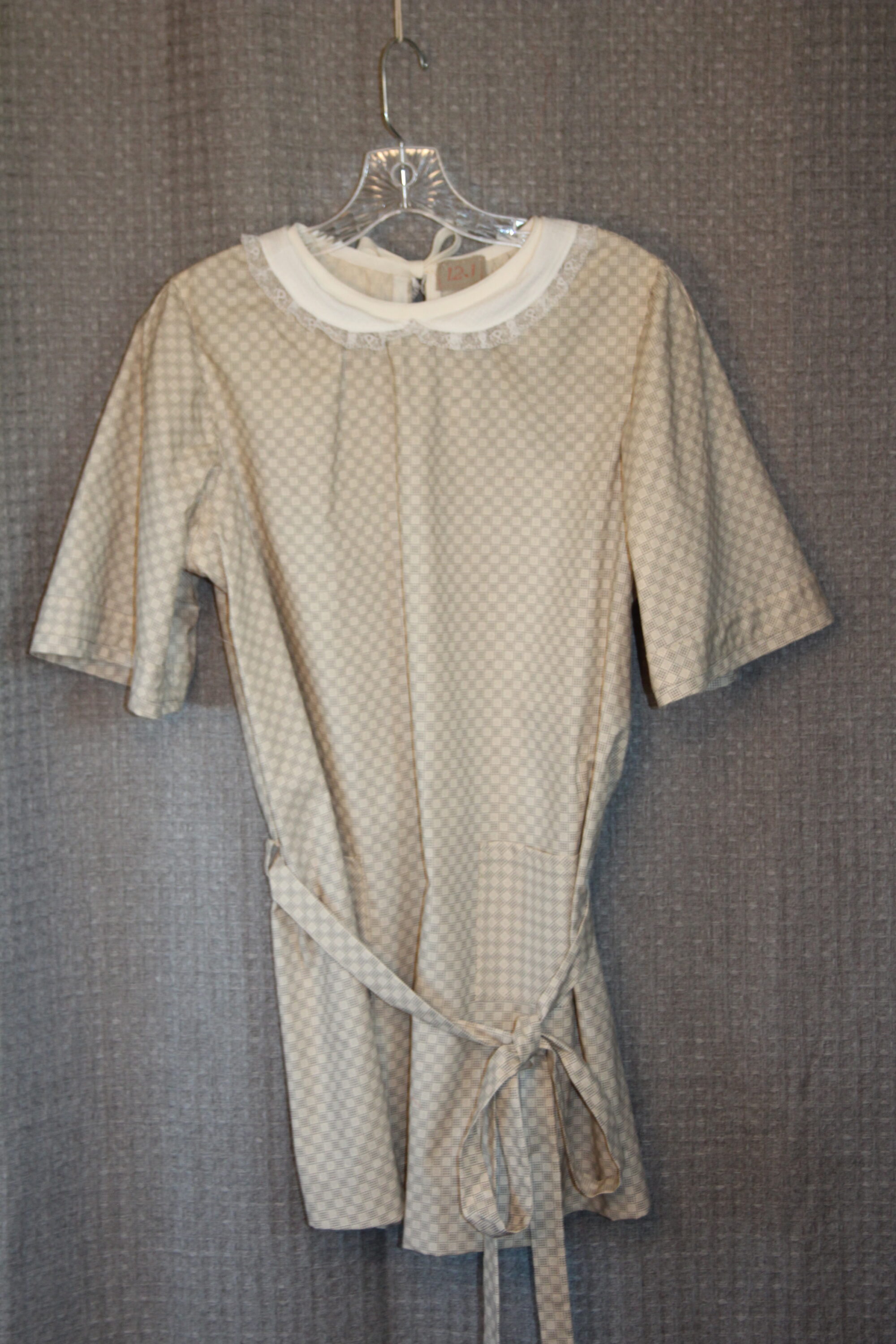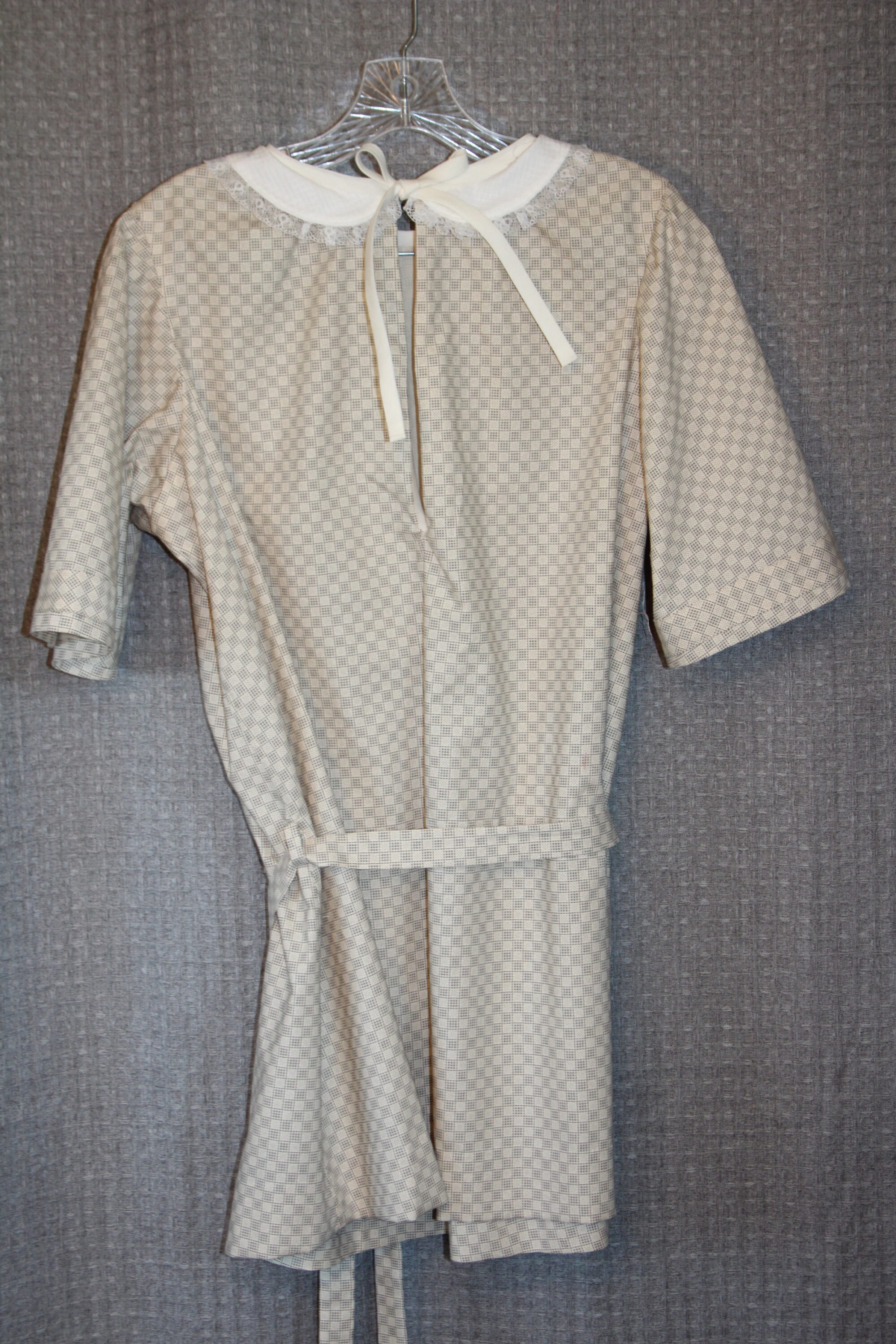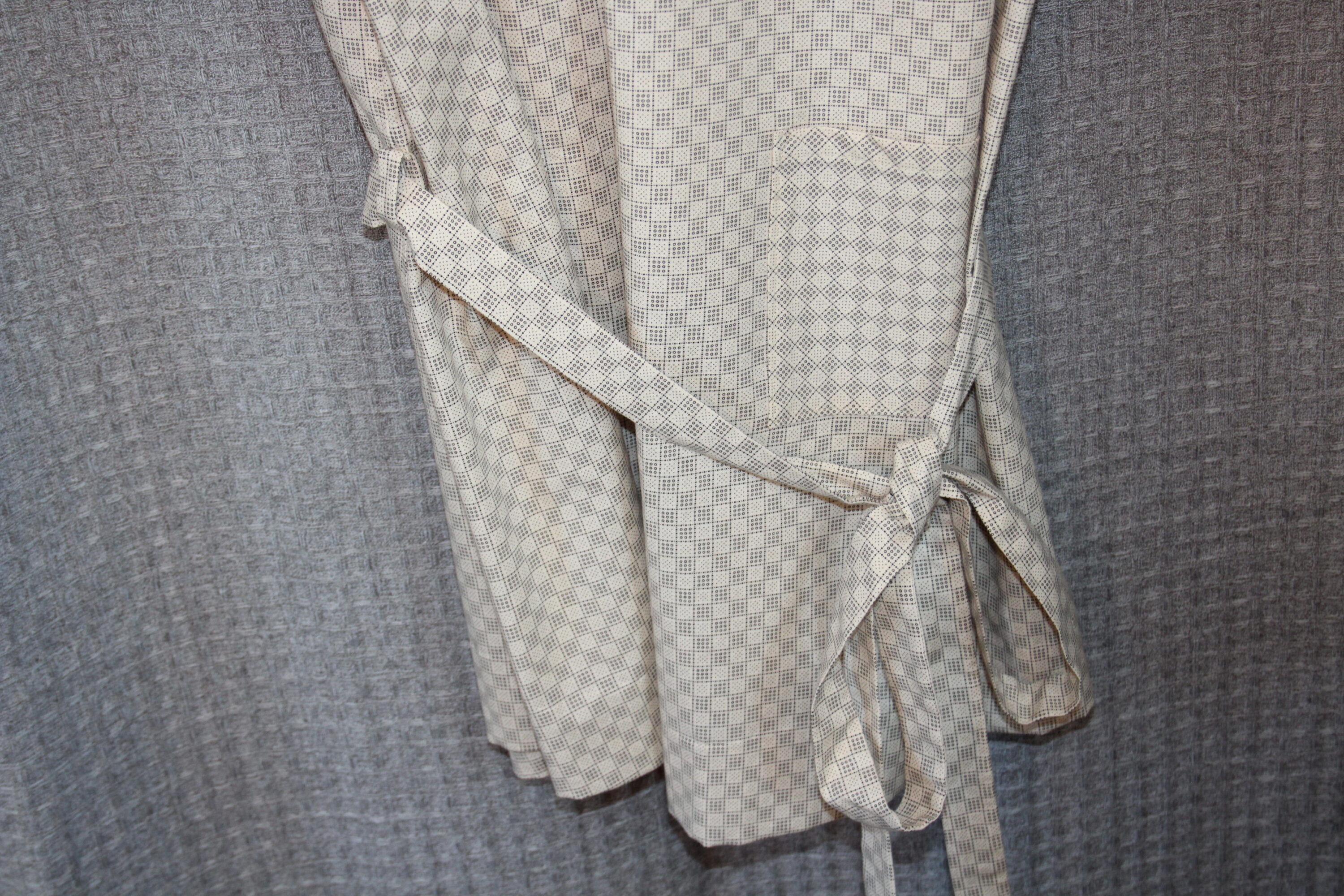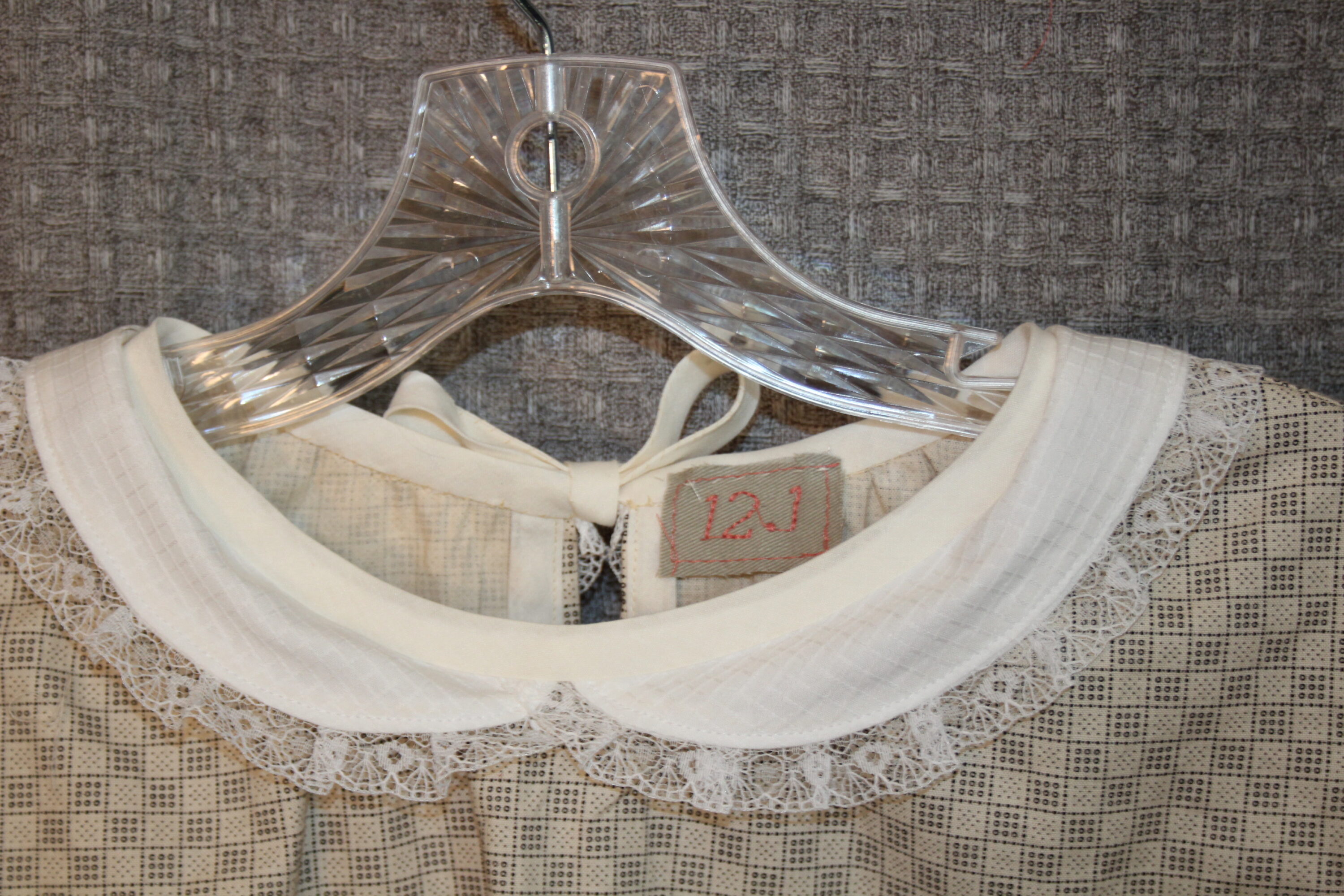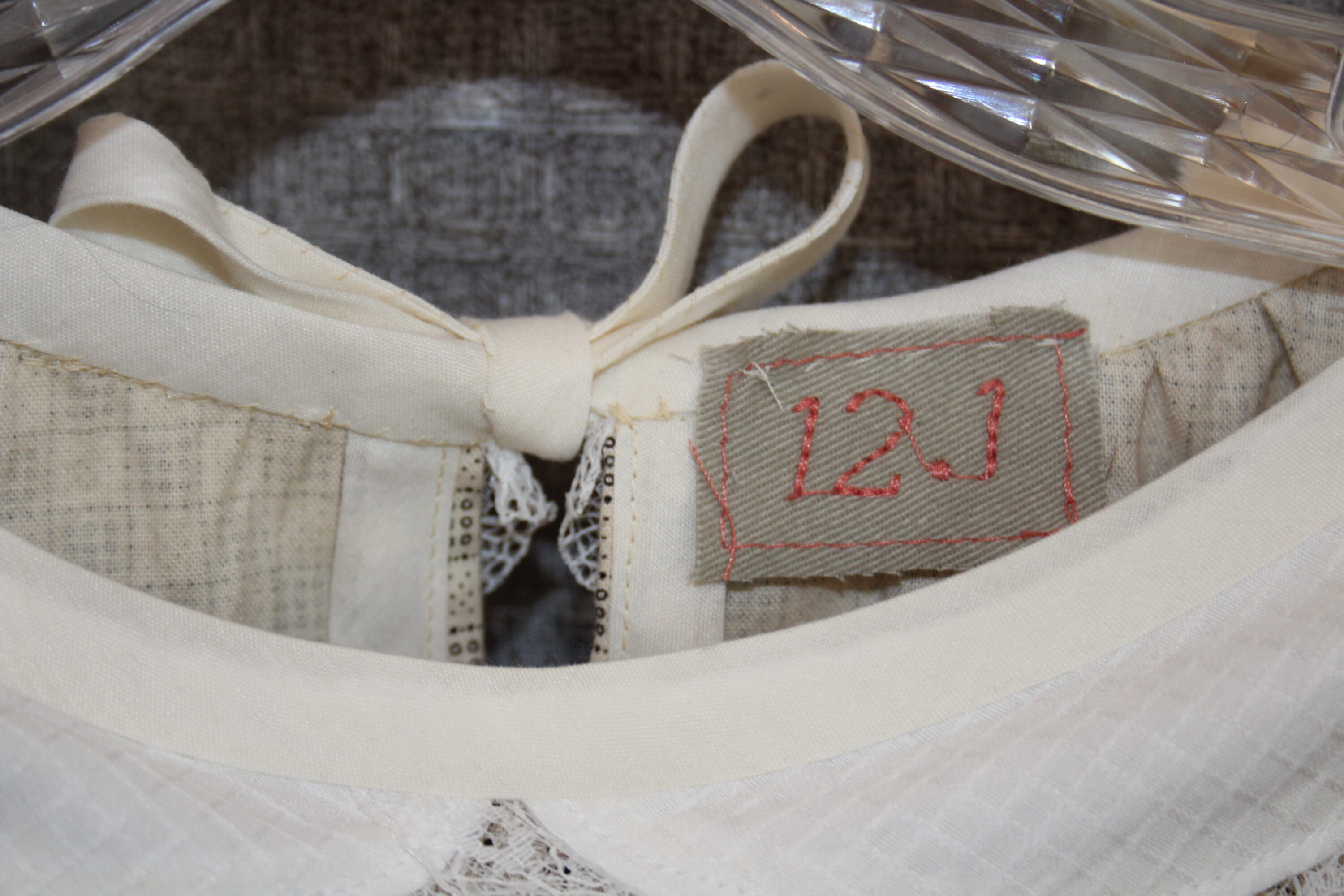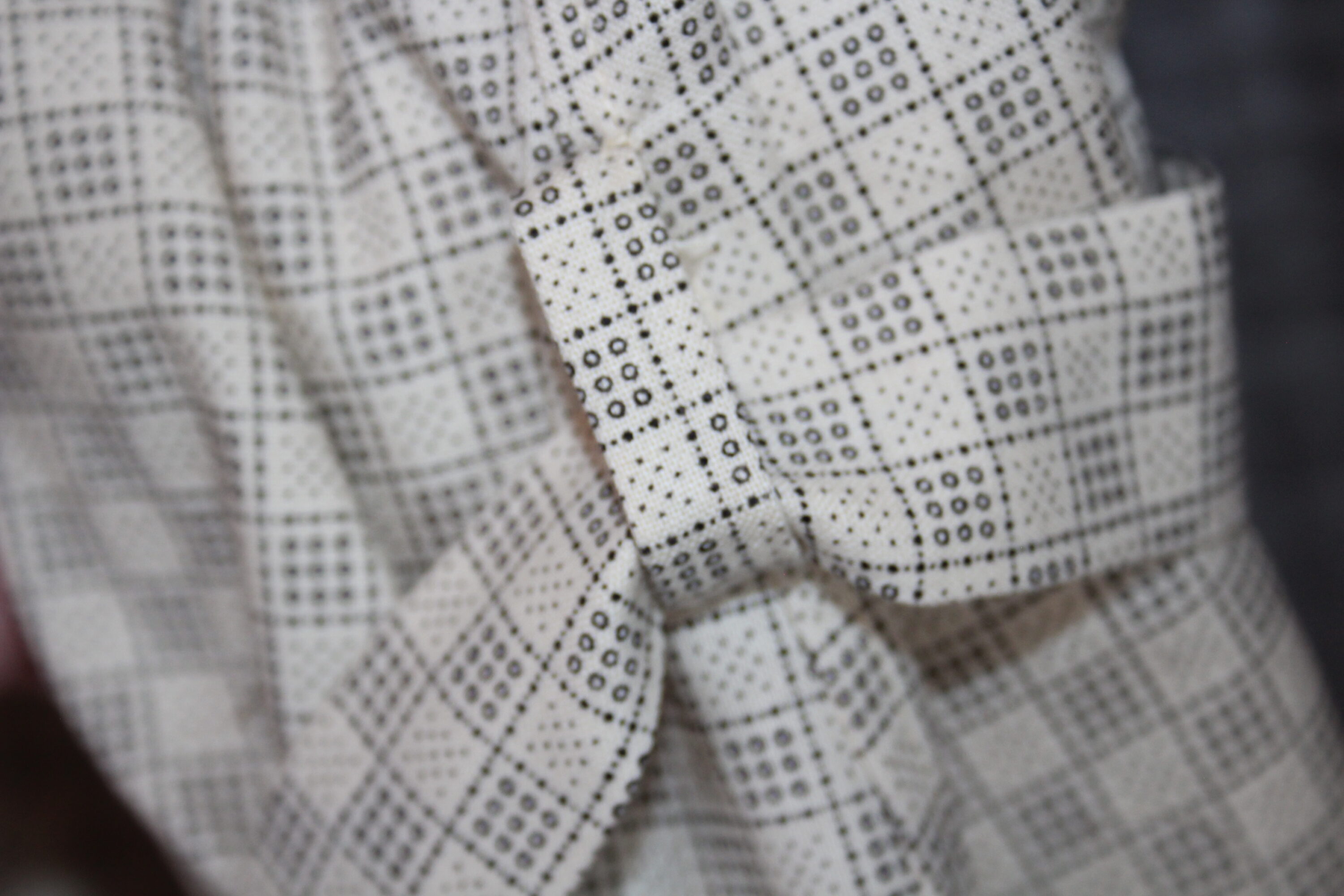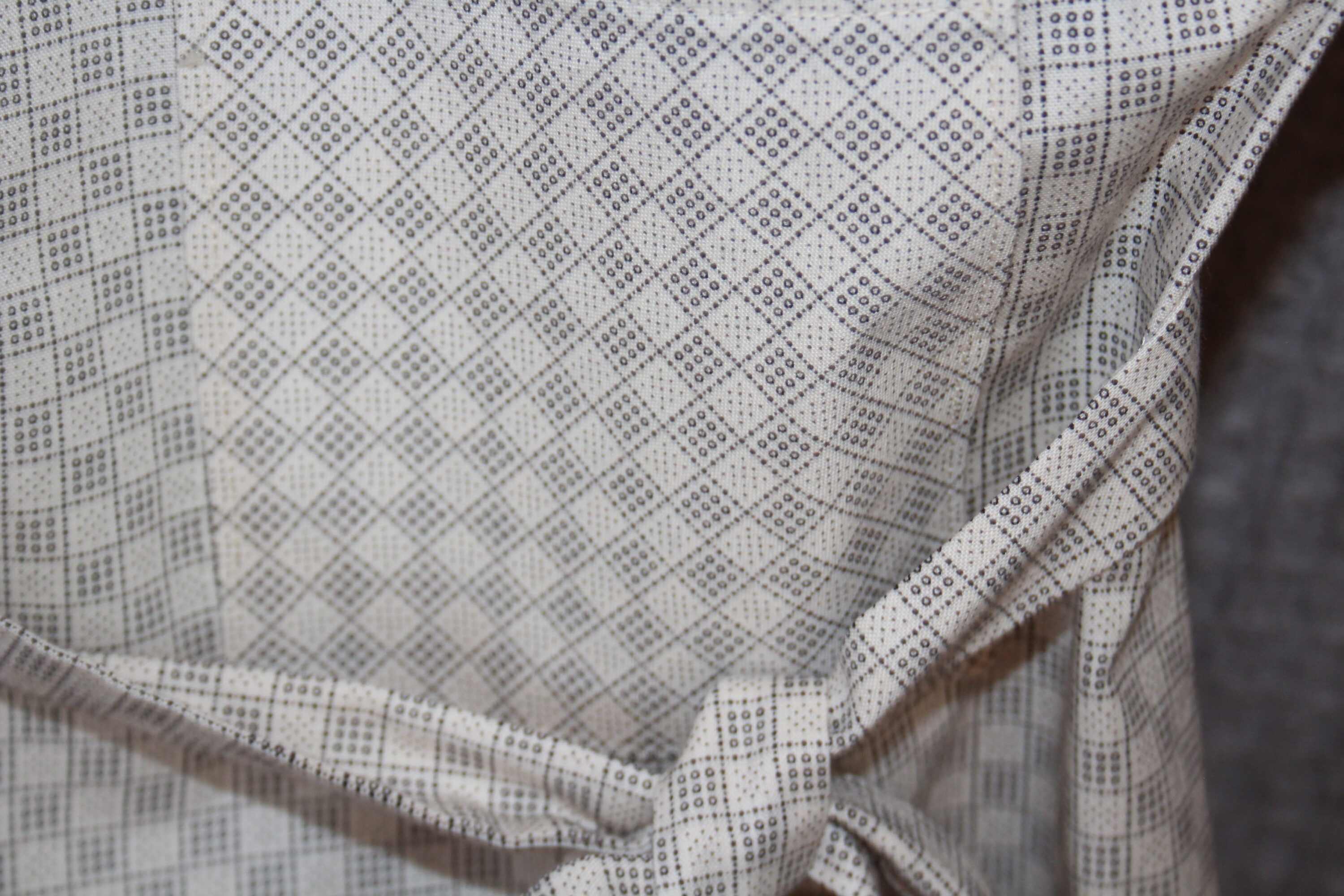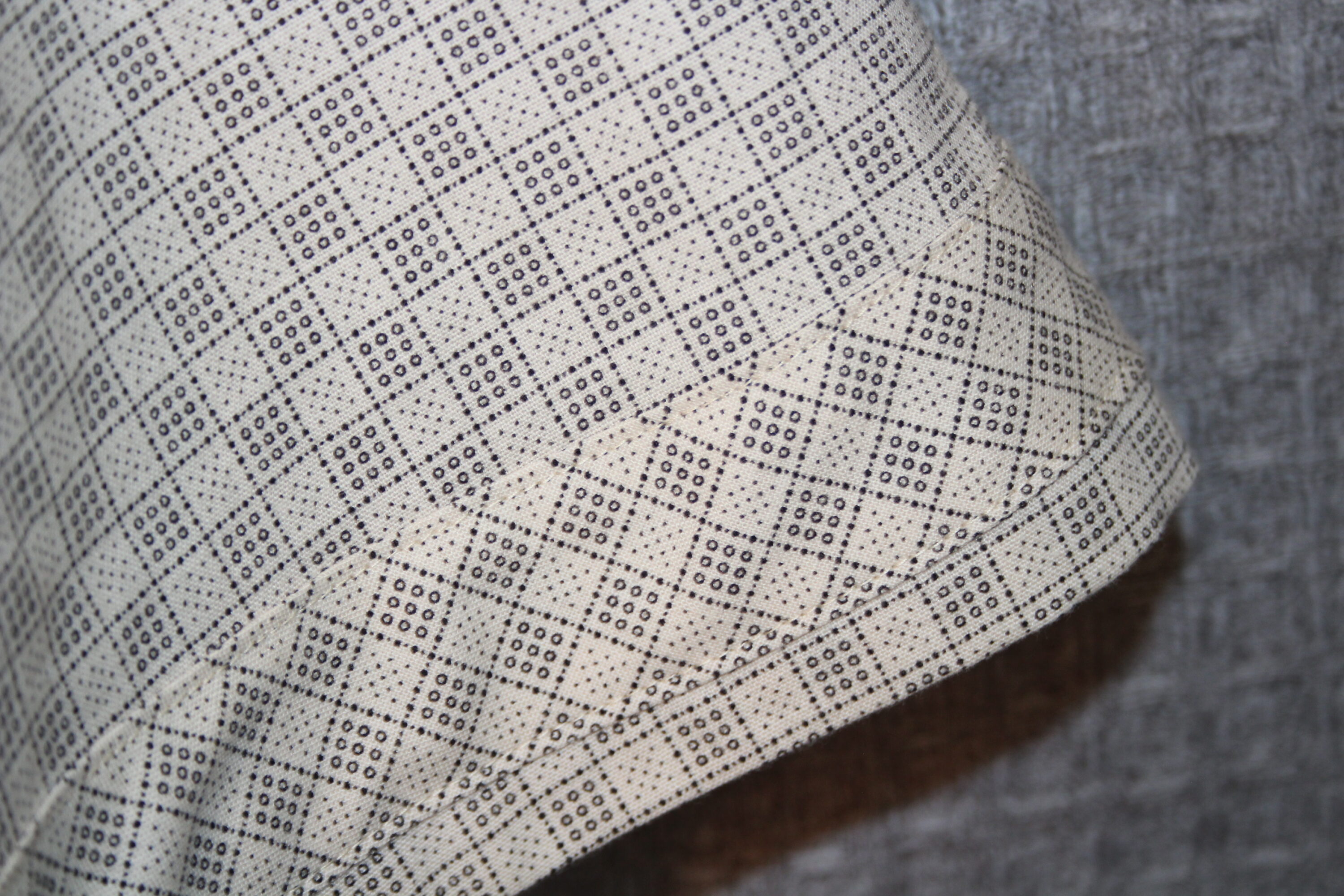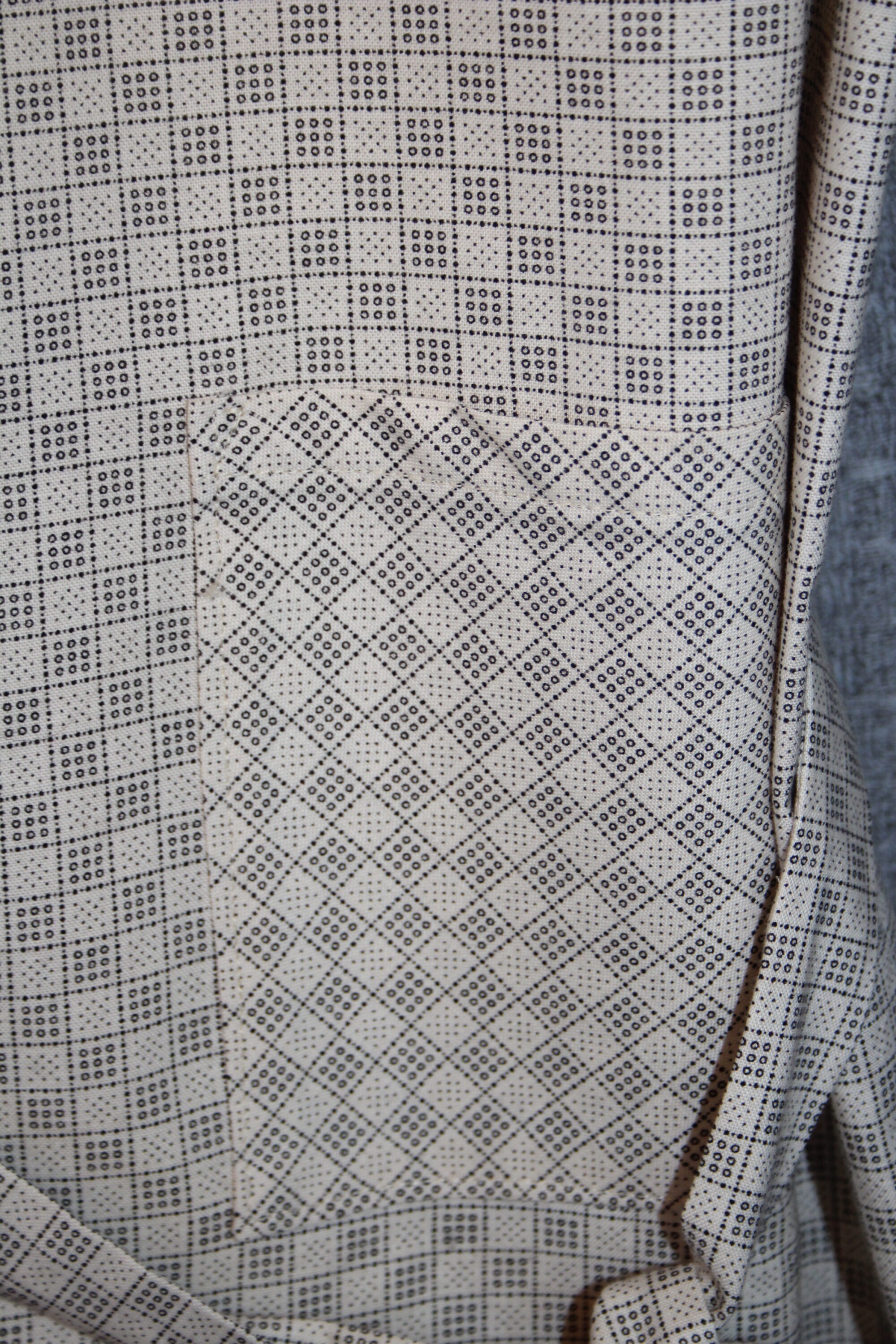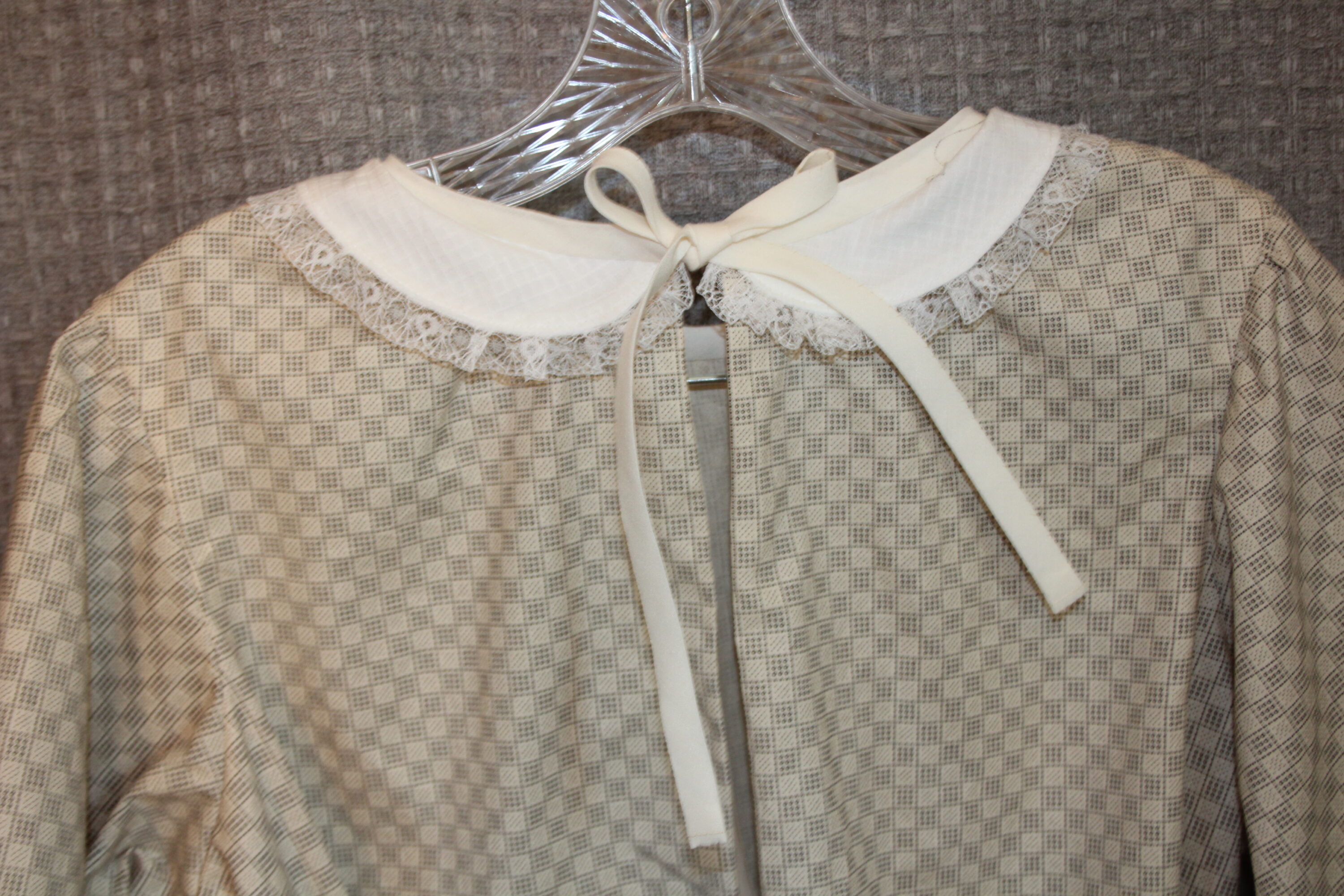 12A.1 (Size 12 Woman's low waist, "Scoop Neck", of vintage 1920's gold and blue floral fabric.  Reversible with dark blue and white polka dot, biase waist, mother of pearl buttons, self bows on pockets, cross ties with large bow in back).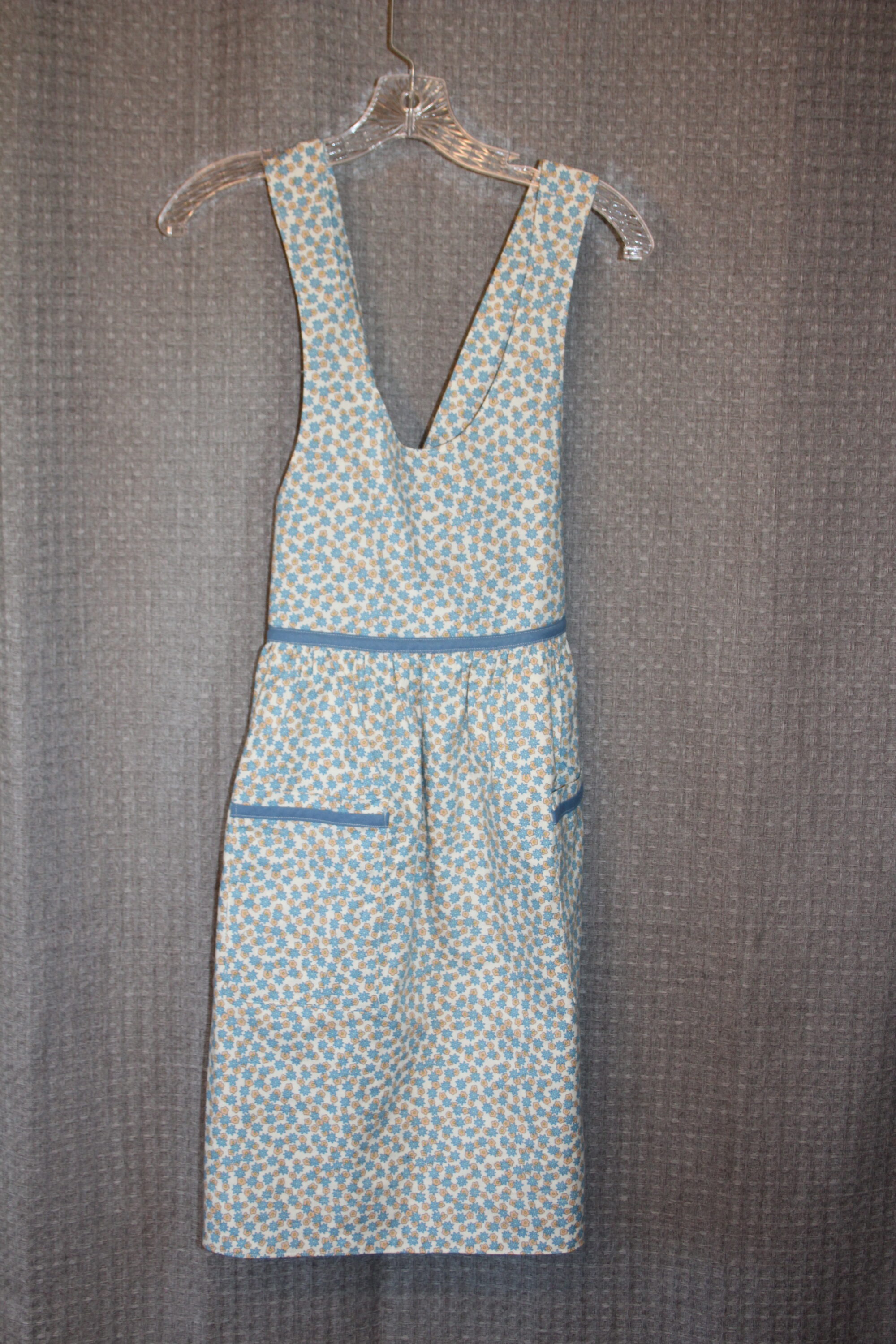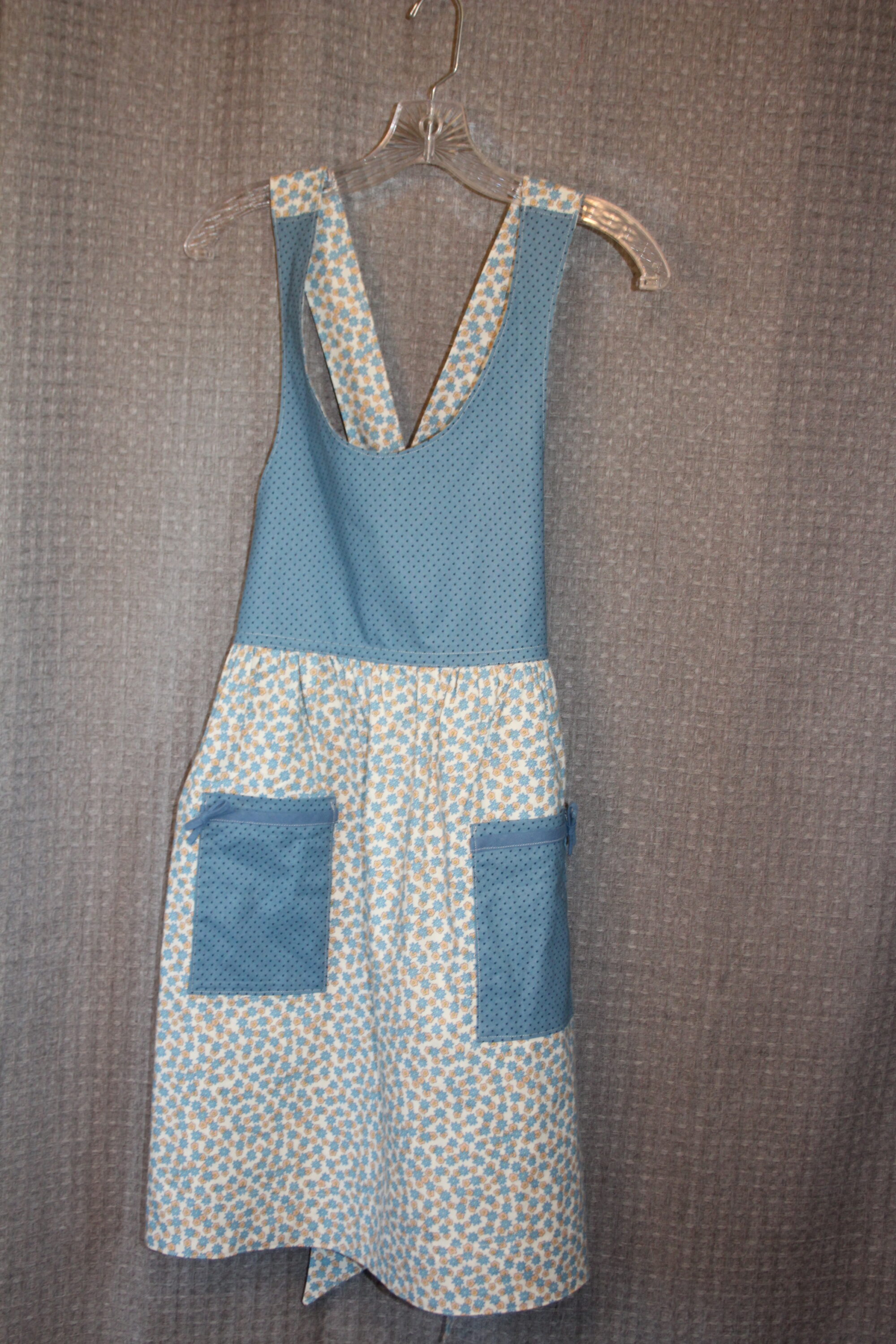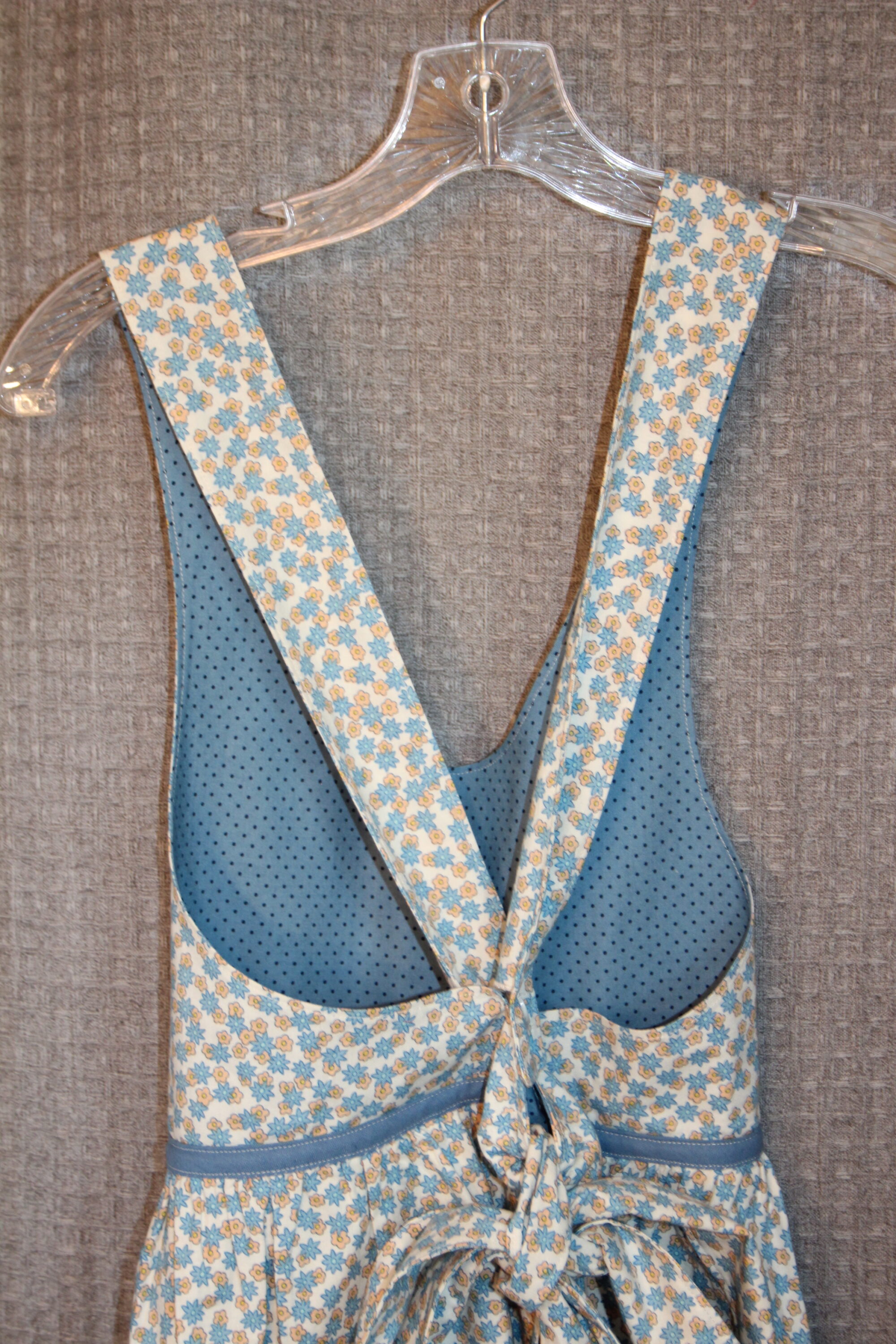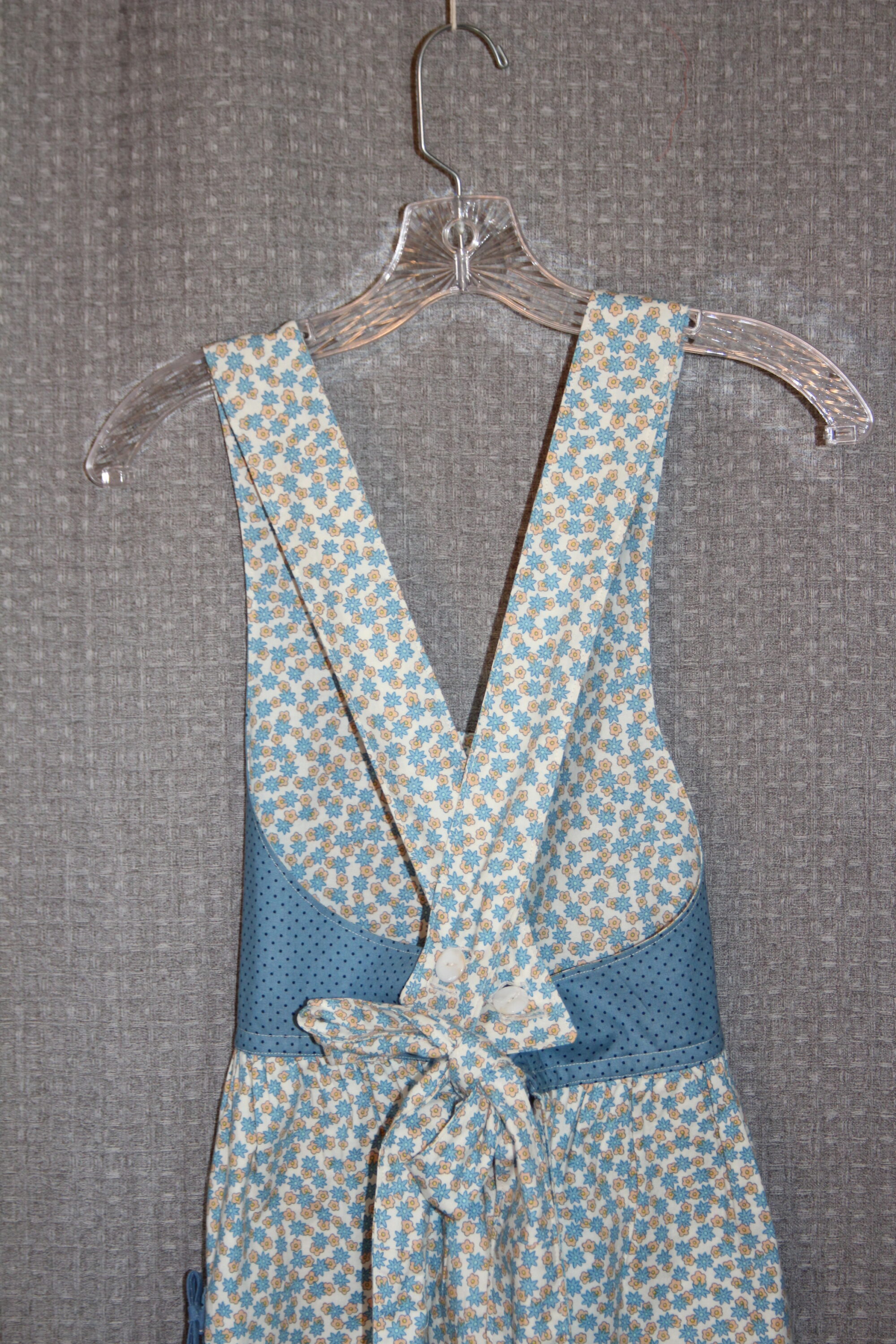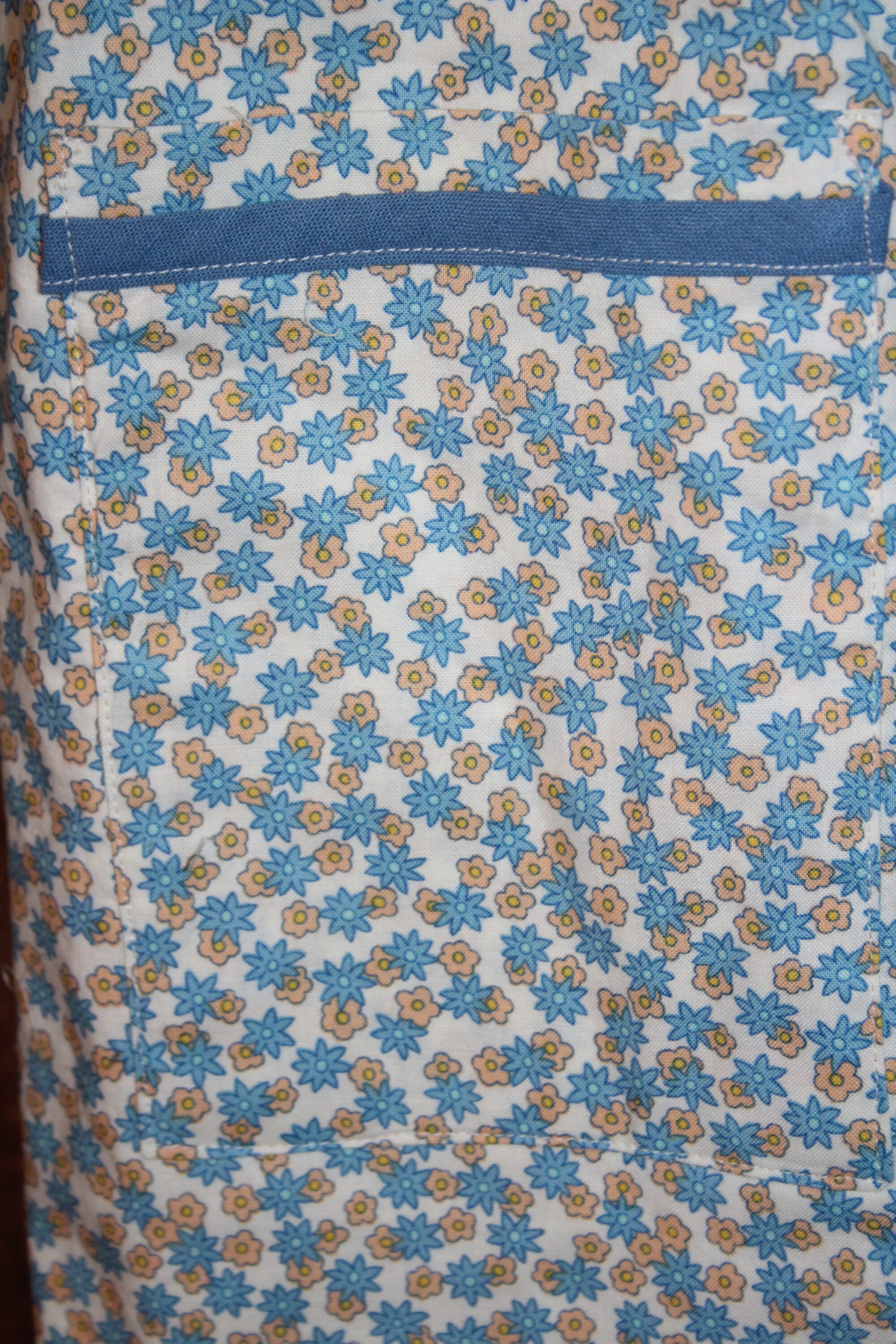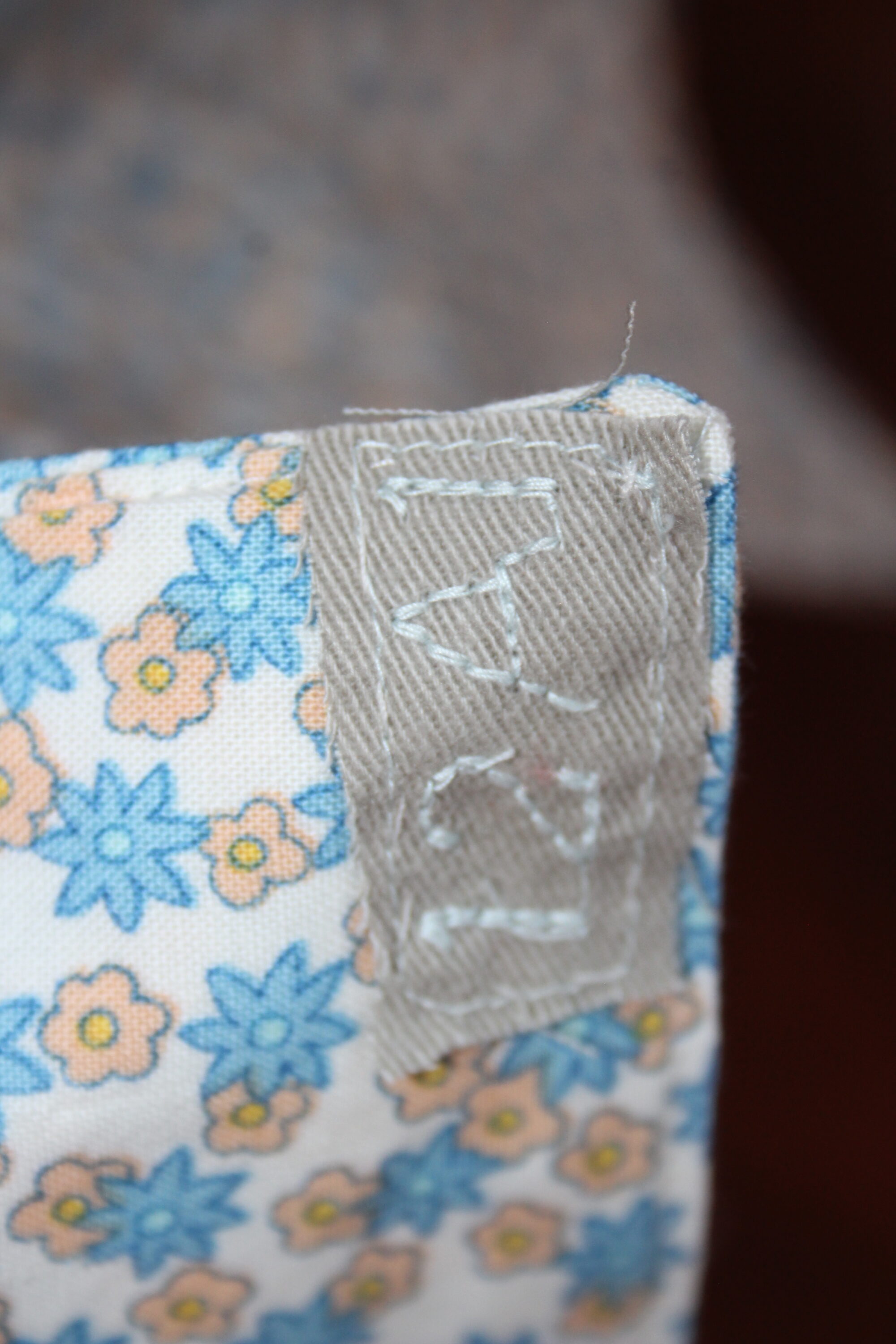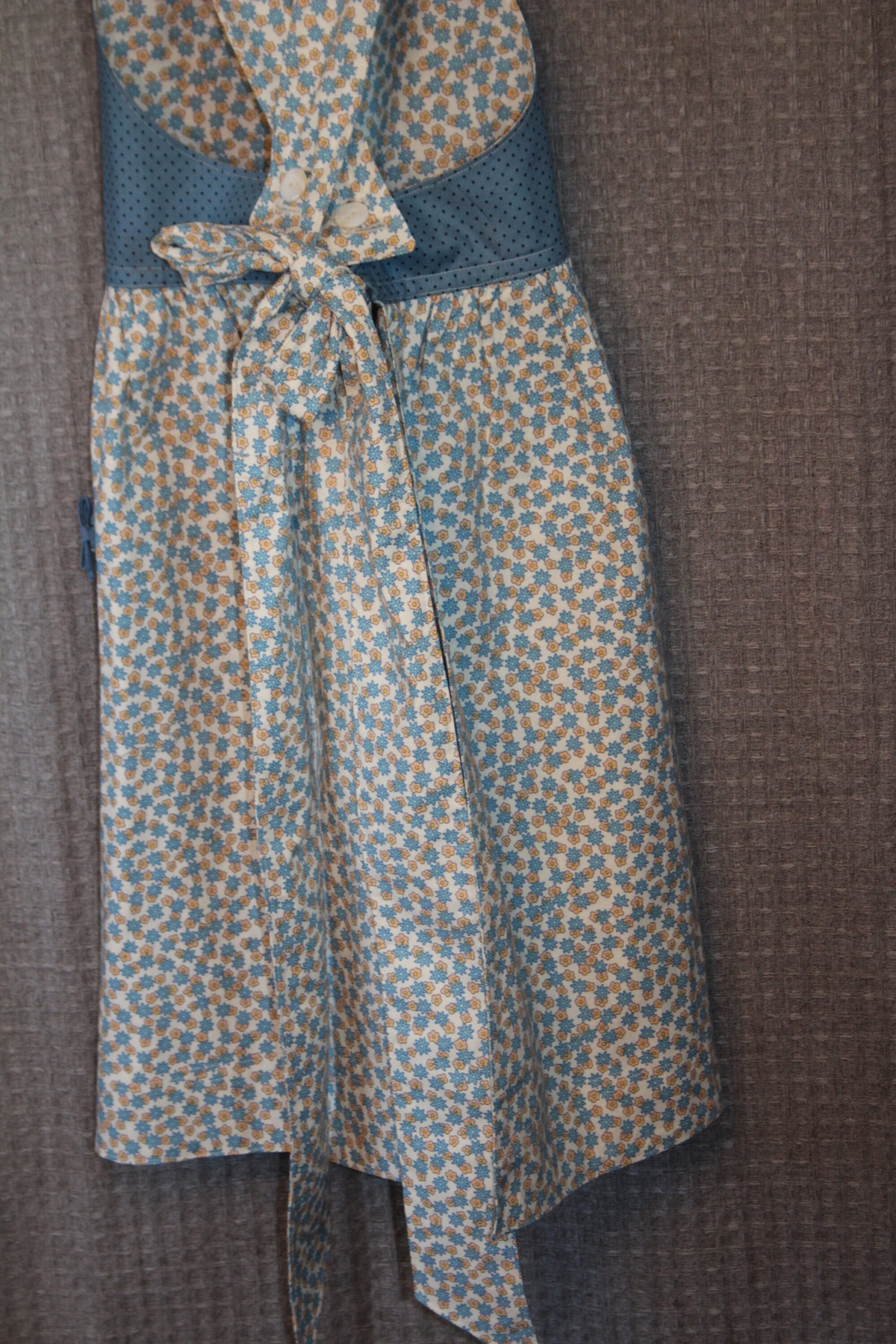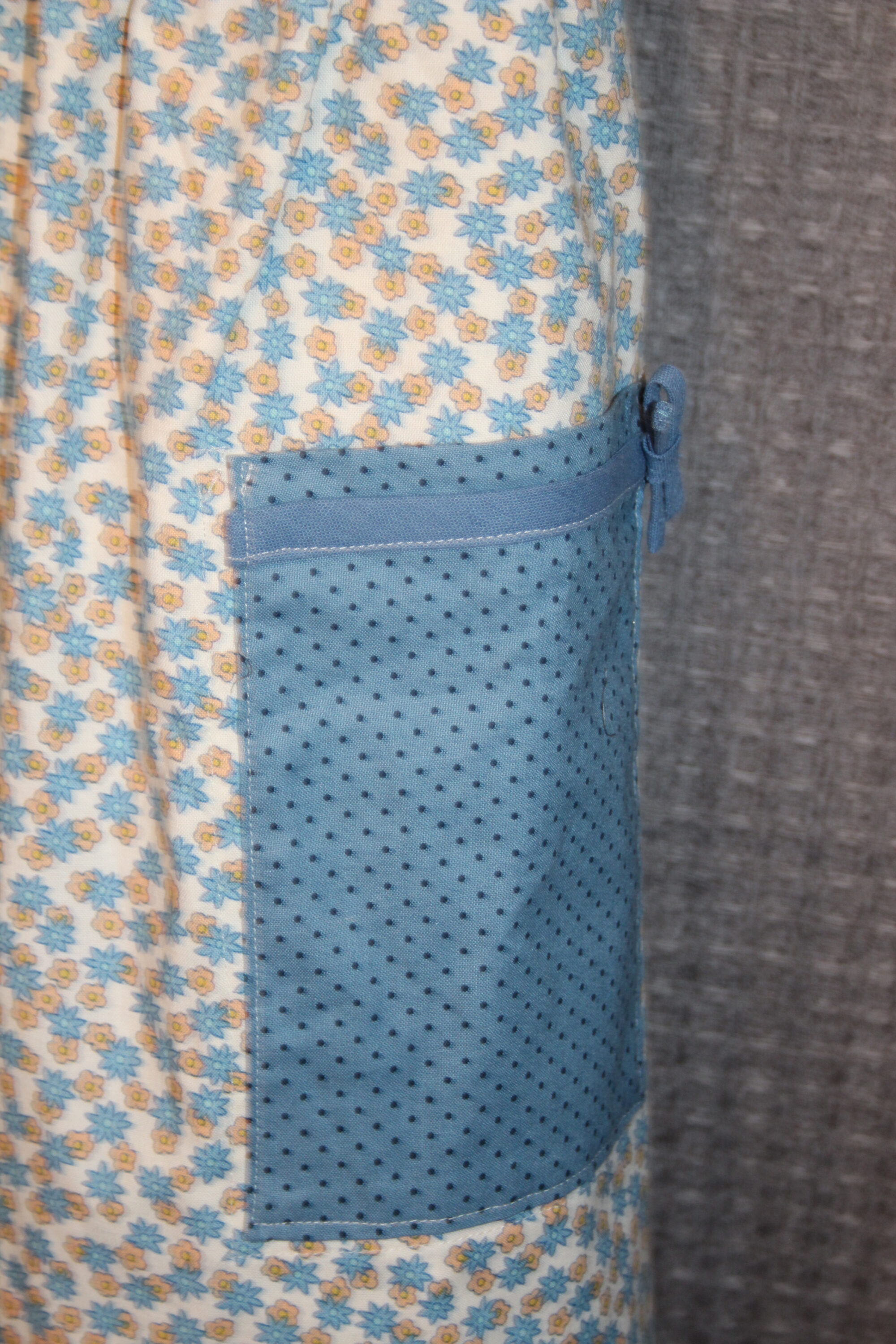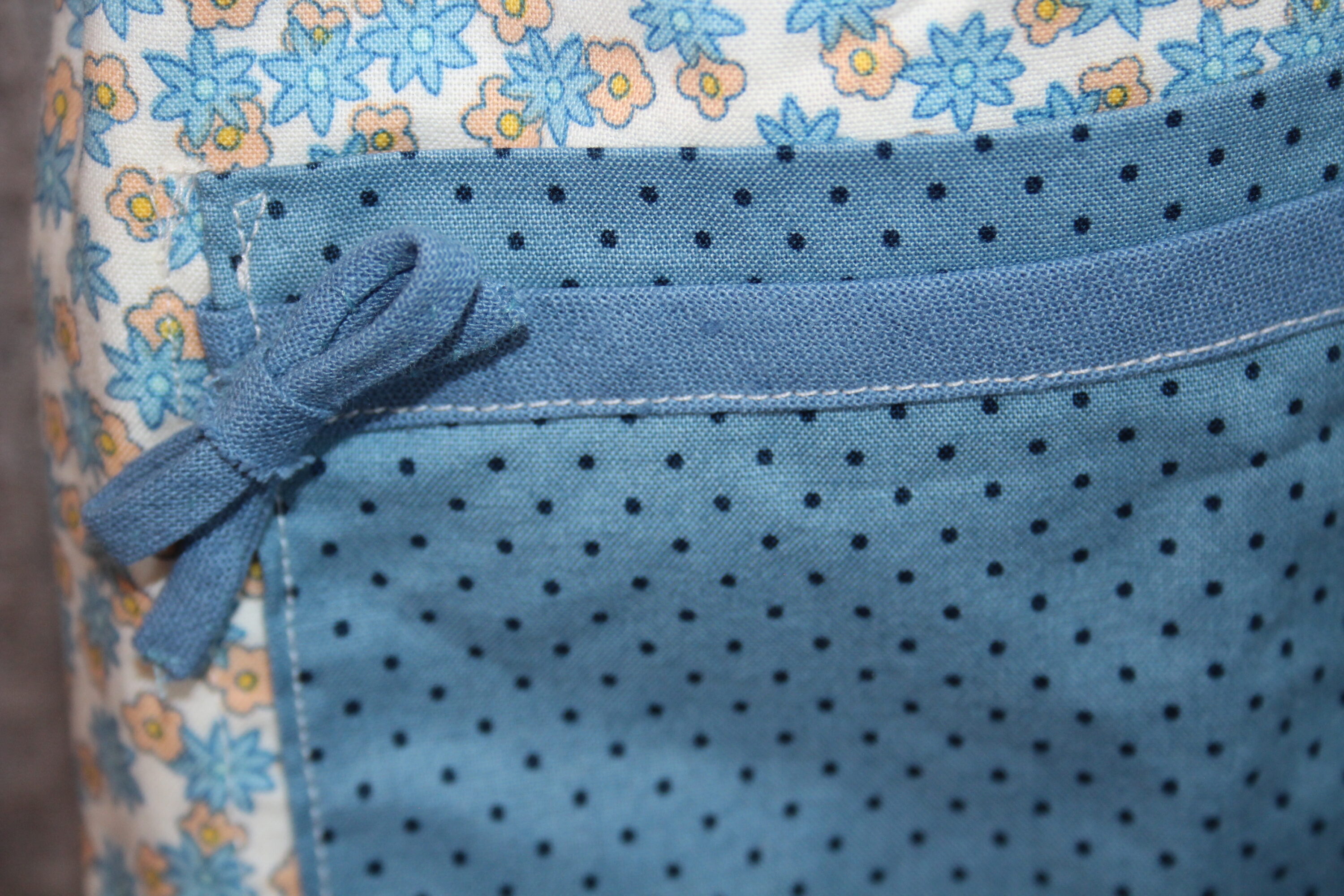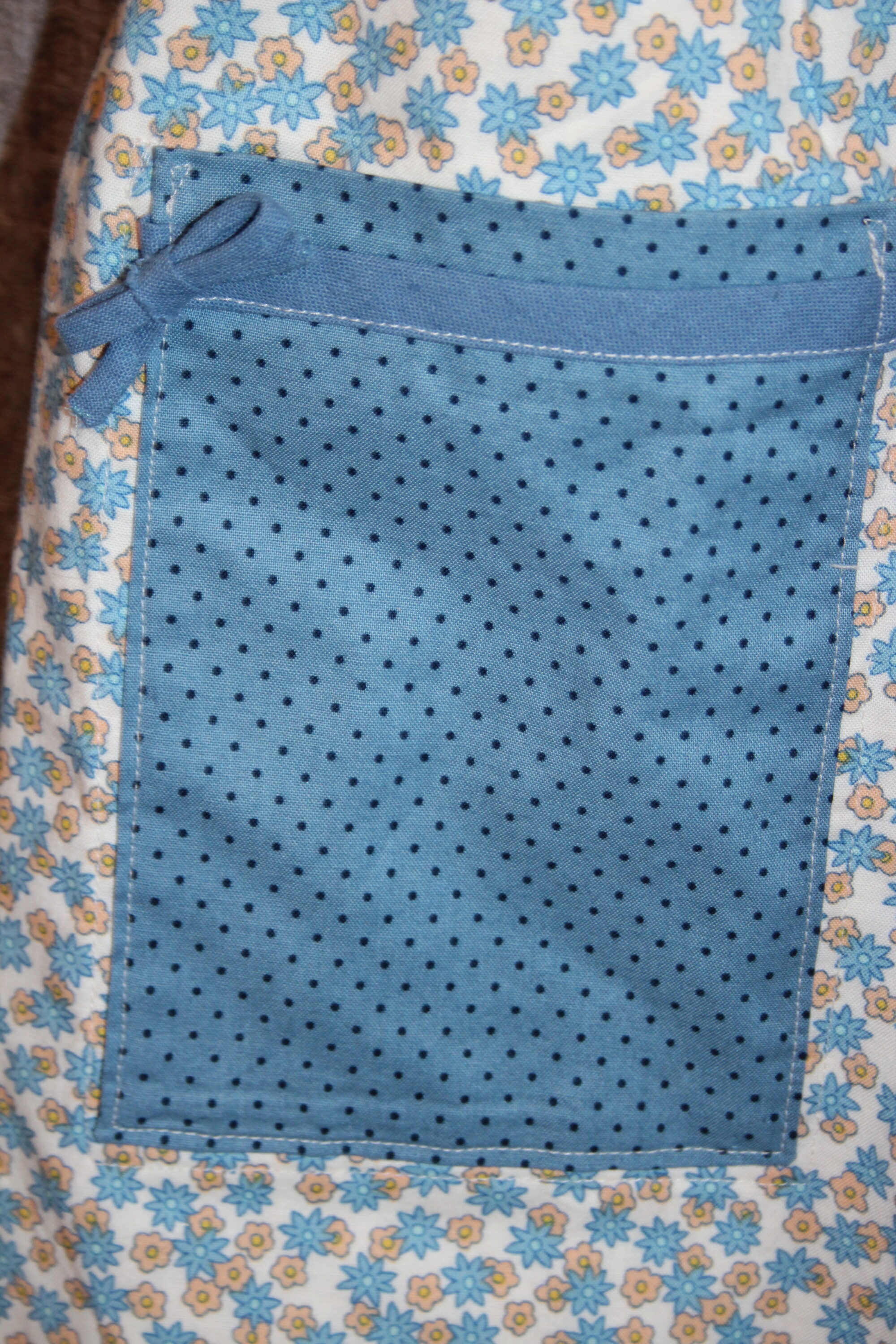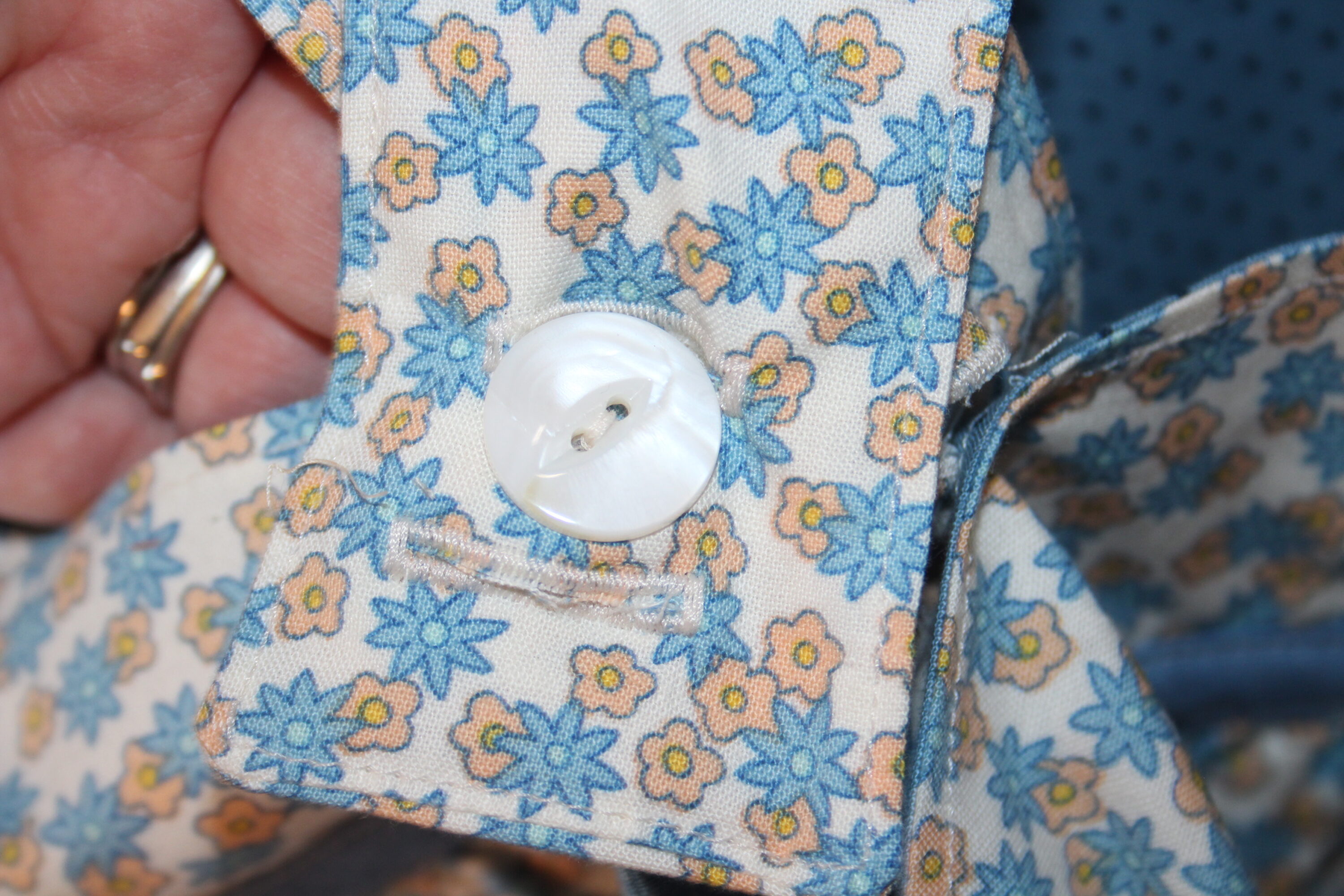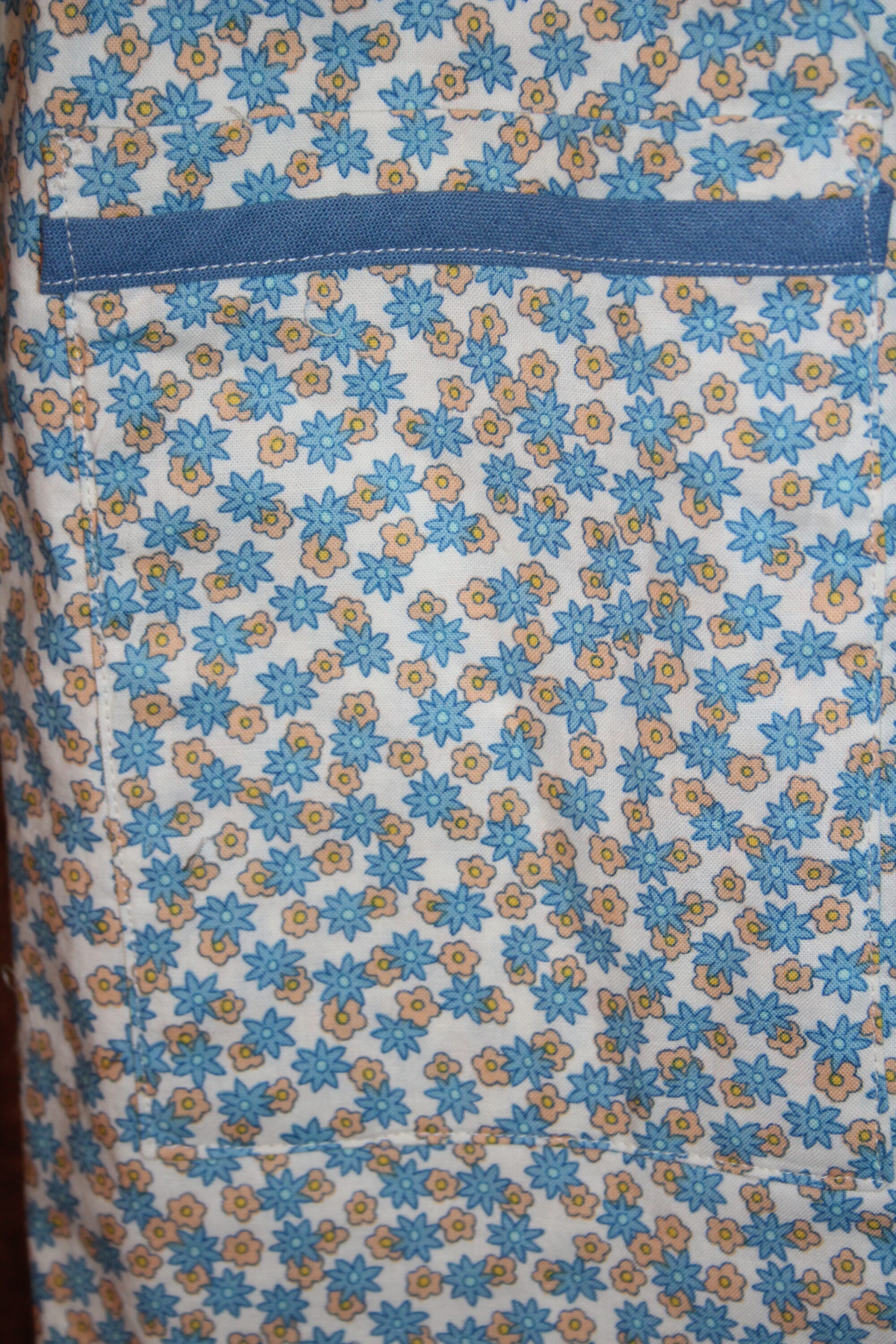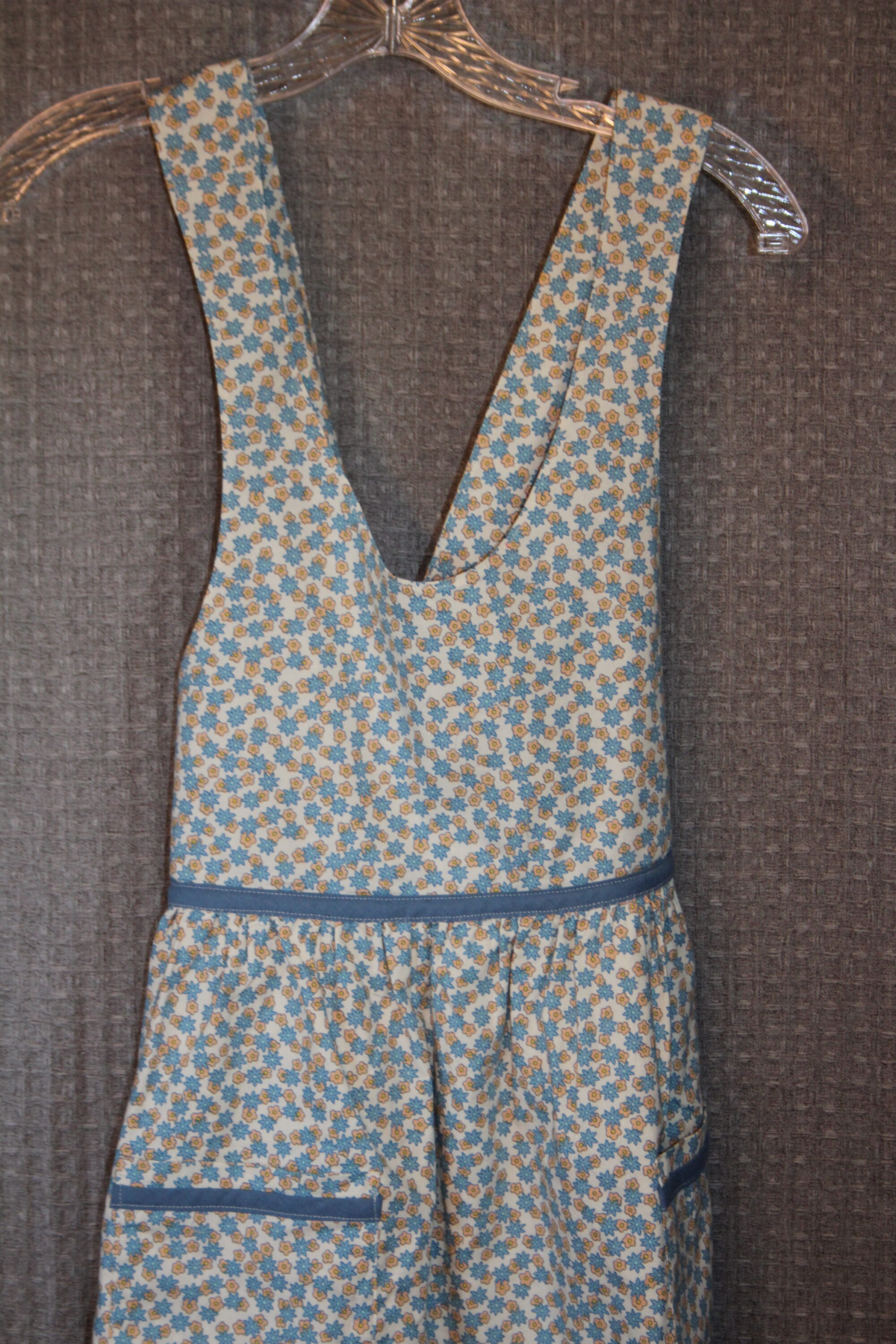 10A.1 (Size 10 reproduction tiny magenta and blue berries fabric, front self-lined apron with silk bows and mother of natural blue pearl buttons on pockets.  Front only with button waistband and light gray bias tape).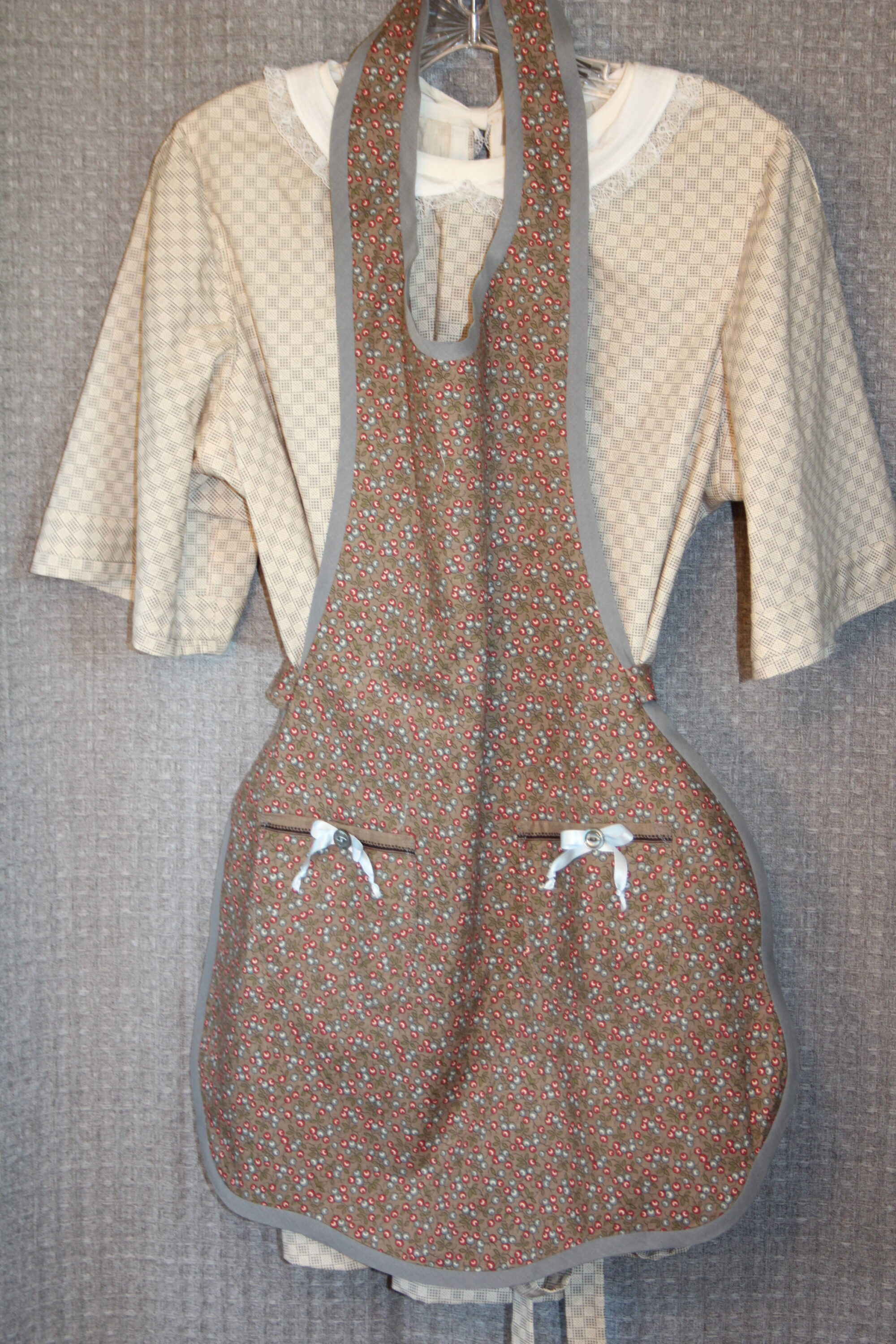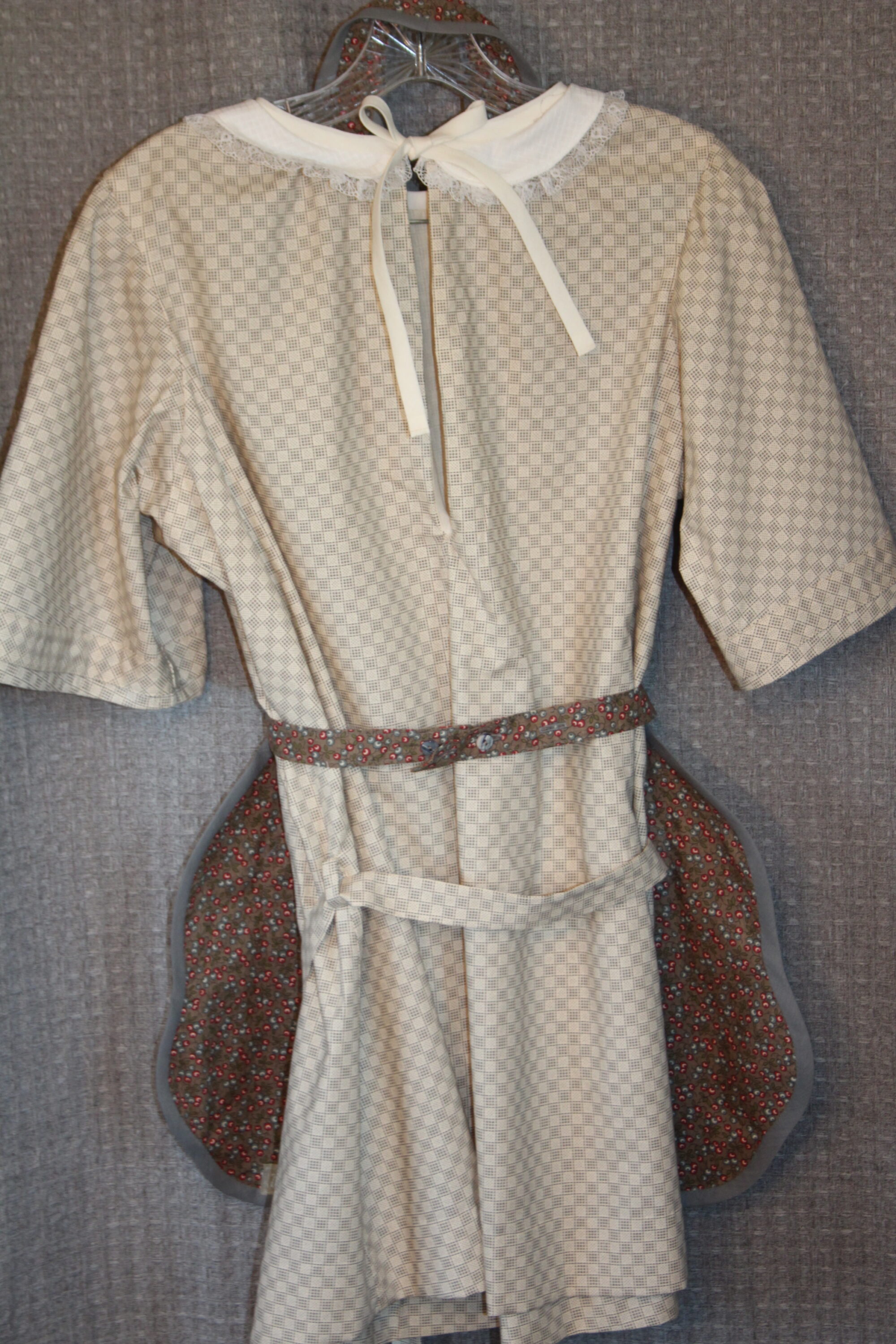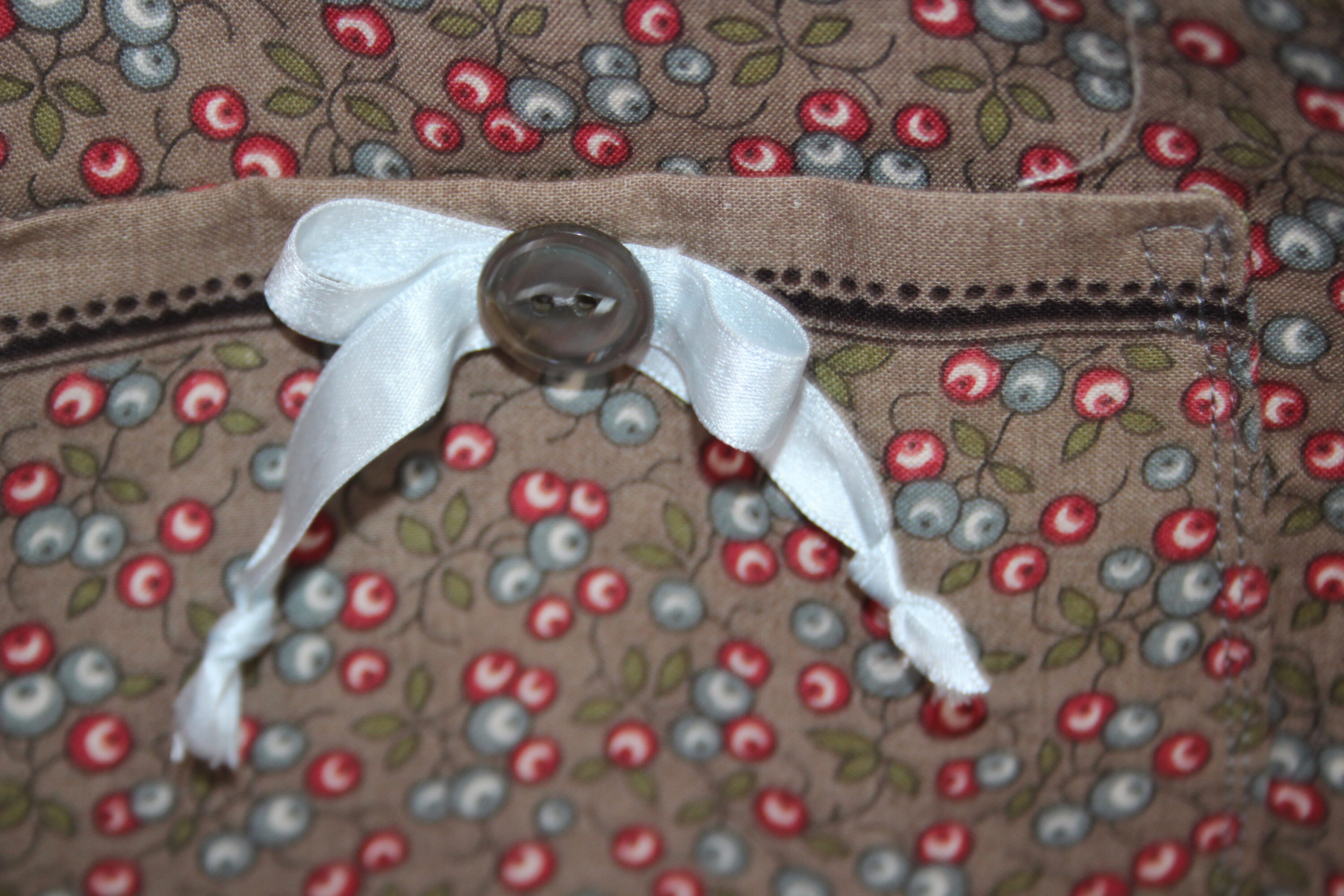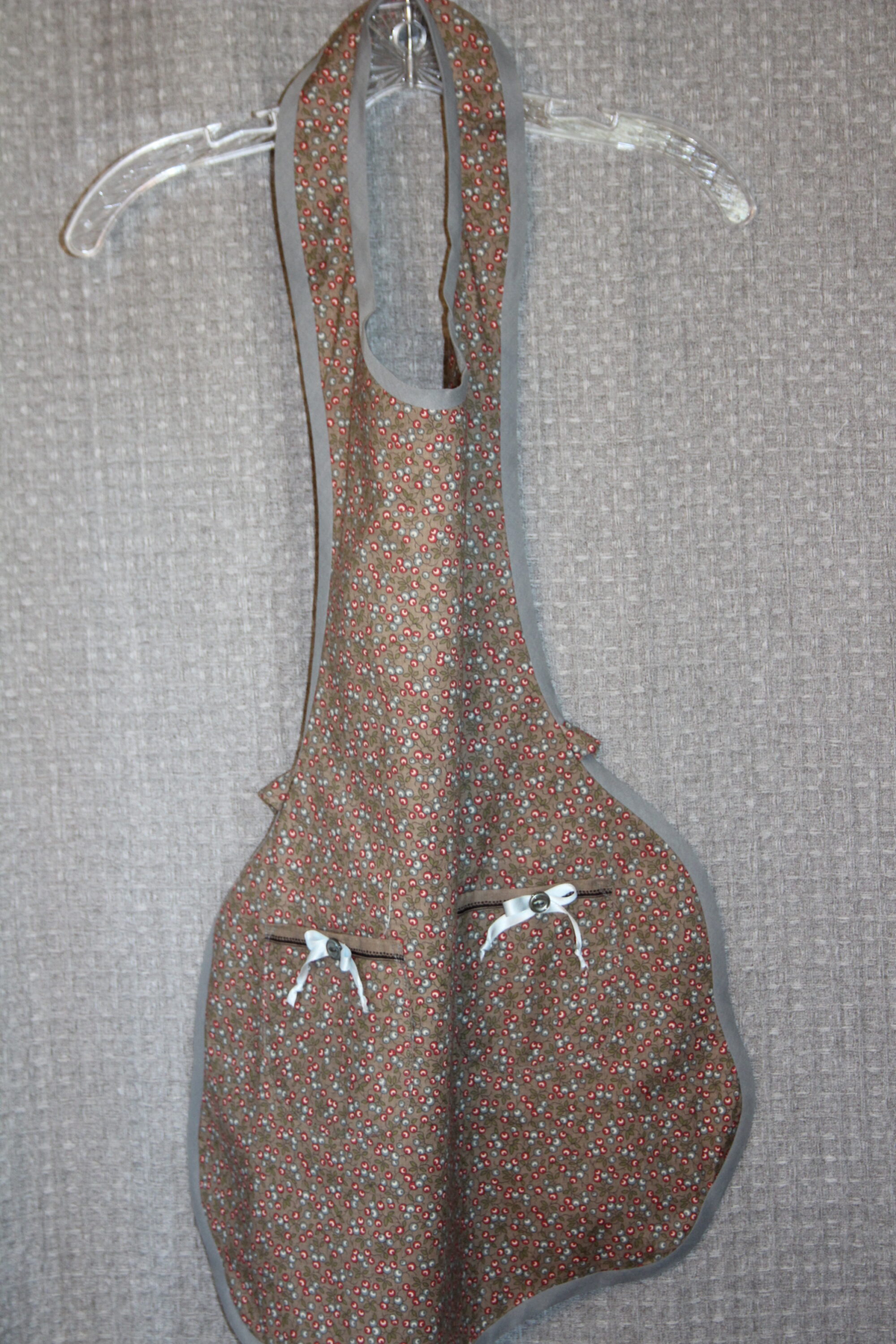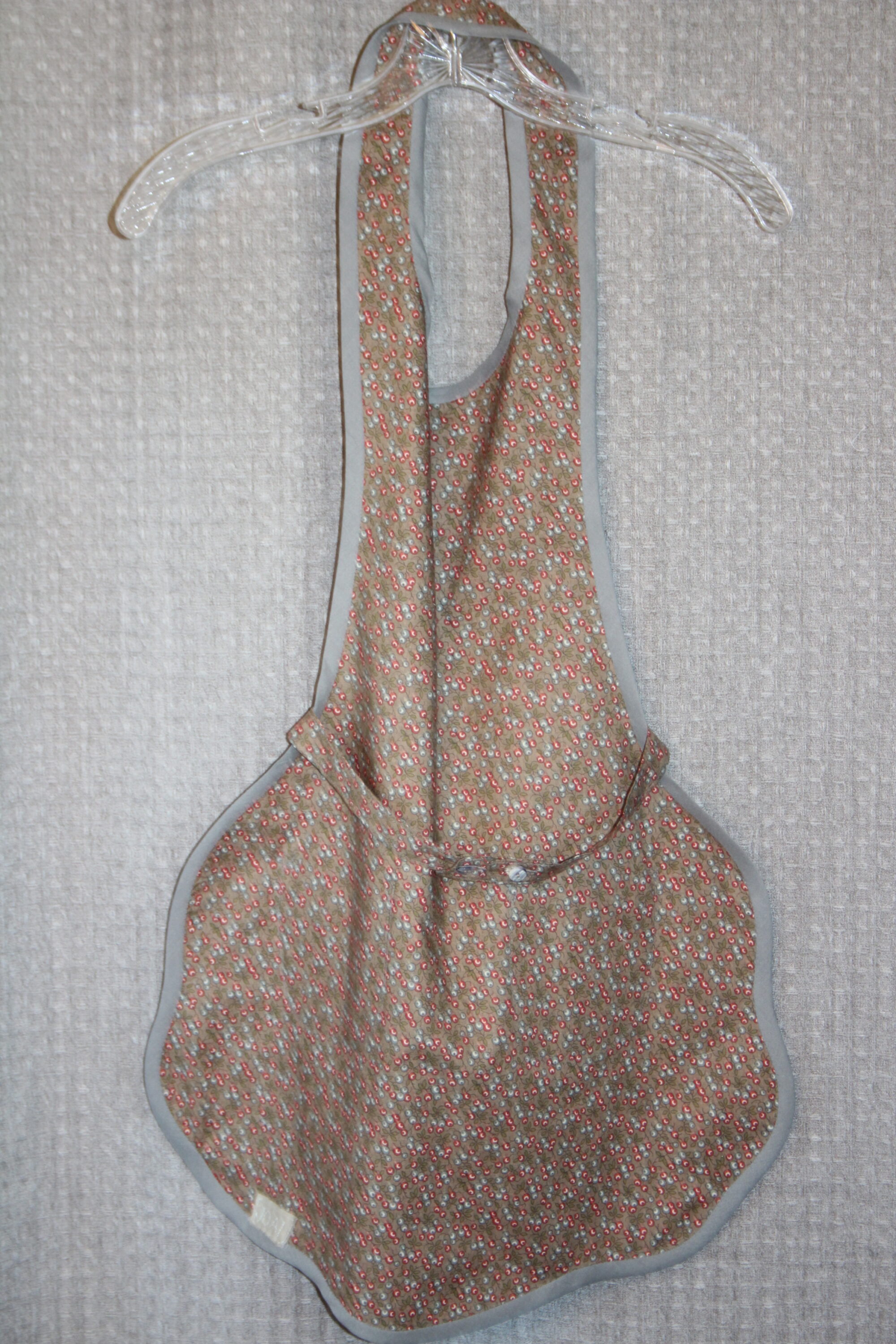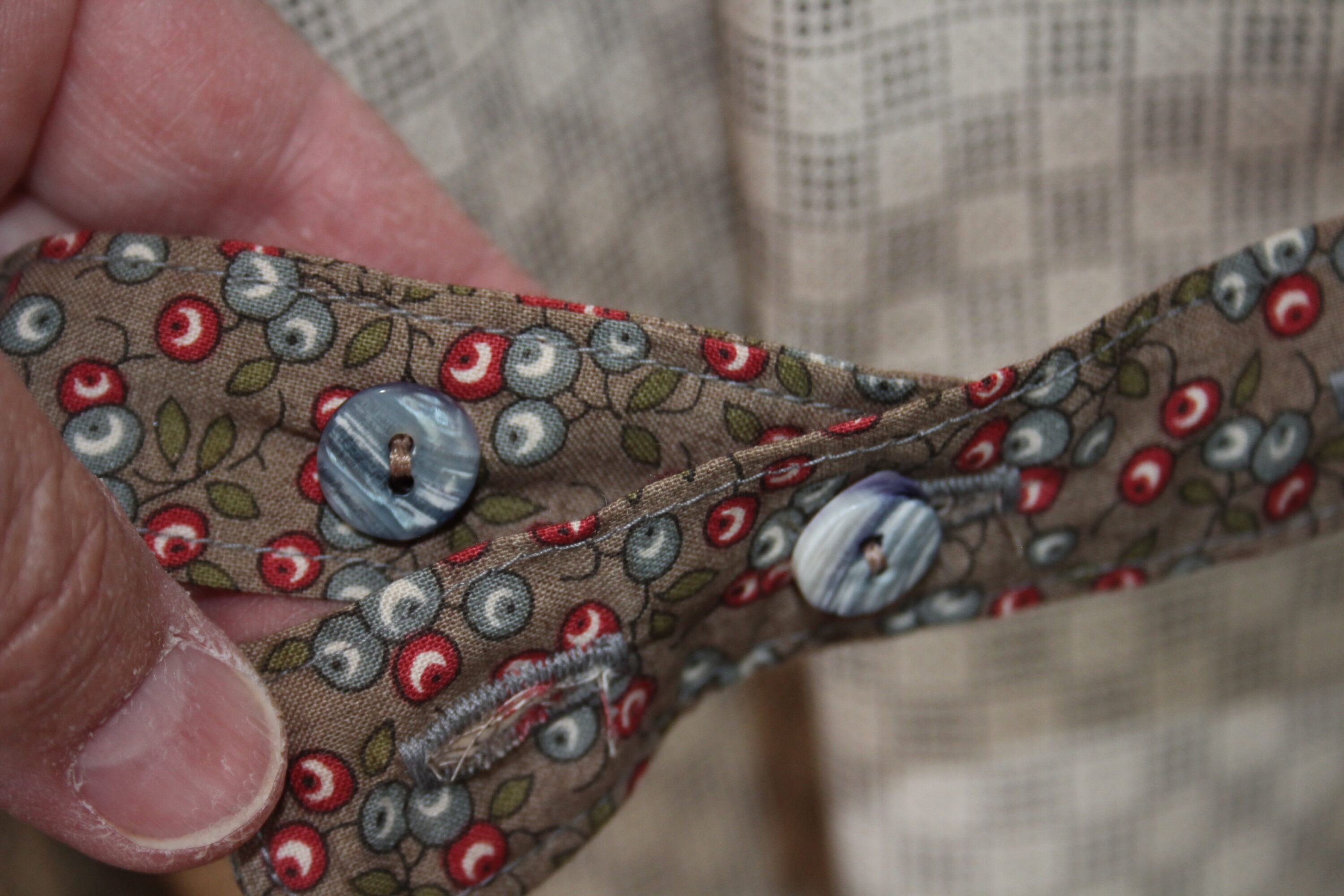 10.2 (Size 10 Egyptian print reproduction w/magenta and coral bias tape, front closure.  Waist tie, low pockets in older girl style).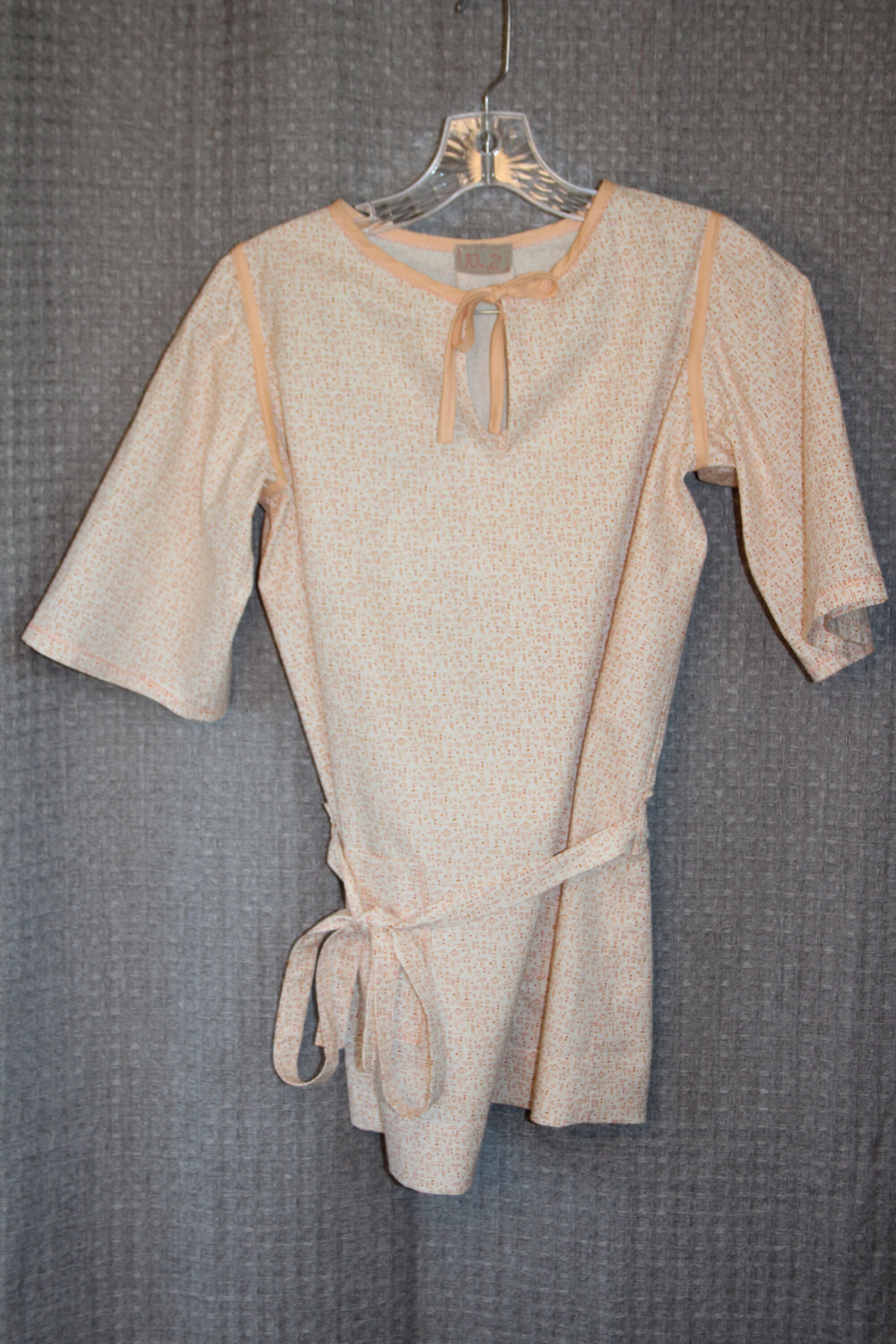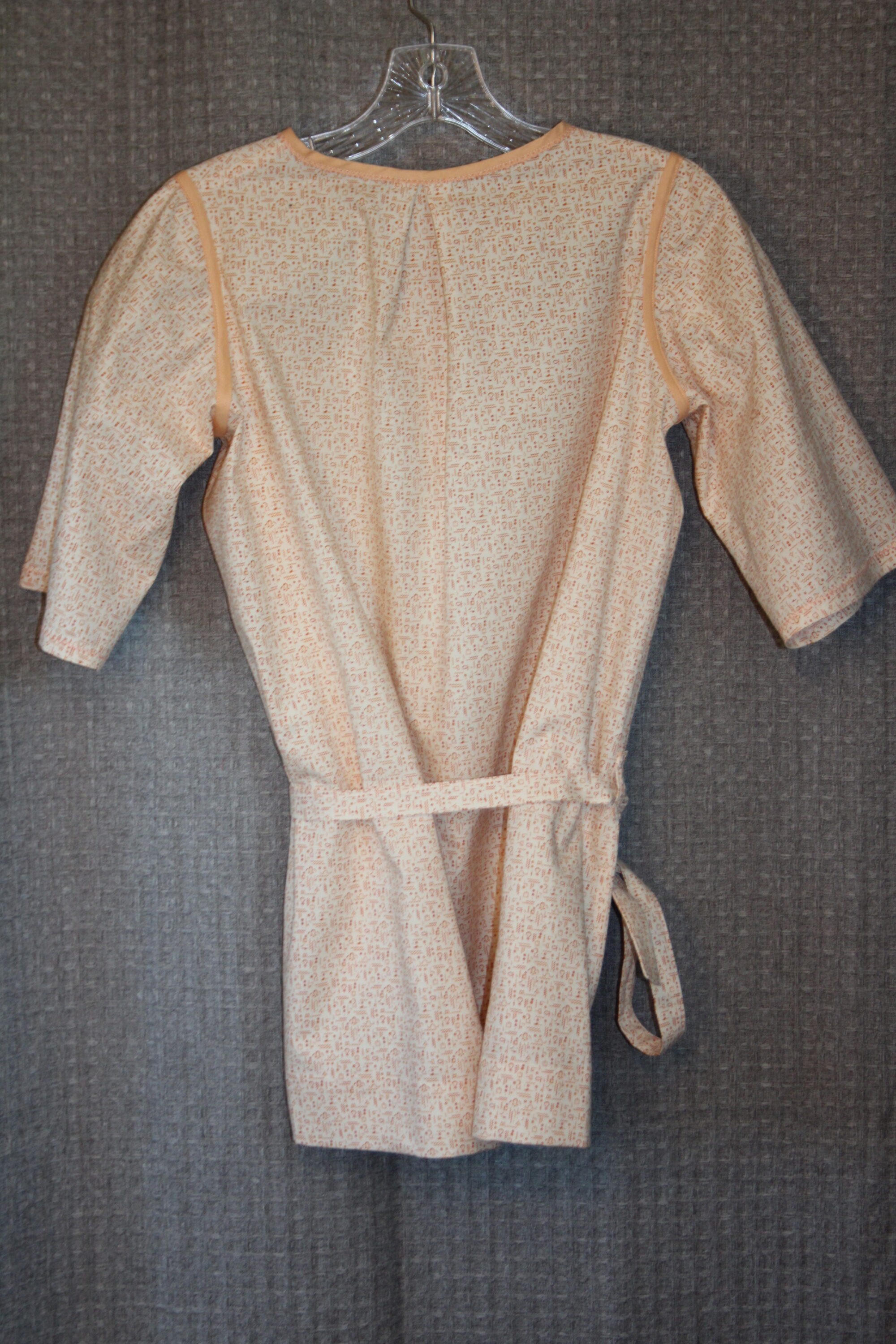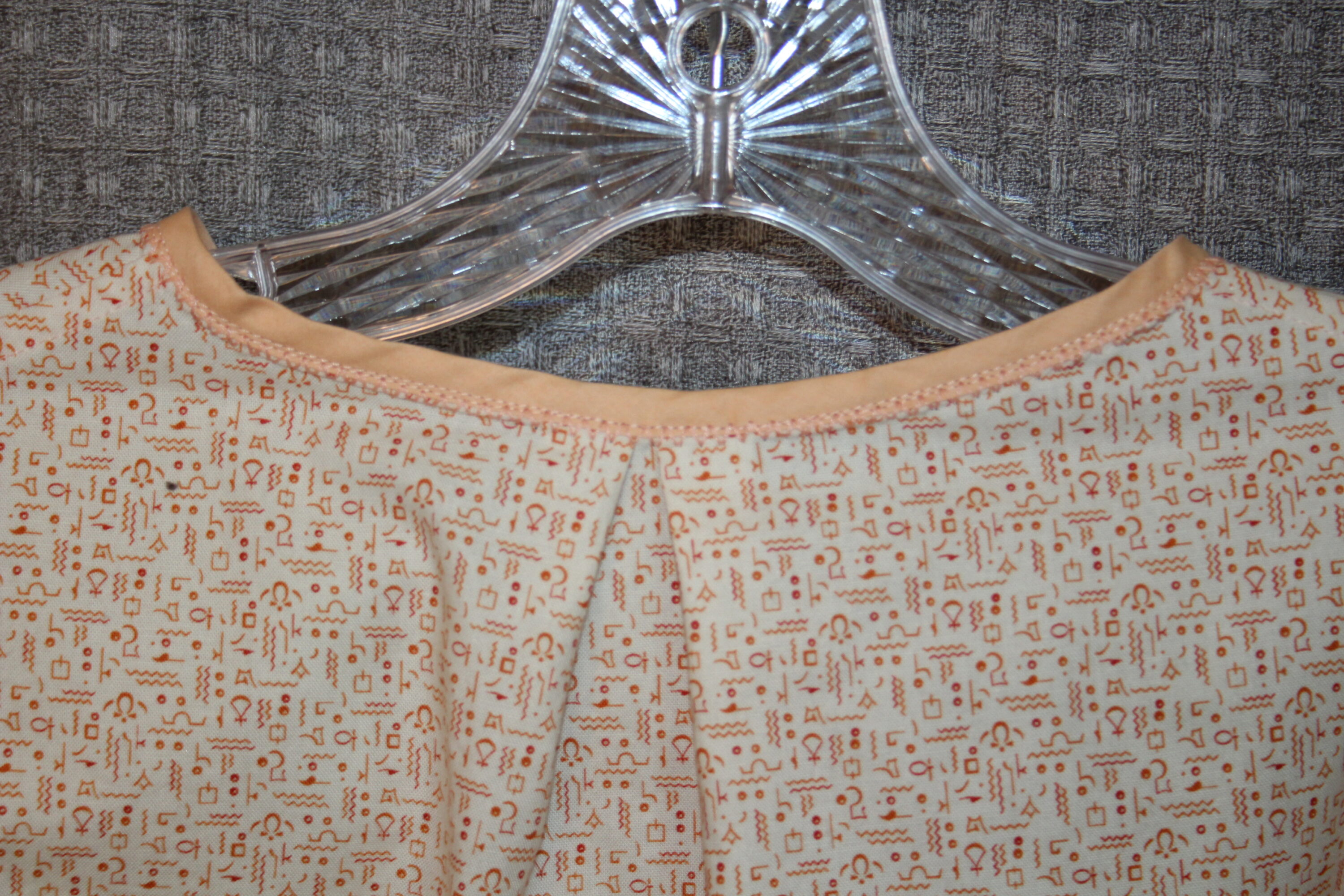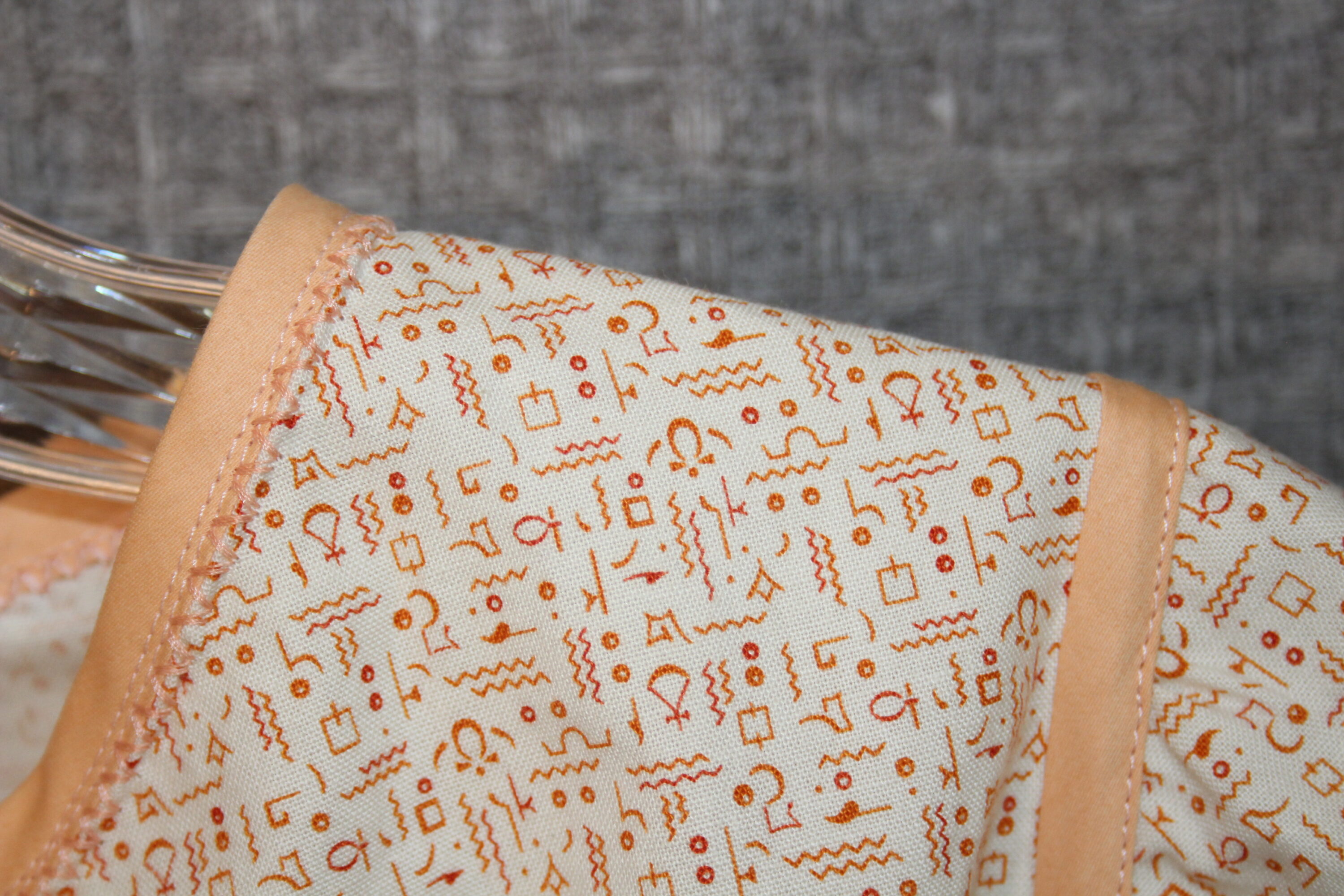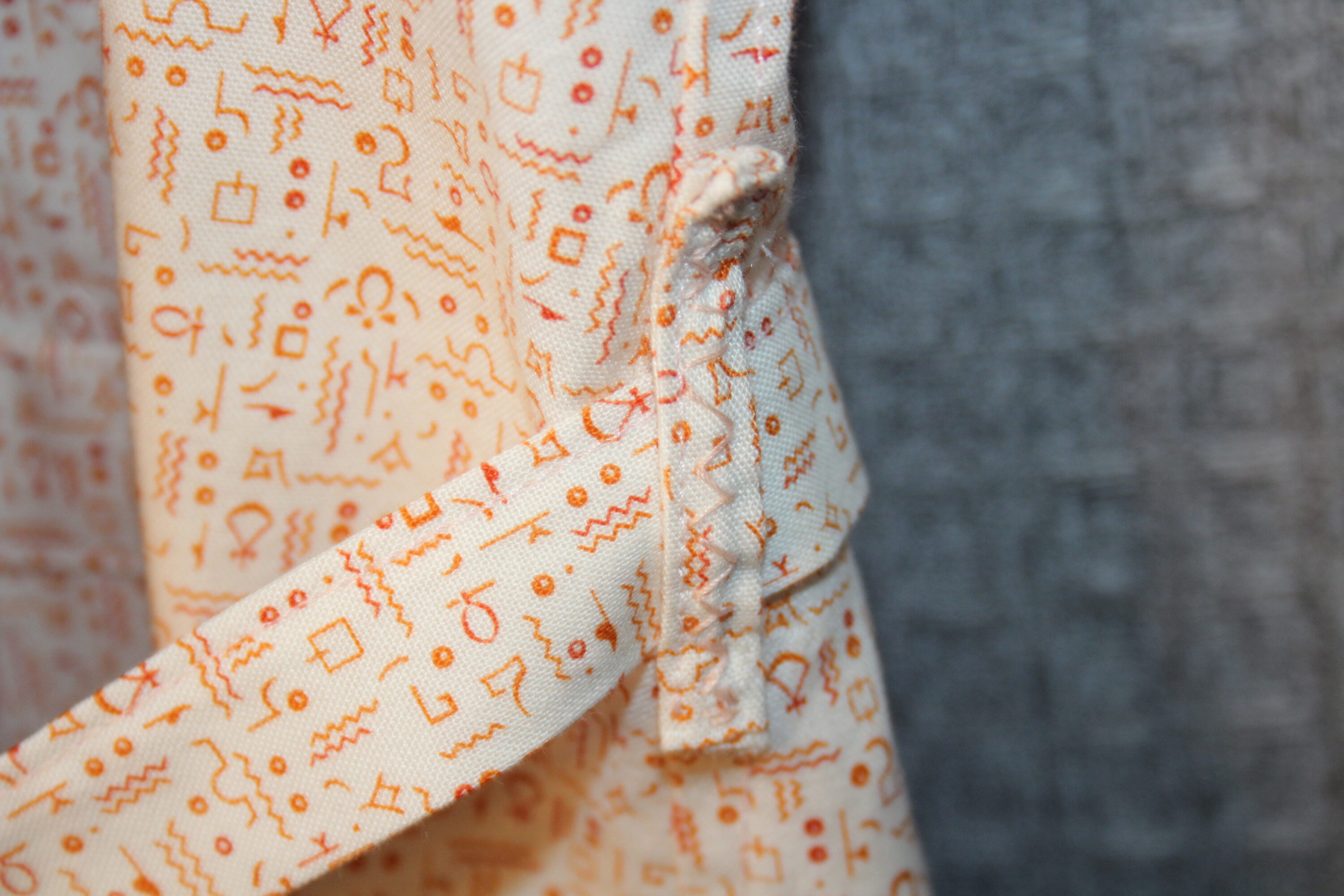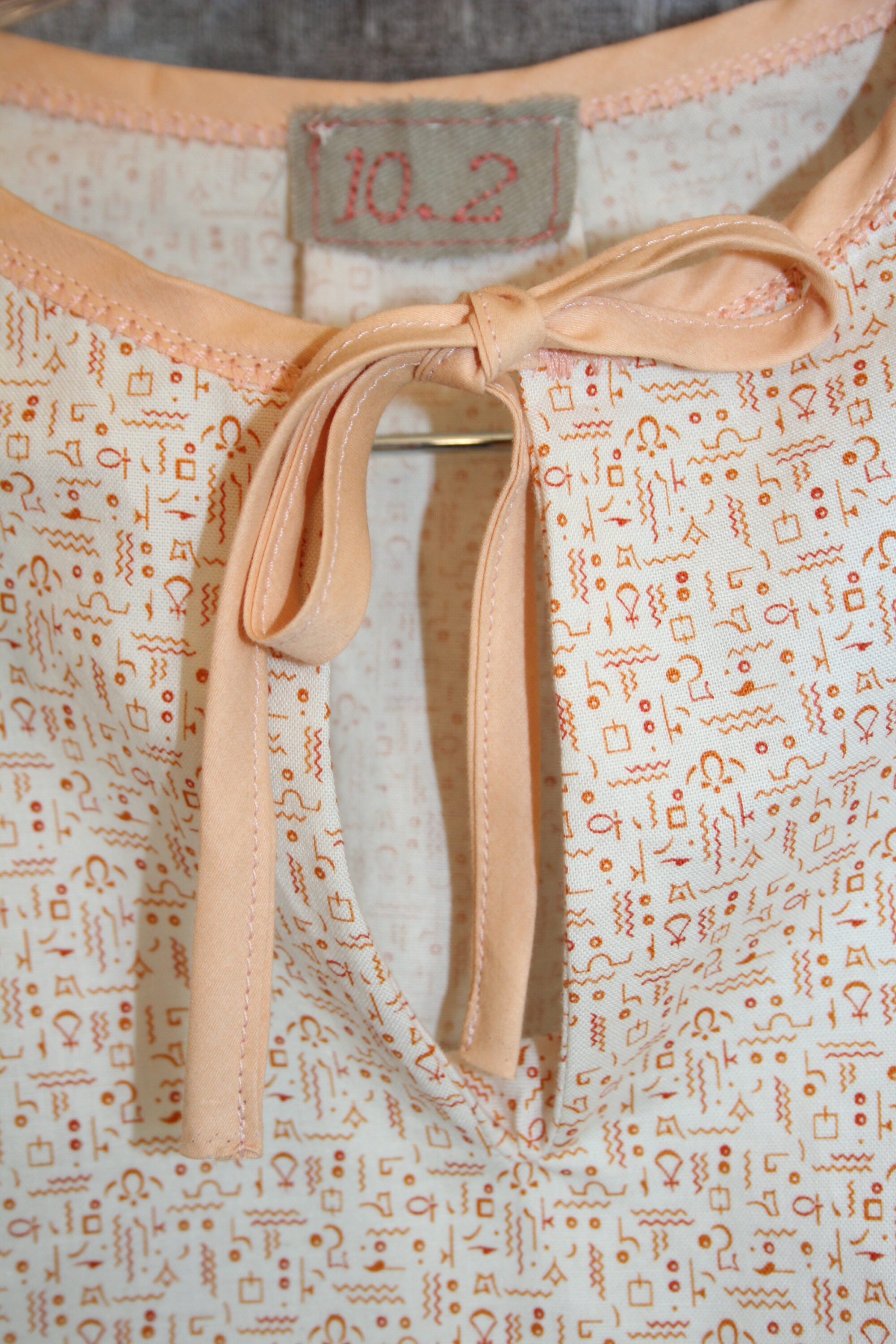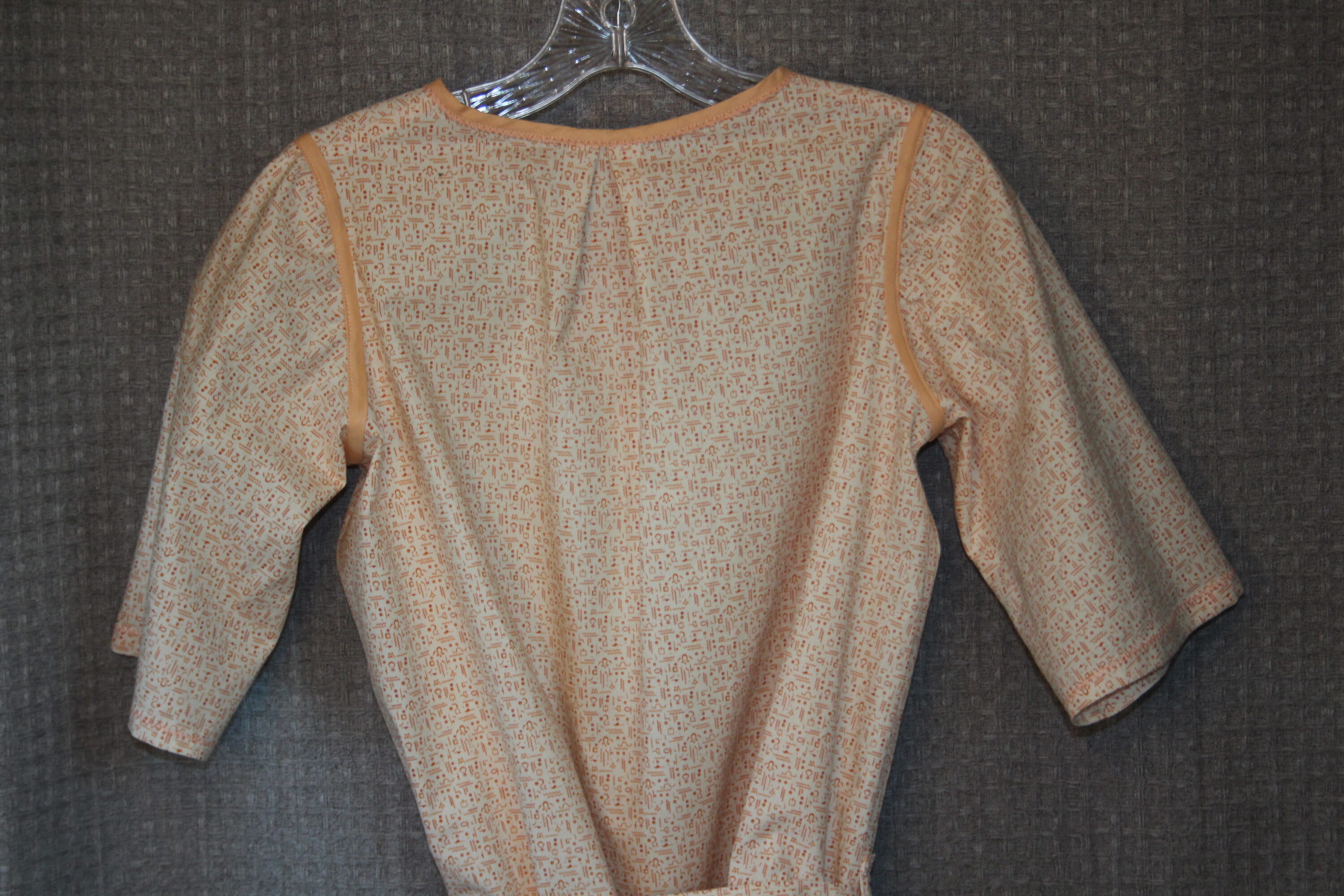 10.1 (Size 10 little girl "Dolly Dingle" style high waist light pink with dark pink flowers and dark pink bias tape, low pockets.  Mother of pearl front closure buttons tied).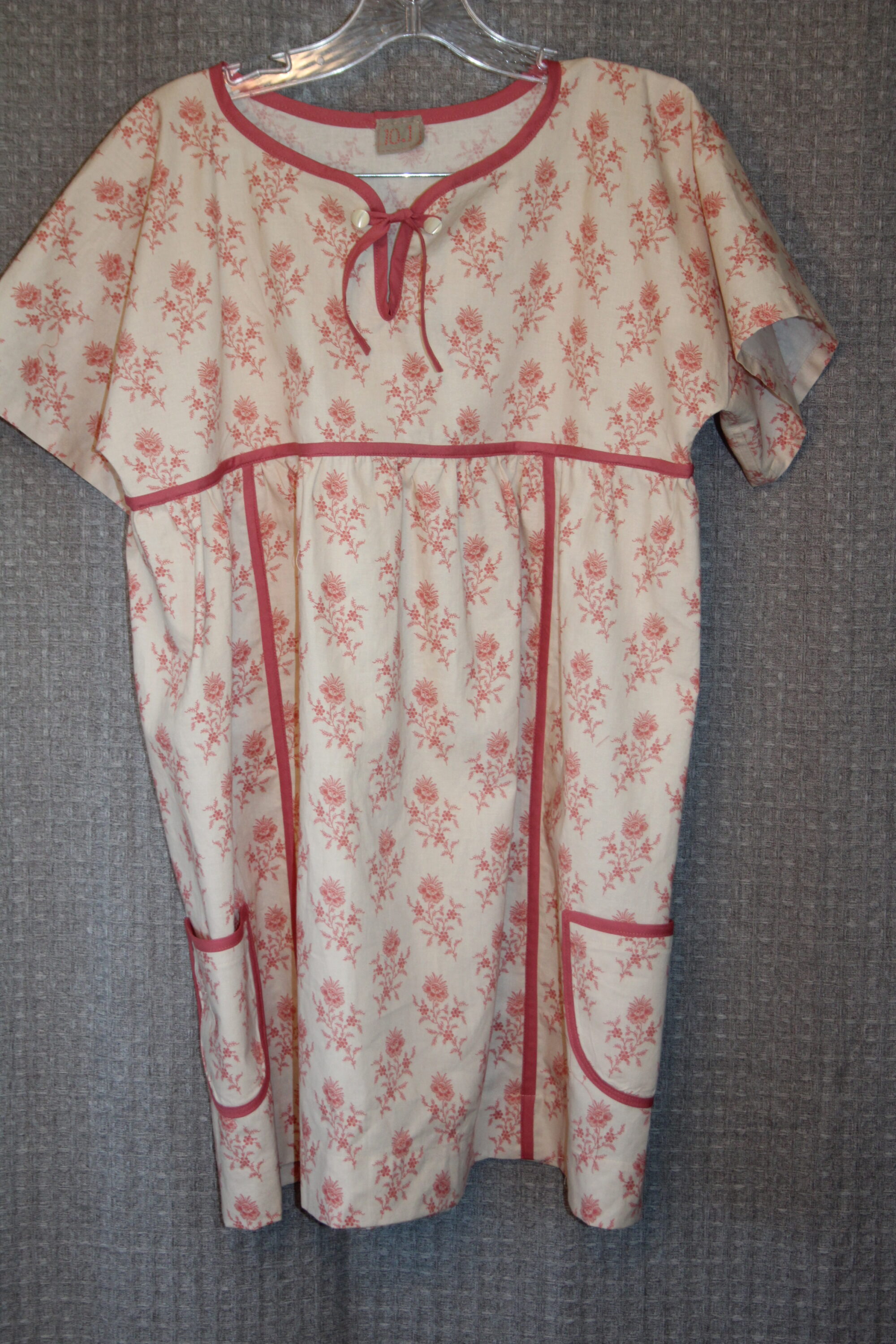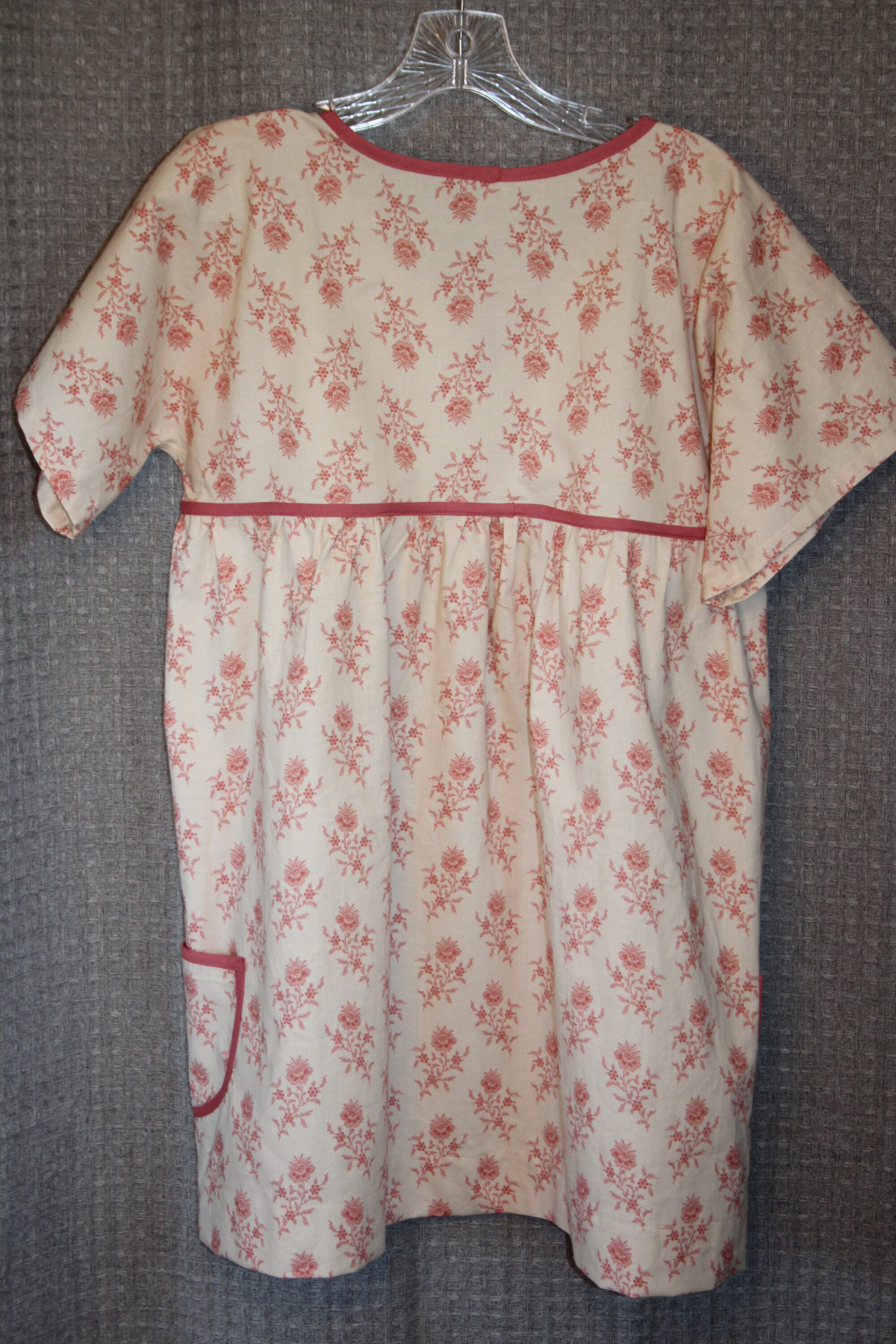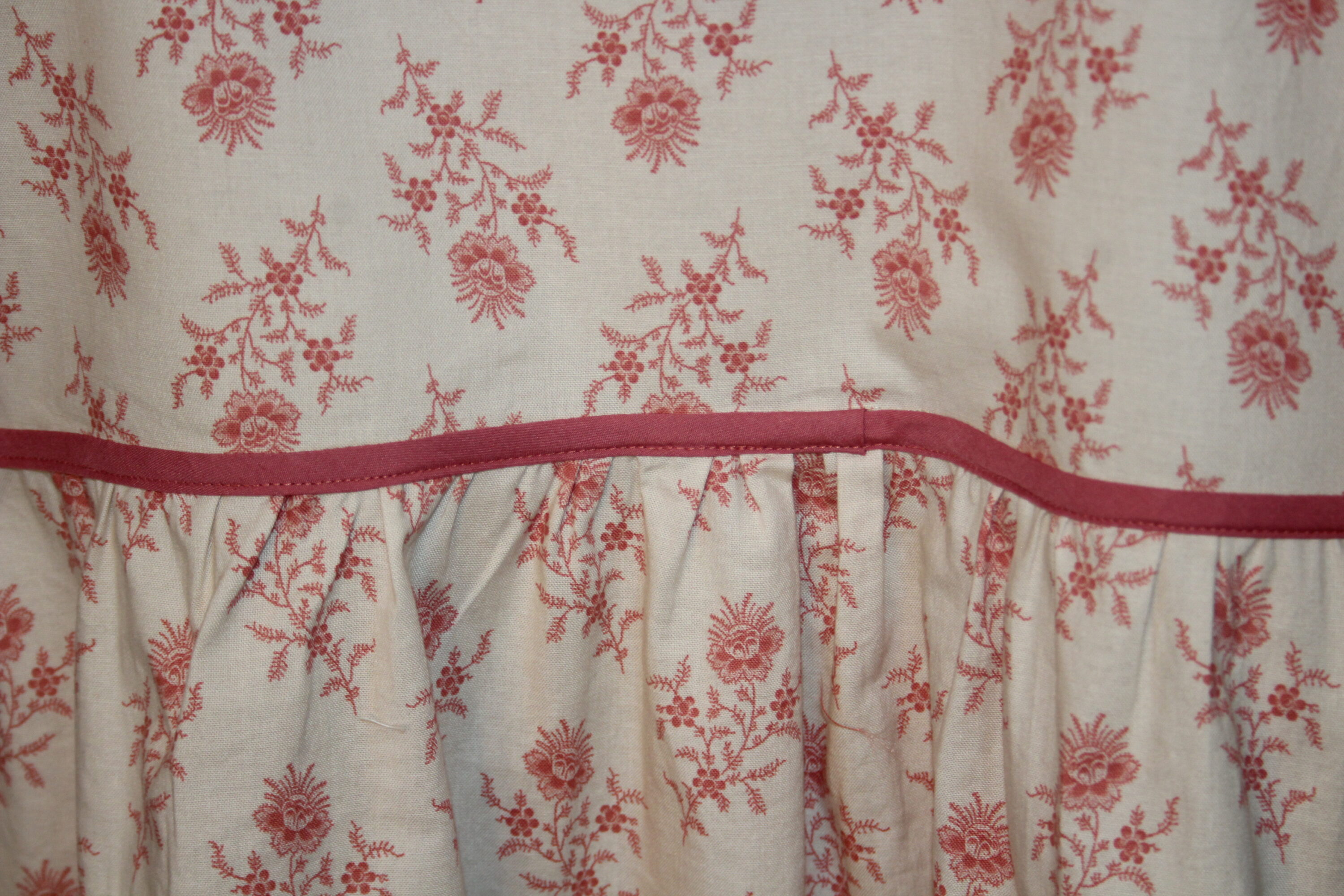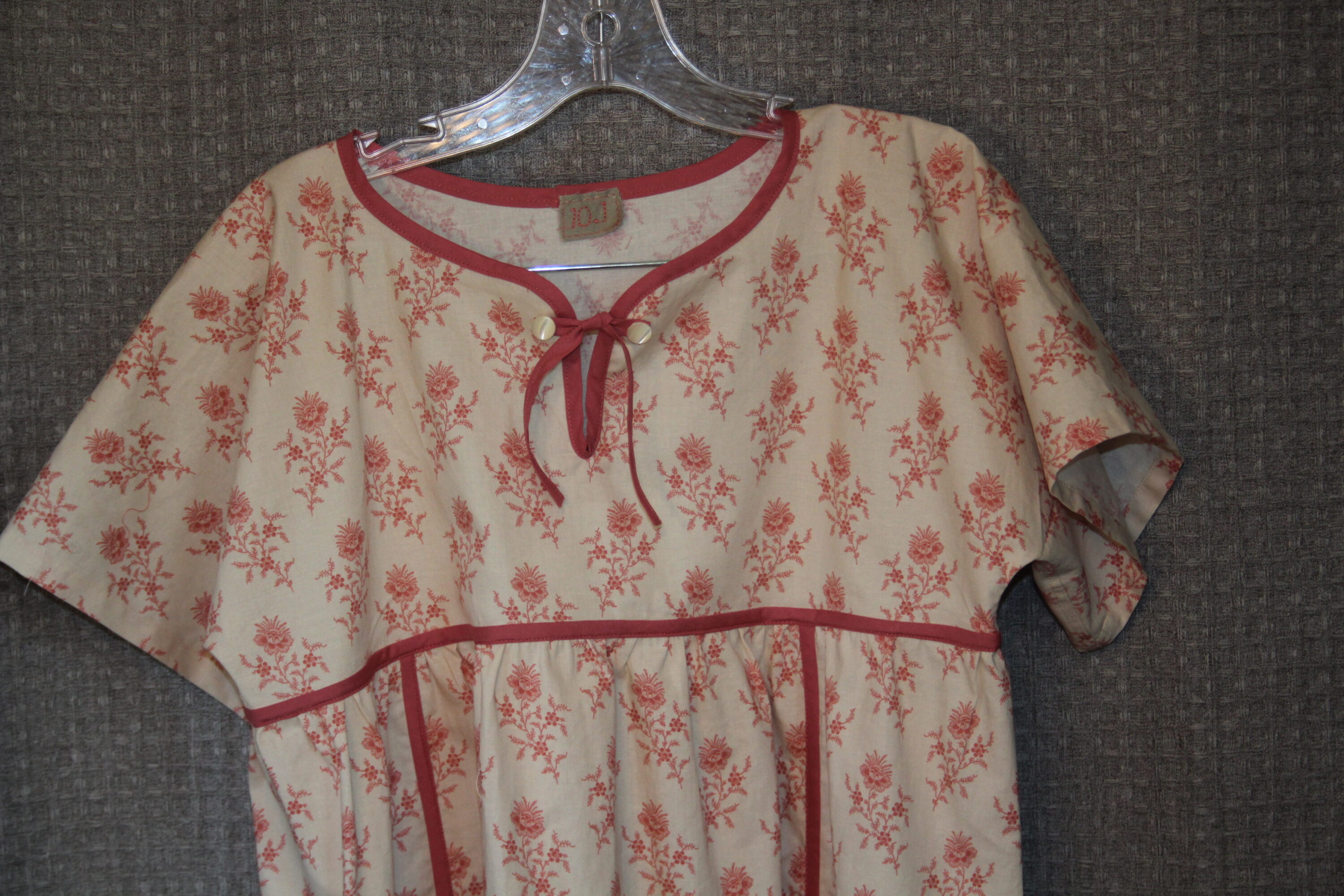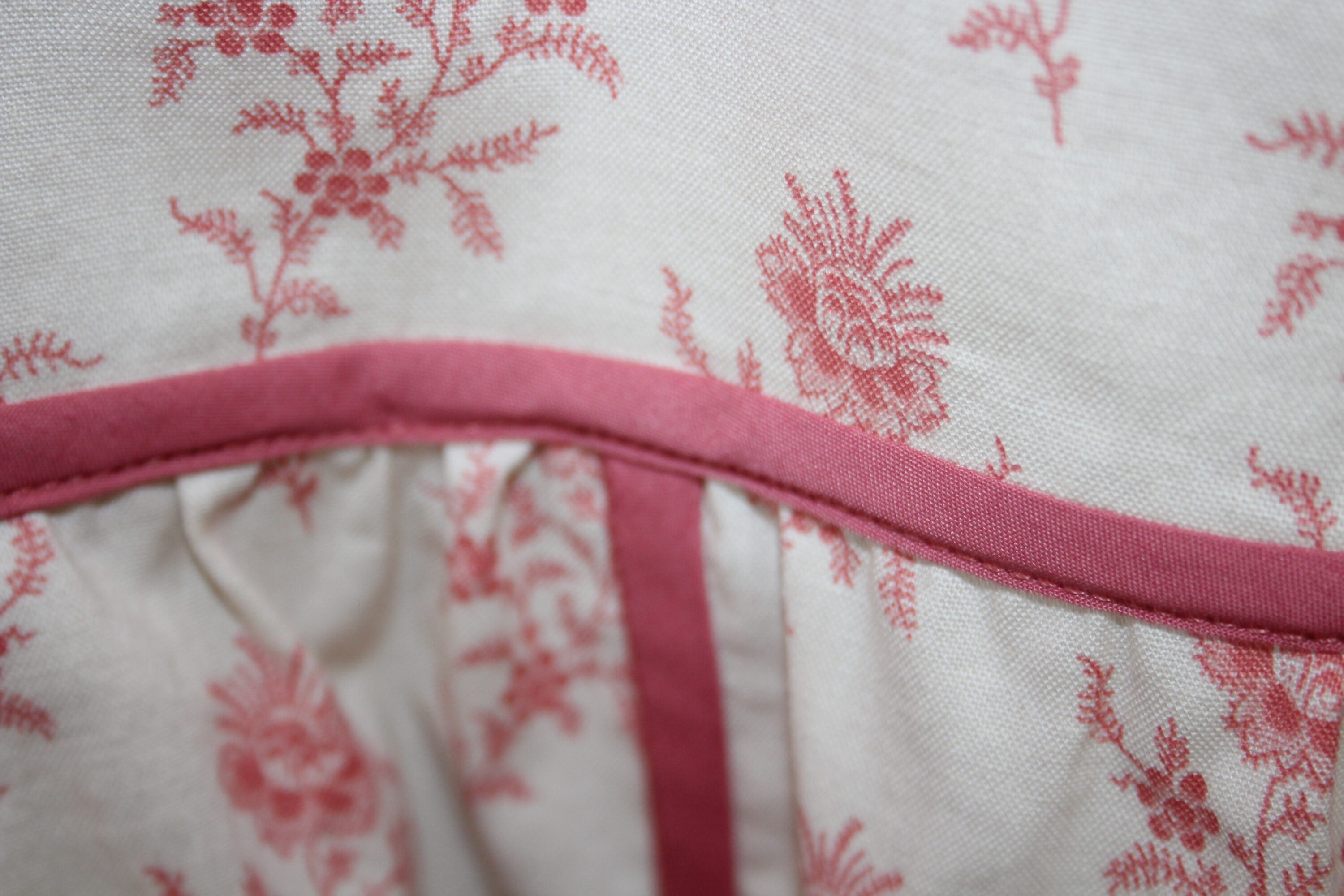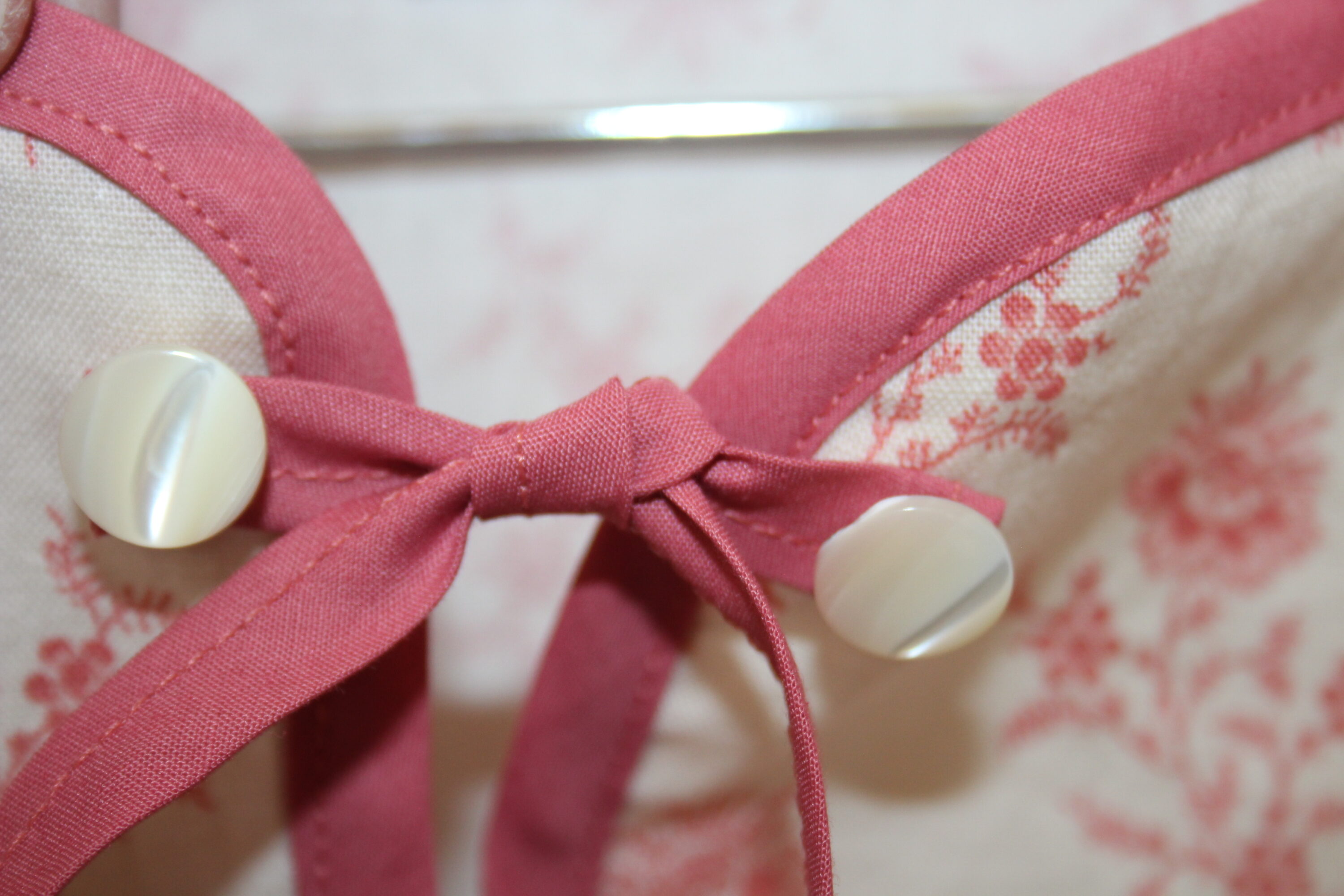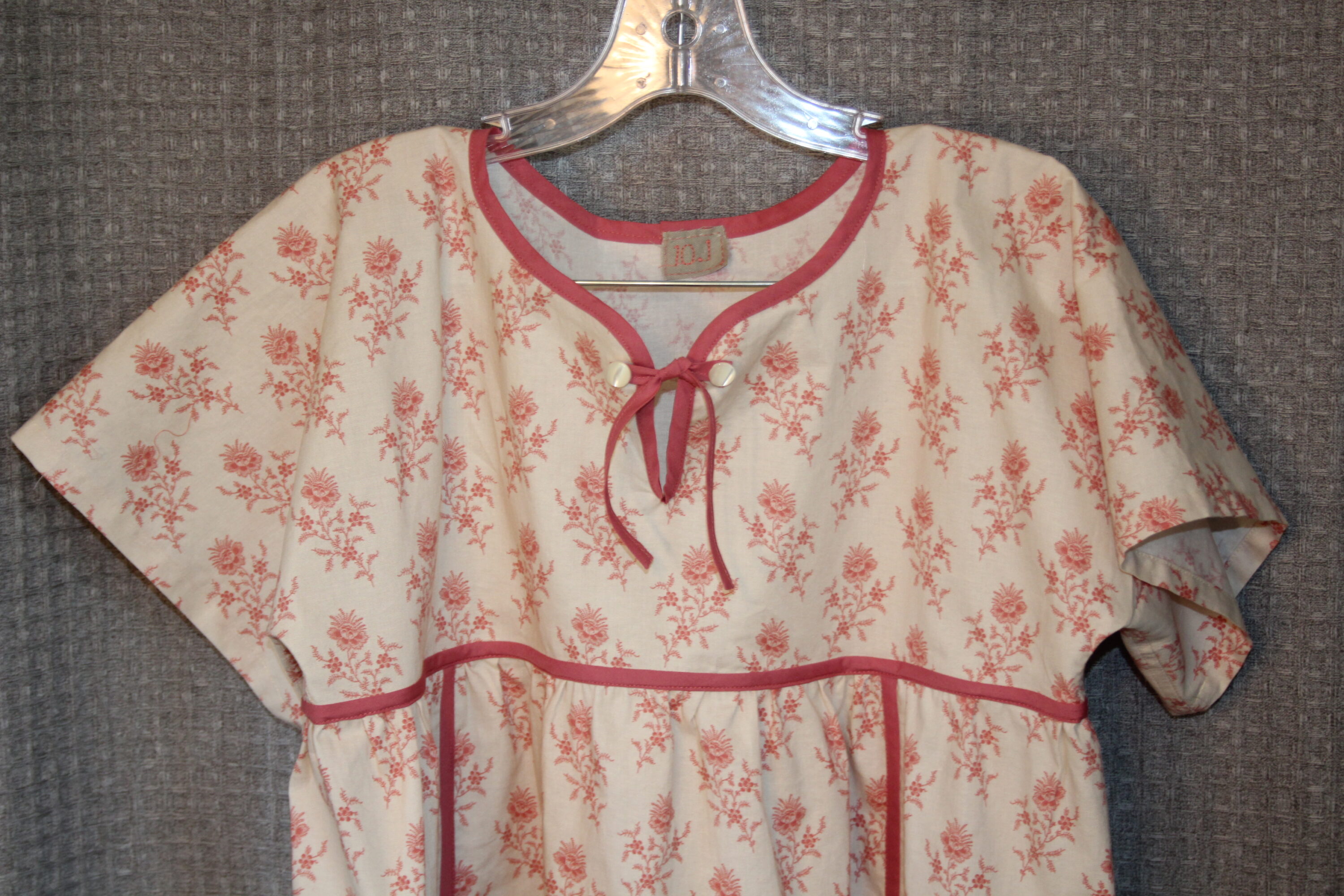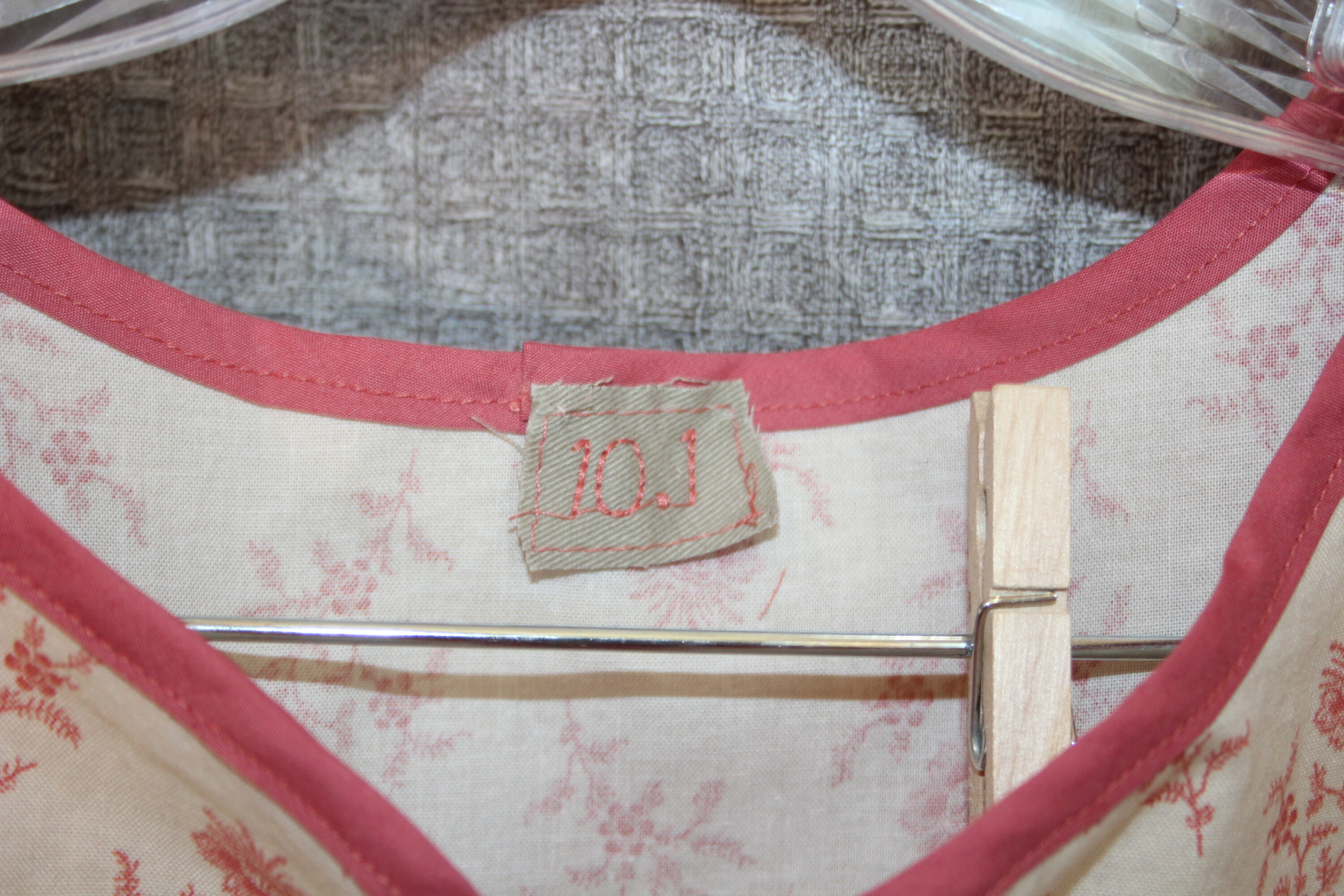 8A.1 (Size 8 teal polka dots on ecru reversible with reproduction "Downton Abby Sybie" large oval with coral flowers.  "Puff" decorations on low pockets and light teal bias tape.  Wider "Dolly Dingle" little girl style with side button flaps.  Mother of pearl buttons).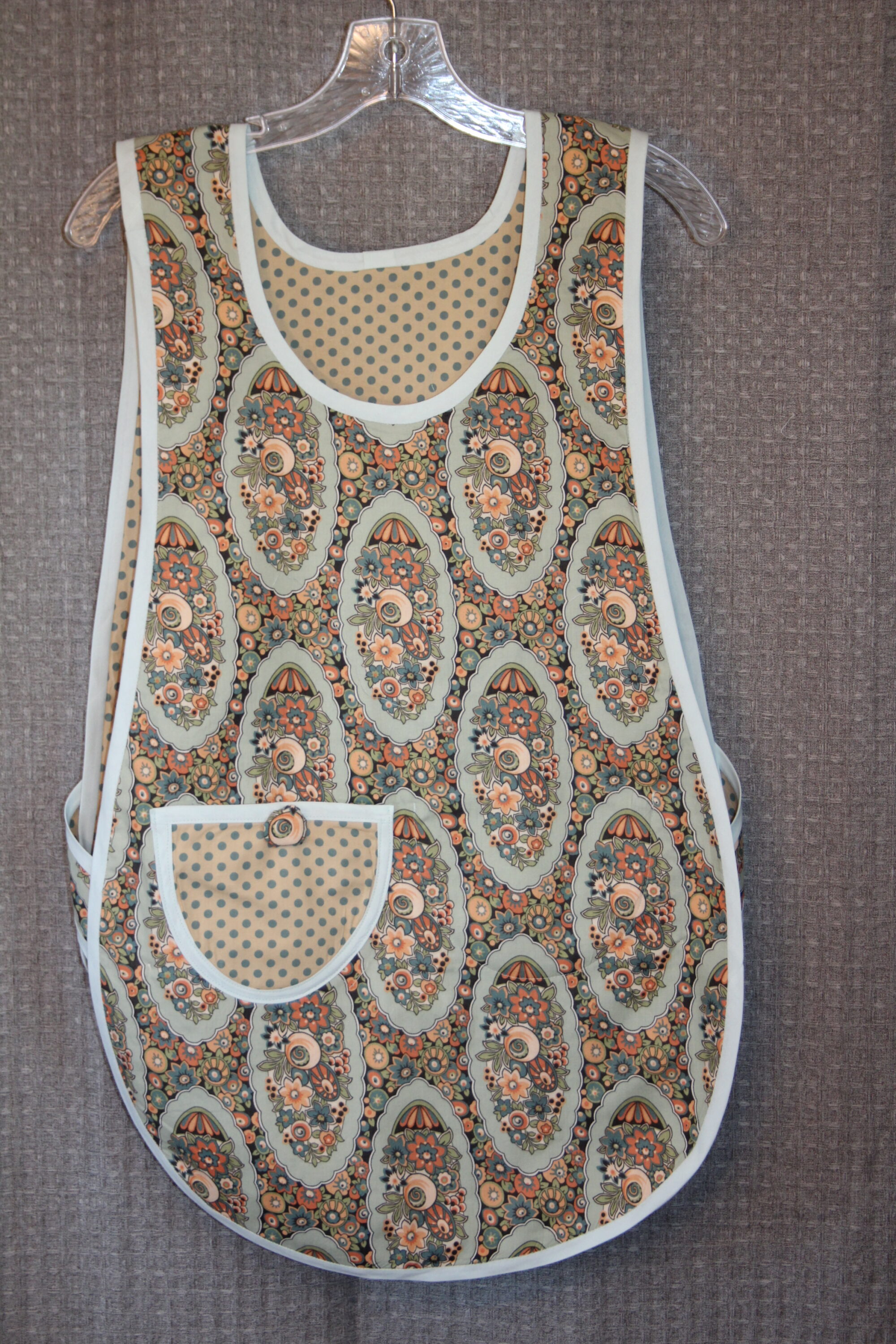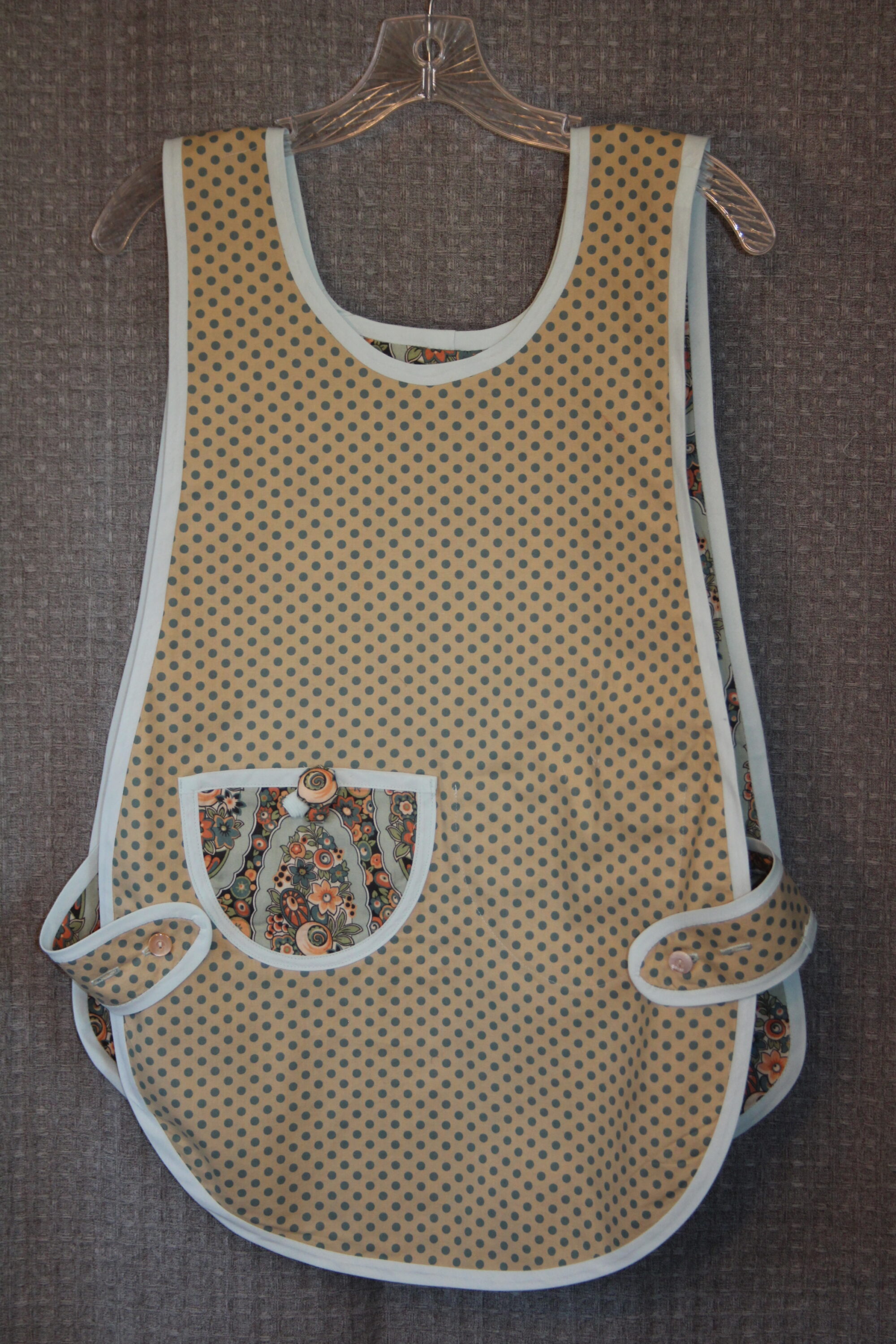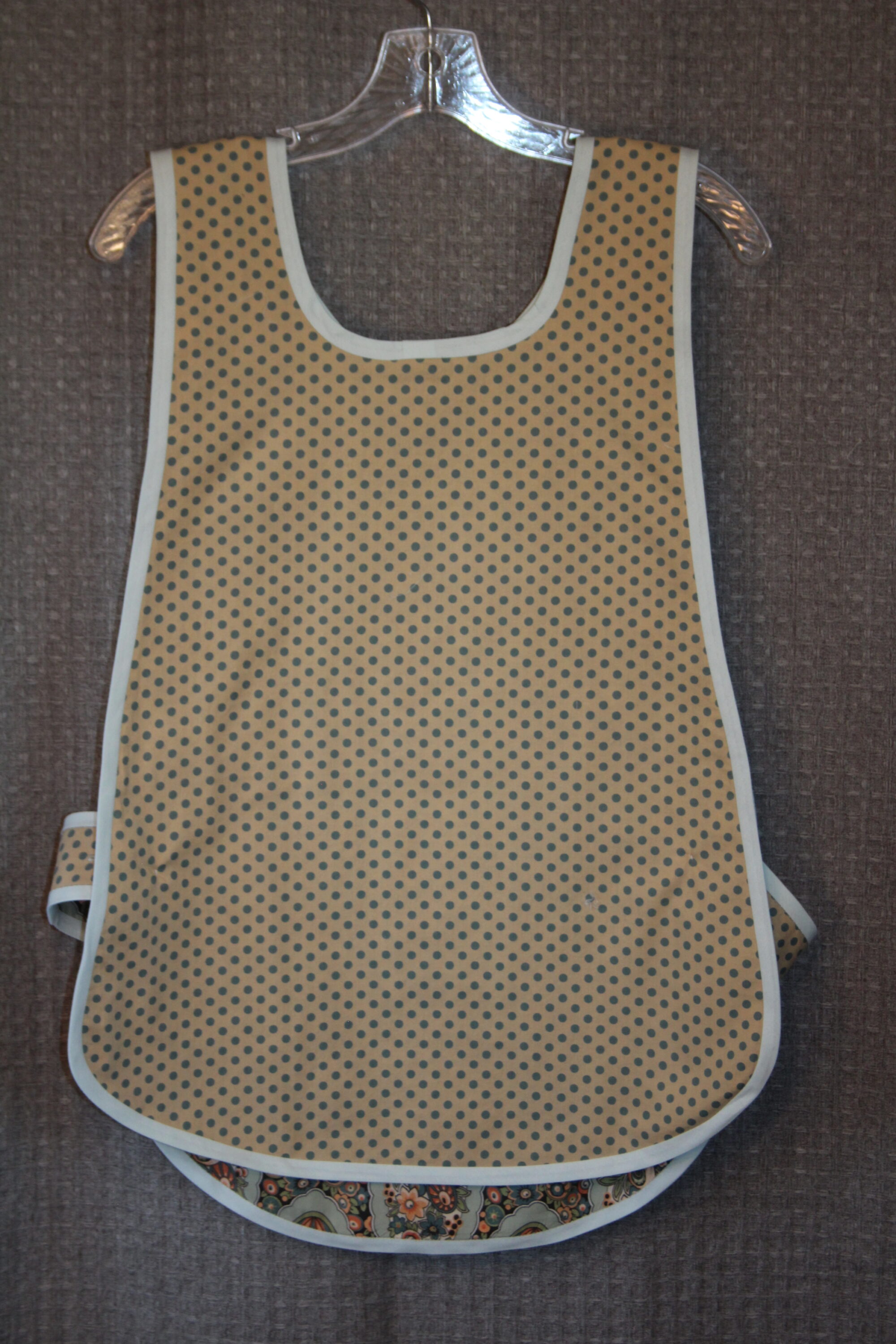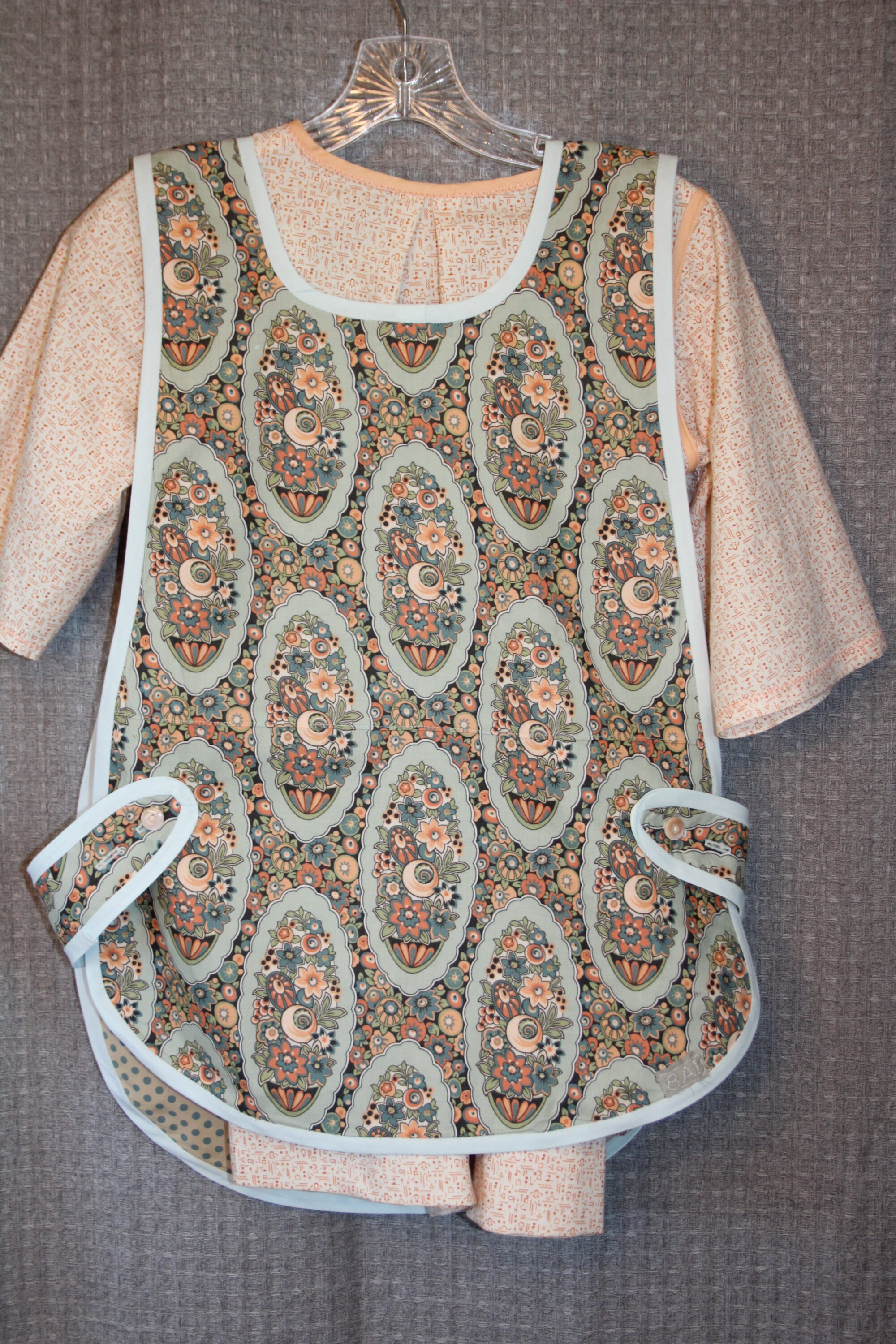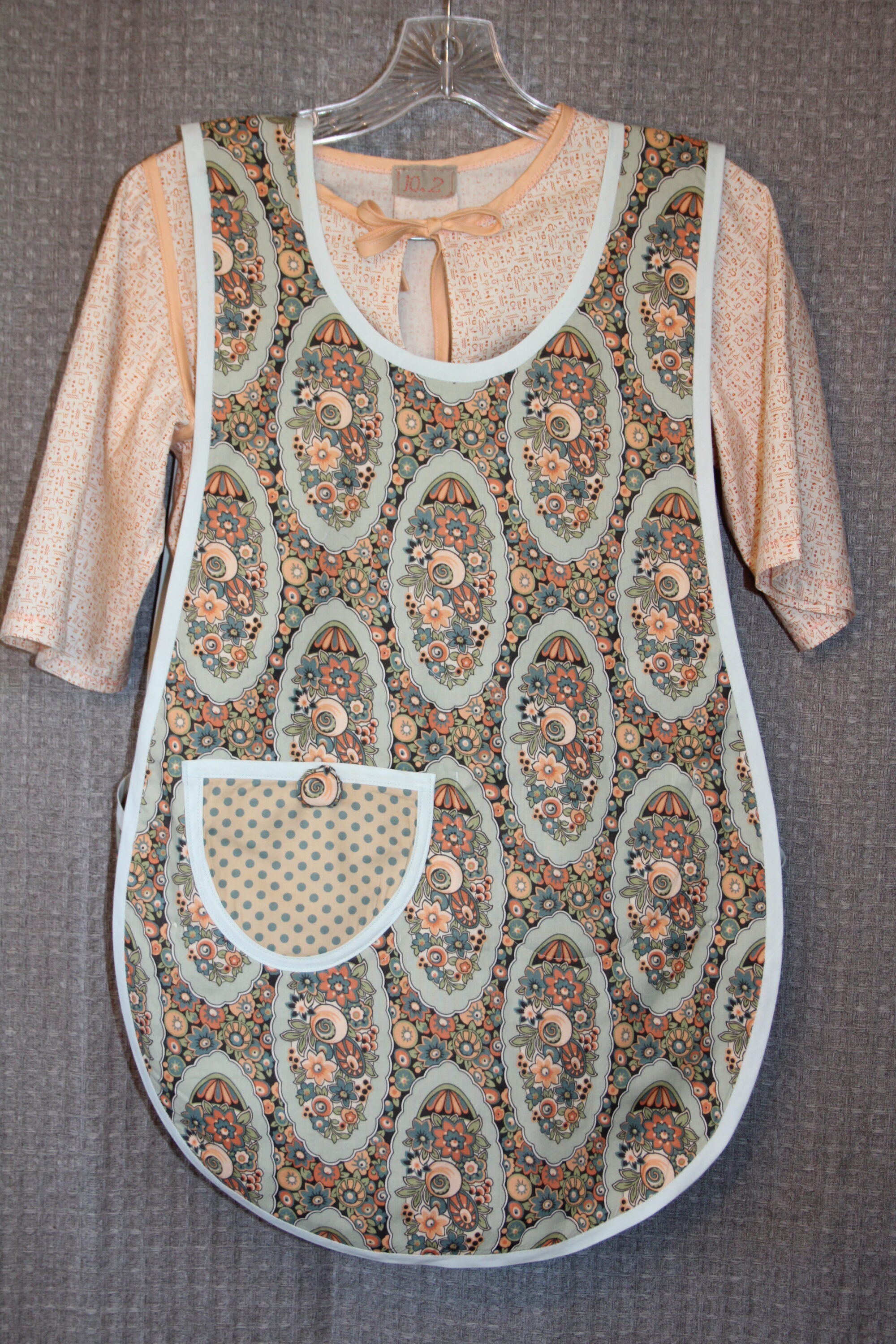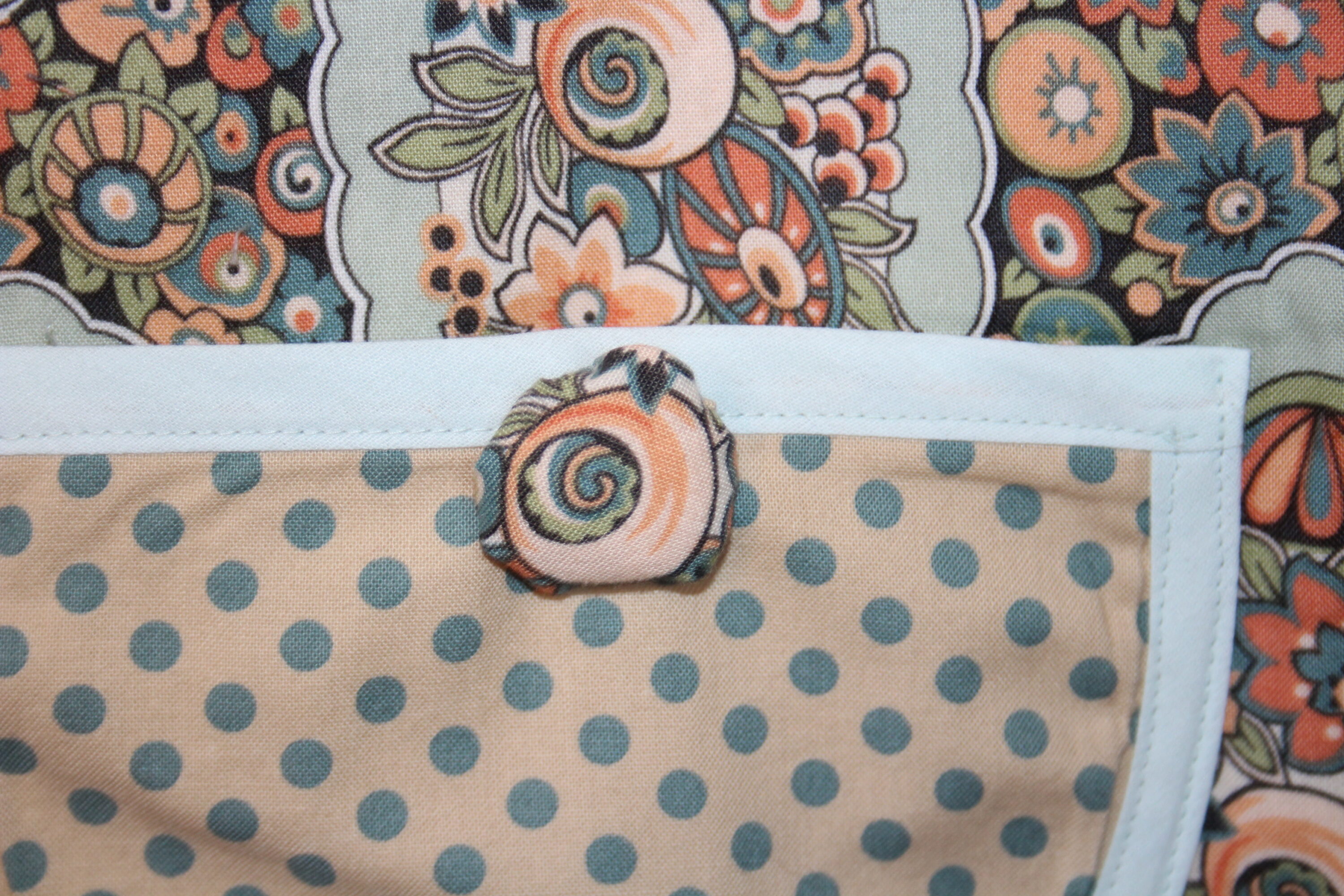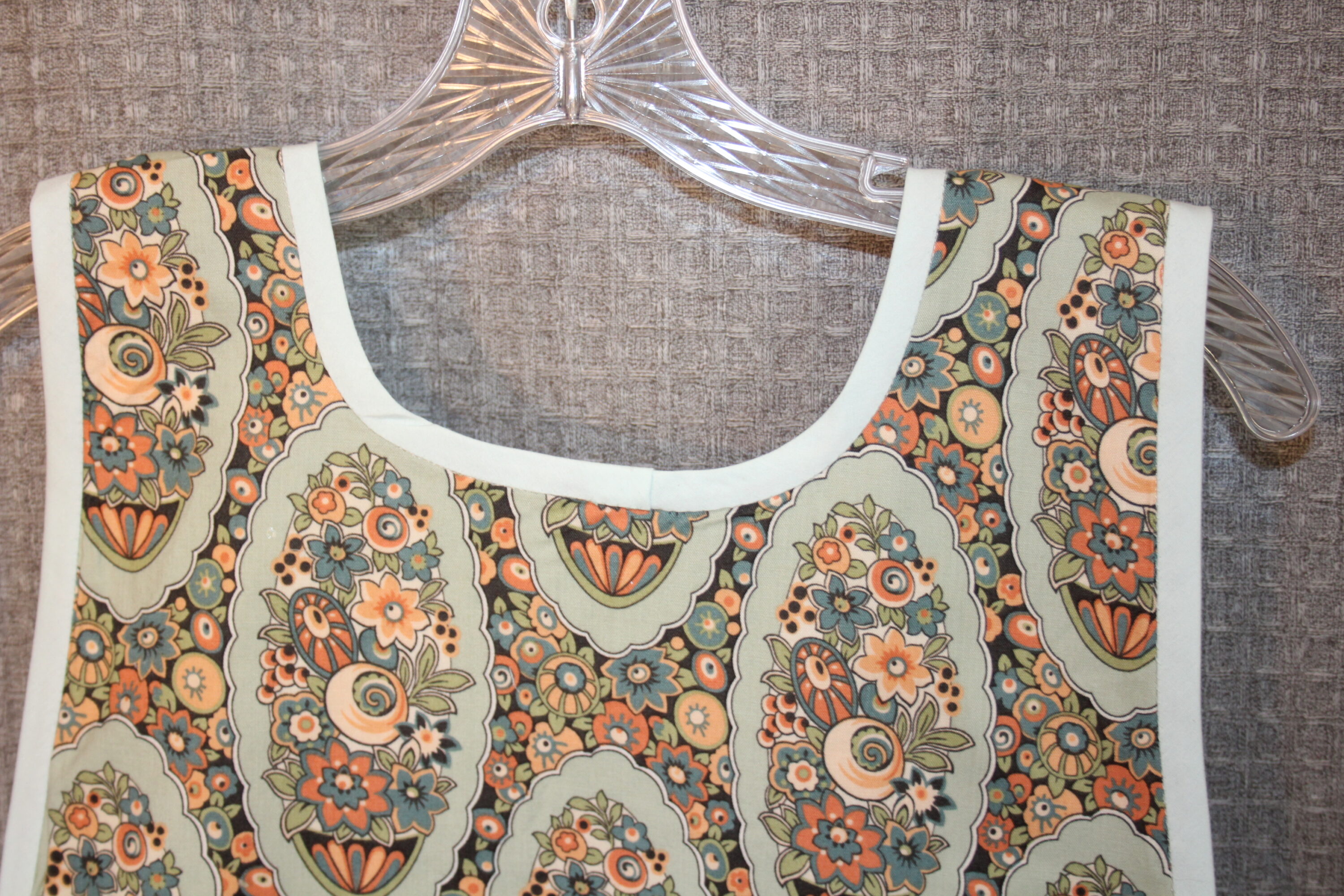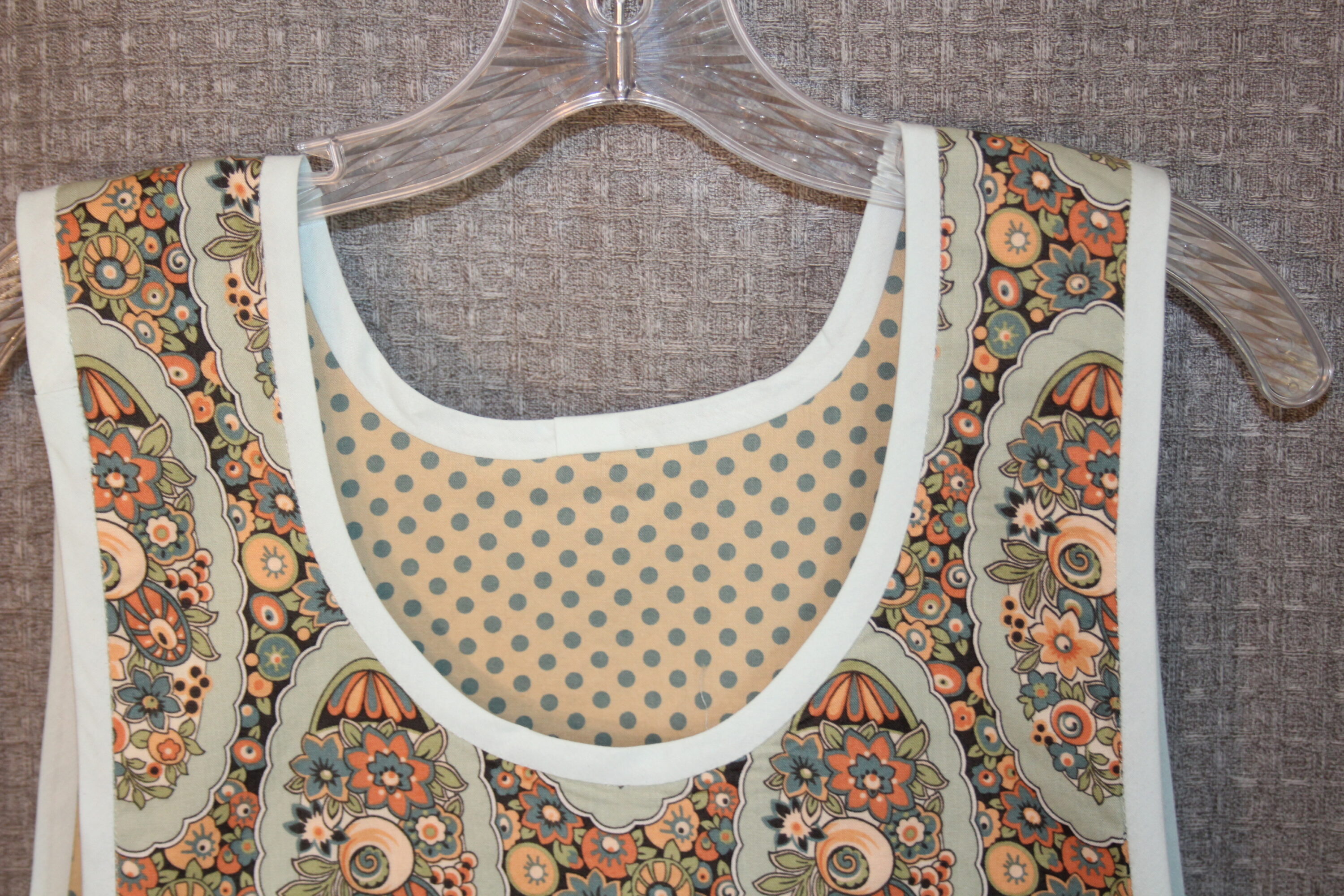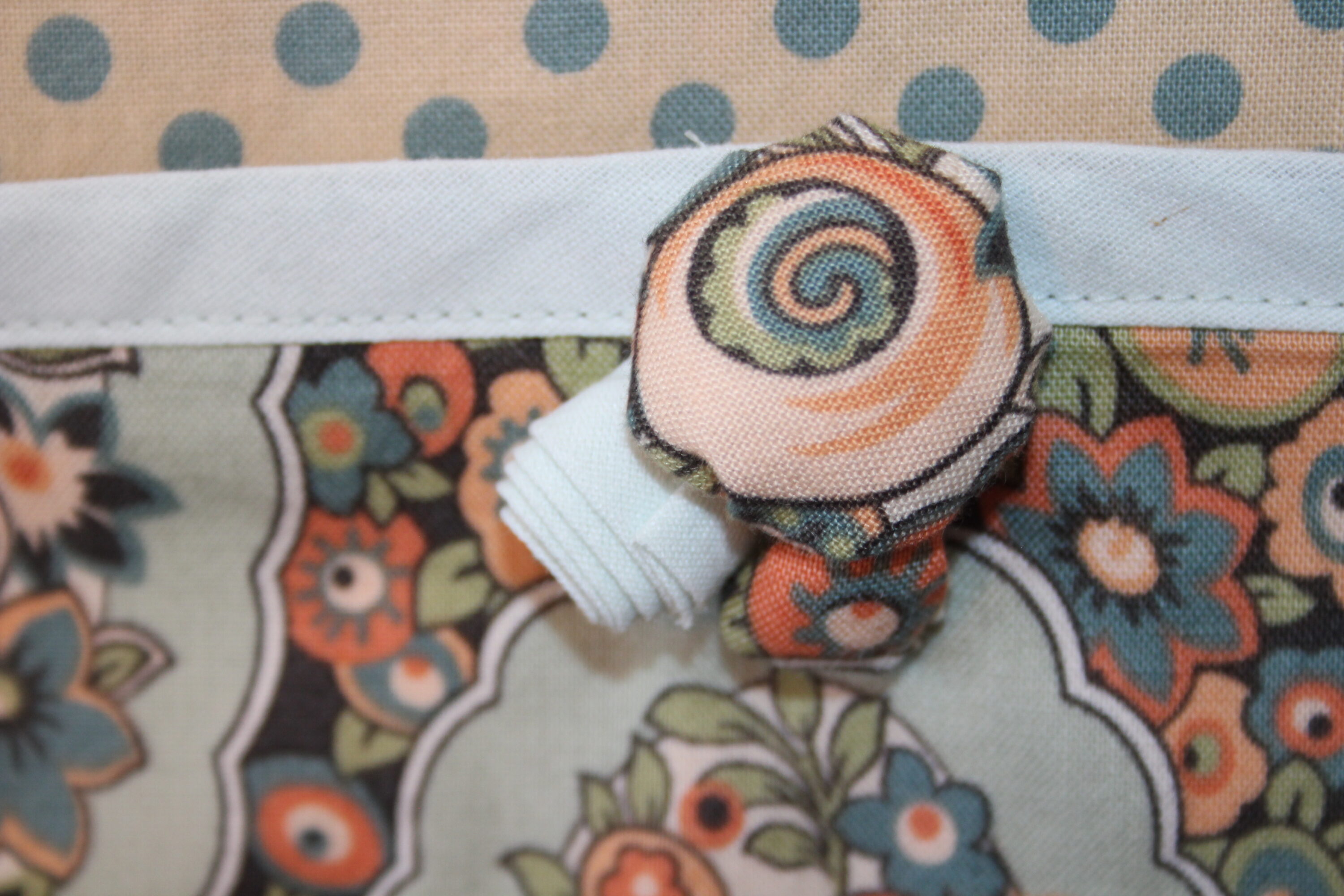 8.1 (Size 8 little girl style which is short and wide with high waist, "medallion" period correct fabric with bright white wide collar in dotted swiss fabric with self piping.  Buttonhole period correct insert for neck tie and front hook and eye closure.  Short length with smaller sleeves).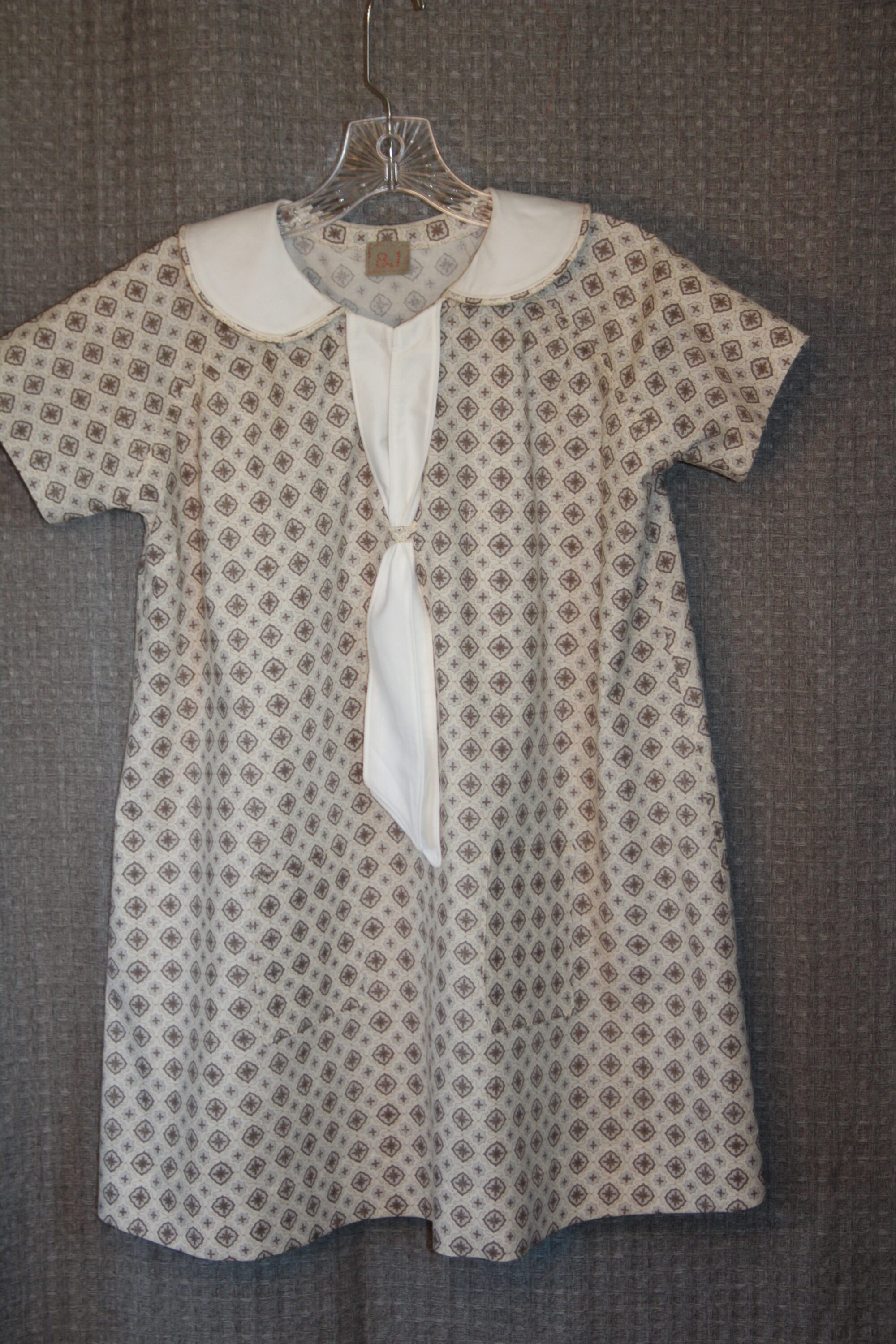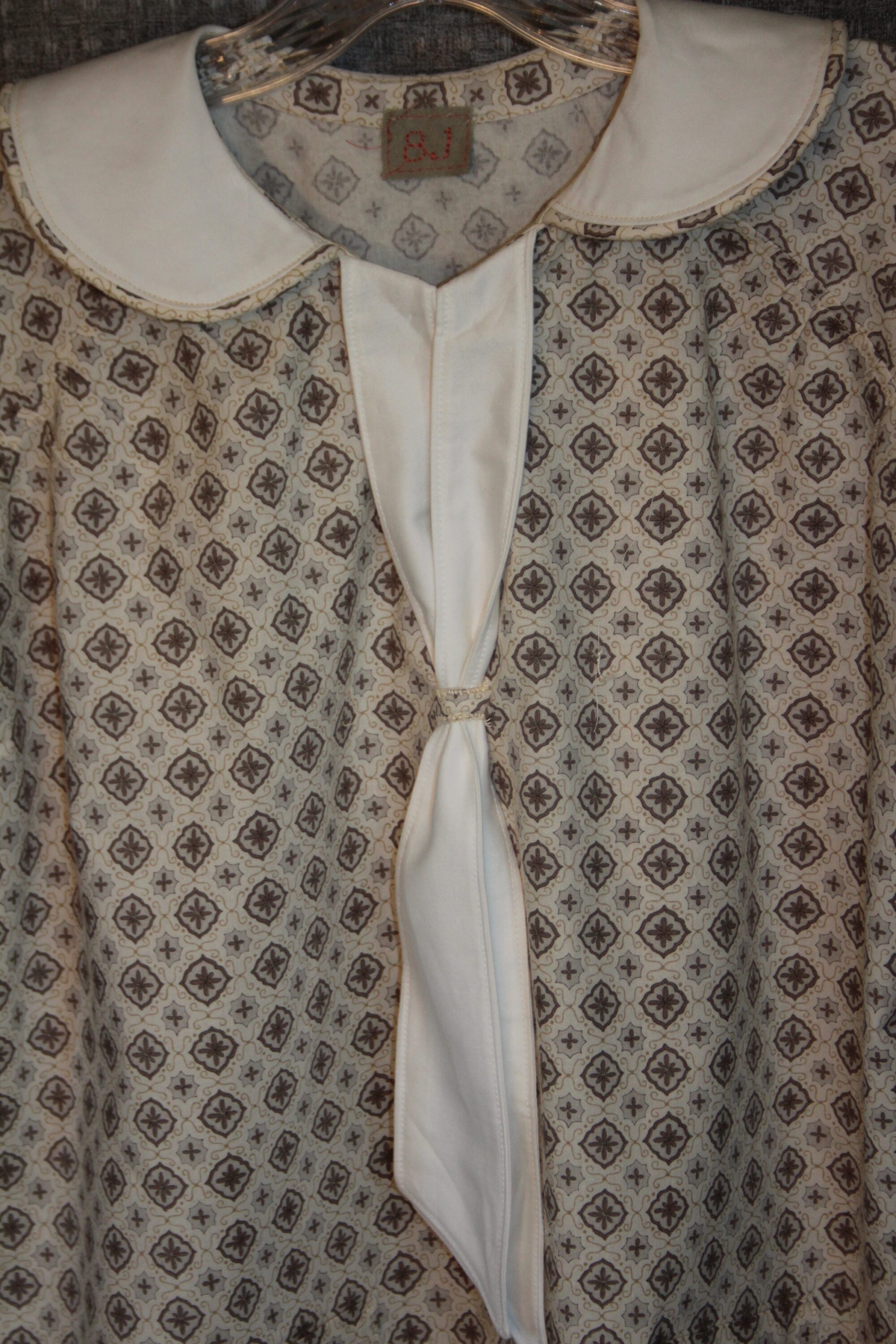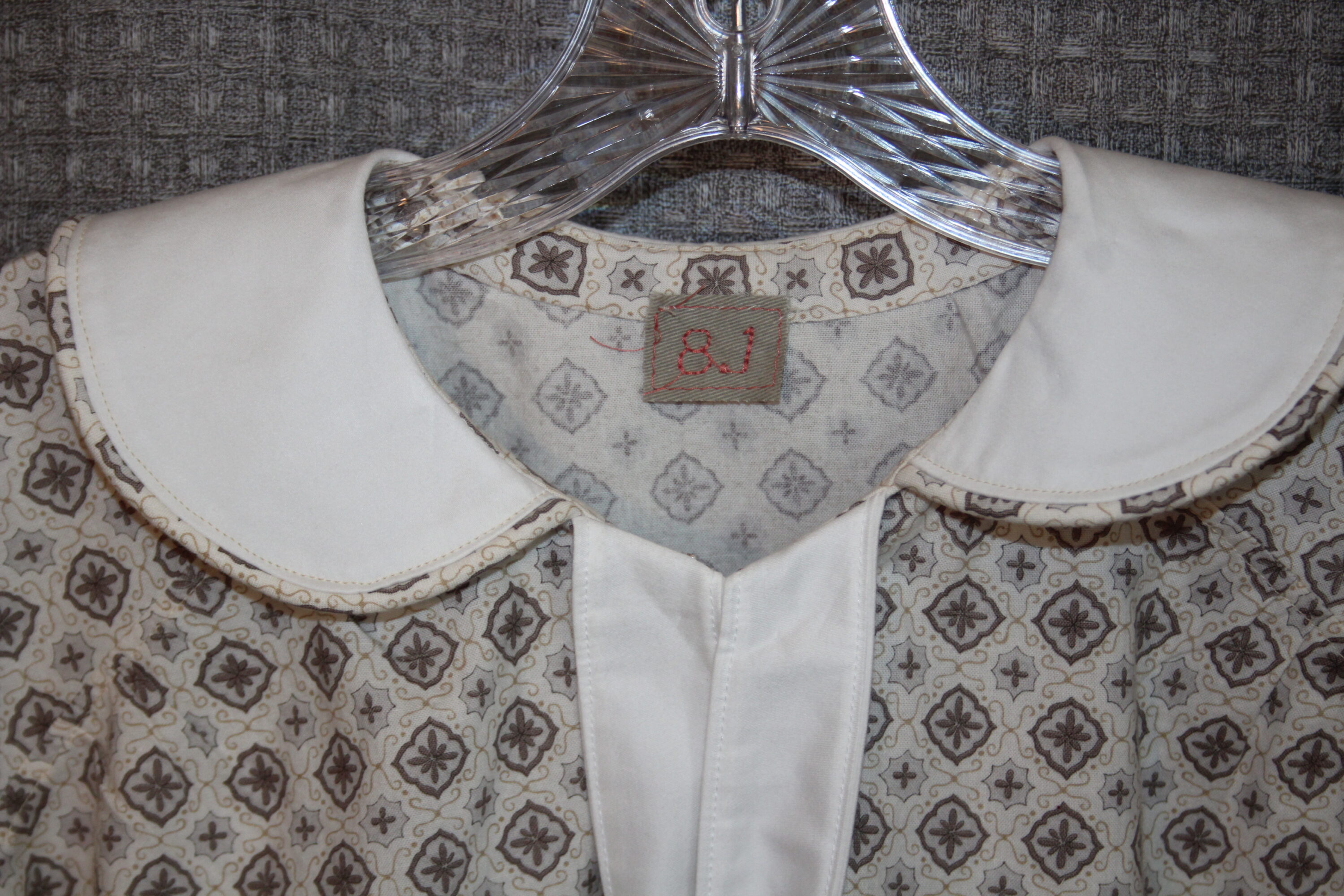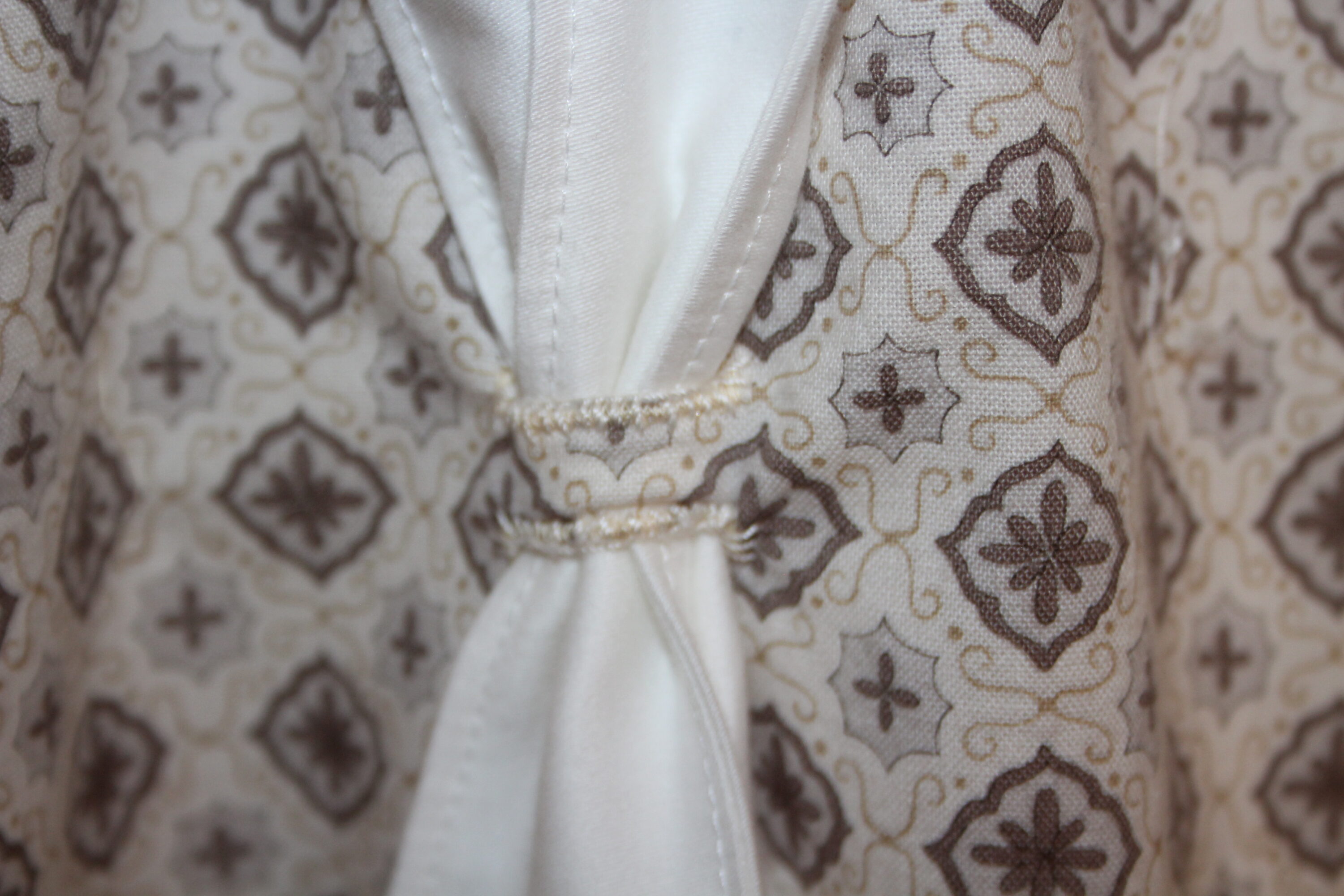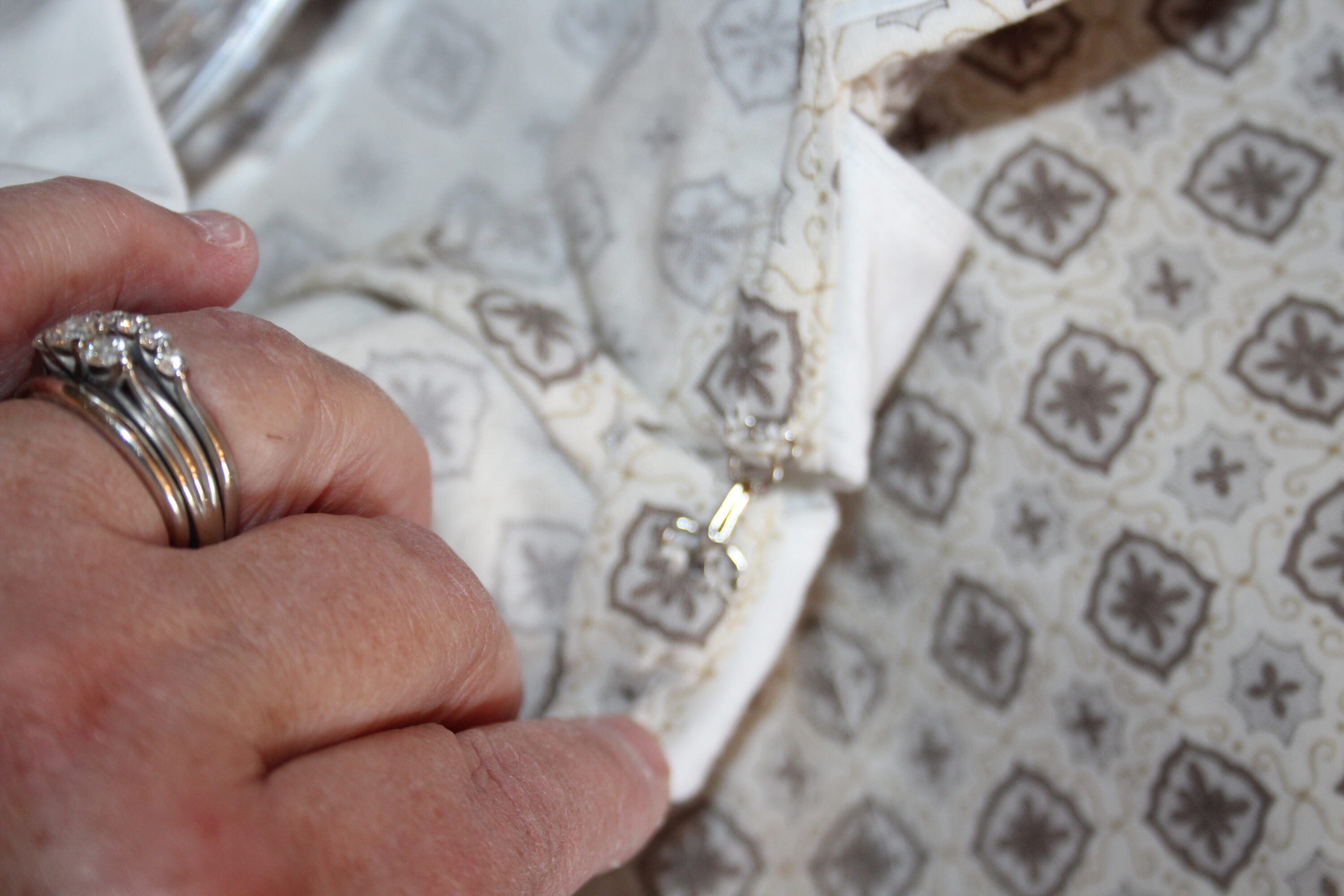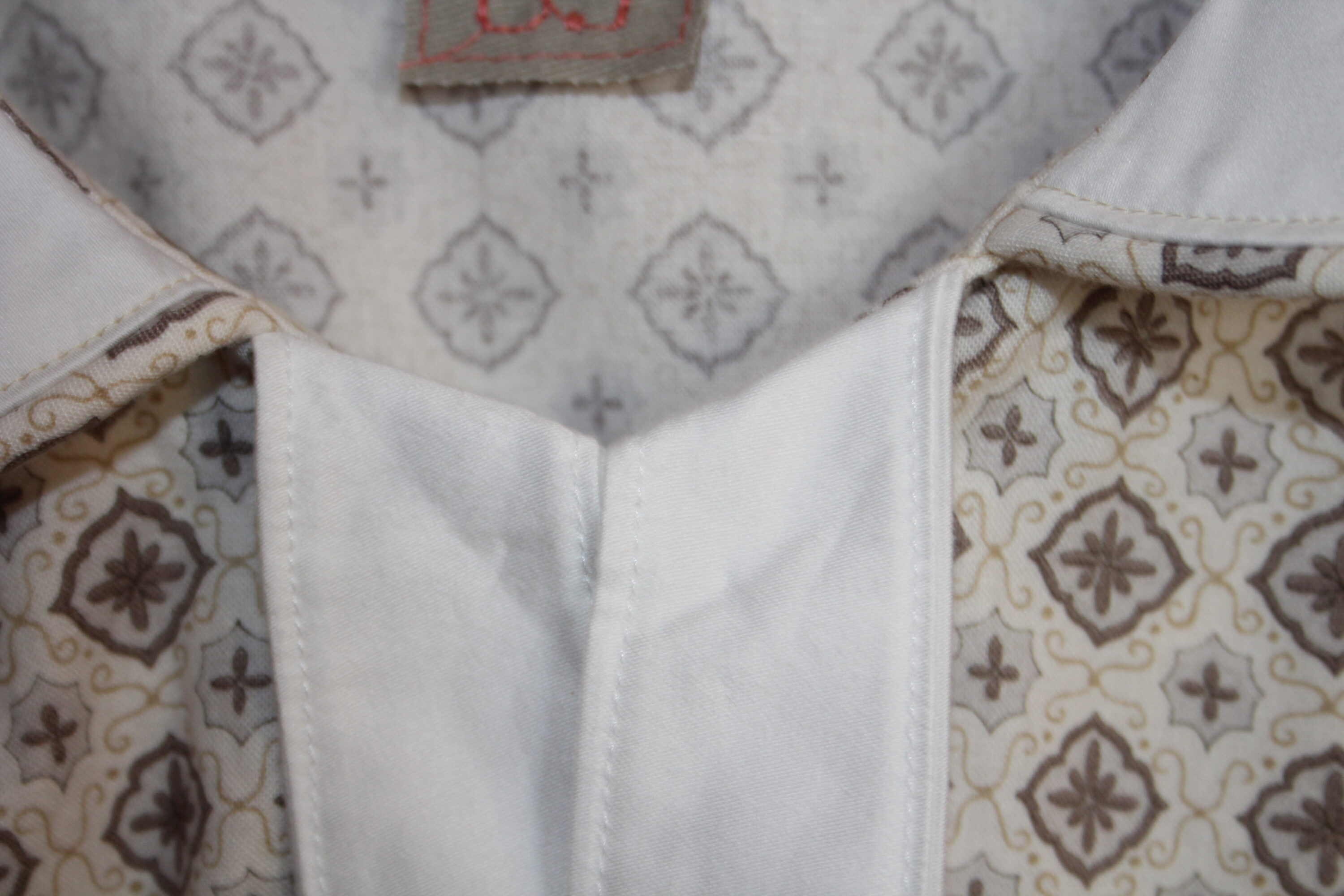 6.1 (Size 6 little girl style wide body, short length, high waist with back closure and false front mother of pearl shank buttons.  Buttons on pockets and ivory bias tape neck tie.  Reproduction tiny blue chevrons on ivory fabric. Tape on sleeves too).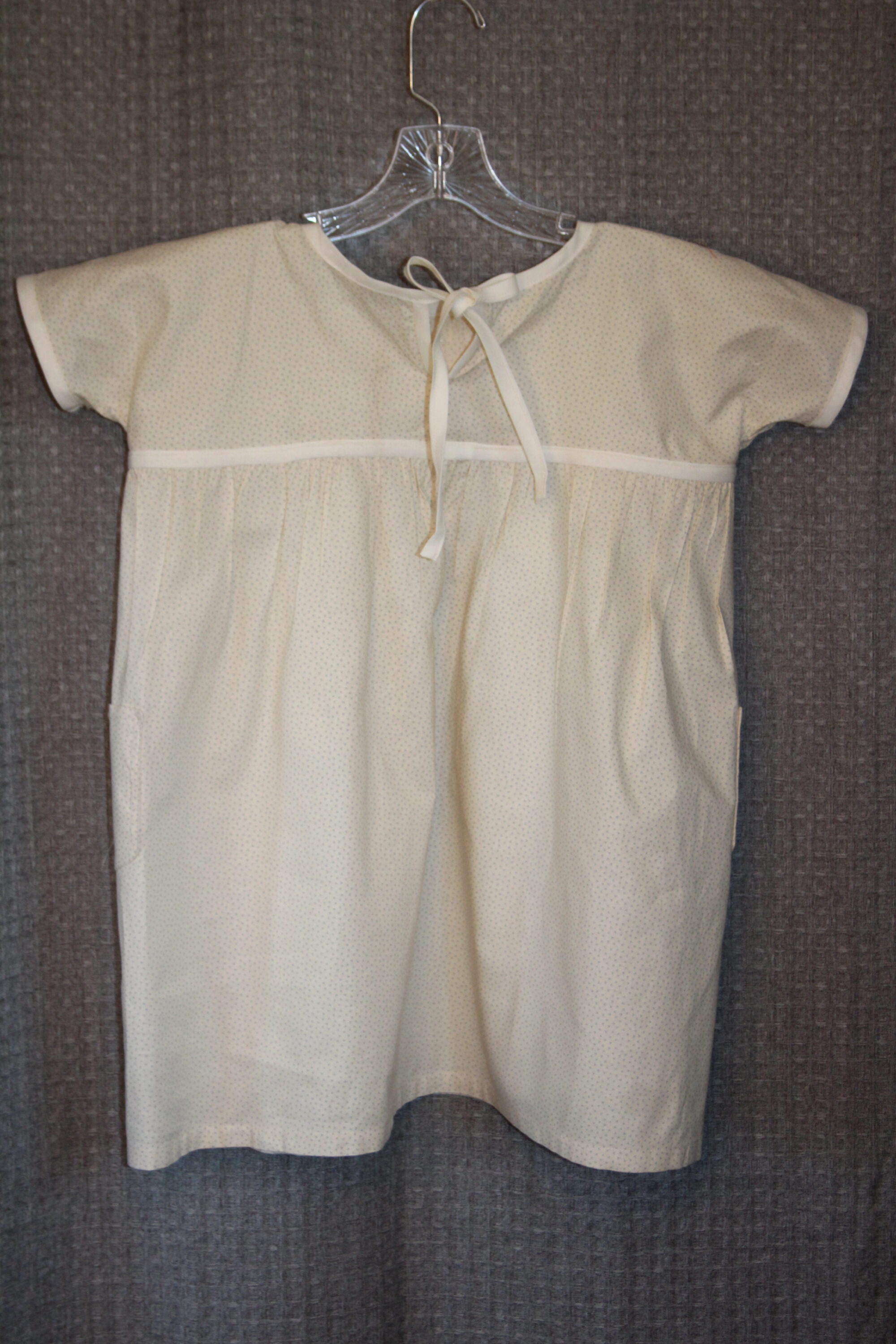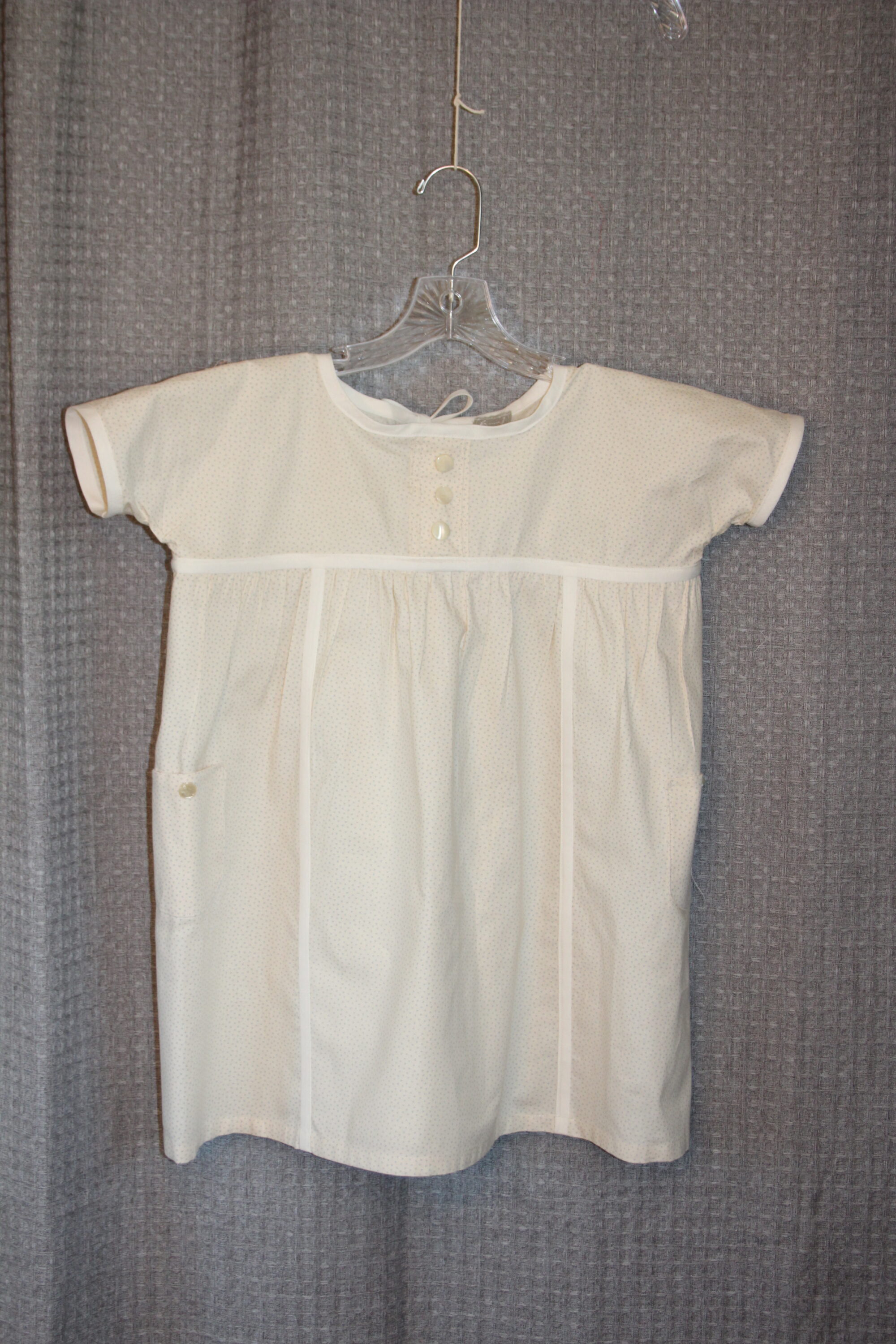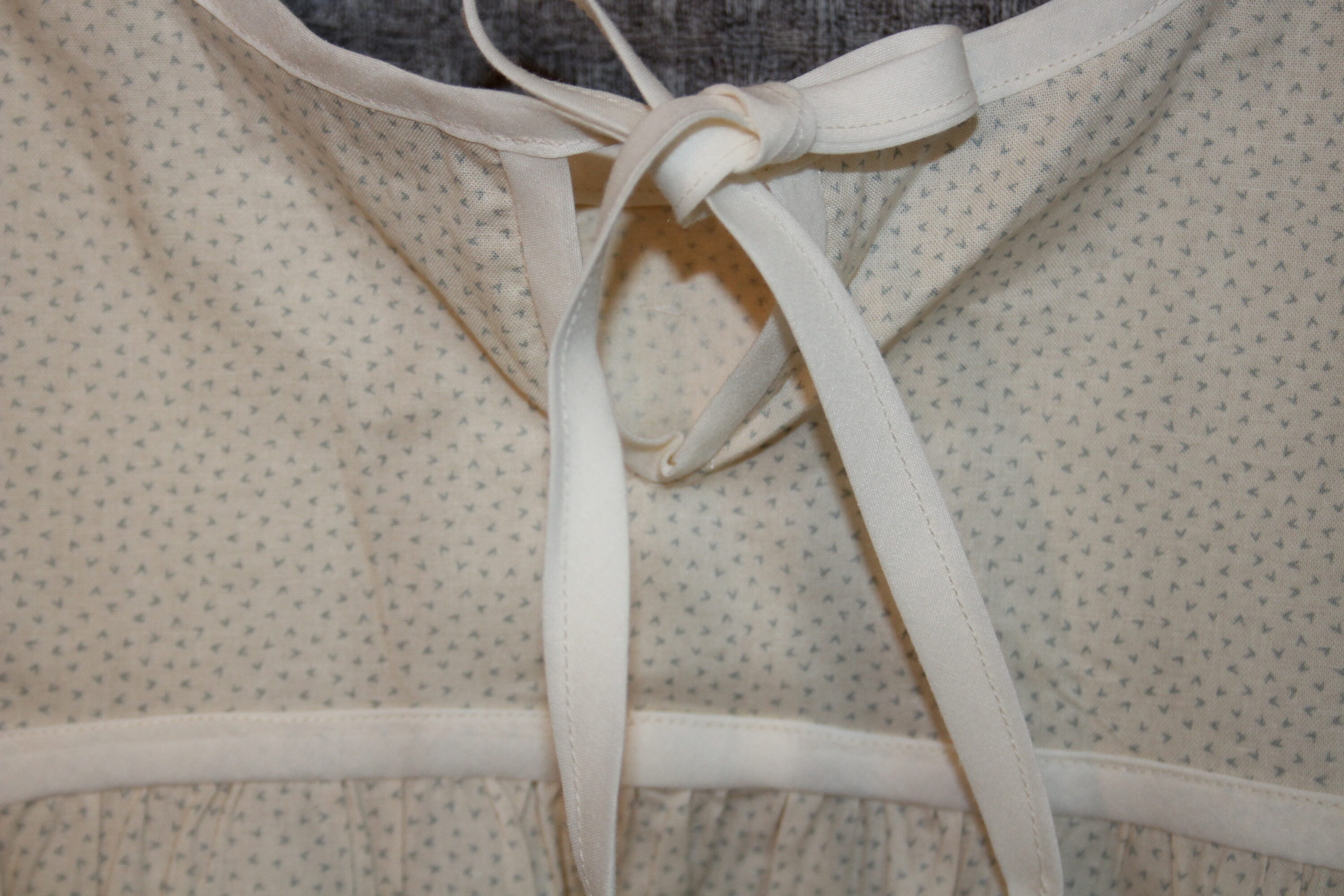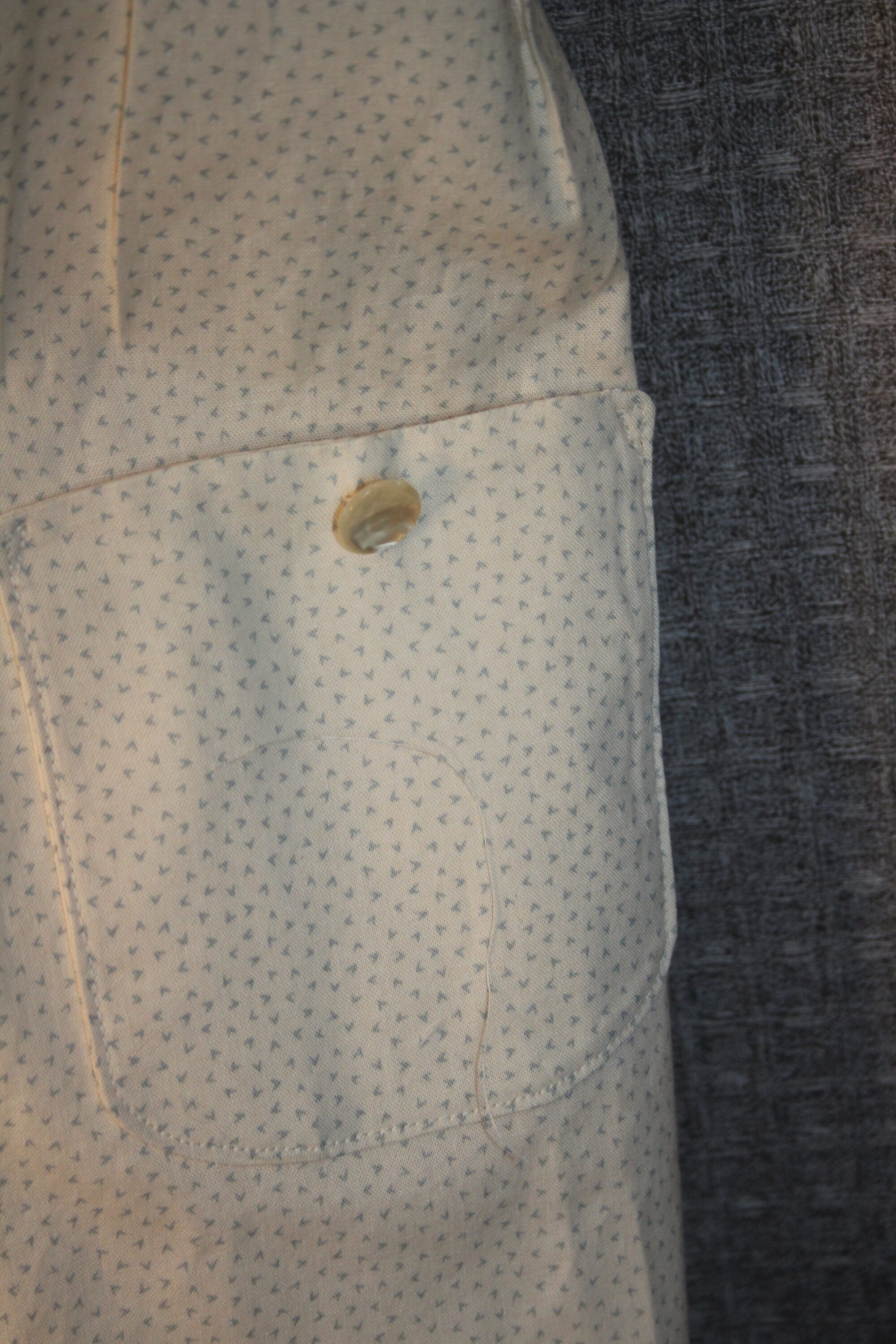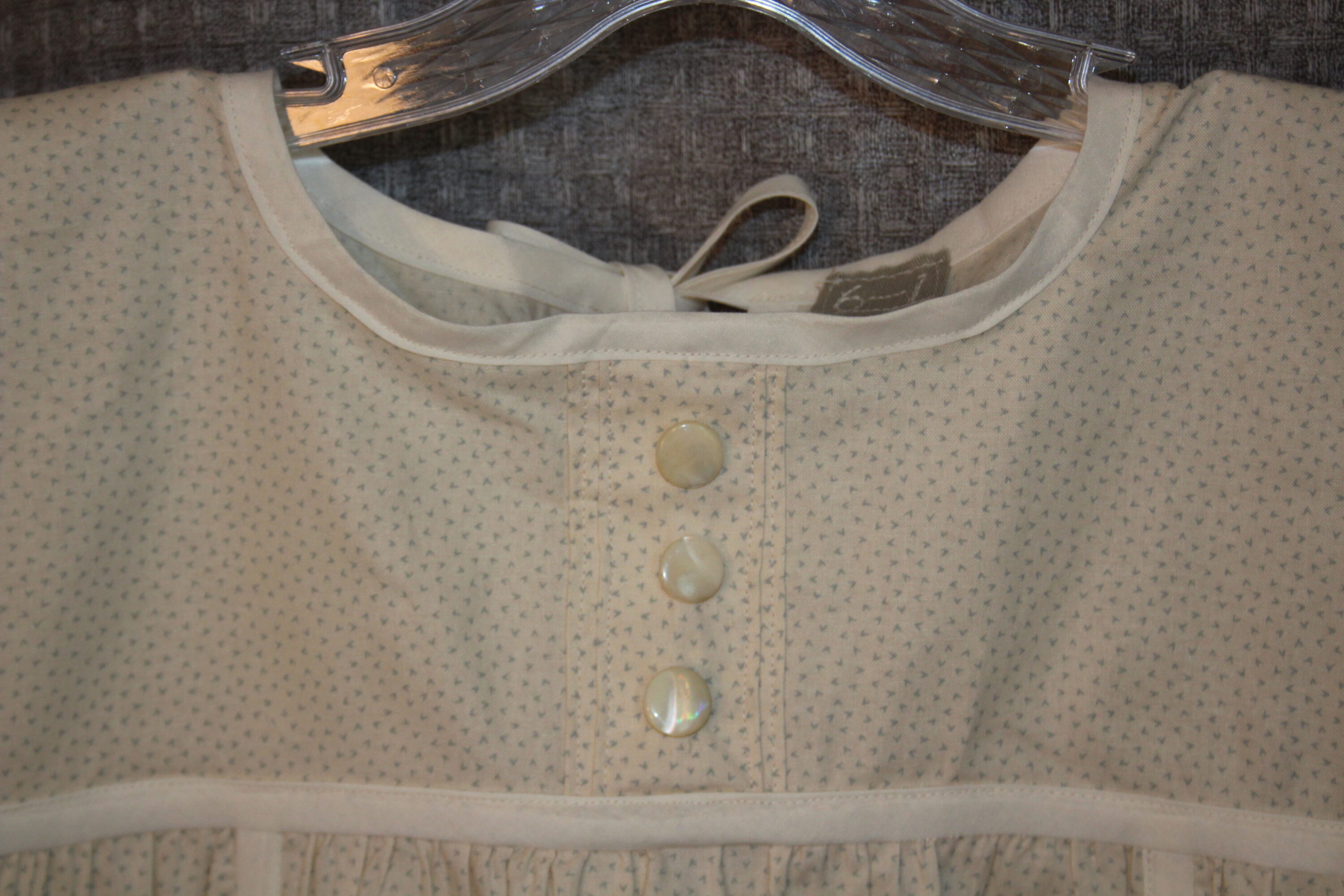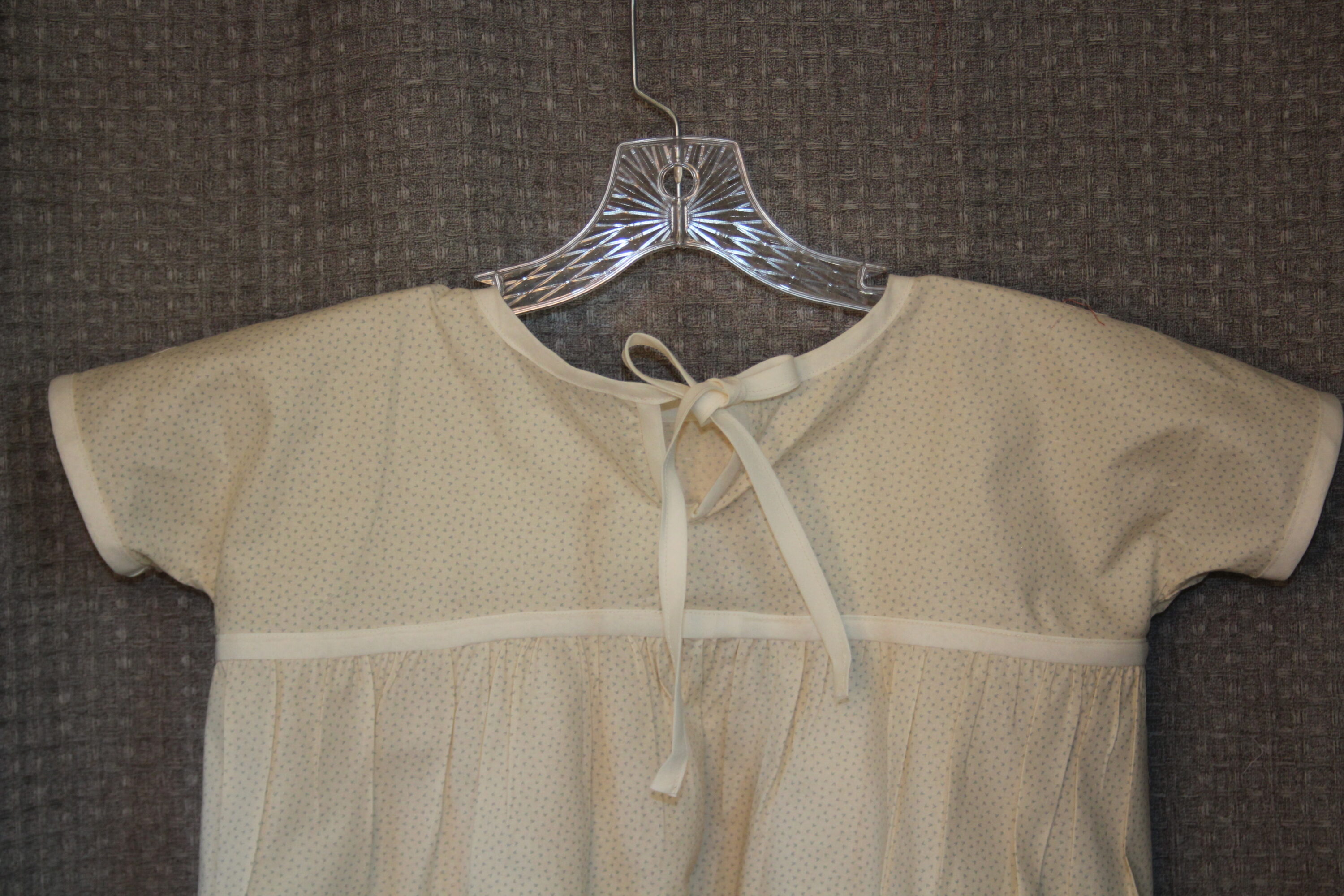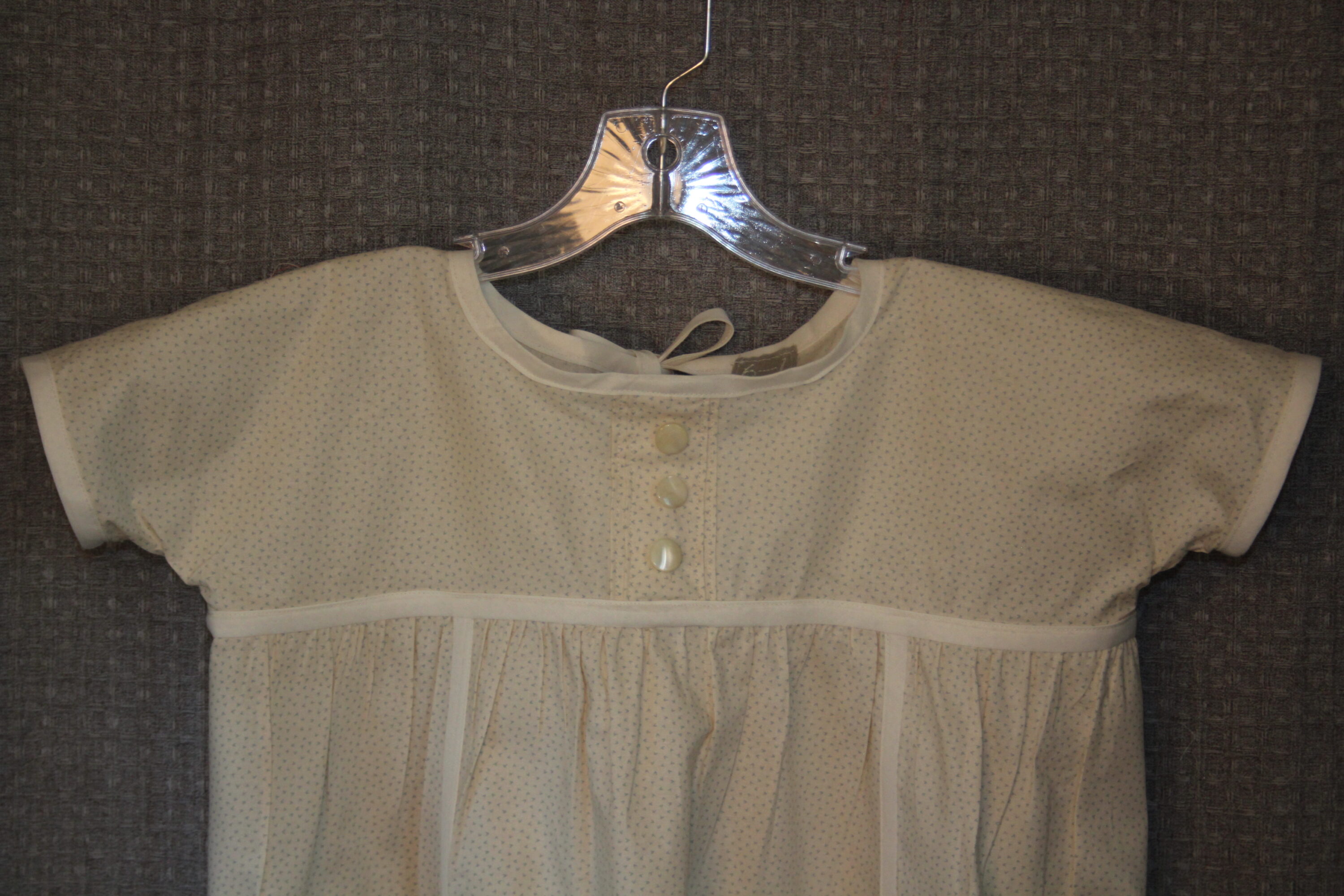 Batch 2 – Pink, Mauve, Gray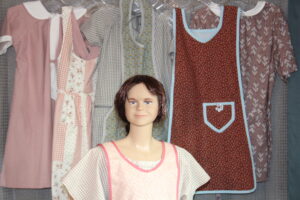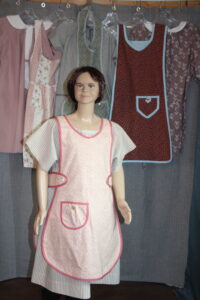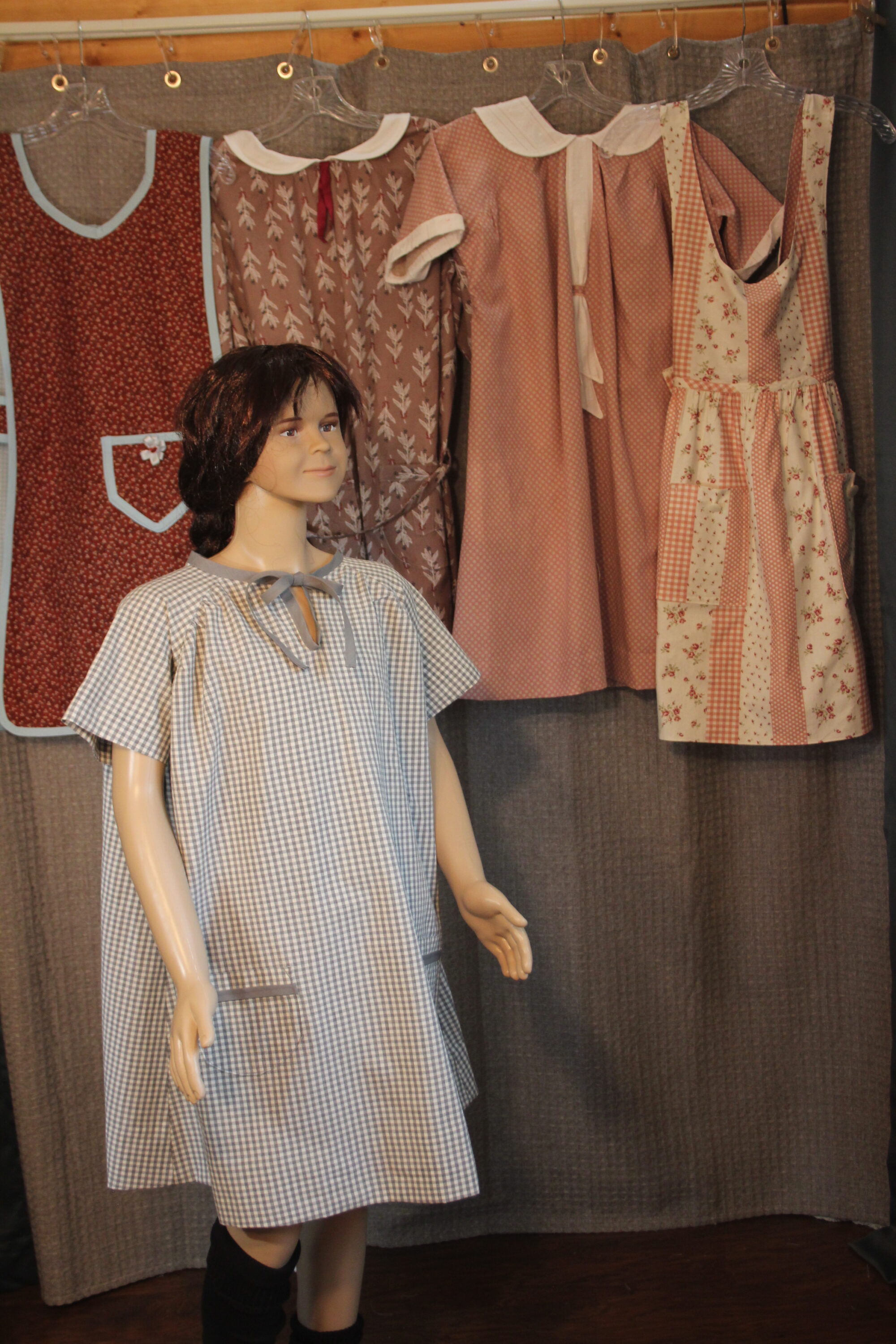 8.3 (Size 8 dark gray/green gingham lightweight checked fabric with dark dray bias tape.  Minimal decoration for most historical look includes bloomers.  Bloomers would have button flap down closure, but for commercial use modified to back tie for flexible sizing.  They have a knee band and very full fit.  Short little girl wide and short style which will fit a 10 also.  Tape on low pockets).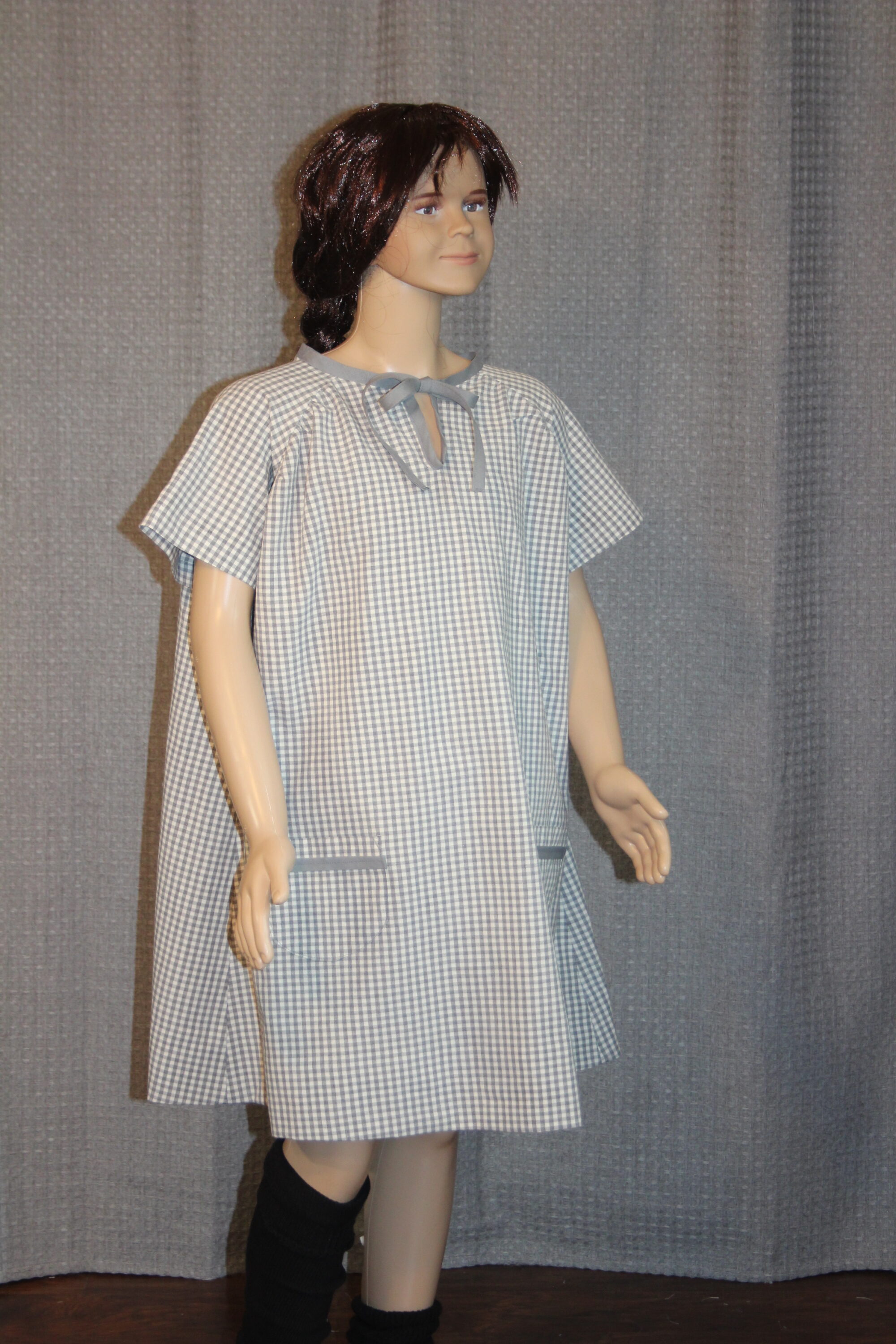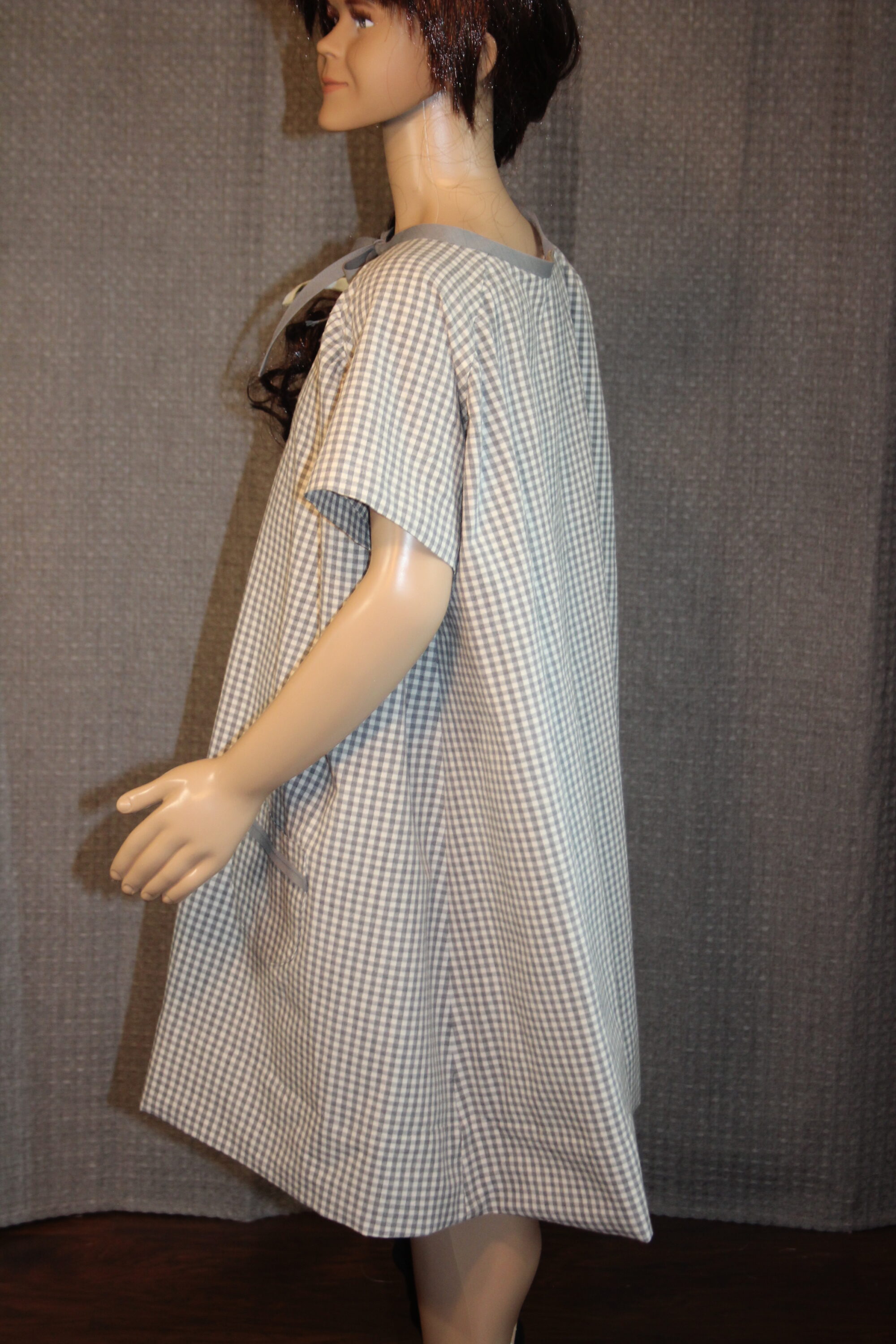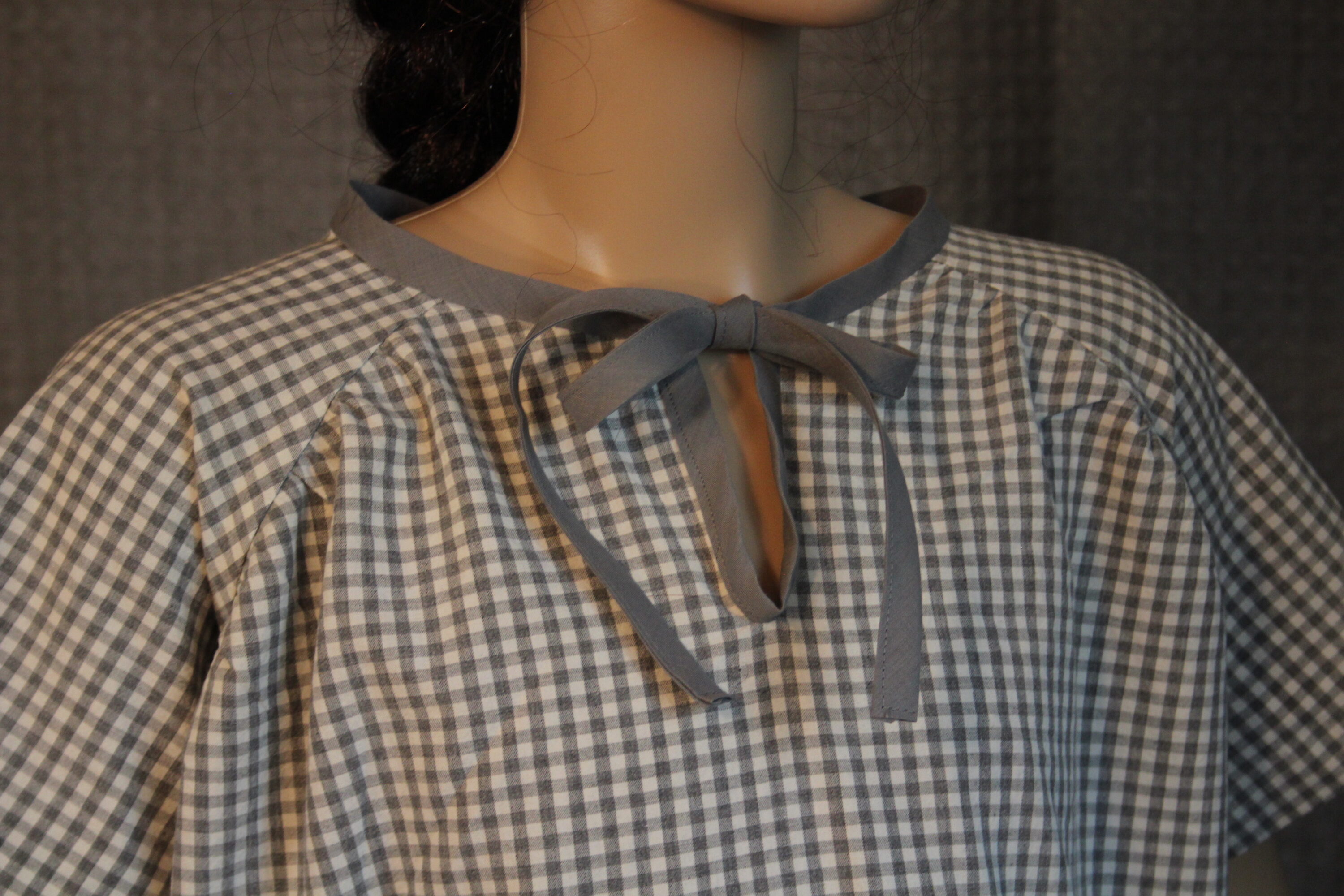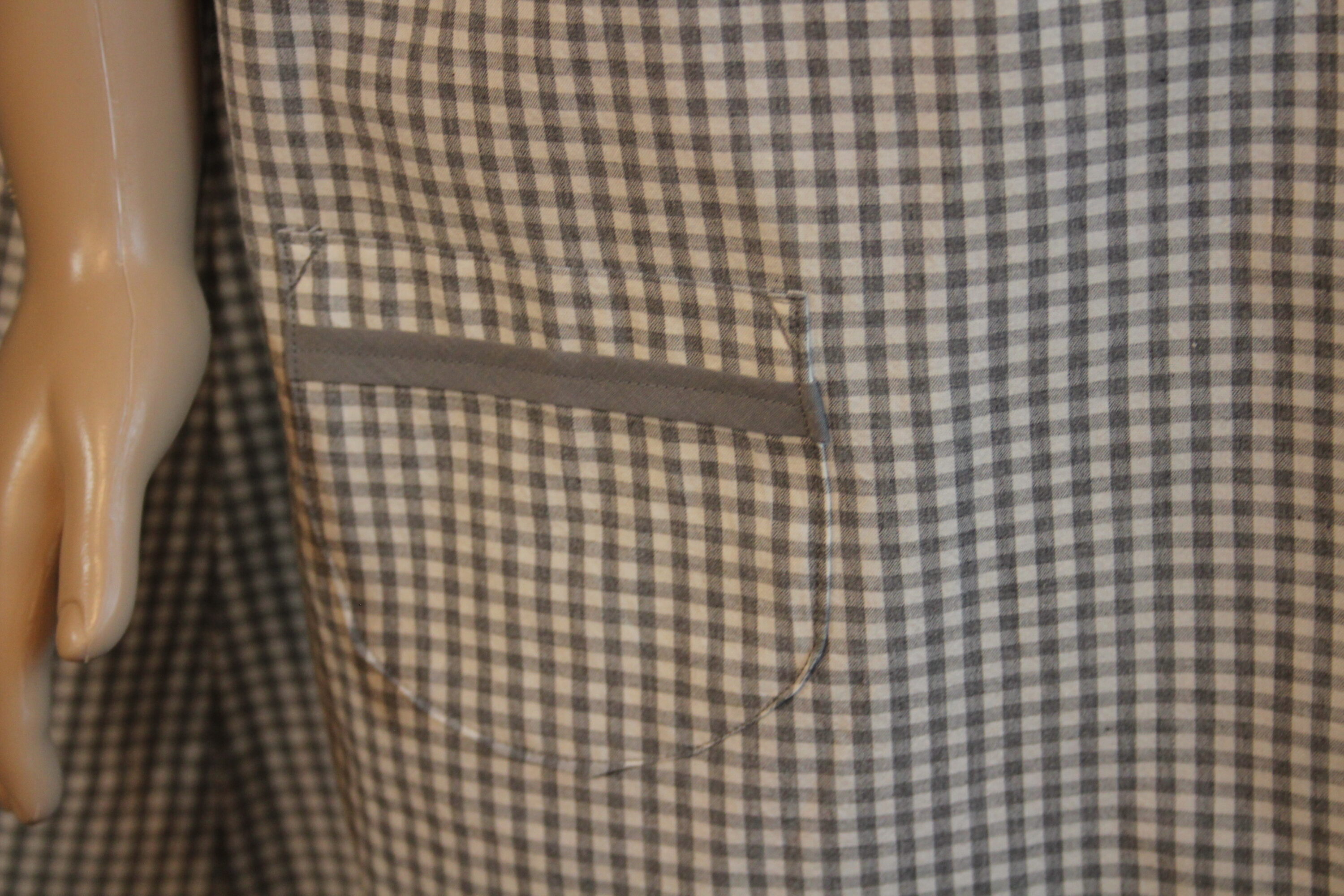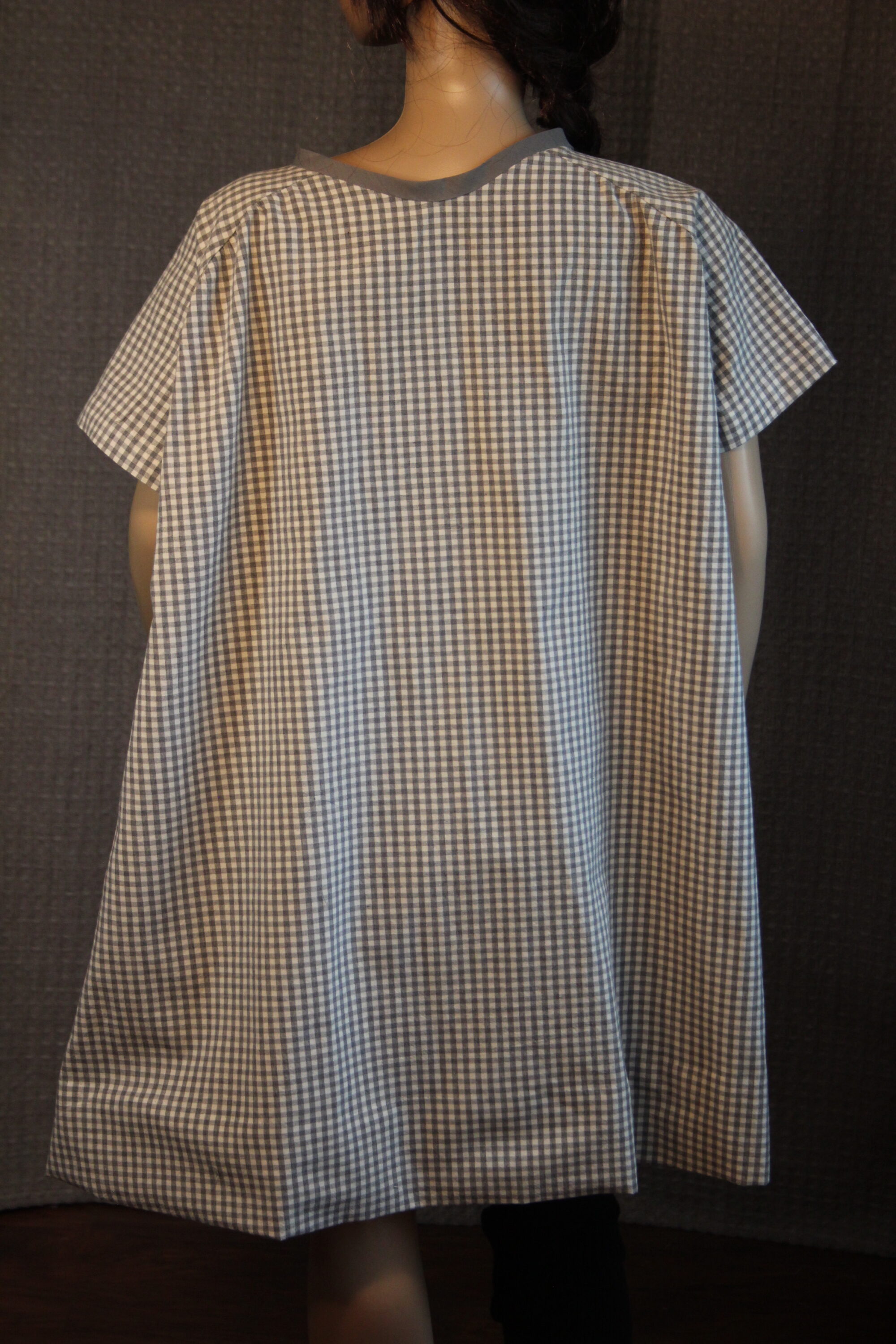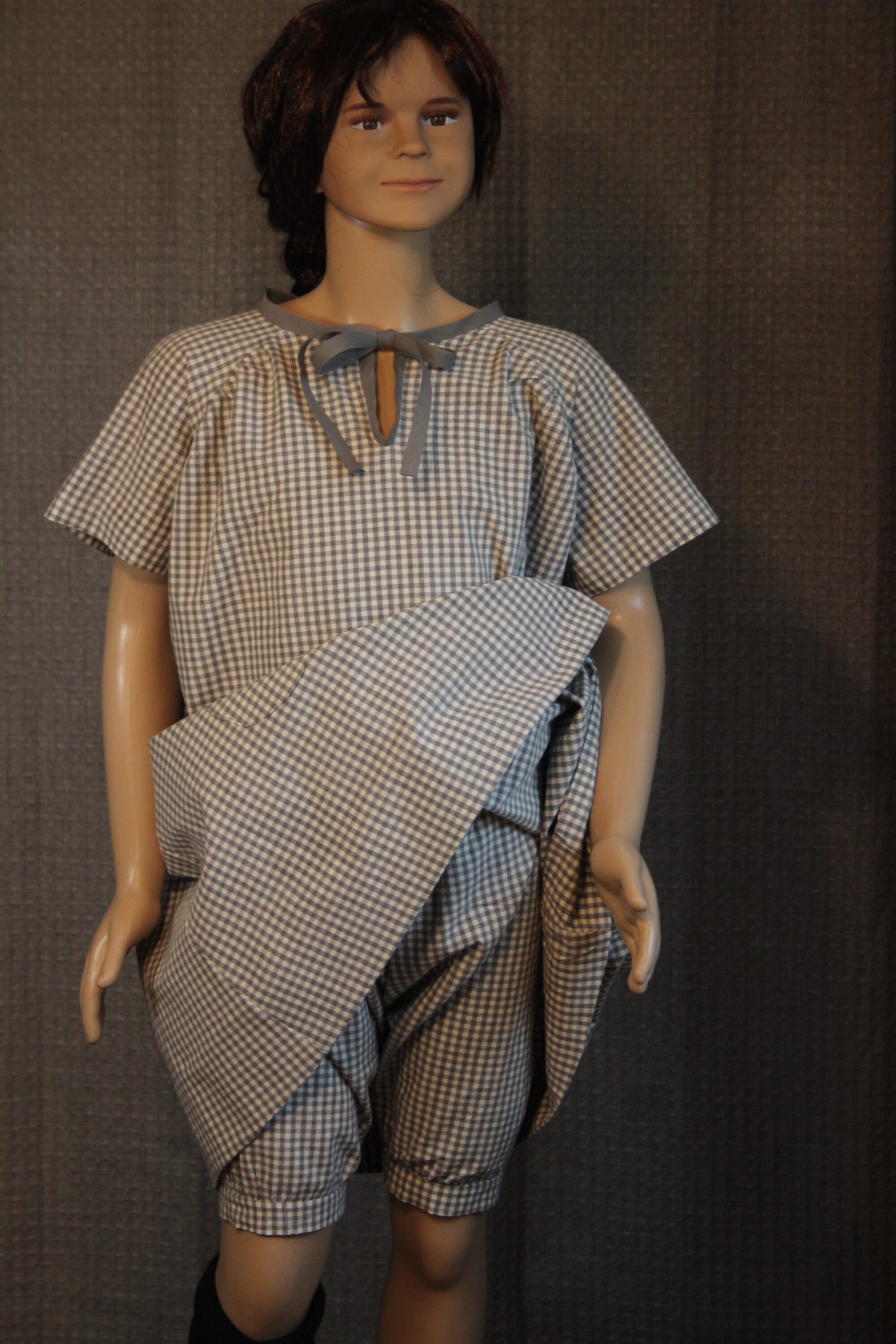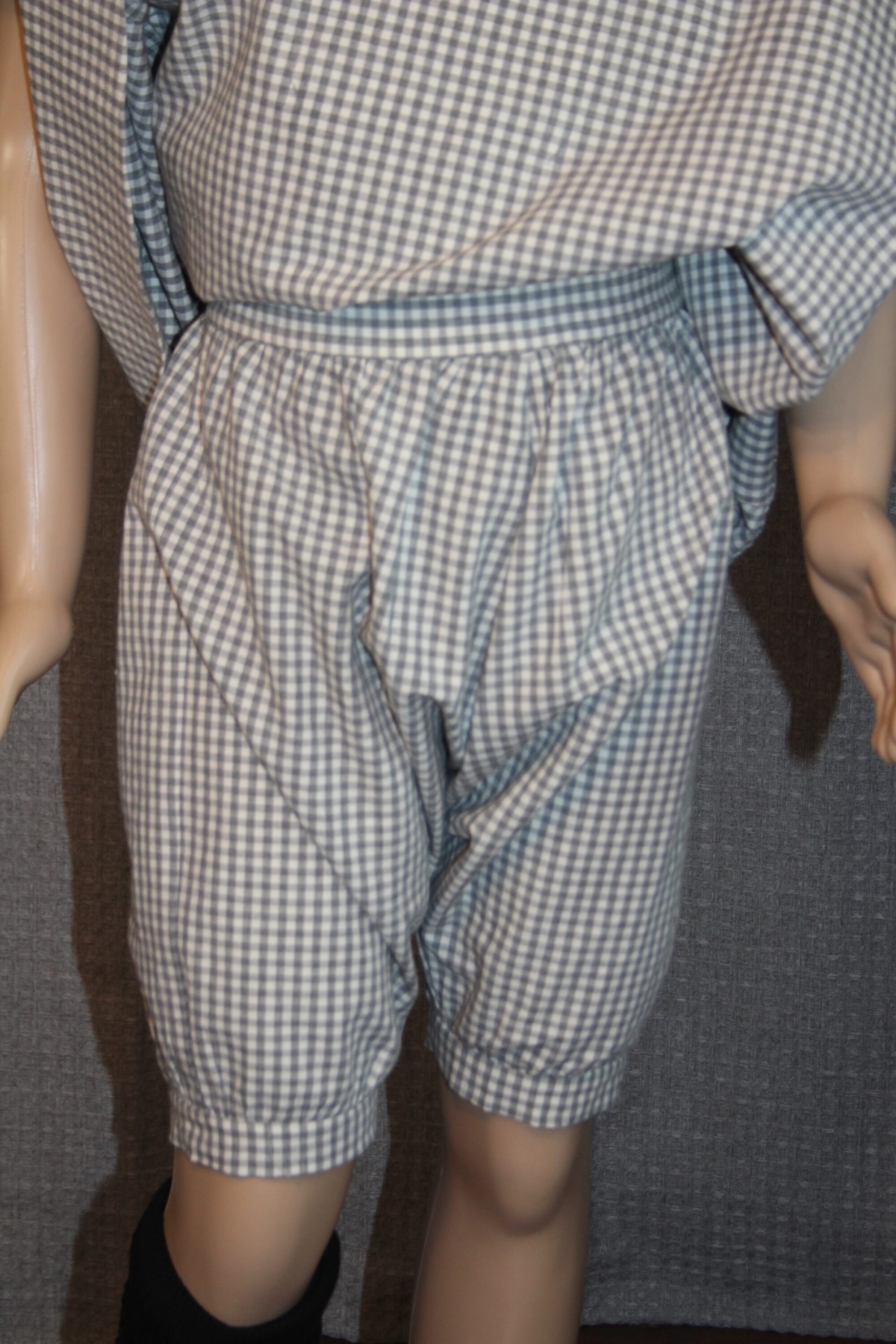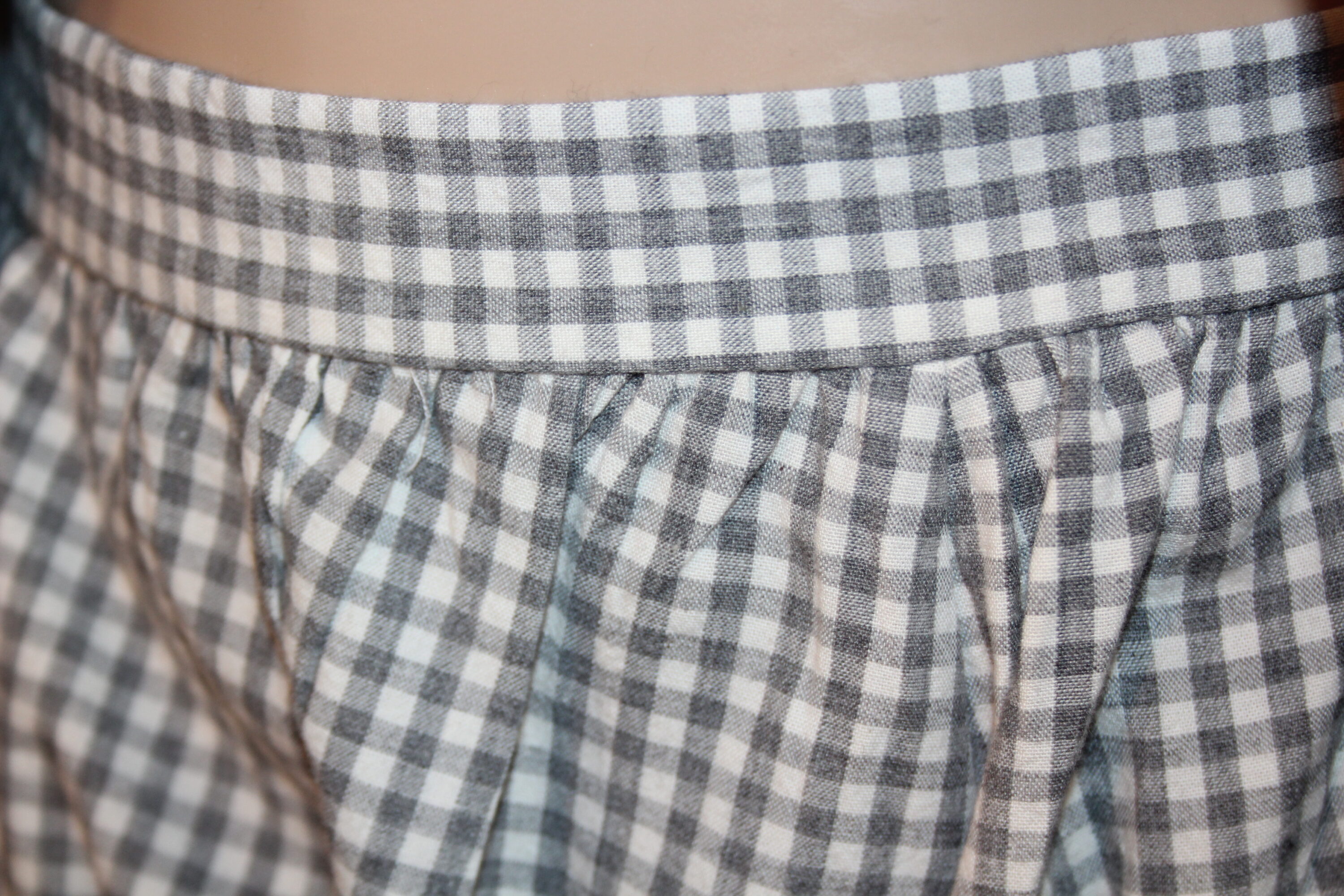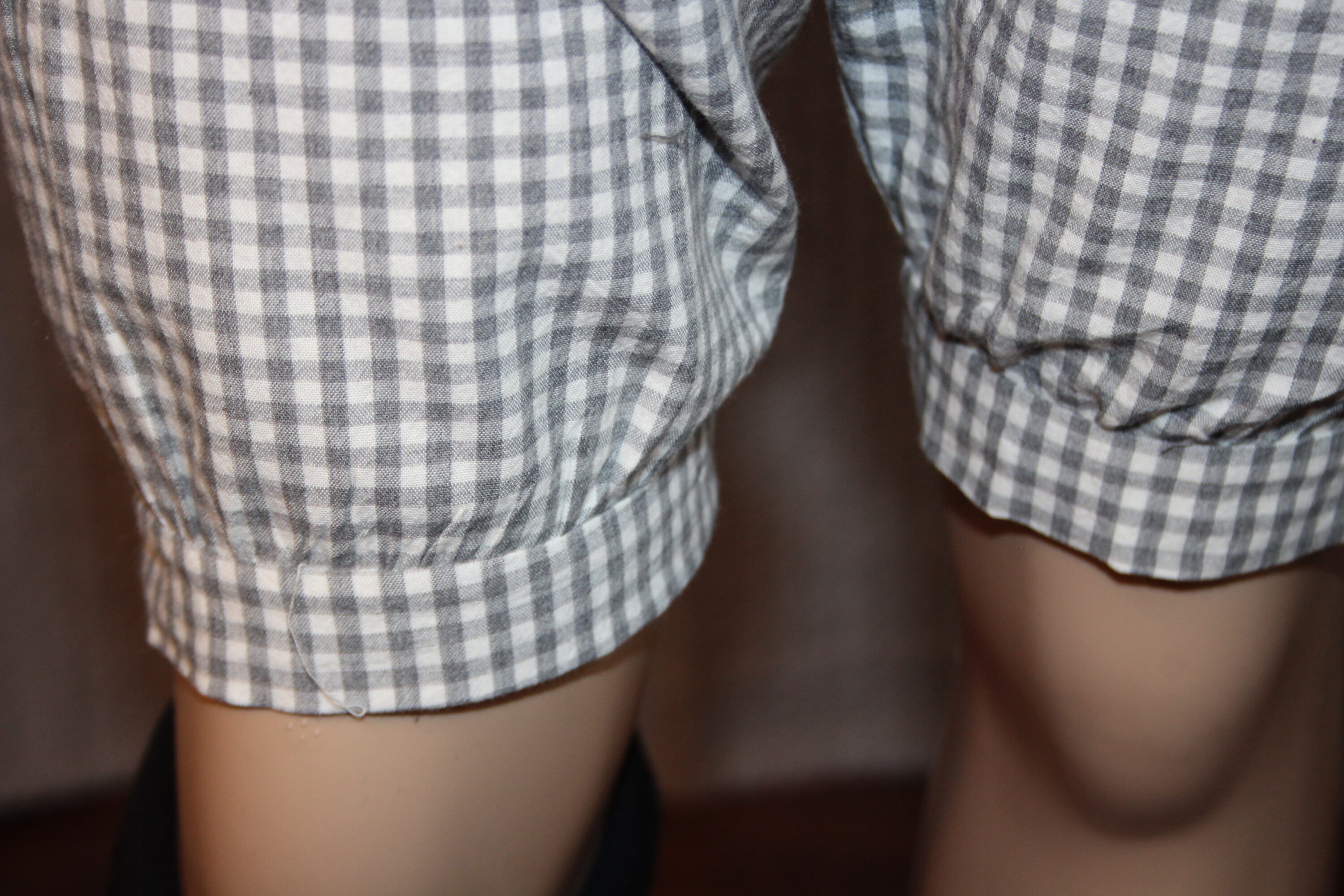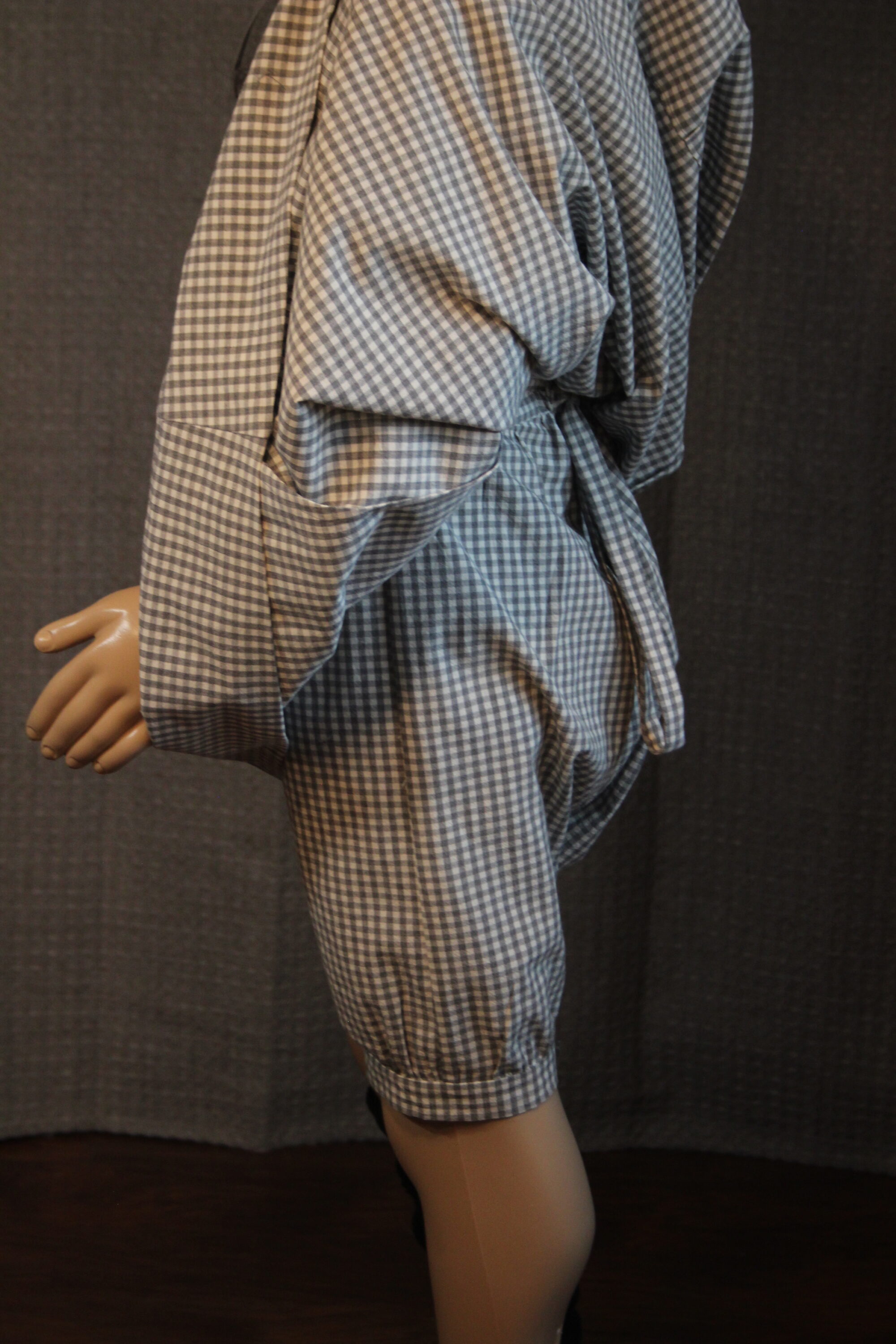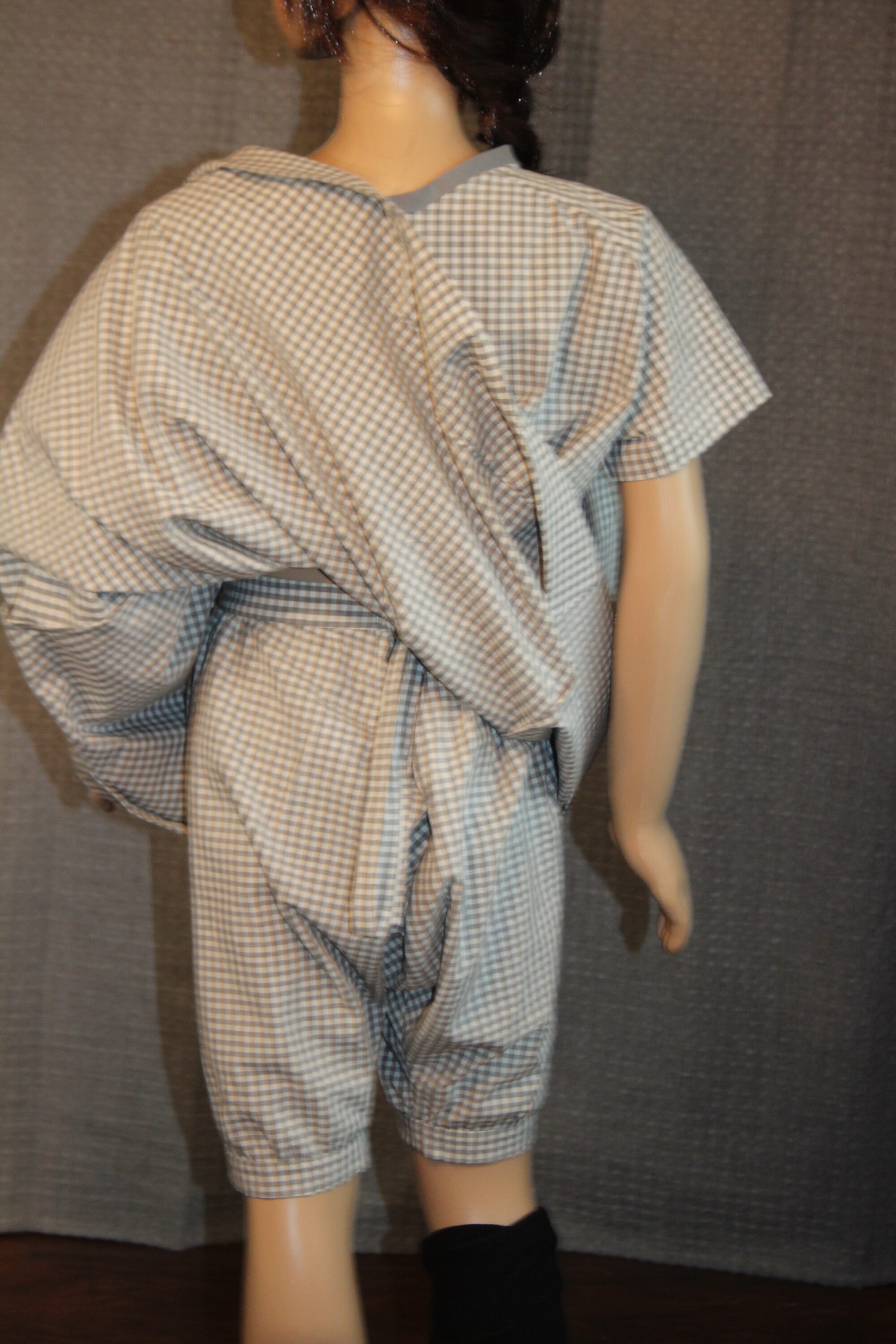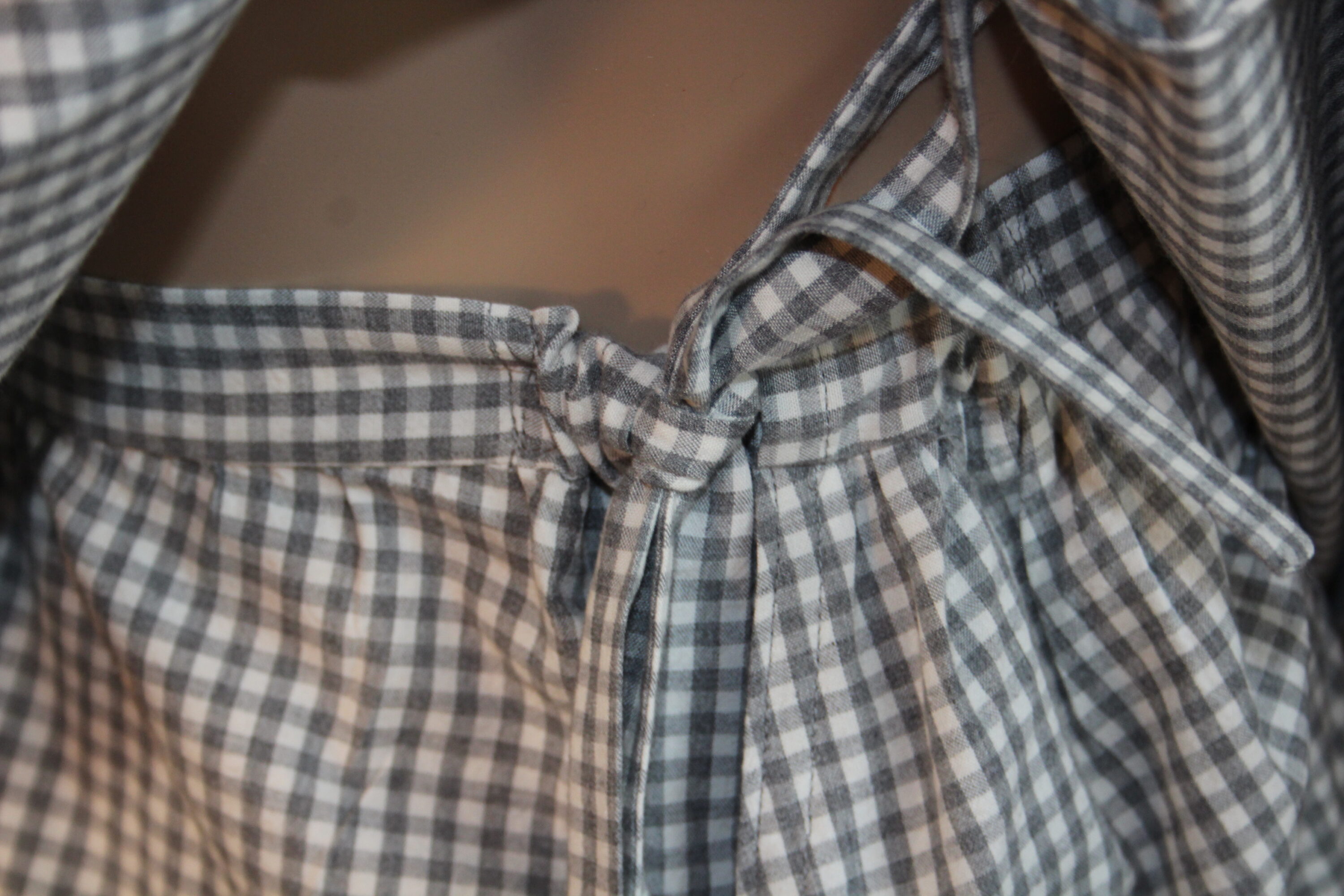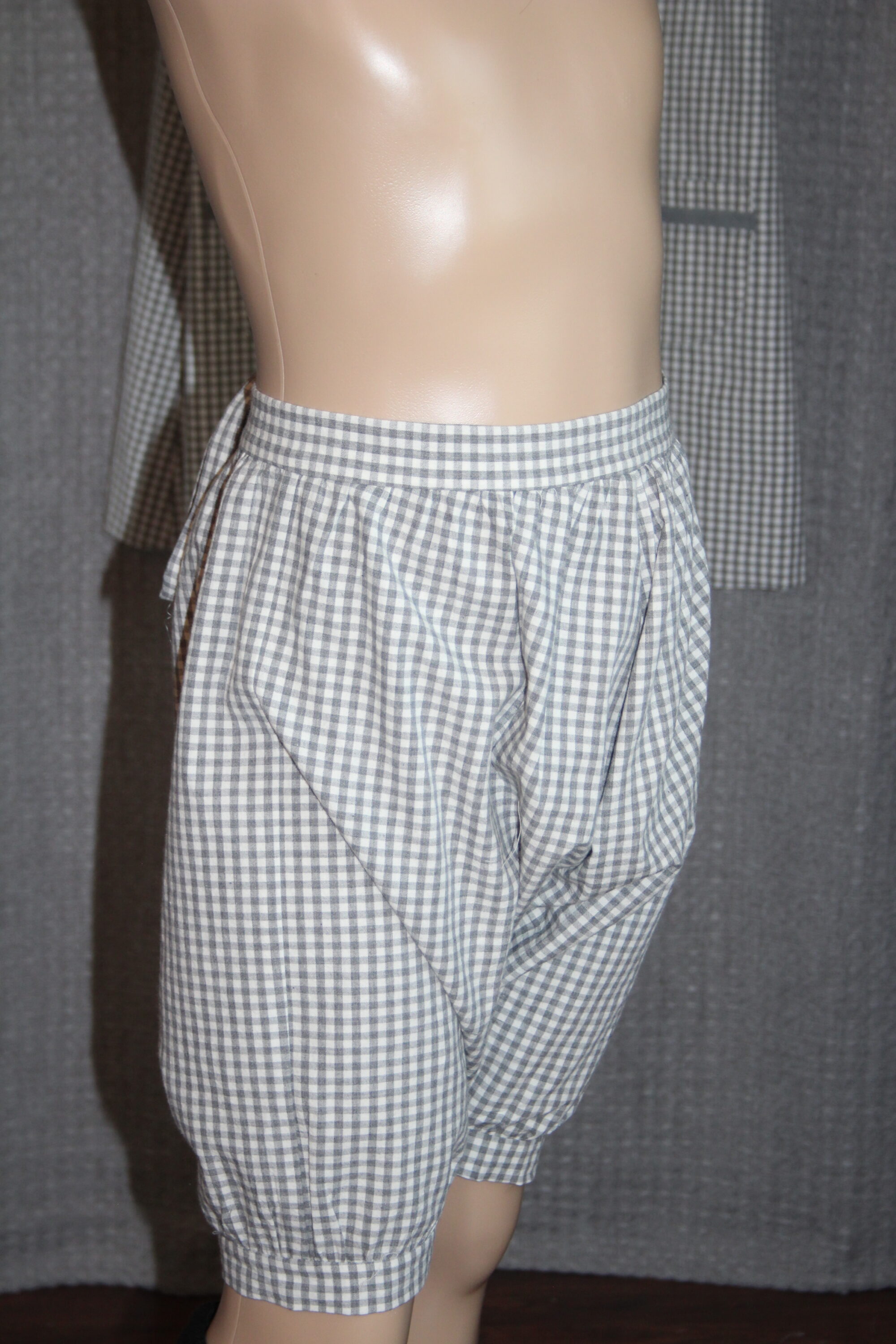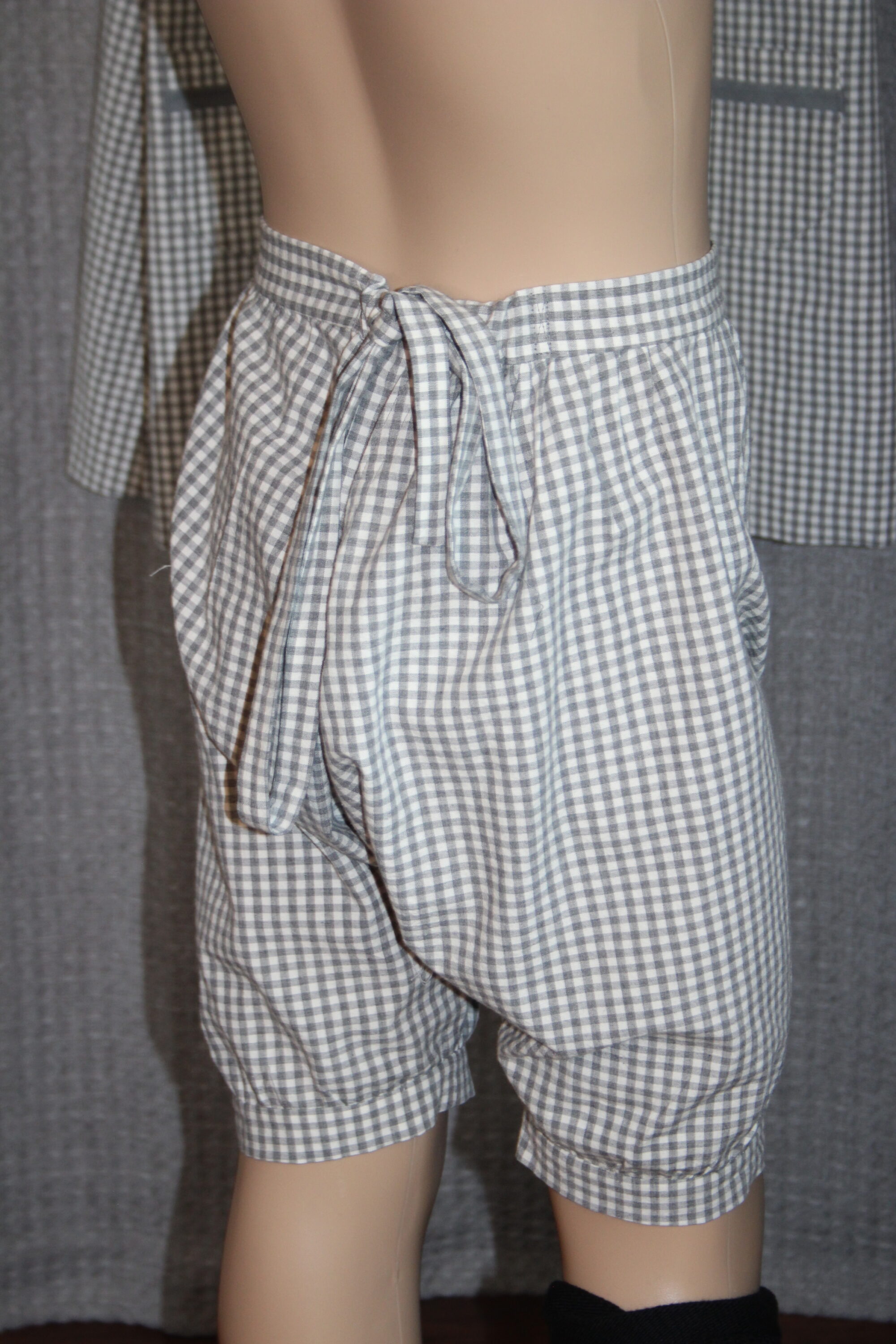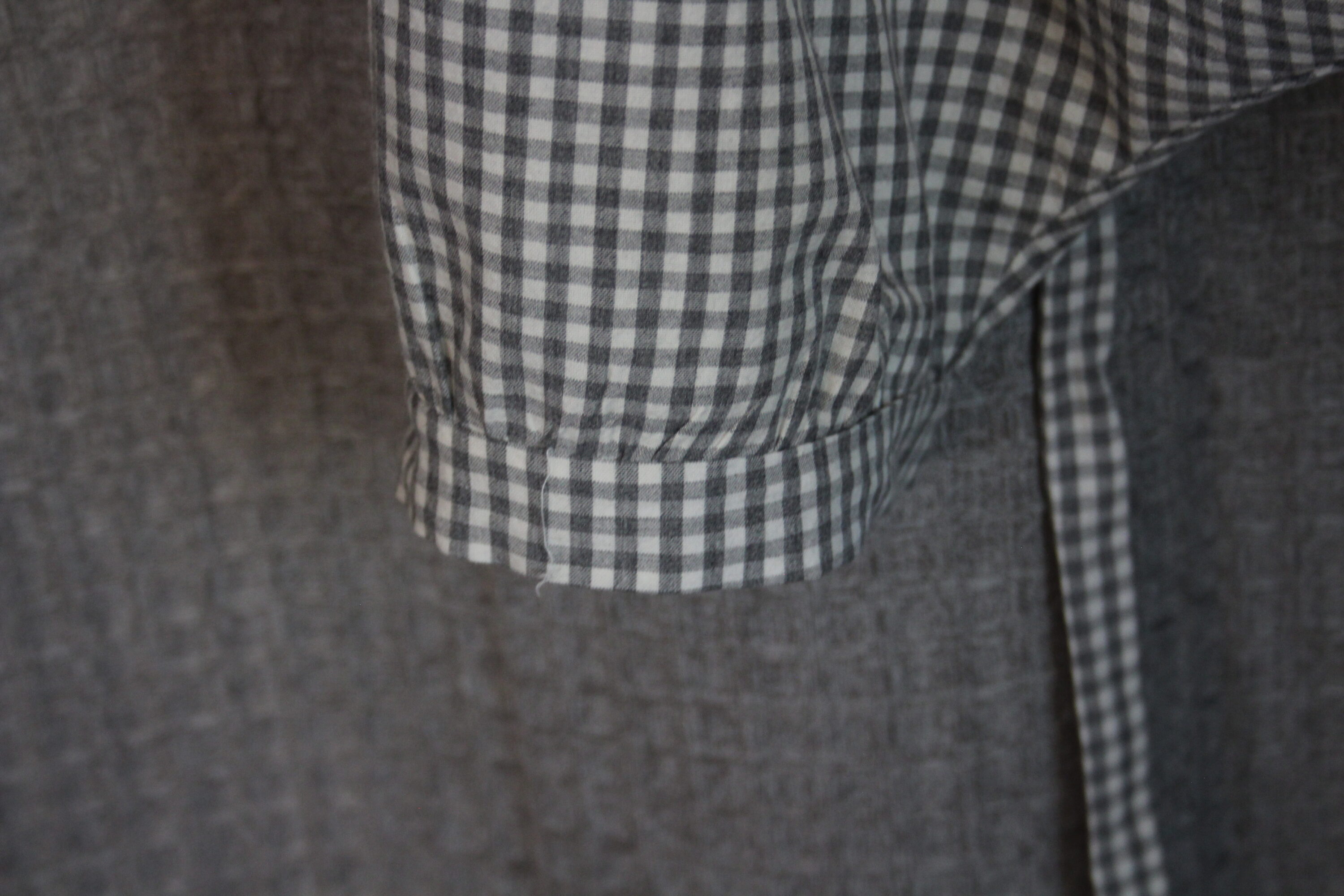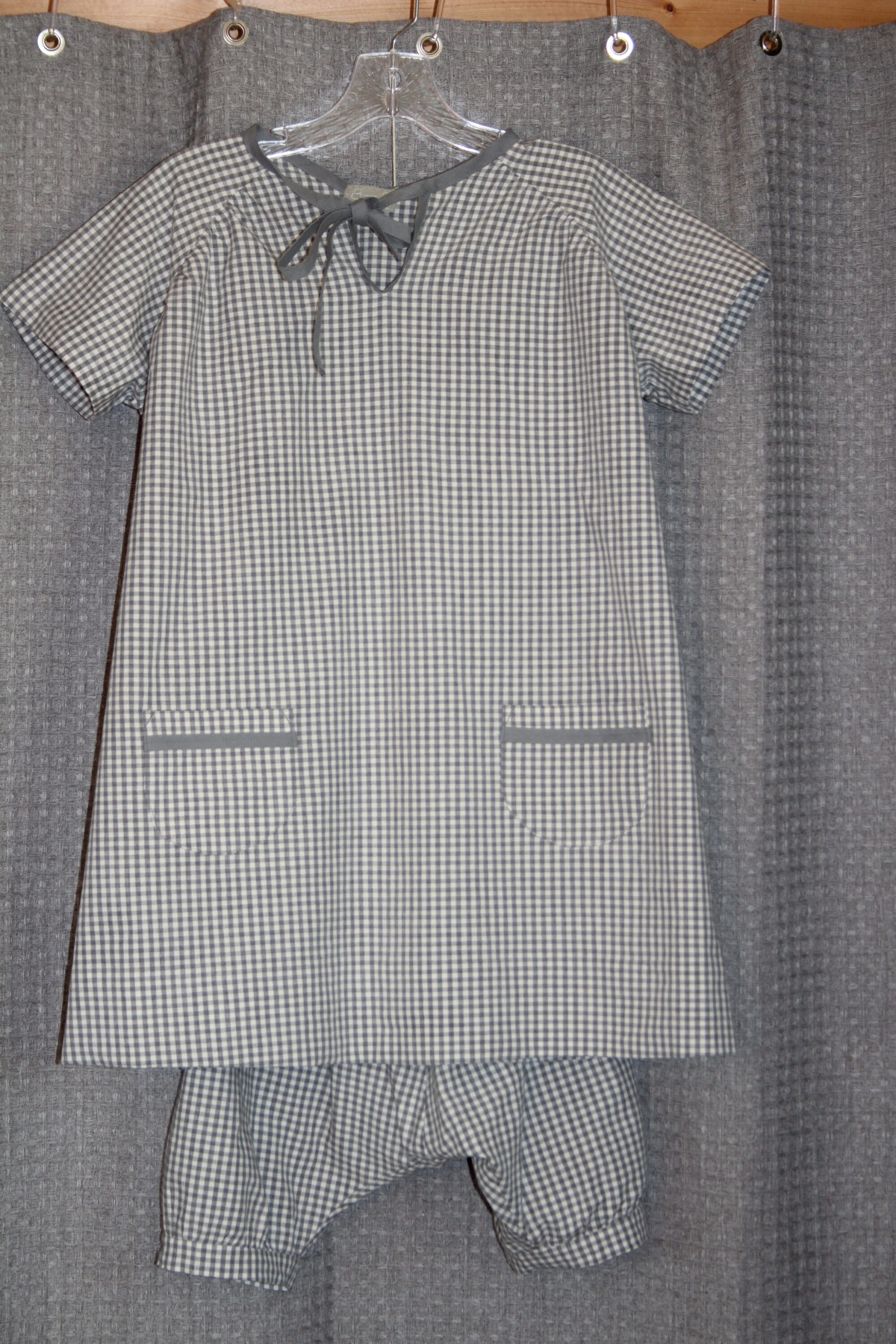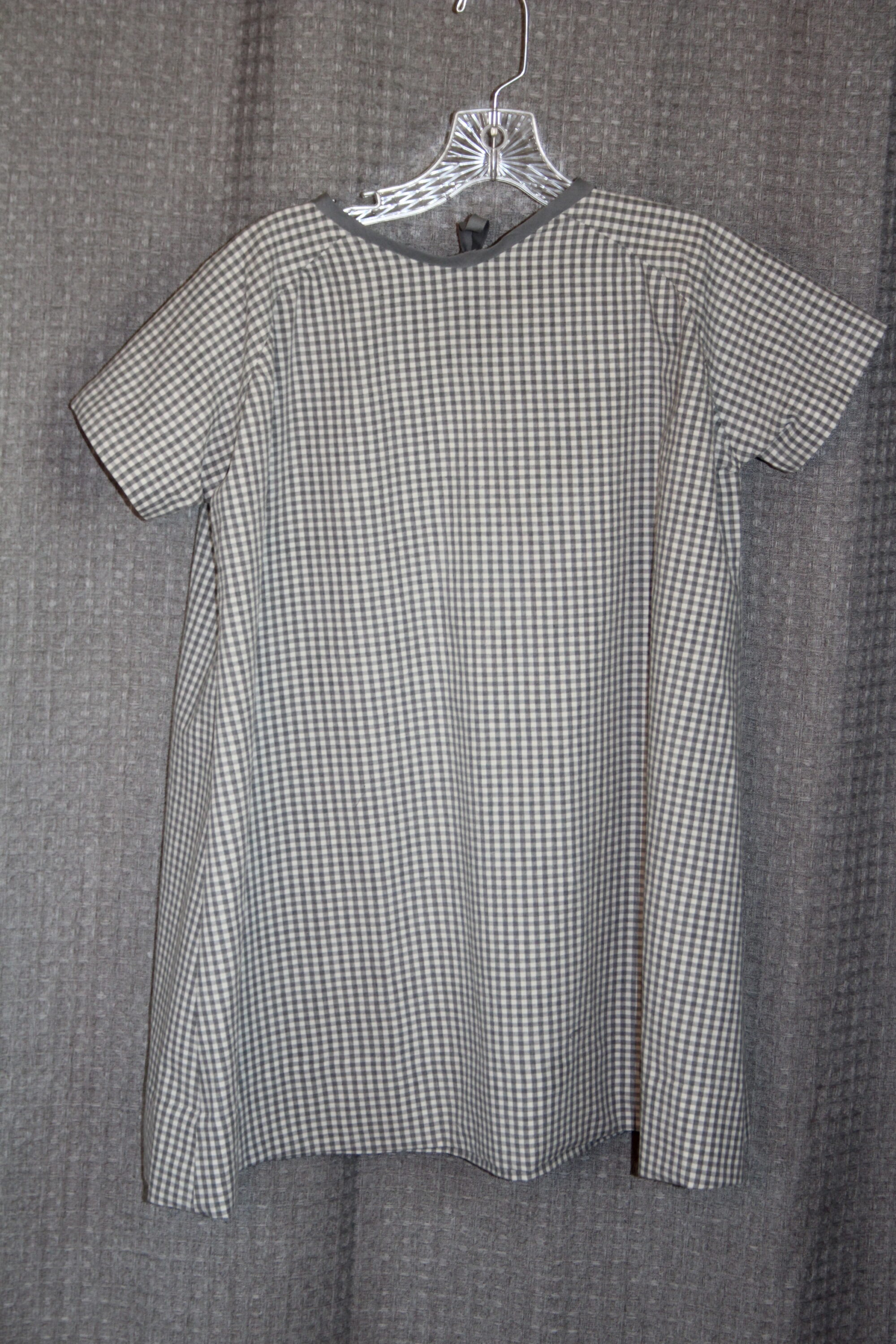 10.3 (Size 10 pink linen/cotton which is a stiffer fabric with wide white cotton dotted swiss collar and tie which are self-piped.  Back neck tie closure with twill tape string and stationary front neck tie held in place by buttonhold authentic 1920's detail.  Matching trim on cuffs.  Short little girl wide silhouette worn shorter with shirring at sleeves.  Coordinates nicely with the pink rose striped apron).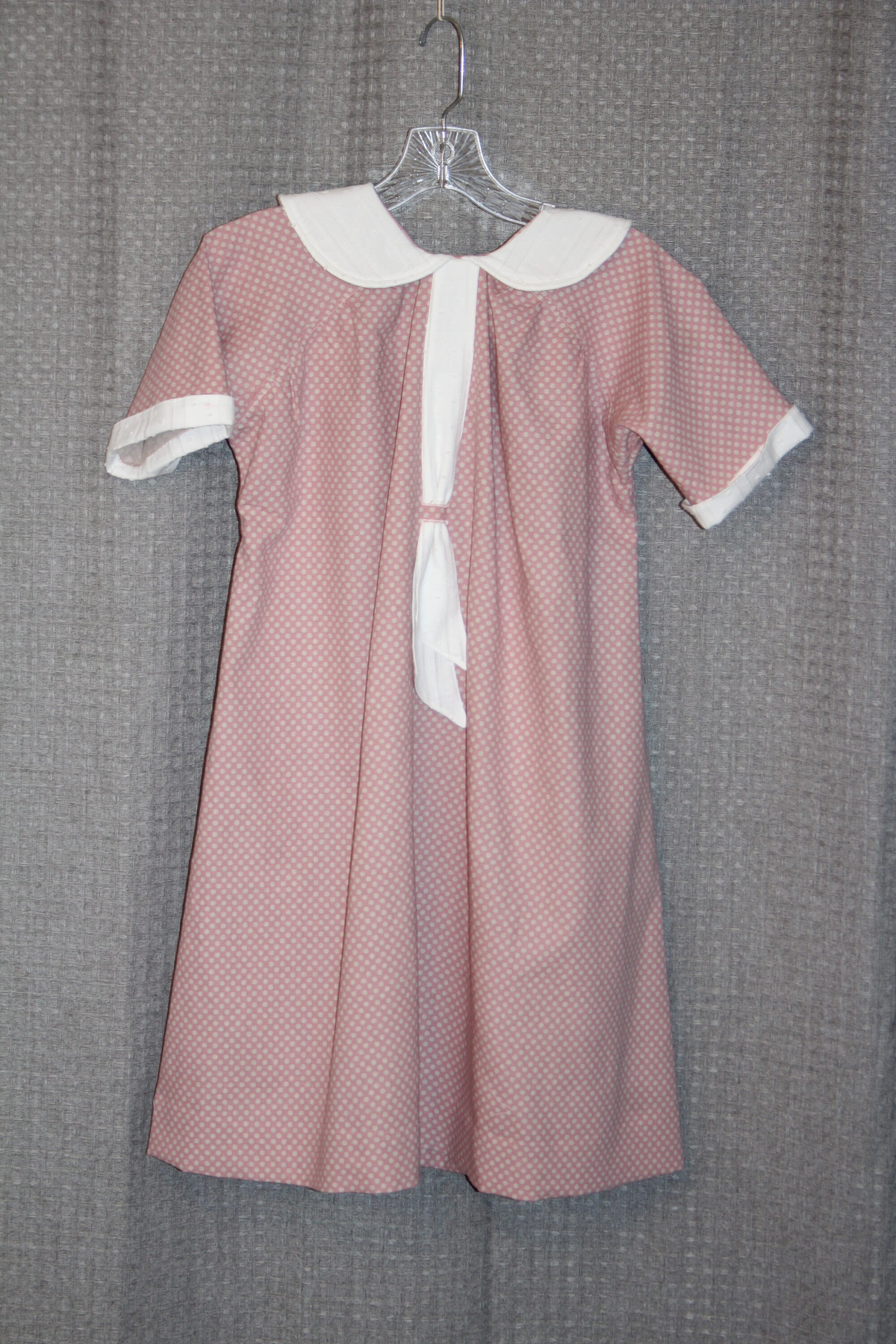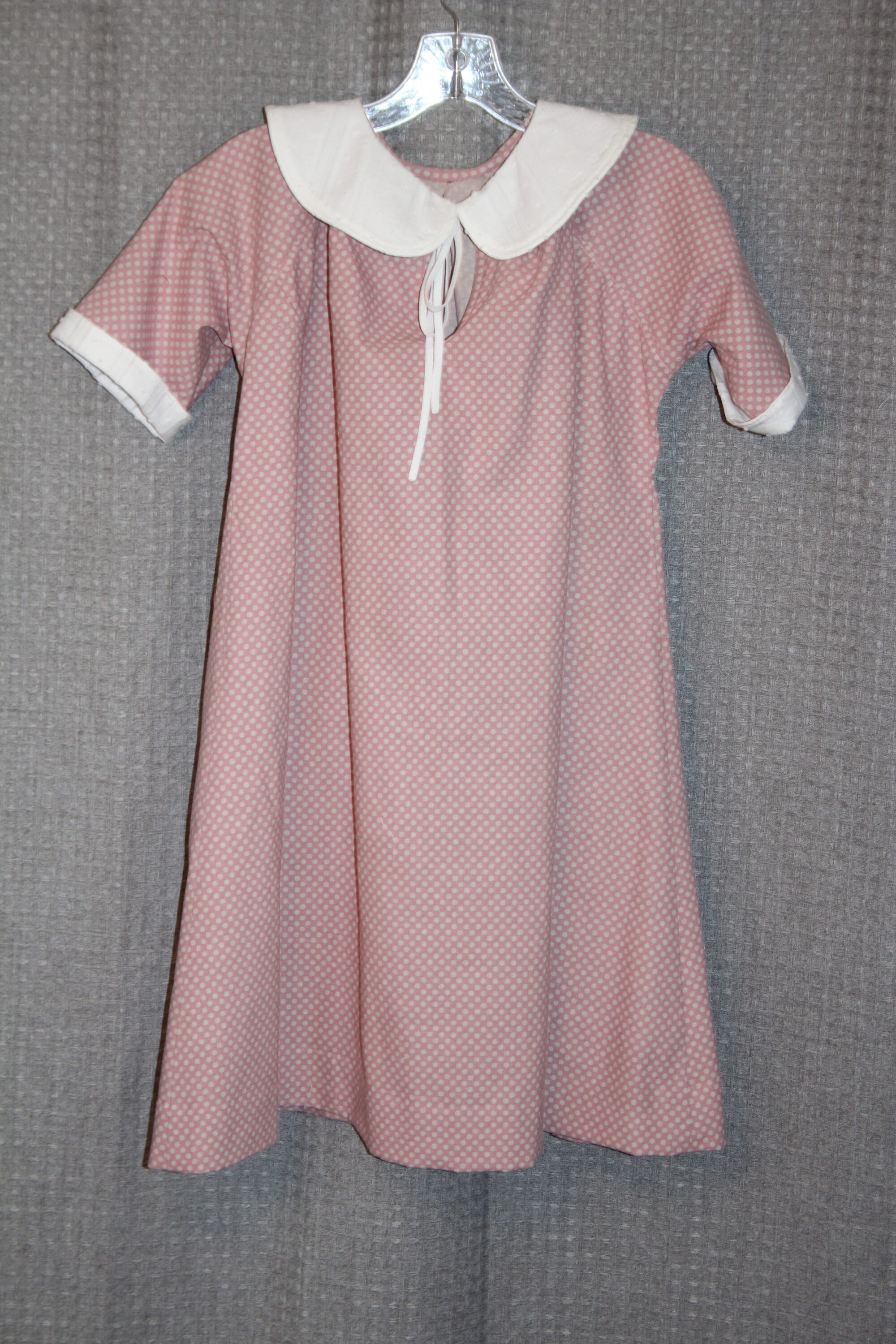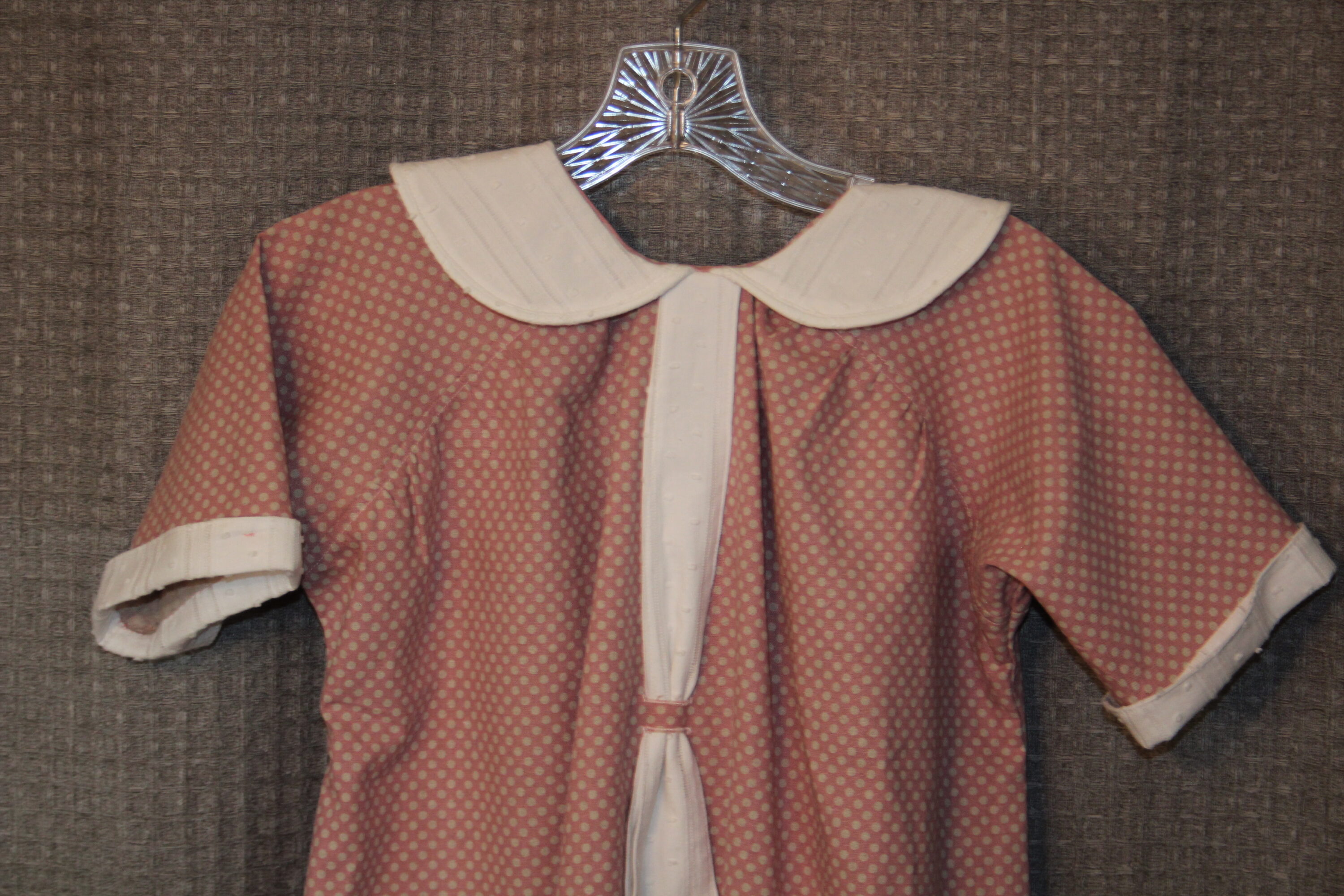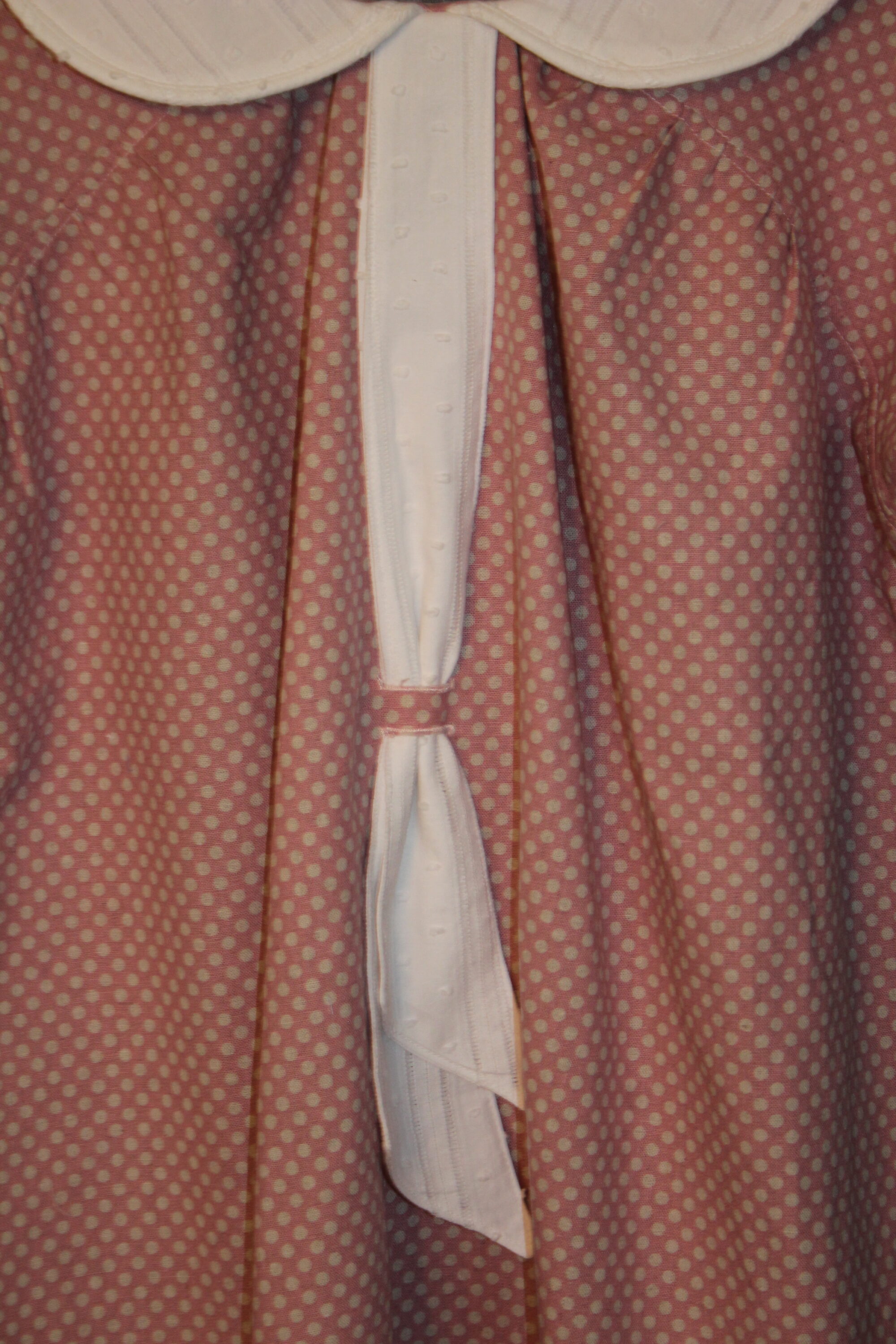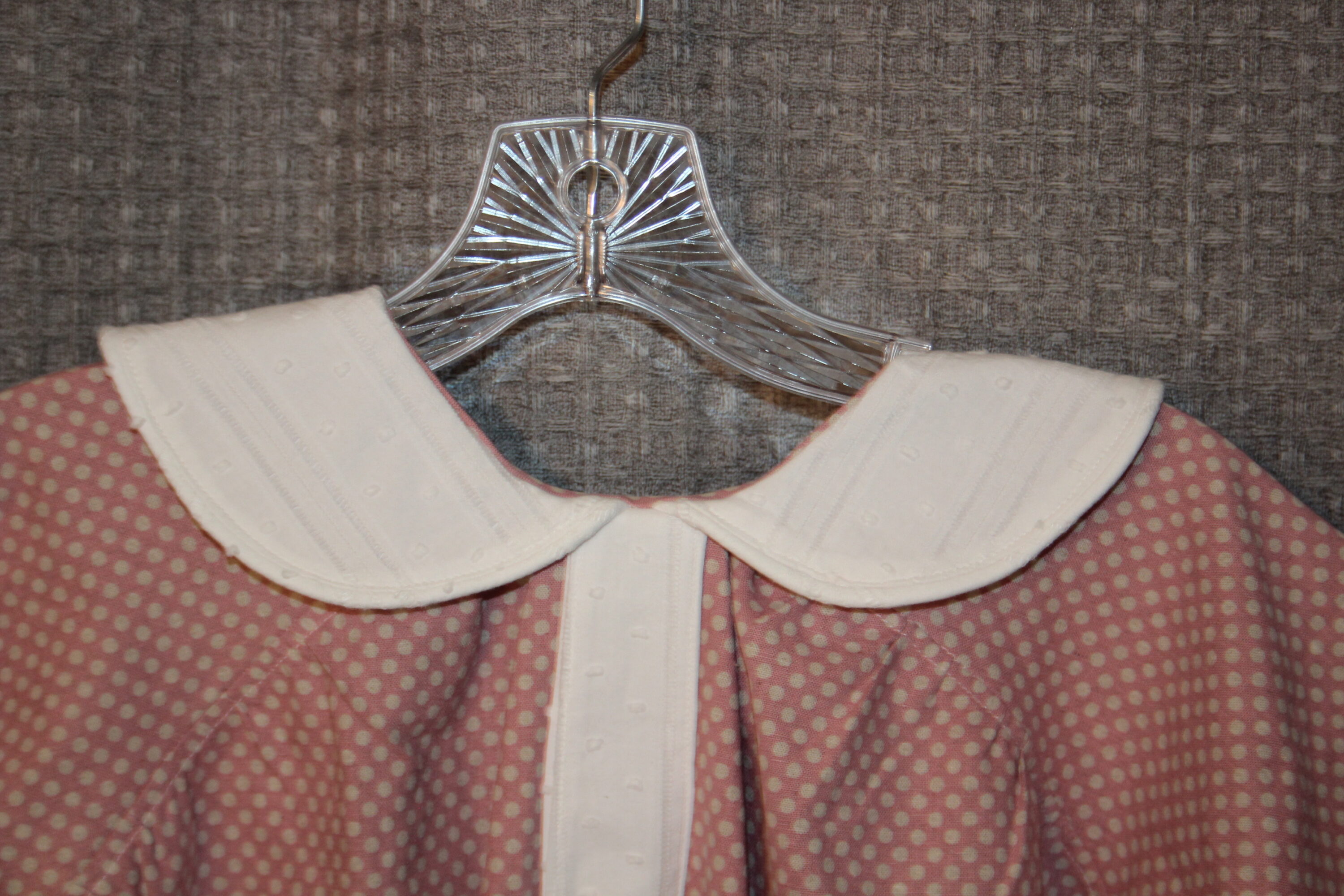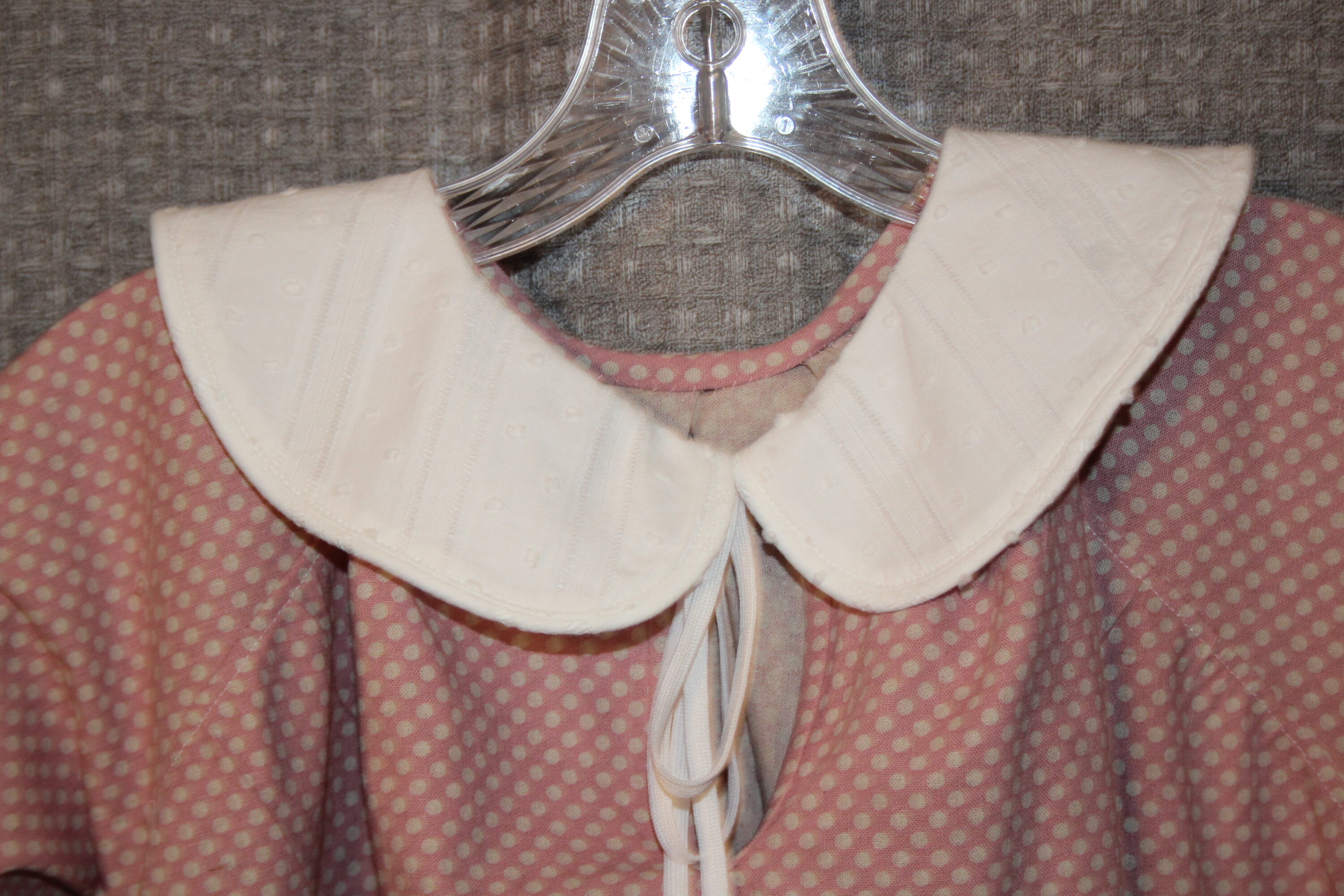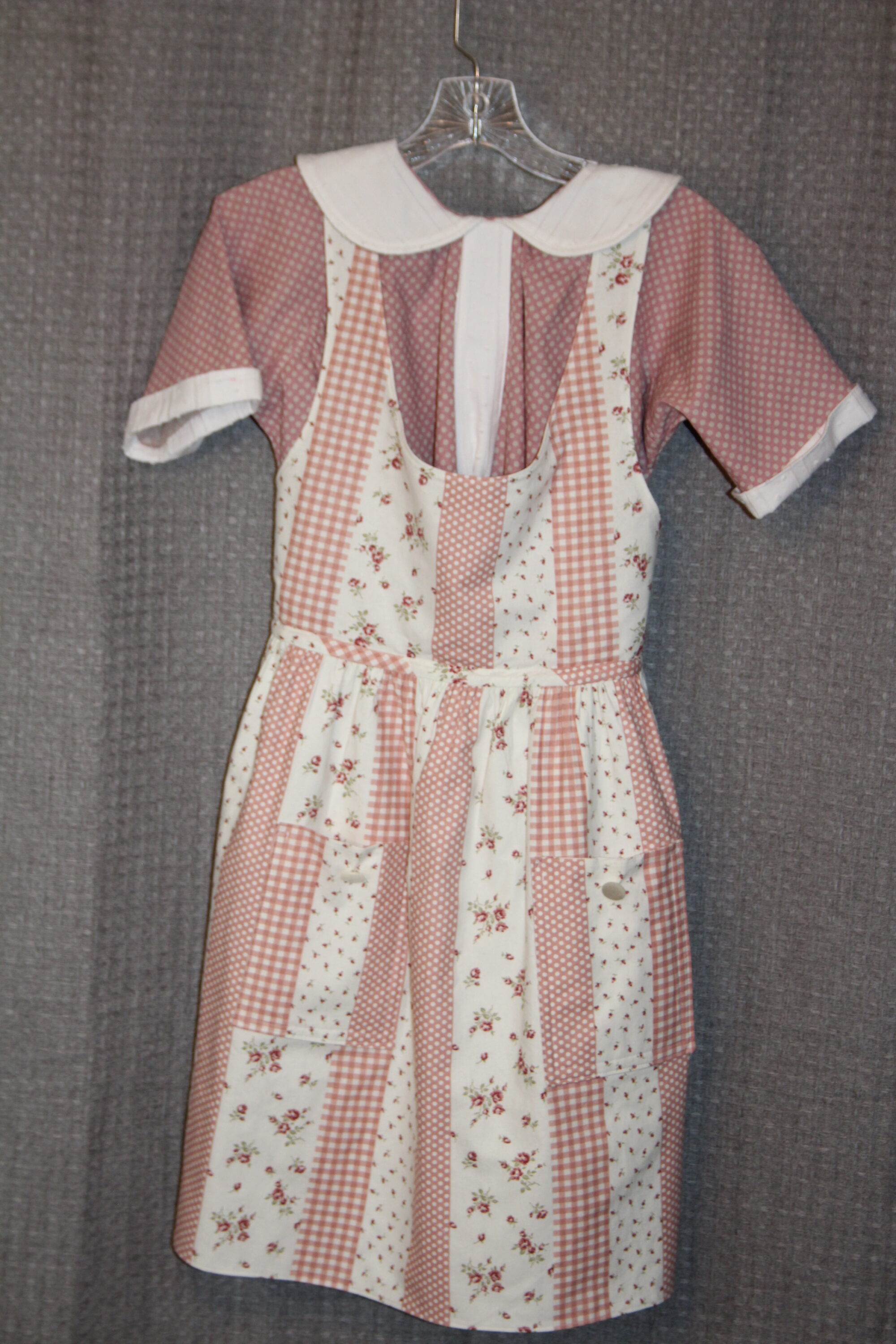 10A.2 (Pink gingham and rose with polka dot striped reproduction fabric reversible apron.  Mother of pearl or bows on pockets.  Back crossover ties with MOP buttons and adjustable straps for flexible sizing.  This is the "scoop neck" woman's silhouette made from vintage woman's instructions you see in the blue and gold floral above).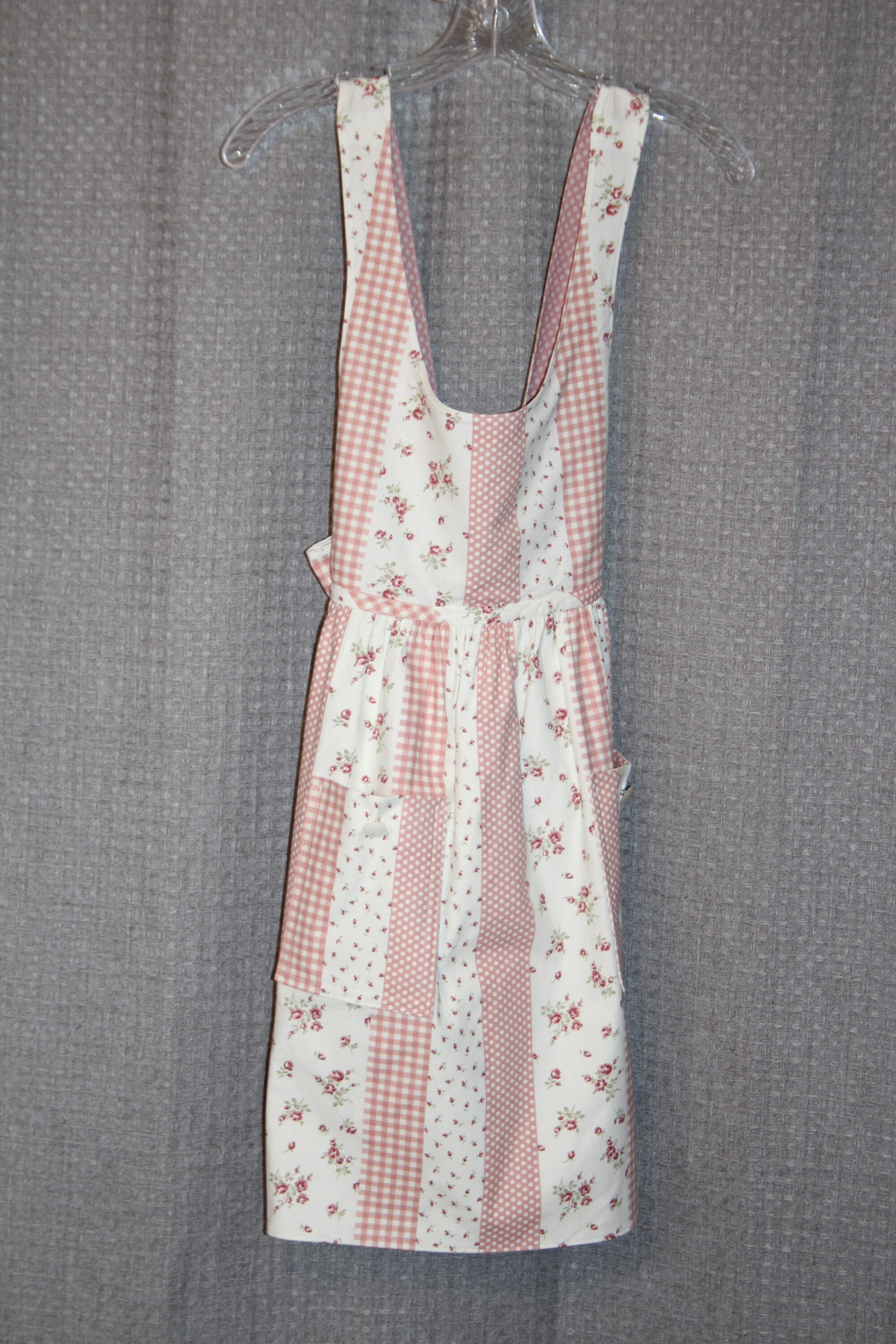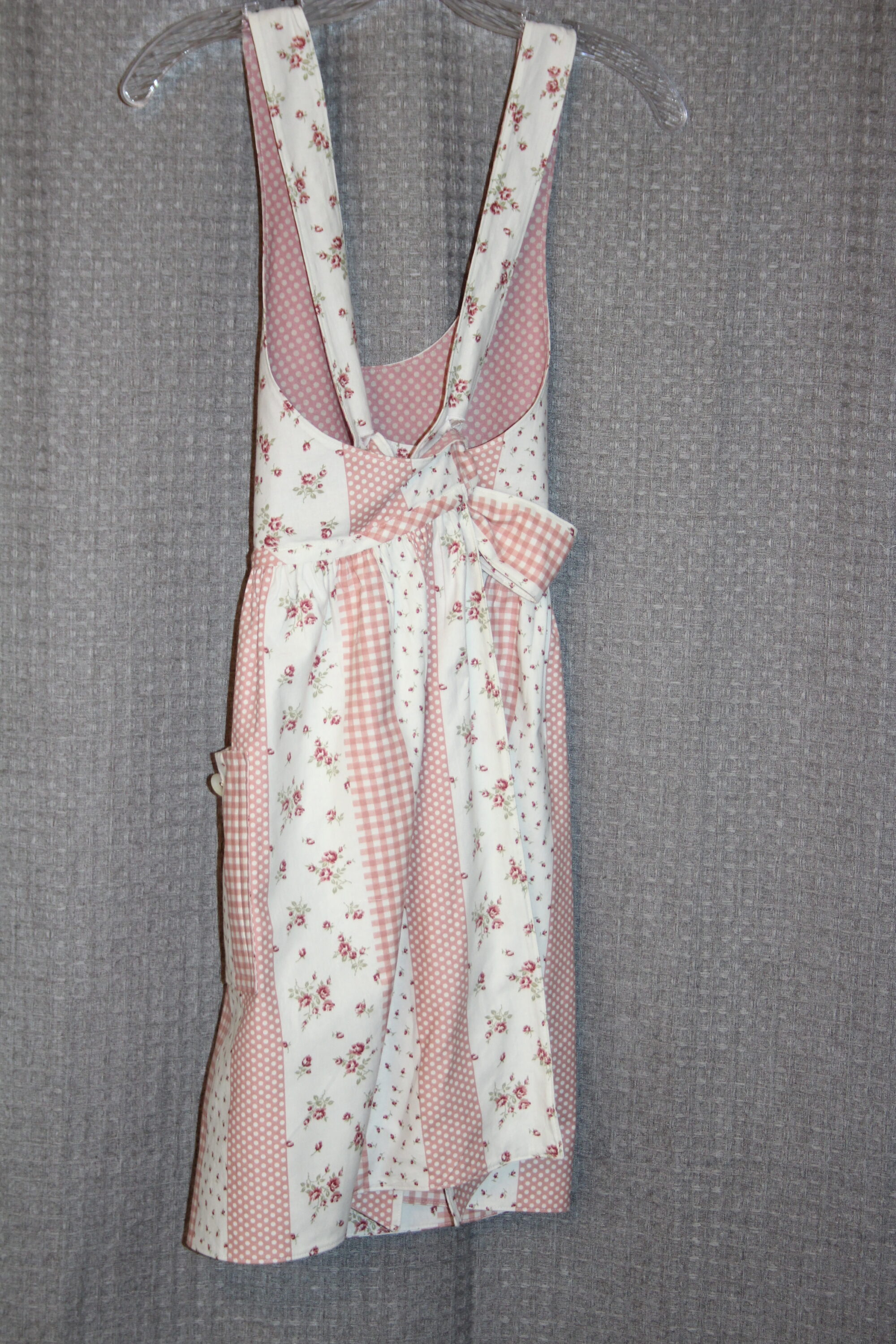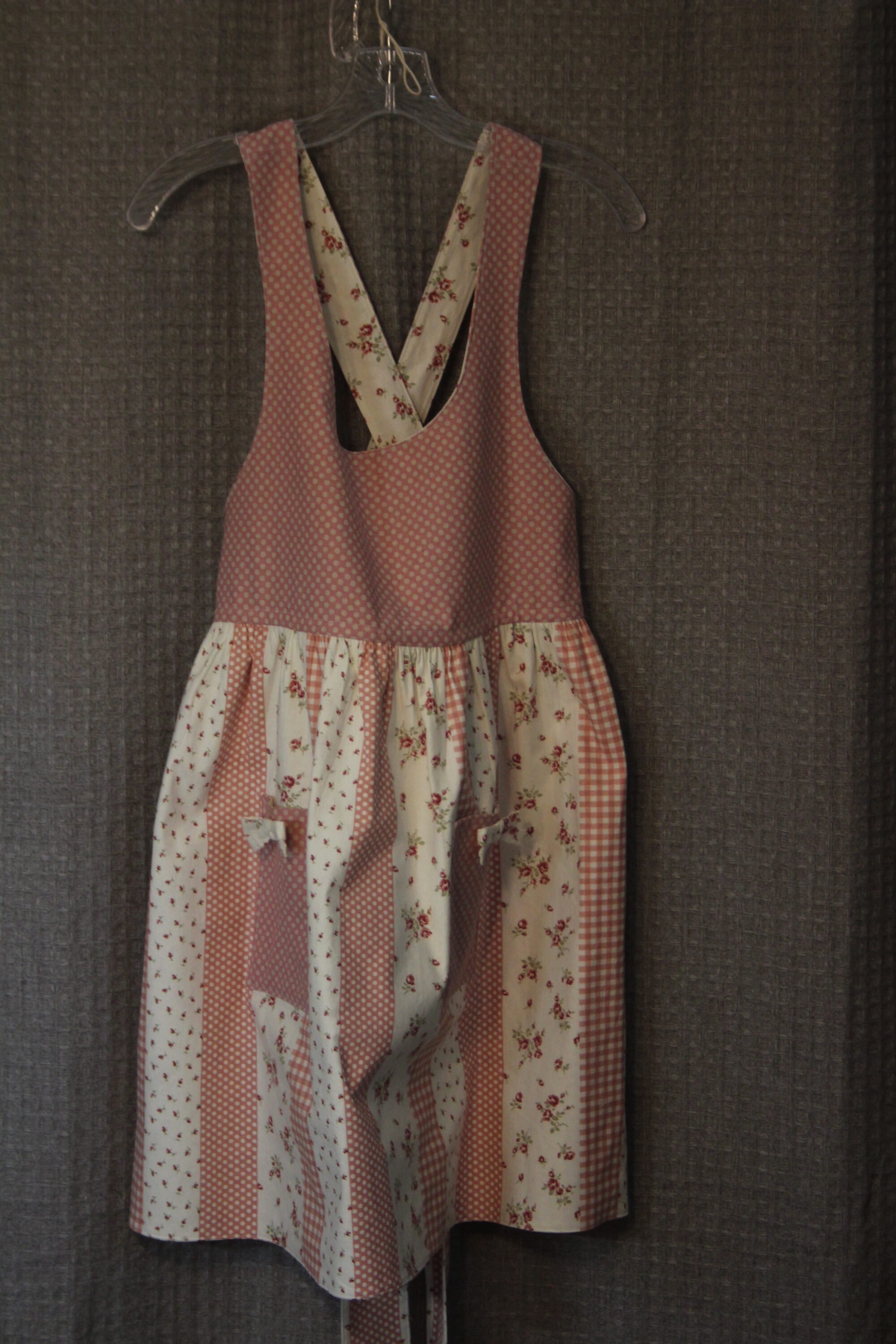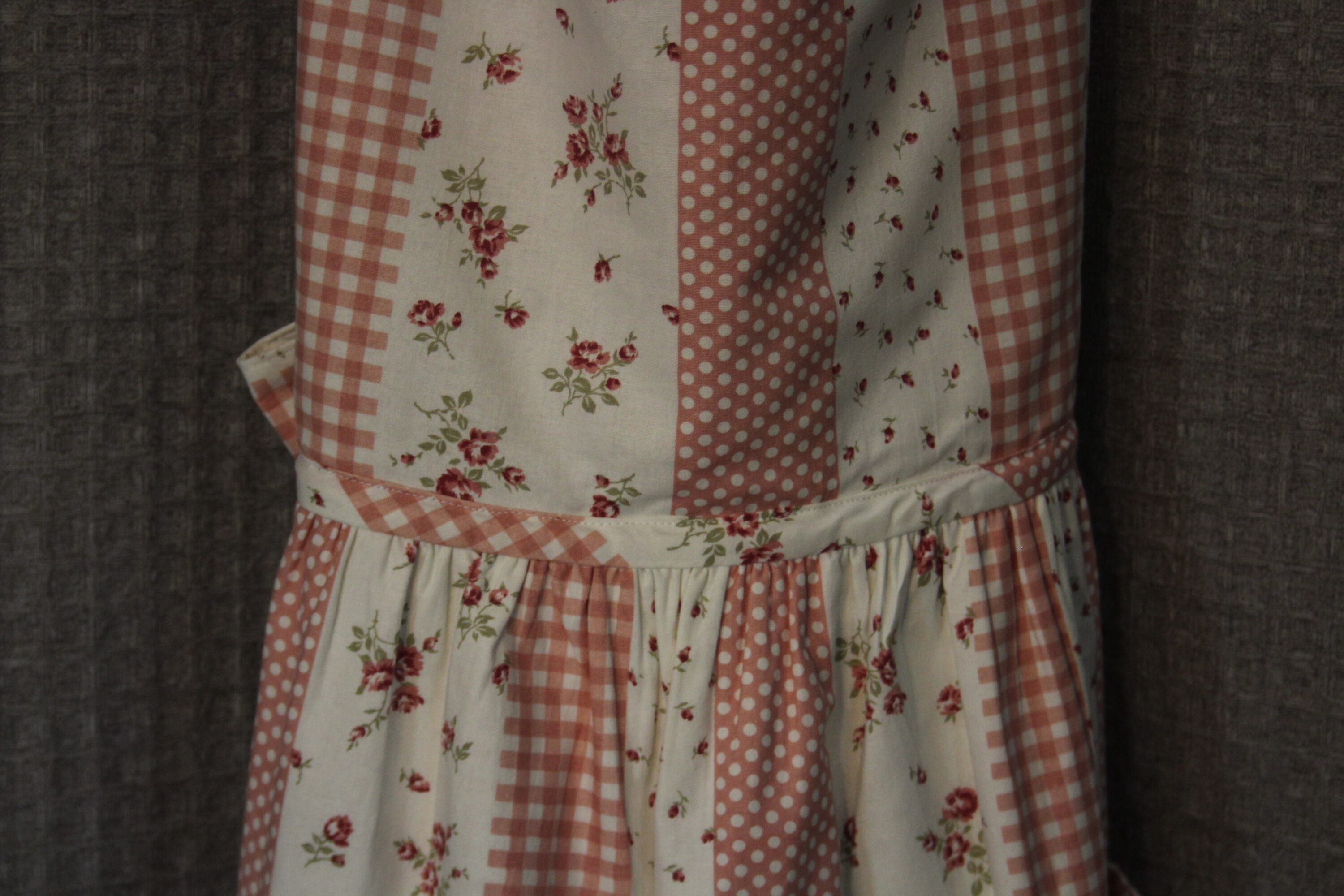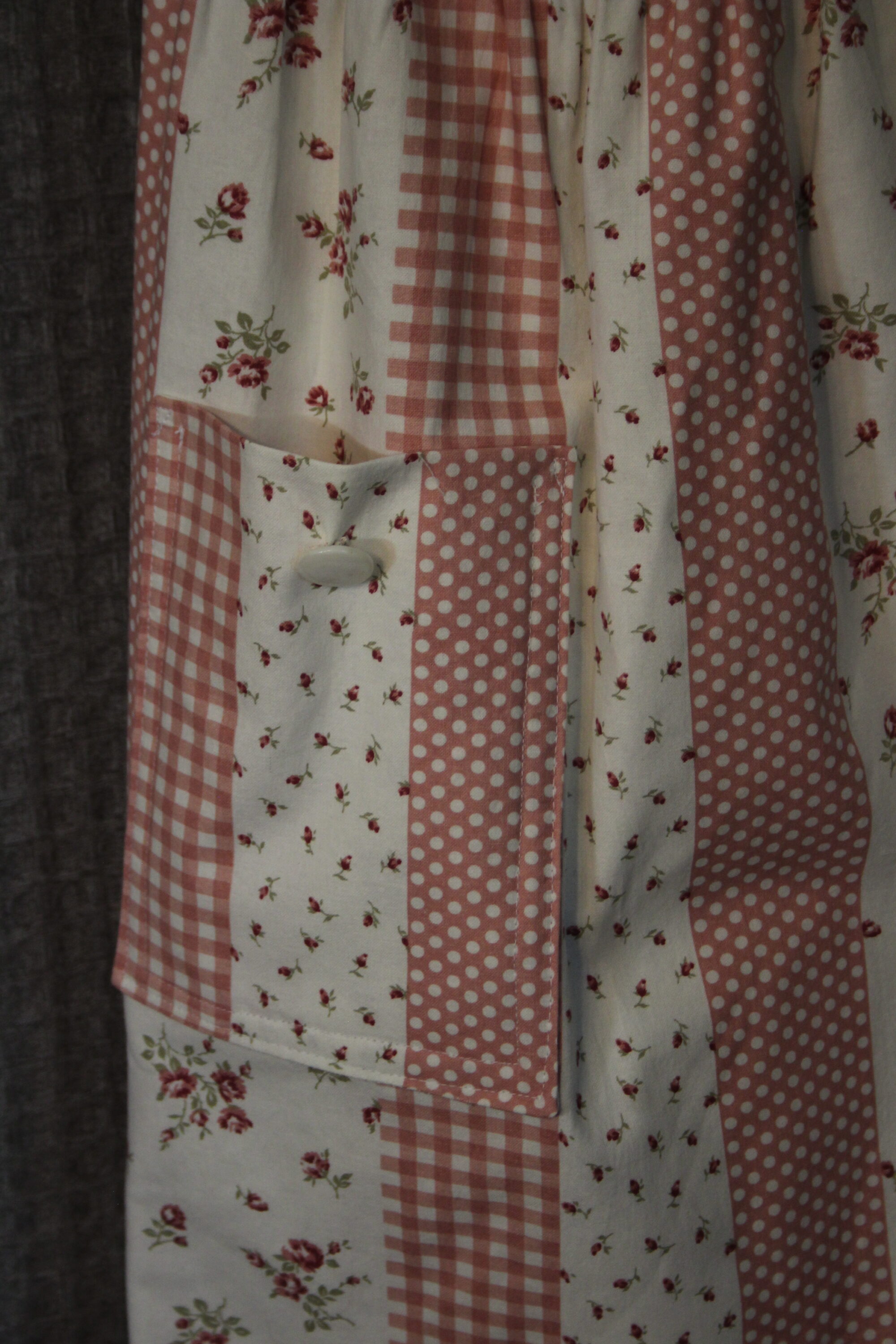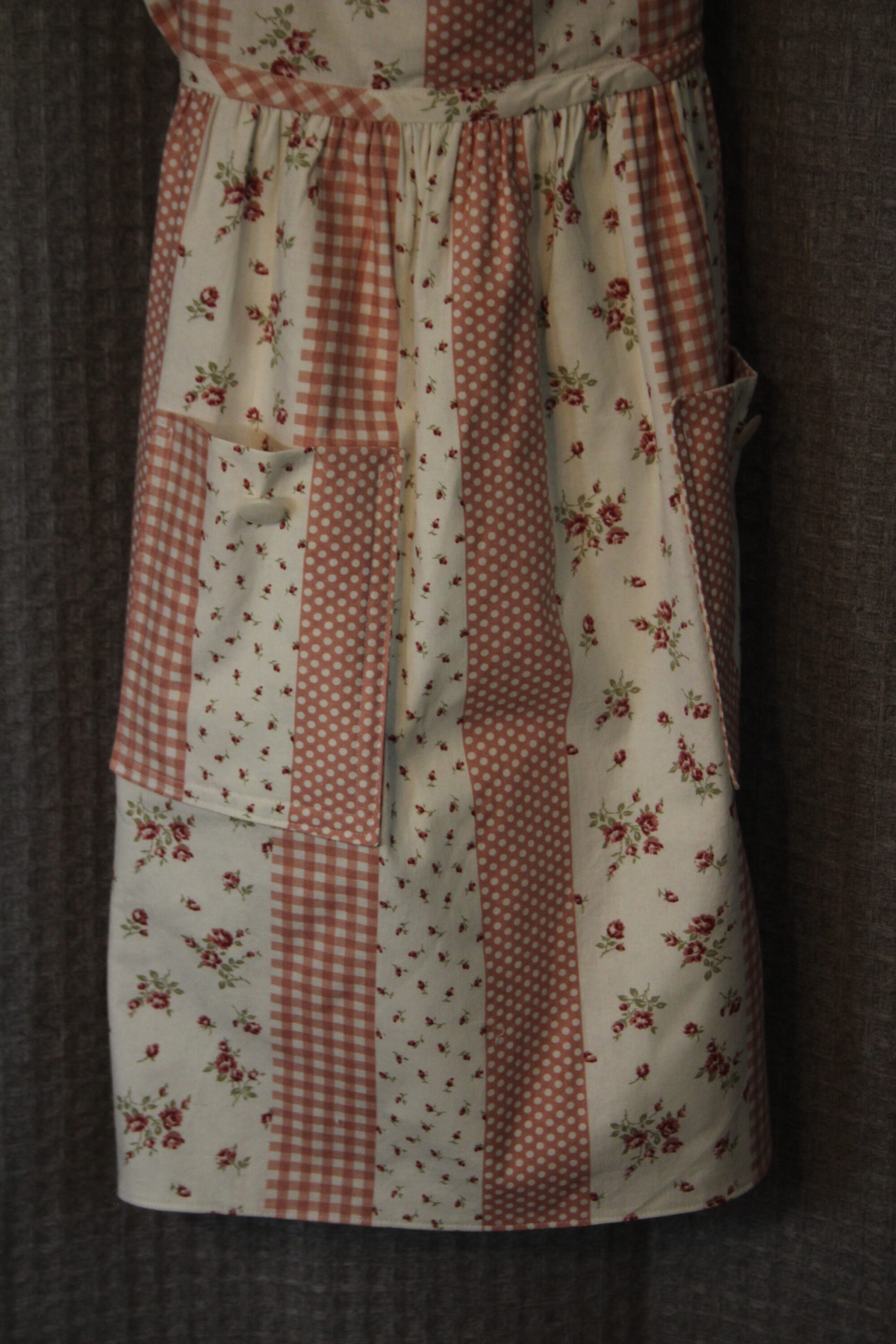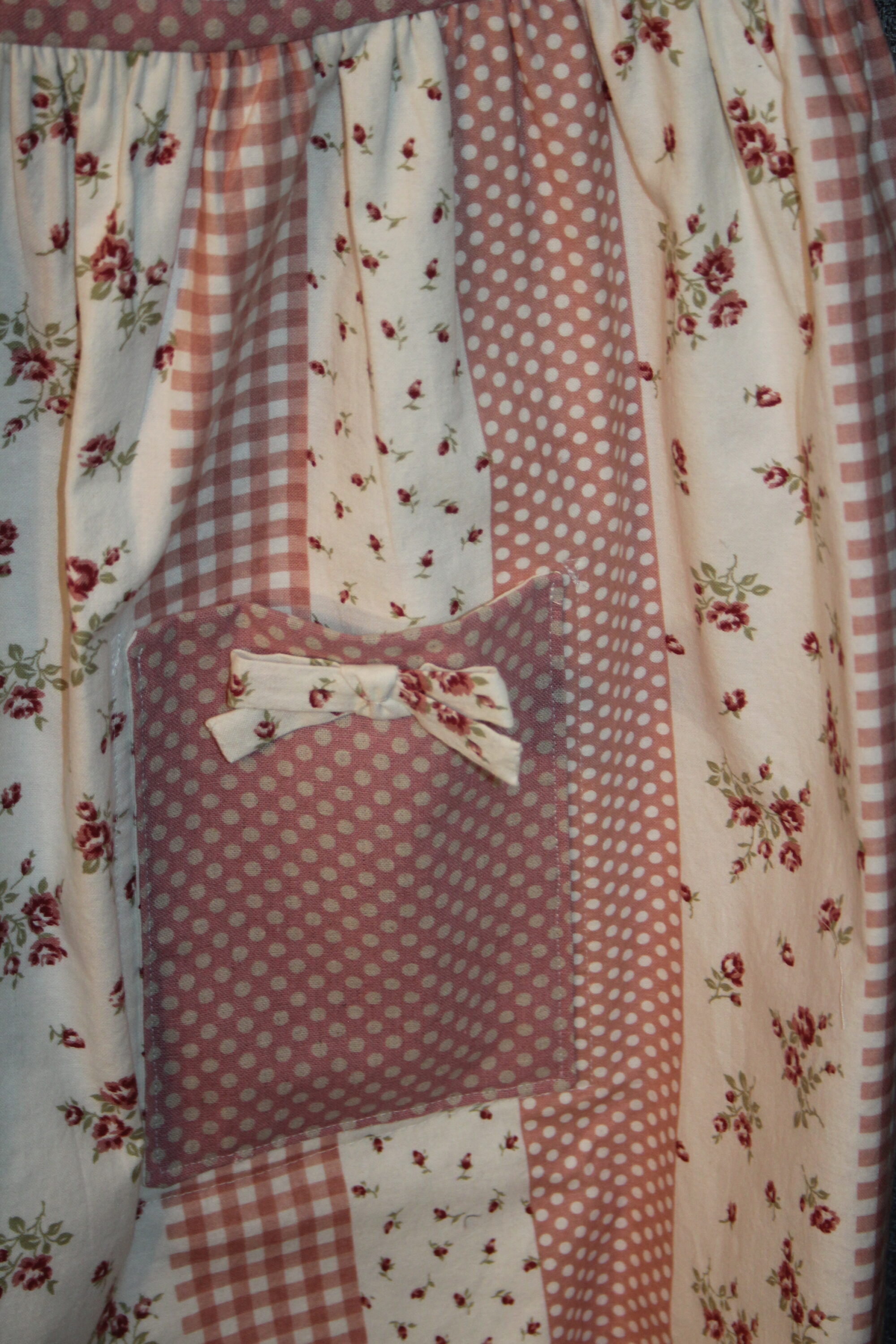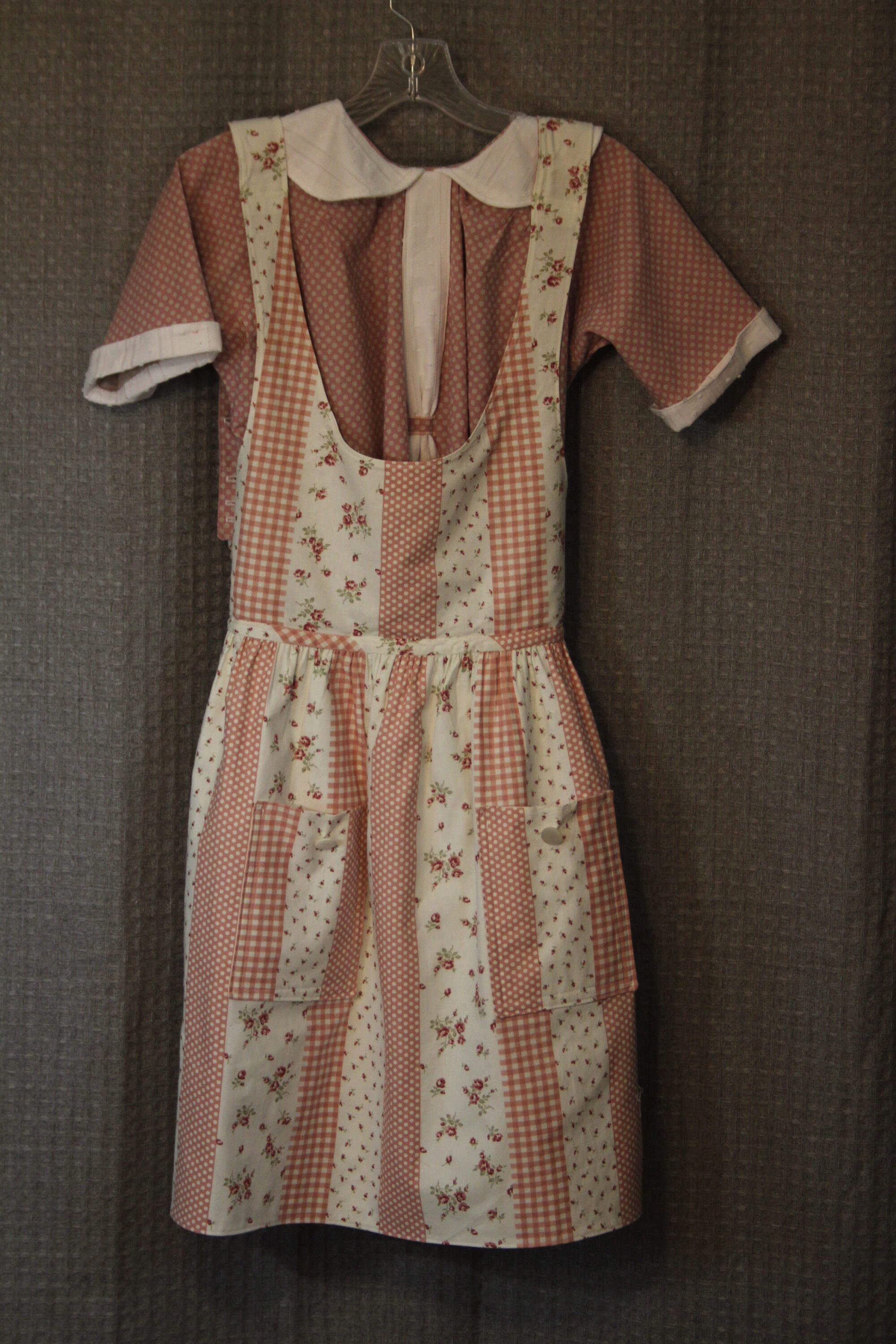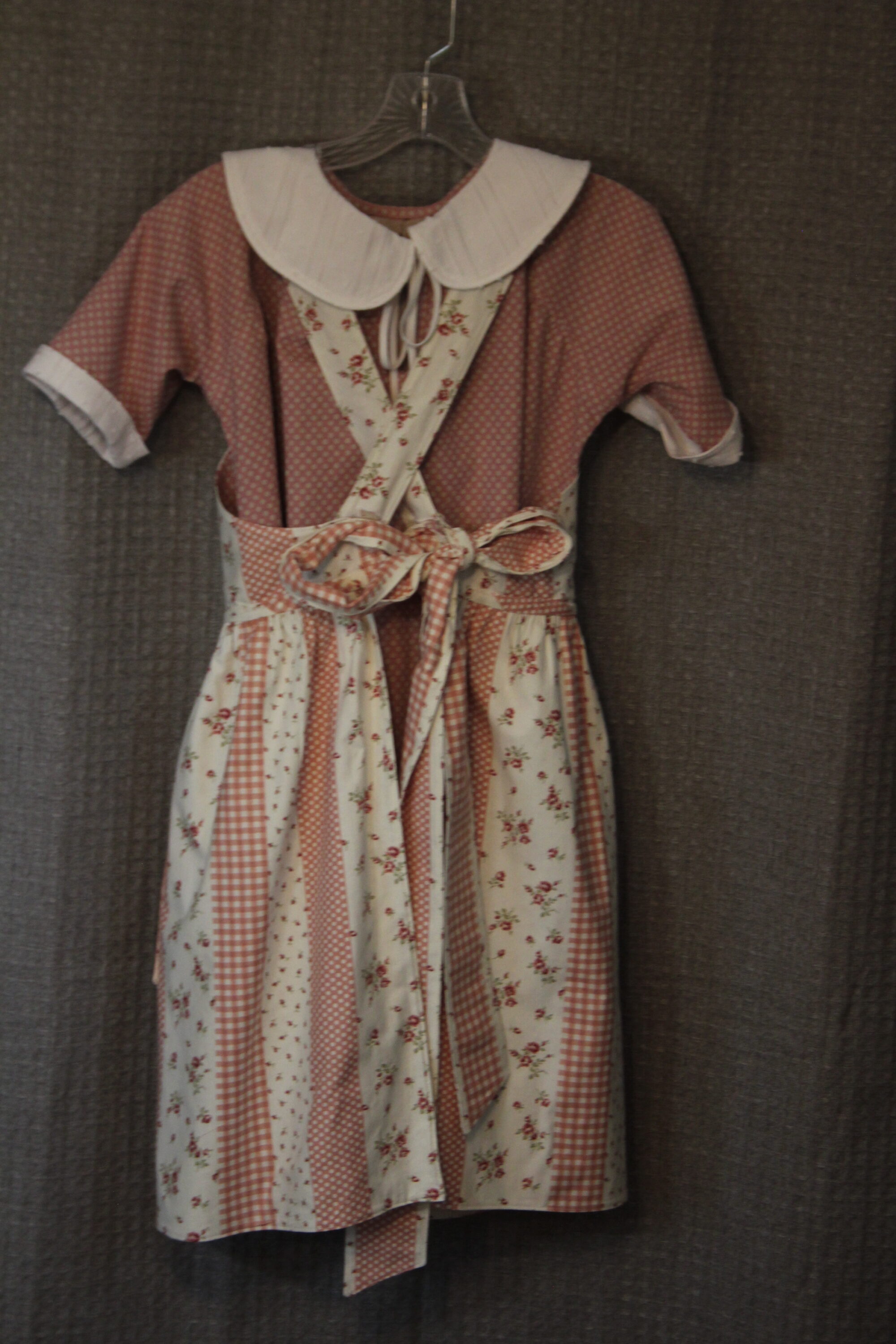 12+.2 (12 plus size which is wider with larger sleeves and sleeve openings in reproduction berry and leaf lightweight fabric in mauve.  The narrow collar of the "big girl" closer to woman's long silhouette (they liked either a wide white collar or a narrow white one like this – rarely colored nor self-fabric colars). Real silk tie in front with back string closure with wide shoulders to fit.  Low belt and low pockets with horizontal contrast top edge for interest.  Matches beautifully with magenta and dark red aprons).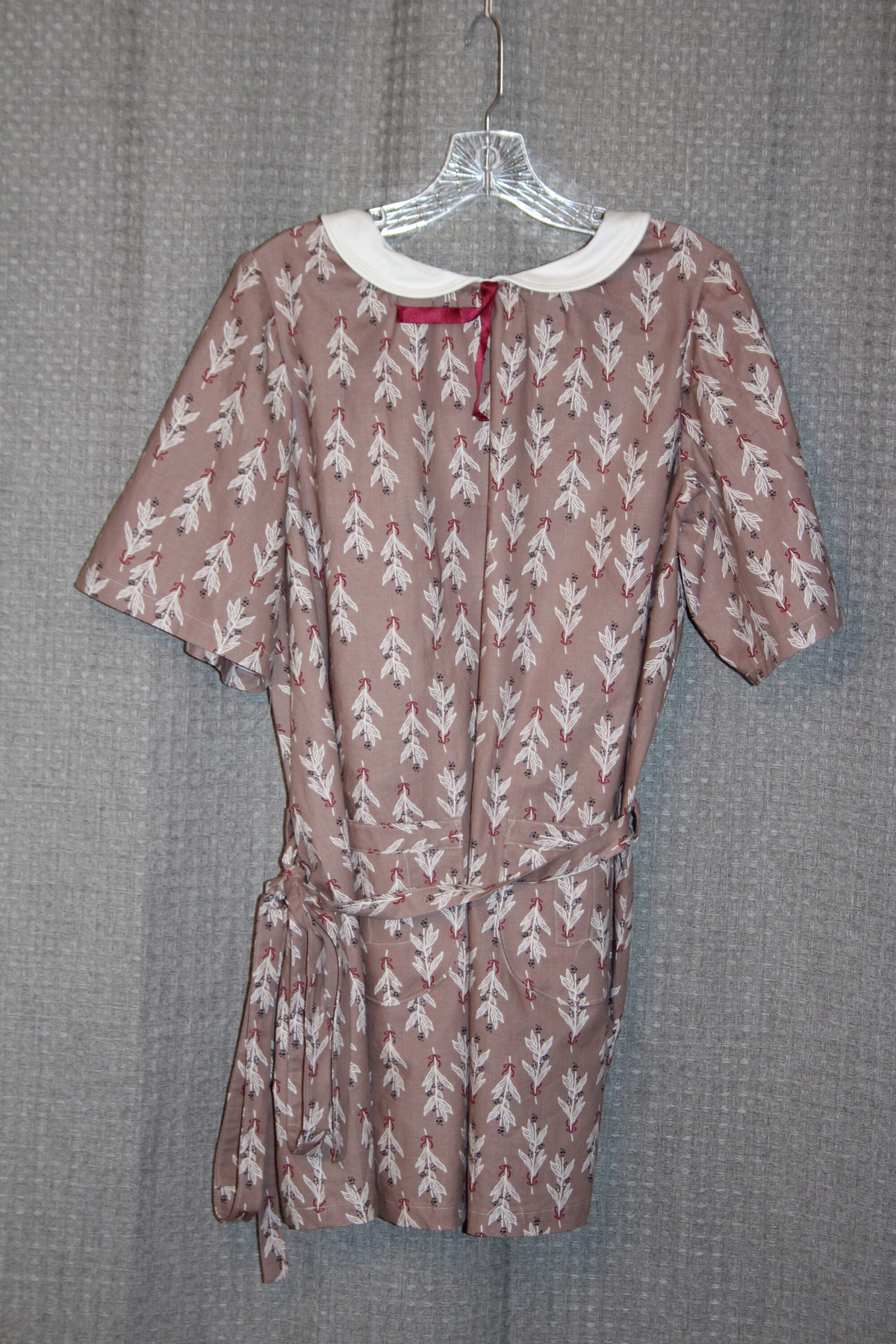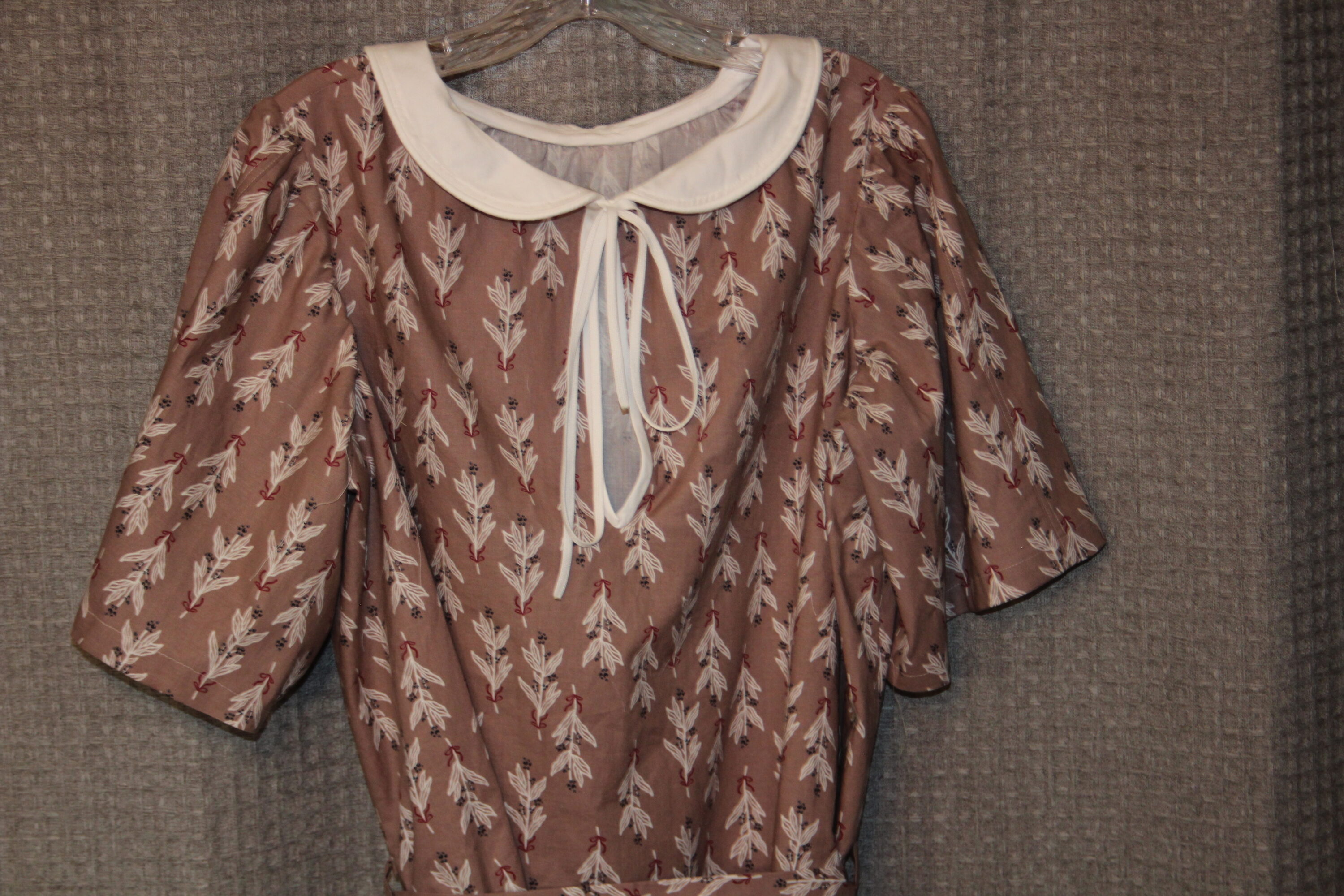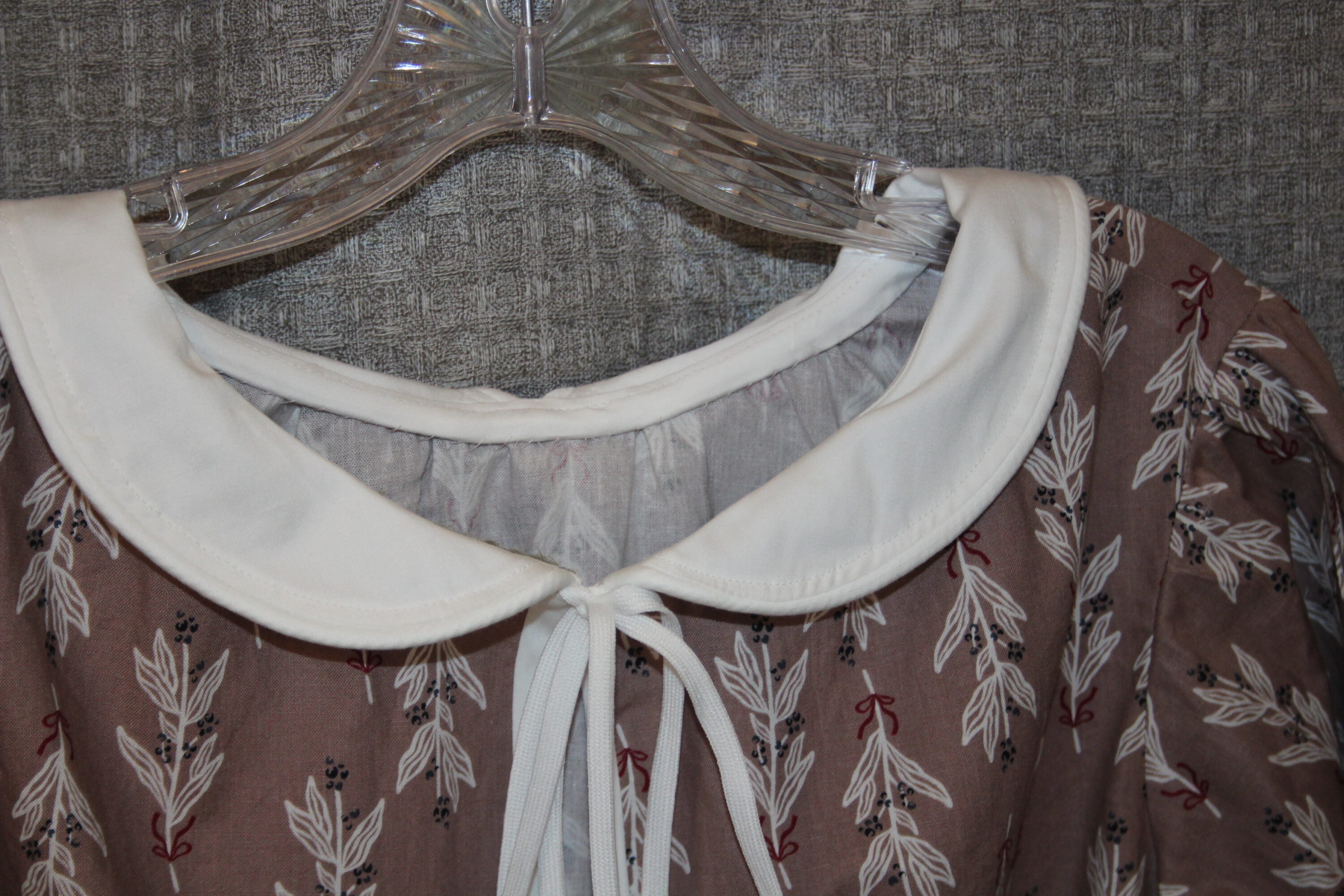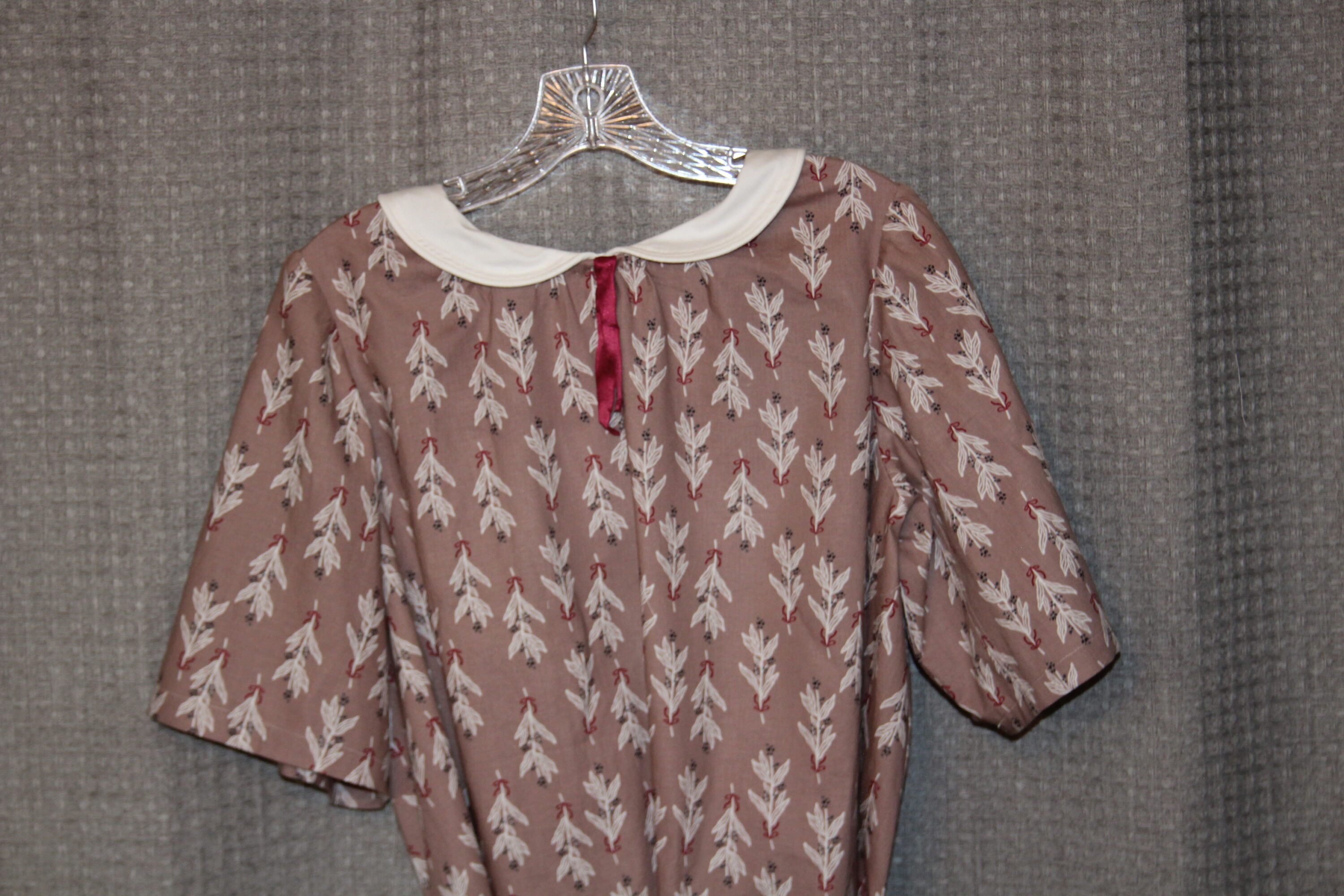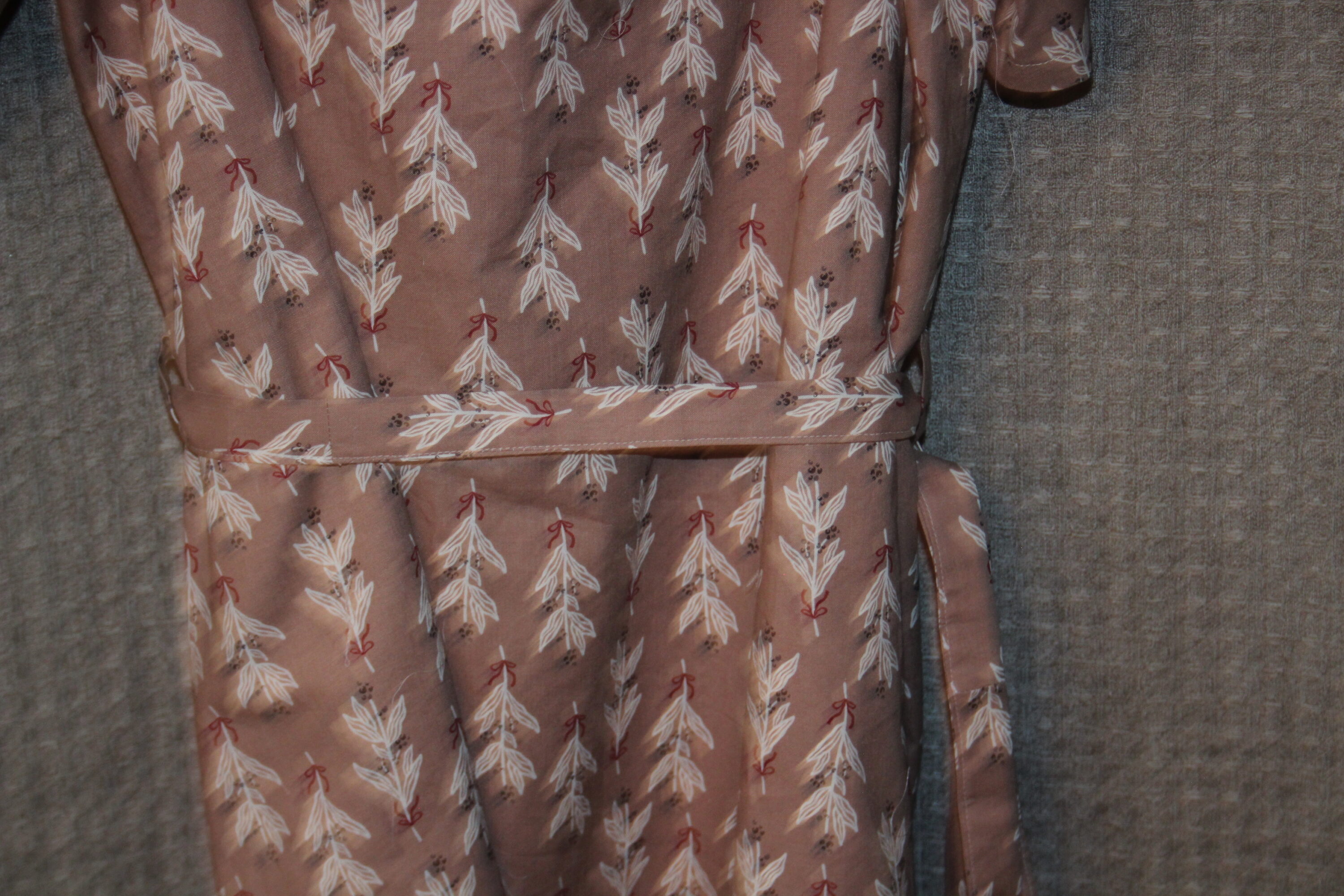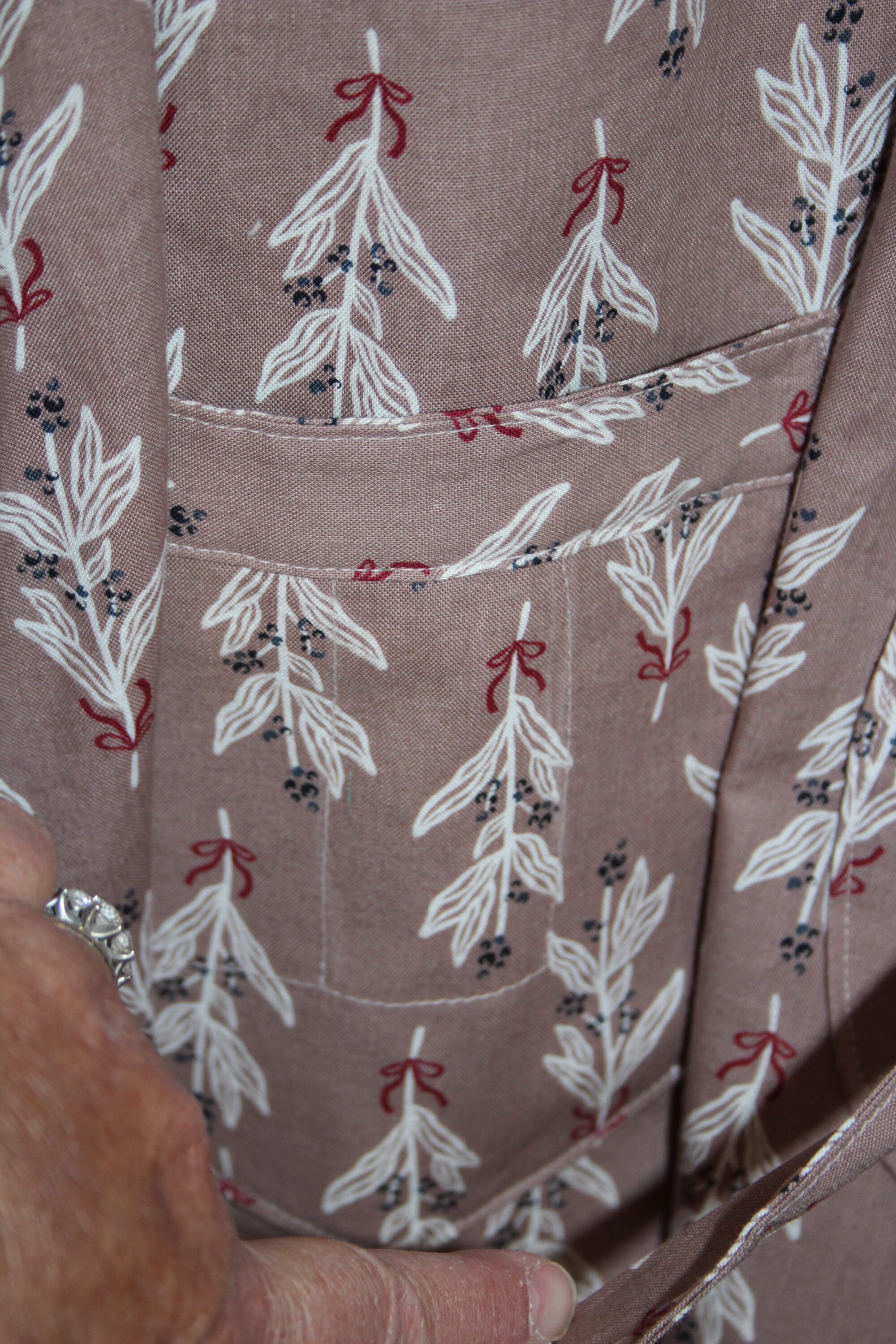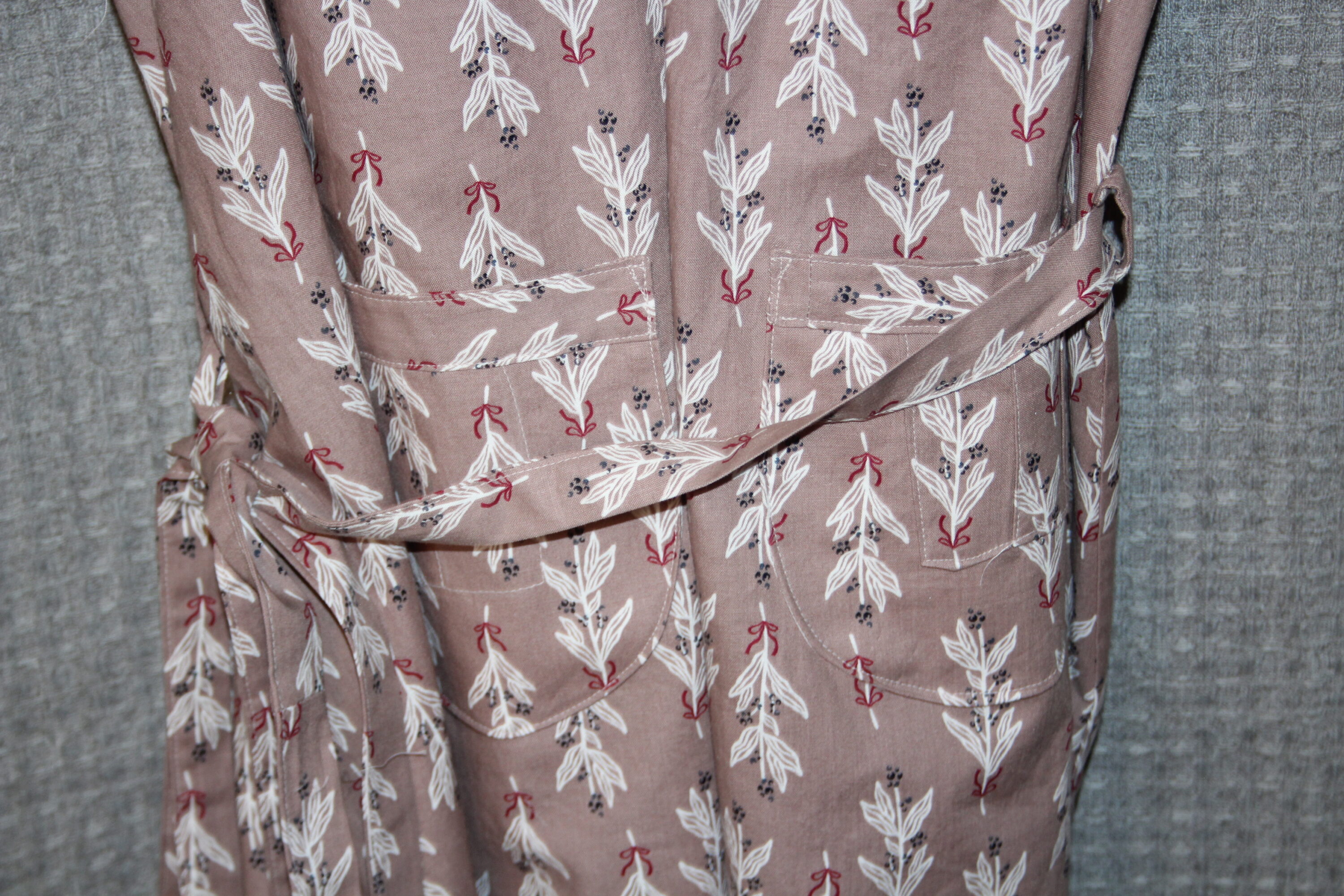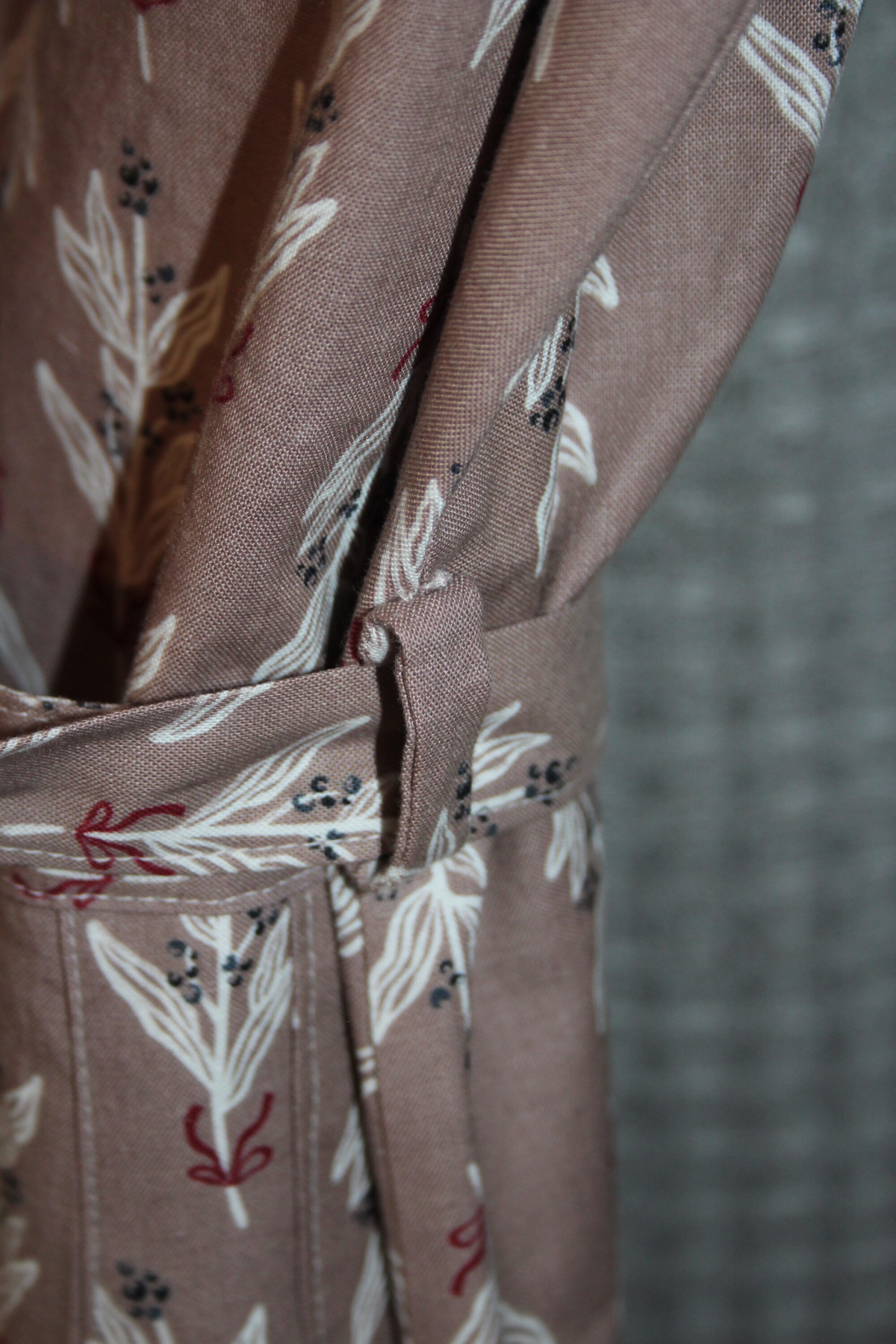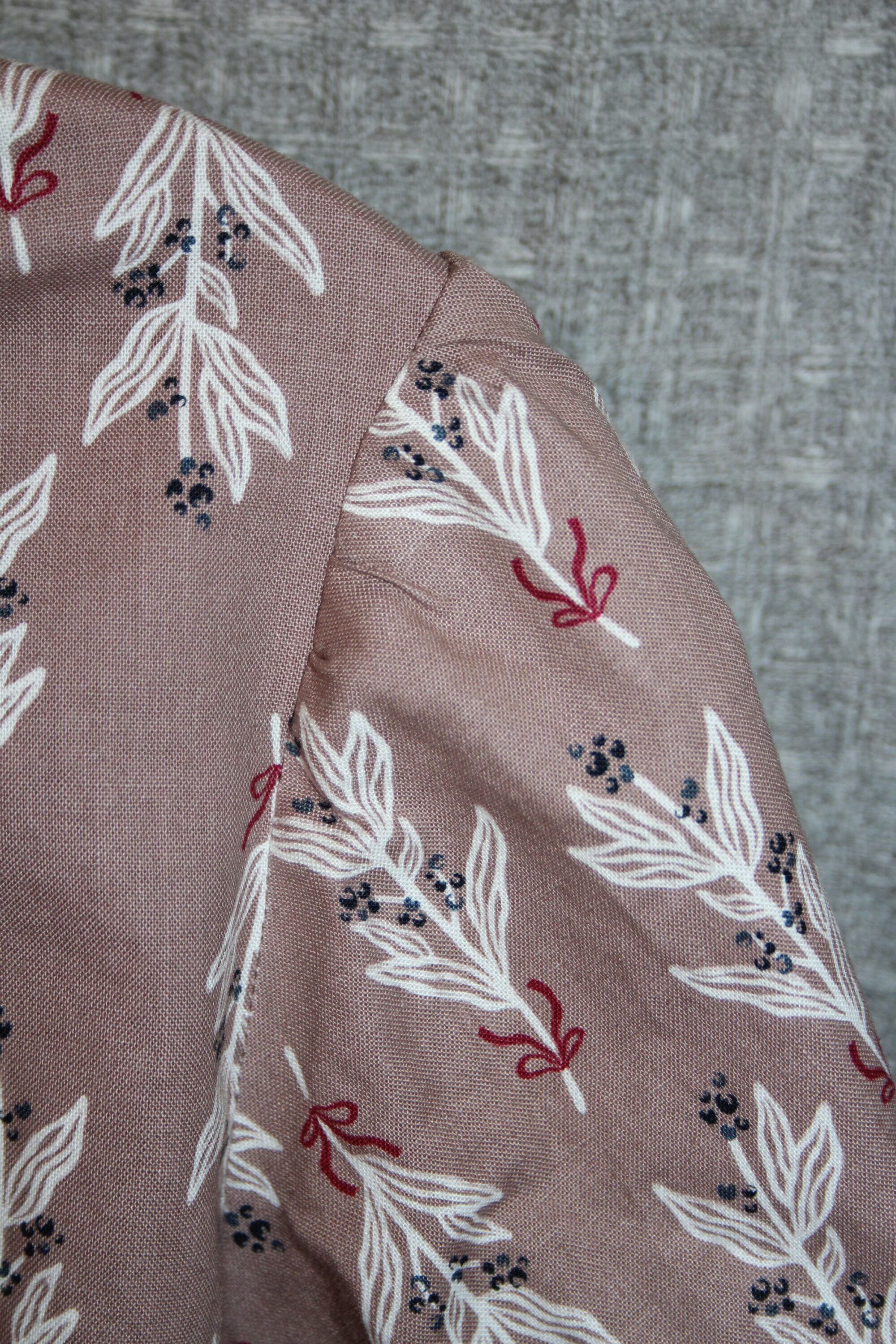 12+.2 (12 plus size reversible apron with handmade embroidered real silk flowers on both pockets.  Light gingham blue or red small floral.  Light blue matching bias tape.  Tapered neck with square back neck, this is not considered a "scoop neck", but is the woman's "square neck" silhouette version which is longer and the body is more square than the little girl or scoop neck versions.  Multiple buttonholes are provided for adjustable fit on the side tabs.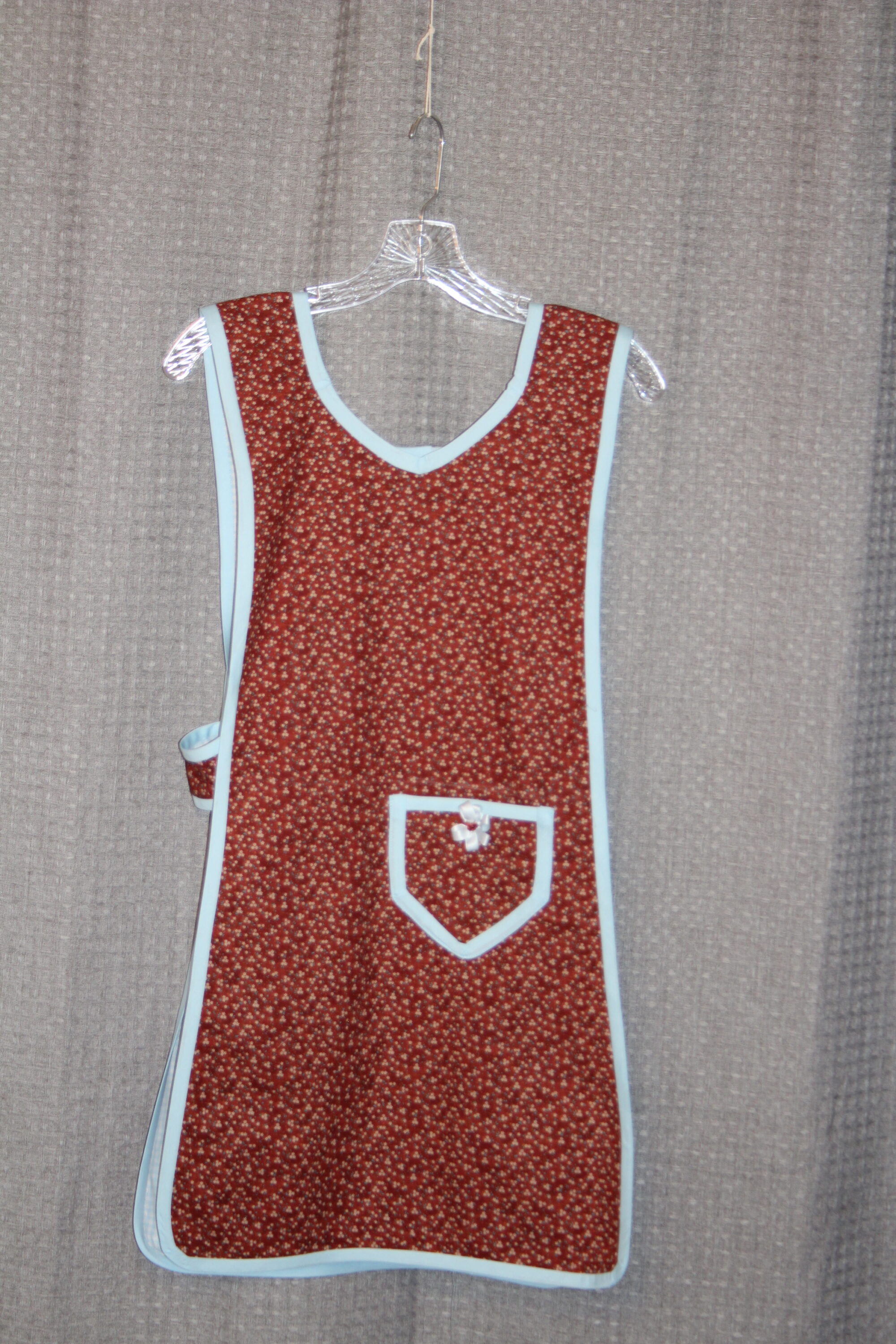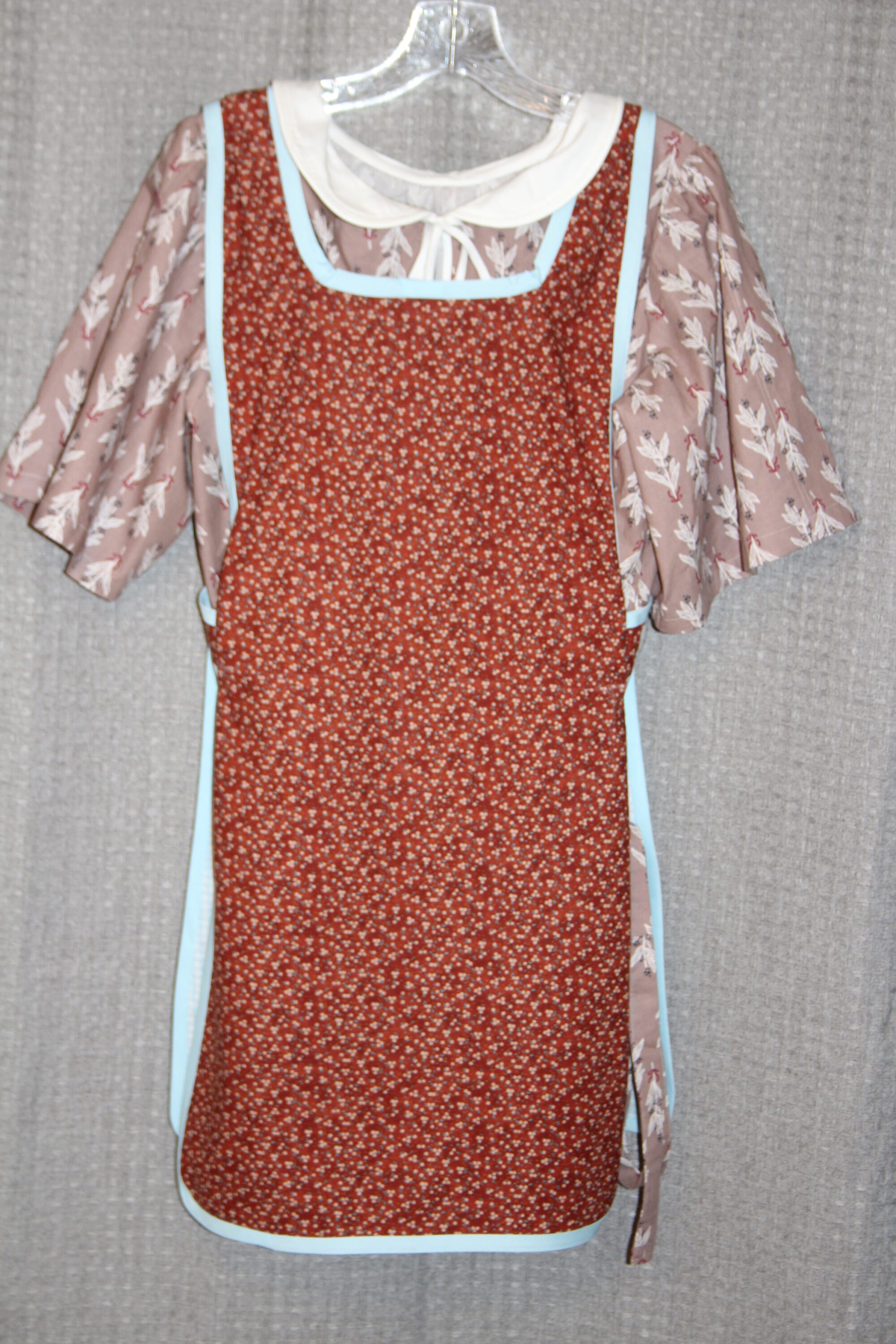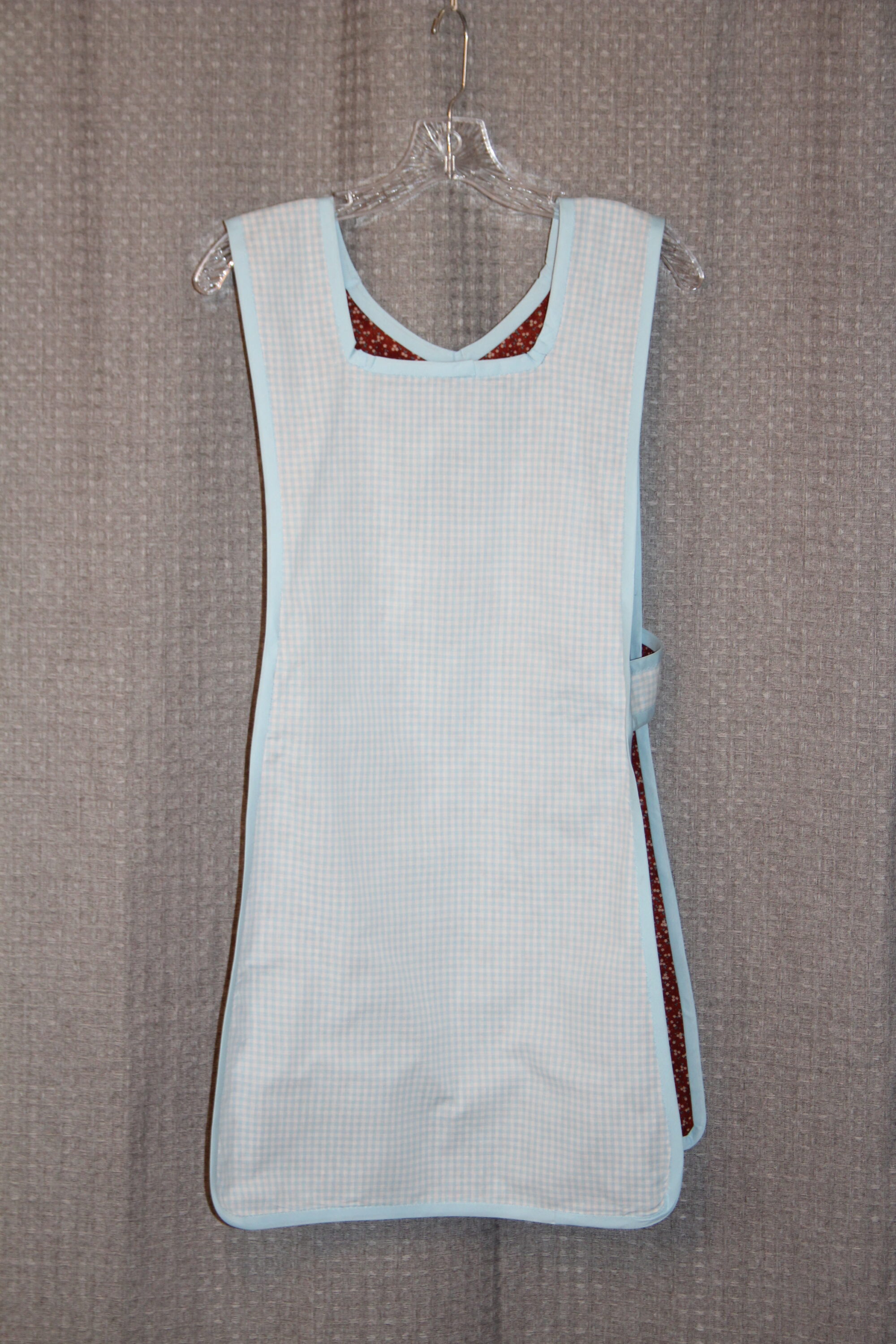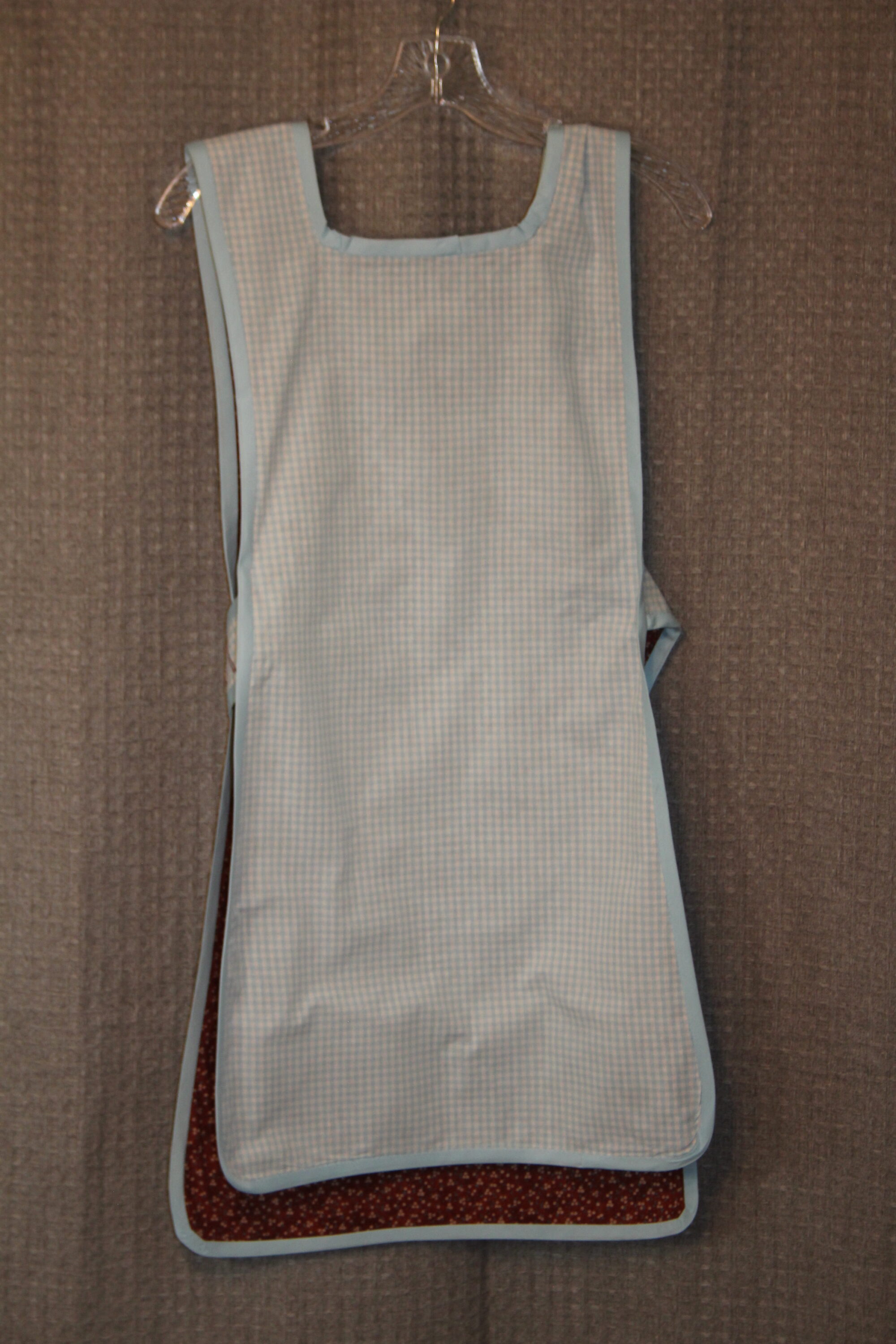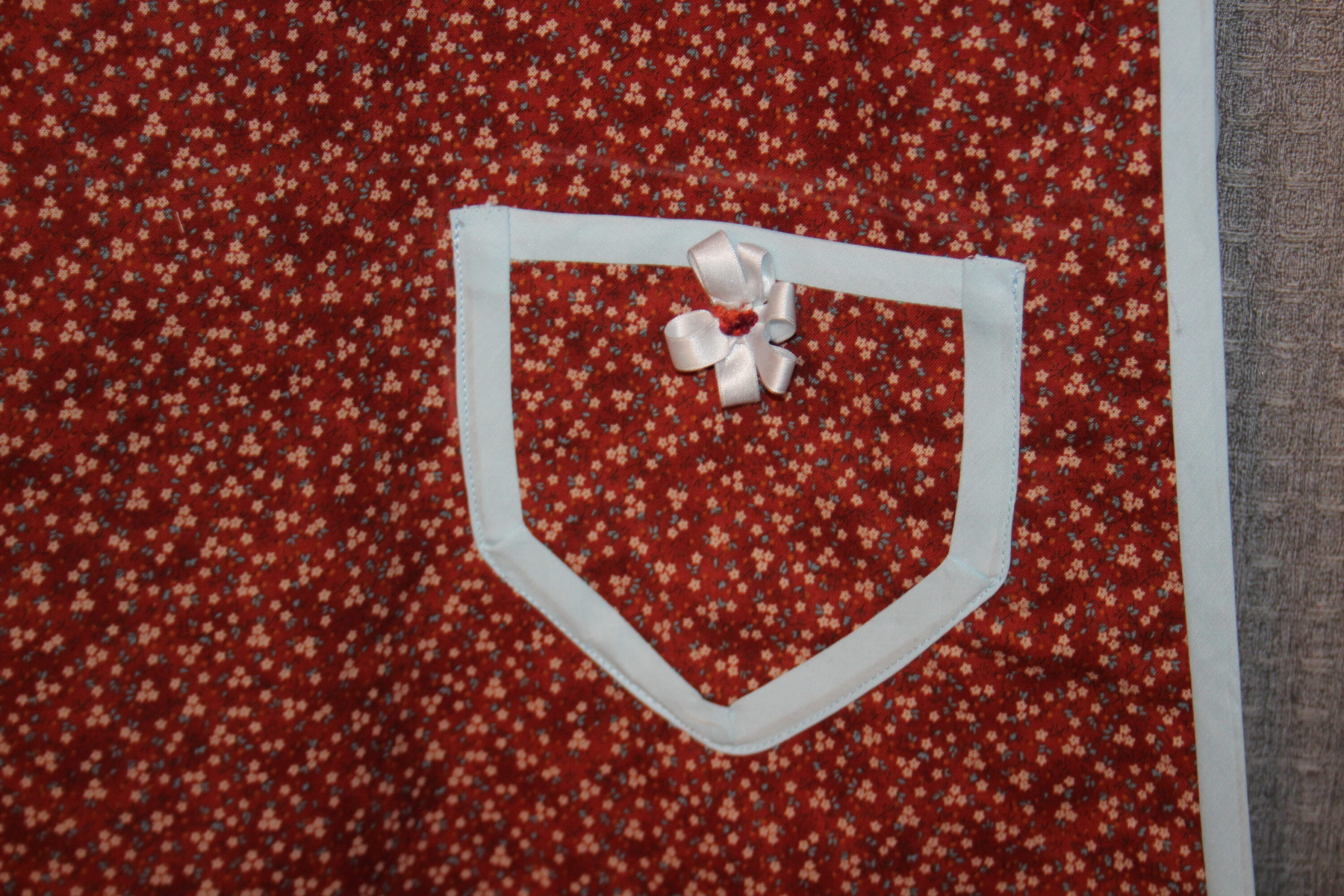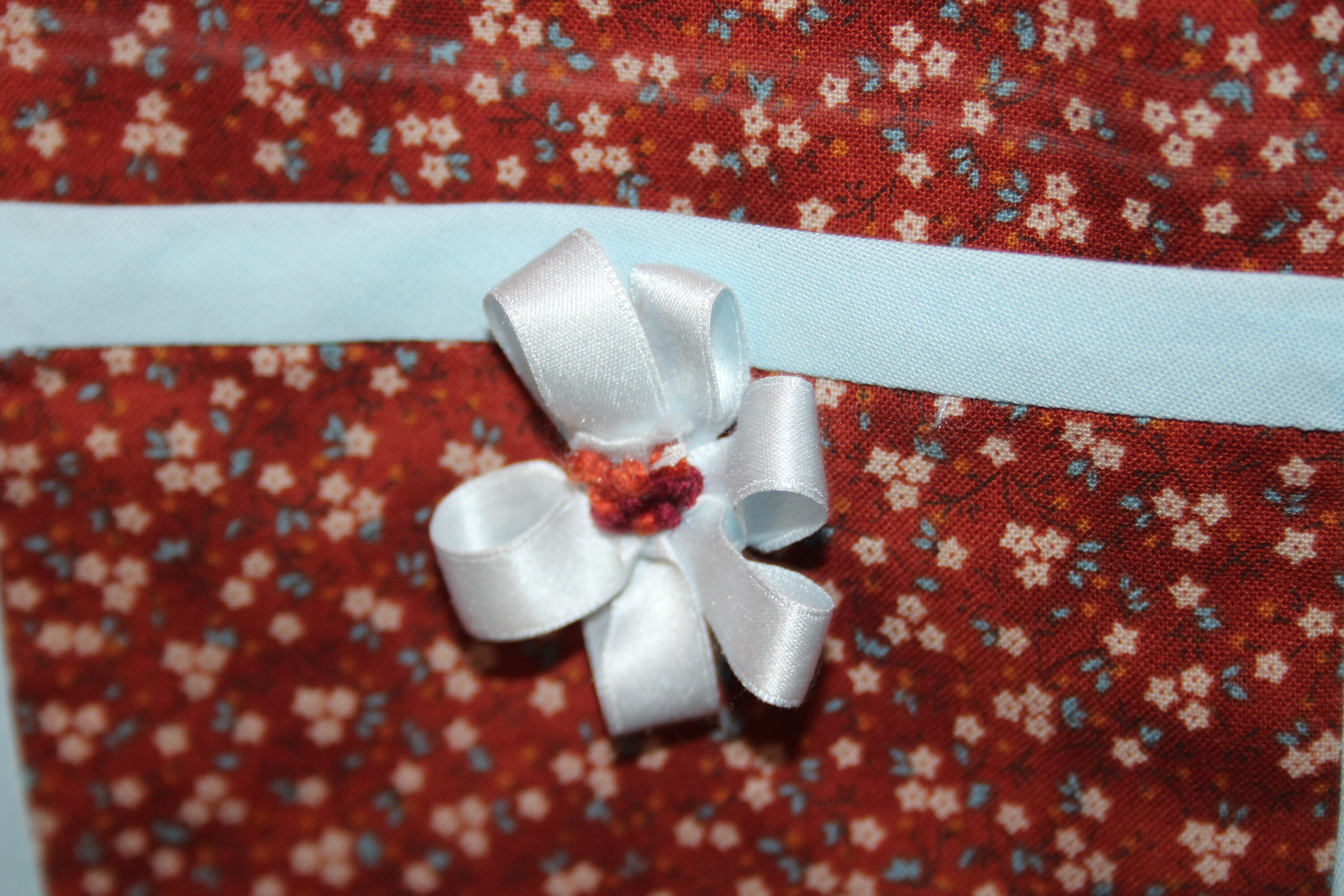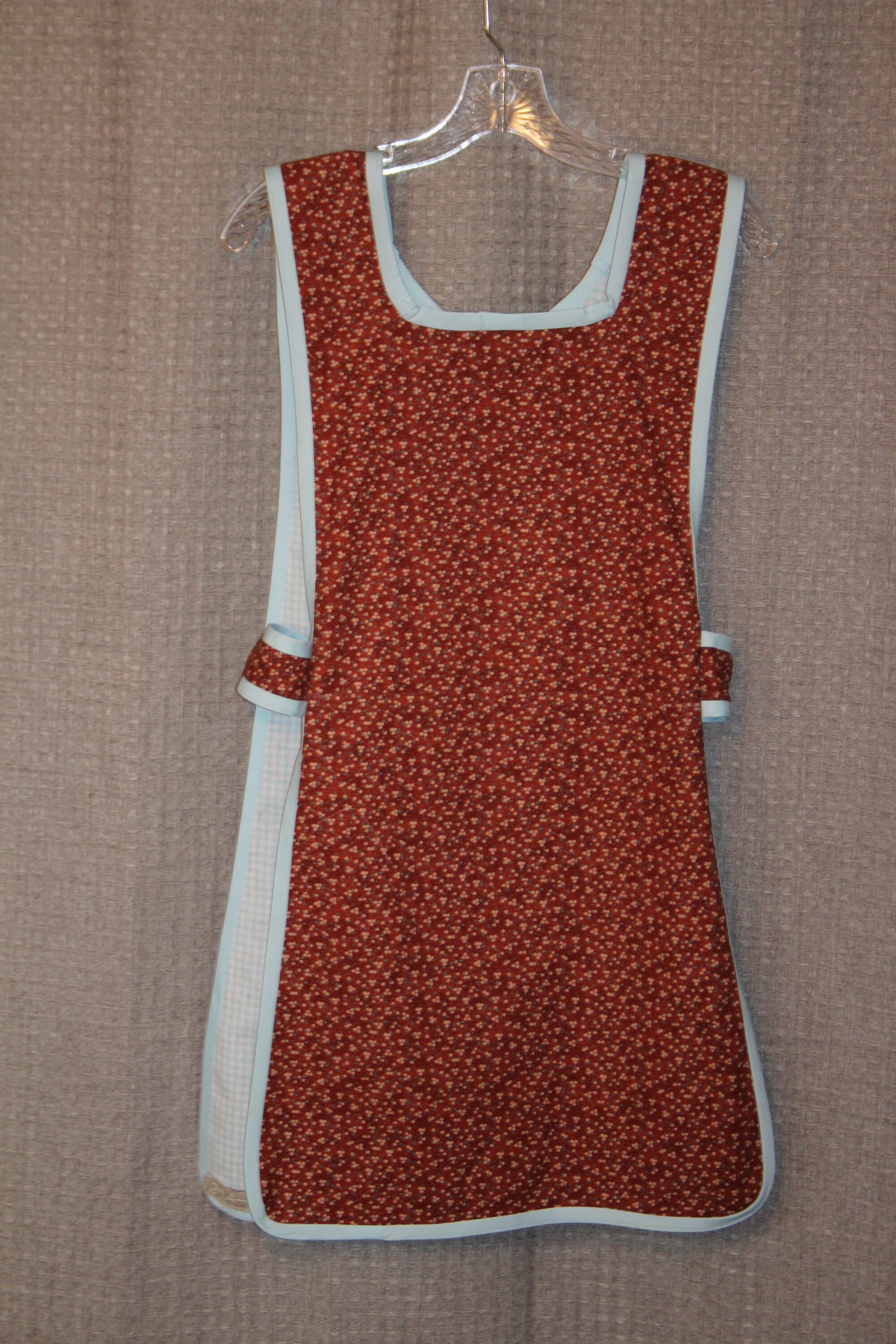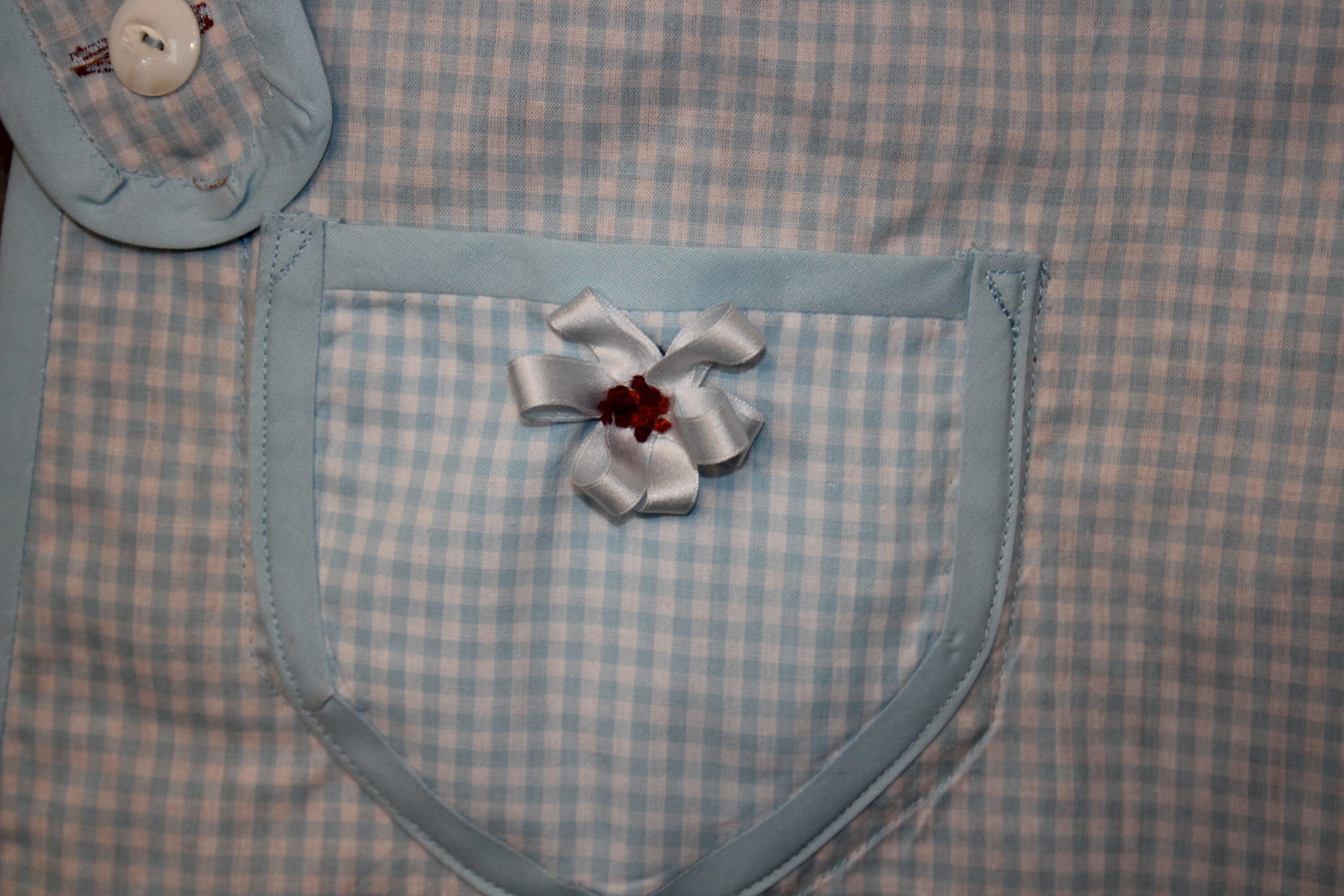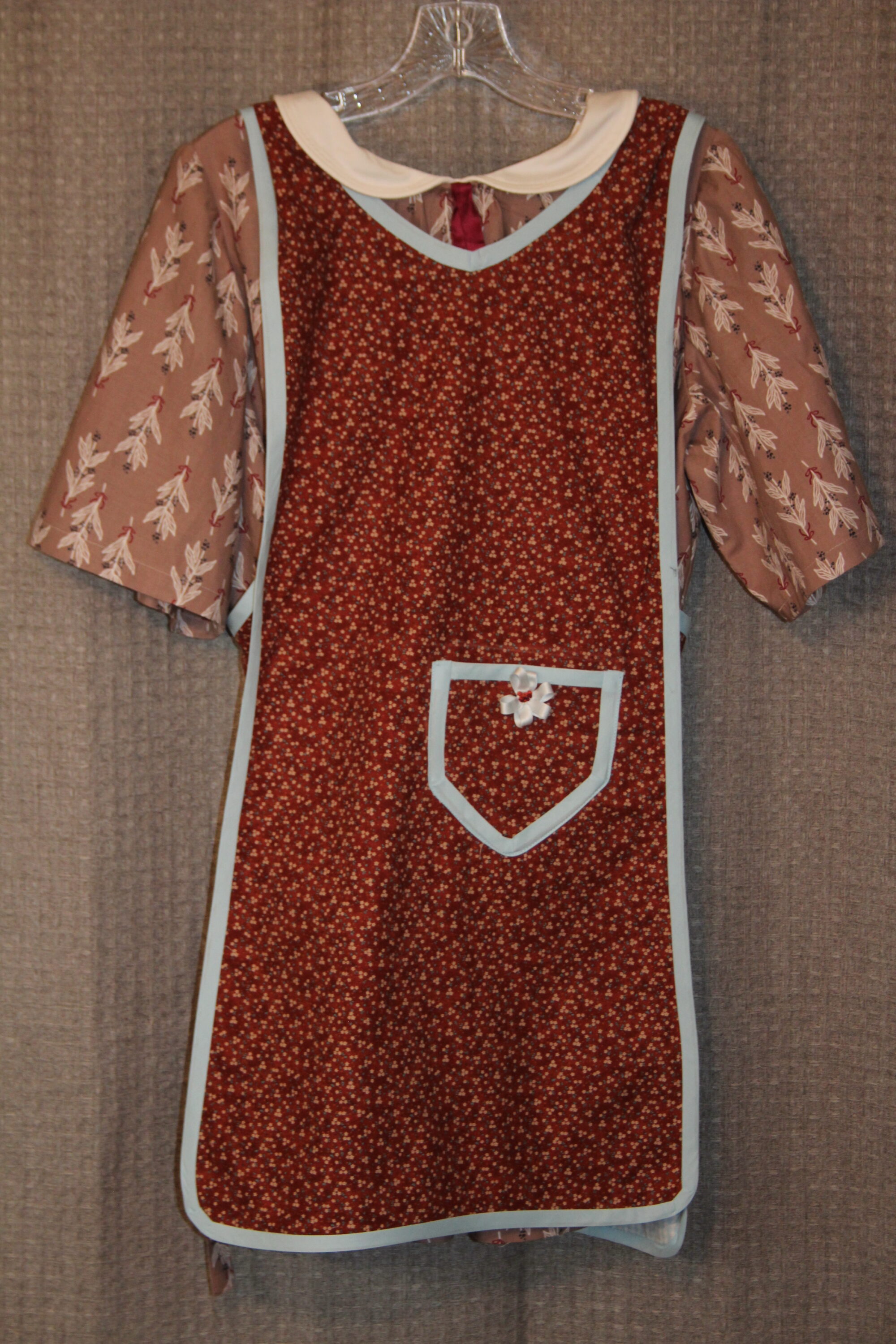 8A.2 (Size 8 apron dark gray and teal floral reproduction fabric, front only "mamma and me" curvy design with back belt and mother of pearl button tabs.  Buttons at neckline for adjustability.  This is designed to coordinate with the dark gray gingham dress that has bloomers for a complete displayable ensemble as an alternate to the girl's main ensemble that will be displayed.  One shows "little girl complete" and the other a "big girls' fashionable ensemble".  Both will wear in addition to their outer garments, an undergarment called a "combination" which is panties and top in one).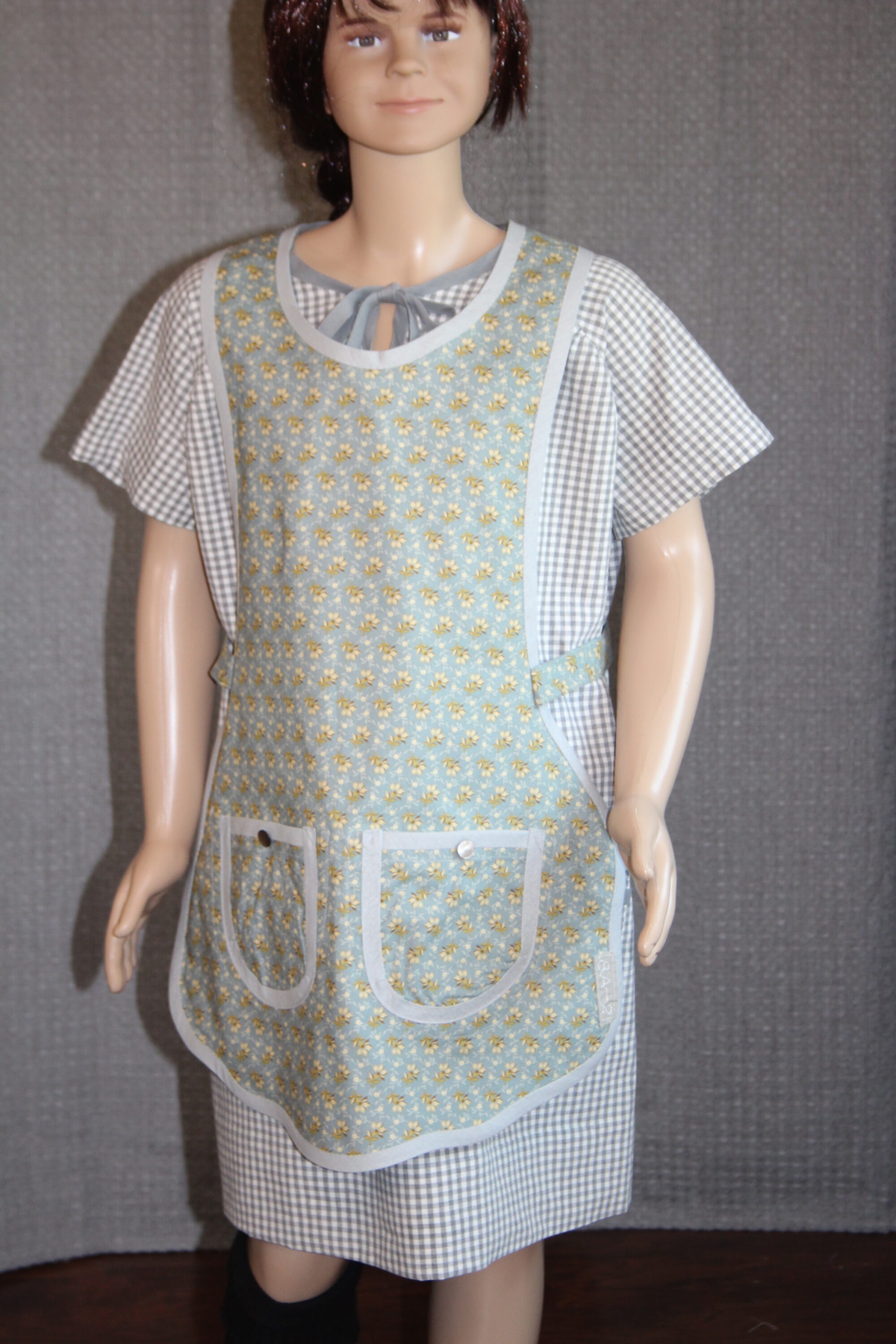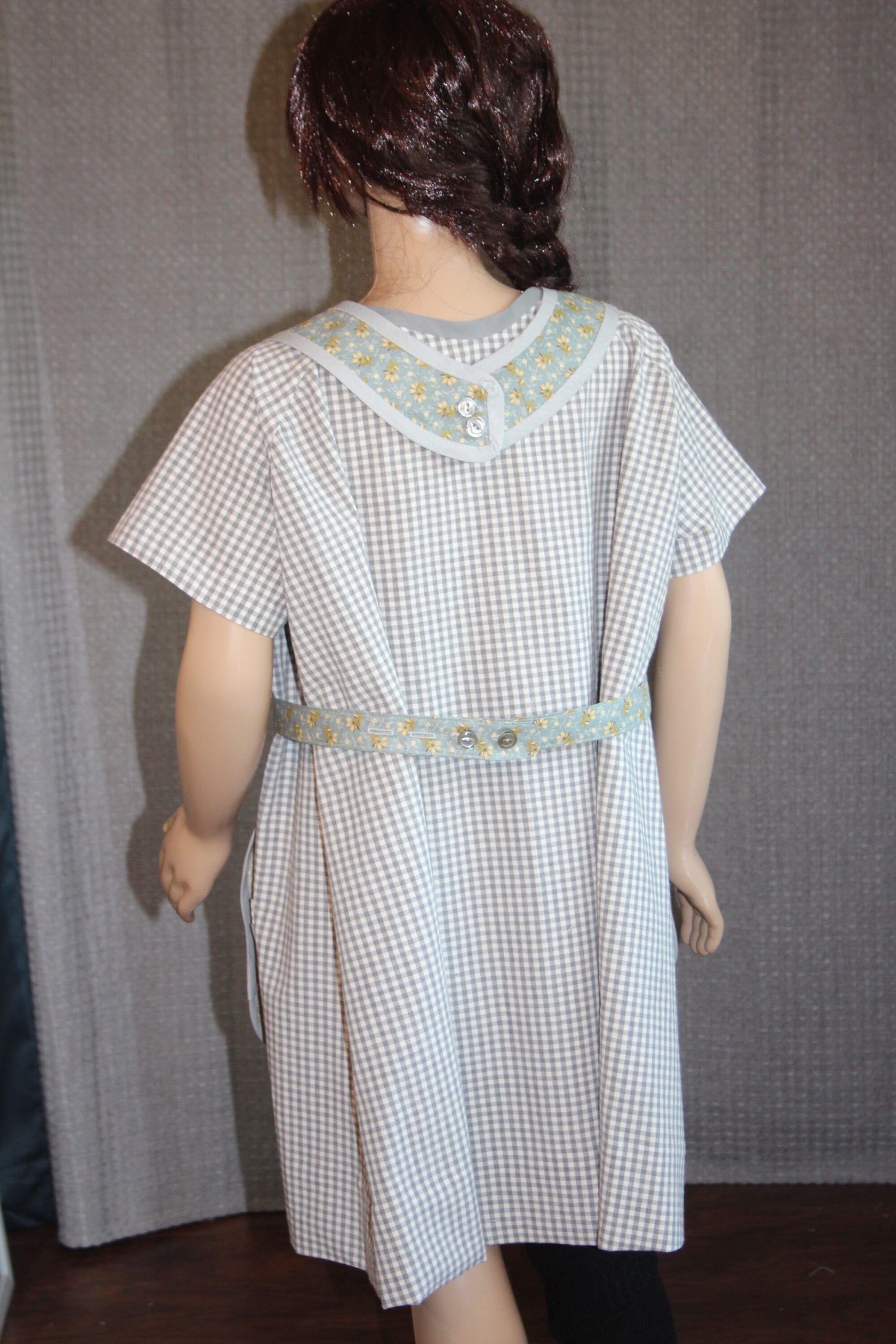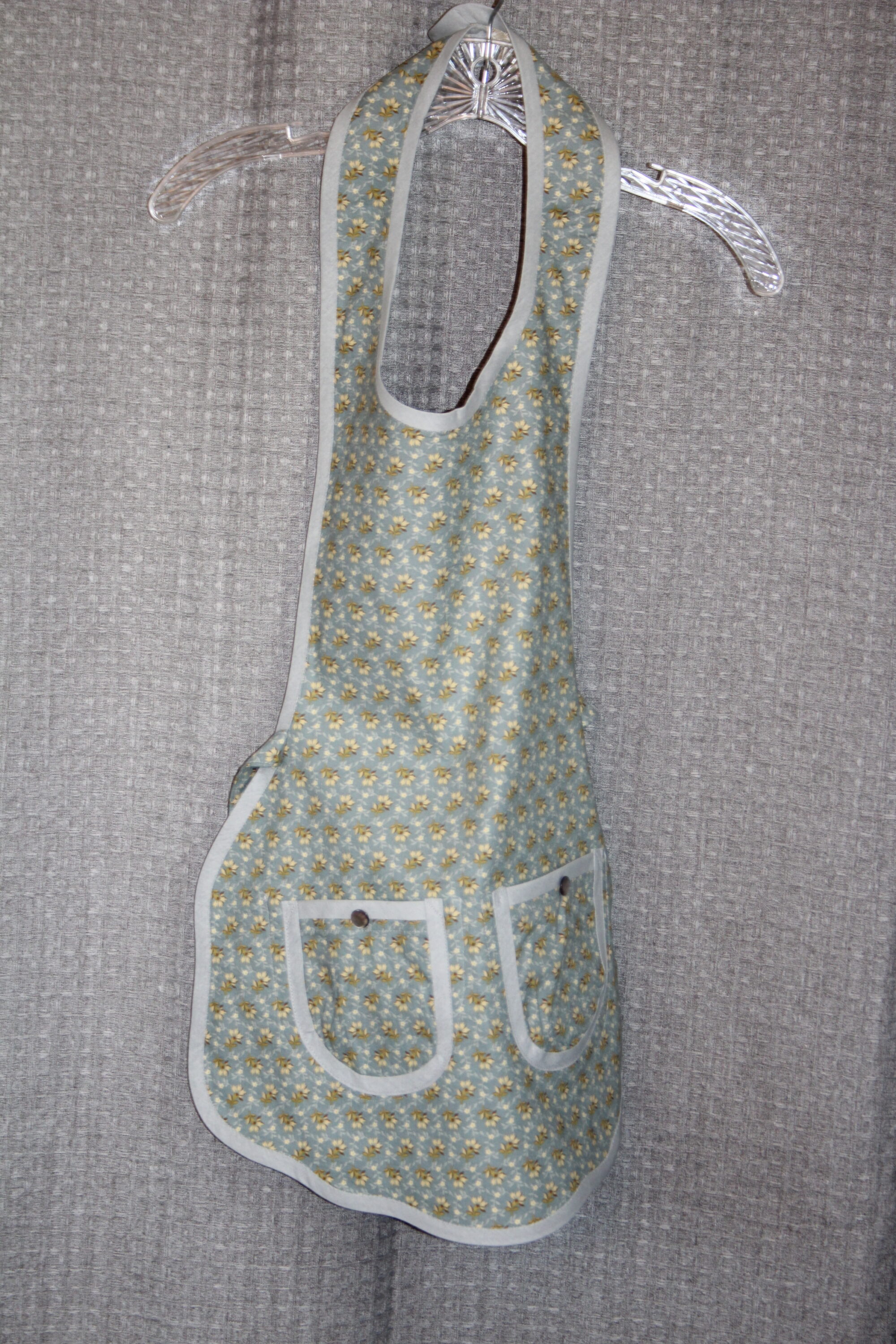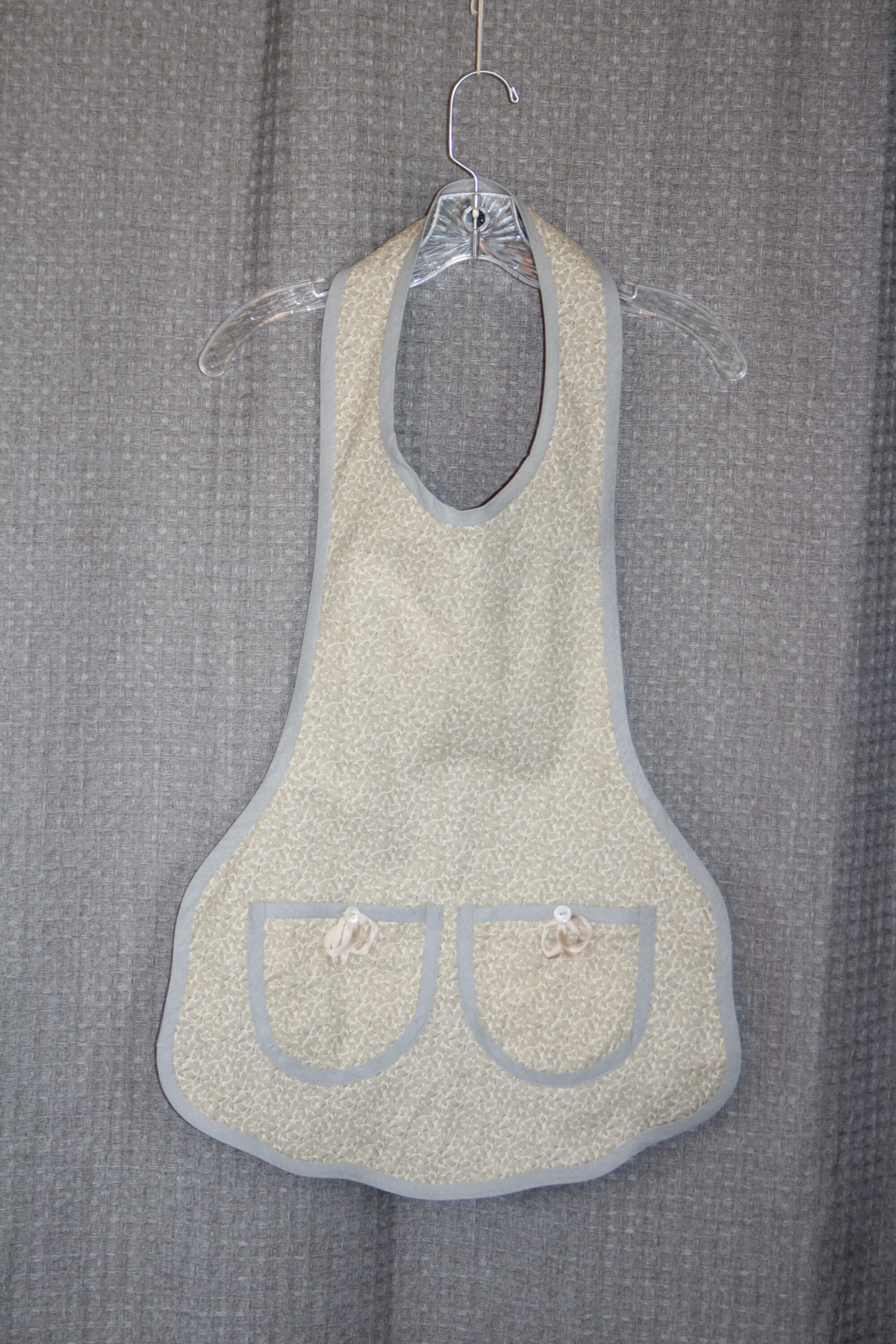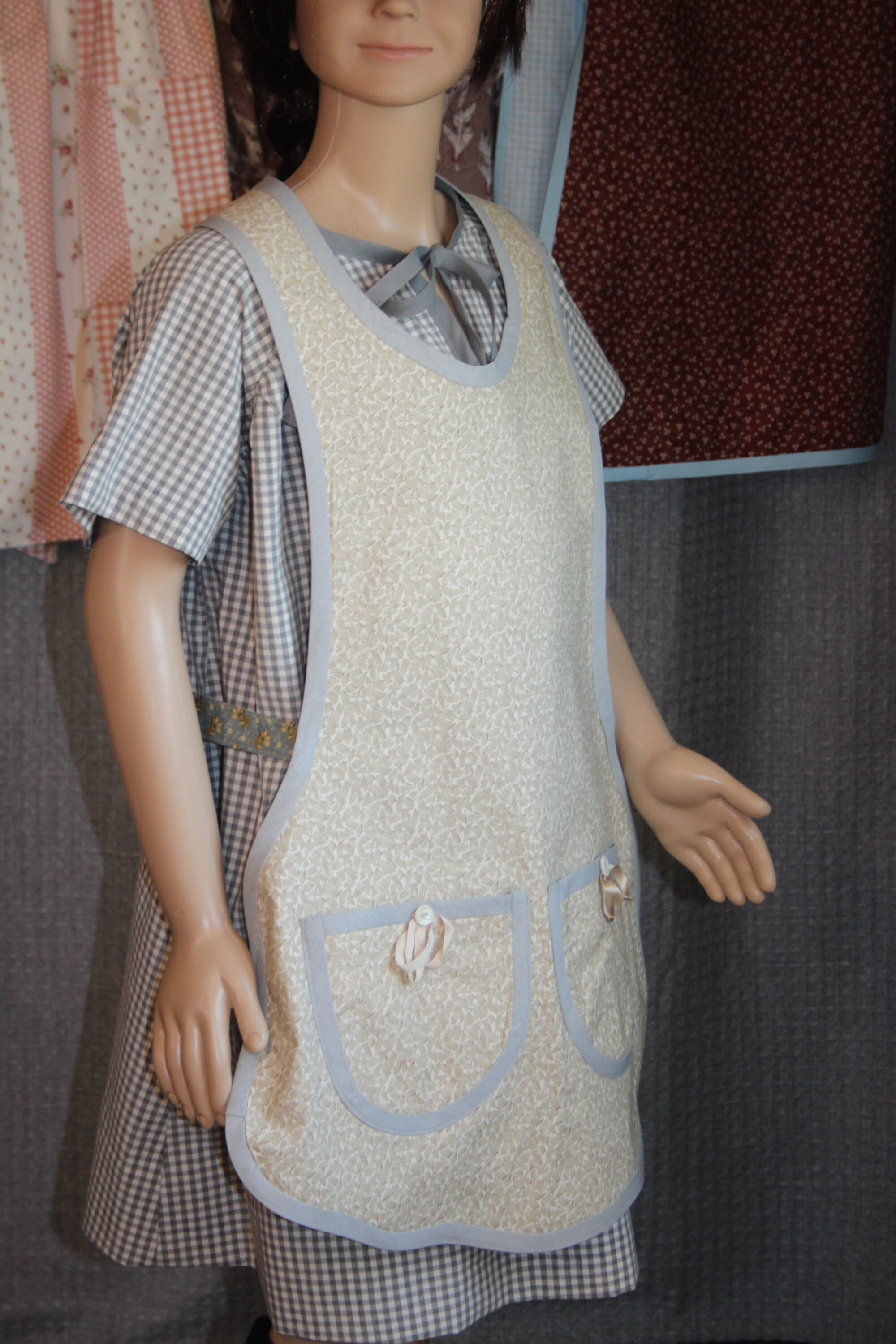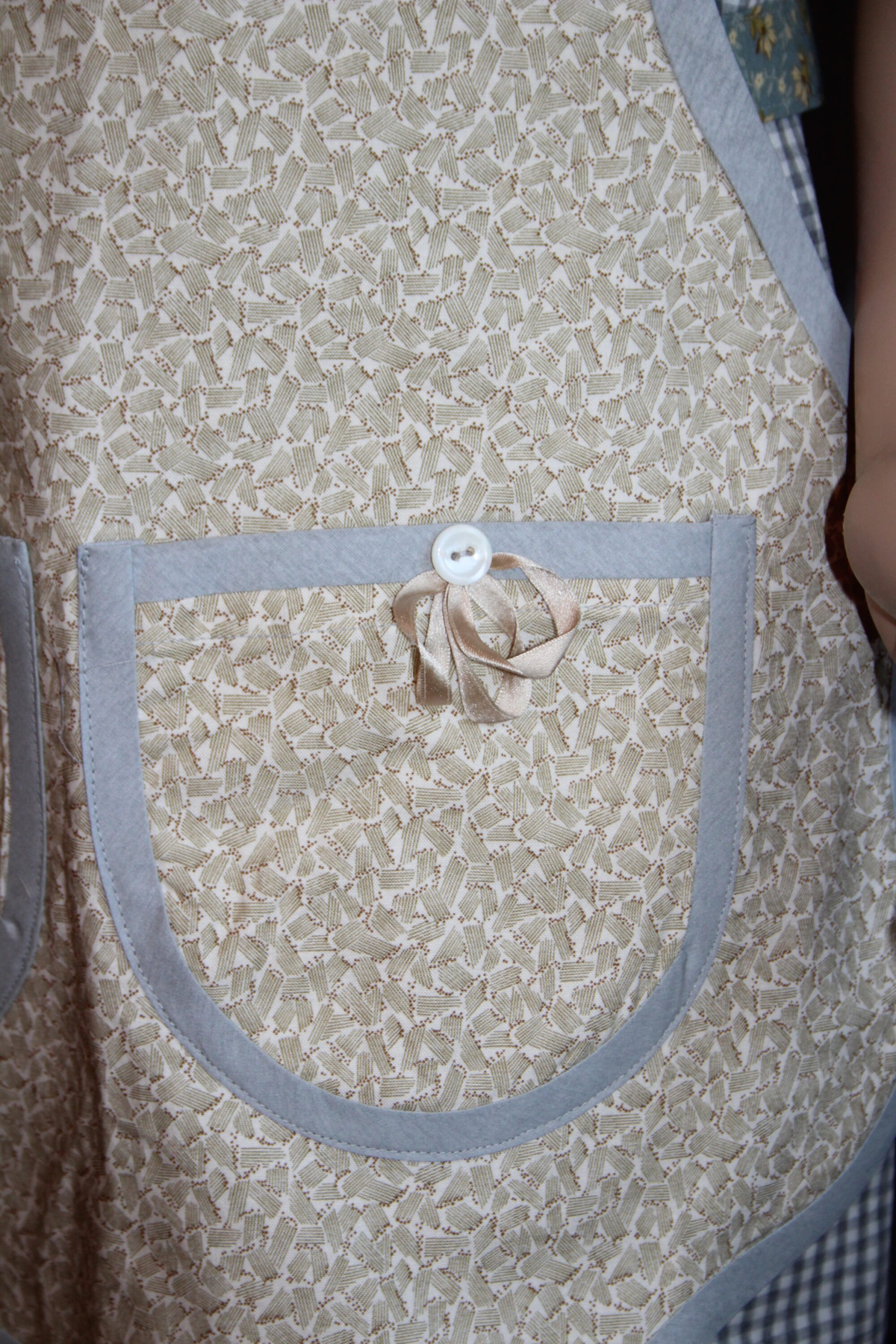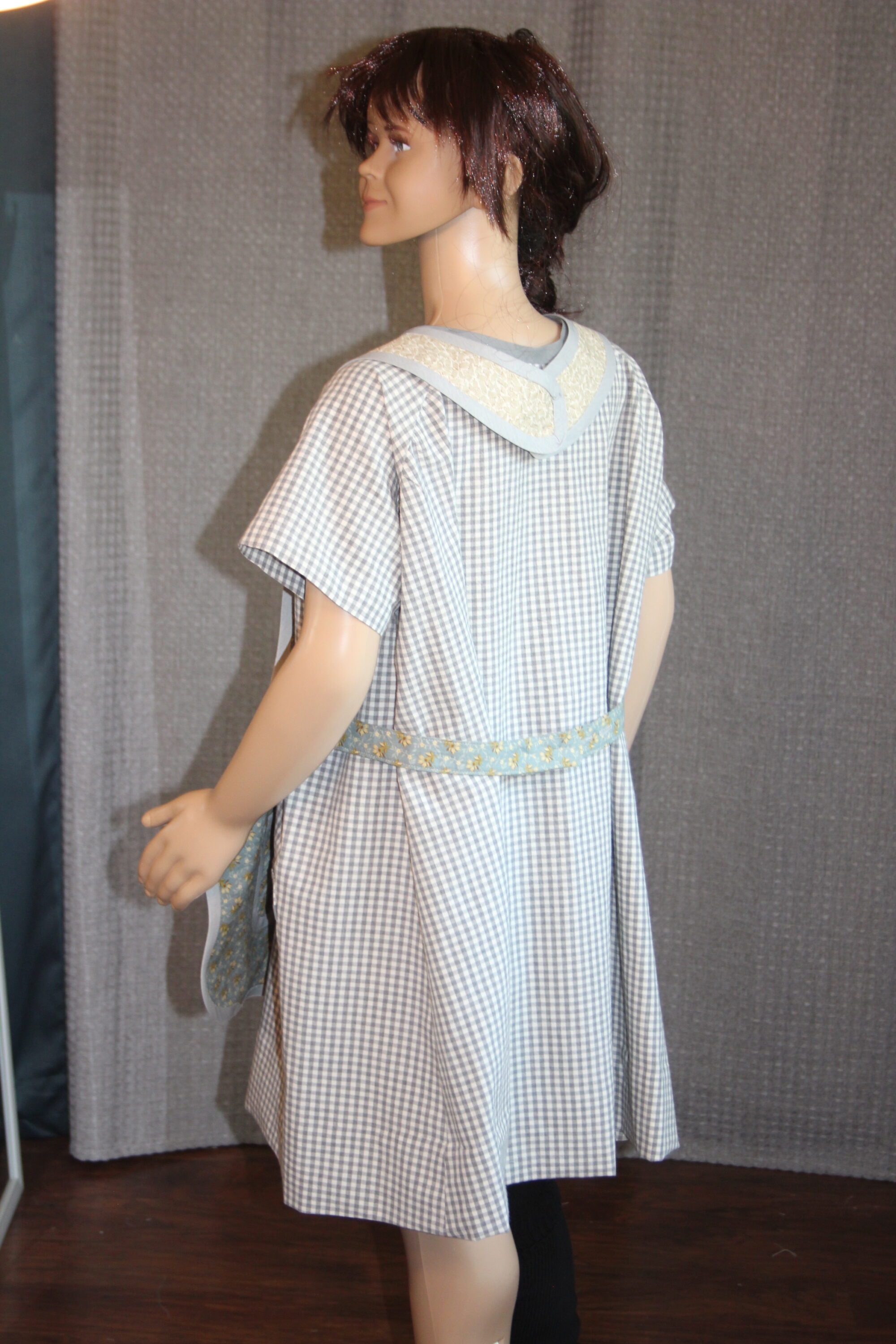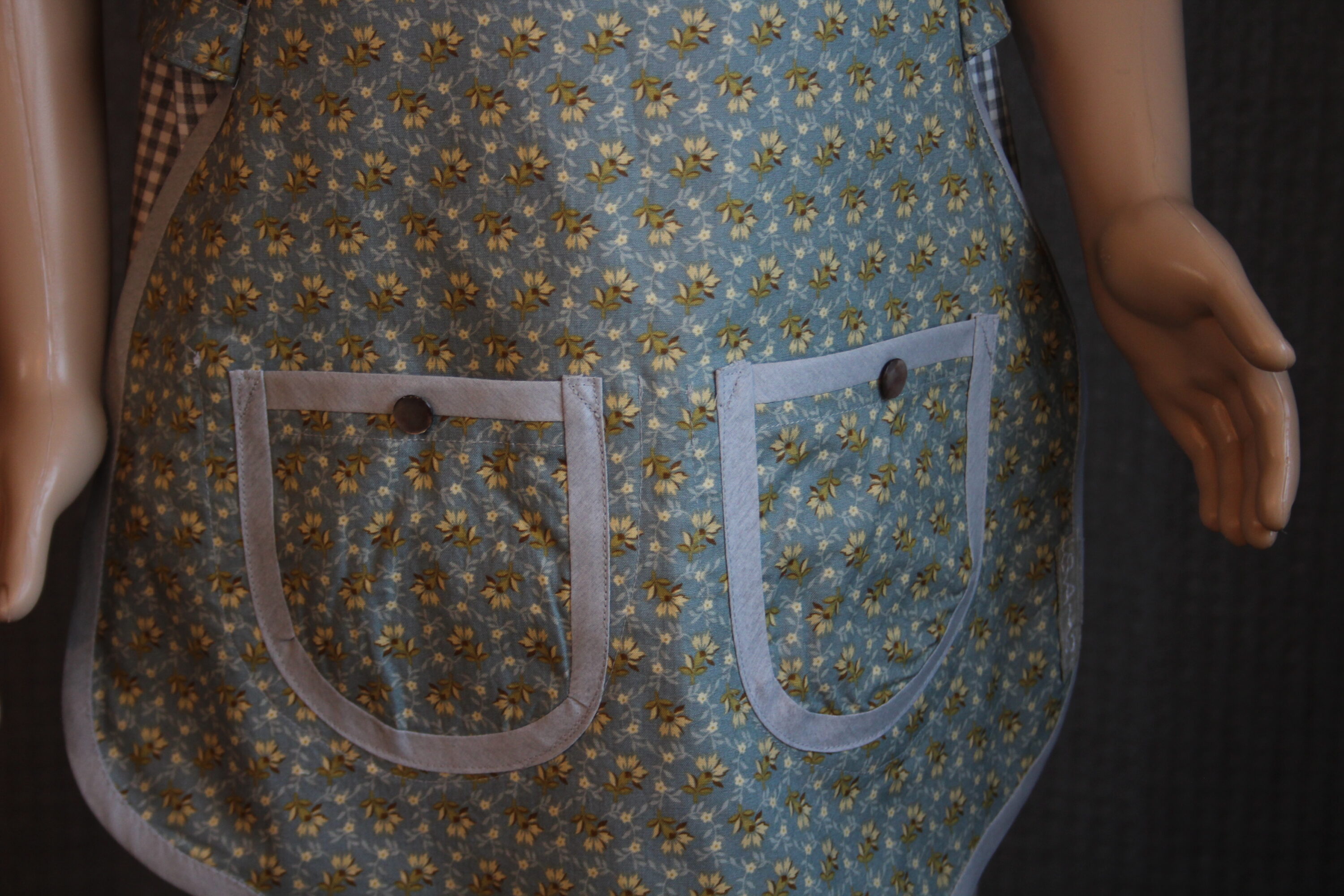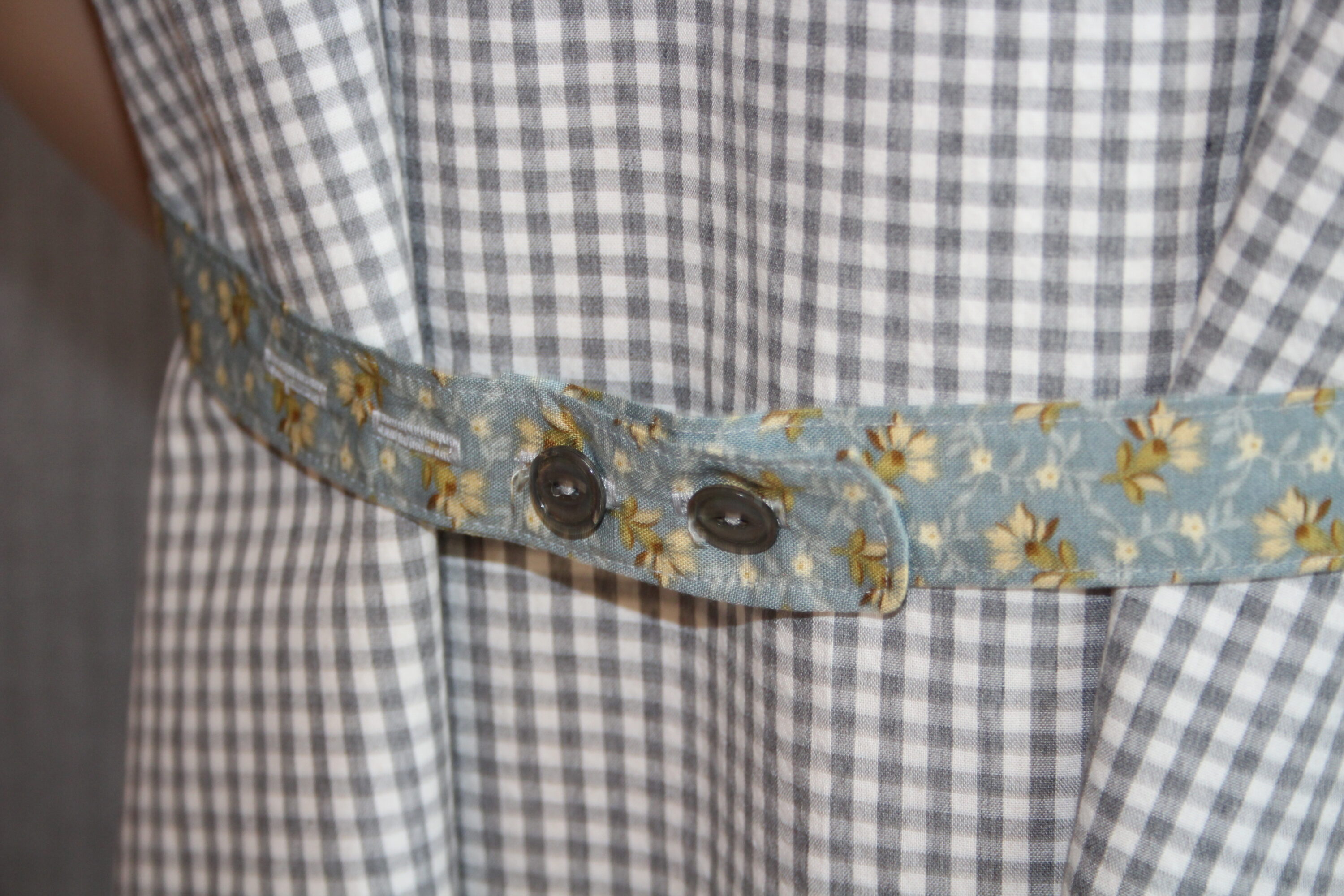 10+.4 (Size 10 plus or wide, beige checked and striped gingham with self bias tape and dark mother of pearl shank buttons.  Has extra wide sleeve holes for larger child and length to cover even though based on the "Dolly Dingle" short smock design with the higher waistband.  Buttons are the real closure with hook and eyes at top.  Note mannequin is a size 8, so this is a bit large on her).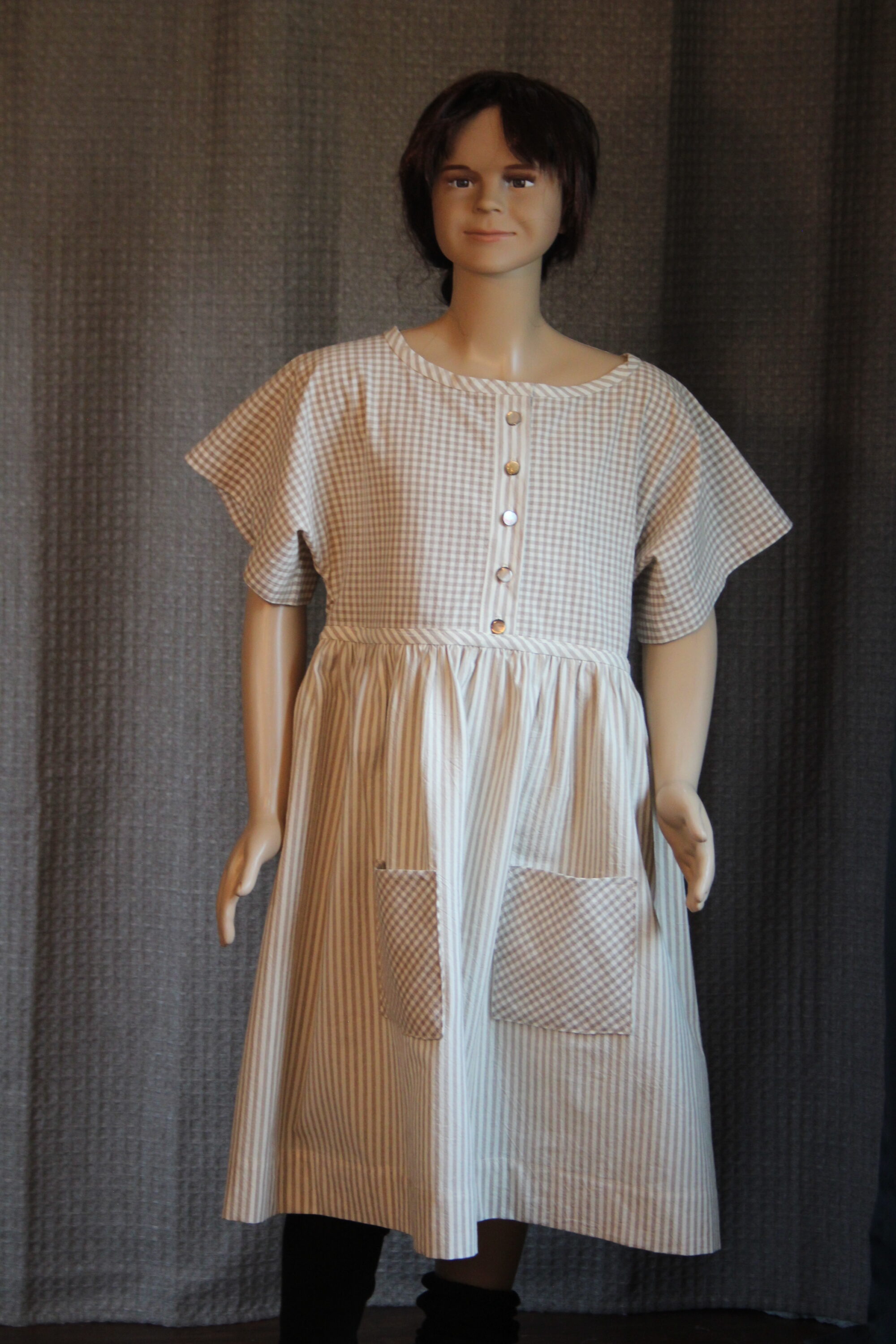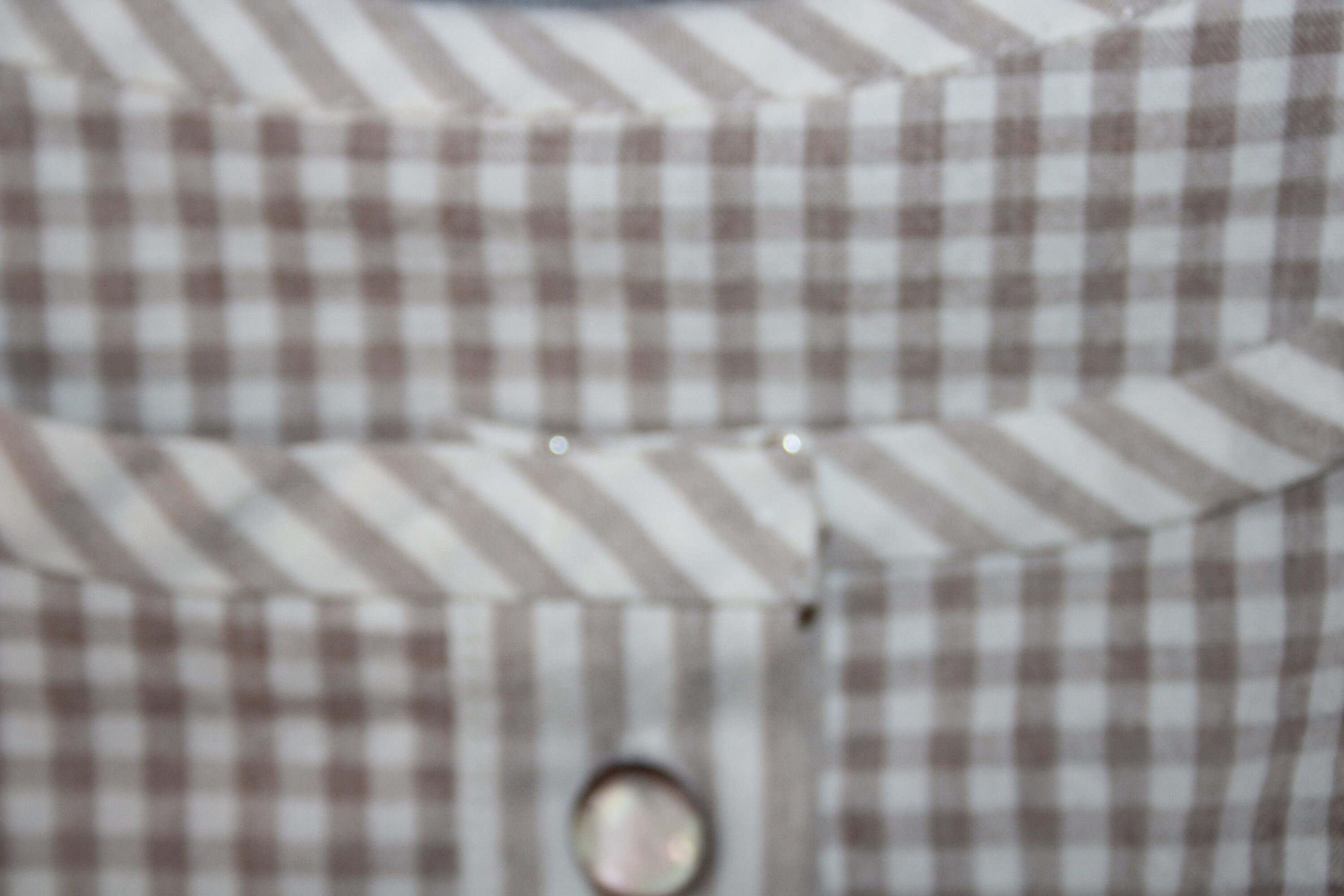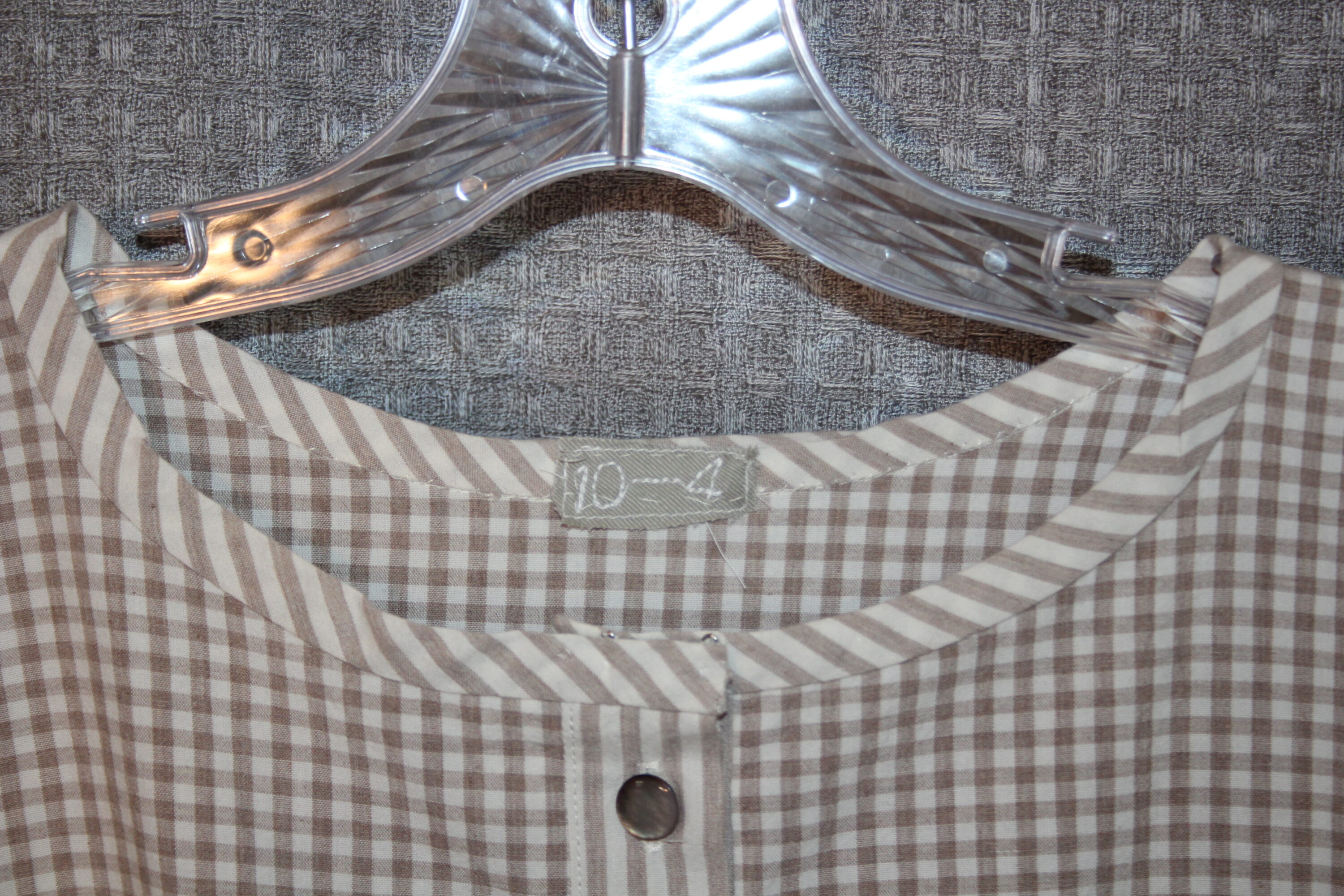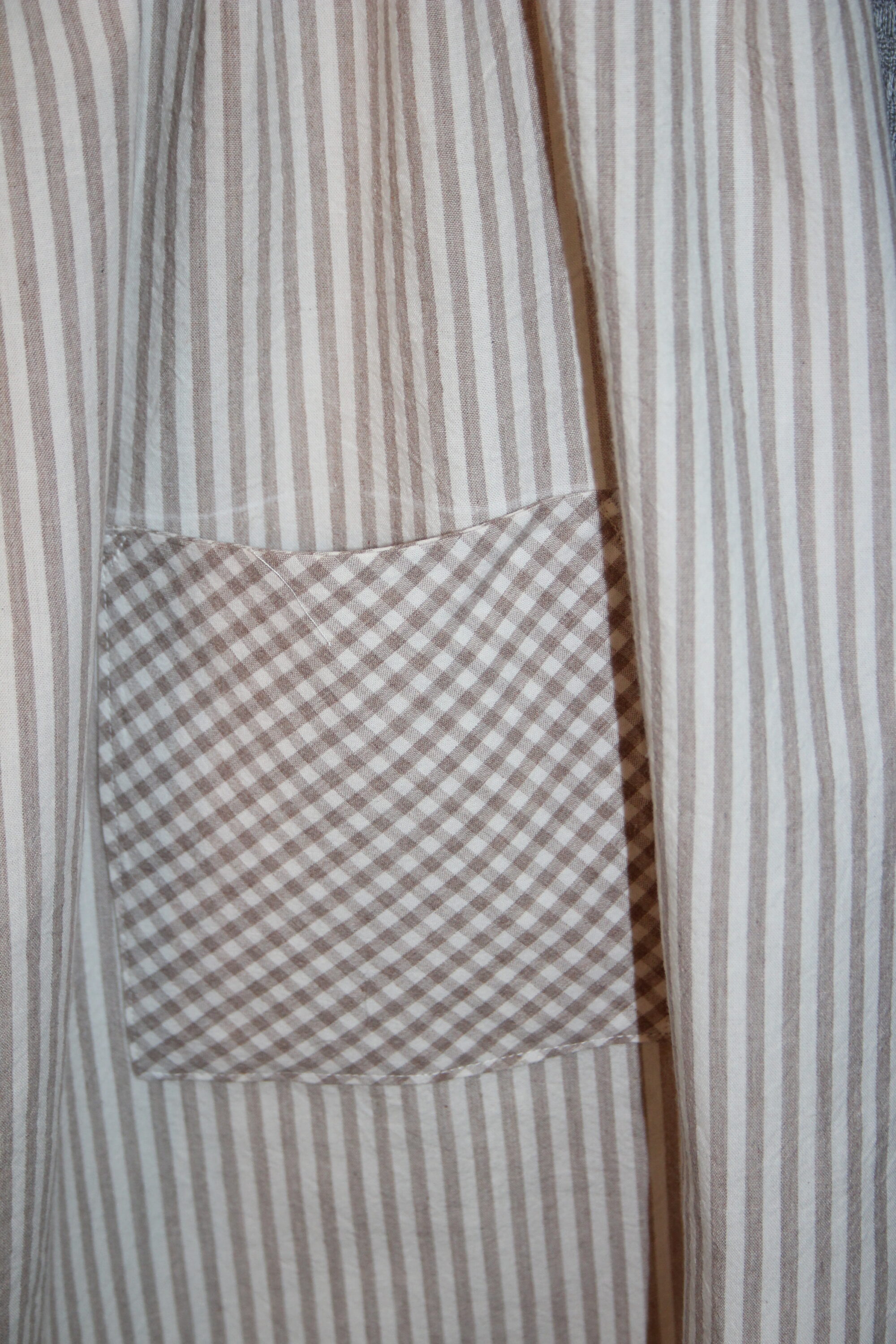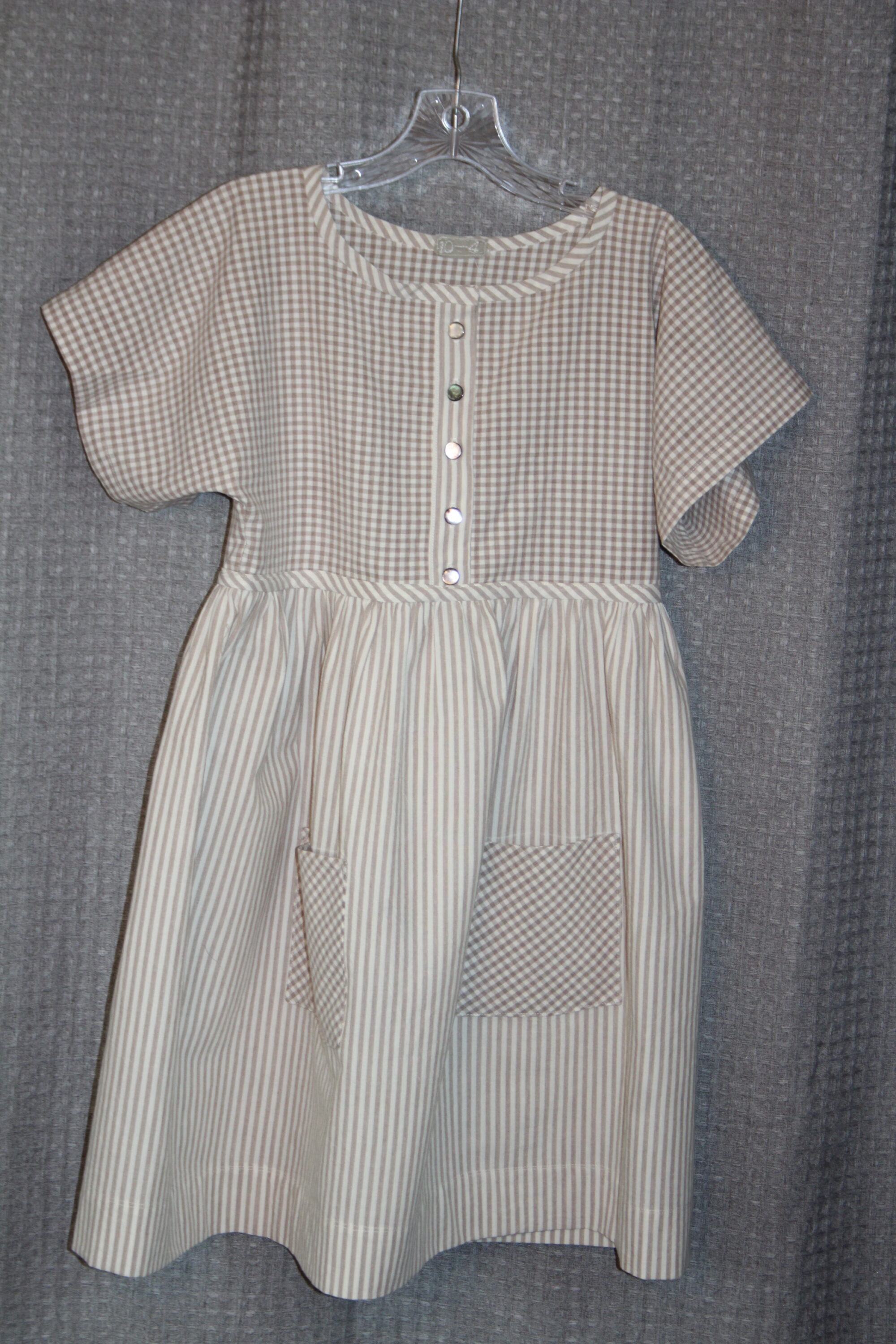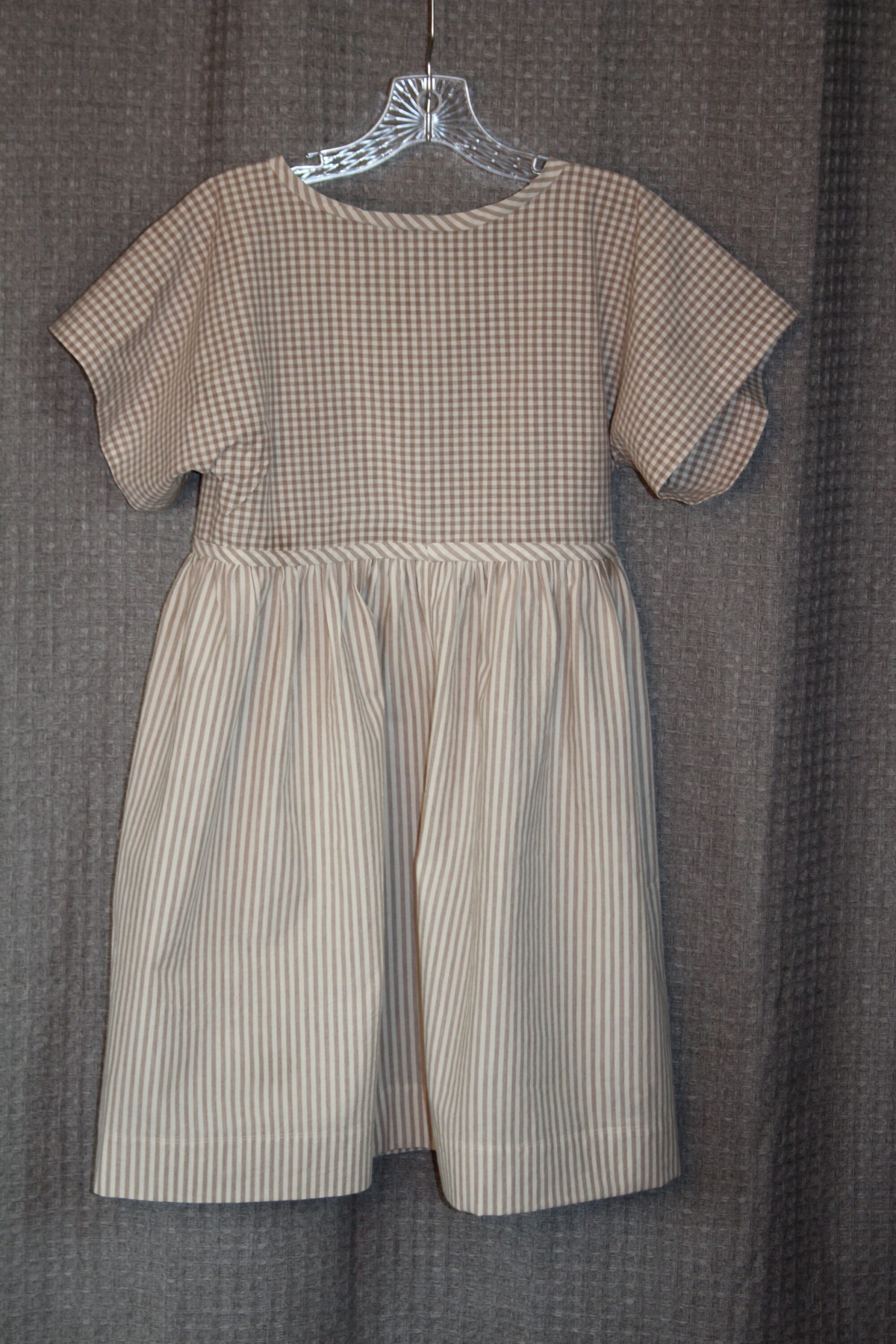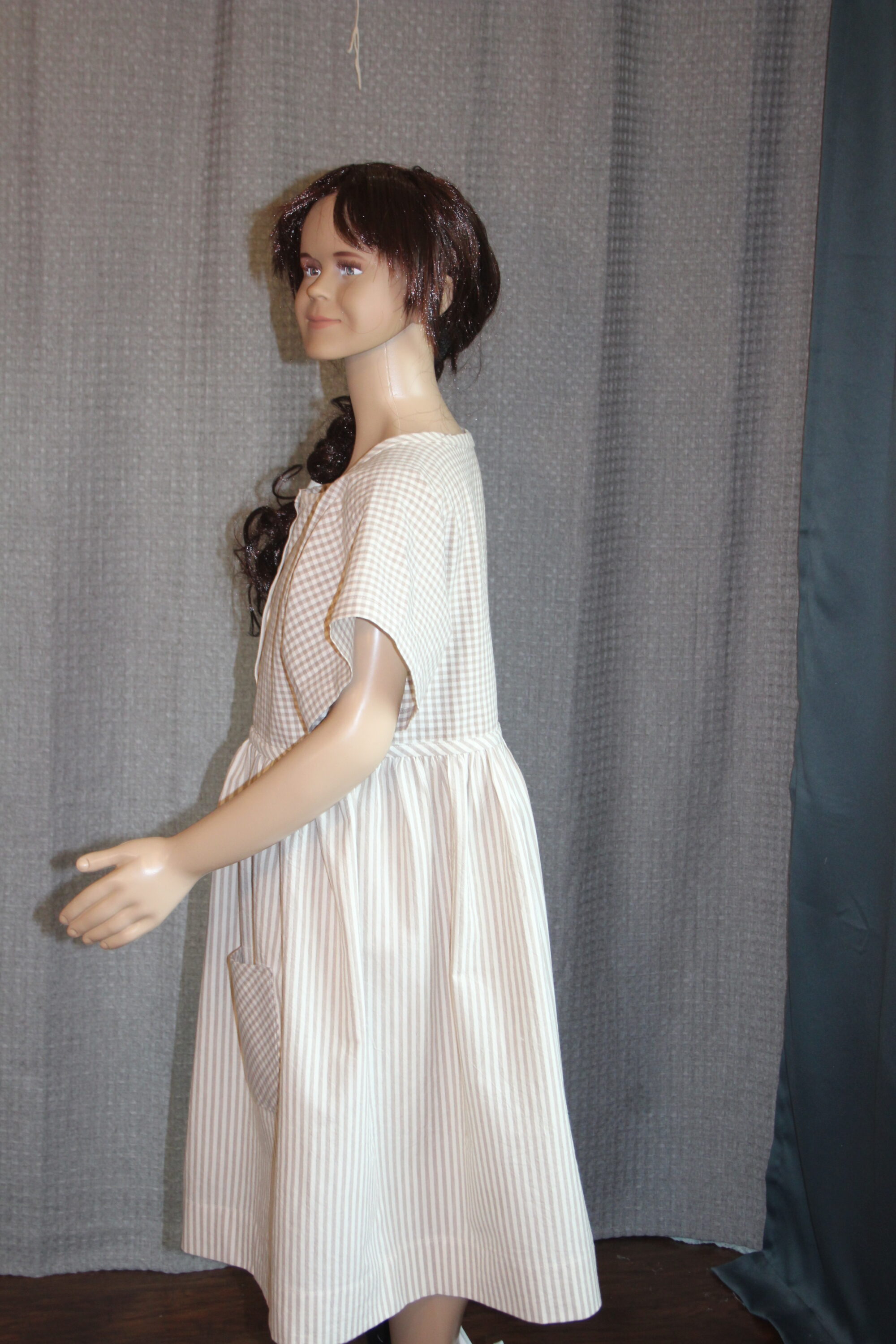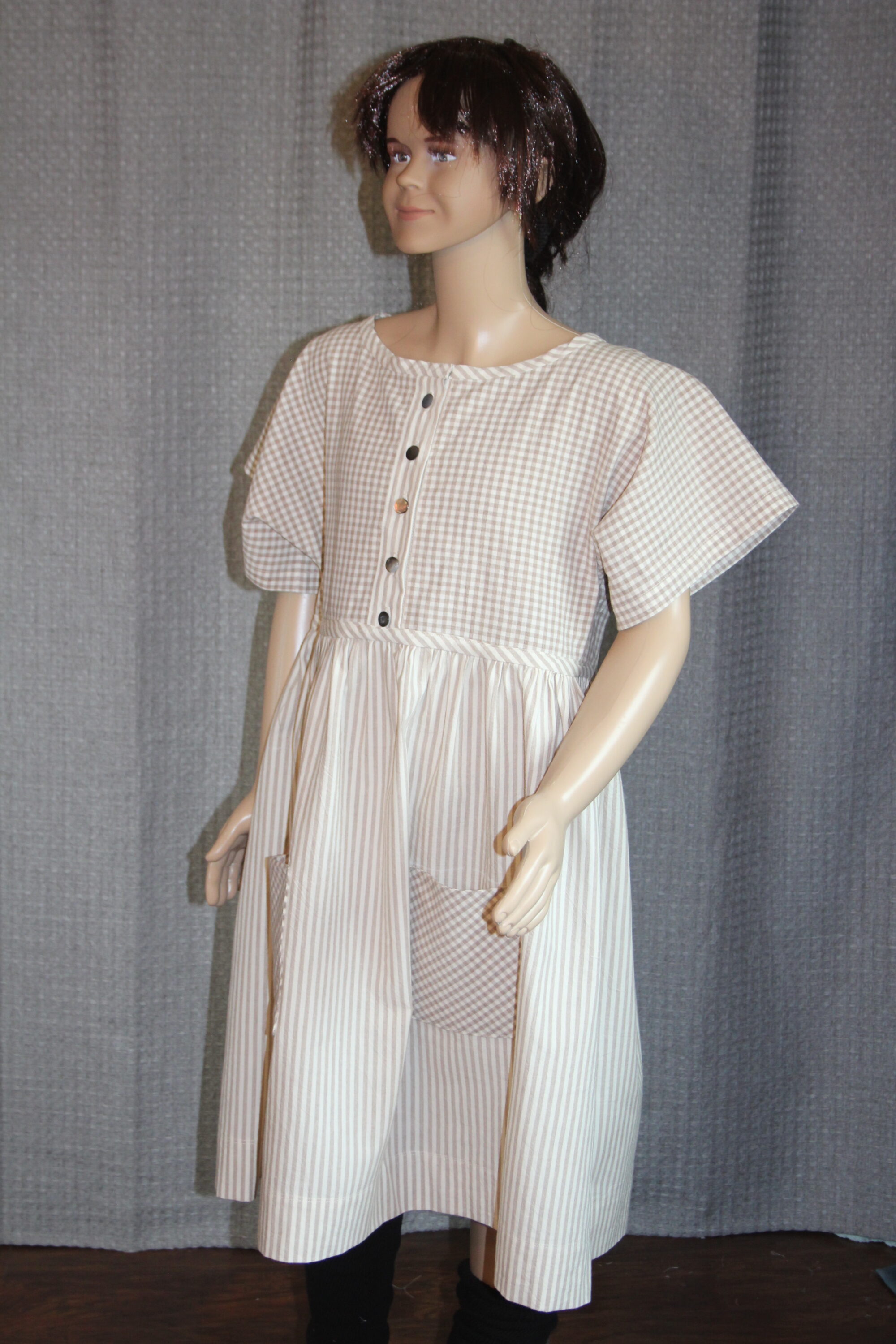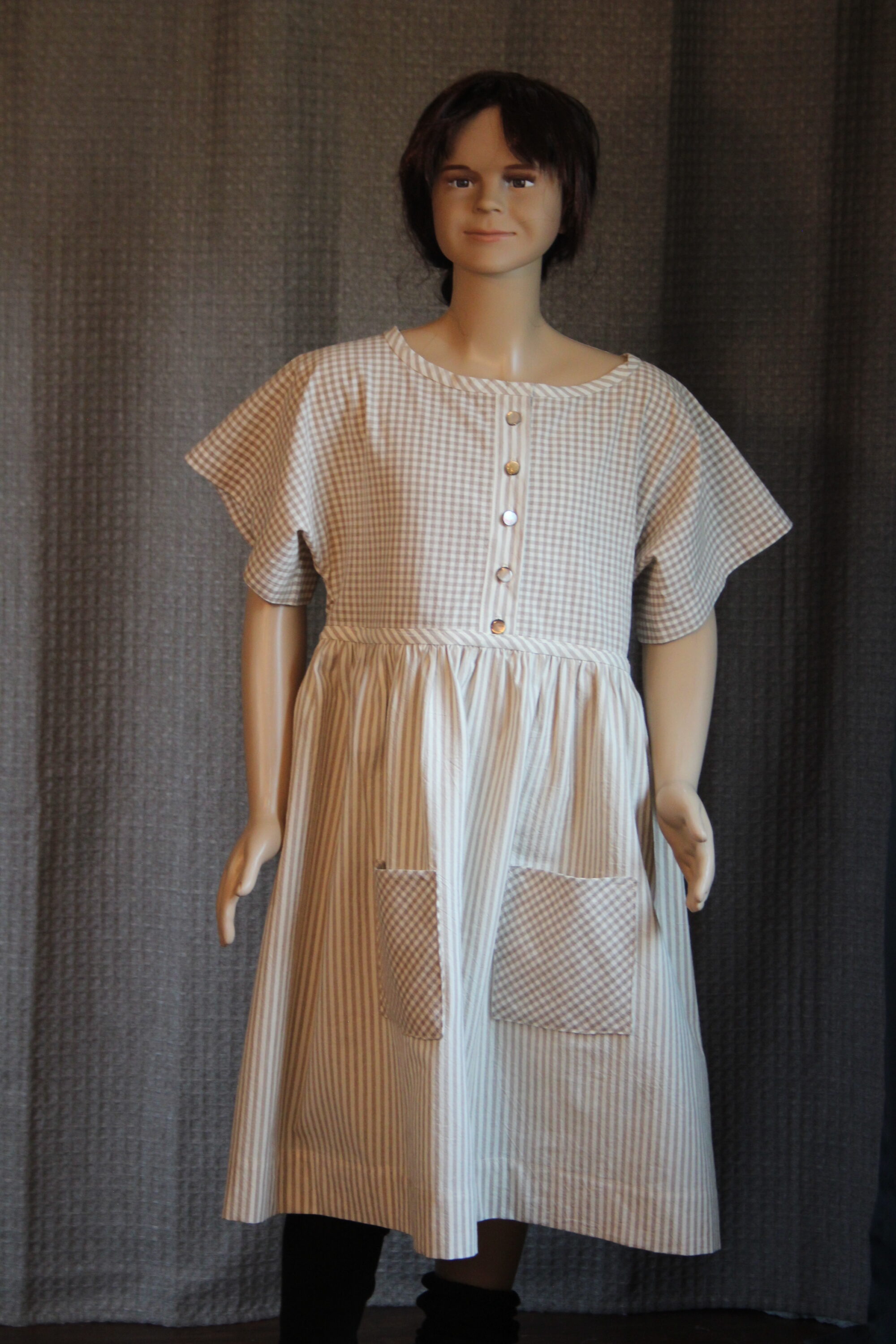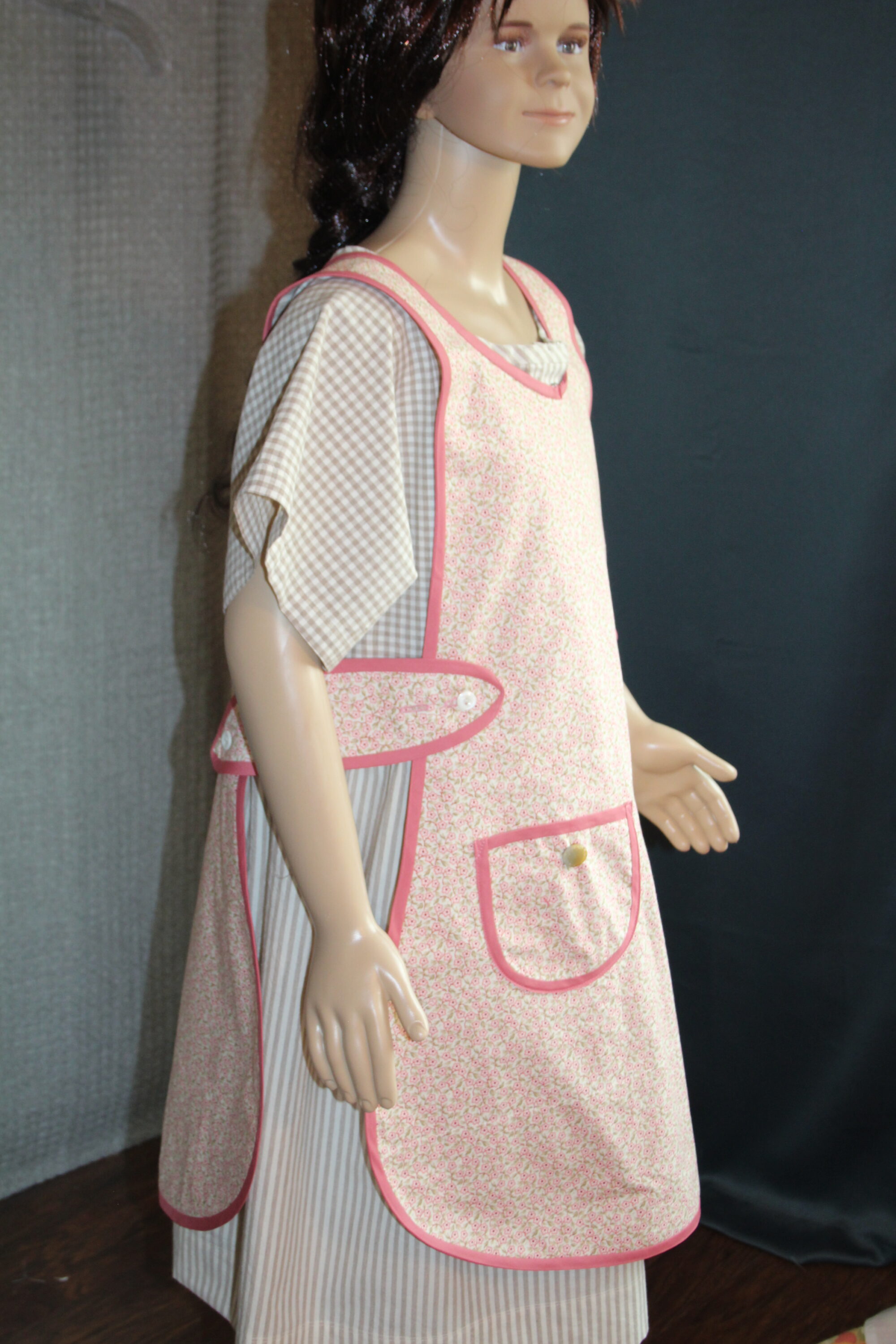 10+A.3 (size 10 plus or wide front and back reversible apron of beige stripe and pink period floral with dark pink bias tape full edging.  Closure by removeable tabs with MOP buttons.  Special Czech glass button on pink side and shank MOP ivory button on stripe side.  This "Downton's Sybbie" design is shorter and wider than the women's designs and meant to be worn over the shorter, wider and higher waisted style of the young girl)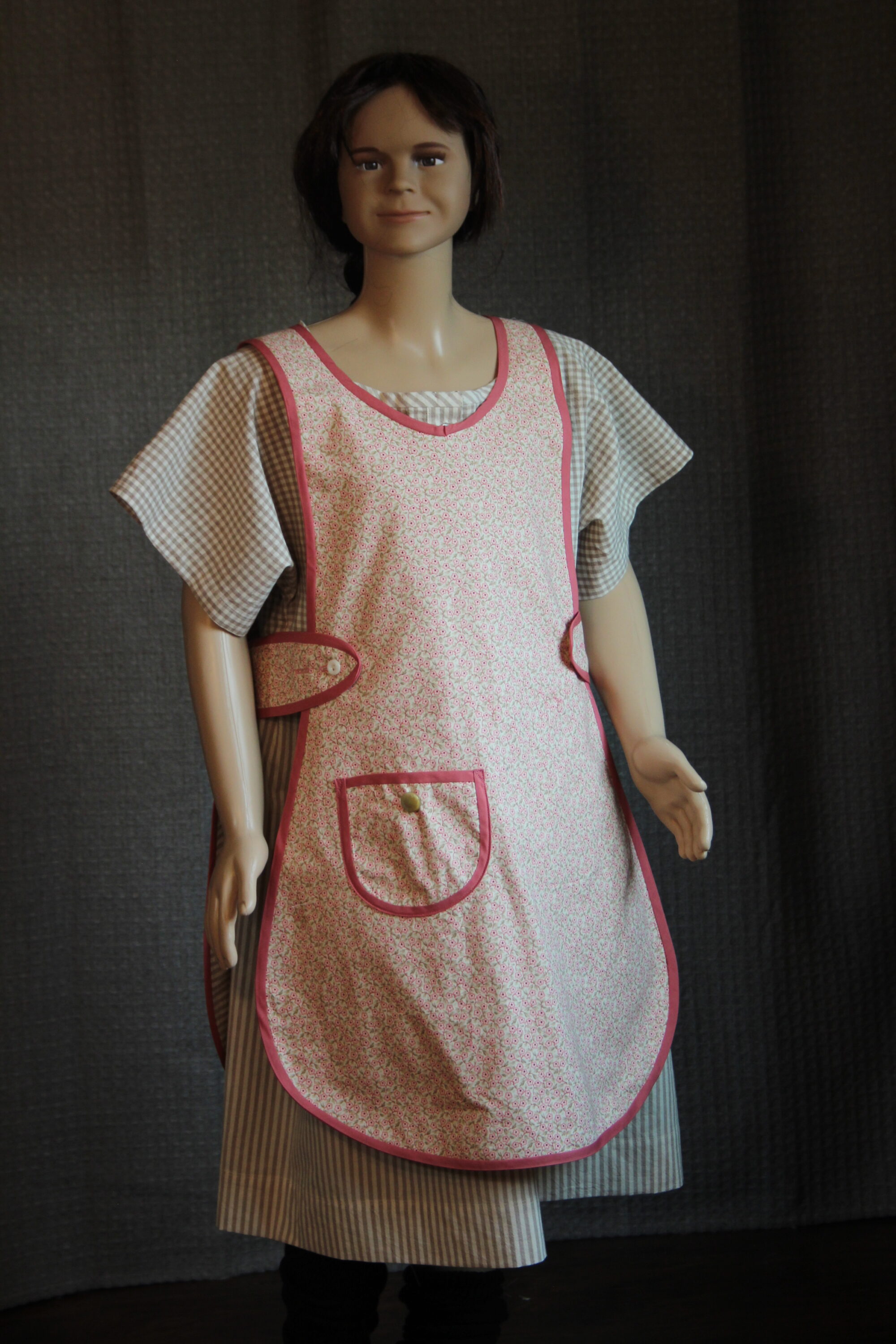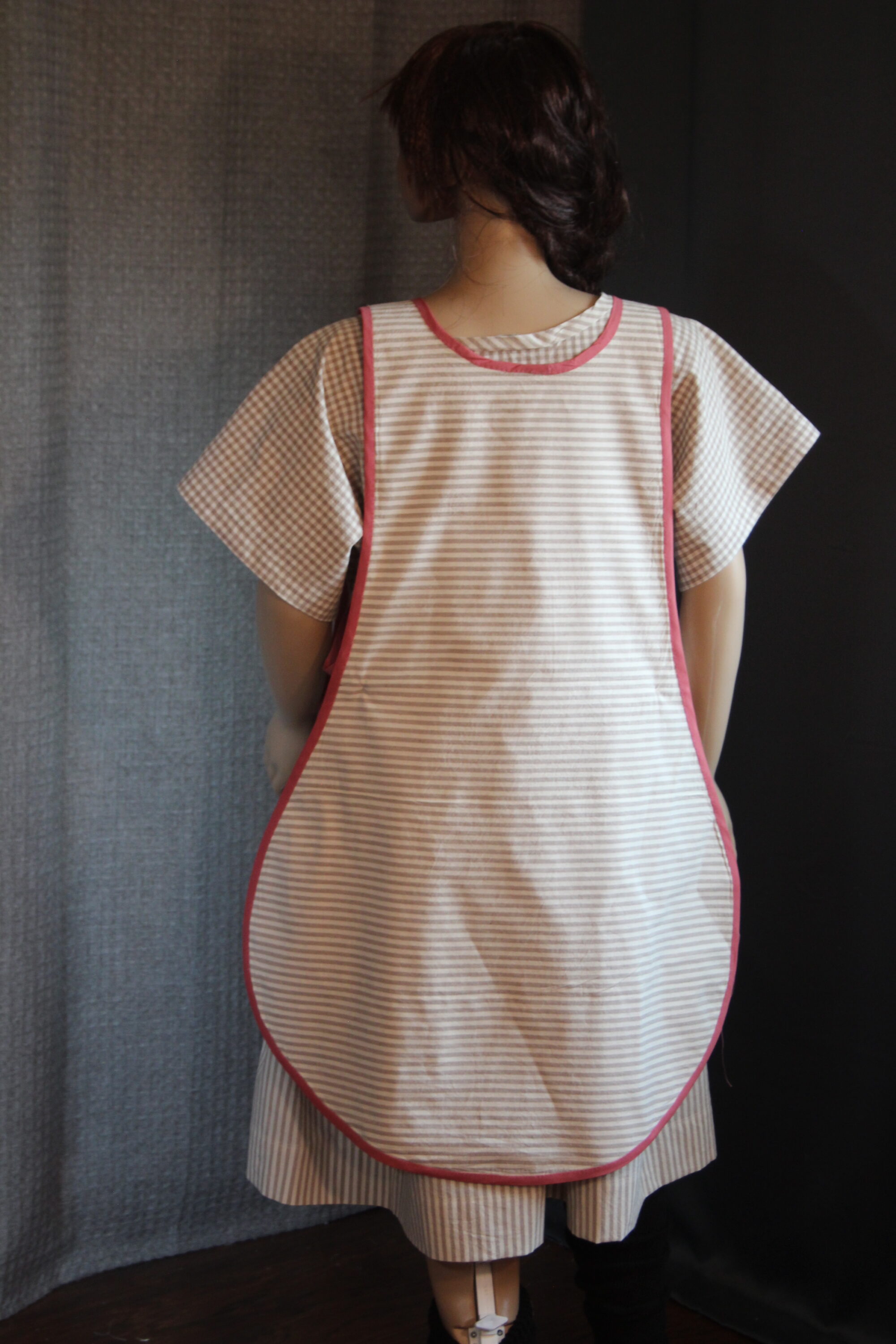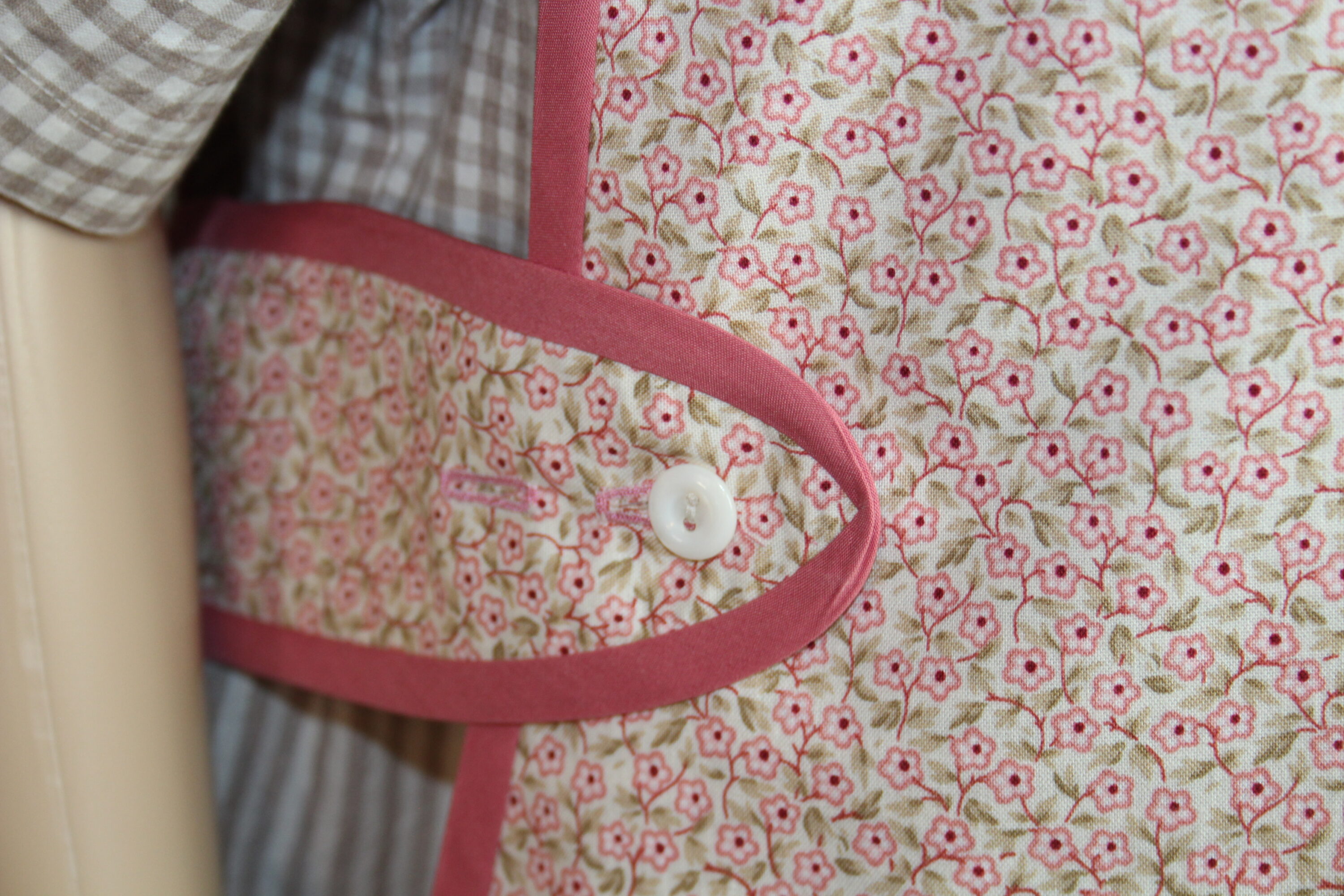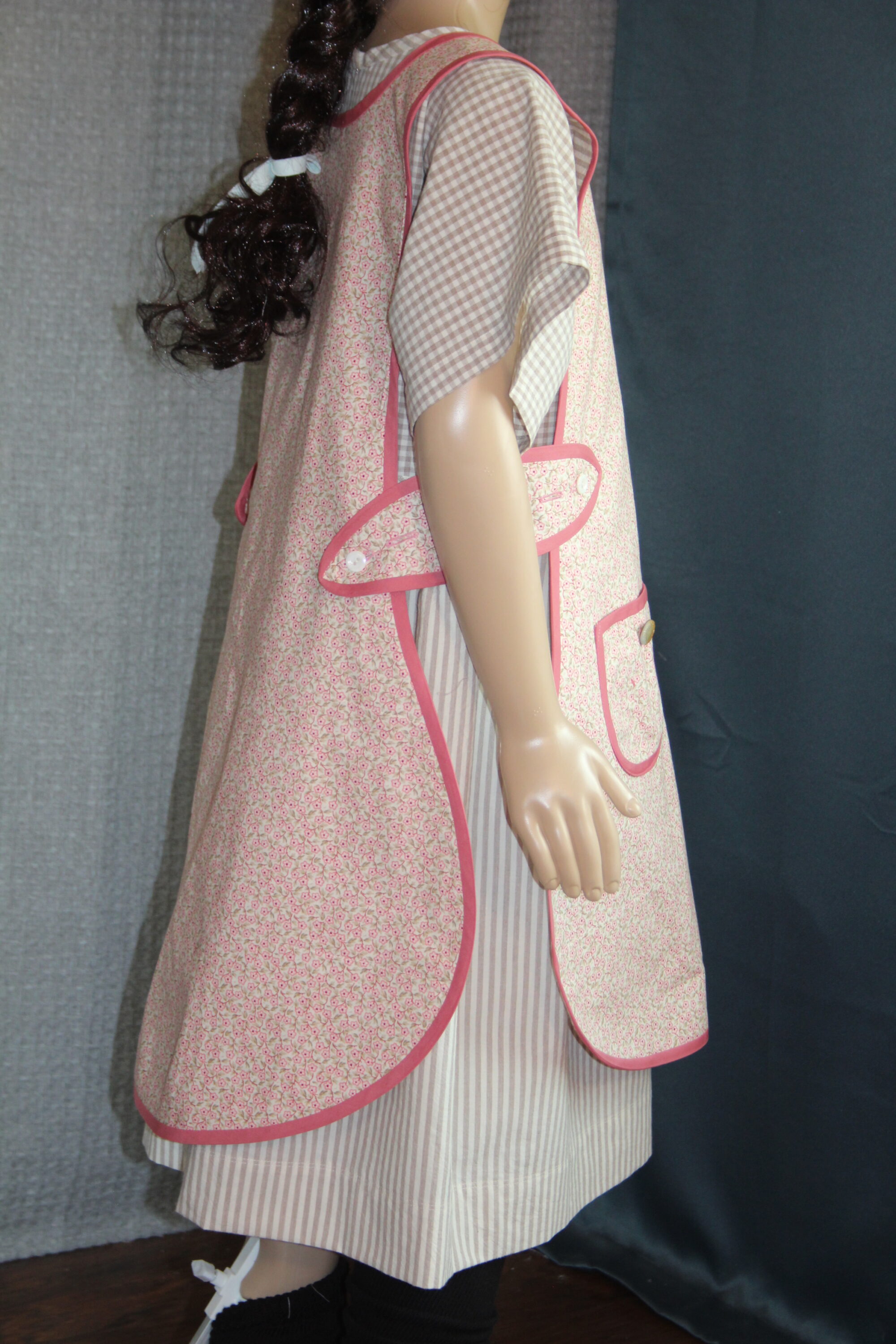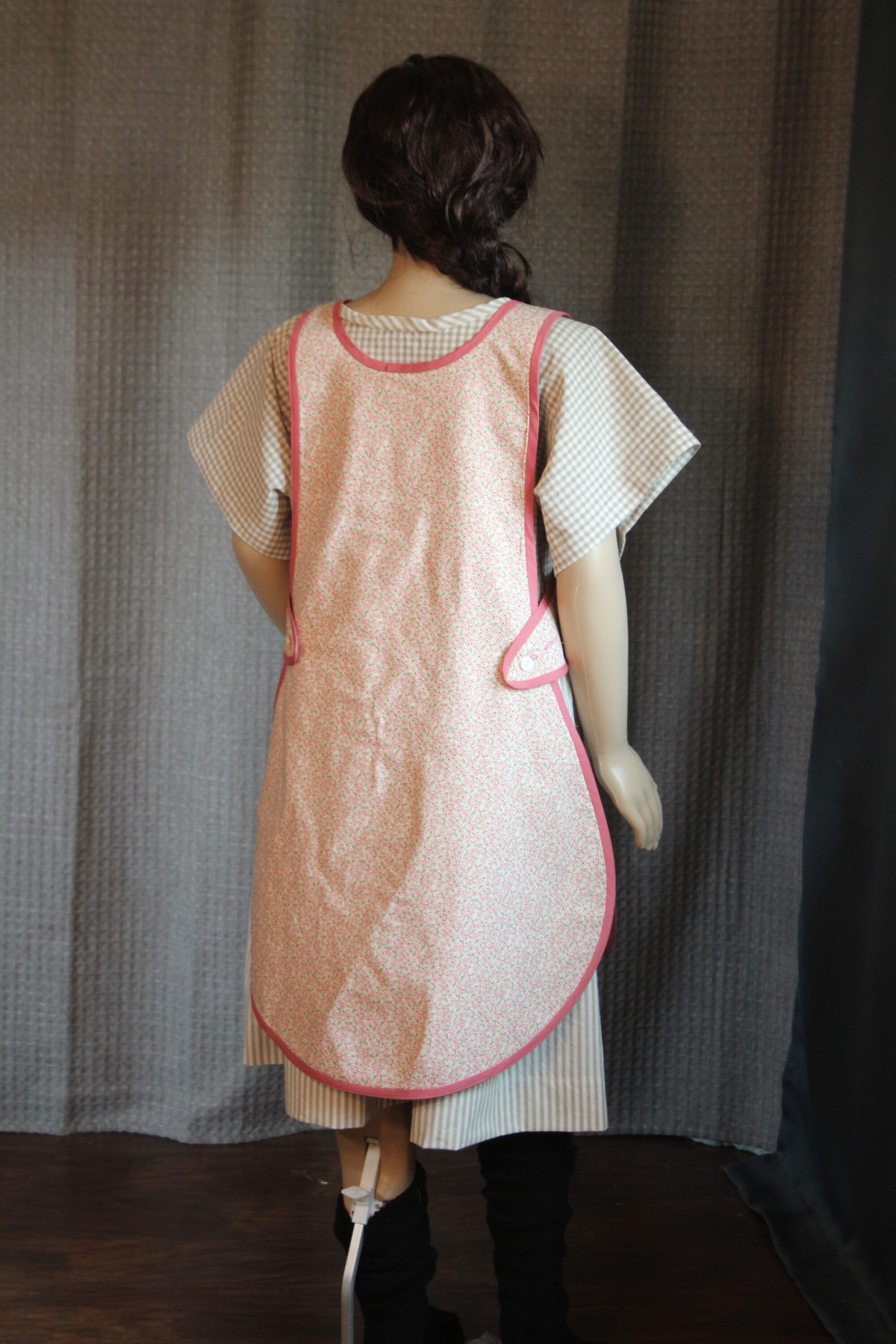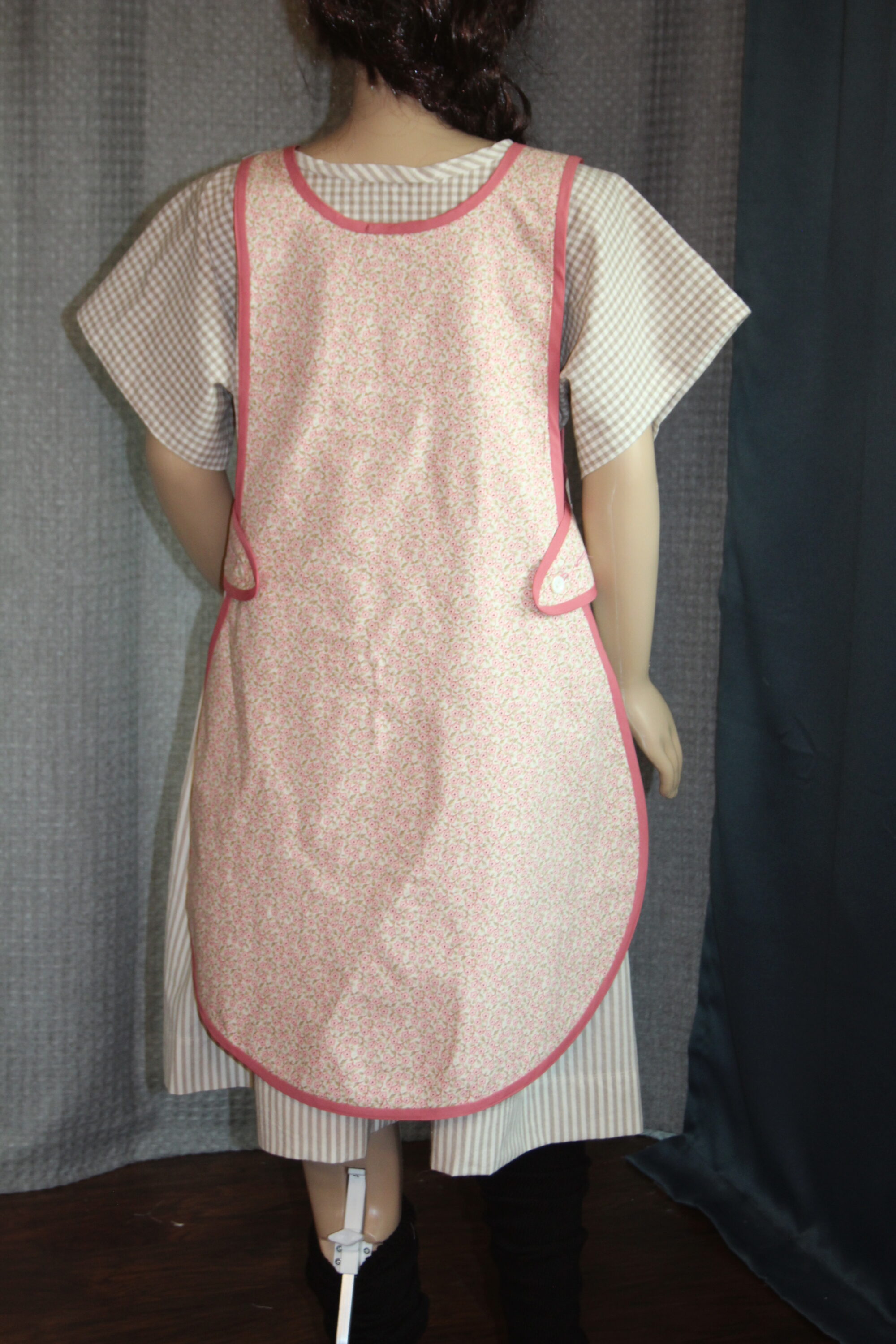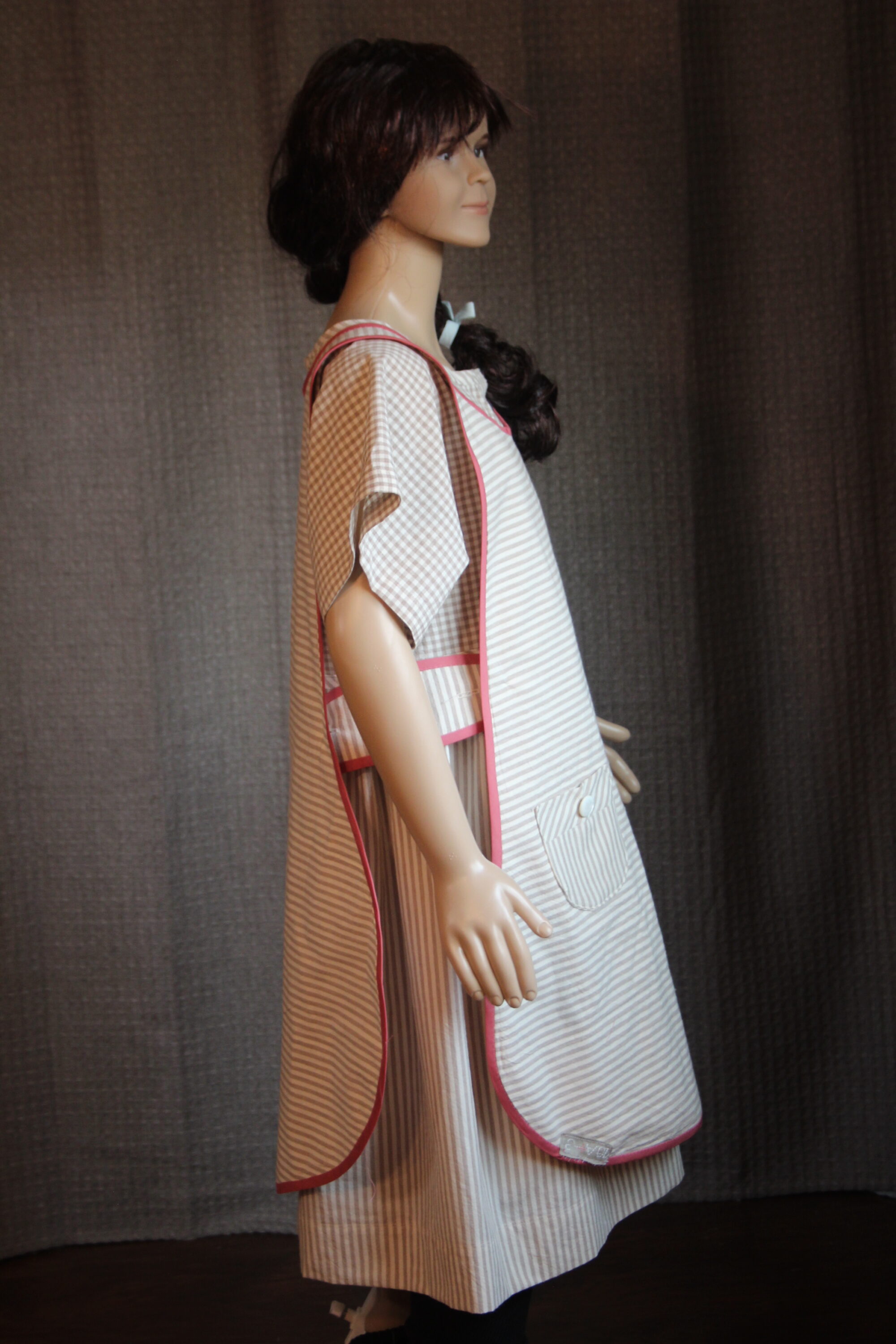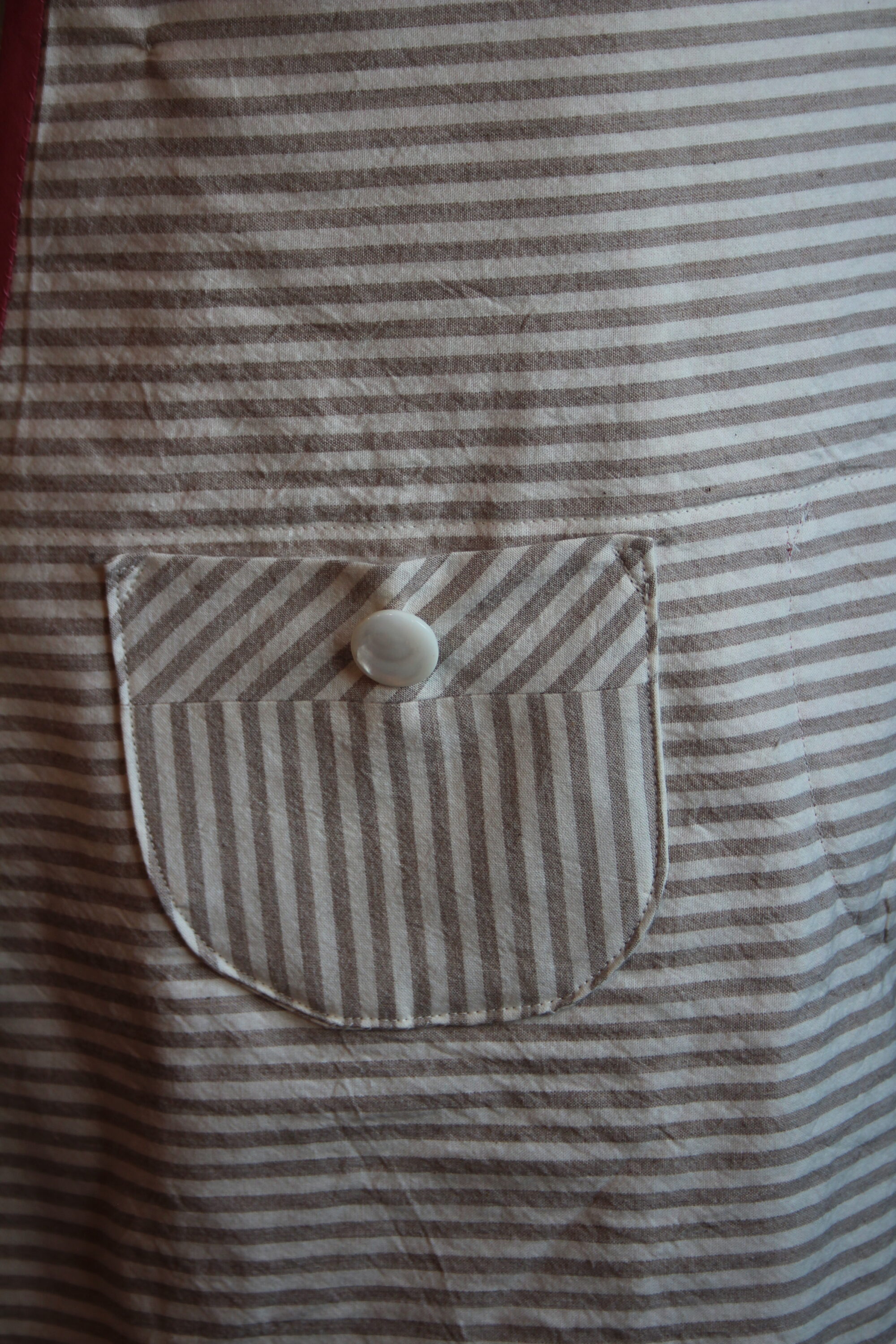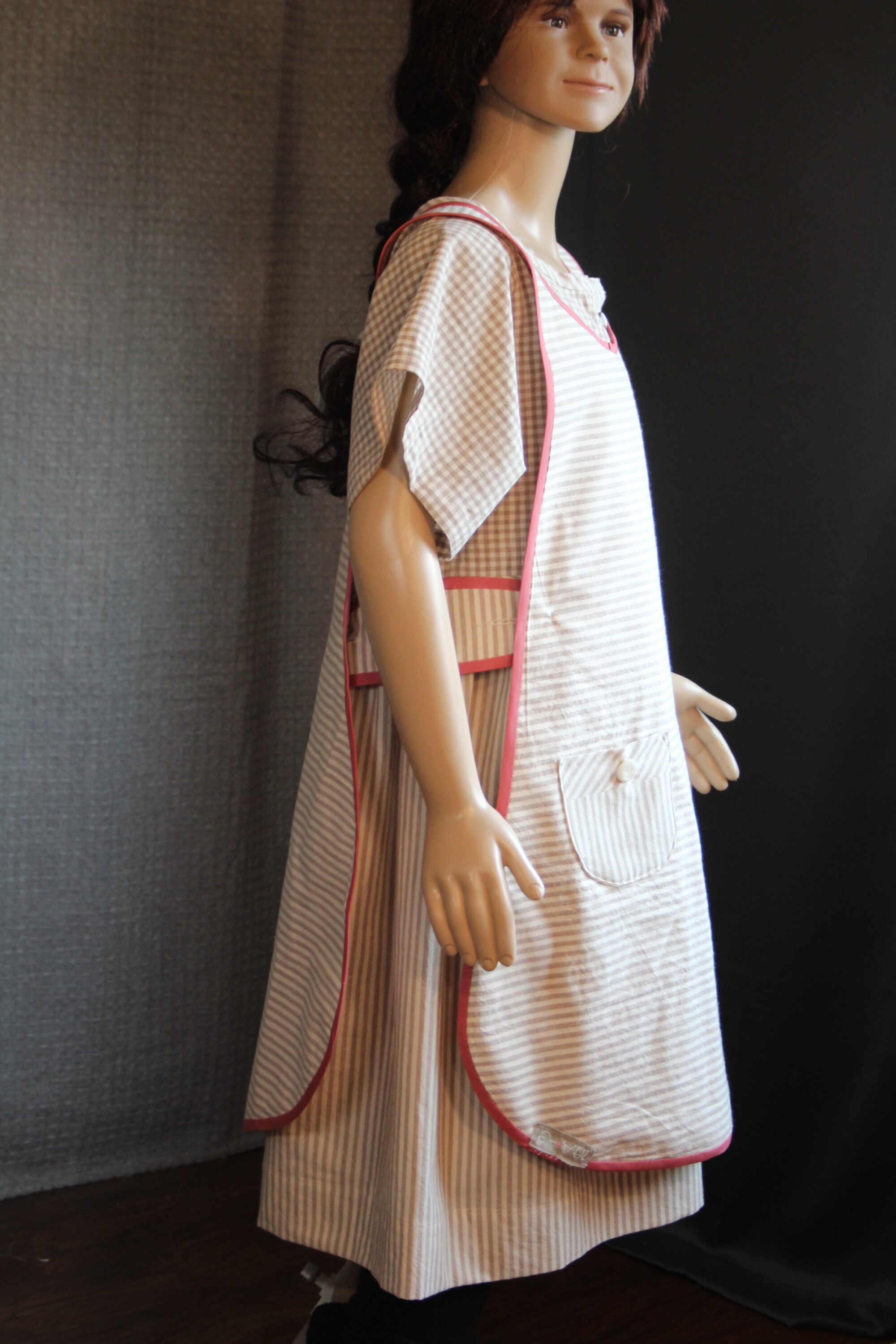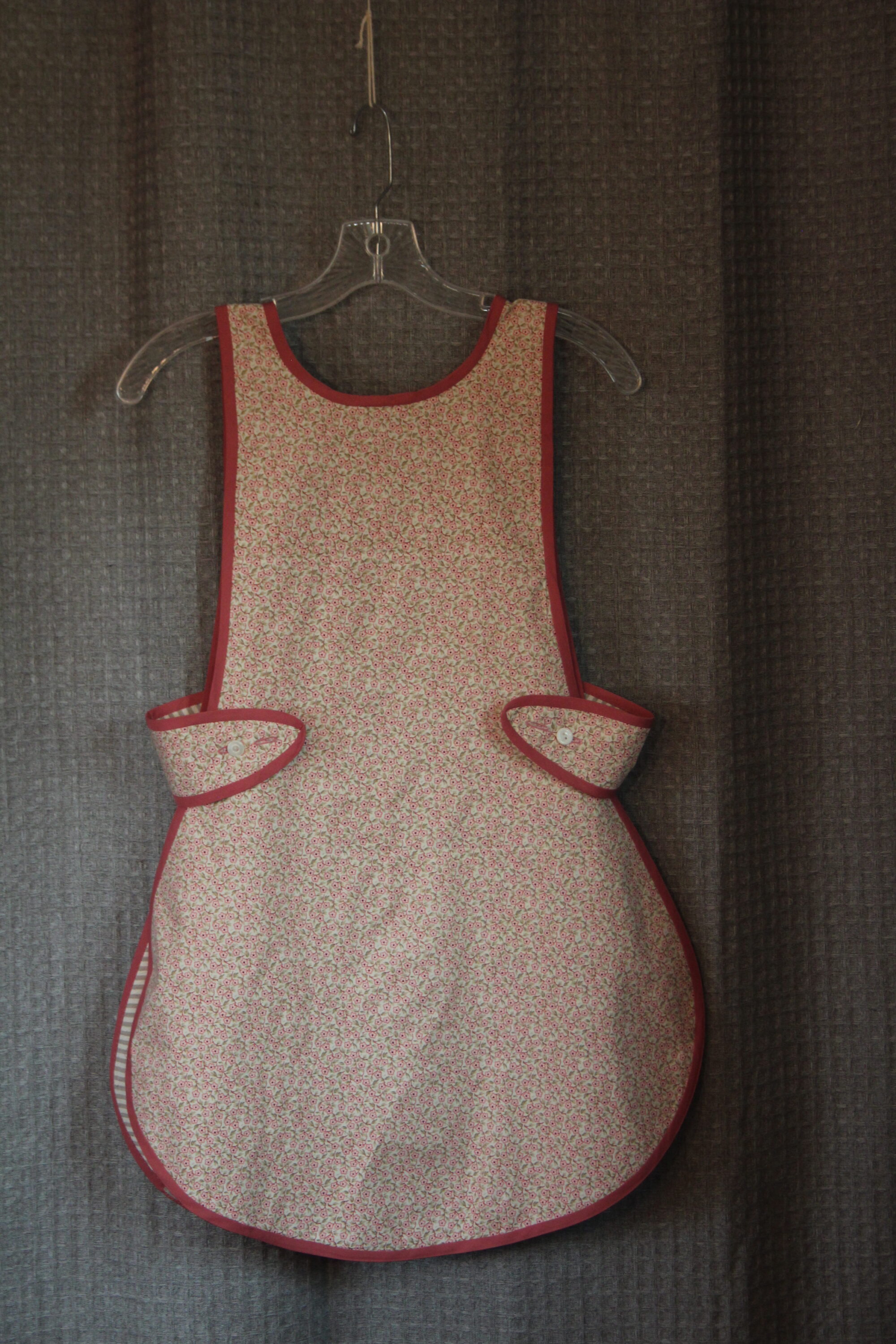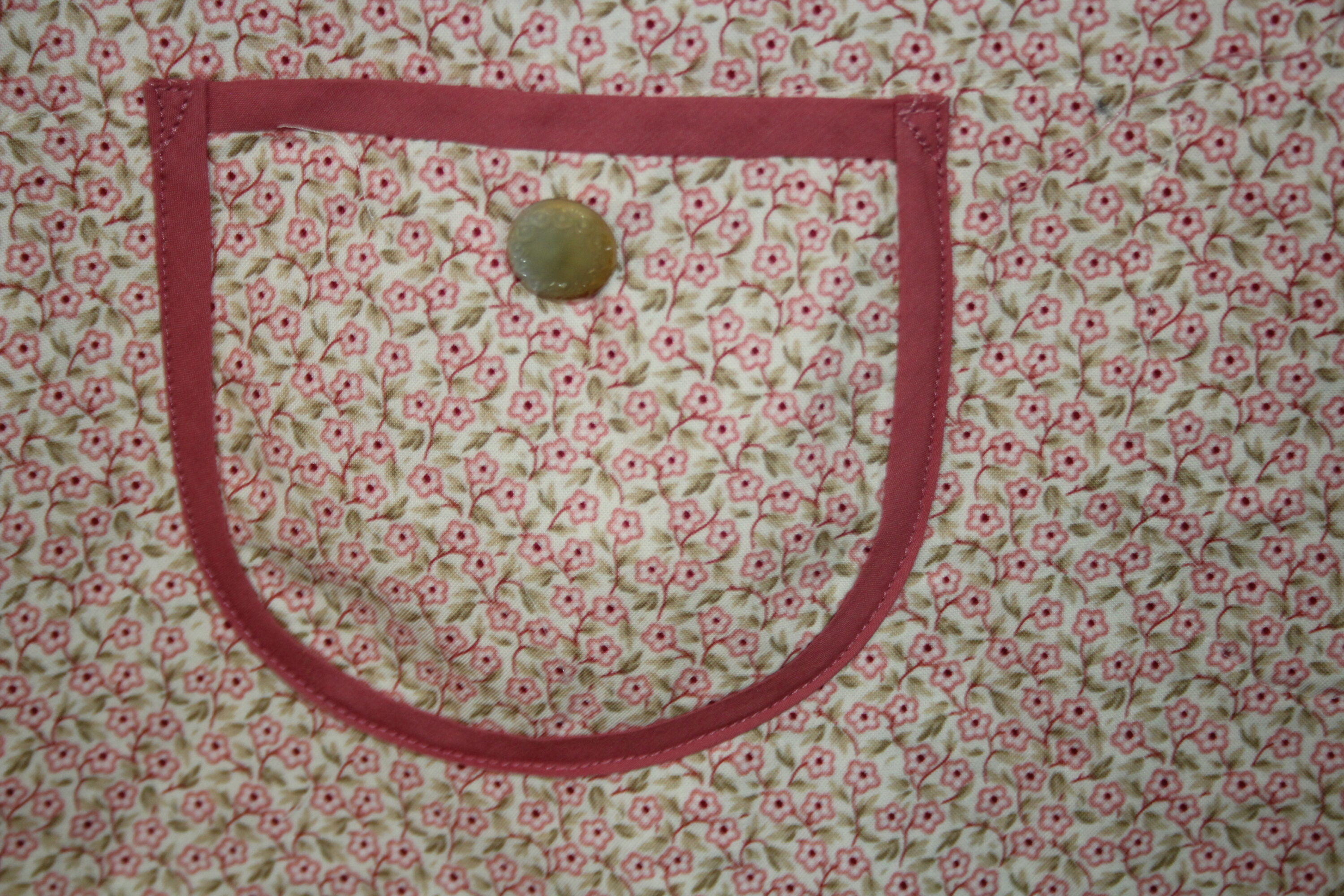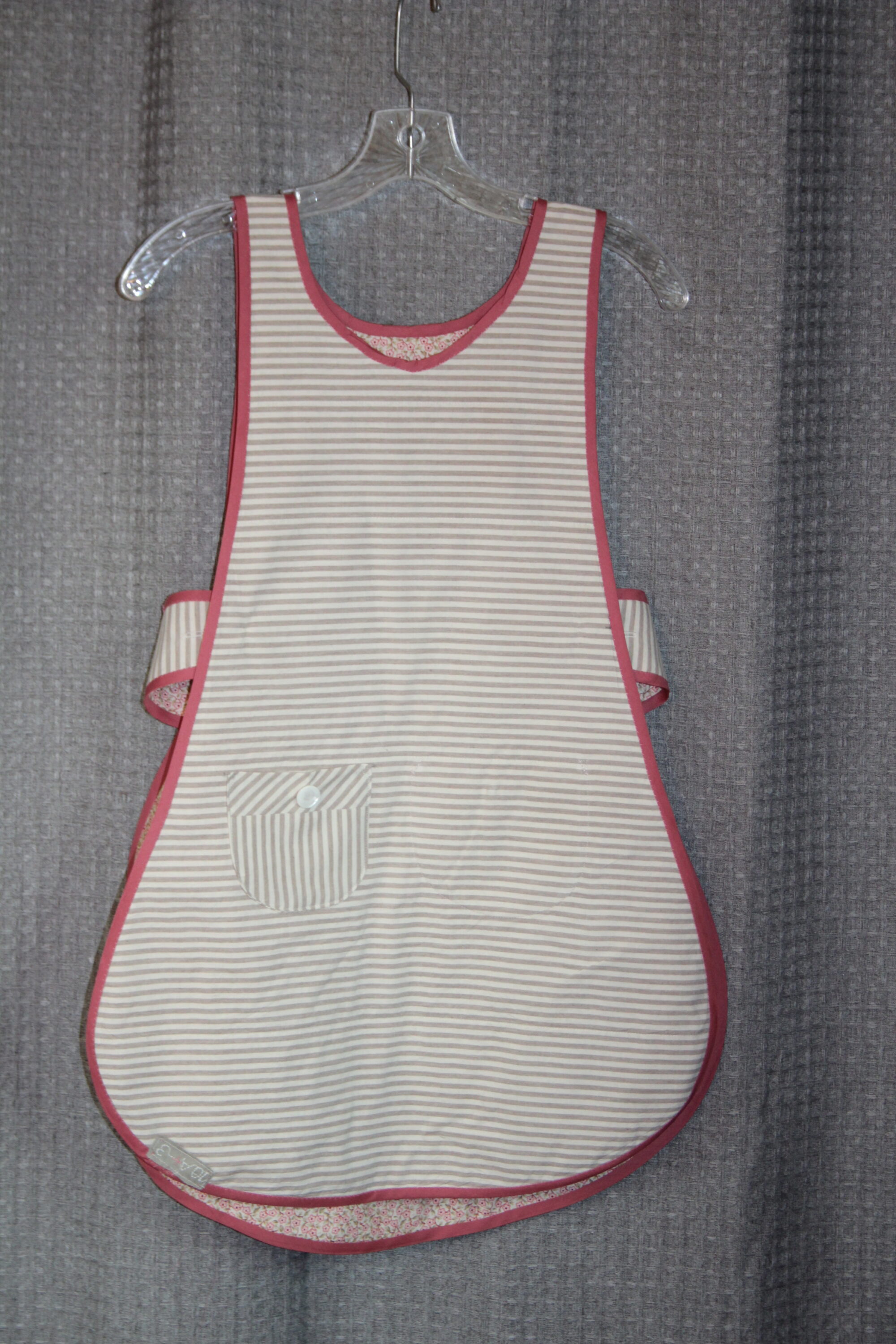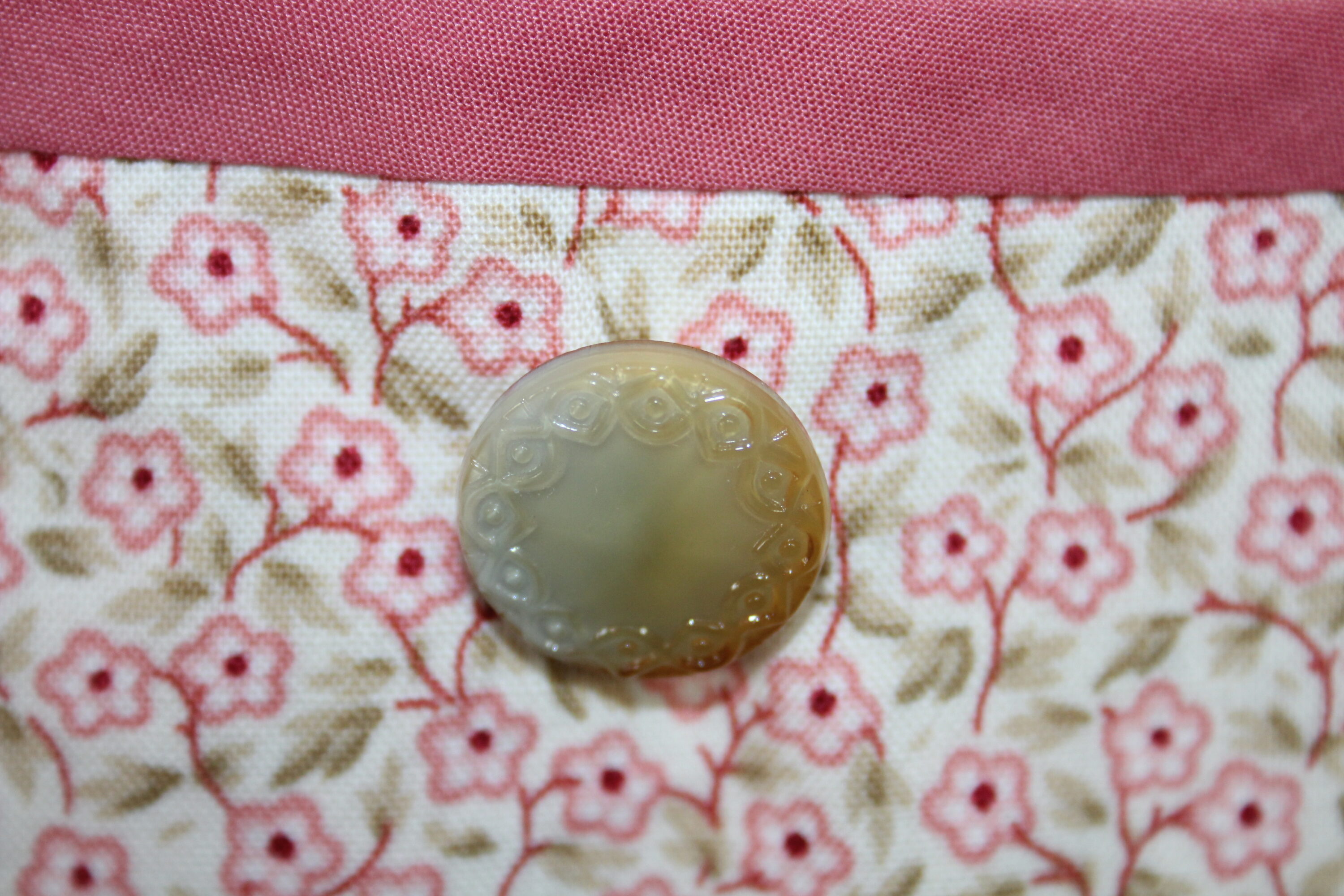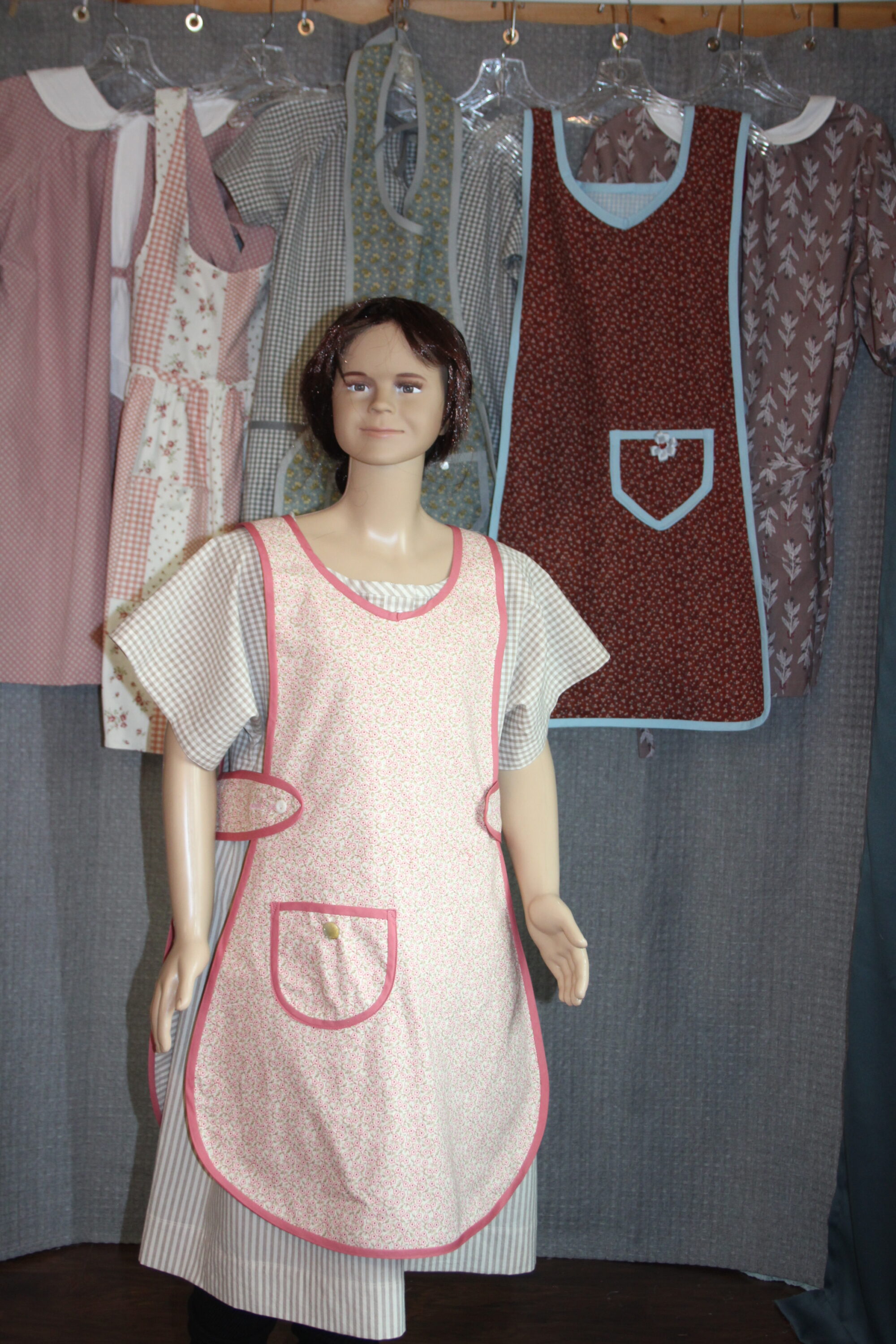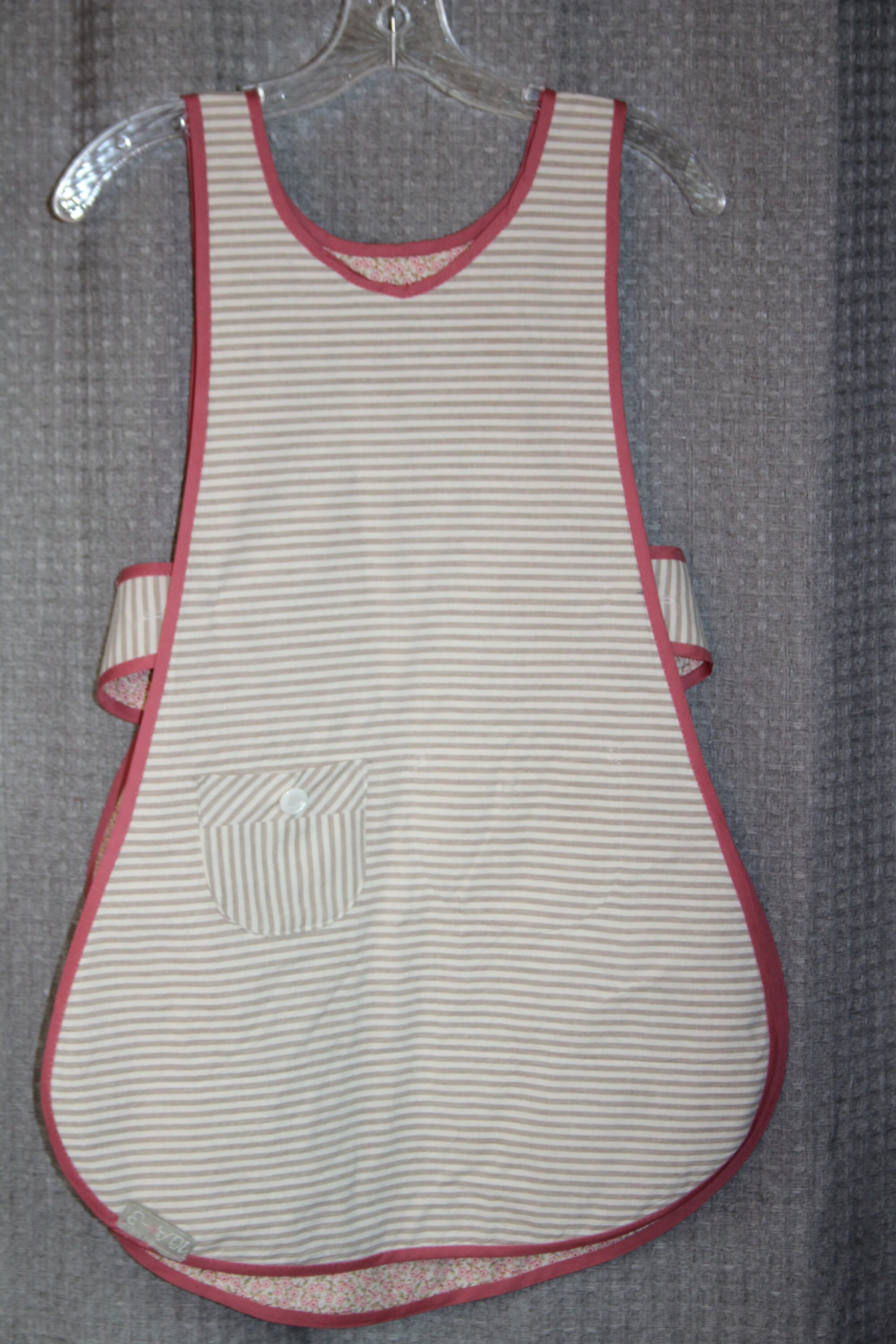 Batch 3 – Golds, Oranges, Blues, Greens
12.3 (size 12 basic ivory with reverse image forget me not subtle blue floral print, with neck self tie at front of neckline and self bias, handmade hems on sleeves and bottom.  Longer silhouette but wide as a smock with wide neckline.  100% silk ribbon bows on pockets makes this look like an undergarment. It was built from the vintage girls' short pattern with the shirred dolman type sleeve. Needed this for fitting final aprons.  As with all garments, seams are either french or felled for durability and so they will not fray, and bias and hems are done by hand.)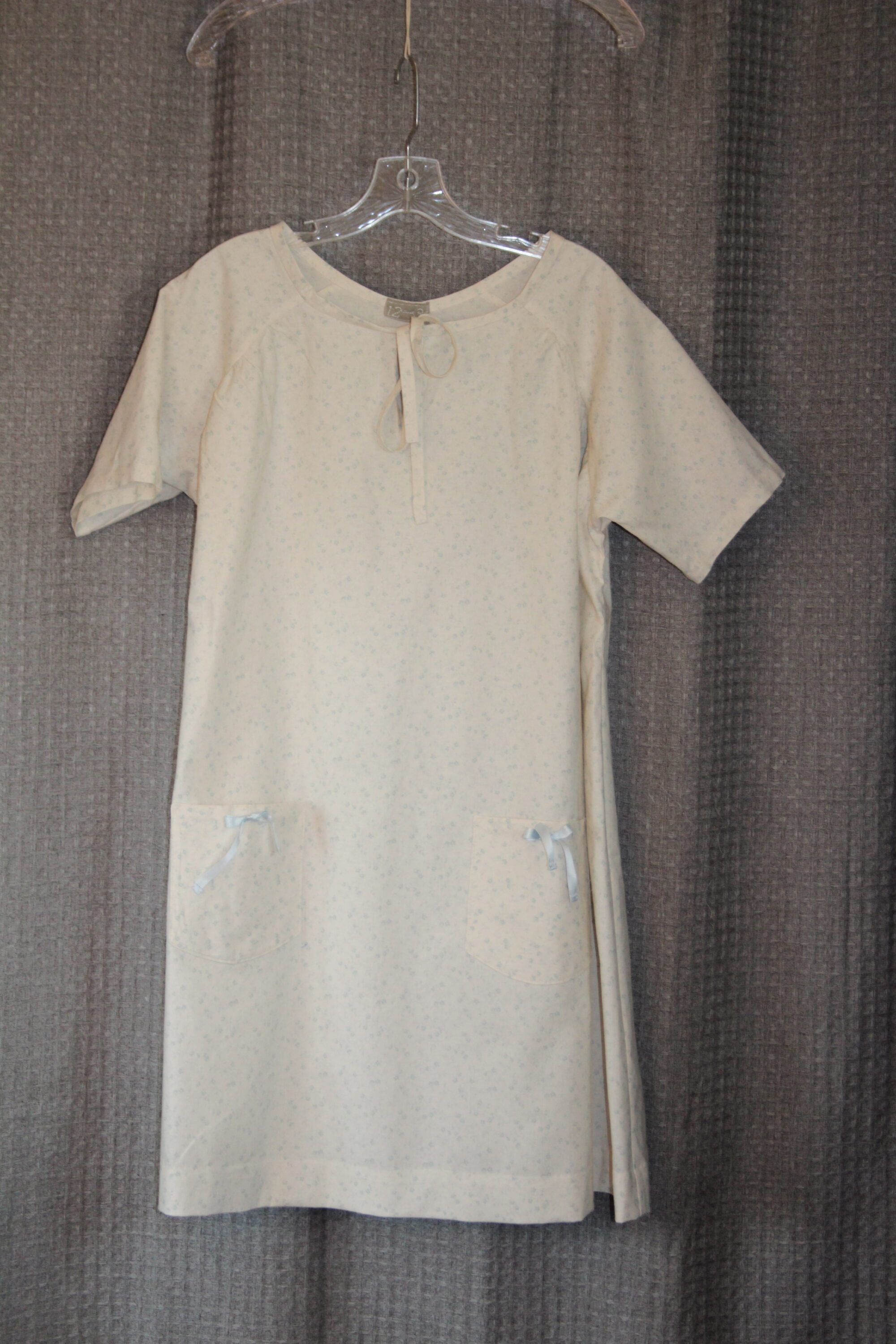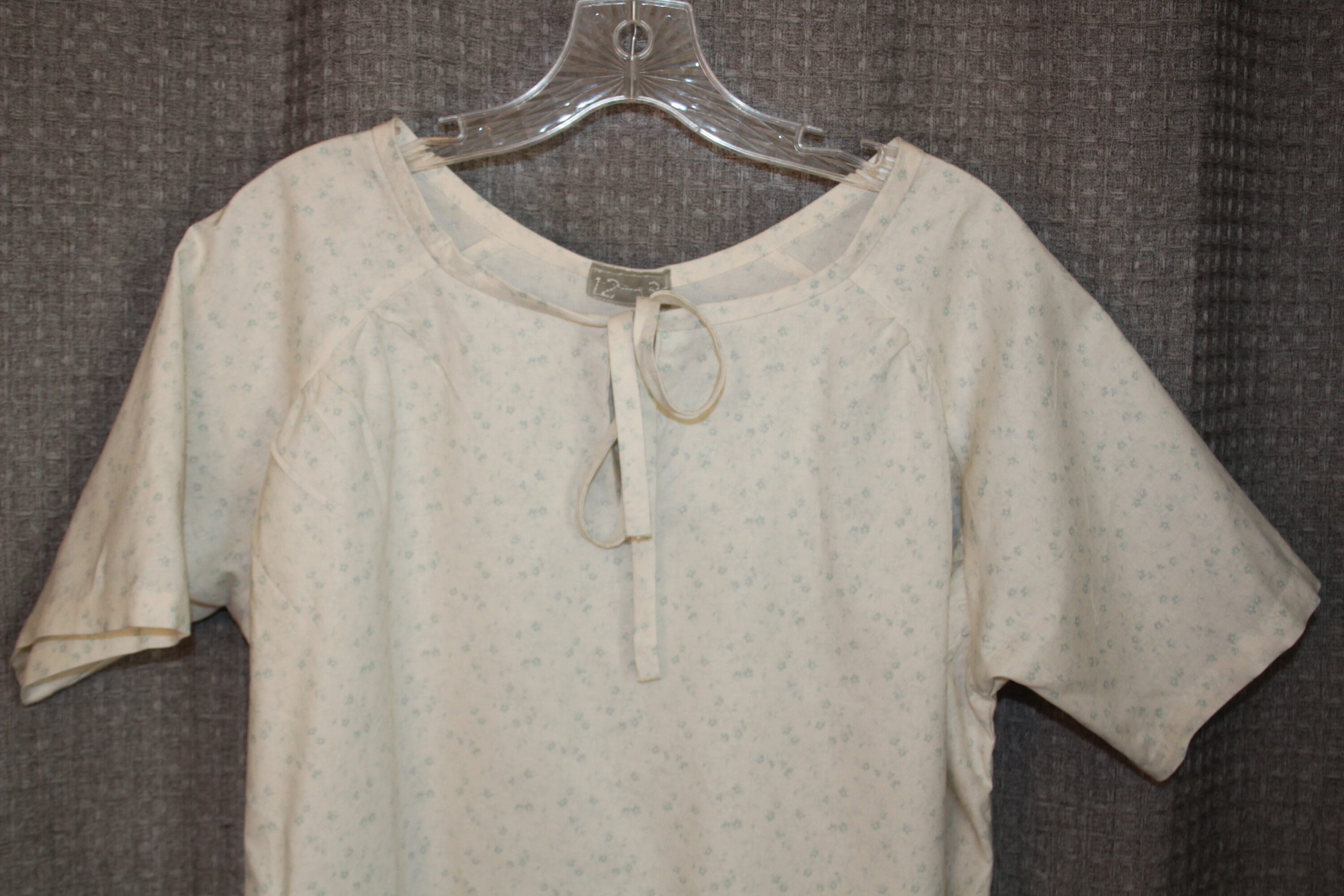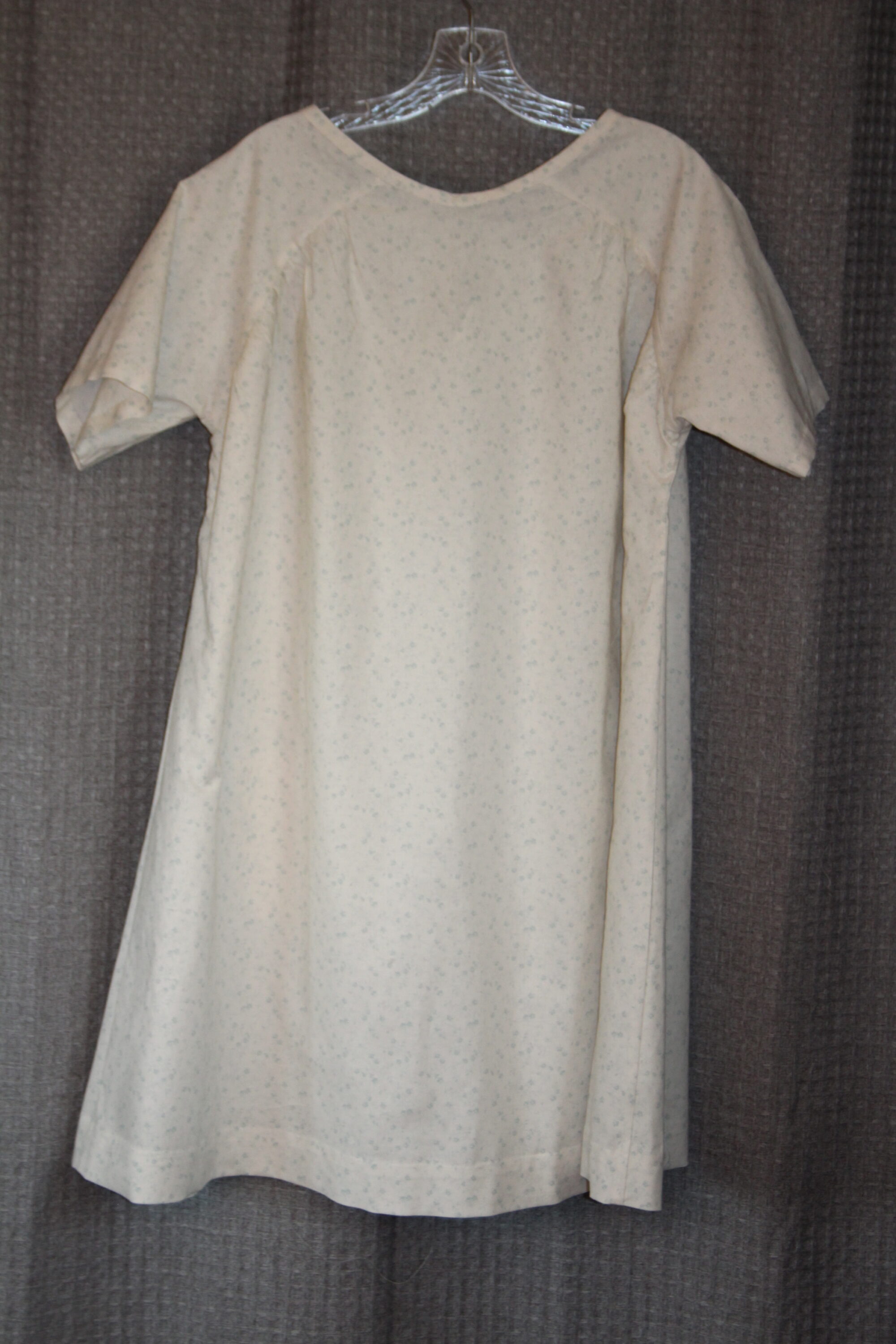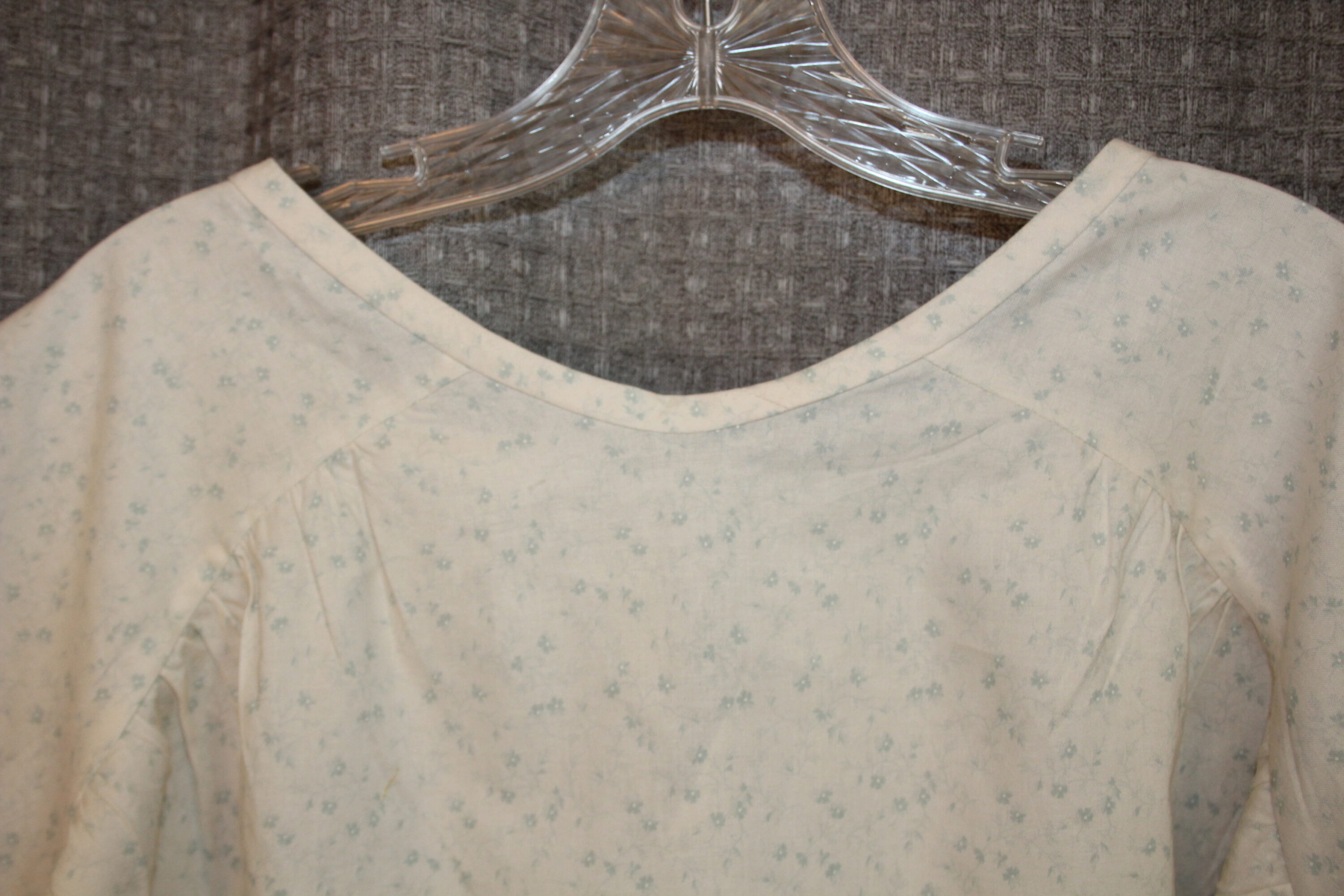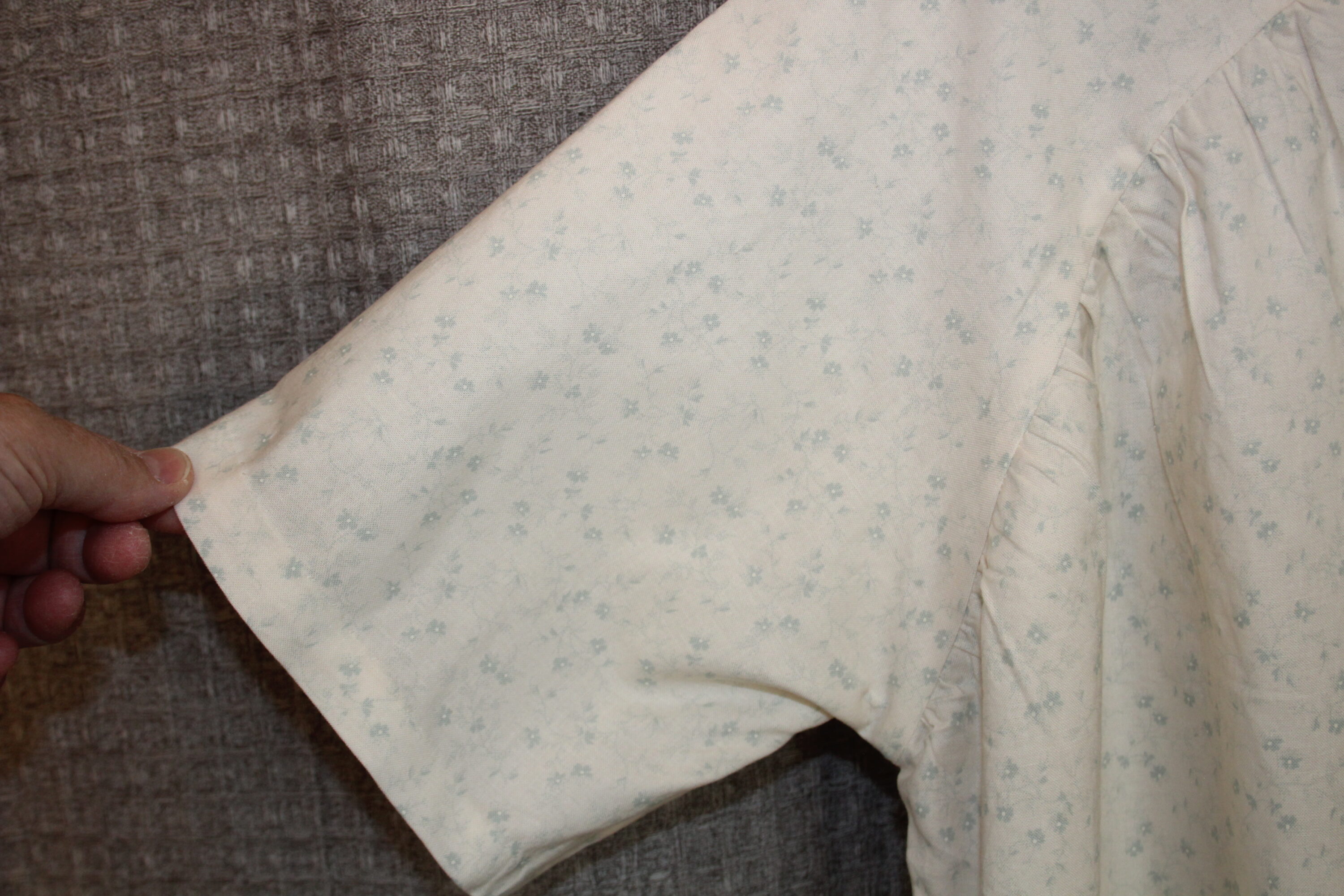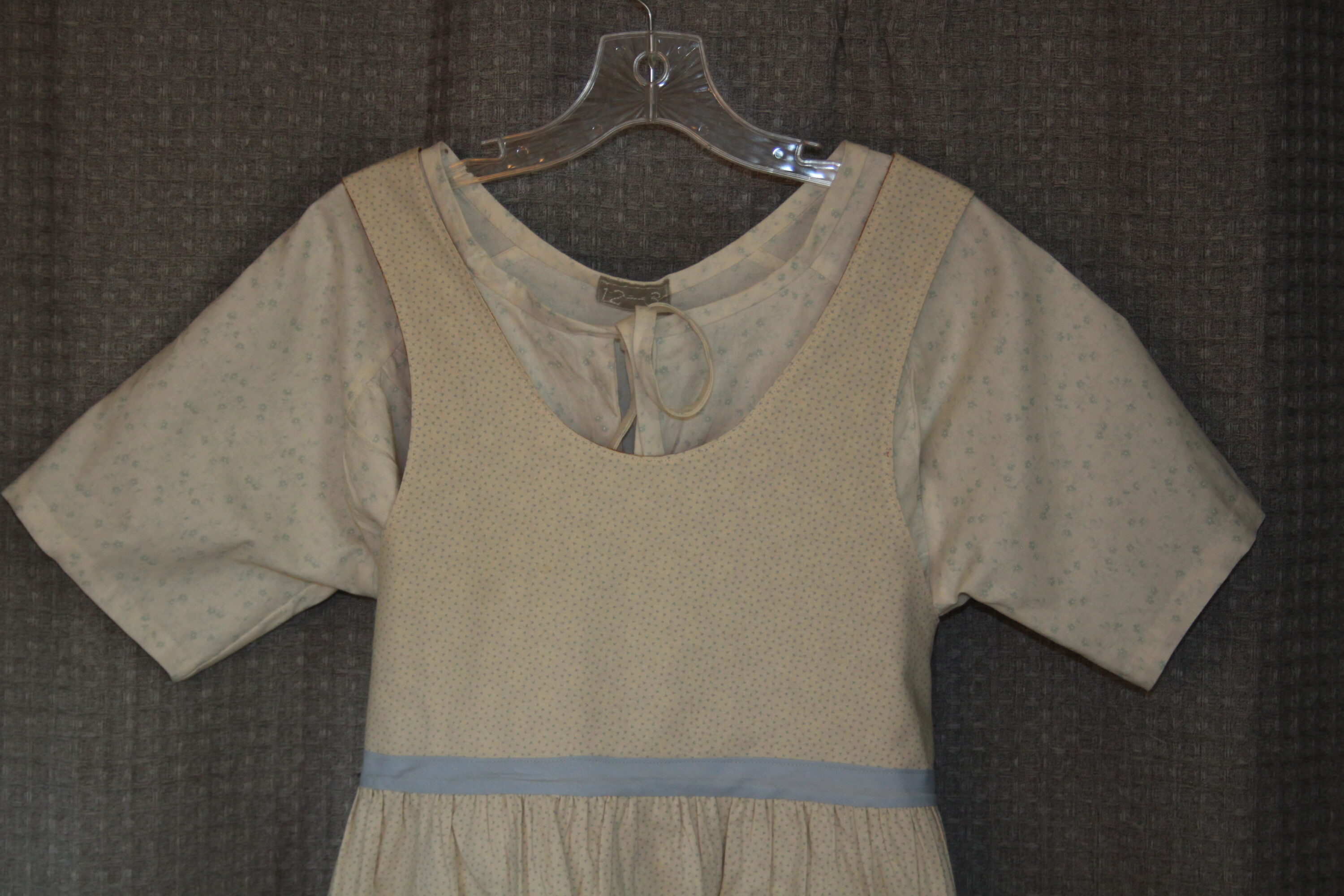 12A.1 (size 12 full woman's size scoop neck apron, reversible between tiny medallions with flowers on a dark gold field, and light blue "flea chevrons" on ivory with blue silk ribbons and blue bias on the reverse side.  Front has silk satin narrow ribbon art deco stripes and both have a reversible big bow tie in back with crossover straps which have multiple buttonholes for flexible sizing.  As sown with the neutral size 12 smock dress, this is best over ivory or plain colors).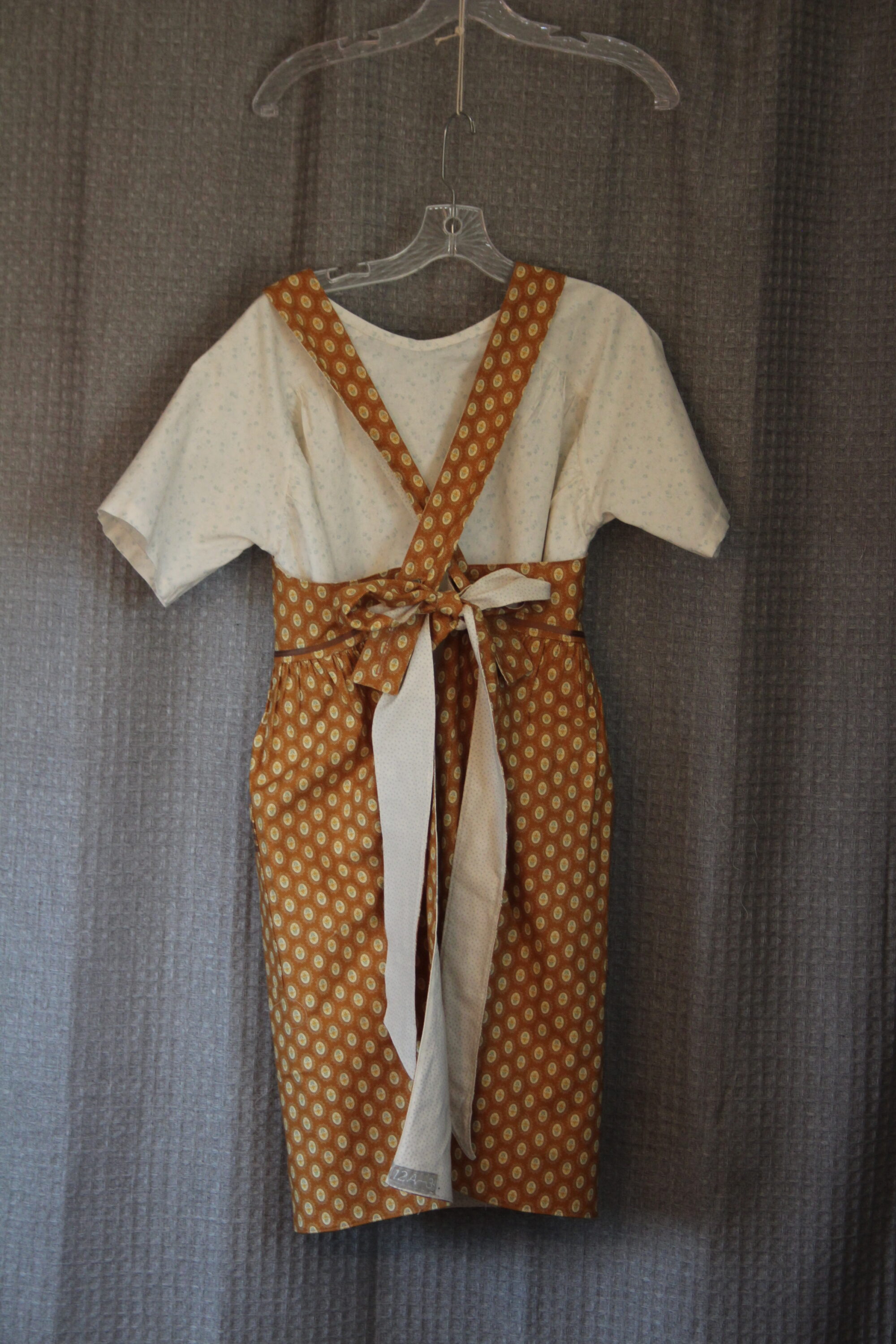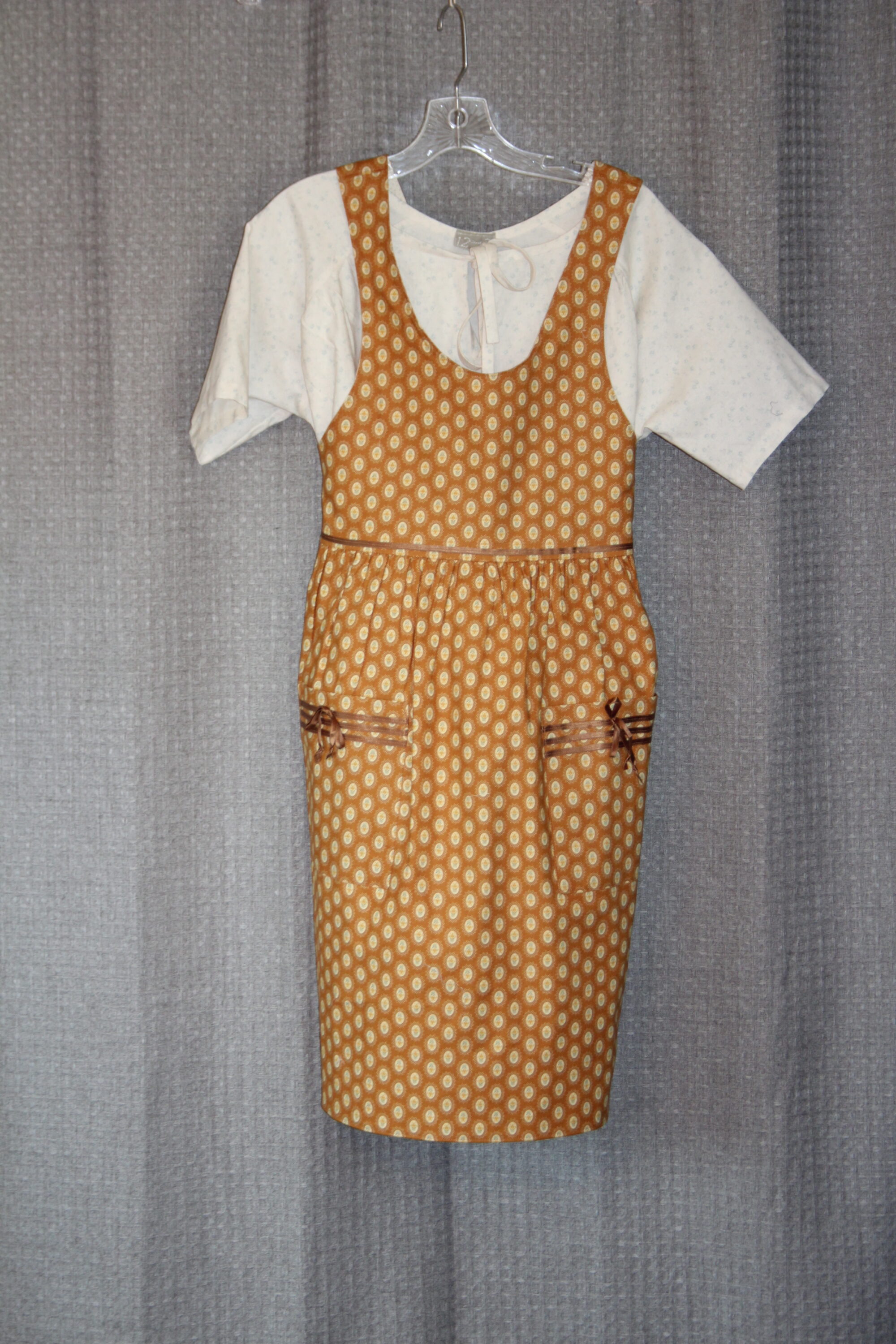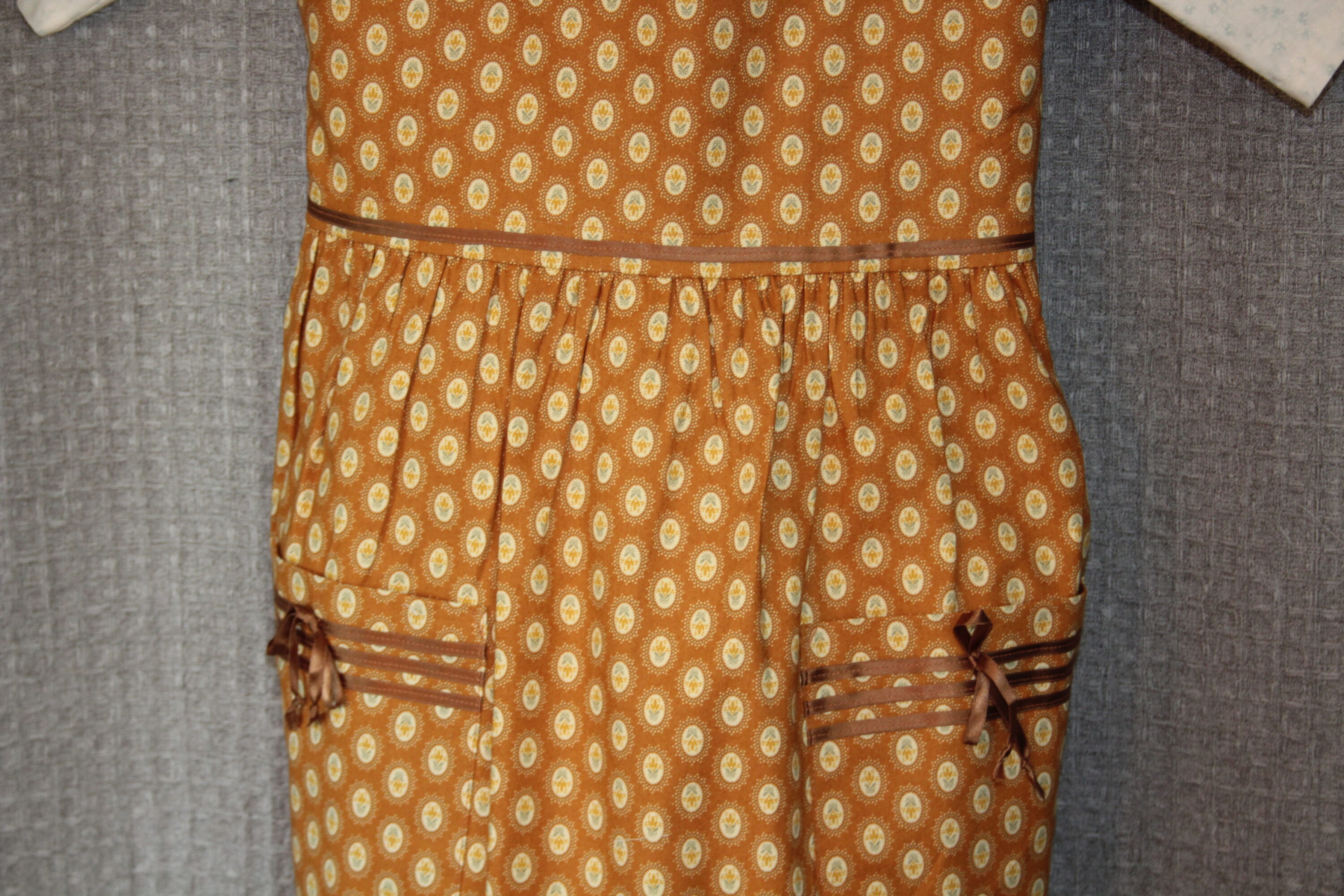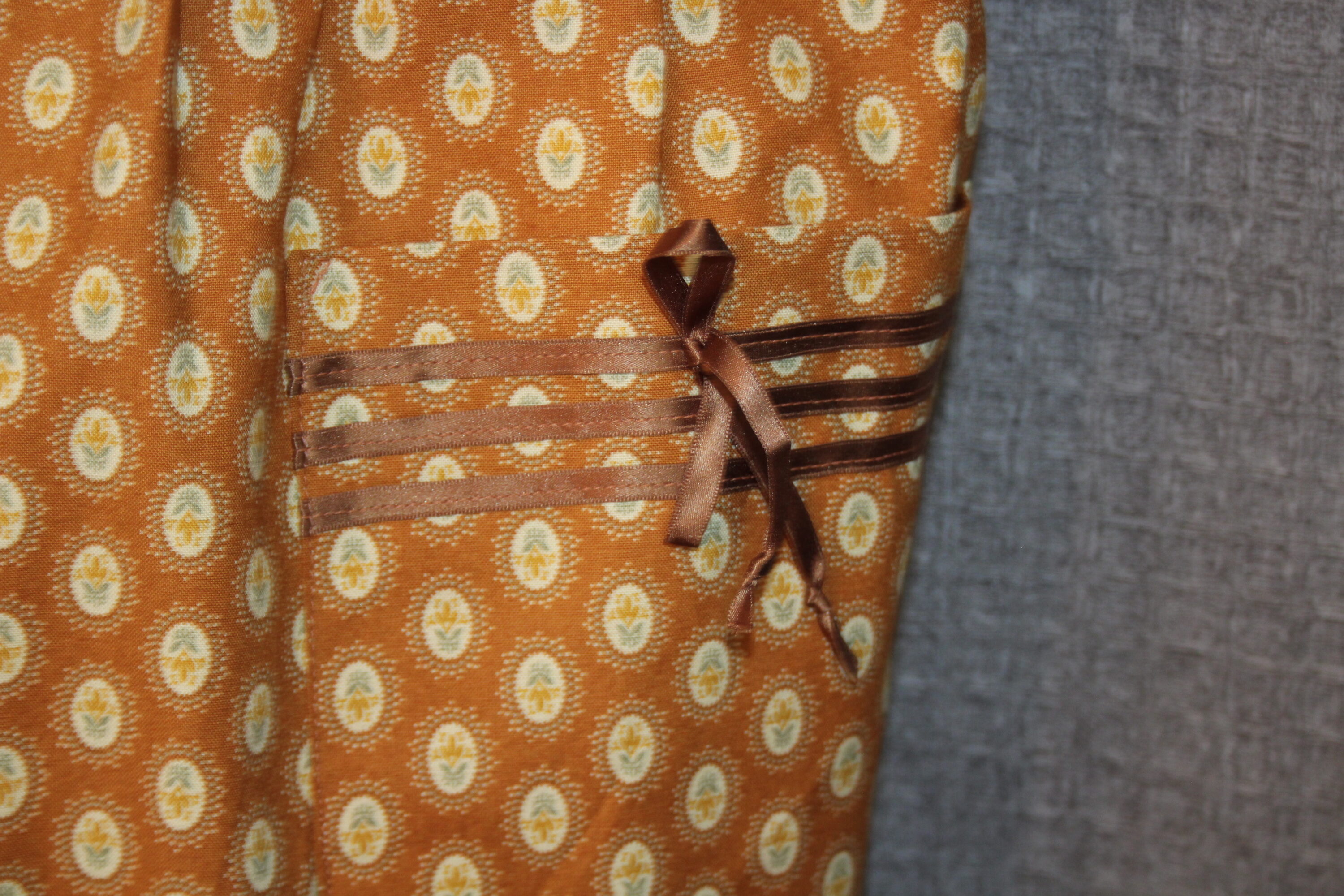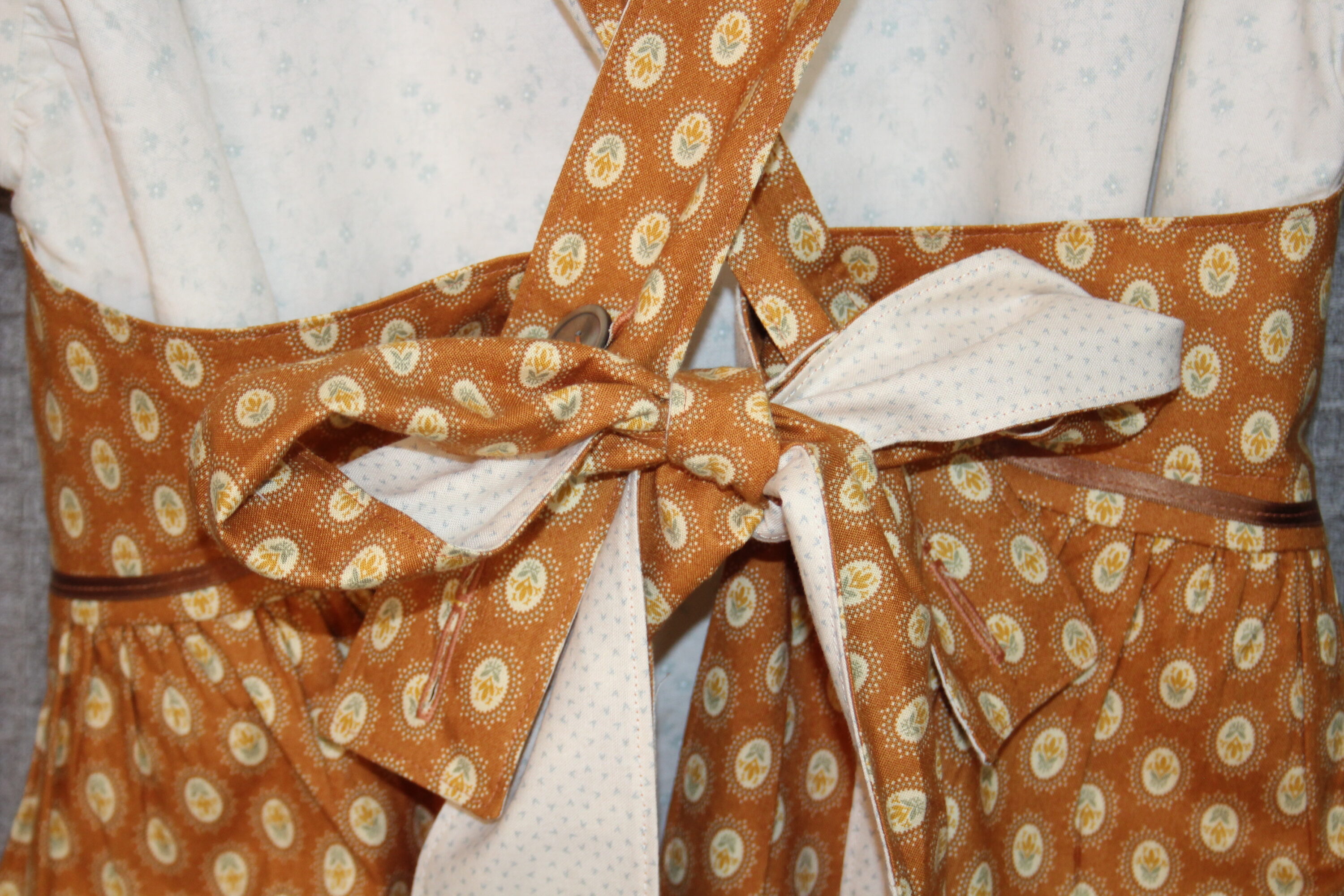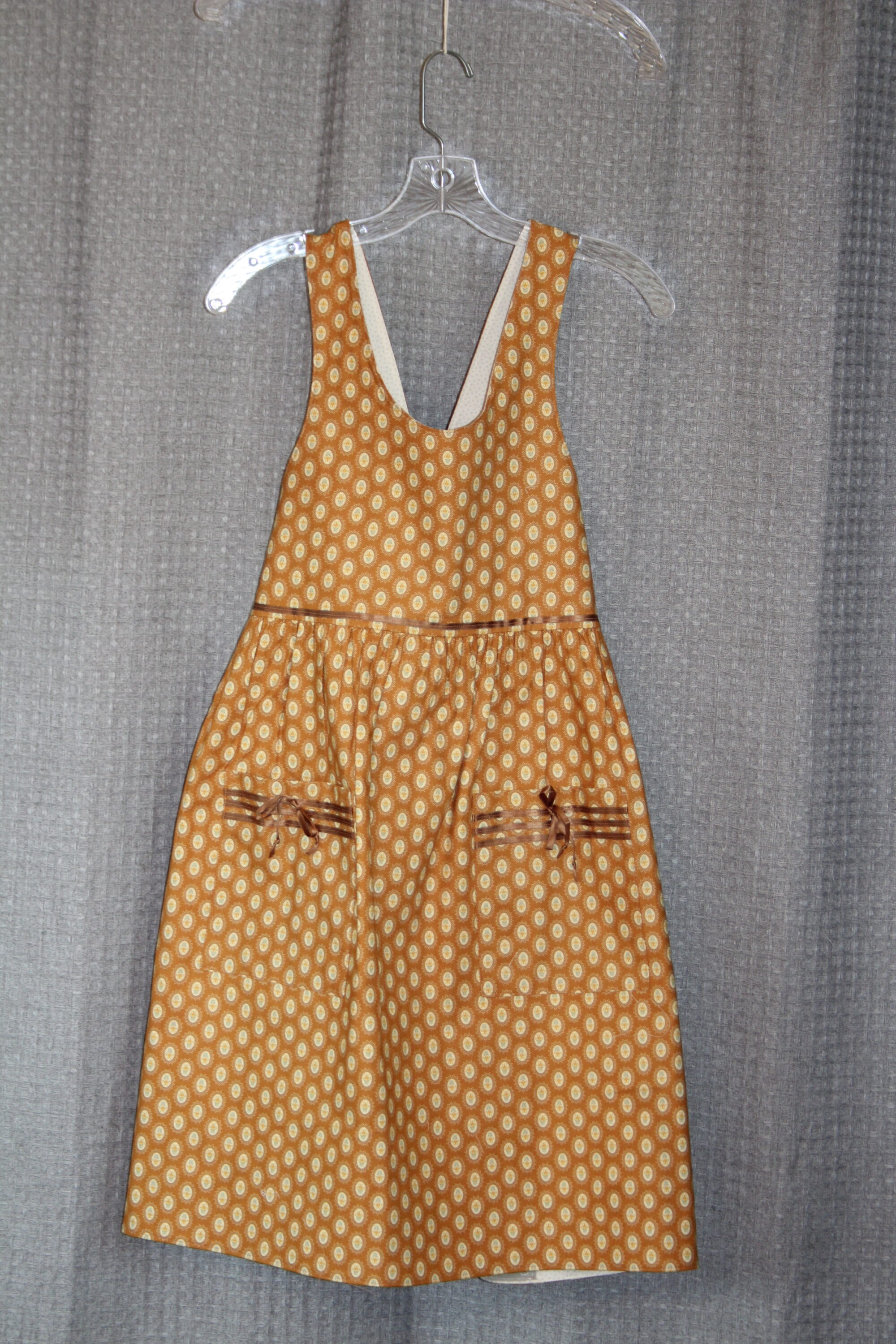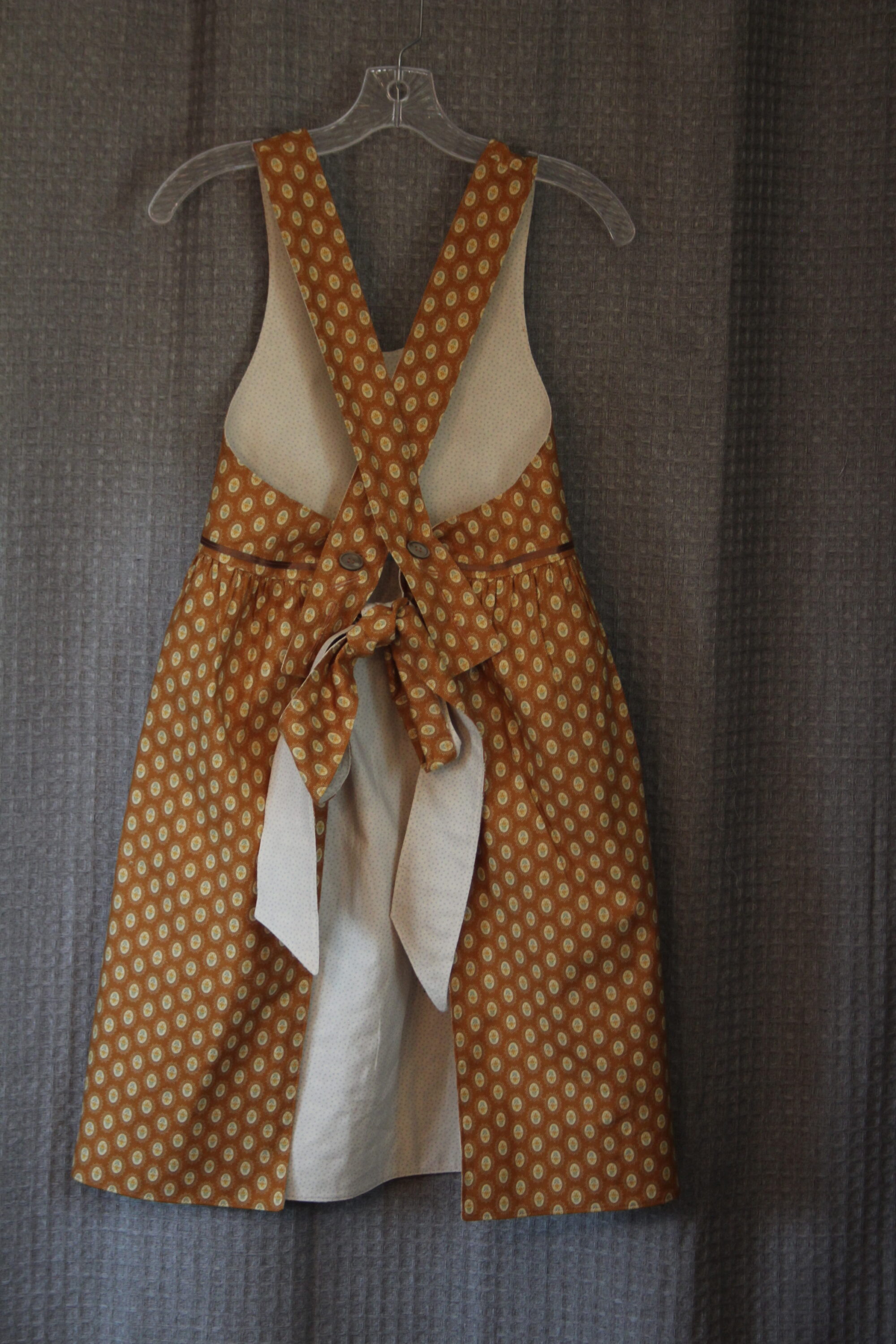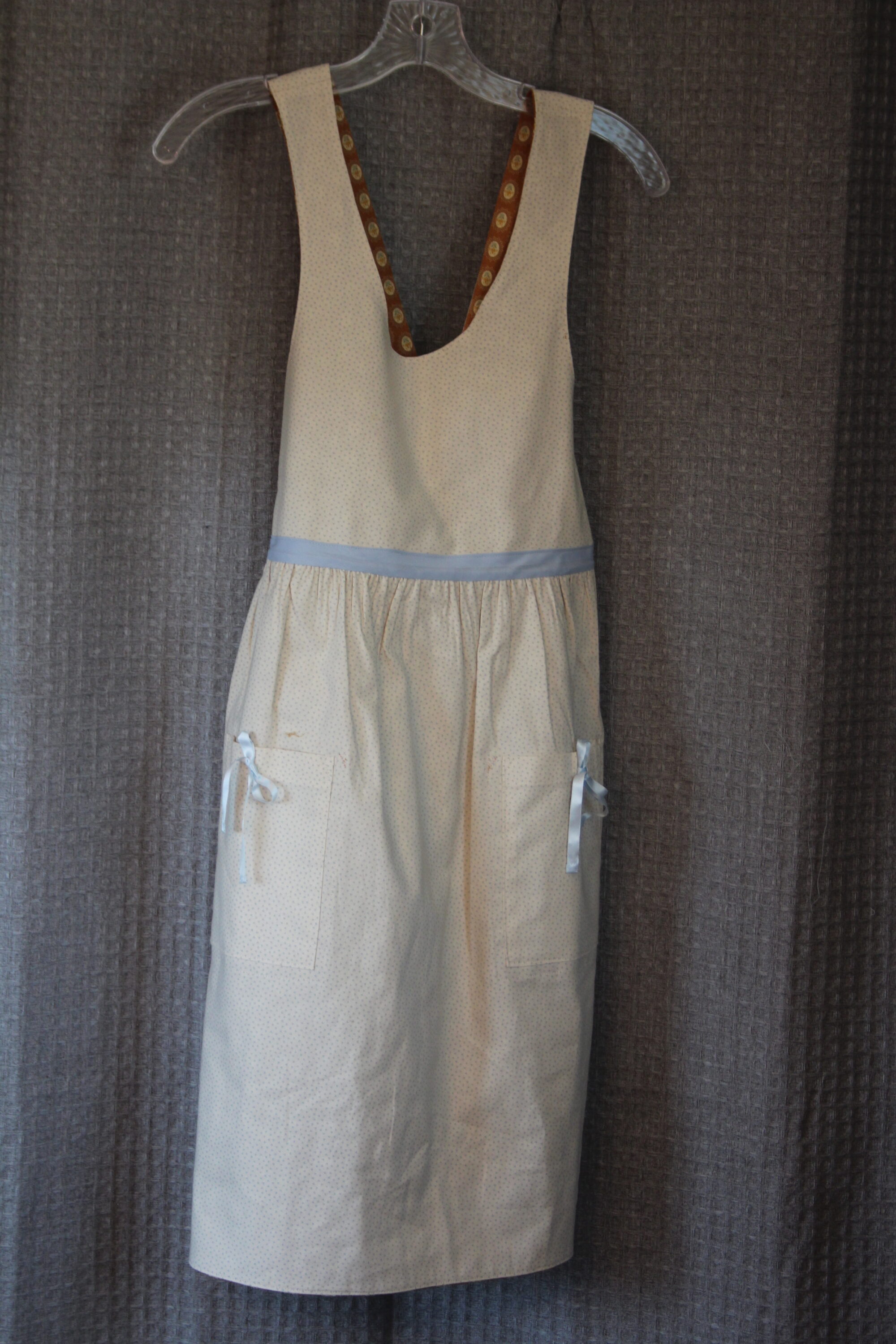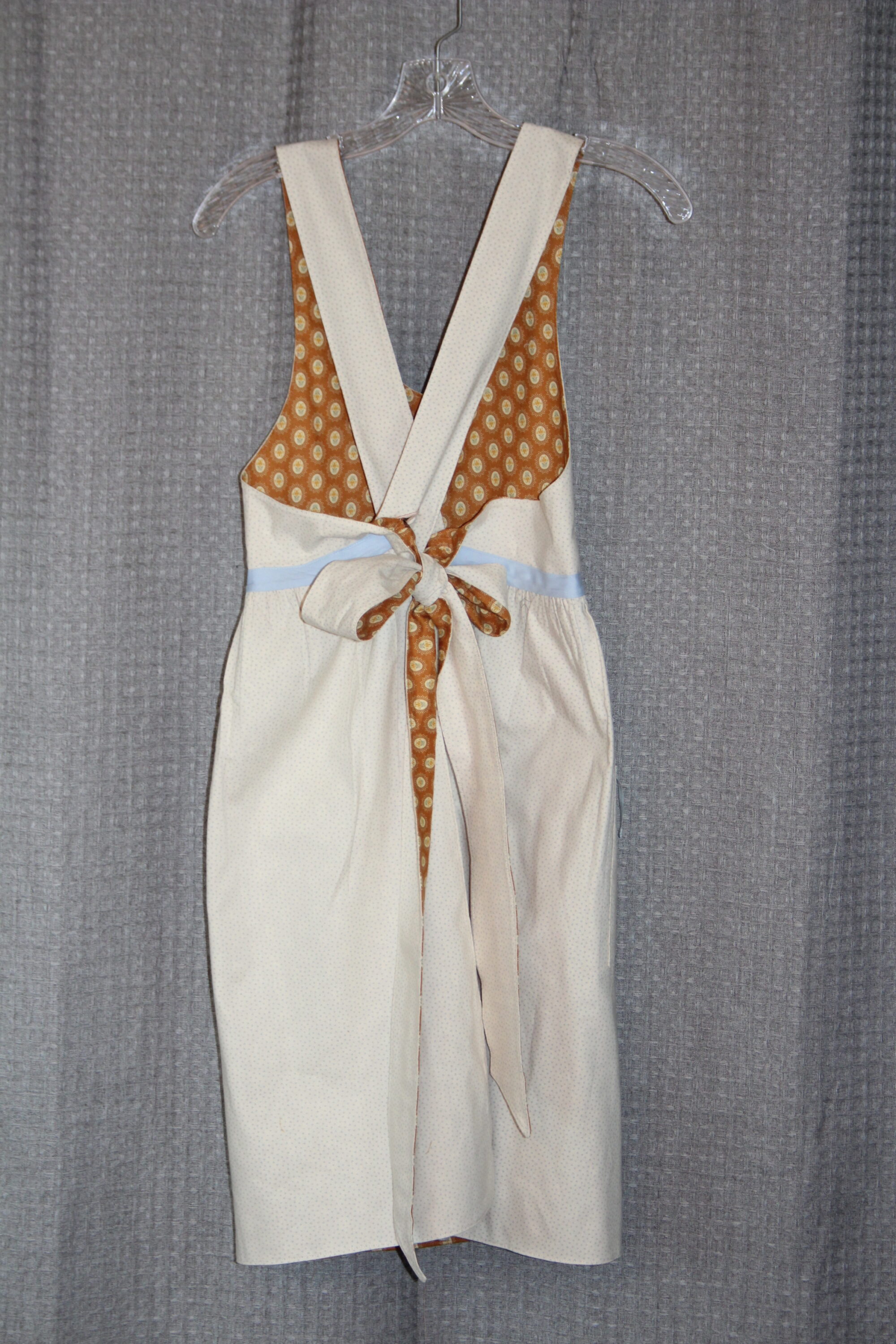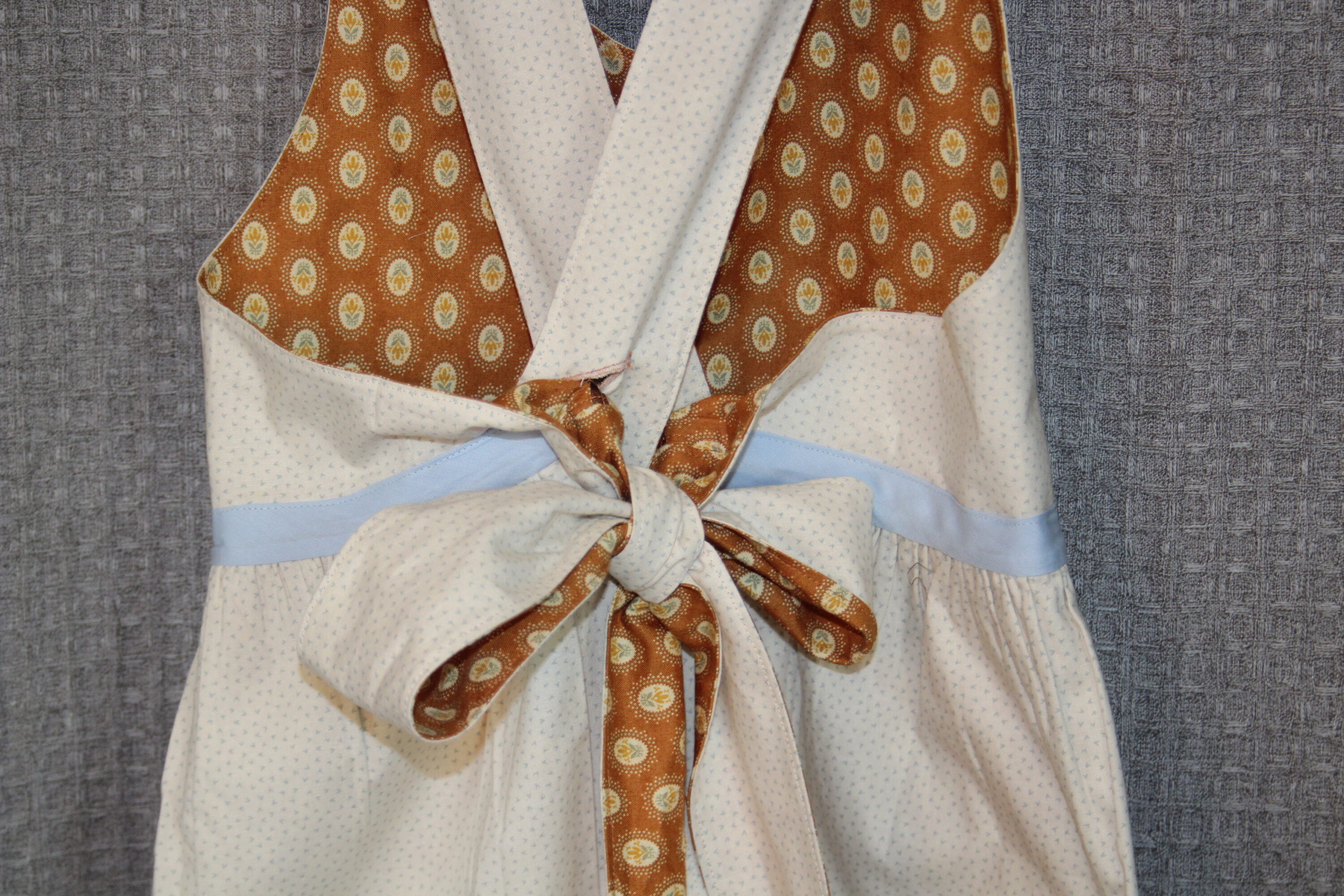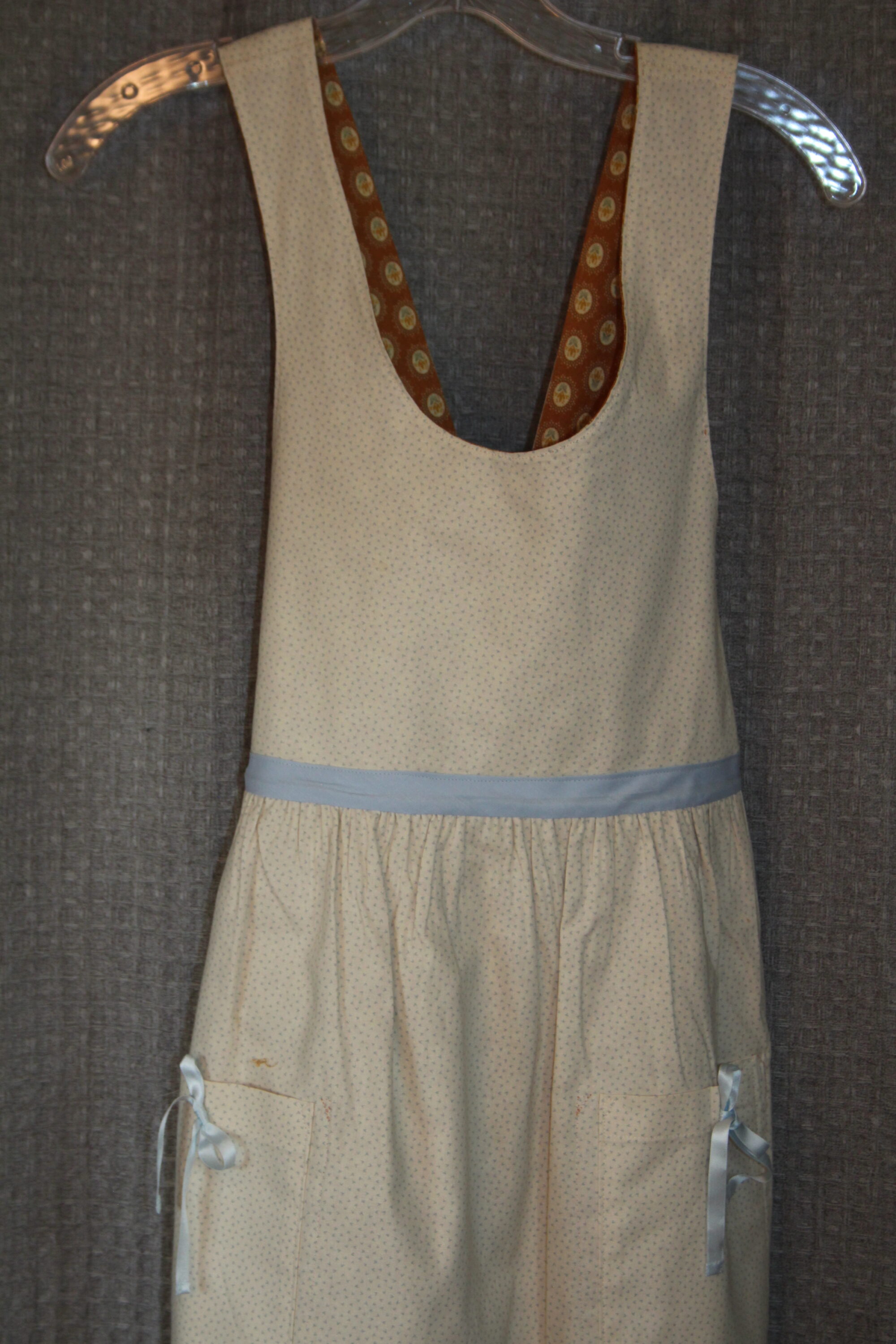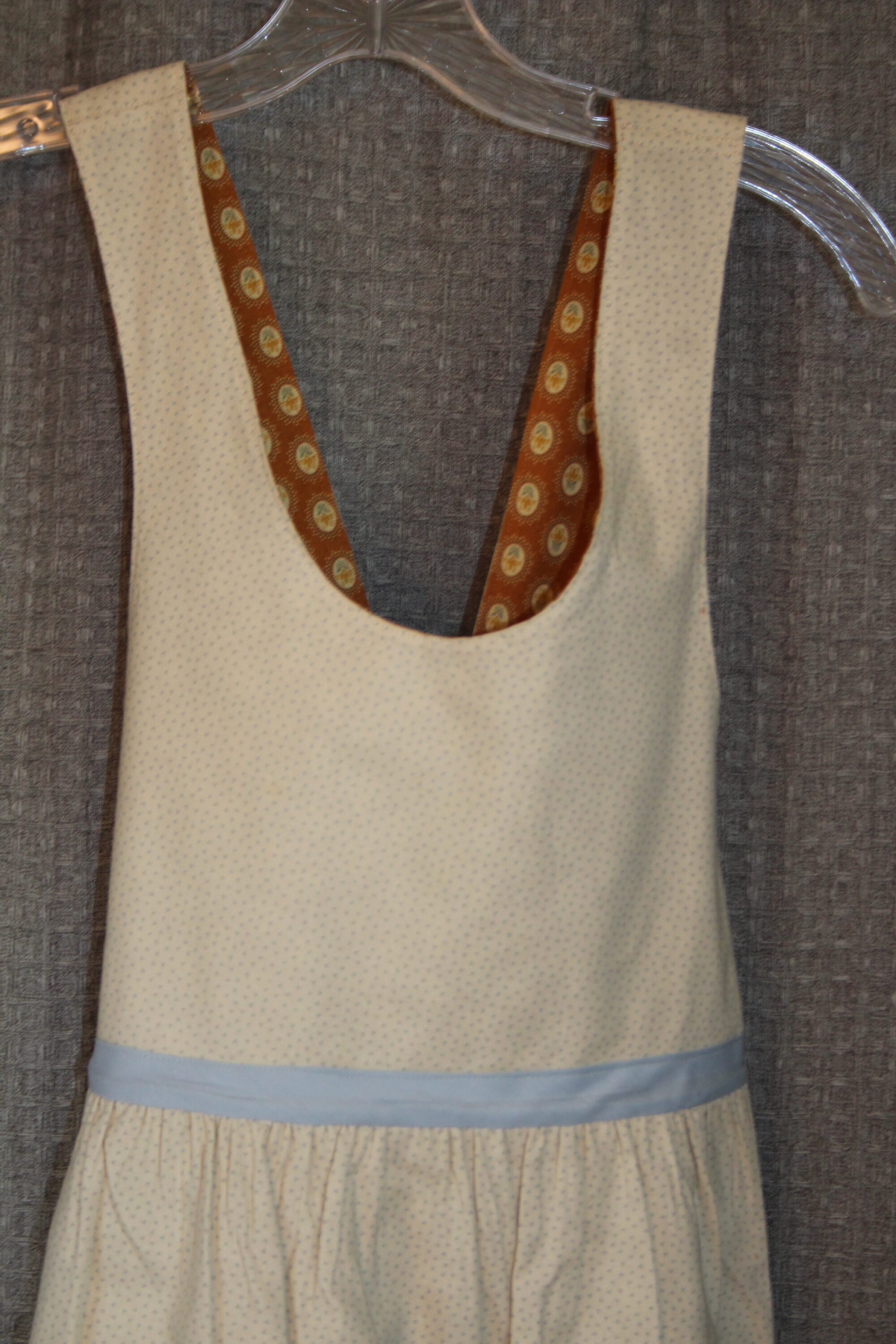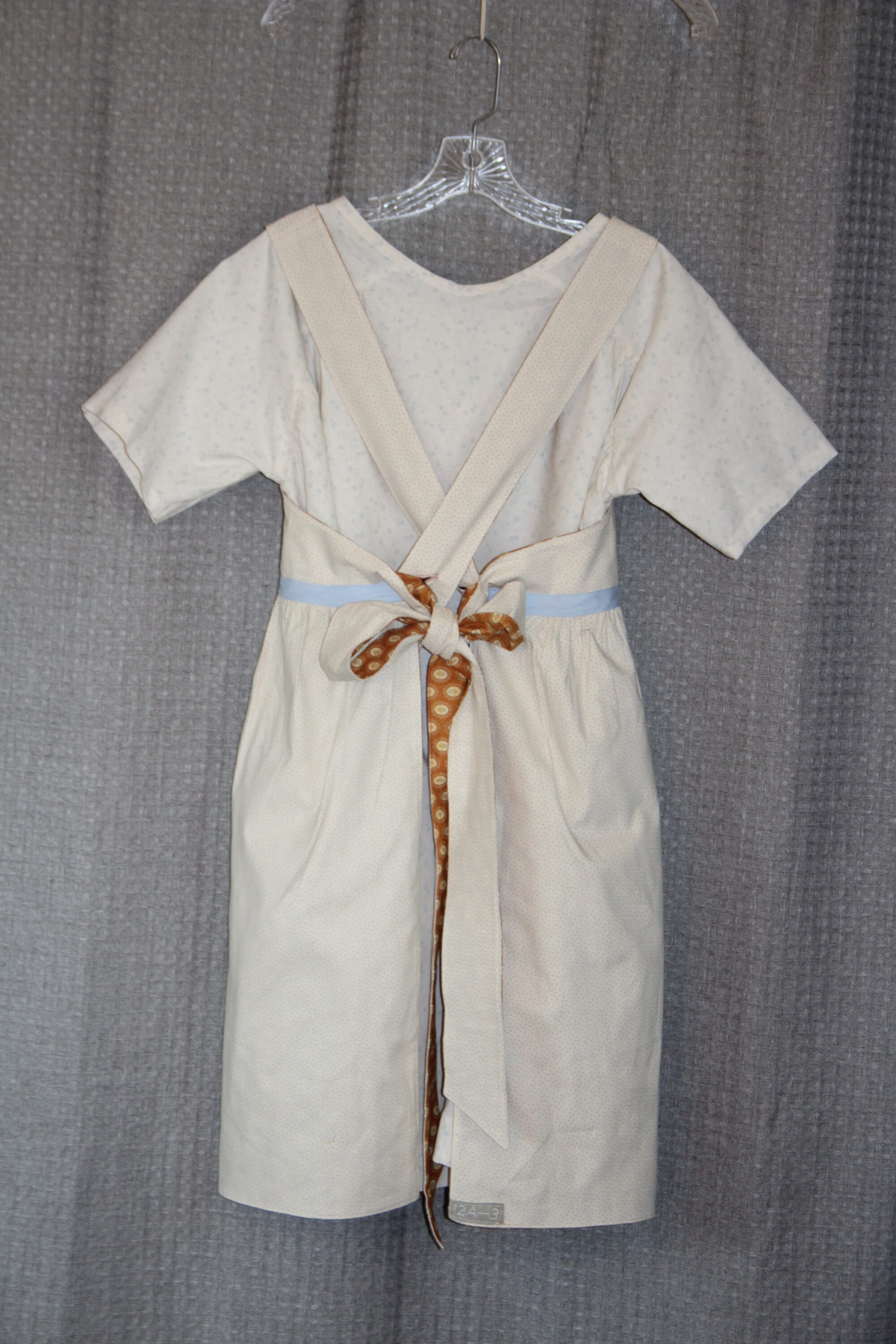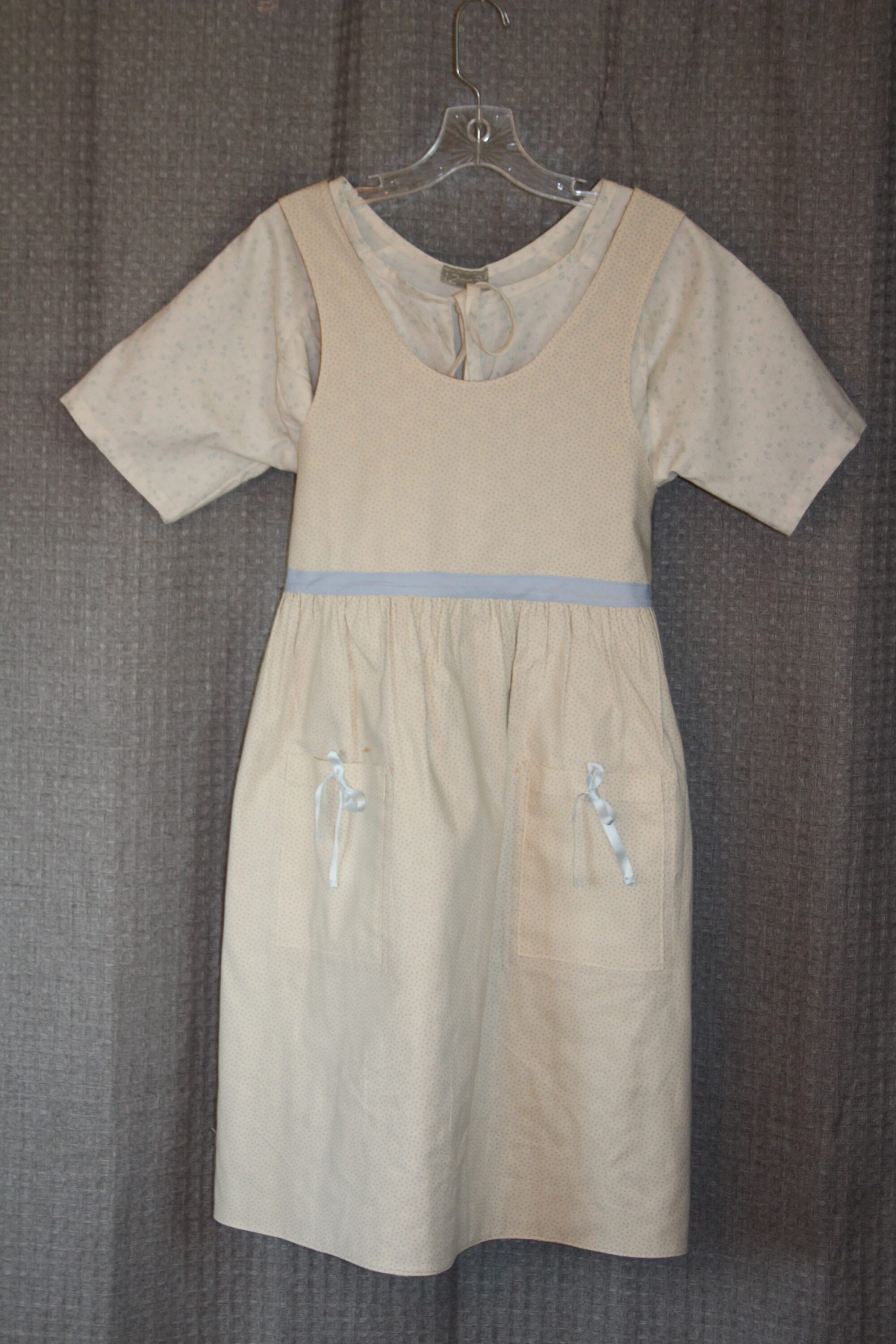 6A.1 (sz 6 "Dolly Dingle" little girl's short and wide front and back reversible apron.  Bright blue with tiny polka dots and butterscotch colored bias tape with huge wooden buttons and adjustable tabs for closing.  Reverse side is light blue gingham.  Mother of pearl highest quality brown buttons for closure.  This is meant to go over 6.1 the ivory with blue dot short little girl's dress, but customer has it so couldn't be photographed.  Model is wearing just an oversized modern t-shirt.)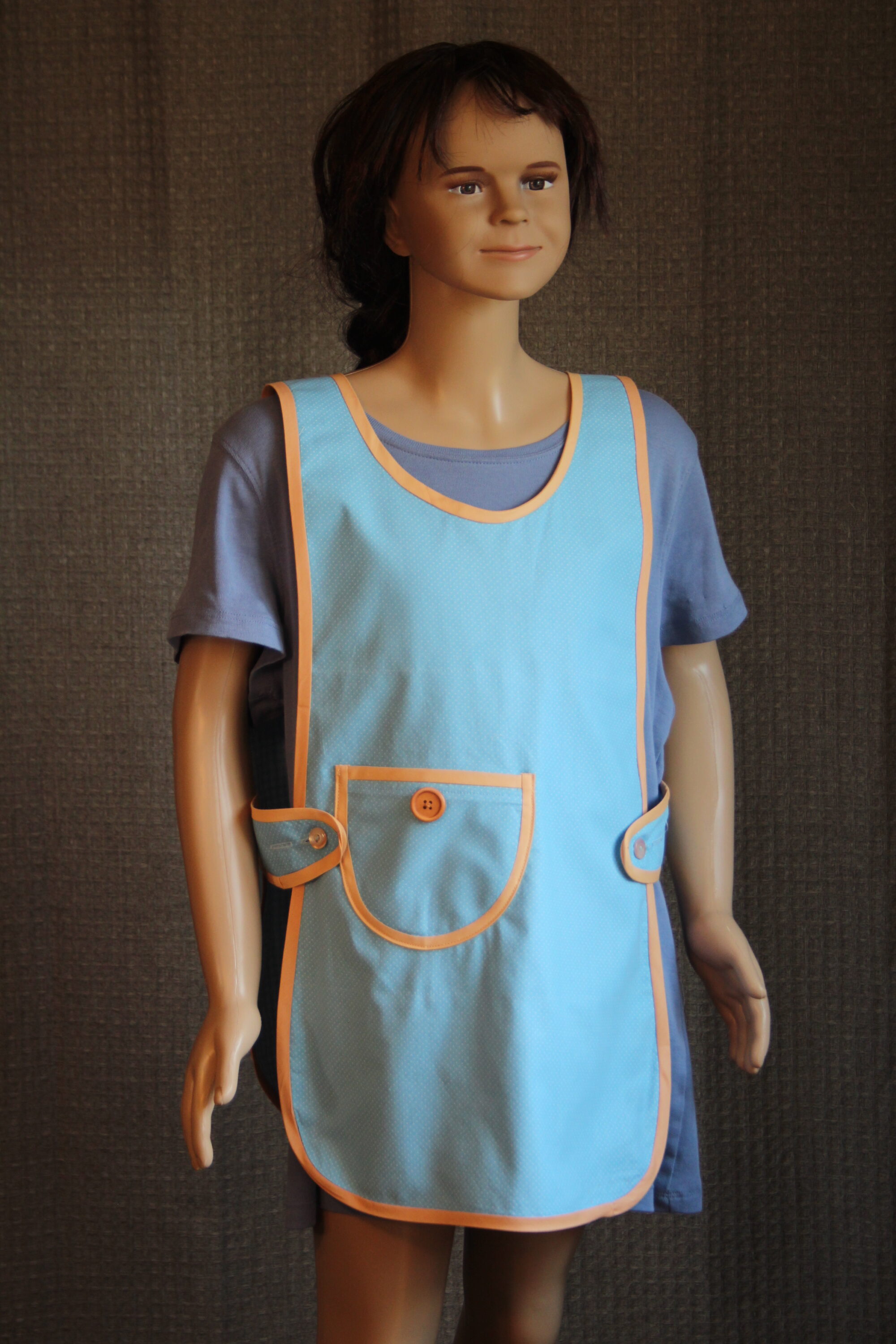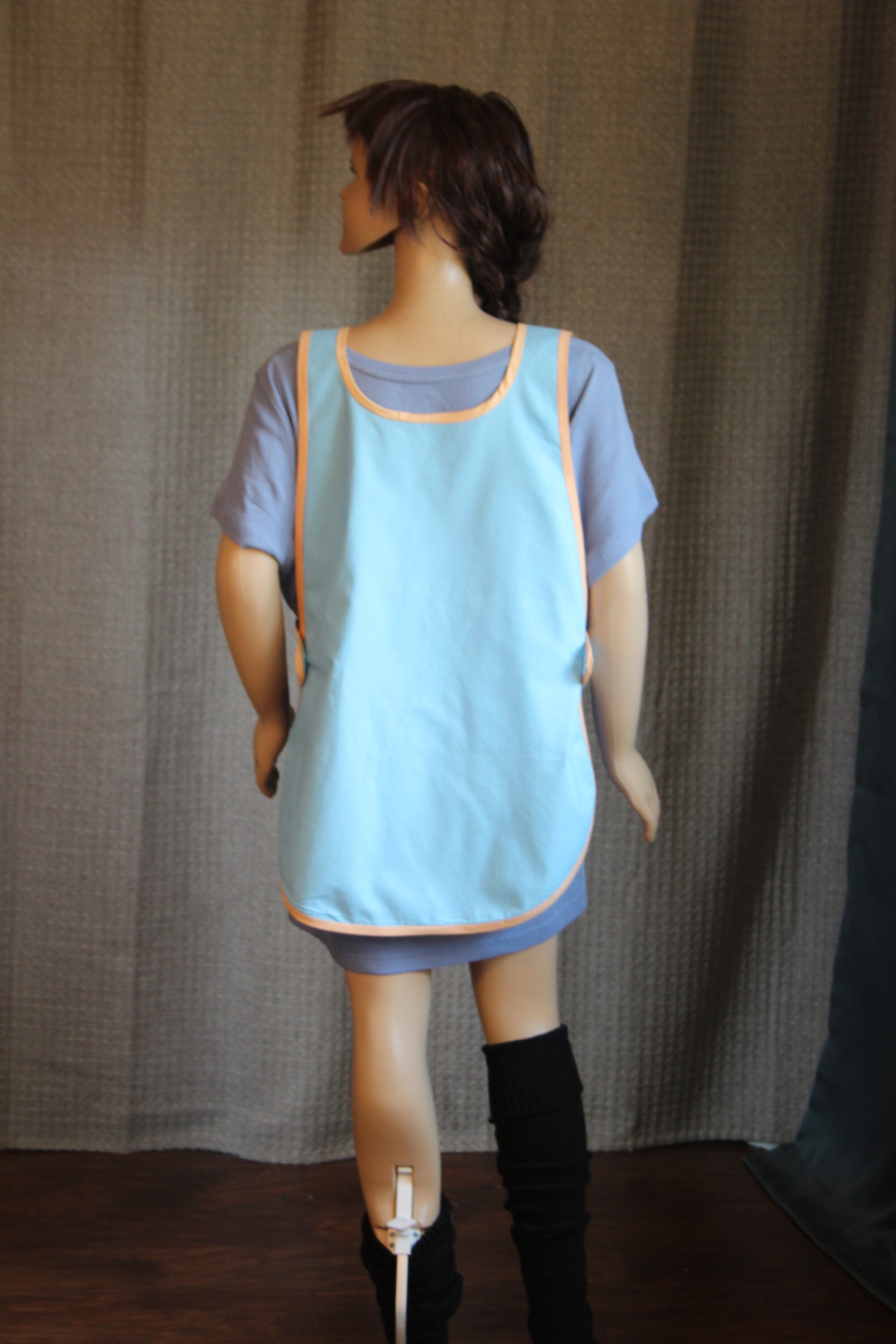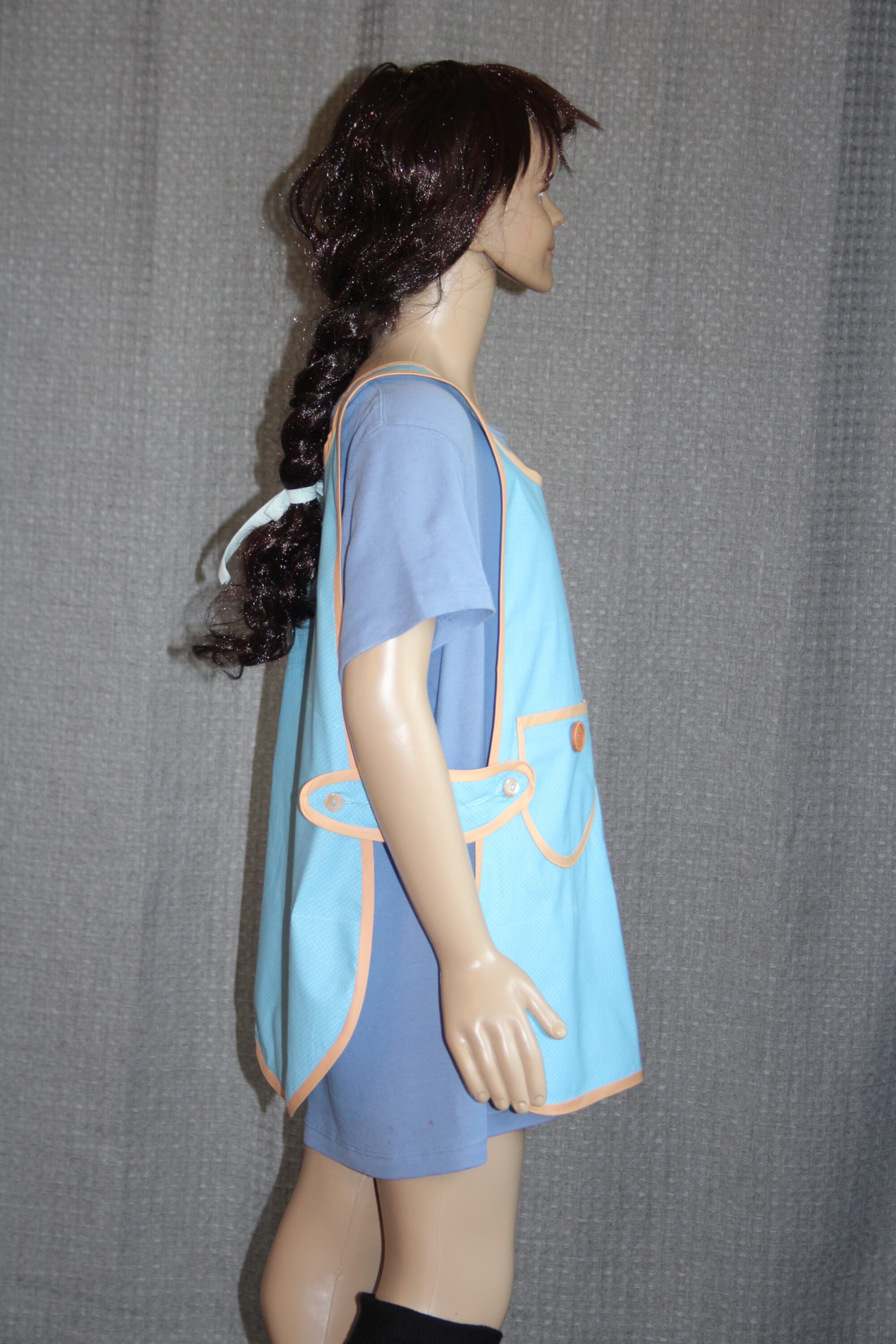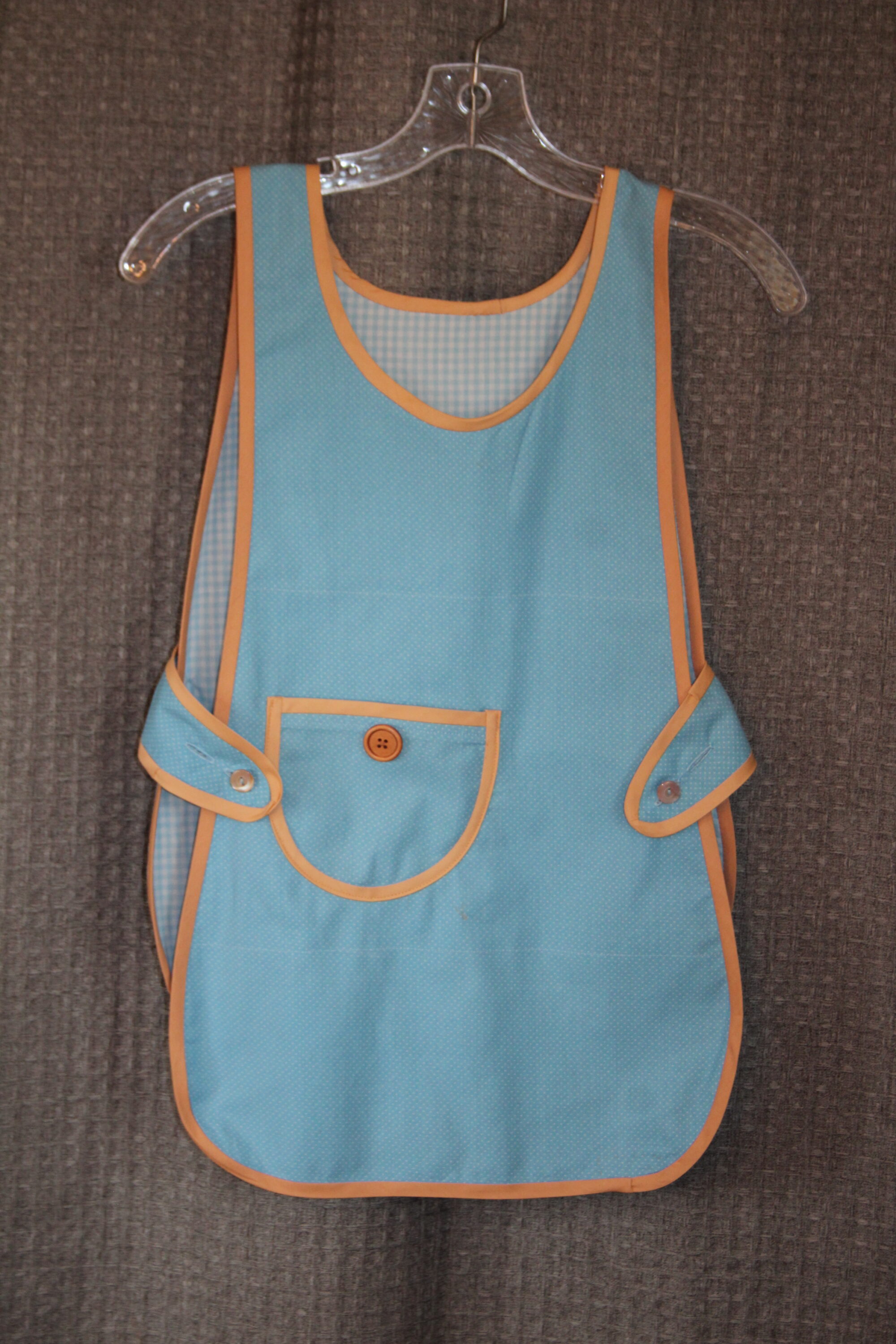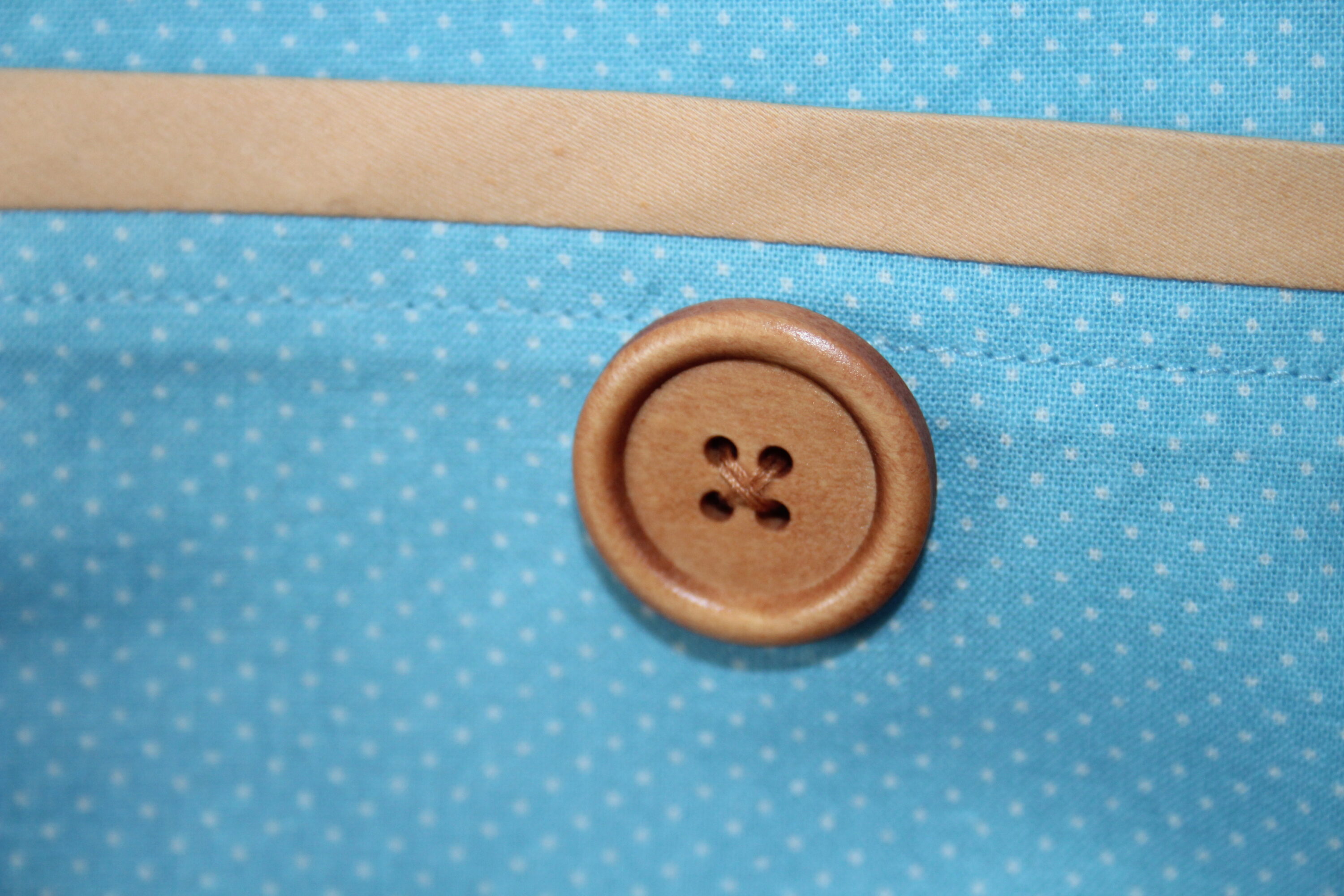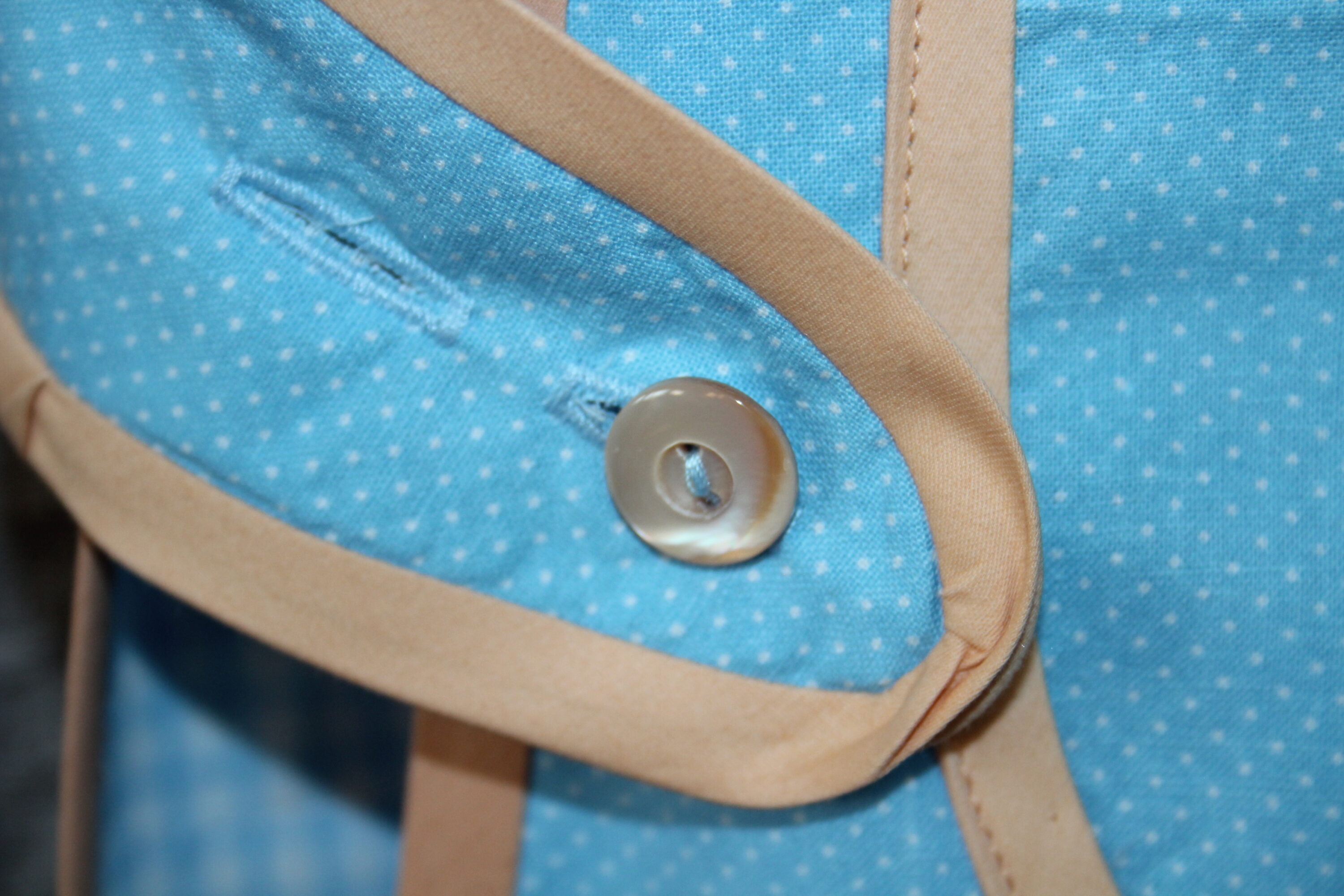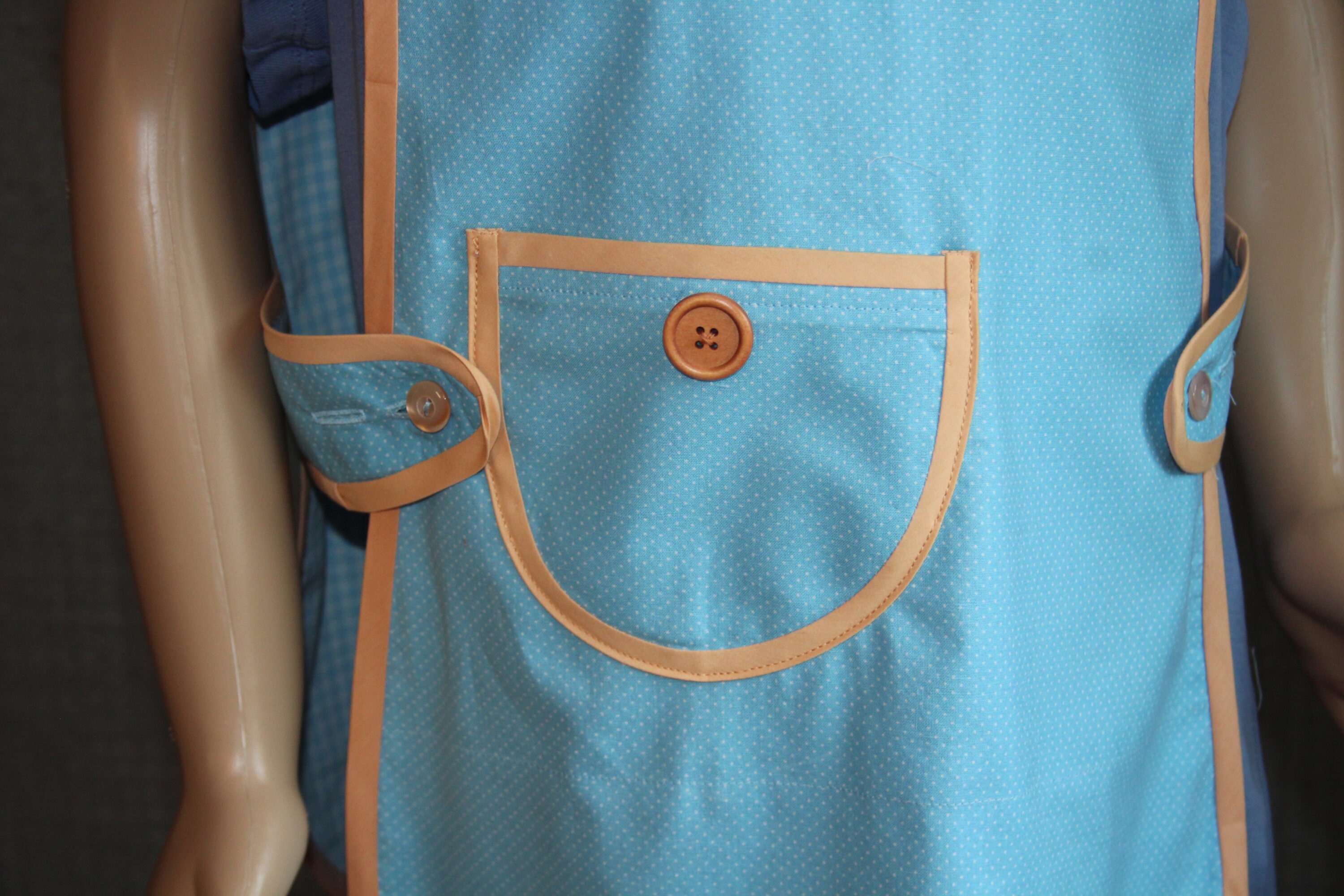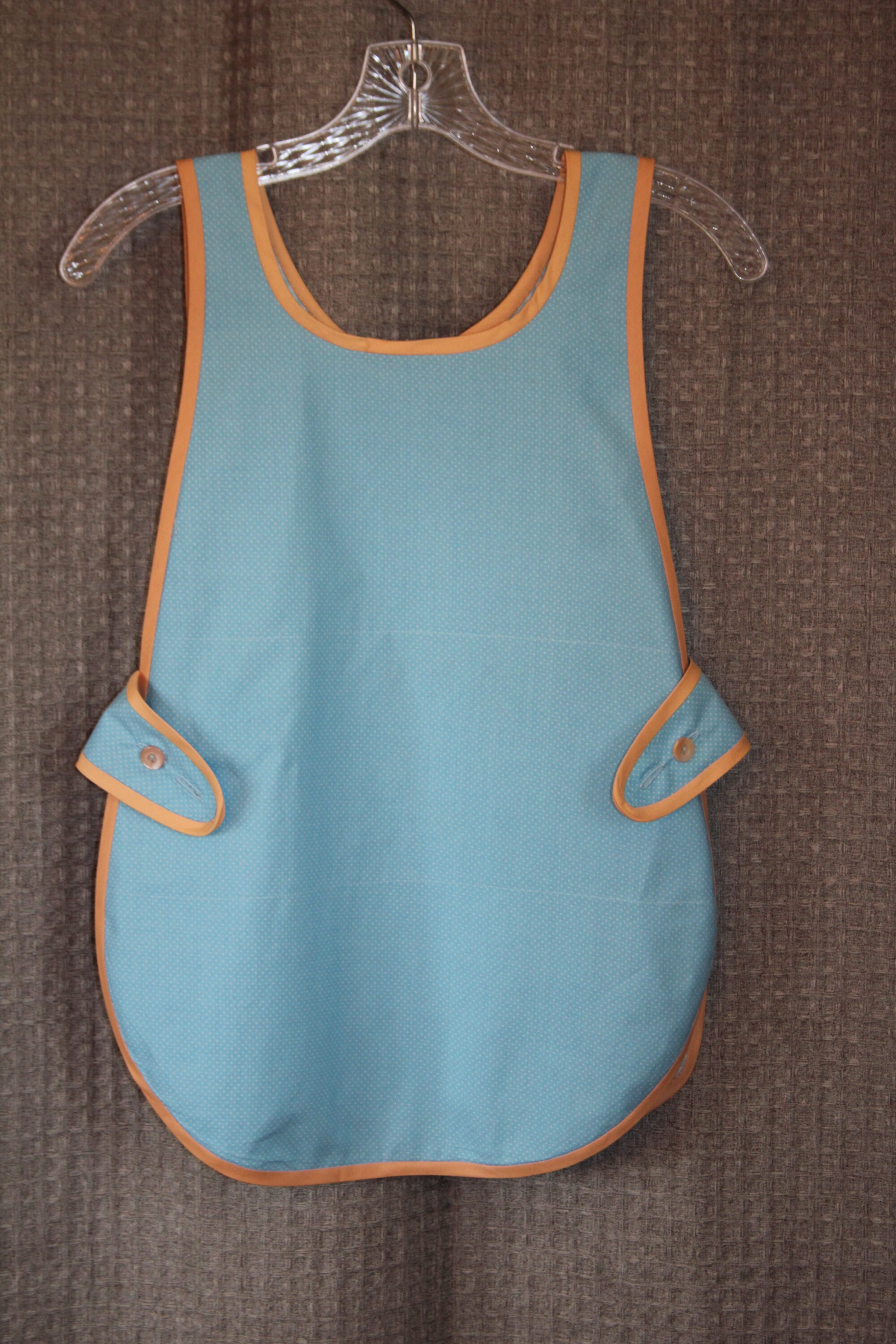 10A.4 (sz 10 woman's long square neck silhouette, reversible dark blue flowers with brown dots to light beige gingham.  Sized longer and narrower, with tabs set higher than the "Dingle" and little girl designs.  This goes to the high calf to accommodate a woman's dress design.  Light gray linen bias tape is a bit stiffer than others and the pockets are stiffened to so they carry the weight of handmade grosgrain ribbon medallions with special mother of pearl shank buttons.  They were big on medallions in women's clothing of the '20's.  There are multiple buttonholes, but it is narrower and not made to go over any specific dress. Again, the mannequin is just wearing a modern oversized t-shirt as we did not design a specific dress for this.  There are 10 dresses and 14 aprons, so 4 aprons do not have coordinating dresses.)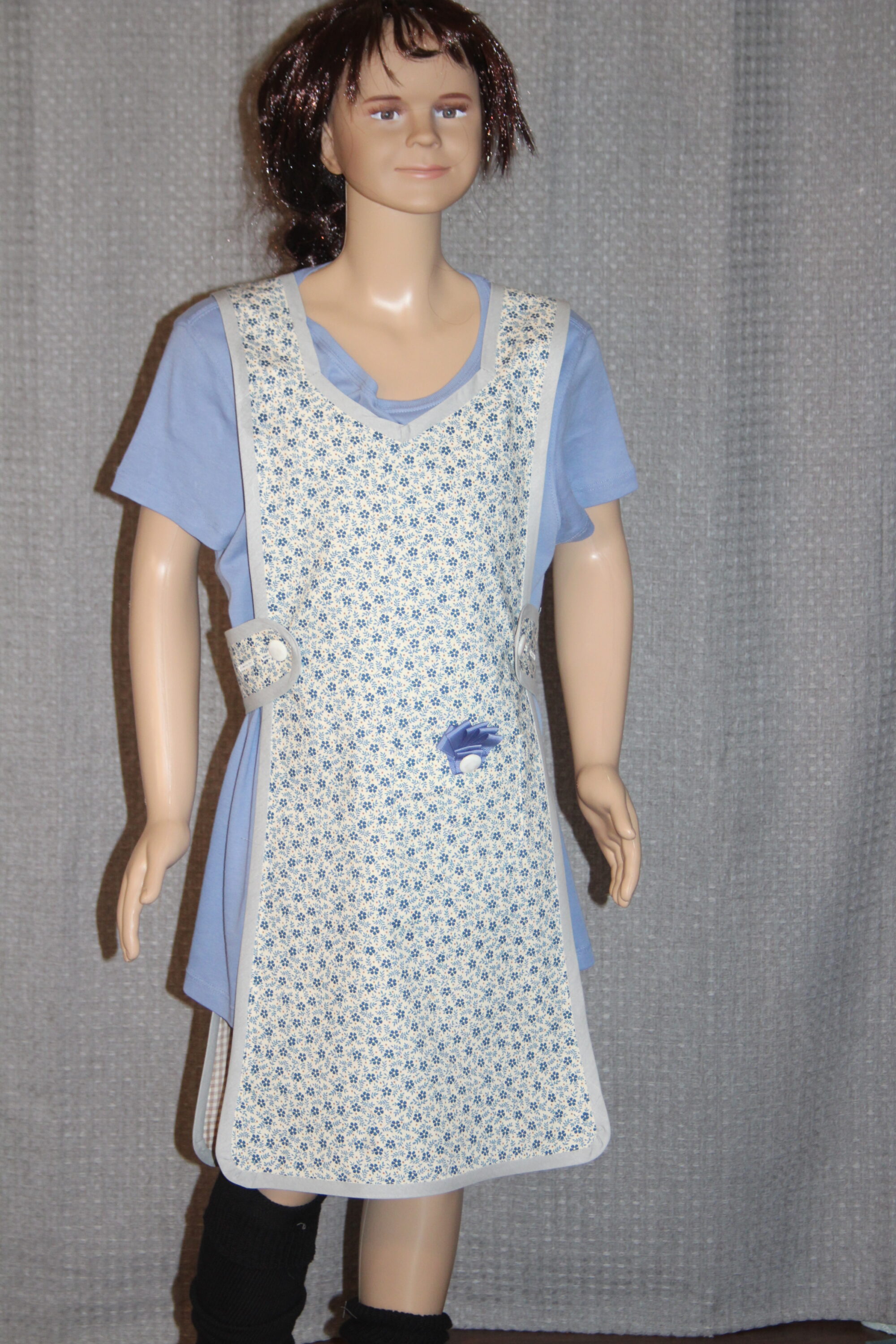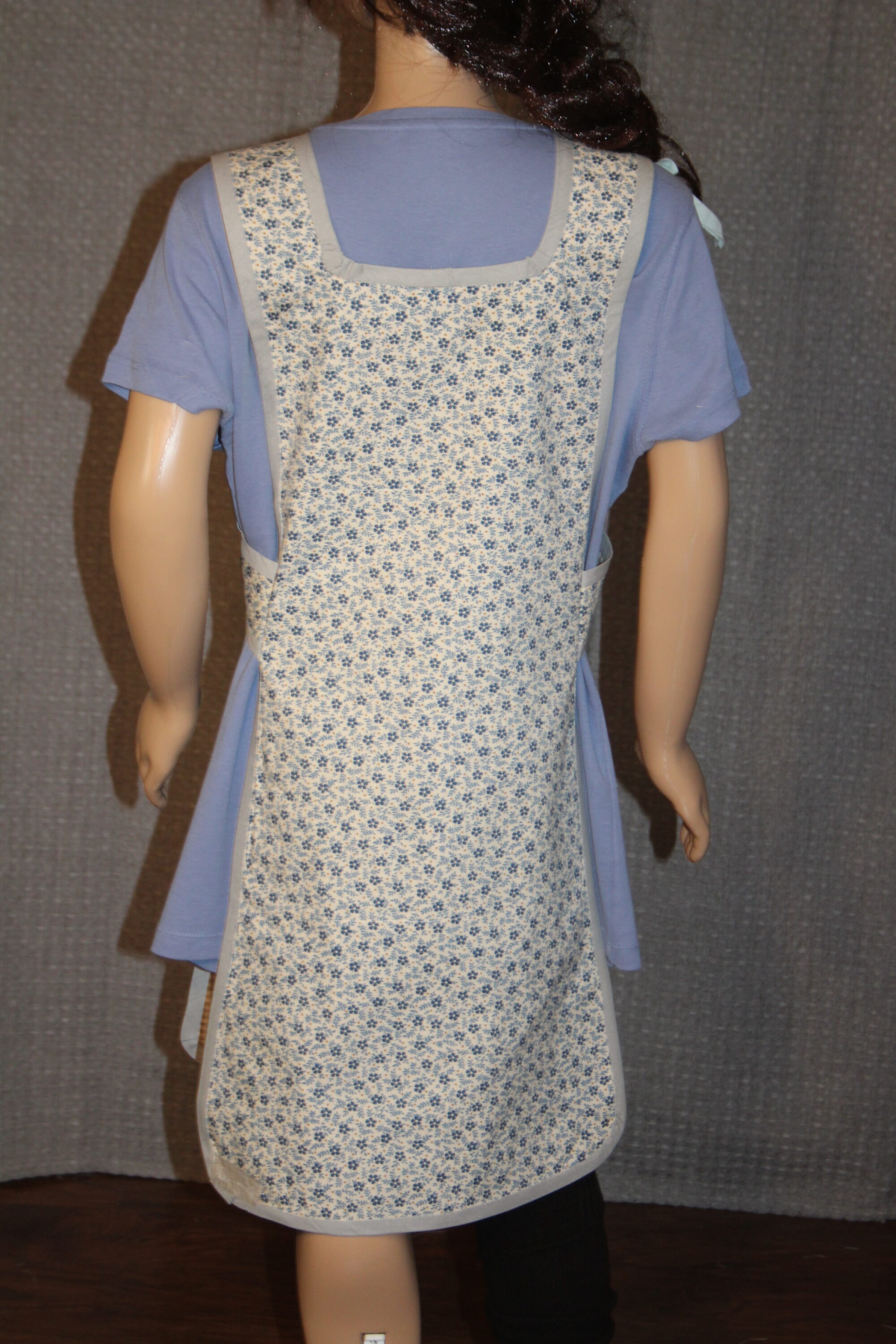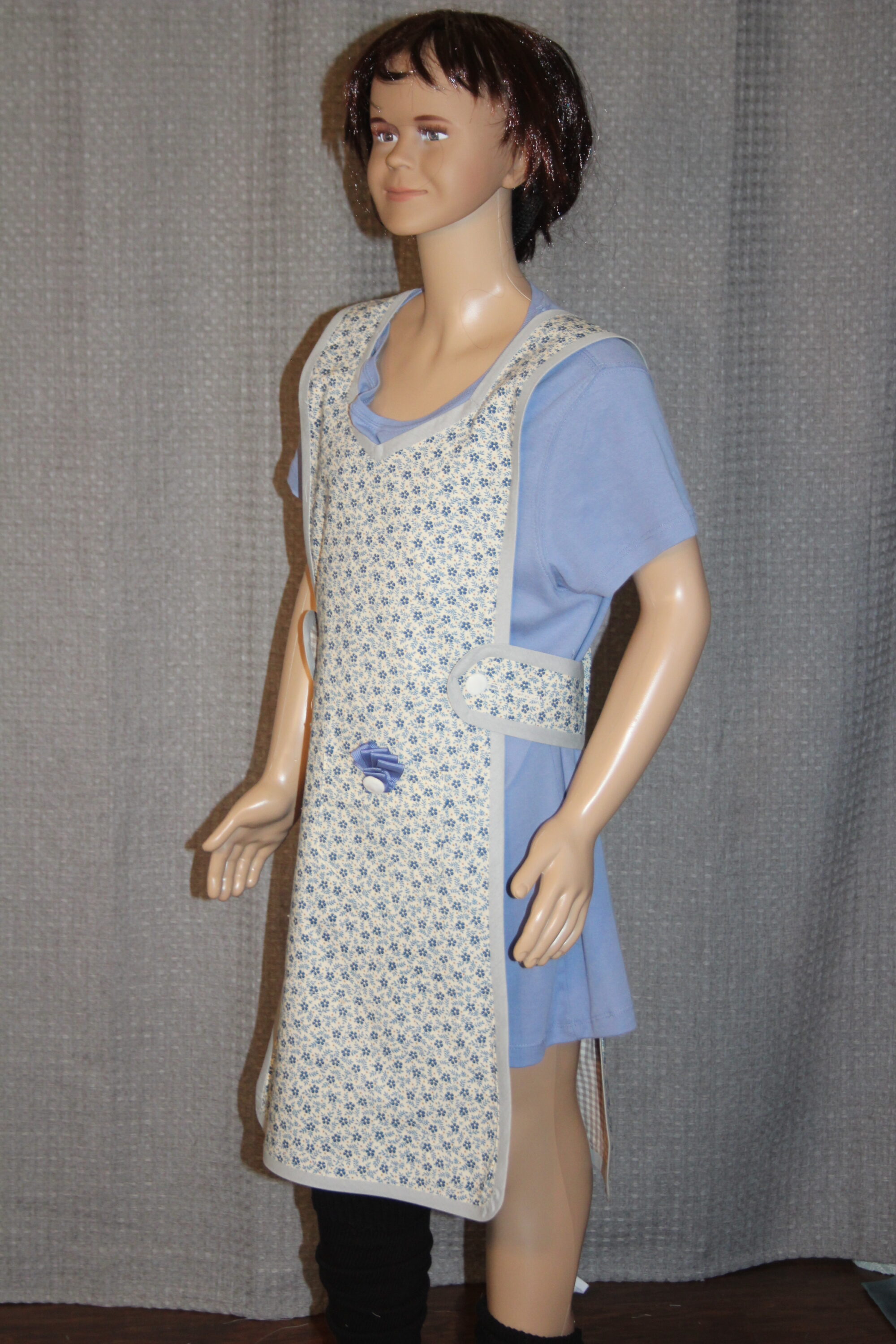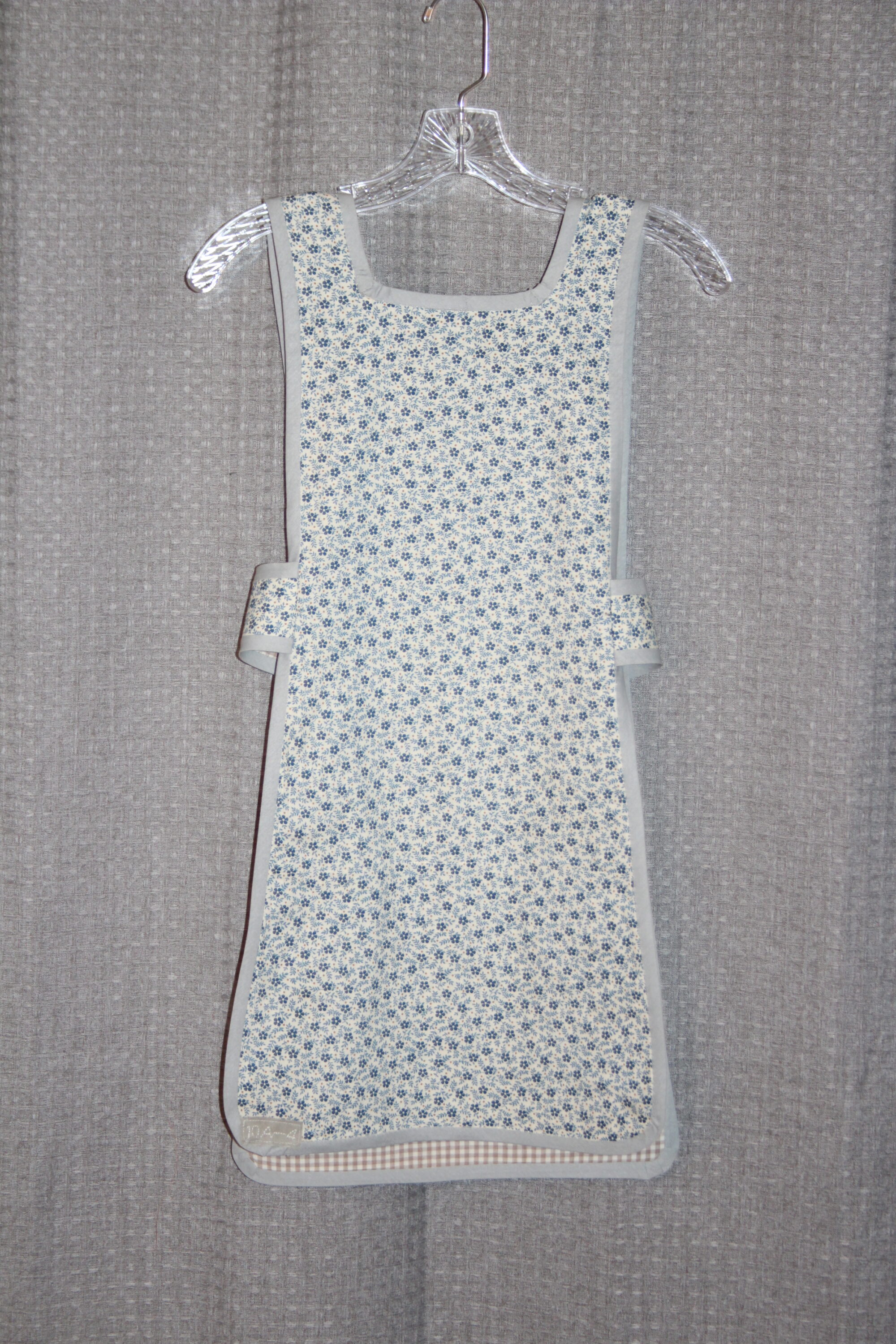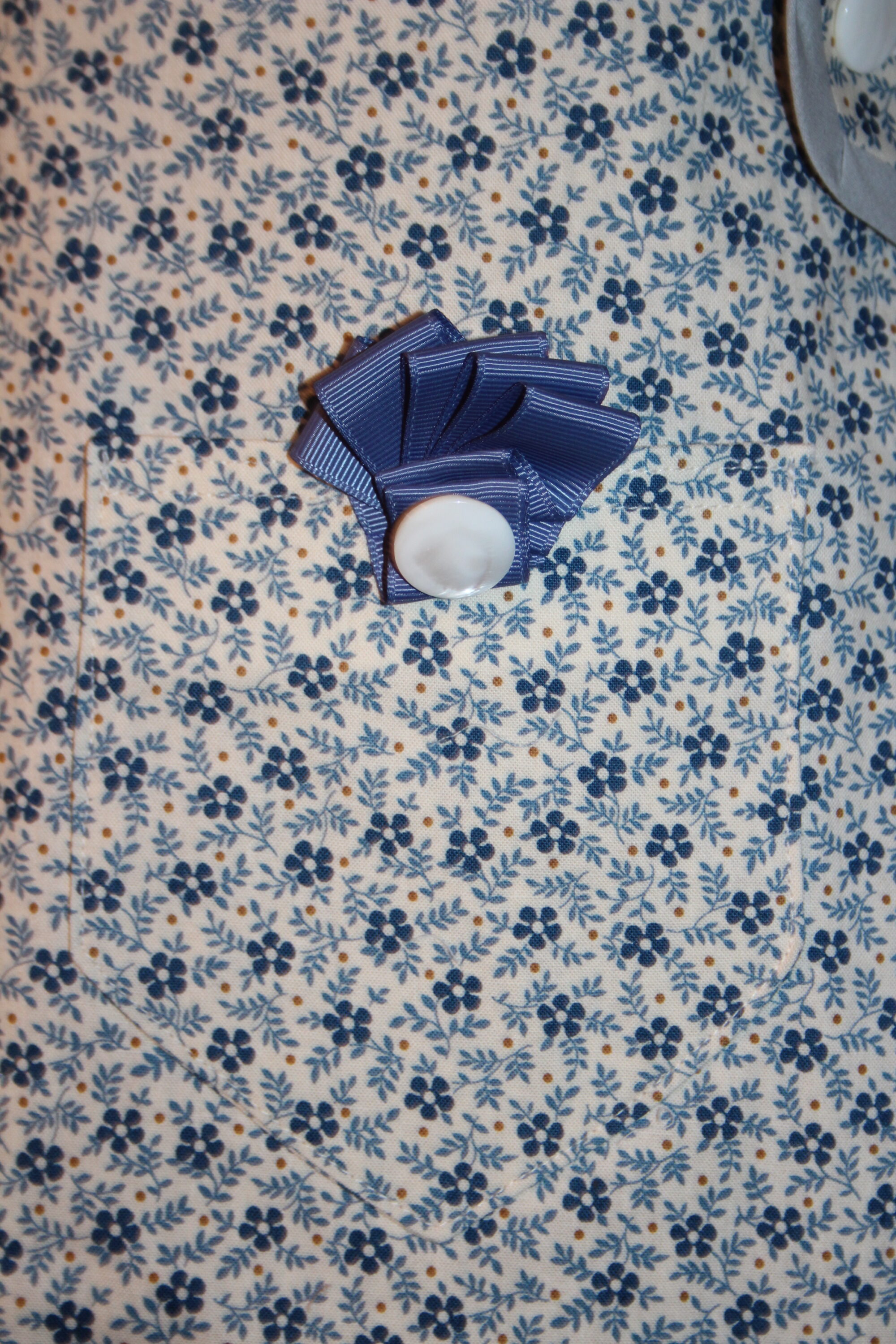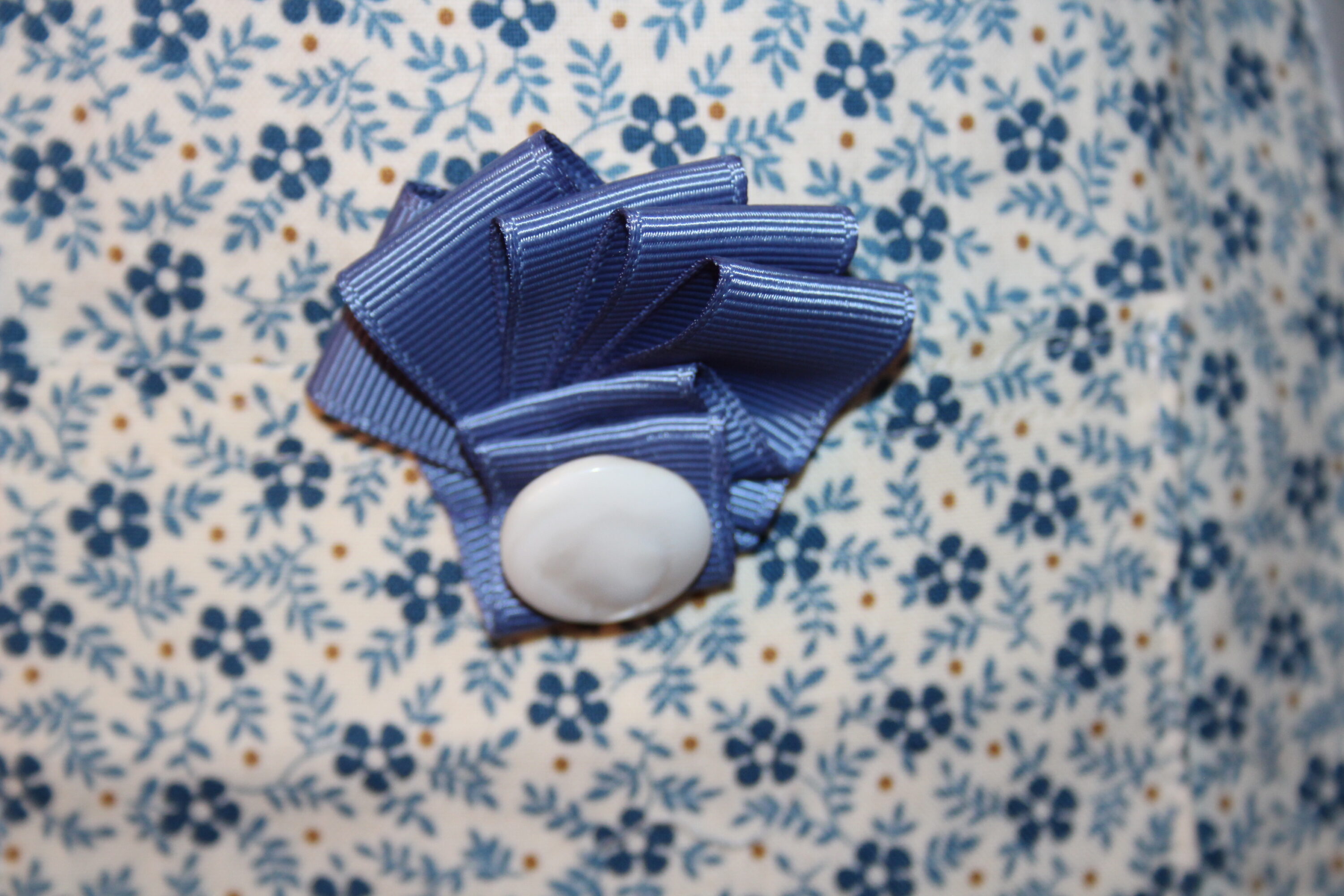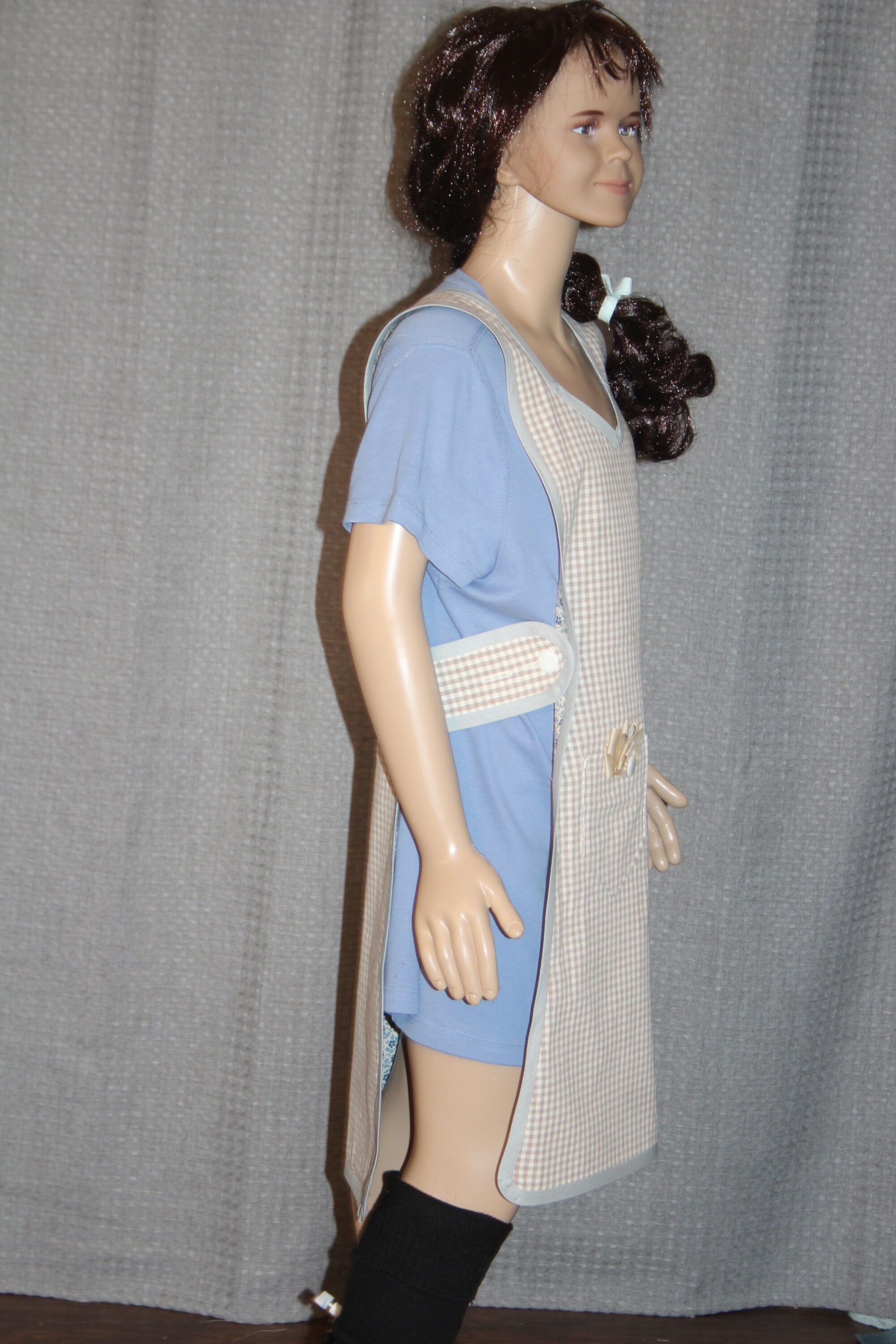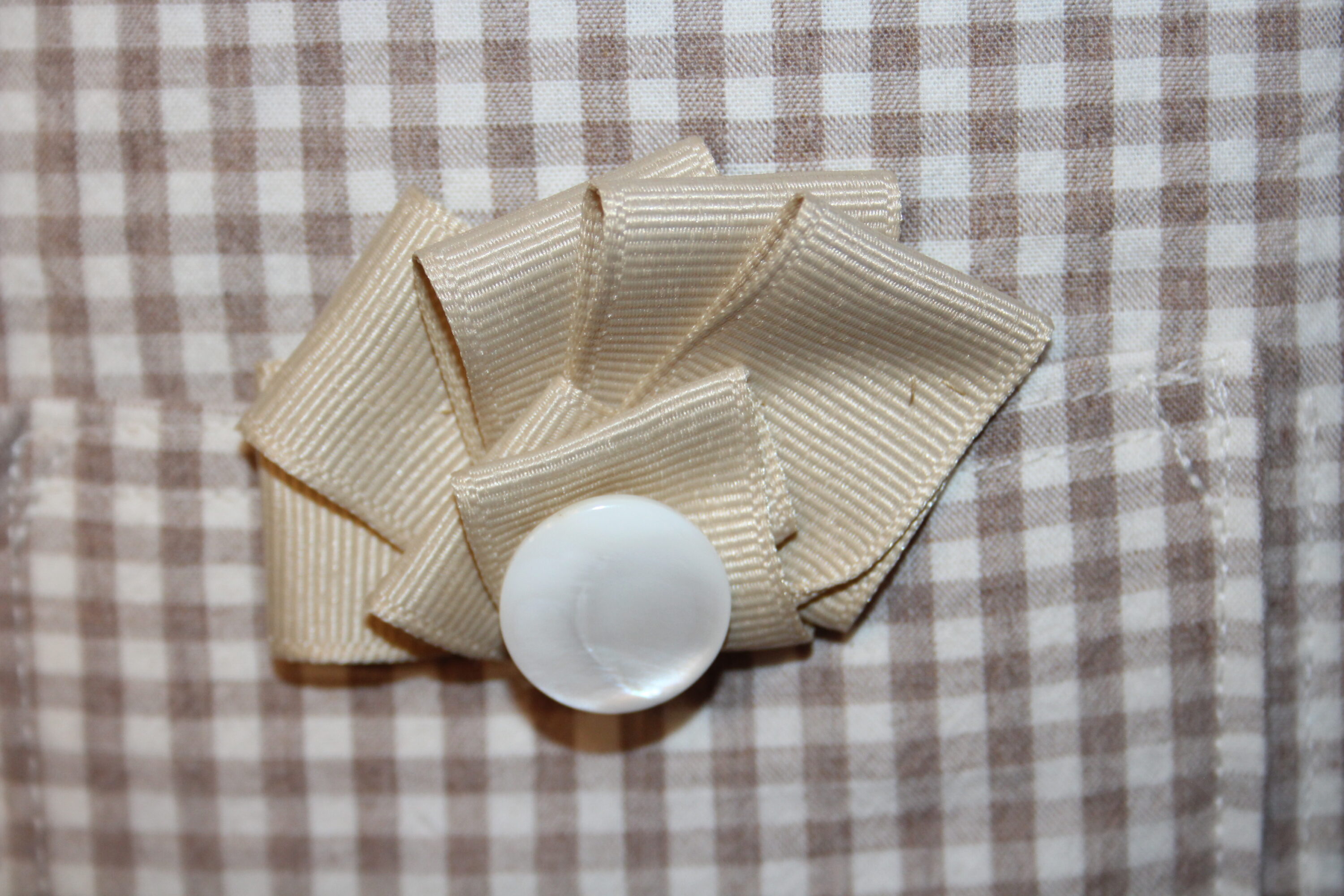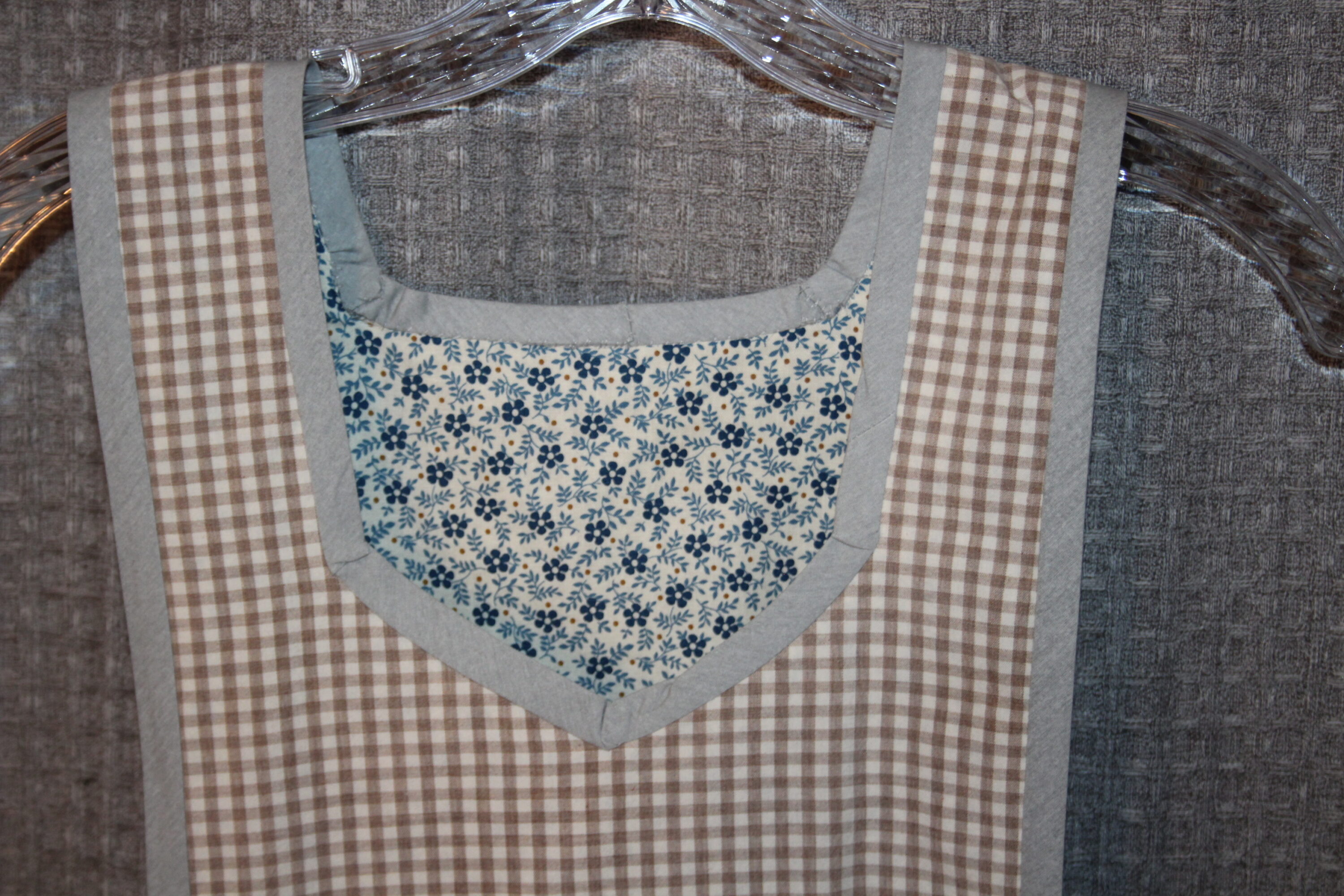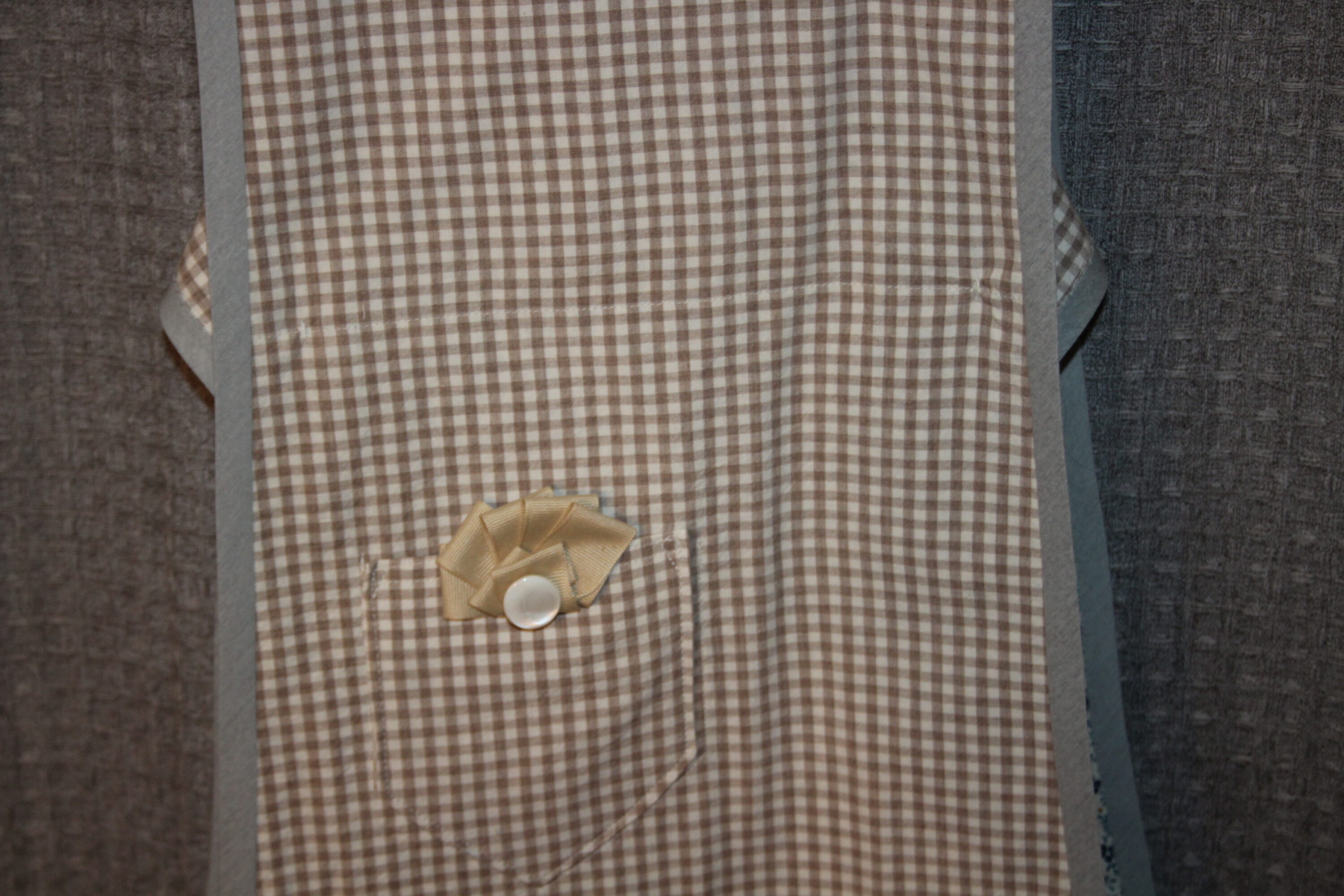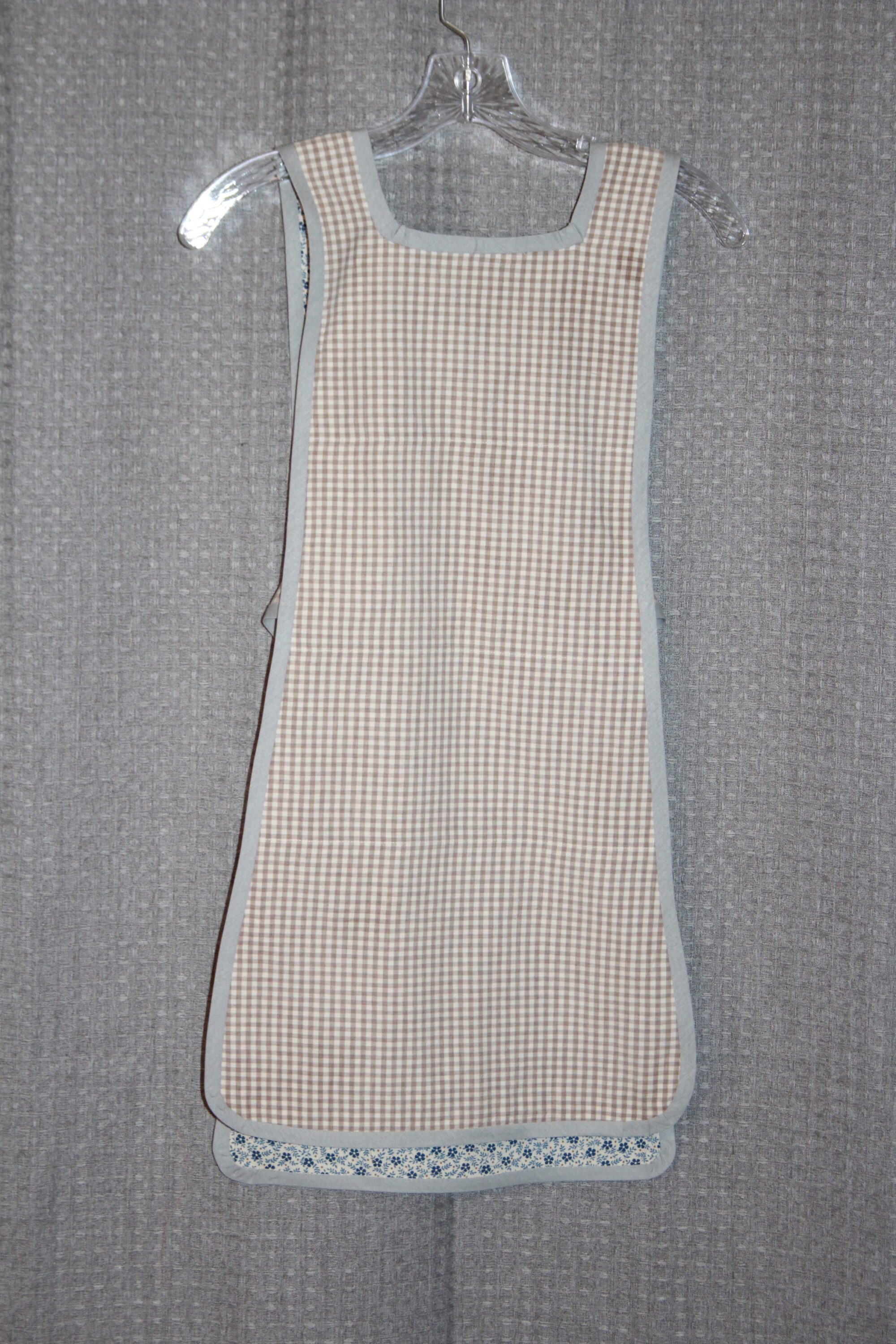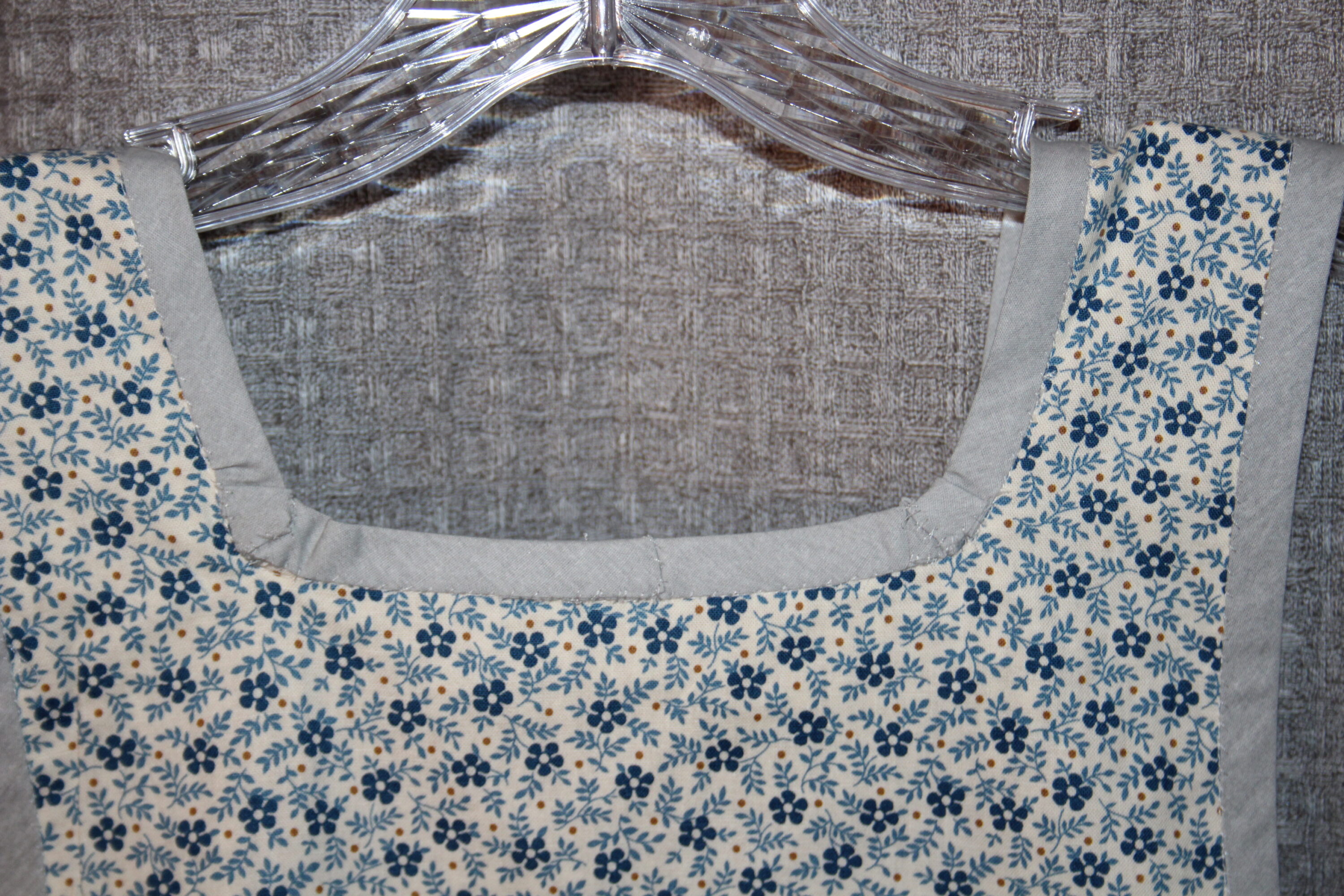 12A.1 (size 12 reversible tiny 1/8″ medallions on green and gold with gold on gold back side.  This is the Downton "scoop neck" woman's design with the big bow tie in the back.  Gold metal military buttons are on the olive/gold side, while quality 7/8″ brown real mother of pearl buttons are on the gold side.  This one features a wide bias waistband of self-fabric and a full skirt).  Note the model is a size 8, so this size 12 is much too large for her, especially at the waist.  The bow will be much prettier on the correct sized person.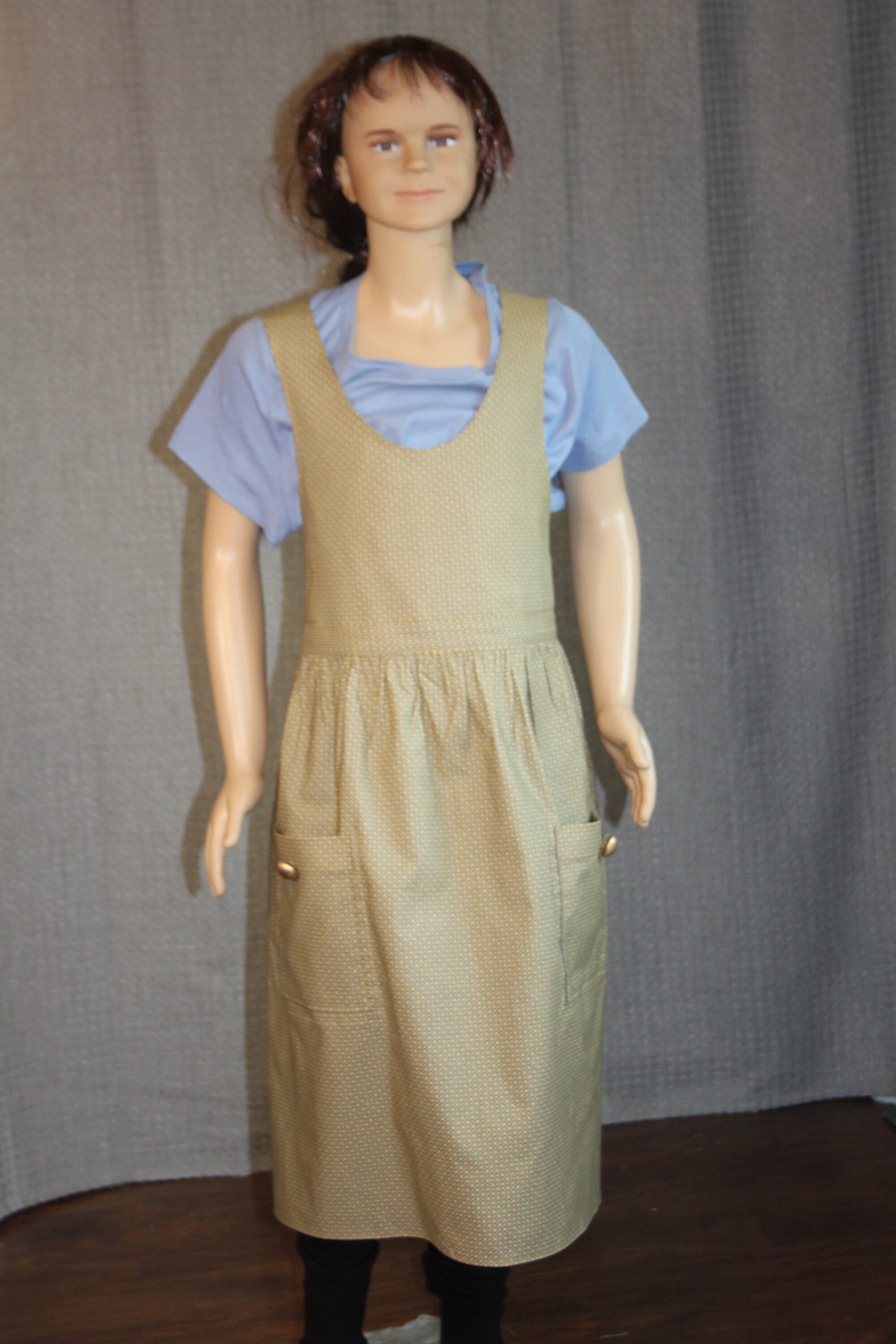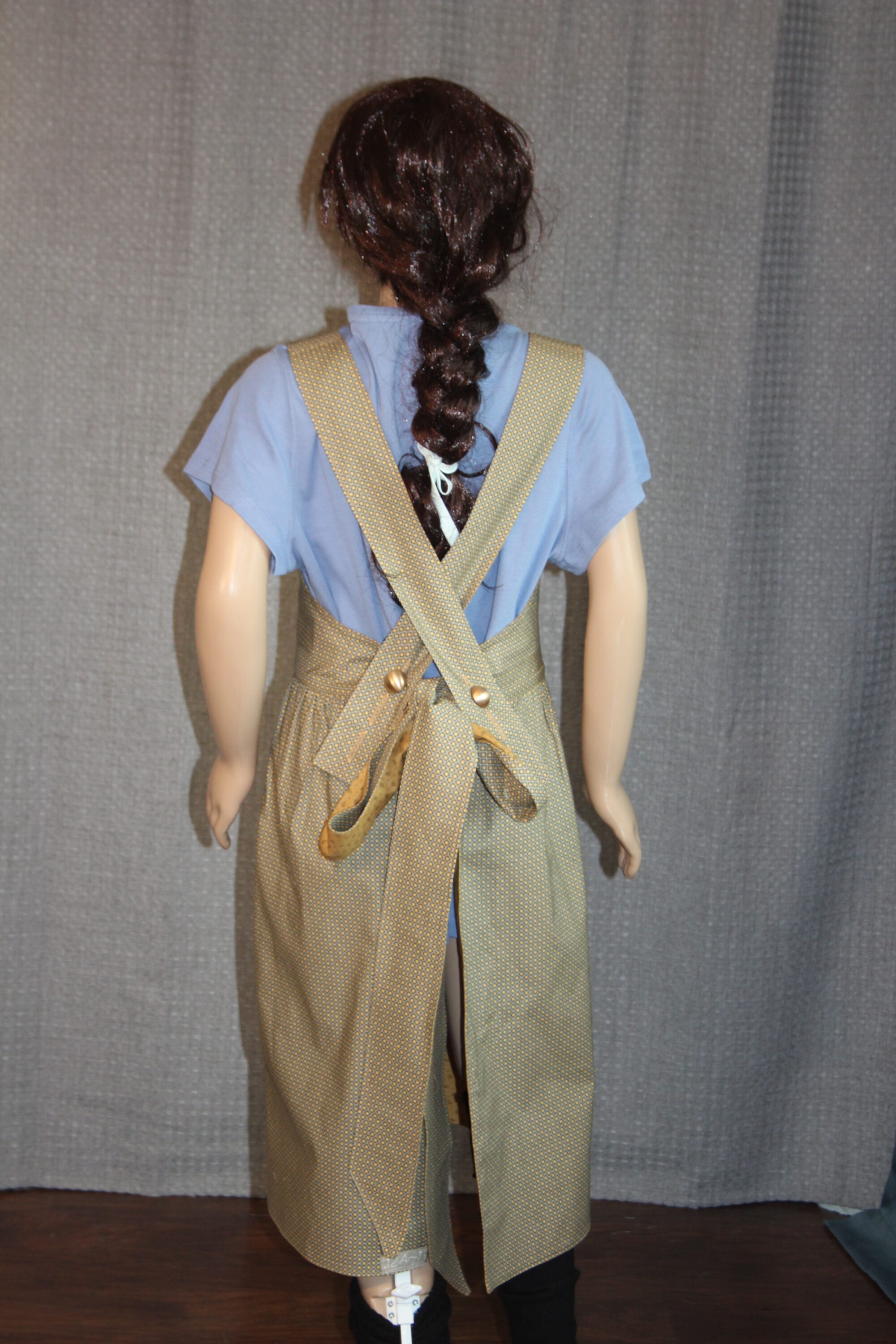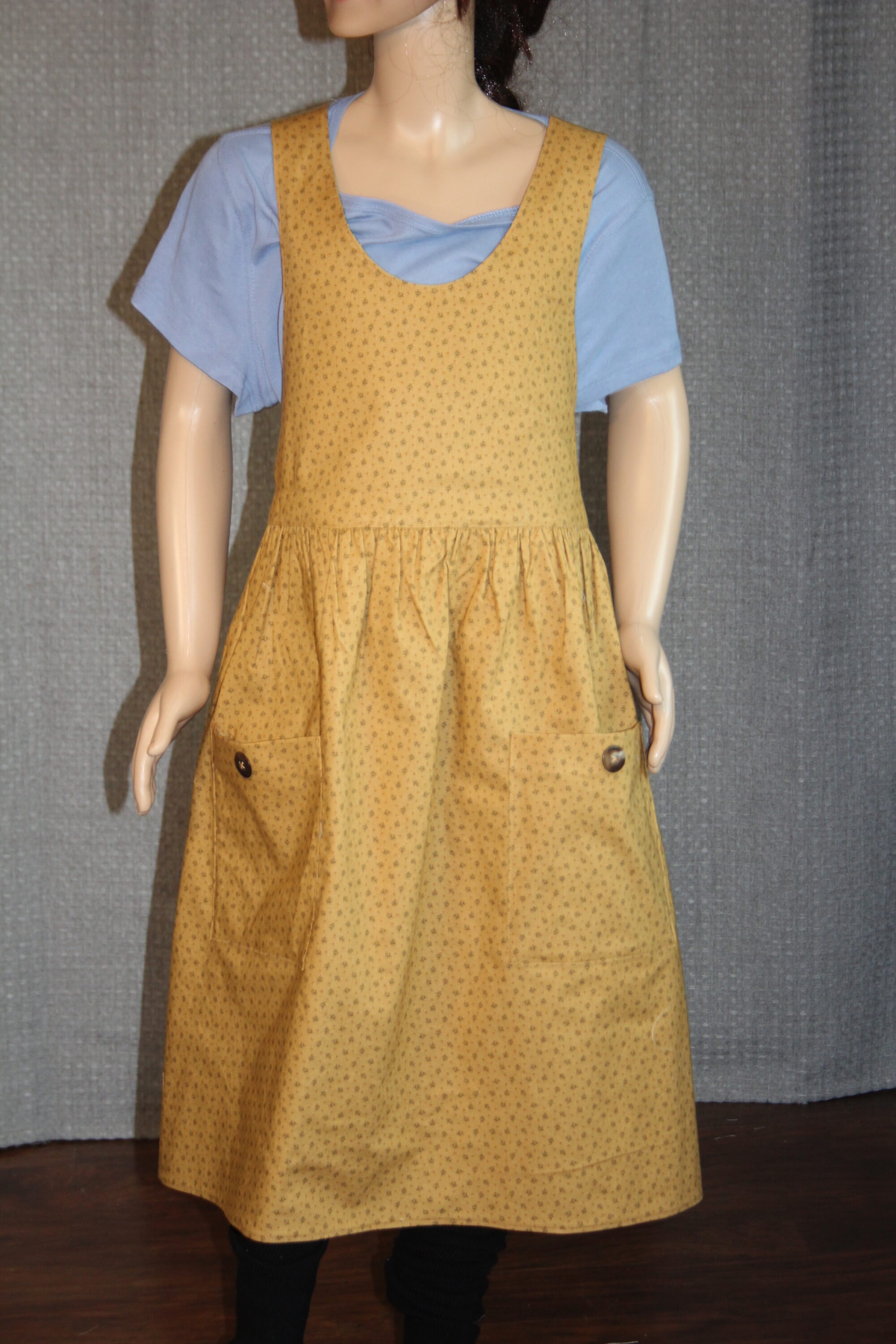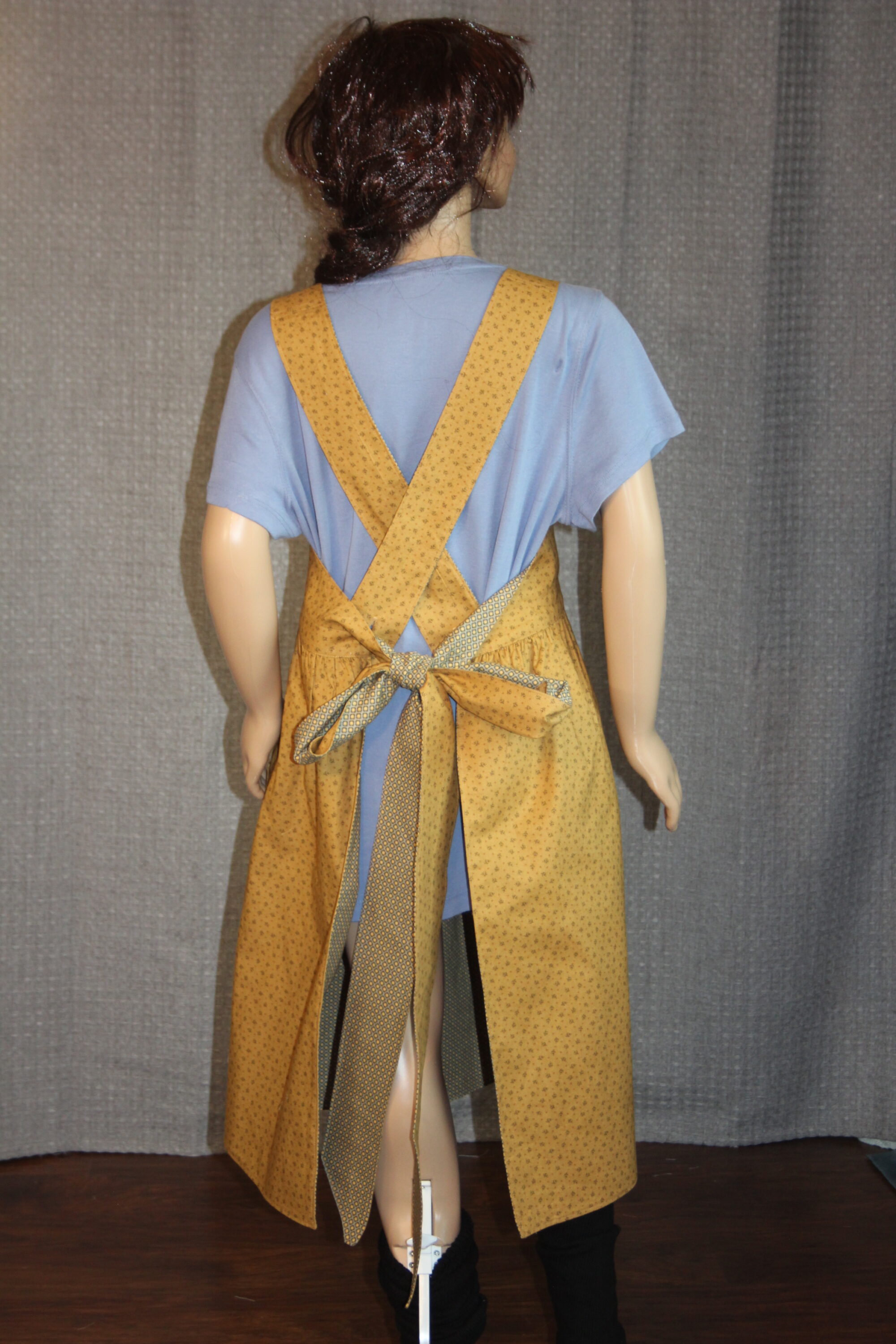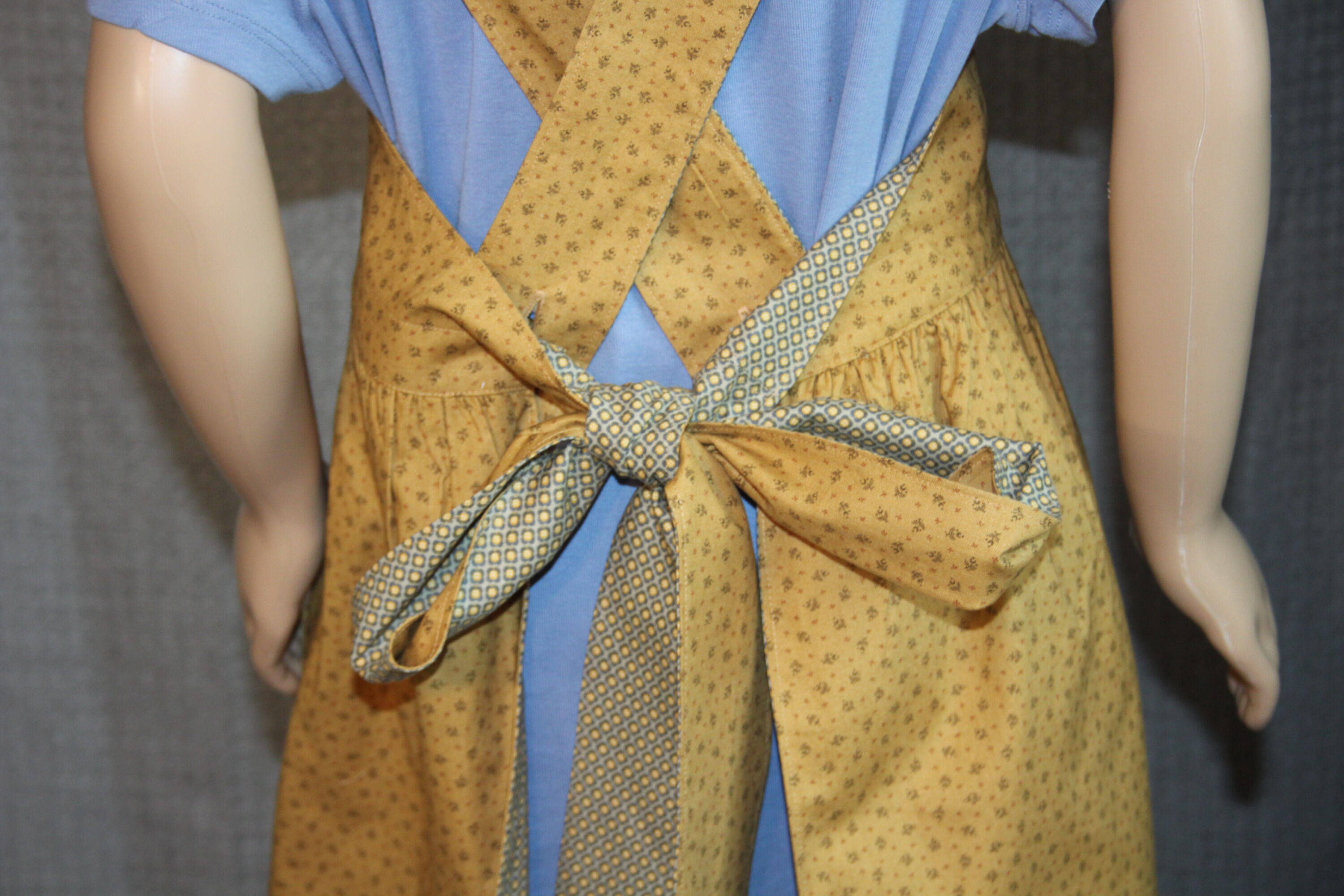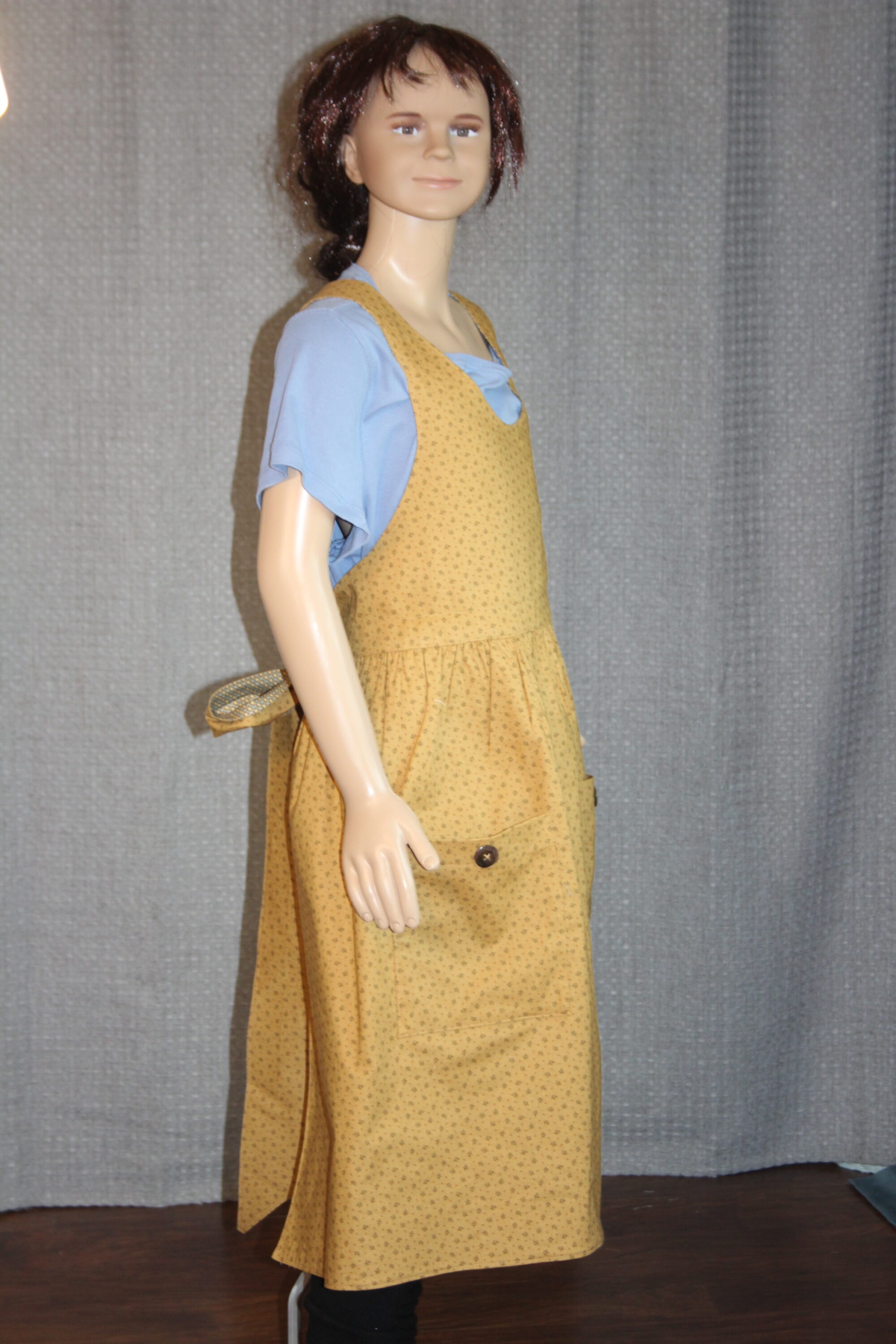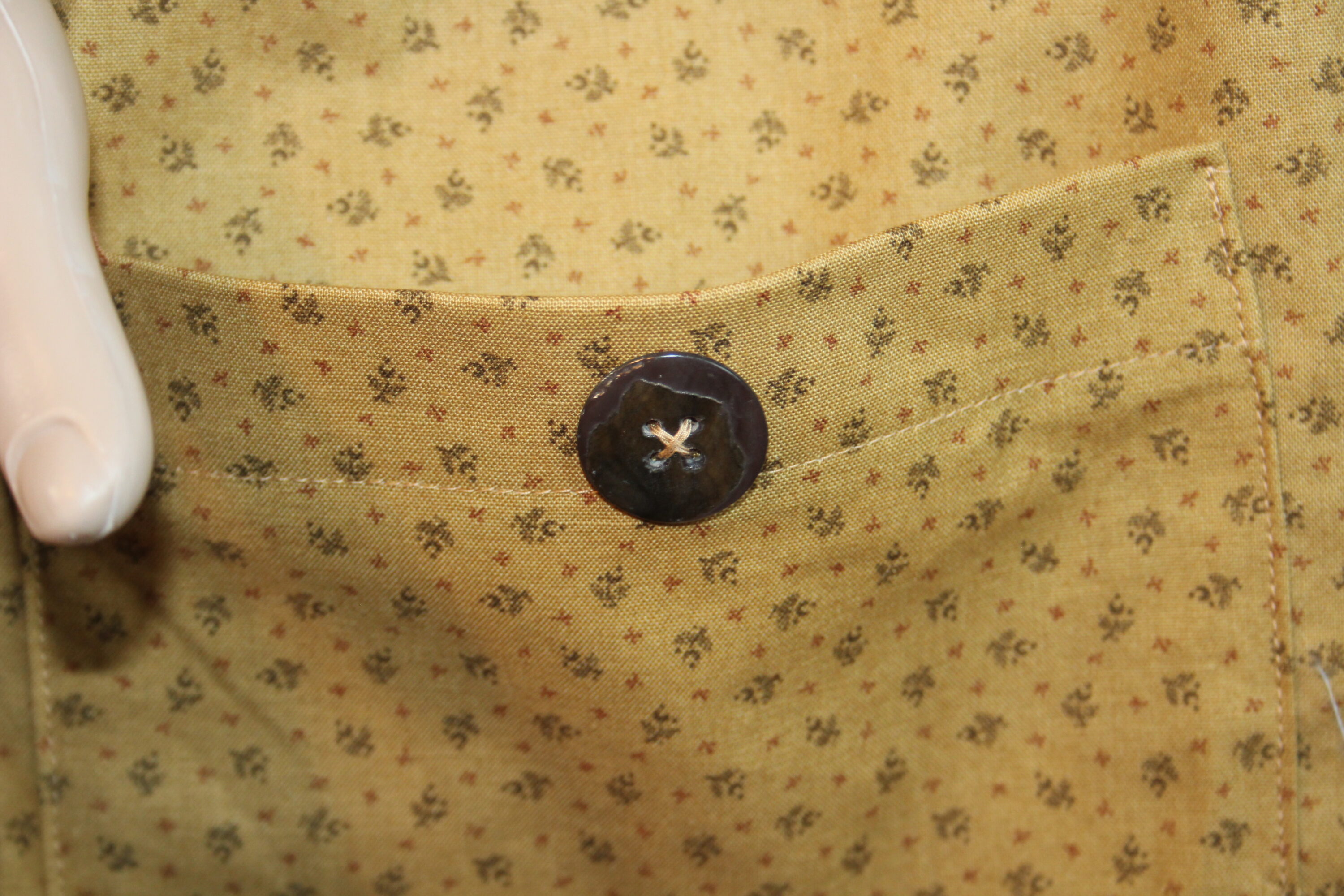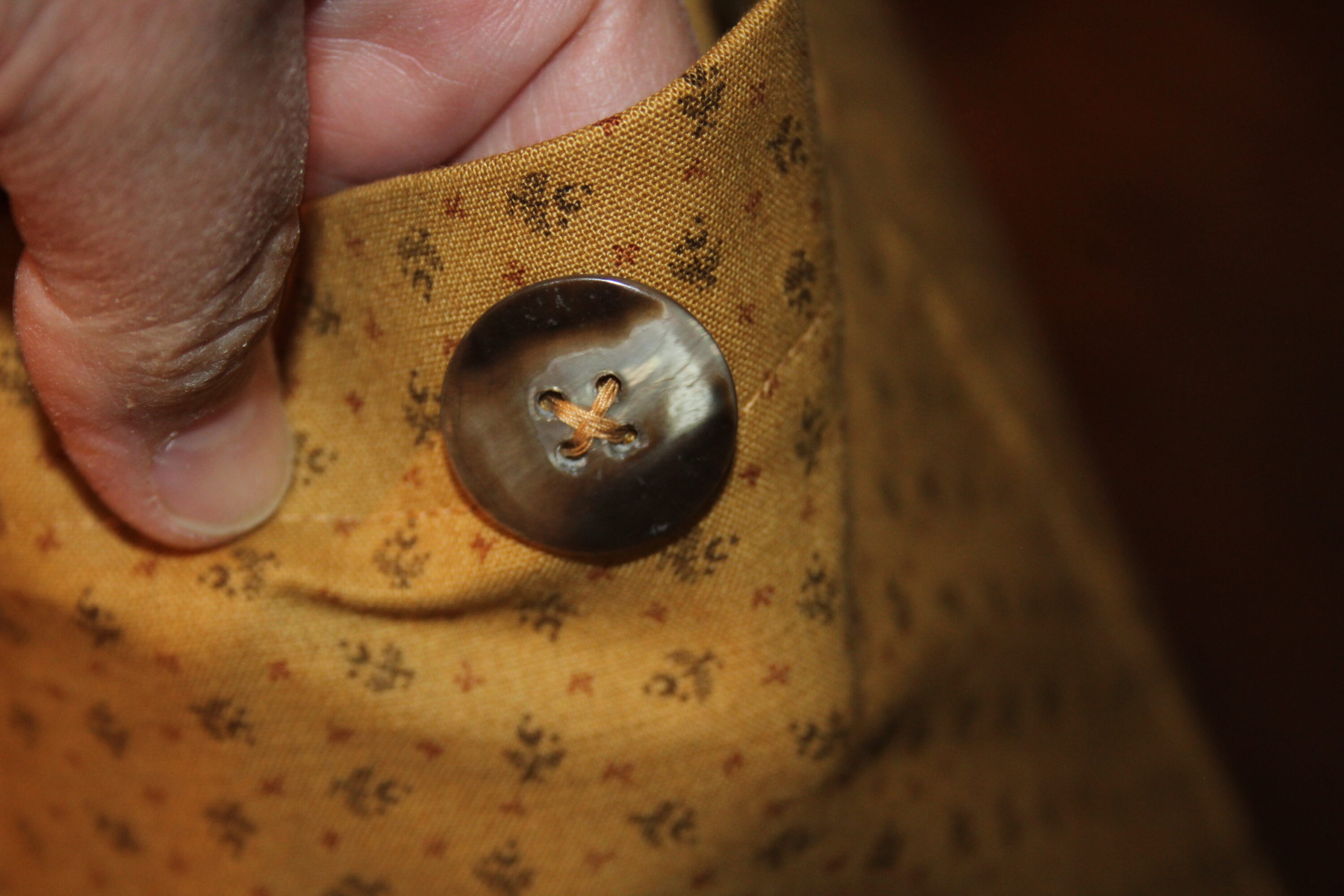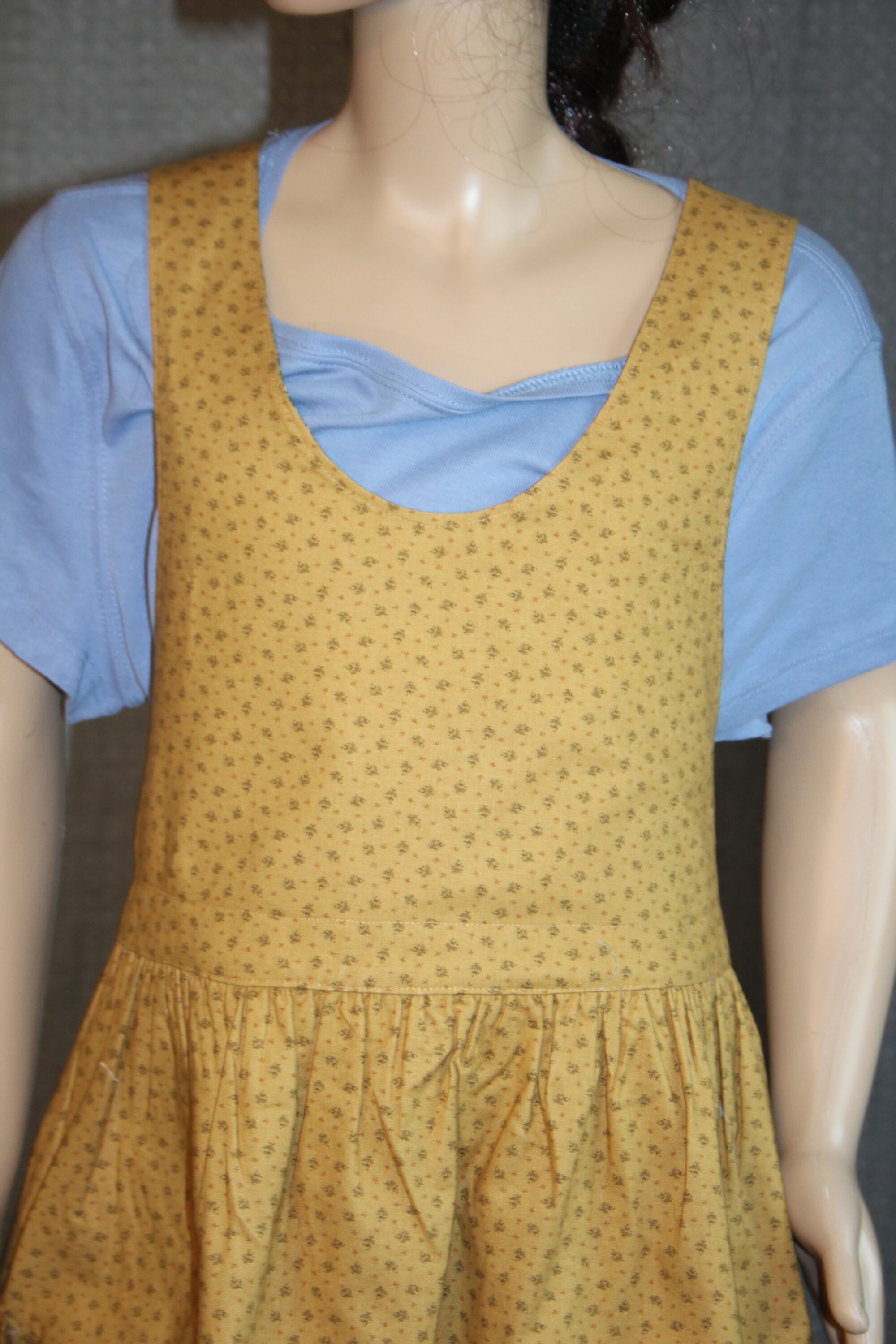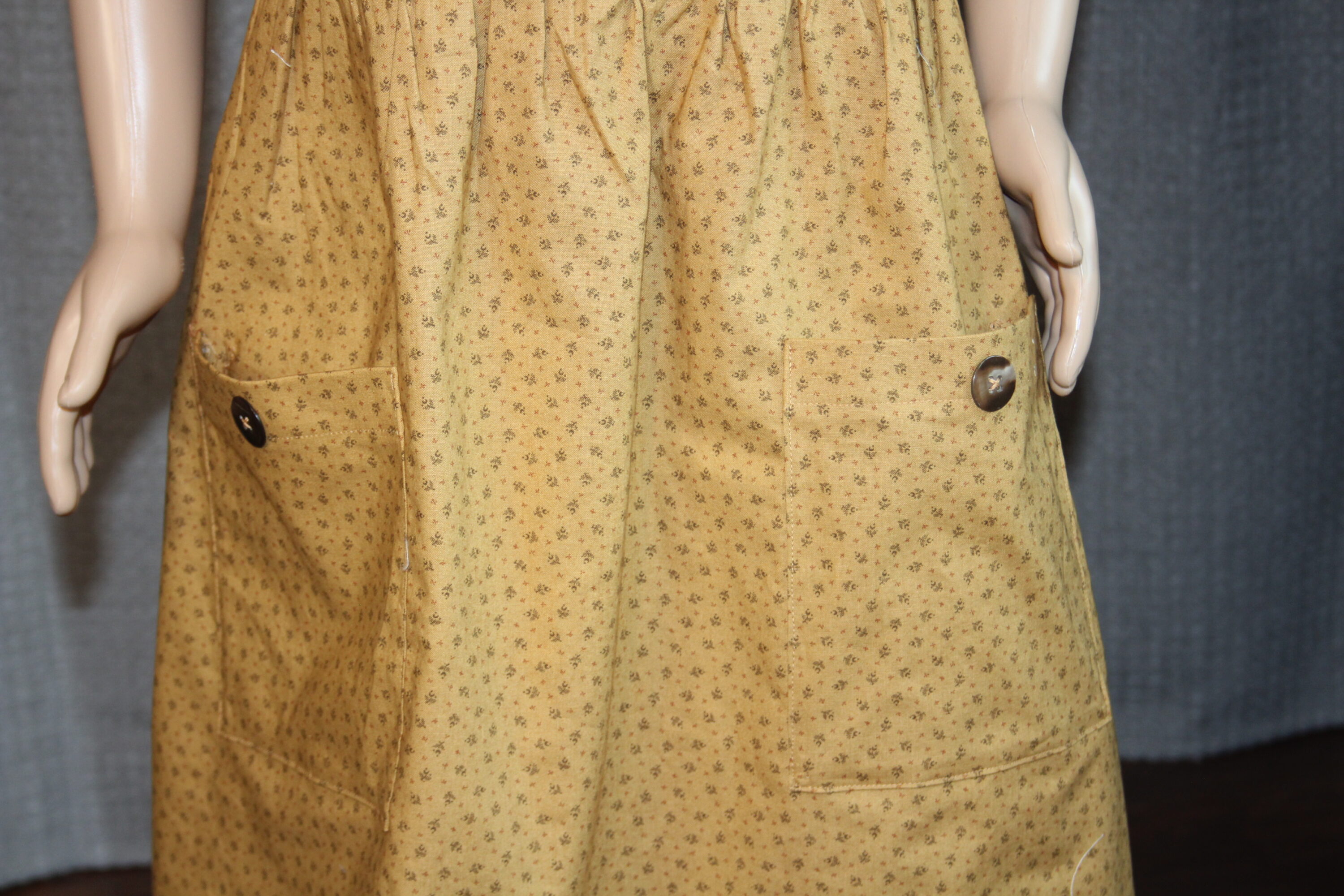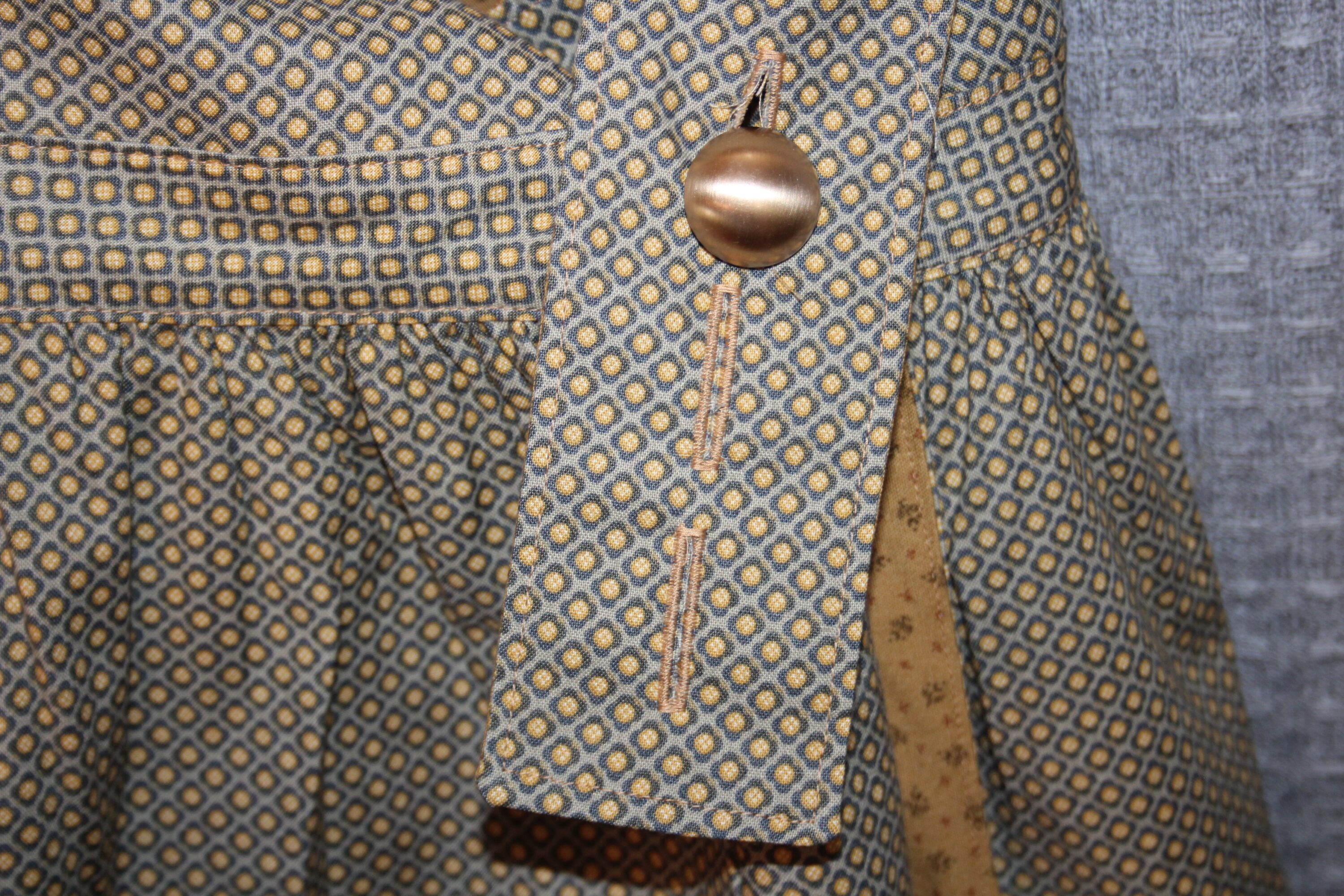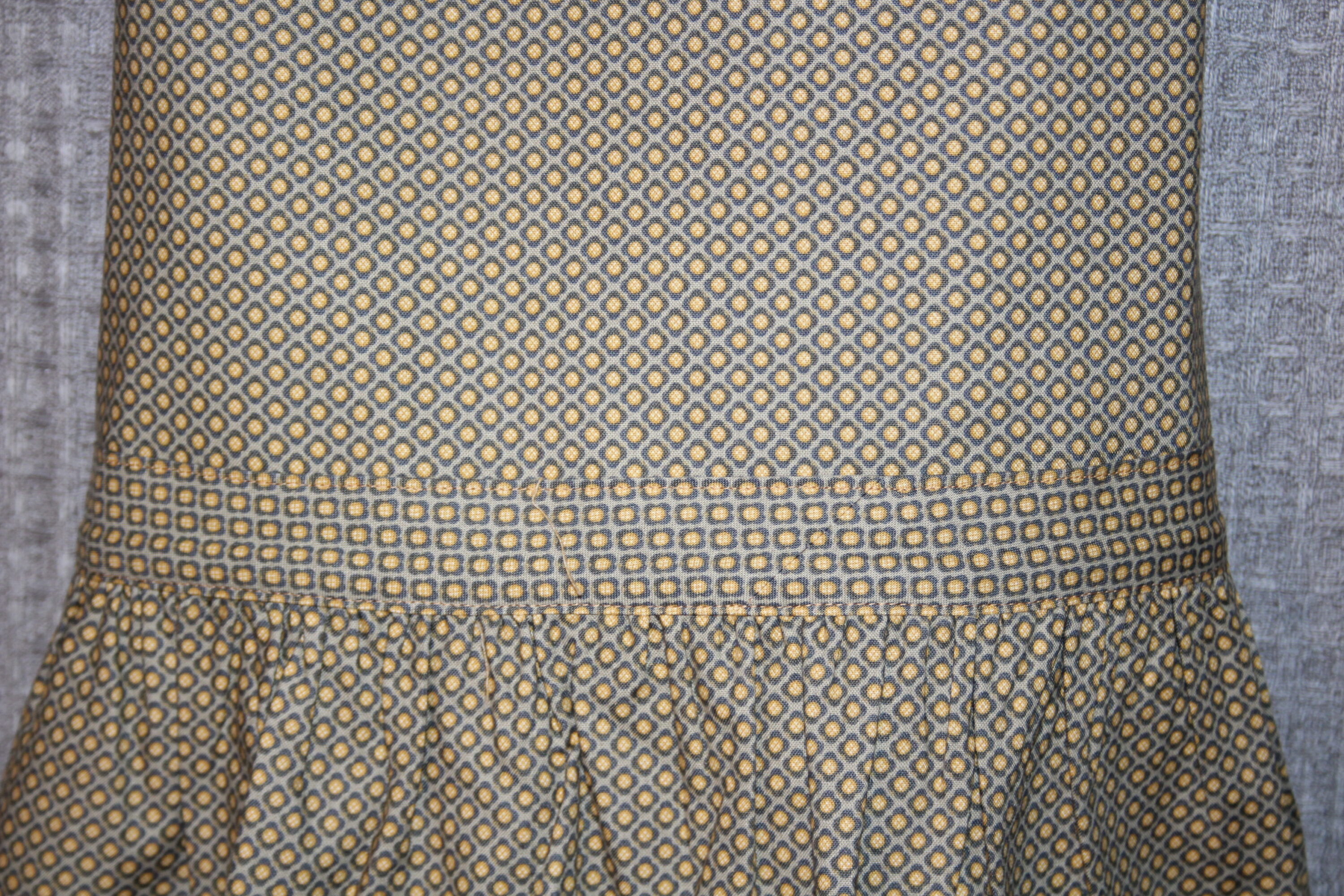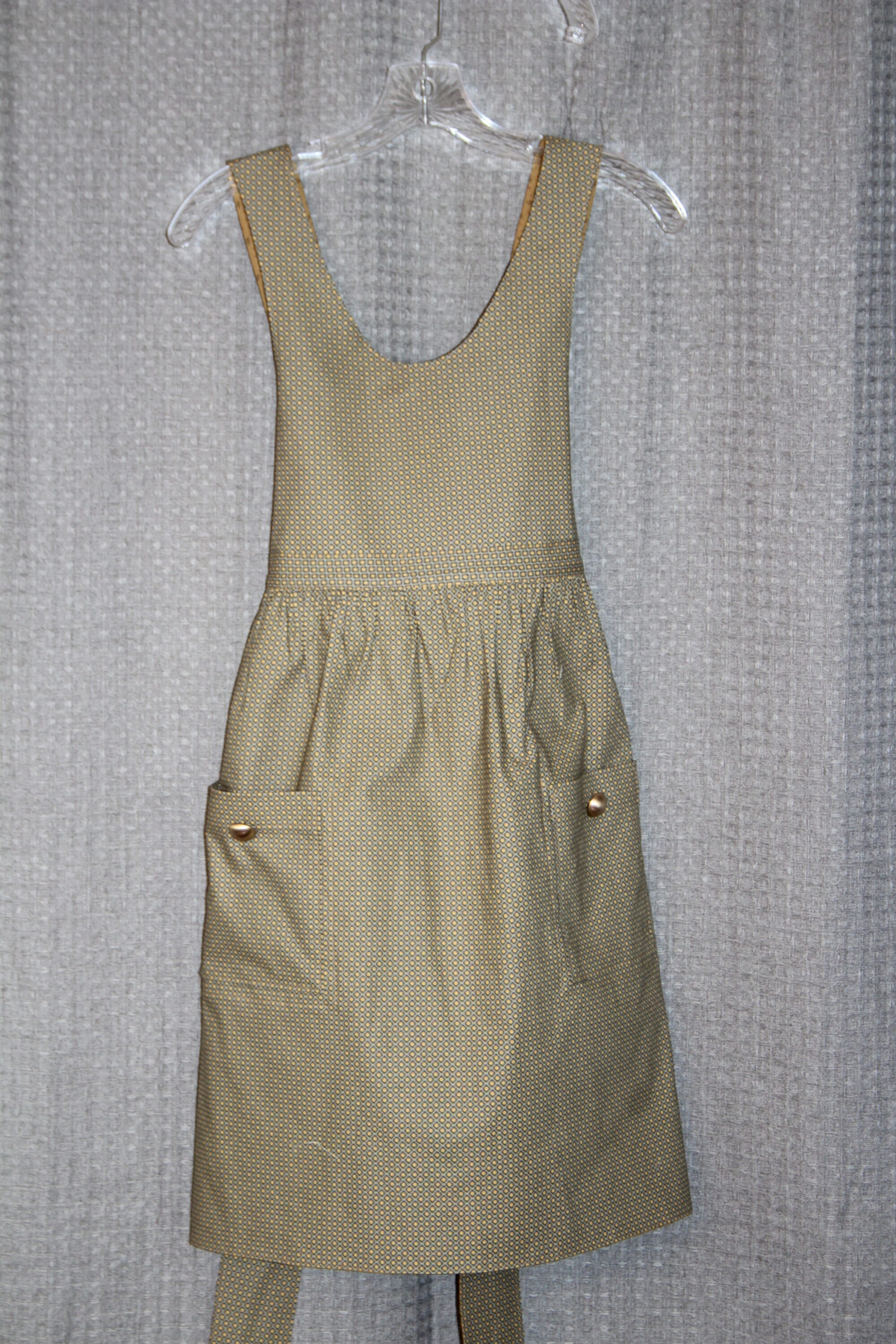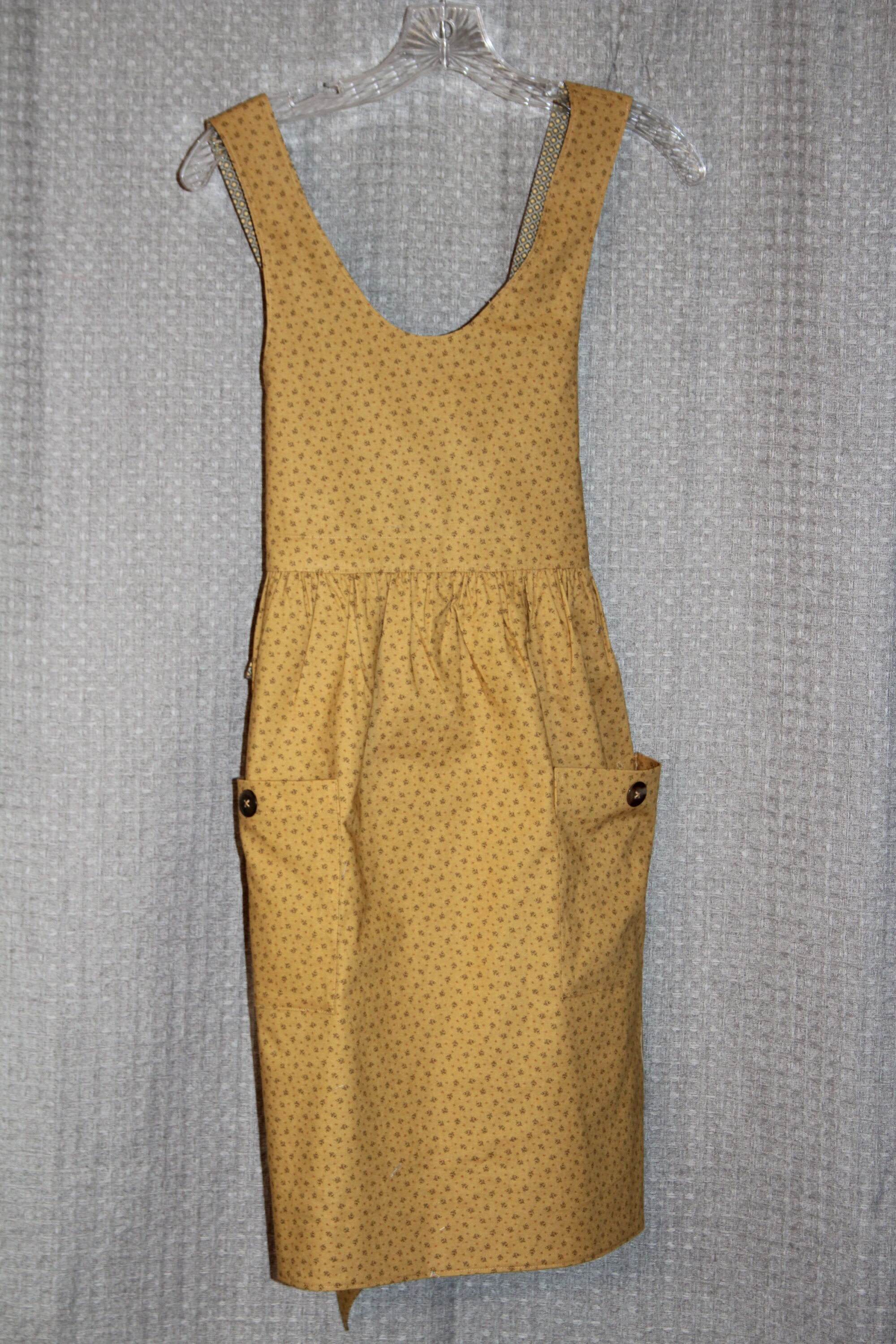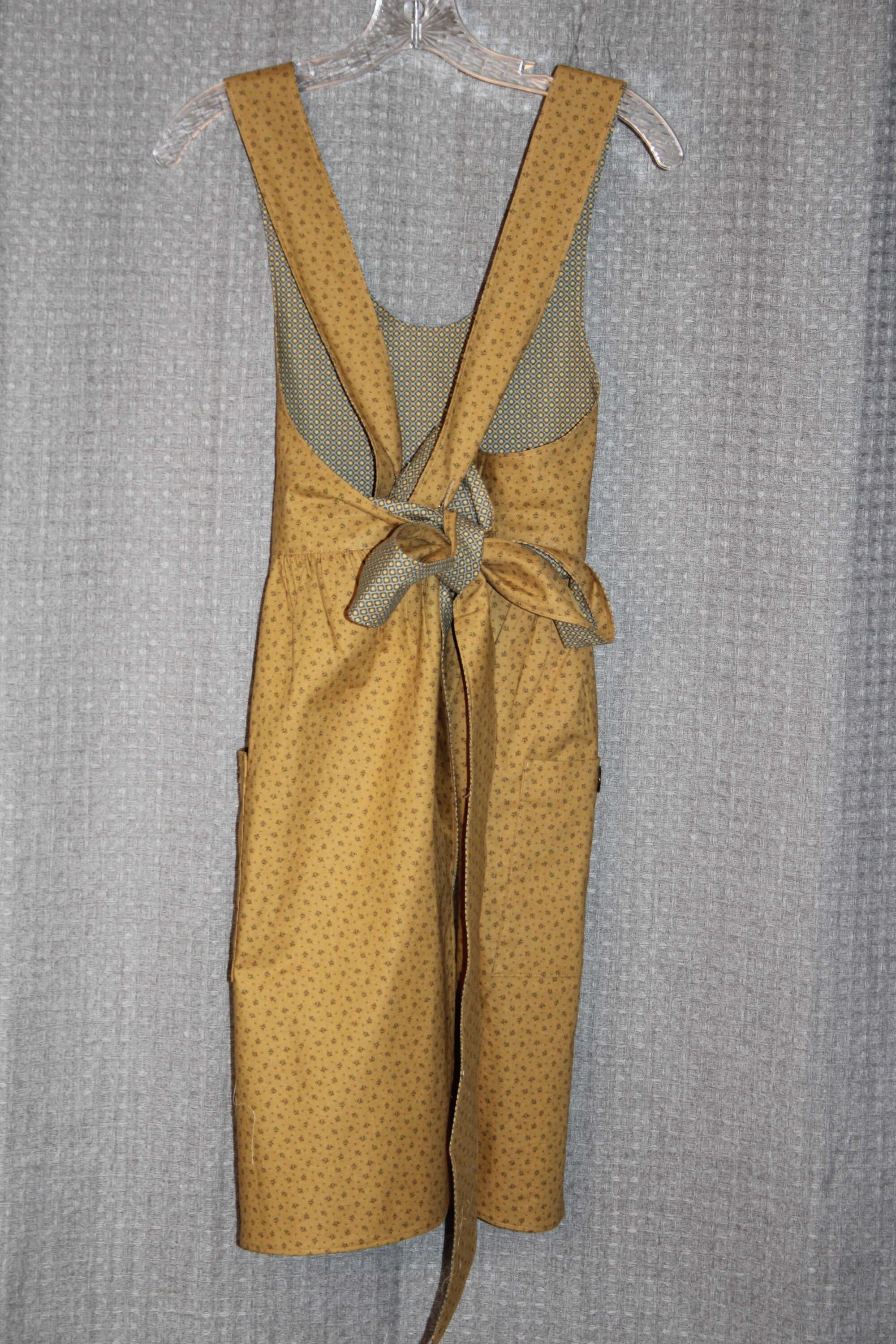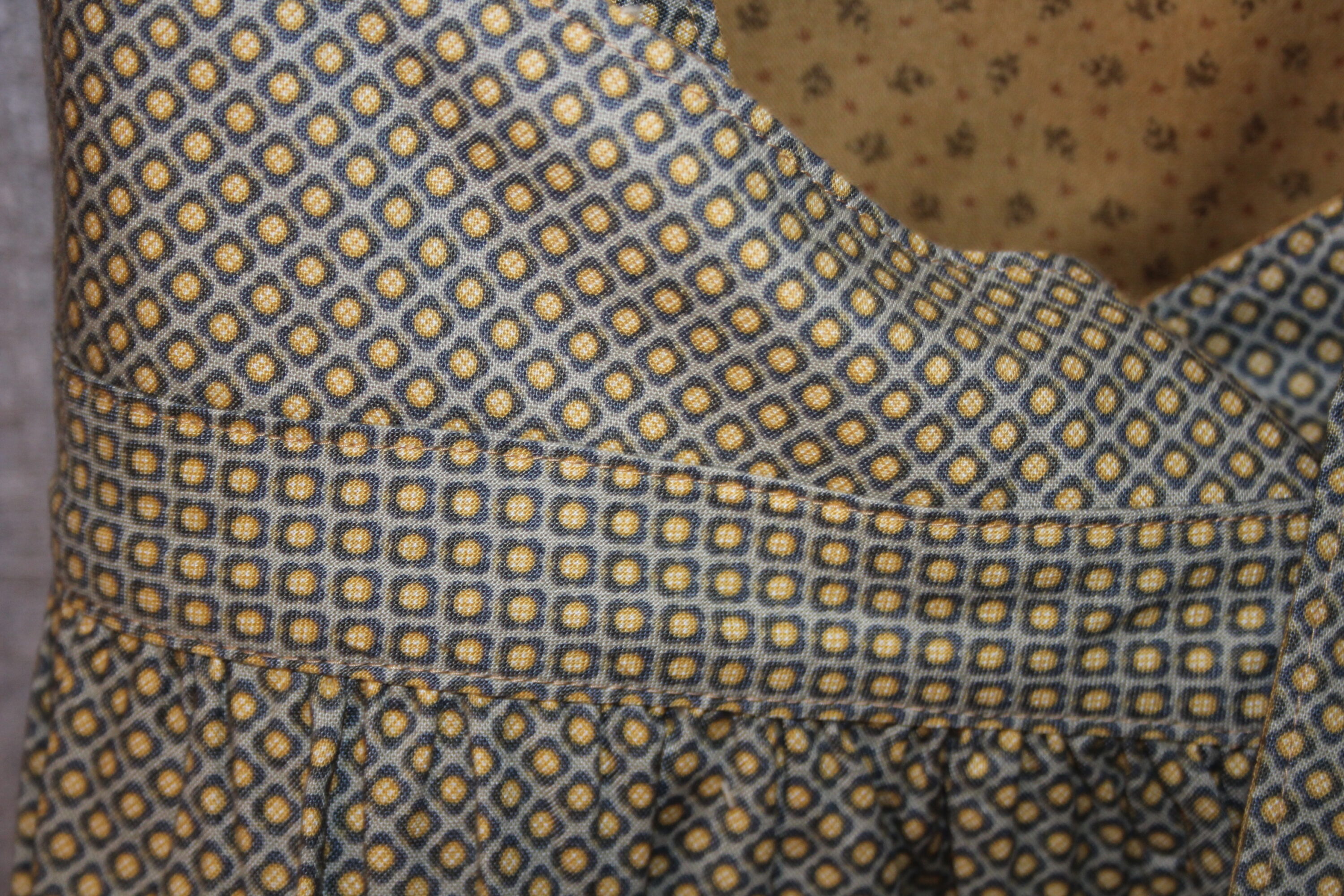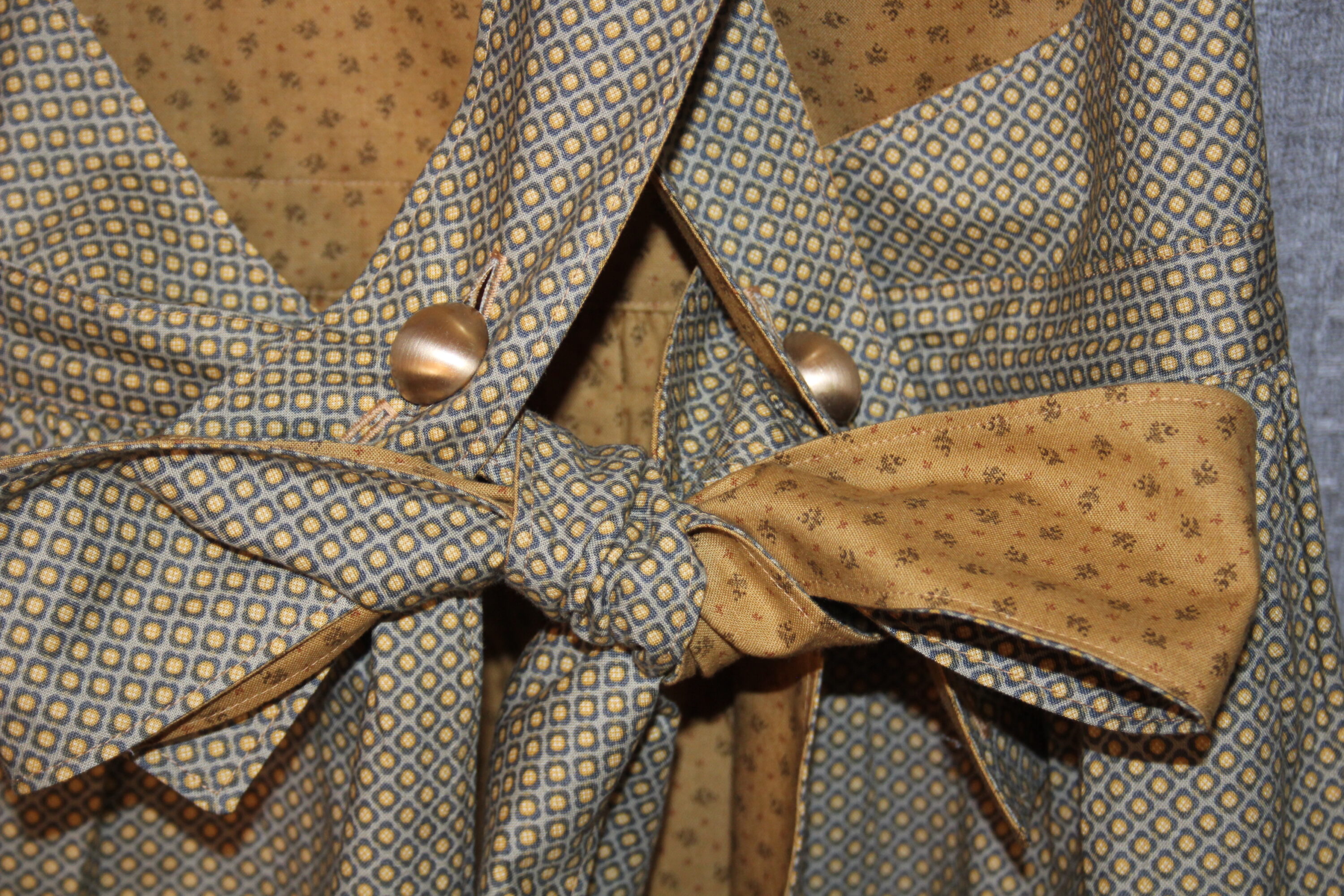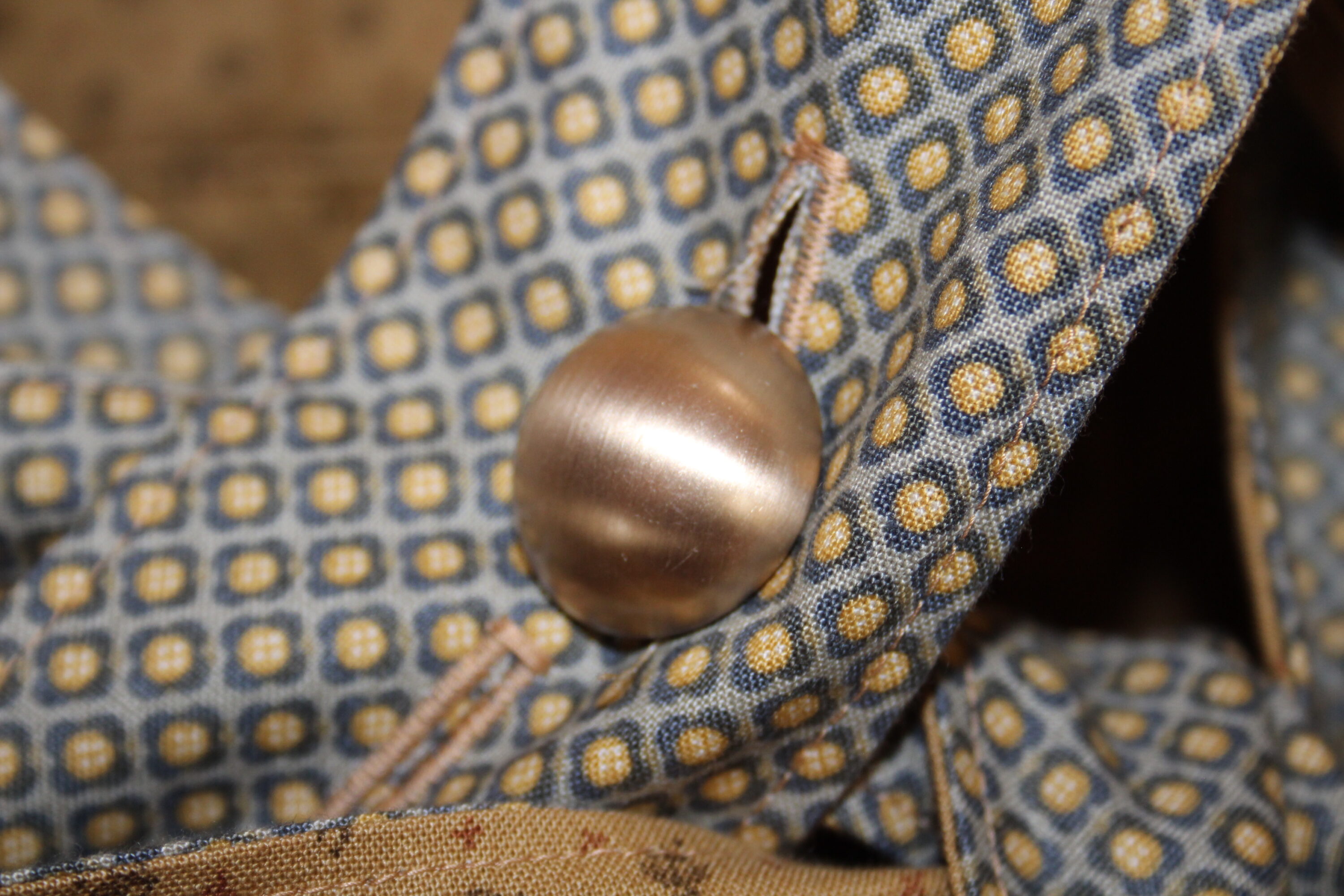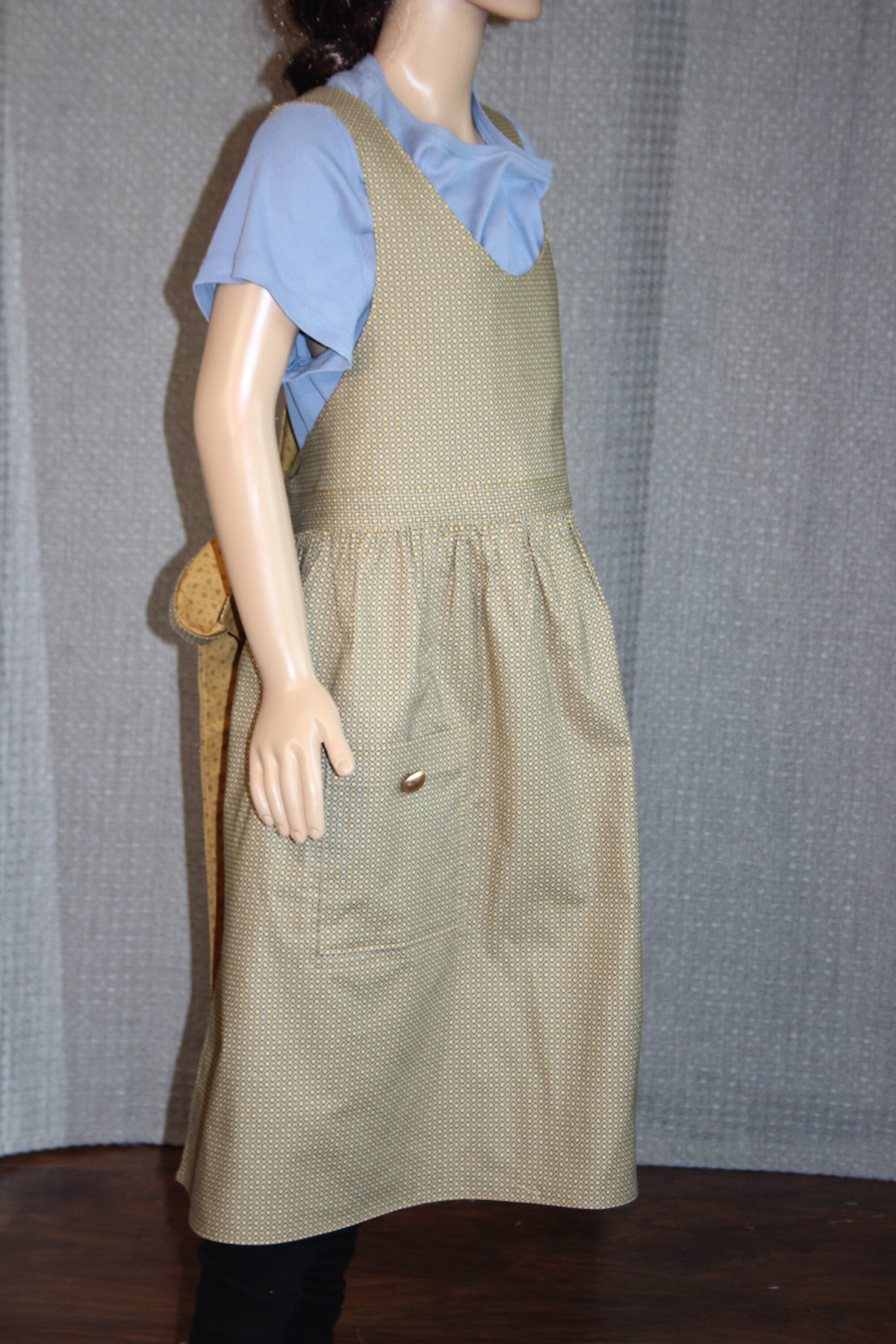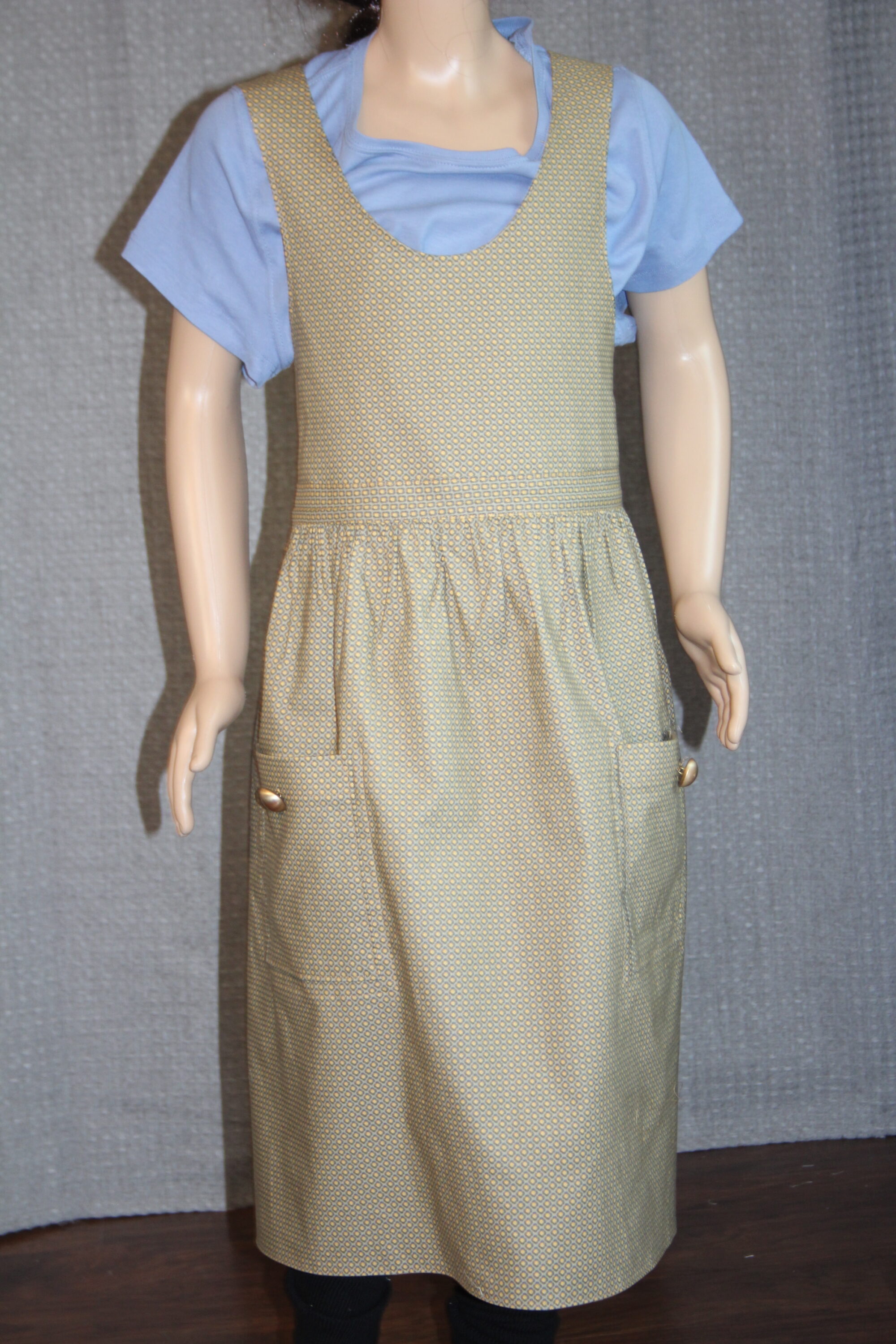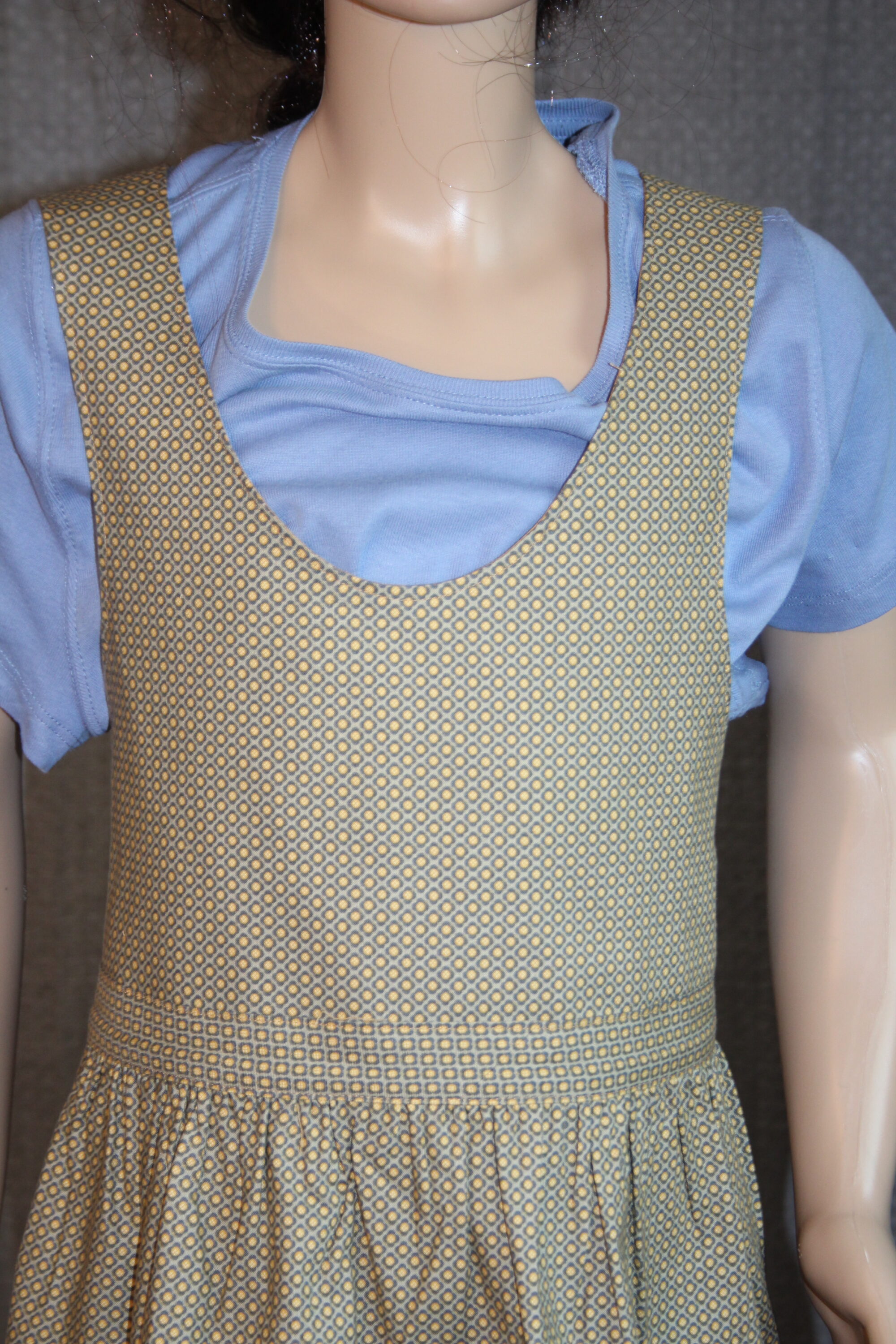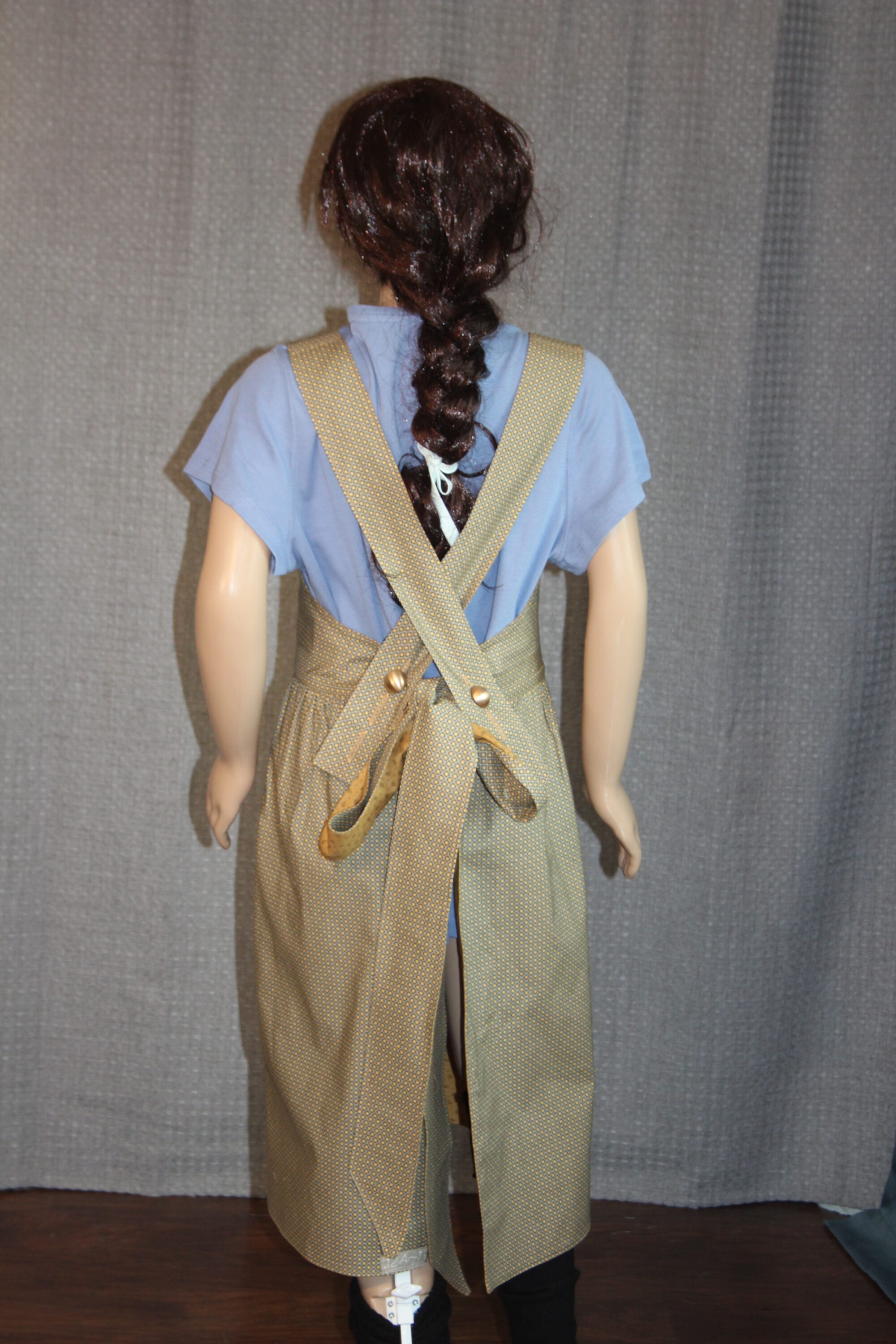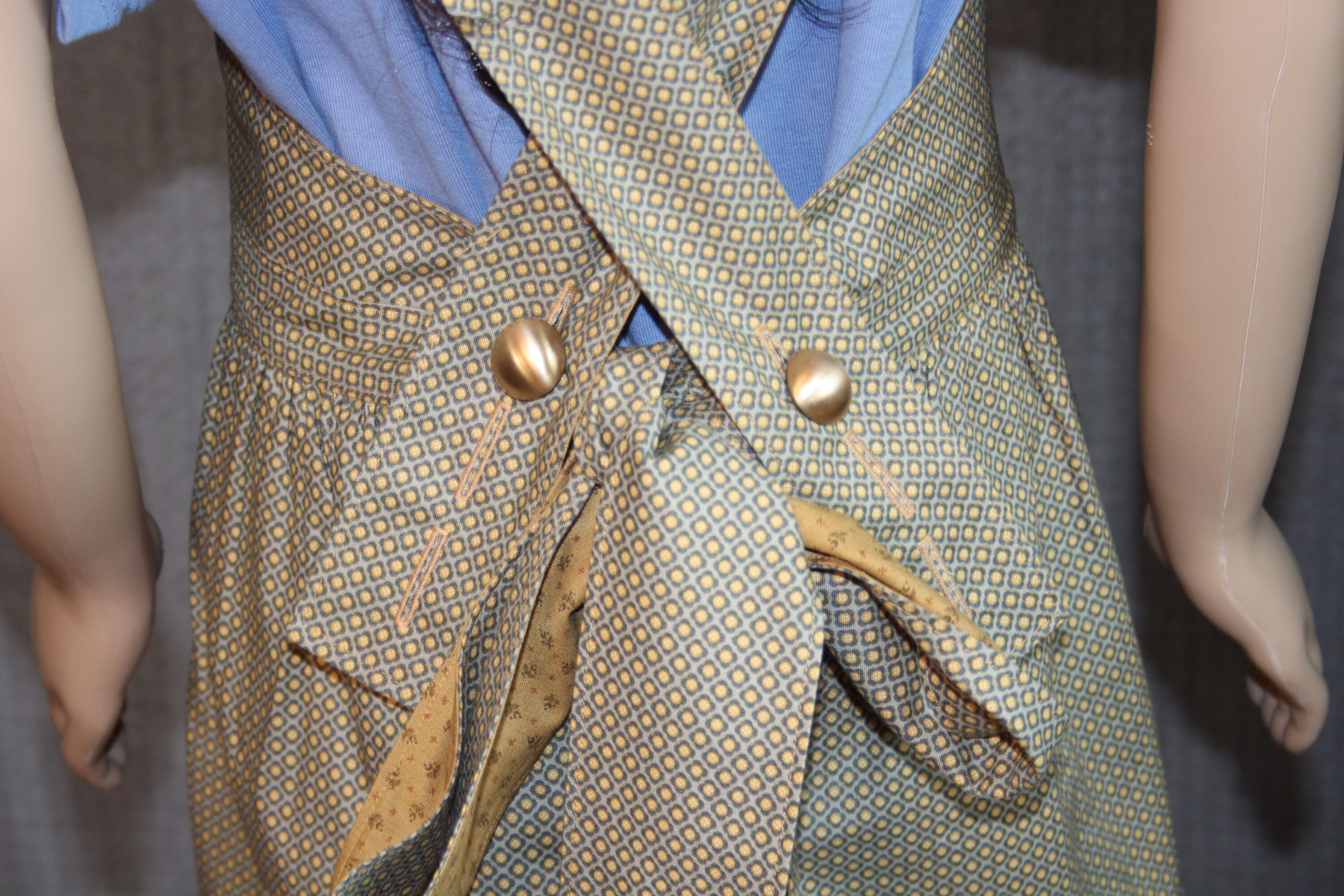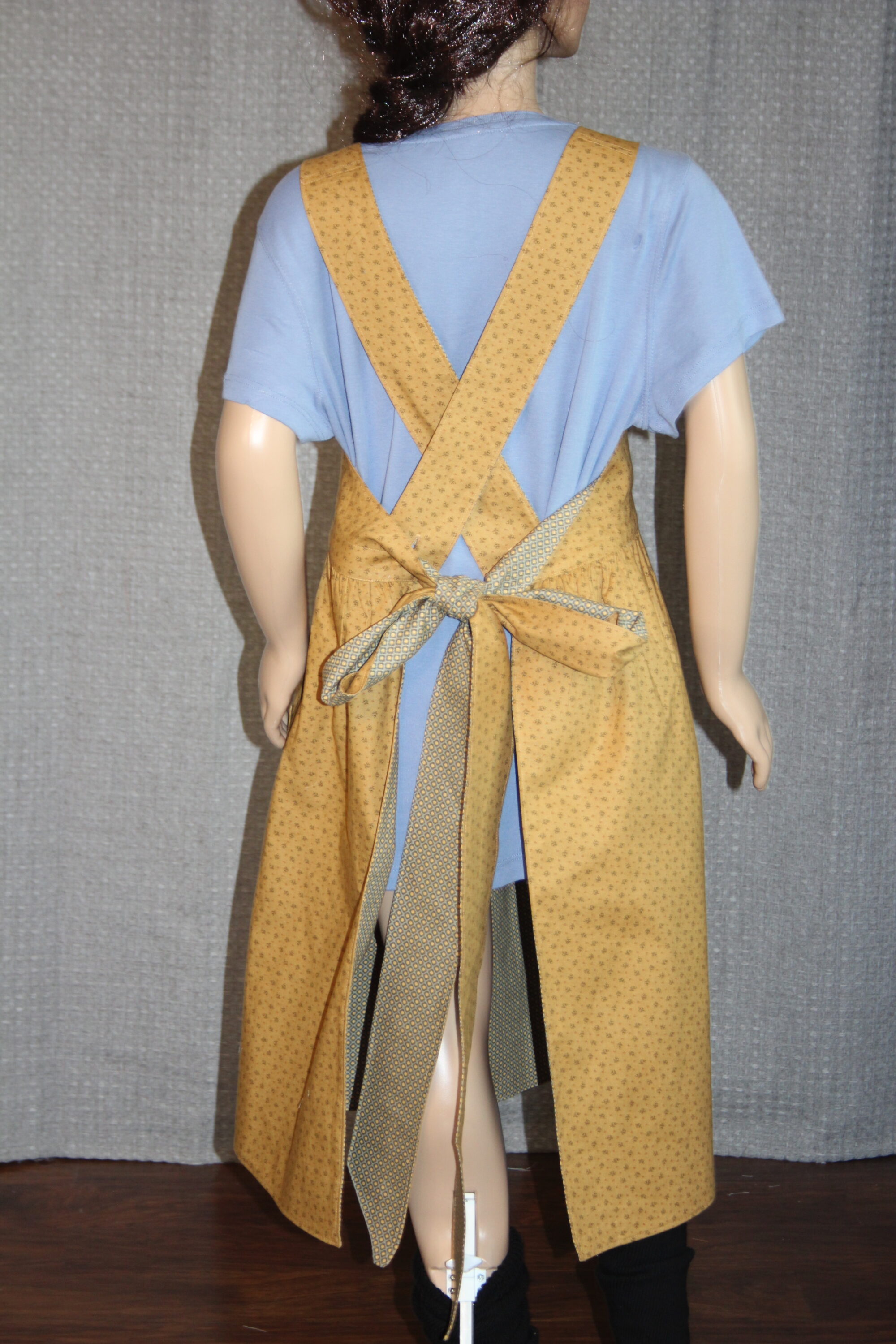 8A.3 (size 8 reversible dark "footballs" and dark teal fabric with "gold hydrangeas"…
12A.4 (size 12 reversible deep green with gold fabric reverses to teal dots on ecru with tan bias…
Adult.med.1  (sized for an average adult women with 34″ bust 31" waist, taken directly from the vintage pattern, "Mamma and Me" that was produced in a woman's journal in 1925, this is a front only design and is reversible.  The front is a fabric designed for the Downton Abbey show; a many colored dot with dash design reproduction '20's.  Reverse is bright blue with large ivory polka dots.  Featured on on side are handmade 100% wool yarn puff balls – balls so popular at the time – and on the other a gorgeous and rare mother of pearl integrated shank button.  Photos do not do the notions and trims in these garments justice).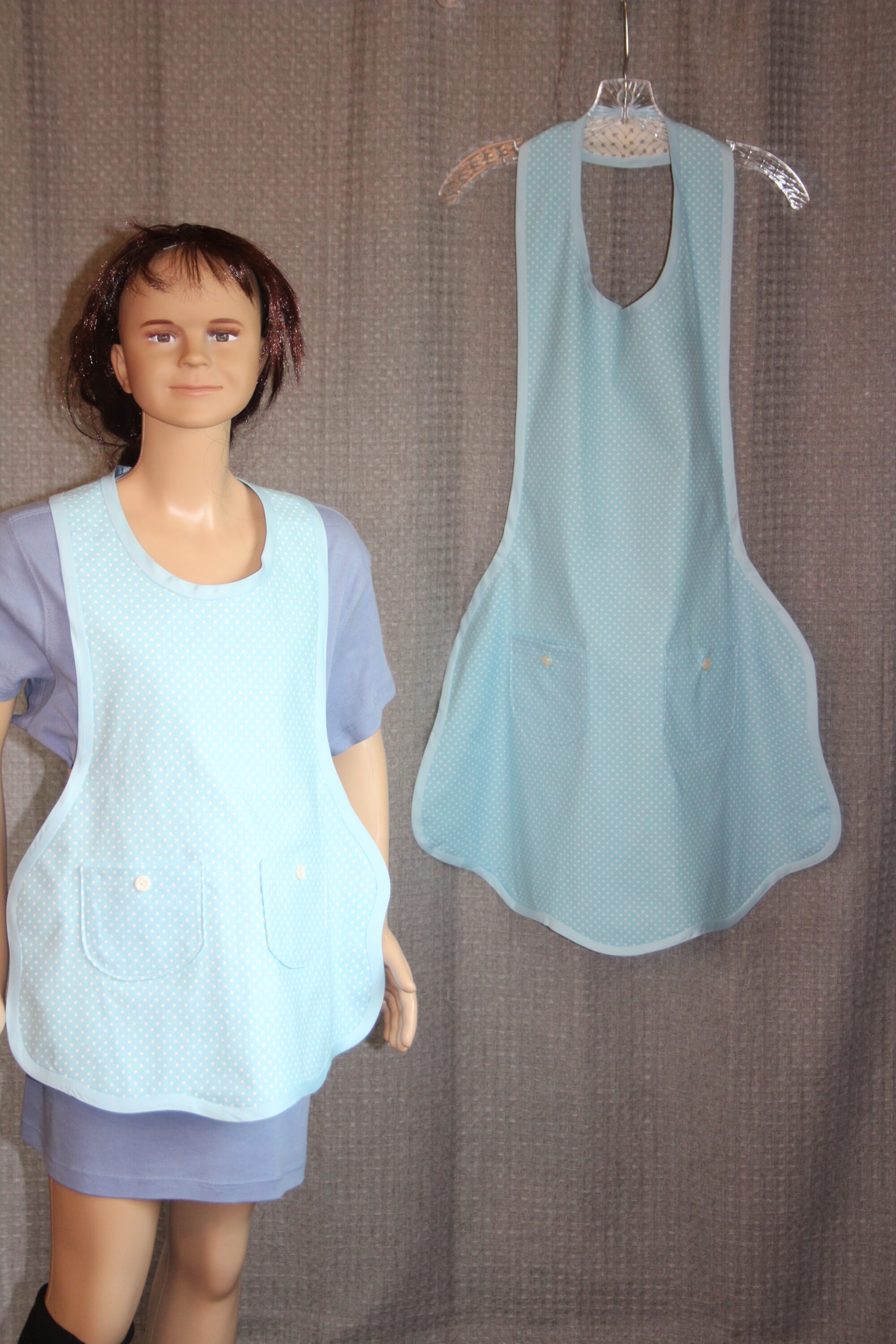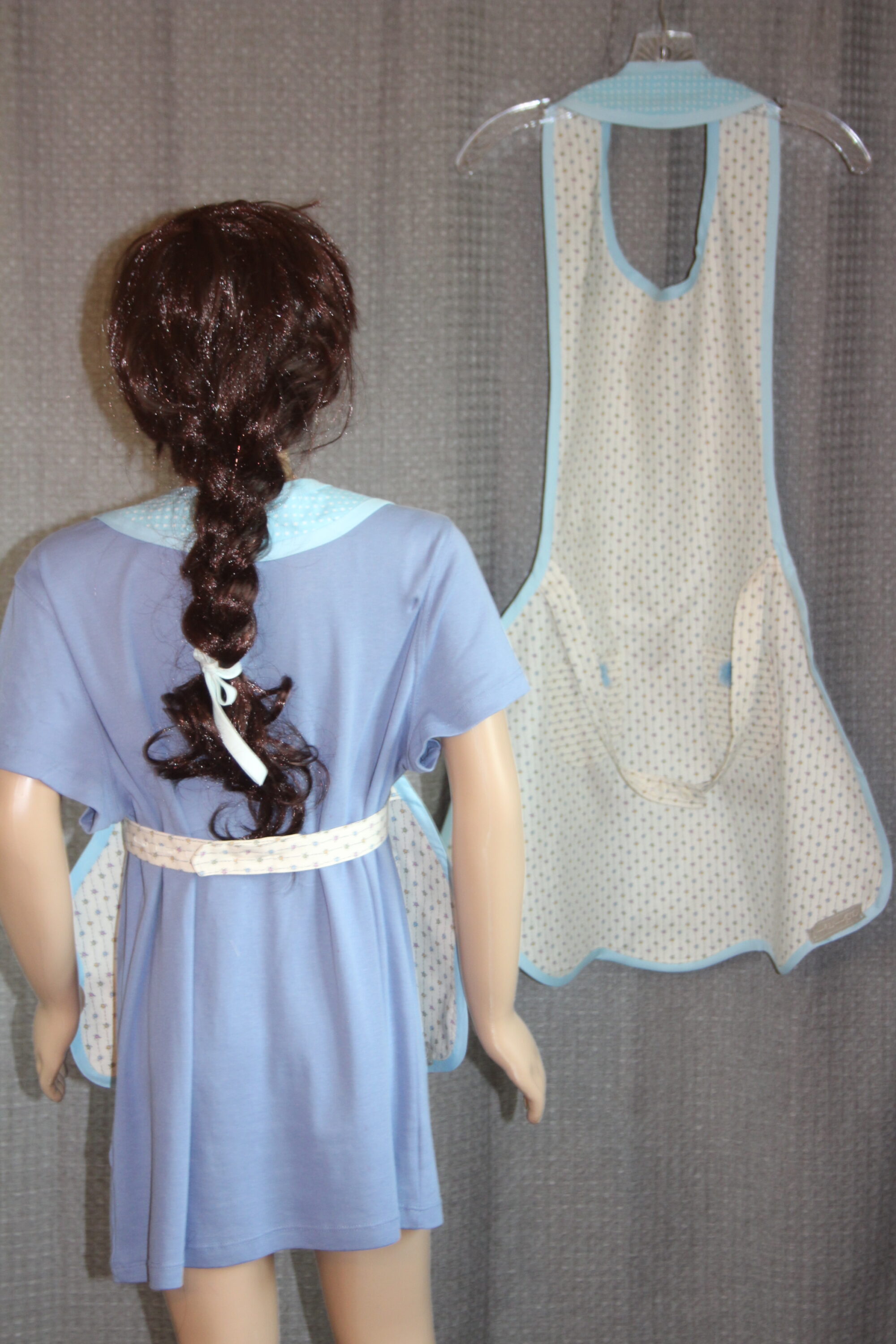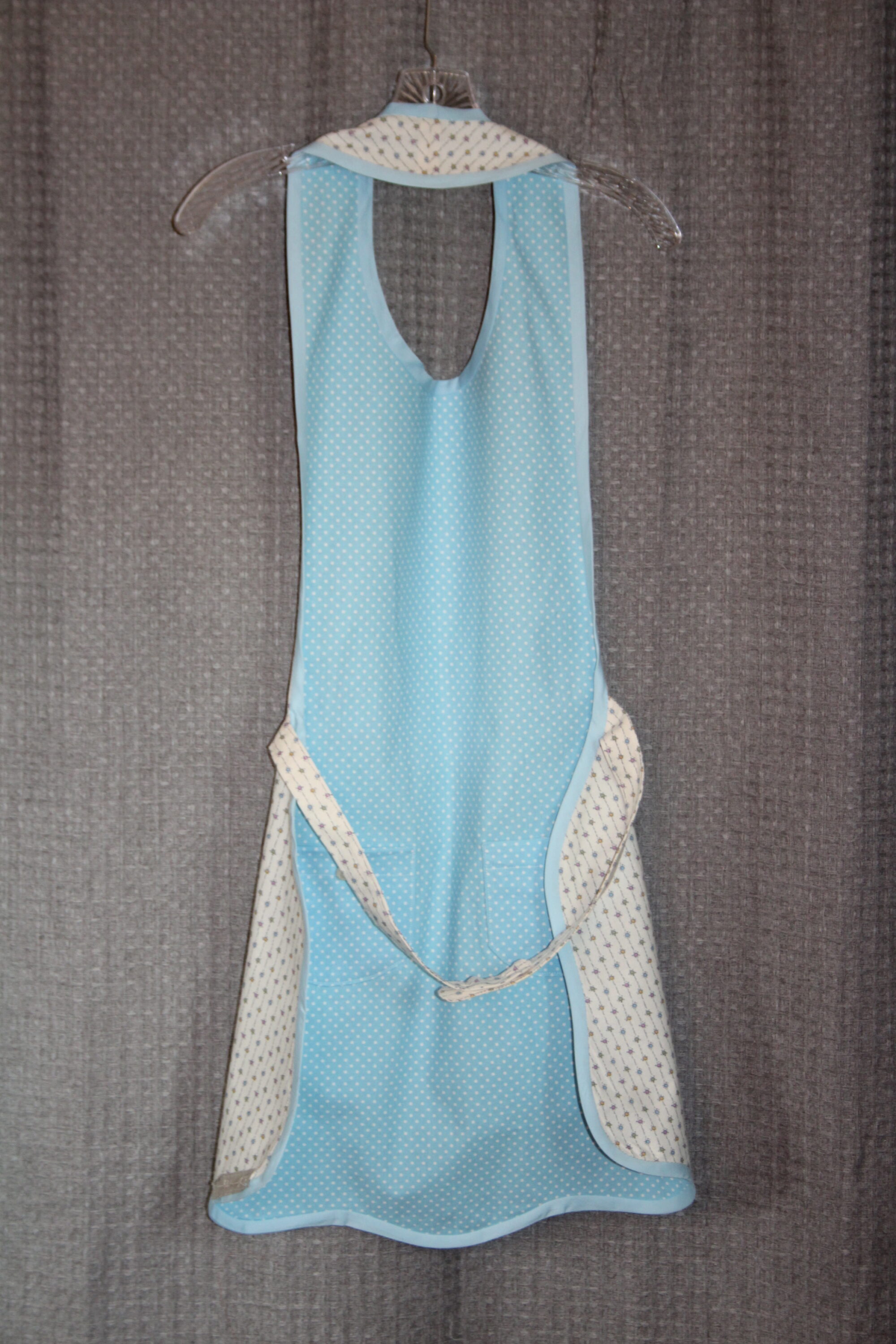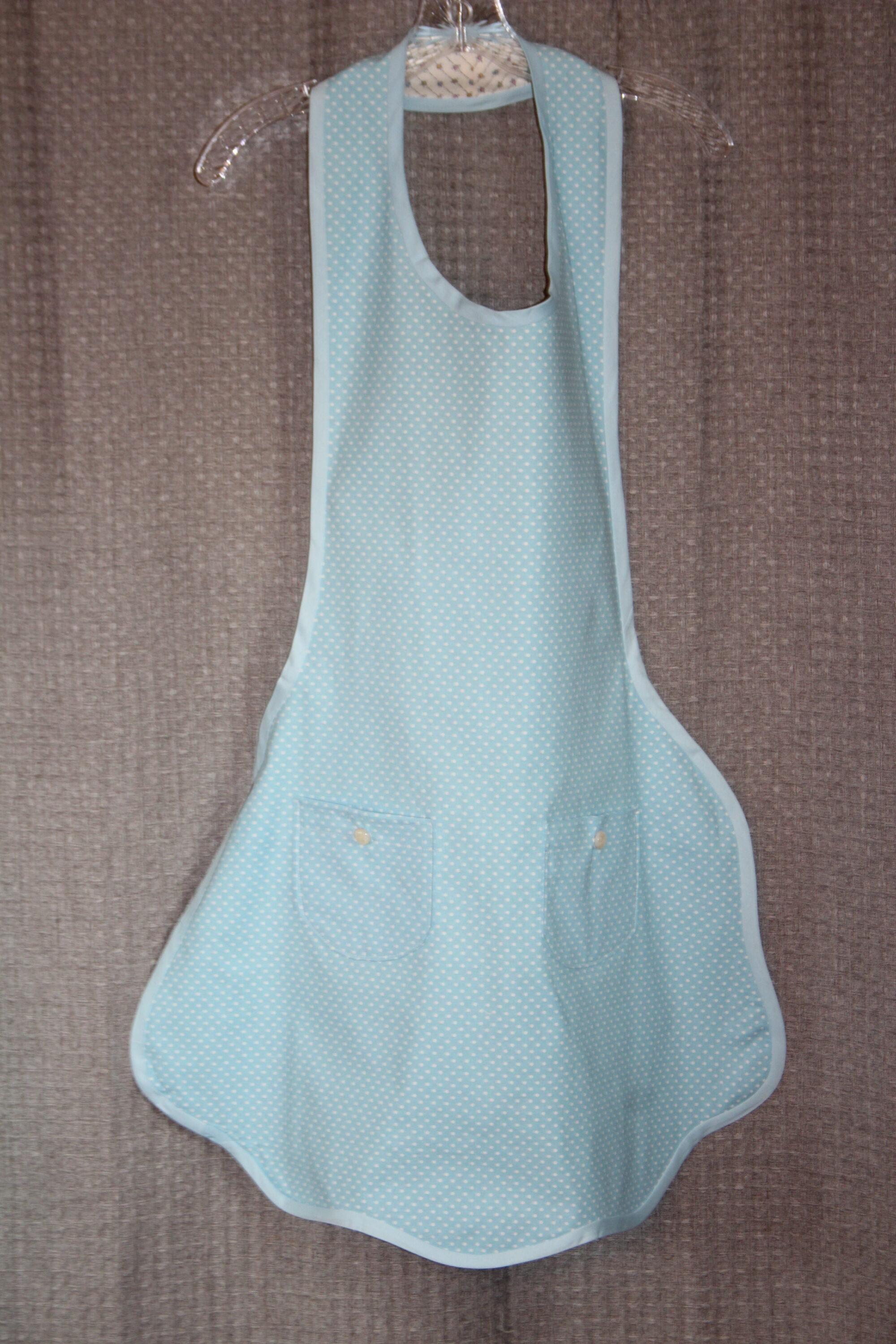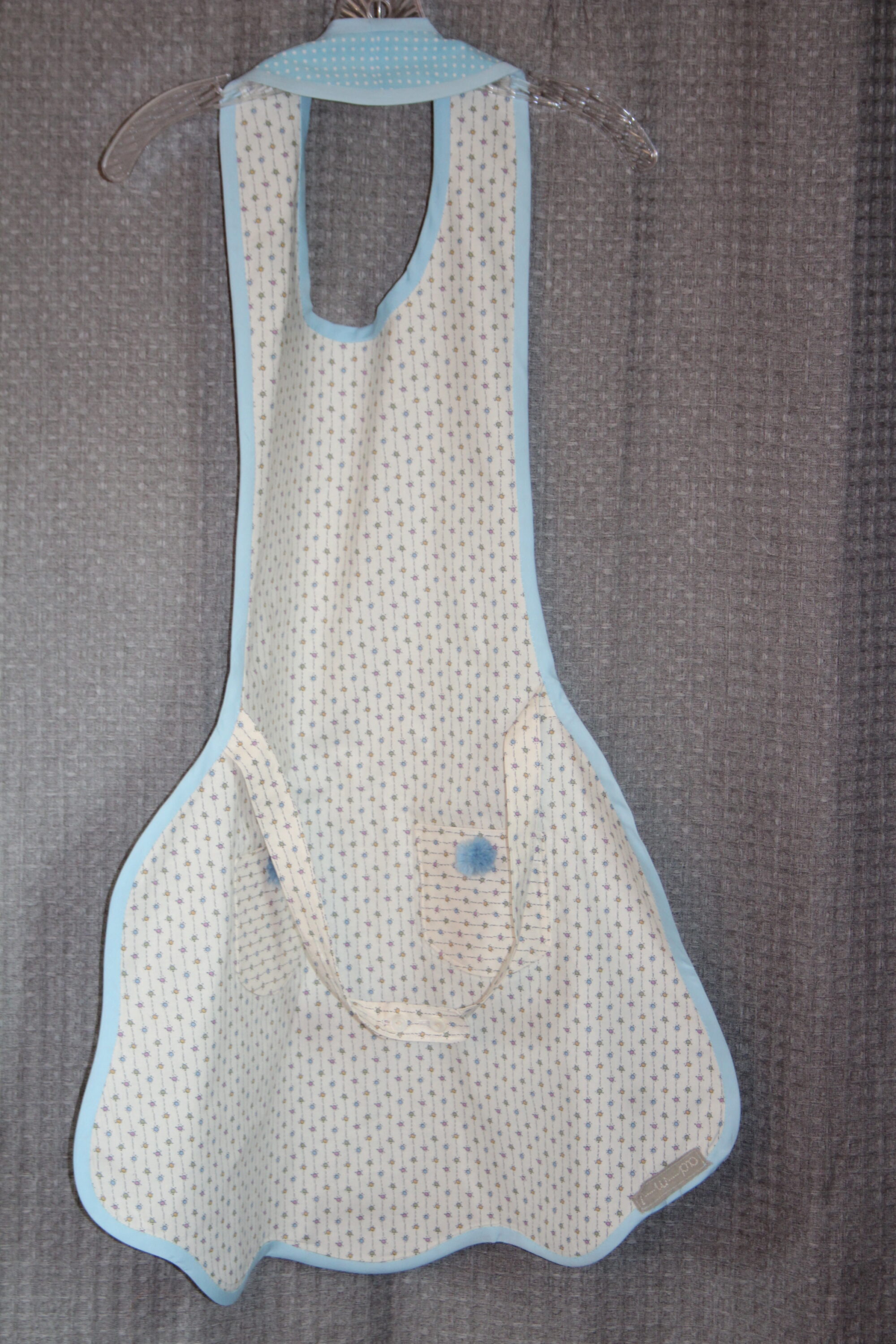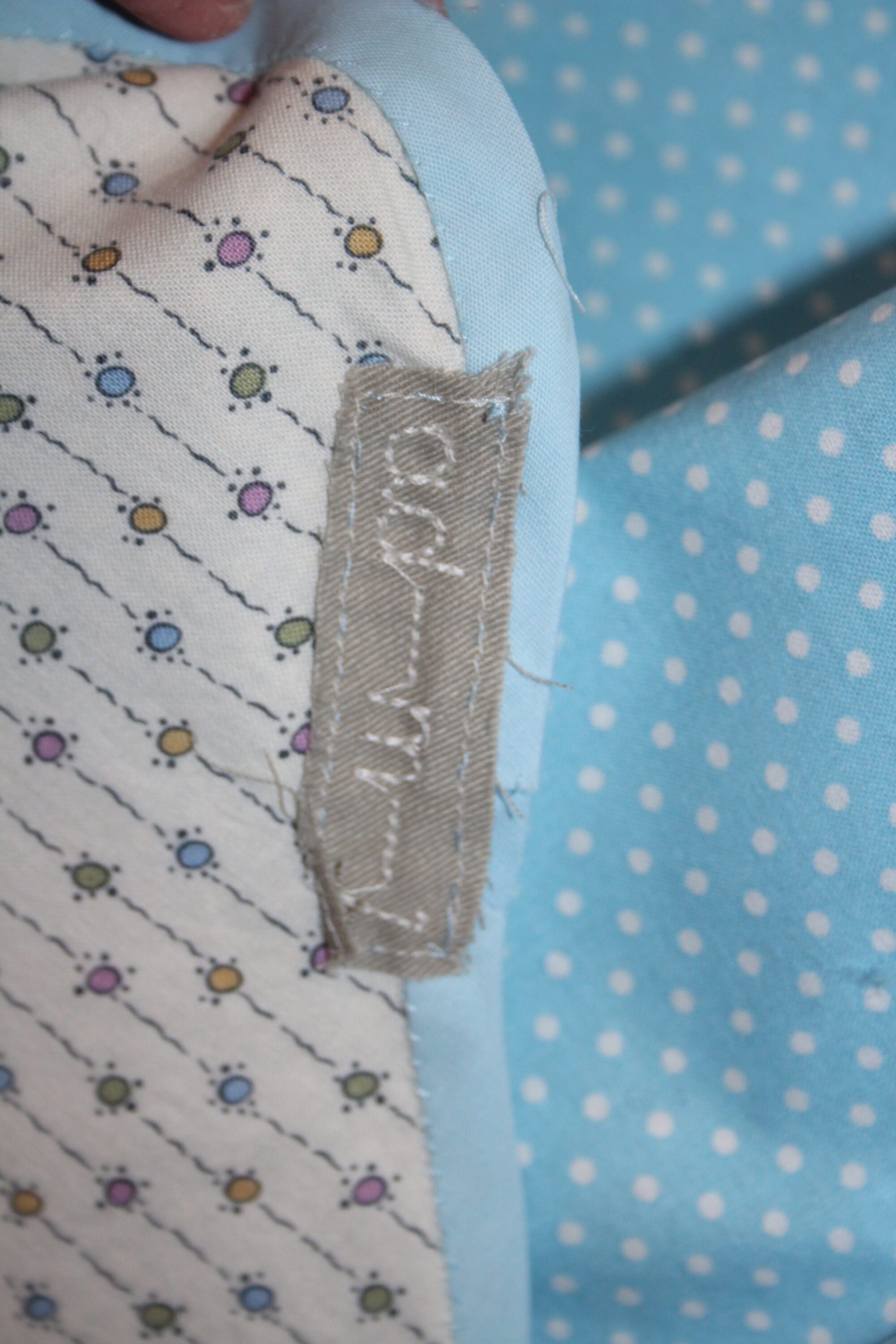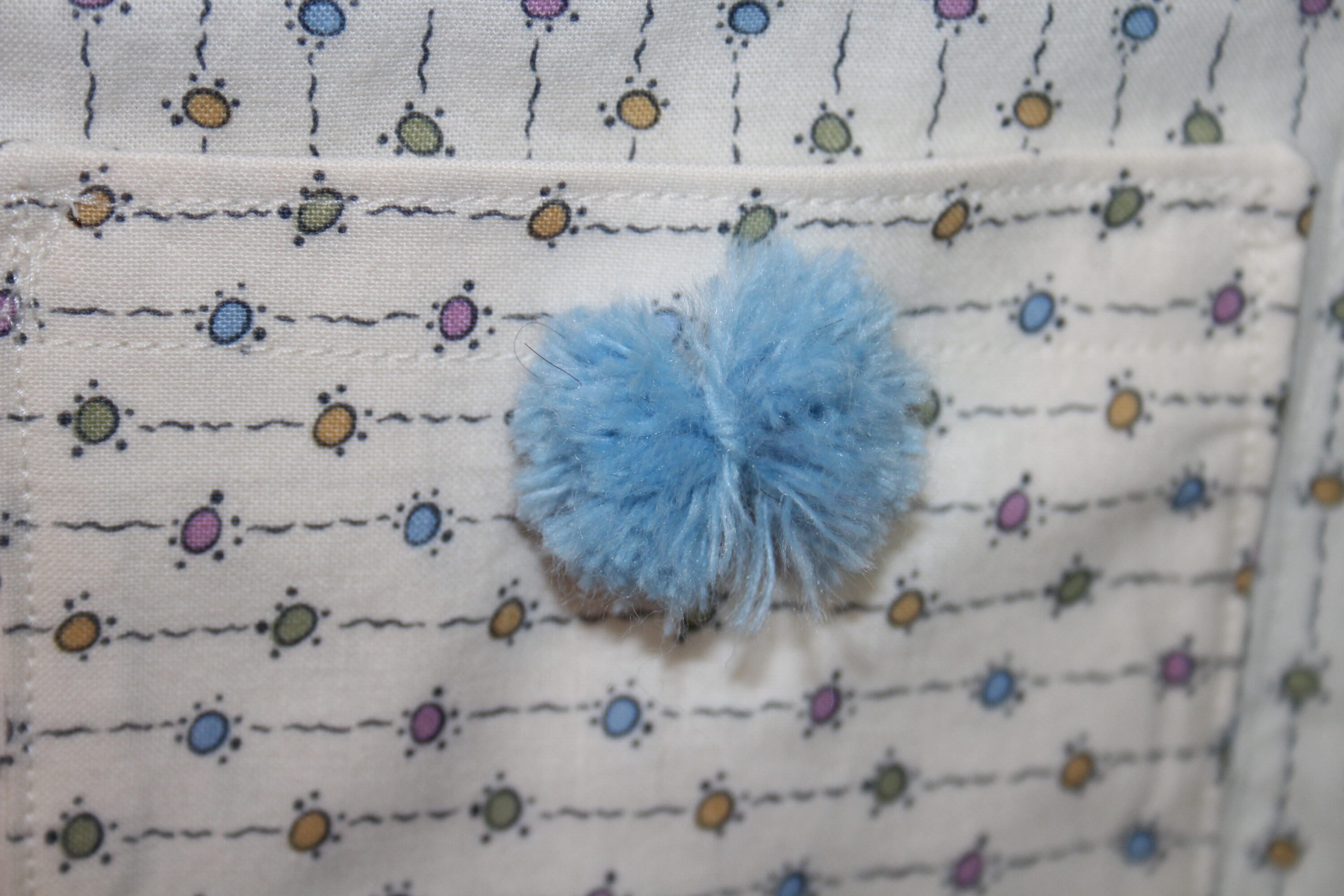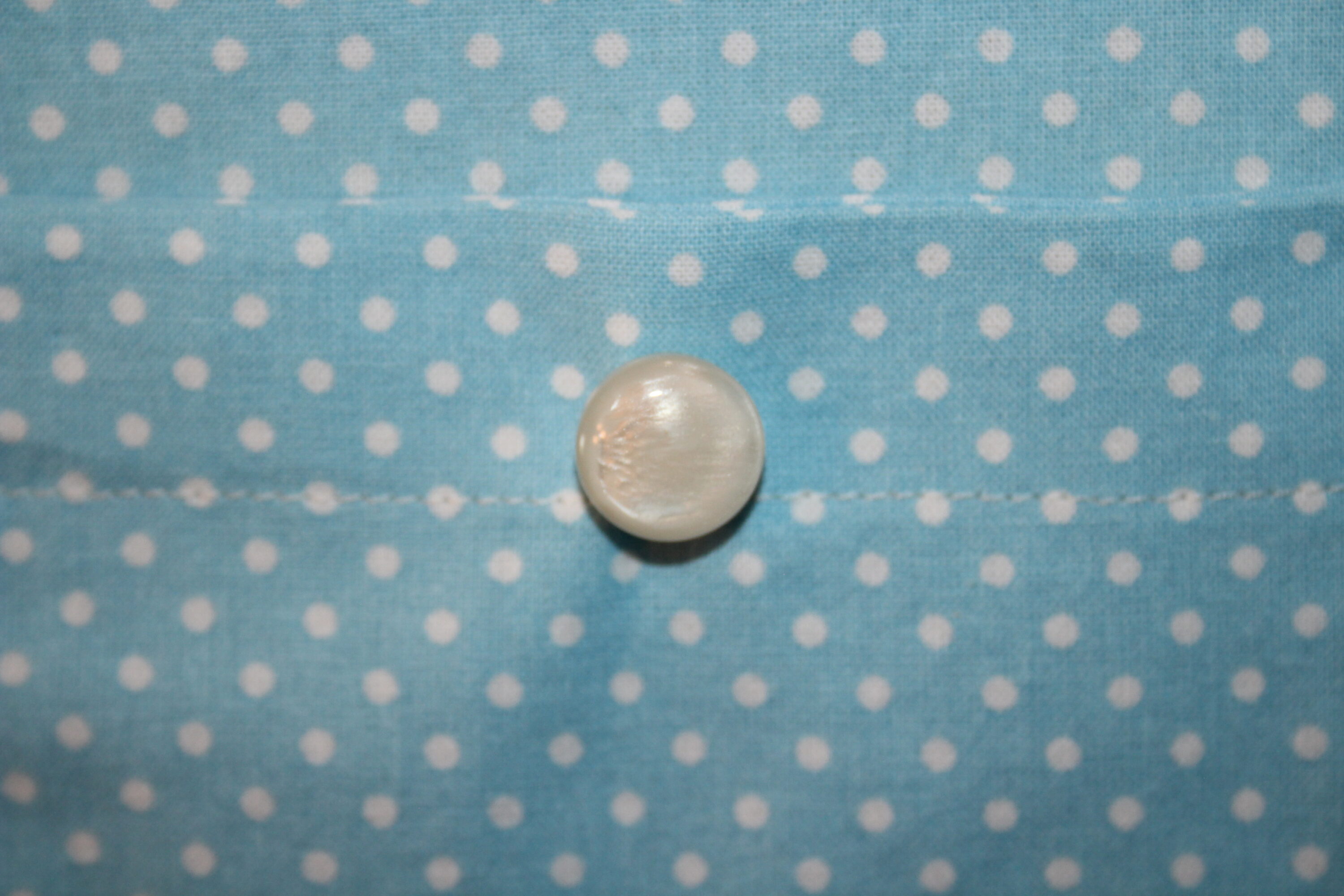 6A.2 sz 6 the "Me" of Mamma and me, the vintage pattern that had been featured in a woman's magazine in 1925.  It is a front only curved design that is so notable of the time.  In Downton dot/dash design fabric made as a reproduction for the show, it has confetti colors and the reverse side is large ivory polka dots on bright blue.  Like "Mamma's" there are handmade wool yarn puff balls in blue on the pockets, and beautiful mother of pearl ivory buttons on the reverse side.  This is a bit small on the mannequin who is a size 8).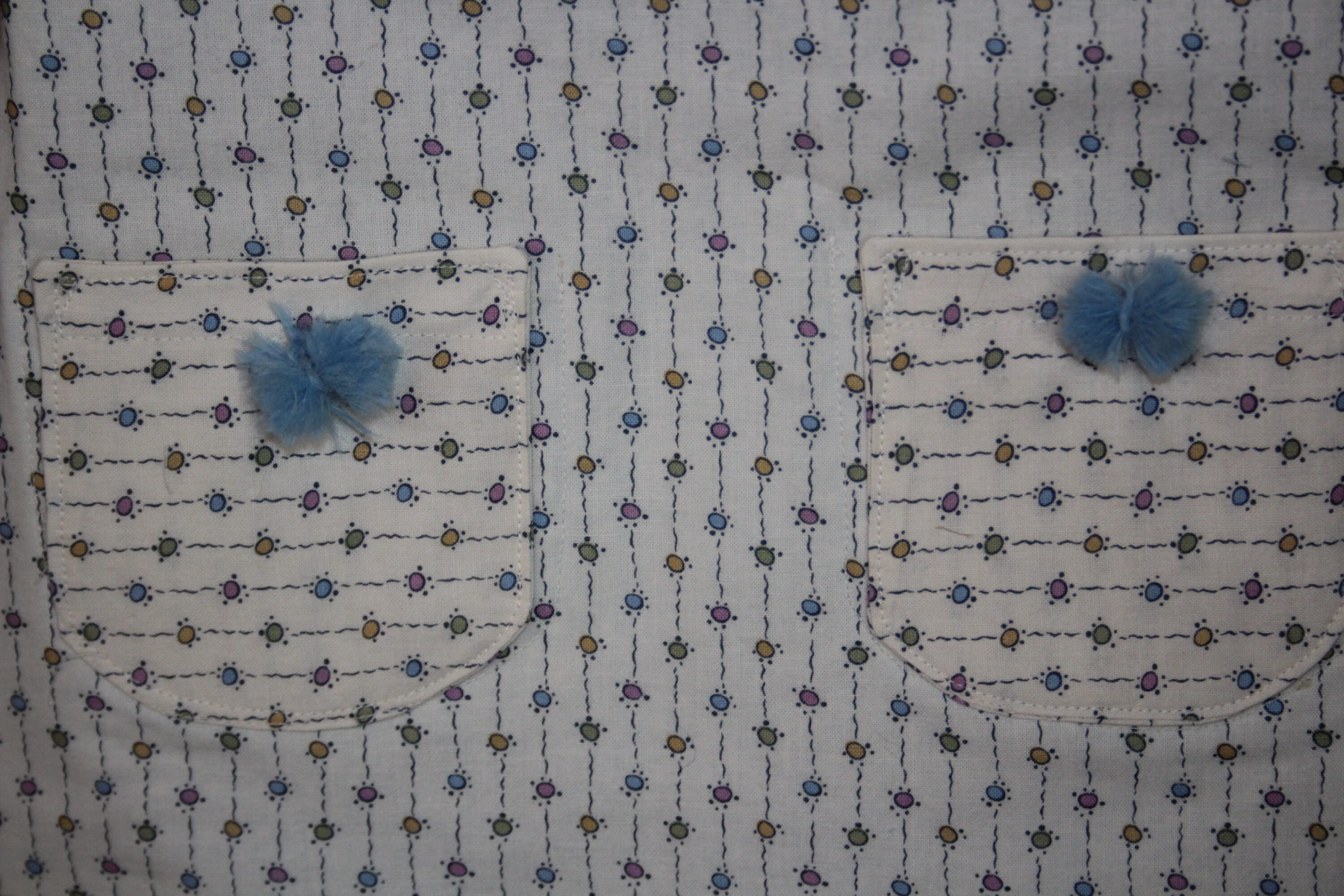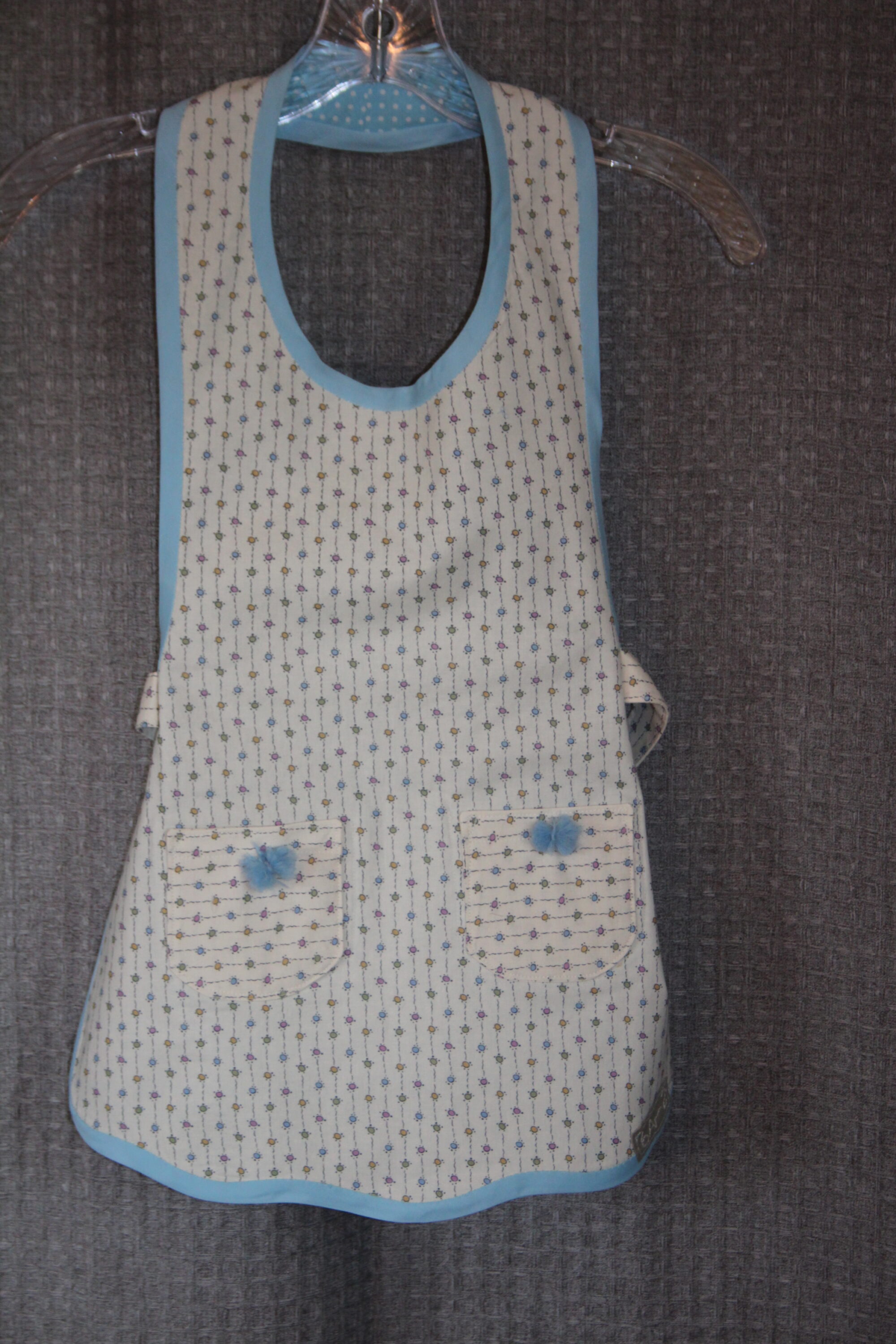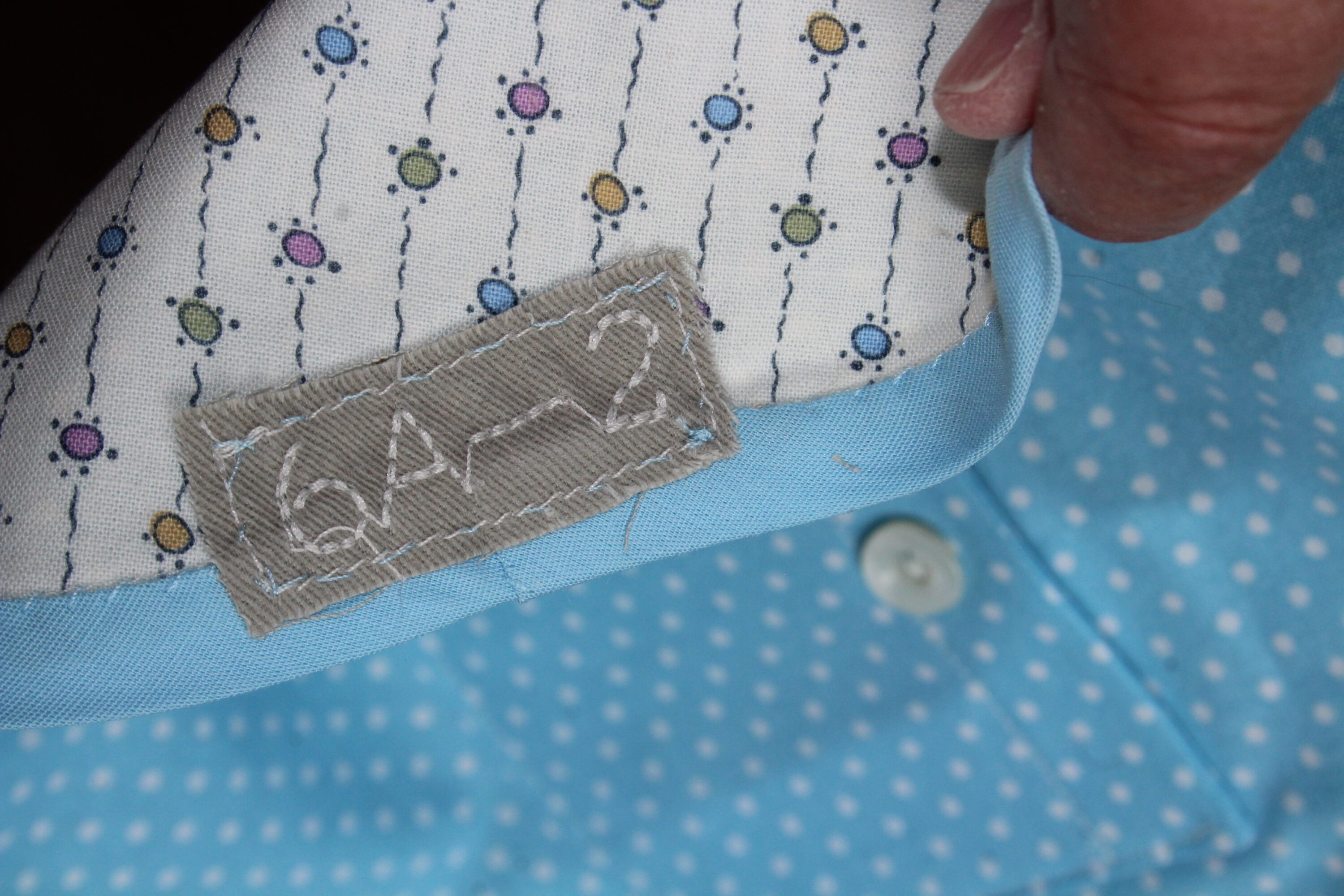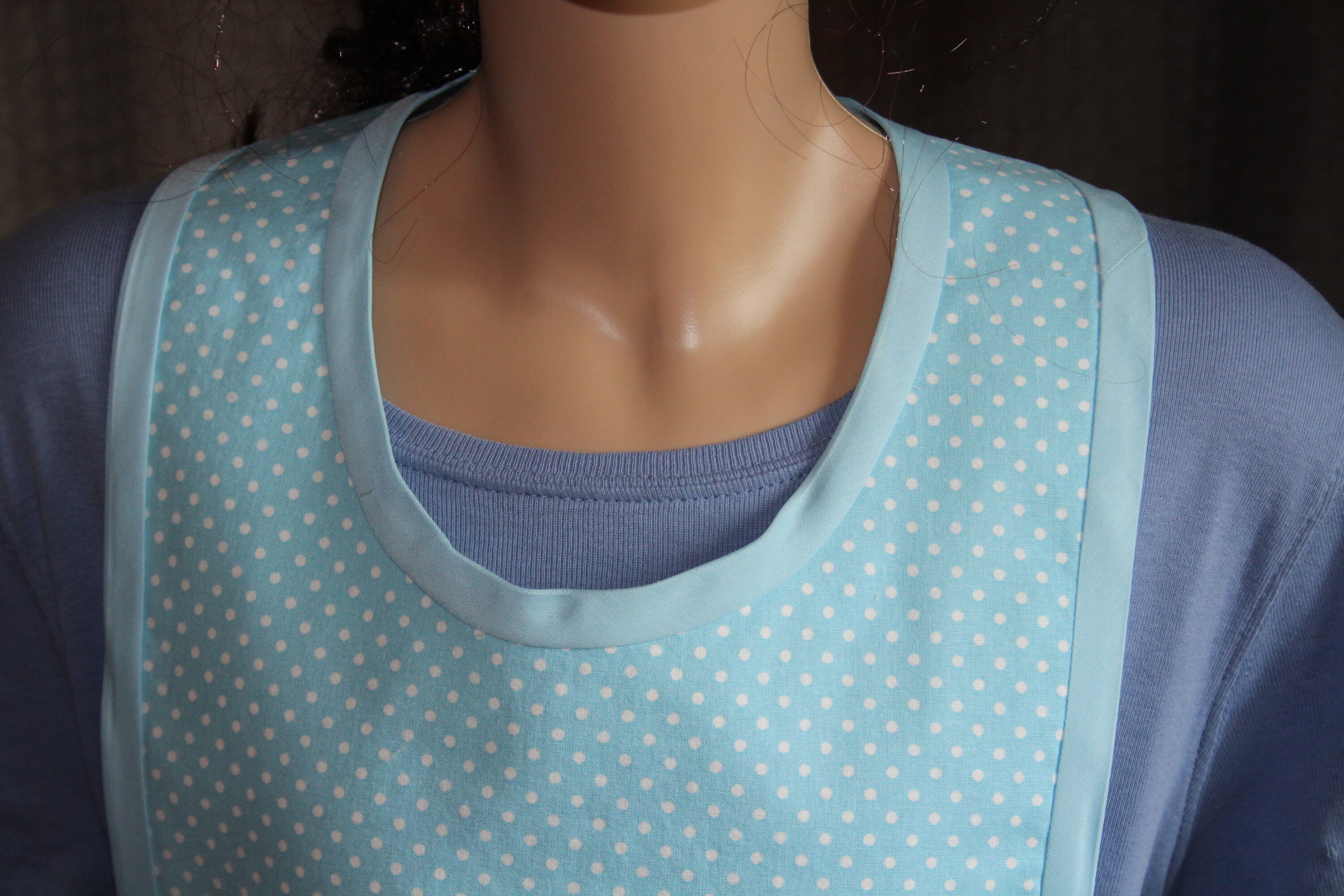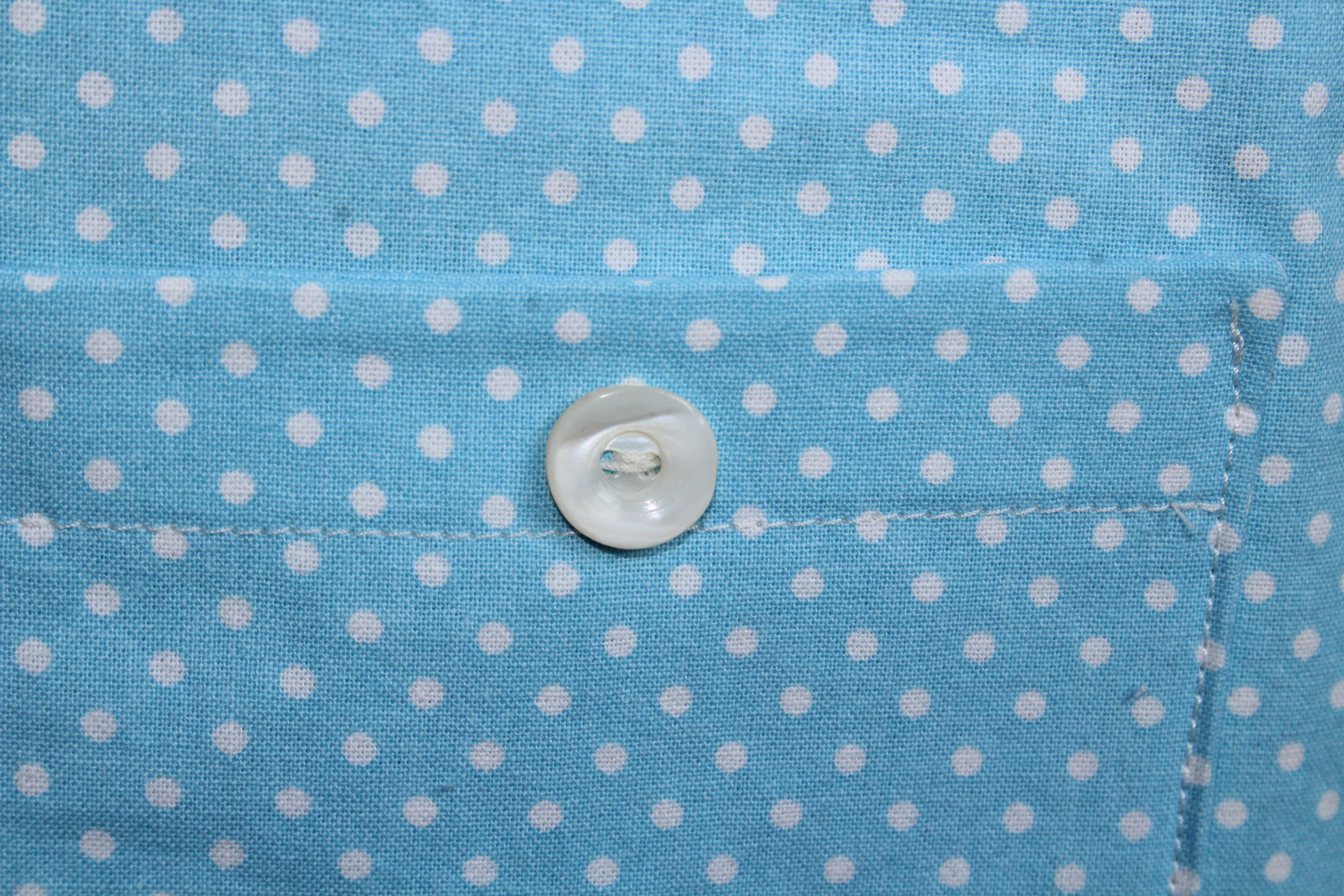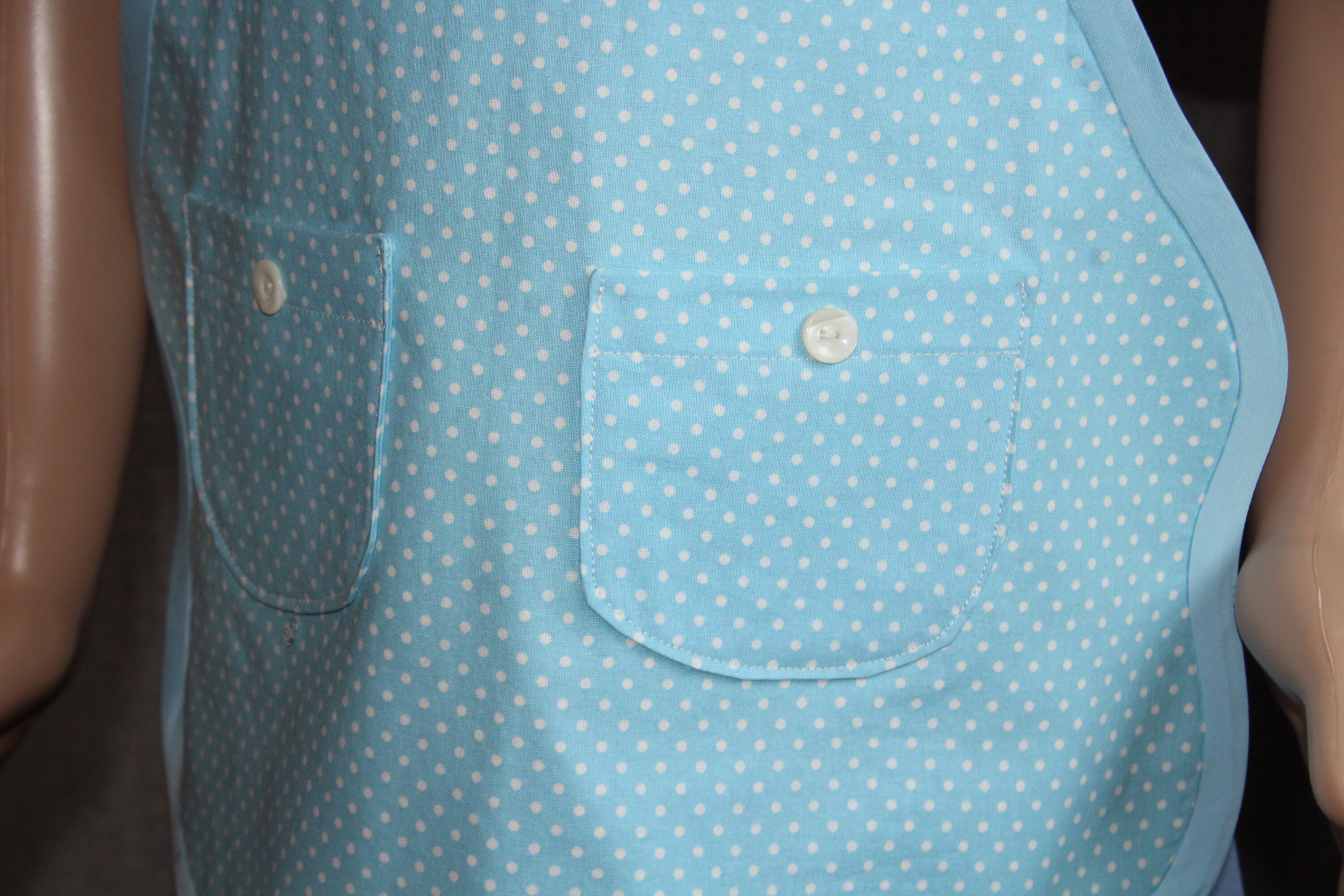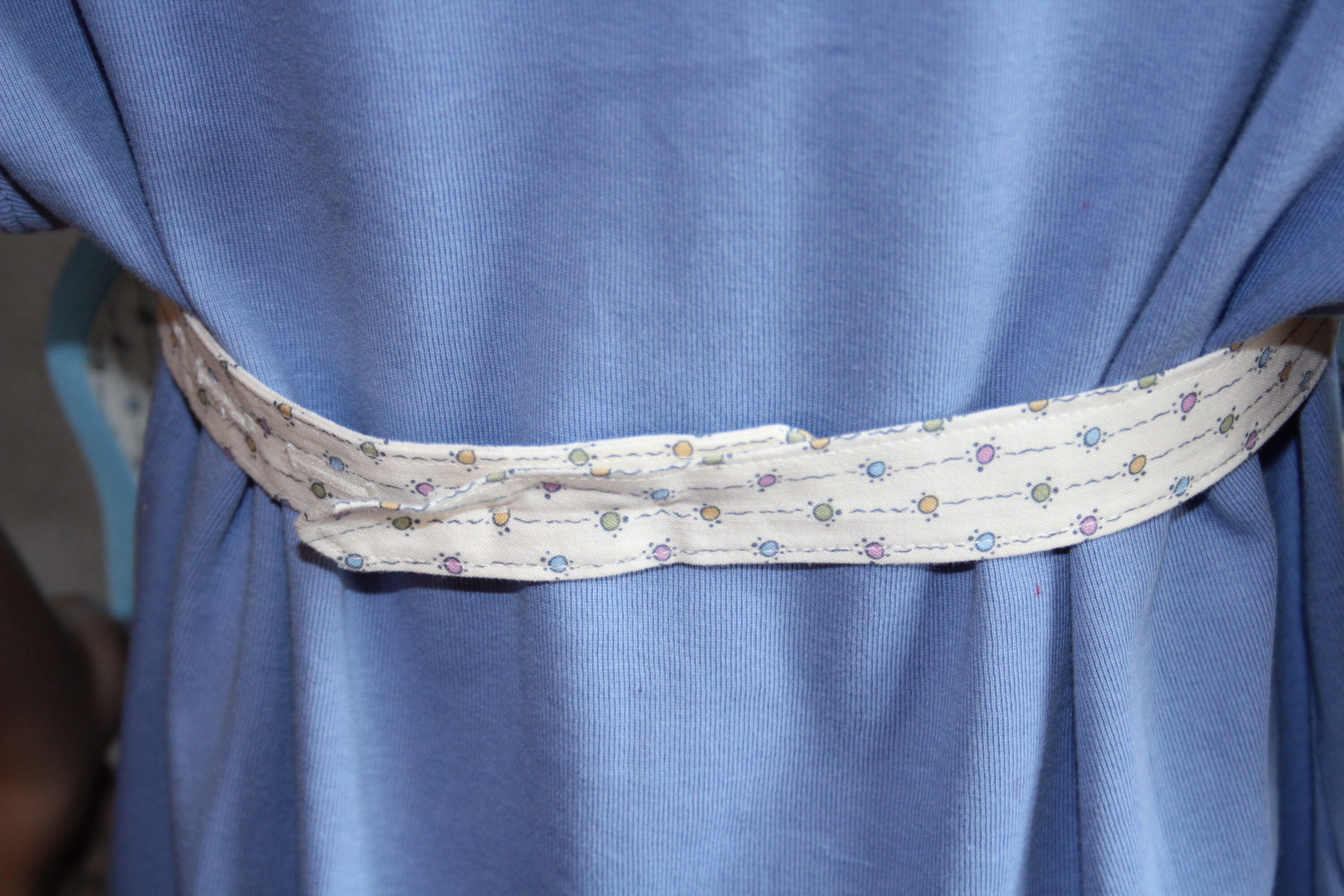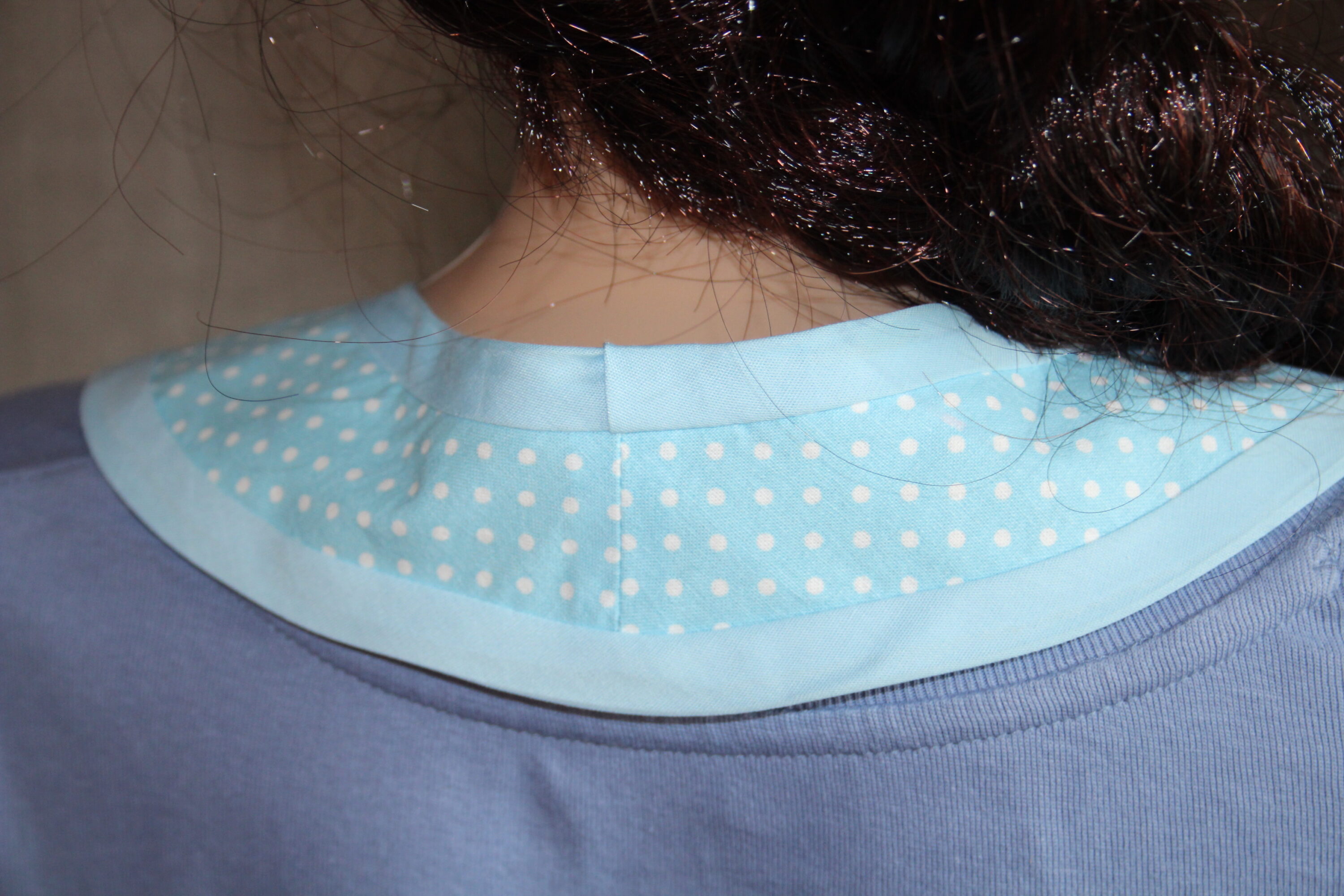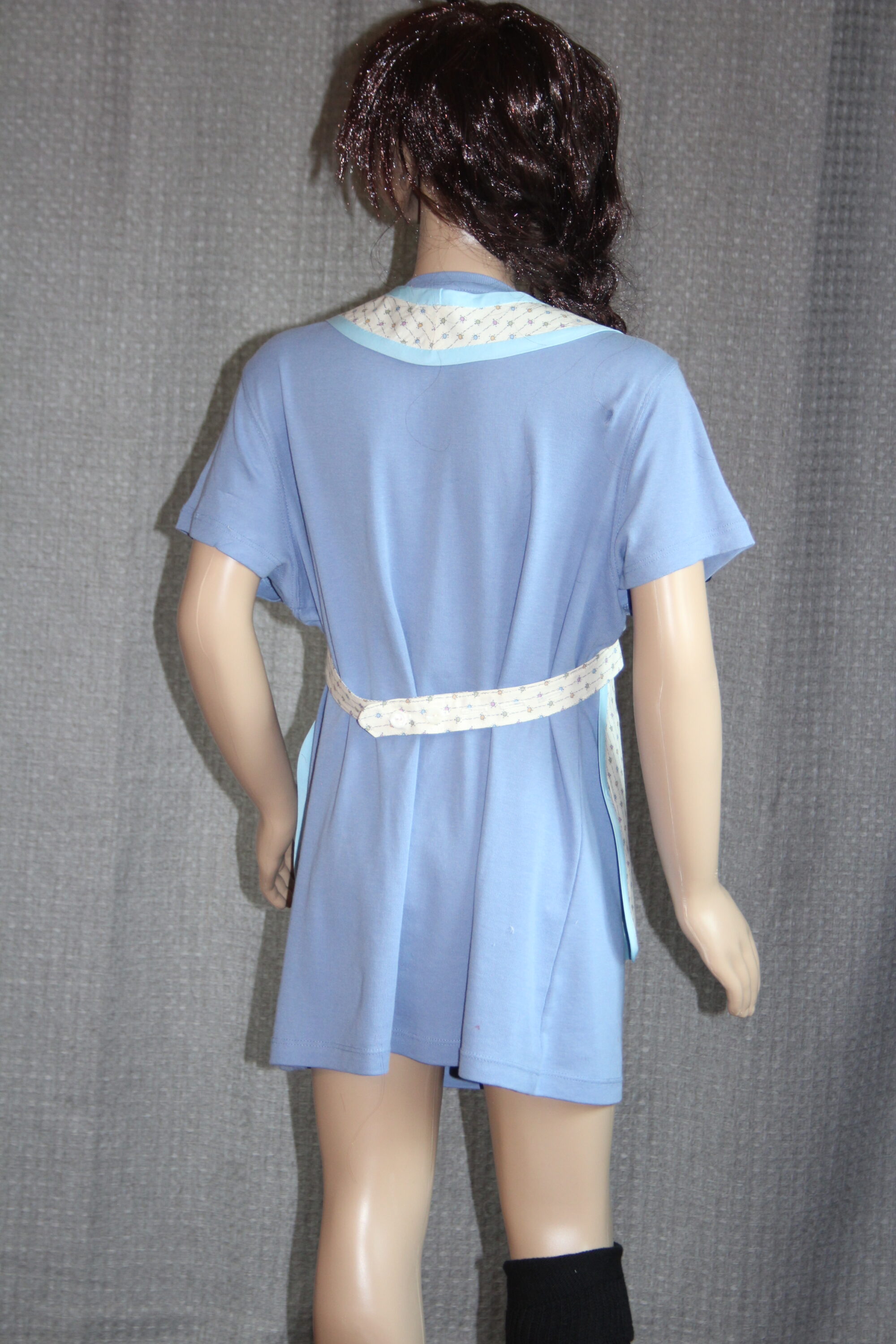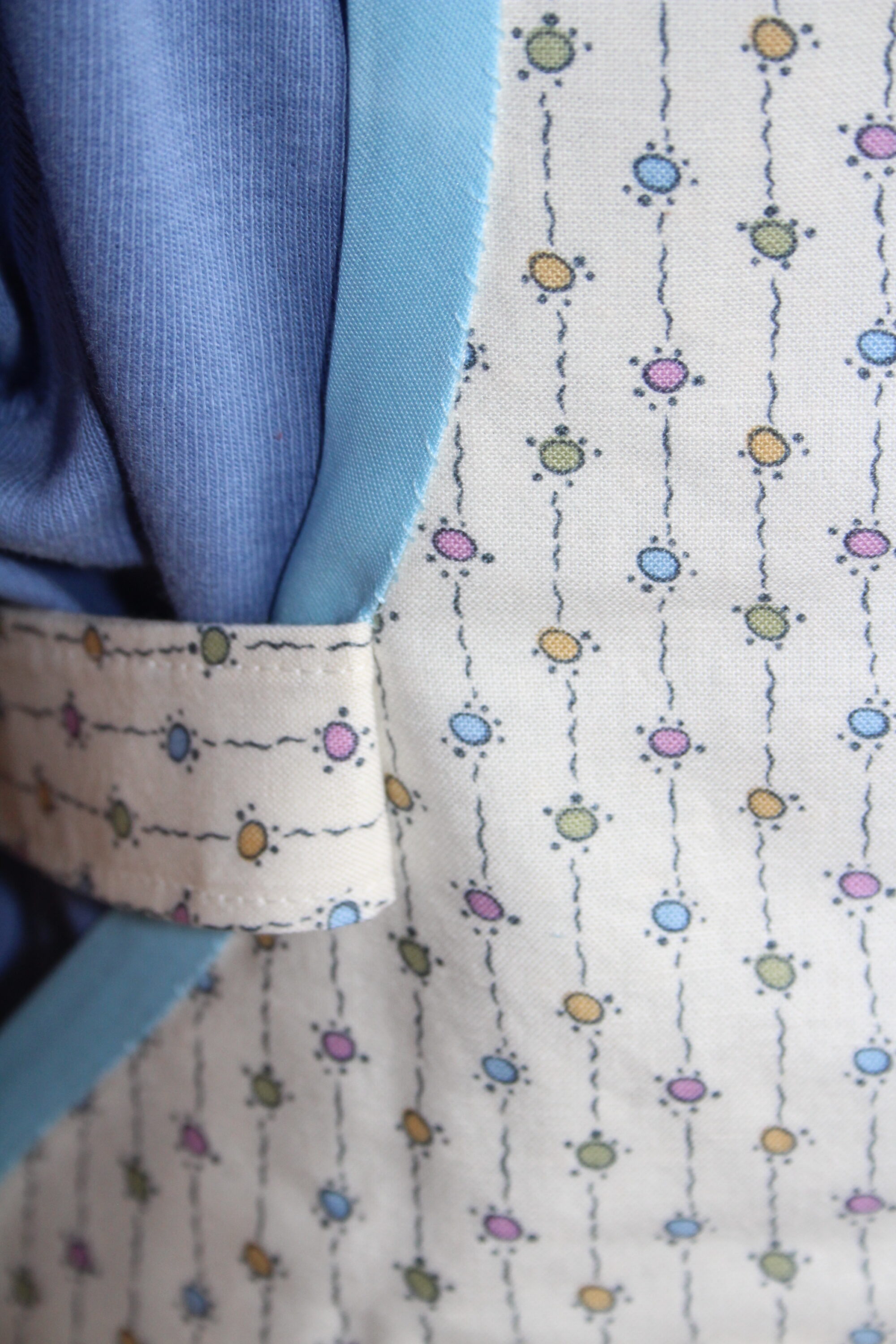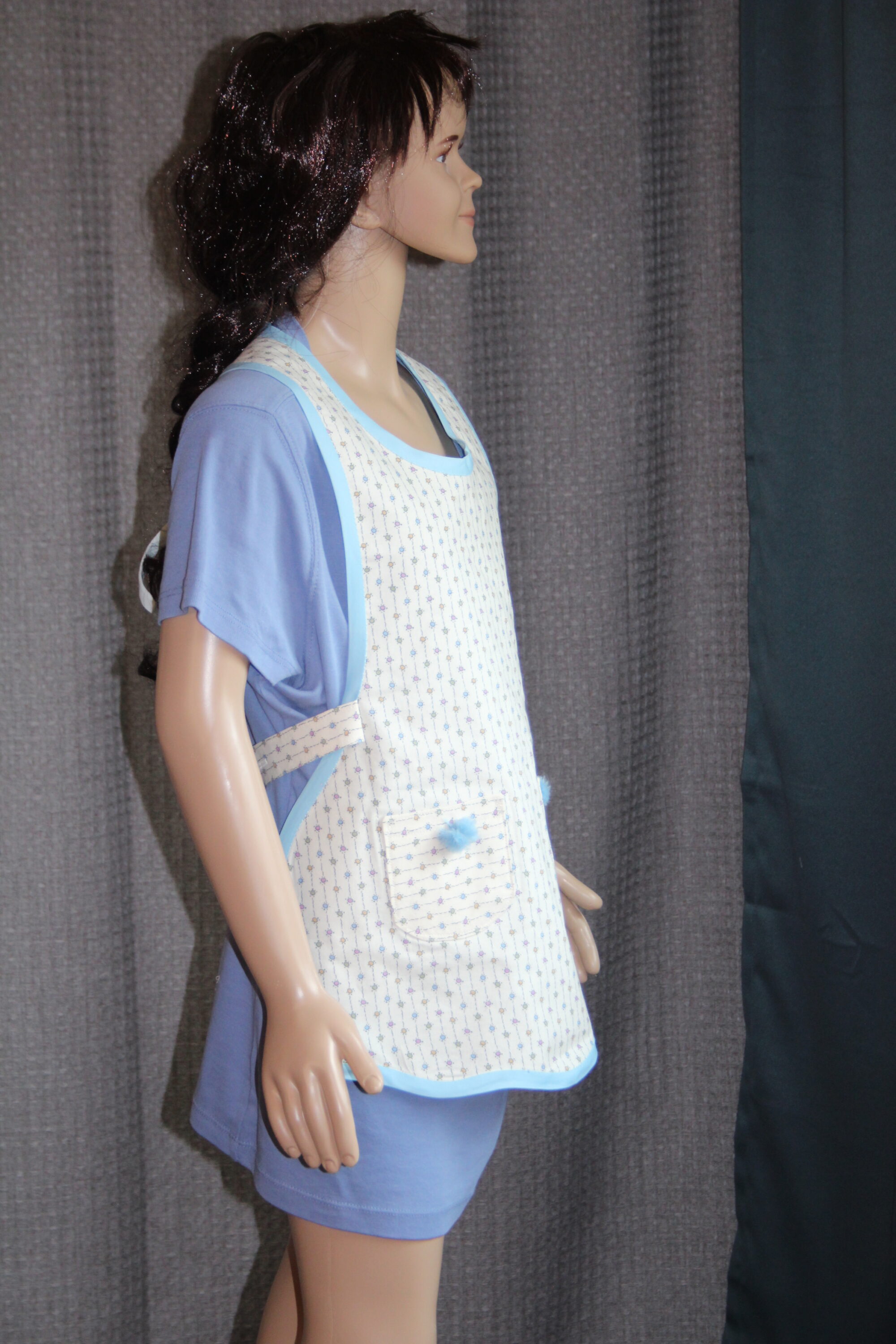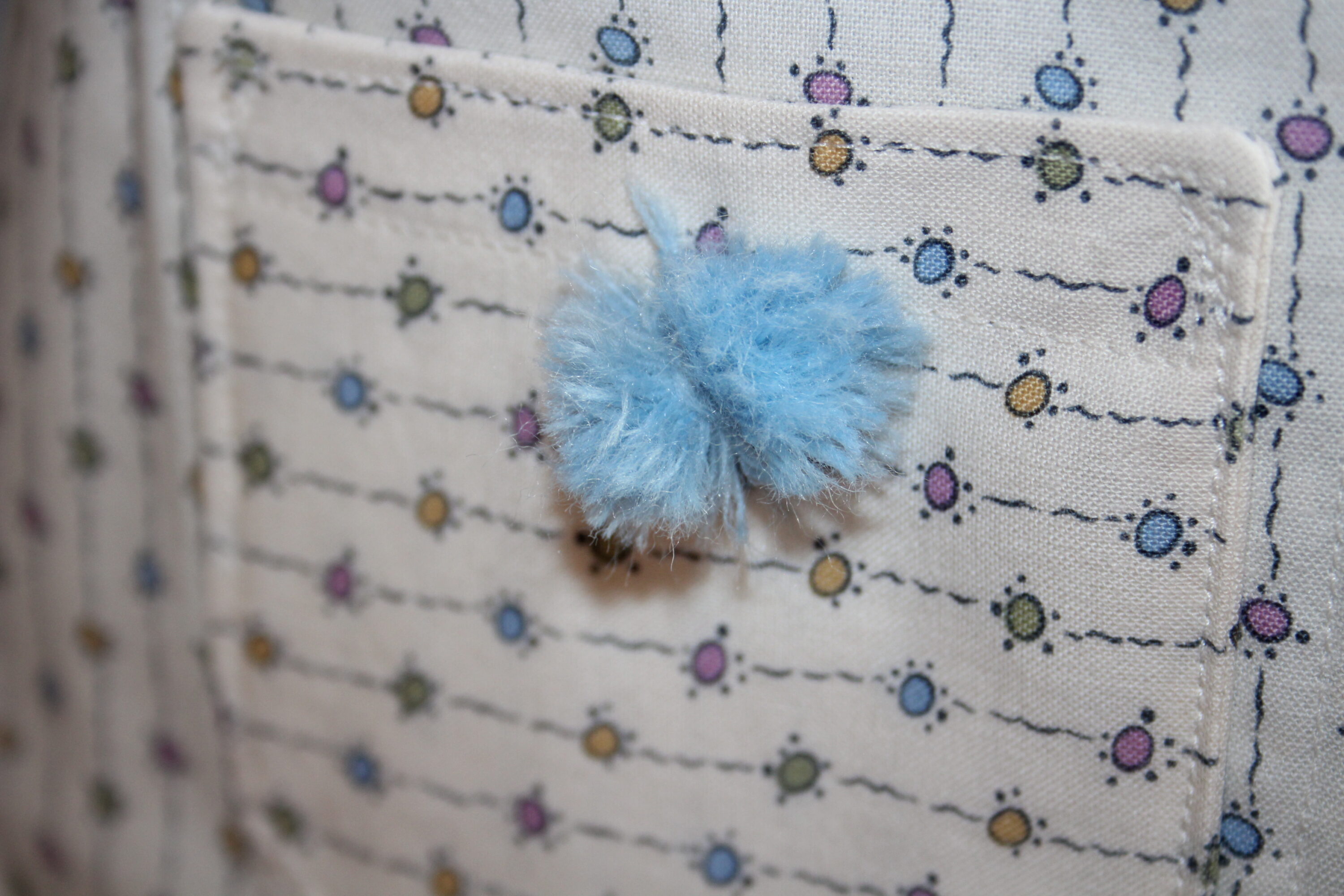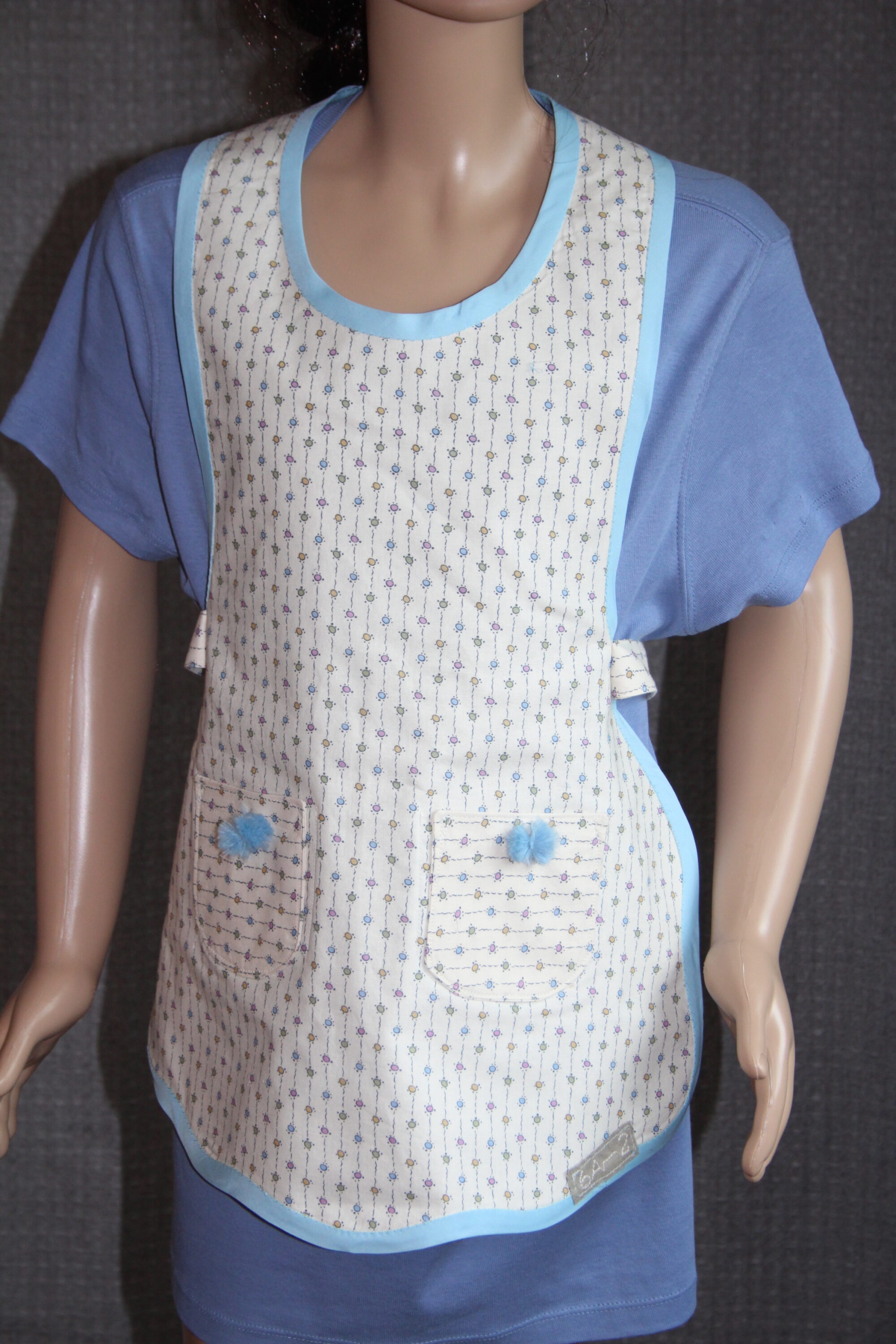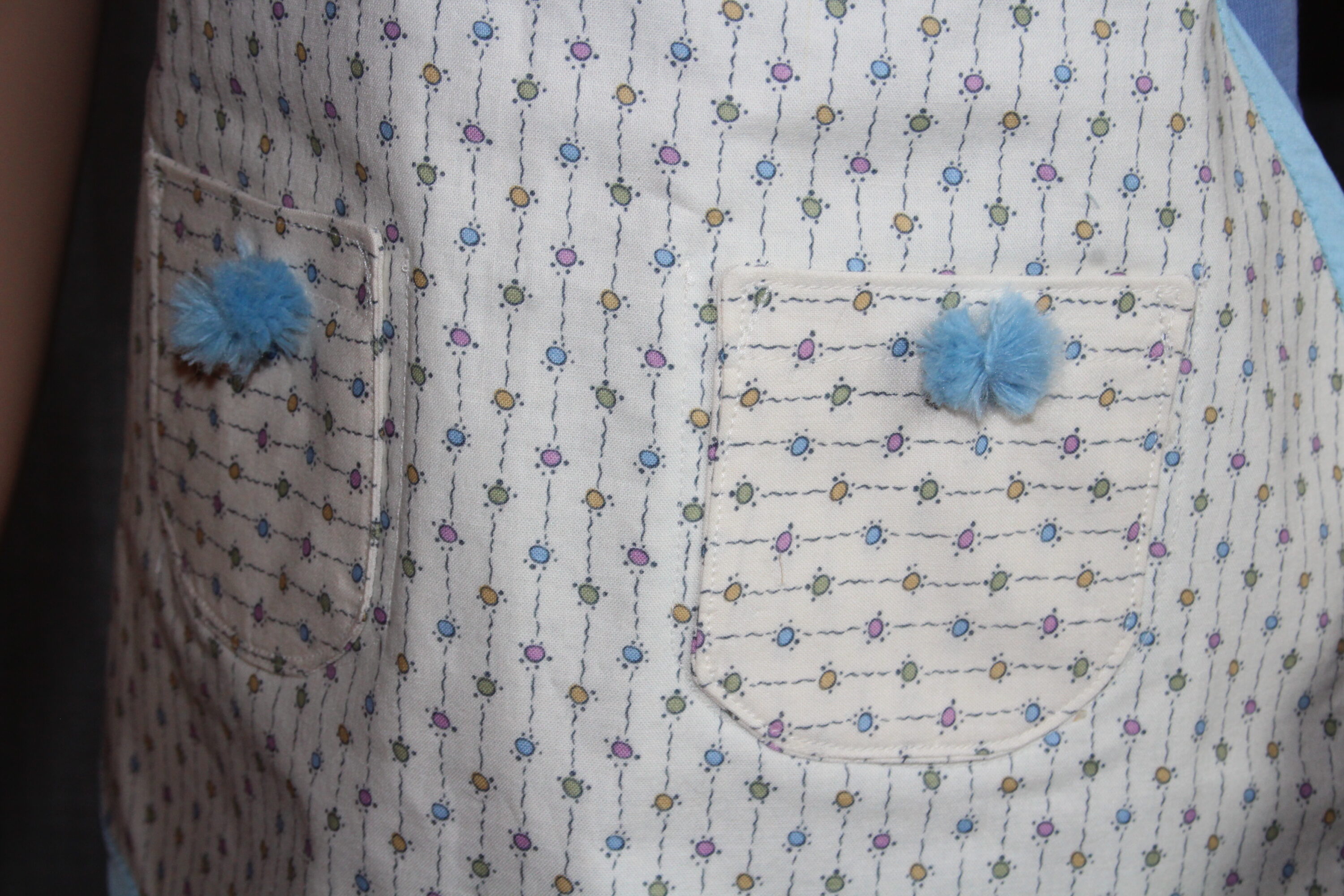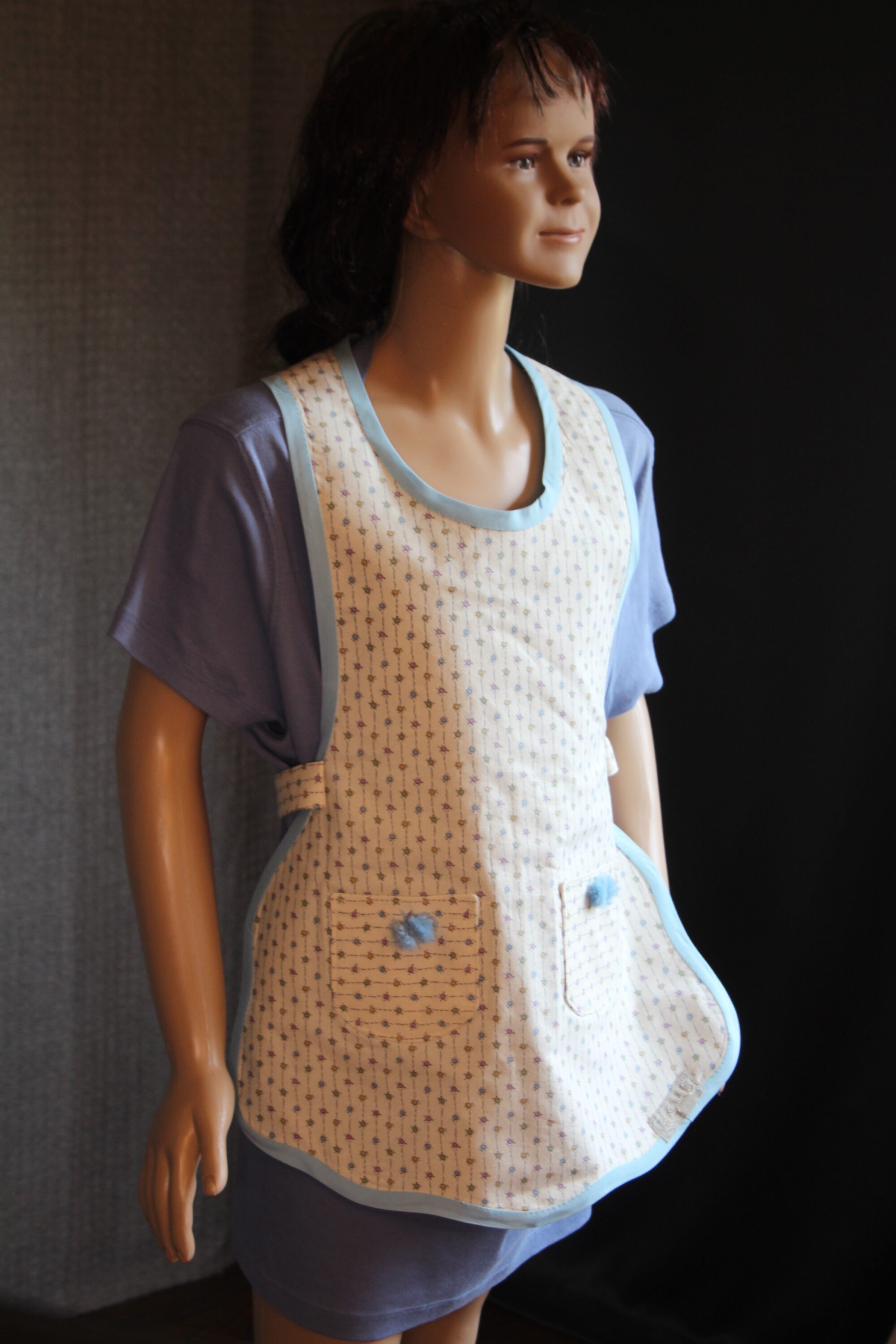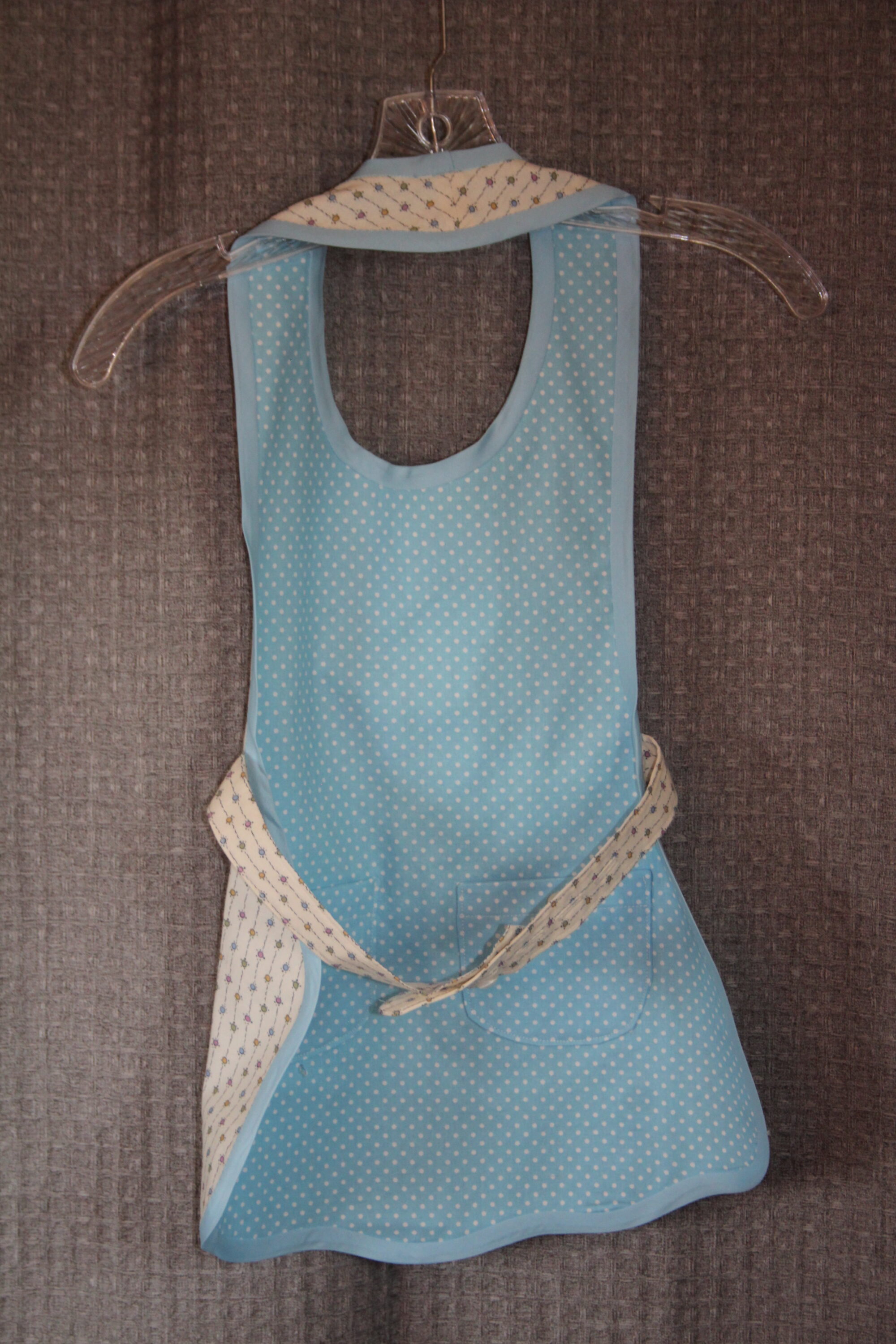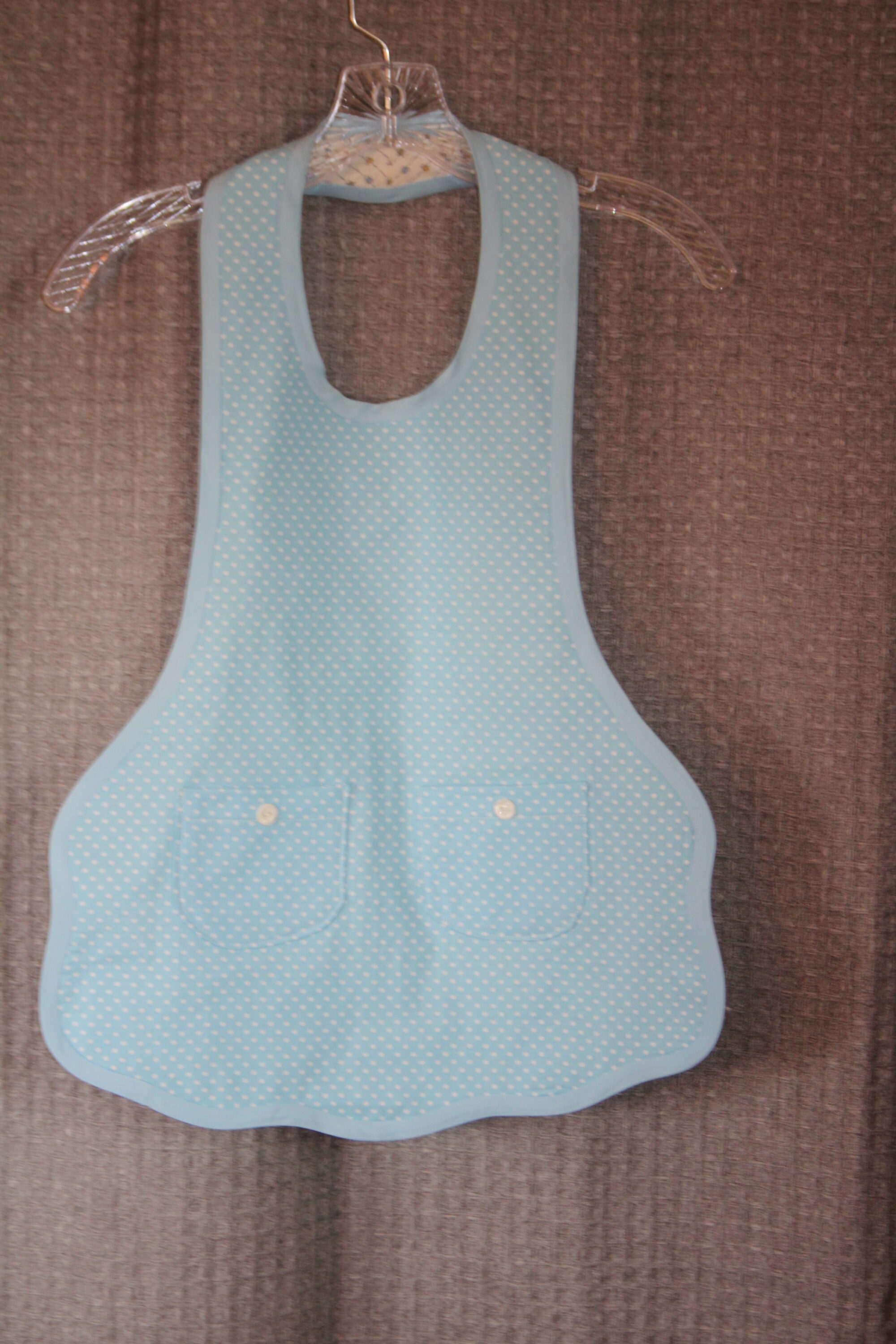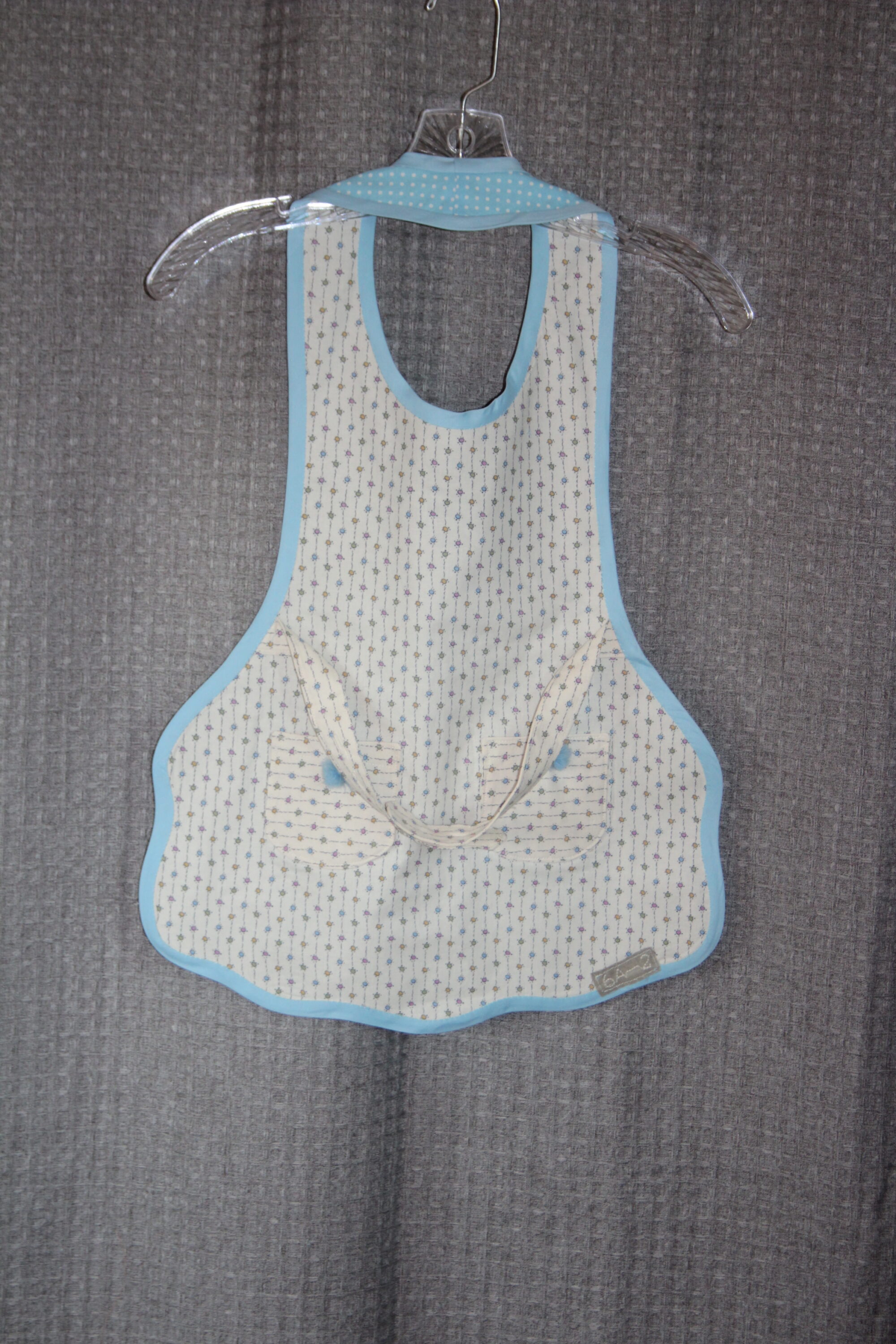 Bib Overalls for Visitors
The overalls were collected from the region in sizes from a small girl to a medium adult unisex.  We do not have photos.  They are all worn, used, medium blue denim with metal closures and a big (no pants).  A couple are lined at the cuff, but most are plain and simple.  Hopefully we will get photos of kids wearing them.

Shelly in Teacher's Ensemble (fitting)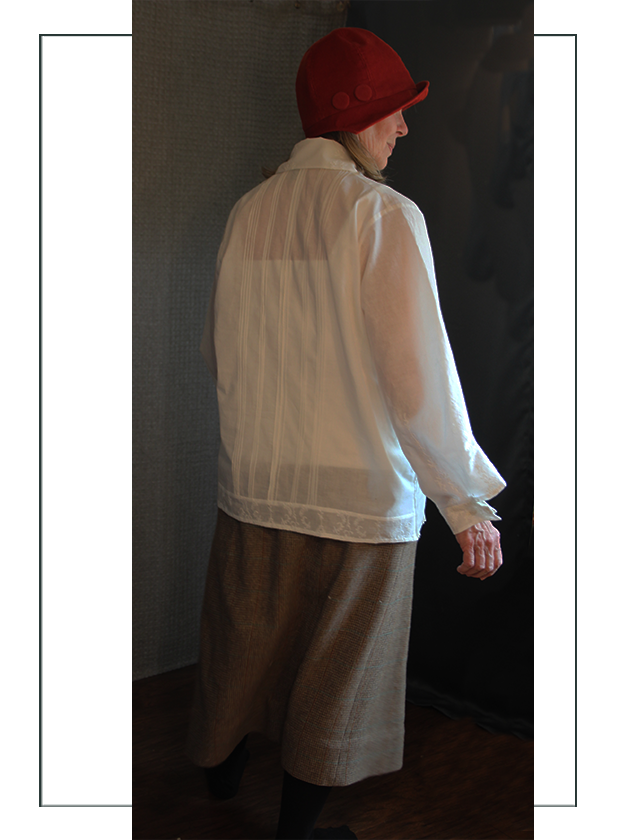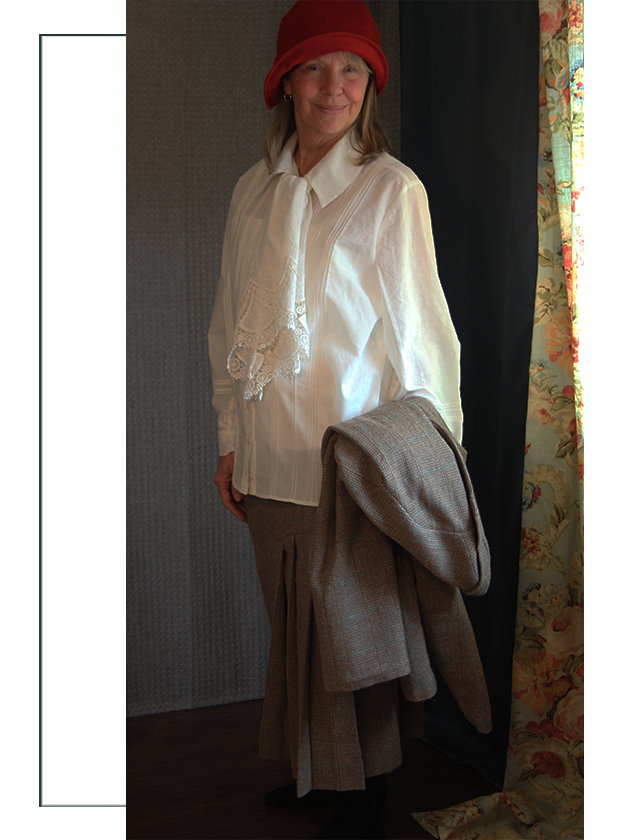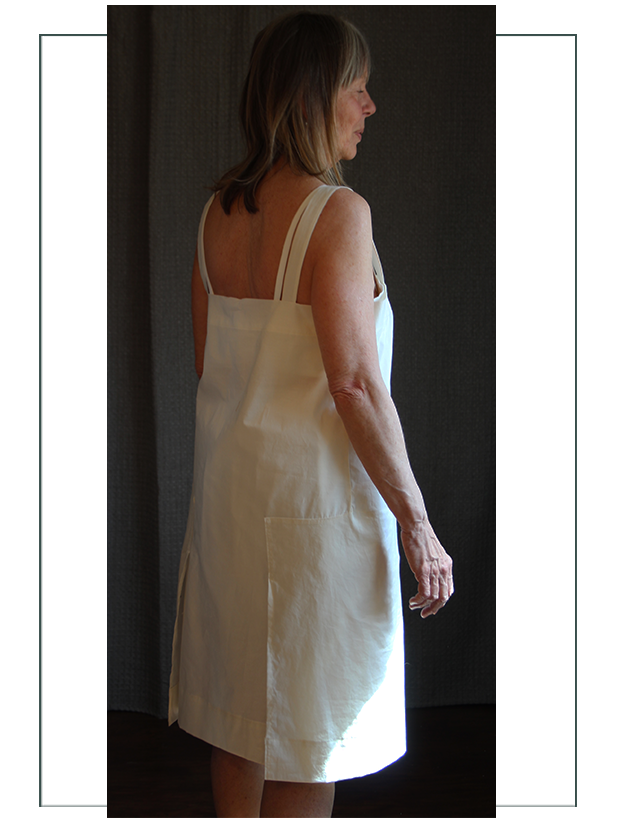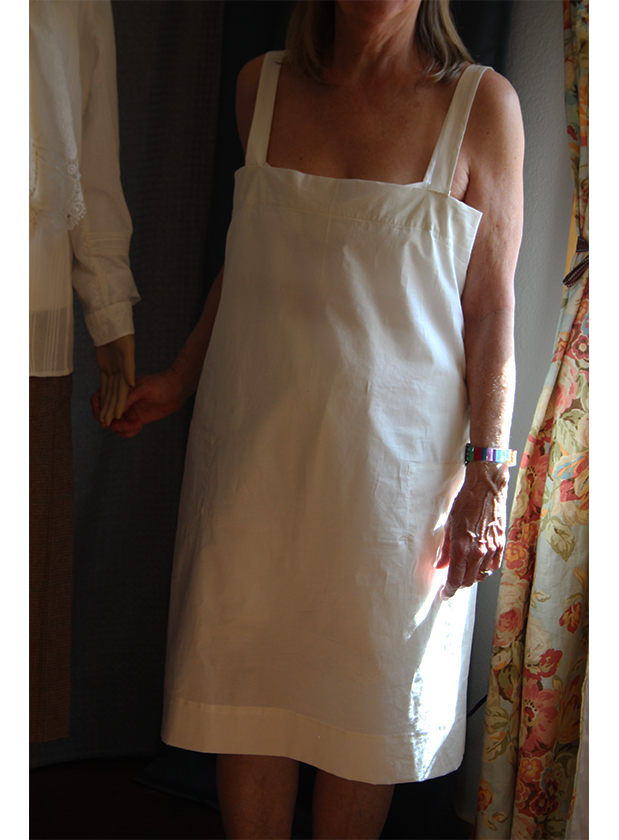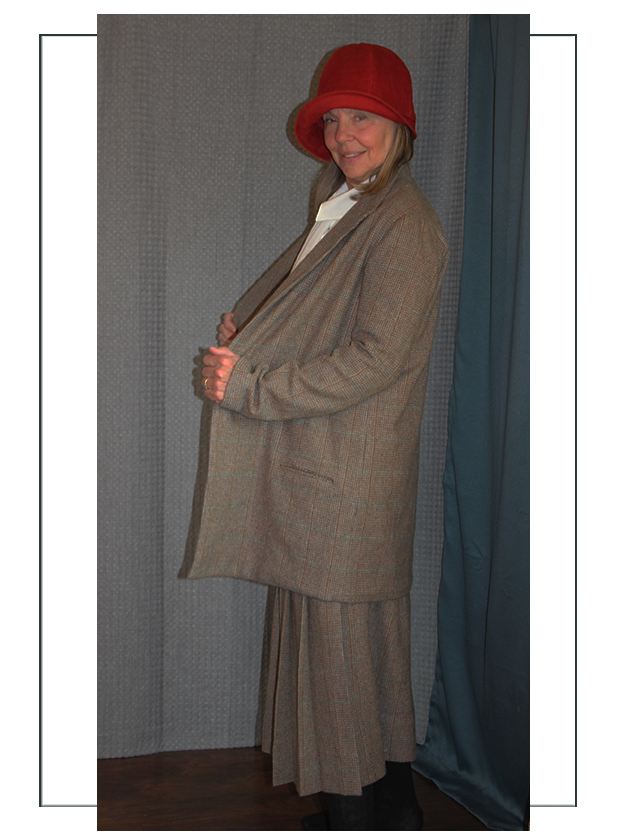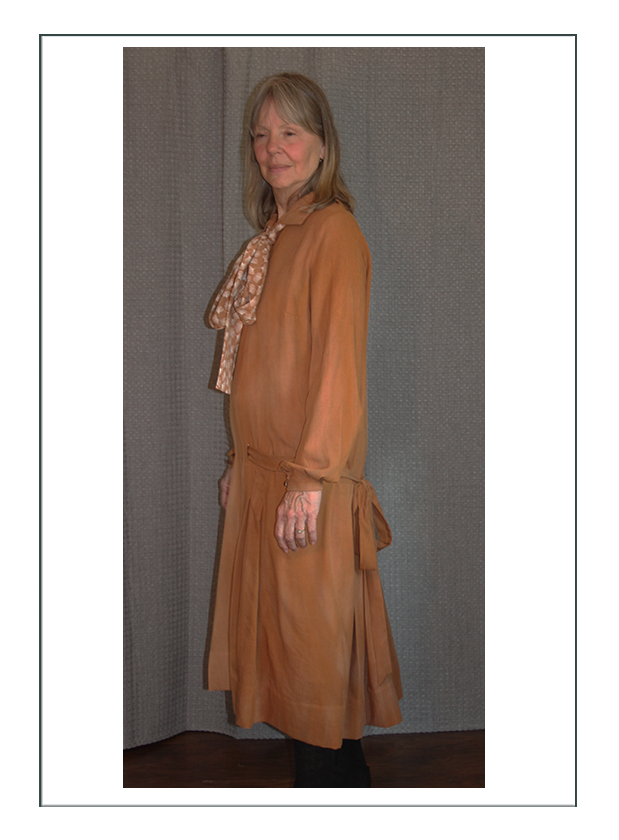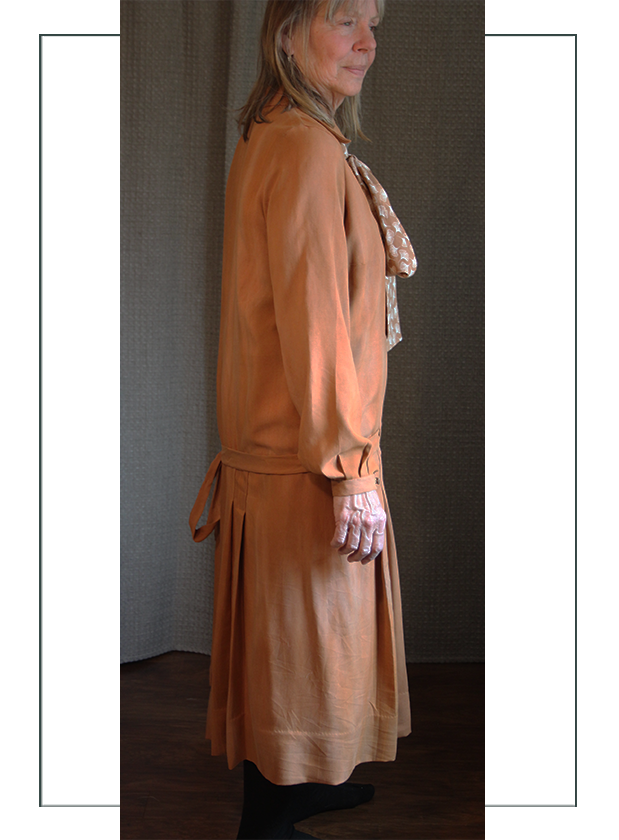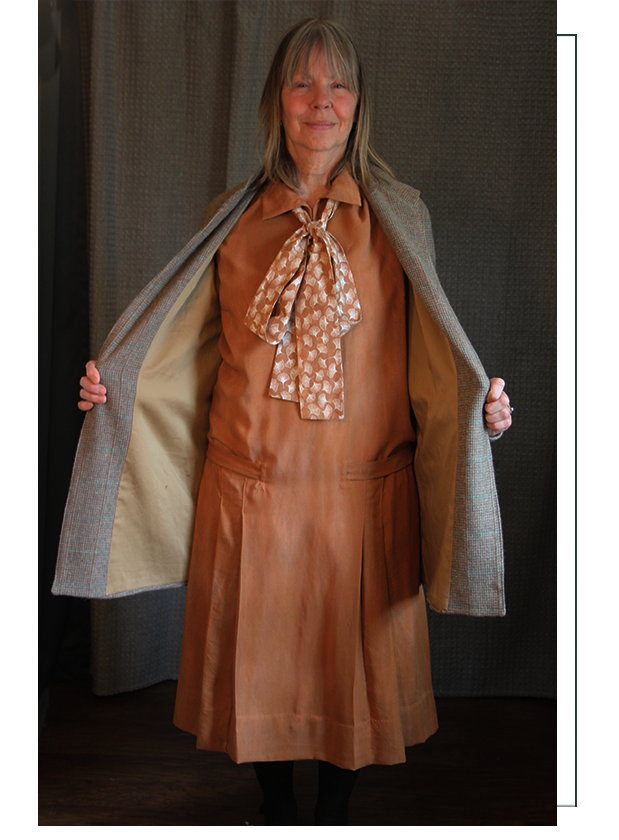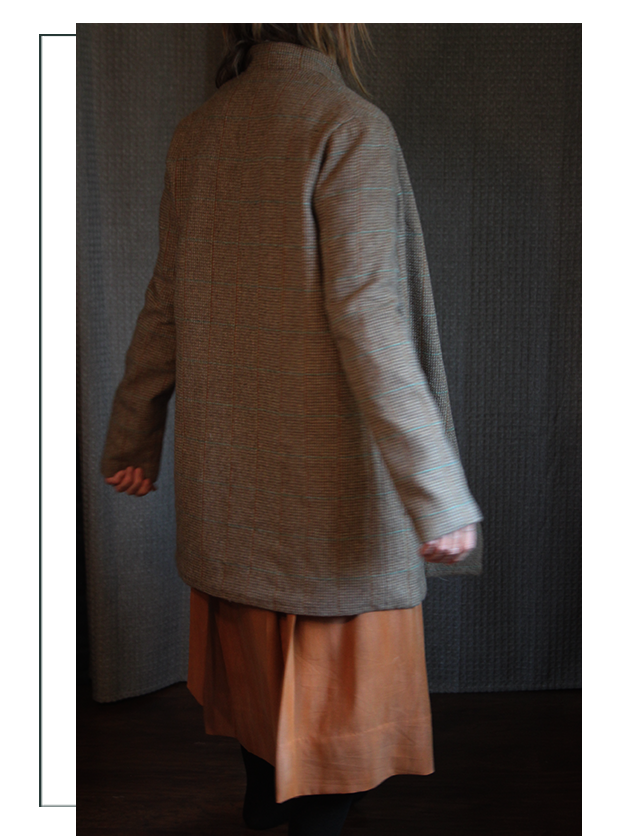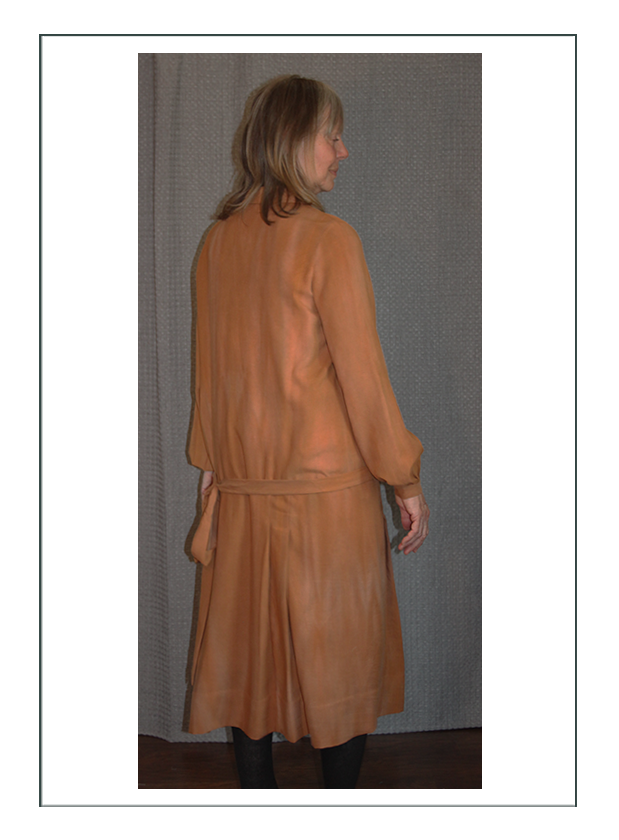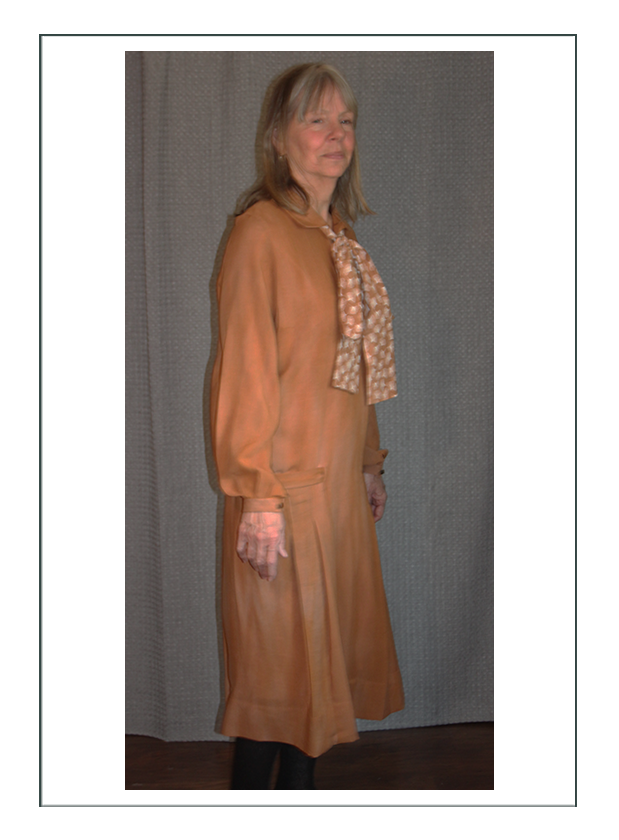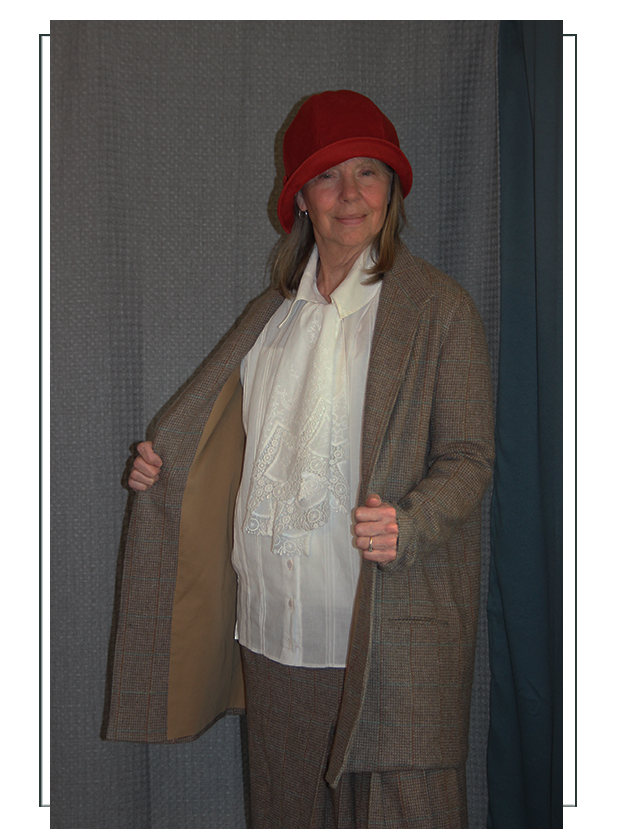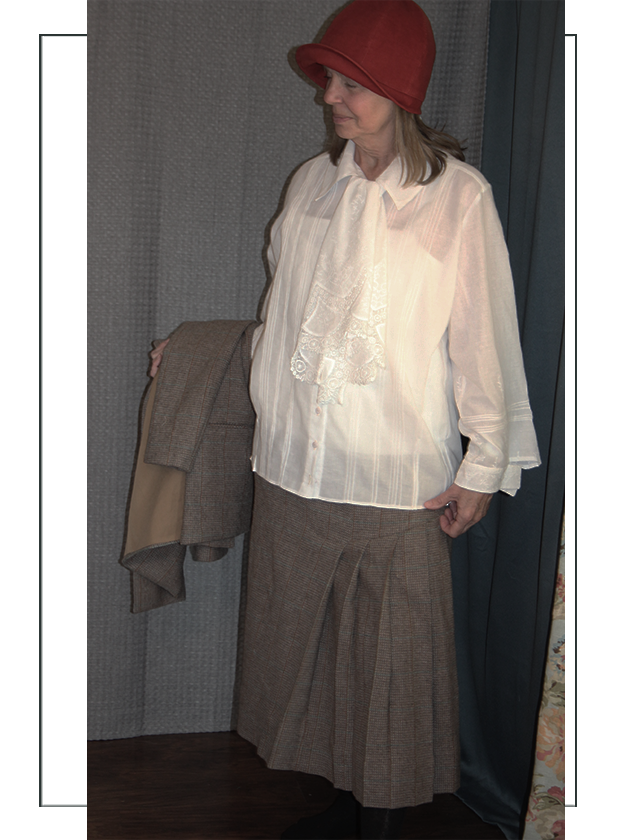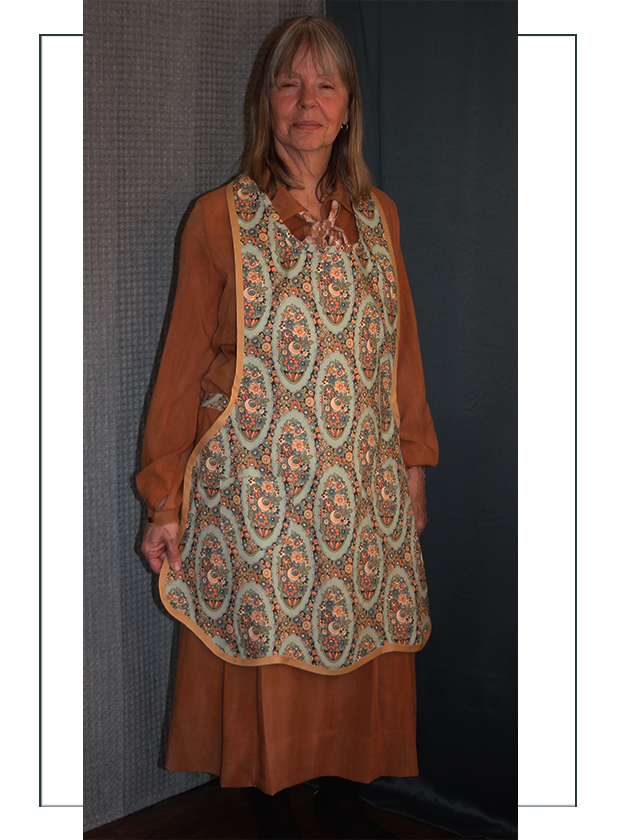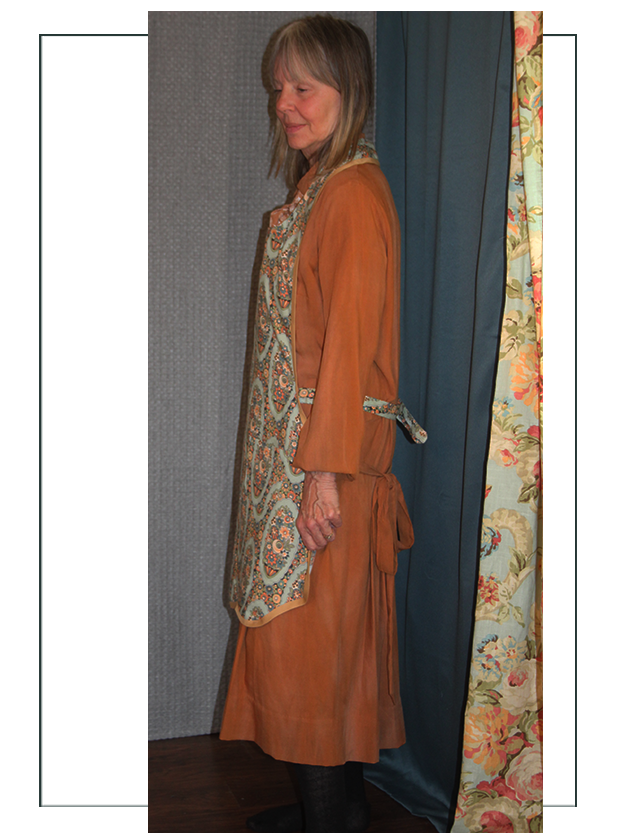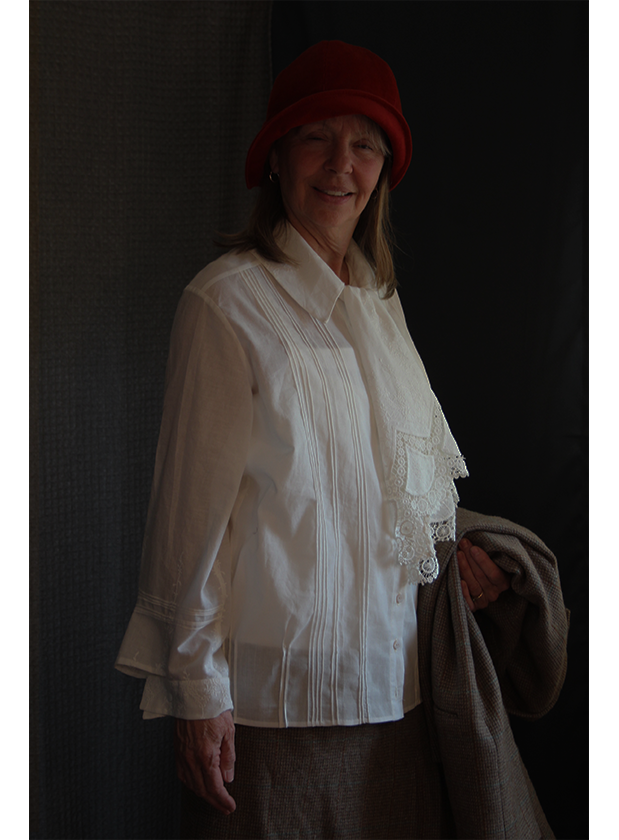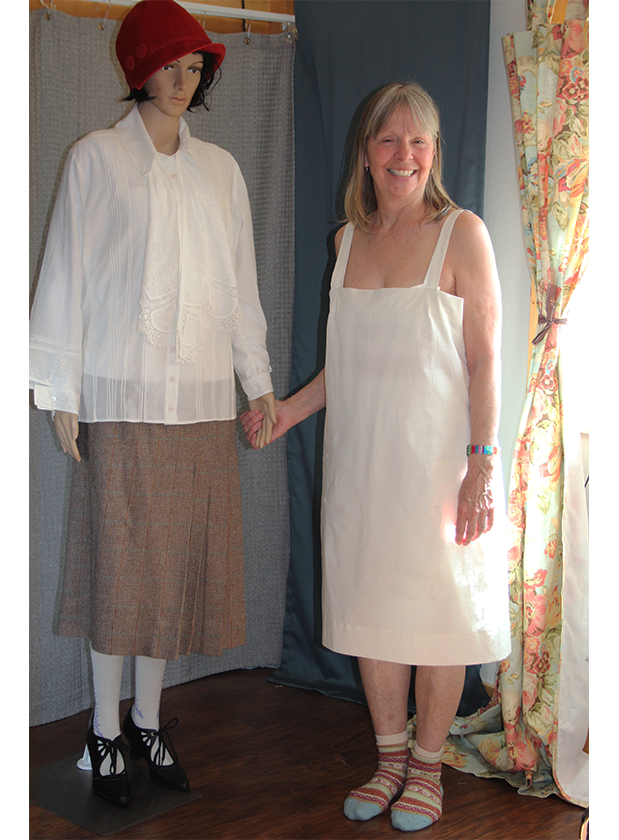 Click here for classroom project Historical Context; America and Wyoming (next)
Click here for classroom project Fashion History & Women's Lifestyle
Click here for classroom project Men's Fashion History
Click here for classroom project Design Development