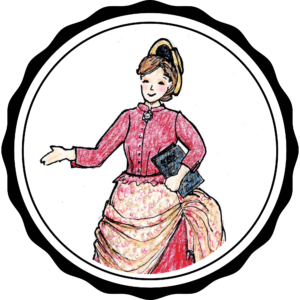 Mary Jo, Preacher's Wife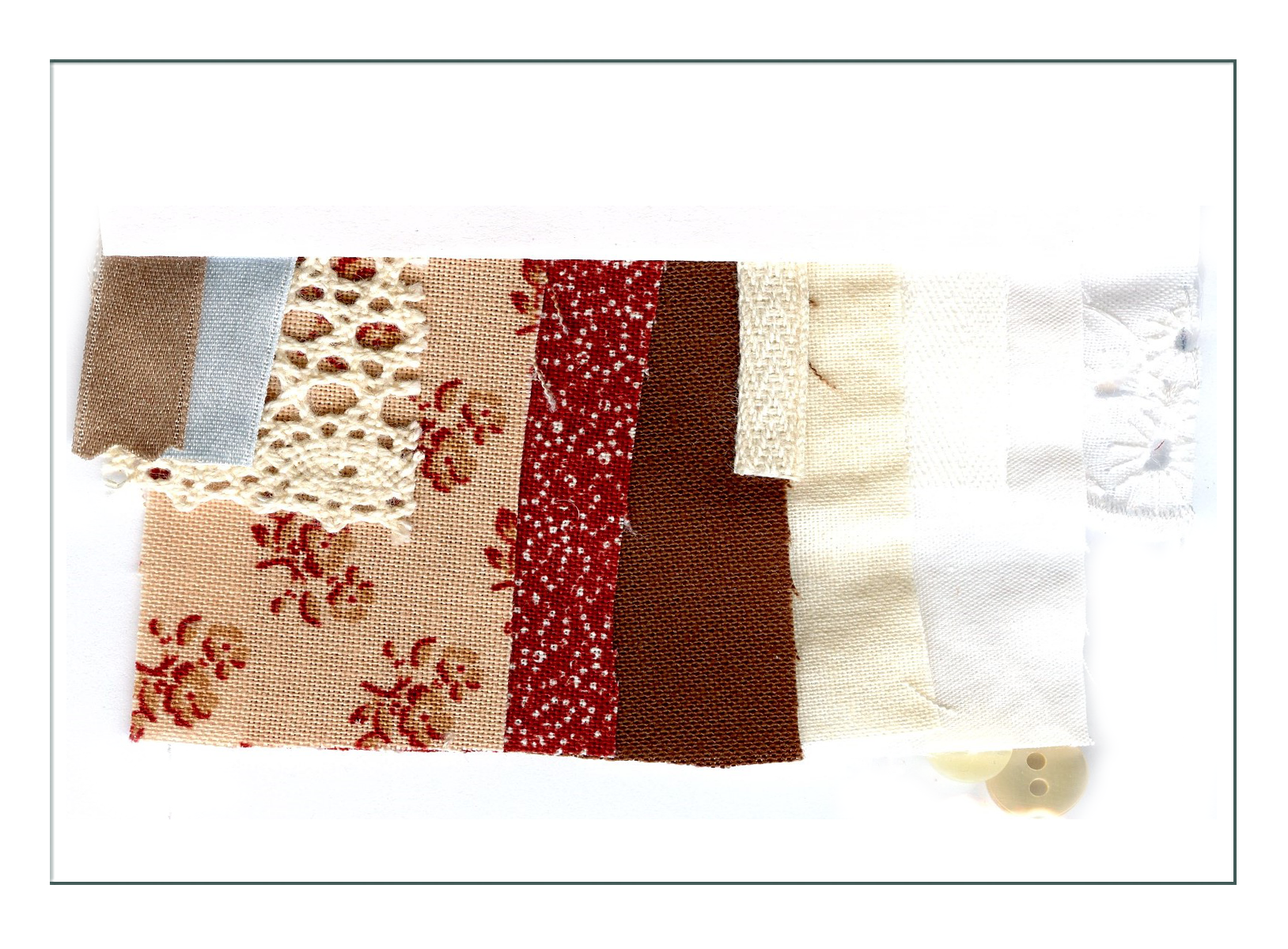 These are the fabric & notion selections as shown in the sketch. They include 100% cotton or silk options in trims, lace, ribbons, ruffles, in dye methods, colors, & patterns appropriate to 1883. We have these and many others in stock ready to go, & can find whatever you want from our excellent historic sources as well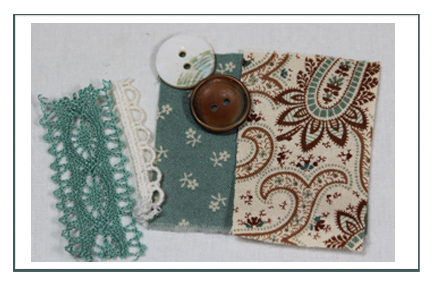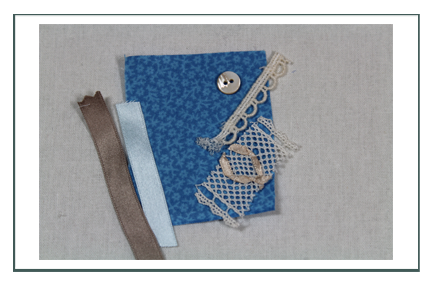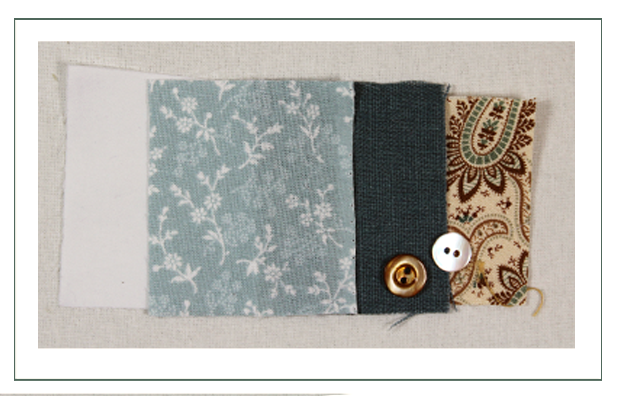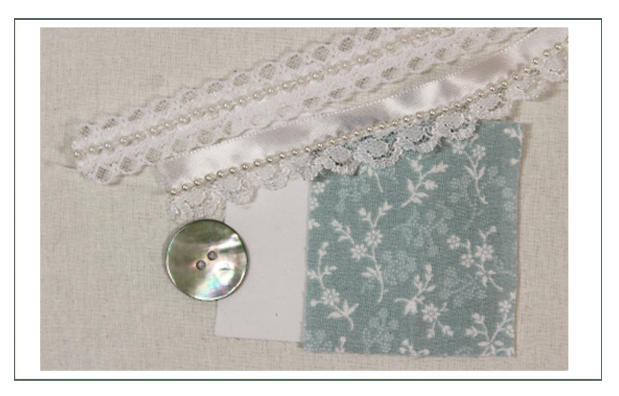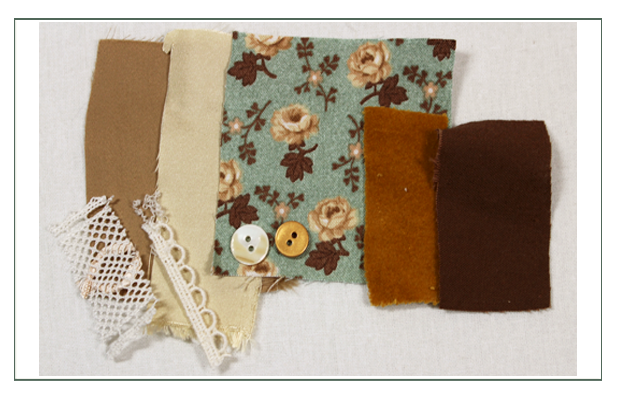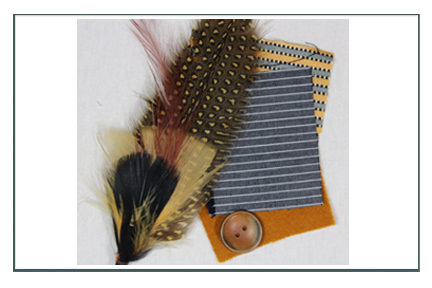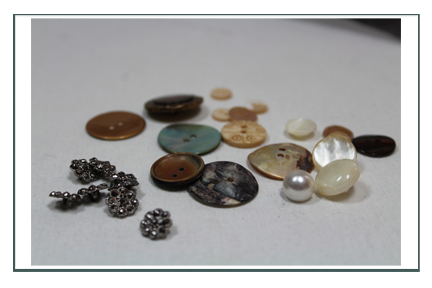 RECOMMENDED FOR THIS CHARACTER
Character development is not specific to a real person, but based on women of the time and place. Mary Jo is a pious woman, the wife of a preacher who came from "down south" to save the souls of those who are too far from civilization to hear the word of God.
She is sincerely a good & caring person who does many great things for the community without asking for thanks, including helping to birth babies, build a church, & her favorite pasttime – matchmaking. Considering this imaginary depiction is in a town of maybe 100 people in 1883, that's no easy task.
Her needs are simple, & so are her tastes.  She brings with her the traditions and tastes of her southern homeland.  She likes color and brightness, but knows she must be very practical, so she chooses things that work in the climate, but have a little twist of uniqueness ("so they'll remember what I told them").  Being a short & stout, she is not so concerned with getting the fashionable silhouette, as in getting the job done.
Mary Jo adores her husband and loves everyone she meets.  She's free with a handshake, and would give the shirt off her back if needed – which she has done at times in her life.  Therefore she has only a few items of clothing – her "Sunday go a'Meetin'" outfit that she takes great care of, and two other dresses for daily wear.  Her hat is modest and dark, but that's mostly because it's also old – it was Granny's and she likes feeling granny close to her – on her head where she remembers all that Granny taught her.
A woman of firm conviction & tradition, function triumphs over fashion every time, but she does dearly love the cameo her husband brought to her from his last mission trip.  She touches it often to remind her of her mission to be a good wife & caregiver of their little flock.
TO BE INCLUDED IN ENSEMBLE:
MAIN GARMENTS
2-piece dyed cotton day dress of basic design, fitted at the bodice
Gathered (not gored) skirt with front flat & fullness to the back; preferably skirt & bodice of same fabric
Practical pearl buttons with perhaps some hand-made piping out of leftover fabric ("just for fun")
Over drape of somewhat minimal flounce & volume, to be in style, but still not excessive
She would have 1-2 different drapes and/or bodices to make the ensemble dress up or down; but that's all
No blouse would be worn
ACCESSORIES (By customer, can quote hats separately)
Hair well pinned in back; never ever caught down or much out of place
Bonnet – a simple straw hat with cotton, wool, or velvet lining 1 for summer and her old Granny's black bonnet with black ribbon.  She would wear a white or black prayer cap on the top of her head (small version of the old mobcaps) in private of lace and/or crochet
Family heirloom brooch always with her
Practical 2nd hand button up boots with a pair of worn leather pumps for dress up
Heavy cotton hand-knit stockings with garters at the knee
Several hand-crocheted or knitted shawls for the seasons, given to her by the ladies of the church or made herself

Mary Jo's summer hat would be homemade & remade each year with odds and ends available as was this 1882 straw bonnet

Comparing the 1883-84 hats worn by our "Alex" character to these 1881 models, you can see the earlier versions were more colorful, and covered the back of the neck as well. This older, more practical style would be worn by Mary in winter, perhaps homemade or brought with her from her youth & modified to be fashionable
UNDERGARMENTS
Ideally one wool petticoat worn year round (for "health"), but realistically plain white muslin with pleats & 2-6 rows of self fabric ruffles to keep skirt away from the legs.  These would be 'roughly' sewn by hand or use scraps of leftover lace at the bottom, and plain white for the upper layers of ruffles
She might add that second wool petticoat in winter
Petticoats to be cord tied at the top, with fullness pulled to the back (no button or waist)
Combination of chemise with split pantaloons, simply adorned with faggots and a little silk ribbon (no embroidery or cut lace), but with lovely ruffles at the knee, shoulders, & neckline.  Her pantaloons would be closer to ankle length as was fashionable 5 years earlier
No corset cover would be worn, although for winter she might add one in wool
Her corset would be the shorter, 1875 type that had been worked over to let it out, rebone, or change it through the years.  It might be of plain wool, cotton, or linen fabric with a nice durable lining, but she might have splurged when she first bought it and have it of a plain silk brocade or couteil for durability over time
It would be simply or half-boned; used more for modesty & warmth than shaping
No understructures would be used, although she might have a small bustle or bustle pad when she dressed upto hold out the drape, since her drape would be made of minimal fabric, and because she would be of the mindset of fashion that was now out of style (bustles were popular before and then again after 1883)

The small bustle or a bustle pad might be worn when Mary Jo dresses up, because this is a 5-10 year old out of date style by the time of our depiction. The combination chemise/pantaloon would be her favorite because it was current and very sensible. She would have some lace & ruffle, because she wouldn't be concerned about a flat, smooth front line, and with her gathered skirt, the ruffles would make no lumps as they would in skirts of the next decade

While sparing fabric, she would need the lower ruffles to bring her skirt away from her legs so she could walk, and also to provide insulation, warmth, or cool. The top of our character would most likely be gathered without the drop waist as shown in this 1884 version

This is an 1880 corset with a flat busk. It is very basic, with minimal boning and support for the breasts. While Mary Jo might wear the shorter version, this plain white with some lace & embroidery to protect the boning seems exactly in character

IN GENERAL FOR 1883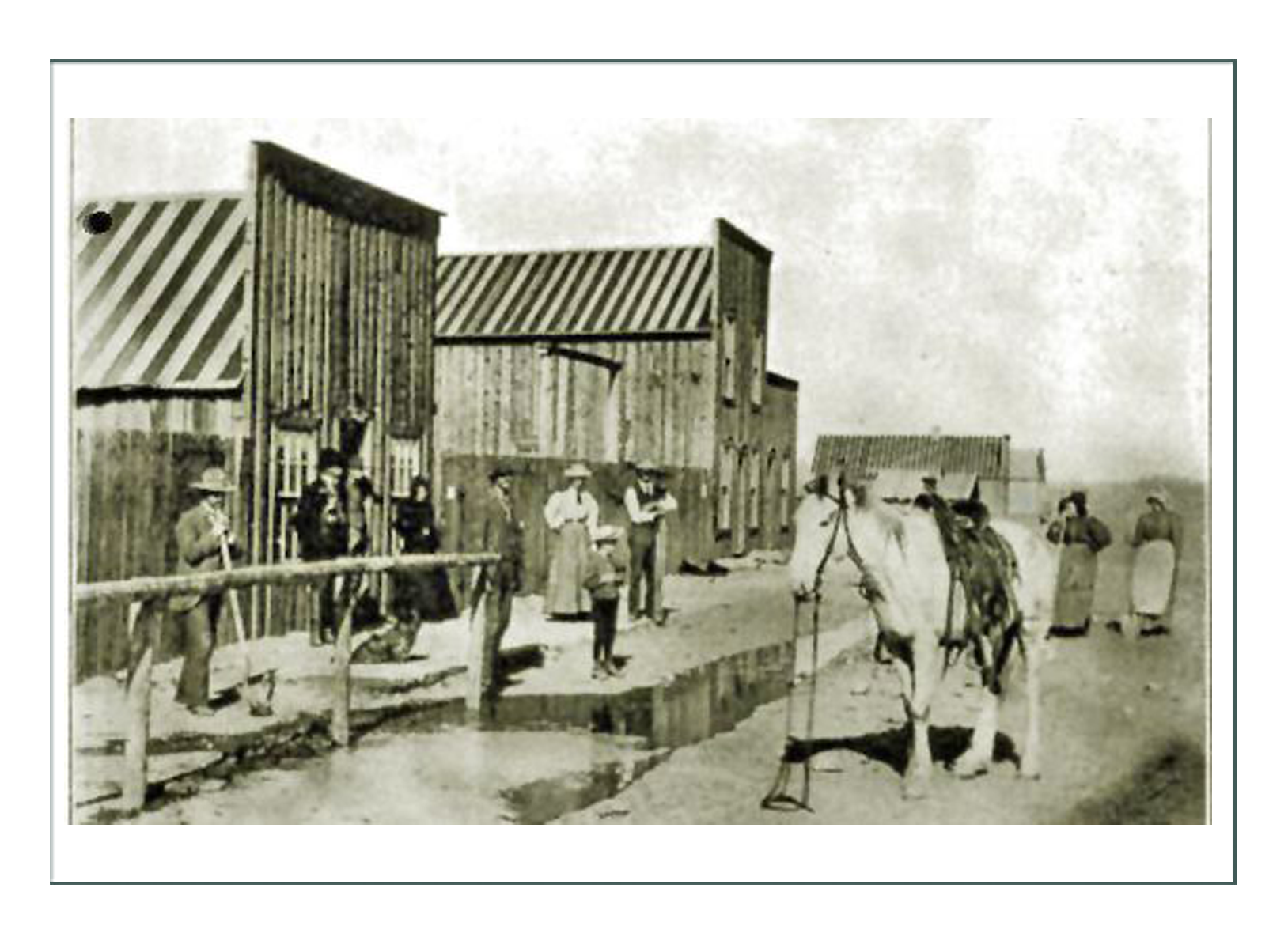 Women of the American Old West had to be resourceful to cope with the elements that surrounded them: the harsh conditions, lawlessness, & living in an age where there were few amenities. Some women took to the gun as readily as any man, while others made lives for themselves apart from dignified society. But for women who made the trek west with their families, their lot was in raising children, running a household (that included food processing, candle & soap making, spinning, weaving, knitting, etc.), establishing schools & churches, & occasionally, warding off Indian attacks. Some were deeply involved in human & voting rights (the suffragette movement).
Design & depiction of fashion of Western America fashion must put all those odds & ends together, along with what is known about influences, environment, availability, attitudes, culture, values, & assumptions about the person or people being studied & depicted. There are whole professions, notably Anthropology, which study these factors. Yet other professionals such as Museum Curators spend whole lifetimes gathering & studying the clues of fashion.
For our purposes for depiction, we must trust the research of those professionals, & draw the best conclusions we can based on which facts are known, but add Grandma's stories to breathe life into our depictions. Our projects will assume fashion for depiction is based on one of the factors below.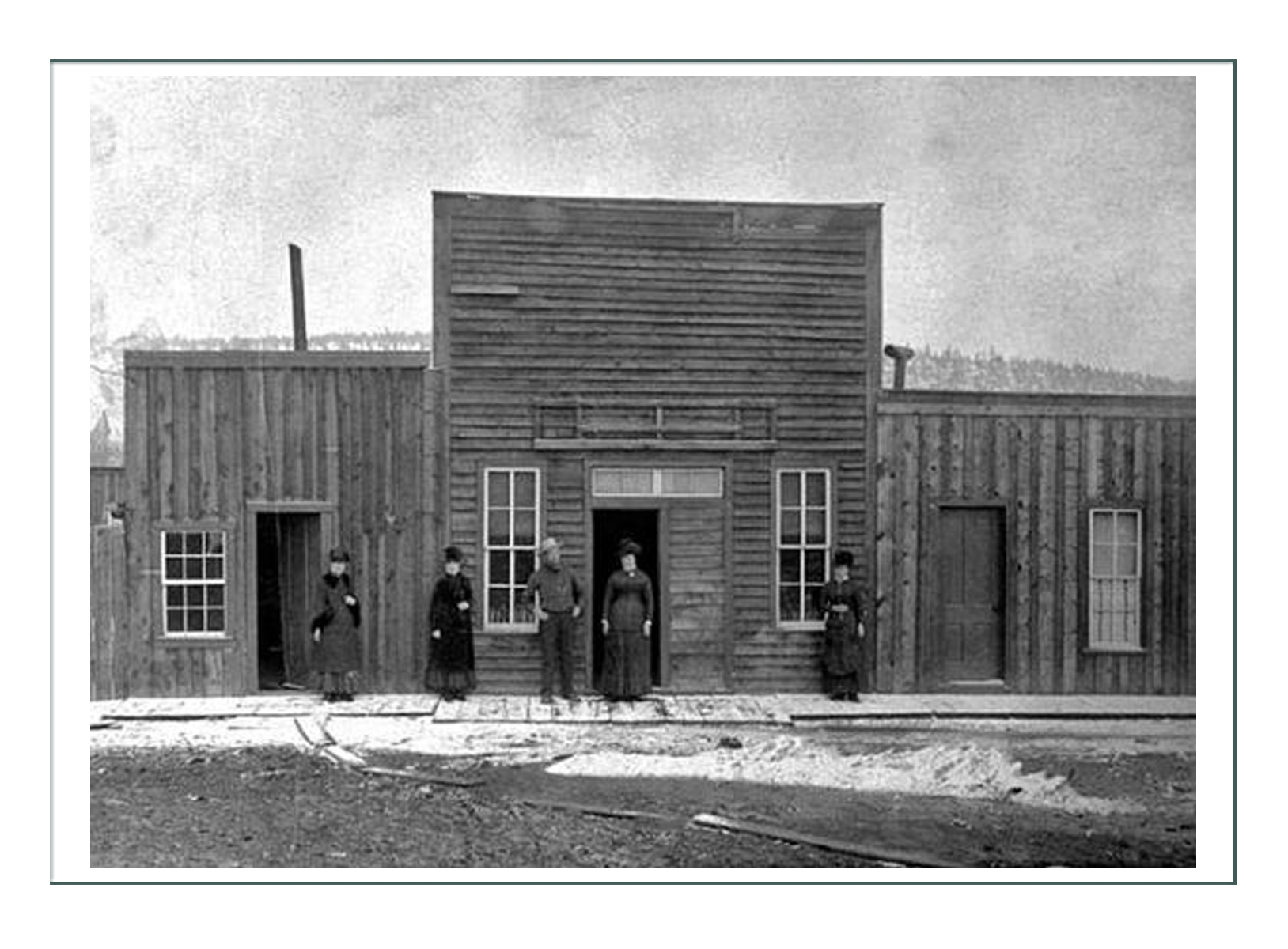 A) Fashion and/or the concept of fashion of the day was physically carried from the east coast (originating from the same influences as Easterners), & then modified or adapted to suit the culture, time, place, or activity;
This starts with the assumption whatever the current trend of the east is being carried west, & will focus on those factors which would cause them to be modified; e.g. materials, patterns, or communication unavailable;
It means fashion will almost always be 1 or 2 years out of style compared to the east;
Designs based on this assumption will end up being modifications of whatever was in style in the east a couple of years prior to the depiction.
B) Clothing was origined out of local materials; e.g. furs, leathers, & therefore based on the same influences as men's fashion such as evolution of the cowboy ensemble, almost strictly for function;
These projects will be researched & developed per project by specific region, working with our subcontractors who specialize in indigenous materials;
The American Cowgirl in particular demands research into male clothing & its adaptation for women.
C) Fashion design & clothing was a combination of above; e.g. western innovations like denim jeans which arise out of functional need; yet using modern technology of fabric, dye, & production that comes from the east which combines local availability of fur, skin, or locally made fabrics or materials (such as spun or woven yarn) with those of mass production or import;
This will be the result of very specific character of research, since it combines extensive historical data as to fashion of the day PLUS the specific geographic region including all aspects of the time & place;
It cannot be generalized.
D) Design & construction of garments comes of native, ancient civilization inspiration, influence, or actual use;
Silhouettes intentionally chooses not to develop "D", as the world of ancient & Indian cultures is vast & complex, & can take a lifetime, although influences of such will be considered with characters where that is pertinent;
We will refer customers to appropriate professionals who can help them with this.
Click here to go back to the top of this page

APPLICATION OF HISTORICAL DATA TO THE DESIGN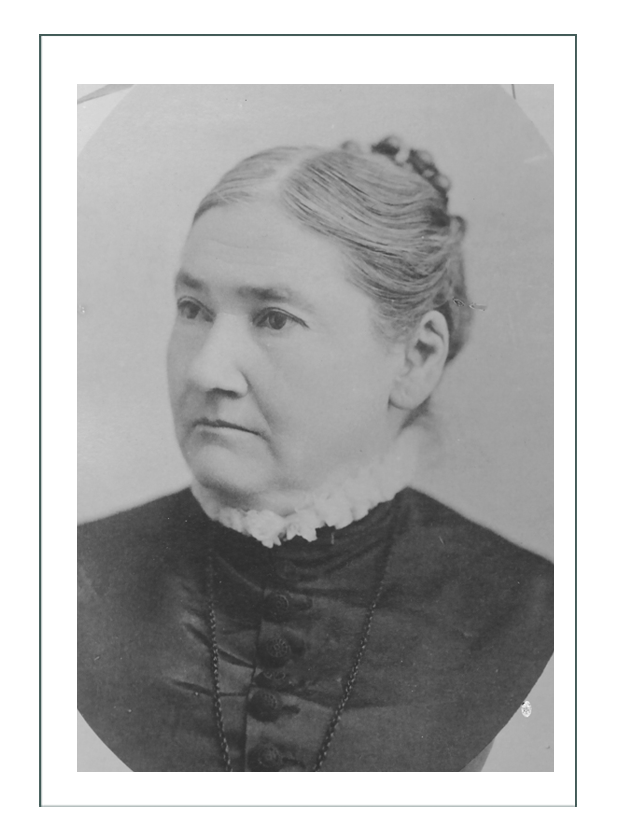 TIME AND PLACE
"Mid 1880's" in the American West (Wyoming). Western rural/ranching distant from society. Materials, notions, fabrics would be out of date due to limited shipments and access to goods, information, or updates. As many things would be made or bartered nearby as possible; e.g. leathers, furs, simple cottons. Women would know of fashion by word of mouth or through periodicals which would be local and/or sporadic
Depiction of the Sundance Kid era with Etta Place (and Anne Bassett and similar of the "outlaw era") would be 1899. While 1899 was definitely a non-bustle era too, the fashion was very different, especially corsetry (1899 uses the long, controlling corset that pushes the woman's bust forward into a monobosom, while 1883 is a waist cincher to the hips but not over them). The alternate "High Fashion" proposed accommodates that: it is an 1883 fashion, but made through design, fit, and components to appear to be the later 1899 garment, the main difference being the skirt which would be an inverted "tulip" in 1899, whereas it is a straight line with a drape in 1883.
FASHION ERA SELECTION – NO BUSTLE:
We have intentionally selected 1882-3, because the "fishtail" bustle era had just ended, and it was a short period of simple draping over the rear end with no bustle before the large "horse hind" bustle would take over late 1884.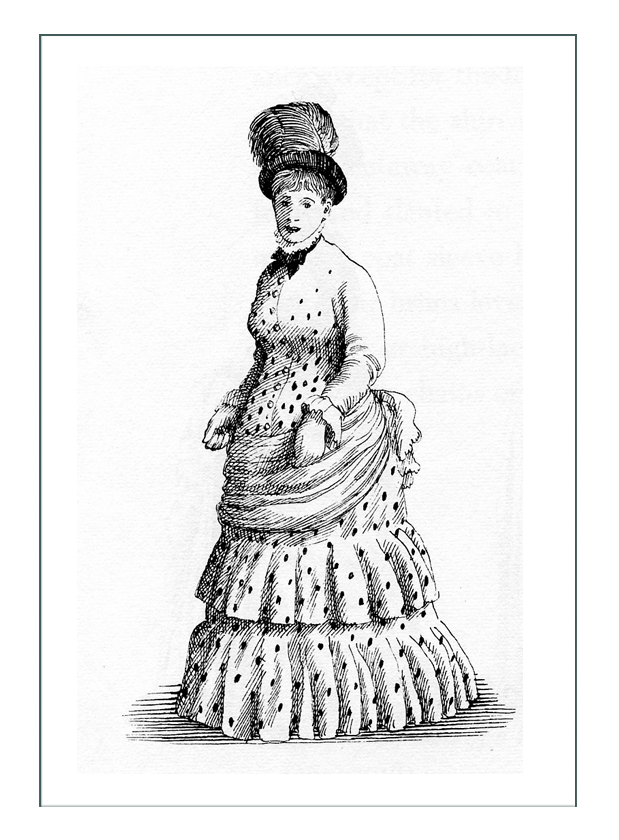 MULTIPLE FUNCTION ADVANTAGE:
The other advantage of the era is that a very inexpensive, plain cotton 1 or 2 piece dress was worn for daily use AND for dress up. Draping methods in 1883 were numerous and anything from a simple roughed over apron to elaborate folds & bows in the back were acceptable. This means one dress could have several different drapes to serve different needs & still be completely historically correct.
Bodices could be 2 piece with inserts or chemisettes instead of full blouses, which allows flexibility in the costuming, & ability to clean just worn inserts the same as they would have at the time, while leaving the main garment unwashed.
Using interchangeable aprons, skirt overdrapes, collars, cuffs, & petticoats allow the interpreter to use the same basic gown for 2-3 different interpretations, and to keep the cost down for the initial purchase, while adding pieces as desired as time goes on and more interpretation ideas are thought up. Hot summers, wind, and cold snowy winters would need two garments per woman plus 1 dress up.
Basic garments need to be very simple and uncharacteristically plain for the era. Typical at the time were extremes in use of trims, ruffles, fringe, etc. These people would have been much more efficient in use of their clothing than those to the east.
Economy would mean wearing the same bodice and changing the skirt by function (e.g. split skirt for riding, but long dress with overskirt for dress up). Accessories and especially sentimental jewelry hats and bonnets would be key to changing for activity and keeping up with style. Small accessories would have been imported, but hats and bonnets most likely locally made.
Footwear, though not in general fashion, would be tie up the front ankle high boots with a flat to 1″ heel, cotton stockings over the knee or held with garters to keep the corset down and the stockings up.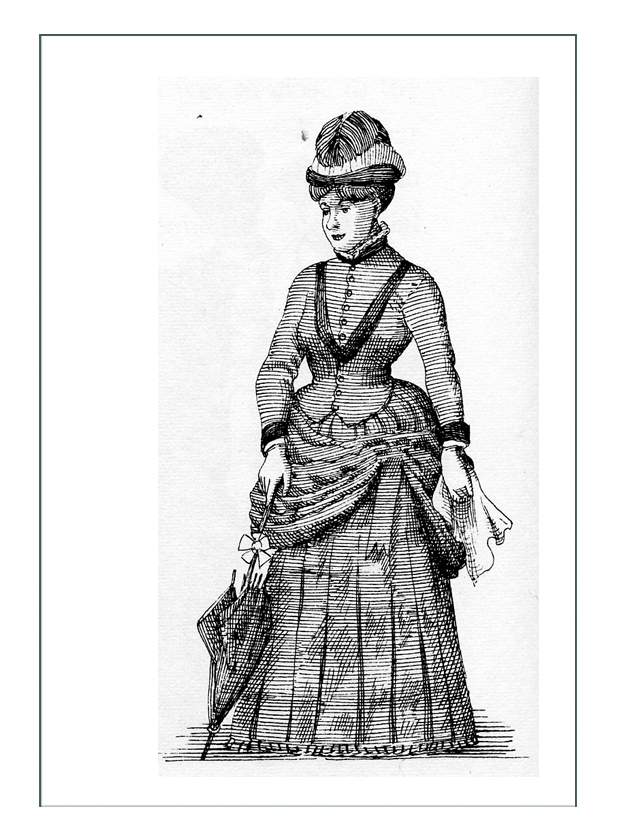 RECOMMENDED USE OF HISTORICAL & NATURAL MATERIALS
Using plain (unembroidered or detailed) fabrics of the era and simple patterns also allows us to make the garment fast to meet tight deadlines. Use of cottons also allows under or over dress for the weather. Please note it is our goal in this business to give the wearer the most authentic experience as possible. This means everything from undergarments up need to be of the same material, design, cut, and method of wearing that would have been in 1883.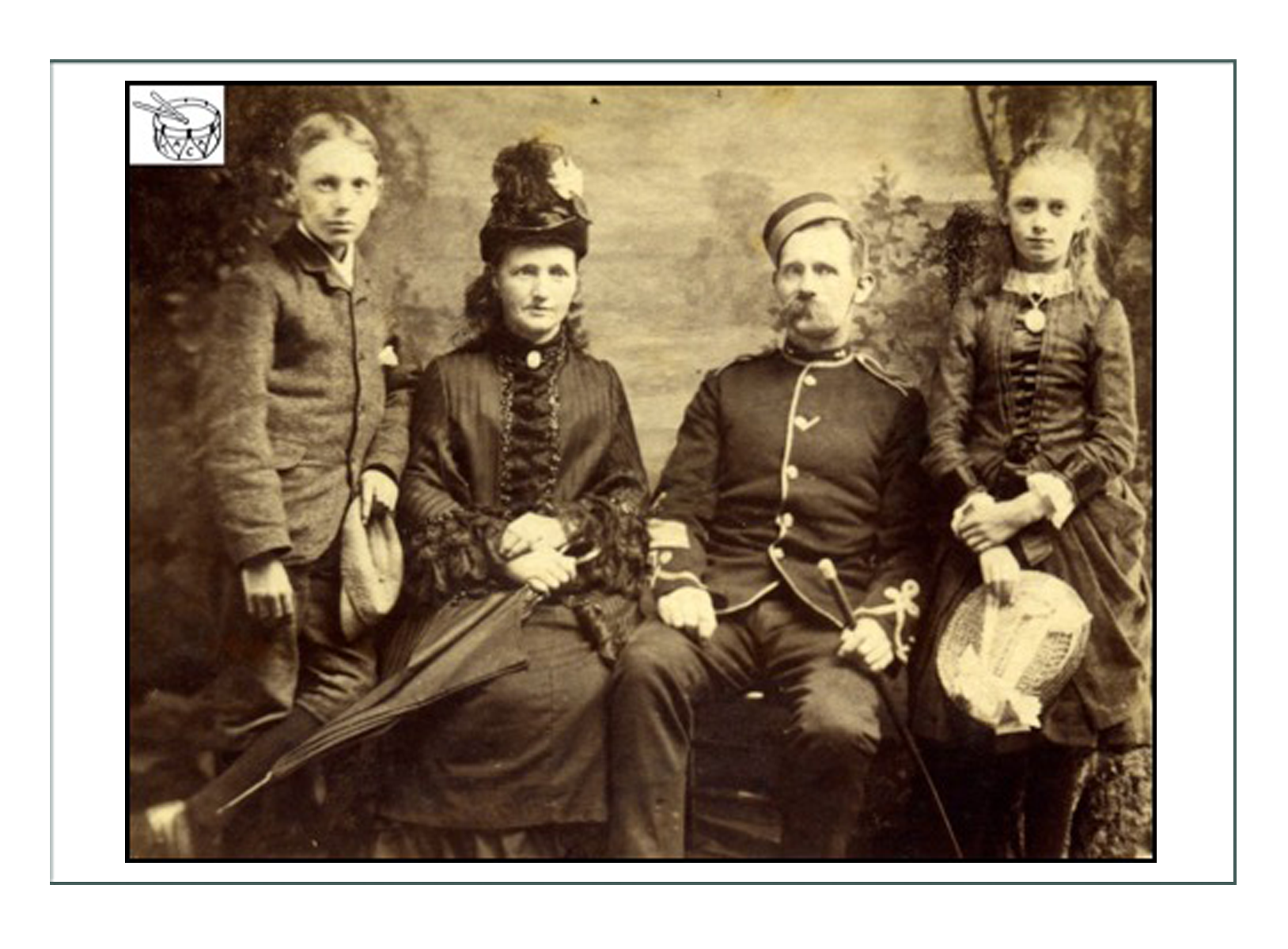 For that reason, we recommend taking the time and cost to do the authentic corset, although we are quoting a theatrical corset to save time and money. While our corsets are designed for the modern body, and do not attempt to shape the body as they would have at the time, the authentic corsets are made of natural fabrics which breath and react to conditions and weather.
SOME SYNTHETICS
Theatrical means "non-authentic" materials & construction. If theatrical is selected, it will be made of polyester/cotton with metal powder coated and/or plastic boning. Because these will not give authentic feeling, we recommend selecting all historic garments.
Some pre-made ruffles and ribbons may be of synthetic materials due to the prohibitive cost of silk and embroidery and the time required for hand detailing, although the latter is available on request. 100% cotton or silk thread will be used for all hand stitching. This era was machine sewn including mass produced trims and details. Machine sewing and embroidery will use polyester thread for durability.

REAL GARMENTS FROM THE ERA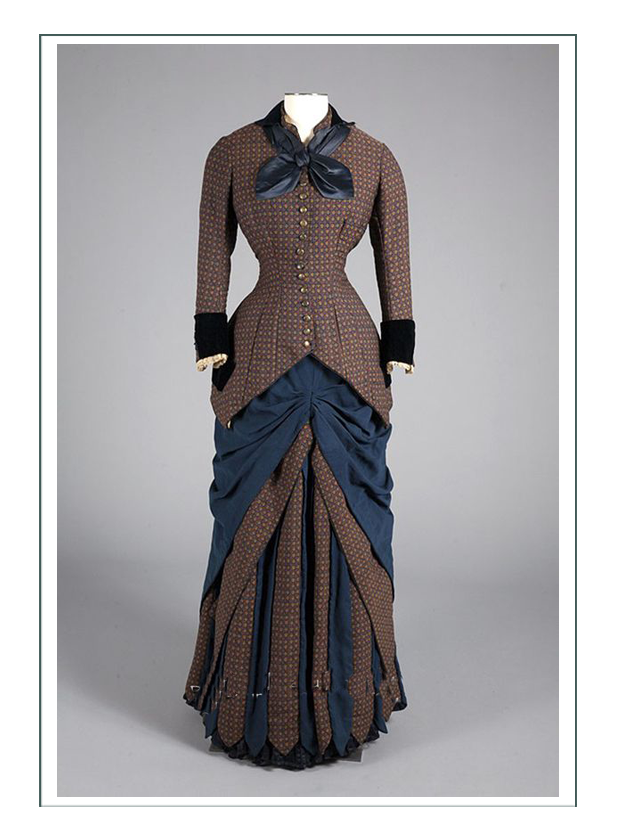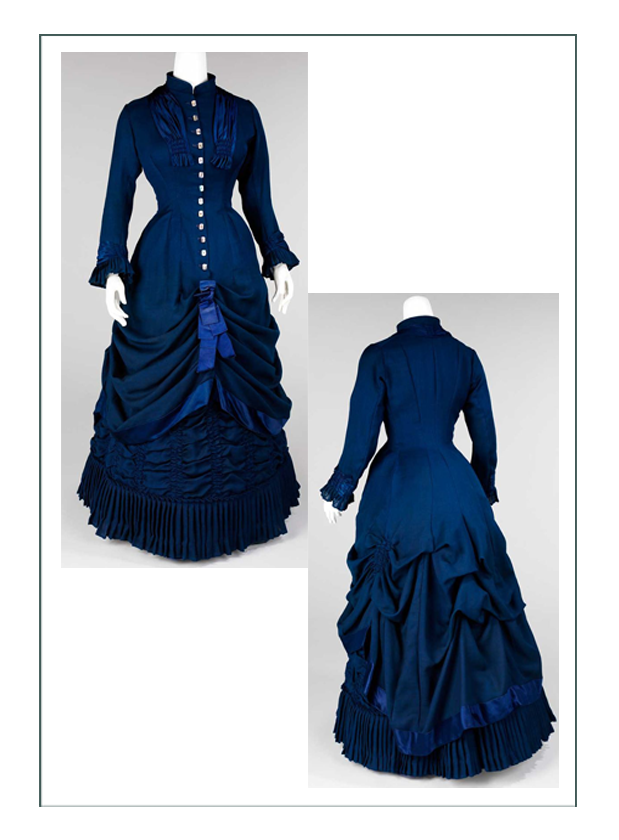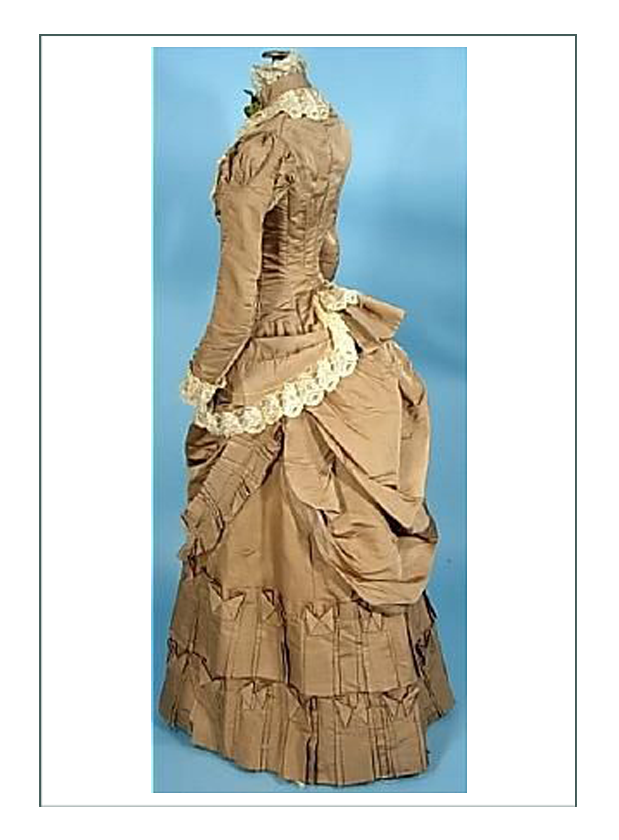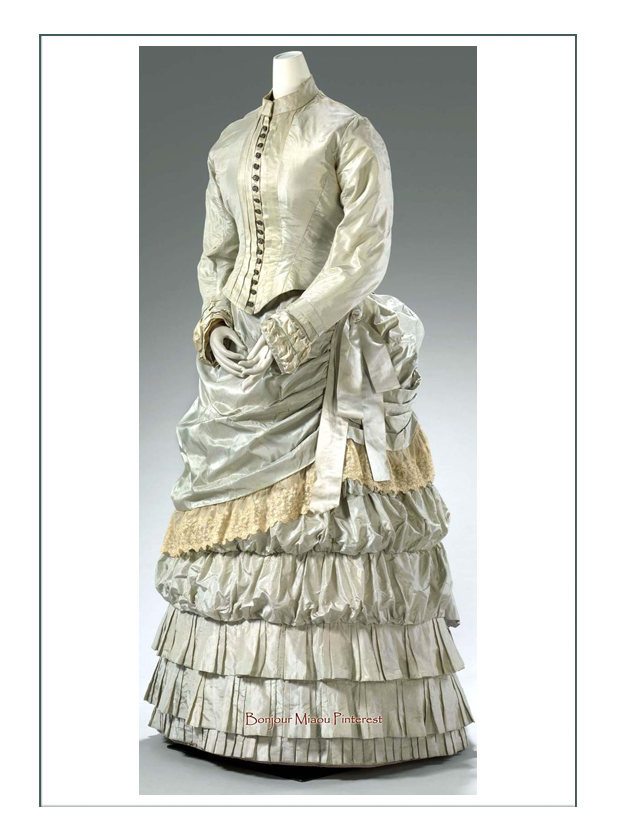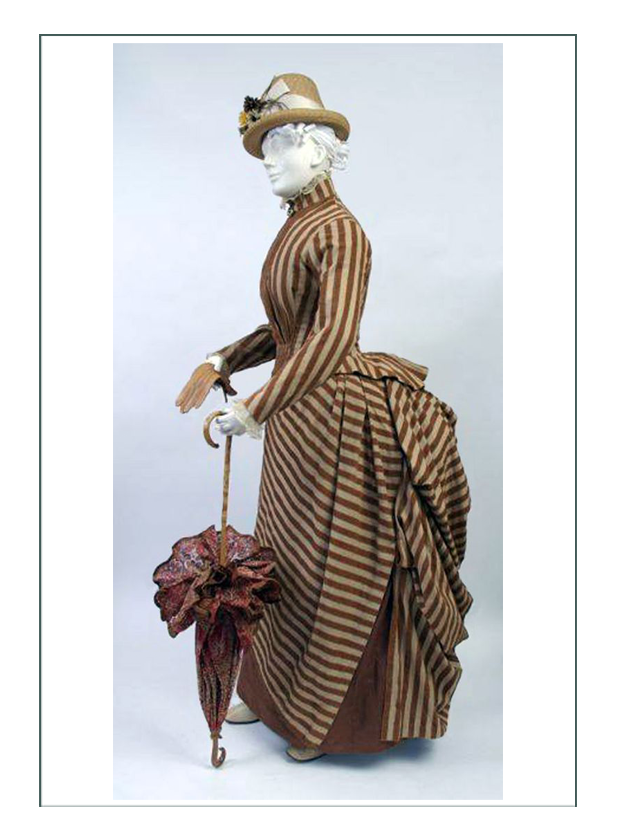 Click here to go back to "Buy 1883" (5 Characters intro) page
Click here to go back to Customer Projects page
Click here to go to the next 1883 character, Milly
Click here to go back to the last 1883 character, Kit
Click here to go back to the top of this page