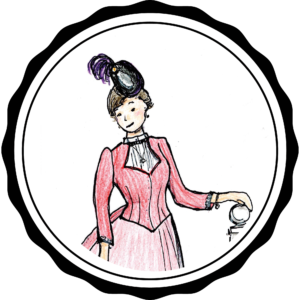 Alexandra "Alex", Visiting Cousin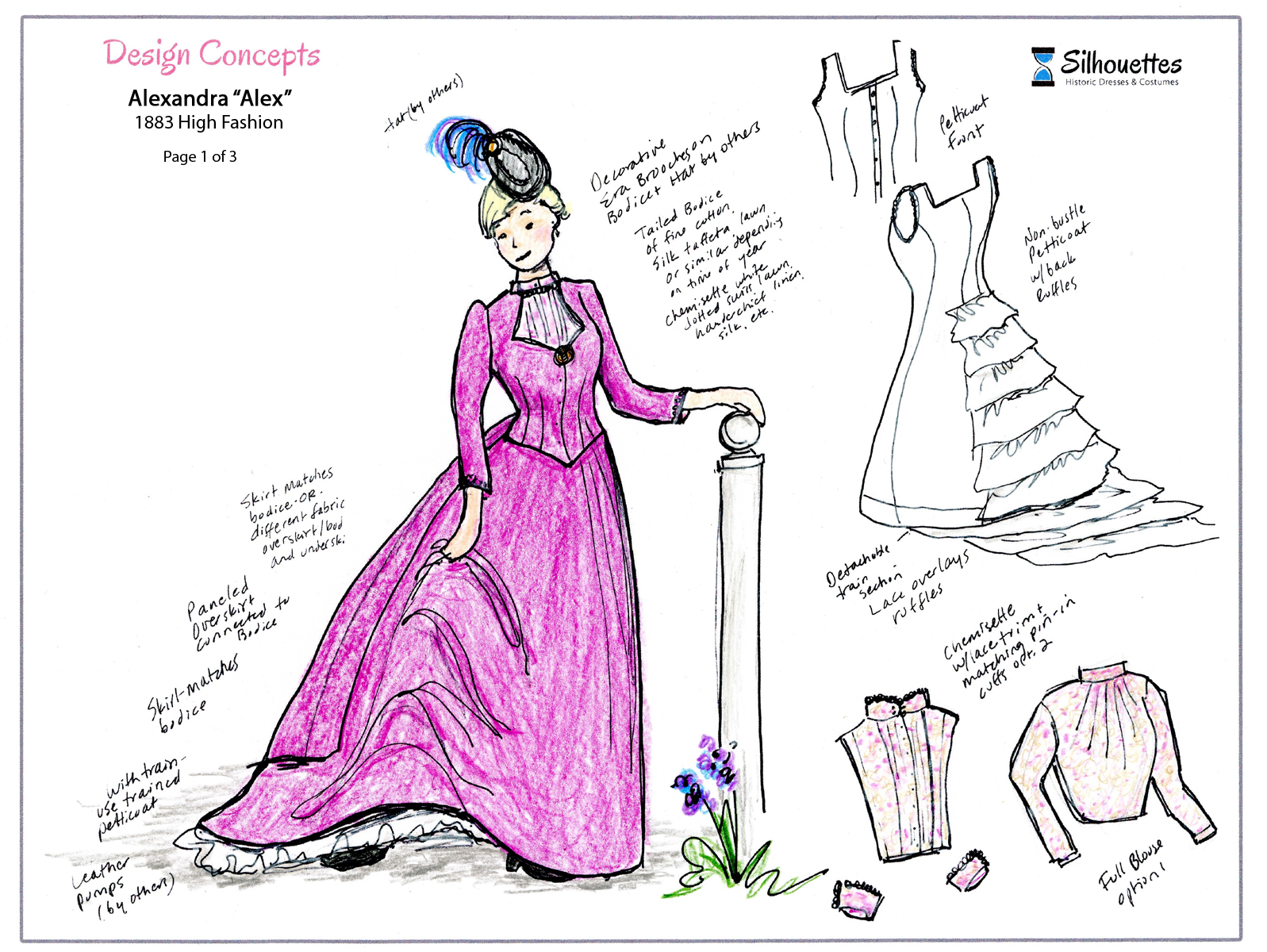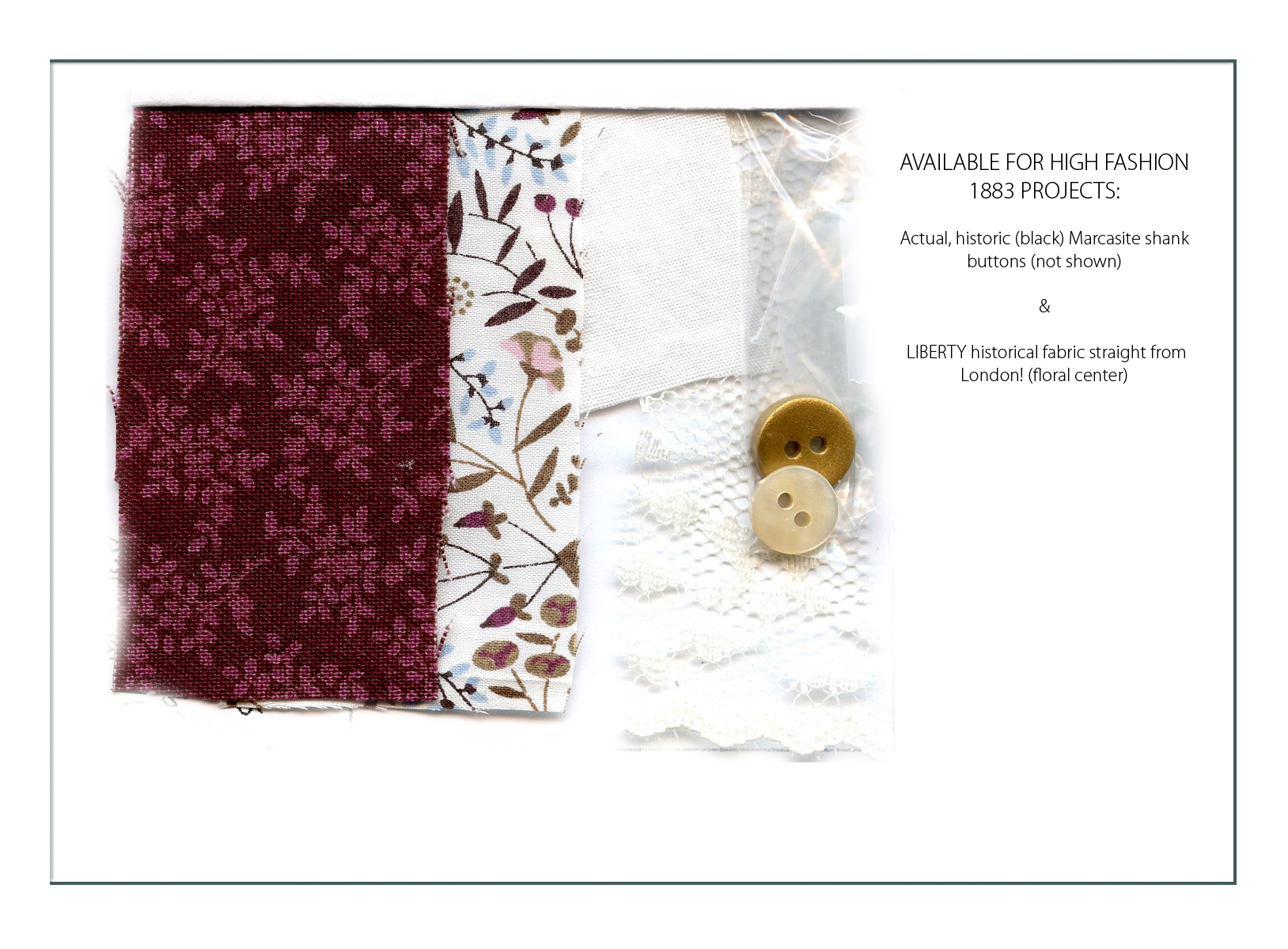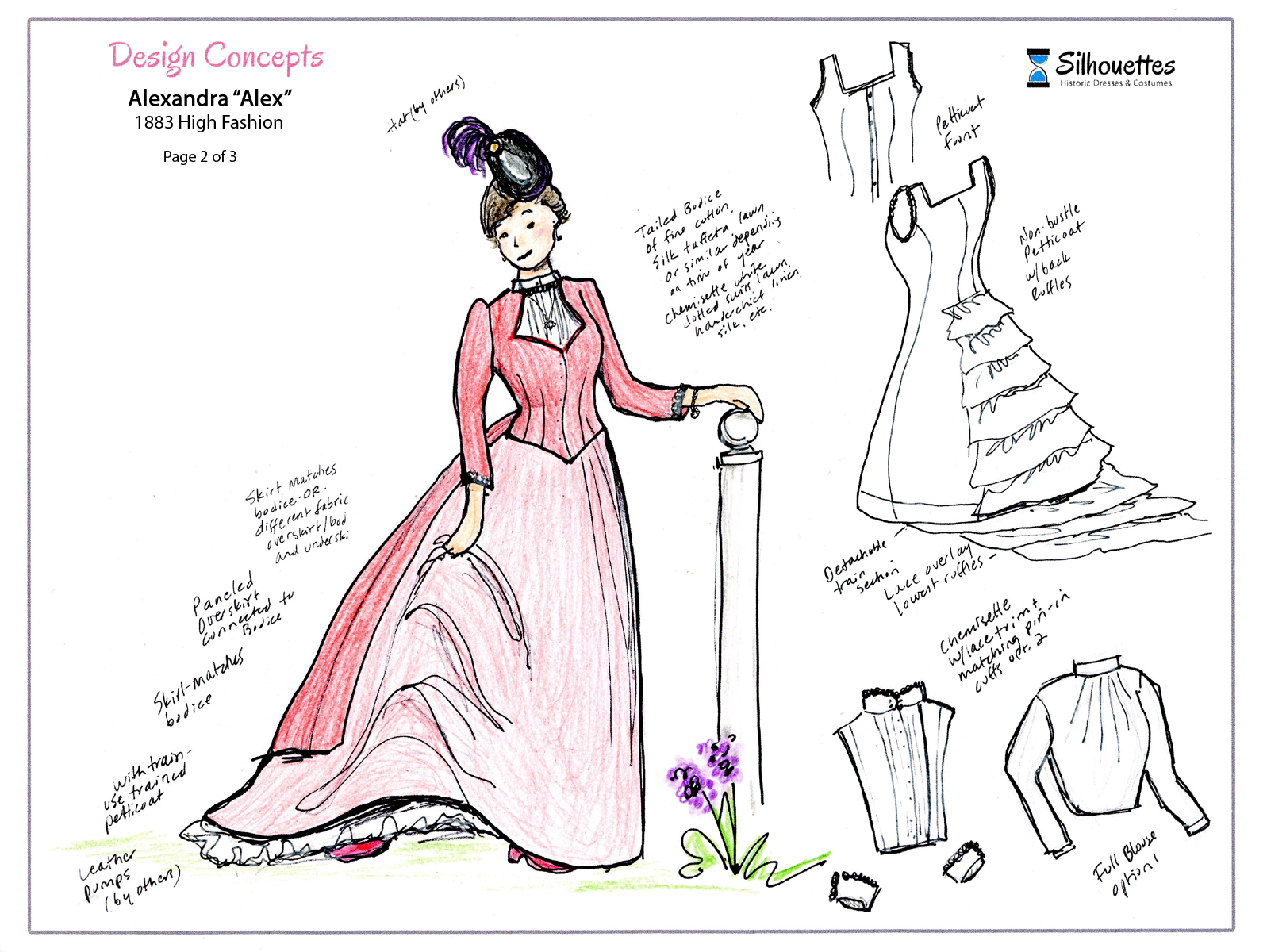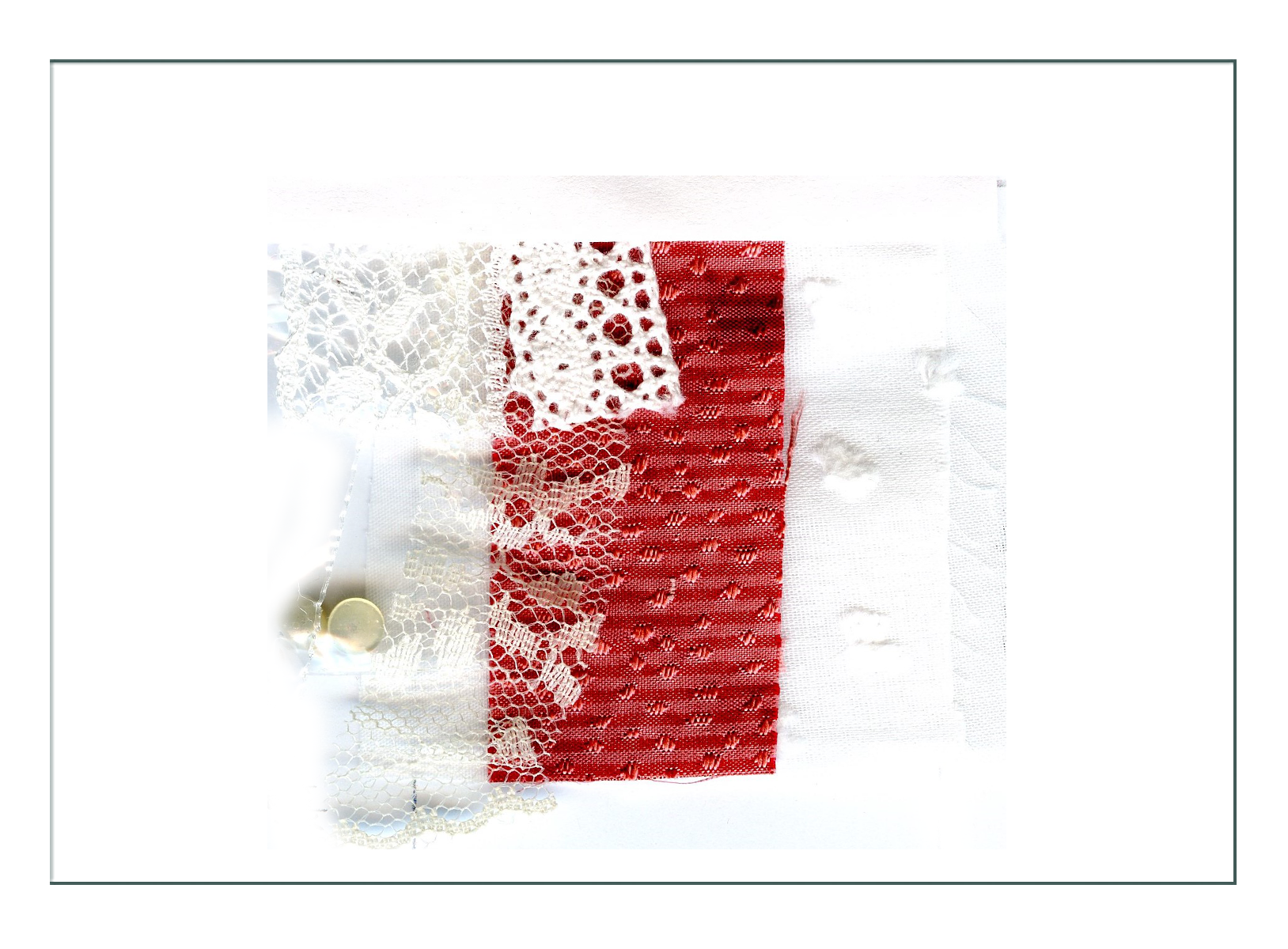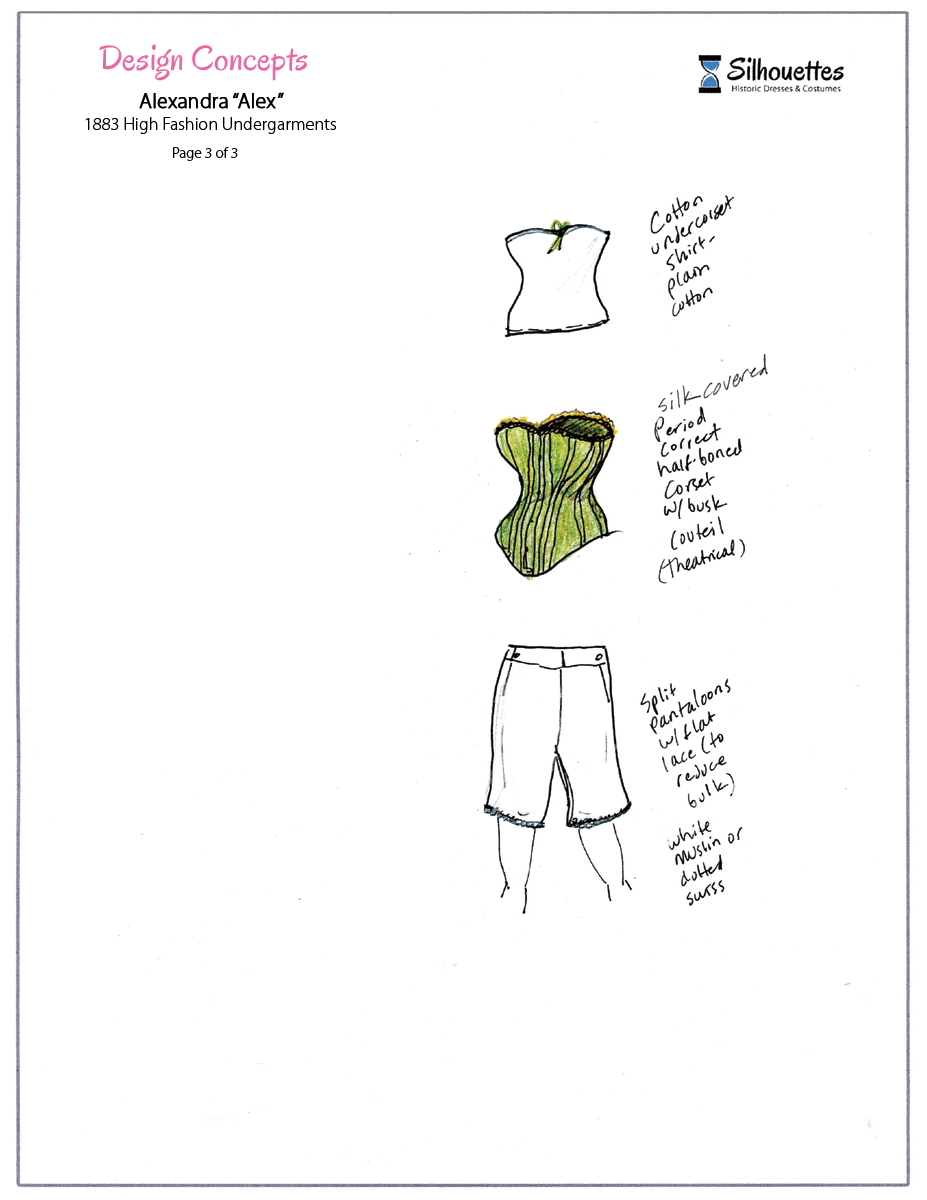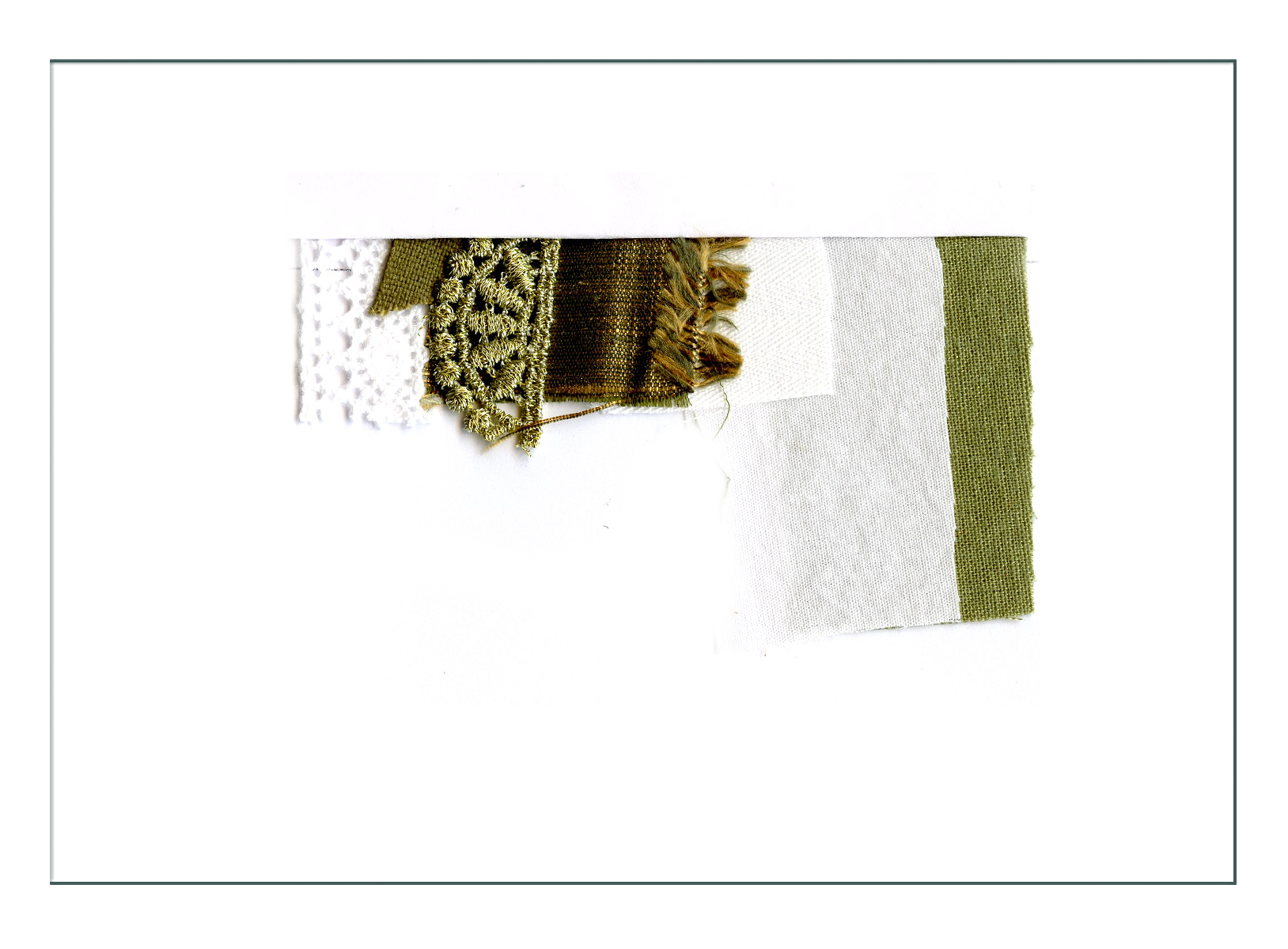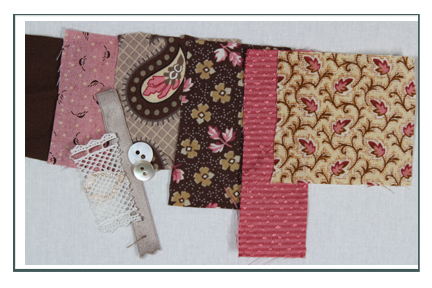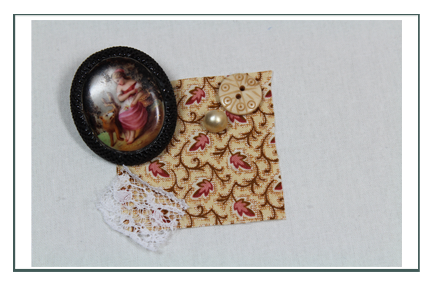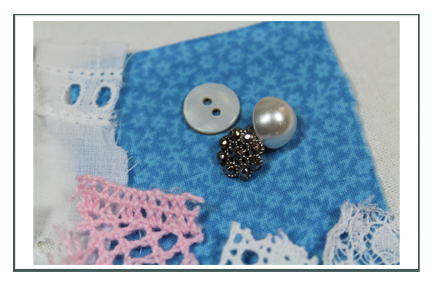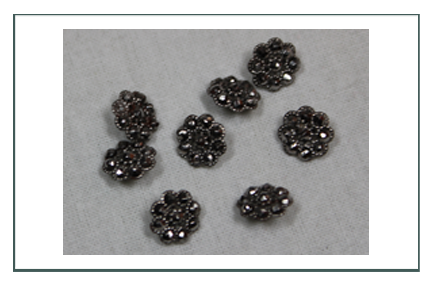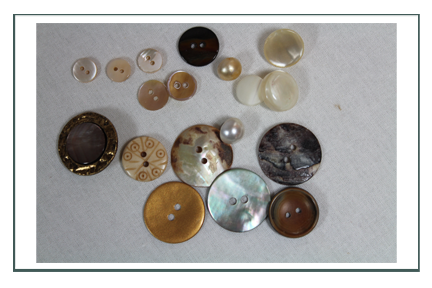 RECOMMENDED FOR THIS CHARACTER
Character development is not specific to a real person, but based on women of the time and place.  Alexandra, called "Alexandra" where she lives in Philadelphia with her aunt, is known as "Alex" when she visits her cousin in the West.  While she doesn't give up any of her class, status, or attitude when she comes, she does relax a bit to allow the teasing, & gives back as well as she receives.
She comes to the west every other summer when her aunt "does the Continent", leaving her temporarily unchaperoned.  Alex rides the train & then the finest coach along with a kind of bodyguard, an older man her aunt trusts to her care.  Alex does not defy that trust, but enjoys quiet visits on the porch of her cousin's little house, holding her newborn nephew, & talking to people she has come to love as her own when she attends services on Sunday at church.
Alex has been brought up in style & keeps up with the very most current trends.  She saves from her own allowance to buy the Paris fashion magazines in the city, and gives them to her dressmaker to copy.  Sometimes due to time or money constraints, or if a dress is in particularly good condition, she'll have her dress re-draped or re-worked to update to style, but most often she buys new.
When she comes west, she stays fashionable; in fact, her visit is anticipated by the locals (who don't get fashion magazines) because from her they get the latest gossip about the royals who have just visited, successful women in business, or that crazy Carrie Nation with her hatchet.
Alex's western wear includes comfortable clothes that can adapt to travel or the more casual life.  With limited space to pack for her 2 months in the west, she interchanges parts of her ensemble; e.g. wearing the same skirt with different bodices.  Since she wouldn't think of doing anything more active than helping with the dishes, she stays cool and calm in the worst of heat because her fabrics are of the finest quality & construction to endure high fashion or the high prairie.
TO BE INCLUDED IN ENSEMBLE:
MAIN GARMENTS
Bodice tailored with integrated bustle drape; for use with small bustle pad or no pad
Optional neckline piping or trim in self or contrasting fabric; marcasite or similar high end buttons recommened
Skirt gored appropriate to later part of era with 4 gores; symmetrical design, flared below the knee, but basically an "inverted lily" shape; skirt of same or contrasting fabric as bodice, silk taffeta recommended for both
Option between chemisette with integrated collar and pin-in cuffs (for ease in laundering)
OR – full blouse; either with multiple vertical pleats, button up, and 1/4″ cotton trim on collar & cuffs
Recommend high quality fabrics & notions for all; blouse or chemisette of white lawn, lawn print, or silk gauze

There are many correct & appropriate ways to drape with or without a bustle pad, including ties and bows

Chemisette vs Corset cover; both appropriate for this character
ACCESSORIES (By customer, can quote hats separately)
Hair well pinned in back
Bonnet – one for travel & one for day wear – both of the latest fashion.  Travel with net for protection from soot, of cotton velvet with feathers & brooch.  For daily wear, a straw bonnet to shade the face but with lovely silk ribbons and silk artificial flowers appropriate to summer
Matching gold or silver filigree earrings, pendant, and bracelet
Shoes of silk or satin to match dress with white or gray "renoir" type button up the side ankle high boots worn when traveling.  She might bring a pair of black leather pumps for day wear
Silk stockings with garters; the corset should provide tabs for garter clamps
She most likely would have some type of duster cape or at least a shawl when traveling
Hand loosely knit black or gray shawl for cool evenings
UNDERGARMENTS
Petticoats are worn under the skirt but over the bustle pad; the outermost petticoat can include extra ruffles at the bustle pad location instead of using the pad
Outer petticoat same lines as the skirt, with 2-4 rows of 2-6″ wide lace overlaid ruffles (pink) for fullness; drop waistband for smooth front and sides
1 or 2 under petticoats – all with flat fronts and full backs; cord tied or with waistbands (depending on how many) to move fullness to the back
Pantaloons ("knickers") with split crotch plus front button; flat lace on bottoms with faggot inserts for silk ribbons
Under corset vest of white cotton, flat tie & simple hem
NOTE: no corset cover is needed unless requested, as the full blouse serves that purpose.  A sleeved corset cover of fabric & design matching the pantaloons might be needed if chemisette used, especially if seasons other than summer are depicted (for warmth)
The most current, longer bodiced corset of silk brocade overlay, couteil fabric, with embroidery & lace and lining, with the newest spoon busk; as opposed to the shorter end-of-1870's corset the other characters are using.  This would always be new, updated, & the most fashionable & approaching the 1890 cuirasse "S" style, but not quite yet (no monobosum)
Optional tabs on corset to accommodate garter clamps, or provide garter extensions with clamps (as would be typical the next decade)

The petticoat could be used to create the shape of the dress without the use of understructures

This is the more typical shape with the flat front and slight raise in the back for the no bustle period

Just the little pad at the top is necessary for this time period, unless depiction is desired to stretch earlier or later. This small bustle was used to keep the narrower skirts away from the back of the knees & ankles so a woman could walk comfortably, more than to create a shape since the shape at this time was made through draping & bows, etc.

All 4 corsets shown are appropriate to the era since it was a cross-over between corset & bustle styles. This shorter one with cross gussets would be 1870's for a full-figured woman

This is most appropriate for our character with the silk cover, spoon busk, & length down the hips

Our character would bring this along as her "old corset" for activewear as it has the elastic cross sections for flex through the waist and hips, plus strong support for the breasts. It appears at first to be a late 1870's corset, but the spoon busk gives it away as a sports corset of the 1880's. Black with red was the very favorite of the era

This, a reproduction, is also appropriate in the longer length, boned gussets, & flat busk. The flat busk was still common at this time; the denim fabric would be consistent with western US women's use

IN GENERAL FOR 1883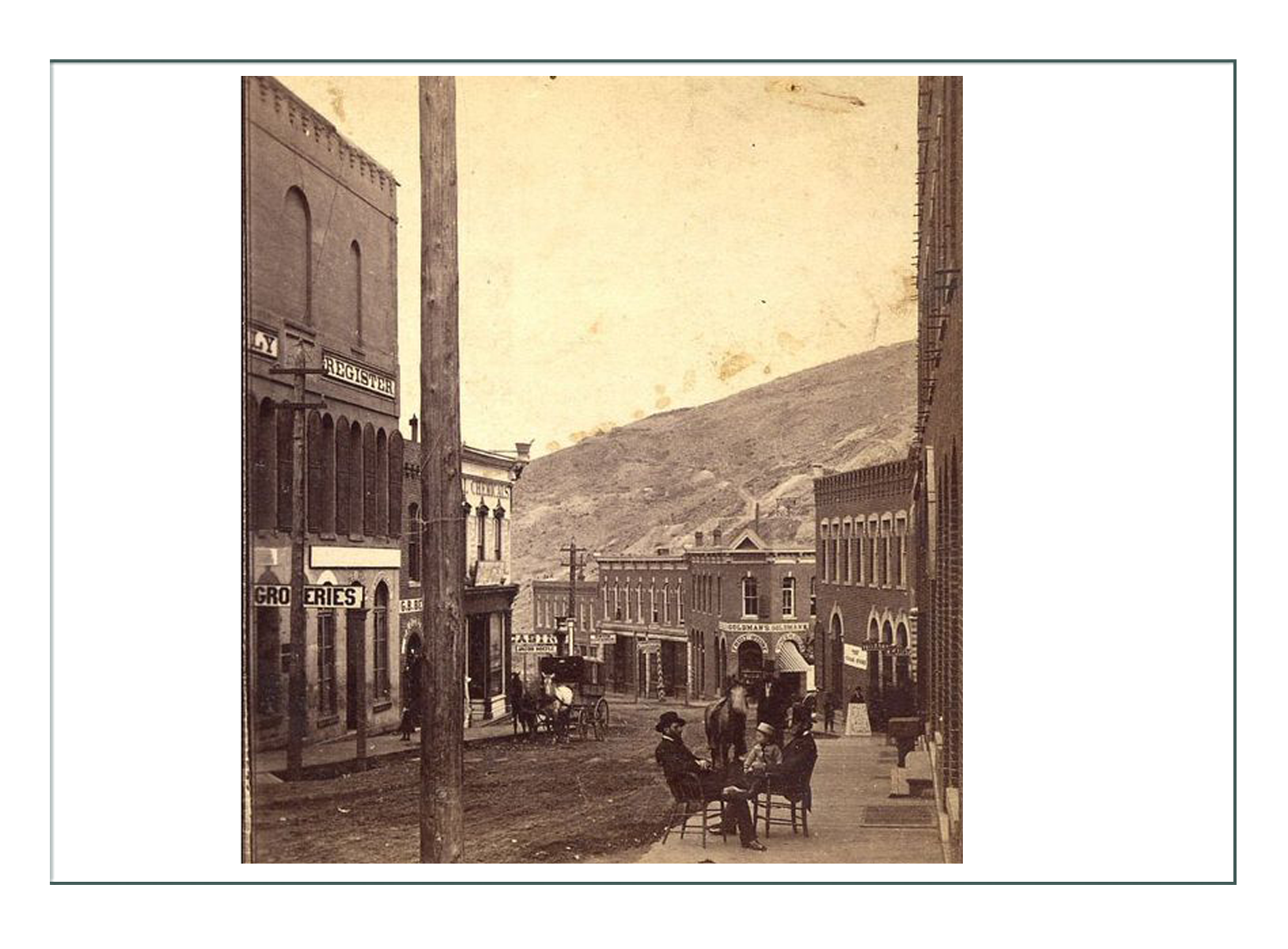 Women of the American Old West had to be resourceful to cope with the elements that surrounded them: the harsh conditions, lawlessness, & living in an age where there were few amenities. Some women took to the gun as readily as any man, while others made lives for themselves apart from dignified society. But for women who made the trek west with their families, their lot was in raising children, running a household (that included food processing, candle & soap making, spinning, weaving, knitting, etc.), establishing schools & churches, & occasionally, warding off Indian attacks. Some were deeply involved in human & voting rights (the suffragette movement).
Design & depiction of fashion of Western America fashion must put all those odds & ends together, along with what is known about influences, environment, availability, attitudes, culture, values, & assumptions about the person or people being studied & depicted. There are whole professions, notably Anthropology, which study these factors. Yet other professionals such as Museum Curators spend whole lifetimes gathering & studying the clues of fashion.
For our purposes for depiction, we must trust the research of those professionals, & draw the best conclusions we can based on which facts are known, but add Grandma's stories to breathe life into our depictions. Our projects will assume fashion for depiction is based on one of the factors below.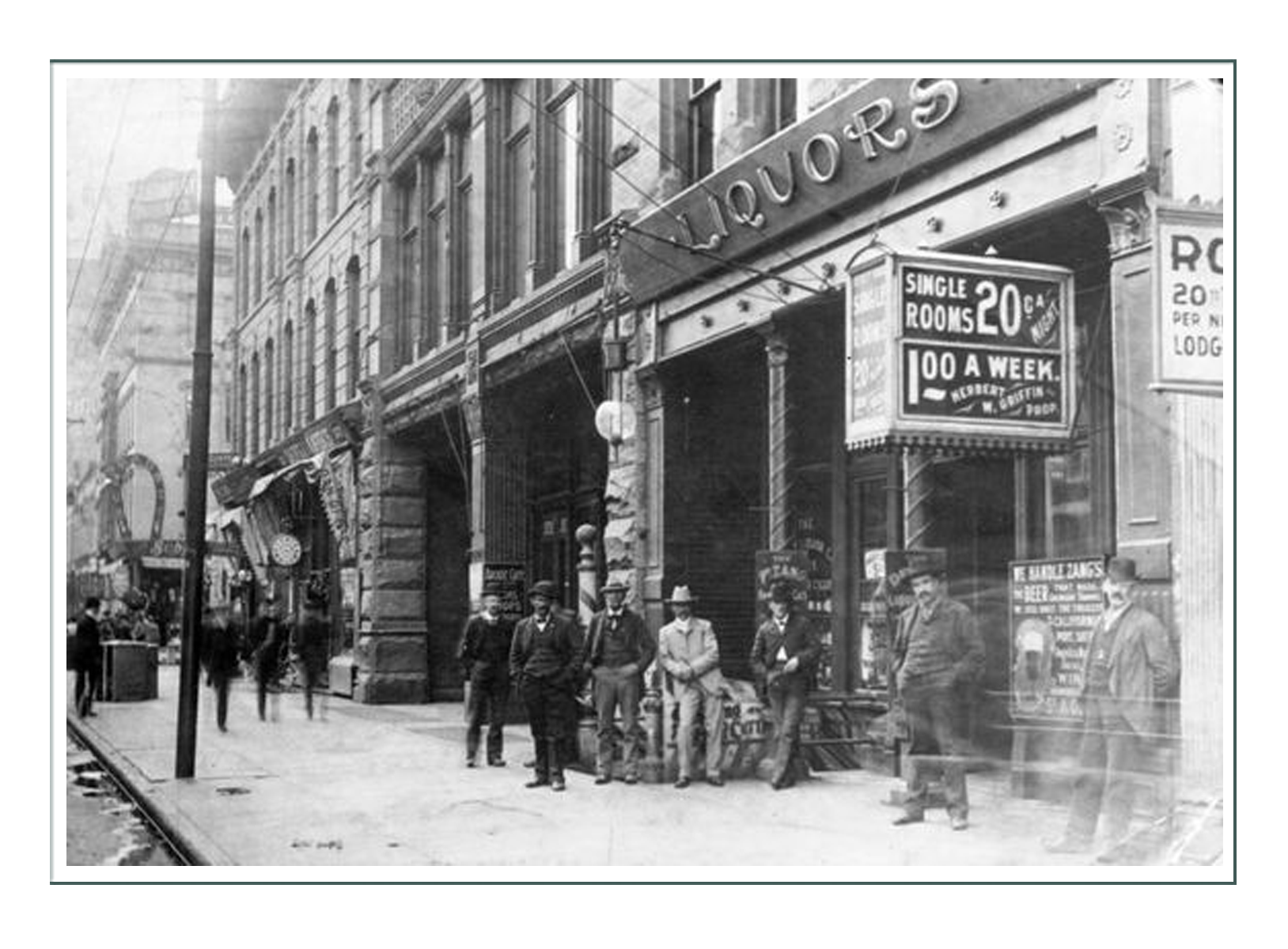 A) Fashion and/or the concept of fashion of the day was physically carried from the east coast (originating from the same influences as Easterners), & then modified or adapted to suit the culture, time, place, or activity;
This starts with the assumption whatever the current trend of the east is being carried west, & will focus on those factors which would cause them to be modified; e.g. materials, patterns, or communication unavailable;
It means fashion will almost always be 1 or 2 years out of style compared to the east;
Designs based on this assumption will end up being modifications of whatever was in style in the east a couple of years prior to the depiction.
B) Clothing was origined out of local materials; e.g. furs, leathers, & therefore based on the same influences as men's fashion such as evolution of the cowboy ensemble, almost strictly for function;
These projects will be researched & developed per project by specific region, working with our subcontractors who specialize in indigenous materials;
The American Cowgirl in particular demands research into male clothing & its adaptation for women.
C) Fashion design & clothing was a combination of above; e.g. western innovations like denim jeans which arise out of functional need; yet using modern technology of fabric, dye, & production that comes from the east which combines local availability of fur, skin, or locally made fabrics or materials (such as spun or woven yarn) with those of mass production or import;
This will be the result of very specific character of research, since it combines extensive historical data as to fashion of the day PLUS the specific geographic region including all aspects of the time & place;
It cannot be generalized.
D) Design & construction of garments comes of native, ancient civilization inspiration, influence, or actual use;
Silhouettes intentionally chooses not to develop "D", as the world of ancient & Indian cultures is vast & complex, & can take a lifetime, although influences of such will be considered with characters where that is pertinent;
We will refer customers to appropriate professionals who can help them with this.
Click here to go back to the top of this page

APPLICATION OF HISTORICAL DATA TO THE DESIGN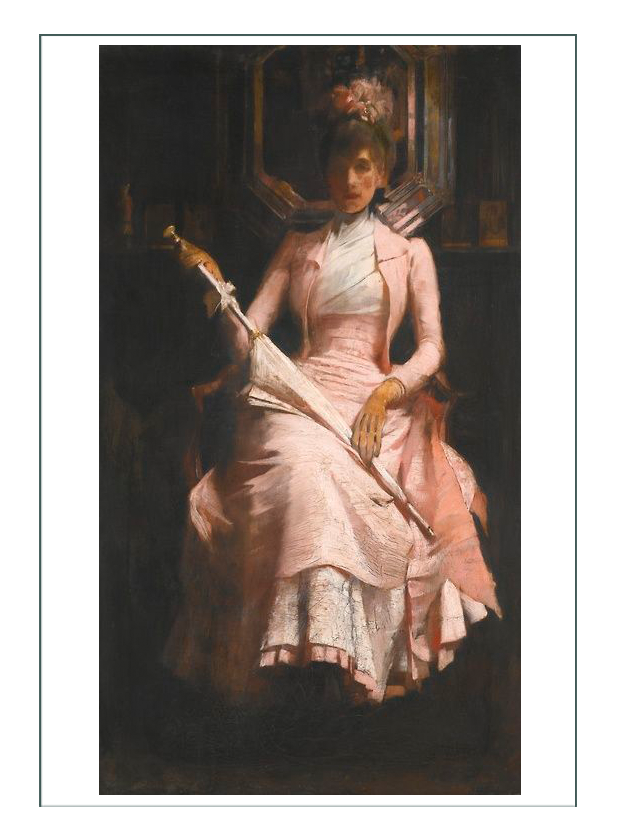 TIME AND PLACE
"Mid 1880's" in the American West (Wyoming). Western rural/ranching distant from society. Materials, notions, fabrics would be out of date due to limited shipments and access to goods, information, or updates. As many things would be made or bartered nearby as possible; e.g. leathers, furs, simple cottons. Women would know of fashion by word of mouth or through periodicals which would be local and/or sporadic
Depiction of the Sundance Kid era with Etta Place (and Anne Bassett and similar of the "outlaw era") would be 1899. While 1899 was definitely a non-bustle era too, the fashion was very different, especially corsetry (1899 uses the long, controlling corset that pushes the woman's bust forward into a monobosom, while 1883 is a waist cincher to the hips but not over them). The alternate "High Fashion" proposed accommodates that: it is an 1883 fashion, but made through design, fit, and components to appear to be the later 1899 garment, the main difference being the skirt which would be an inverted "tulip" in 1899, whereas it is a straight line with a drape in 1883.
FASHION ERA SELECTION – NO BUSTLE:
We have intentionally selected 1882-3, because the "fishtail" bustle era had just ended, and it was a short period of simple draping over the rear end with no bustle before the large "horse hind" bustle would take over late 1884.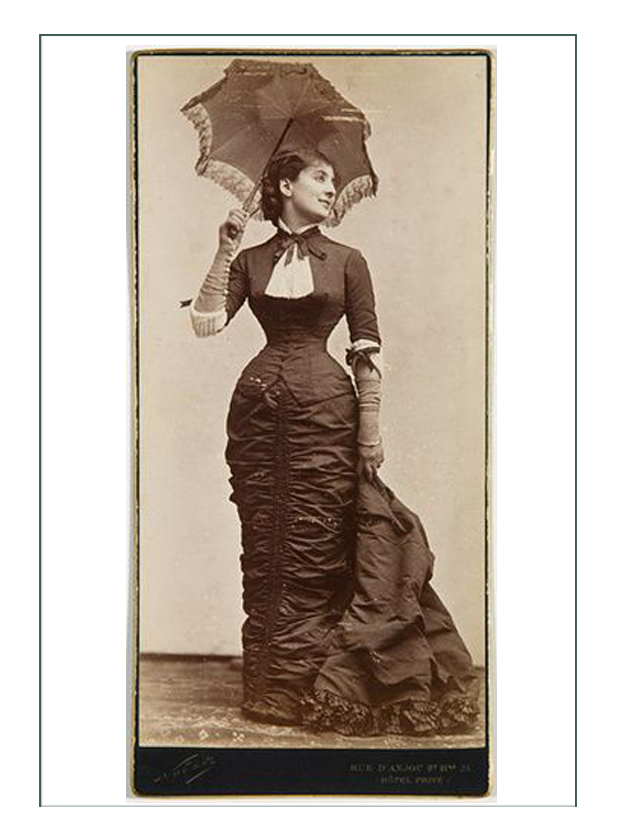 MULTIPLE FUNCTION ADVANTAGE:
The other advantage of the era is that a very inexpensive, plain cotton 1 or 2 piece dress was worn for daily use AND for dress up. Draping methods in 1883 were numerous and anything from a simple roughed over apron to elaborate folds & bows in the back were acceptable. This means one dress could have several different drapes to serve different needs & still be completely historically correct.
Bodices could be 2 piece with inserts or chemisettes instead of full blouses, which allows flexibility in the costuming, & ability to clean just worn inserts the same as they would have at the time, while leaving the main garment unwashed.
Using interchangeable aprons, skirt overdrapes, collars, cuffs, & petticoats allow the interpreter to use the same basic gown for 2-3 different interpretations, and to keep the cost down for the initial purchase, while adding pieces as desired as time goes on and more interpretation ideas are thought up. Hot summers, wind, and cold snowy winters would need two garments per woman plus 1 dress up.
Basic garments need to be very simple and uncharacteristically plain for the era. Typical at the time were extremes in use of trims, ruffles, fringe, etc. These people would have been much more efficient in use of their clothing than those to the east.
Economy would mean wearing the same bodice and changing the skirt by function (e.g. split skirt for riding, but long dress with overskirt for dress up). Accessories and especially sentimental jewelry hats and bonnets would be key to changing for activity and keeping up with style. Small accessories would have been imported, but hats and bonnets most likely locally made.
Footwear, though not in general fashion, would be tie up the front ankle high boots with a flat to 1″ heel, cotton stockings over the knee or held with garters to keep the corset down and the stockings up.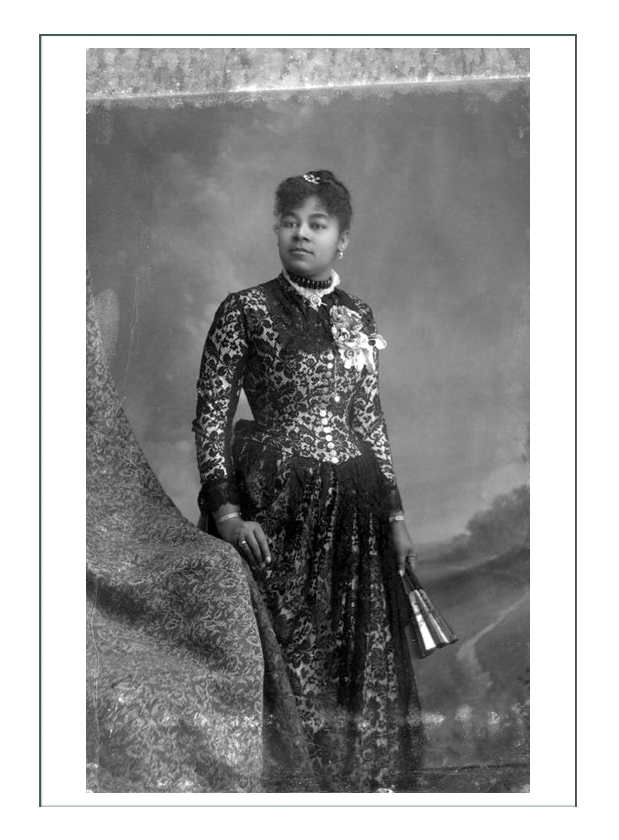 RECOMMENDED USE OF HISTORICAL & NATURAL MATERIALS
Using plain (unembroidered or detailed) fabrics of the era and simple patterns also allows us to make the garment fast to meet tight deadlines. Use of cottons also allows under or over dress for the weather. Please note it is our goal in this business to give the wearer the most authentic experience as possible. This means everything from undergarments up need to be of the same material, design, cut, and method of wearing that would have been in 1883.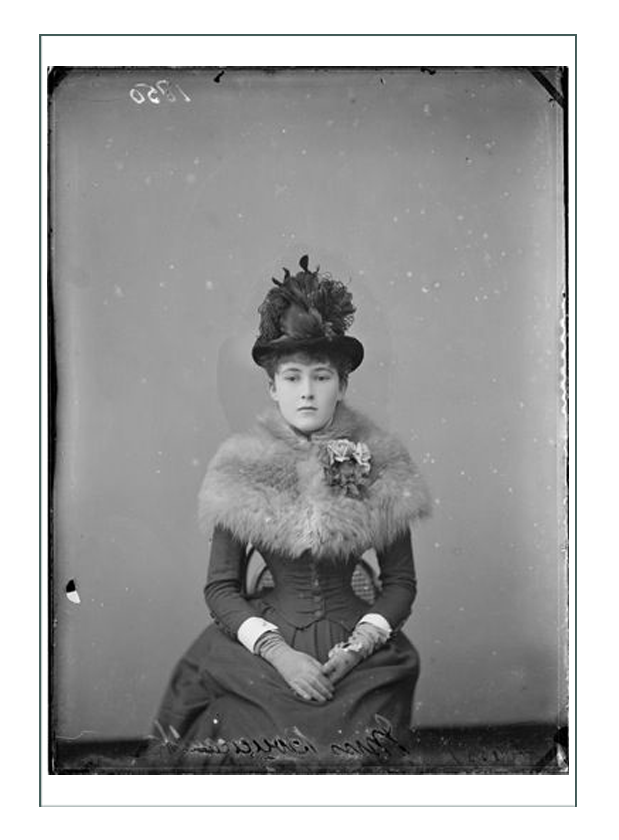 For that reason, we recommend taking the time and cost to do the authentic corset, although we are quoting a theatrical corset to save time and money. While our corsets are designed for the modern body, and do not attempt to shape the body as they would have at the time, the authentic corsets are made of natural fabrics which breath and react to conditions and weather.
SOME SYNTHETICS
Theatrical means "non-authentic" materials & construction. If theatrical is selected, it will be made of polyester/cotton with metal powder coated and/or plastic boning. Because these will not give authentic feeling, we recommend selecting all historic garments.
Some pre-made ruffles and ribbons may be of synthetic materials due to the prohibitive cost of silk and embroidery and the time required for hand detailing, although the latter is available on request. 100% cotton or silk thread will be used for all hand stitching. This era was machine sewn including mass produced trims and details. Machine sewing and embroidery will use polyester thread for durability.

REAL GARMENTS FROM THE ERA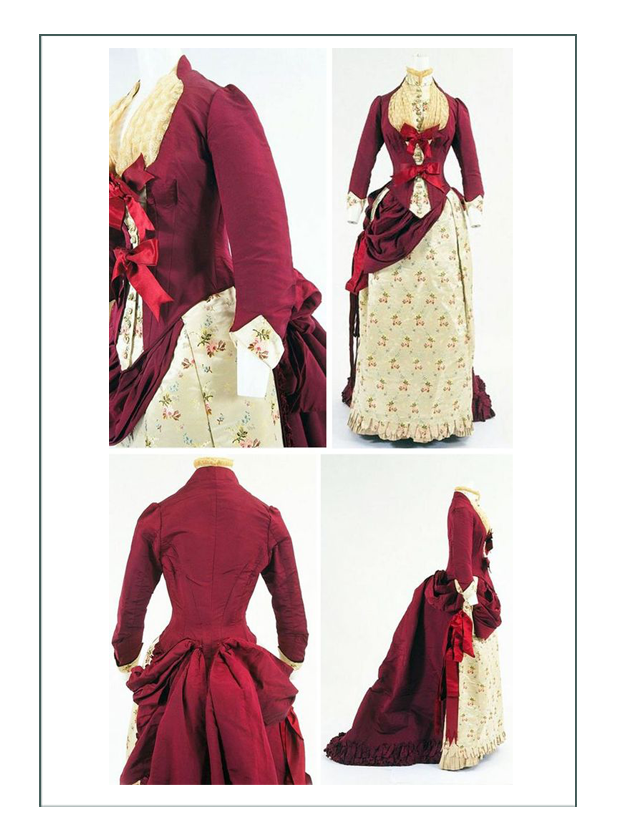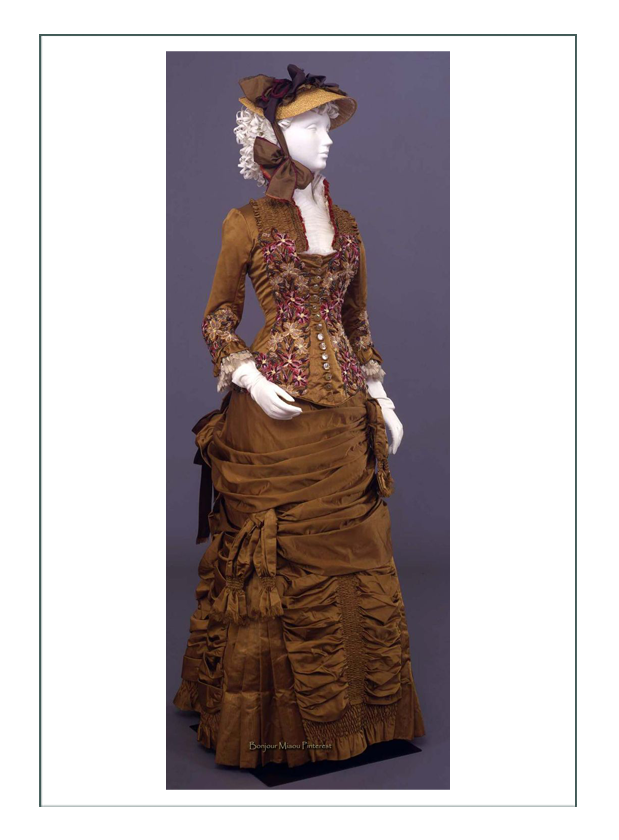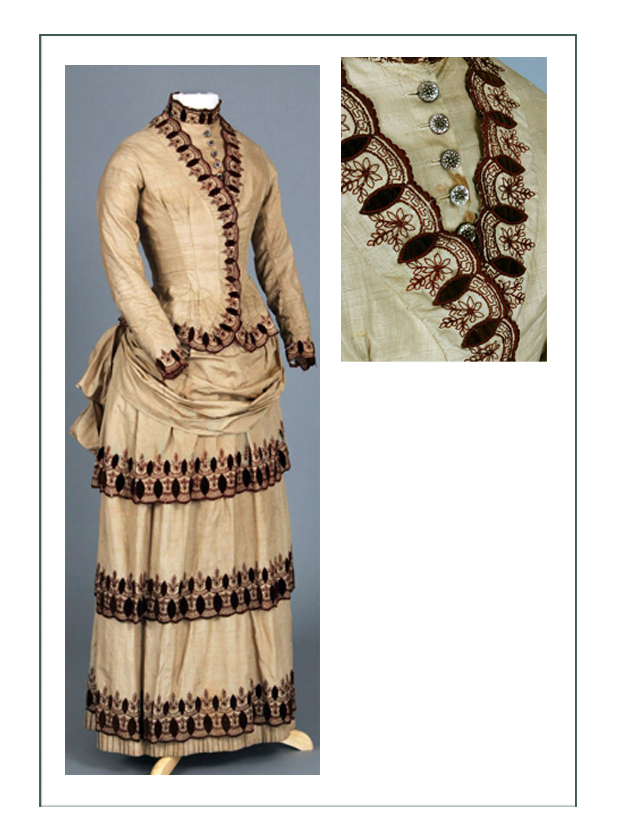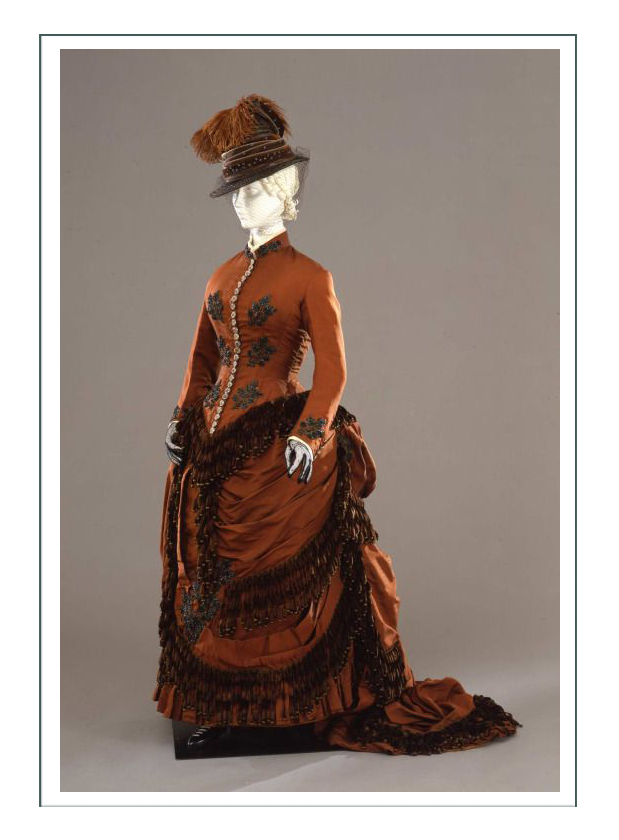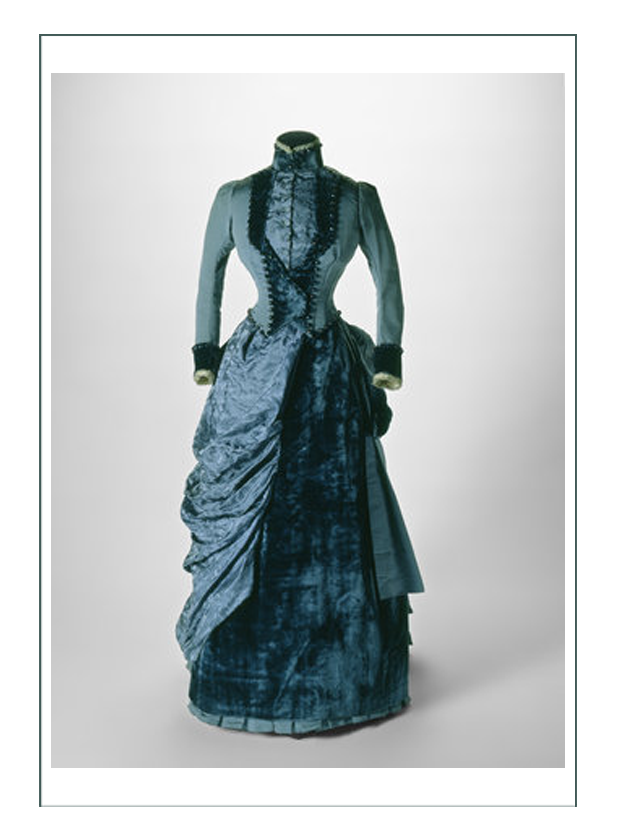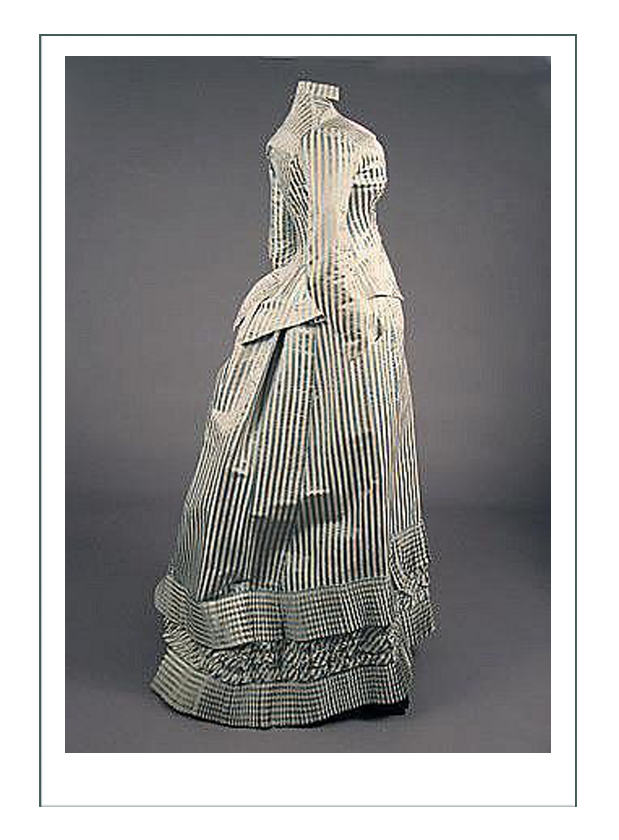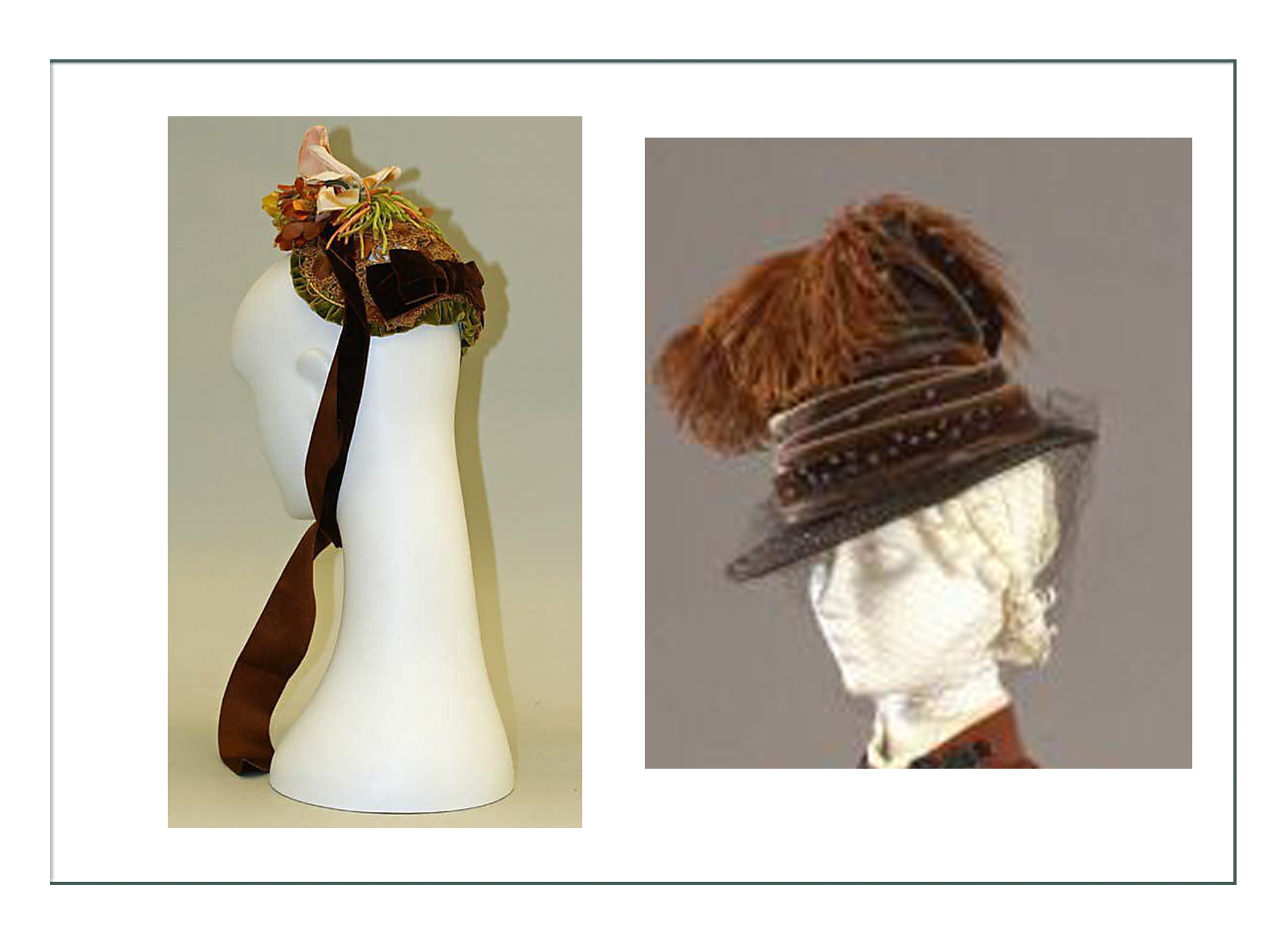 Click here to go back to "Buy 1883" (5 Characters intro) page
Click here to go back to Customer Projects page
Click here to go to the next 1883 character, Genny
Click here to go back to the last 1883 character, Milly
Click here to go back to the top of this page