We have done some research and design projects to demonstrate the process for existing customers.  You can save time and money by taking advantage of research already done for this favorite era for western depictions.
They can be completely CUSTOMIZED FOR YOU, & of course built in your size "from the bum up" using fabrics & notions as shown, or to suit your special needs.
Click on the name of the character to see her ensemble, then contact us using the form below to be a Kit, Mary Jo, Milly, Alex, Genny, or…..!
Check out our Western Women Era section for historical context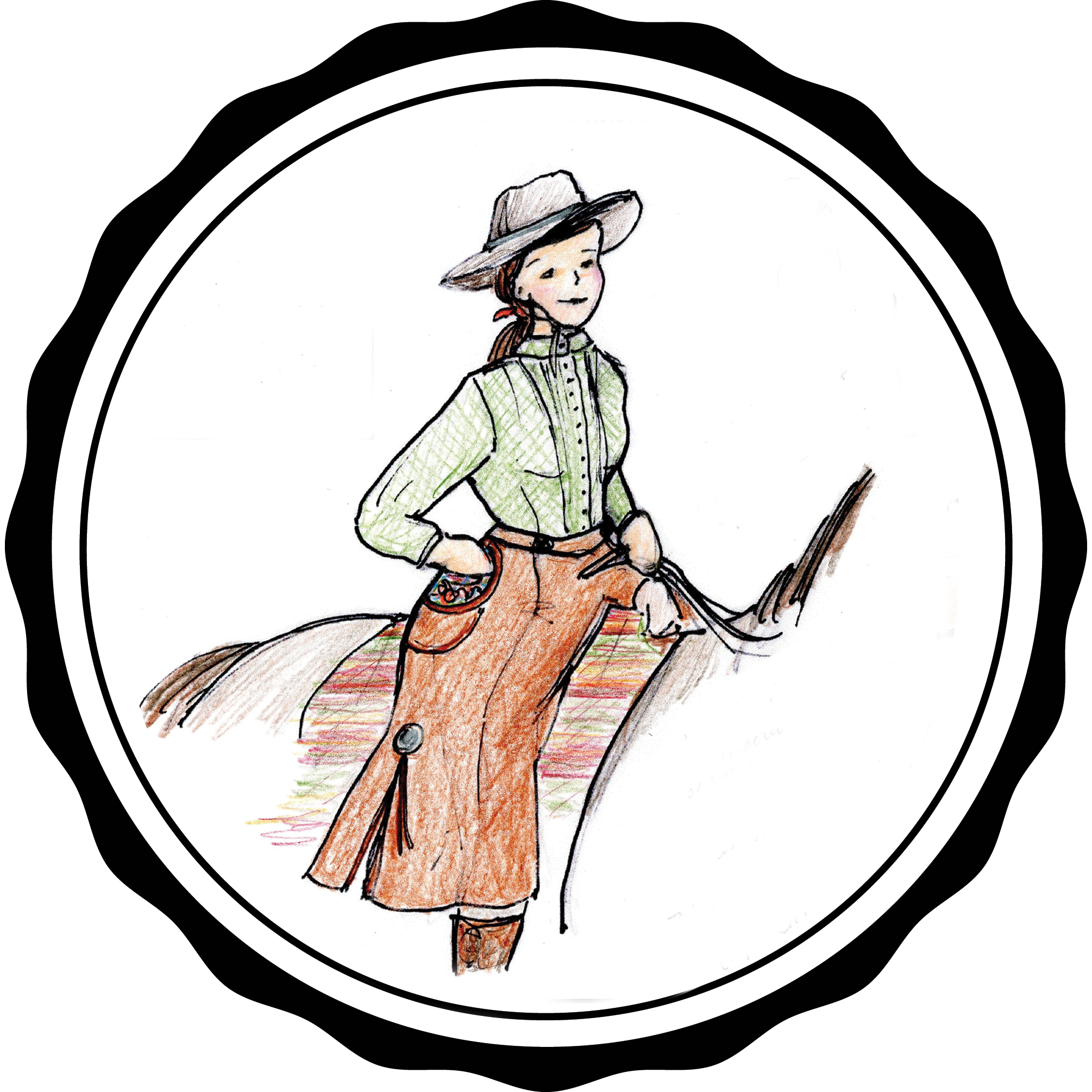 Katherine ("Kit"), Livery Manager
Give her polka dot pantaloons any day over a petticoat. Better yet, drop the pantaloons for the tunic & leggings of her forefathers. She's been riding astride since her father threw her on a pony & told her to keep up with the boys. She never caught them, but she's not about to give up now.
Moving to town to do a man's job as the new livery manager for that Eastern woman was a big step. She's always worked hard to earn respect, & she figures hard work will find her a real home & a forever kind of place in this small open-minded community. She's willing to wear the trappings of a woman if she can keep a bit of her past close: conchas her brother brought from his trip down south, & special tooling on the leather belt her grandmother made.
Simple, functional, straight forward, & not afraid to get down in the muck, her couple of outfits have to do double duty on the trail or at the July 4th picnic where hopefully a "certain somebody" will show up. Maybe that nice lady at the store has a piece of silk to wear around her neck to celebrate her new independence.
…Click here to see Kit's fabrics & designs…
Getting ready for an Independence Day Celebration at the church is no picnic.  First there are the rowdies that come into town, just wanting to eat all the pie.  Next you have to find someone to watch the babies so the mamas can enjoy some quiet with each other.  Remembering one of those babies she just helped to come into this world makes her smile.  While she was prayin' and singin', that little one just came out with a lungful of praise for his Creator.
It's a great thing the town is growing with young ones who will appreciate it for what it is right now, without pining for a home somewhere else.  Since she got here after that long journey from Kentucky, it's grown from a 1-saloon town into a 1-saloon AND 1 church town that everyone can be proud of.  She figures that balances things out a bit.
It makes her smile to think how many young folk she's helped find the love they have for each other.  She wouldn't call herself a matchmaker, since she's sure they would have found each other eventually; they just needed a little nudge. That lovely new  woman who owns the livery has agreed to let that handsome blue-eyed rancher escort her to church next Sunday, and it didn't hurt to bribe the young man from the stage company with apple pie if he'd stick around long enough to escort the fancy woman who just got off the stage to the picnic…  which reminds her, she'd better skeedaddle to the store to get some of that cinnamon that just came in on the coach.  She's due back to show that nice young boy how to ring the bell next Sunday.
…Click here to see Mary Jo's fabrics & designs…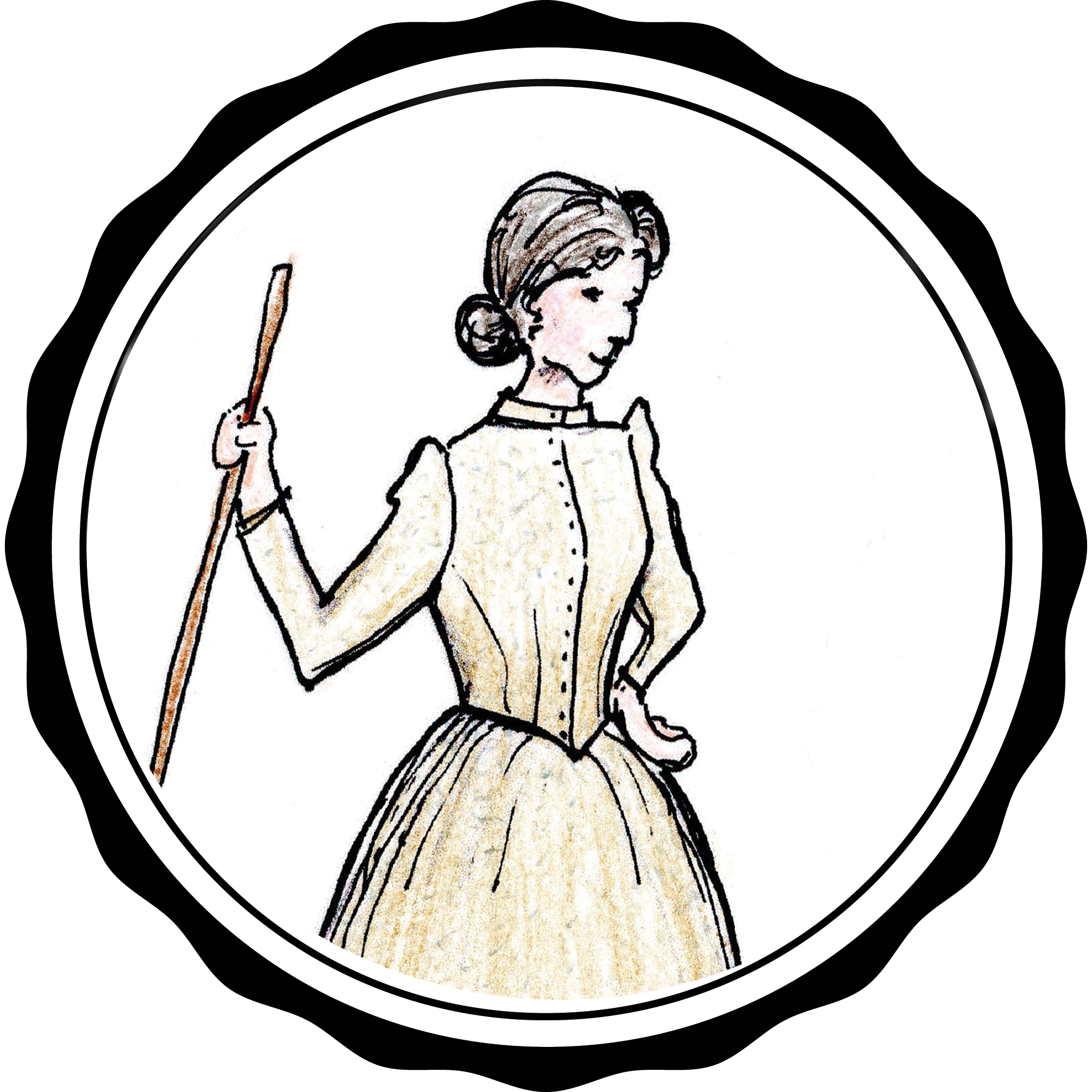 Mildred ("Milly"), Shopkeeper
We find her a widow cleaning the store, walking to church, & living upstairs. The children help when they can, especially her eldest with his dear wife who live just down the road. Unwilling to give up her old comfy corset that isn't quite so tight any more, she remakes her clothes herself into the latest fashion those visitors showed her the photos of.
She splurged on some lovely printed cotton that just came in from the east to make an overskirt to spiff up the old dress. Adding the ruffle was a real indulgence, but hey, it was her 40th birthday. She thinks she'll wear it to the Independence Day celebration along with her new bonnet. Even though she misses her sisters back east, she's proud she can support herself through her own labors, & thanks God for her strength every Sunday where she sits every week in the front pew of the lovely new little white church that nice couple from the south built.  She thinks the sound of the bell calling people to worship is just one of the nicest things in life.
…Click here to see Milly's fabrics & designs…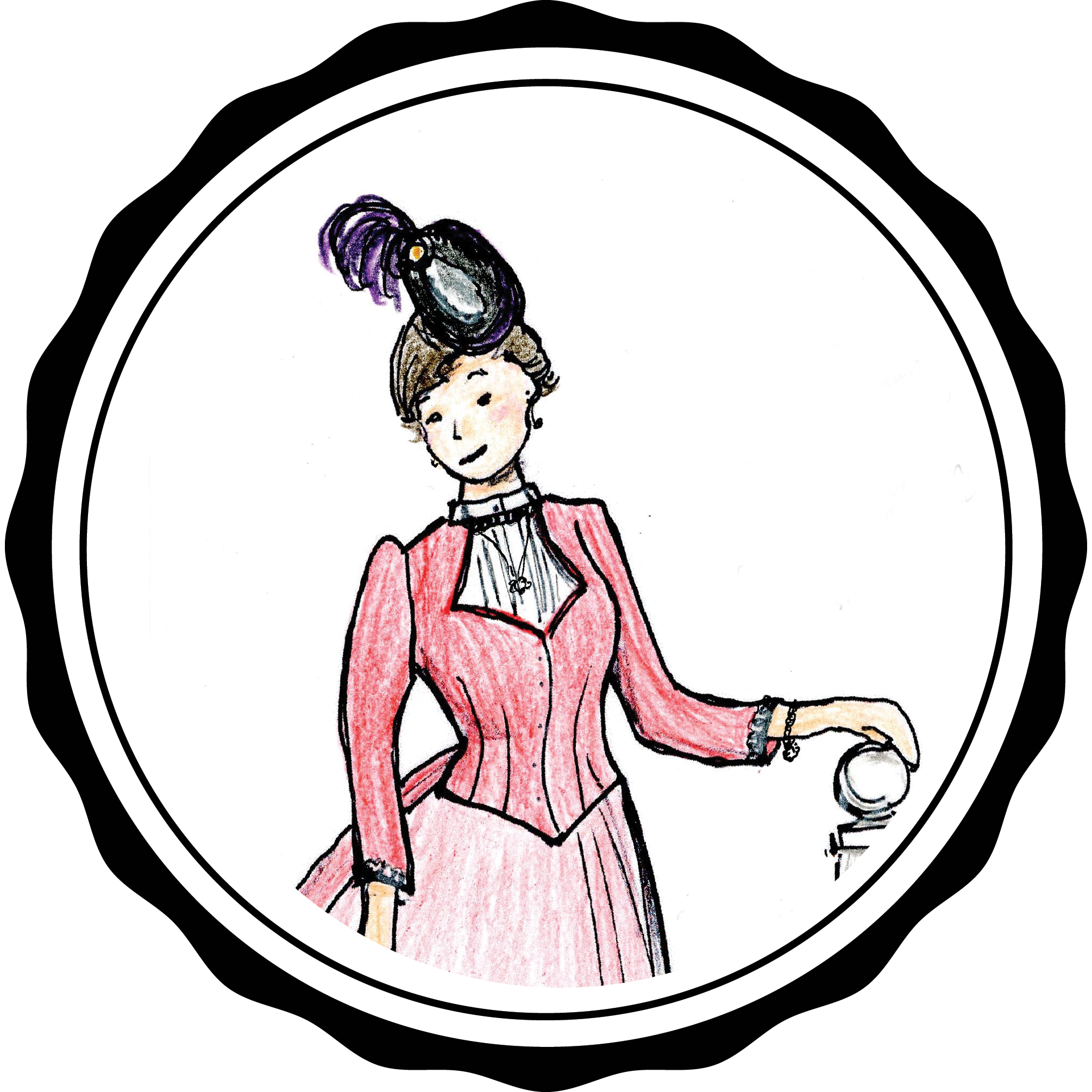 Alexandra ("Alex"), High Fashion Cousin
It was a long train ride, and an even longer ride on the coach to this tiny speck of a town in the west, but the effort was worth it to see her cousin's face shining with the light of a new mother.  That baby has no idea what a long name he really has when he adds all his family titles from back East.  He doesn't need them out here, because what counts in the West is what's in a man's heart and what he does with his life.
Grateful for the young man from the livery who brought her a tub of cool water to soak in on this hot day, she wishes she'd brought something that could be worn without a bustle to the upcoming christening of her nephew at church.  Maybe she'd find something in the little shop down the street that would suit for a bright summer day with a cloudless sky that would be appropriate to ask that fine young man who escorted the coach who had offered to drive her to the picnic where he seemed awfully excited about some homemade apple pie.
…Click here to see 2 options for Alex's fabrics & designs…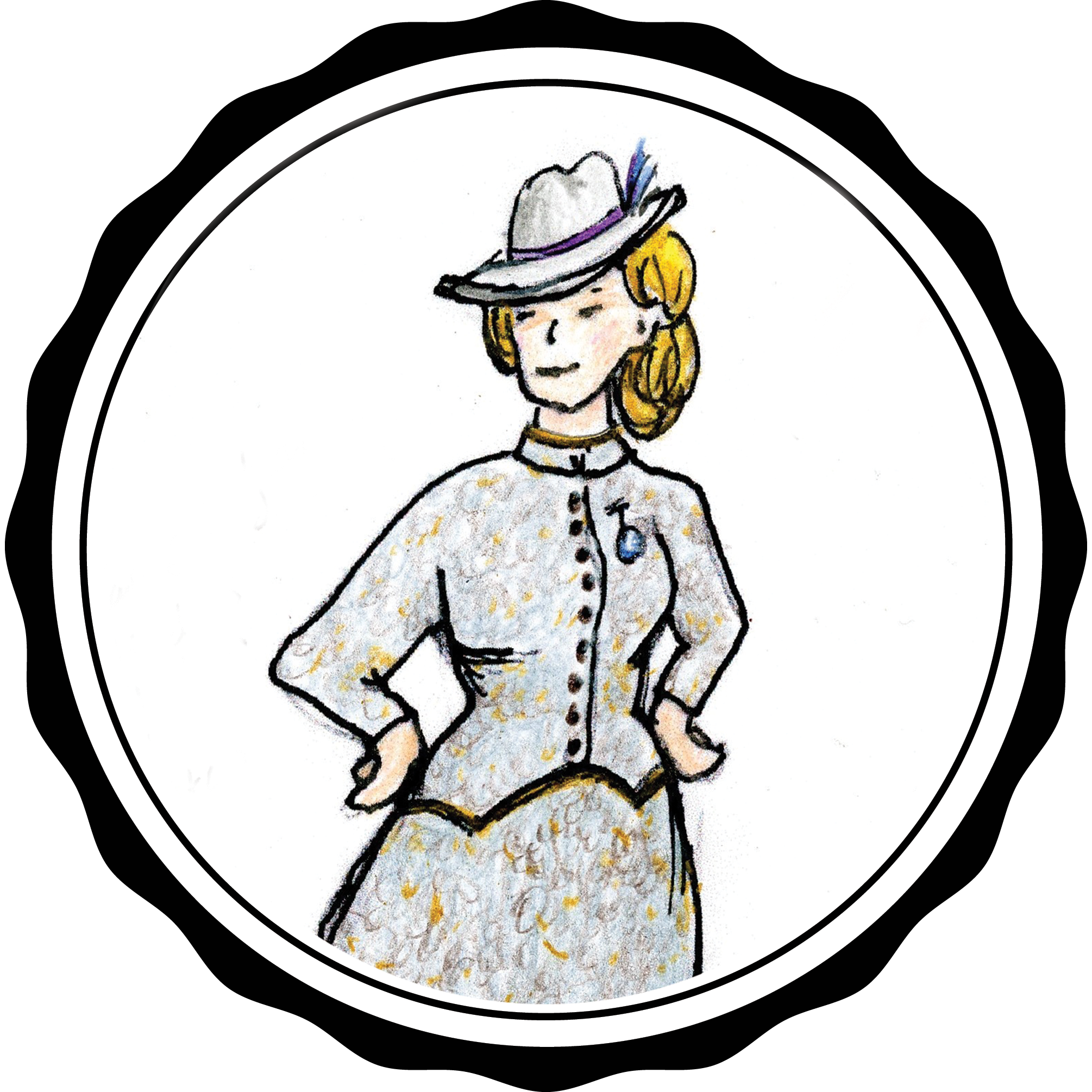 Eugenia ("Genny"), Livery Owner
Our "Amazon" Horsewoman brings her sense of style from back East, where Grandpa taught her everything he learned in England about raising, riding, & RACING horses. Hoping to make a name for herself apart from her own bloodline, she is confident, well-backed, & excited to have her new livery on a key stage route.
She's already found the grandson of the local shopkeeper to clean the stalls, & hopes to find a kindred spirit in another strong woman with good "horse sense" to run the whole stable operation soon. She wants to not sweat the daily stuff; to get out & ride flat out on that amazing prairie as much as possible.
With a keen sense of fashion style ingrained into her since birth, she knows she needs to "dress down" if she's going to fit in. This summer she's going to need that special riding corset she had made just for her to handle the heat that just seems to be lingering around the corner of late spring.  Of course that big white Stetson hat will help.
Women here are so much more casual than any she's known, & so practical too.  Many think nothing of wearing denim trousers just like men. She thinks she'll try pants, though maybe under her skirt at first. There's no need to attract a man, unless the right one should ride into town. She'll keep her bowler hat with the lucky feather in it anyway.  A Lady can't always be practical.
…Click here to see Genny's fabrics & designs…