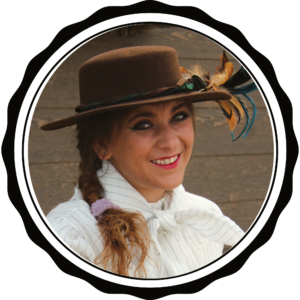 Real & Perceived Western Women
As presented to the Public by the media at the time
All reproduced from actual postcards as collected in "Cowgirls Women of the Wild West" by Elizabeth Clair Flood and William Manns by Zion International Publishing, Santa Fe, NM 2003 Copyrihgt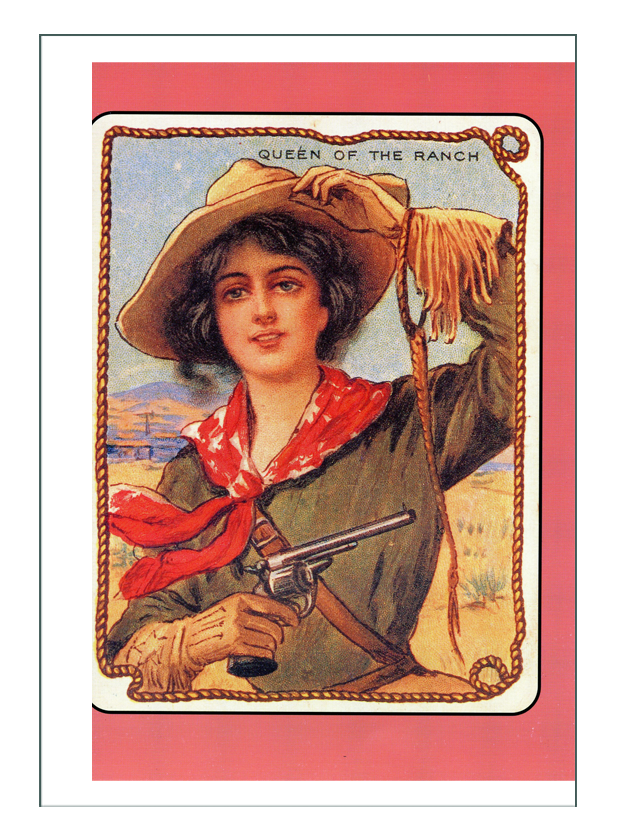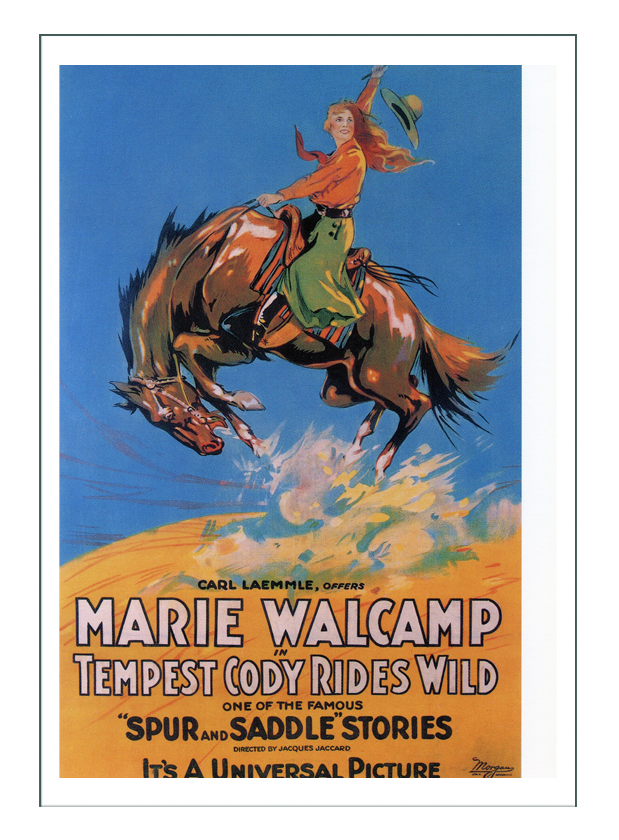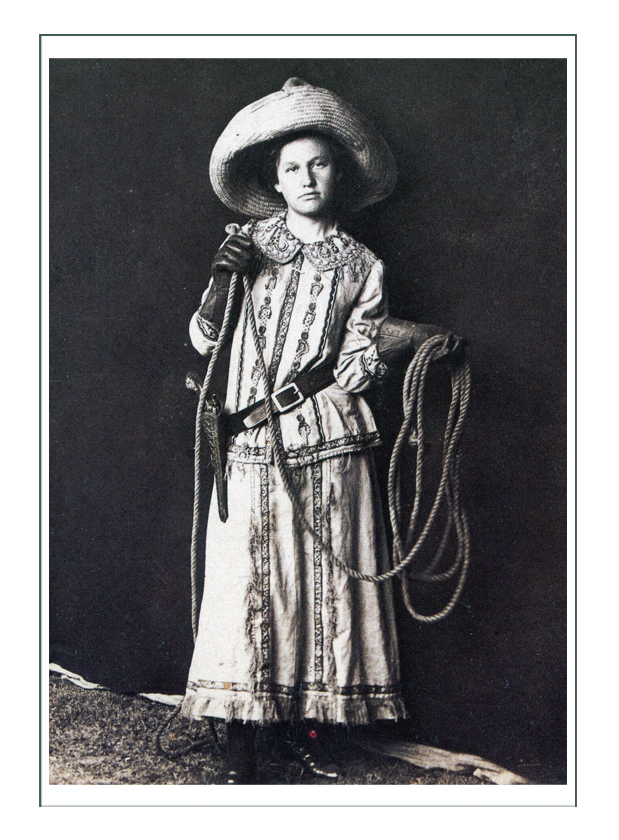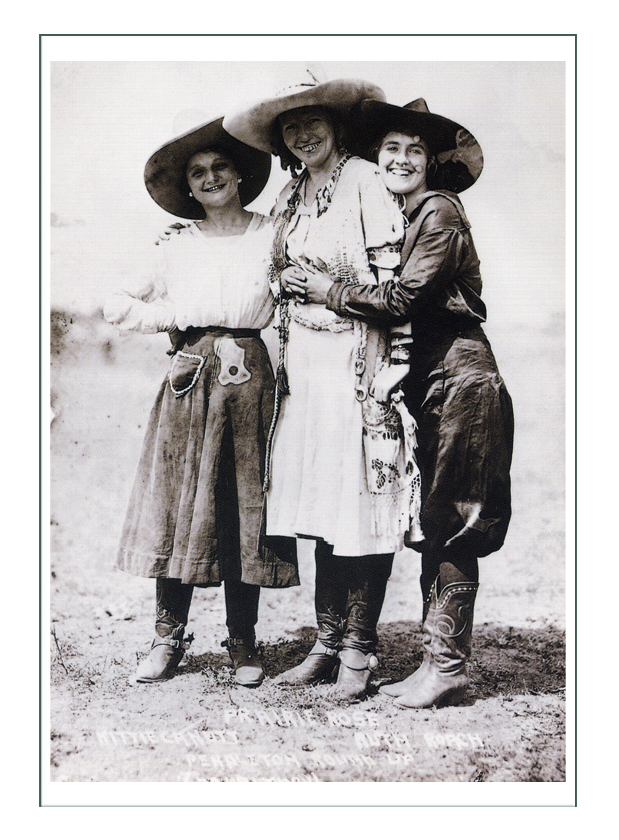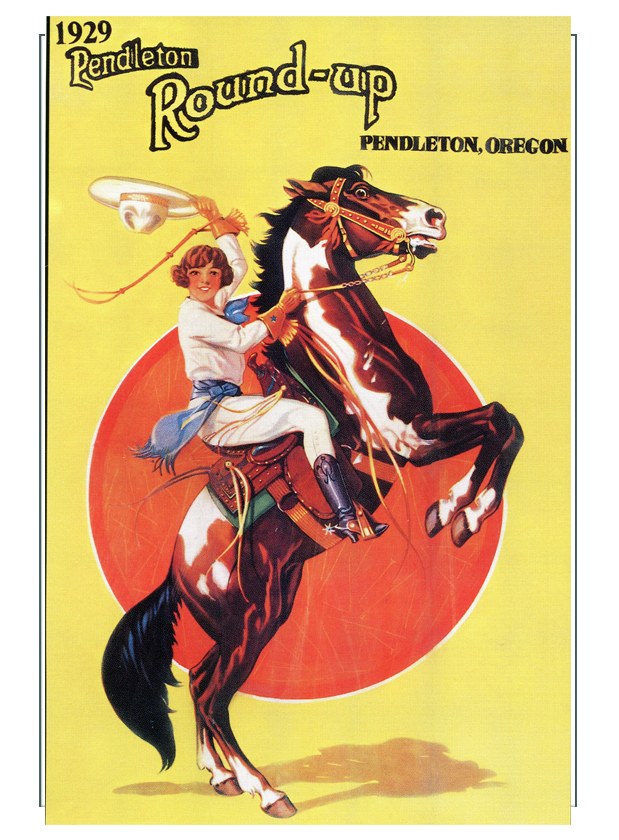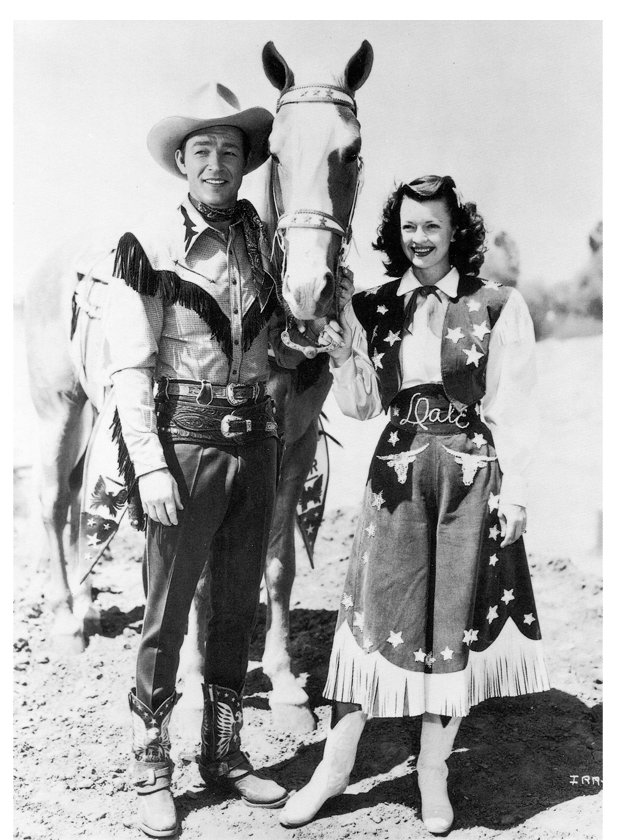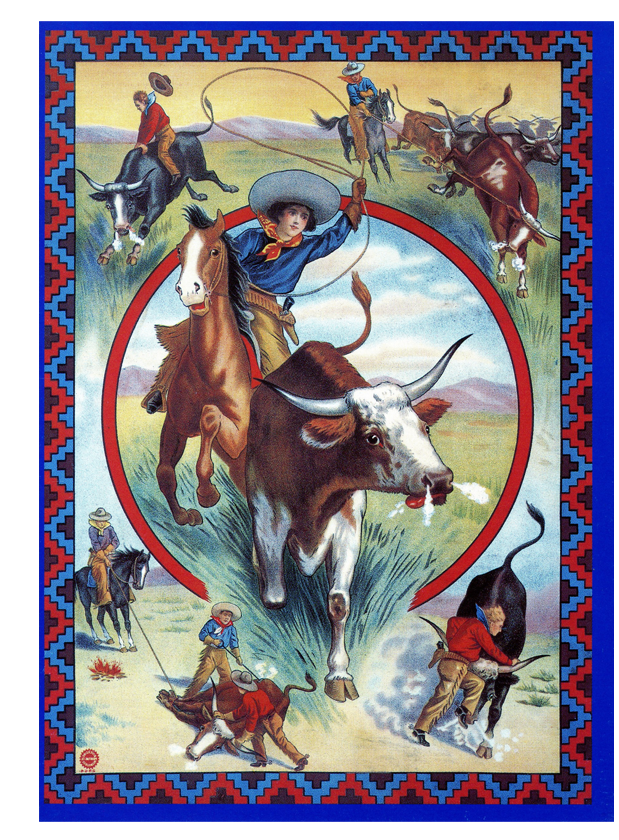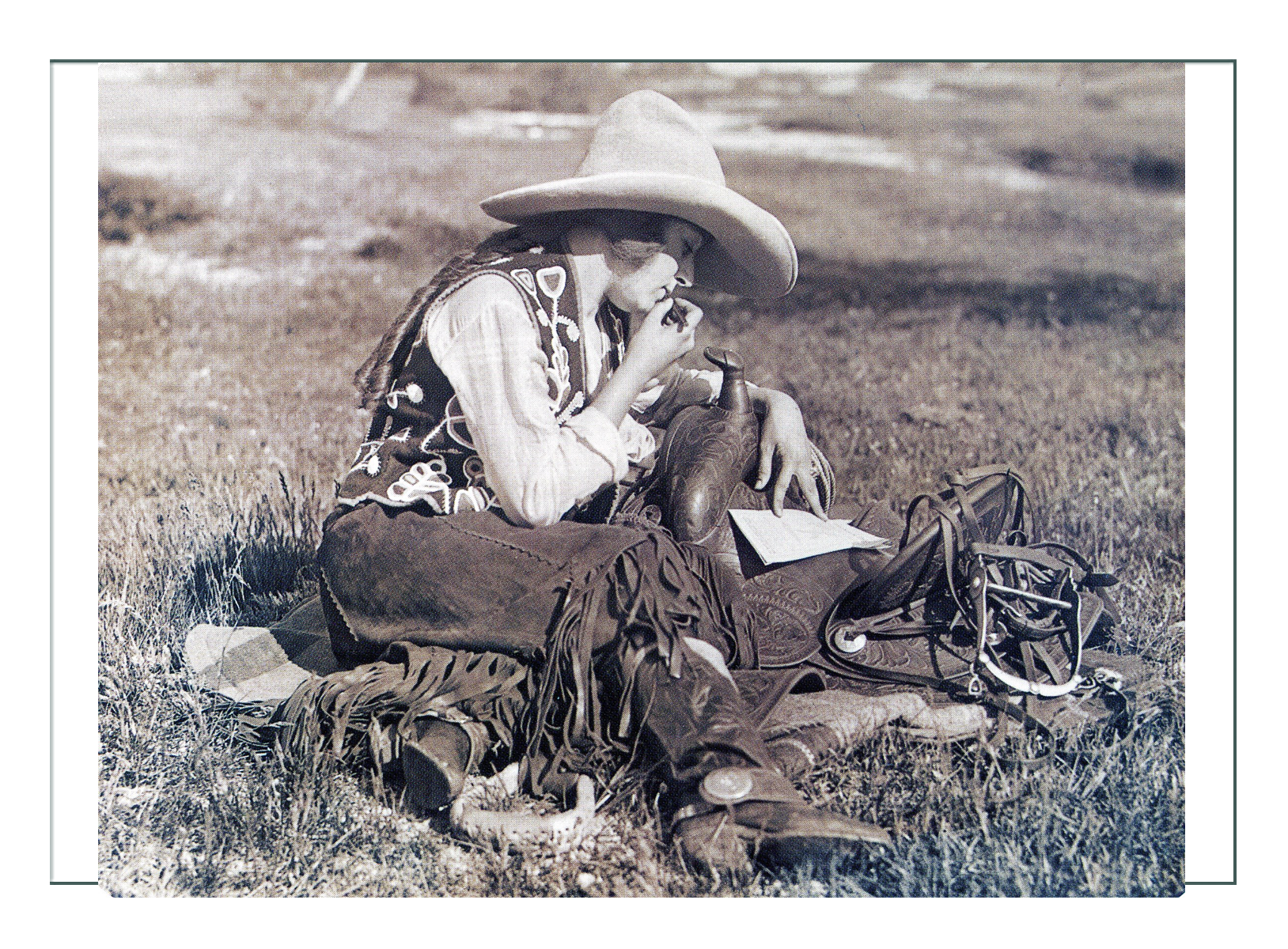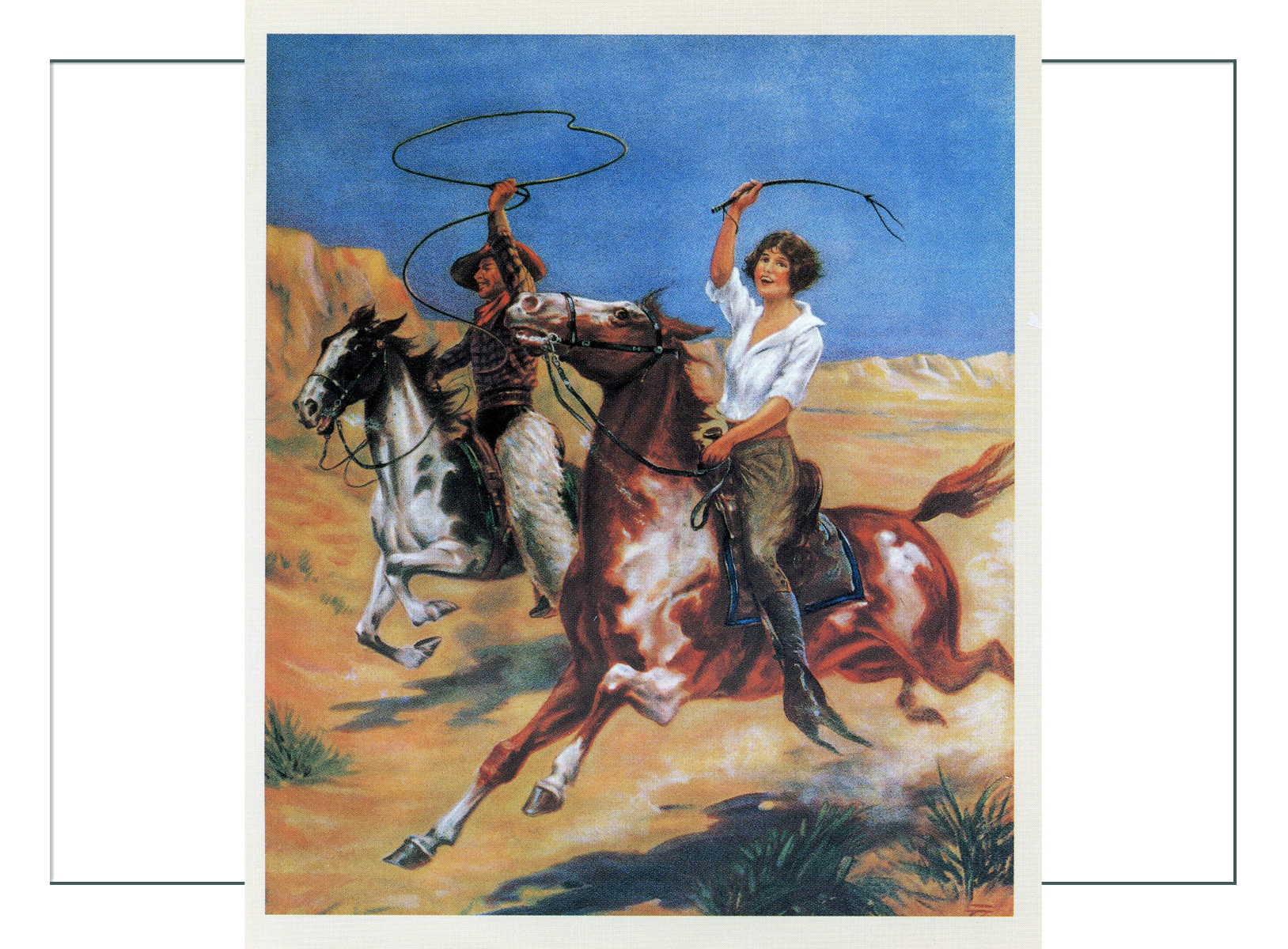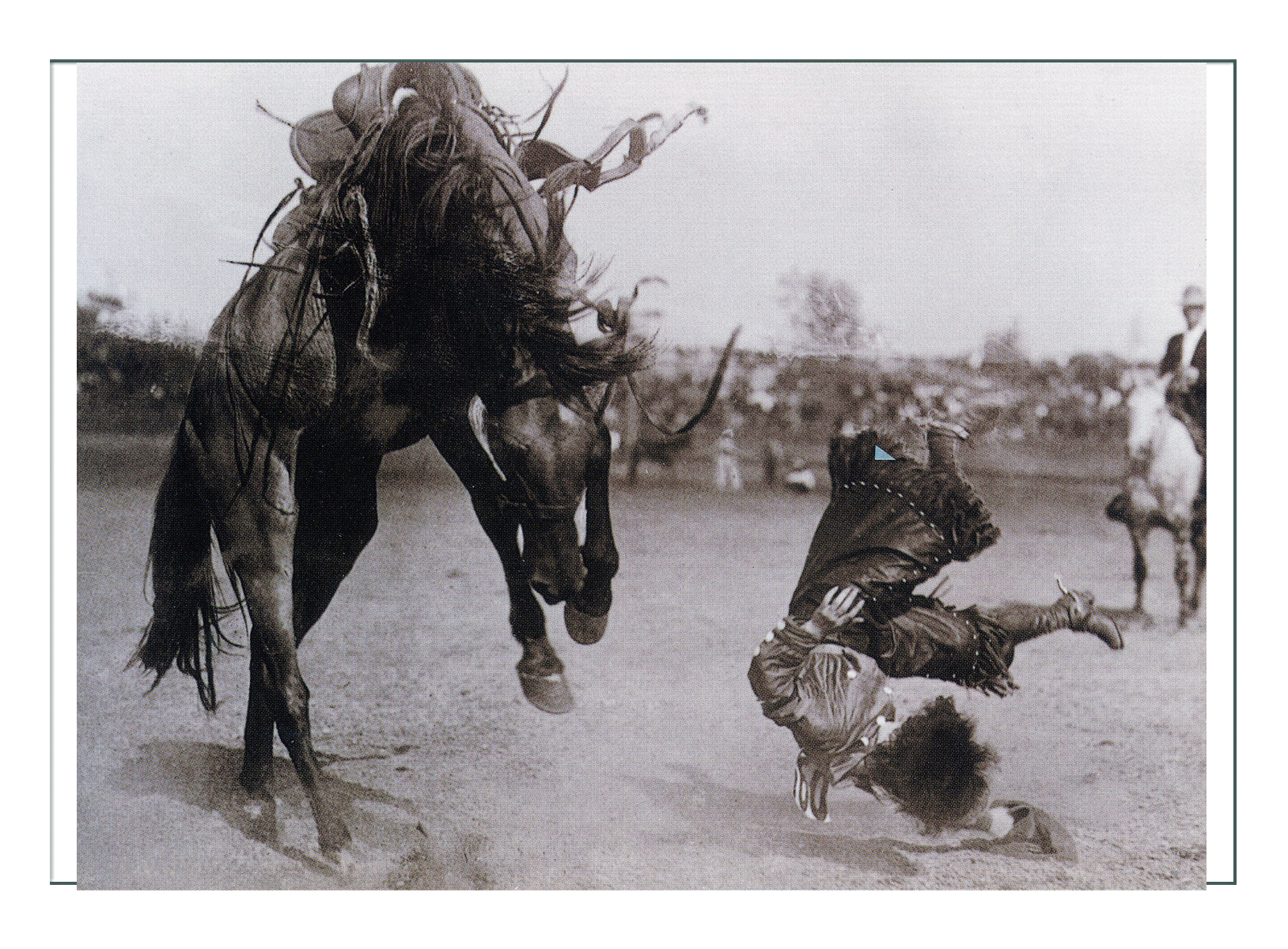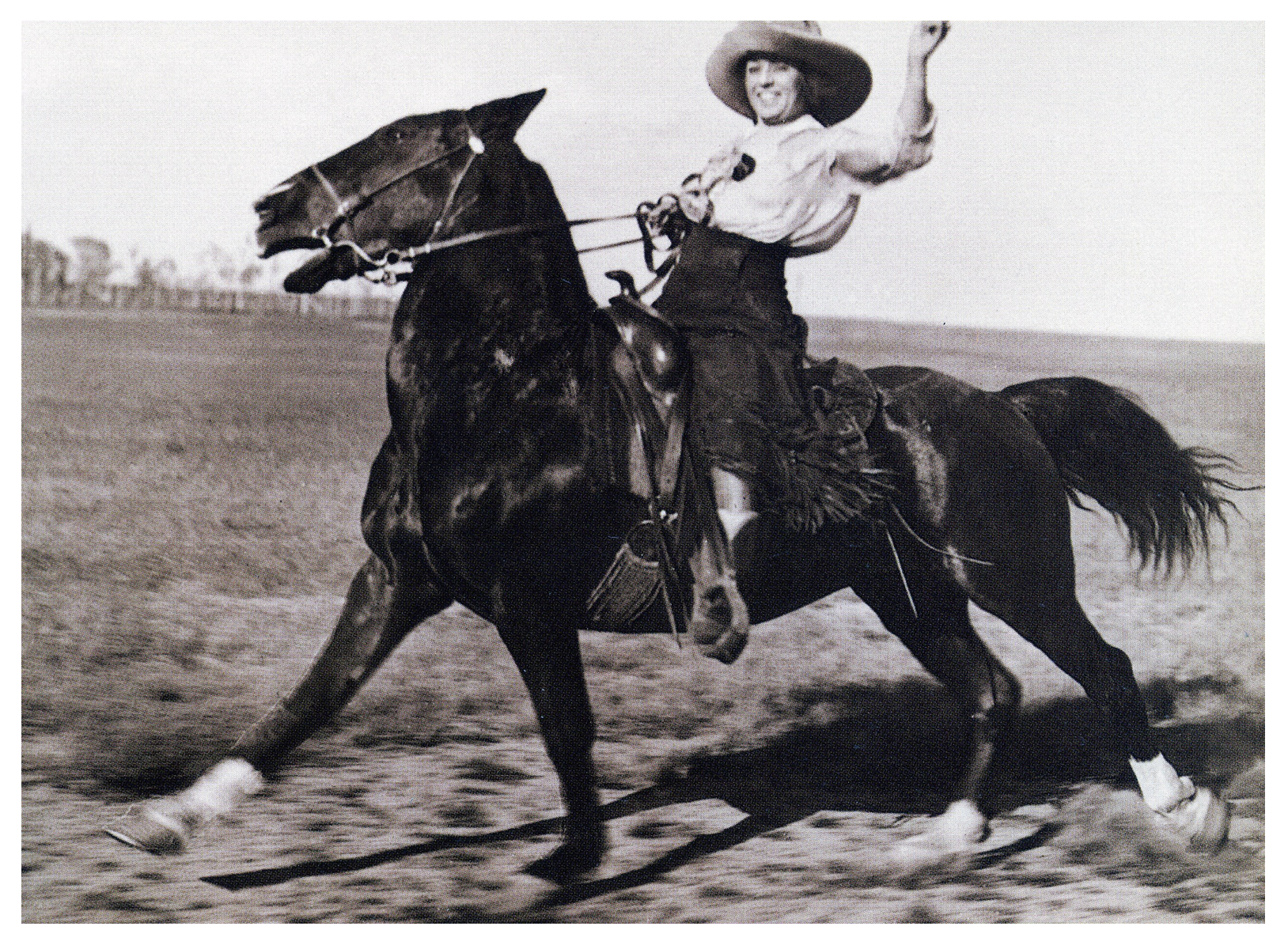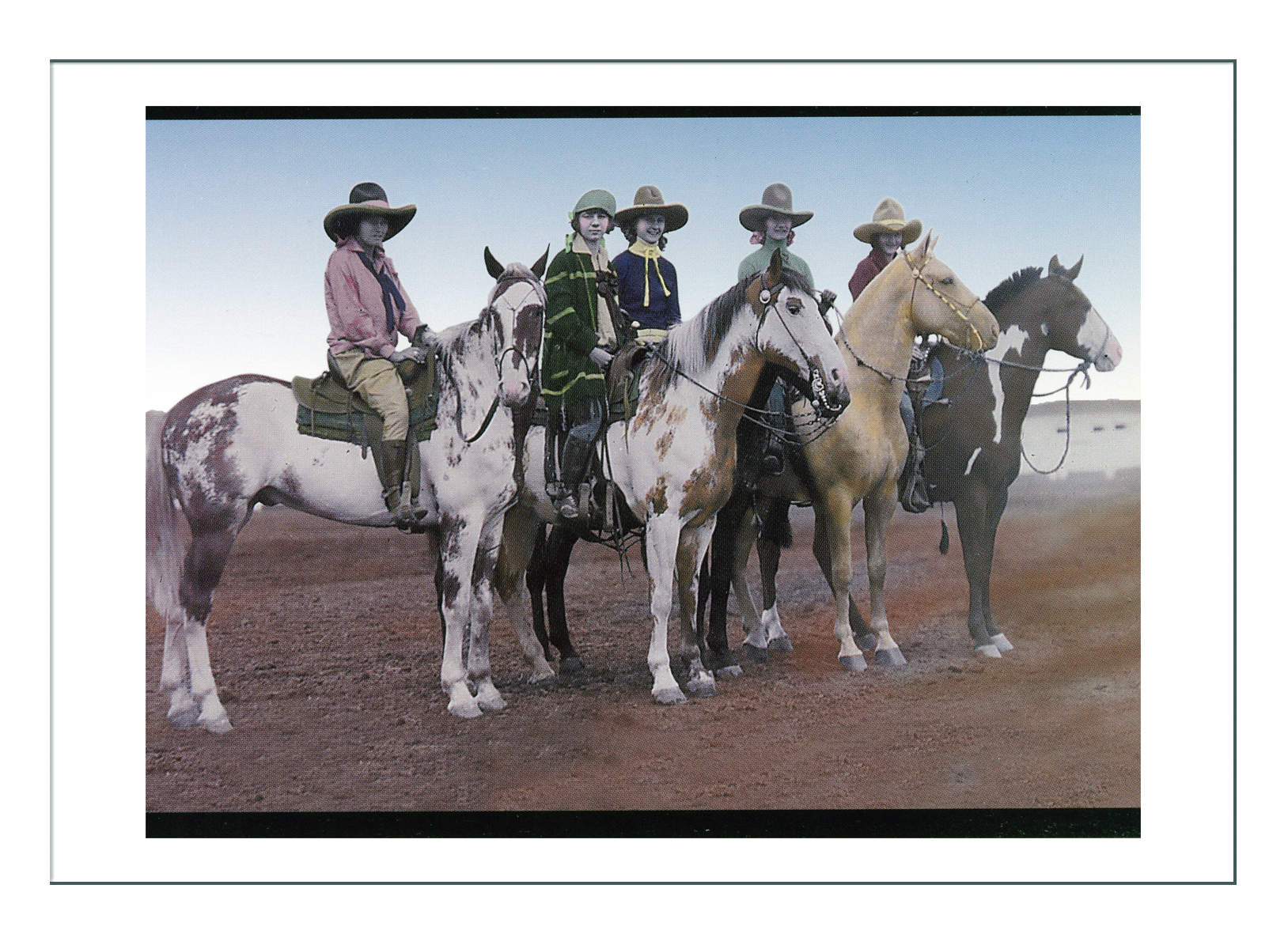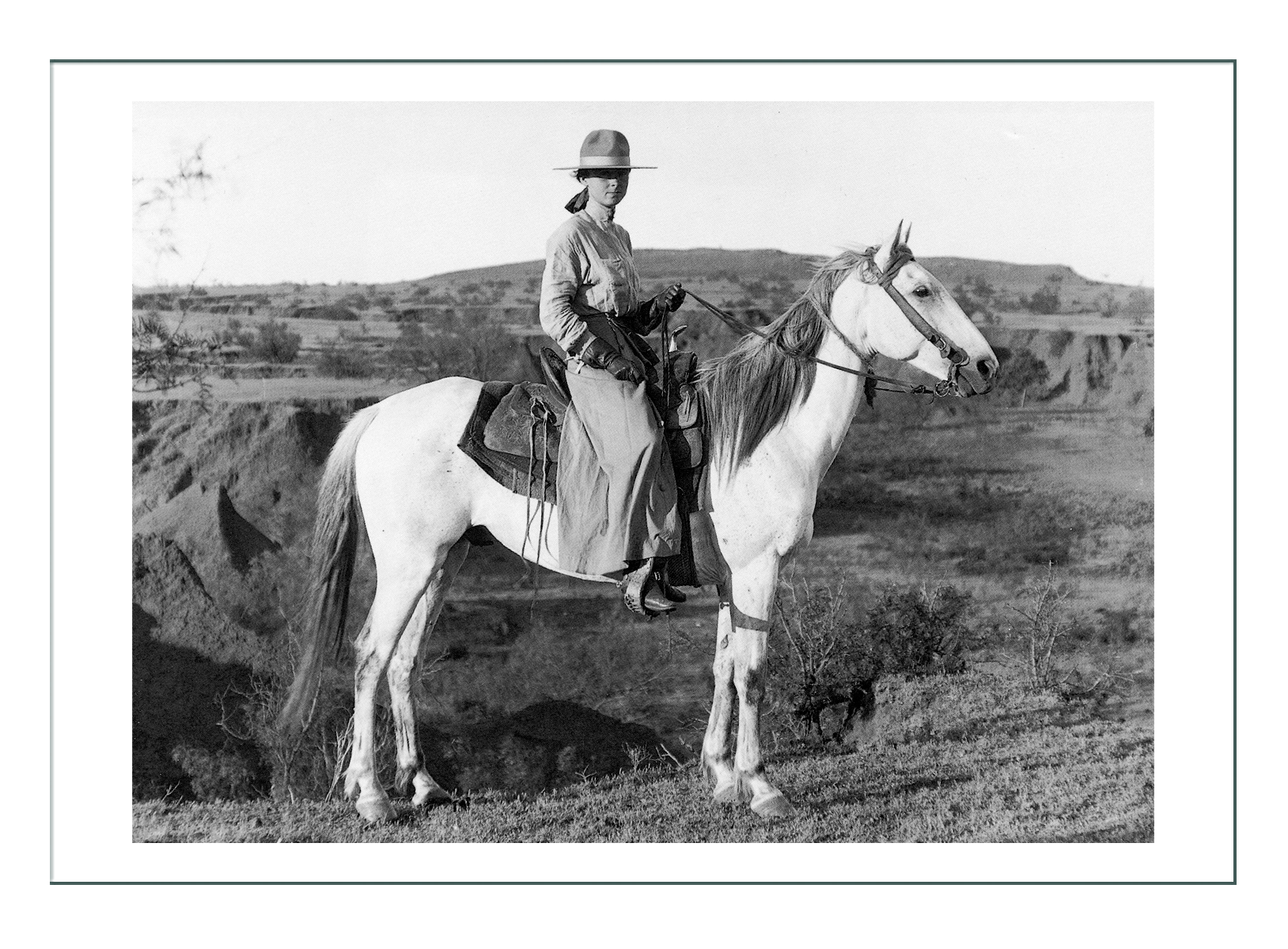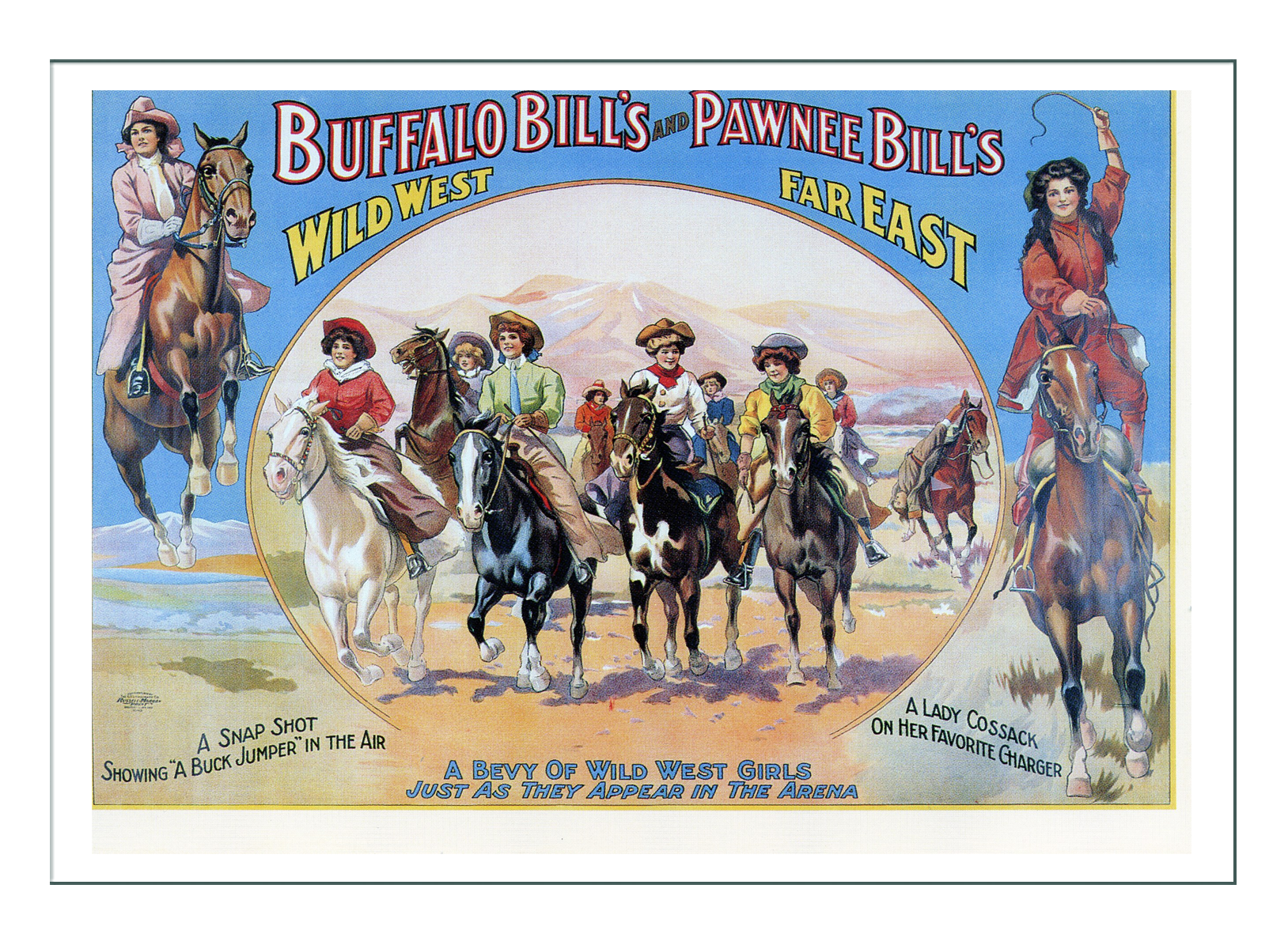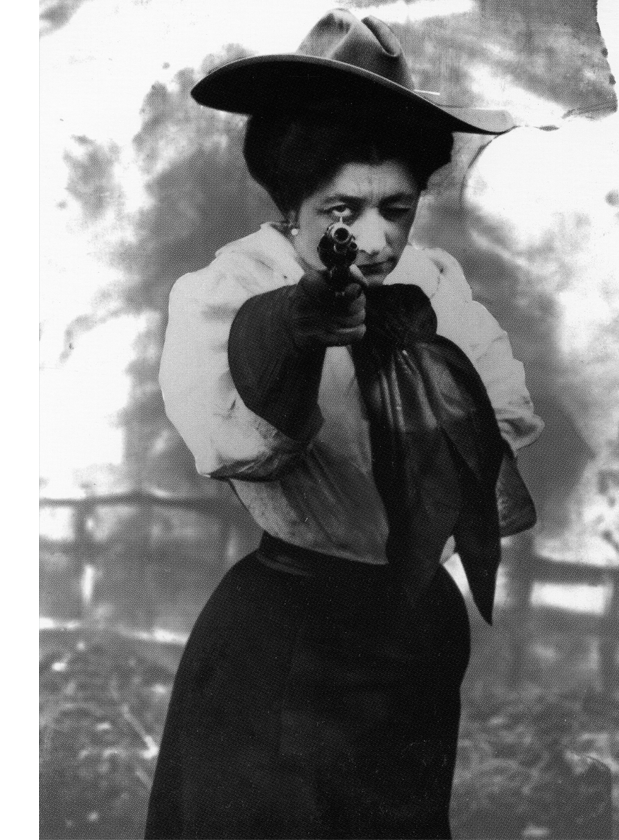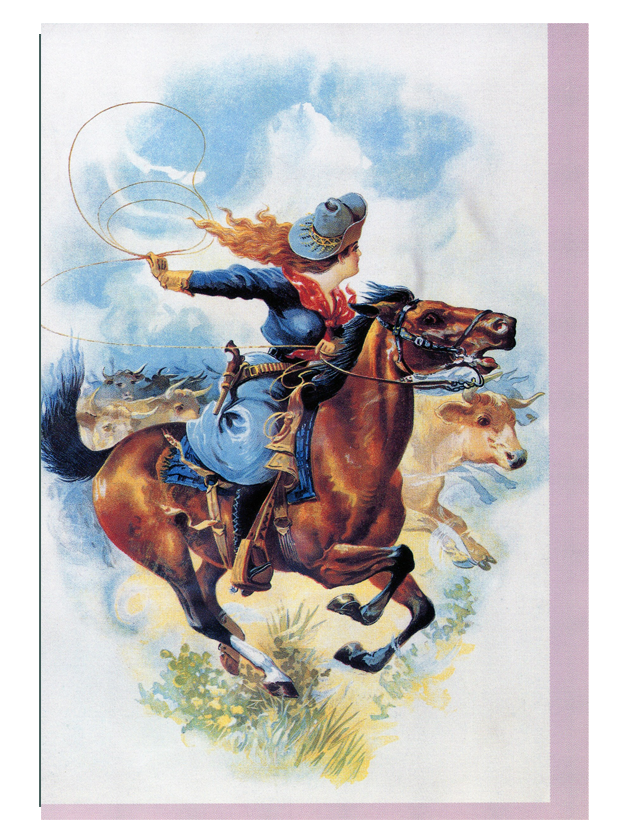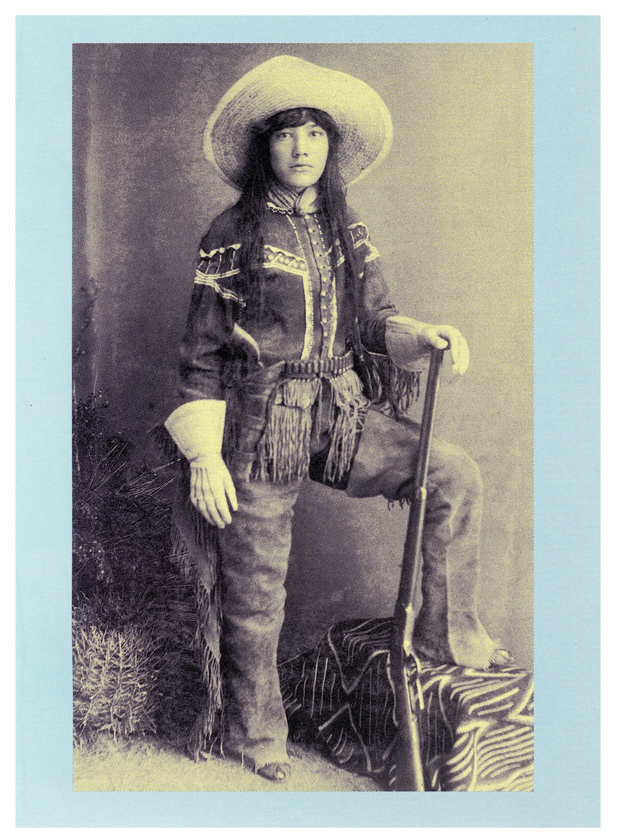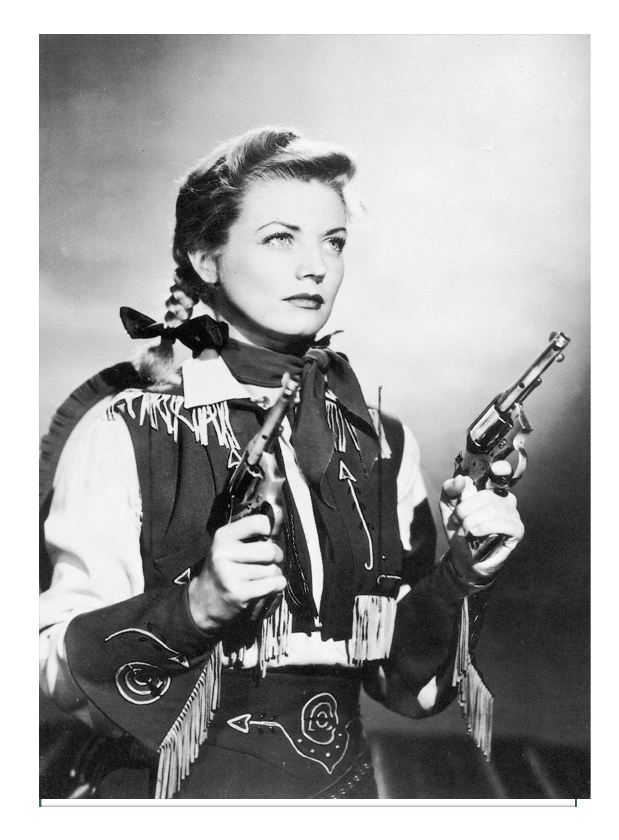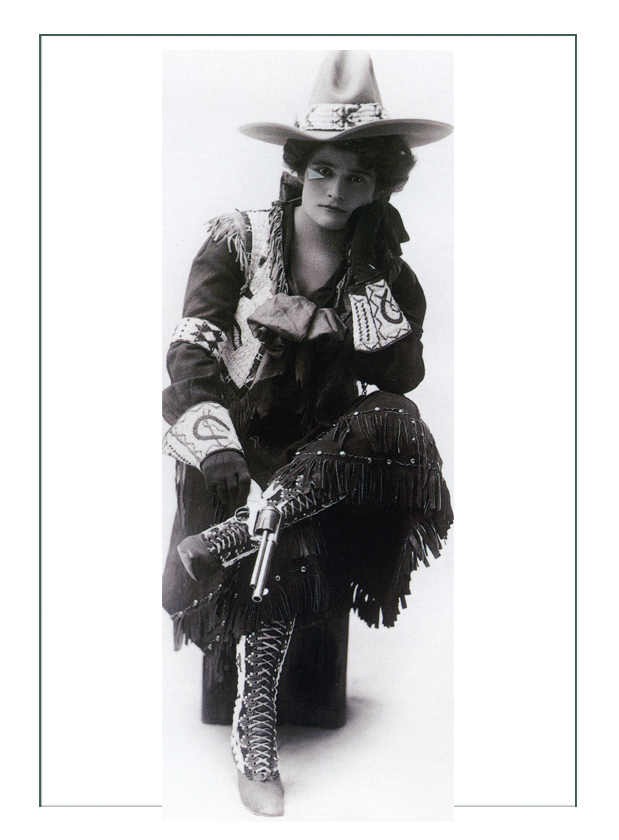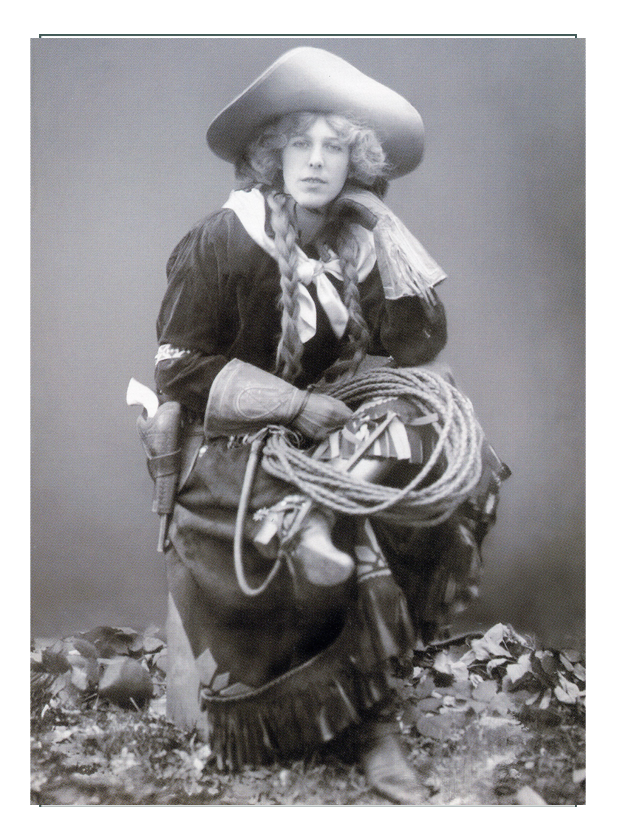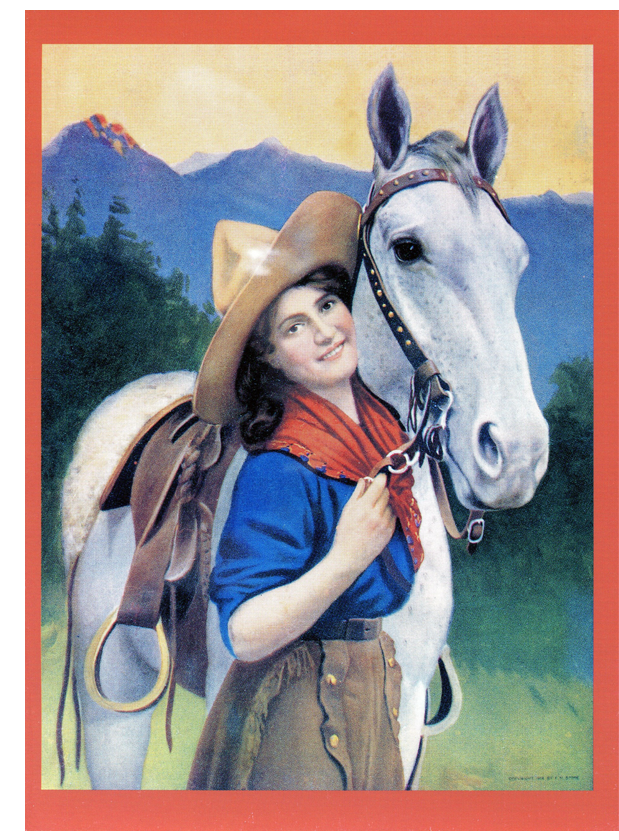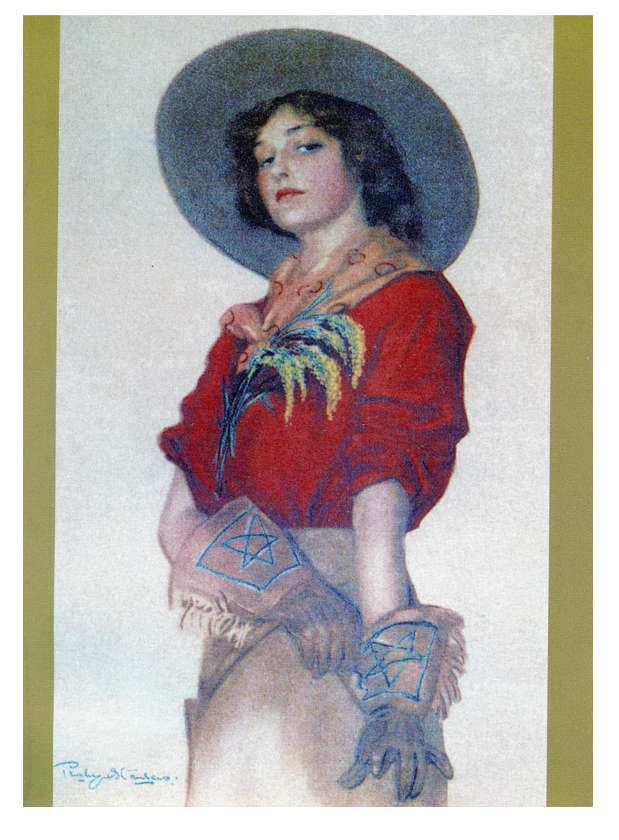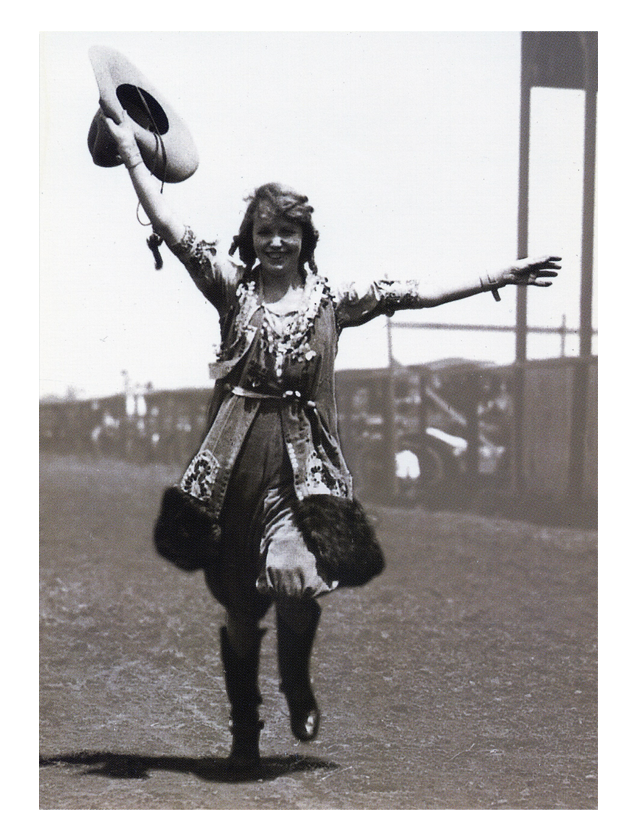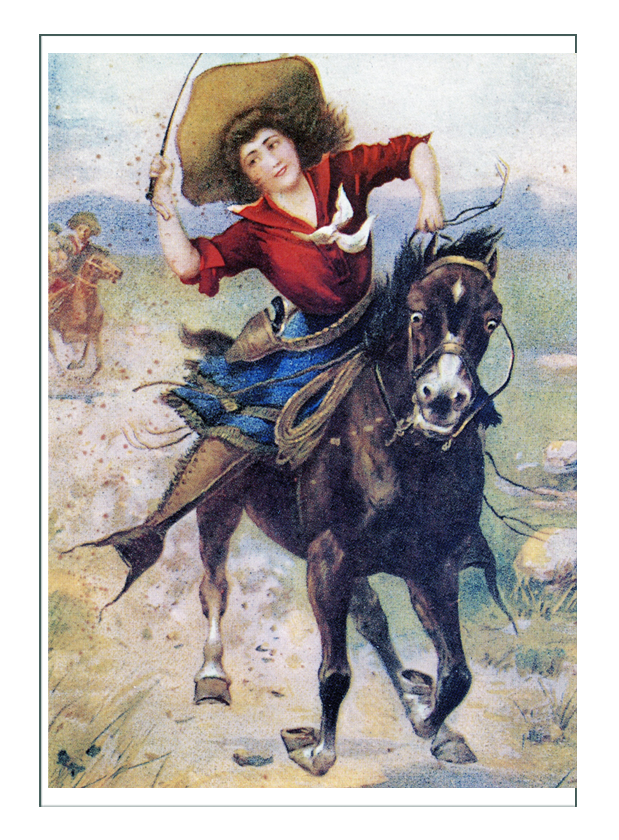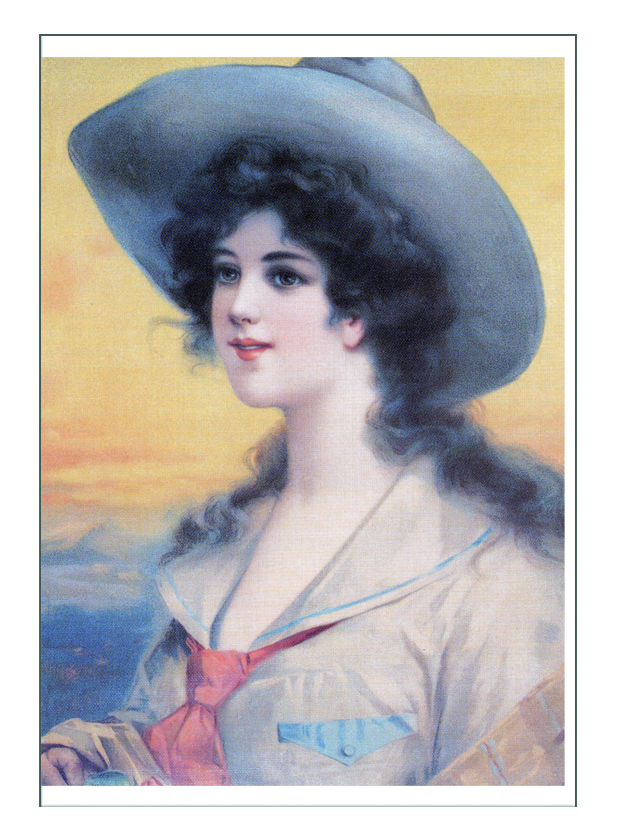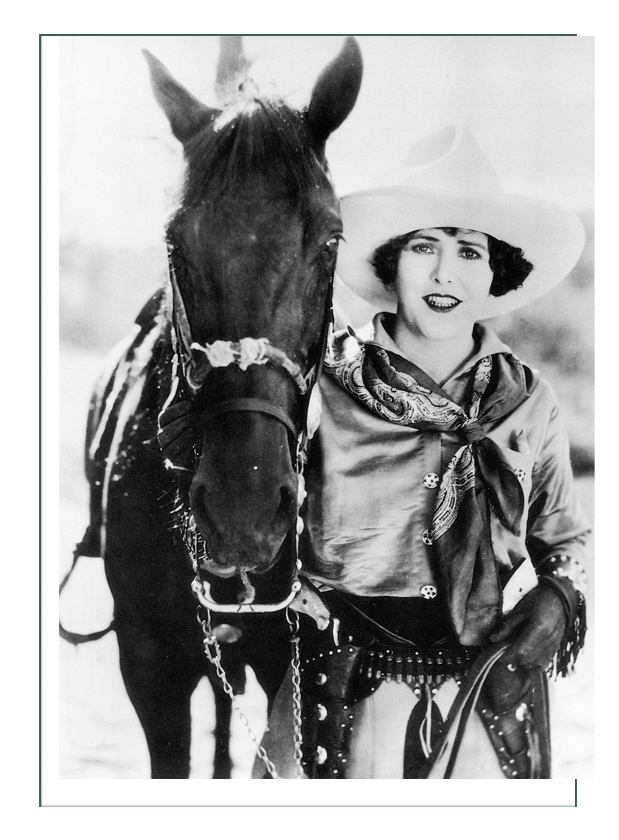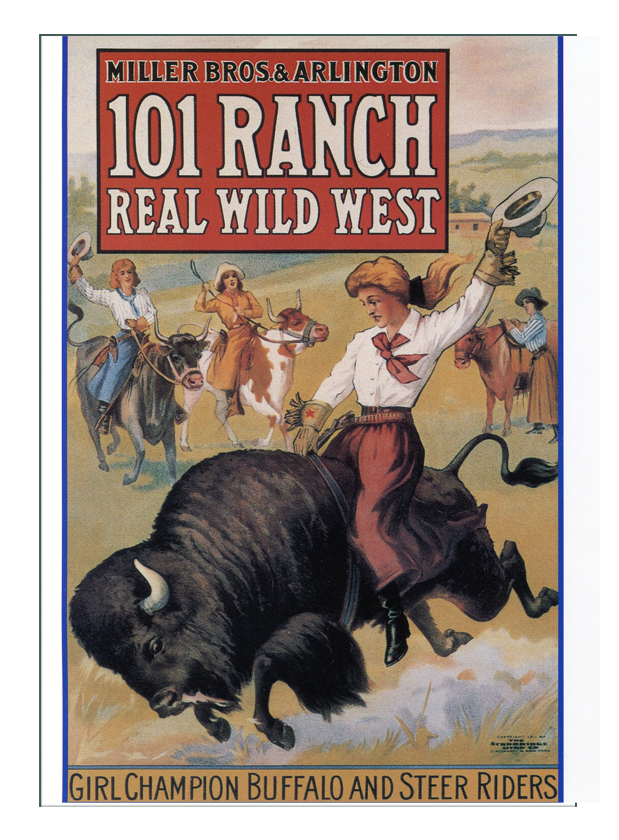 Real Women & Garments 1880's to 1910's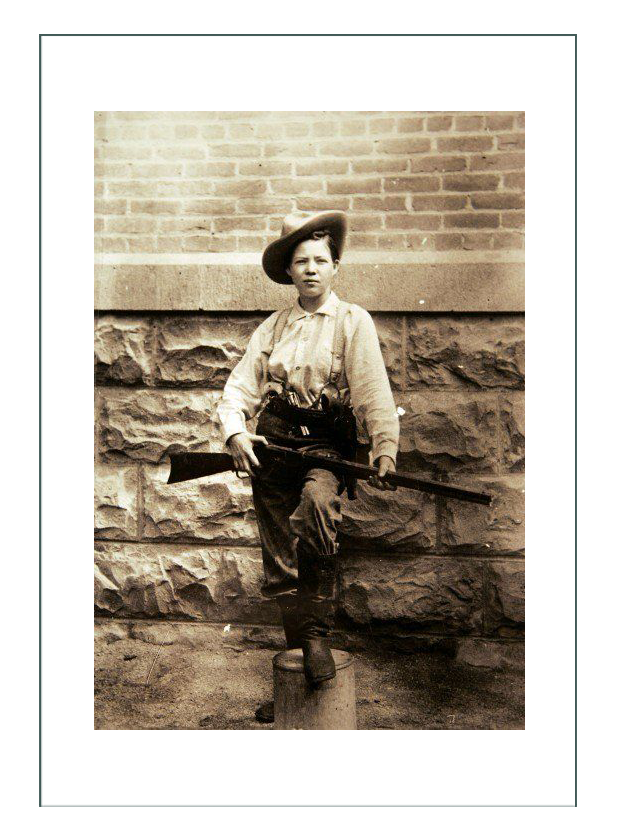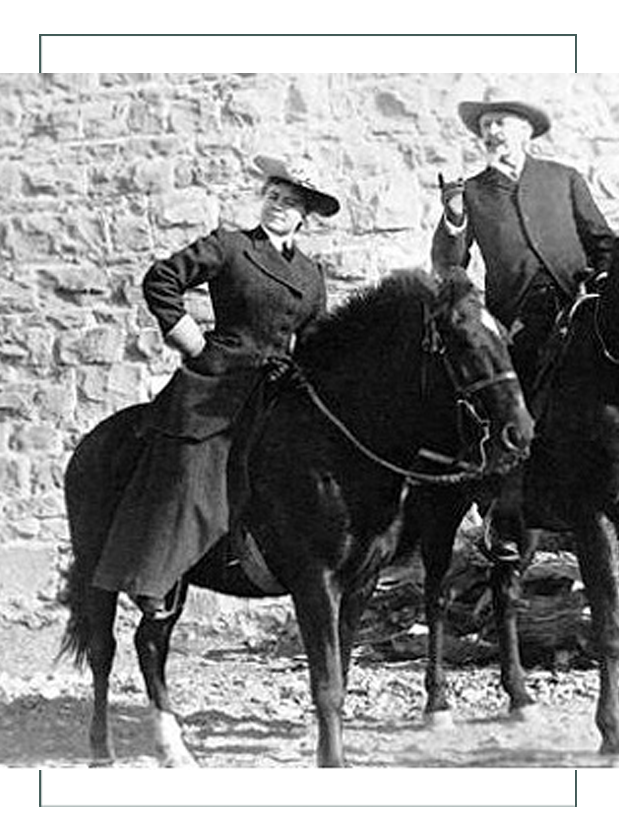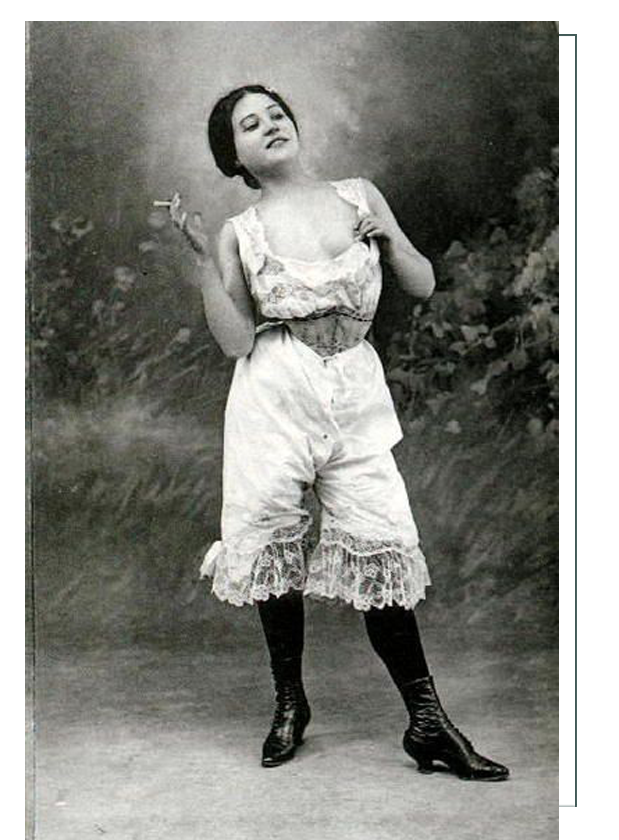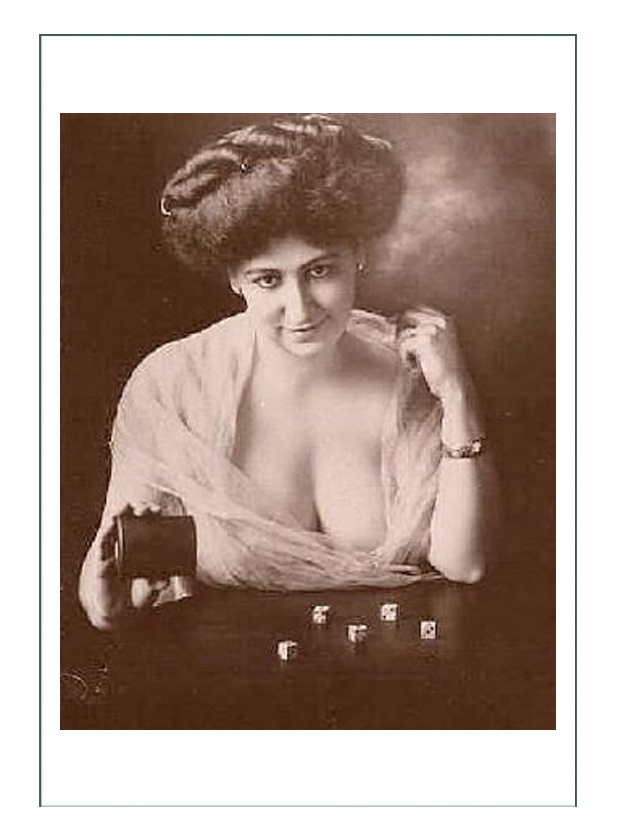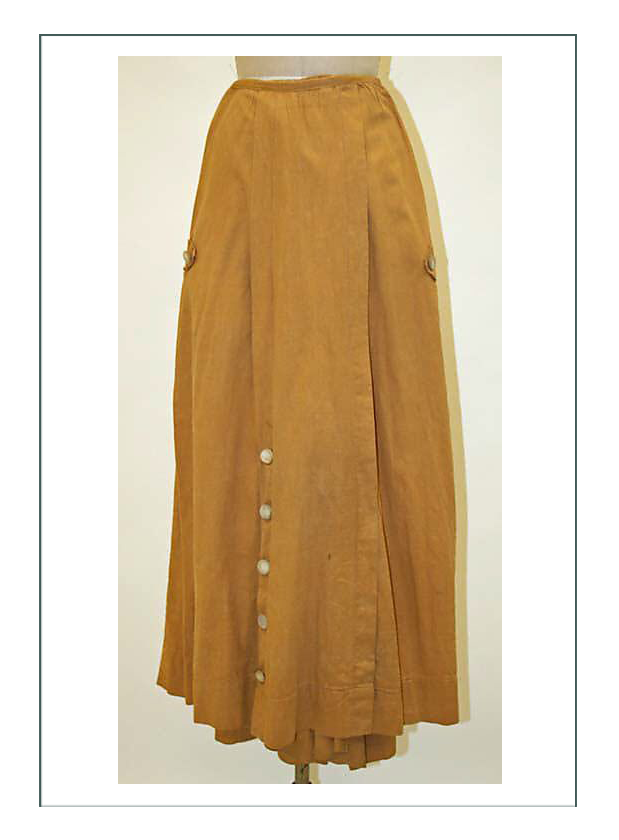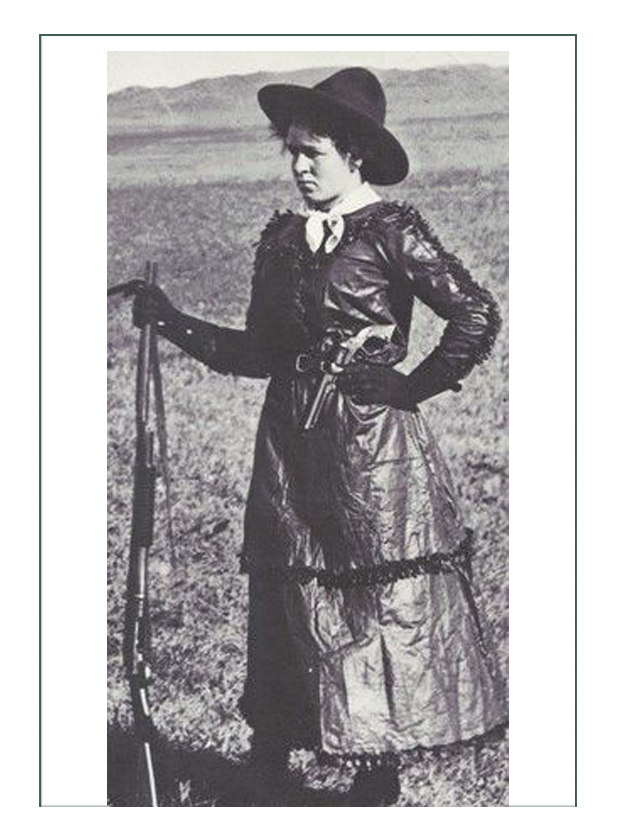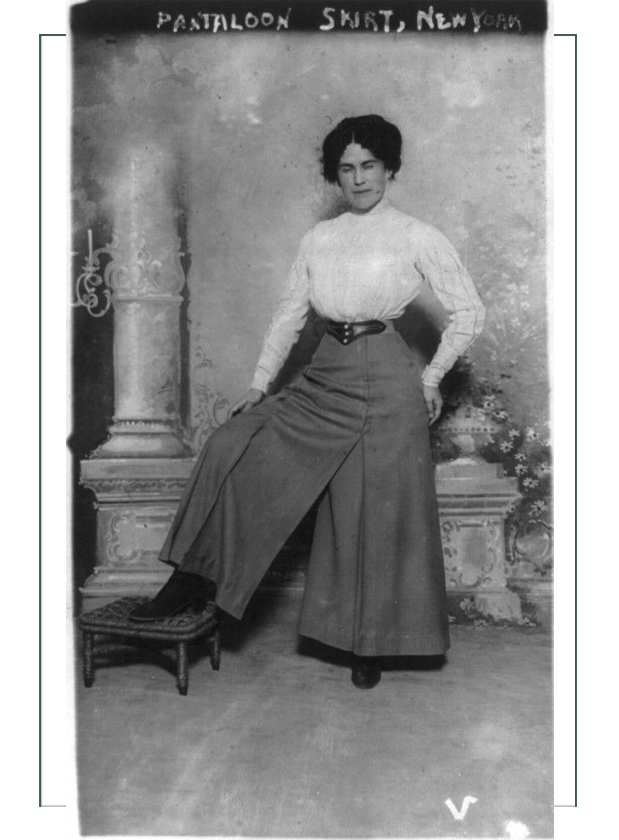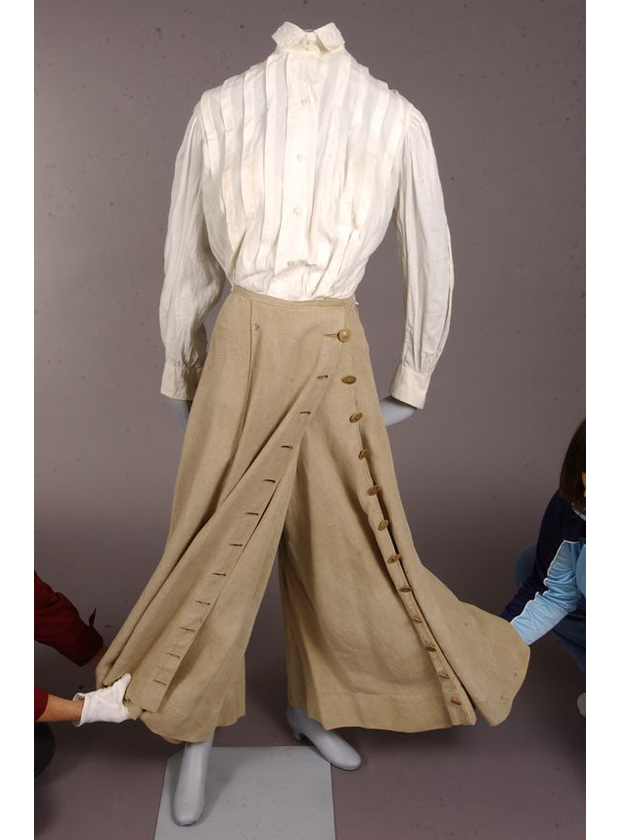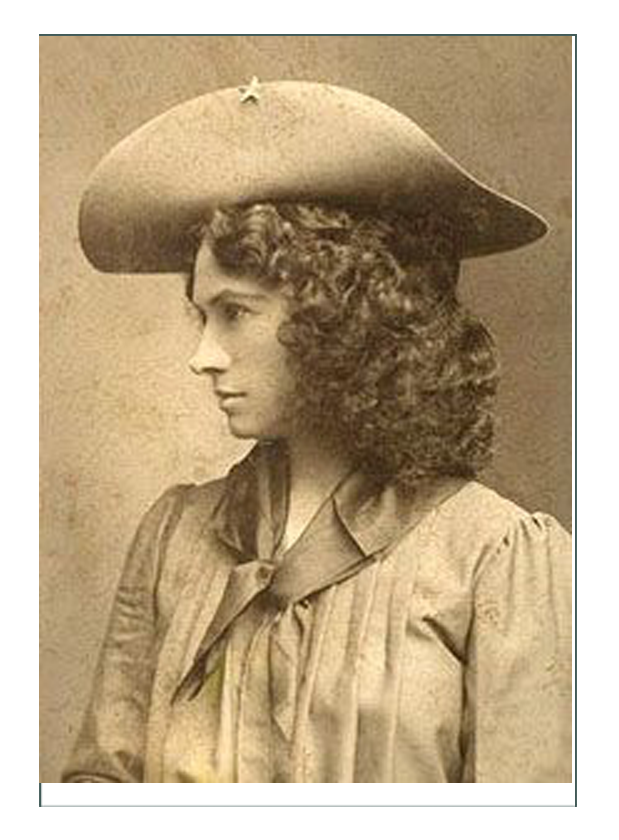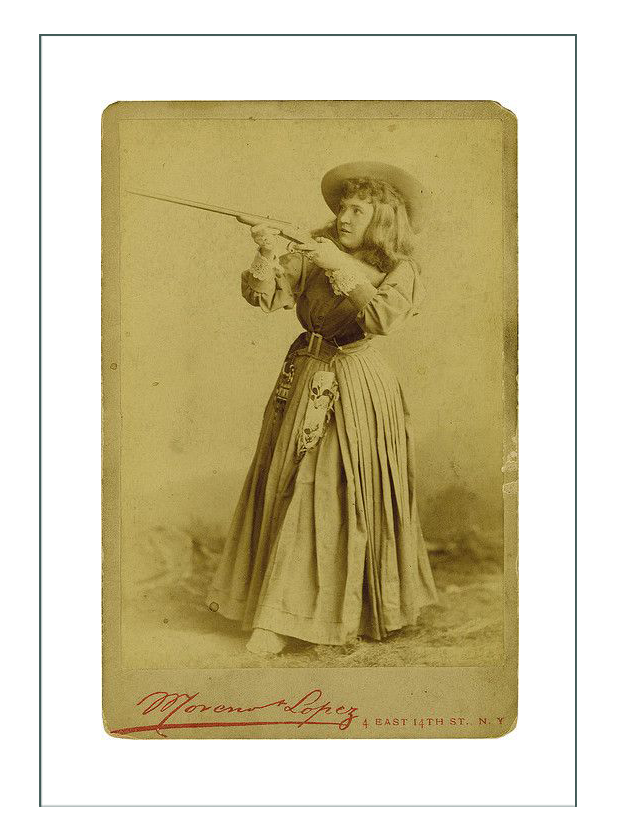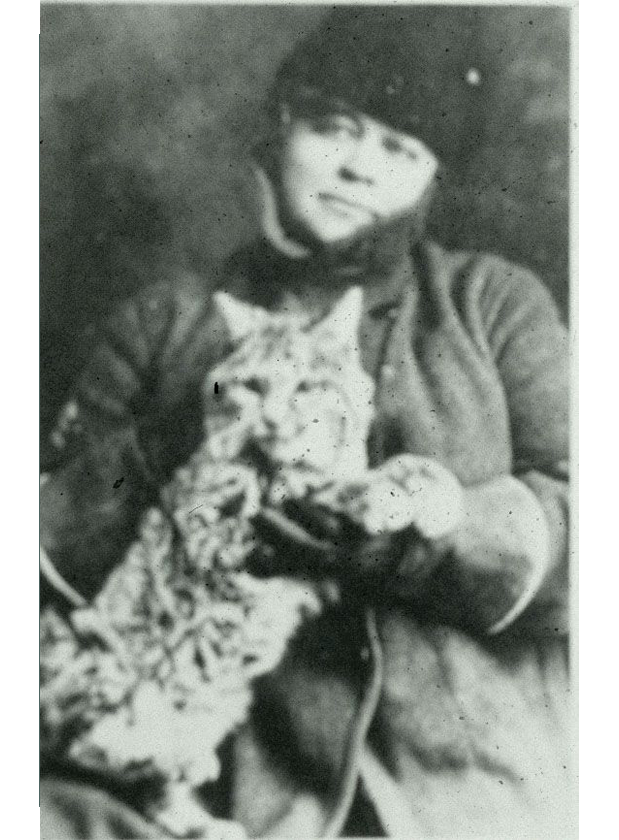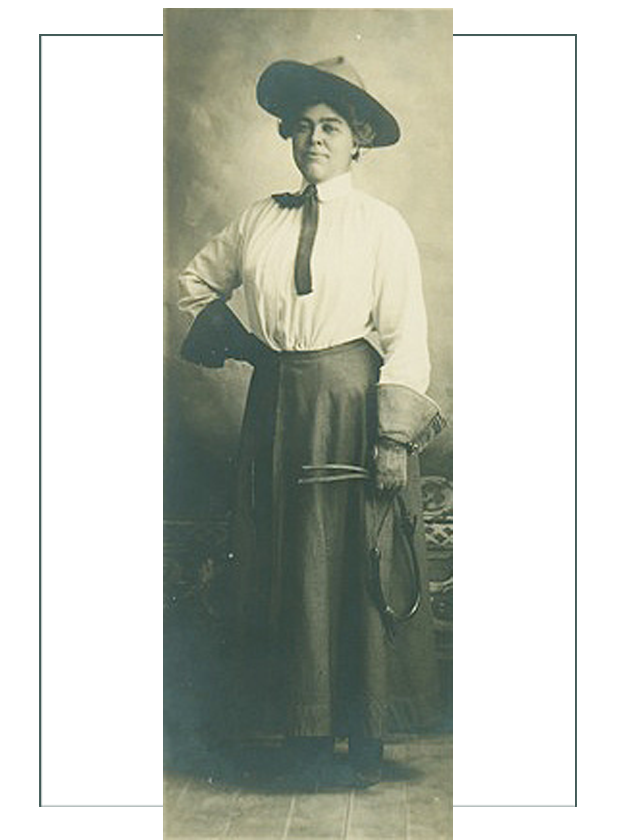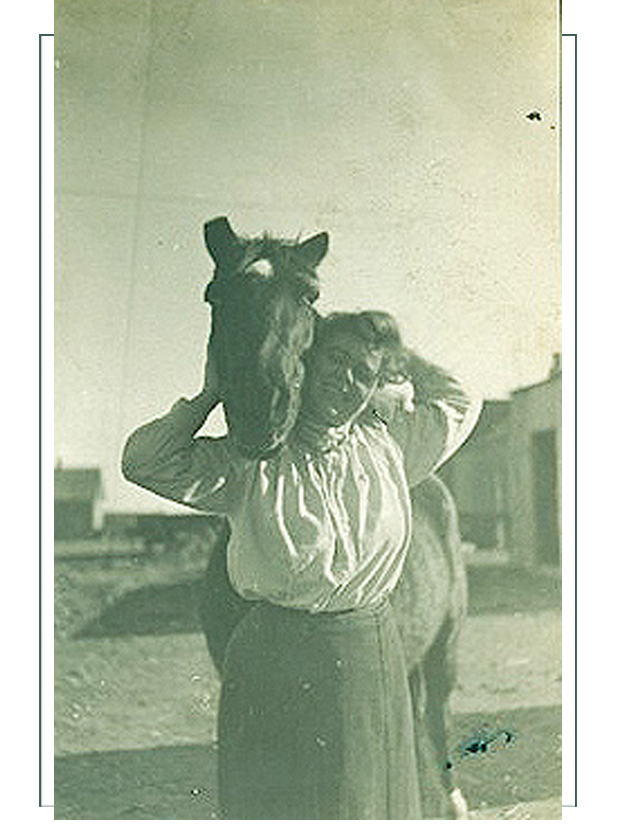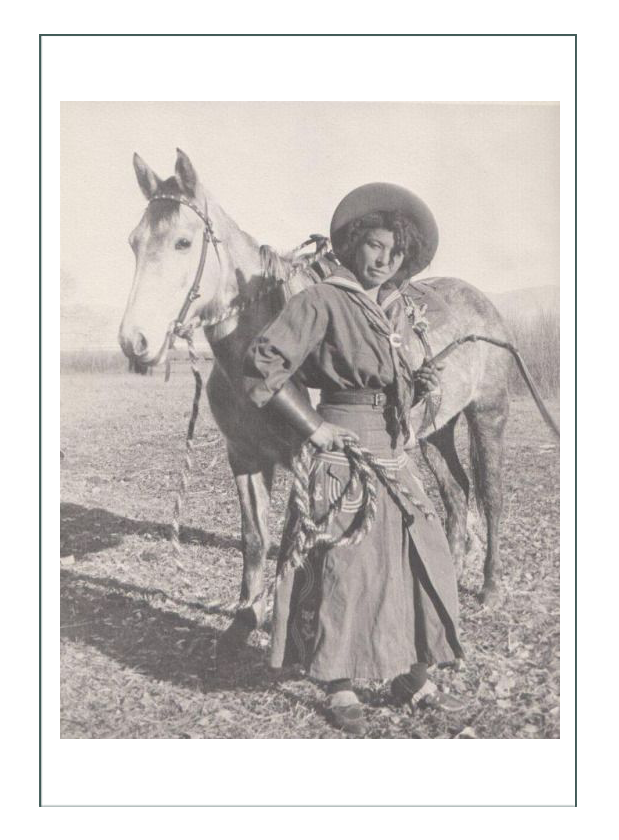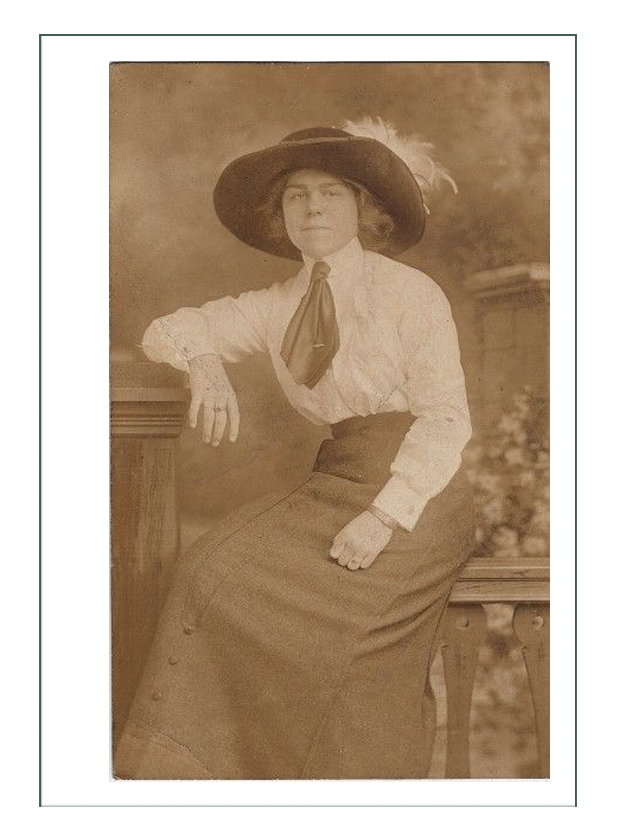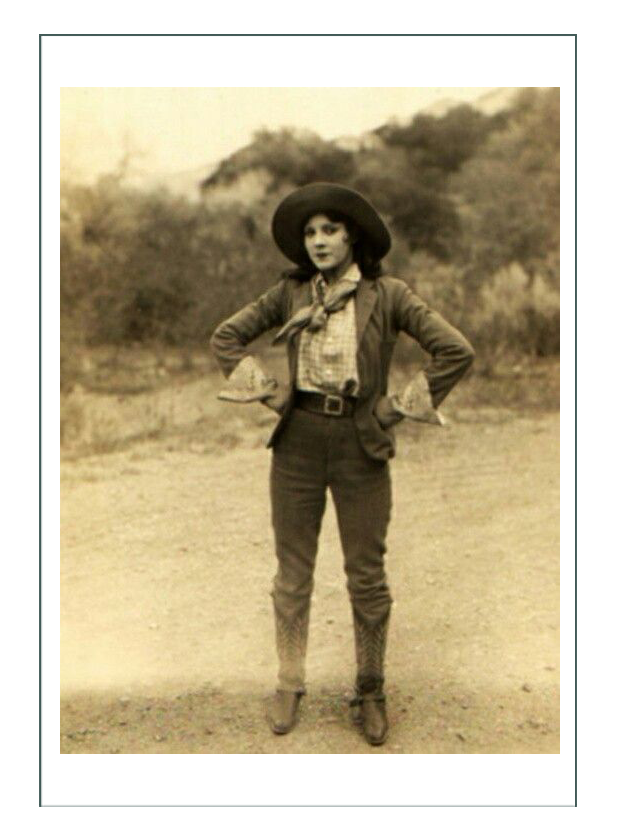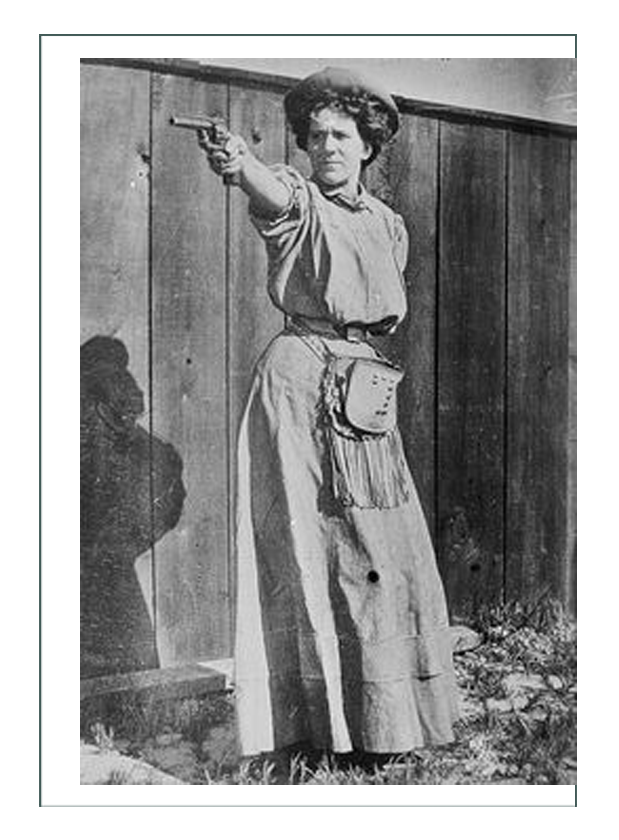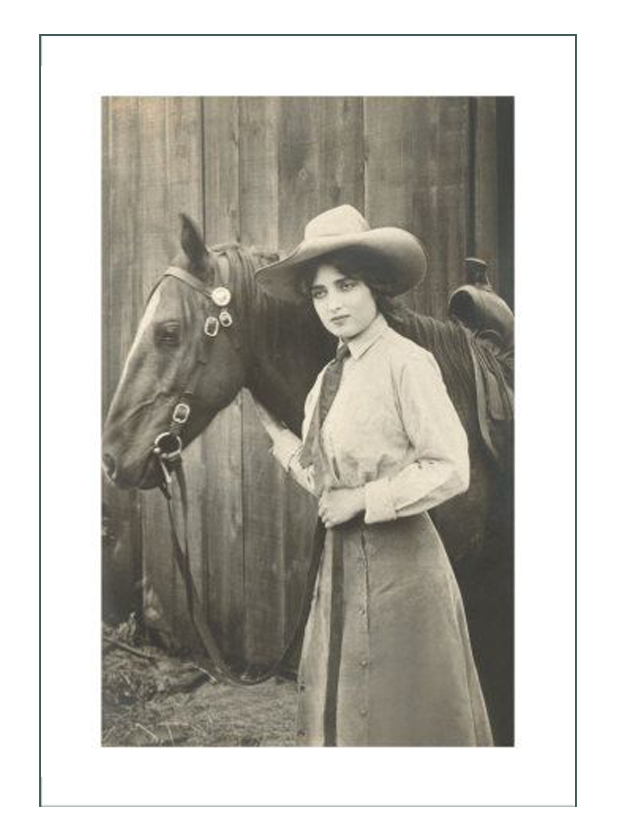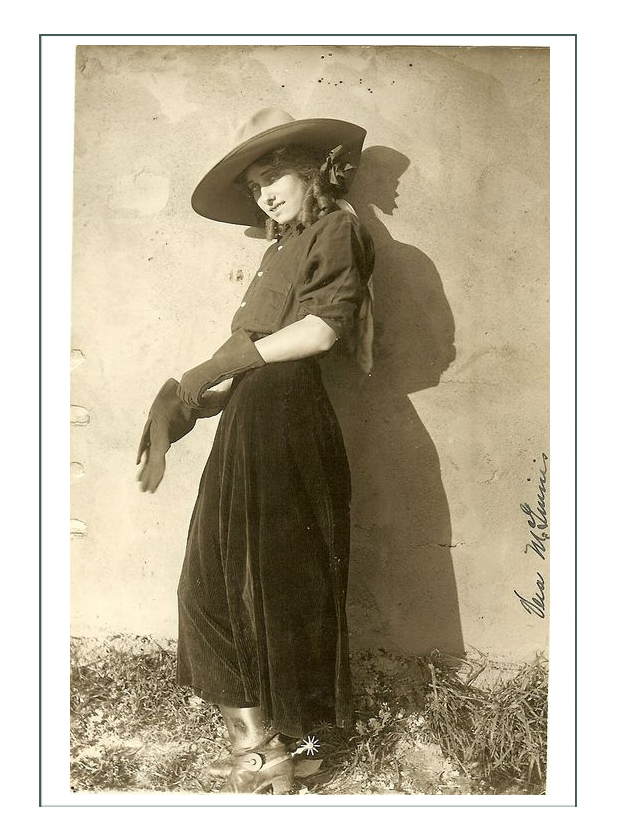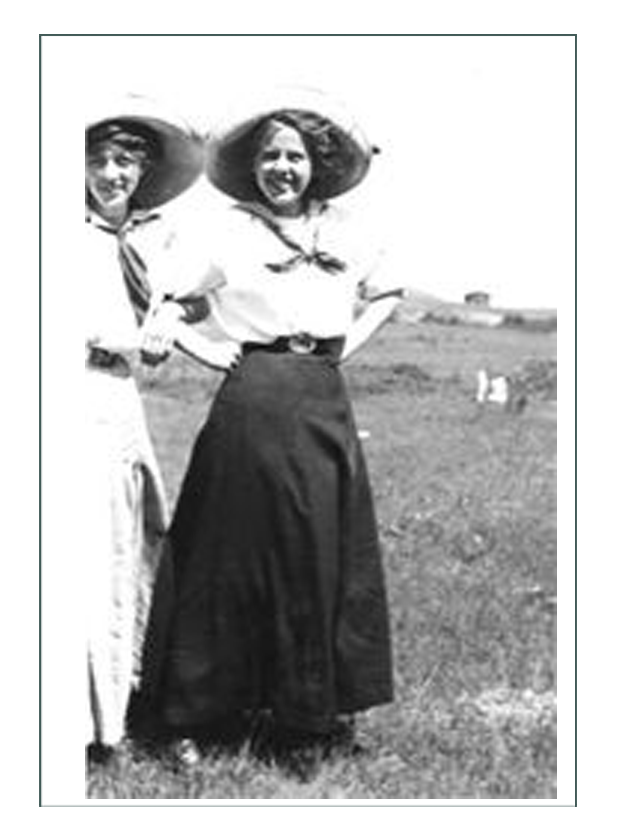 Deciding on the color of a Hat (and other things)
Cattle Annie and Little Britches (taken directly from "Wikipedia" ver batim):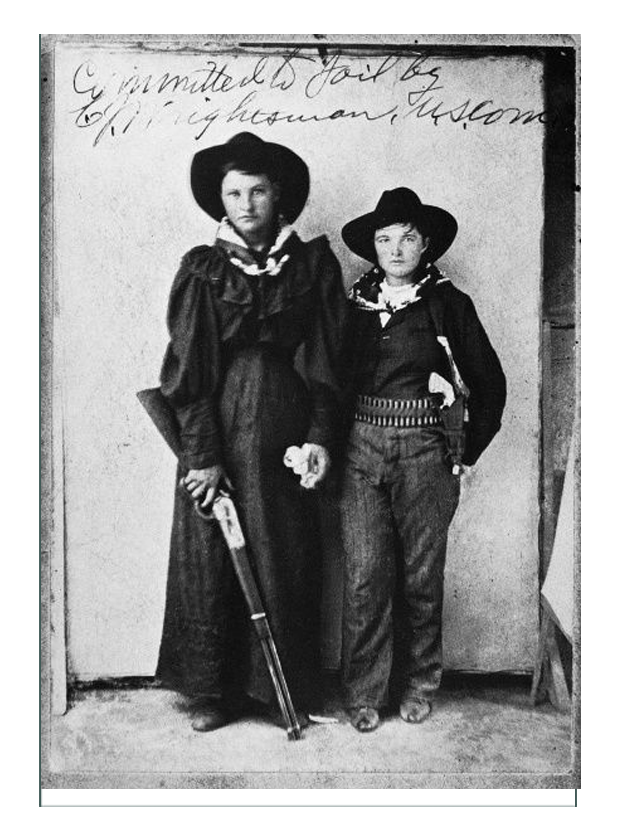 Anna Emmaline McDoulet, known as Cattle Annie (November 29, 1882 – November 7, 1978), was a young American outlaw in the American Old West, most associated with Jennie Stevens, or Little Britches. Their exploits are known in part through the fictional film Cattle Annie and Little Britches (1981), directed by Lamont Johnson and starring Amanda Plummer in her film debut as Cattle Annie, with Diane Lane as Little Britches.
Cattle Annie and Little Britches were crack shots with both pistol and rifle, but today they are mostly unknown outside of the film. Yet they were once among the most recognized names among outlaws in the Oklahoma and Indian territories, where they carried out their short-lived criminal ventures
Embracing the criminal element
Anna was born in Lawrence in Douglas County in eastern Kansas, one of eight children of James C. and Rebekah McDoulet. When Anna was four years old, the family moved to Coyville in Wilson County, in southeastern Kansas. Anna worked as a hotel dishwasher and performed other odd jobs. When she was twelve, the family moved to the Osage Reservation near Skiatook north of Tulsa in the northern Oklahoma Territory, where she turned outlaw. Annie and Little Britches followed tales of the Bill Doolin gang from reading dime novelists like Ned Buntline, who became famous for his mostly fictional account of Buffalo Bill Cody as a western frontier hero and showman.[2]
For two years, Cattle Annie and Little Britches roamed the former Indian Territory, often working together and at other times alone. They stole horses, sold alcohol to the Osage and Pawnee Indians, and warned outlaw gangs whenever law-enforcement officers were nearby. They wore men's clothing and packed pistols on their hips. Their adventures netted headlines from Guthrie, the capital of the former Oklahoma Territory, to Coffeyville in southeastern Kansas,[2] where the Dalton gang attempted to rob two banks simultaneously on October 5, 1892.[3]
U.S. Marshal Steve Burke captured 13-year-old Cattle Annie climbing from a window in 1895. (Marshal Bill Tilghman had a more difficult task apprehending Little Britches, who engaged in a physical confrontation with the famous lawman before he took her into custody.[4]) Annie was sentenced to one year in the Massachusetts Correctional Institution in Framingham. Because of health issues, she was soon paroled. She remained in Framingham for some time, having informed corrections officers that, if she returned to Oklahoma, she would likely have fallen back into her criminal ways. In 1898, she was working as a housekeeper for Mrs. Mary Daniels in Sherborn in Middlesex County south of Framingham. A few months later, she may have moved to New York City, where she may have died of tuberculosis.[2]
Another scenario
Another legitimate report claims that Annie left Framingham to return to Oklahoma where she wed Earl Frost of Perry on March 13, 1901. The couple had two sons, Robert C. Frost (1903-1993) of Oklahoma City and Carlos D. Frost, later of Malibu, California. The Frosts divorced in Noble County, Oklahoma in October 1909, probably because Annie had joined a Wild West show.[5] The historical museum in Guthrie maintains that, soon after the divorce from Frost, Annie married Whitmore R. Roach (1879-1947), a Texas native, veteran of World War I, and painting contractor in Oklahoma City, where they lived after 1912. They had resided from 1910 to 1912 in Fort Worth, Texas. This "Emma McDoulet Roach" is interred at Rose Hill Burial Park in Oklahoma City. She died in 1978, just short of her 96th birthday. Her newspaper obituary makes no mention of her early days or even the first name "Anna" but instead refers to "Emma", the shortened form of "Emmaline". The obituary indicates that she had been a bookkeeper in her later working career. Her services were held in her home church, Olivet Baptist in Oklahoma City.
Meanwhile, Little Britches also served a short sentence at the reformatory in Framingham, but her whereabouts thereafter are unknown.[2] Some reports indicate that Little Britches returned to Tulsa, where she was married, had a family, and led an exemplary life.[6]
Images from the Movie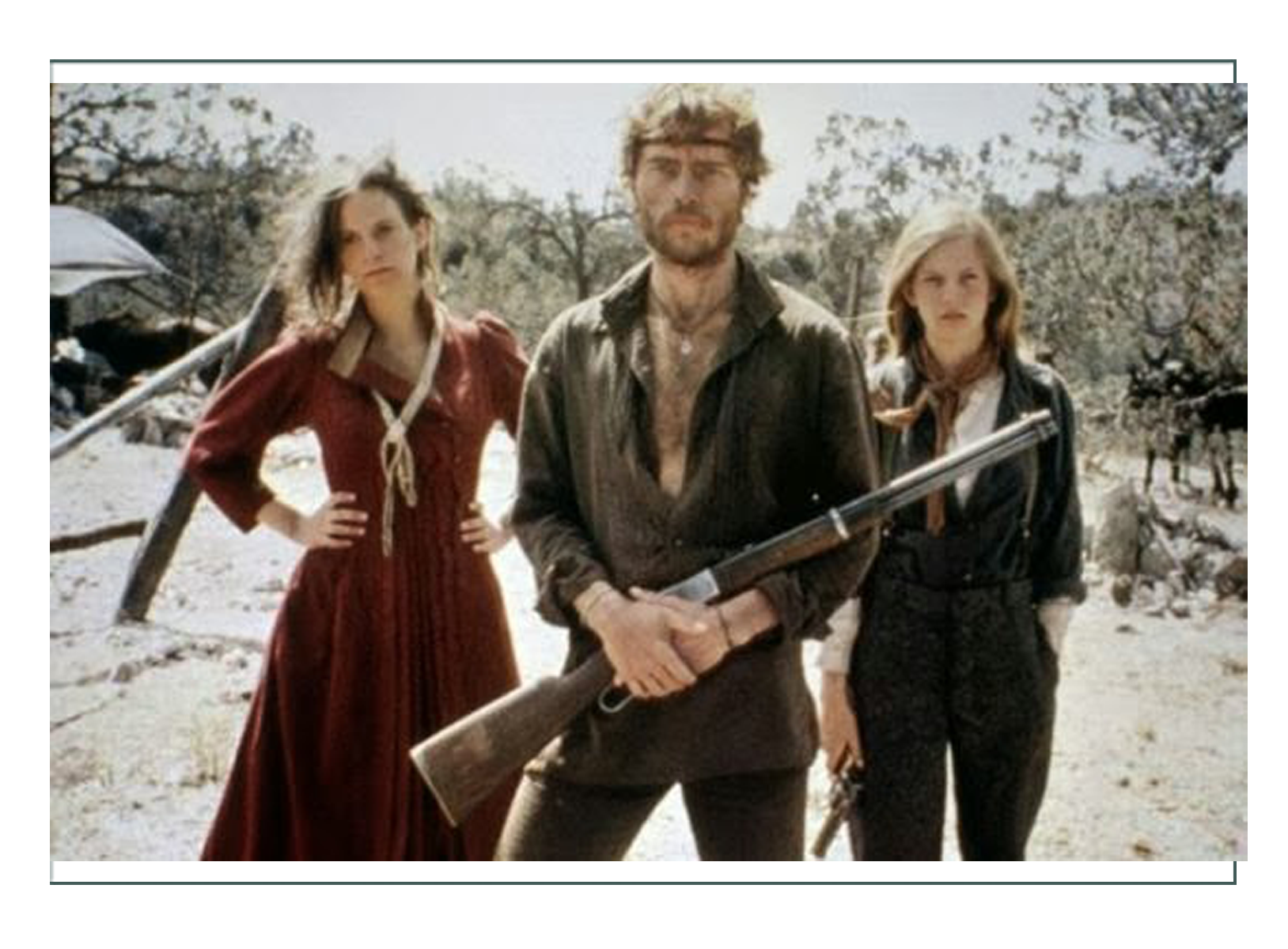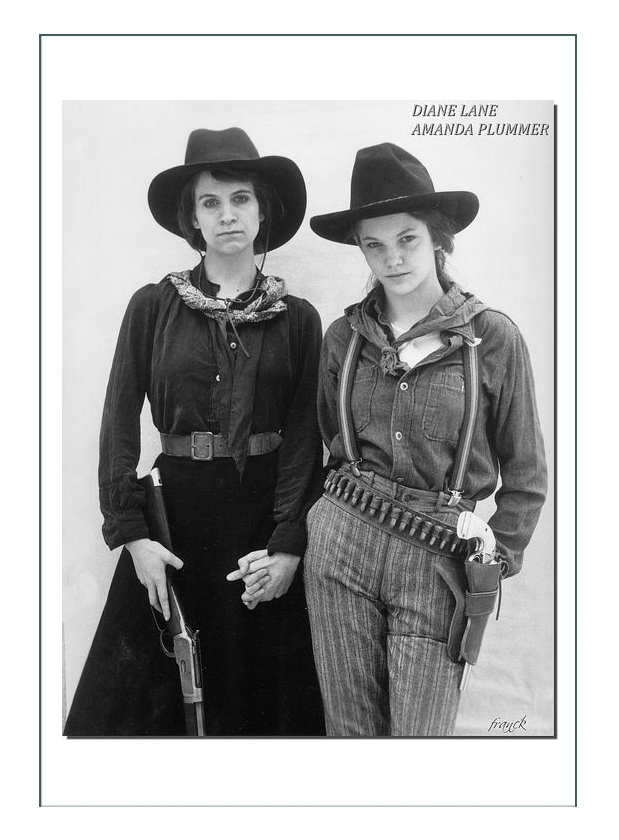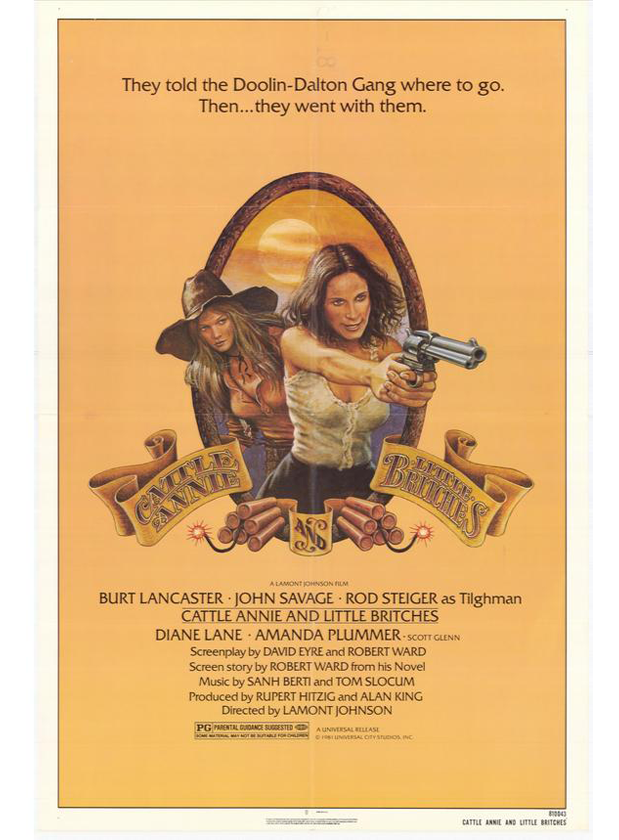 What we find most interesting is that the depiction of western women, and particularly outlaws and "mavericks" has been quite similar throughout history.  You can tell which images were taken or created by men (the ones with the nipples showing and the huge breasts and inhuman long calves).
At this point it becomes easy to distinguish between costume – of the sharpshooter, the rodeo performer, or the movie start – and REAL women.  A few characteristics:
1) The real women are not perfect.
2) The real women's garments are simple and functional
3) The performers are doing odd and rare things
4) The real outlaws in particular have only one photo or portrait in history, and that's usually quite formal – either fashionable because they choose to have their portrait taken, or posed because it's their mug shot after getting caught.
At any rate, it's one of the hardest interpretations to get accurate since so many people have a bias in their heads from what they've read, seen on the screen, or think they know.
IN REALITY.. the work of the outlaw, the rancher, the farmer, the settler, the pioneer – the Western Woman – was dirty, sweaty, and not easy to be fashionable.
The Gunfighter's interpretation of an 1870-1890 depiction is akin to that of Little Britches or Pearl Hart: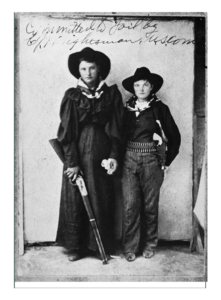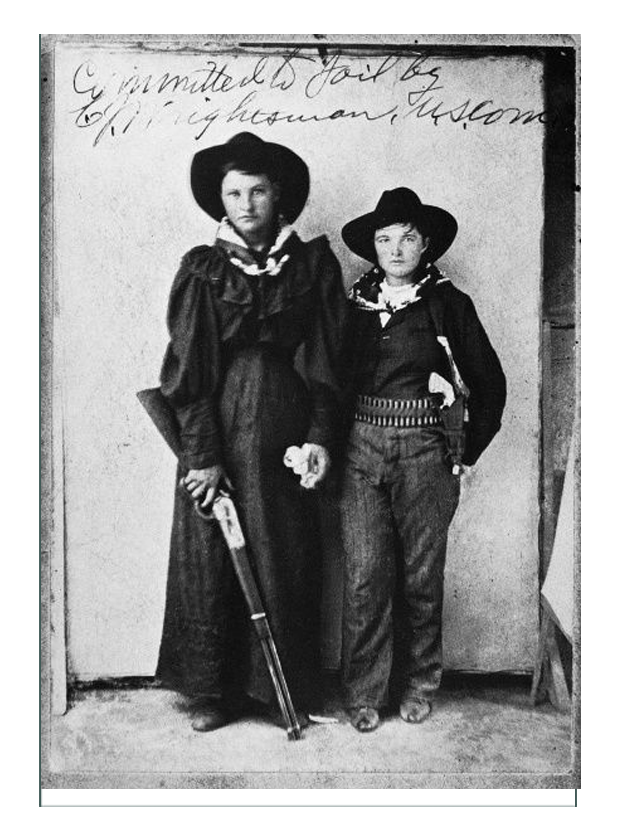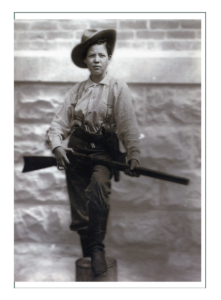 Men in particular thing this is what a woman outlaw should look like.  But notice even Cattle Annie is wearing a dress in both reality and in the movie.  Women just didn't wear pants!  It's pretty hard for today's people (especially men) to grasp that concept.
Below are the more realistic images of the outlaws of the 1880's and 1890's: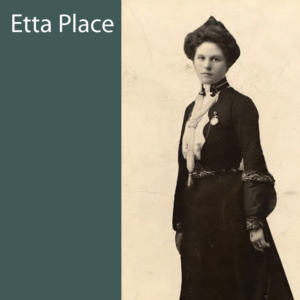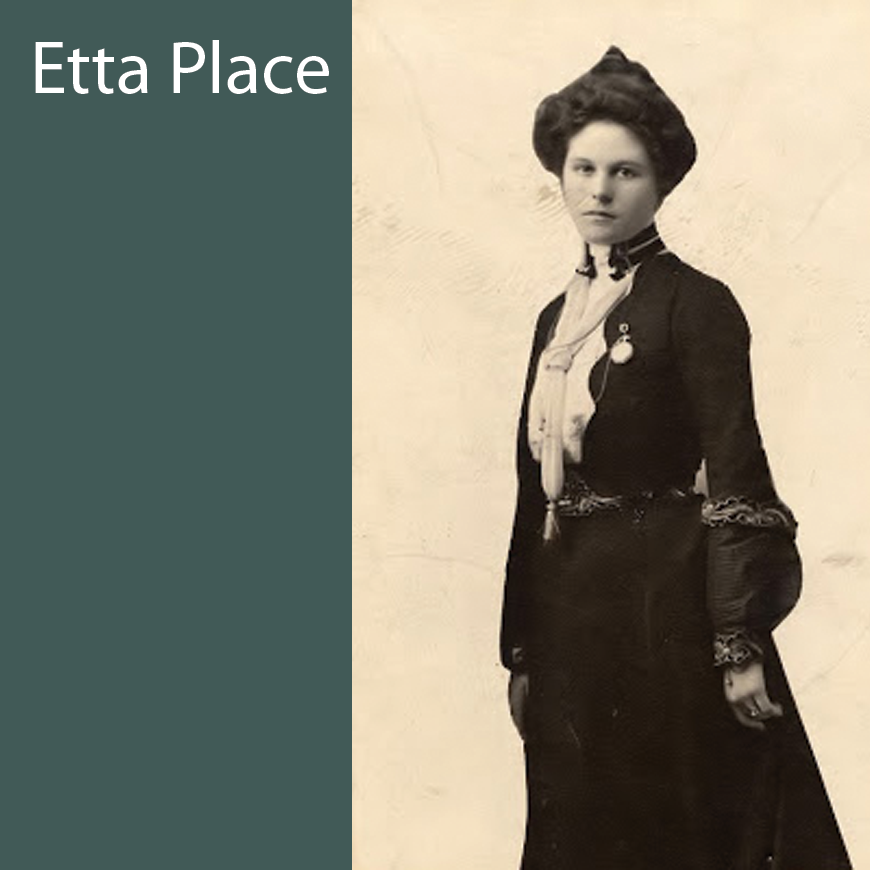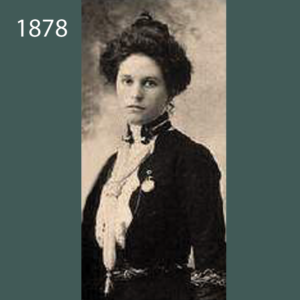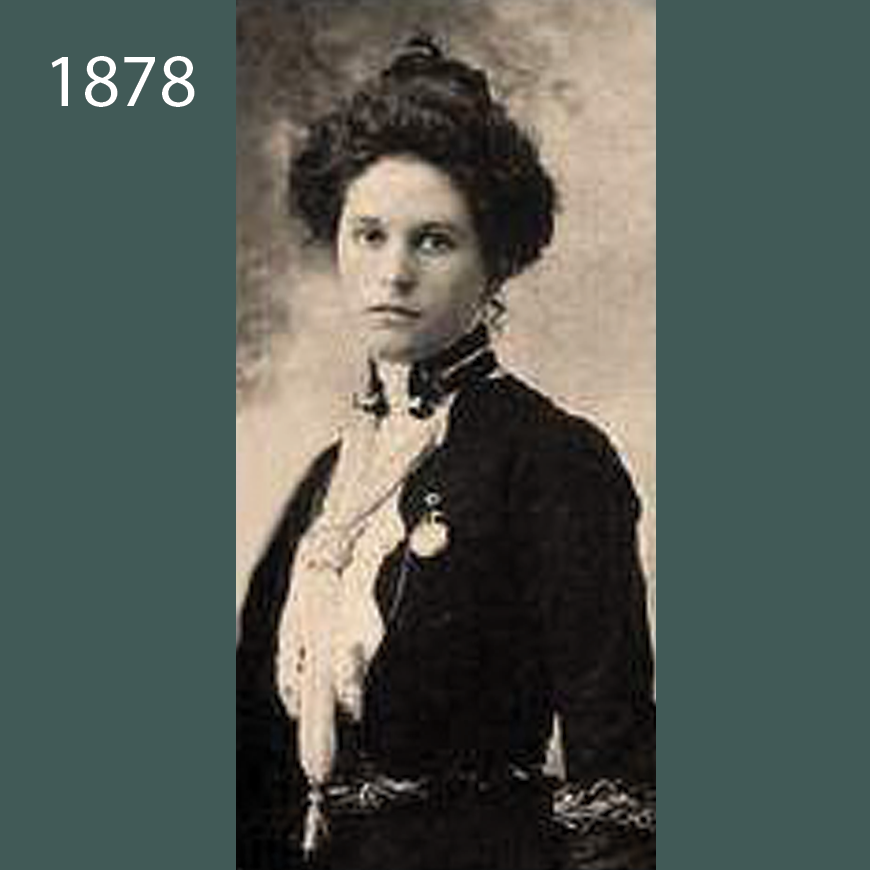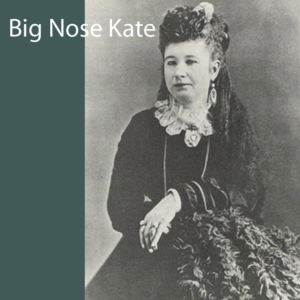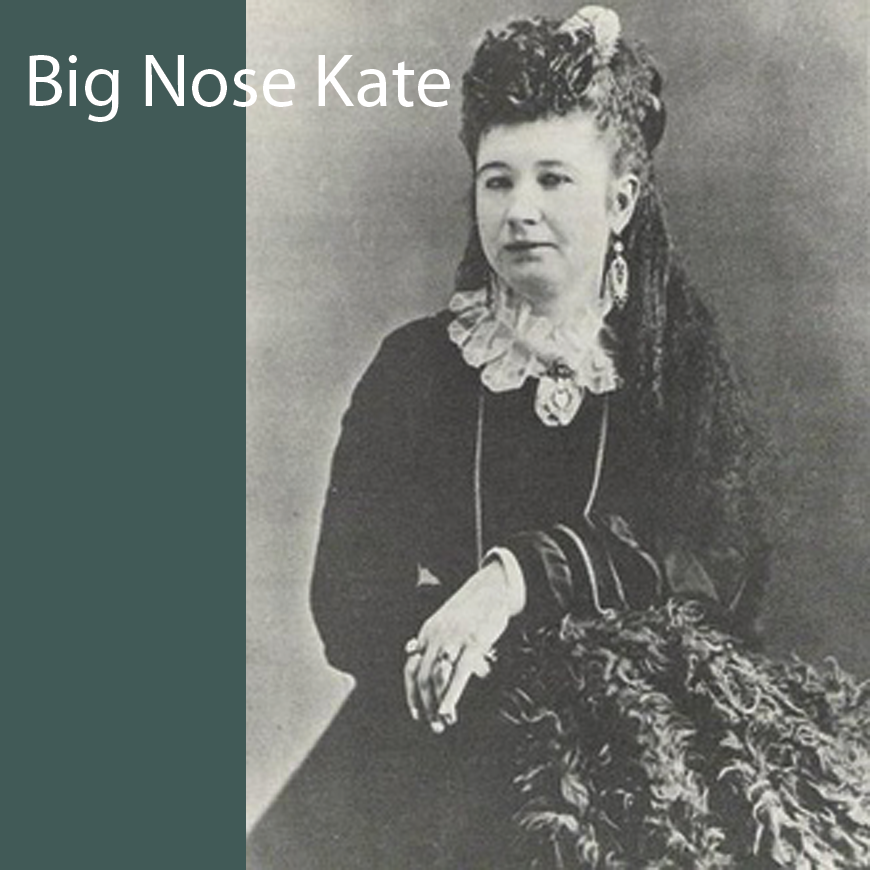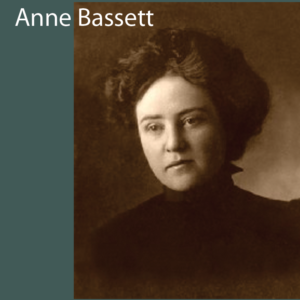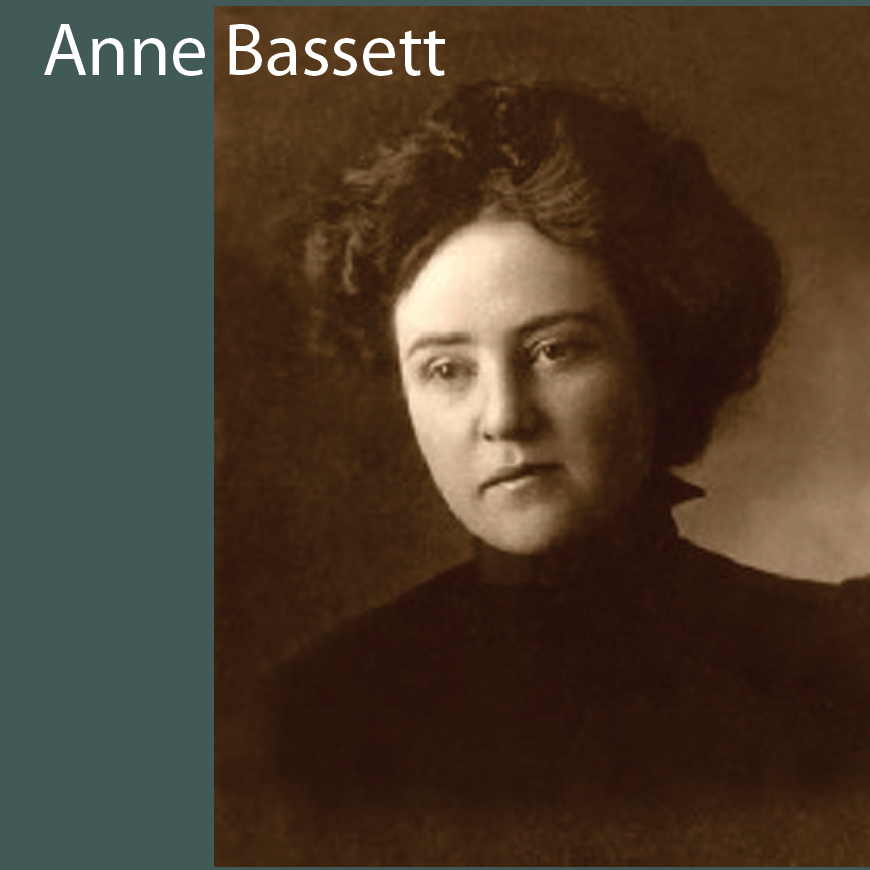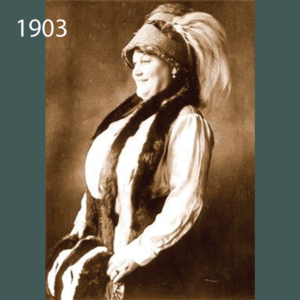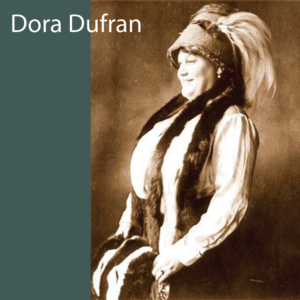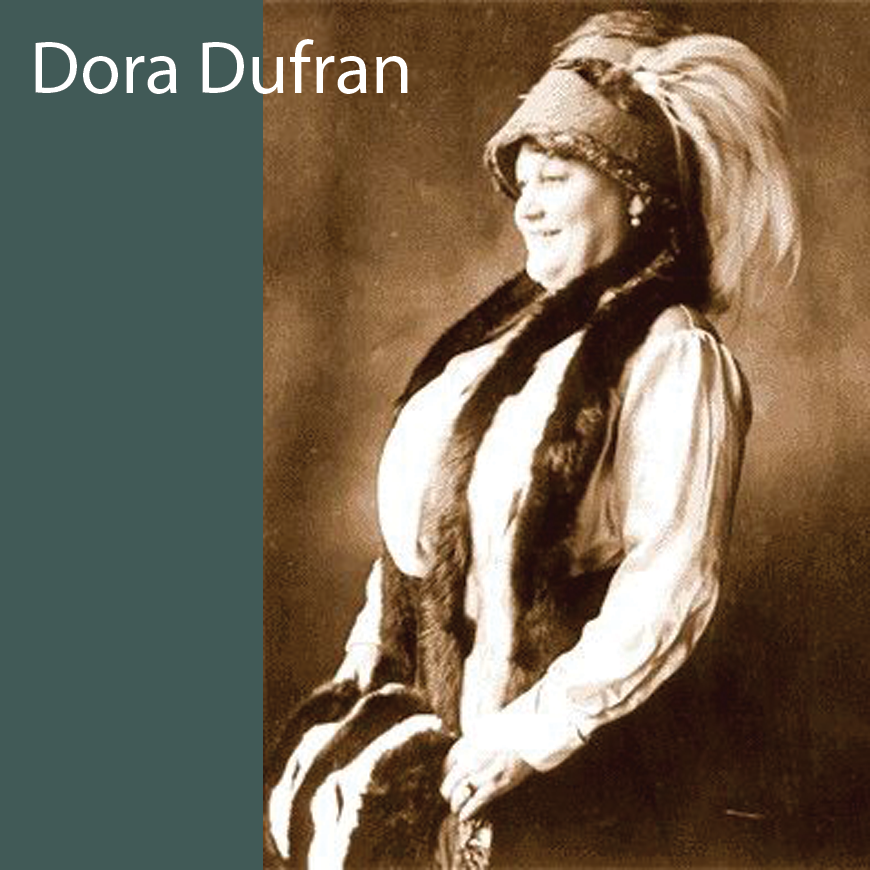 Fitting the Image
In this situation, however, since this is a job in tourism, and the "bosses" want a split skirt, and outlaw wearing mannish clothes, and a six-shooter from 1874 – we will give them:
split skirt (suitable to 1890 to 1910 – just weren't any earlier ones!)
1890's shirtwaist (modified for looser fit, more comfort, and more manly than fashion of 1890 which would have unique sleeves)
outlaw scarf (we like the snake skin that looks dirty)
ability to carry multiple firearms (a derringer pocket!)
riding undergarments (so she can actually ride! means short flexing corset that she can get into in a snap on teh trail without the men seeing, drawers to protect the skirt, and simple washable camisole)
proper footgear for a WOMAN (means gaiters – not boots!)
and the "look" of the grundgy, worn out on the trail, hiding from the law, BAD GAL.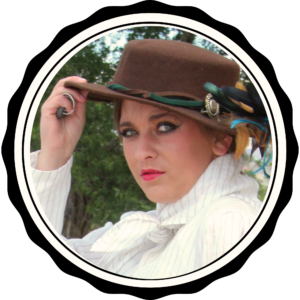 Bad Gal Kateri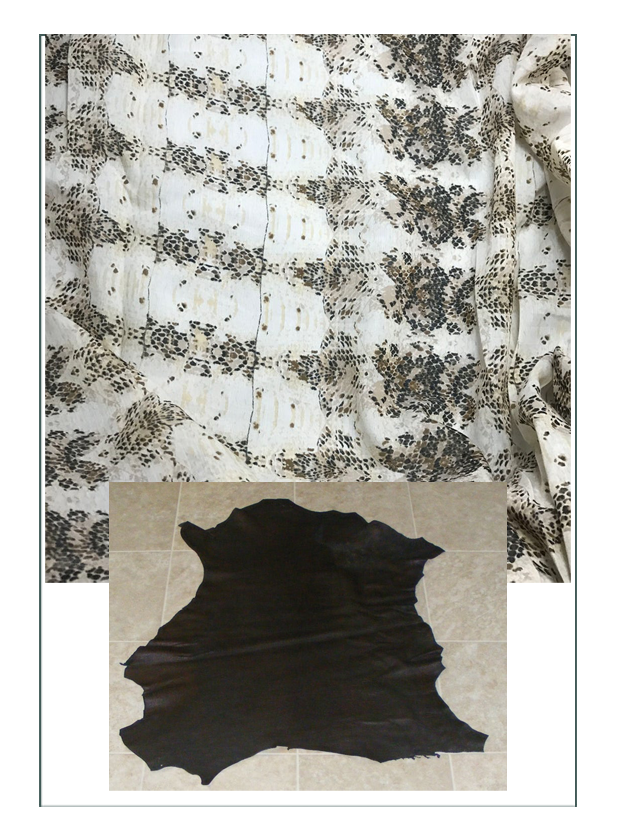 The other fabrics, notions, buttons, and trim we had to take from stock.  For the key to this whole project was – we only had TWO DAYS to design and build it!!  There are no sketches therefore, as Suzi "just built it" from her head using whatever worked out of inventory – the shortest design development of any of our projects yet.
What we did was to look at all these photos and study the stories of the outlaws, and then to just go!
click here to go to the Main Page with the Finished Project (next)
click here to go to the Historical Context Page