Click here to go to Emma's Historical Context page (next)
Click here to go to Emma's Fashion History page
Click here to go to Emma's Design Development page
Continue below to see the finished project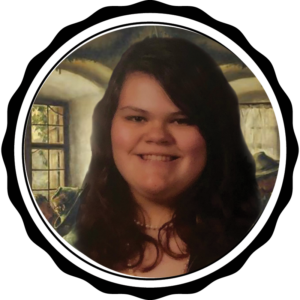 1836 Innkeeper's Daughter, Emma C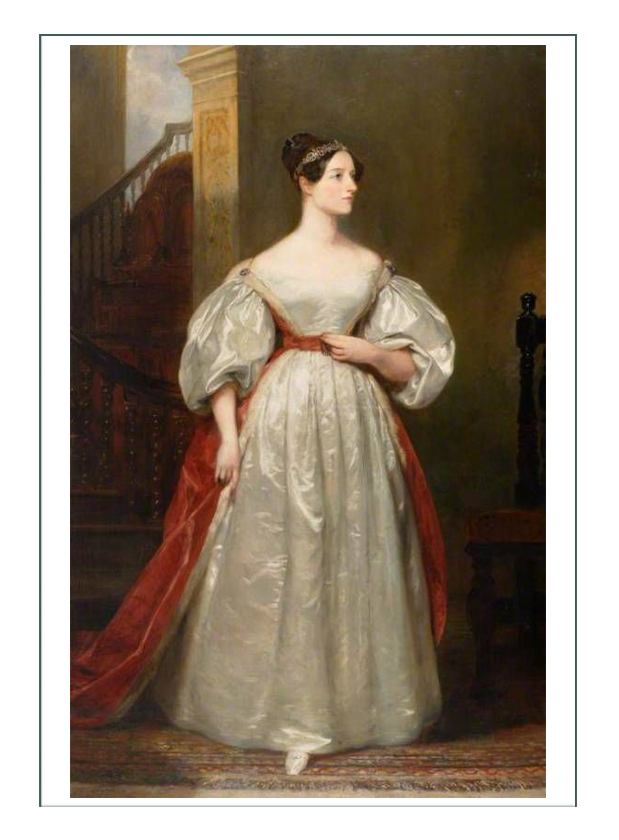 Wearing Many Hats – or Bonnets

Emma will be playing several roles in her job as a museum docent, hands on interpreter, and caregiver for a renowned Prairie Restoration and Village "living history environment" in the central Midwest.  She is working with anthropologists, and came to us because they require historical accuracy in the costuming of all docents, and the volunteers are required to provide their own.
This is an EXCITING opportunity for us to create original designs for a special Gal who values history so much she wants to "live it to teach it" as only a young teen. We respect Emma's privacy, as she is a minor, so we will not be discussing the location or specifics of her project, and will only post photos of her with her parent's permission.
We are also intrigued by the project because there are few to no patterns nor guidelines out there – just the few commercial patterns we would bet her peers will be using to sew their own garments.  It gives us a chance to show OUR stuff too in creating an original interpretation that is suitable for her age, character, and body type.
Specific Roles Assigned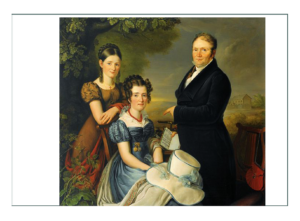 At this living history site, the anthropologists have written a type of "script" with the roles each docent and interpreter will be playing.  Volunteers like Emma choose a role or roles they will play.  They must study these and be able to speak and act in that role as they interact with other staff and volunteers.
There are family groups, work groups, and specific roles with jobs and tasks for each person working there.  Because she anticipates she will be moving from a staff position where she will be caring for the animals out of costume behind the scenes as well as two roles in costume, her ensemble needs to have some flexibility to adapt.
Emma is also young, and will continue to grow, so she needs to be able to use the parts of her ensemble not only for a variety of interpretations this year, but hopefully in years to come.  This makes more challenge for us, but it's really not so hard, because women of history "stretched" their resources and reused, remade, resized, and wore their garments down until they became rags.  We hope she'll love it that much.
Emma's Characters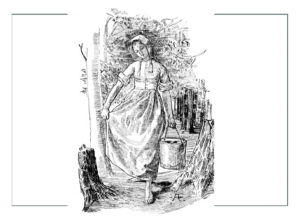 Ann Marie
1836 this content summarized from the anthropologist's context: Ann Marie's family, Scotch-Irishmen (see section on "Celtic History" regarding the immigration of the Scotts and Irish to the American colonies) moved to Indiana in May of 1822 after originally settling in North Carolina after coming across the ocean.  Father John was a cooper, who wanted to start a farm using the proceeds from his coopering.  He wanted to be able to sell his good directly to the consumer, rather than selling through a 3rd party merchant back east.
Tobacco, which he had learned to grow while in the Carolinas, did not do well in Indiana, so he tried corn.  Corn did not grow either because his attempts at growing tobacco had stripped the soil of nutrients.  Fortunately for the family, John received an inheritance which he used to buy land.  This time he was successful at growing corn, wheat, and orchard fruits in the new location.
John and sons built a large farmhouse, and turned the business into a plantation, based on the models of North Carolina.  His eldest son Jacob  is aged 21 at the time of depiction, and there are 6 living children.
Emma's character is Ann Marie, aged 15.  Already her father wants her to marry a neighbor so they can combine their adjacent farms which would allow the use of the labor of the neighbor's young children as well as his own.  Ann Marie knows it is her duty to become a wife and mother, but she enjoys working in town and earning her own money.
Emma as Ann Marie is a waitress at the Golden Eagle Inn (see our section on Colonial Children, which applies to the attitudes towards girls even at this age to some extent).  She enjoys the hard work and admires the Zimmerman women who run the inn and business, and has aspirations to run a business, although she understands her role to marry and provide for her extended family through marital alliances.
(See also the 1805 Ensemble regarding girls and the plantation.  Also an earlier era, but attitudes apply, mostly because the father is coming out of that societal structure and he is the one dictating women's roles).  (Also see Emma's historical context page.  At the bottom is an article about "Mill Girls" of the 1830's and 1840's in Massachusetts, and how they earned money and lived independently very similarly to Emma's character Ann Marie).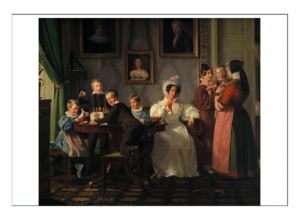 Adora
1835, Emma's other character: Adora's family has been free for 3 generations.  They traveled in 1835 with a large group of other free blacks through Virginia into Southern Ohio and then west to southeastern Indiana to settle.  They had left seeking the rich lands of the west that had been advertised, as there was little land to be had in North Carolina, and what was available was poor.  The deterioration of relationships between blacks and whites there instigated by the Turner Insurrection of 1831 had many free blacks moving west at the time.
The family were farmers, and their main crops were corn and hogs.  They had a huge kitchen garden, and were preparing an orchard by 1836.  All of the children had some education at a Quaker school, but the eldest son, Jacob, taught the younger ones in Indiana.  The children worked for others to pay off debts.
Adora is 14 in 1836 at the time of the depiction, and the 2nd of 4 living children.  She is quiet and hardworking, and enjoys working for others outside the home.  She has many friends in town, and enjoys working at the Inn because she gets to meet so many different kinds of people.  Her favorite thing to do is to garden, as she enjoys being outdoors.  Like here older sister, she comes to town whenever possible.  Sister Priscilla likes to take Adora to see the animals at every chance she gets.
Commonalities Between the 2
Work on farms with the family
Plus work at the Inn
Young
Knows role in life and expectations
Important part of a family
Agriculturally based
Curious about what's outside the agricultural town
Enjoy meeting people
Hard working; keep busy
Inquisitive – look for answers and to learn
Slightly educated, possibly basic reading?
Very young, but growing old quickly by life's lessons
Has had life experiences outside the present location
Key Objectives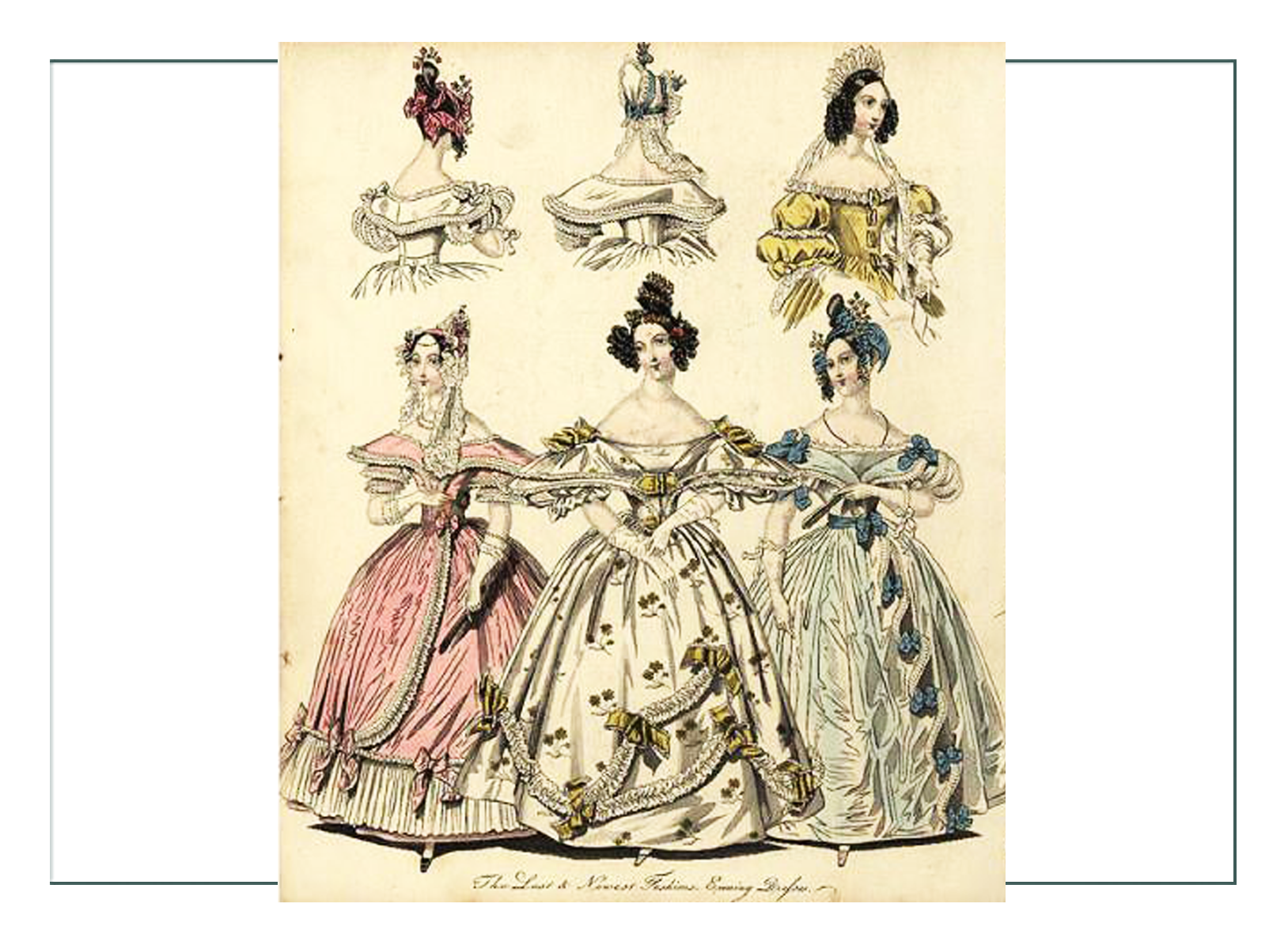 The main practical objectives for this project will be:
 Satisfy the anthropologist(s) in charge with historical accuracy of design, fabric, dye, notions, fit, and overall appearance;
Teach Emma about why she is wearing what, so that she can use her ensemble to teach others with full  range of knowledge including the historical era, fashion history, women's roles, and how she fits into the environment(s) at the living history facility;
Make a comfortable ensemble that she can get in and out of (with practice) that helps her to FEEL authentic to enhance her own experience, so she can share that with others (e.g. "this corset keeps me from bending, but supports my back and it is not too hot to wear", etc.) ;
Use all natural fabrics consistent with 1836 so she is comfortable in high heat and humidity of a Midwestern summer;
Have excellent and flawless fit so intuitively anyone looking at her "feels it's right";
Have durable garments properly instructed for a young girl as we know young girls tend to get in a hurry and forget to put their petticoats over their heads;
Build something she likes – that pleases her and makes her feel pretty and good – thus the "elegant" part of itl
Meet her budget and timeline.  We have 11 weeks to ship, and we will need all the time.
The Main Depiction Objectives for this will be:
Correct age
Agricultural depiction
Working ensemble that goes from field to table and to family event
Low economic and social status (but reaching out)
Youth, comfort, allowance for growth
Might need to dress up (to go courting, to town, to events)
First, we must study the time period, fashion era(s), personal tastes, and other factors that will direct the design:
Click here to go to Emma's Historical Context page (next)
Click here to go to Emma's Fashion History page
Click here to go to Emma's Design Development page
Continue below to see the finished project