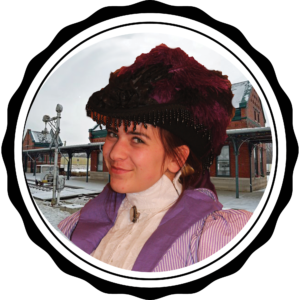 Kateri Schneider, Actress

"The authentic costume helped me get into character. I was playing a gaudy 'new money' reporter, and that's exactly what Suzi made for me. The costume was very durable, comfortable under the hot lights, and moveable as I had to do a lot of preening and strutting to do it!"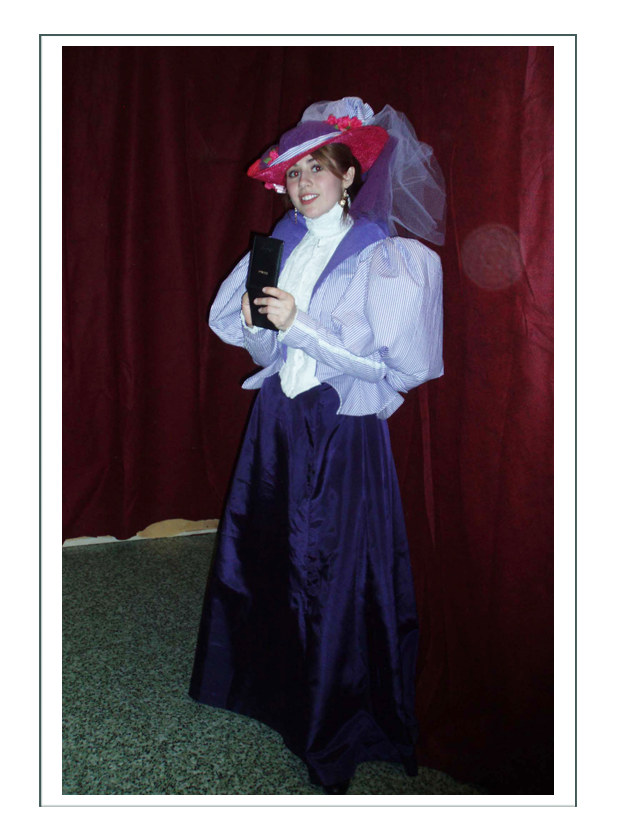 The original costume was designed for Hanna Yaeger.  Performing as reporter "Penny Dreadful" in an original play about the Wild West, Hanna stole the show in her 1895 traveling suit. Structured with boning and lace, this was made for theatrical performance, which means it was not entirely historically correct, but designed for visual effect under stage lighting.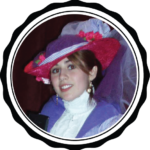 Hanna used the sweep of her skirt and the wired collar and jacket tabs to give the illusion of feminity mixed with the newfound independence of the late 19th century.
Penny was described by the author as a strong-willed, independent woman of the time.  She was from New York, and had been sent by her newspaper editor to cover a story in a tiny, dusty town in some undisclosed location in the wild west.
By that time the west was somewhat settled along railroad lines, but inland was full of conflict between native americans, cattlemen, settlers, & outlaws (see our "Western Women" section).  The author's idea was to place a character who was the height of fashion, highly educated, & ahead of her time into a setting with other characters who were not aware of and did not care about fashion, morals, or ethics of the time.  The comedy of this western "whodunit" came from this contrast between characters.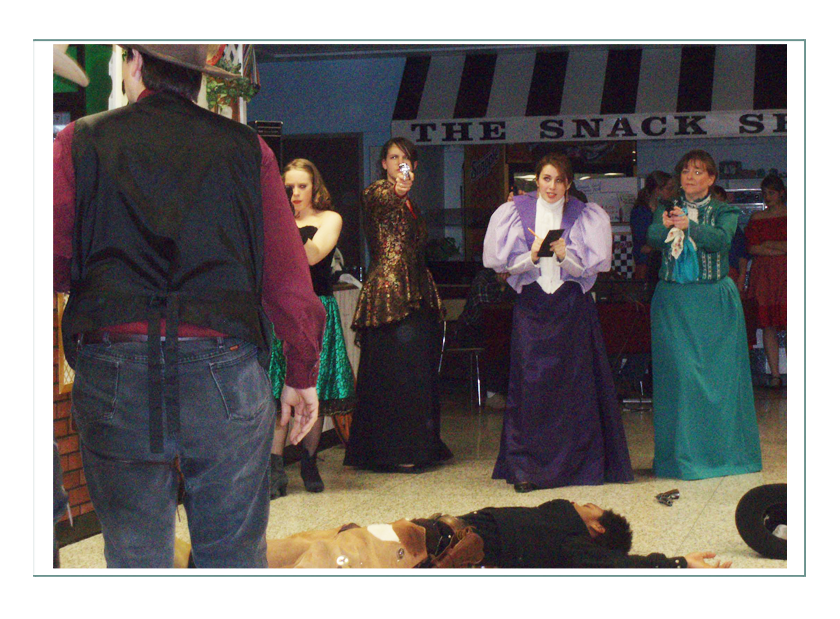 New Life for the Ensemble
In 2018, Kateri Schneider assumed Hanna's role and continued with the character.  Kateri  "Kat" will use the costume for teaching and historical interpretation.
 1895 falls at the very end of the Victorian Era.  Prince Albert died in 1894, & Victoria's reign was nearing its end
Technically, the year marks the beginning of the Edwardian era with subcategories of La Belle Epoque, Art Nouveau, & the Gibson Girl
It was a time of mourning for Victoria, when she established black for mourning, & further entrenched the need for appropriate ensembles to be worn for each event for those who could afford it
It was also a time of new world liasons, as this next generation of English & French royal families were intermarrying
Most countries, like France, had established Republics, & while the monarchies were not dispersed, they had much less power & influence
The rich & powerful still played
Under Edward, the strict rules of Victorian society took another twist which would be very expensive
The Edwardian "Grand Dame" ruled society & set the standards for fashion & lifestyle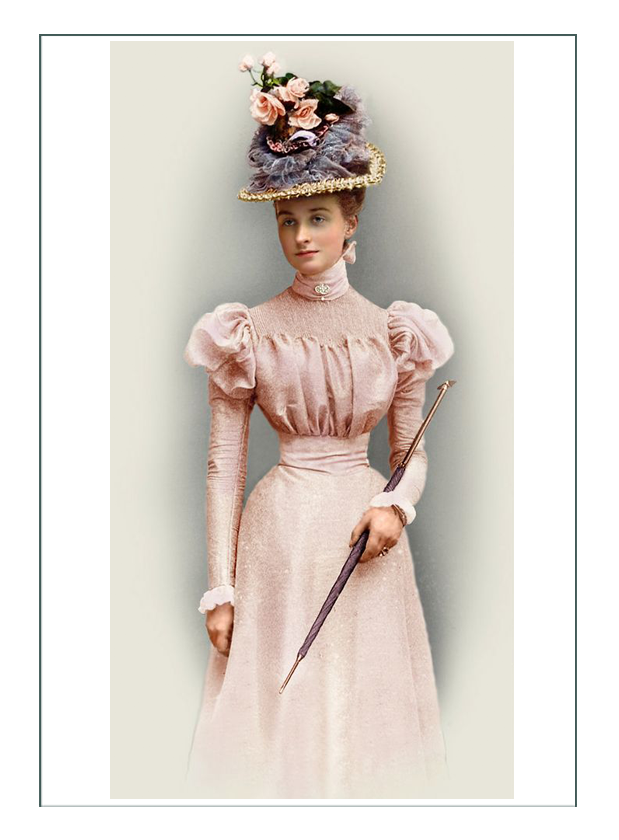 Racing, riding, sports, & women in the workforce were becoming common
The Edwardian concept kept those of high society intentionally away from work, as it was a deliberate attempt to live in a world of only leisure
Edwardians had high tea, croquet on the lawn, parties to introduce their daughters to society, & excursions to the sea
Counter-movements of the Aesthetics, & practicality for those not of the middle or high class who could afford to not work introduced a whole new world of apparel & attitude
It was a time of the rise of the active woman, the suit, & Bloomers
Sports such as cycling, skating, tennis, golf, bowling & calisthenics were now common for all women
Upper class women went yachting, shooting, & riding
Clothing was modified to accommodate the new activities
Split skirts, short skirts, bloomers, & (some) less restrictive corsets became acceptable in those venues, although the most restrictive, the "S" corset of high fashion would parallel that freedom
Industry meant mass production of textiles & garments, which meant fashion was available to those in all walks of life
There was class distinction, so the higher society bought from custom designers in Paris, while the lower could mimic the appearances with ready-made or catalog goods
New technologies in fabrics, materials, & notions meant laces, trims, & accessories were readily & easily available for all
Bright synthetic dyes made the deep purples, blues, & reds available that had been previously reserved only for the elite
Early versions of plastics & rayons were evolving for jewelry, buttons, & everything having to do with daily life such as the new "Bakelite" telephone
Because everything was so new, for the first time in history men & women had something equal – everyone had to figure out how to use the new-fangled gadgets
Automobiles had been invented, trains crossed the continent, & people had expendable income to travel, communicate, & see what others were doing
With fast transit across mountains & oceans, ideas were moving as quickly as people
Women would soon have the right to vote, & many of all classes fought for that and other causes
At this time "old met new" as the old ways gave way to a much faster paced, more technological, & open-minded world emerged for women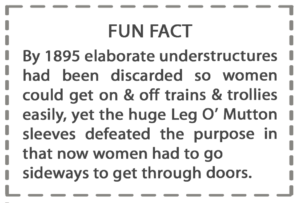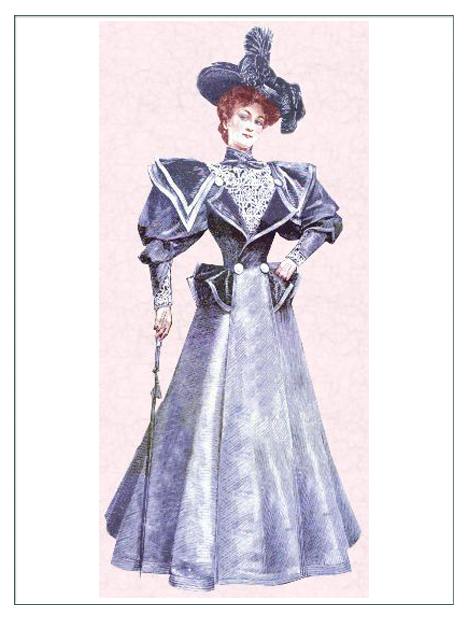 Hanna's "Penny Dreadful" was a fictional character, so we had the luxury of making it as historical as we want.  Even though the project was to be theatrical, it was necessary to be as close to historically accurate as possible in order to bring about the intent of the author in showing the contrast between this high fashion character of the time with what "others" would have been like in the Wild West.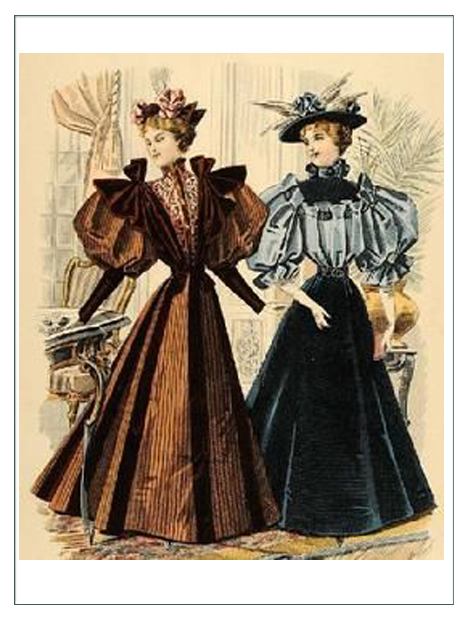 Hanna made the executive decision (consistent with what her character would have done) to not wear a corset or petticoat.  We agreed under the condition the main garments would be structured with bone & wire, to give the authentic appearance.  Wiring & boning of collars, bodices body, tails, & waists was historically accurate anyway.
Based on color fashion plates & extant garments of the era, we would build a gored skirt that would keep its shape & move correctly in the sweeping fashion of 1895 (before the skirt would add more gores and increase the back length into a train).  This would be more consistent with a traveling or sporting ensemble.
She would have liked the train, but this character would have traveled west on a locomotive (train), so she would have kept her skirt above the ground.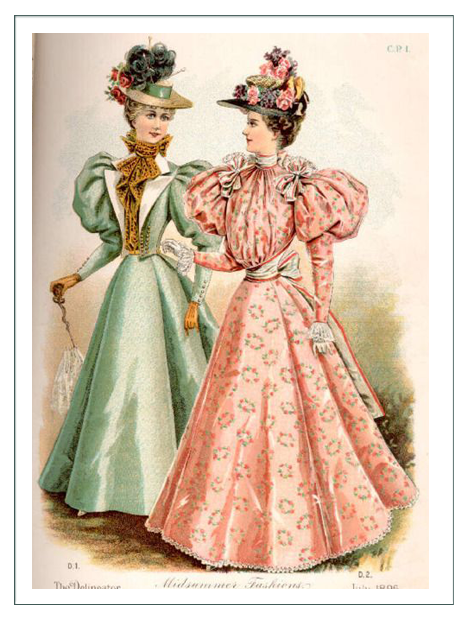 To be high fashion of one coming from New York City, the sleeves would have to be the largest ever in fashion history; that shape could not be sacrificed, so we developed internal structures & padding – exactly as they did at the time – for the sleeves.
If one notes historical references for the construction of sleeves, there are many which were made of the full fabric, cut in such a way that the single piece of fabric goes wide & then narrows to the wrist.  The higher fashion and larger sleeves of necessity in construction were of separate pieces; thus extant models show contrasting fabrics for lower and upper sleeve sections.  We believe this gathering of a sleeve that could be up to 20 yards of 22″ fabric into an approximate 9″ circle, was probably (other than corset-making) the most difficult construction in fashion history.
Garments of this time for entertaining or evening were made in contrasting colors & fabrics; e.g. silk with velvet.  Hanna, depicting a traveling reporter who was a working woman, needed a "suit".  "Suits" of the time did not yet include a "blouse" which would be "invented" in the next 10 years.  They instead had evolved out of activewear in response to practical needs for horse and bicycle riding.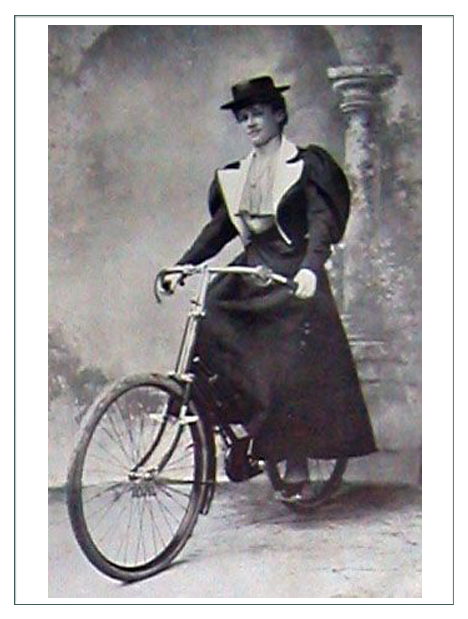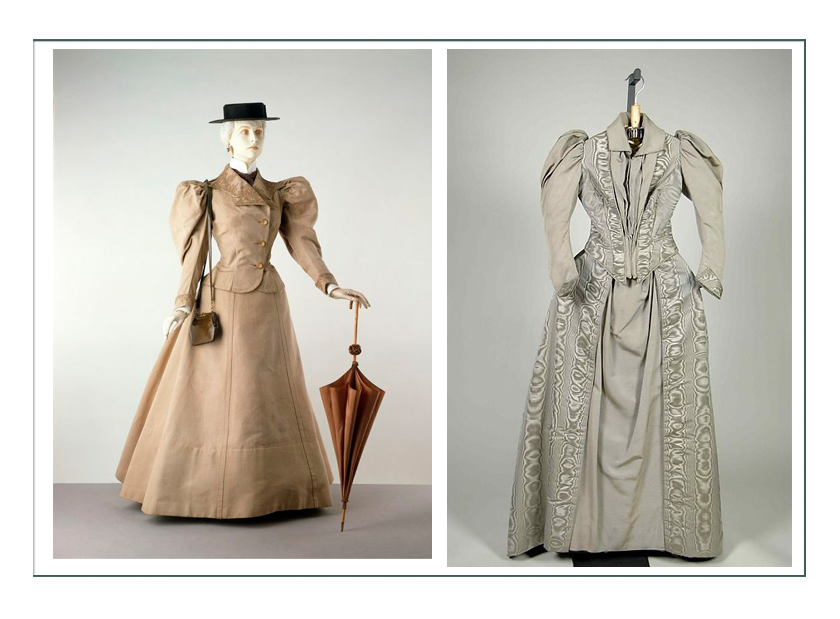 Suits would become the 3-piece ensemble similar to that which men were wearing later.  At this time they were typically of a middle range color such as tan, light green, gray, or blue which would wear well & not show dirt so well from traveling on a sooty train or out walking a dusty path.  They were of solid color, in 2 pieces, with the gored skirt & fitted tailored bodice typical of the era.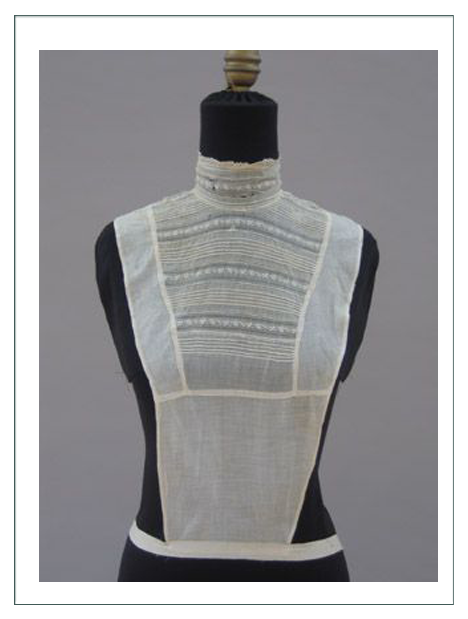 The appearance of having a 3rd piece was created by the older version "chemisette"; a bib-like front piece made of lovely tucked or bloused fabric and/or lace, or "revers", a sewn insert into the jacket/bodice that had the same appearance.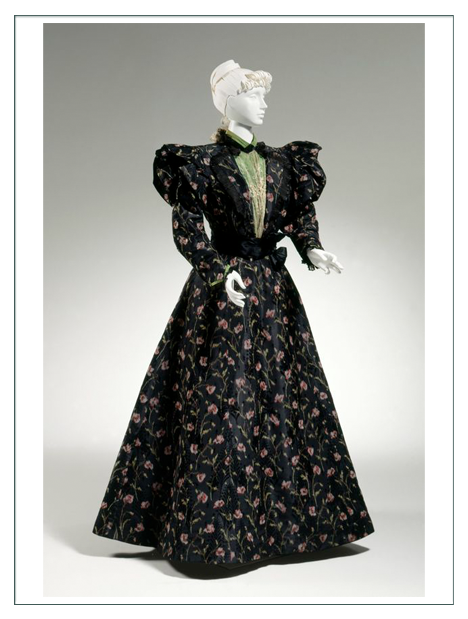 Revers were often worn with ties, ribbons, & lace for those of high society.  Hanna selected to use a revers for practicality in theatrical performance (easier to just put the one bodice on), and because it could be elaborately decorated as per her character.
As personal preference, Hanna's "Penny" opted out of wearing a tie, in favor of a pearled neckline.  The "pearls" would continue on the front of the revers & on the sleeves; again a personal preference in favor of high style for this character (historically, the traveling suit would have a removable cuff because it could be taken out and cleaned in a hotel room).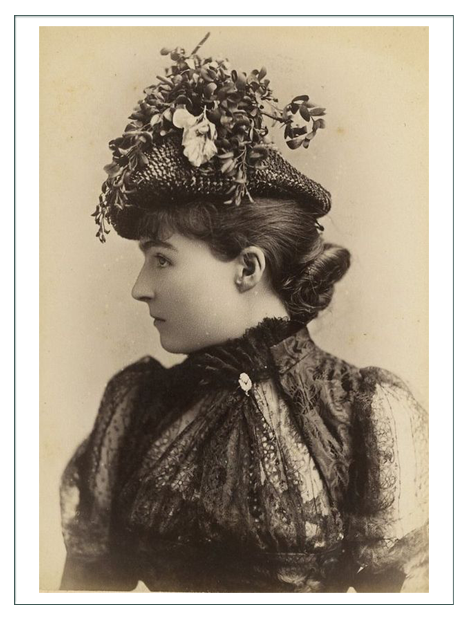 Having the basic garment selected, the rest was a matter of choosing accessories.  While a woman out walking, yachting, or cycling at the time might wear a plain, straw "boater" hat, the high fashion woman would have something much grander.

Hats of the time began as wide-brimmed with a moderate crown, and a few feathers, ribbons, or silk flowers.  With each passing year as the Edwardian era progressed, they became huge, extremely broad-brimmed, and had thicker brims to hold up the huge amount of birds, feathers, & bows.  The Edwardian Grand Dame would carry so much weight on her head that it (along with the "S" corset which altered her center of balance) would tip her forward so that she had to walk with tiny, mincing steps.

Other accessories, parasols, canes, boas, & boots came into extreme popularity in this era.  Because the Penny character needed to carry a notepad, and because this was a one week stage performance, Hanna opted out of investing in extensive accessories, & requested just a hat.  She was able to find a simple pair of pumps with a similar heel to the era, although the character who traveled for a living, would have most likely worn fashionable, button-up boots.

Following are more extant garment and photographic examples used for inspiration in the design & construction of Hanna's costume.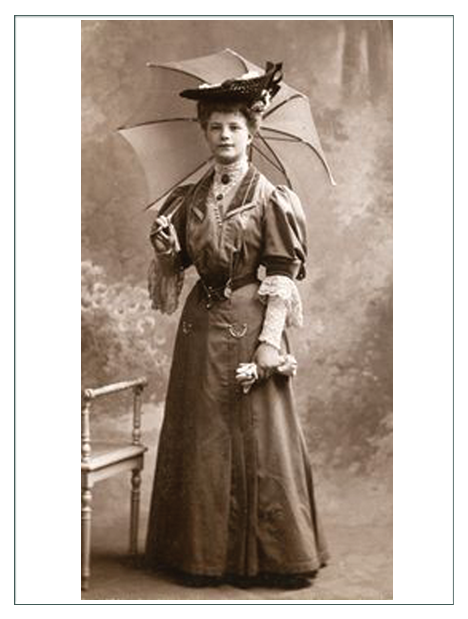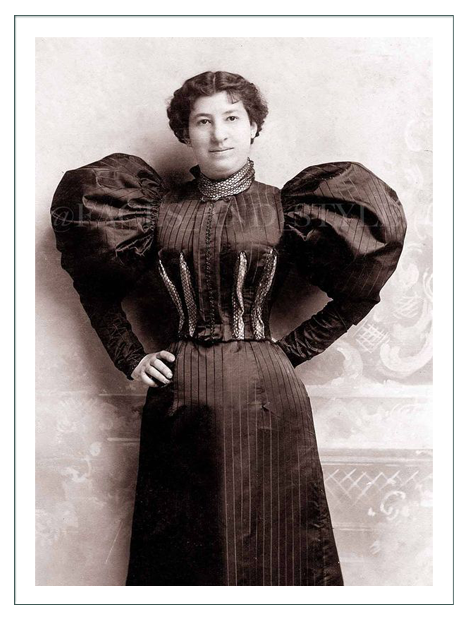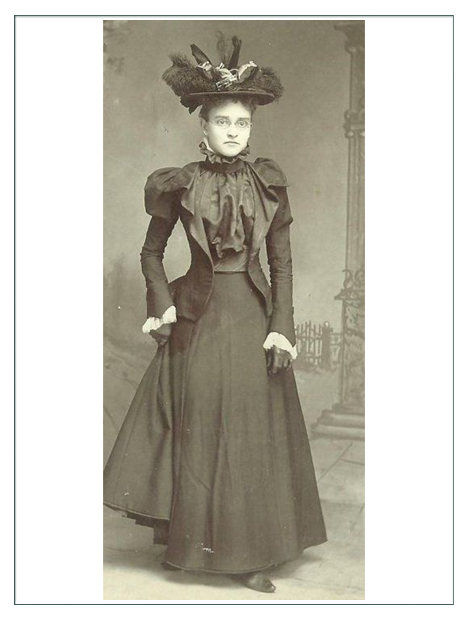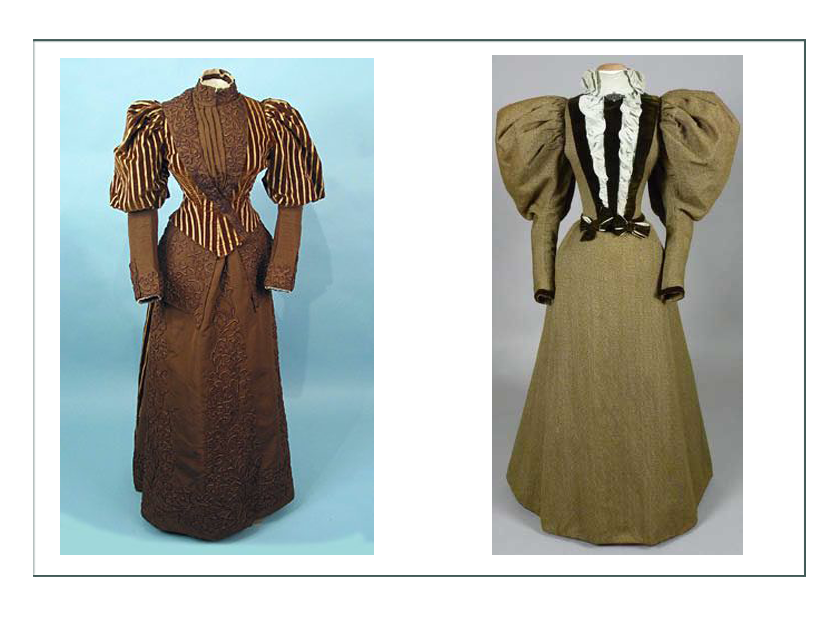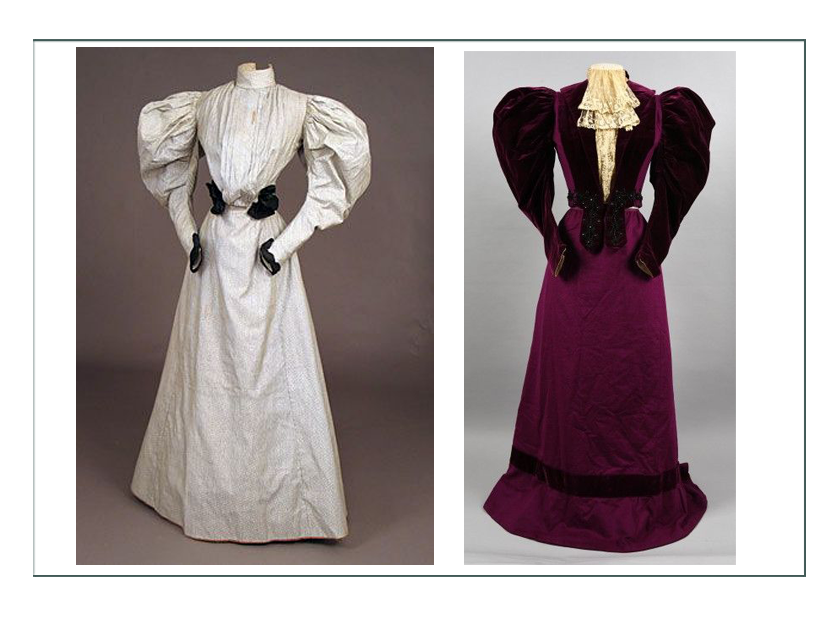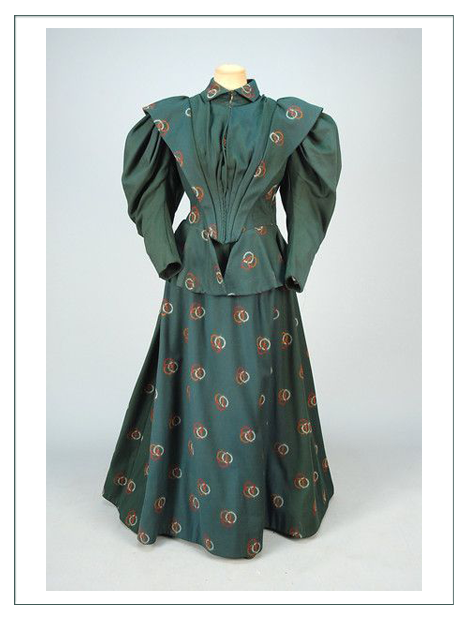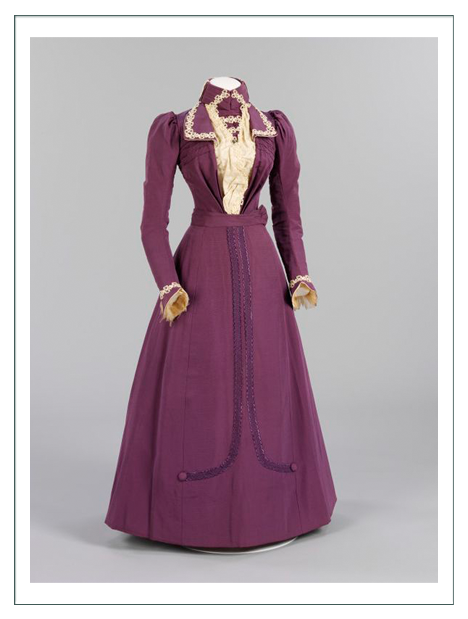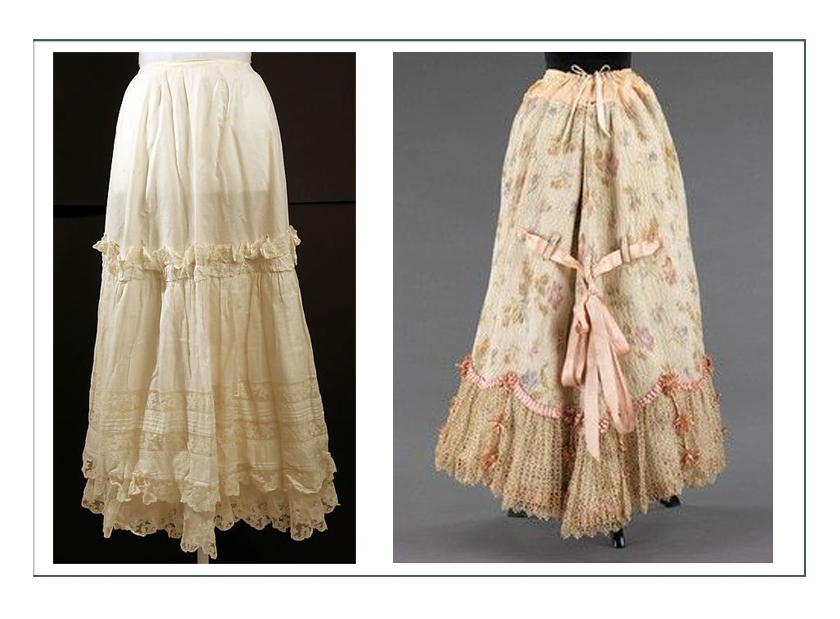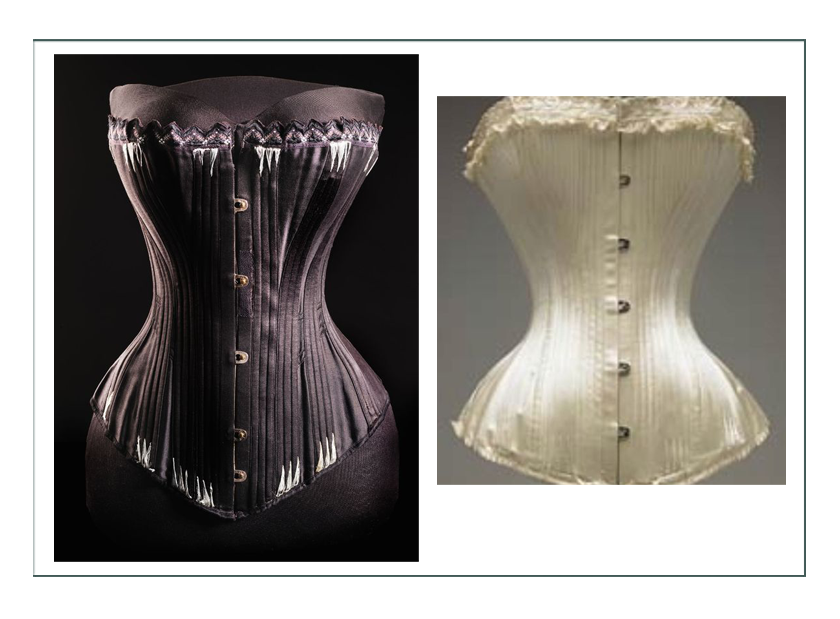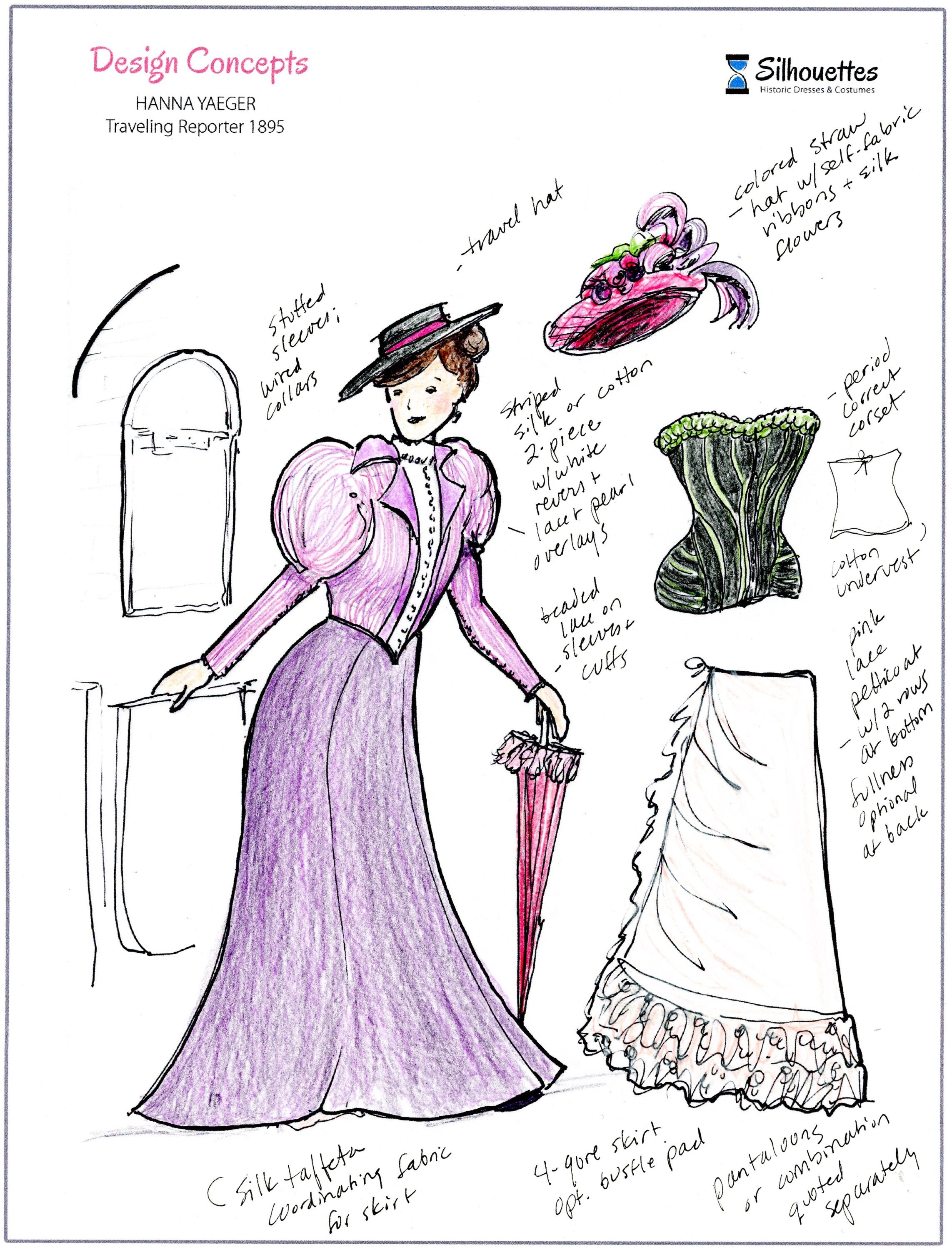 Two versions were developed for the character.  The first was a "high fashion" style appropriate to 1895 forward.  It featured the "inverted bell flower" shape with a 4 gore skirt.  This was a longer, leaner, and smoother line than the prior 5-6 years which absolutely demanded the use of the long version of the "S" corset which tipped the bosom forward and the hips back.
With this version, a stiff taffeta would be used, along with a striped silk for the bodice.  The back might actually incorporated a rump pad or extra ruffles on the petticoat to bring the derriere out, although it was a transitional time away from bustles to using no understructures in the skirt.
This might also use a full blouse instead of revers, although that would be very ahead of fashion for this character.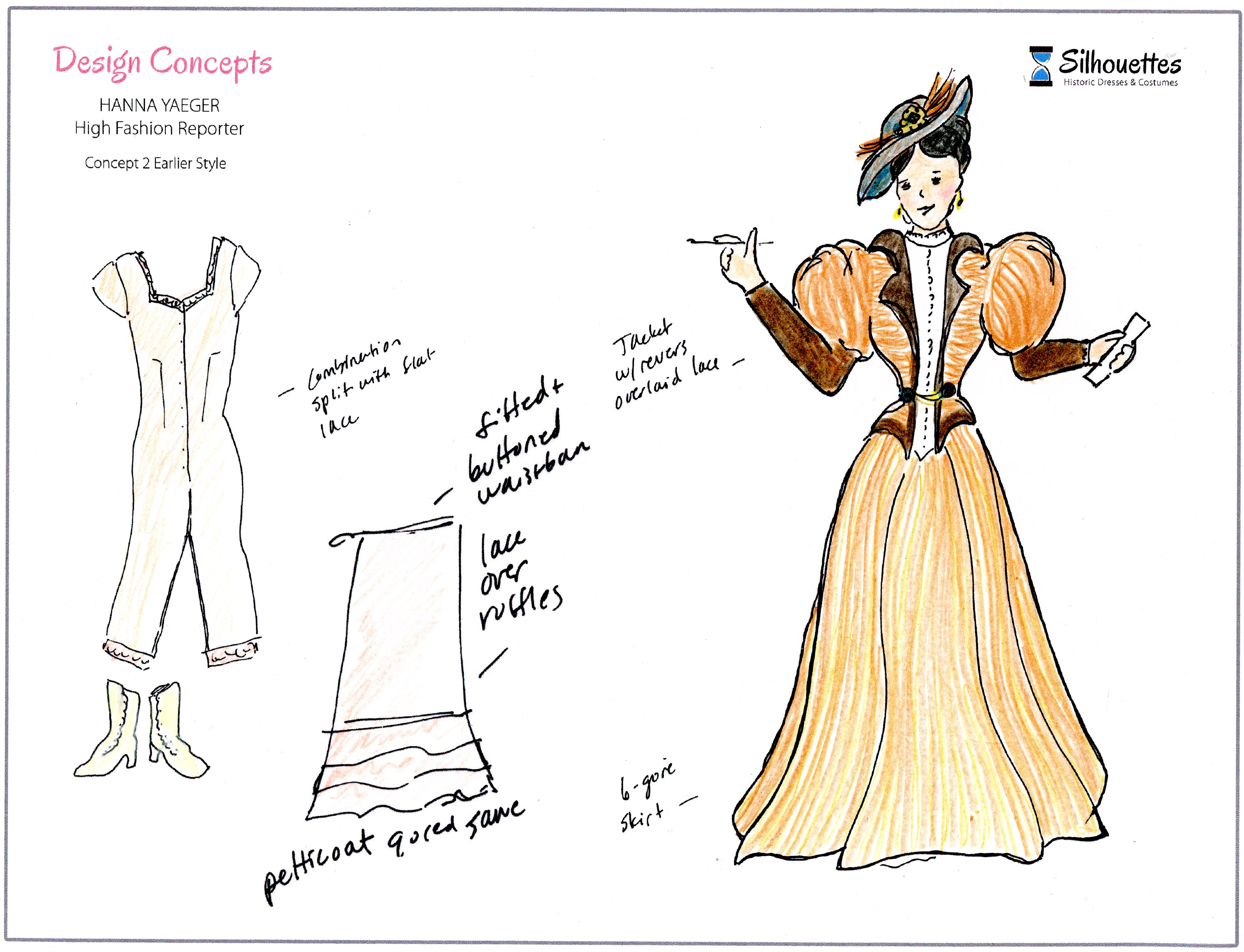 In the 2nd version, we go back to the end of the 1884-85 style that was just ending the use of the large bustle.  At this time, it was almost more similar to the 1883 "no bustle" time.  The notable difference is the absence of draping and bows in the back.  In this 1884-85 version, the appearance is symmetrical, and the 6-gored paneled skirt is used.
We liked this version because it gave a lovely sweeping movement that helped the character's attitude, used less fabric to keep costs down, and the extra gores reduced or eliminated the need to have a full petticoat, as long as a thick enough fabric was used.
Ideally, the 1885 long corset, but not yet the full "S" curved corset of the Edwardians who came next would be used, but the jacket design could have enough boning and support to eliminate the need of that too for theatrical purposes.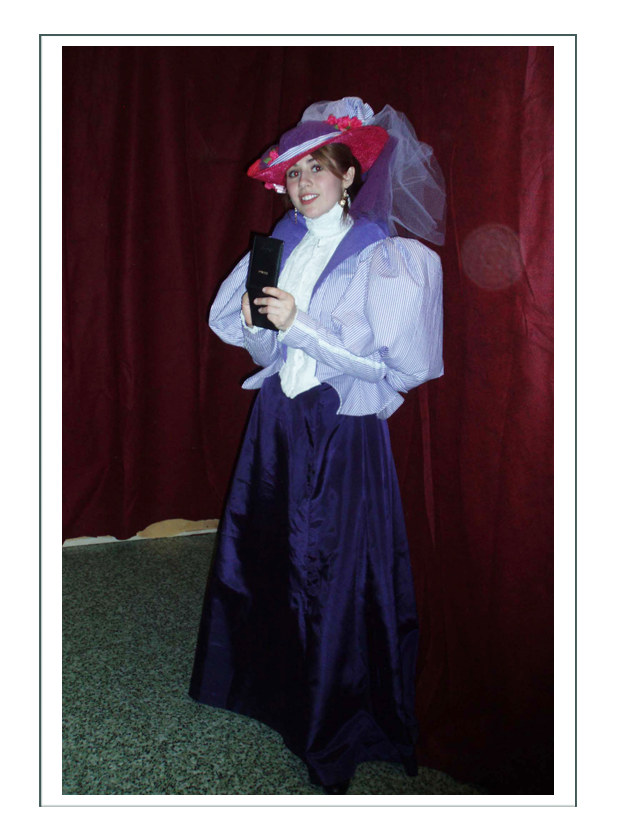 The final Penny Dreadful character ensemble incorporated elements from both designs and included:
4-gored skirt (modern rayon fabric to keep costs down; historical construction)
all-in-one jacket/bodice (fully lined, boned at seams; balloon sleeves)
revers integrated in bodice (plastic pearl & synthetic lace overlays)
straw hat (colored straw with synthetic flowers, ribbon made of bodice fabric, & ribbons)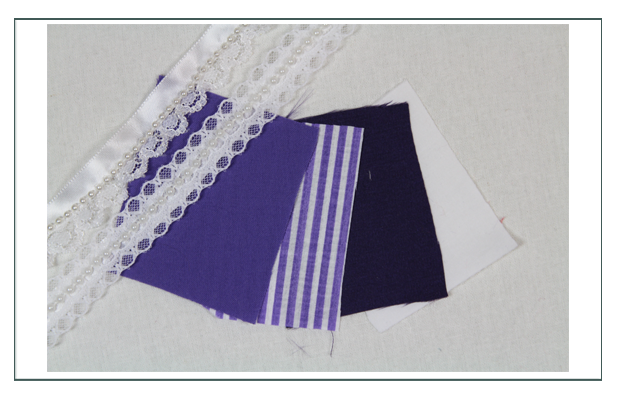 The fabric was selected based on historical samples, but was of polyester, cotton, & rayon to keep costs down
Boning was plastic & metal, with metal wires, period consistent hook-eye closures, & button on skirt
No historical undergarments were worn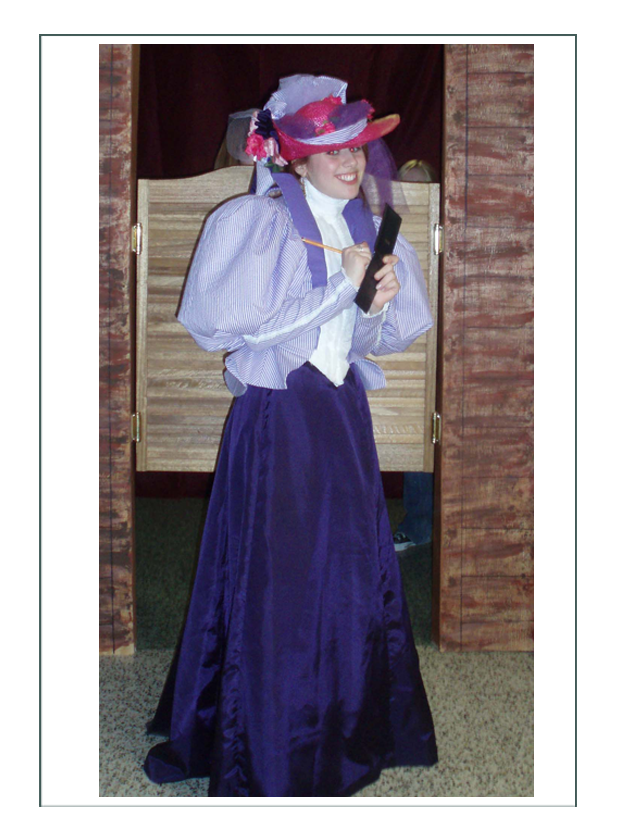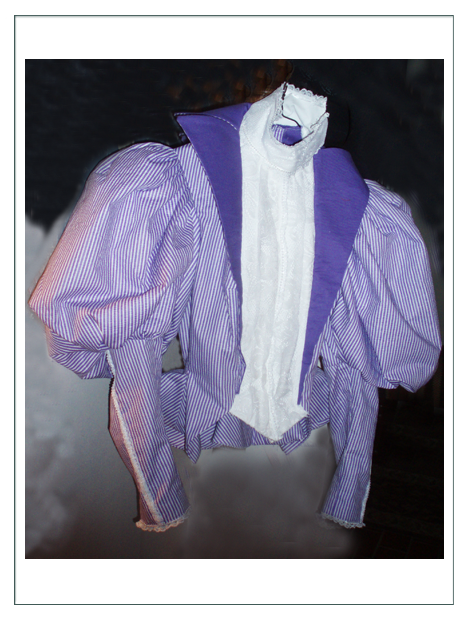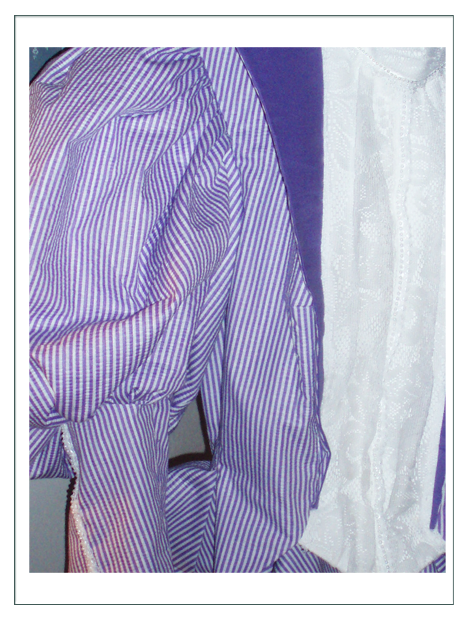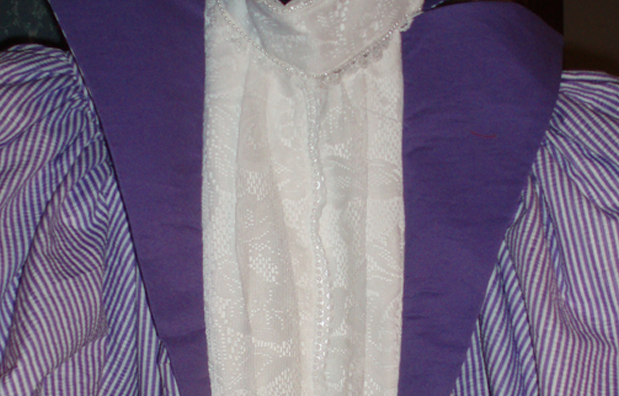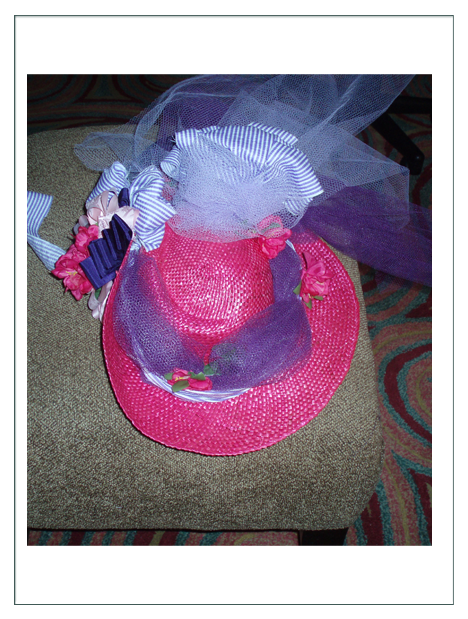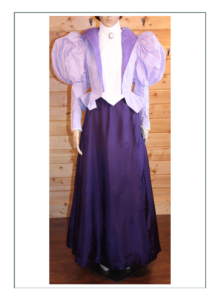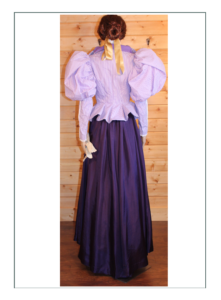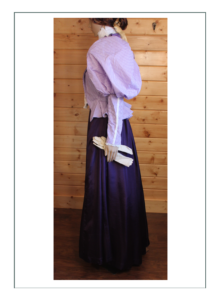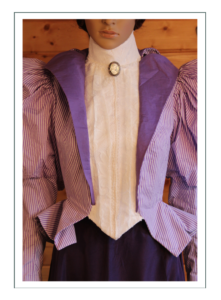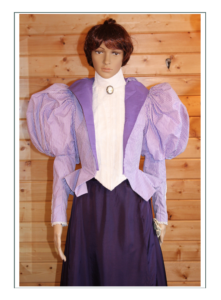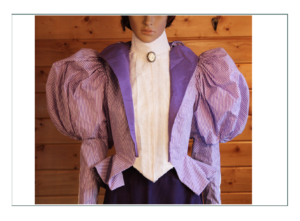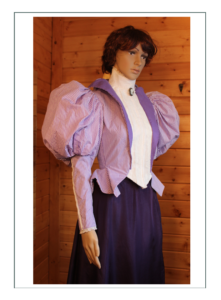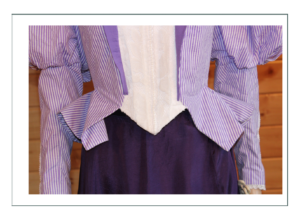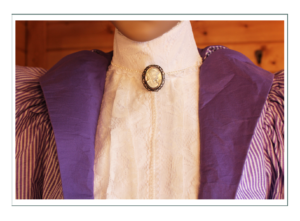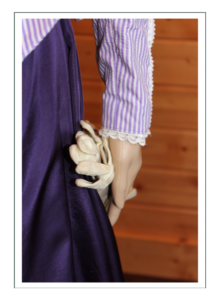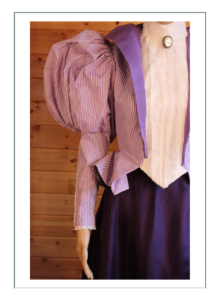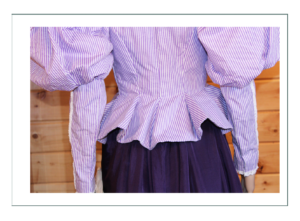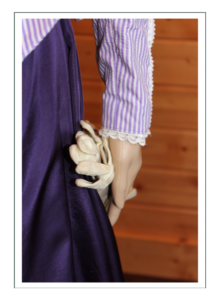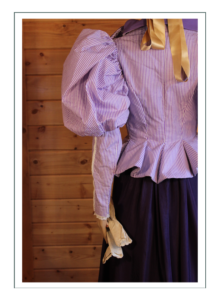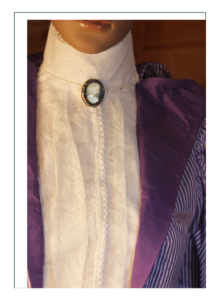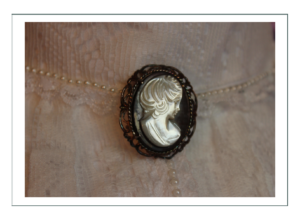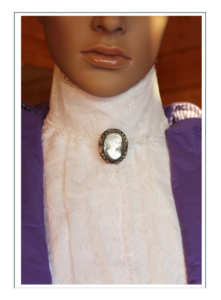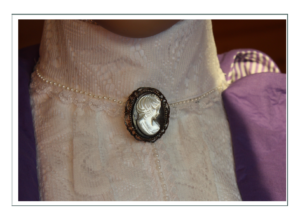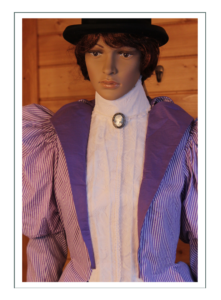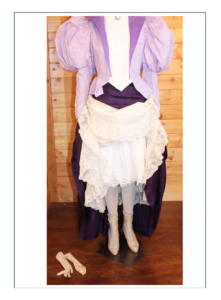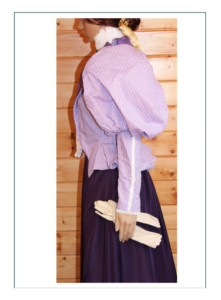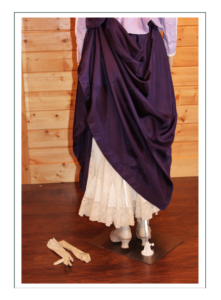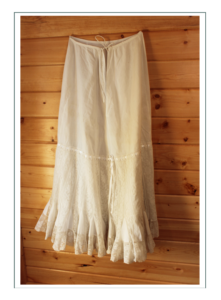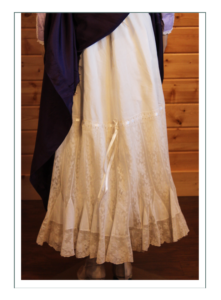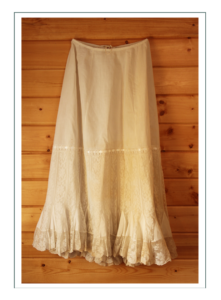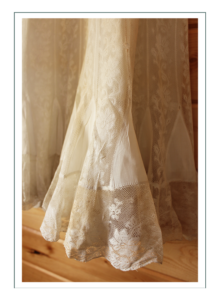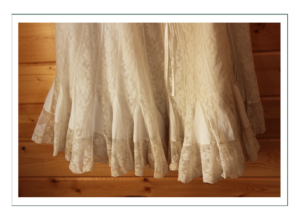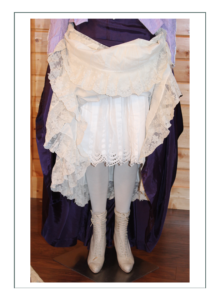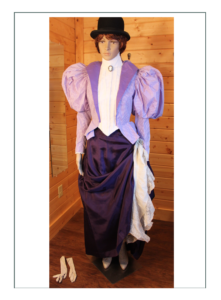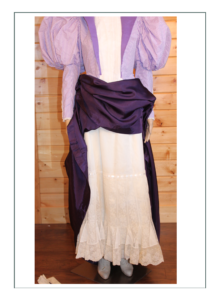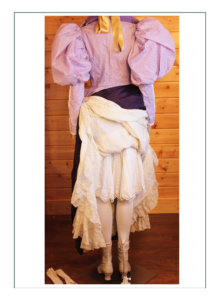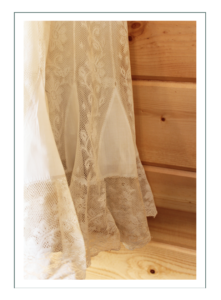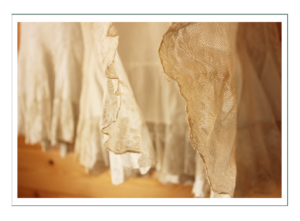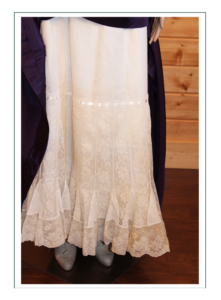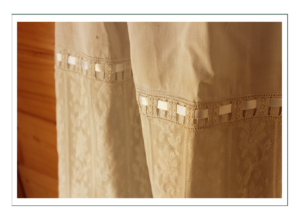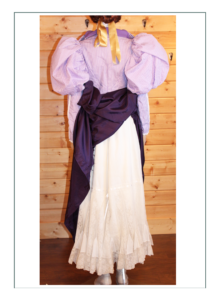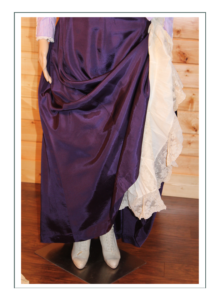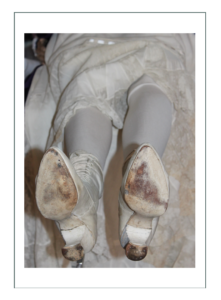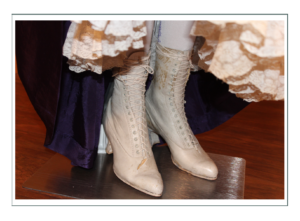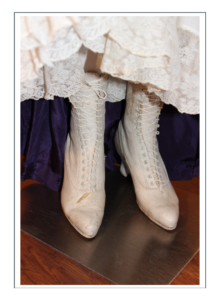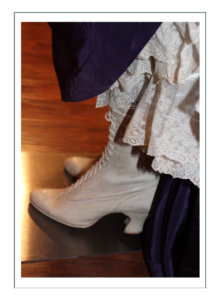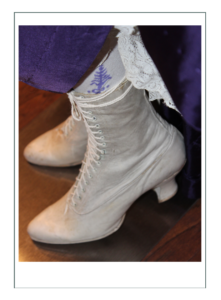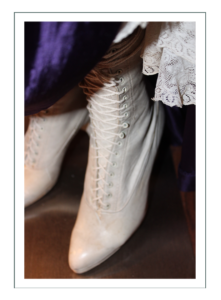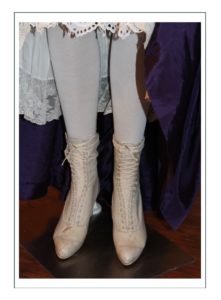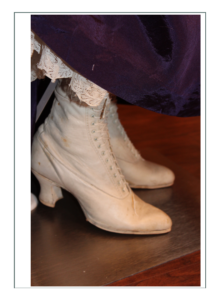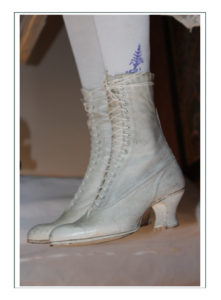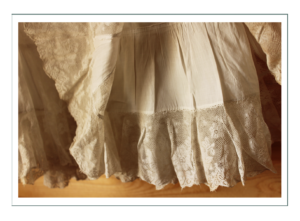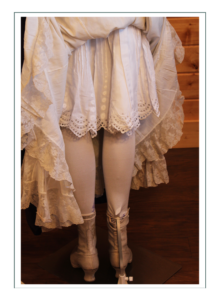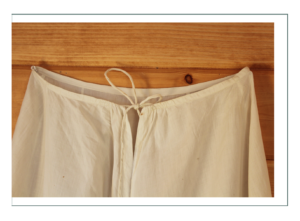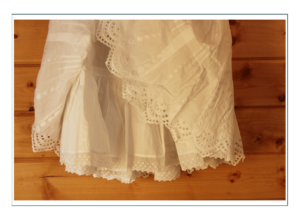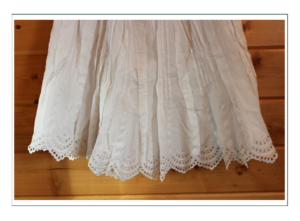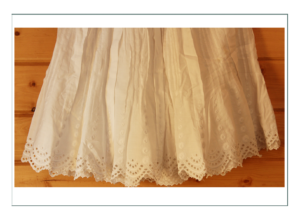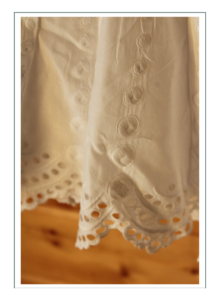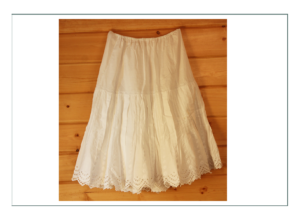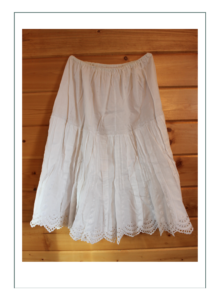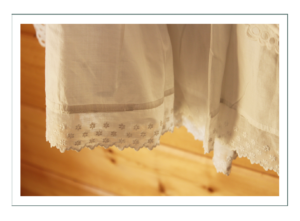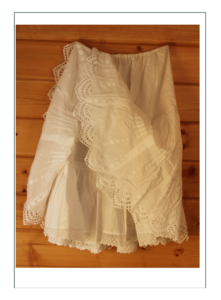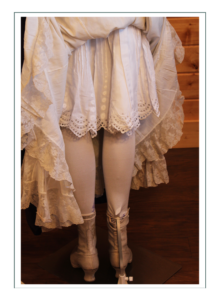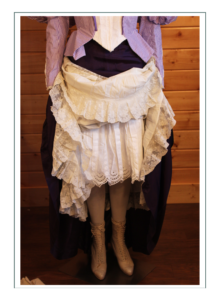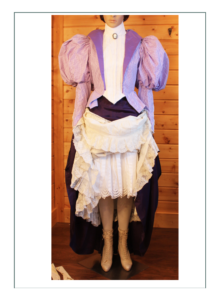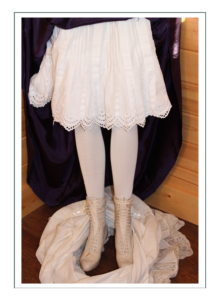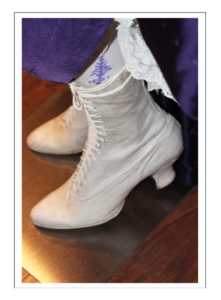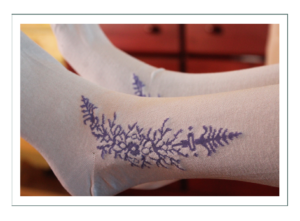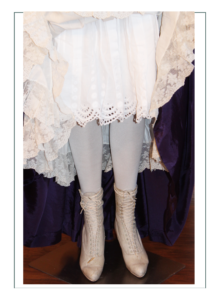 New Life with Kat!

Scenes from the play featuring Hanna as "Penny Dreadful", cast poses, and mingling with the "modern folk" afterwards.
Many thanks to Hanna for donating her ensemble back to us for use in marketing.  We are honored excited to be working on Hanna's authentic 1920's "Great Gatsby" theme wedding gown coming in 2018!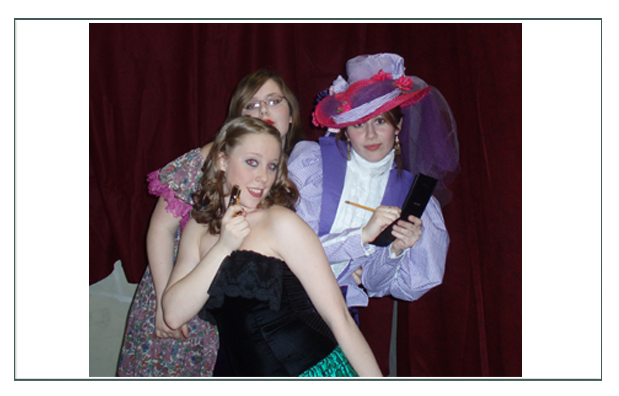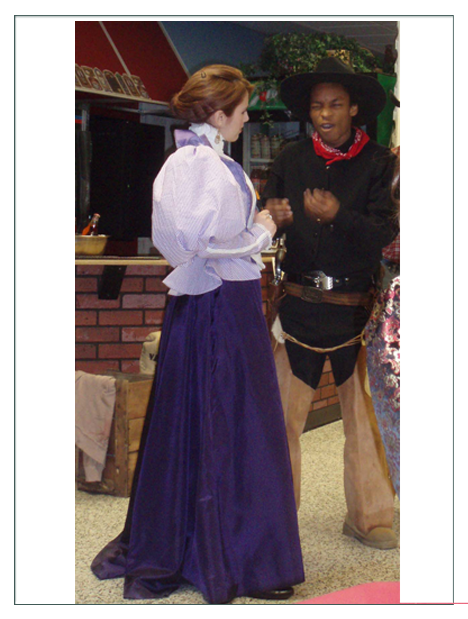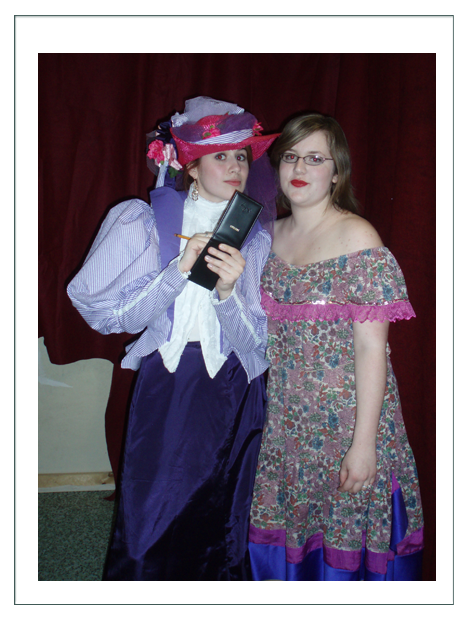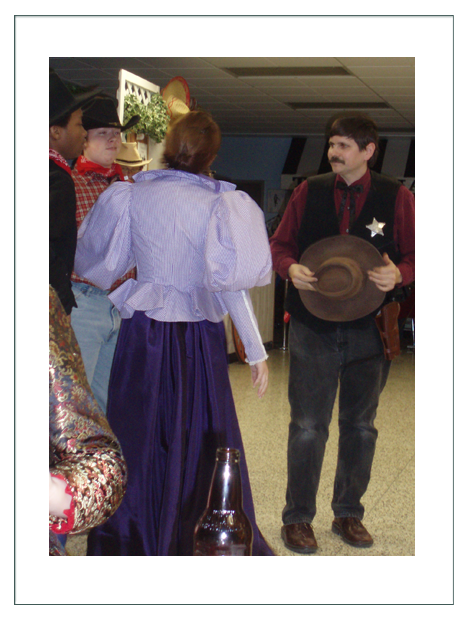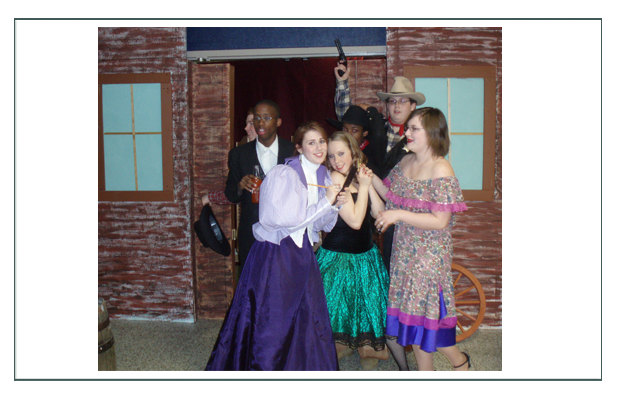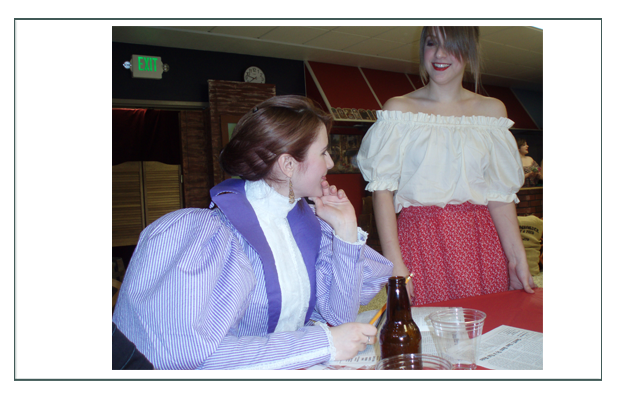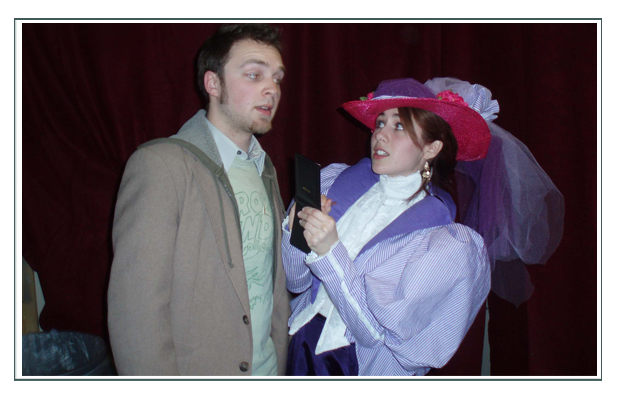 Click here to go to top of page
Click here to go to Customer projects